Hello everyone and welcome to my 10th trip report 
Introduction
Zurich Airport (ZRH), one of the most "spotter-friendly" airports in Europe. With various spotting locations around the airport and 2 observation decks (B and E). The fairly new observation deck B is open all year with the E deck only open during the summer (closes at 17:00). Zurich airport also offers guided bus tours.
Knowing all this, ZRH was of course high on my "to visit" list and as I had 1 more weekend off from work before my trip to the U.S.A. (21st July, more on that later) I looked upon the internet to look at the fares. After looking on different sites, SWISS (LX) turned out to be the cheapest this time and I booked them immediately (later upgraded to Business Class). Leaving Saturday morning and flying back Sunday night which gave me 2 nice days of spotting on both the observation decks!
When looking for an hotel, I wanted one that was as close to ZRH as possible. Radisson Blu hotel was the closest (direct connection to the terminal) and despite being a bit pricey I booked them immediately.
So what can you expect from this report? Well this report will be split into 2 parts due to the large amount of pictures.
Part 1 will cover my Business class flight on Edelweiss with an A320, a bunch of spotting pictures from both observation decks and the beginning of my stay at the Radisson Blu hotel.
Part 2 will cover the next day: another bunch of spotting pictures from the E deck and my flight back to AMS on SWISS in Business Class.
So sit back, relax and enjoy this report! 
MAP
Not a very interesting map for this report, all thanks to
www.gcmap.com: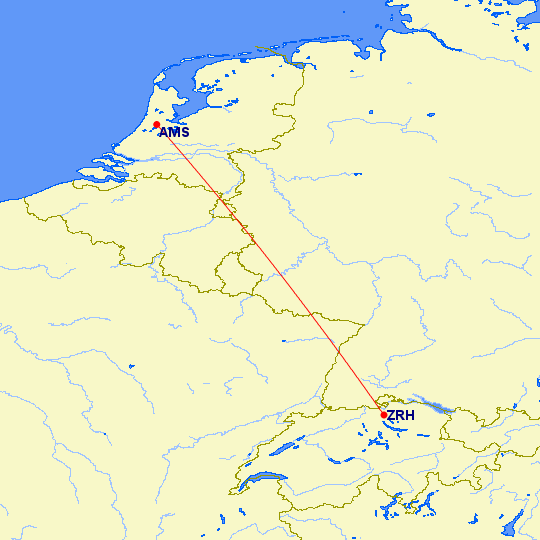 Getting to AMS
The night before flying I always have trouble falling asleep, I guess it's just the excitement, and this time there was no exception. After having slept about 1,5 through the whole night I decided to get out of bed at 06:00 and take a nice shower. I had packed my bag the night before, so after a little breakfast I bid my father farewell and headed out to Amsterdam Lelylaan train station. A 10 minute walk later, through the practically deserted streets, I was at the station and waiting for the 07:43 Sprinter train to Hoofddorp via Schiphol. The train arrived right on schedule and about 10 min later I was at the quite busy Schiphol Plaza.
Check-in
As always I had checked in online the night before and just needed to print my BP. So upstairs I went to check-in area 8 where I could use one of the self-service machines. After swapping my FTL card the machine spit out my BP and I was ready to go! Instead of heading straight through security and on to the lounge I decided to go look at the panorama terrace (observation deck) upstairs.
Panorama Terrace
After heading up a couple of escalators and passing the food court I arrived at the terrace. A lot of observation decks around Europe cost money but Schiphols, is luckily enough still free. I headed through the glass doors and entered onto the terrace to take a quick look at the action. A lot of gates were still empty, now let's first take a look down one side of the D-pier: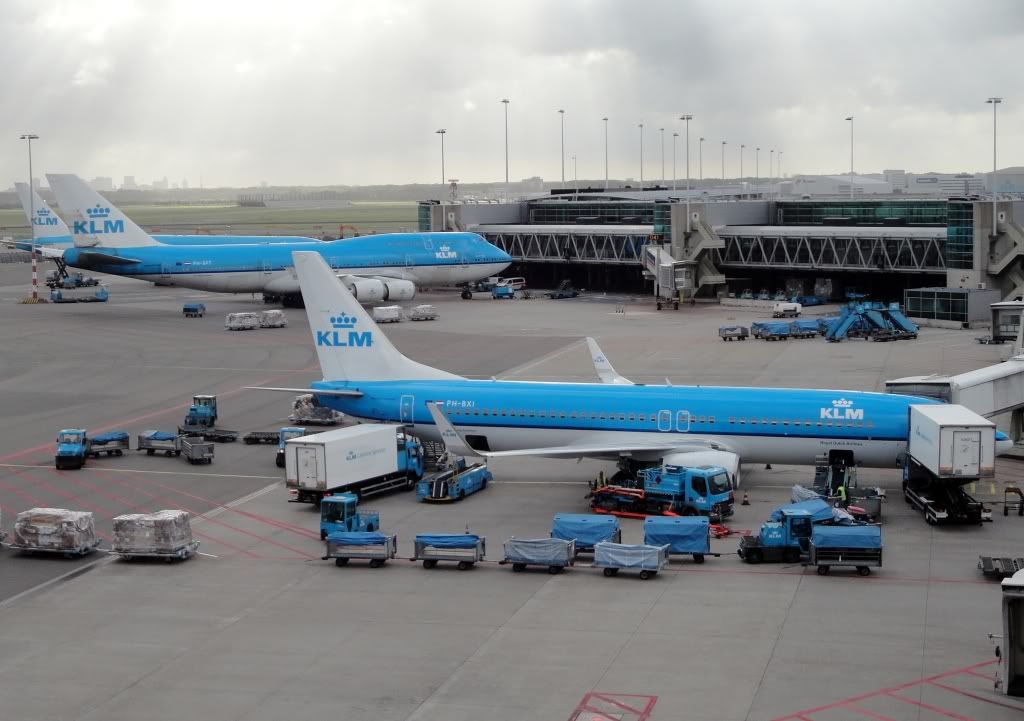 After taking that shot, this beautiful triholer came taxiing in in front of me, what a beauty!: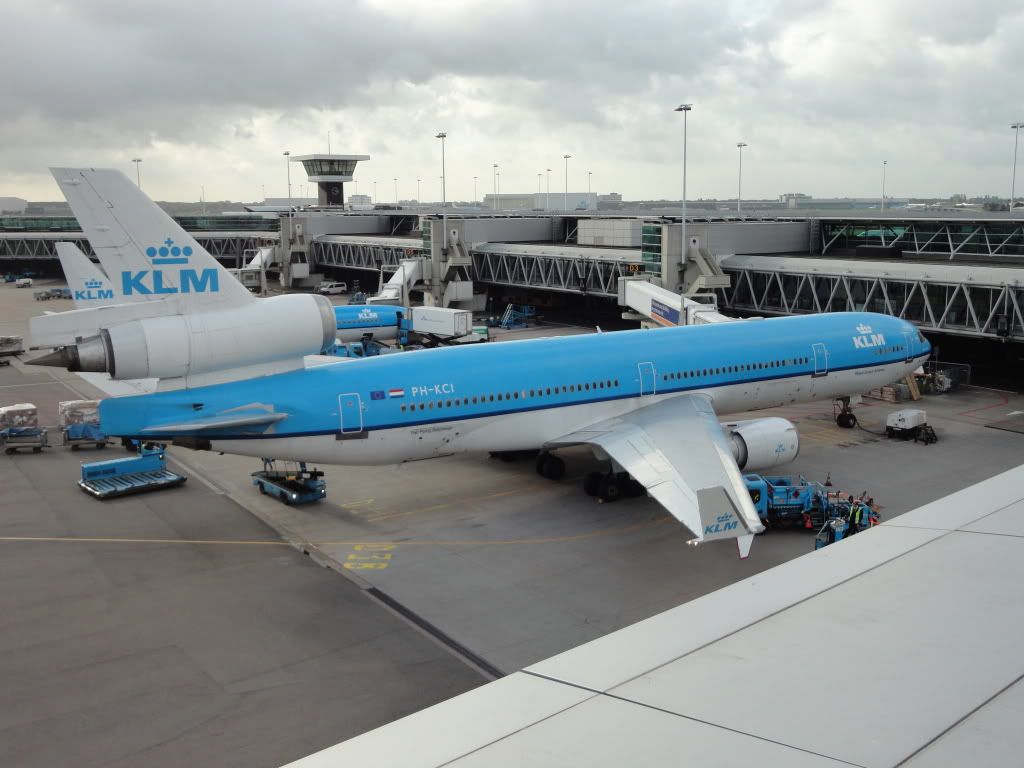 Another look, this time down part of the E-pier: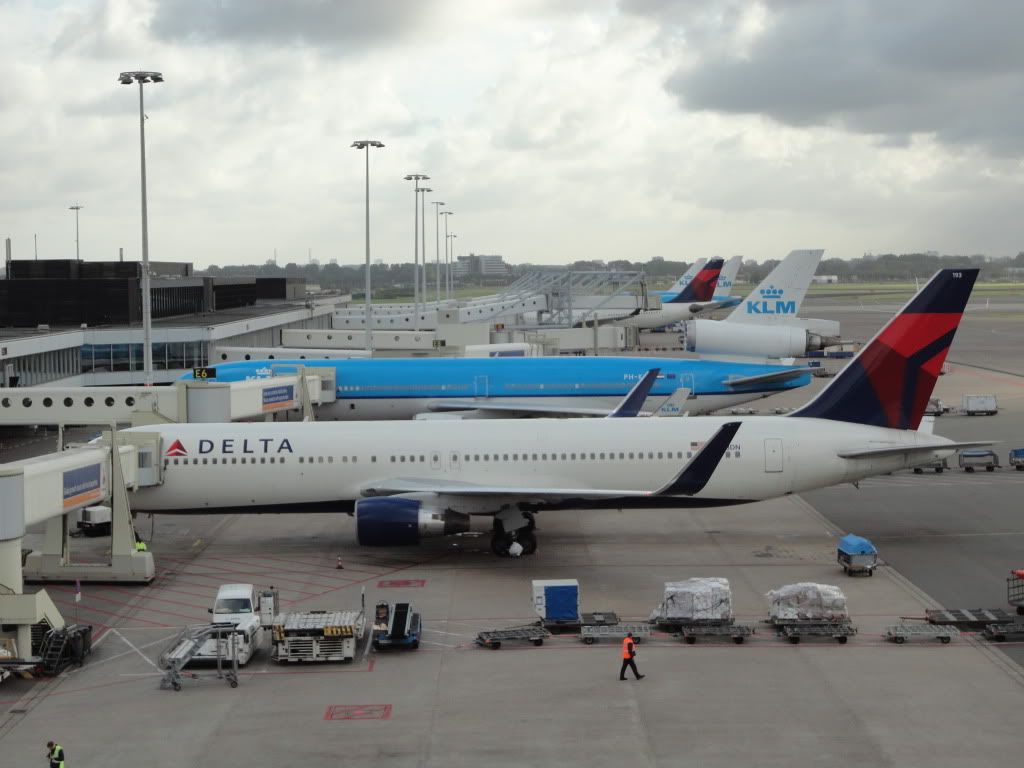 A KLM A330 PH-AOD had just arrived and came taxiing into the gate:
This sign of airlines serving AMS was clearly made before the CO/UA merger: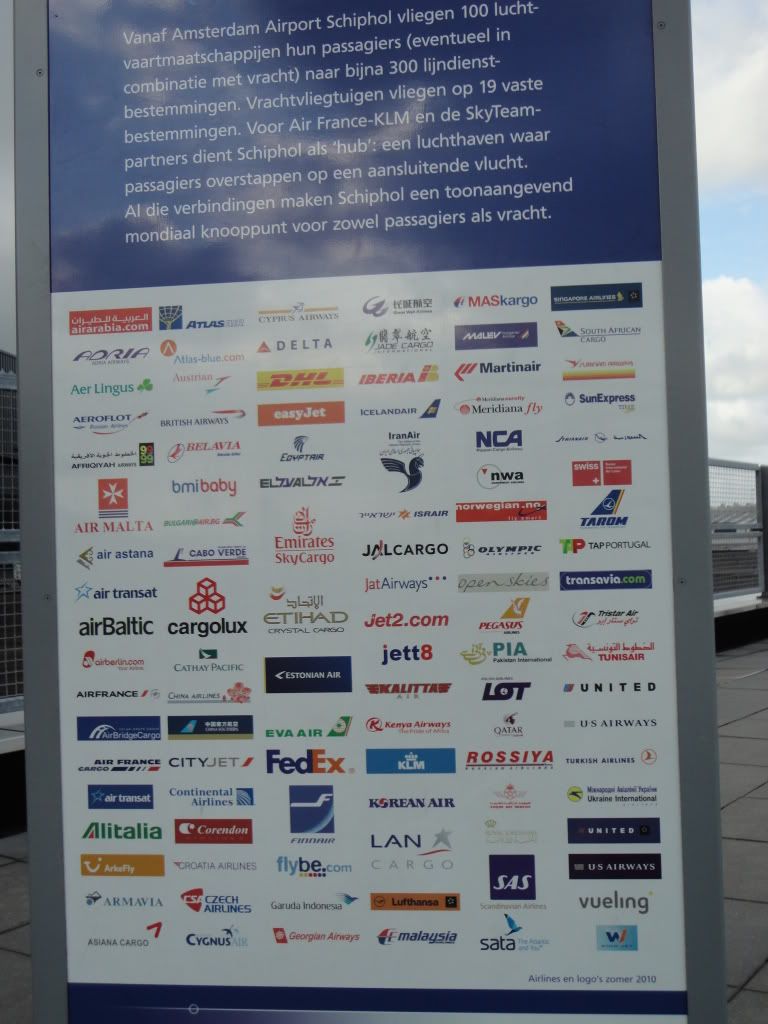 A bunch of Delta (DL) flights had already arrived: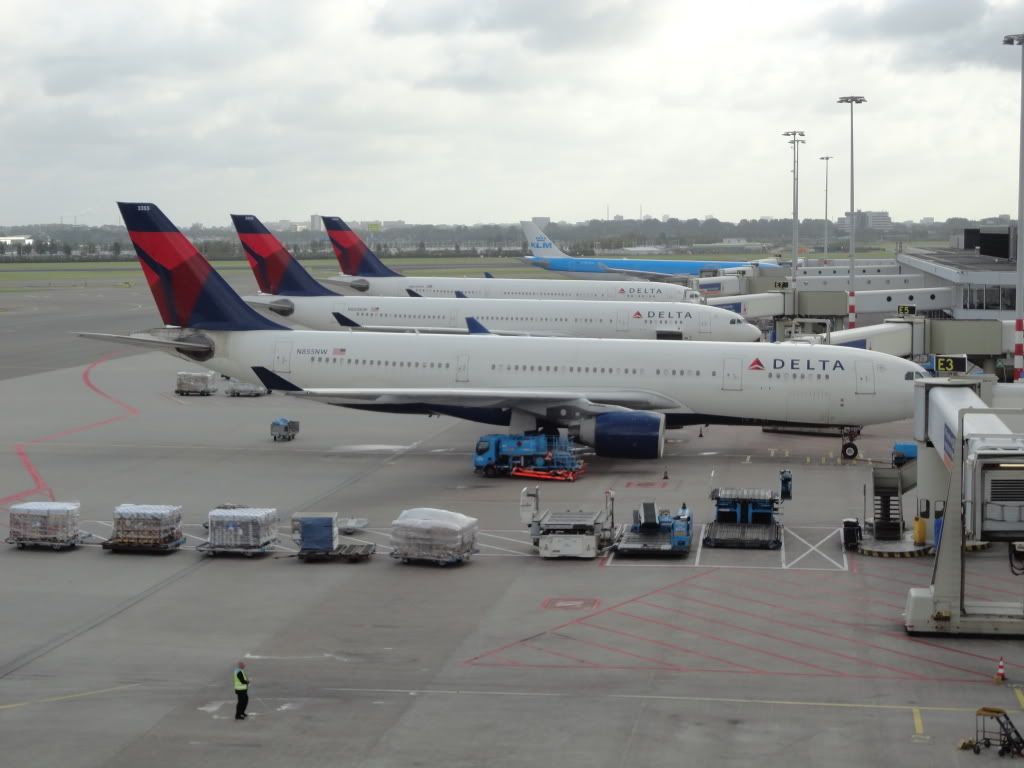 An Air Transat (TS) A310 had just arrived and luckily parked right in front of the terrace: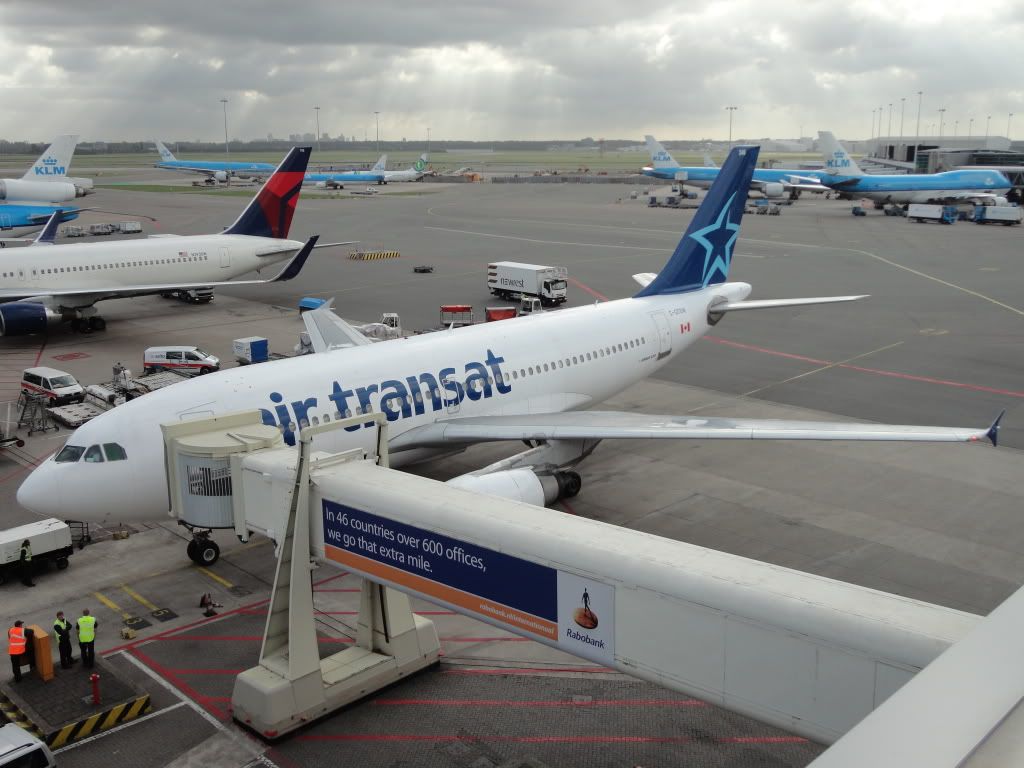 One last look at the KLM heavies (including one of the 777s in KLM Asia livery) at part of the F-pier before heading back downstairs: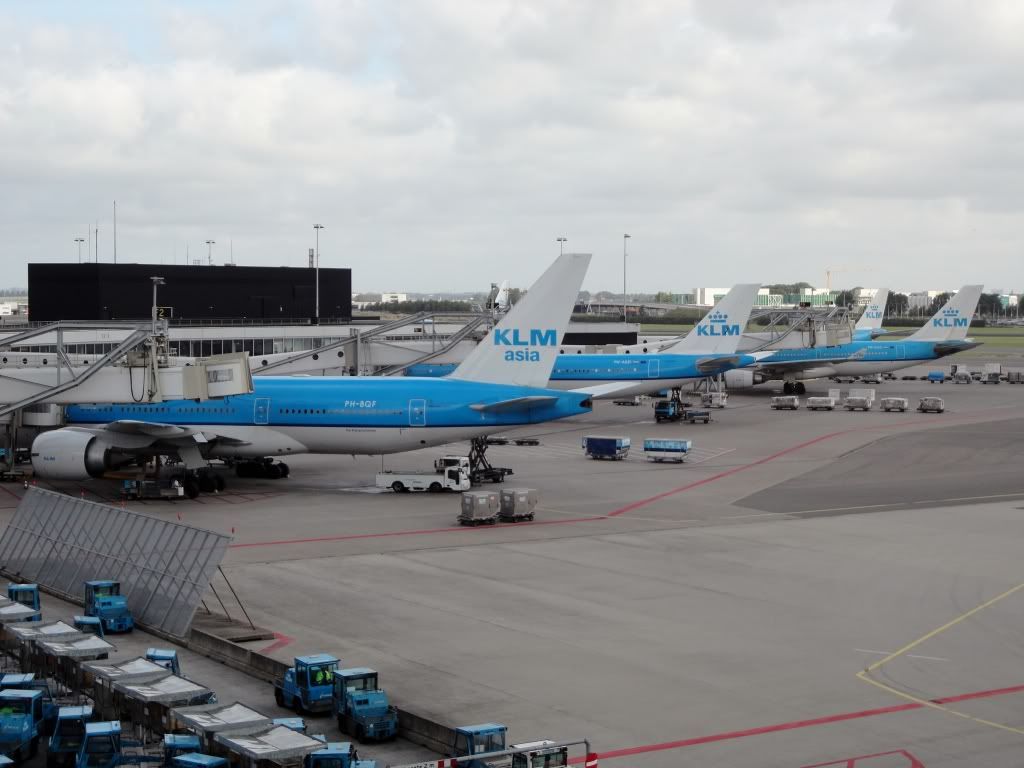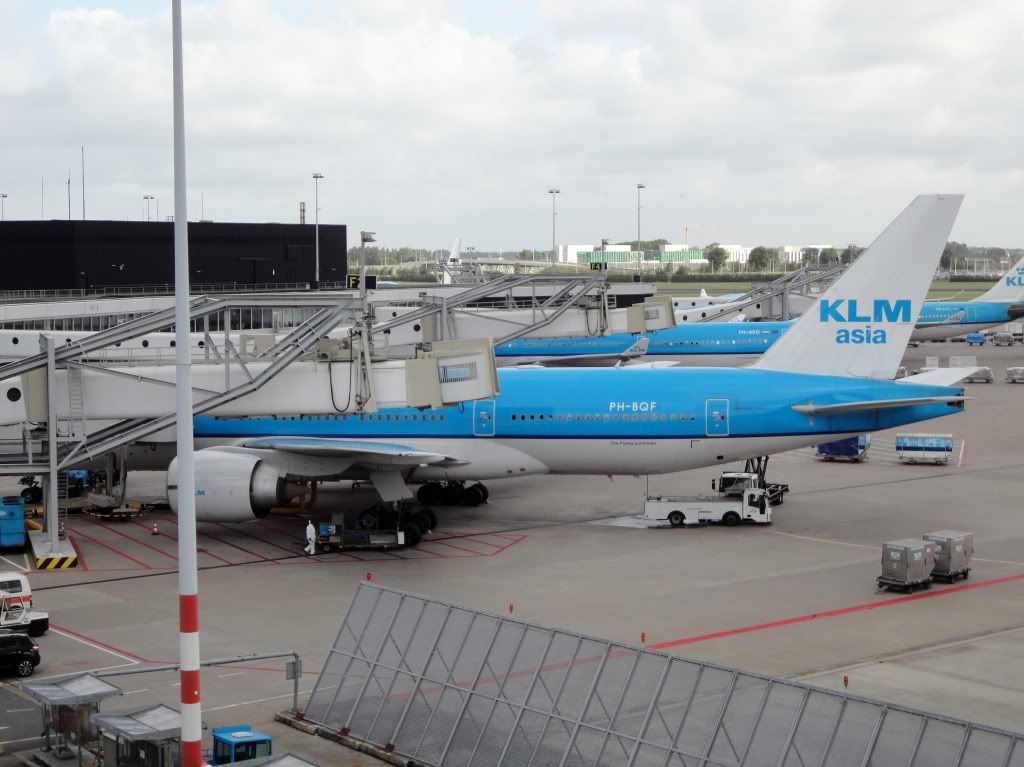 Once leaving the terrace I took 2 elevators all the way back downstairs to ground level before going back up 1 floor to the check-in area to pass security.
Security + Lounge
Once arriving at security I headed over to the priority lane where I was granted access and was through in no time. 45 minutes to go before boarding time, so I decided to head over to the Menzies lounge.
The Menzies lounge is up 1 floor next to the "airport park" and KLM Crown Lounge. After handing over my BP I was granted access and headed inside. I have covered this lounge a bit on my previous report:
To Heathrow Via Munich + Lounges
(by
adamspotter
Jun 12 2012 in Trip Reports) . Nothing special here but a nice place to relax for the next 35 min. After having a few drinks and enjoying the free WIFI it was time to head over to my gate: B23. So I gathered all my belongings and off I went.
Boarding
23/06/2012
AMS-ZRH
LX725 // 6F
A320 Edelweiss Air // HB-IHY
10:10 – 11:35
I arrived at my gate where boarding was about to commence right on time. All "status" and business class passengers were asked to board first so I headed towards the gate agent. After the agent scanned my BP I headed to the plane. As already said before this leg will be operated by Edelweiss Air and their beautiful livery! Once entering the plane I exchanged greetings with the male and female FA, and headed over to my seat 6F. First impression of the cabin: A bit worn but still in OK condition.
While the rest of the passengers were still boarding I made myself comfortable and took a look outside, Vueling (VY) EC-HQI was just getting ready to push back:
Soon enough I heard the "boarding completed" and the front left door was closed. While taking a look around the C cabin 17 of the 32 business class seats were occupied with the whole row to myself.
Flight crew consisted of 1 male purser, 1 male and 2 female FAs. The purser came onto the PA welcoming us onboard with the usual announcements and a flying time of 1h. Meanwhile one of the female FAs came around the cabin offering newspapers and handing out a bottle of Evian water with a refreshing towel to all business class passengers: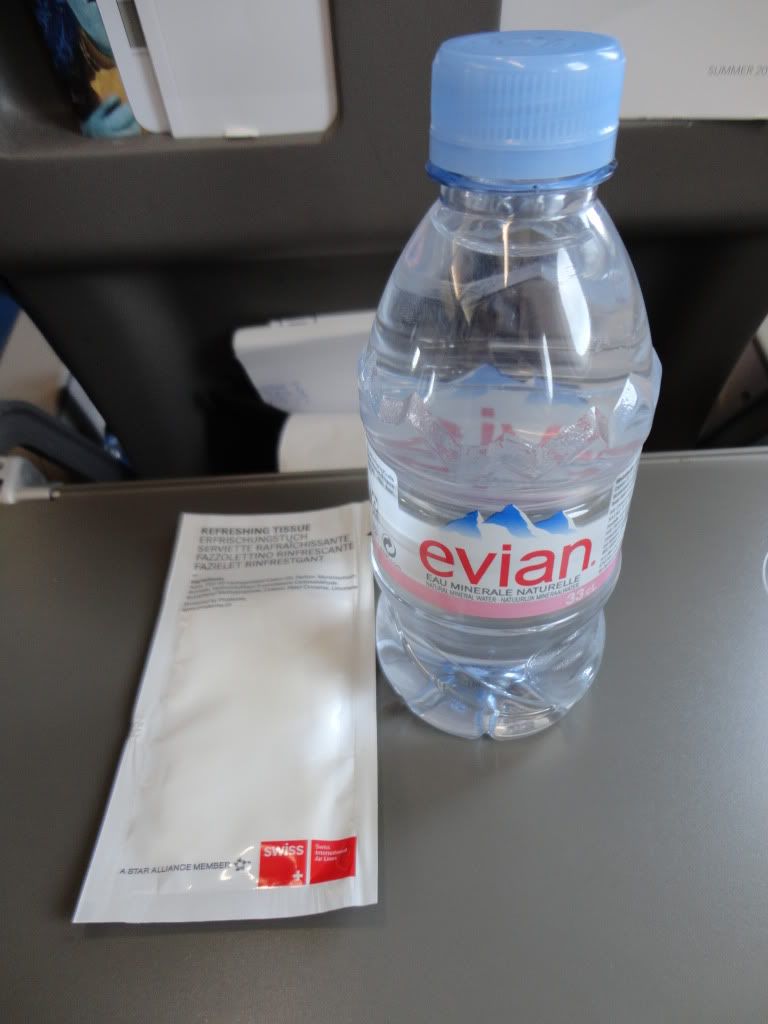 After doing that, the FA came around the whole cabin (Y+C) handing out these "feedback" cards: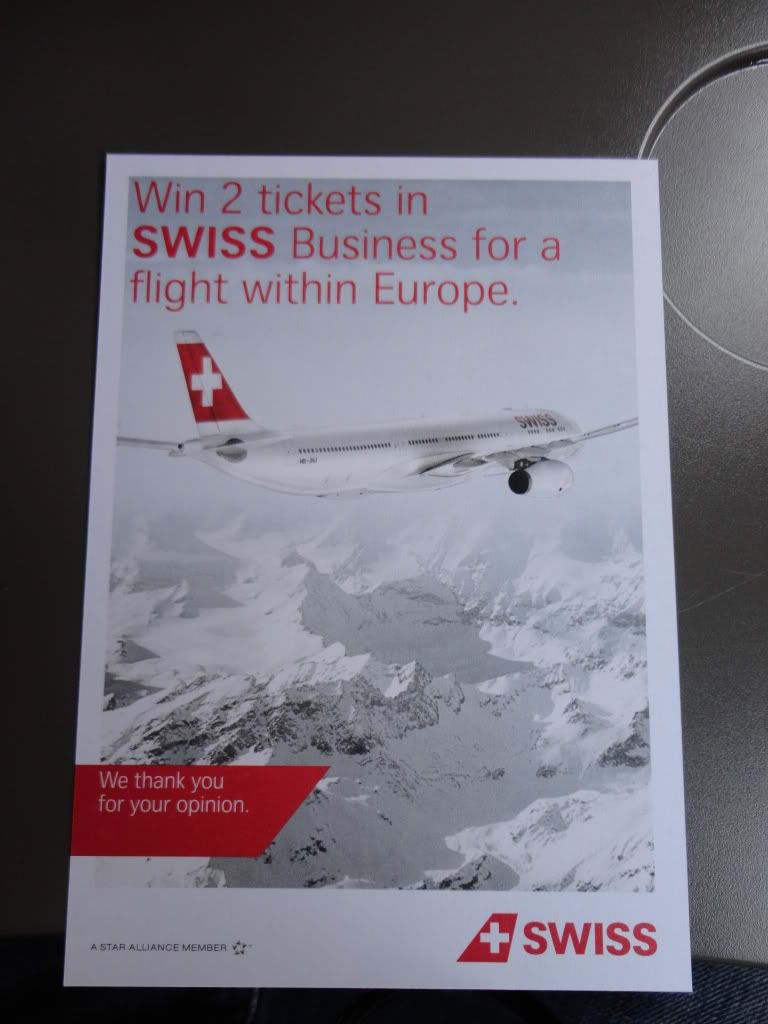 Meanwhile the Pilot also came onto the PA welcoming us onboard and telling us that they were still awaiting ATC clearance due to congestion at ZRH. That meant another chance for me to take a look outside where the Vueling plane had left making this Finnair (AY) A320 our new neighbor. Behind the AY A320 was an Austrian (OS) F100: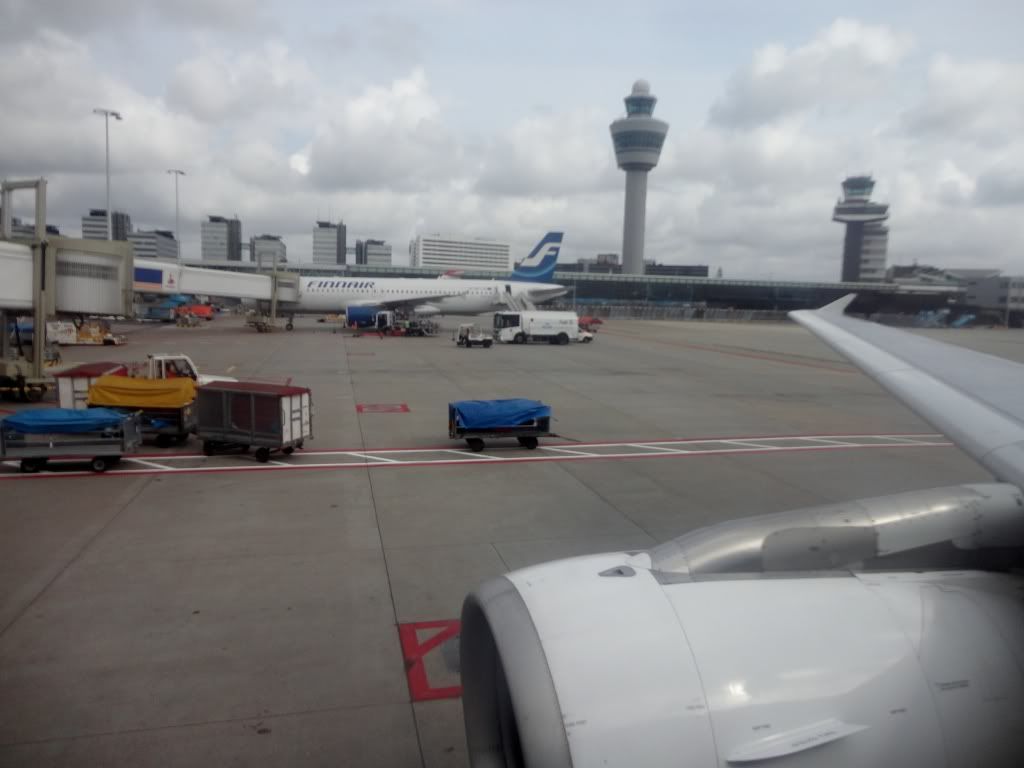 The safety demonstration was played on the overhead screens: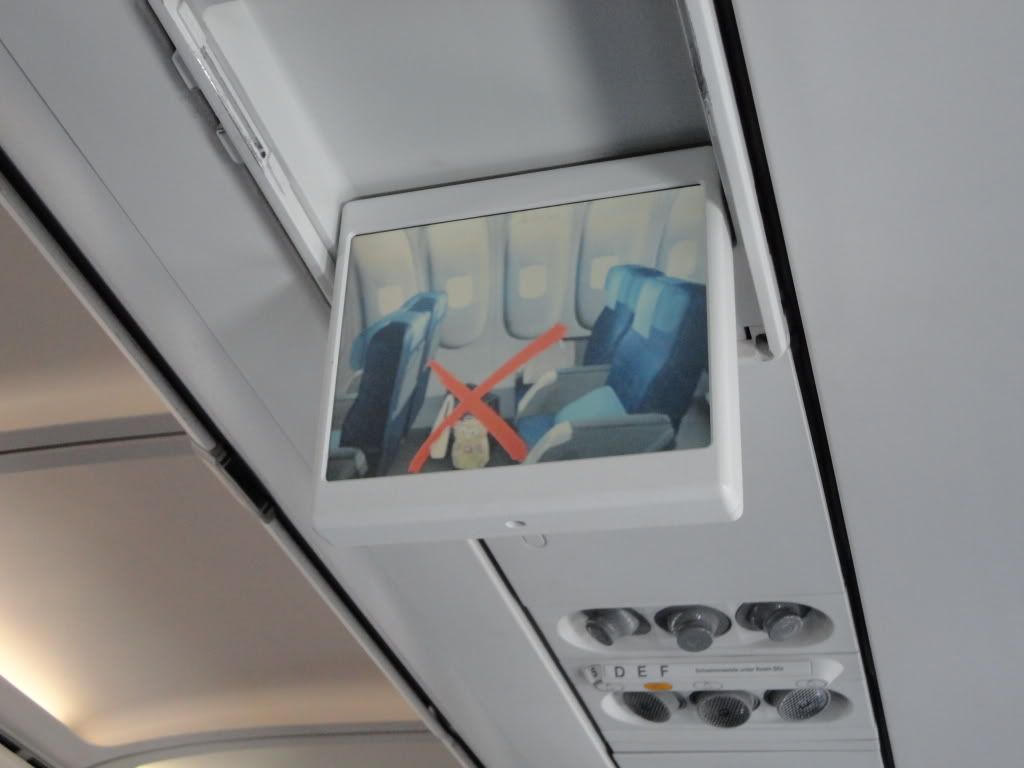 The safety demonstration was finished, while we were still awaiting clearance, and the overhead screens were now showing the map: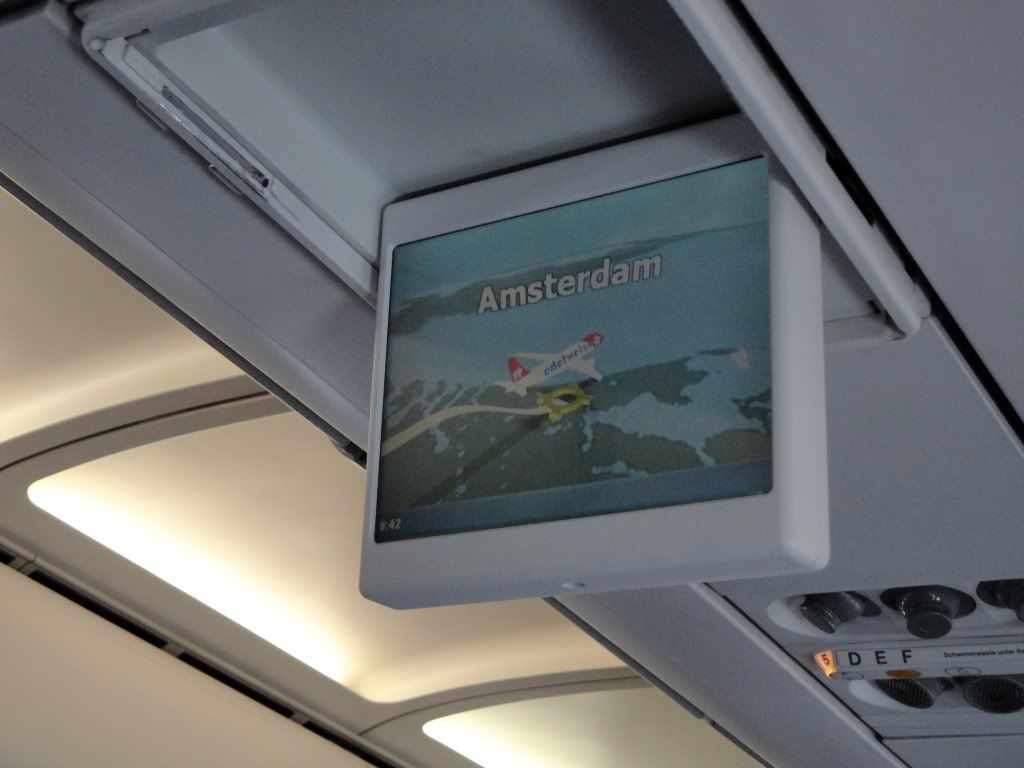 They also seem to use Google Earth or something like that: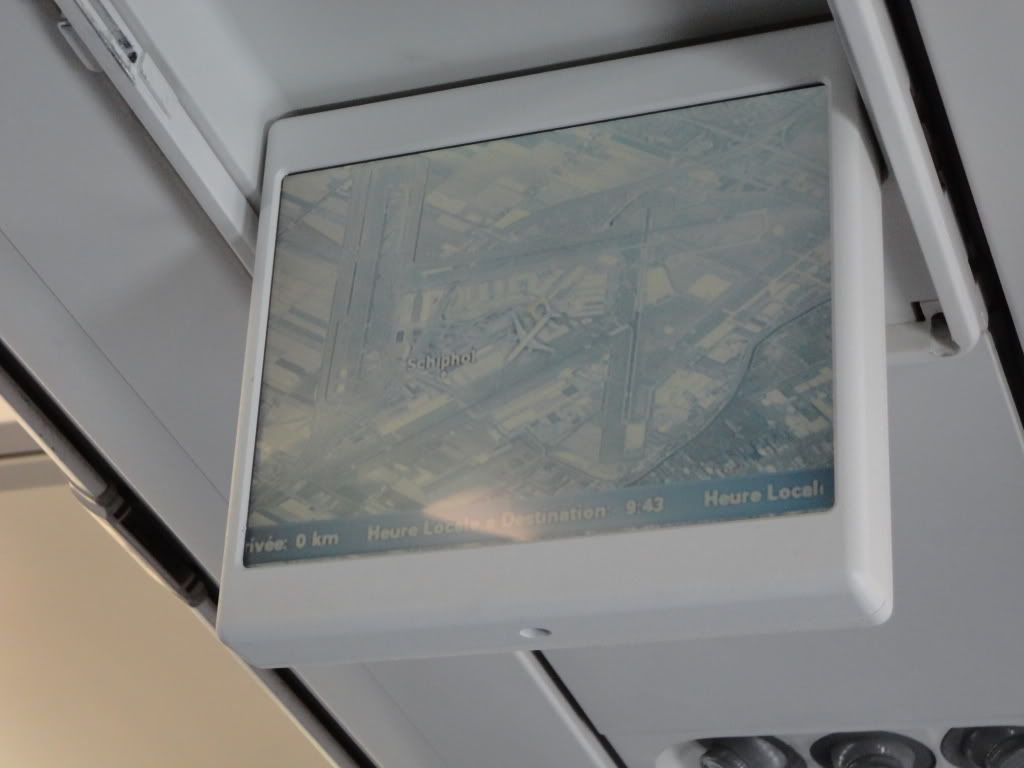 Pushback + Taxi
25 minutes after our SDT at 10:10 pushback finally commenced: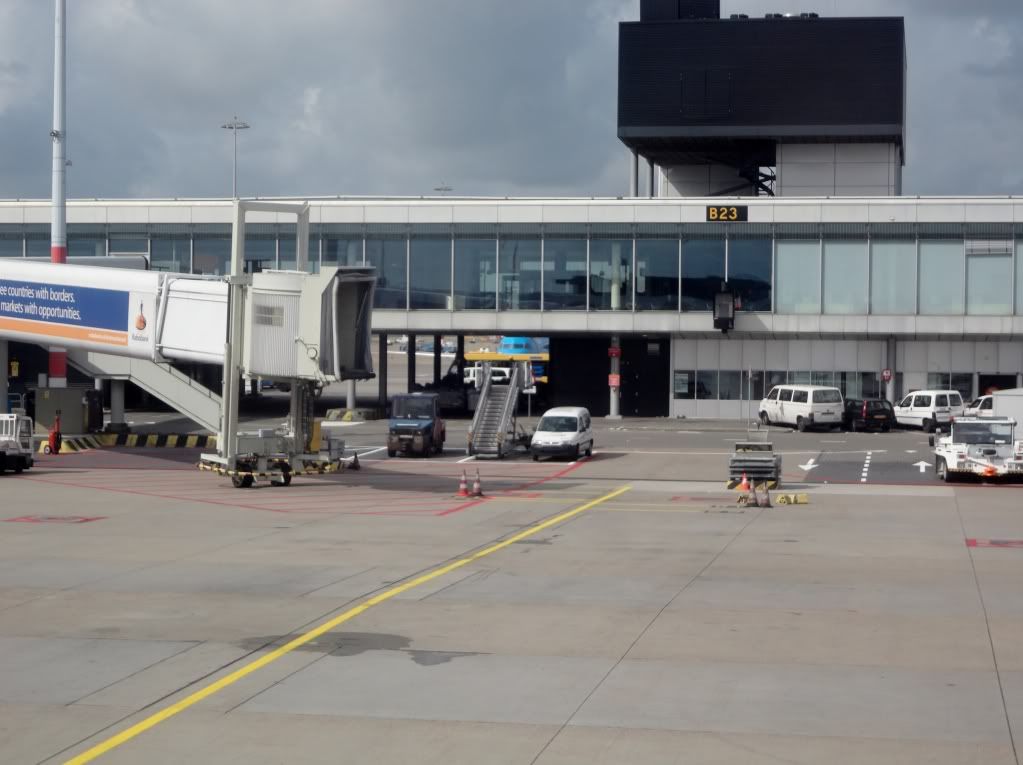 We then taxied to the "Aalsmeerbaan" also known as runway 18L, passing this little Adria Airways (JP) CRJ200 S5-AAD: