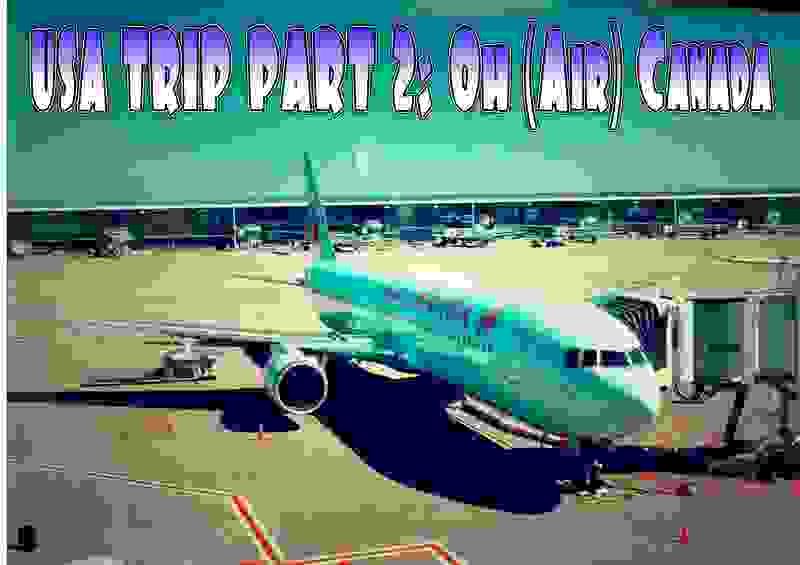 Introduction
This is the second part in my Summer 2012 US Trip Report. It covers the flights from Brussels to Toronto via Montreal and the next day's continuation to Newark, US.
For the earlier parts, see these:
- Part 0:
US Trip 2012 Part 0: Prologue (JYV-TLL)
(by
FlyingFinn76
Jun 12 2012 in Trip Reports)
- Part 1:
US Trip 2012 Part 1: Warming Up (HEL-TXL-BRU)
(by
FlyingFinn76
Jun 20 2012 in Trip Reports)
The flights making up this part: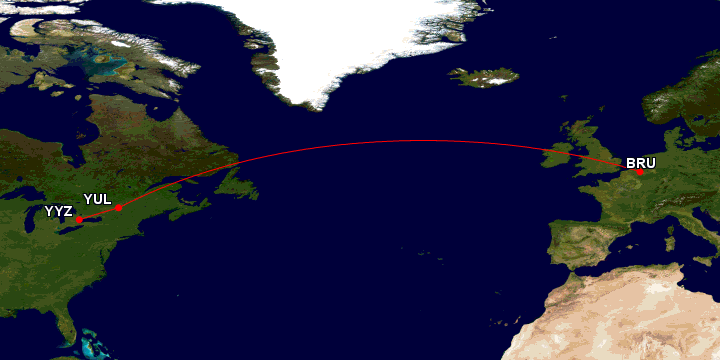 .
Thursday 14.6.2012
So my alarm kicks me up at around 7.00 in my hotel room in Brussels. After a shower and the usual morning activities trying to make best with what little I have I gather my trash and head downstairs, where the front desk person has mysteriously been changed into an Asian girl overnight, still as less Aryan as the guy the night before. After handing in my key I go outside and down a few streets towards the station and then get a bit of a shock. Yes, I am well aware this is the red light district of Brussels but no, I actually had no idea
the girls would be already out there "on duty" before eight on a weekday morning!
. Yes, I'm walking down this street, and then happen to glance up to a display window. I see something which I assumed was a display doll on a shop window and get a shock since she is waving for me to get inside - whoah, bright and early these girls (or maybe they are just late, come to think of it)!
Anyway I give her a regretting shake of my head and a small wave and head forward to the Gare du Nord entrance.
I like these train schedules they have everywhere in Central Europe: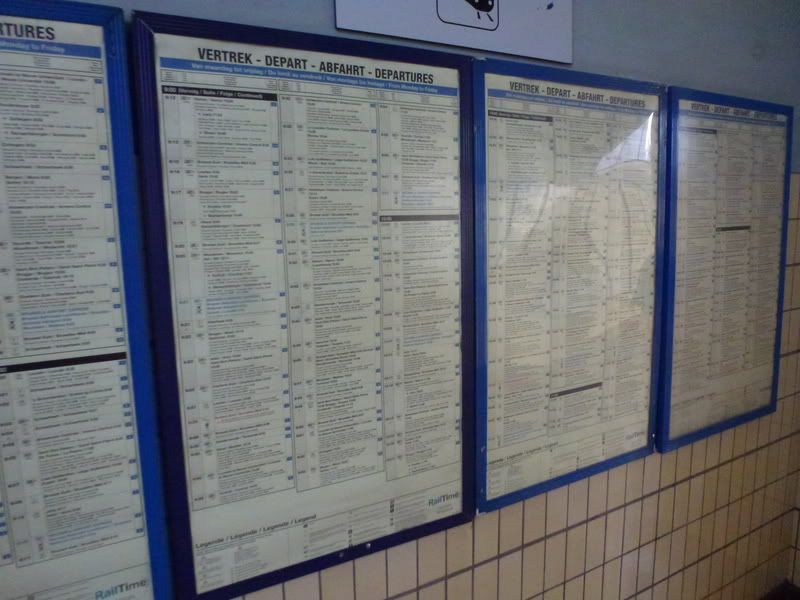 The next airport train is in ten or so minutes - just enough time to grab a continental breakfast on the go - sadly the customer before me buys the last croissant so I have to agree to the girl's suggestion of a
pain au chocolat
with my Cappuccino instead.
I eat my breakfast while waiting for the train up on the platform - it is a glorious, sunny morning with clear skies and unlimited visibility - should be great weather for flying, lucky me!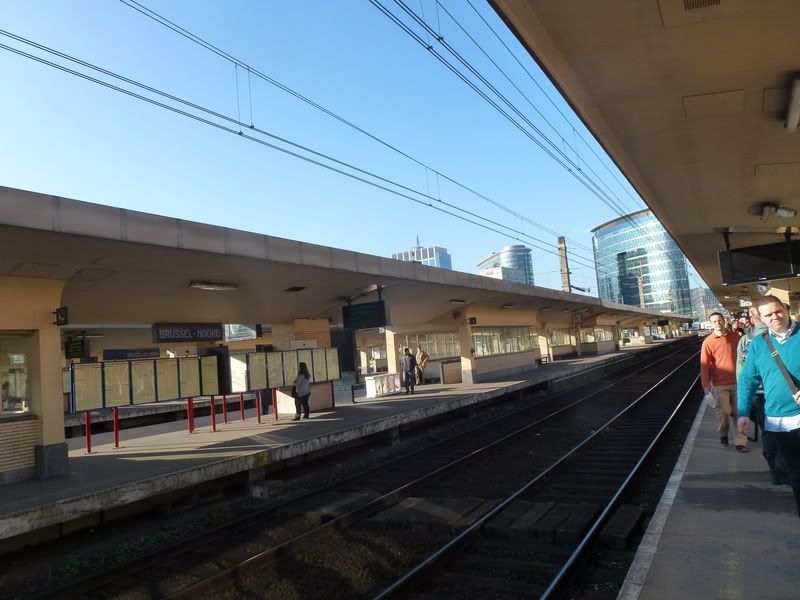 Eventually the train arrives and fifteen minutes later I hop off at the airport stop.
Brussels Airport or How Not To Handle Check In
I take the escalator two levels up to the check in, locate the Air Canada check in row and have a laugh at some poor buggers whose flight has this long queue:
Oh well, like they told in that "holy" fairy tale book - do to others what you wish upon yourself. Yes, you guessed it - the next moment I realize that this is the check in queue for *my* flight! I mentally kiss my Star Gold card a thank you kiss and head for the considerably shorter business class queue, only to be stopped by a "security agent" asking which flight I'm on.
- "Toronto"
- "Today or yesterday?"
Now this was a completely unexpected question. I've been known to lose all sense of time when doing something deeply engrossing like drinking, writing these trip reports or planning a new exciting itinerary but right now I'm pretty certain I am not missing a day and my drinking the previous night was quite moderate.
- "Err... today?"
- "Check in is not open for you yet. These are people from yesterday's flight! Go away!"
(Okay, she might've been a bit more polite with that last wish but the message was clear).
I ask what happened - she says that yesterday's flight went mech so Air Canada put the passengers to a hotel and today there will be two flights, the one from yesterday and the one I am booked on. Ok, makes sense I guess - I ask when she expects them to be done with these passengers.
- "No idea, maybe half an hour or so."
- "Ok, can I use the self service kiosks?"
- "Yes, certainly".
- "Thank you."
See, it is already delayed by an hour - interesting that they didn't use some auxiliary flight number but the original AC833 instead. This means there will be *two* AC833s today: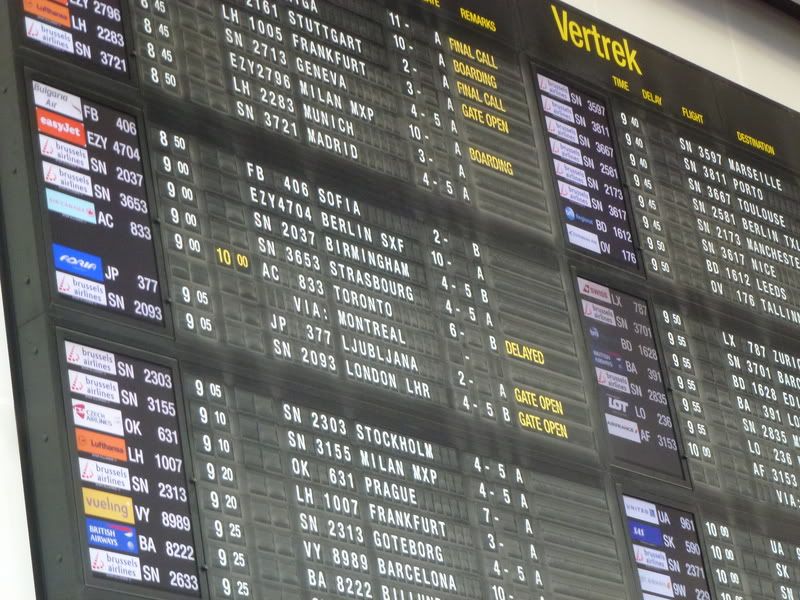 Ok, I'll try the kiosk. I wanted to drop my rollaboard off at the desk since I got a bit annoyed by dragging it with me yesterday but I guess I can do carry on only if it gets me to the lounge faster! Oh, I forgot to mention that I tried OLCI several times the previous night and it never worked. Air Canada claims that you can use it only 24 hours before the *last* flight on your itinerary departs which sounds a bit bollocks to me and since my last flight is probably the UA flight to EWR it still is some 36 or so hours away...
Off to the kiosk. There are two of them, shared by SAS and Air Canada. Unfortunately there's an SAS flight to Copenhagen soon so there are quite a few of their passengers using the kiosks as well. Eventually I get to it, and have the privilege of using the world's slowest check in application - seriously this one makes even Windows to look like the fastest OS on the block.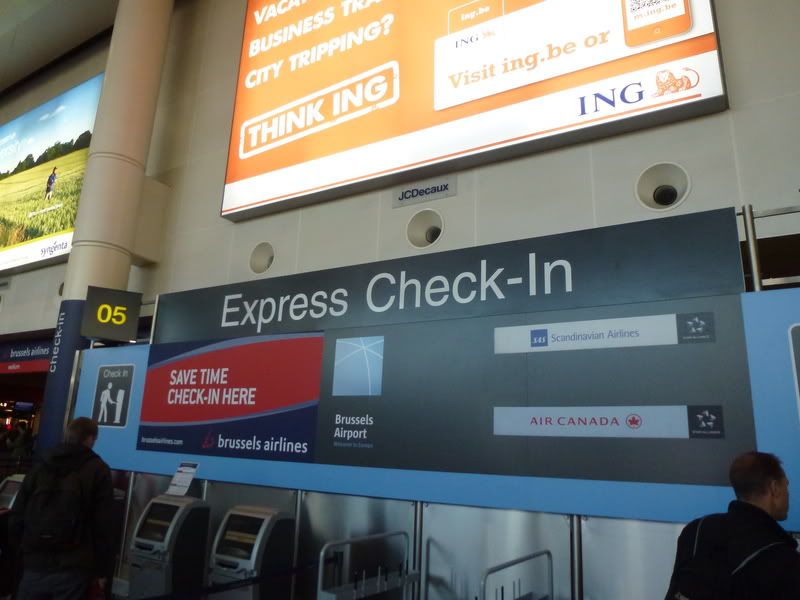 Slowly I get to the point where it asks me to scan my passport (which luckily is quite a recent one and thus machine readable) - IMHO this is completely unnecessary and just BS but looks like I have to do it anyway. And this is where the process stalls - after getting the machine to properly read the passport (takes quite a few attempts) it tells me that I'm most probably a terrorist or a religious zealot (aren't those two usually the same thing?) since the name on the passport doesn't match the one on the ticket. Well, of course it doesn't match - ever heard of Scandinavian characters which certainly can wreak all kinds of havoc if they make their way into CRS systems - just like pretty much any character outside the 7-bit original ASCII range - gotta love legacy mainframe systems! Oh and I do happen to use my middle name as my forename, thank you very much.
No dice here, so to avoid an artery bursting in my brain (yes, I am quite pissed off at this point) I head outside to the cool morning air to sit down for a while and smell the sweet smell of jetfuel (almost as good as the smell of fresh napalm in the morning, I can tell ya!).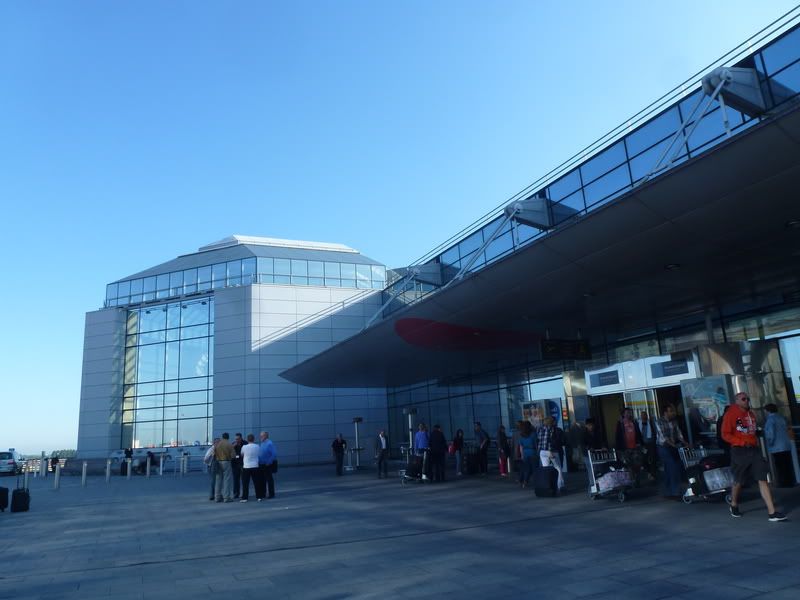 There are limited views to the maintenance hangars on the other side of the 25R runway and what do I see there: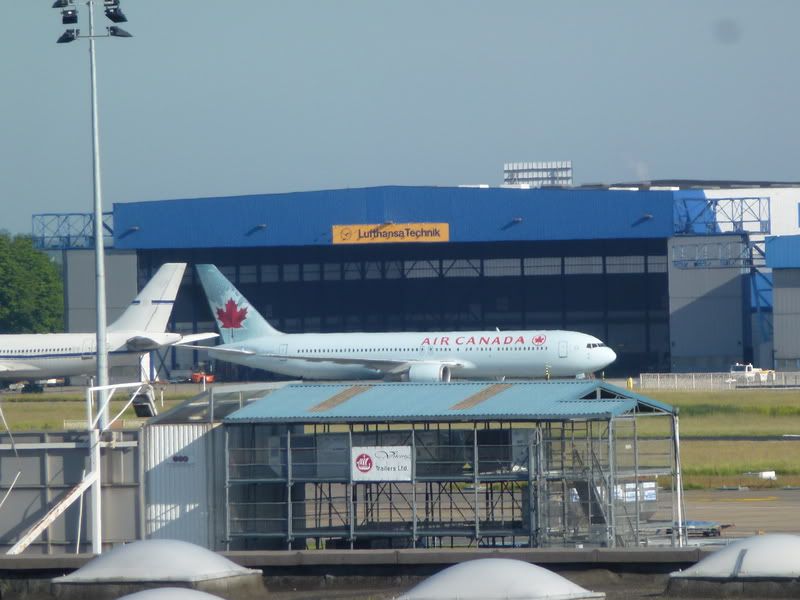 I guess this might be the previous day's mech bird then.
Another DHL depot specially dedicated to AYA333: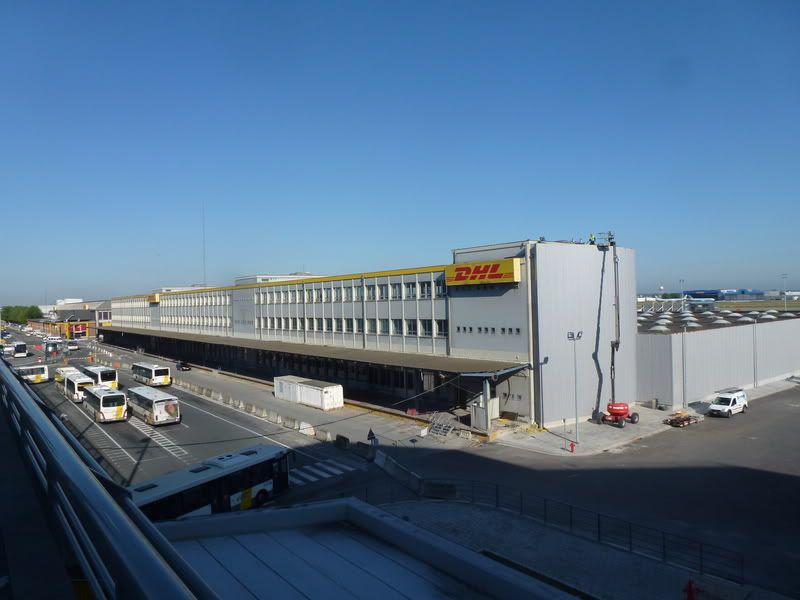 Half an hour later I decide to head inside. I notice the Air Canada queue has grown, not shrunk as I assumed it would be, oh bugger! I take a walk around the check in area, trying to see if the Air Canada ticket desk could somehow help me, but the girls there are totally clueless and most certainly cannot add a "passport verified OK" kind of information into my reservation. So I sigh, give in and head to the queue which has deteriorated into a sort of cluster of people pushing and showing every which way. I ask another security agent "Can I now check in for today's flight?" and she assures me that yes, that should be kosher. The agent I talked earlier with is there as well, she finally manages to get some order into the queues and leads me to the business class one.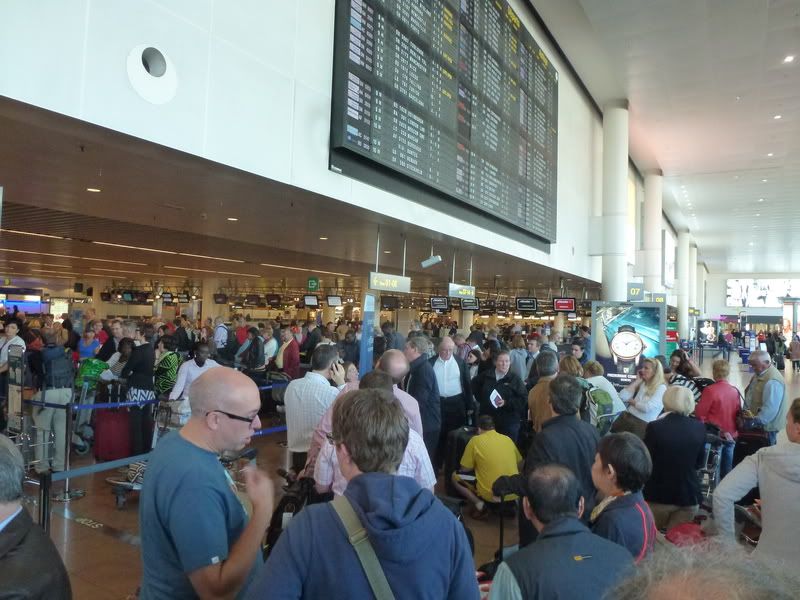 And then it starts. The wait. The horrible, horrible, long wait. They have four or five desks open, one for business class/status passengers and the rest for economy. It soon becomes clear that they are *still* checking in passengers from yesterday's flight and we others must still wait. This takes an eternity, people have tons of luggage and it appears as their connections ex-YUL/YYZ haven't been properly rebooked so the agents have to do all that. What a chaos! The business class desk is staffed by an older woman well into her fifties and she seems to be the slowest of them all - I time it and it takes over five minutes for her to handle every passenger/couple checking in with her. Looks like they have finished with all the business class passengers on that flight so they are using that desk to call people from the economy line, tsk tsk.
Hooray, I can actually
see
the desks already: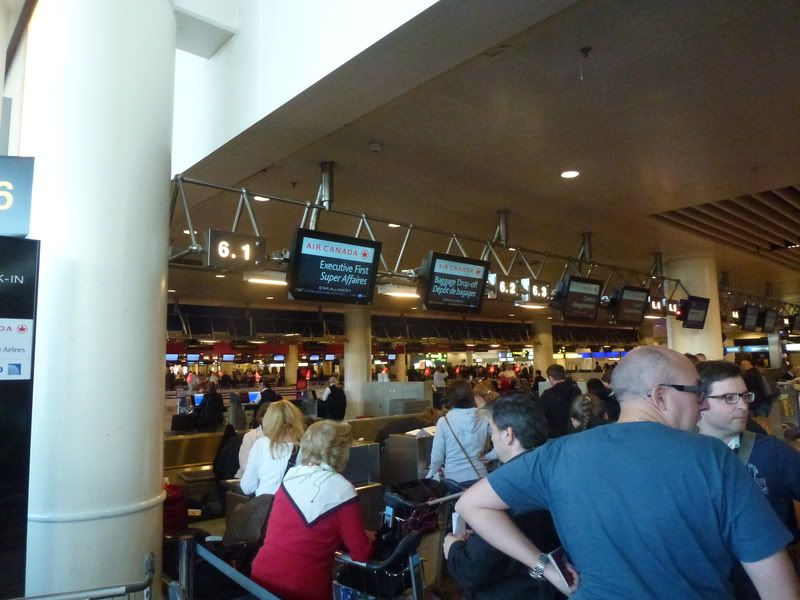 I chat on and off with a guy behind me who flies this route often and says that he usually flies ex-BRU instead of CDG (both of which are about equidistant from the place he stays in) just because the CDG ground handling is such a mess and BRU has always been a doddle. Well not today, it appears! The announce that our flight has been pushed back with a 35 minute delay announced - we both seem to share the same opinion that this will not be enough.
No, I most certainly am not very "appy" right now: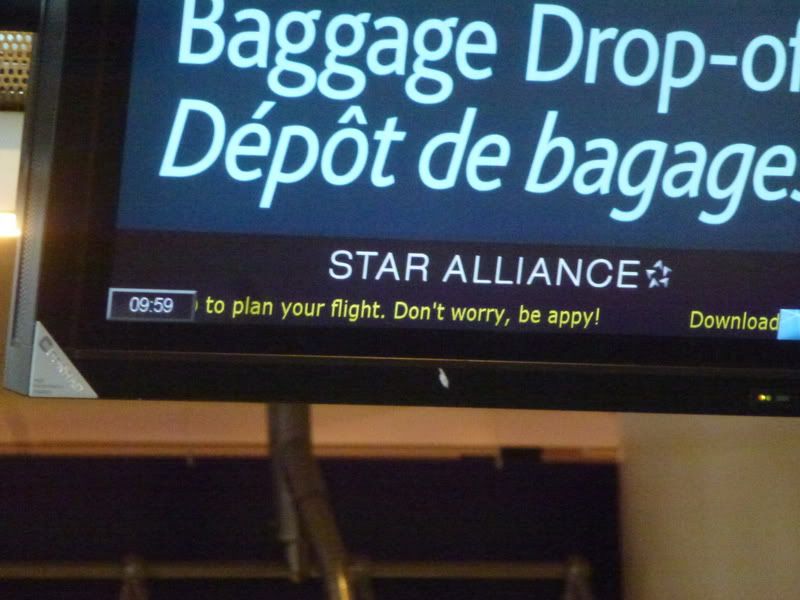 All in all it takes me an hour and a quarter (YES, 1h15mins. This is completely unacceptable.) in that queue to finally reach the business class check in desk. The woman is quite friendly but appears to be under a lot of stress. She also doesn't really have that aura around her that she would know what she's doing - she asks if I have a visa for the US. After I say "I don't need a visa" she doesn't really acknowledge me in any way, just continues with her typing. The whole thing again takes almost ten minutes - she asks me to provide the address of the hotel where I'm staying in the US. I point out that I filled that info in using the United website, but apparently she doesn't see it and the system won't let her check me in without that. Oh well, it's not like you are in the same alliance or anything...
At least she tags my bag with a priority tag, I say that those things are mostly useless as on most airports they just don't honor them at all, but she insists that it is part of the service. After handing me my boarding pass she informs me that this flight will not be a direct one as there's a stop in Montreal where we need to clear Canadian immigration and customs. I inform her that yes, I am well aware of this fact, thank you (but don't mention that it was one of the reasons for booking this very flight...).
Next stop is the passport control where they have only a single lane open for EU citizens and many more for other passports, annoying.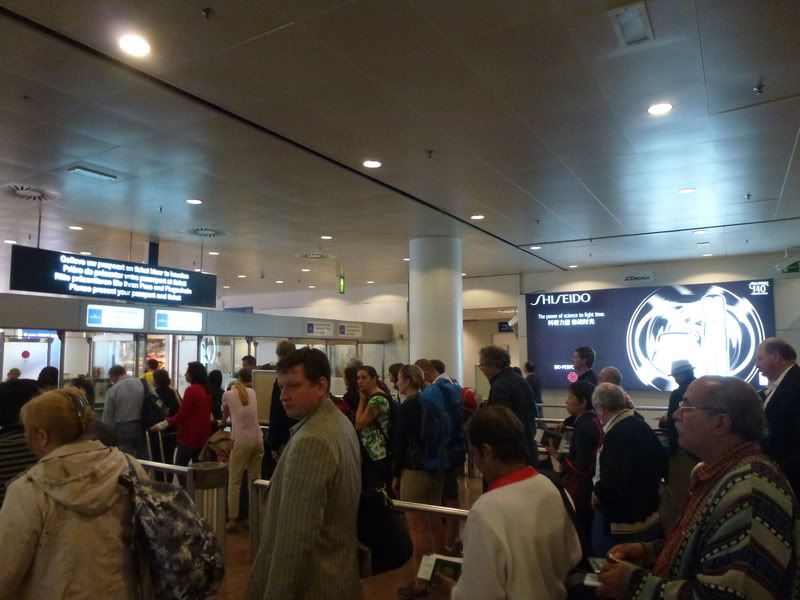 Oh, I'm a tasty EU burger, that's me:
There's one more obstacle on the way - the security check. Luckily this one is quite smooth, apart from the fact that I get stuck behind a bunch of Turkish youngsters who don't seem to be very familiar with the concept of airport security. Well the girl is too hot to be annoyed by that anyway (wow, this is starting to sound like one of Markus' reports).
Once finally airside I see my flight is showing as boarding. Well not so fast, I'm most certainly not missing a lounge visit here! So I quickly buy a horribly overpriced bottle of water from "Grab'n'go" (thought about just grabbing it and going like their name suggests but somehow that didn't seem right) and shoot a picture of my ride-to-be out of the large cafe window: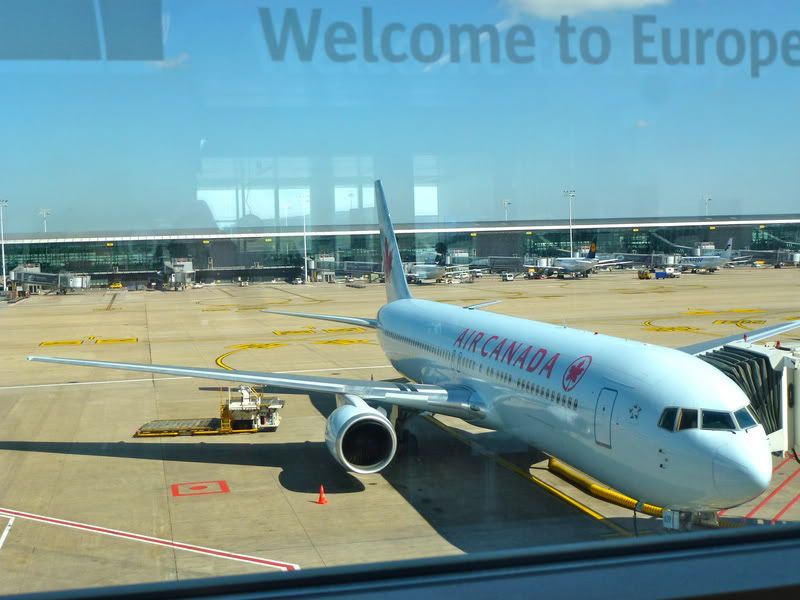 Such a beautiful bird. It might not have the awesome power, size and technology of its bigger sister, the triple seven, but a 767 is still a lovely plane.
I head upstairs to the lounge with the elevator - it spits out at least ten Air Canada passengers from my flight... At the lounge front desk the girl says "Sir, your flight is boarding!". At this point I'm just about to had it with the crap ground handling process here so I snap back "Look, I just spent one and half hours in queues and I'm going to have my drink here no matter what!". The girl understands that I'm not in a mood to argue with and that there's a certain look in my eyes so she just hands me my boarding pass and says: "Welcome. Just don't miss your flight.".
So in I go. Indeed not much time here, but it looks like quite a nice lounge with excellent apron views. Too bad it is absolutely packed with UA and US pax from America - you know, loud, chatty and all about "me, myself and I".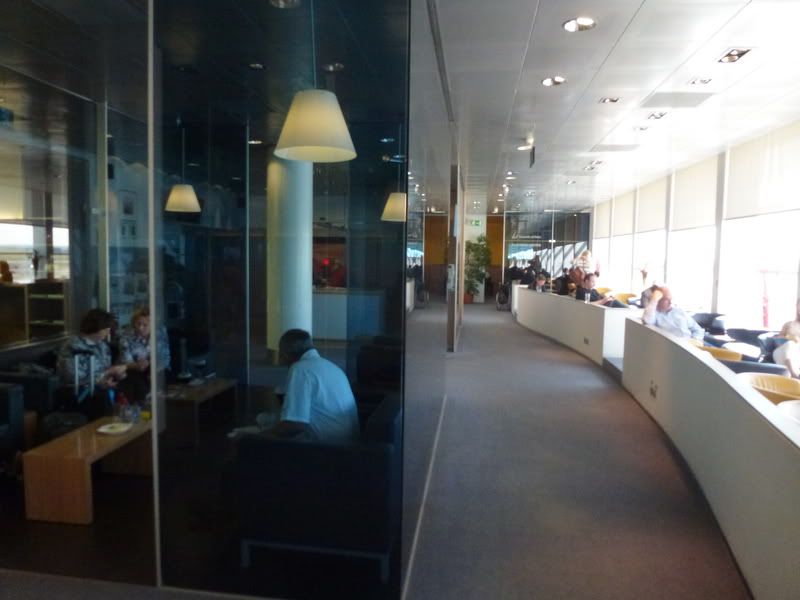 Ahh, refreshments: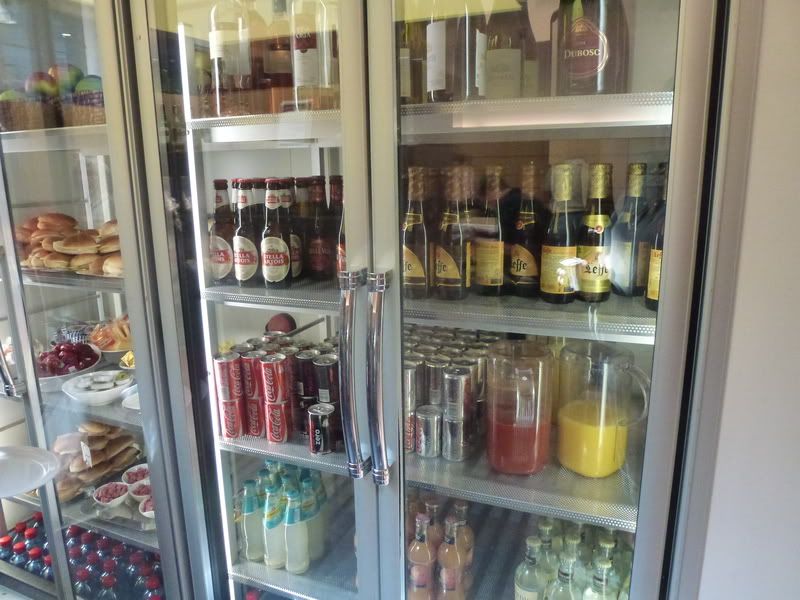 It might still around ten thirty in the morning but I'll have my Leffe, no matter what. So I do, sitting by the window, enjoying the apron views and making a quick use of the wifi (which annoyingly requires you to get access vouchers from the front desk - I go get one and the girl again says "But sir, your flight is
boarding
!" - yes thankyouverymuchforthat).
Possibly the crappiest way to cross the Atlantic:
Hey, what's that - another AC bird? Or maybe they just towed the one here from where I saw it earlier: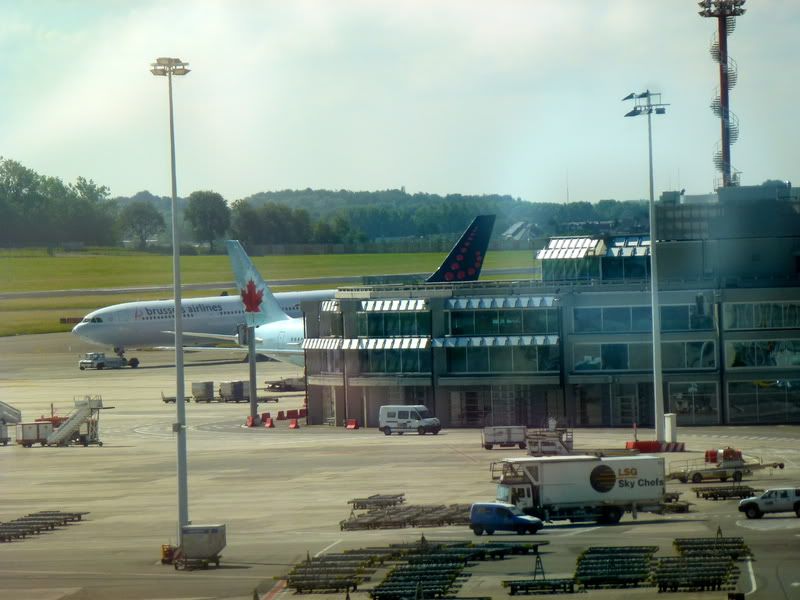 Long haulers: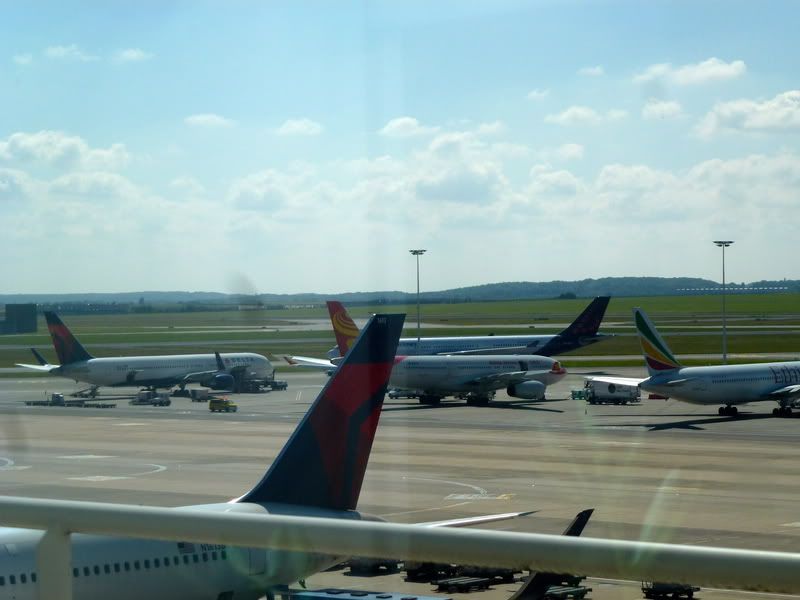 David and Goliath (oh, and Nils, when are you going to do one of those Tyrolean Dash operating for SN flights - I want to read a report about them?):
After the Leffe I feel much mellower and calm, so I decide to head onboard. I'm pretty sure I hear a small breath of relief from the front desk girls when I thank them and leave - maybe their bonuses are somehow affected by the number of passengers missing their flight.
The gate is right below the lounge which is nice. There are no queues anymore - another plus point for boarding late so after getting my boarding pass scanned (bugger, no beep signaling an upgrade) I walk directly onboard.
Finnair ad inside the walkway - actually quite clever to put these on the non-Schengen part: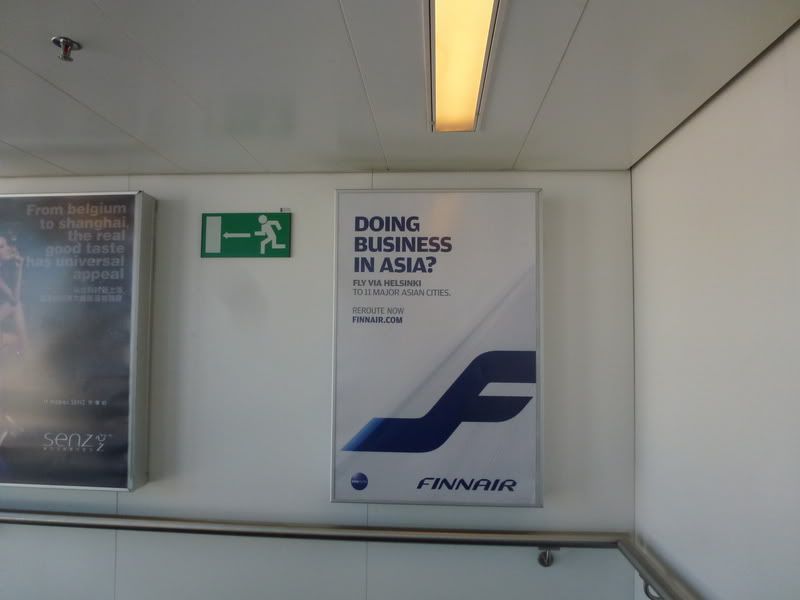 Hey, what's this: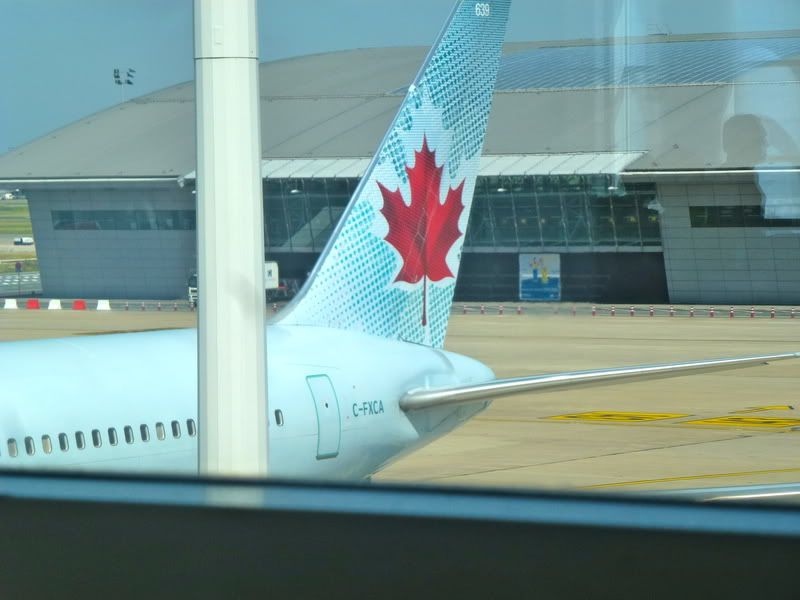 I checked the inbound flight's progress on flightradar24 and it showed C-GDUZ operating AC832 but this bird most certainly isn't that one. The only explanation I can come up with is that they switched the planes around, so this is the plane that actually broke down and was supposed to operate AC833 yesterday and that flight is now enroute with C-GDUZ. Oh well, in any way it will be a new registration for me so all is fine.
This bird is over 22 years old, having spent all of its life with Air Canada. Interestingly this was the first plane to carry the new (current) Air Canada livery, here's to that!
BRU - YUL
AC833
B767-300 C-FXCA
Seat 37A
11.23 - 12.42
Inside it looks like our whole crew is all-male, later when approaching Montreal I saw a single female FA who apparently served in the business class cabin, but apart from that it is all males, mostly young and mostly very friendly.
The cabin - apart from the small overhead bins you'd have a hard time knowing this bird's age - the XM program AC carried out some years ago certainly did them good: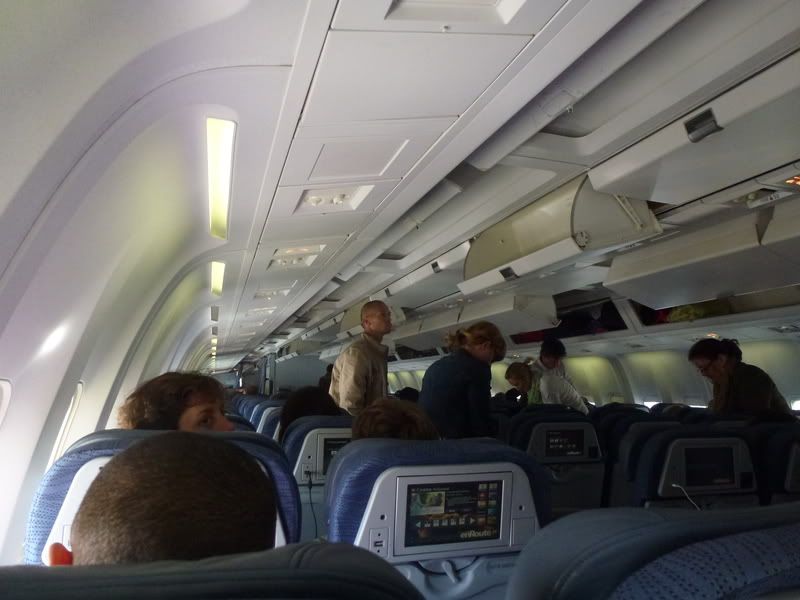 The legroom is fine: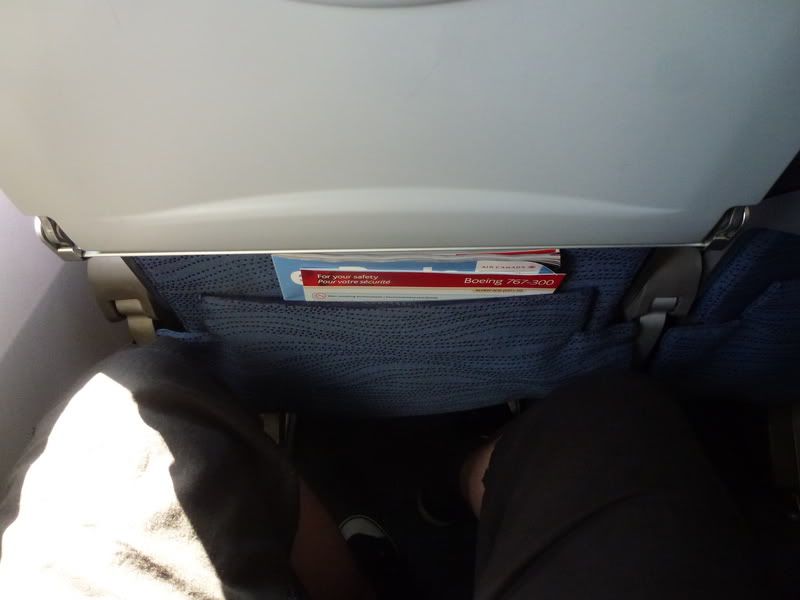 PTV: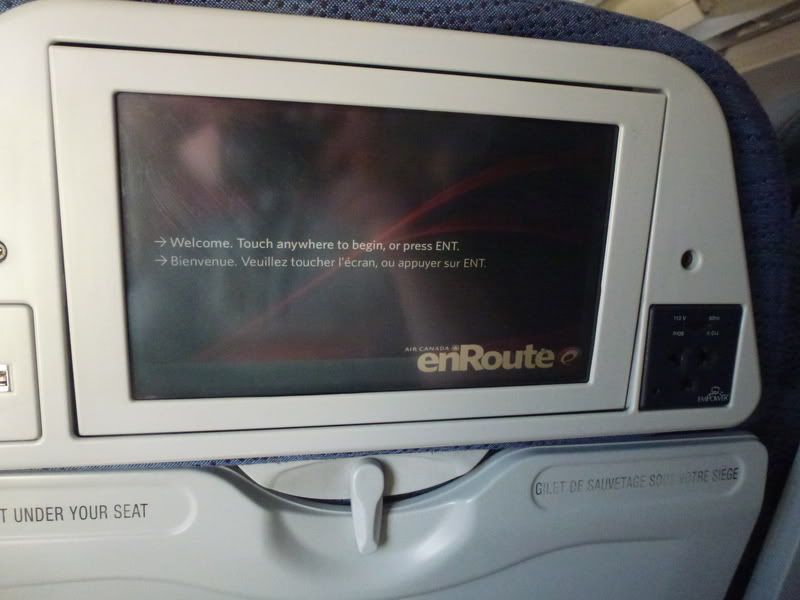 USB power (also notice the regular US power socket in the above photo):
Pillow & blanket: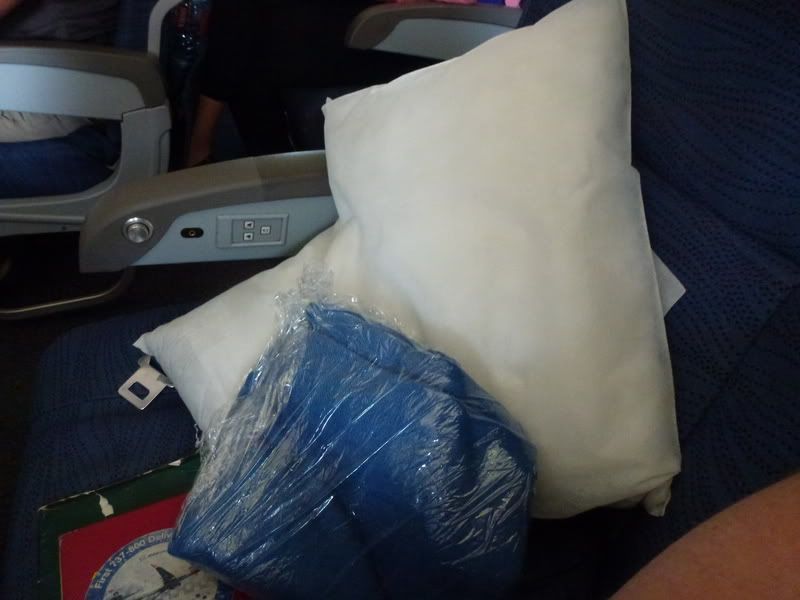 I lucky out on this flight - a free seat next to me, yay! Come to think of it on all my last four flights to or from the US I've had an empty seat next to me, that is a winning streak I certainly don't want to break!). The overall load in economy is maybe 80%, most of the empty seats are concentrated here in the back cabin.
The IFE system:
Personal "gaspers" as our Dutch friends like to call them - a very welcome feature not found on many widebody planes: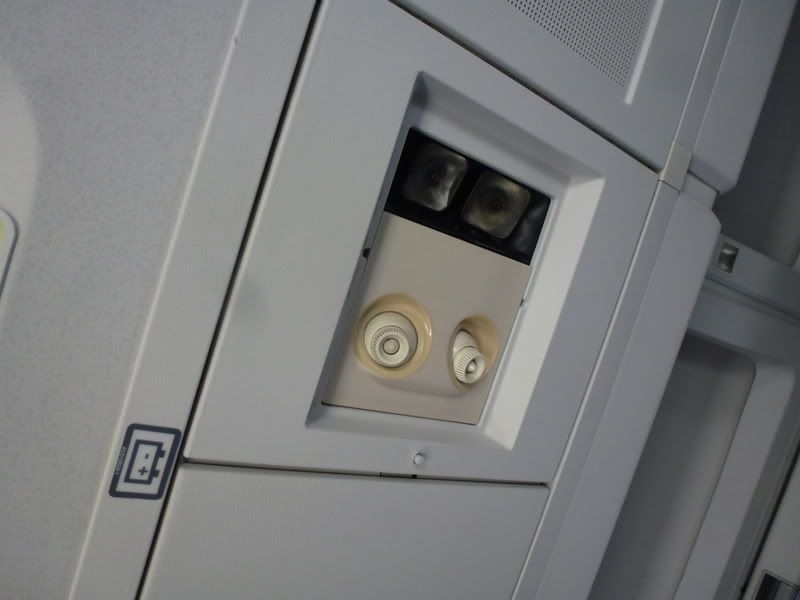 Our route today - having a free seat next to you gives you the nice ability to use the PTV next to you as a permanent airshow.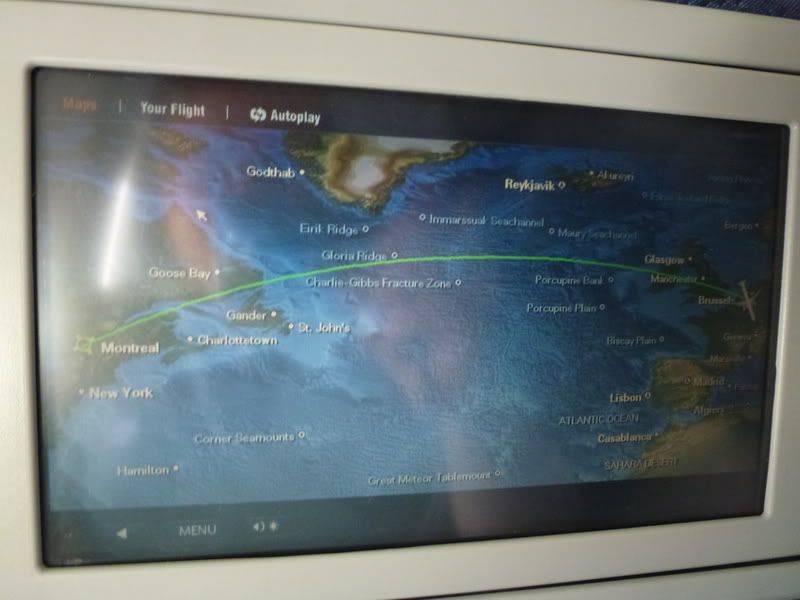 The captain makes a welcome speech, announces our flight time "gate to gate" as 7h36mins with 7h6mins "in the air" (why is is always the Americans and Canadians who are so exact with these times?).
The purser announces that our crew today speaks Spanish, Portuguese, Dutch and Italian, and I assume English and French as well.
It's a good thing I didn't bet with the guy on the queue about our delay as we eventually push back just 43 minutes late, eight minutes later that what they announced back then. Quite a remarkable achievement - looks like they really hurried checking in the rest of the passengers!
Pushing back: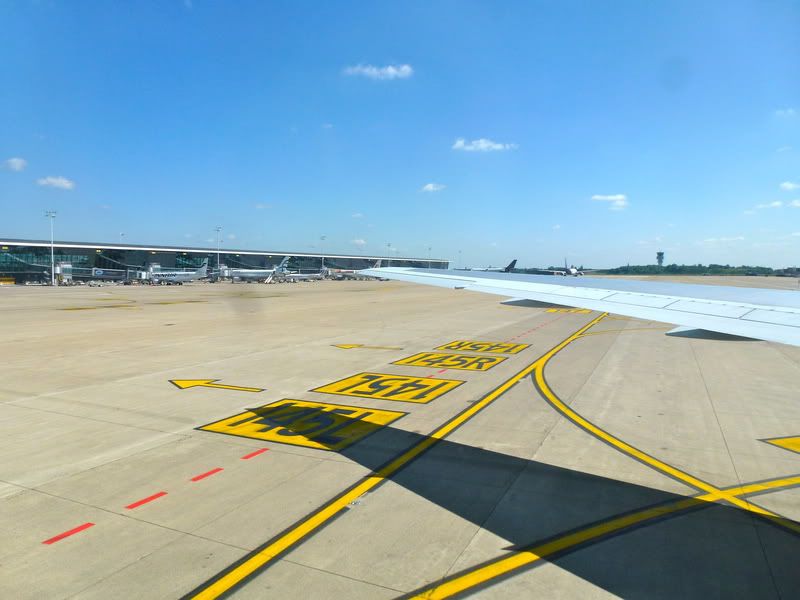 The giver and the taker: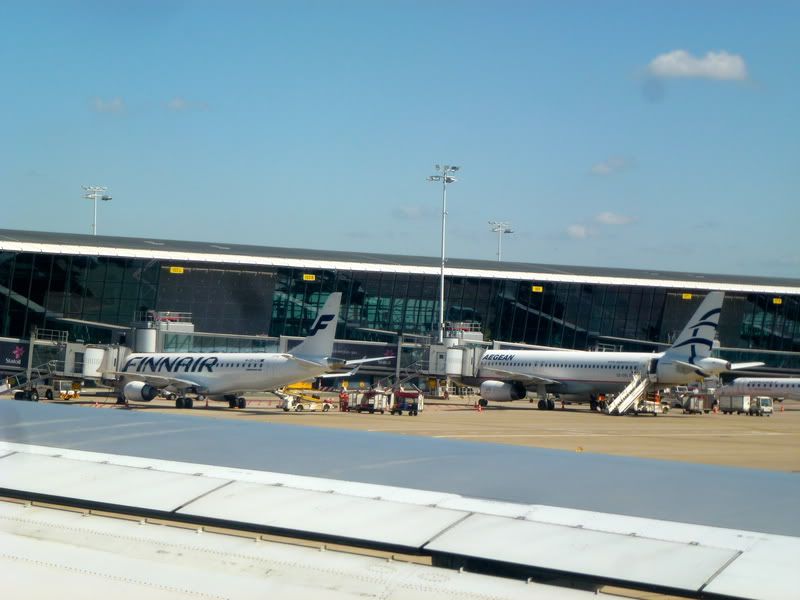 And a future taker: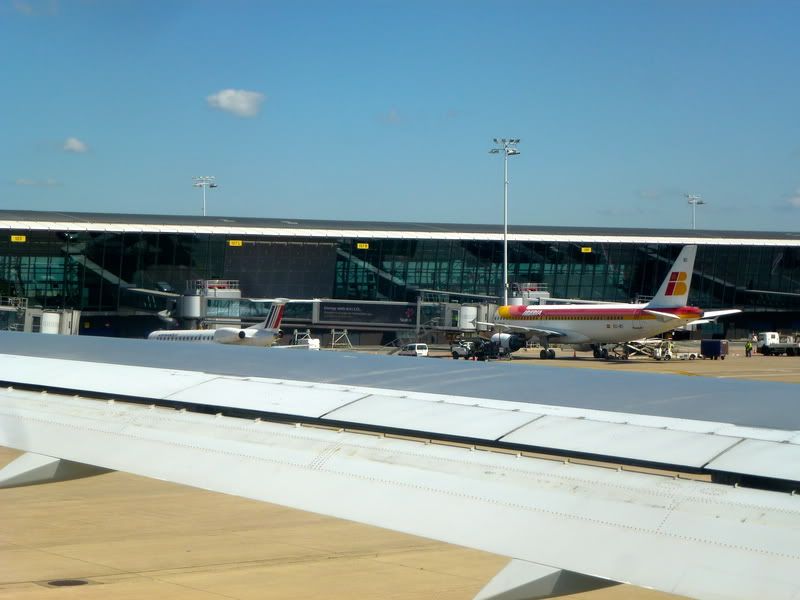 Tailing an SN A330 to 25R: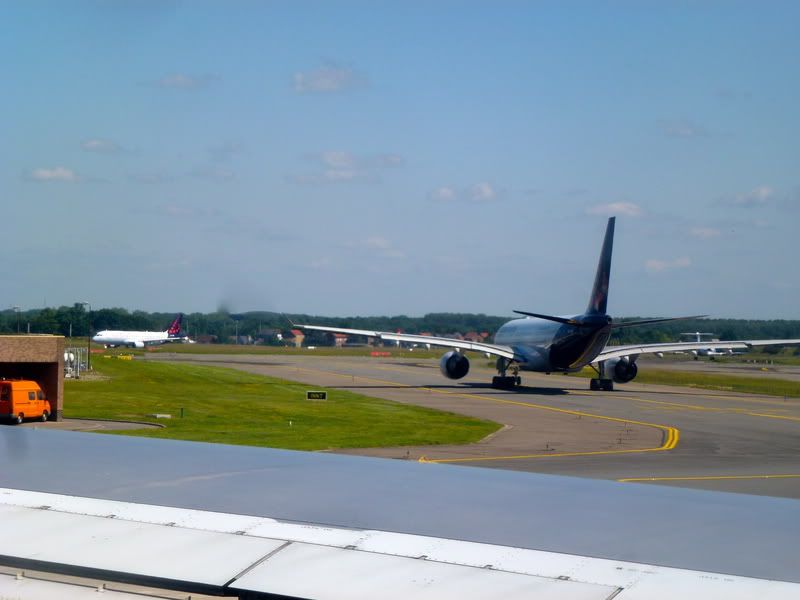 ...and overtaking it:
After a small Dutchling: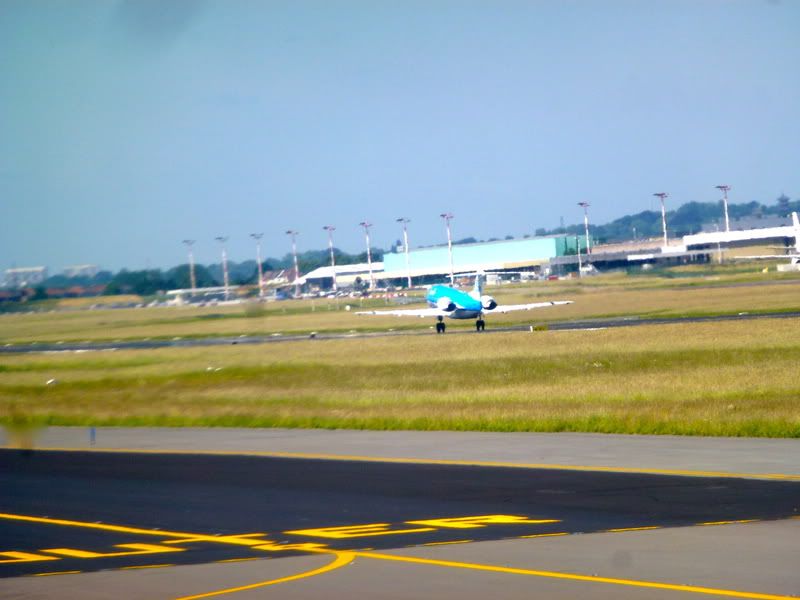 …it is our turn to go: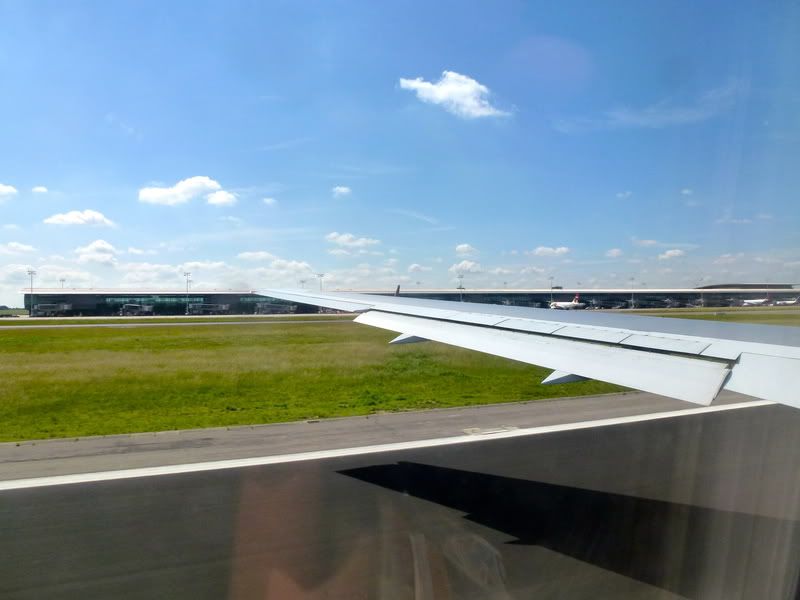 And off we go - part of the motorways leading into Brussels which Nils always talks in horror about: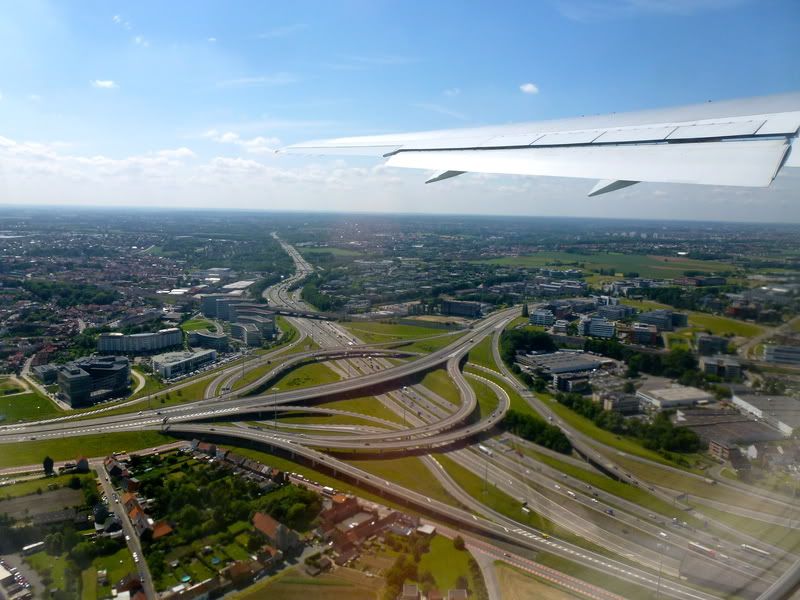 And here's Gare du Nord surrounded by Crook Highrises: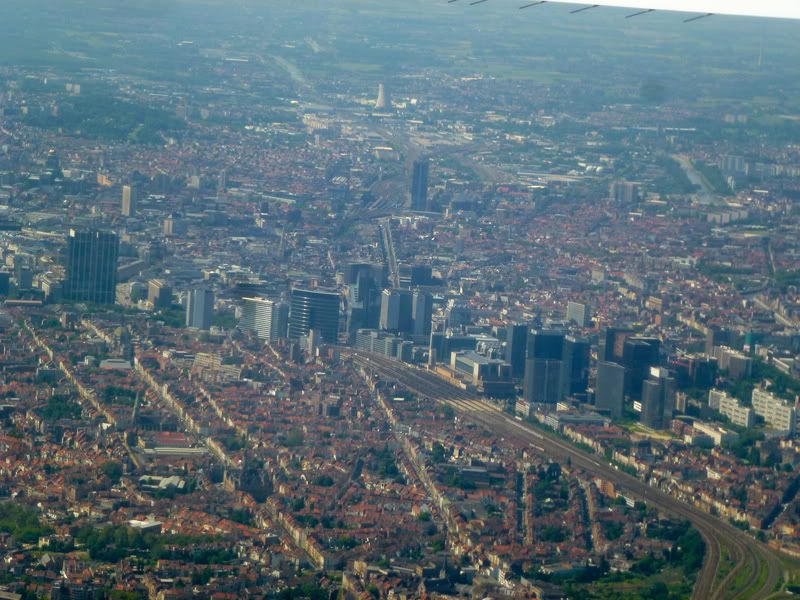 Nils seemed to be obsessed with me spotting the Atominium so here it is: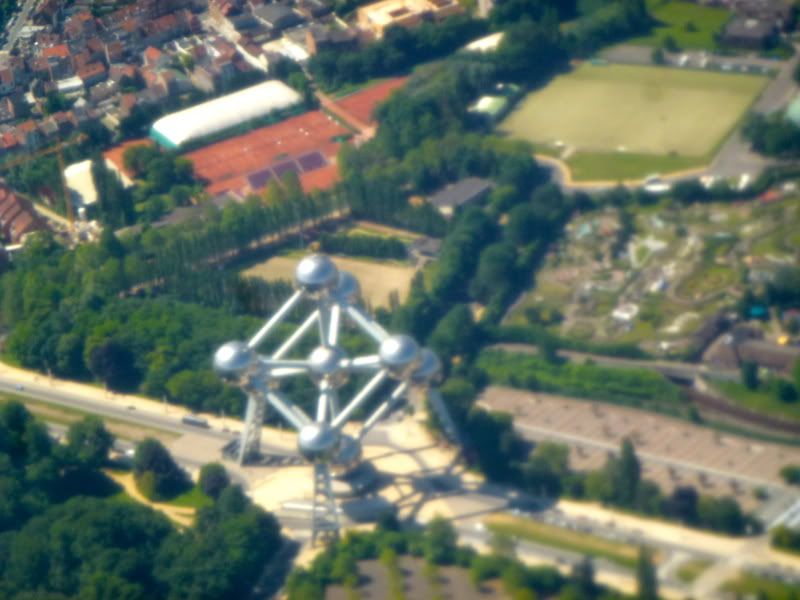 The town of Aalst: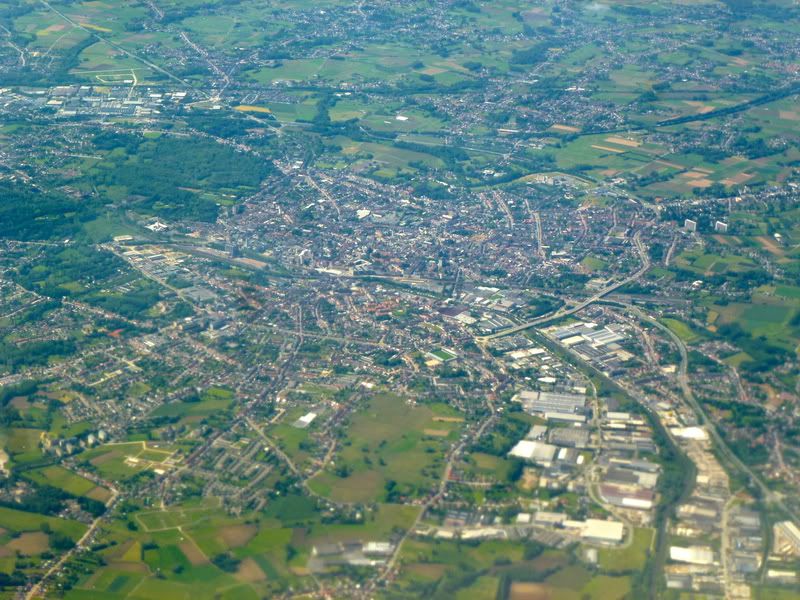 Indeed nice weather over Belgium today:
City of Ghent - another place high on my TOVISIT list: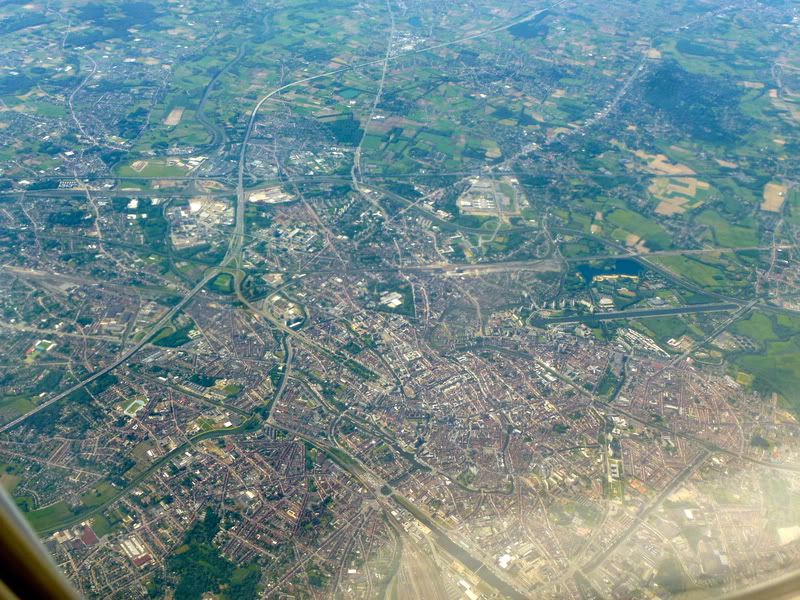 That quickly downed Leffe soon took its toll so as soon as the seatbelt sign was turned off I head into the loo - here's a shot for Jonas the Lavatoryphile: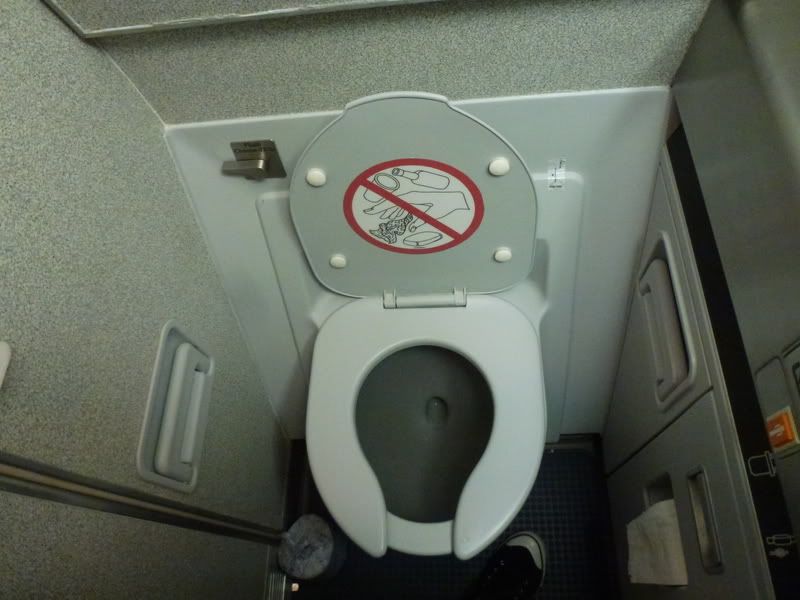 Cabin view: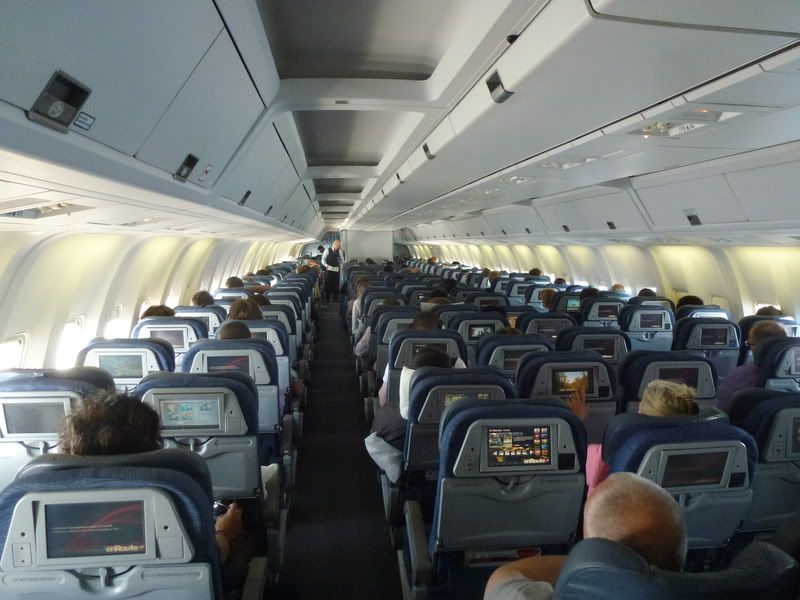 By the time I get back to my seat we are already above the Belgian coastline - Nils is somewhere down there enjoying the rare sunny day (Hi Nils!):
Directly over Oostende Airport - when will Ryanair start flying there calling it "Rotterdam South":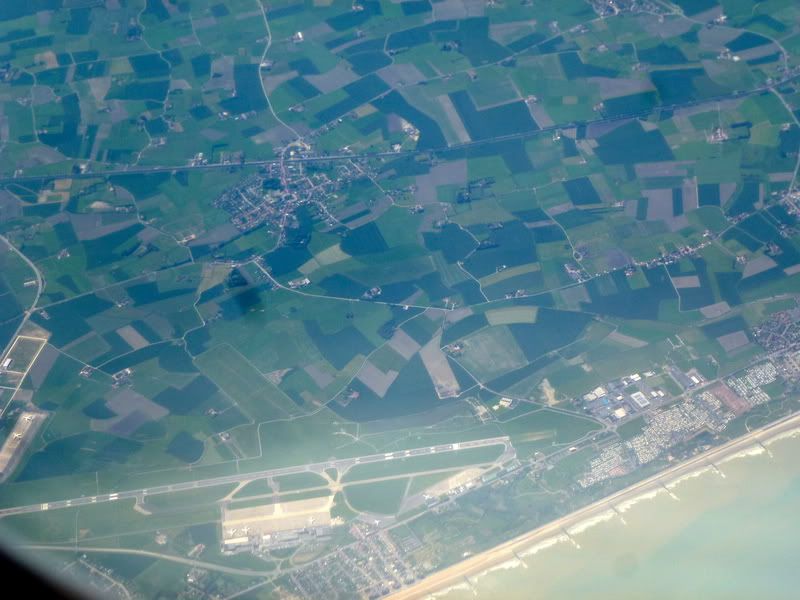 The Channel is quite narrow here - you can see both mainland Europe and Old Blighty: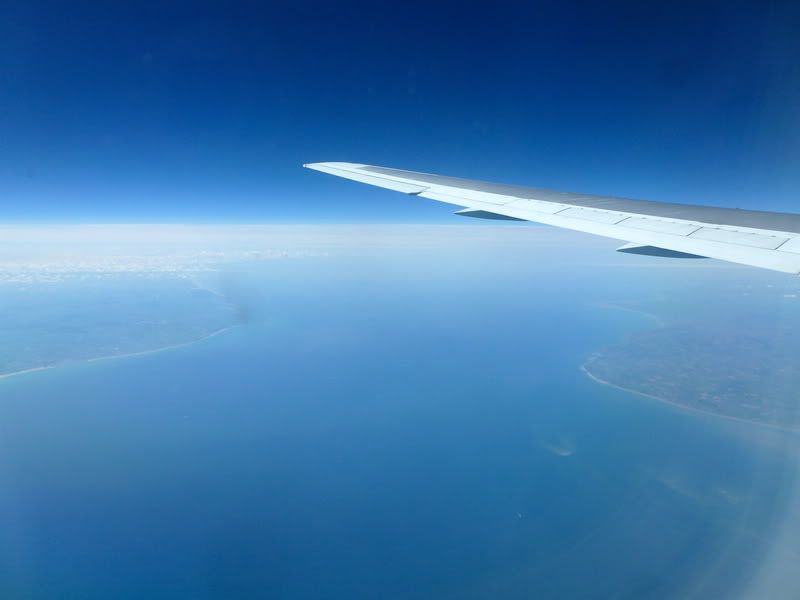 Hey, the White Cliffs of Dover:
The famous Chatham Dockyard can be seen down there:
Very typical, as soon as we get nearer to London clouds start gathering:
...which will eventually obstruct all views until mid-Atlantic or so: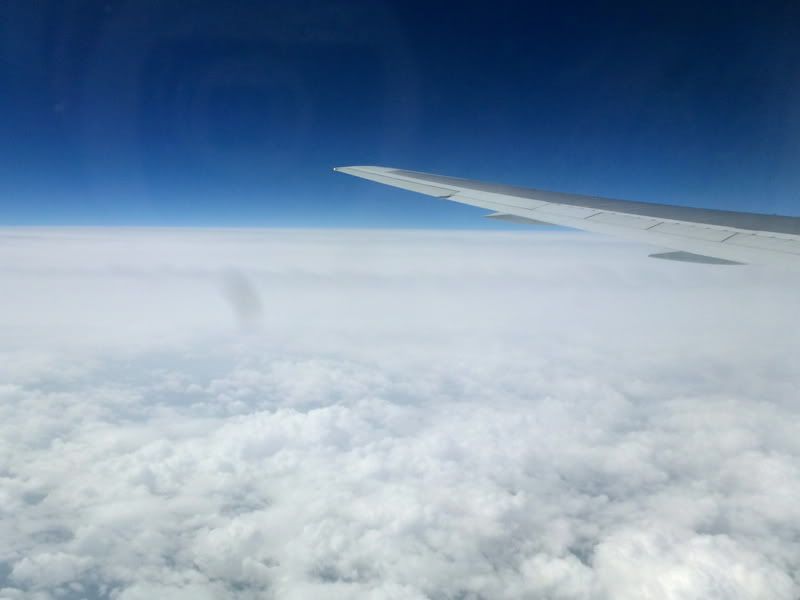 Crossing England: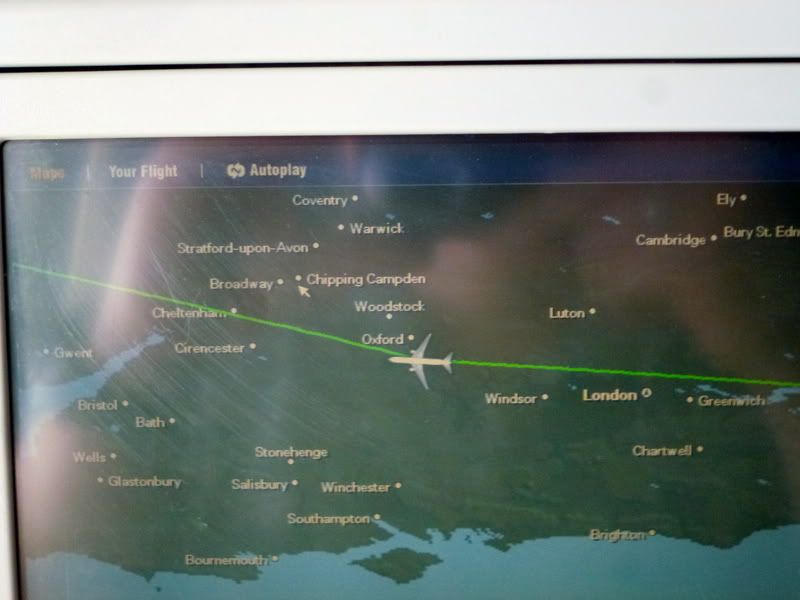 Well, I've got plenty of reading material with me, so let's start with those: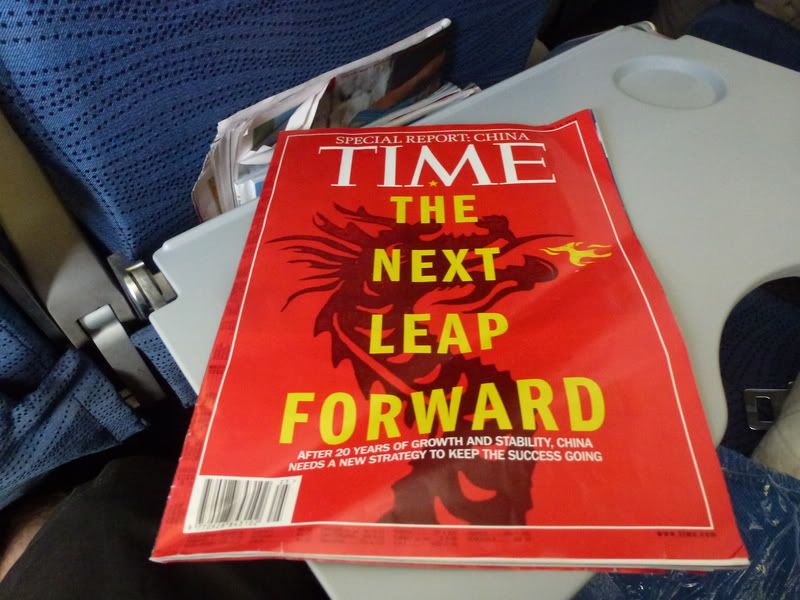 Another random fact about Finland: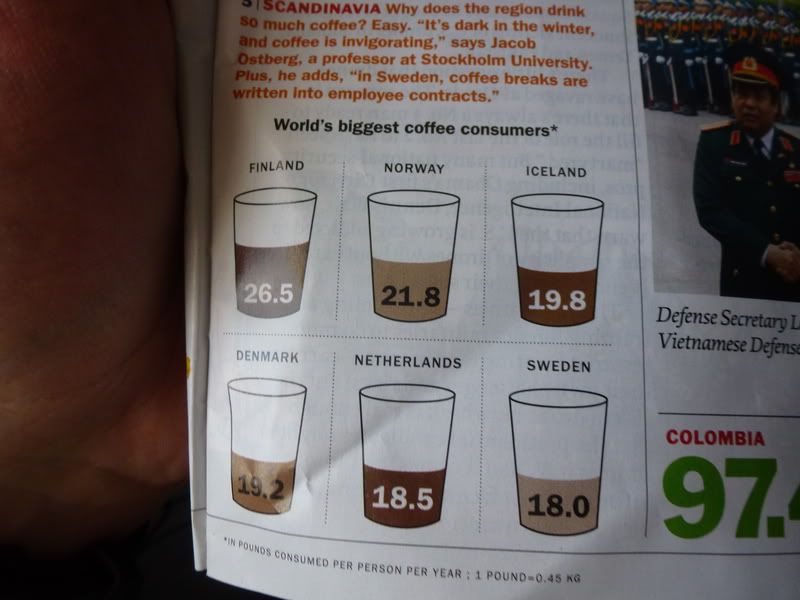 Somewhere over the Irish Sea the service carts reach my row. The choice is "chicken or pasta". I decide to go with the pasta - it is hard to completely ruin and this is what I get:
The main course: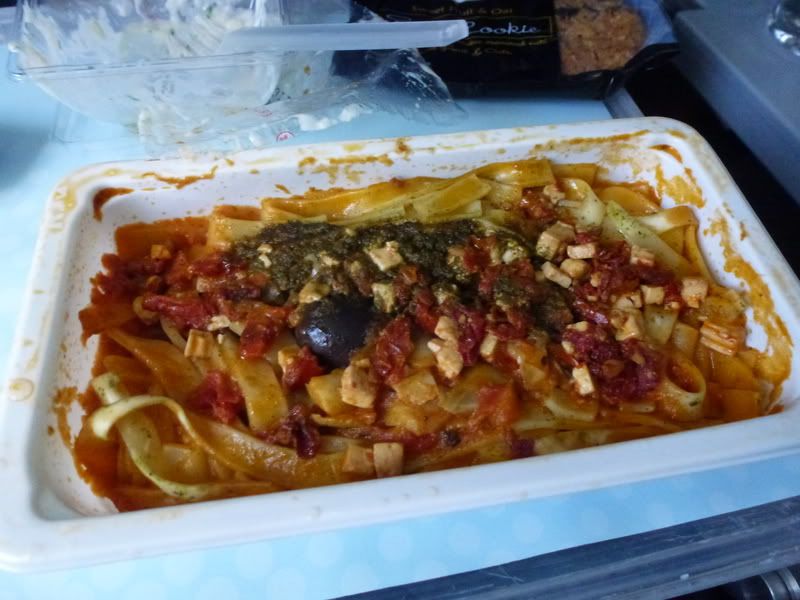 It is on okay Mediterranean-style pasta with taglietelle, tomato sauce, pesto, sundried tomatoes, fetaish cheese and olives. Very nice and tastes good - and I am quite hungry by this point!
On the tray there was also a bottle of water, a small potato salad appetizer (nice), an okay bread roll (not warm, but not icy either) and a very nice oat cookie for dessert.
The super friendly young male (what else) FA is already reaching for a bottle of red wine when he asks me what I'd like to drink so I say "Keep reaching for that bottle, that is exactly what I'd asked for!" - "Oh yes, I read your mind. I know what you like.". Nice. Also no problems getting a second bottle, hear that KLM:
Stylish: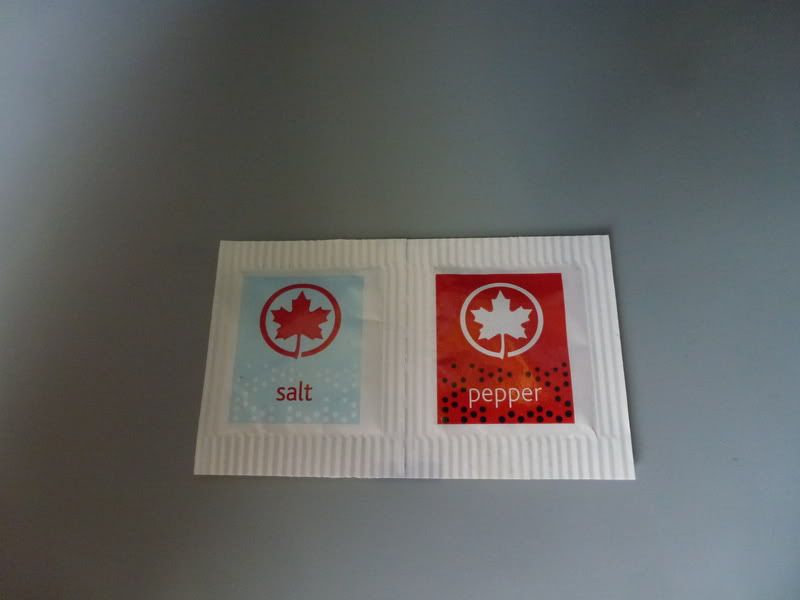 Enjoying good food while starting my 13th transatlantic crossing: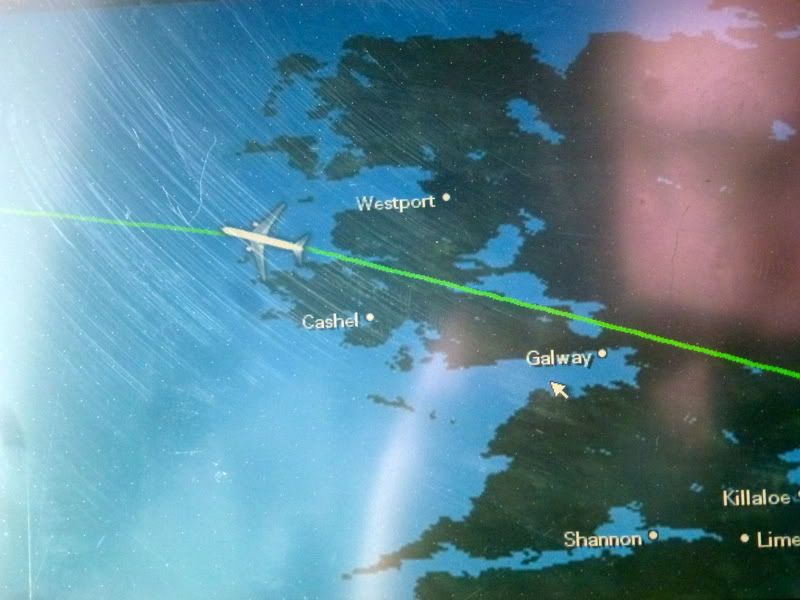 Not a long way to Tipperary right now, but still a long way to Montreal: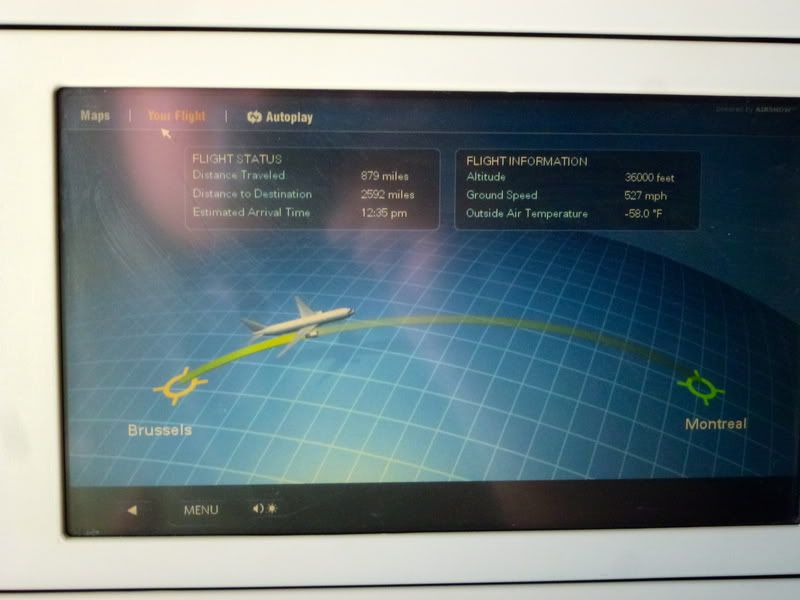 Coffee, the styrofoam cup is the only thing I dislike, despite the nice maple leaf logo: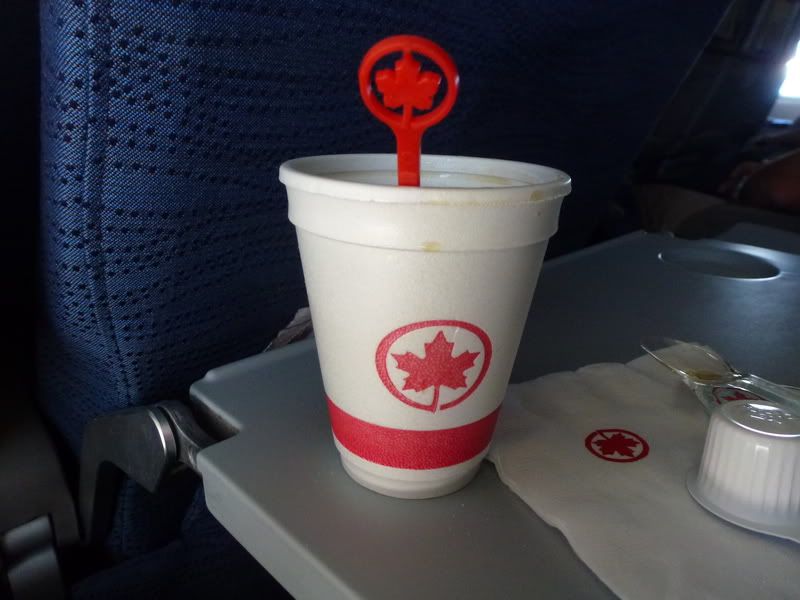 After lunch I lean back and decide to watch the Iron Lady - an excellent but sad movie about the best Prime Minister the UK had since Sir Winston Churchill: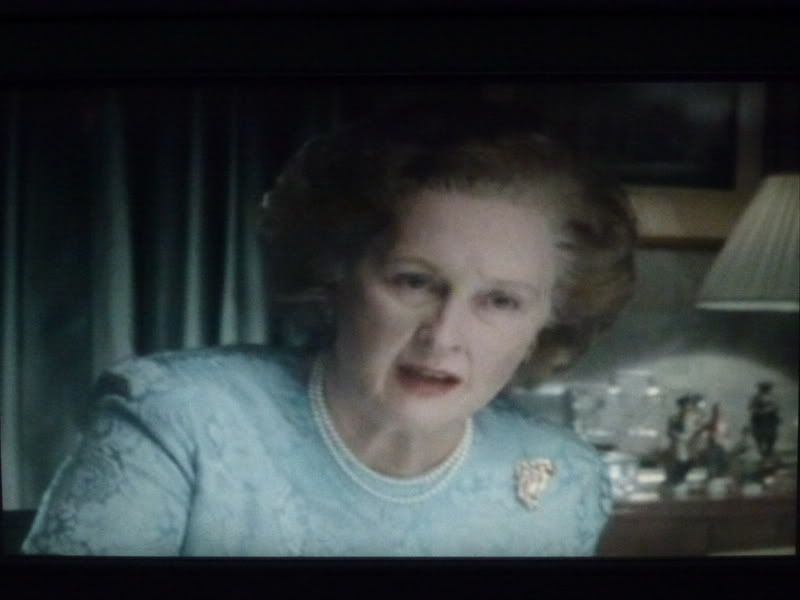 I'm also thrilled to learn they have Molson Canadian onboard - I learned to like this beer a lot during my previous visit to Canada: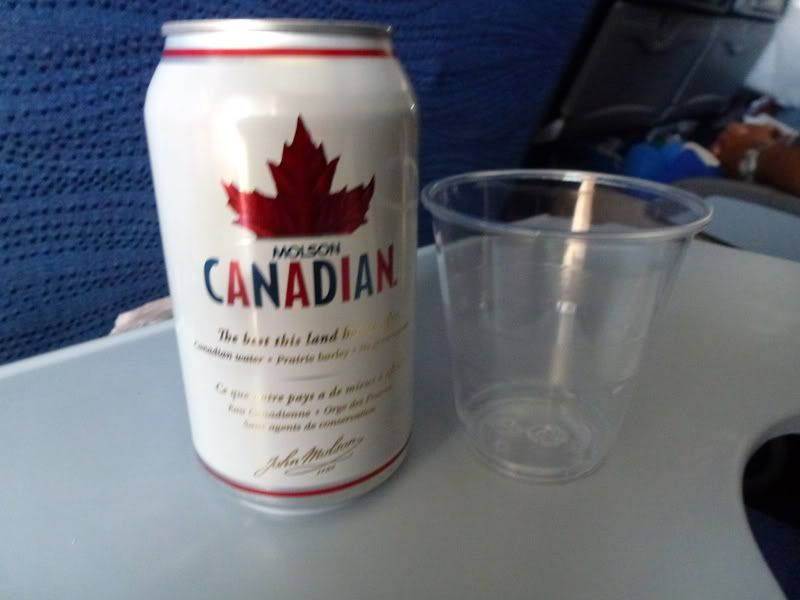 After finishing the movie I decide to get some shuteye which comes easily with some nice tunes from the audio part of the IFE.
Almost two hours later I wake up to see that we have already almost reached Canada: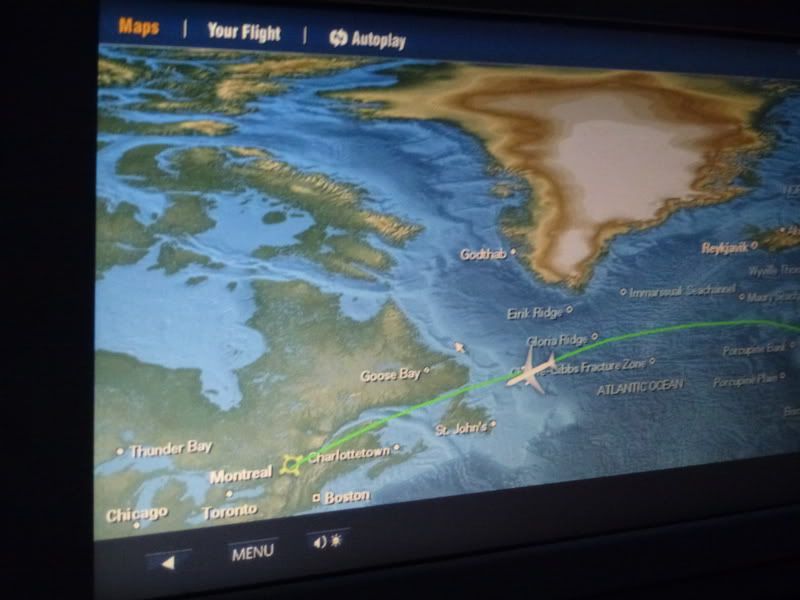 Looks like I have found some new land: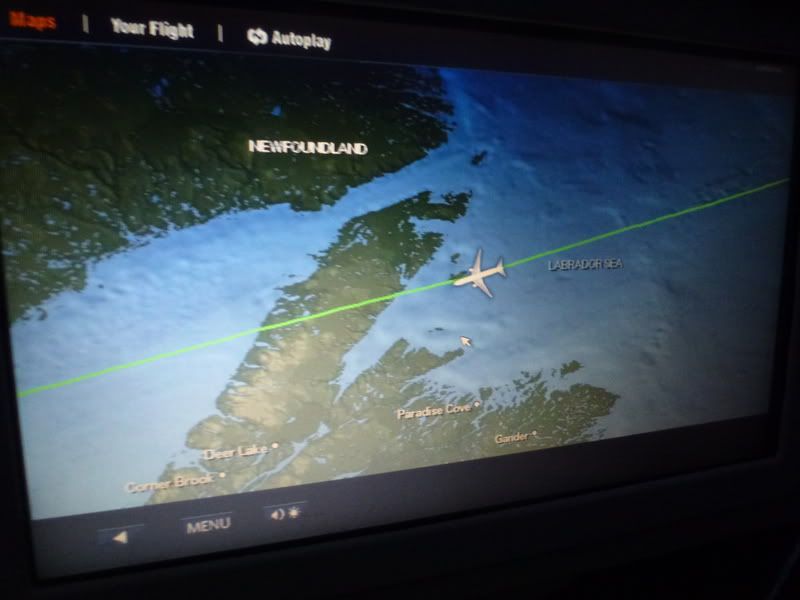 Soon enough the snack service commences. As Marc predicted it is one of these ubiquitous Monty's wraps - the choice is a veggie or a beef one and since my lunch didn't consist of any dead animals I just have to go for the beef one which is supposed to come with Ale but actually comes with a Molson Canadian:
Hello, Canada: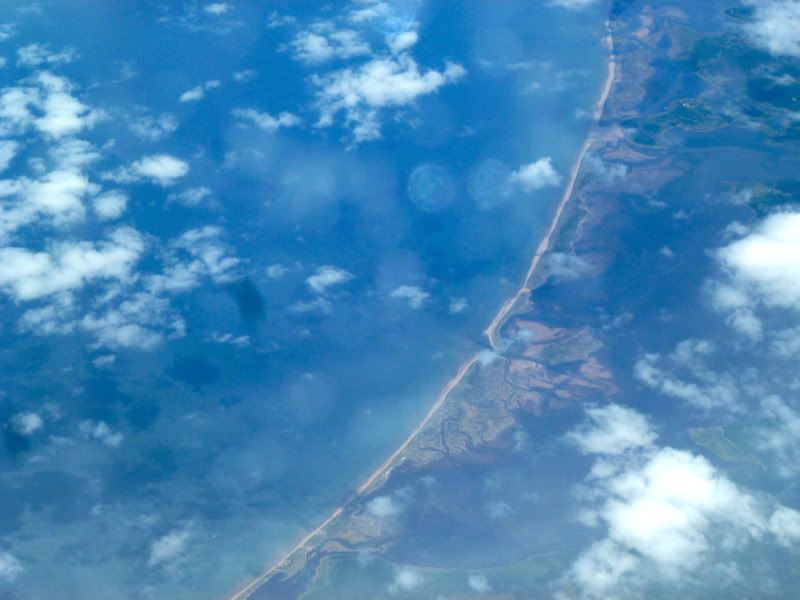 Miramichi Airport in New Brunswick - the town of Miramichi is somewhat famous in Finland due to a huge Finnish-owned pulp mill there: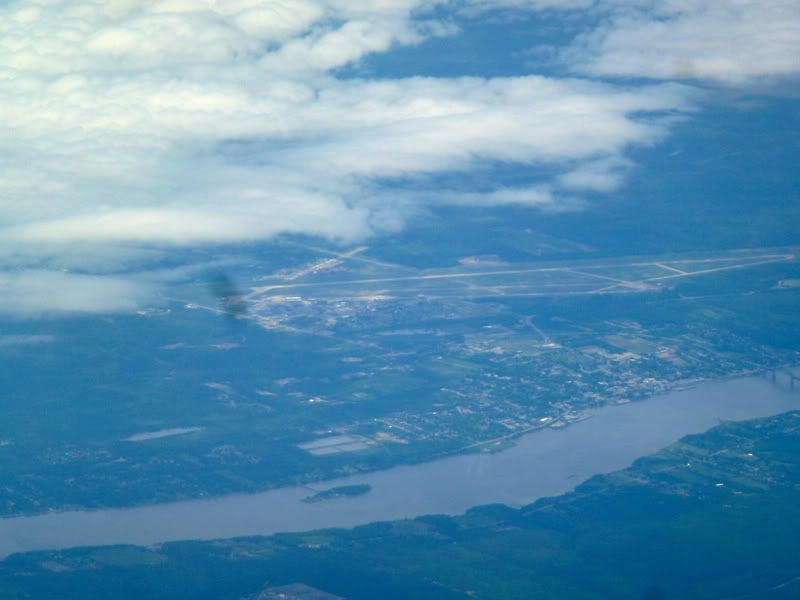 "A lone and lonesome highway, somewhere east of Quebec City":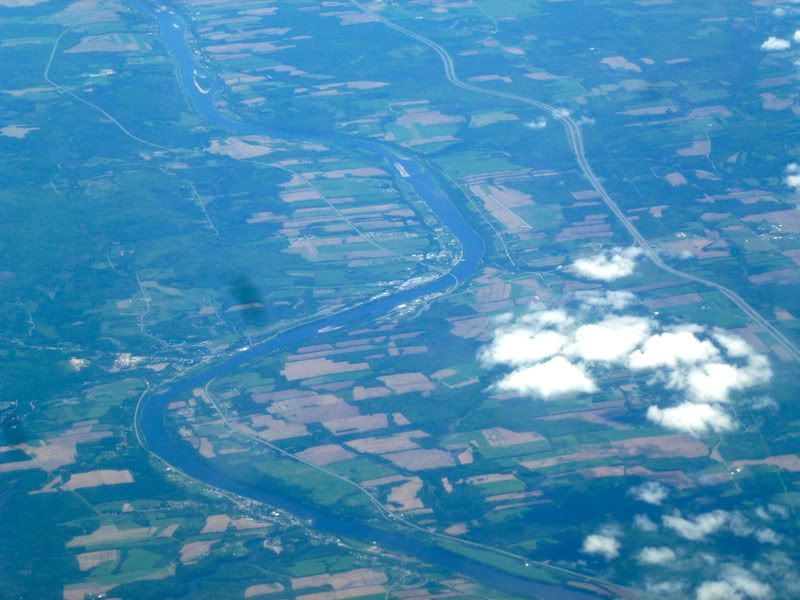 Almost there: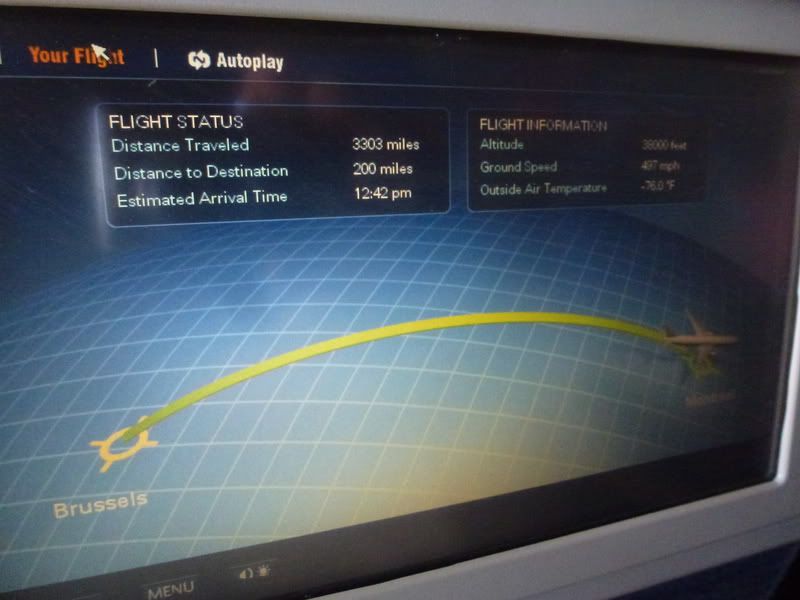 This town with a huge open pit mine is called Asbestos - I wonder if they have a high occurrence of cancer down there:
Saint-Hyacinthe, Quebec - gotta love that name: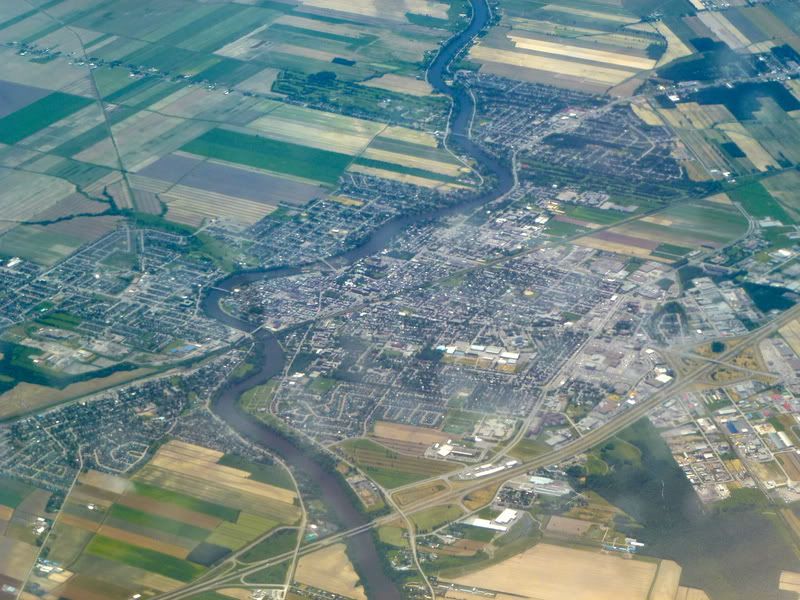 Top