Introduction
On 25th May 2011, Singapore Airlines made an extraordinary announcement. It was made known to the world that they were going to launch a long haul low cost carrier operating Boeing 777-200ERs handed down from them but has yet to give it a name and reveal further details. However, it was known that it will fly to destinations like Australia and China with a 2-cabin service, Premium Economy (known as ScootBiz now) and Economy.

Scoot's concept livery (Photo taken from Scoot's Facebook page)
Excited at the prospect of a new Singaporean airline, I followed the airline's news whenever it popped up. The airline name was finally announced in November last year - Scoot. Short and sweet! Apparently, they will start operations with 2 Boeing 777s, namely 9V-SQA and 9V-SQC to be re-registered as 9V-OTA and 9V-OTC respectively.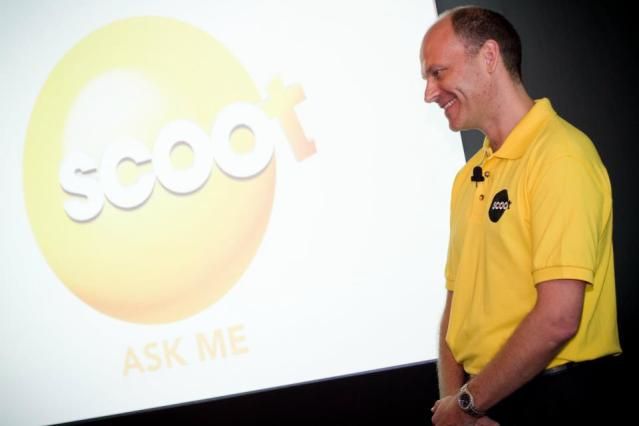 Scoot's CEO, Campbell Wilson at Scoot's official launch in November 2011 (Photo taken from Scoot's Facebook page)
The first destination of the airline was finally announced early this year - Sydney. This was not what most of us had expected, a direct competition with its parent airline. Gold Coast was announced shortly after that, followed by Tianjin. The announcement of the Tianjin route was accompanied by revealing the Chinese name of the airline - 酷航. It essentially means "cool airline" in English.

The CEO is rarely the face of the airline, but here he is again, introducing the Chinese name of the airline (Photo taken from Scoot's Facebook page)
The most exciting moment came when the airline opened reservations for SIN-SYD and SIN-OOL respectively. The SIN-SYD route was due to start on 26th June as stated initially and that made lots of aviation enthusiast alike book the flight on that day, hoping to be on the inaugural. Our hopes were then dashed when in April they announced that the inaugural flight would be on 4th June, what a bummer! However, despite all the hoo-hah, I managed to secure a fare of S$491 (306 EUR) for SIN-SYD inclusive of taxes, credit card fees and the "super seats" selection at S$30 per way for both ways.
There were no news of the first aircraft being rolled out in the bright yellow and white livery until around 2 weeks before the flight and the test flight was done exactly a week before their inaugural flight. It was an exciting day for Singaporean aviation enthusiasts and lots sped down to Changi Airport to catch a glimpse of the beast. Some lucky ones even got a picture and got onto the banner news, as per shown above.

Scoot crew with their first aircraft (Photo taken from Scoot's Facebook page)
The 2 Scoot "babies" were soon named via a naming contest open to the public. No voting was done but "Barry" and "Goin' Scootin'" was chosen for the names of the 2 babies. I normally have no problems with aircraft names, but "Barry" just doesn't do it for me.
Scoot had their first flight on 9V-OTC, nicknamed "Goin' Scootin'" on 4th June 2012. However, it was delayed for around 2 hours due to a technical fault in the aircraft. Besides that, Scoot had very poor on-time performance during its first few weeks of operations with delays up to 6 hours on a certain Gold Coast flight. A good explanation was given by their chief engineer on the Facebook page which was a pretty nice touch and I would love all airlines to do something like that.
Booking a flight to Australia also meant I will log a new continent. Having never flew out of Asia before in my entire life (furthest I've been to was Dubai) this was certainly a dream I have been wanting to fulfill for years. I have decided to make a detour to Adelaide to visit Ish, one of my long distance friends whom I have not met for a year.
Going on this Scoot flight also meant I had completed some "achievements" personally.
- First Scoot flight
- First visit to Australia
- First flight out of Asia
- Crossing the 100,000km flown threshold (around halfway through the flight)
- Longest flight in my life
Not a bad record, I suppose?
Booking Process
Booking was done on their trendy website
www.flyscoot.com.
It was a pretty easy process and my confirmation was sent to me minutes after completing my booking. I was able to choose my seats and make payment without any problems.
The flight cost S$491 in total inclusive of Super Seat selection at S$30 per way. I remember not having enough money in my debit card account and I had to activate one of my friends for an emergency transfer of funds over to my account which he gladly helped. Thanks, Adrian!
However, a call to their call centre less than 12 hours before my flight gives me the impression that their service leaves much to be desired. Firstly, the sound quality was the worst I have ever experienced. The sound was muffled, choppy and I could not even hear what the operator was trying to say. Guess there were some problems on their side. I tried requesting to change my seat from a "Super" seat to a "S-T-R-E-T-C-H" seat but was told that I had to pay S$168 (!!!!) for one way. On the website, Super seats were an extra S$30 while Stretch seats cost S$99 so I was fully expecting to pay only S$69 per way. I let the agent (which sounded like a Filipino) know about this and she came back to me with a price of S$198, which was still way over what I expected (S$138). She put me on hold several times to check the price and each time she mentioned that she will get back to me within 24 hours despite me telling her that my flight will depart in less than 12 hours.
Not a very pleasant experience to speak of, especially when it gives me a slight headache just trying to listen to what she's trying to say due to the bad sound quality. Think of it as a handphone at a place with very poor reception but I do not understand how it happens between 2 landline phones.
Pre-Flight
I arrived at the airport an astonishing 7 hours before my flight. Of course, I did not come this early for no reason. I was slated to meet fellow a.netter
yapple
for dinner and some spotting session. We even caught 9V-OTA, aka Barry flying back from SYD as TZ 1. Coincidentally, it will also fly me to SYD today. Pretty boring day for the aircraft, I guess. It was also my first ever sight of a Scoot aircraft.

All packed and ready to go!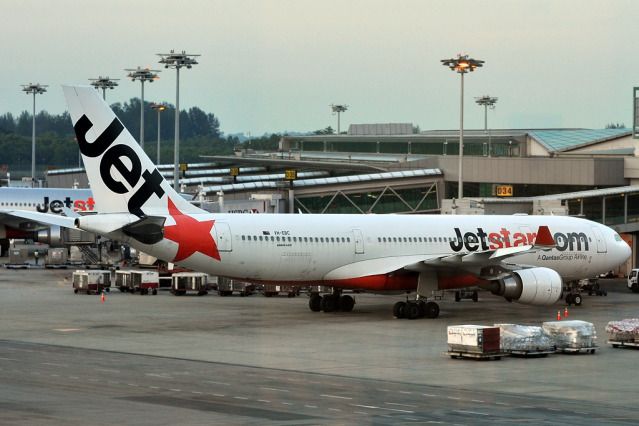 Special visitor here today, VH-EBC of Jetstar which I nicknamed "Albino"



Our friend from Bangladesh makes an appearance too



Here comes another from Indonesia



9V-OTA arriving as TZ 1 from SYD (Photo credits Yap Wei Heng)



Dinner time!
At around 10.30pm, I bade goodbye to yapple after a pretty nice chatting and dinner session. Thanks for the company! I then headed over to Terminal 2 row 10 where Scoot operates their check in counters. I enquired for an upgrade to ScootBiz, wanting to do a first on a.net report on that but apparently all the window seats are sold out. Sorry, probably next time!

Still the best FIDS in the world!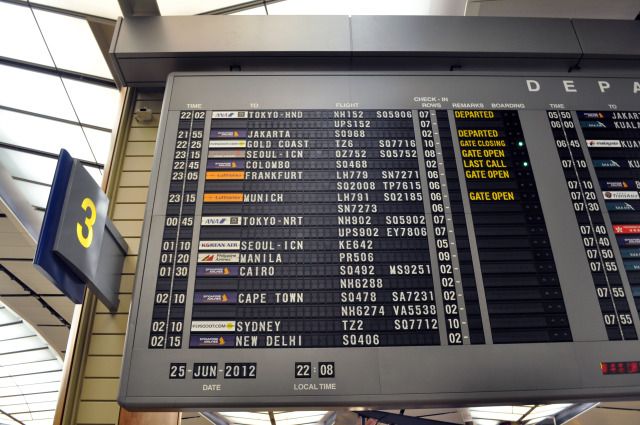 Spot my flight!



Oh man, such a long walk to row 10...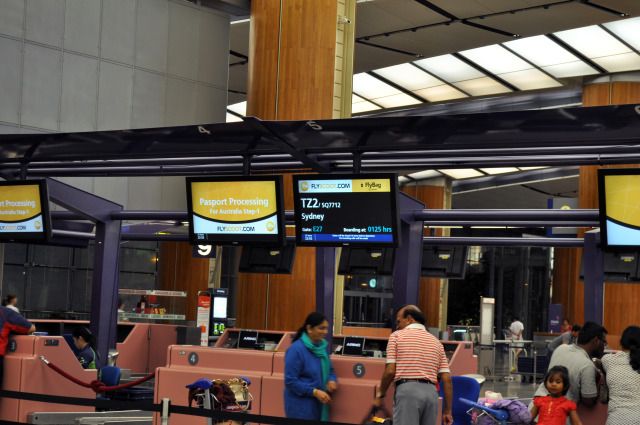 The Scoot check in counters
I was greeted by a pretty kind agent at the check-in queue.
"Good evening Sir, to Sydney today?"
"Yes"
"May I have your passport please?"
"Sure"
"Do you have an Australian visa?"
"Yes I do"
"Thank you Sir, you may head to counter 8 to check-in"
At counter 8, I was yet again greeted by another kind agent.
"Good evening Sir, may I have your itinerary please?"
"Here is your boarding pass Sir, we will be boarding around 30-40 minutes before takeoff so please be at the gate before that"
"Yes, sure"
"Is there anything else Sir?"
"I guess that's all"
"Thank you and enjoy your flight"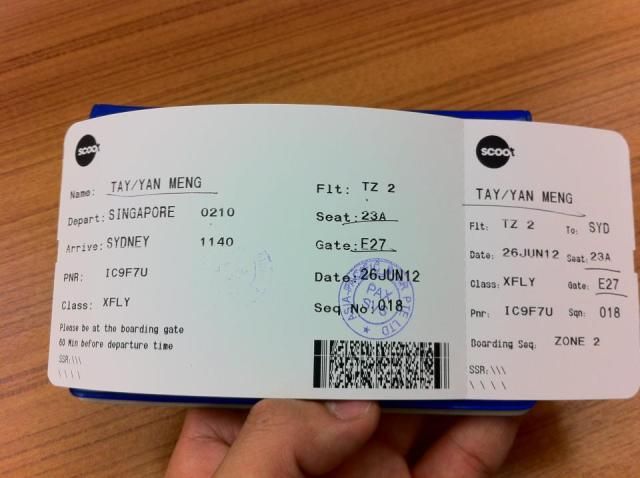 My boarding pass
I headed to the gate, E27 right after immigration since I had nothing to do. I remember arriving at the gate at around 11.15pm, way before the gate opens at 1am. This meant that I had around 2 hours so I used my laptop while awaiting another fellow a.netter,
moosecamel88
to come meet me.

Quiet place before the midnight rush starts



I wanna be a millionaire!



Sydney, here I come!
We had endless topics to talk about from photography to flying and even our army days. The gate was finally open at 1am and I am on my way to Scoot out of Singapore!
The Flight
Scoot Flight TZ 2 - 26 JUN 12
Origin
: Singapore Changi Airport (SIN/WSSS)
Destination
: Sydney (Kingsford Smith) Airport (SYD/YSSY)
Registration
: 9V-OTA (Barry)
Aircraft
: Boeing 777-200ER
Scheduled Time of Departure
: 02:10am
Actual Time of Departure
: 02:23am
Scheduled Time of Arrival
: 11:40am
Actual Time of Arrival
: 11.54am
Airborne Time
: 7h 31m
Class of Travel
: Economy
Seat
: 23A
Security check was pretty fast but I was told that I had to empty my bottle, as usual. However, the agent did not allow me to drink inside the gate and I had to drink outside instead. What's the logic behind this, I don't know. In the end, I chose to throw the bottle away but ended up regretting.
Scheduled aircraft today was 9V-OTA, aka Barry. She was ex 9V-SQA from Singapore Airlines and has been owned by the airline ever since it has been delivered. It is one of the oldest Boeing 777-200ERs in the Singapore Airlines fleet. It also features derated thrust which certifies it at a lower MTOW as it was used for regional flights.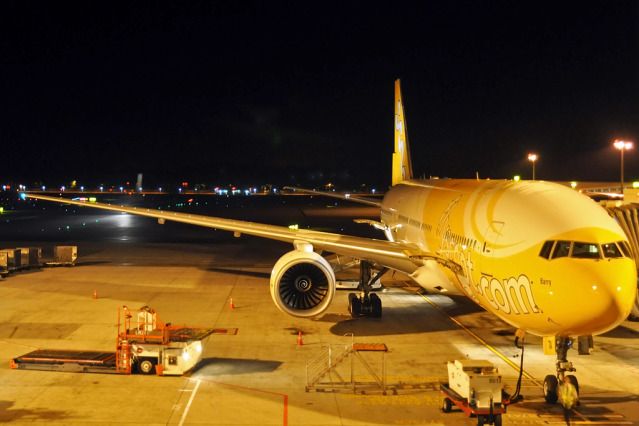 "Barry" parked at E27
It did not take long before boarding began at around 1.35am. Boarding was called by rows and I was glad to be one of the first groups to board as my seat is in the mini cabin of the aircraft, which meant that I will turn left instead of right after boarding at door 2L. It certainly feels special turning left instead of right!
There was a cheerful flight attendant at the door but she actually directed me wrongly when I showed her my boarding pass. Well, being the geeky me of course I knew the right direction to go! The first impression of the seat was that the legroom was pretty sufficient but the seats were sort of hard. Not very comfortable for an intercontinental flight, but good enough for the price I paid.

My seat for the 7h 30m flight



A mini cabin! Who needs ScootBiz? :p



Legroom was pretty decent too



The infamous cabin crew call button which most people pressed accidentally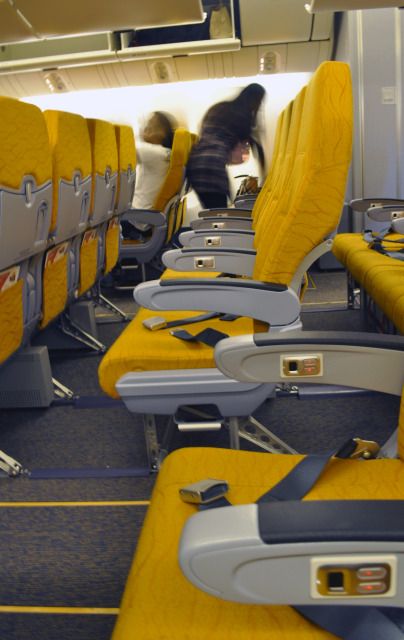 Another look to the cabin
As boarding completed, I was pretty glad that I had the whole section of 3 seats to myself, a huge plus to the low price I paid! This meant more space to stretch out and no need to bother anyone to let me out when I walk around for cabin pictures or use the lavatory. We pushed back at 2.08pm and headed off to runway 20R for takeoff.

Onboard menu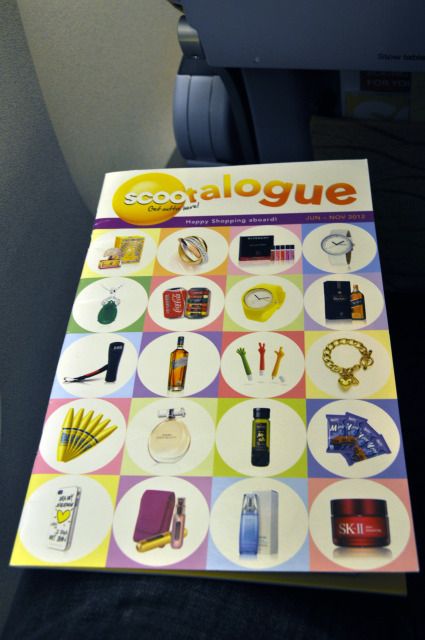 I love this name, the Scootalogue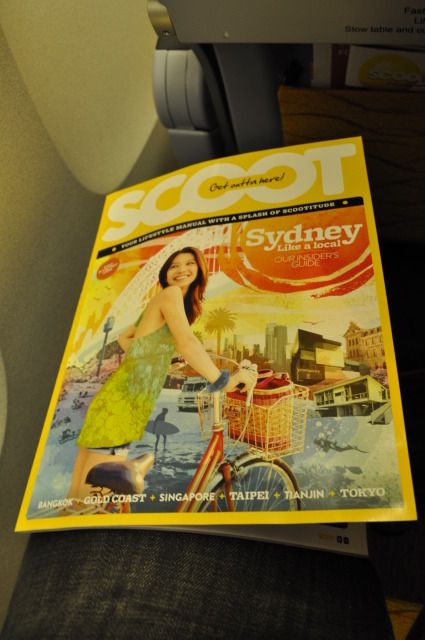 And the magazine, telling you to Scoot =)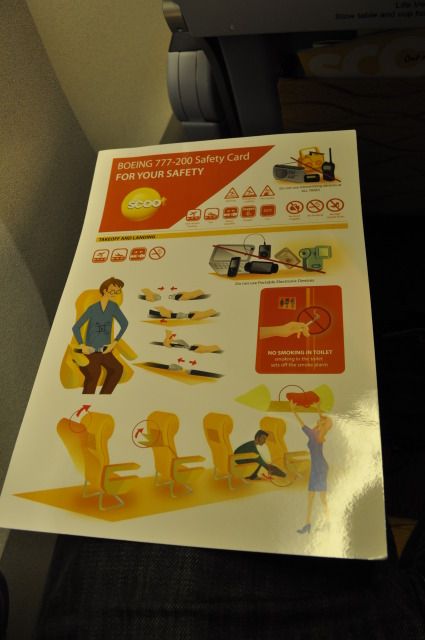 Being a fun airline, this must not be missing too. However, I'd have expect some humour in it (Is it actually allowed though?)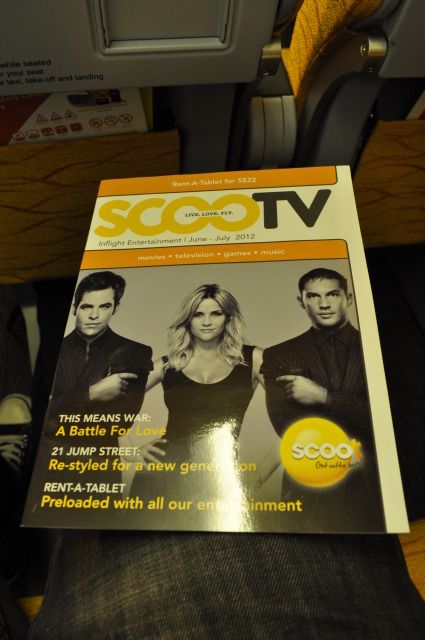 The guide for Scootv, which you can rent iPads for S$22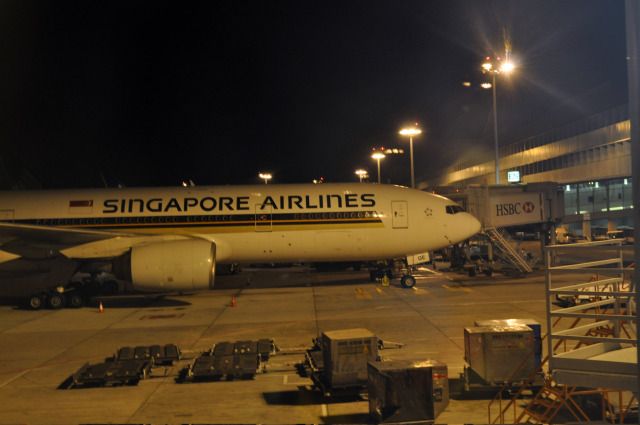 You might be flying for Scoot next time, watch out...



Cabin crew doing safety demonstration
The takeoff felt pretty powerful and soon we lifted off Singaporean soil bound for Sydney, which will be my first ever venture into a new continent. The beautiful city lights came into view soon after takeoff but sadly I was unable to capture any.. However, it was completely dark outside soon after takeoff, but I can't help but to notice the beautiful starry sky that accompanied me on my journey. Even they are happy for me! The cabin remained pretty quiet for around an hour after takeoff which I assume that the crew are preparing the meals for BOB.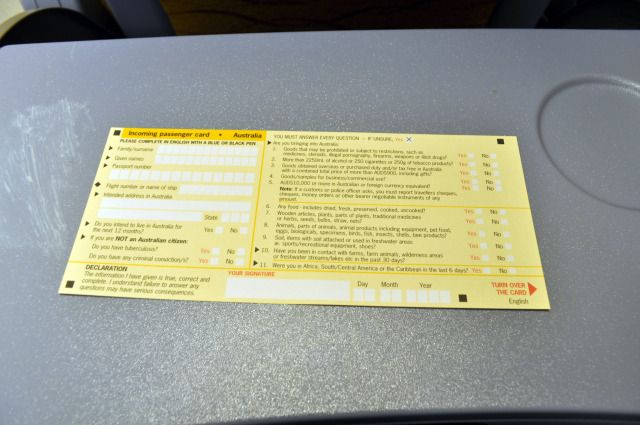 Only activity after takeoff - Handing out landing cards for Australia
Finally, the crew started taking orders for the meal service. I decided to go for a meal combo which consisted of a hot dish, a drink and a snack for S$17. I opted for the Soya Sauce Chicken, 7-Up and fruits. I was told that the hot dish would require a wait of 10-15 minutes which was fine by me. The uninterested f/a then brought me my drinks and fruits, accompanied by an Evian luggage tag which was a free gift that came along if you ordered any hot dish + pepsi product. The food was fantastic. The chicken went well with the rice and the aroma basically filled the air around me.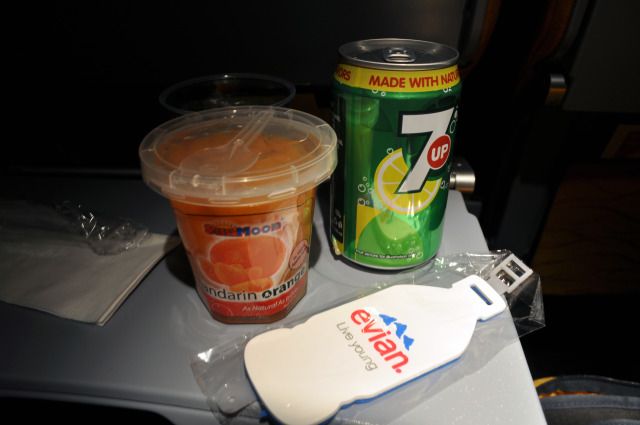 Drinks and snacks brought to me first with the luggage tag



My meal - Pretty tasty!
I finished my meal and started a little bit on this trip report before heading to sleep, with my rubbish still uncleared 30 minutes after I have finished my meal. Just as I started to fall asleep, I heard the f/a clearing up my rubbish. As I had some difficulties sleeping, I decided to purchase the comfort pack onboard to use the inflatable pillow and for my personal collection. However, it seem like they love ignoring call bells. I pressed the call bell and waited for 5 minutes, no answer. I pressed several times more and in the end I gave up and fell asleep. This is a very poor standard from Scoot I can say.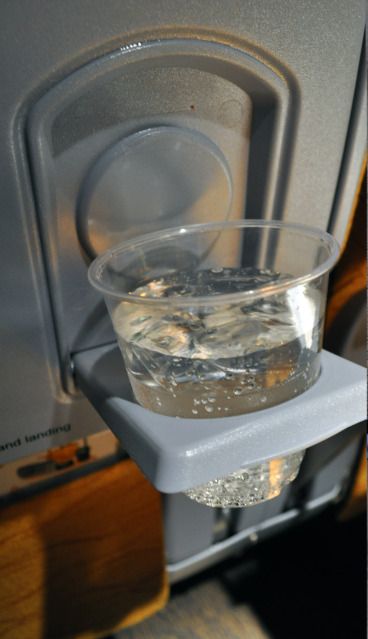 Chilling out
After around an hour's worth of sleep, I woke up and noticed that we were about to cross into Australia, signalling my logging of a new continent and possibly passing my 100,000km flown mark somewhere near too (was around 3000+ km to that number). The sunrise was simply beautiful, I'll let the pictures do the talking!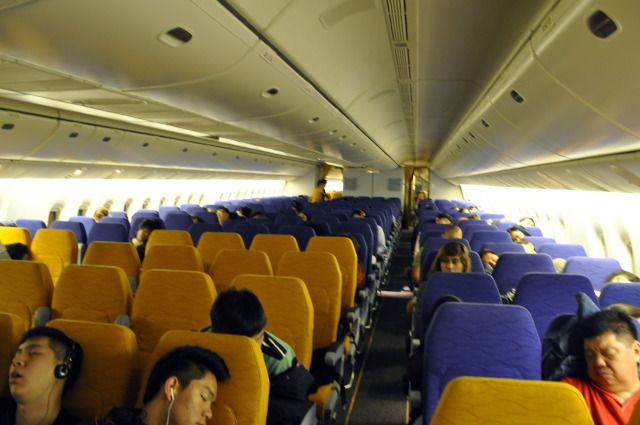 Walking around the cabin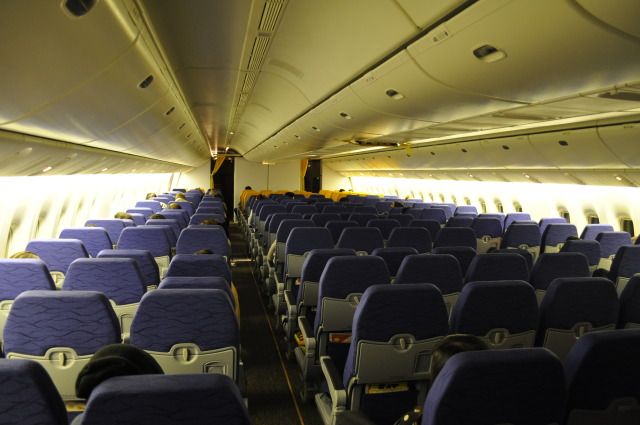 The cabins more or less look the same, less the colour of the seats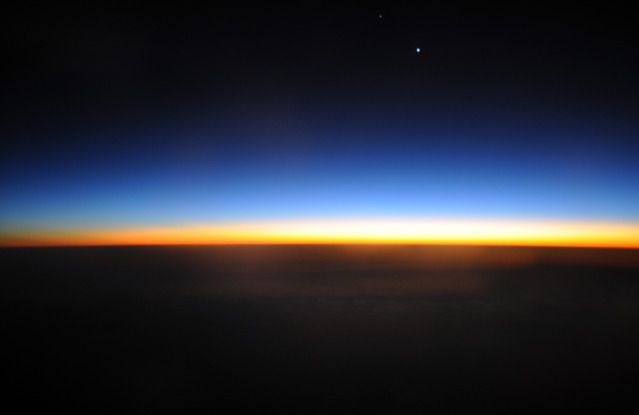 Mr. Sun popping out somewhere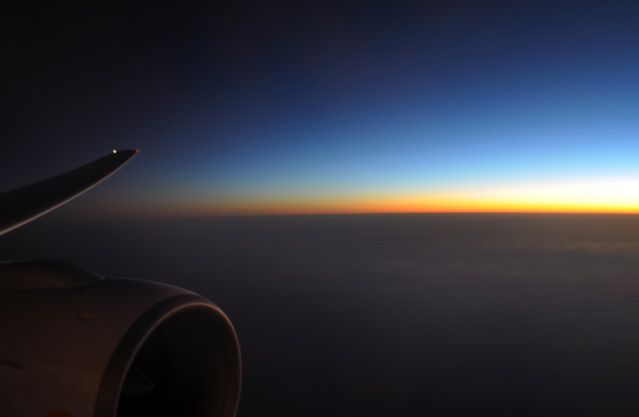 This is simply why I love flying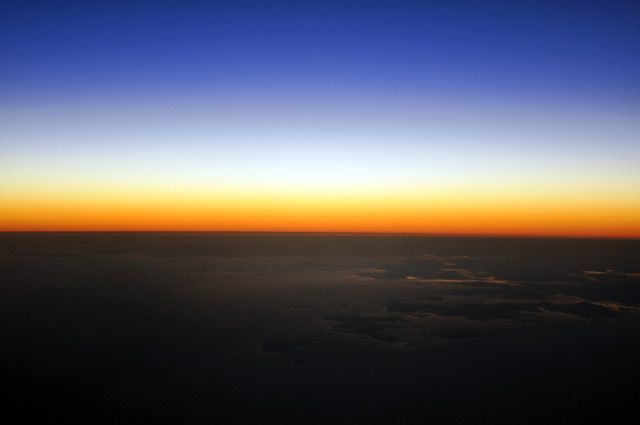 Greetings Australia, nice to meet you for the first time!
Cabin service started once again with the crew asking around if anyone wants anything for breakfast. As the row in front of me was served, I decided to call on the f/a to order some food to be replied by a very rude and impatient "Can you hold on?". Thumbs down for Scoot once again!
She approached me 5-10 minutes later and took my order. As I had several items to order, I went through one by one. It seem like she was in an extreme rush or something, I just ordered my first item and she seem to be prepared to scoot off somewhere else. Alas, my items were brought to me fast enough too. As she brought me my croissant first, I took a picture of it. As I clicked my shutters, my cheese and crackers and tea arrived too. After she saw my enormous camera she became friendlier than usual, probably thinking I am an airline critic or something? Well, I'm unofficially one I guess, or you won't be reading this!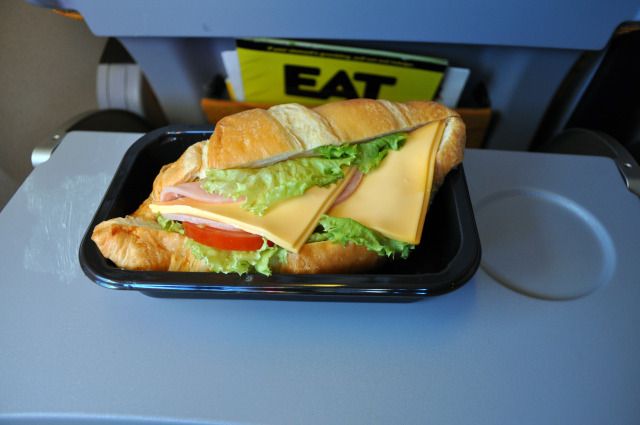 My long awaited breakfast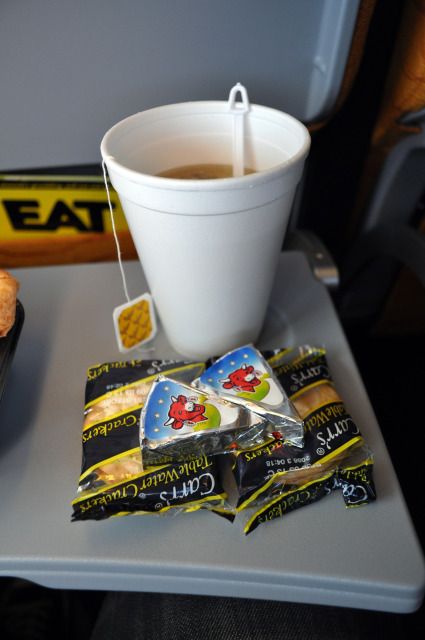 Cheese and crackers with tea, to keep me awake for the entire day of travelling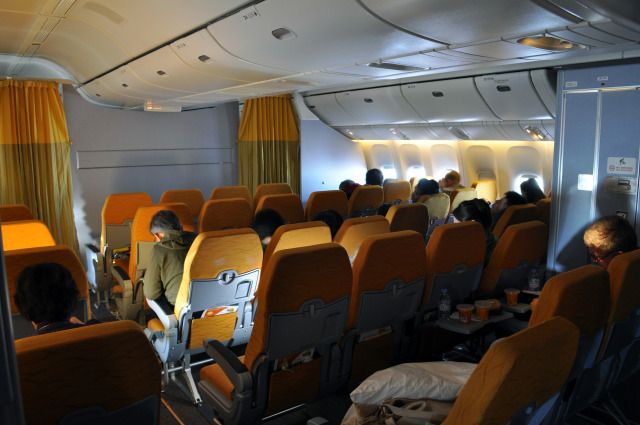 Cabin is alive once again
Captain announced at around 11.10am Sydney time that we will be arriving into SYD at around 12.05pm, pretty late from our scheduled 11.40am. However, I had a pretty long transit so I didn't have to worry. We were also put into a holding pattern northwest of Sydney, experiencing my first holding pattern with myself actually being aware of it.

Turning for holding pattern



Nice Australian clouds



Turned pretty foggy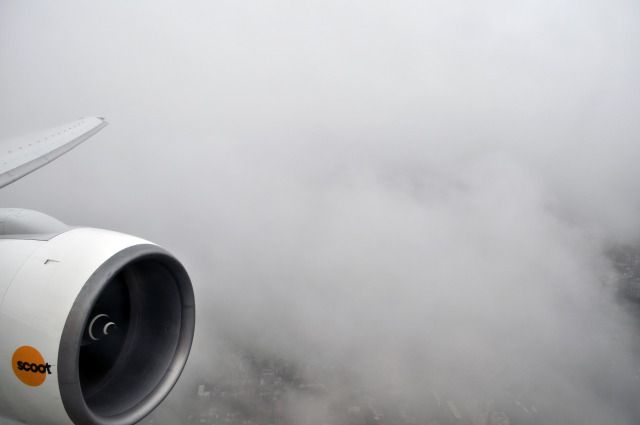 ..To cloudy



Greetings Sydney!



I'd assume this is the CBD of Sydney



More views



About to make my debut appearance on Aussieland, are you ready?



Good morning Sydney!



Barry making a huge announcement that another person has logged a new continent while passing by runway 07/25



Probably even heaven was touched that it's tearing



Thanks for the flight, Barry!
We finally touched down in SYD at 11.54am, ready to explore a whole new continent.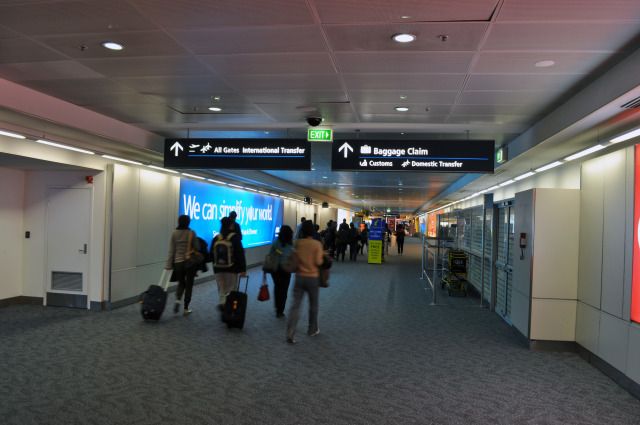 Walking to immigration



After immigration - Looks pretty plain I think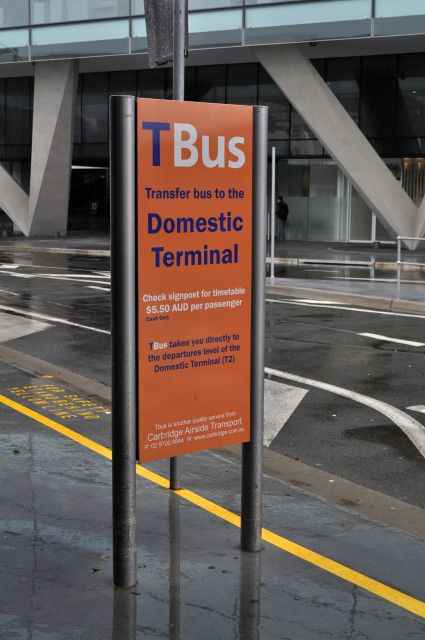 This was where I met a kind Australian lady - How? Look out for the next TR =)
Conclusion
Scoot was an average carrier. Service wise, their ground staff was top-notch but their call centre and onboard service leaves much to be desired. There were also no announcements or whatsoever onboard to let the passengers known what was happening. Being a new airline, I'm sure there are rooms for improvements as hope Scoot will get better and better as time goes by. Having being unhappy with certain parts of their service, I would still not hesitate to fly them if the price is right.
Coming Up: Flying in Australia on a Virgin Kangaroo - SYD-MEL-ADL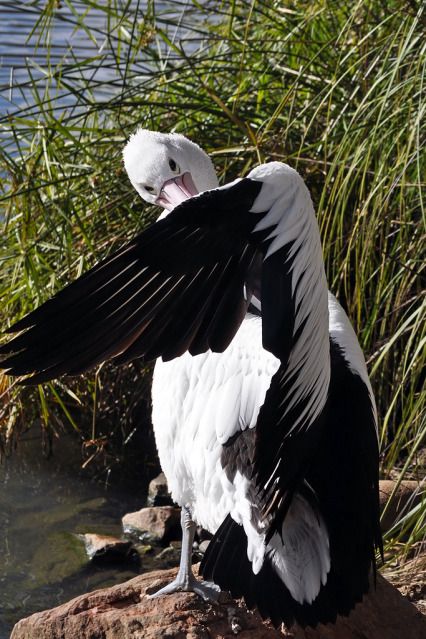 Hehe, you can't see me...
Previous Trip Reports
Flying 5 Star - SQ SIN-CAN-SIN (2009)
(by
Initious
Mar 26 2010 in Trip Reports)
Sardines In A Can - Jetstar Asia SIN-HKG-SIN
(by
Initious
Mar 29 2010 in Trip Reports)
Away We Go - China Southern SIN-CAN-WUH Vv (1/2)
(by
initious
Apr 2 2010 in Trip Reports)
Away We Go - China Southern WUH-CAN-SIN (2/2)
(by
initious
Apr 14 2010 in Trip Reports)
Oldest Vs Newest: Royal Silk Class On Thai
(by
Initious
Jun 13 2010 in Trip Reports)
First On Airliners.net - CZ Shanghai To Shantou
(by
Initious
Jun 27 2010 in Trip Reports)
18 Hours Of Royal Orchid Service: Thai PVG-BKK-SIN
(by
initious
Jul 27 2010 in Trip Reports)
Good Morning Borneo! - Where Silkair Unwinds...
(by
initious
Oct 17 2010 in Trip Reports)
Irama AirAsia! - Kota Kinabalu To Singapore
(by
initious
Oct 24 2010 in Trip Reports)
Great Asia Trip Part 1 - Propping To Luxury
(by
Initious
Mar 23 2011 in Trip Reports)
Great Asia Trip Part 2 - In Love With Emirates
(by
initious
Mar 27 2011 in Trip Reports)
Great Asia Trip Part 3 - The Arabian Adventure
(by
initious
Apr 15 2011 in Trip Reports)
Great Asia Trip Finale - Brothers In Bangkok
(by
initious
May 9 2011 in Trip Reports)
Flying The Orange Star Monopoly - SIN-SWA On 3K
(by
initious
May 18 2011 in Trip Reports)
China Southern SWA-CAN - Do They Deserve 4 Star?
(by
initious
May 21 2011 in Trip Reports)
A Dream Come True - SQ Business Class CAN-SIN
(by
initious
Jun 13 2011 in Trip Reports)
Malaysia Boleh! - To Malaysia With 3K And AK
(by
initious
Jun 30 2011 in Trip Reports)
Flying On My Birthday - The Triangle In SEA
(by
initious
Jul 18 2011 in Trip Reports)
People: They Make An Airline. Cathay SIN-HKG
(by
Initious
Jan 28 2012 in Trip Reports)
Cathay, Make Up Your Mind! HKG-SIN On The A333
(by
initious
Mar 26 2012 in Trip Reports)
1 New Airport, 10 Steps Forward. Jetstar SIN-SWA
(by
initious
Apr 22 2012 in Trip Reports)
China "Sudden" Airlines SWA-HKG - 4 Star? Really?
(by
initious
Apr 27 2012 in Trip Reports)
Celebrities In Asia's World City - Jetstar HKG-SIN
(by
Initious
May 13 2012 in Trip Reports)