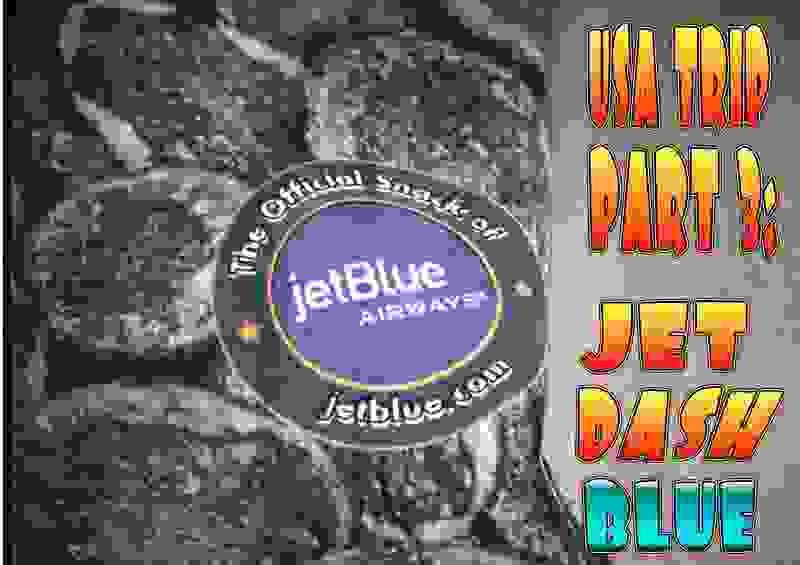 Introduction
This is the third part of my Summer 2012 US Trip Report. It covers the flights from Toronto to Fort Lauderdale in Florida with United Express and Jetblue.
For the earlier parts, see these:
- Part 0:
US Trip 2012 Part 0: Prologue (JYV-TLL)
(by
FlyingFinn76
Jun 12 2012 in Trip Reports)
- Part 1:
US Trip 2012 Part 1: Warming Up (HEL-TXL-BRU)
(by
FlyingFinn76
Jun 20 2012 in Trip Reports)
- Part 2:
US Trip 2012 Part 2: Oh (Air) Canada: BRU-YUL-YYZ
(by
FlyingFinn76
Jun 26 2012 in Trip Reports)
Previous parts have explained how I came to book a flight to Newark with Continental Express operated by a Colgan Air Dash-8 Q400 later changed to a United Express operated by Expressjet with an ERJ-145. However after EWR I needed some more flights and new carriers and eventually decided for Jetblue as I definitely wanted to try them out. Their EWR offering wasn't stellar, consisting of some sunny destinations in Florida and Boston - after some consideration of further flights I decided upon Florida as there were plenty of nice return options from there. MCO and FLL both sounded very nice, but in the end I went for FLL as the schedule and fare were a better match - the ticket ended up costing 114 USD which I thought was quite reasonable.
Friday 15.6.2012
You gotta love westbound jetlag - I wake up around 4 AM in my comfortable hotel bed, unable to sleep any more. I ordered the airport shuttle for nine so have plenty of time in my hands. Oh well, the TV gets CMT, I've got plenty of reading to catch up, there's free wifi (this seems to be a new thing, the TripAdvisor reviews mentioned pay for wifi access - anyway very nice) and there's an in room coffee maker ready to supply me with plenty of caffeine.
A new day dawning from the east: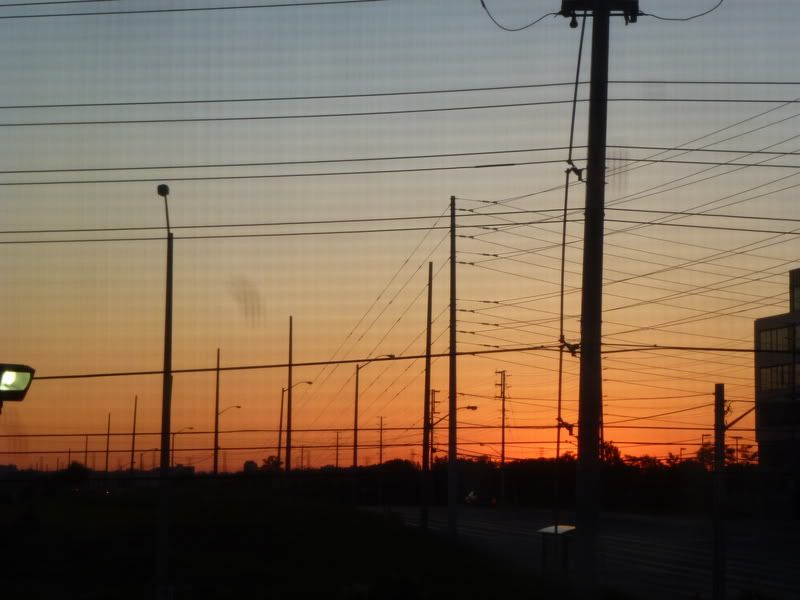 Eventually it is time to take a shower, pack up and head down to the reception. I'm a bit early so after checking out I go outside to enjoy the gorgeous sunny morning for a while. My flight is only at 11.40 so I'm a bit early with the 9 AM shuttle but I figured out I'll give the transborder MLL a good try and enjoy some nice breakfast there. Or at least this was the plan, more on it in a bit.
Eventually the shuttle gets there and I share the ride with two Mexican guys. The driver appears to be moonlighting a bit as he also picks up a woman who apparently is his friend and drops her off in a nondescript office somewhere along the way... Anyway in fifteen minutes or so we pull off in front of T1 where I give the guy a decent tip.
Toronto Pearson Airport or How "SSSS" Can Make Your Life Difficult
Some First Nations style art outside the terminal: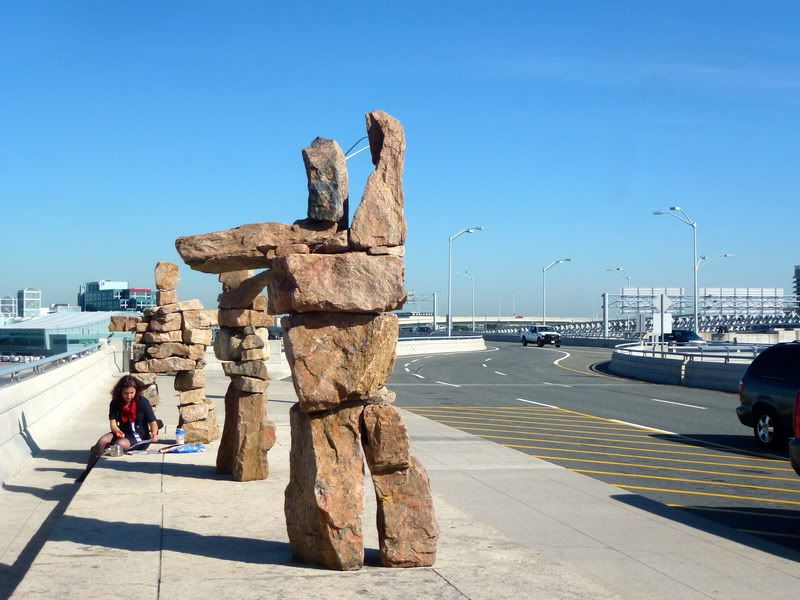 T1 is a very very impressive building - still as sparkling clean and immaculate as I remember it from seven years ago:
Plenty of flights with Mapleflot: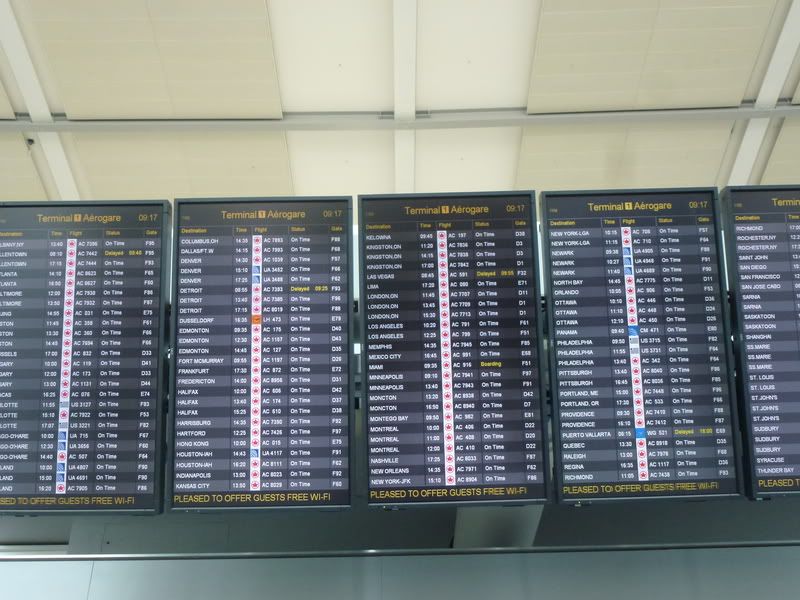 United has its own check in instead of being handled by Air Canada so I head there next. I guess I could use a kiosk, but this time I prefer going to the desk instead. Economy has a few people on line but the First Class/Gold/Premium/DYKWIA counter has only a deadheading pilot who is on the verge of missing his second or third flight for the morning... After he hurries away it is my turn. The middle aged Polish agent is extremely friendly and pleasant - after I say "To Newark, please" and hand over my passport she takes a look at it and says "Oh you're Finnish - we Polish and you pronounce 'Newark' the same way - completely different than the Americans!" and smiles at me - somehow I just knew I had found a gem of an agent here!
She asks whether I have a connecting flight from EWR, I say that yes, but it's on a separate ticket and and a different airline and she shouldn't really be concerned about that. Well she mumbles something about some flight being an hour late, not sure which flight it is but I get a feeling it just might be mine (I do have a couple of hours at EWR but still an hour might easily turn into two...). She offers to put me on a standby on the earlier flight, "As you have Gold status it won't cost you anything", after thinking for a microsecond I agree with her that yes, maybe we should do this.
Oh, and once again I have to give my Florida hotel's address - this is now the third time it's been entered into various systems, well it's not like you are in the same alliance or anything!
Quite a bit of typing later she gives me two boarding passes, one for the flight I'm protected on, with a confirmed seat and then a standby boarding pass for the earlier flight with a seat assignment at gate. She tells me to show the first one at security since it has "Premier Access" printed on it, meaning I should be able to use the priority security lane. After that she wishes me a nice journey and sends me off - my first experience with United Express was certainly a good one!
When walking towards security and US preclearance I take a look at my boarding pass and what do I see - she even conveniently highlighted it with her marker (not that she bothered telling me about it):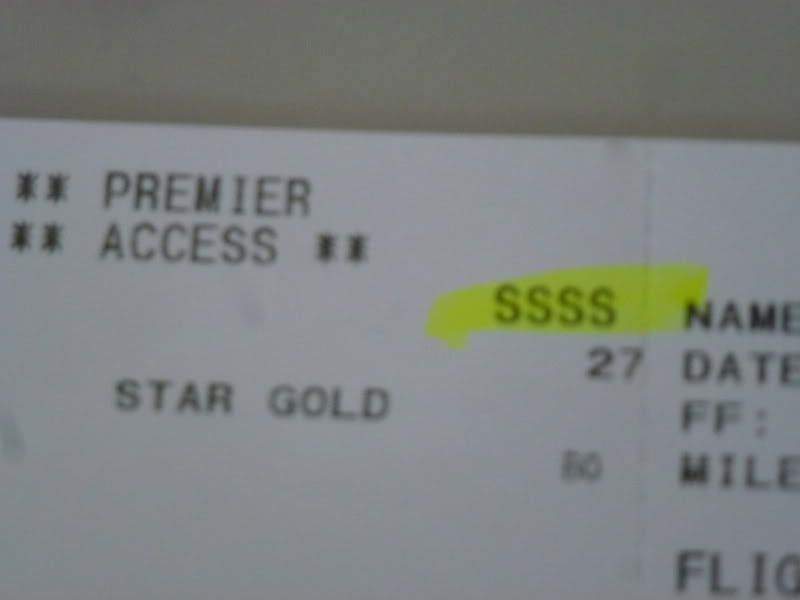 Yes, it is the dreaded "SSSS" - meaning the C(R)APPS software, probably the biggest and most expensive piece of vaporware ever has decided that I'm probably up to no good and should be given a cavity search at security. Sweet. Probably my multi-carrier ticket flying in and out of different airports at NYC with the long stopover at Toronto appears as a dangerous one-way ticket to that piece of crap software, whose biggest achievement is giving people who pay cash for their tickets (see, they don't want to be traced) and buy one-way tickets (simply genious: they buy one-way tickets, thus they are not planning to return but hijack the plane and fly it into the nearest Taco Bell instead!) a hard time.
Well, not much I can do about it so I head into immigration. Flying to the US from Canada is very nice as they have the same kind of US preclearance facilities as Ireland does, so basically you are processed and enter the US virtually already in Canada, making your arrival very straightforward as you are treated as a domestic passenger). This process is very smooth - no one in queue and the agent is quite friendly, unlike many of the US immigration people I've met before. Oh and his last name is Kowalski, so the Polish theme seems to continue here! The usual questions of who I am, what do I do for living and what and how long I'm in the US for and the fingerprint scan later I'm wished a nice visit and send off on my merry way.
Then comes the security part - a guy is directing Premier Access passengers off to a separate lane. I show him my boarding pass - first he is about to admit there but after seeing the four S letters he regretfully says that sorry, no dice for you and off to the normal lane I go. The check itself is quite normal but very throughout - everything is scrutinized very closely (surprisingly they don't want to go through my bags though) and I'm directed to the nudiescope again. This time the guy asks if I want to use it - the alternative being a full patdown and a bit of a groping. I'm tempted to try to bargain that I'll take it if one of the girls does the groping but decide to hold my witty tongue this time and just crack the obligatory "Hey I'm a Finn - I love nudity!" joke (not that he seems to get it) and step into the scope instead.
And that's it - after the scanning I'm released to gather my stuff and put on my belt and shoes again - yeah, another thing I dislike about the security on this side of the pond is the strict "shoes off" rule.
Well, thanks to me being moved to a flight an hour earlier and the time it took to go through this rigmarole I don't really have that much time for a lounge visit anymore, bugger. So instead of heading for the MLL I head downstairs to the gate area. The first order of the day is to find a place selling electric adapters - yes, I took my usual adapter bag with me, but the previous evening in the hotel I noticed that all the US adapters were missing! So here I am with adapters for India, China and even for Australia, but none for US or Canada! Typical. Luckily Relay has those el cheapo ones for five bucks apiece so I grab a couple of them.
Molson Pub - I bet makeree would like this (on a second thought I think *I* would love it too):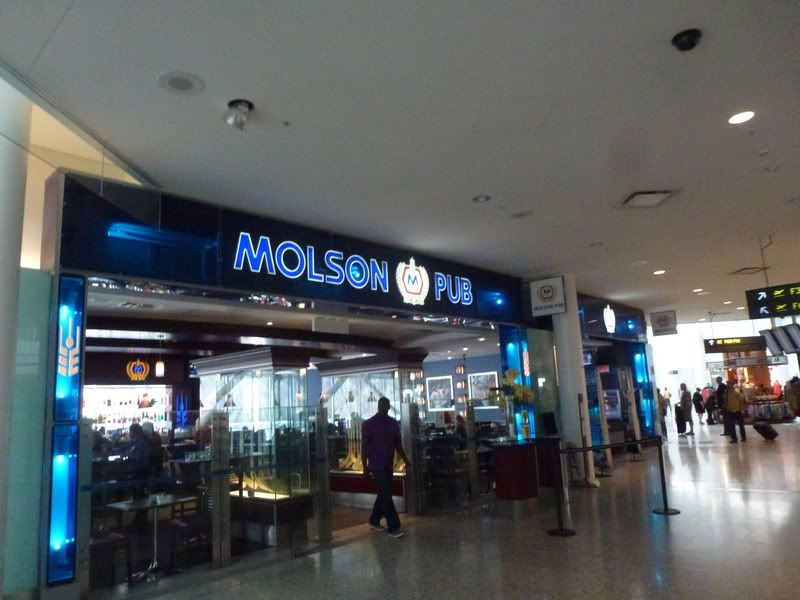 Since I'm on a commuter plane (not sure which one though) these do not leave from the main pier but out of a dingy little commuter extension instead, sort of like that portacabin pier at DUB Ryanair used for so many years.
The way towards the commuter pier: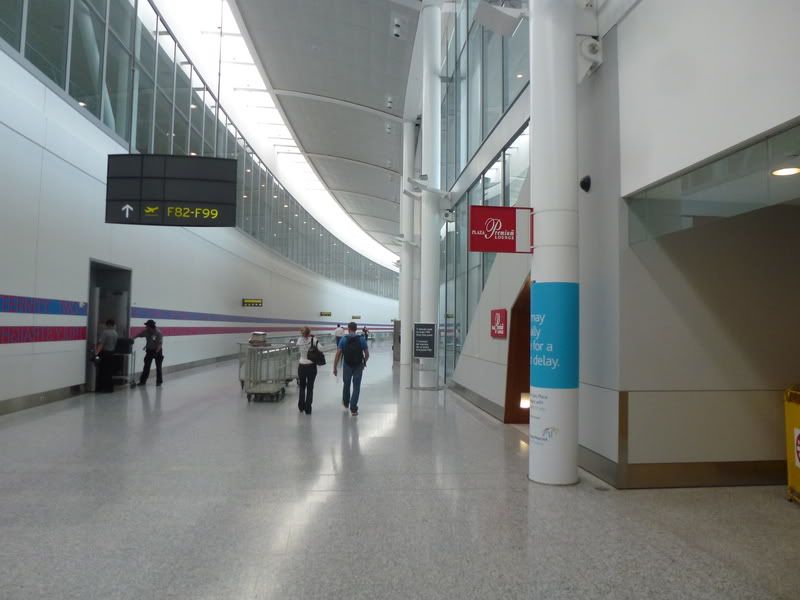 Classy: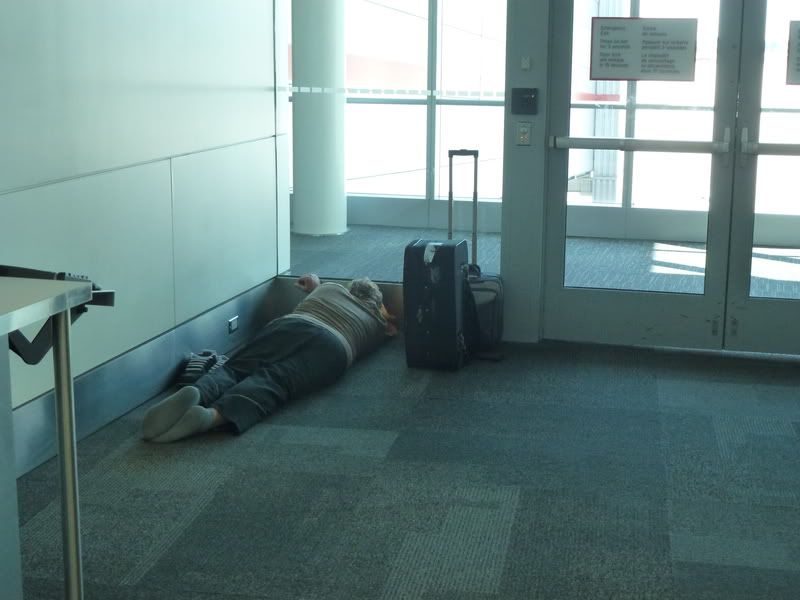 Not so impressive as the main parts of T1: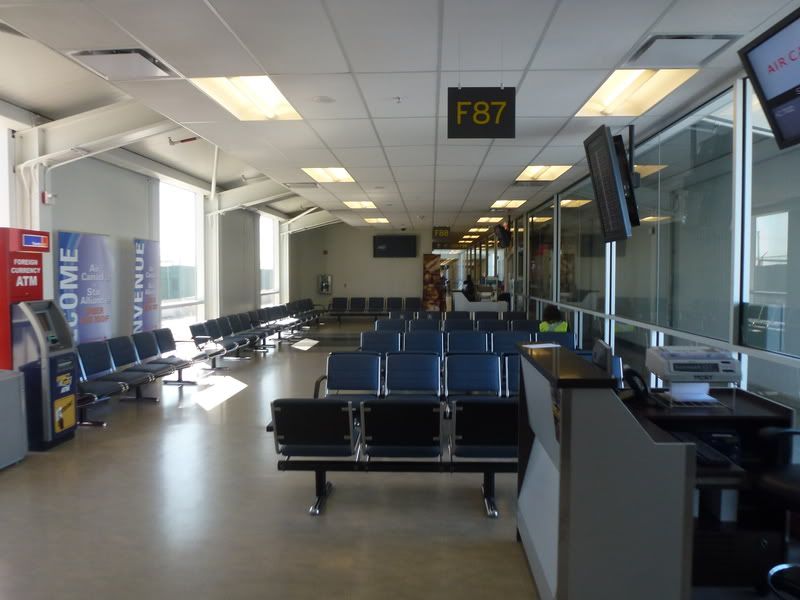 On my way to the gate I spend the last of my CAD on a sandwich from the only amenity in this dingy area as apparently there will not be a MLL breakfast for me this time! After getting to the gate I present myself and my boarding pass to the gate agent, explaining that I'm on the standby list for this flight. He asks me for my standby boarding pass. I panic a little as I can't seem to find it anywhere. He says that I need it. I say why can't you just check me on the computer and print me a new one. No dice, he points to the stamp on my boarding pass which was put there by the US Immigration (or was it security? I think it was the immigration).
Fine, I rummage through my bag feverishly, trying to find the elusive boarding pass. The woman sitting next to me does not exactly make me feel any better by saying "They told me this flight was overbooked, they offered me 300 dollars to take the next one.". I say that my odds for getting a seat don't sound too good.
Finally I find my boarding pass - the check in agent folded it in two before I slipped it in my plastic folder and I was looking for a boarding pass -sized item. I go back to the gate agent.
This time he says:
- "No, I need a boarding pass with the stamp, this won't do."
- "Look, this is the standby boarding pass. This is the the other one I showed you earlier."
(I wave both boarding passes for him)
- "Ok, this will do. Stand aside sir and I will call you if you get a seat."
Wonder what the heck that was all about - he could've saved me some agitation by accepting the stamped pass in the first place!
Exactly a minute later he calls back, "Mr Finn?"
- "Yes?"
- "You are on this flight. Here's your boarding pass."
- "Thank you."
Right then boarding commences. Phew!
Walking to the apron I see several people being handed gate check tags for their rollaboards. I ask the agent about mine but he says it'll fit right into the overheads. Later it turned out he was absolutely right!
And what do I see outside: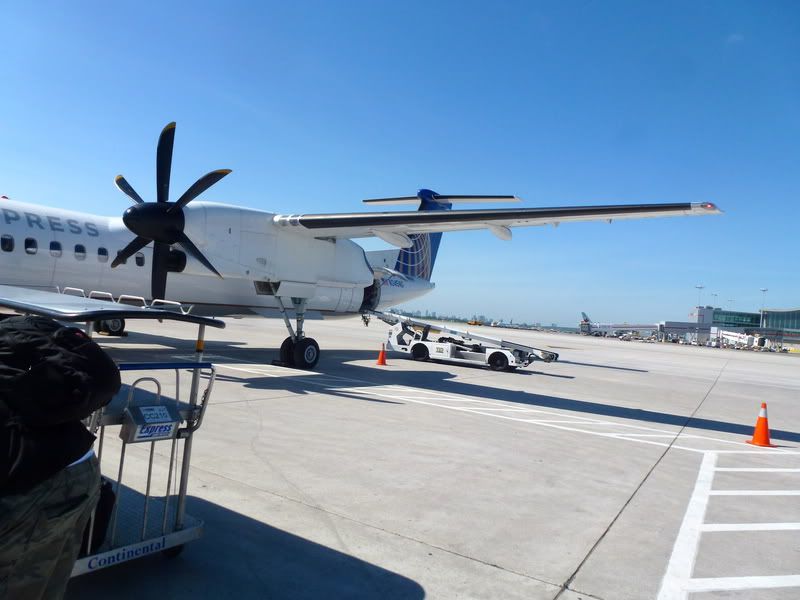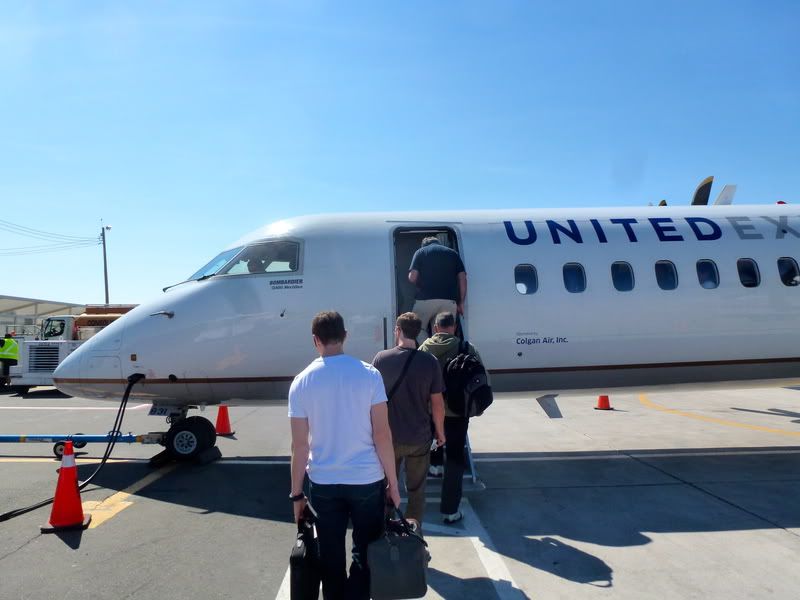 Yes, looks like I'm back on a Colgan Air Dash instead of an Expressjet ERJ-145. Oh well, actually either one would do - both are new carriers for me and both interesting planes on their own account...
N345NG is around one and half years old and was delivered new to Colgan Air who has operated it ever since, first for Continental Express and now for United Express.
Props are great: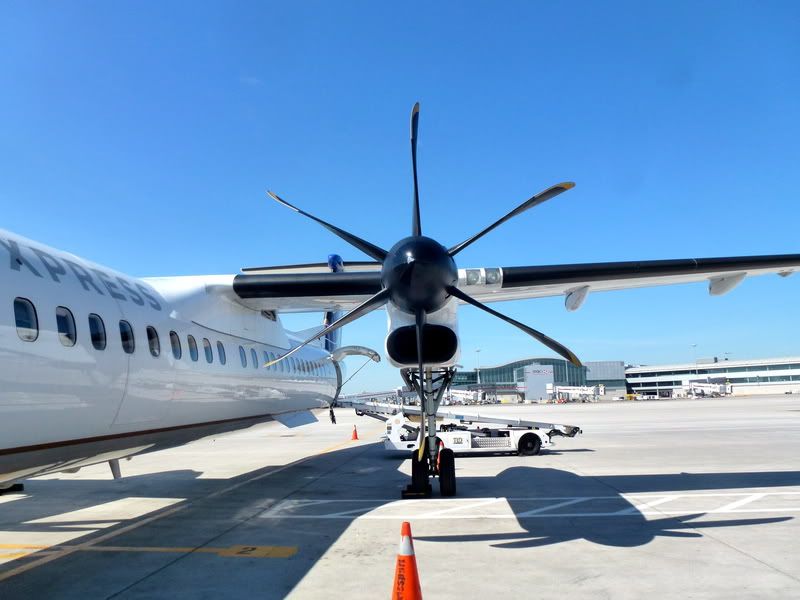 YYZ - EWR
UA4948 Operated by Colgan Air
Dash 8 Q400 N345NG
Seat 6D
10.31 - 12.54
The female FA on the front door is one of these "seen it all, done it all, couldn't care less" types, very senior, very disinterested and barely acknowledges passenger's greetings. Her colleague on the back is quite different - a large, young African American female with a very wide smile that immediately makes you feel good and happy.
I have a seatmate already on 6C, a middle aged businessman type who is clearly very annoyed by the facts that he has a seatmate, has to get up to let me past and that I eat my half finished sandwich once sat down. Otherwise he spends his time reading something on his IPad, later switching to the Rolling Stone Magazine after electronics are to be switched off.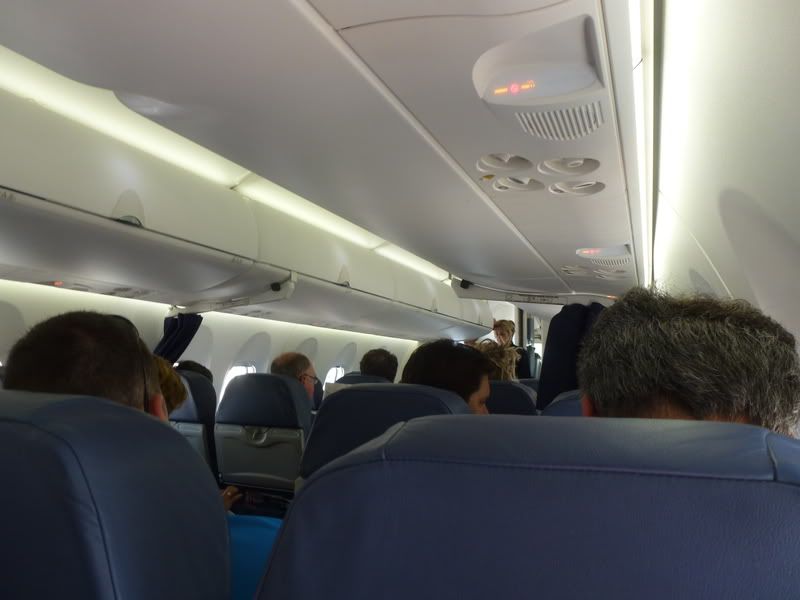 Not much legroom, but apart from that the faux leather seats are quite nice:
Not sure what that overbooking talk was about as there are plenty of empty seats on this plane, the load must be a little over 50% by the look of things. The FA asks for one volunteer from rows one to five to move back for balance reasons. Too bad I'm on row 6, otherwise I could've volunteered just to get away for Mr. Grumpy. Oh and to potentially get a seat on the left hand side for the chance of catching some nice views of the NYC skyline on landing!
An announcement is made that there's someone with peanut allergy onboard so if anyone is thinking about opening a bag of peanuts better forget it. After that the captain makes a short welcome announcement, 1h5mins down to Newark today where it apparently is rather windy.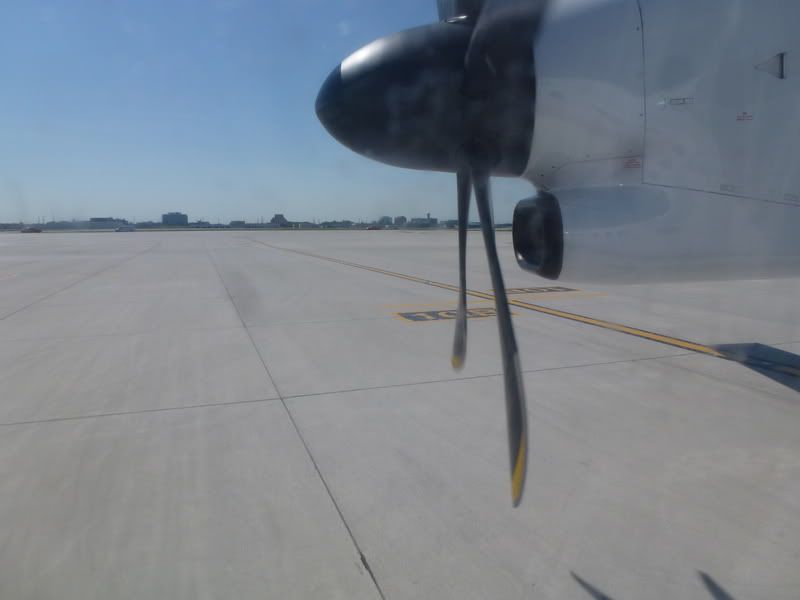 Pushback is a minute late, followed by a swift taxi towards 24R, but then we stop a little distance from the threshold and just sit there for fifteen minutes with our engines on idle, watching other planes taxiing by and taking off.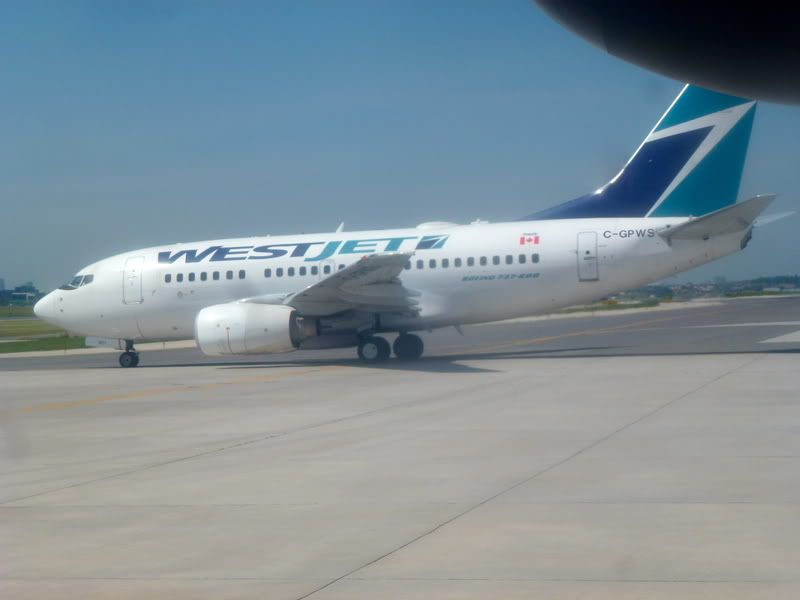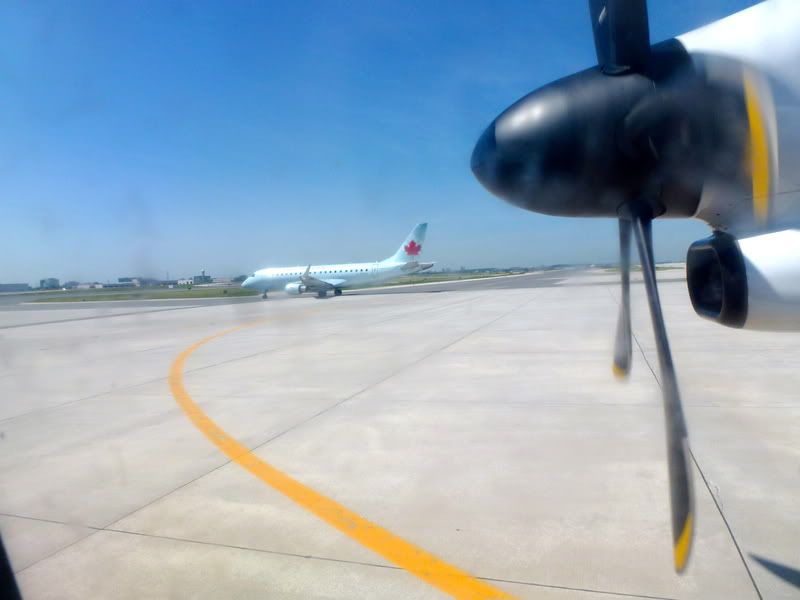 Eventually the captain comes on again and says what I had already figured out: "Bad news folks, ATC has issued a shutdown on all new departures towards Newark due to congestion in the area.". Apparently we have a new departure time "48 minutes past the hour" - which is almost an hour from the current time. He explains that there's really nothing we can do but just to hang on the frequency in the hope that an earlier slot might open up, but otherwise we will just shut down our engines and wait. This is promptly done.
The friendlier of the FAs distributes cups of water to passengers during the wait. The older Canadian lady across the aisle, the same one who mentioned the overbooking complains something about the delay to the senior FA and they get into a bit of an argument - the FA again has the attitude "I've been through this a million times, so why are you complaining? It's just an hour and ATC-related, so nothing we can do, lady". The lady is not really happy and it soon turns out into the usual "This is my first time of flying United since 1975 and I'm certainly not flying you guys again" -type of argument, the FA finally walks away and I could swear she's trying hard to suppress her laughter. The lady is quite furious and starts bashing UA to her seatmate, the poor fella tries hard to fake sleeping to get away from it all... people.
Well, nothing to do but to read the morning paper, courtesy of the hotel and admire the planes taxiing past.
Nice, a Beech 1900, I should really try again to catch a flight on that little bugger: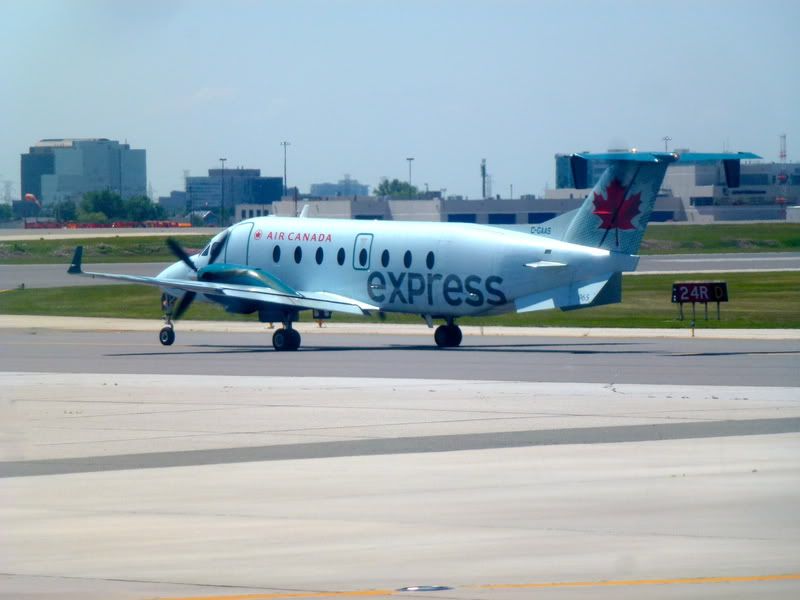 American Eagle: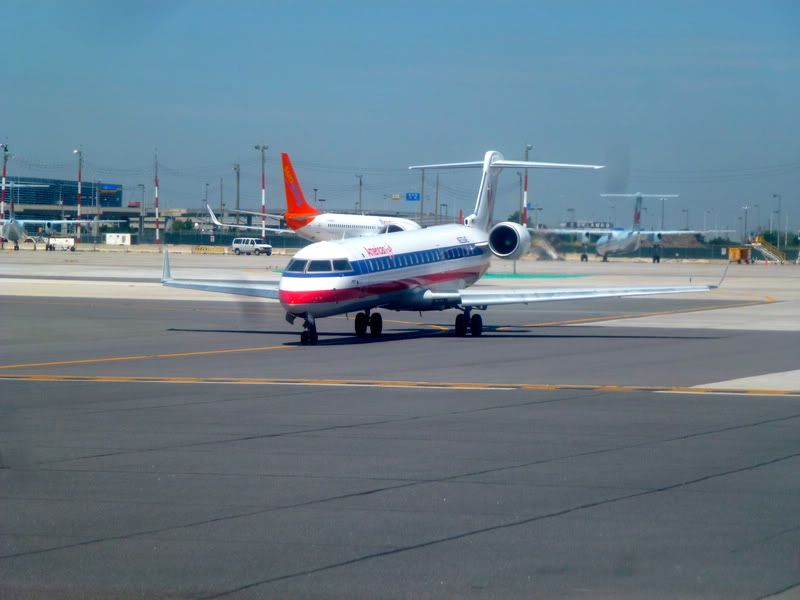 More than half an hour later the cap is again on the horn, says that there's a slight improvement as we now have a take off time at .43, i.e. five minutes earlier than the previous one was, a nice 1h12mins after we left our apron parking position. Indeed we start our engines a few minutes before this and take off right at 11.43, the time my original flight was supposed to depart.
Oh, speaking of my original flight I think this is it - just arrived in the penalty box. No, it doesn't appear to be running late but who knows how long it will stand here: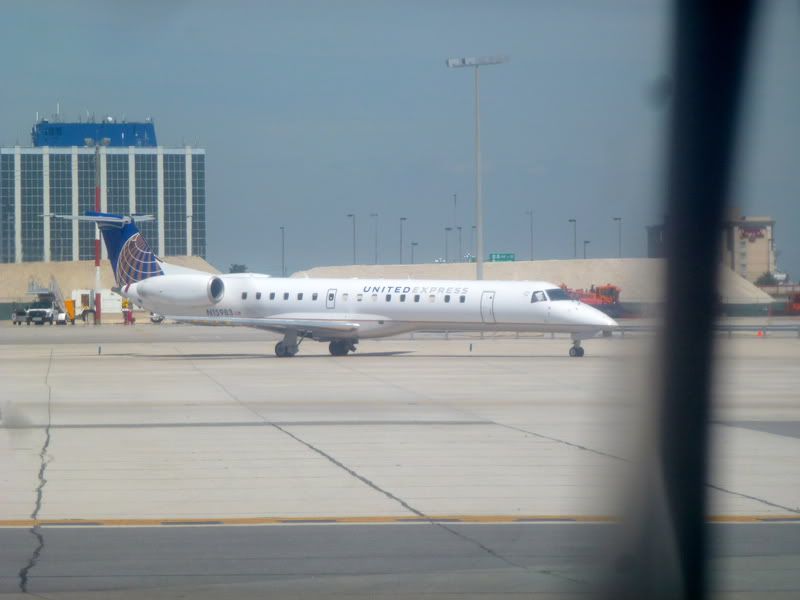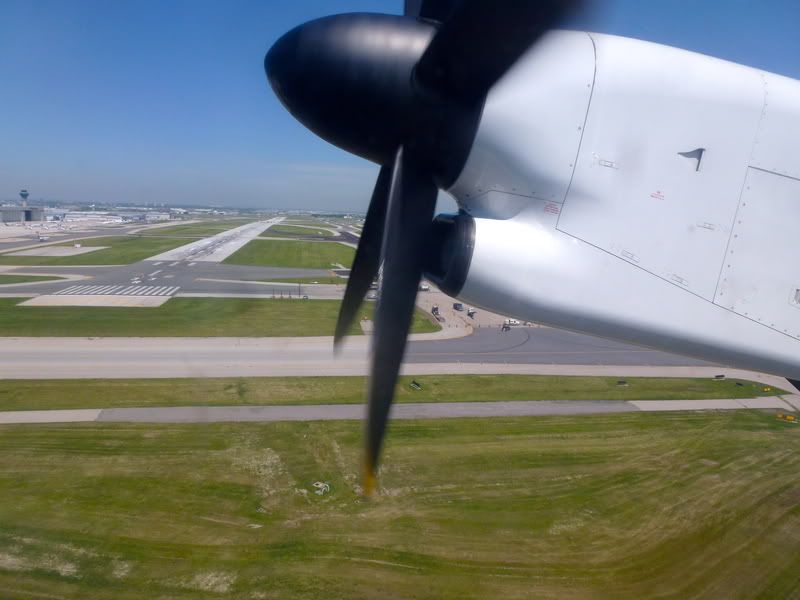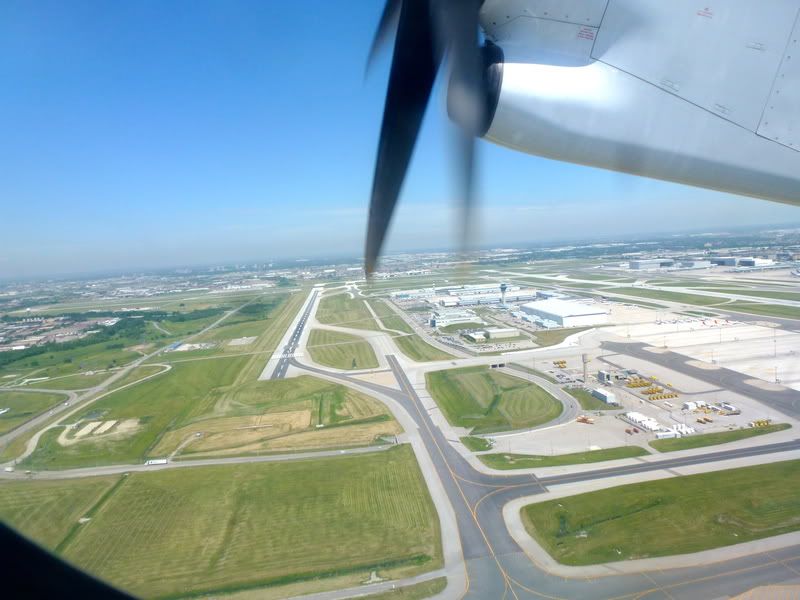 More nice views of Mississauga upon our departure: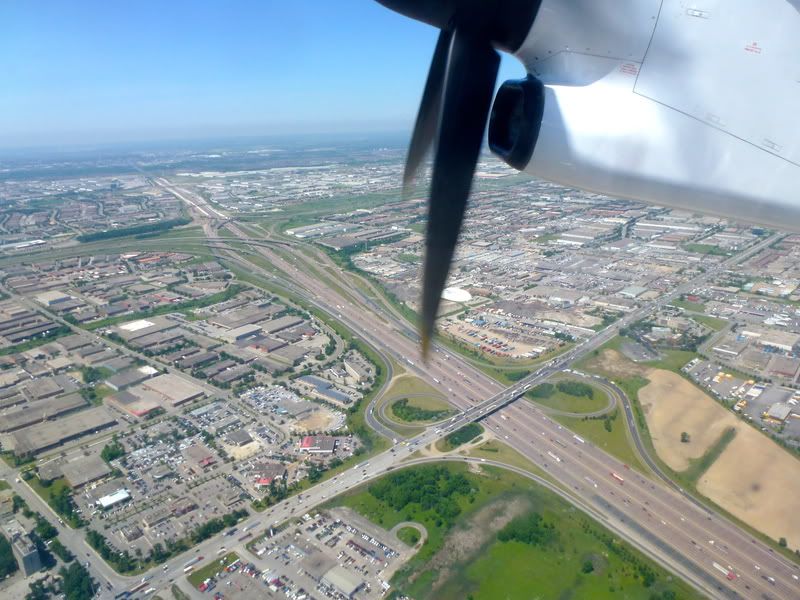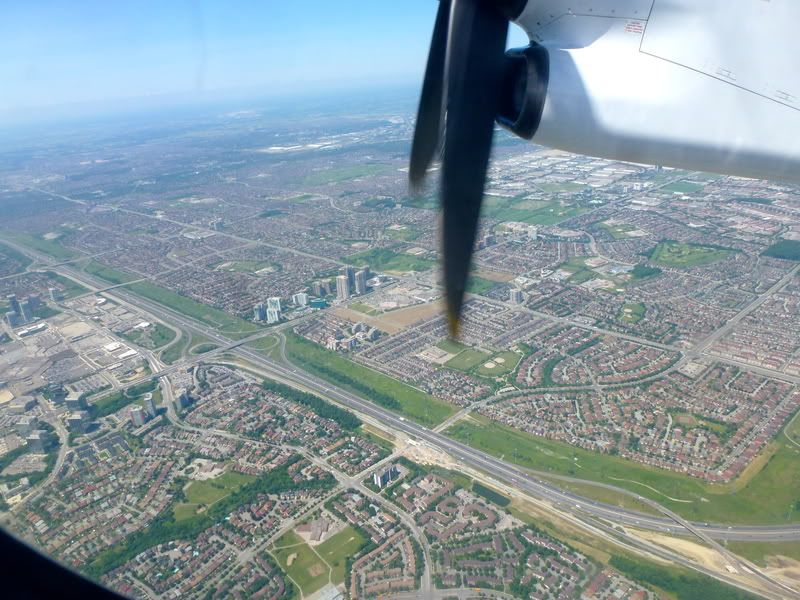 The previous day's G&M featured a story piece on these new twisty skyscrapers, nice coincidence: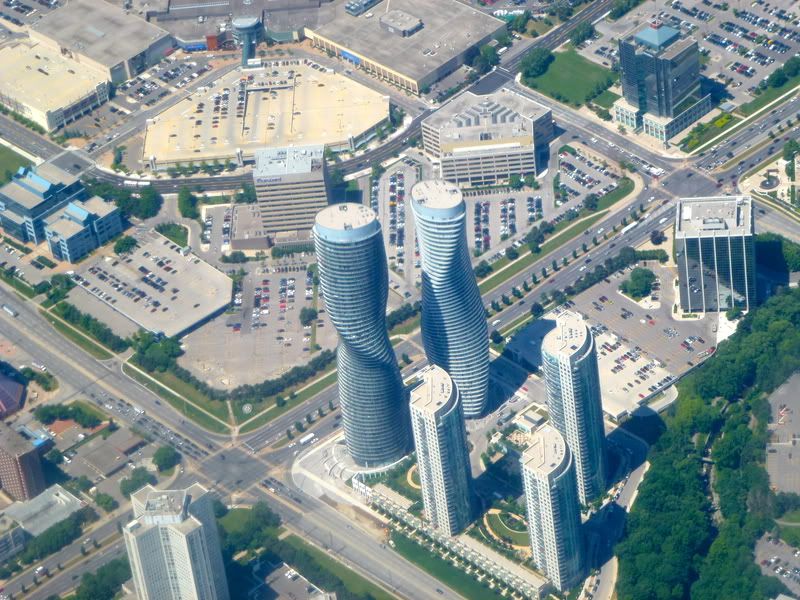 Crossing the coastline of Lake Ontario: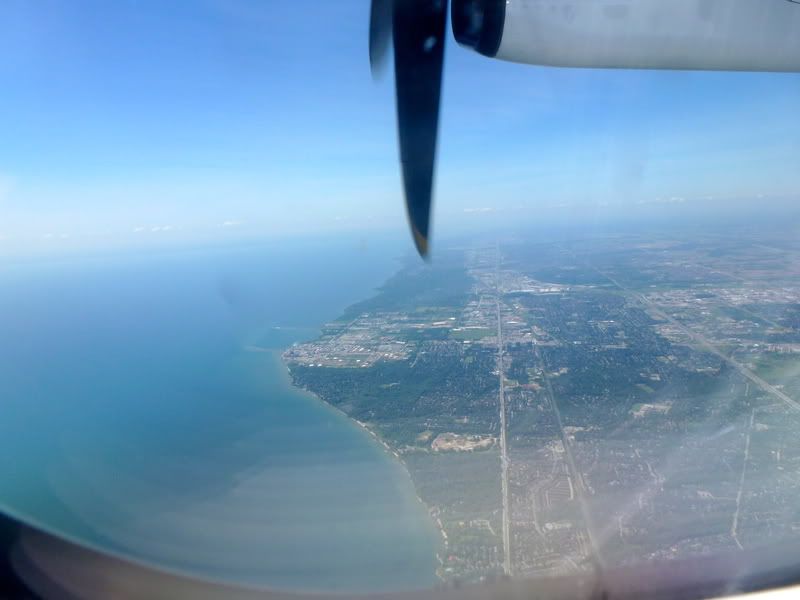 You could easily be mistaken that we are over the ocean here: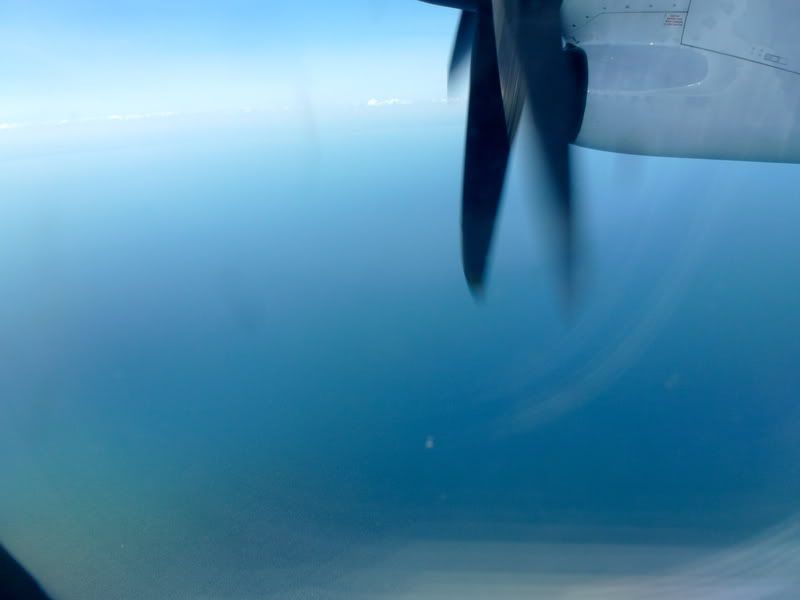 But very soon the Niagara River can be seen on the opposite bank, marking the border between Canada and the United States. Right on this day another daredevil was trying (and apparently succeeded) crossing the falls on a tightrope (no, I didn't see him):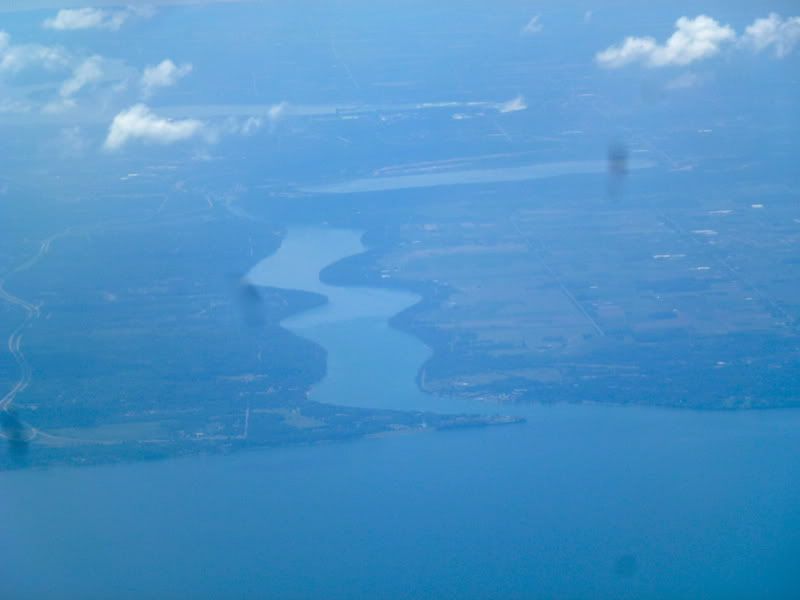 Hello, US of A - no matter what clueless people might say you are still the greatest and most fun nation on earth, keep up the good work: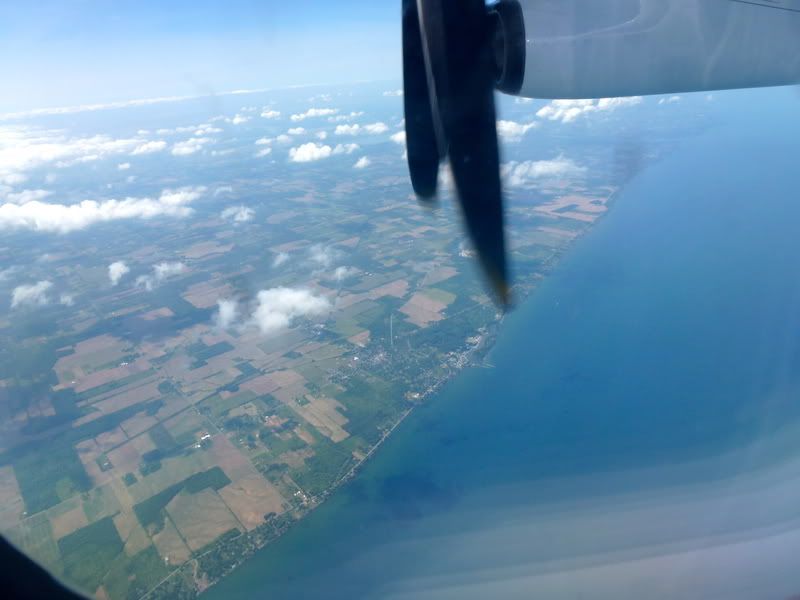 I think this is the city of Lockport: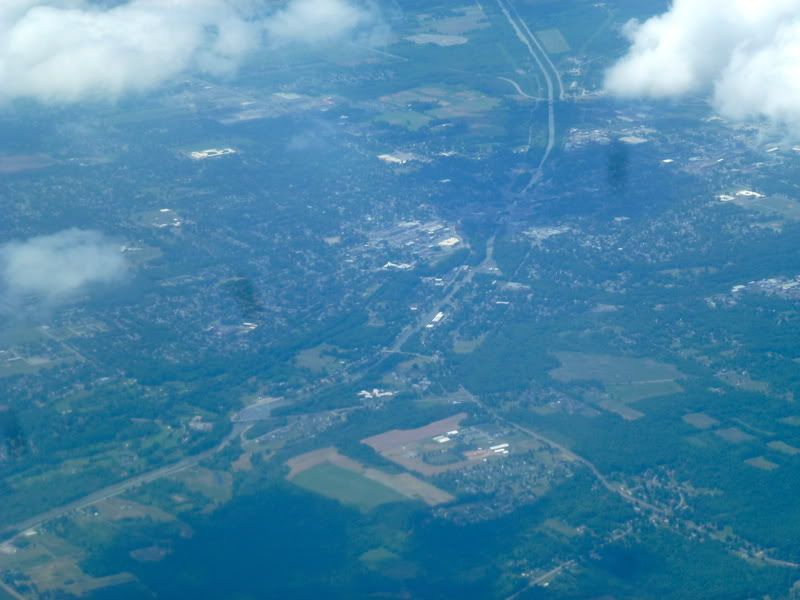 As on most of domestic US flights these days the service is a drinks run with free soft drinks - another Ginger Ale Test is performed, this time the brand is Seagram's - not my favorite one by a long shot: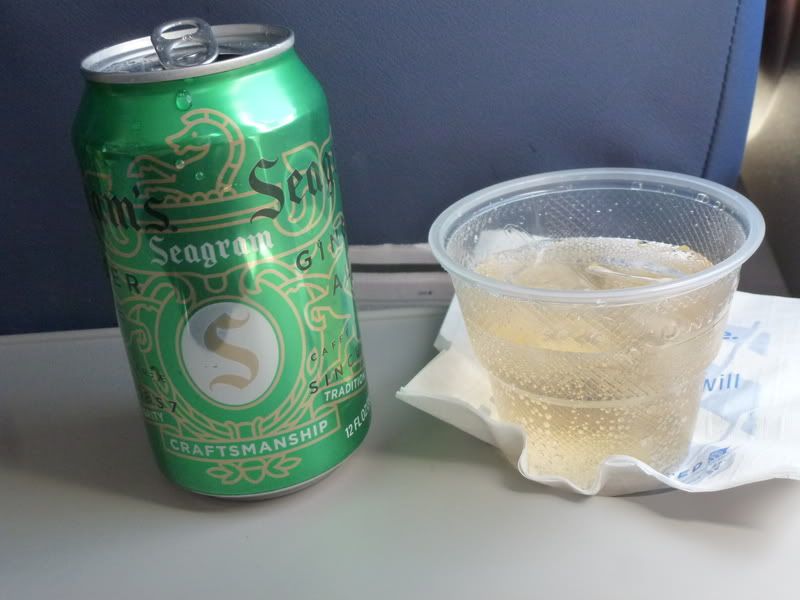 My grumpy seatmate opts for a Bloody Mary - and I thought Americans had these old hypocritical attitudes towards alcohol. Well it's noon already, I guess! He actually gets it for free as the FA tells him that she will come back with the credit card machine a bit later and when she eventually does she says it is broken and whispers (but loudly enough so that I can hear) "It's on the house!".
Keuka Lake, part of the Finger Lakes (thanks to the Airtran inflight mag where I not only found out what they are called but also learned that this is actually a wine producing region - I had no idea NY State had wineries! But as Jonas says it, reading airline magazines is as pointless as eating anywhere else than McDonald's or actually paying money for anything) in upstate New York: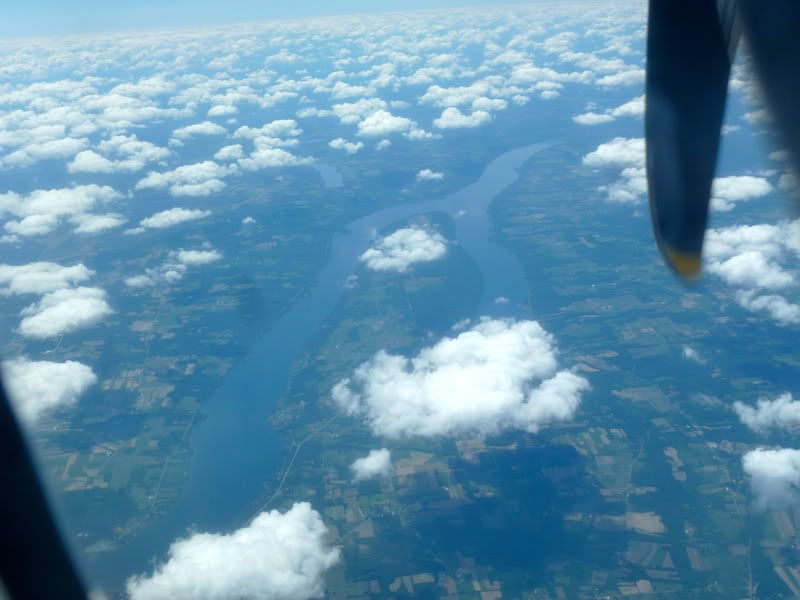 Oh, and that lake used to be known as "Crooked Lake", so certainly lots of Jonas influence here.
This is the interestingly named village of Penn Yan at the end of the western branch of the aforementioned lake:
And there's the city of Ithaca - I've always wanted to go there just because of that cool name: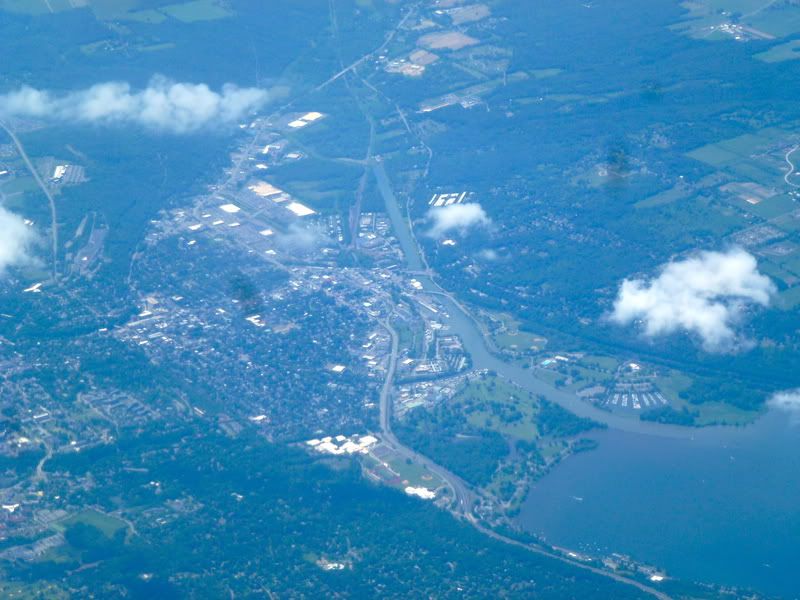 Ithaca Airport (ITH):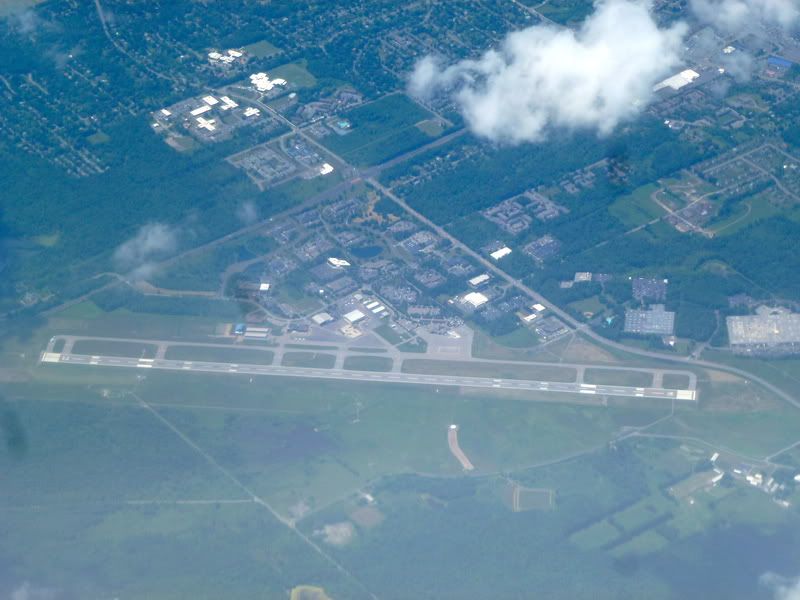 Looks like the Canadian lady is still quite frustrated over her argument with the FA since this is what she did to her can of tomato juice: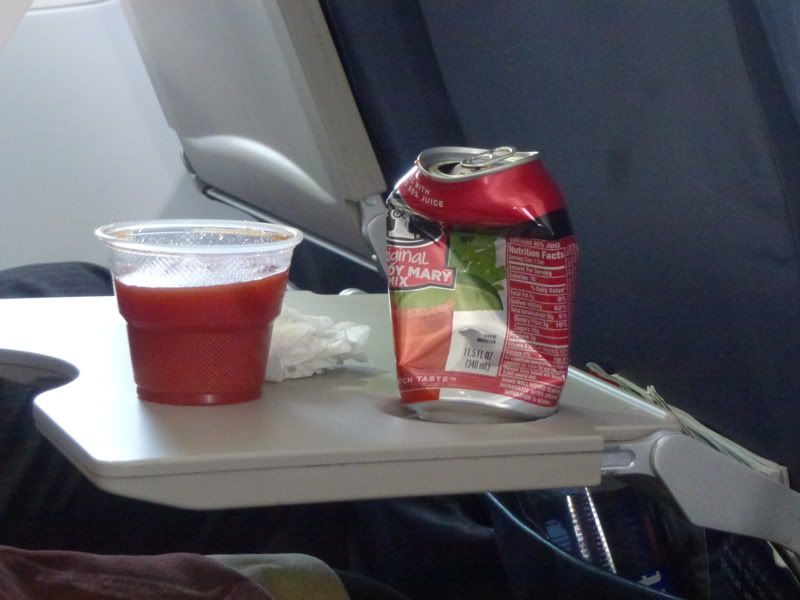 View towards the back - looks like I could've changed to a window seat on the A side but I decide not to bother my irritated seatmate more (and as we shall soon see it would've been a bit pointless anyway):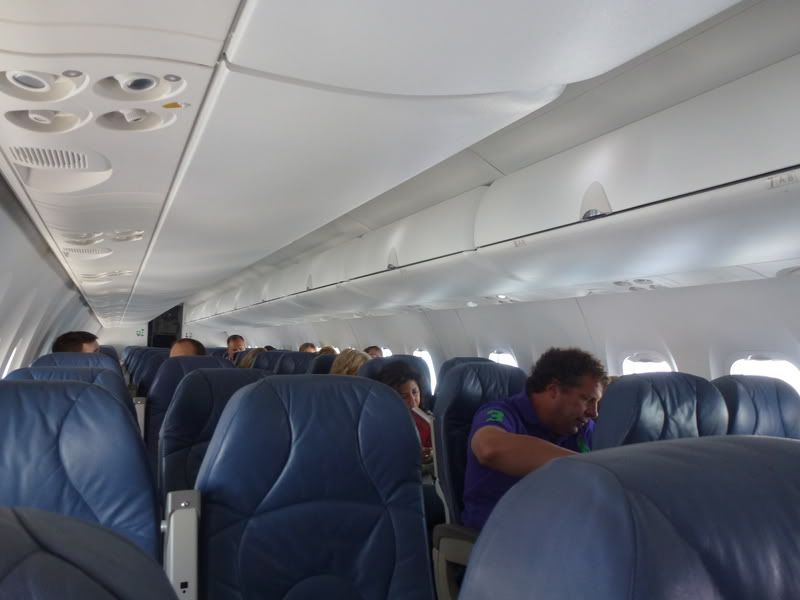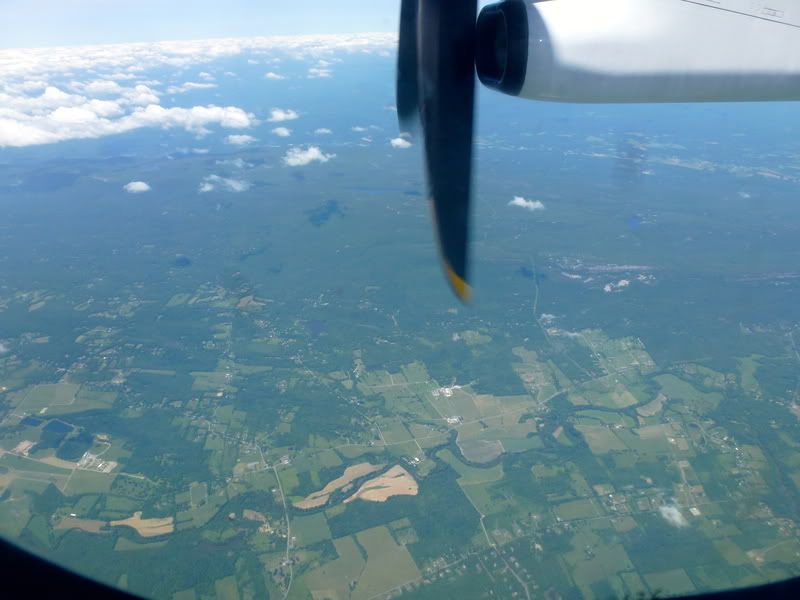 The closer to NYC we get, the more urban the scenery becomes. Here's Middletown, NY - another lovely name: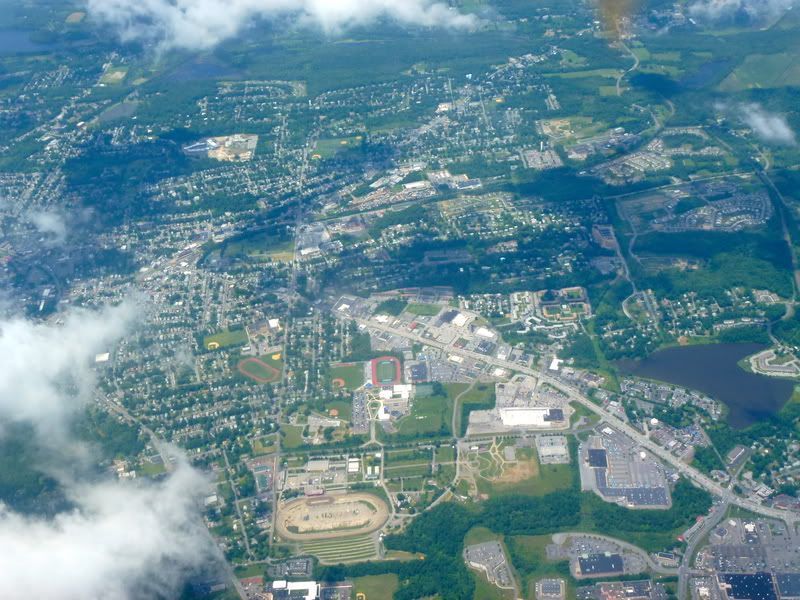 Around this time the captain announces our descent and landing in twenty minutes, apologizing for the delay and saying "We will do better the next time, there are just too many planes flying into Newark, and with the high winds the ATC has to restrict the slots
and stuff
..." - WHAT? Yes, this is exactly what he said! I find it highly unprofessional for an airline pilot of all folks to use this kind of phrases - "and stuff" doesn't belong in pilot announcements, period. Well, like they say in South Park, maybe it's a Jersey thing!
The lush, forested Ramako Mountains, part of the Appalachian chain - very beautiful looking: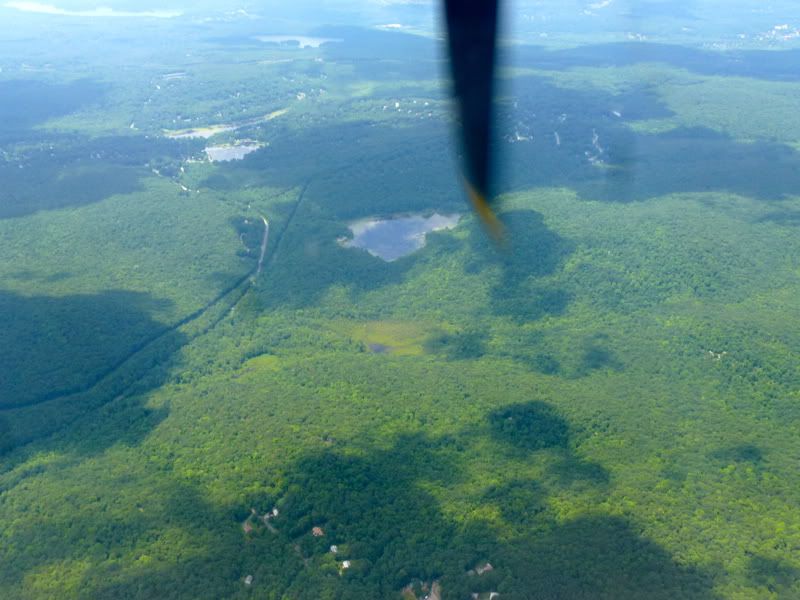 Open pit mining: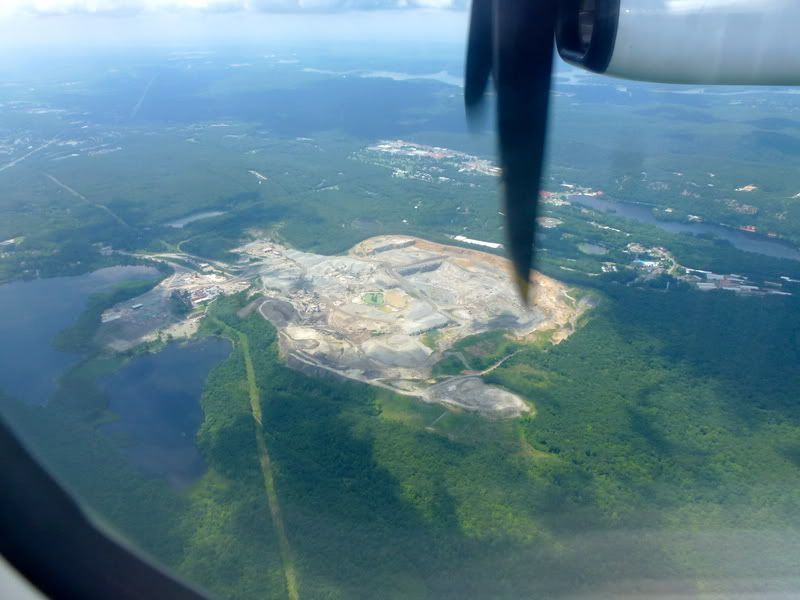 Heading into the endless suburban sprawl of NJ: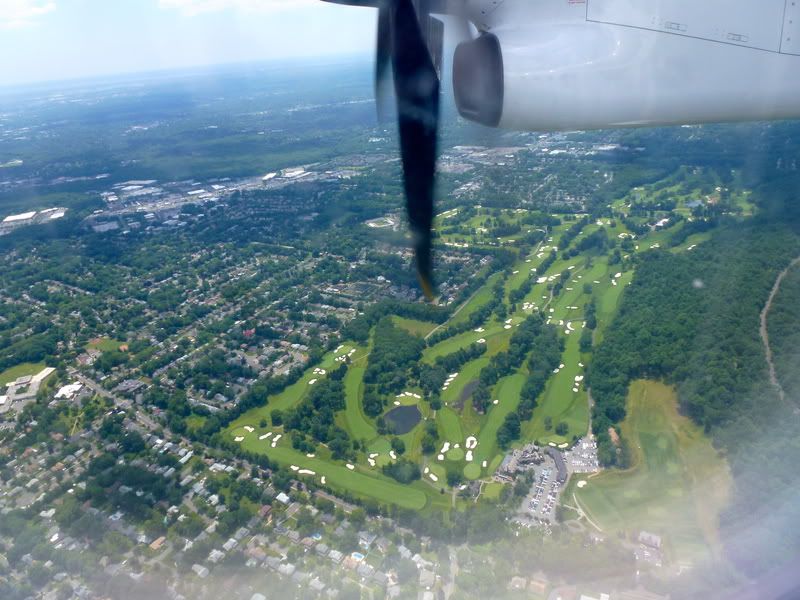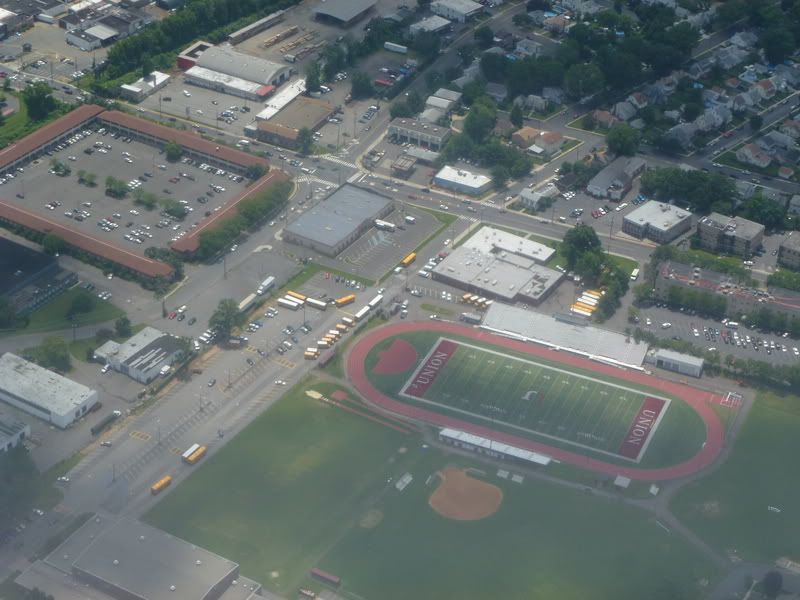 Toll booth on the Garden State Parkway: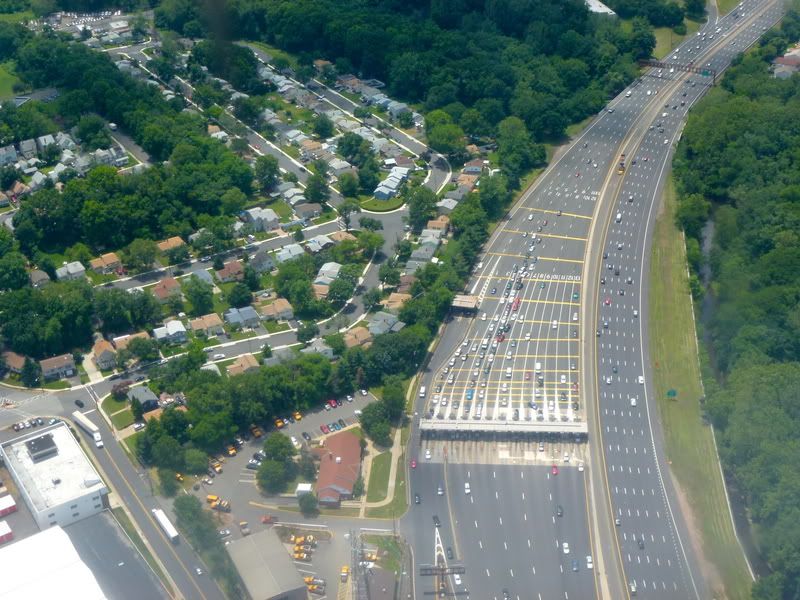 At this point I start to suspect that we are not landing from the north so there probably won't be any NYC skyline views on the left side anyway.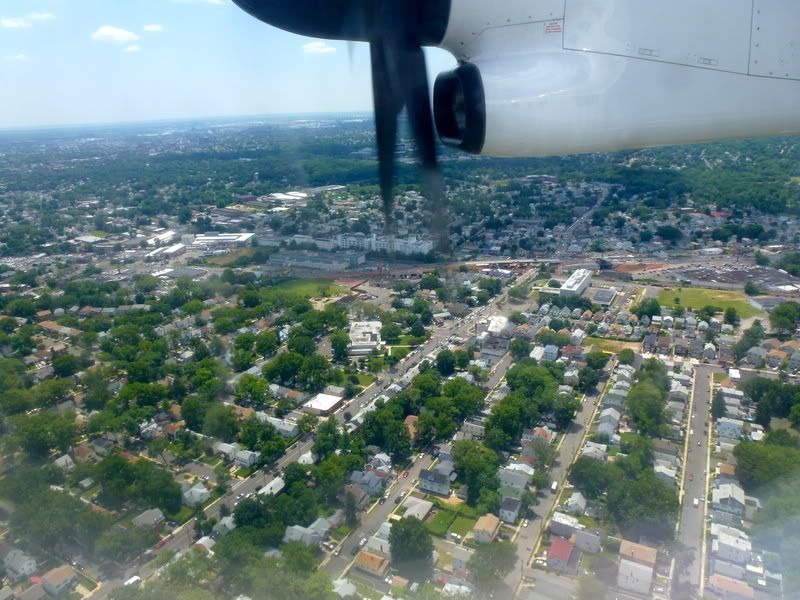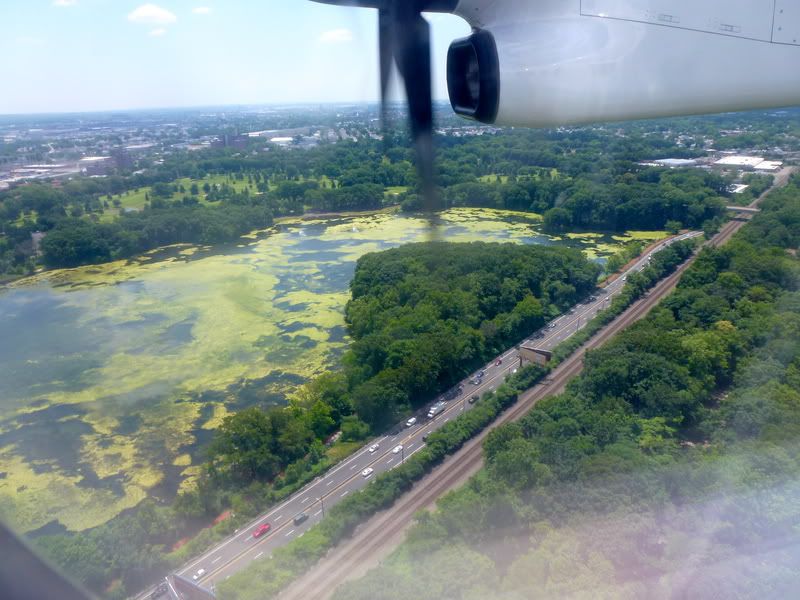 A few moments later it becomes apparent that we are landing from west to east instead, gliding over the main Amtrak Northeast Corridor railroad: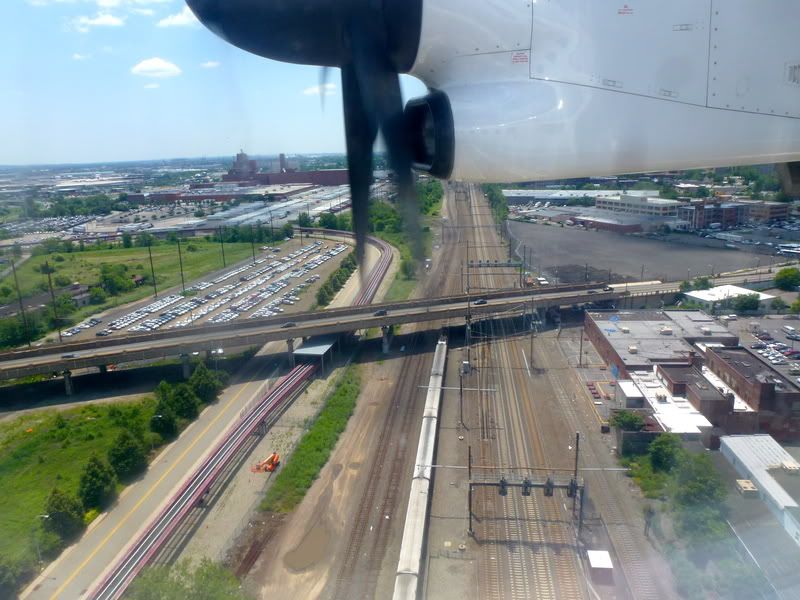 ...followed by the US Highway 9: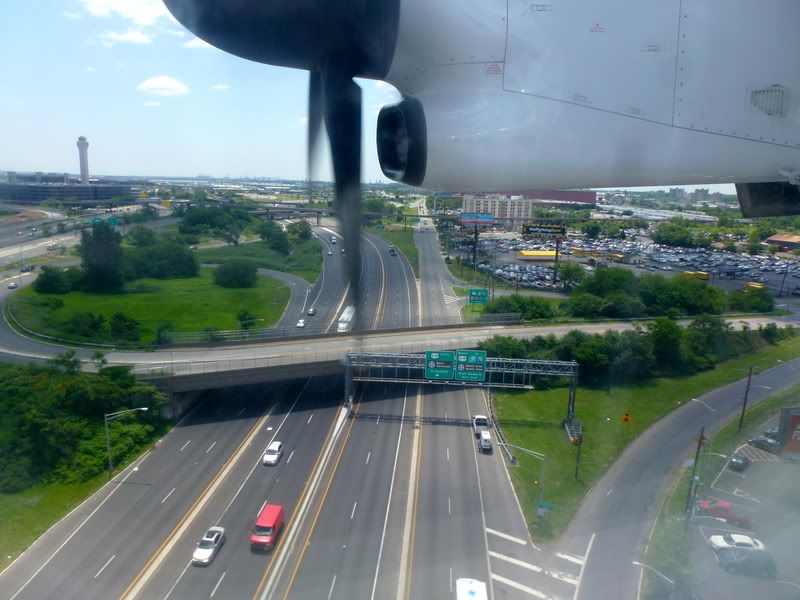 And touchdown on runway 11 at EWR after a flight time of 1h11mins: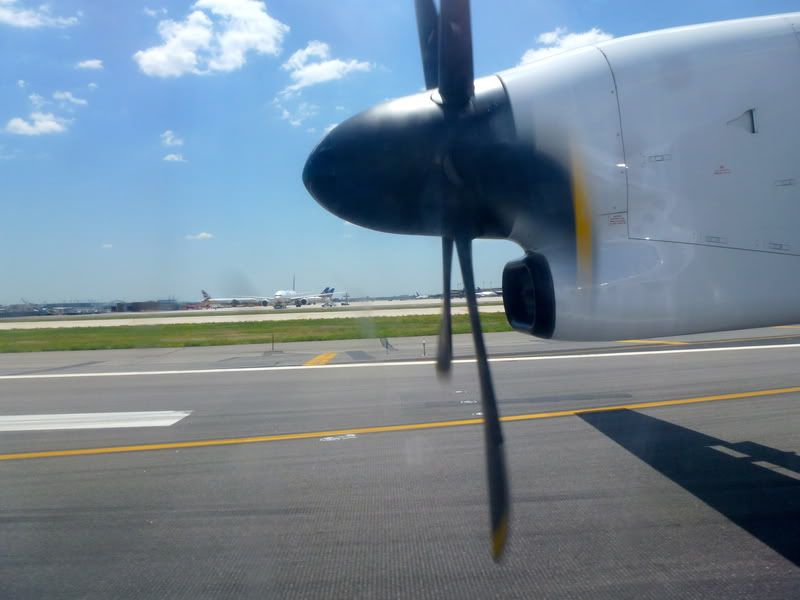 No doubt who rules the roost here: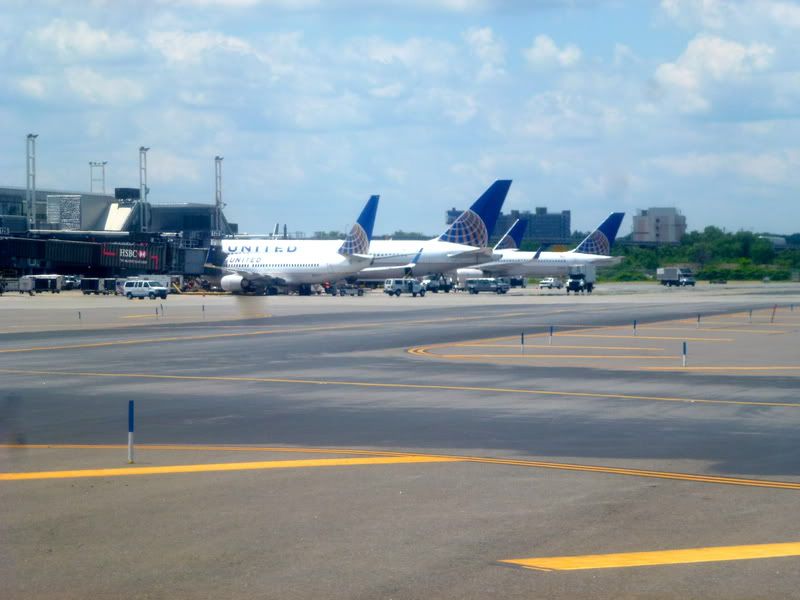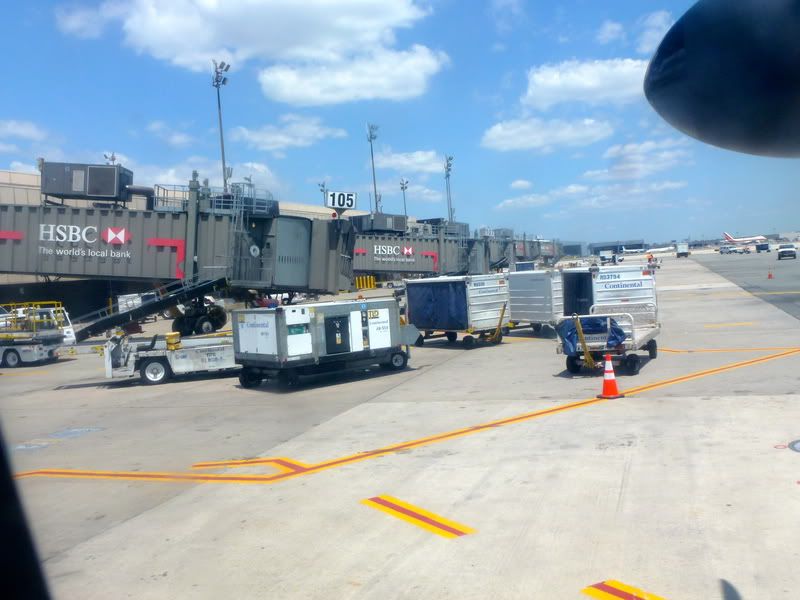 We dock to a jetway (yay, always a novelty with a turboprop!) but have to wait for ten minutes before the doors are finally opened and deboarding commences. My seatmate finally decides to acknowledge my existence by saying "It's always the same here in Newark.". Yes, good day to you too, pal!
While waiting the crew makes an announcement that any passengers with missed connections thanks to our delay "should contact the gates personnel here in the A terminal.". This gets my hopes up as this flight was showing as arriving either to A or C and my Jetblue flight will depart from A.
Newarl Liberty International Airport
Oh well, by the time I emerge from the jetway (the senior FA even managed to fake a smile when I thanked her for the flight) it is very apparent we are actually in the C terminal instead: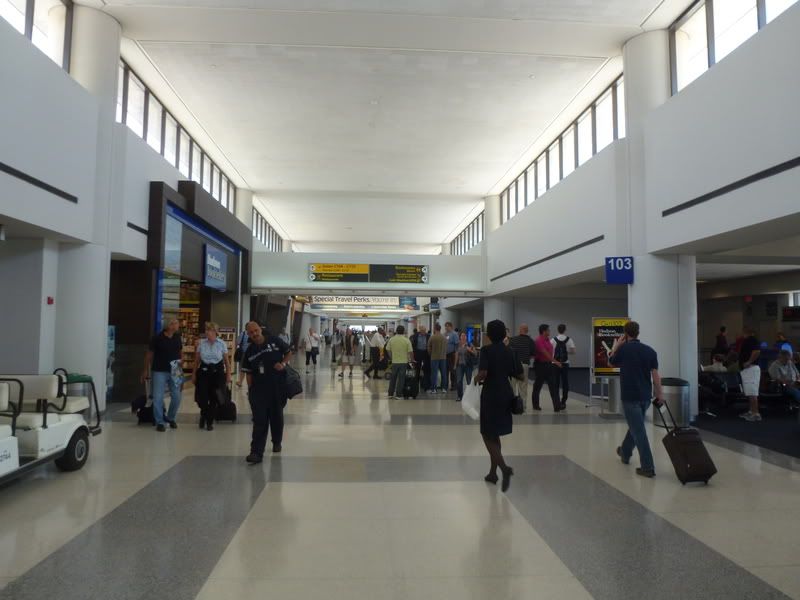 A very nice terminal though, I'm kinda impressed by my first view of EWR: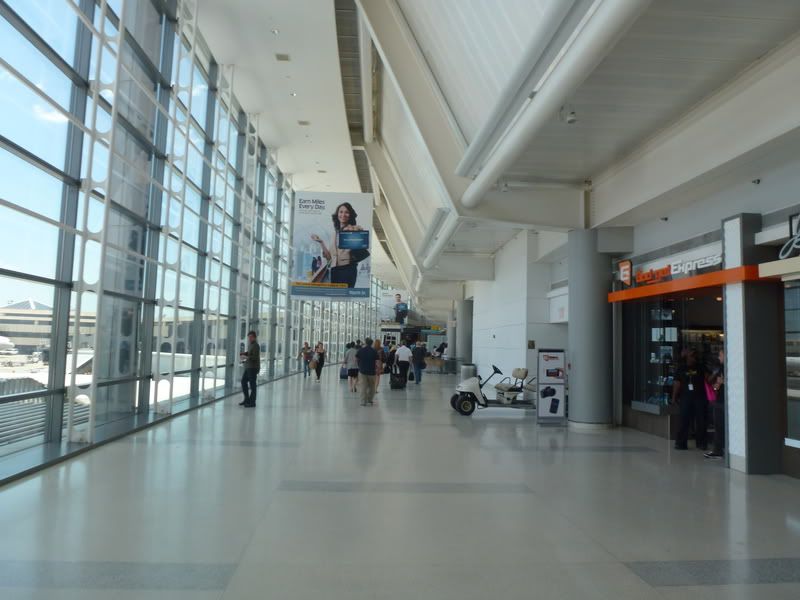 Luckily I spot signs for an airside transit bus to the A gates so that should save me the hassle of reclearing security and the novelty of riding the AirTrain or whatever the Jersey thing is called.
That's my inbound ride: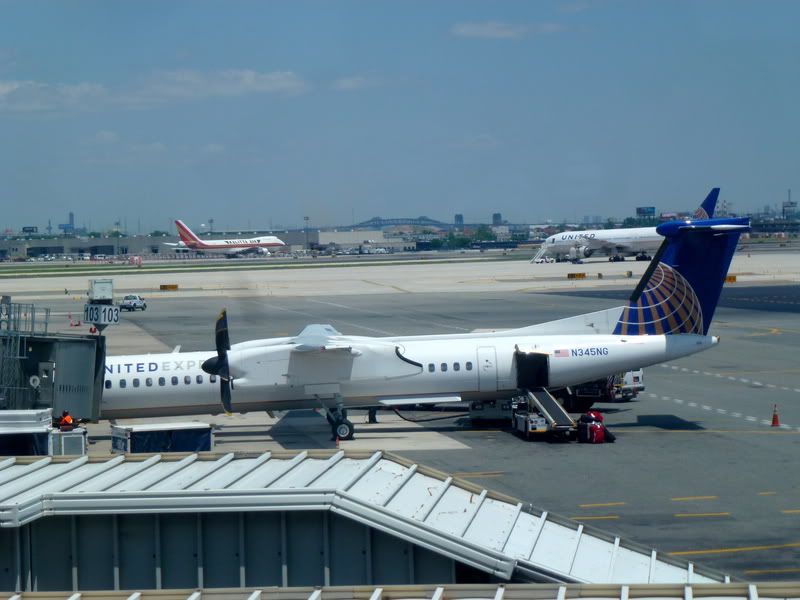 Finally - NYC (or rather Manhattan) skyline: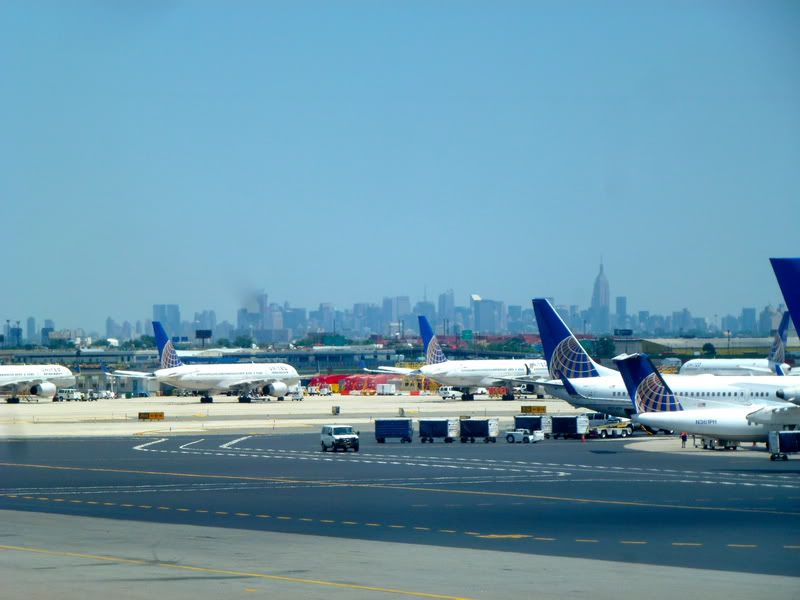 I locate the gate for the bus, manage to convince the agent that she should admit me with my Jetblue booking confirmation, take the elevator downstairs and enter the bus. The bus just happens to be idling in front of this sign: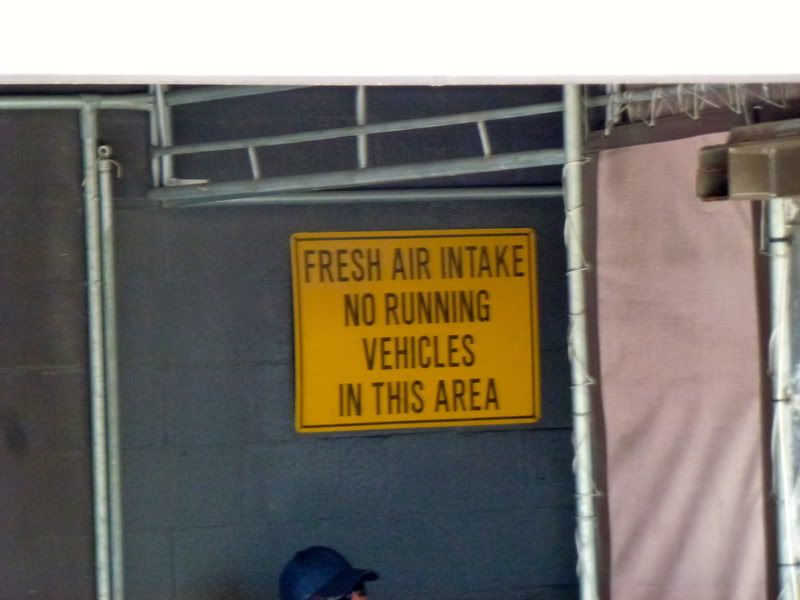 After getting packed with passengers to bus sets off - very nice to see something Scandinavian here: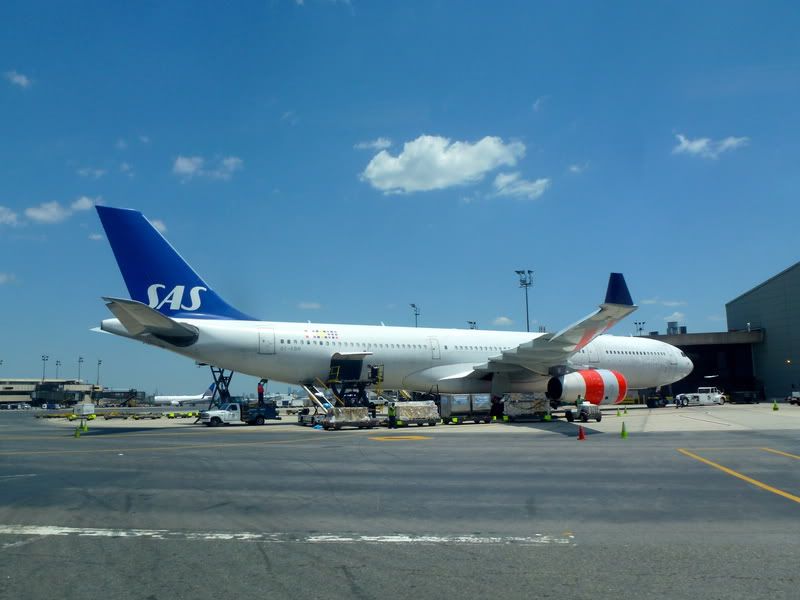 Hmm, looks like the ERJs do park at the A terminal: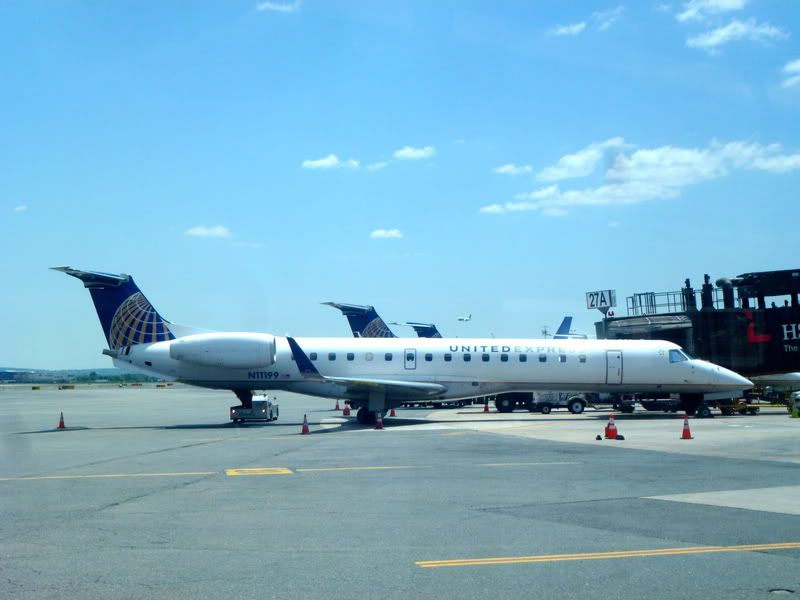 Eventually we reach the first stop of the A terminal - there are actually two stops here as there are two piers - I step off here as my gate-to-be should be in this section which indeed turns out to be true. Boy, what a difference this terminal is to the sparkling clean and new C one: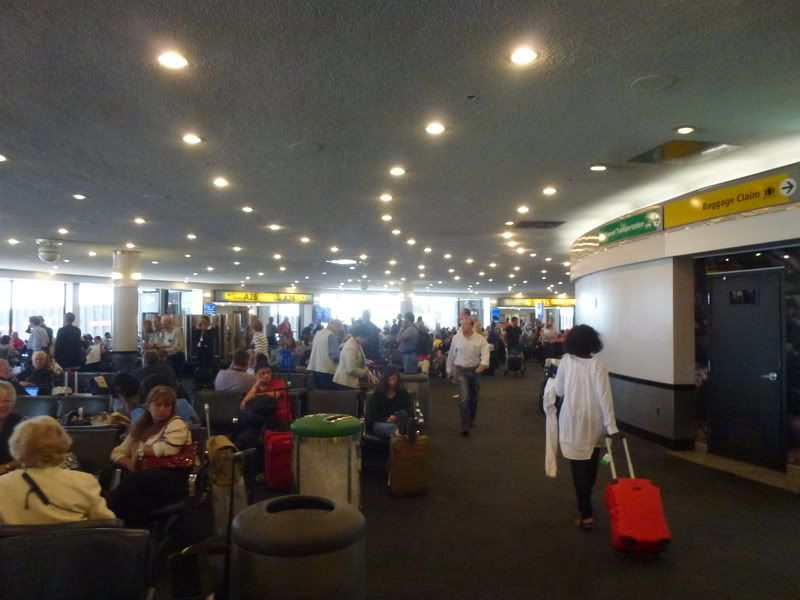 Yes, the ubiquitous (and much hated by yours truly) dirty carpeting has made a return, in addition to inadequate seating, low ceilings and a general feeling of depression: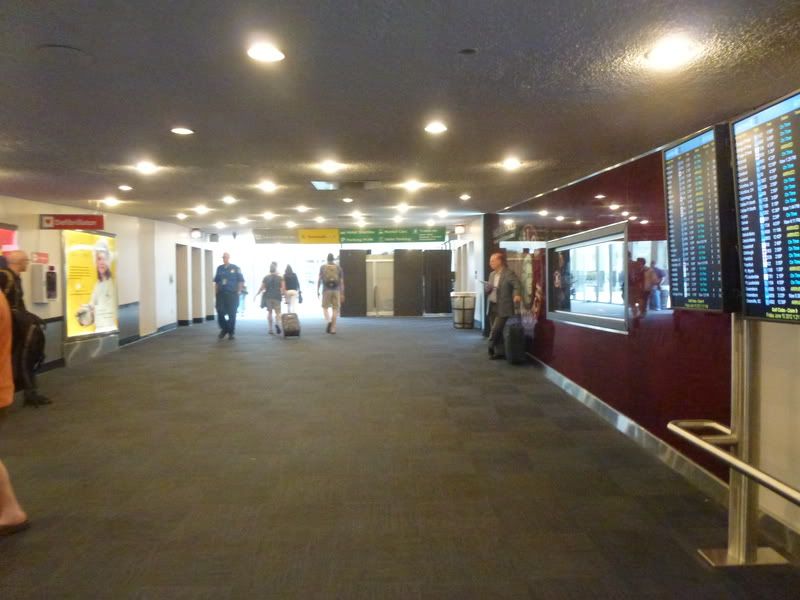 This pier is round, reminds me a bit of the terminal at Bodö, also in that respect that the middle houses a shop/kiosk and the gates radiate out of that.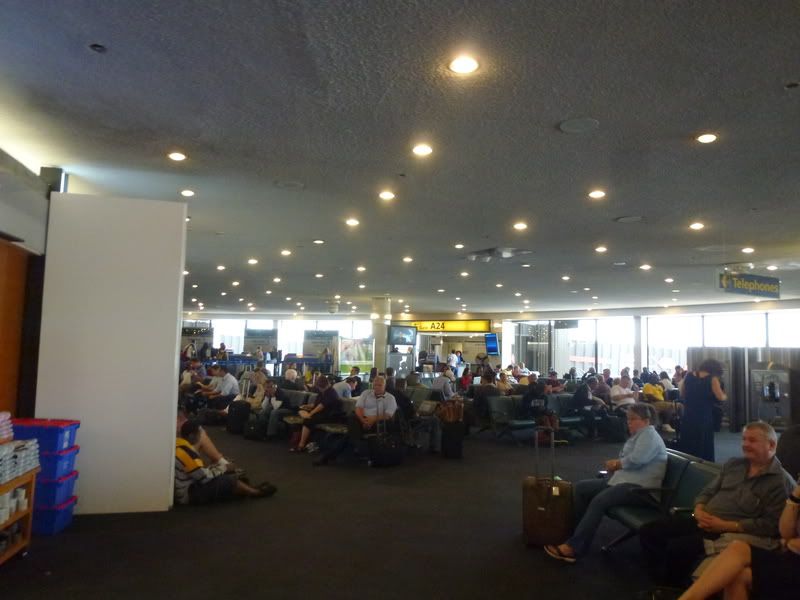 I spot my Jetblue gate so head there and ask the agent to print me my boarding pass - the same old story, did OLCI earlier but need the boarding pass. Upon showing the young guy my passport he immediately says "Oh, Finland - I saw on TV that you have the best schools and education system in the world with the smartest kids."
- "Well, don't know about that. I'm not too smart at least!"
- "You are just being modest. Here's your boarding pass, have a good one!"
- "Thanks man!"
Ahh, this definitely wasn't a Jersey thing! (If you don't understand, watch the South Park episode and you will!).
It is way past lunchtime now and I have more than an hour to go so the next step should be obvious. Well apart from the fact that there's a grand total of one (1) place serving real food in this miserable pier and it's packed. Luckily turnaround is quite fast, so after just five minutes or so of queuing I get a table. The place turns out to be quite a disappointment on the food department: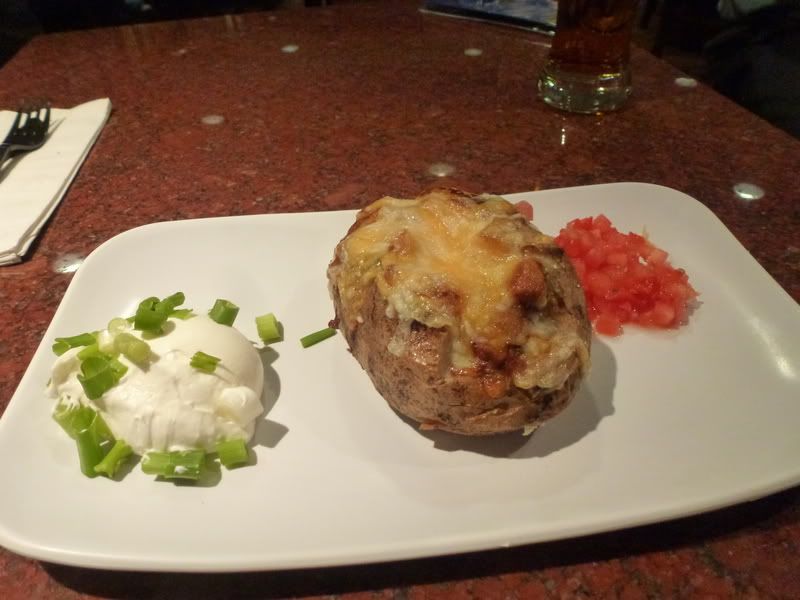 But at least they have Sam Adams on tap, although very very overpriced, so a couple of pints eases my misery a lot: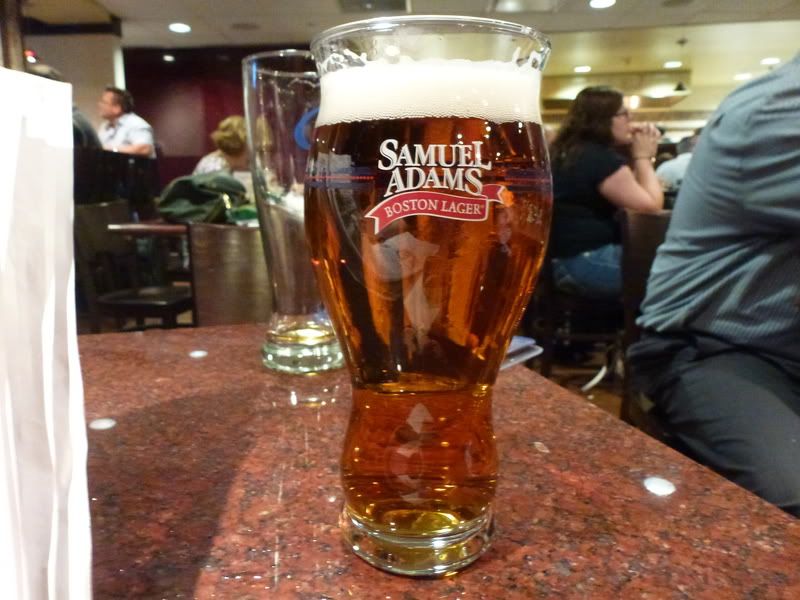 After finishing and paying up I head to my gate where the plane has already arrived: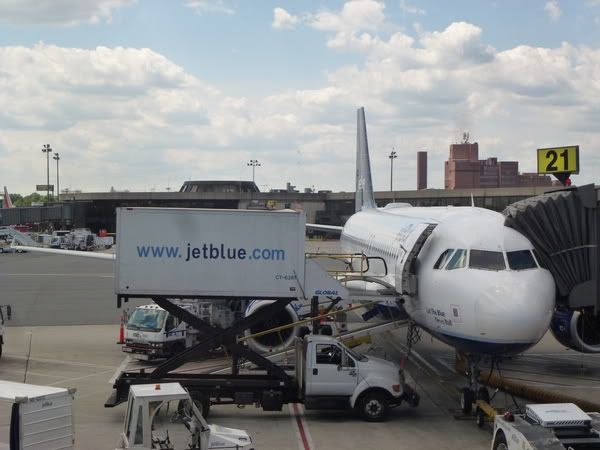 "Let the Blue Times Roll":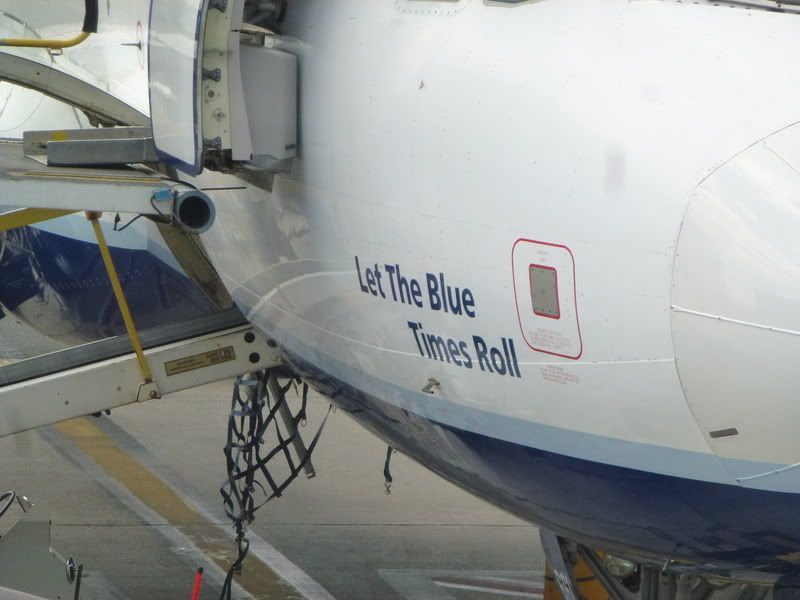 I have just enough time to purchase the obligatory water bottle before boarding starts. As it is called by rows and I have a seat way back I'm among the first few groups to pass: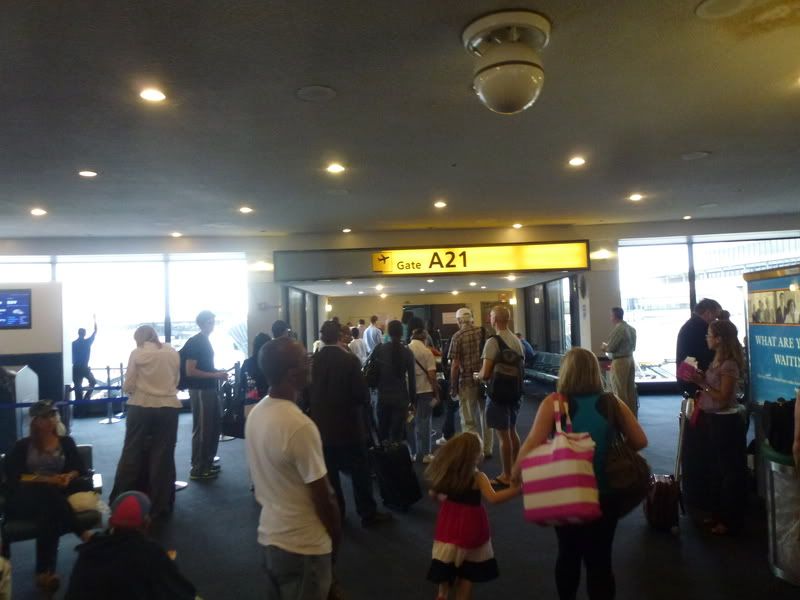 GIDS: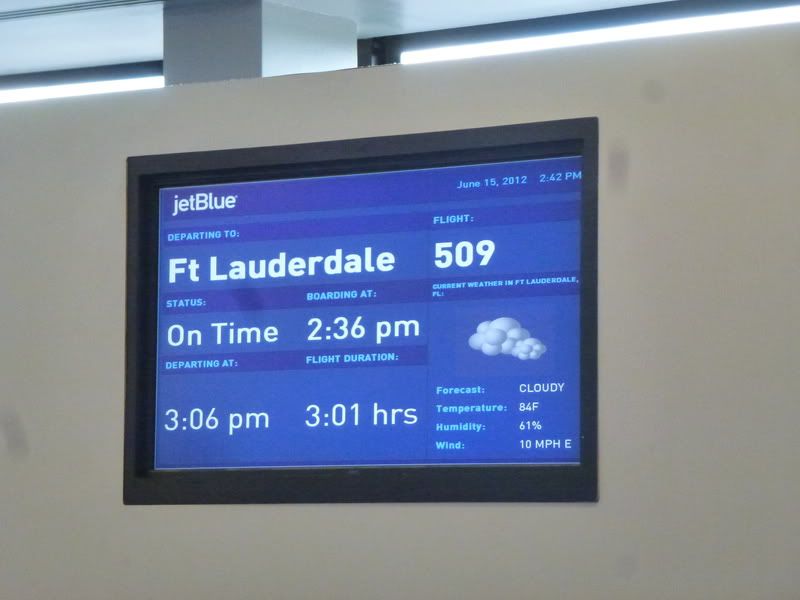 Short wait inside the jetway - this picture got me thinking - have you ever noticed how a jetway at EWR looks just like a jetway anywhere else in the world: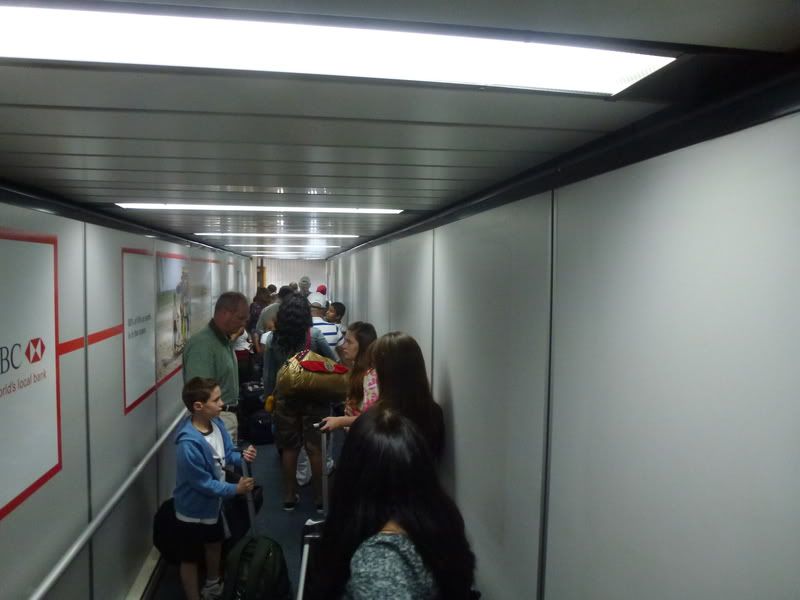 EWR - FLL
B6509
A320 N661JB "Let the Blue Times Roll"
Seat 24F
15.06 - 17.35
Looks like somebody is (or at least was) in love with Jetblue: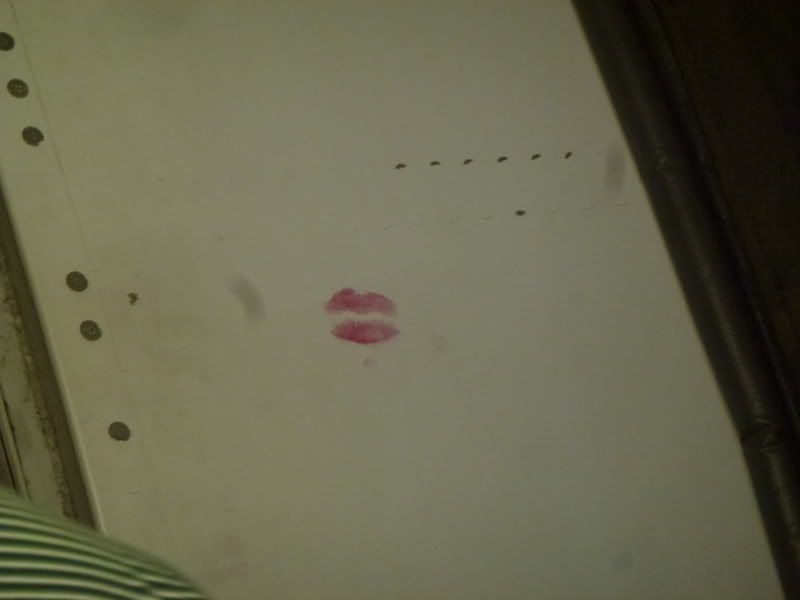 A very disinterested purser is staring at us in the front galley, but not really greeting anyone. Nice welcome onboard. She has two colleagues, a very senior guy on the exit row who is the friendliest of the bunch and a younger guy in the back galley who is nice enough and does everything that is written down in his job description but don't expect any smiles or genuine friendliness from him, no no.
I am very surprised by the old fashionedness of the cabin and especially the seats:
Top