An ad for the DC-8 in
Life
magazine (April 1, 1957):
What will it be like to fly in a jet?

Your first jet flight will add a most meaningful dimension to your life—a new measurement of time and space.

You settle in your deep, soft seat in the graceful plane with the swept-back wings.

A short, swift run—and you are airborne. The nose points up eagerly and the earth drops away below you.

You climb steadily, serenely, quietly. The muted sound of the jets falls quickly behind, for in the DC-8 you move almost as fast as the speed of sound itself.

The splendor of the stratosphere

Up you go—up, up beyond the limits of today's planes. Up seven miles from the earth, and now almost eight.

You level off in the stratosphere. And even though the DC-8 puts half a mile behind you with every breath you draw, you feel no sensation of speed or flight.

Just outside your window the temperature in the thin air is 60 degrees below zero. But the air in the cabin has the soft touch of a June day, fresh and sweet and comfortable.

The view of the earth moving lazily and distantly below is exhilarating, with glimpses of fields and towns and mountains in miniature, or silver stretches of the seas.

Up this high, too high for the longest fingers of weather to touch you, you sense a tranquility, a detached peacefulness, a freedom of spirit. You share a feeling of majesty with the sun and moon, often seen hanging in the sky together.

During the day, the sky is an ocean of shining blue. In the evening, the blue deepens into dark velvet. The moon sends forth its milky light. The stars loom larger and brighter, and you are enthralled by the ghostly radiance of the night sky.

Witness to a miracle

Now, almost unnoticeably, you are descending from your secret corner of the sky—down to earth again.

On the ground, you realize how far you've come in how short a time. Realize, too, that you have witnessed—and even played a part in—one of the miracles of our age…the miracle of commercial jet flight through the stratosphere to distant places; so swift, so convenient, so beautiful and rewarding as to leave all other ways of travel in its wake forevermore.

Greetings, fellow A.netters, and welcome to my latest trip report. I've been on more than a few flights since we last met; you will read about a great deal of those as we go along the next few days!
What you see here represents the first leg in another epic journey through the airports of the United States. If you were brave (or foolish) enough to read the entirety of my "Top Ten" series, then you know that I had a blast pretty much every step of the way. With that in mind, I conjured dreams of reprising my role as the raving daytripper.
The planning for this set was much more challenging than the first—but that led to more ambitious scheduling, which I hoped would lead to more rewarding results. Case in point: the last series totaled 26 flights. This one would take 37—at least it did when I first planned it. That number changed a few times… As an illustration of what I would encounter over the next few weeks, here's what the whole route map looks like, courtesy of ye olde Great Circle Mapper: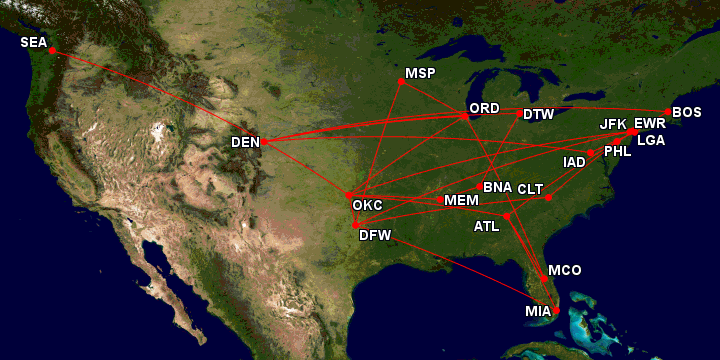 With so many options, it took a little bit of strategy to decide how to connect the dots. Once I was satisfied with how those connections looked, I had a handful of patchwork itineraries. I was ready for "The Next Ten" – my journey through the 11th through 20th busiest airports in the country (total passengers). As before, I based my plans on the traffic numbers available; 2010 in this case. Once the final 2011 numbers came out not too long ago, I looked to see if any airports were different from the previous year. Just like last year, there were no surprises, so there won't be any outcasts to visit. The traffic rankings below will reflect the airports' 2011 positions. Now that all of the pomp and circumstance is out of the way, let's get on with the show.
Leg 1: Triple Seven, Twin Cities – January 21, 2012
I'll bet you've already guessed the two highlights for this trip. The first: catching a Boeing 777. When I saw a 777 operating the DEN-ORD route, I sensed an opportunity for flying on The Beast that I couldn't pass up. In addition, it would be a bit of redemption for a cancelled DEN-ORD 777 that stopped me in my tracks in summer 2010. If all went according to plan, it would be my second ride on the Triple.
The second: paying a visit to Minneapolis-St. Paul International Airport, the 15th busiest airport in the country. My primary concern for this day was the weather. In an attempt to spread out my travels a little more, I decided on starting as early as I could. Of course, booking travel through Denver, Chicago, and Minneapolis in the dead of winter is quite the monumental gamble. Indeed, the latter two were just coming out of snowstorms. I was fortunate that the weather cooperated for me on this day.
(Some pictures have been omitted for your convenience. If you wish to see them all, feel free to follow the link: Slideshow for Leg One)
Southwest Airlines 3294 OKC-DEN
Scheduled: 07:00-07:45
Actual: 07:04-07:15 (wheels up/wheels down); 06:57-07:28 (gate to gate)
Boeing 737-7H4 (N920WN)
This was a routine flight to the Rockies, made more pleasant by the light load factor. There were only 58 of us onboard according to the gate agent. Hence, the two seats to my left remained unoccupied. A few snapshots from the voyage:
My 73G awaits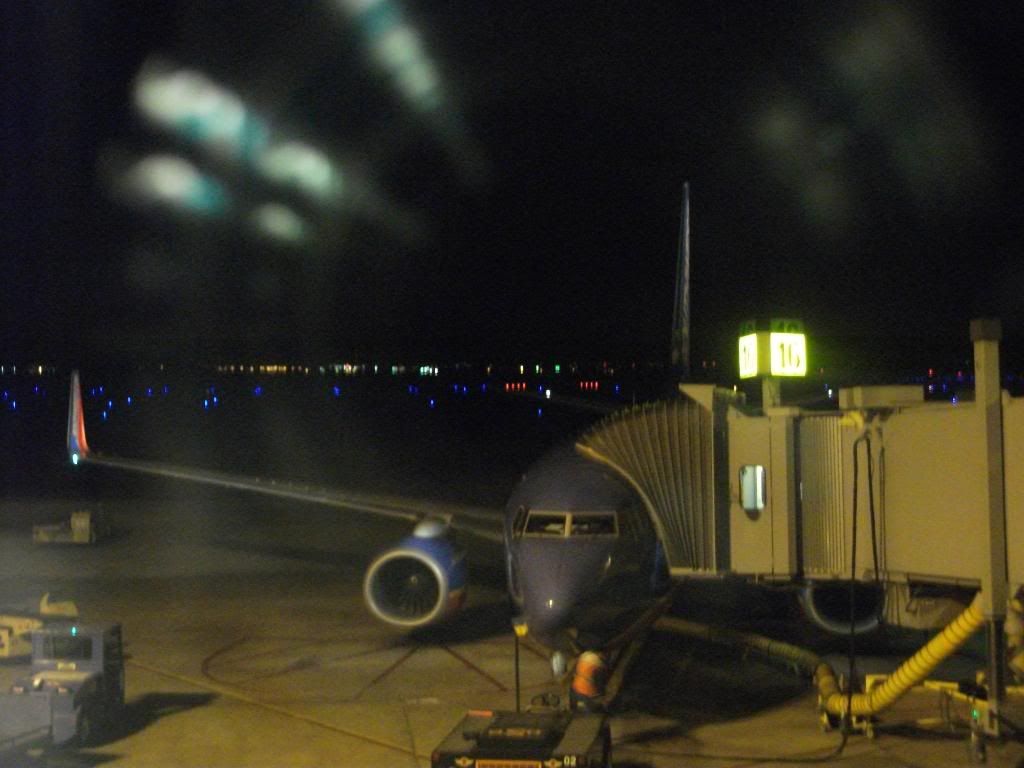 Sister ship N691WN (she's older by a little over 20 years)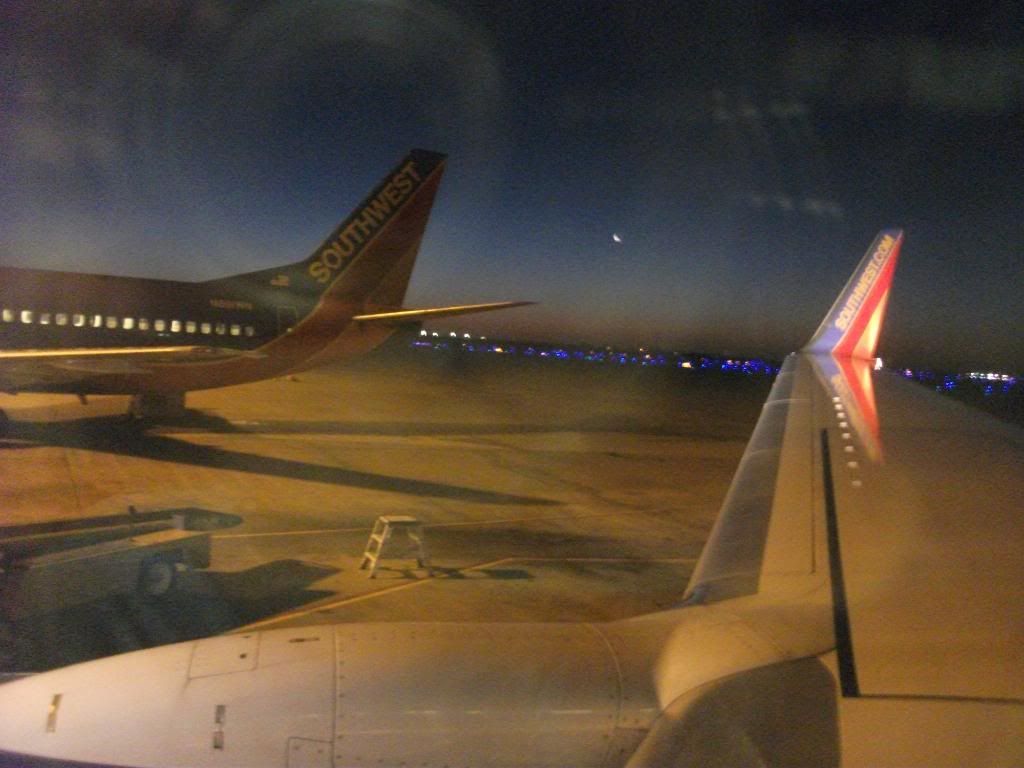 Legroom: adequate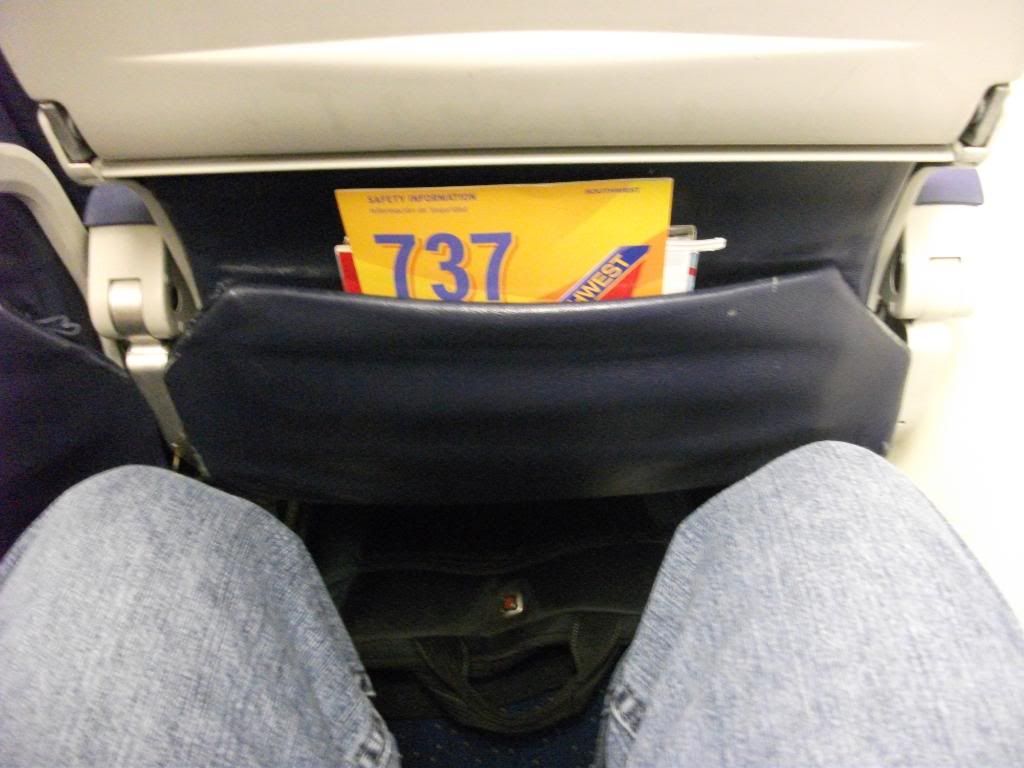 The sun begins its daily course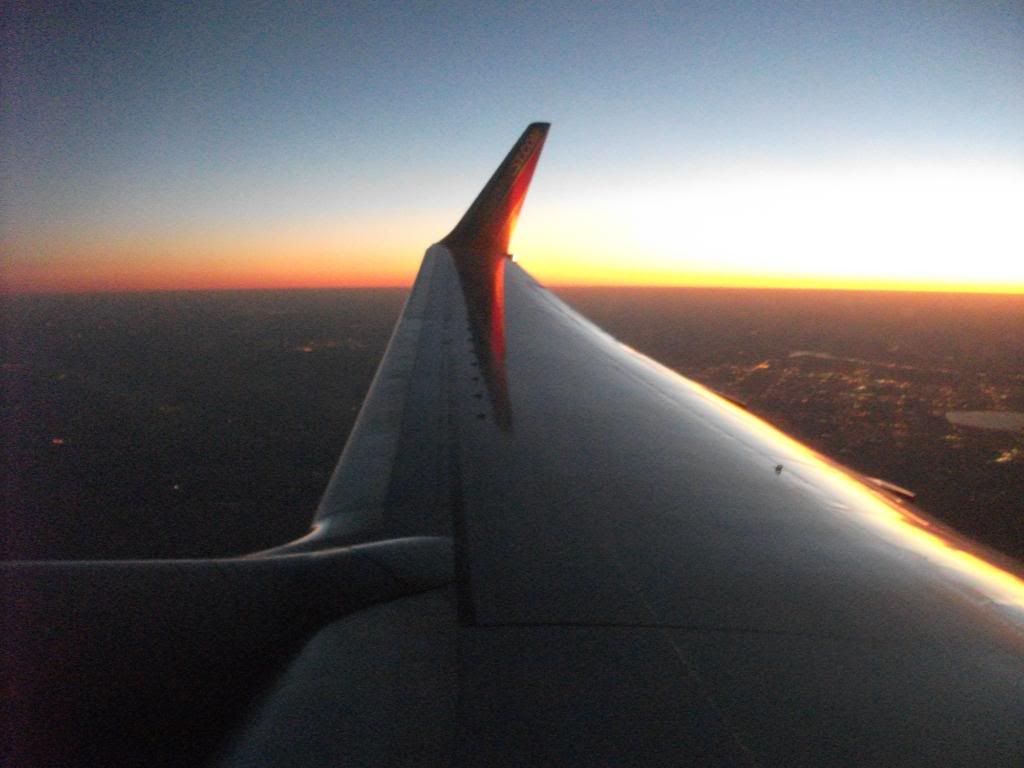 Reflection of the "bags fly free" sticker
Then we landed, parked at the gate, yadda, yadda, yadda… With about an hour before boarding for the next flight, I made my way to Concourse B to get my boarding passes and see which 777 would whisk me to the Windy City. The answer: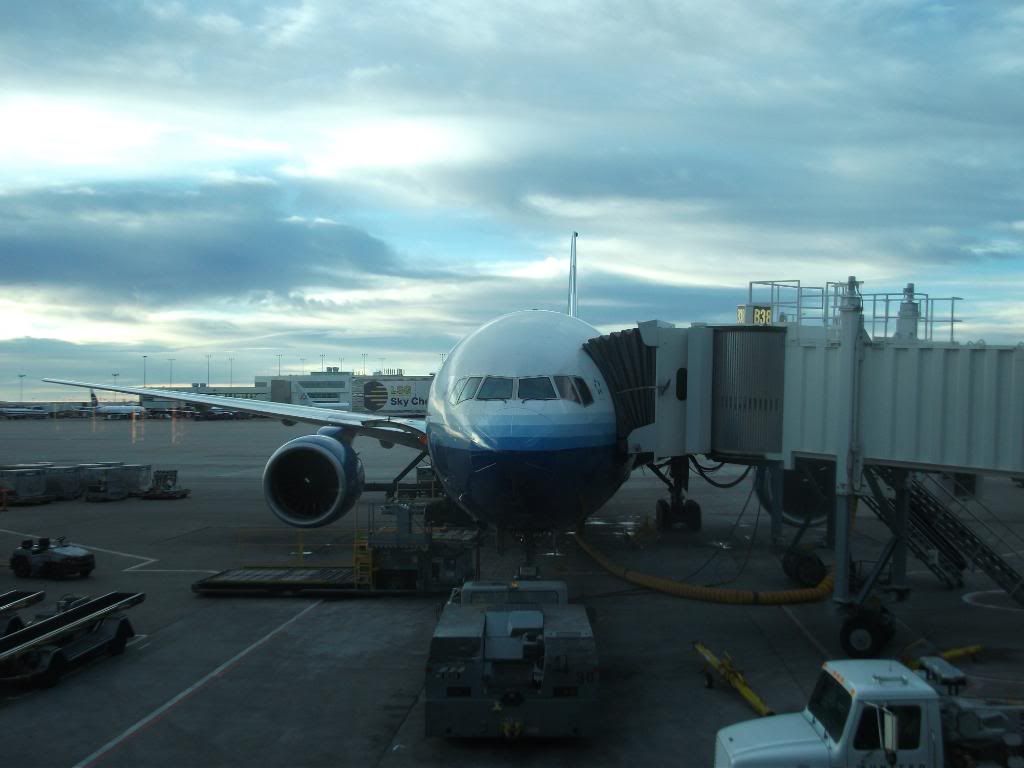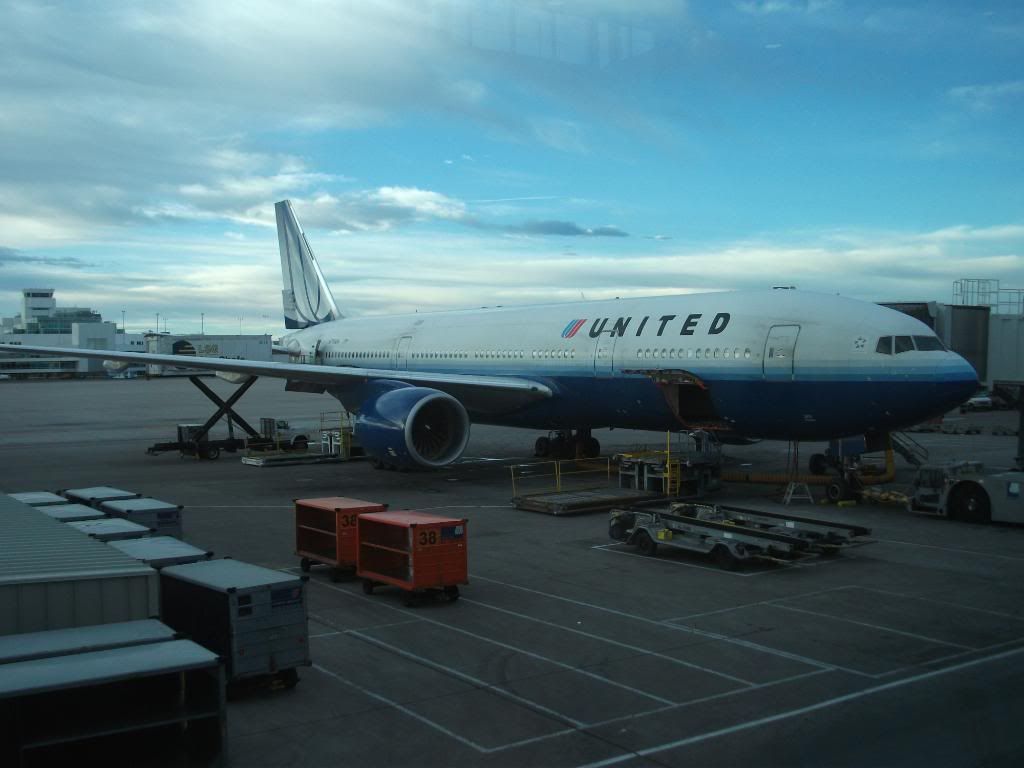 United Airlines 910 DEN-ORD
Scheduled: 08:53-12:15
Actual: 09:07-12:13 (wheels up/wheels down); 08:51-12:18 (gate to gate)
Boeing 777-222 (N775UA)
In a lovely departure from the indication on the seat map, the middle seat next to me was empty, so I hit it lucky again in that respect. Boarding was accomplished surprisingly quickly; we were finished in a little over 20 minutes. We slowly—and I mean
slowly
—taxied out to the runway. It was perhaps the most timid movement of an aircraft that I've experienced, and it was somewhat unexpected from the 777. (Random note: I saw an old friend as we made our way to the active: N666UA, the 763 that got me to LAX for a previous report. It has since received the new company colors, and it looked quite nice wearing them.)
IFE screen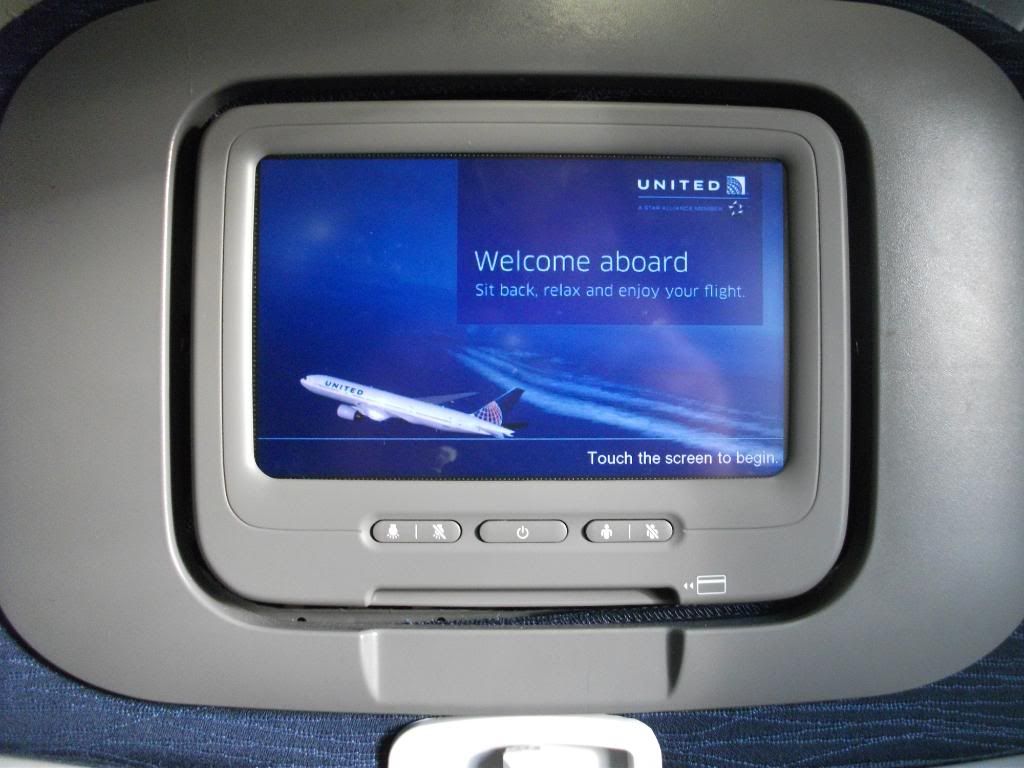 Legroom: adequate again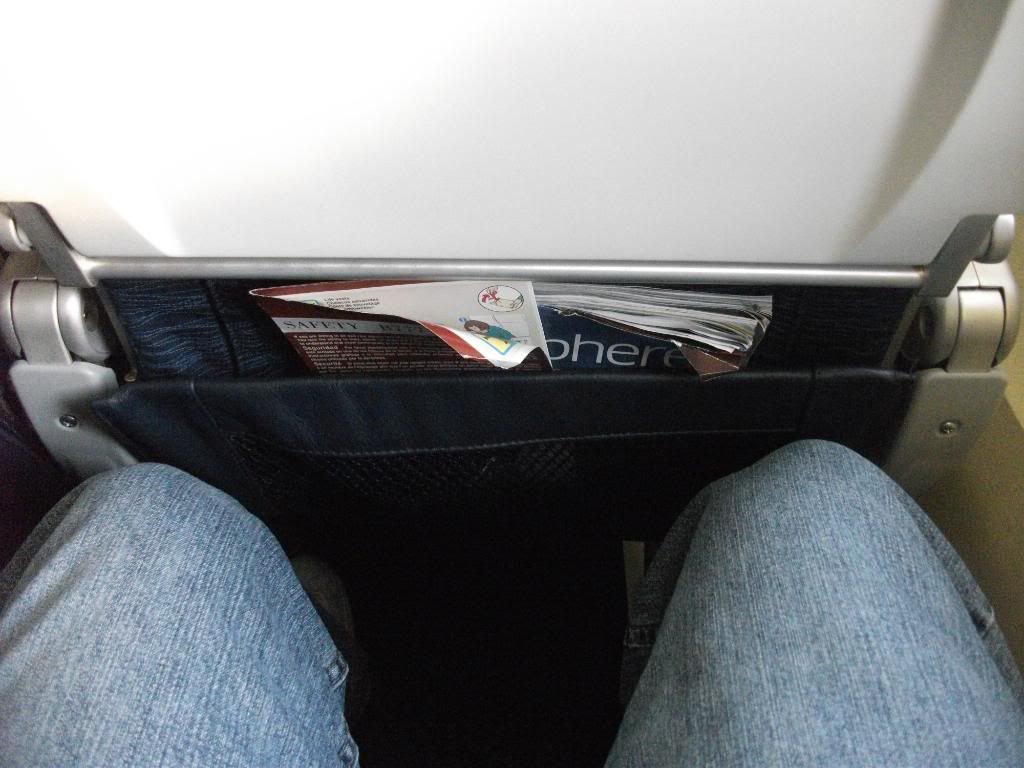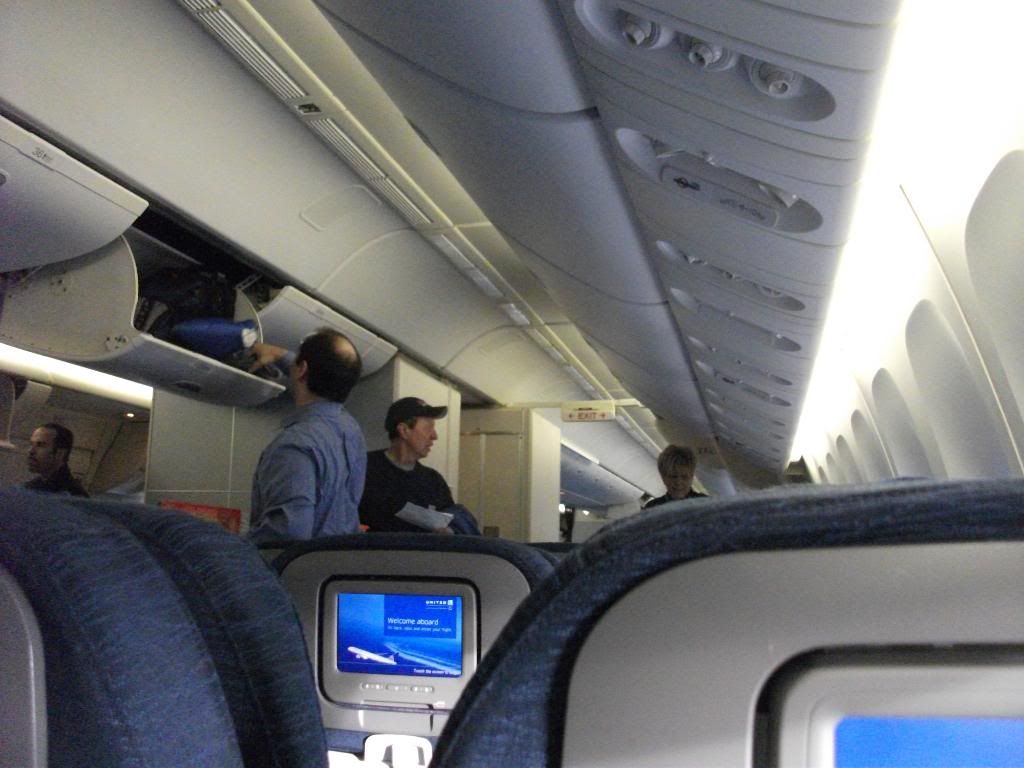 One of the few times when a 757 seems small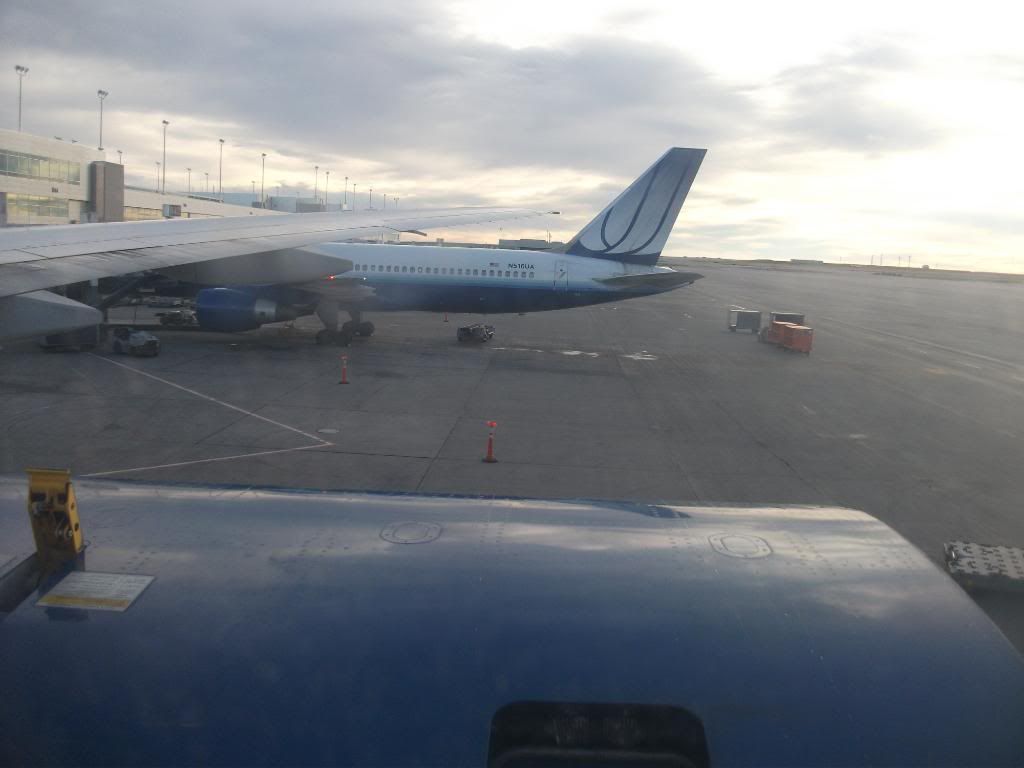 The captain seemed to apply just enough power to get the takeoff done—things were quieter than I anticipated. Nevertheless, the machine leapt off the earth and soon pointed its nose toward O'Hare. To illustrate these points, I have provided a takeoff video for your viewing pleasure:
Takeoff video of UA 910
Captain Whoever made up for the slowpoke act by activating Channel 9. (I was less than thrilled when ATC made us slow down from Mach 0.825 to 0.79 for spacing.) The flight was punctuated by some light turbulence for probably the first half-hour. The shaking ceased somewhere near Broken Bow, Nebraska (thank you, map). The gentle giant sped us along at 39,000 feet, shooting a contrail past my window as we went:
Contrail video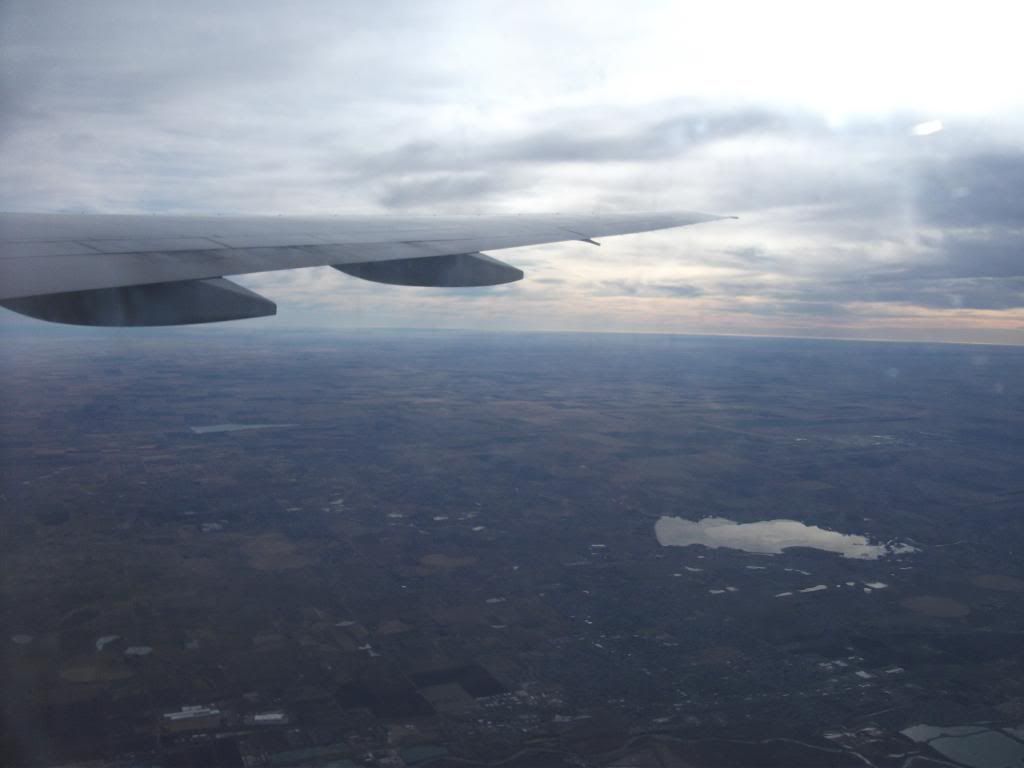 Oh, so we're not going to Chicago?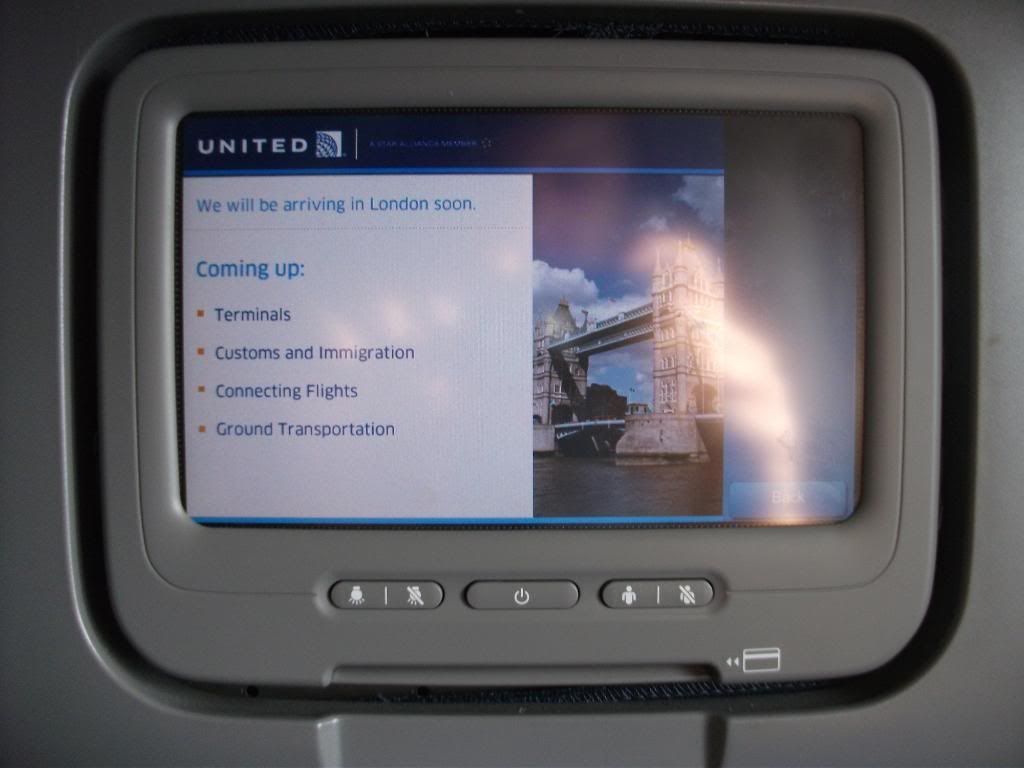 McConaughy Lake and the city of Ogallala, Nebraska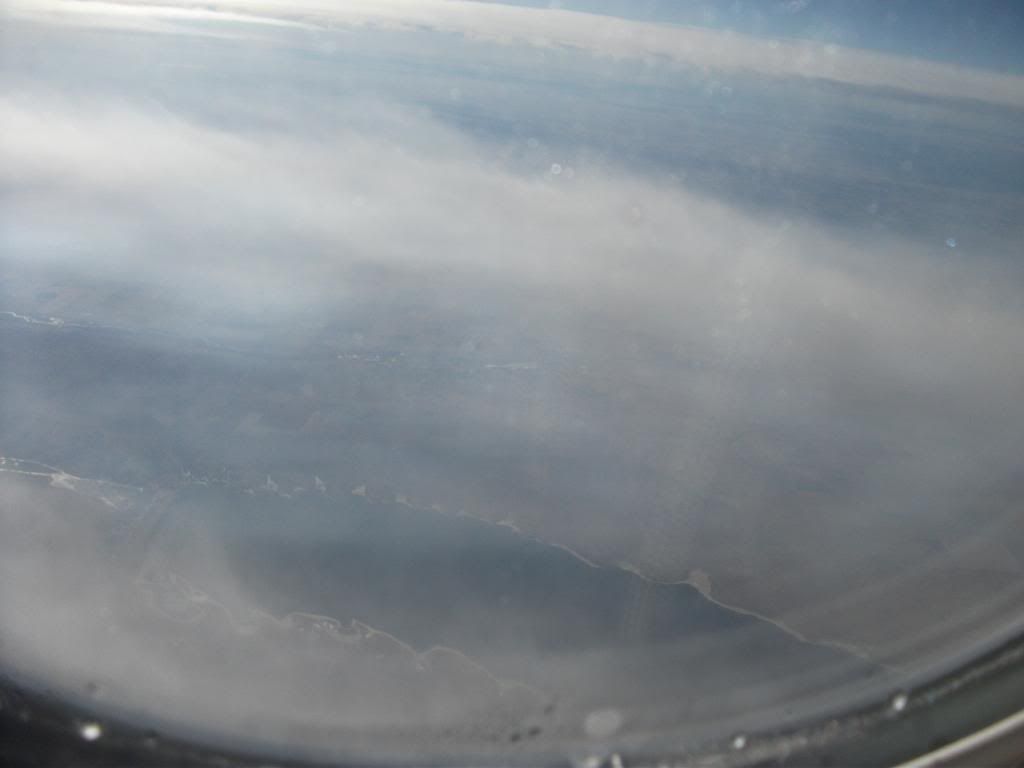 Looking down on a MadDog of some sort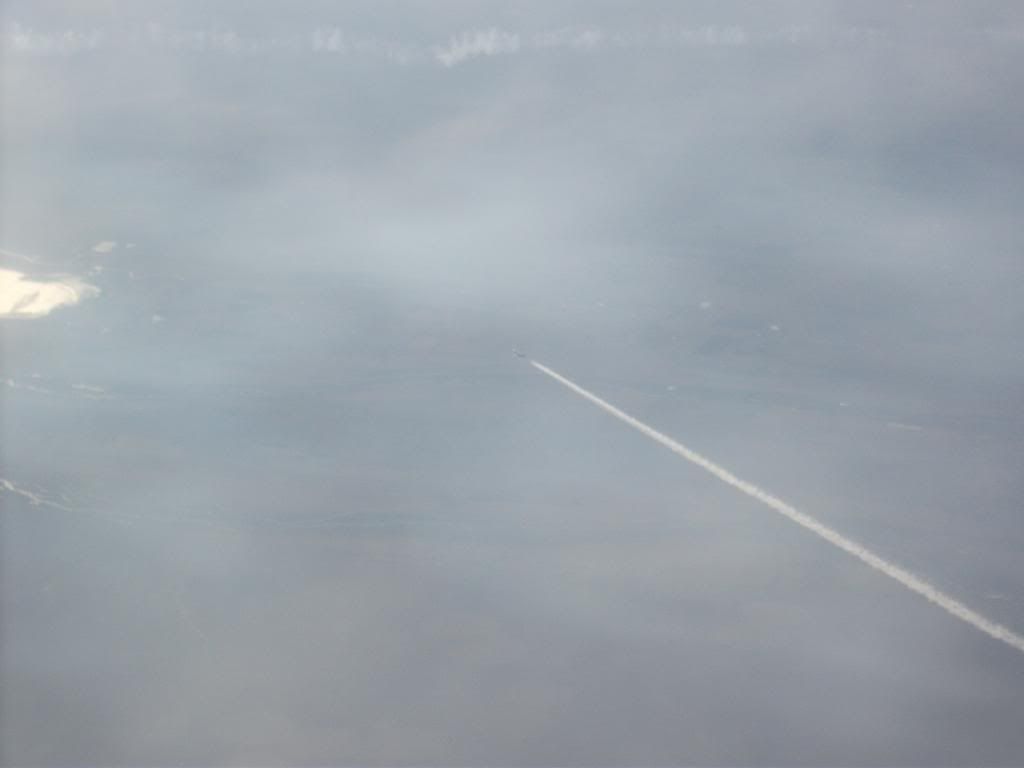 The standard beverage service was on order; I went for the cranberry apple juice. In an interesting statement about what we expect from airlines today, I was a bit surprised when we received cans of our requested beverages. On the plus side, the flight attendants were quite good at cruising the aisles ensuring that passengers remained well stocked with water, juices, and coffee.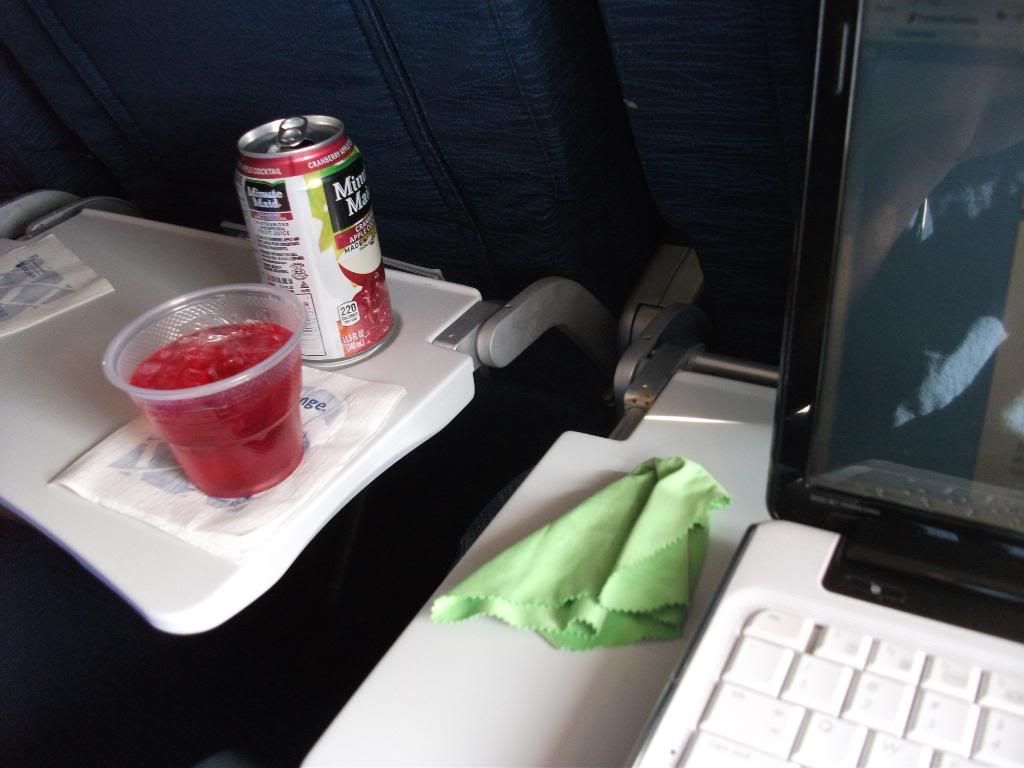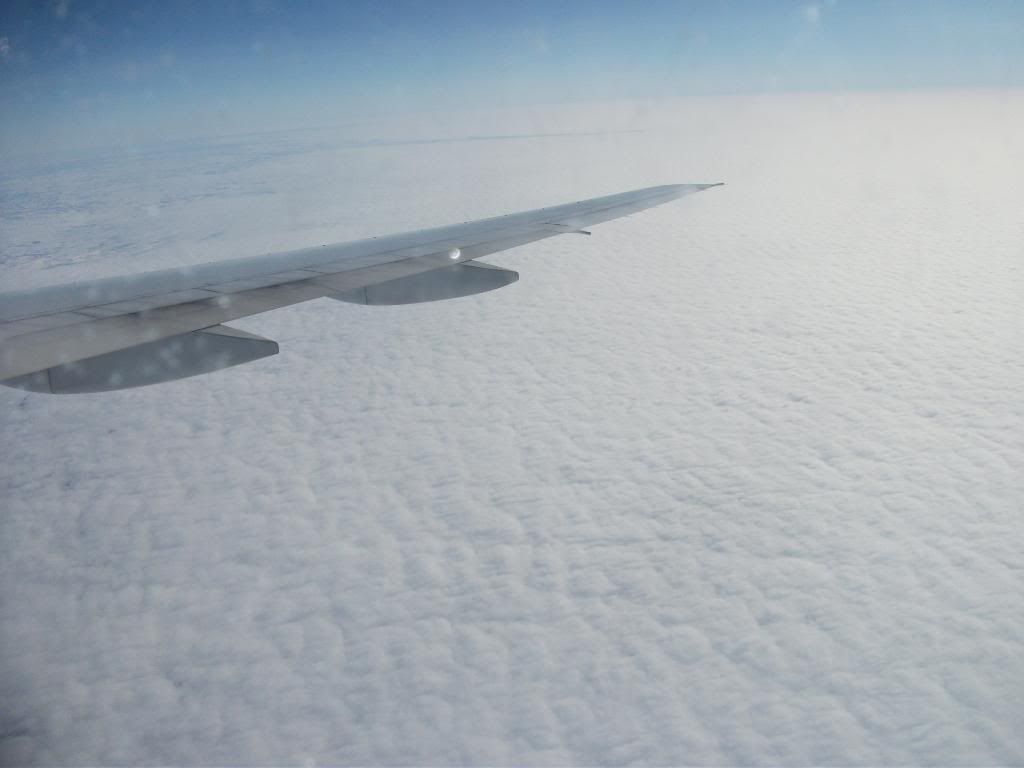 The clouds broke somewhere near Dubuque, revealing a landscape firmly in the clutches of winter.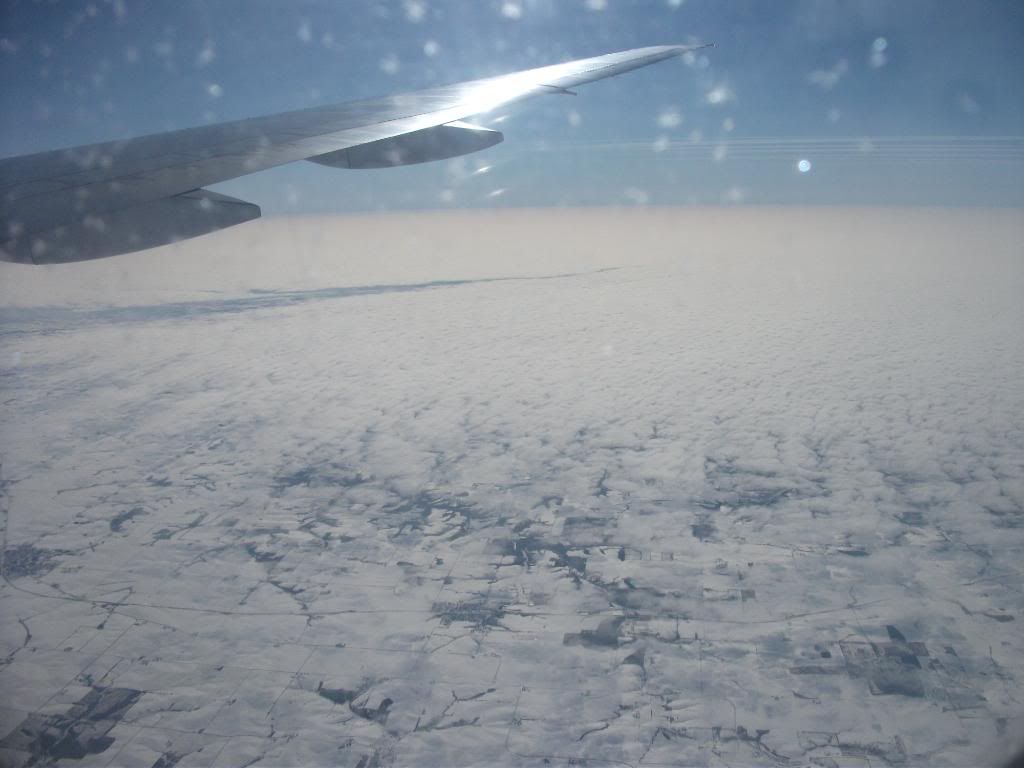 The clouds firmed back up again as we approached Chicago, and I wouldn't see the ground until about 90 seconds before we landed. Speaking of which…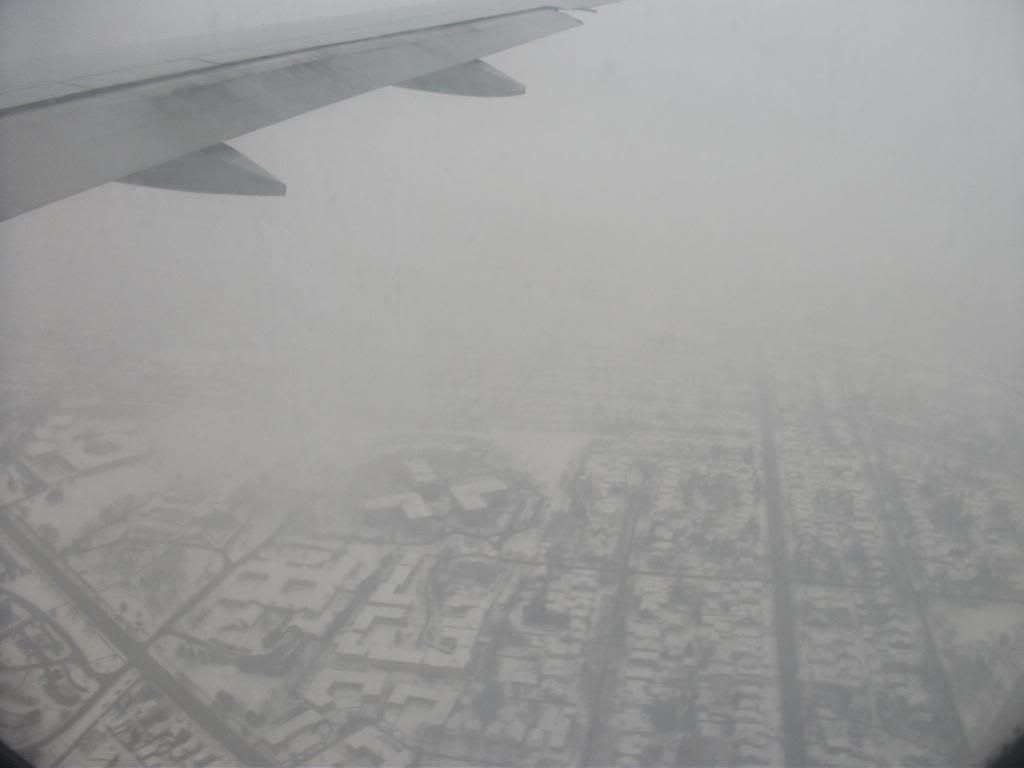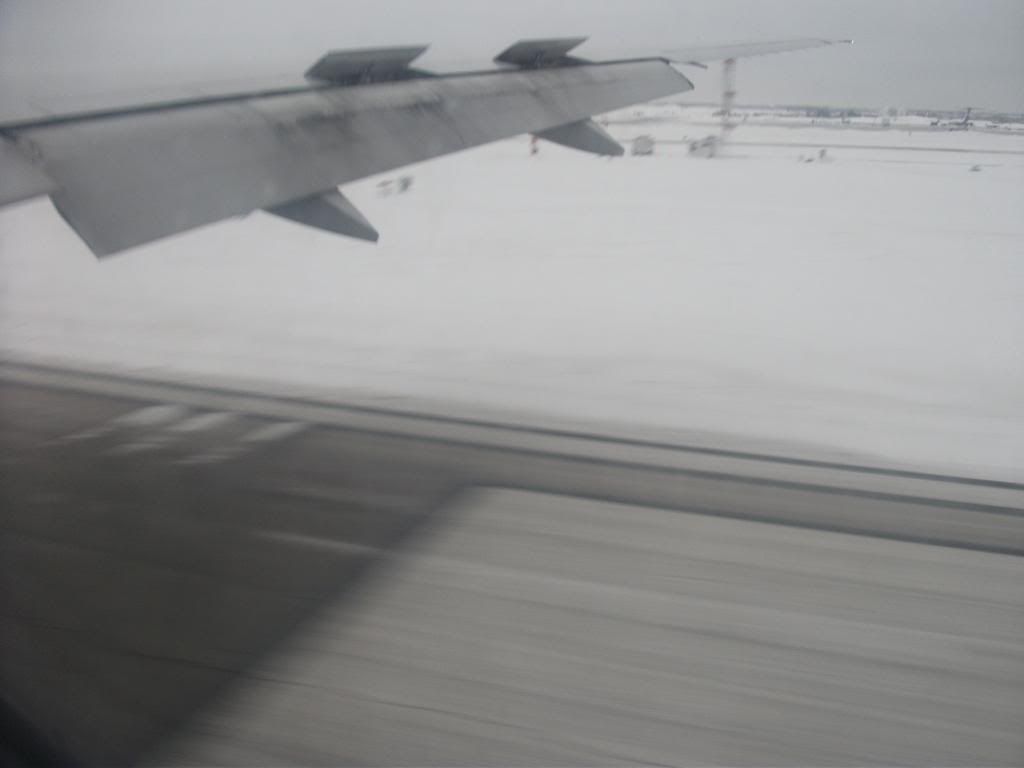 An army of snow-clearing equipment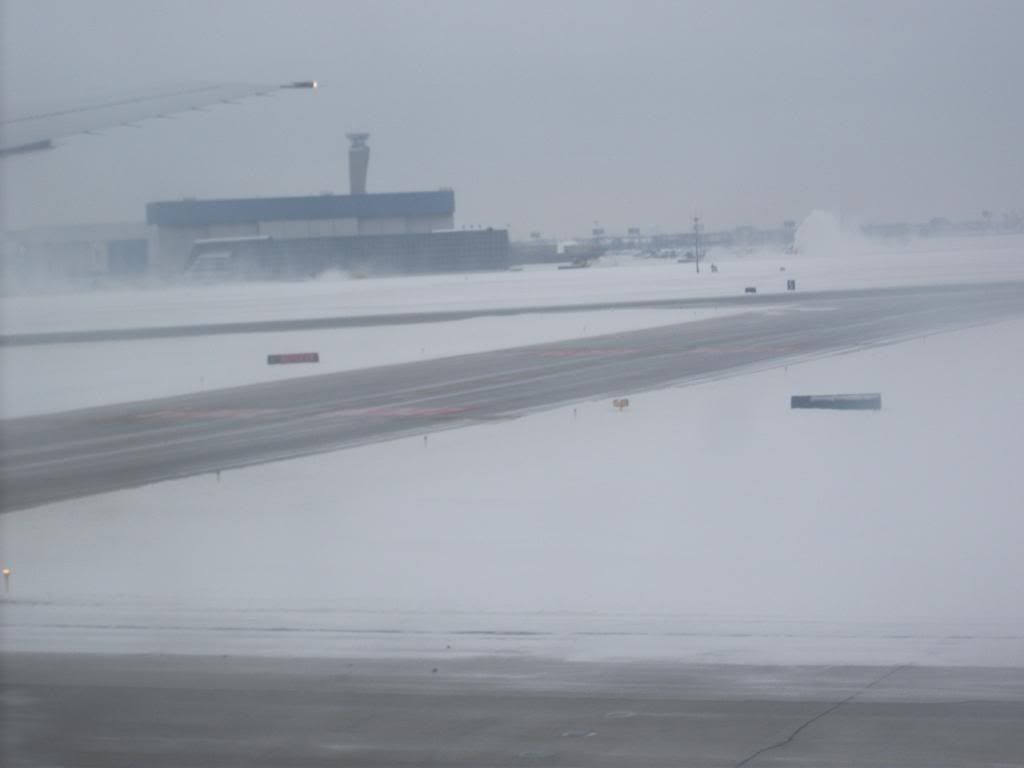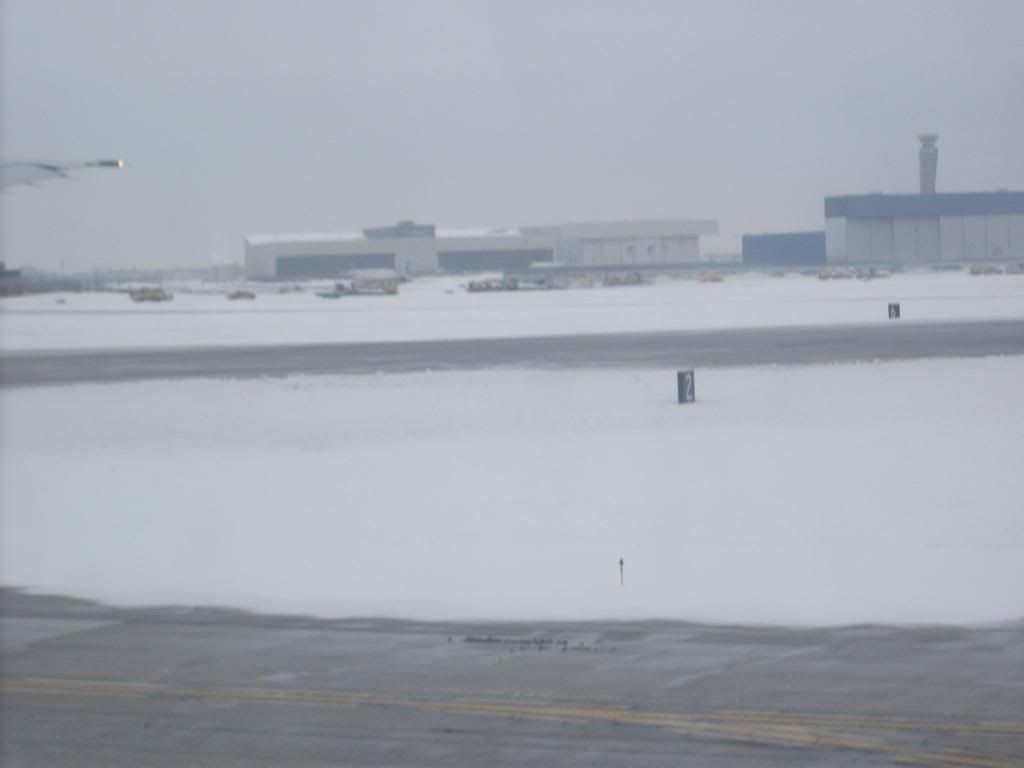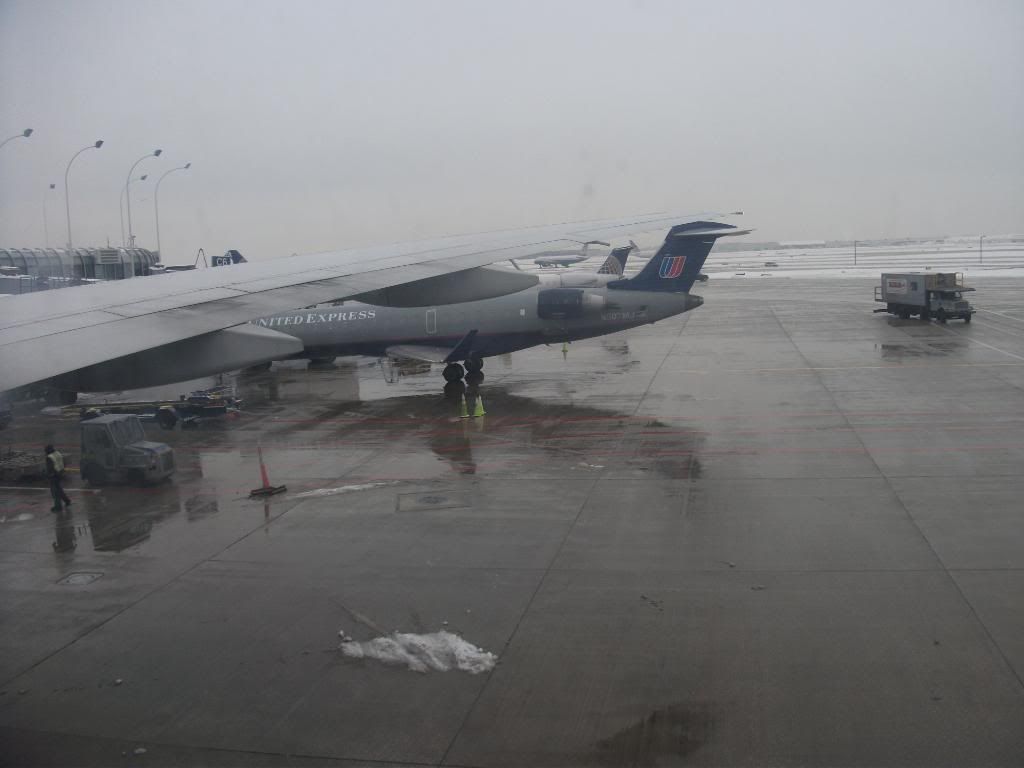 The 772 at rest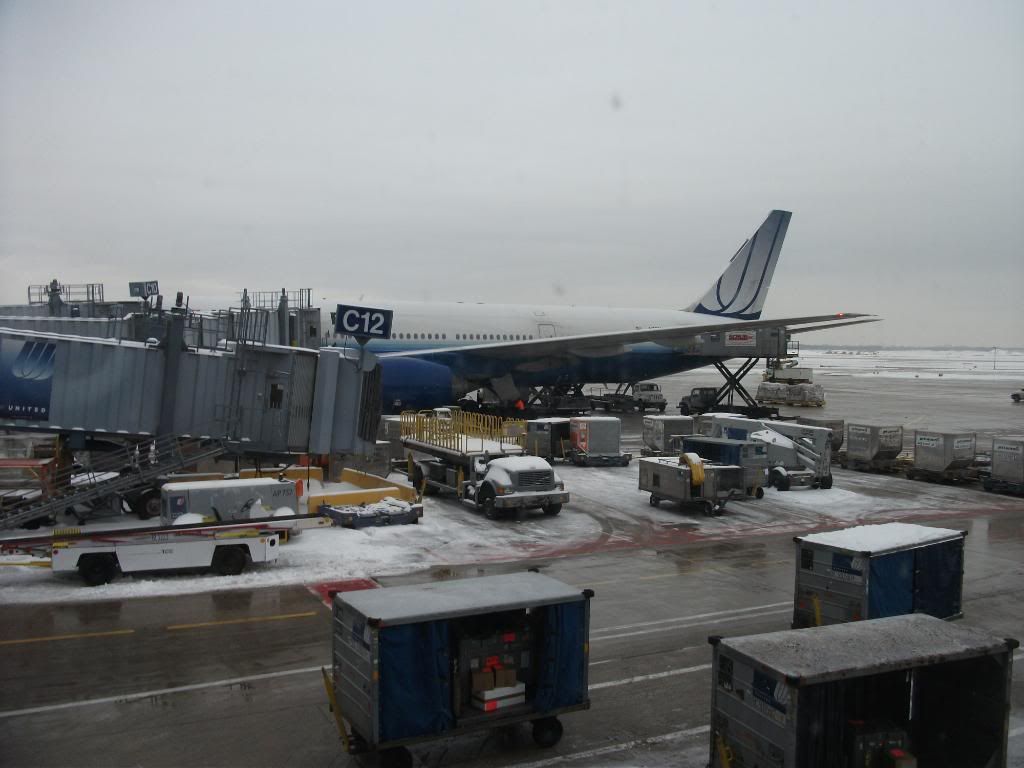 An unremarkable layover passed. I got a quick bite to eat and waited at the gate for my next plane.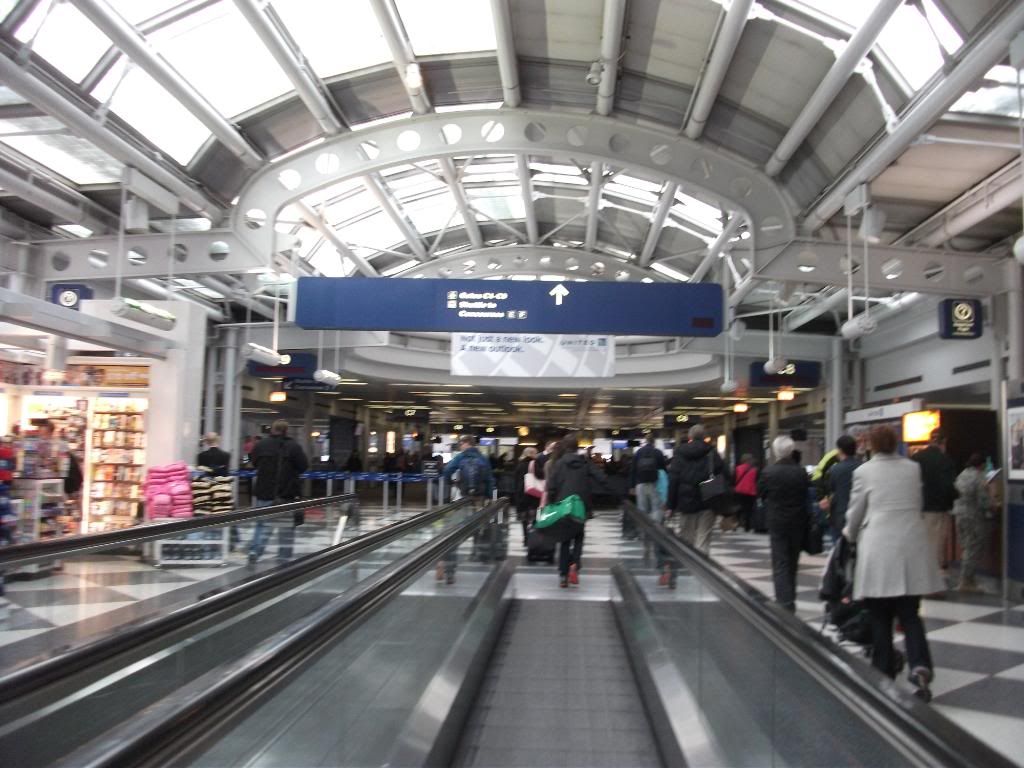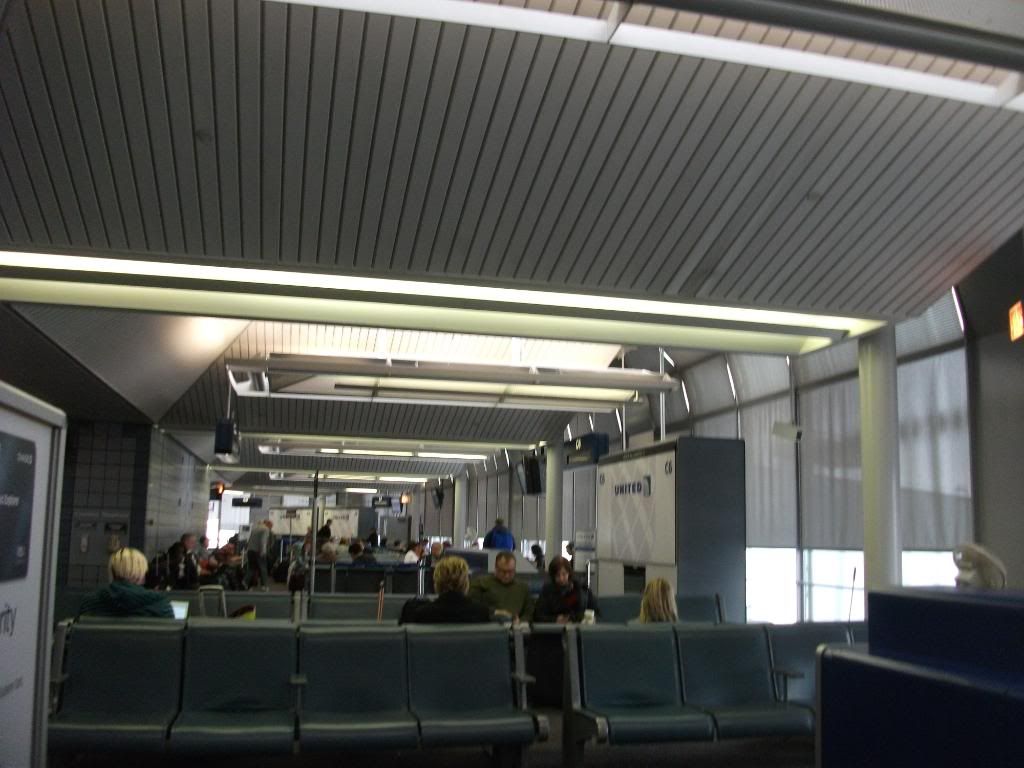 United Airlines 3488 ORD-MSP (operated by Shuttle America dba United Express)
Scheduled: 13:17-14:39
Actual: 14:04-15:11 (wheels up/wheels down);
Embraer ERJ-170-100SE (N655RW)
The E-Jet was late in arriving from LaGuardia, so that explained why it pulled up at our scheduled boarding time. But that was just part one of the delay.
Views from the lovely Row 18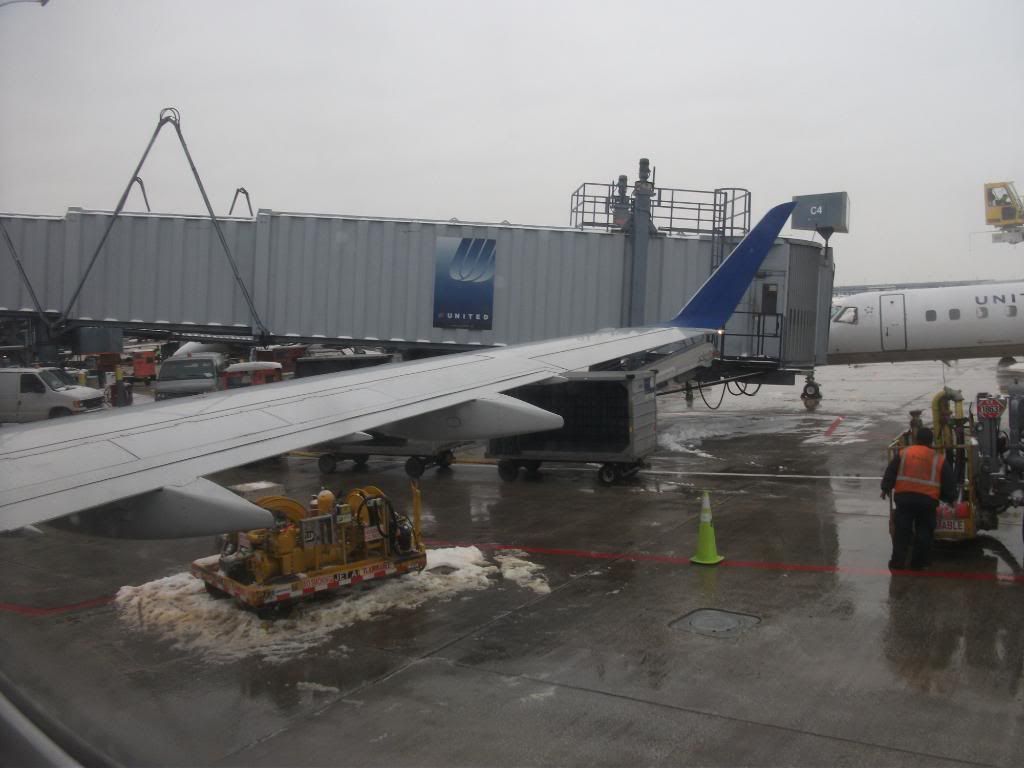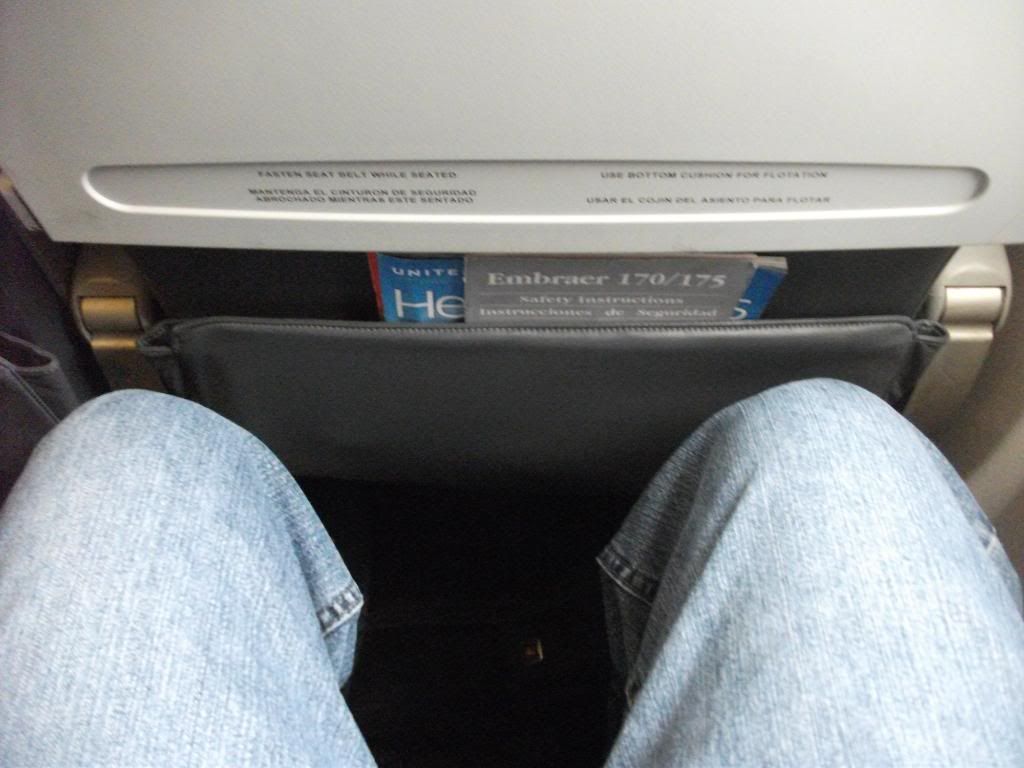 More minutes ticked away as we waited for the de-icing crew to finish their work: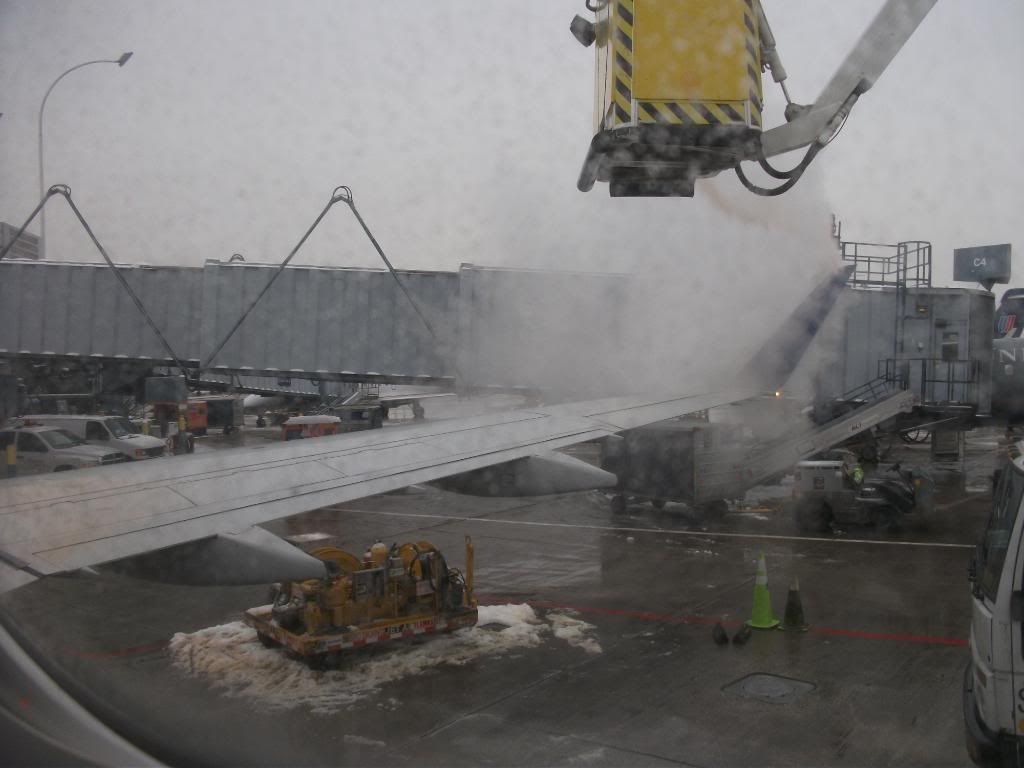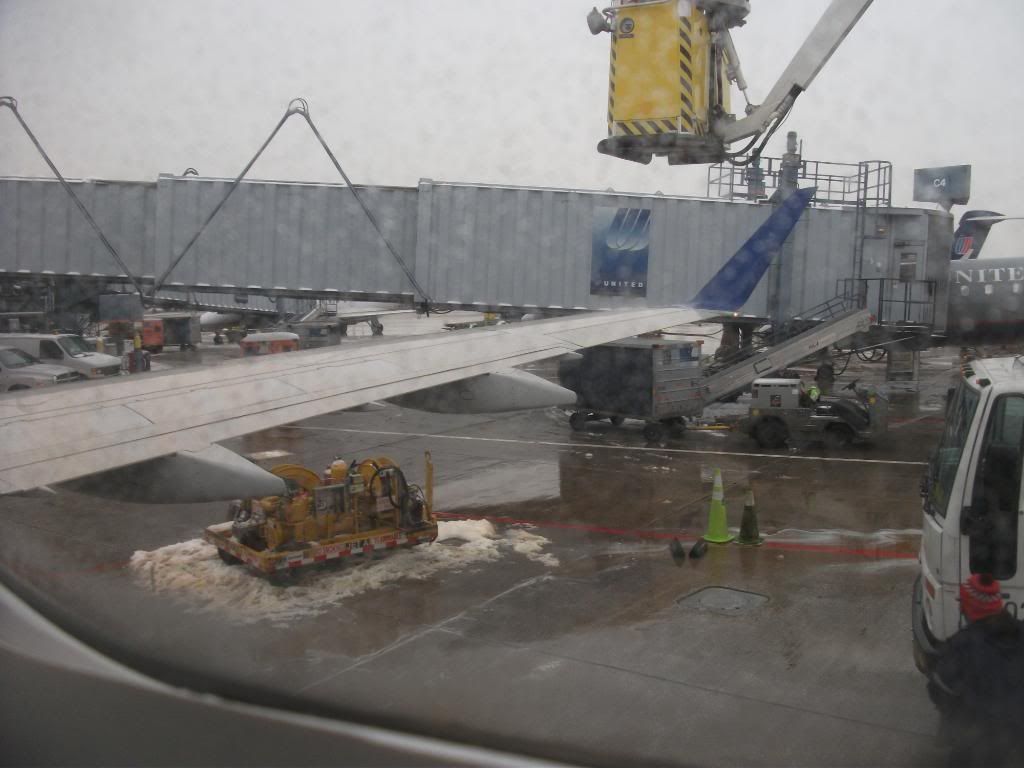 After our plane was coated with a layer of pink, we trundled to the runway to get to Minneapolis. It was almost an hour from the time my butt hit the seat until the wheels left the ground, but we were on our way. (I had to stifle a laugh when the captain's announcement for the FAs to be seated jolted some of the people around me out of their slumber.)
Air India 77W VT-ALO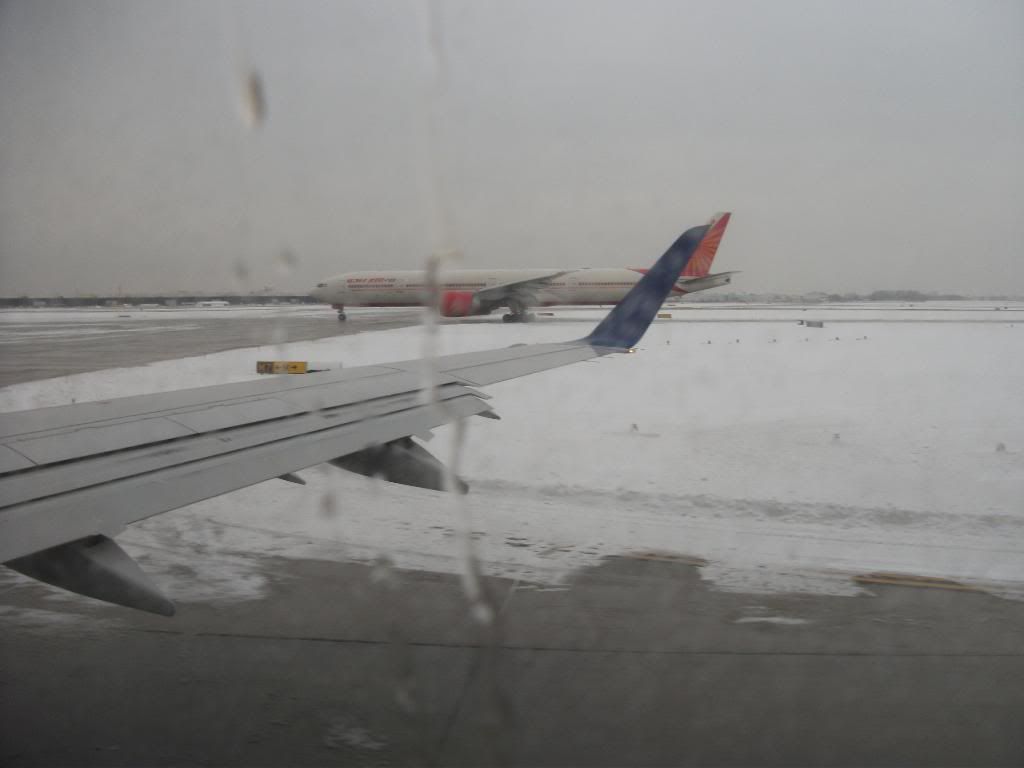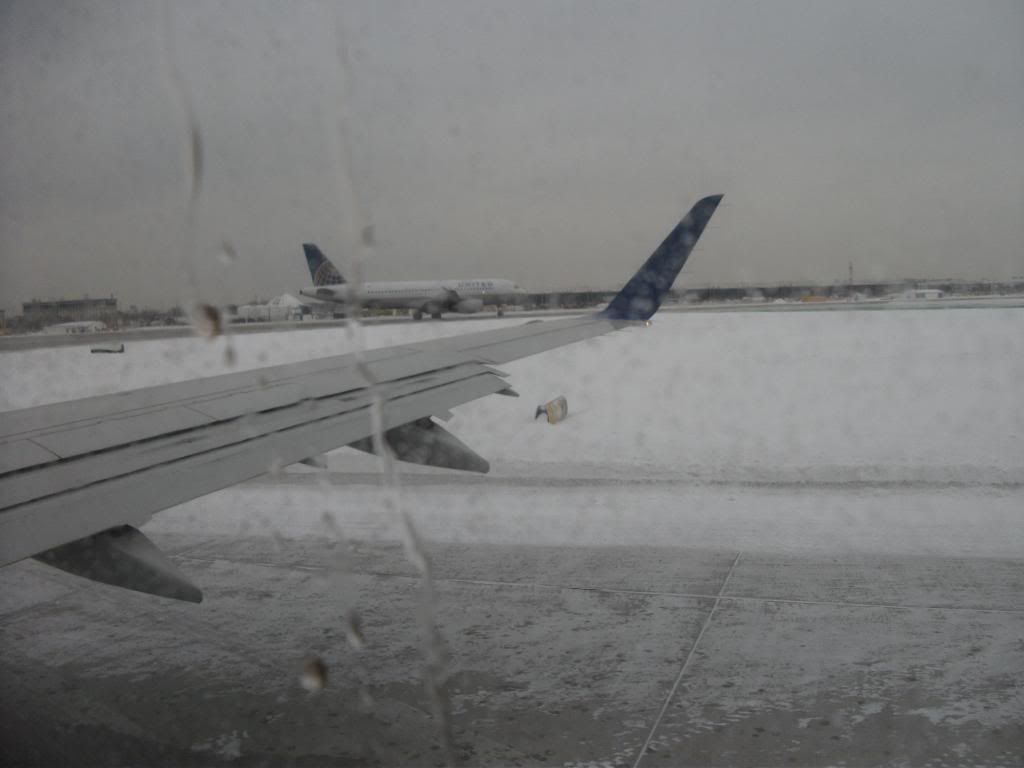 Off we go!
We punched through the clouds and once again basked in the glow of the sun. As we flew west, we traded cloud cover for turbulence: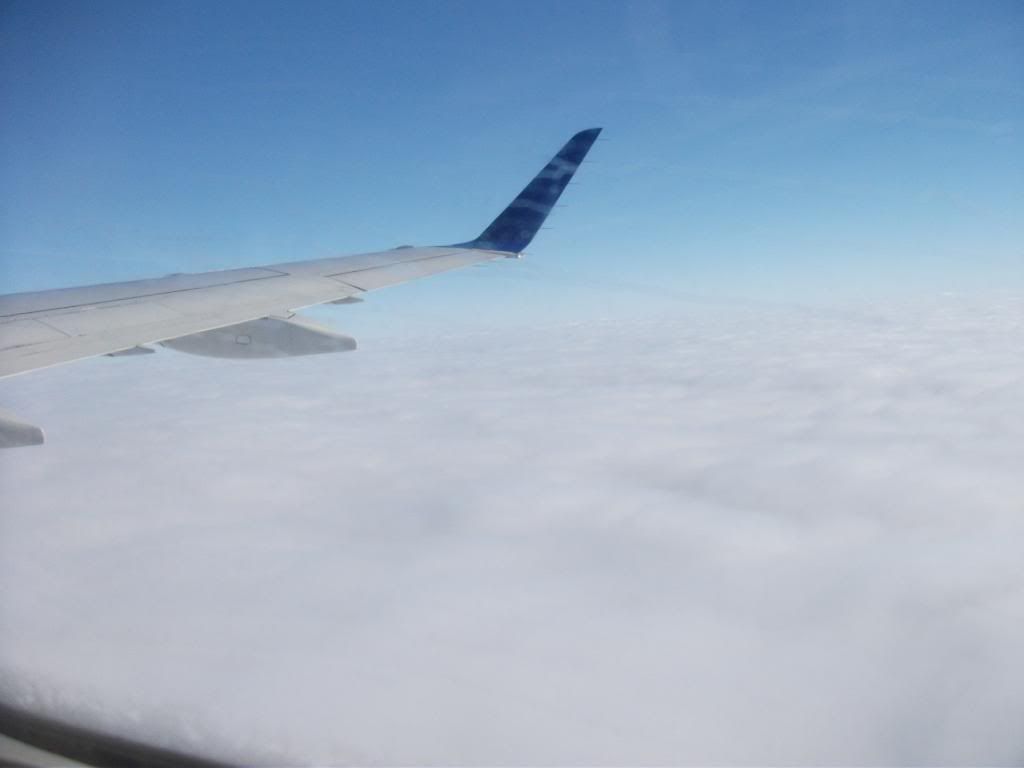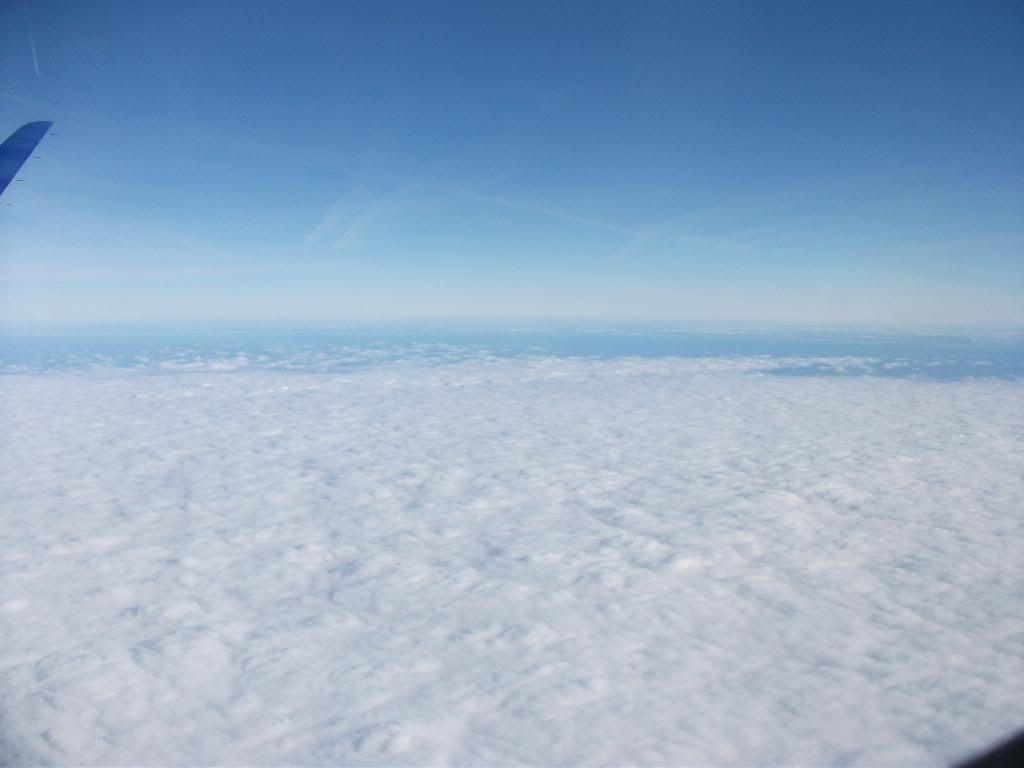 Waukesha County Airport (UES / KUES)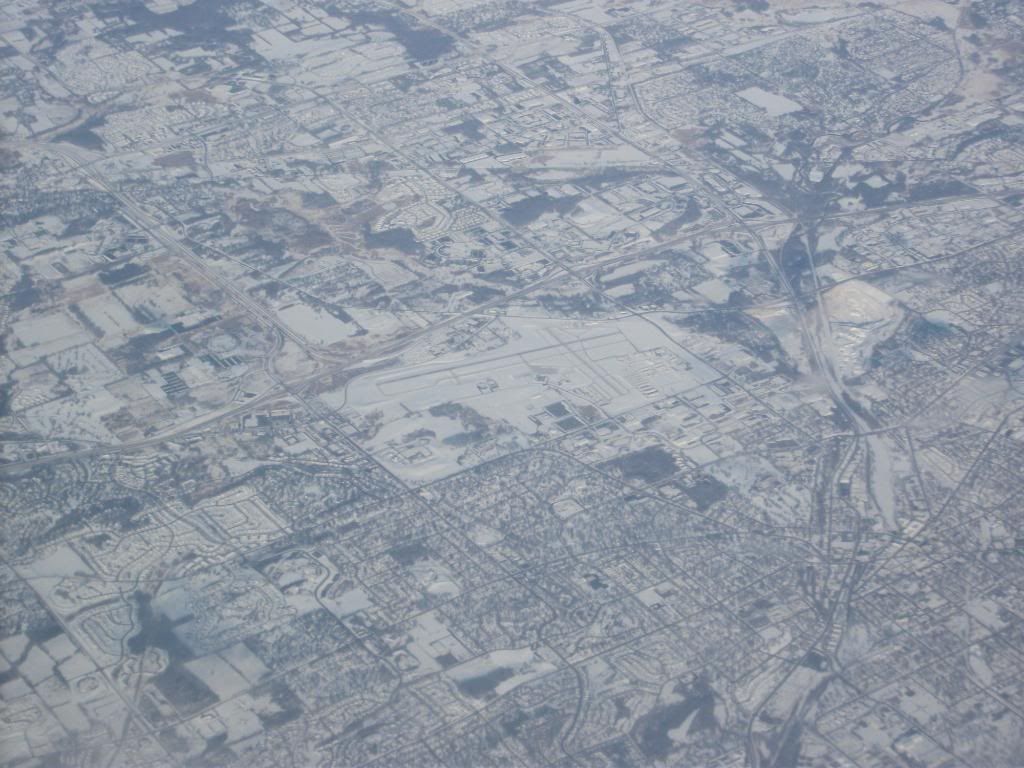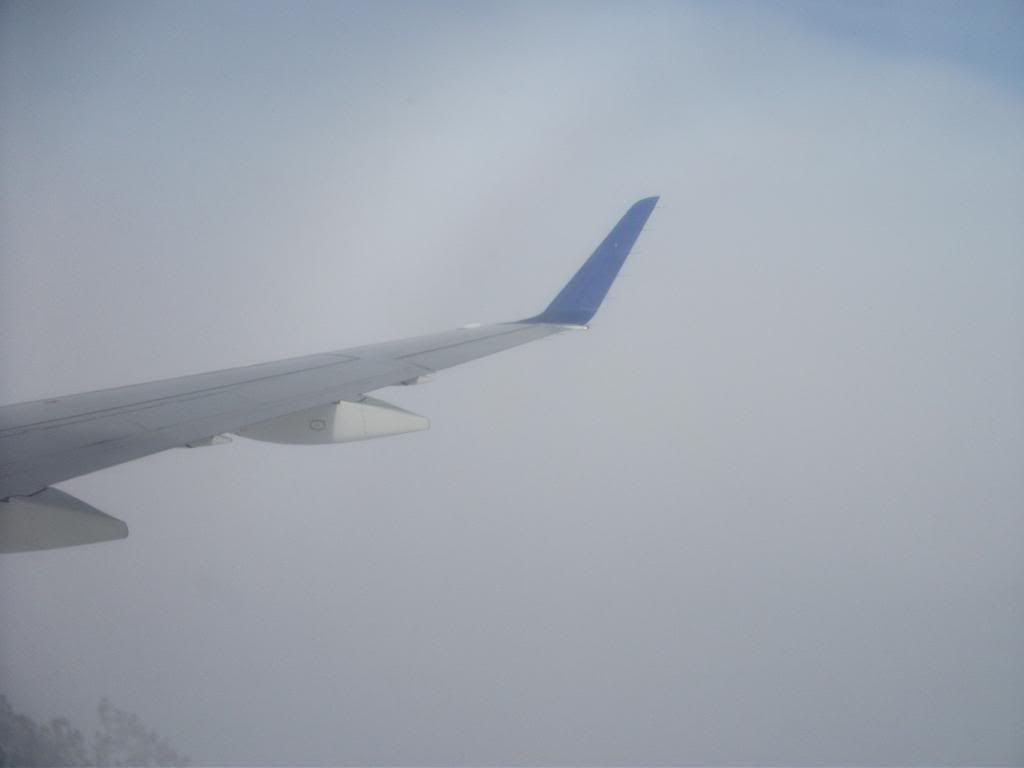 On our descent into Minneapolis, there was the unmistakable sight of people on ice rinks: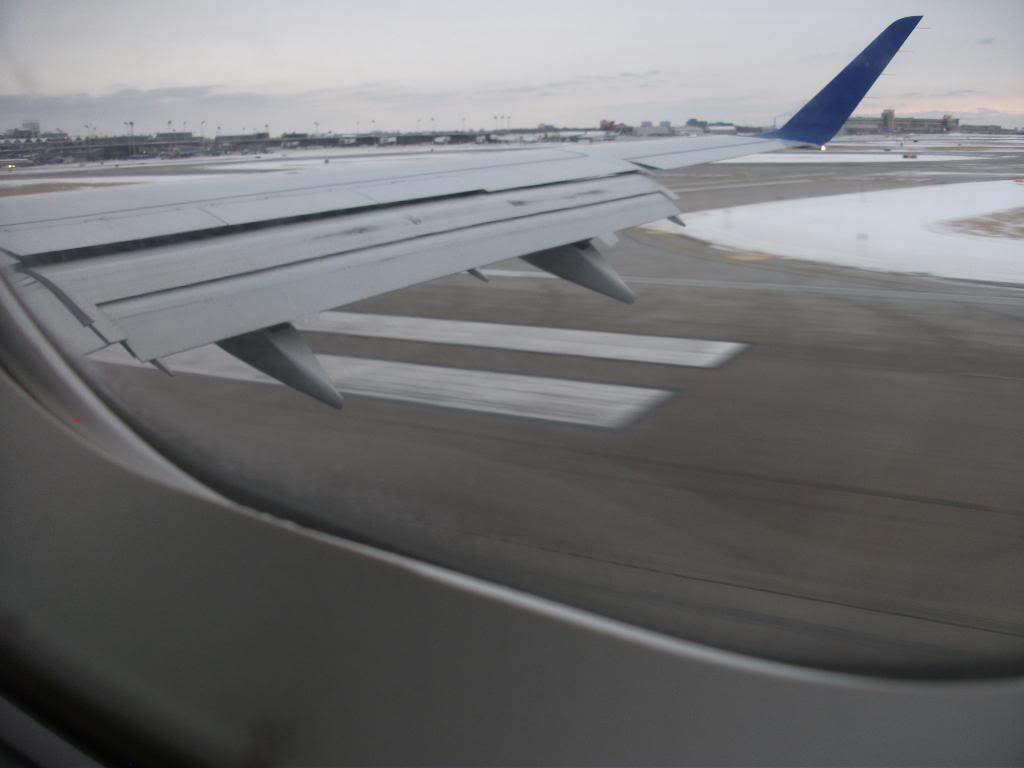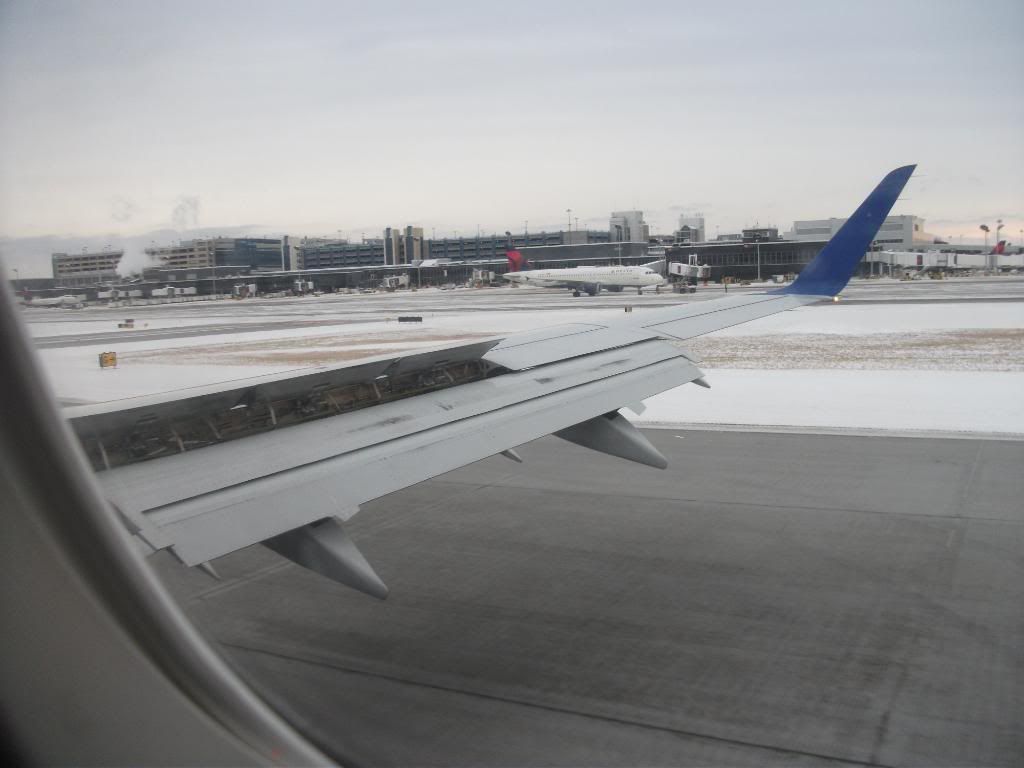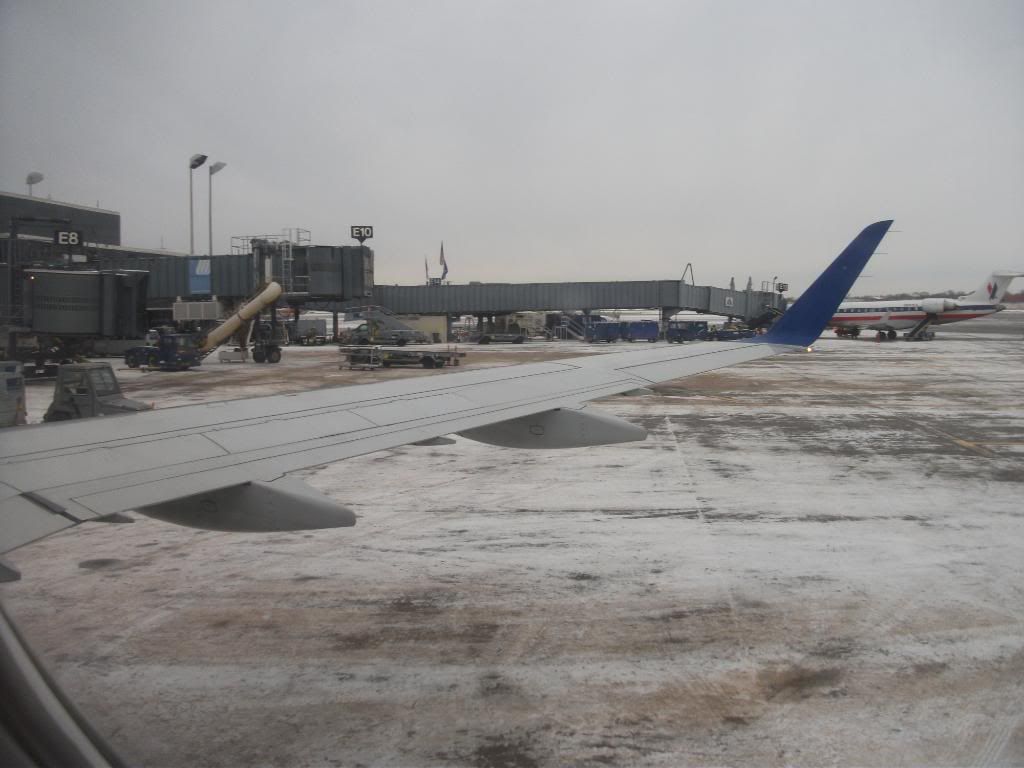 And that's how I got to MSP. The next adventure was literally right around the corner: the airport itself. I had about three hours to navigate this: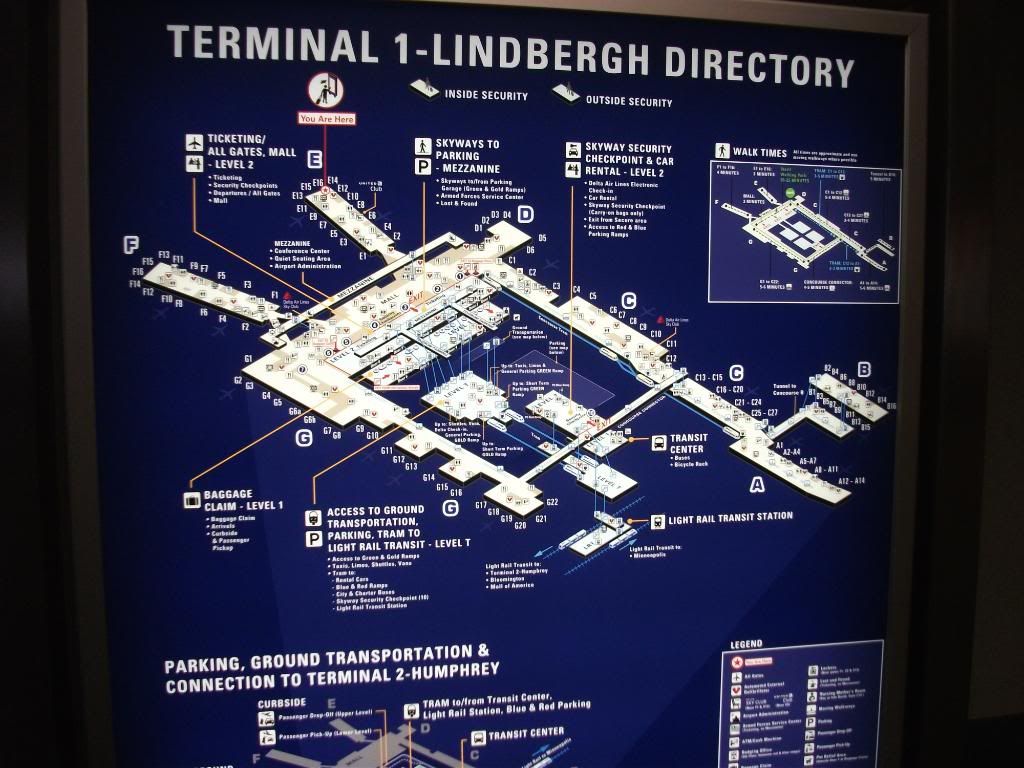 The first thing to do was to have a brief look at the place we took a rest at: Concourse E. It didn't really trip my trigger, what with the low ceiling and the blah carpeting. (My lucky day: that carpet is all over the rest of the airport, too. But I digress…)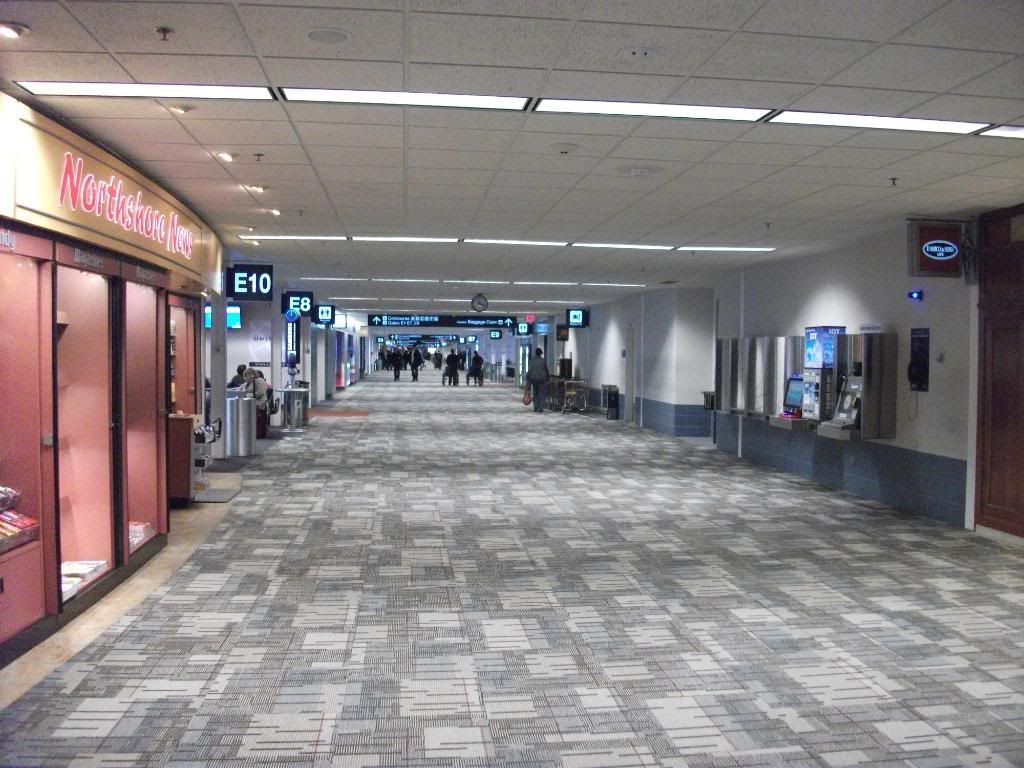 Before I got to anything else, I needed to get my boarding passes for the AA flights. The American boarding area was fortunately just down the hall, and they also had a self-service machine. I plugged in my itinerary code (Don't ask me how I remembered it—I just did.) and the machine spat out my tickets with no trouble. The load looked quite light for the MSP-DFW segment, which allowed me to snag a seat in an empty row.
There was also the photoshoot of the first bathroom I came across. (Remember: when one has to go, they'll go to the first one they see, not necessarily the nicest one they can find.) Just as blah as the rest of the concourse, and tiny as well.
An empty boarding area. This would be something of a theme today, even at the Delta gates. I realize that Saturdays aren't the busiest travel days, but the place just seemed quite dead at times. You'll see what I'm talking about as we go on.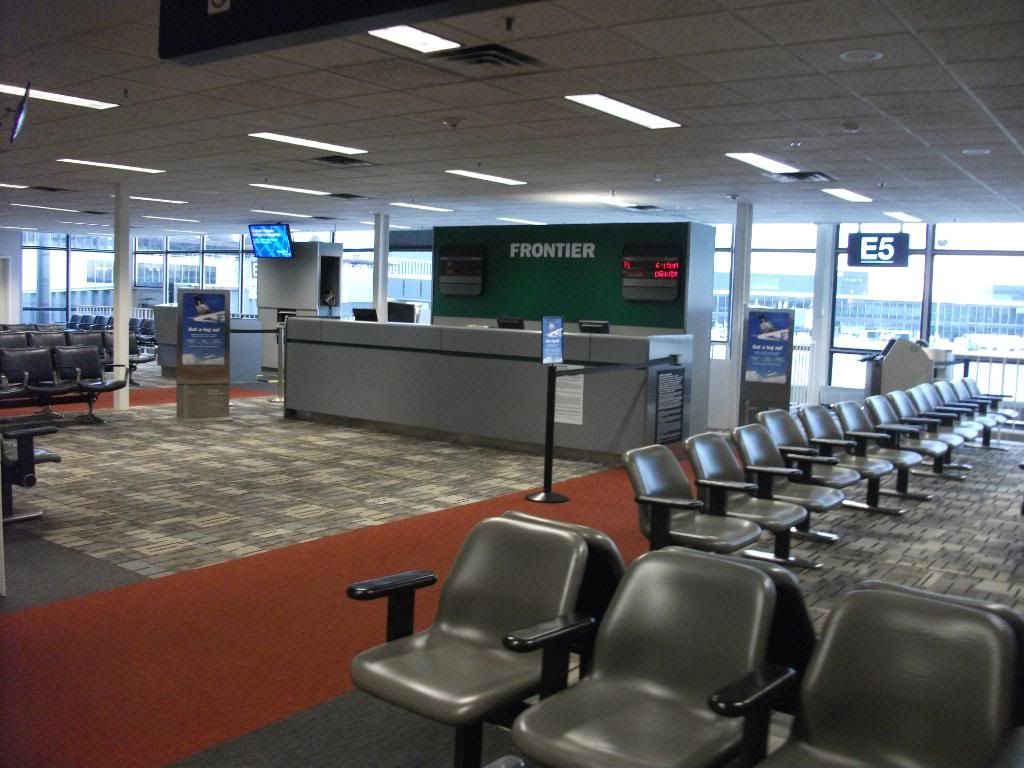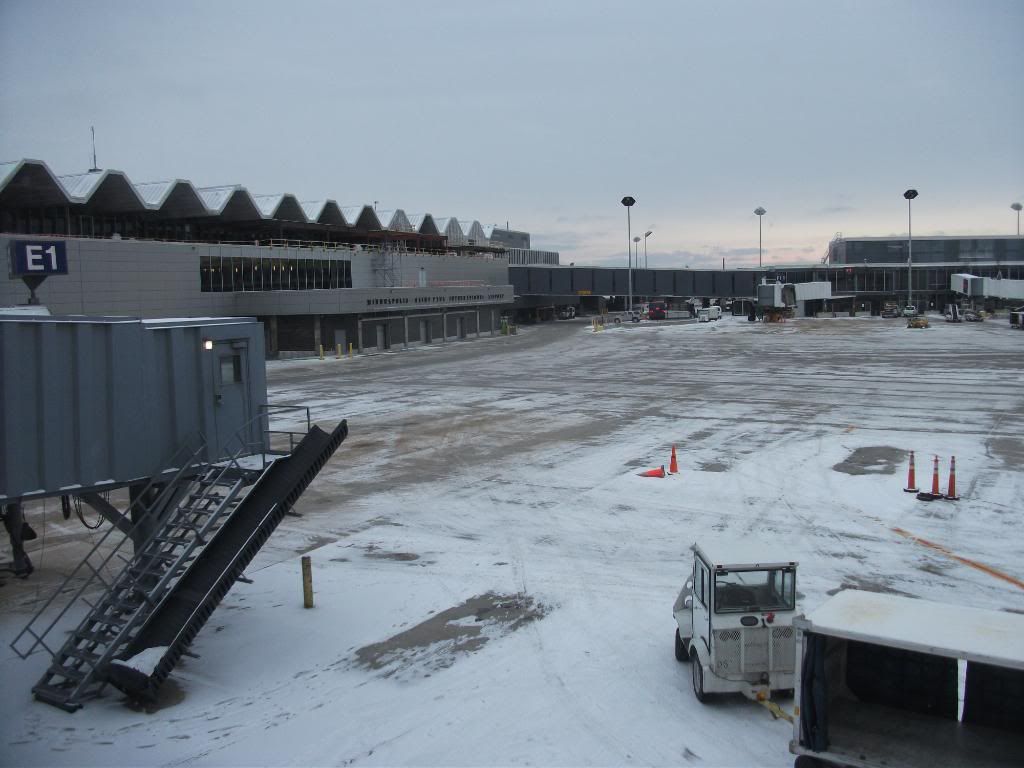 Concourse D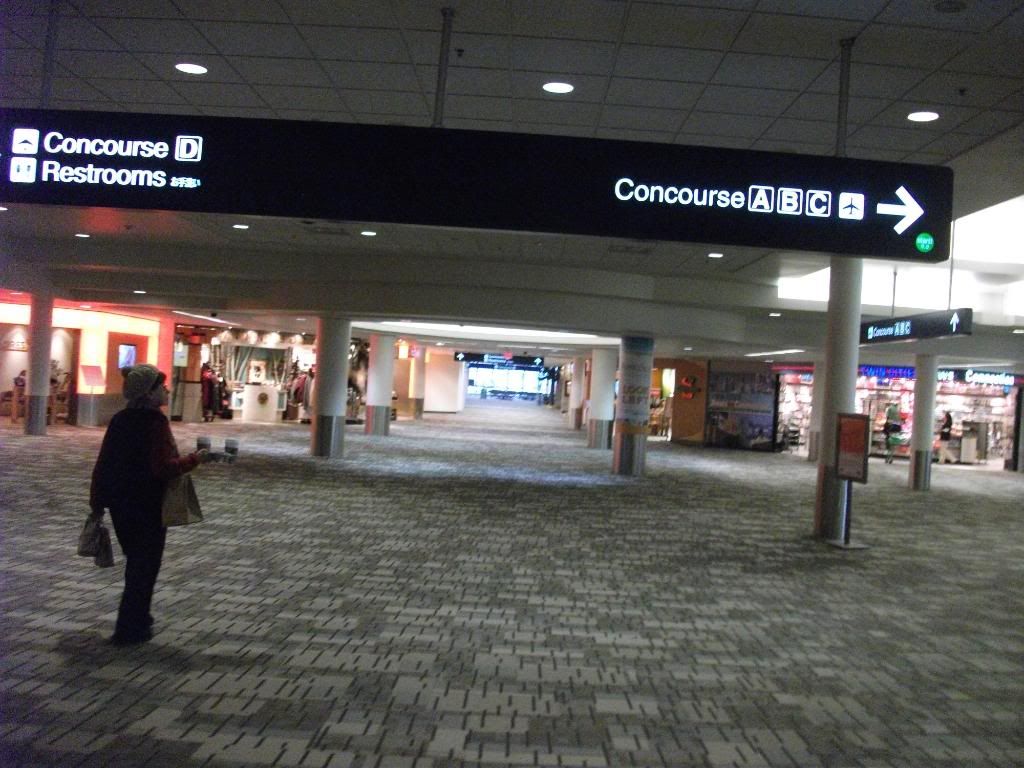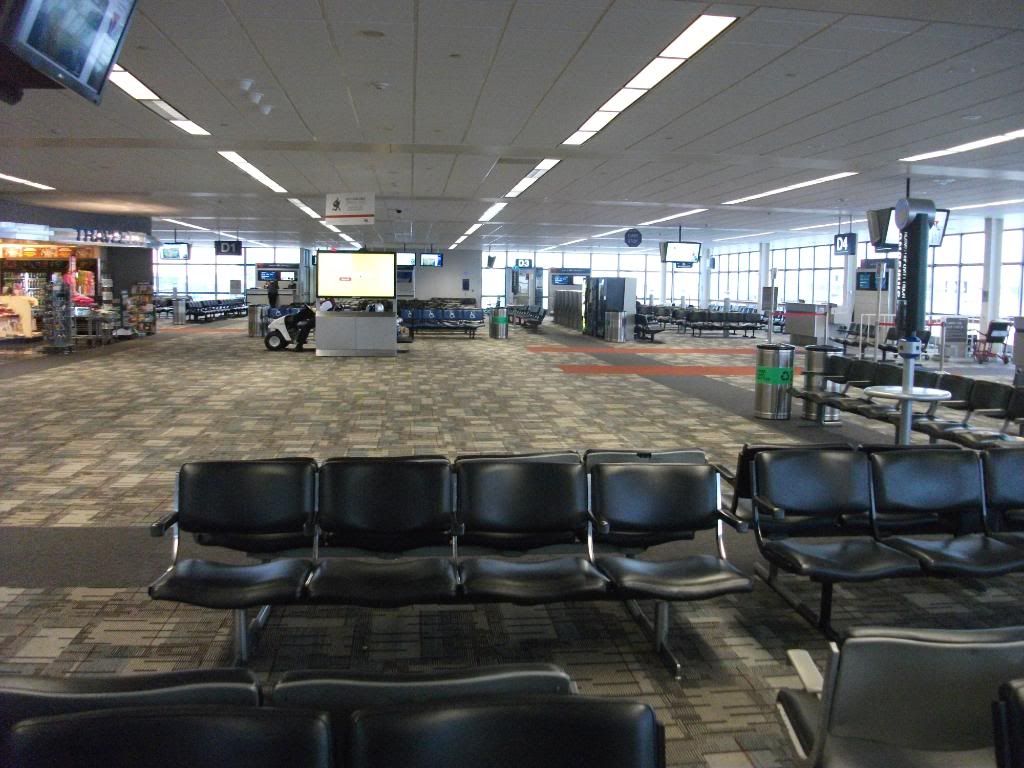 As a person who doesn't mind a little walking, I was alright with the linear layout of MSP. I didn't mind the near-endless corridors and moving walkways at all. If anything else, it's a way to keep occupied.
The halls brightened up a little as I went through Concourse C. Those higher ceilings and that added light went a long way toward my opinion of the place, but still, that carpet…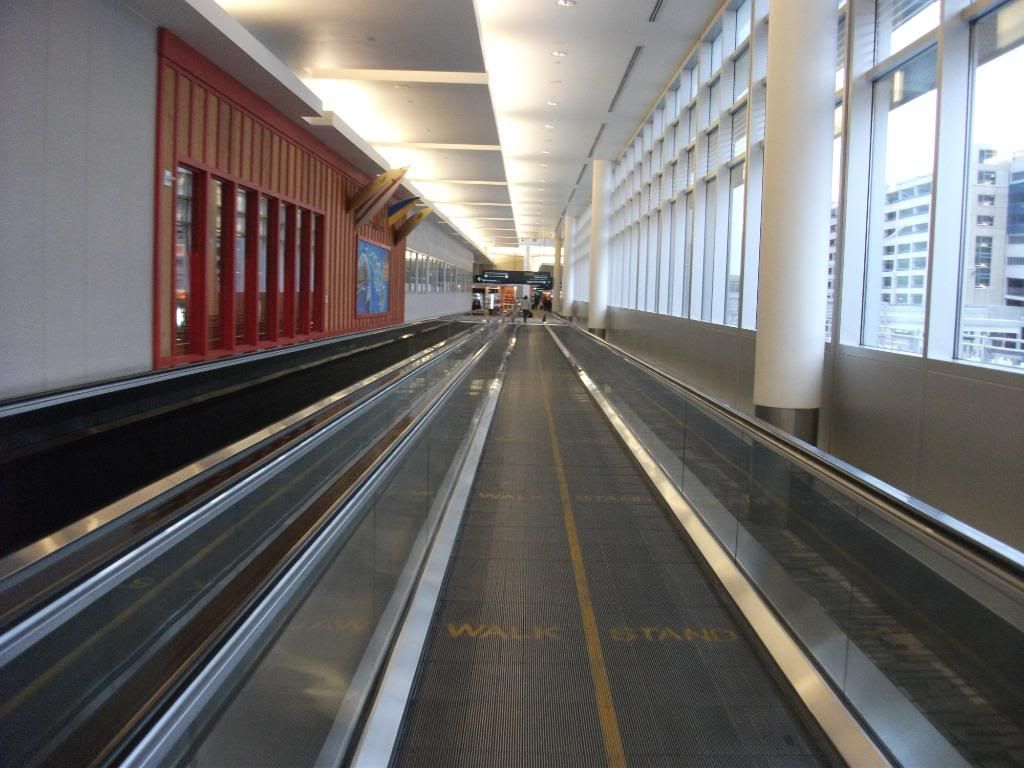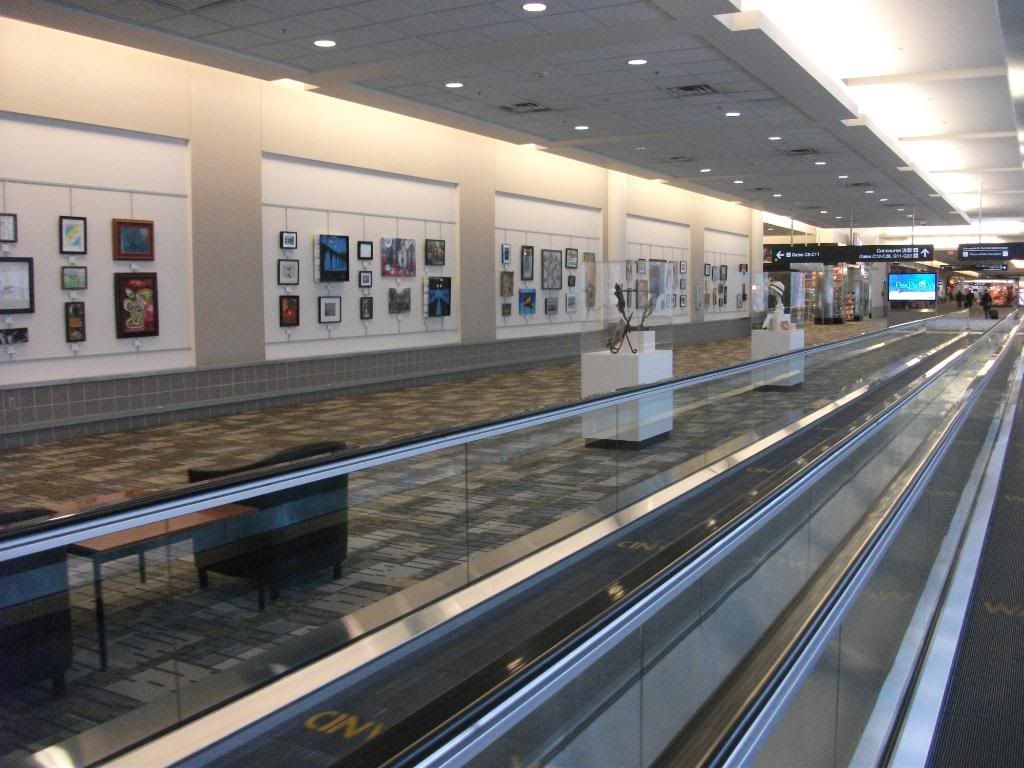 The fork separating Concourses A (forward) and B (down the tunnel on the left)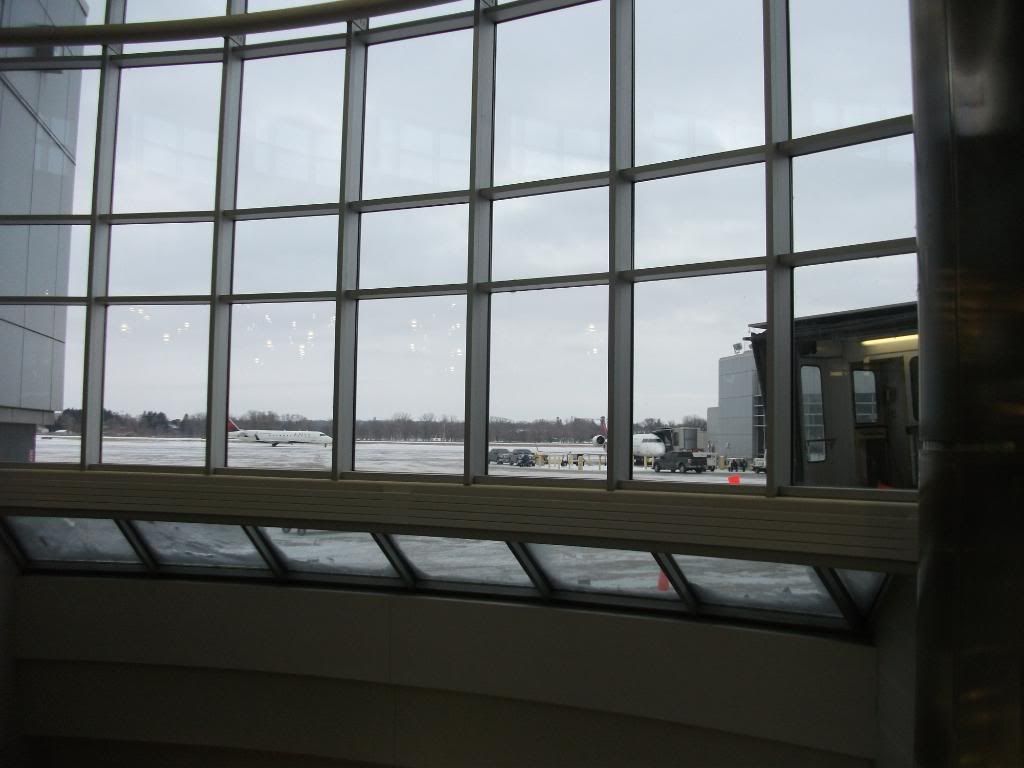 Going down to Concourse B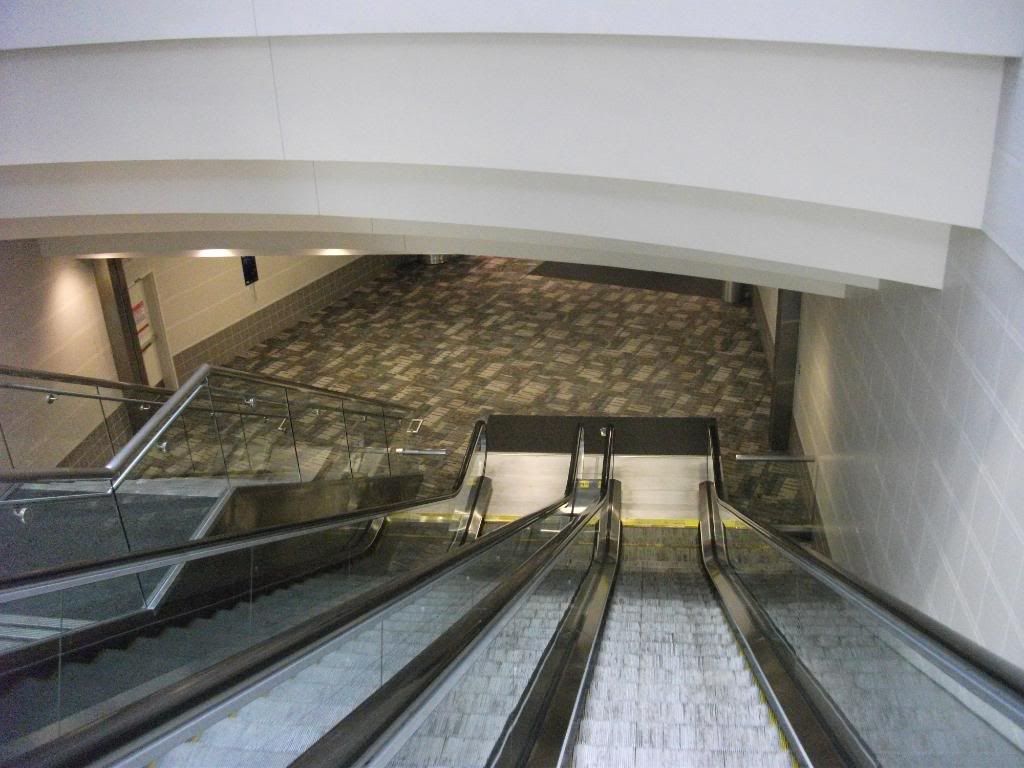 The light display was neat, reminding me a bit of the one at ORD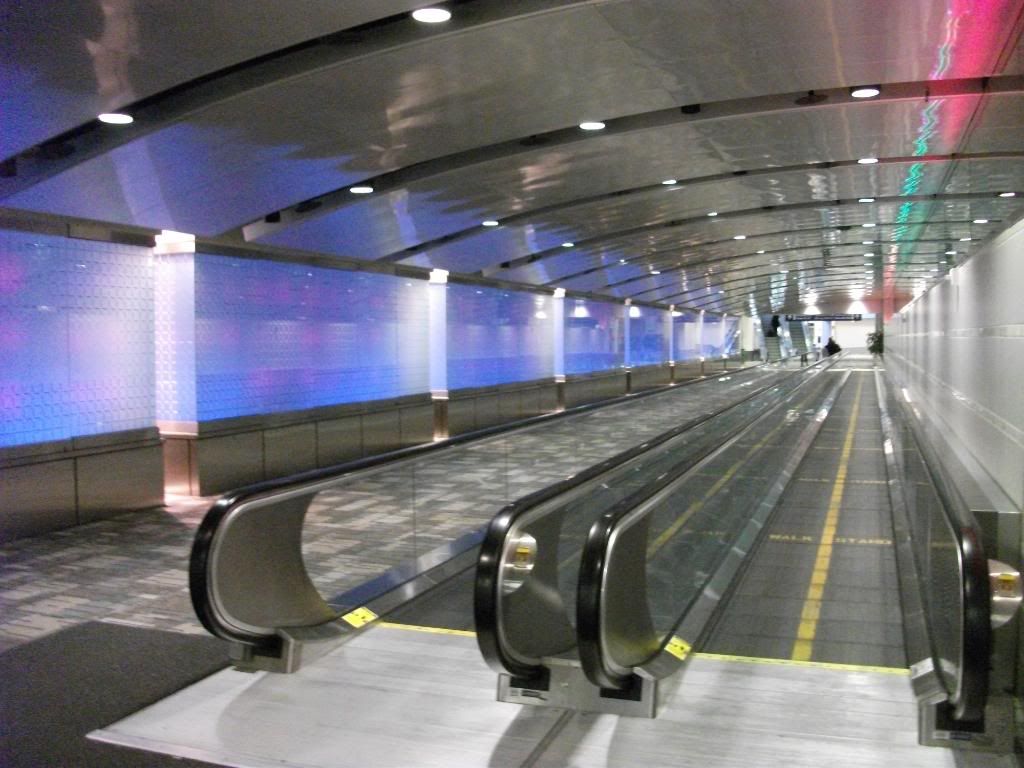 Face to face with a CRJ-200, seemingly the only species of jet allowed in this area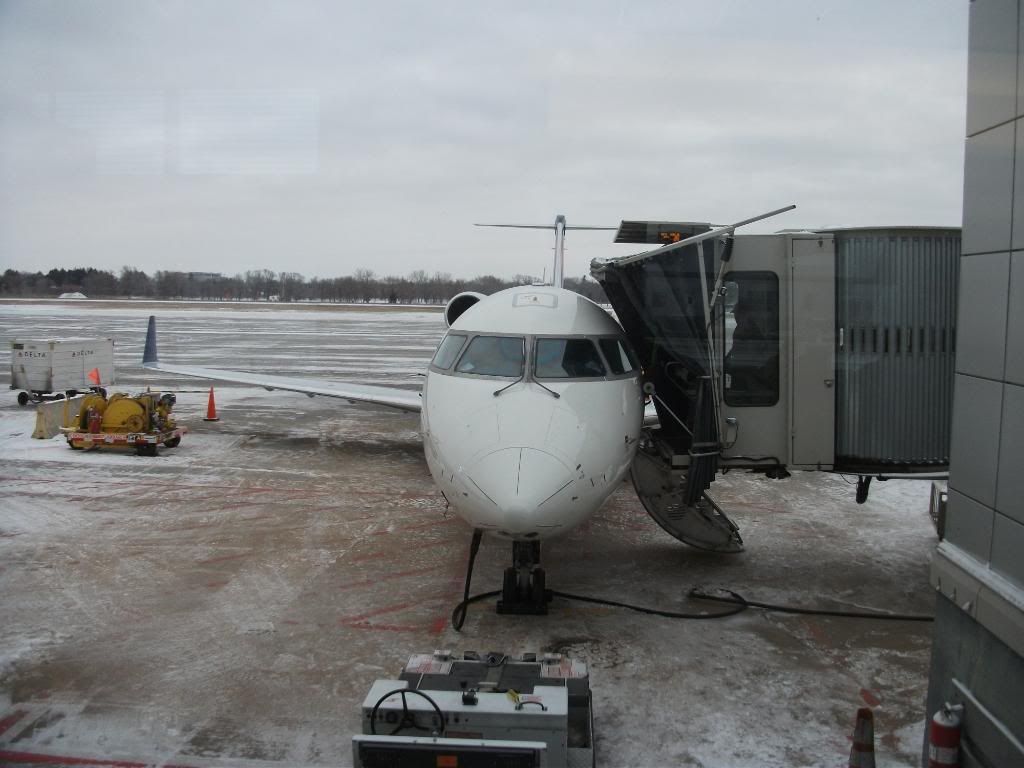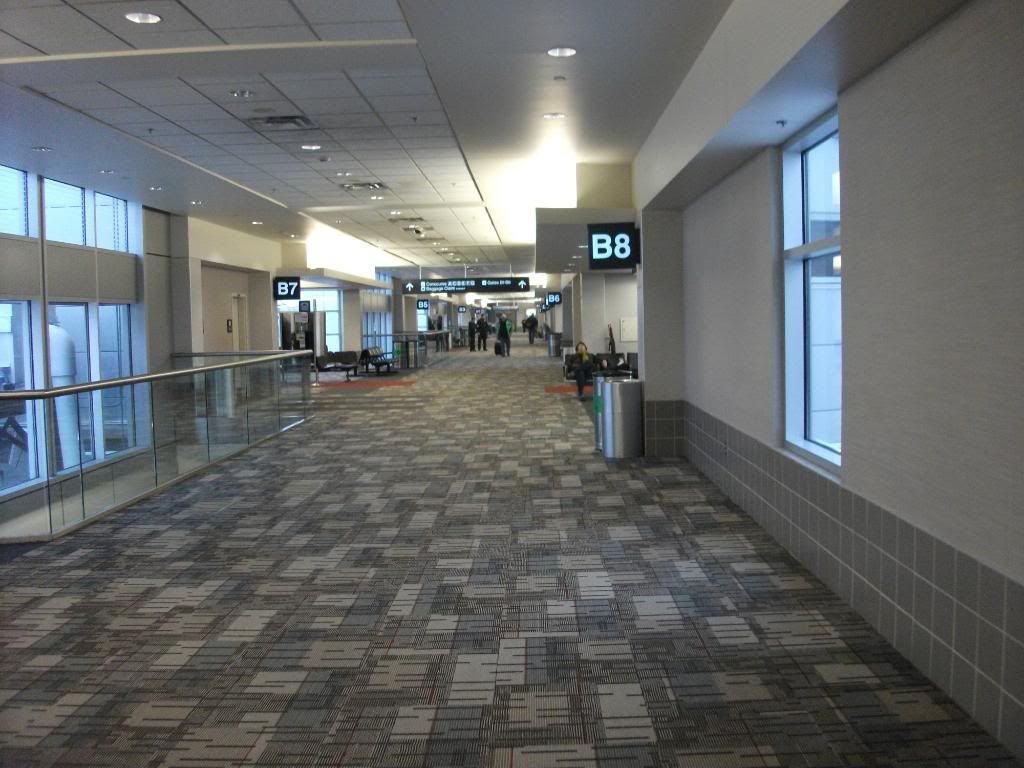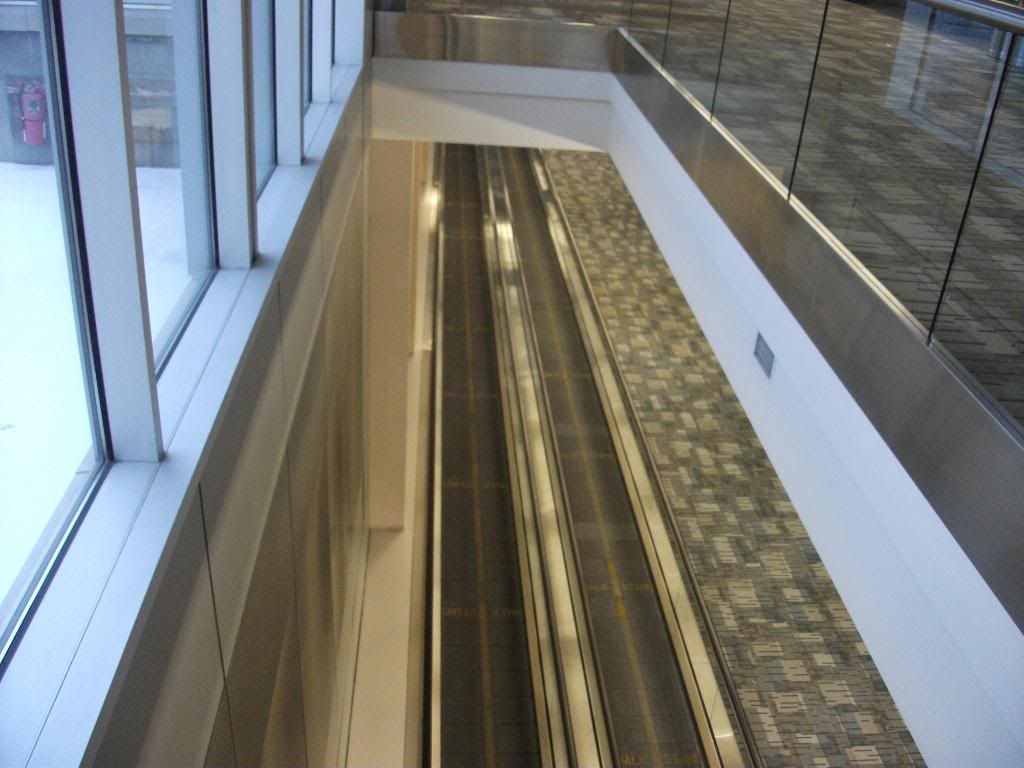 Returning to the main building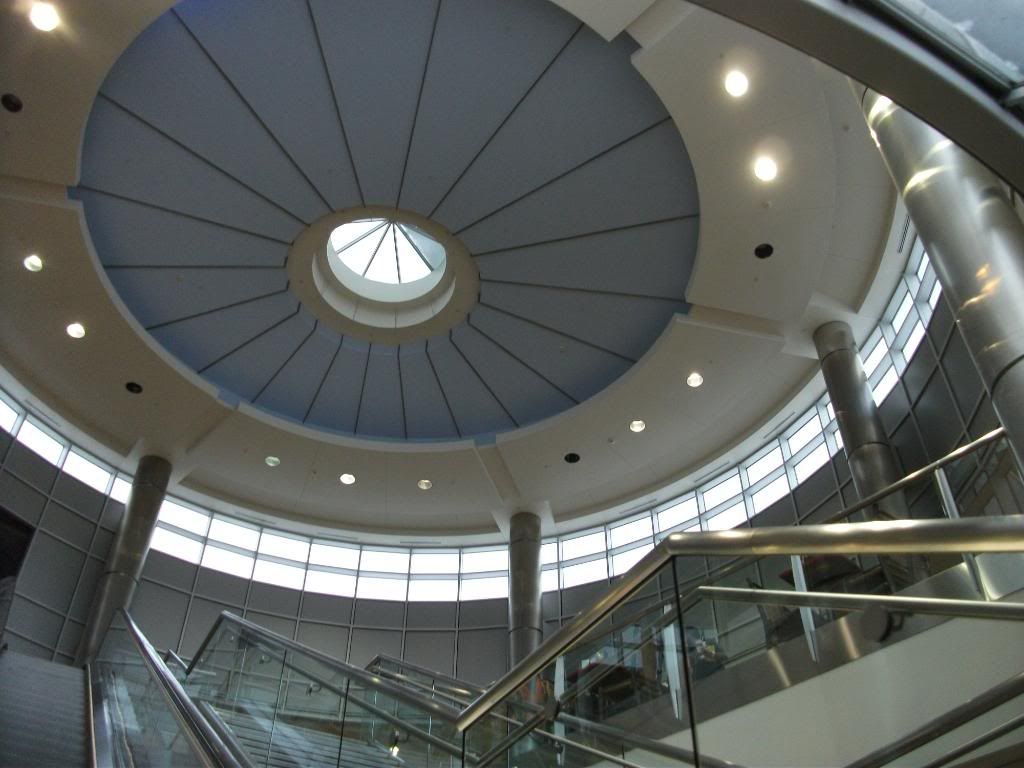 If you've been following my reports, you'd know about my soft spot for Caribou Coffee. The Lindbergh Terminal boasts five of them. I knew they existed, but I didn't know where. Therein lay the added adventure: find them all. The first popped up outside of Concourse A…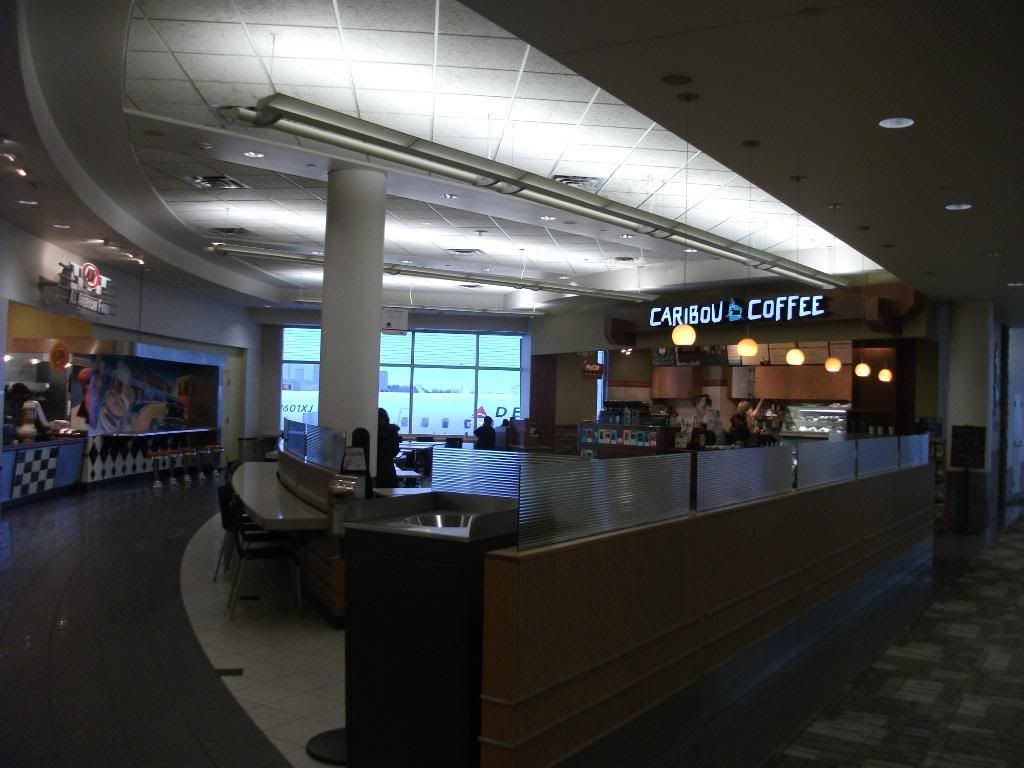 CR2 (N601XJ)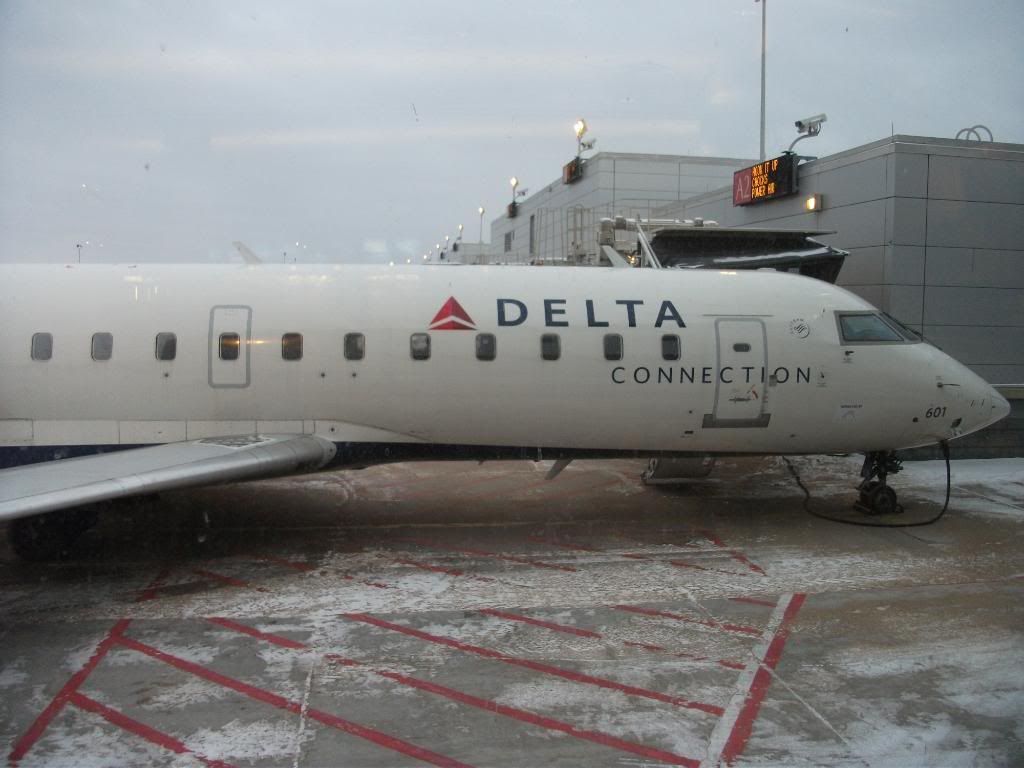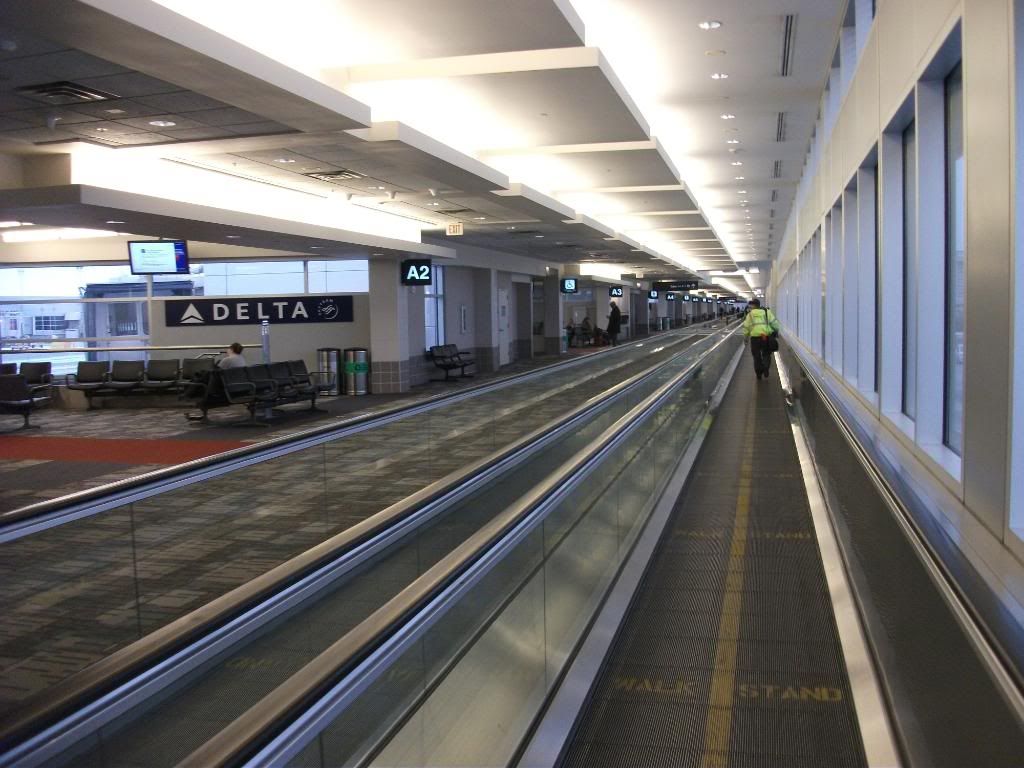 A14, end of the line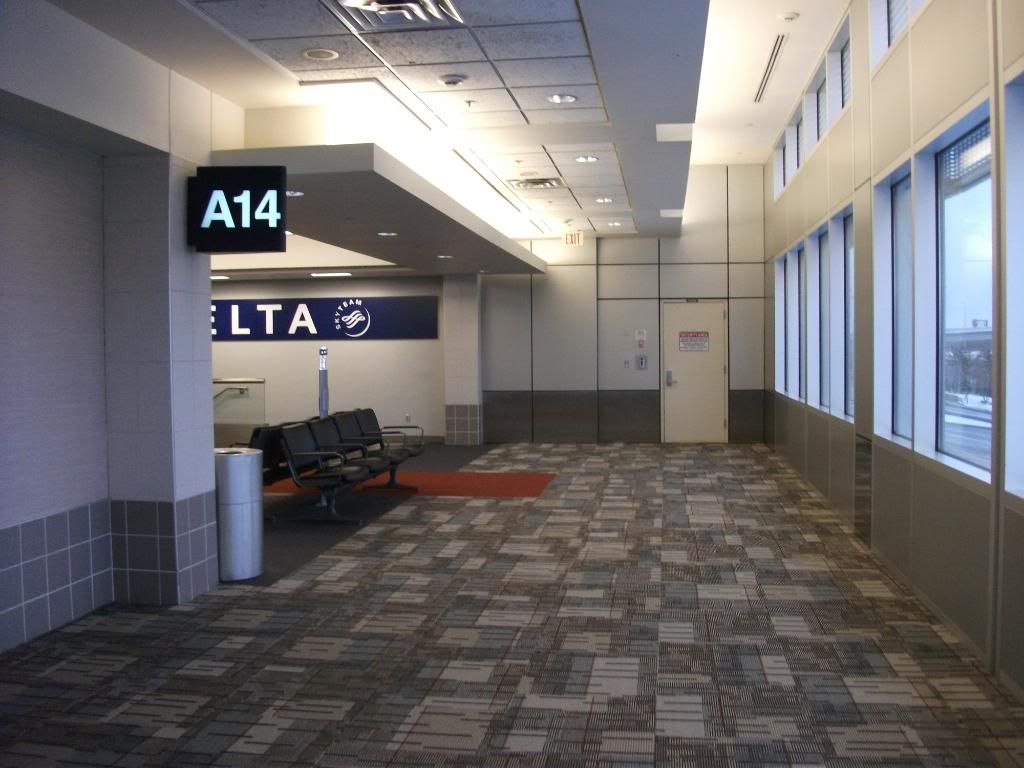 Looking back the way I came
Oh golly, another tiny jet…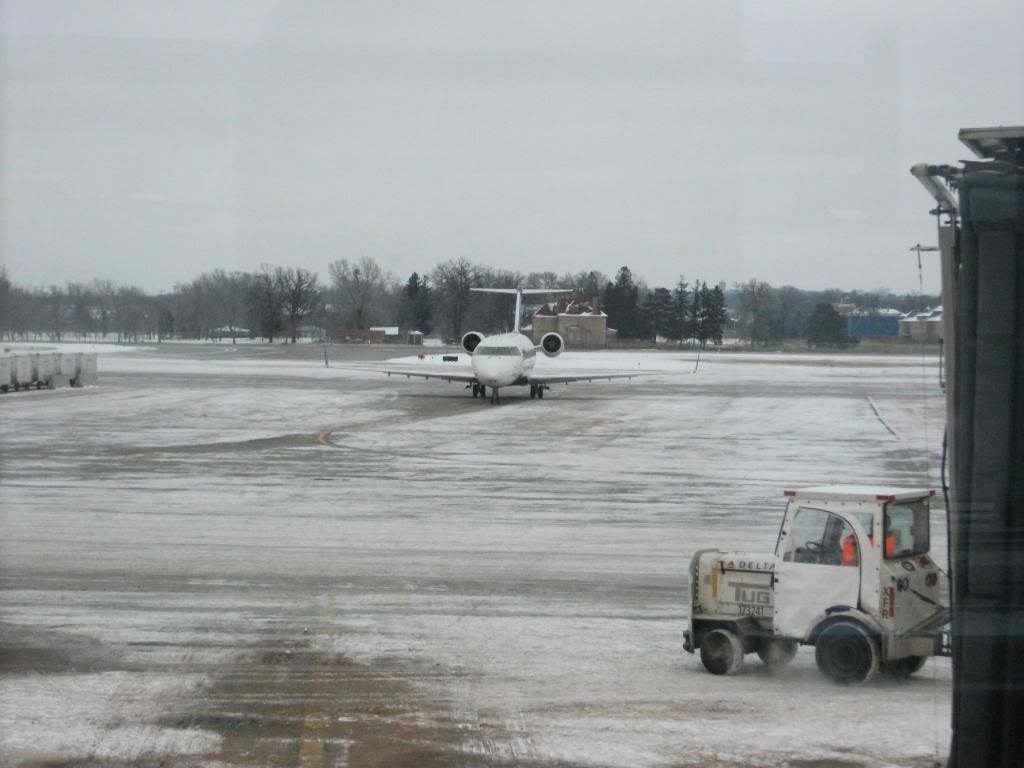 It's apparently a little chilly out there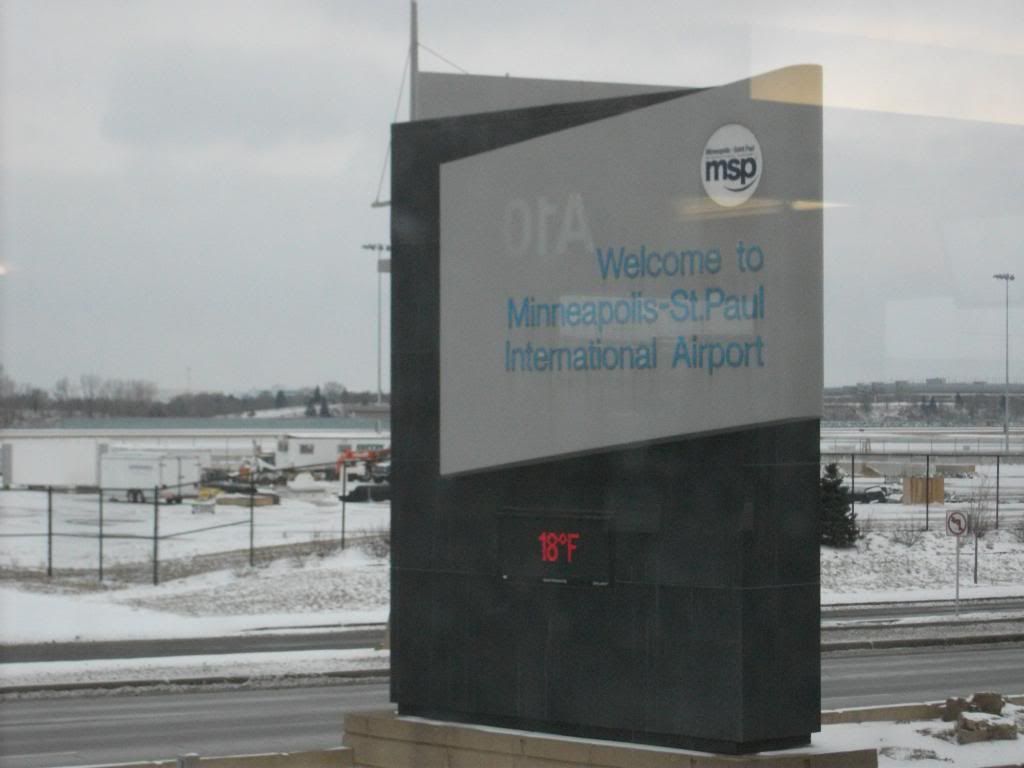 I then backtracked through A and C to get to the rest of the airport. Note the silly passenger walking in the "stand" lane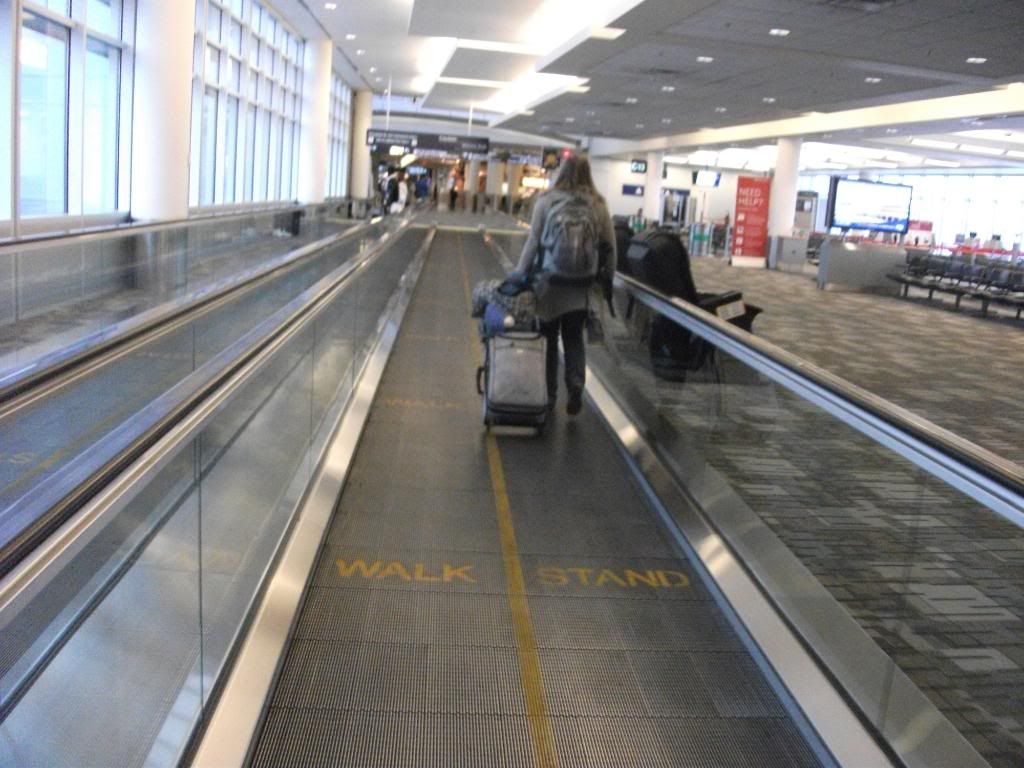 I found myself getting a little bored with the interior, so I decided to cause a bit of trouble. Here I am standing in the "walk" lane. (I later saw a person walking in place in the "stand" lane.)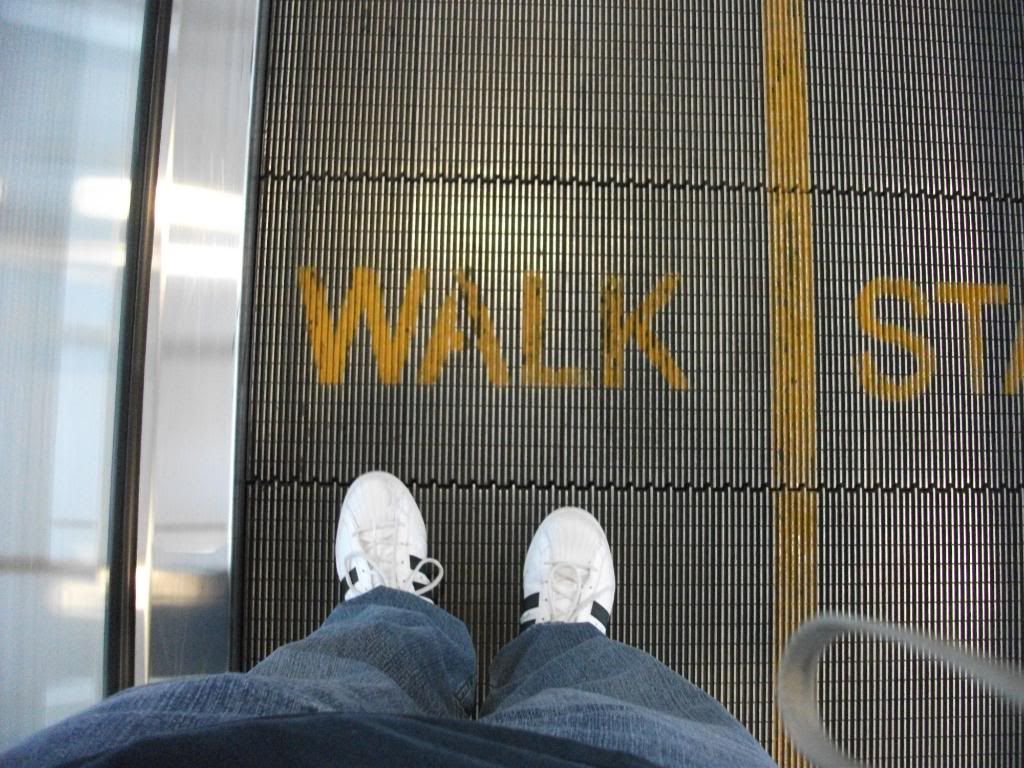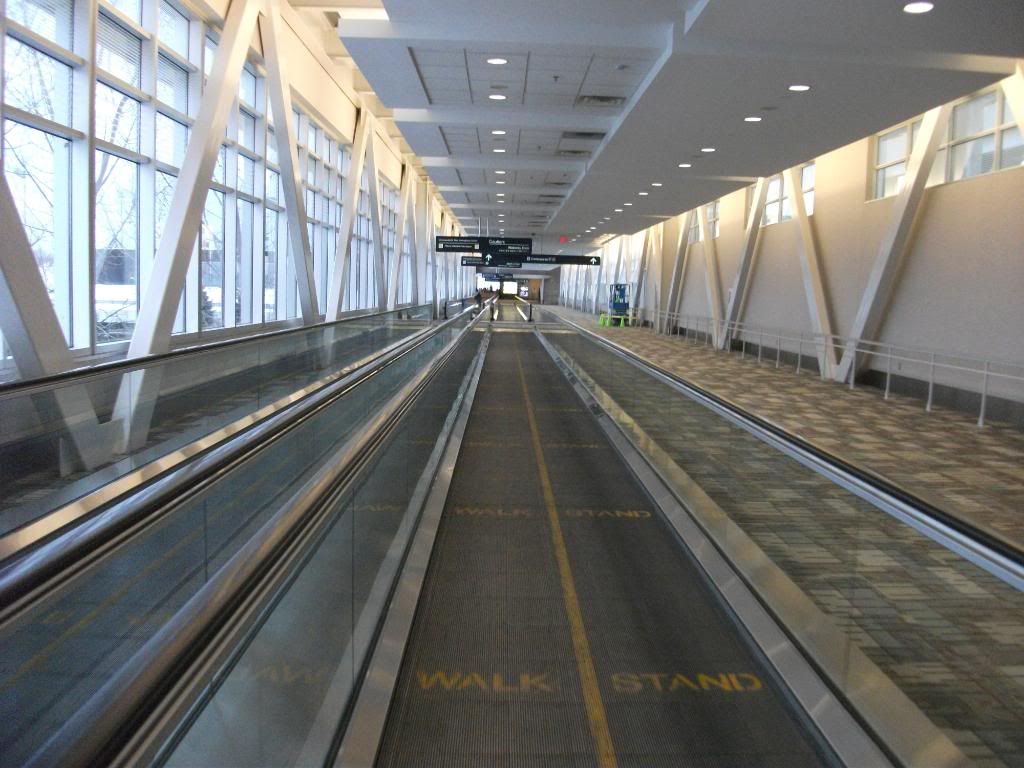 Wow, mainline jets? I didn't know Delta allowed those to be here!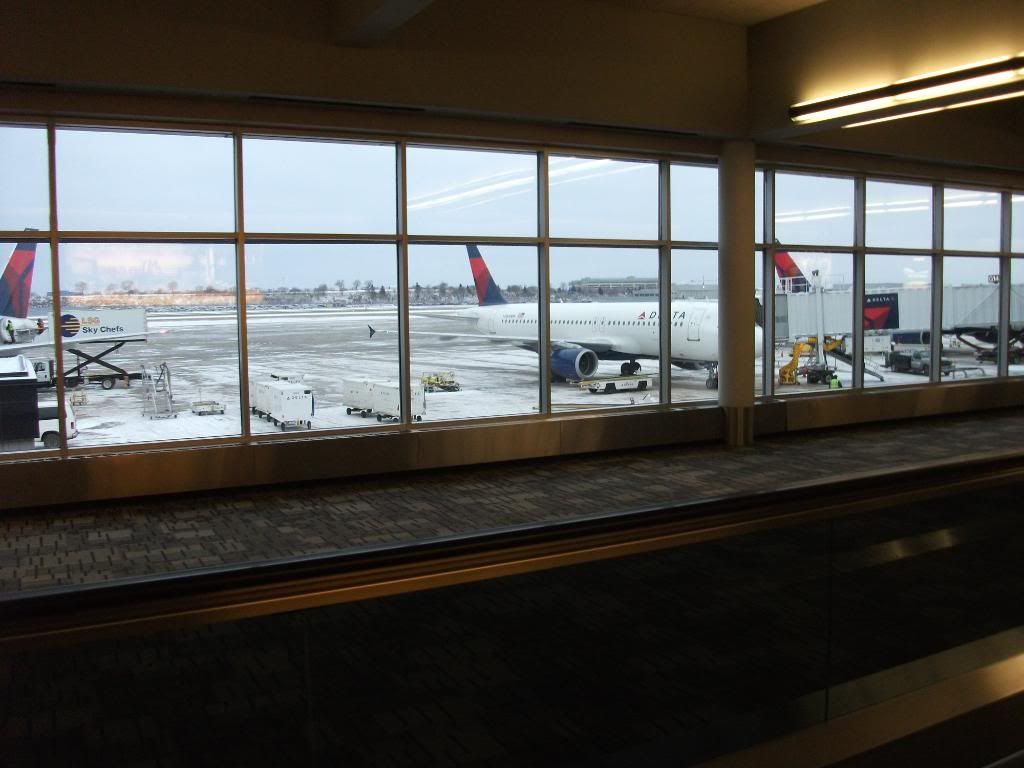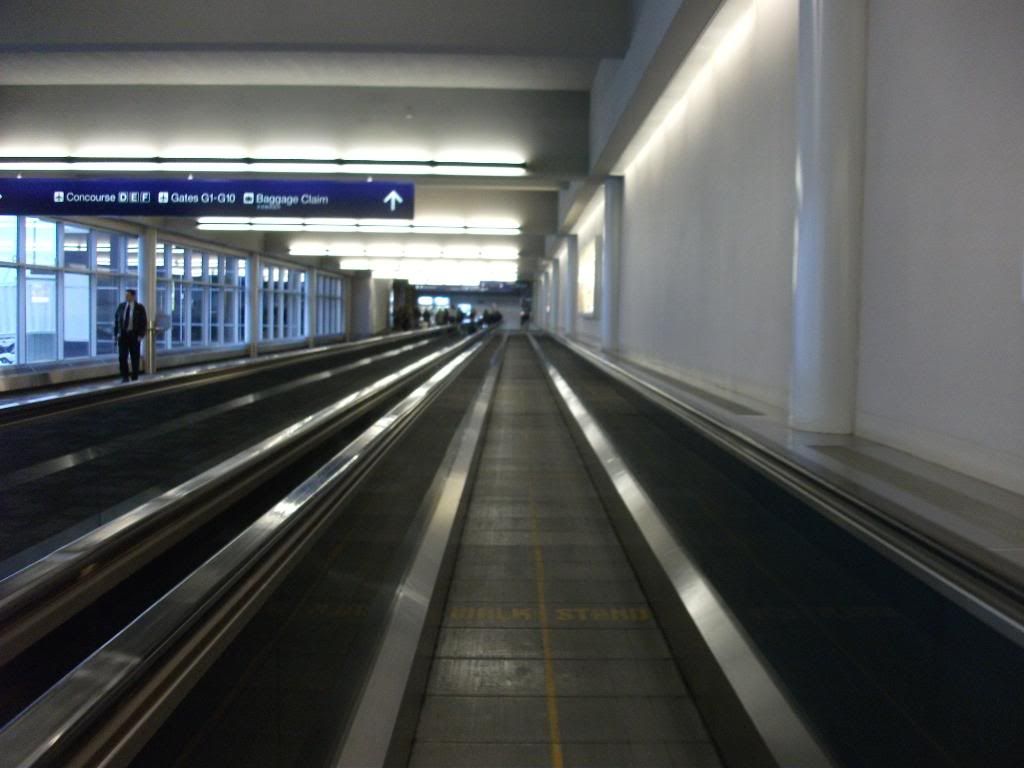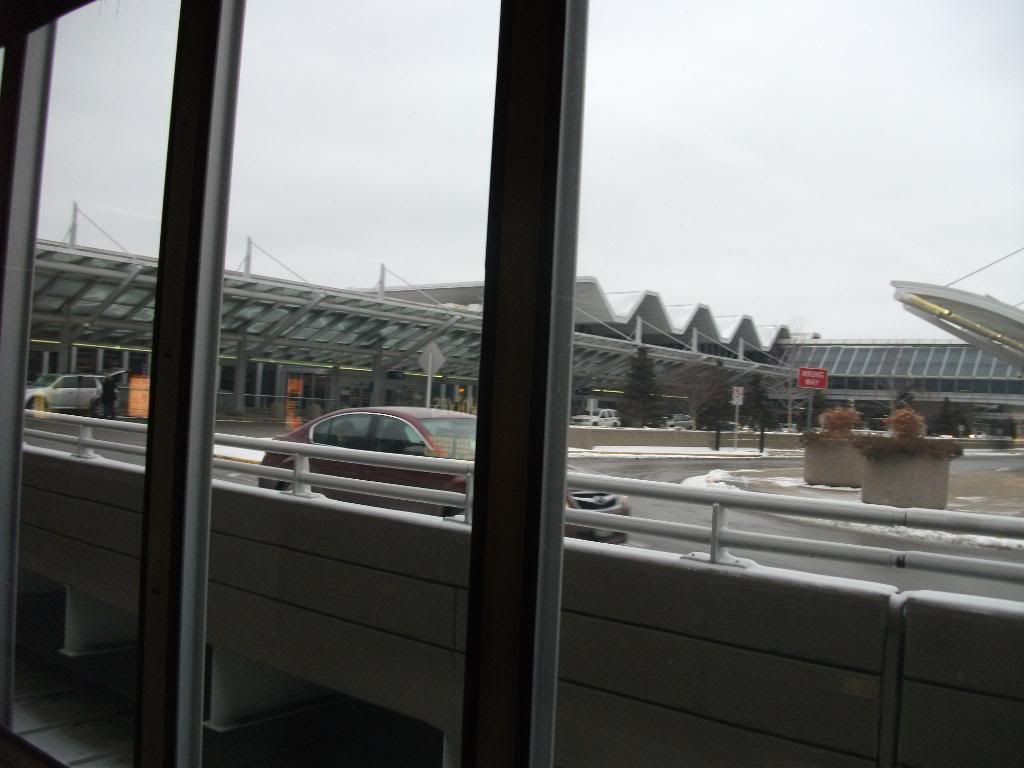 Concourse G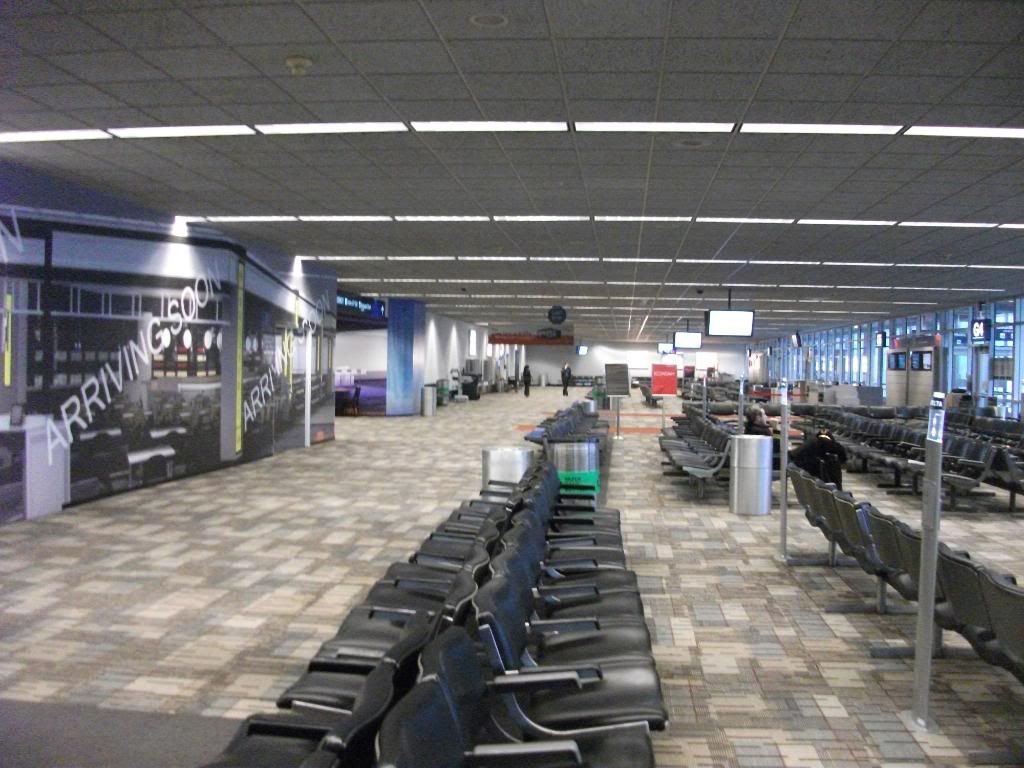 The second popped up at Concourse G…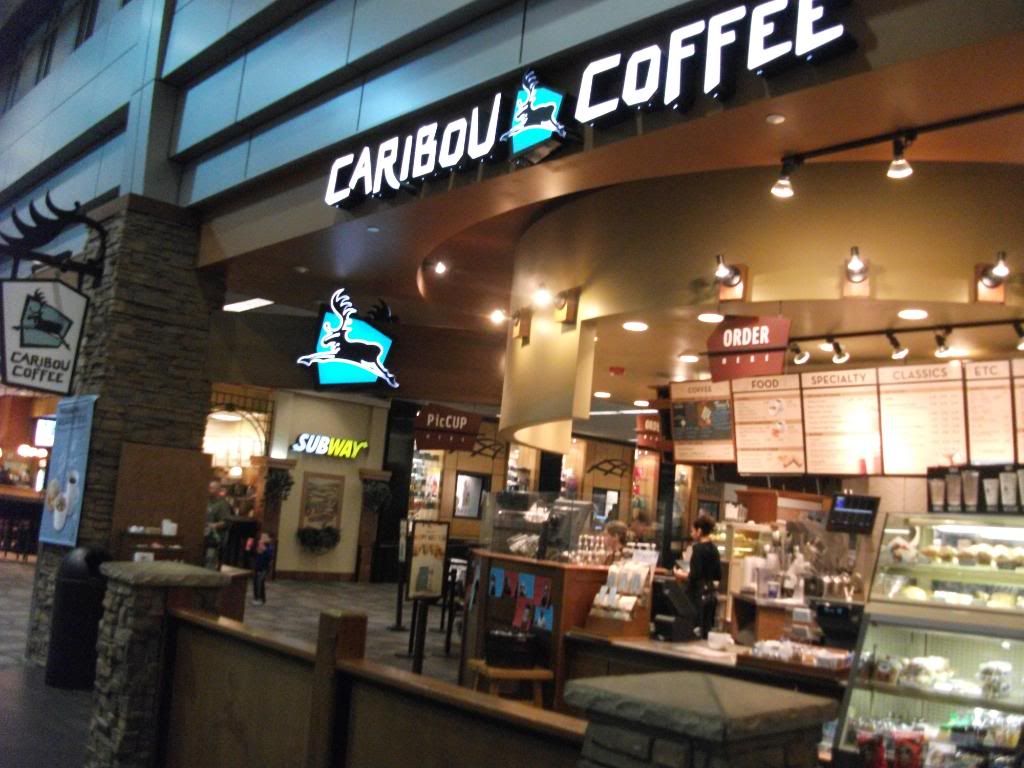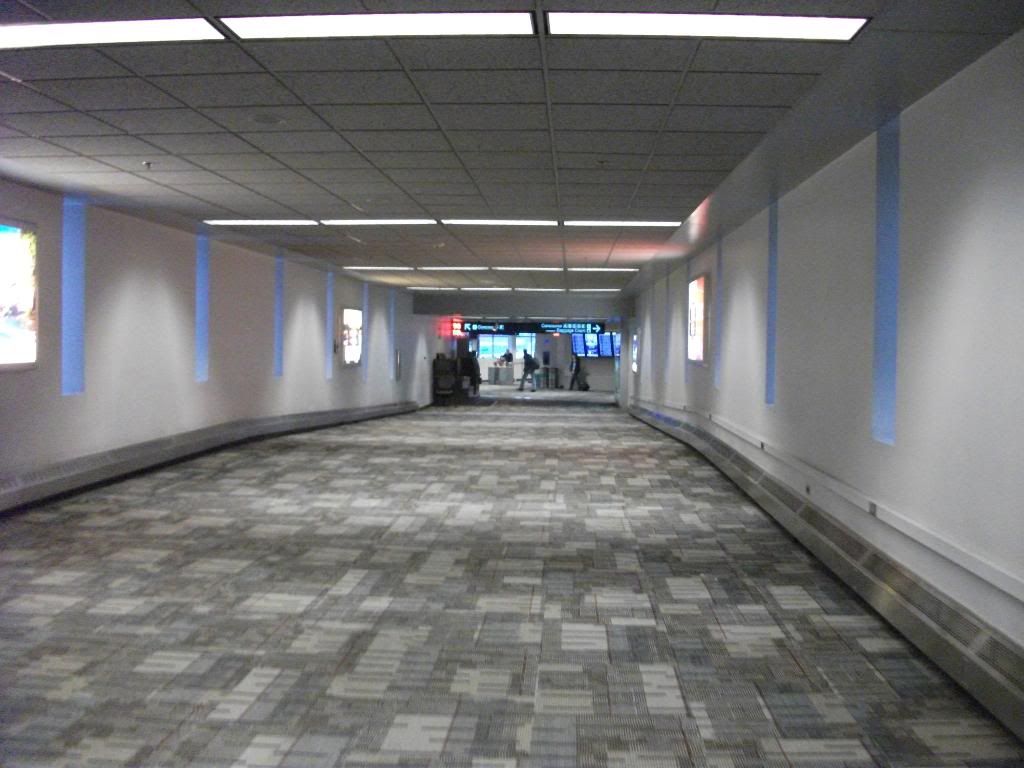 The third popped up at Concourse F…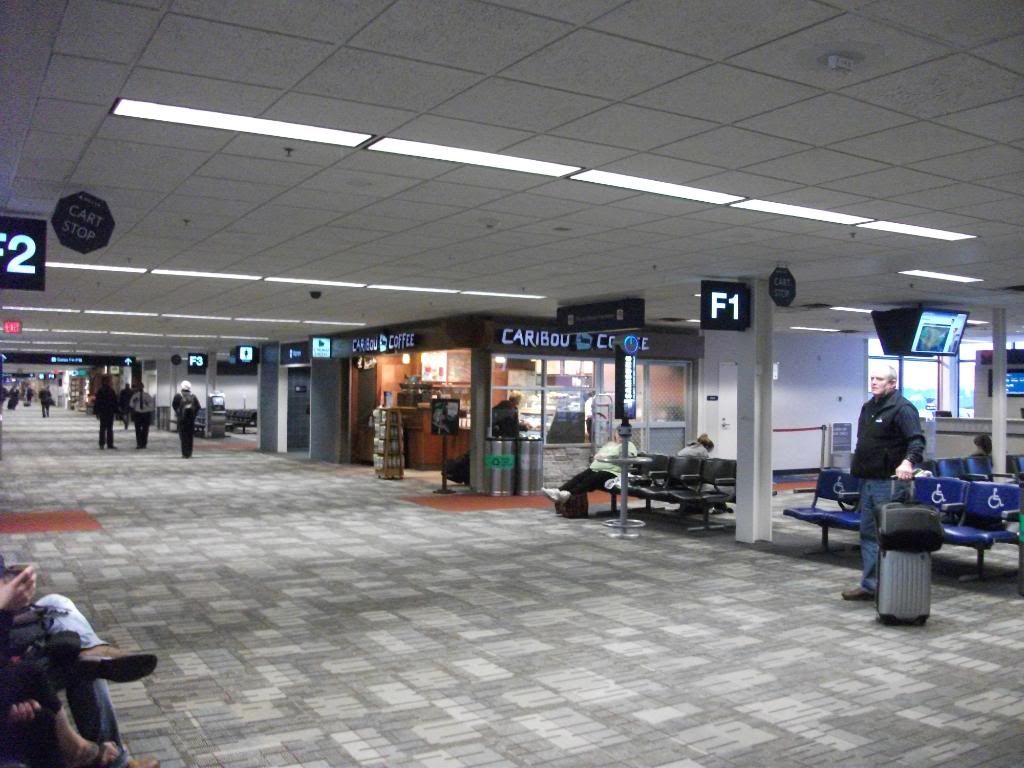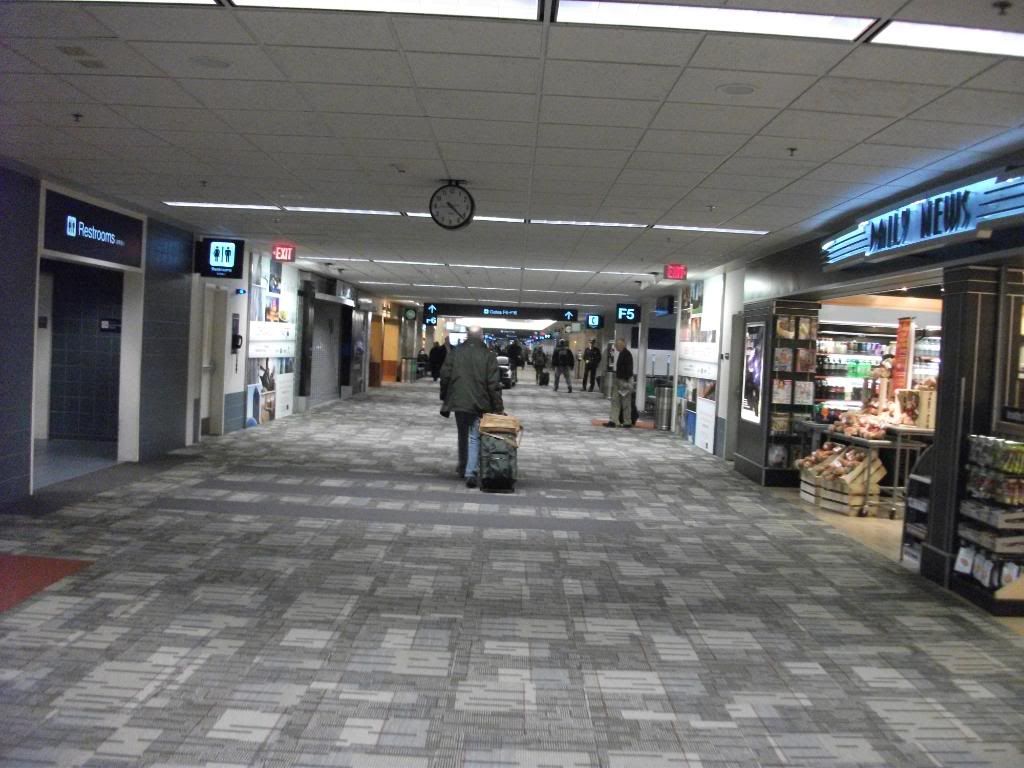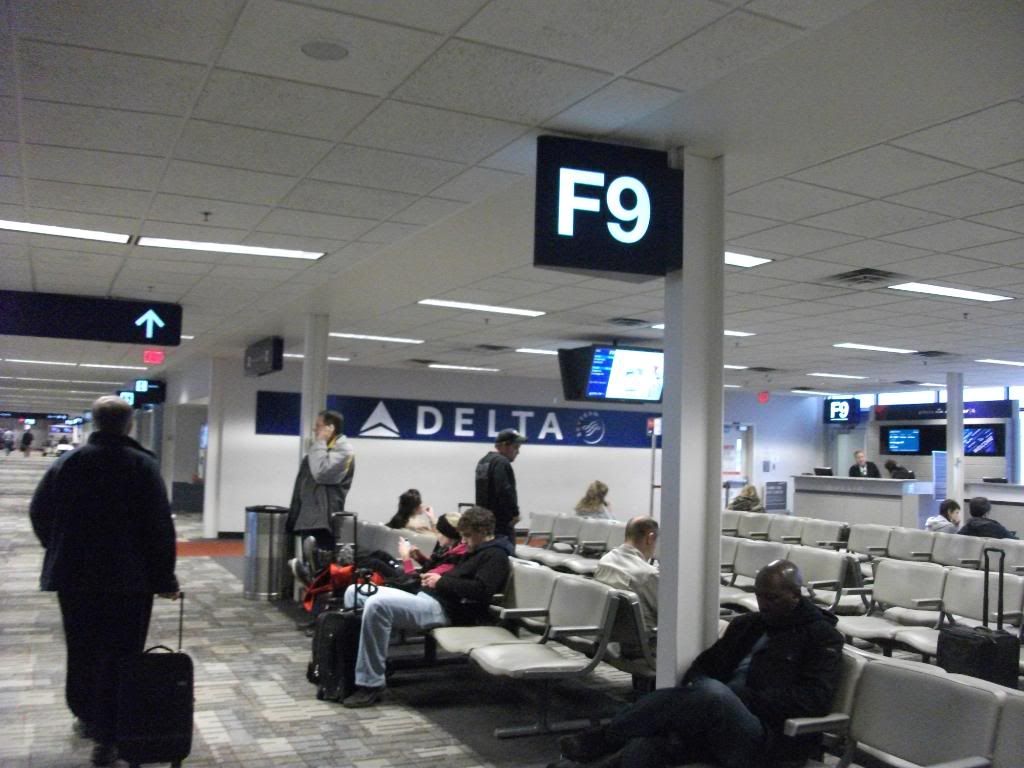 Downtown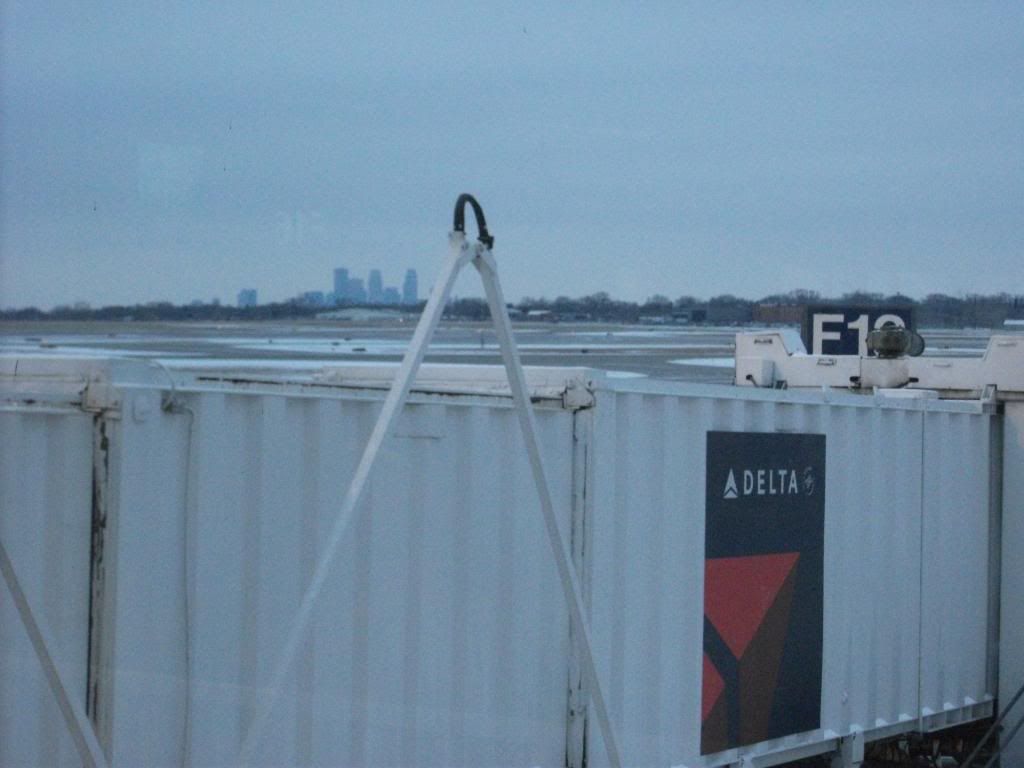 Ooh, there's actually a crowd here!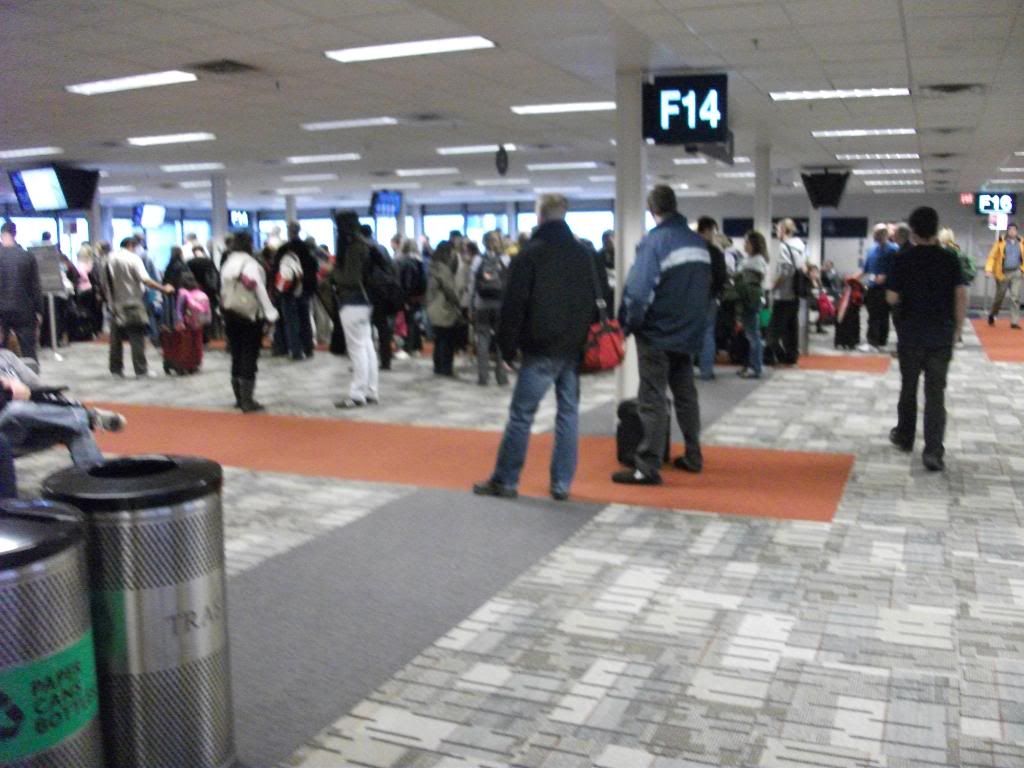 A 767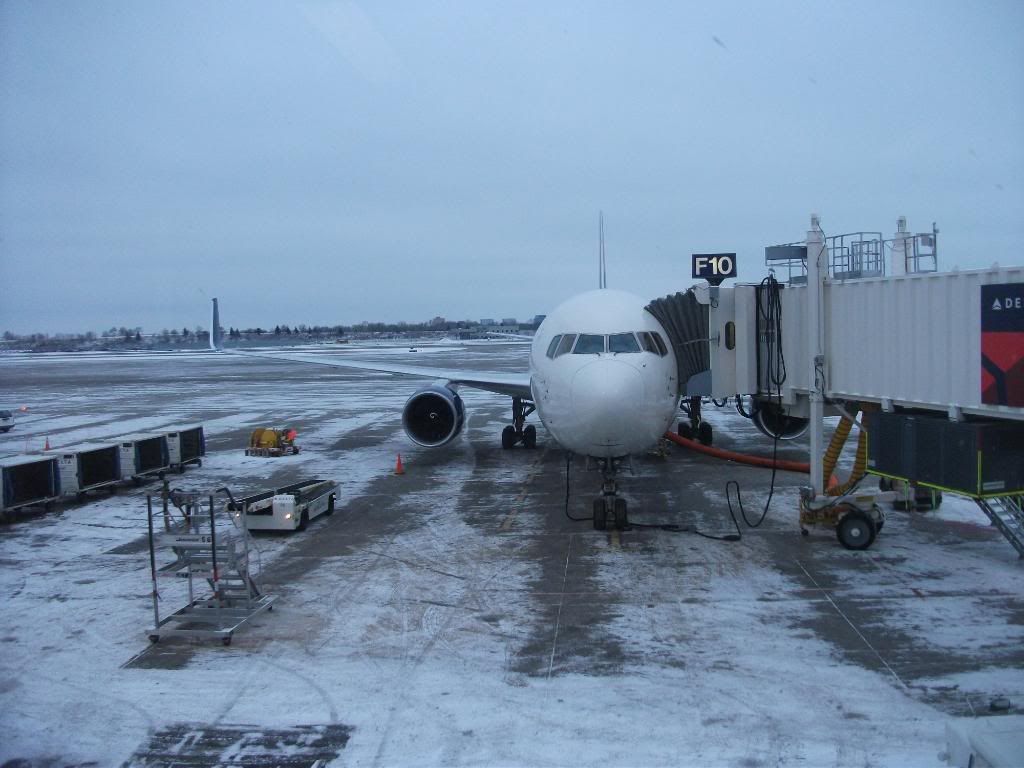 The Mall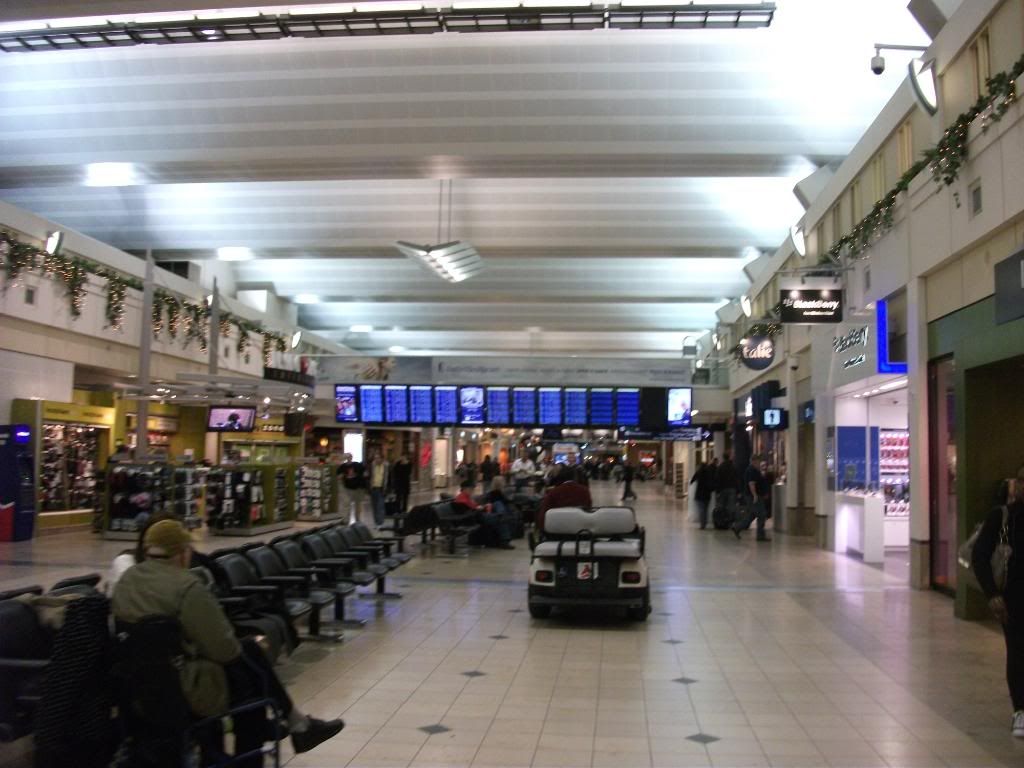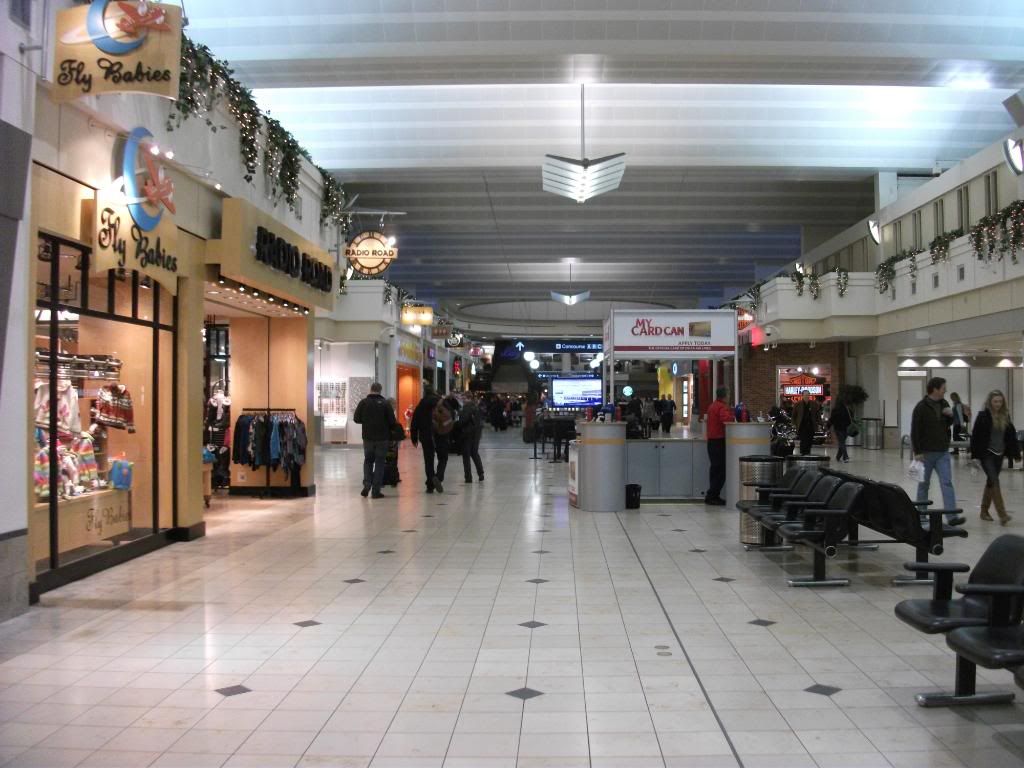 Red-headed stepchildren visiting the House of Delta
I sat down to do some typing and sip some absolutely radioactive tea. By the time I got up again, it had gotten dark.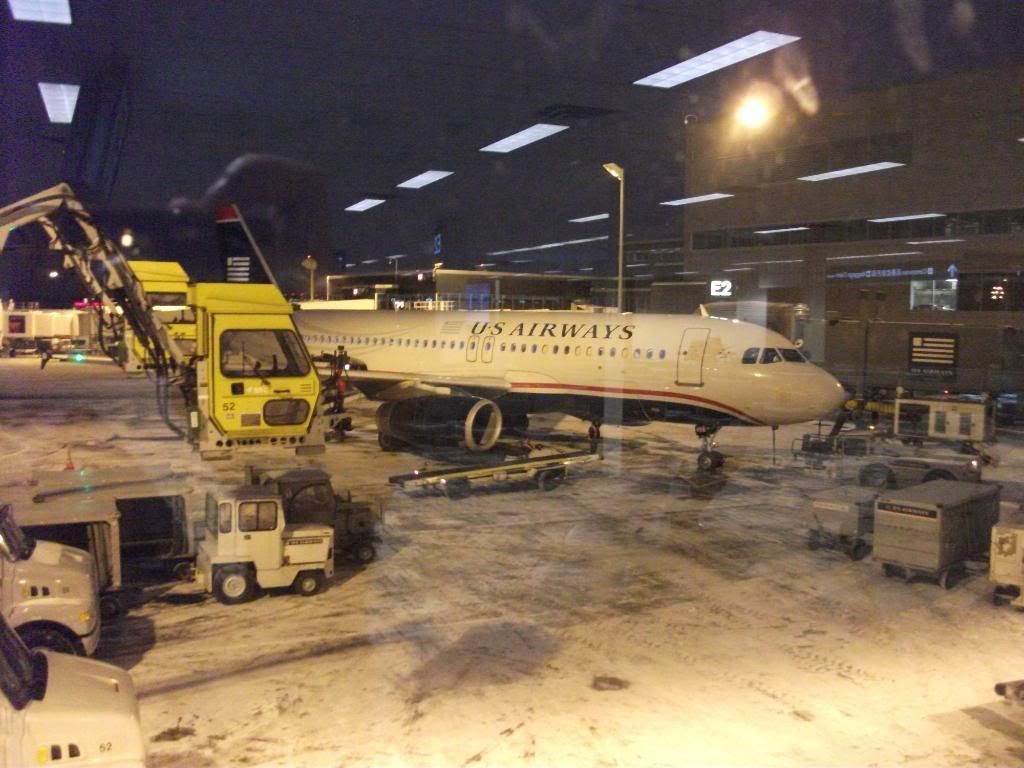 The fourth popped up in the Mall…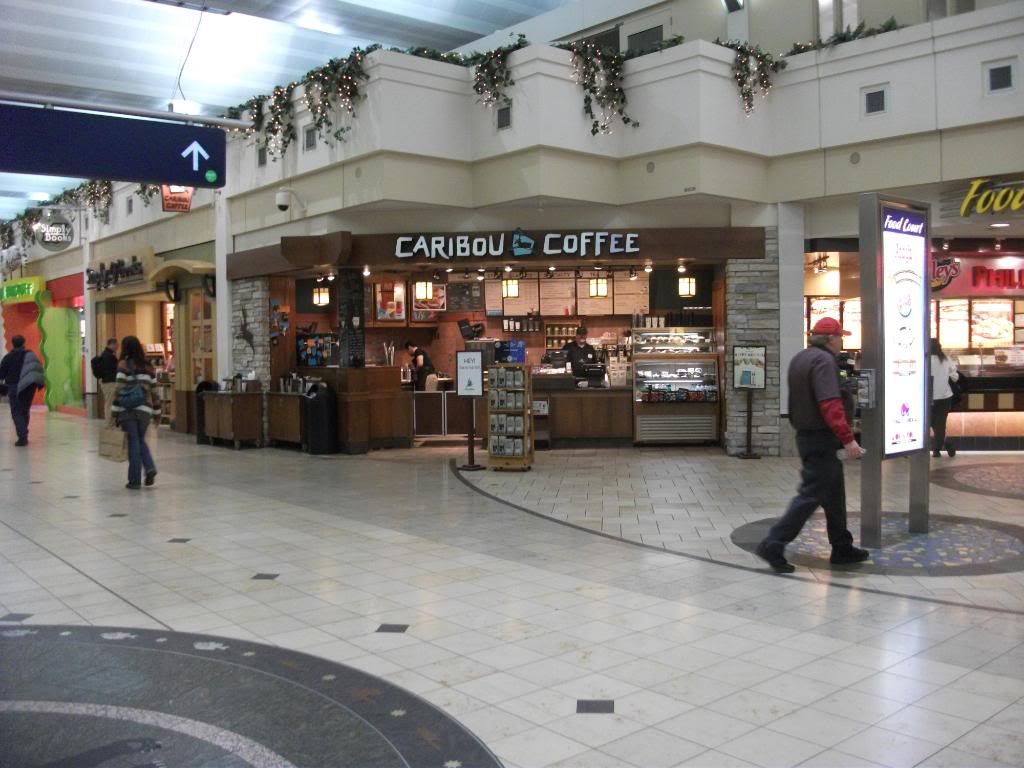 Mezzanine level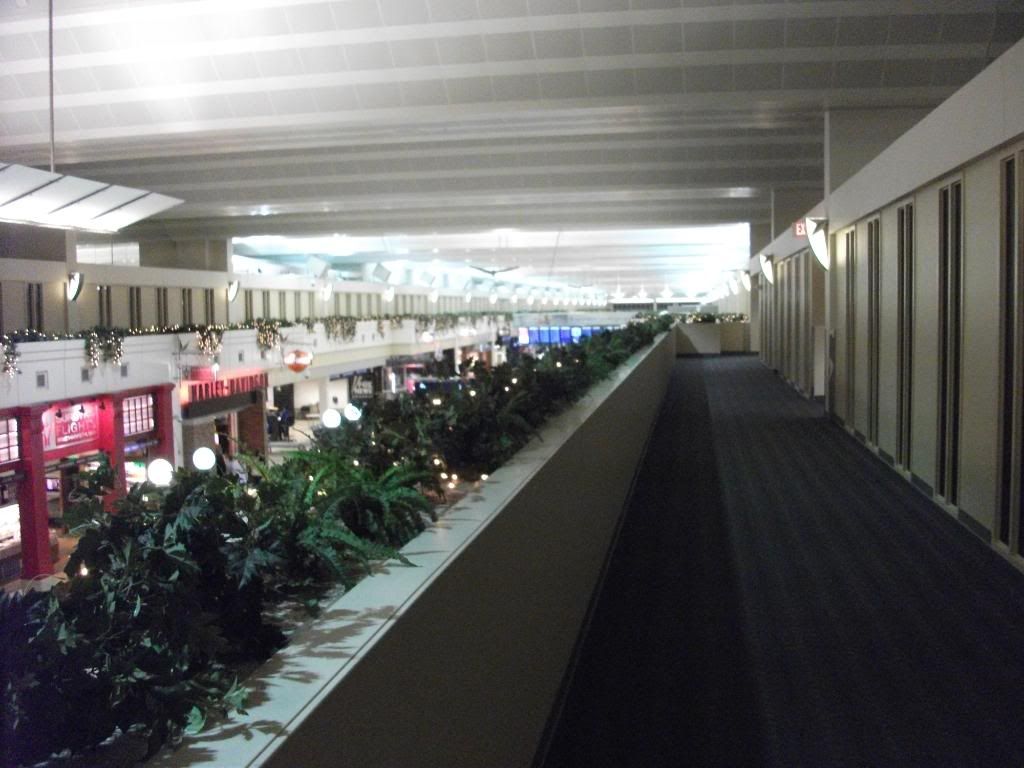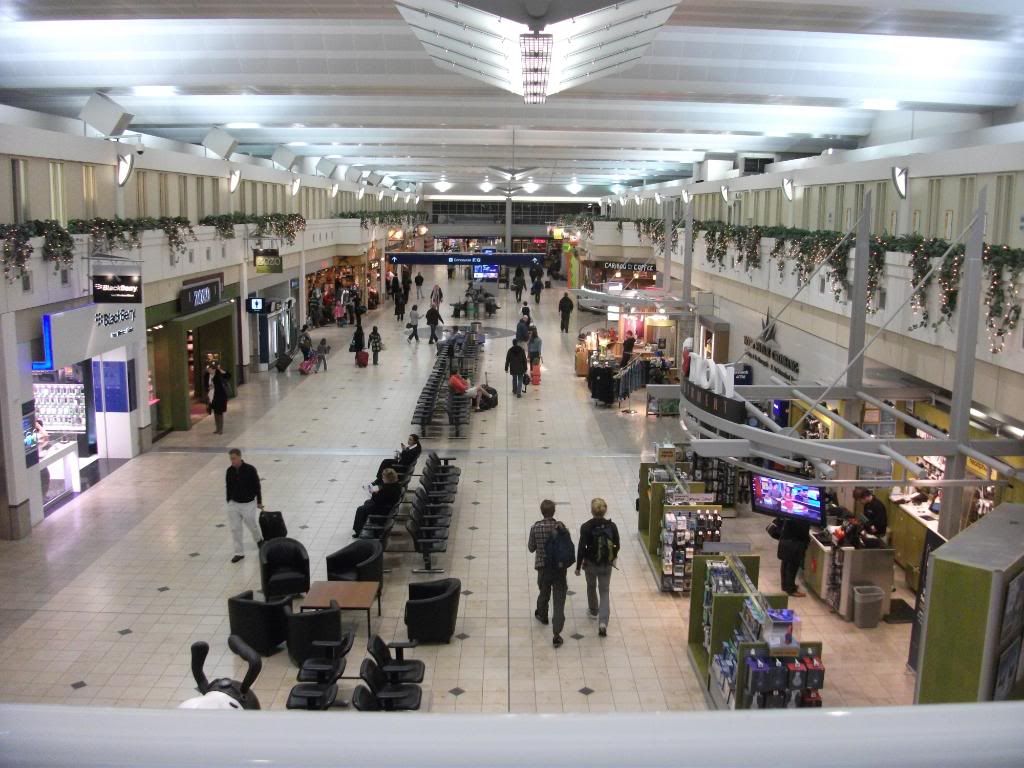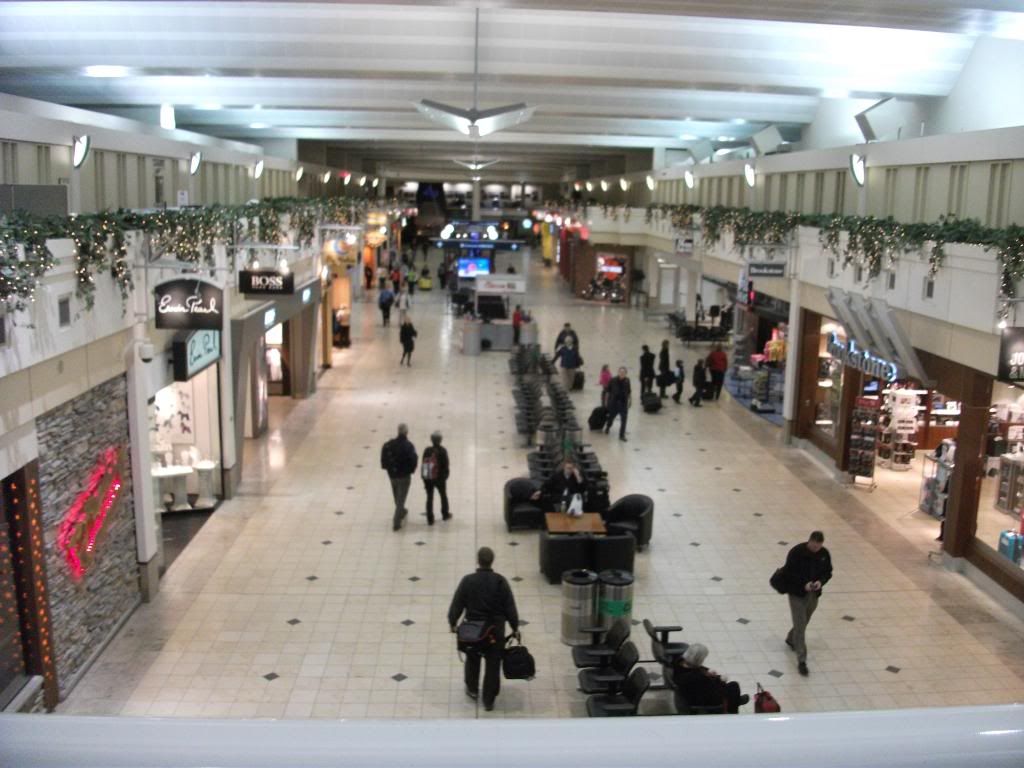 Sleeping mats for the stranded. I was glad I did not have to partake of one.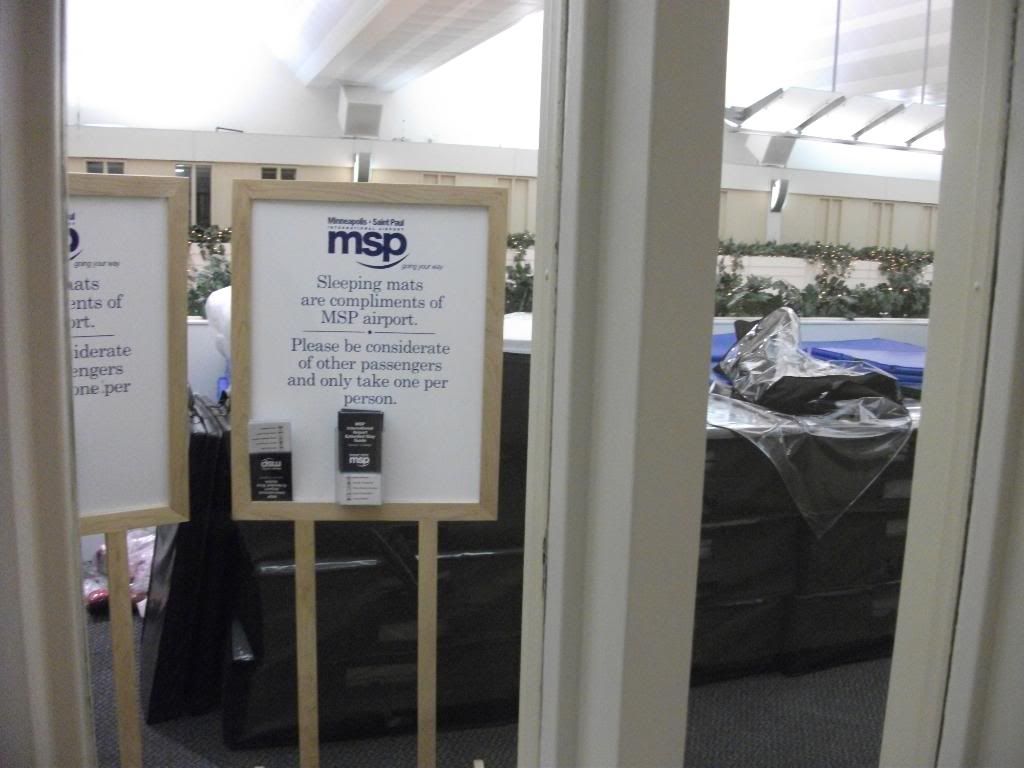 And the fifth popped up in Concourse E; I walked right by it the first time and didn't even notice it. (Yes, I did have something different from each one. Thanks for asking!)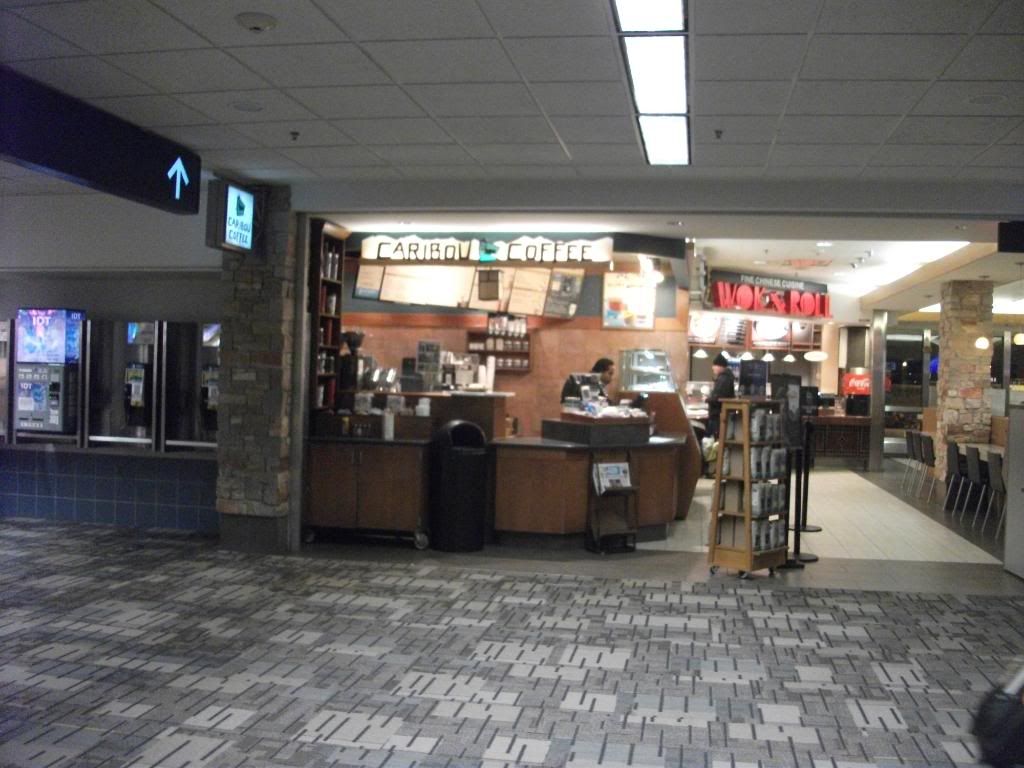 Here be Hector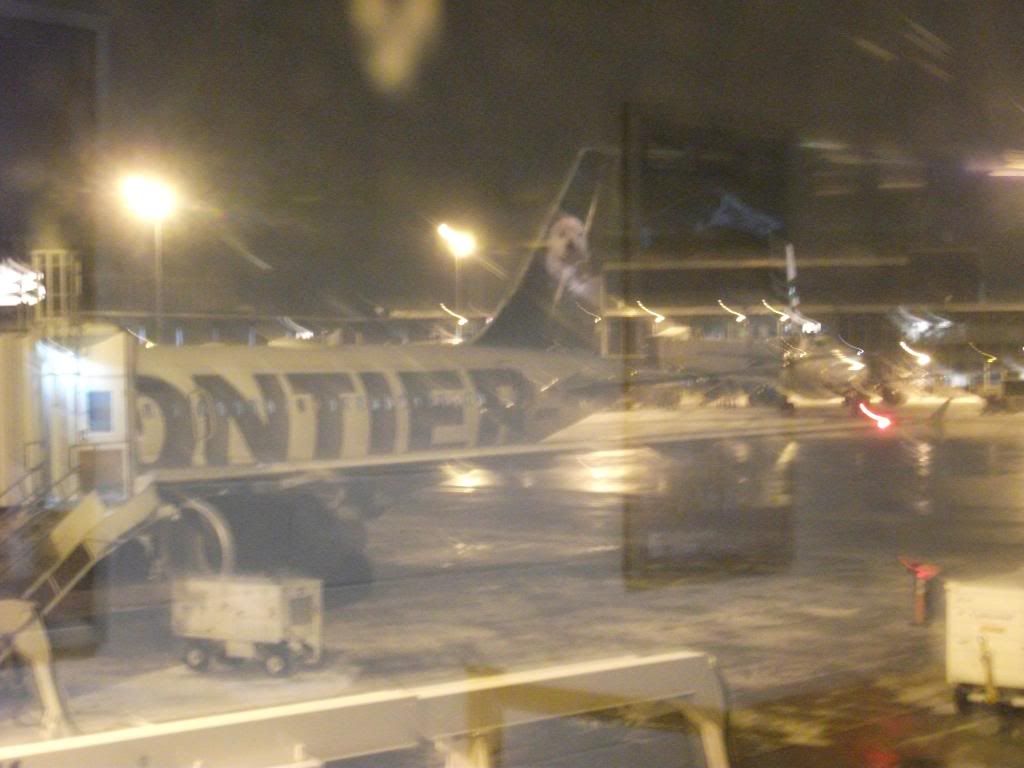 My time in the airport was quickly drawing to an end, so it was right to the gate after accomplishing my side quest.
American Airlines 375 MSP-DFW
Scheduled: 18:50-21:25
Actual: 18:50-20:51 (wheels up/wheels down); 18:37-20:57 (gate to gate)
McDonnell-Douglas MD-82 (N7521A)
You remember how I talked about the noticeable lack of people? Well, nowhere was that more apparent than for my flight to DFW—the boarding area was nearly deserted. A few minutes after arriving at the gate, the agent called my name. I approached the counter and received some great news: only 13 passengers were booked for this flight, so everybody was being upgraded to First. She asked if I would like to keep a window seat (Yes) and printed out my new boarding pass. She assigned me seat 3A, the front row on the left side. (A nice change from the last row of an E-175, don't you think?) Although the free First Class treatment was nice (nuts, dinner, etc.), the best part was the sprightly takeoff. Ten or fifteen seconds after applying the power, we shot up like a rocket. An unmistakable smile crossed my lips as we climbed at a steep angle into the night sky. I imagine AA wouldn't appreciate empty planes all the time, but it's an experience I wouldn't mind having again.
My private MadDog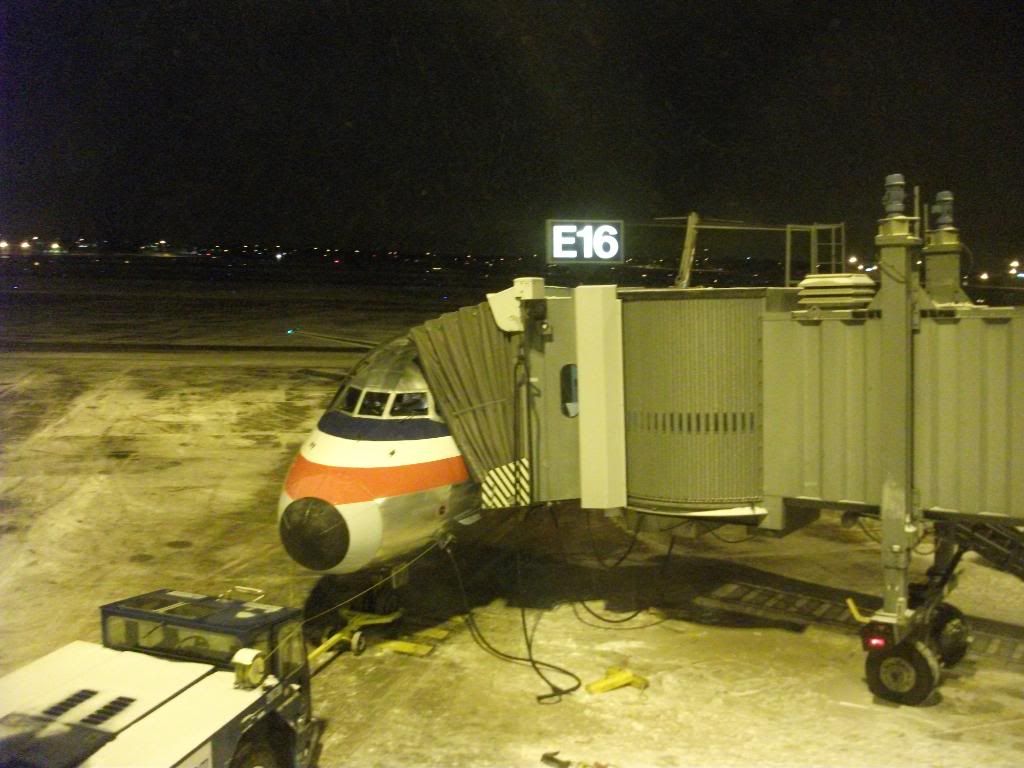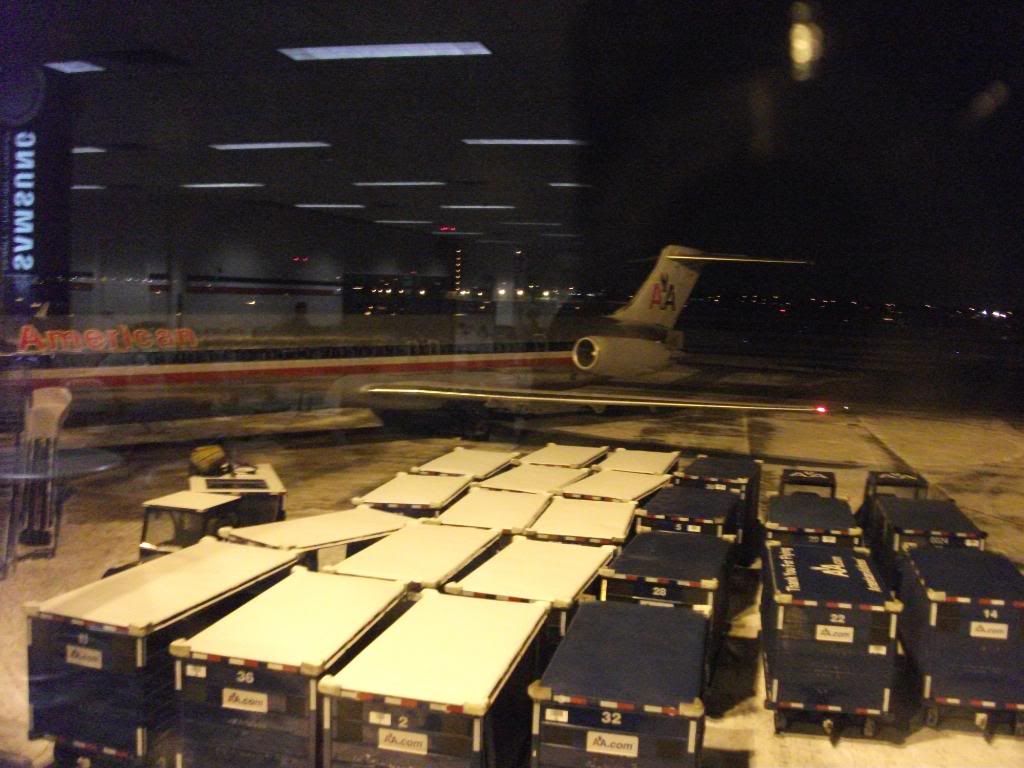 Dinner: salad, chicken, rice, Lima beans, cheesecake. Being partially full from the goodies from MSP, I couldn't finish it all.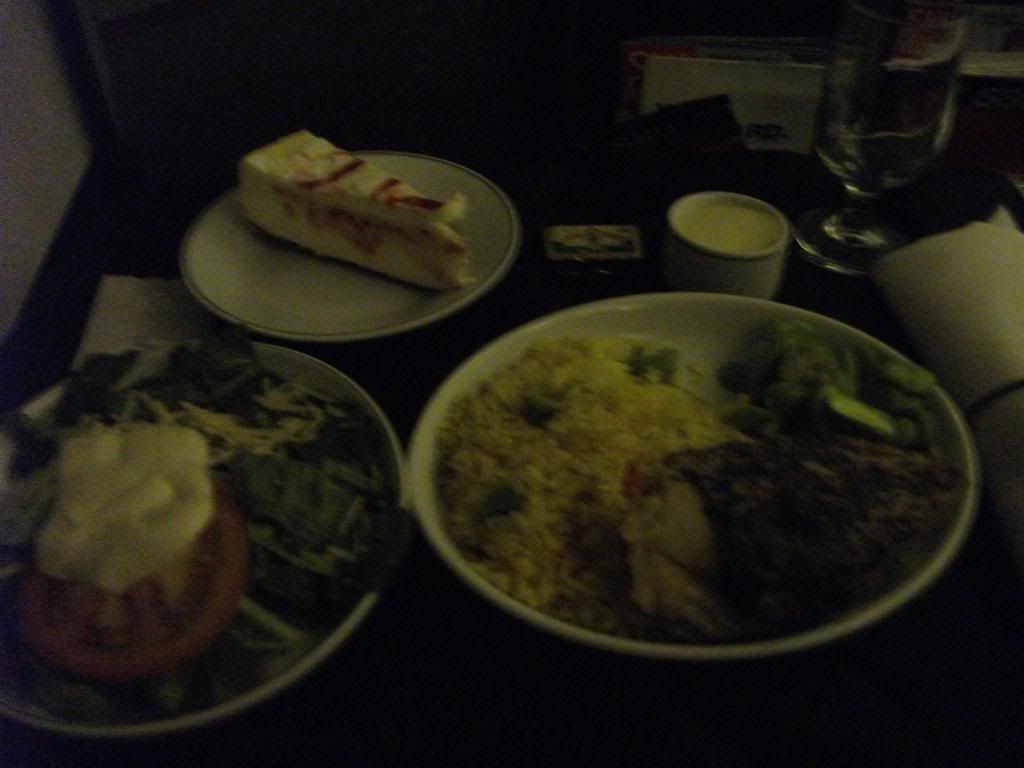 The completely empty Economy cabin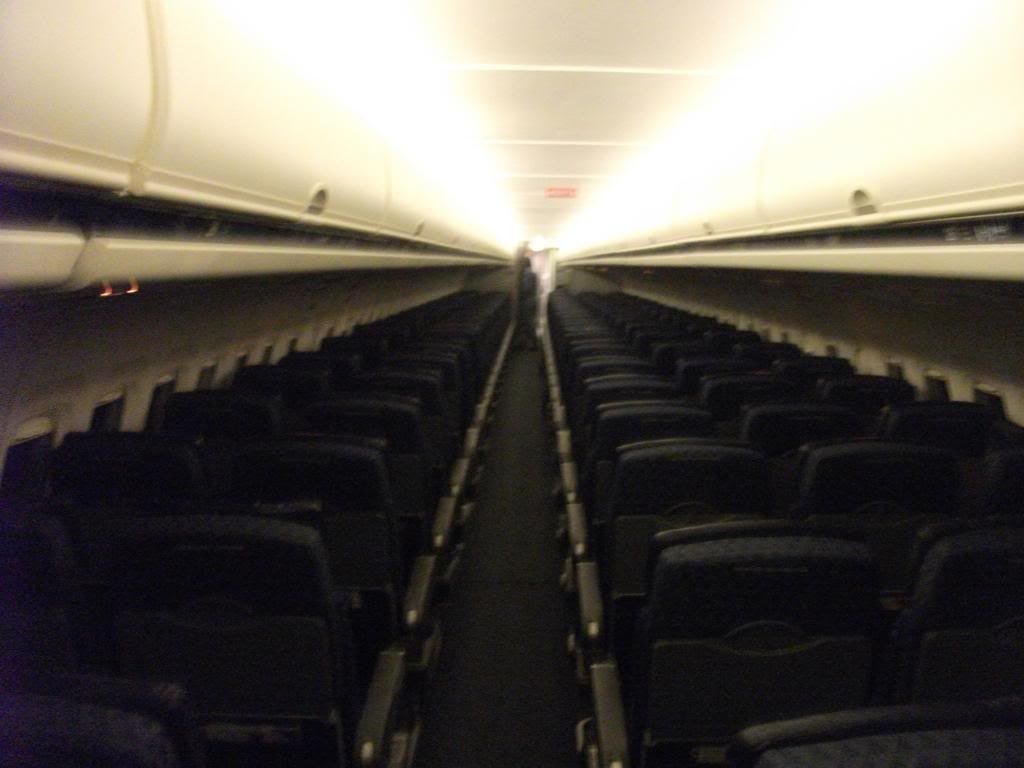 That was pretty much the end of the night. We arrived in Dallas super early and I walked around until it was time for my next flight to leave. It went by peacefully and quickly; there were no nasty surprises in store. Not much else to talk about on that one.
American Airlines 1183 DFW-OKC
Scheduled: 22:35-23:25
Actual: 22:37-23:10 (wheels up/wheels down); 22:29-23:14 (gate to gate
McDonnell-Douglas MD-83 (N9630A)
As I said, nothing really happened on the 33 minute flight to OKC, so there are no pictures. We landed without incident and I made my way back to my car and on to home. As far as the airlines, all three performed as admirably as one could expect from five domestic flights. Southwest and United did nothing to harm my opinions of them. As you might guess, American stuck out following the upgrade situation. I was glad that I snagged another ride on the 777, but the experience of sitting beside one of those GE90 powerplants is still missing. (In time, I imagine…) I also received two reminders of why I'll likely miss the MD-80 when it's withdrawn from service.
Airport Conclusions
MSP: I found it hard to peg, actually. Being large and spread out didn't bother me at all. Your options are to walk or ride a tram—much like DFW or ATL. However, whether you're fast or slow, tight connections will result in exercise. There are certain areas that are drab. Delta seems to occupy the nicer spots, but it's nothing overly spectacular. If you need a place to hide, it has plenty, especially if the airport is as quiet as it was on this day. I did note that the airport seems to make things as easy on the traveler as possible—lots of shopping and other customer-friendly features. I should also mention that I don't think I've ever seen so many CR2s in one place at one time. I probably wouldn't want to spend three hours there again, but I could keep myself occupied if so inclined.
Coming up next: Masochism for Dummies II: The Spirit of New York
Tigerguy's Tales:
The Top Ten (Leg 1): Texas Two-Step
(by
Tigerguy
Jun 26 2011 in Trip Reports)
Featuring: DFW, IAH
The Top Ten (Leg 2/7): How To Book...
(by
Tigerguy
Jun 29 2011 in Trip Reports)
Featuring: LAS, with SLC
The Top Ten (Leg 3/7): Masochism For Dummies
(by
Tigerguy
Jul 2 2011 in Trip Reports)
Featuring: ORD, JFK, ATL, with LGA
The Top Ten (Leg 4/7): Phoenix Rising
(by
Tigerguy
Jul 5 2011 in Trip Reports)
Featuring: Good night, and keep watching the skis. Uh, skies.