Welcome to my first TR.
To start I would like to say that my camera and I do not get along I apologise for lack of quality of some images.
This journey will conclude my gap year in Australia, commencing my 2nd long haul flight.
I will not bore you's all with my doings in oz [until I submit a prequel report] so i'l get straight to it.
Journey: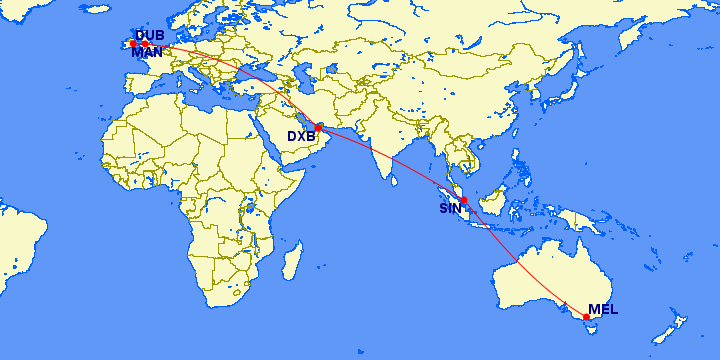 I caught up with family in Geelong and Melbourne, sold my campervan and it was now time to head home. I was sad to leave as my homesickness suddenly vanished but was excited to experience Emirates for the longest journey I have ever taken.
Day before I left I visited Melbourne zoo, this Pelican seemed to set my mood: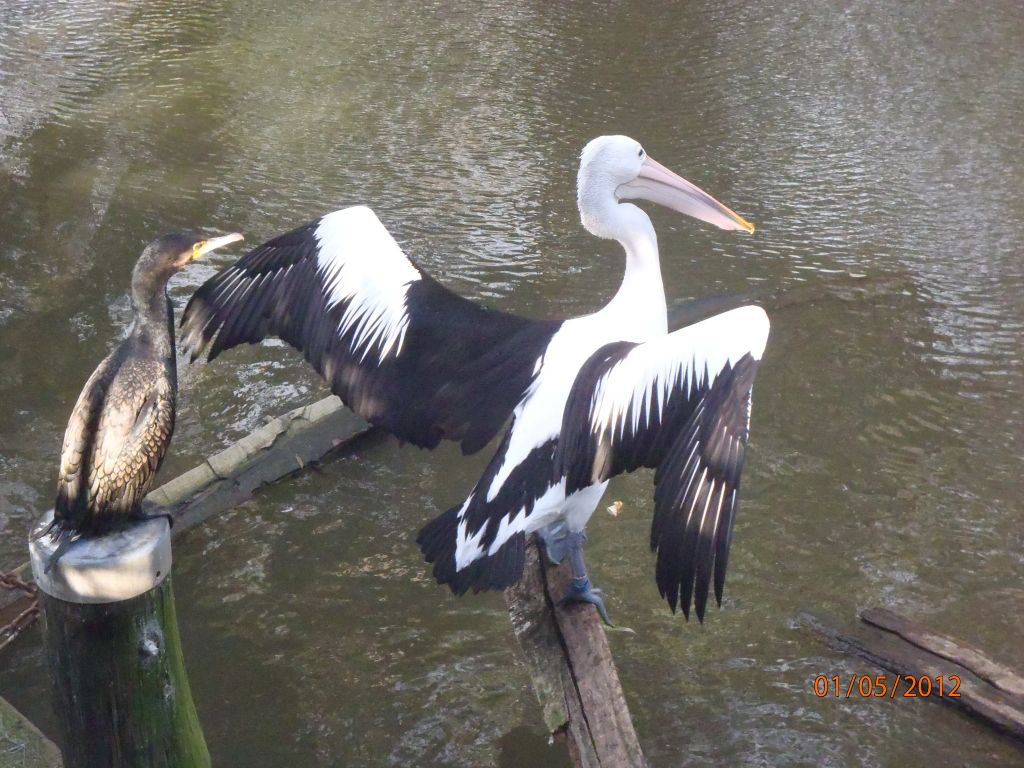 I left a gift to my distant family and said my goodbyes the night before as they had their daily school and work routeen to endure.
My taxi was ordered and due to pick me up at 14:30 to arrive at 15:00 MEL 4 hours before departure. I received an email from EK updating my flight status and to my surprise the departure was stated as 18:00 compared to 19:00 on my ticket.[ticket typo?] This did not bother me, so I watched my last bit of Australian tv [something I will not miss from Australia] before heading to bed.
The day of departure my taxi arrives 10 mins early catching me off guard, the driver seemed quite impatient, so I hauled my rucksack, hand luggage and body surf board into the back of the Taxi with minimal assistance. I will now let the pictures commence my journey:
I was pleased to see dark clouds as I find smooth flights a little boring!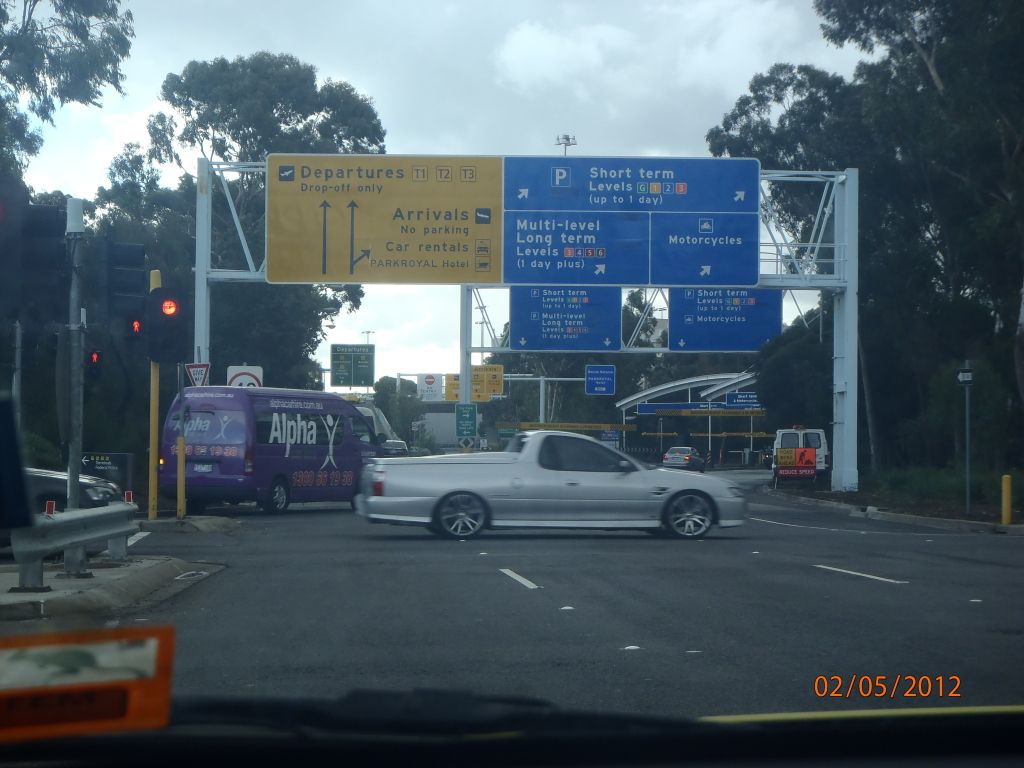 After 20 min drive I was dropped off and charged an expected $26 no tip for you.
I tried to locate a baggage trolley but MEL charge for them so I decided not to surrender to a petty charge.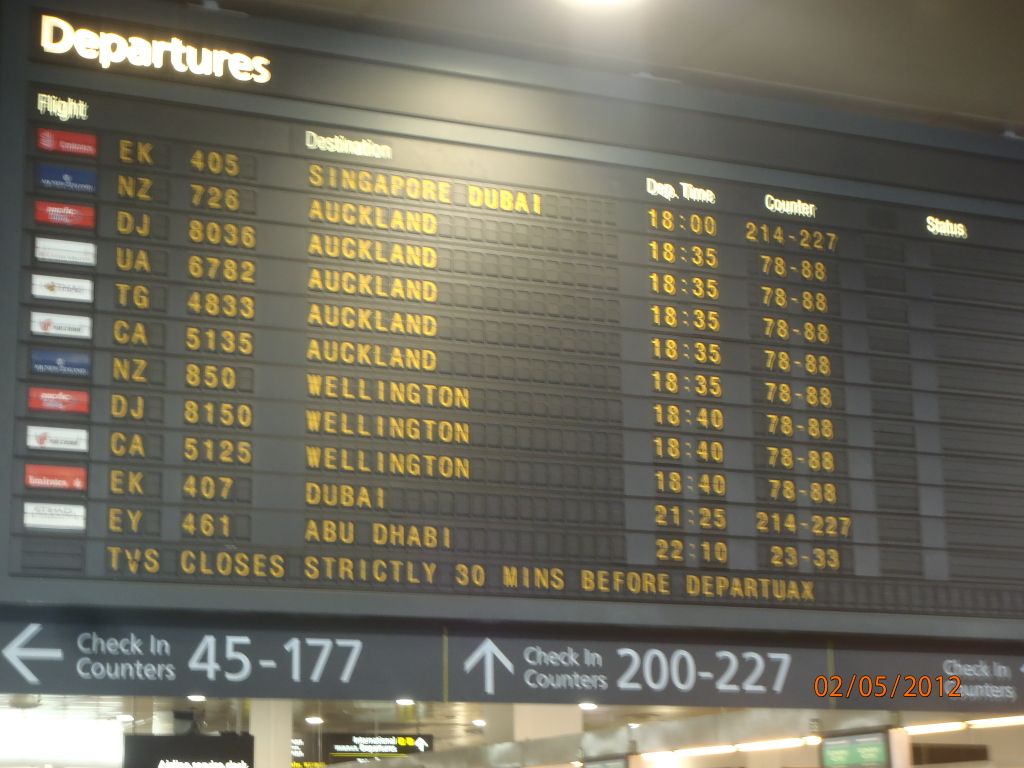 Emirates kept the Singapore stopover quiet as I thought I would have been on a direct flight to Dubai.
Later I will explain why I was happy to stop in Singapore.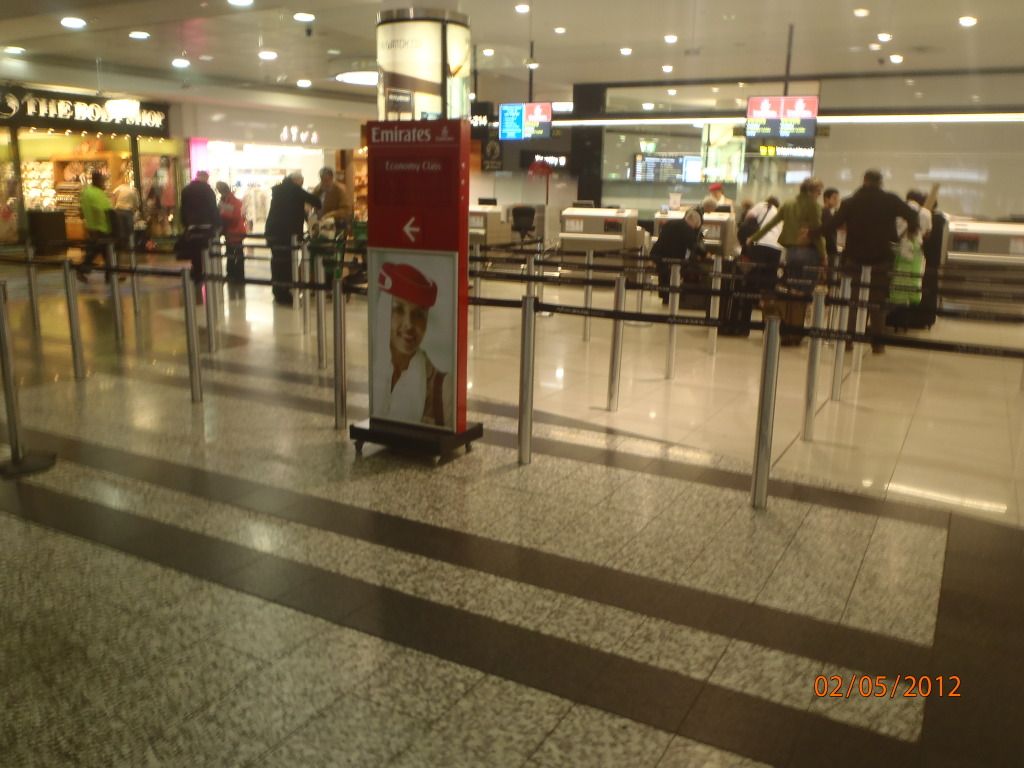 I found the EK check in and joined the small Que. After no longer than waiting 5 mins I was waved over to the Business class desk. I approached and humorously mentioned I hope this is an upgrade opportunity. The friendly male agent smiled and replied unfortunately not, economy is full but not overbooked.
I assigned myself seat 46A on the expected B777-300ER to DXB and seat 81k [best seat] on the A380 to MAN. I was hoping 46A was a good window seat as there was no one behind me to worry about reclining. I was aware that recline was limited but I thought it was worth trying it out for future reference.
My bags were checked through to MAN and received 2 boarding passes and was told my surf board was to be dropped at outside baggage. I thanked the agent and dropped off my bag.
After a short dander I decided to proceed through to air side. First I was told to weigh my hand luggage, I was lucky as mine weighed 6.3kg but no action was taken. [Is it a 6 or 10 kg limit?] Security was quiet and swift with the staff being surprisingly friendly. I was stopped after a smooth clean screen for a random search but an apology was given so my good spirit was not dampened.
Last but not least immigration, I filled out my departure card and after a 10 minute Que I was processed and sent on my way by a friendly immigration officer. [What planet am I on? Maybe he's happy to see an Irishman obey the visa terms!]
Next was the duty free, although it was not quite the maze to try and ge you lost like Manchester, soon daylight and large apron views got my plane spotting senses tingling.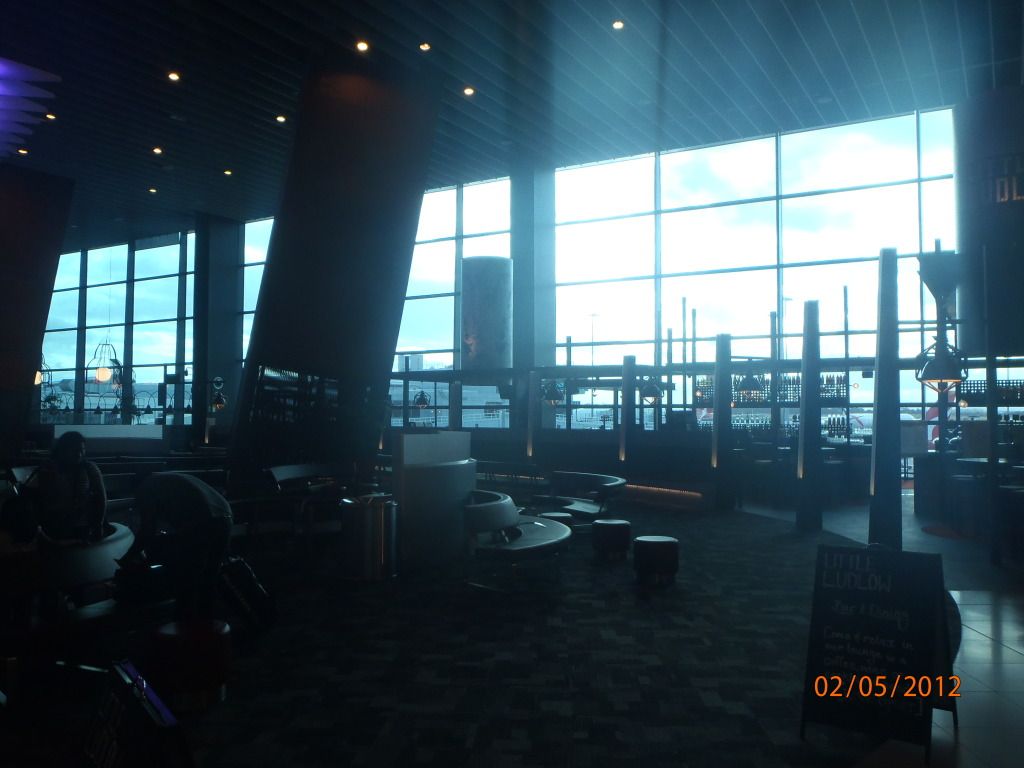 2 1/2 hours until STD, so roughly 2 hours to admire the traffic, which felt like 1.
I see a beached whale! 1 of 2 A380's bound for Singapore.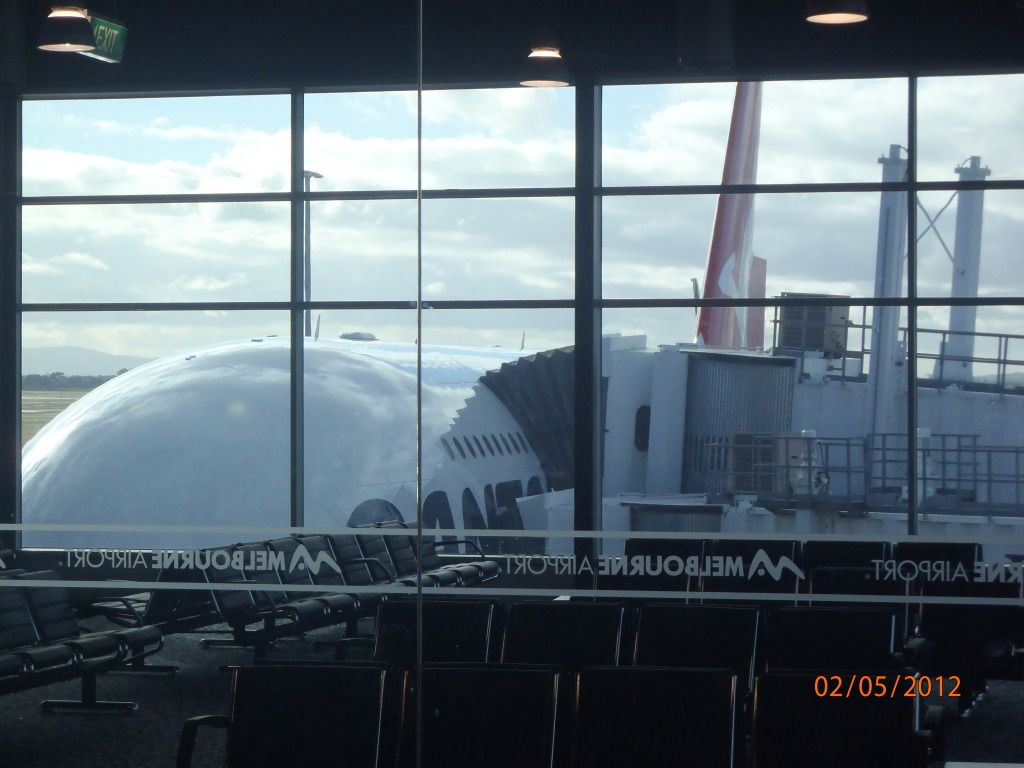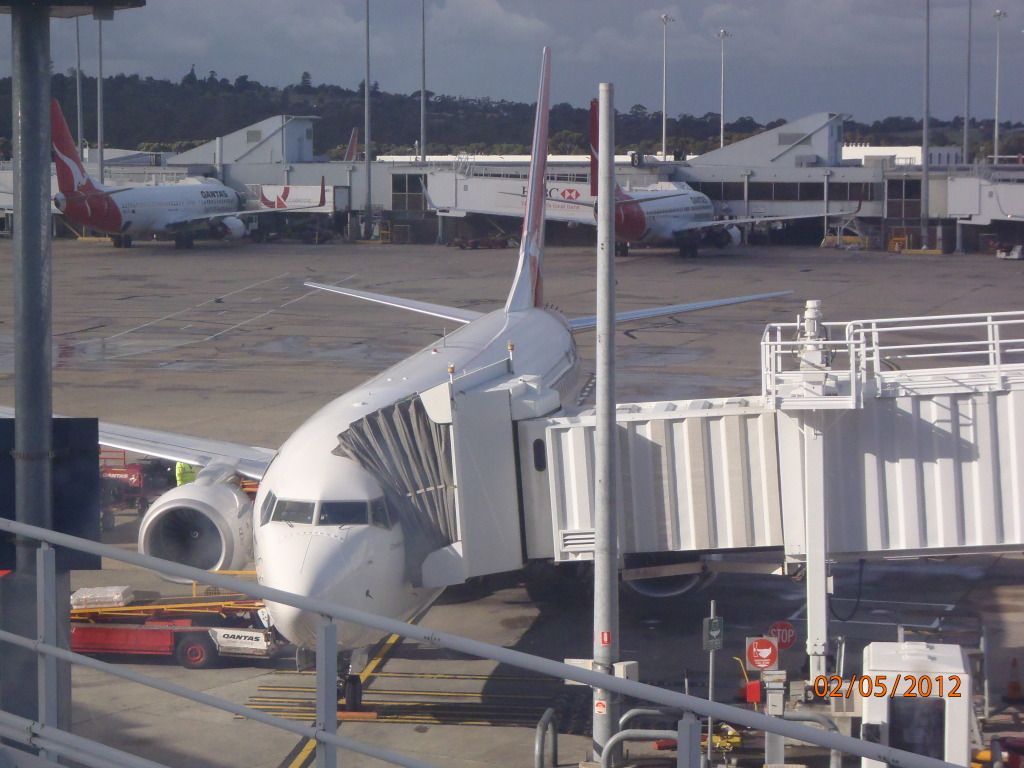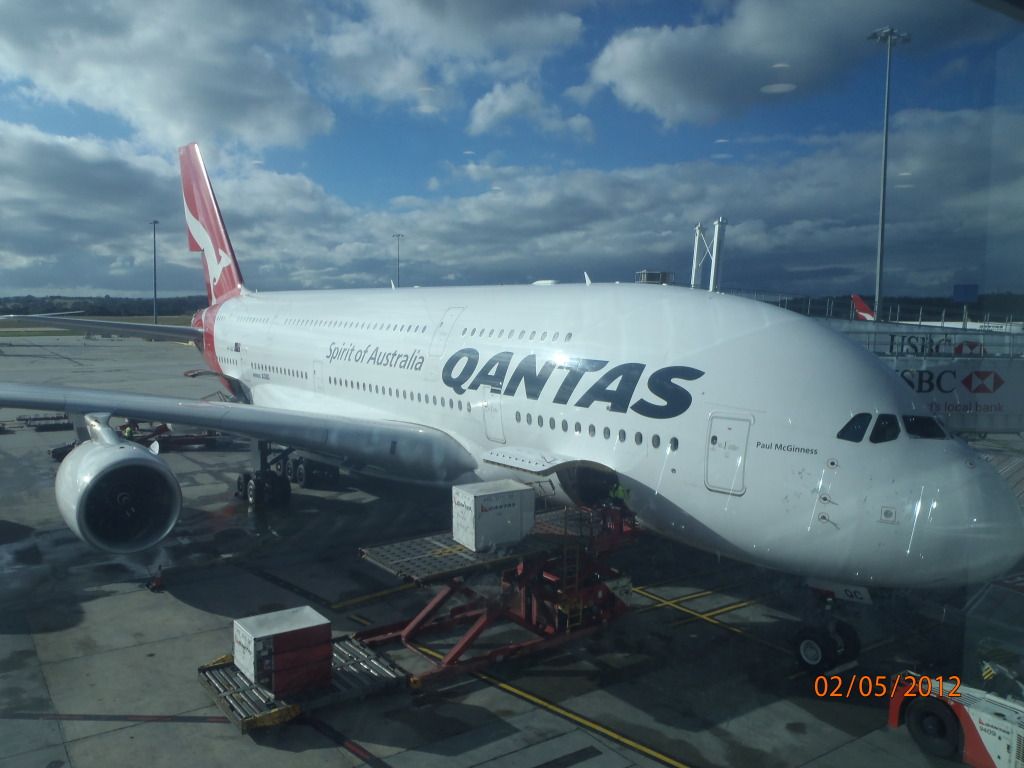 My aircraft waiting patiently, in October EK will operate A380's to MEL, I assume this will be for the later direct DXB flight? 2 maybe 3 A380's to Singapore, Melbourners are spoiled for choice!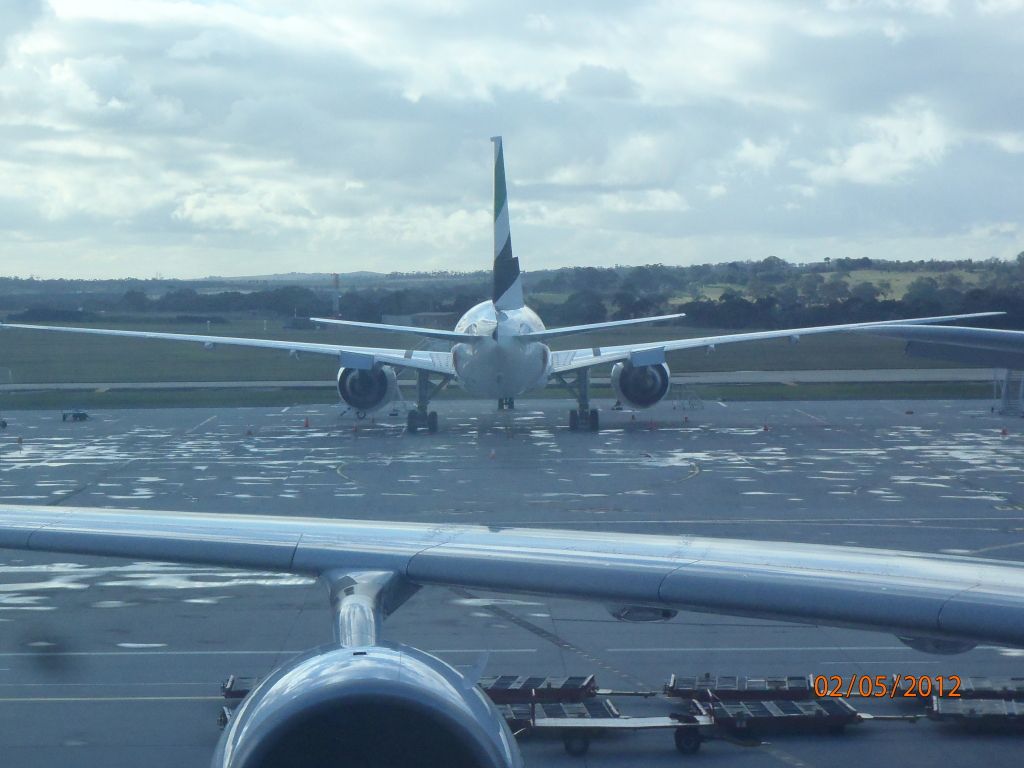 The other beached whale! Many final announcements was made for late passengers boarding this flight.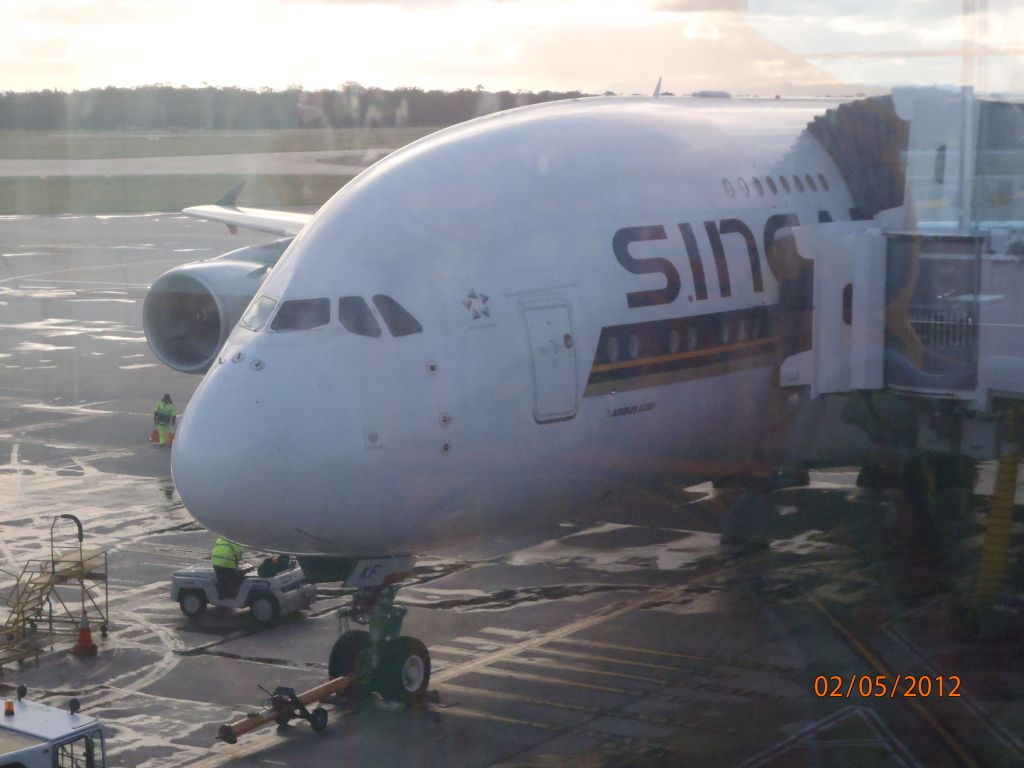 I had a Nesquick tin full of loose useless change, I felt a great well being ditching it here,
I played a South Park themed pinball game which seemed to echo throughout the spacious but quiet terminal. I also bought an Australian to ie/uk adapter so my new best friend Toshiba, could work back at home. Who needs an ipad when these are still about. In my own opinion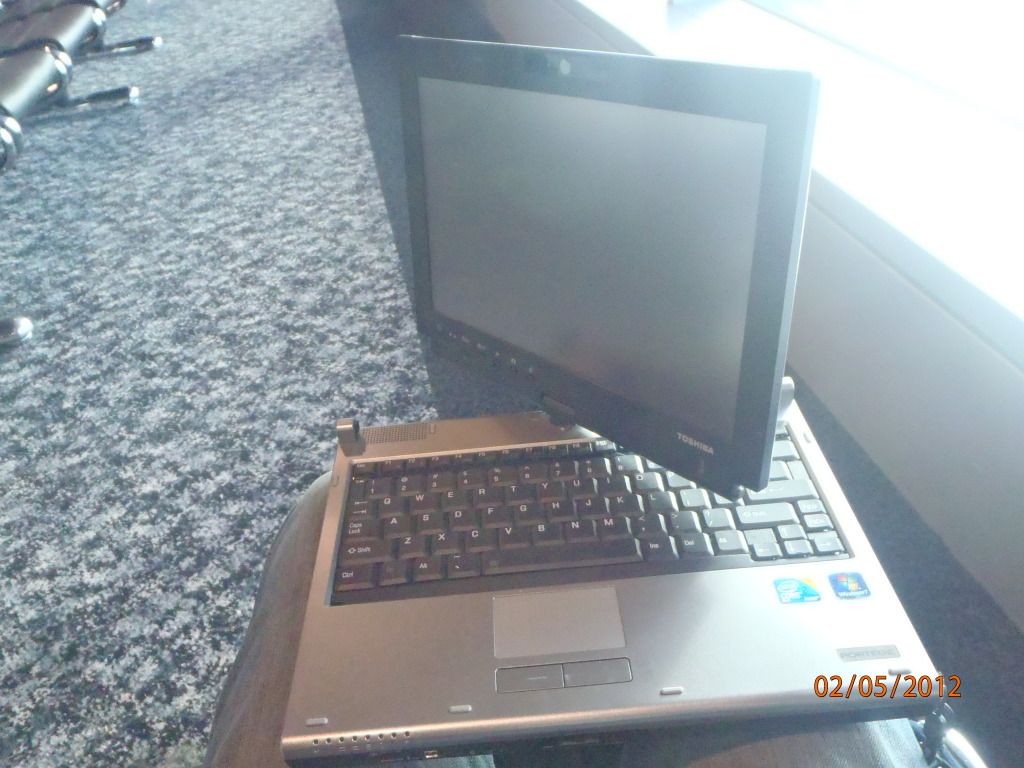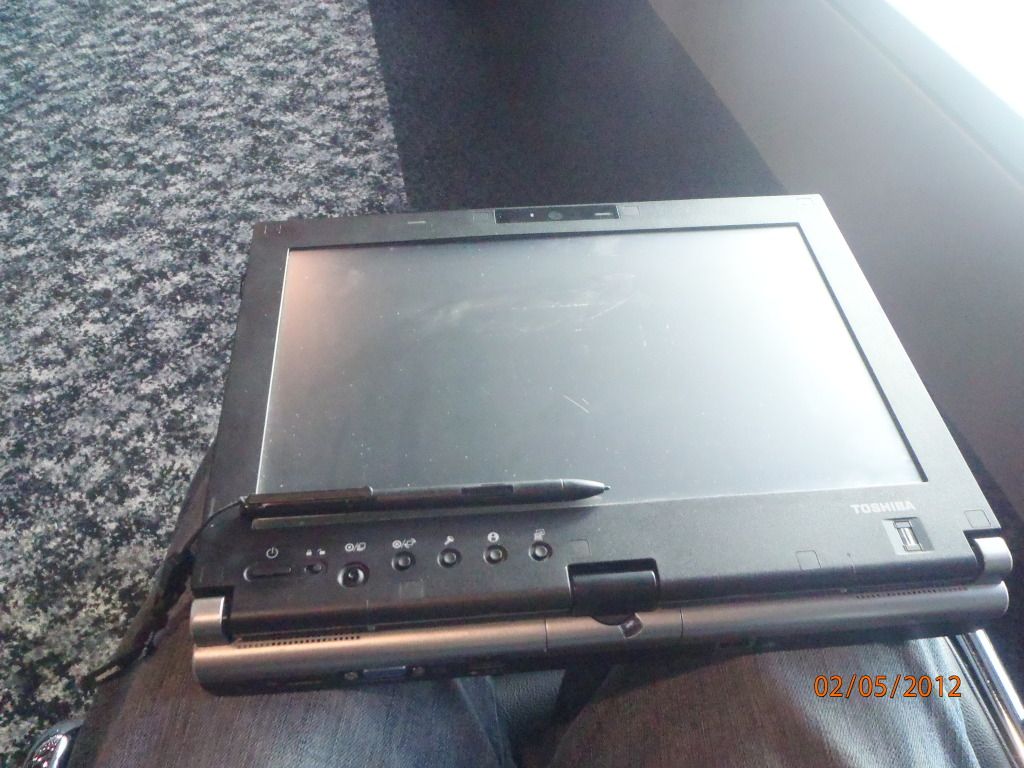 I was back in good time to see the whales take off. Unfortunately no rotating action views for these beasts.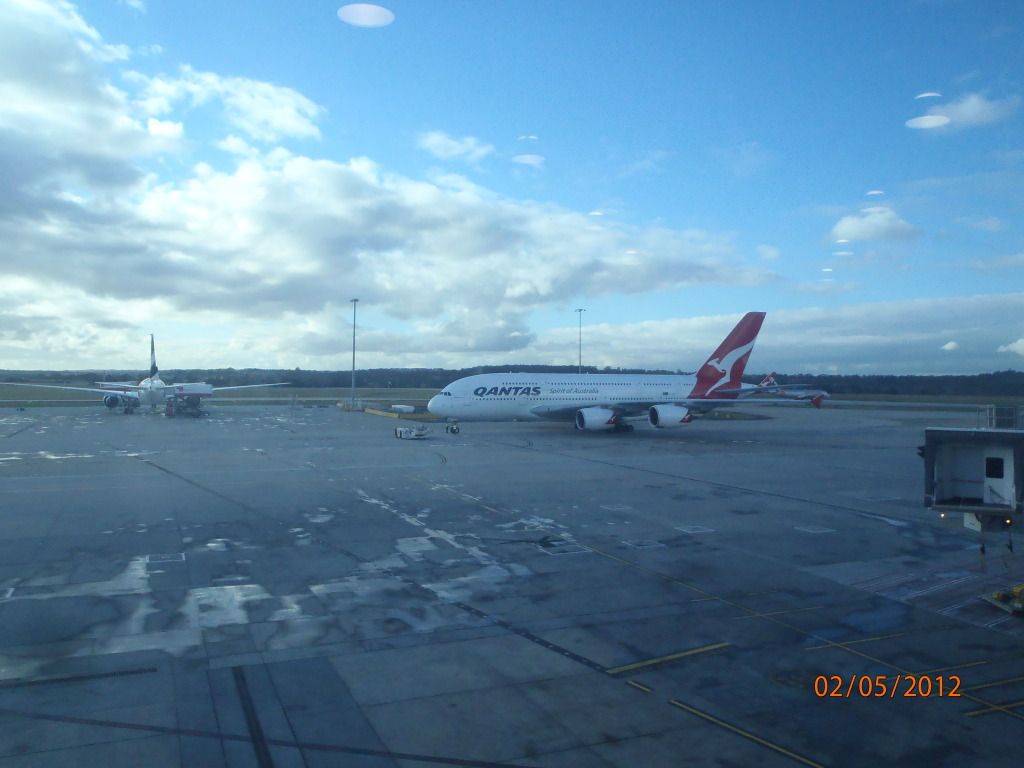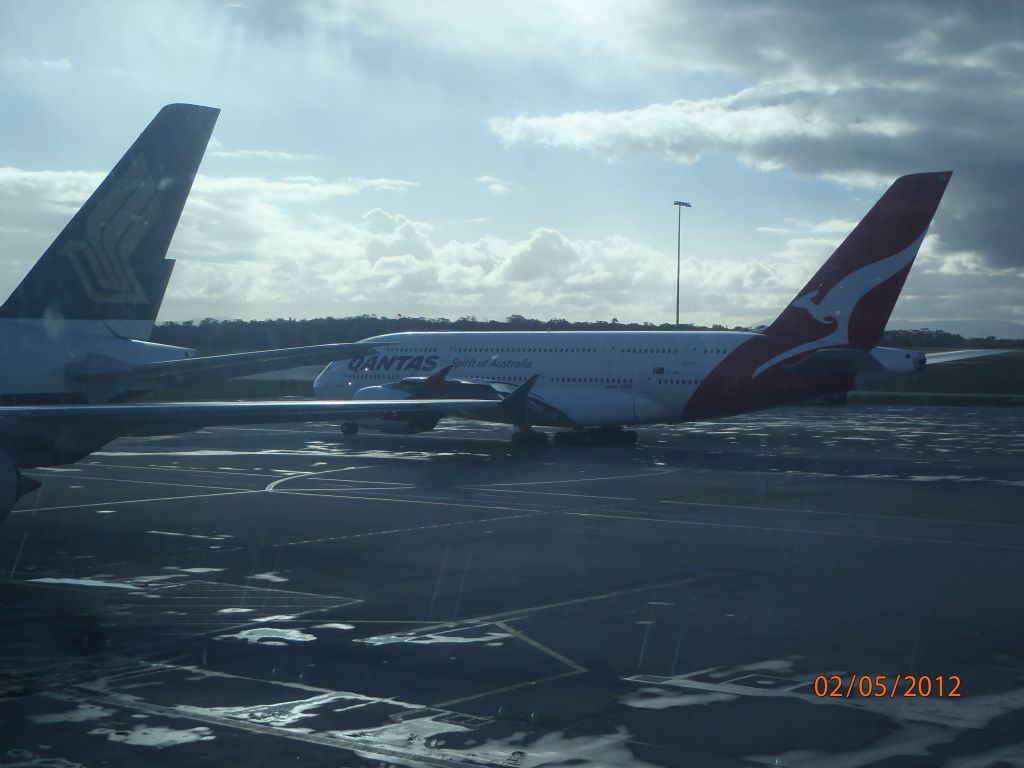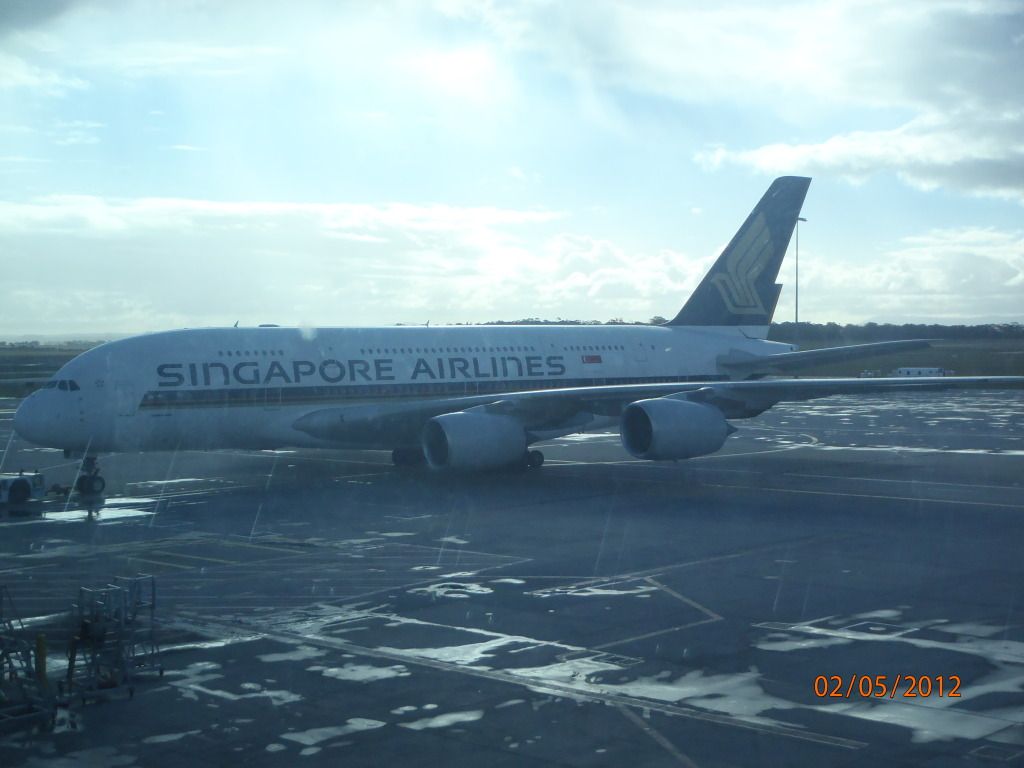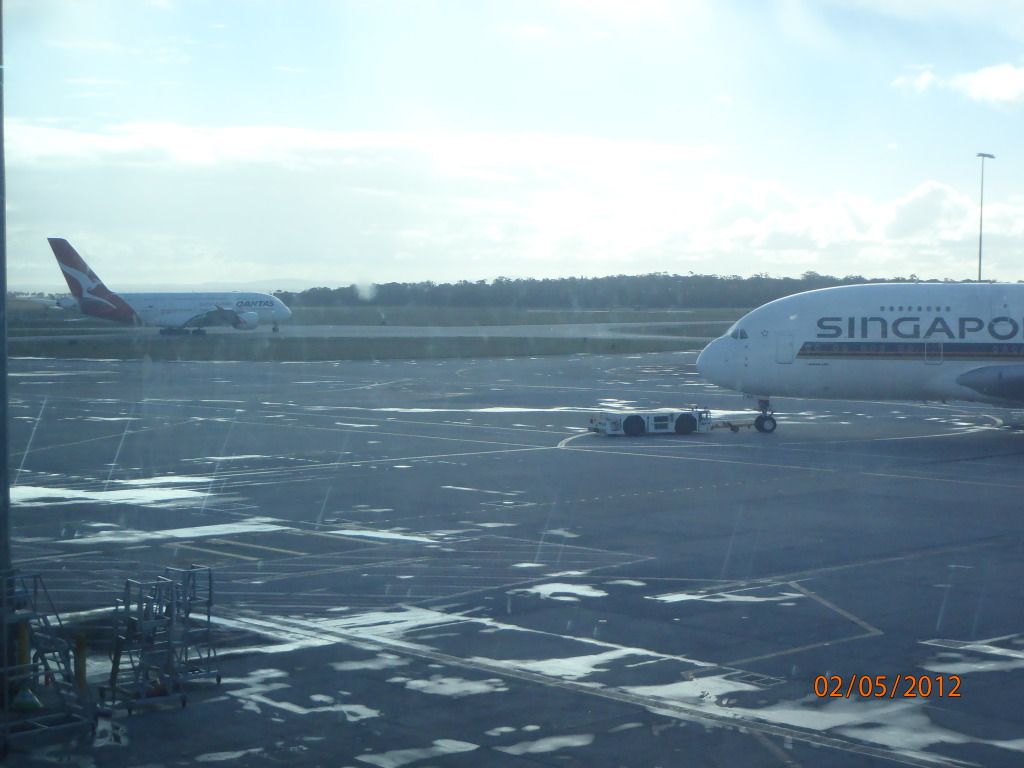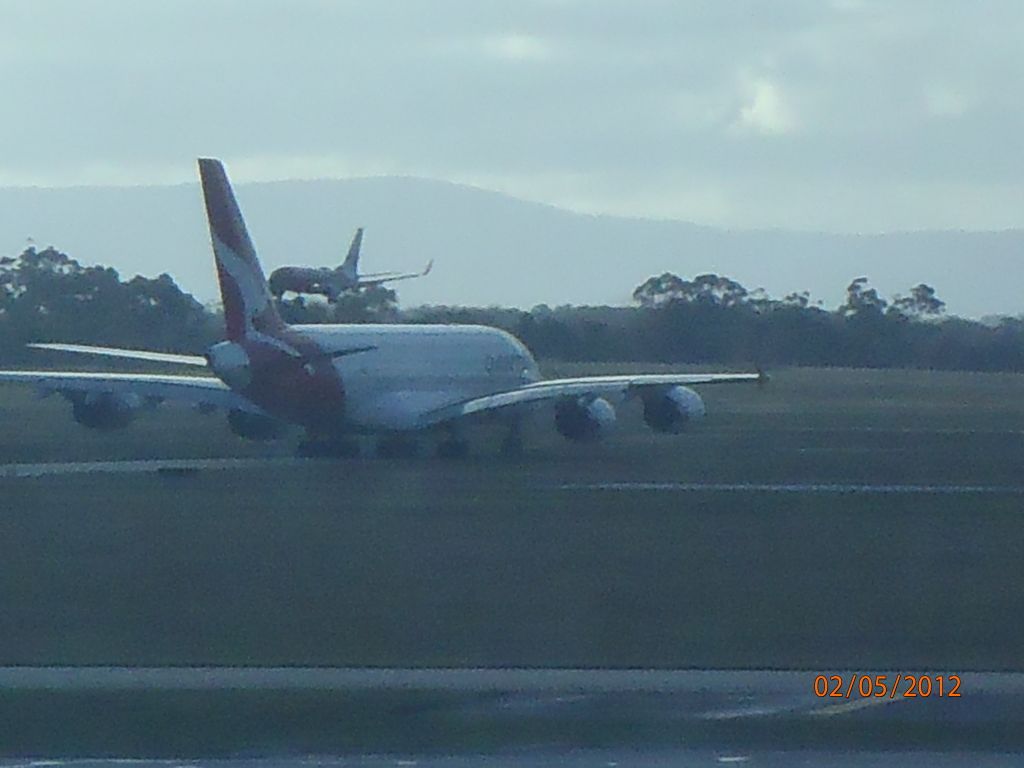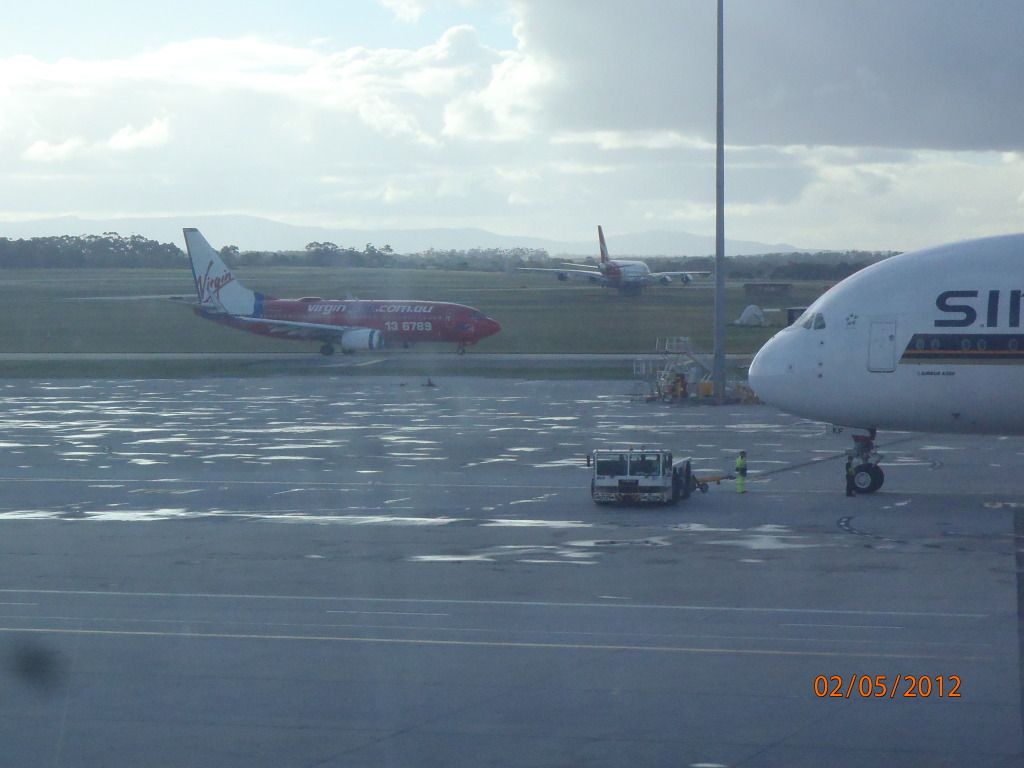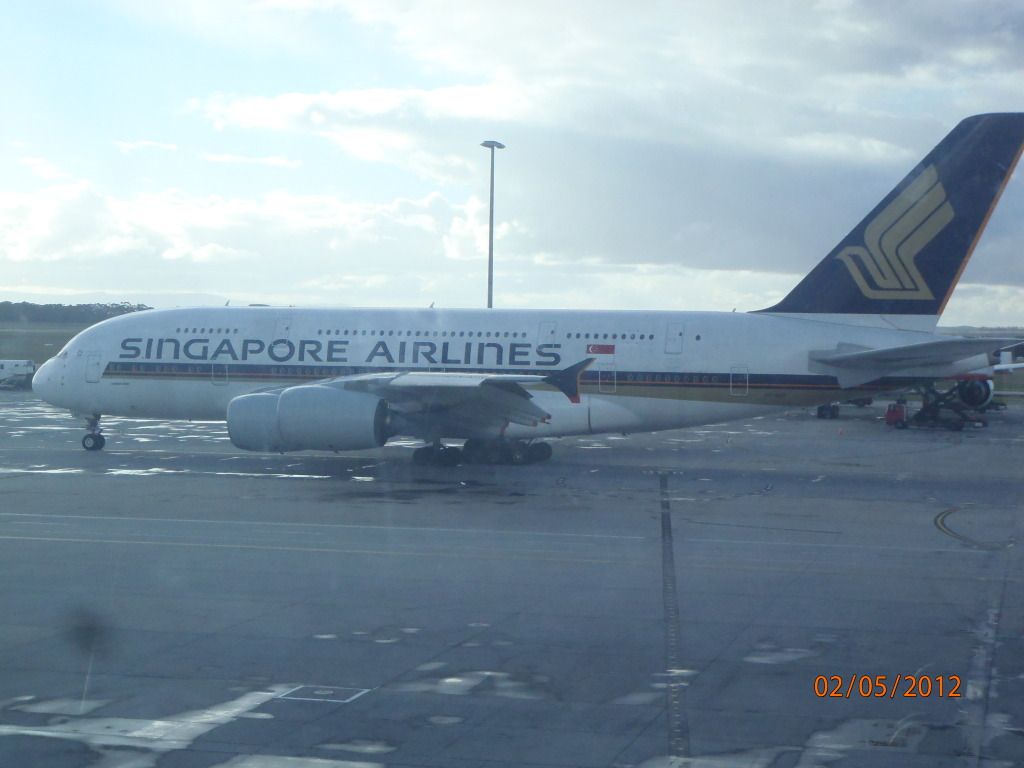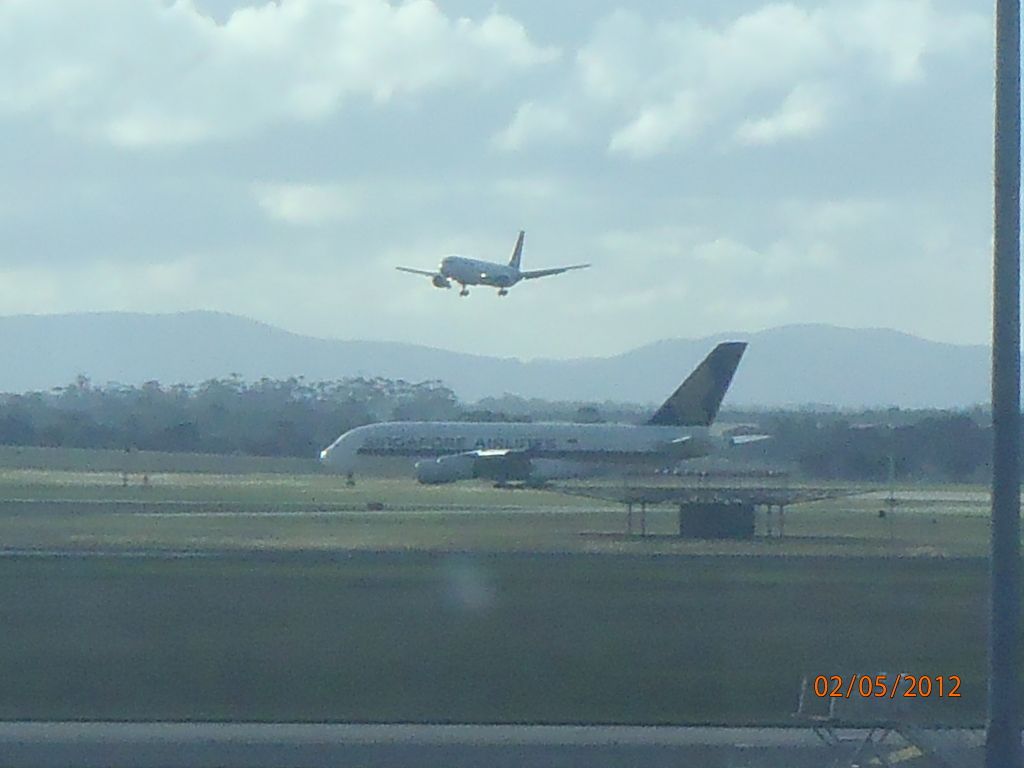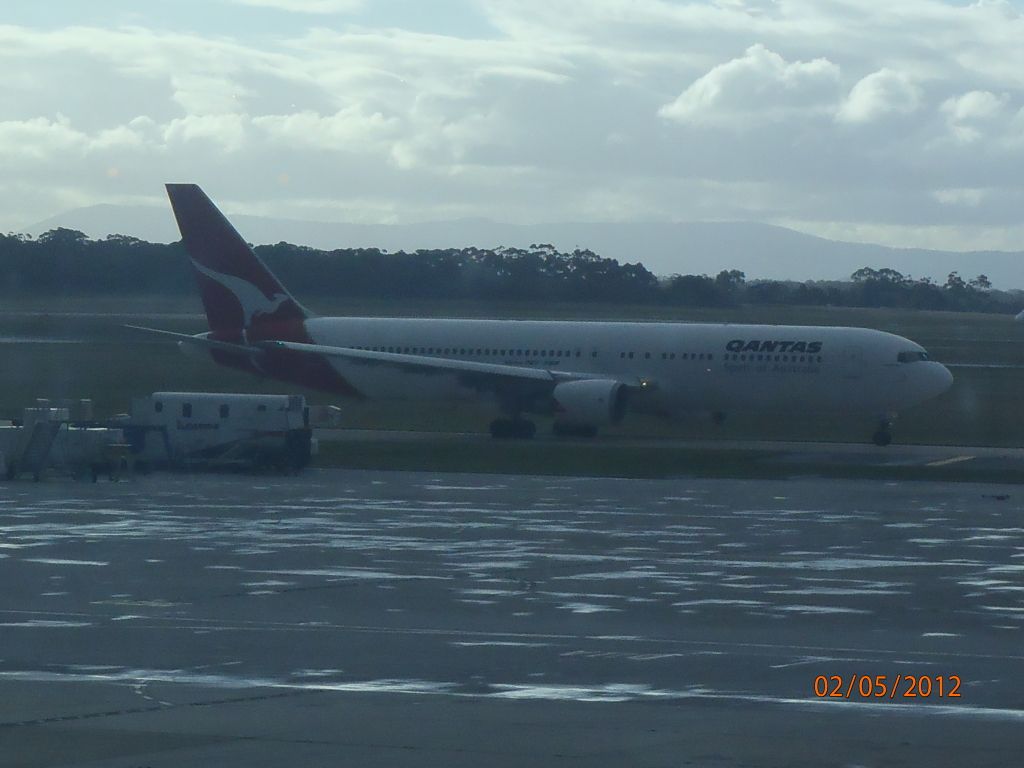 I fell to a new low after 2 bombshells, first I realised I did not have my phone, so I reported it missing with my uncle, the taxi company and the airport authorities. To this date there has been no sign of it. I was quite upset as I compiled my favorite songs of all time together in one 300 song album. This passed my time picking oranges and living in my van for 3 months!
Second bombshell was my beloved seat 81K turned into seat 42k. Looking at "a" seat map I feared the worst that I would not be flying on an A380.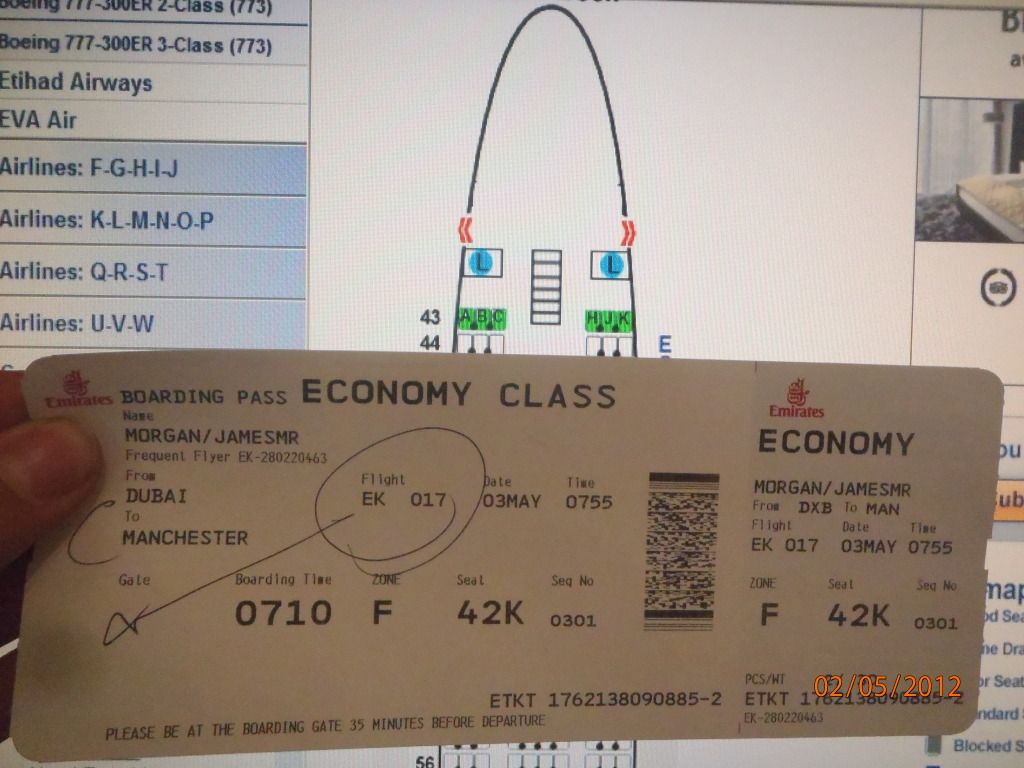 A6-ECO was shunted to the gate while I was dealing with my lost property. Soon boarding commenced for families and the upper class at their own leisure. Around 20 minutes later my row was called but I just sat and admired the scrum to reach allocated seats. Not a great view of the aircraft on gate 11.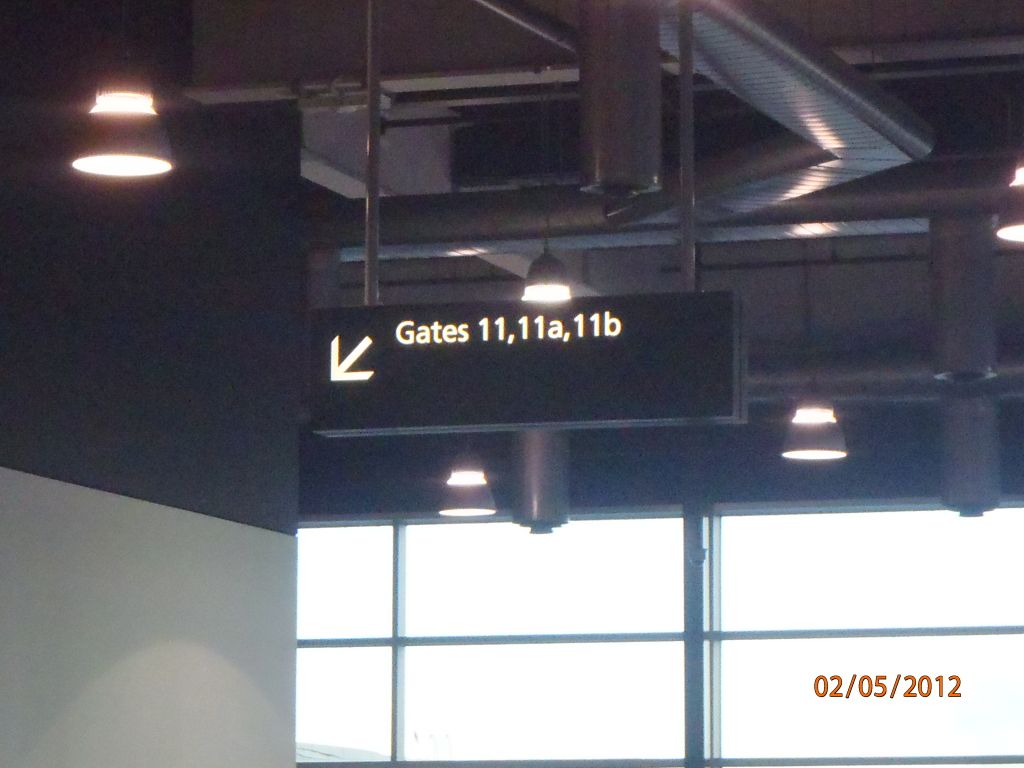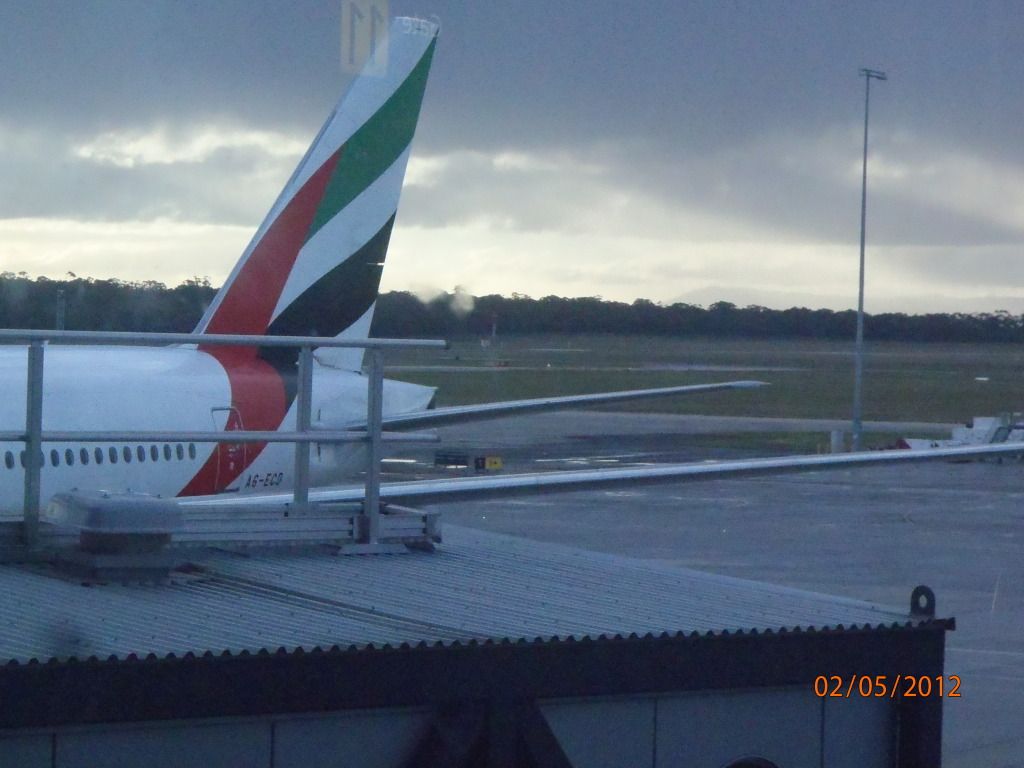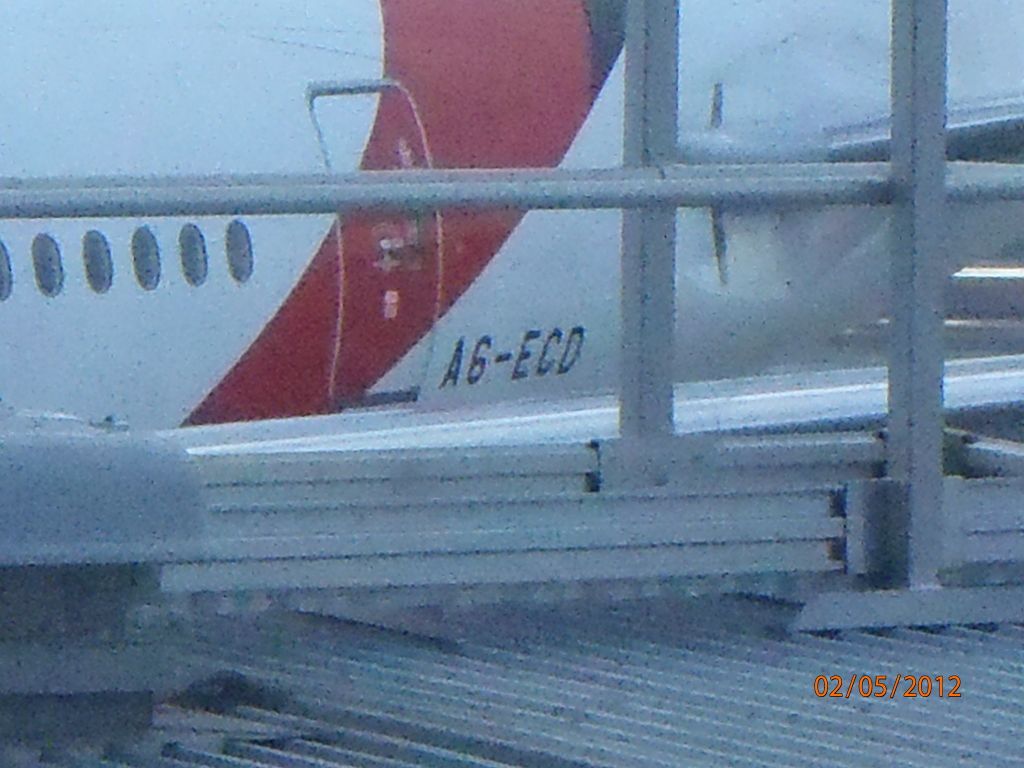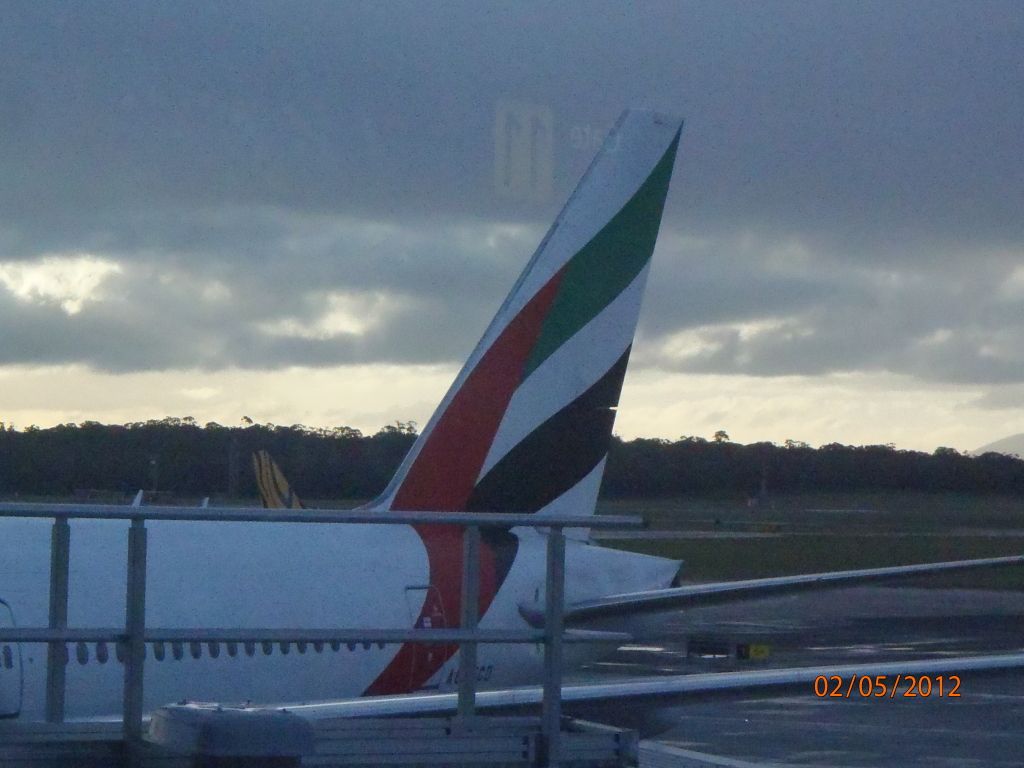 Low cost spotting,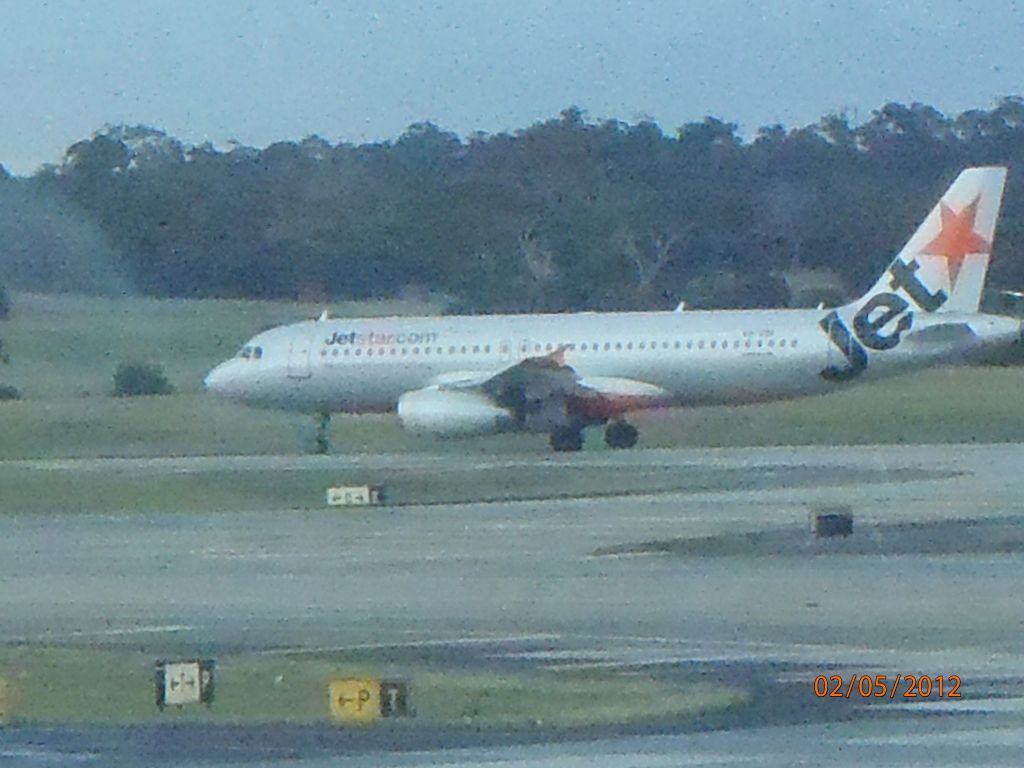 Flag carriers,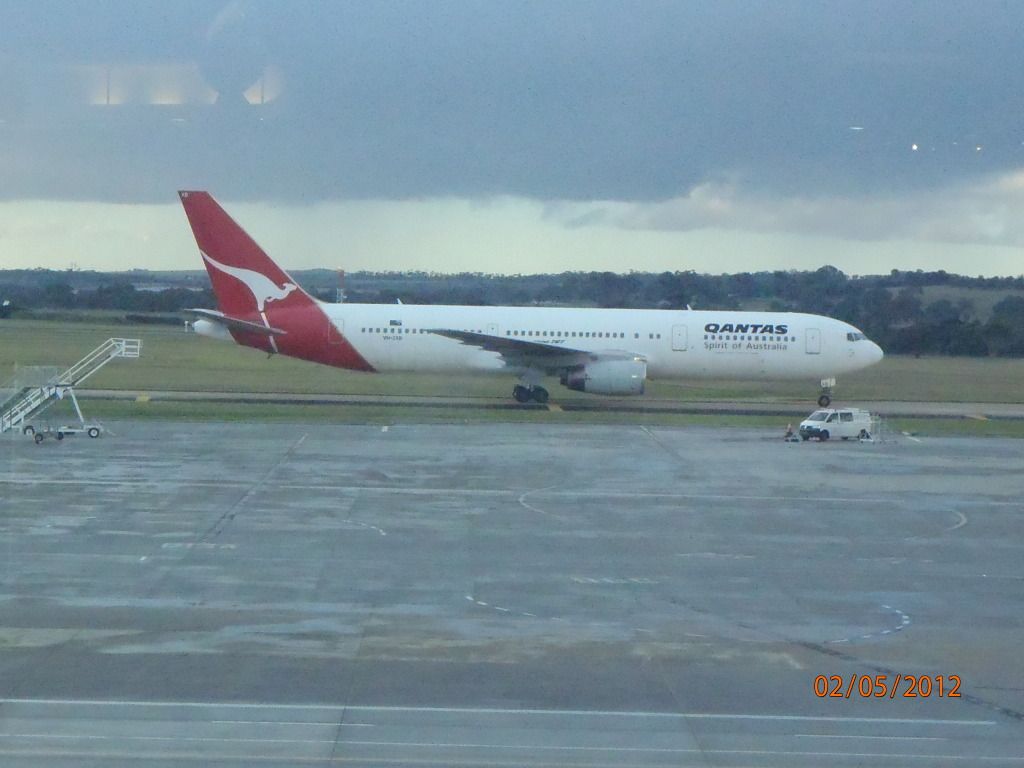 Altogether now!
FLIGHT: EK405
DEST: MEL - DXB via SIN
A/C: Boeing 777-300ER, My first flight on the 300ER series, 2nd flight on a B777.
REG: A6-ECO, 3 years old delivered to EK Feb 2009.
The crowds died down so I joined the remainder trickling onboard.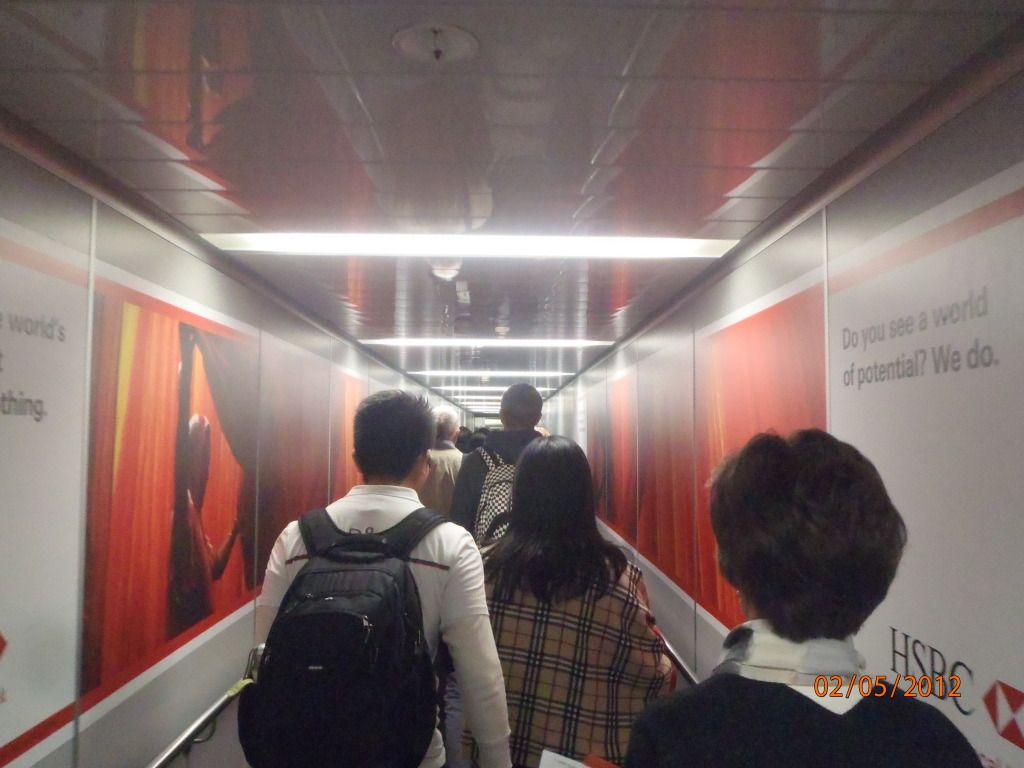 Last papers available for economy class, apart from a homeless style blanket, they do not appeal to me. Thumbs up to EK for the effort.
A warm welcome by friendly crew and very cosy mood lighting selected ensured a warm pleasant atmosphere.
Business class seemed quiet, shame economy was not overbooked, I would love to sit up here,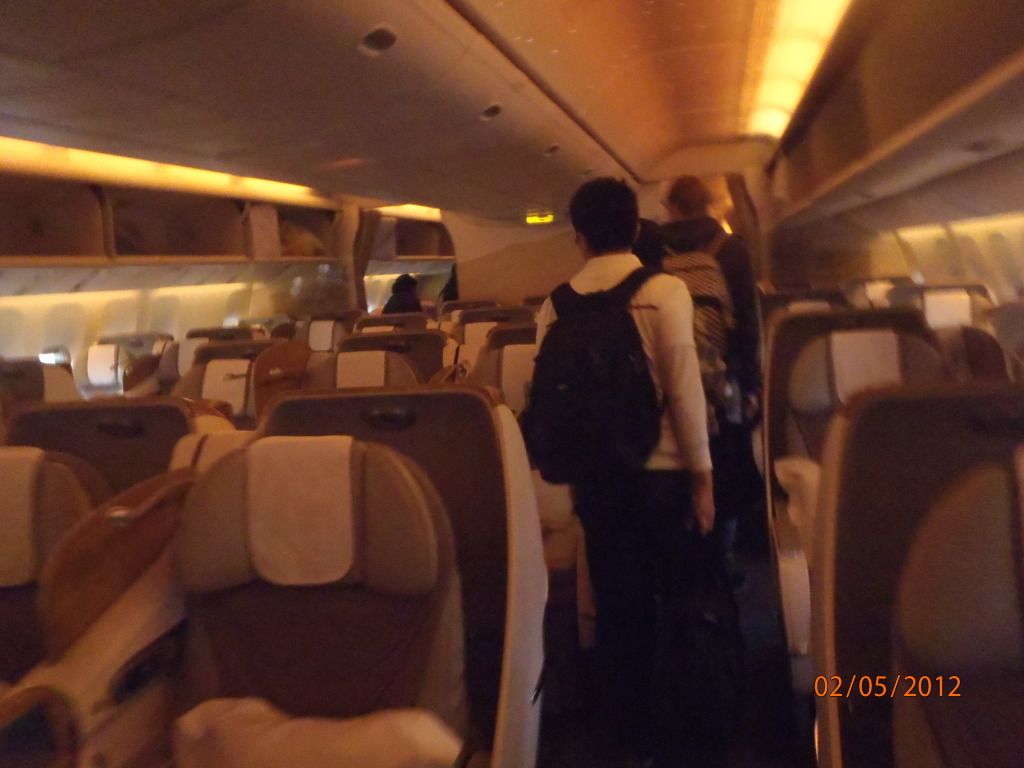 Back to reality of economy, a few people still left to board. Blankets and headsets presented nicely.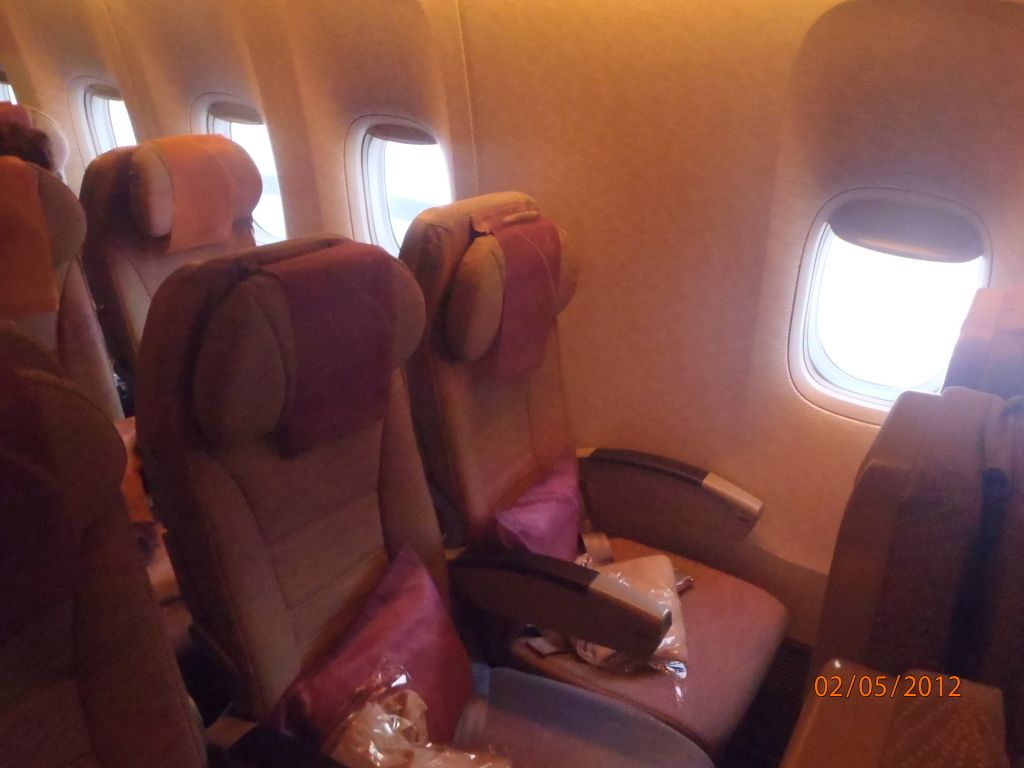 My seatmates are a very friendly South African couple who helped me shove my bag in the overhead bin, and I eventually squeezed into the the "cosy" at first seats. Legroom was adequate although it could be slightly better, the limited recline was acceptable to begin with, but to try and sleep caused major comfort issues. I plugged my grumpy blurry camera into the usb port so I could keep it alive throughout the flight.
Legroom shot,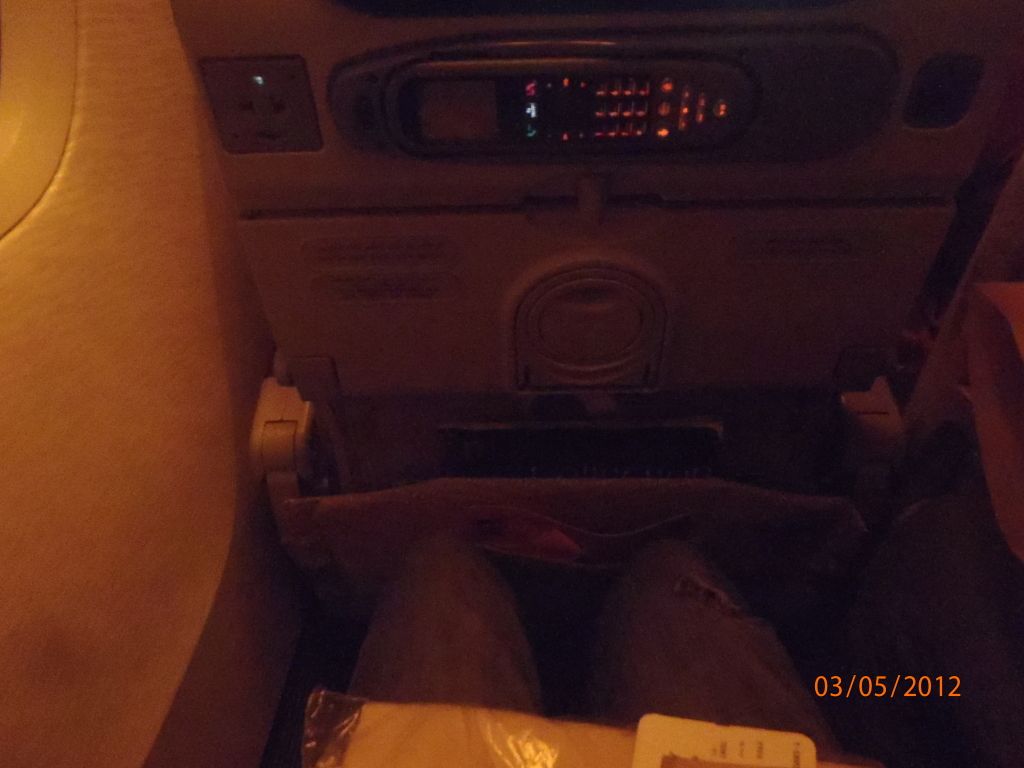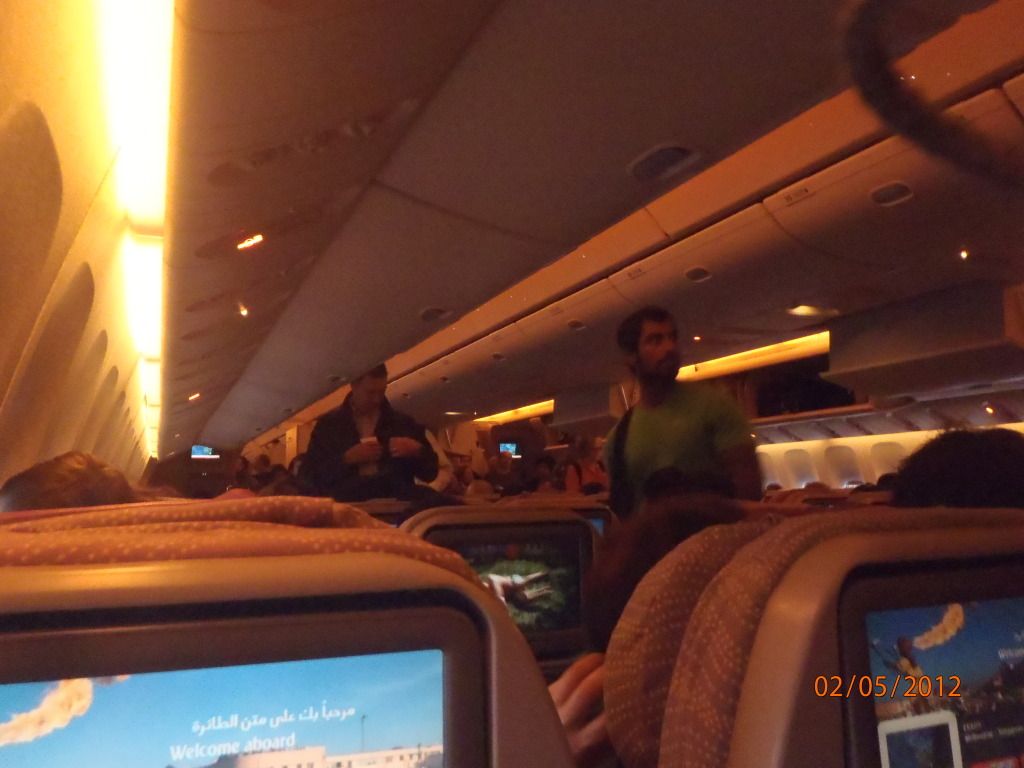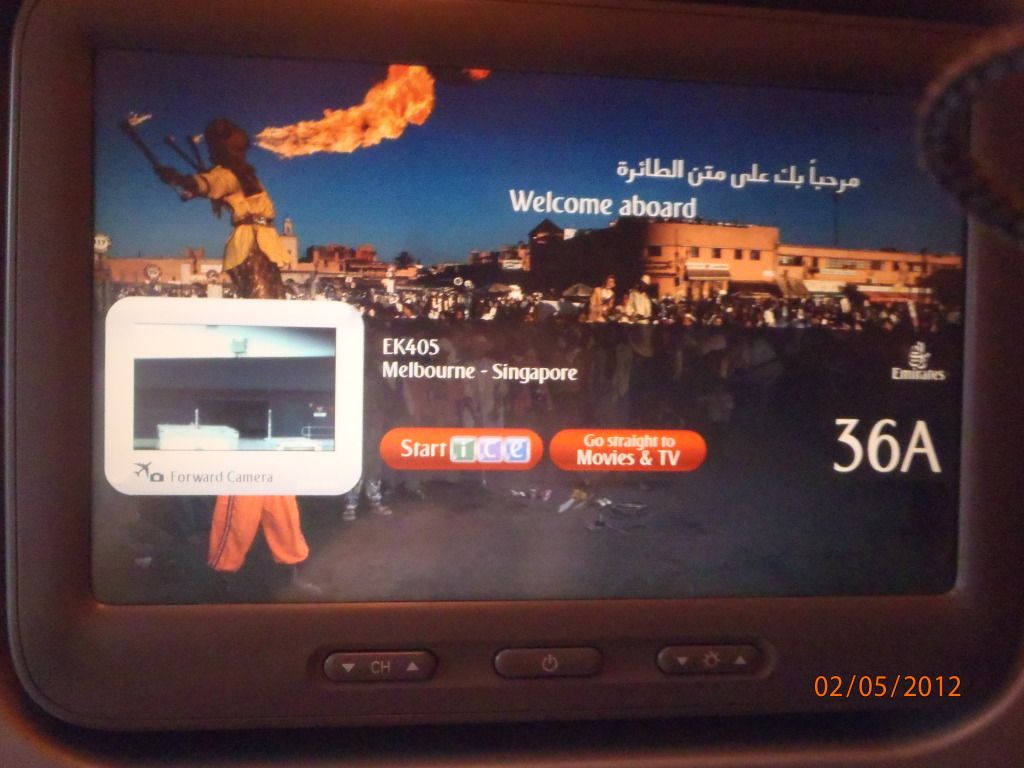 Hot towels were handed out before take off, another thumbs up for EK very refreshing.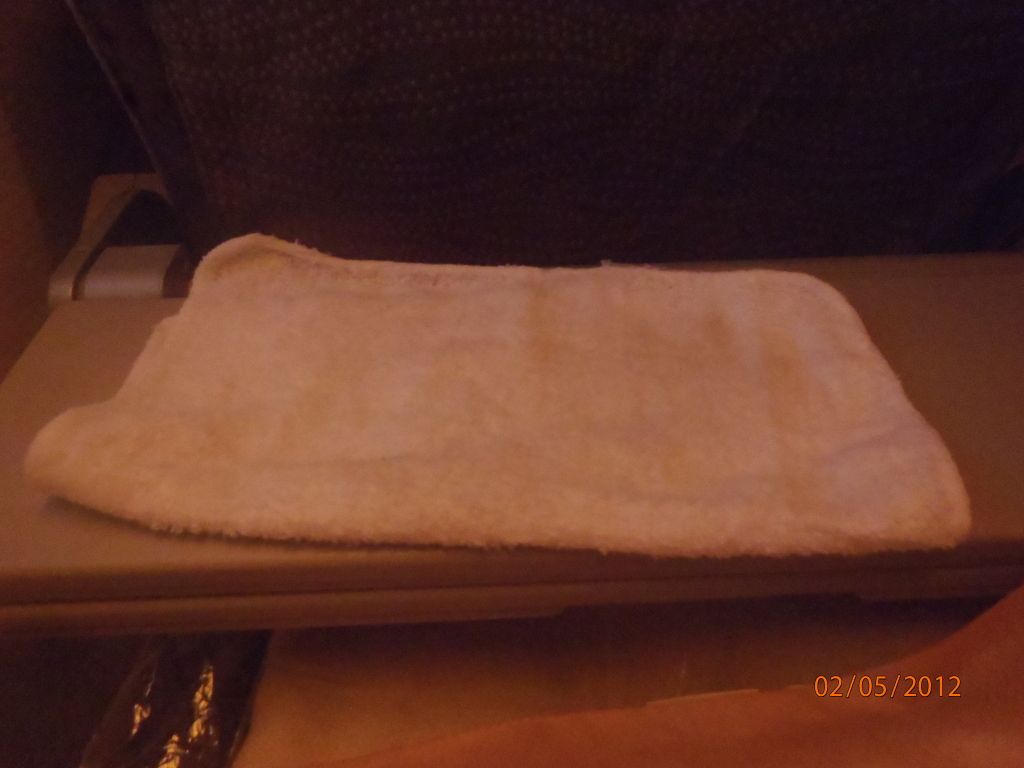 The crew announced the wide range of languages to my surprise Gaelic was one of them, shame, now I just have to learn my native Gaelic language silly schools conveniently located to my part of town never taught Irish.
Preflight checks,
Pushback,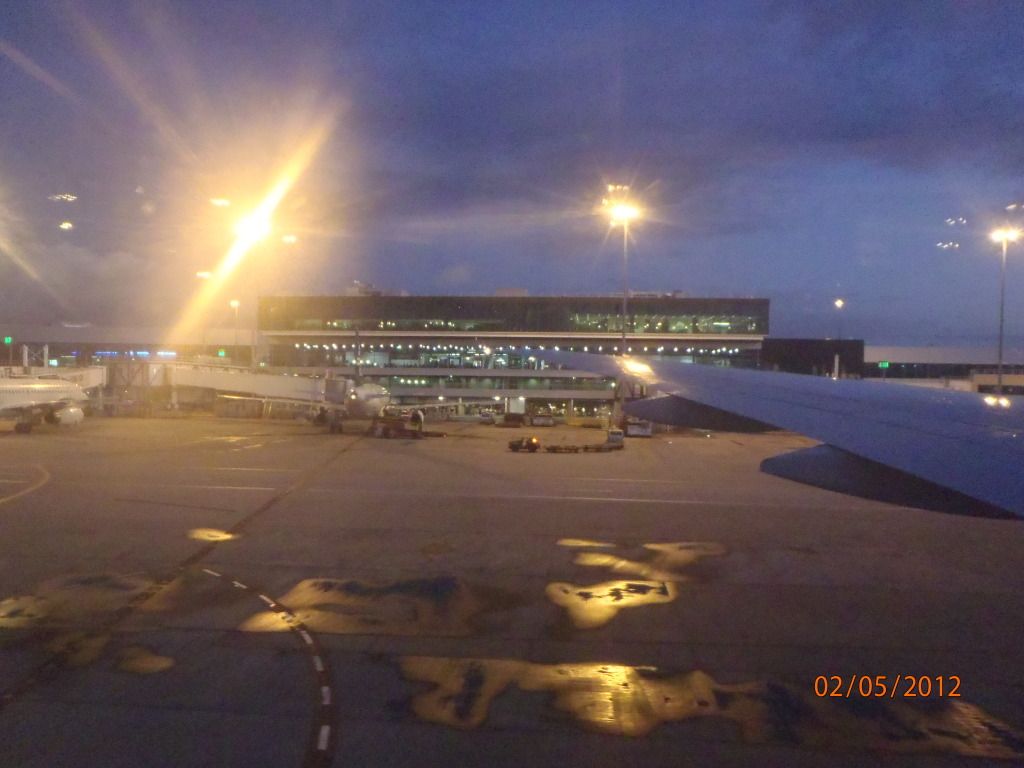 Taxi with a view to runway 16.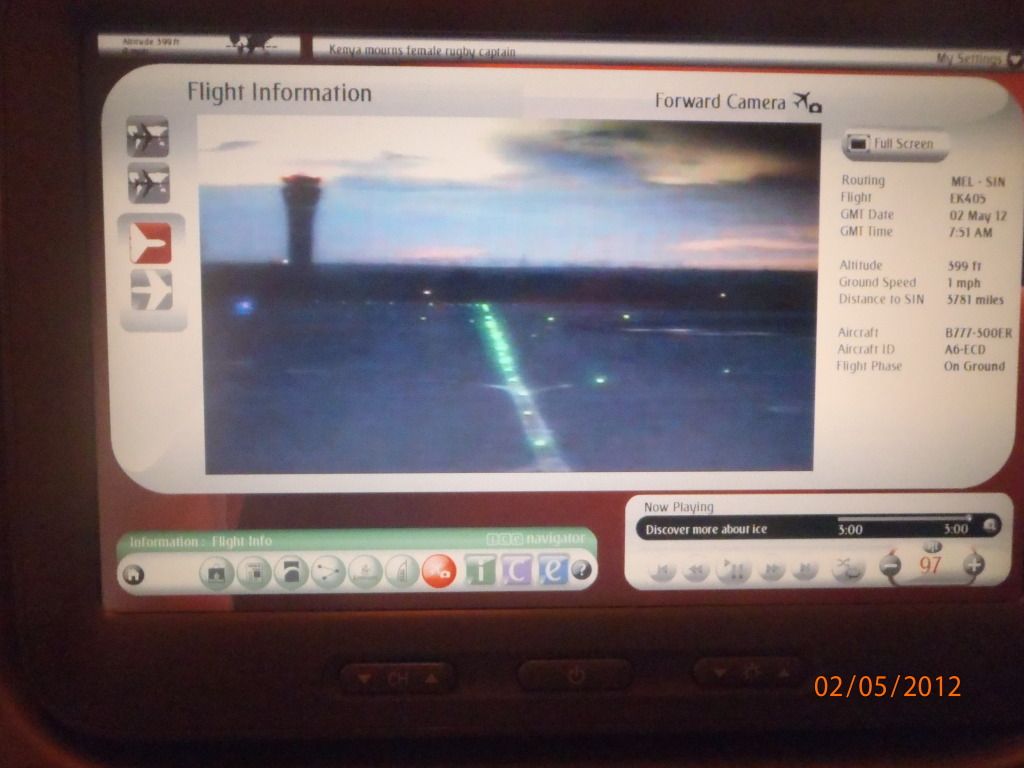 Good night Australia, until next time
Last kangaroo sighting,
A poor video of take-off, although I admire the engine sounds, such a thrilling sensation!
Dinner menus were handed out followed by a salty snack. [Yes that is the muppets playing, pretty bad movie choice although I love the muppets]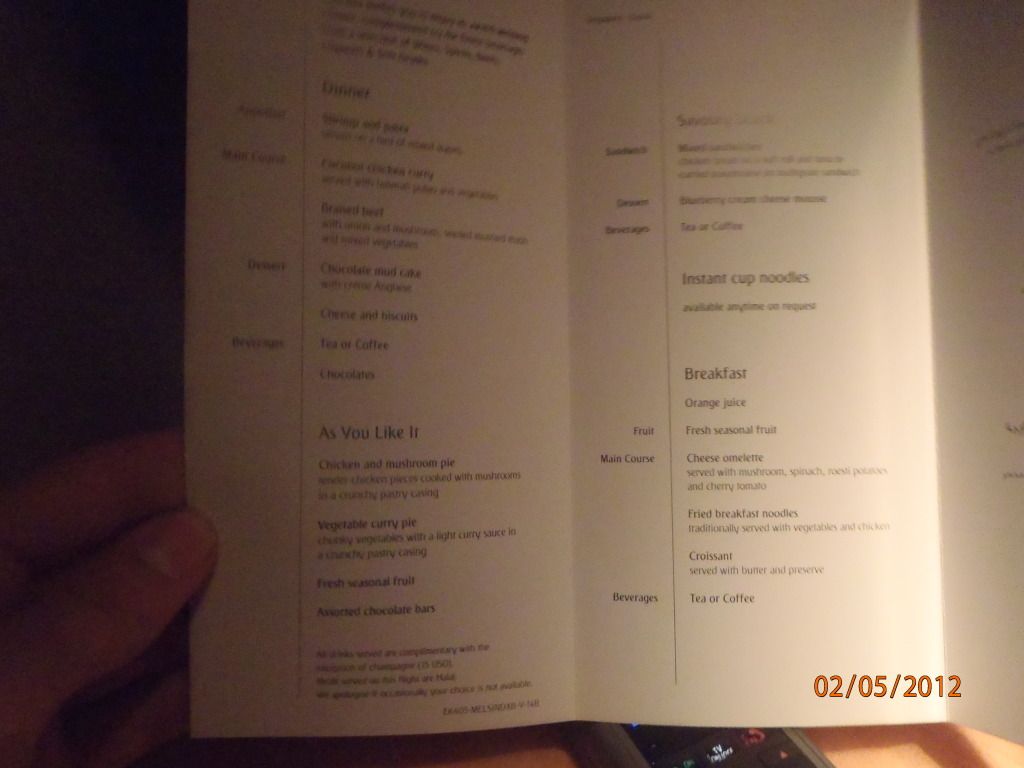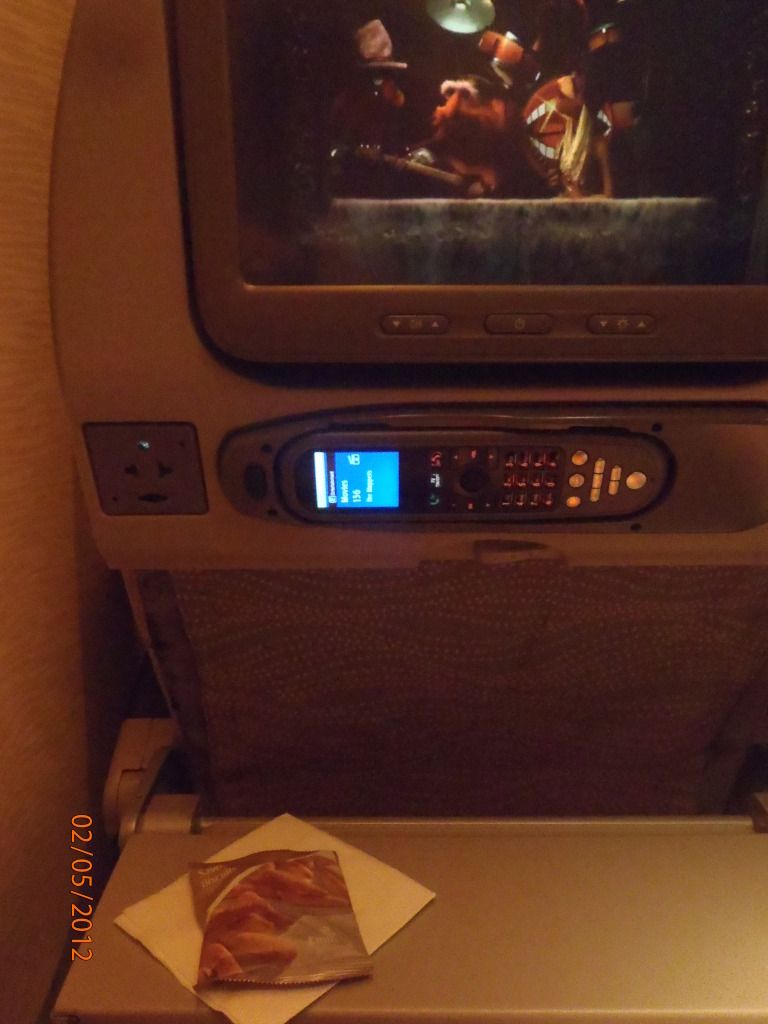 Halfway through my "entertainment" dinner arrived, I opted for the Chicken coconut curry, I could not remember the other option. I was very impressed, portion was perfect and no need to request for seconds. Clone me a 3rd thumb for another thumbs up!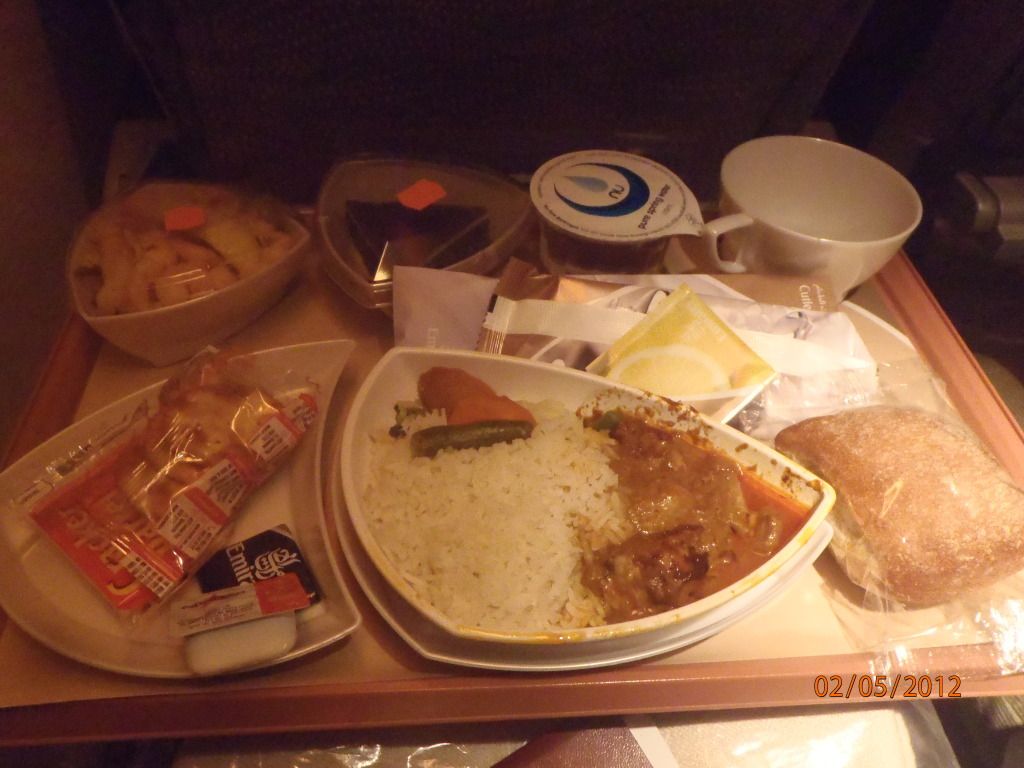 Cruising over Alice Springs, ironic I never got to Alice Springs on my travels and yet the only chance I get to see that famous rock.... Its dark. Aww well something to plan for the next big trip.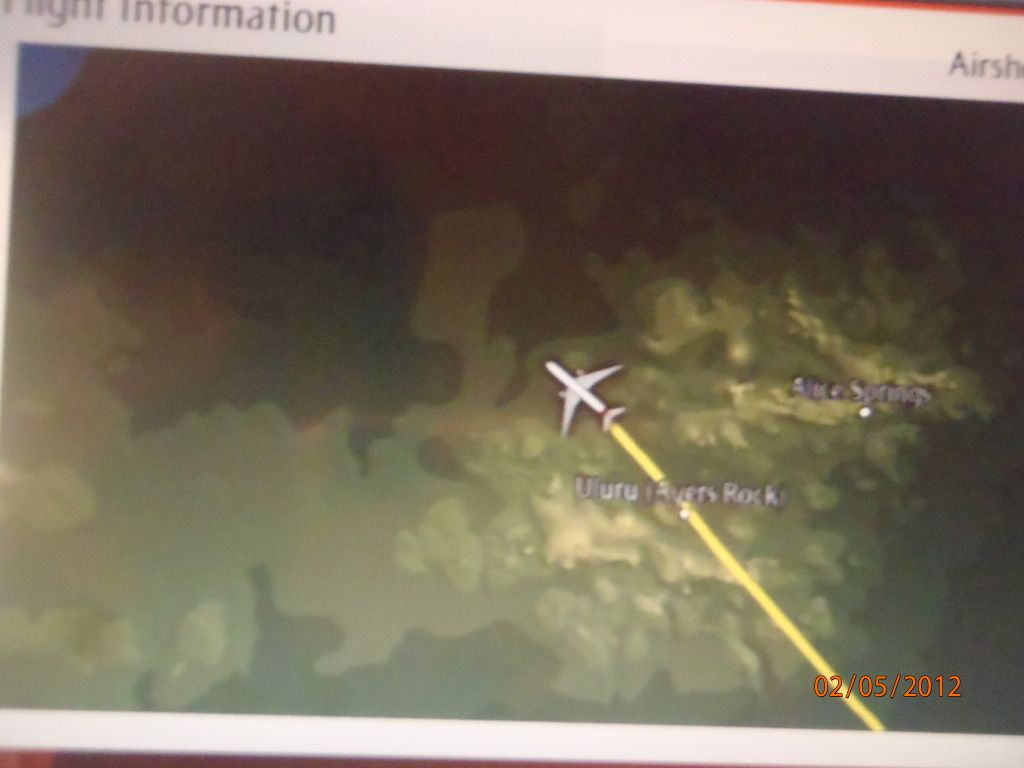 Onwards towards Singapore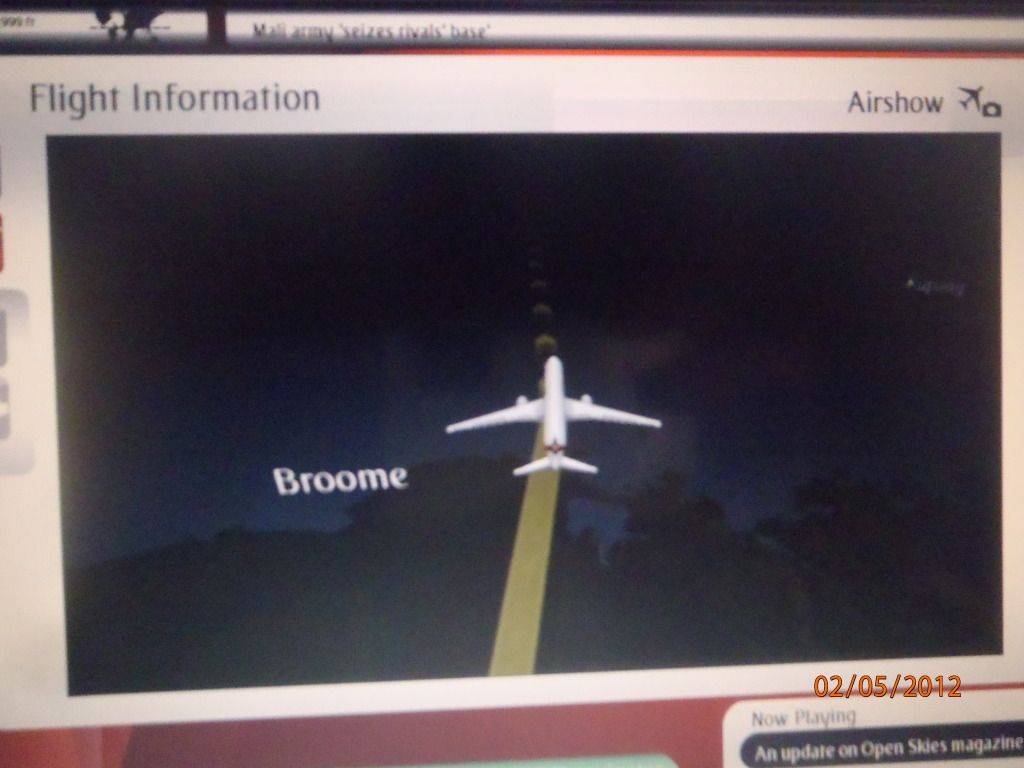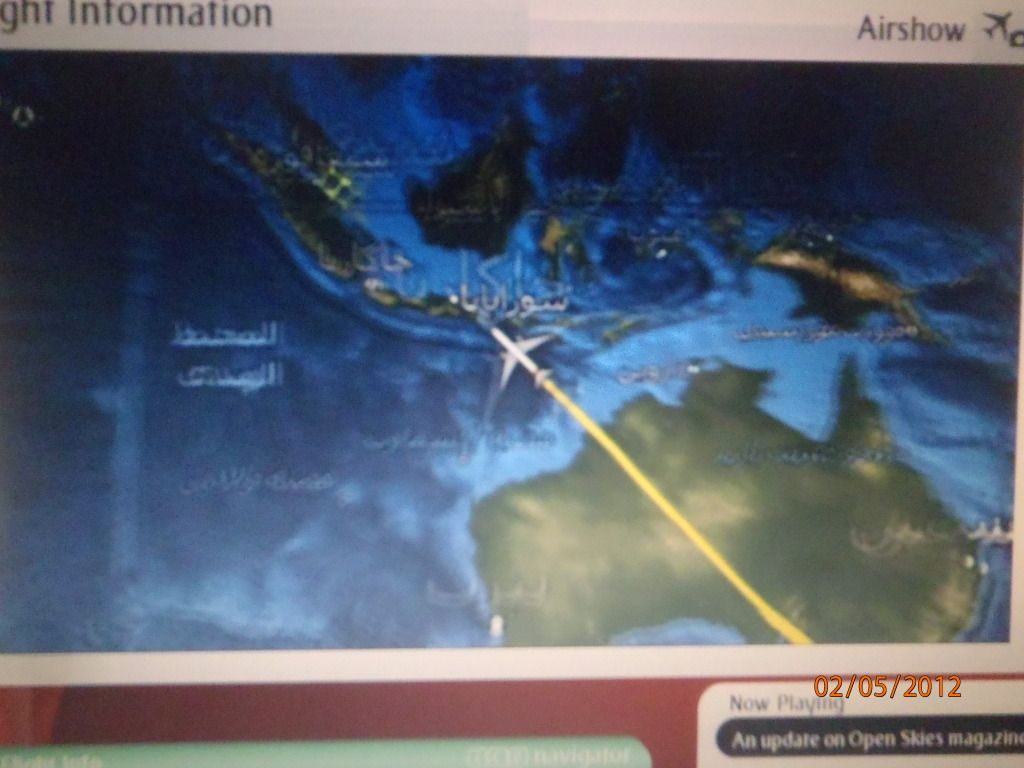 Someones IFE rebelling!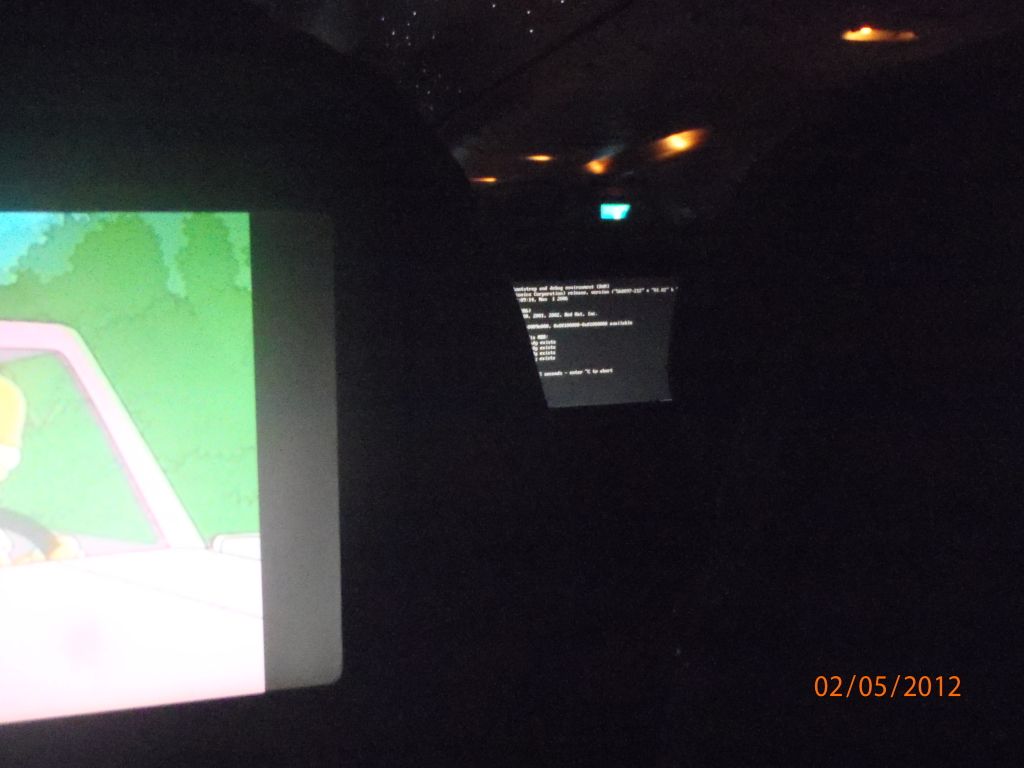 Sucking Kerosine now!
1APR14 Ireland Direct, 3 A380-9LR,Equiped Irish Bar & Casino. All Y+ seating. Serving DUB-PER-SYD/MEL