Introduction
This is the second part of my trip report series of my trip to Australia in June 2012. For part 1 on Scoot, please refer to -
Get Outta Here! With SCOOTitude - Down Under!
(by
Initious
Jun 28 2012 in Trip Reports)
Qantas - Australia's flag carrier. It is the second oldest airline in the world at 91 years old (going 92 this November!). It was founded in Winton, Queensland on 16 November 1920 as
Queensland and Northern Territory Aerial Services
and it initially operated air mail services subsidised by the Australian government. The airline's first international venture was to Singapore from Darwin in May 1935 and since then it has served Singapore with it being the largest international airline operating here in present times in terms of passengers served.
Adorned by a jumping kangaroo, the airline has kept this iconic logo ever since it has been launched in 1944 which is the national animal of Australia. Despite being plagued by union issues and maintenance problems on planes, the airline remains one of the safest in the world with no fatalities onboard any Qantas jet due to an accident or incident.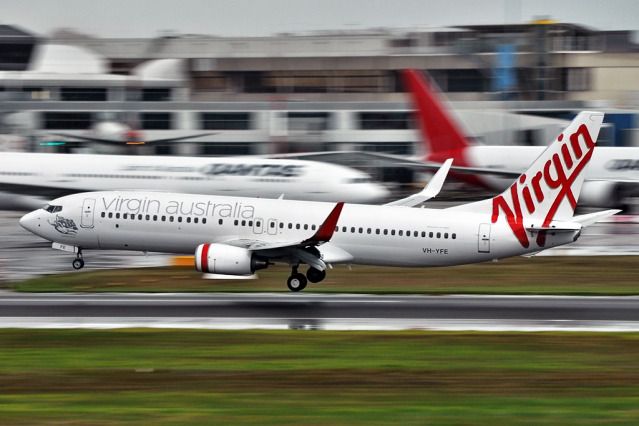 Virgin Australia, Australia's second largest airline was formed back in 2000 (as Virgin Blue) as another brainchild of Sir Richard Branson famous for founding Virgin Atlantic based in the United Kingdom. In 2011, the airline decided to go for a rebranding and named the airline Virgin Australia with the long haul subsidiary V Australia absorbed into the airline. It also introduced coast to coast flights on the Airbus A330-200 to compete with Qantas.
My intention of making a detour was to log both Qantas and Virgin Australia into my logbooks along with Melbourne Airport. To add icing on the cake, I would also log the Boeing 767-300ER and Embraer E190, both of which I had never been on.
Pre-Flight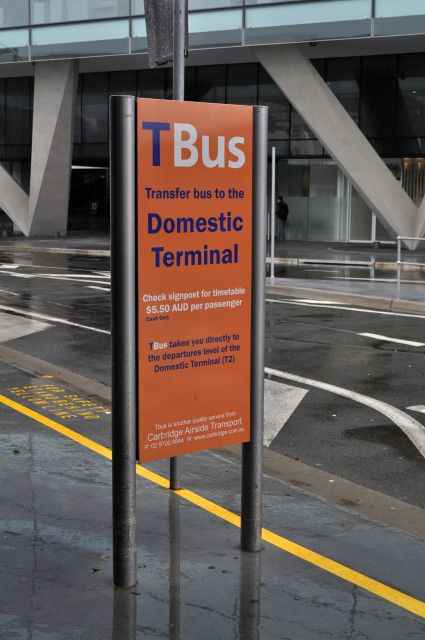 I arrived into Sydney on Scoot which was just an average flight. Having read online beforehand that I would have to take a bus or a train between the domestic and international terminals in SYD, I opted for the bus which was the cheaper option. As the T Bus approached the bus stop, I stepped on to be greeted by a very kind female bus driver.
"Good afternoon, are you going to Terminal 2?"
"Um, I am flying Qantas..."
"May I know where you are flying to?"
"Melbourne"
"Ah, you may enter the terminal and turn left. There will be a Qantas domestic check-in available and they will transfer you to the domestic terminal for free"
"Thank you!"
"You're most welcomed!"
This was when I started to fall in love with Australia. Other than this kind lady, I have met countless kind Australians. Surprisingly, I have not met any rude Australians in my short 3-day stay there be it in Sydney, Melbourne or Adelaide.
I walked to the Qantas domestic check-in to be greeted by yet another kind lady who checked me in at the empty check-in desks. My boarding pass was printed and given to me within a minute and I was on my way to the bus to the domestic terminal. However, I had to pass through security before that. The people there were pretty kind but were kind of strict in even letting my watch or belt pass through so I had to take everything off. As I was packing, another security officer let me know that he has held the bus for me so that I do not need to wait for the next bus which is 10-15 minutes later. Thumbs up for Australians and Qantas!
The transfer bus for Qantas was a standard coach but with the Qantas livery. I must say even a bus looks beautiful in the Qantas livery! To add icing to the cake, this bus goes through the tarmac instead of driving on main public roads like the T Bus. Needless to say, a fairly empty bus, an a.netter and a camera is enough to make things crazy!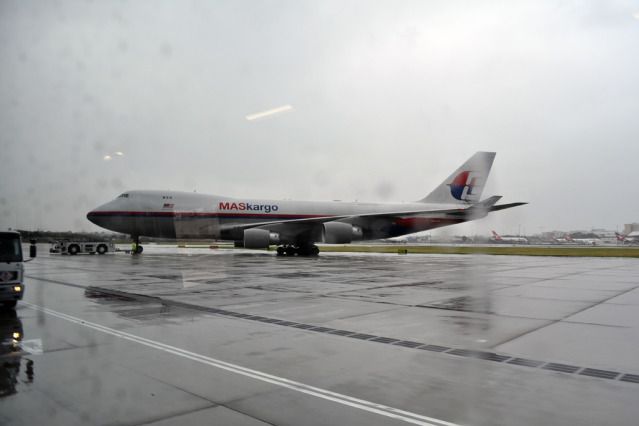 Close-up with jumbo jets...



Or maybe even a visitor from halfway around the world! I saw this plane back in SIN yesterday while spotting before my flight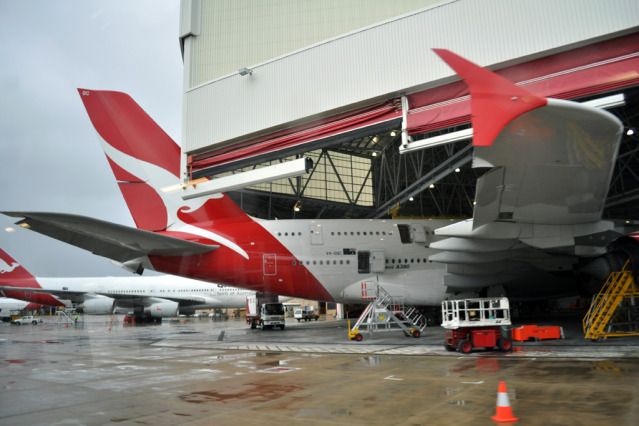 An even bigger one shows up!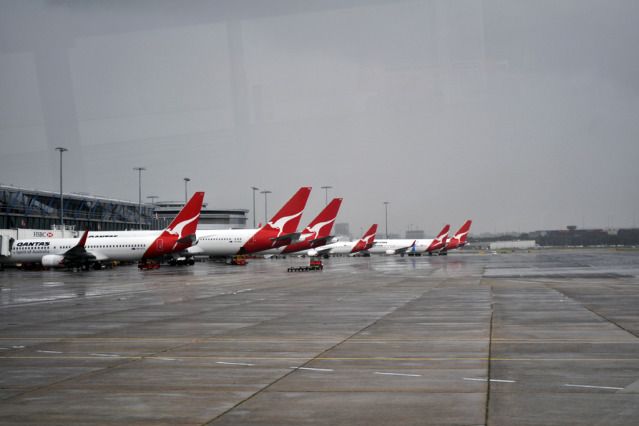 No question who's the boss!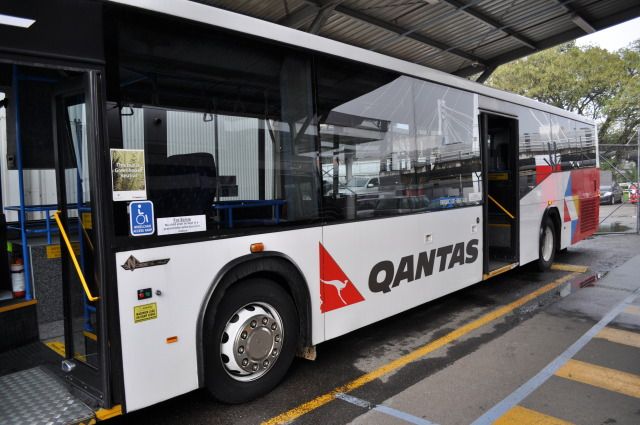 The beautiful Qantas bus
We reached the domestic terminal in around 7-8 minutes, ending my crazy streak of taking pictures of planes non-stop. The other passengers must have thought I was nuts or something! As I stepped into the domestic terminal, I had a very comfortable feeling. It felt like I belong right here. The atmosphere was cosy, as with the decorations and furnishings. As I had lots of time to spare, I decided to head up to the Qantas Heritage Gallery to see what is there in store for me.

Nice and cosy domestic terminal



Pre-spotting



Reaching soon!
It was not a long walk and soon I reached the Qantas Heritage Gallery. It was a pretty informative gallery showing the history of Qantas, the past and present aircraft and even the uniforms. Walking through, I found a wonderful spot for something that a.netters would love. What is it? Let the pictures tell you!

Unstaffed main counter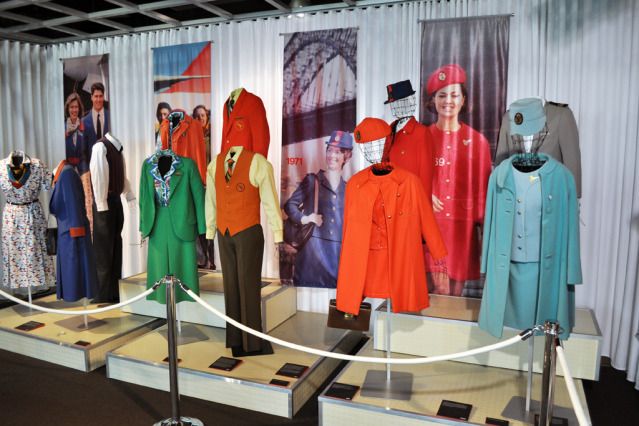 Qantas uniforms through the years



Qantas Boeing 747-400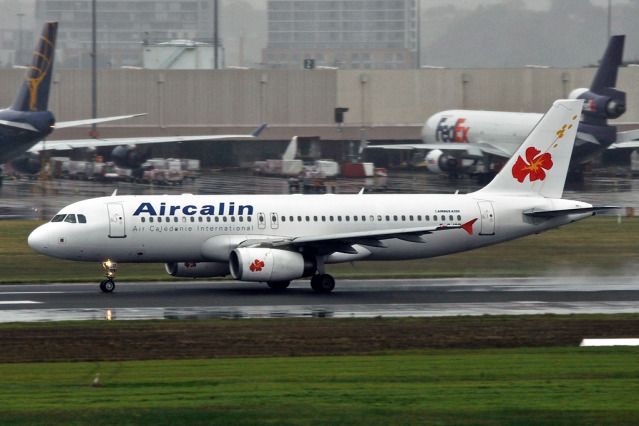 Aircalin Airbus A320-200 bound for NOU as SB 141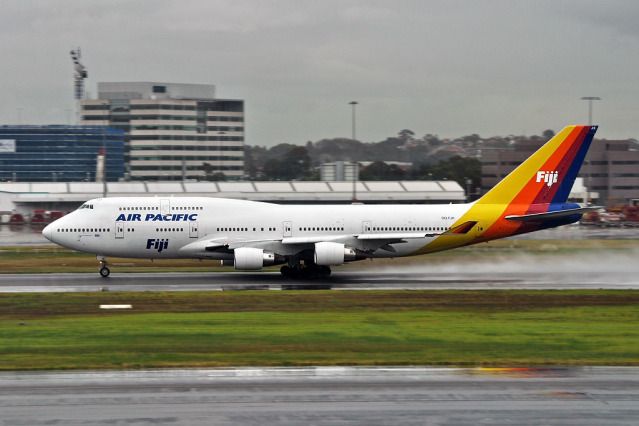 Air Pacific Boeing 747-400 bound for NAN as FJ 910. My first attempt at panning!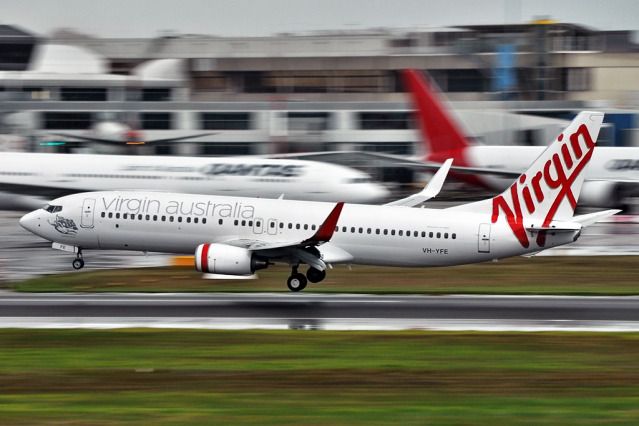 Virgin Australia Boeing 737-800 landing



Dubai Air Wing Boeing 747-400F rolling down runway 16R. This aircraft was spotted in SIN just a few weeks back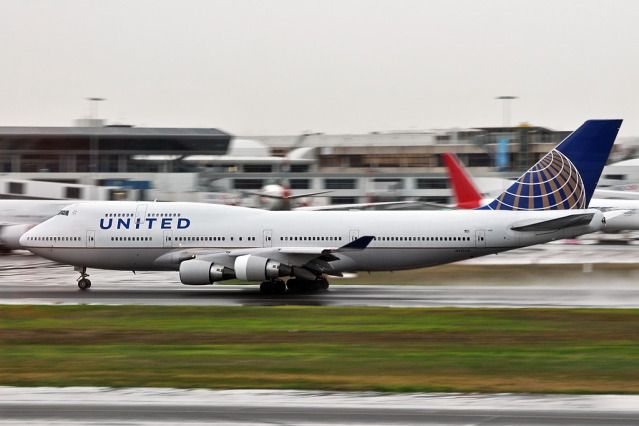 United Airlines new scheme, presumably on a long haul to the States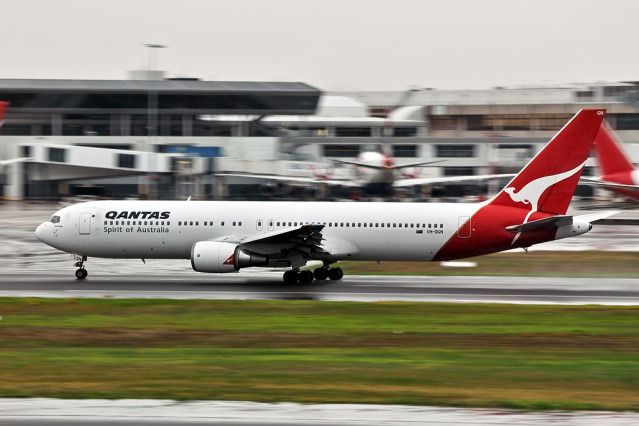 An aircraft I'll be on in a few hours, sadly not on this exact one though. A Qantas Boeing 767-300ER rolling down runway 16R



Now for the beauty - A Virgin Australia Boeing 777-300ER!



Not forgetting some treats from the Asian side! A Cathay Pacific Airbus A330-300 heading back for HKG



Yes, we're in Australia. Here seeing another Virgin Australia Boeing 737-800 landing



Good day neighbour. A Malaysia Airlines Boeing 747-400 rolling off for KUL
As I was clicking away, an elderly man, which I later knew him as Mr. John, approached me and asked if I was taking pictures of planes. I explained my love of aviation to him and he was pretty glad to have someone who loves planes. He then proceeded to ask me lots of questions in aviation like the differences between the Airbus A330 and the Boeing 777 or even the Boeing 747 and the Airbus A380. I even taught him how to identify certain aircraft like the Airbus A321 and the Boeing 737-400. It felt like I was taking a test on my knowledge! Near to the end, he even popped that he knew about this aircraft known as the Fokker Friendship. My respect for him grew greater!
After a satisfactory chatting and spotting session, it was time to board my first of the "big 3" flights in my trip. That is, a new airline, new aircraft type and new destination!
The Flight
Qantas Flight QF 443 - 26JUN12
Origin
: Sydney (Kingsford Smith) Airport (SYD/YSSY)
Destination
: Melbourne (Tullamarine) Airport (MEL/YMML)
Registration
: VH-OGG (Rockhampton)
Aircraft
: Boeing 767-300ER
Scheduled Time of Departure
: 3.00pm
Actual Time of Departure
: 3.10pm
Scheduled Time of Arrival
: 4.35pm
Actual Time of Arrival
: 4.12pm
Airborne Time
: 1h 2m
Class of Travel
: Economy
Seat
: 43A
Boarding was soon called and everyone headed to the aircraft in an orderly manner. Headphones were placed at the entrance of the jetway for anyone who wishes to get one. I guess this saves time and energy for the crew since if they were to distribute it to everyone onboard, not more than 20% of the passengers would use it anyway. In fact, I did not see anyone using the headphones at all throughout the flight.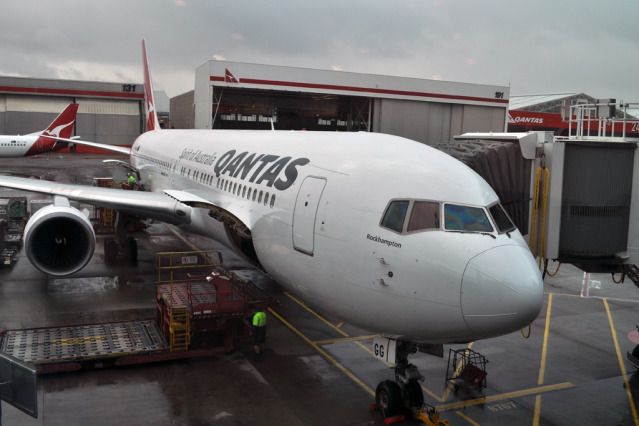 My aircraft, the City of Rockhampton at the gate



Gate for today
Good afternoon ladies and gentlemen, welcome onboard Qantas flight QF 443, the Cityflyer service to Melbourne. Our estimated flight time to Melbourne today is 1 hour and 5 minutes. We will be taking off shortly, please ensure that you have stowed all your carryon baggage, your seatback is upright, your tray tables stowed and your seatbelts are fastened. Thank you for choosing to fly with Qantas
I was surprised at how efficient the full Boeing 767 was boarded within 10 minutes and we pushed back on the dot at 3pm for a runway 16R takeoff at 3.10pm. It was a short and powerful takeoff, as expected on a widebody aircraft on a short domestic hop across the land of kangaroos.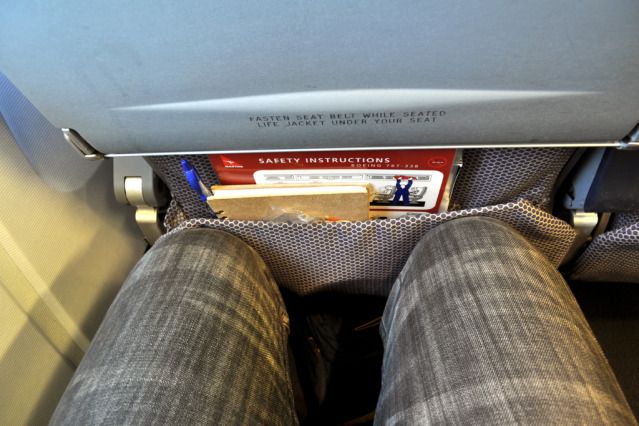 Legroom was sufficient for a short flight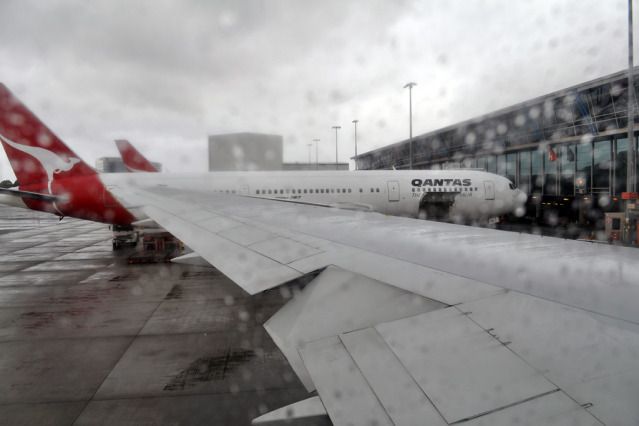 Still raining!



The safety card, with something extra...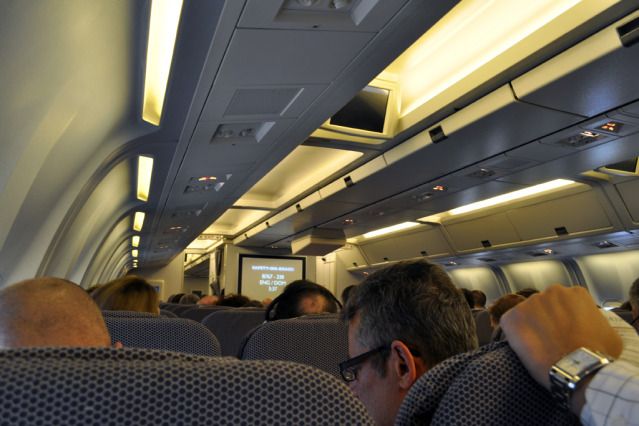 Looking across the cabin



Starting the takeoff roll
The views were simply marvellous after takeoff. As we were on our takeoff roll, I saw a rainbow in the distance. We were also treated to views of ice mountains and beautiful clouds enroute. Seatbelt signs were off 4 minutes after takeoff. This signifies how fast we were climbing! It did not take the crew long to start meal service and it was announced the alcoholic drinks were available for purchase for AUD$6. Thought it would have been free!

A beautiful rainbow bade me goodbye as I lifted off New South Wales
Menu for the day were sweet biscuits and apples with a hot or cold drink. Not very substantial for me seeing I did not have lunch but I guess that's all they could do. Still better than a packet of peanuts though! In my aisle were 2 sweet flight attendants going around with one, presumably the more senior one asking each and every passenger, "Sweet biscuits for you there?" in a high pitched and happy tone. Even now her voice is still in my head. She made me felt pretty welcome and valued as a customer with her tone and with a warm "thank you" after handing over the snacks, it was a nice touch!

In flight catering for today



Not forgetting a cup of tea too. I love the cup! Red cups were used for hot drinks while blue cups were used for cold drinks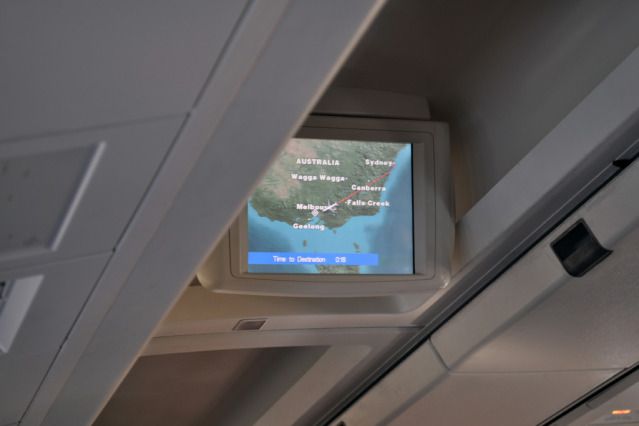 Favourite channel on a short flight, but sadly this came on for less than 2 minutes
The drinks trolley came shortly and there were a selection of juices, water, coffee or tea. I opted to go with the tea to keep me going from the lack of sleep and non-stop travelling for the day. As the drinks trolley went past, the captain came onto the PA and announced that we will be landing in Melbourne a little bit over 4.10pm, much earlier than our scheduled time of 4.35pm! There were some beautiful views on approach too.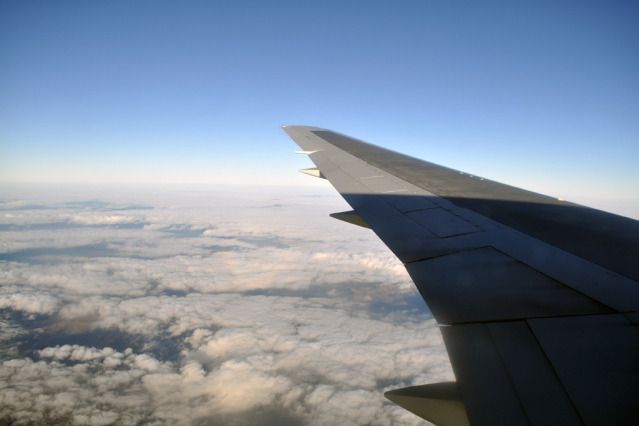 Spot the smiley face on this picture!



Or probably a rainbow?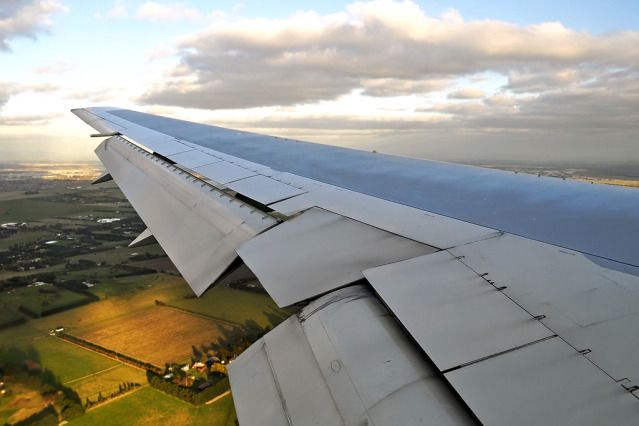 The sun shining through the clouds?



Or when the sun gets shy and hides behind the fuselage of a Boeing 767?
We touched down in MEL at 4.12pm on runway 16, signalling the logging of a new airport and city visited. Deboarding was pretty fast and soon I was on my way to the Virgin Australia domestic terminal which was on the other side of the airport.

Hello, Victoria!



Sun rays shining through the clouds, signalling a nice welcome to Melbourne for me!



Parked at the gate nearest to arrivals
Upon entering, I headed over to the check in kiosks to print my boarding pass and enter the airside area. I had a good 3 hours or more to spend in here so I decided to walk around and have a cup of tea (once again!) and do some simple spotting. Funnily enough, I might be too tired and sleepy that I ordered the Lemongrass and Ginger tea when I am pretty sure myself that I do not touch ginger at all. Fatigue is beginning to take its toll!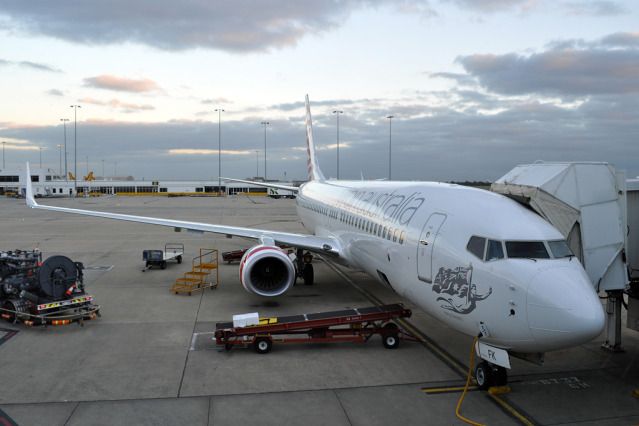 Beautiful Virgin Australia Boeing 737-800 once again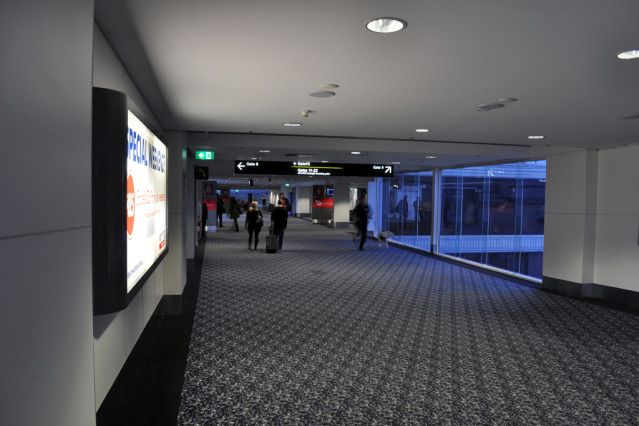 Interior of the domestic terminal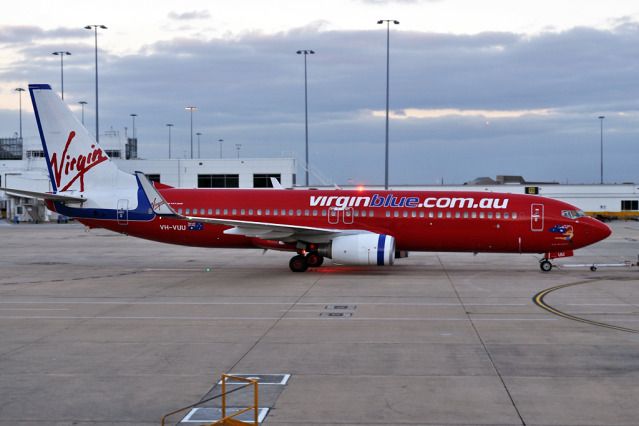 Repainting takes some time. Here featuring a Virgin Australia Boeing 737-800 still in Virgin Blue livery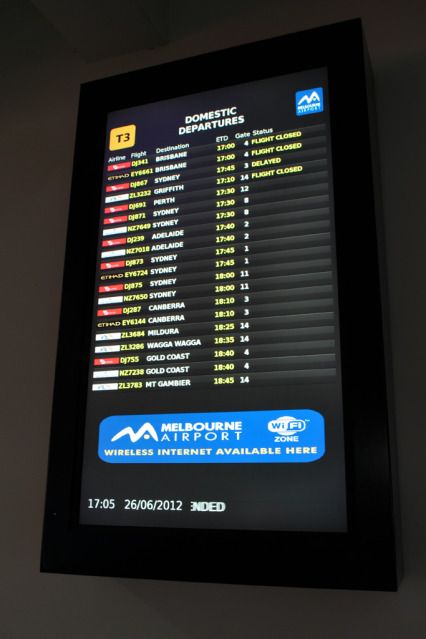 Spot my flight? No it's not here!



Lemongrass and ginger tea
After what seem like a long 3 hours, my flight was finally ready for boarding.
Virgin Australia Flight DJ 243 - 26JUN12
Origin
: Melbourne (Tullamarine) Airport (MEL/YMML)
Destination
: Adelaide Airport (ADL/YPAD)
Registration
: VH-ZPJ (Bambino Blue)
Aircraft
: Embraer ERJ-190
Scheduled Time of Departure
: 7.40pm
Actual Time of Departure
: 7.56pm
Scheduled Time of Arrival
: 8.35pm
Actual Time of Arrival
: 8.25pm
Airborne Time
: 59m
Class of Travel
: Economy
Seat
: 11A
Boarding as usual was pretty fast for this flight. I guess you call this Australian efficiency? I am beginning to love Australia more and more, but not the domestic airfares! It cost me more to fly SYD-MEL-ADL-SYD than SIN-SYD-SIN. More on that next time! As I entered the E190, I can't help but to notice that the ceiling was noticeably lower compared to the other aircraft I've been on (smallest jet I've been on was the Airbus A319, but I've also been on the ATR72 before). The ceiling was just a few inches above my head! If I were to jump I would almost certainly bump my head onto the ceiling. As I sat down on my comfortable seat, I noticed that despite being a small aircraft, the windows were much larger than that of any Airbus or Boeing I've been on. This is pretty good news if this was a day flight!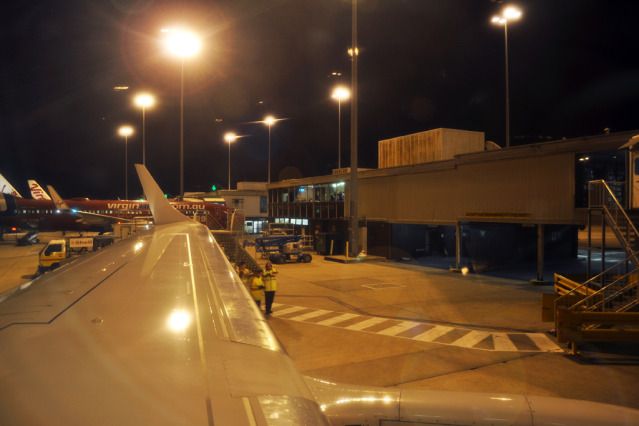 Look out the window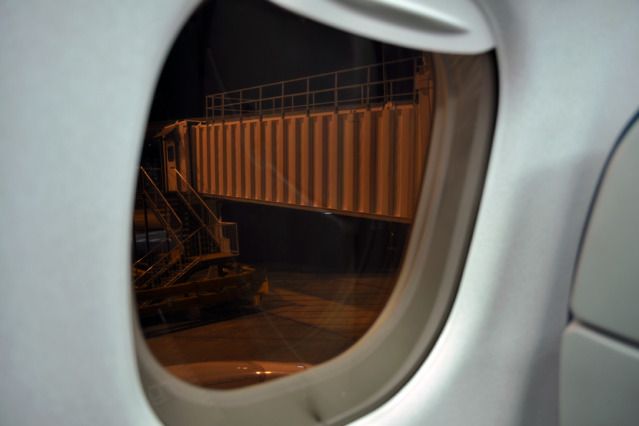 Huge windows! Great for phototaking!
The plane felt pretty cosy even though I had a seatmate. As I looked around my surroundings, I noticed that the flight crew was entirely male! This must be my first time encountering this. I guess an all-male flight crew would be as rare as an all-female crew? With no time to waste, we pushed back and the captain made a quick taxi to runway 16 for takeoff, ending my short appearance at MEL. I'll be back!

Legroom was kinda tight but acceptable for an hour long flight



Look across the cabin
Takeoff was short and powerful and BOB soon commenced. As they approached my row, I ordered a vegetarian wrap but was told there were no perishables onboard so I opted for the nuts instead. Cost was AUD $5 but pretty worth it for some nibbles on the flight. I was even given a cup as the f/a told me it would be hard to get the stuff out so it would be easier for me to pour them into the cup. Great touch there by DJ!

After takeoff



The beautifully designed menu
As I noticed the f/as in action after meal service, I noticed that they were pretty much on the "softer" side, if you get what I mean. I couldn't help but to wonder if this was an image DJ was trying to portray. From what seem like a short flight, it was soon announced that we will be descending into ADL. I was very excited at this point in time seeing that I will be meeting my friends whom I have not seen for more than a year!

My choice



All into the cup!



This thing might make a good collectible!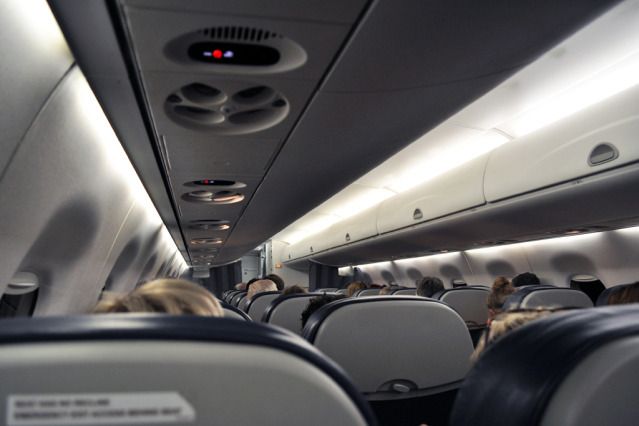 All ready to land!
We touched down softly on the soils of ADL on runway 05 and taxied to the Virgin Australia terminal. I was sorta tricked by my friends when they told me that they will be waiting for me at the belt. Forgetting that in Australian airports the public could get to the gate, I was shocked when I saw them right at the gate when I stepped off the plane. It was a pretty pleasant surprise and happy reunion!

Domestic arrivals of ADL
After a long day of travelling, it was time to settle down in Adelaide for a short while. What did I do in Adelaide? Where did my friends (namely Ish, Preet and Lorrae) brought me to? What did I eat? All coming up in the next report!
Conclusion
Flying on 2 of Australia's largest airlines was an eye opener for me. It let me get close to the crowds of Australia and experience the Australian way of service. Qantas scored high points in terms of service level and making the passenger feel valued even in Economy Class. Given the chance, I would certainly fly Qantas again.
As for Virgin Australia, they were a pretty nice airline to begin with from their advertising campaigns and such. Their onboard service was not as good as that of Qantas' but still acceptable for a 4-star airline. Having a short flight with them this time, I would be most interested in seeing what kind of service they can provide for a long flight.
Previous Trip Reports
Flying 5 Star - SQ SIN-CAN-SIN (2009)
(by
Initious
Mar 26 2010 in Trip Reports)
Sardines In A Can - Jetstar Asia SIN-HKG-SIN
(by
Initious
Mar 29 2010 in Trip Reports)
Away We Go - China Southern SIN-CAN-WUH Vv (1/2)
(by
initious
Apr 2 2010 in Trip Reports)
Away We Go - China Southern WUH-CAN-SIN (2/2)
(by
initious
Apr 14 2010 in Trip Reports)
Oldest Vs Newest: Royal Silk Class On Thai
(by
Initious
Jun 13 2010 in Trip Reports)
First On Airliners.net - CZ Shanghai To Shantou
(by
Initious
Jun 27 2010 in Trip Reports)
18 Hours Of Royal Orchid Service: Thai PVG-BKK-SIN
(by
initious
Jul 27 2010 in Trip Reports)
Good Morning Borneo! - Where Silkair Unwinds...
(by
initious
Oct 17 2010 in Trip Reports)
Irama AirAsia! - Kota Kinabalu To Singapore
(by
initious
Oct 24 2010 in Trip Reports)
Great Asia Trip Part 1 - Propping To Luxury
(by
Initious
Mar 23 2011 in Trip Reports)
Great Asia Trip Part 2 - In Love With Emirates
(by
initious
Mar 27 2011 in Trip Reports)
Great Asia Trip Part 3 - The Arabian Adventure
(by
initious
Apr 15 2011 in Trip Reports)
Great Asia Trip Finale - Brothers In Bangkok
(by
initious
May 9 2011 in Trip Reports)
Flying The Orange Star Monopoly - SIN-SWA On 3K
(by
initious
May 18 2011 in Trip Reports)
China Southern SWA-CAN - Do They Deserve 4 Star?
(by
initious
May 21 2011 in Trip Reports)
A Dream Come True - SQ Business Class CAN-SIN
(by
initious
Jun 13 2011 in Trip Reports)
Malaysia Boleh! - To Malaysia With 3K And AK
(by
initious
Jun 30 2011 in Trip Reports)
Flying On My Birthday - The Triangle In SEA
(by
initious
Jul 18 2011 in Trip Reports)
People: They Make An Airline. Cathay SIN-HKG
(by
Initious
Jan 28 2012 in Trip Reports)
Cathay, Make Up Your Mind! HKG-SIN On The A333
(by
initious
Mar 26 2012 in Trip Reports)
1 New Airport, 10 Steps Forward. Jetstar SIN-SWA
(by
initious
Apr 22 2012 in Trip Reports)
China "Sudden" Airlines SWA-HKG - 4 Star? Really?
(by
initious
Apr 27 2012 in Trip Reports)
Celebrities In Asia's World City - Jetstar HKG-SIN
(by
Initious
May 13 2012 in Trip Reports)
Get Outta Here! With SCOOTitude - Down Under!
(by
Initious
Jun 28 2012 in Trip Reports)