Leg 2: Masochism for Dummies II: The Spirit of New York – February 11, 2012
Welcome to the next installment of my trip report! My previous report featured my run through MSP; a link is conveniently provided at the bottom of the page if you wish to go back and have a look.
This leg is something of a sequel to the day when I visited ORD, LGA, JFK, and ATL. That day, LaGuardia was a bonus—or, if you're familiar with
Let's Make A Deal
, a Zonk. Today, it's on the main course along with Charlotte Douglas International Airport and much-derided companions Spirit Airlines and US Airways. Ultimately, I hoped that I could avoid the pain and misery just as I managed to do the first time around. Weather was again a hot topic as the appointed time approached; I saw snow forecast for New York around the time I'd be there. Rolling the dice again…don't you just love it?
Editorial note: if you're wondering where the florid introduction is, I only put it at the beginning of each new report. This is merely the second leg in one big report. The same goes for each leg hereafter.
(Some pictures have been omitted for your convenience. If you wish to see them all, feel free to follow the link: Slideshow for Leg Two)
My day started with the usual torture that goes along with trying to catch a 6 AM flight…
American Airlines 2407 OKC-DFW
Scheduled: 06:00-07:00
Actual: 06:04-06:41
McDonnell-Douglas MD-82 (N473AA)
Look closely, and you can see some other MadDogs that rested overnight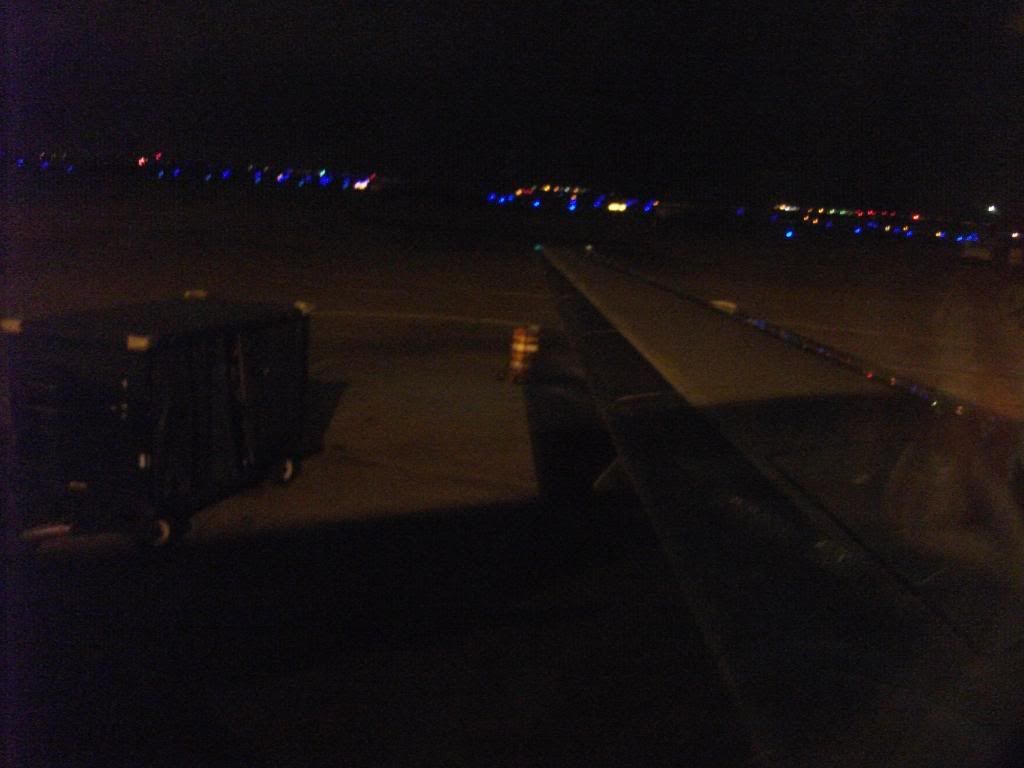 An American Eagle CR7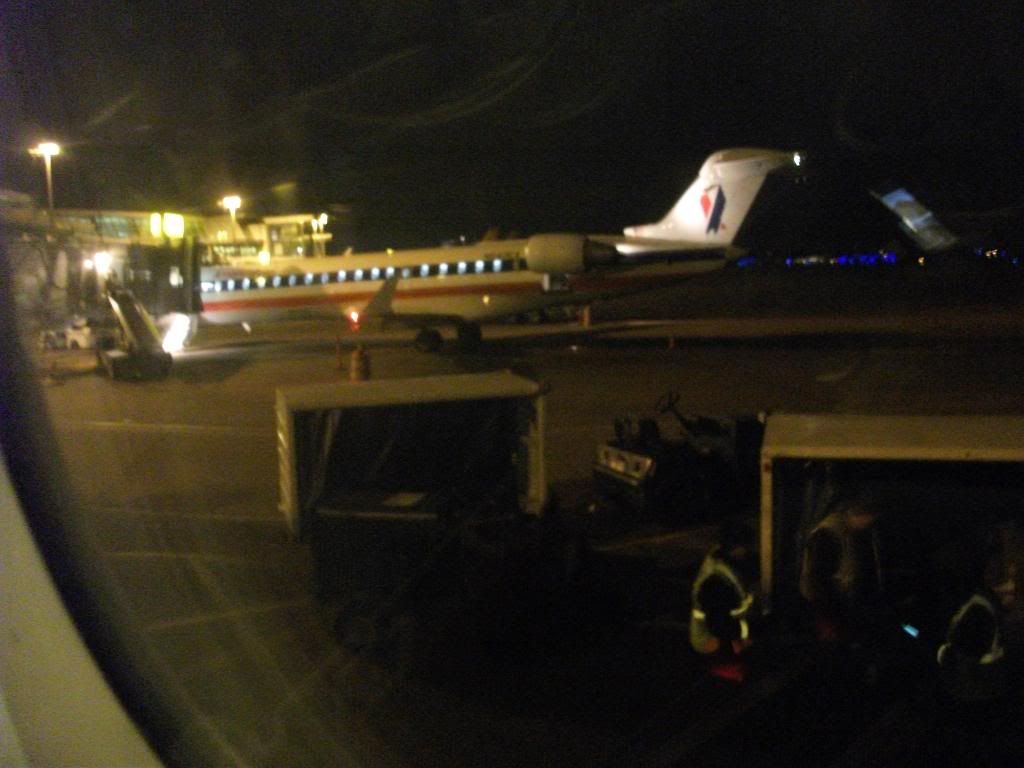 On the ground at DFW; we parked at Terminal D. We were probably the smallest plane there at the time… (see N778AN next to us)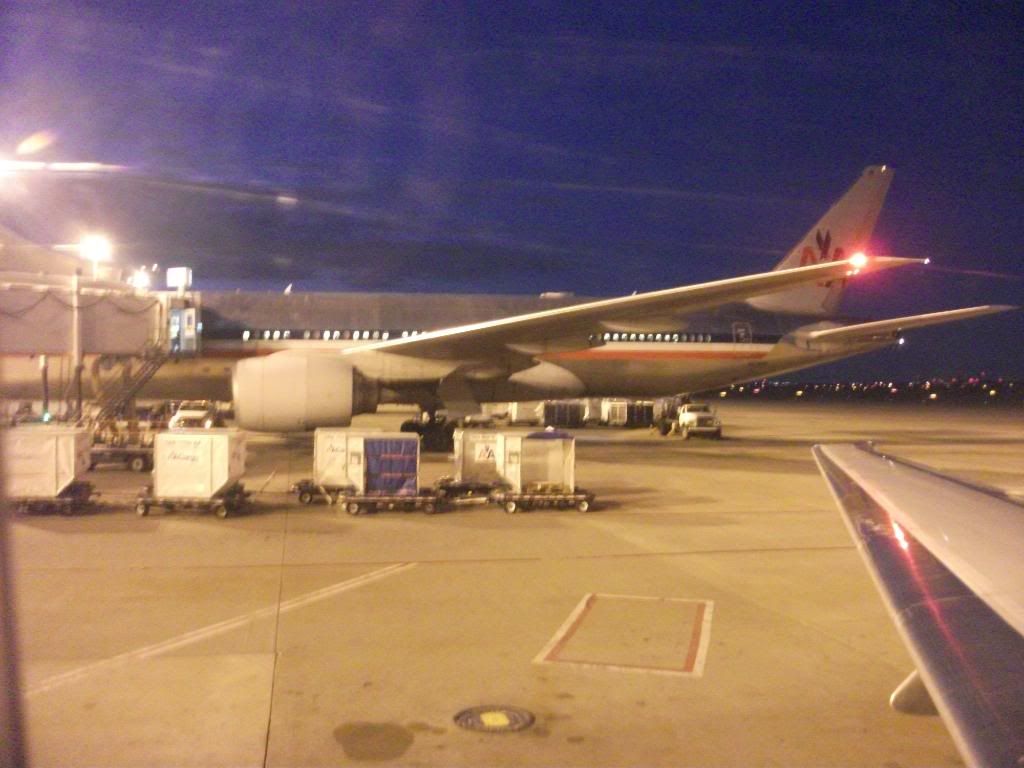 My plane would be off to LAX next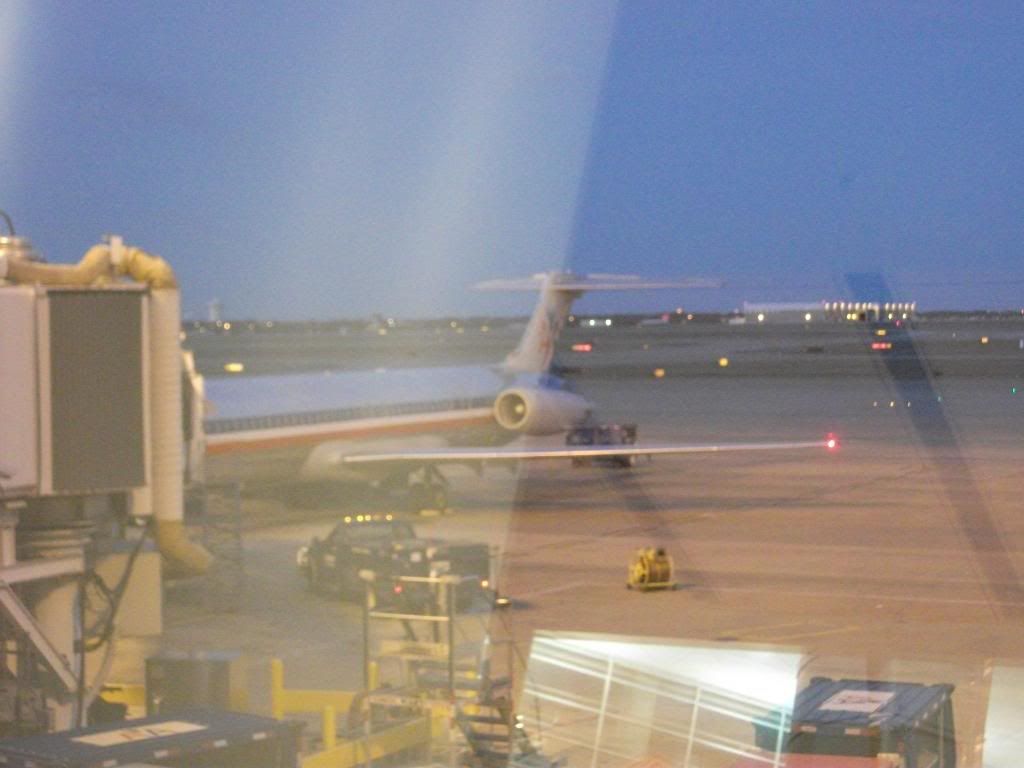 As you can imagine, this was another regulation hop to Dallas, so there's nothing else to say here. I made my way to the next gate for my date with destiny…
Spirit Airlines 718 DFW-LGA
Scheduled: 08:10-12:30
Actual: 08:19-11:44
Airbus A319-132 (N508NK)
It is said that people do crazy things in the name of love. Voluntarily taking Spirit for a spin might qualify. We don't see too much of Spirit around here, but that wasn't my prime motivation for giving them a chance. The sentiments about this super-no-frills airline are well known: if you want more than just transport from A to B on the cheap, stay away from them. These feelings may be enough for some to avoid NK, but I always like trying something out for myself before passing judgment. Thus, I kept an open mind and set out to fly with Spirit. Besides, the fees for every little thing are pretty much straightforward, and they do seem to have some success with their business model.
We now go back in time to the day when I booked the ticket: my exploration of their website went easily enough. I found the desired flight and attempted to book it, but I was met with this:

I pushed that little annoyance aside by registering and I soon had my ticket. The base fare was $89. Add the fees, including my $10 option to reserve my seat, and the total was $126.69. They did prove to be the cheapest on the route, but US Airways was nipping at their heels.
Fast forward to the present day, and I was full of thoughts about what the next few hours would bring me. I tried to come into the situation with a clean slate so they could have a fair chance at gaining my trust. As I rode the tram to Terminal E, one thought suddenly crossed my mind: "I hope my plane is painted in the old colors and not that ludicrous excuse for a livery they currently have." I soon received my answer as my train car passed right over the gate: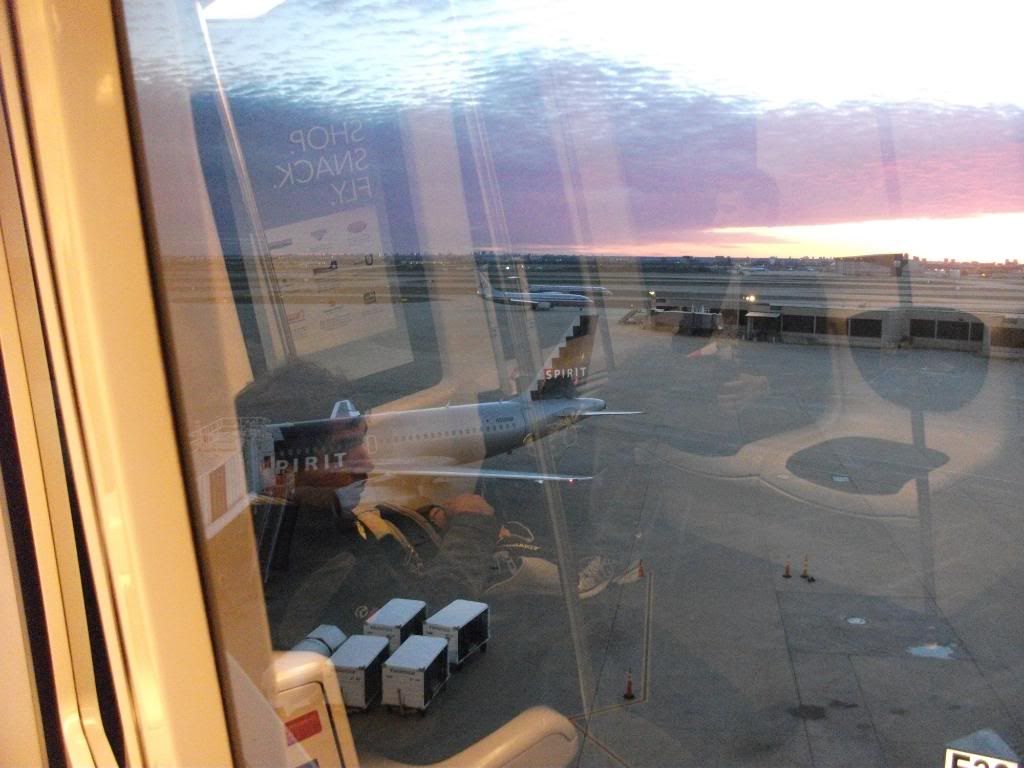 Thank goodness for small favors! If there was suffering to be had, at least it would be in a tube that looked nice. It seemed as if Spirit was trying to be on its best behavior. I plopped down in a chair and waited for boarding to begin. When it did begin, it proceeded at a sluggish pace. When I handed the gate agent my boarding pass, she merely collected it and noted my seat number. No smile, no "hello", no "welcome aboard", no anything. Not yet enough to sink them in my book, but certainly worth noting.
Perhaps the biggest test of them all was next: the seat. Though the plane was fitted out with gray leather seats, they were visibly worn. Mine was no exception, as you'll see further down. The tired-looking seats would be the absolute least of my concerns once the infamous legroom monster reared its ugly head (Note the top of the seat pocket, where the gray has been worn away by untold multitudes of knees):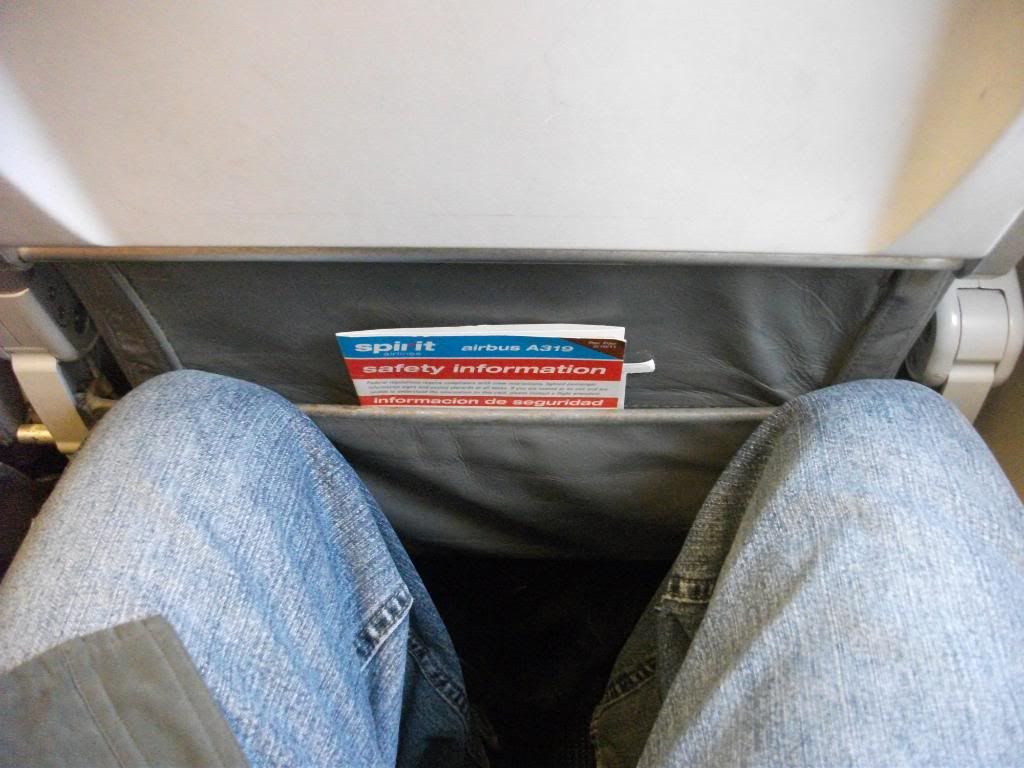 That's right, the legroom really is nonexistent! I'm no giant, but my knees were still jammed against the seat in front of me. The woman next to me actually did have some room, but she attributed this to, in her words, "the advantages of being short".
A reminder of the last time I was on a morning Airbus at DFW; I could hear each one of those 38 inches of pitch in Main Cabin Select mocking me… (N522VA, "the 1 year old virgin")
So there I was, still on the ground, but having an increasingly unpleasant time.
Mind you, I knew about the space issues onboard, but that was little comfort once I was subjected to it. There is no substitute for experience. So Spirit was left to its onboard service to save its skin, and they would have to excel on a Biblical scale to get in my good graces.
Nose up and on the way to LGA
Rivers of concrete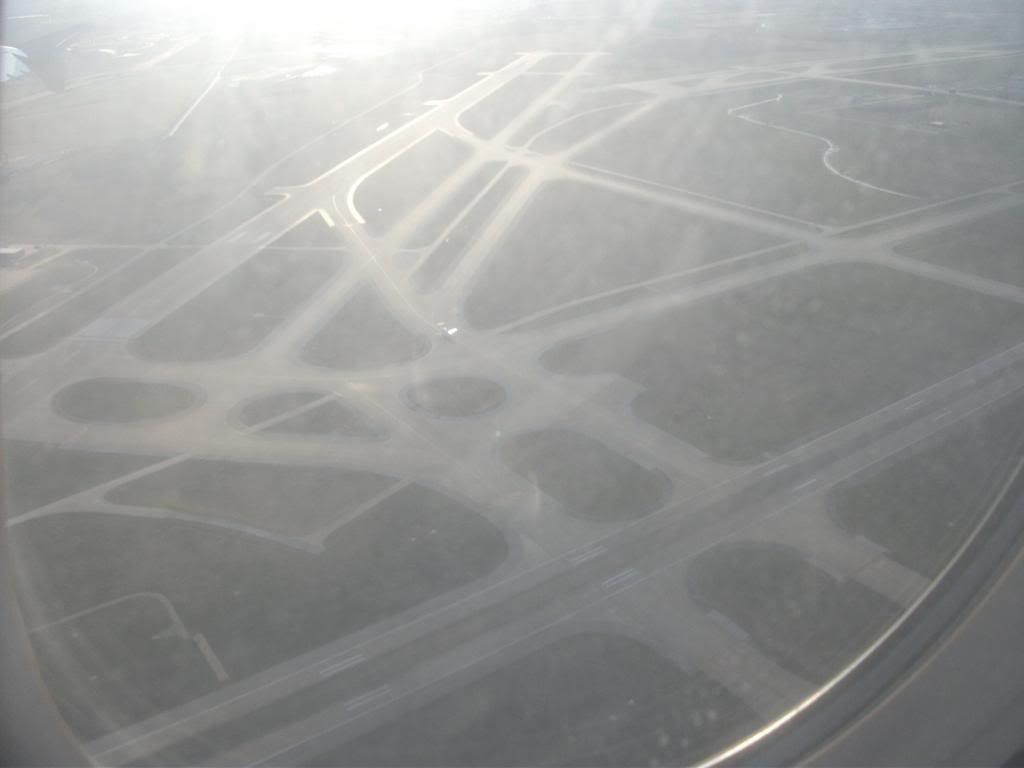 Looking back at the airport
Addison Airport (ADS / KADS)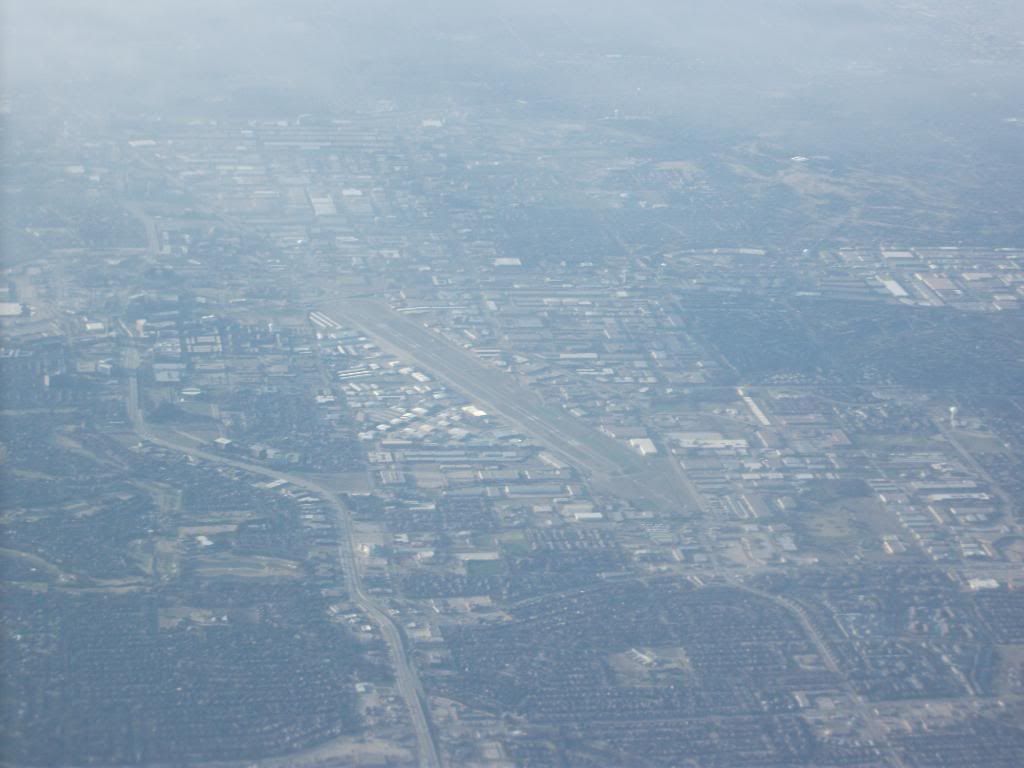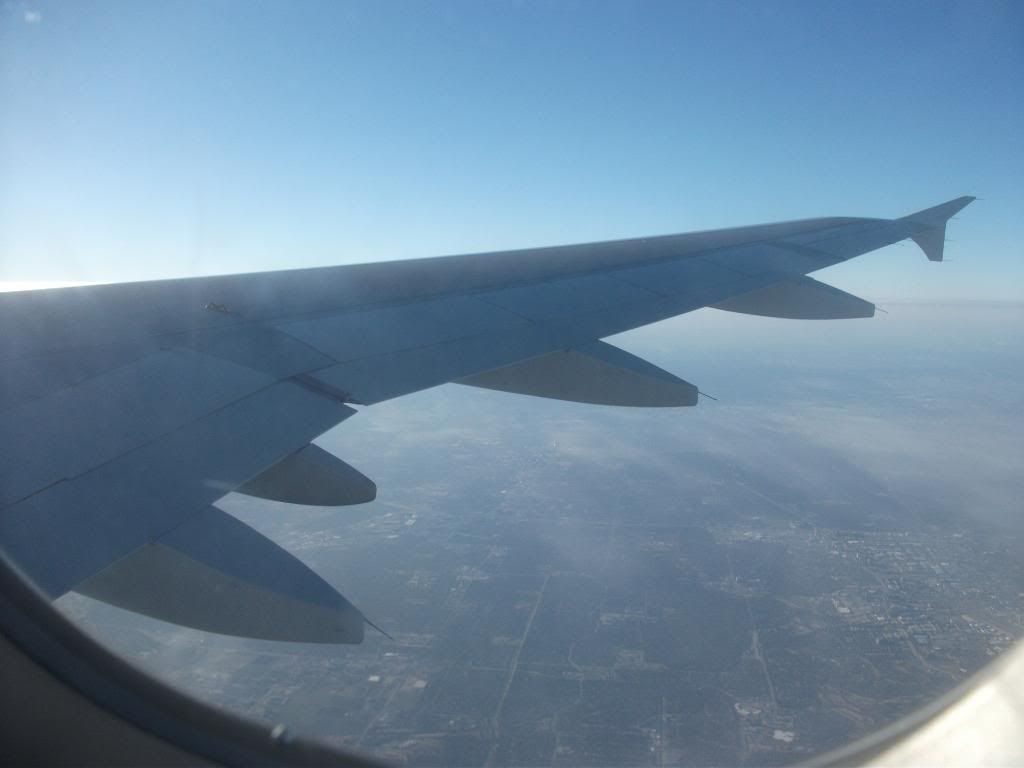 I decided that I would indulge myself once the food cart came around. Seven dollars later, this is what I came up with: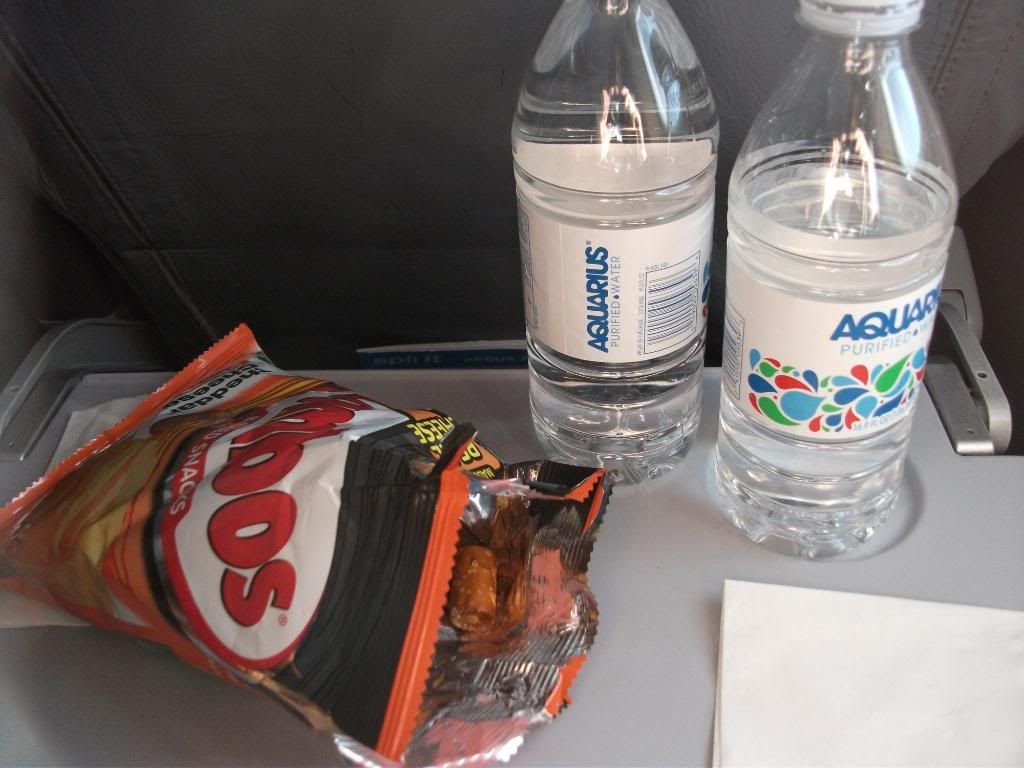 To be honest, it was actually a reasonable price for what I got, at least in the context of airlines. They have combination packages of various foods that can knock down the price a bit. It turned out that the bag of Combos was bigger than I was expecting; I didn't finish it. (Just as well; I didn't really need all of that salty junk food anyway…)
The cabin; note the ads on the overhead bins. There were also some on the seat backs.
As the flight wore on, I discovered that I could reduce the discomfort by finding different ways to bend and tuck my legs every few minutes. I suppose it worked to some extent, because I drifted in and out of awareness as we skirted above the clouds. (I won't go quite so far as to say I fell asleep, but I can neither confirm nor deny it.)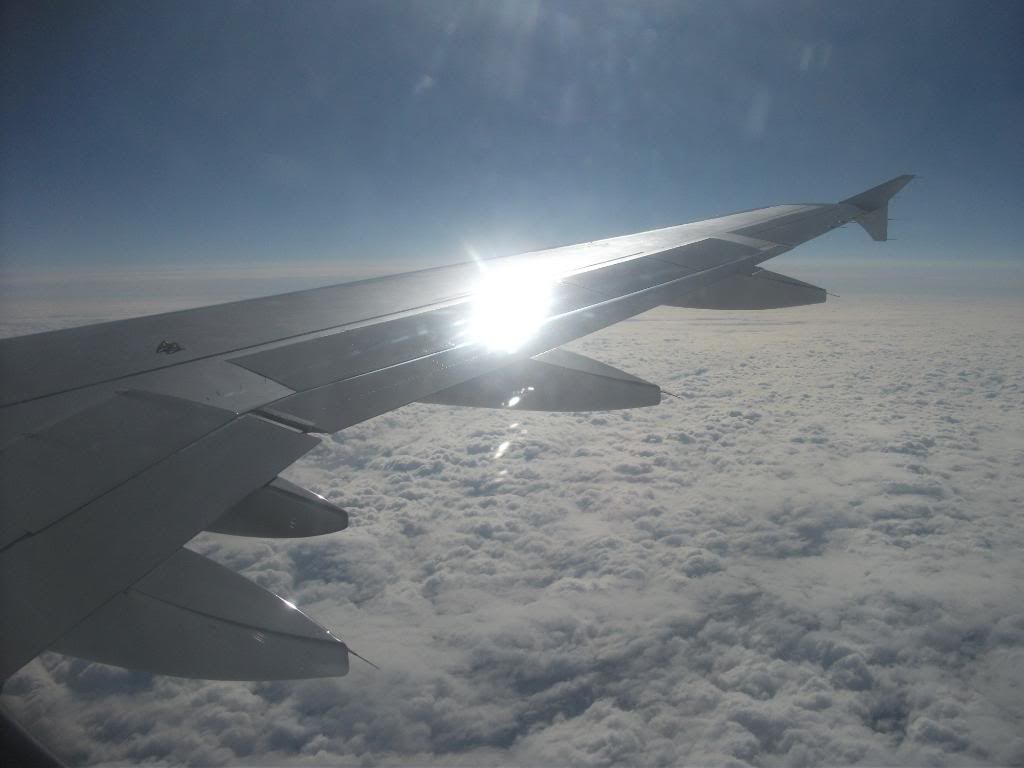 Some time later, the captain uttered some words that produced some joy in my heart: we were about to begin our descent into the New York area. Freedom was soon at hand…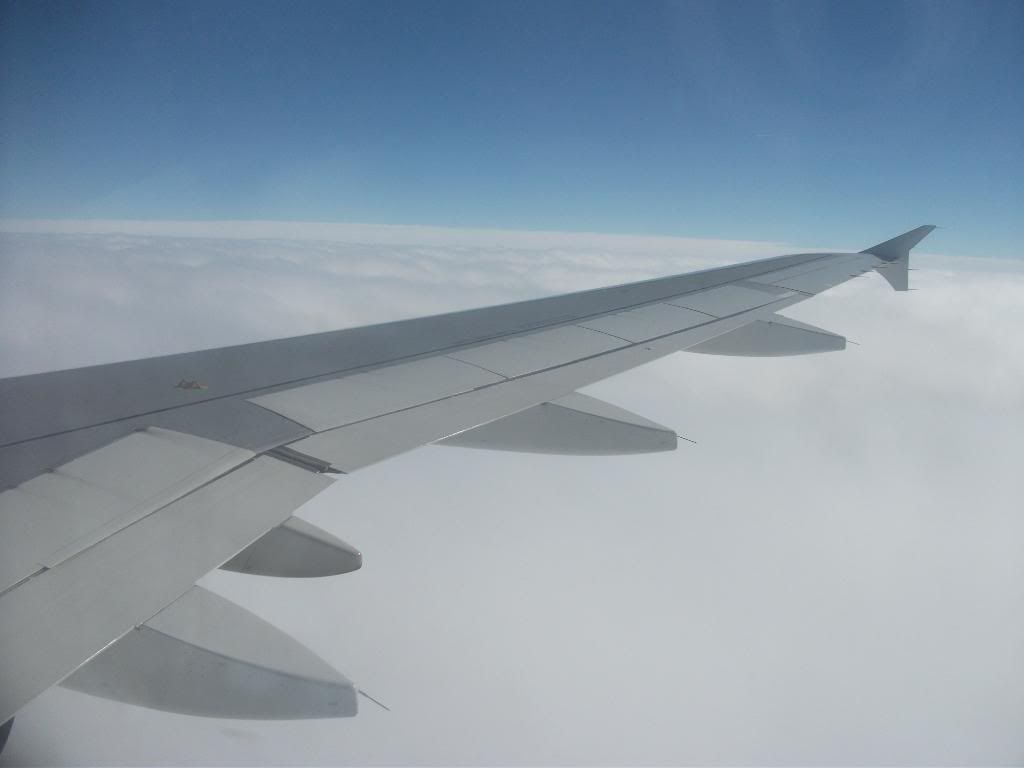 We descended through the gray towards the city. The landing was smooth and painless, but we had to sit tight for a few minutes because another NK plane was occupying our gate. After it was de-iced and moved out of the way, we pulled in.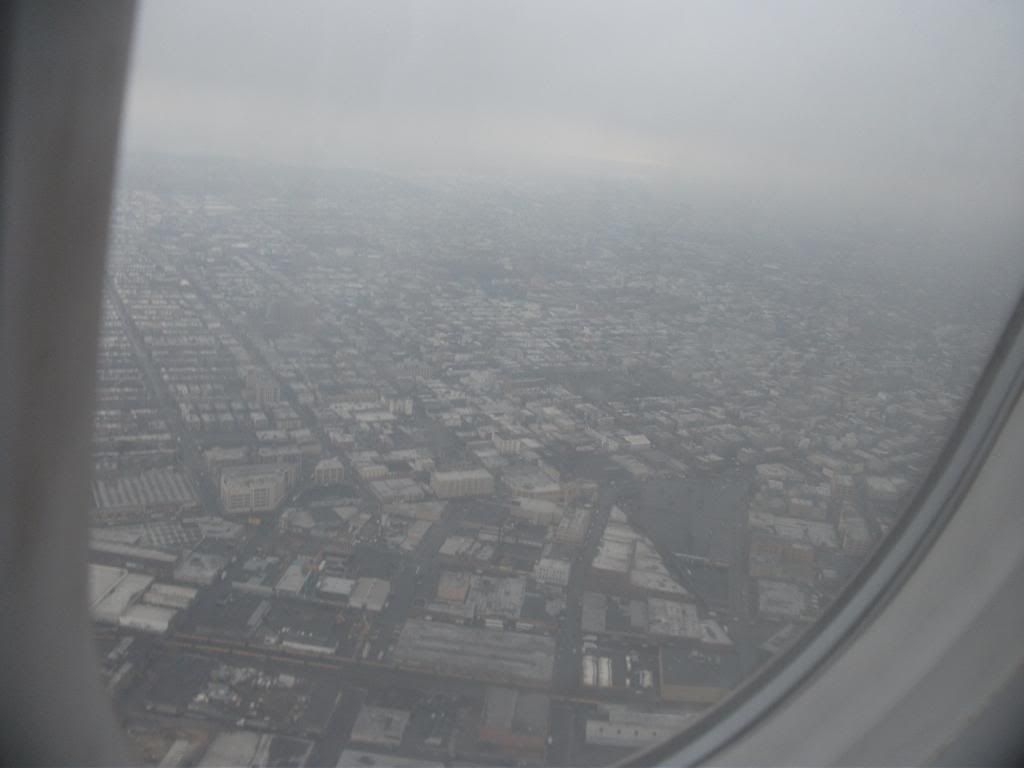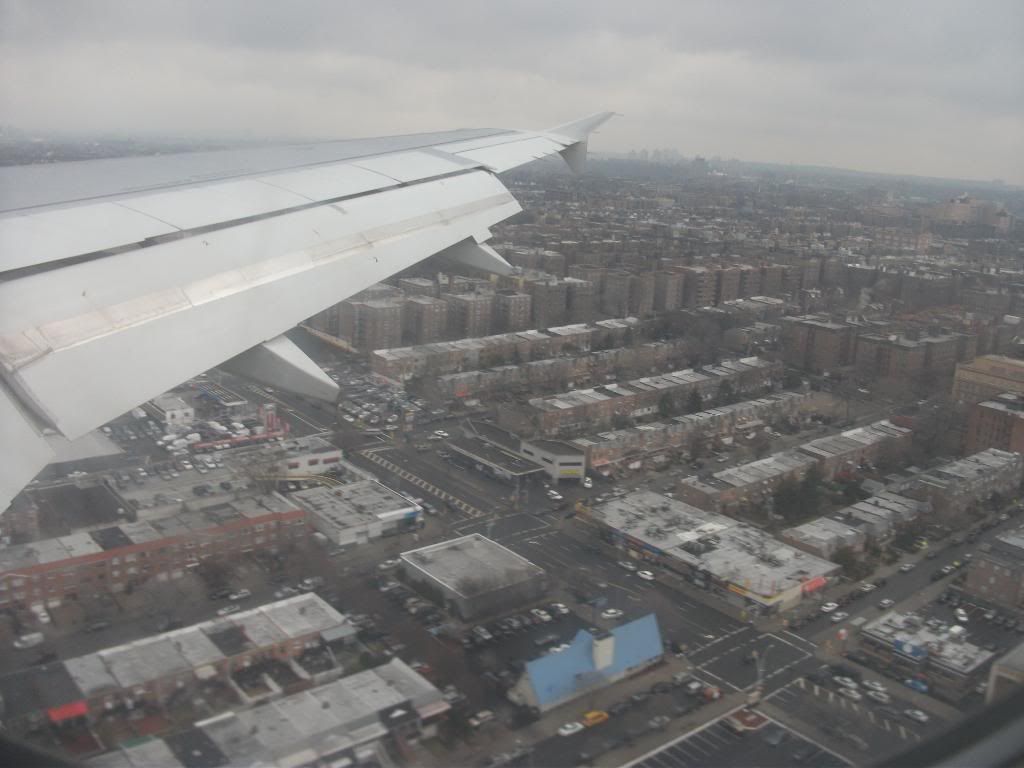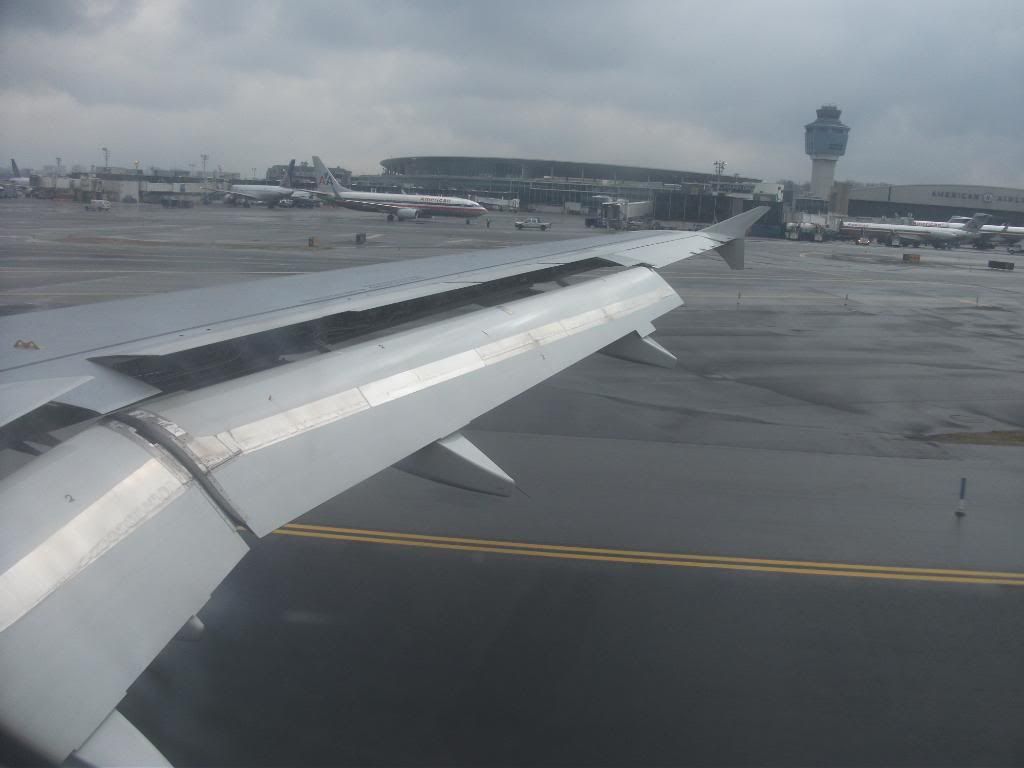 United A319 N838UA. That registration was immediately familiar to me—I've captured that plane at OKC, and I have the photo to prove it!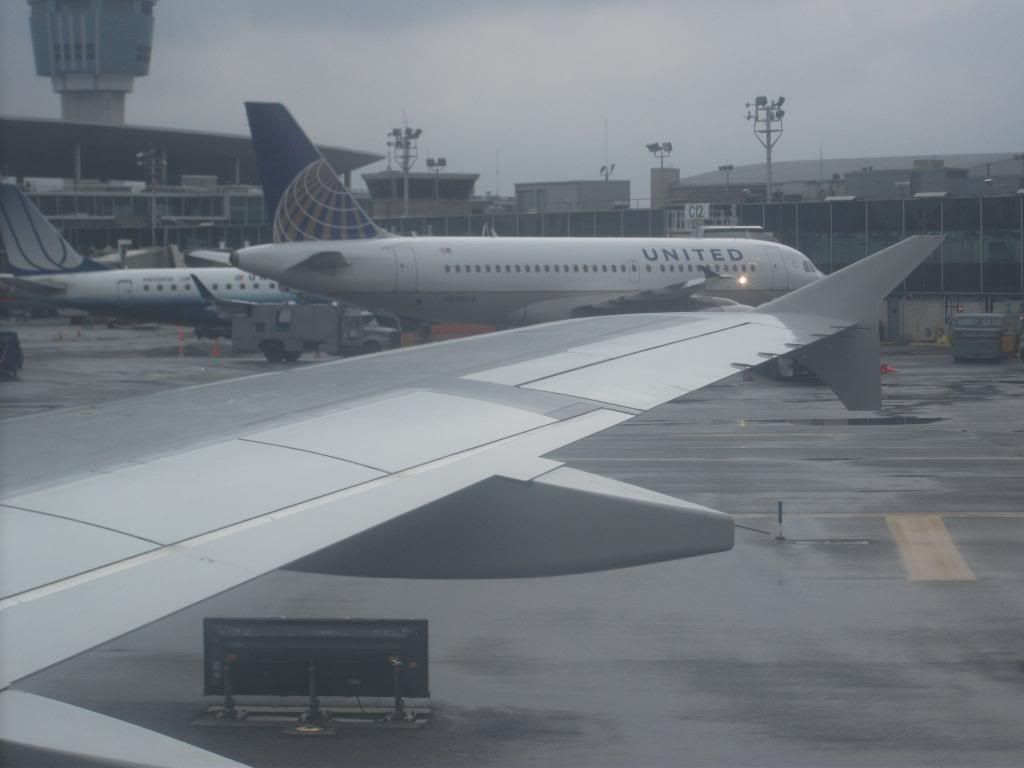 View Large
View Medium


Photo © Eric Brown
There's a bird back there…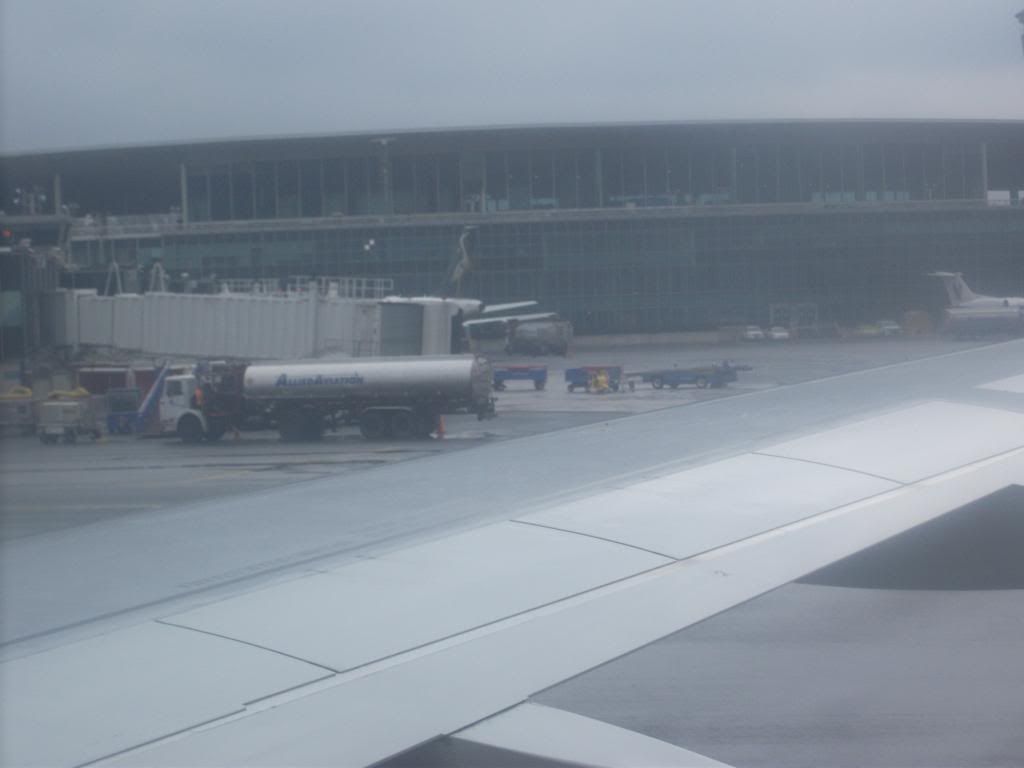 The city in the distance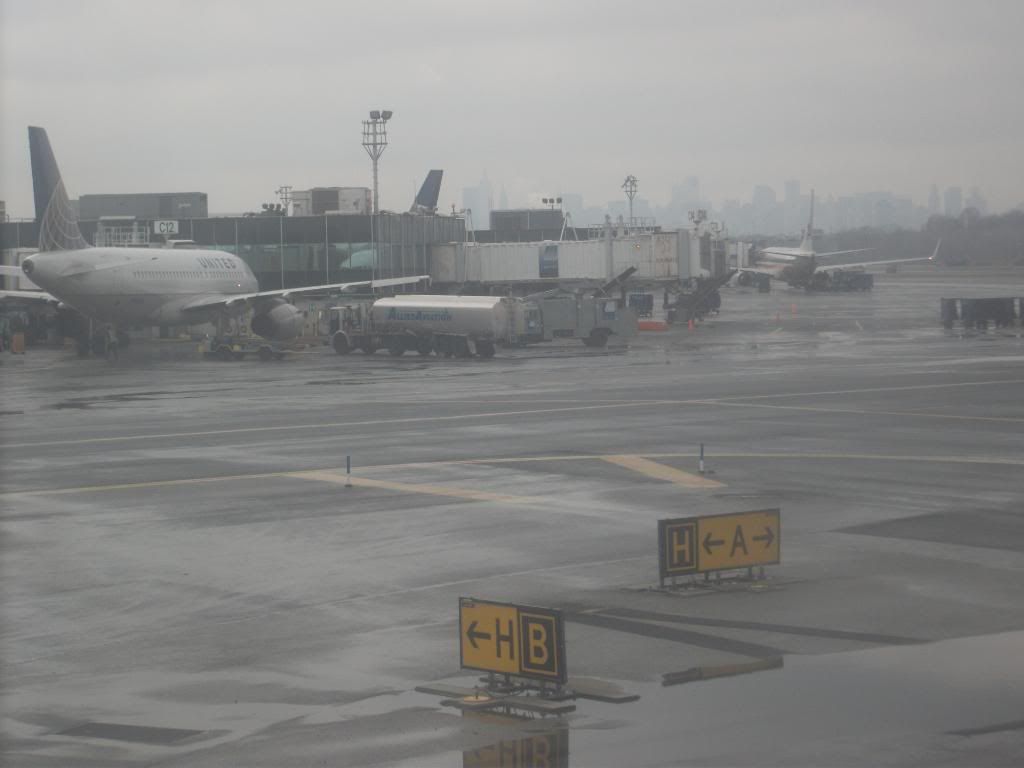 If only…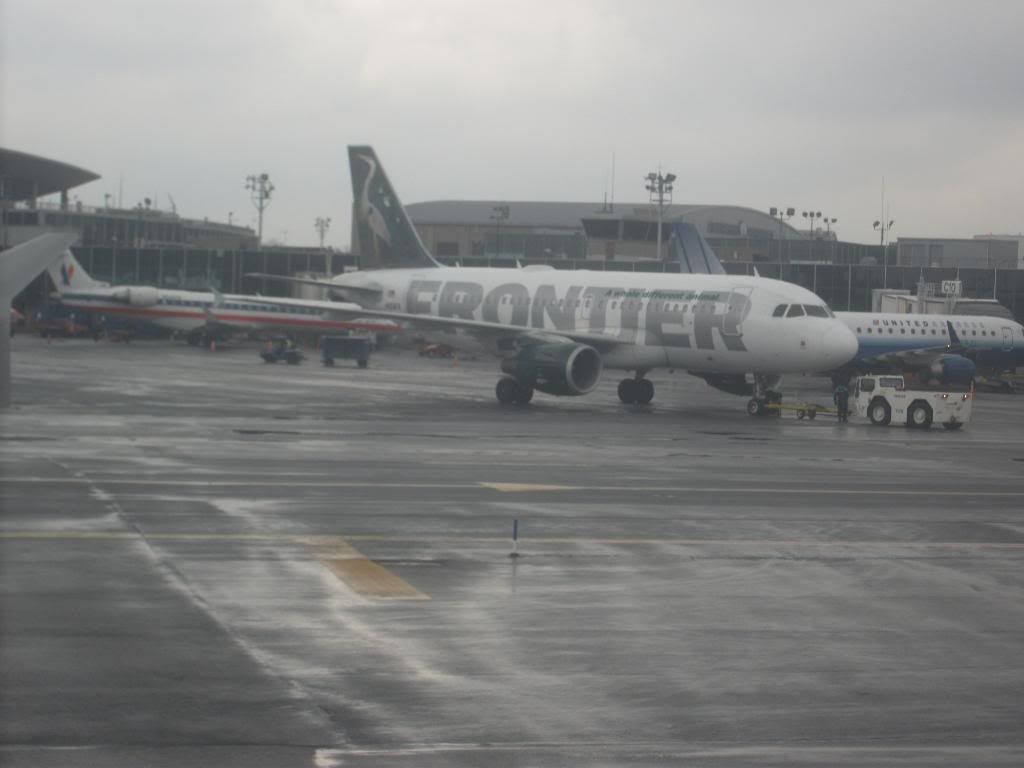 The culprit behind our delay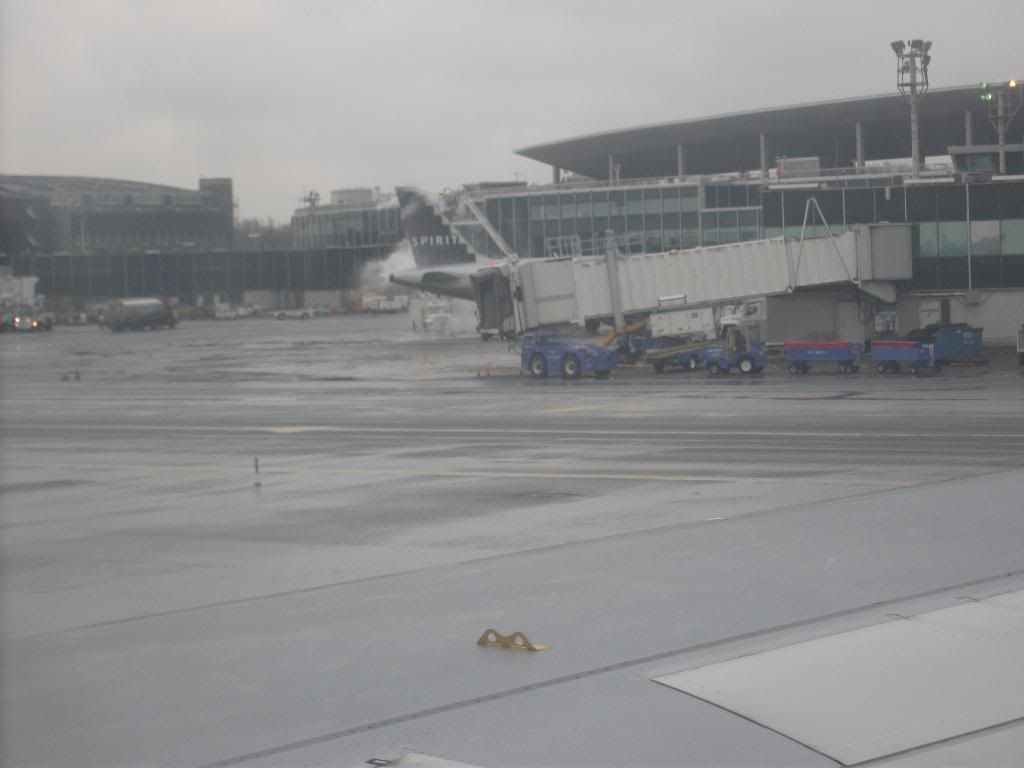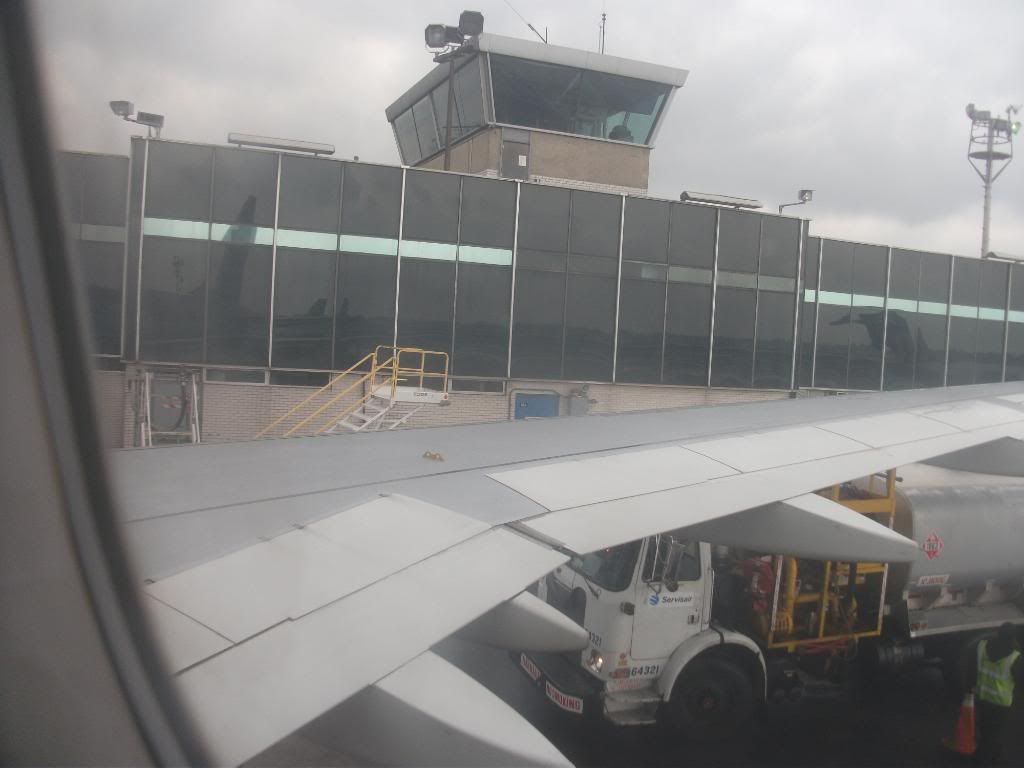 My seat; the picture does not do justice to the wrinkles and cracks present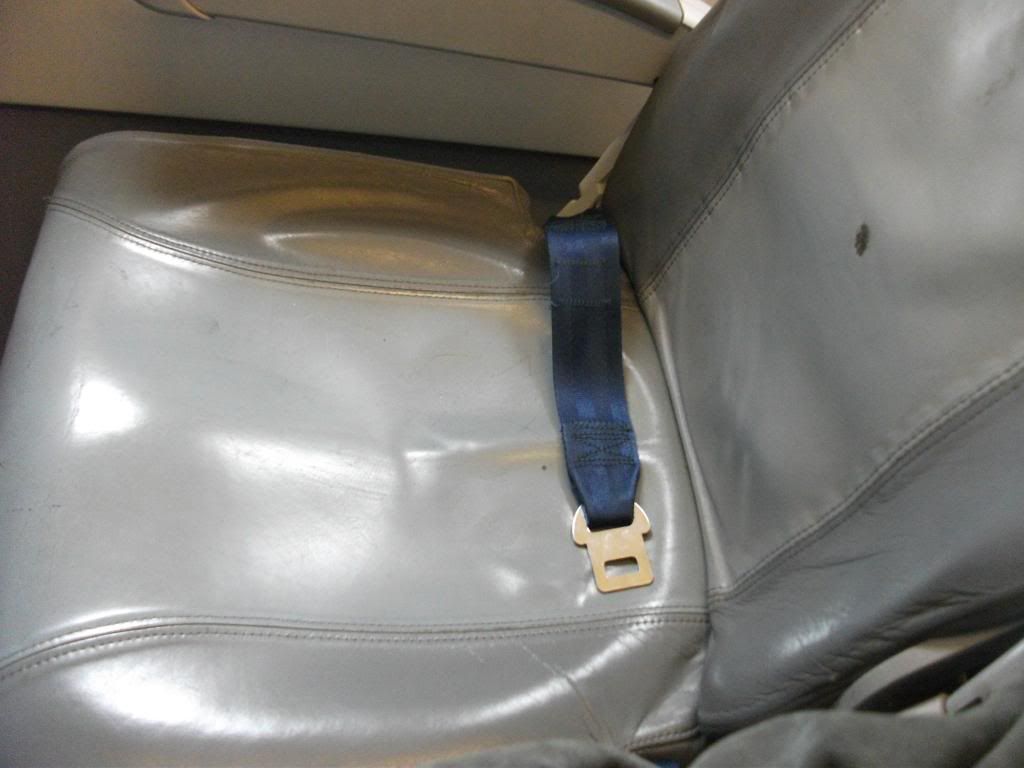 I tell you, standing up never felt so good. I understand having to deal with some potentially unpleasant things if you're paying bottom dollar, but that was two and a half hours that I'd rather not experience again. Speaking of not wanting to experience something again…
If you read my last airport tour series, you surely remember the sour taste LGA made on my last go-round there, and that was only after a few minutes going through there on my way to JFK. Well, LaGuardia gets an official space in the spotlight today owing to their title of 20th busiest airport in the country. I would again be arriving at the Central Terminal Building, but this time at Concourse B. Unsurprisingly, this concourse was just as ridiculous as the last one. This was a case where the ugly interior did nothing to hurt the airport because I knew it couldn't get any crappier.
Welcome to Concourse B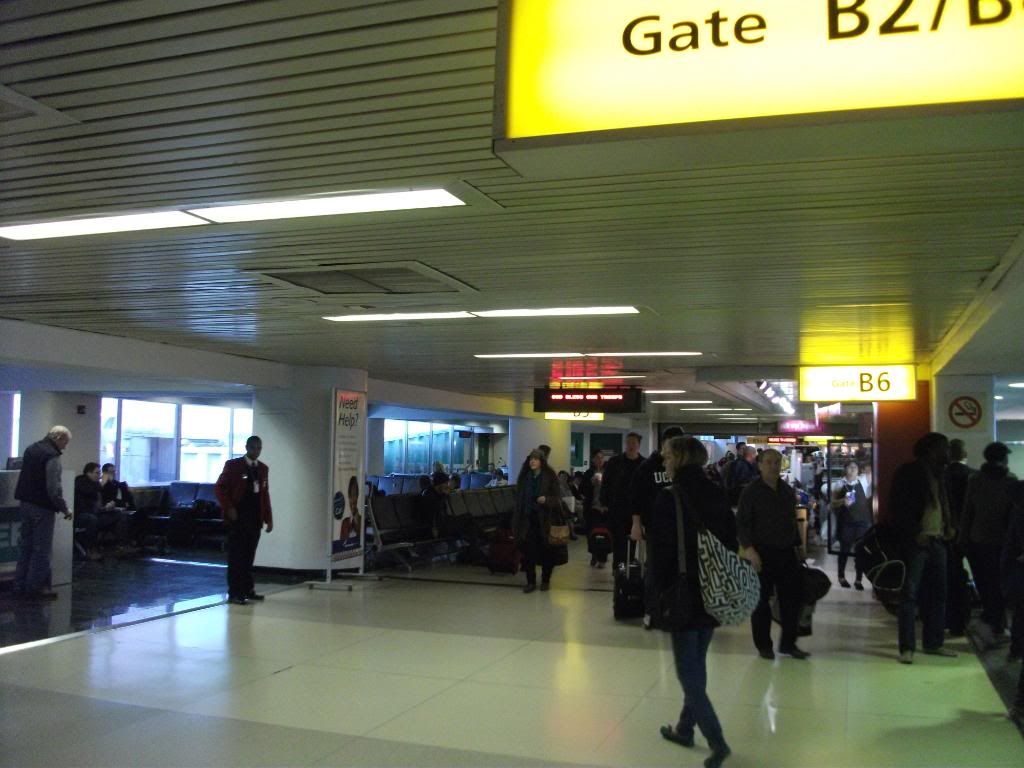 I paid a visit to a concourse bathroom and wondered about the person who decided on making it as it was—I wanted to shoot him in the face. I get that space is limited, but honestly…imagine your standard grungy high-school men's restroom. Then imagine one sit-down fixture, one stand-up fixture, and one sink. I stepped in and was fourth in line. Another man came in behind me, became visibly and audibly perturbed, and turned around and left. I had my turn and washed my hands (I didn't see many people wash their hands—ewwwww) and saw that there were no paper towels. I wrung my hands out as best as I could and stopped at a Dunkin' Donuts to steal some napkins to dry my hands.
On the way out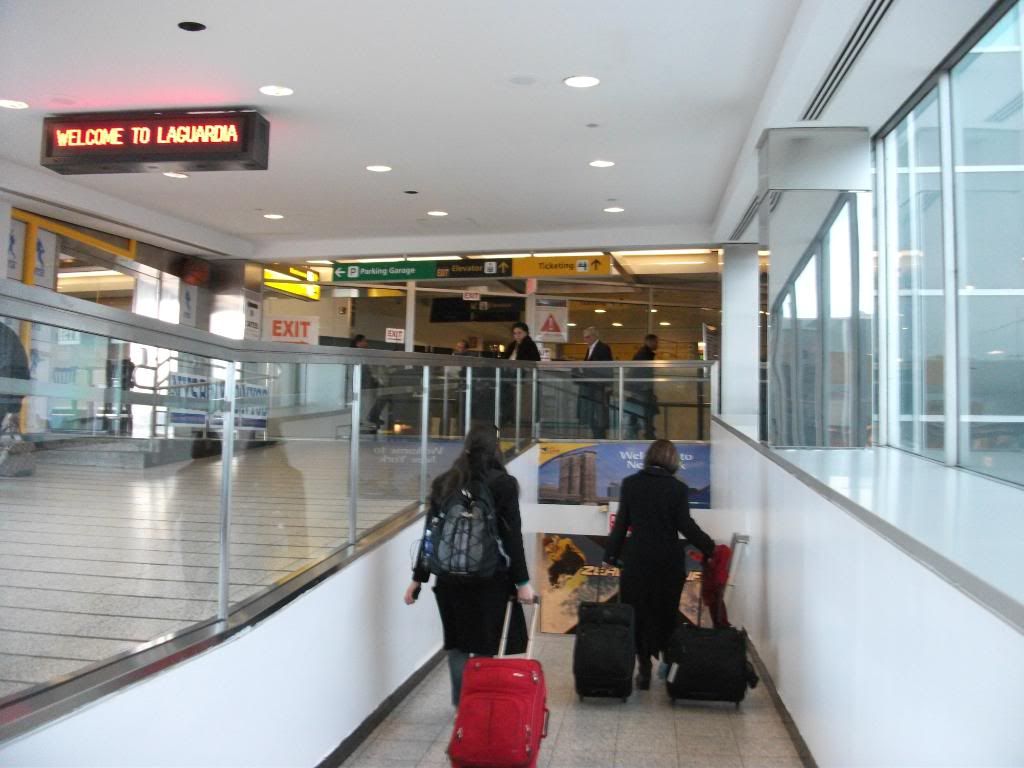 Having stepped out of the Spirit frying pan and into the LaGuardia fire, I had to make my way to the US Airways terminal for my next flight. I went out to the cold New York air and waited for the bus. When what appeared to be the blue line bus came along, I stepped aboard. We were whisked to the employee parking lot, where I asked the driver if the bus would be going back to the terminals. He affirmed this, so I sat back down and enjoyed the ride.
Looking around at ground level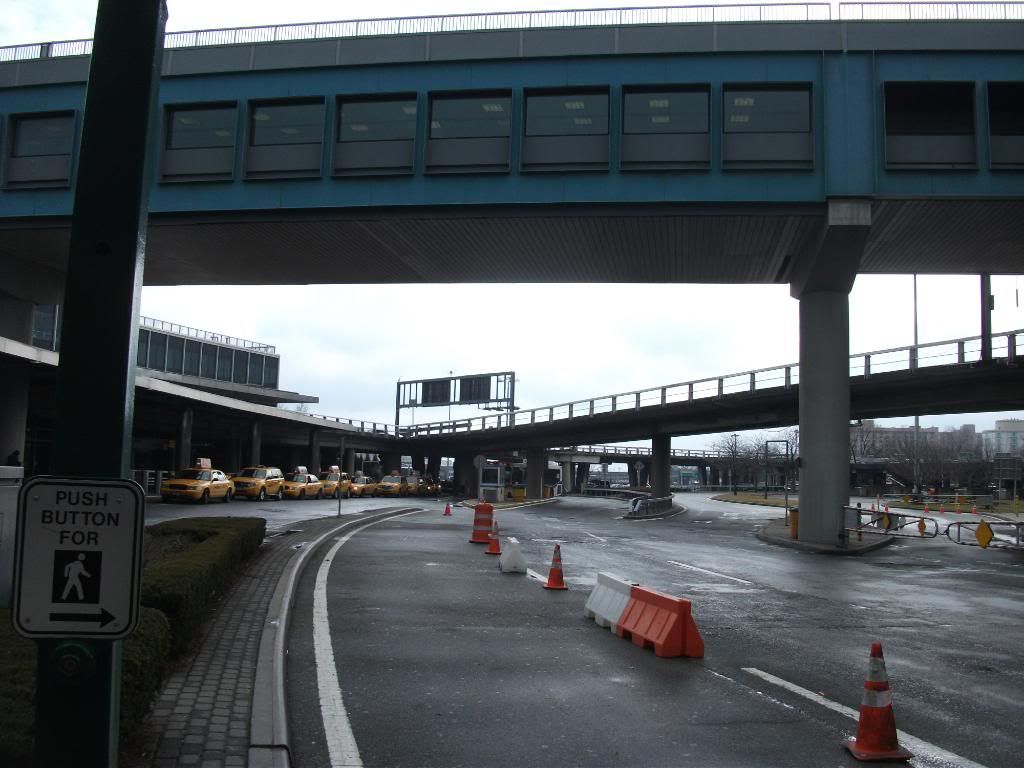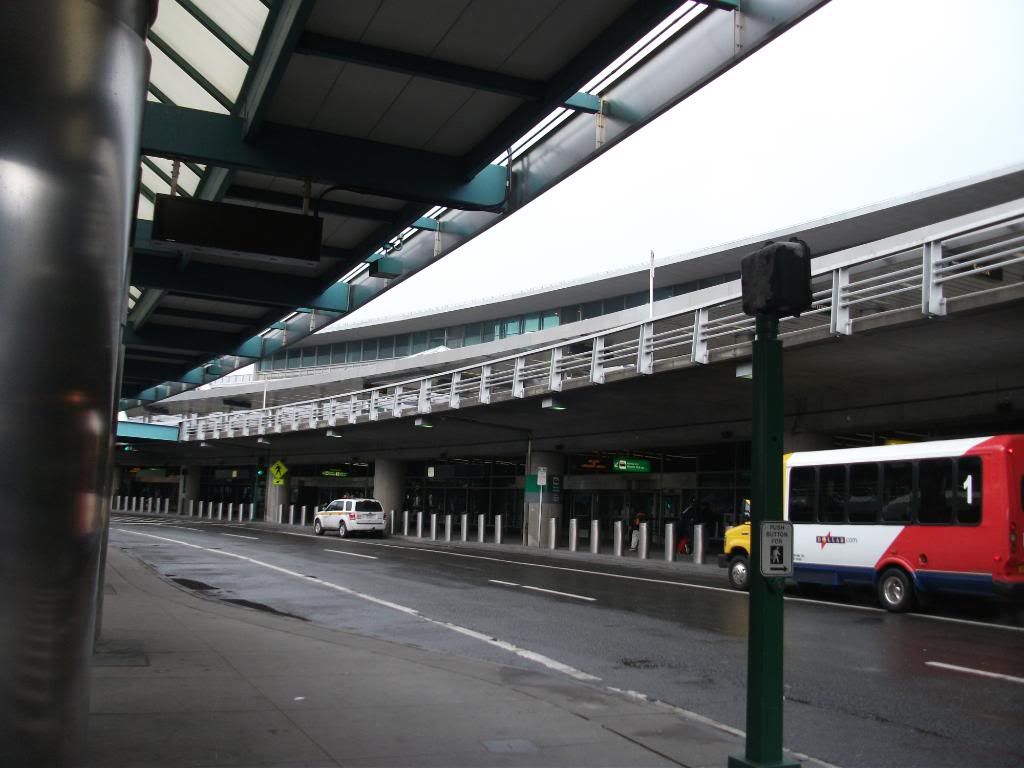 Control tower playing peek-a-boo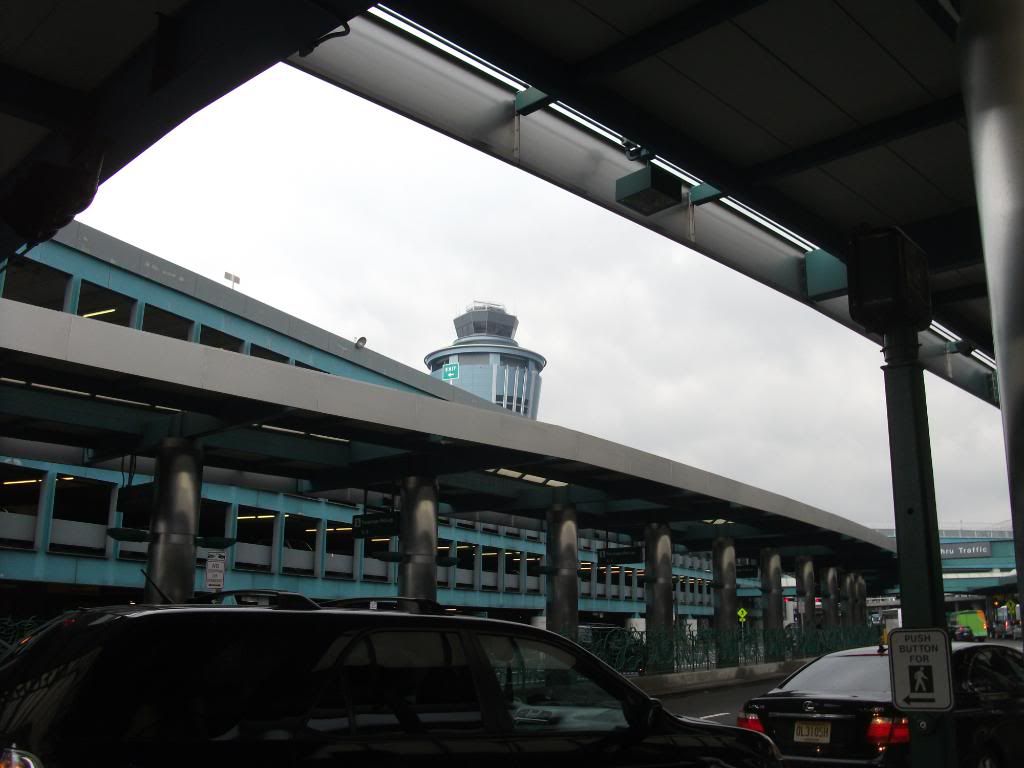 Up next was the US Airways terminal, which was already (outwardly, anyway) a vast improvement over the main building. In a repeat from MSP, however, I saw quite the lack of people in the check-in hall.
Here we are!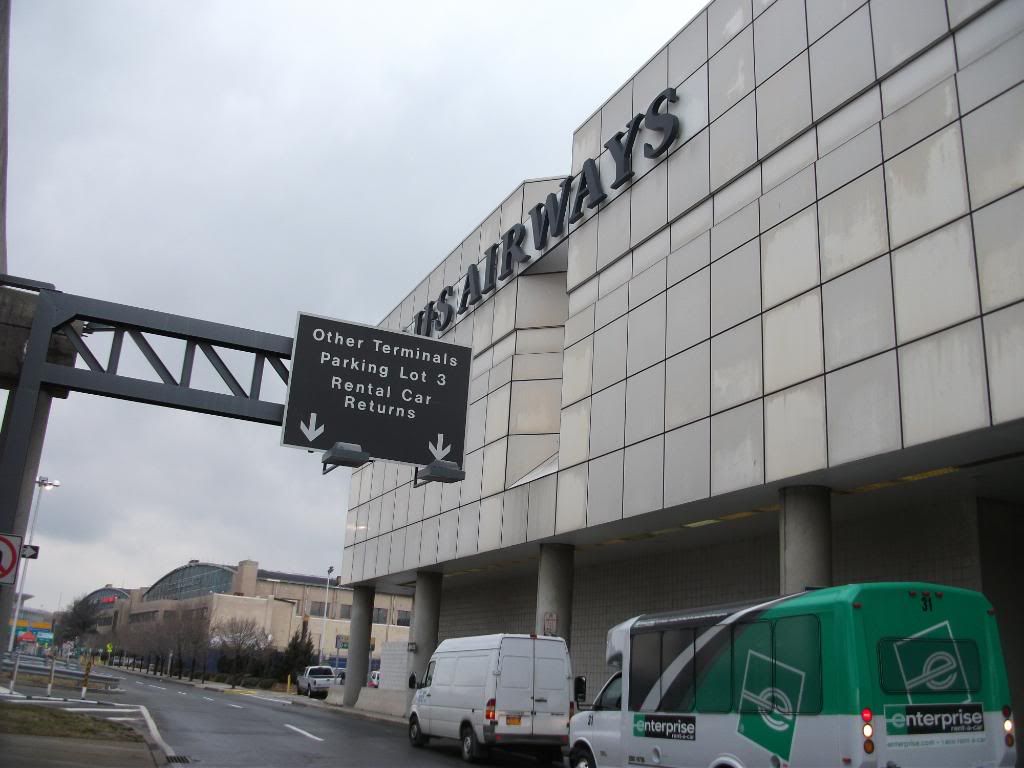 And at the top of the escalator, we find…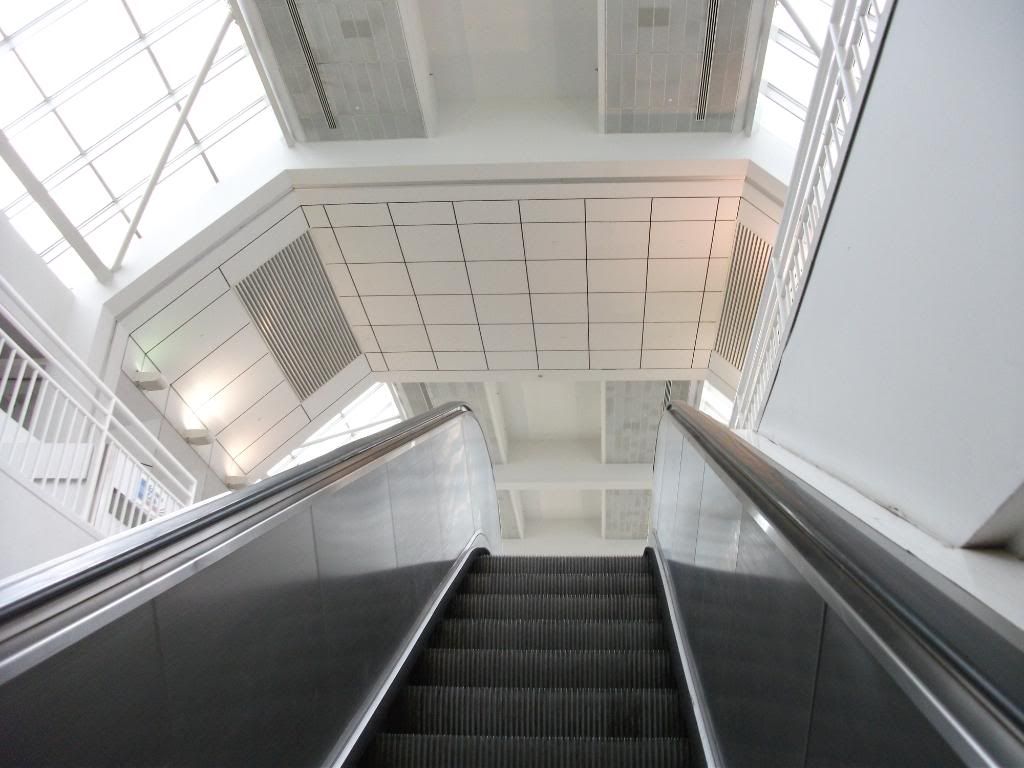 Barely anybody!
The advantage of this was that I was the only person in the security line. I passed through and started to have a look around. I was greatly outnumbered by airport employees in many places: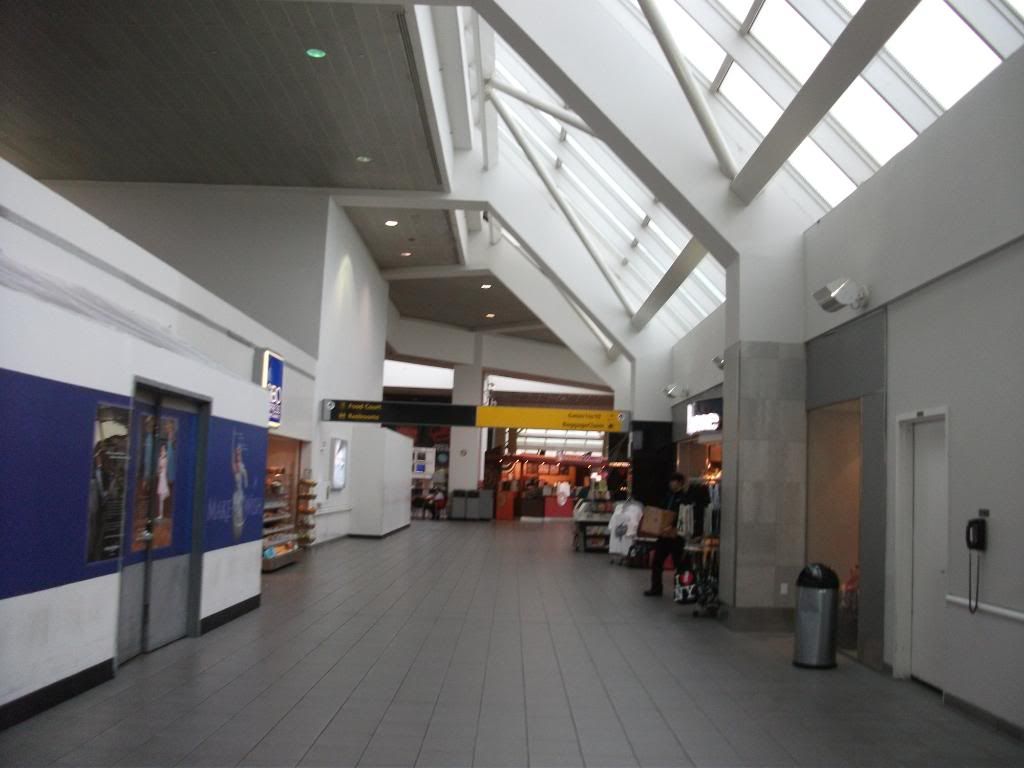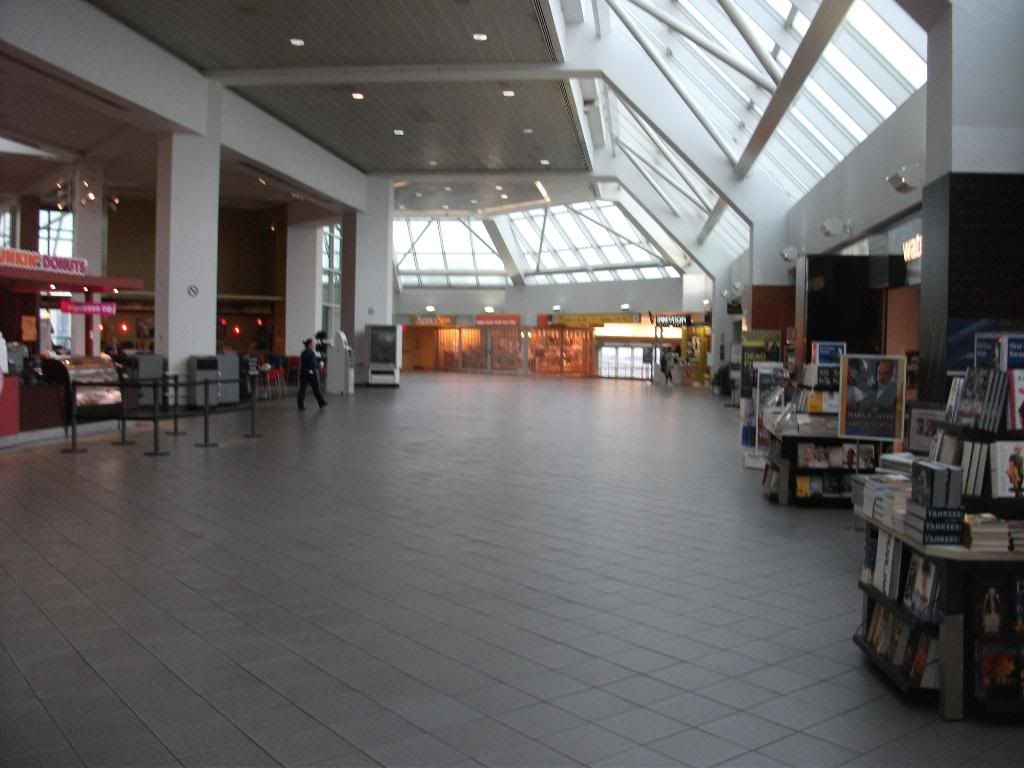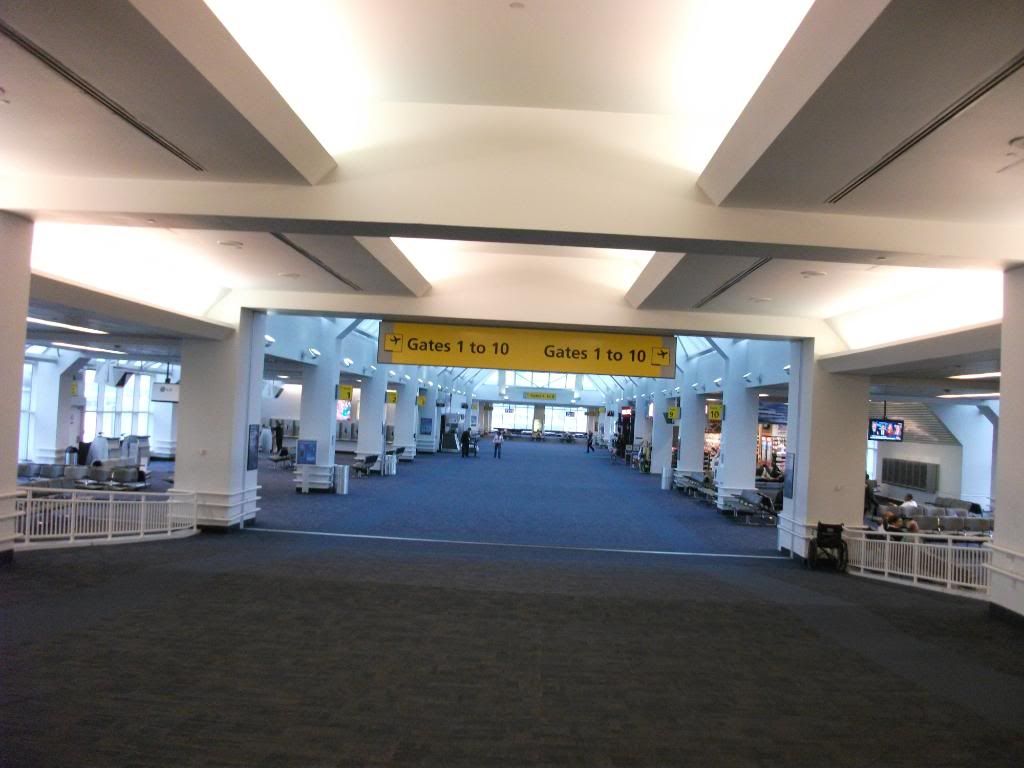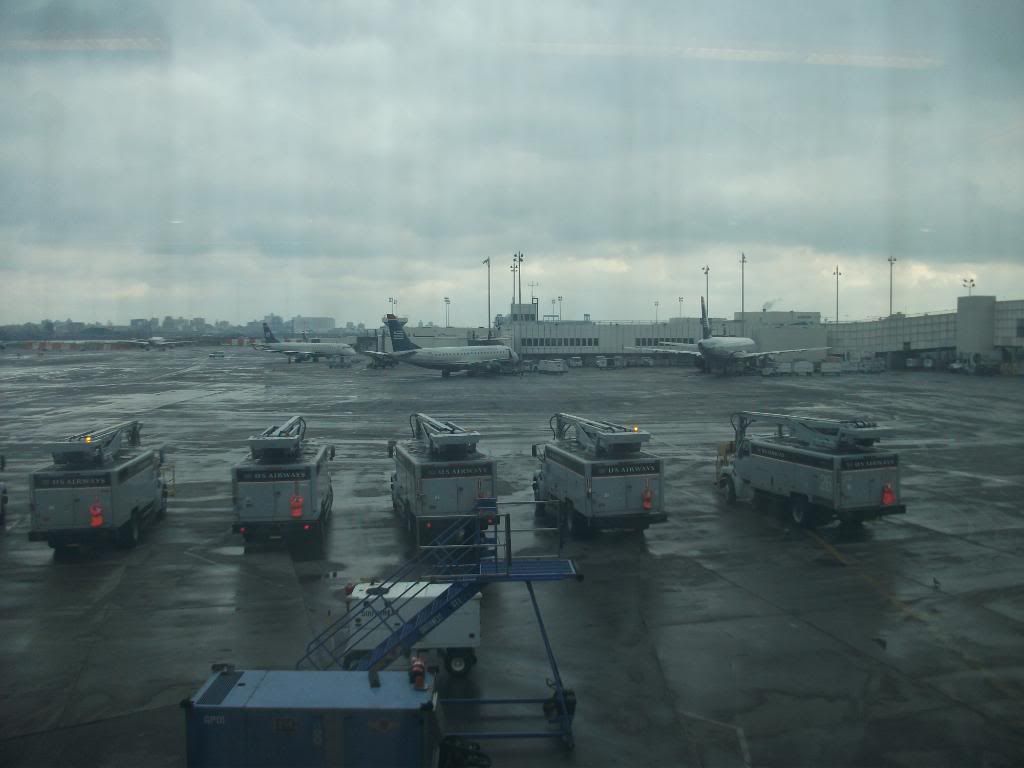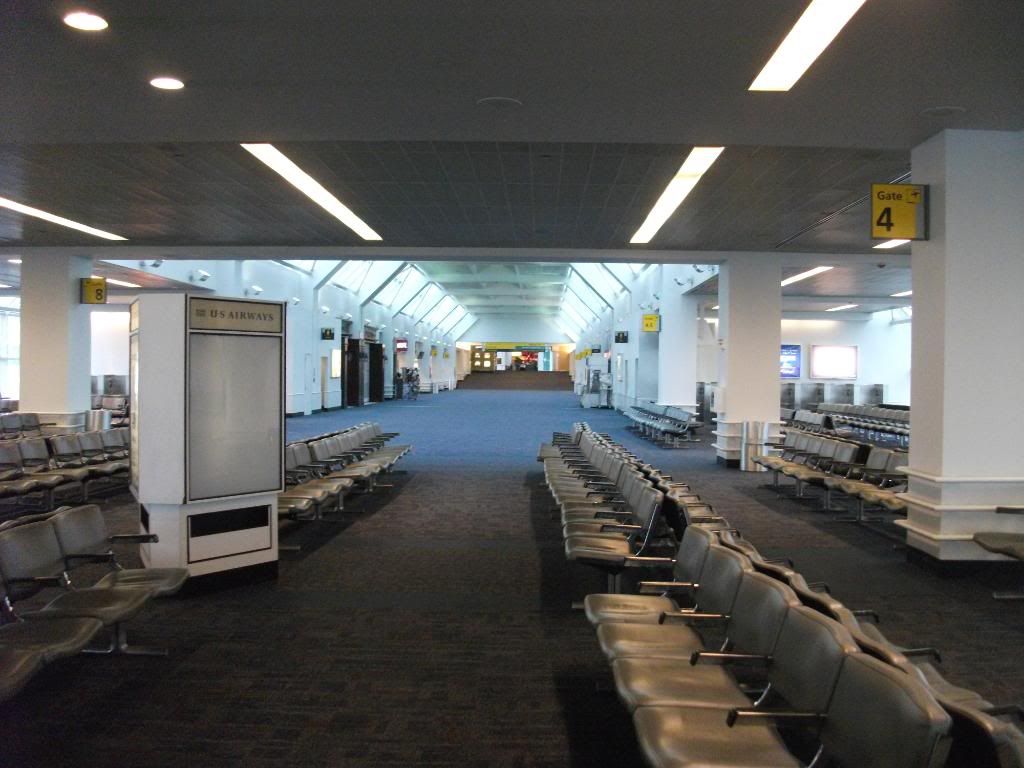 If the flight displays got any more old-school, they'd need a stone and chisel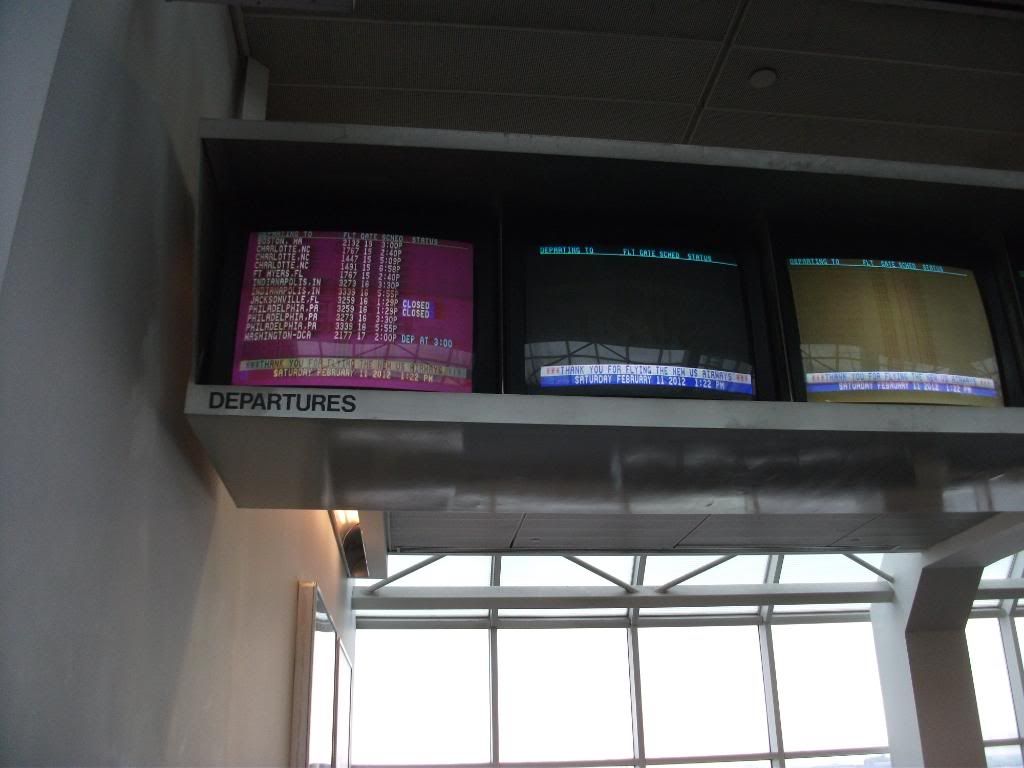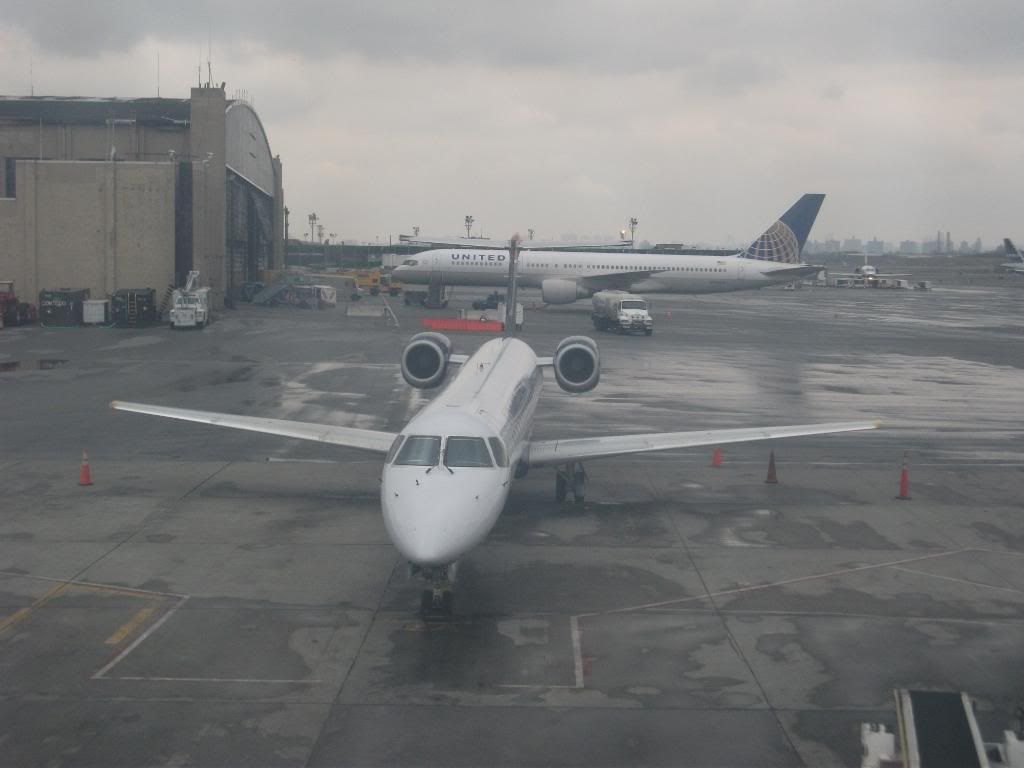 The deserted halls eventually gave way to a food court, where a few passengers were chowing down. I went to a restaurant by the name of Cibo and had a seat at the bar. I ordered a mushroom risotto and a Merlot from the 14 Hands Winery (Washington). A few minutes after placing the order, the server came to me and told me that they were out of the mushroom risotto, but they did have sun-dried tomato. I settled for that and the wait began again. When the wait ended, I received what you see here: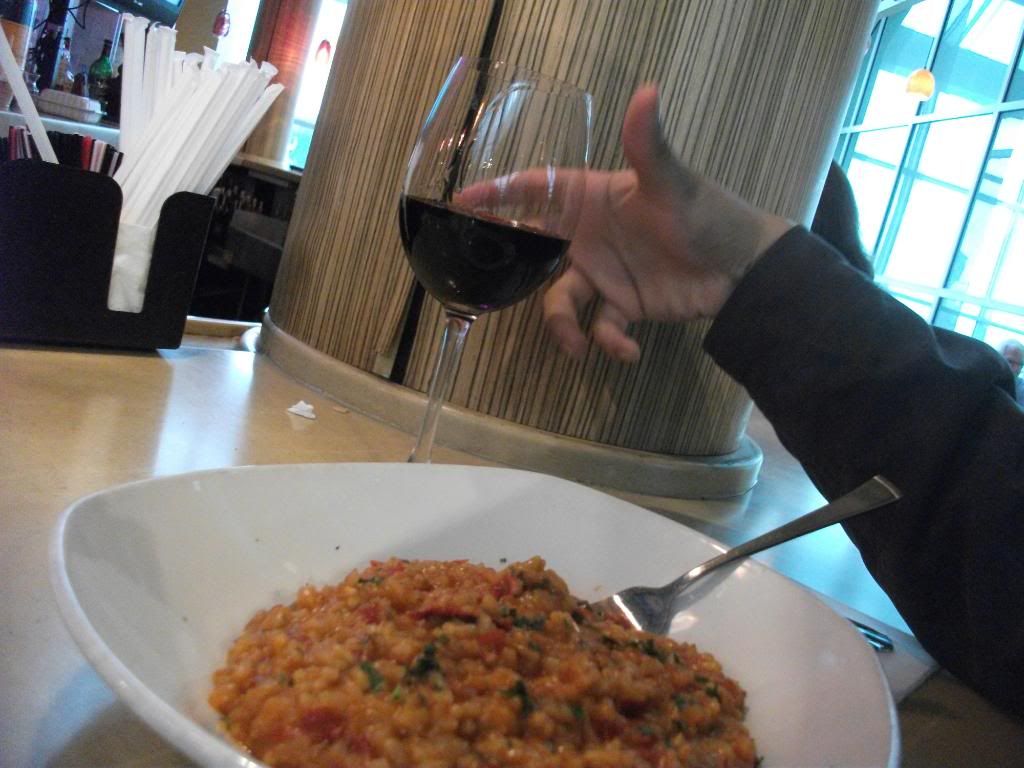 It actually wasn't bad. I really couldn't say if the risotto was worth the $17 they charged for it, but it was by no means terrible. I did enjoy the wine, though. I paid up and continued down the other concourse in the terminal; that was apparently where all the people were—what people were there, at any rate.
The only thing left at LGA was the matter of my transportation to Charlotte. Now, the prospect of flying on an A321 might produce yawns or indifferent shrugs from some more well-traveled persons, but I was hoping like heck that I could get one. In fact, I was thanking my lucky stars that there was an opportunity for two in a row. Otherwise, I couldn't say that I've flown on each member of the A320 family. Only a double equipment substitute could stand in the way of putting that feather in my cap, but that would be a ludicrously unlikely result, right? Well…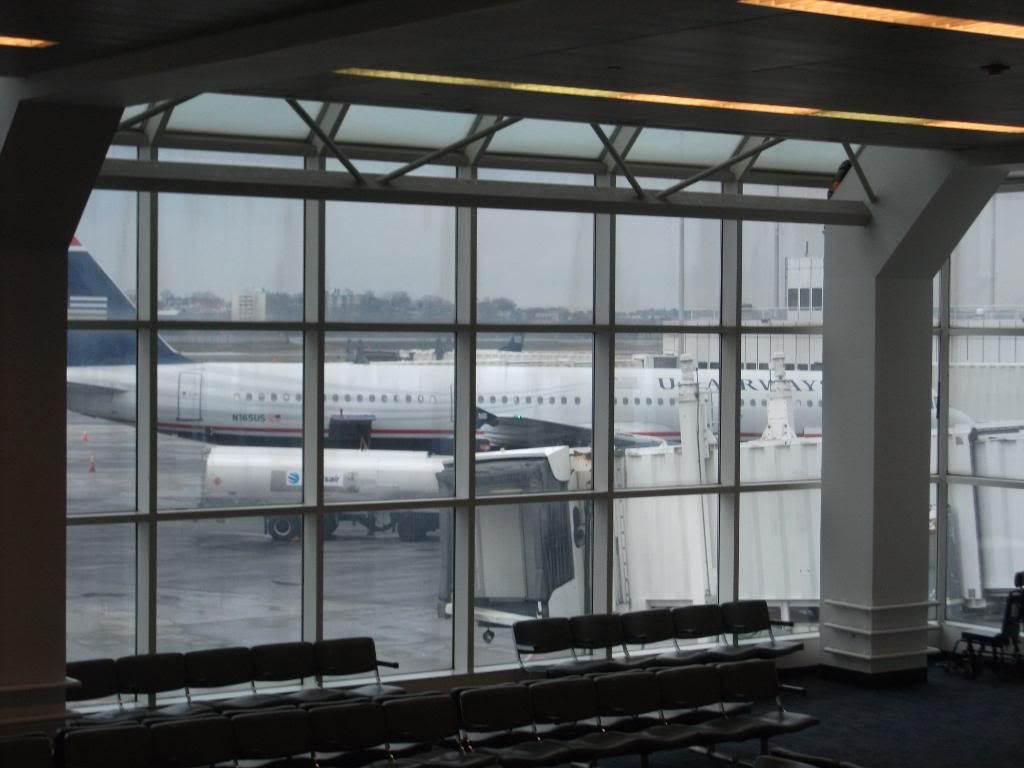 Nope, no disappointment today! I walked down the hall a little easier once I knew I had a 321 in the bag.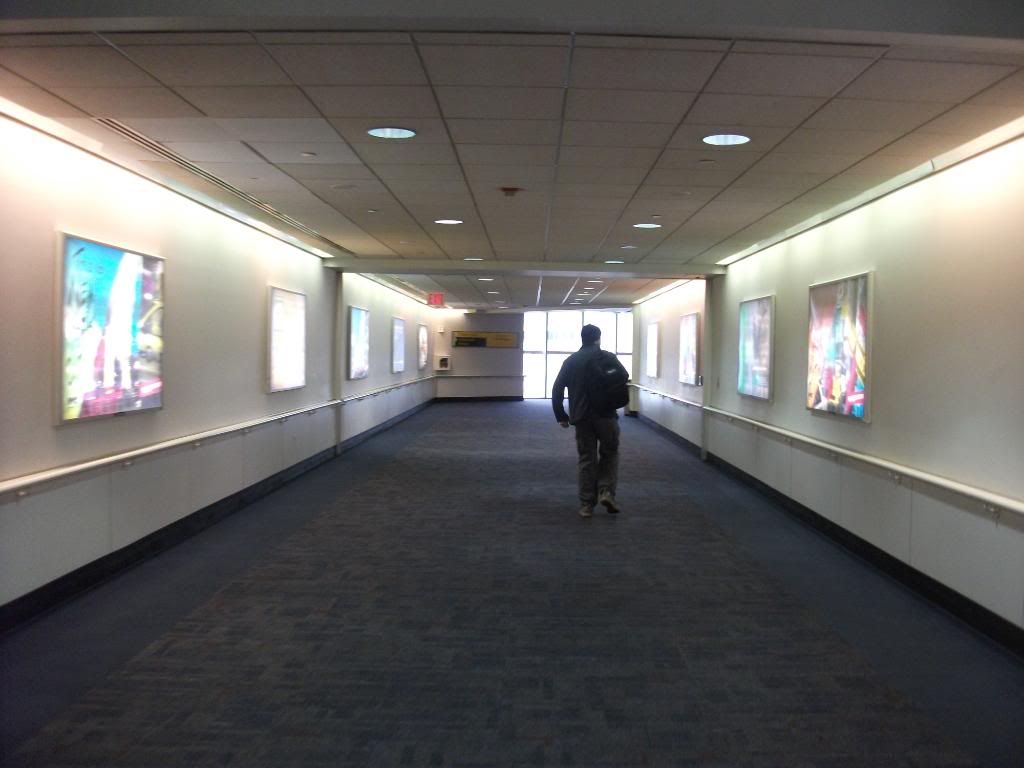 An unobstructed view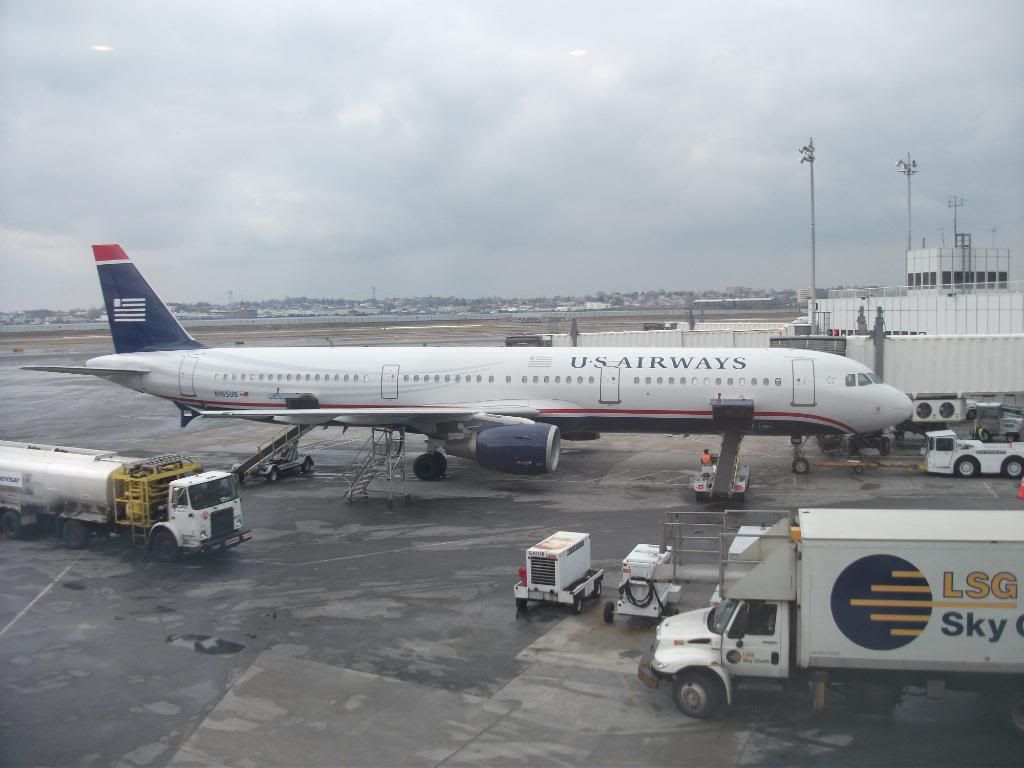 Hold on, am I in an airport or an office building?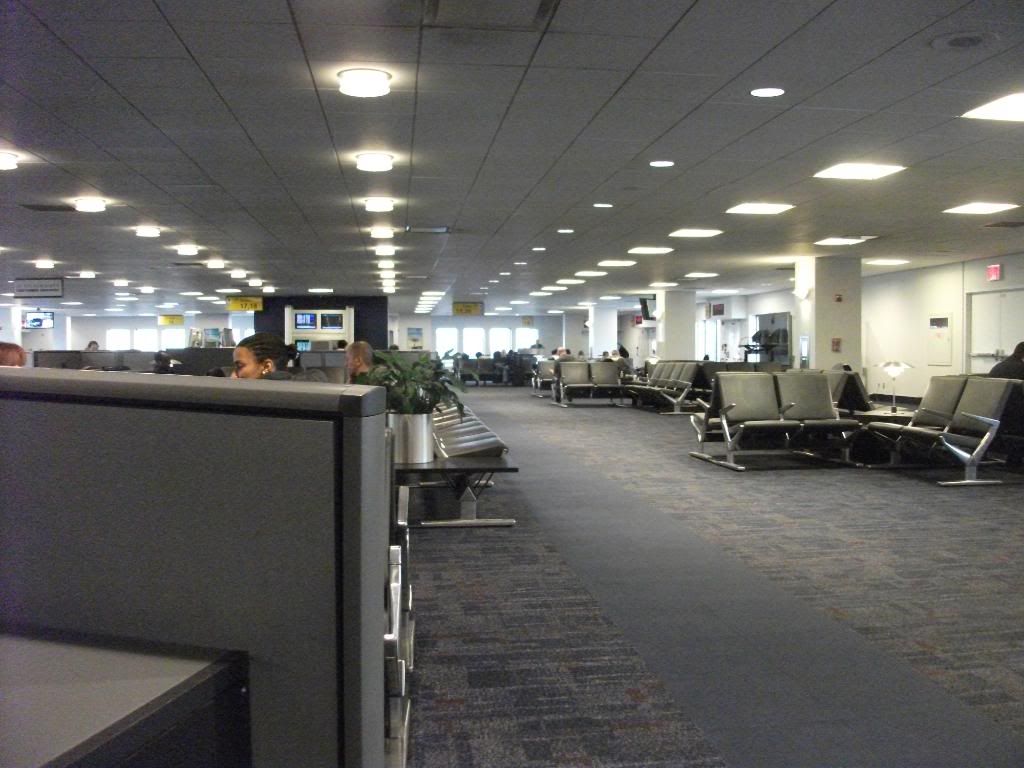 US Airways 1767 LGA-CLT
Scheduled: 14:40-16:45
Actual: 15:02-16:32
Airbus A321-211 (N165US)
Boarding commenced shortly after I arrived at the gate. As a lowly Zone 5 passenger, I had a few minutes to wait. Combine that with the glacial boarding process, and that added up to a slightly off-schedule departure time. To be honest, I didn't really care about that. I was just happy that I could move my legs.
Boarding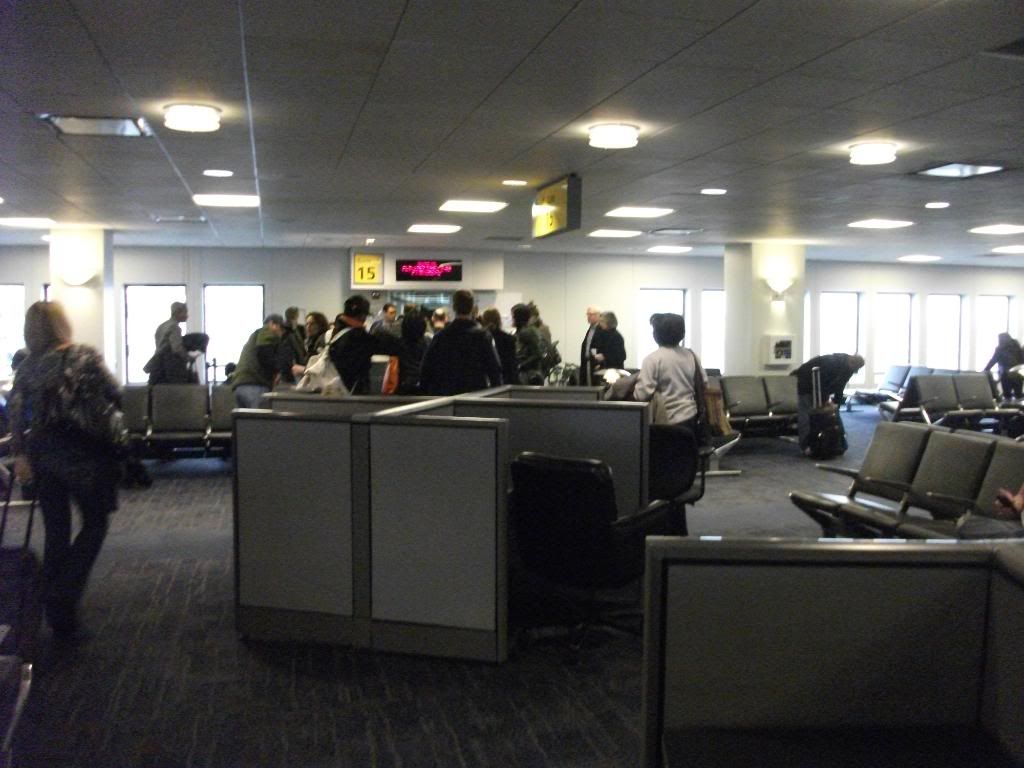 Wide open spaces…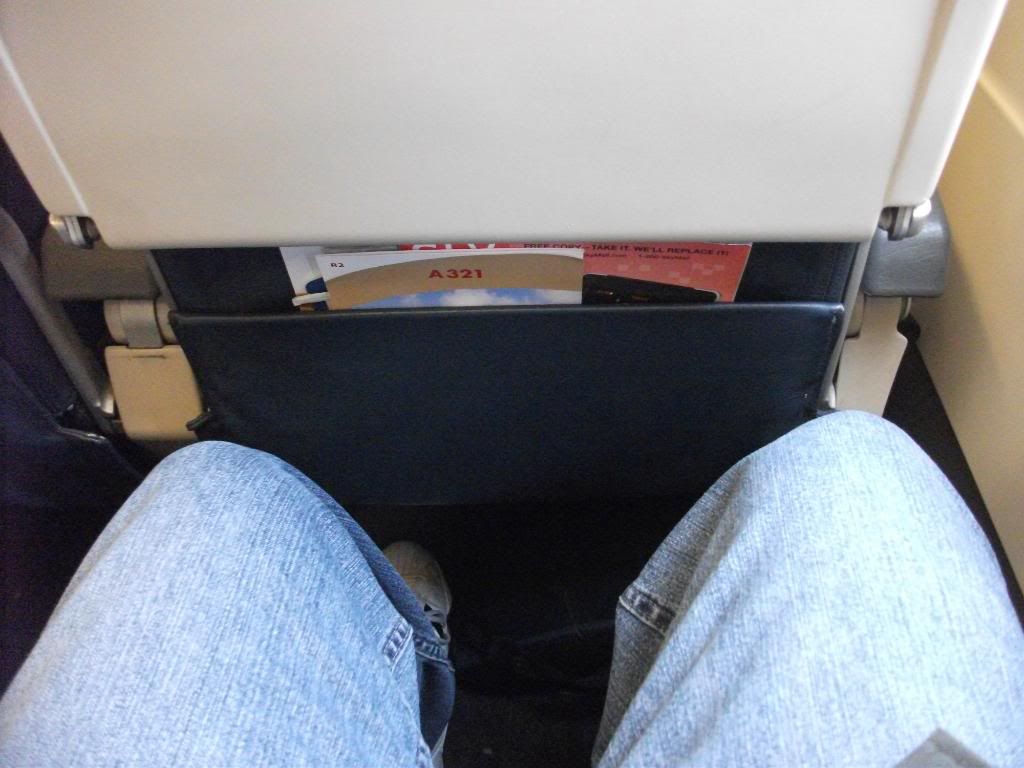 Oh, hello there!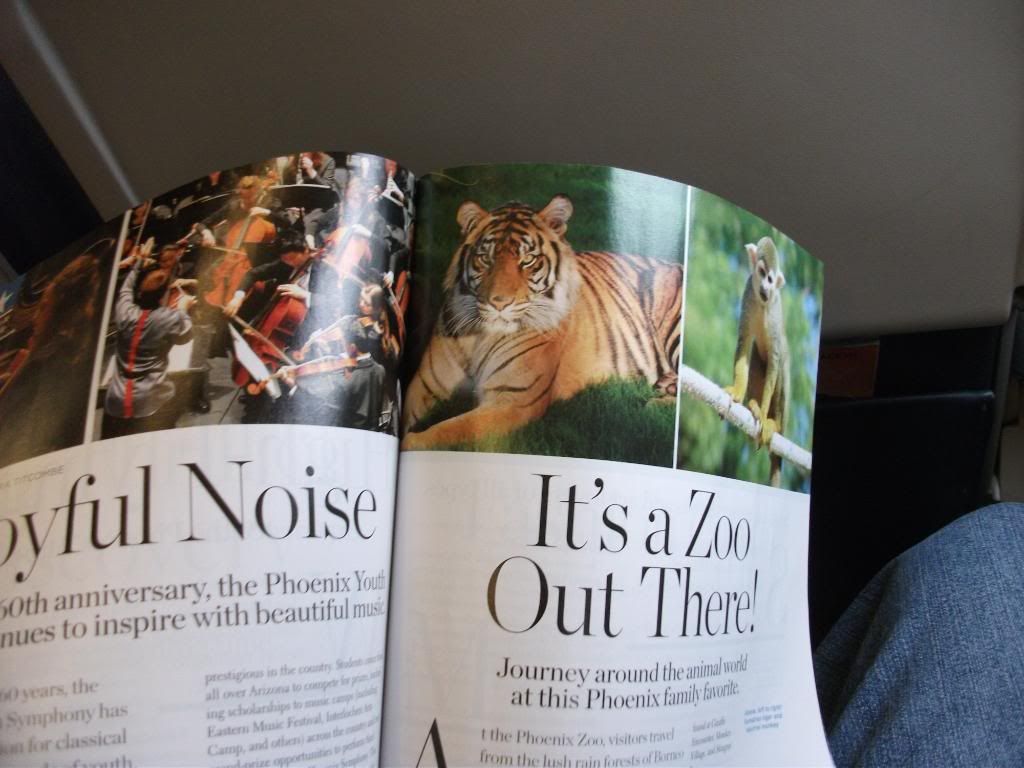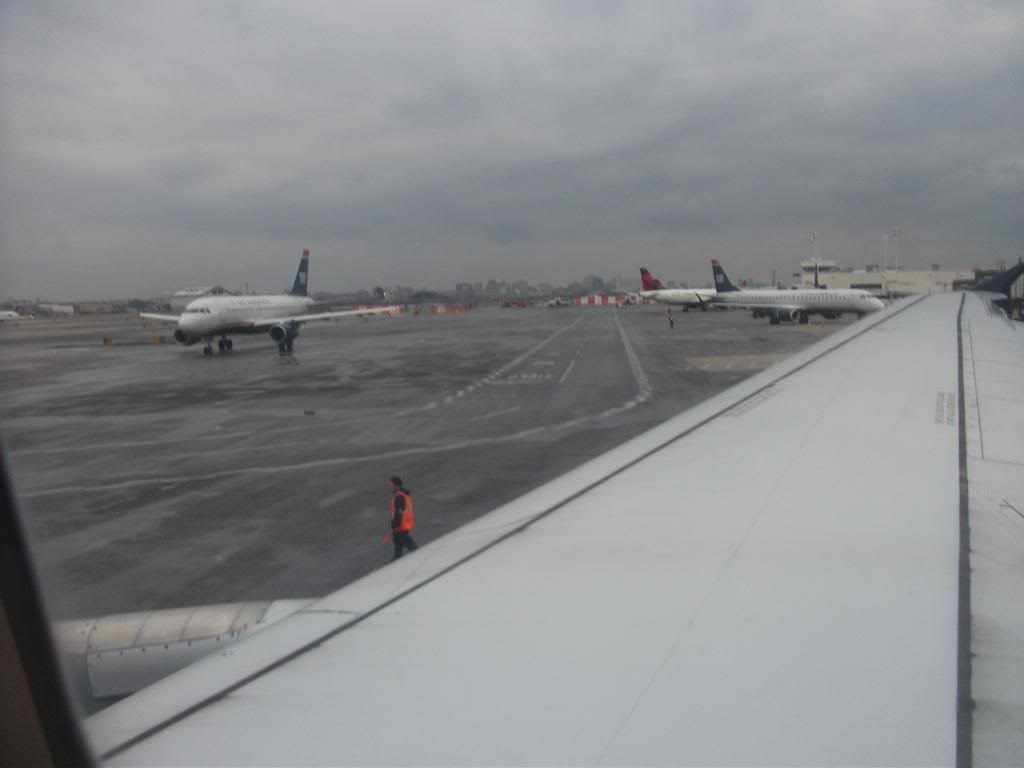 Citi Field and Arthur Ashe Stadium
Goodbye LGA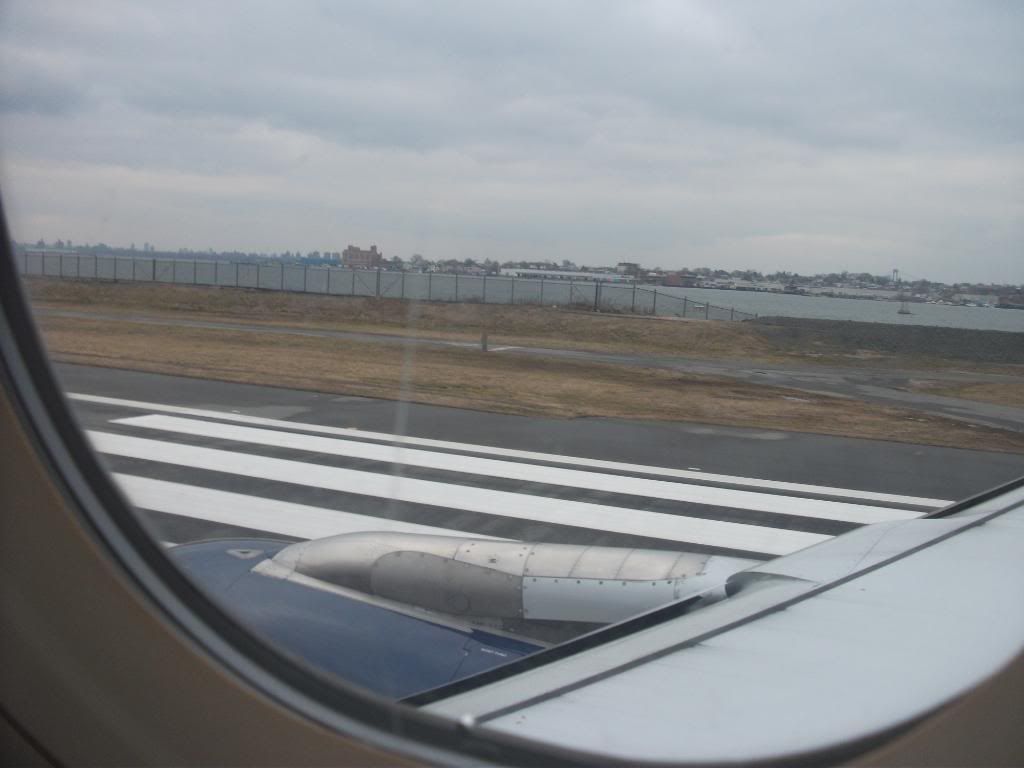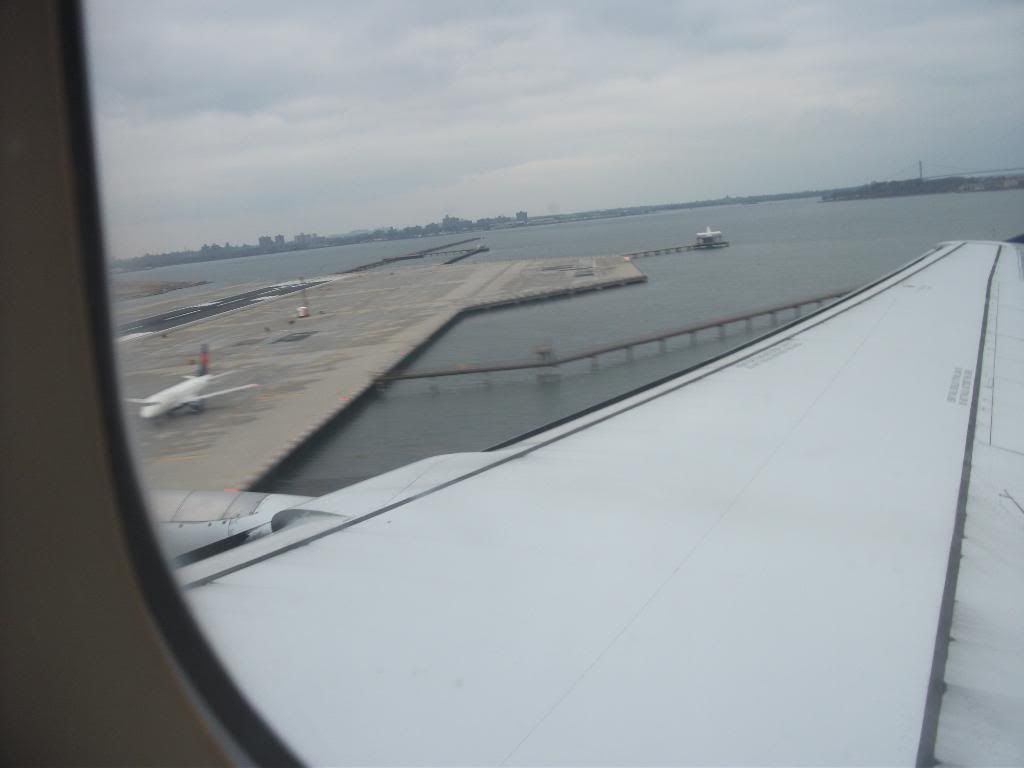 Here be random pictures from the voyage: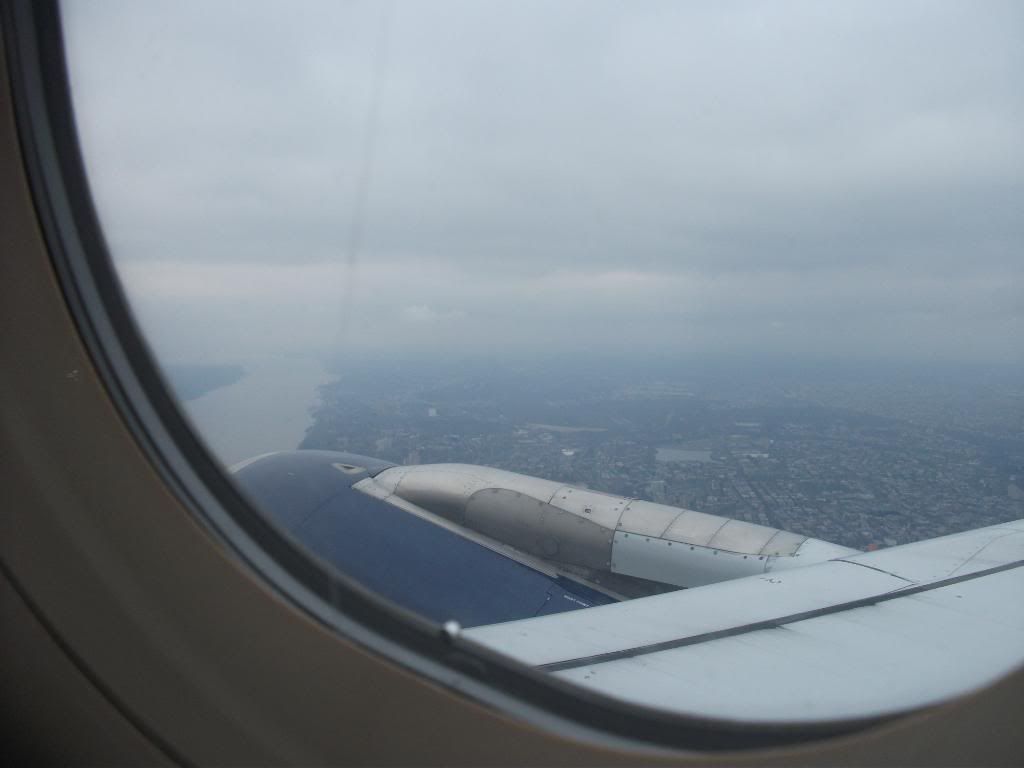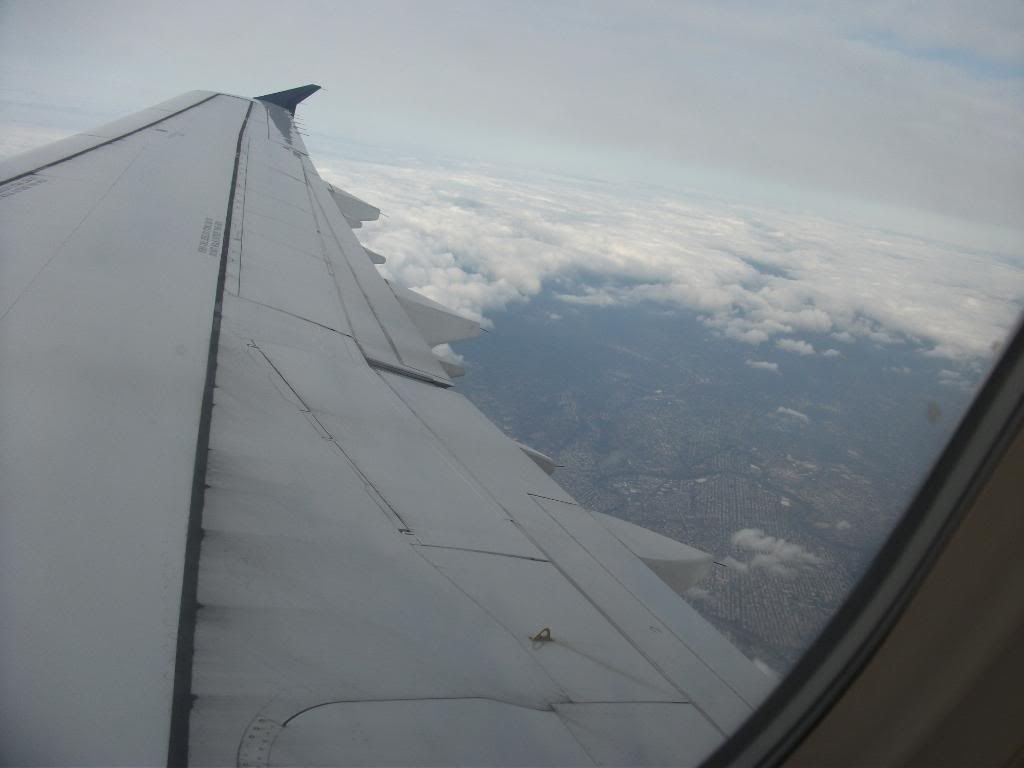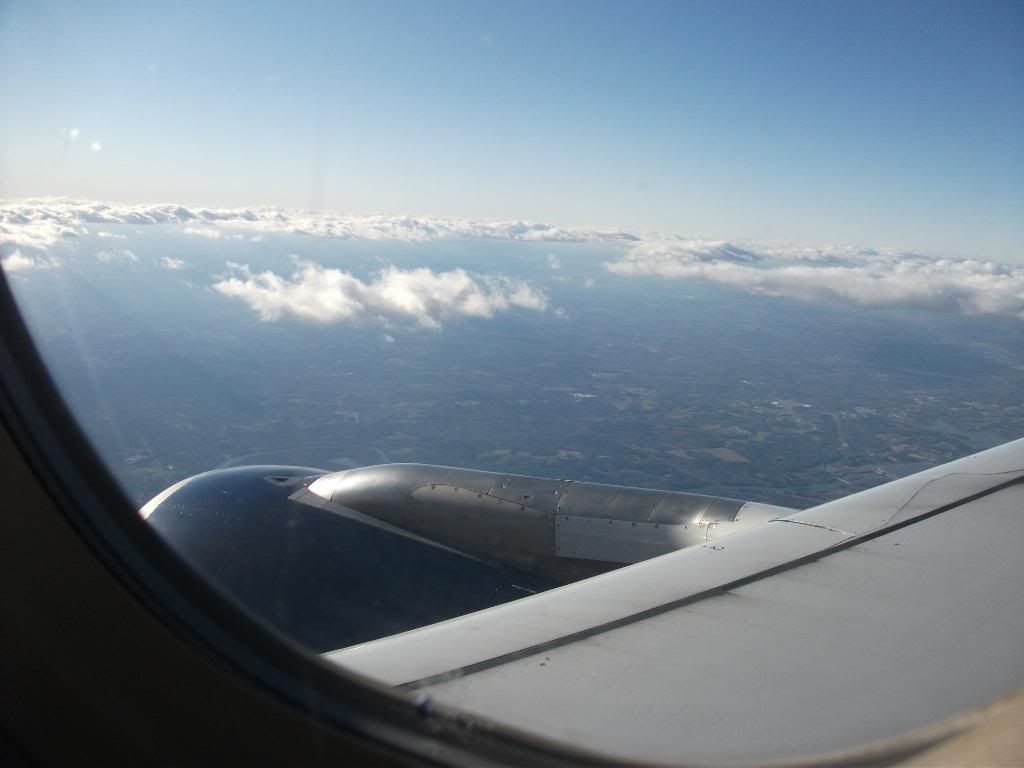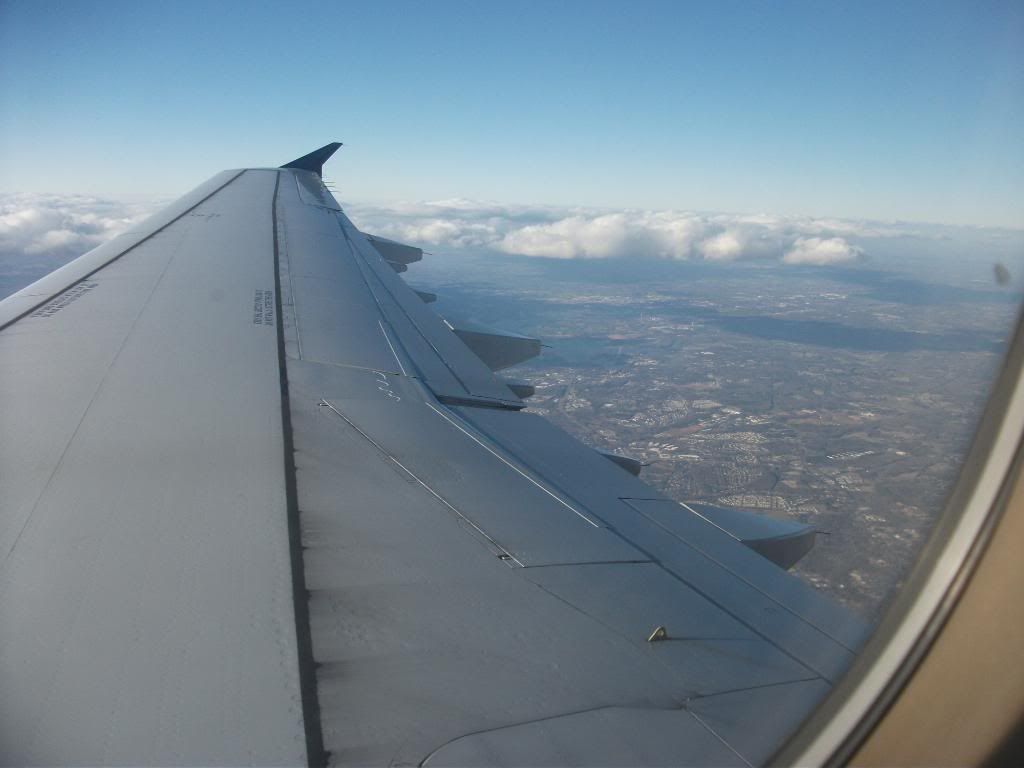 Downtown Charlotte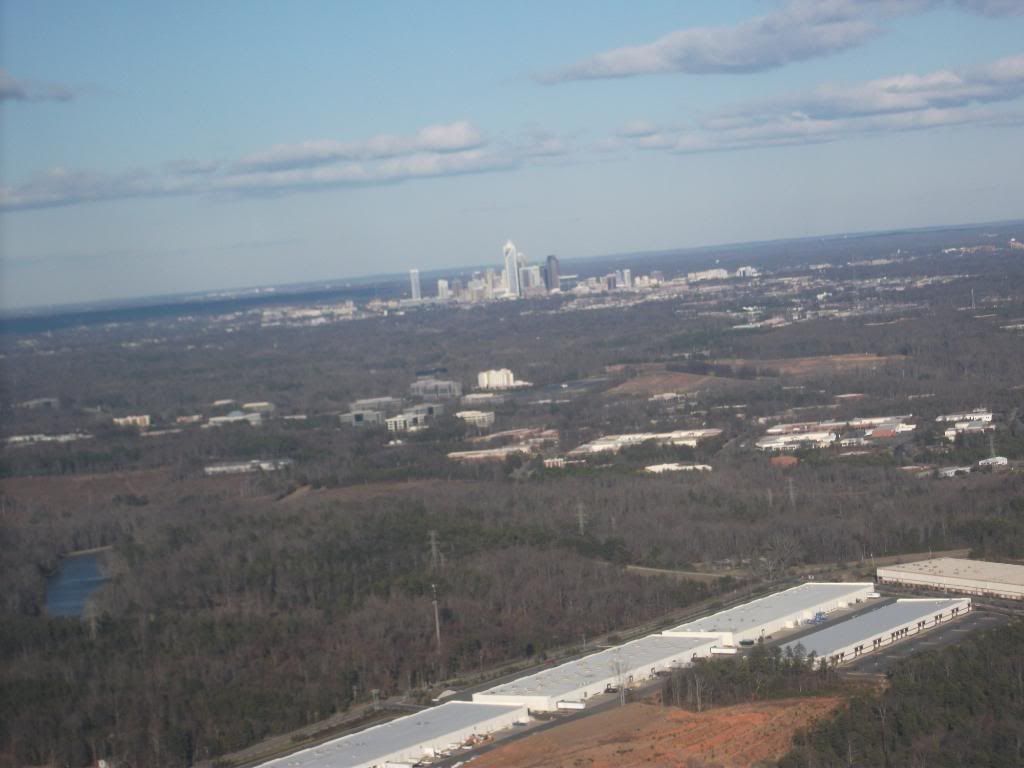 Ooh, a shadow!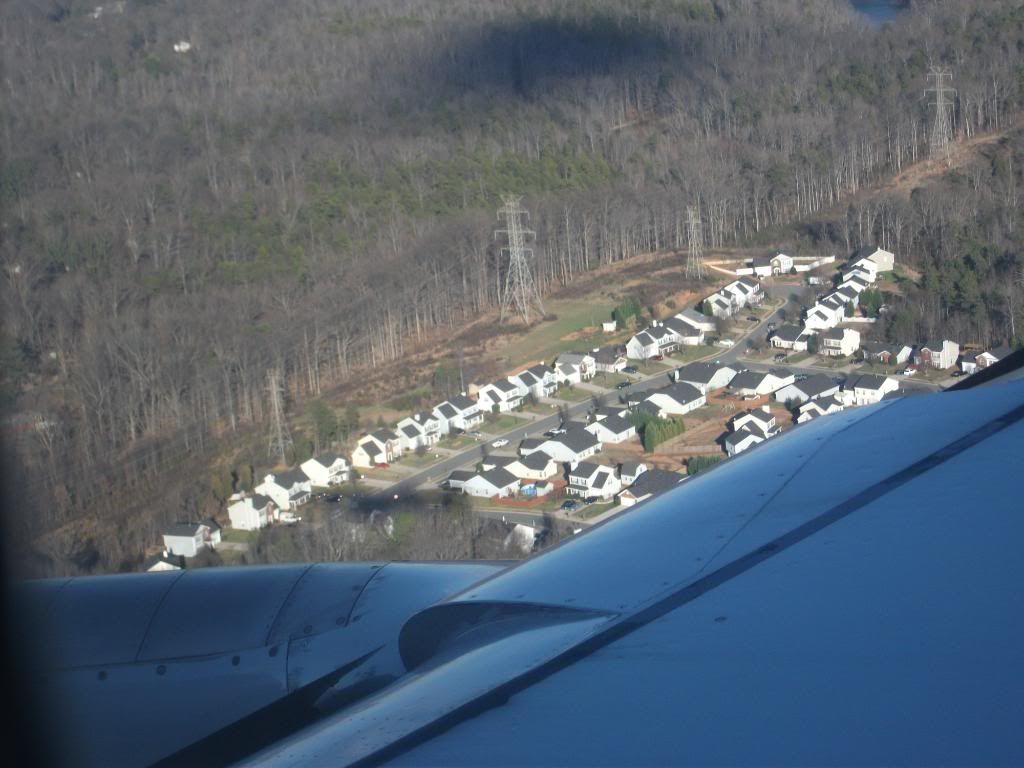 Ooh, a bigger shadow!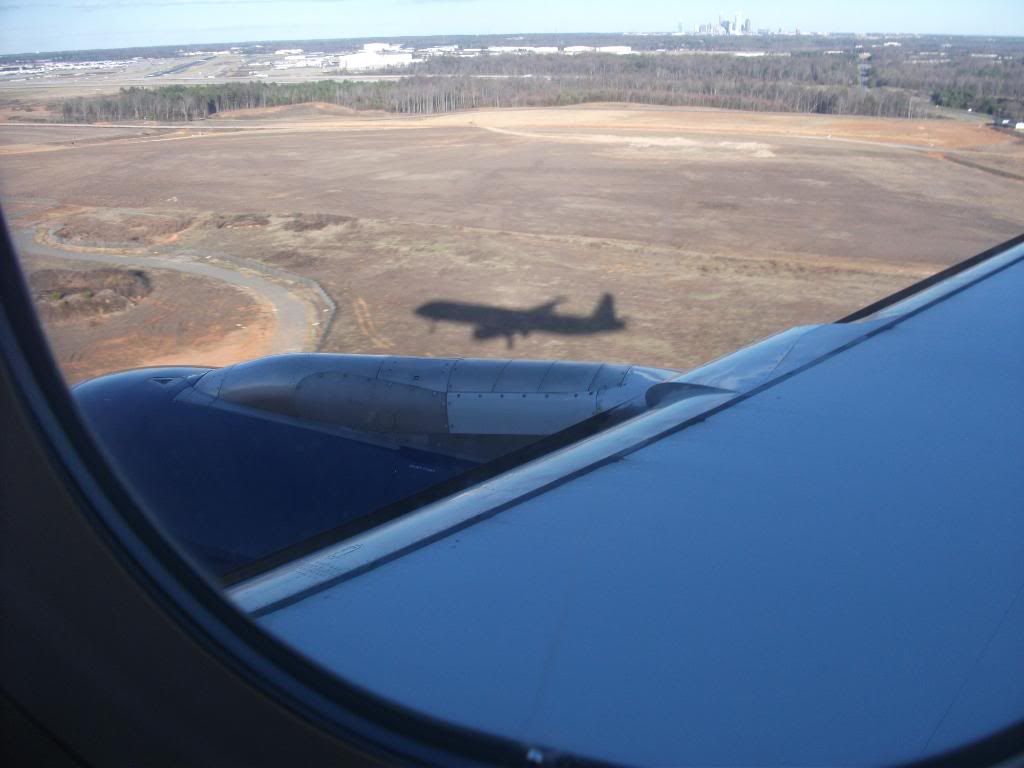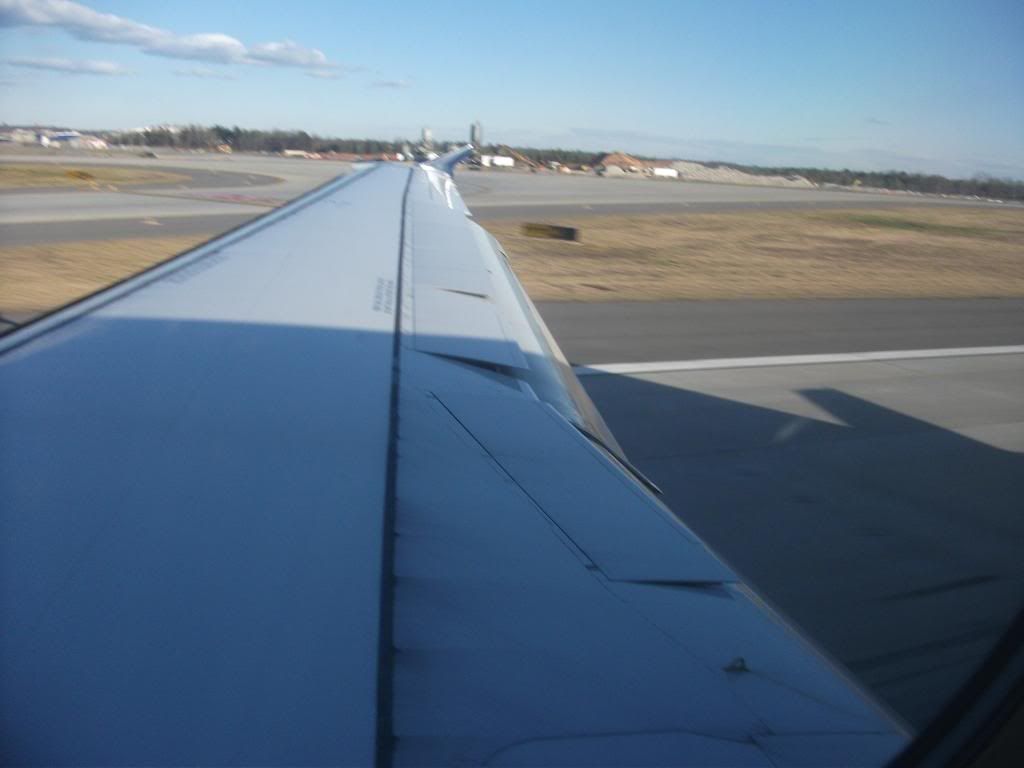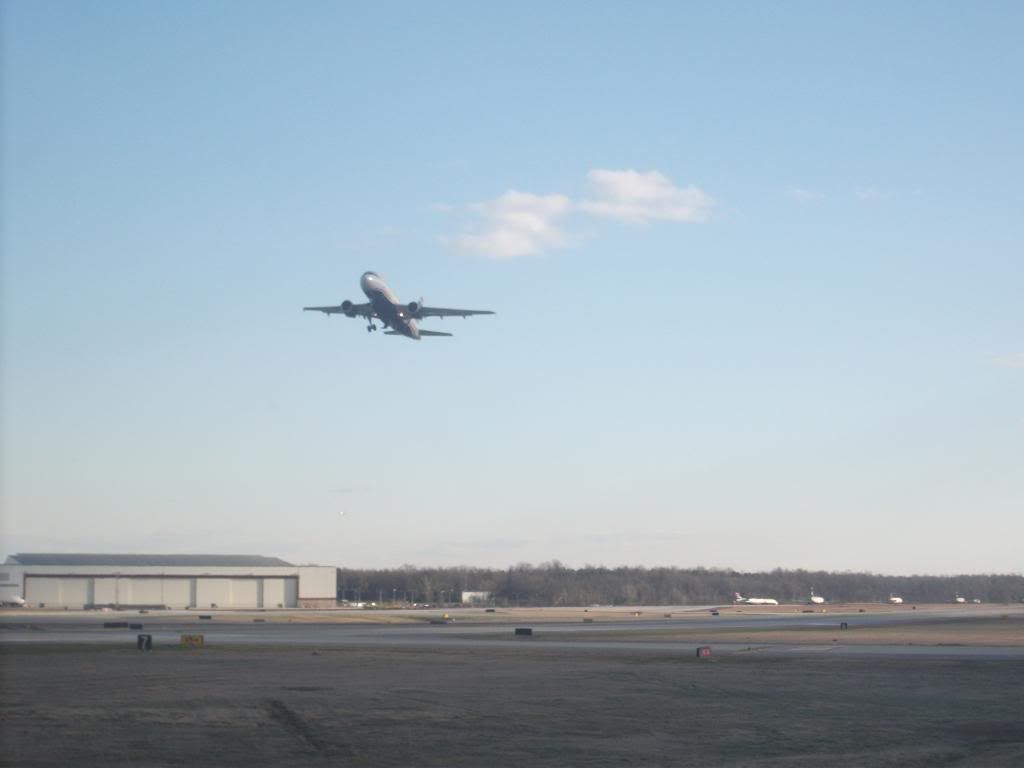 Piedmont heritage jet (N744P)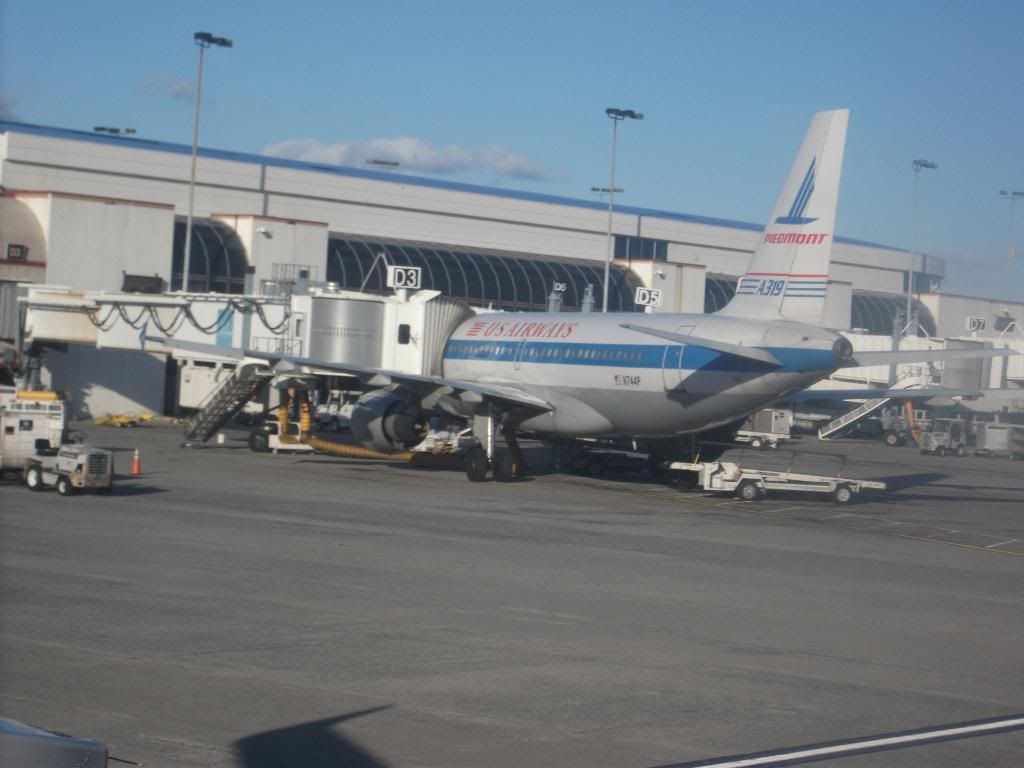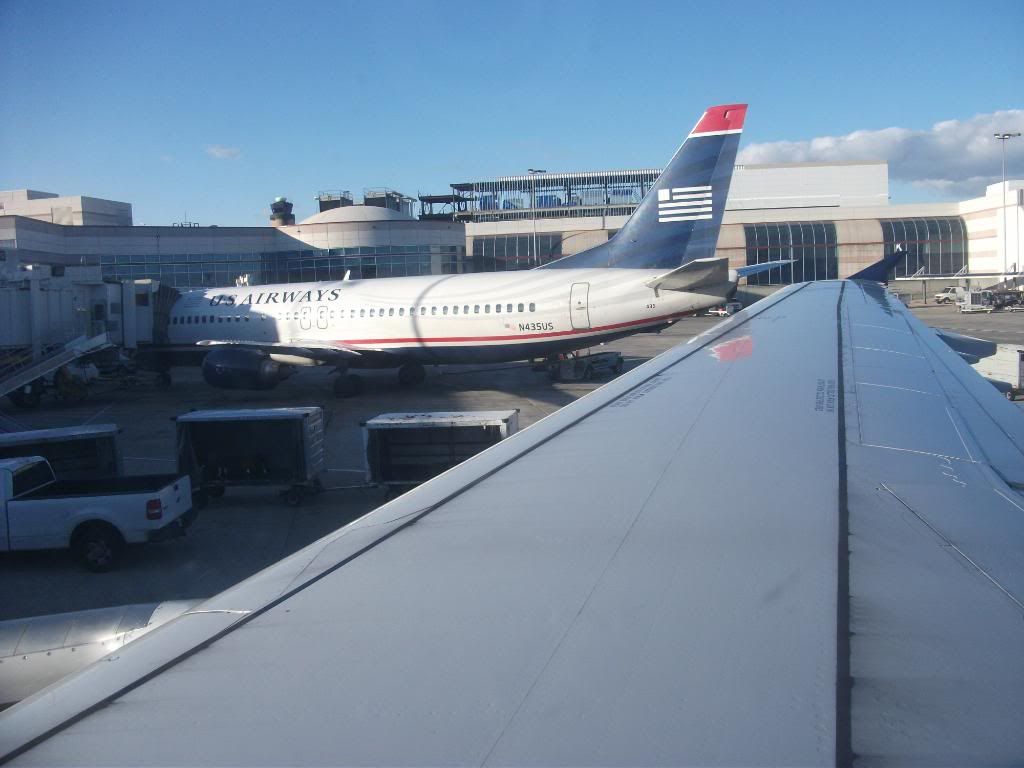 Taxiing to the gate and getting off the plane were just like the boarding process: agonizing and slow. It was about 20 minutes from the time we hit the ground until I set foot in the airport. And then I looked at the time and wondered what it was about US Airways that always put me against the clock. When I flew them to PHX, I didn't have as much time as I wanted to explore. The same went for today—but I wasn't going to let a silly little thing like time stop me. I decided to hoof it, on the double. Ladies and gentlemen, I give you the 11th busiest airport in the United States:
Concourse C (More carpet? Really?)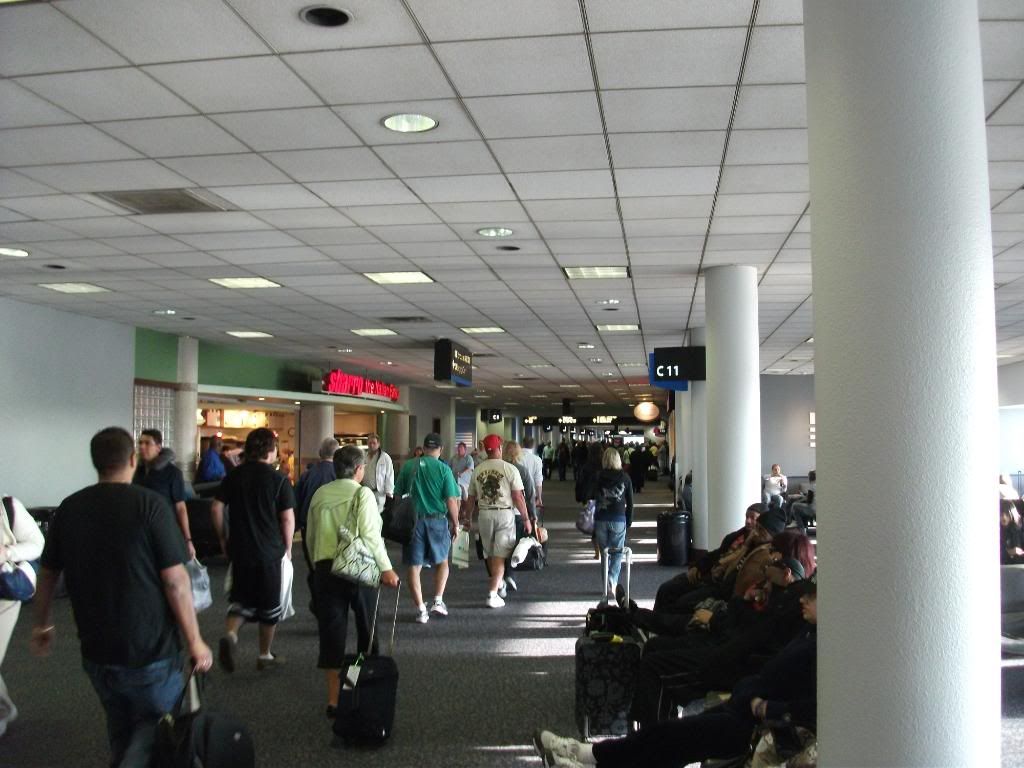 Traversing the connecting halls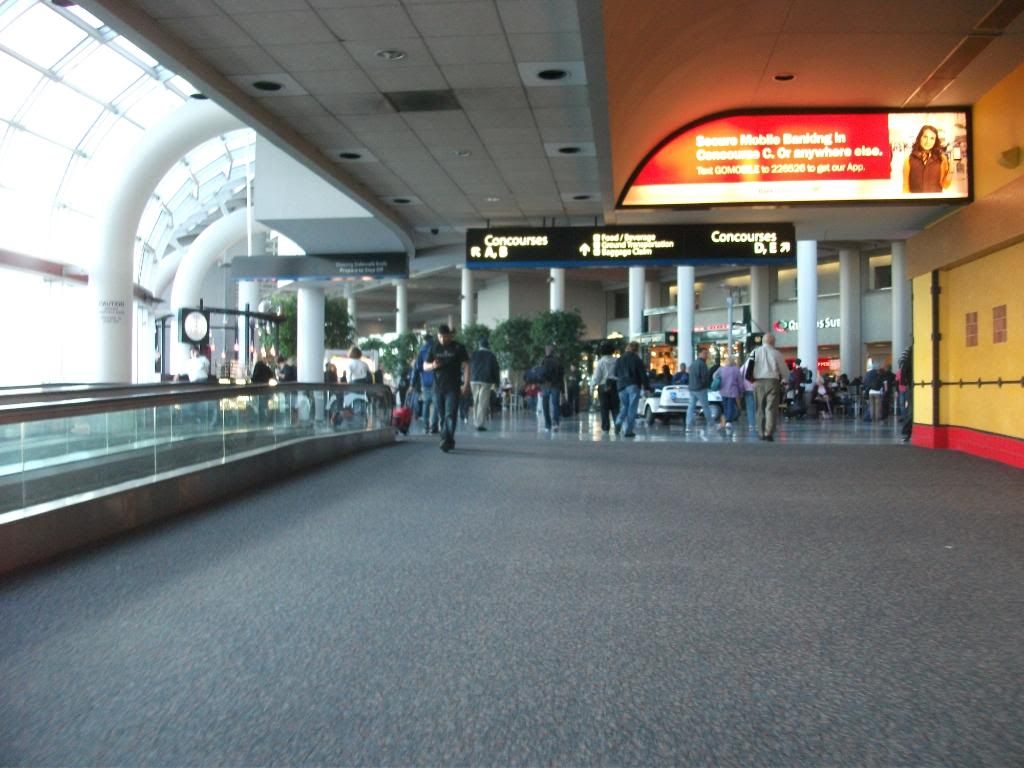 I give them credit here: if you get lost, it's probably your fault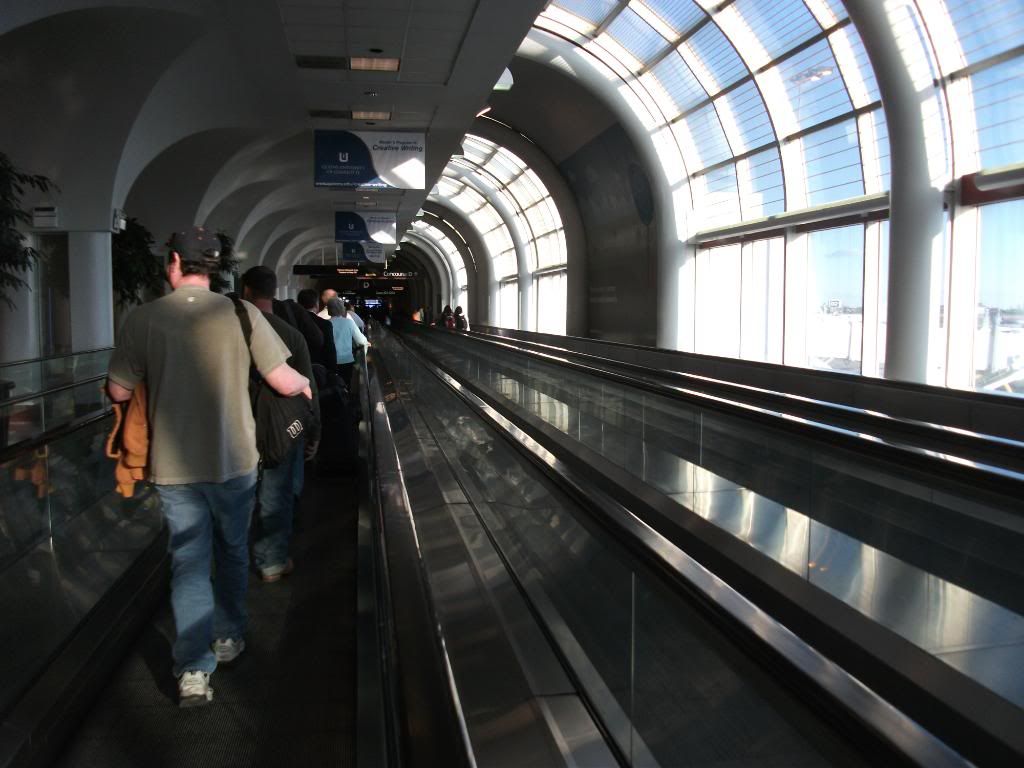 Looks like a mall on that side…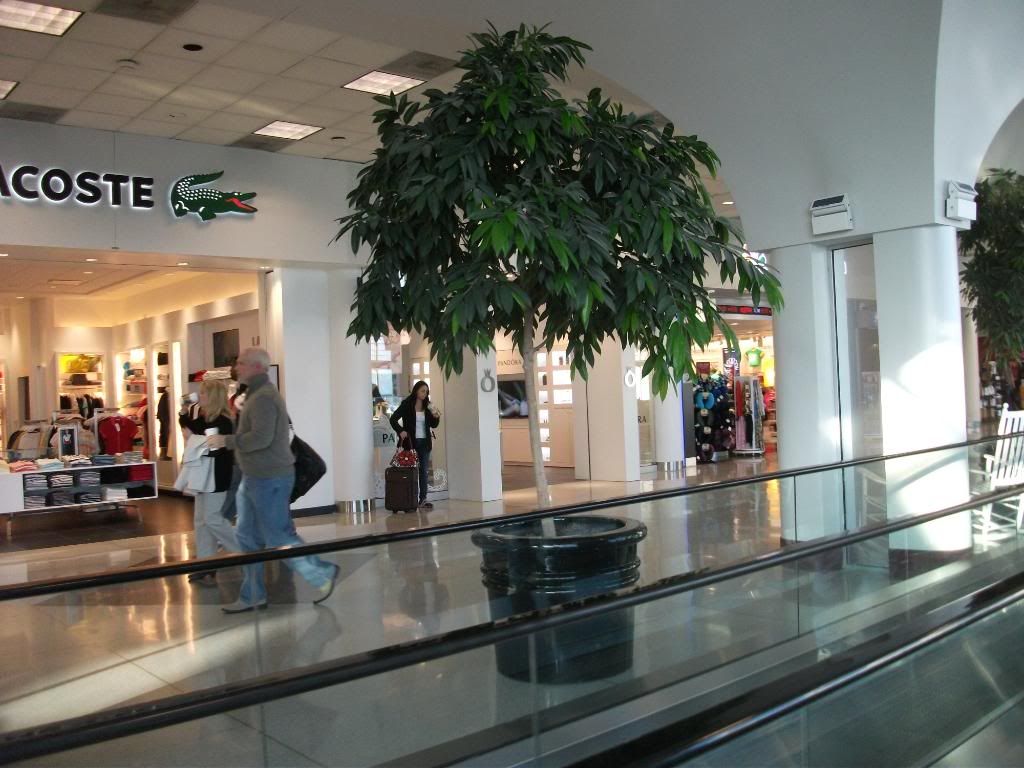 Looks like fun on that side!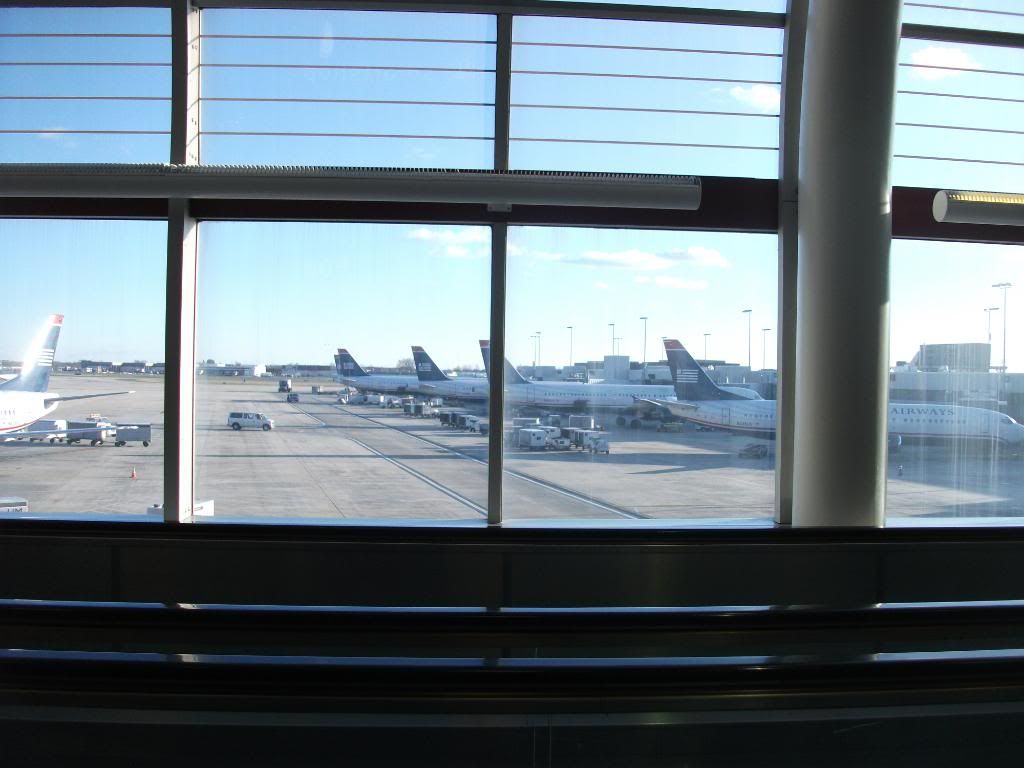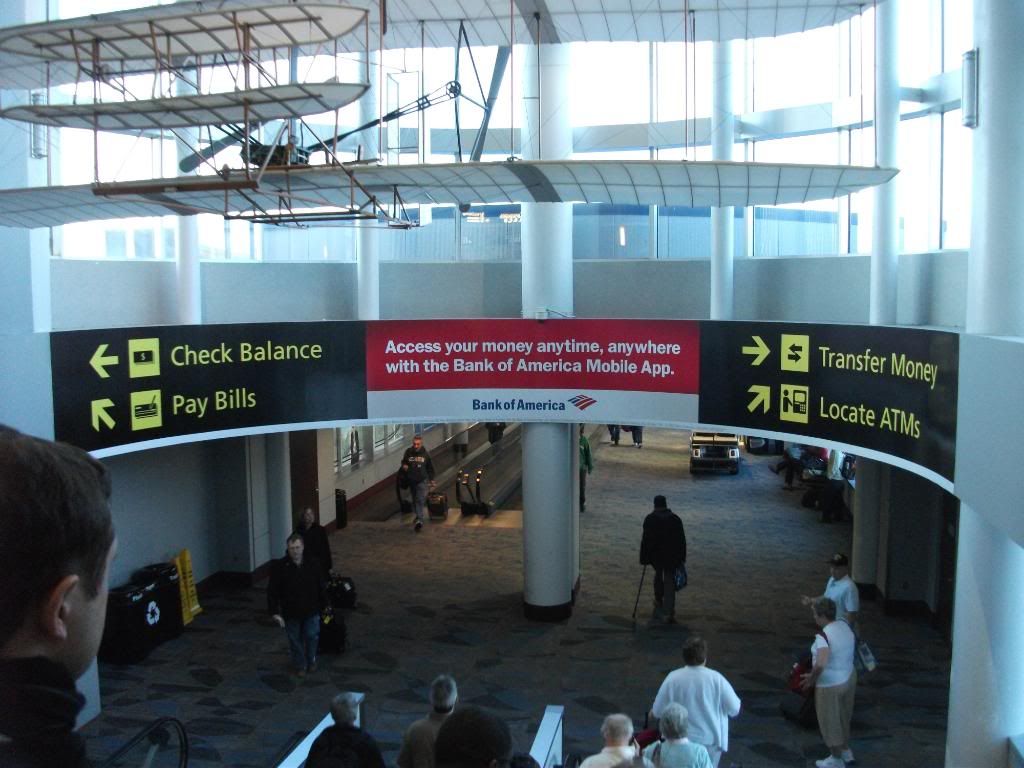 Concourse E, home of the tiny jets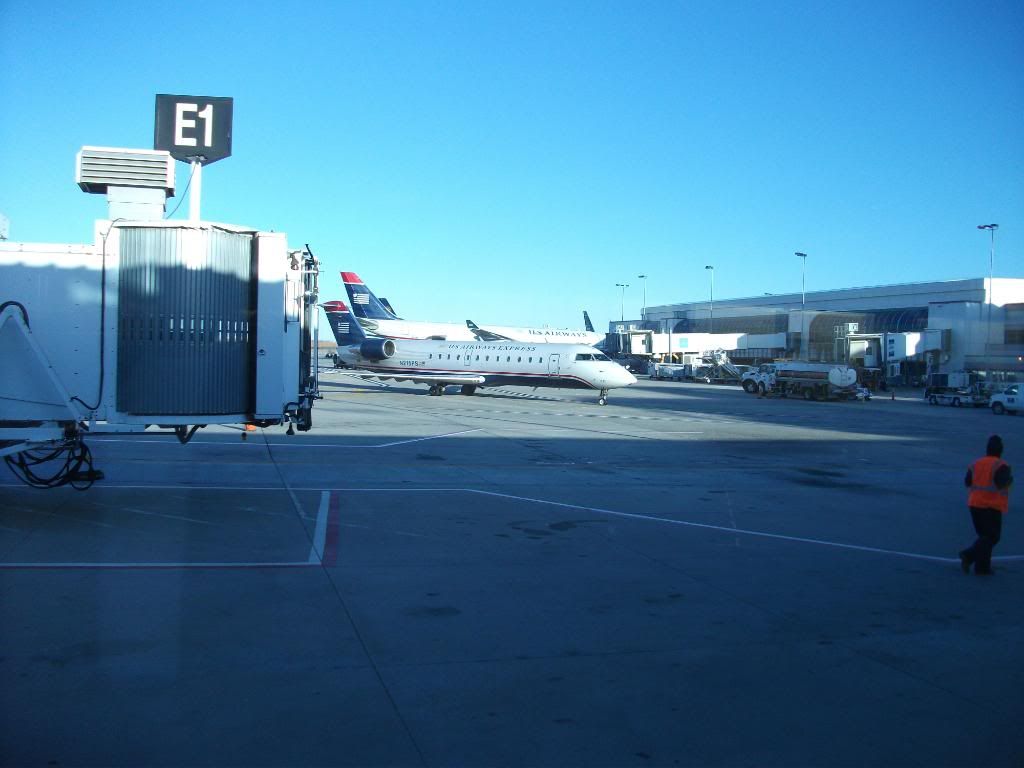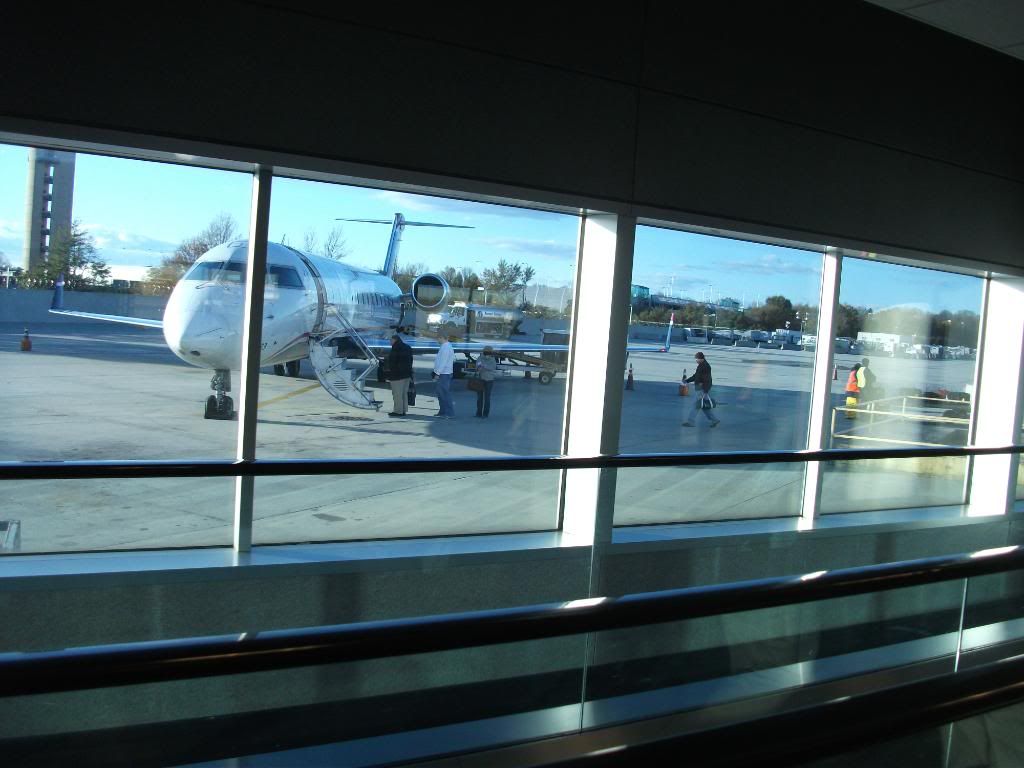 One of the better looking jungle jets you'll ever see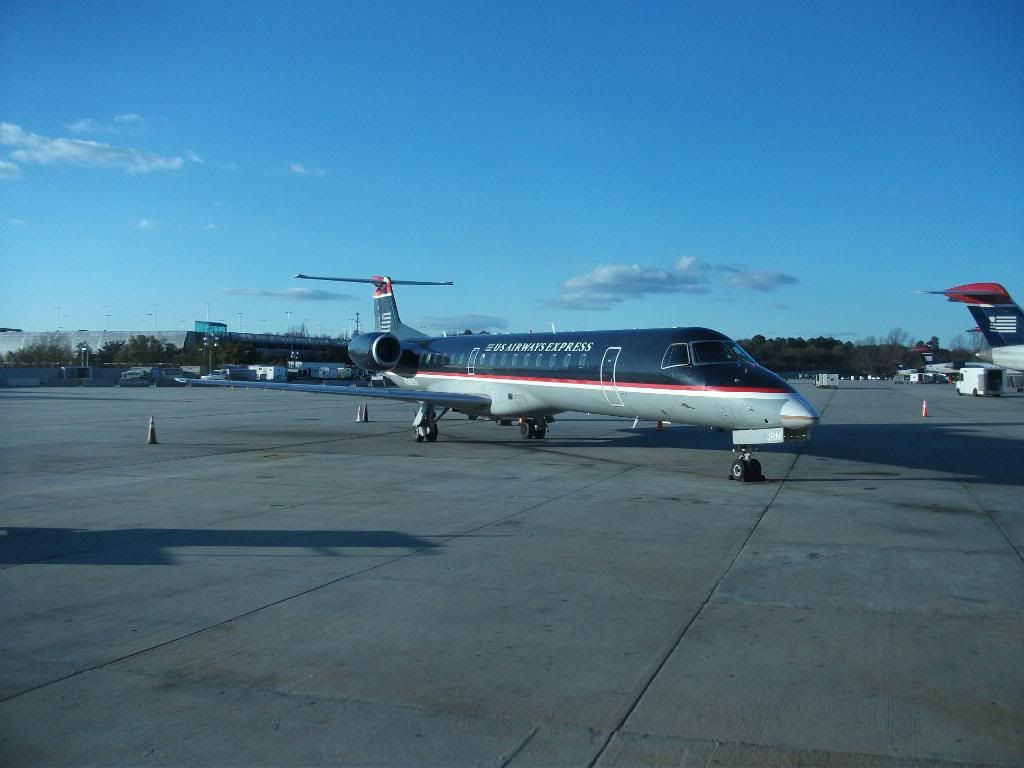 Concourse D
There now, this looks better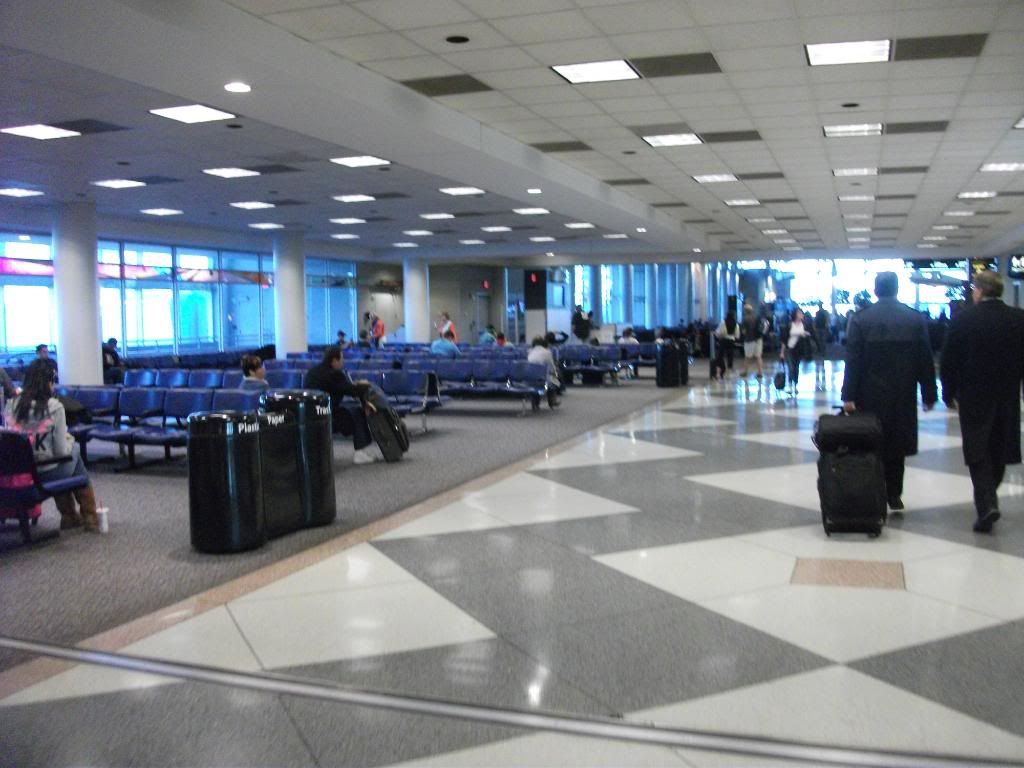 A grand gathering hall, rather dark despite its walls of glass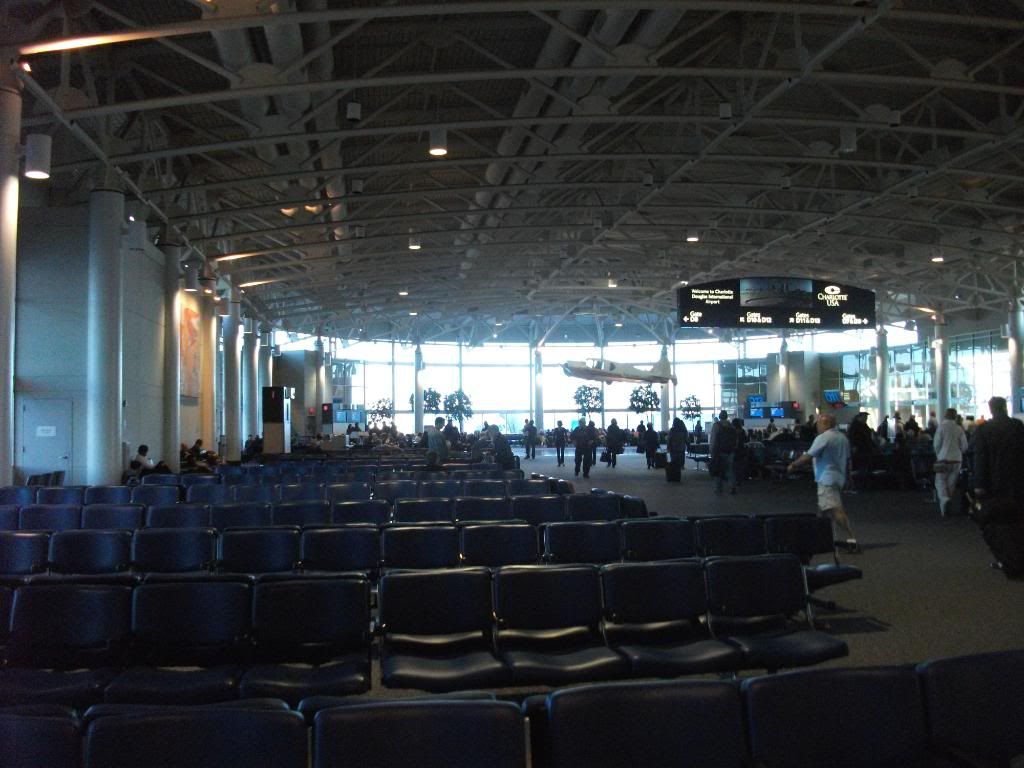 Lufthansa hairdryers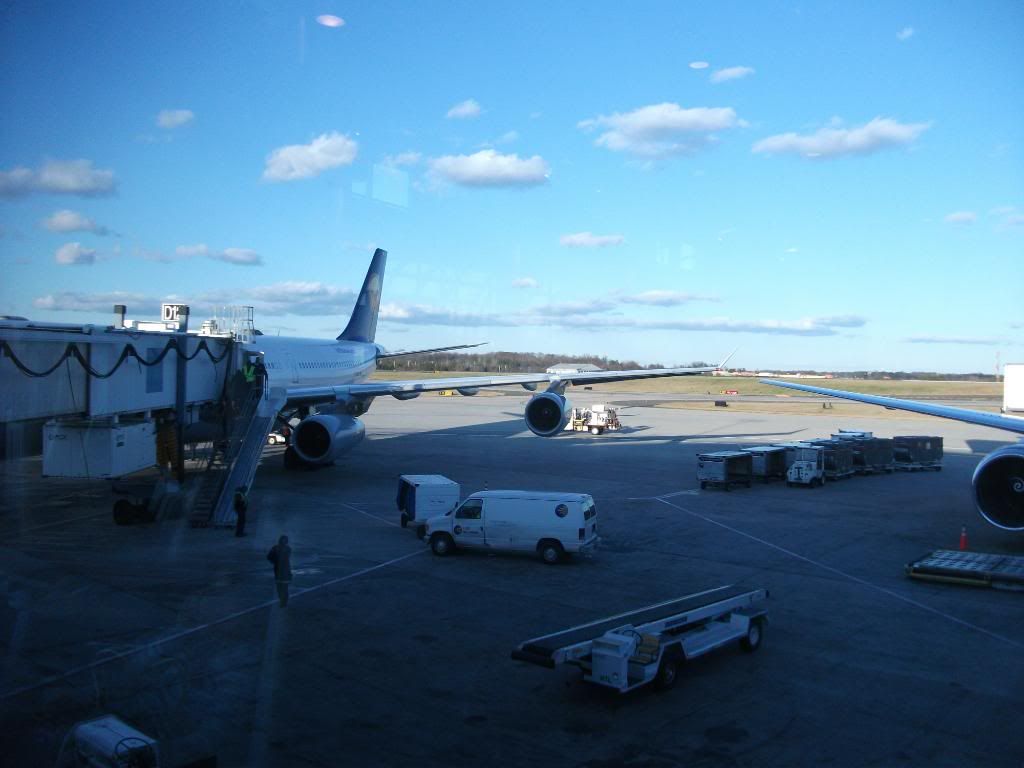 A neat tree-lined sitting area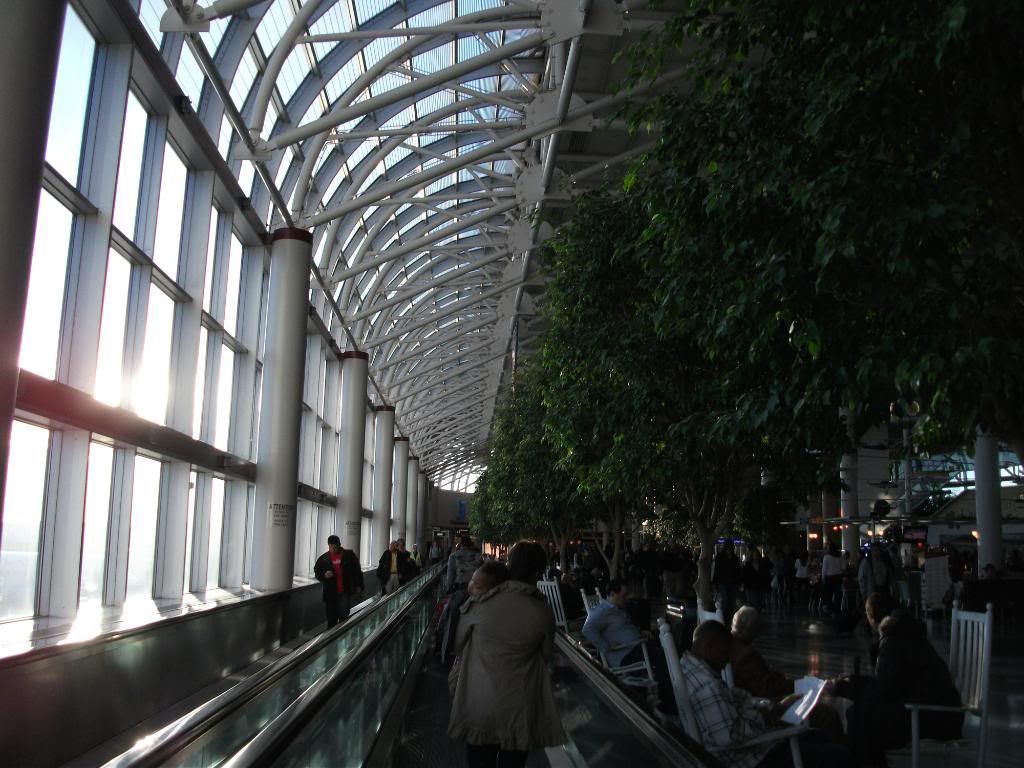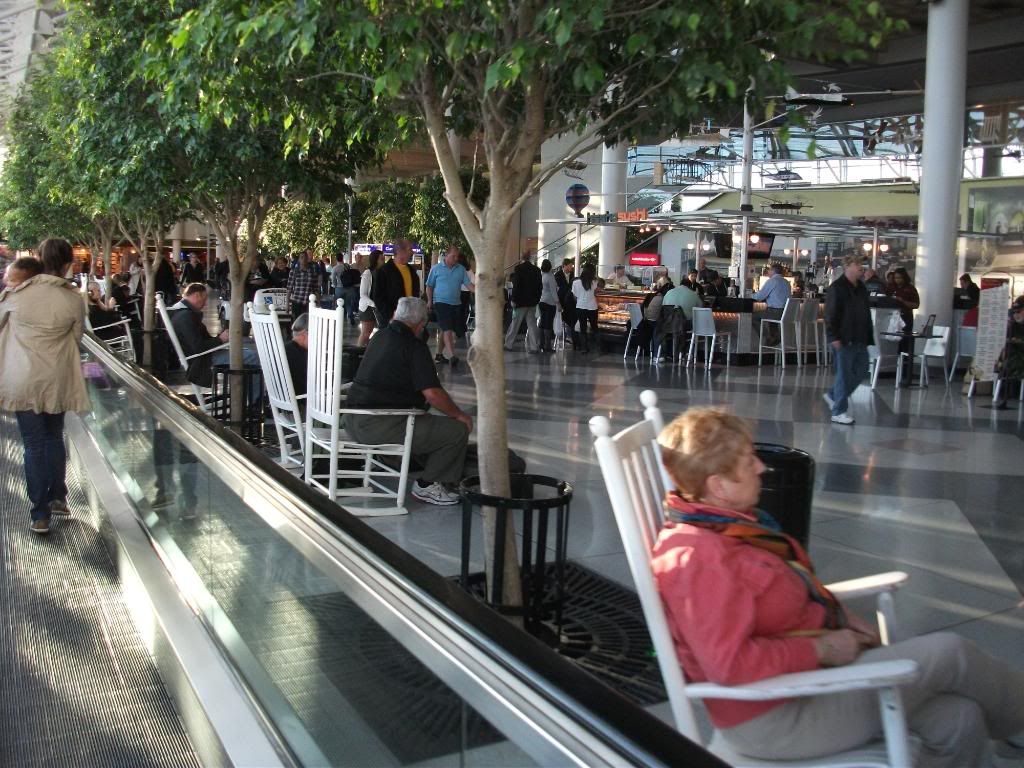 Concourse A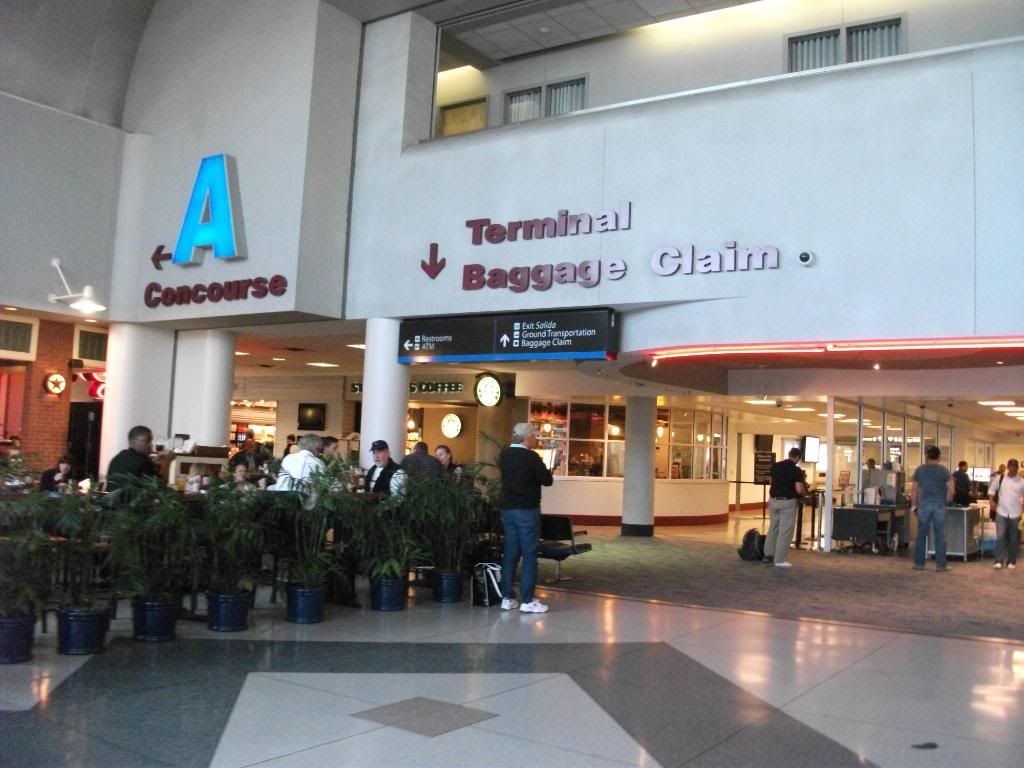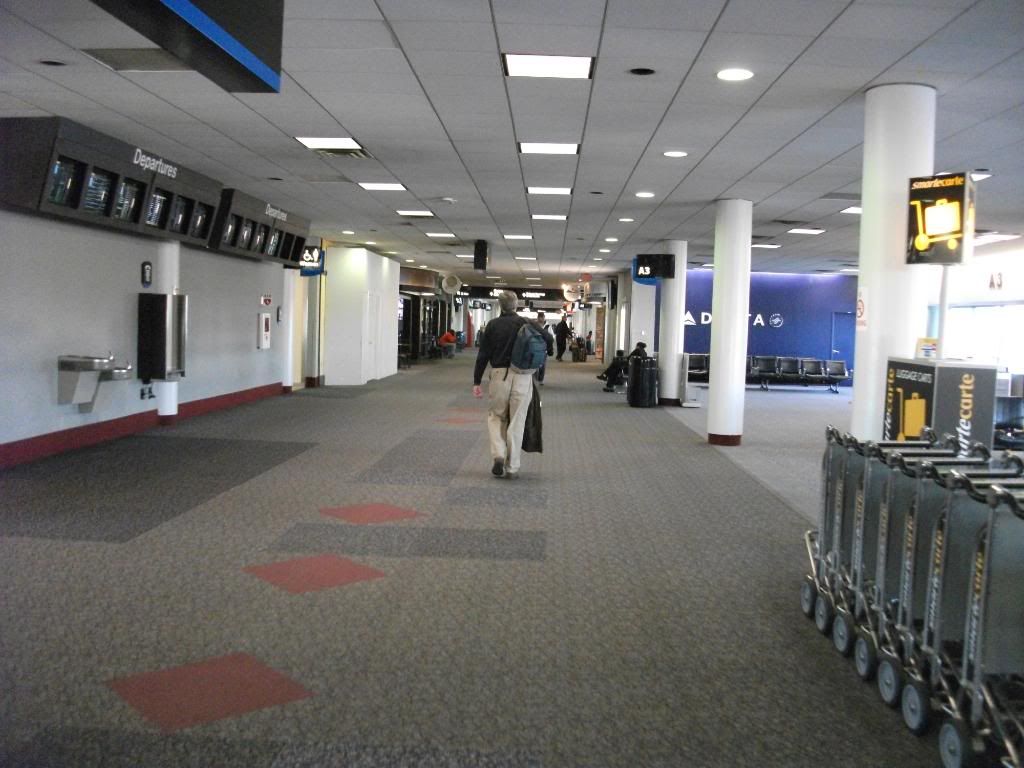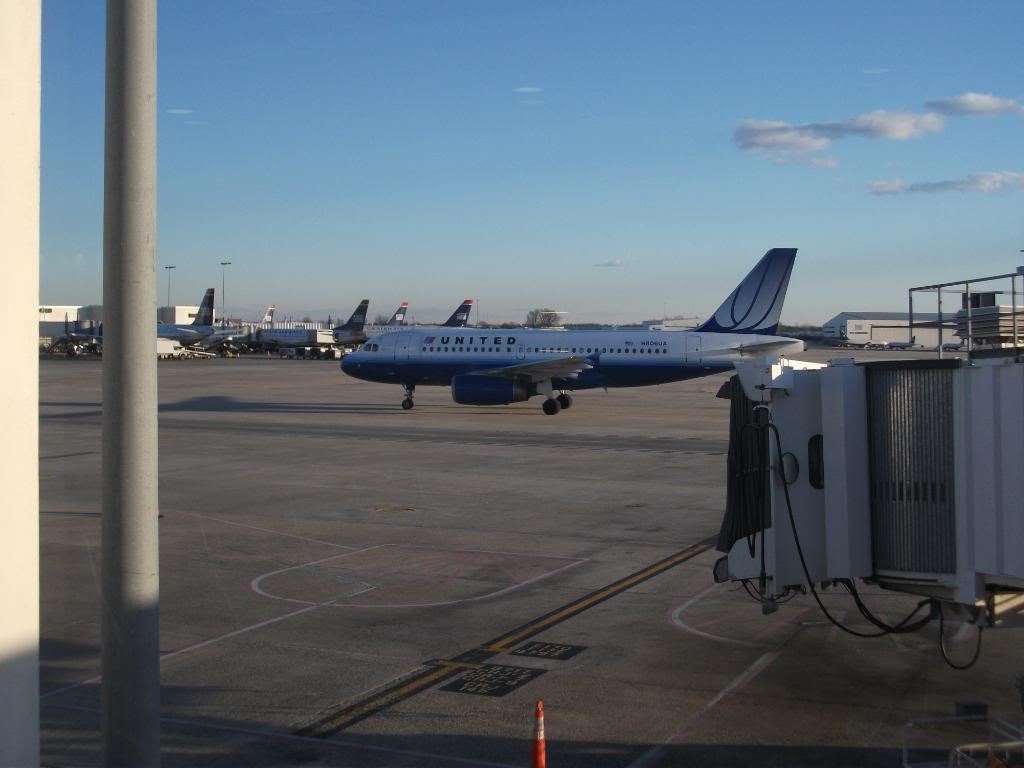 And finally, Concourse B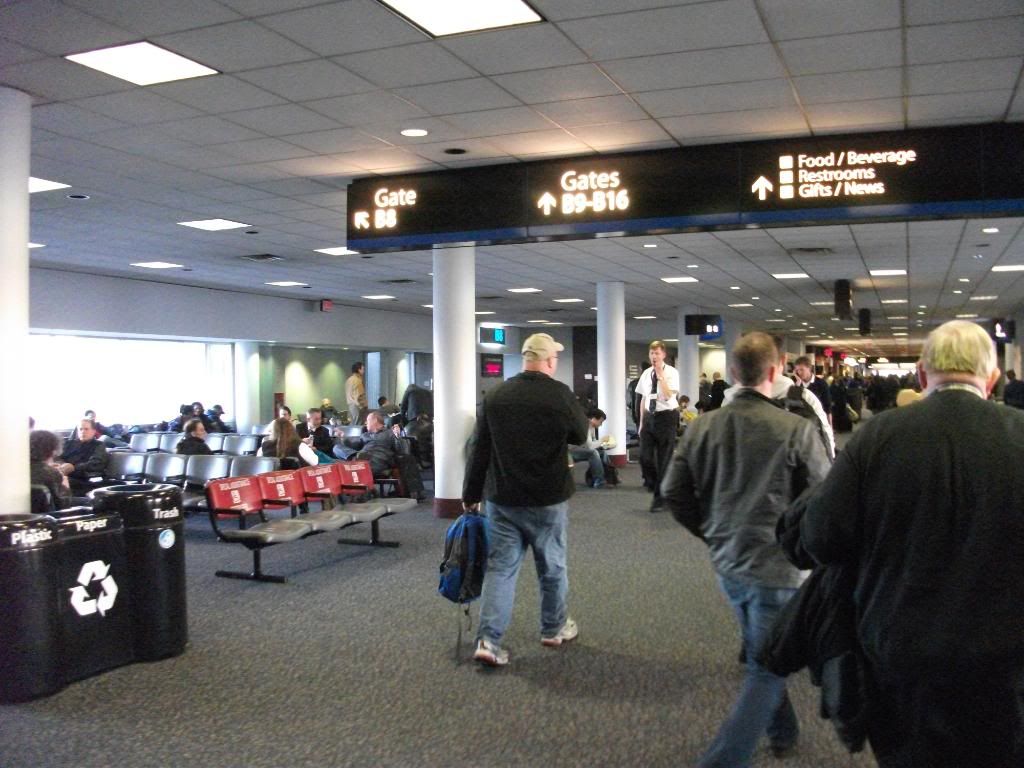 Carolina Panthers logojet (N717UW)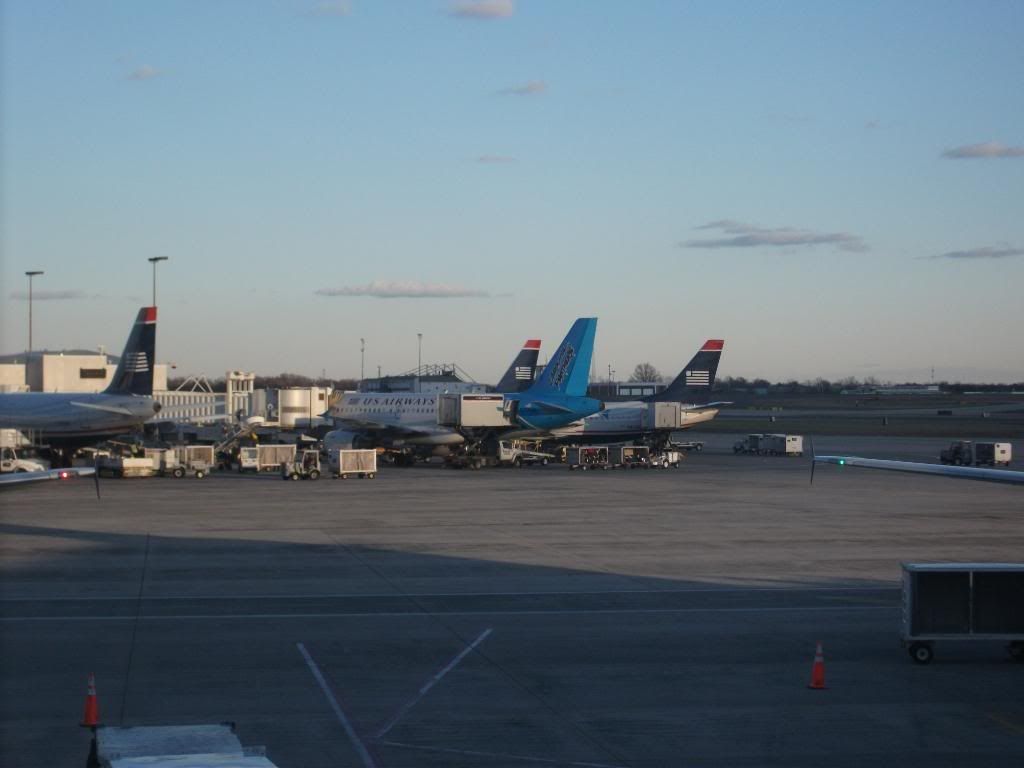 Bustling boarding areas (I think the experience is so much better with people...)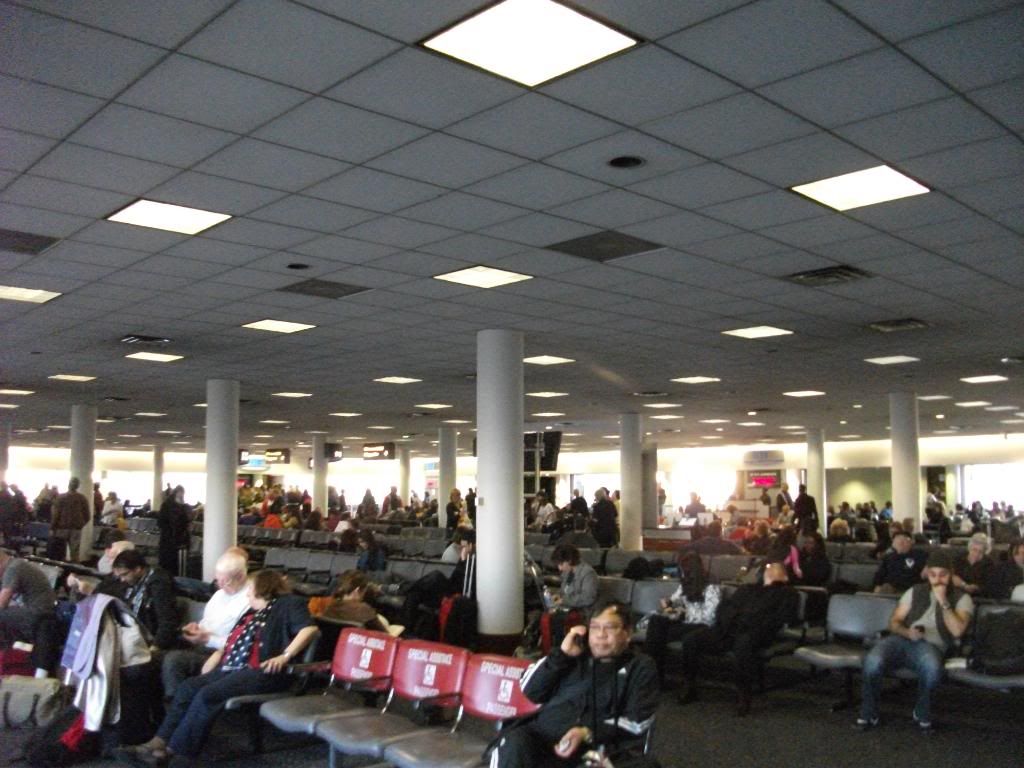 My ride back to Dallas
I was once again in Zone 5, so boarding went much the same as the first time. I'll spare some of the pictures this time around; I invite you to scroll up if you've forgotten what the A321 is like.
US Airways 1105 CLT-DFW
Scheduled: 18:05-20:02
Actual: 18:40-20:04
Airbus A321-211 (N183UW)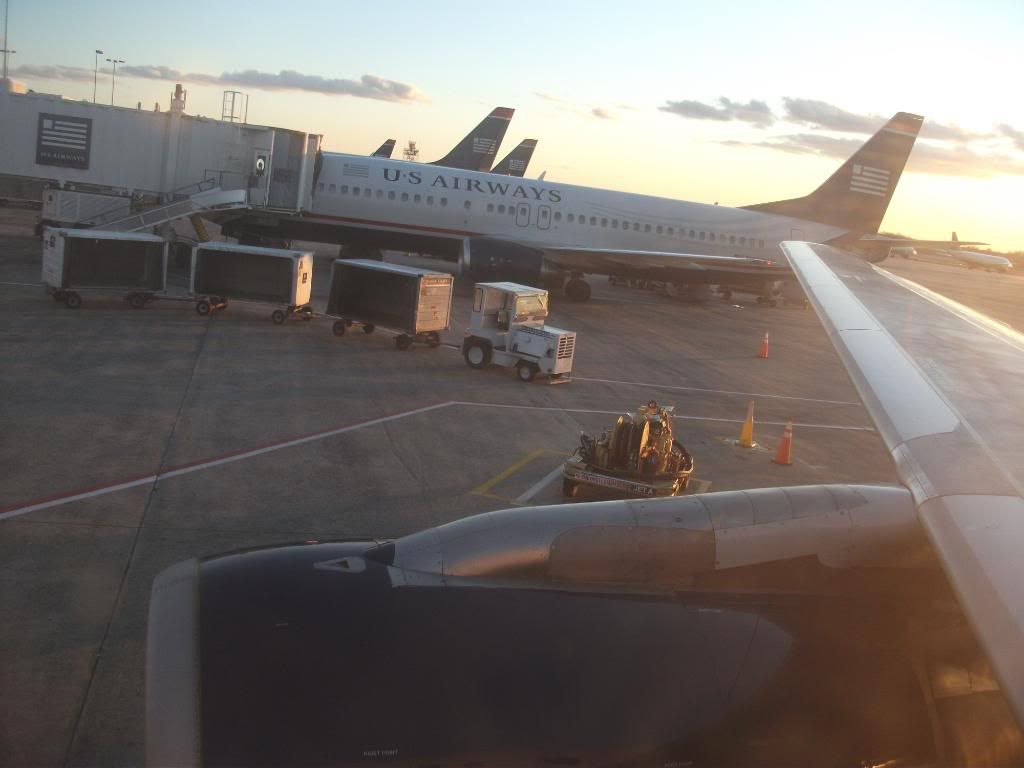 We finished the boarding process and were about to get under way, but the lights went out all of a sudden. We sat there for a few minutes before the captain told us the issue: there was a miscommunication with the ground crew and they disconnected the power. Furthermore, our auxiliary power was inoperable, so we had to wait for them to reconnect it so we could start an engine. After that, we had to wait some more for the navigation computers to come back online. By the time we pushed back, dusk had a firm grip on the landscape.
Who will be the winner of the noise contest: the A330 or the CRJ-200?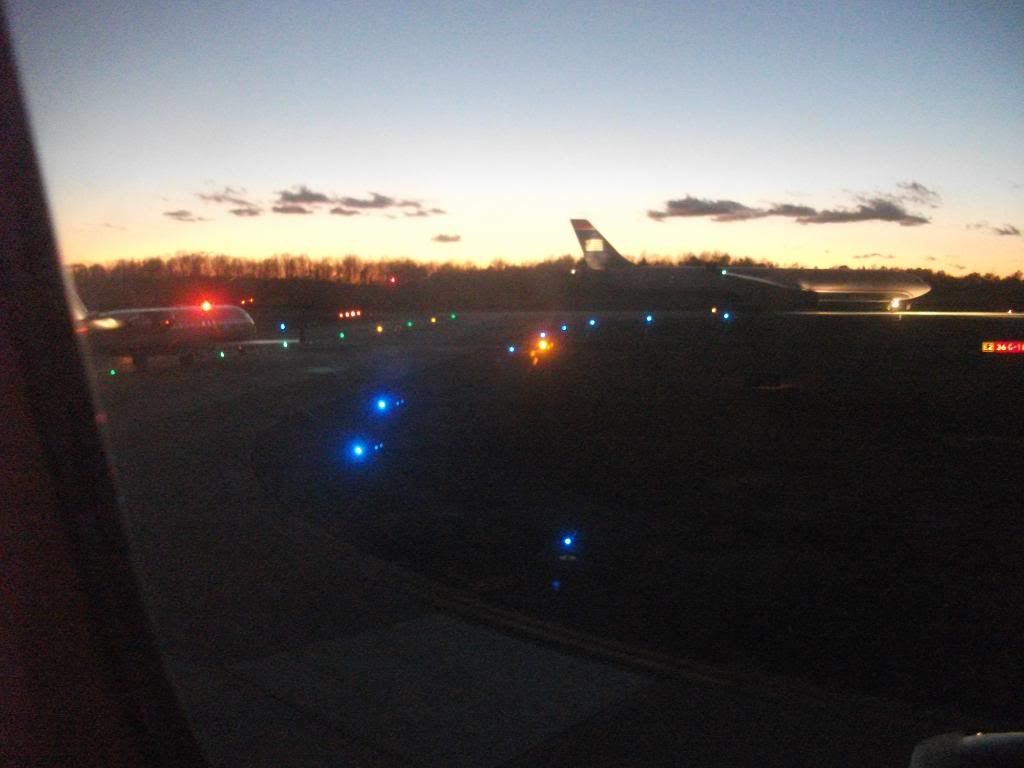 And we're off again!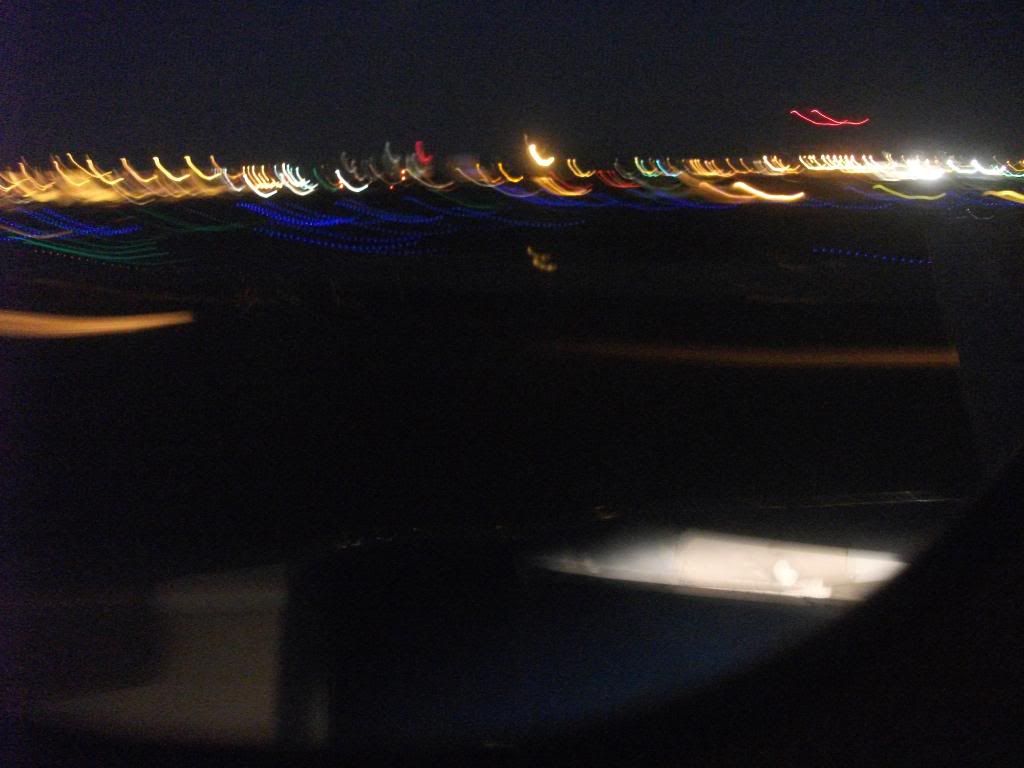 Wavy Charlotte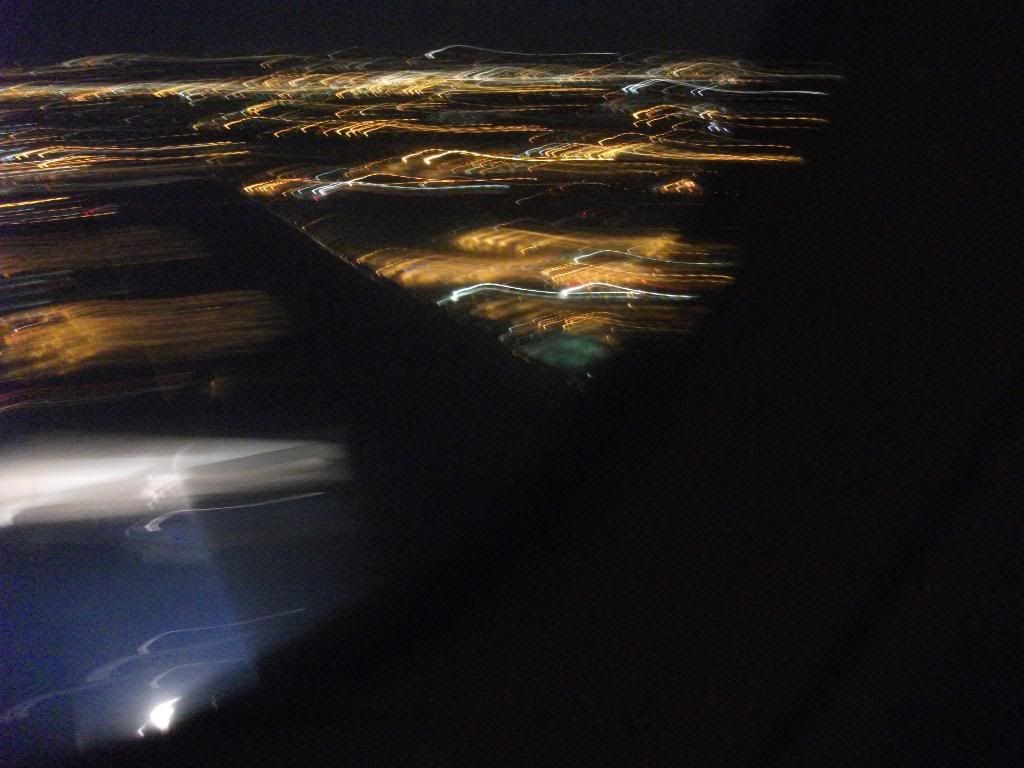 Back at DFW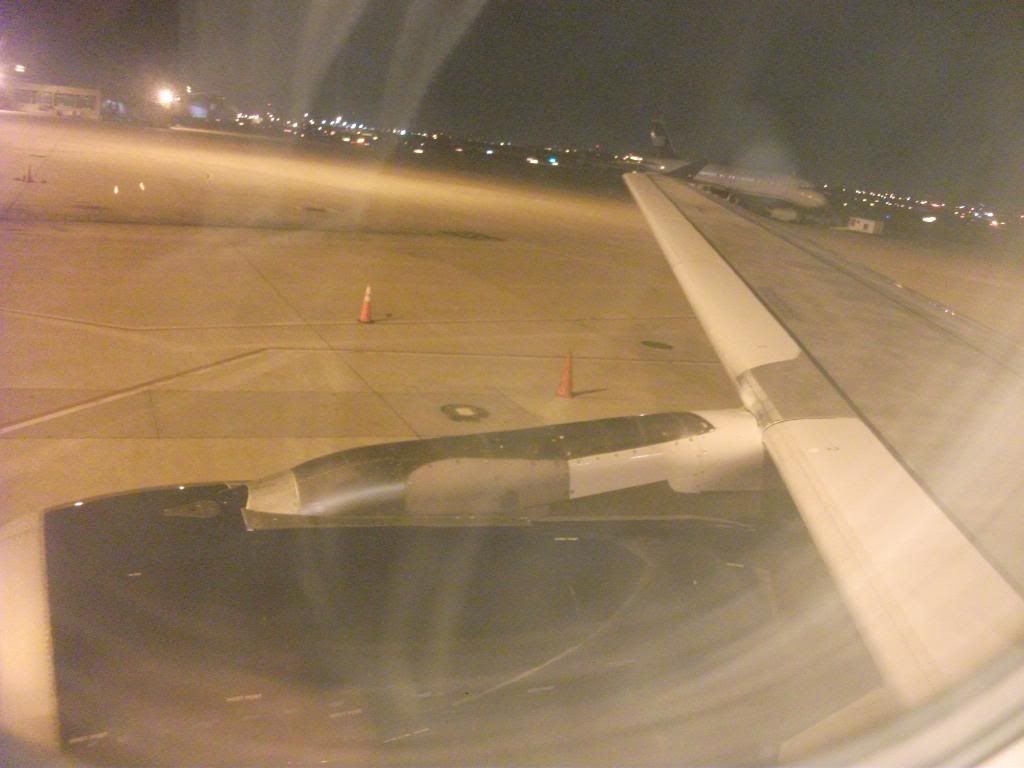 Penguins!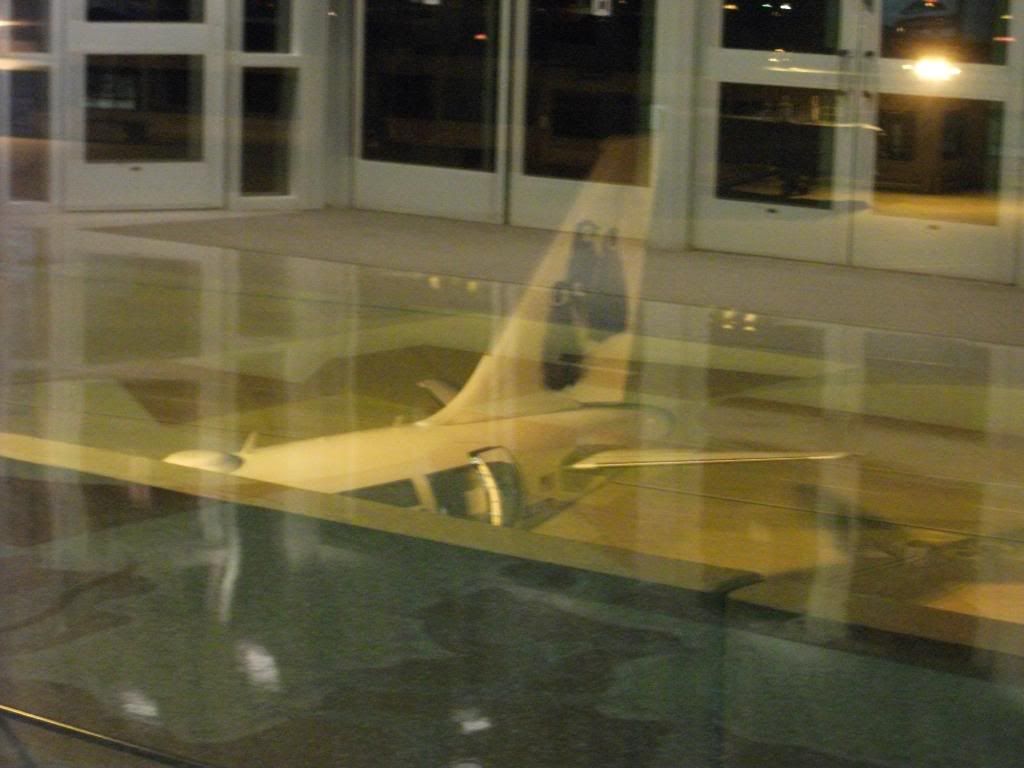 It occurred to me that DFW has become my new DEN since I've had to utilize AA for the past few voyages. While on these trips, I'd usually begin the evening at Denver, sitting at the Lufthansa gate whilst typing and watching the A346 or 744 get ready for Frankfurt. Lately, I've begun the evening in Dallas, sitting at the Qantas gate whilst typing and watching the 744 get ready for Brisbane. (I tell you, that F9 flight schedule change is killing me with a capital K…)
VH-OEE about to go down under
American Airlines 1183 DFW-OKC
Scheduled: 22:20-23:10
Actual: 22:25-22:55
McDonnell-Douglas MD-82 (N7508)
And that's pretty much what happened. American once again performed as it should have on two short hops. In my second and third trips on US Airways, I've found another decent airline. The flight attendants were friendly and helpful despite the madness that two full A321s can provide. Speaking of which, I don't know if it was just a fluke, but boarding just took a rather long time. And then there was Spirit…
On the bright side, the flight itself went nicely and the flight attendants, while not quite as attentive as the US or AA crews, still performed adequately. On the other side, I could probably rate the legroom and the pre-purchase hoops one must jump through as the things that put NK on my "do not want" list. Again, I know that those vexations come with the territory with an ULCC. For those who don't really care, Spirit is great. (I imagine they look better if the cost savings is significant.) For everybody else, not so much. Hence, I will avoid Spirit—not because they are a terrible airline, but because they simply don't provide the experience I want.
Airport Conclusions
LGA: The last time I wrote about them, I simply said "No." Now it's time for a little more. As for the Central Terminal Building, "Hell, no." As for the US Airways terminal, I do applaud them for trying to save the day. I did appreciate the high ceilings and abundant light, but it still seemed too white and bland. There is some potential to be had there to make it look quite a lot nicer than it does. The US Shuttle area looks like a dank office, which goes hand in hand with the business travelers they surely court. LaGuardia is a place where you can really say "it is what it is". In the end, the only thing that went perfectly in the Big Apple was the fact that it didn't snow.
CLT: On the up side, I was able to scoot around and see all of the roses. I unfortunately wasn't able to stop and smell them all. The airport is quite easy to get around and the signage is plentiful and clear. However, one might consider that nothing about the airport really stood out, save for Concourse D. I can declare that one the best of the lot. Yet another in a line of airports that are efficient and user-friendly, but not particularly spectacular. Then again, when you've left LGA in your rearview mirror, a Piper Cub on a flat stretch of grass sounds like heaven.
Coming up next: Miami Nice?
Tigerguy's Tales:
The Top Ten (Leg 1): Texas Two-Step
(by
Tigerguy
Jun 26 2011 in Trip Reports)
Featuring: DFW, IAH
The Top Ten (Leg 2/7): How To Book...
(by
Tigerguy
Jun 29 2011 in Trip Reports)
Featuring: Good night, and keep watching the skis. Uh, skies.