Welcome to part 2 of my trip across the globe, sorry due to my zombie state, picture taking significantly decreased fearing the fate of my camera would match that of my phone.
I left off part 1 admiring the toilets and free internet that SIN provide to passengers. I also admired the shops as they started to close for the night. I was tempted to buy a lego airplane set however it was far too big to carry with the stuff I already had so I left it in the past where my childhood should be now!
I returned to the gate to find the gate had still not opened so I slouched up against the moving walkway and dozed off for around 20 minutes, I woke up to find a large crowd queuing up to clear security through to the gate, where there was extra seating, however the flight was already boarding so I just stayed put where I was.
I noticed a cute girl who was also traveling alone on my flight however I failed to build myself up to introduce myself tiredness kills my confidence, so I dozed off yet again for around 10 mins.
The crowd at security died down to a civilized line so I gathered my remaining strength to clear security. Security was very friendly and I liked the number tags they give out so no else snatches your tray, I thought it would create extra chaos but it performed like clockwork and soon I was on my way back onto A6-ECD
onwards to Dubai.
Hot towels again were handed out before take-off [I believe I failed to mention they also provided a hot towel prior to landing in SIN]
Take-off photo's did not turn out to well, trying to capture SIN from height at night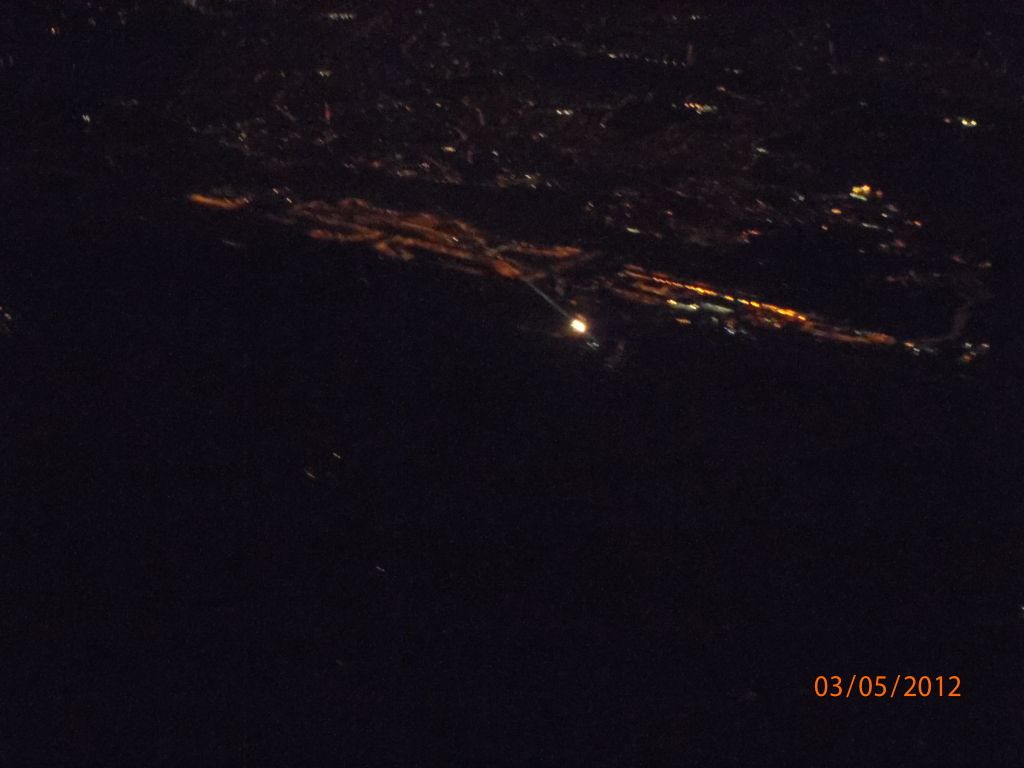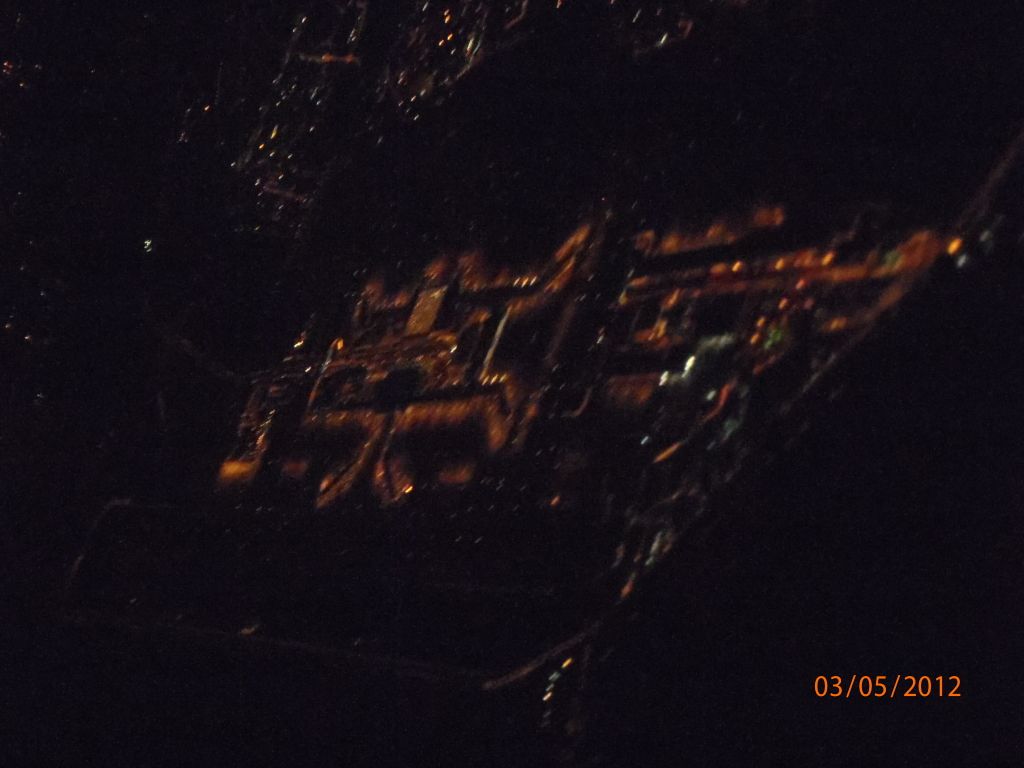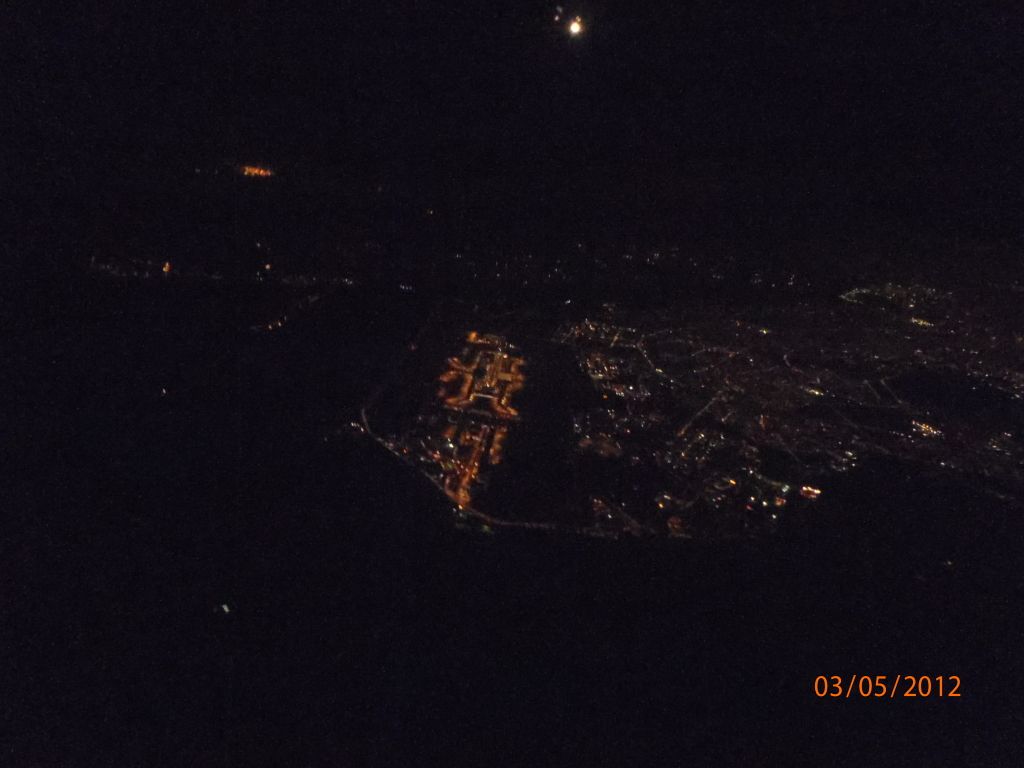 A selection of sandwiches [with no crusts
] were handed out as a snack, from what I remember they were very tasty and hit the spot and fueled me up to browse the game selection on the ICE IFE system.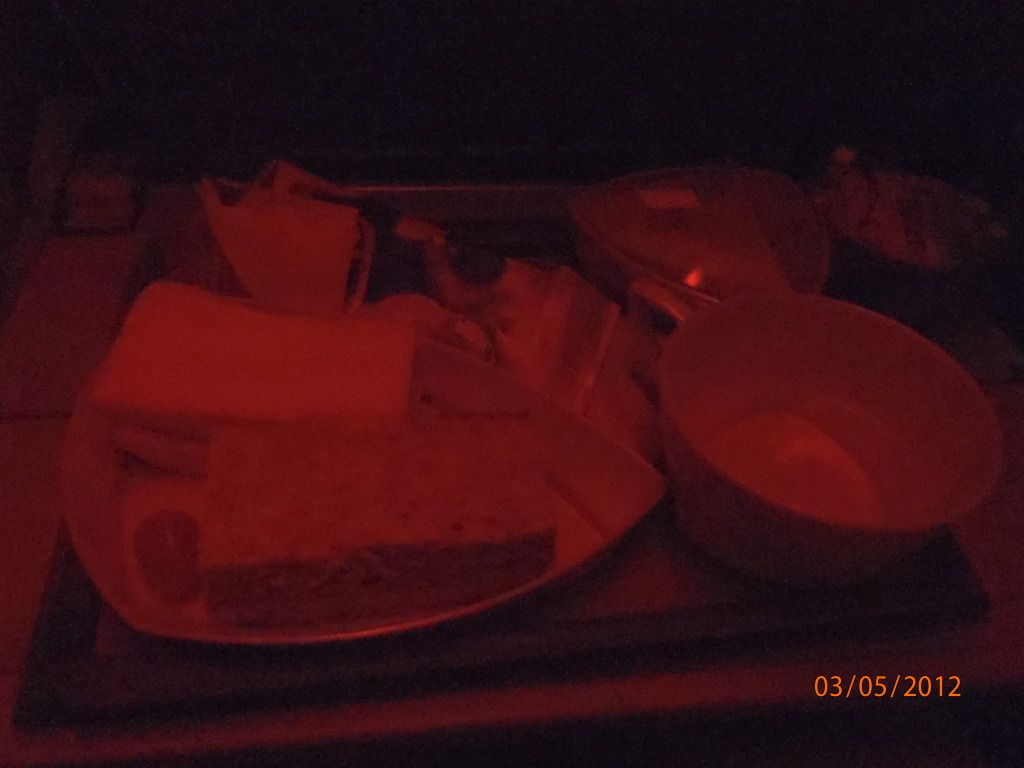 My favorite stage of the mood lighting, orange being my favorite colour.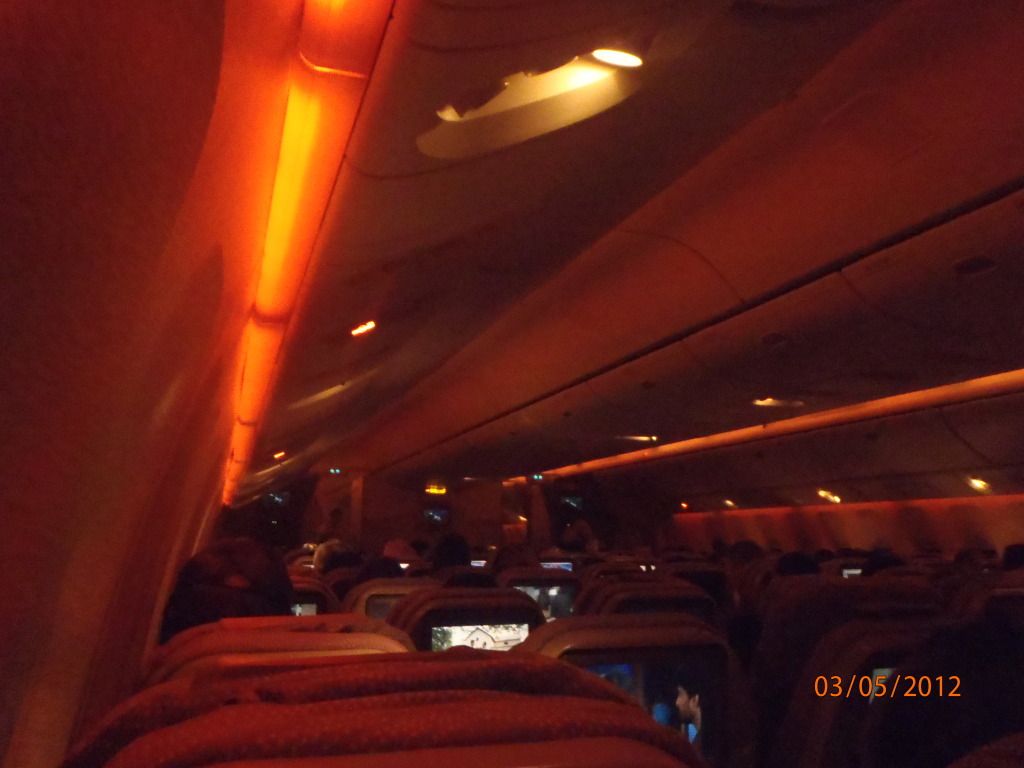 Virtual cockpit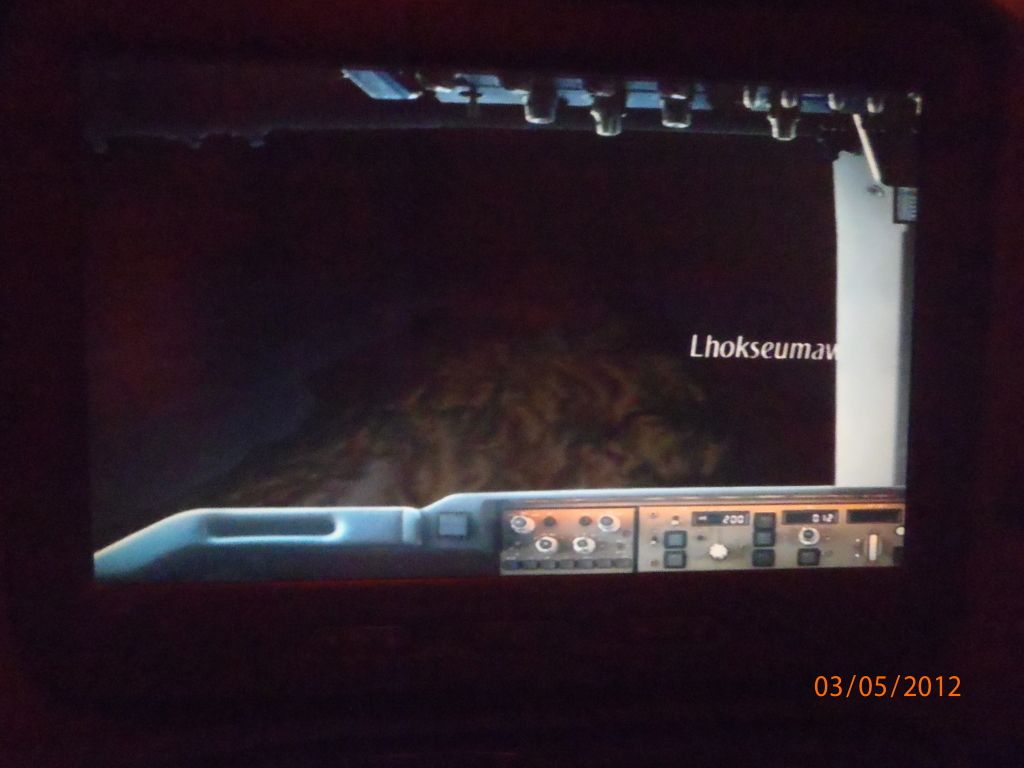 Soon we suddenly hit turbulent conditions with 2 unexpected violent shudders about 2 minutes between each other, the captain turned on the seat belt sign and the crew informed the safety procedures, light turbulence followed which eventually dispersed however the seat belt sign remained on for around 30 minutes after the turbulence ended. I caught a little video cruising through the high clouds.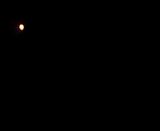 I checked out the game section on board which turned out to be quite disappointing, the performance was a slow and some games failed to load, which meant the IFE had to reset itself which was quite annoying so I just stuck with playing the 2d app style games which passed a couple of hours.
Flying over India marking the only major landmass and now roughly half way through this flight,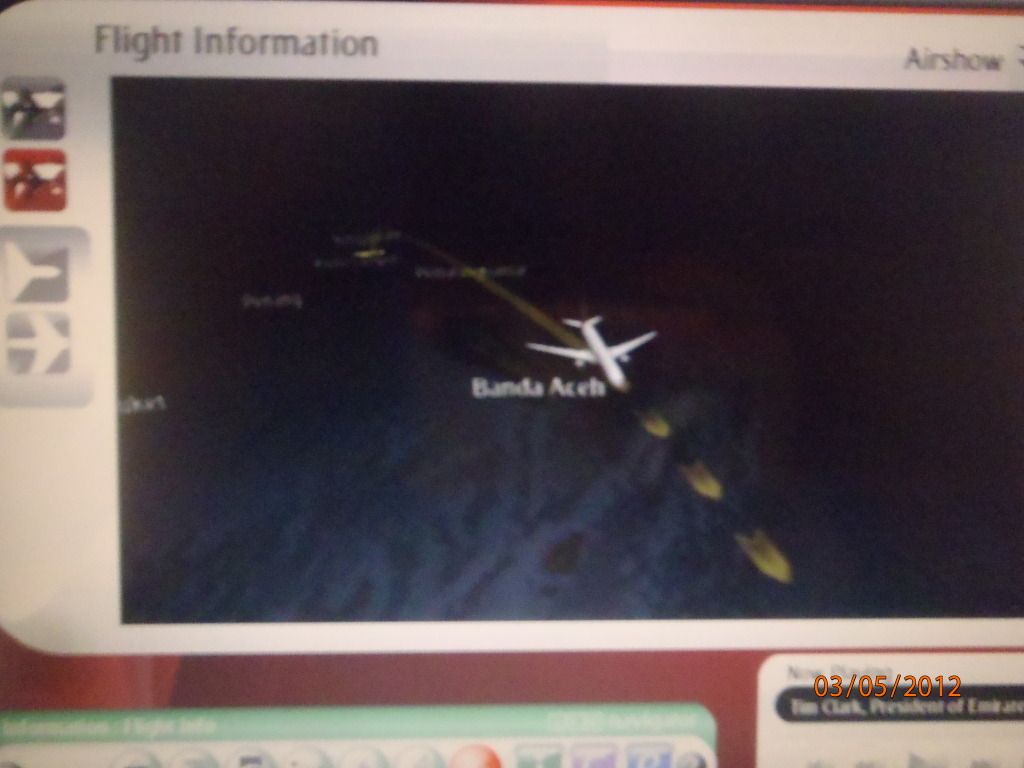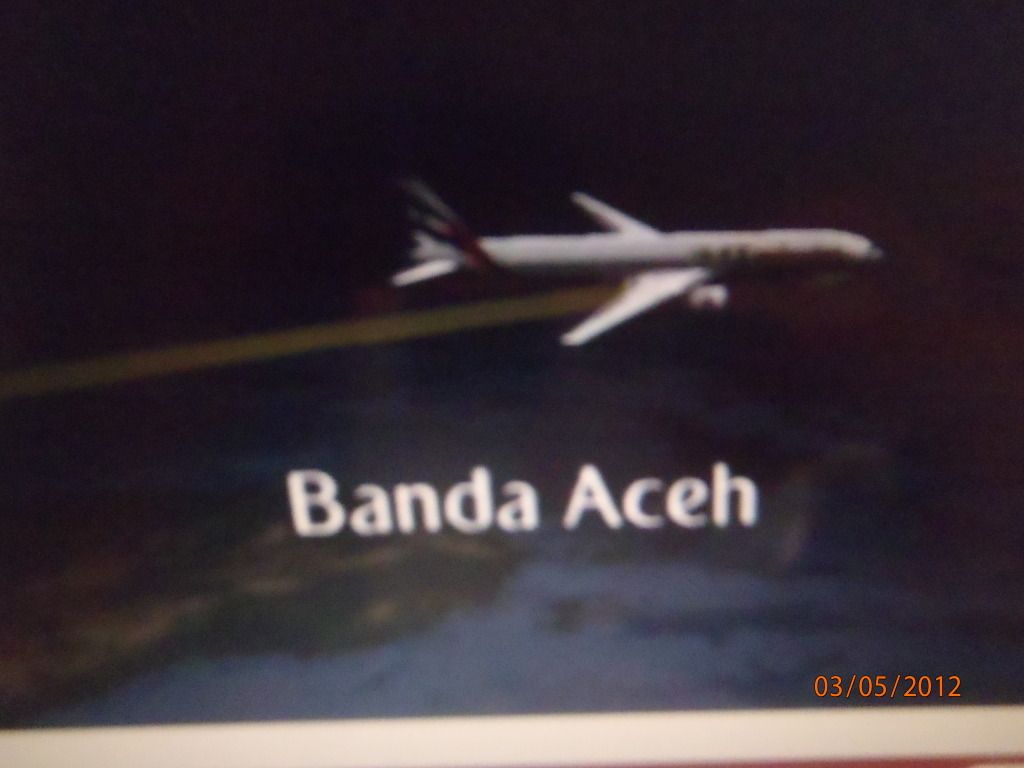 Night time was soon speeding off while day time was catching up on us, I have not seen daylight since departing MEL!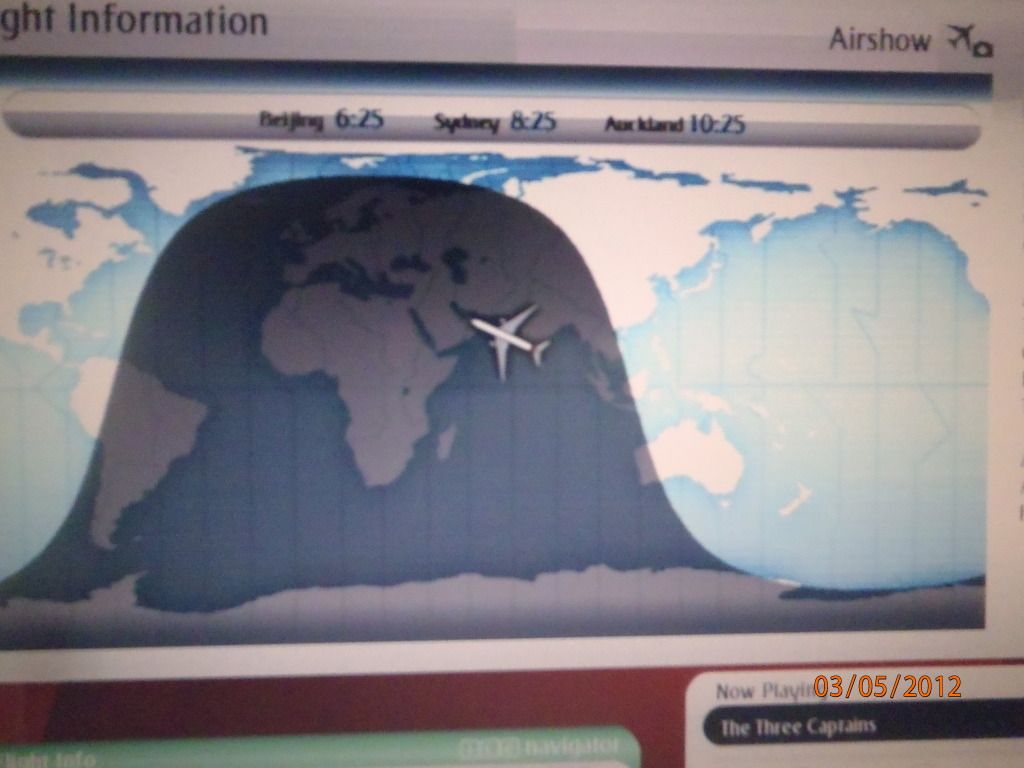 Some more blurry stats,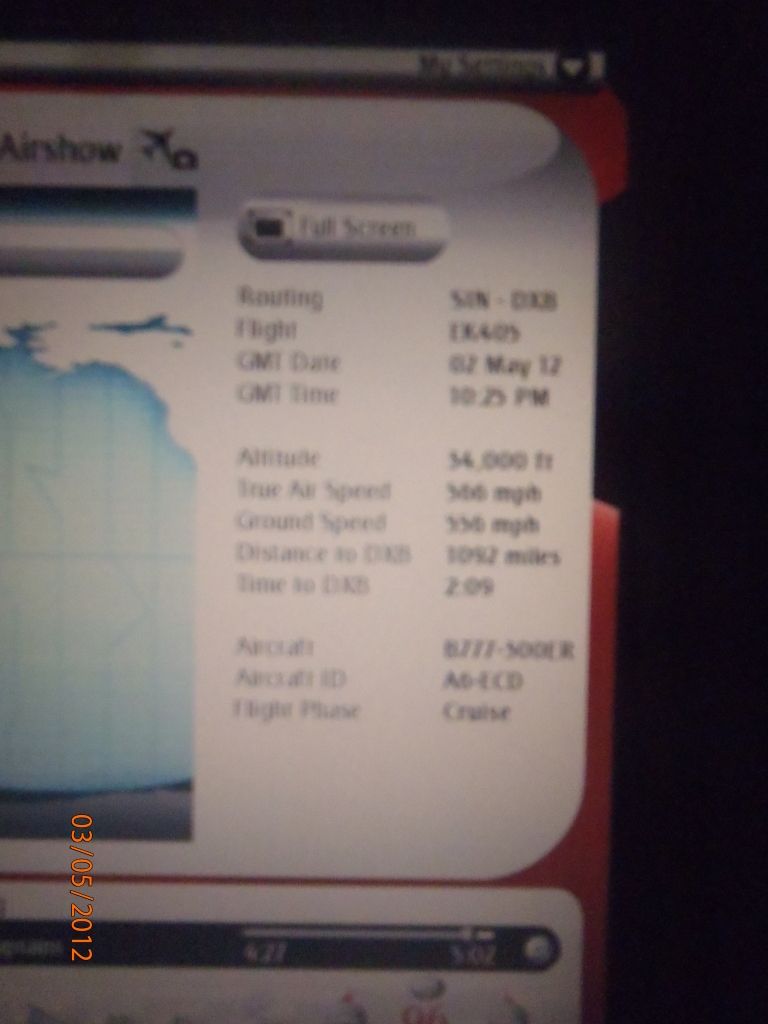 Bye India, hope to fly over you during the day next time!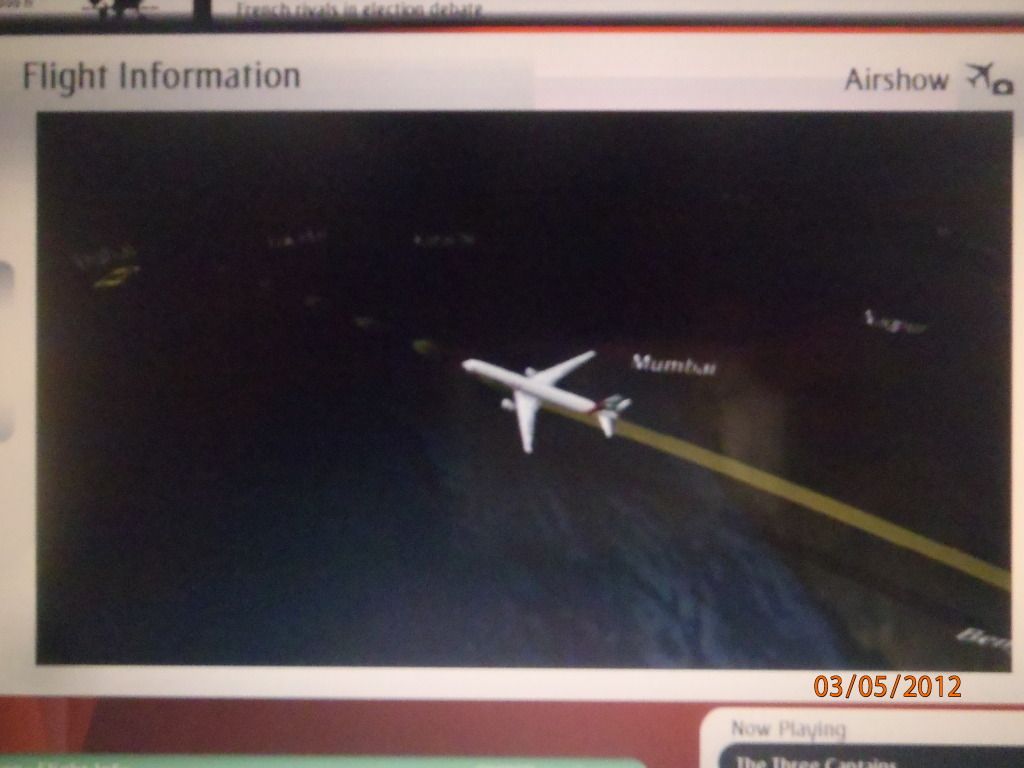 Exotic mood lighting starting it's sunrise wake up cycle, I love these colours combined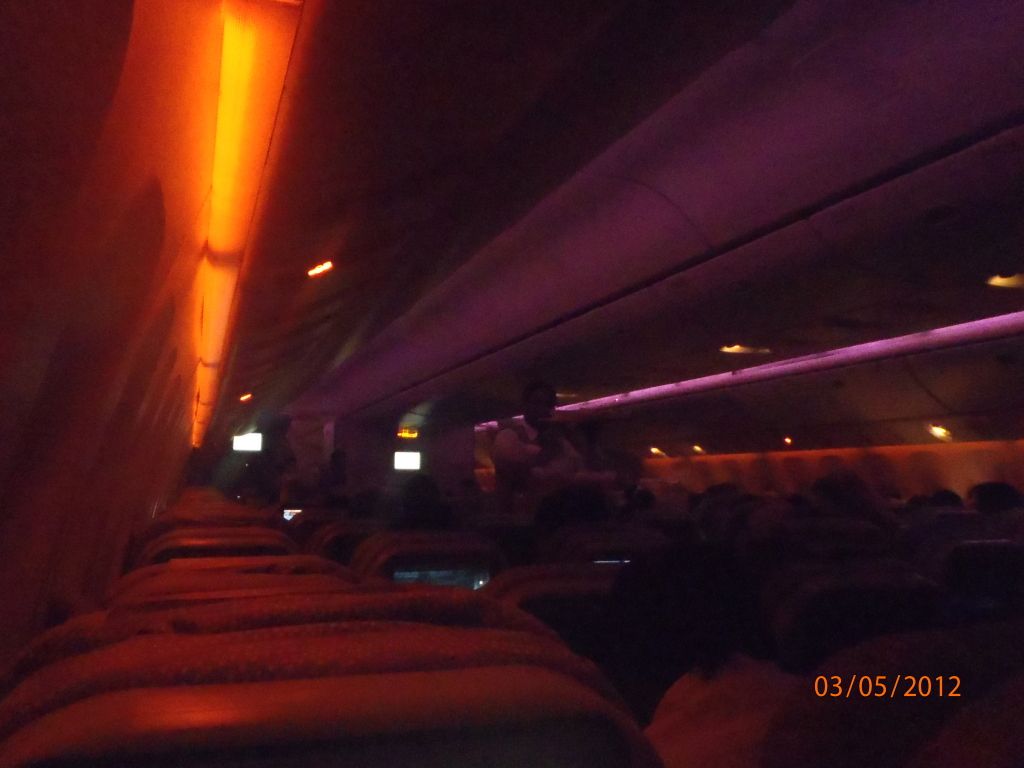 It was time for the crew to serve a hot breakfast with the choice of, cheese omelet or asian noodles [I forgot to snatch the menu off this flight!] I chose the omelet and first impressions was good. I like to see melted cheese but the hash brown also stuck to the lid and found overall portion did lack. The sides which consisted of a croissant, bread roll and a fruit salad plus OJ made ensured I did not require seconds! I would choose noodles next time as I found the omelet to be a little bland and boring.
I previously forgot to mention that EK provide metal utensils for Y class, EK gain 5 stars for presentation in my own opinion.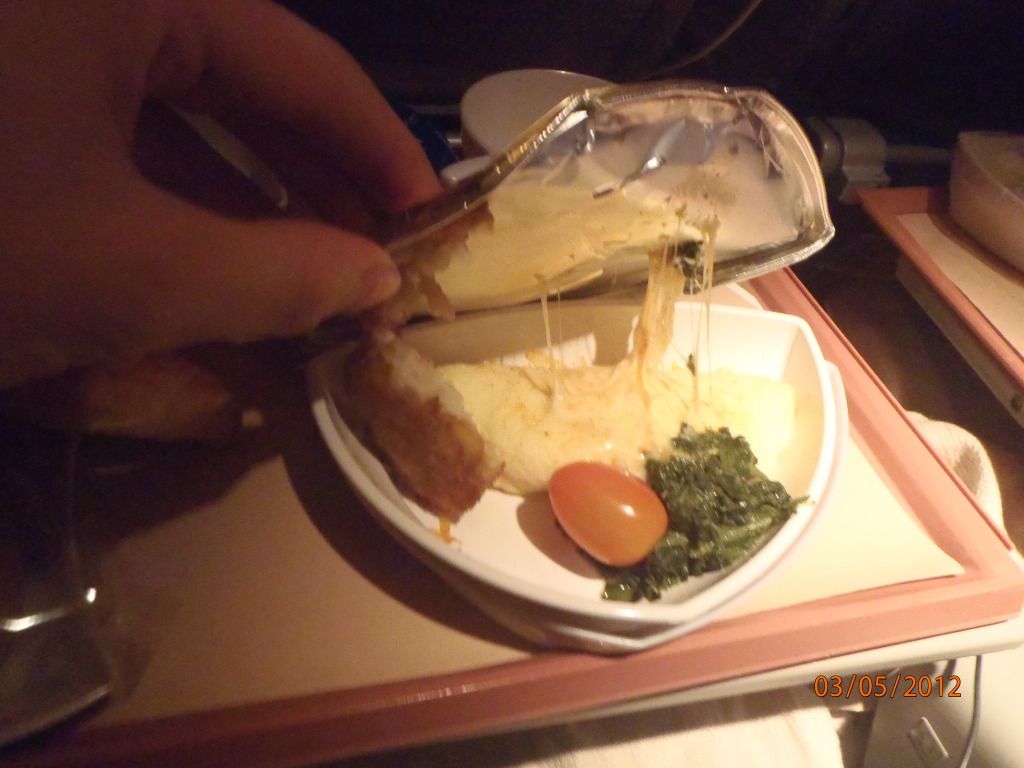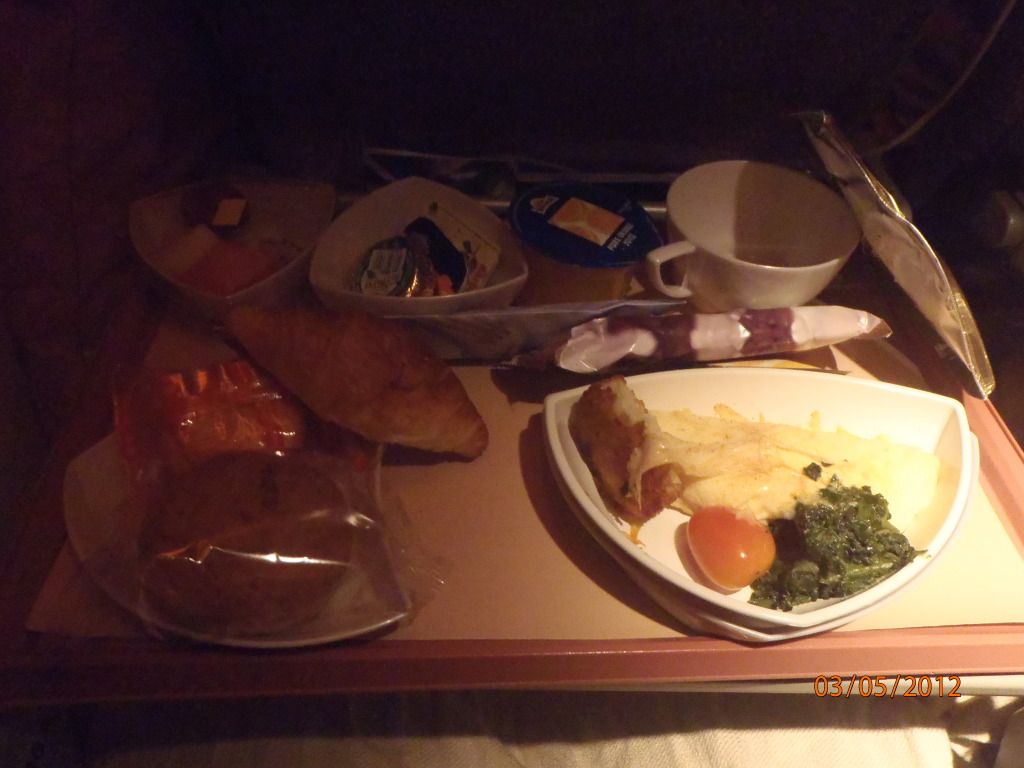 I gained plenty of energy and I spotted one of my favorite comedy films which kept me chuckling for the next 90 minutes,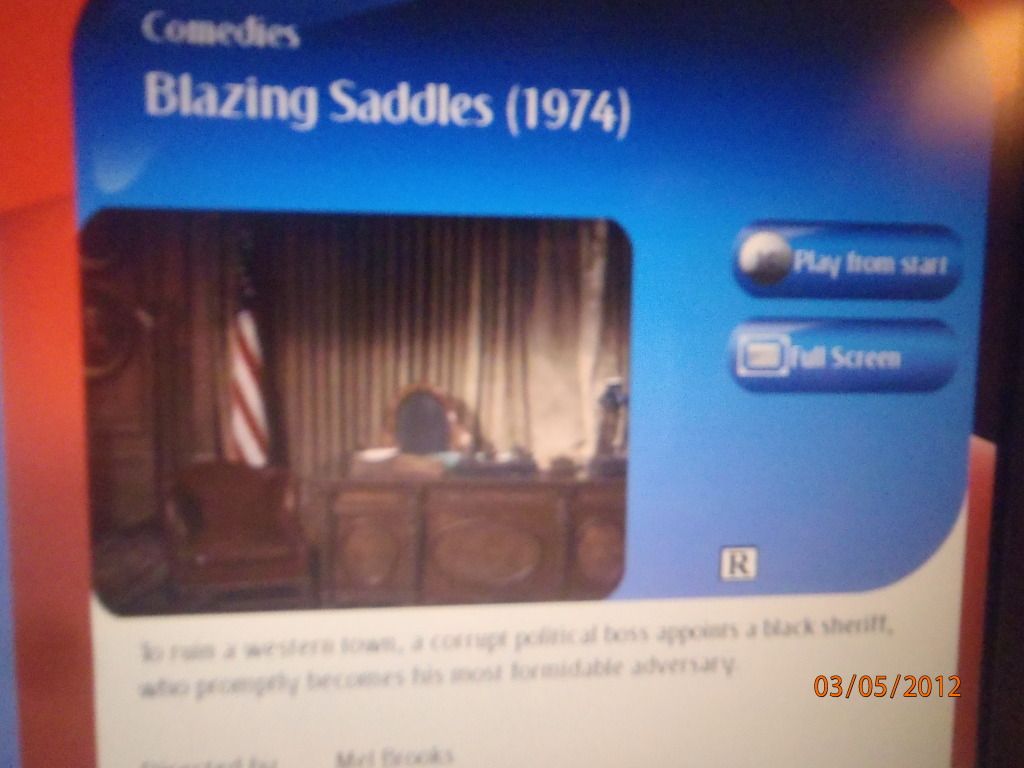 Wrapped up in my cosy blanket I then decided to watch some classic Tom and Jerry to keep my funny bone active,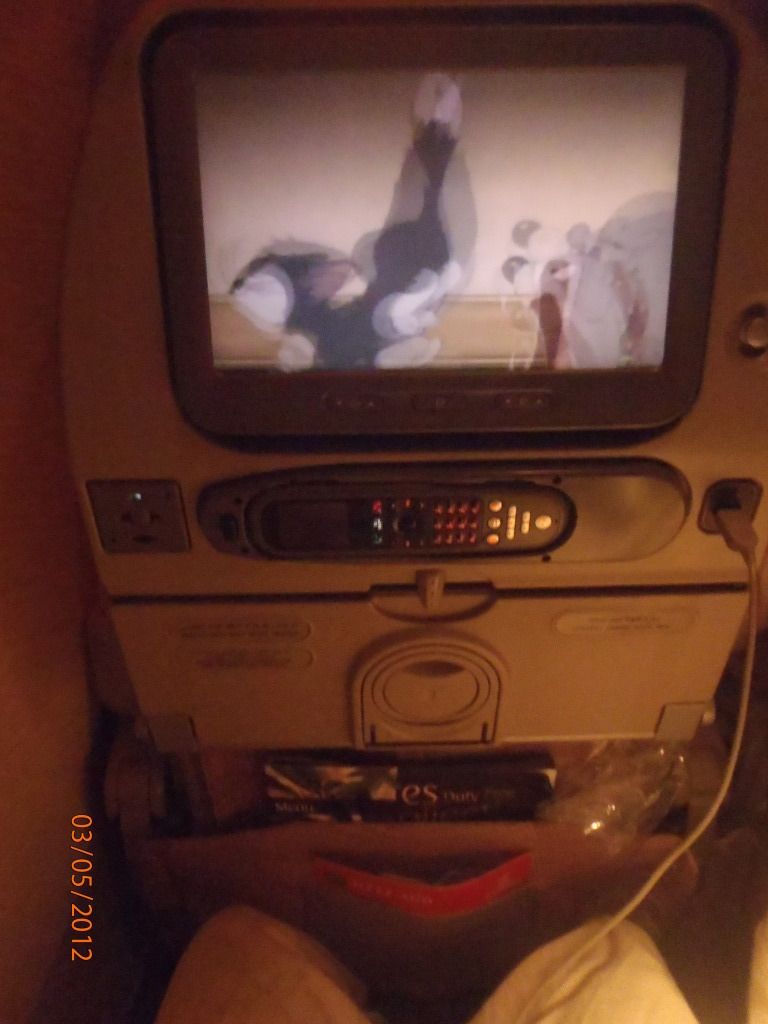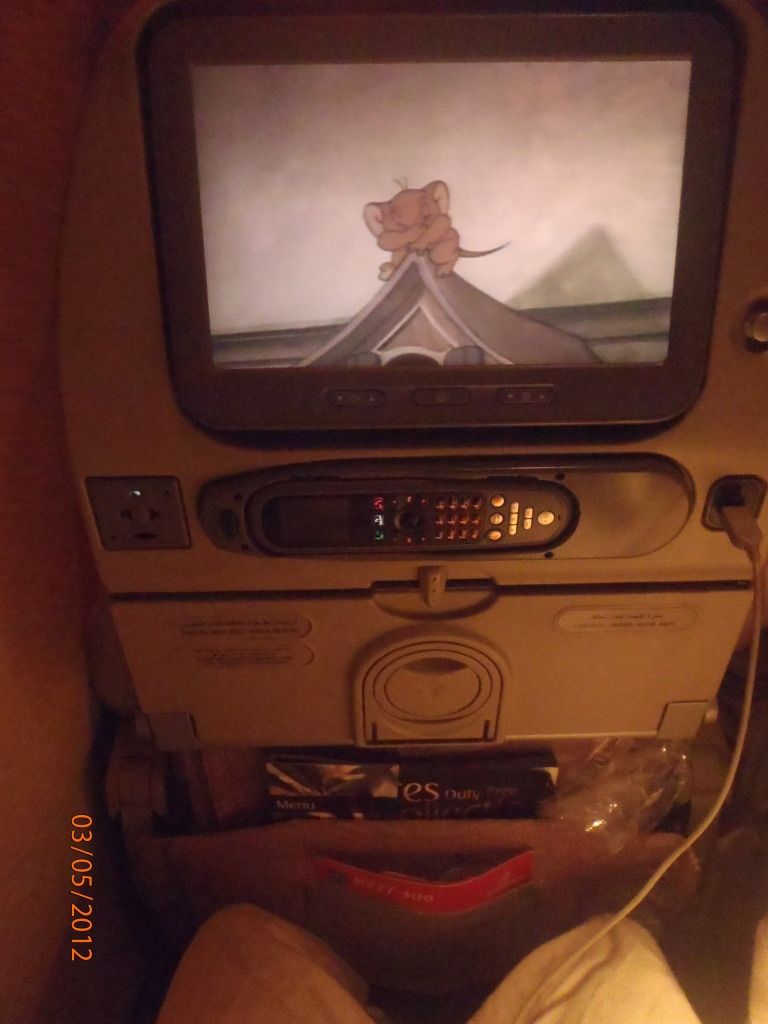 I hatched a plan to connect my external hard drive to watch some Road Runner, however observing the route map I thought I would leave it for the next sector,
I was much more comfortable on this sector, decent caught me by surprise while I mentally thought there was 2-3 hours left to go.
A few more air kilometers clocked up. I now feel quite upset knowing my next landing will be back in Europe, I wish my next flight could take me to somewhere a little more exotic than Manchester.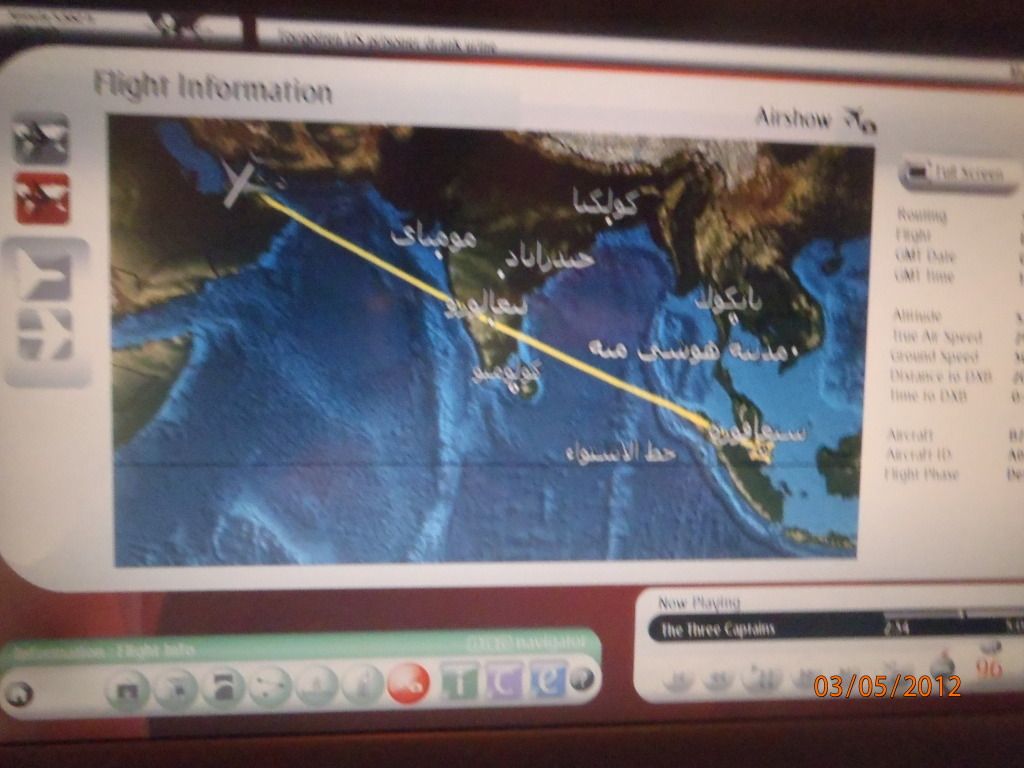 19 hours of darkness will soon disperse,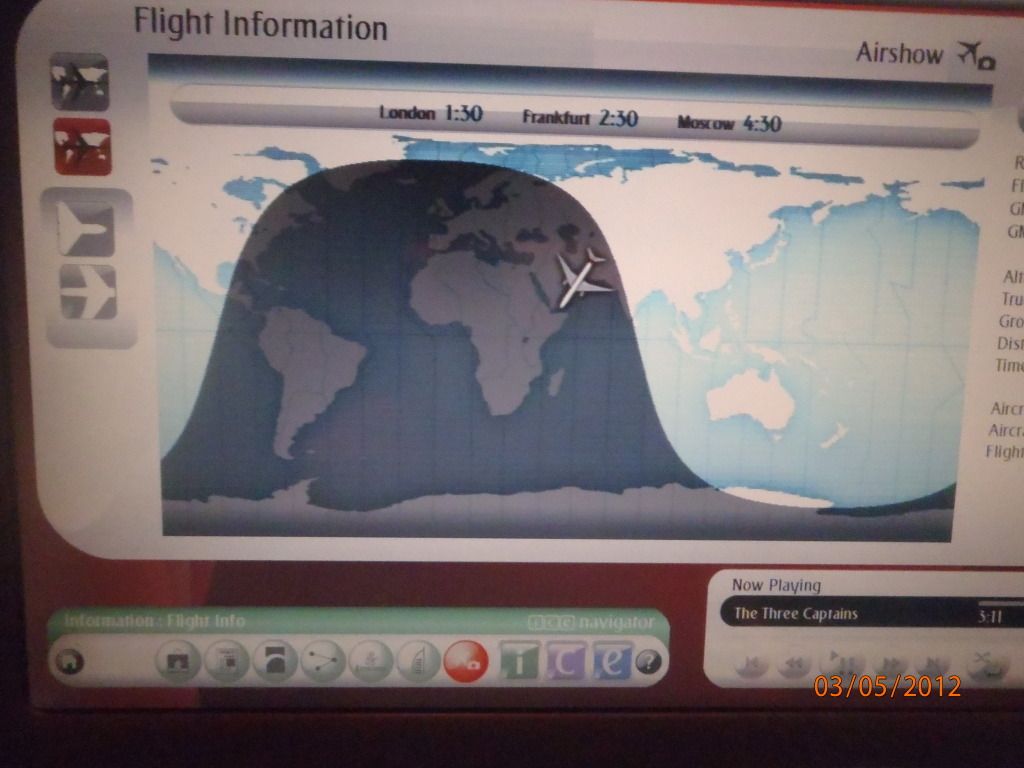 Decent commenced with no holding delays and soon EK405 was on final to DXB,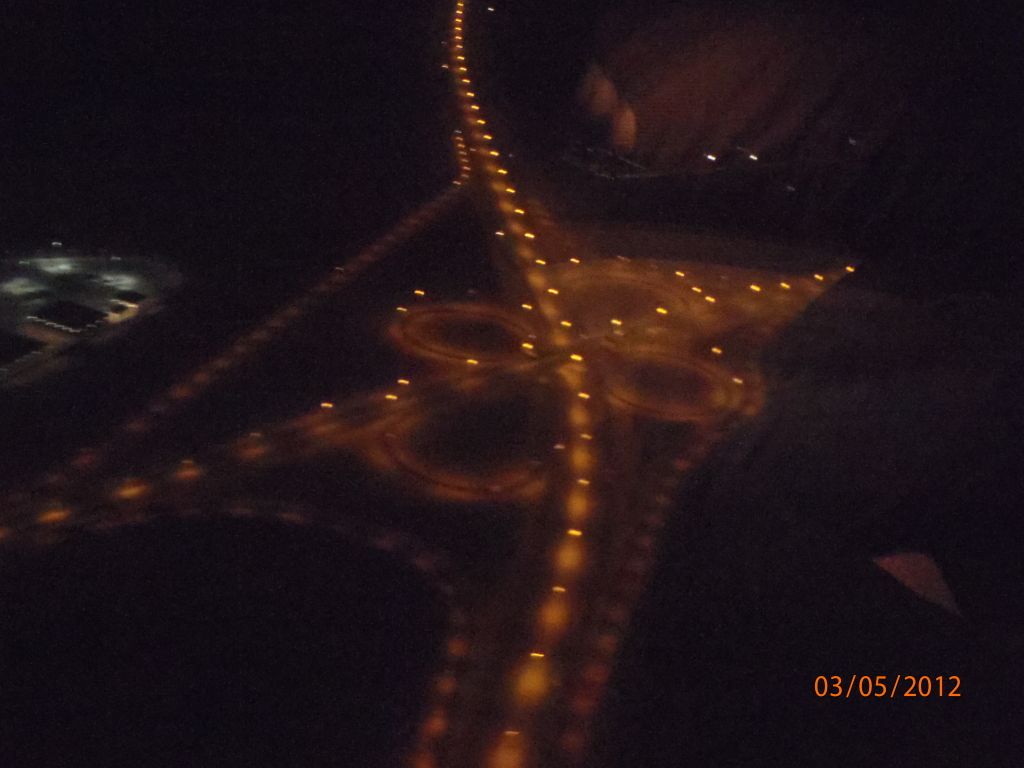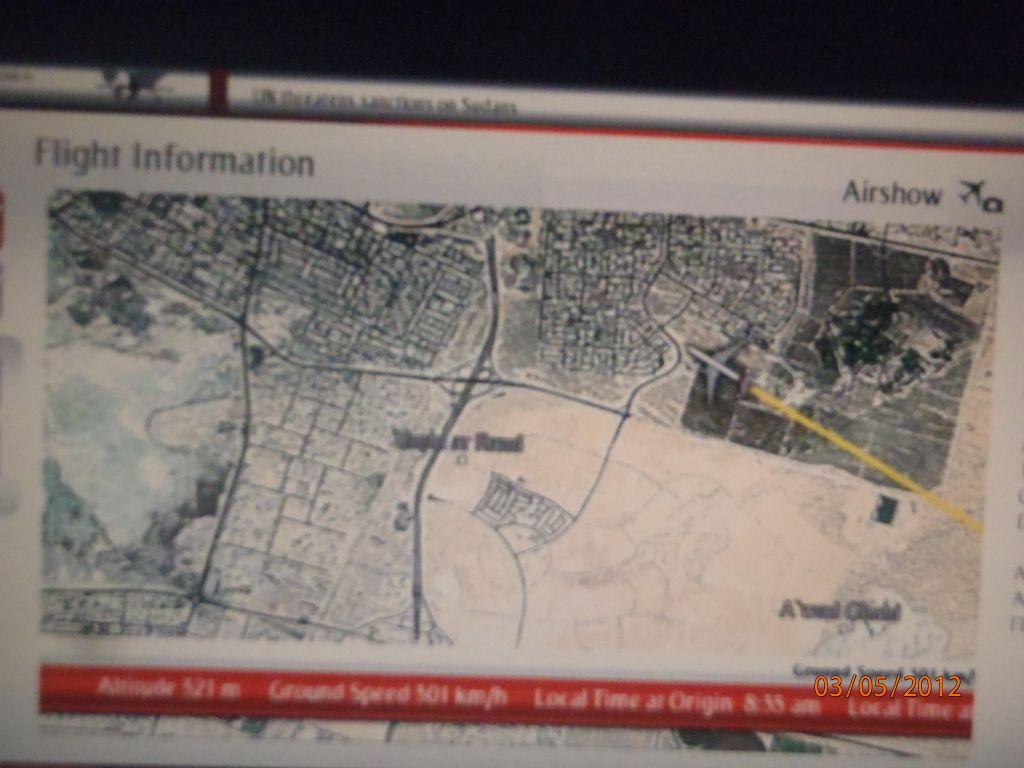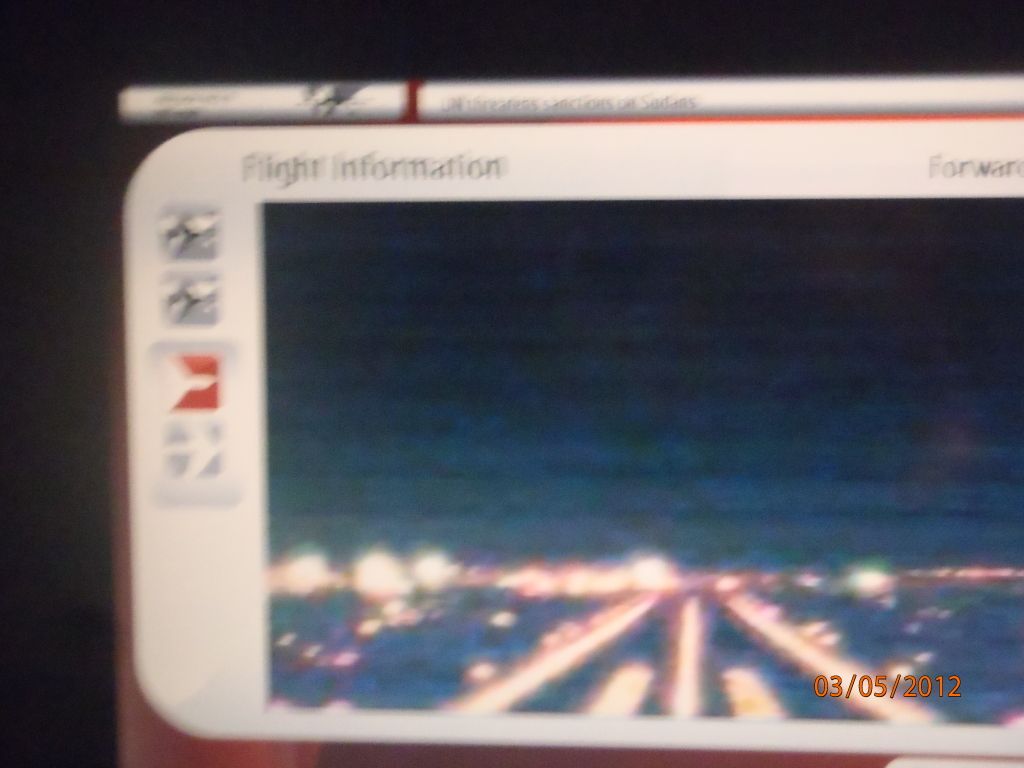 Landing was smooth and soon the first of many whale jets were spotted,
Total distance traveled on this sector,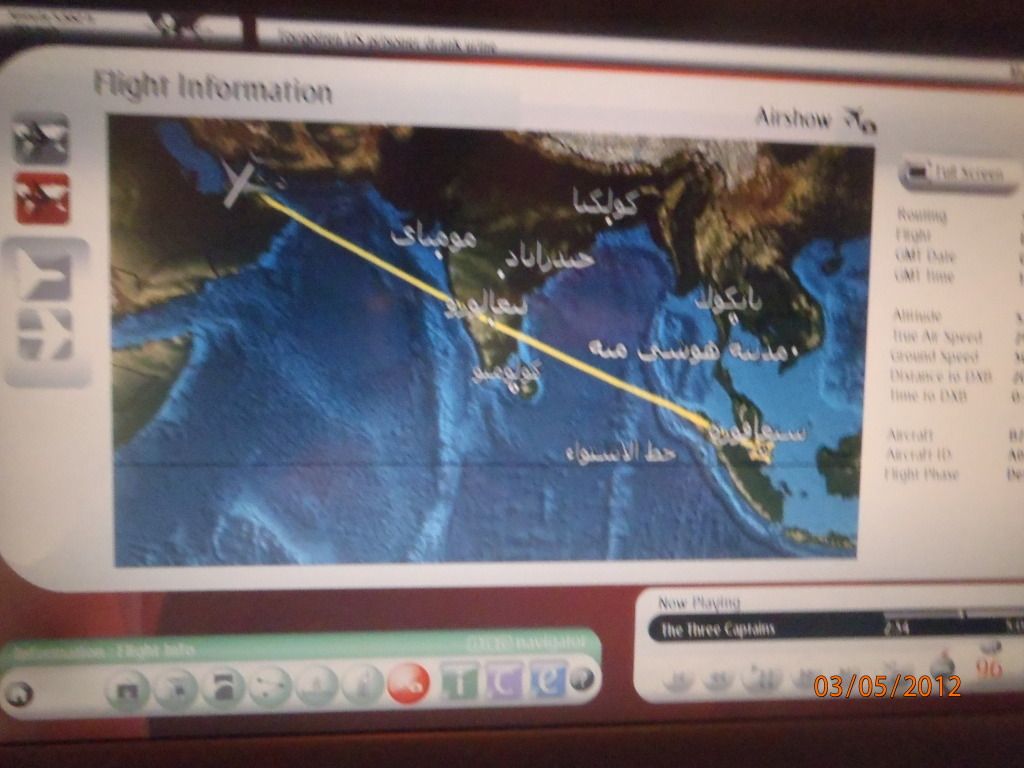 I requested a few hundred extra meals but they must not have received my cancellation!
I sat and watched some more cartoons while everyone else scrummed to disembark, I got some funny looks for doing this, but I had 3 1/2 hours to spend in DXB so I was happy to be one of the last to get off.
I made my way to transit area, I was going to inquire if I could transfer onto a direct flight to Dublin but I thought it was not worth throwing away a hop on a shamrock so I bypassed the desk and made my way to security. I was surprised that no security member checked my passport or boarding card, would this be considered a security breach?
Gate 213, next time I will be on this flight.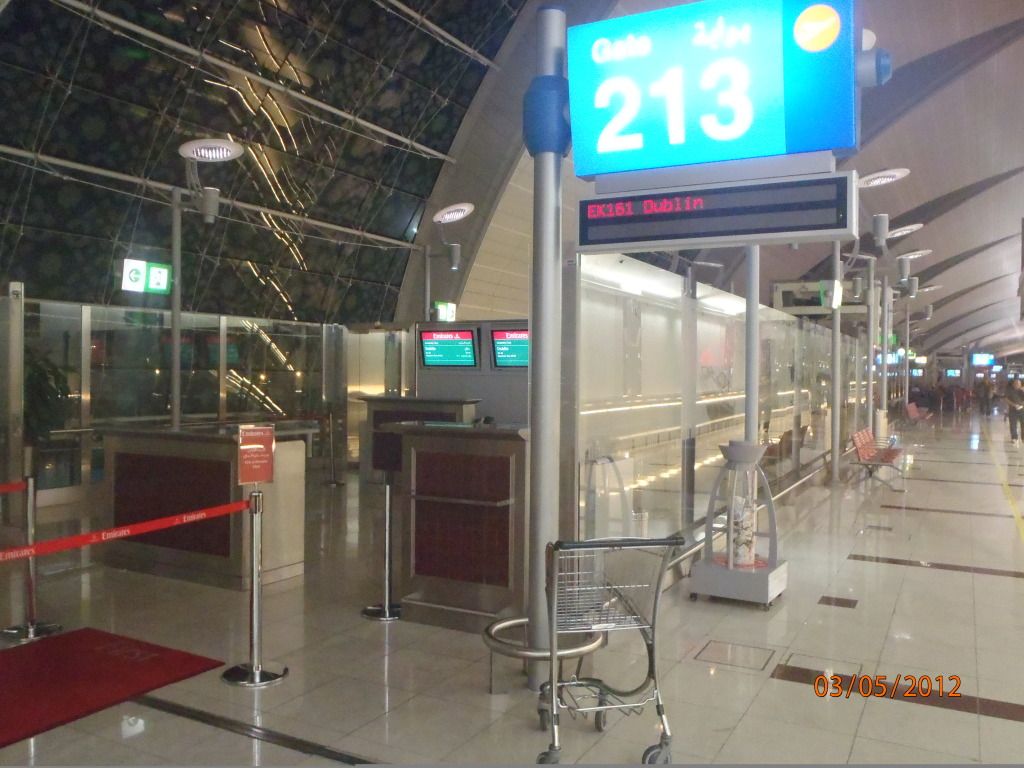 Exploring the very crampt and crowded "shopping center" where I exchanged 50 Australian dollars to splash out on EK model aircraft [surprisingly not available on board, although I never asked the crew they were not listed on the duty free] and dining in Hungry Jacks oops I mean Burger King. Two young ladies were chatting away while I browsed what EK shop had to offer, and continued to do so during the transaction. First thumbs down for EK. In another shop I spotted EI model aircraft, I guess they are still selling them off after EI pulled out some time ago.
DXB provides very poor opportunities for apron views so there was no point trying to capture the EK line up. I got this tho, a large corridor area dedicated to the history of DXB,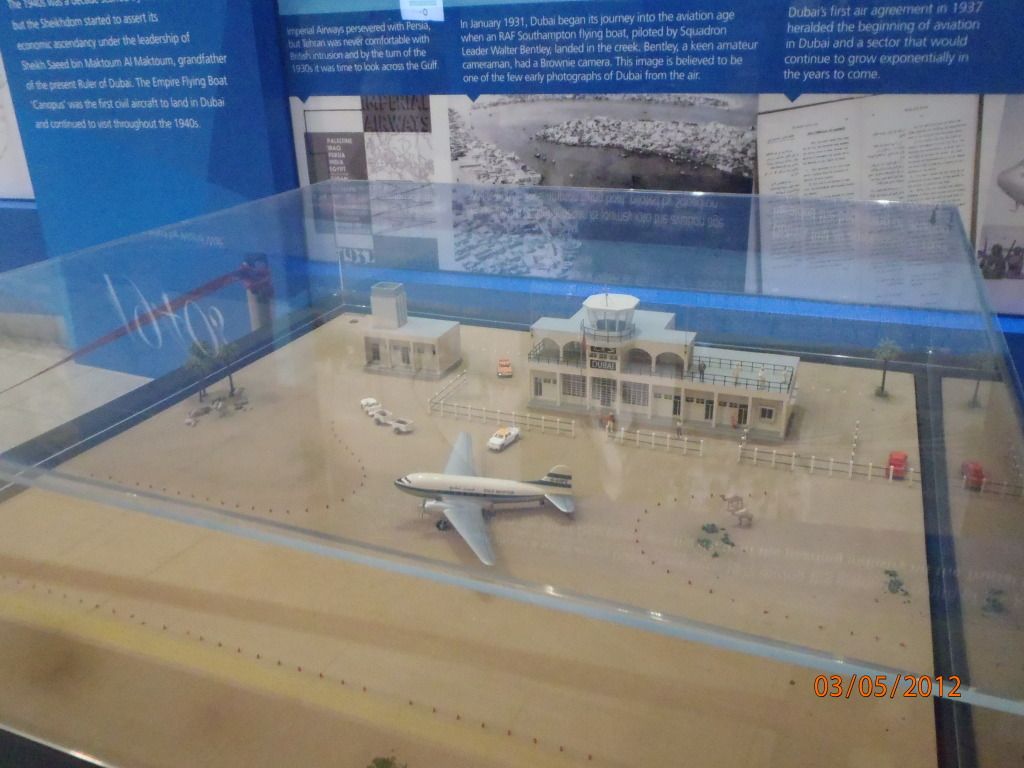 I decided to make my way towards the gate [115 I think] with my jumbo sized watered down sprite, to snatch an early pre boarding seat. Turns out my sprite was not only to jumbo around,
Turns out I would be flying on the A380 after all, strange that seat guru provided an inaccurate cabin map.
The gate area soon filled up until only a few seats were left unoccupied before the boarding procedure started, again a huge line formed so I sat out and waited knowing my seat would be safe.
A while later the time came to board my 2nd A380 and my last EK flight.
FLIGHT: EK017
A/C: A380-800
Reg: A6-EDJ [Built 2006, delivered to EK in June 2010, nearly 6 years old]
Seat No: 42K
Boarding,
3 jet ways attached to this monster,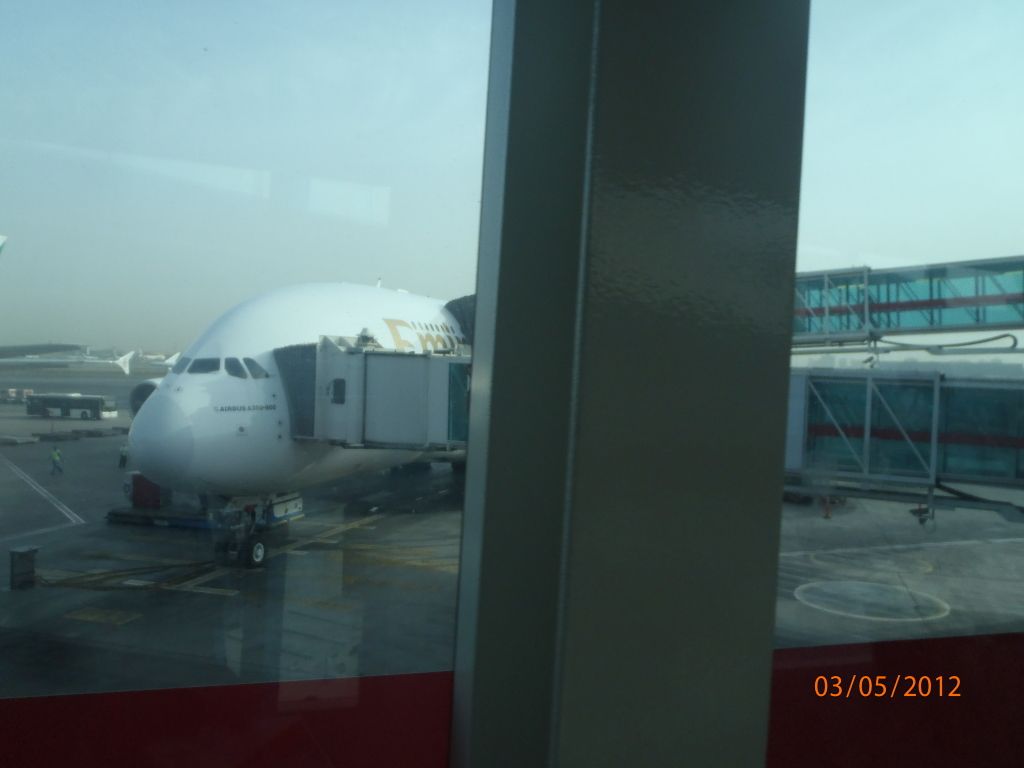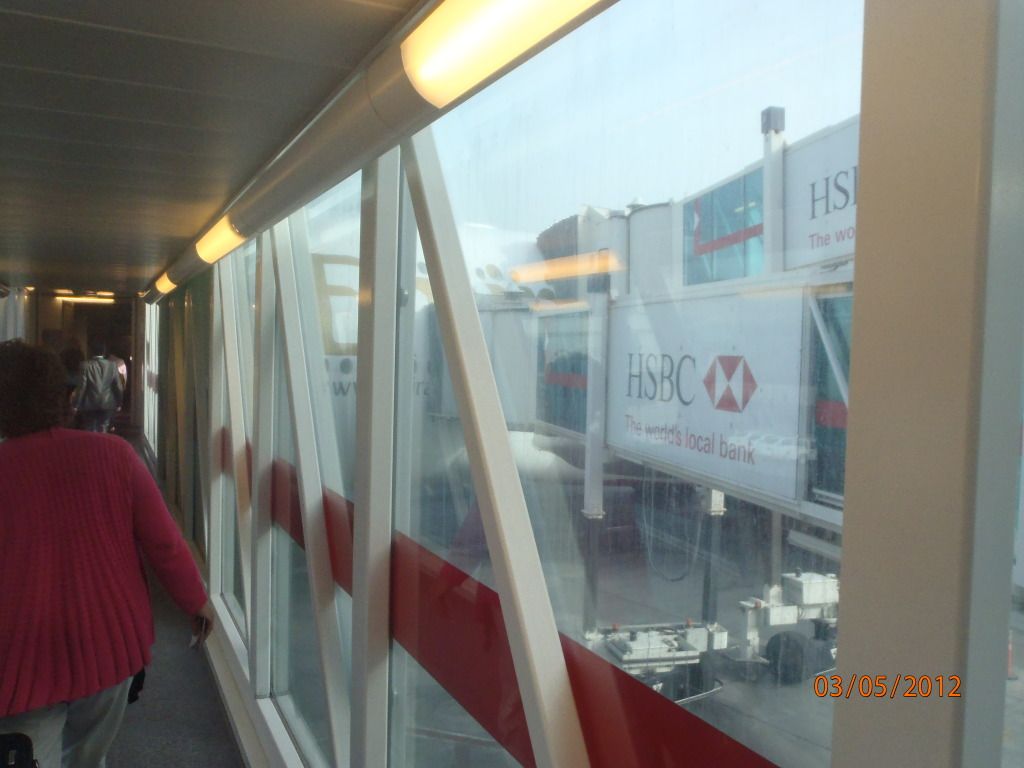 nose,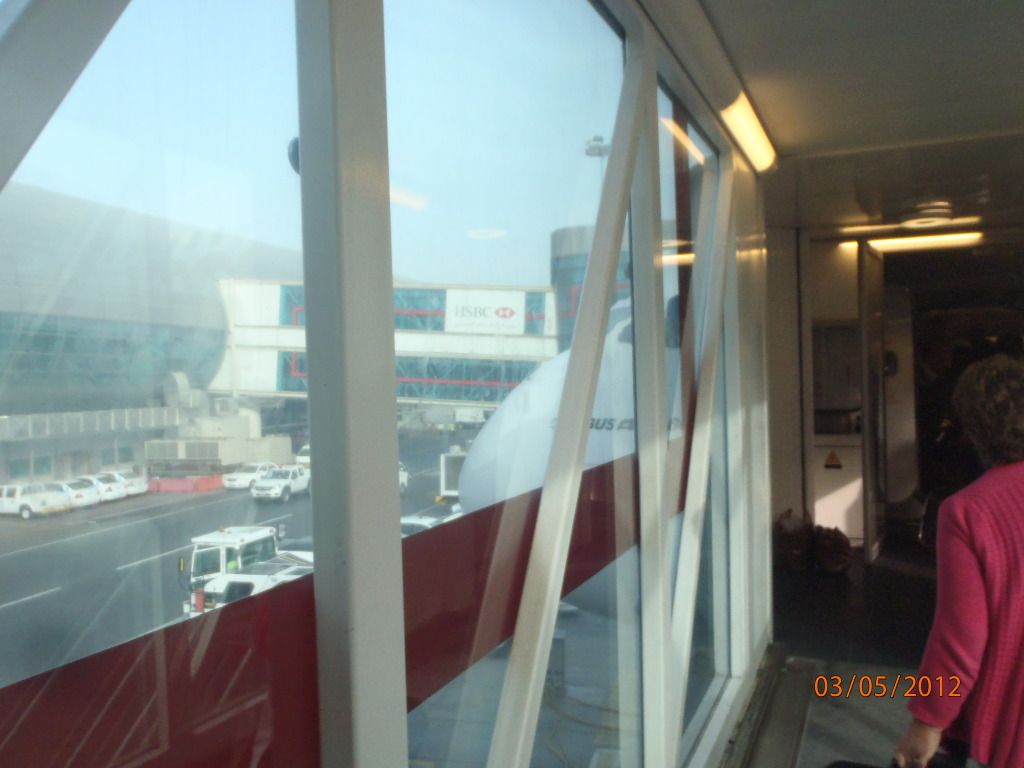 Turns out the lower deck starts at row 41, so I was very lucky to acquire the 1st window which starts at row 42
Although relieved I was disappointed there was no free upgrades to C class aww well maybe next time,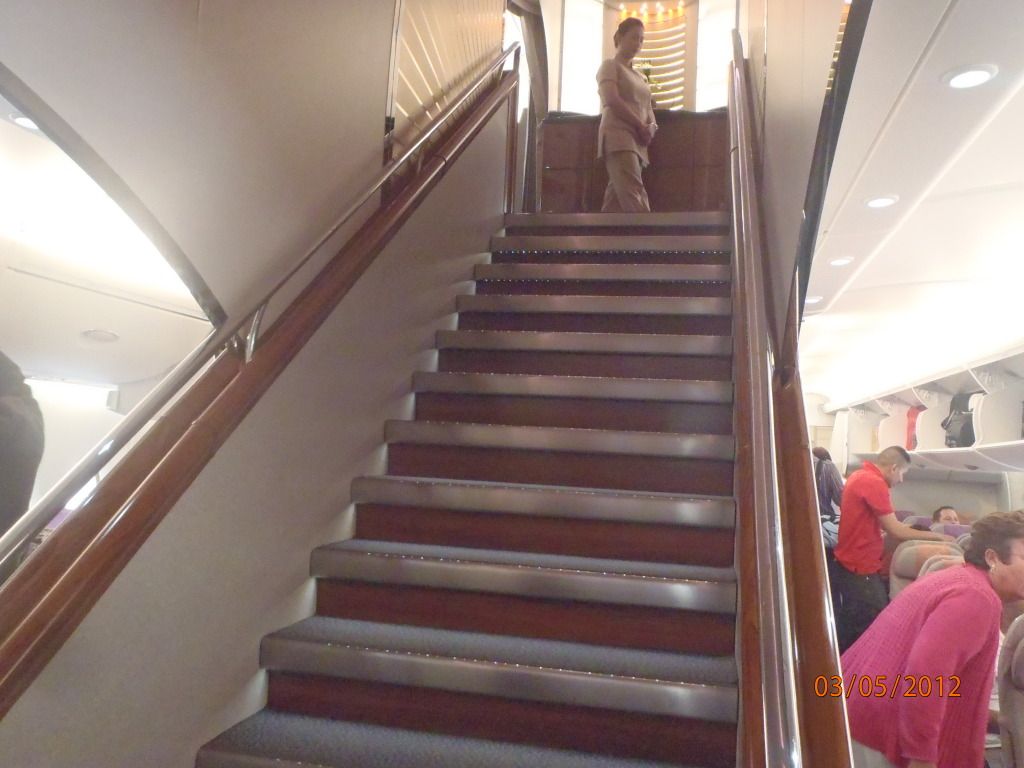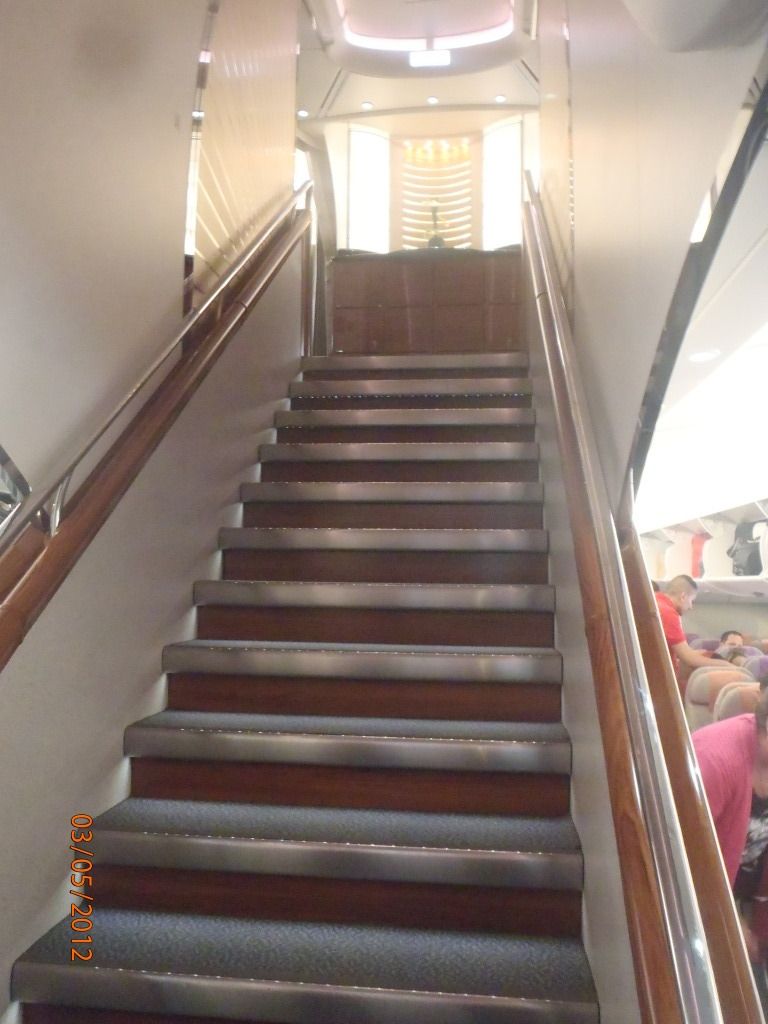 I was greeted personally [outstanding] by a genuinely friendly FA, who pointed my seat from the door, already I knew this was going to be a great flight.
The man in front dressed in a red suit and hat, already reclined his seat fully so I asked him if he could retract his seat so I could sit with ease of access, he seemed to be confused to why I asked him but soon he figures out that I have no room to maneuver into the seat. After settling in my aisle seat mate arrived who also was traveling onwards to DUB after visiting her children settling in oz.
First impressions, wider seats, larger cigar tube than the B777, improved IFE, so far so good.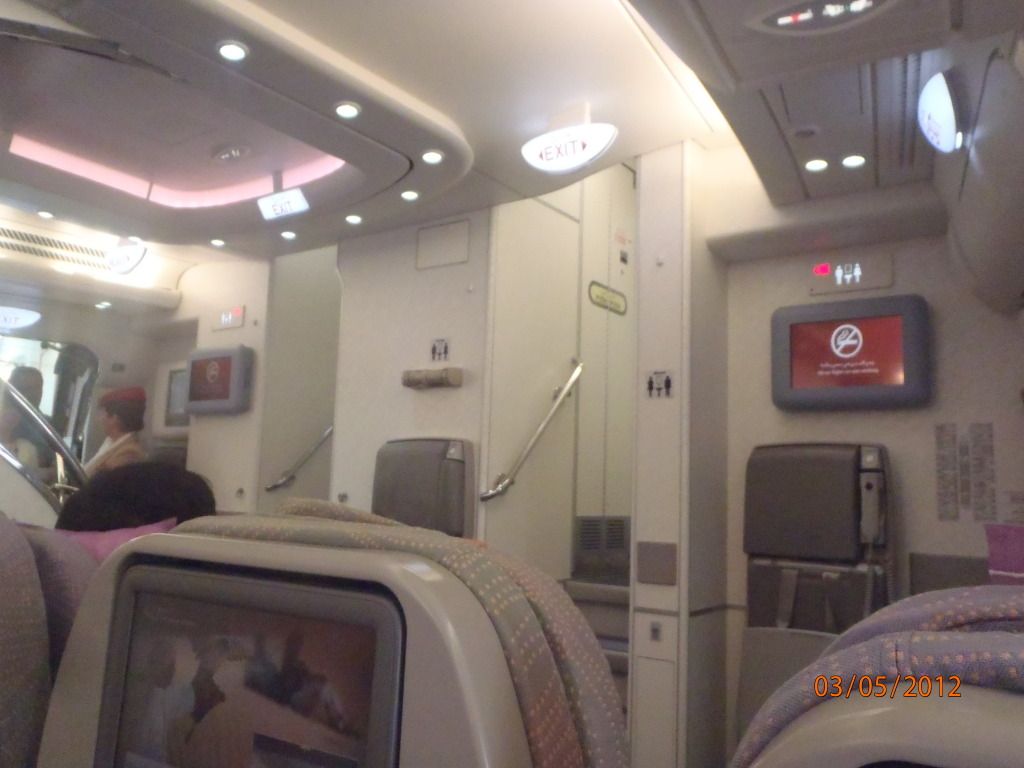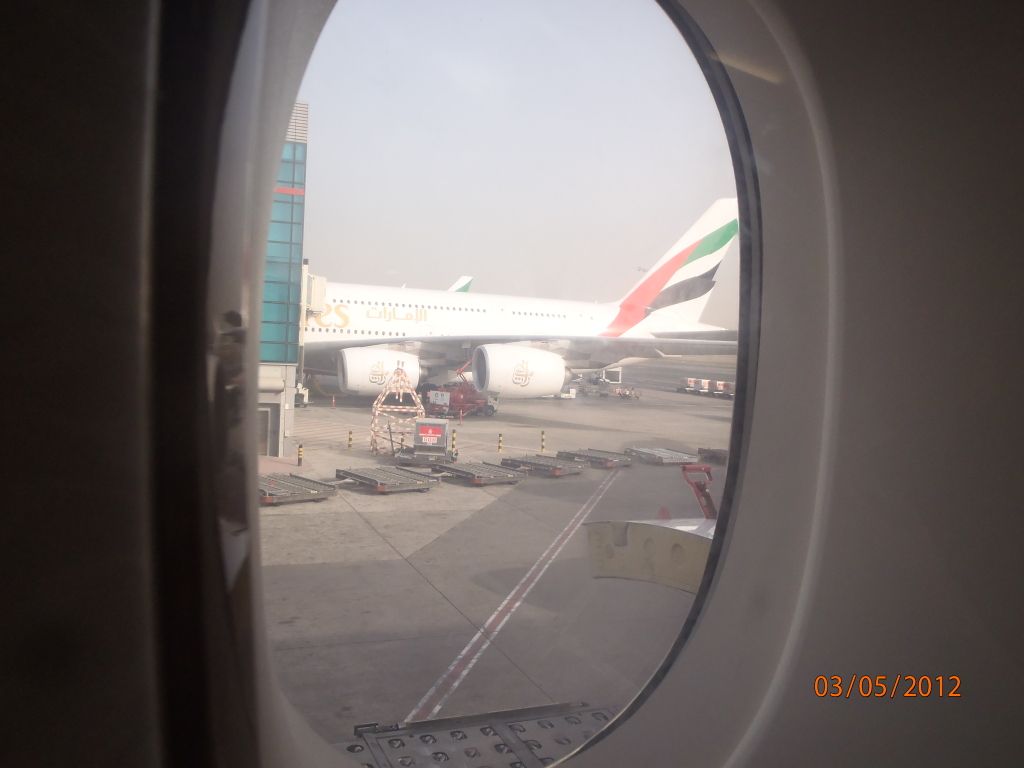 Legroom shot, seems to be slightly more, although the spacious cabin and wider seats could trick the eye.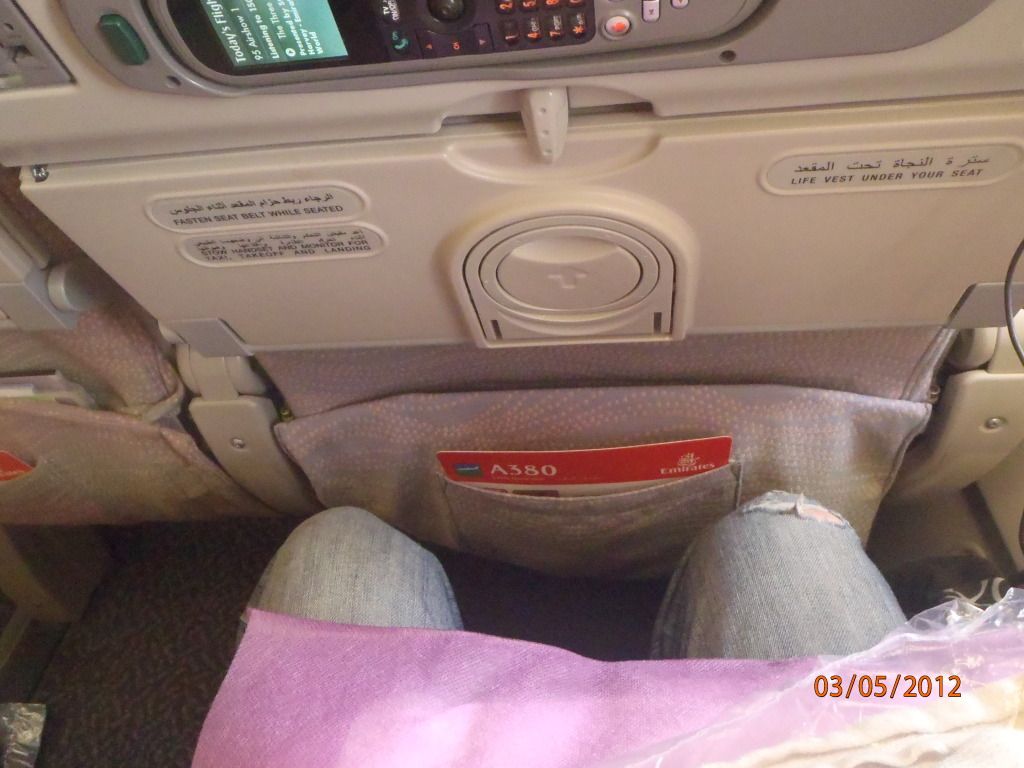 Tail cam, finally some day time viewing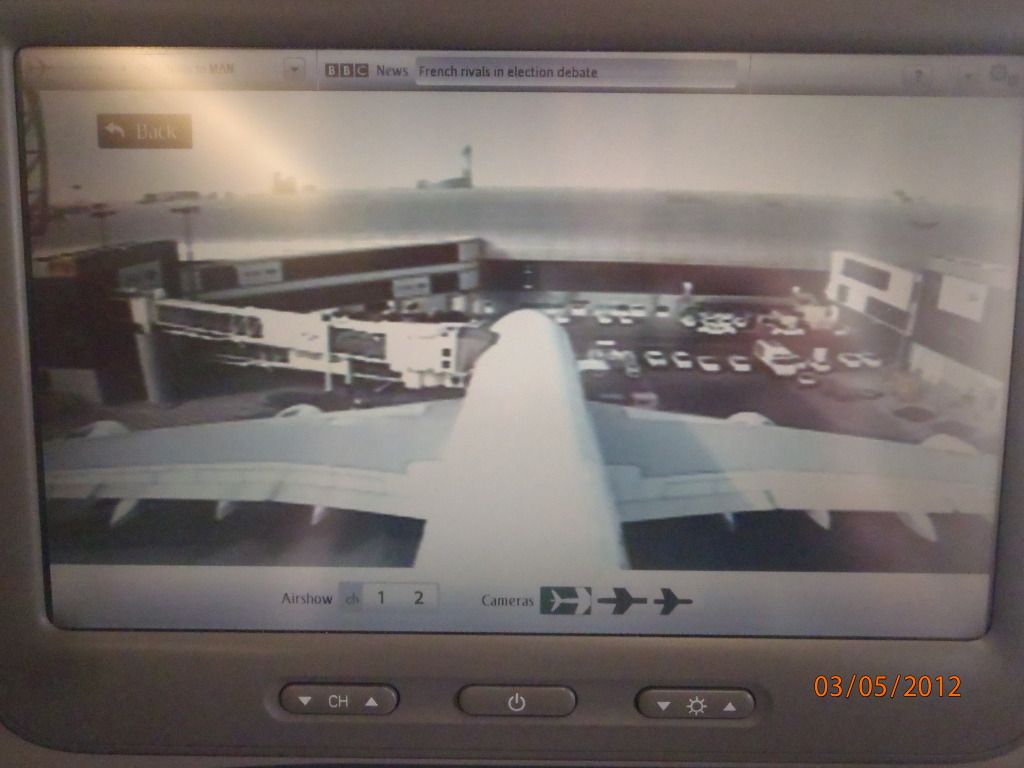 Windows seem smaller, or is it the large cabin tricking my eyes again?
EK plane park,
Pushback: Love this shot, who is the odd one out?
Can anyone recommend VS to SYD?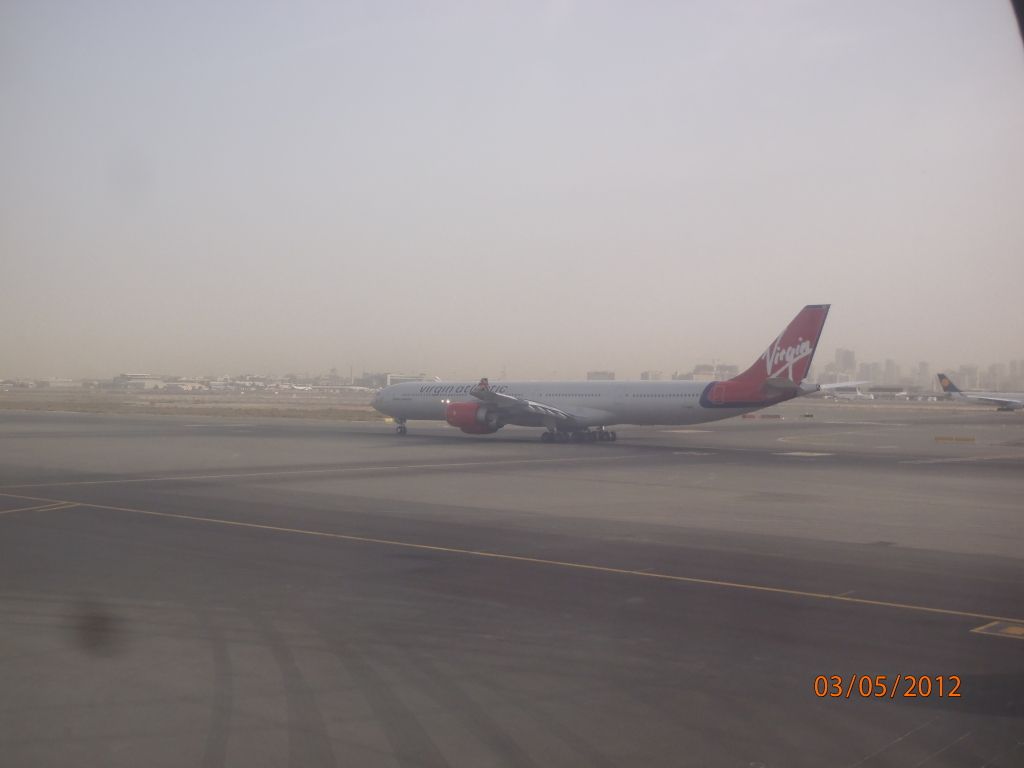 Start of a long taxi to the runway,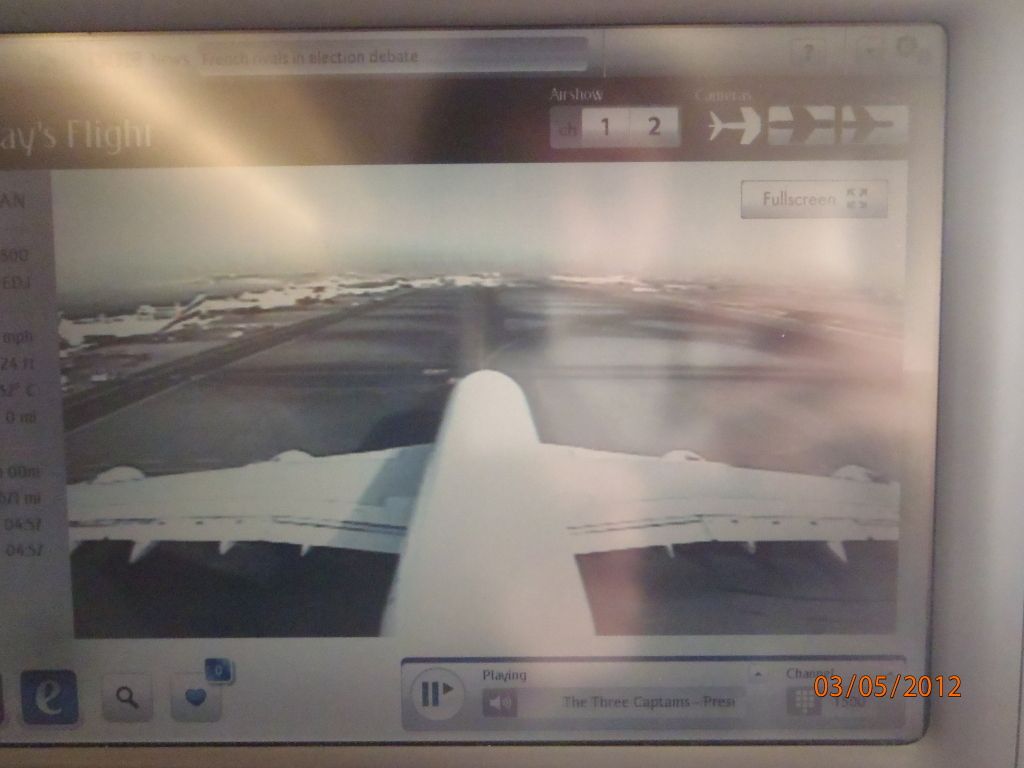 Very hazy humid day,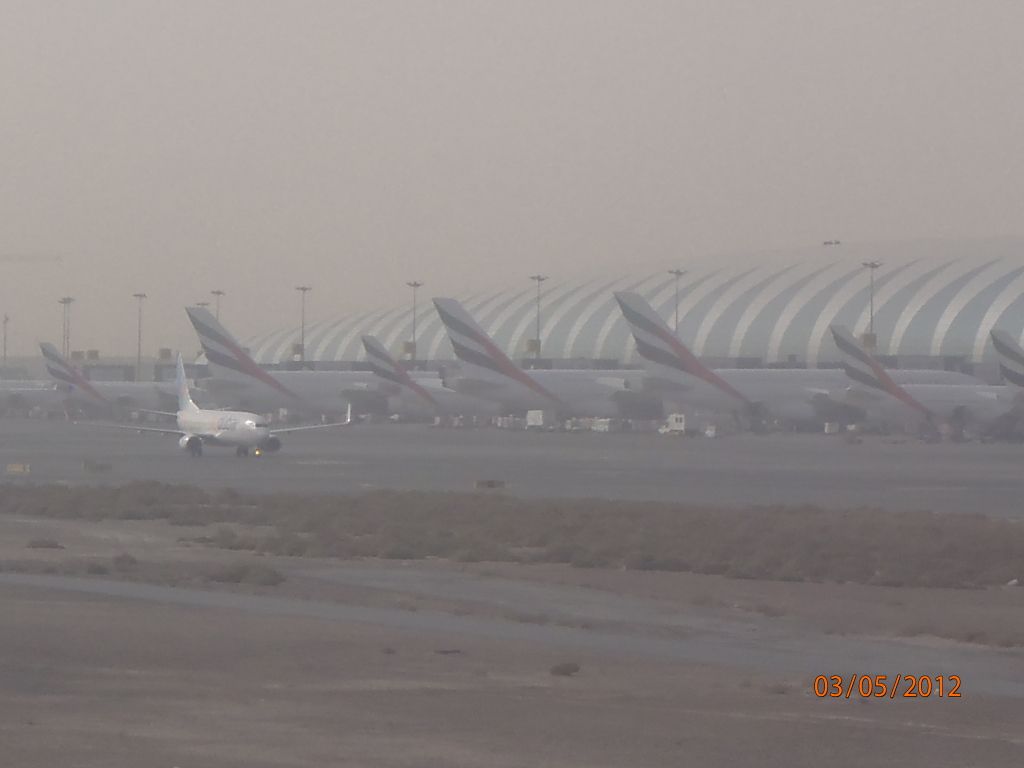 Taxiing around the active inbound runway,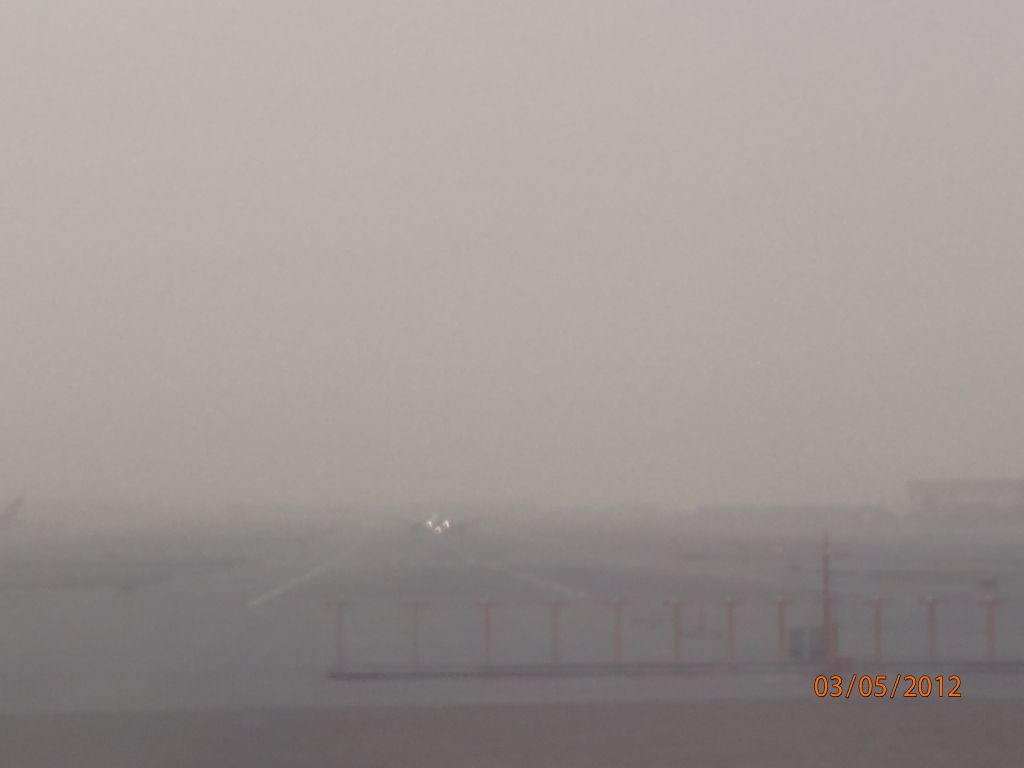 Journey summed up in one picture,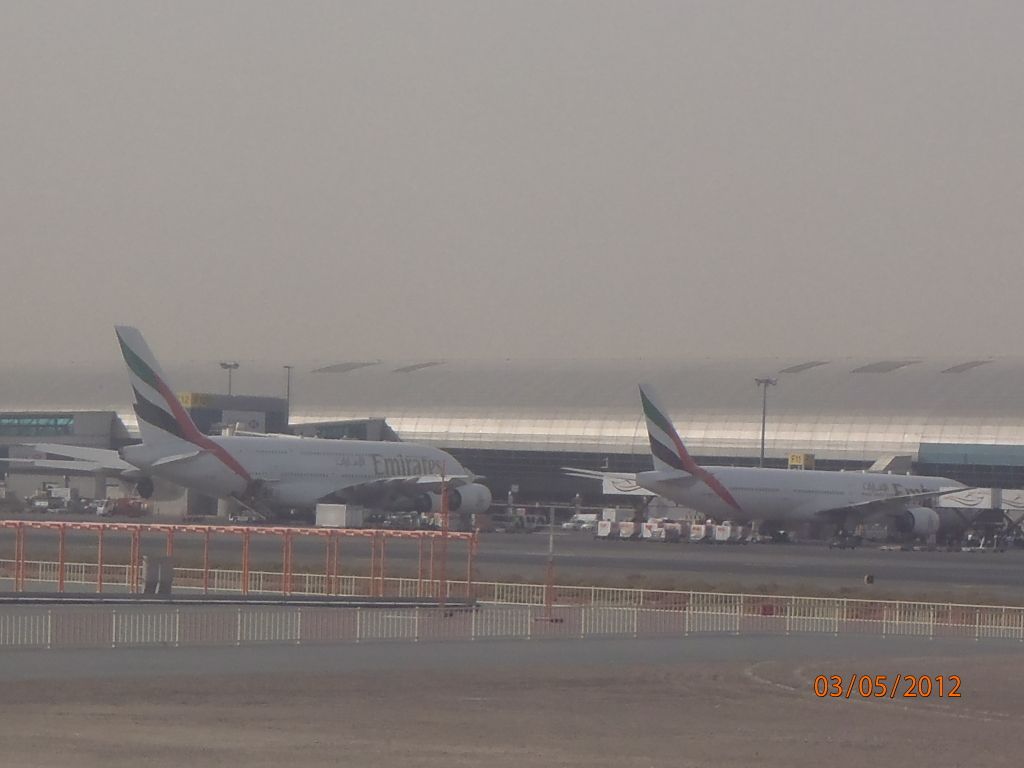 Love this livery, The cleanest cargo aircraft I have seen,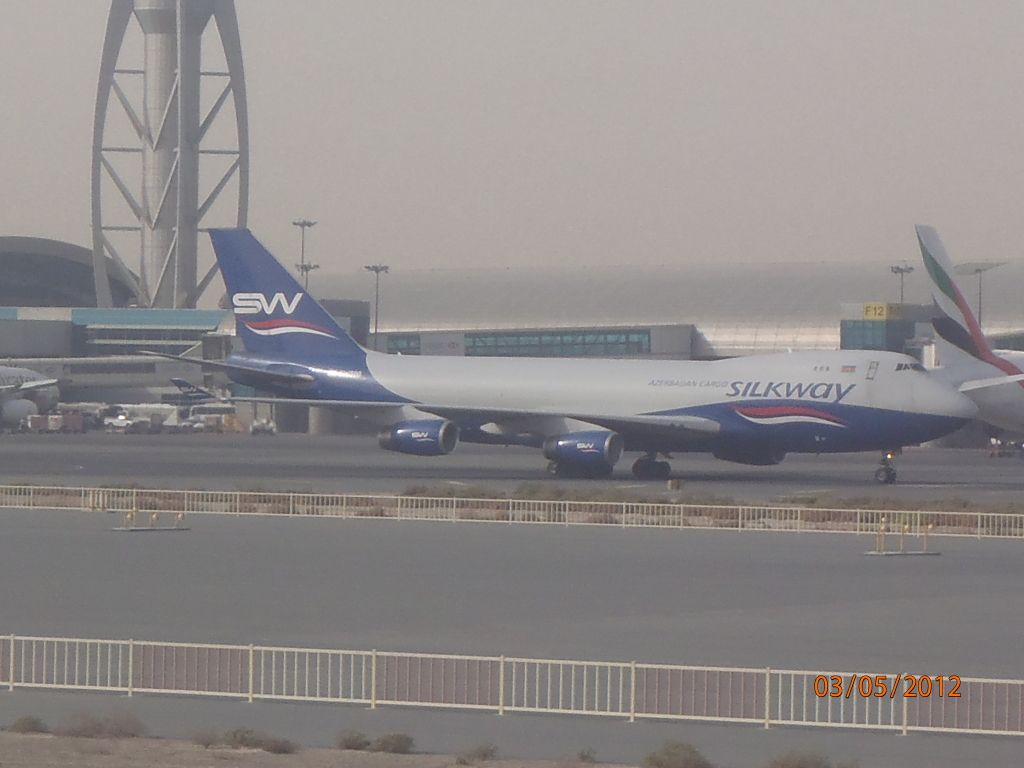 More taxi shots, yet more EK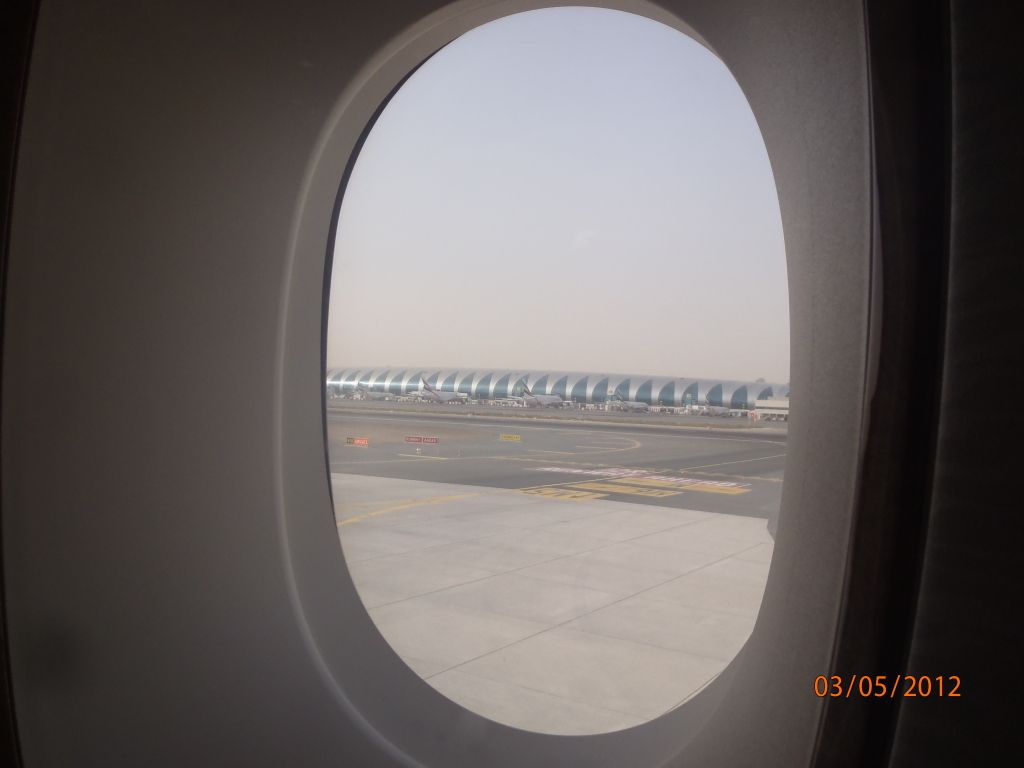 Due to open first quarter of 2013?, Primarily for A380's,
Few years from now they will be as common as the B747,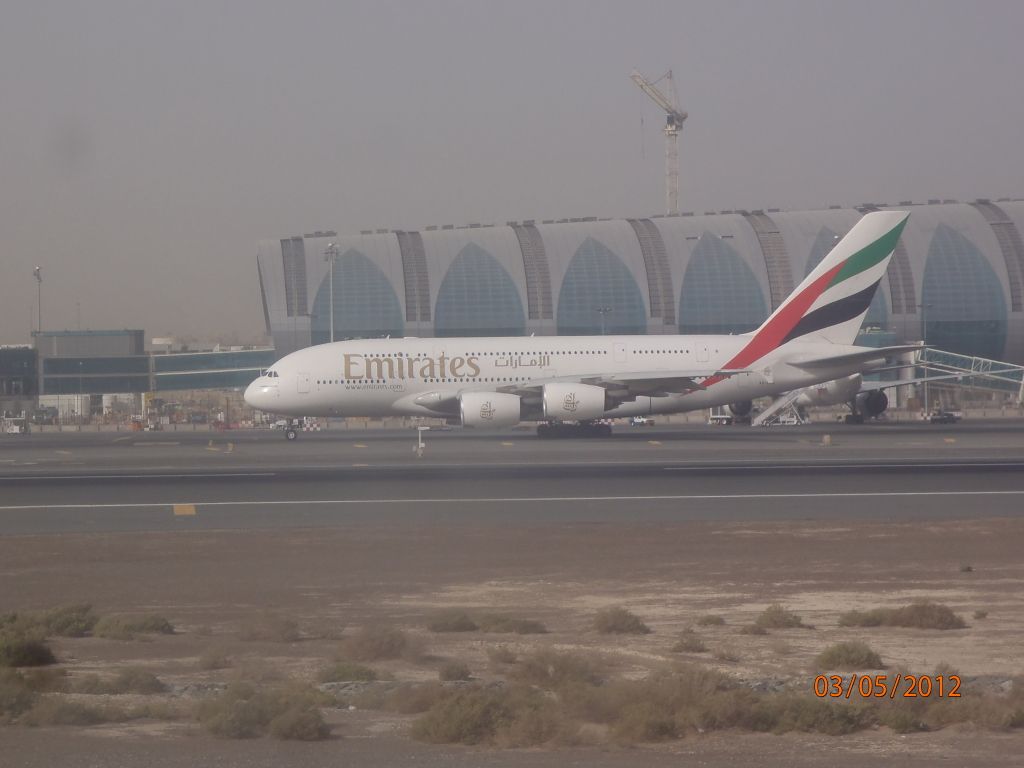 Wish FR could follow service like these guys,
Were being stalked!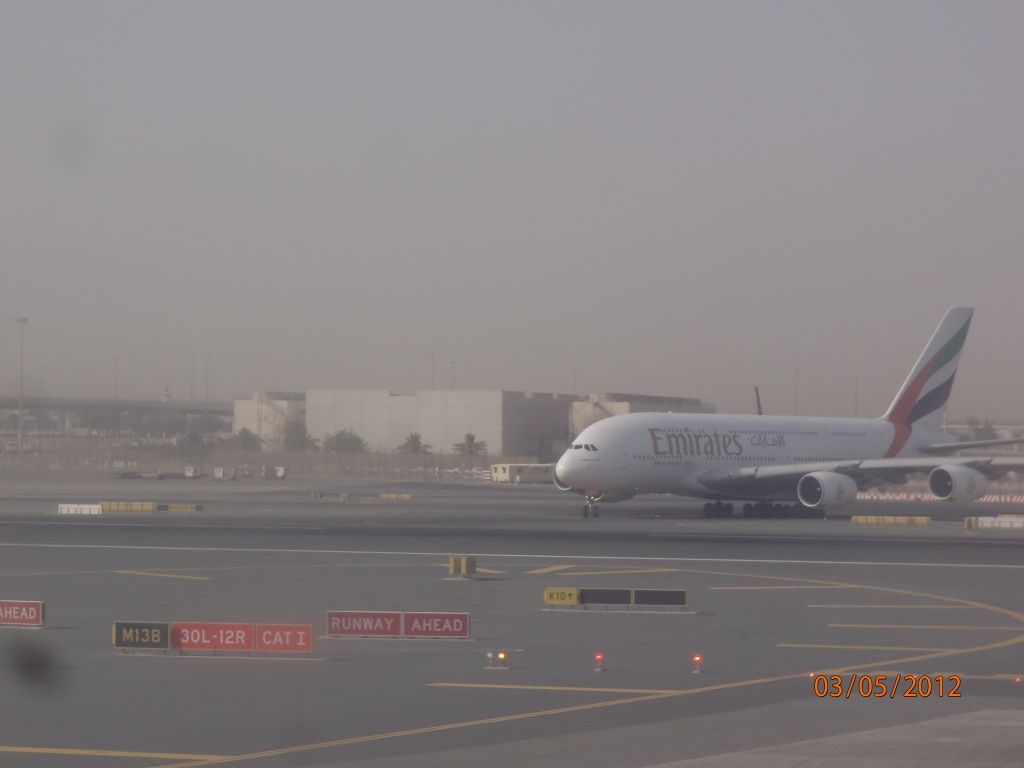 A video of take-off, unbelievably quiet, and feels very slow on lift off, true masterpiece of the skys,
EK's new wi-fi service that the crew seemed very excited to announce, the $5usd per 30mb of data did not make me happy at all, who needs wi-fi, just businessmen and internet addicts,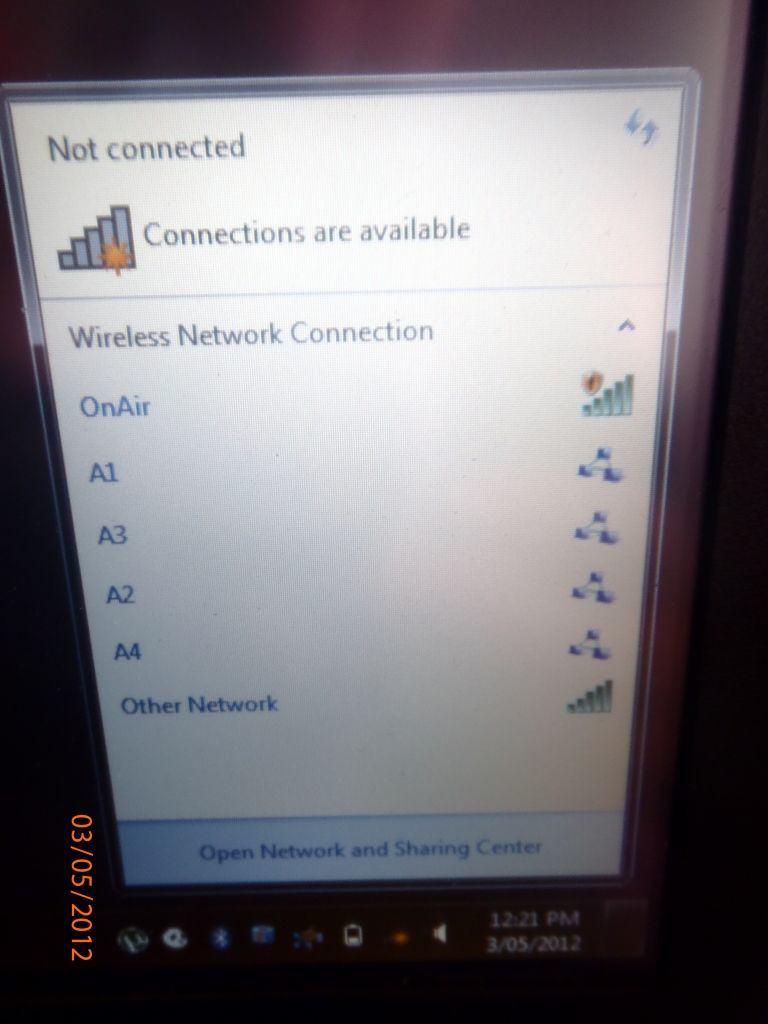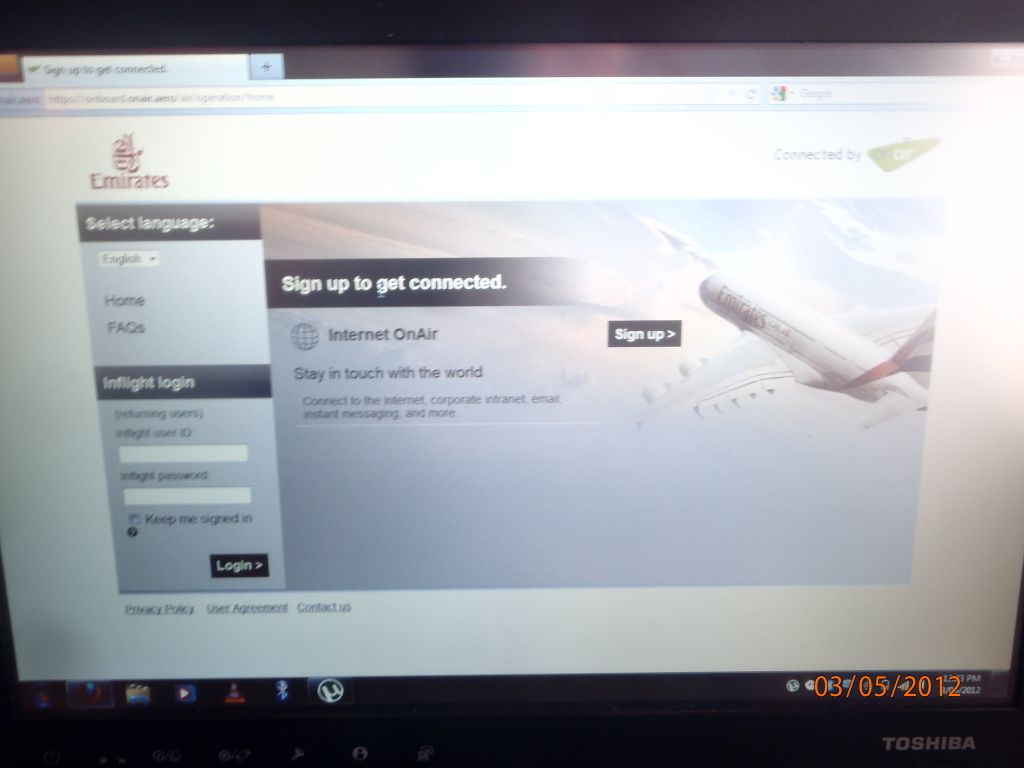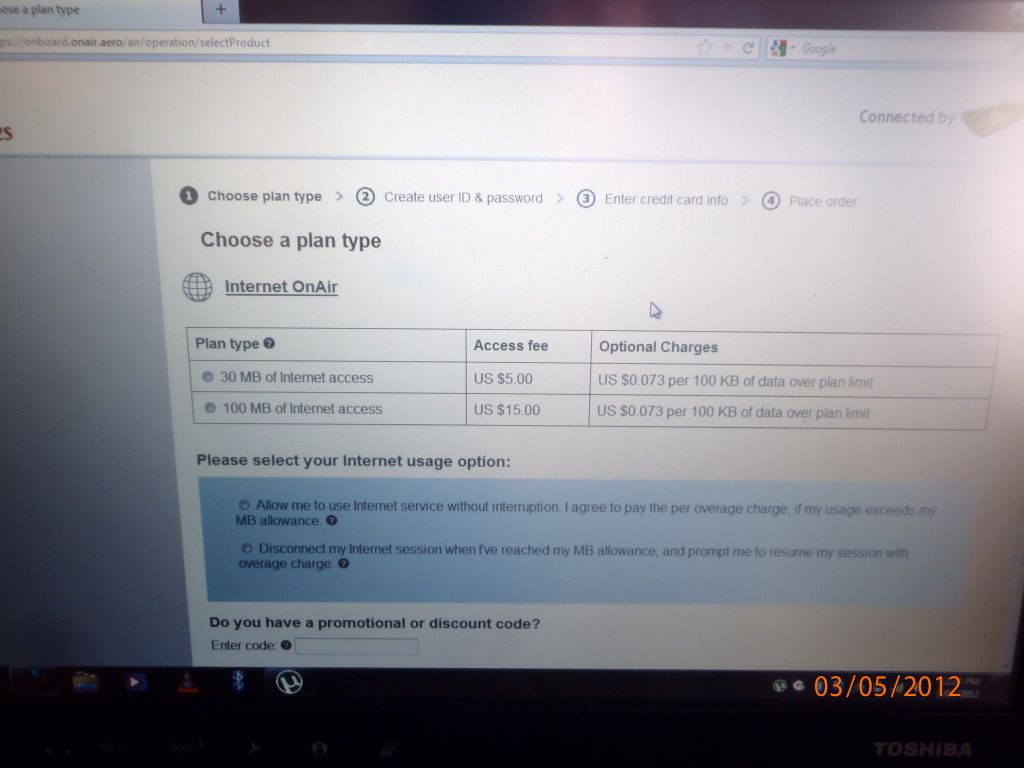 No need for my laptop, ICE will entertain me for the remainder of my journey,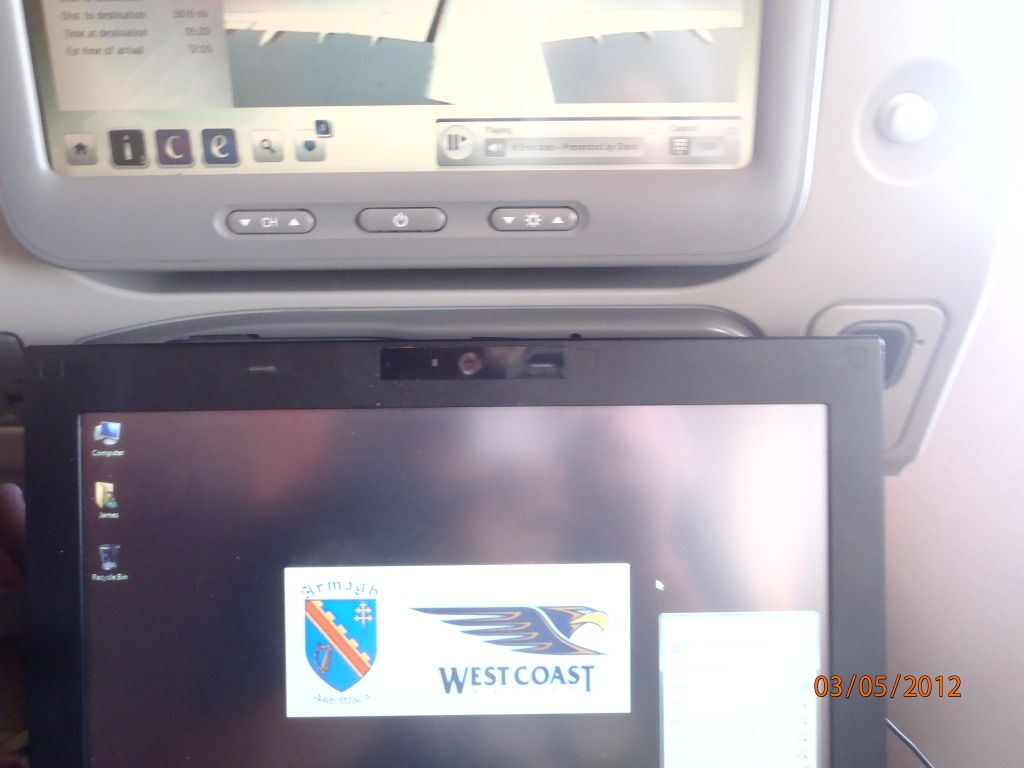 Soon we were at cruising altitude and the first meal service was served by a very courteous Romanian FA. Hot Croissants was served from the basket and after some DIY fillings from the tray, created a very tasty filling. One was not enough so acquiring a second from the FA, was hassle free and got a smile on the house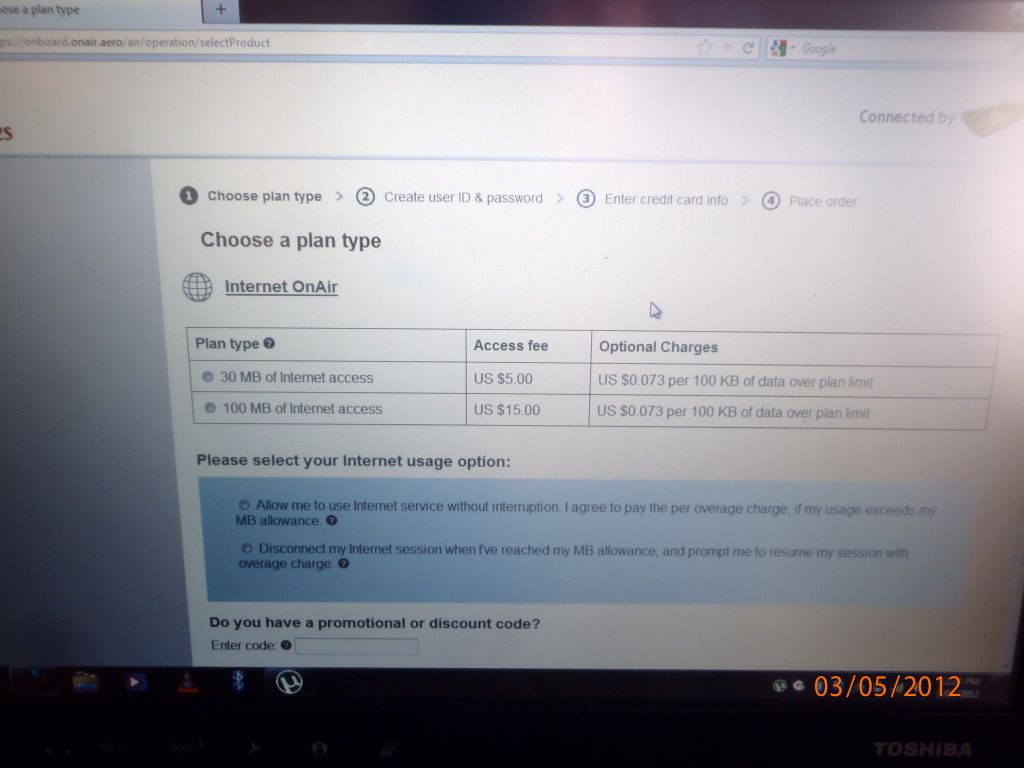 Flying over Iraqi capital Baghdad,
Not many sights as it is quite overcast,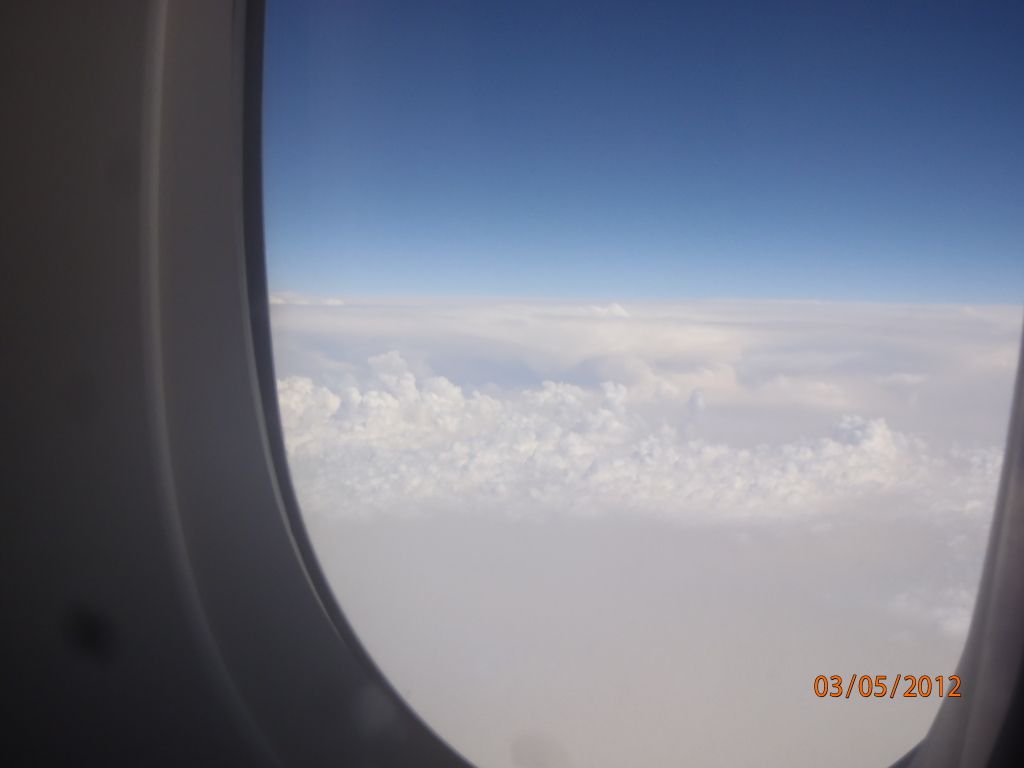 I watched the film Red Dog which I thought was fantastic although brought a tear to my eye.
Outside was still overcast but saw this fantastic sight, They flew parallel to us for a good 30 minutes before changing course to head north,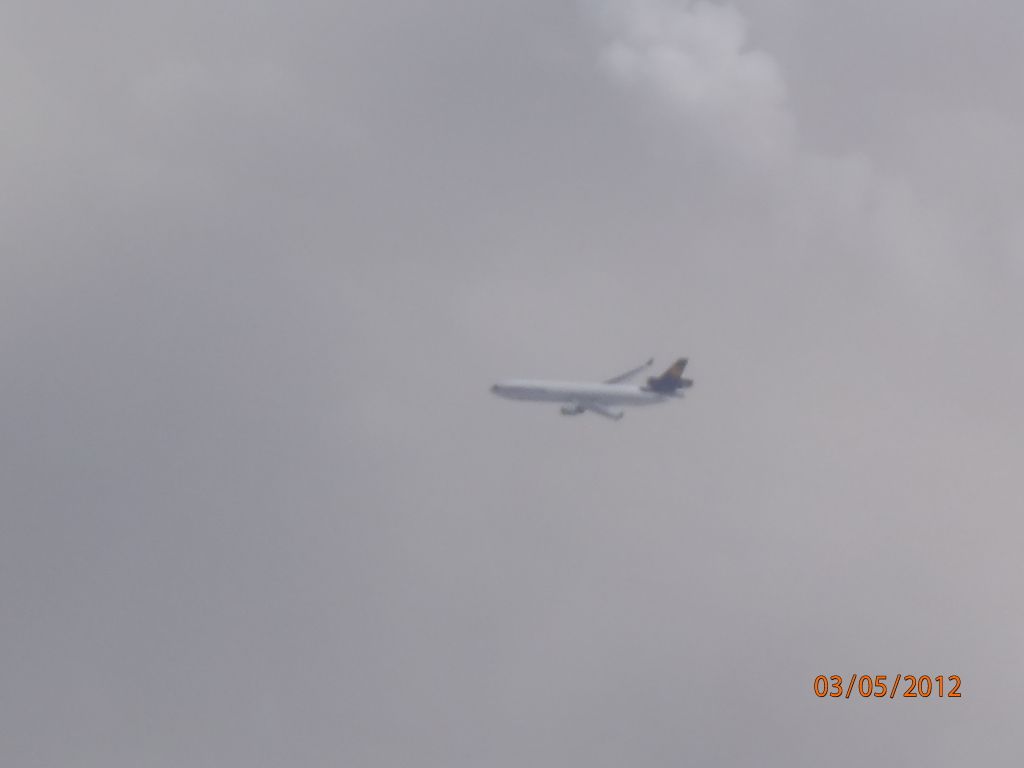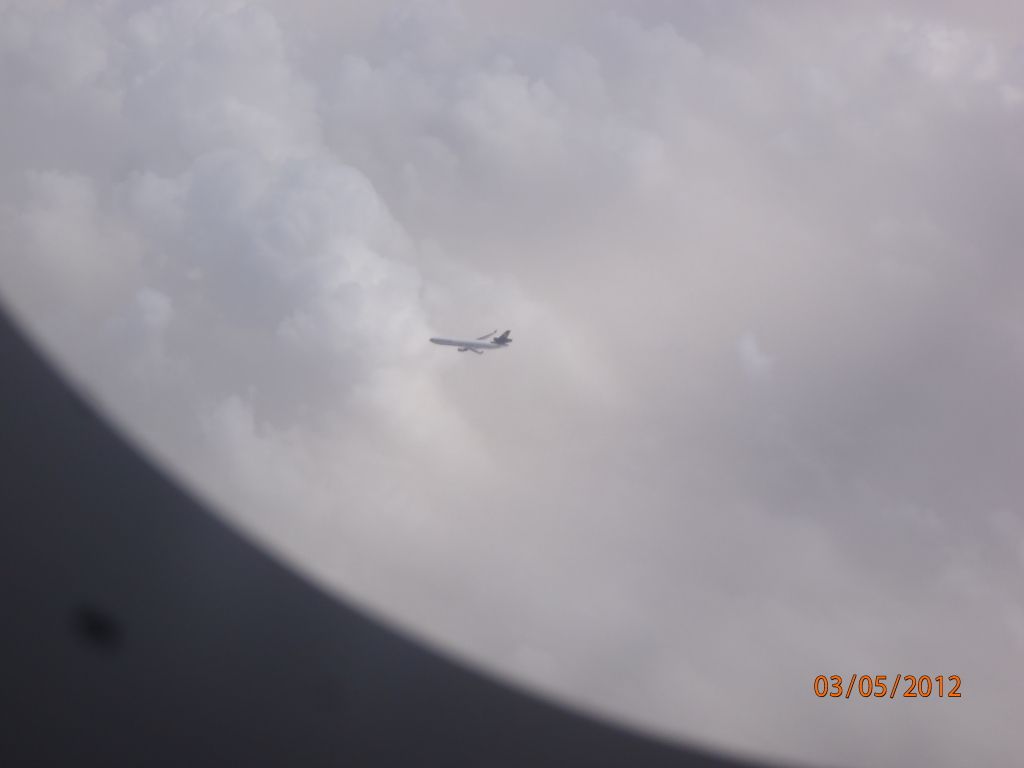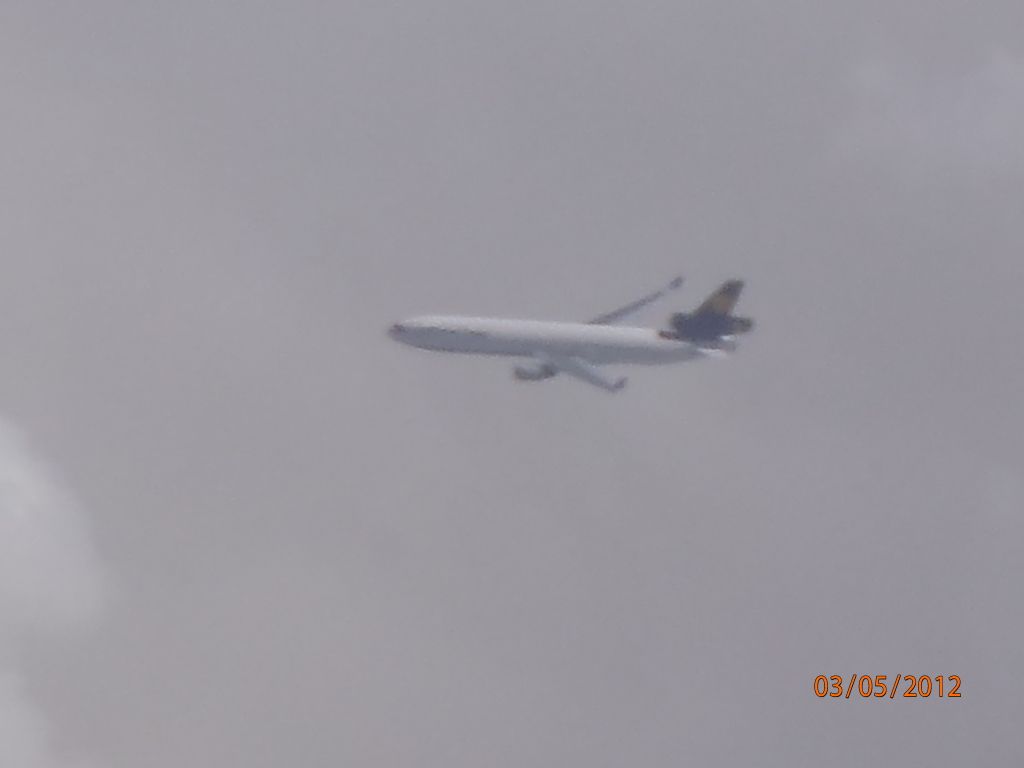 Who needs clear skies, currently crossing the black sea towards Bulgaria,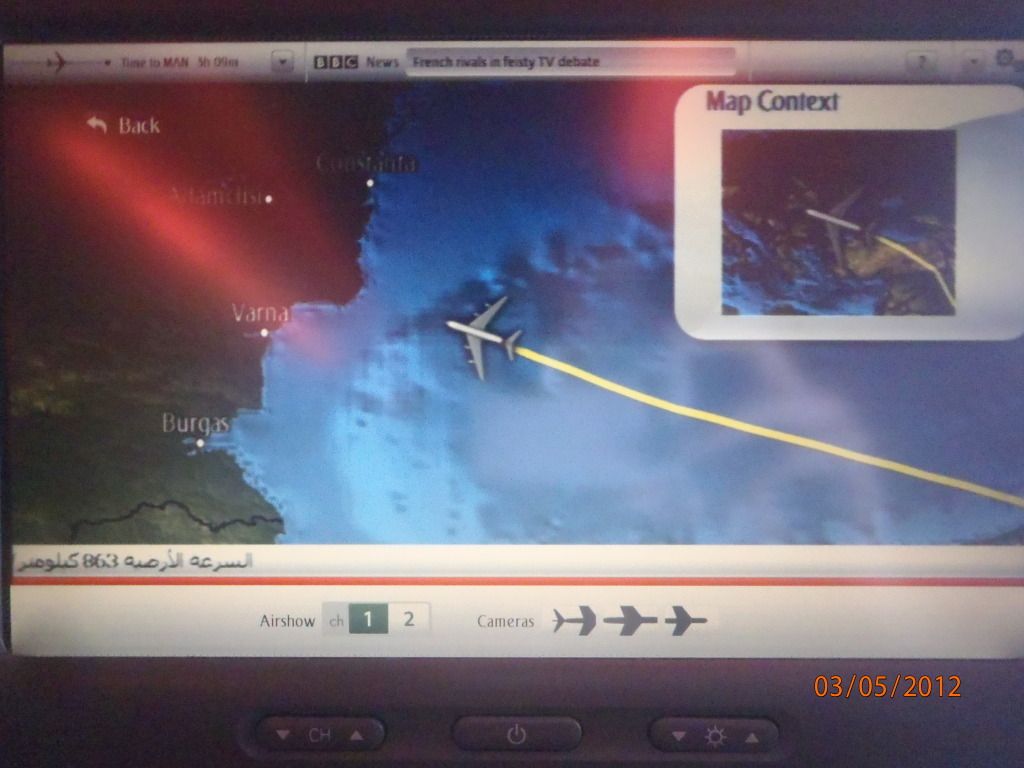 Thanks, but no thanks,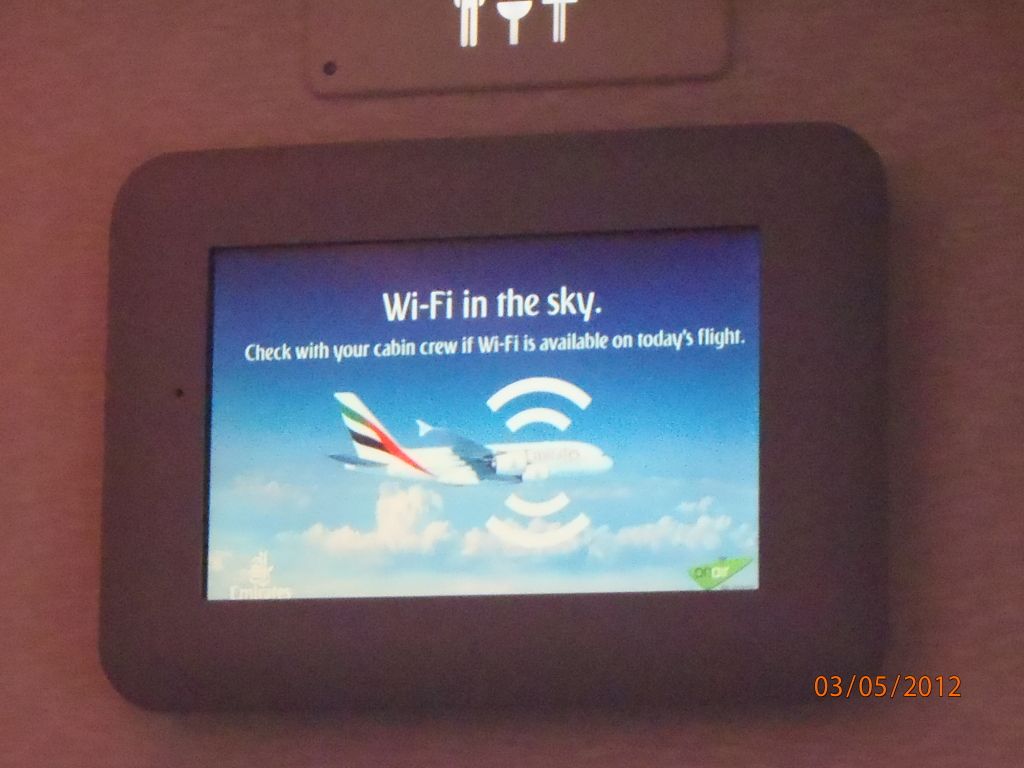 Finally clear skies, Bulgarian ski season coming to an end,
An hour later lunch was served and I chose Mutton Kadhai, the other choice was Cajun Chicken which was more appealing but for variety reasons I opted for the mutton. I was not disappointed. I just could not finish everything so I saved desert and bread roll for later.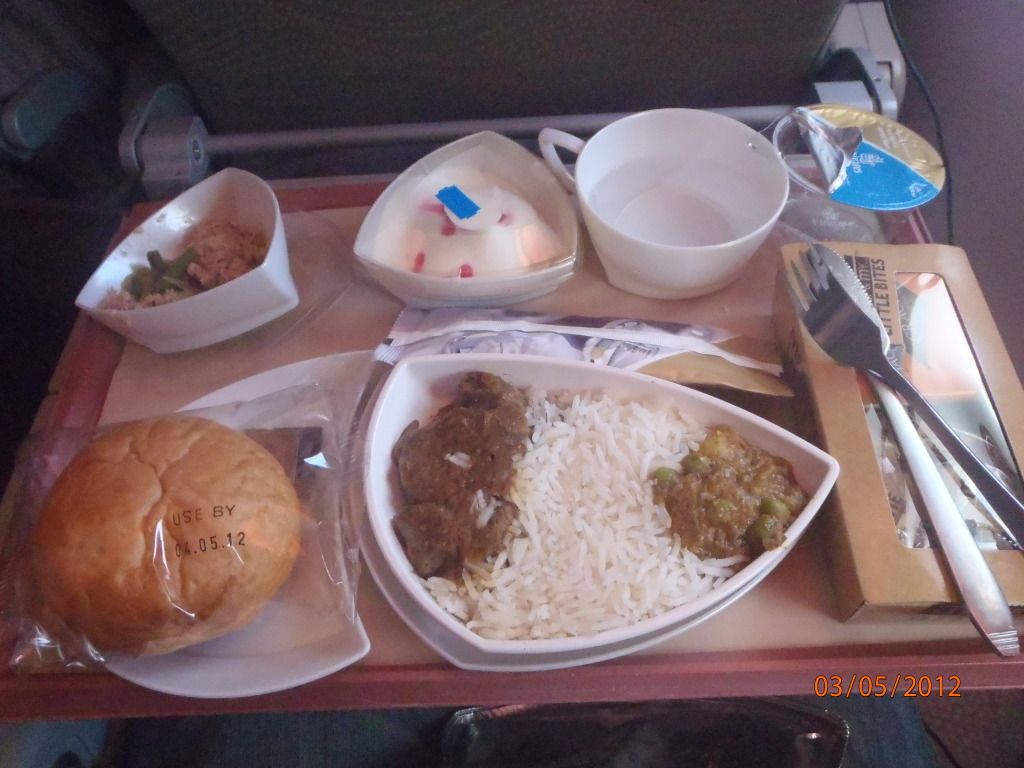 Later turned out to be half an hour
It tasted as good as it looked.
Here is a challenge, anyone know what airport this is? [Germany]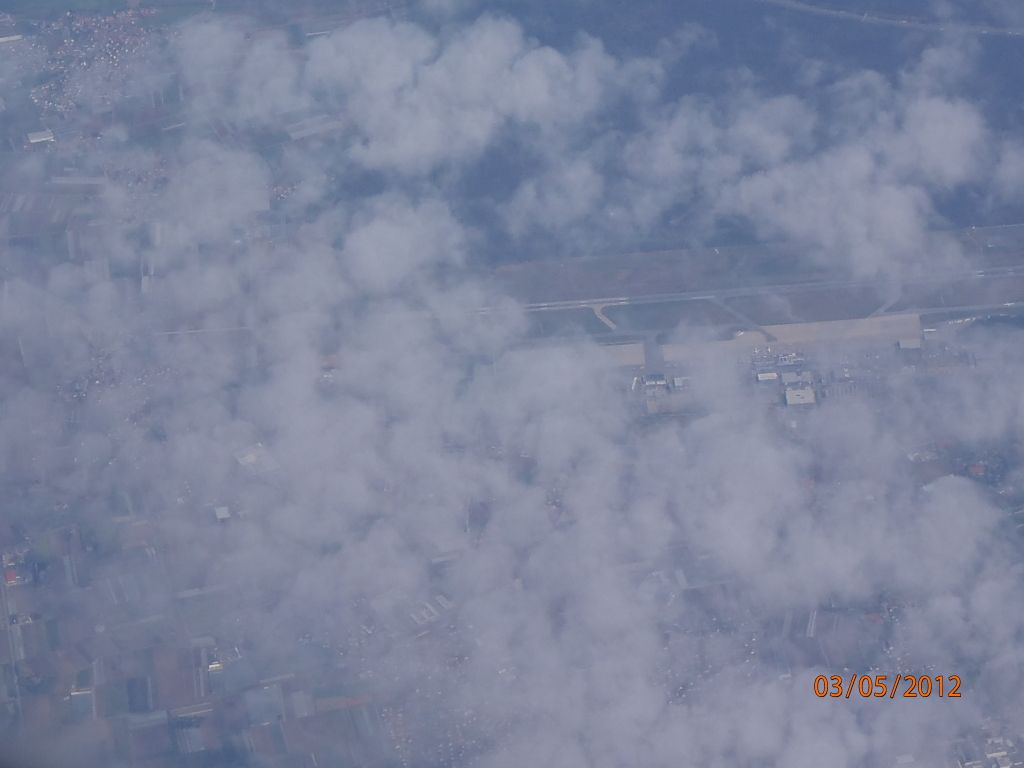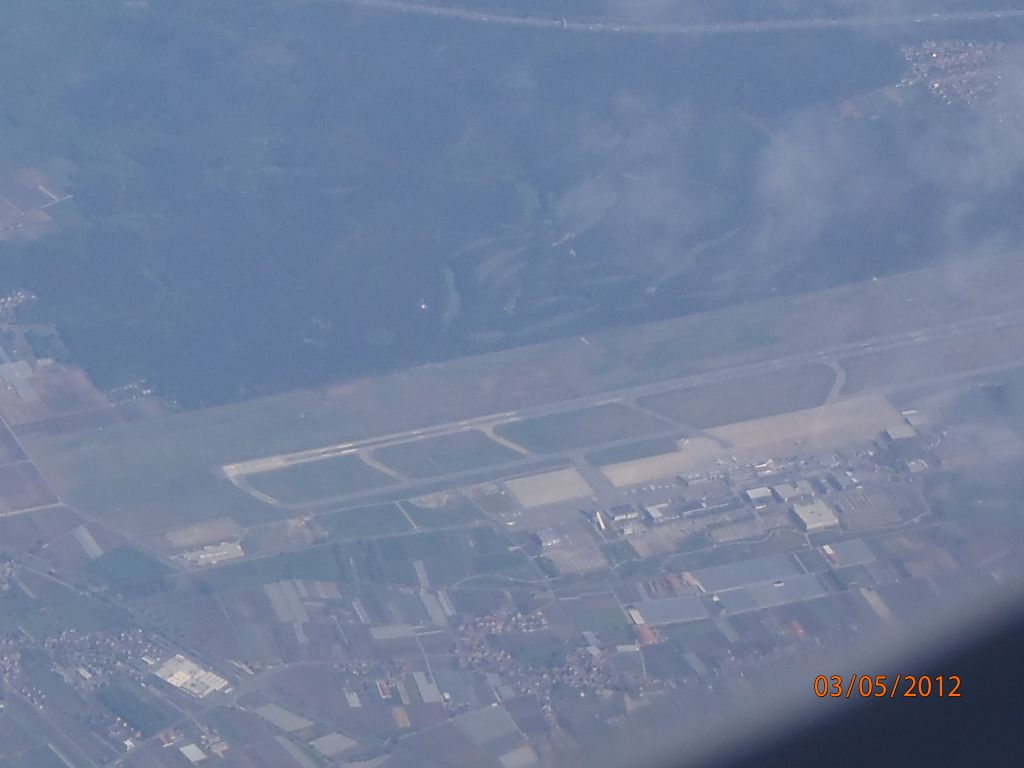 Cruising Germany, home is far too close for my liking,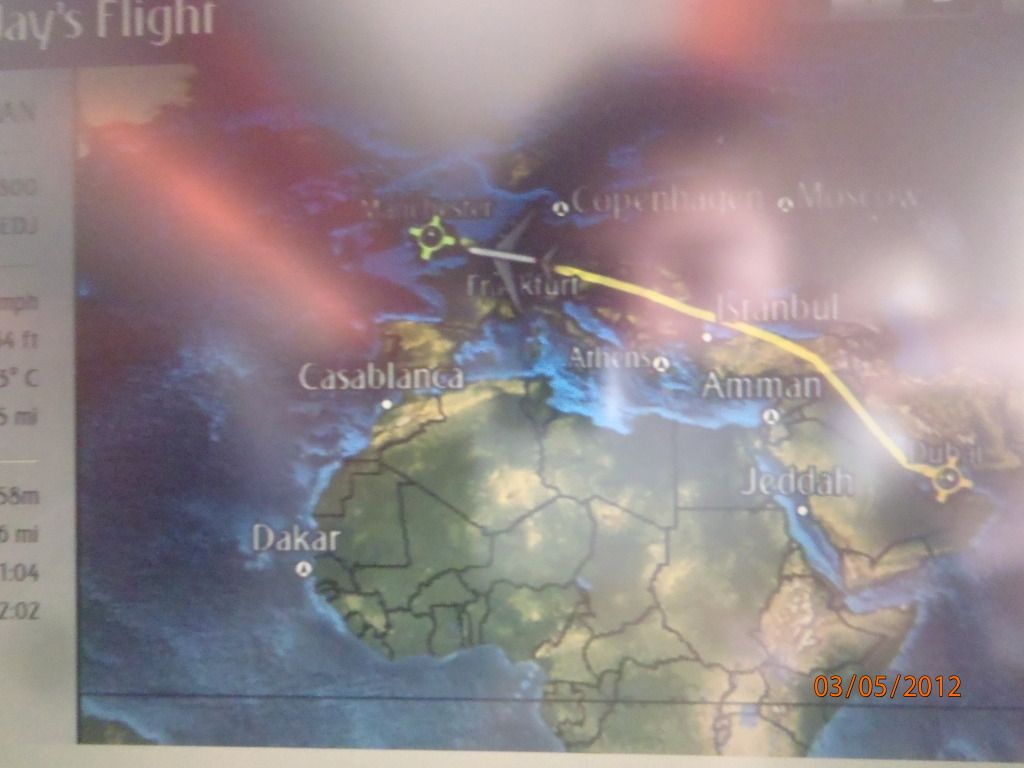 Cabin front, huge door,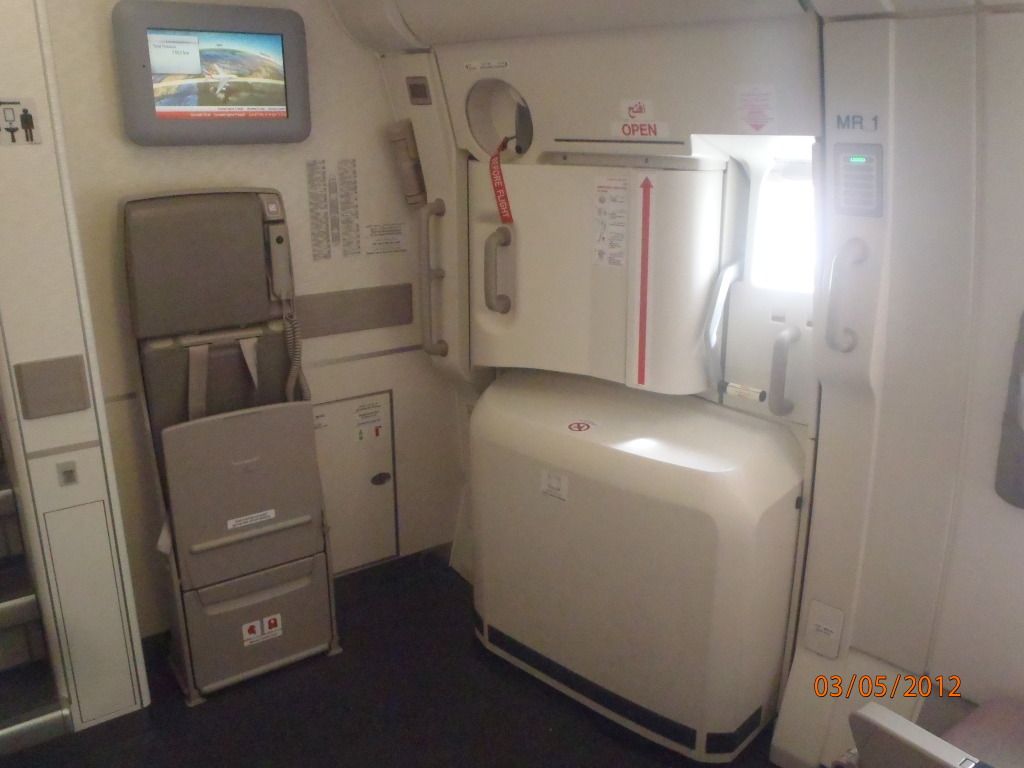 Decent commenced and it was now clear that my 12 month adventure was over,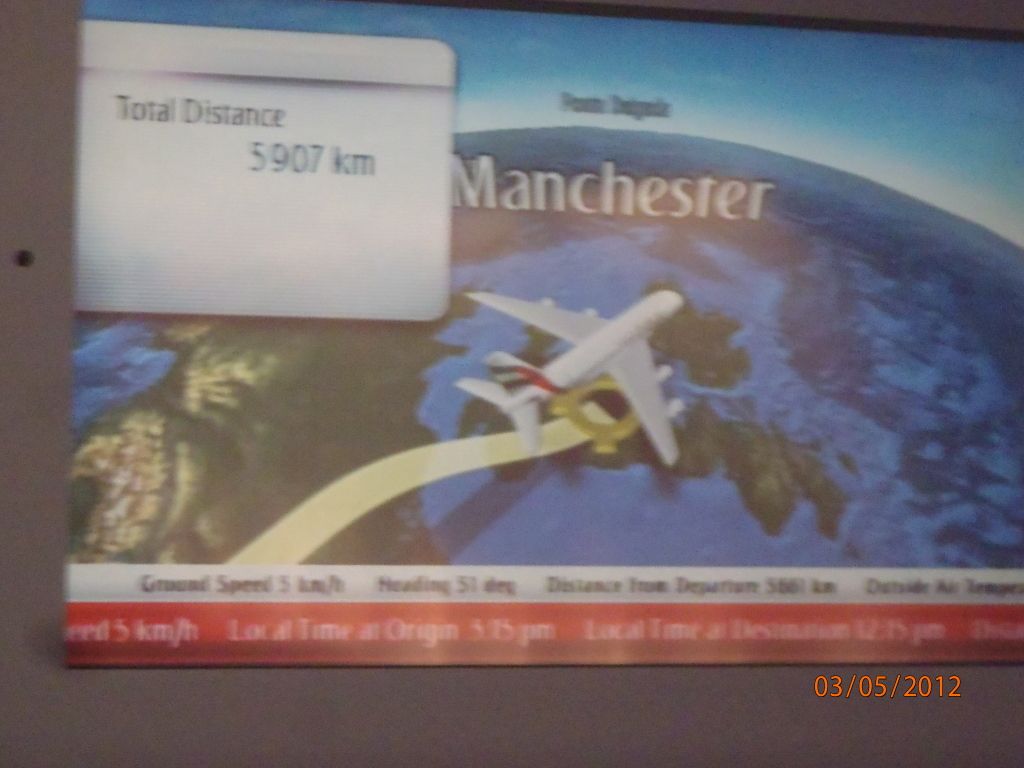 Landing involved circling once before being cleared to land, my camera provided me with a lot of corrupt data. I was amazed how big the aircraft looked on the tail cam taxing online the narrow taxiway. My prequel report will show what I mean.
As we docked with the Jetway my mood changed to bugger i'm home, I only had to look forward to a 7 hour wait for my final hop across the irish sea. I thanked the crew for a great experience and for once was one of first to disembark simply because I wanted to find somewhere in the airport to crawl up and sleep, I was considering splashing out on lounge access, however another surprise took form.
Farewell EK until next time,
MAN has a nice variety of traffic,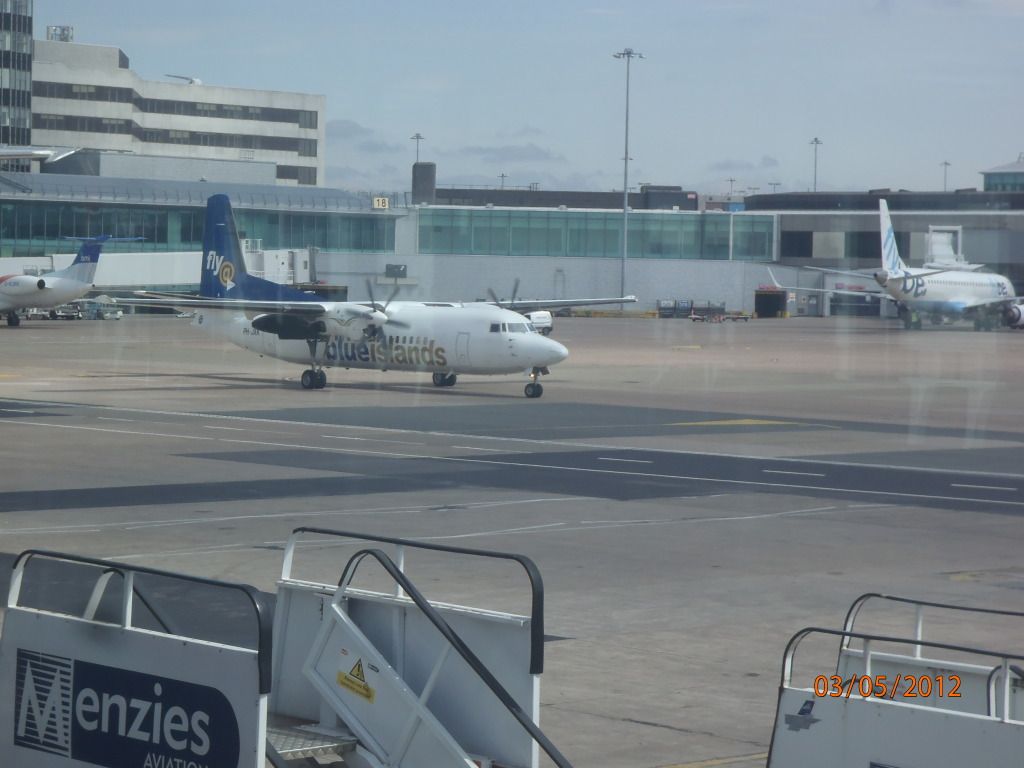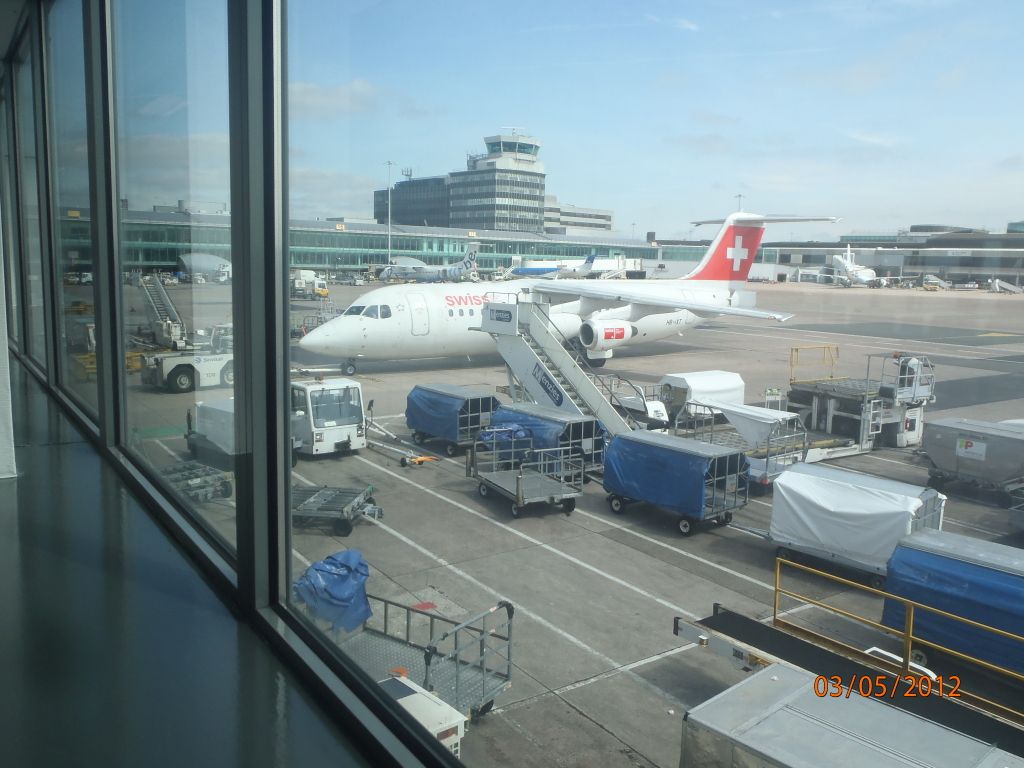 What does MAN and BFS have in common?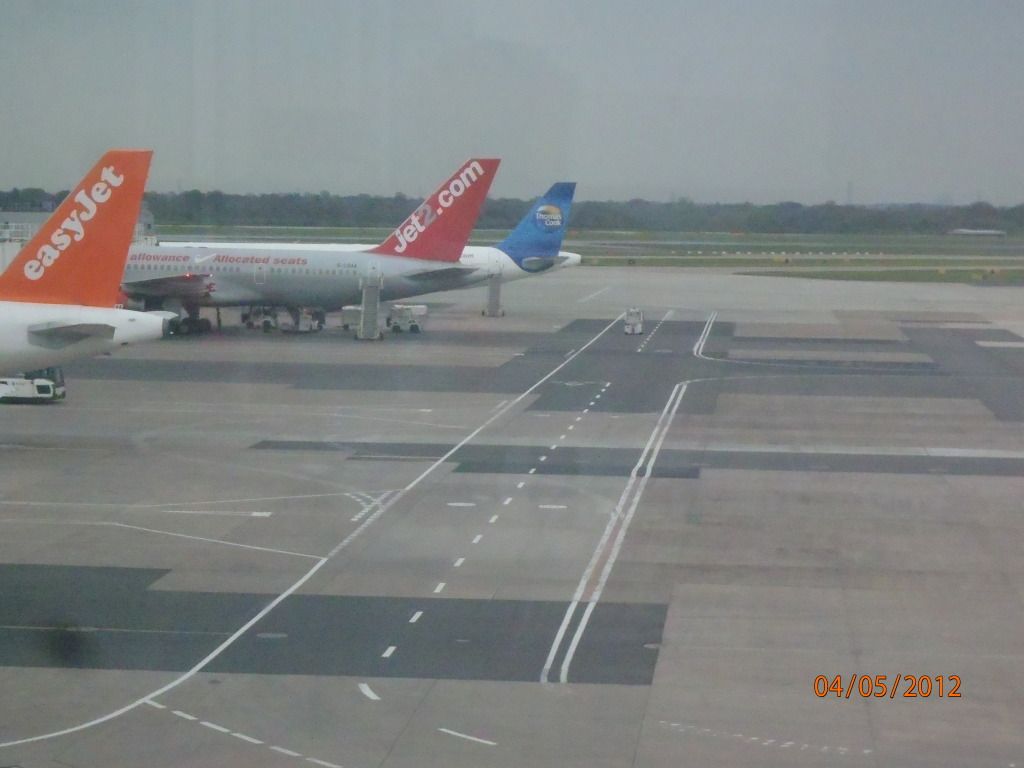 The above carriers operate from both airports and now BFS charges for trollys... BOOOOO! BFS is not ideal for inbound tourists, the tourist board, airport management and government seem blind to their greed, the thought makes my blood boil, please EI move to BHD!
I believe these are becoming rare now a days,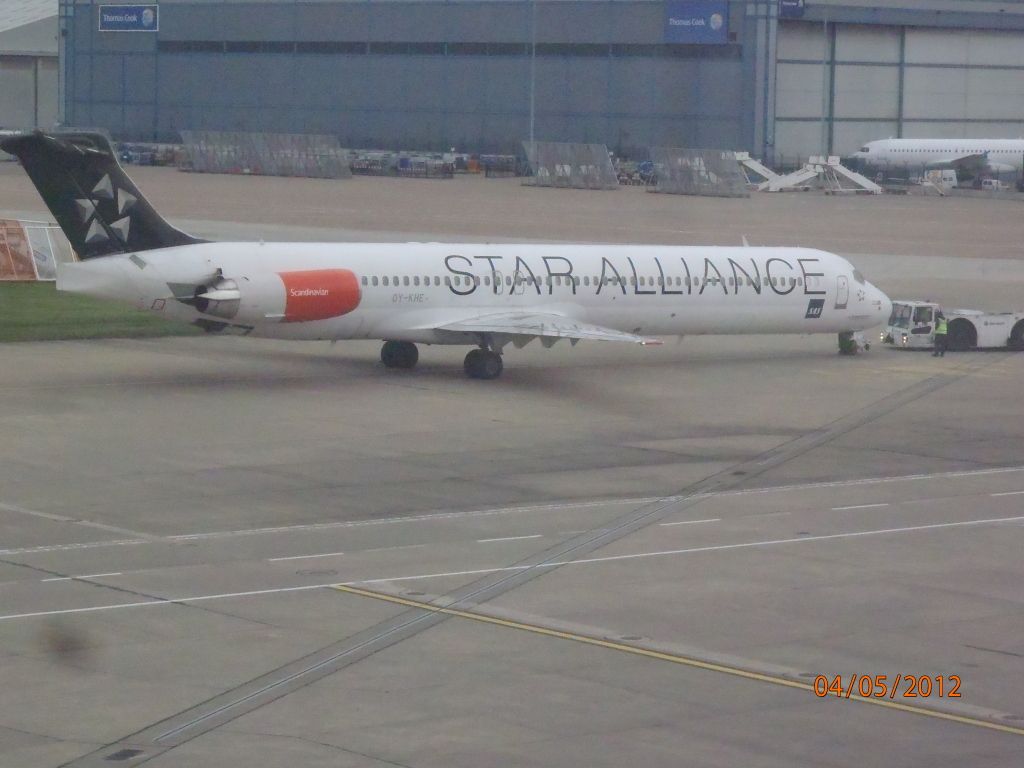 After a lengthily walk through MAN I was pleased to find a deserted immigration and was cleared within 2 minutes, and was soon in the impressively designed baggage reclaim.
MAN, MEL, BFS, yep pay for a cart [anyone else contribute to the greedy airport list?] Due to my state I had no choice and that was a pound down the drain. All my bags were out within 20 minutes. I was due to meet my cousin who flew in on the evening EK b777 flight, but to my surprise my mum, sister and friend were all there to greet me. They had stayed over the night with my cousin who apparently did not know anything and they extended room access for me to have a decent recharge and time to kill until my final short journey with EI.
I made the most use of the trolley since I was able to wheel it all the way to the hotel room using the T1 skylink.
My sister and friend took a train back to Leeds and Liverpool to resume their University "studies" while my cousin had booked an earlier flight back to Dublin.
Not feeling too tired we gathered my stuff and made slow pace to T1, catching some sights along the way,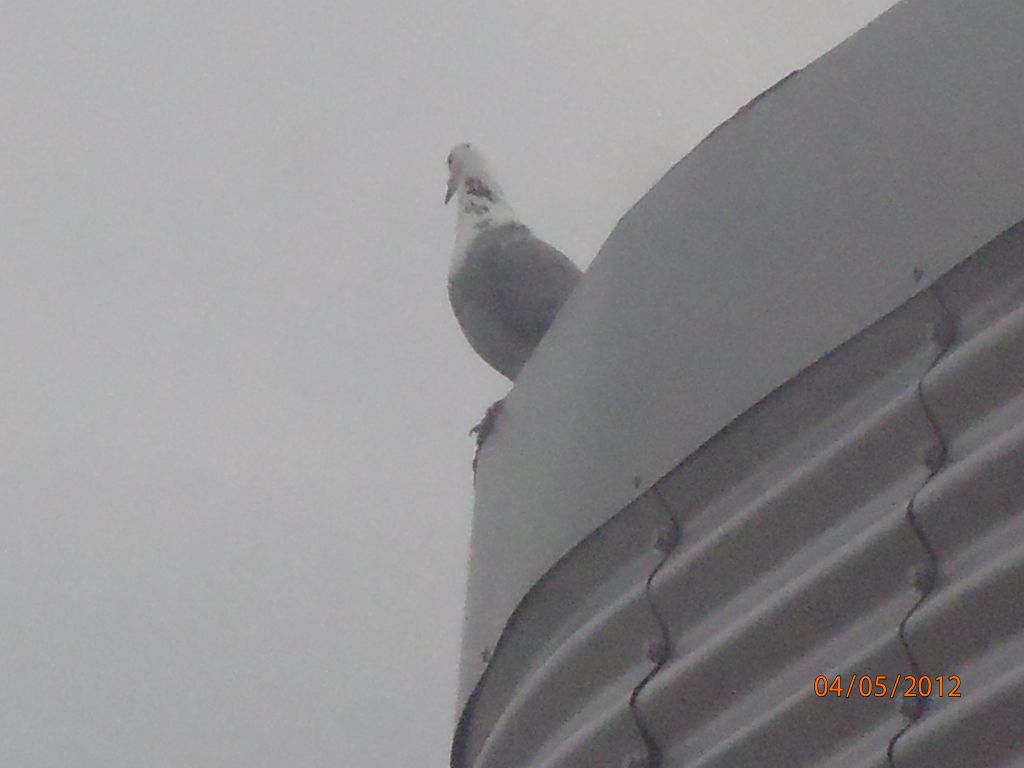 EK evening inbound,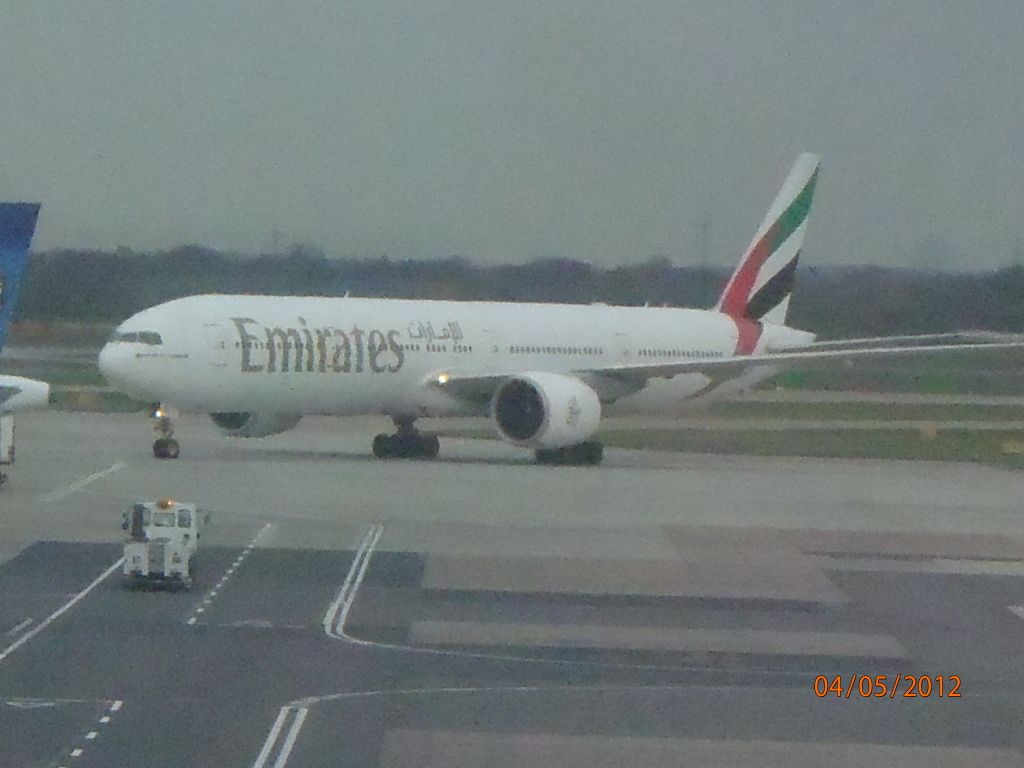 Never heard of them, summer charters I presume?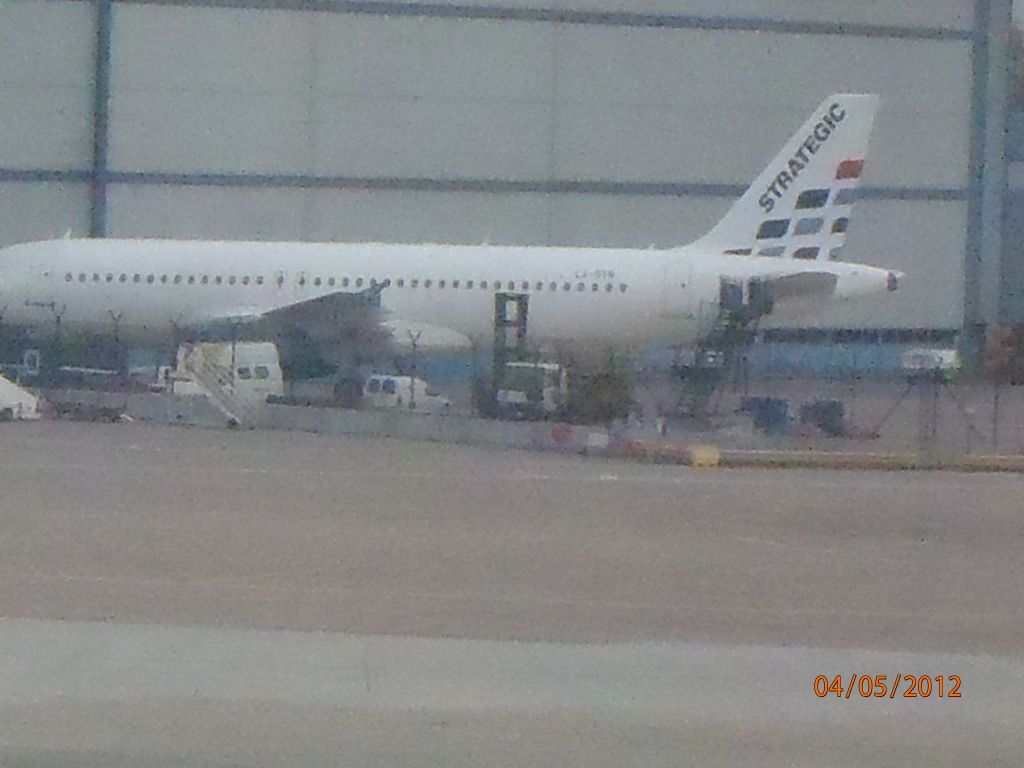 The layout of MAN is quite confusing but we figured out what floor check-in was on. Lucky it was very quiet and that it was as it is a very tight area to squeeze desks in. It Only took 2 mins and we were checked in and asked polity to leave my bags to outsize baggage.
Security was pleasant, high tech gates controlling the steady flow of passengers made it hassle free.
After negotiating the maze I call duty free we stopped for a bite to eat which I kindly declined but then agreed to share a bowl of potato wedges. A view was also provided:
Hello LS,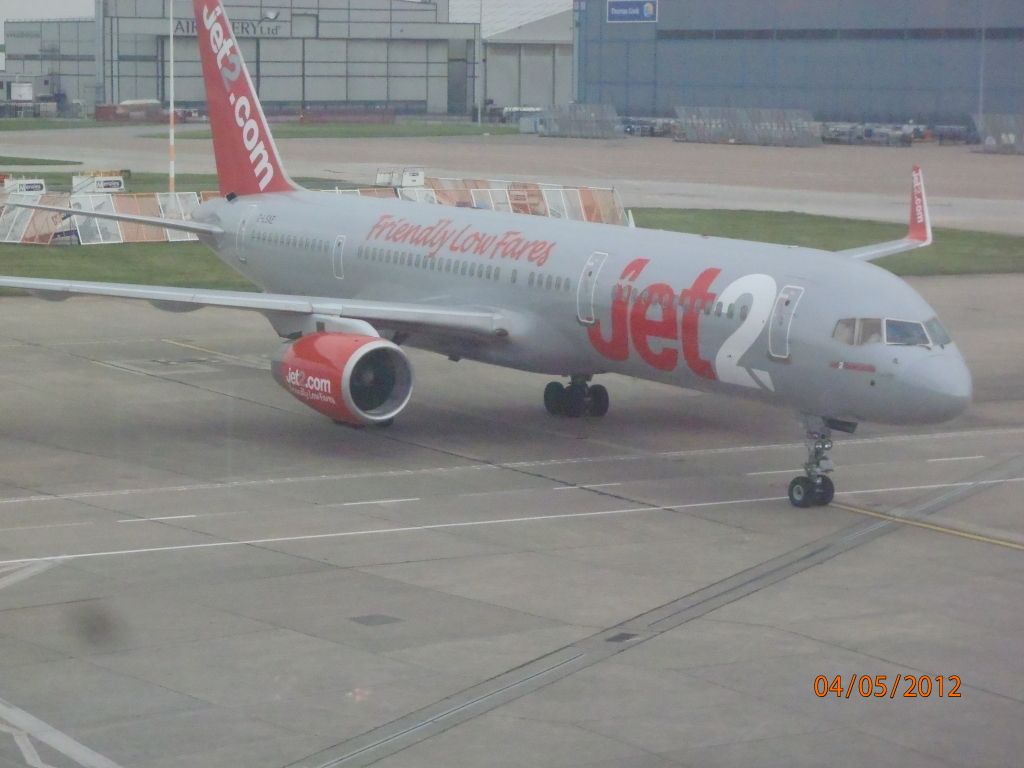 I seen good reports about you,
Screens were asking us to head to gate 17 we obliged soon to find our inbound arrival to be slightly delayed. But soon enough the shamrock docked, [Camera had a mood swing]
1APR14 Ireland Direct, 3 A380-9LR,Equiped Irish Bar & Casino. All Y+ seating. Serving DUB-PER-SYD/MEL