Hello and welcome to my trip report covering my flight home from London to Bangkok with Thai Airways. This is the return flight of
THAI's Retro Boeing 747-400: BKK-LHR
(by
win1290
Apr 22 2012 in Trip Reports). Hope you enjoy!
Date: 23 June 2012
Airline: Thai Airways International
Flight: TG 917
Route: LHR-BKK
Aircraft: Airbus A340-600
Registration: HS-TNE
The journey began in Bristol where I was based for university. I took a Great Western train from Bristol Temple Meads to London Paddington which took around 1 hours and 45 minutes, then connecting to Heathrow Airport using Heathrow Express which got me to the airport in 15 minutes. I arrived at Heathrow terminal 3 at approximately 6pm, for my 9:30pm flight. As usual, TG check-in area is located in entrance D.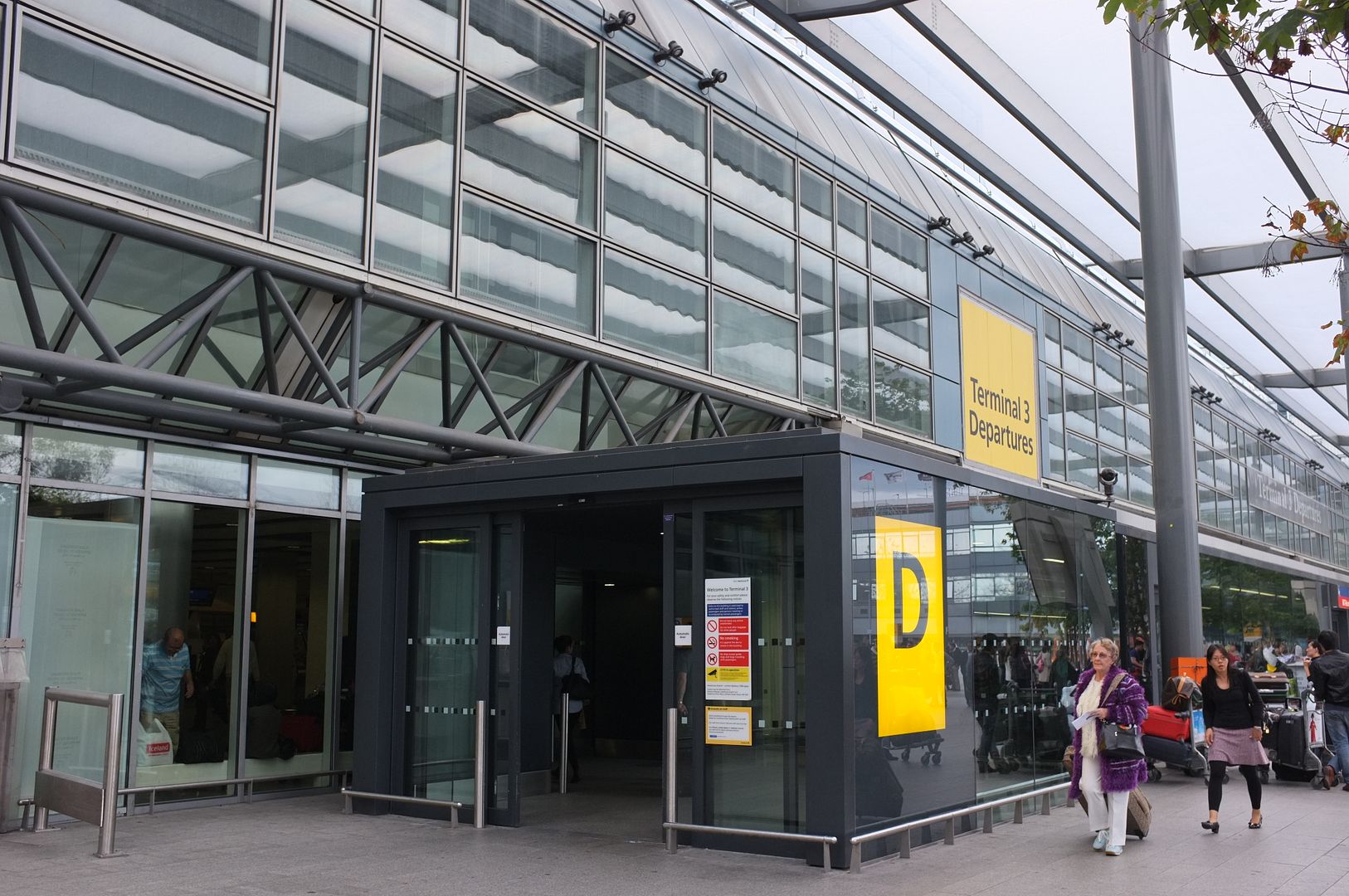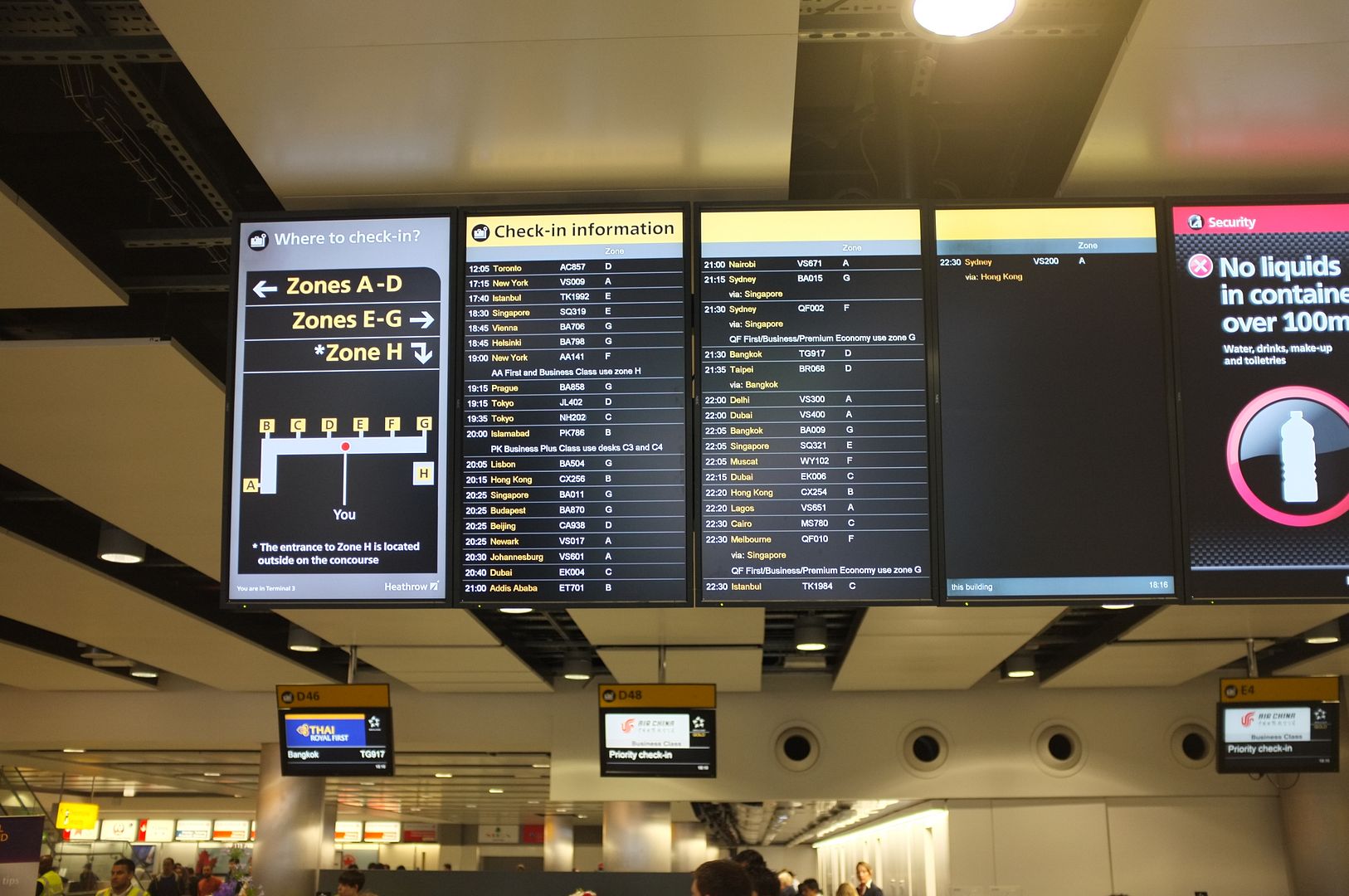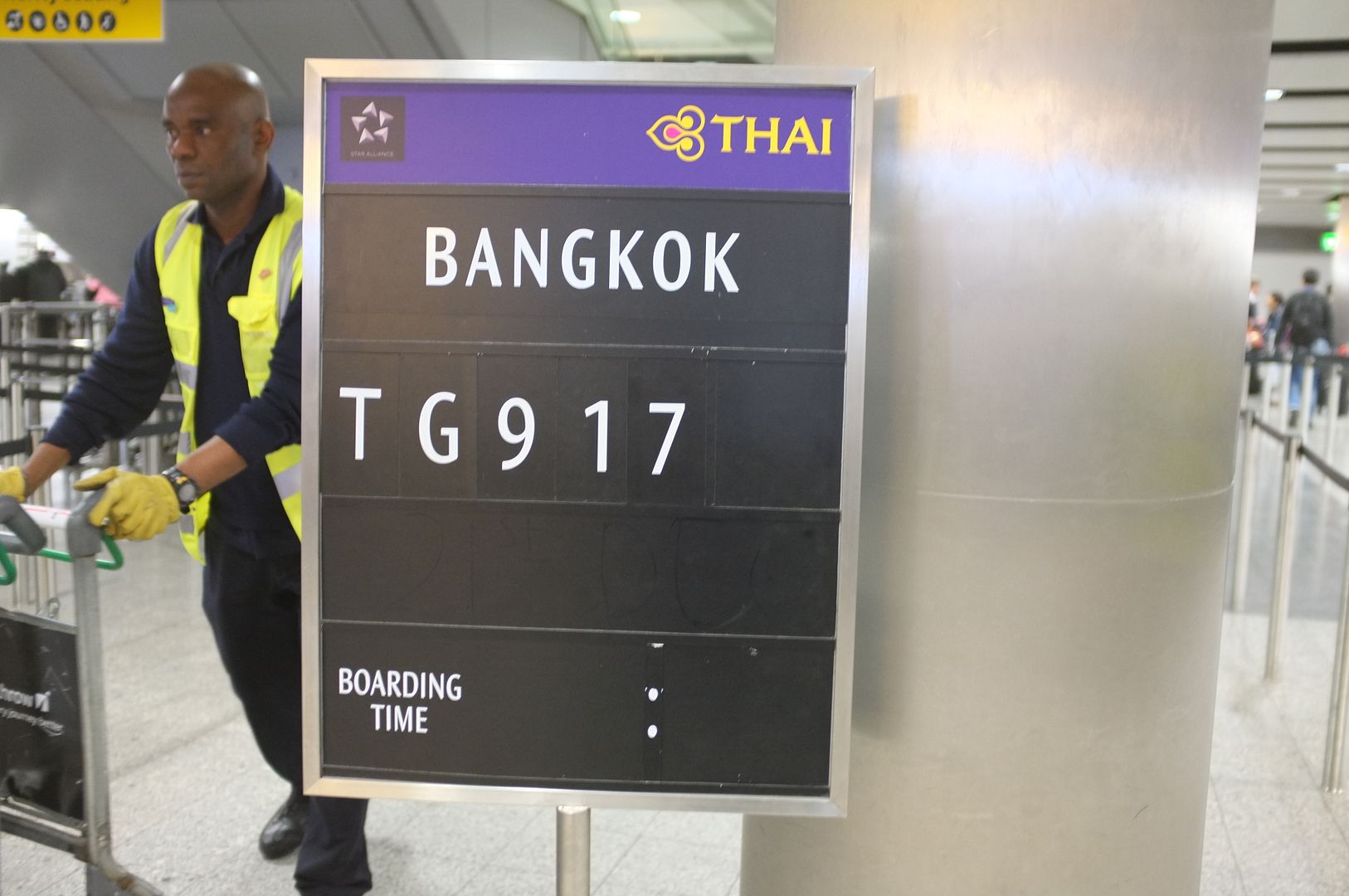 TG ROP Programme advertisement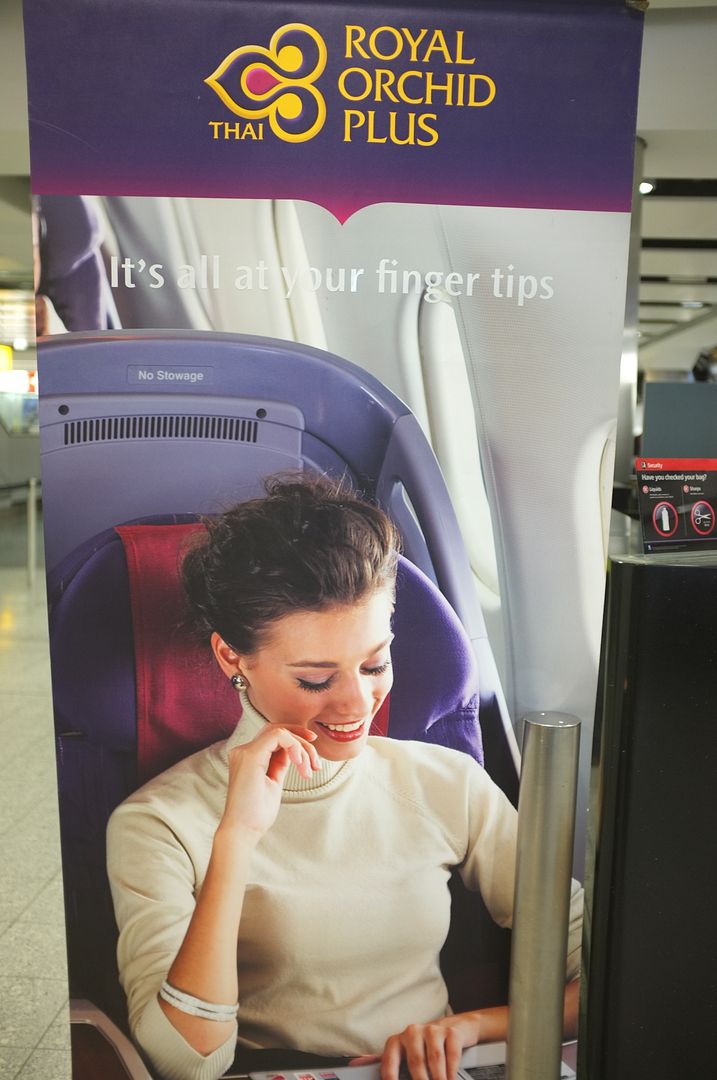 There are 7 check-in counters altogether for TG: one for First Class, two for Business Class/*G and four for Economy Class. This flight I will be travelling with a friend of mine and both of us will be travelling Economy Class. So we went to an empty *G counter and handed our passports over to the agent. After a quick inspection, the agent said that as I have done an online check-in but my friend hasn't, our check-in will be done separately. The check in was done very quick in more-or-less 5 minutes for both of us. We were very grateful that despite the total weight of our bags went over the limit, we were let through. Once we got our boarding passes, we asked the agent whether we could be moved to have seats together: I prefer a window seat and my friend she prefers an aisle seat. The agent replied that we had to go to the supervisor desk (located next to F counter) to ask for seat change. So off we went and asked, unfortunately there were no available pair. But the supervisor did make a note of our request and our seat numbers and said if a pair of seats becomes available, we would be let known at the boarding gate. We thanked the supervisor and headed to the security screening which was done in just less than 10 minutes.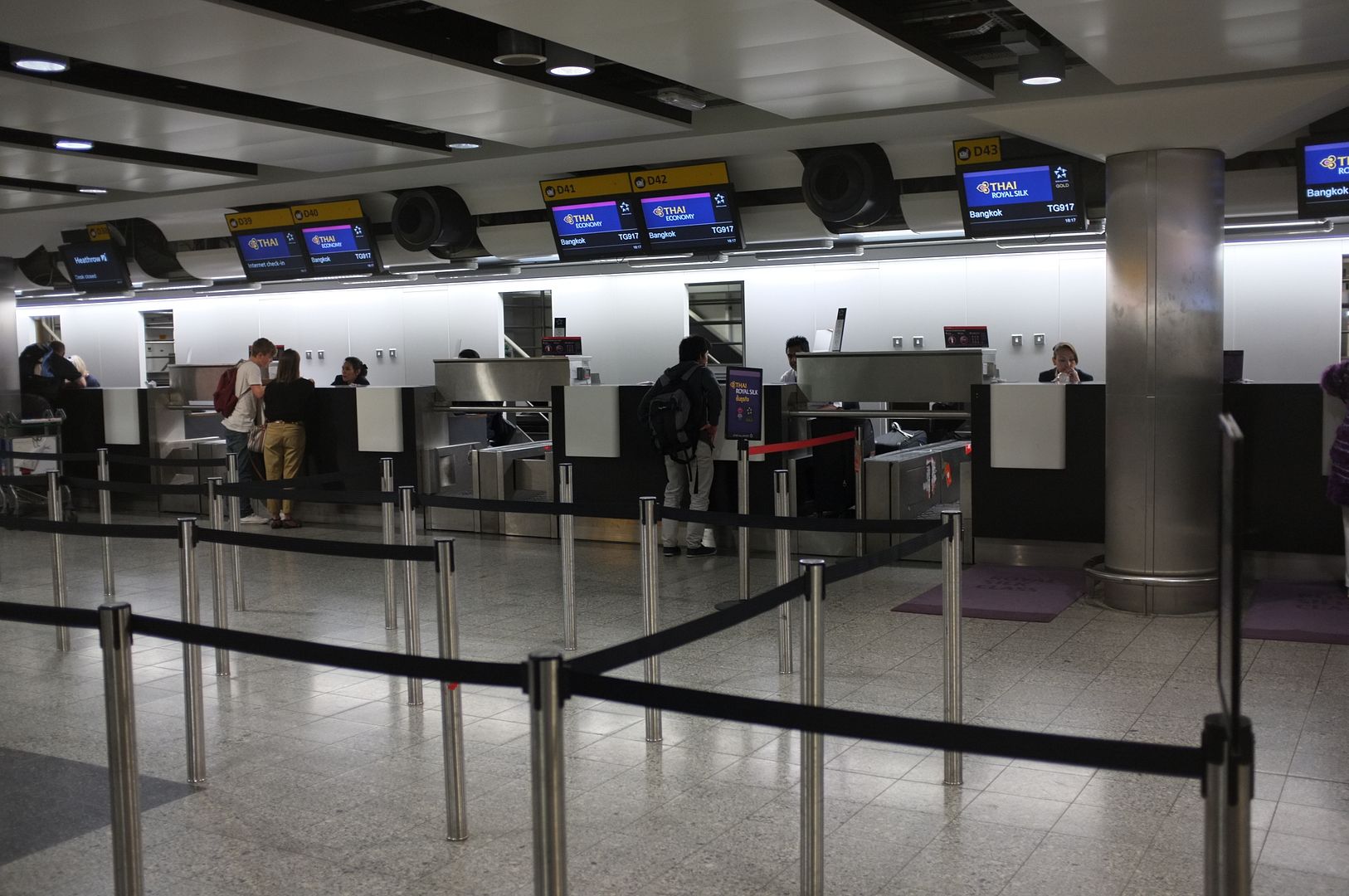 Some pictures post security check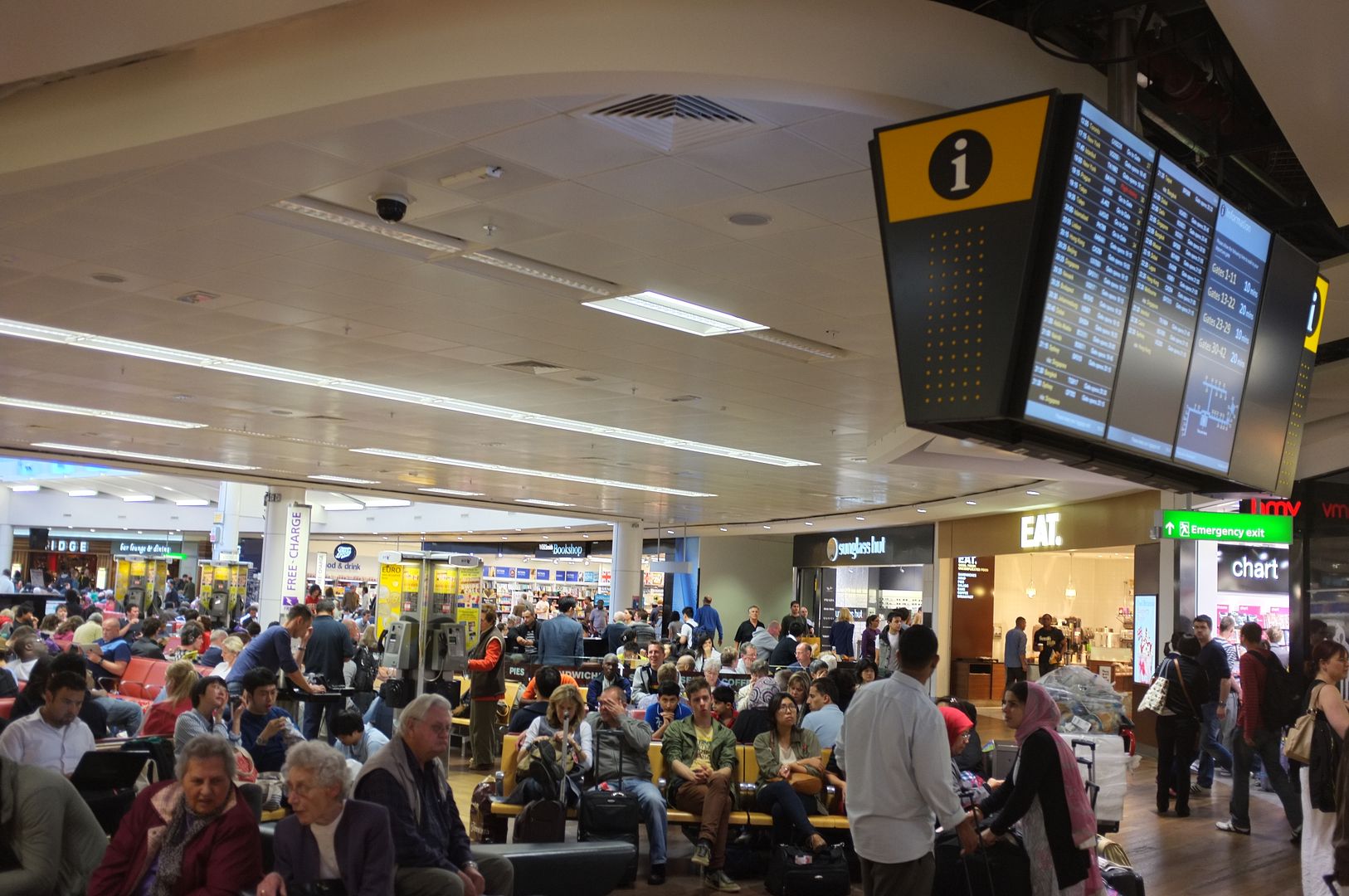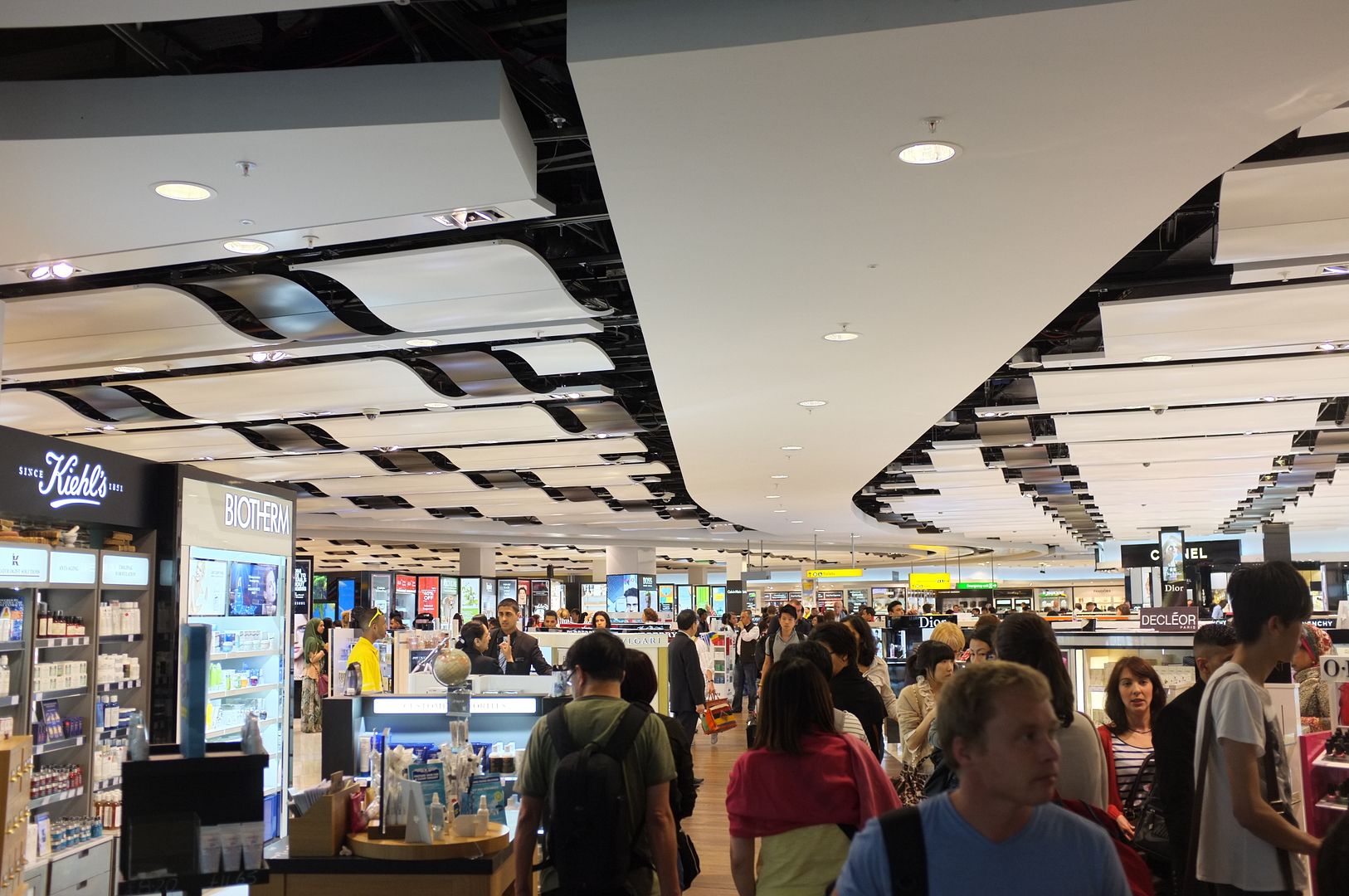 We headed to SAS London Lounge which is a designated lounge for TG passengers
Some pictures of the lounge: First floor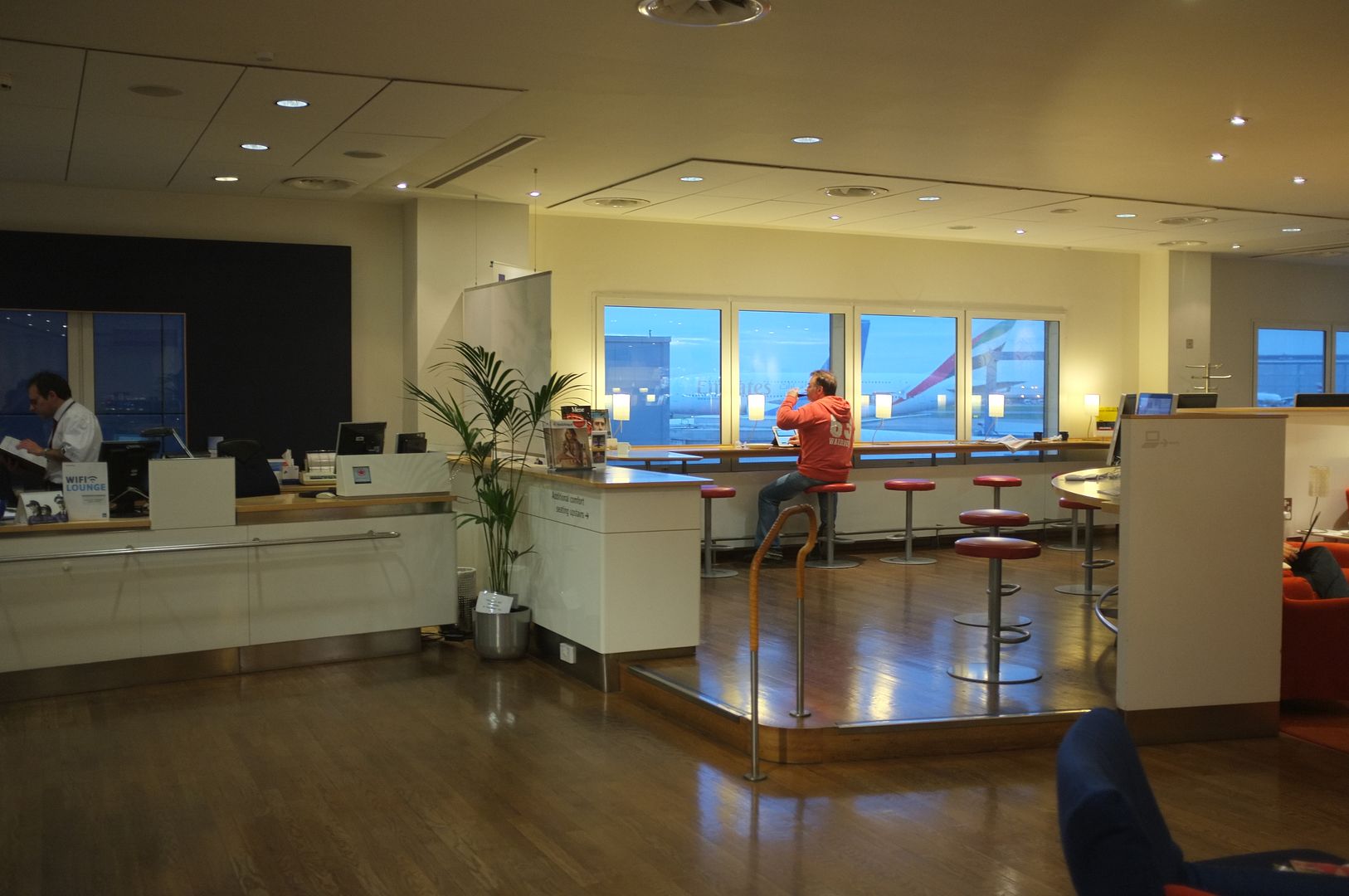 View from the lounge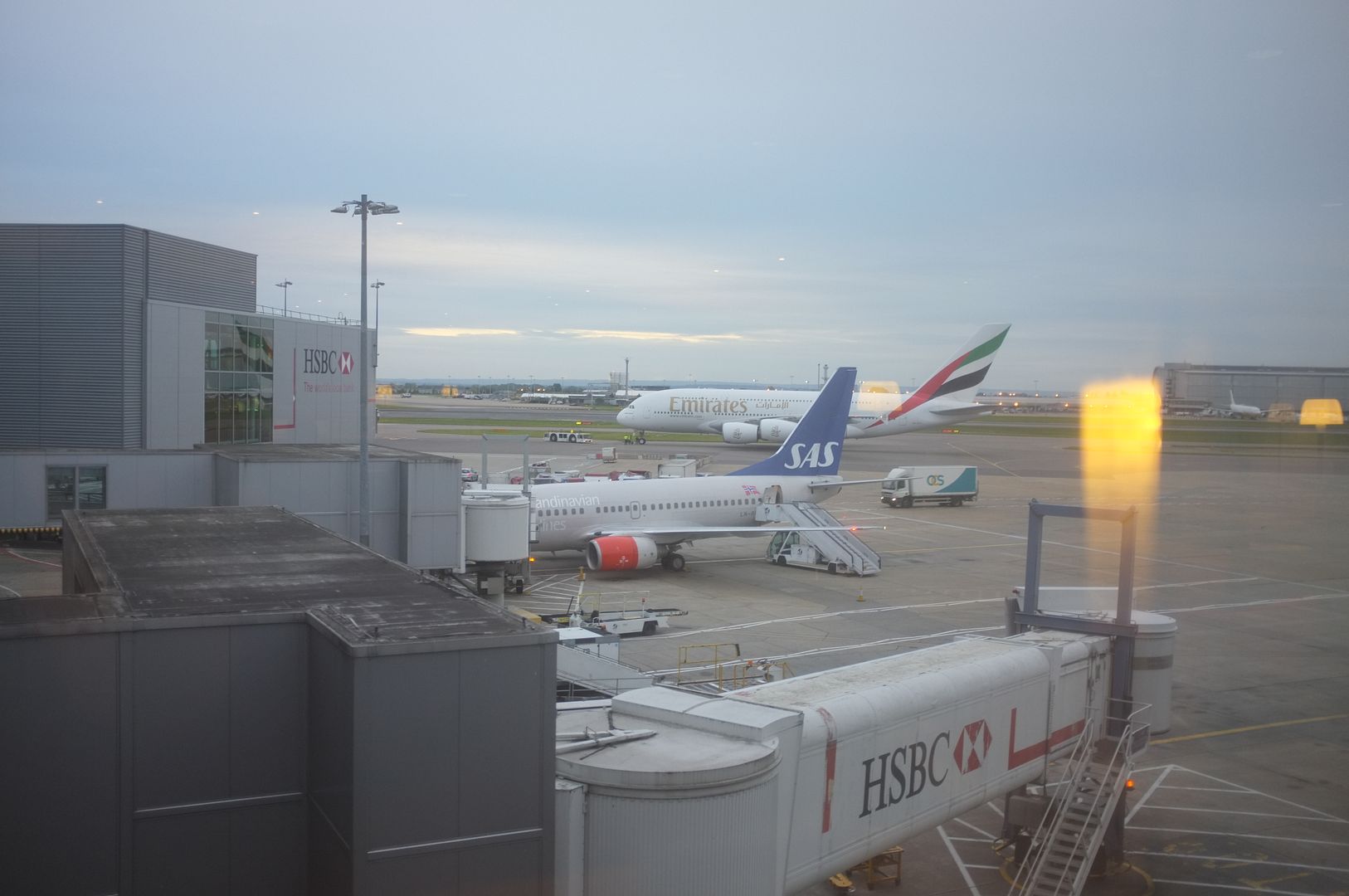 As usual, I chose to go on the upper level.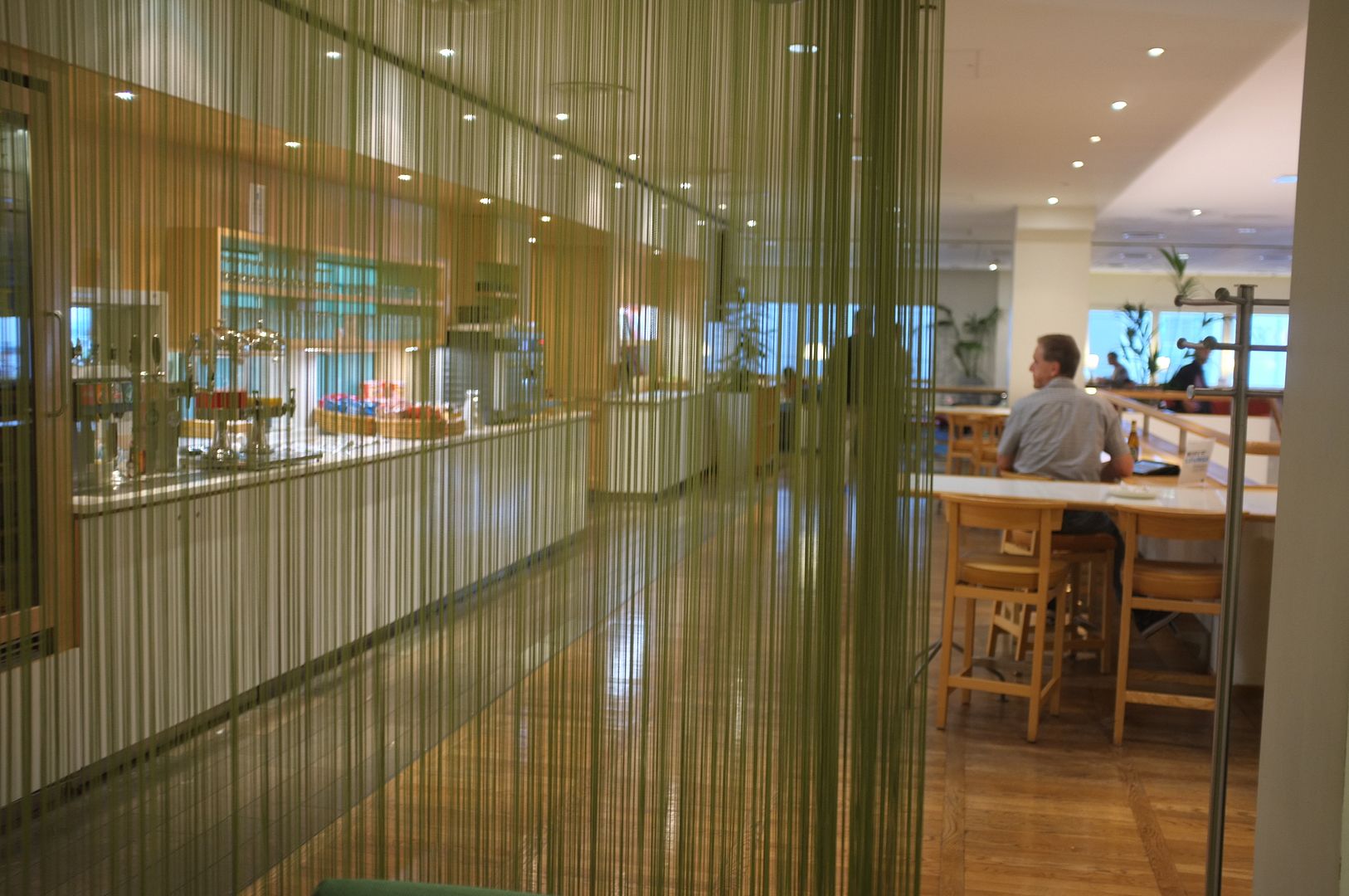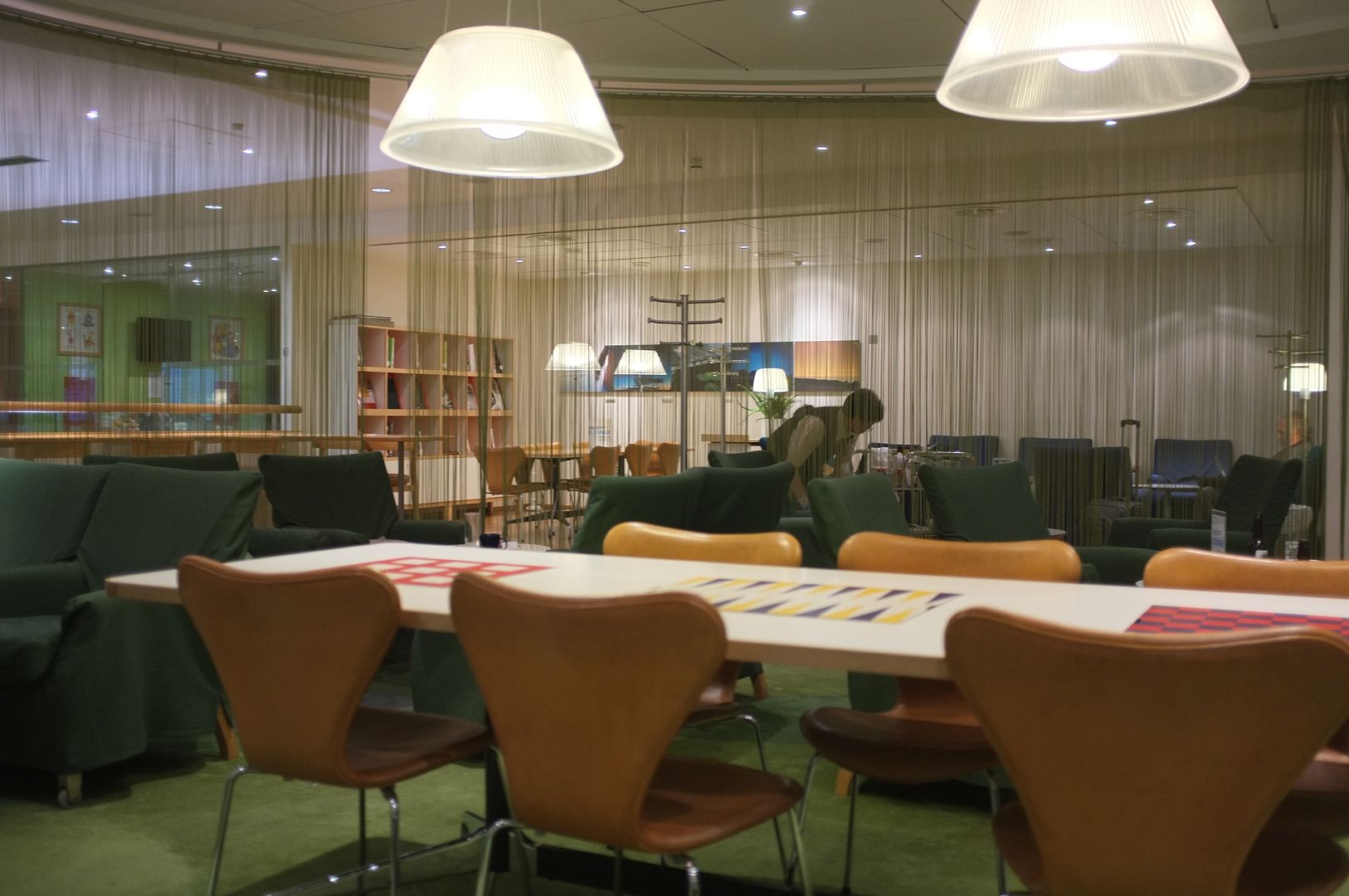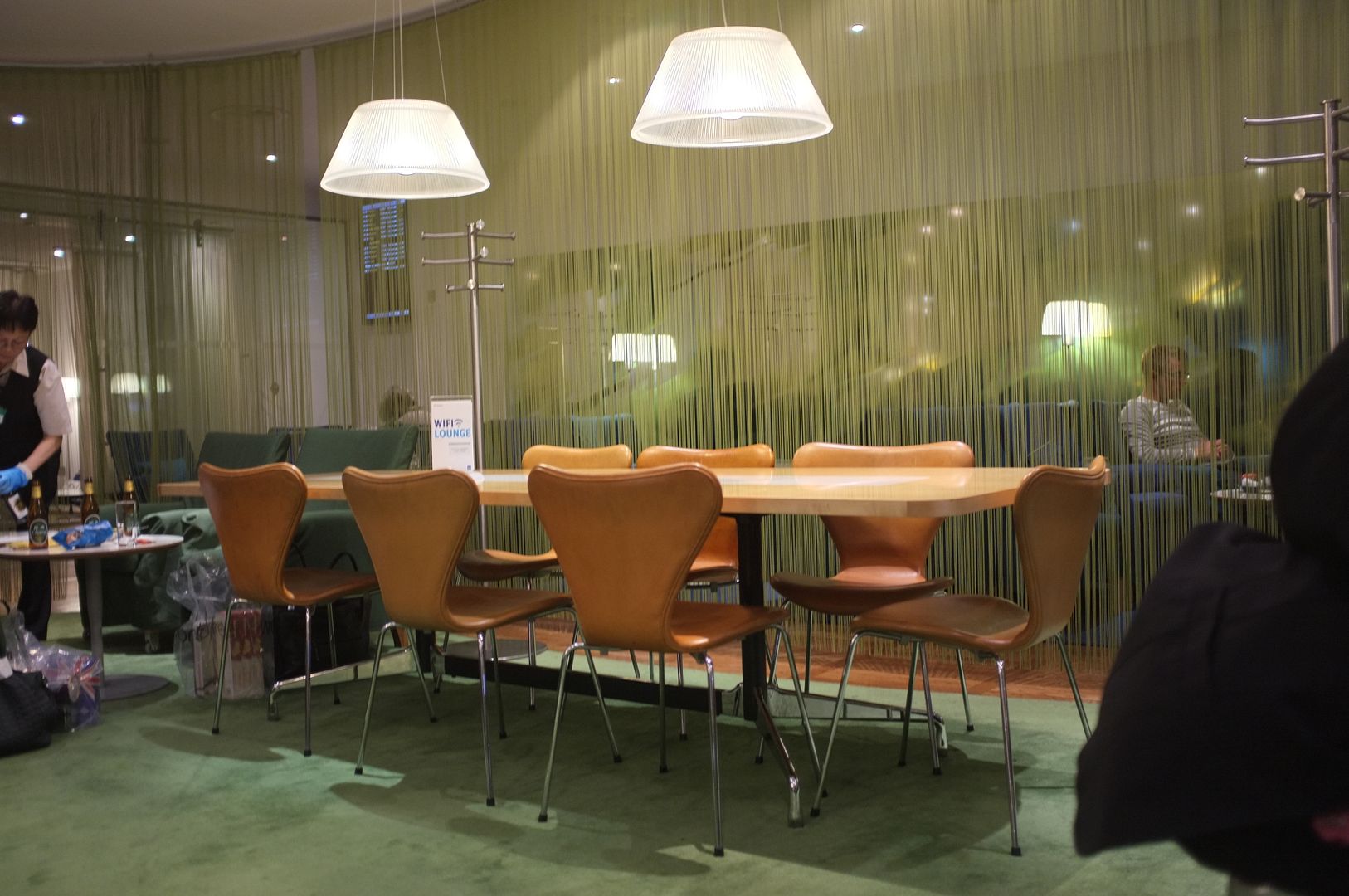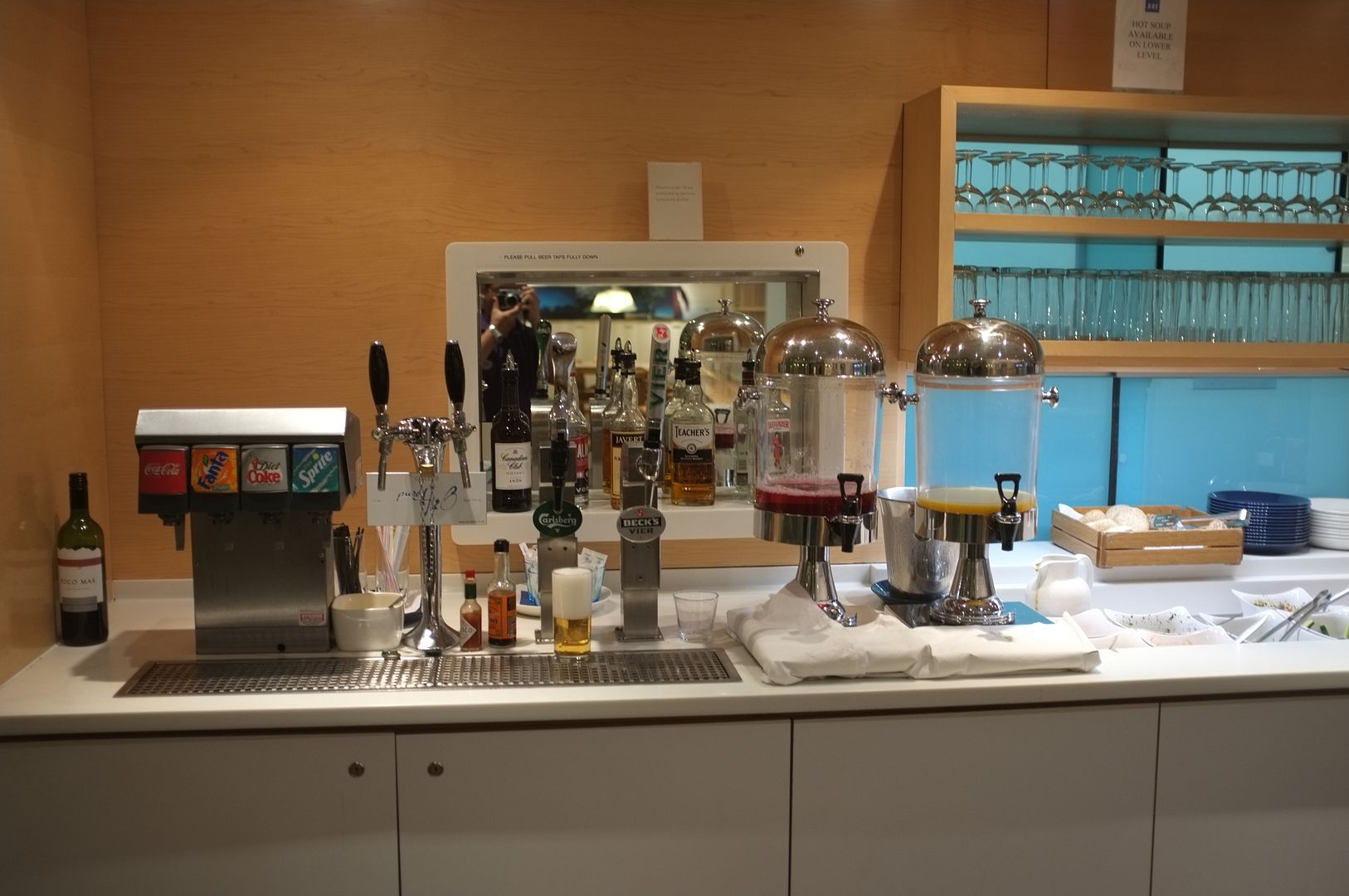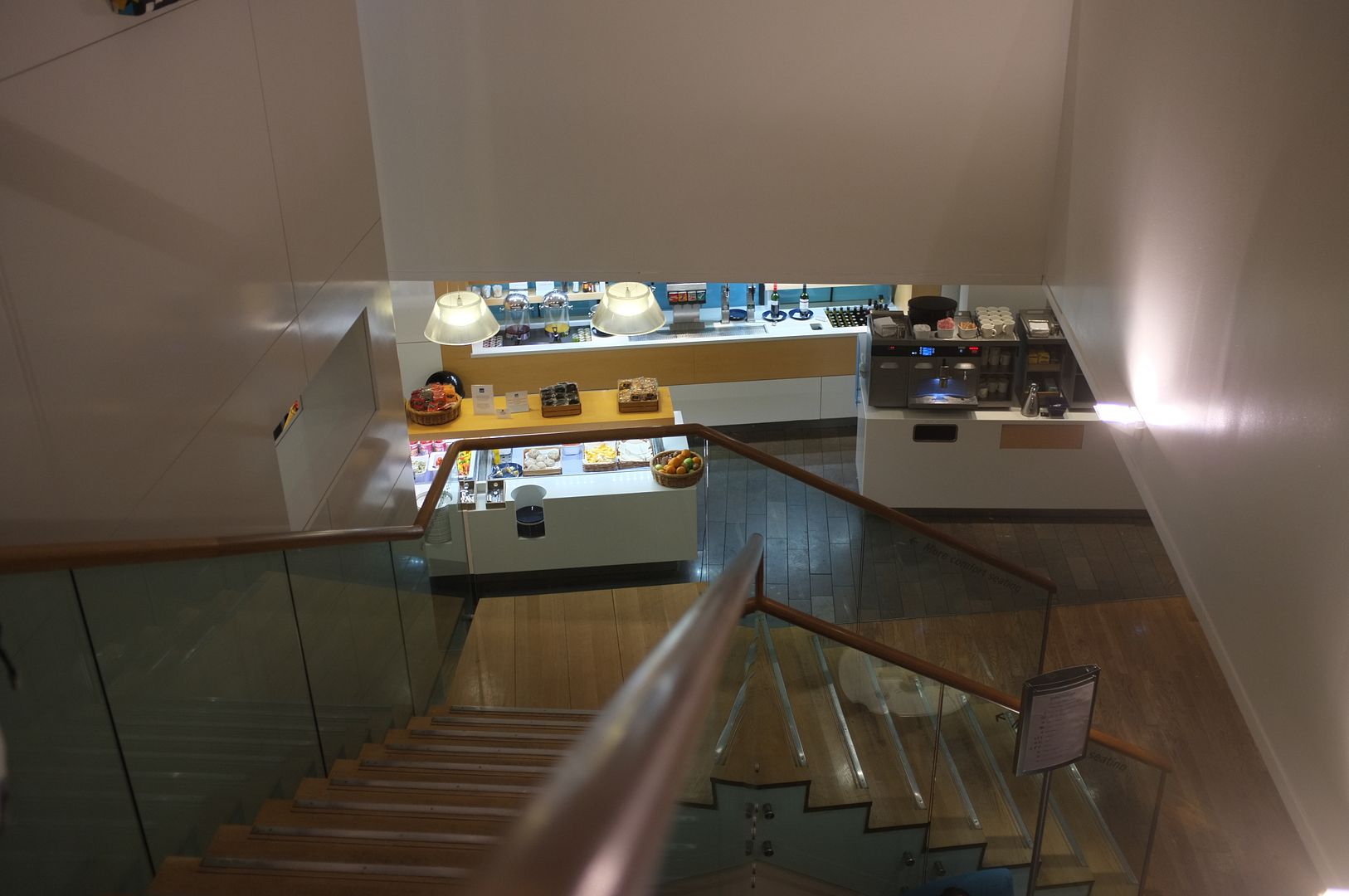 More photos of the lounge can be found on:
Thai Airways A340-600: LHR-BKK
(by
win1290
Mar 28 2012 in Trip Reports). I found the lounge was good. The food selection was exactly the same as on my previous report, which was perfectly adequate. The shower facility was particularly great for us.
At 8:30pm, the boarding gate was shown in the screen, and 10 minutes later, we left the lounge for the gate 32.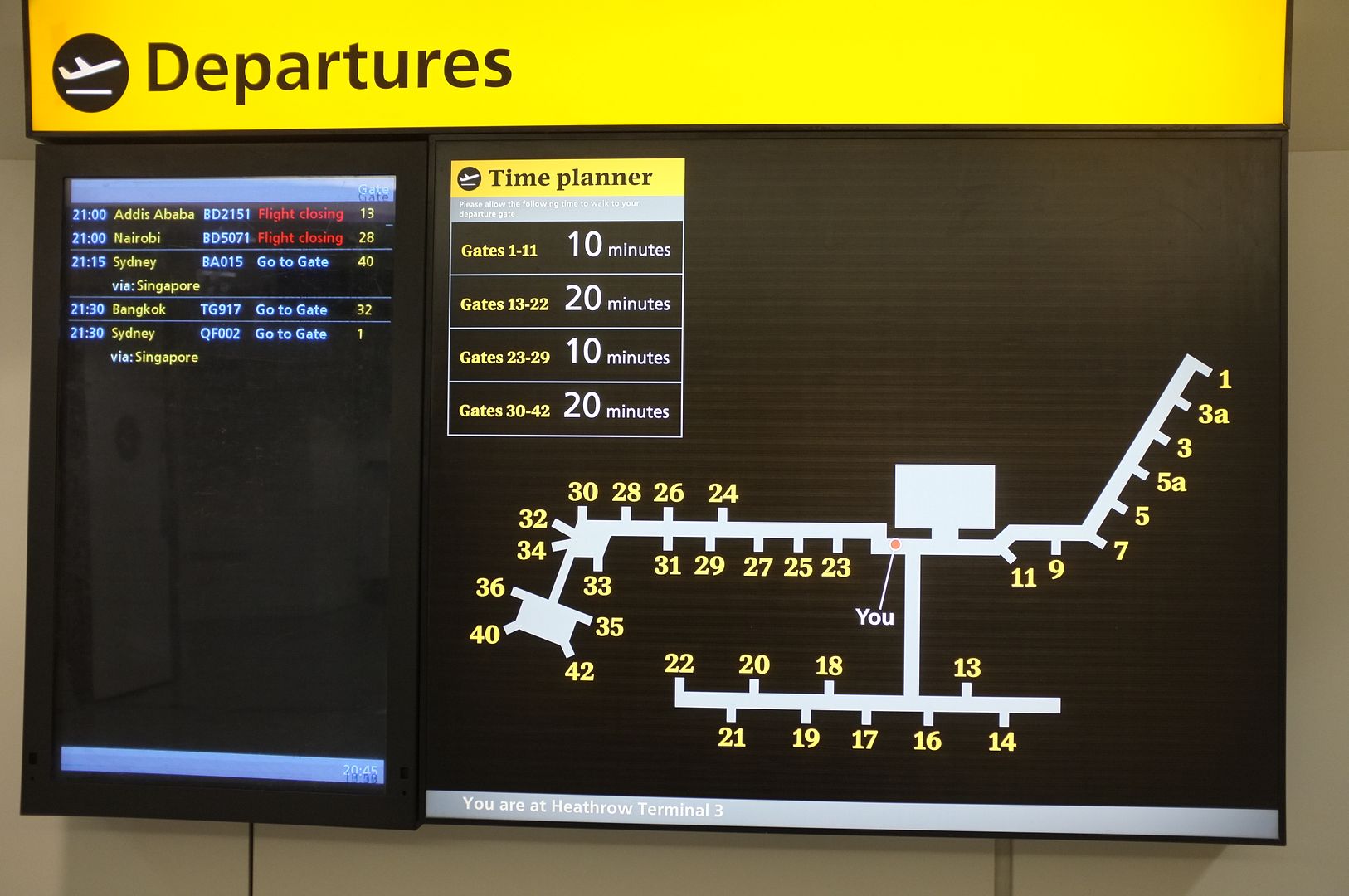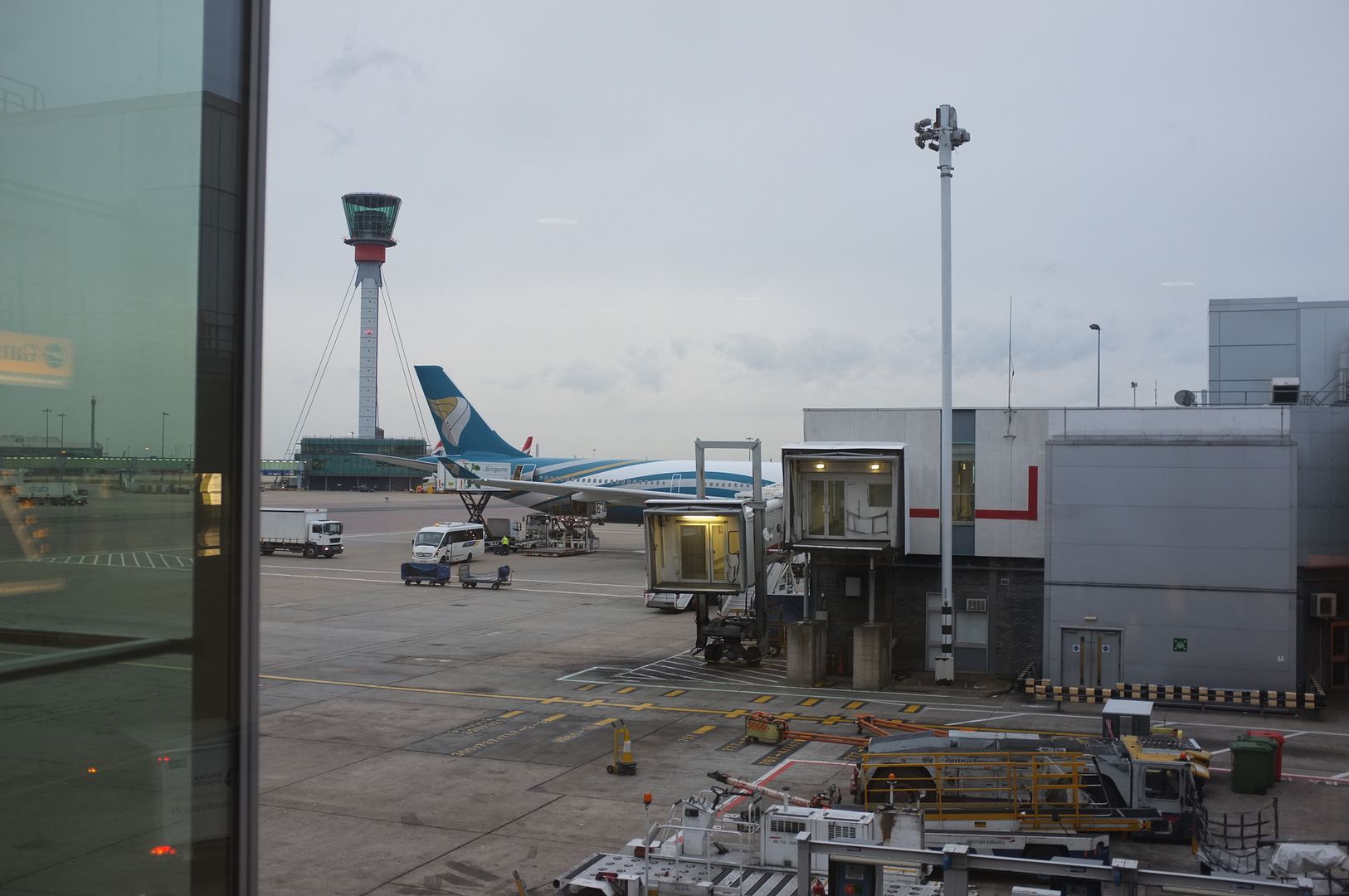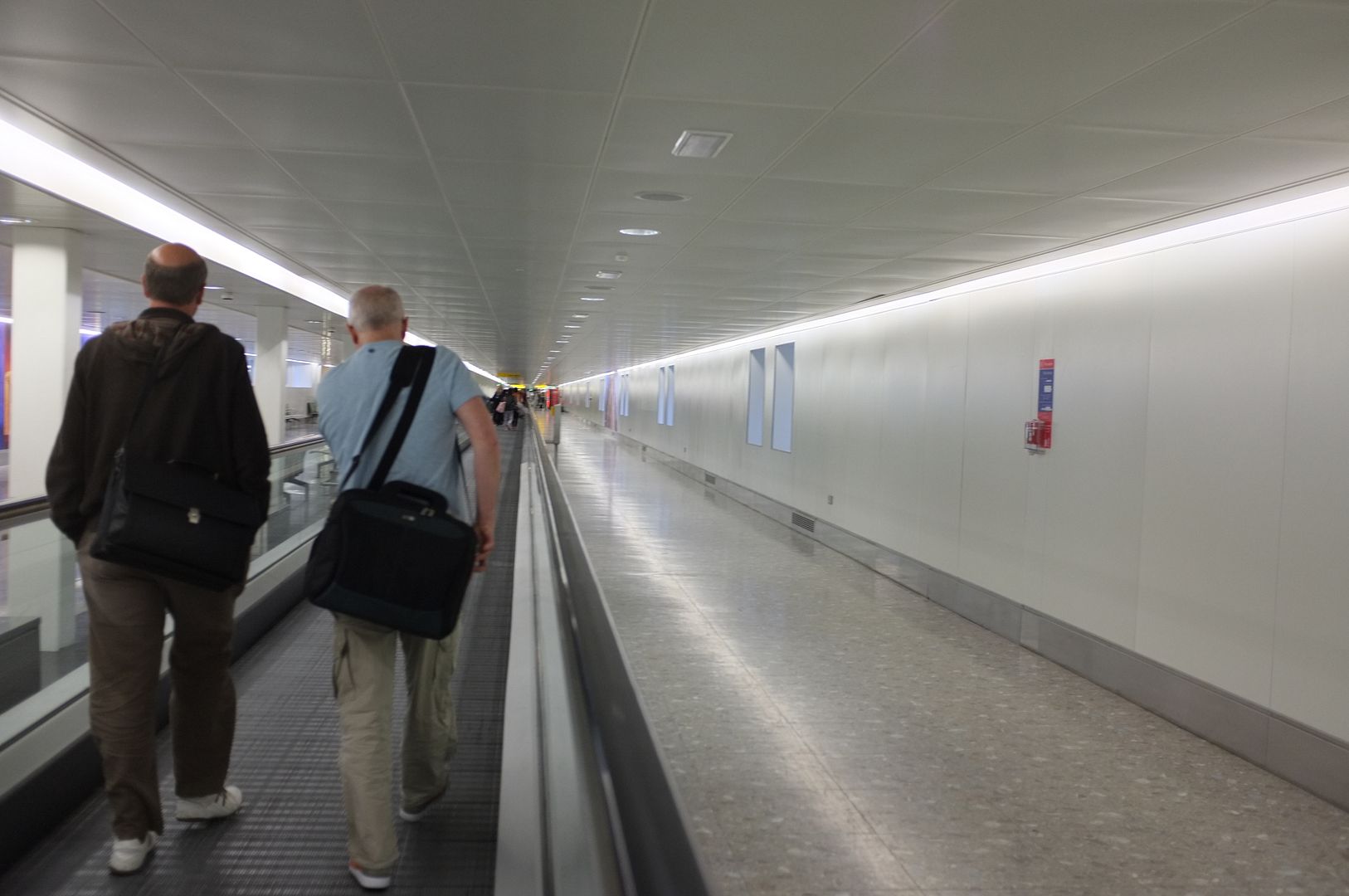 At the gate entrance, my friend went first and handed her boarding pass, and it beeped 'green' and she entered the waiting area. When it was my turn, I handed my boarding pass and the machine beeped and red light flashing. I was told that I got upgraded to Royal Silk, and was given a new boarding pass. I was very grateful for this, Thanks TG. Thought I must admit, I felt quite bad when telling my friend the news.
View from the gate. Sadly the view of our aircraft was quite restricted.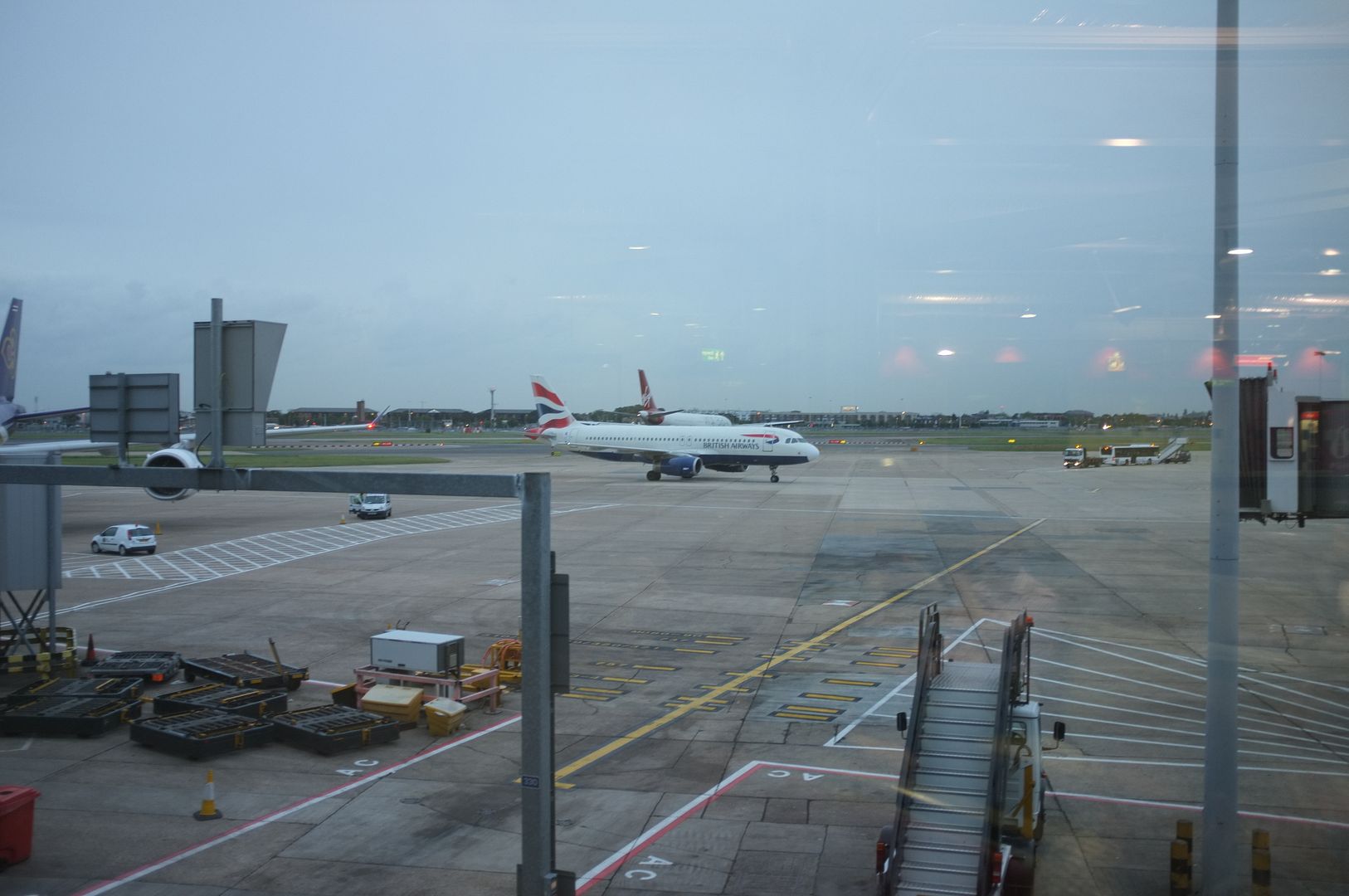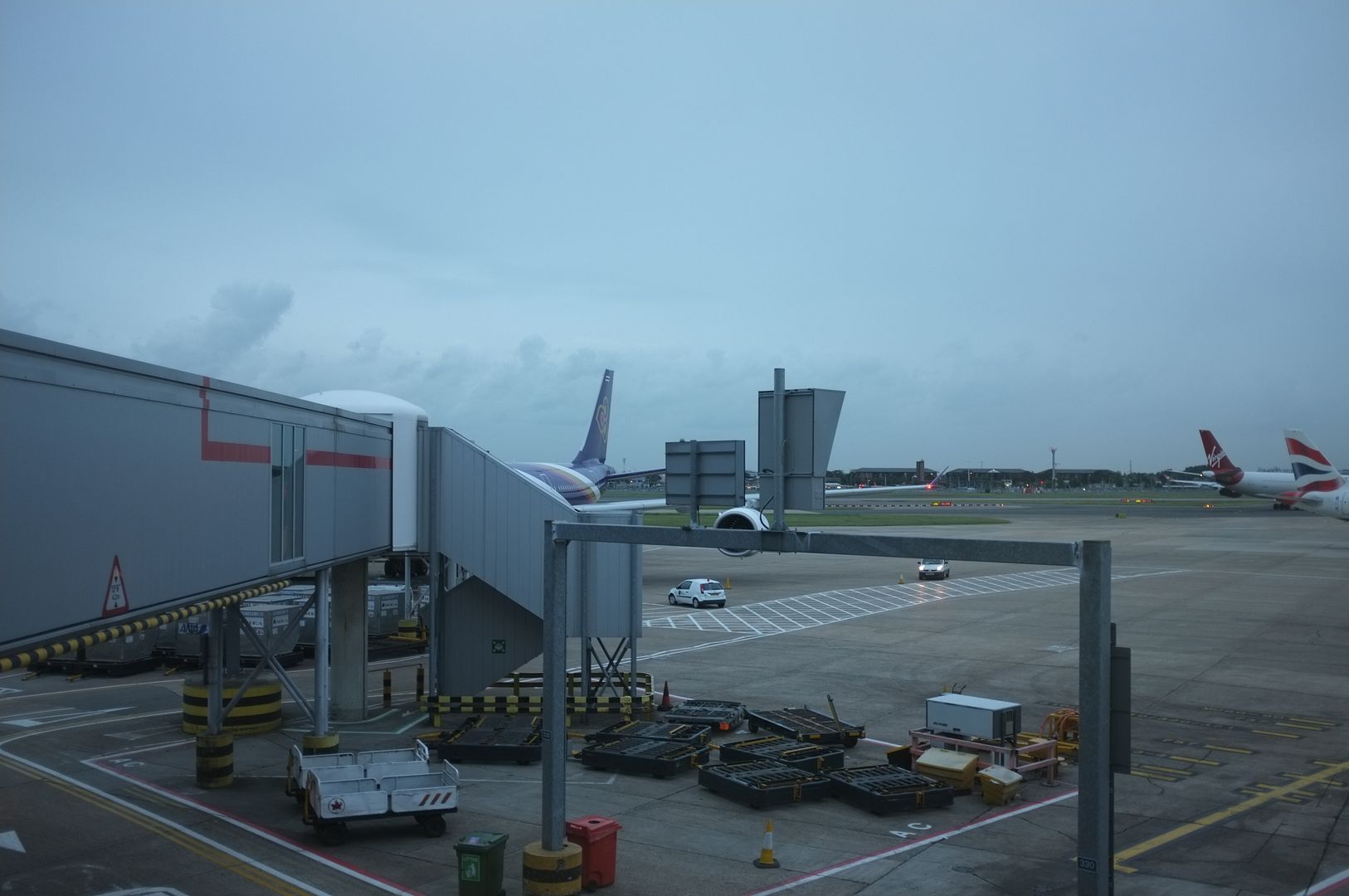 Boarding call was made beginning with families travelling with small children and First Class and Business Class and Star Alliance Gold passengers, then followed by Economy Class passengers by row numbers starting from the back of the aircraft.
At the aircraft door, we were greeted and welcomed aboard and were pointed to the correct aisle for our seats. When I stored my hand baggage and settled in my seat, the cabin crew came and offer a welcome drink, which I chose champagne, and a hot towel.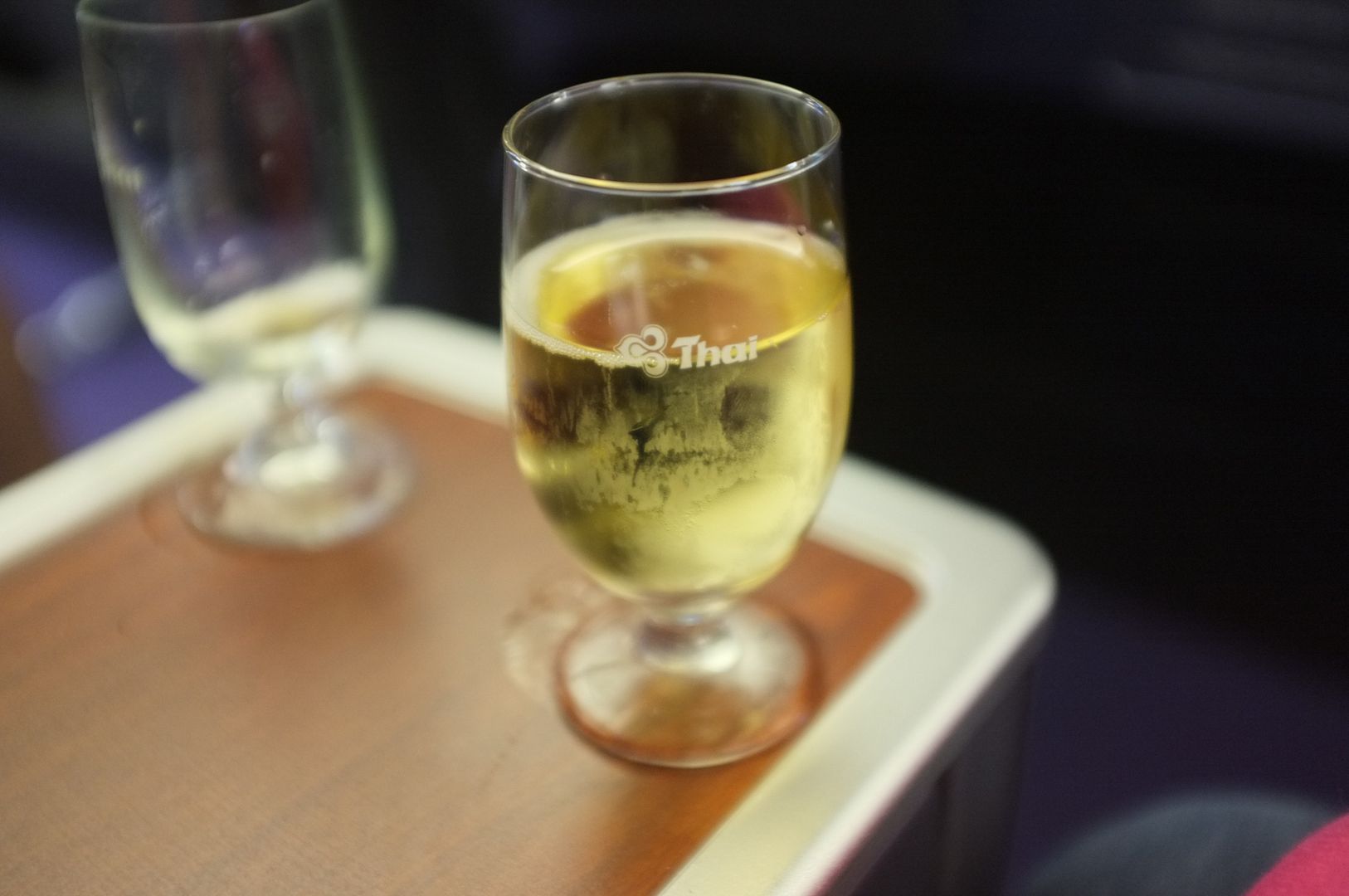 Then a variety of Thai and English newspapers were offered as well as magazines. I picked Top Gear.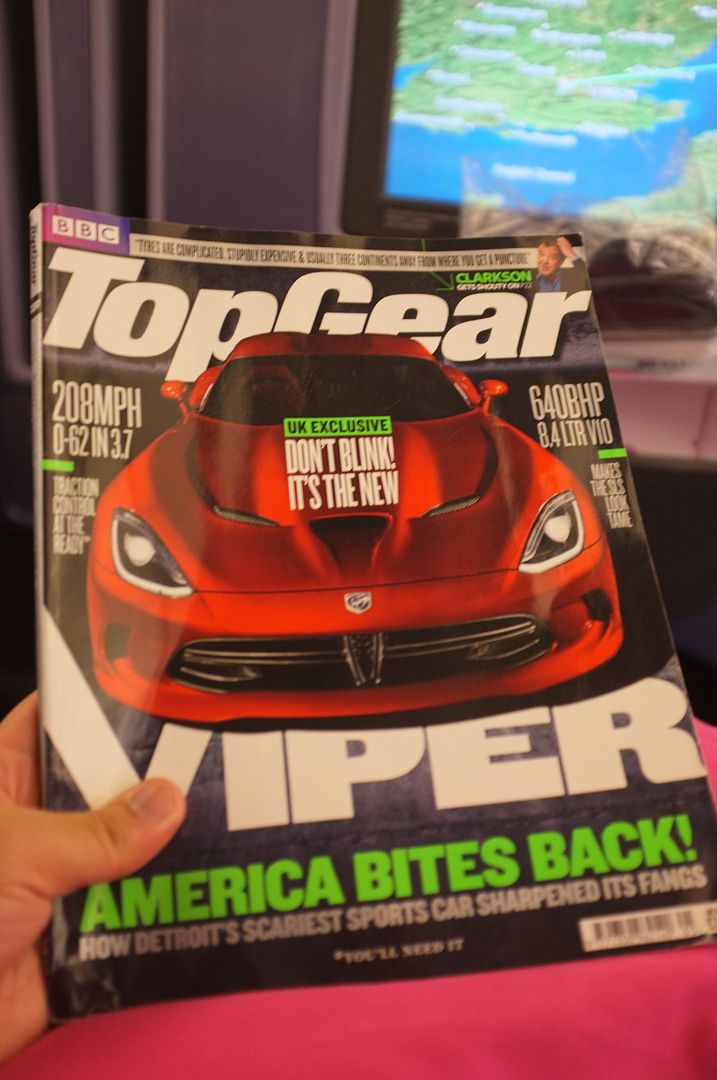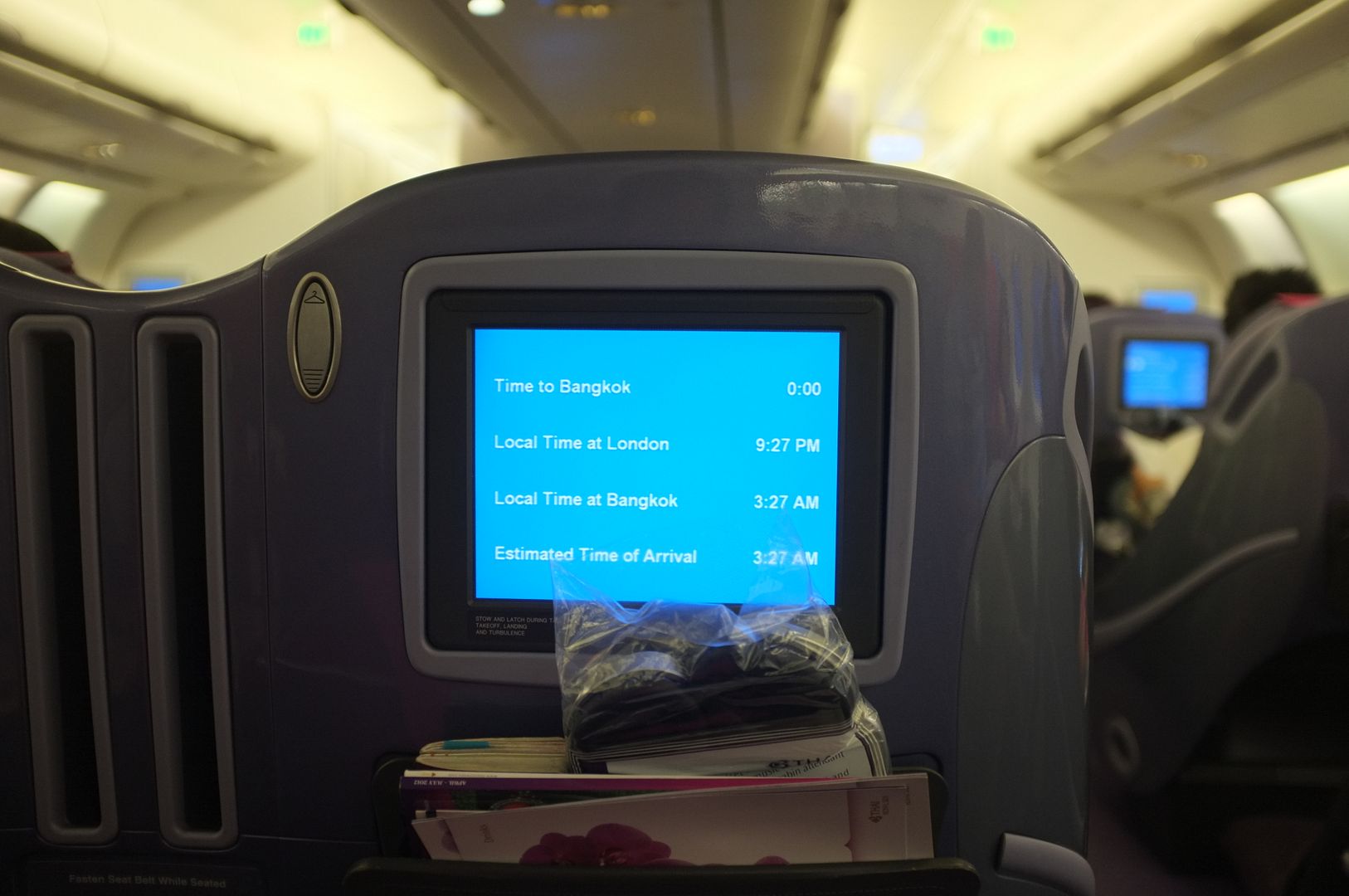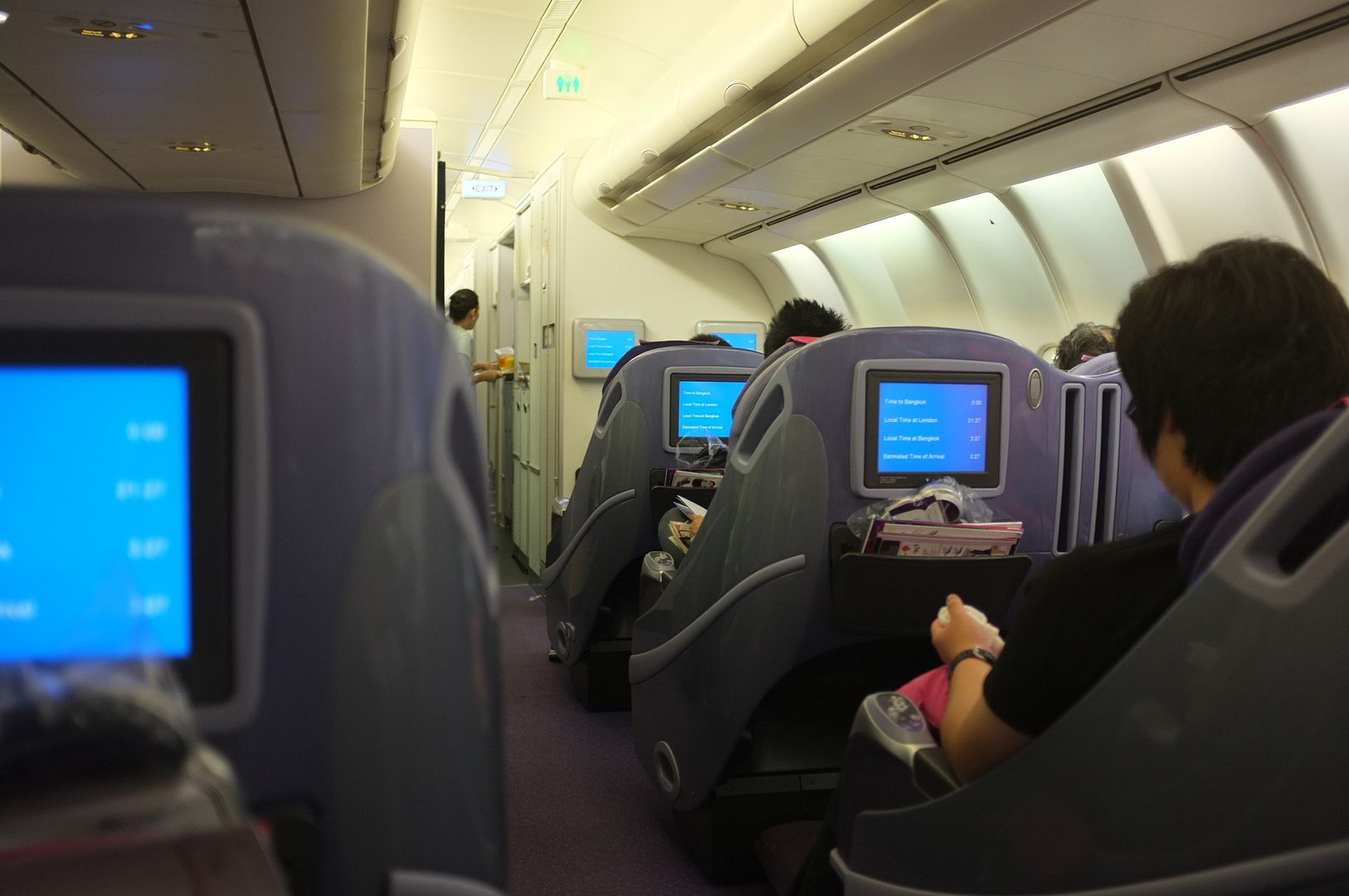 When the aircraft door closed, the crew made a standard welcome announcement, then a welcome announcement from the cockpit, and safety demonstration was played.
Unfortunately, I didn't have a window seat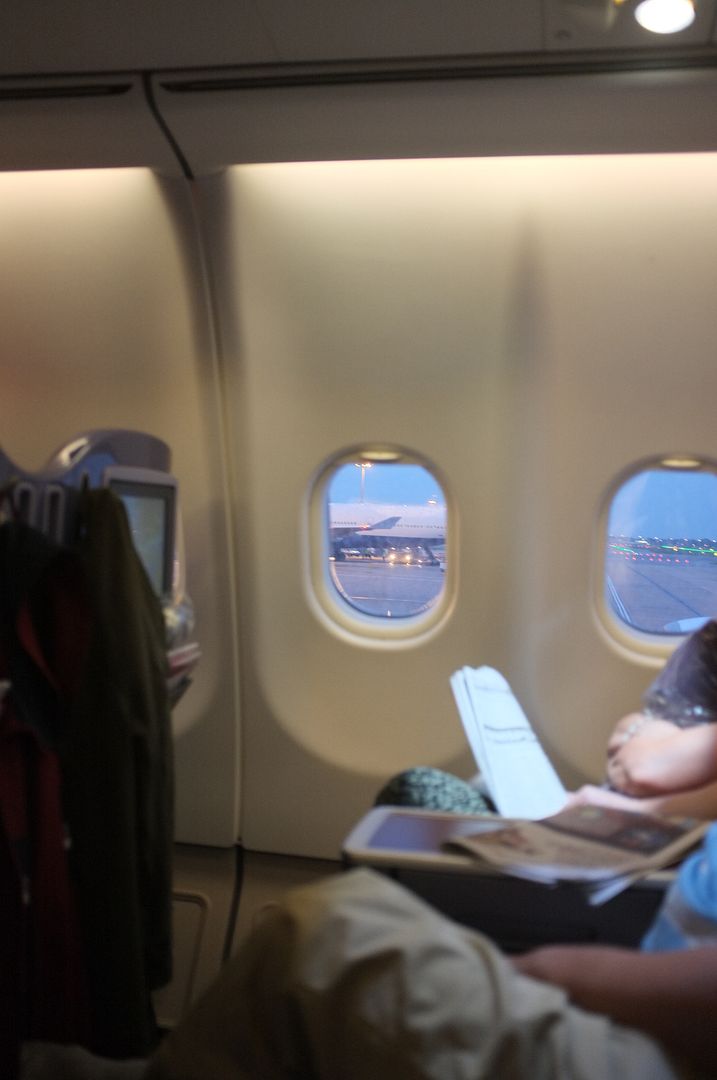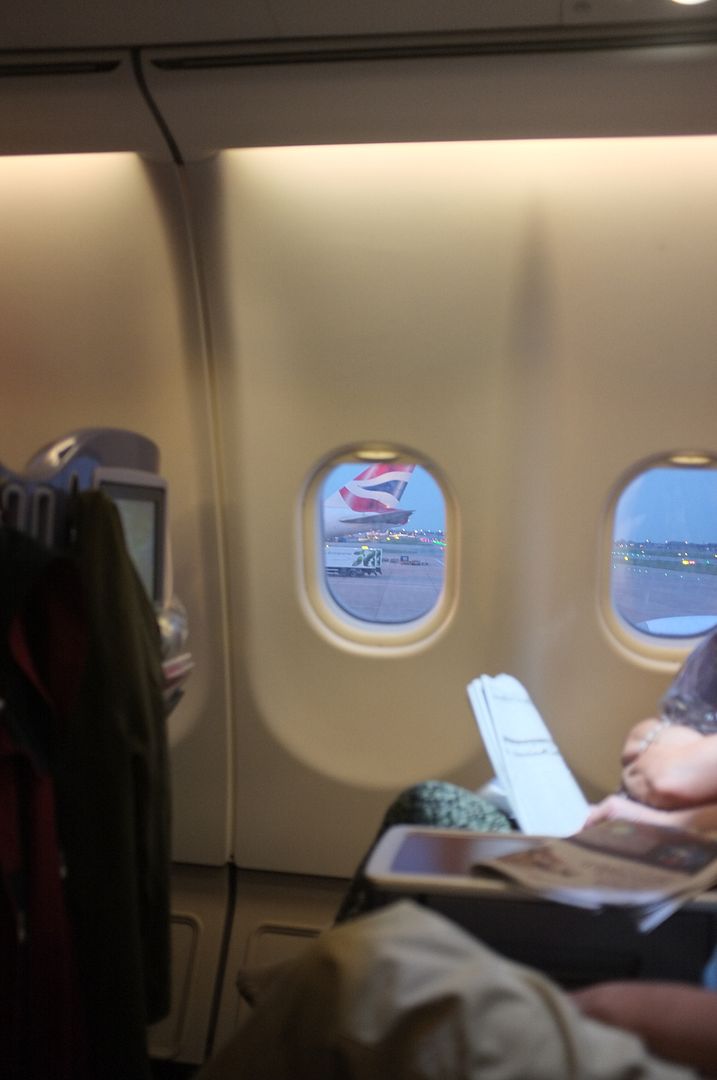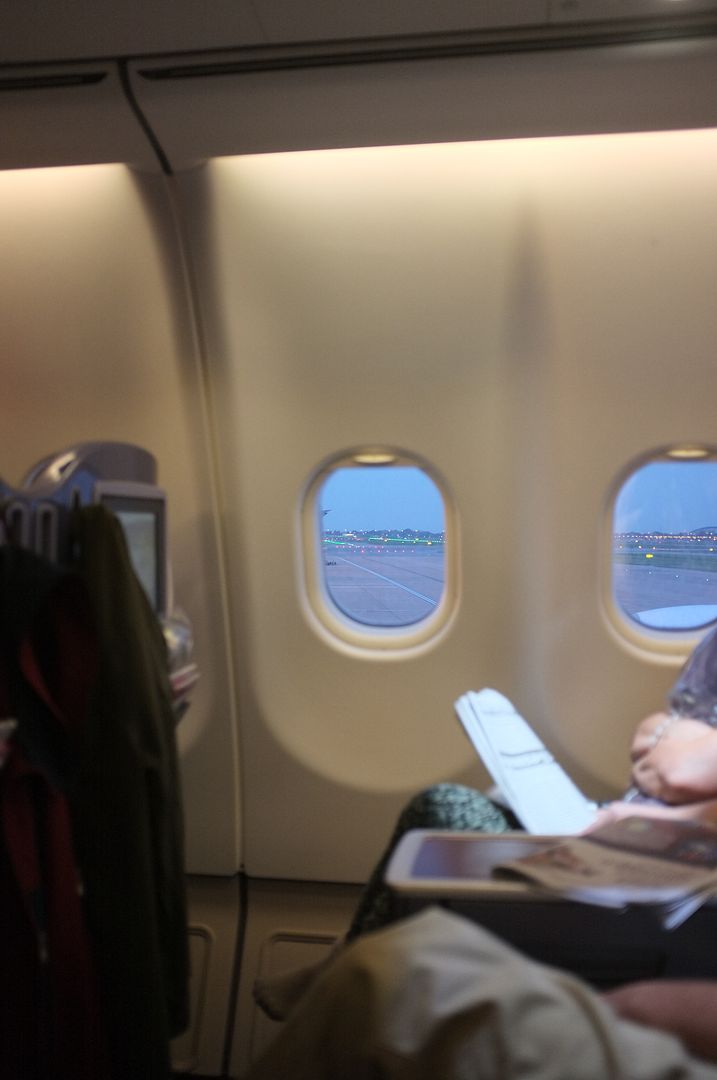 Before took off, cabin crew came over to ask our meal options.
Cabin light dimmed for take off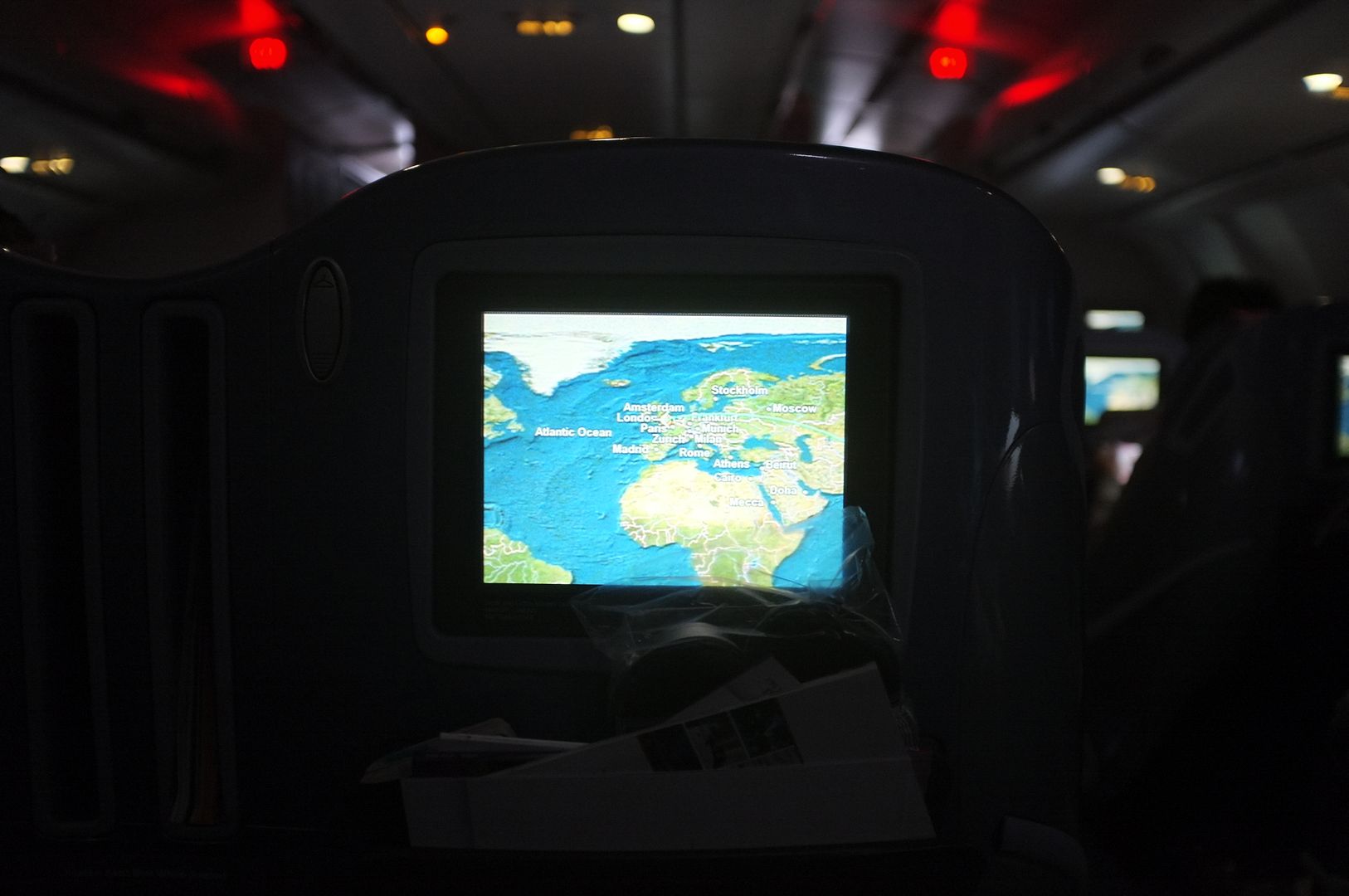 The plane took off at around 9:50pm. After the seat belt sign was turned off, the in-flight manager made an announcement about the service routine on the flight: hot dinner serving in a moment and 1:30 hours before landing, breakfast will be served. Also the purser also advised passengers on the on-board duty free sales.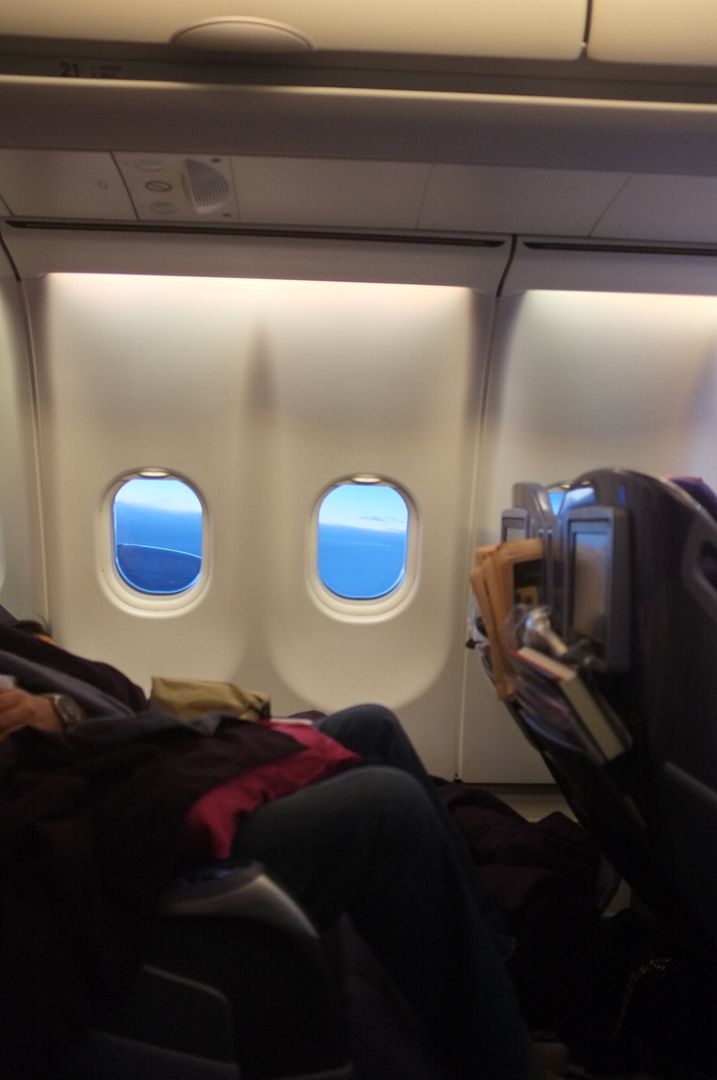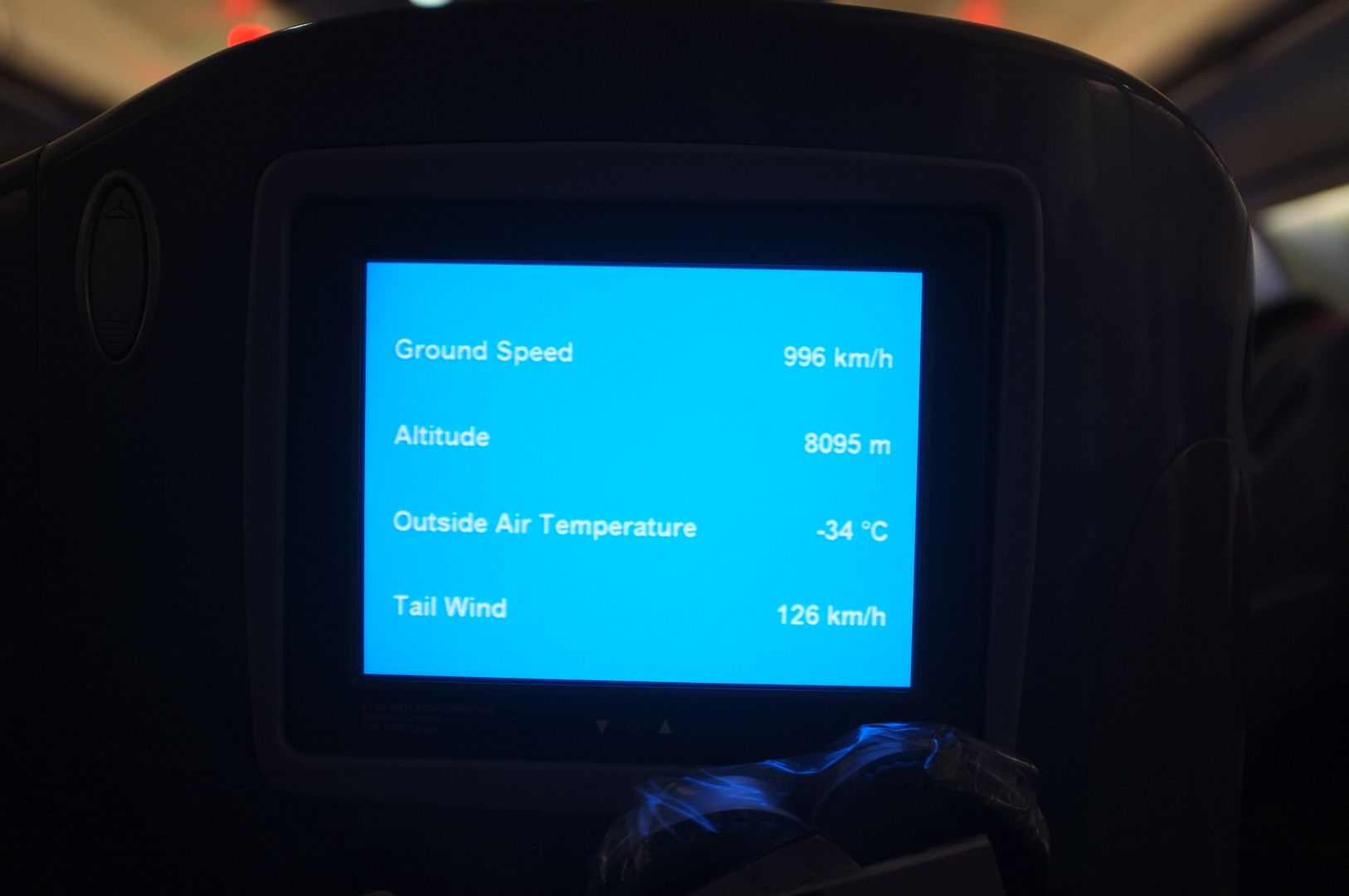 In-flight entertainment and noise-cancelling headphones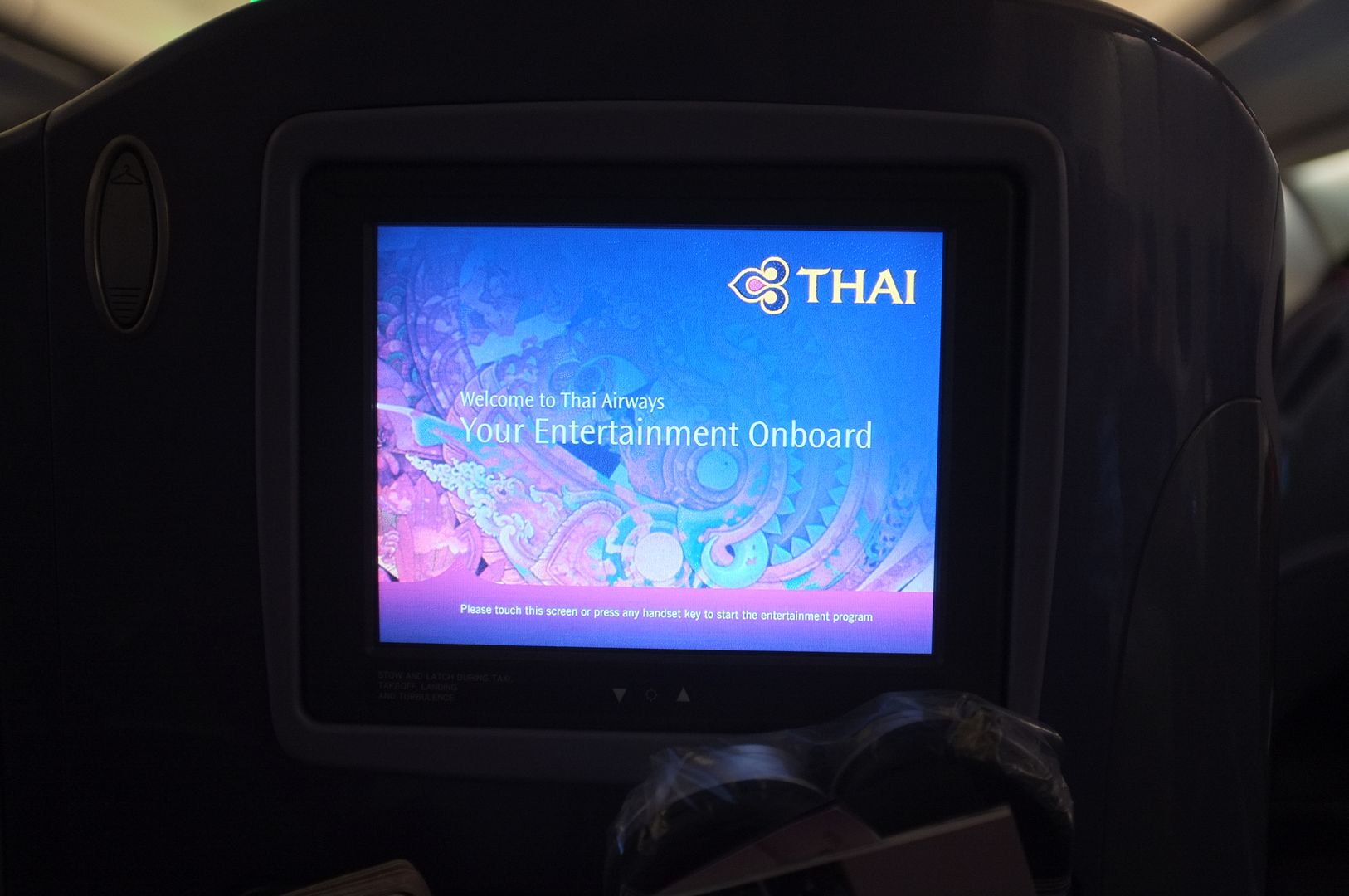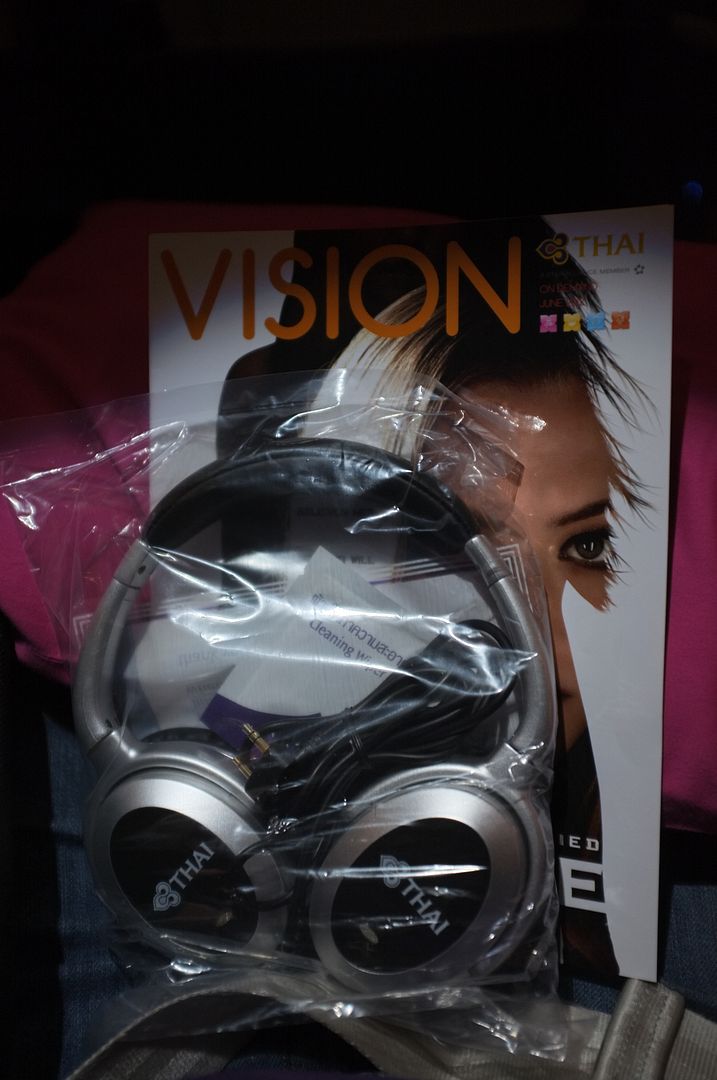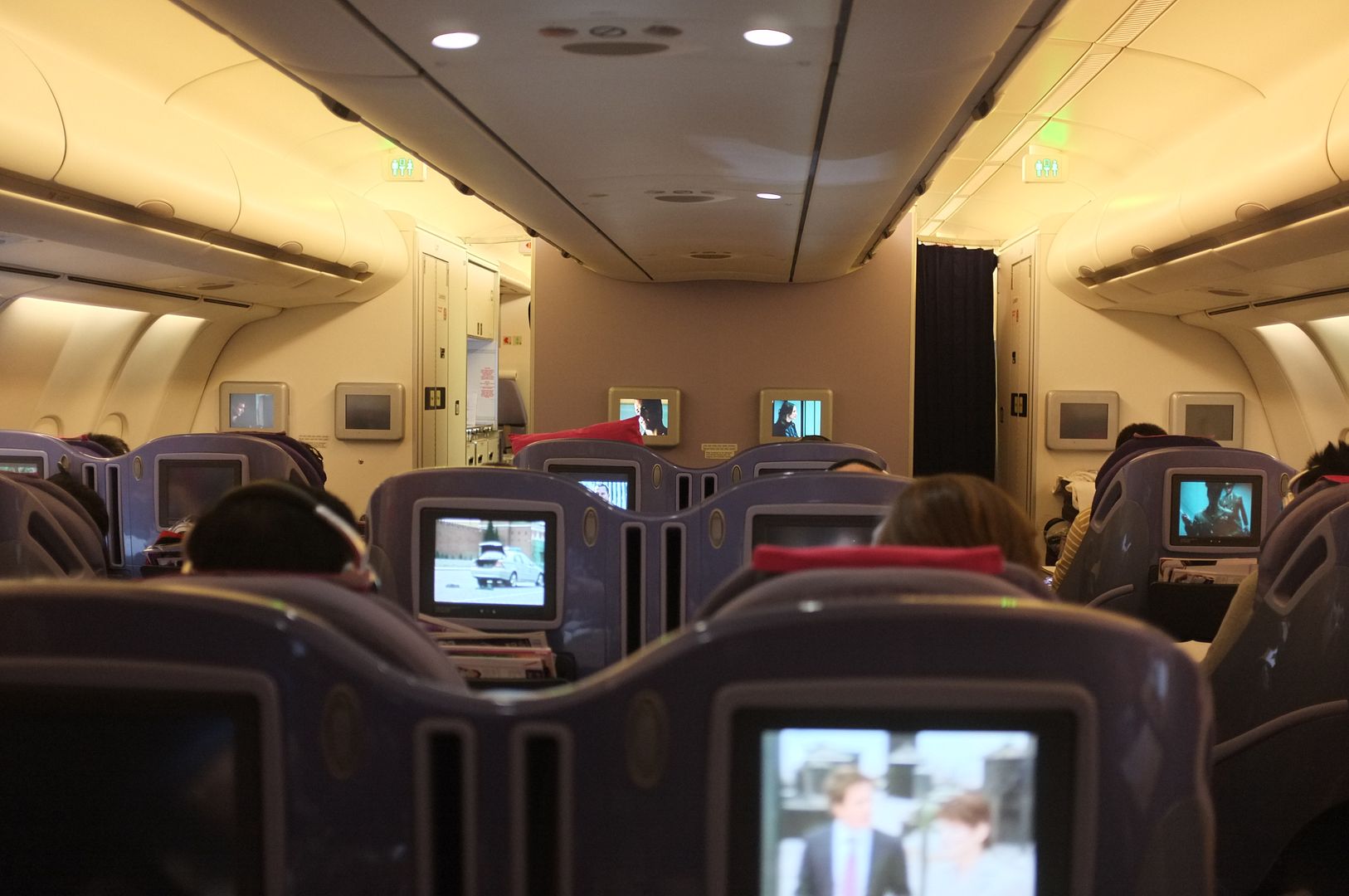 Menu (taken at home)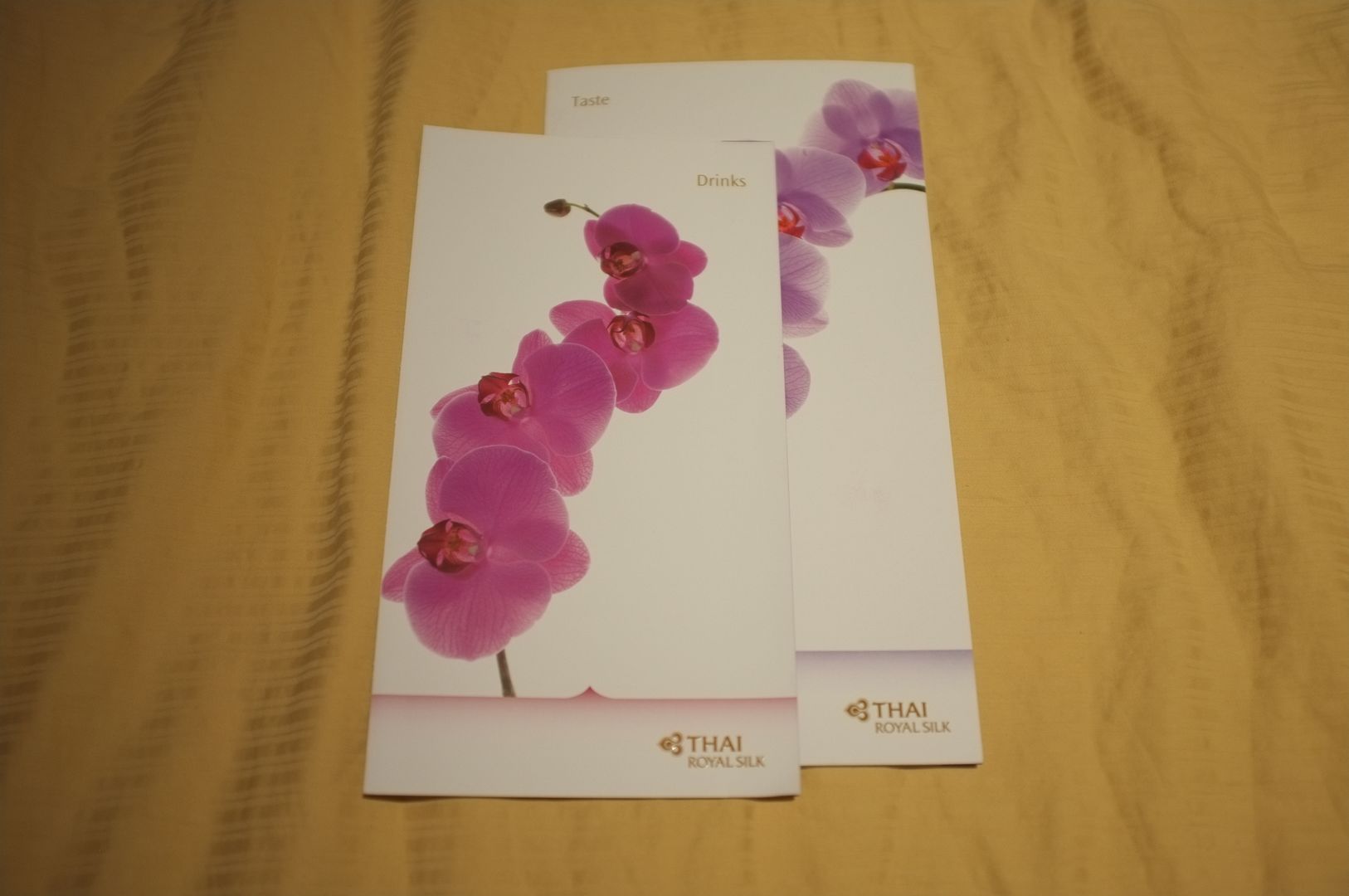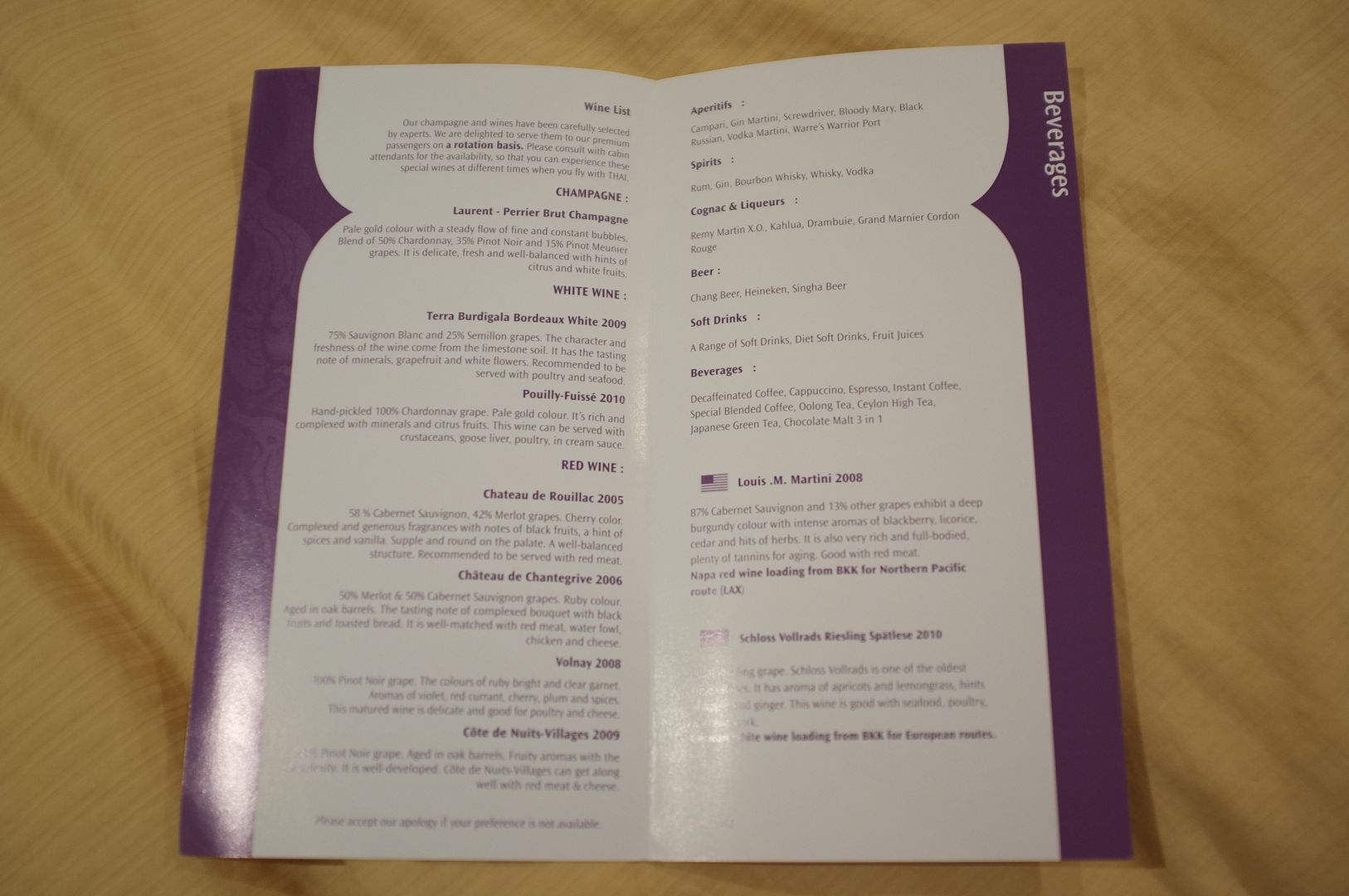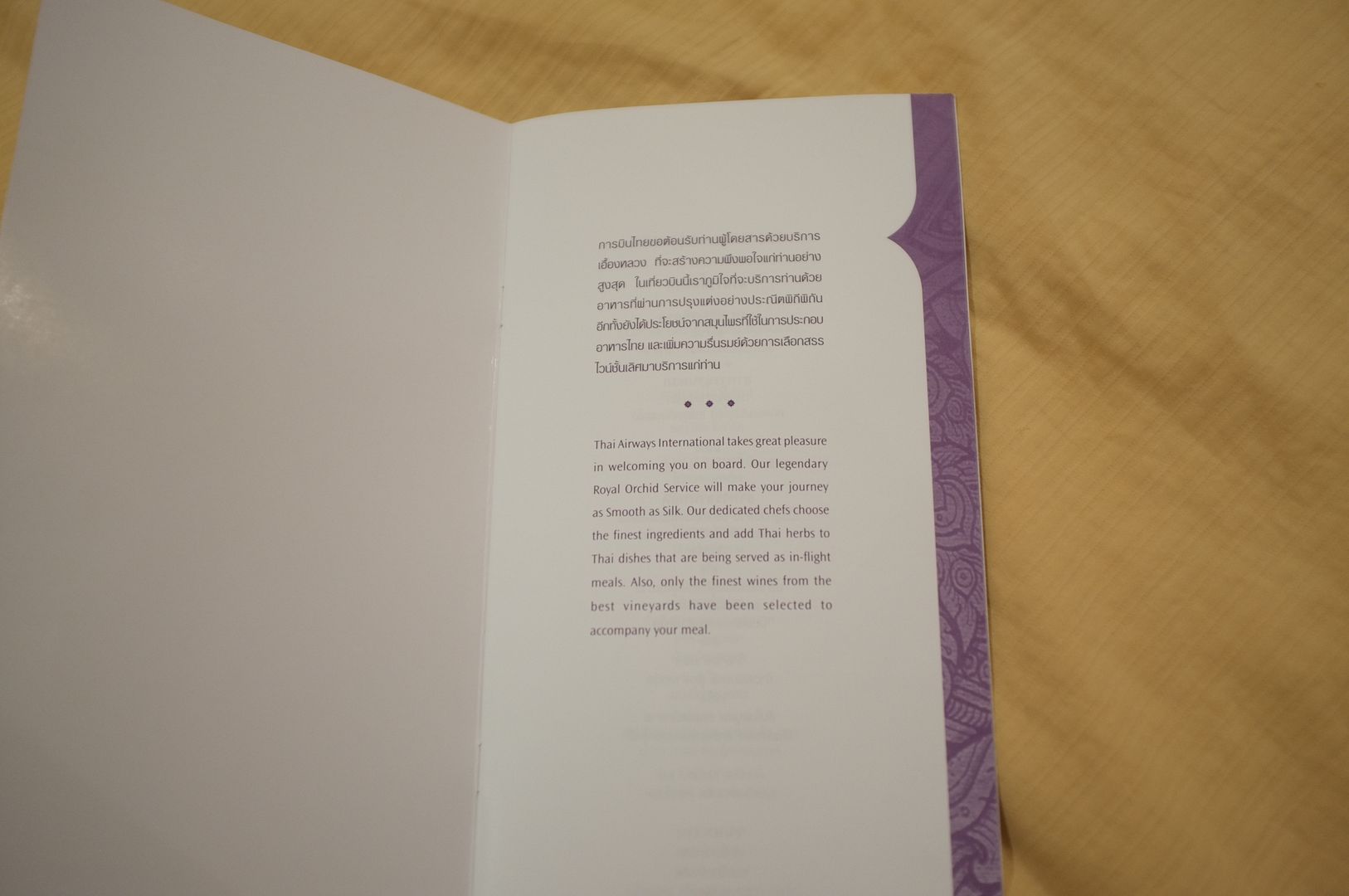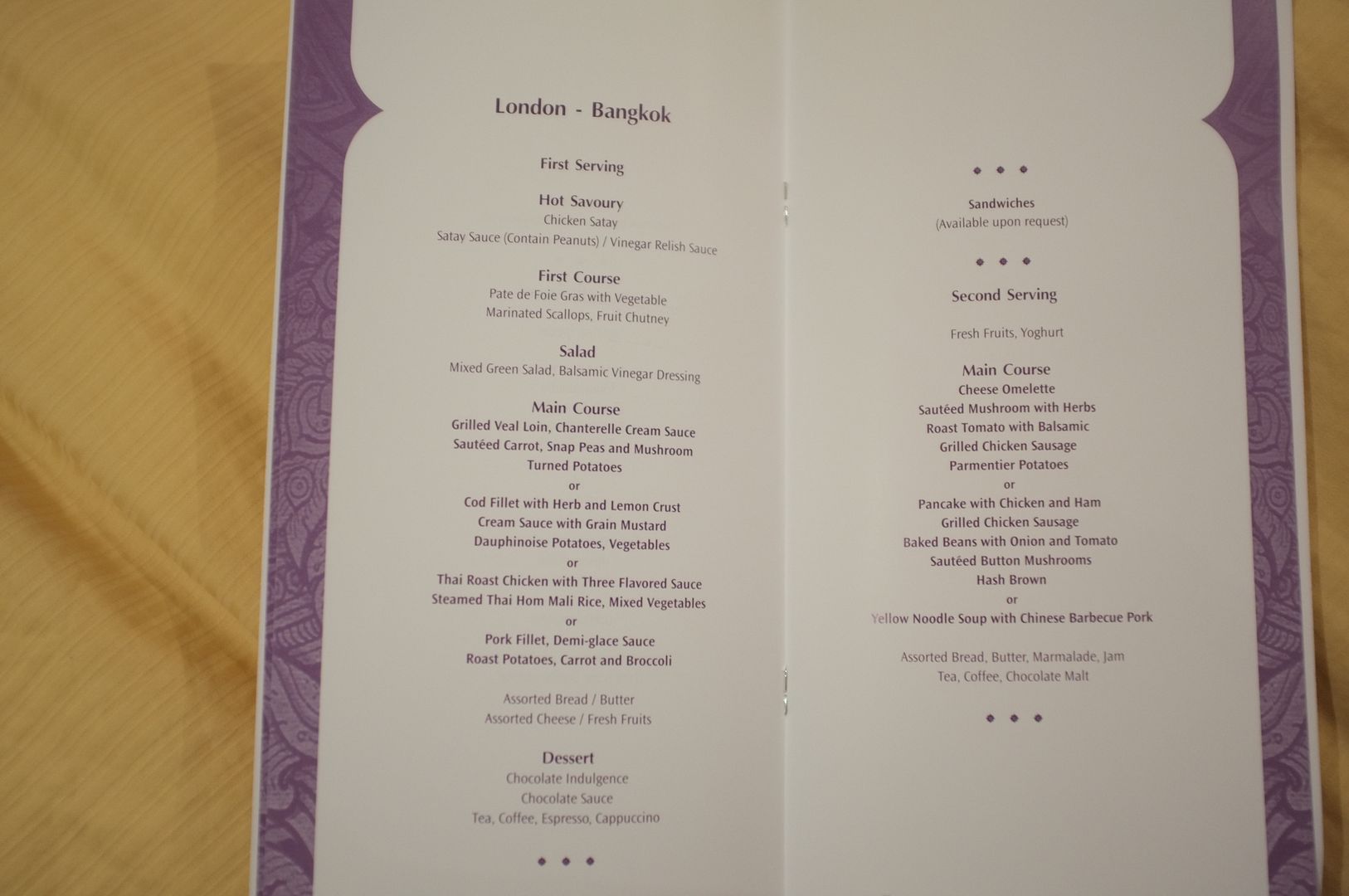 Dinner started with drinks: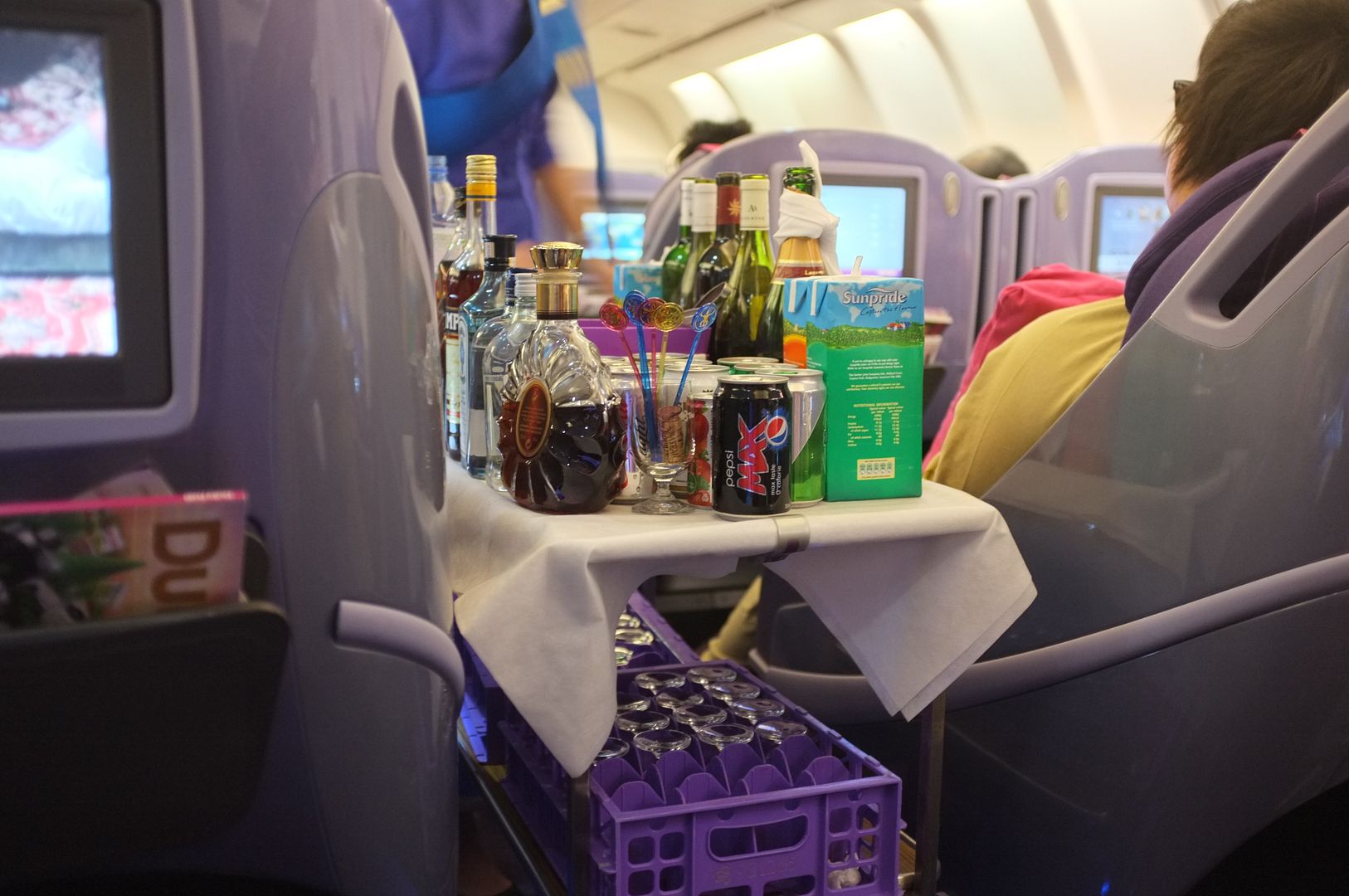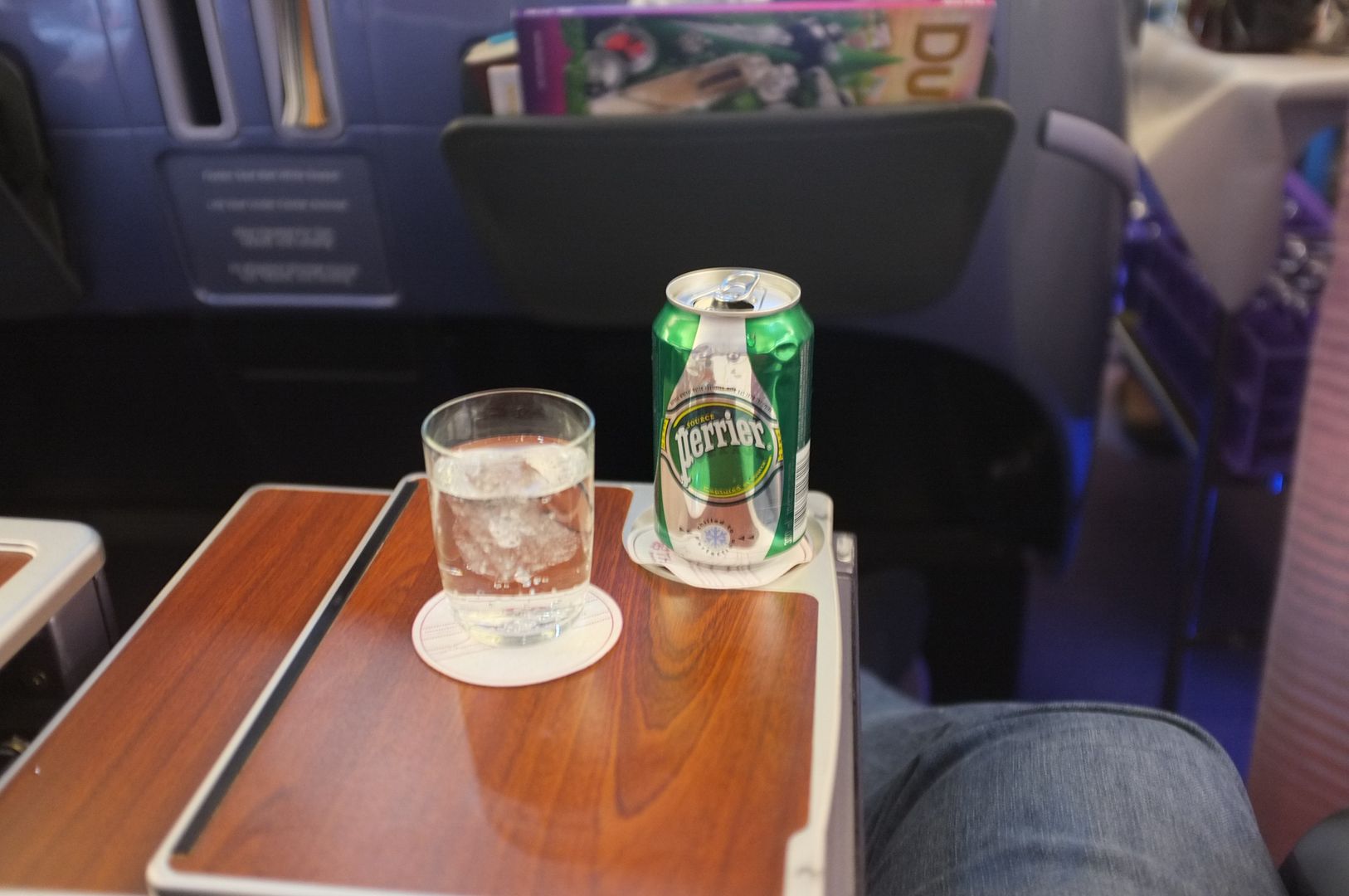 Chicken Satay
Another hot towel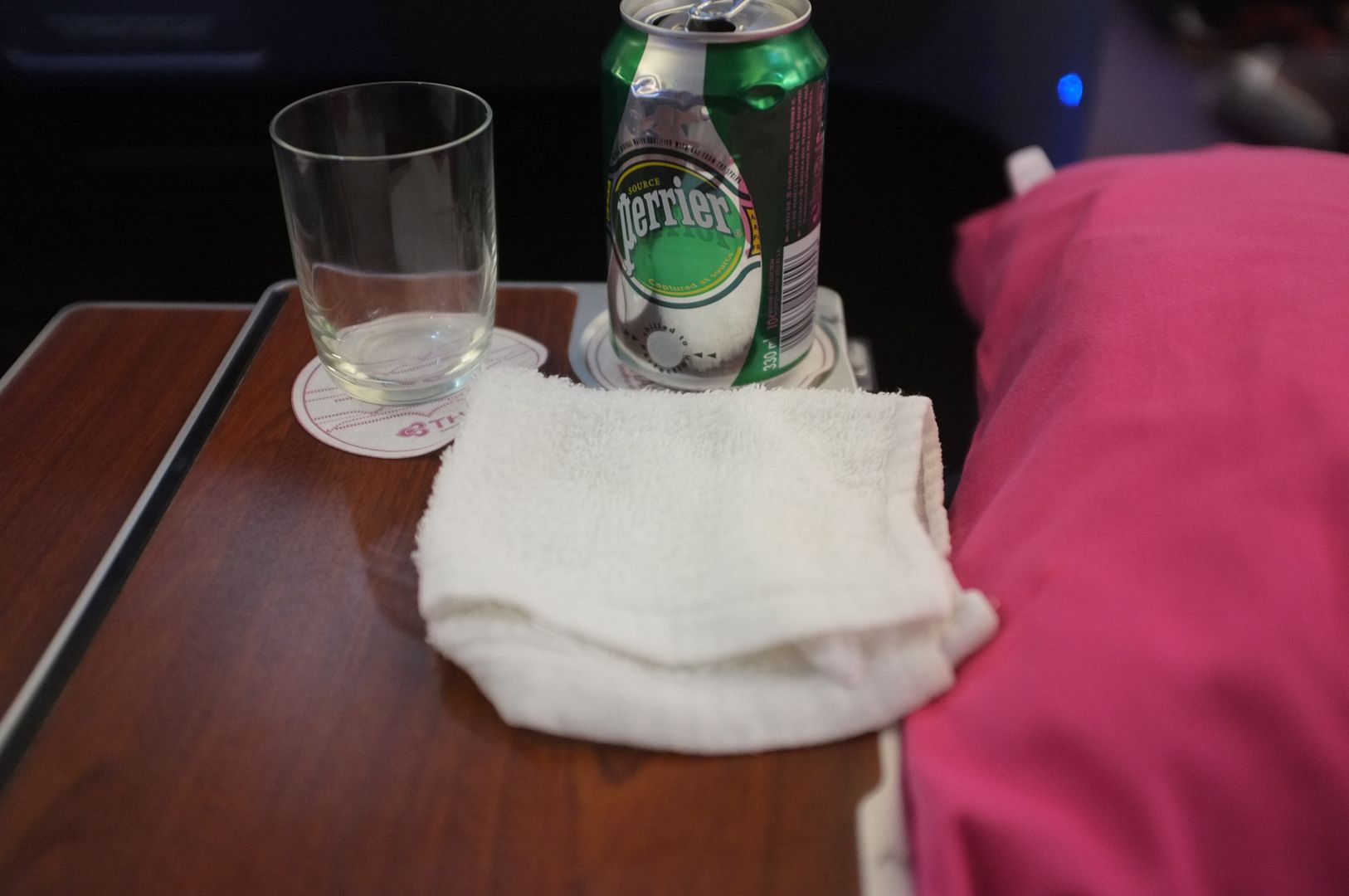 First Course: Pate de Foie Gras with Vegetable, Marinated Scallops, Fruit Chutney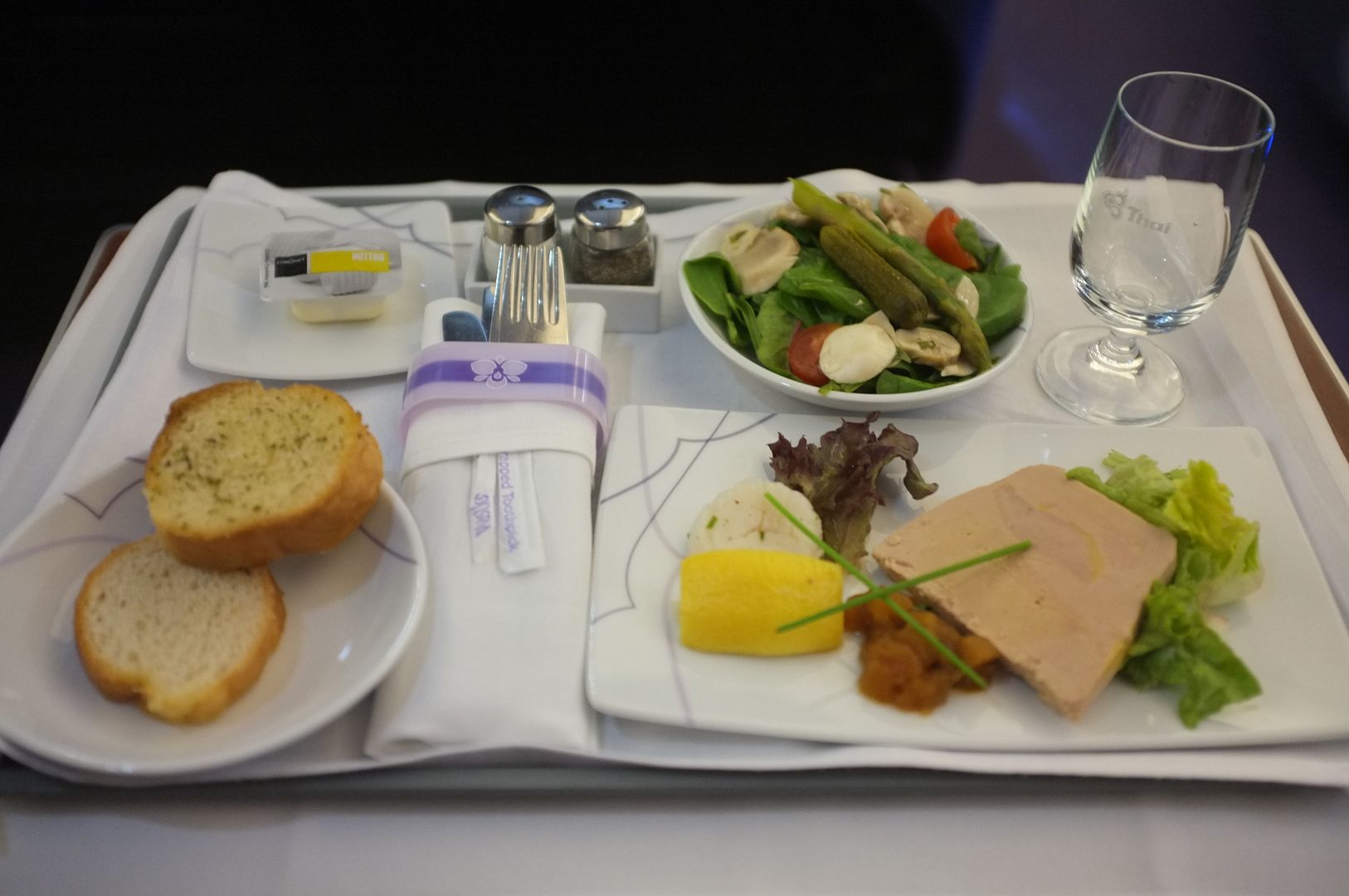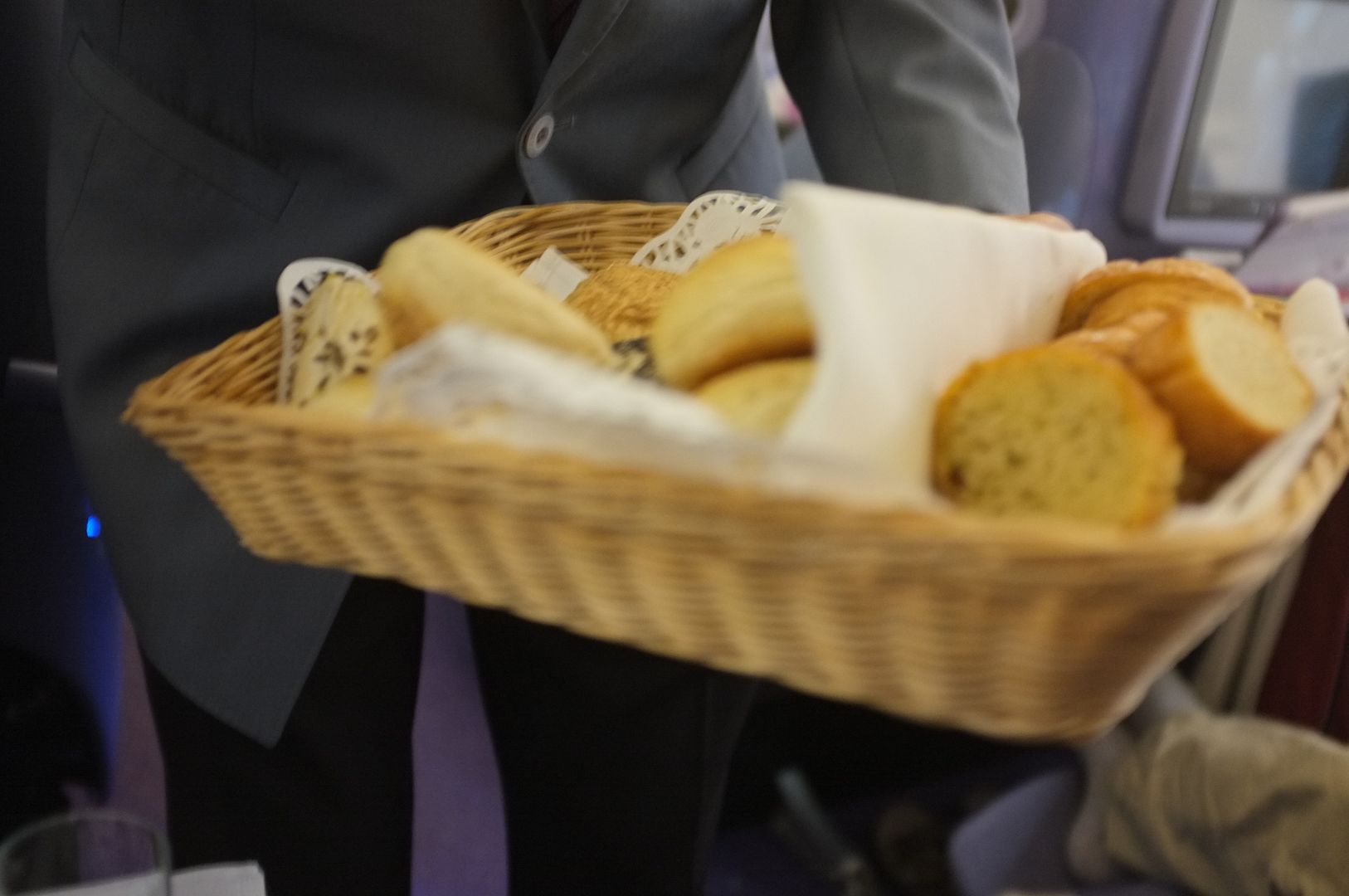 For the Main Course I chose: Thai Roast Chicken with Three Flavoured Sauce, Steamed Thai Hom Mali Rice, Mixed Vegetables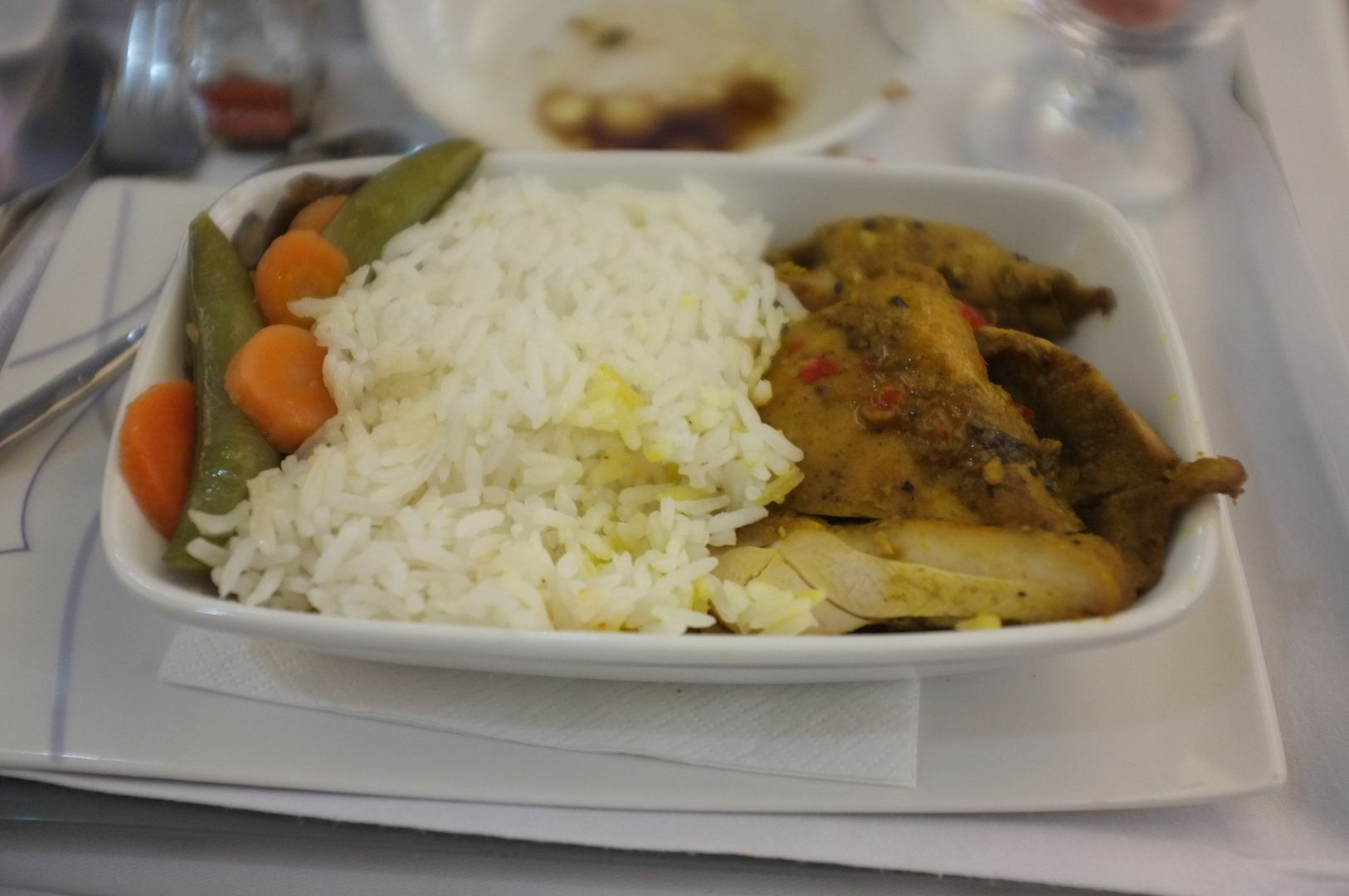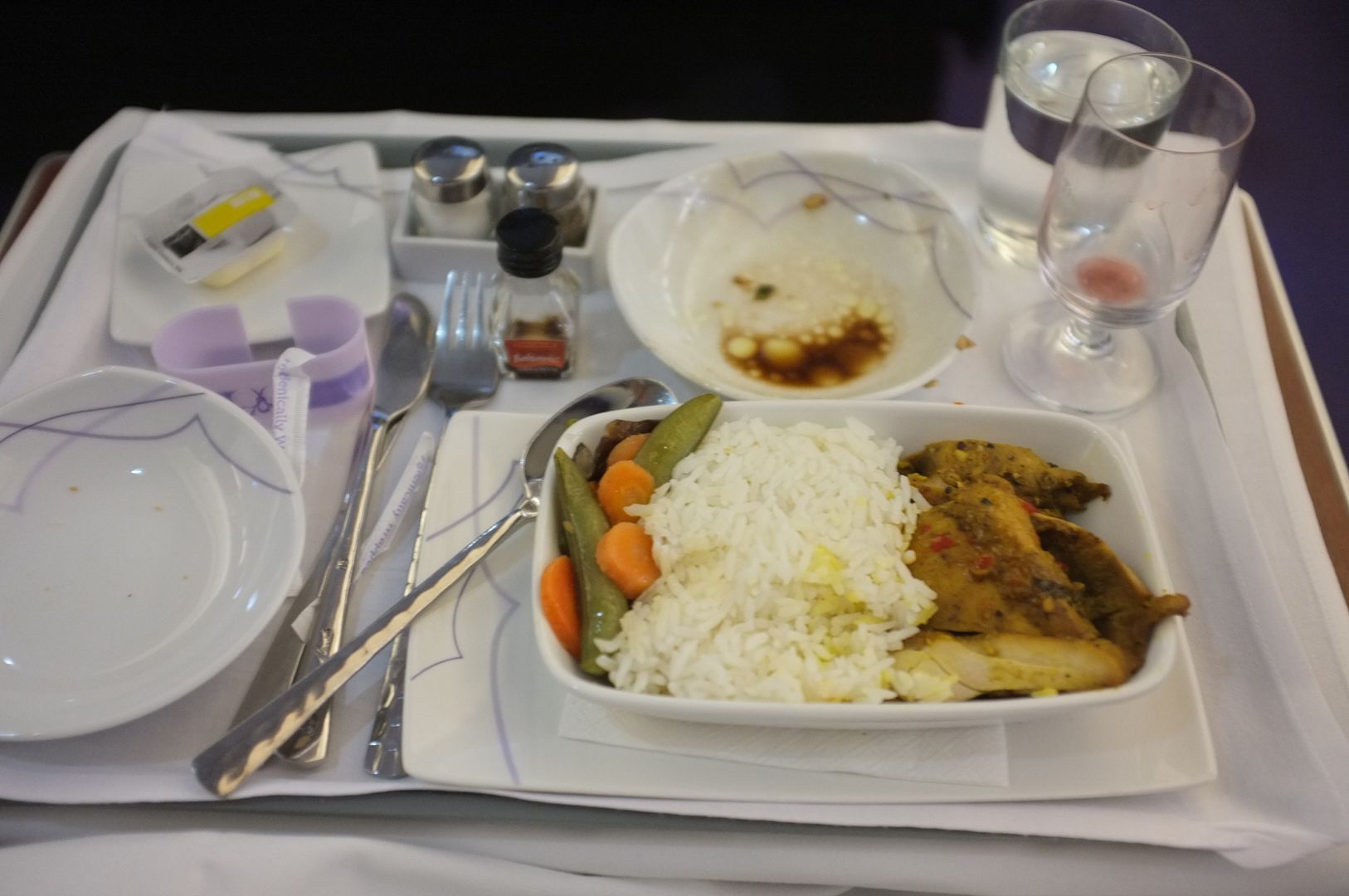 Cheese and Fruits with Port wine
Chocolate Indulgence, chocolate sauce
During dinner, the captain made an announcement on the result of the Euro2012 quarter final match between Spain and France: 'Good evening ladies and gentlemen, this is your captain once again. For your information, the Euro match between Spain and France, Spain beat France 2-0'. This announcement created some cheering and clapping in the cabin.
After dinner, the crew handed out another hot towel a bottle of drinking water to everyone. Then I put my seat into the 'bed' mode which was angled flat and slept straight till the cabin flight (mood light) was slowly turned on.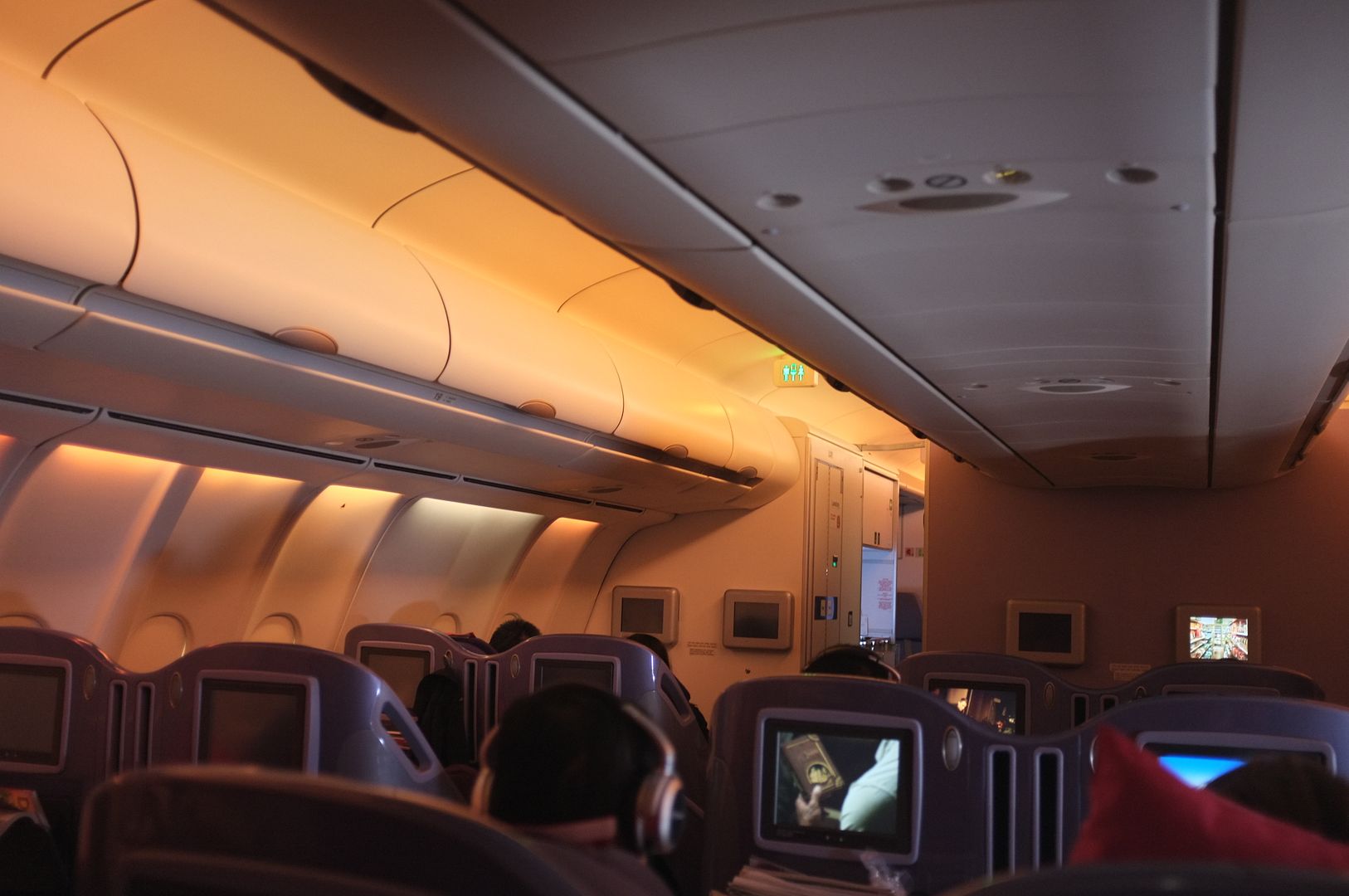 Before breakfast was served, hot towel was handed out.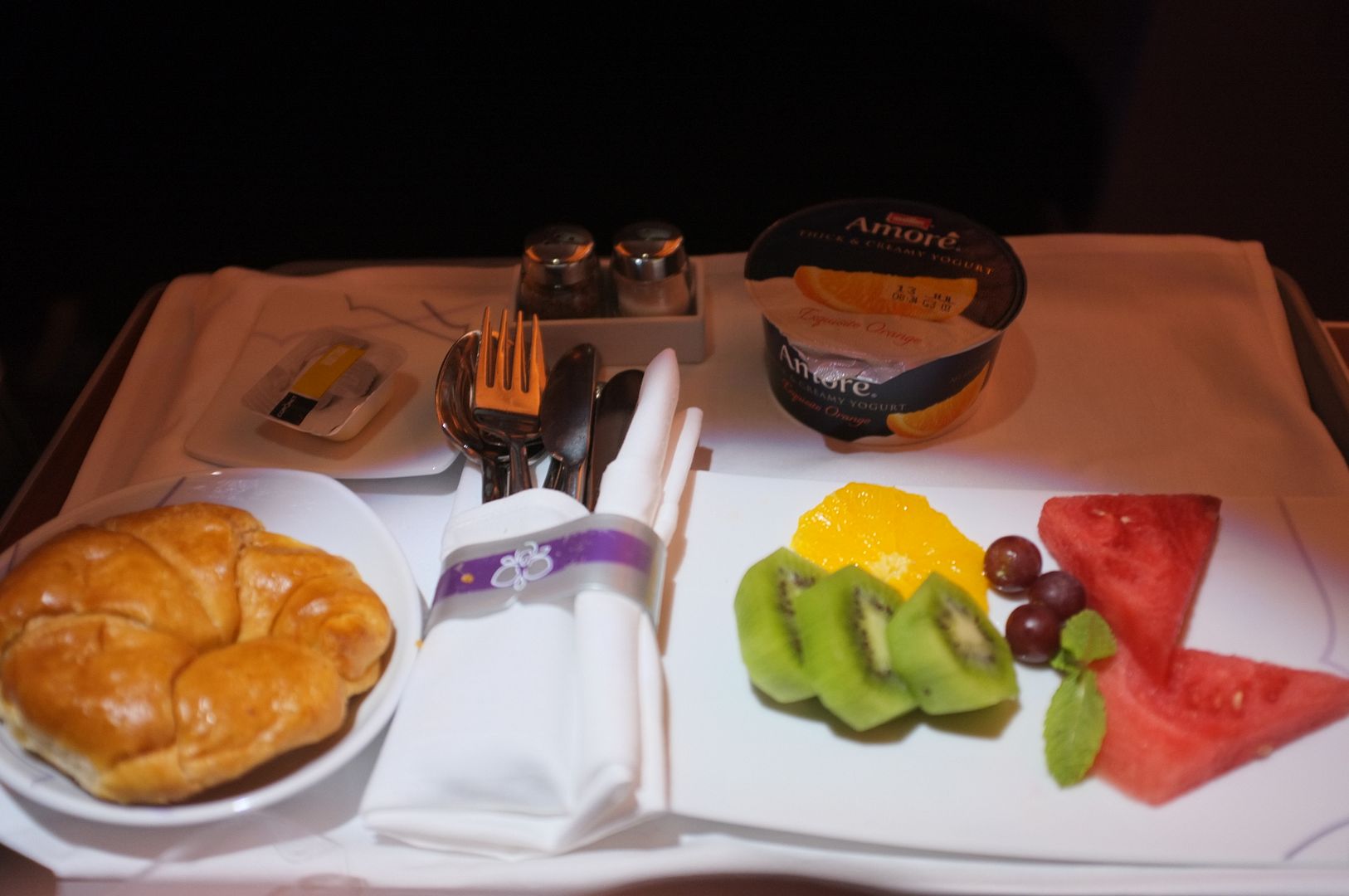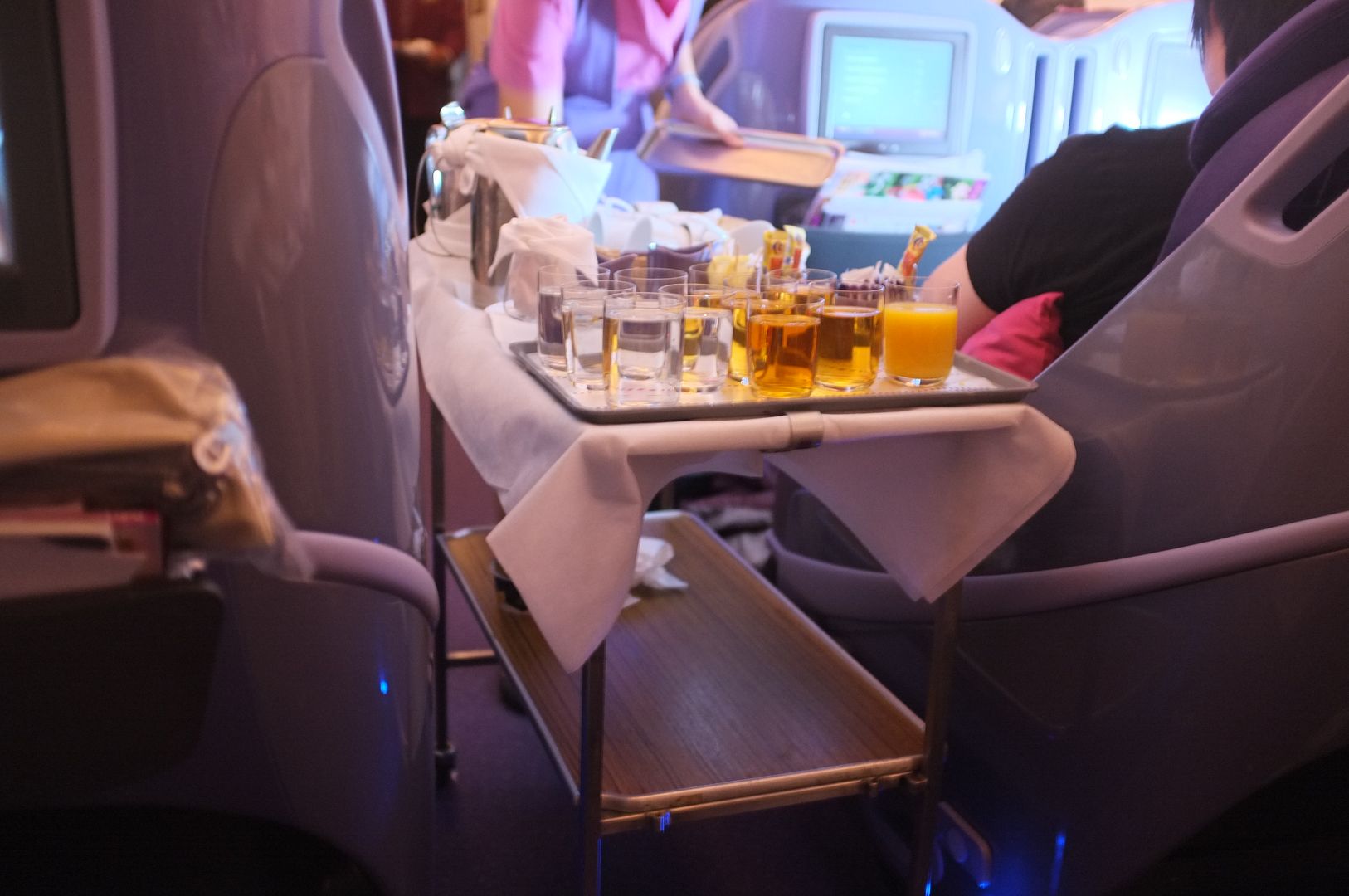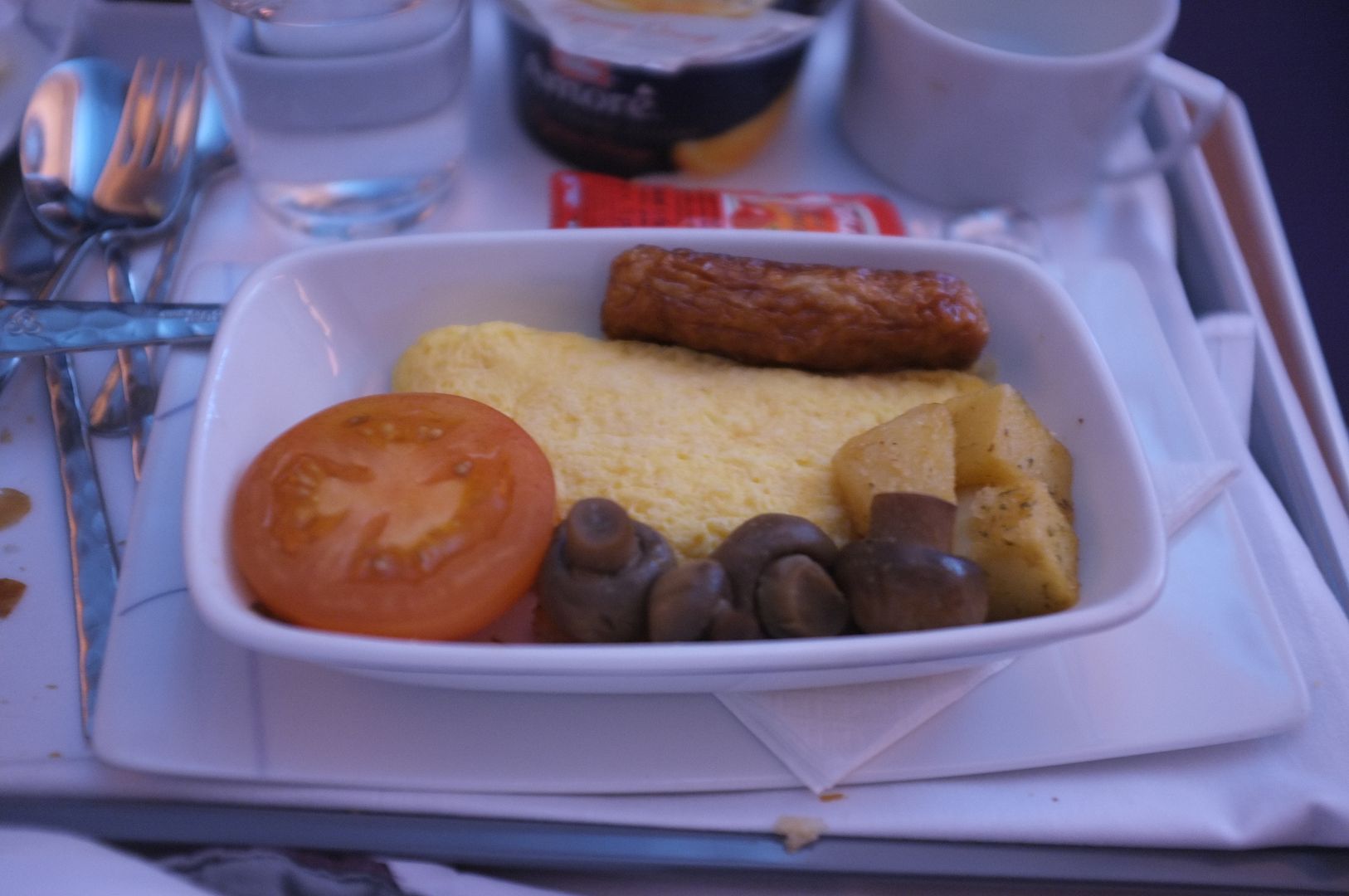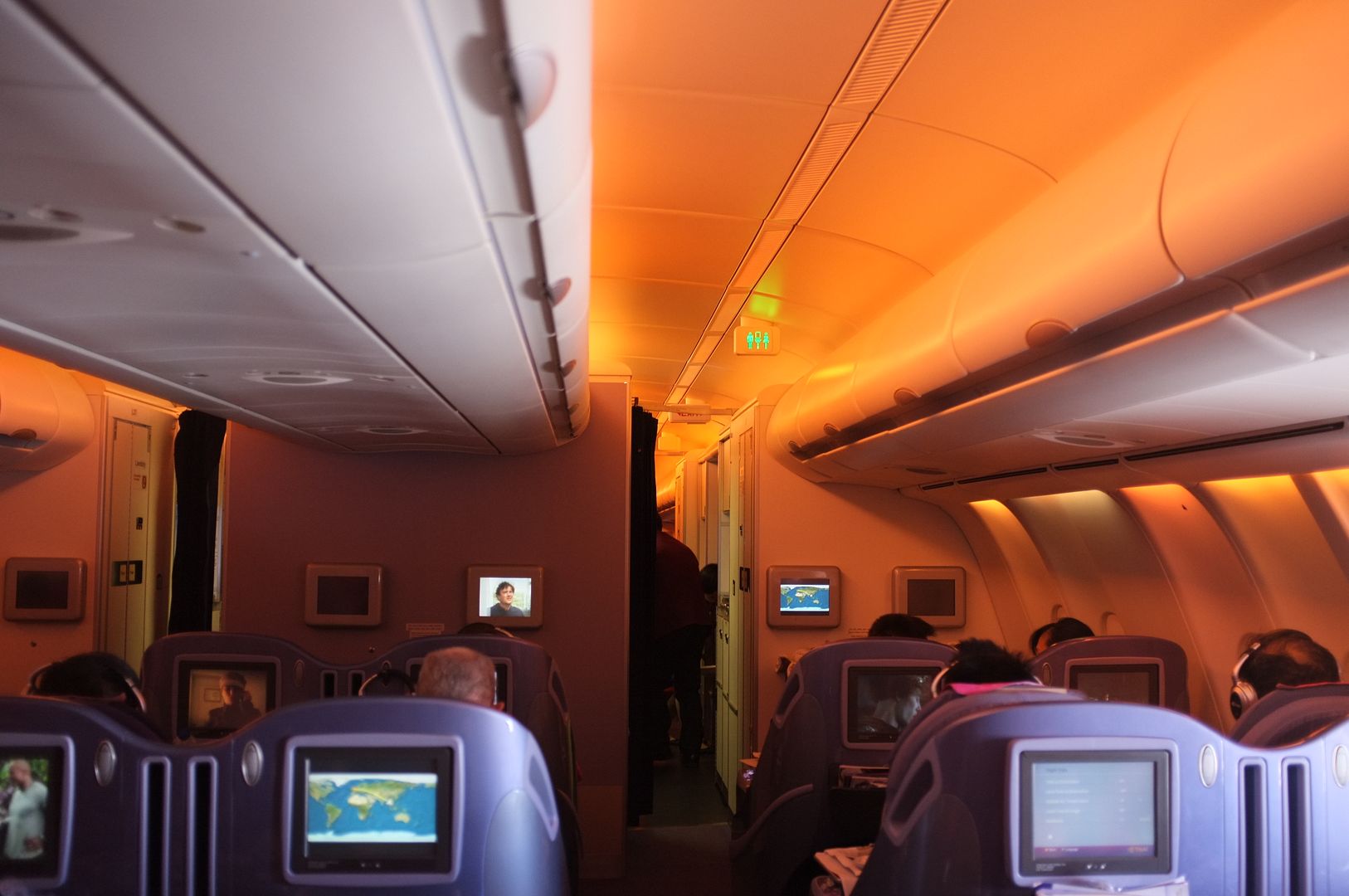 Leg room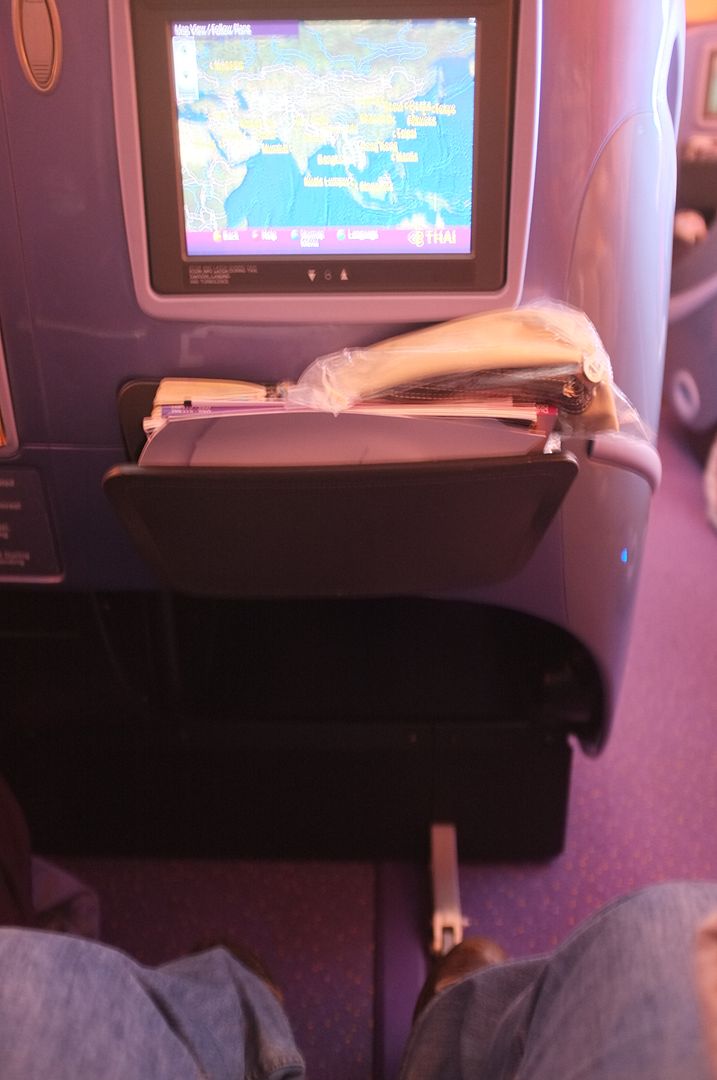 Seat control
Landing view from the forward camera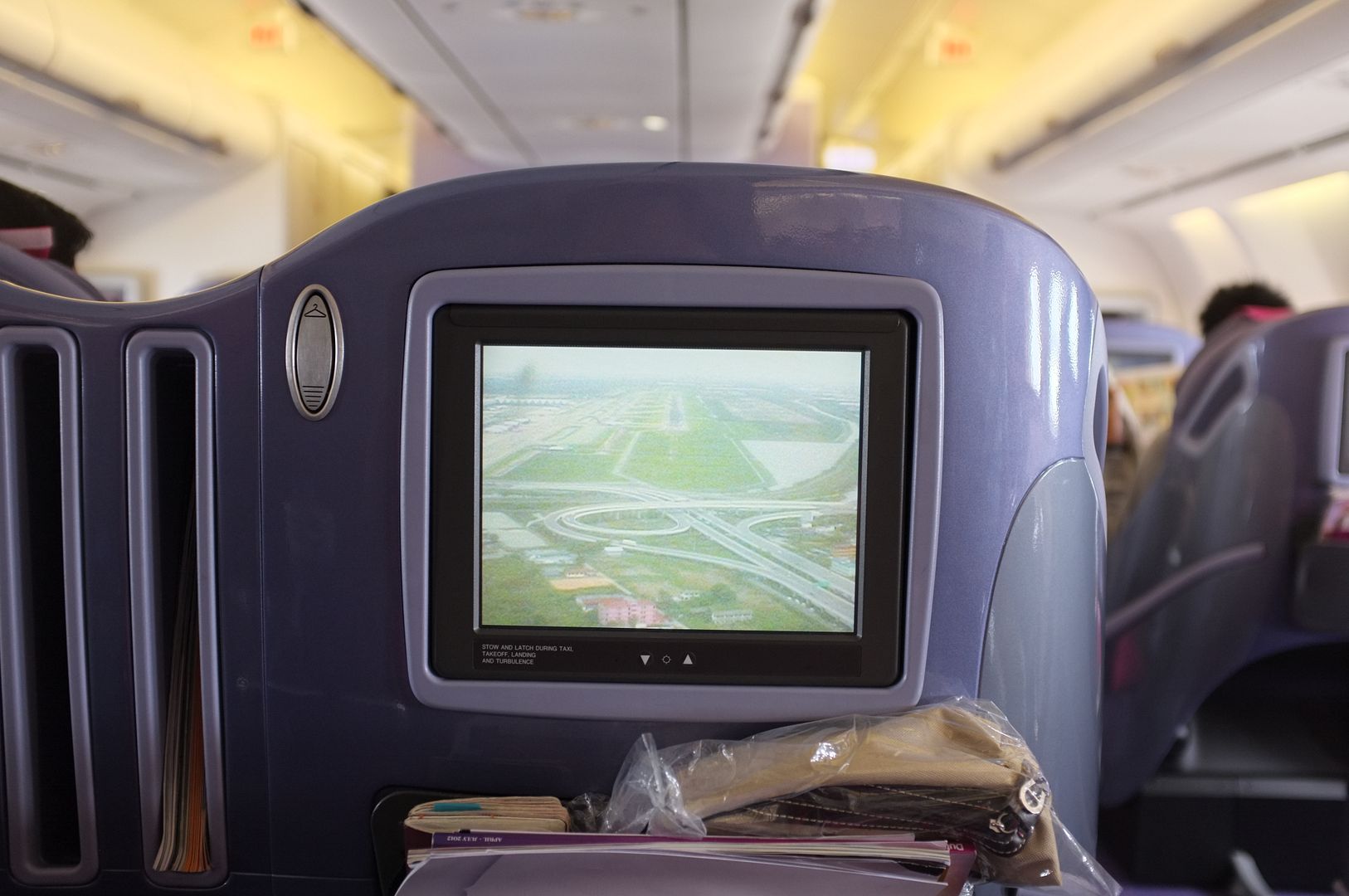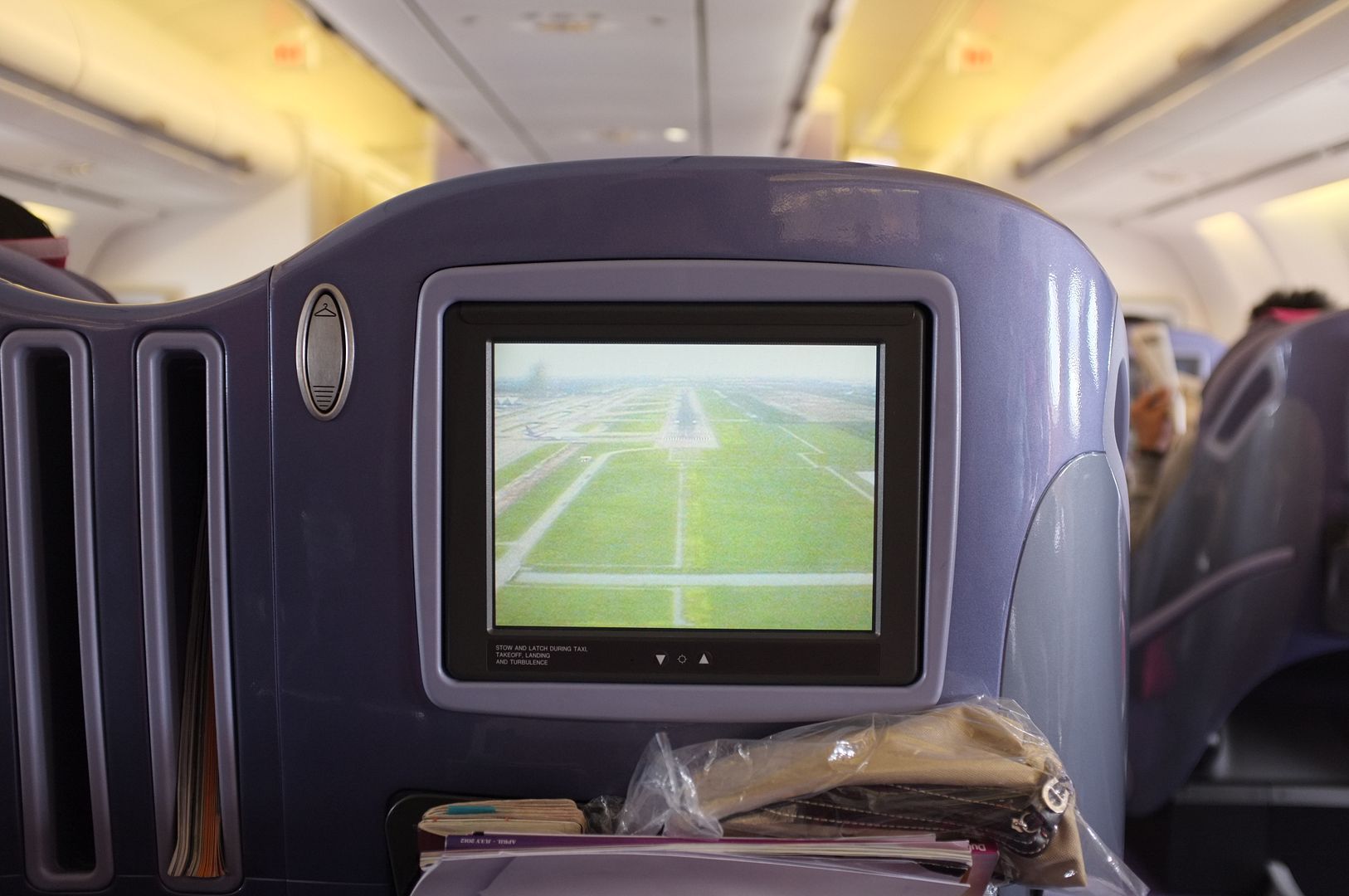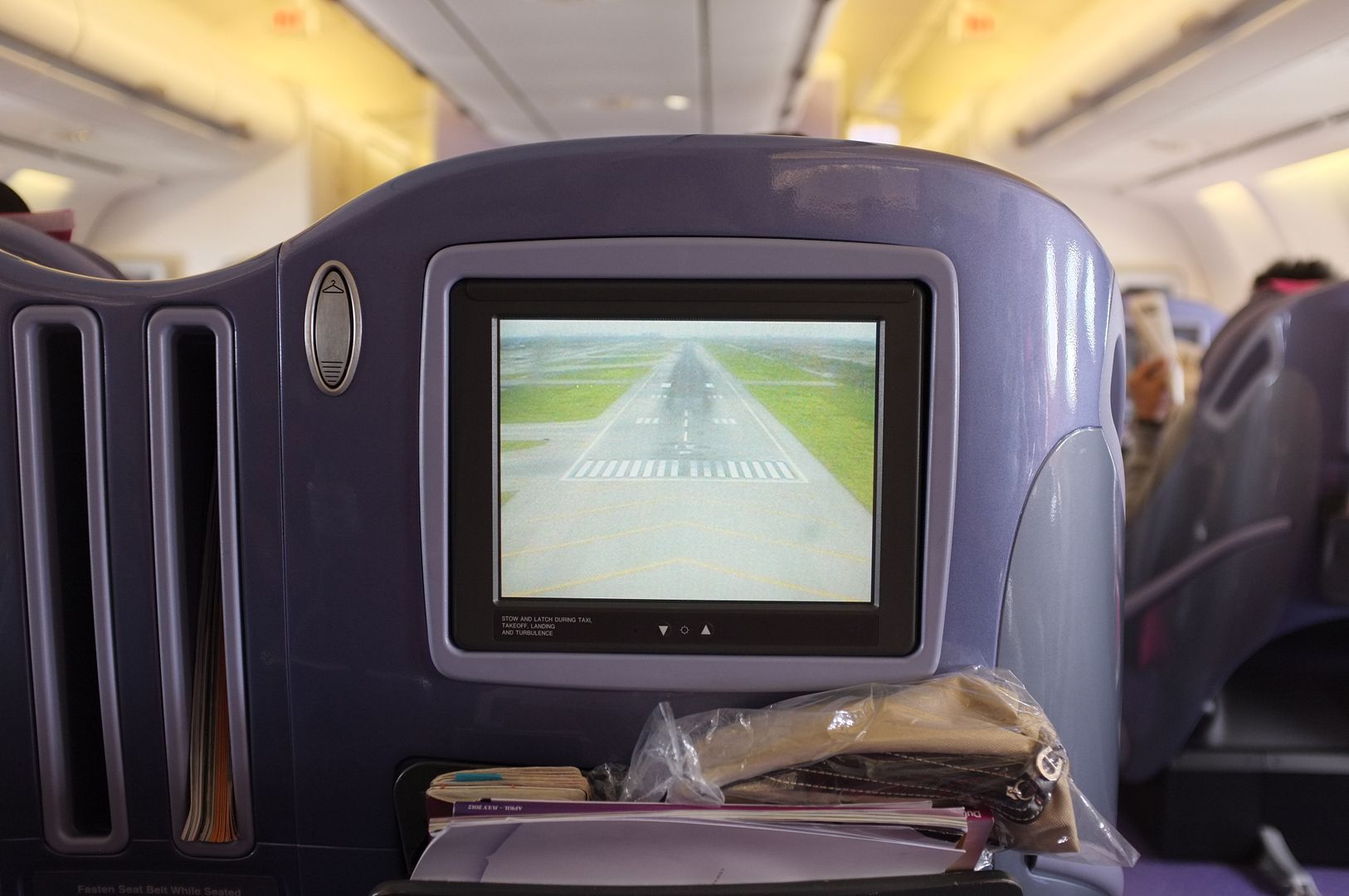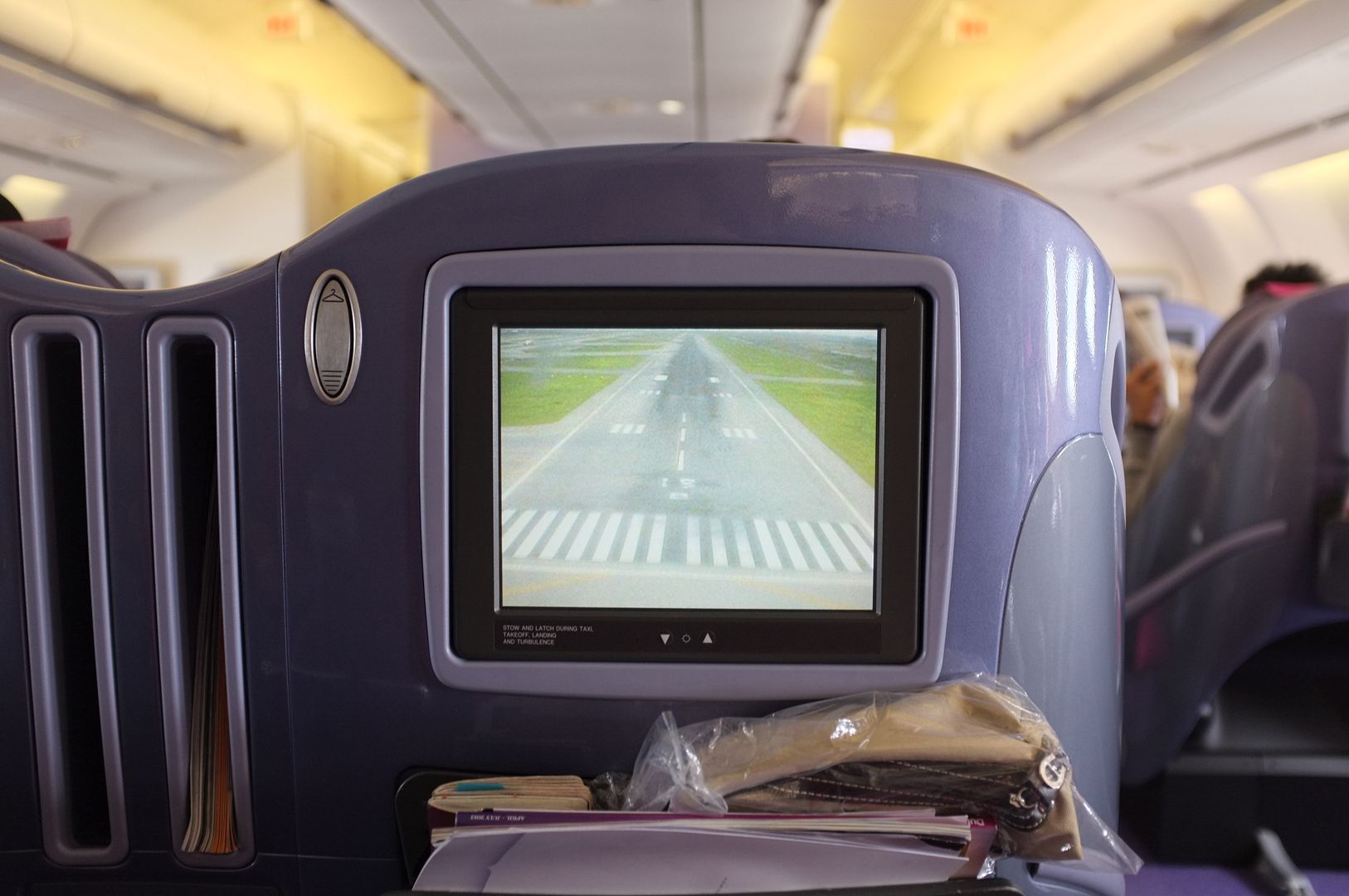 Touched down at 3pm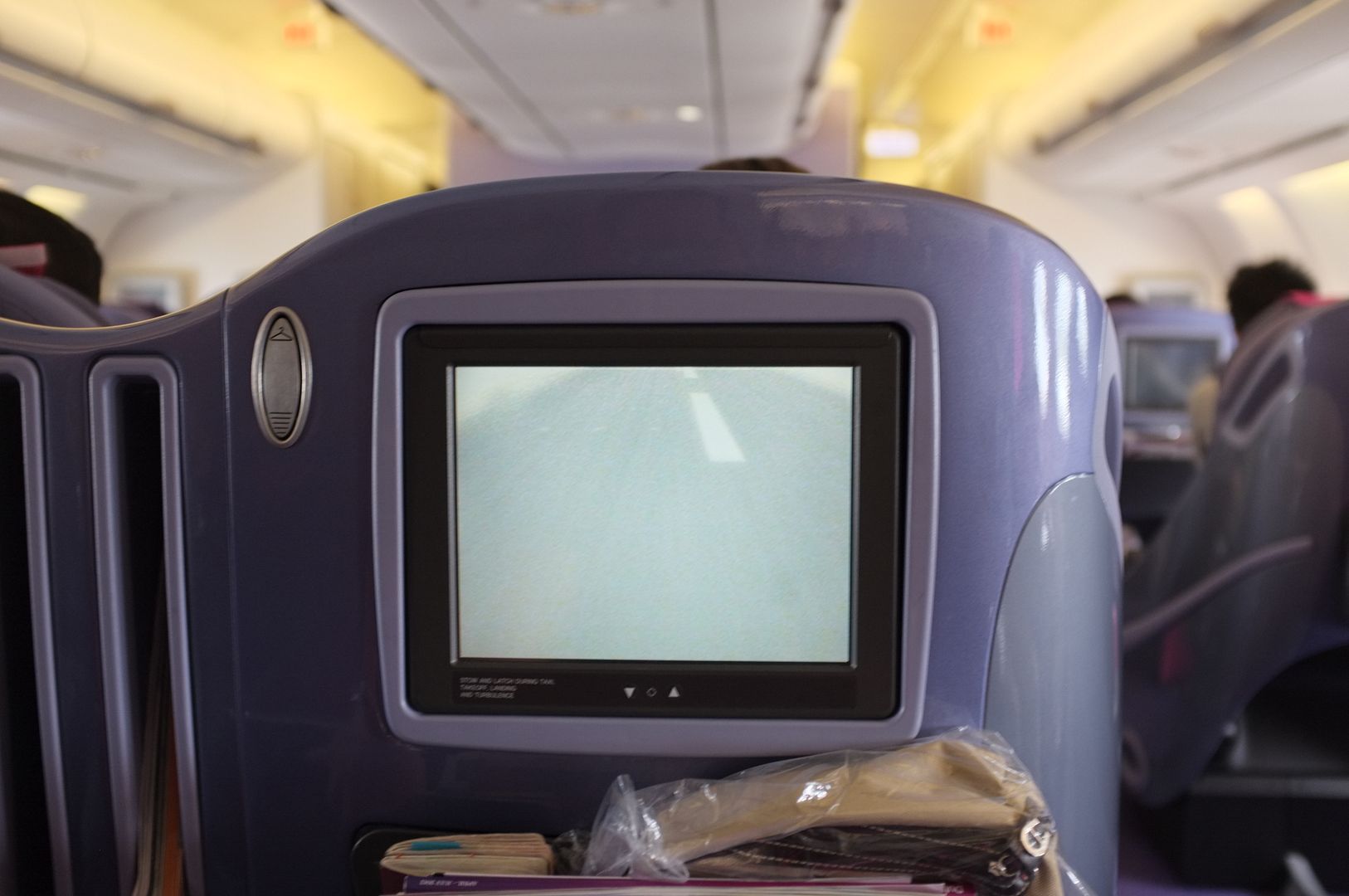 Then we were taxied to parking at a gate in Concourse D, which was very close to passport control.
My seat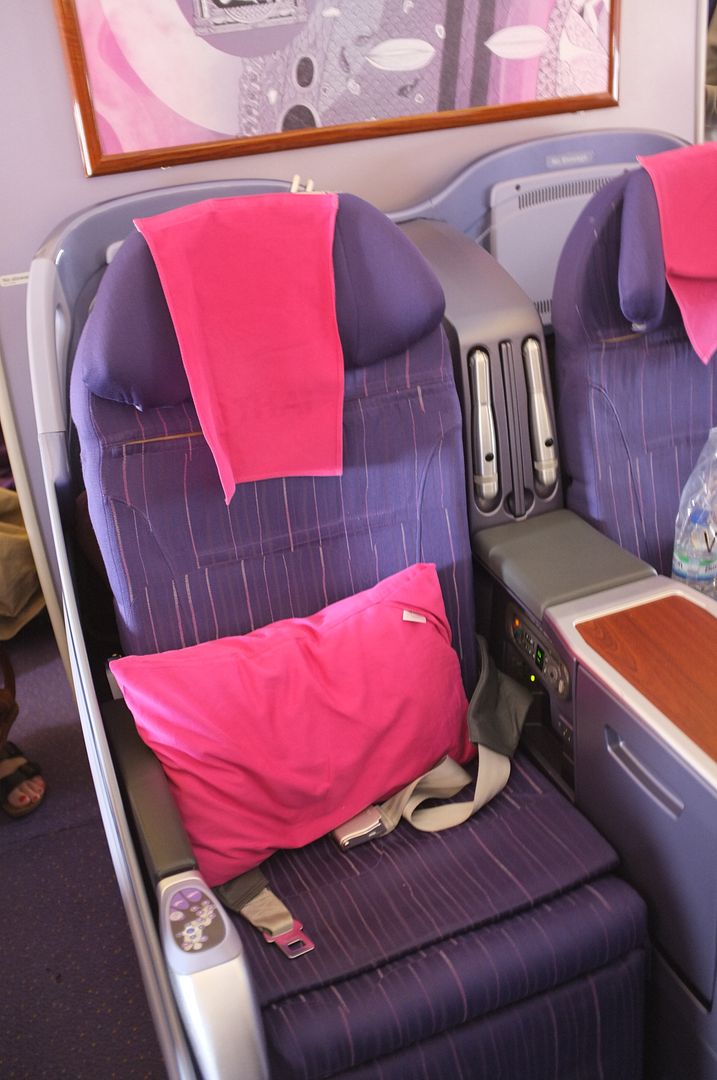 Its quite difficult to find a good view of the aircraft
From the parking gate, we were steps away from passport control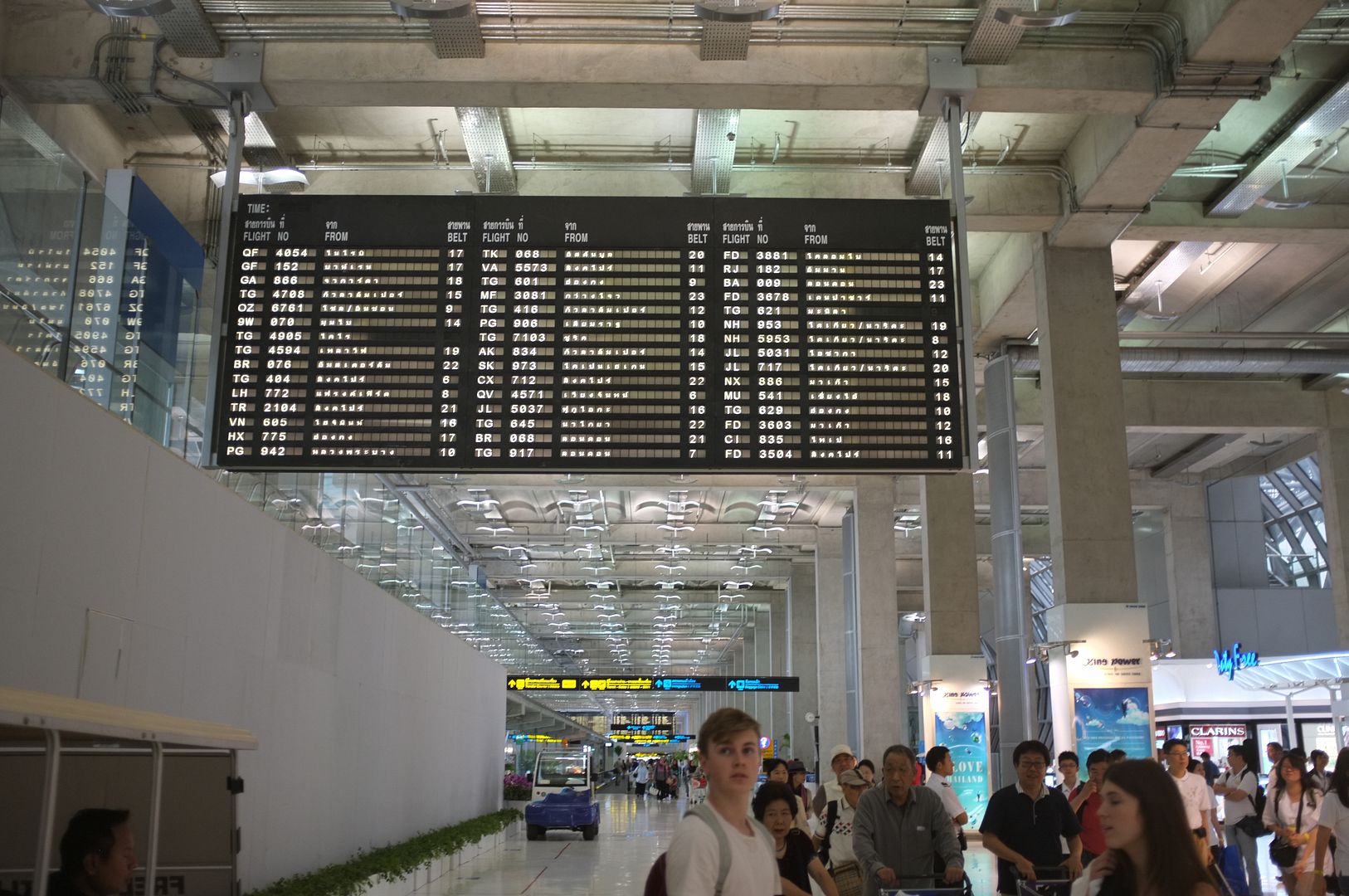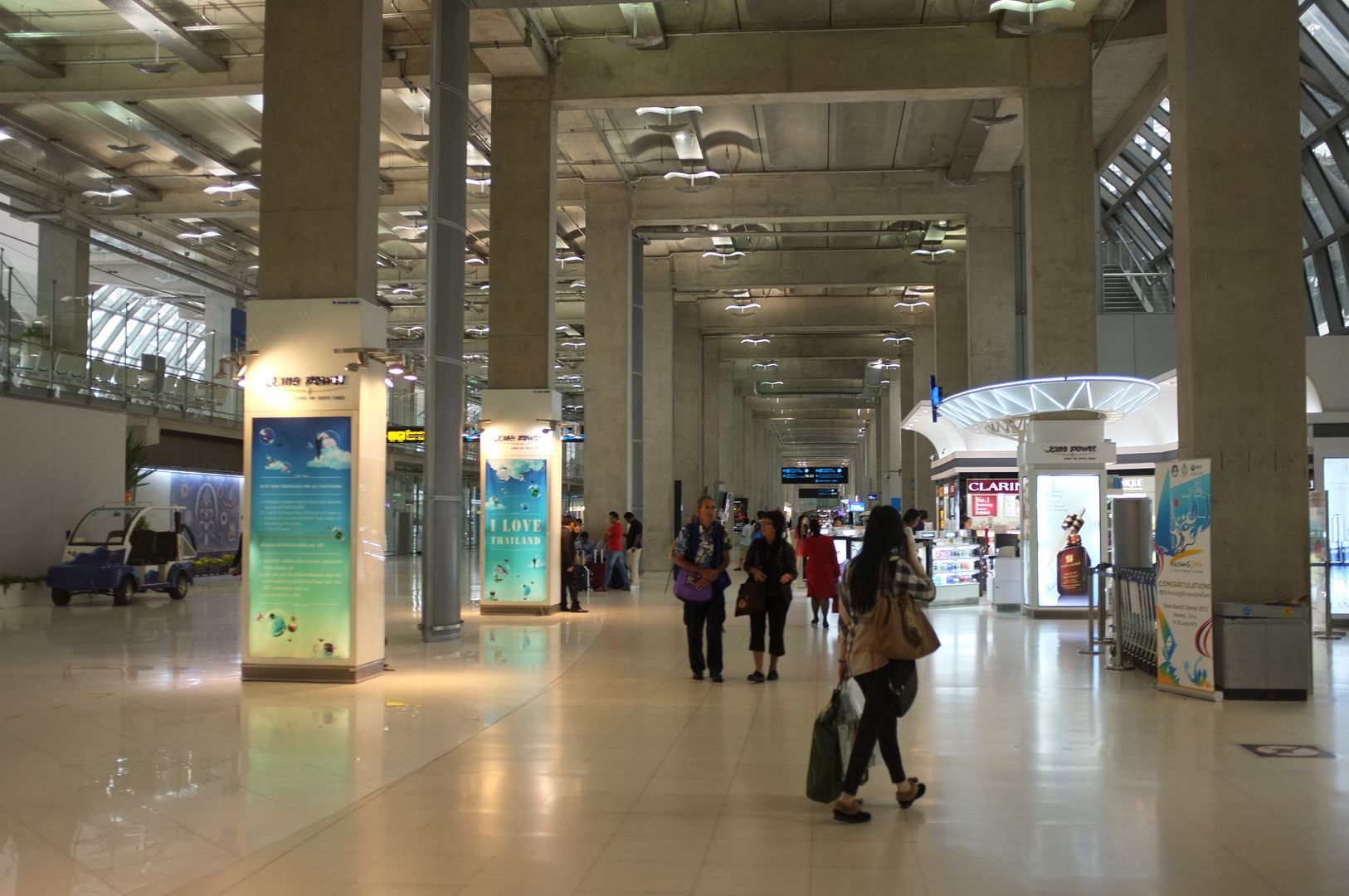 We proceeded to Thai Passport channel, where we used an automated machine: scanned the passport, scanned fingerprints, looked at the camera. This was done in a minute. But, for the first time, I didn't get a stamp on my passport when entering Thailand.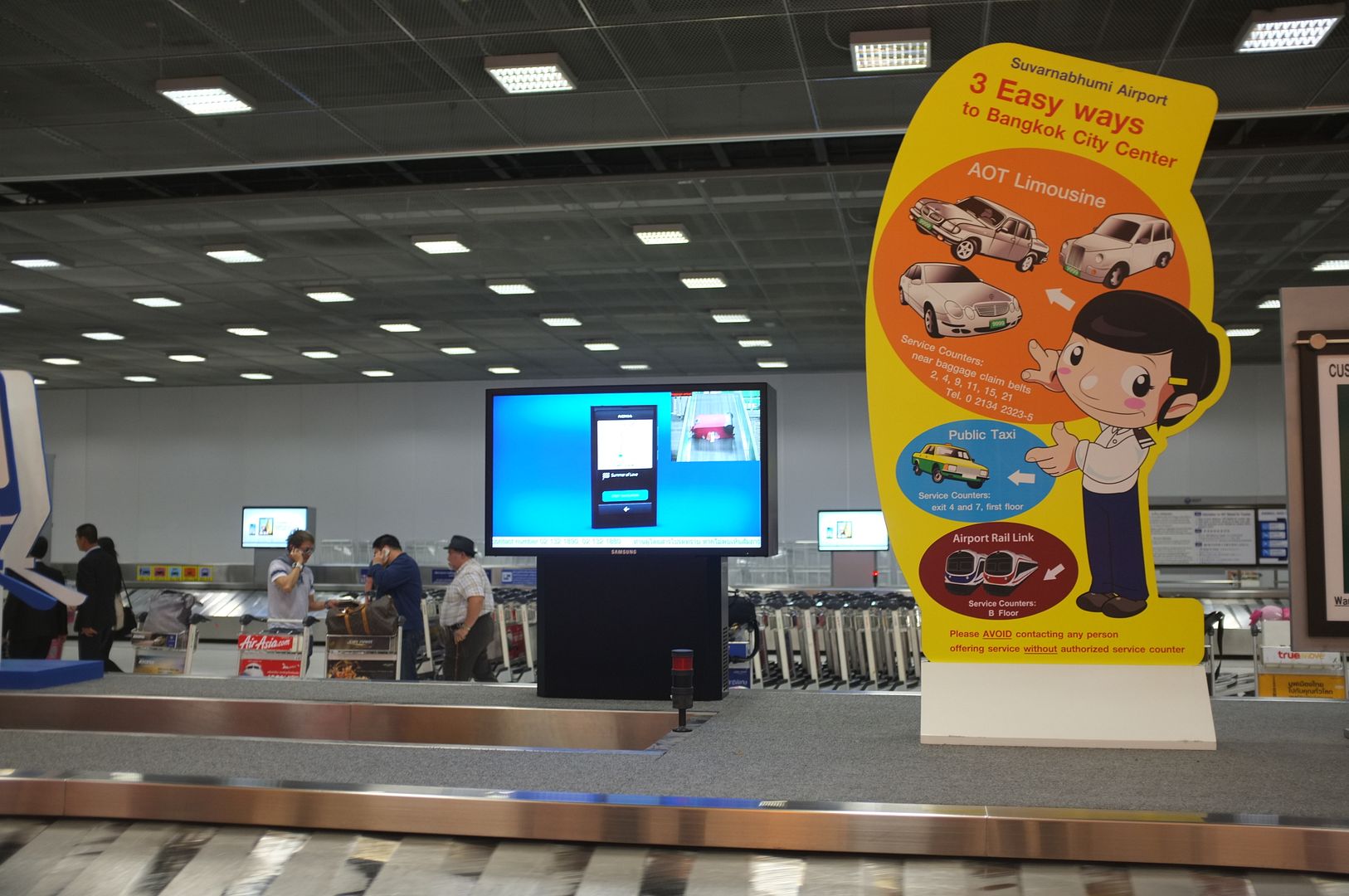 My bags came on the belt after around 10 minutes.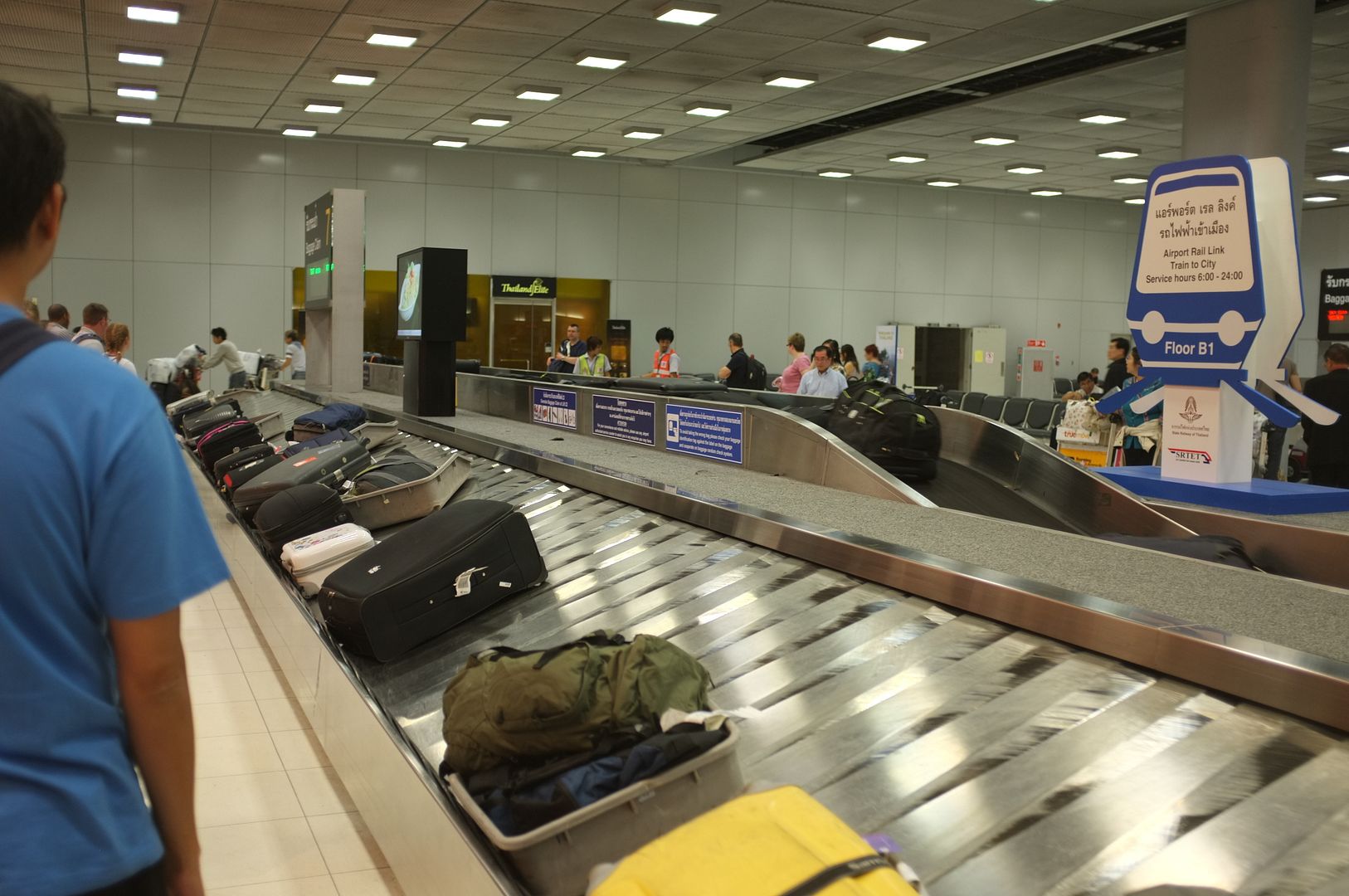 Then I headed to the departure level (usually a lot less crowed than the Arrival level) where my father picked me up for home.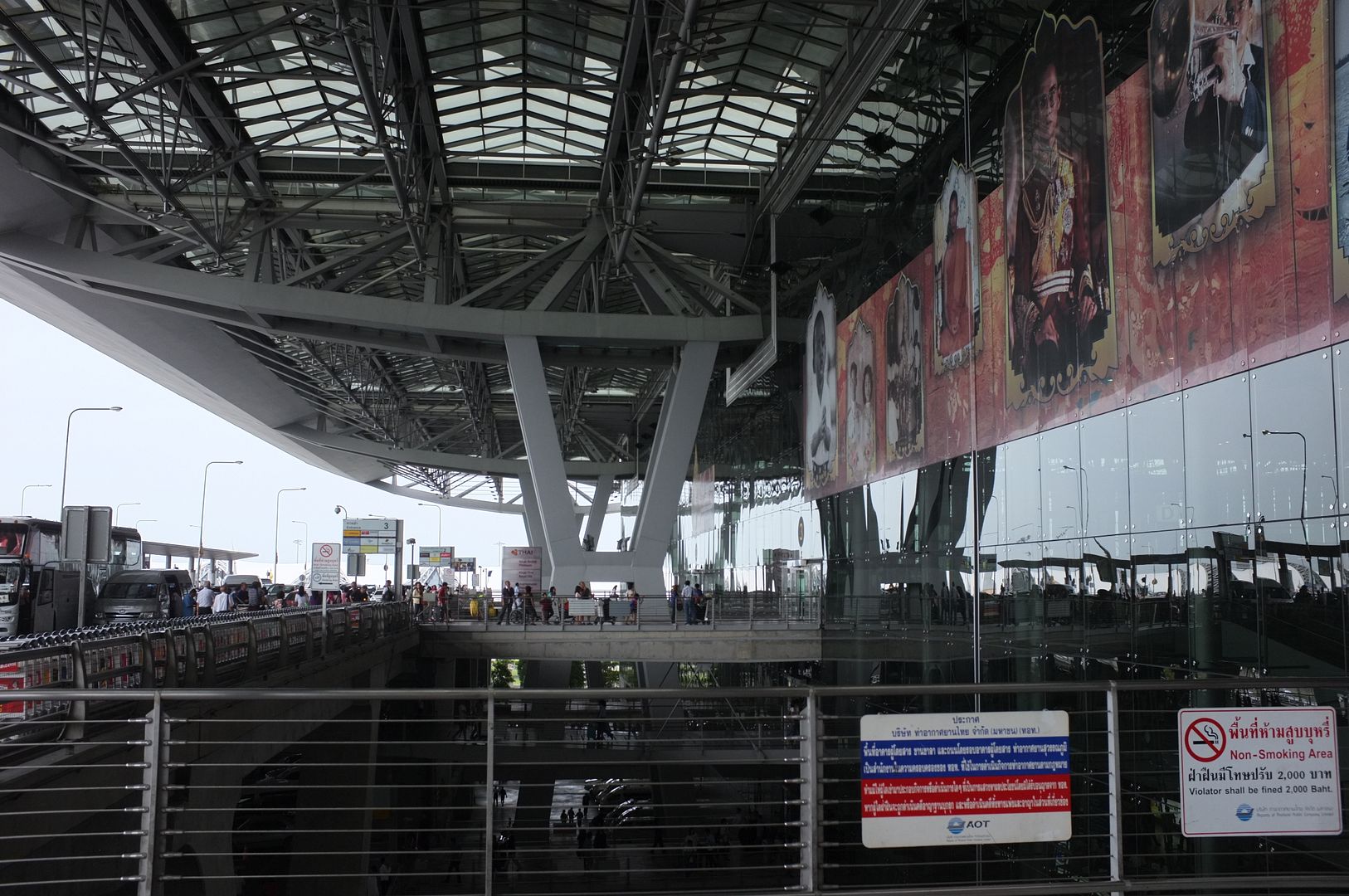 This would conclude this trip report. I had another great flight with THAI. I am especially thankful for the upgrade. The cabin crews were great and so was the food and overall experience. However, a negative comment would be that it took a long time for dinner to be served (gaps between each courses were too long) and so dinner serviced ended well after midnight.
Thank you for taking the time to read. As ever, all comments/questions/suggestions are very welcome and appreciated.
Regards,
Win