Leg 3: Miami Nice? – February 25, 2012
Greetings once again, fellow aviation fans! I'm sure you've already figured out where this trip took me—Miami International Airport, the 12th busiest in the United States. Compared to the first two legs, this one appeared to be a cupcake: only four flights and one new airport. Nevertheless, I was eager to have some fun in the sun during my first foray into Florida. (Not that I'd have any time to hit the beaches, but you get the idea…) With that, we'll jump straight into the action.
(Some pictures have been omitted for your convenience. If you wish to see them all, feel free to follow the link: Slideshow for Leg Three)
This day automatically started out better than the last solely because of the departure time of my first flight: 8 AM trumps 6 AM any day of the week. (That didn't stop my alarm from malfunctioning, resulting in me being a few minutes behind schedule. By the time I got to the gate, boarding was just about finished.) The thing that wouldn't change was a quick up-and-down with AA.
It's been a while since I saw natural light in here…
The nose knows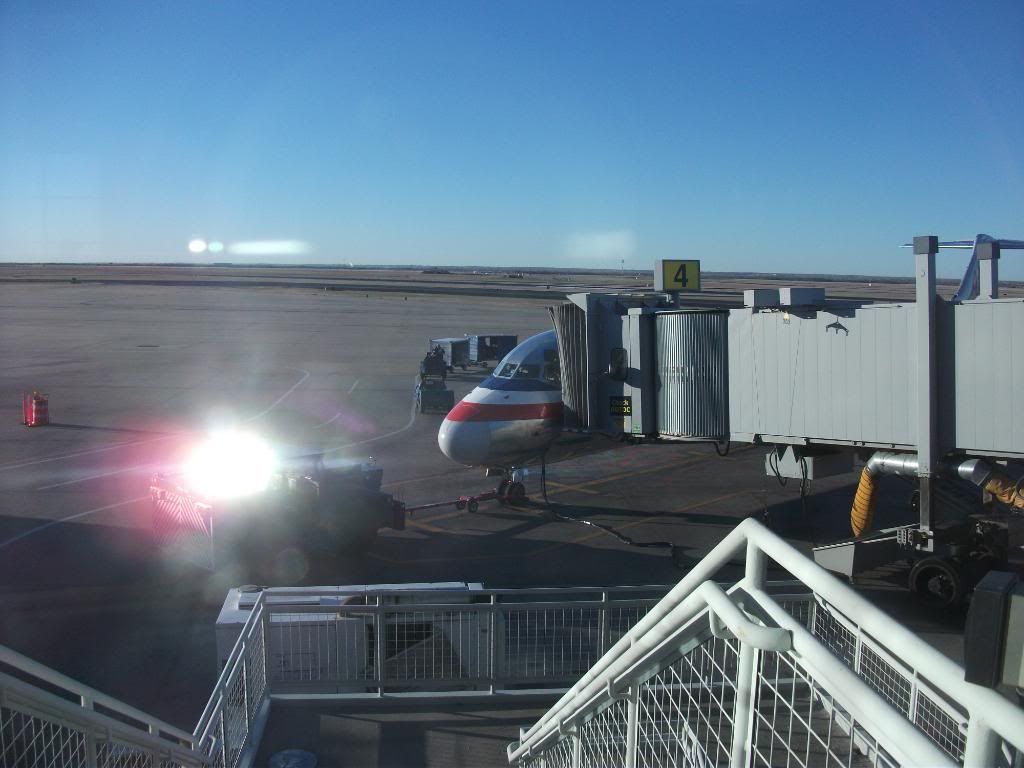 American Airlines 1814 OKC-DFW
Scheduled: 08:20-09:25
Actual: 08:28-09:05 (wheels up/wheels down); 08:14-09:16 (gate to gate)
McDonnell-Douglas MD-82 (N7528A)
A few shots of the morning's activity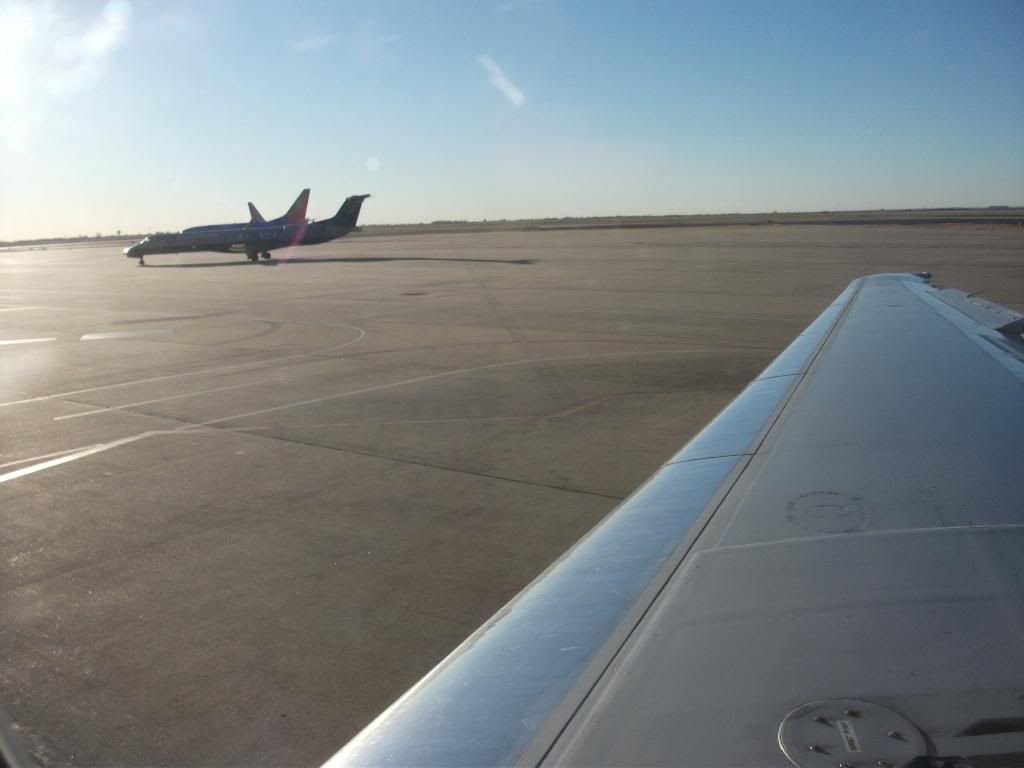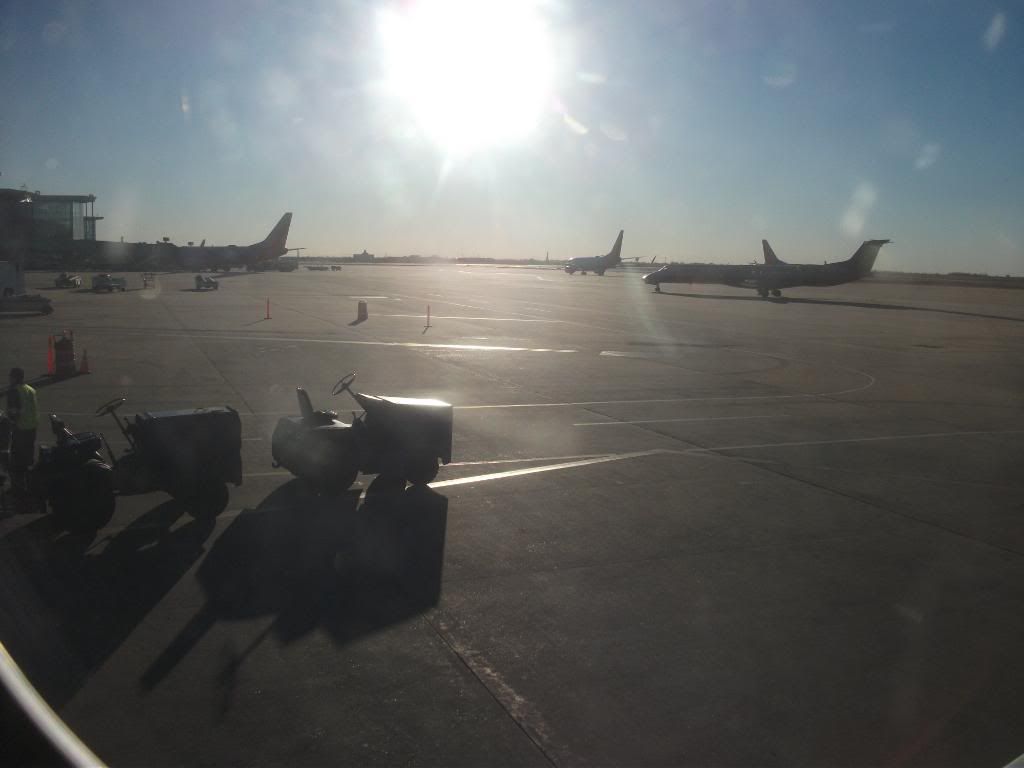 That speck is a 737 going to wherever it's supposed to go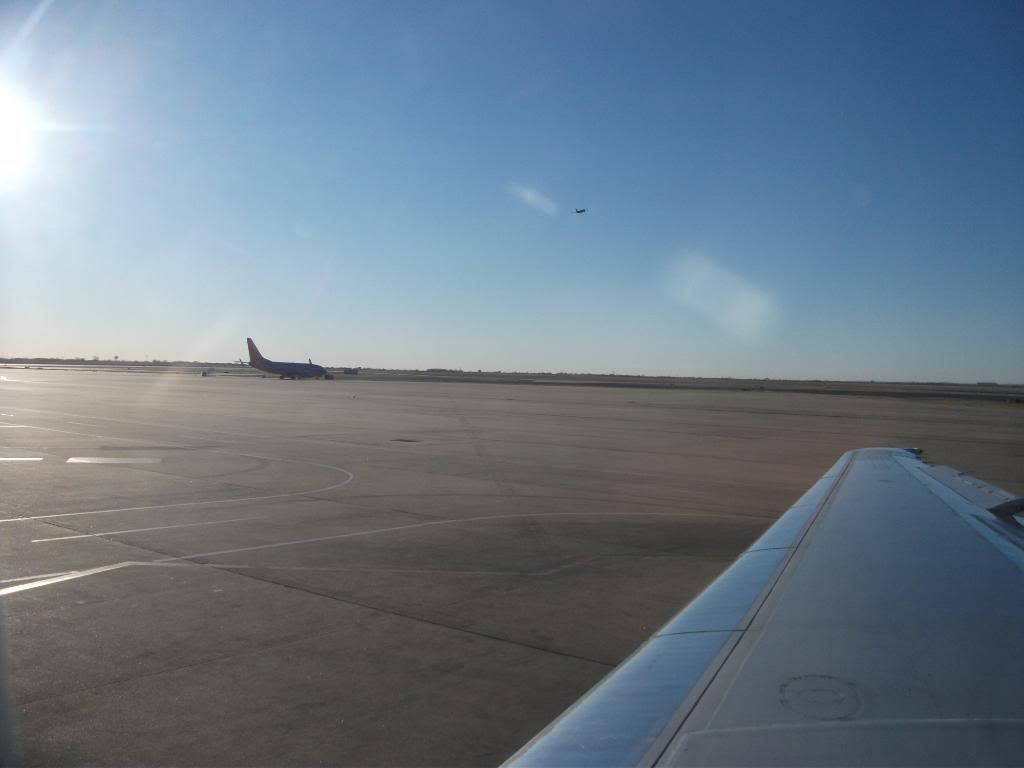 The ground crew briefly hosed down the plane with de-icing agent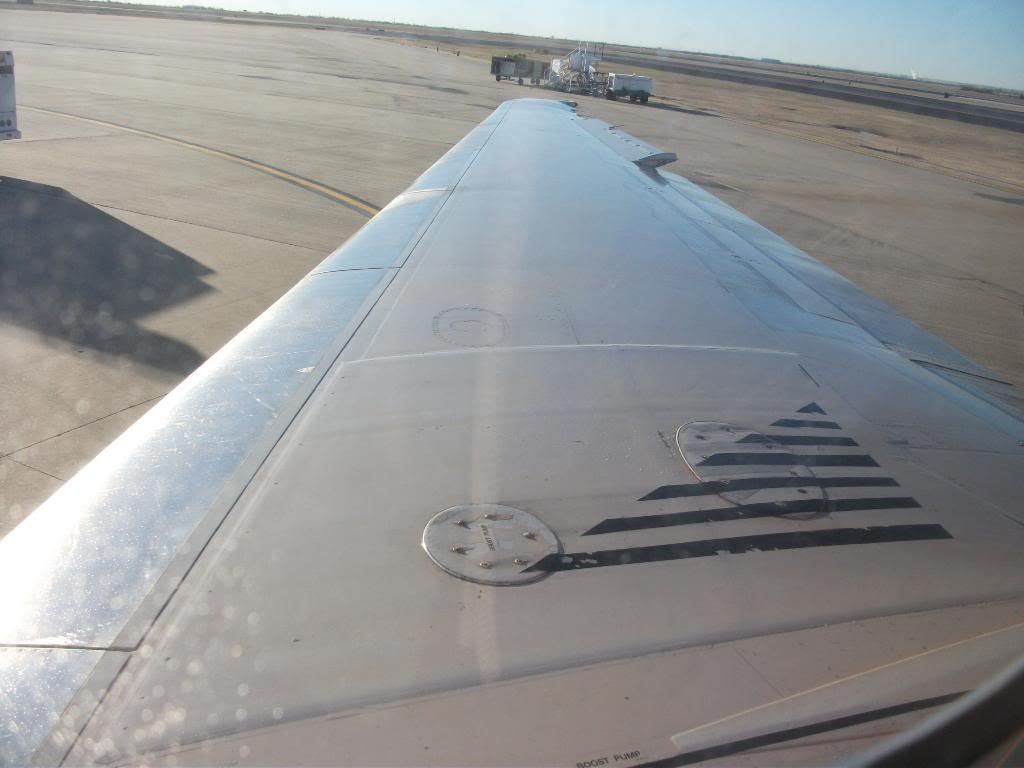 Terminal facilities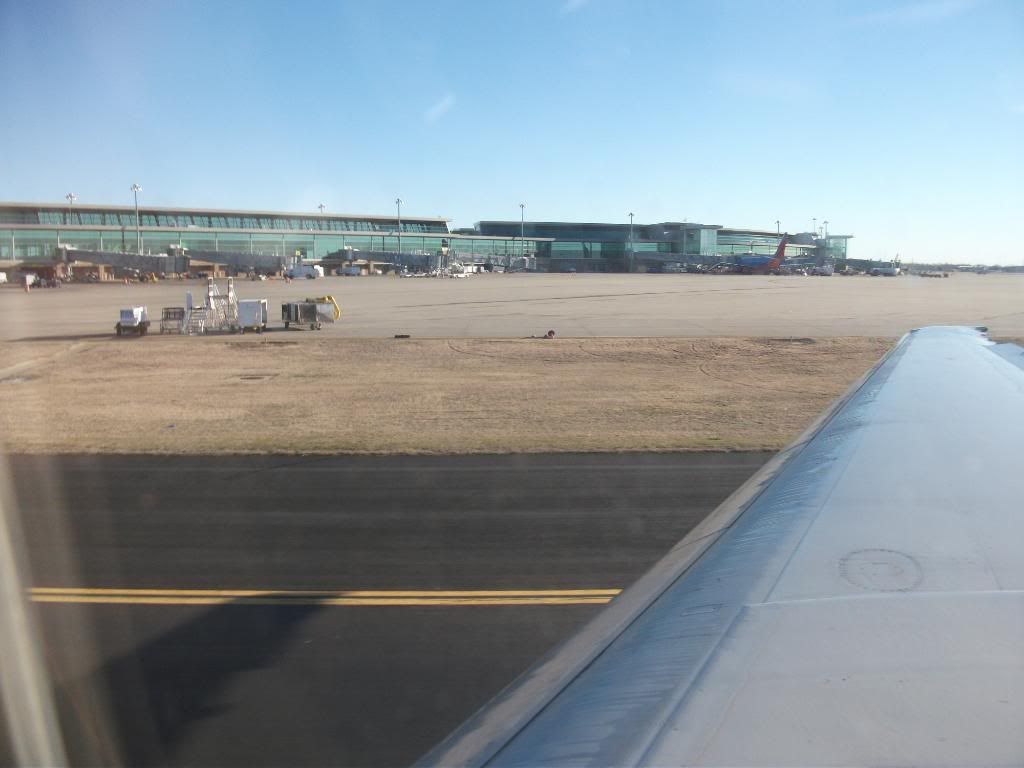 Now here's a strange one that popped up a few days ago. I apologize for the bad shot, but it's of a 737 from Jet4you (a Moroccan low-cost airline). I've no idea what they plan on doing with it.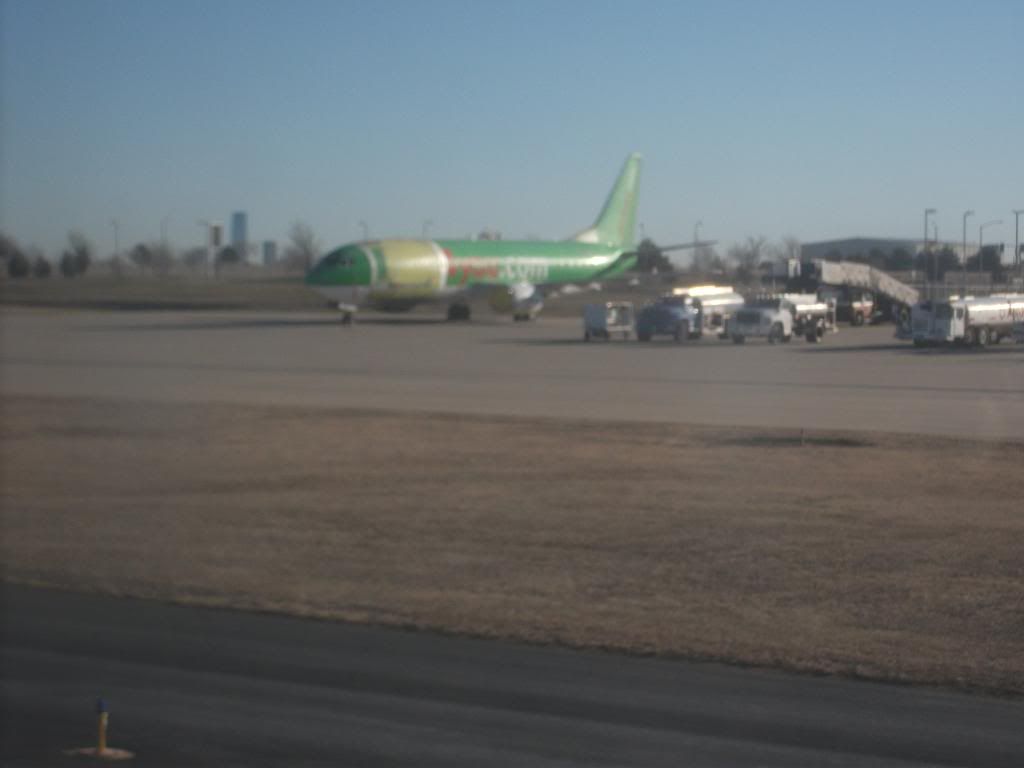 Up we go!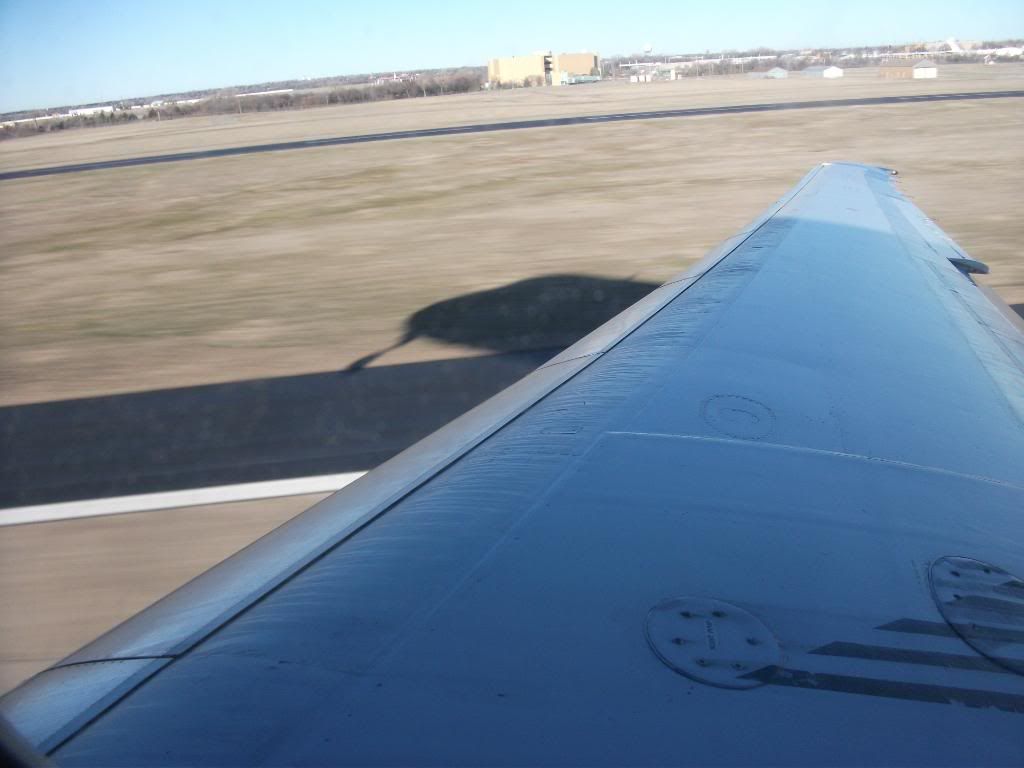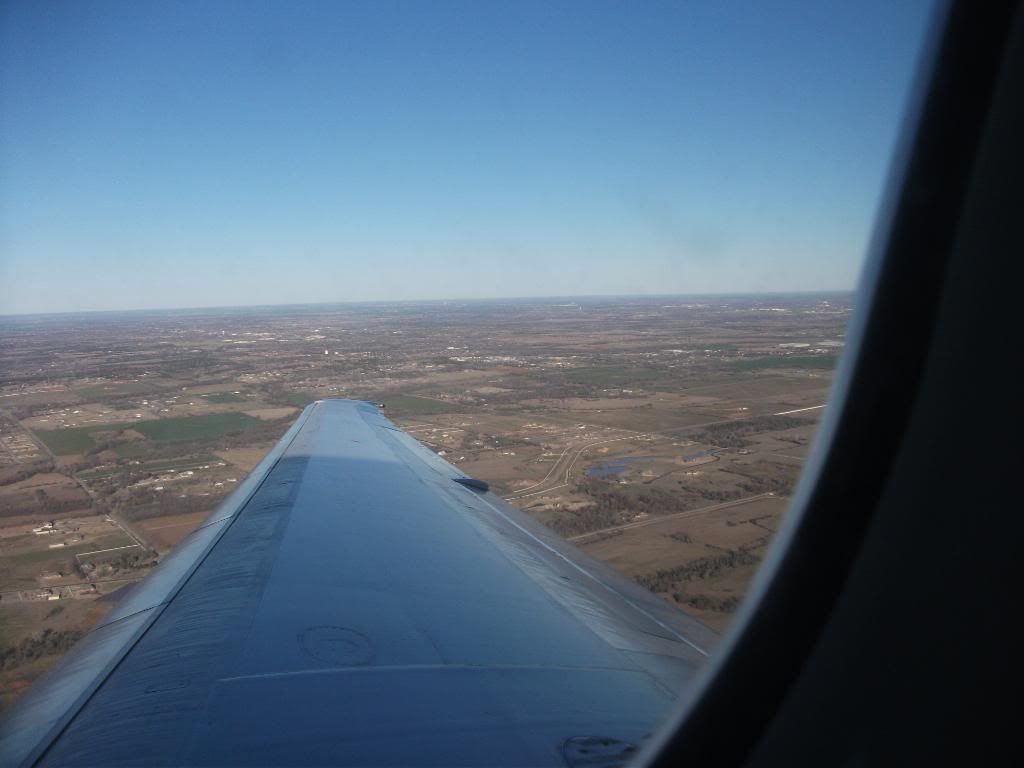 Lake Fuqua, about 65 miles south of the airport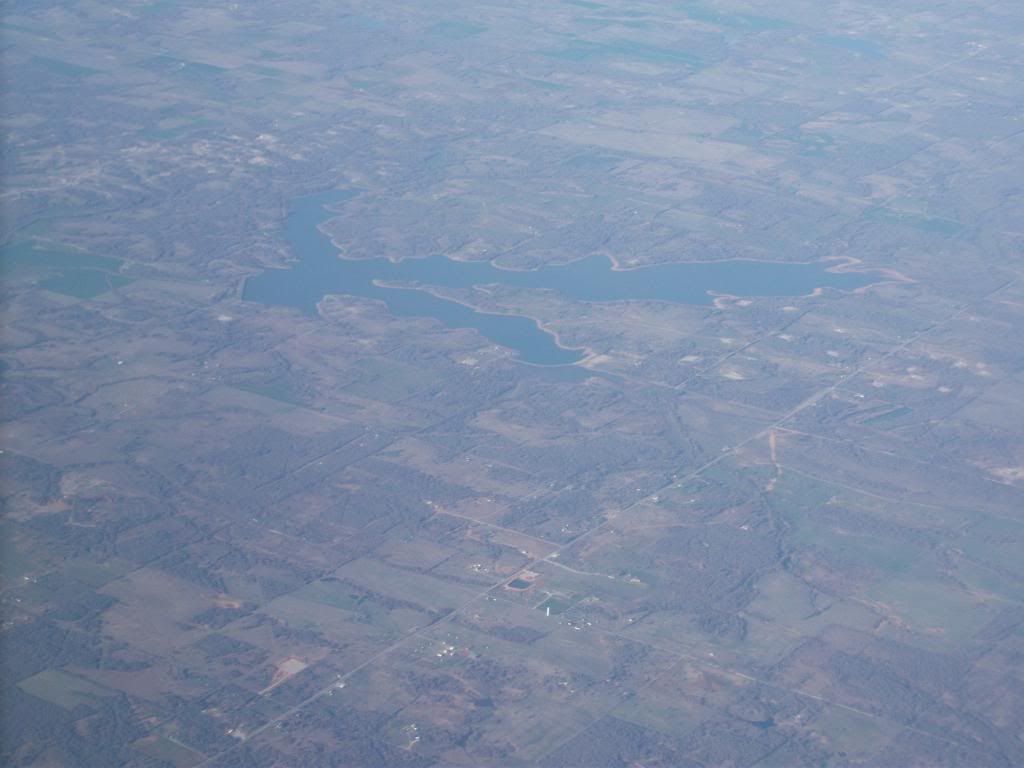 Waurika Lake, 6 miles northwest of Waurika, Oklahoma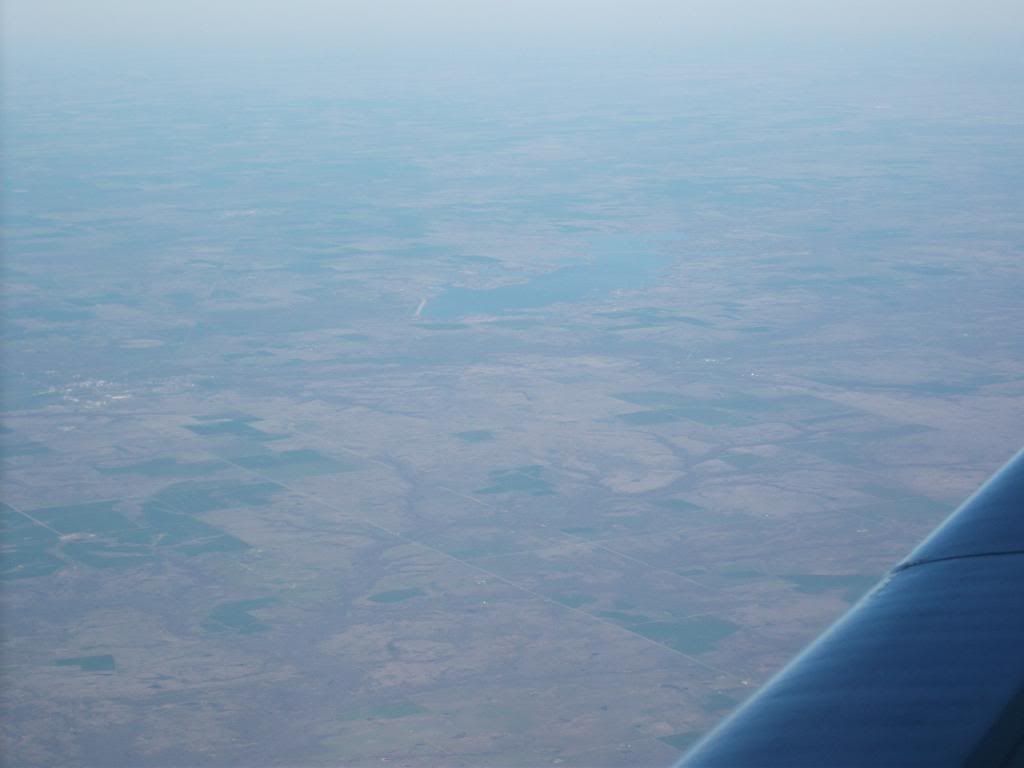 The captain announced our descent shortly before I took this picture. Down there is the Red River, meaning we were still in Oklahoma as initial descent started. Don't you just love short flights?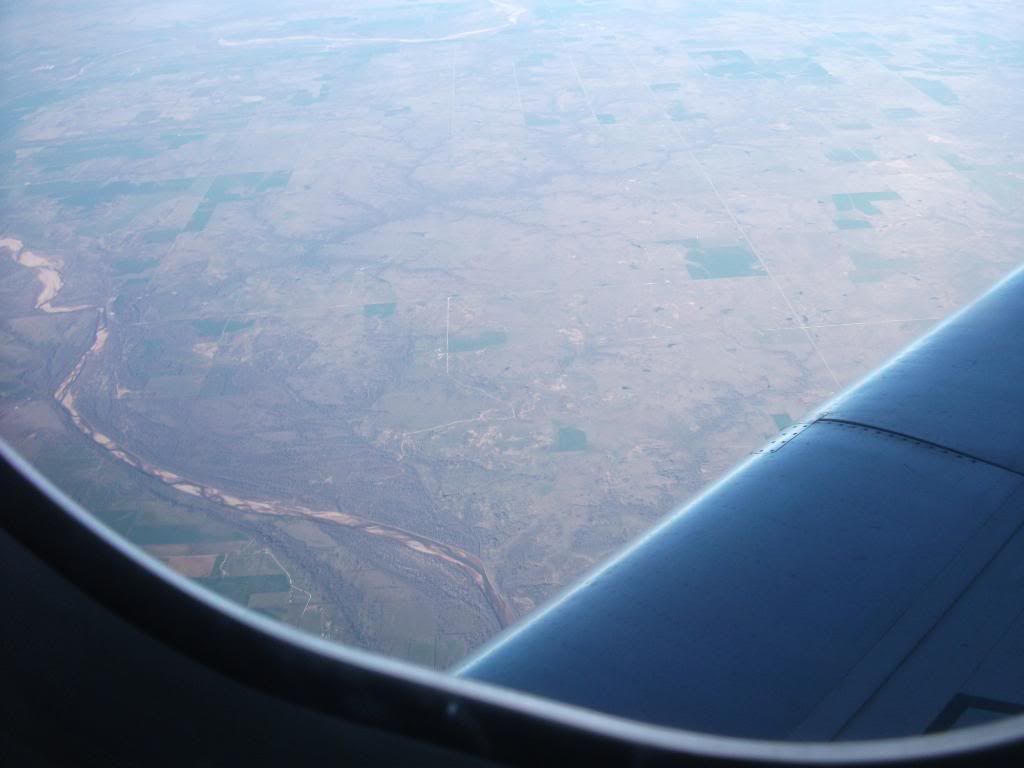 Center of frame: Ryan, OK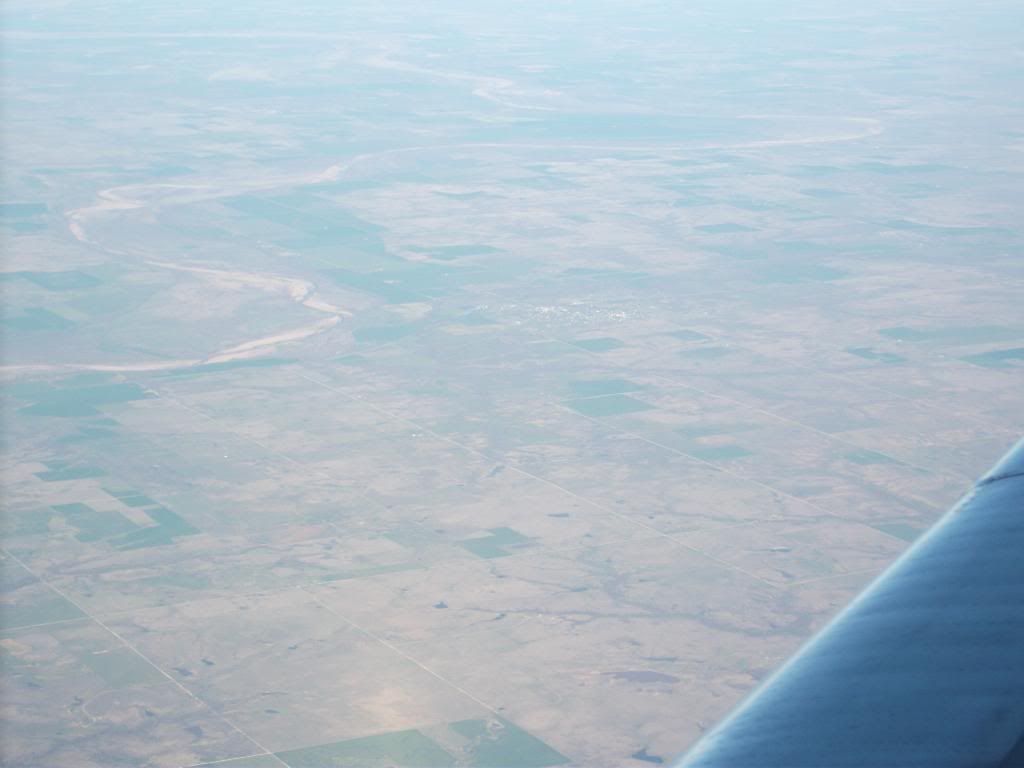 I selected apple juice at the beverage service. The cold juice was quite the refreshing start to the day. As you can see, I've already knocked out half of it.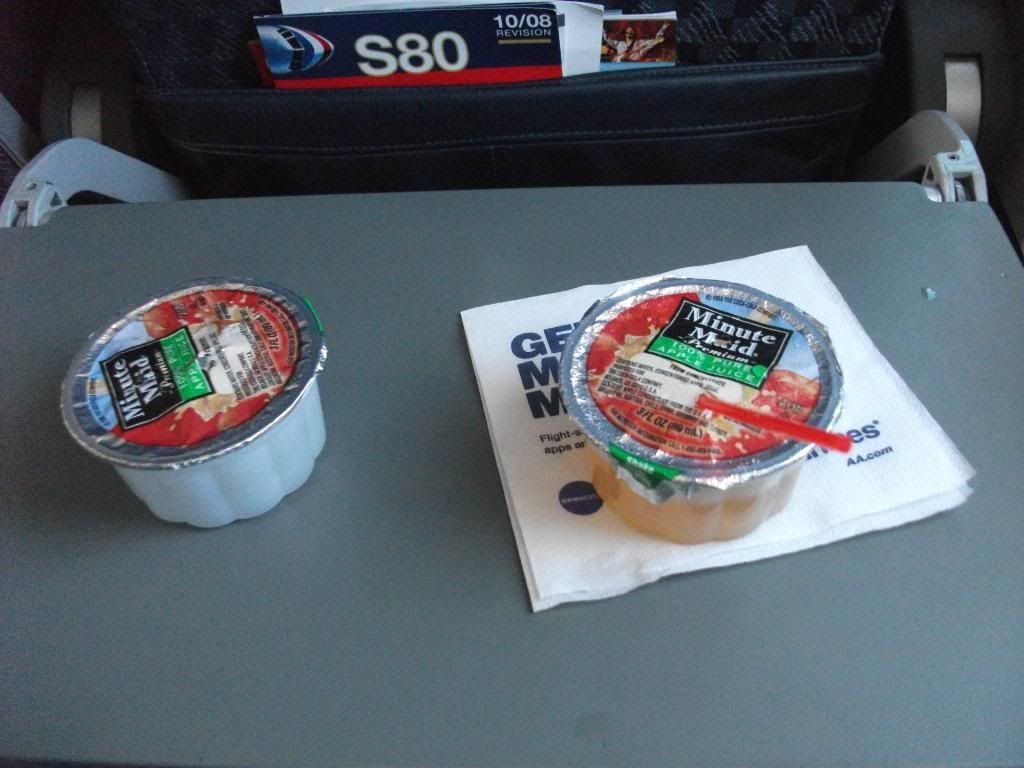 Turning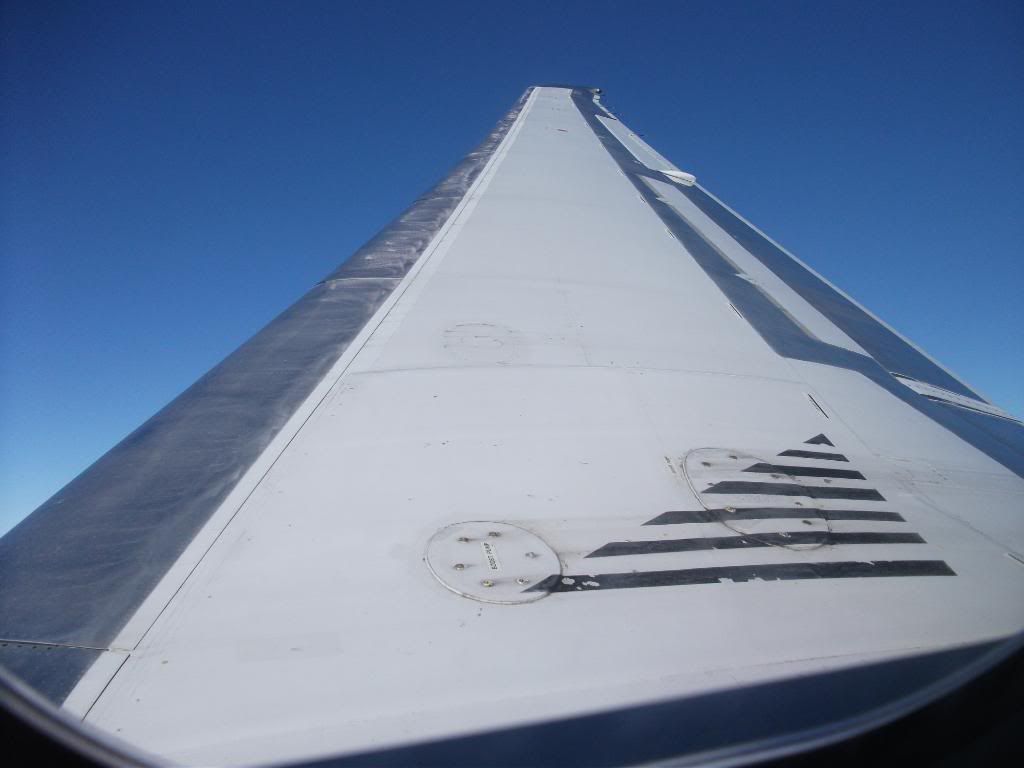 Bridgeport, Texas and Lake Bridgeport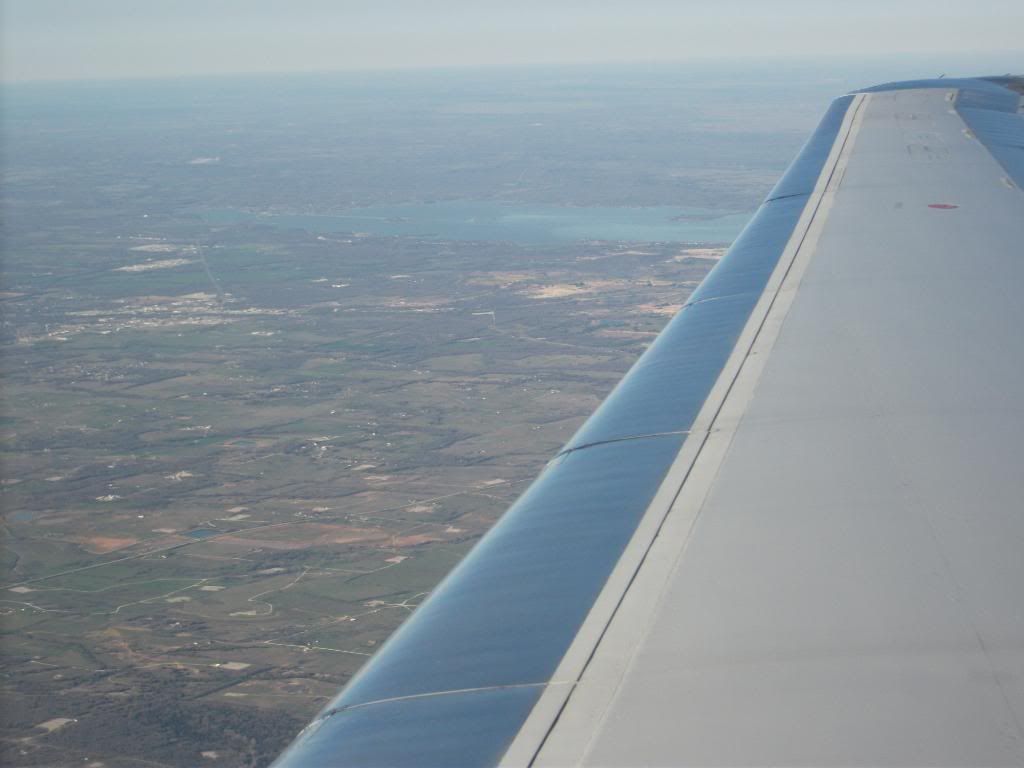 Decatur Municipal Airport (KLUD)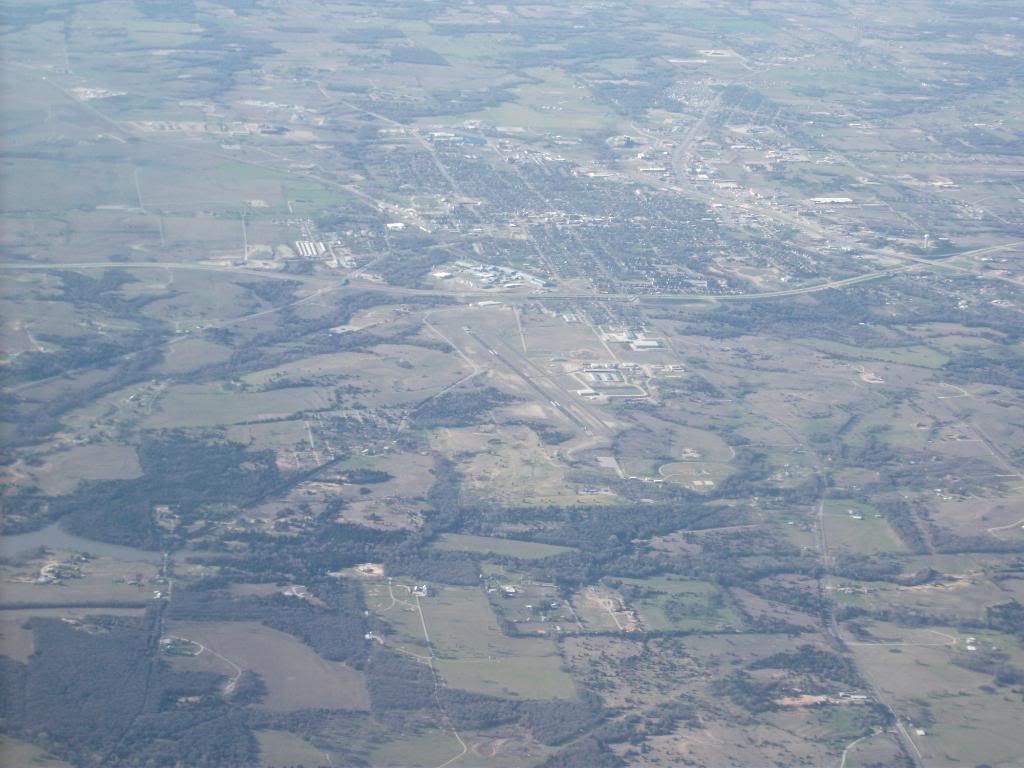 Fort Worth Alliance Airport (AFW / KAFW)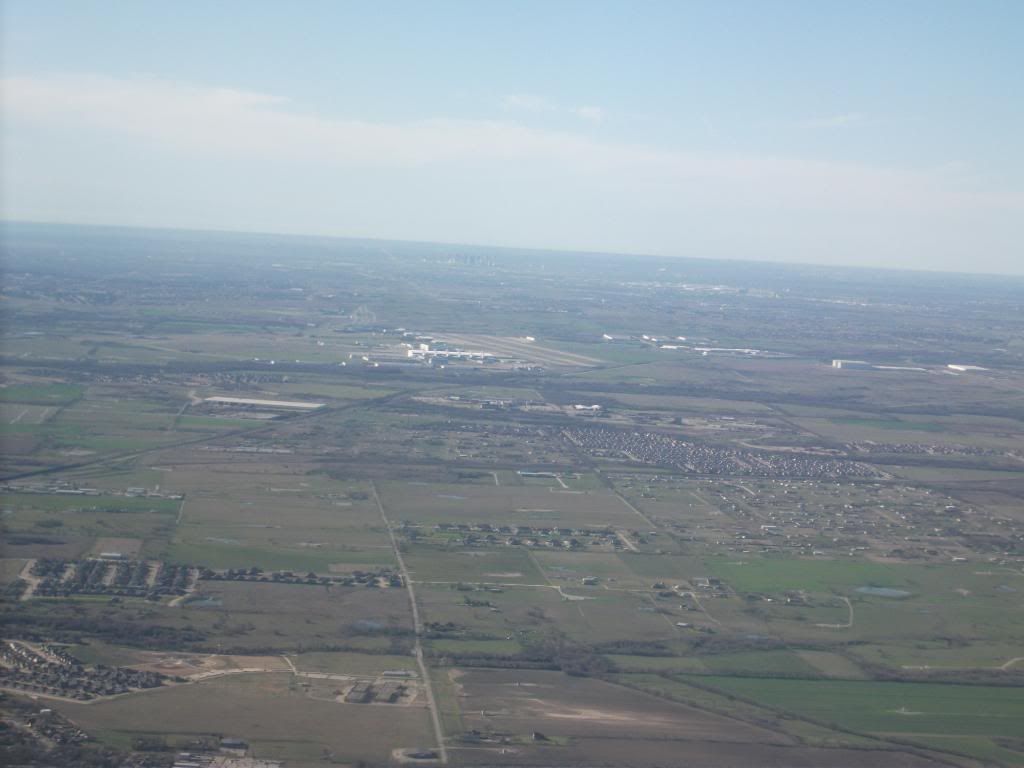 Close to landing…
And there it is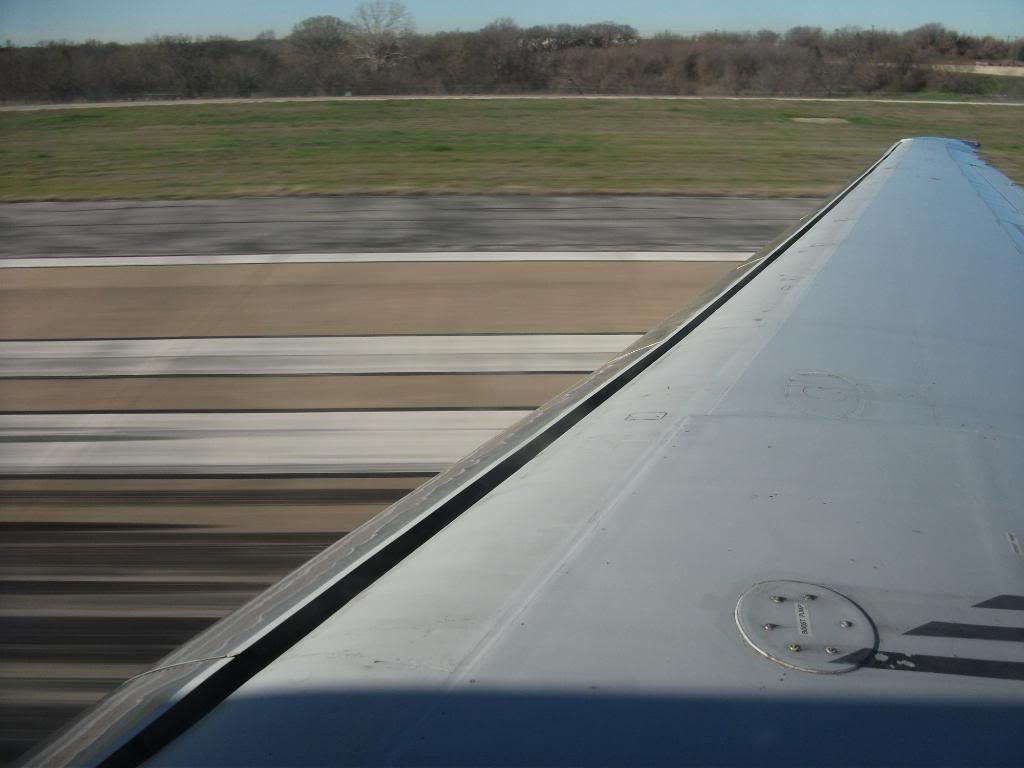 We landed on Runway 13R, resulting in a taxi to the gate of approximately 11 minutes. Once we got there, I had about two hours to mill around before jetting off to Miami.
The plane that got me here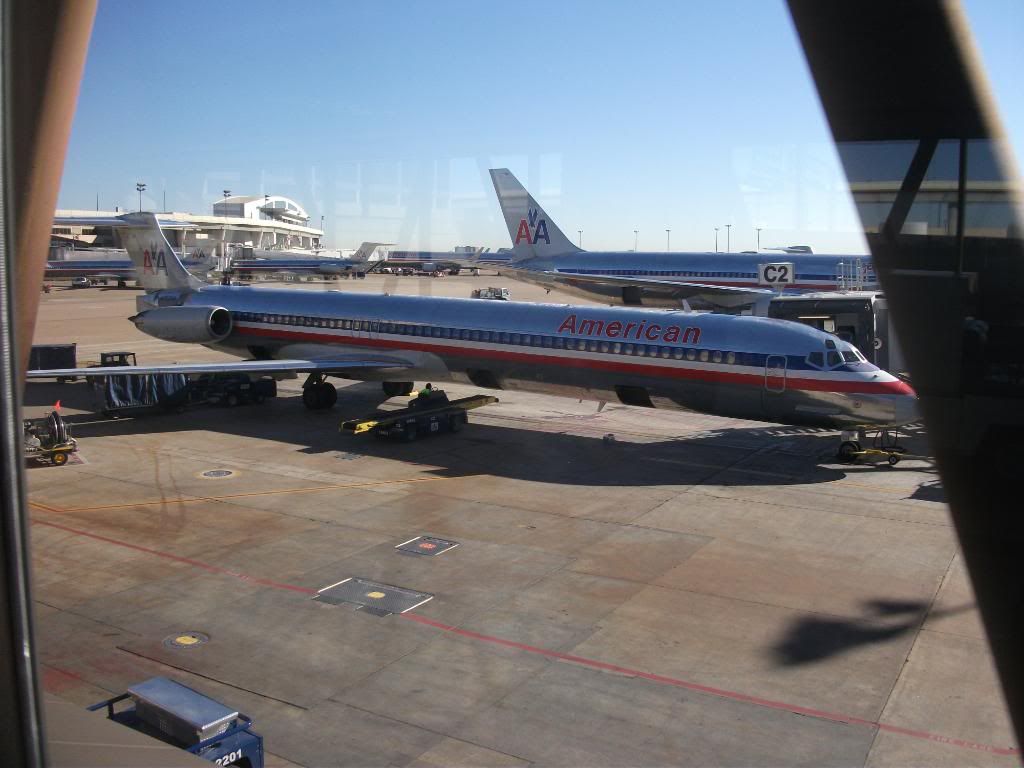 I noticed another old friend while pulling into the gate. Once inside, I made my way around to where it was sitting. There sat N433AA, another of my pictorial conquests.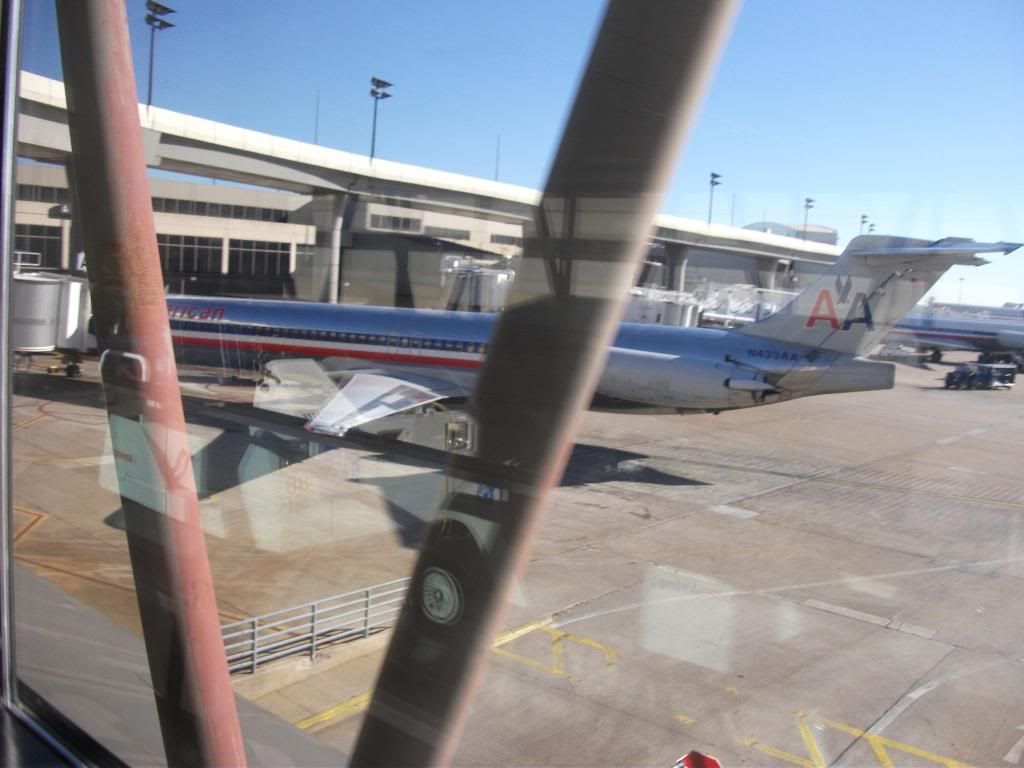 View Large
View Medium


Photo © Eric Brown
In case you've forgotten who is the king of DFW…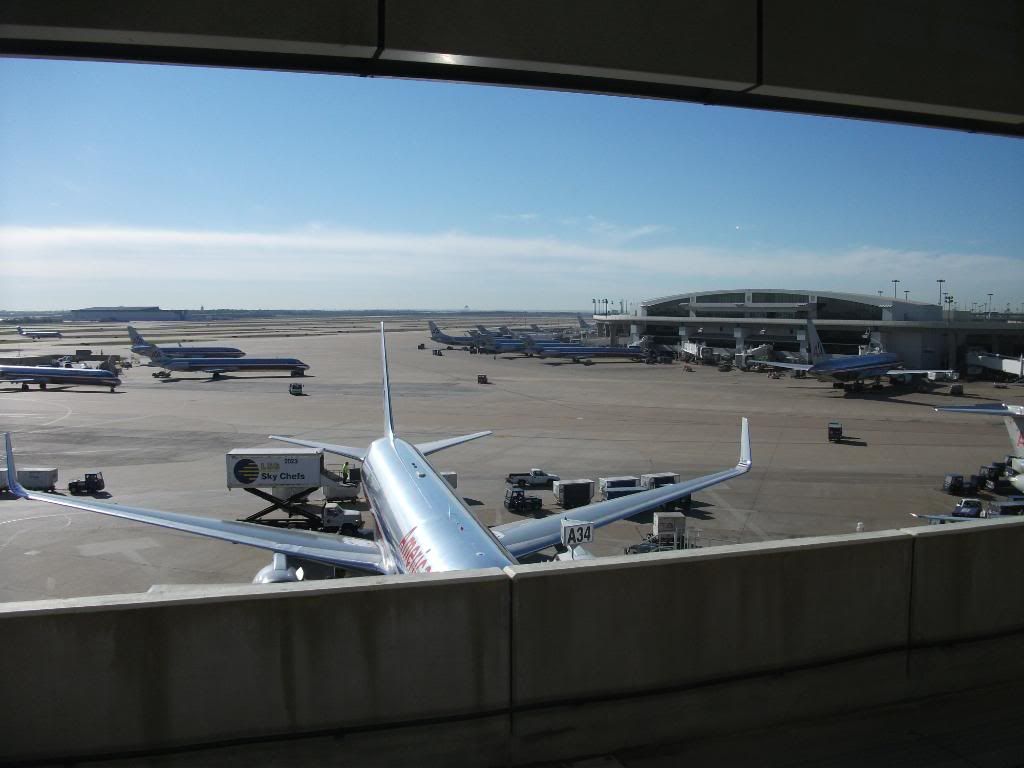 My first AA 738 (one of AA's newer ones, just over two months old)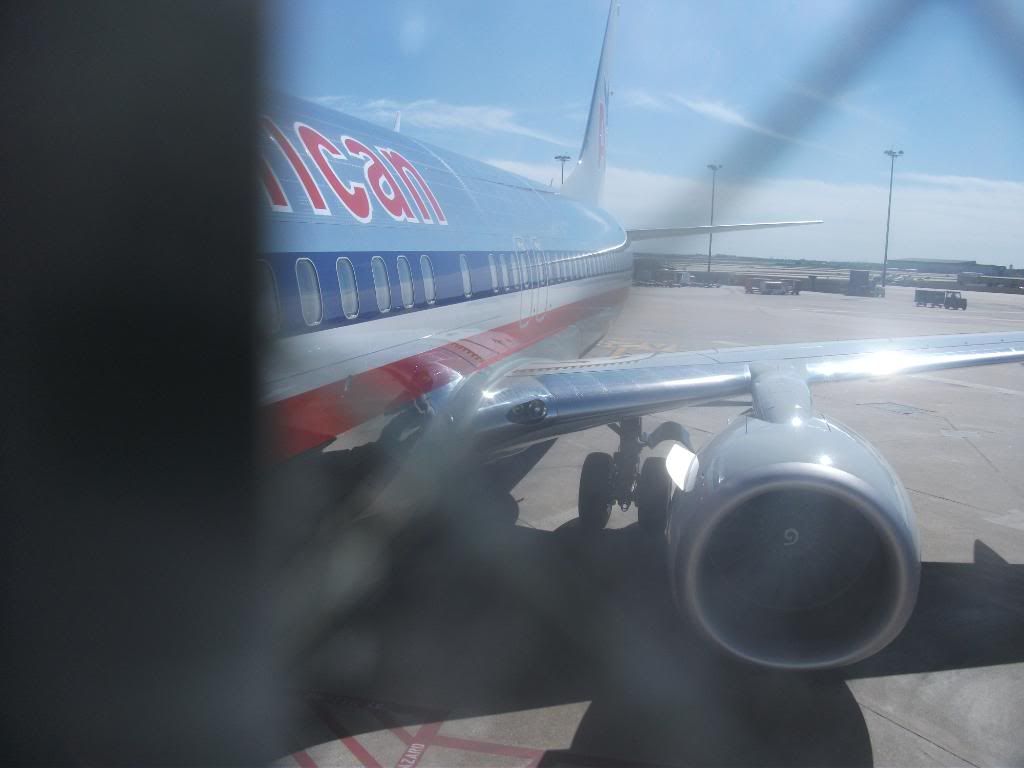 American Airlines 1154 DFW-MIA
Scheduled: 11:30-15:10
Actual: 11:38-14:58 (wheels up/wheels down); 11:28-15:11 (gate to gate)
Boeing 737-823 (N881NN)
Legs—Spirit is still fresh on my mind, so any legroom is a welcome reward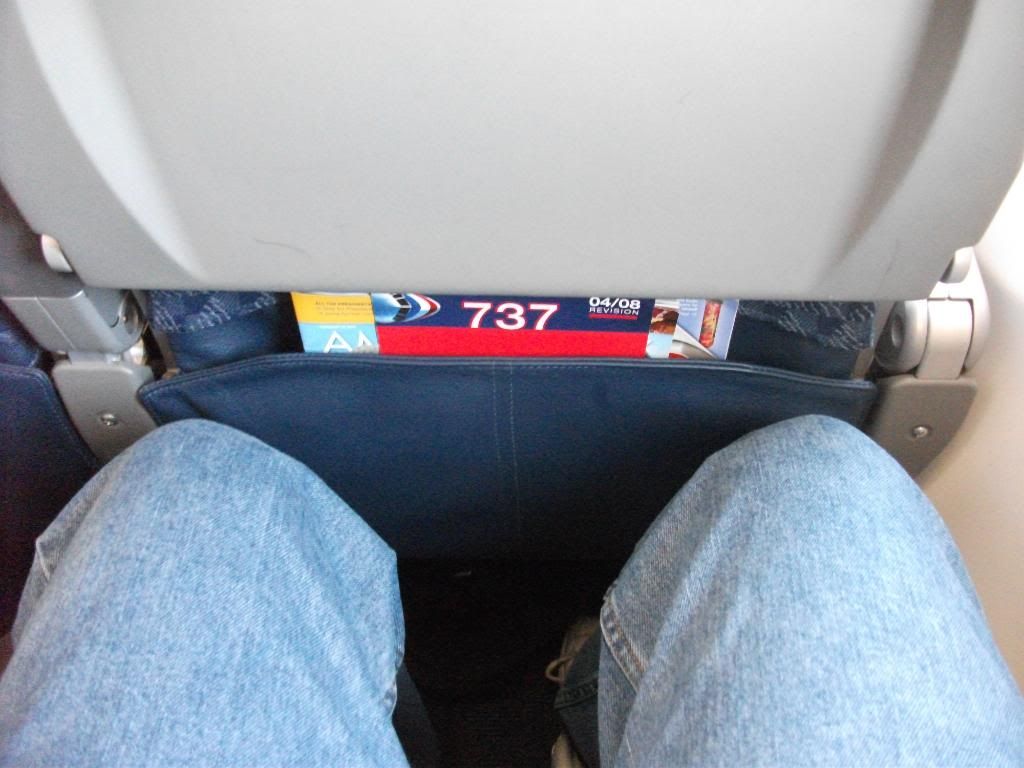 Sky interior; the AA cloth seats just seemed so out of place, though—almost as if they'd been snatched off an MD-82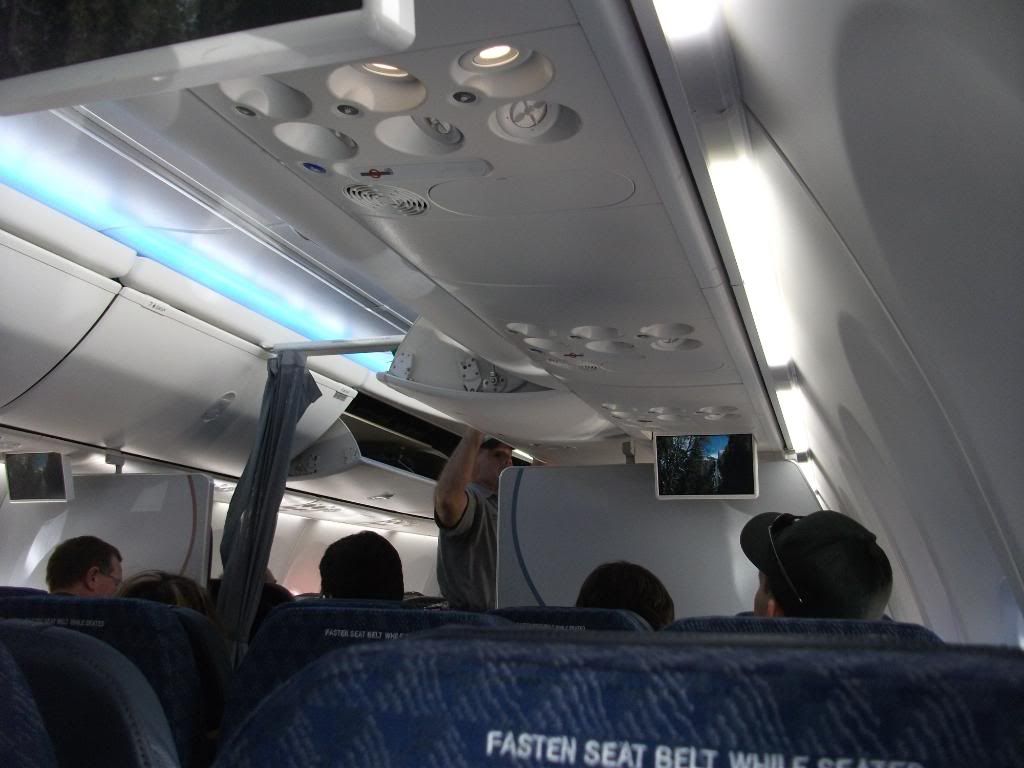 KILL IT! KILL IT WITH FIRE!
On the takeoff roll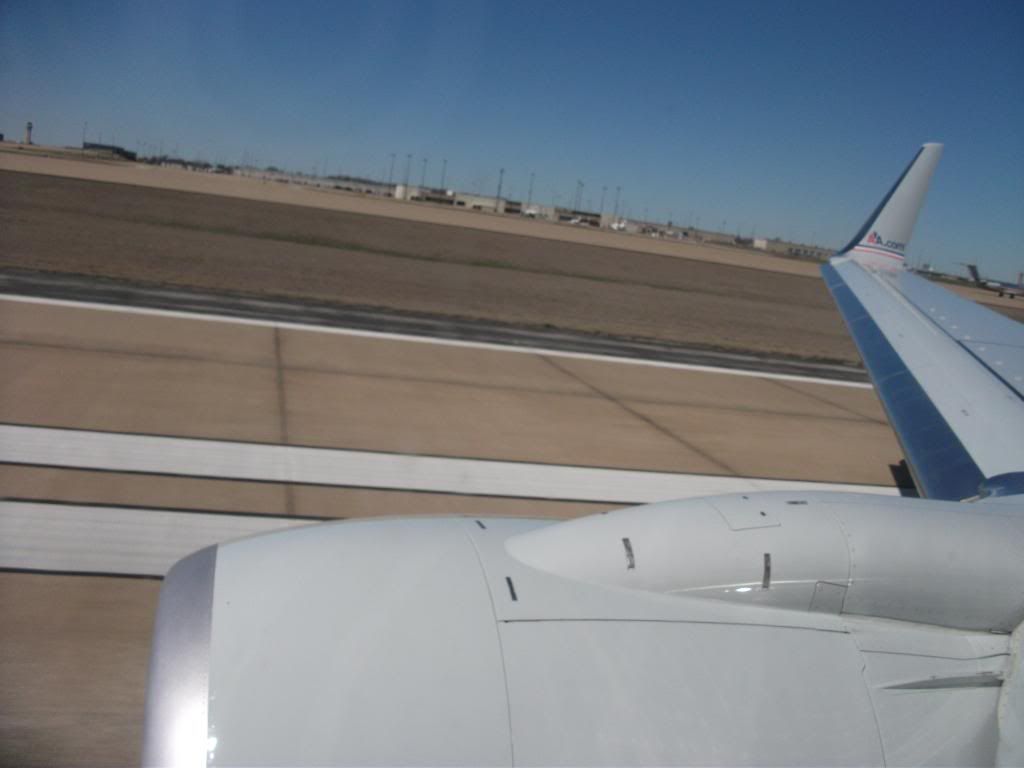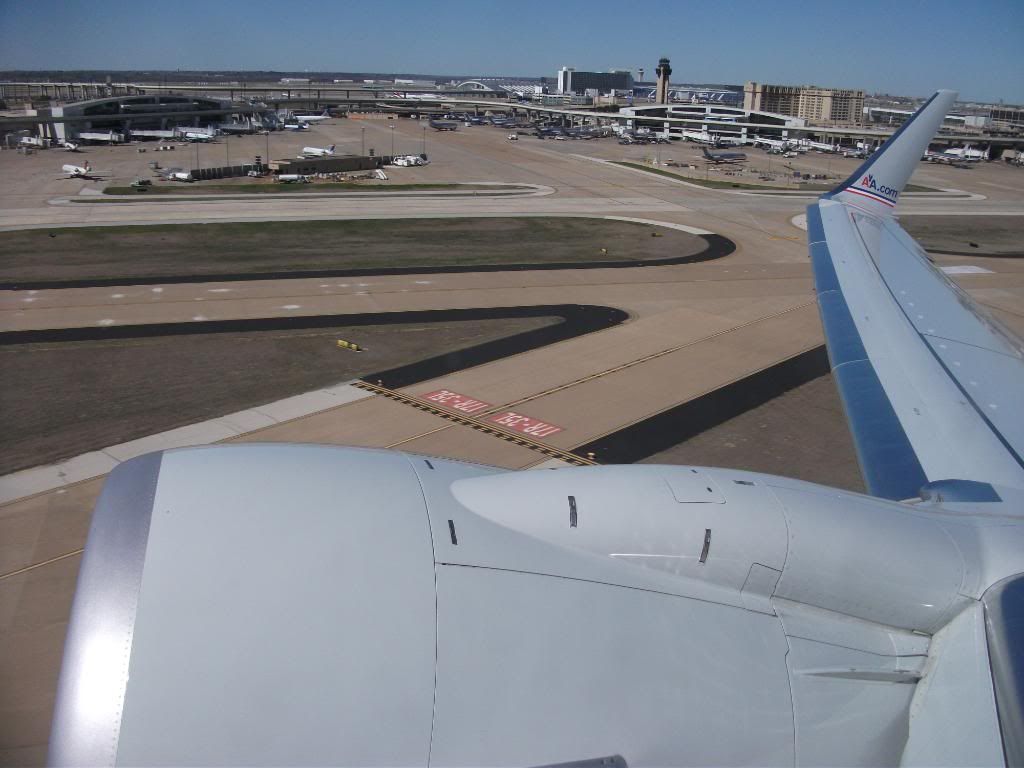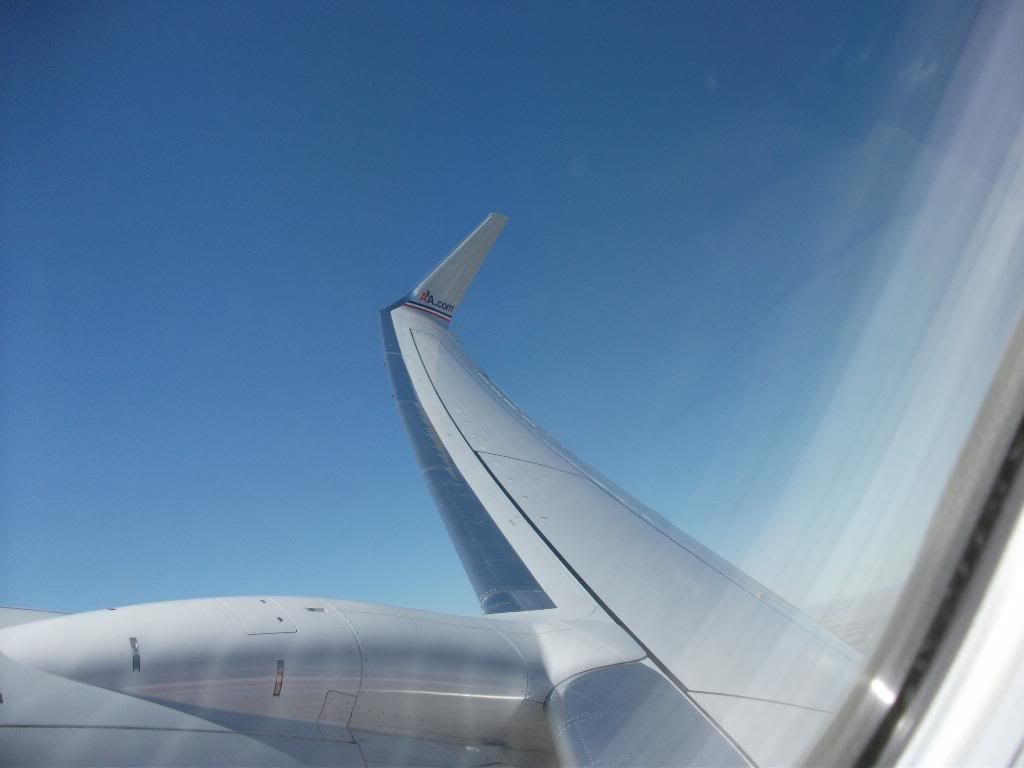 Mountain Creek Lake and Naval Air Station Dallas (former US Navy station, now home to various National Guard and Reserve units)
Dallas Executive Airport (RBD / KRBD)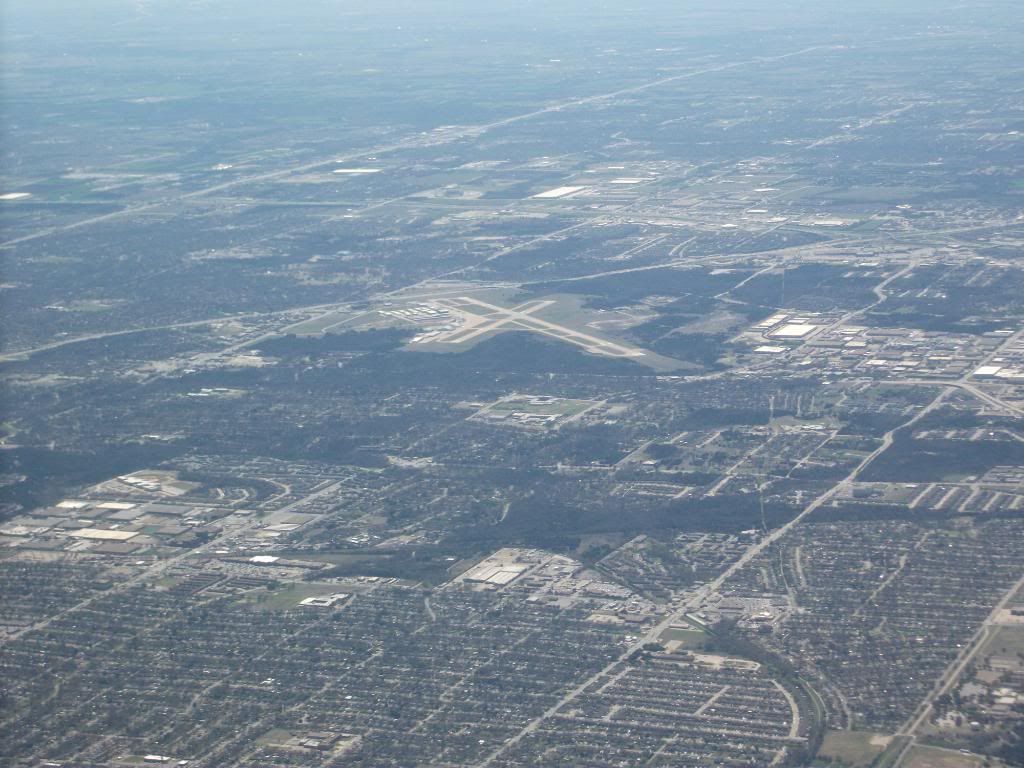 Can you spot the other 737?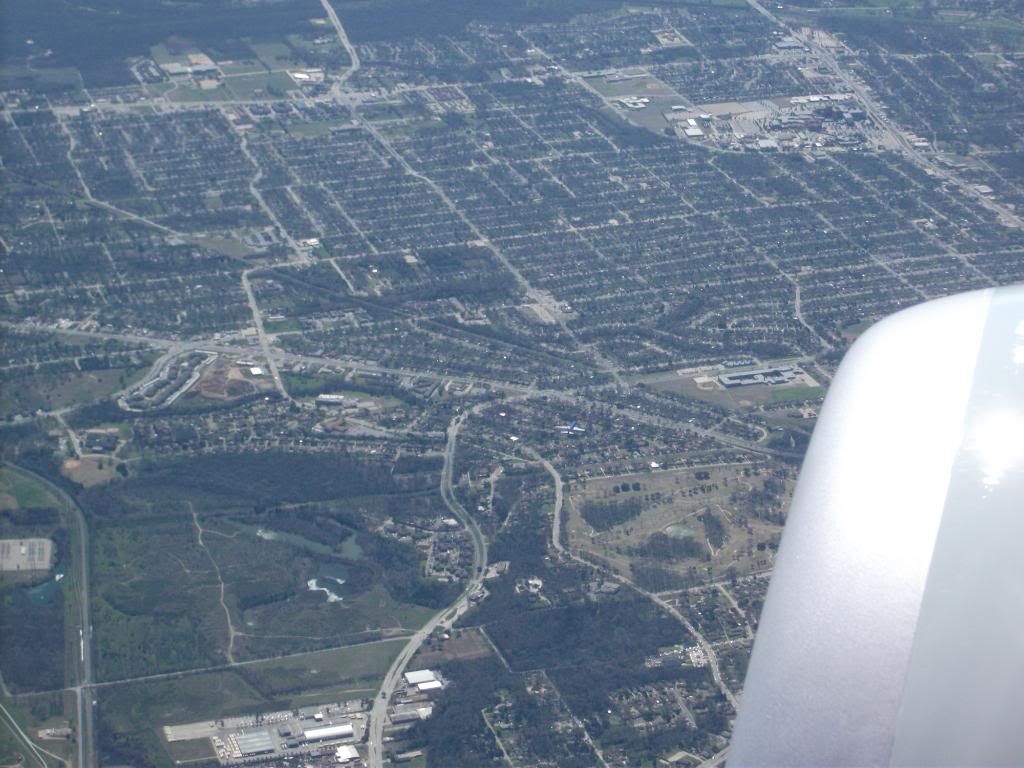 Terrell Municipal Airport (TRL / KTRL)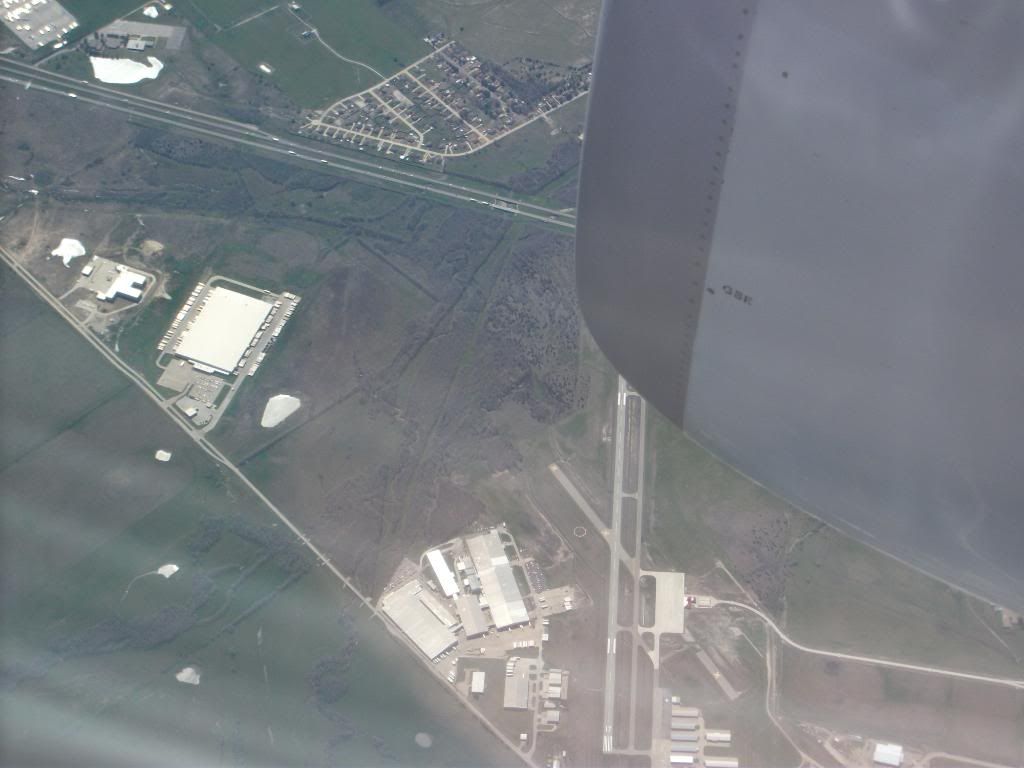 The view through the window was mostly of clouds, so I couldn't see the exact moment when we crossed over the Gulf of Mexico. I suppose it was just as well there were clouds, given that I had to bend down to get good looks through the window. That's high on the short list of shortcomings of the 737, at least from a passenger's perspective.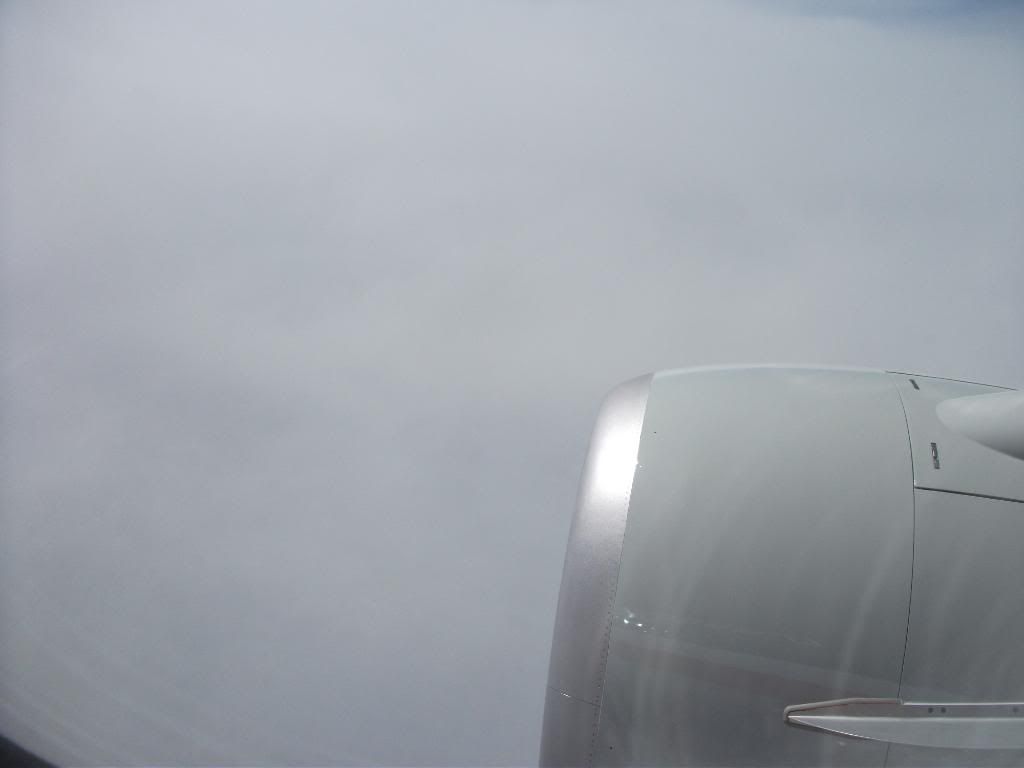 After a little while, the person in front of me reclined their seat all the way back. No big deal; though my laptop was there, I wasn't planning on fully utilizing the space. However, when the beverages came around, I wanted just a tiny bit more room to maneuver. I considered reclining my seat a bit, so I looked back and saw this:
Not wanting to fracture somebody's skull, I made the best of the situation. Needless to say, I survived, and the flight went on…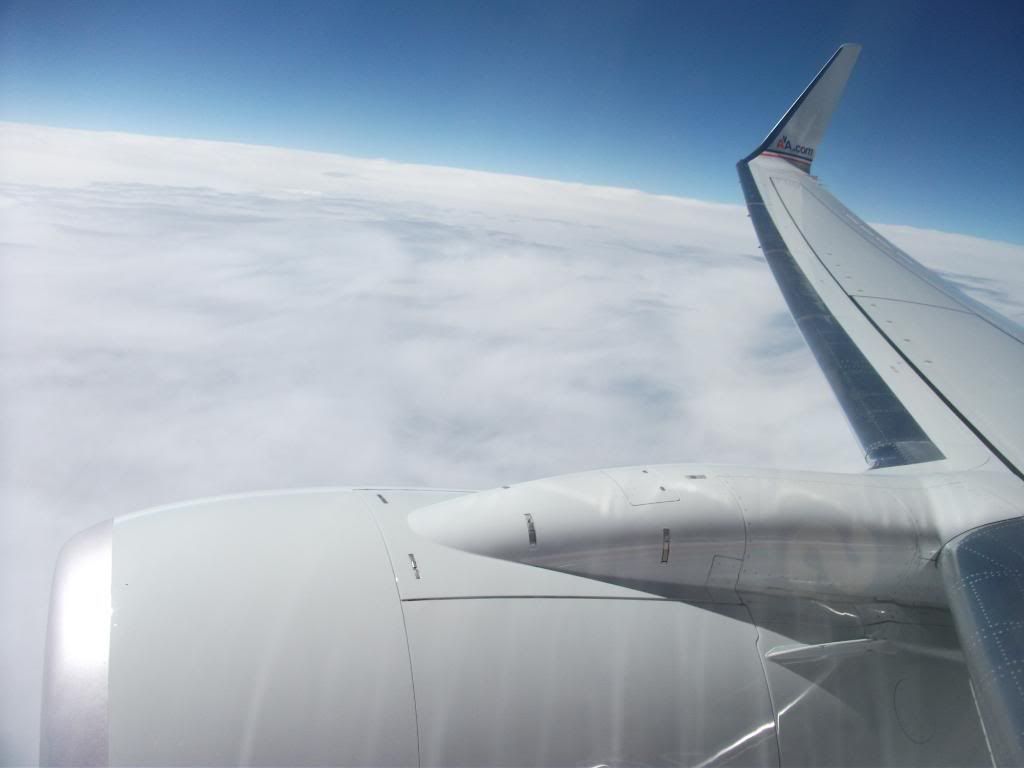 Mississippi River, Port Allen (by engine) and Baton Rouge (left of river)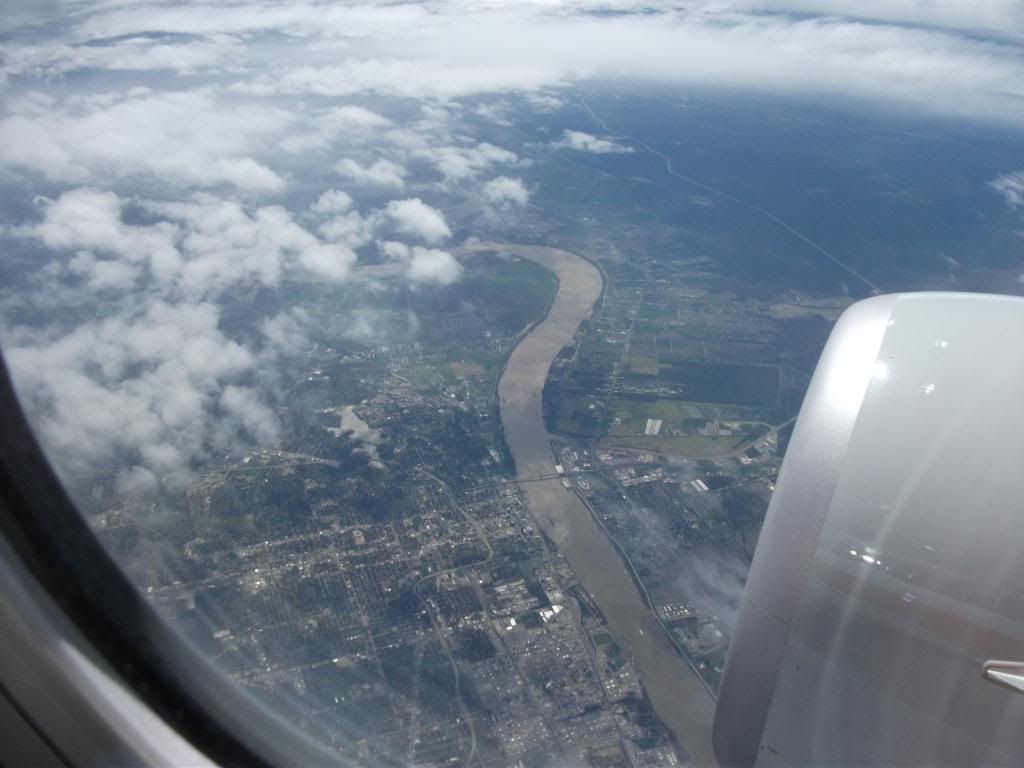 See our reflection on the engine?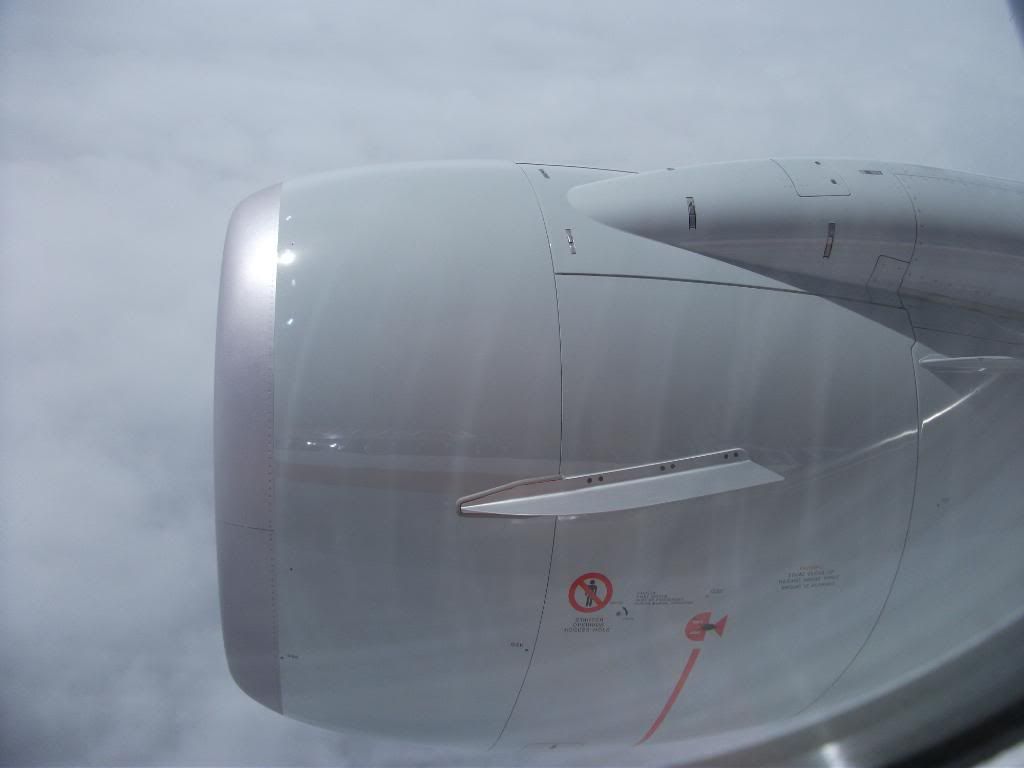 Ooh, there's water down there!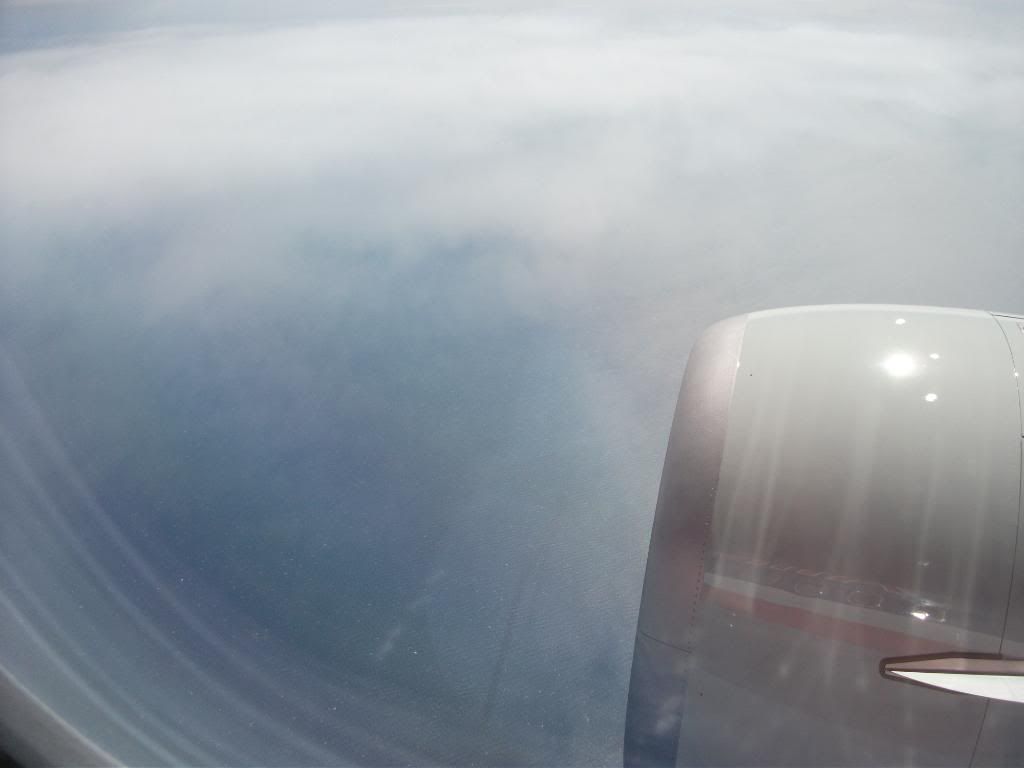 A ship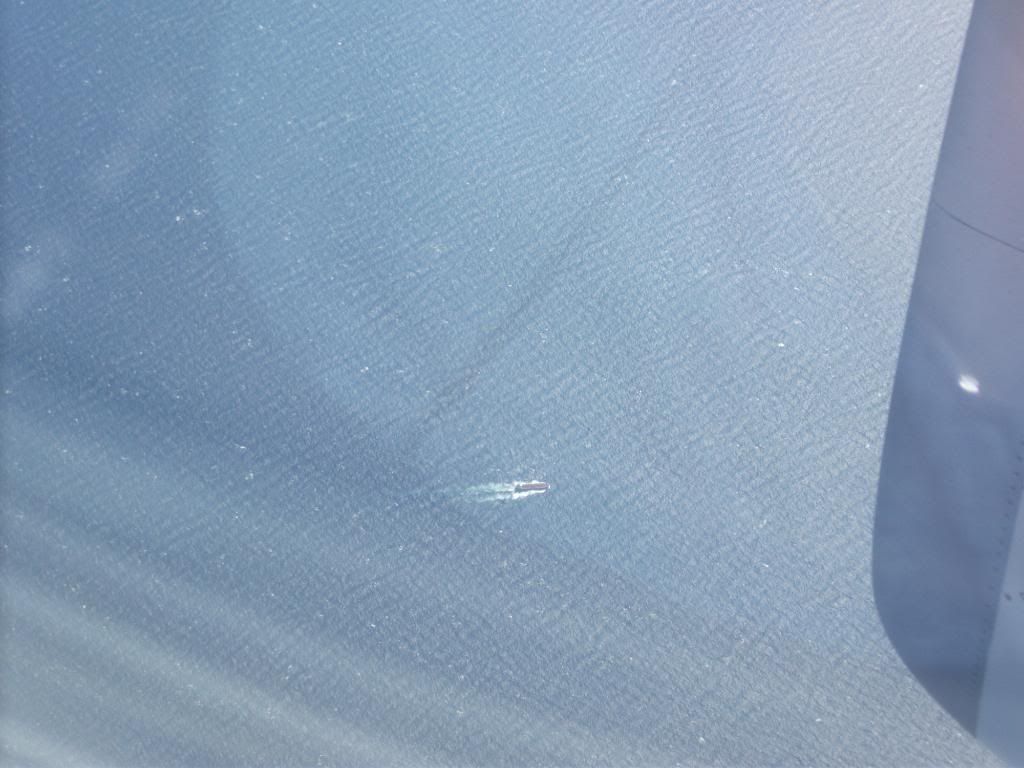 Winglet close-up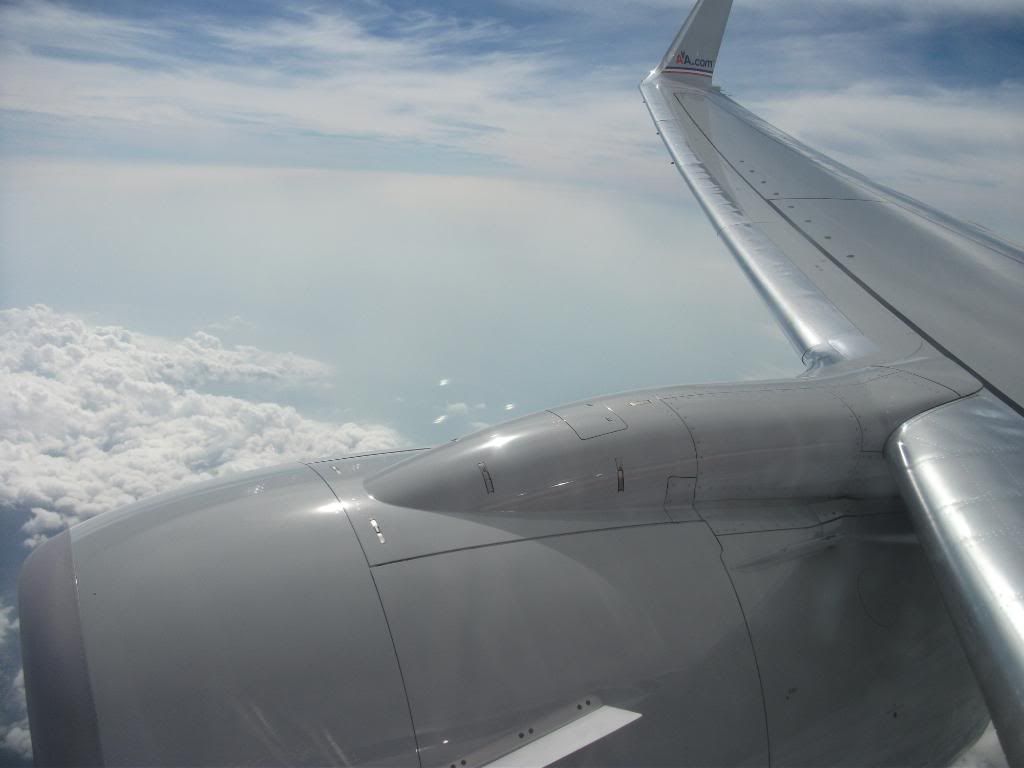 Back over land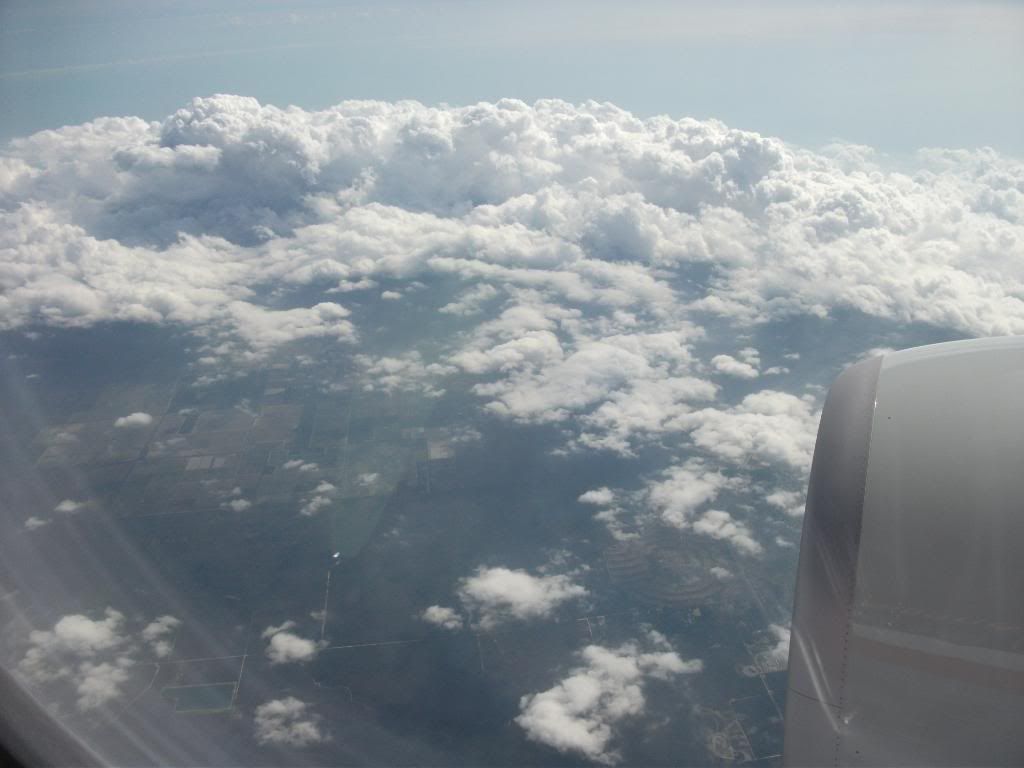 Soon enough, the nose dropped down and we began our descent into Miami. We were greeted with some scenic cloud formations on the way down: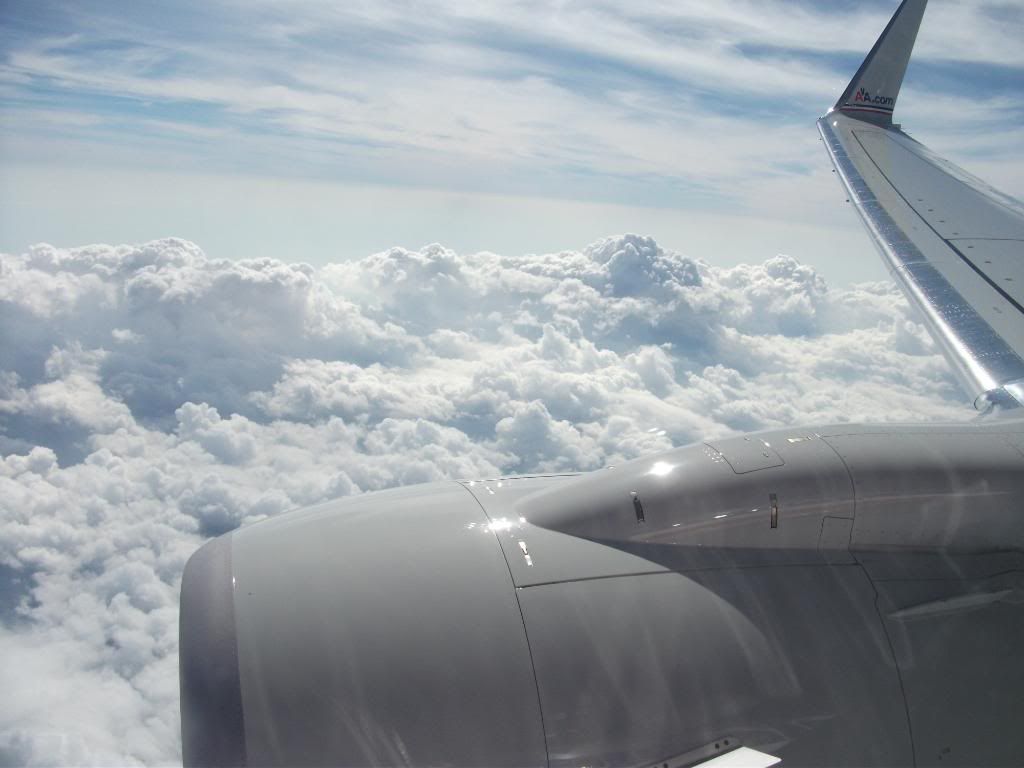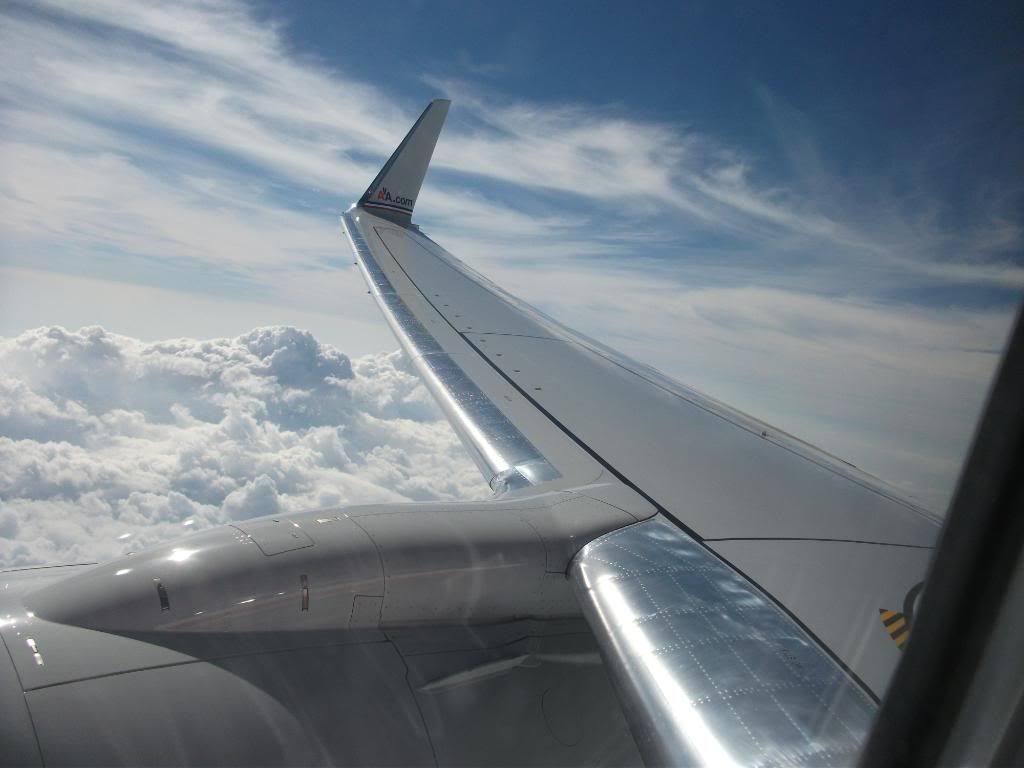 In the land of retirement
It says "Welcome" and "Miami-Dade"
Touchdown on Runway 9!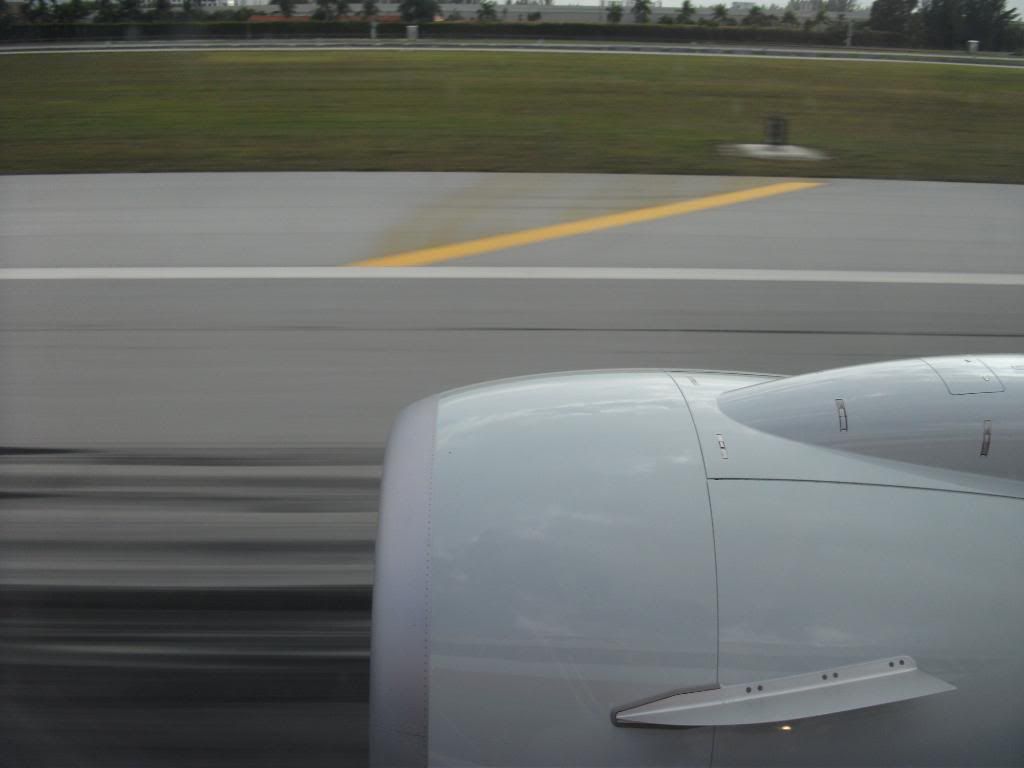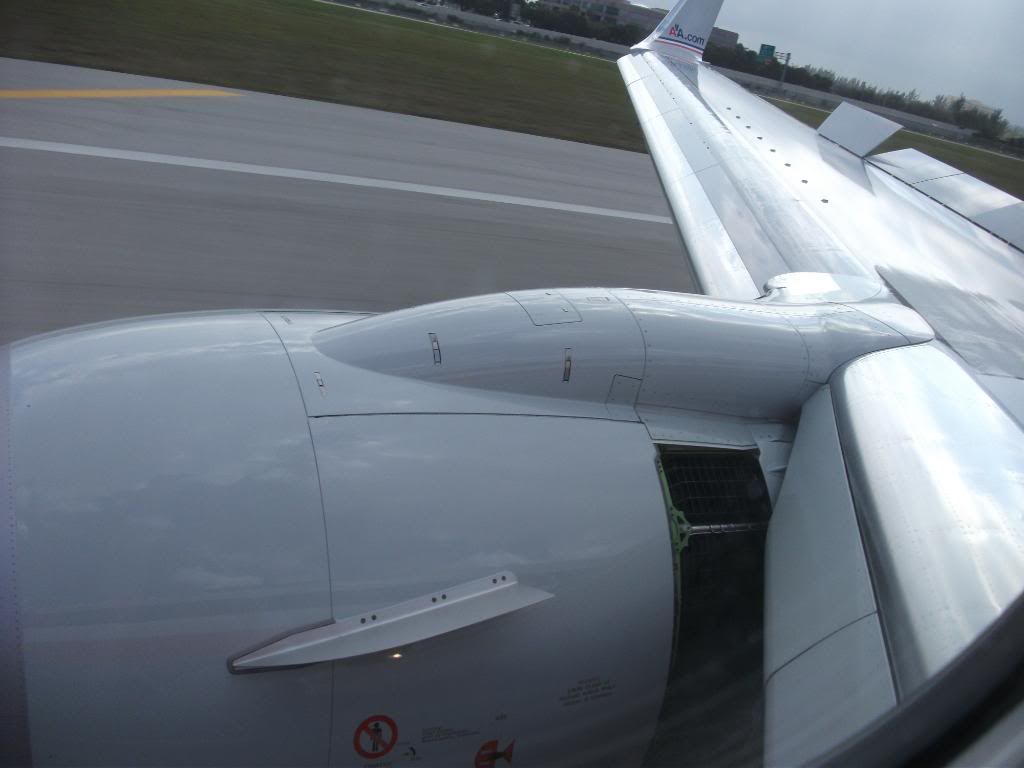 I could already tell that MIA was a bit of a different animal than any airport I've yet been to. Being a warm-weather getaway and a gateway to the Caribbean and Central/South America, I saw some airlines that I don't normally see—and a few that I've never seen at all. (In the time between this trip and its posting, AeroSur ceased operations. When I saw that news, I immediately thought back to this day. At least I had the opportunity to set eyes on them for one time…)
AeroSur, Transaero, TACA, a big Lufty in the distance, and others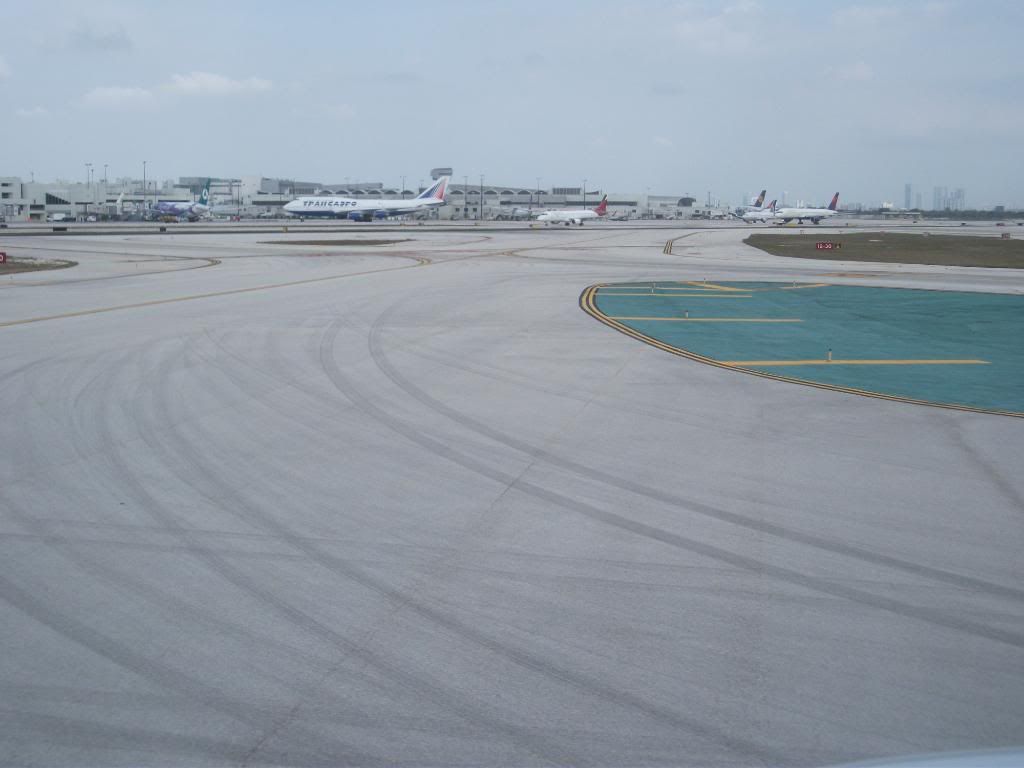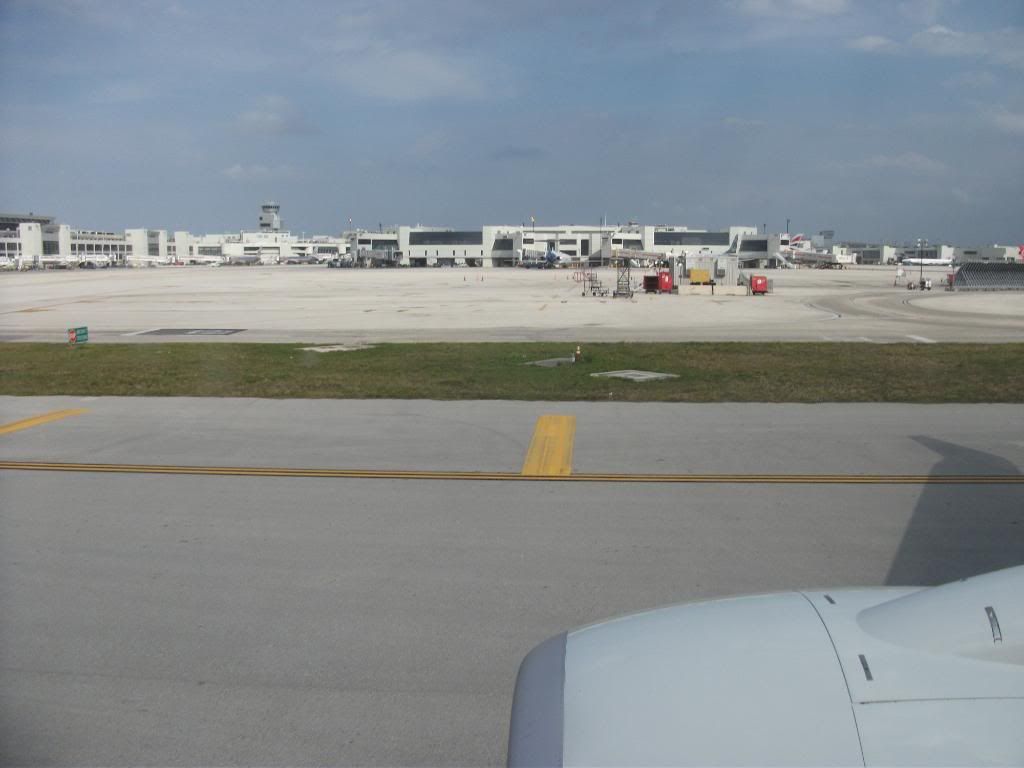 Land of American; what the MD-80 is to DFW, the 737 is to MIA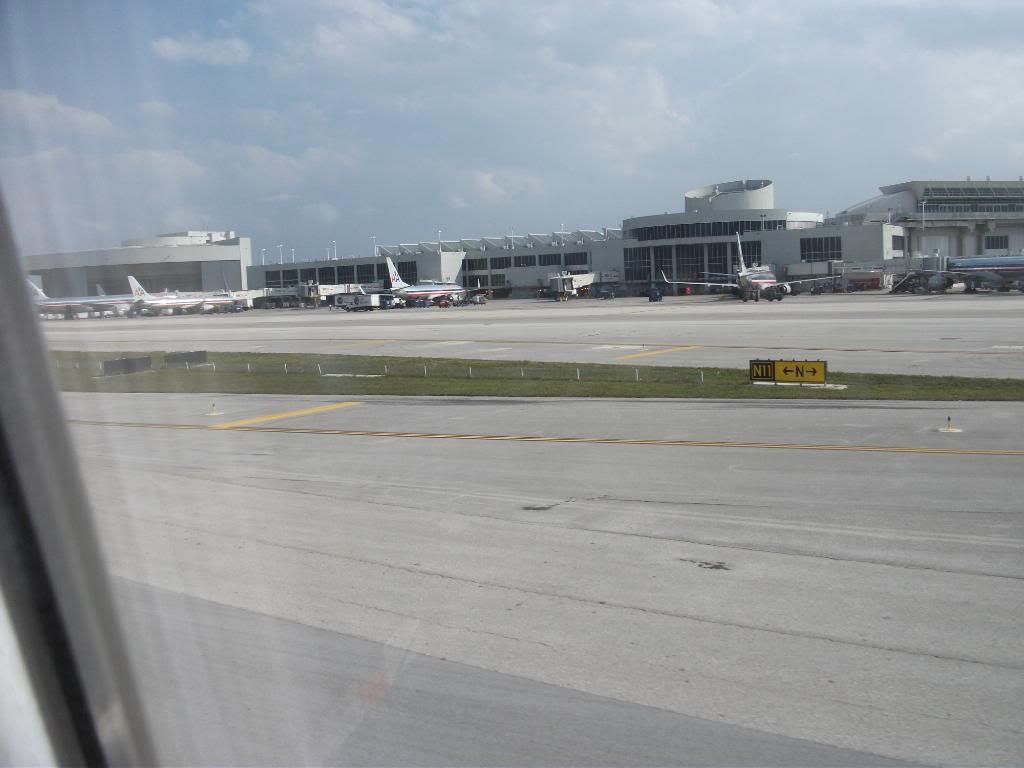 After 13 minutes of going hither, thither, and yon, we parked at gate D17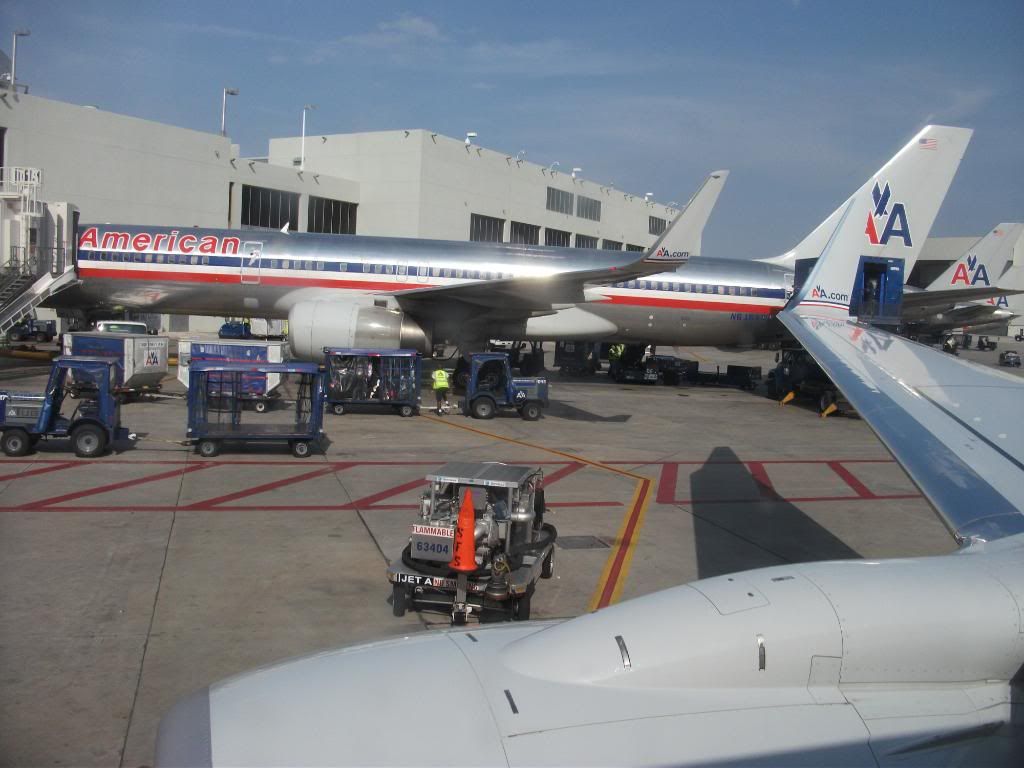 I had little time to waste in going through MIA. For the extra convenience of leaving late and snagging a special plane on the way out, I had to compromise in the area of time. As such, I had about an hour before my next flight boarded. I'm always a bit disappointed when I have to rush through things, but pouting about it wasn't going to help me... Furthermore, I discovered that I committed the colossal blunder of forgetting to charge my camera's battery before I left.
Hence, I had to be more selective than usual with photos, but I believe I got the major things I wanted to see.
I stepped through the door of the plane and was reminded that I was in a city on the sea: the humidity made for some rather thick air. I was immediately reminded of IAH, where I experienced the same wall of humidity after stepping off of the plane.
So…about Miami International. The first stop was naturally a bathroom. It was too busy for me to get a picture, but it was nothing spectacular: white tile on the walls and an adequate number of fixtures. An added touch of elegance, though: they had put paper towels on the floor at each of the urinals to soak up where people have terrible aim.
Continuing the theme of spread-out terminals, I sought to get through as much of the lengthy Concourse D as I could. I made my way to the low end and worked towards the high end: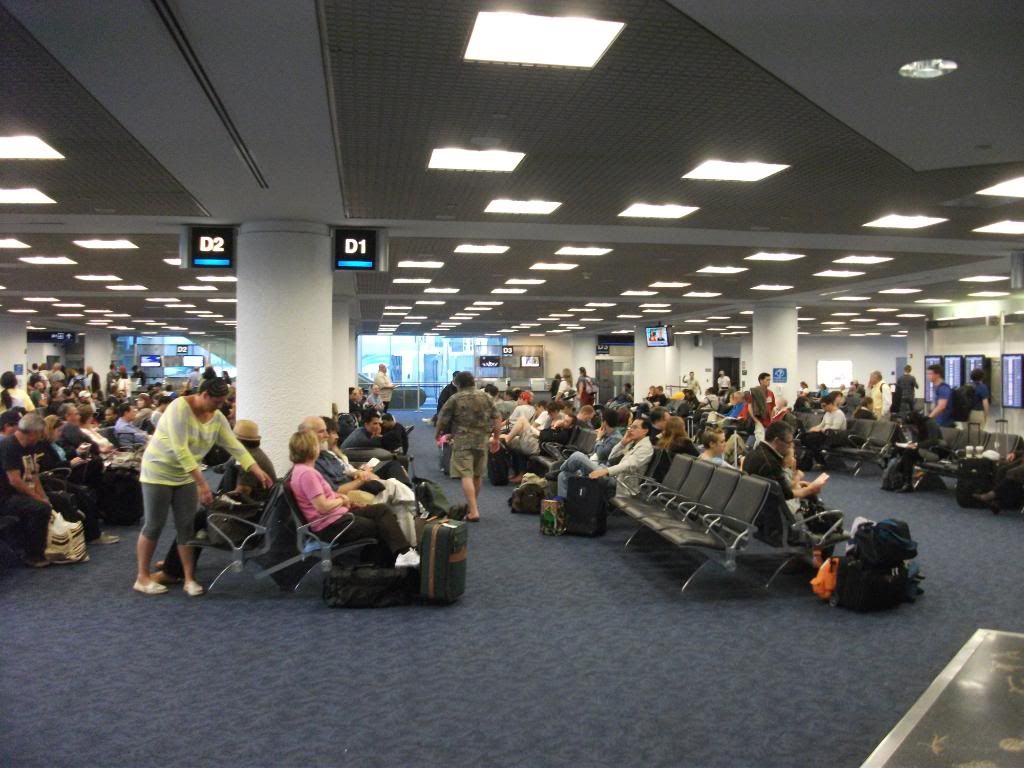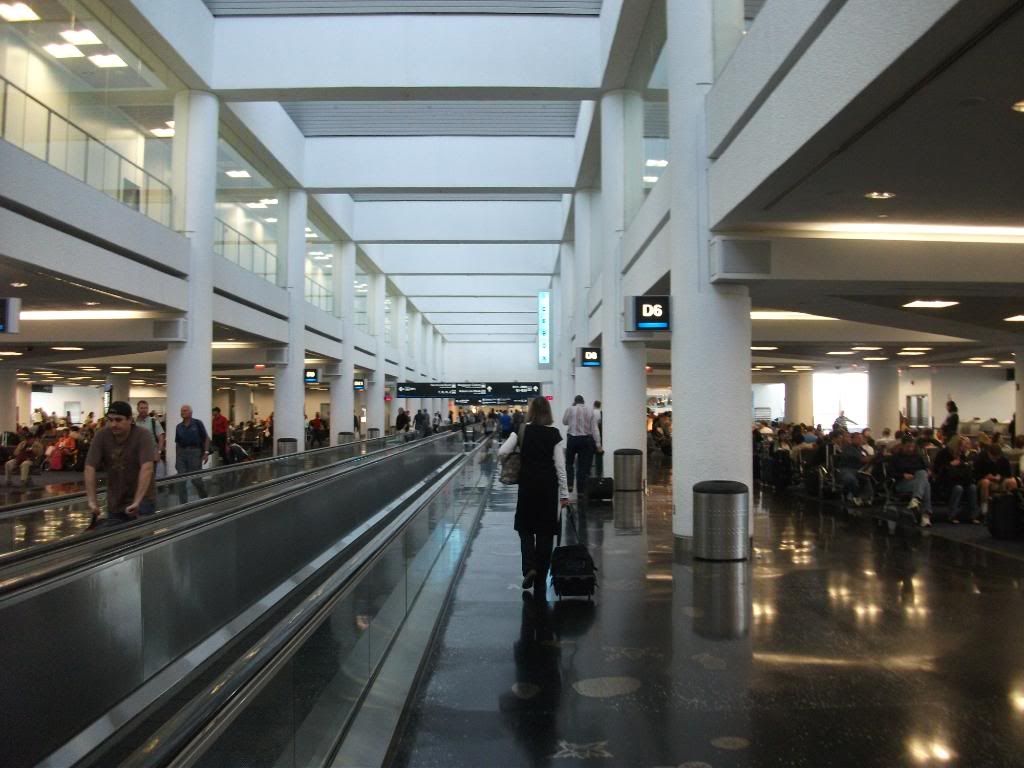 My first impression: I kinda liked the place. The boarding areas themselves were the standard bland arrangements, but the rest was bright and clean. The color scheme reminded me a little of DEN, minus some of the carpet.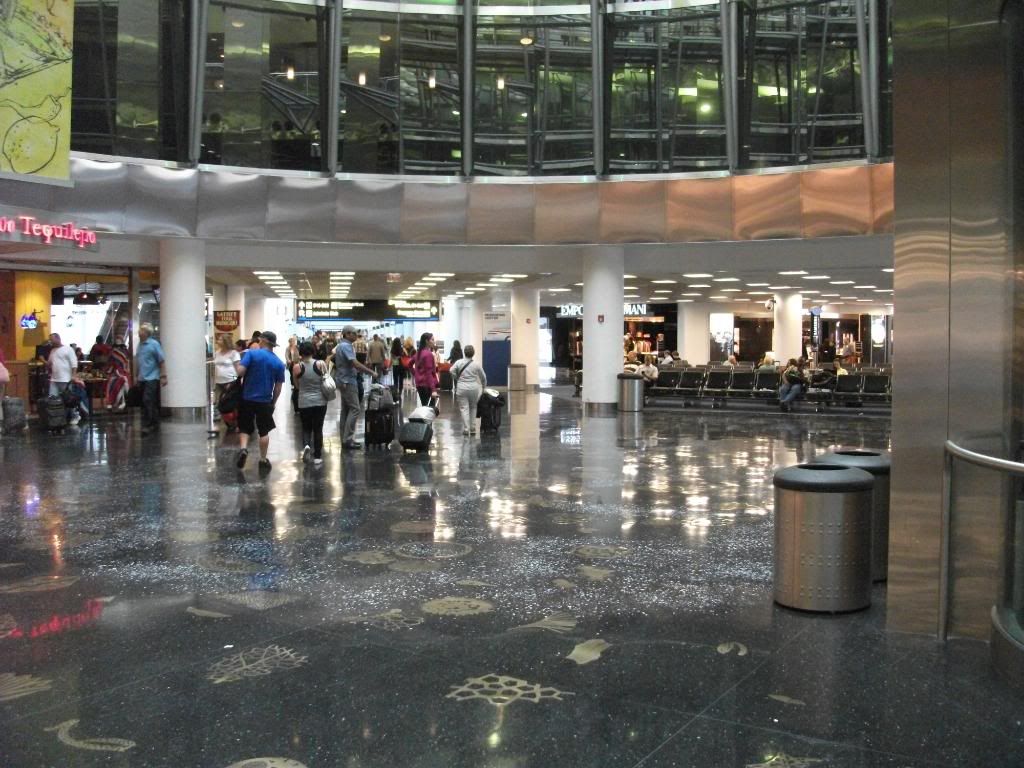 Flight info displays
The hall gave way to shops and restaurants lining the sides. This is a thing we see a lot these days: the shopping mall with gates sprinkled here and there. Not that I have anything against it, provided that it looks decent. In MIA's case, I like what they've done with it.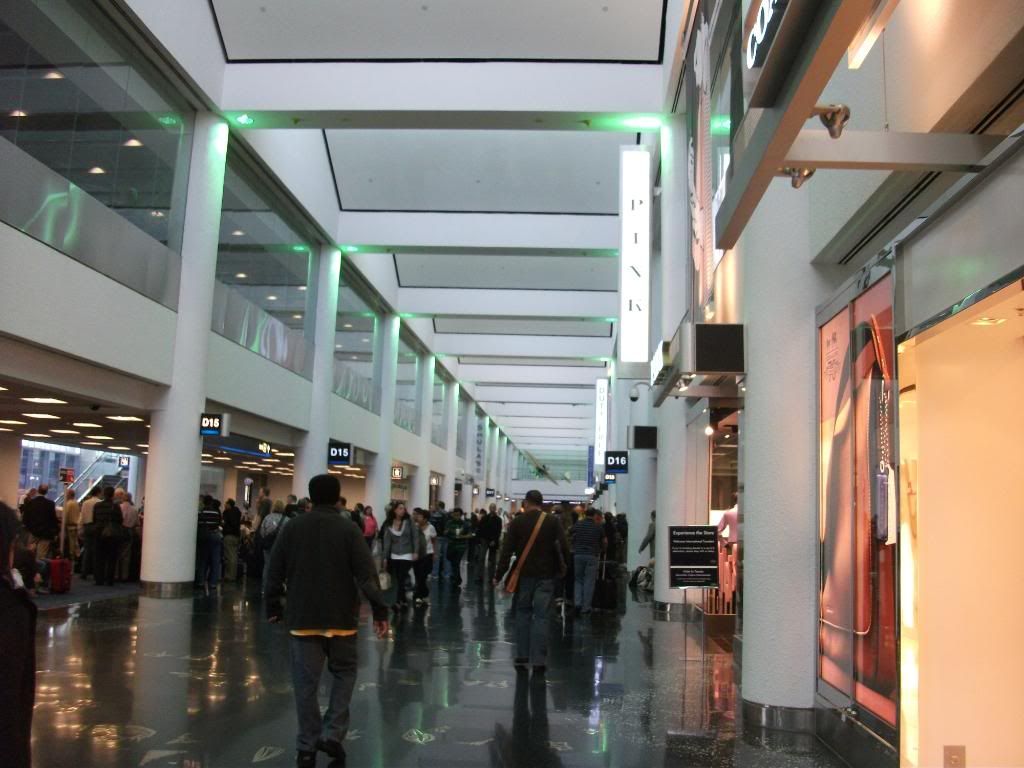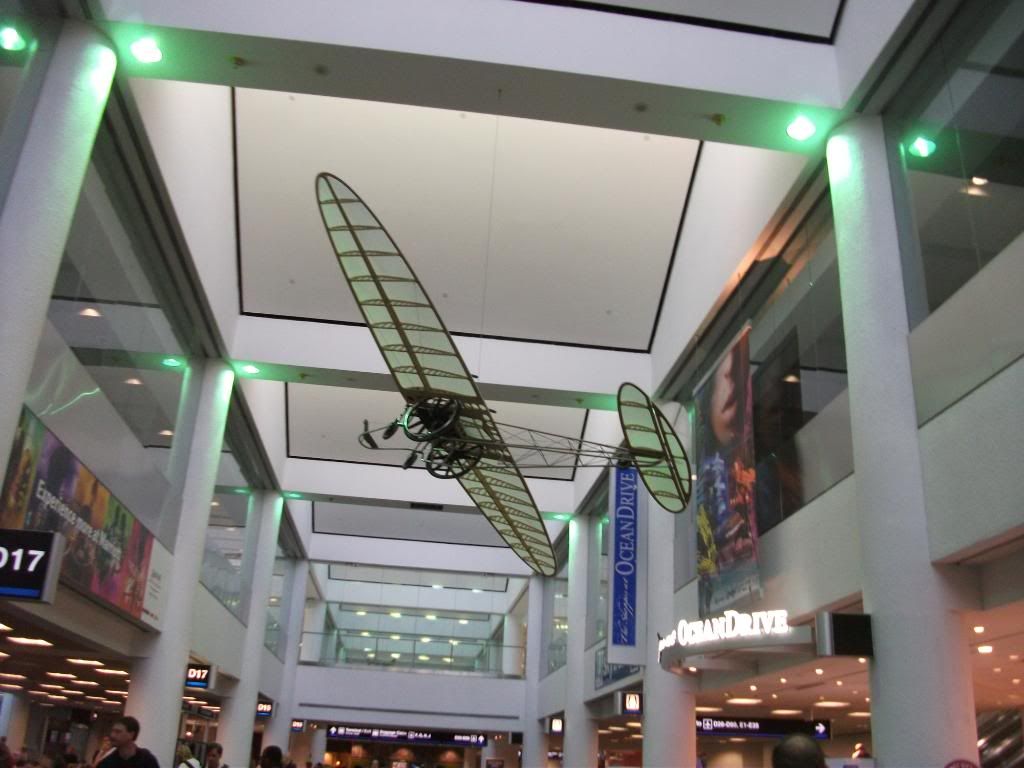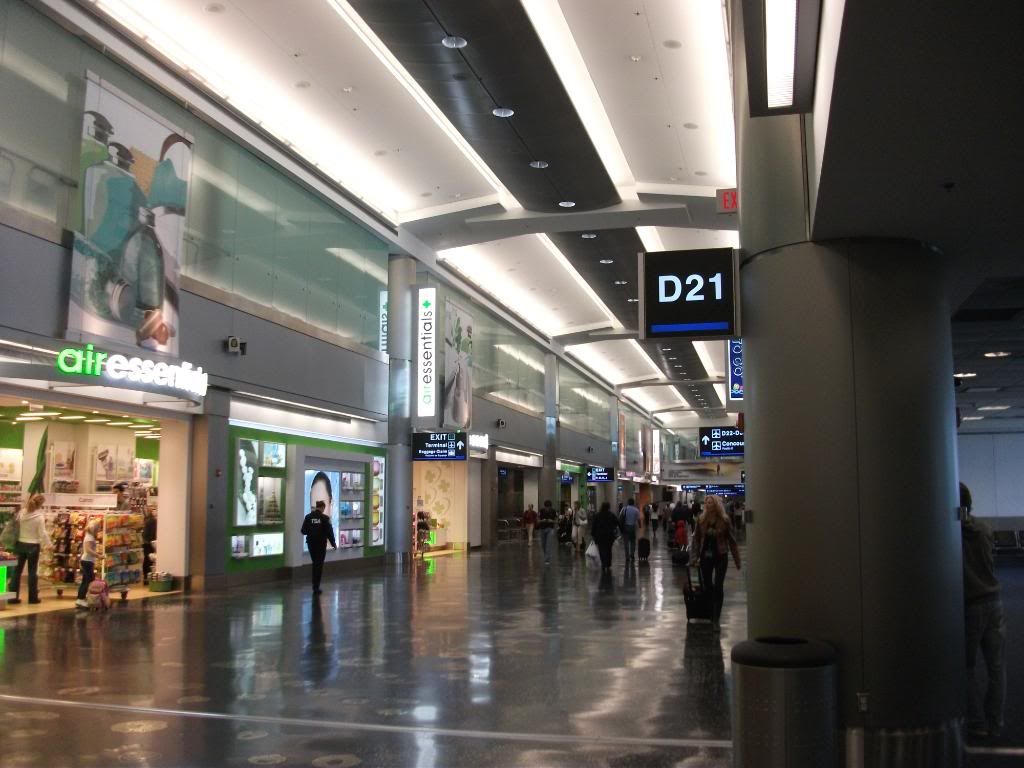 The Skytrain, a quick way to traverse the D/E complex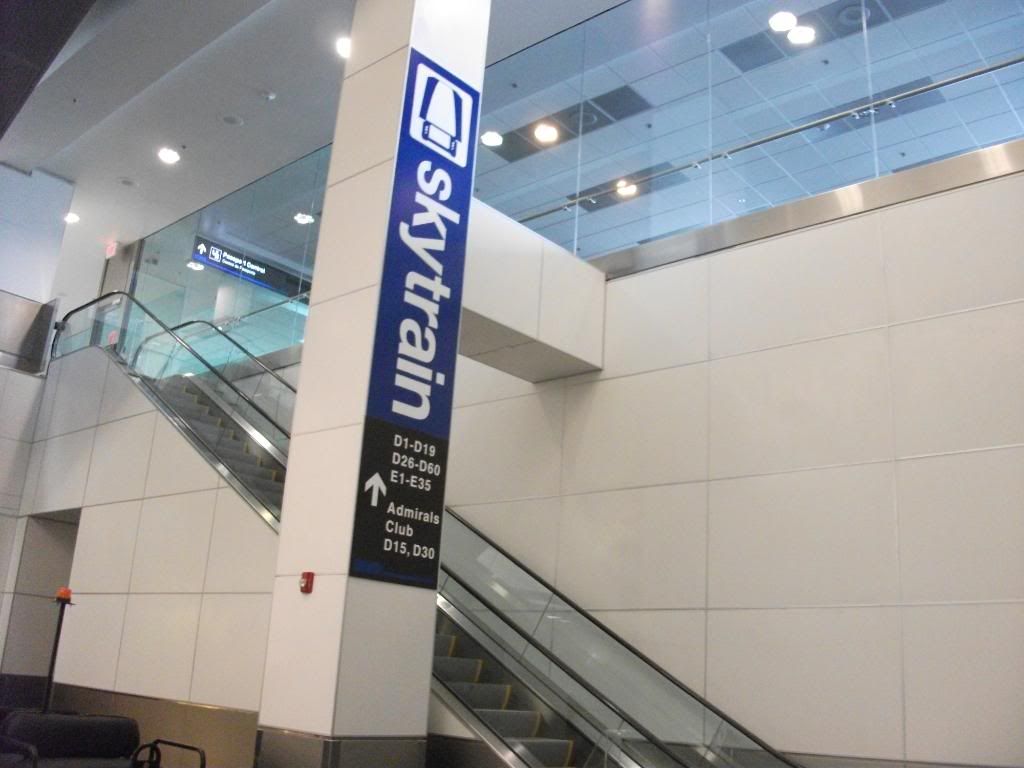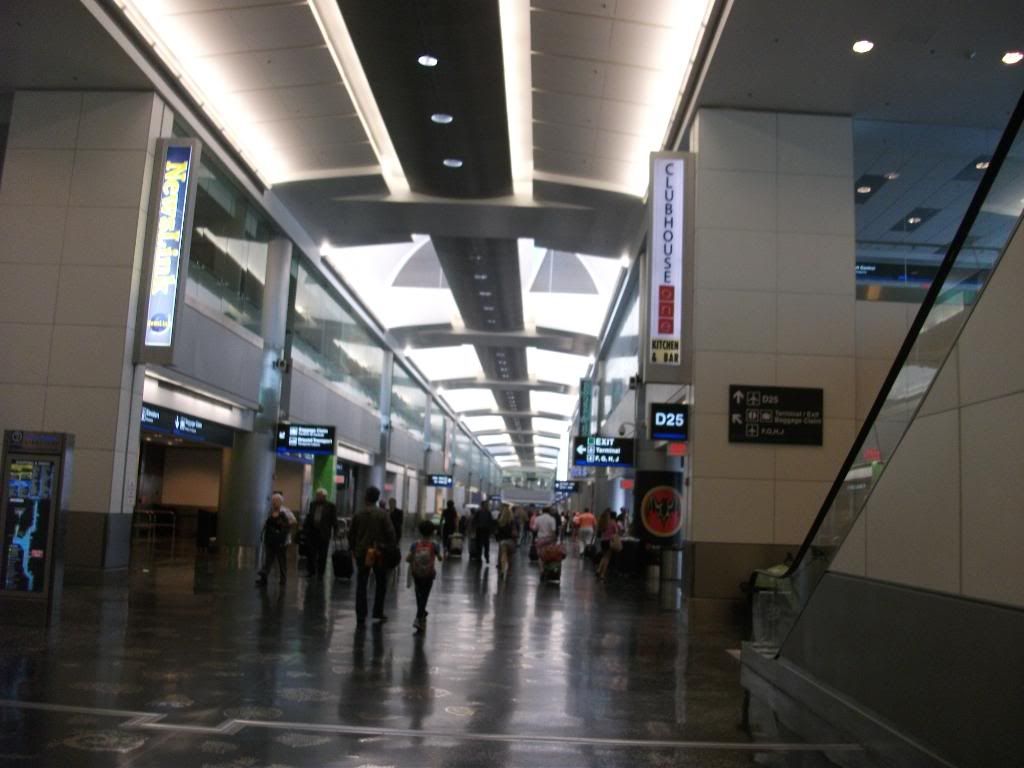 American Astrojet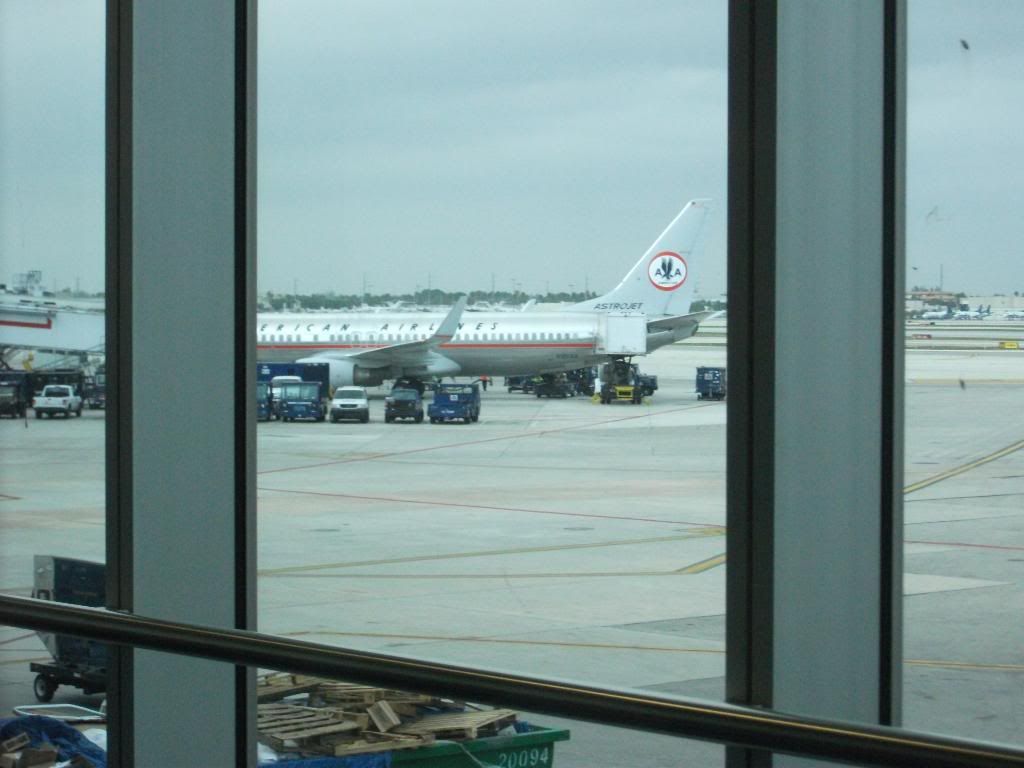 As a change of pace, the black floors switched over to white, further brightening the area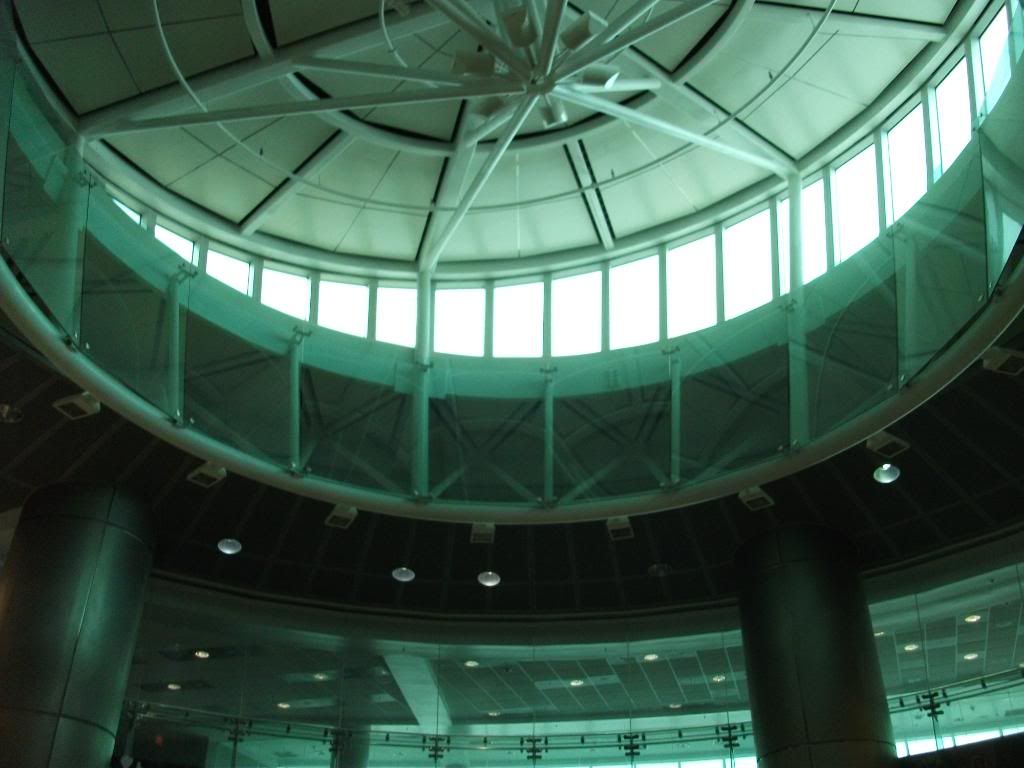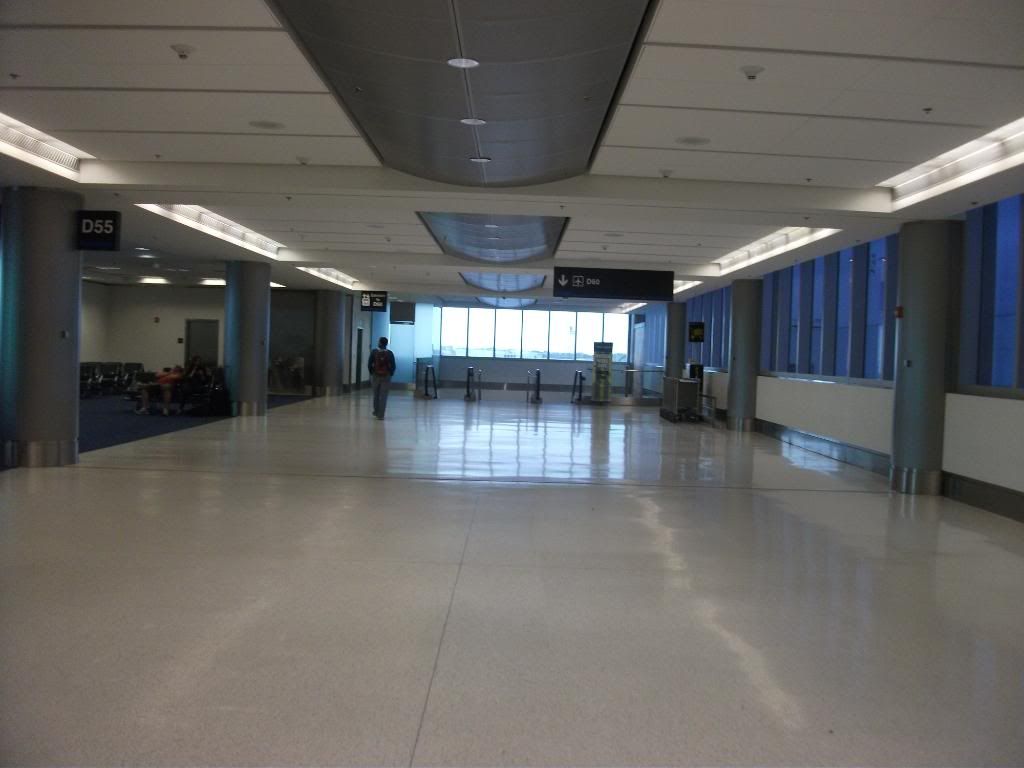 End of the line: Gate D60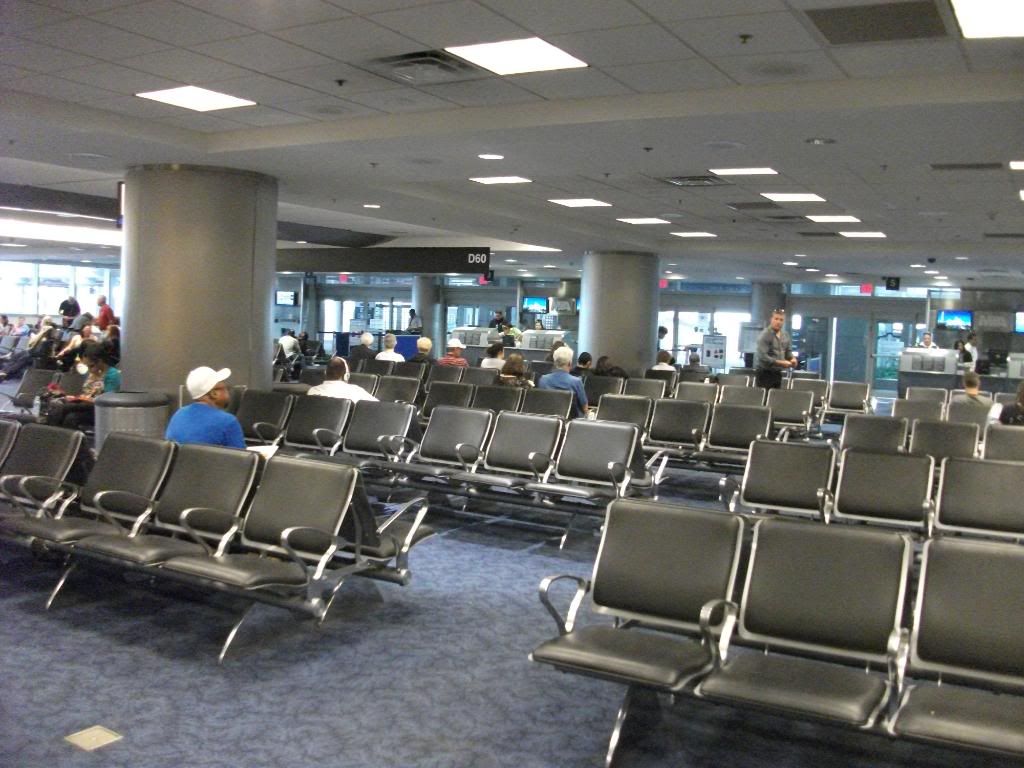 To walk from D1 to D60 took me about 20 minutes. There are moving walkways to speed things along, but not many. Hence, the tram can be a blessing for those crunched for time. Nevertheless, it's definitely a factor to keep in mind if you've got a tight connection. Speaking of which, I needed to switch terminals to get to Delta, so I hopped on the train to get to the concourse exit more quickly.
Escalator to the train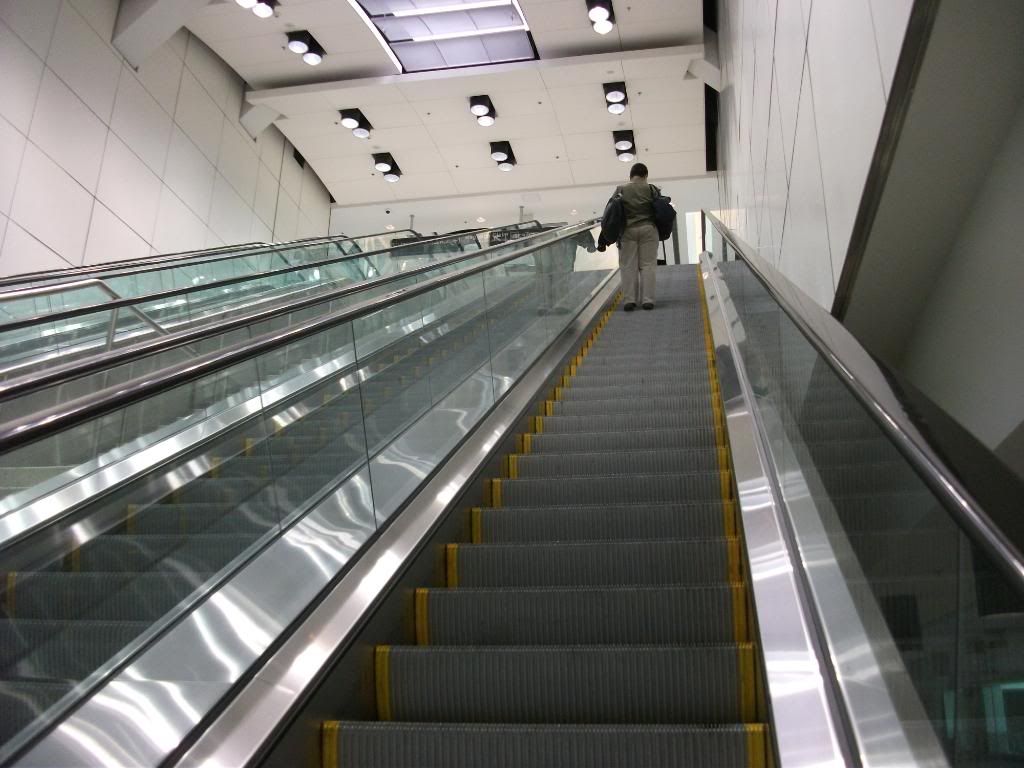 Your typical Skytrain station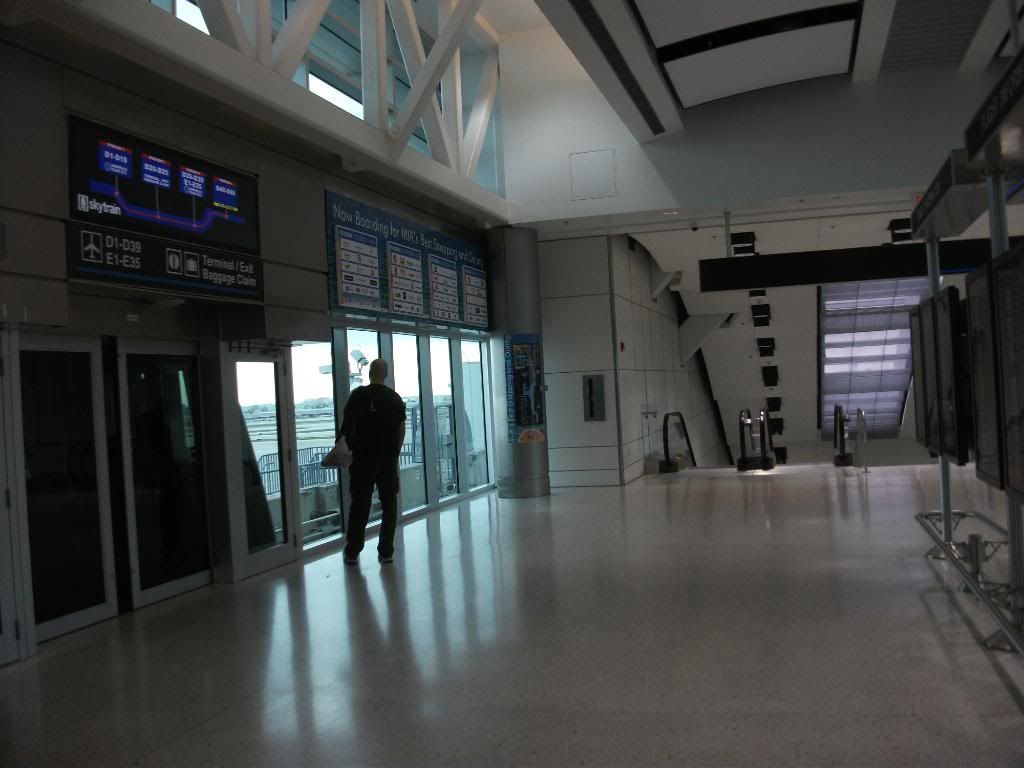 I made my way through the ticketing areas all the way around to Concourse H, where I negotiated with a kiosk. The negotiations were successful; it spat out my boarding passes with no trouble. Oh, and they were my first look at Delta's new boarding passes—I can instantly sign off on their practicality. That morning in OKC, I reached in my bag for the boarding pass to DFW—I saw one that said Dallas/Fort Worth, registered it as the correct one, and handed it to the agent. The scanner protested; I had mistakenly handed her the one for DFW-MIA. No such problems with the DL passes; the large lettering is a good feature.
Boy, how bland and sterile can you get? Granted, there's not much they can do down here…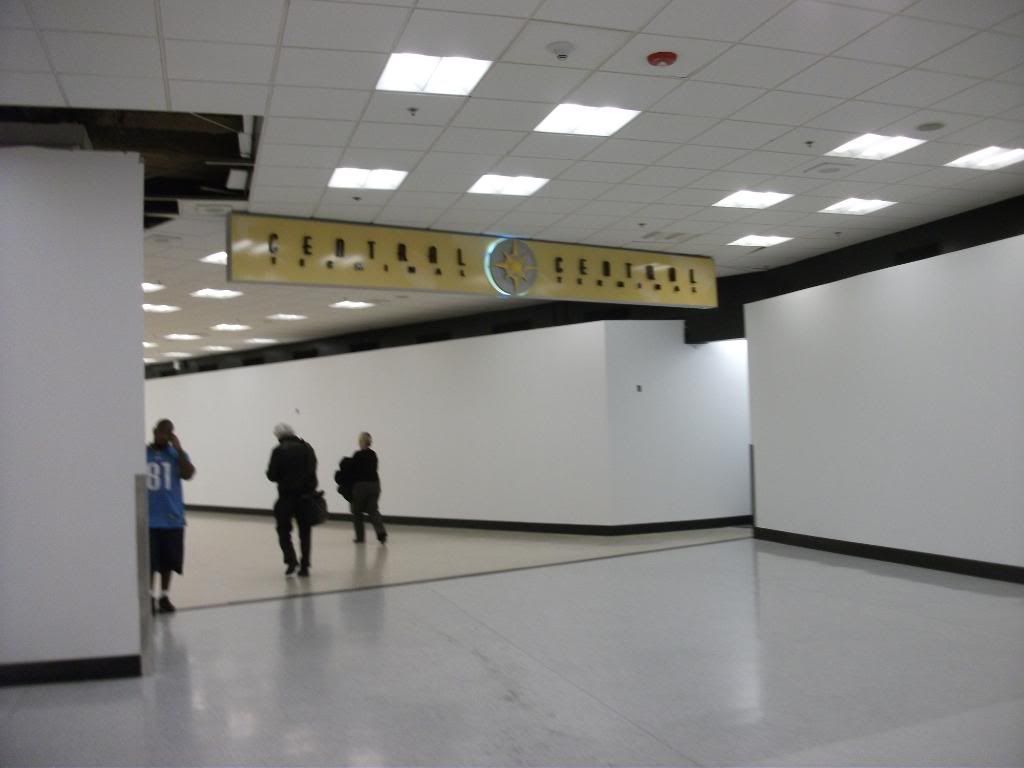 Don't let the lights fool you, it felt a little like a dungeon down there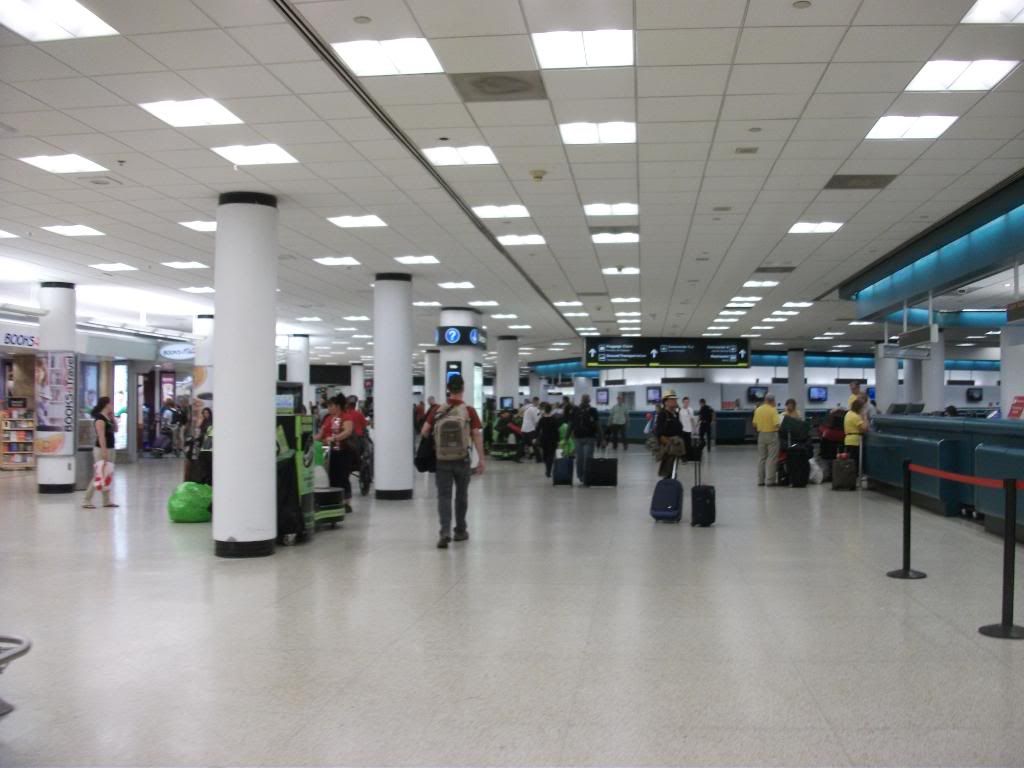 Delta ticketing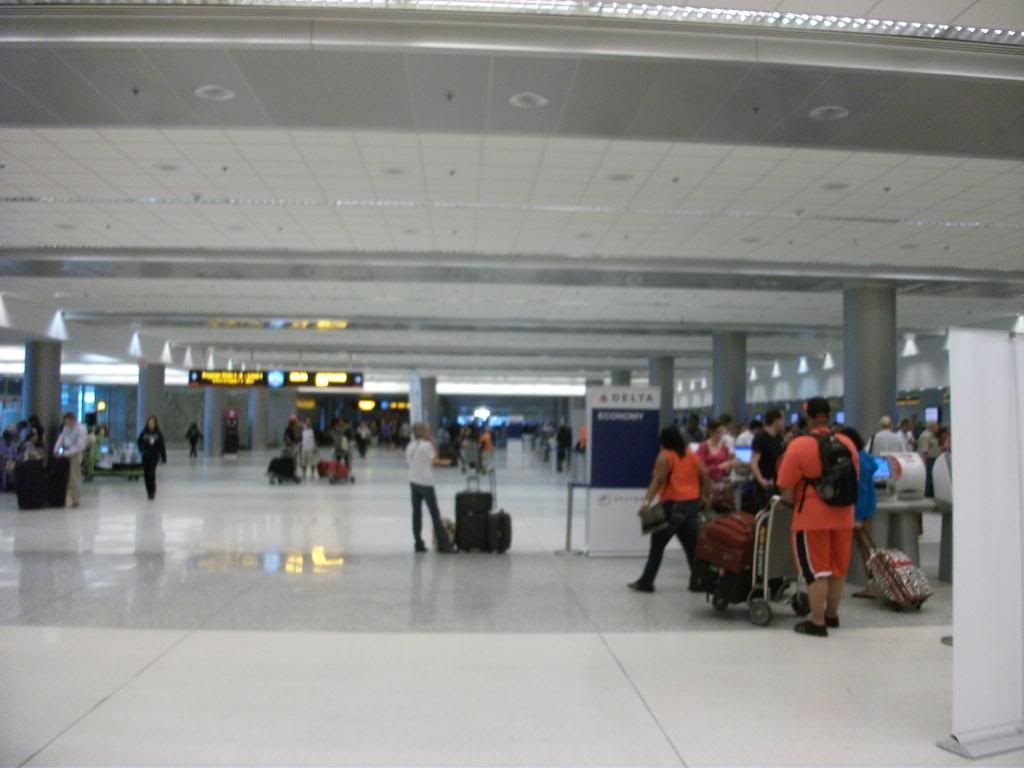 Security went quickly and easily, and I was in Concourse H. I proceeded directly to the gate to see what was up.
A bit more confined and subdued than D, but the general theme still exists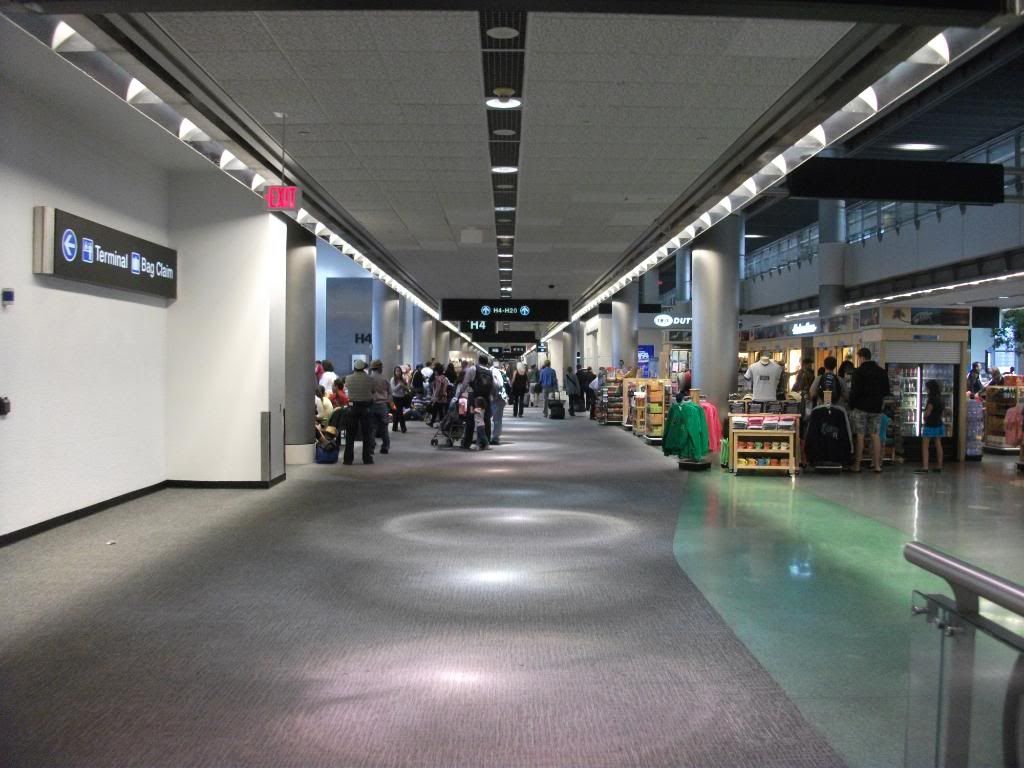 Hey, there it is!
Air France 744 F-GITF (I know a little bit of French, so it felt good to actually understand some of what people were saying at an international gate, for once)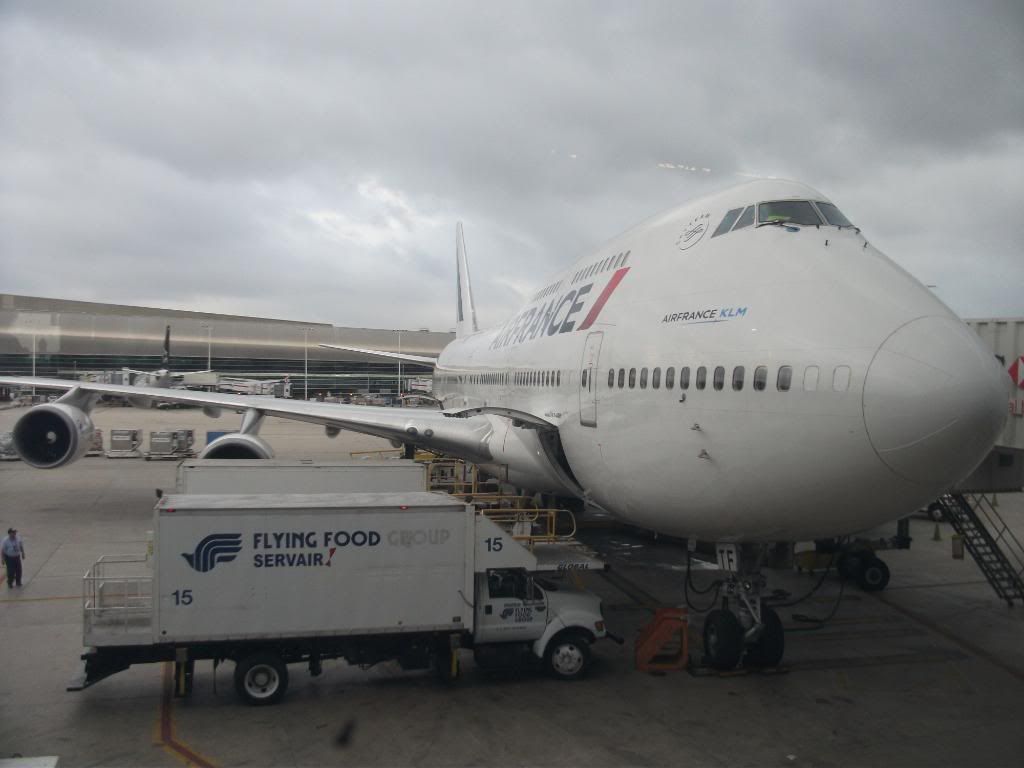 My gate; I don't know why, but I was impressed with the Star Trek entry door. All it was missing was the "whoosh" sound as it moved.
Some lucky people get to turn left on a single-aisle plane…
Doors closed (whoosh)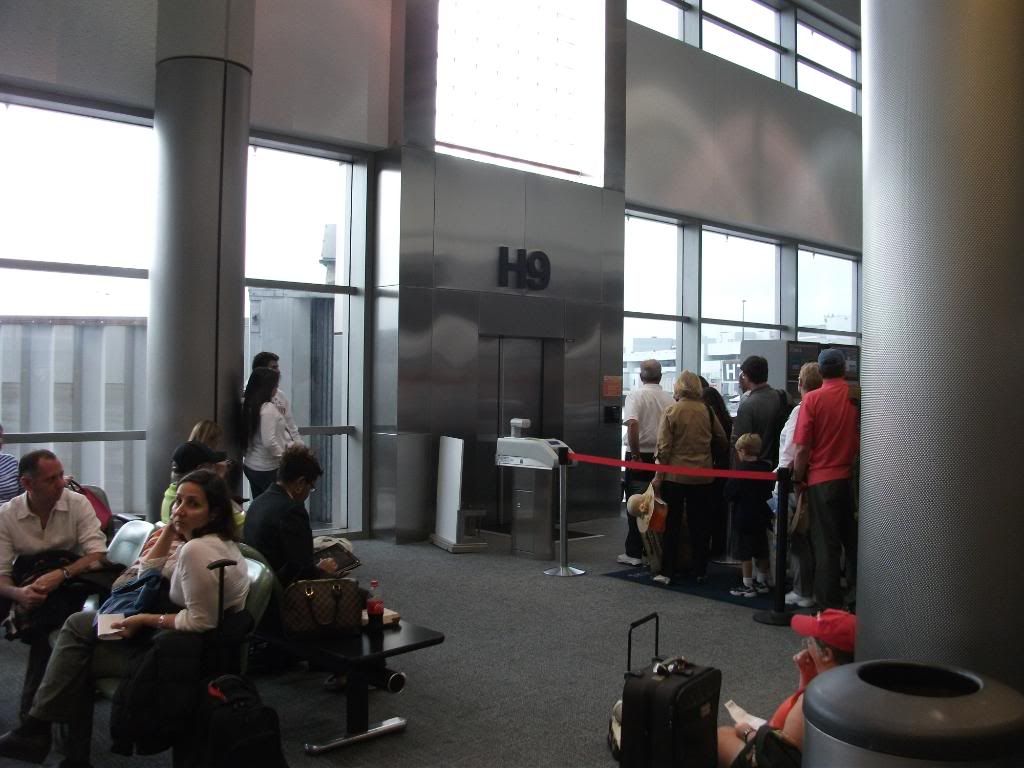 I noticed the masses of people standing around waiting to board. At first, I chalked it up to the "gate lice" phenomenon, but a closer look revealed that there weren't nearly enough seats in the boarding area. I figured about 60-70 seats were there. Our 757-300 seats 224. The gate agent told us it would be a full flight, so we were very close to that number. They obviously don't have to have enough seats for every conceivable plane at each gate, but it seemed like that situation wasn't completely thought through. I counted this as MIA's only setback worth mentioning.
Delta Air Lines 1951 MIA-ATL
Scheduled: 16:50-18:53
Actual: 17:06-18:36 (wheels up/wheels down); 16:48-18:45 (gate to gate)
Boeing 757-351 (N585NW)
When I booked these trips, I kept my eyes peeled for any remotely interesting options. Flight 1951 immediately stuck out, practically begging me to take the opportunity. Honestly, who could say no to a ride on the Flying Pencil?
So I was definitely looking forward to this date with the king of narrow-bodies.
Here I am in the beautiful seat 37F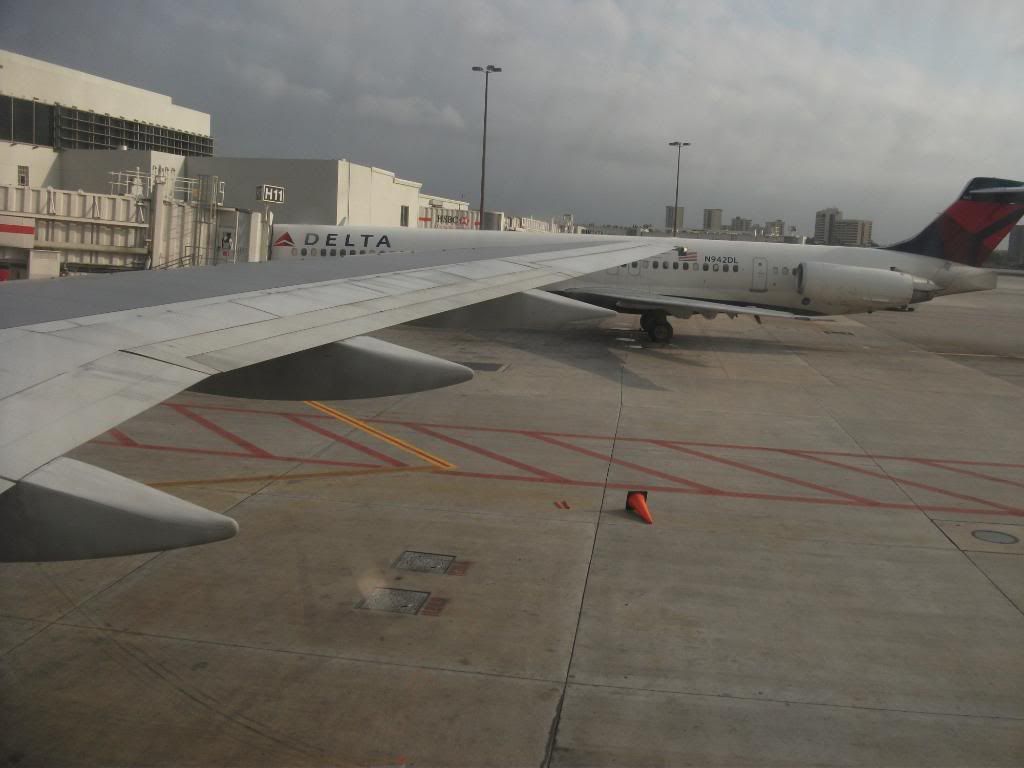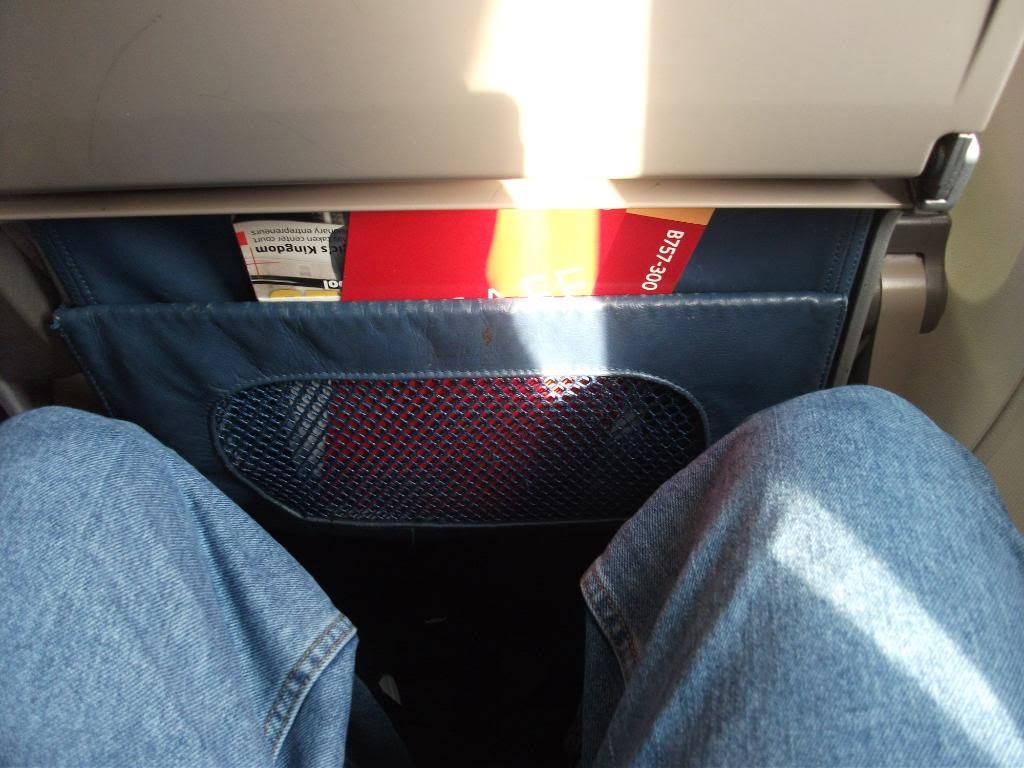 Lady Penelope (G-VFAB) greets us as we taxi out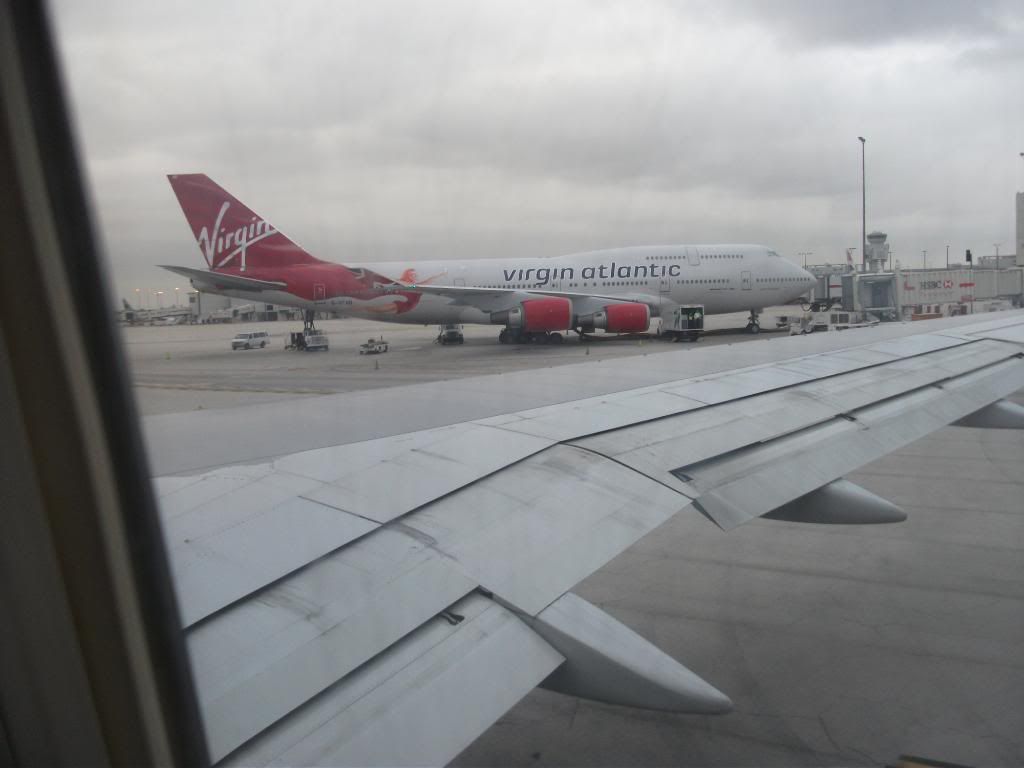 Then came the famous powerful takeoff usually associated with the 757. I think this plane is one of the more underrated ones out there…almost as if it's working behind the scenes that are set by 737s, A320s, and regional jets. It's a versatile plane that does its job reliably and without complaint. To that last point, I saw where it's only had eight hull losses since it first flew in 1982—just one more reason to be impressed with this aircraft.
Up we go…again…for the third time…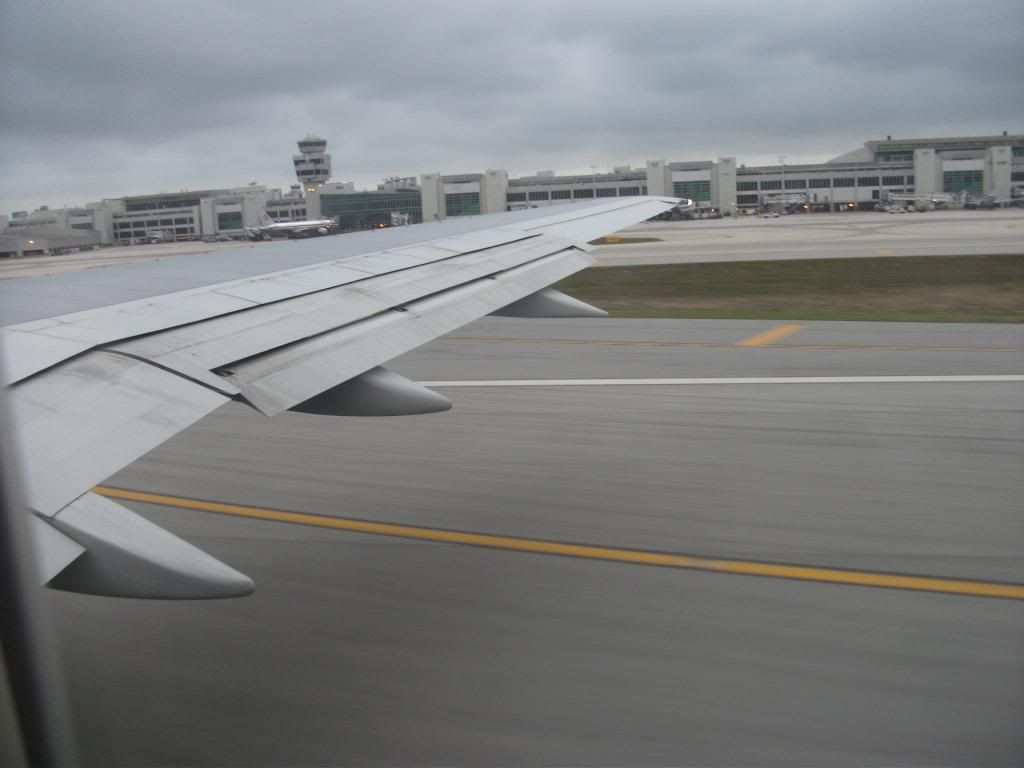 A last look at MIA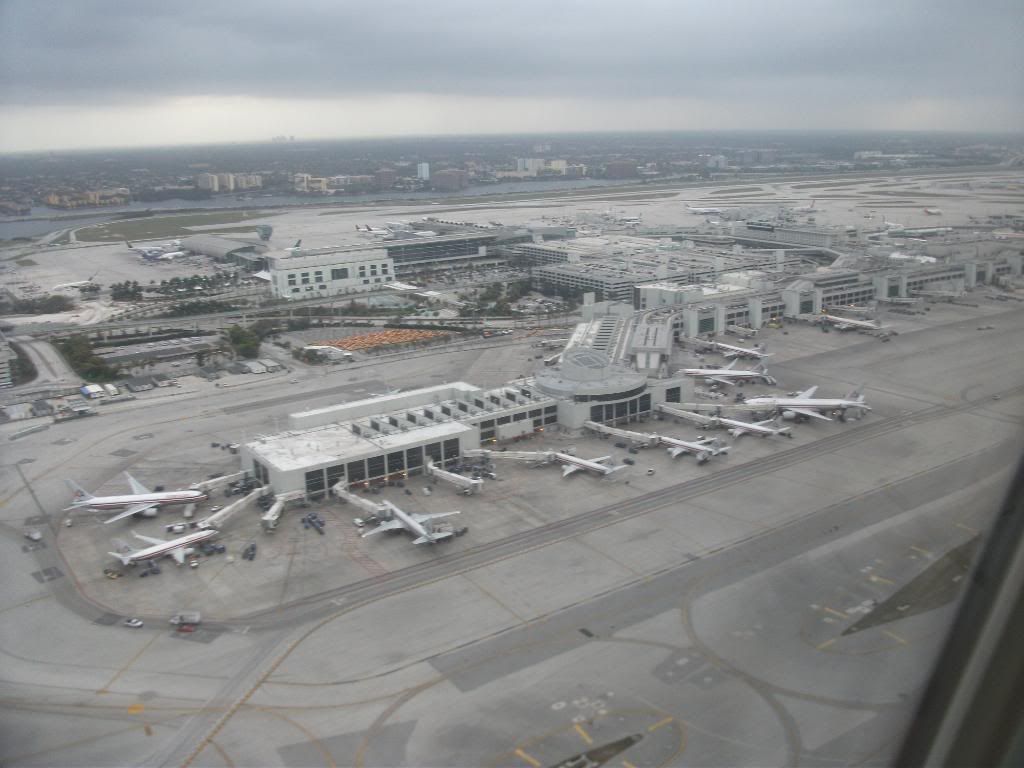 Orlando Sanford International Airport (SFB / KSFB)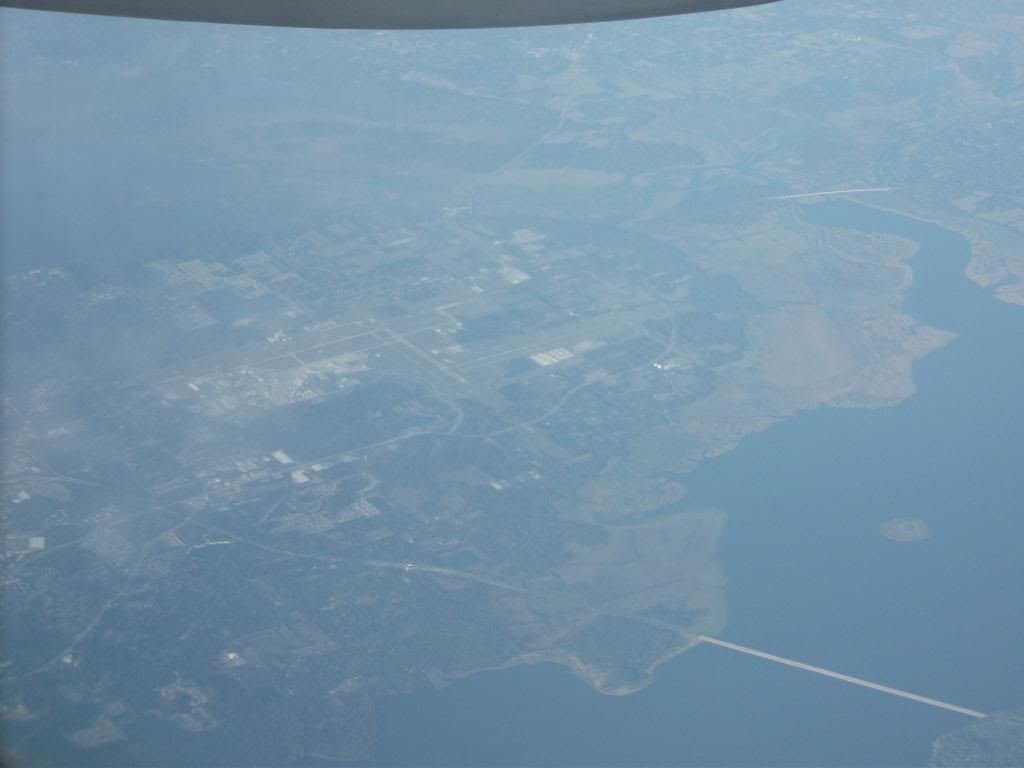 The coastline and the Atlantic
As we made our way through the Florida skies, I spied a Southwest 737 tagging along beside us. I grabbed my camera, got it in the scope, and pressed the shutter—nothing happened. Instead, a red icon depicting an empty battery blinked at me.
I cursed the luck and immediately turned it off, hoping to let it rest and scrape up enough power to coax out one last picture that I really wanted…
The boys up front guided our flying pencil down to the ground and we meandered about for a few minutes before finding a gate. We pulled in at Concourse A, which meant that I had to zip over to Concourse E, and then back to B, where my plane would depart. Why all that scooting, you ask?
The love affair continues…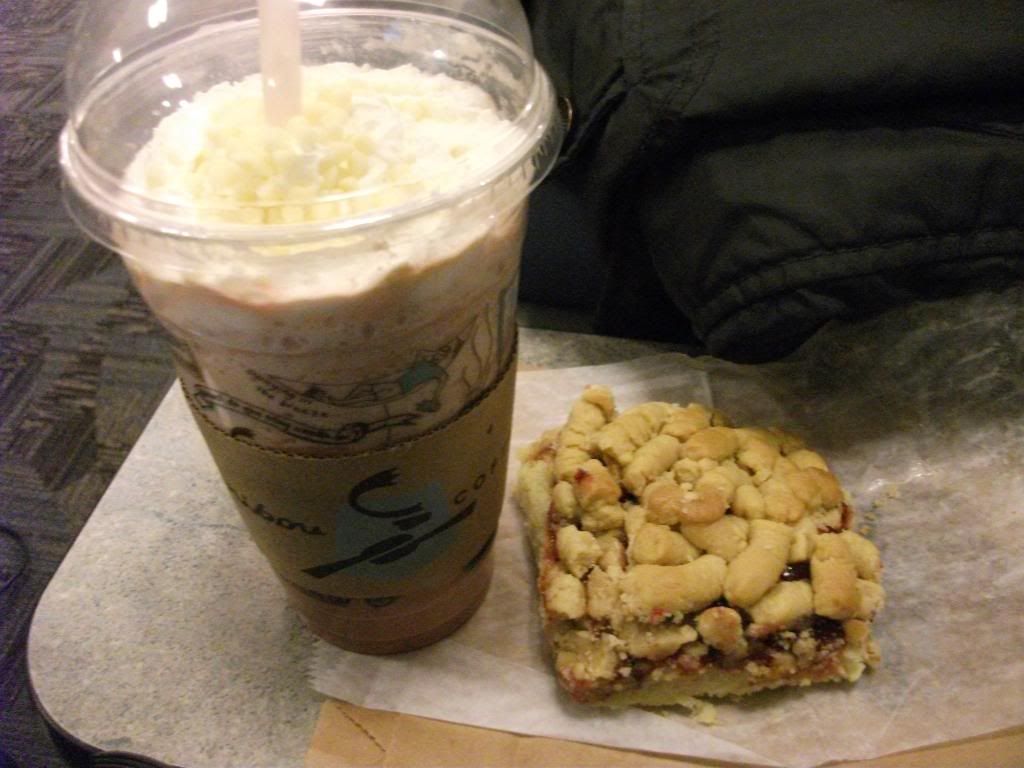 Delta Air Lines 1259 ATL-OKC
Scheduled: 20:35-22:01
Actual: 20:37-21:24 (wheels up/wheels down); 20:23-21:34 (gate to gate)
McDonnell-Douglas MD-88 (N930DL)
There were three occurrences of note about this flight. The first was attempting to sit in my seat, 20E. A lady was occupying it when I arrived there. The encounter went as follows:
Me: "Excuse me; that's me in the window seat."
Lady: "Oh? You have E too?"
Me: "Yes."
Lady: "I don't think so…" (we pull out our boarding passes)
Me: (looking at her boarding pass) "Ah, that's for 22E."
Lady: "Really? Where am I now?"
Me: "20E."
Lady: "So…(looking back) where am I supposed to be?"
Me: (gesturing beyond a couple in row 21) "Right behind these guys."
An explanation ensued about how the row numbers didn't match from one side to the other, which led to her confusion. Now, why she'd look at the left side for her row number to her right side seat piqued my curiosity. And while it's true that the row numbers didn't match, I looked across from my row and saw 21, not 22. Oh well; people are allowed to be confused or in a hurry once in a while!
The second happened just after we took off: I noticed a particular Boeing 707 with Qantas paint all over it…gee, I wonder whose plane that was?
The third was the rough air that shook us as we powered through it—more than normal, but nothing I couldn't type through.
Looking out at MD-90 N927DN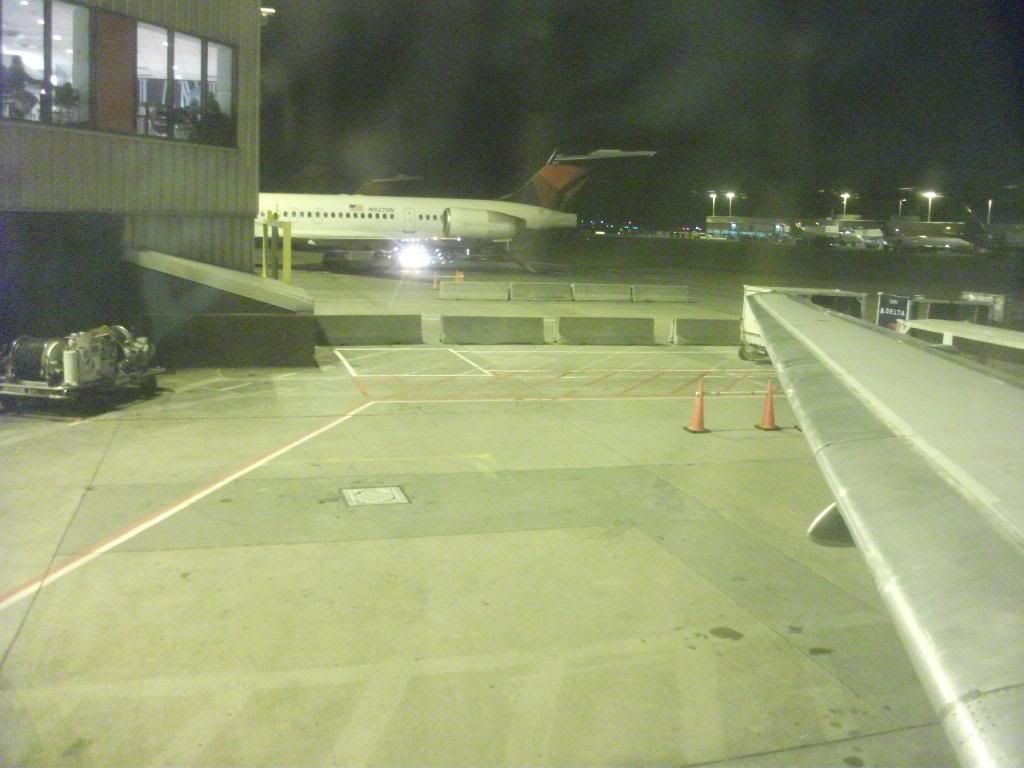 The rest of the voyage was unremarkable, but pleasurable. With that, my quick run to Miami came to an end. So, what did I learn, other than to charge my batteries?