Leg 4: One if by Land, Two if by Sea-Tac – March 17, 2012
Greetings, fellow A.netters, and welcome to the latest leg of "The Next Ten"! This fourth installment of the series has Seattle-Tacoma International Airport as its objective. Sea-Tac is the country's 16th busiest airport and the only one on my list located appreciably west of the Mississippi River. (MSP is also west of the river, but only by a stone's throw.) I am already familiar with this airport owing to a few previous trips; you might have read about the most recent one in November. If you haven't, you will find a convenient link at the end of the post.
Regarding that November vacation, the great time I had in Seattle was still fresh on my mind as I booked the flights. Thus, I decided to give myself plenty of time in the city; perhaps I could catch a train and hit up some of the places I became acquainted with after the airport journey was complete. With that, the framework for a St. Patrick's Day in the Emerald City was complete. However, much to my chagrin, that framework would require an overhaul…
As far as the flights were concerned, I looked at United to fill in the OKC-DEN and back. In between, I had Alaska Airlines going west (all the better to log a new airline and a new airplane type) and Frontier going east. A few days after booking, I received an email from F9 notifying me about a change in the flight. Fortunately, the only change was the flight number, so business went on as usual. A few days after that, I got another F9 email. Expecting another minor change, I saw instead that my 2:51 PM flight would now depart at 8:20 AM.
All of a sudden, I needed a substitute flight out of Seattle. The first order of business was to shift the F9 flight elsewhere; my Summit status came in handy as I was able to switch it to another city on another day with no charge—and to a future leg in the series, no less. (Stay tuned…) The second order of business was to find a flight with suitable timing. Two options arose: another Alaska flight that left at 12:45 PM, or a United flight leaving at 3:13 PM. The second would preserve my time in the city, but it would also reduce my previously planned connection time. I sided with United, my primary motivations being the city time and the MileagePlus credit. (Besides, I've booked less connection time than that in the past, so 43 minutes looked quite doable.) With a re-combobulated itinerary in my pocket, I was ready for Seattle once again. (You will also be pleased to know that I remembered to make sure my camera had a full battery.
)
(Some pictures have been omitted for your convenience. If you wish to see them all, feel free to follow the link: Slideshow for Leg Four)
Let us now move forward to the day of the action. I attempted to print my boarding pass at home, but the printer picked that time to go on the fritz. It was too late to go to the airport and do it that night (I understand closing the ticket counters, but shutting down the self-service kiosks?) so I was forced to drag my carcass out of bed earlier than anticipated to collect it. It turned out to not be any trouble at all; I was on my way to the Rockies again. (And yes, I did remember to wear a green shirt.)
My A320 sitting at the gate…but not for long!
United Airlines 255 OKC-DEN
Scheduled: 06:17-07:05
Actual: 06:25-06:33 (wheels up/wheels down); 06:15-06:42 (gate to gate)
Airbus A320-232 (N461UA)
This flight was completely full, as in "not one empty seat." Even so, I sank into the Economy seat and was able to relax. I didn't go to sleep, but I was quite comfortable. There's something about that United seat that seems to lend itself to comfort…or maybe it's just me.
Legroom
What one sees from 24A
For a 6 AM flight, it went by much better than I expected. For some reason, there was happiness up there at 38,000 feet. I had a can of apple juice (yes, there is such a thing as "too early for booze" on St. Patrick's Day), an ear tuned to Channel 9, and a window to a world in the late stages of slumber under the stars. We touched down on Runway 26 just as the first shades of orange appeared at the edge of the eastern sky.
At the gate in Denver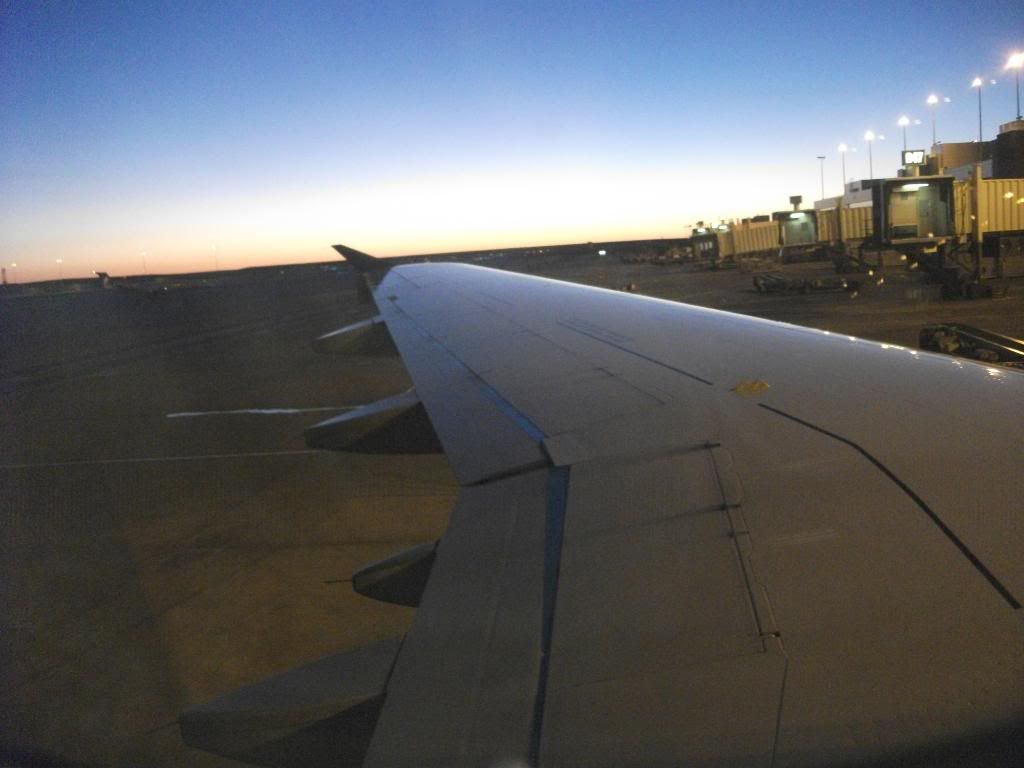 When I went to take a picture of the plane, I realized that there was one vexing drawback to the new livery: the placement of the registration. It's now on the lower part of the fuselage, which meant that it was conveniently hidden by the wing from every available angle: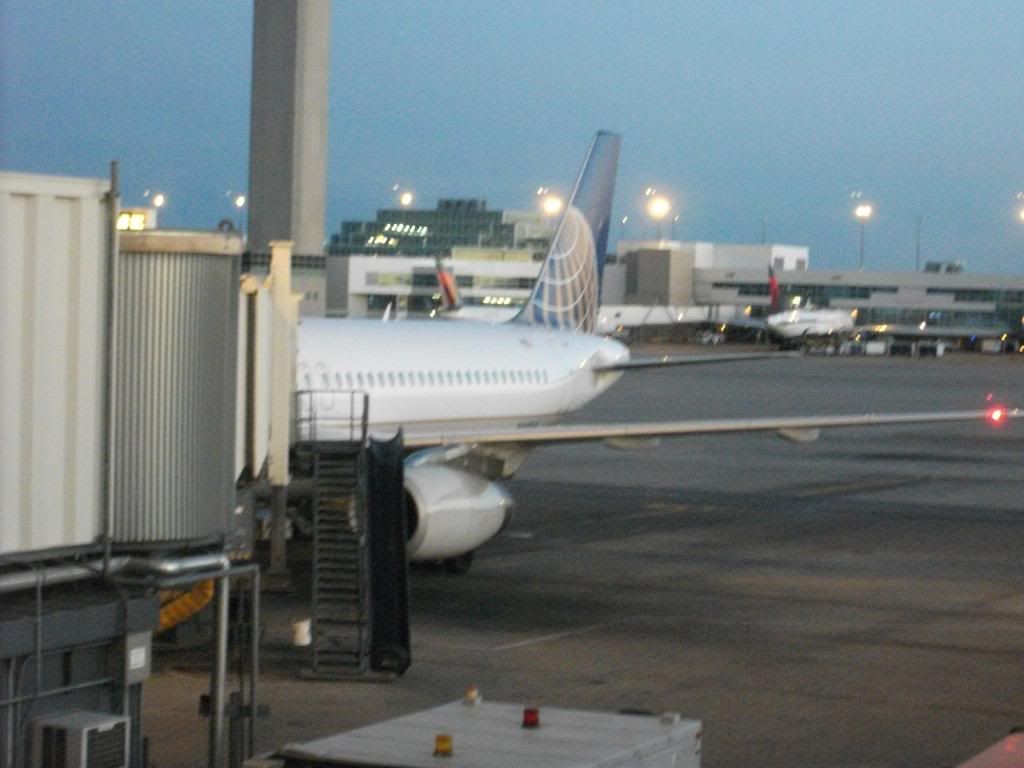 That was fine, though, because I remembered to look at the manufacturer's plate for the pertinent information. Oh, wait…I forgot about that.
But no worries—I could get a picture of the nose gear doors, right?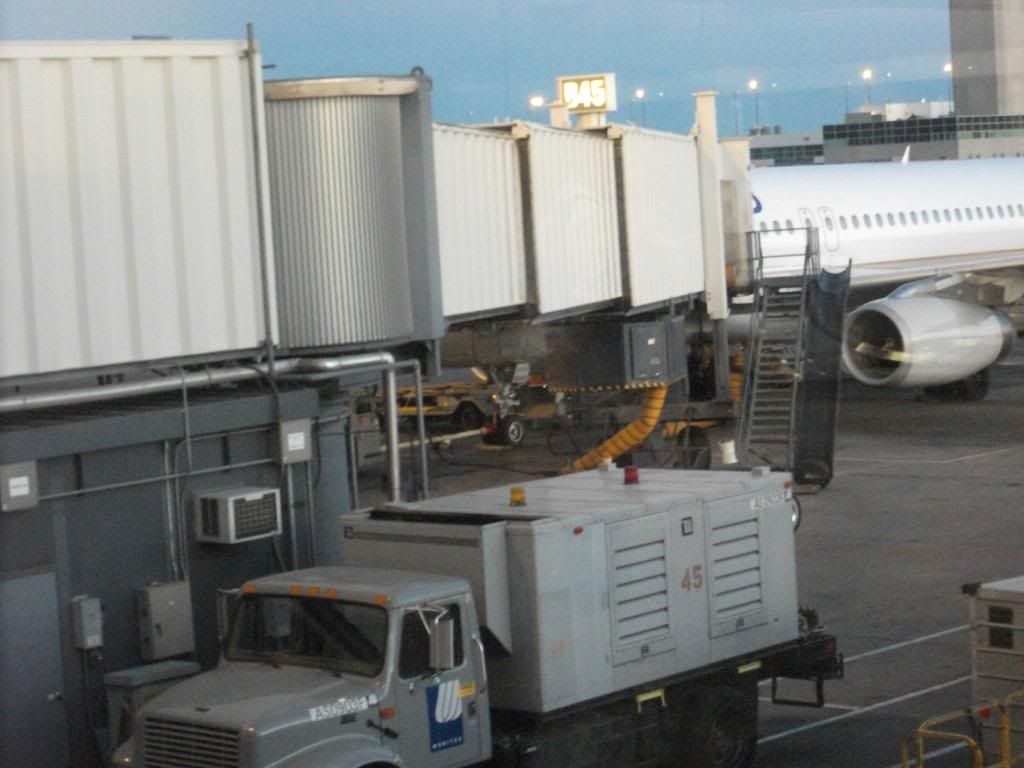 Nope, still not enough light to make it out. Great, now I was going to have to appeal to the internet and hope that someone had the required information. I put that setback out of my mind and got on with the morning. My next stop was Concourse A, where my Alaska plane was waiting. Speaking of which…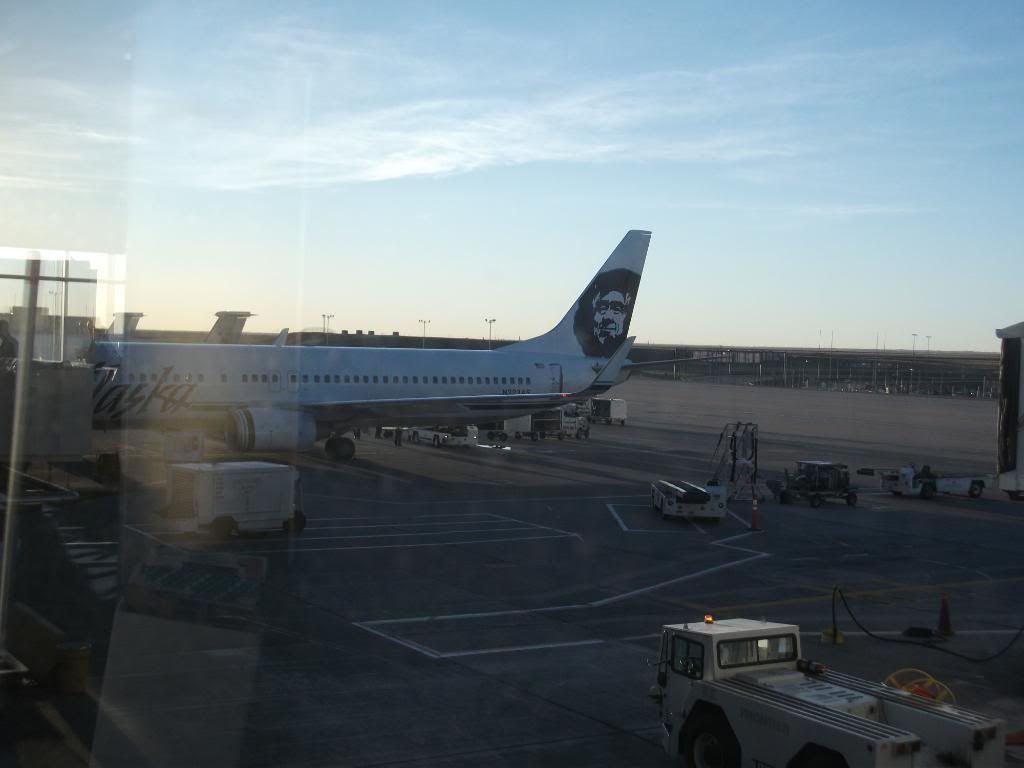 Alaska Airlines 685 DEN-SEA
Scheduled: 08:00-09:55
Actual: 08:06-09:24 (wheels up/wheels down); 07:53-09:28 (gate to gate)
Boeing 737-990 (N323AS)
While looking over some trip details a couple of days out, I became curious about what Alaska had to offer in First Class. If the price was right, I would consider shelling out a couple of bucks for the two-and-a-quarter hour (or so) flight. It turned out that some seats were still open, but I couldn't snag any of them at home. I would just have to wait to see if there were still any at the gate. Luckily, one was available, and a window at that! $50 later, I had a boarding pass to the good life.
Factoring in the original cost of the ticket, my sojourn in F cost about $150. Quite the steal, considering that United wanted $560 for a First upgrade on the SEA-DEN segment. (Be forewarned: Alaska will change the upgrade parameters later this year, so a segment such as mine will cost $100 to upgrade.)
An engine, a winglet, and a seal pup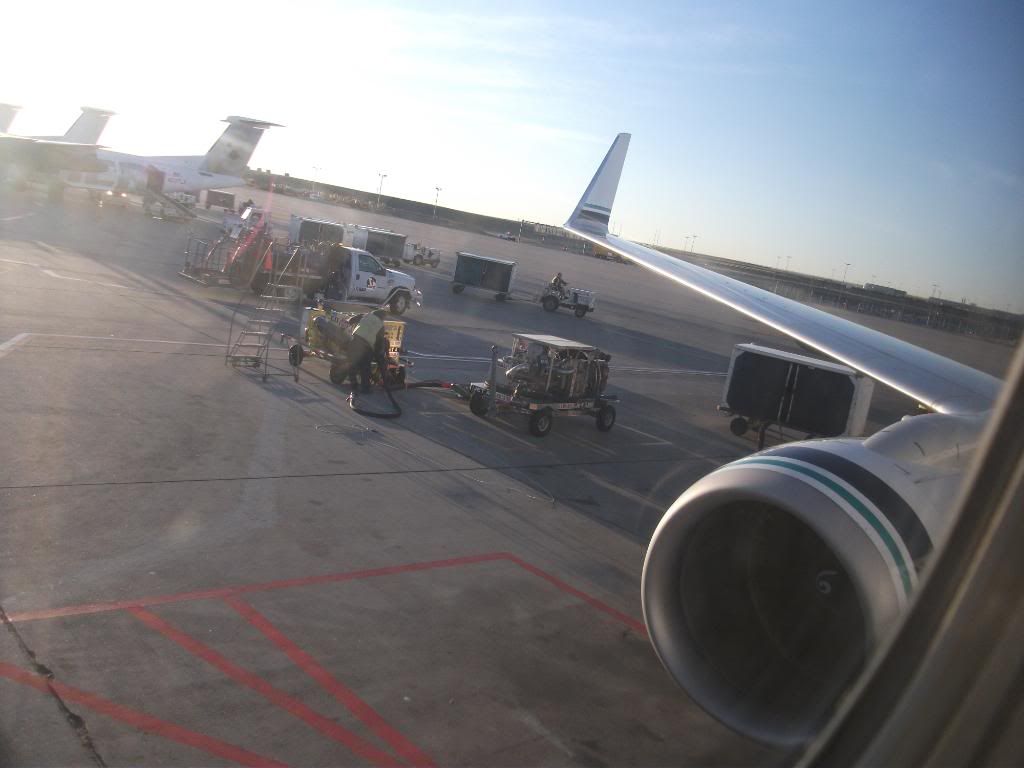 Wide open spaces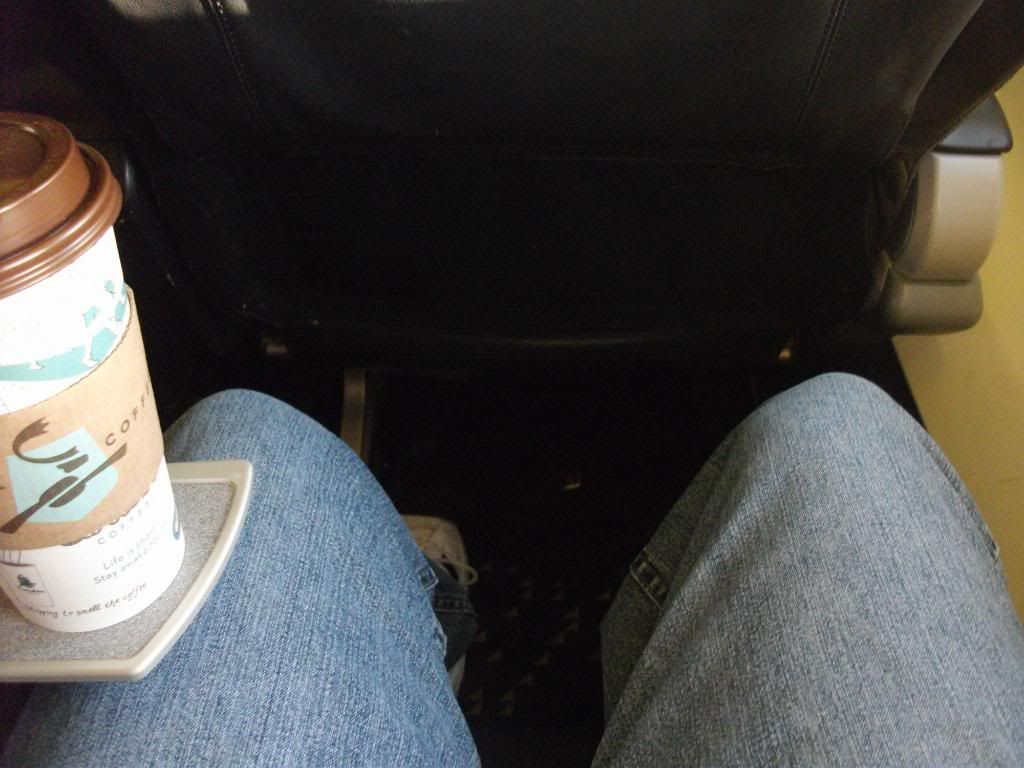 The cabin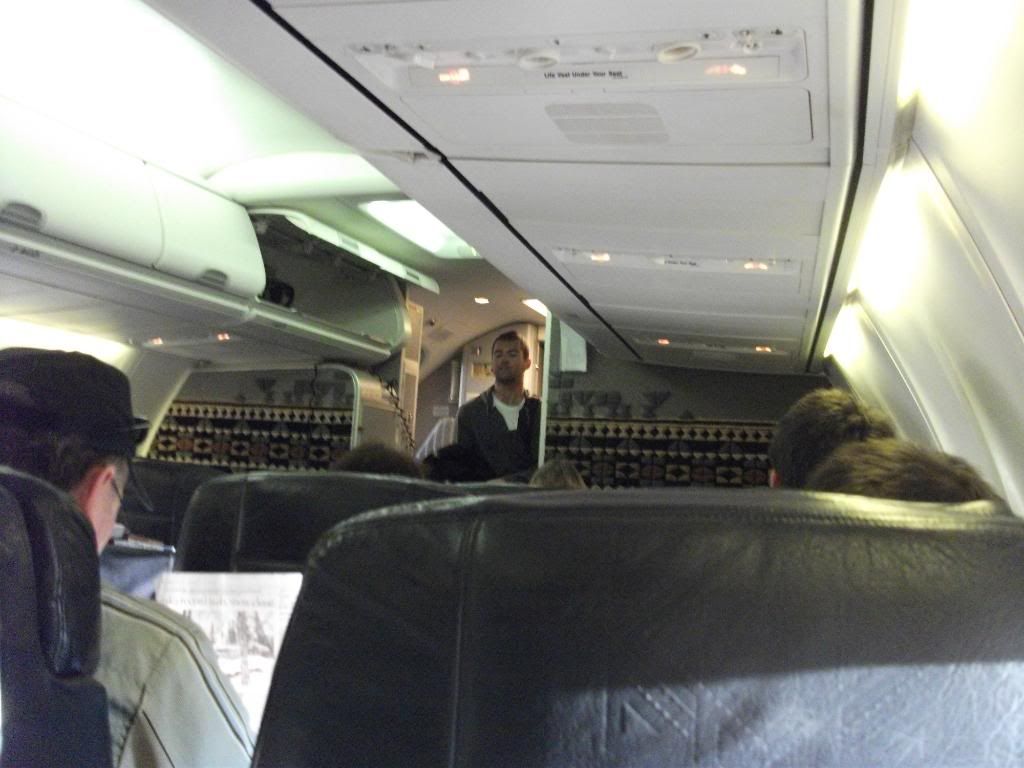 There ended up being only one empty seat in the 16-seat First cabin, so I was apparently the recipient of some luck (of the Irish?) and good timing. Service began right there on the ground; I declined a pre-departure beverage for reasons that should have been clear in my legroom photo.
As we taxi out, I see (right to left) Clover, Lucy, Andre, and Thunder. I know those four very well, having flown with all of them.
Our shadow tags along as we taxi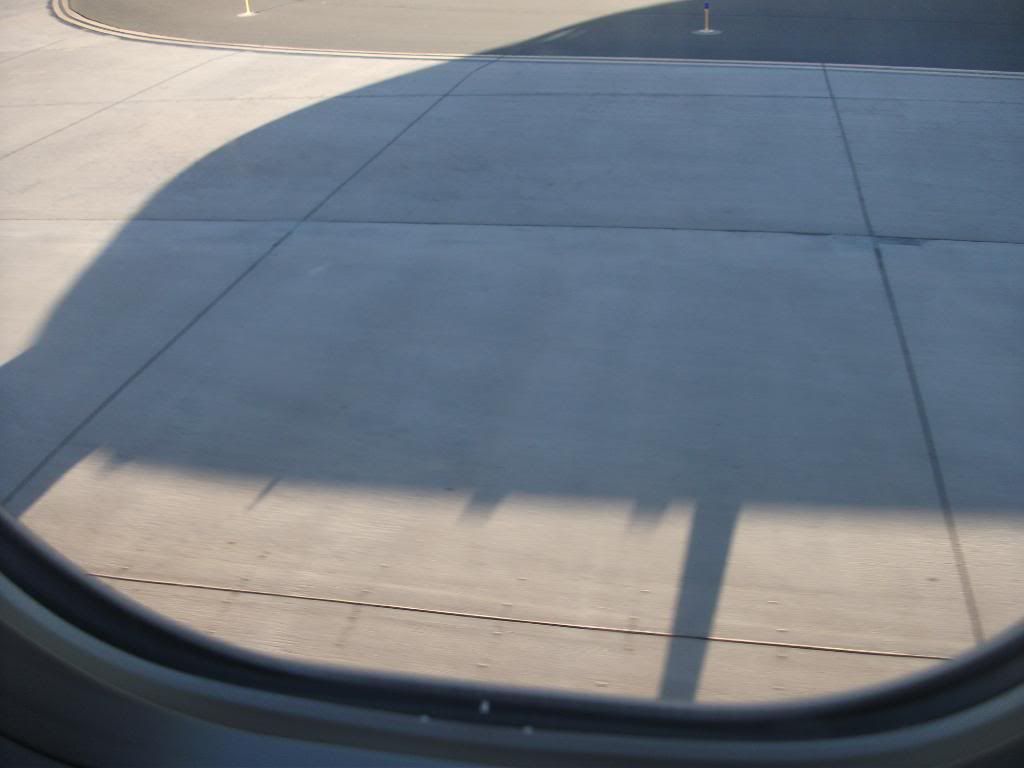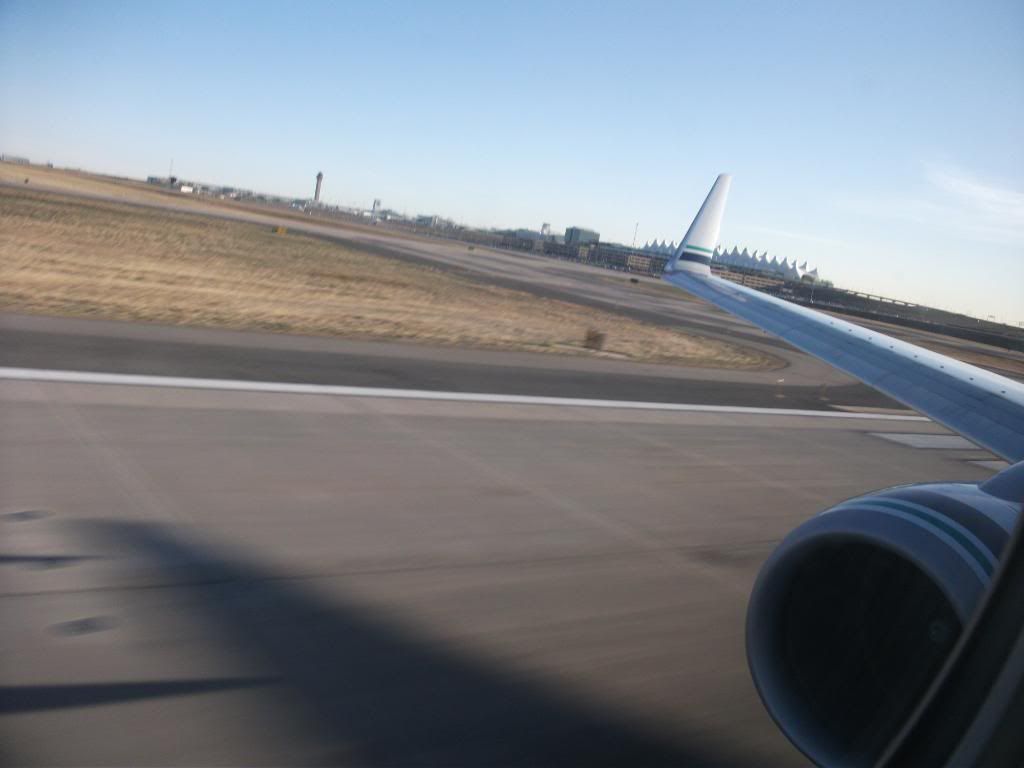 The nose points up and we have no choice but to follow…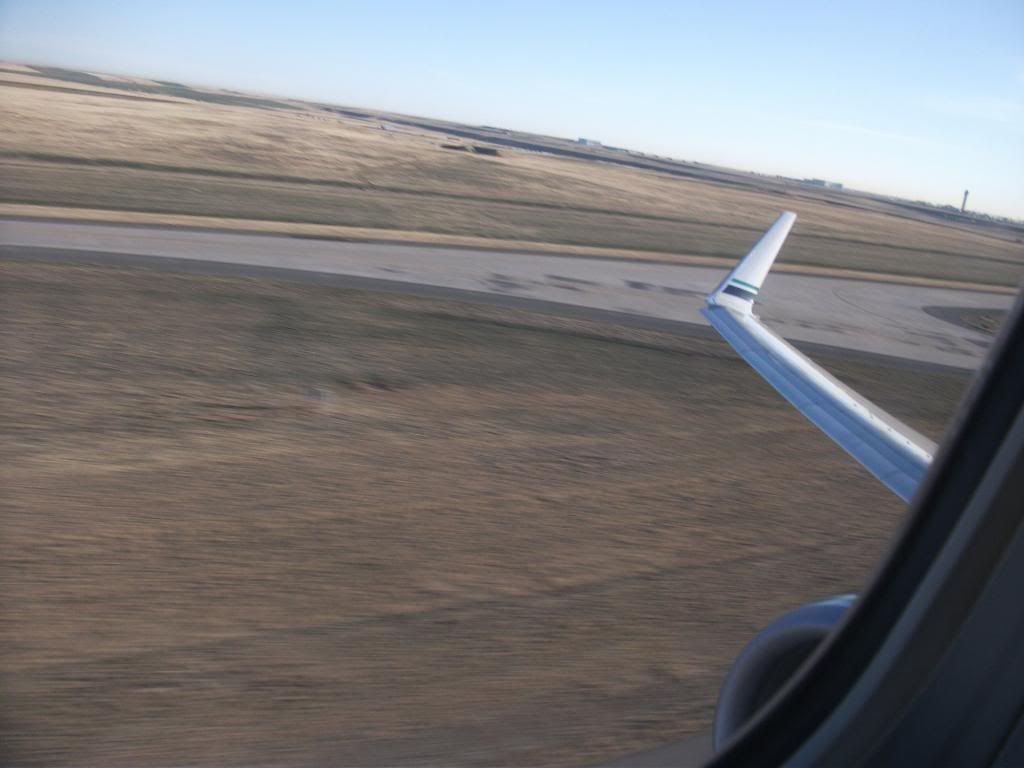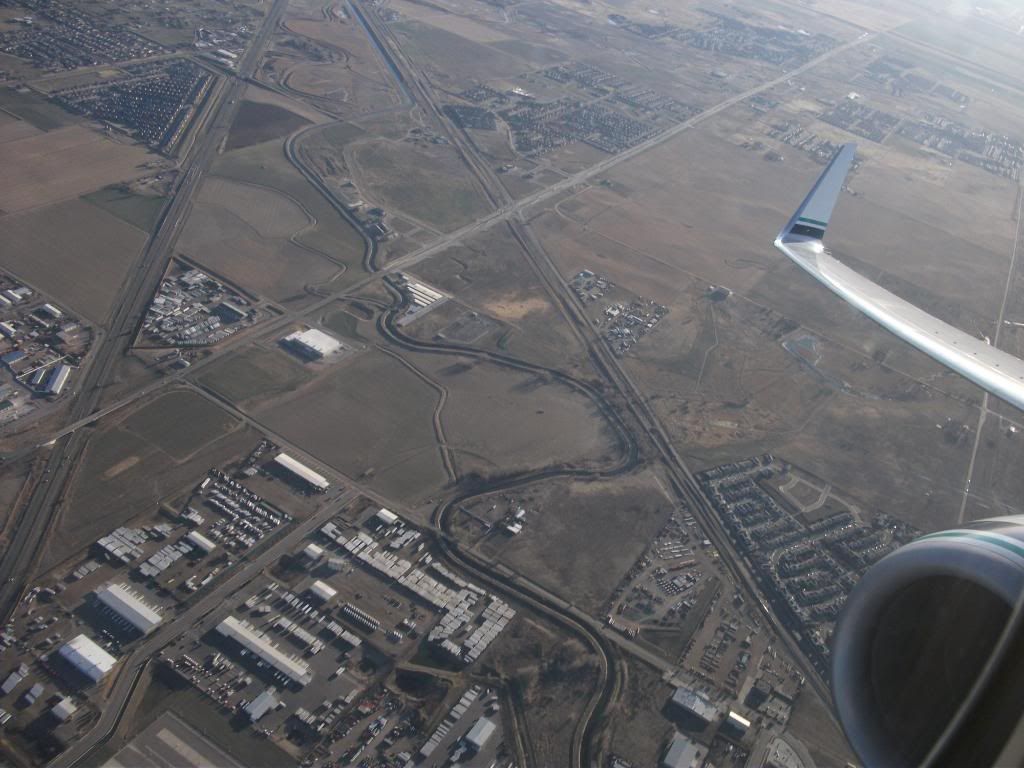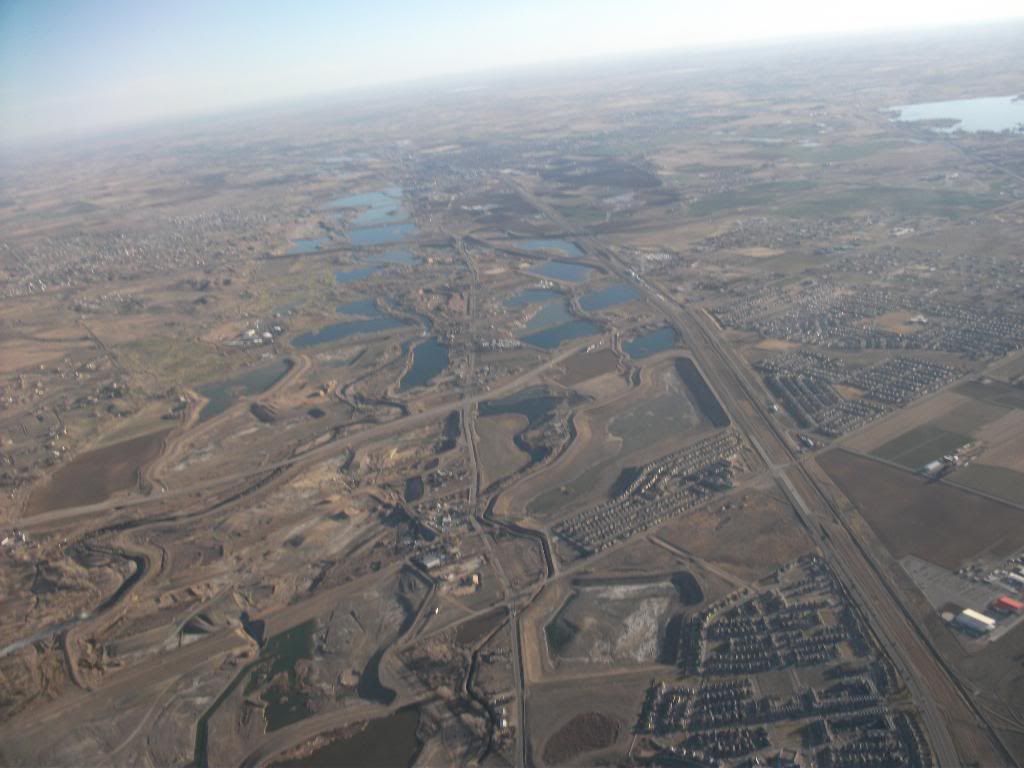 Probably 20-30 minutes after takeoff, the flight attendant went around taking meal orders. I requested a breakfast sandwich and a glass of orange juice.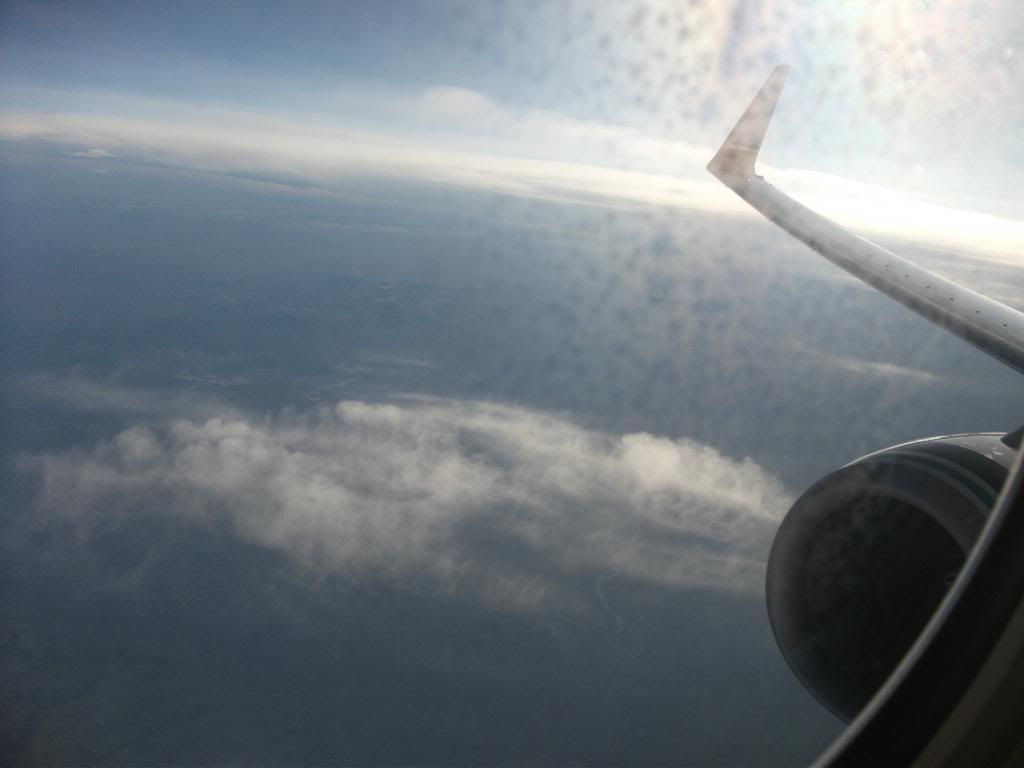 After 15 minutes, the orange juice arrived along with a snack mix packet, consisting of pretzel sticks, corn chips with flax seed, and cheddar corn sticks. A bit strange, I thought, but I happily nommed on them all the same.
As has been the case with so many of my recent trips, the scenery was quickly concealed by a layer of clouds…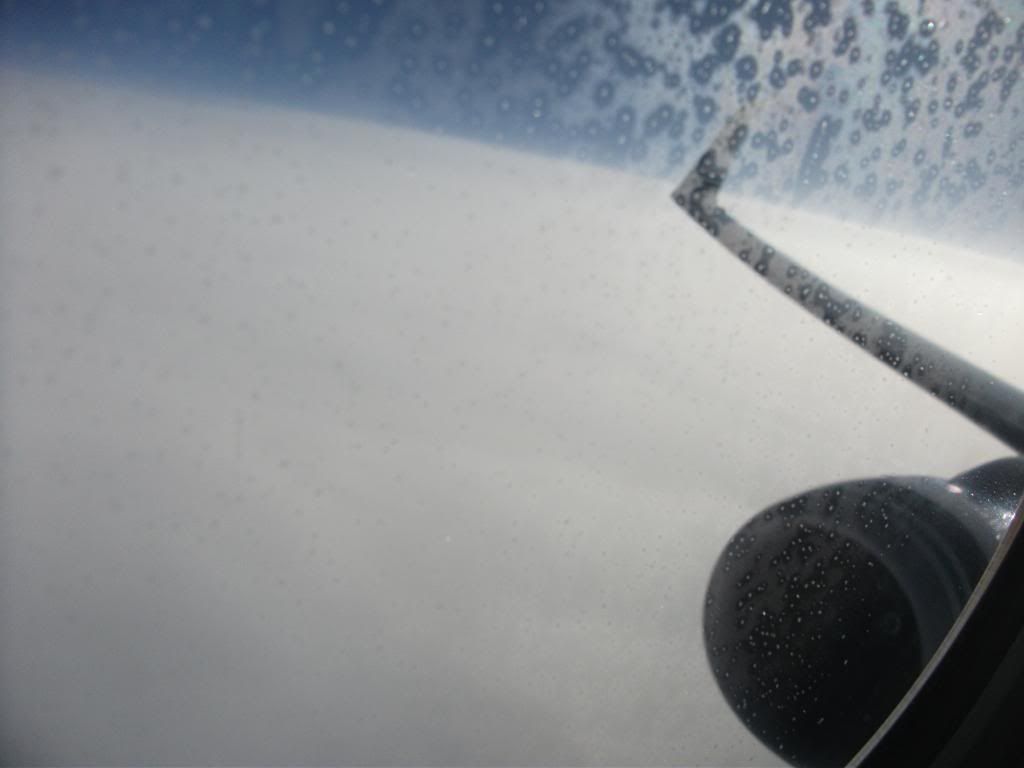 Ten more minutes passed, and I could smell good things coming from the galley. Trays of food soon appeared from behind the wall and onto the tray tables of the ravenous passengers. Being in the last seat of the last row, I was naturally the last to receive my tray. What you see is what I got:
The sandwich contained provolone cheese, an egg, Canadian bacon, spinach, and sun-dried tomatoes nestled within a ciabatta bun. Included was a container of strawberry yogurt. Twenty minutes later, I had an empty tray to hand back to the flight attendant. So, how was it? Well, the sandwich was tasty. The star of the show was the tomato, which gave it a pleasant zing; without it, the sandwich might have scored lower. The yogurt was fine, although I don't know how one can screw up packaged yogurt short of leaving it out for a week or letting it go past the expiration date. So far, so good on Alaska.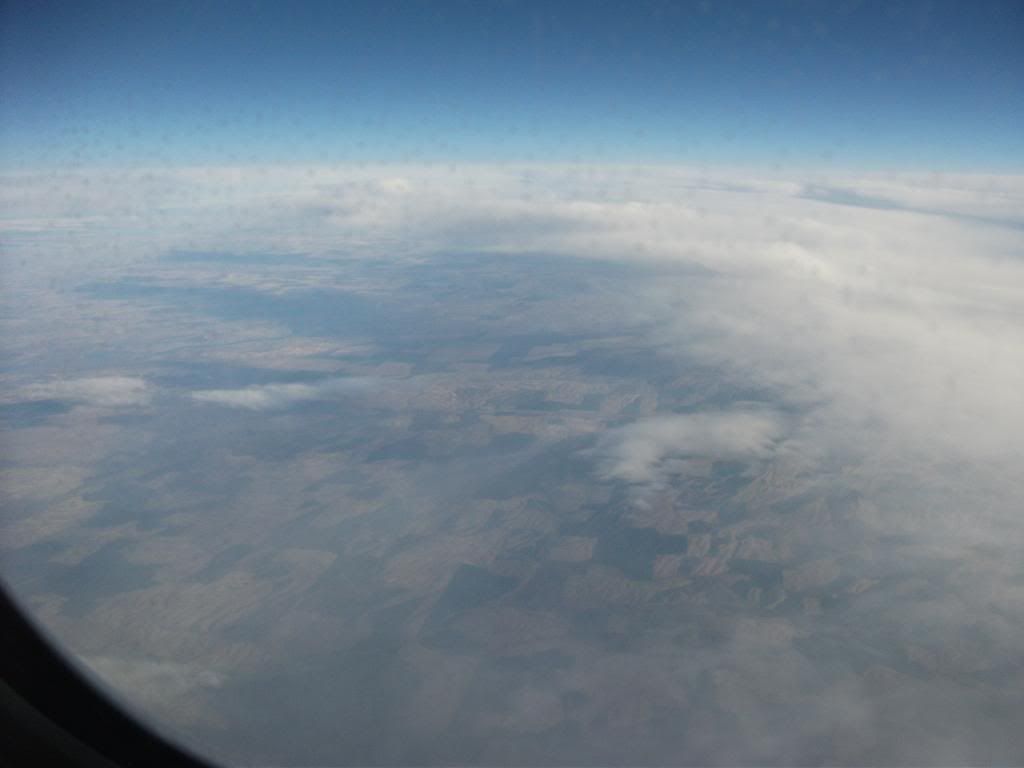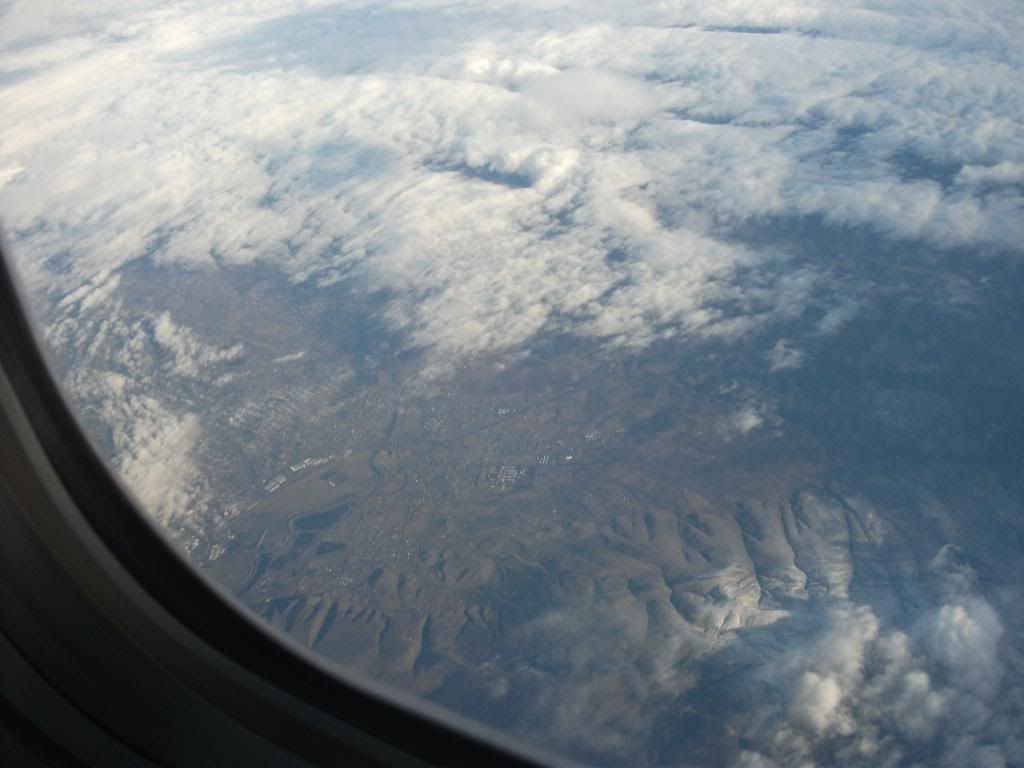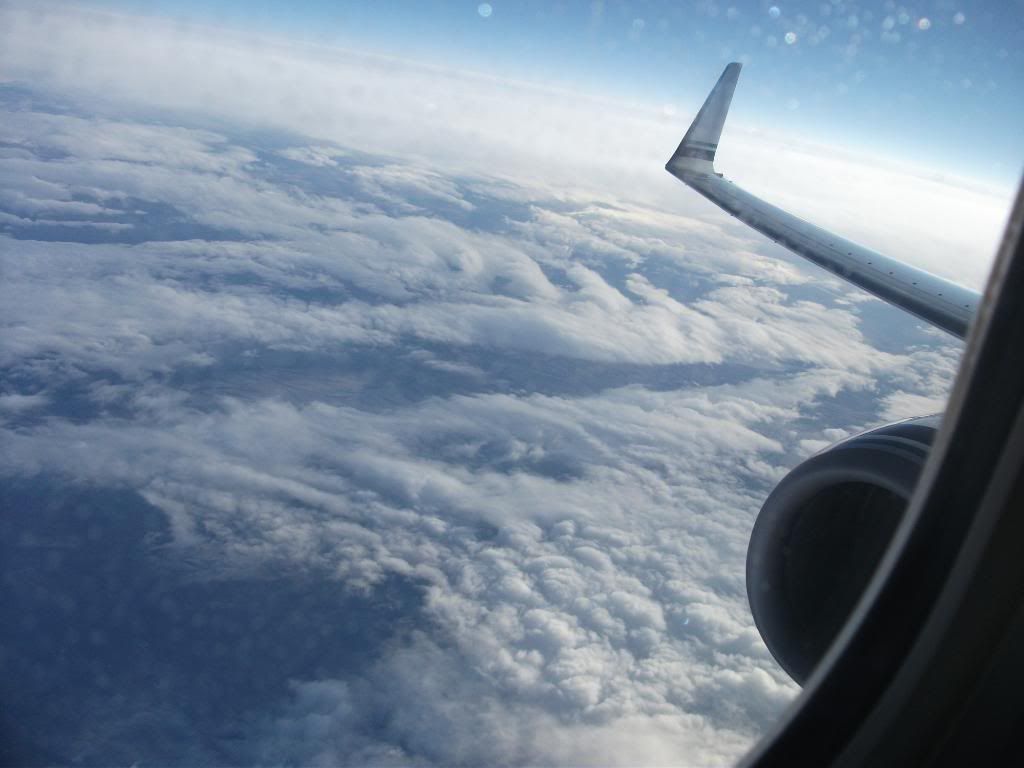 The flight attendants continued to make sure we had what we needed after the main service was finished. I didn't require anything else, but someone was always close by in case I did. (The wines looked intriguing, but I decided not to ask for any.) With that out of the way, I pretty much sat back and relaxed with some music for the rest of the flight. As we descended into the Seattle area, we plowed through cloud cover until we were a few seconds from touchdown. Oh, and something else: it was snowing. (Surprise, surprise—dismal weather in Seattle. I didn't remember seeing snow in the forecast, but there ya go.) Take a look:
You can just barely make out the home fields of the Seahawks and Mariners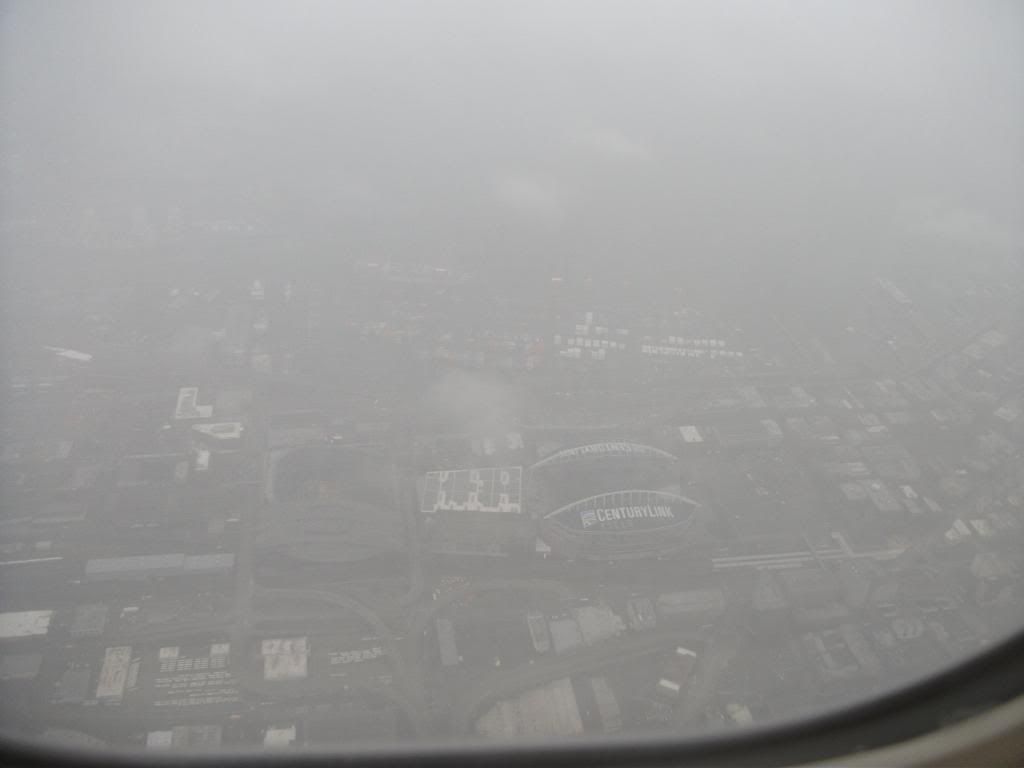 Look Ma, it's snowing! (see it whizzing by the window?)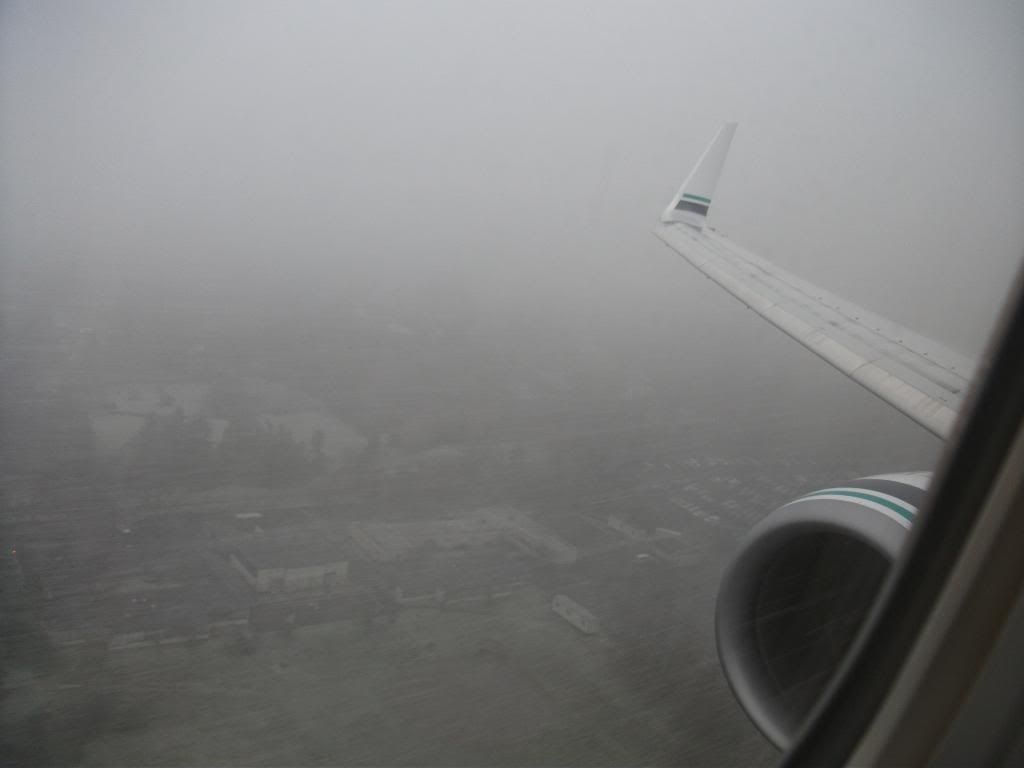 An Icelandair 757
S Gate building
Concourse B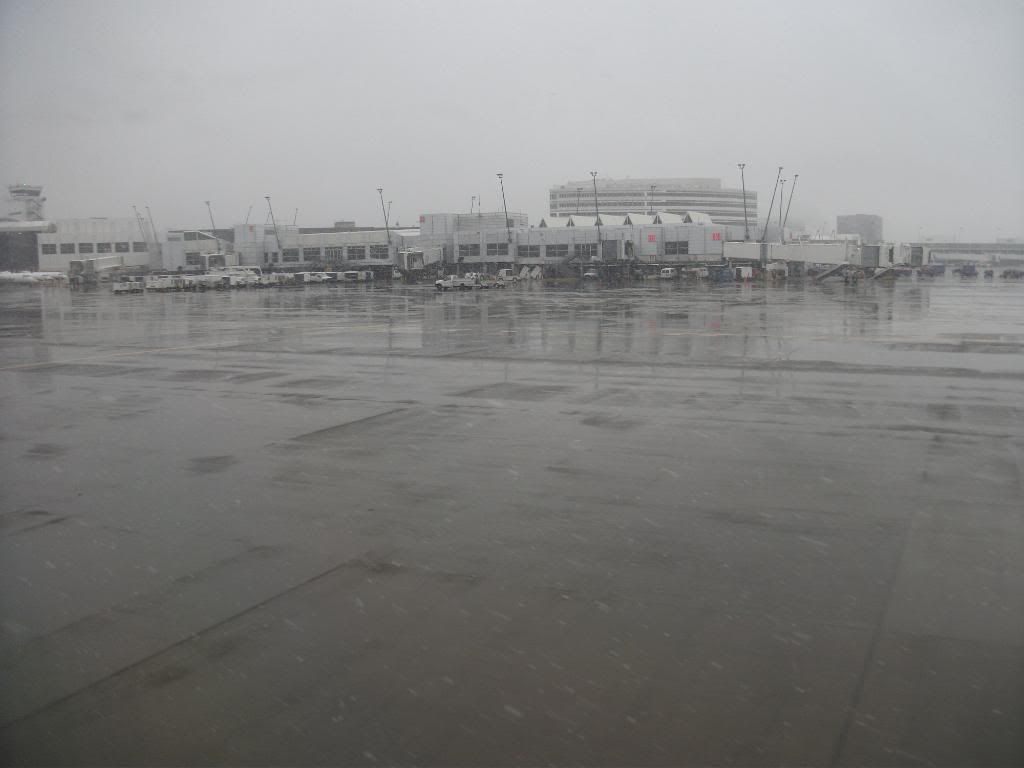 Central Terminal
Pulling into Concourse C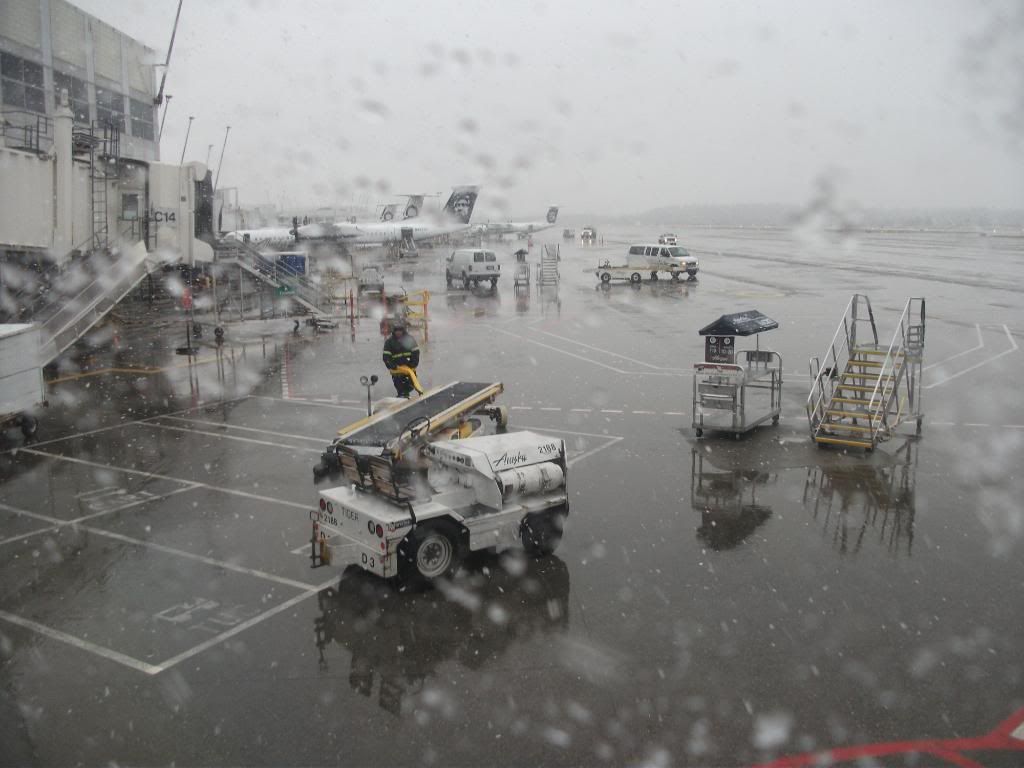 So here I was in Seattle once again, but this time for only a few hours instead of a few days. Believe it or not, the crappy meteorological conditions threatened to put a damper on my plans to walk about the city! The only thing I could do was explore the airport and hope it got close to decent by the time I was finished…
I started with a look around where I was deposited: the end of Concourse C (I apologize in advance for some of the photographs you are about to see. Many of the areas in the airport aren't very brightly lit when the sun hides behind the clouds.)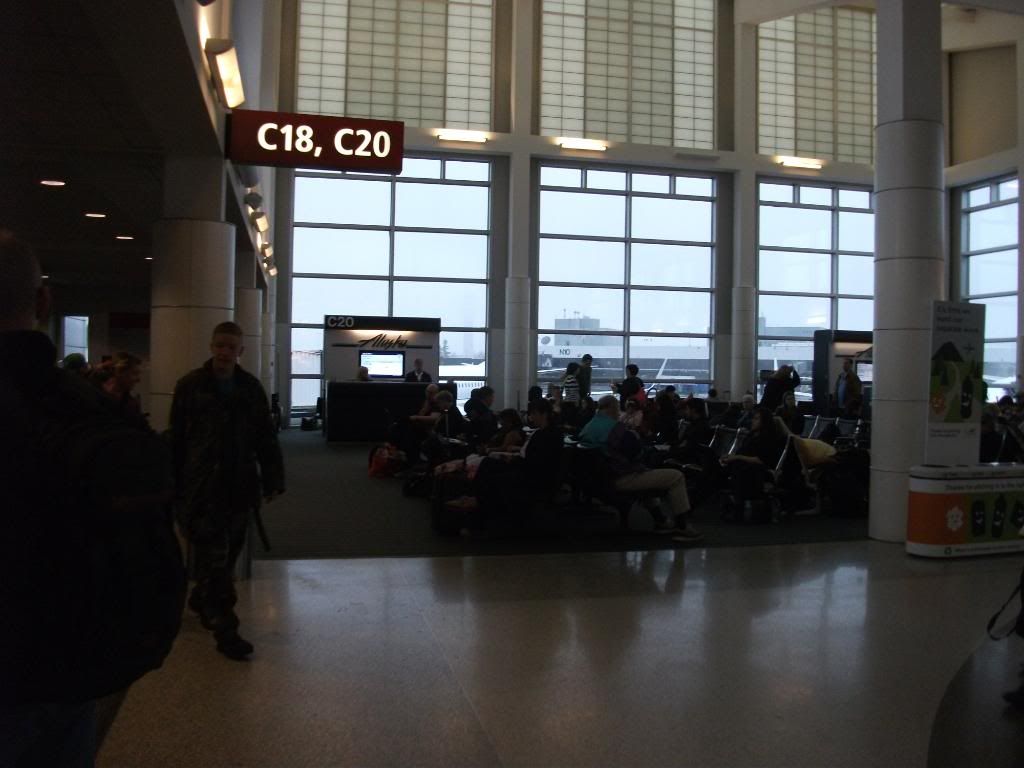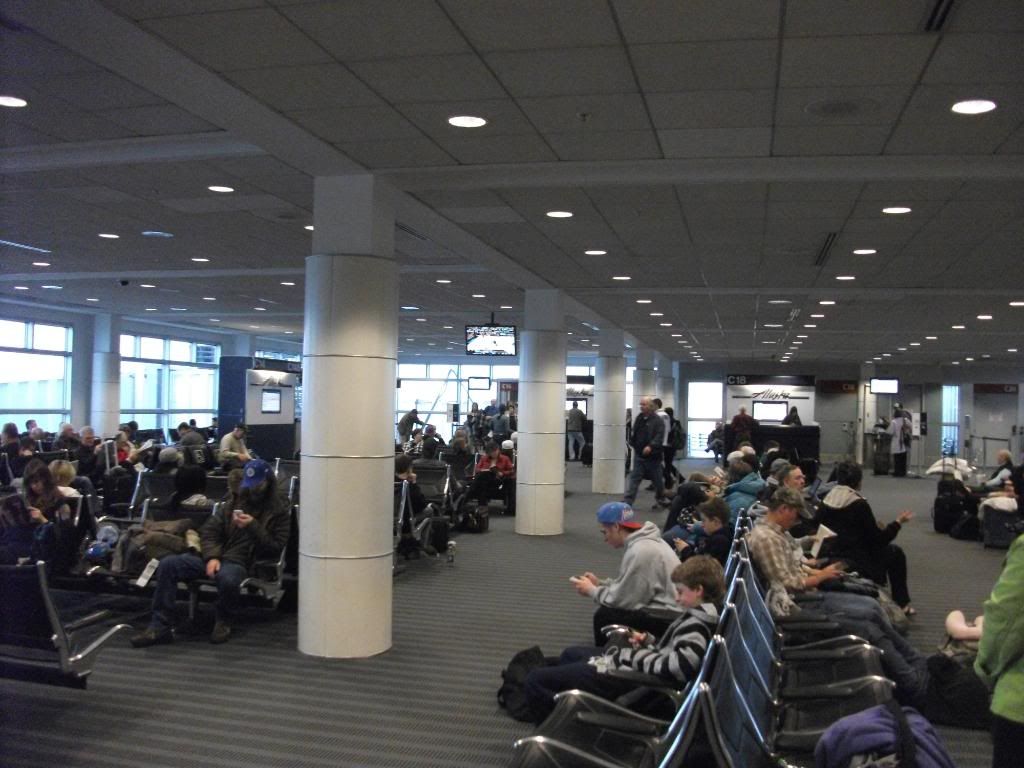 Once again, we see the boring formula that is so often seen across the country. However, I would rate it as less boring than most. Trust me: sunlight helps. (On the other side of the coin, I don't want people unnecessarily wasting money on extravagant projects. Function comes first, but I think it can look spiffy without breaking the bank.) Next on the list was the standard restroom inspection.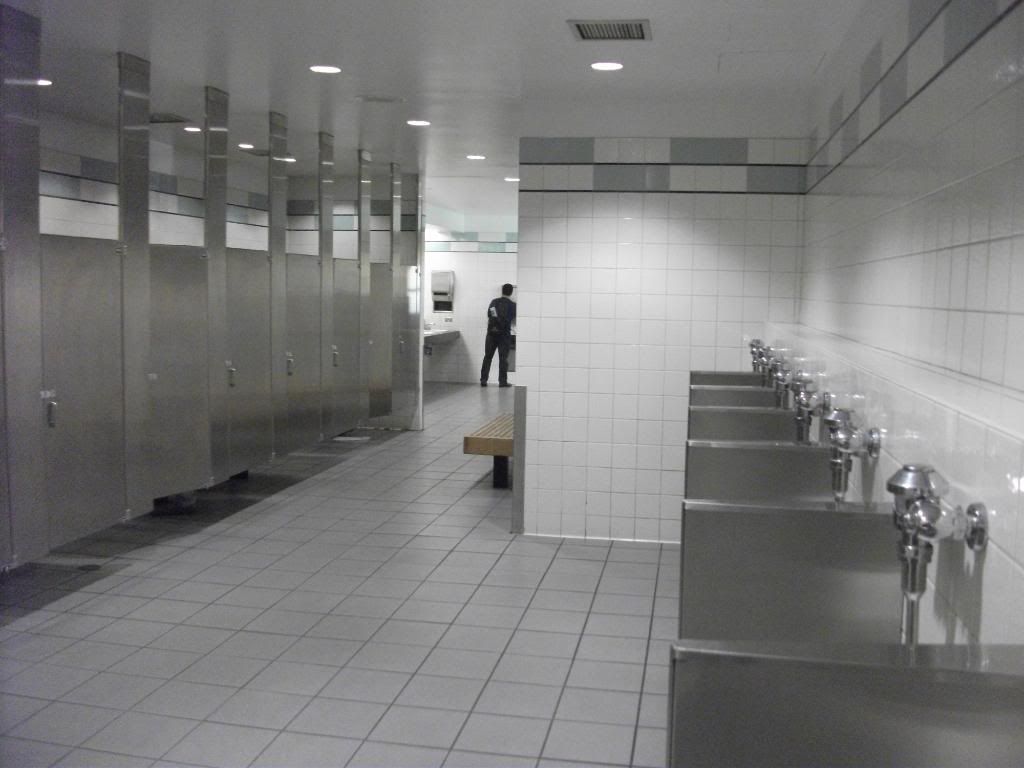 I found it adequately spacious and clean, with plenty of fixtures. An alright start, but my journey was just beginning…
The airport has an underground people mover with three trains. One serves the A, B, and S gates; one serves C, D, and N; the last simply connects north and south to facilitate transfers. The trains are timed so that switches can easily be made. It's an efficient system that's simple to follow. It's the only way to get to the satellite buildings, so I would be on these trains a few times. In this case, I'm speeding over to the D Gates:
Typical station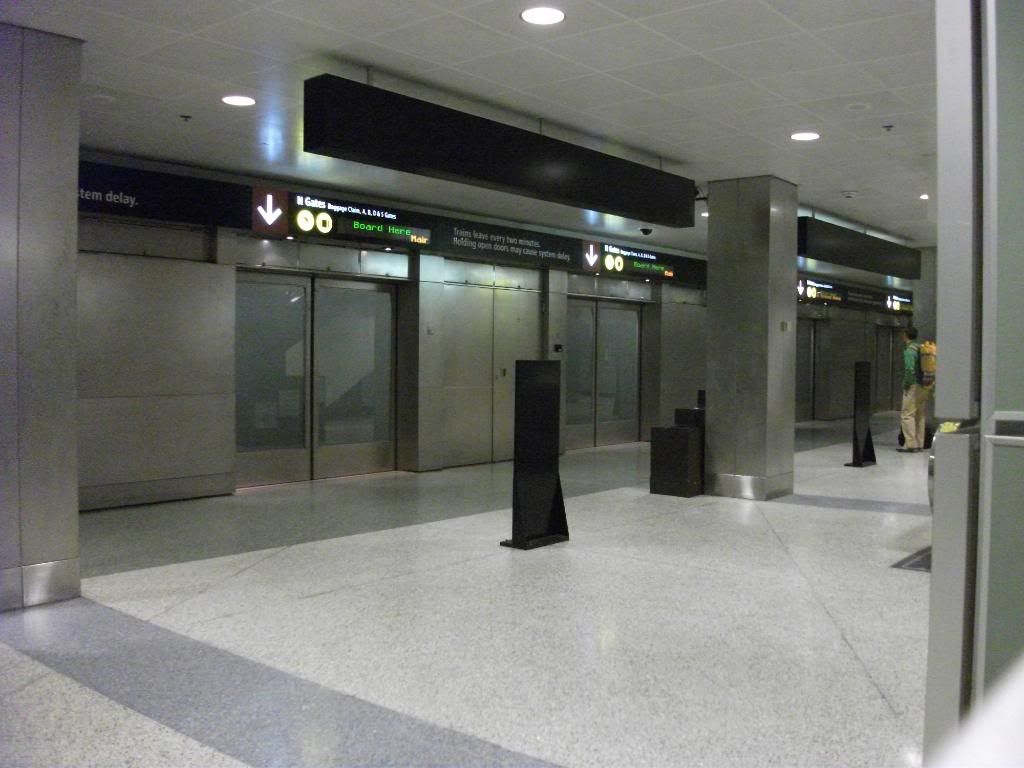 There are a few places where the glass walls are painted; this is one such display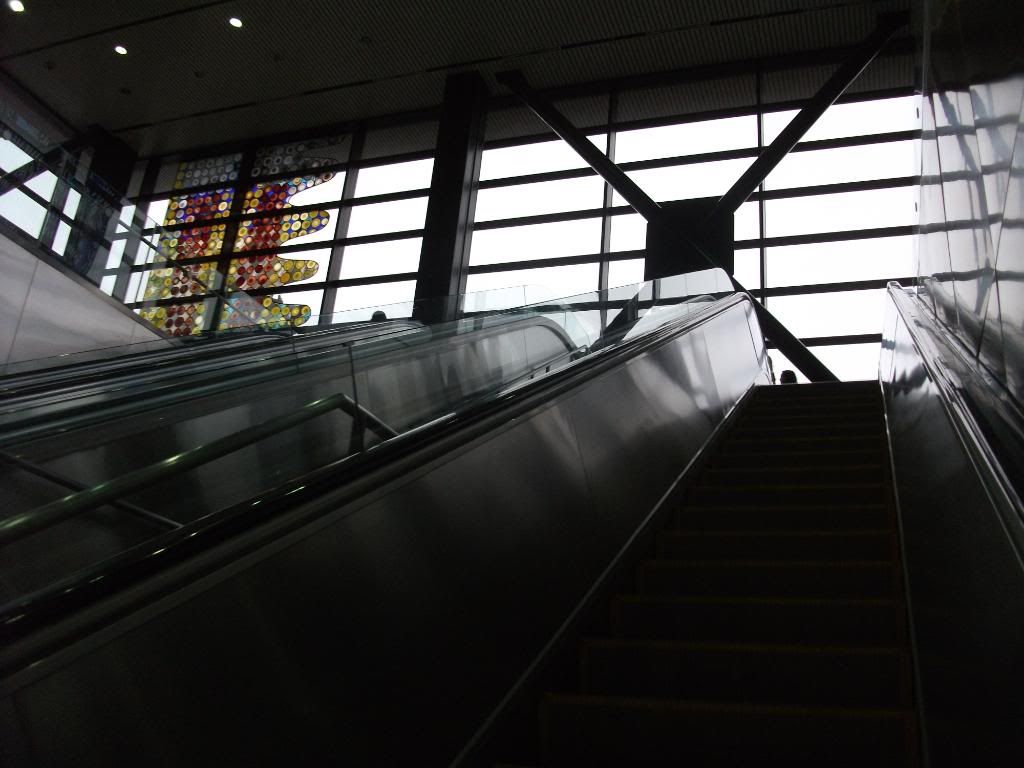 Concourse D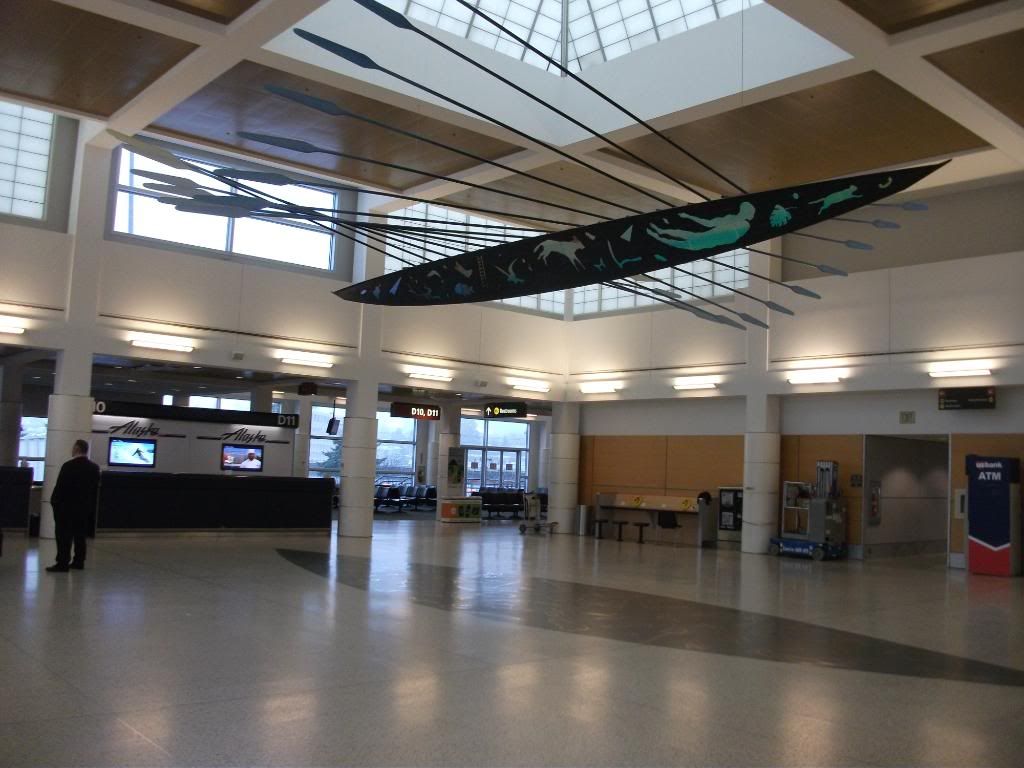 Flight information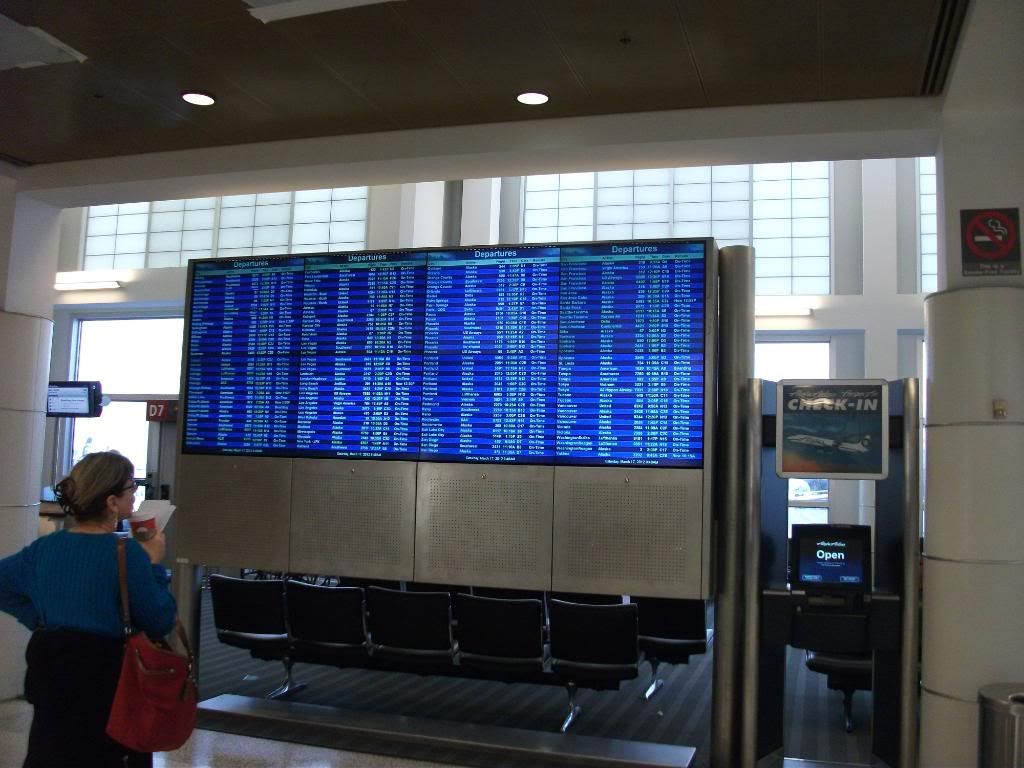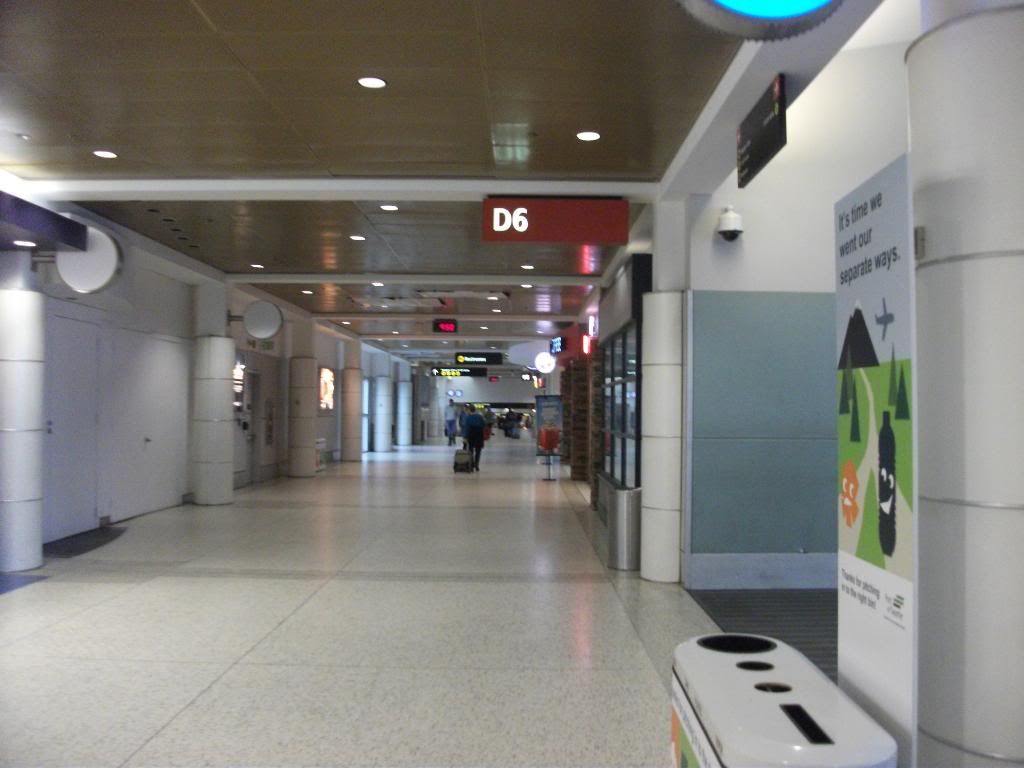 I decided to go around and look at the start of Concourse C, where it was a little wider and brighter.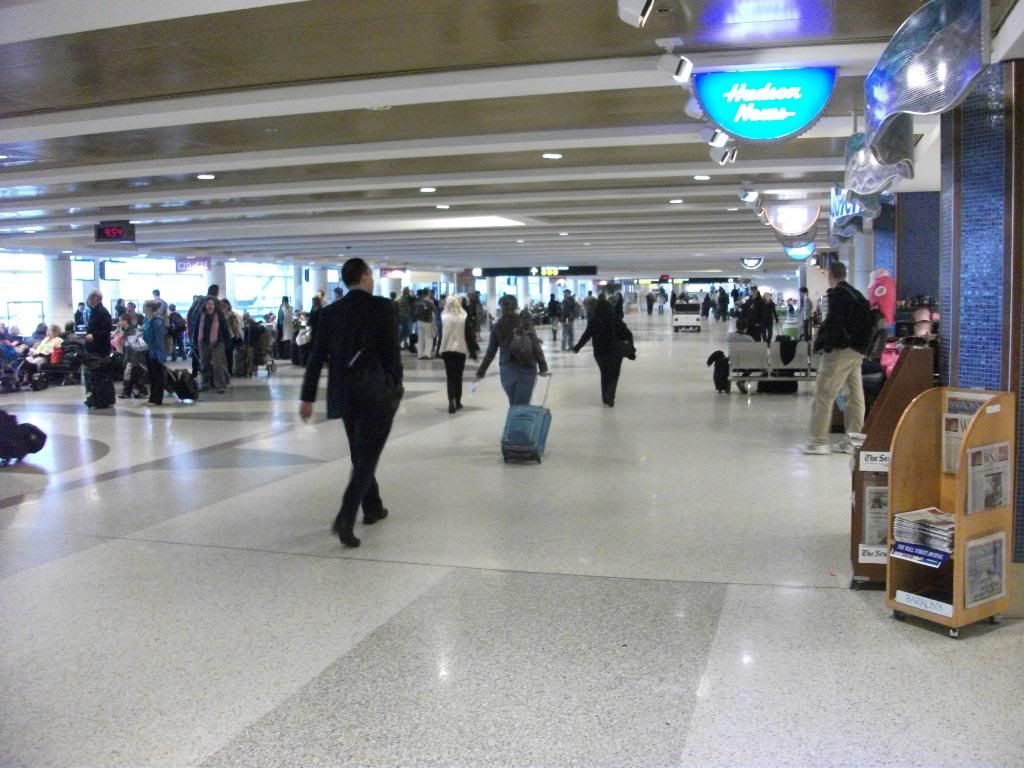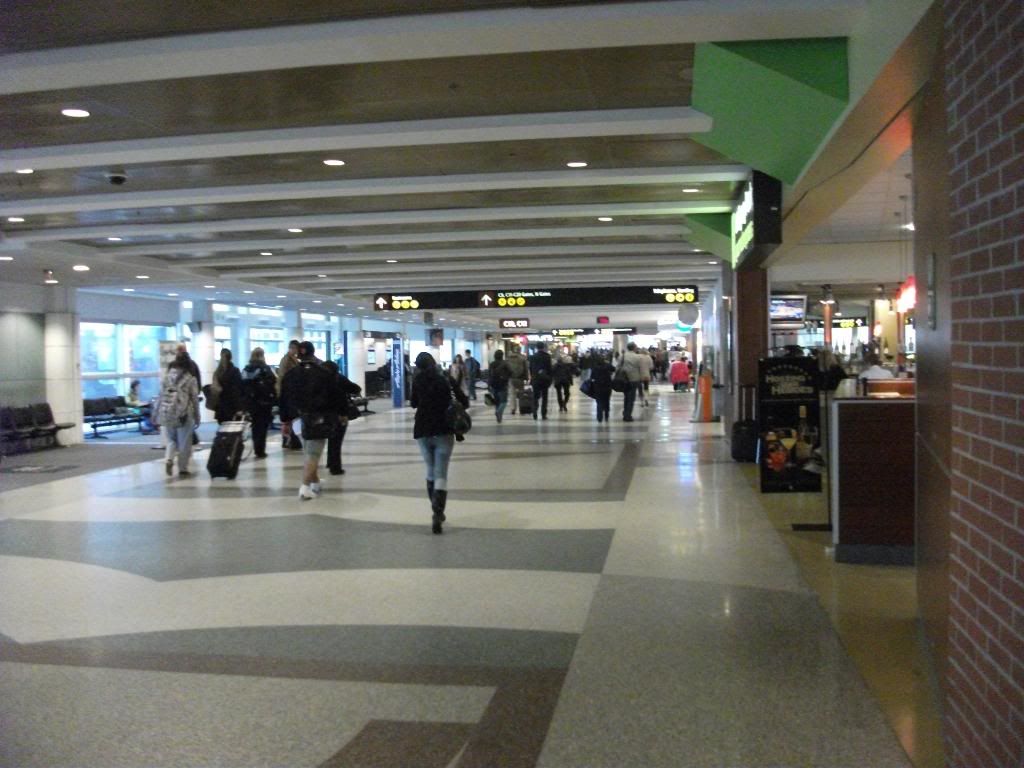 Looking down on a Dash 8-Q400, of which you will find a boatload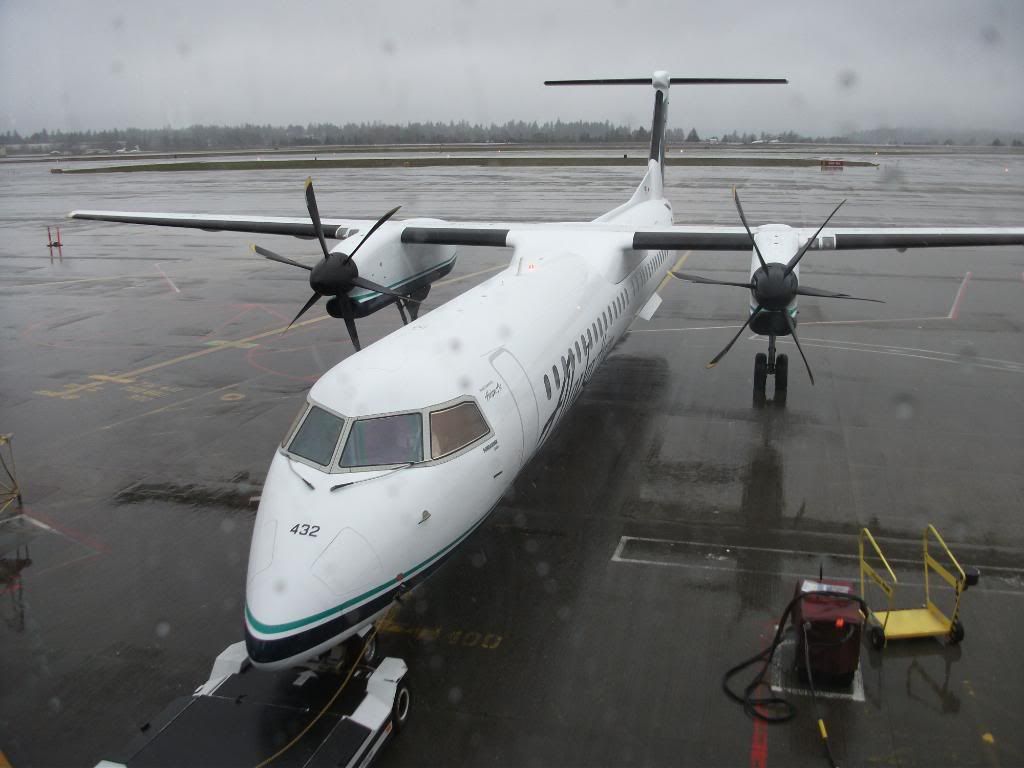 The next stop was the N satellite. Really not a whole lot to speak of. Granted, it's just a satellite building, so there's not much one can expect from it.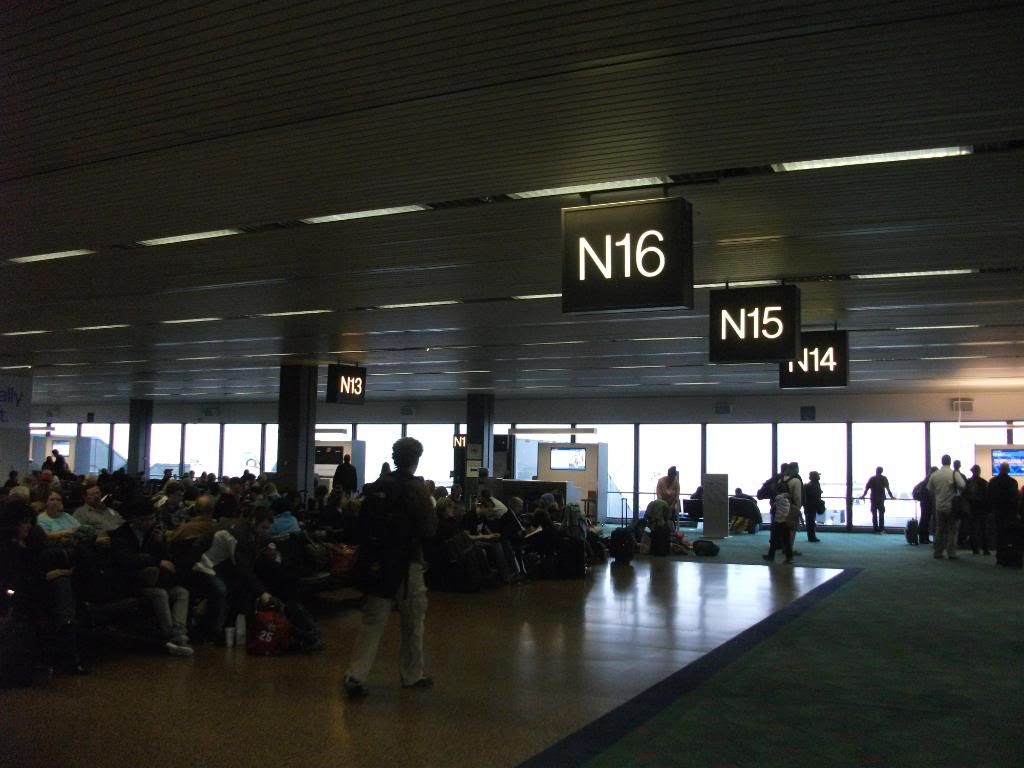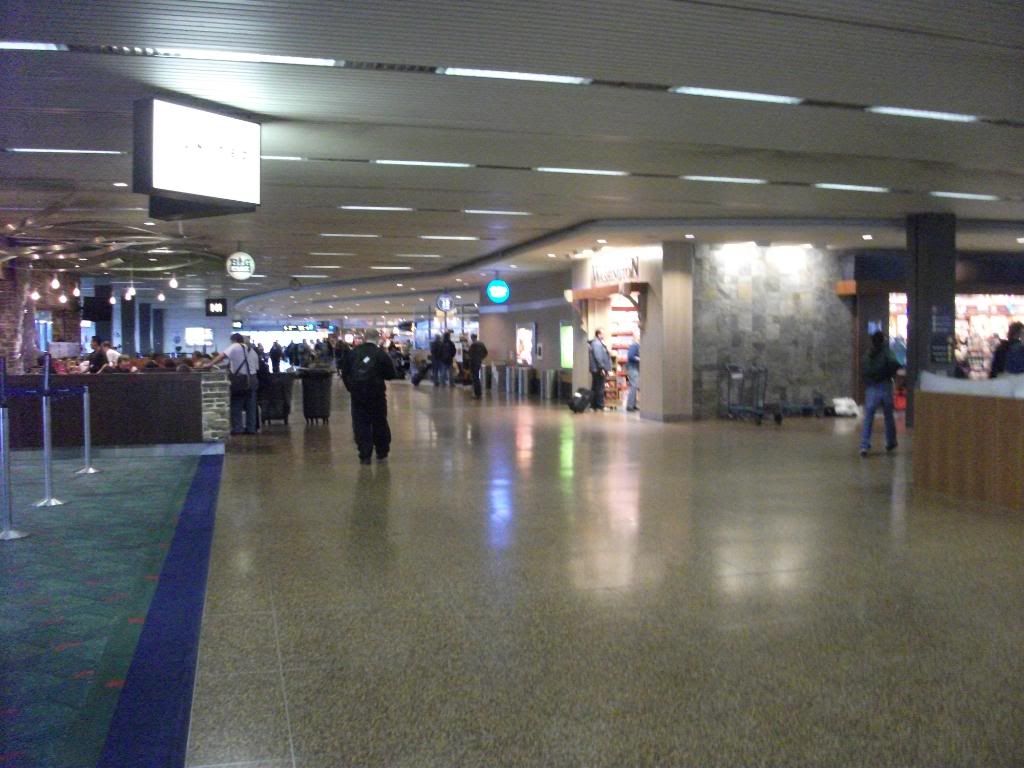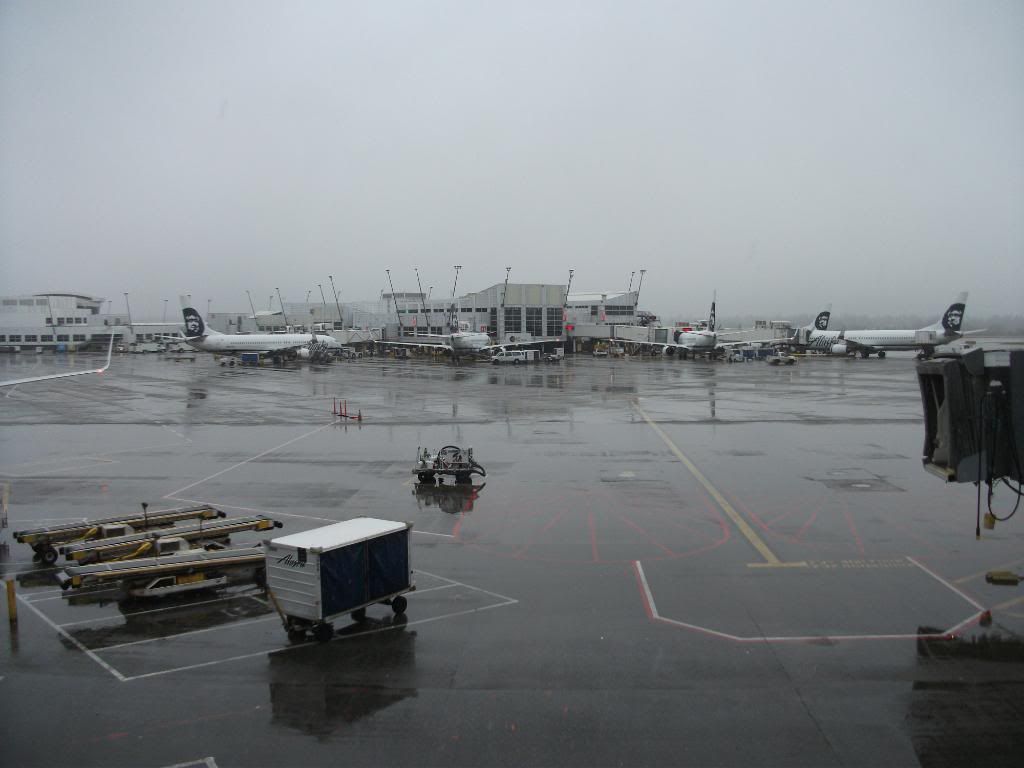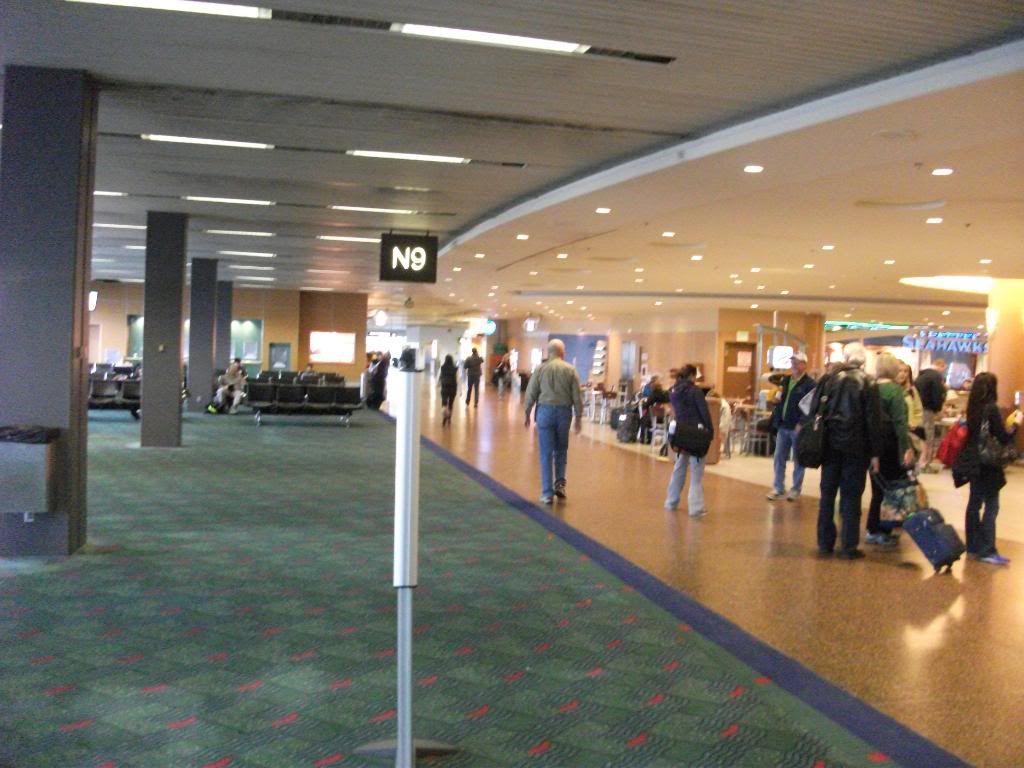 That essentially marked the halfway point of my exploration. The next task was to work my way around the south complex. The first destination was Concourse B. It seemed as if it was brighter in B than in C despite seemingly sharing the same design.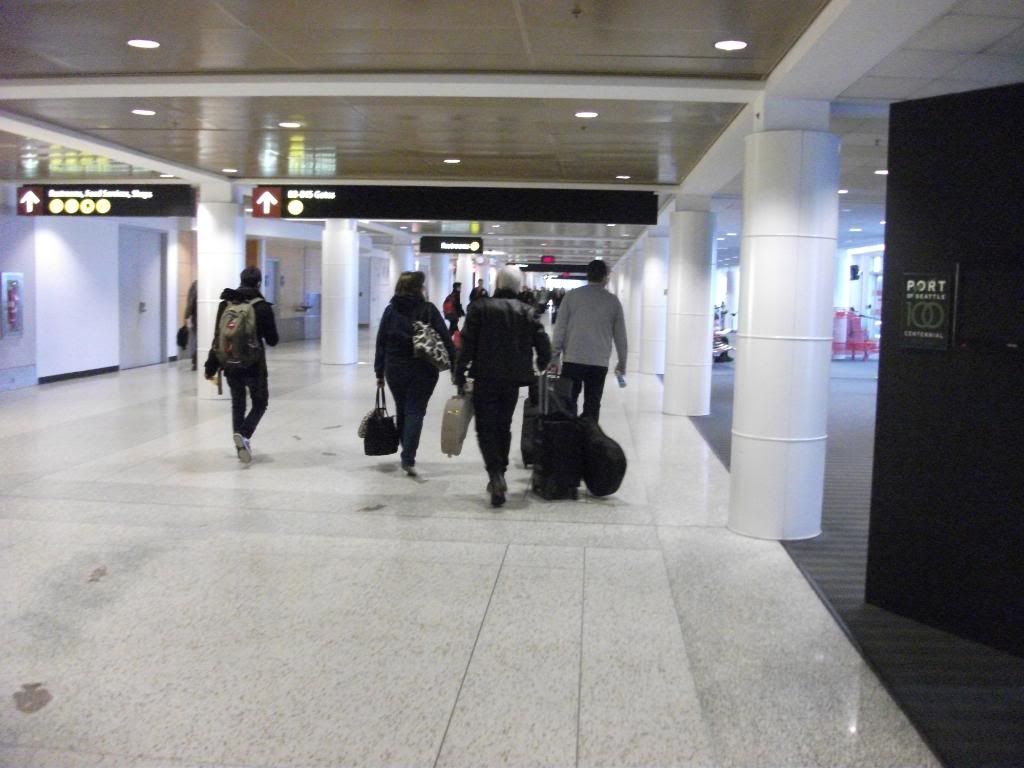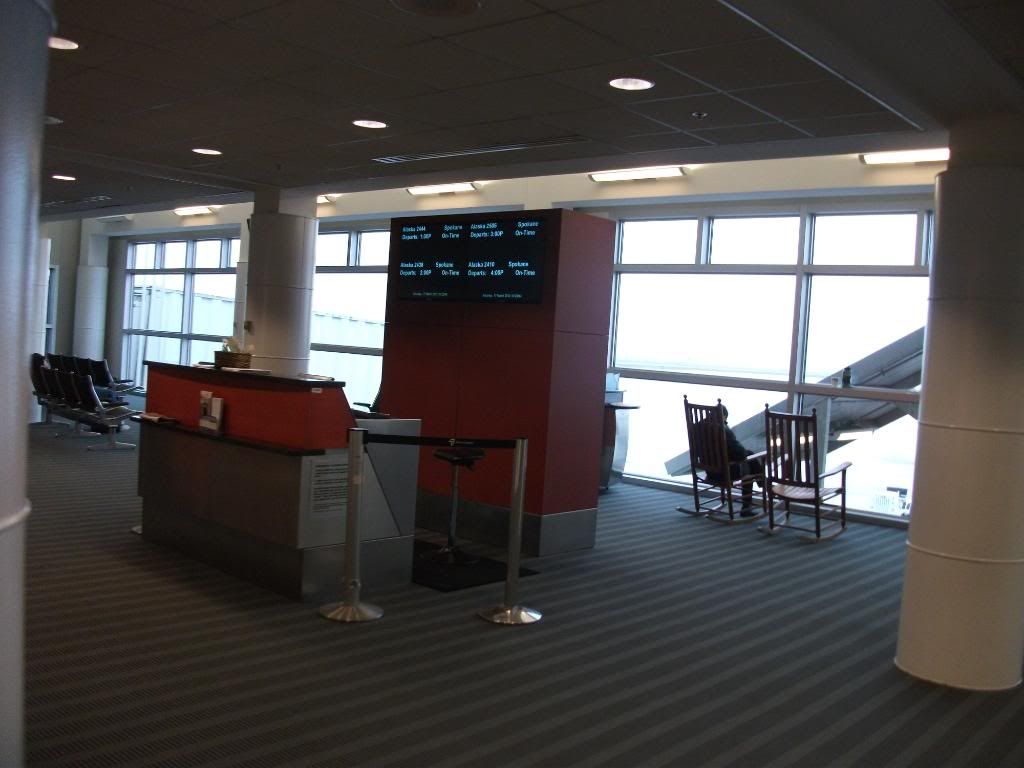 More on this one later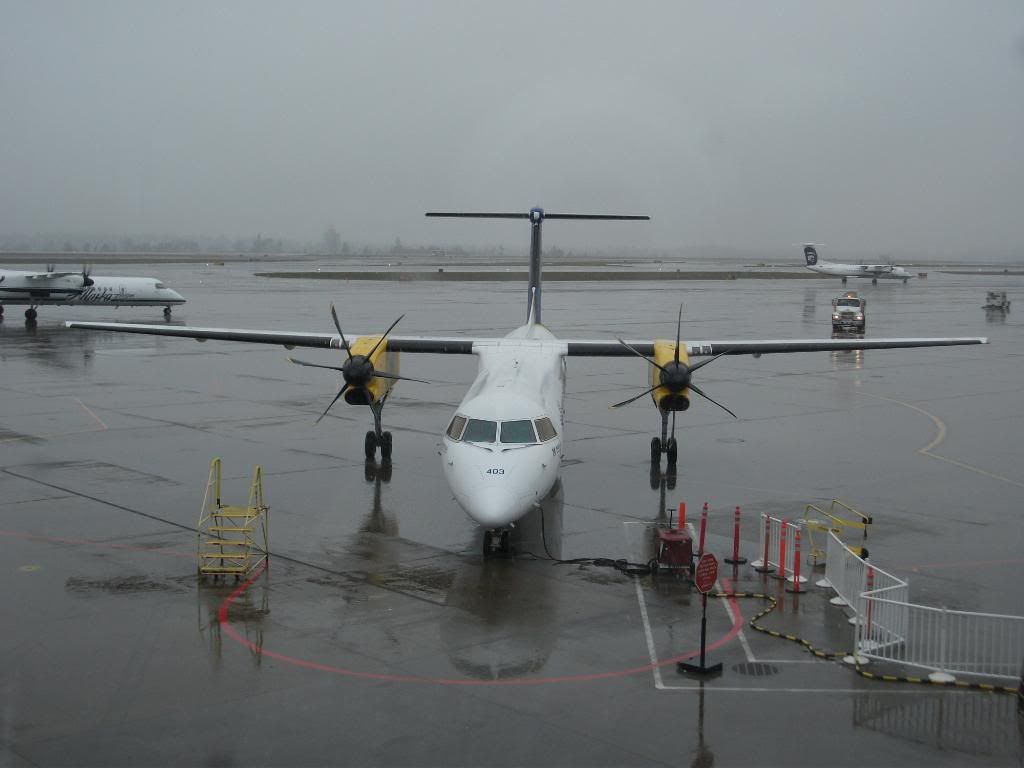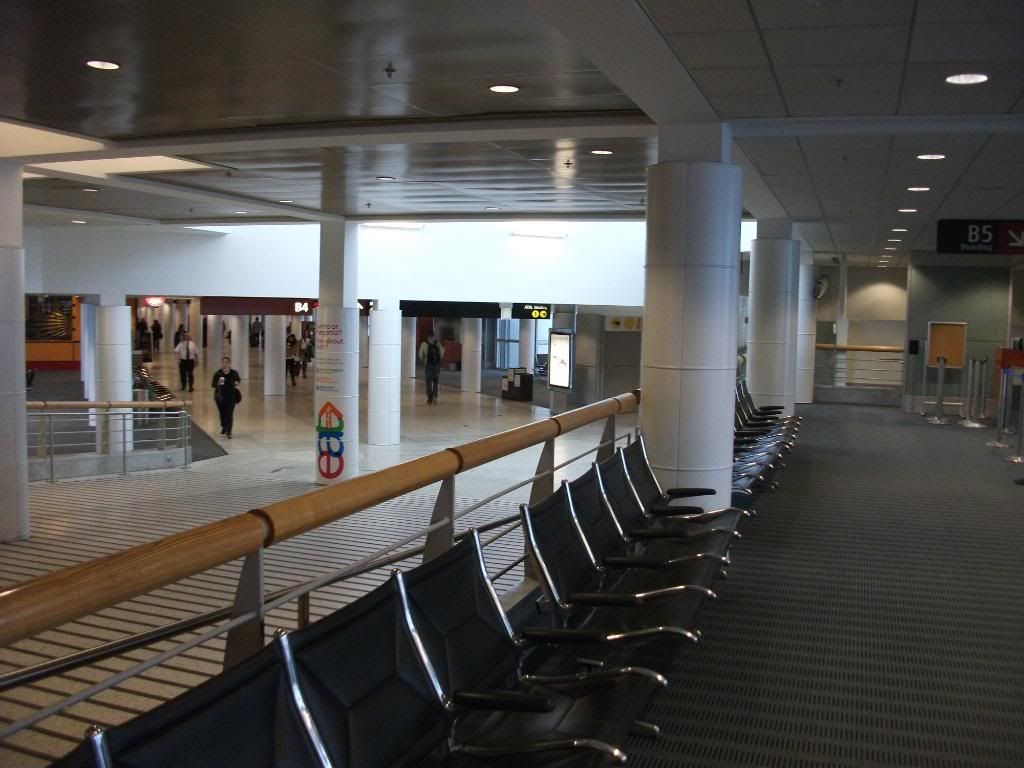 Hey, isn't that neat? Thunder followed me to Seattle!
The end of Concourse B was similar to the end of C, but again, it seemed brighter and more pleasant. The transit station here was closed, however, so that required me to double back to get to the other areas.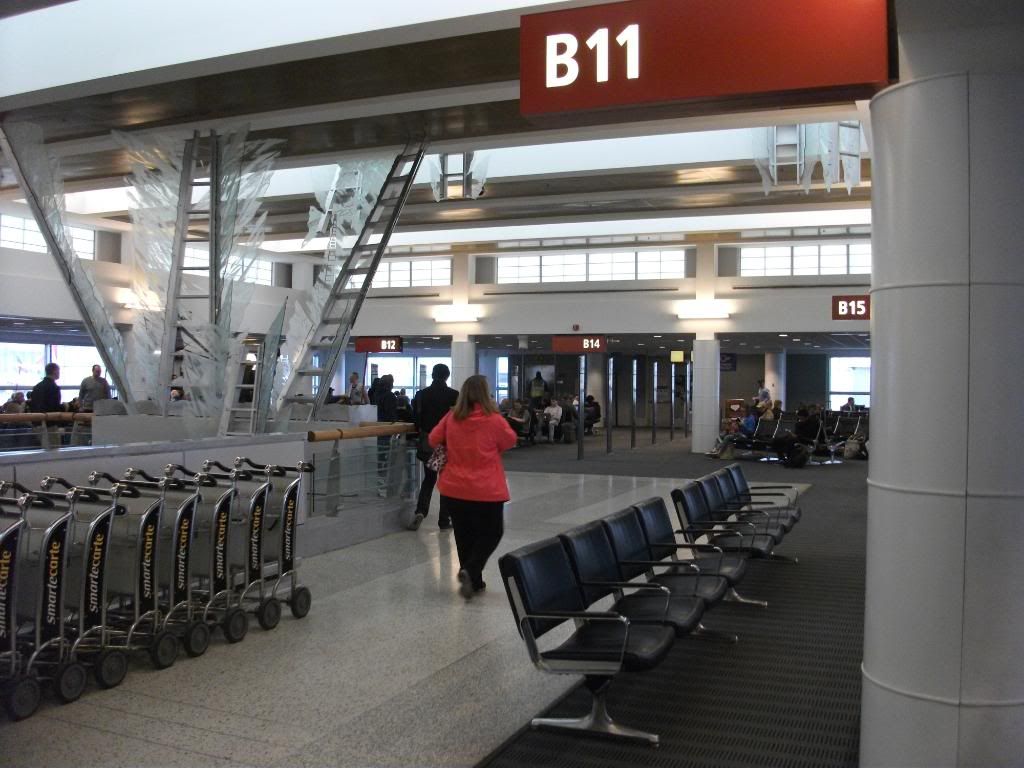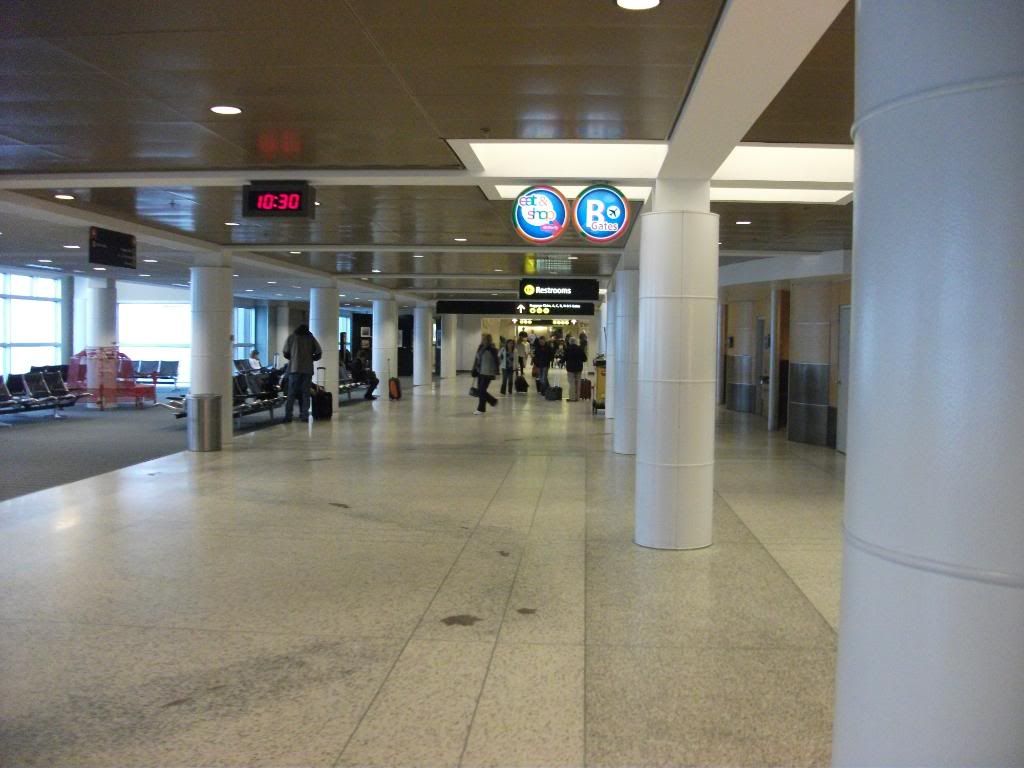 The clear winner of the beauty contest at SEA is Concourse A; it comes closest to doing things correctly. Walls of glass at the gate areas let in as much light as possible and the halls are tall and wide. It's quite the breath of fresh air compared to the other concourses. It could do with a little more color here or there, and perhaps a few more seats, but they're certainly on the right track.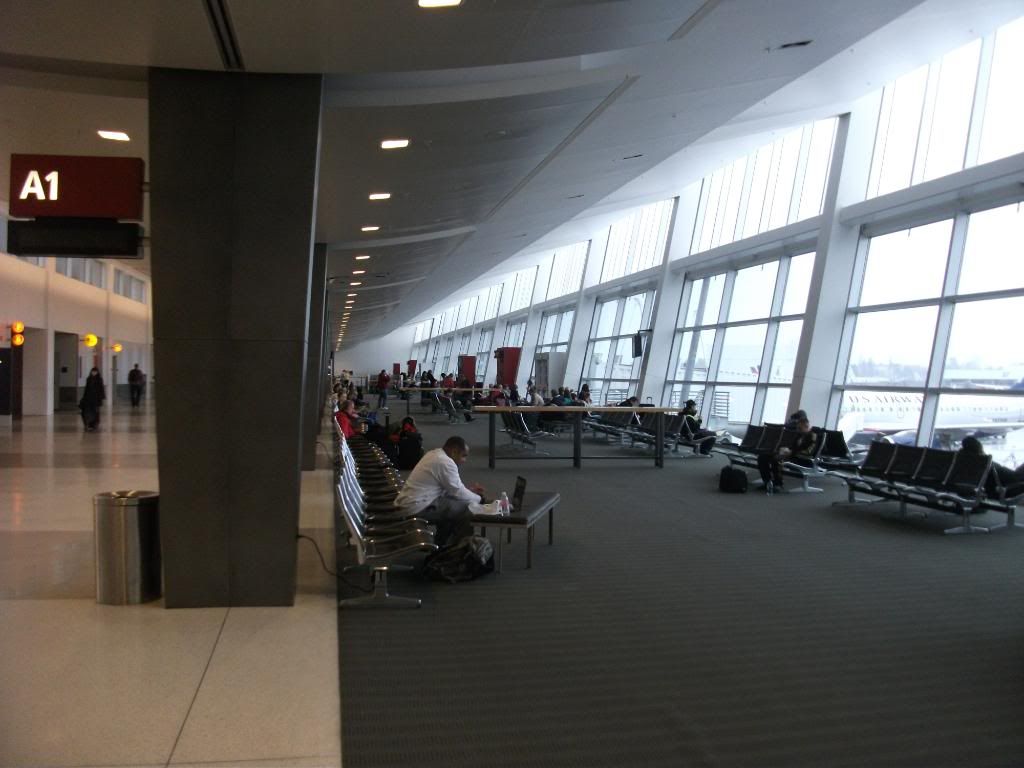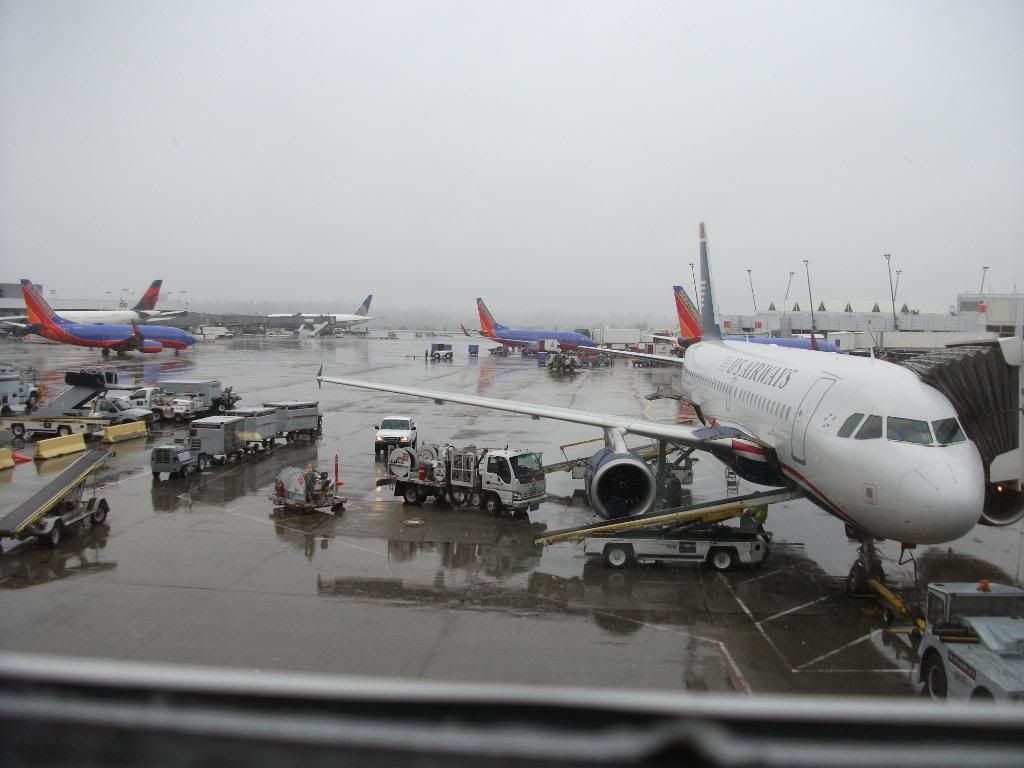 Virgin America A320 N621VA, "air colbert"
A stylish parking garage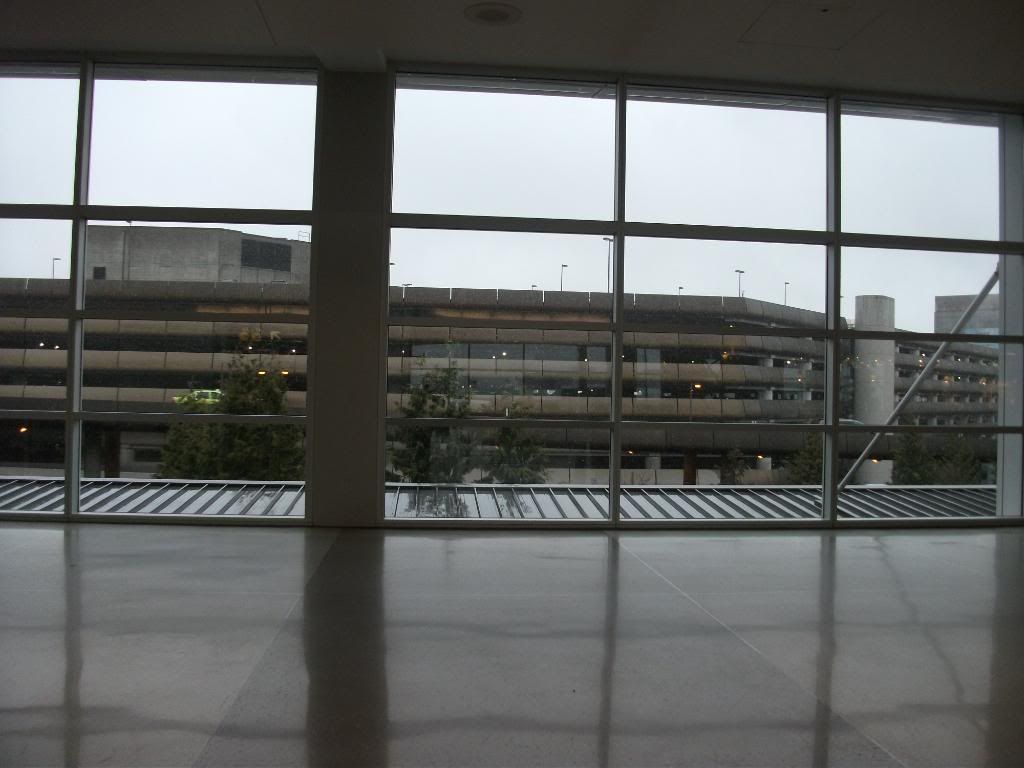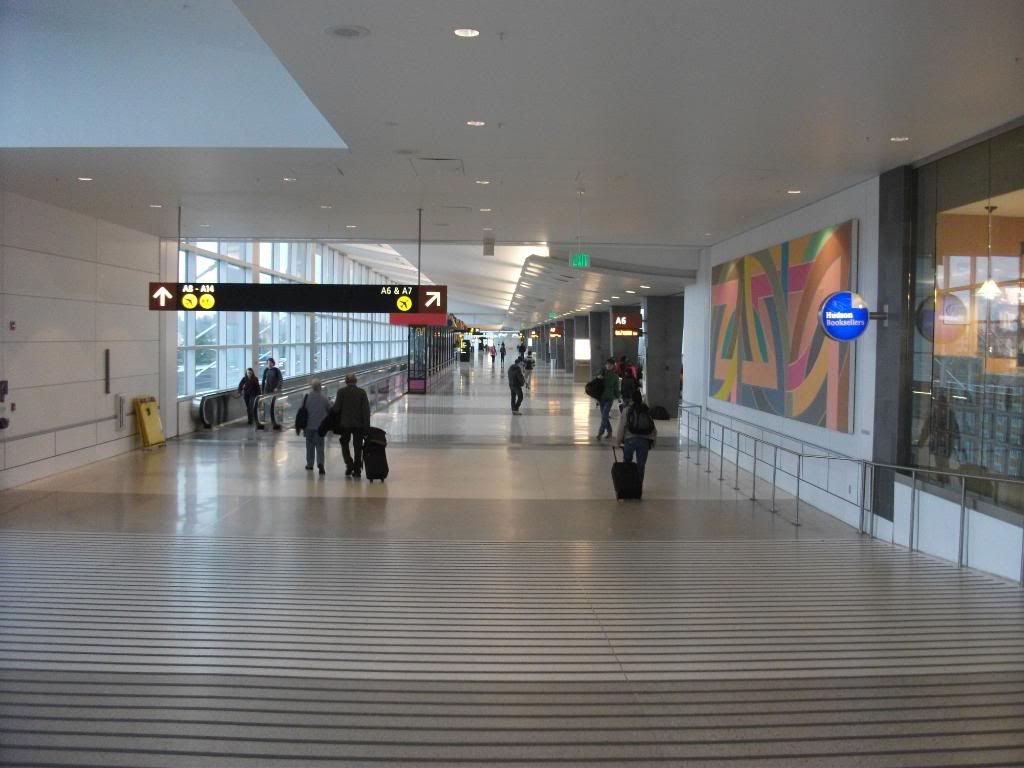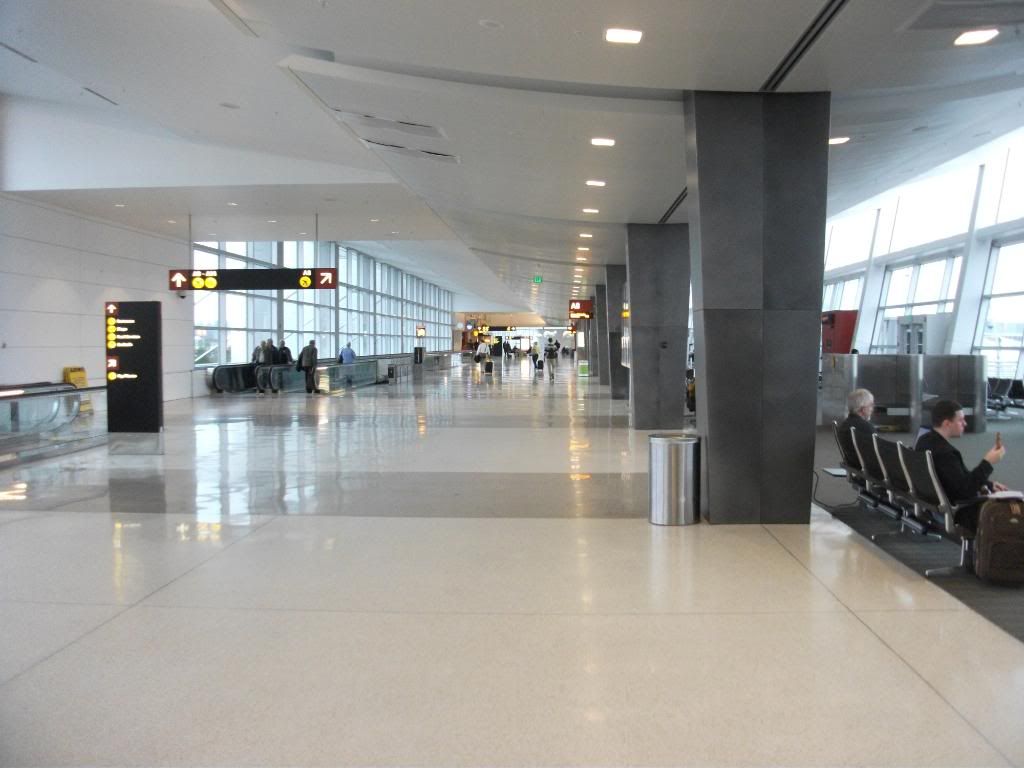 Seems a bit lonely and sterile down this way…
More art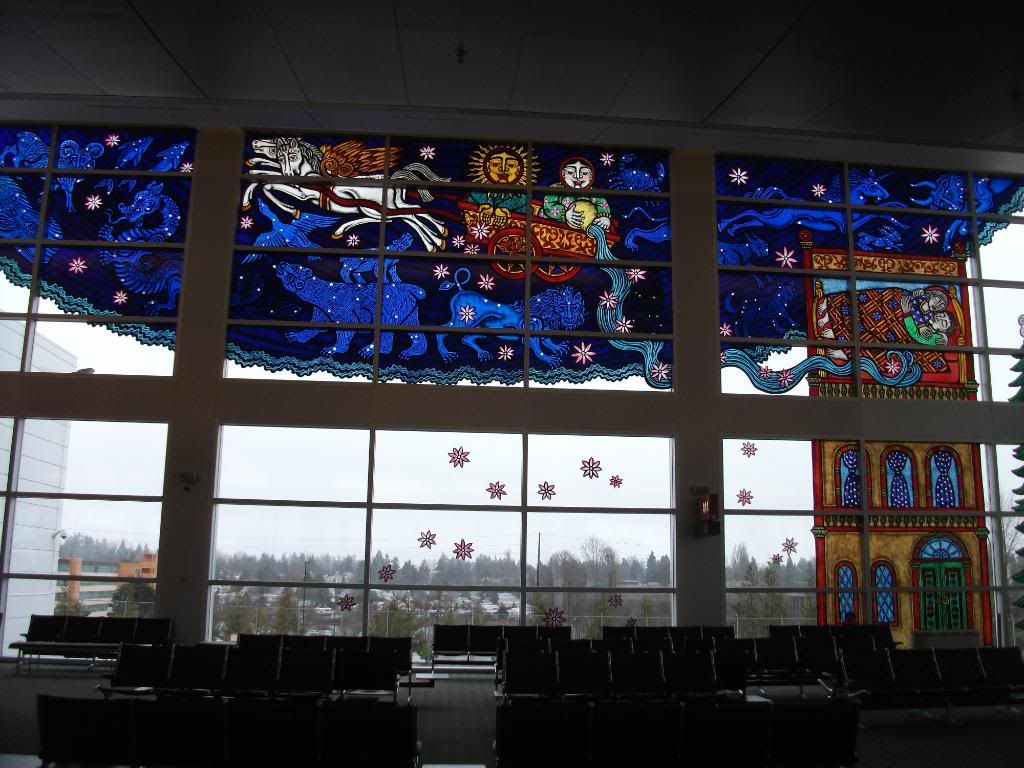 I think it's a little warmer where this plane is going…
Looking back the way I came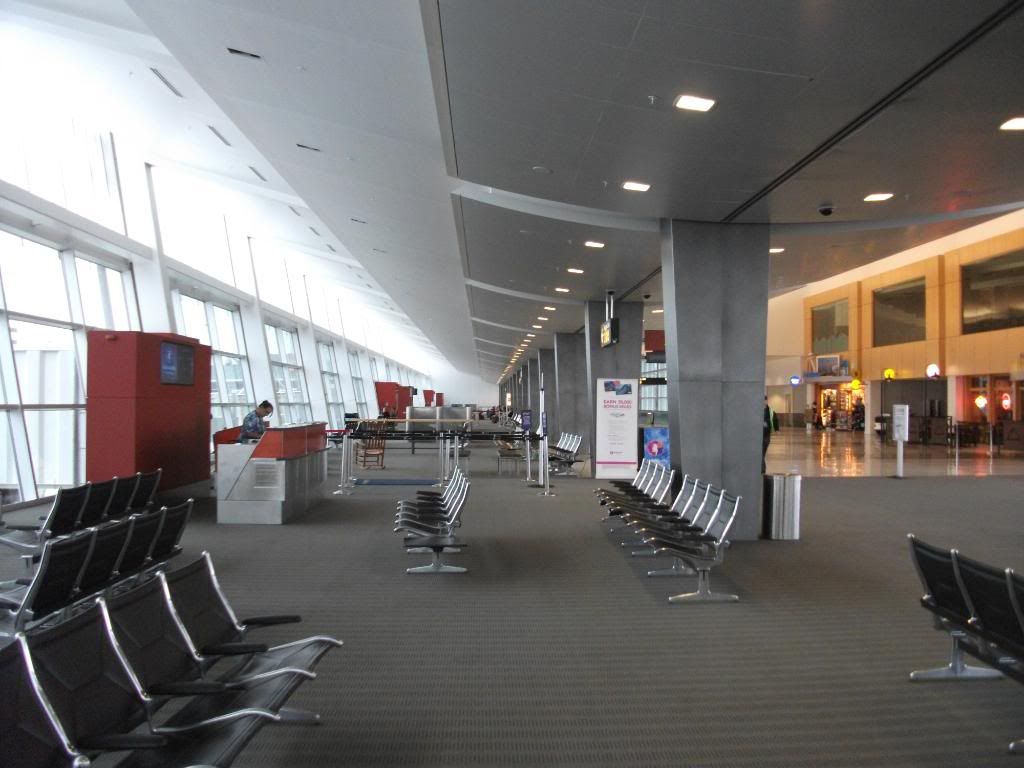 There was one more passenger area for me to visit: the S Gates. I trekked back along the length of Concourse A to the transit station.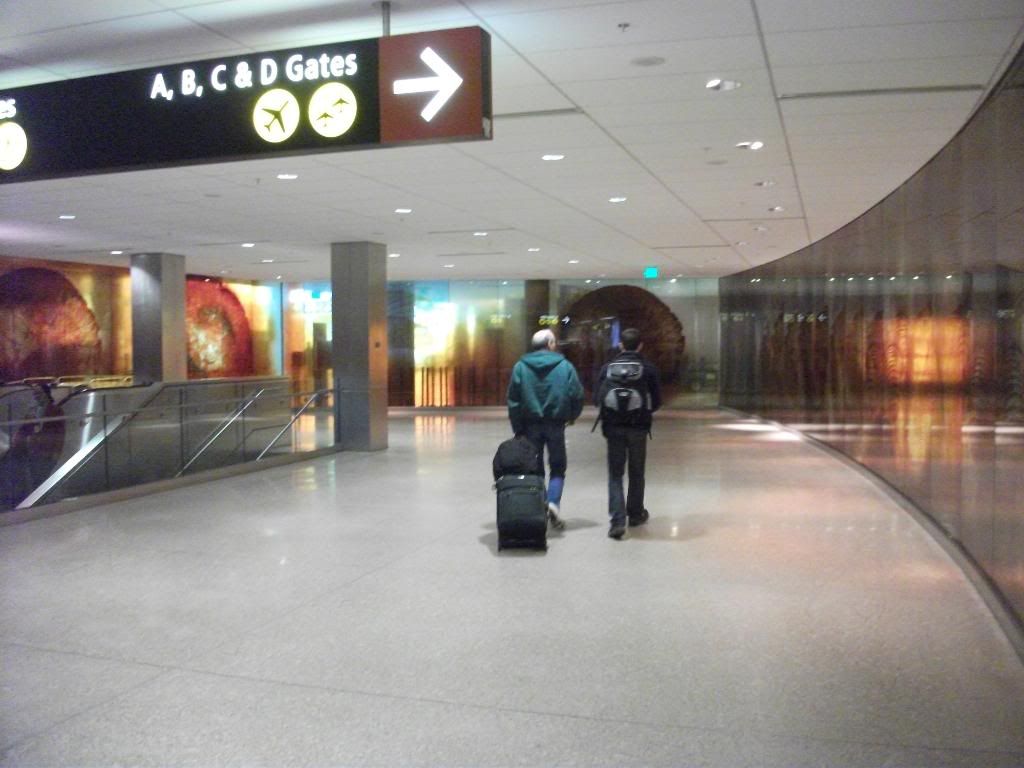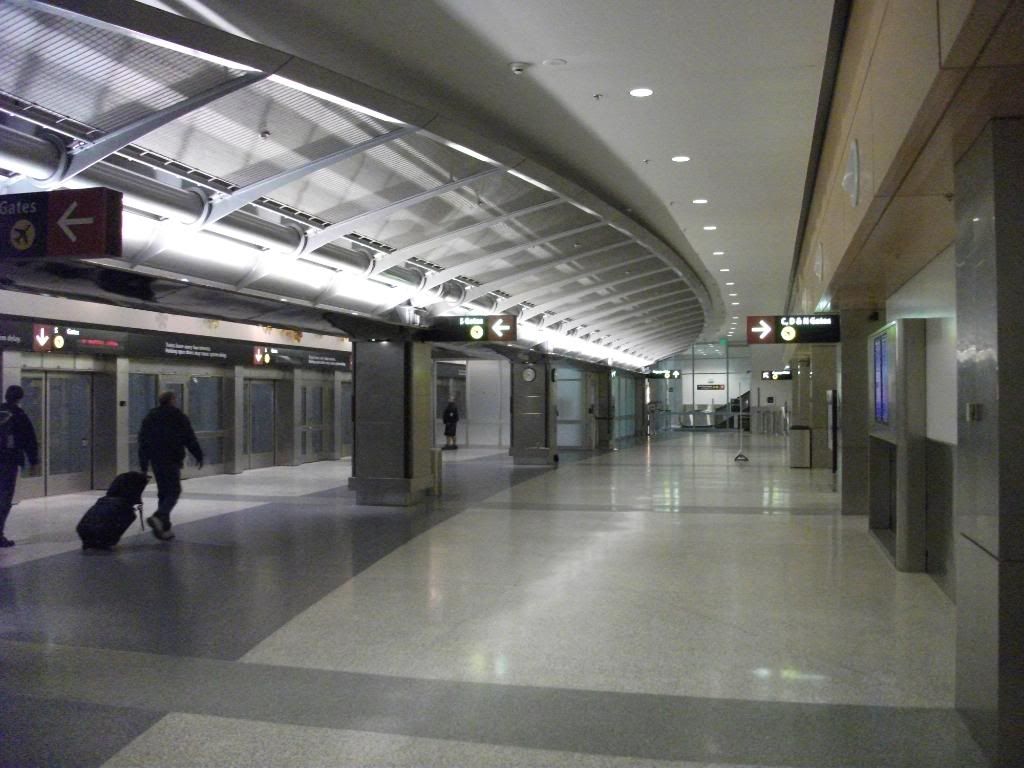 The S satellite looked drabber than N, which was surprising given that it shared its design with the N Gates and it's the prime area for international flights, serving many departures and all arrivals without customs preclearance.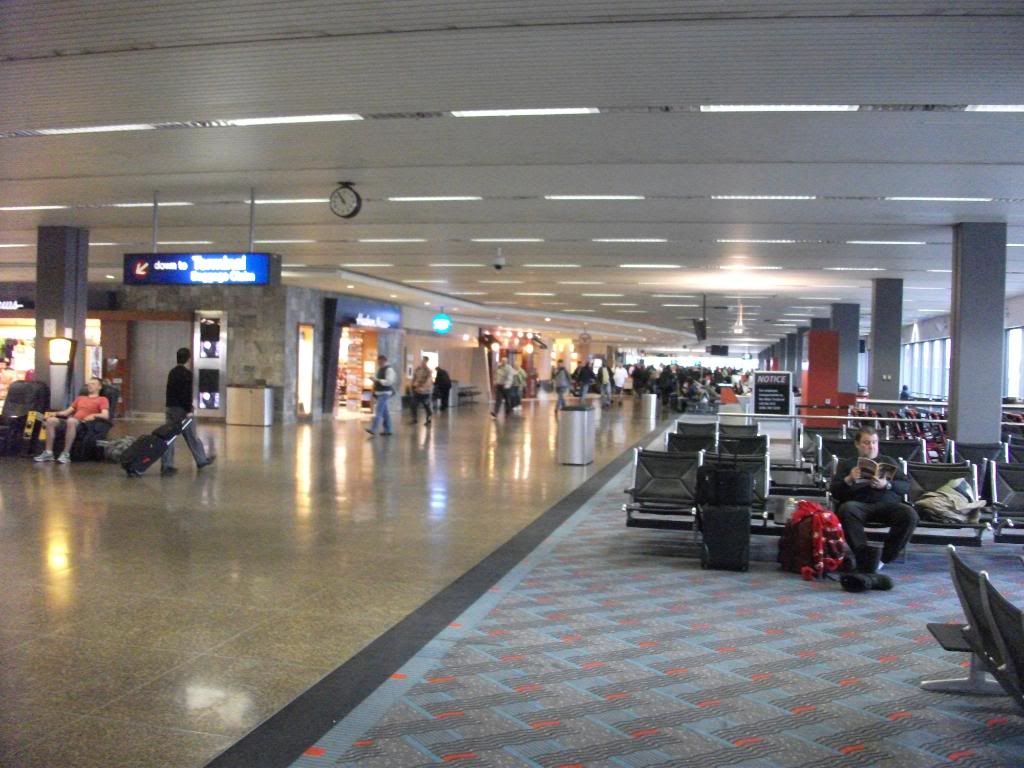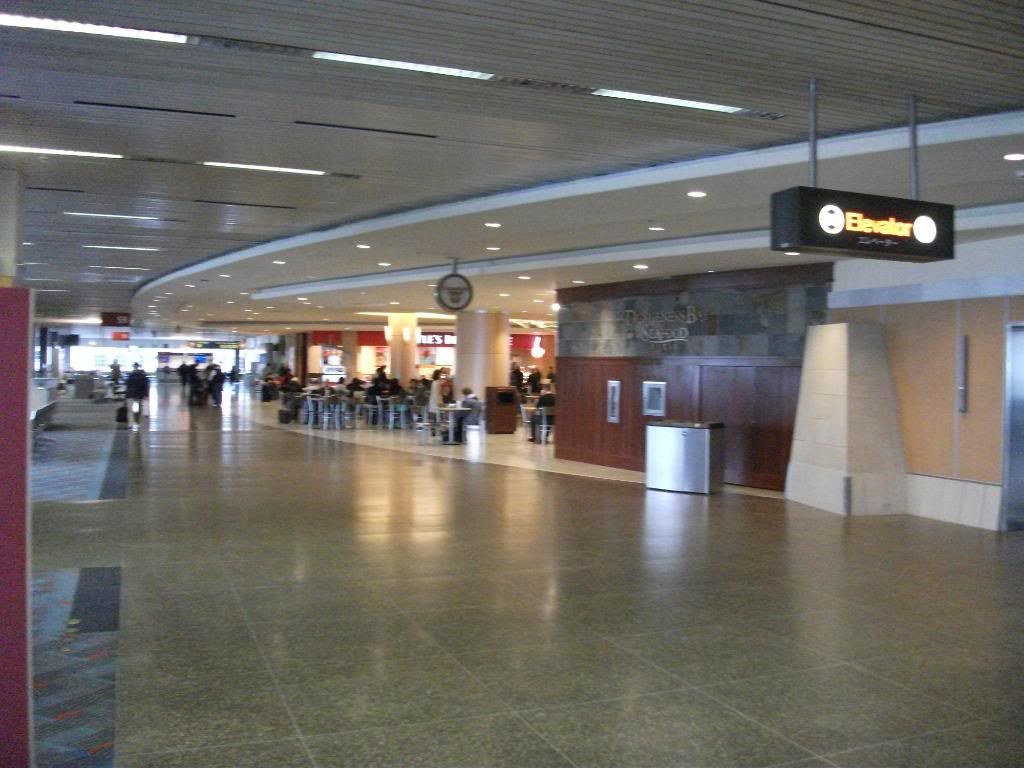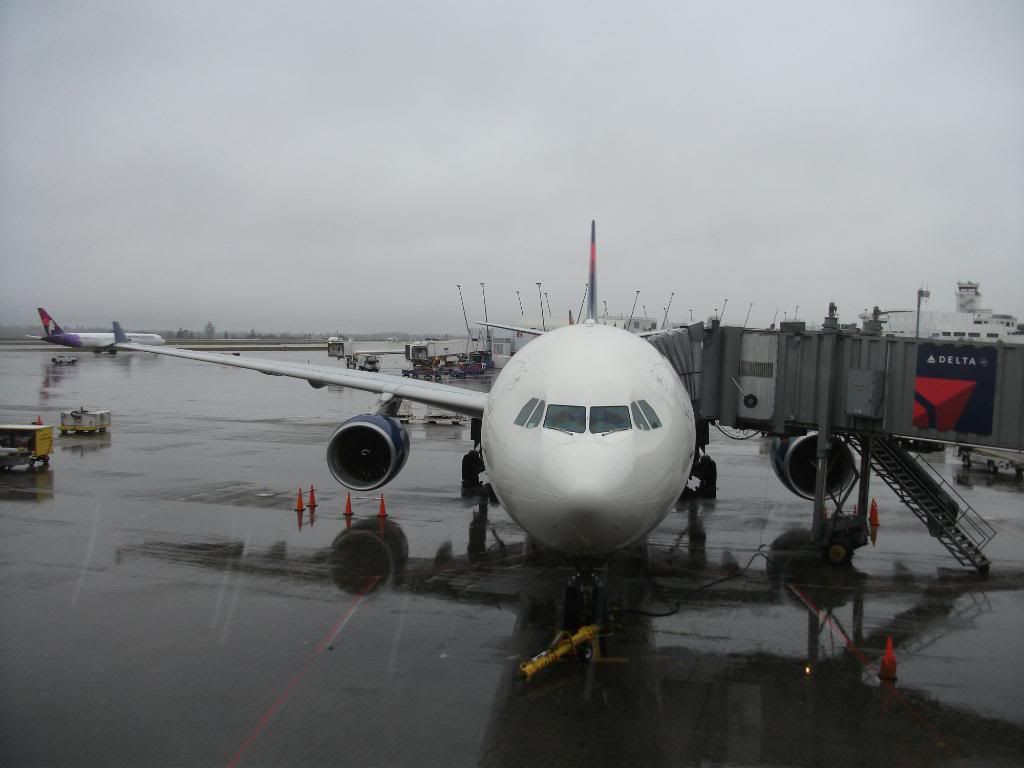 Shabby ceiling
The Central Terminal was the final stop for my voyage. This area connects the four main concourses and contains a food court and mall. And it has a great view. (You'll see why empty tables at the windows were in short supply.)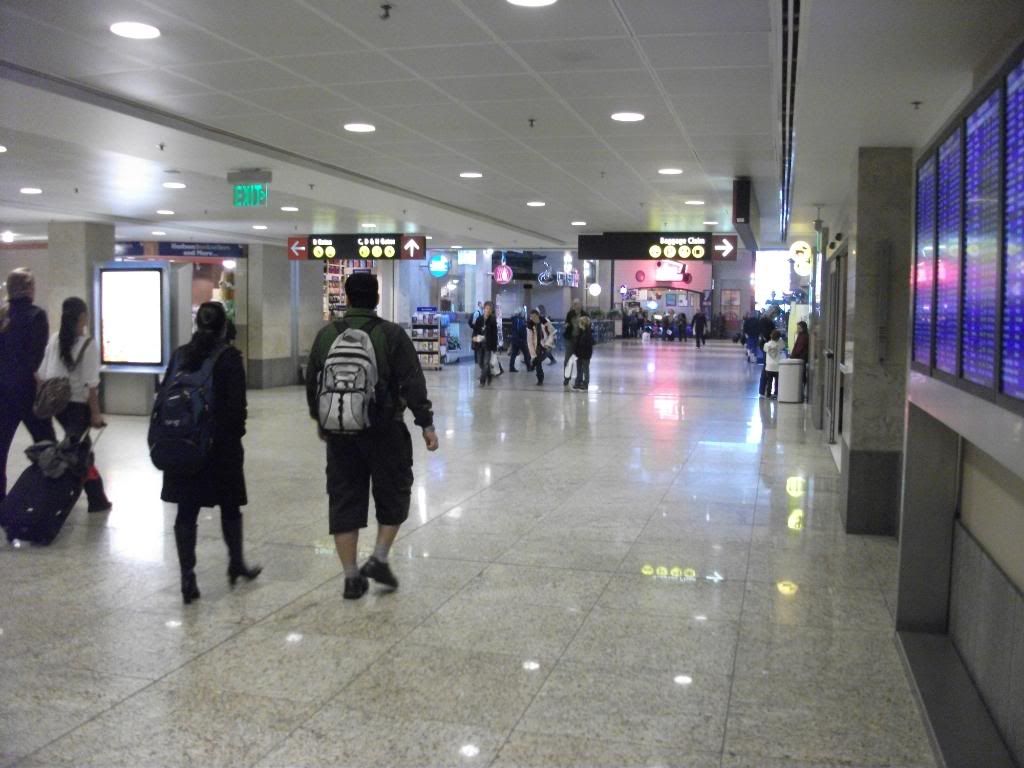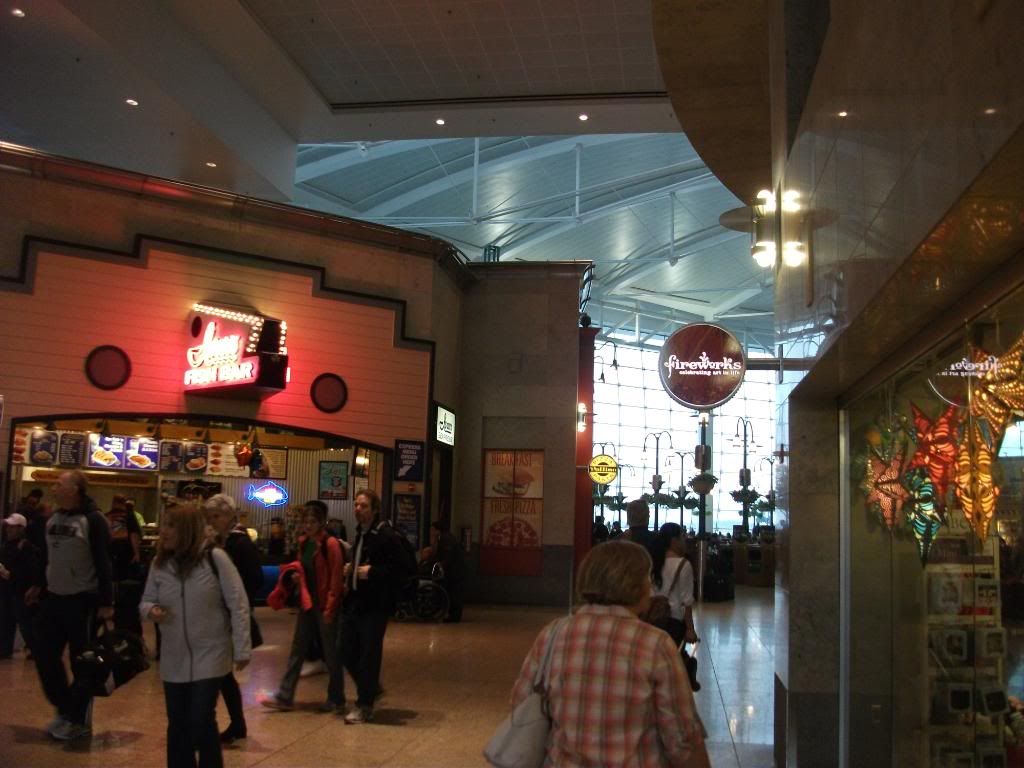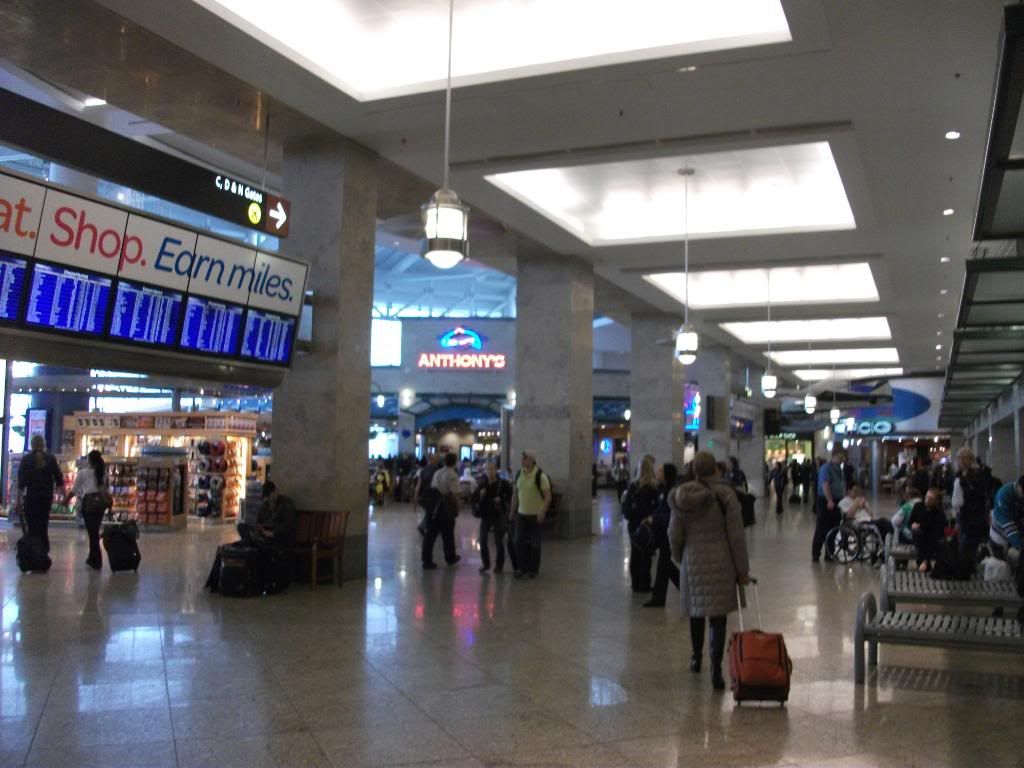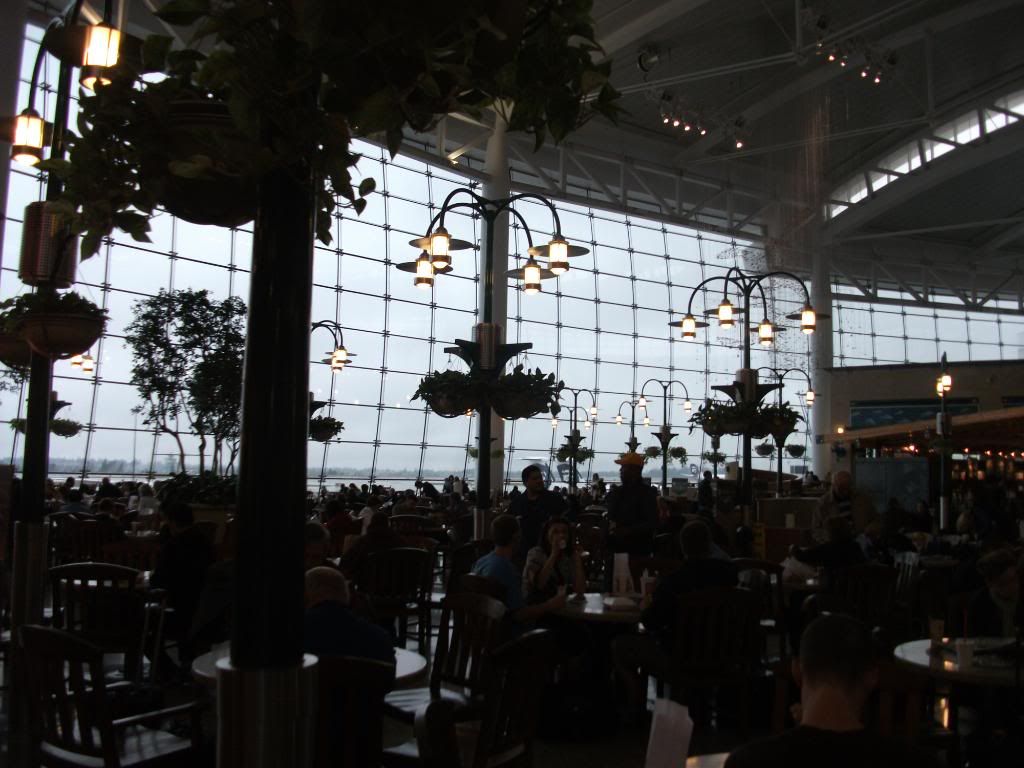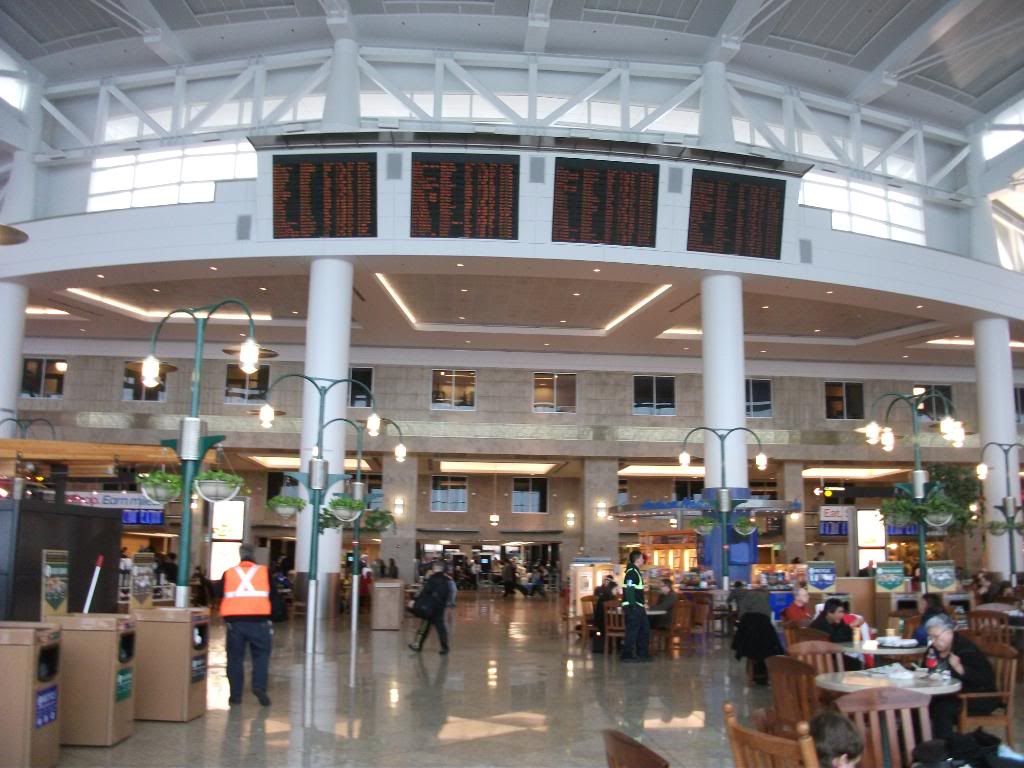 737-800 N512AS, "Spirit of Seattle". Note the hybrid Alaska/Boeing livery that honors the airline's relationship with Boeing (they operate only Boeing jets) and both companies' connections to Seattle.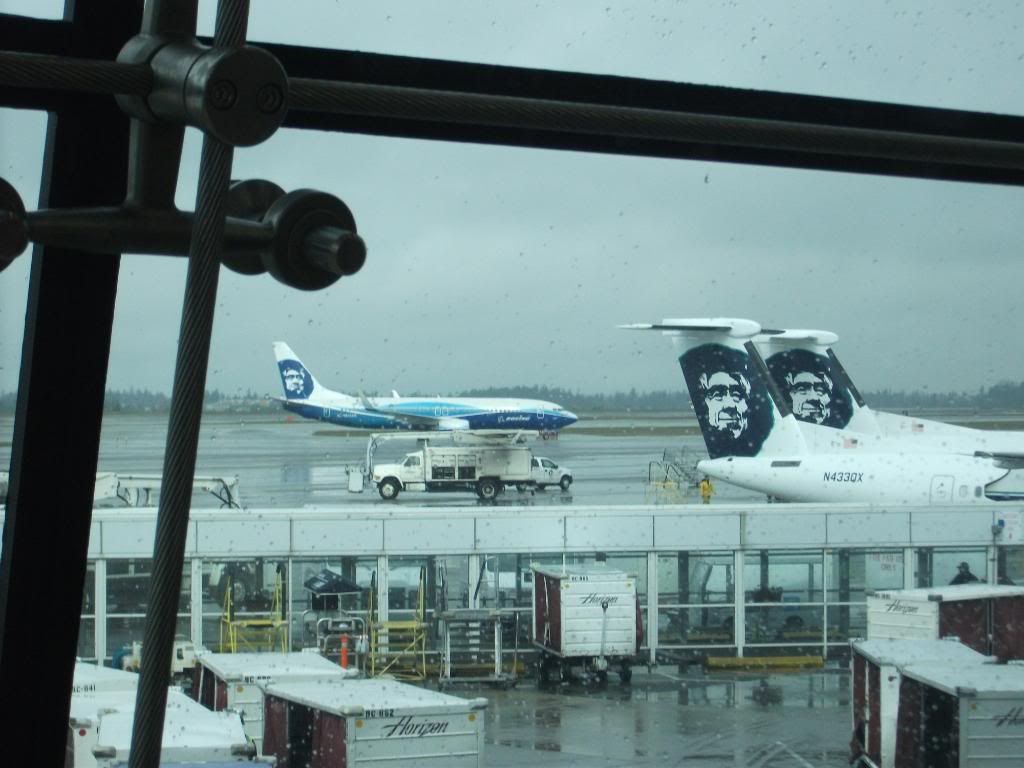 Montana State Bobcats logoprop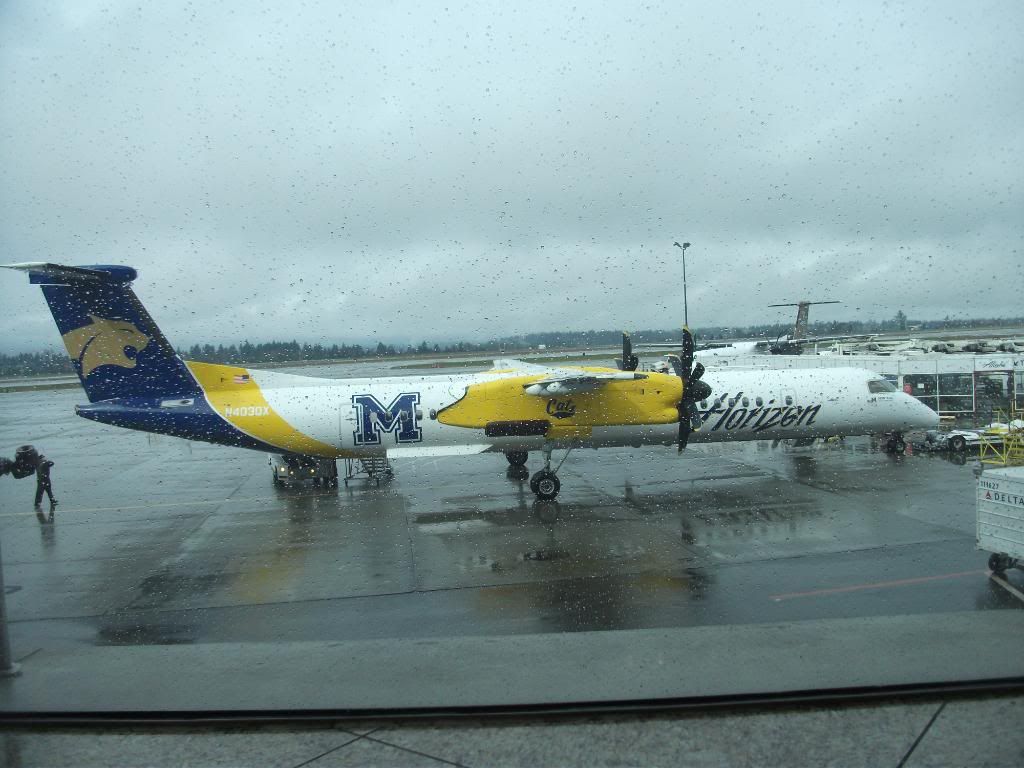 Idaho Vandals logoprop (I knew I was at the airport for a while when I saw this plane depart twice)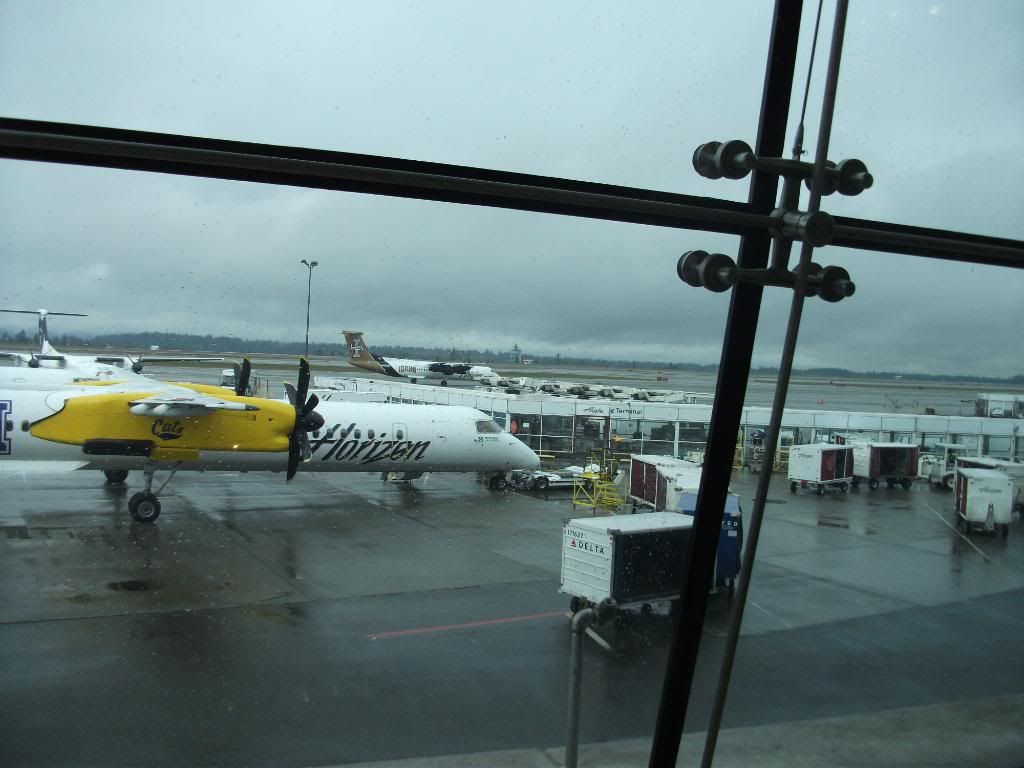 Asiana A333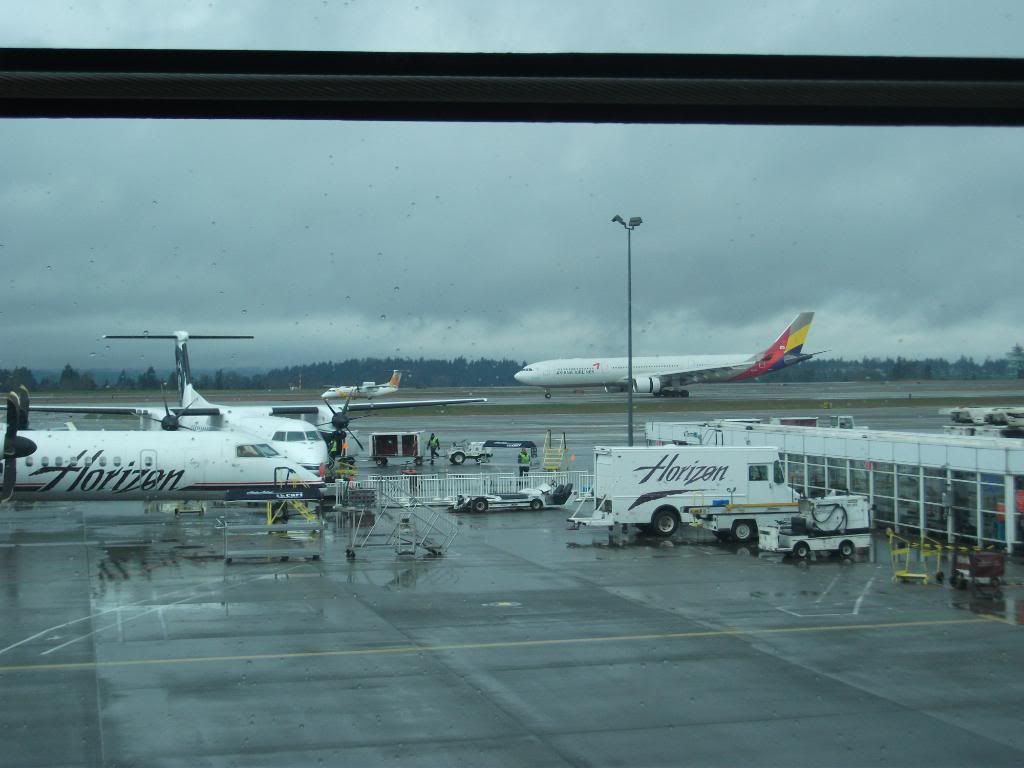 I kept an eye on the weather as I wandered through the airport. The precipitation switched from snow to rain as the day progressed, but the moderate to heavy rainfall was more than I was willing to wade into. Thus, I reluctantly scrapped the side excursion and holed up in a United Club until the appointed departure time. I made sure to grab a Bailey's so it could be an official St. Patrick's Day before I left. Thus the SEA adventure ended with a bit of a whimper instead of a bang. Better luck next time, I suppose…
I went up to the gate area and saw this A320 at the gate: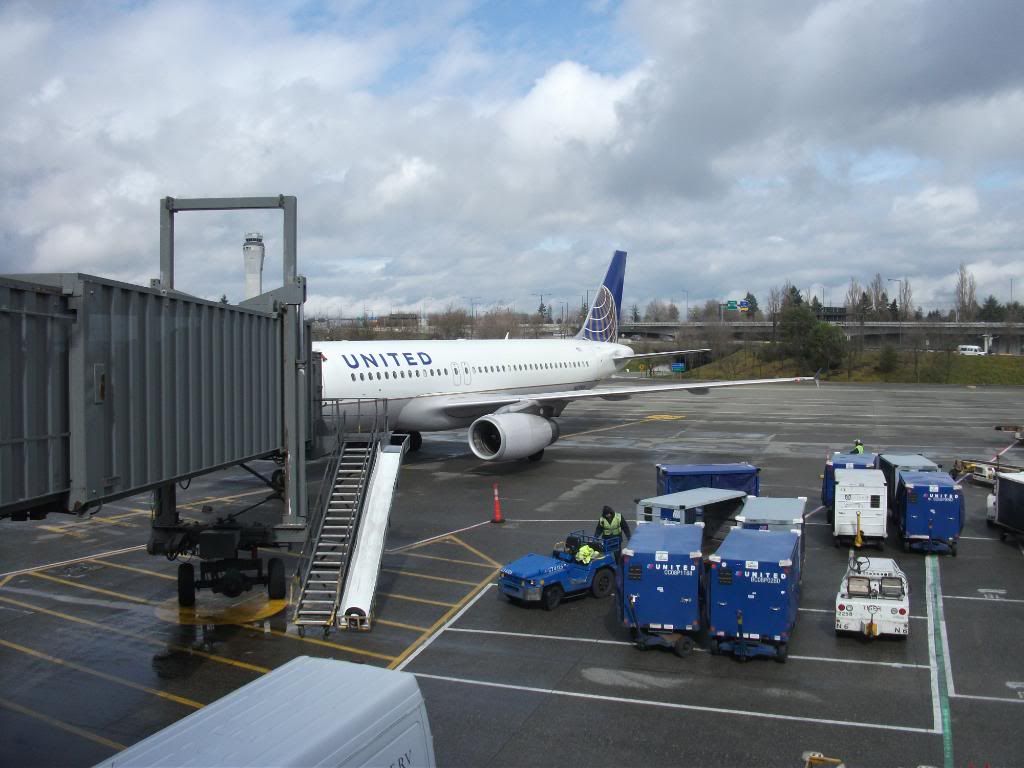 United Airlines 684 SEA-DEN
Scheduled: 15:13-18:47
Actual: 15:22-18:37 (wheels up/wheels down); 15:13-18:43 (gate to gate)
Airbus A320-232 (N431UA)
Now it was time to go back where I came from. Despite the announcements from the flight attendants regarding a full flight, the middle seat next to me remained empty.
The flight went by smoothly and peacefully, though I had to grudgingly close my window shade since the sun was toasting my arm and attempting to blind me. The only highlight came during the beverage service, which I'll elaborate on in a bit.
Control tower and assorted trees and buildings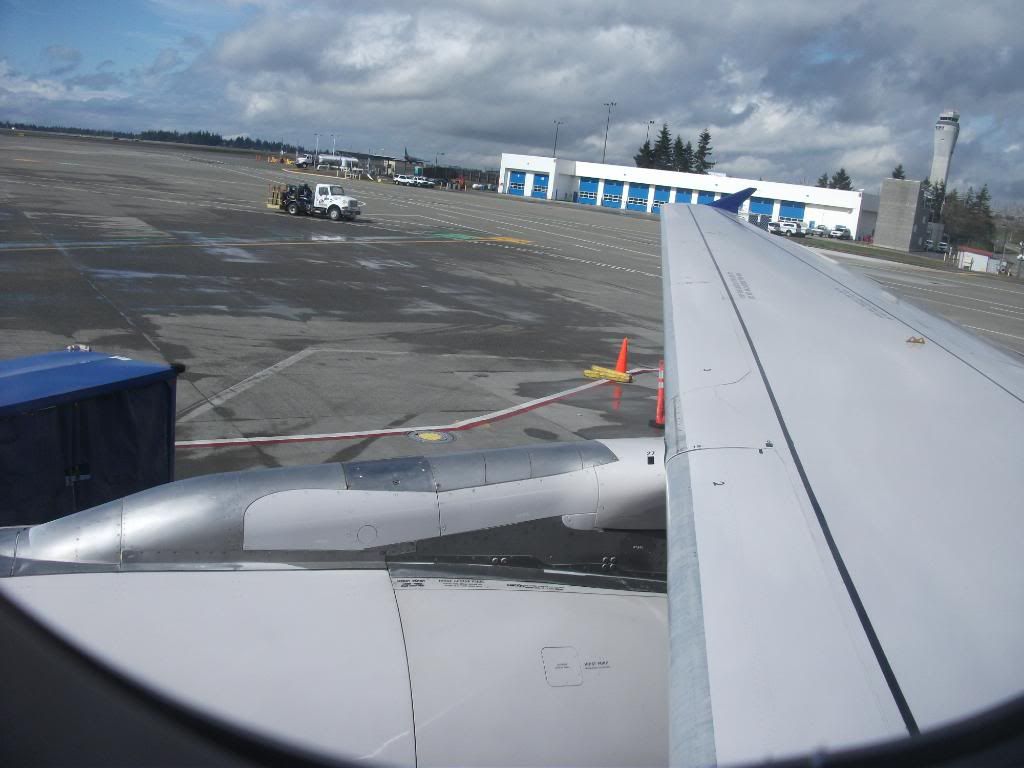 10F, my Economy Plus seat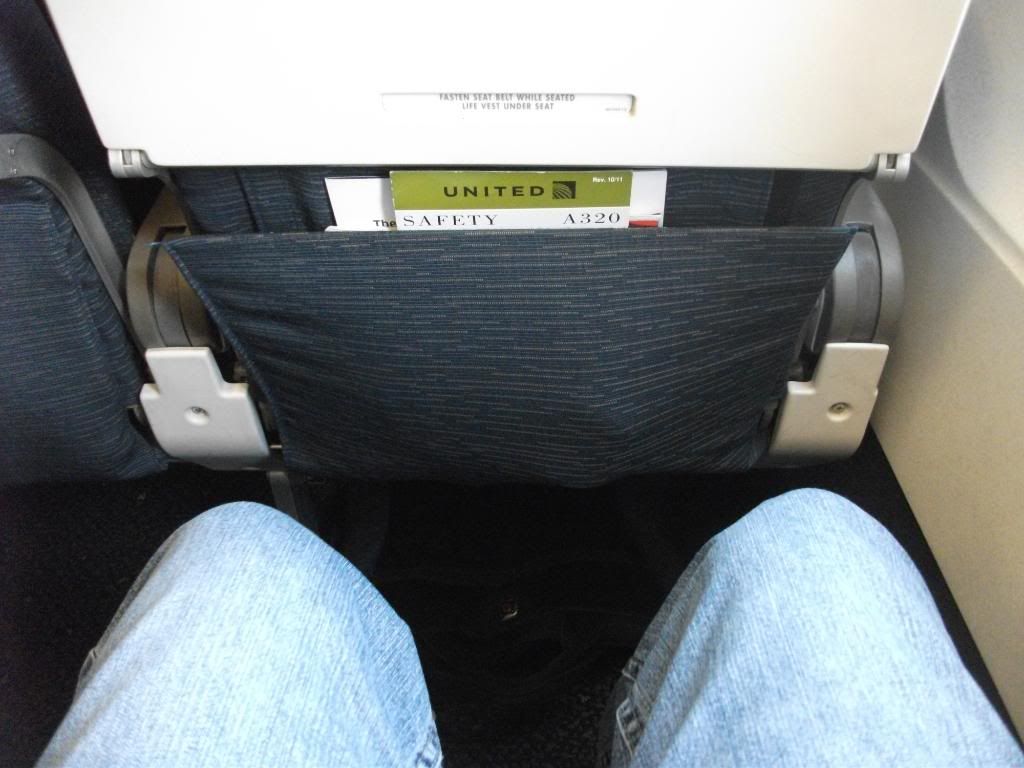 A Delta A330 taxiing out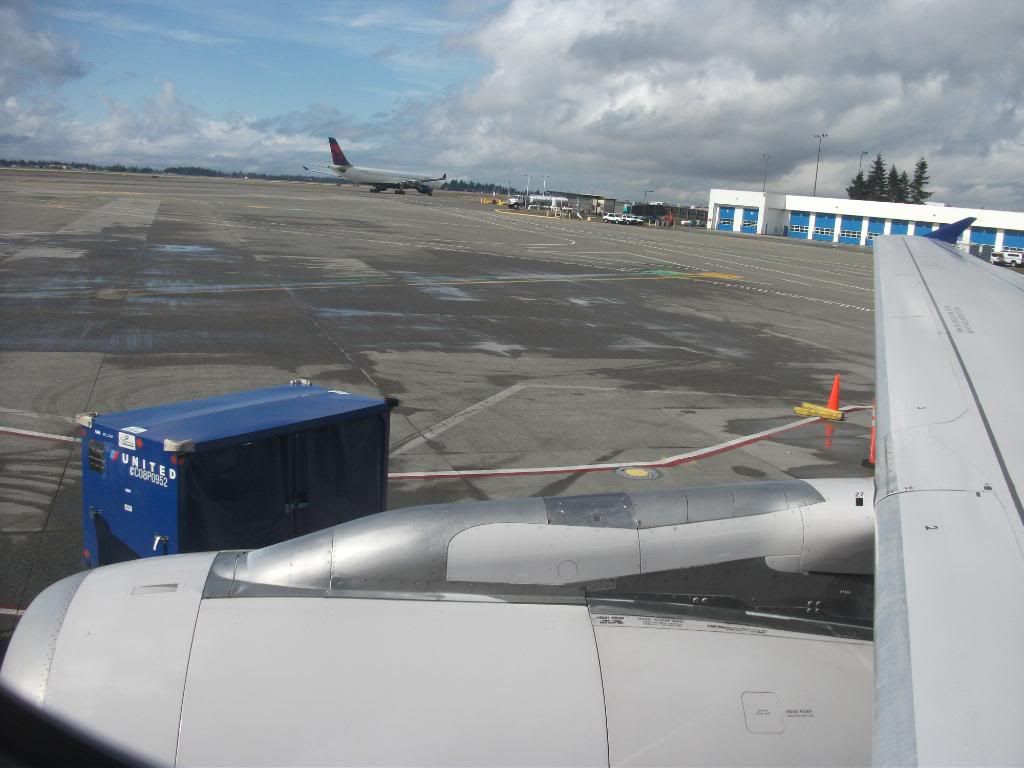 We line up on Runway 16L; you can see the other two parallel runways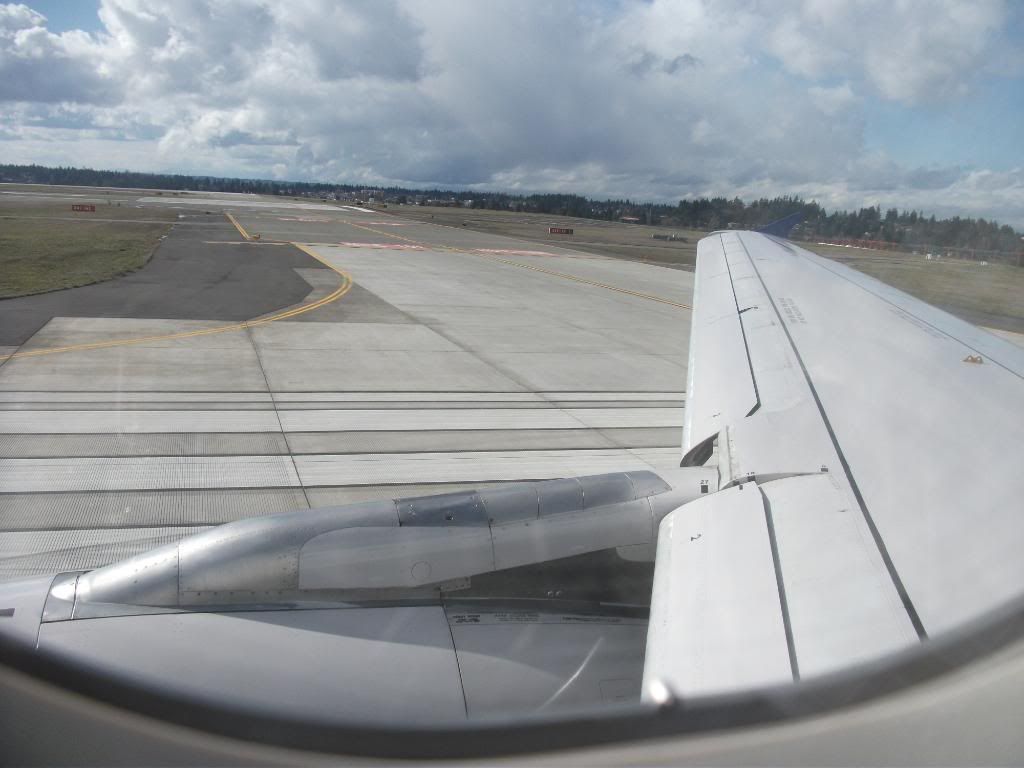 Here we go again!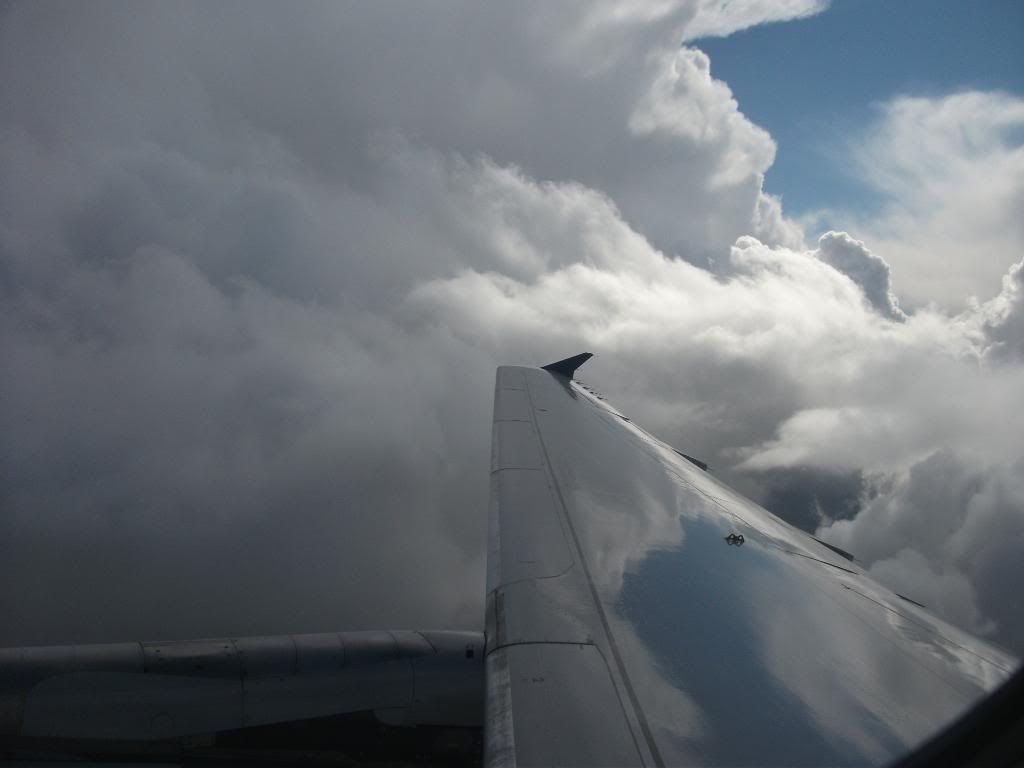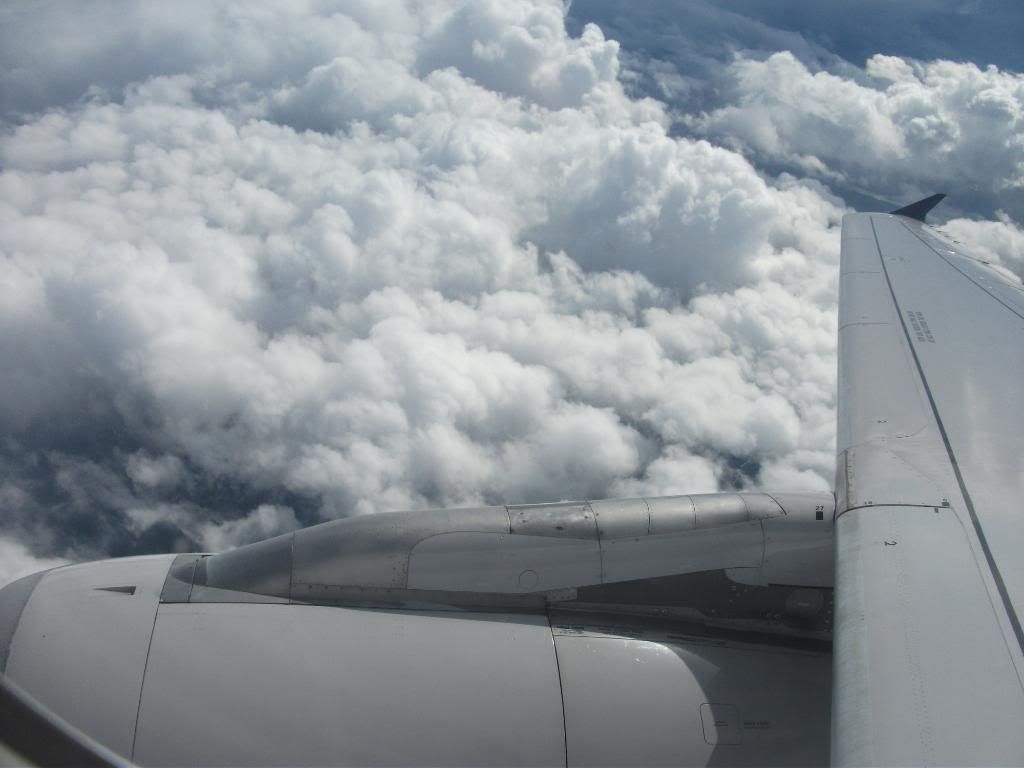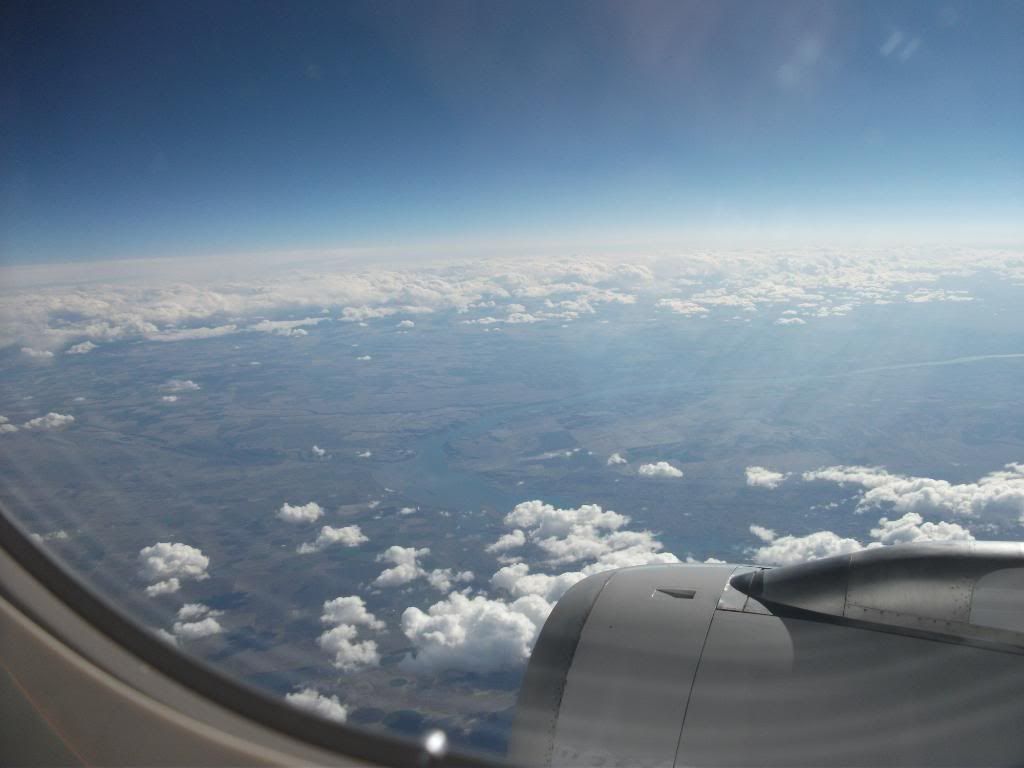 So, the drinks cart came by and I requested a Coke Zero. The flight attendant handed me a cup of ice and a can of Coke Zero. I immediately noticed something different about the can—namely the fact that I couldn't read most of it.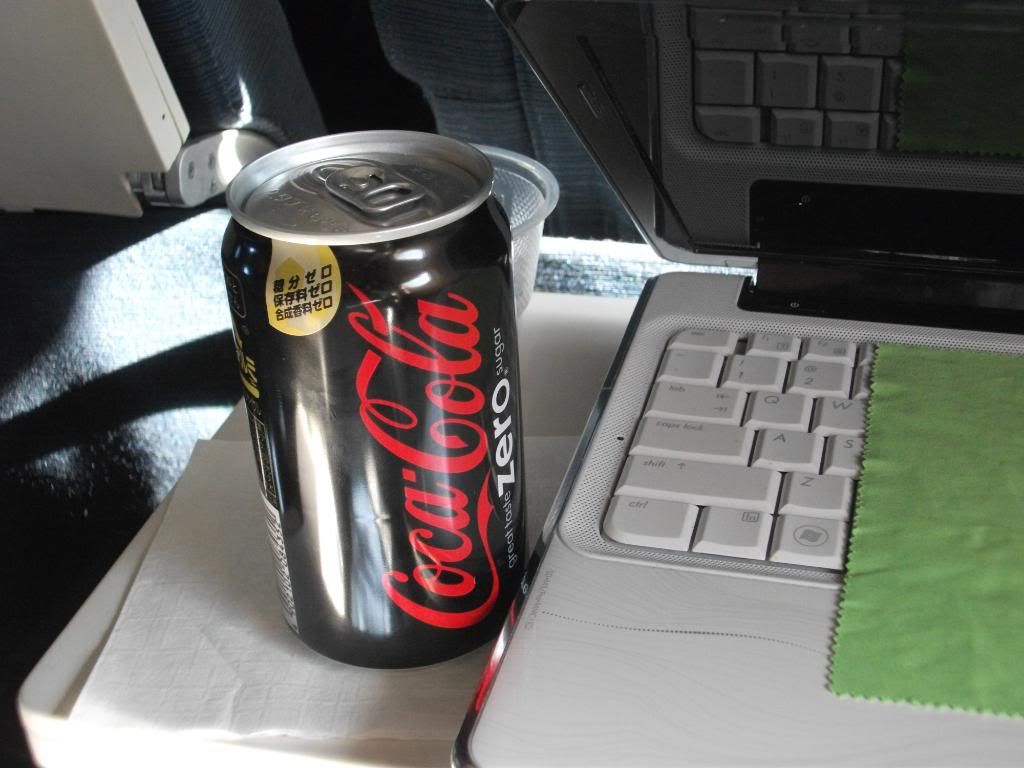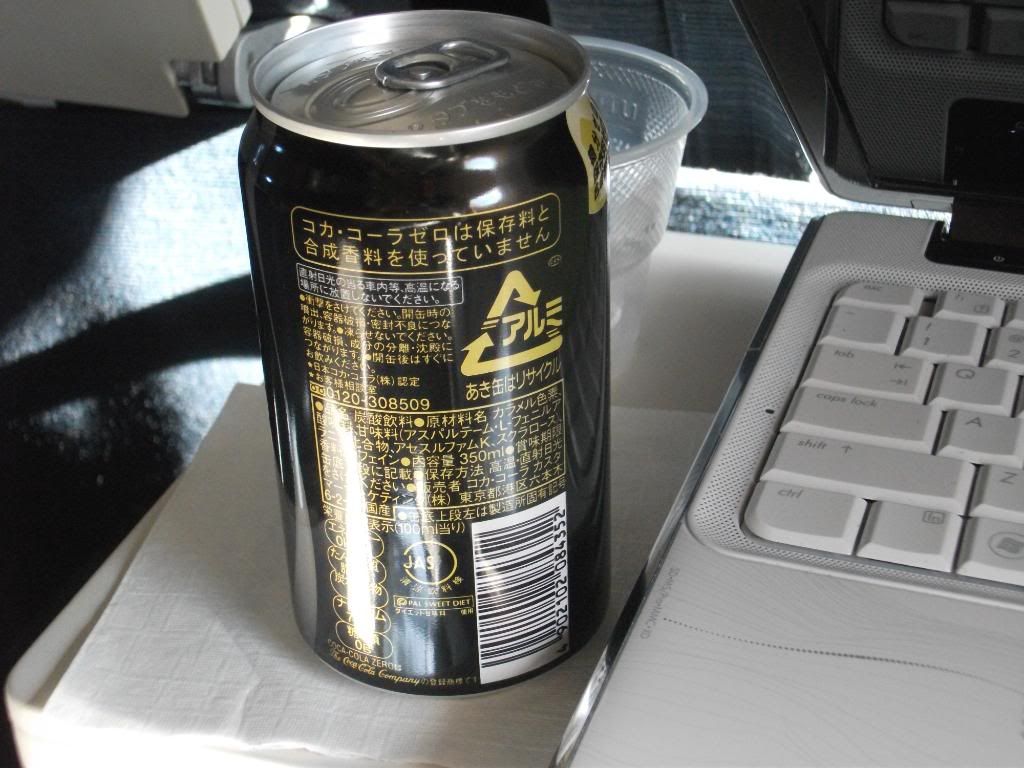 Amused at this neat little thing, I proceeded to drink its contents. I noticed no difference from the regular cans, and I didn't get some horrid intergalactic plague from it, so all was well. A person in the row ahead of me also ordered a Coke Zero, but their can was of the regular variety. I can only imagine that some unlucky person on United 875 to Narita (which departed about 40 minutes before my flight) made neither heads nor tails of their soda can printed in English…
Needless to say, that soda can found its way into the seat pocket to avoid collection. I couldn't think of a finer souvenir to have.
Looking at our reflection. My window was directly beneath the "U" in United.
The eastbound flight was just as peaceful as the westbound. I'd call it routine, but I don't think there's anything routine about the experience. Everything may look the same at the first glance, but something new can always be found if the effort to look for it is made.
Descending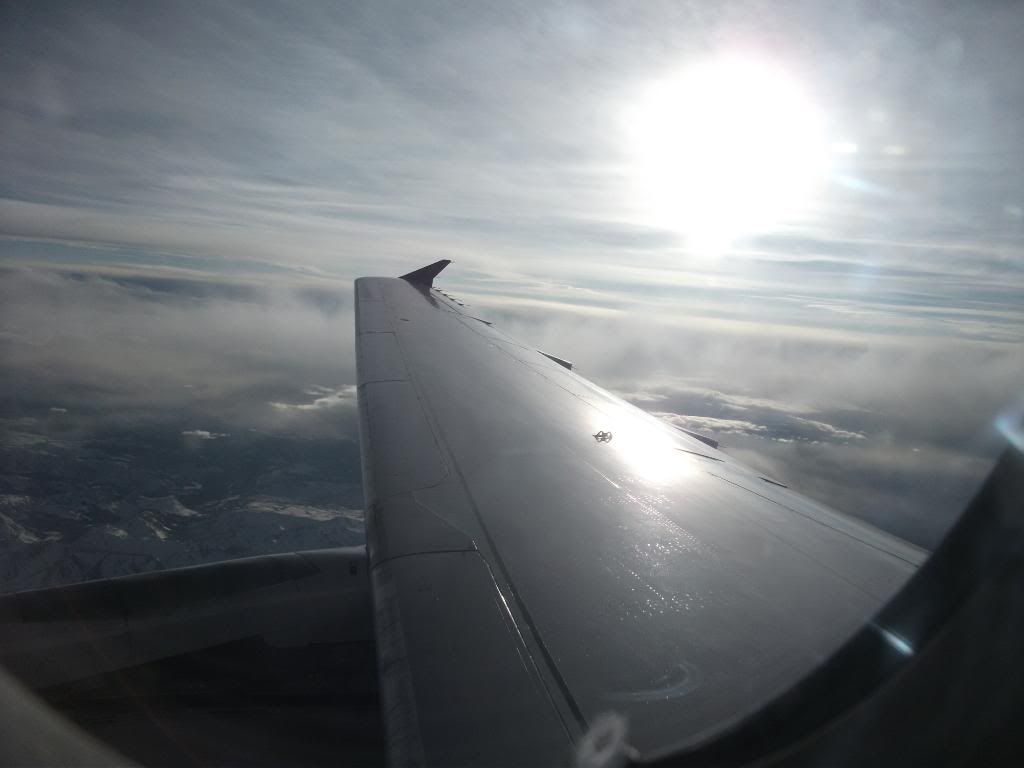 Shots of the Rockies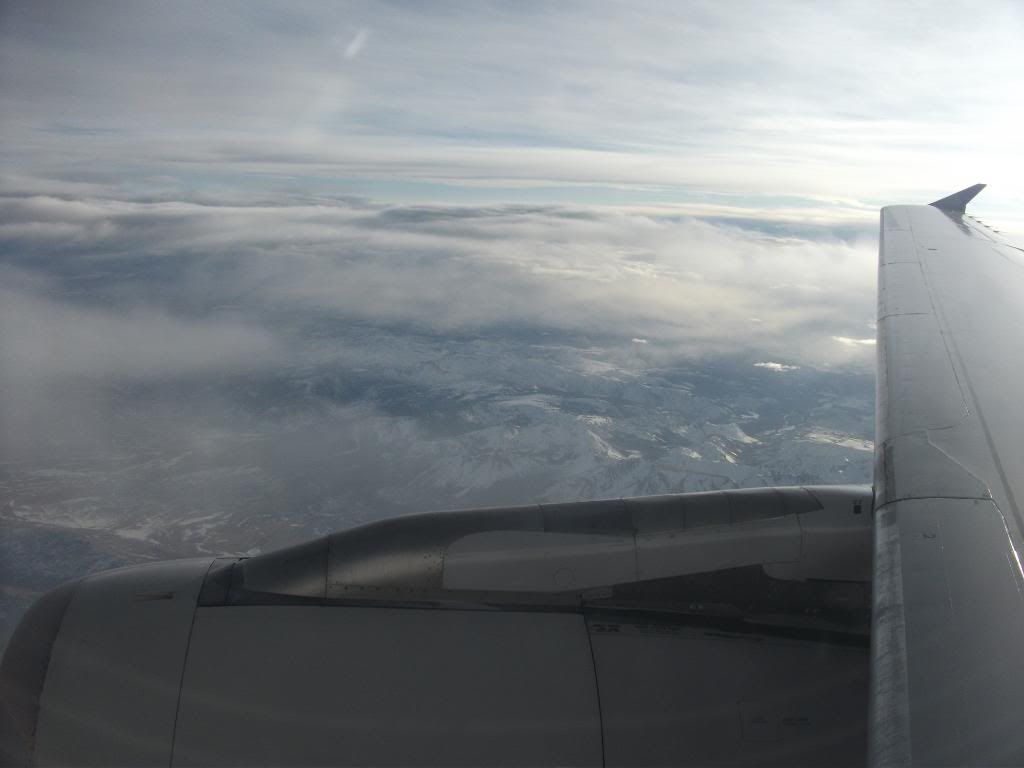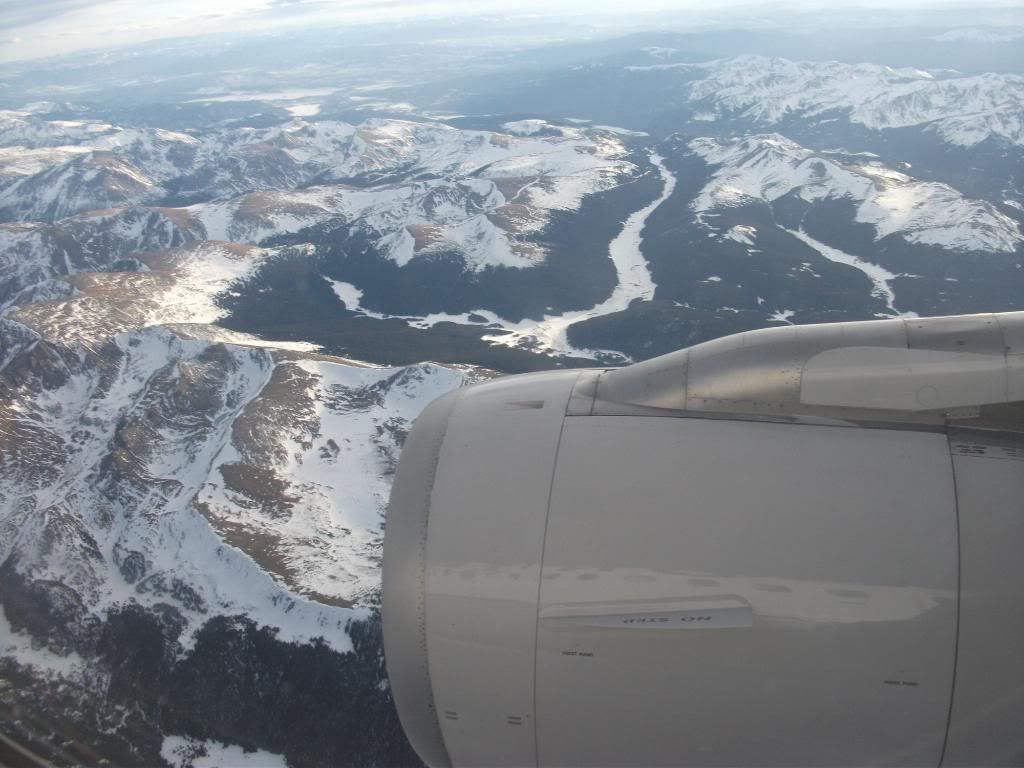 Vance Brand Airport (KLMO)
Touchdown
Brakes and thrust reversers: a good idea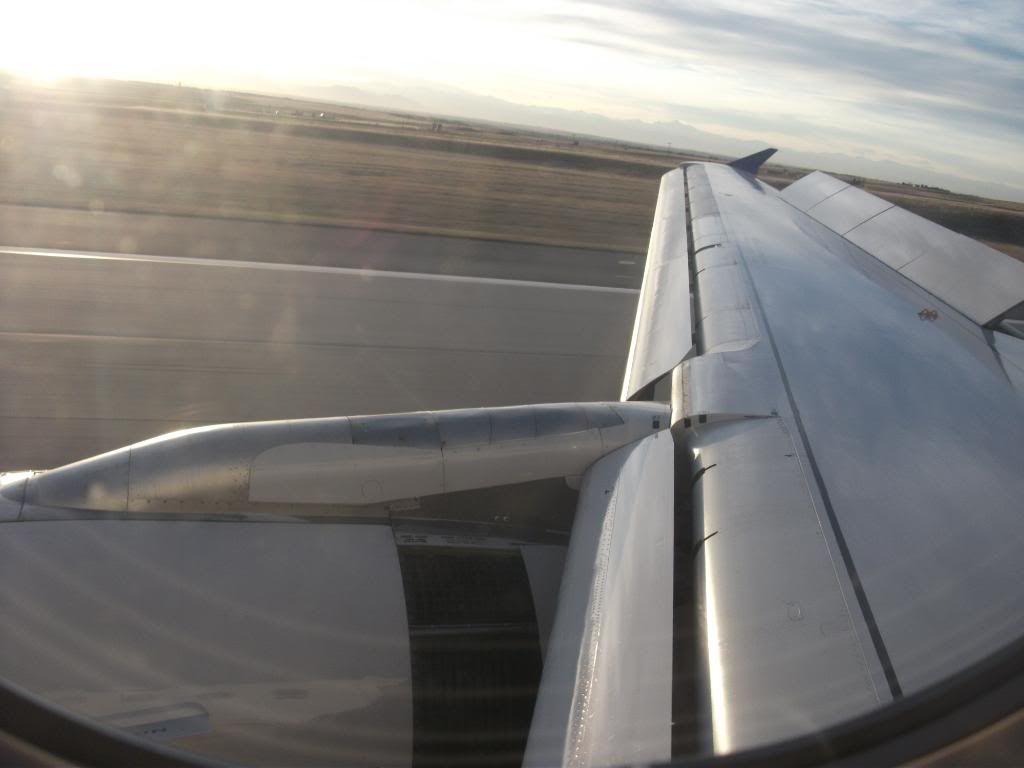 There be N784UA, which provided my first wide-body flight experience a couple of years ago
We pulled into the gate and I wondered where my next flight would depart from. I read "B28" on the boarding pass and thought 'wait a minute, I think I'm pretty close to there'. I looked through the window, and what did I behold? Gate B28 and my next plane.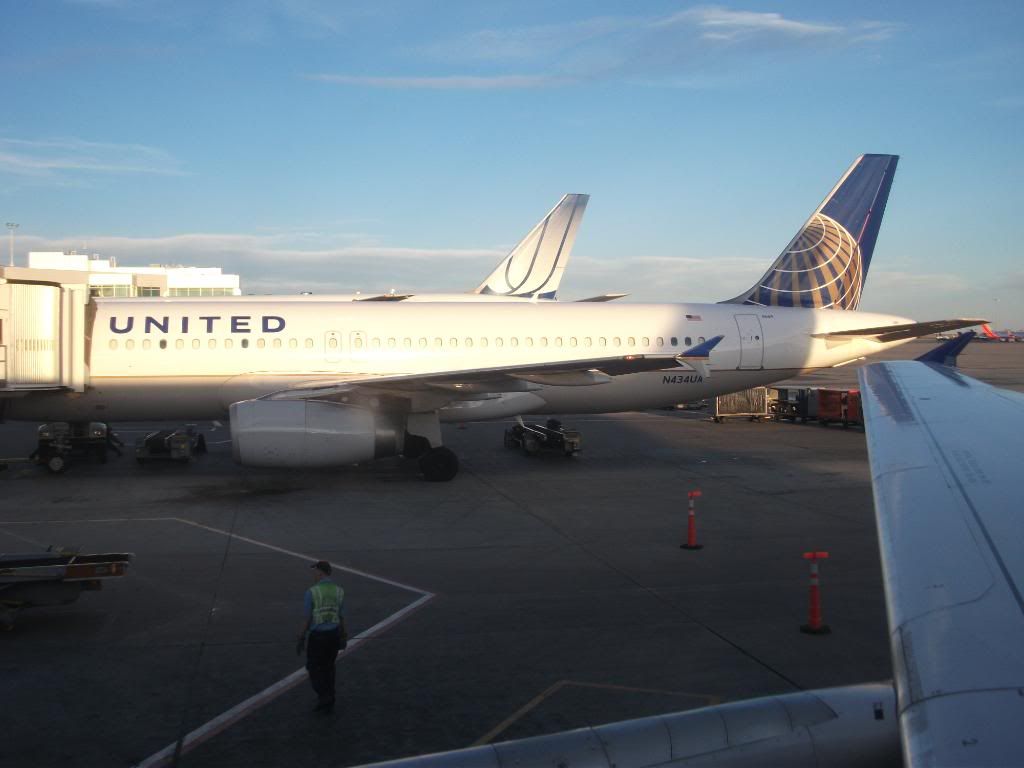 Once inside the concourse, I was able to see my Airbuses side-by-side: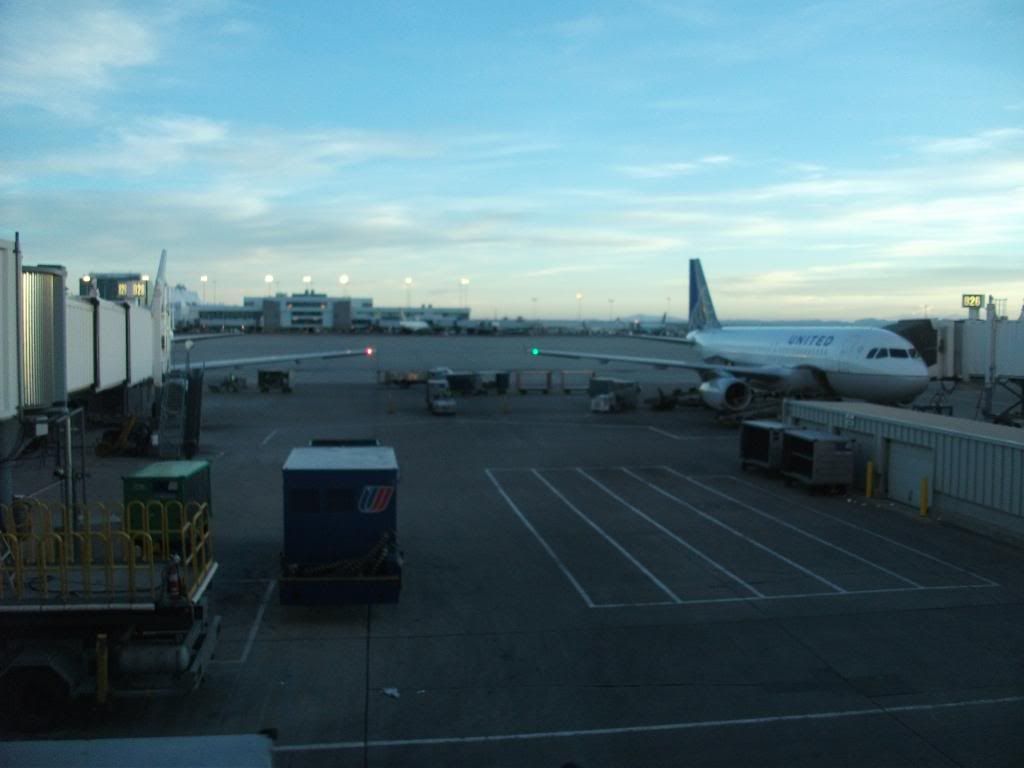 Now that my worries about a tight connection were well and truly smashed, I had some time to take care of some business. Once all of that was finished, it was back to the gate to sit and wait.
United Airlines 525 DEN-OKC
Scheduled: 19:30-21:54
Actual: 19:54-21:59 (wheels up/wheels down); 19:41-22:04 (gate to gate)
Airbus A320-232 (N434UA)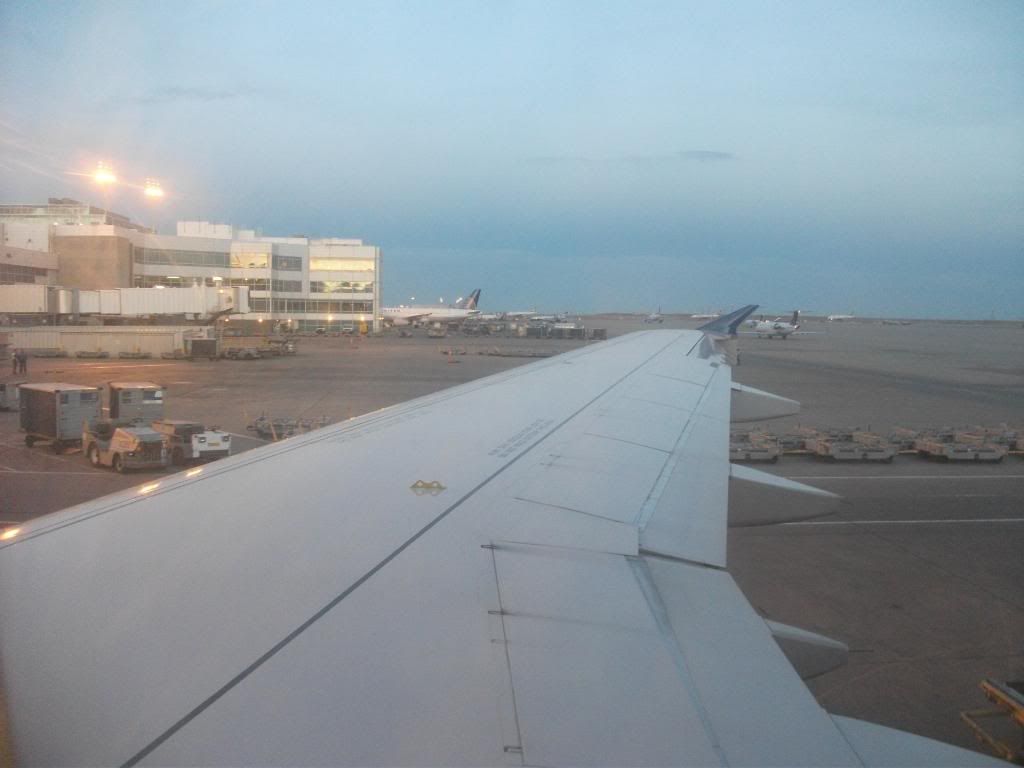 By this point, I was feeling the effects of having only four hours of sleep the night before. (Obviously not the ideal situation, but I couldn't avoid it…) I just wanted the day to be over so I could crawl into bed and get some real rest. That didn't stop me from noticing that there was something a little off about this flight. I guess all of the things that were supposed to go wrong for the other three were deferred to the last one. Boarding started a bit behind schedule and proceeded at a rather slow pace. Once it seemed that all passengers were aboard, perhaps four or five others trickled on after a few minutes. I assume they were from late-arriving connections, but no explanation was given.
Back in Economy. As you can see, I paid another visit to my happy place. I normally wouldn't have, but I might have passed out and not awoken again for another 37 hours without it.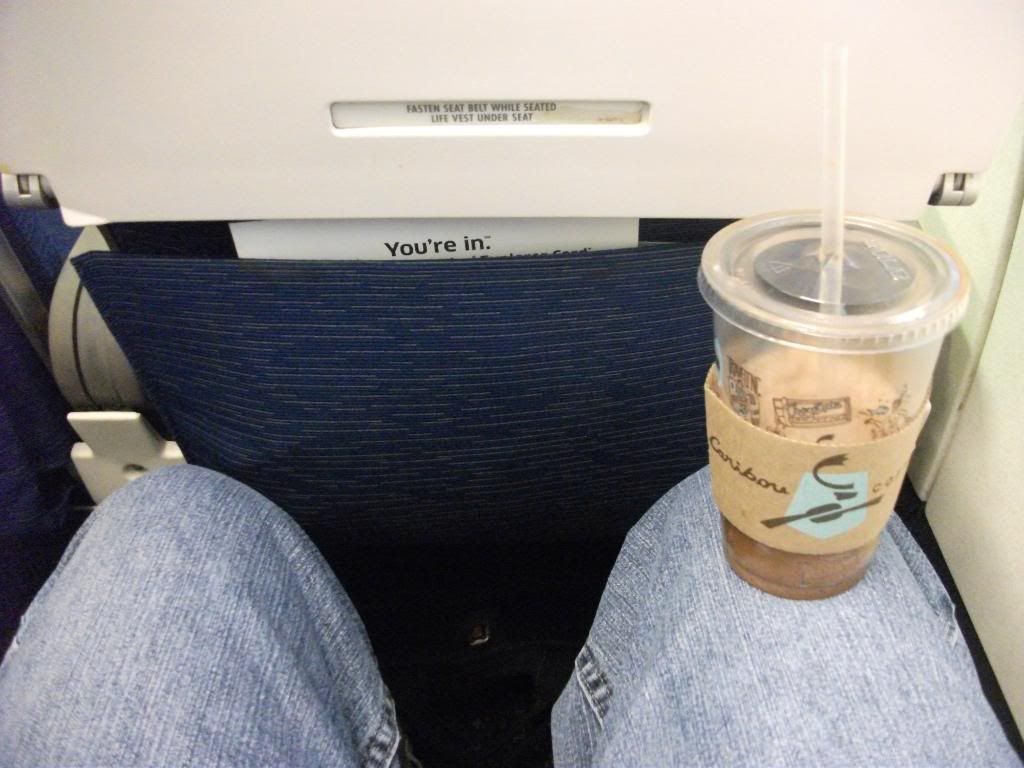 The pilots were Washington based, while the others were New York based. They looked the part, too. They had demeanors that kinda said "Bring it on, you punk passengers. I dare you."
They ended up being alright, competently performing their jobs while not being too grumpy. They were a bit slow, however—the beverage service didn't start until we were well into cruise, and they nearly forgot to do the final trash run and safety checks before landing. To that last point, they hurriedly collected refuse and told us to turn off our electronics as we glided along on final approach. They got it done with about 90 seconds to spare.
The flight attendant making the landing announcement put a nice cap on the night by welcoming us to "the city of Oklahoma" and the "Oklahoma International Airport".
I was tired enough that it might have sounded right if I didn't know any better...