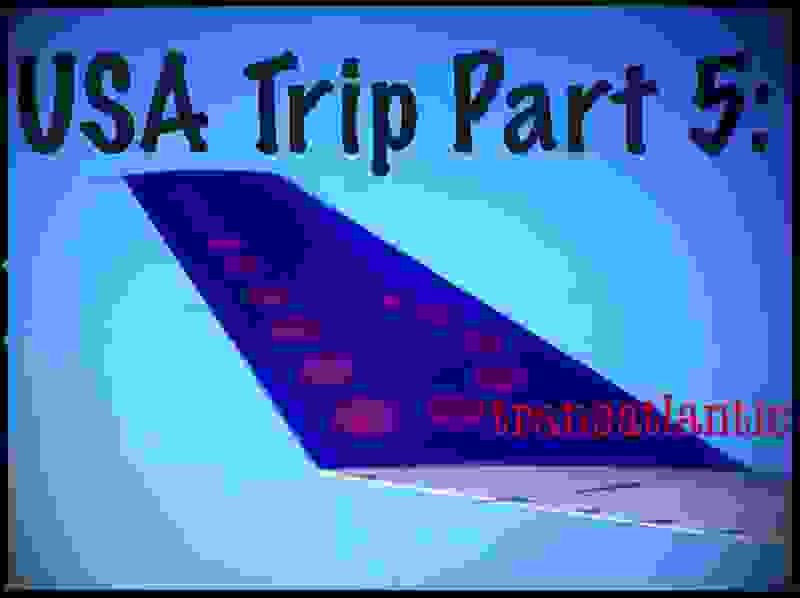 Introduction
This is the fifth part of my Summer 2012 US Trip Report. It covers flights with AirTran and yet another flight with Delta plus the return transatlantic sector with an SN A333.
For the earlier parts, see these:
- Part 0:
US Trip 2012 Part 0: Prologue (JYV-TLL)
(by
FlyingFinn76
Jun 12 2012 in Trip Reports)
- Part 1:
US Trip 2012 Part 1: Warming Up (HEL-TXL-BRU)
(by
FlyingFinn76
Jun 20 2012 in Trip Reports)
- Part 2:
US Trip 2012 Part 2: Oh (Air) Canada: BRU-YUL-YYZ
(by
FlyingFinn76
Jun 26 2012 in Trip Reports)
- Part 3:
US Trip 2012 Part 3: JetDashBlue (YYZ-EWR-FLL)
(by
FlyingFinn76
Jun 30 2012 in Trip Reports)
- Part 4:
US Trip 2012 Part 4: DC: Delta Comfort FLL-ATL-DCA
(by
FlyingFinn76
Jul 5 2012 in Trip Reports)
So I had my return flight booked for the Monday night ex-JFK, which basically left me all day Monday to get there. There are plenty of ways to get from the DC area to NYC. I seriously considered trying out the Acela high speed train but fares were rather expensive and I could fly for the same amount of money. On the flying front American Eagle's Embraer 140 on IAD-JFK sounded like a nice idea and I was about to book one when I figured I'll check out nearby Baltimore airport as well. BWI is a big stronghold for Southwest Airlines (who I've flown before and thus were out of the books this time) and AirTran whose 717 sounded equally interesting and after finding a morning flight to BOS for around 100 bucks decided to do it. From BOS to JFK it was either Delta or American, I've done quite a few flights with AA and since the plane type was the boring 738 I decided to go with Delta since it was both the cheapest option at under 60 buckaroos plus was actually operated by Comair (a new airline) with the CRJ-700 (a plane type I've flown only once before with LH Cityline).
Well, of course Delta decided to play switcharoo on me again - a few months after booking they changed to plane to a mainline A319, how boring is that? AirTran also had a minor schedule change of 15 minutes which didn't matter.
Here are the flights mapped out:
.
Sunday 17.6.2012
I had initially planned to pay Baltimore a small visit as well before going to the airport for my hotel. Well, at some point I started to get this feeling that I was trying to do a little bit too much in too little time so ditched the Baltimore city visit idea and just booked an Amtrak ticket to the BWI airport stop instead for a later train than I originally planned to take. As it is the weekend the local trains weren't running so I had to opt for an Northeast Regional service on mainline Amtrak equipment.
With this in mind I took the very nice DC Circulator bus service from Georgetown to Washington's quite impressive Union station and left my luggage to the storage room there. I got a huge shock when the girl quoted the price for 6 hours of storage as 48 USD - had I known this rip off beforehand I'd left the bags in my hotel instead for free! Well, my arguments didn't matter to her at all so what can you do...
Union station facade - some construction work going on: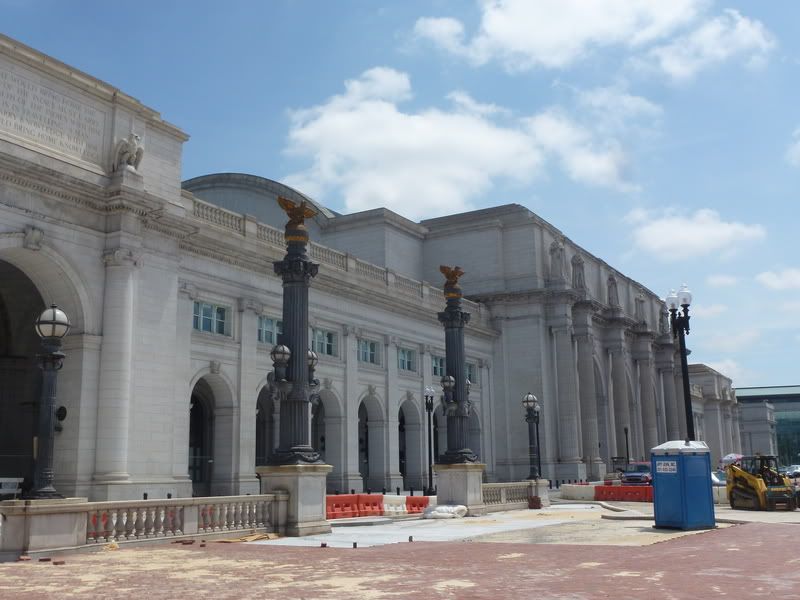 After some hours in the city I arrive back at Union station with the metro.
Quite an impressive building from the inside as well, although I don't really like the fact that it is jam packed with retail facilities everywhere: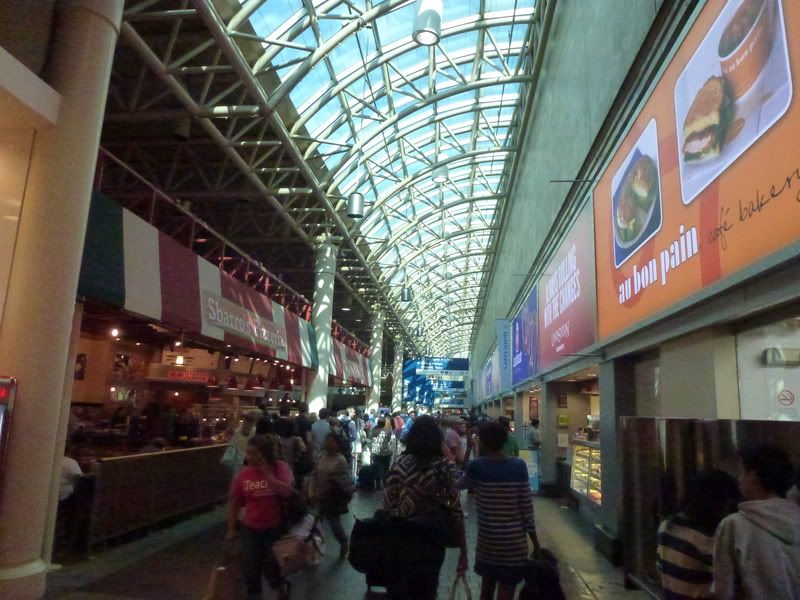 Still having some time I head for the station's Buffalo Grill for a nice refreshing pint or two - today is definitely hotter than yesterday (and later during the week the mercury hit 36 degrees Celcius!) so some lubrication is very much appreciated:
Eventually I pick up my ticket from an Amtrak self service kiosk, my luggage from the girl who doesn't seem to remember my grumpiness in the morning and we have bit of good natured chit chat and head looking for my "gate".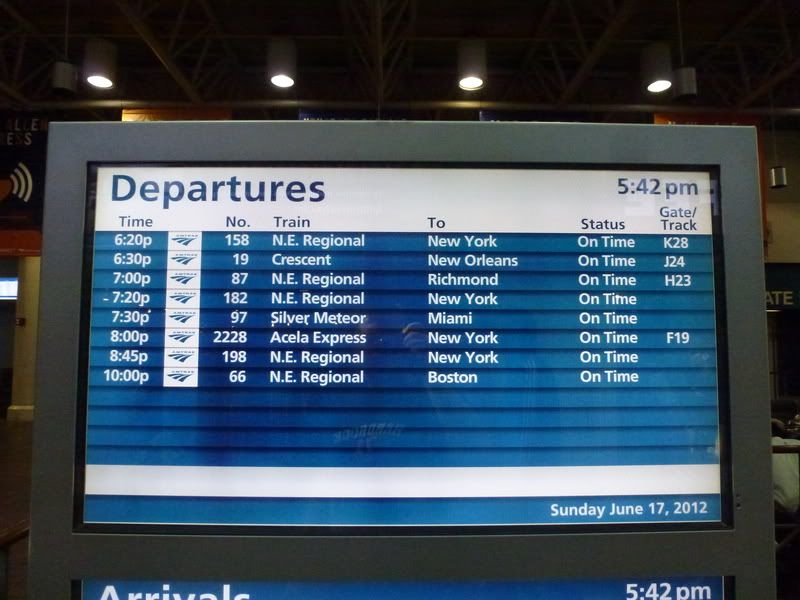 The commuter train service here has an interesting name - certain a.net members might really appreciate it: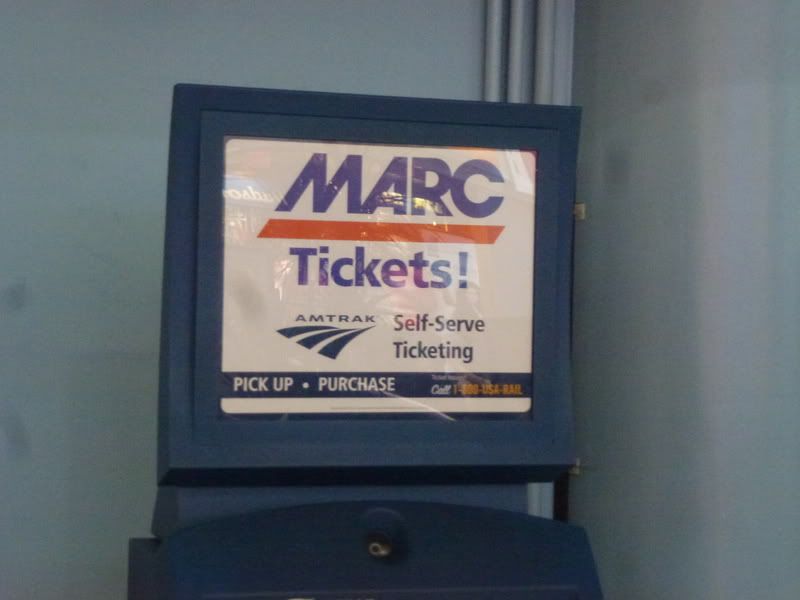 Taking a train in America is quite a bit different to Europe - in main stations you can't just walk to the platform to wait for your train (why?) - instead there are gates where your train will eventually board, just like at airports. Boarding means walking down to the platform and from that point on it is the same as everywhere else - you find your carriage and hop on.
There are also checked luggage facilities, another similarity to air travel: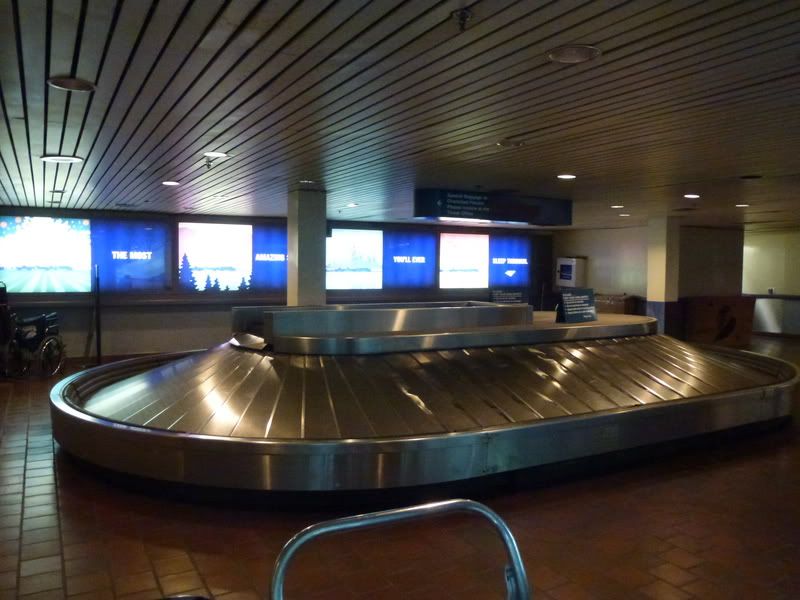 My gate has a huge queue already and it keeps growing. They make some announcements but it is complete gibberish and nobody seems to understand what is being said. We all conclude it is some kind of a delay - what else. At least there's a free wifi at the station so I use that while waiting.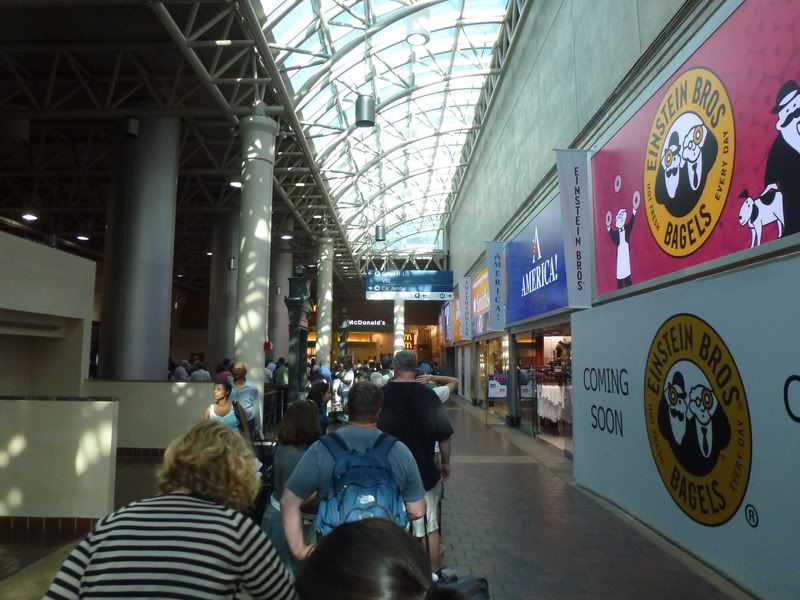 Eventually, some twenty minutes late or thereabouts boarding is announced.
I got an aisle seat for this train ride - well it doesn't really matter as it is just half an hour or so anyway.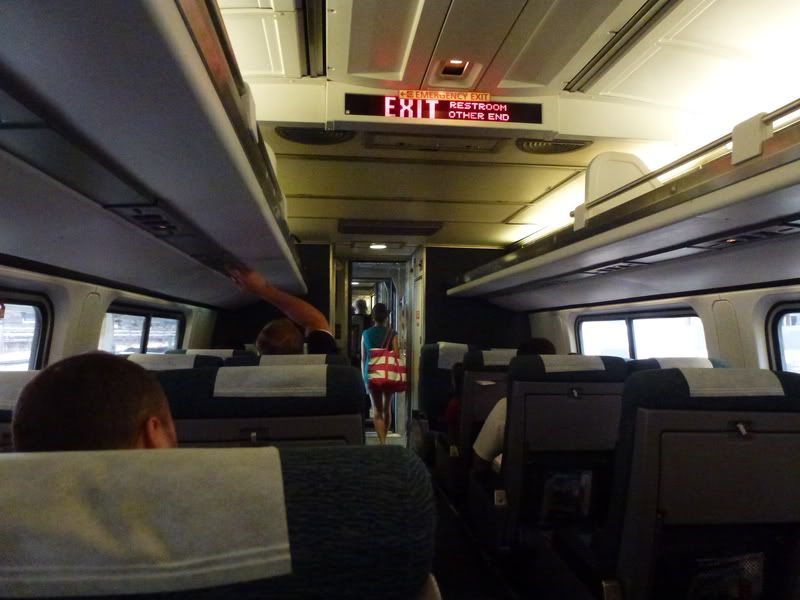 Legroom: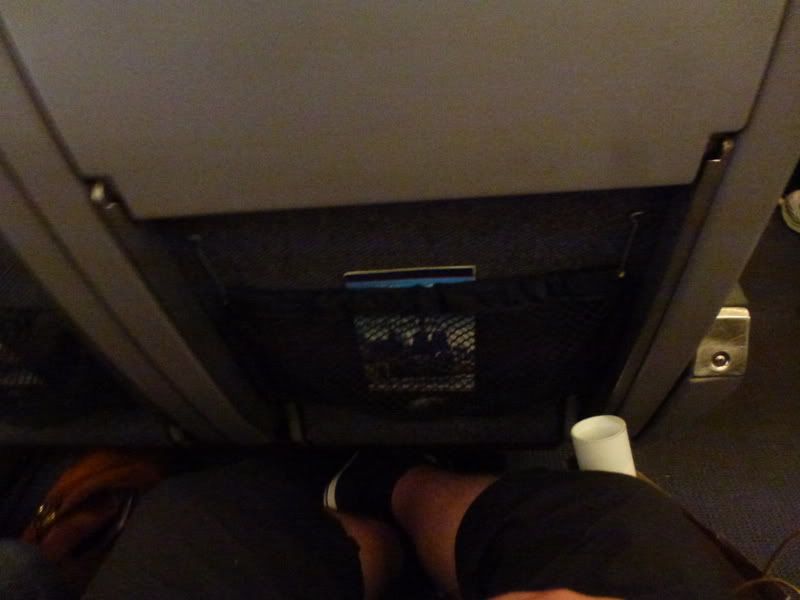 In Amtrak we trust: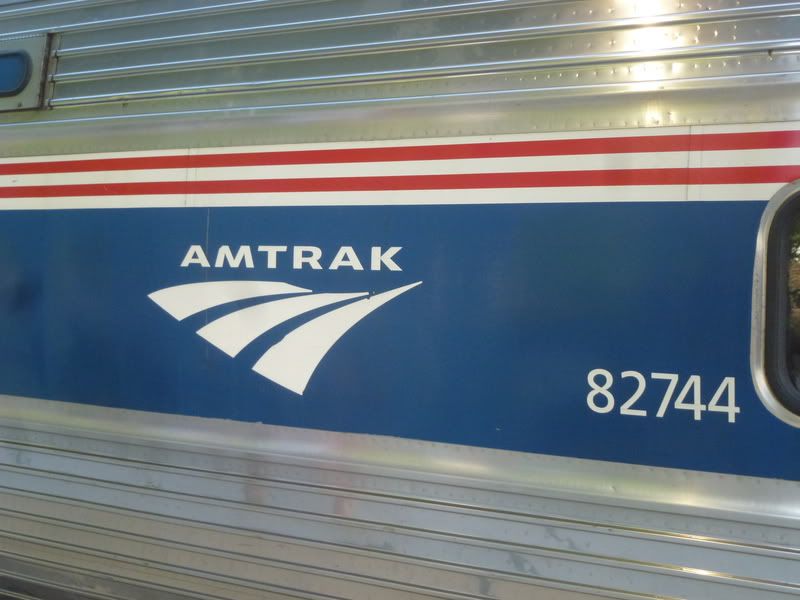 Soon enough we stop at the "Baltimore-Washington International Thurgood Marshall Airport " (what a mouthful) stop and I step off.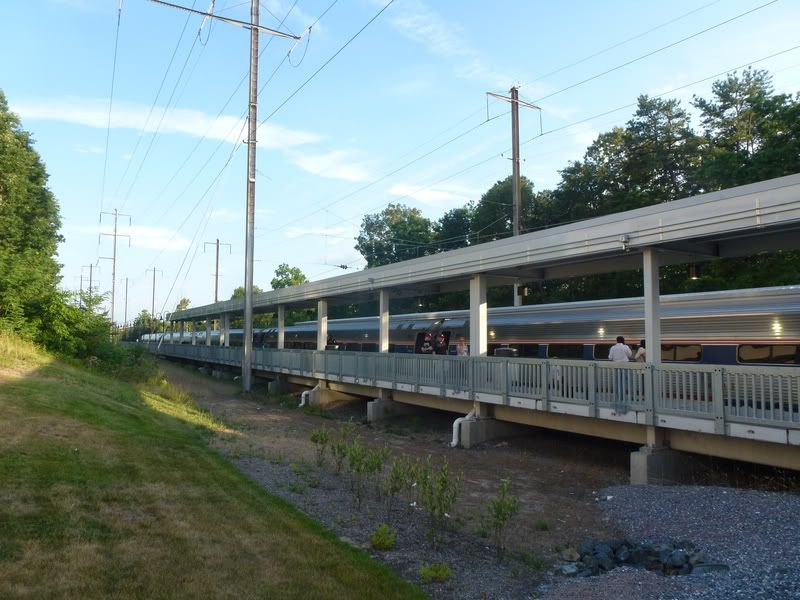 There's a free shuttle bus from here to the BWI airport: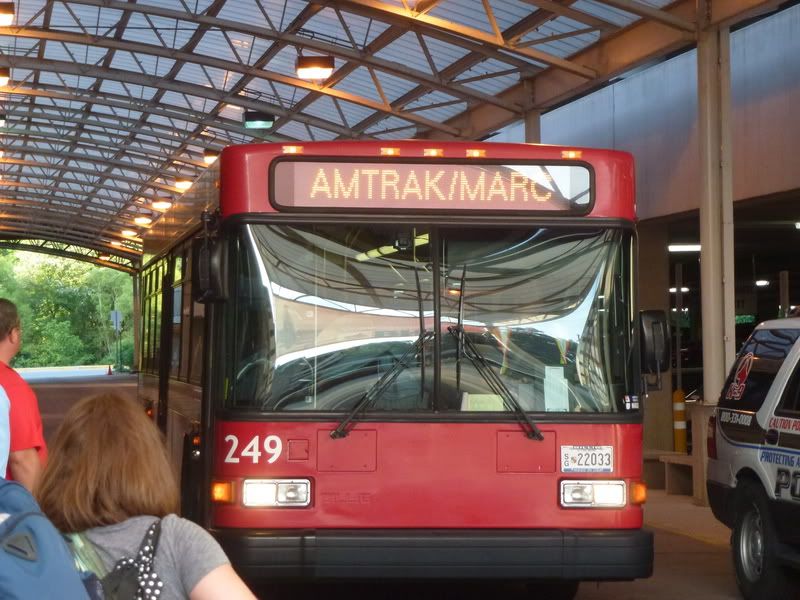 Ten minutes later I step off at the Airtran/Southwest terminal and head inside to look for a kiosk to print my boarding pass for tomorrow morning: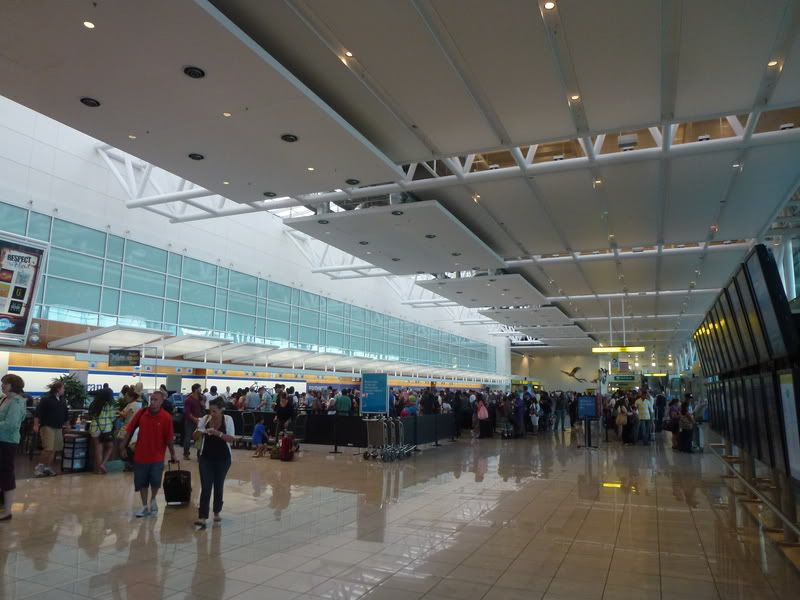 Quite busy inside. Just like the OLCI application also the kiosk offers the possibility to upgrade to First class for 59 buckaroos, well I don't really see it being worthwhile on this flight so again decline.
Having acquired the all-important boarding pass I contemplate about having dinner at the airport - there is one quite promising looking place but decide to leave that until the hotel, which turns out to be a bad mistake. So I head down one level to arrivals where the shuttle buses go: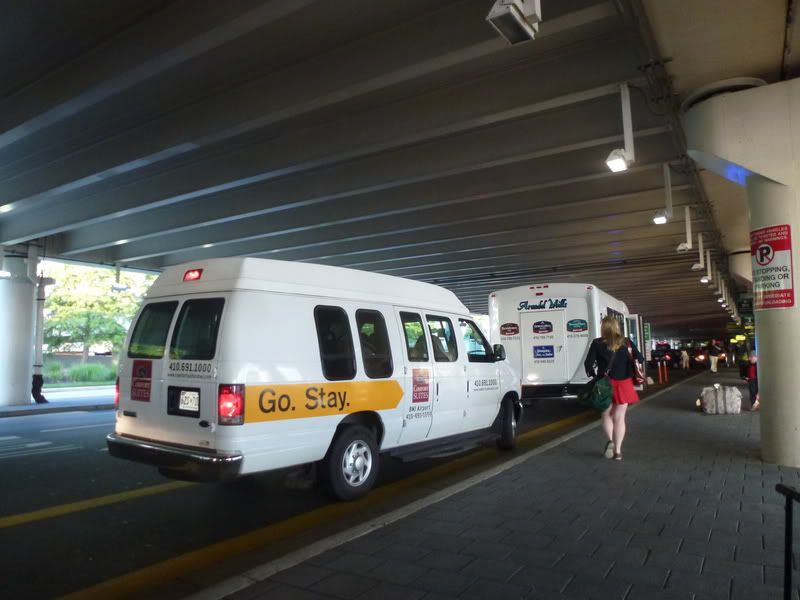 And then I wait. And wait. And wait a little more. The place is quite bad - tons and tons of diesel fumes around with all the buses, shuttle vans and pickup trucks running around plus very noisy with 737 after 737 of Southwest departing from the nearby pier: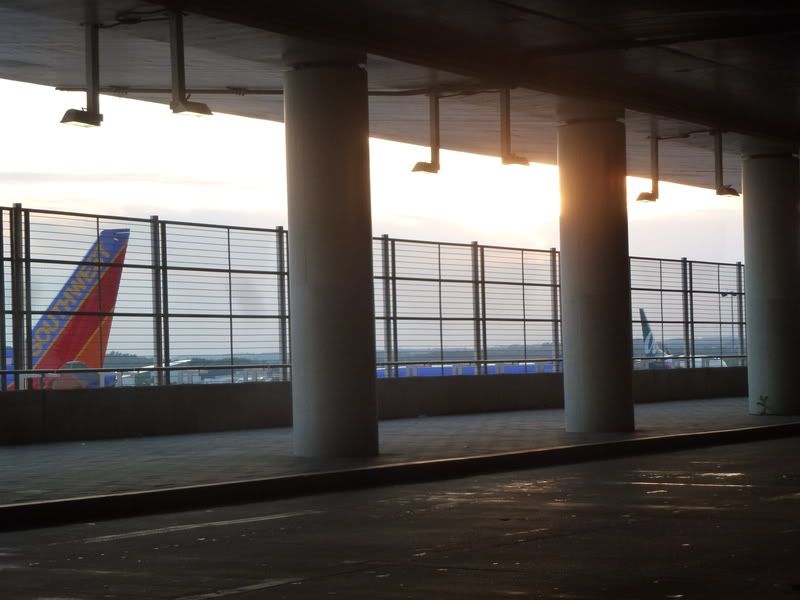 Eventually I figure out I better give the hotel a ring - due to the noise I have a hard time hearing anything but I think the woman finally understands where I am and what I want and joy and behold - some 20 minutes later the shuttle van finally shows up! Have I ever mentioned how I have this love/hate relationship with hotel shuttles?
I try some smalltalk with the driver but he doesn't say anything - at first I thought he was just being an asshole but later when we got back to the hotel and the reception girl told him that he has to go straight back to pick up some more guests the expression on his face told me much more - I think he is just too damn tired at his job!
This time I'm staying at the Aloft BWI Airport, located in Linthicum Heights, whatever that place might be. Priceline didn't yield me anything so I decided to try Hotwire for the first time and for 53 EUR I scored this hotel. Aloft is Starwood Property Group's (best known for the Sheraton brand) attempt at shaking its corporate high class imago and creating a hip & cool, young brand. Well I'm very sceptical about that kind of forced and faux things, but let's see.
First impression - yes, very hippy: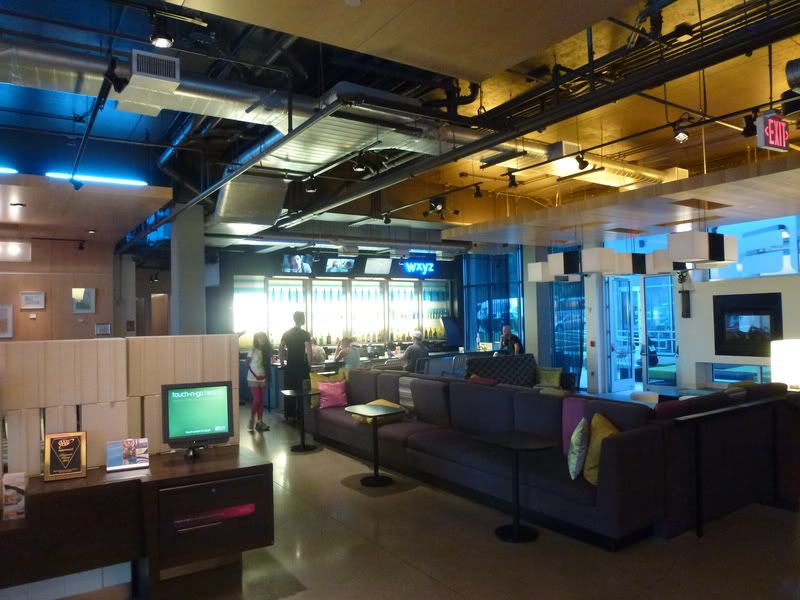 The reception girl is very jiggy, I'm not sure if they told her to be like that to fit into the chain imago or whether that's the way she really grew up in her hood. Anyway she explains to me that there's no onsite restaurant (bummer), but they have something she refers to as the "Re:Fuel Station" (oh, so hip!) where you can buy some prepackaged more or less junk food. There's also a Hilton right next door which is managed by the same company and their restaurant will give you a 15% discount with your keycard.
Here's my room then: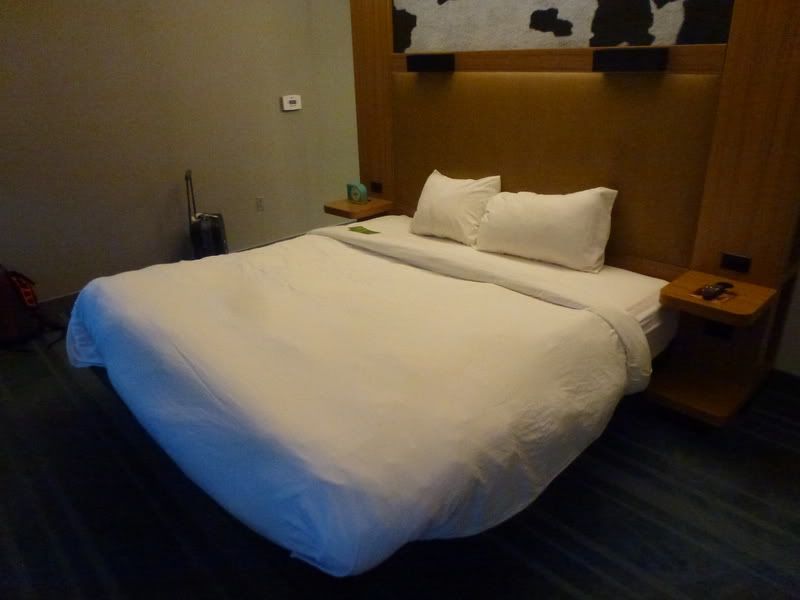 See, this alarm clock is so DDR retro in an ironic way: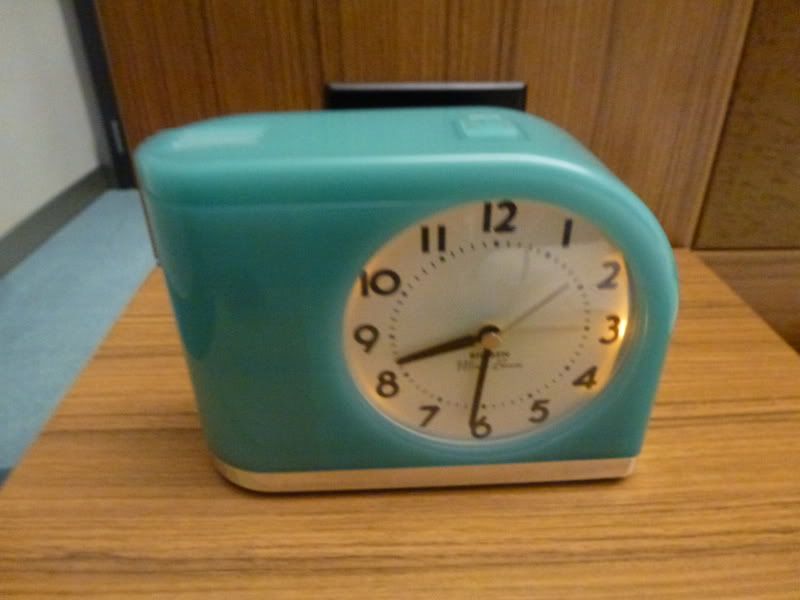 Oh well, I've been in far, far worse hotels and that bed certainly is huge and very comfortable. Going to the Hilton for supper doesn't really appeal to me this time so I go back down, buy a couple of Coronas from the bar (the girl there is equally jiggy to the reception one - this definitely must be the corporate imago then, well she is very nice so no problems) and something that looks like the least junkish of the food from the pantry. I say "this is my supper then" to which the reception girl says "I say that's a damn fine supper!" which sounds a bit forced to me! Anyway this is what I got: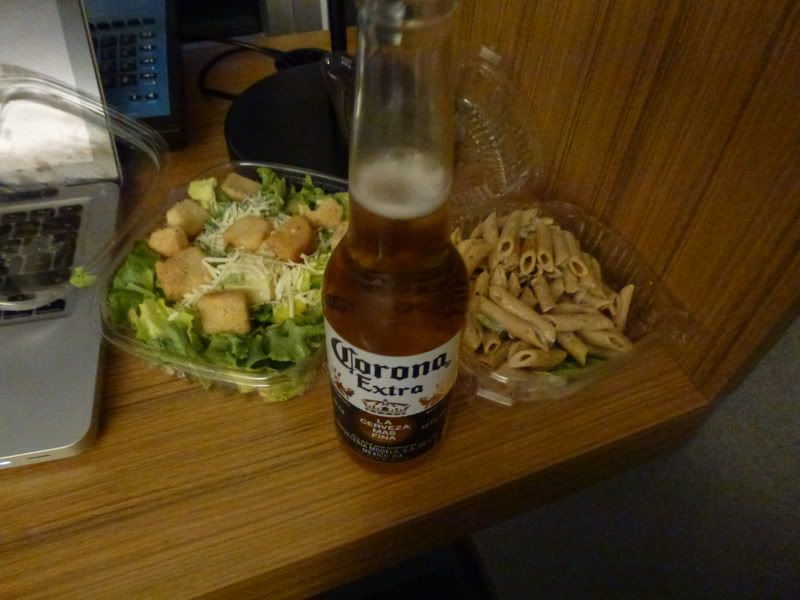 I pack up my stuff, watch an episode of Futurama on the big ass telly and head off to sleep in preparation for the long travel day...
Monday 18.6.2012
As has become the norm on this trip the alarm wakes me up at 4.45. For some unfathomable reason I have ZZTop's "Tush" playing around in my head which becomes quite annoying after the fourth or fifth time...
After the usual shower and stuff I head downstairs to wait for my prebooked 5.30 shuttle. The reception shift has changed overnight, the new girl is a little bit less jiggy but very friendly. Waiting outside for the shuttle: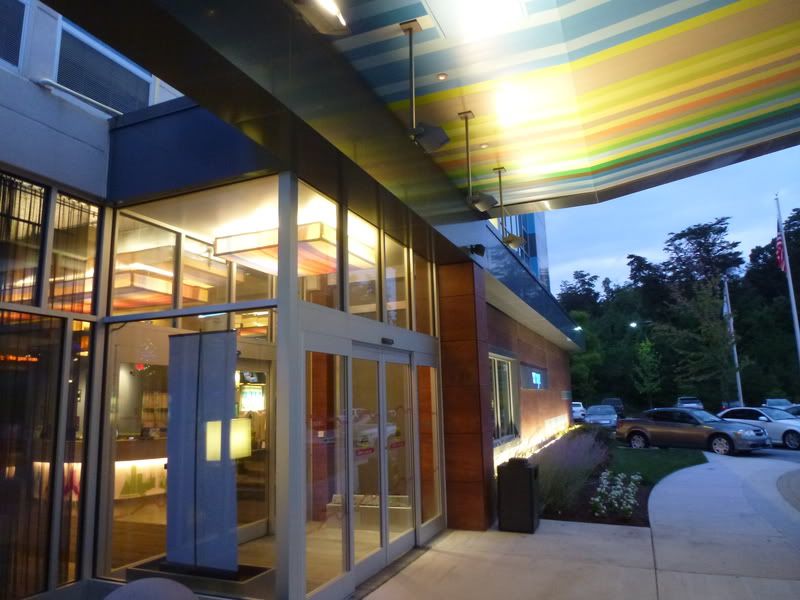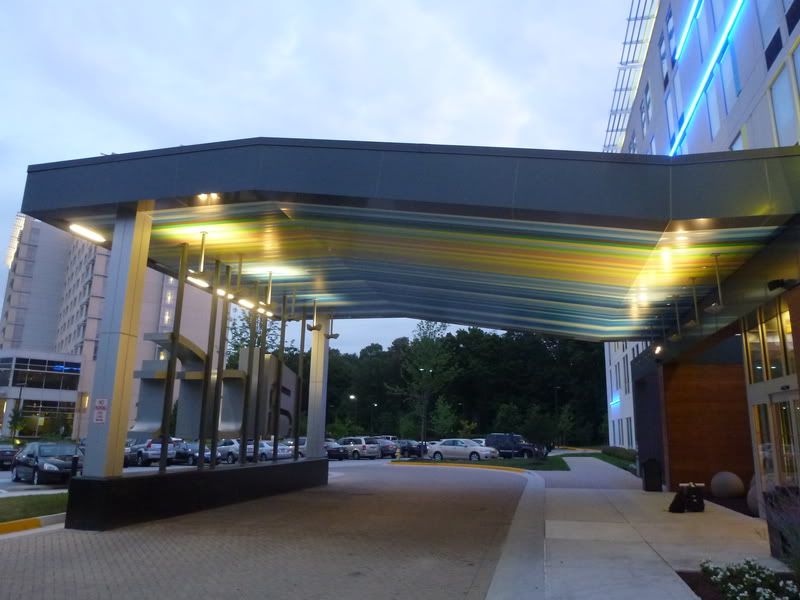 Yes, this is the name of their lobby bar - see, it's
so
hip: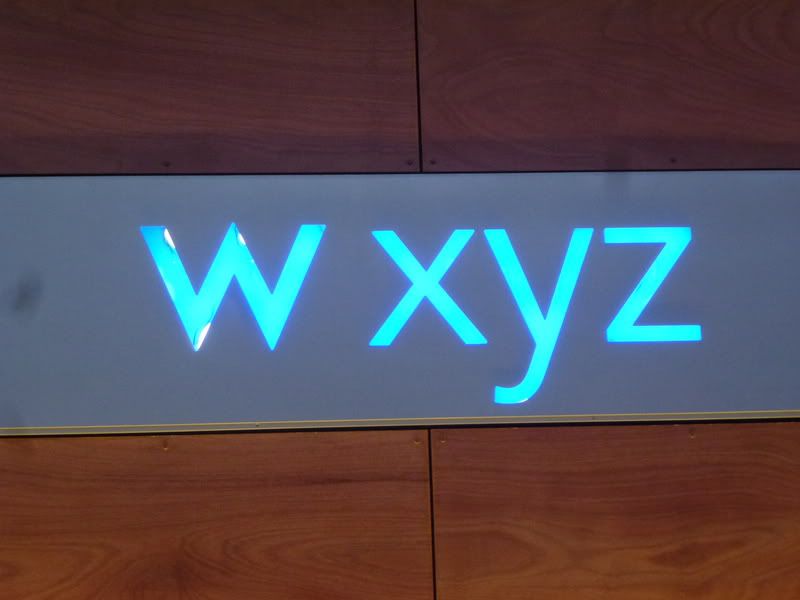 Soon the shuttle shows up, the yesterday's grumpy guy has been replaced by a much nicer and very jolly Asian chap who already has a gal from the Hilton onboard.
Entering the Southwest terminal I'm in for a shock - it's barely 5.45 AM and the queues are
insane
: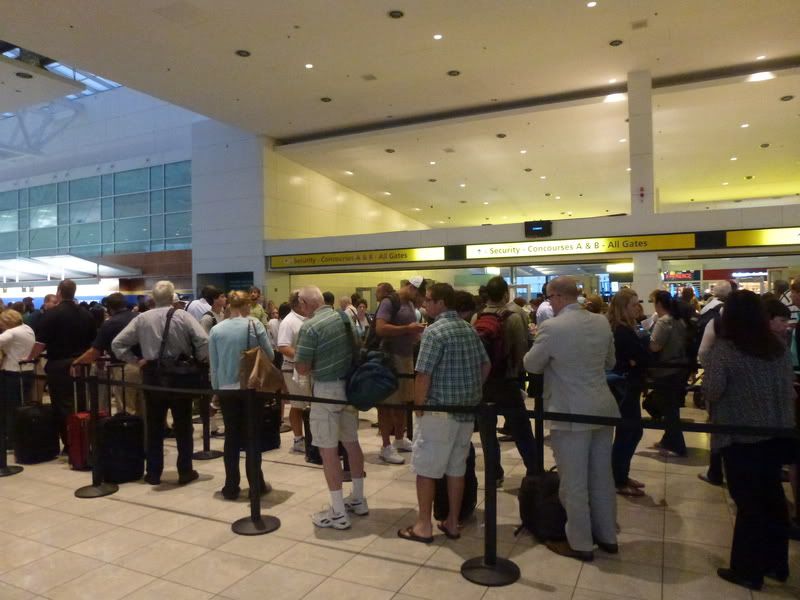 I remember seeing a sign yesterday night that there is an additional security checkpoint downstairs so I decide to give it a try. The queue here is somewhat shorter so I join it: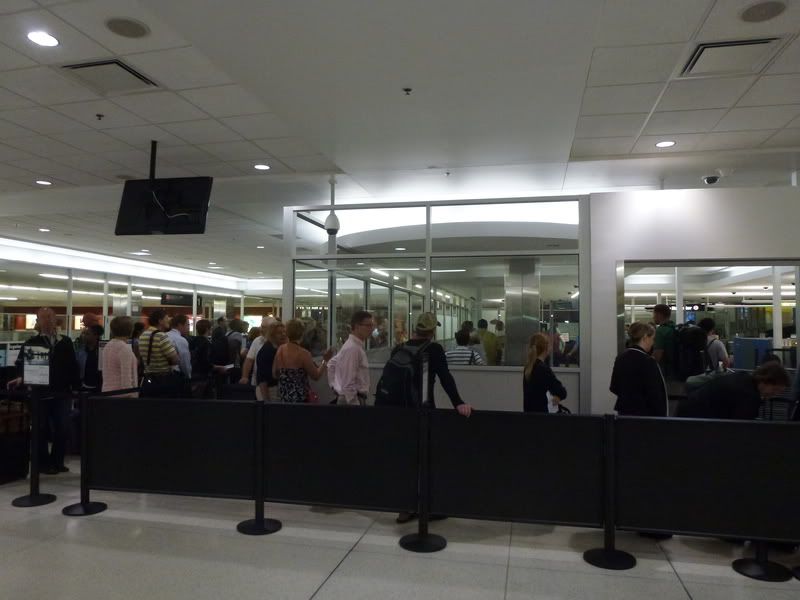 It isn't too bad actually - after some 25 minutes I'm through and no nudiescanner this time either! I think the TSA folks here are the friendliest on this trip.
BWI has a huge Southwest presence: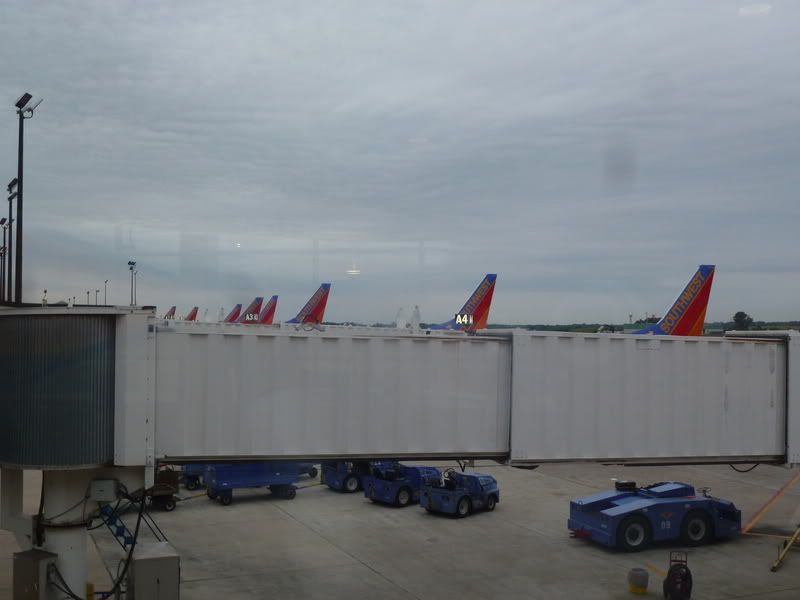 Between the A (Southwest) and B (Southwest and AirTran) piers there's a shopping/food court area so I head there for some breakfast: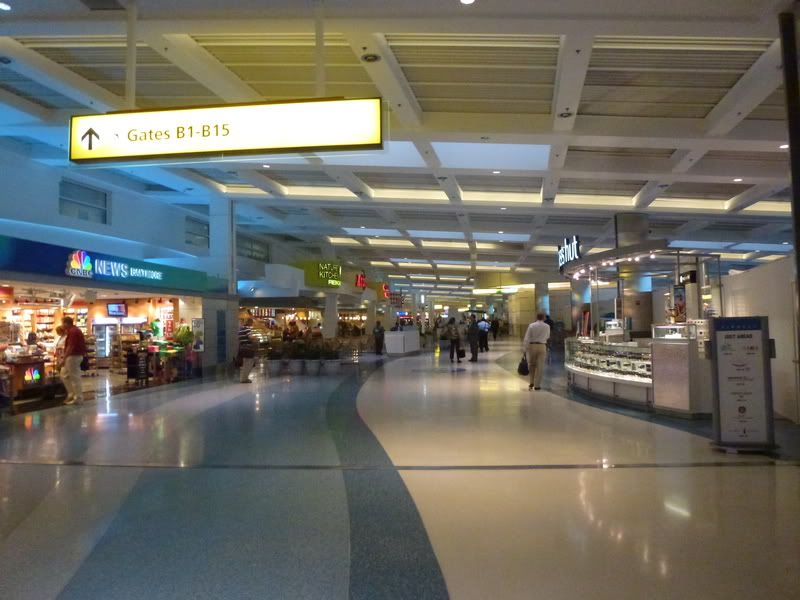 Plenty of choices here but I eventually settle for a breakfast burrito with coffee, what else: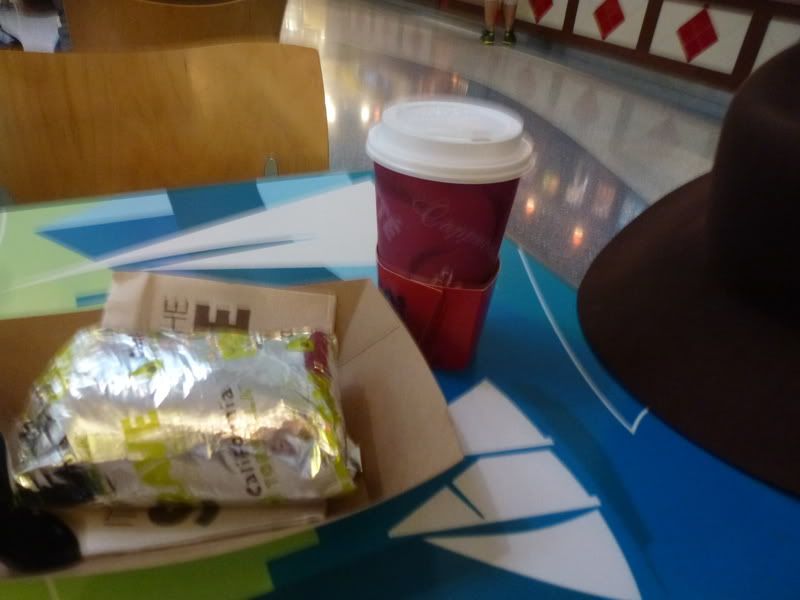 Heading down to the B pier and my gate I see the trendy rocking chairs have made an appearance here as well: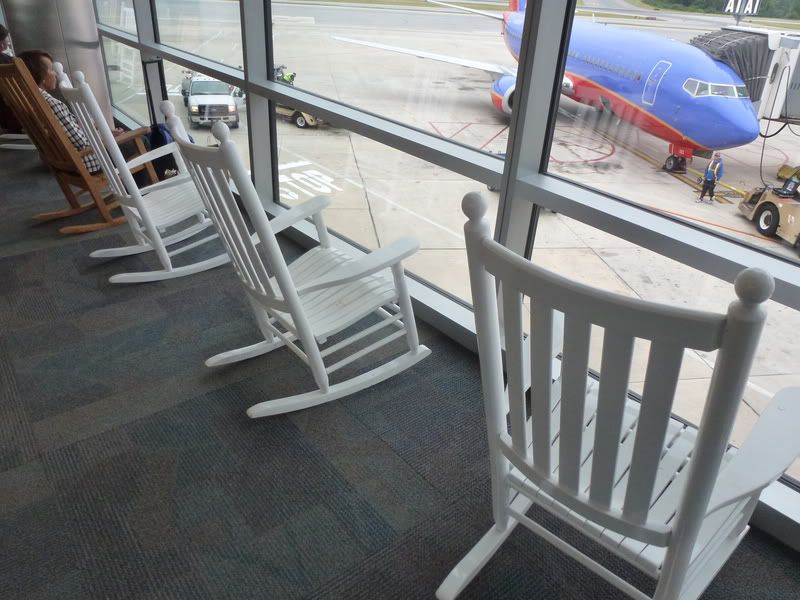 As mentioned, this pier is mainly AirTran - not my 717 this one, though: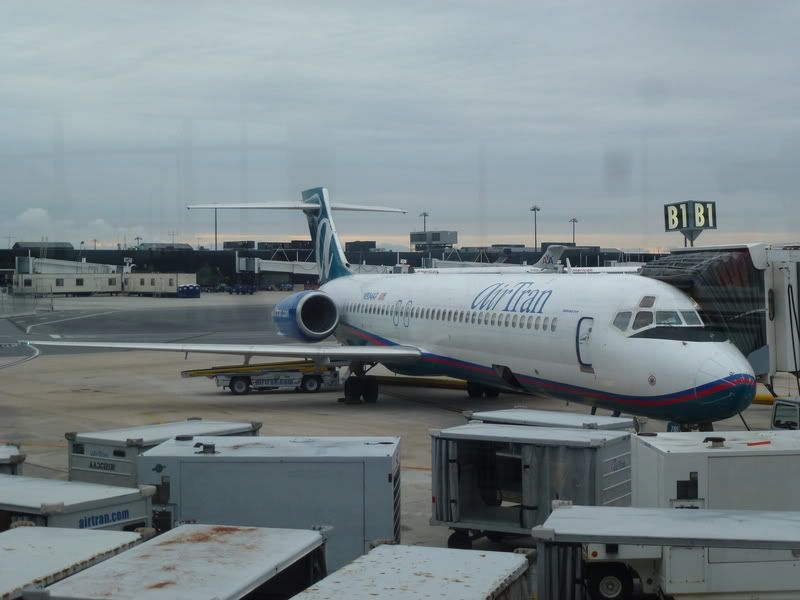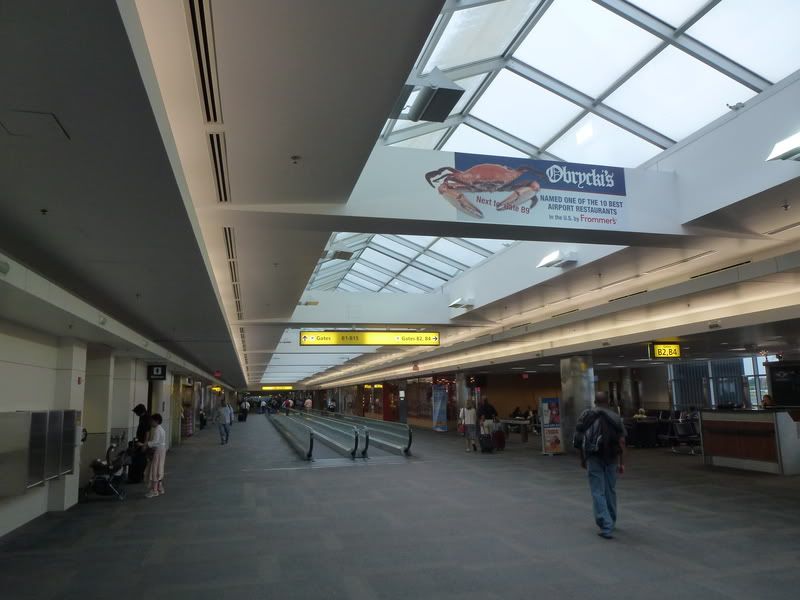 Hmm, that sounds (and looks) good - yummy seafood (sorry, Nils!) - maybe I need to come back to BWI during a proper meal hour to sample this place: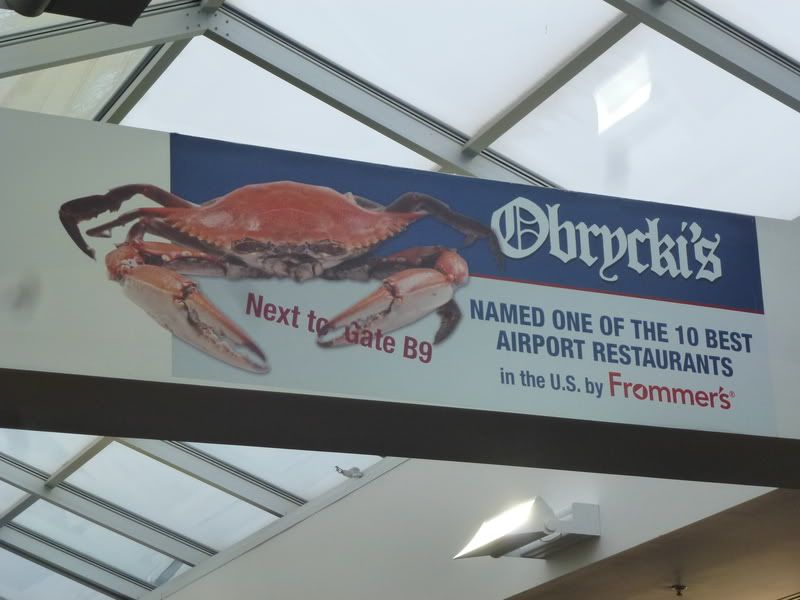 Getting to my gate I sit down in front of the window facing the arrival runway watching the traffic. An United 757 that just arrived from its long redeye flight from SFO if I remember correctly: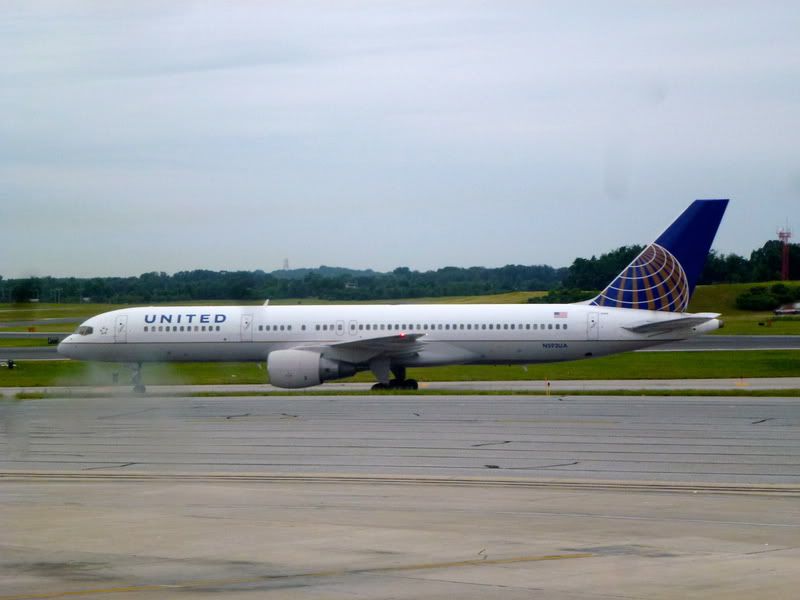 They make an announcement about upgrades still being available for this flight. As I don't catch the price the agent mentioned I go to the podium to ask - the girl says that it is still the same 59 USD so I tell her I'll think about (for a microsecond).
A bit later they also make an announcement about a potential overbooking situation - they might need five volunteers and the offer is 300 USD compensation I think and a seat on the next flight which doesn't work for me as it is too late to catch my DL flight down to JFK, bugger that.
Hmm, this might be my ride arriving: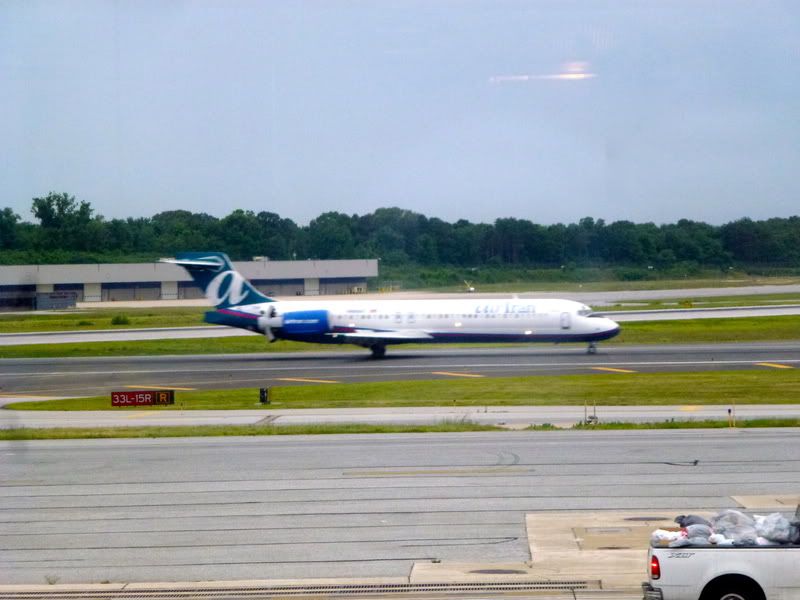 Although this special logojet lands right after it and I keep hoping this would be it instead: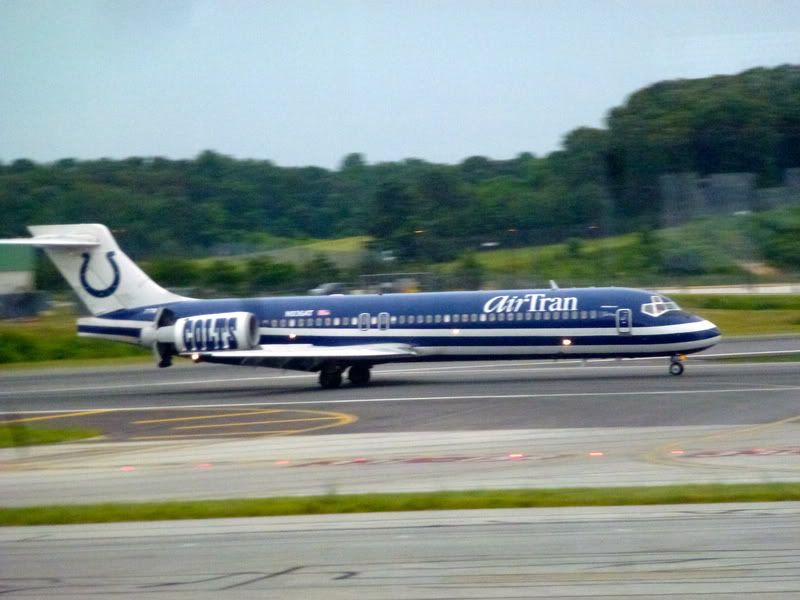 Unfortunately the vanilla liveried one pulls in to my gate:
N996AT is the reg - of course a new one for my log and my 151th airline as well.
Haha, I really like that ad on the catering truck: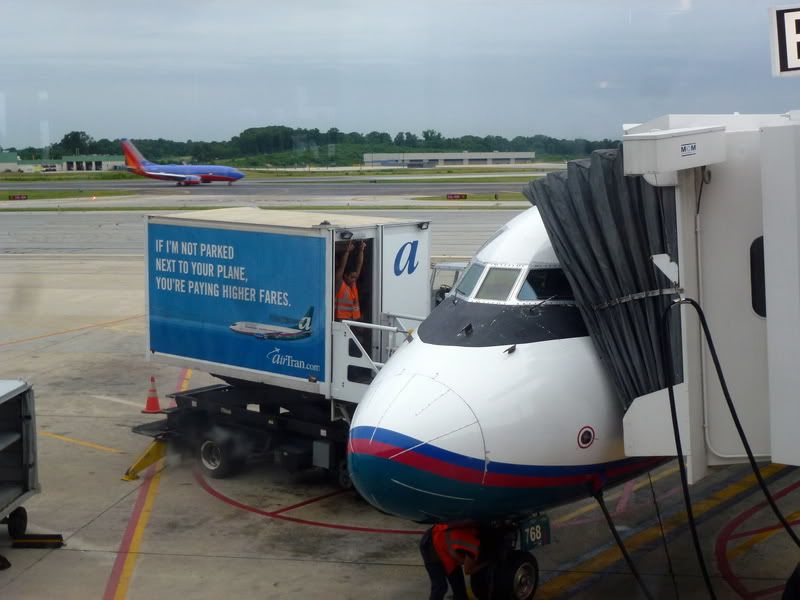 The gate has the Southwest-style boarding groups marked with these steel poles: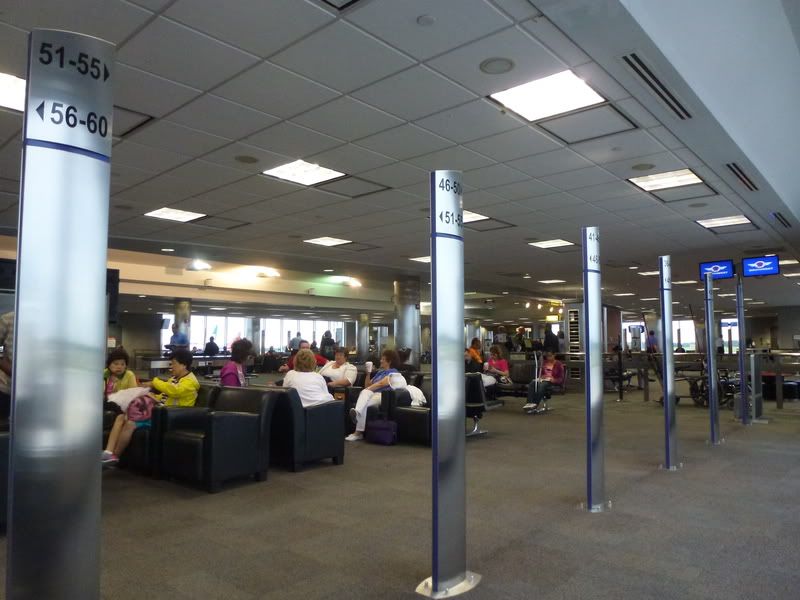 Boarding is called relatively soon after the inbound arrived. They do it in groups, starting with business class and since I decided to go for the definitive 717 experience and picked a seat way back in front of the engine I'm already in the second group.
BWI - BOS
FL1874
B717 N996AT
Seat 27A
7.41 - 8.55
Tammy, the purser is a really nice and bubbling Southern belle, this is definitely the first time I've ever been called a "Sweetie Pie"! I ask where they came from - she says "It's too early to remember!" and a bit later "I think it was Rochester, hun!". Definitely a bit different welcome this time!
Business class is the standard US 2-2 affair, large and relatively comfortable looking leather armchair type of chairs. Economy has cloth seats - a bit old fashioned when compared to the new slimline trend, but quite comfortable: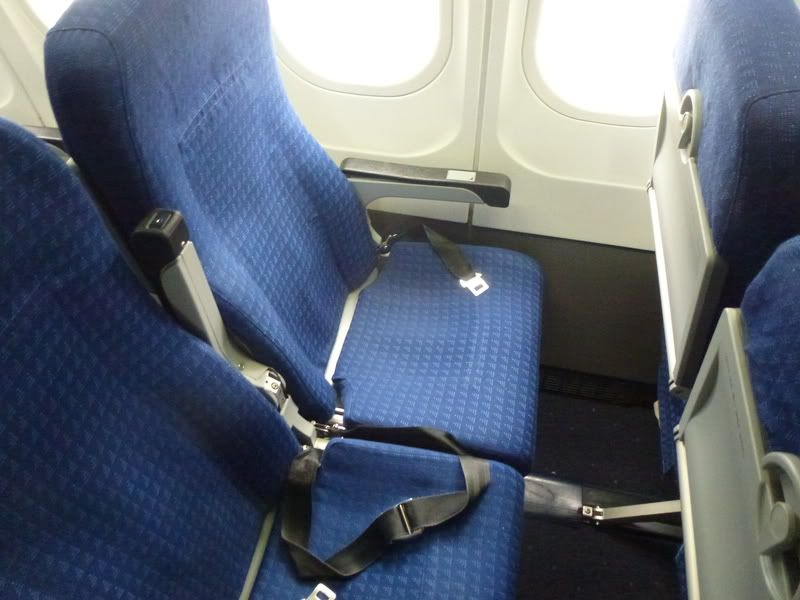 Yes, gogo is here as well - although AirTran doesn't give you the 15 minutes for free like Delta, bummer: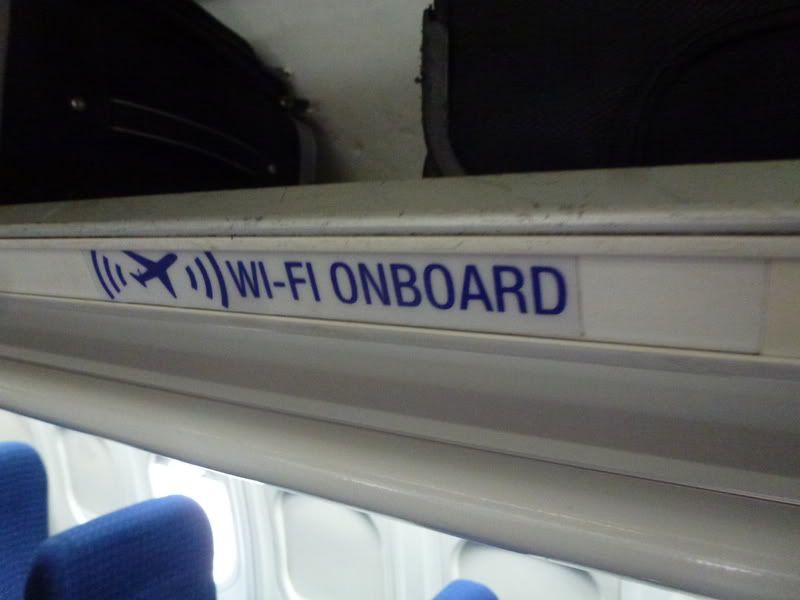 Legroom is better than on the KF 717s with the old seats on the back rows: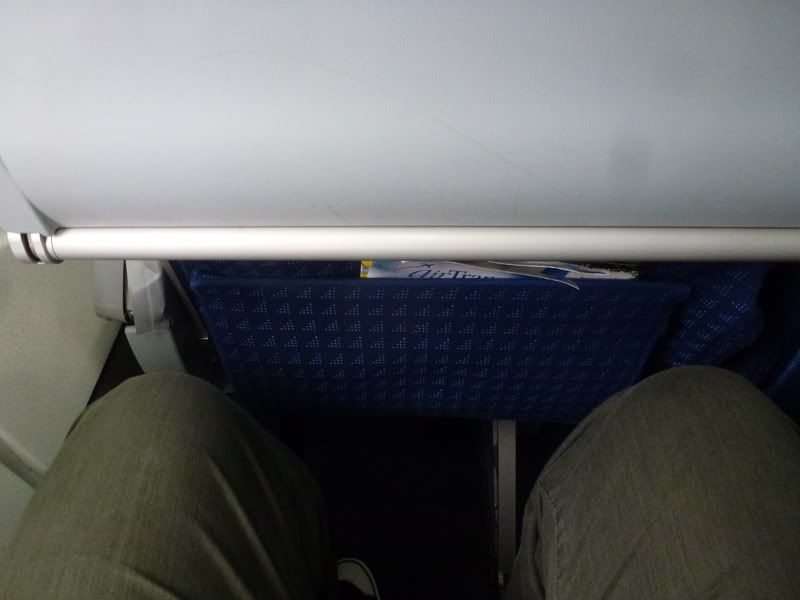 Ahh, the definitive 717 view:
My seatmate is a young Asian lady who first goes thru her marketing budget Excel on her laptop while we are still on the ground (no privacy shield on that laptop - I can see everything!) and sleeps the rest of the flight away, my kinda seatmate for this flight I guess!
I'm not sure what happened with the oversell situation, I think I see a couple of empty middle seats so I guess it didn't manifest itself after all...
The captain announces the flight time as 1h1mins "take off to touchdown" like he puts it. Pushback is six minutes late.
Considering that a good number of Southwest jets have already departed this morning they still have a very impressive lineup - the operation must be really big here:
It's not all 717s though - expect to see more and more of these when the 717s go to Delta: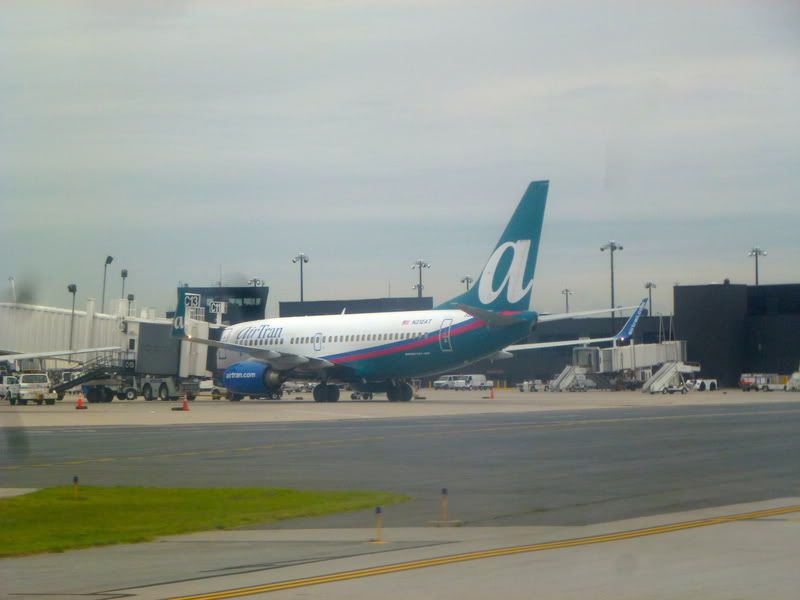 Taxi to runway 28 takes around ten minutes.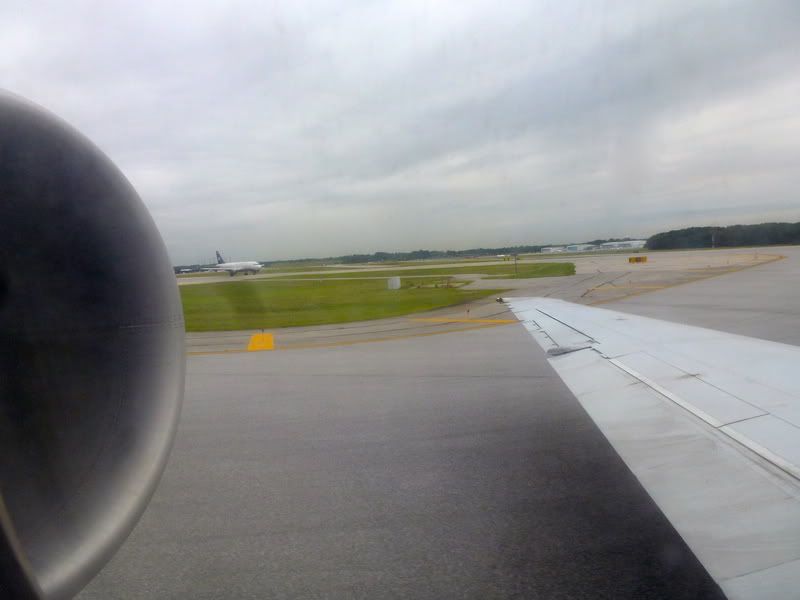 Racing US Scareways - we won: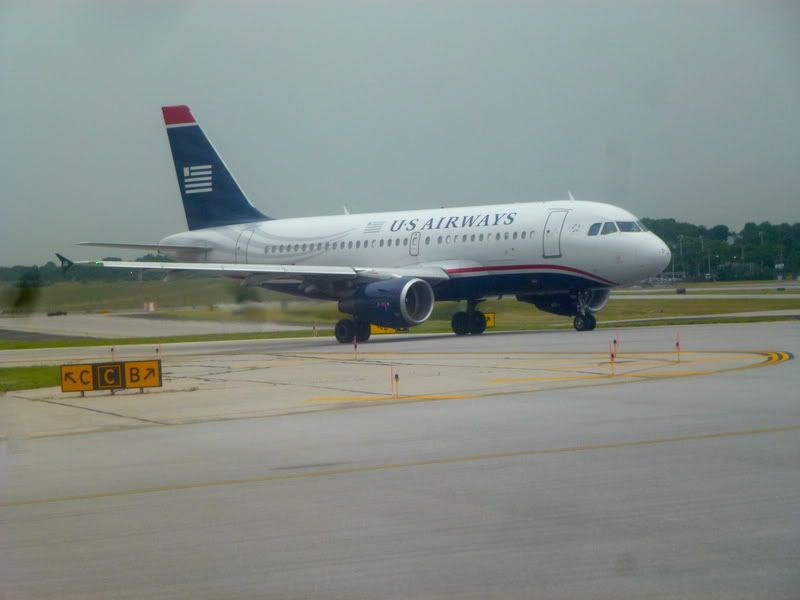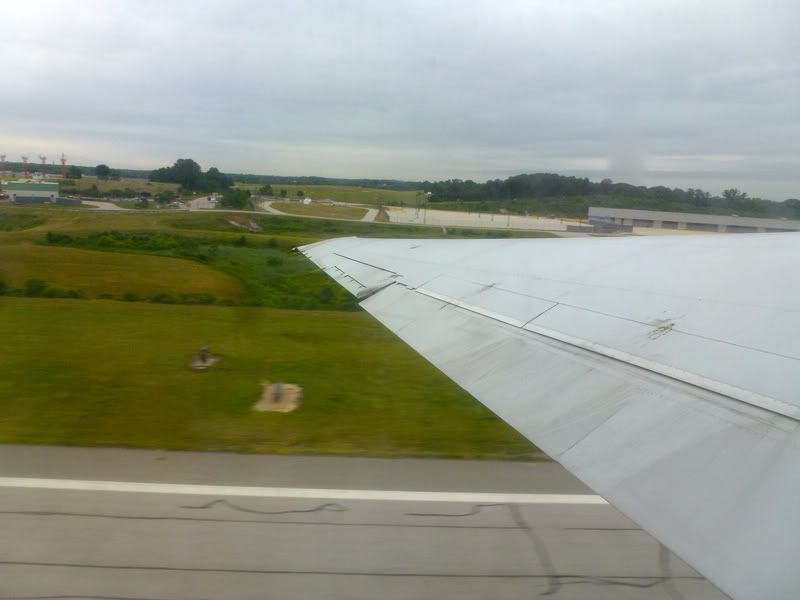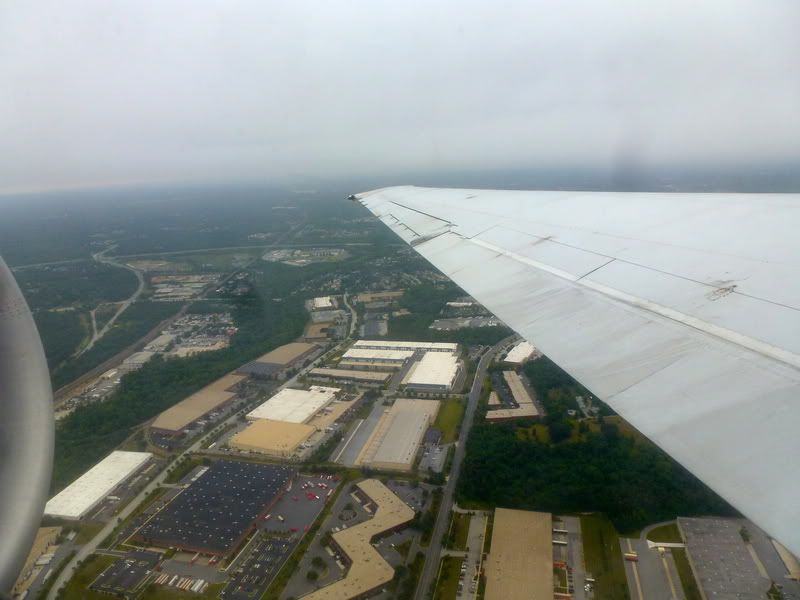 Keep spending, the economy needs you:
It is rather hazy and cloudy so unfortunately there's no view of the city of Baltimore itself which I was hoping for. The next opening in the clouds comes somewhere over Philadelphia I think: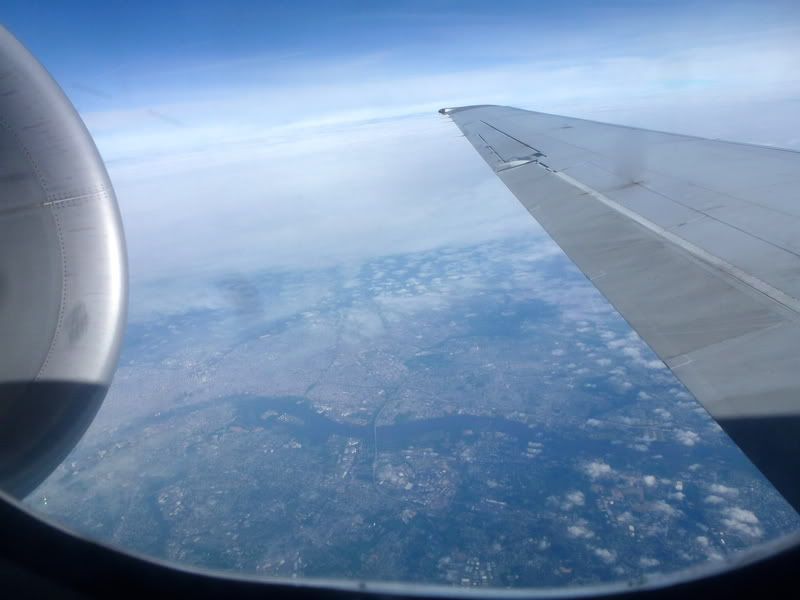 Service is a drinks run (more watered down, bad Ginger Ale, I think it was Seagrams and just a cup, not even the whole can) and it looks like Delta doesn't have a monopoly on Biscoffs - maybe it's a requirement for ATL-based airlines:
Quite a nice view of Manhattan: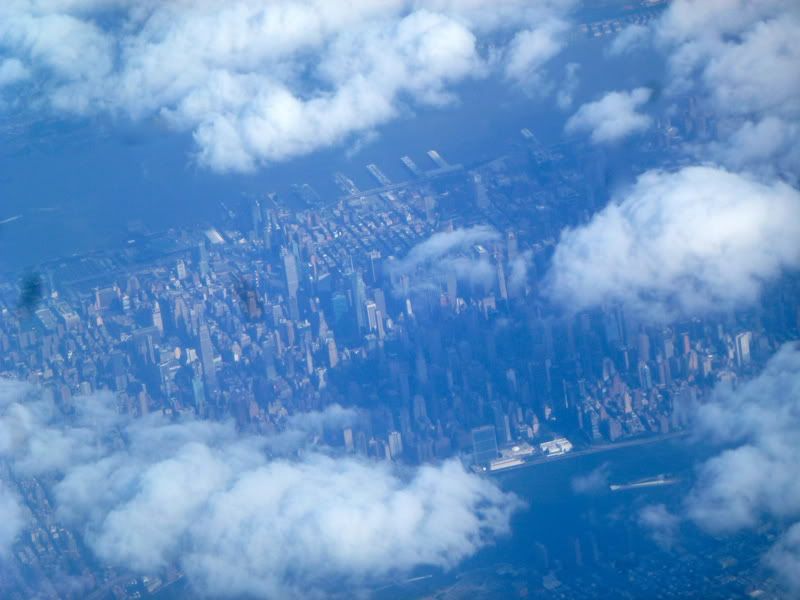 Over Brooklyn: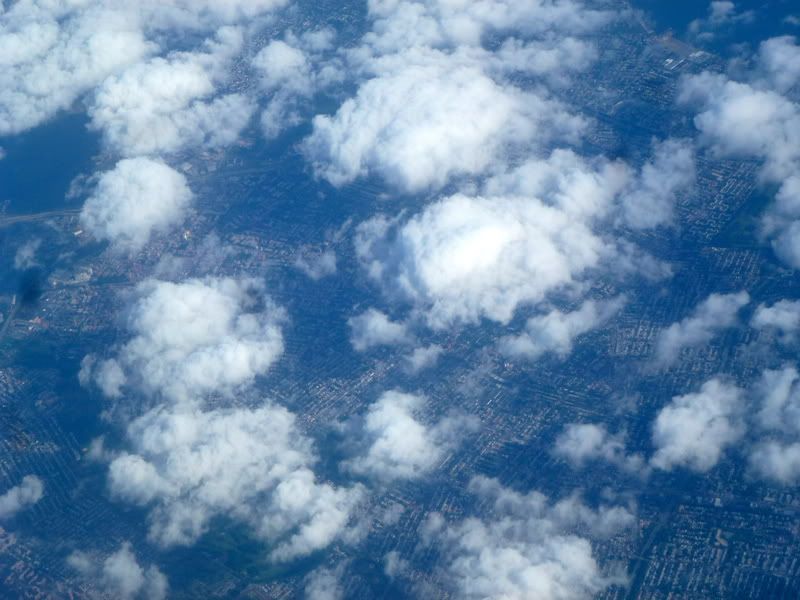 The Throgs Neck Bridge connecting Queens with Bronx:
Providence, RI: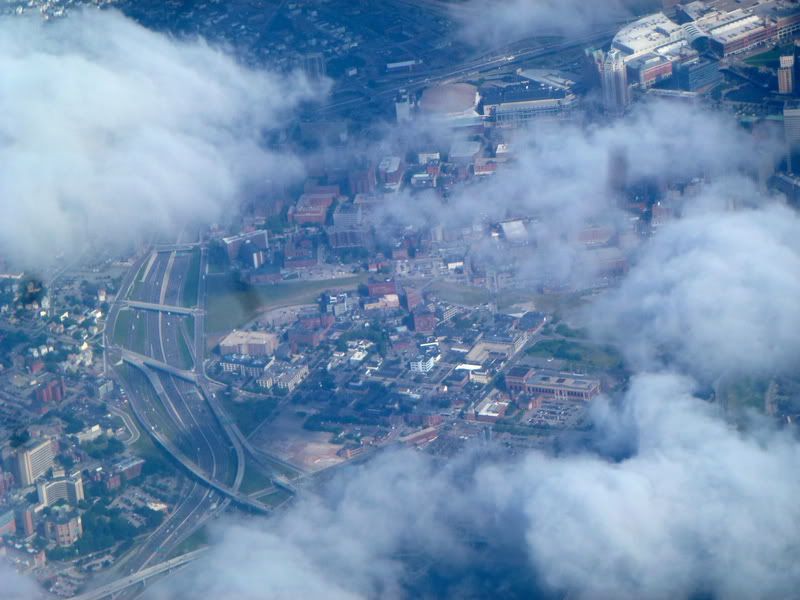 Heading for the clouds to start our approach into Logan: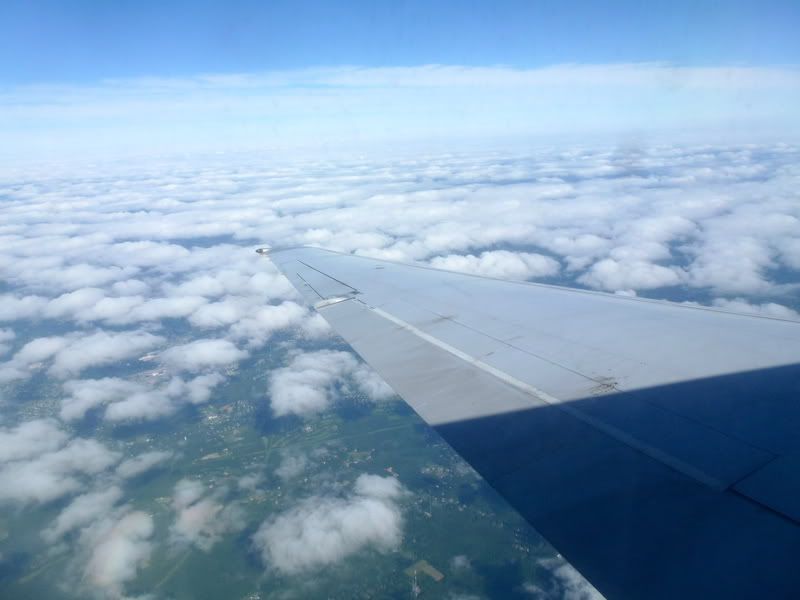 Over the vast suburbia on the southern side of Boston: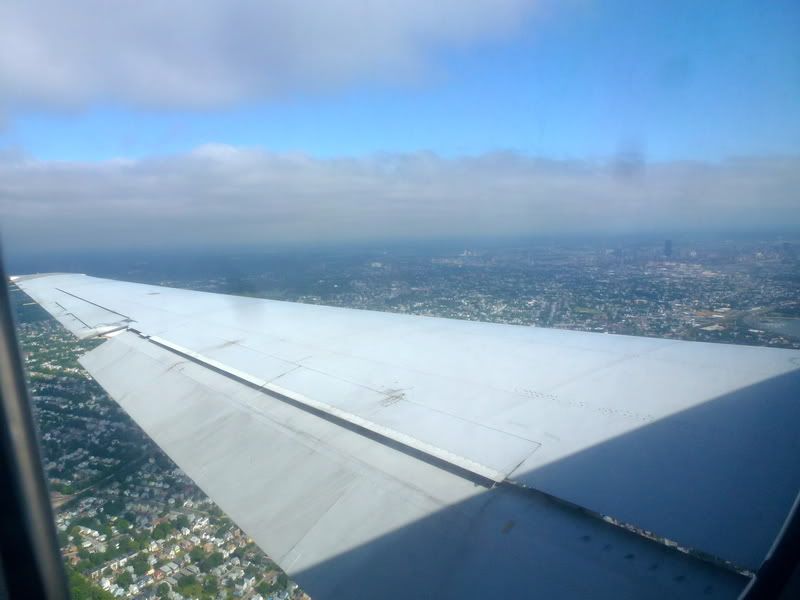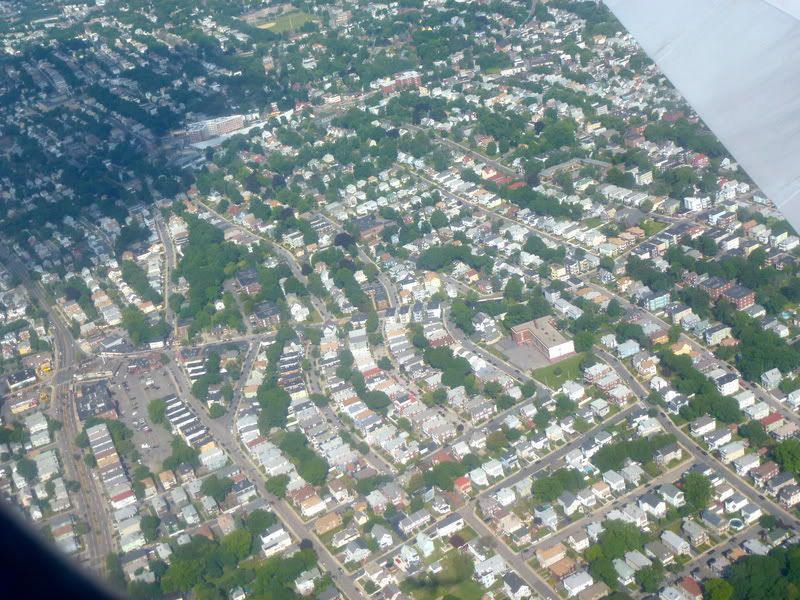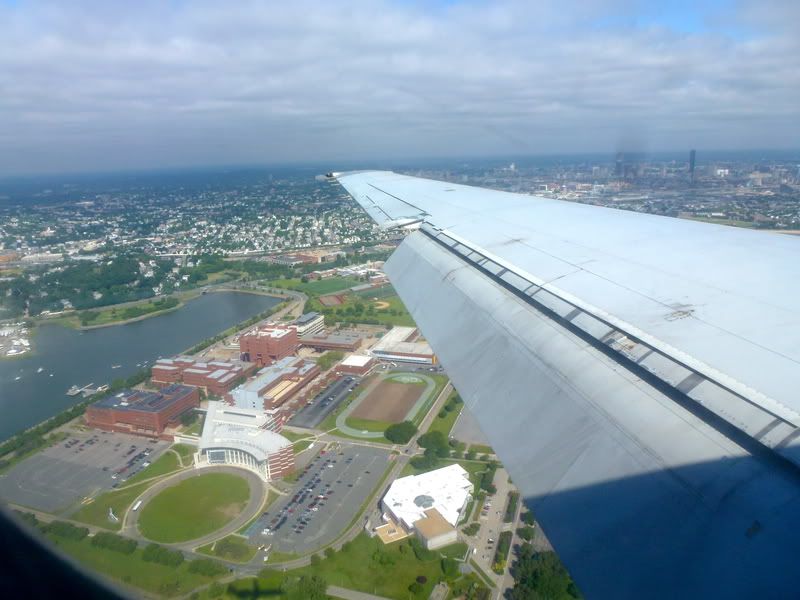 Can you spot our shadow: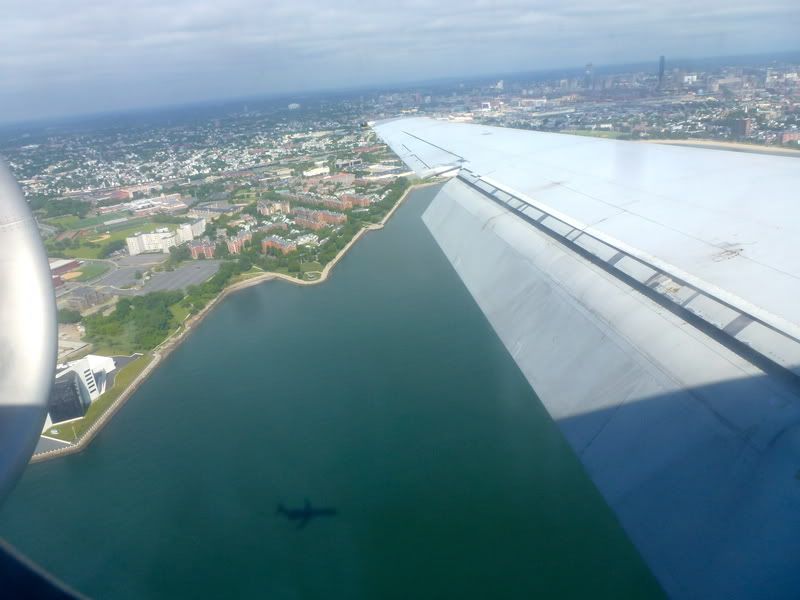 Beach or downtown:
Over the port facilities during our finals for runway 04R: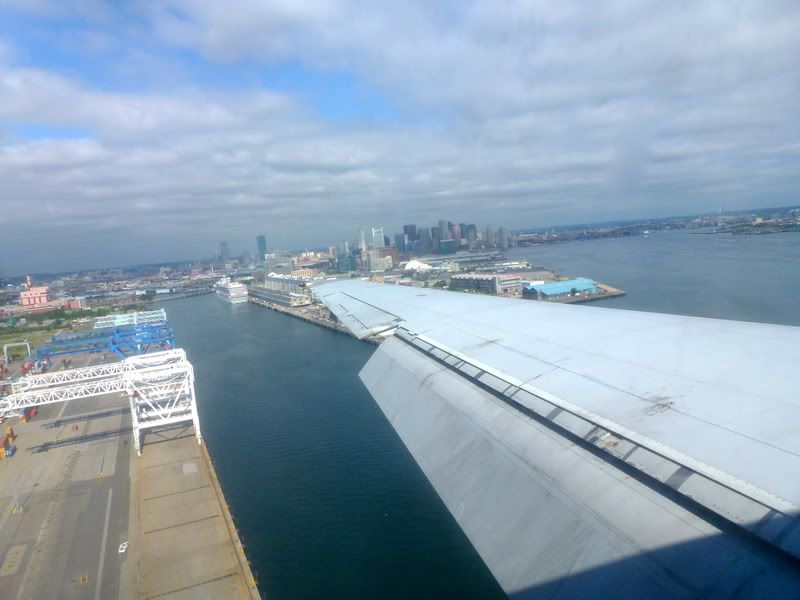 And touchdown - I clocked the flight time as 1h4mins: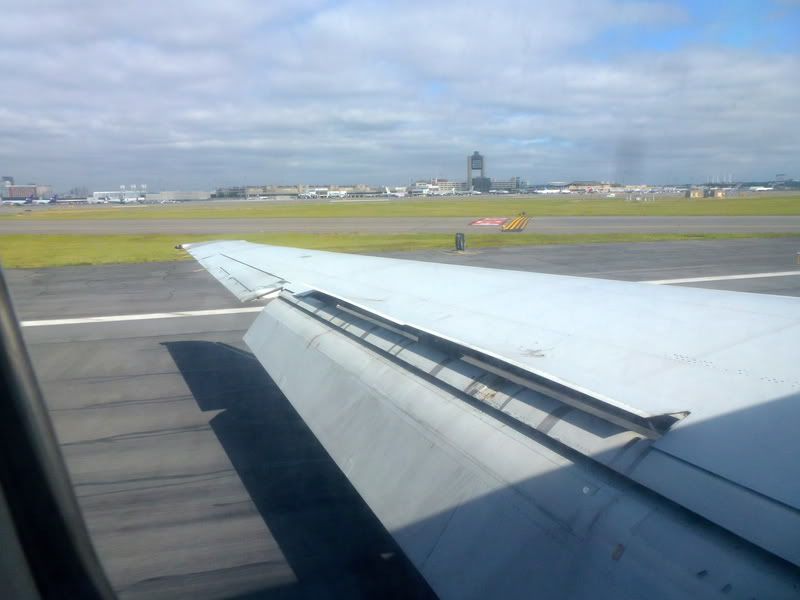 JetBlue has a large hub operation here as well - I think BOS was their second hub after JFK where it all started from: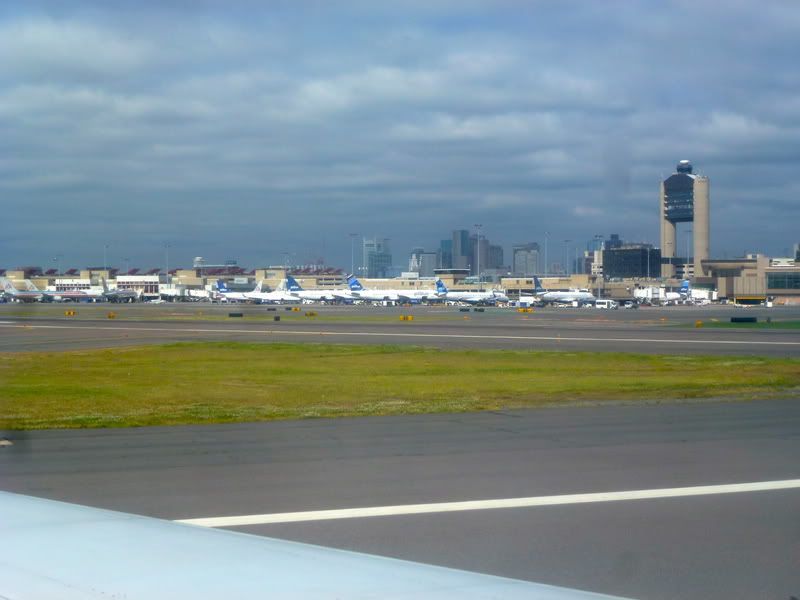 Southwest avoided BOS for a long time, instead focusing its operations to MHT (Manchester, New Hampshire) just some 50 miles away but eventually they gave in: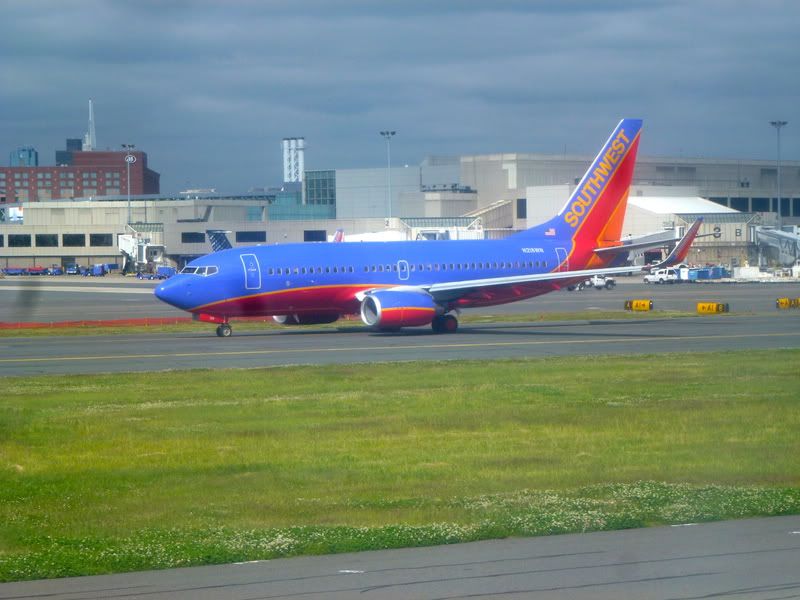 A few minutes later we dock to the E terminal, bringing this mediocre flight on a lovely plane to an end.
Boston Logan International Airport
Bye: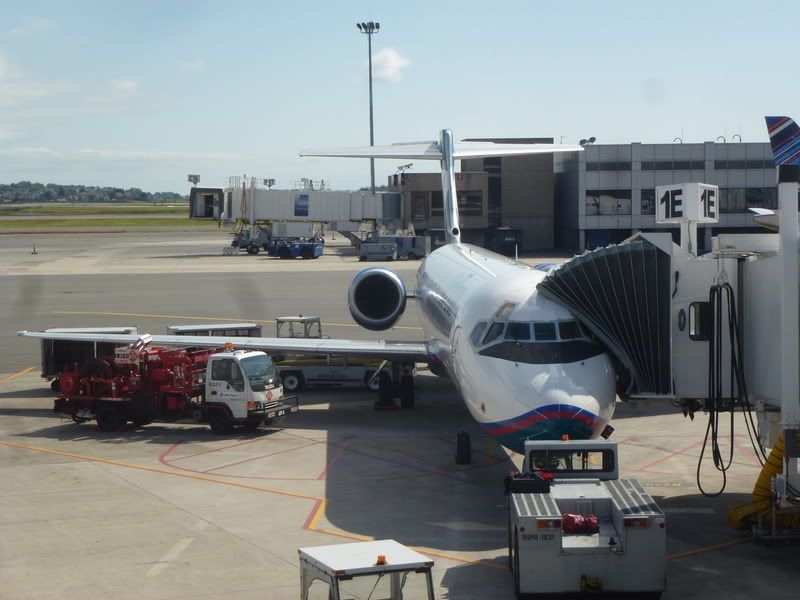 Oooh, Porter - I so want to try them out: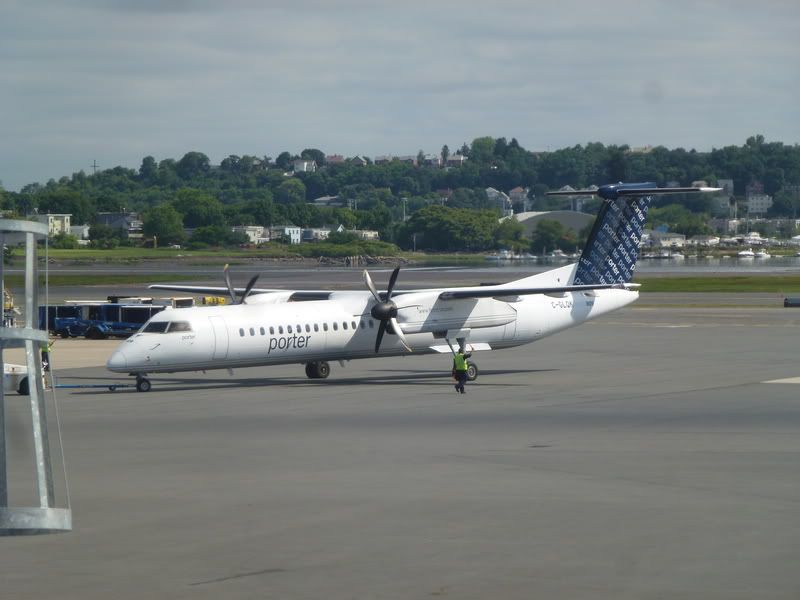 The trend has reached Massachusetts as well: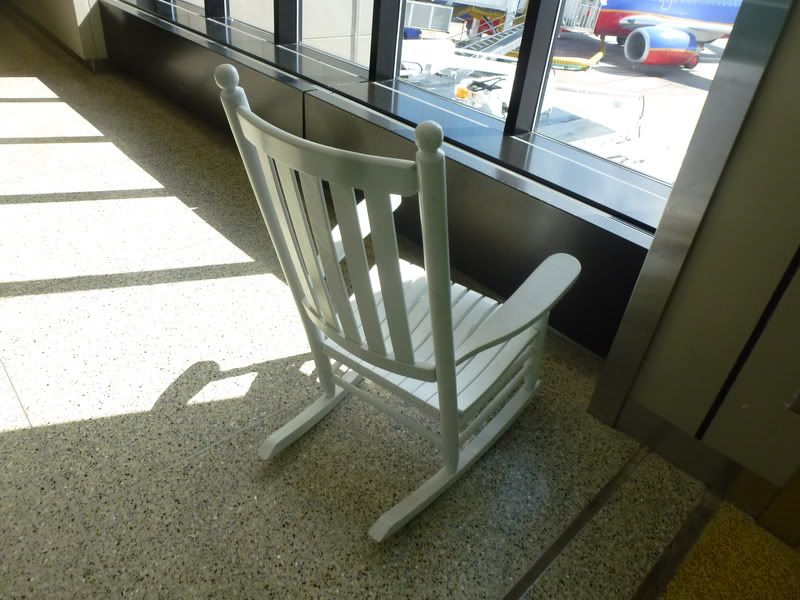 Delta lives in terminal A, so I need to exit the sterile area and head across there. JAL check in desks for their new 787 service: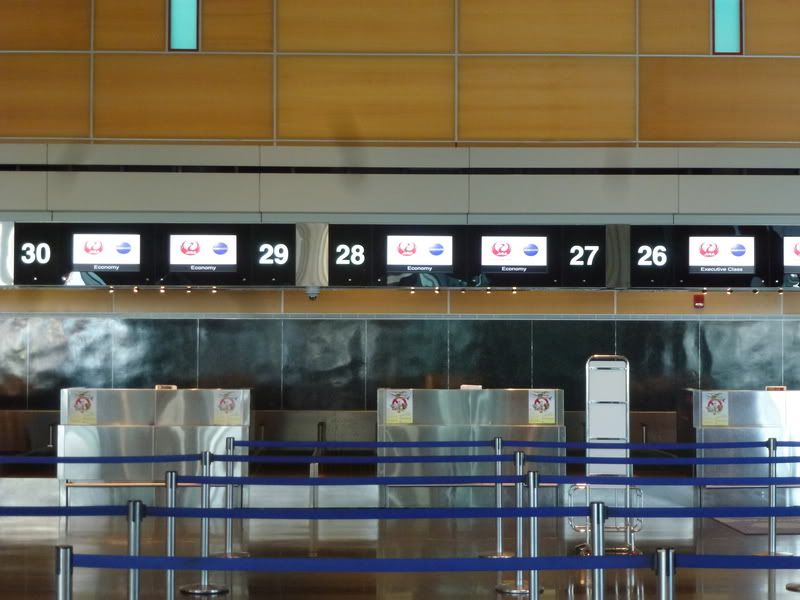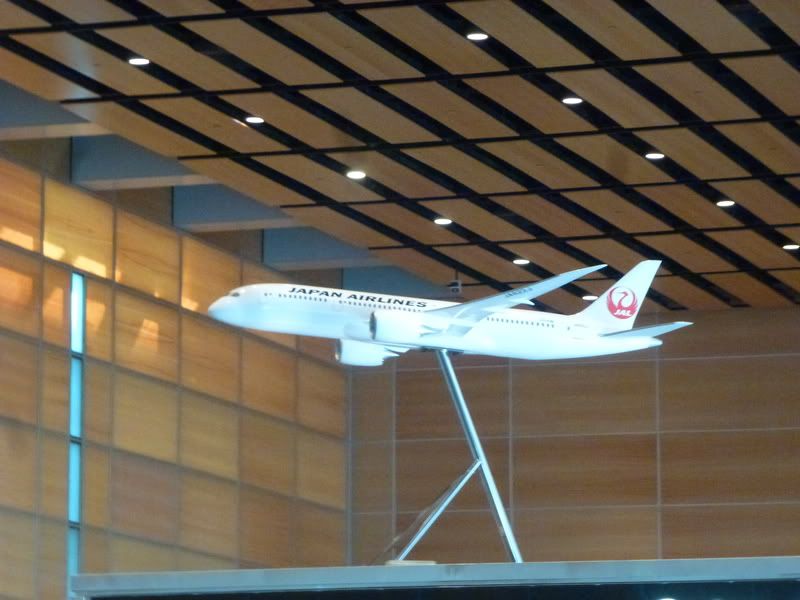 Walkway towards the other terminals: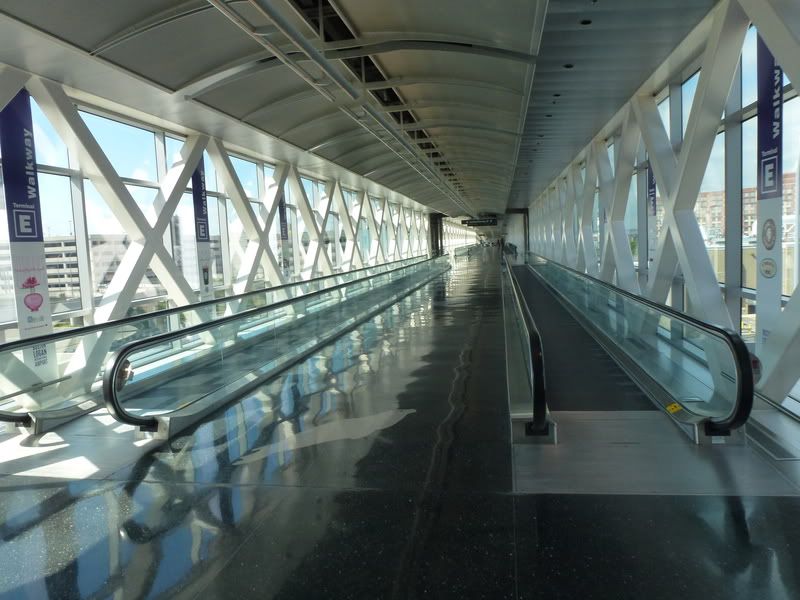 BOS sits at an excellent location, just across the bay from downtown: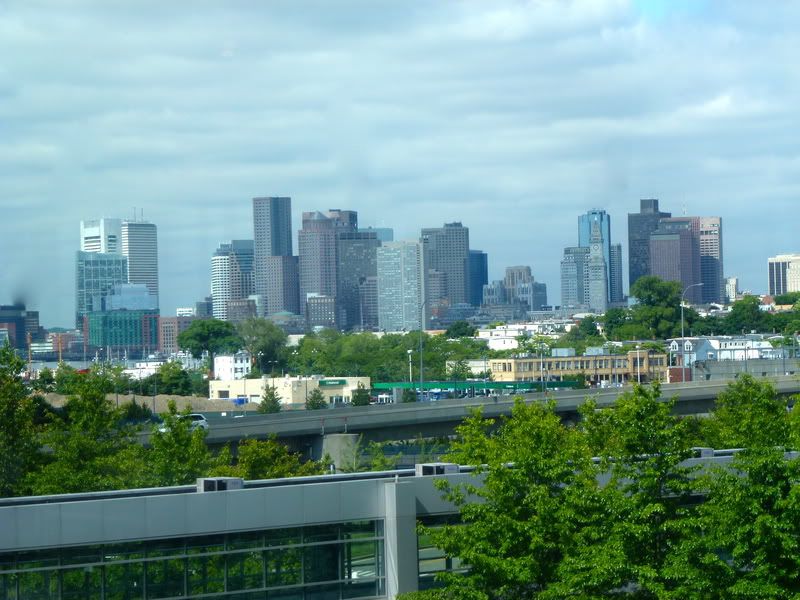 Oh, I didn't know they had one here: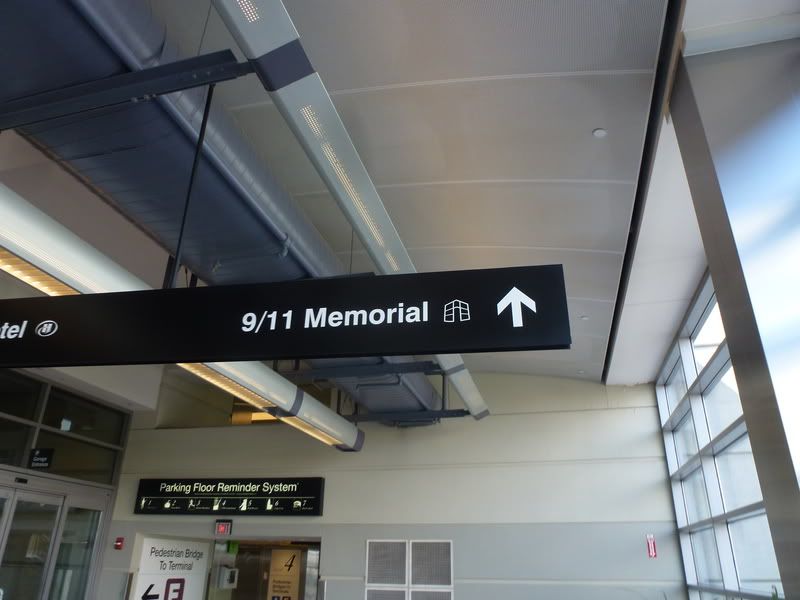 And this is the memorial itself - looks quite nice actually: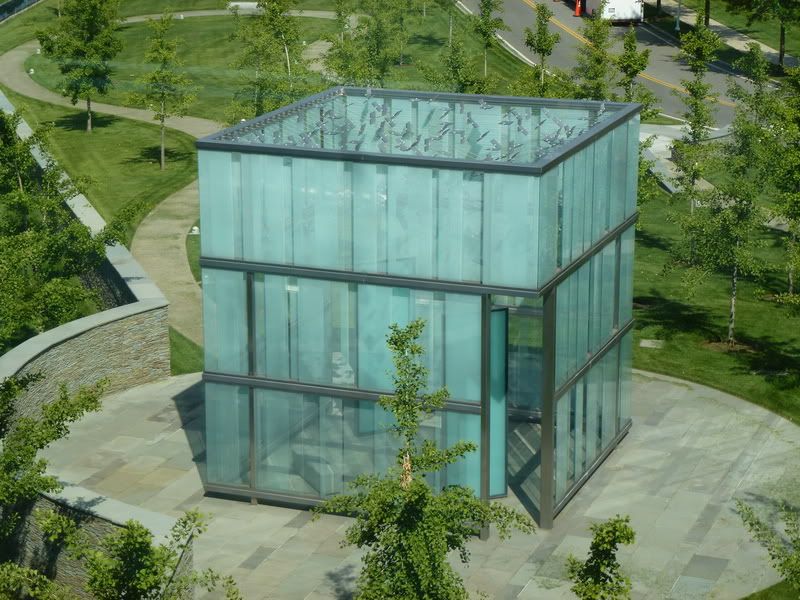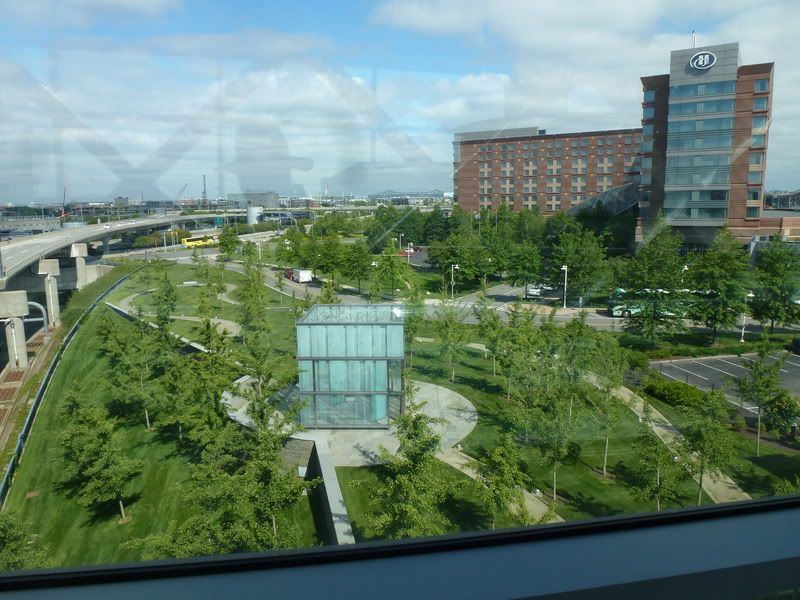 Reaching the A terminal - which has a separate satellite terminal as well: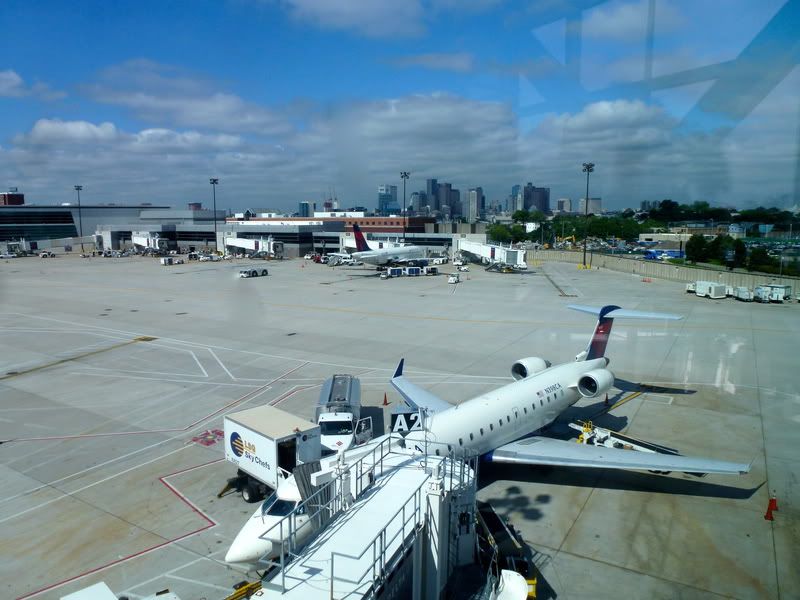 This A319 sitting at the satellite terminal will actually operate my flight down to JFK: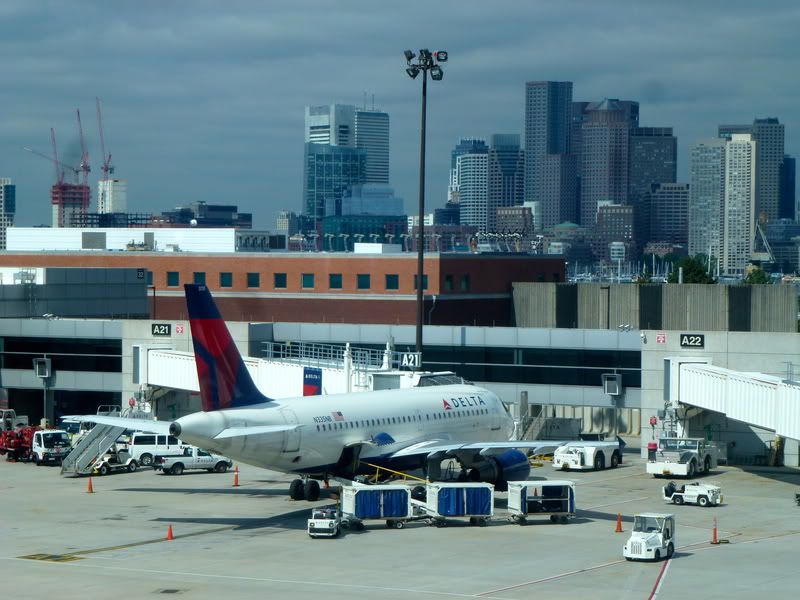 The Terminal A check in hall: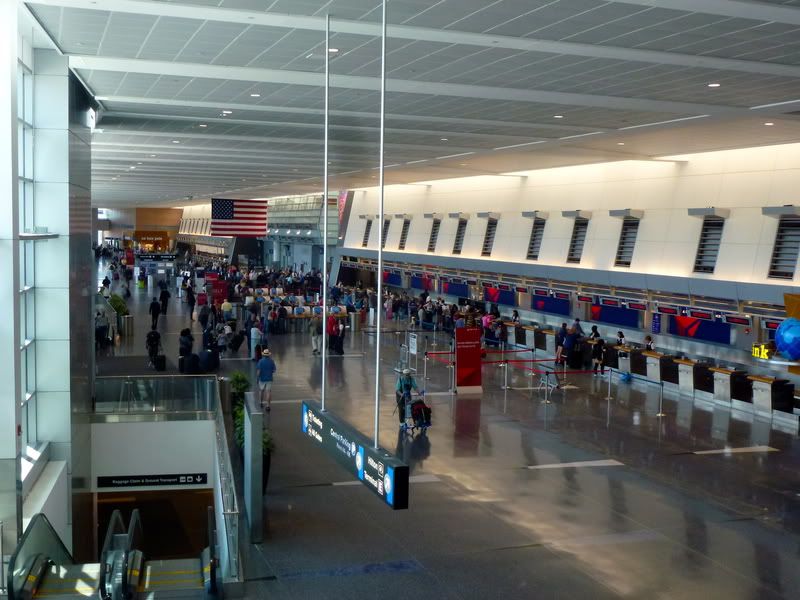 Departures: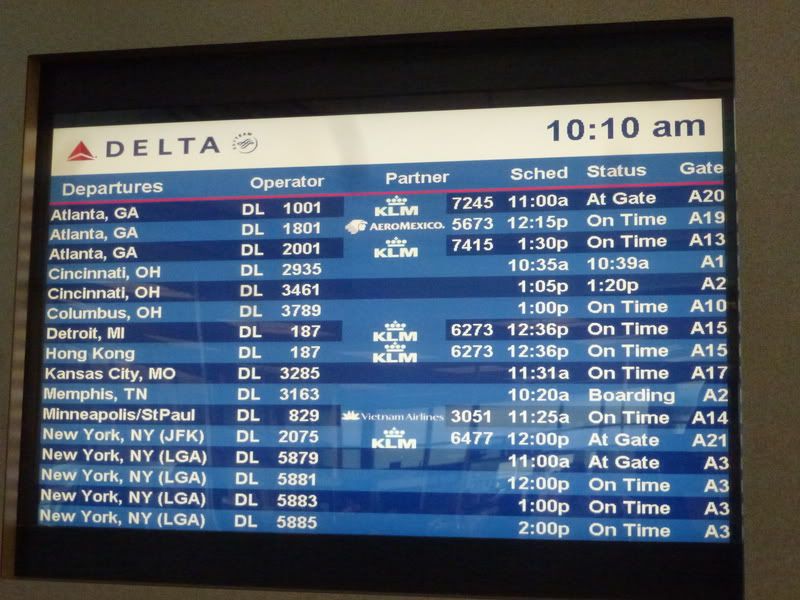 I head to a self service kiosk to print out my boarding pass. This time the upgrade situation doesn't look too good as I'm number 18 on the upgrade list and there are just 12 F seats on the scheduled A319, but for a flight that short I don't really care - I still have a seat in the Economy Comfort section of the cabin.
I head outside to enjoy the sunshine for a while before getting back in and heading for the Premium Access security lane. The normal lanes are very long, so this time I'm quite happy about this particular status perk.
The security itself is another TSA hassle - no way for the agents to treat you with any respect - anybody is a potential terrorist until proven otherwise I guess. Again they direct me to the nudiescope instead of the WTMD, again nobody offers me the chance to opt out, again I don't really care.
The A terminal apparently has been renovated quite recently - looks okay actually: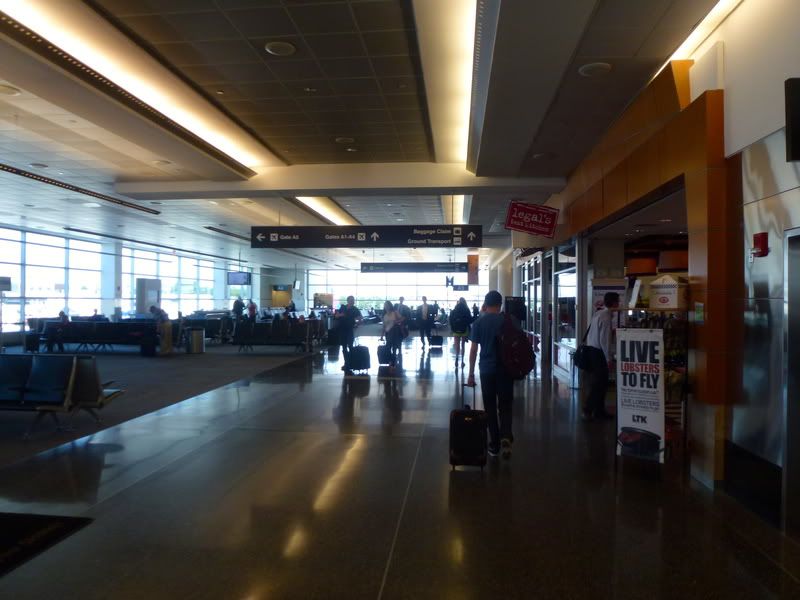 Next stop is a long awaited one - it is almost lunchtime, at least considering how long I've already been up and BOS airport just happens to have several outlets of Legal Sea Foods, a famous chain of seafood (wow, what a surprise) restaurants originating from Boston. The A terminal has something called the "Legal Test Kitchen", not sure what the difference is but at least they are serving the chain's famous Clam Chowder so my choice is quite clear:
Top