Introduction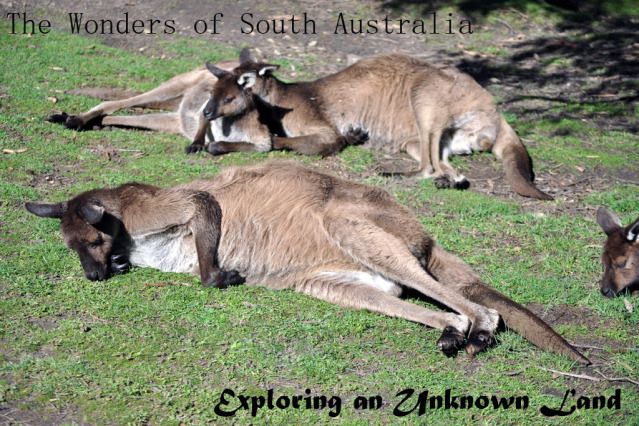 This is the third trip report on my recent trip to Australia. For the previous reports, please feel free to refer to -
Get Outta Here! With SCOOTitude - Down Under!
(by
Initious
Jun 28 2012 in Trip Reports)
Flying In OZ On A Virgin Kangaroo - SYD-MEL-ADL
(by
initious
Jul 2 2012 in Trip Reports)
Adelaide - The capital of South Australia. Home to more than 1.2 million Adelaideans, it is the fifth largest city in Australia. Founded in 1836, it is also ranked as the most liveable city in Australia according to recent research.
I have certainly heard of Adelaide since young. However, I have never really seen any pictures or researched on the city before my visit. Somehow, this beautiful city has become one of my favourites in the world just after a short 3 day stay there. You may ask, how did this city become one of my favourites? Read on to find out!
My Stay in Adelaide
It was sure a whirlwind trip, as how my Adelaidean friend, Ish put it. I am staying in Adelaide for less than 36 hours before heading back to Singapore. Yes, that's after flying SIN-SYD-MEL-ADL and then heading back home routed ADL-SYD-SIN!
Right after arriving into ADL on DJ 243, my awesome Adelaidean friends namely Ish, Lorrae (Ish's girlfriend) and Preet (a wonderful lady from Great Asia Trip) brought me to one of Adelaide's most famous pancake restaurants,
The Original Pancake Kitchen
. I must say, this is certainly one of the best pancakes I've ever had in my entire life! That being said, my only experiences with pancakes are from McDonalds and some random hotel buffet breakfast.

My first encounter with apple cider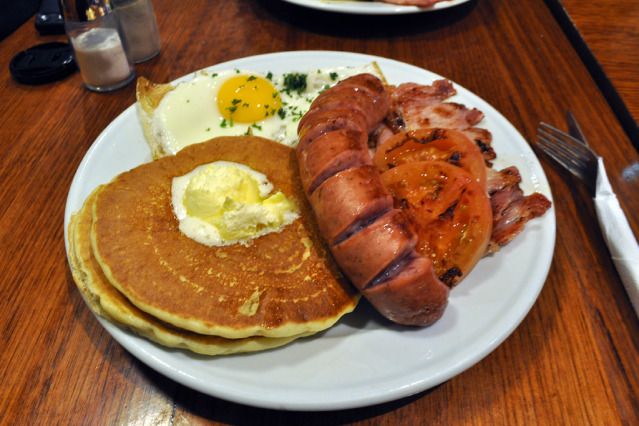 German Feast



A happy reunion!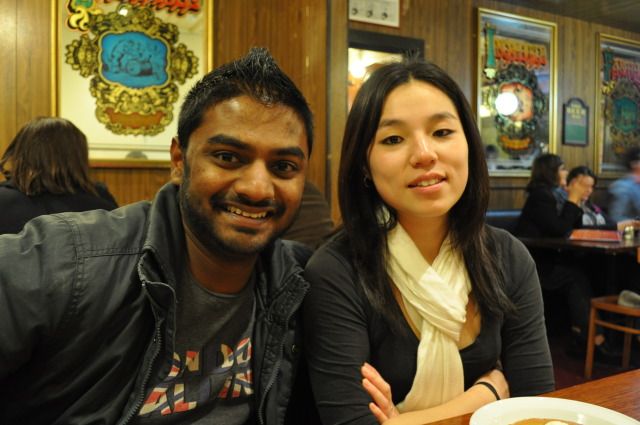 Ish and Lorrae, the recently engaged couple
The pancake went really well with all the other dishes from sausages to bacon. This is a place I would recommend people to come! After dinner activity consisted of a simple city tour and some night photo taking around the city centre. I was pretty lethargic at this point in time so we made it short and headed back home for a good sleep. Upon entering the house, I was greeted with this hyperactive dog whom I guess its hobby is to lick people everywhere. It's fun, but certainly pretty disgusting! Thankfully, the dog does not bite!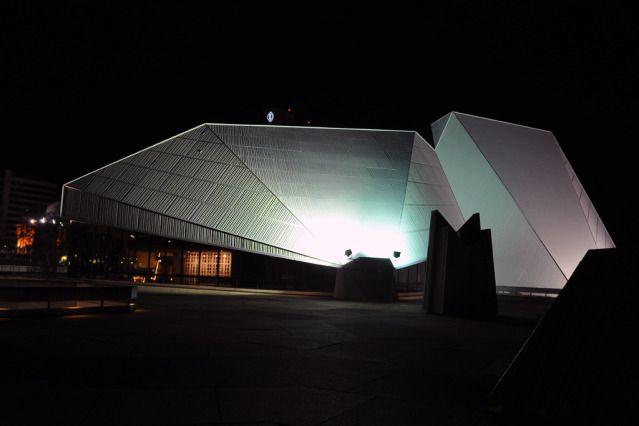 The Adelaide Festival Centre, if I am not mistaken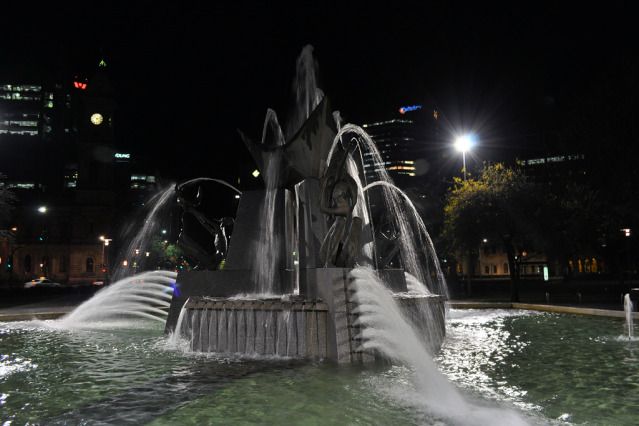 Victoria Square Fountain. This fountain holds a special meaning to us!



Quiet streets of Adelaide at night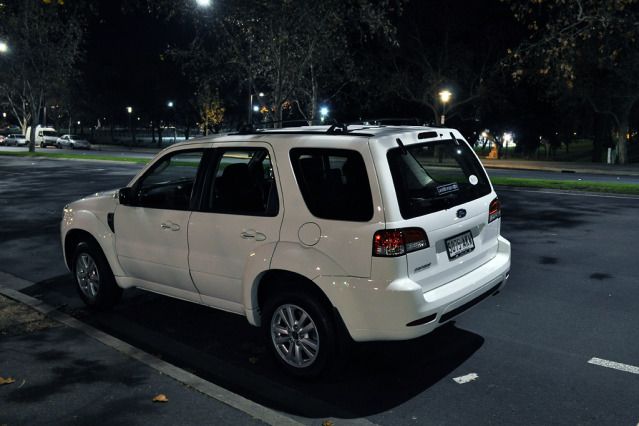 Our trusty car!
The next day, we headed out to
East Terrace Continental
located at East Terrace for a nice breakfast with Preet. Somehow or rather, I was attracted by the Turkish option and went for it. After the first mouthful, I decided that I have made a wrong choice. Not that it did not suit my taste, but I'm sure the smoked salmon omelette would have tasted much better! It was some driving around to pick up Lorrae and Ish's nephews before heading to our next stop. I must say that roads in the Australian countryside are simply beautiful! It was certainly an eye opener for me seeing such beautiful roads!

Turkish breakfast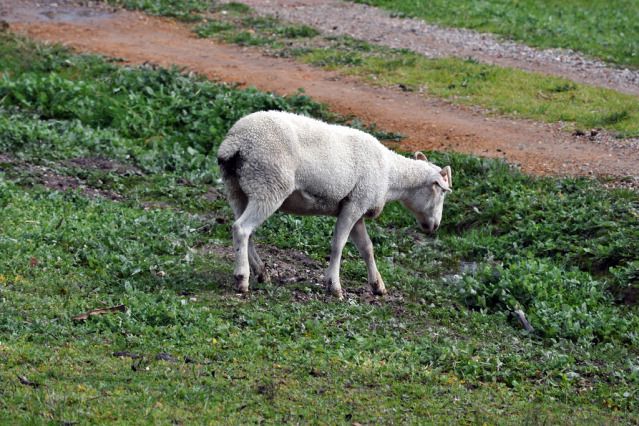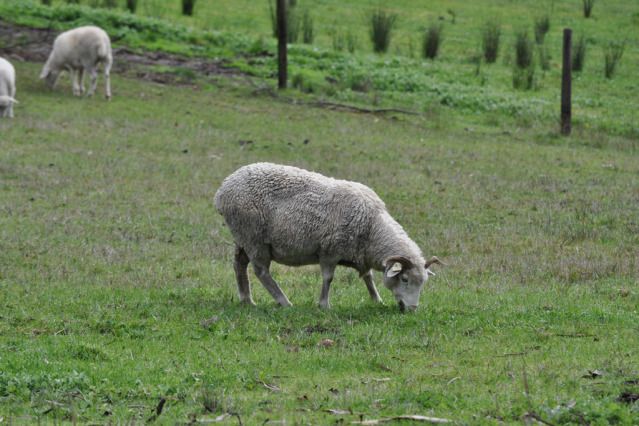 Sheep grazing.. Certainly something new for me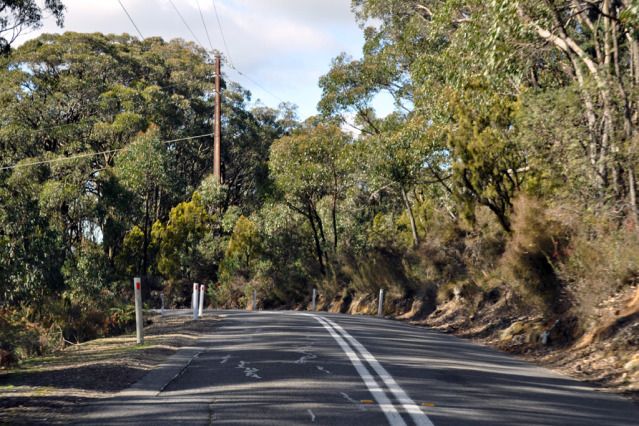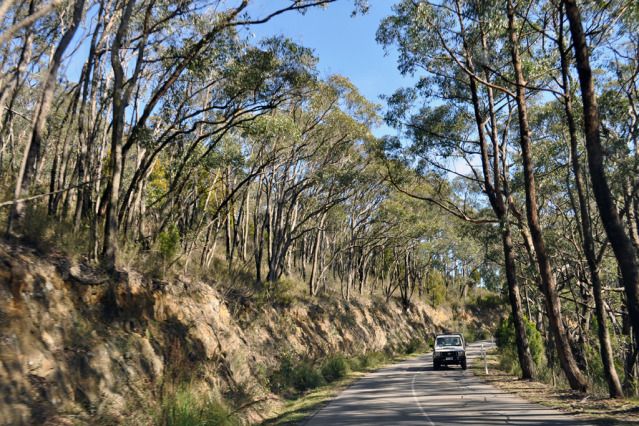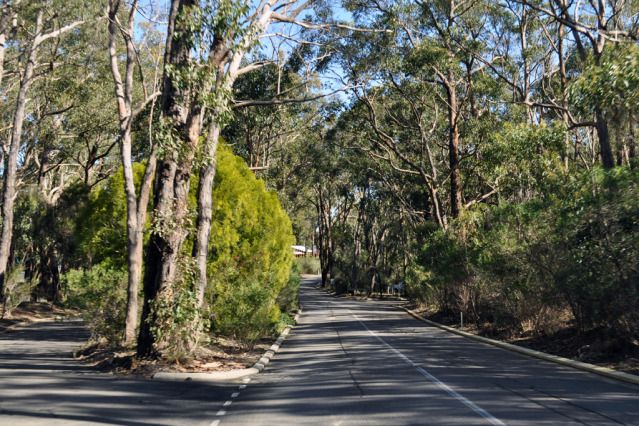 If only we had such beautiful roads in Singapore!
Our next stop on the list was
Cleland Wildlife Park
where I had my first sightings of a kangaroo, wallaby, koala and lots of other animals which are not commonly seen in Asia. The park itself was simply like a landmine field. The ground was filled with droppings from various animals and we had to be very careful not to step onto any of them or it would be a nice washing time for our shoes!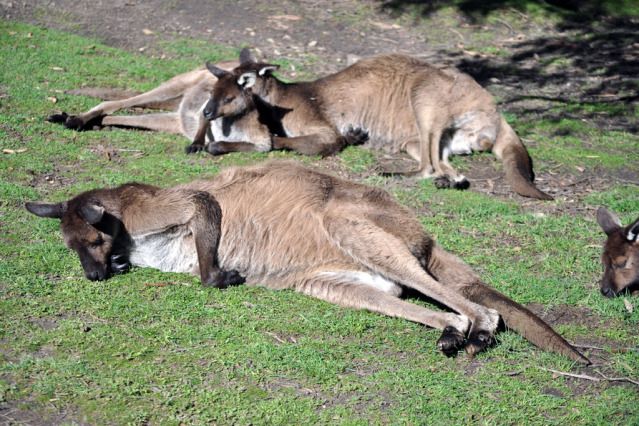 Sleeping like a boss!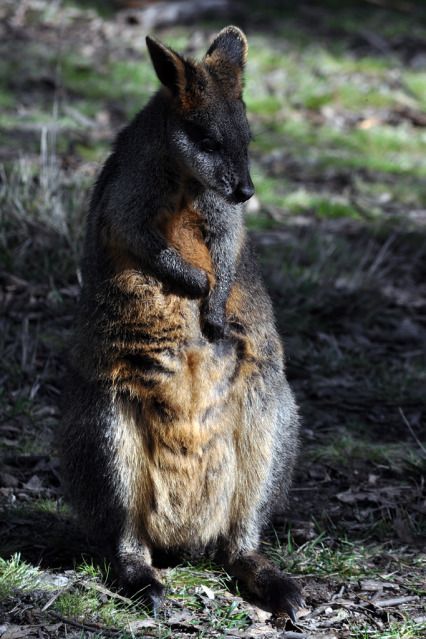 Even Wallabies will feel the itch, here's one scratching its stomach!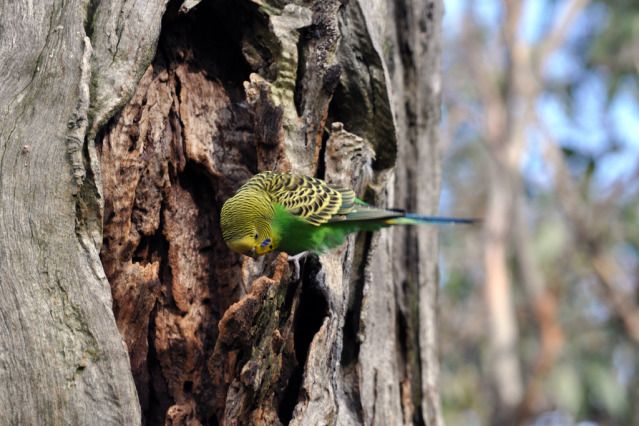 A colourful bird takes a rest after a short flight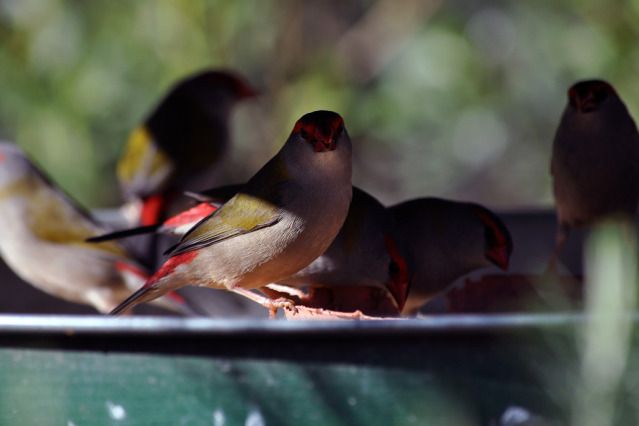 A bird guards the place while its other companions enjoy the food



How about some more birds?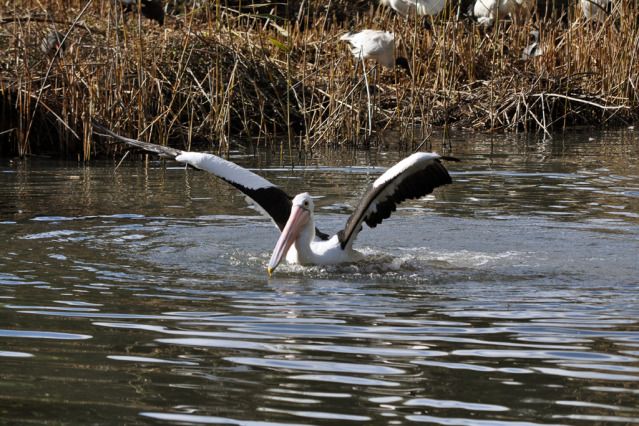 Kung fu pelican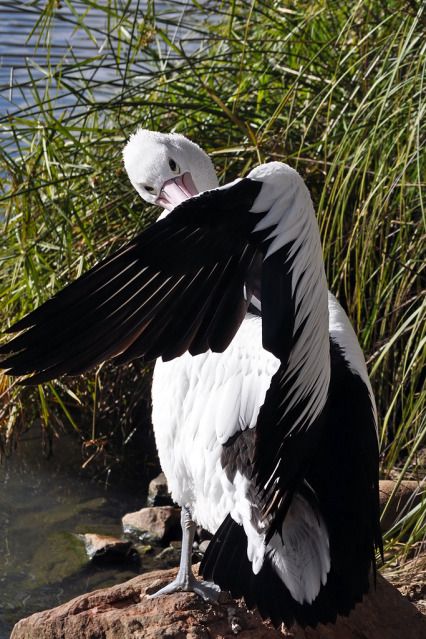 Phantom of the Opera?



These are some cute little stuffs!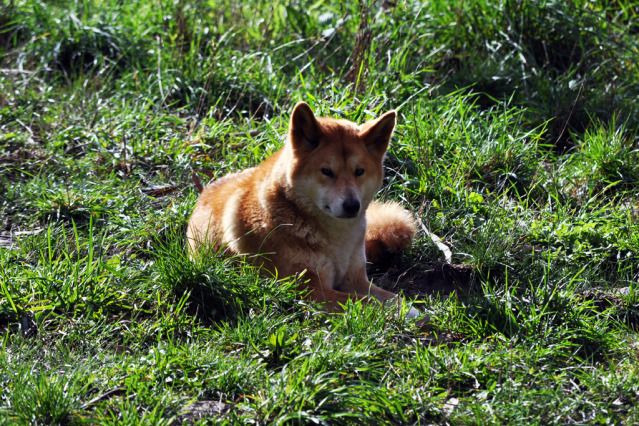 Looks pretty fierce!
We walked through almost the entire park which took at least 2-3 hours and it was around 2pm when we left and most of us were hungry. Lunch was a pretty rewarding one at
Hahndorf German Arms Hotel
located at Hahndorf, a German village in the community. For some reason, I am getting more German food here in Australia compared to anywhere else!

View of the streets of Hahndorf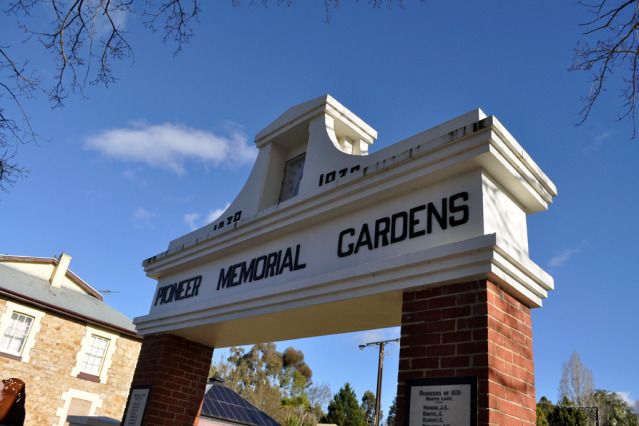 Pioneer Memorial Gardens



Where should I go?



Our dining place
The apple cider seem to have done its job. I crashed straight away upon entering the car and was unaware of what is happening around me, although I was sort of half awake throughout the journey. Guess the lack of sleep for the previous 2 nights (one on TZ 2 and the previous night) contributed to it too.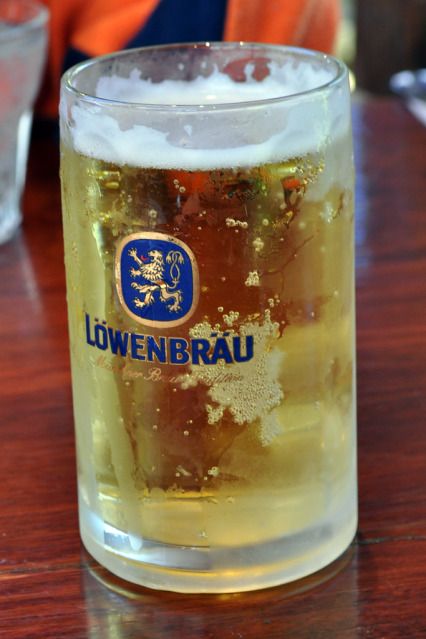 Apple cider, once again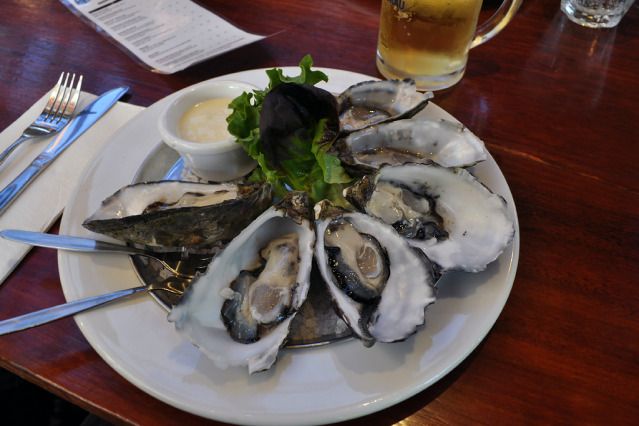 Followed by some fresh and succulent South Australian oysters!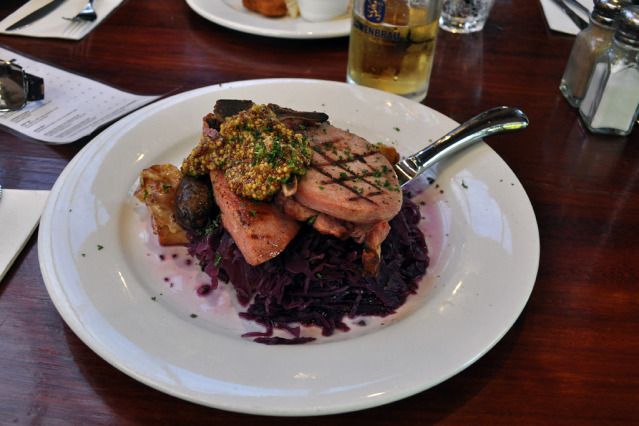 Top it off with a generous Bavarian grill platter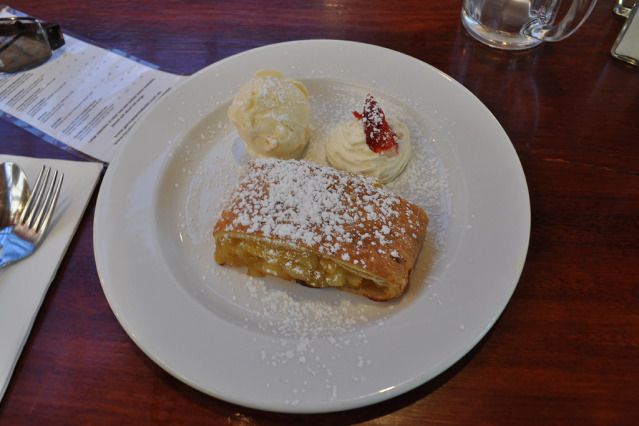 And let's end it off with a nice and hot apple strudel which goes perfectly well with the ice cold ice cream!
The day ended pretty early. We reached home at around 5pm and had a little rest before Ish bought some pizzas back for dinner. I must say Australian pizzas are one of the best! There's this pizza called "Reef and Beef" which I still remember the taste of the fresh and succulent prawns and flavourful beef combined. Certainly a must try once again!
Finally, it was time to head to the airport the next day at 4.30am for my flight back home.
Pre-Flight
I arrived at ADL at around 5am, 90 minutes before my flight. It was certainly sad to be bidding farewell to Ish, who sent me to the airport just after 3 days (or to say, less than 24 hours) but I'm sure we will have more chances in the future!
I entered the terminal, ready to check in for my flight. To my delight, the Virgin Australia check-in was pretty empty so I joined the queue and got served in less than a minute. I had to pick my seats at the counter for this particular flight as I bought an emergency exit row seat and the website did not allow me to choose my seats online. I was also not allowed to do OLCI as the agent needed to physically see me. I approached the counter to be greeted by a cheerful ground agent.
"Good morning Sir! May I have your passport please?"
"Yes, here it is"
"I see you have booked an emergency exit row seat. Are you willing to assist our crew in case of emergencies?"
"Yes, I am"
"Thank you Sir"
"May I have a window seat please?"
"Ah, you are assigned to seat 14A which is a window seat by the system, enjoy your flight!"
"Thank you!"
I guess even DJ's reservations system knows that I would certainly not be pleased if I do not get a window so it already assigned me a window seat in advance! Security was pretty relaxed in ADL compared to MEL or SYD and soon I was airside. Speaking of airside, anyone can just enter airside by passing through security, even without a boarding pass. Ah, the wonders of Australian domestic flying!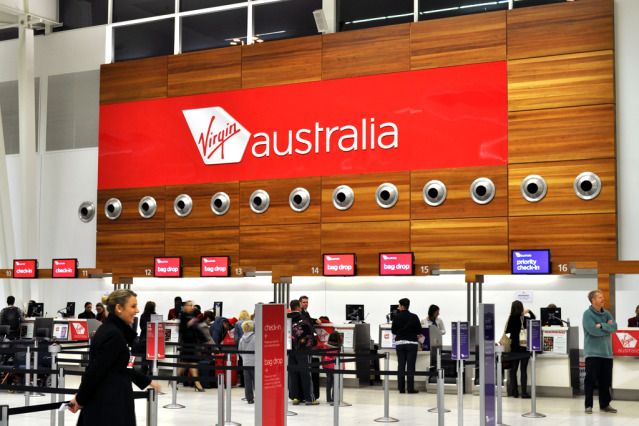 Virgin Australia's stronghold in ADL
Having lots of time to burn, I decided to have a quick breakfast at
Hudson's Coffee
. The service here is normal and I can see that they are trying their best to deliver the orders as fast as possible. After a quick breakfast, I headed down to Gate 15 where my flight was scheduled.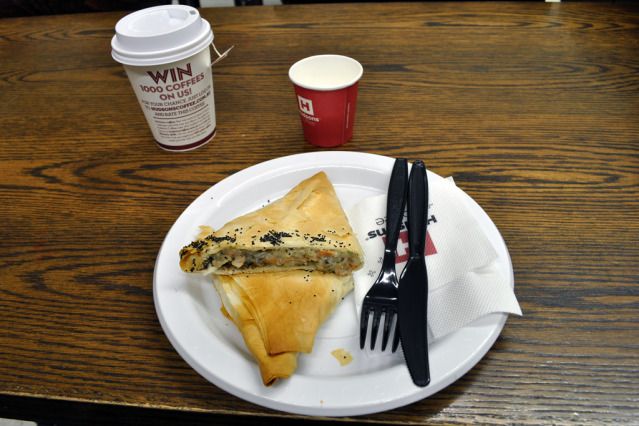 Quick breakfast
The Flight
Virgin Australia Flight DJ 403 - 28JUN12
Origin
: Adelaide Airport (ADL/YPAD)
Destination
: Sydney (Kingsford Smith) Airport (SYD/YSSY)
Registration
: VH-VUF (Hobart Honey)
Aircraft
: Boeing 737-800
Scheduled Time of Departure
: 6.30am
Actual Time of Departure
: 6.40am
Scheduled Time of Arrival
: 8.55am
Actual Time of Arrival
: 8.37am
Airborne Time
: 1h 27m
Class of Travel
: Economy
Seat
: 14A
As I sat down at the boarding gate, something caught my eye. One of the most beautiful 737s in the world,
Yananyi Dreaming
is in town at the Qantas side! I got super excited but sadly, I was unable to take pictures of it. Here's a picture of it in the a.net database though.
View Large
View Medium


Photo © Daniel Tang
Boarding was called at 6am sharp and it was separated into jetway and tarmac boarding. As lucky as I would get, guests seated at rows 14 and above would get to board via the tarmac so there I go! I would have went for the tarmac boarding no matter what anyway, being a true blue a.netter! As I exited the terminal, Yananyi Dreaming was pushing back for its MEL flight. Sadly, even using ISO 1000 I got a very blurry image so I shall not be sharing it here. However, it was still a wonderful sight!

No doubt on the aircraft I'll be flying!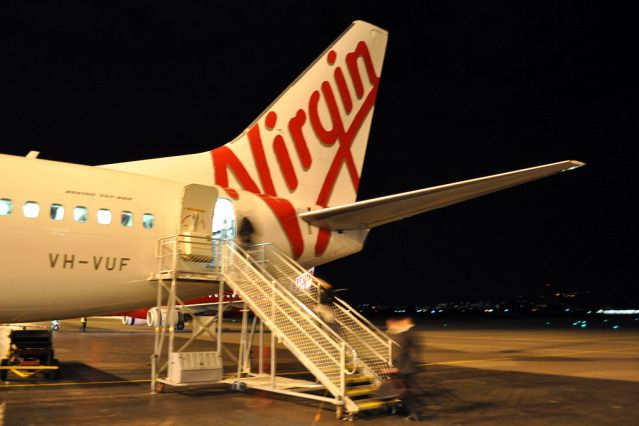 Ready?
As I entered the aircraft, I noticed that the interior looks pretty new, probably due to the new seats and each seat is equipped with a PTV. This would be my very first narrowbody flight with PTV! Something new on every flight of this trip, how wonderful can that be? Sadly, the flight today would be packed so I will not be getting an empty middle seat, much less an empty row. The middle seat was however left empty till the last minutes of boarding, talk about getting mind screwed!

I simply love sitting at the wing!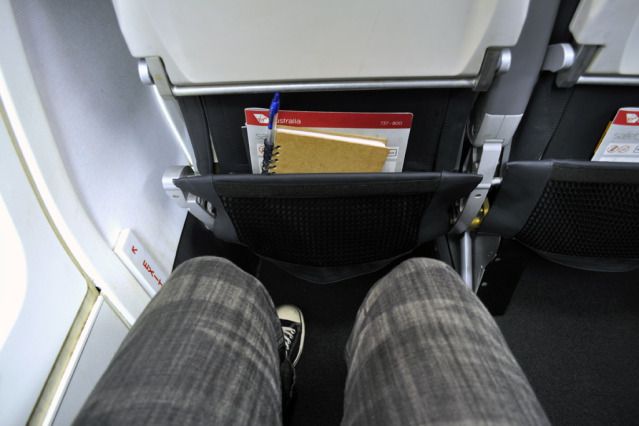 Legroom was more than sufficient for a 90 minute flight



PTVs! Would be my only flight with PTVs on this trip
Unfortunately, my entire row consisted of tall and broad shouldered men (yes, all 3 of us!) so it was a pretty uncomfortable flight in terms of shoulder room. The purser came onto the microphone and announced that there will be free Live2Air TV for everyone, on top of free coffee, tea and water. No announcements of BOB food to be sold onboard so I guess they are only providing food for those on the flexi fare. This is something I find it pretty annoying on DJ. Instead of going for a mixed concept of Flexi and Saver fares, why not make it free food for everyone, or make it such that we can pre order our meals online? I'd be fine with either!
We finally pushed back and headed off to runway 05 for takeoff. It was pretty amazing to see MH's new A333 land right before our takeoff roll. It looks beautiful in the new livery! We commenced our takeoff roll at 6.40am, signalling my farewell to my favourite city in Australia. So long, Adelaide! Thanks for a wonderful whirlwind trip!

Live2Air TV screened shortly after takeoff
The sun rose shortly after our takeoff and at the same time, cabin service started. The f/as on this flight seem pretty unfriendly. Not much of a smile on their face or cheerful tone. Guess they are still in sleep mode! I wandered around the cabin and tried taking some cabin shots but to be tapped on the shoulder by a flight attendant (who, coincidentally is the prettiest of the lot but seem to be the most rude too) and got told, "Excuse me, no photos" in a pretty stern tone. Not the best impression for me!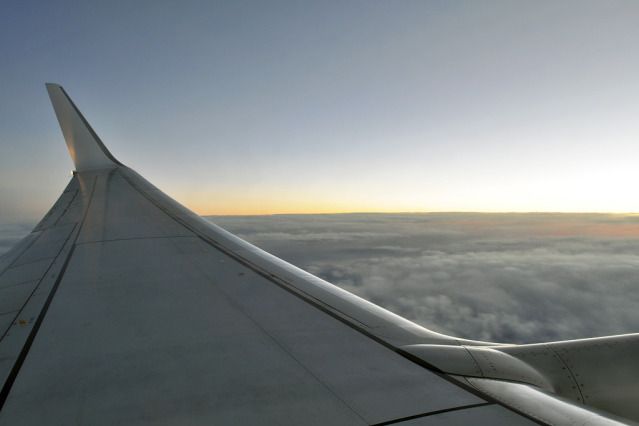 Good morning Mr. Sun!



Service on this flight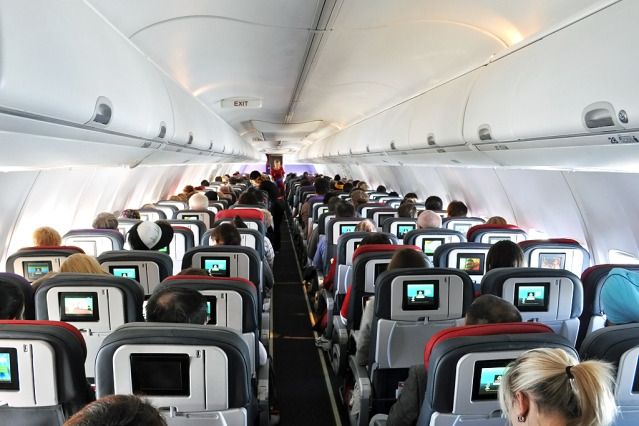 Cabin view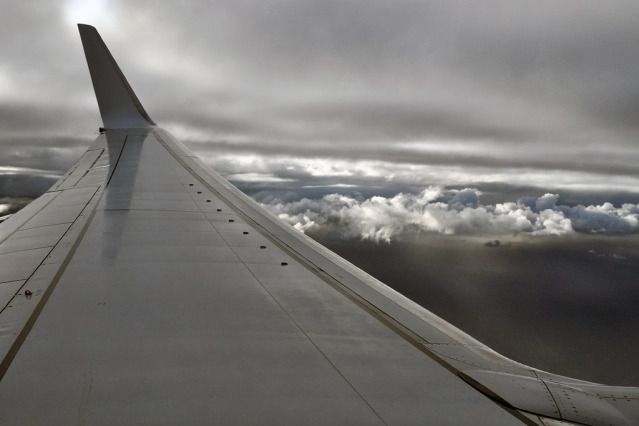 Some dramatic views along the way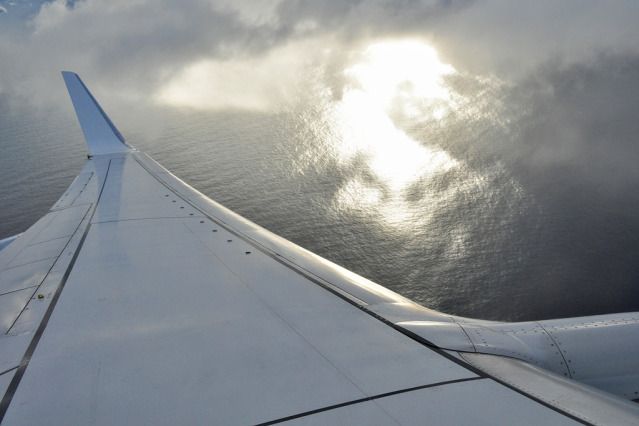 I love when the aircraft is banking too!



Almost there...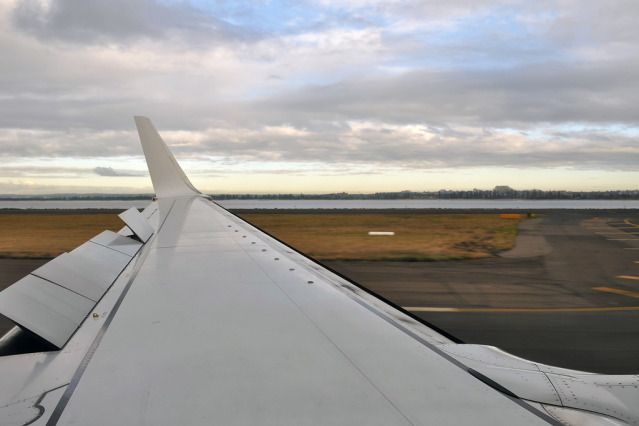 Touchdown!
It was a pretty scenic approach to SYD's runway 34L and soon we touched down and taxied to the domestic terminal. As fate would have it, we have arrived too early at 8.37am (STA was 8.55am) and our gate was still occupied so we held on runway 07/25 while awaiting for our gate to be cleared.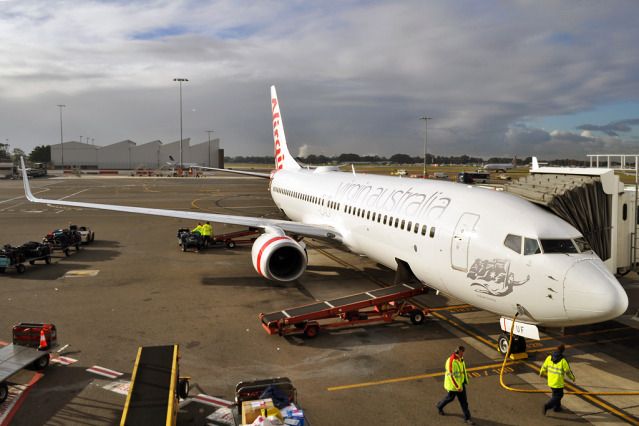 Thank you, VH-VUF!
Disembarking was pretty fast and soon I was landside.
Conclusion
I was not particularly satisfied with Virgin Australia. Their call centre service was sub-standard and their on-board service leaves much to be desired. However, one point to give them credit was that their ground service was awesome, both in MEL and ADL. Also, they should standardize their on-board service. If you want to provide meals, provide for everyone or for none. No point serving those on a Flexi fare or whatsoever as that will make things very complicated. Pricing on Virgin Australia was no way cheap but I guess that's the sad reality of Australia domestics. Despite all that, I still do not mind trying Virgin Australia in the future and hope that their service improves by then.
Previous Trip Reports
Flying 5 Star - SQ SIN-CAN-SIN (2009)
(by
Initious
Mar 26 2010 in Trip Reports)
Sardines In A Can - Jetstar Asia SIN-HKG-SIN
(by
Initious
Mar 29 2010 in Trip Reports)
Away We Go - China Southern SIN-CAN-WUH Vv (1/2)
(by
initious
Apr 2 2010 in Trip Reports)
Away We Go - China Southern WUH-CAN-SIN (2/2)
(by
initious
Apr 14 2010 in Trip Reports)
Oldest Vs Newest: Royal Silk Class On Thai
(by
Initious
Jun 13 2010 in Trip Reports)
First On Airliners.net - CZ Shanghai To Shantou
(by
Initious
Jun 27 2010 in Trip Reports)
18 Hours Of Royal Orchid Service: Thai PVG-BKK-SIN
(by
initious
Jul 27 2010 in Trip Reports)
Good Morning Borneo! - Where Silkair Unwinds...
(by
initious
Oct 17 2010 in Trip Reports)
Irama AirAsia! - Kota Kinabalu To Singapore
(by
initious
Oct 24 2010 in Trip Reports)
Great Asia Trip Part 1 - Propping To Luxury
(by
Initious
Mar 23 2011 in Trip Reports)
Great Asia Trip Part 2 - In Love With Emirates
(by
initious
Mar 27 2011 in Trip Reports)
Great Asia Trip Part 3 - The Arabian Adventure
(by
initious
Apr 15 2011 in Trip Reports)
Great Asia Trip Finale - Brothers In Bangkok
(by
initious
May 9 2011 in Trip Reports)
Flying The Orange Star Monopoly - SIN-SWA On 3K
(by
initious
May 18 2011 in Trip Reports)
China Southern SWA-CAN - Do They Deserve 4 Star?
(by
initious
May 21 2011 in Trip Reports)
A Dream Come True - SQ Business Class CAN-SIN
(by
initious
Jun 13 2011 in Trip Reports)
Malaysia Boleh! - To Malaysia With 3K And AK
(by
initious
Jun 30 2011 in Trip Reports)
Flying On My Birthday - The Triangle In SEA
(by
initious
Jul 18 2011 in Trip Reports)
Happy Beyond Words - SIN-PEN-SIN On MH & TR
(by
initious
Nov 6 2011 in Trip Reports)
People: They Make An Airline. Cathay SIN-HKG
(by
Initious
Jan 28 2012 in Trip Reports)
Cathay, Make Up Your Mind! HKG-SIN On The A333
(by
initious
Mar 26 2012 in Trip Reports)
1 New Airport, 10 Steps Forward. Jetstar SIN-SWA
(by
initious
Apr 22 2012 in Trip Reports)
China "Sudden" Airlines SWA-HKG - 4 Star? Really?
(by
initious
Apr 27 2012 in Trip Reports)
Celebrities In Asia's World City - Jetstar HKG-SIN
(by
Initious
May 13 2012 in Trip Reports)
Get Outta Here! With SCOOTitude - Down Under!
(by
Initious
Jun 28 2012 in Trip Reports)
Flying In OZ On A Virgin Kangaroo - SYD-MEL-ADL
(by
initious
Jul 2 2012 in Trip Reports)
[Edited 2012-07-11 02:33:04]
[Edited 2012-07-11 02:35:47]
[Edited 2012-07-11 03:23:58]