Flybe, LGW-BHD-GLA-BHD-LGW E-195/Dash8 Q400
Introduction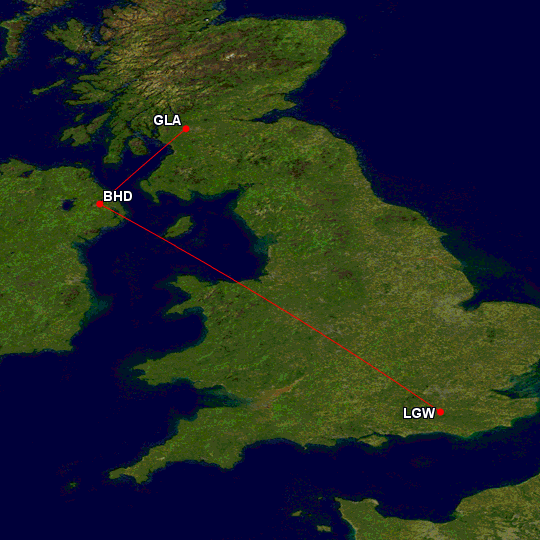 Route Map
This weekends trip started out some months ago. Originally I had planned to take a BMI regional flight to ABZ using my VS flying club miles so I could log an E145. I had looked up the taxes/fees on the BMI website and they came to a reasonable £57. So I called the VS flying club to book, and everything went to plan until it came to the payment. As BD had only given VS their fully flexible tickets, the taxes and fees were in the higher bracket. I can't remember the exact amount of money, but I didn't think it was very good value considering the amount of miles they wanted and I decided to leave it. I still quite fancied a trip to Scotland though, as I had never been, and studied other options. As it turned out, Flybe came through with an interesting option. An E195 from LGW to BHD and a Q400 between BHD and GLA. Both types were new to me and I had never been on a prop before. Plus I'd very briefly get to visit Northern Ireland for the first time. Prices seemed similar to BA, but I got 2 extra flights thrown in, so in my mind this was better value! Without taking much time to think, my card was coming out of my wallet and the flights were being booked for a couple of quid under £150.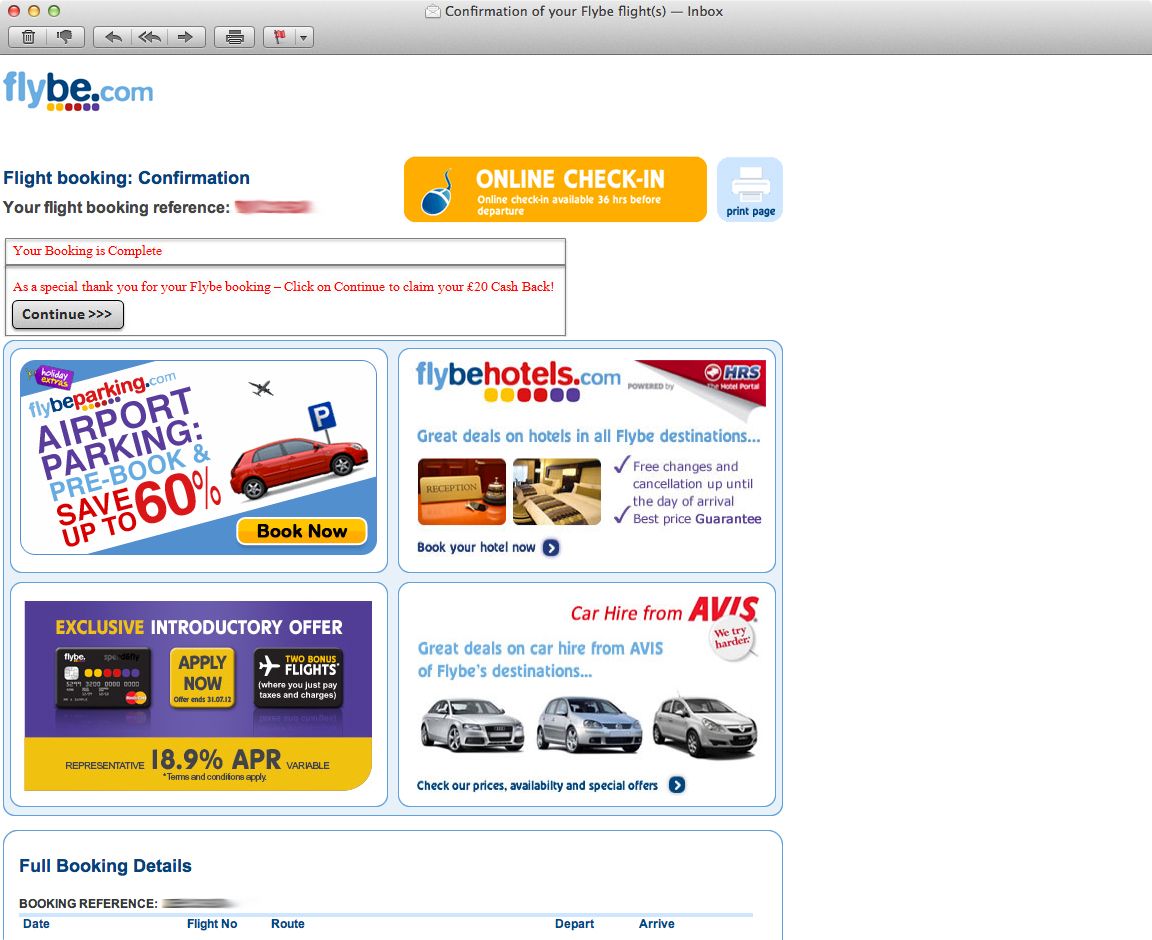 Cant say I've ever seen so many adverts on an air ticket
Next came a hotel. The Ibis looked like a good location, got good reviews on trip advisor and for booking so far in advance I managed to secure a good advanced rate.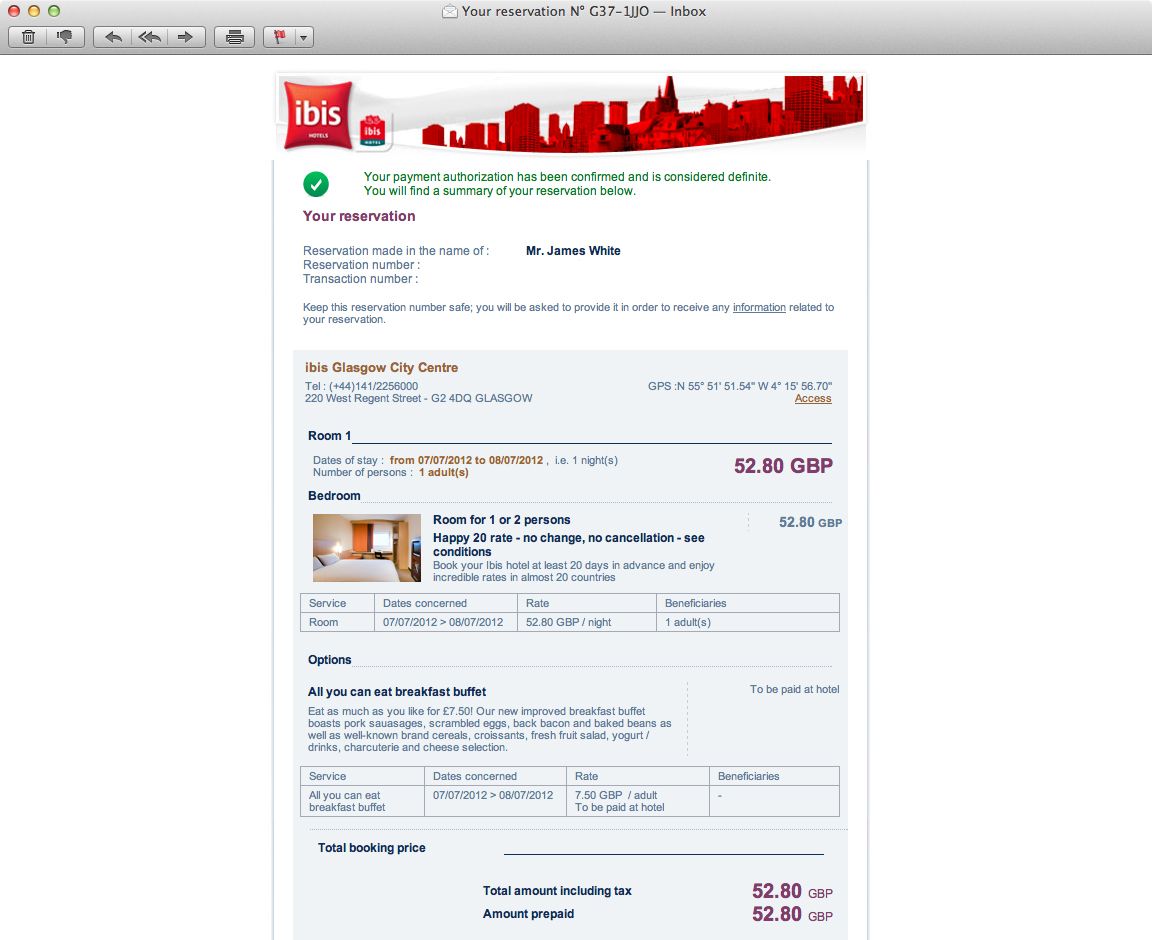 As the flight would be departing at 08:50, it meant taking the 05:53 train. I prebooked my tickets for £25.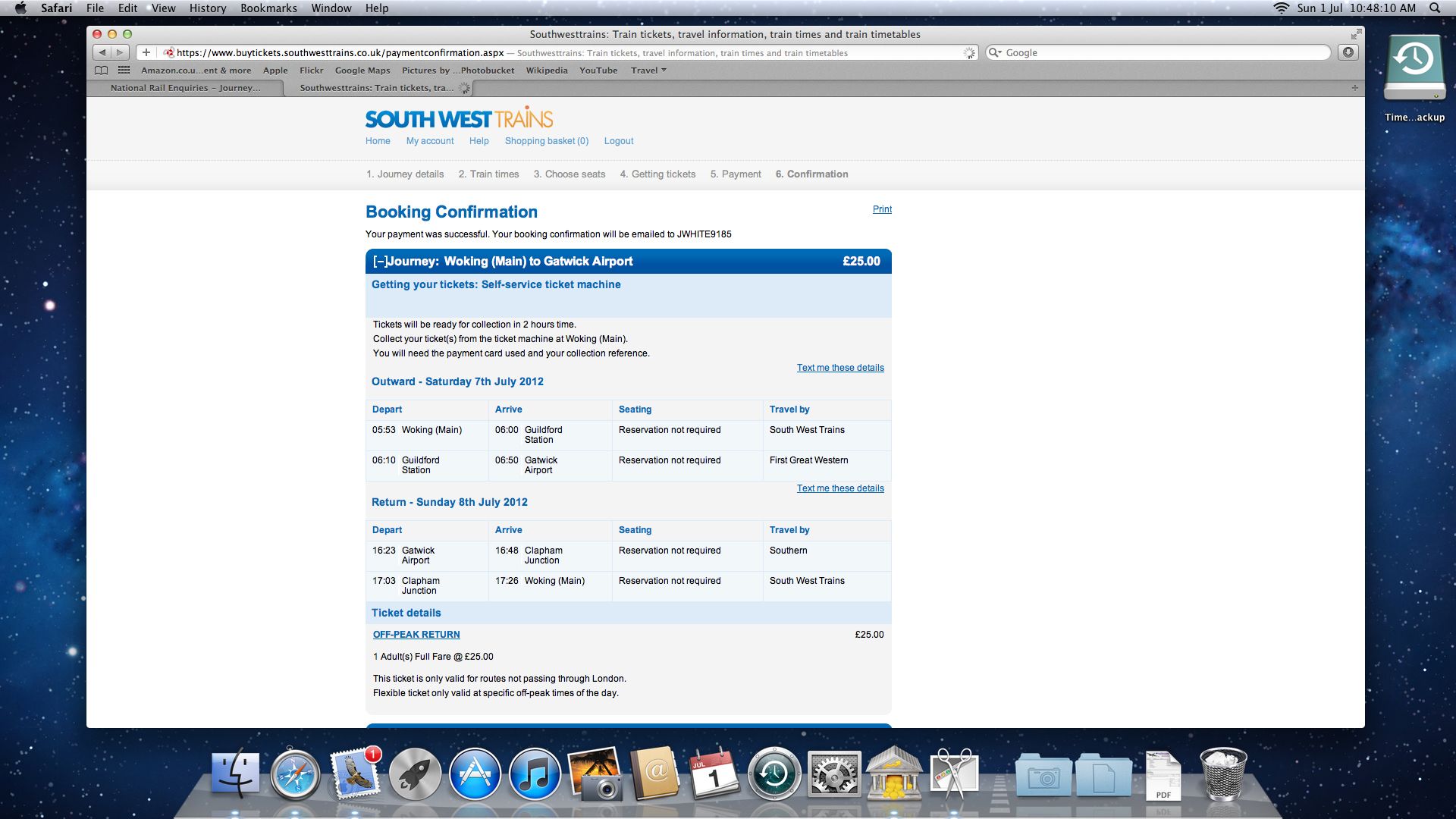 And whilst I was in the mood for booking things online, I booked a return on the number 500 bus from Glasgow airport to the city for a pretty expensive £7.50. Although its still cheaper than the coach that goes from my local station to Heathrow.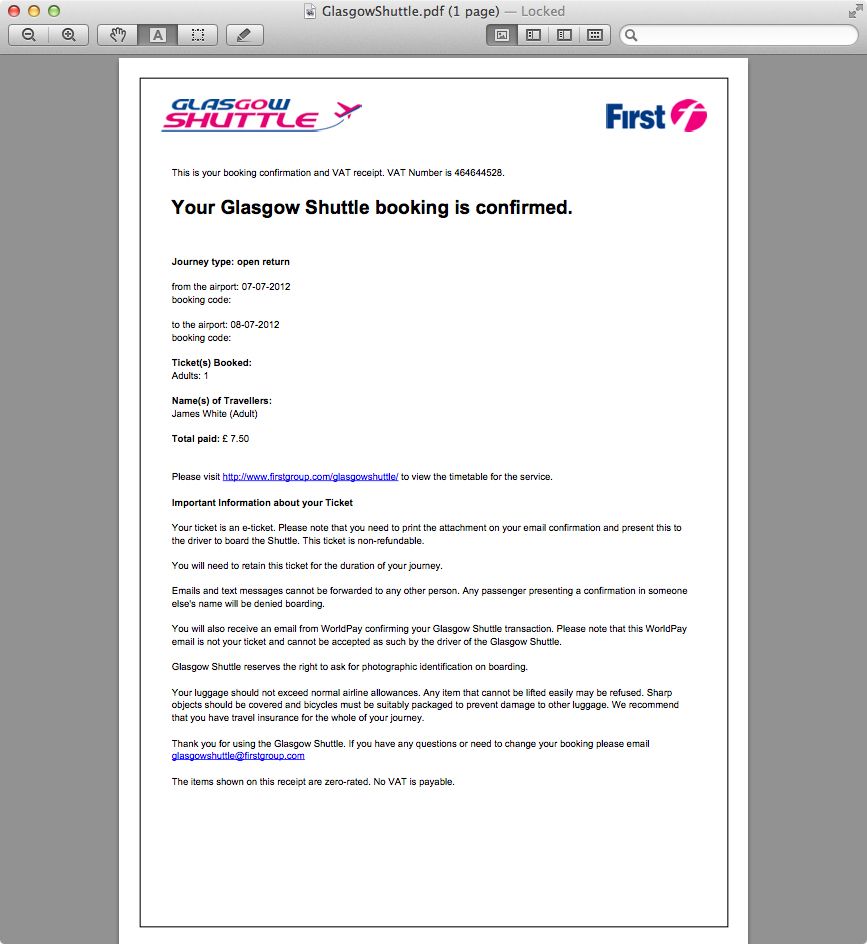 36 hours before my first flight was due to leave, I reluctantly decided to check in online. I'd heard that you just get randomly assigned seats but thought I'd try my luck anyway as in my mind I could just cancel the operation if I wasn't assigned a seat I wanted. As it turned out that wasn't an option to do that. You're greeted with a list of your flights and a check box to select each one you want to check in for. The next screen is your boarding pass with a print screen automatically coming up. No other options. Very simple, but for my other 3 flights I decided not to play 'window seat roulette', and checked in at the airport.
Saturday
At 05:30, I set off for the station.
As expected the train was virtually empty at this time of the morning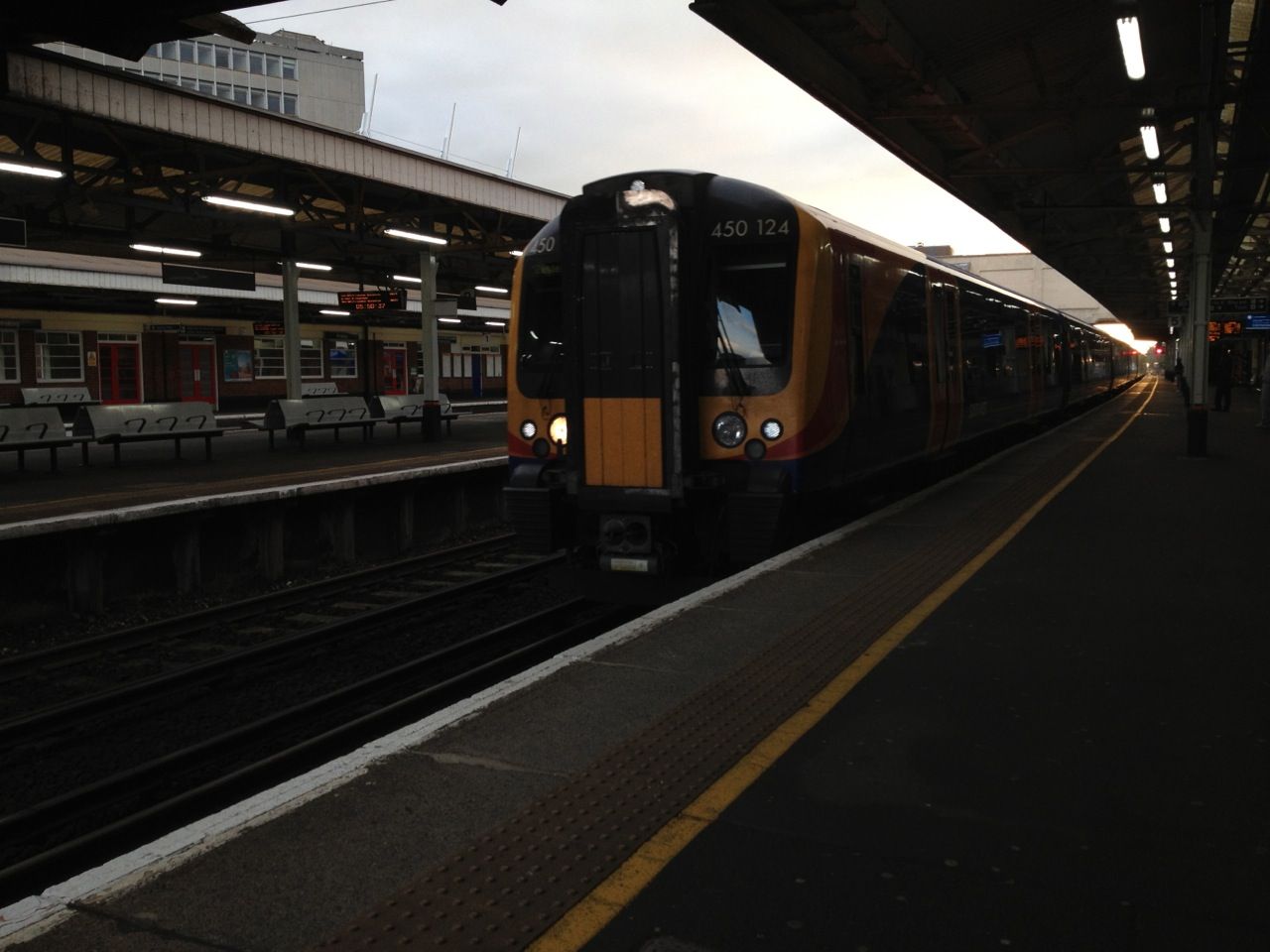 My second train of the morning had a few more people on it and considering most had suitcases it was fair to assume they were headed for Gatwick too. I spent my time on the train catching up with the news on my ipad and also took a look at flight radar24 - and yet again I saw that LGW arrivals and departures were to the East - that's now 8 trips in a row, dating back to 2002 where I've missed out on 26L! After around 50 mins or so the train pulled up at Gatwick station and it was off to check in for my BHD-GLA sector. The self-serve kiosk seemed to have a few problems with this, so I headed over to see an actual person and they managed to sort it for me.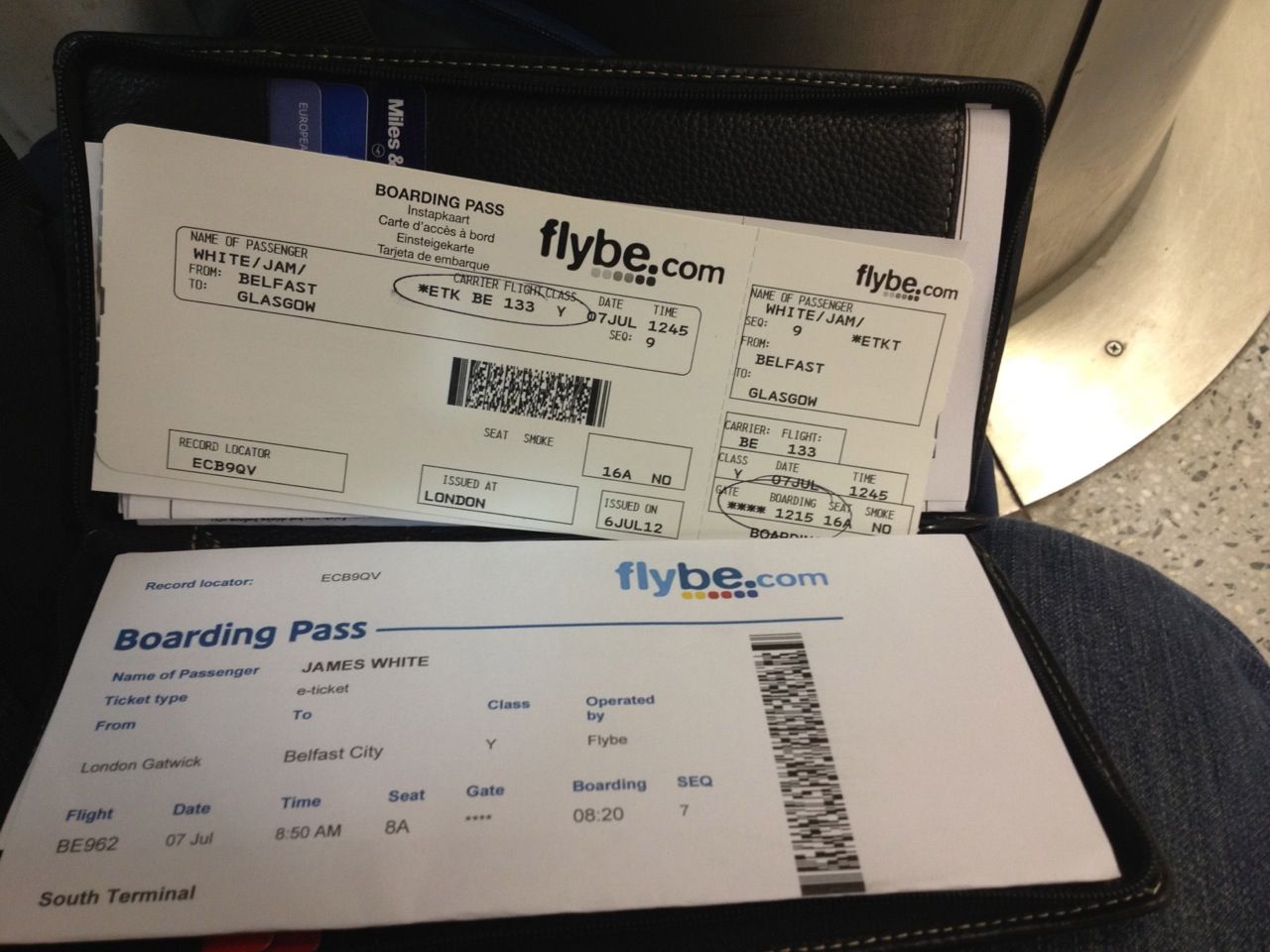 I then made my way round to security via the VS check in area and they seemed to have a bit of a celebration going on for their inaugural flight to Cancun. The flights had actually started a few weeks previously but today was the official launch.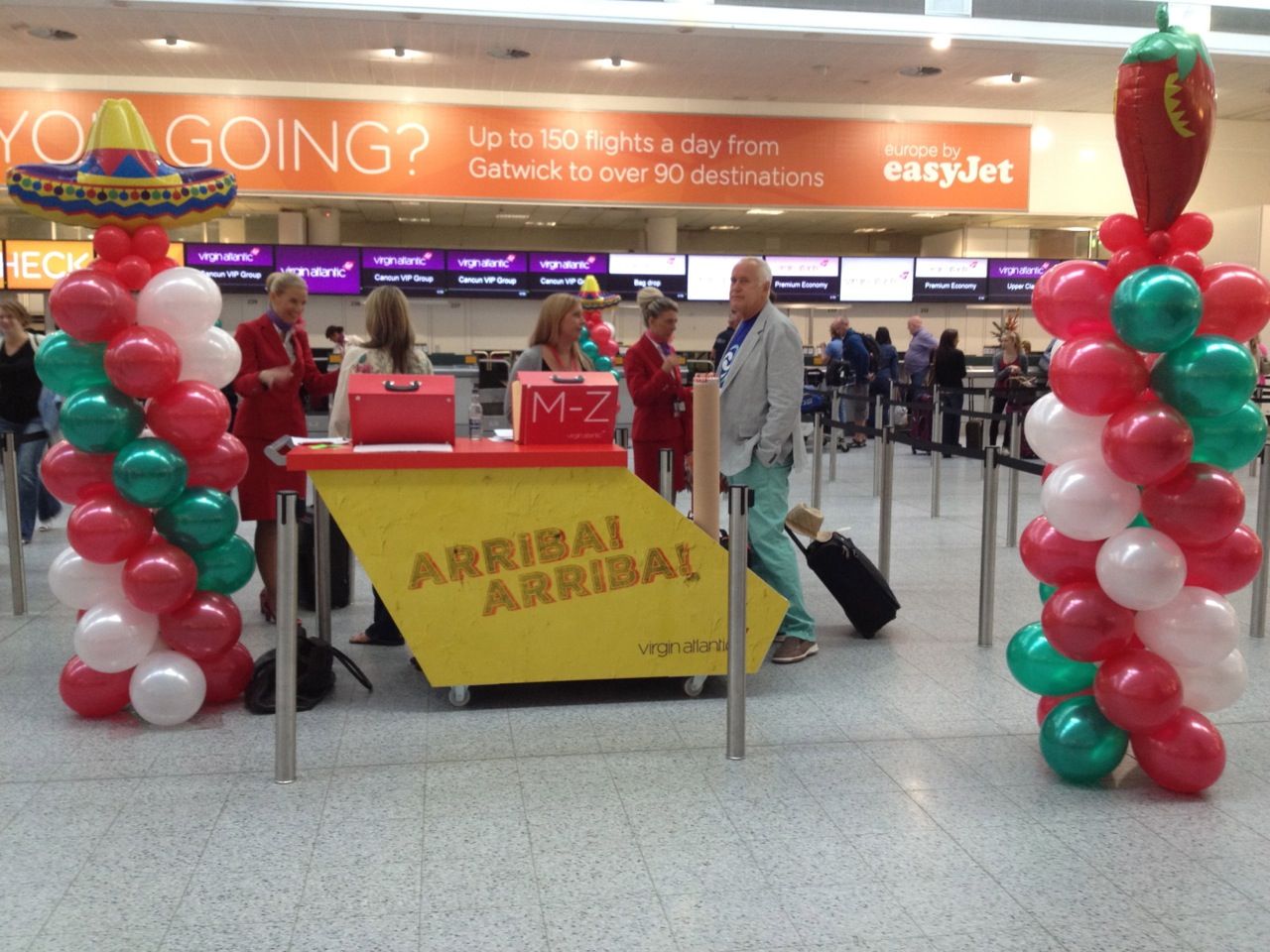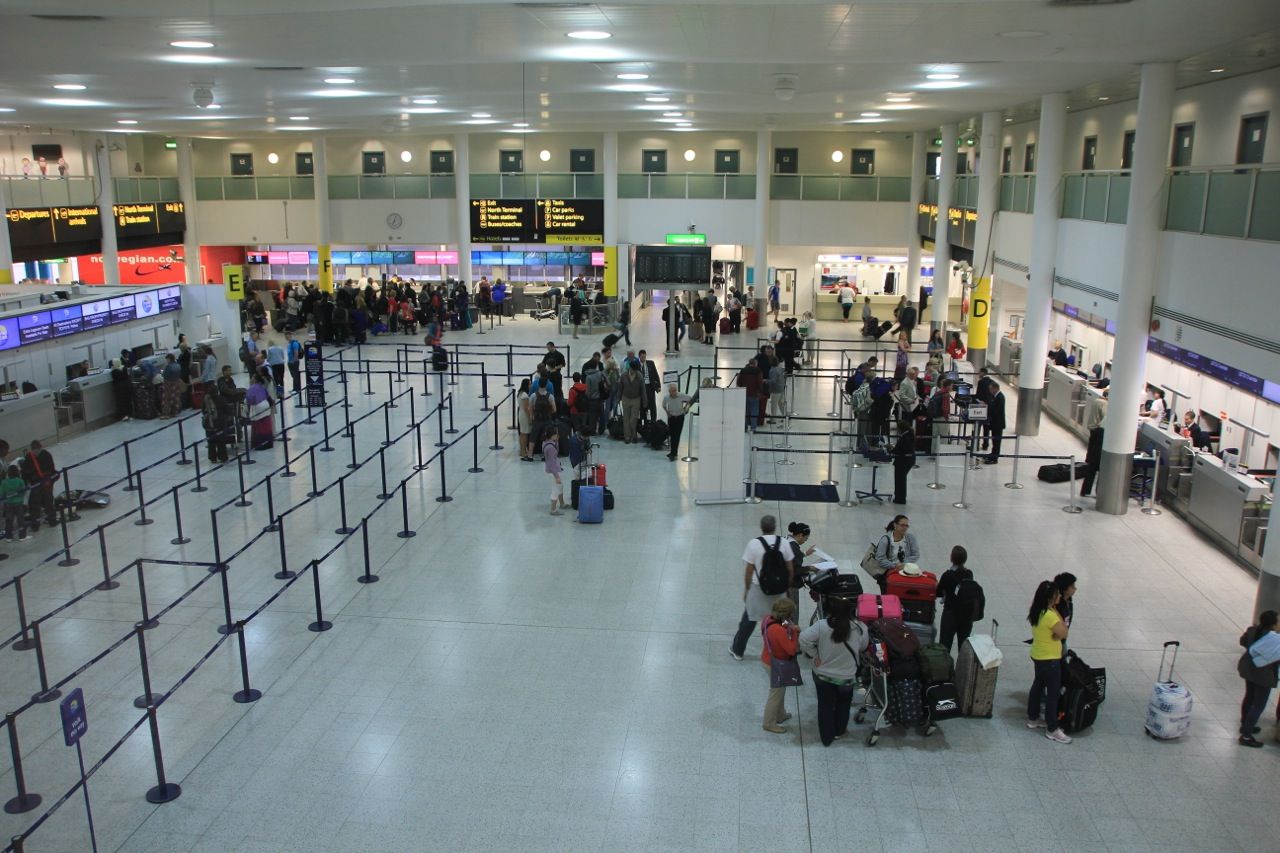 Gatwick Check In overview
After that it was through security. I spotted a free lane at the far end so I headed for that. Unfortunately the 'I've never flown before and I don't know the rules' family spotted it a second quicker than I did and I got slightly held up. It still only took a couple of minutes though. Once through I went off to get some breakfast. After the poor showing by my favorite spotting location airside on my previous visit, I decided to try out Franky and Bennys. Slightly better attempt than The Bridge Bar, but the view wasn't as good where I was seated. That's where the Bridge Bar has and advantage - being a pub you choose where you sit rather than relying on somebody to choose for you.
I still managed to get some decent shots though. And the service was quick. A bit too quick for my liking. It filled a hole though.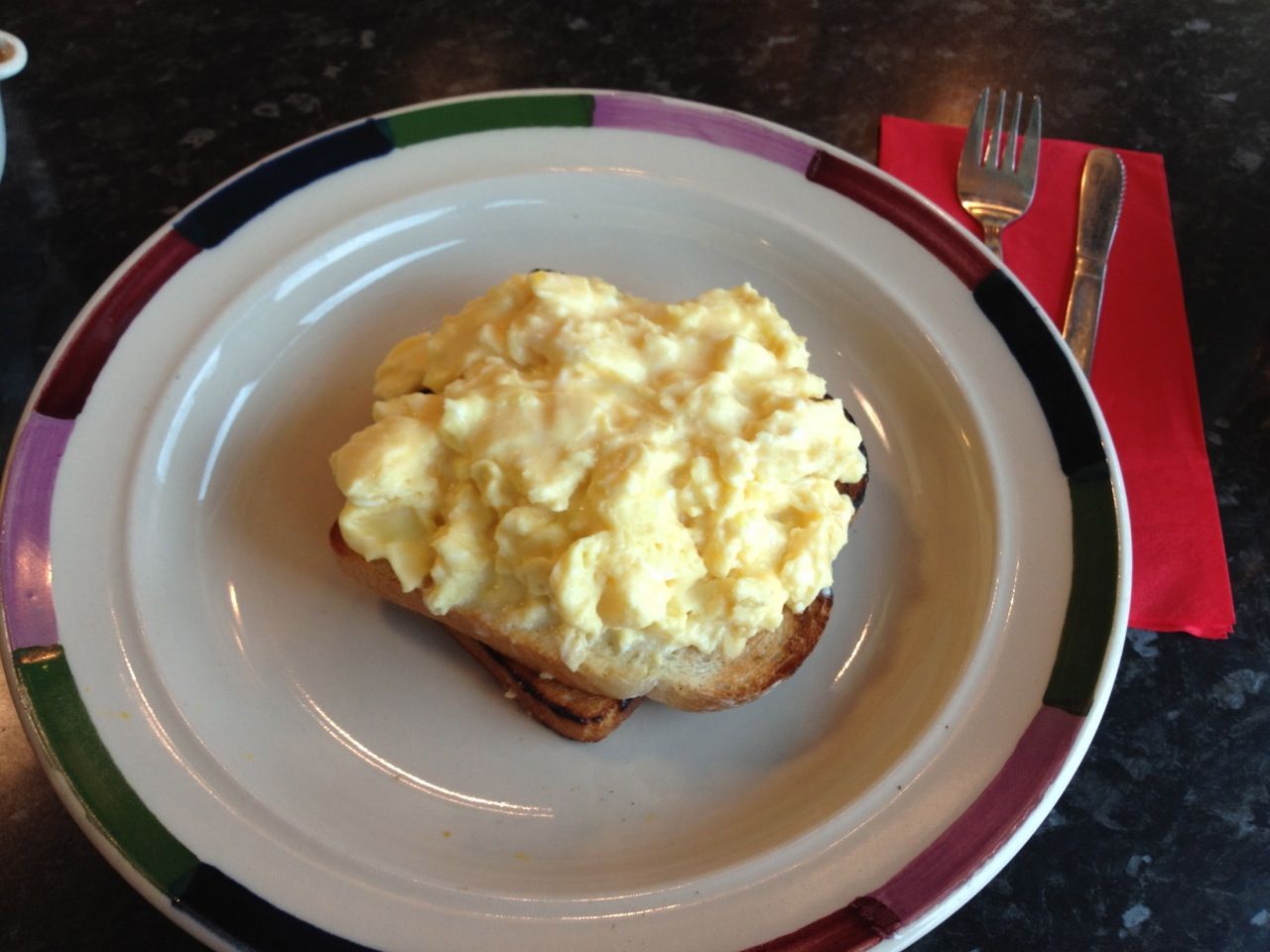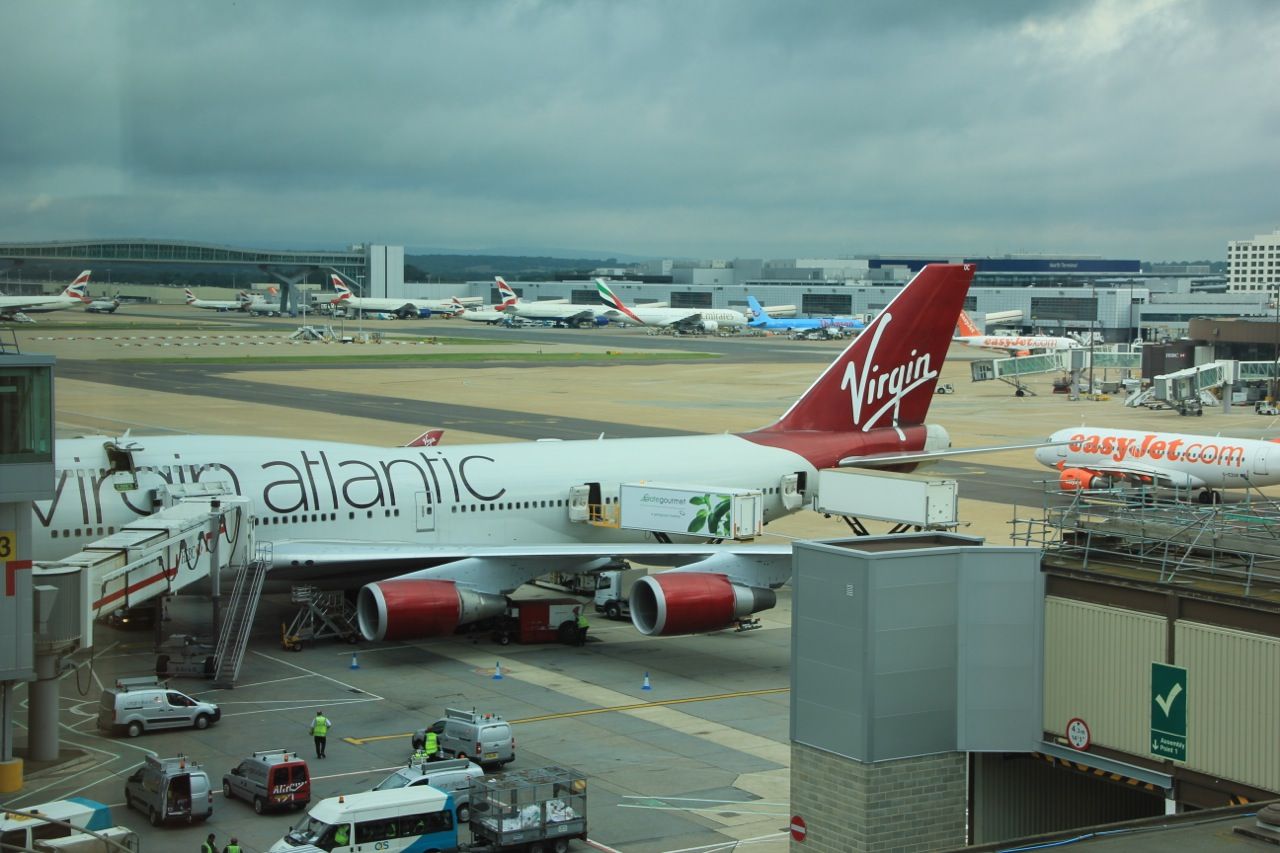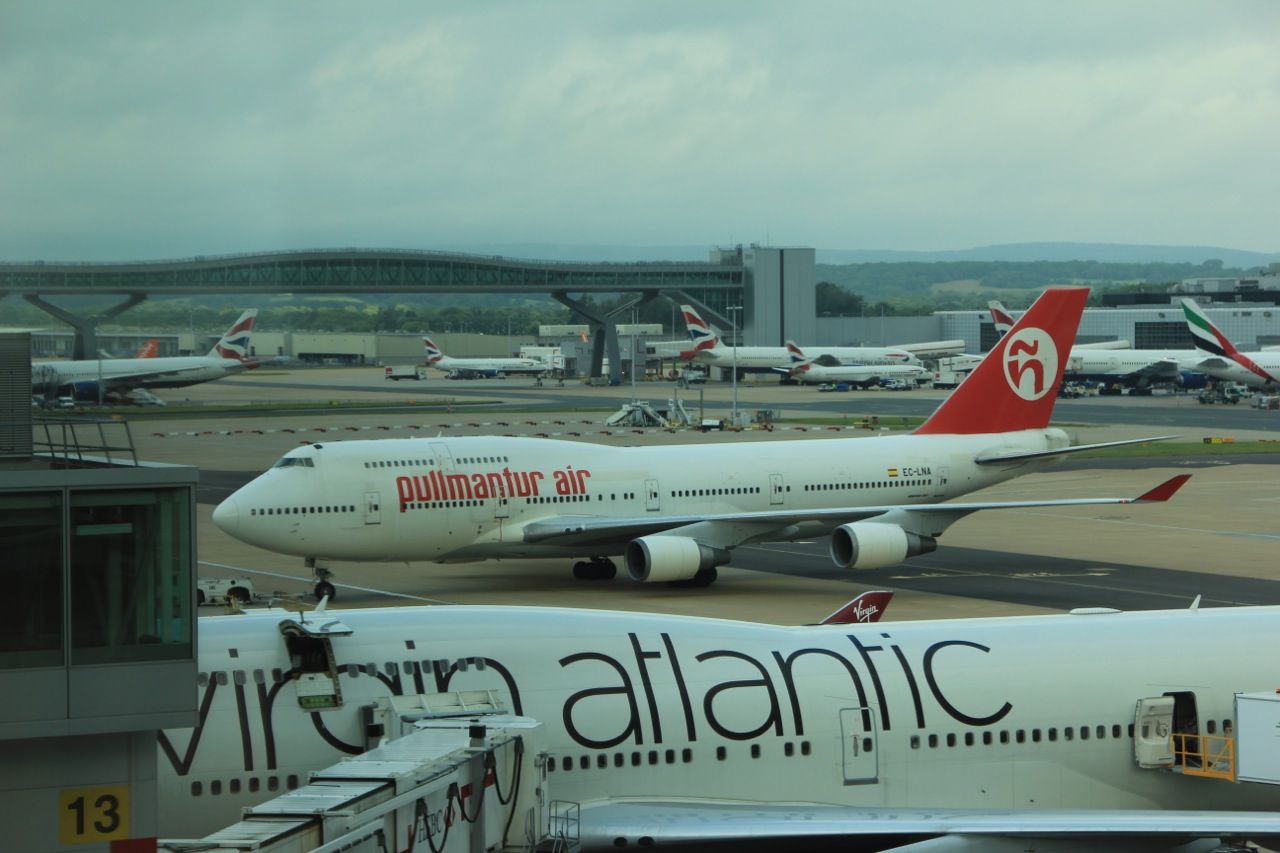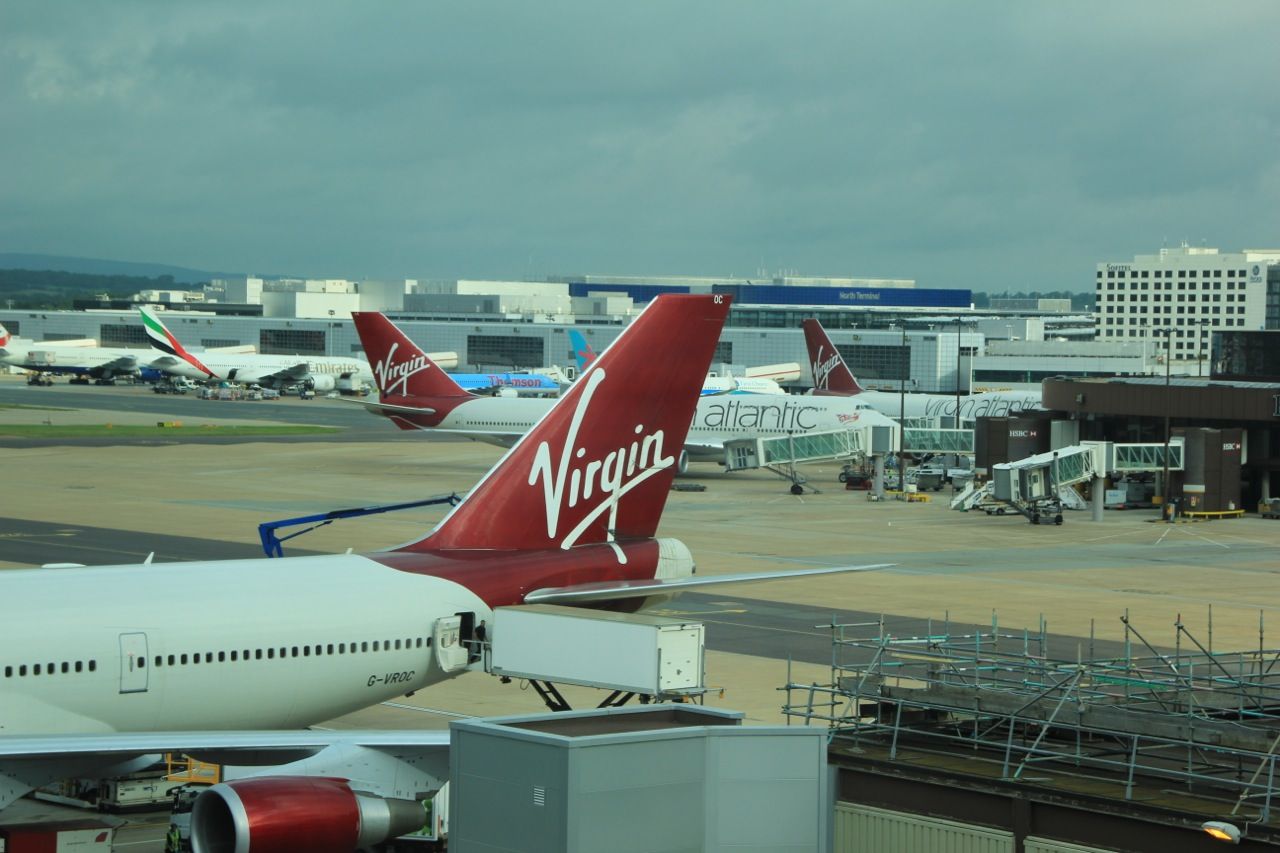 Unusual to see the door open on the upper deck
It was then off for a quick wonder as boarding was due to begin at 8:20. The FID showed that the gate would open at 08:10, however I knew that this probably wouldn't be the case. In the end it opened at 08:15, so not bad by LGW's standards!
Today's flight would be departing from gate 6 - I hadn't departed from this pier before so was interested to see what it was like.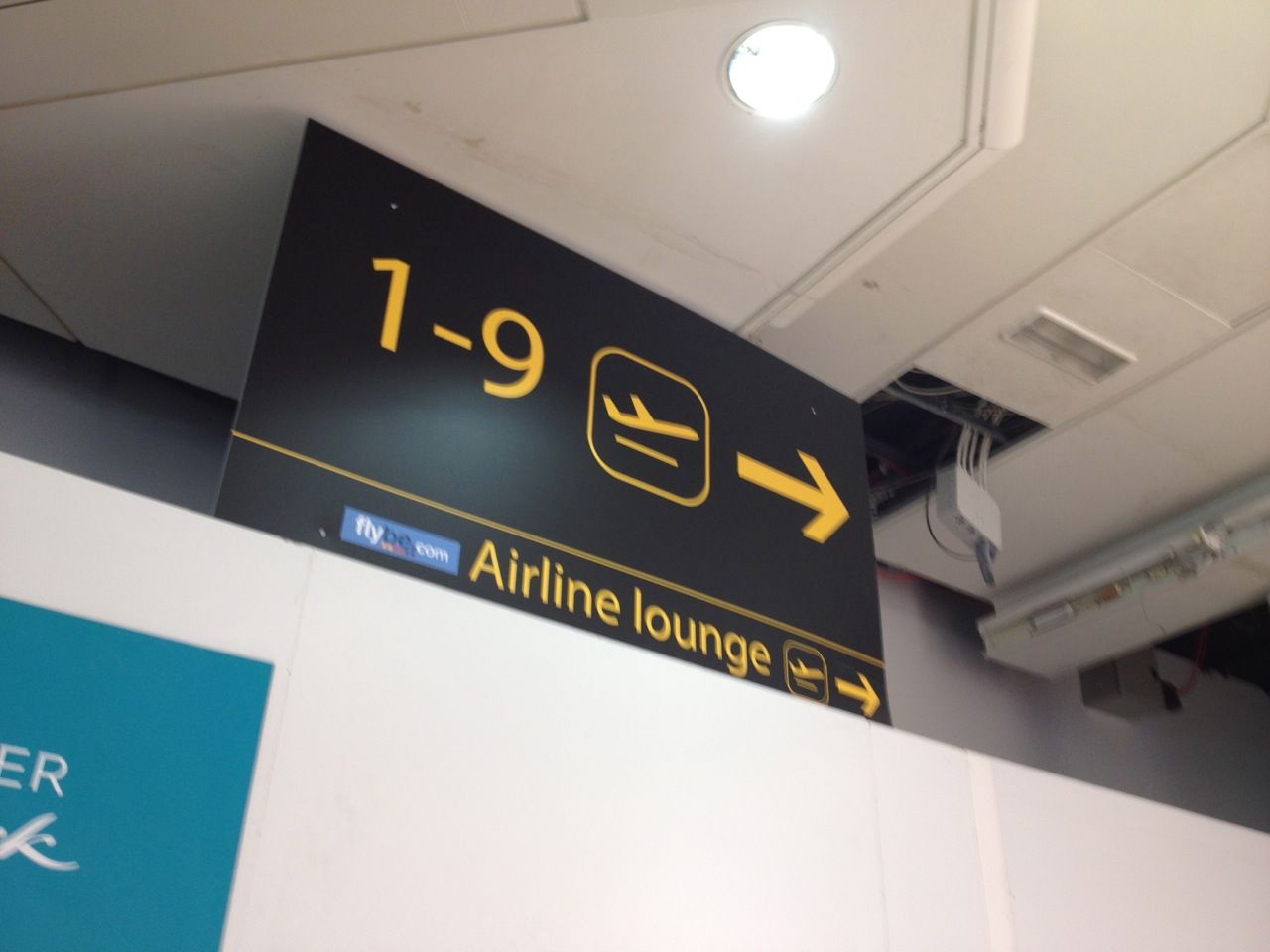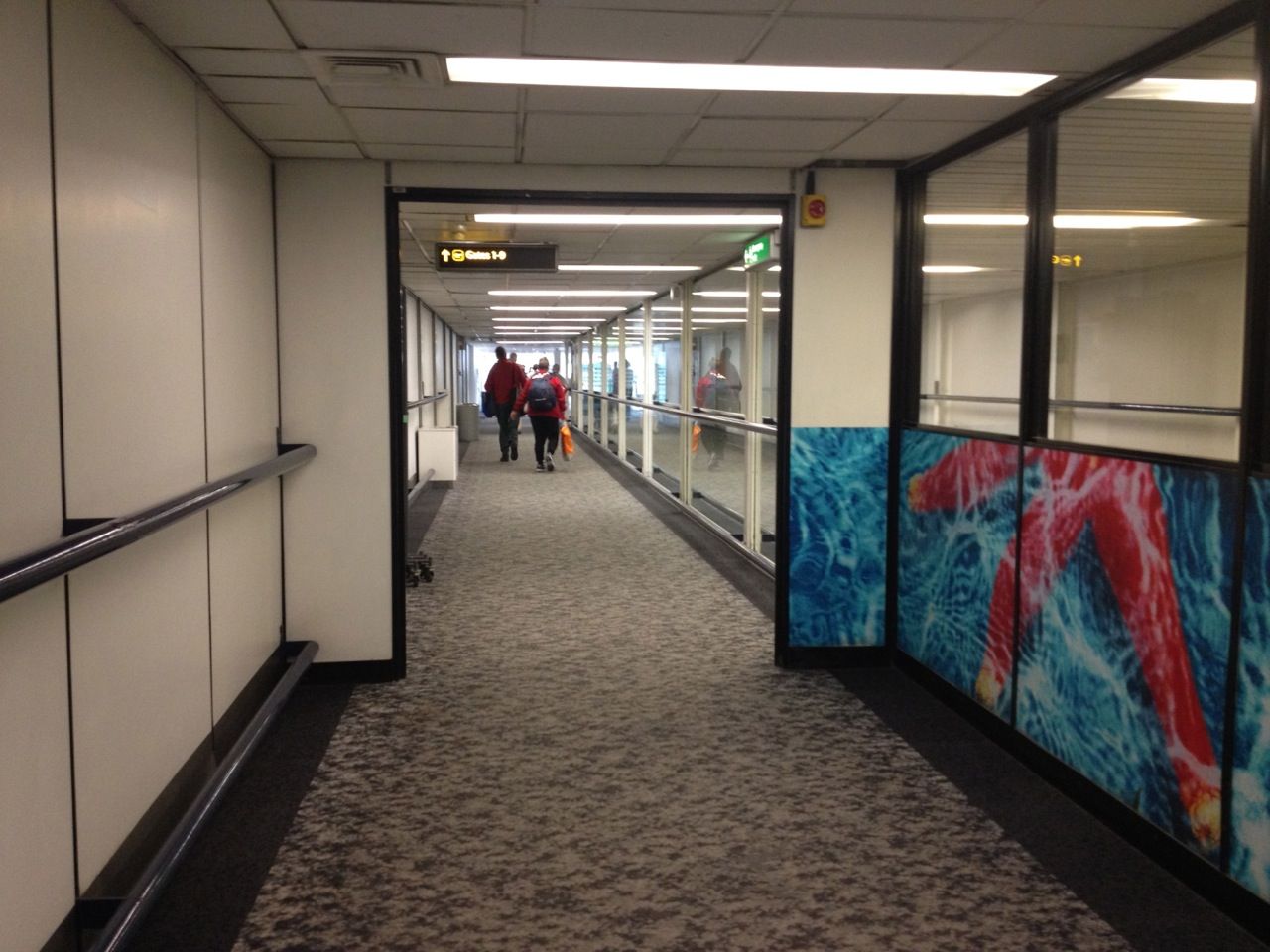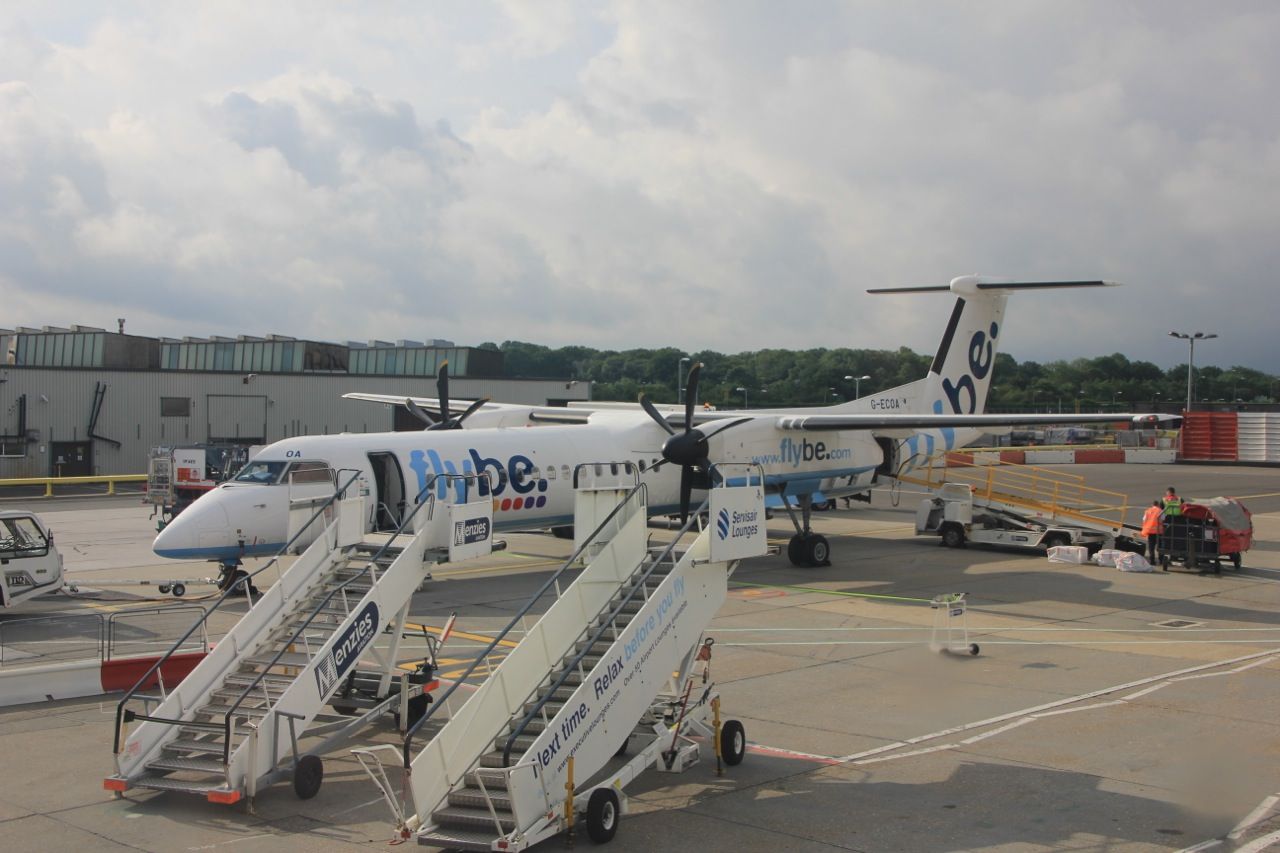 Taken en route
I wasn't left with the best impression. The ground staff wanted everybody to join one LONG queue to get through. There were quite a few people complaining about this but in the end it only took around 10 minutes or so to reach the holding pen.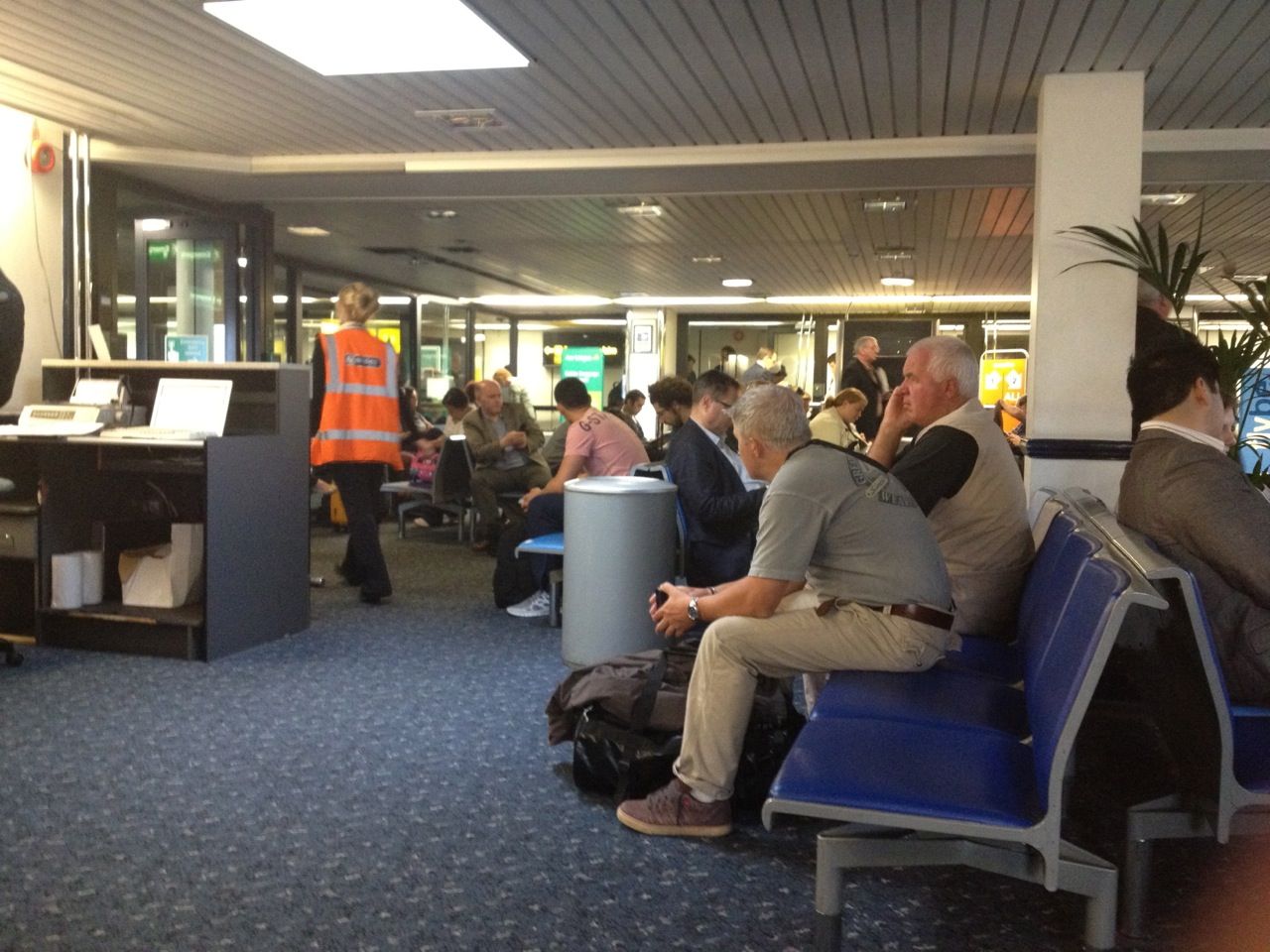 BE962
LGW-BHD
7 July 2012
E-195 - G-FBEG
Off Stand: 08:53
On Stand:10:07
Shortly afterwards, boarding was called by row number. Being initially seated in 8a I was amount the last to board. It seemed like there was a load of around 80% or so. I had a seatmate but noticed row 4 was free so I made the decision it wouldn't be free after take off! The female captain came on the PA and announced a flying time of just under an hour.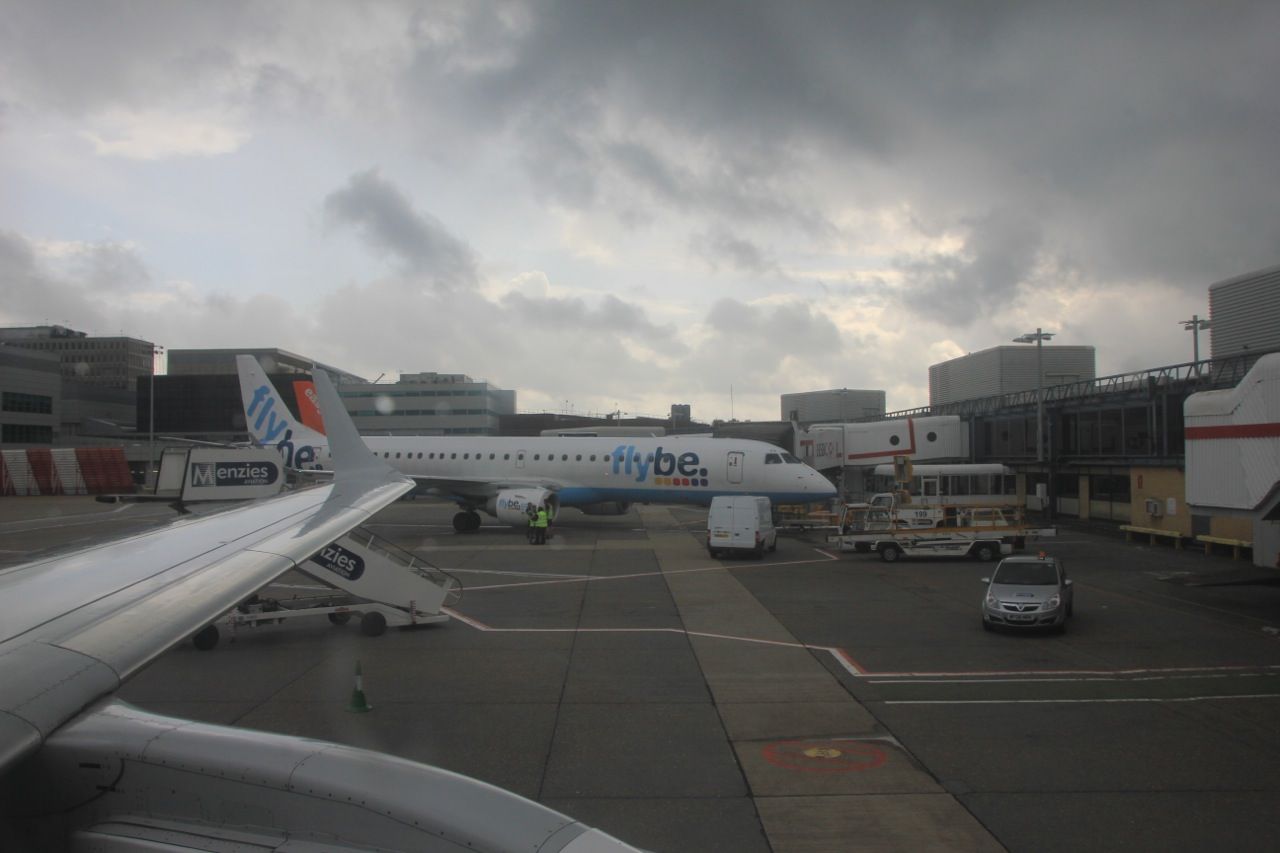 A bit tight, but it will do for this short hop.
We pushed back slightly behind schedule and made our way down to 08R for a damp take off. On the way down I spotted yet another new VS A330 - G-VNYC this time. As it was over the other side of the plane, no photo this time. Take off was just before 09:10 local. One thing I did notice was that we taxied out with just the one engine running. As we reached the end of the runway, the air conditioning went off and the other engine was started.
Take off Video
After take off, I made my move to row 4 just after the seat once the seatbelt sign had gone off. Just shame the lovely British summer we've been having prevented any decent photo opportunities. There were some good cloud formations though.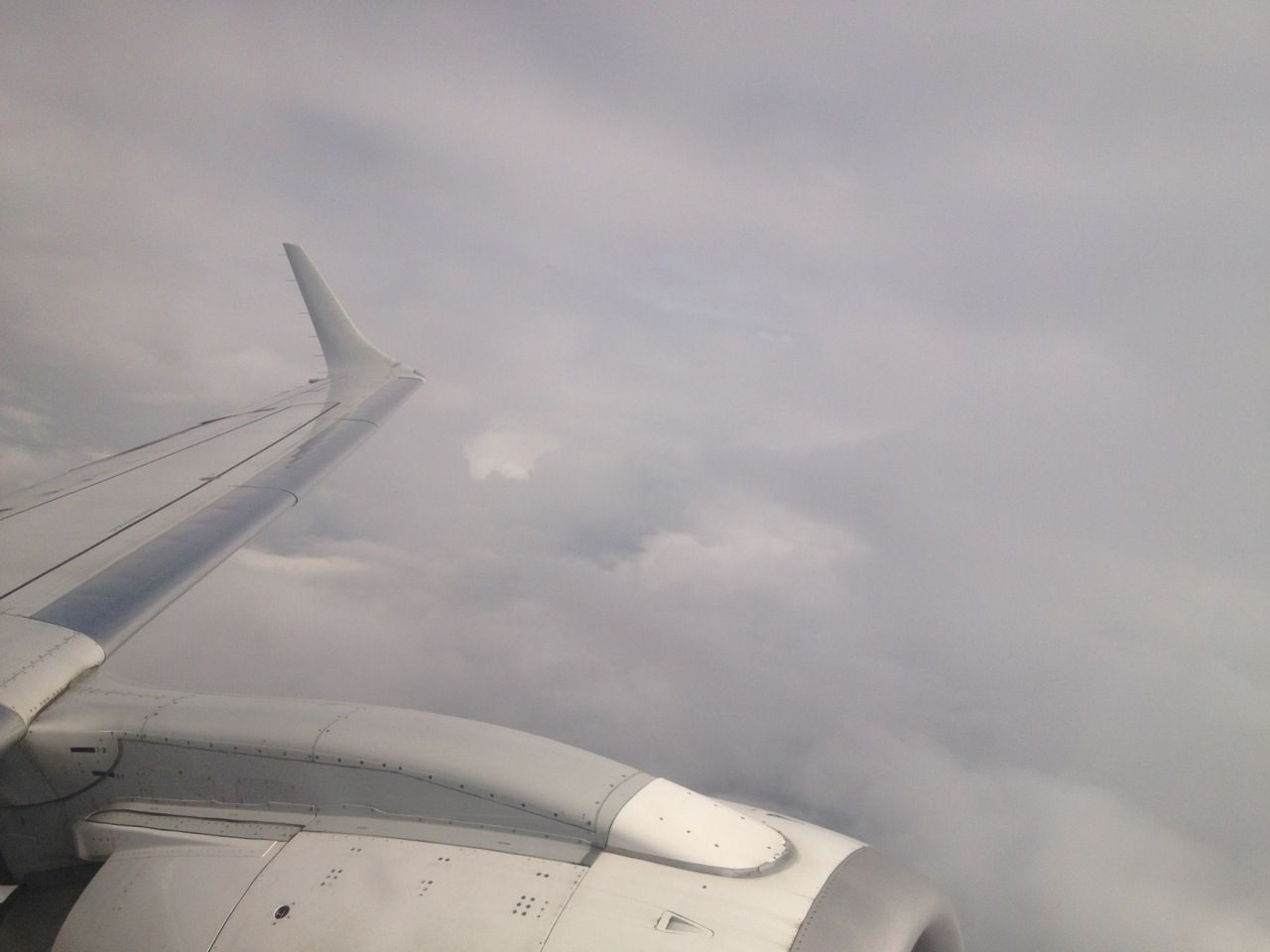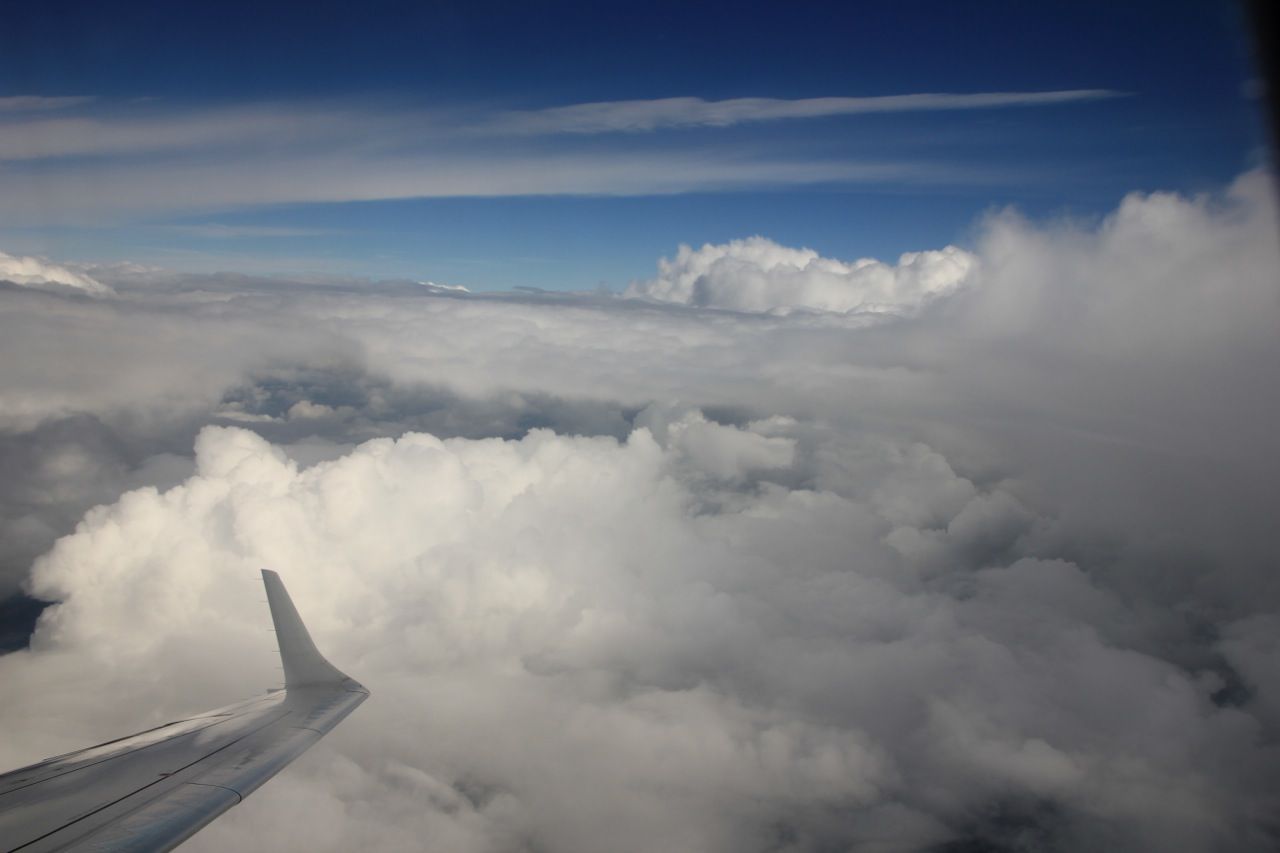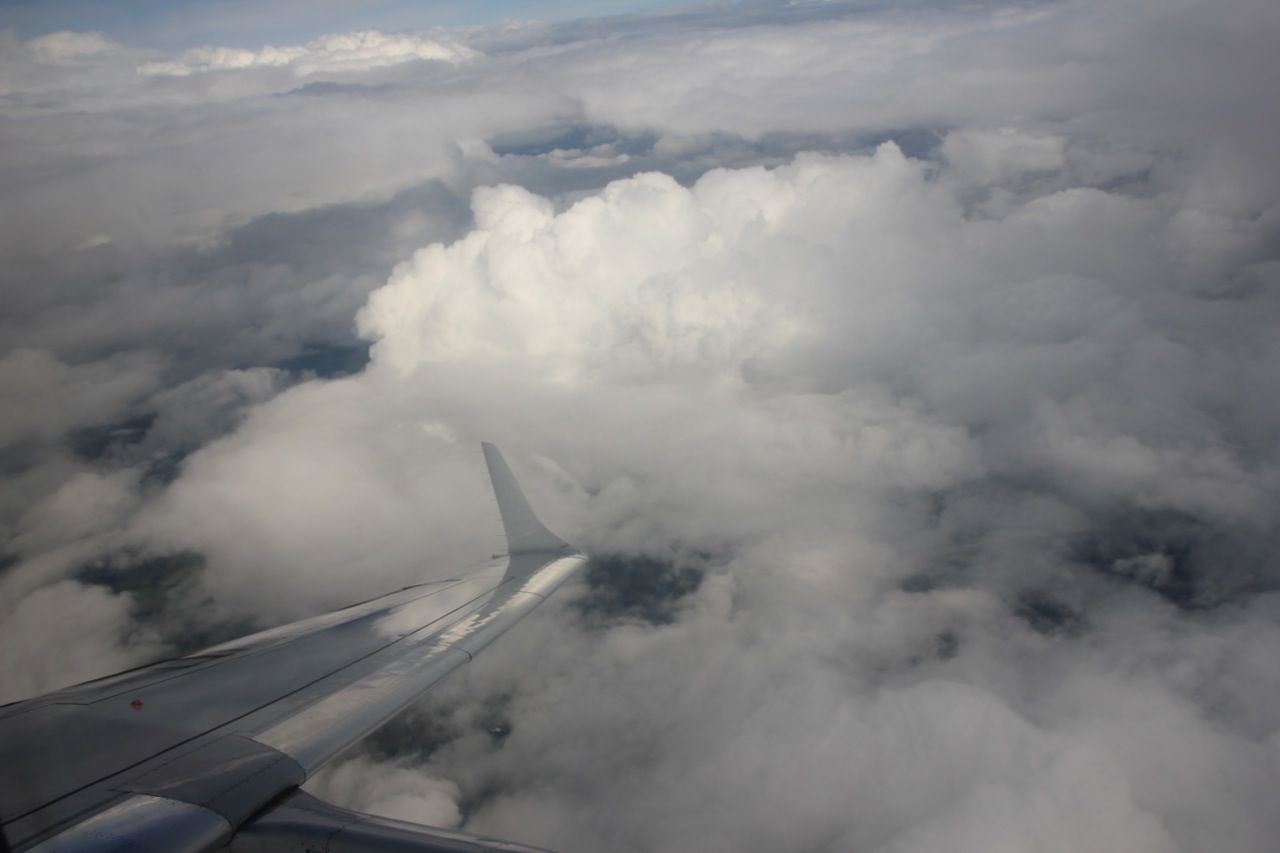 The crew then came through the cabin offering food or drink for sale. Not for me this time though.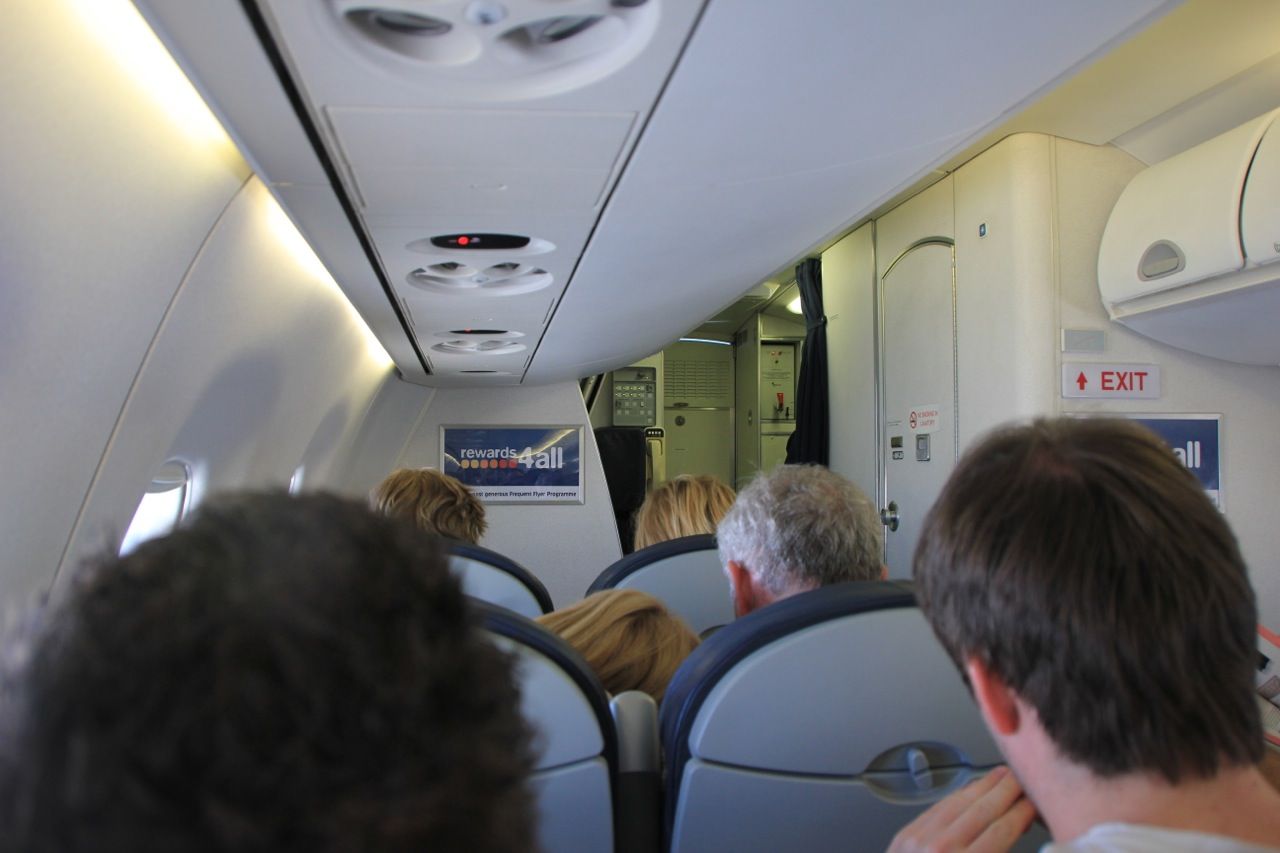 Cabin Overview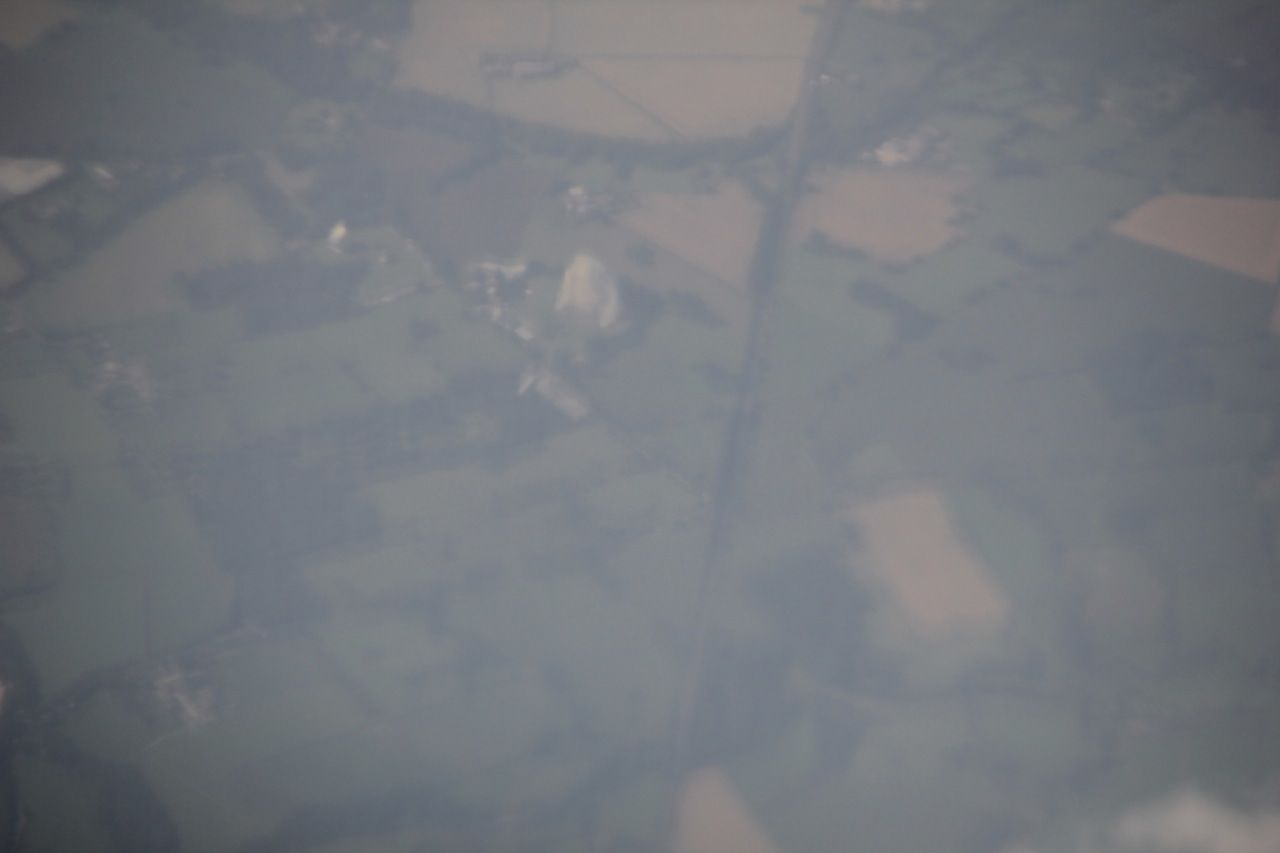 Jodrell Bank, near Manchester
Isle of Man
After half an hours flying time the captain was on the PA again saying that we're making good progress, giving a weather update for Belfast and that we would shortly be starting our descent. No sooner had she hung up the phone, the engines spooled back and we were indeed heading back towards solid ground.
Landing was a cloudy, wet and bumpy affair. We arrived on stand just ahead of schedule though.
Landing Video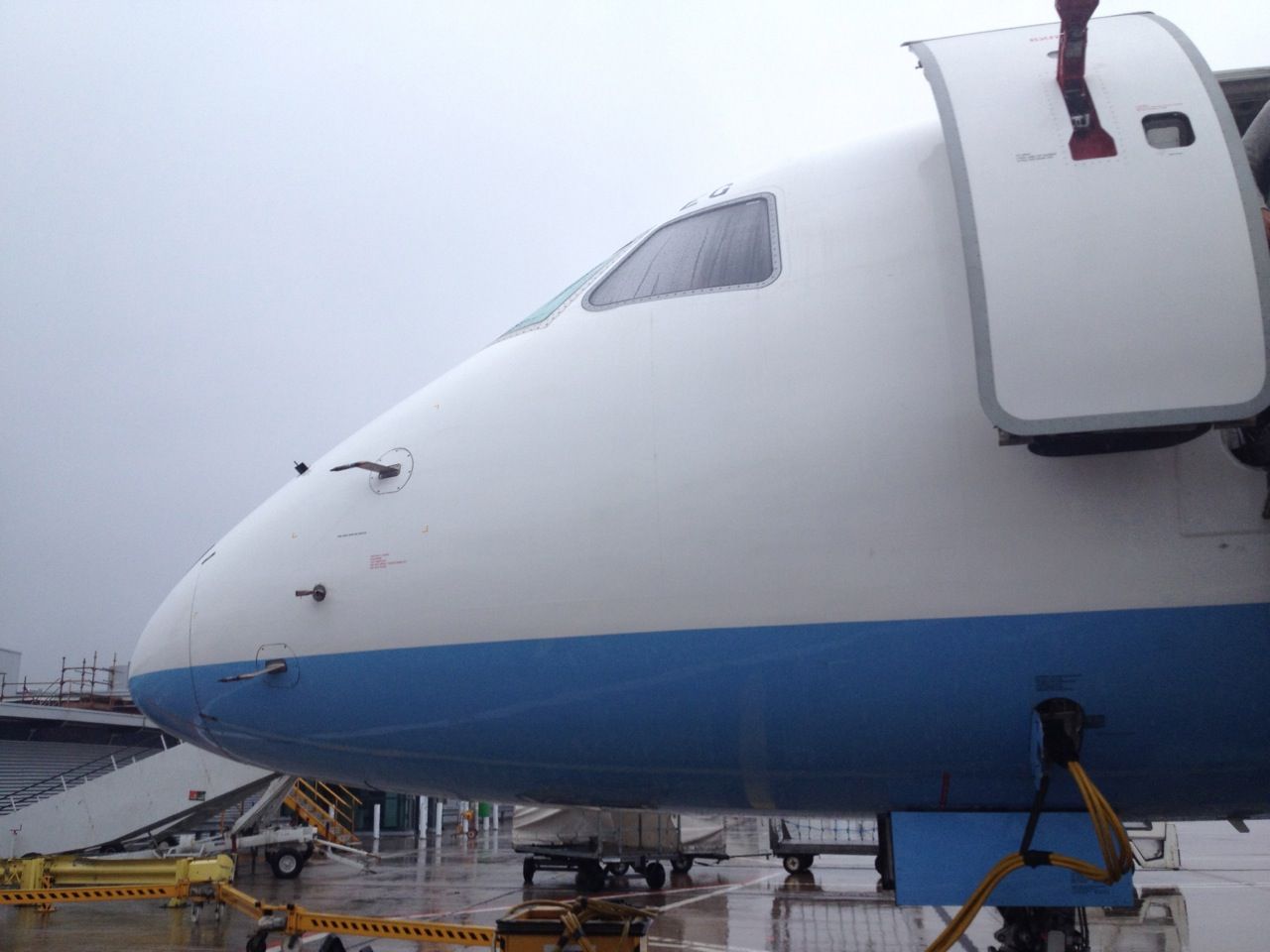 Then it was time to wait for my next flight. Upon checking the fids, I noticed here was a 25-minute delay. It seemed like most flights were delayed today - maybe due to the bad weather in the UK? My flight had one of the shortest delays - others were up to 2 hours.
That left me 3 hours to wait around at BHD, and the fact the weather was so bad, it meant I didn't much feel like taking a walk outside either. I did manage to check in for my flight home tomorrow while I was waiting though.
Once the weather cleared up a bit, I took a brief walk outside I spotted the aircraft that brought me to BHD sat quietly in a corner all alone.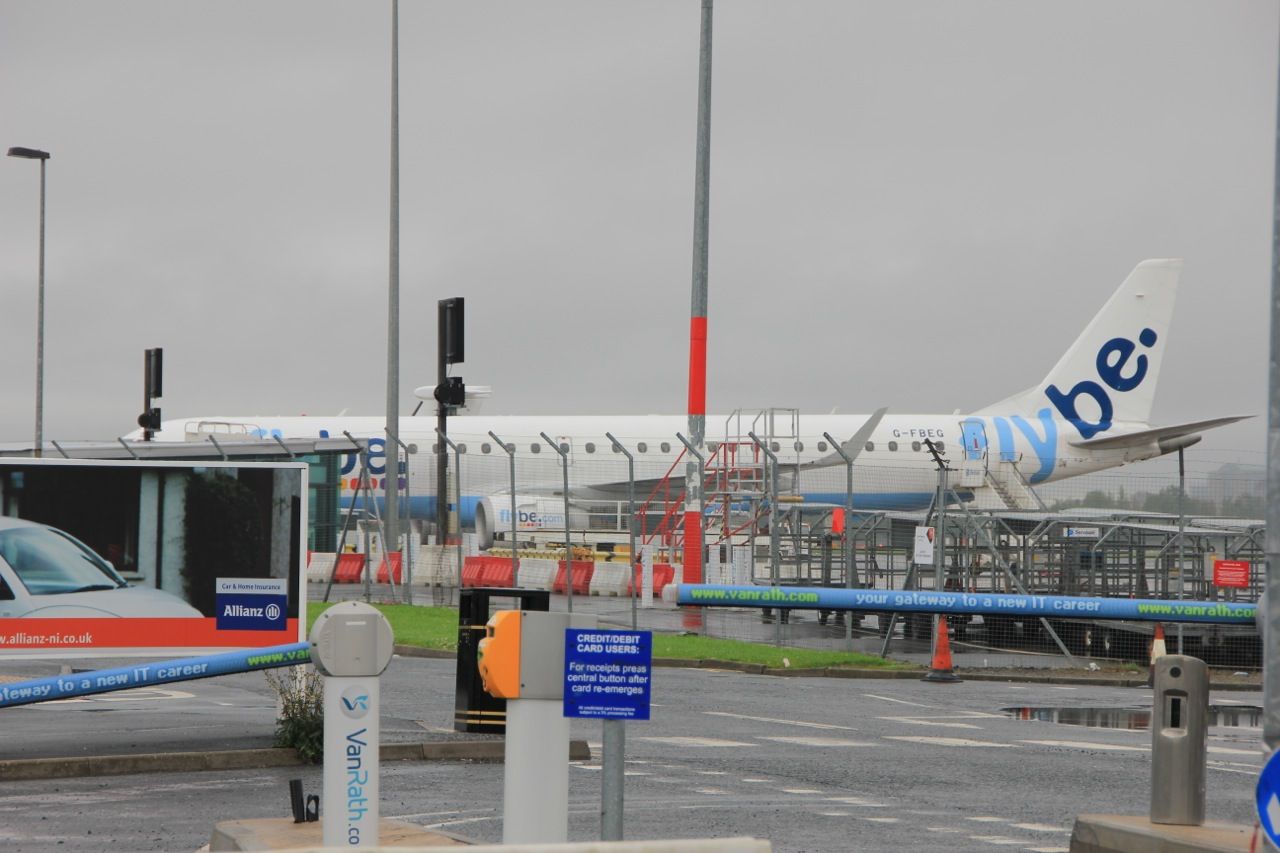 At around 11:30 I headed through security. This took quite a while as there was only 1 lane open. I got some amusement though - 2 lads in front had either been living under a rock for the last few years or thought all the publications/signs/ whatever saying no liquids over 100ml didn't apply to them. Either way they had to leave what seemed like the entire contents of Tesco's styling aisle behind.
Then it was up to departures
@mytripreport