Welcome to my first airliners.net trip report, hopefully you will enjoy it and more should follow soon
INTRODUCTION
It all begins on the 5th March 2011, when An Bord Snip (Irish Gov's Expenditure Review Committee) recommends the selling of most of the Irish states assets including the governments 25.4% shareholding in Aer Lingus. This started some debate in the country on whether Ryanair would launch a third take-over attempt on Aer Lingus leaving the country at the peril of Michael O'Leary. Many commented it would be a disaster for Irish aviation something which I now agree with, but at the time I had never flown with Ryanair and needed to understand how the ''Ryanair Game'' worked before I could air my views on the matter. I decided I would spend a day flying around on Ryanair's jets flying both domestically and International. I found good deals flying from Cork to Dublin, then onto London Stansted, flying back to Dublin before returning back home to Cork. After navigating my way around every robbing scheme I think I've ever seen by any airline, it was clear ancillary revenue is whats keeping Ryanair in the air. In all the four flights would cost a grand total of €99.94.
View Large
View Medium


Photo © Borut Smrdelj
AIRLINE: Ryanair
DATE: 19th April 2011
ROUTE: ORK -> DUB
FLIGHT NO: FR9842
EQUIPMENT: Boeing 737-8AS
REGISTRATION: EI-EFV
CLASS: Economy
LOAD FACTOR: 45%
SEAT: 9A
DEPARTS: 07:30 | 07:24 A
ARRIVES: 08:20 | 08:06 A
DEP STAND: 11
ARR STAND: 110L
I arrived at the airport around 5:55am my father was heading for work and I was here with plenty of time. The airport was busy, it was the Easter break and most flights were operating with heavy loads on that beautiful Tuesday morning.
Aer Lingus' main competition here at Cork
The first flights left, ahead of my Ryanair flight were flights with Aer Lingus to Amsterdam, Birmingham, London/Heathrow, Malaga, Manchester and Paris Charles de Gaulle it was clear who the main operator was. Boarding was announced at 7:05am and all passengers were waiting in the holding pen by 7:15am once on-board the light load was evident doors were closed at 7:20am, the Captain informed us the flight time up to Dublin would be just 30mins and our routing would take us north of Cork, over Clonmel and finally over Meath to land into Dublin around 7:55am. We pushed back early at 7:24am and the safety demo commenced, it hit me how professional and speedy the crew were and overall how efficiently they worked, after a speedy taxi we were airborne at 7:29am.
Take-off video
The crew got to work almost immediately on this short sector, we would be descending as soon as we reached our cruising altitude of 23,000ft today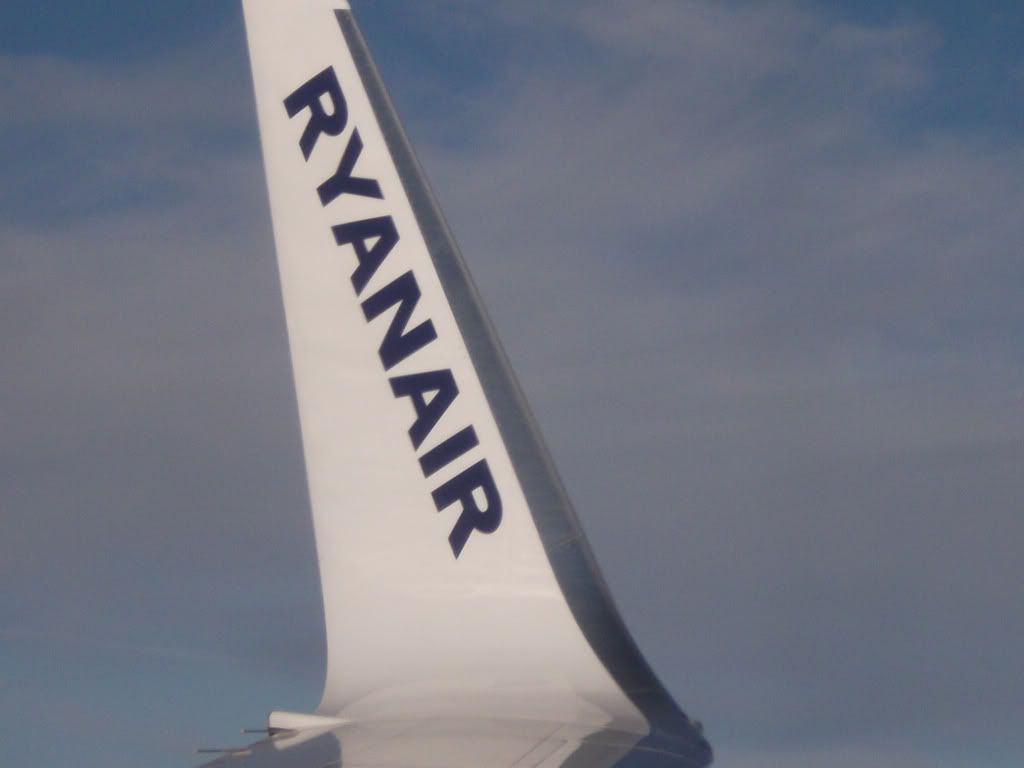 How beautiful are those winglets?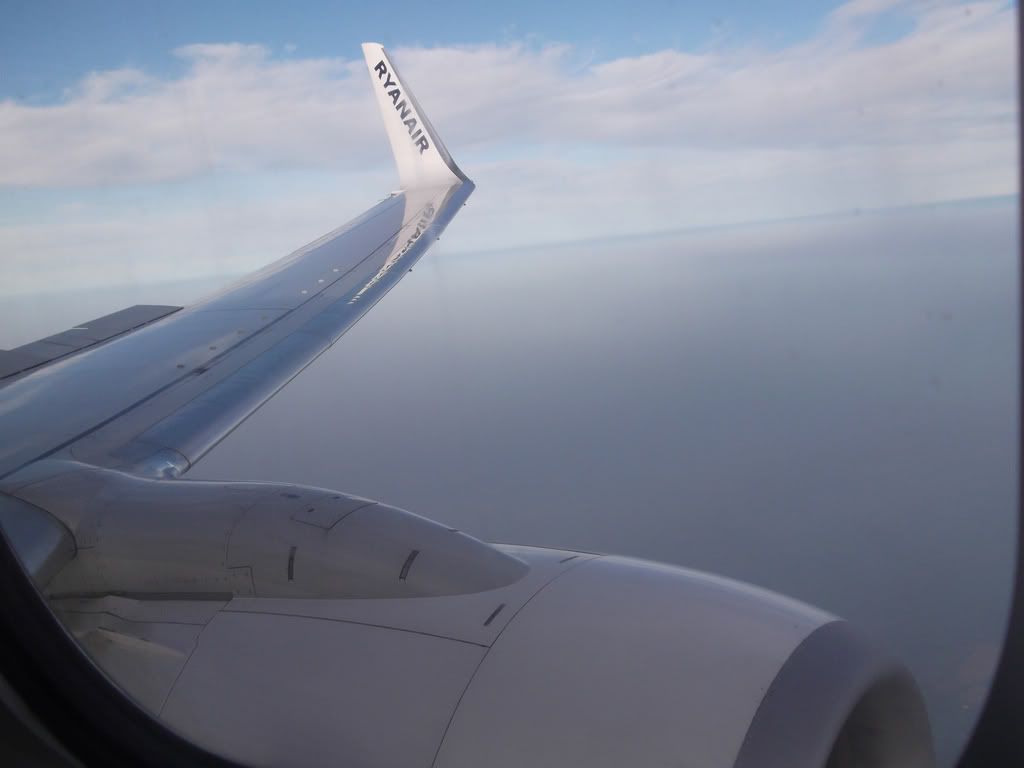 Speed brakes in action. Our decent was announced by the F/O as soon as we had reached our cruising altitude, the sector was extremely quick.
You just gotta love these CFM56-7B26 engines.
We came in for an approach for Runway 10, Dublin was busy and the signal to land was given around 5mins before touchdown, the landing was not bad at all something I was expecting to be poor.
Landing video
We arrived on stand after a speedy taxi at 8:06am, 14mins ahead of schedule. I was beginning to like the Ryanair ''Game''.
The crew thanked us all and as I was last to leave just as I left the airstair they sprung into action, they were Liverpool bound and the load was big, the passengers were already waiting in the holding-pen. They're efficiency was something you have to give credit to Ryanair for.
So I now had a layover at Dublin of 3hrs, I decided I would go landside and view Terminal 2 from the ground before re-entering security and viewing all the departure piers (A, B, D, E).
T1
What a beautiful terminal!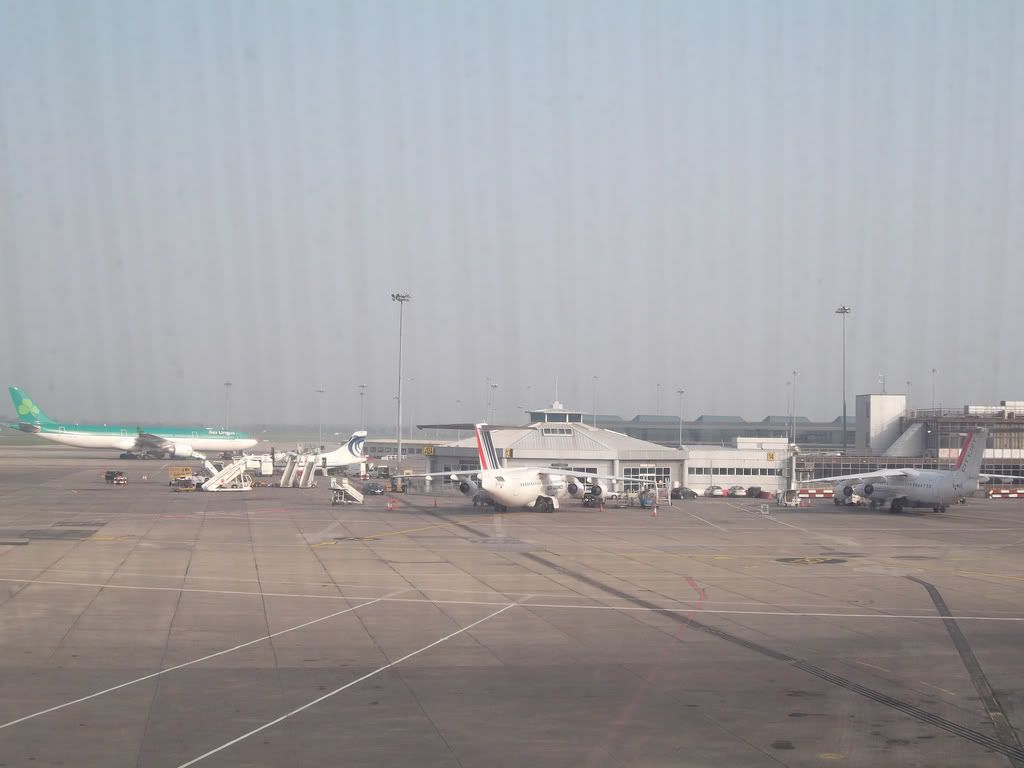 Pier A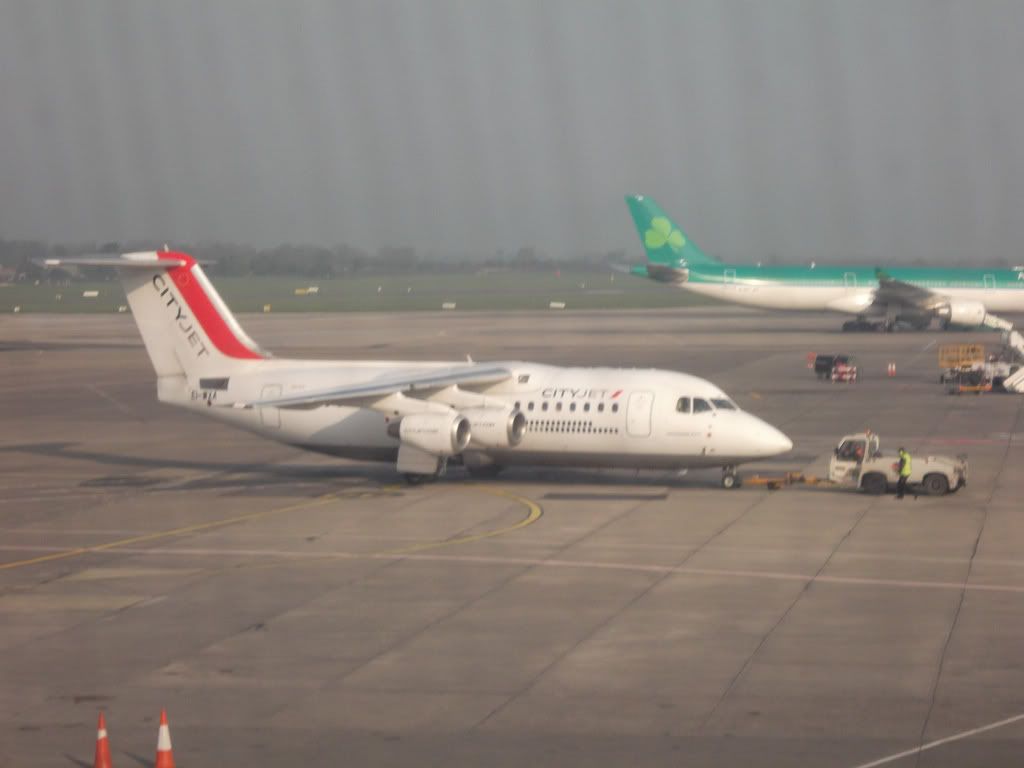 LCY bound
FCTL check
A weird day in Ireland, the weather was nice, not nice AMAZING I don't think I can remember the last time we had a temperature above 23C
View Large
View Medium


Photo © Markus Adank
AIRLINE: Ryanair
DATE: 19th April 2011
ROUTE: DUB -> STN
FLIGHT NO: FR208
EQUIPMENT: Boeing 737-8AS
REGISTRATION: EI-ENG
CLASS: Economy
LOAD FACTOR: 100%
SEAT: 11F
DEPARTS: 11:30 | 11:43 A
ARRIVES: 12:45 | 12:44 A
DEP STAND: 109L
ARR STAND: 50R
I headed to the gate at 11am, a massive Que had formed. Boarding was announced at 11:05am we were all in the holding pen at 11:15am, that's impressive. 189 passengers were on the flight a full load, and the flight wasn't here yet with 15mins to go. I continued to look out the window of the holding door to see if the aircraft was here yet, then at 11:20am the aircraft sped down the taxiway 15mins late before speeding onto stand, then a massive screech with the boarding agent next to me shouting, ''Jaysus'' in a typical Dublin way. The commander was off centreline and almost contacted the winglet of EI-DCV on the adjacent stand I've never seen a marshaller react so fast I bet those people in the holding pen thought me and the boarding agent were freaks when we looked at each other and laughed
It seemed all this speedy efficiency can sometimes work against you Ryanair.
Then like cattle we were released onto the aircraft at 11:30am doors were finally closed at 11:42am after some hassle with an American tourist. He had apparently lost his passport, the cabin crew purser recommended he check his luggage quickly apparently it couldn't possibly be there, she then informed him he would be offloaded as he did not have travel documentation and was delaying the departure off the flight, she asked him again to check his luggage quickly. It was in his carry-on baggage let's just say the stewardess was less then impressed
.
We pushed back at 11:43am with the safety demo completed as we were pushing back, we were airborne at 11:52am local, 22mins late. No video's this time, I had a nervous lady in her 70's next to me who I chatted to during the flight I think its best to talk to nervous flyers at the end of the flight she offered me lunch!! Of course I refused, really is nice when you come across people like that.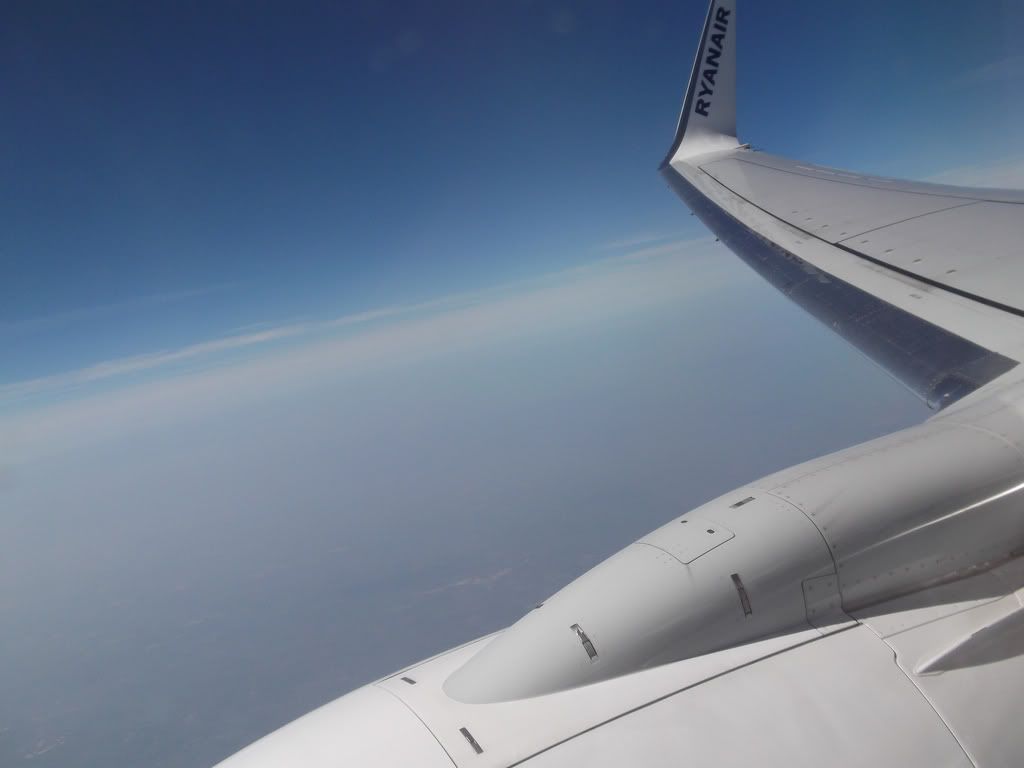 Cruise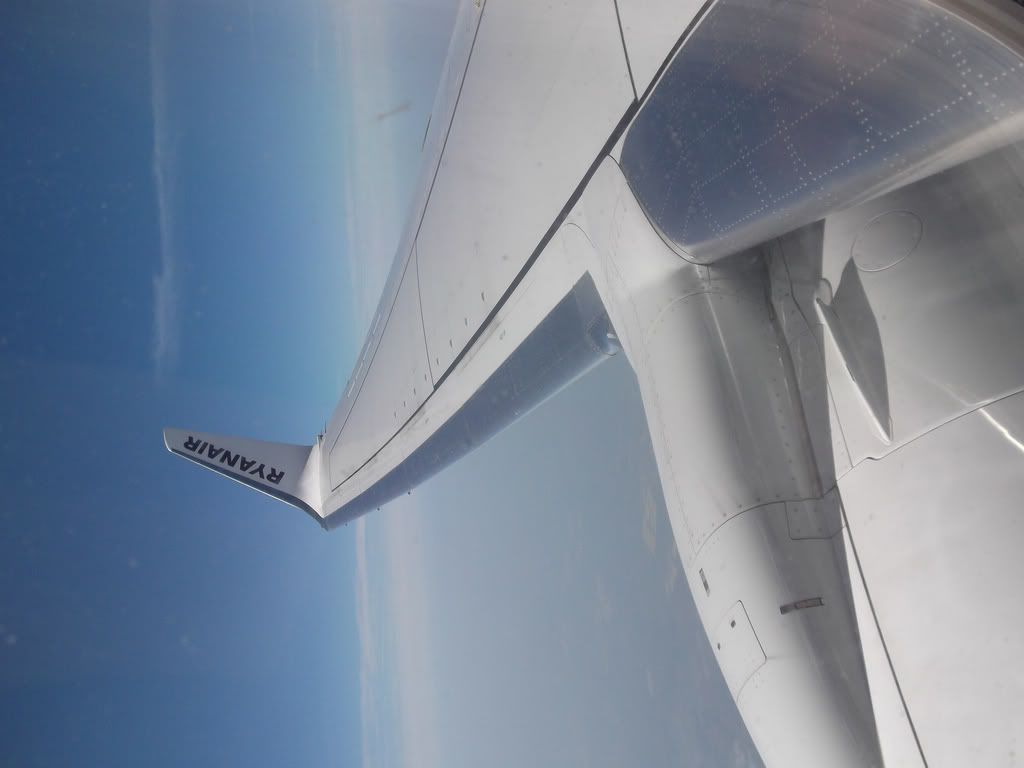 What an amazing day for flying, not one bump! Very very rare for Ireland and the UK.
For landing I informed the lady next to me how it may be a bit rough depending on conditions and traffic on approach, and who knows maybe I have a sixth sense! We hit that runway hard and fast, and exactly on-time. The fanfare went off and the whole cabin erupted into laughter including me as well as astonishment we had arrived on-time after leaving over 20mins late. Apologies for the lack of pictures on this sector.
London baby! ..Well Stansted
View Large
View Medium


Photo © Roberto Bianchi Piti Spotter Club
AIRLINE: Ryanair
DATE: 19th April 2011
ROUTE: STN -> DUB
FLIGHT NO: FR215
EQUIPMENT: Boeing 737-8AS
REGISTRATION: EI-DLB (
Comunitat Valenciana
)
CLASS: Economy
LOAD FACTOR: 98%
SEAT: 20F
DEPARTS: 15:05 | 15:08 A
ARRIVES: 16:20 | 16:11 A
DEP STAND: 63R
ARR STAND: 107R
I was beginning to get tired, We boarded and were on-board for 3pm. The safety demo was completed and we pushed back at 3:08pm before lifting off at 3:15pm.
Safety First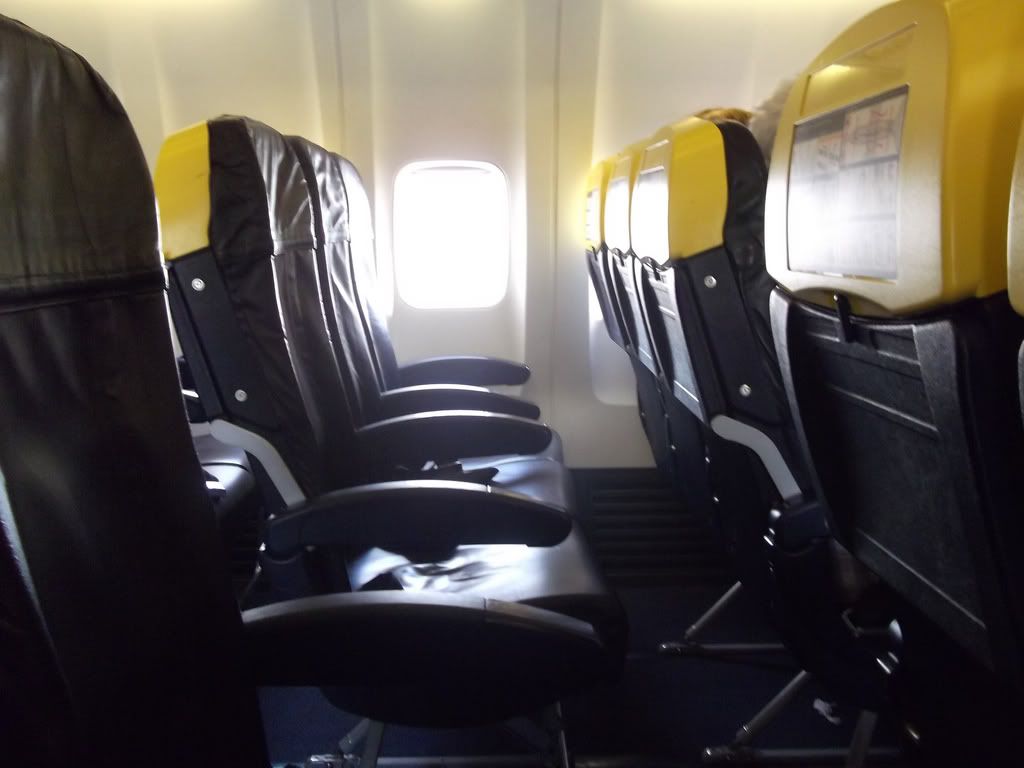 The LCC cabin, minimal maintenance, seats don't recline, no seat pocket
Boarding
Finished refueling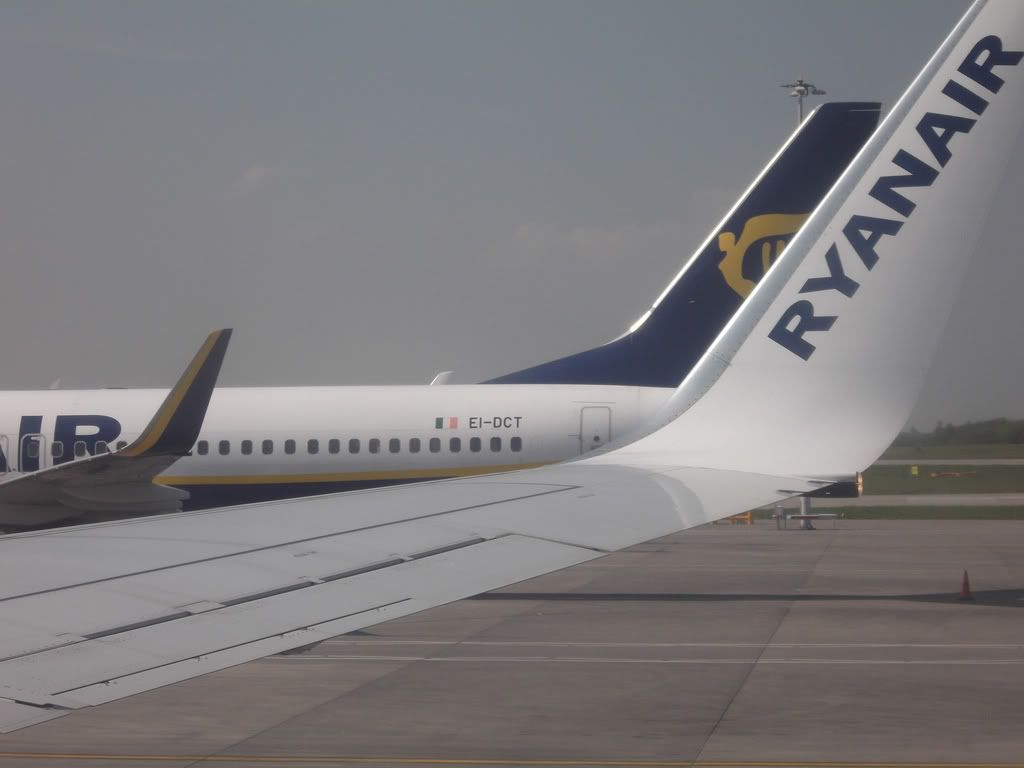 I actually like the Ryanair colour scheme
The flight was uneventful, pleasant, fast & smooth. Just before pushback the Captain informed us the flight time up to Dublin would be 1hr, the weather in both Dublin & London was still very nice, really warm & sunny. The Cruising Altitude for today's flight was 32,000ft.
Take-off video
After Departing from Runway 9 in Stansted we banked right and passed Birmingham, Manchester, Liverpool, Holyhead, Dun Laoighere, Maynooth, before Landing on Dublin's Runway 10.
Climbing away from London
Turning for Manchester en-route to Dublin
Where's my sun lotion?
Aer Lingus. Great Care. Great Fare.