Leg 5: Beasts of the East – April 14, 2011
Greetings, fellow A.netters, and welcome to the latest exciting leg of my trip report! You might have thought that I'd had enough of the Northeast by now. You were wrong.
This fifth leg of "The Next Ten" took me through two more of the country's infamous transport hubs: Newark Liberty International Airport and Philadelphia International Airport, ranked 14th and 18th respectively. It represented a bit of a return to my daring ways with an attempt to navigate two potential snake pits in the same day. But just booking tickets to those snake pits proved to be an adventure in itself… (I apologize—kind of—for the wordiness of the following, but it's nevertheless a part of the record. You may skip it if you prefer.)
My original plan was to take the non-stop Continental (well, it was still CO when I booked it, anyway) OKC-EWR flight and catch a Dash 8-300 to Philly. A couple of Delta CRJs would get me back via Minneapolis. That plan held up for five days. I received a lovely e-mail from Delta telling me that my itinerary had changed to the tune of about 12 hours.
An alternative plan needed to be hatched, and quick. I found a way going through Atlanta departing roughly two hours earlier than the original flight—but it was the best option available. The fare was the same, so there was no difference to be paid. I called Delta to change the itinerary, and that's where they gained some points in my book. The wait was short, the clerk was friendly and speedy, and they waived the change fee I was expecting to be hit with.
The new return trip was in my hand with no trouble, and all was well…for about two weeks.
After that time, I received another lovely e-mail from Delta regarding yet another schedule change. I was considering grabbing a torch and pitchfork as I opened the message—but it was good news this time. The flight from PHL would leave 15 minutes later, and the next one 5 minutes later. Relieved at the news, I went on about my business…for a couple of days.
After
that
time, I received a lovely e-mail from Continental about a schedule change of their own. (Seriously, is this some kind of cruel joke?
) The first flight remained the same, save for a flight number change and a one-minute difference in departure. The second flight would leave 1.5 hours later than the original—that ended up being unacceptable. I looked for alternatives, but none appeared—none that I wouldn't have to pay out the wazoo for, anyway. So, it appeared that I was up a royal creek…but surely there was some other way to get to Philadelphia? Then it came to me: Amtrak.
I browsed all of the train options between the two cities and found one that would do the job and still have me in Philadelphia with plenty of time. But what to do about the second flight? I couldn't dump it without dumping the first one, and I was definitely going to take that one. I eventually decided that I would simply abandon it. I was looking forward to a quick hop on the small Dash, but it would have to wait for some other day. On the plus side, I might make some standby passenger really happy. Armed with an itinerary that hardly resembled the original, I was finally ready for the Atlantic again.
(Some pictures have been omitted for your convenience. If you wish to see them all, feel free to follow the link: Slideshow for Leg Five)
Fast forward to the present: the usual pre-departure rituals went smoothly. I had an opportunity to go through the millimeter wave body scanners that were freshly installed at OKC the previous month, but that was because they herded everybody on our side of the security area through it. Fortunately there wasn't a major traffic jam because of the still-early hour. I parked myself at the gate and waited to board…
N12175 stands ready to jet me to Jersey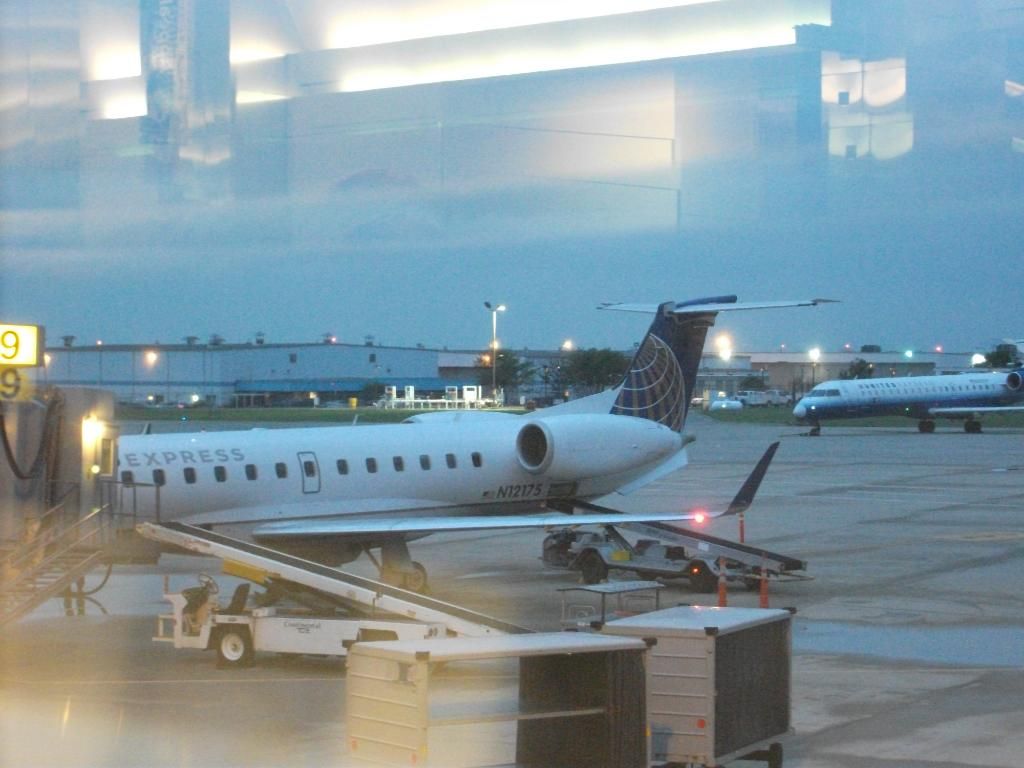 Looking around the terminal from my seat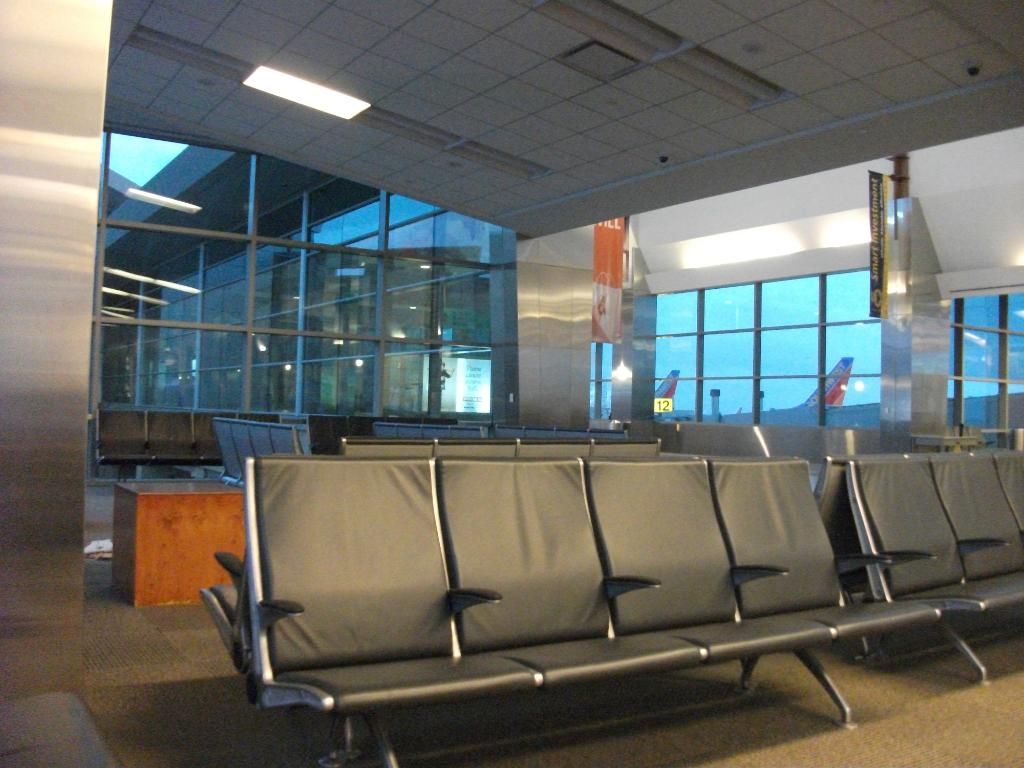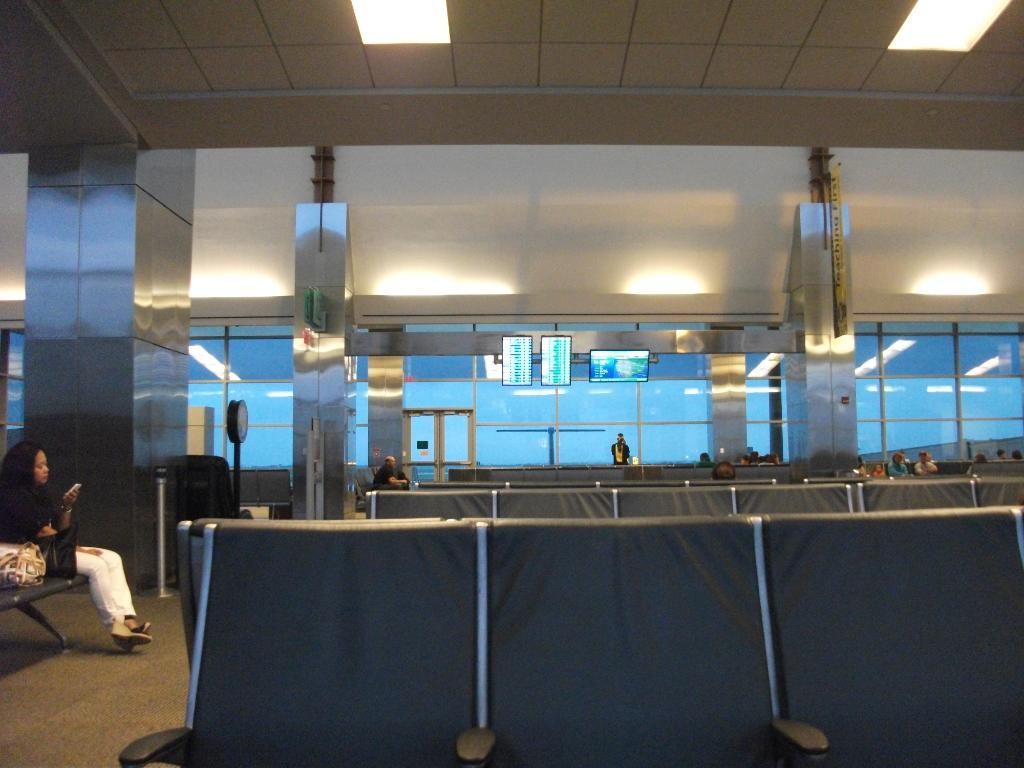 United Airlines 4389 OKC-EWR (operated by ExpressJet Airlines dba United Express)
Scheduled: 07:21-11:35
Actual: 07:33-11:08 (wheels up/wheels down); 07:25-11:25 (gate to gate)
Embraer EMB-145XR [ERJ-145XR] (N12175)
I'll be honest here: I did have a few reservations about being on a regional jet to fly halfway across the country. (Big region, isn't it?) As such, I made sure to grab one of the coveted A seats so I could move at my leisure. It turned out that space wasn't really a problem. I was a bit surprised by how much room I had, and the leather seat was nice and comfortable. That went a long way toward contributing to a pleasant flight.
Winglets make these ERJs look so much better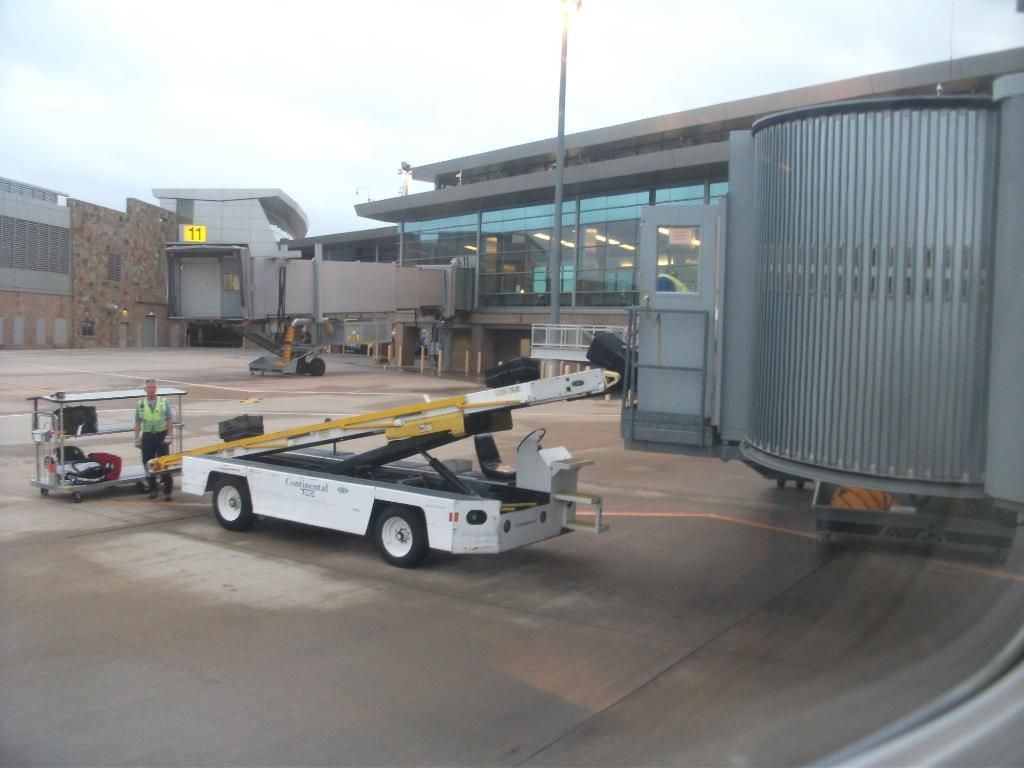 The rest of row 9
Legroom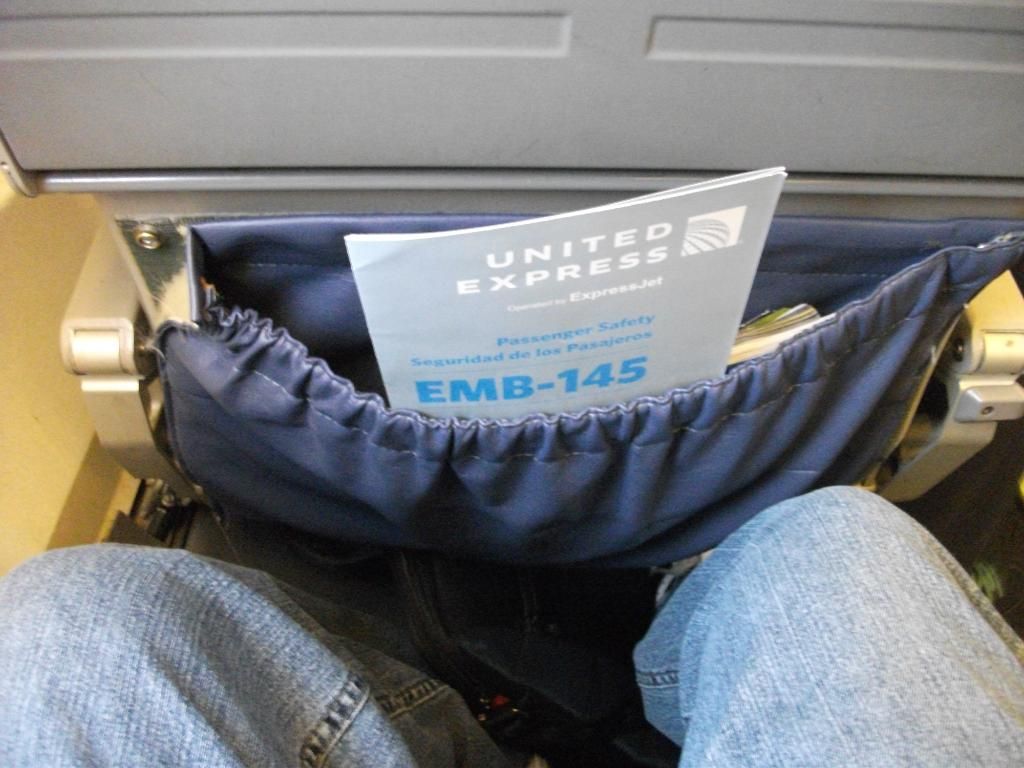 The takeoff roll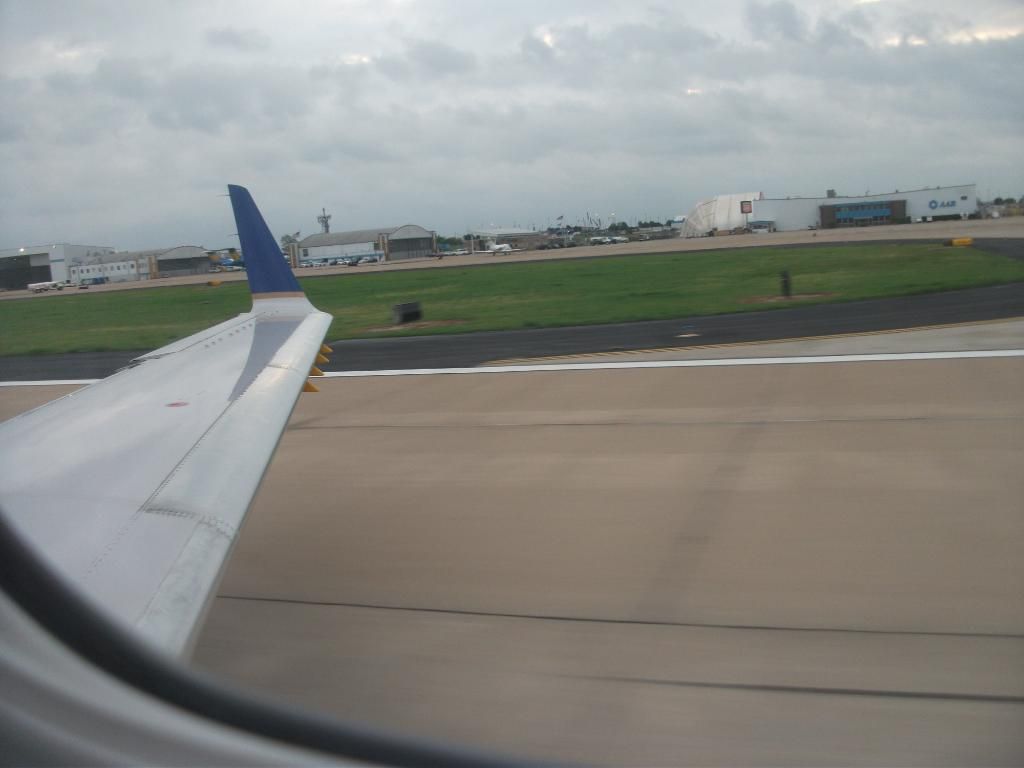 Here we go!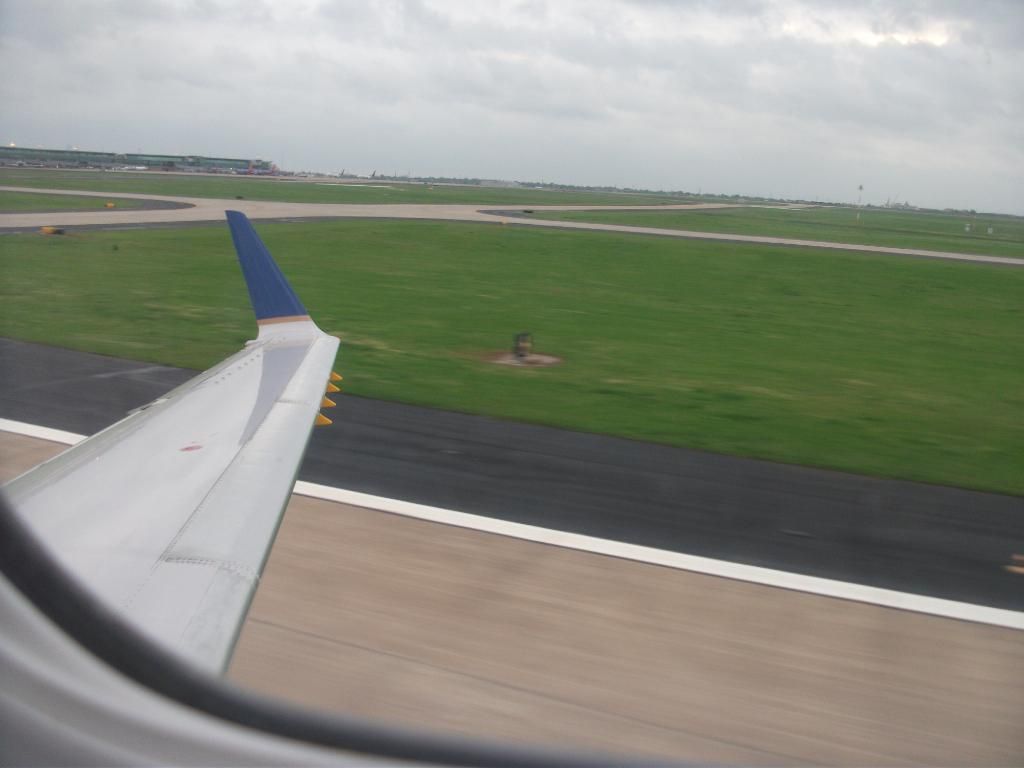 No, that's not an accident site. It's a former United Express CRJ being used for…I'm not sure what, exactly. Could be rescue training, could be something else. All I know is that it's been there for some time, but this is the first time I've seen it like this. (If you've been following my reports, you might have noticed that I usually sit on the right side.)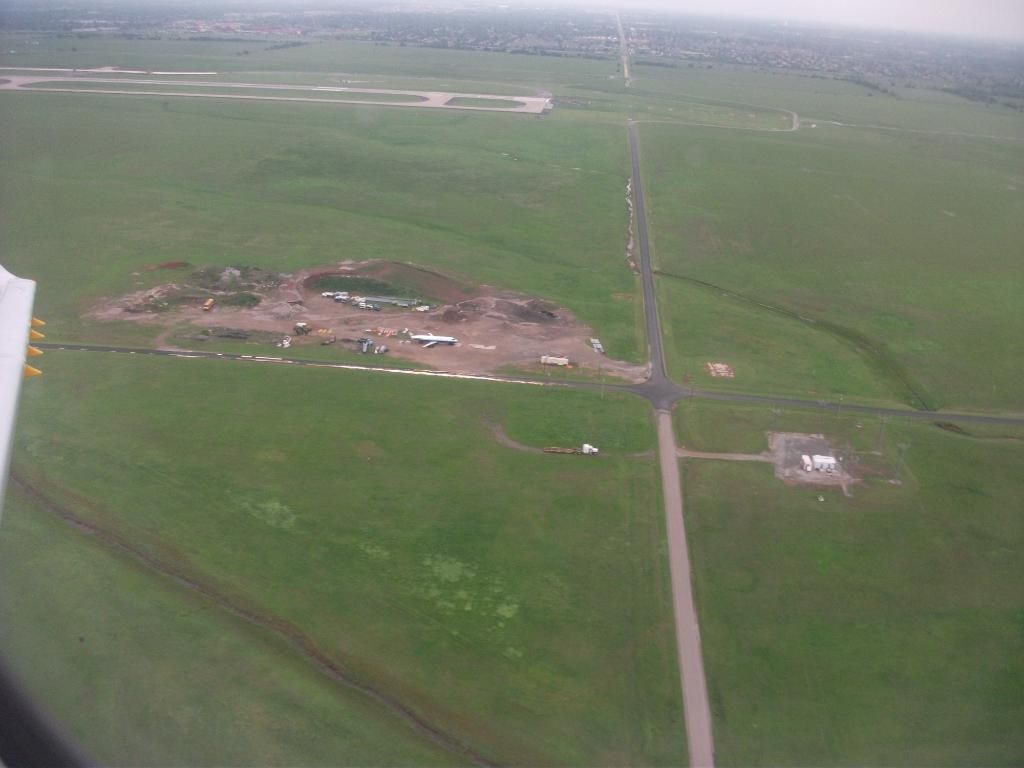 Looking back at the field (the asphalt Runway 13/31 is a bit difficult to see)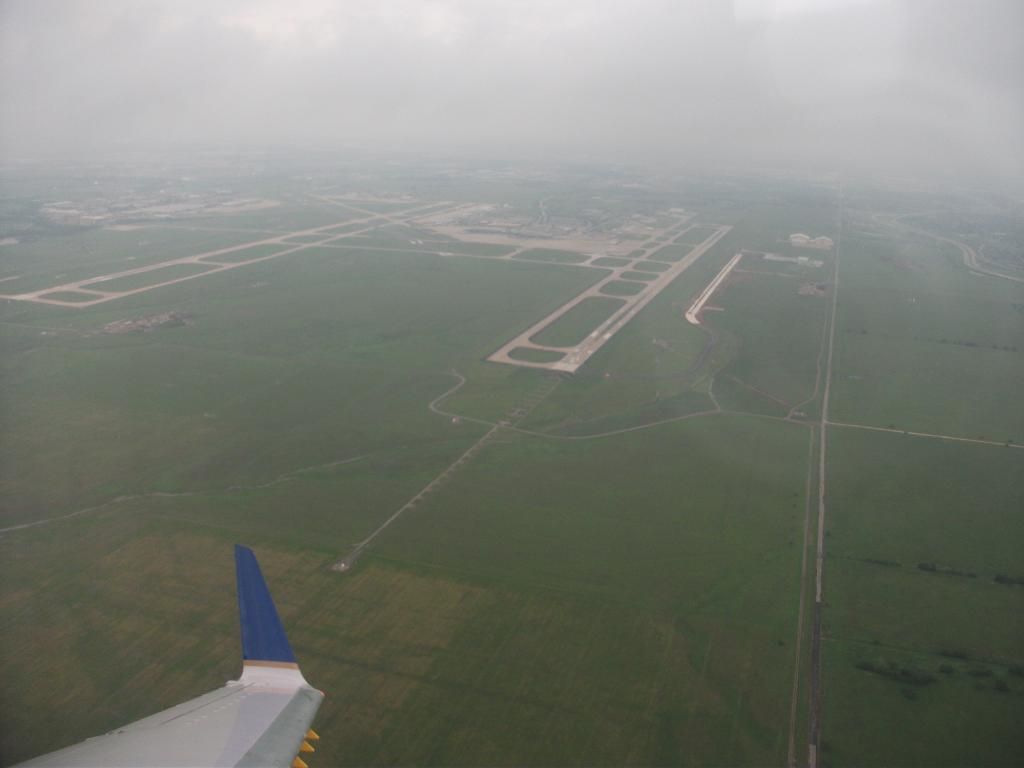 Poking through the clouds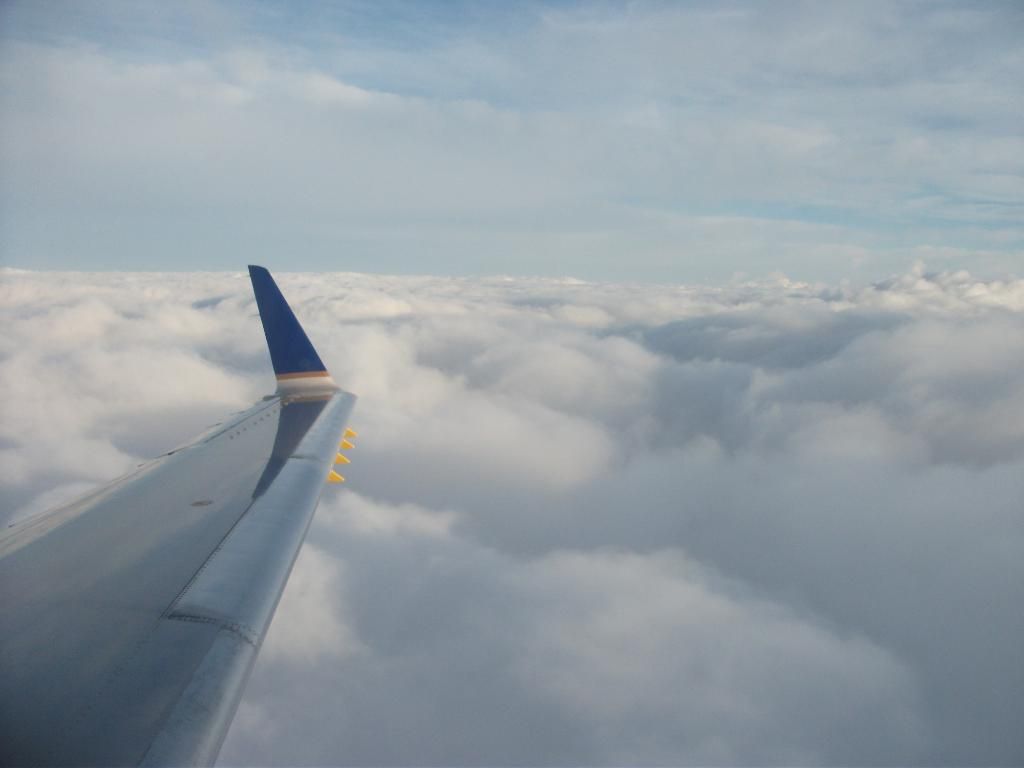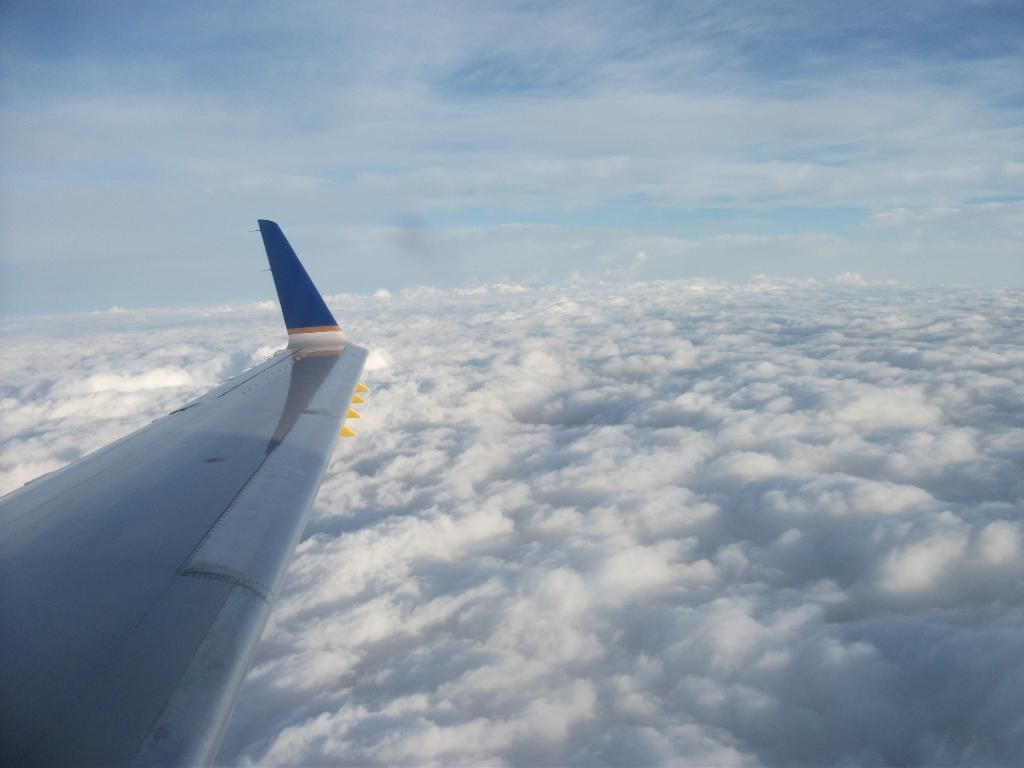 The land makes a return
As has been the case for many of my flights, thick cloud cover below hid the earth from my eyes for a while. That didn't mean there was nothing to see, though; twice I saw us cross paths with other jets; one an unknown 737 and the other a Delta Connection CR7 or CR9. For my money, that's one of the coolest things a person can see way up there: another pressurized tube zipping by, almost close enough for you to reach out and touch it. (Unfortunately, no pics; it all happened too fast…)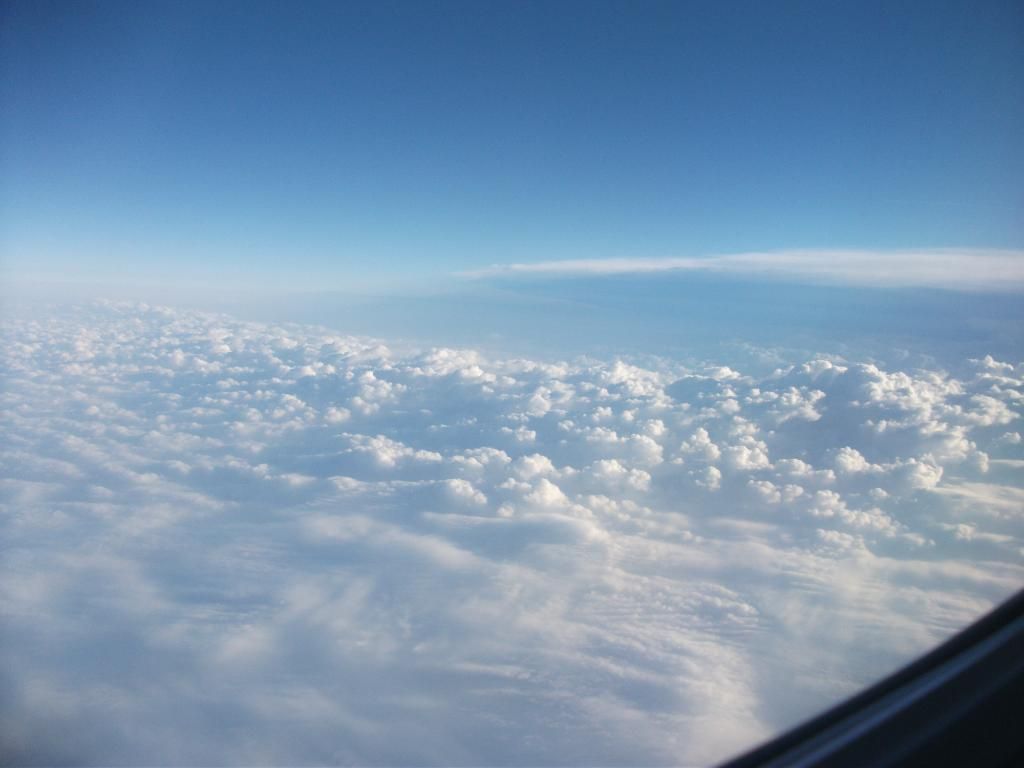 The beverage run started and I took a cranberry-apple juice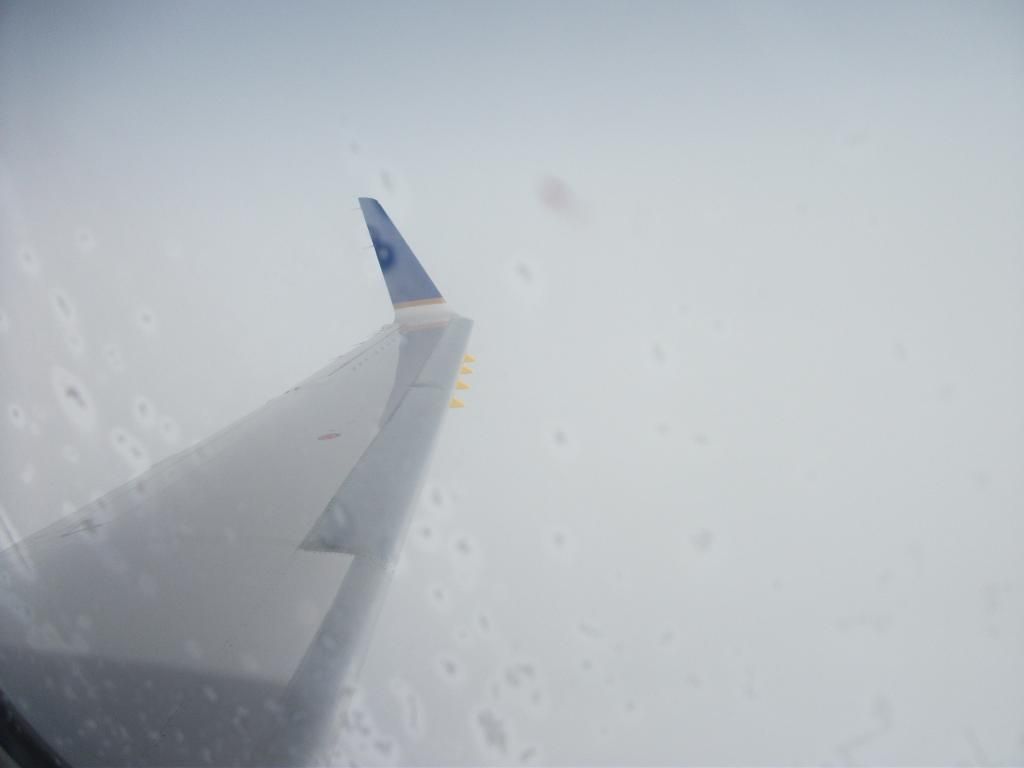 Shortly thereafter, the flight attendant came by with the snack cart. I bought a Classic snack box for $7.49. Contents below.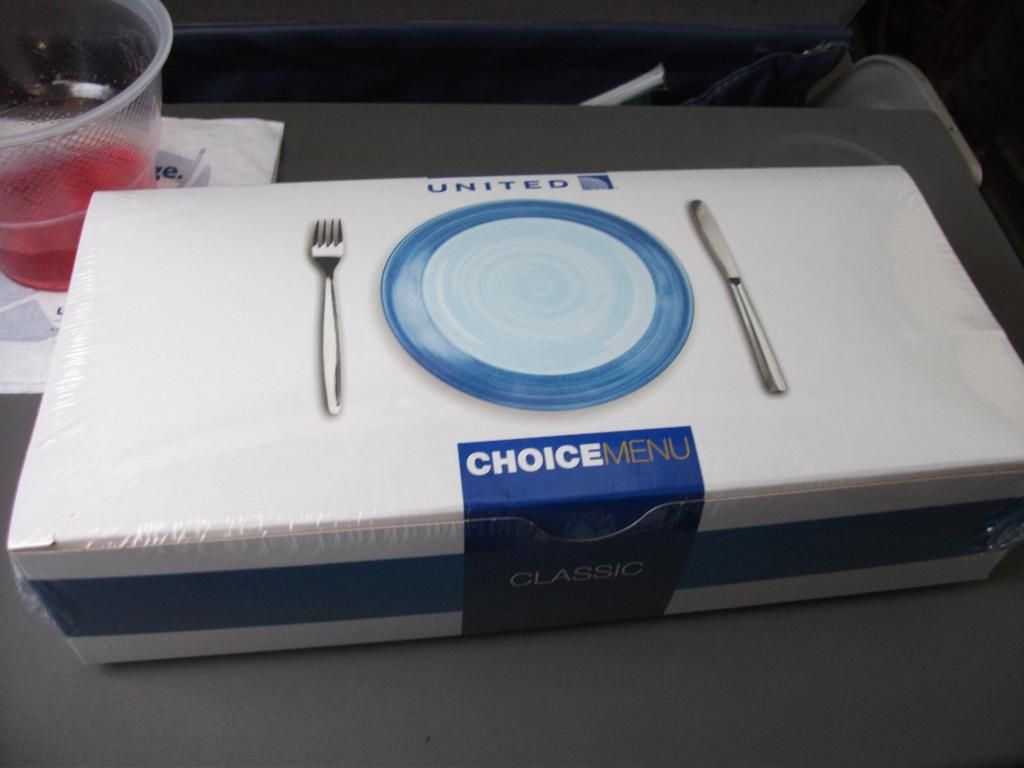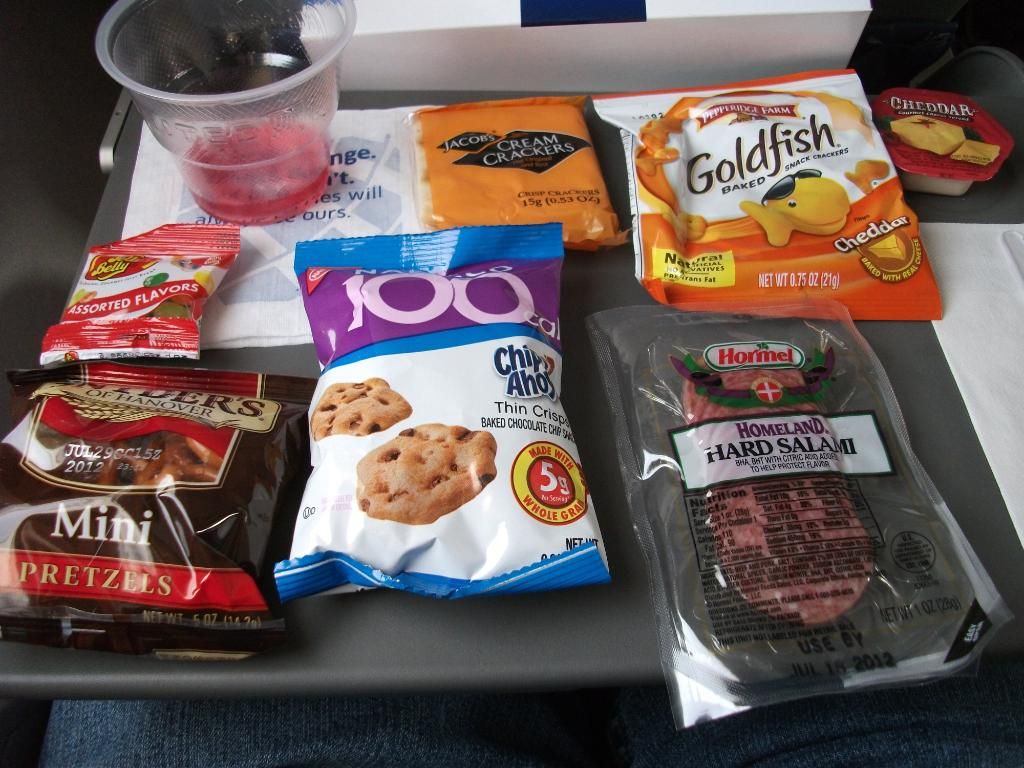 I worked my way through the snacks and a good time was had. The flight attendant offered to refill my drink, which I happily accepted. She did an excellent job of making sure we had sufficient food and drink to last us on this long haul regional flight.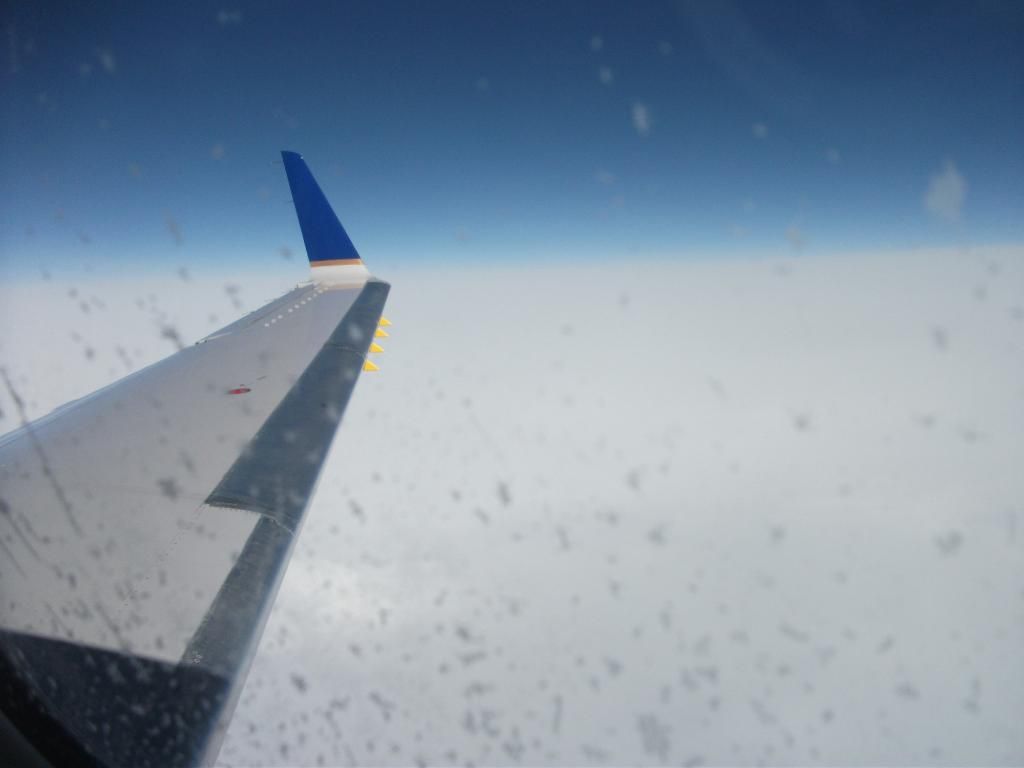 As our jungle jet hurtled through the skies, I kept on running the registration through my head; I just
knew
that I had seen that number somewhere before. I decided to wait until we were in Newark before I got to the bottom of things. In the meantime, I continued to chill with some music and glances through the window.
I didn't really notice when we started to descend, but there was a point when I looked outside and saw that the ground was closer than it was before…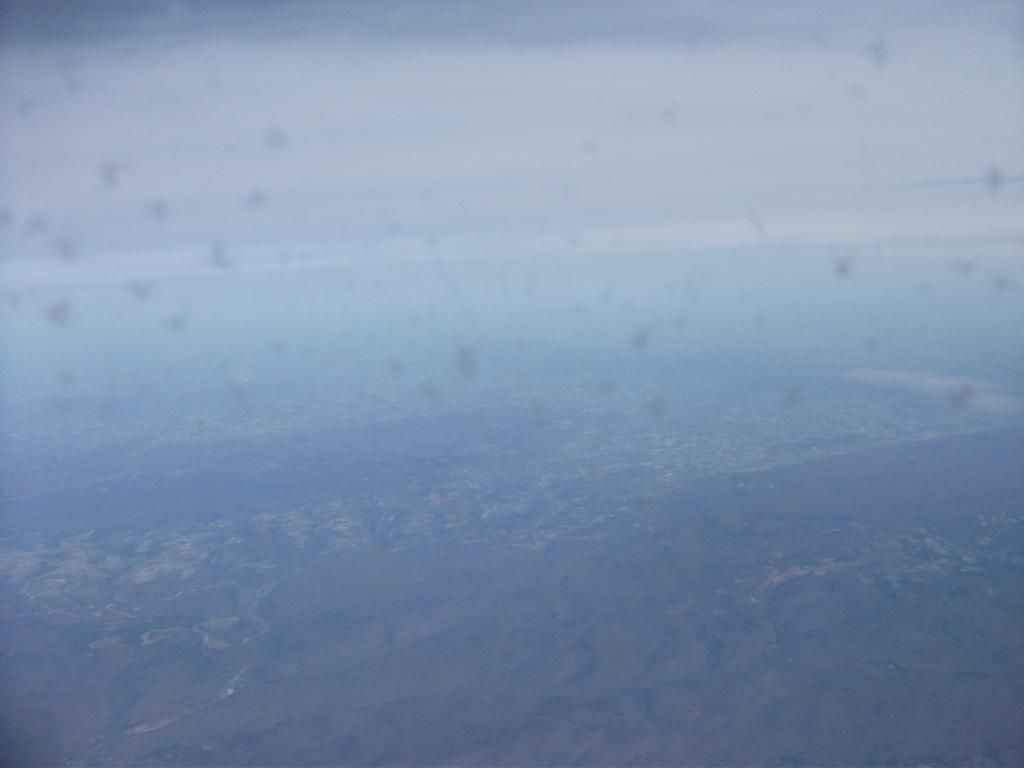 Wilkes-Barre, PA and surrounding areas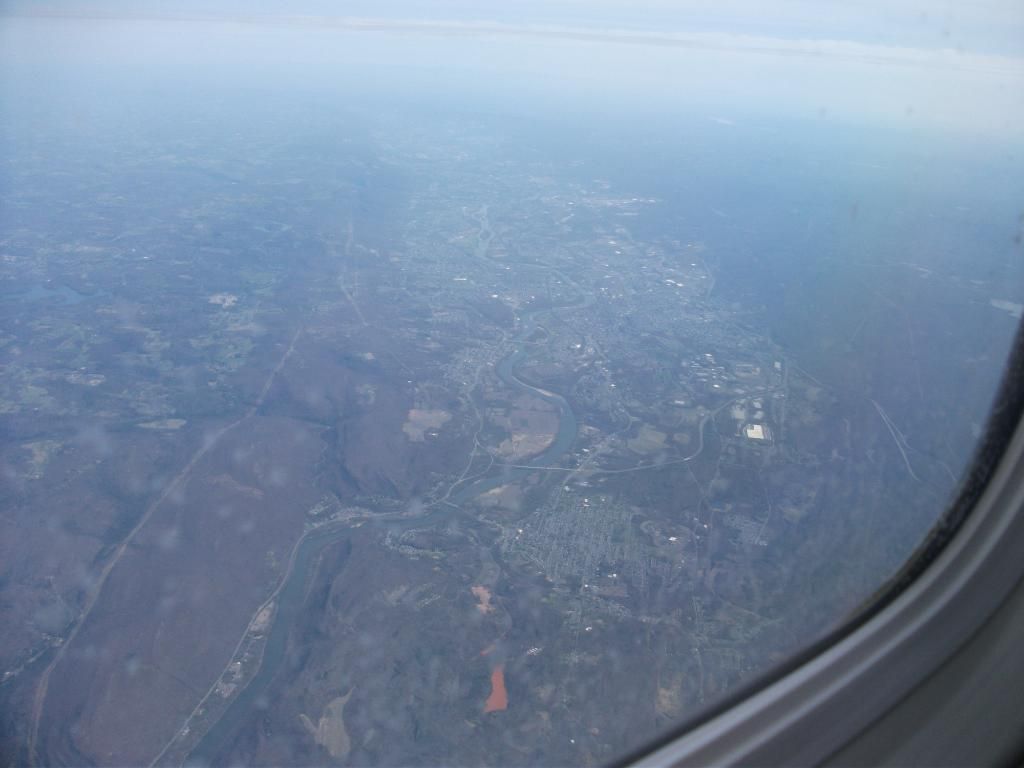 Wilkes-Barre/Scranton International Airport (AVP / KAVP) — center of frame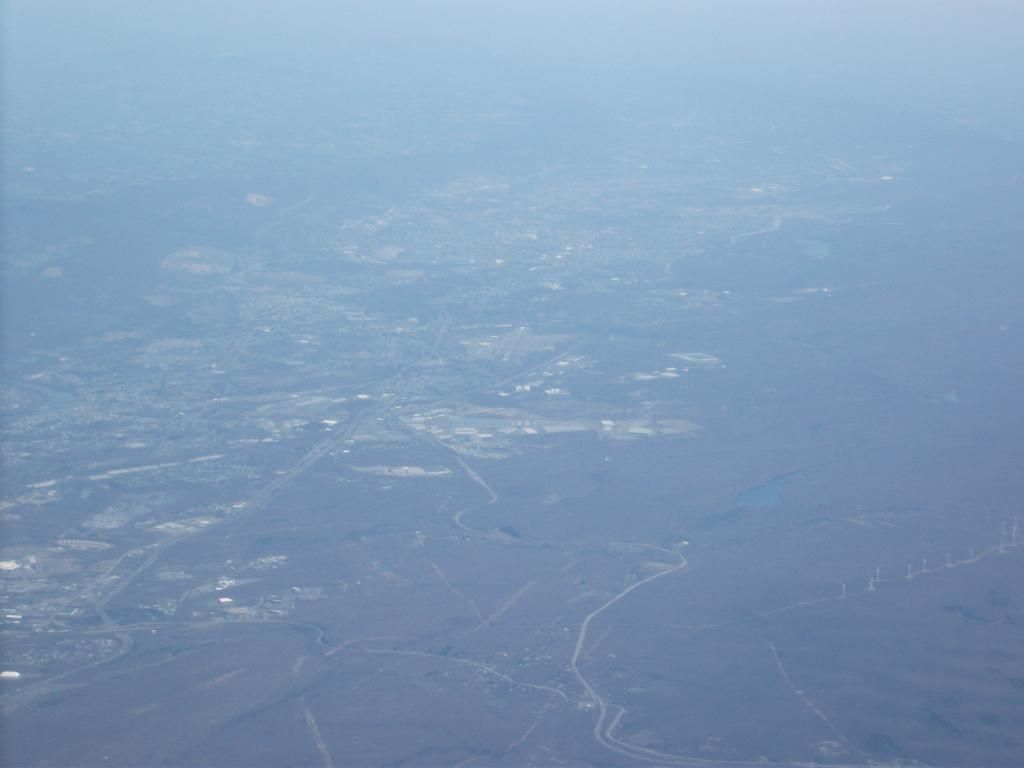 Cities of Stroudsburg and East Stroudsburg, about 2 miles from the New Jersey border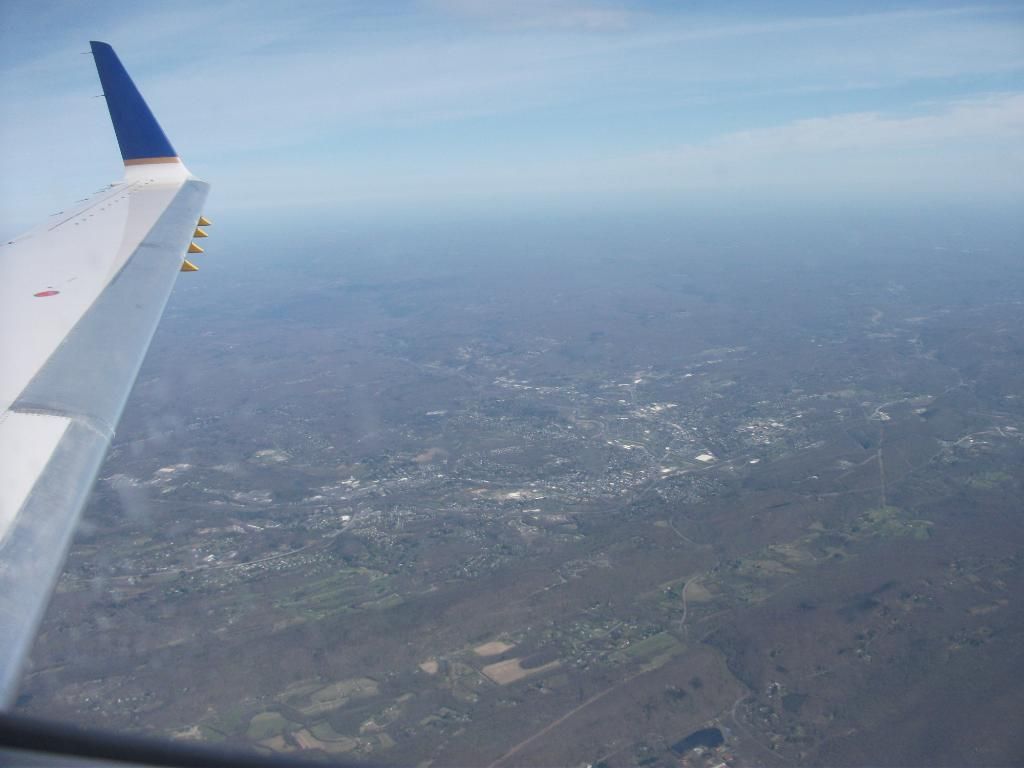 Roxbury Township; Succasuna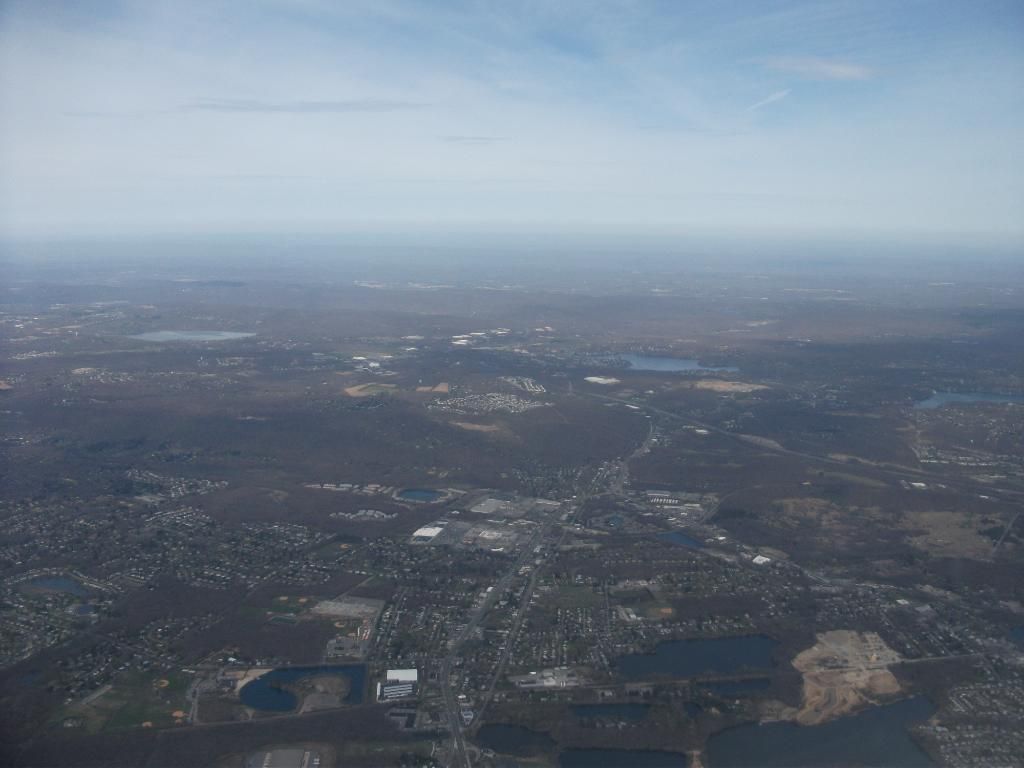 Lake Hopatcong is visible to our left (Trivia: it's the largest freshwater body in New Jersey.)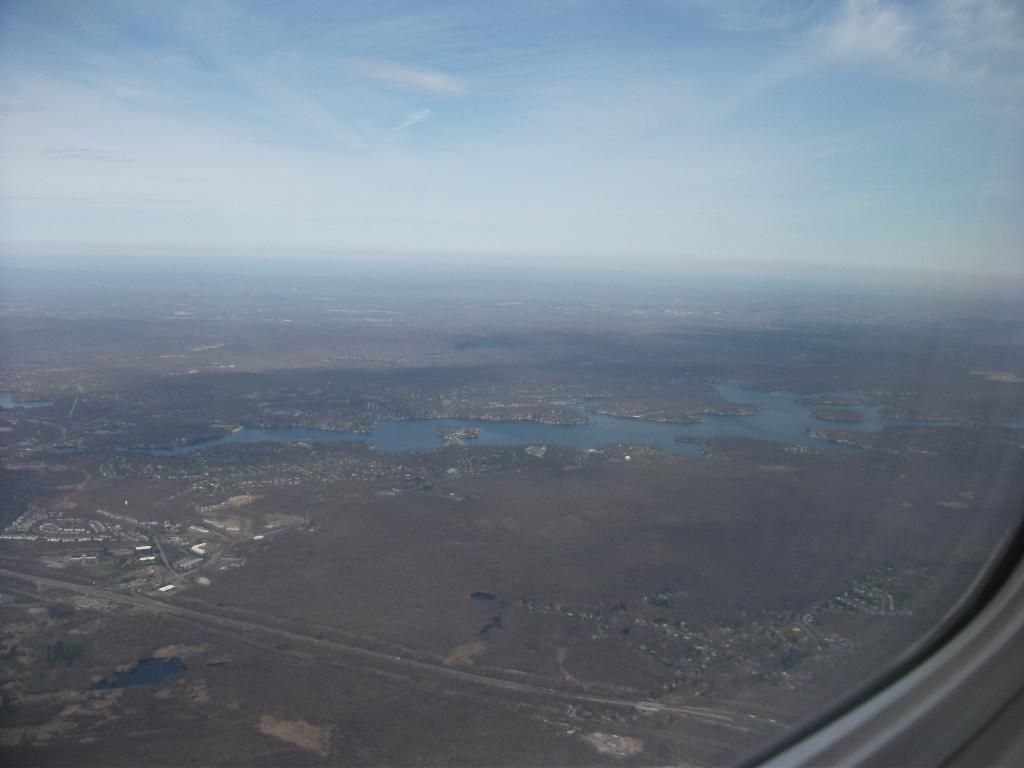 As we made our way to the ground, I was treated to views of suburban areas and industrial parks. I was beginning to think I had been gypped out of a view, but then we turned and I was proven wrong. Over the next few pictures, you'll see the new One World Trade Center, the Statue of Liberty, the standard assortment of tall New York buildings, and the Hudson River (among other things).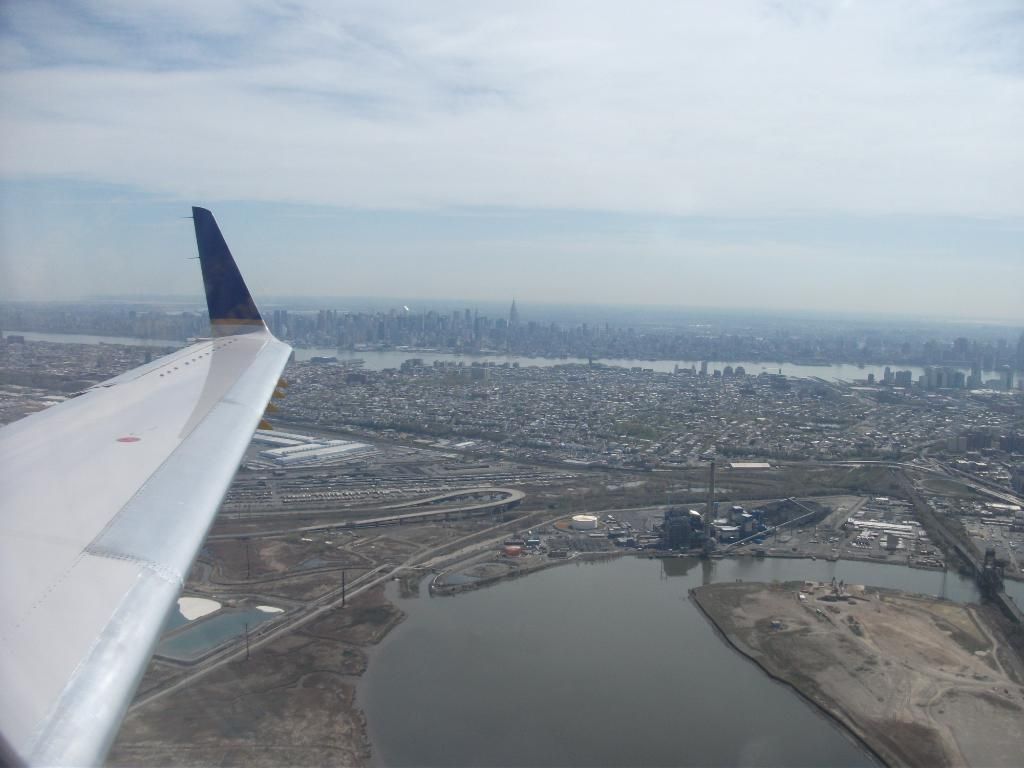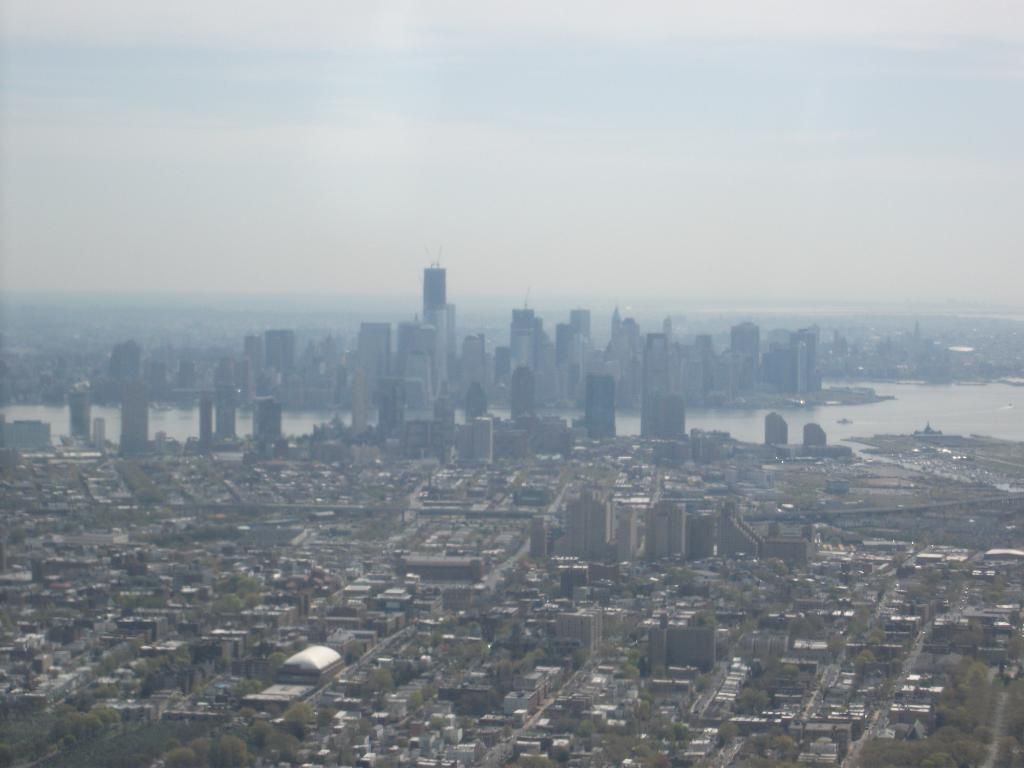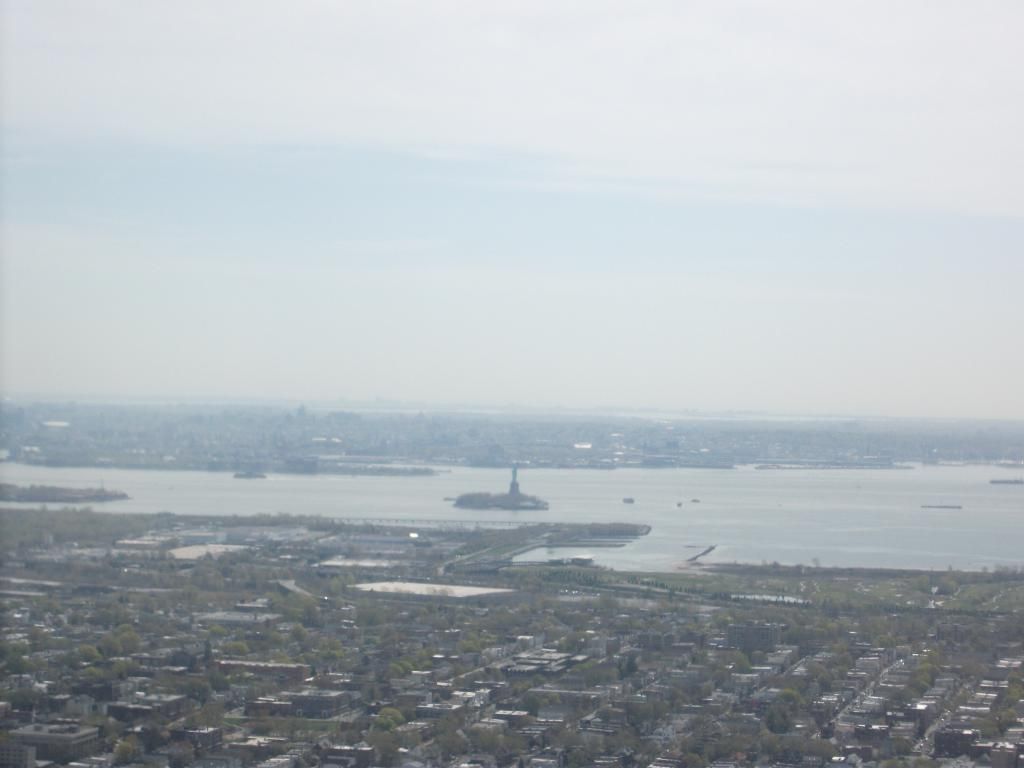 Need a brand new car? There's plenty down there.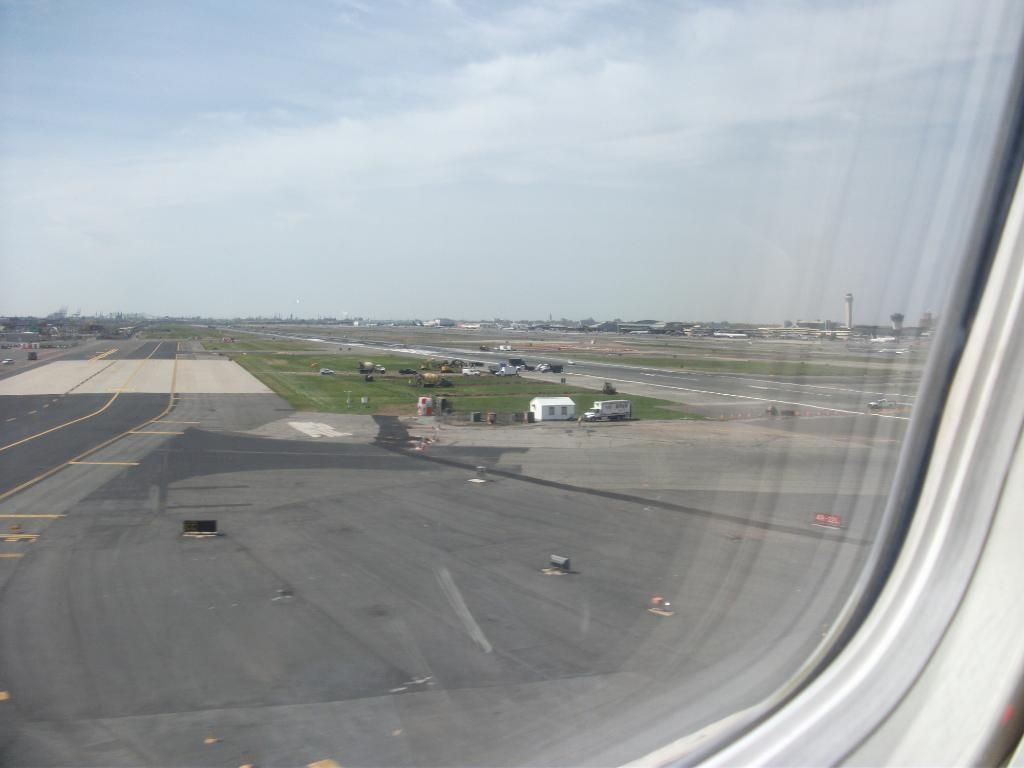 Touchdown!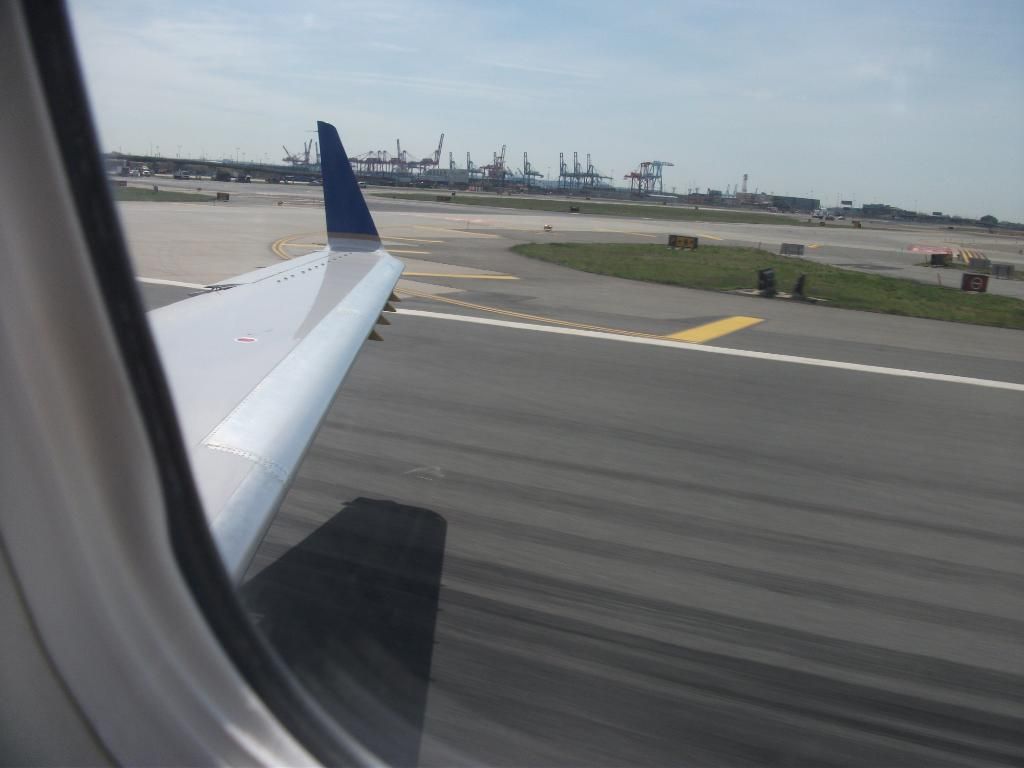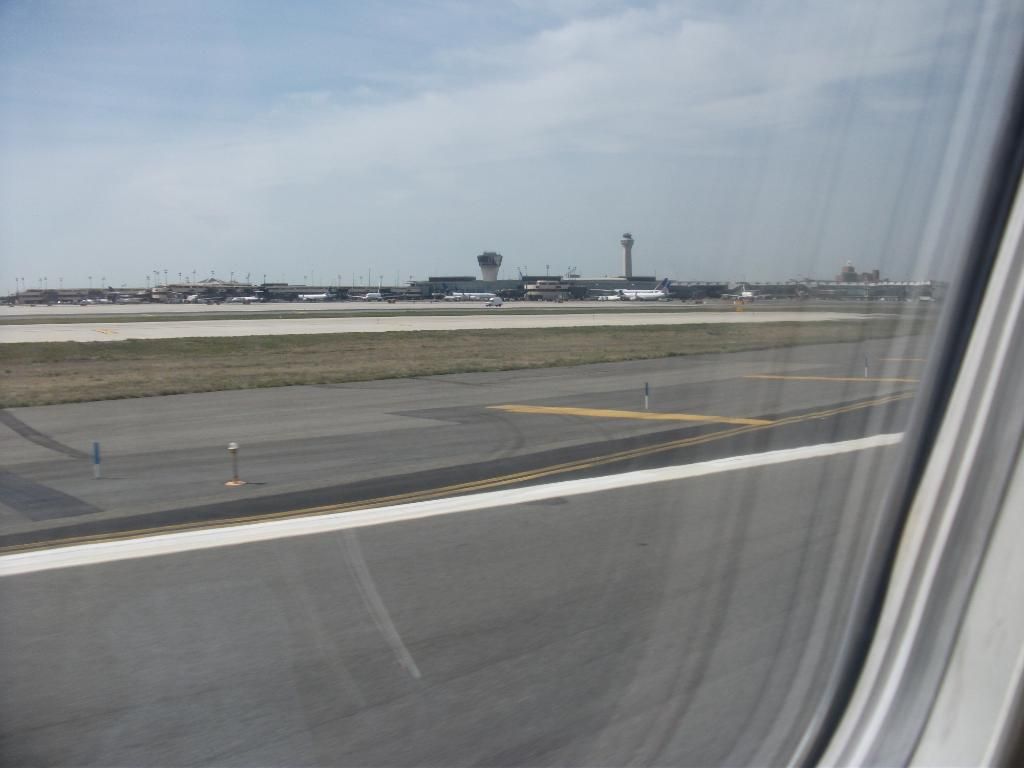 Yurky? What's yurky?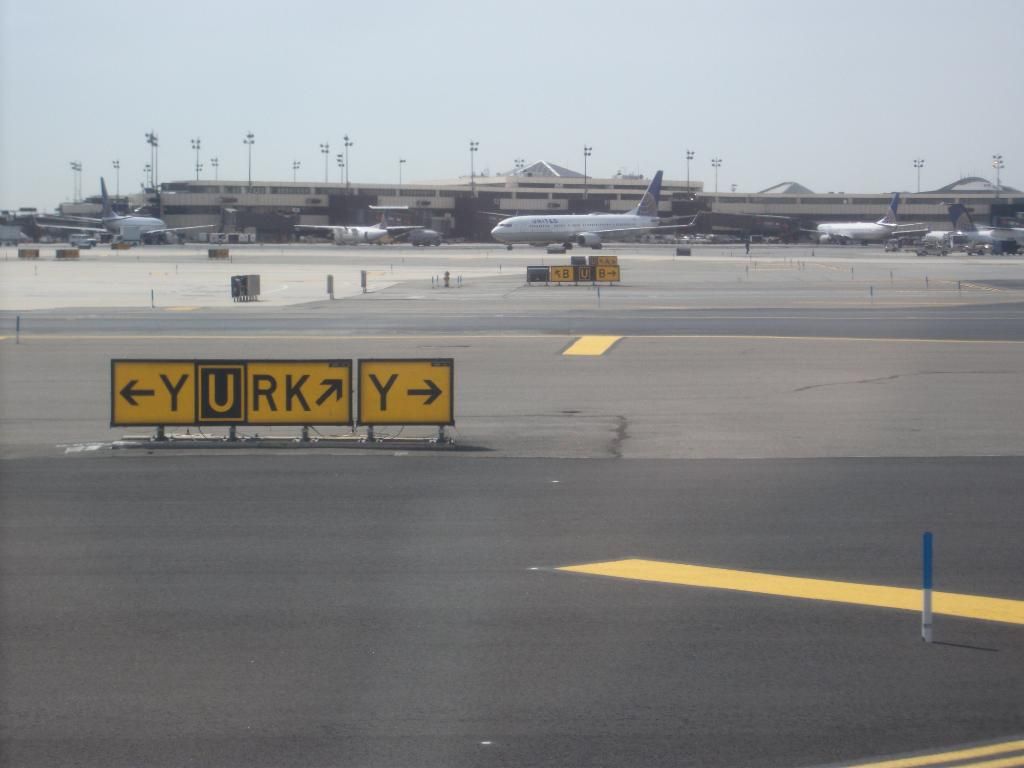 Flying pencil and a skyline
777 off to who knows where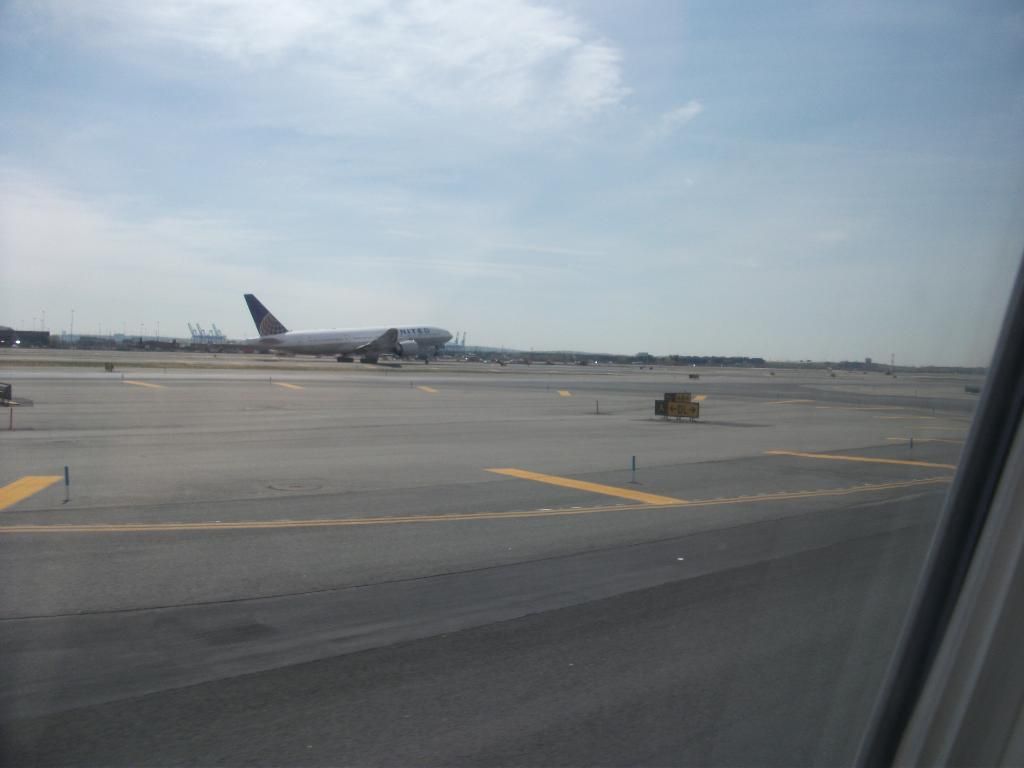 Cargo ramp
An El Al 777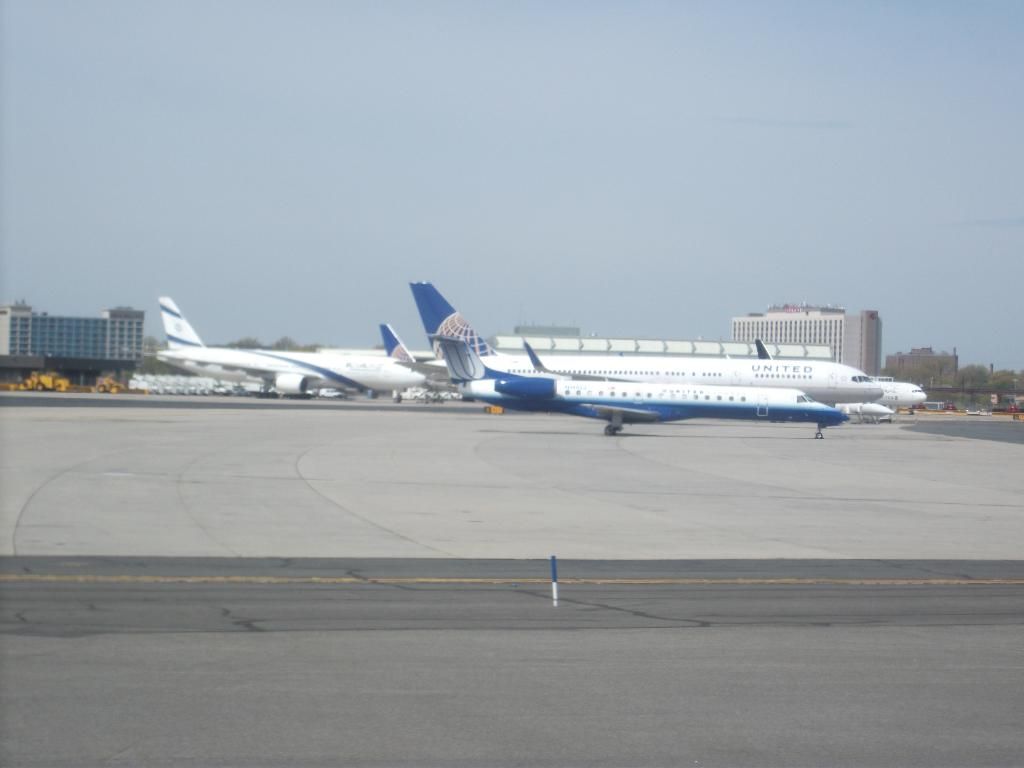 Parked next to a slightly larger family member
That'll do, jungle jet. That'll do.
So that's how I got to Newark, but that's not the point of the tale. The point is the airport itself! I surveyed my surroundings in the little node known as Concourse A-2. I wasn't exactly impressed. The circular hall has gates along the edges and some light retail in the center. It was a little cramped and a lot drab—quite reminiscent of my experiences thus far with the other two New York airports. I attempted a bathroom shot, but there was too much traffic to get it done. In brief: clean but unspectacular.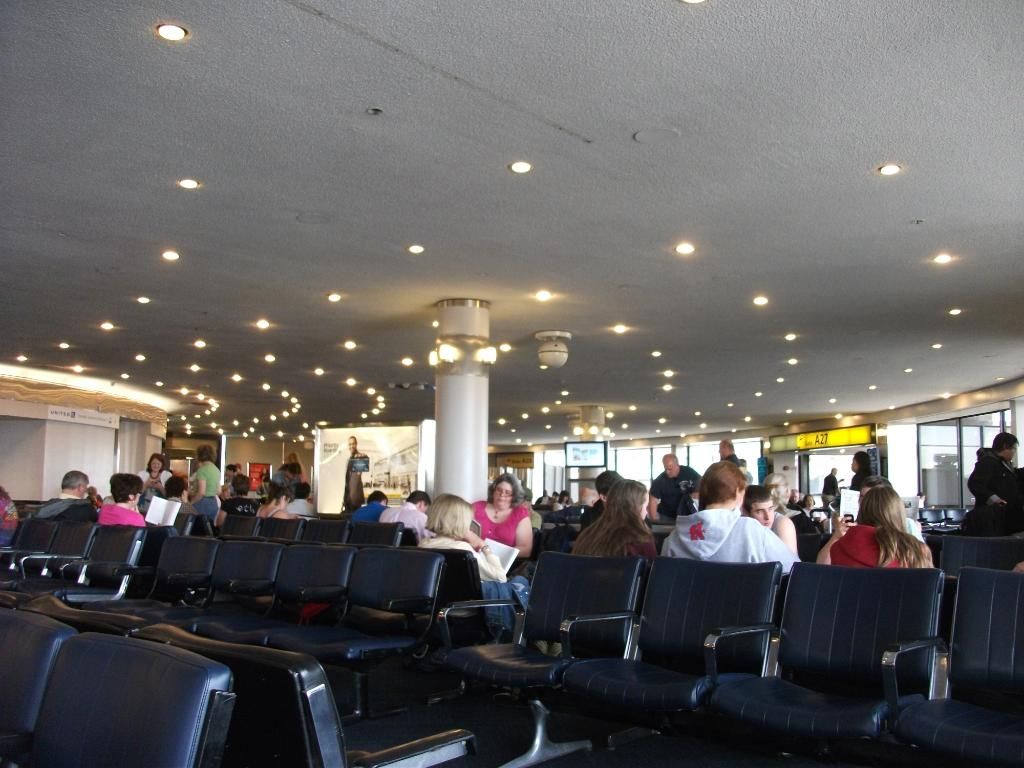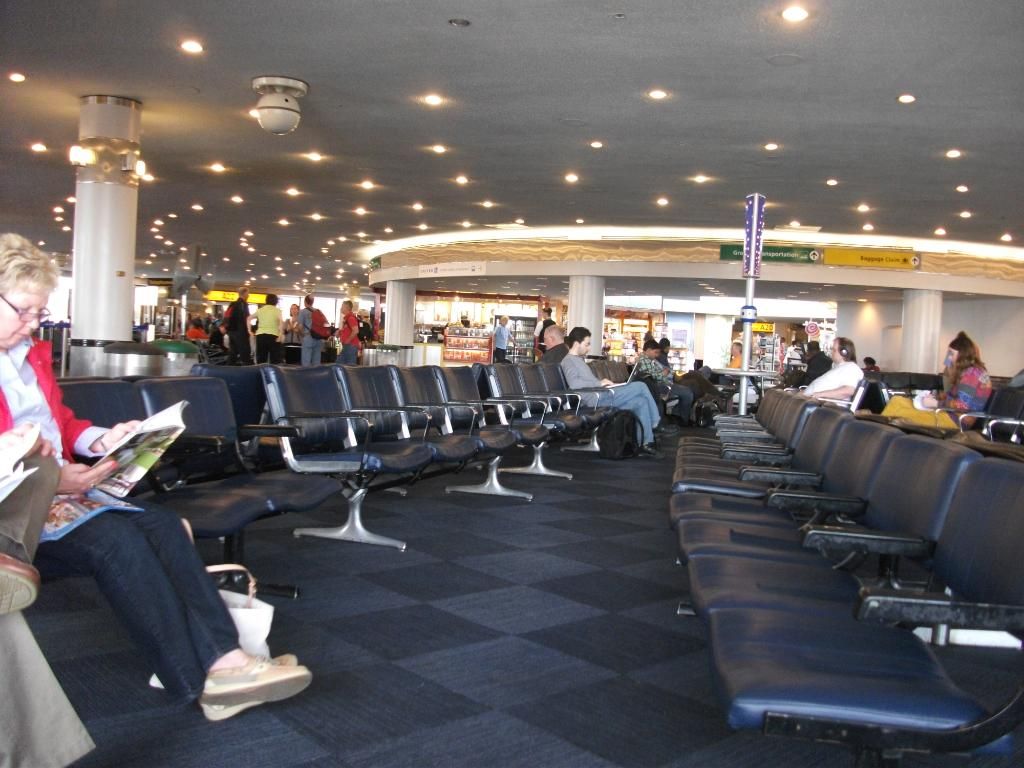 Looking out at Mo' Better Blue (N580JB) and a United 777 in Star Alliance colors
Walkway to the exit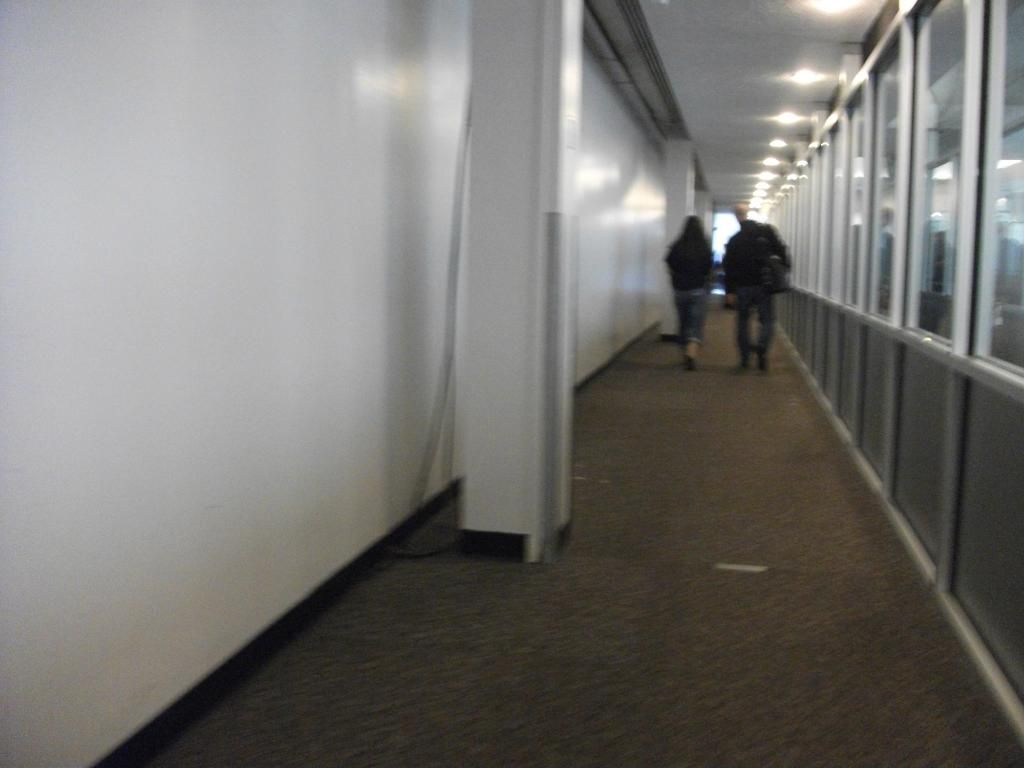 There wasn't much to this little section, so it was time to move on to the next. This is where EWR gets docked a few points. In case you're unfamiliar with the airport, it's divided into three terminals: A, B, and C. Each of those terminals is divided into three concourses. It's an easy enough layout; there's virtually no getting lost. However, (and this is a BIG however) the terminals aren't interconnected behind security. (I believe the three C concourses are connected.) As such, Concourse A-2 is the only airside portion of the airport that I saw.
All of a sudden, I had a surplus of time on my hands. The only thing I could do was mosey around the landside areas and hope I could catch lightning in a bottle like I did at SFO. I wasn't quite so lucky…
Terminal A landside. The building looks dated, but I thought it wasn't completely terrible. With some effort, it could be a very nice place. In their defense, they are apparently renovating these areas, so they aren't to be mercilessly berated just yet.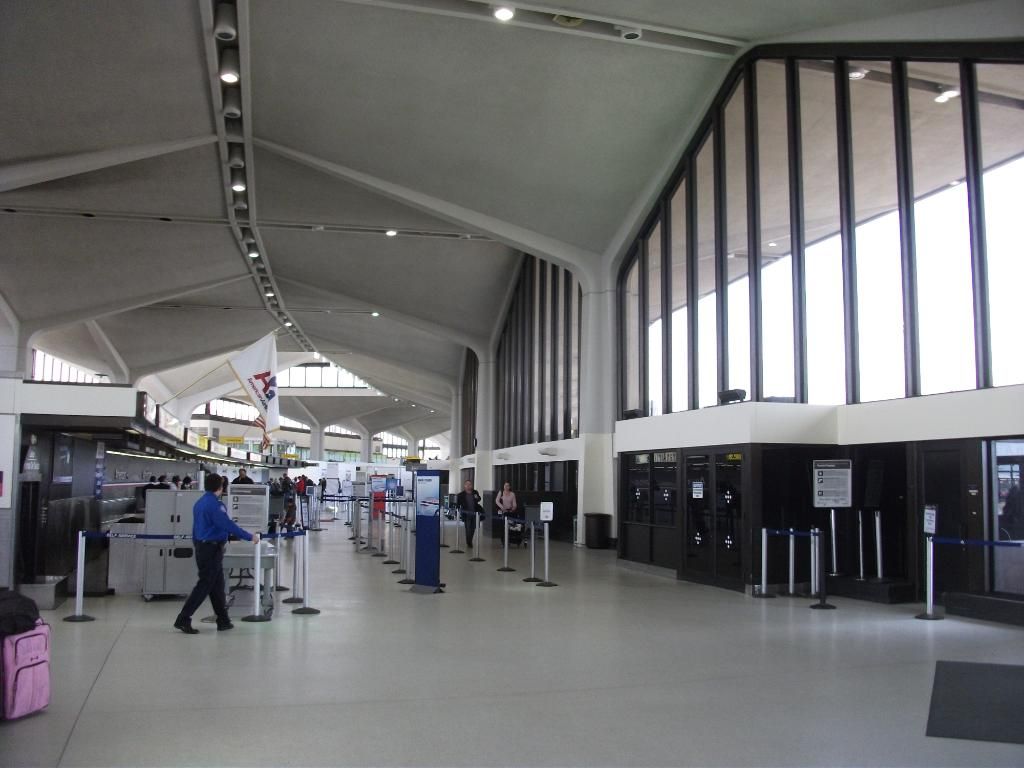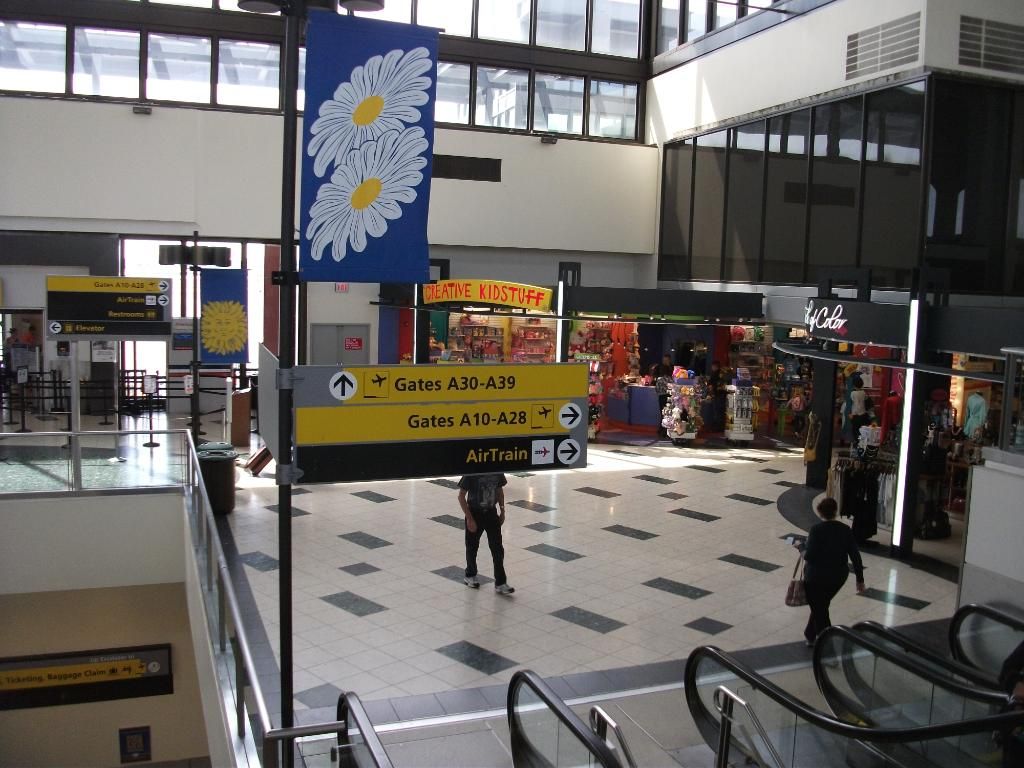 Continuing the stroll, I meandered through an area of shopping. Fancy that: they want people to buy things. Well, this is the place to do it; I imagine the selection is a bit more limited on the other side of the metal detectors.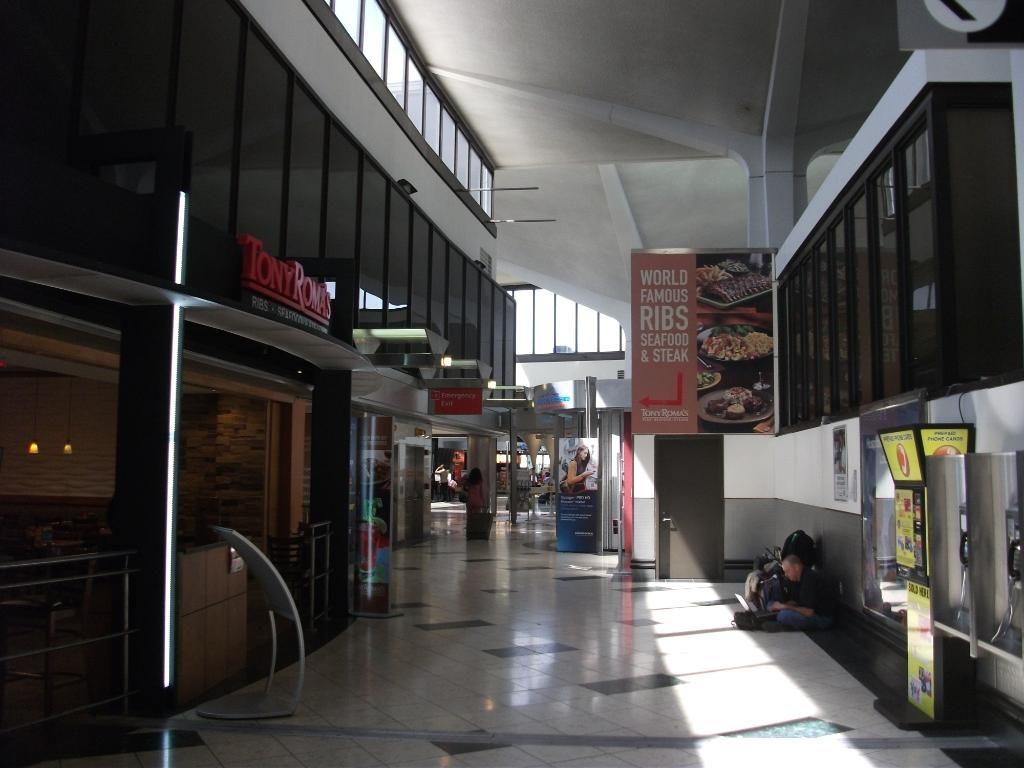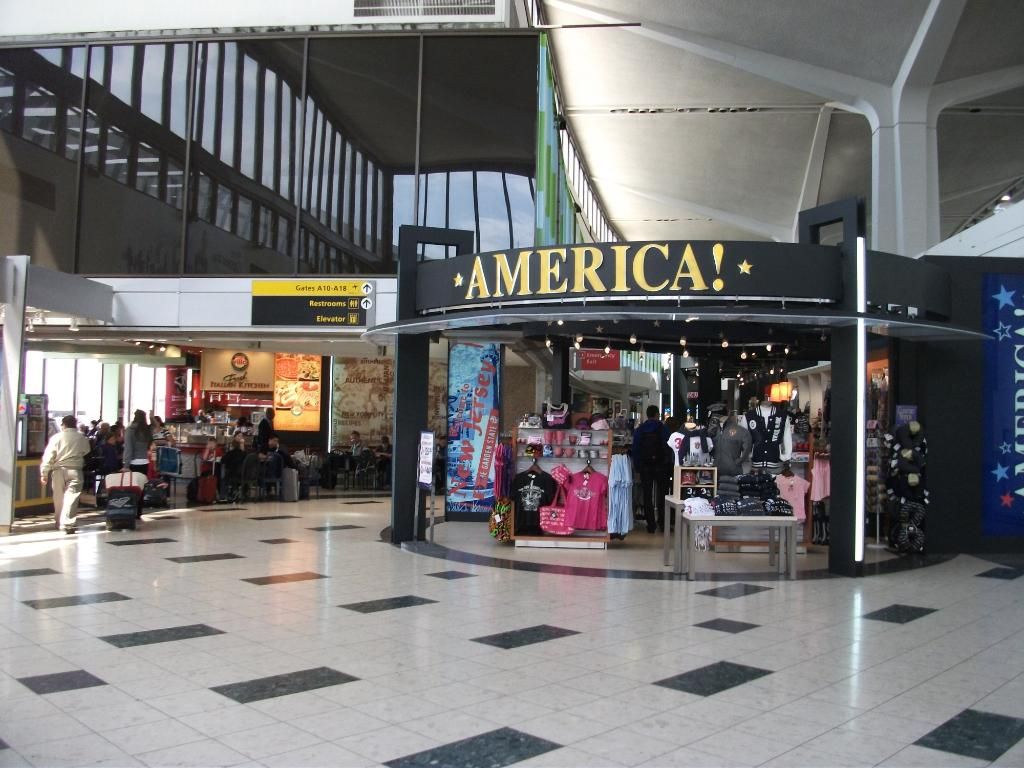 Control tower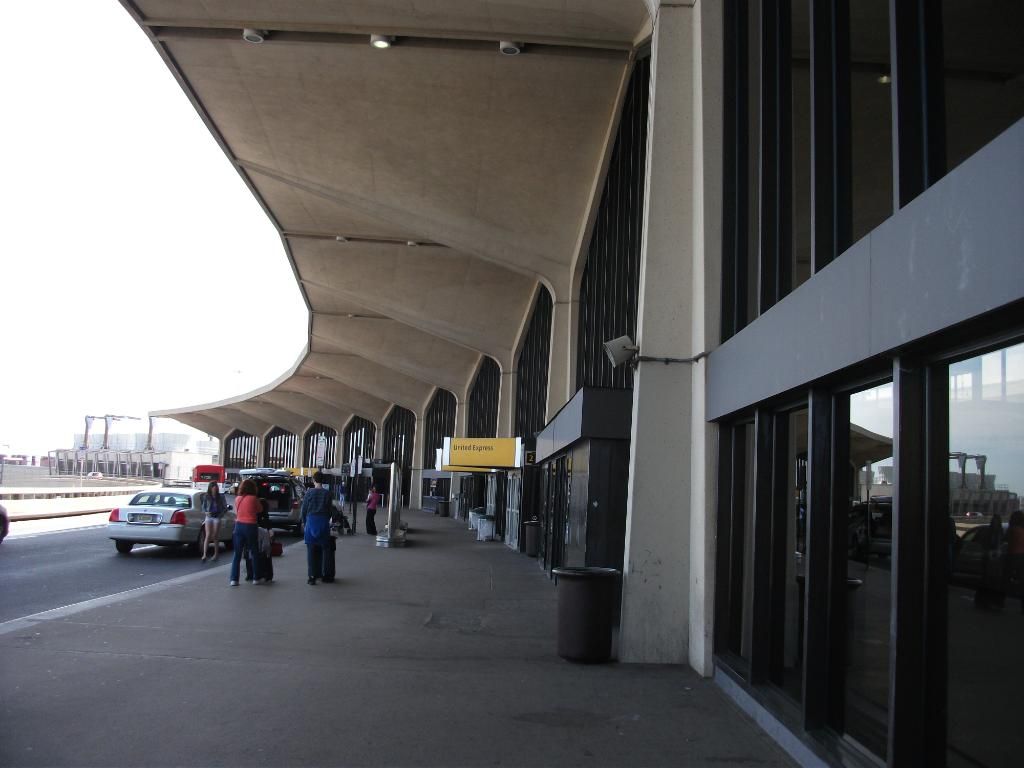 AirTrain, Air India, US Airways (and United)
Terminals B (right) and C (left)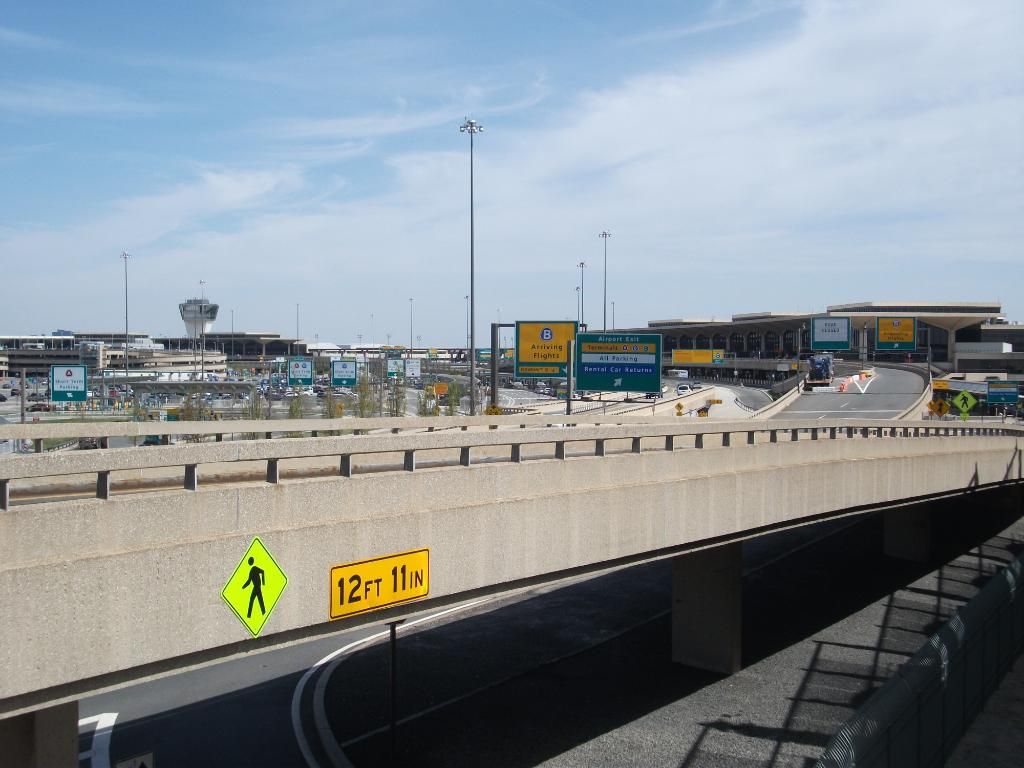 I figured that I might as well start to make my way to the train station, so that's what I did. The AirTrain serves all three terminals and the parking areas and connects them to the local and regional rail systems.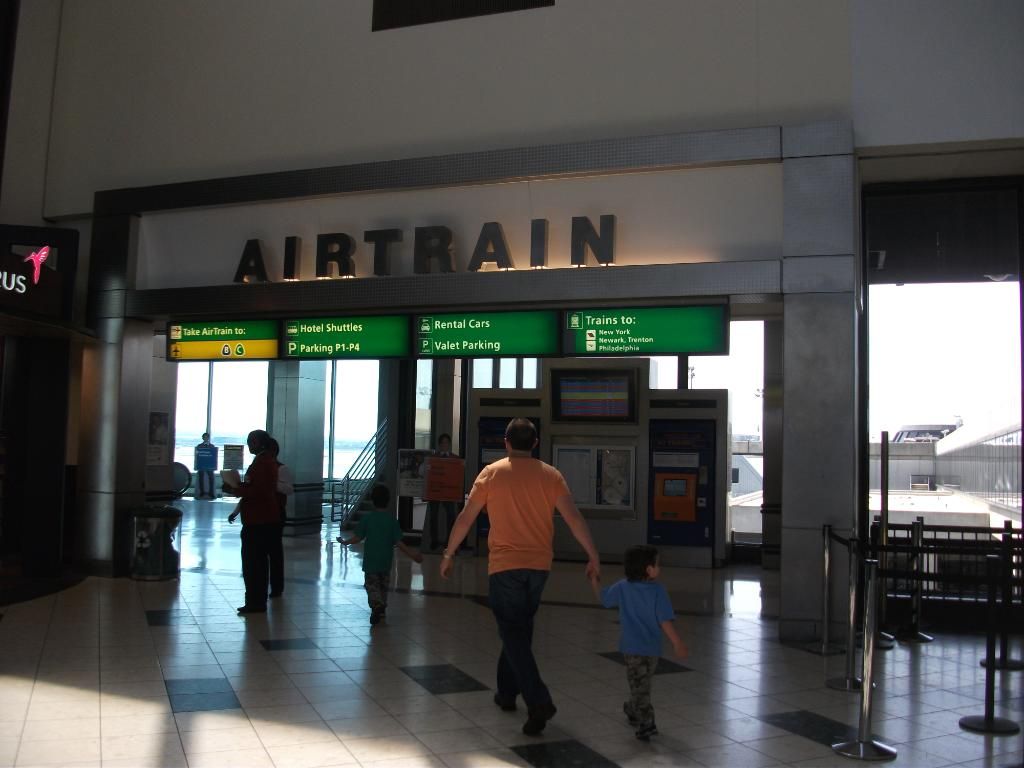 Going up…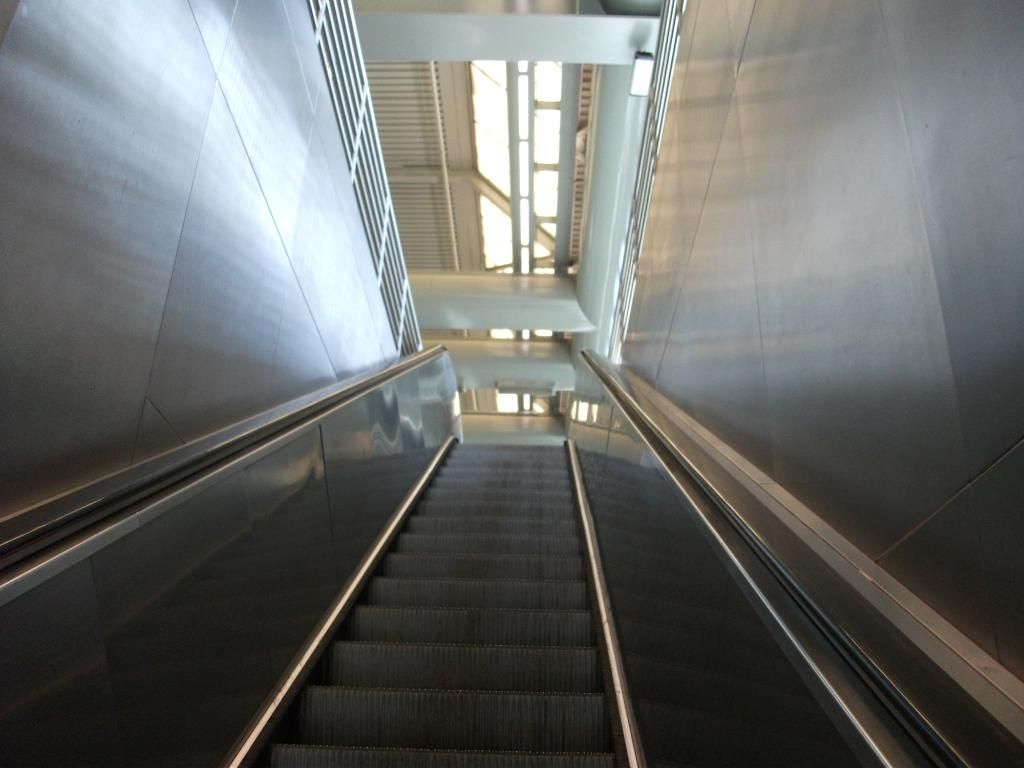 Looking down on some Embraers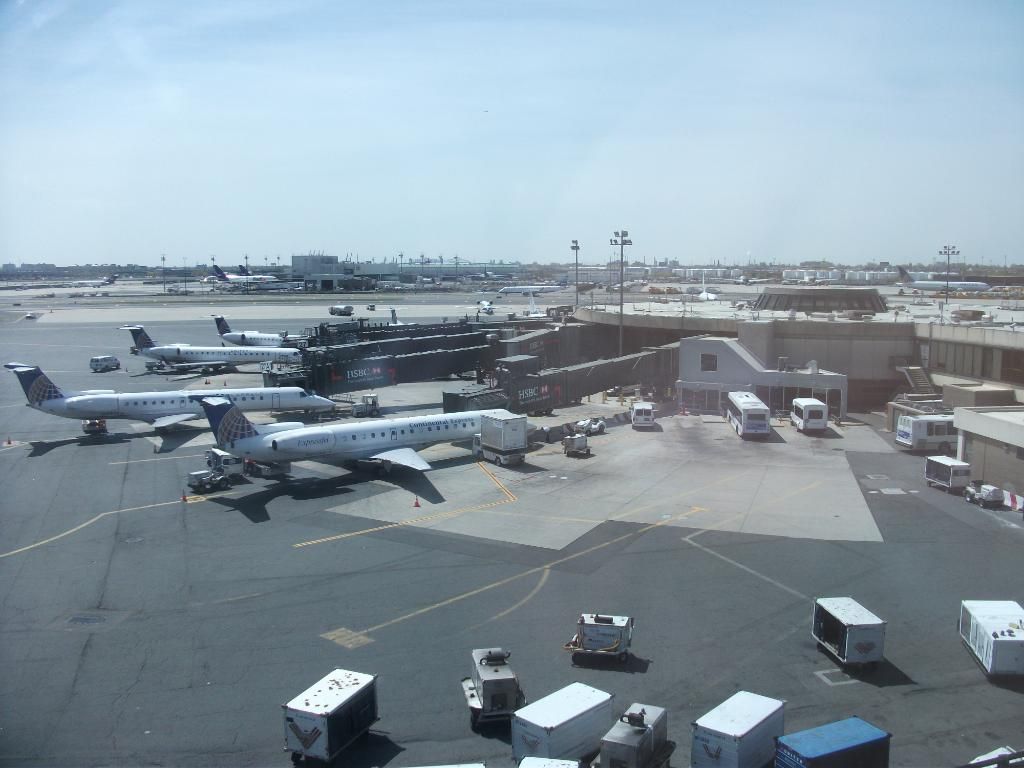 A typical AirTrain car; I was alone in this one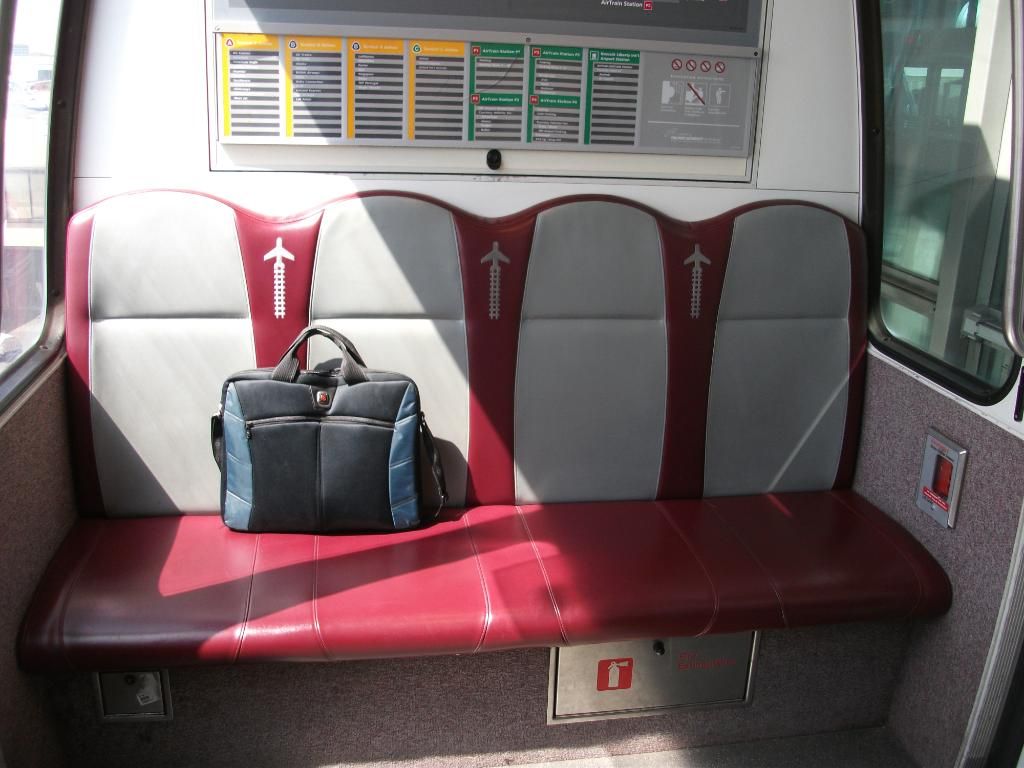 Oh, look, a DC-9. Wait, that's not just any DC-9; it's N787NC, the one featured in a trip report of mine! They've got the engine cracked open, so I hope it's okay…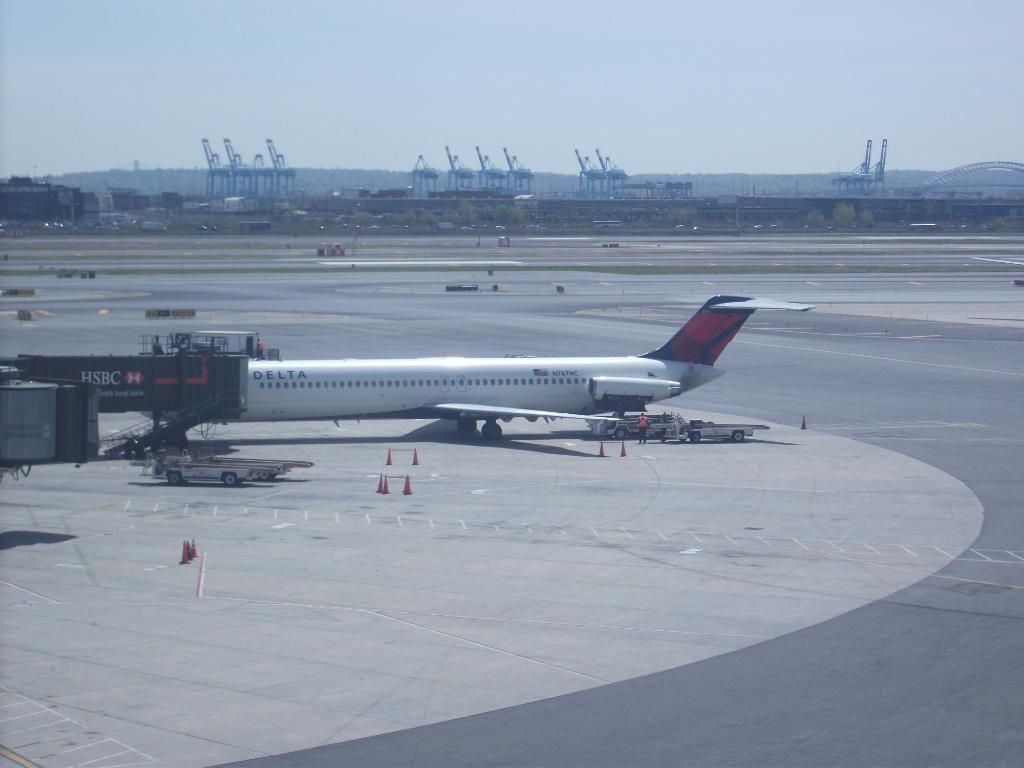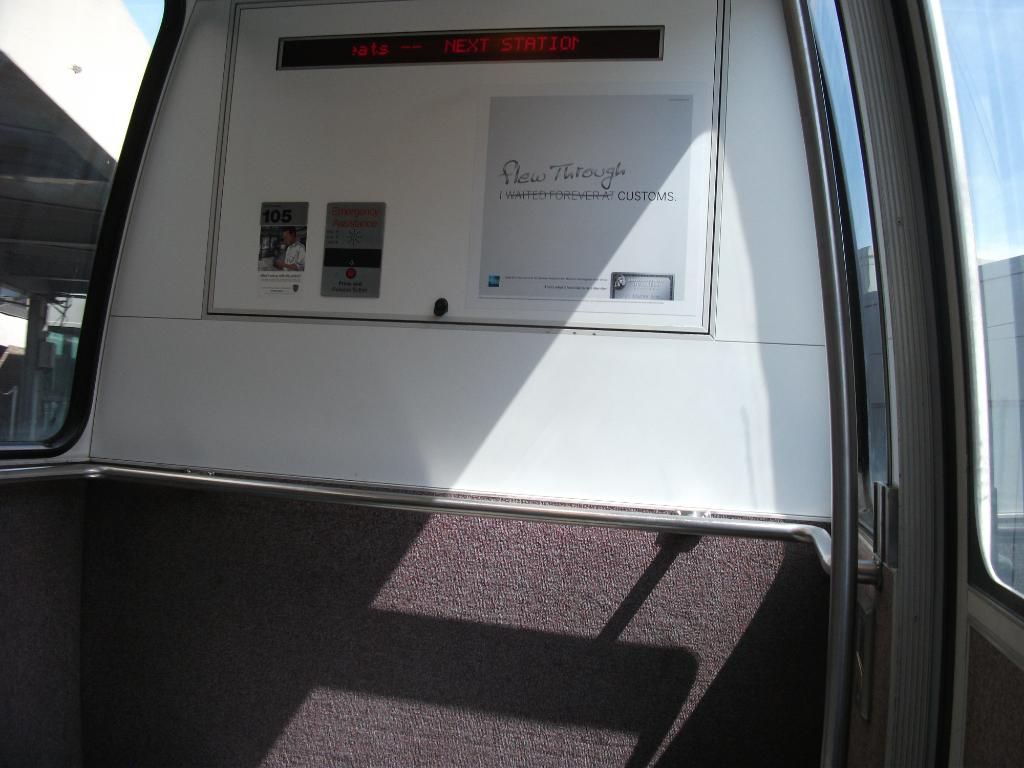 Nothing against Wendy's or Subway, but it's not exactly my idea of "a world of flavor"…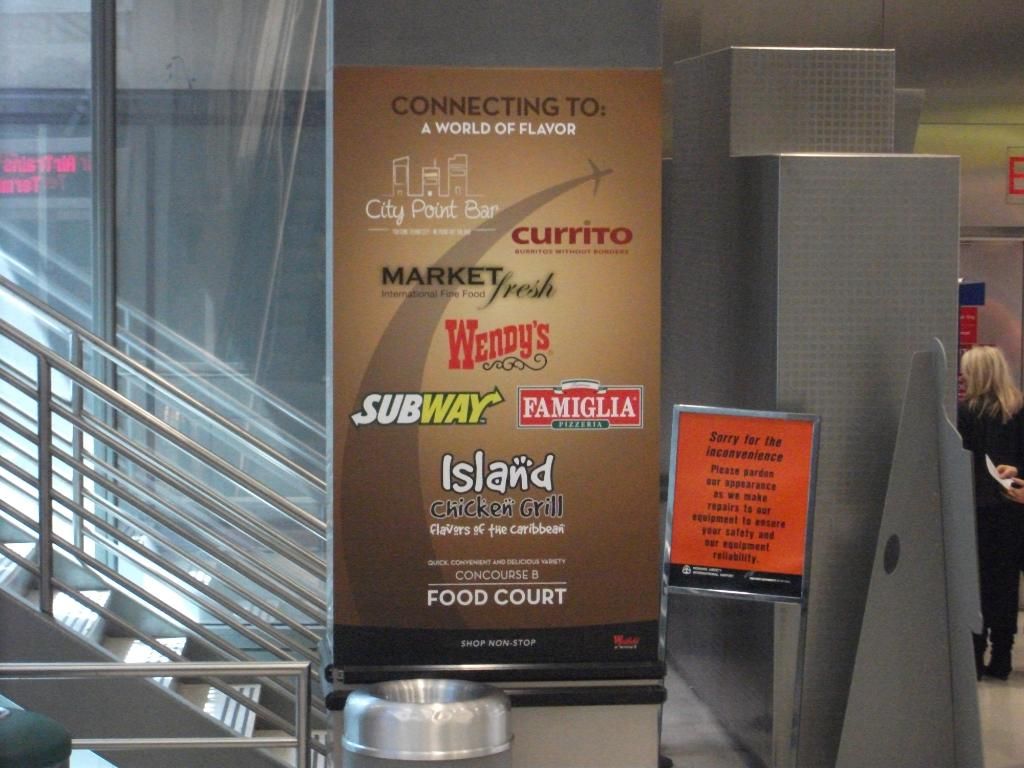 Temporary walls hiding some construction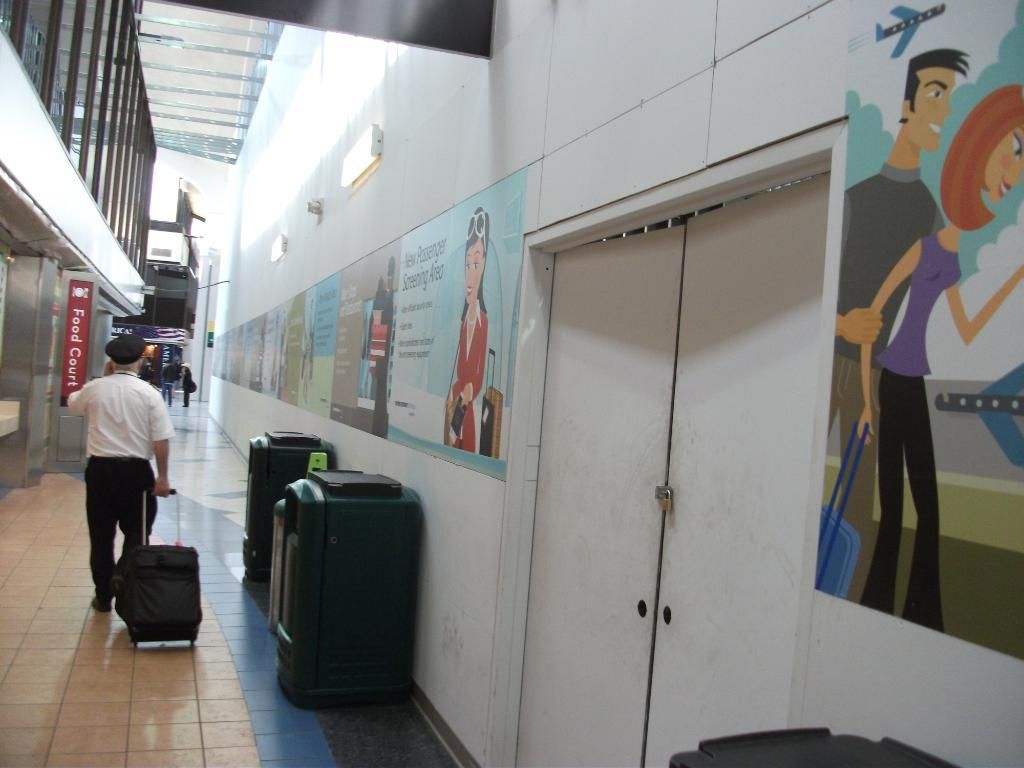 Ticket counters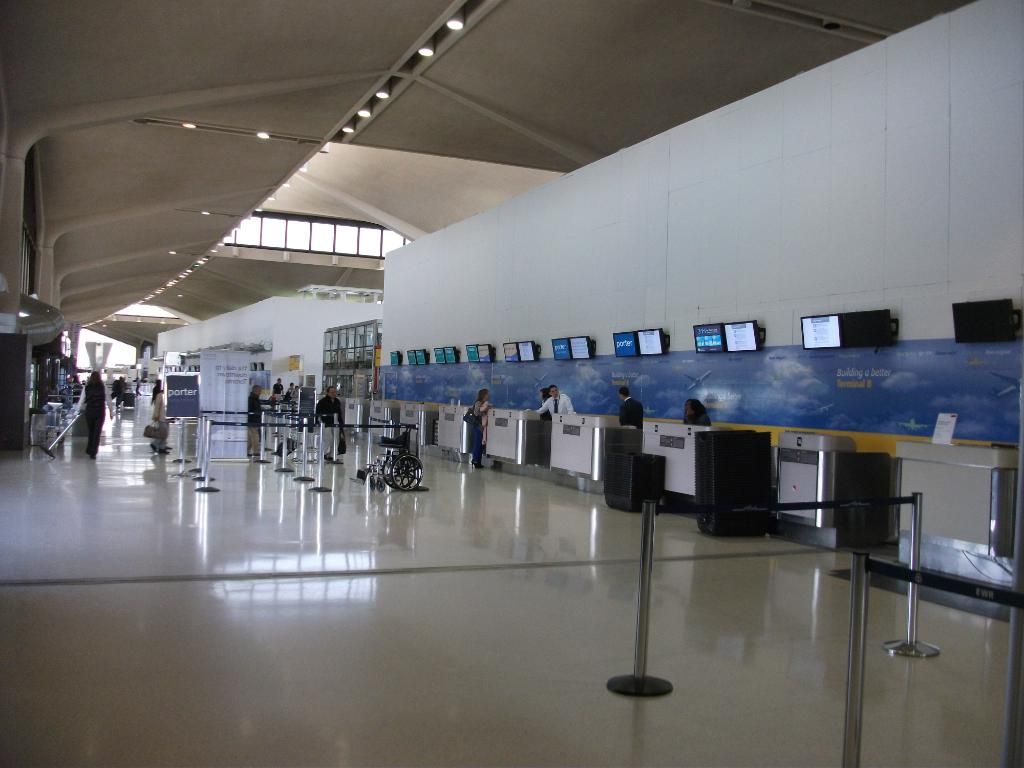 Not many people in Terminal B right now…
I took a few moments to sit down and type a little; during that time, I took a look at that registration to see where I thought I knew it from. Soon enough, I had my answer:
RJ-145XR)/2014733/L/" target="_blank">View Large
RJ-145XR)/2014733/M/" target="_blank">View Medium


Photo © Eric Brown
So it turned out that I could cross "fly on a plane that you have in the A.net database" off the list!
Feeling a little better about the general situation, I continued through the terminal.
Well, this appears to be the neatest-looking part that I've seen yet
Terminal C (as you can see, landside EWR is the same building thrice over)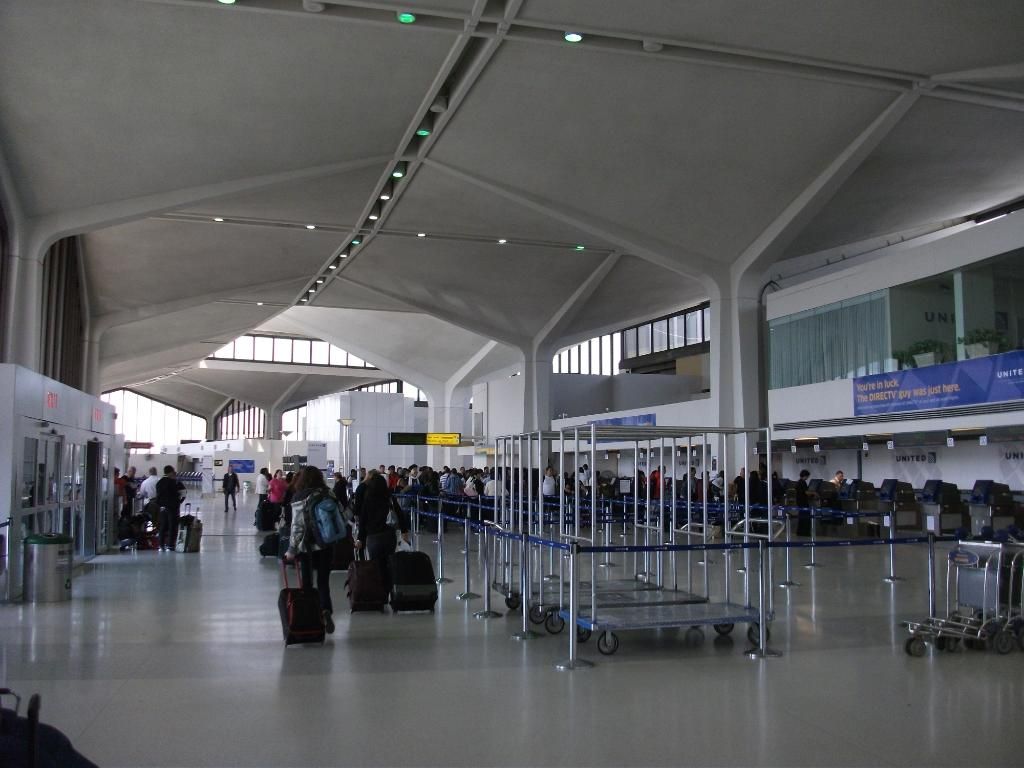 United has a wealth of ticket counters upstairs and downstairs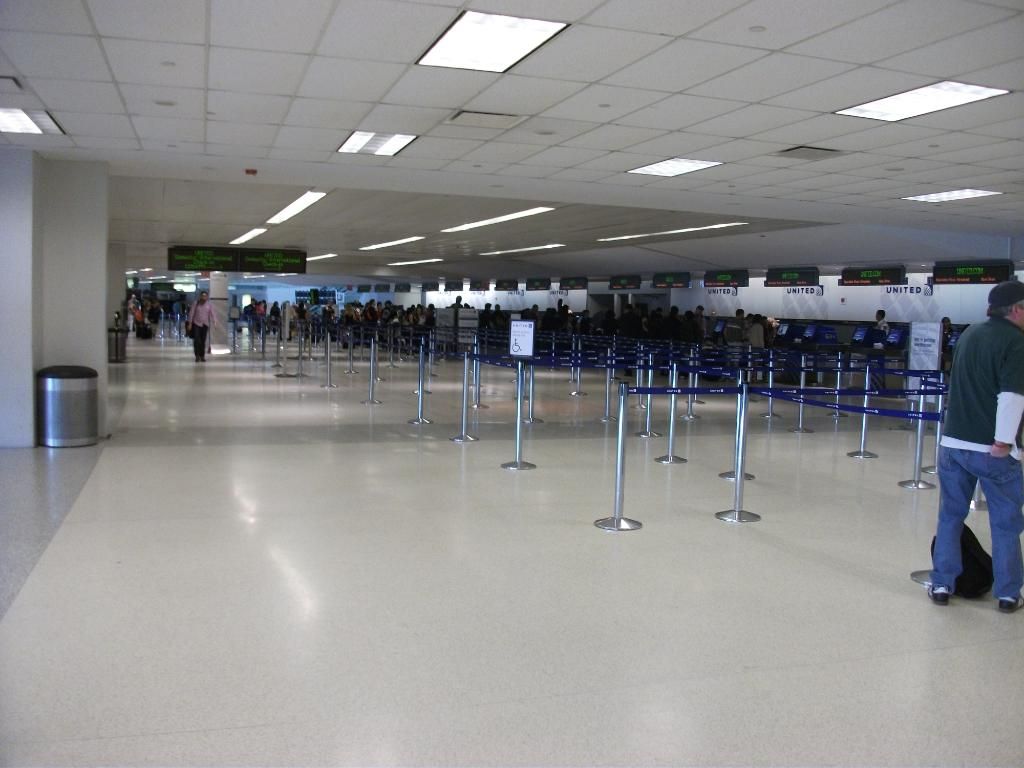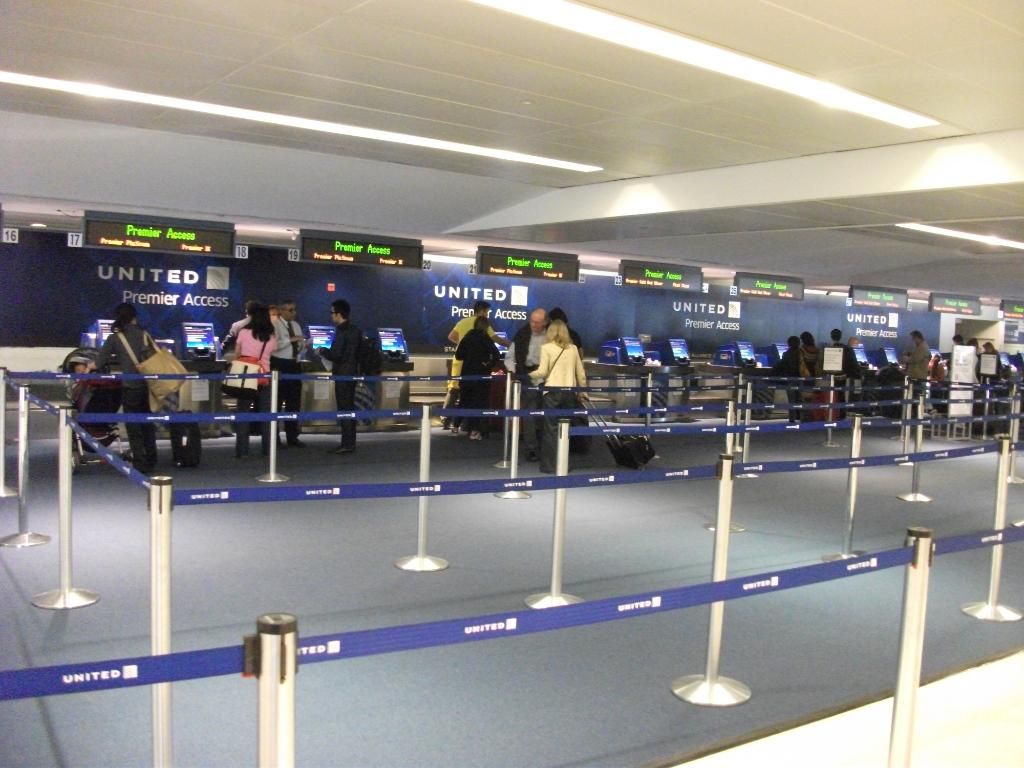 I saw my next "flight" on the departure screen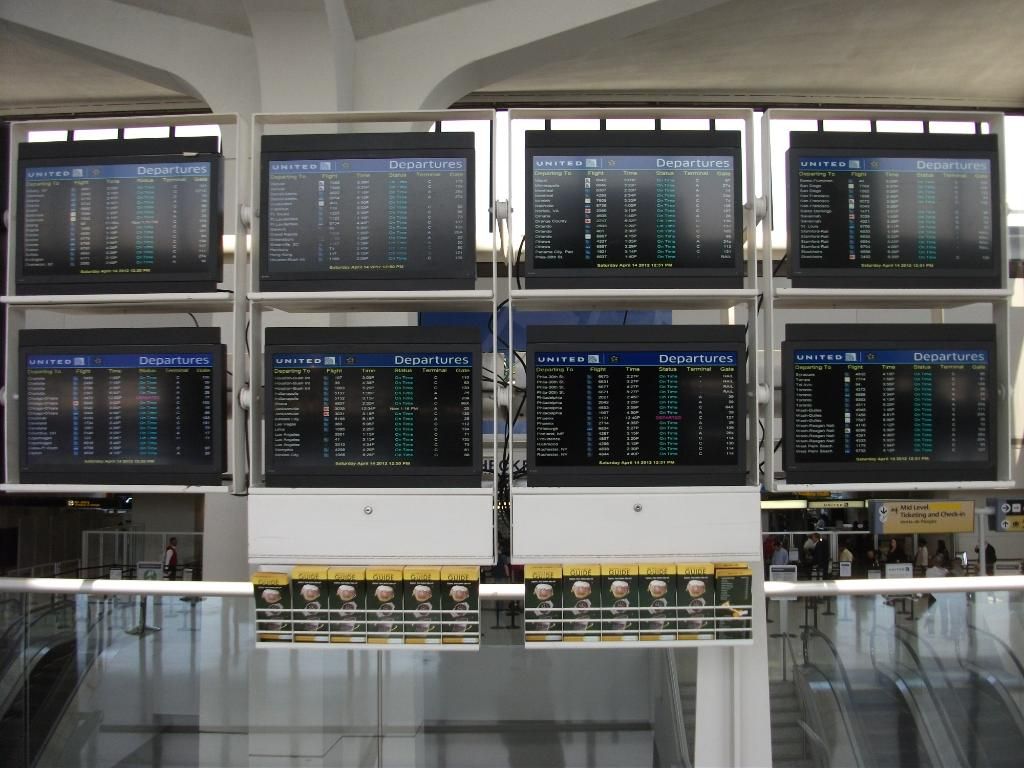 With that, my journey through EWR was complete. There wasn't a lot to speak of since it was all the same stuff. I can only hope that at least some of the airside areas are halfway decent. The next stop for me was the train station.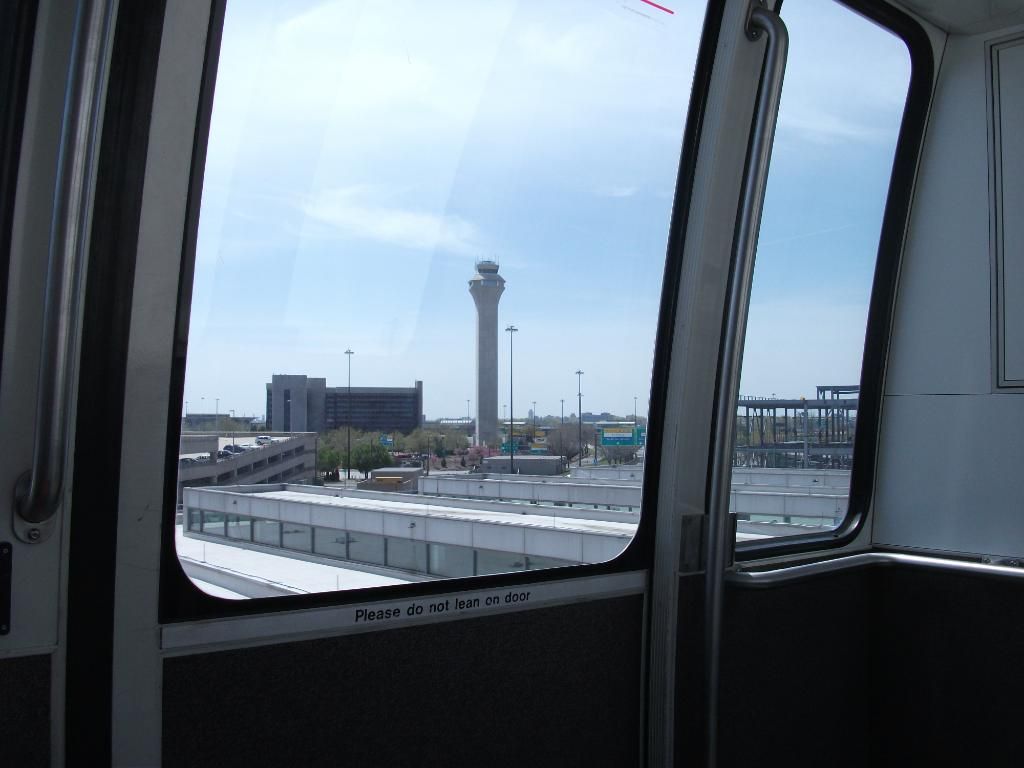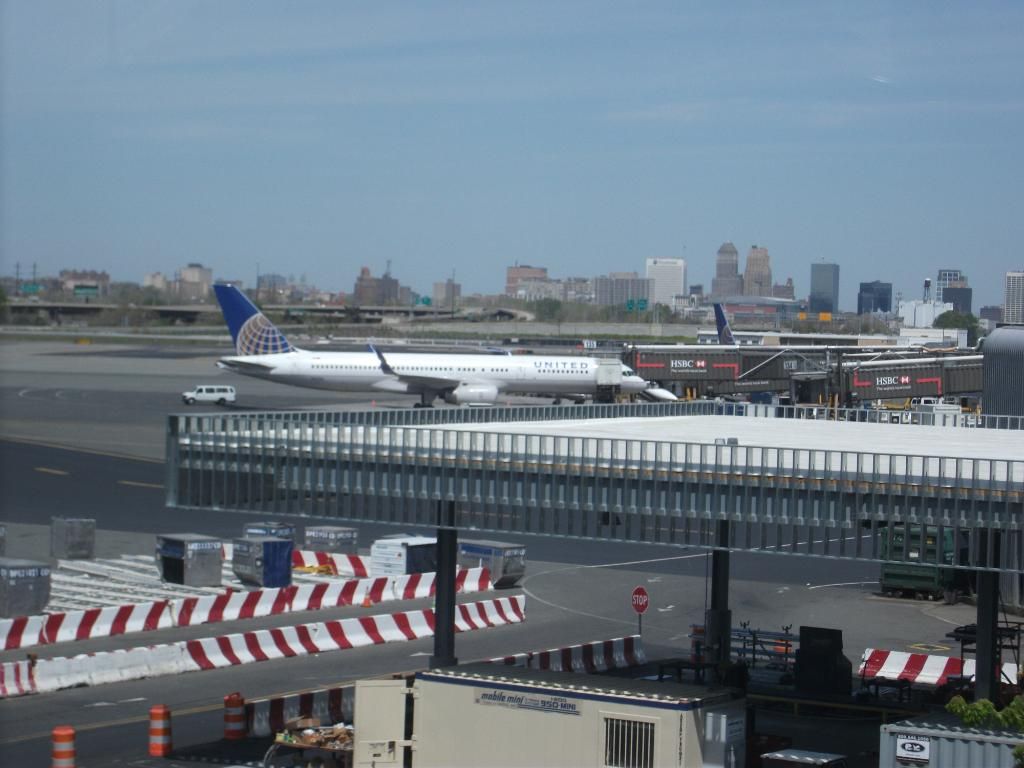 This has to be the spiffiest parking garage I've ever seen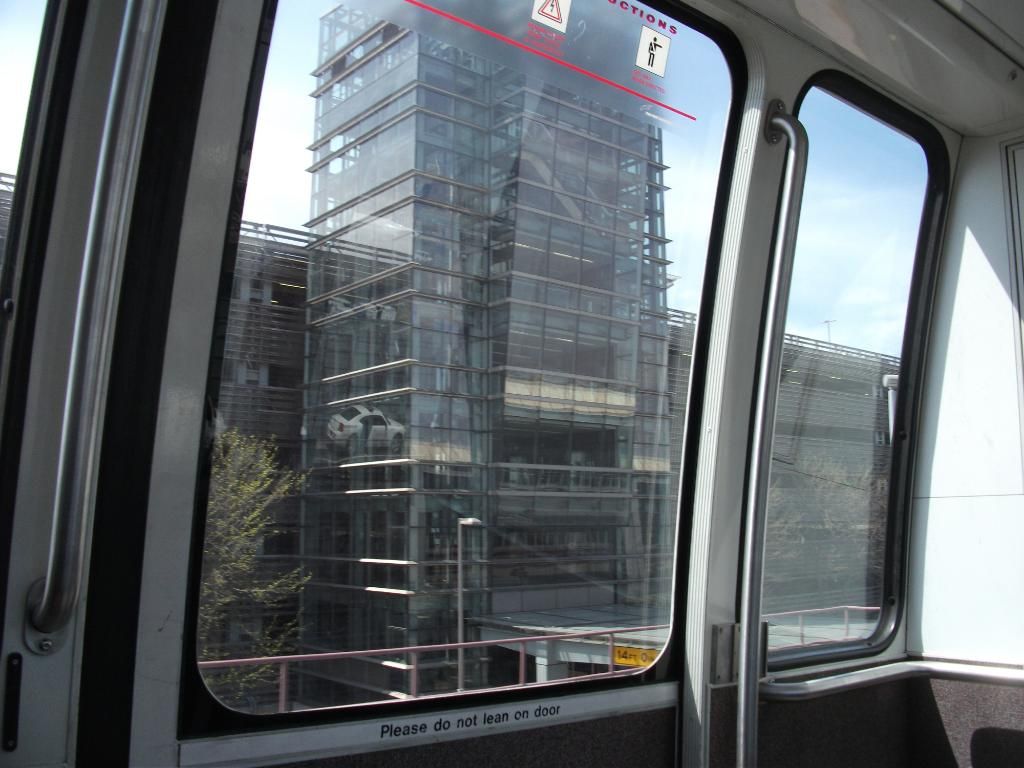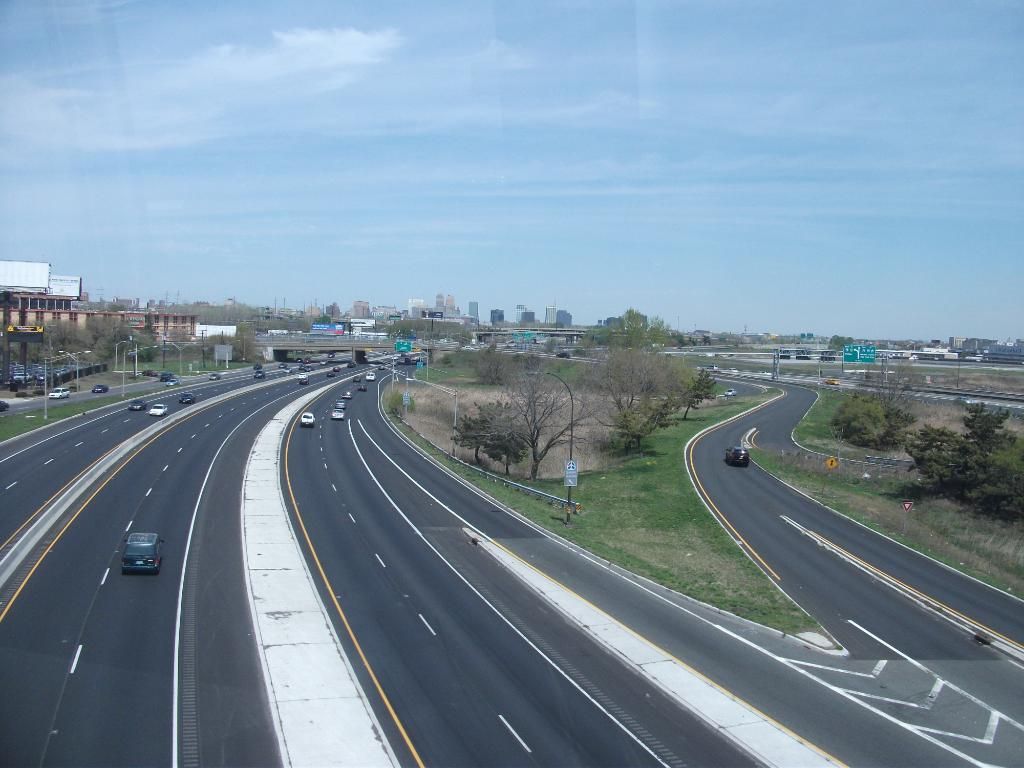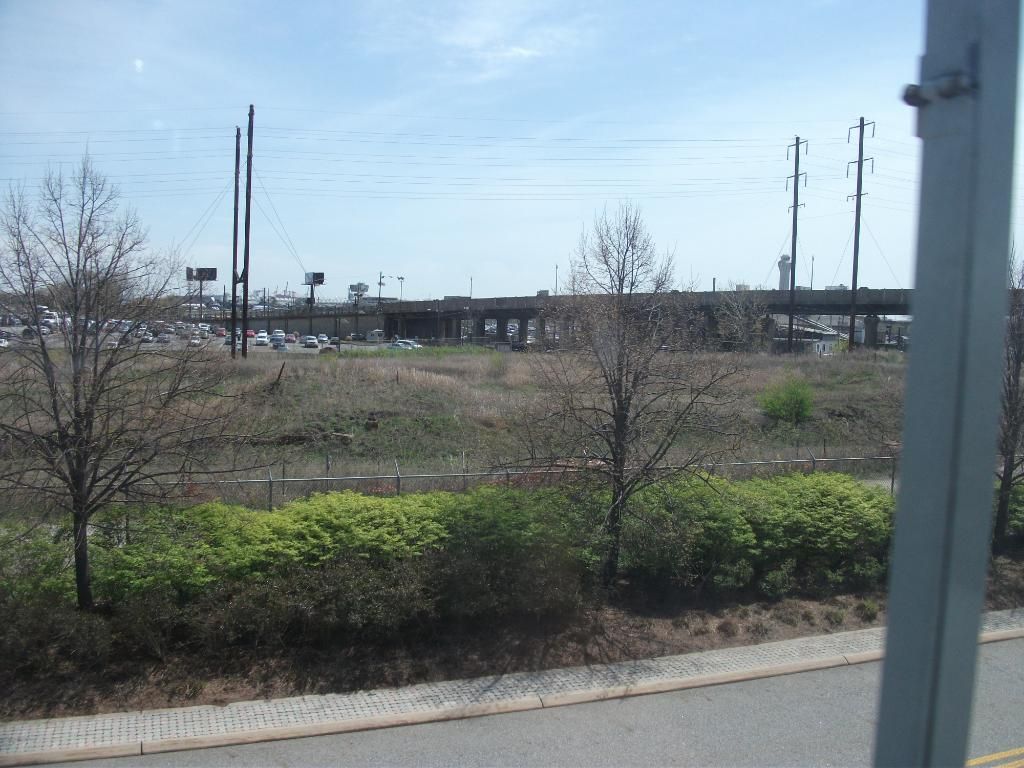 Arriving at the main airport station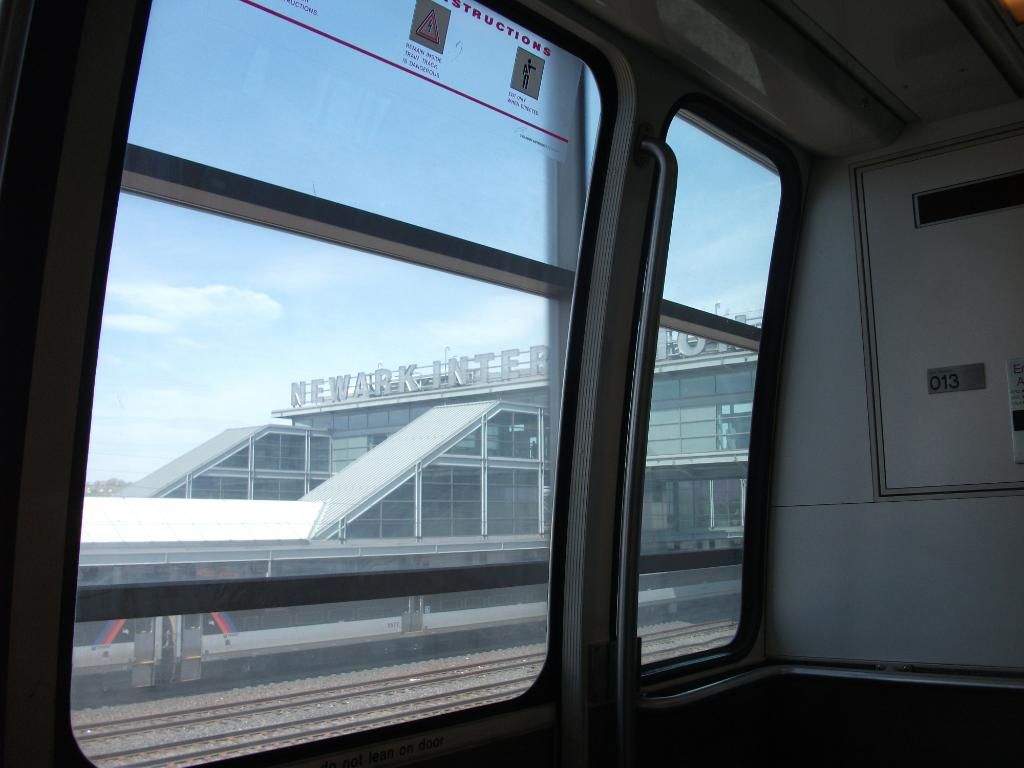 Before getting to the train, there stood the minor matter of getting my ticket printed. An automatic kiosk did the trick quite nicely. The result:
Going down to the platform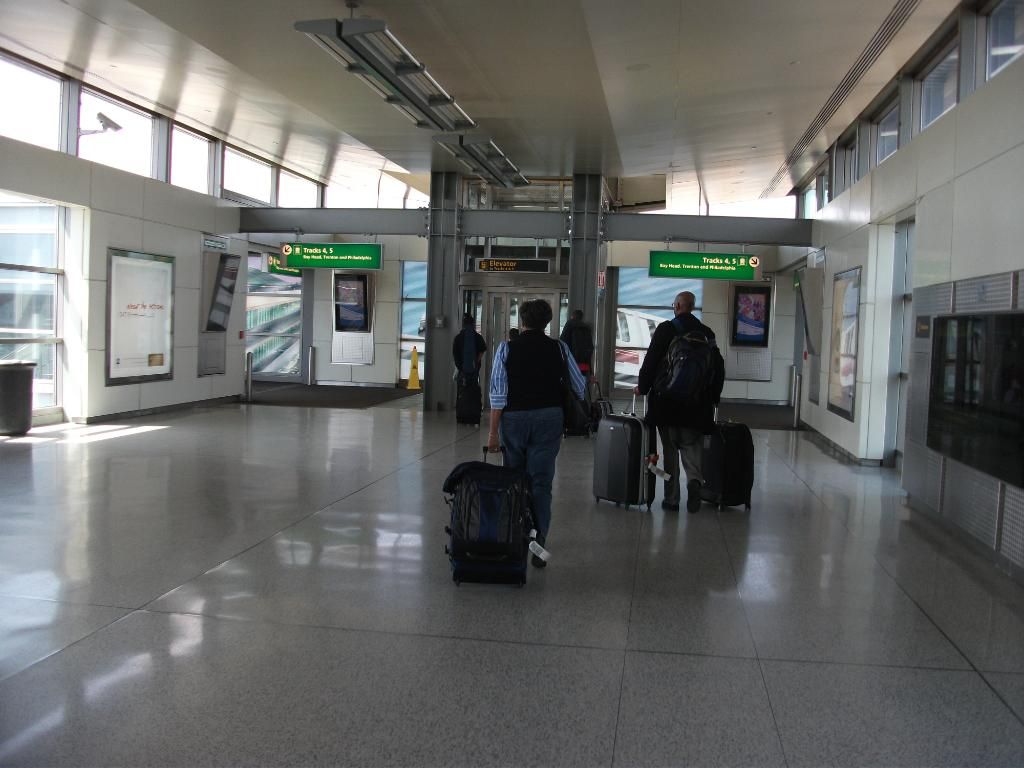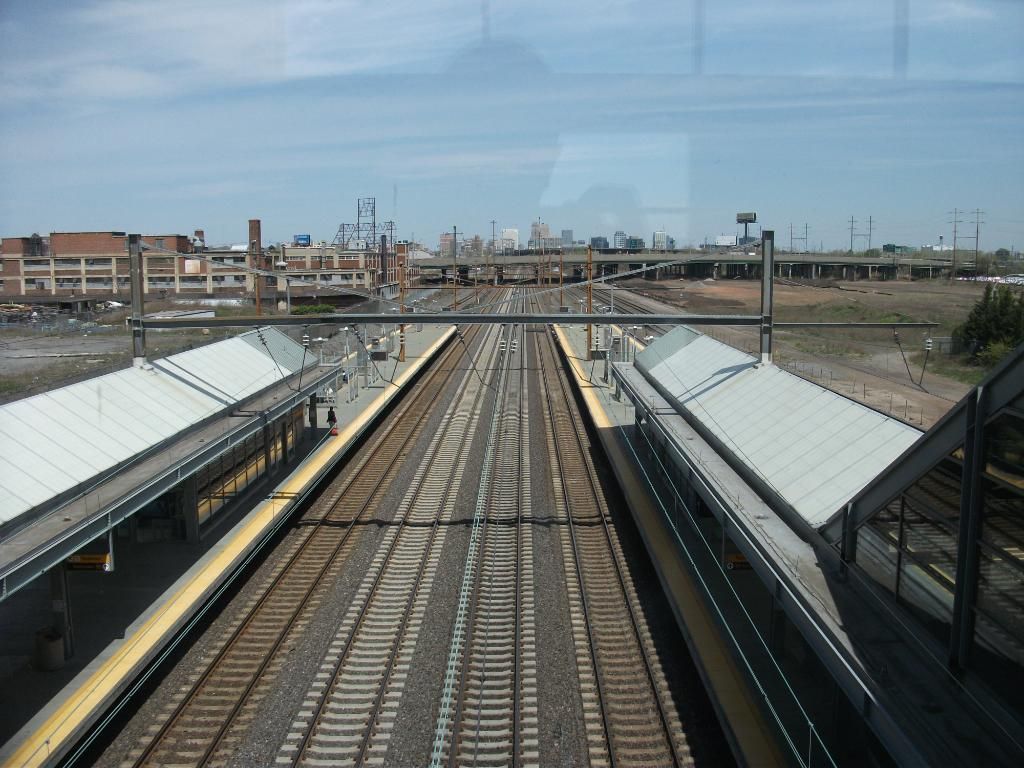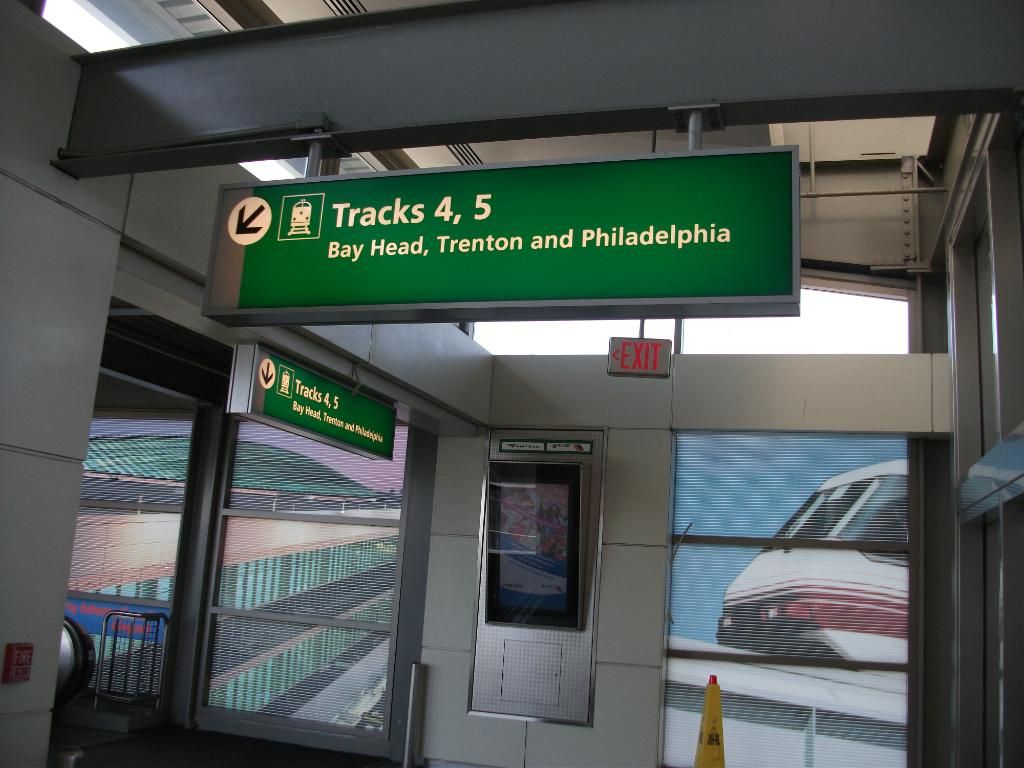 There were still perhaps 20 or 25 minutes before the train arrived, so I claimed an outdoor seat and basked in the sun. In three trips to the NY area, this was the best weather by far.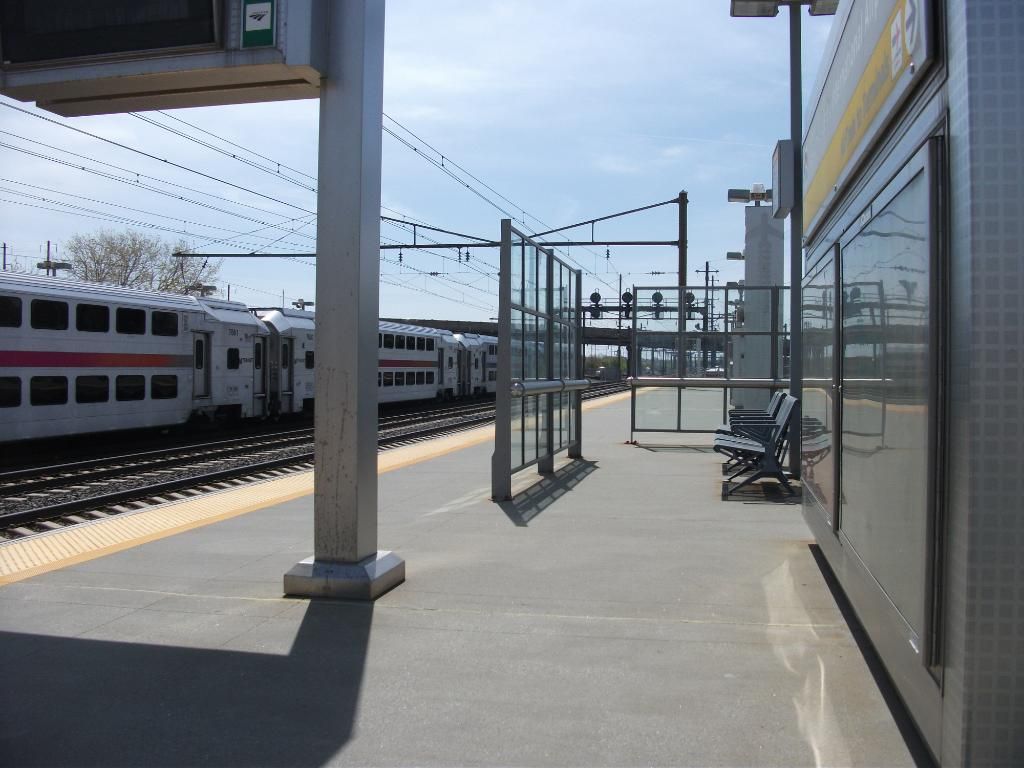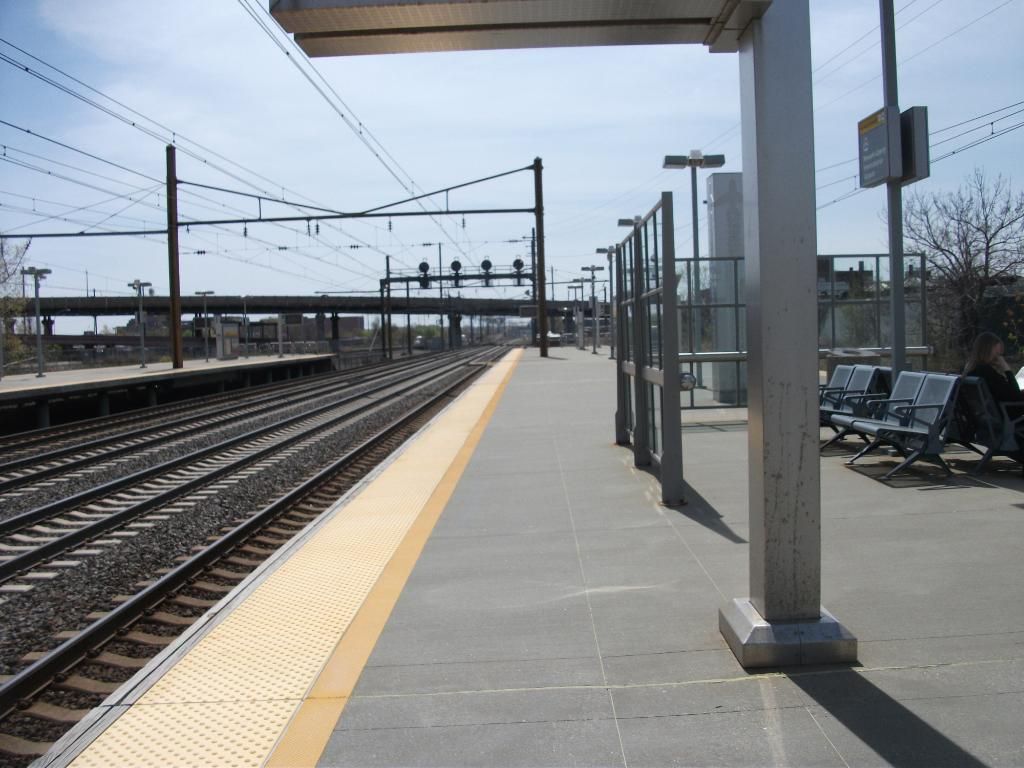 A little United speck jetting off to somewhere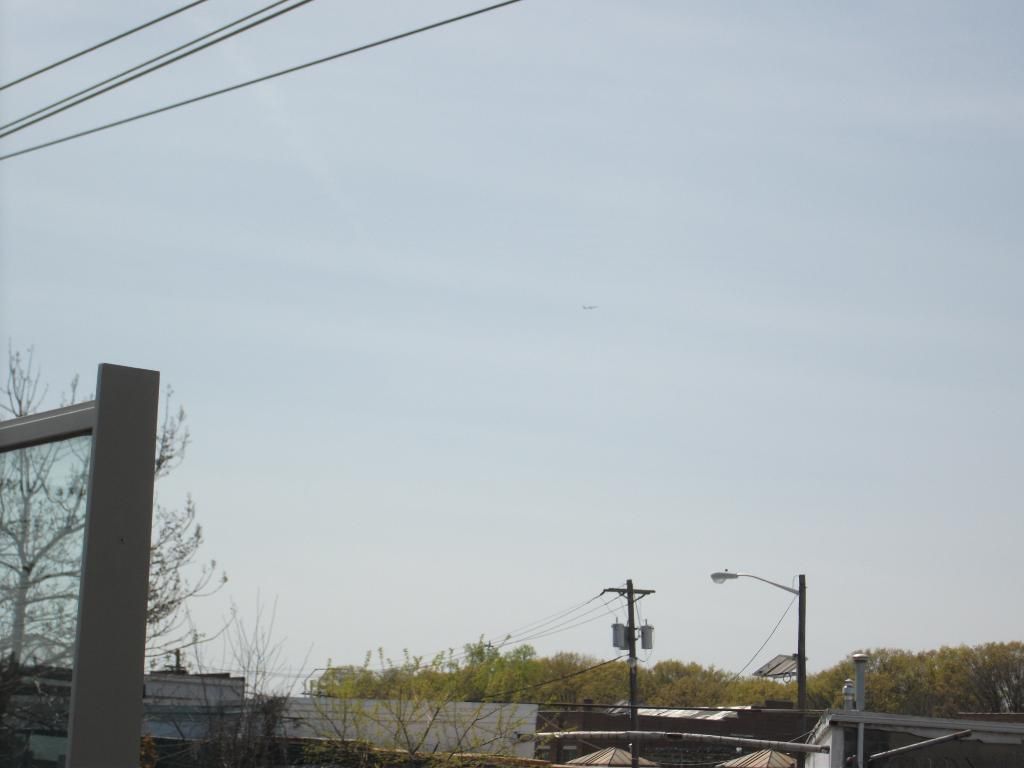 I hear the train a-comin'; it's rollin' 'round the bend…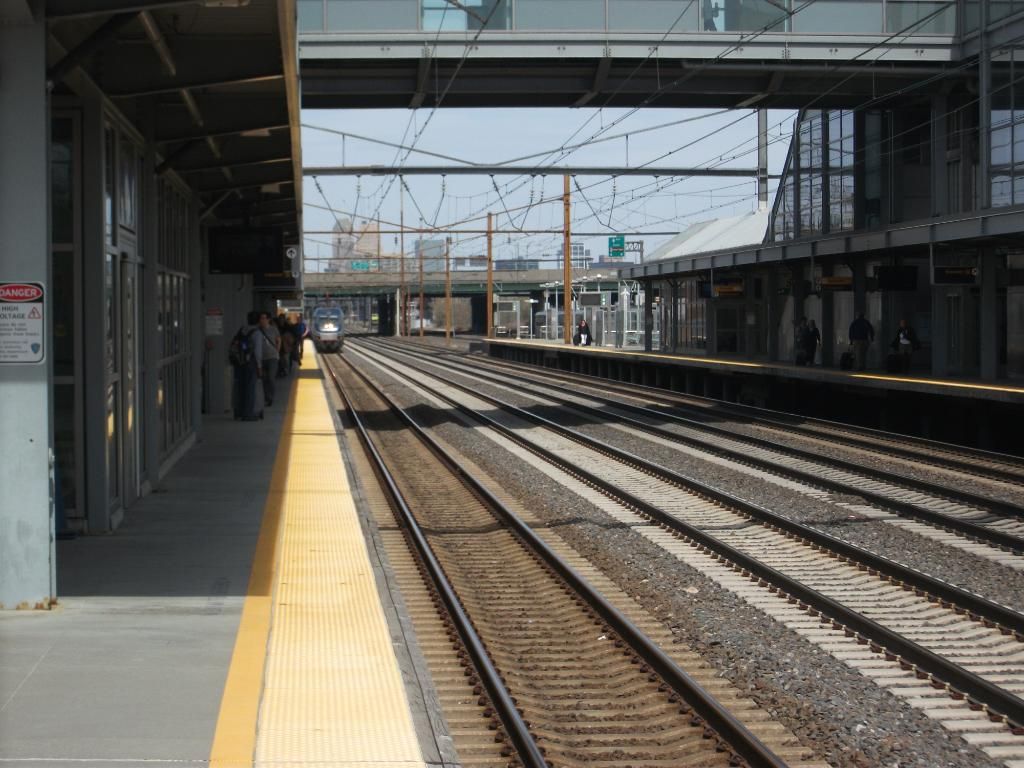 Amtrak Northeast Regional 99 EWR-Philadelphia/30th Street (UA 6637)
Scheduled: 13:40-14:42
Actual: 13:40-14:44
Despite the fact that I'd be leaving a flight on the table, there was still a little something to be excited about. This would represent my first time riding the rails (other than light rail, subways, etc.) in about 12 years. That trip lasted only 25 minutes, so this would pretty much be Amtrak's first impression.
I entered the train and started looking for a seat. I went almost the entire length of the train and suffered every airline freak's nightmare: no free window seats.
I stood around for a couple of minutes before settling down next to someone who didn't look as if they'd be annoyed by my presence. As far as the interior trappings were concerned, it reminded me of an American Airlines MD-82 Economy cabin: not exactly ratty, but visibly tired. Still, the accommodations were comfortable enough for the ride, which was just over one hour.
Of course, since I was relegated to an aisle seat, there will be no pictures from the ride. I found that very unfortunate because there were a lot of things to see, even if they weren't what one would consider scenic. The abandoned and dilapidated buildings along the route were strangely enthralling. Those once proud factories now stand in various states of disrepair—and there are a lot of them. These days, the only things they know are the graffiti and bricks of vandals and the slow march of nature reclaiming its turf.
We arrived at the stately 30th Street Station and I had a brief look around before heading out: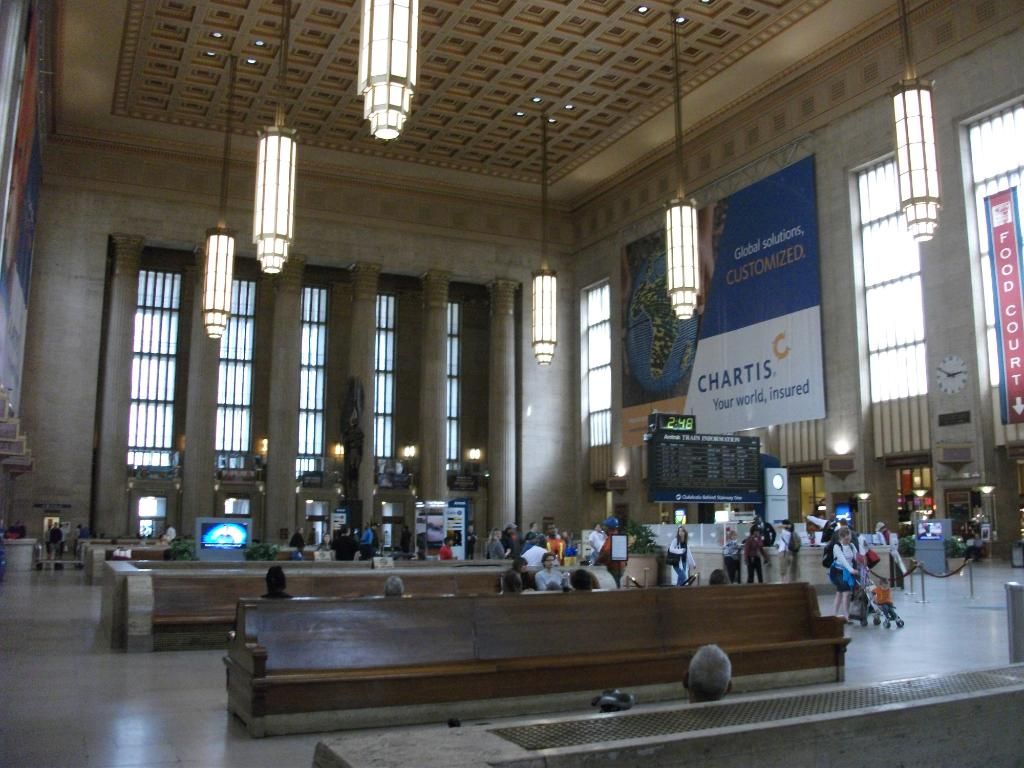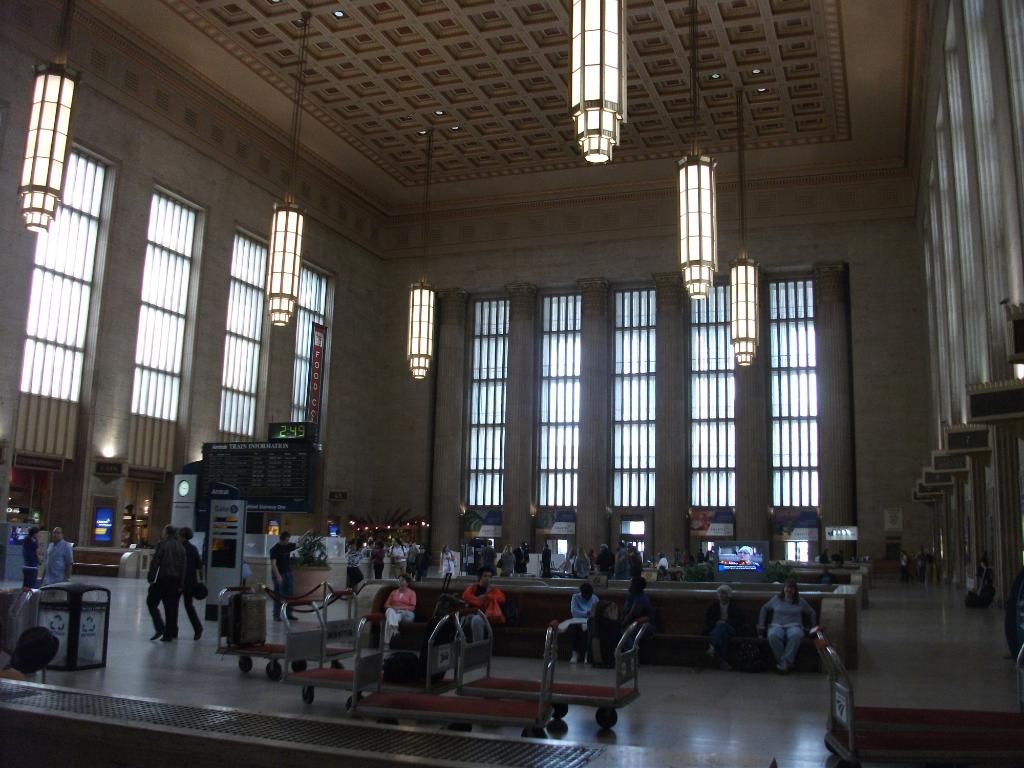 Pennsylvania Railroad World War II Memorial, commemorating the 1,307 Pennsylvania Railroad employees who died in WW2.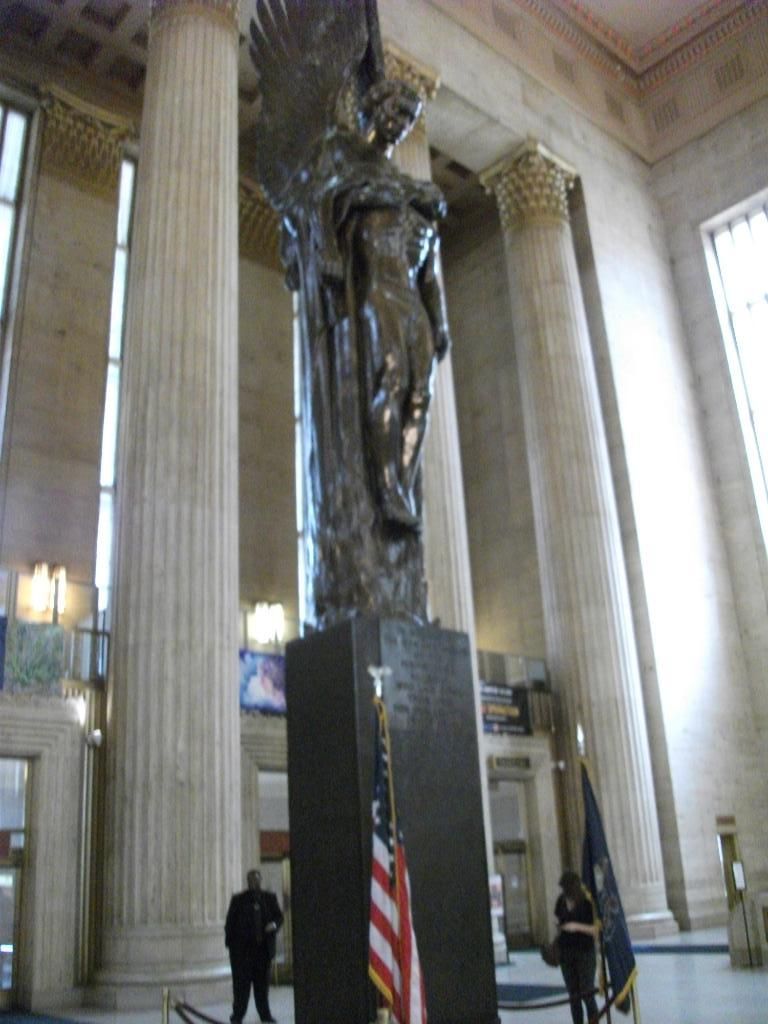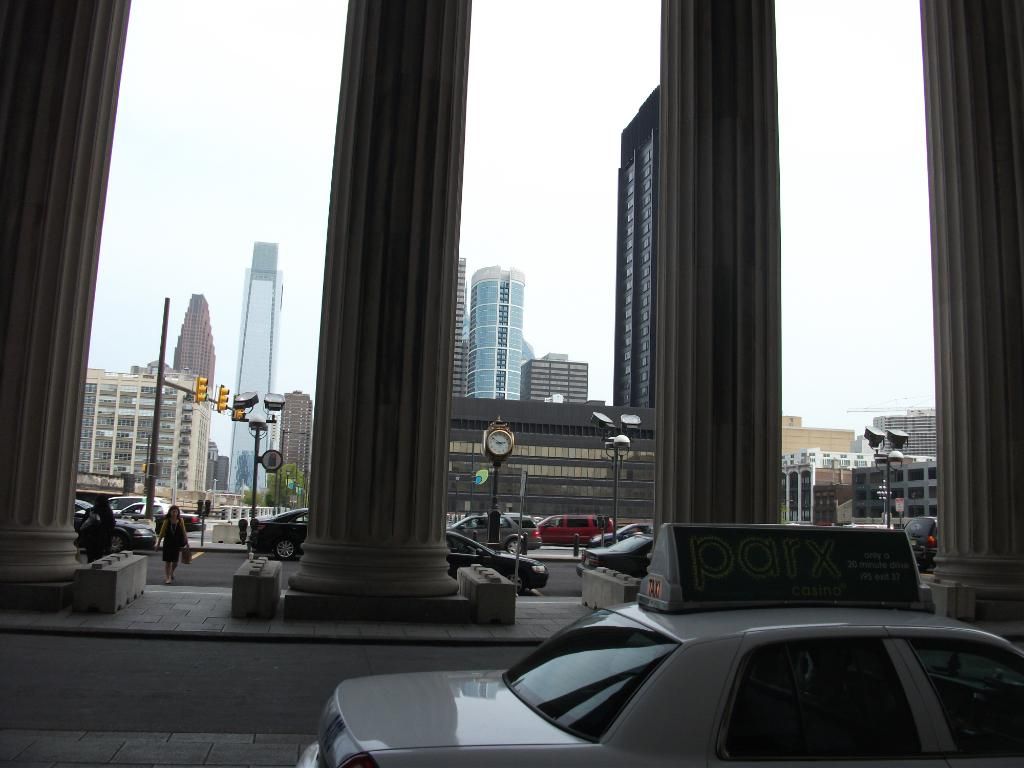 I took a taxi to the airport; when I told the driver where I wanted to go, he fiddled with the fare machine and it flashed $28.50.
I was about to scream bloody murder and jump through the window, but I saw that the number didn't move as we snaked through the city streets. I suppose $28.50 is a flat rate to the airport. If time isn't a factor for you, I would suggest taking the local rail; I assume it's a great deal cheaper. (although I bet you won't exceed the speed limit by 50% most of the way like my driver did)
Legroom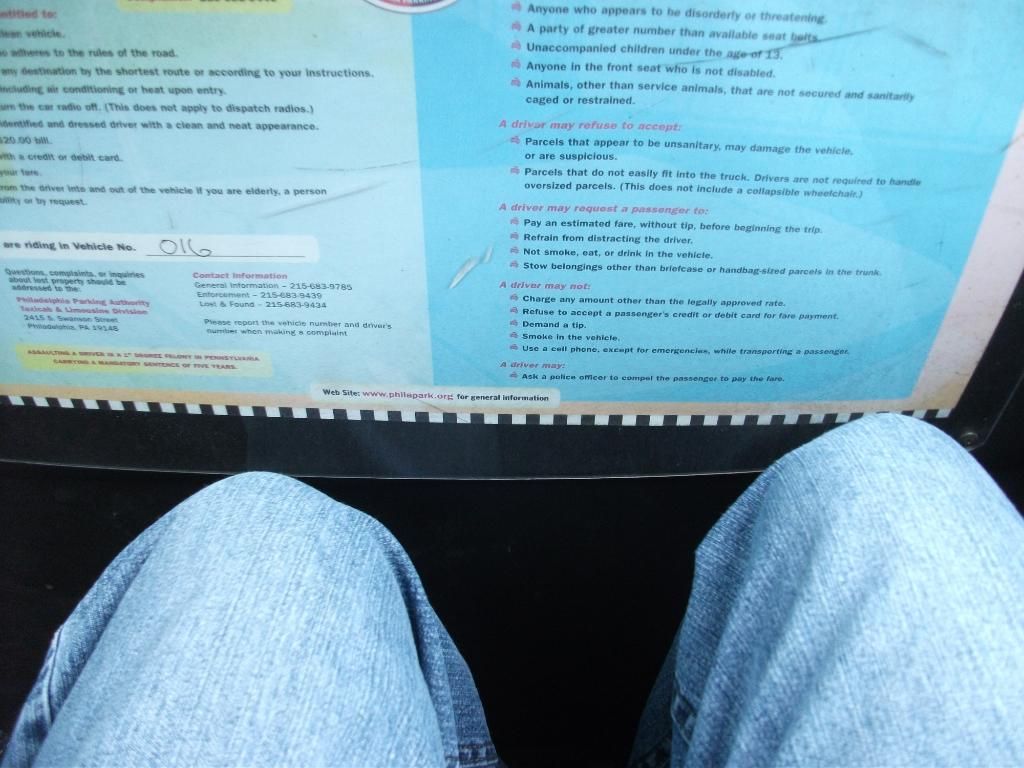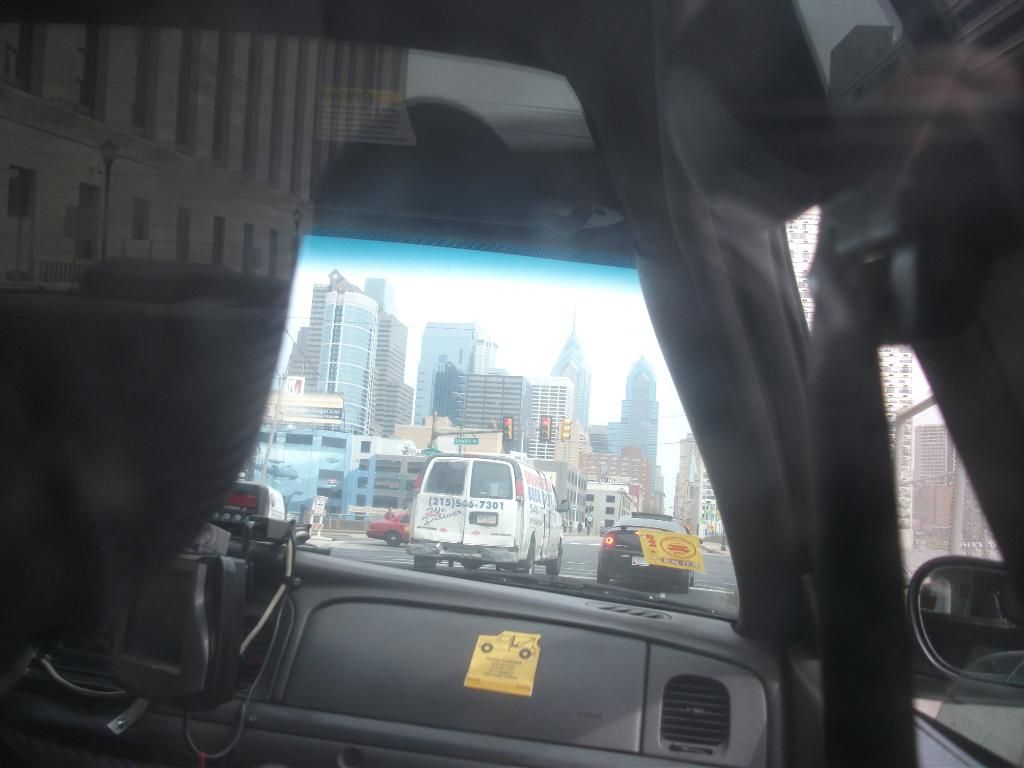 A representative of the dominant PHL carrier
On the inside; damn these silly dots!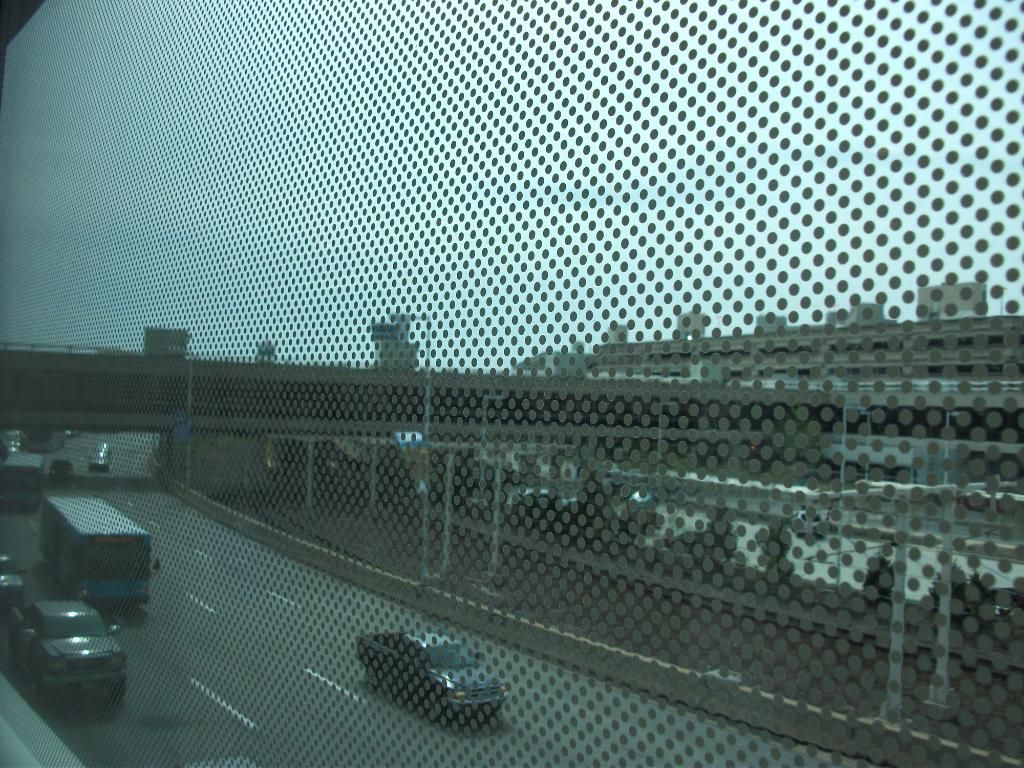 Before I could conquer PHL, I would need some boarding passes. I tried to print them the previous evening in OKC, but the machine was having none of it. While I was in Newark, I passed by the DL ticketing area and tried to print my passes there. Again, the machine fought me tooth and nail. I figured that if it didn't happen in Philly, I'd just have to get in line. I went up to a machine and it gave me what I wanted with absolutely no trouble. Stupid technology…
Anyway, I was hoping that PHL could provide a better experience than its northern counterpart even though my arrival was rather anticlimactic. I started off with the bathroom as I normally do, and the entrance gave the promise of opulence: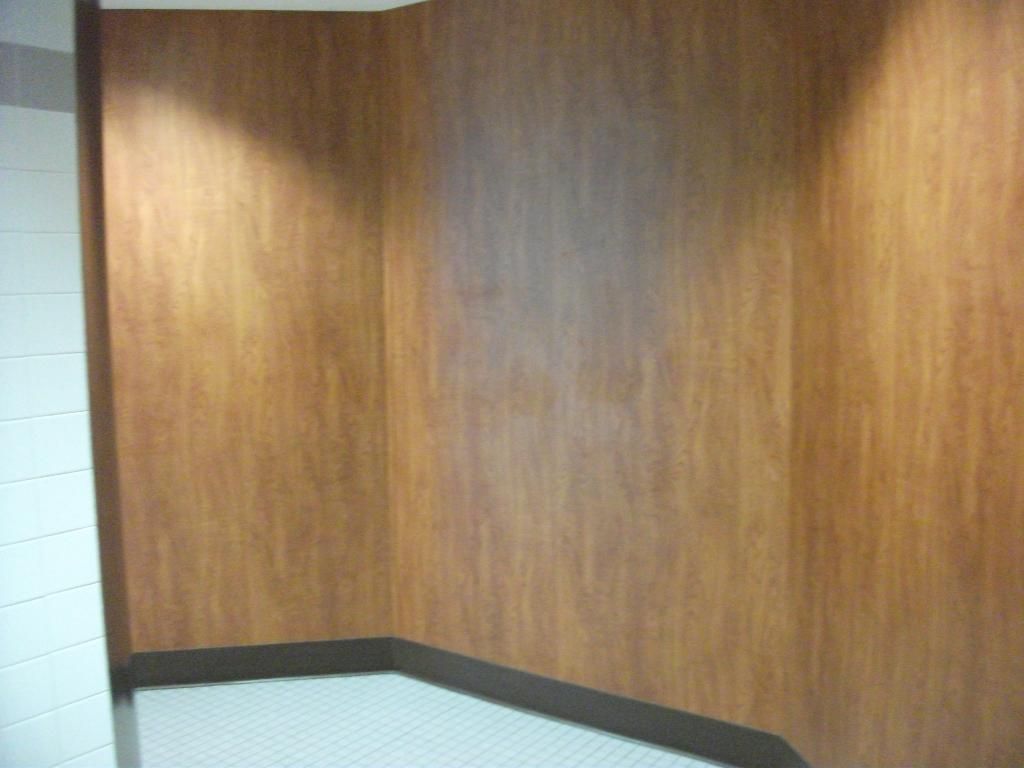 But there was only letdown when I rounded the corner: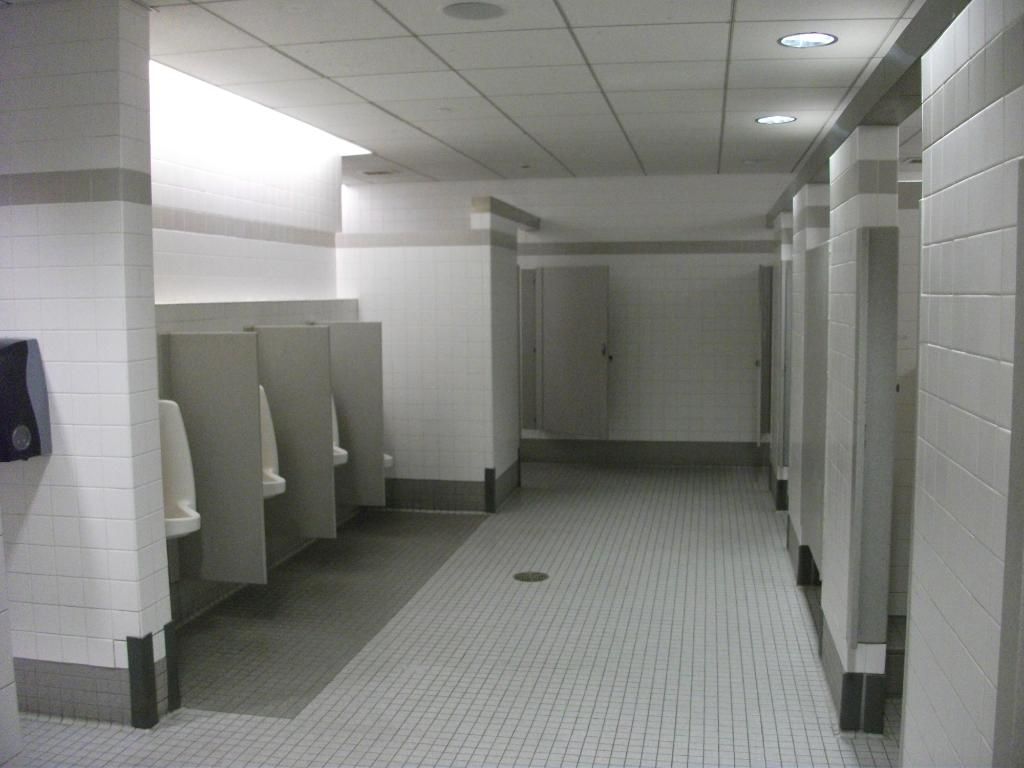 In a reversal of fortune, it turns out that all of PHL's concourses are connected behind security, so there ought to be a few more pictures here. A warning, though: there are no photos of the F Gates since those require a bus; an agent stands at the ready to inspect your boarding passes.
My first stop was the E Gates. You will notice the interesting design of the concourse: hard floors, some paint, and concrete ceilings. It's like the older concourses in DFW in a lot of ways, but slightly better. Slightly. One of the differences is that PHL seems to rely more on natural light. I applaud them for it, but it needs more. You will be able to tell that from how some of the pictures came out.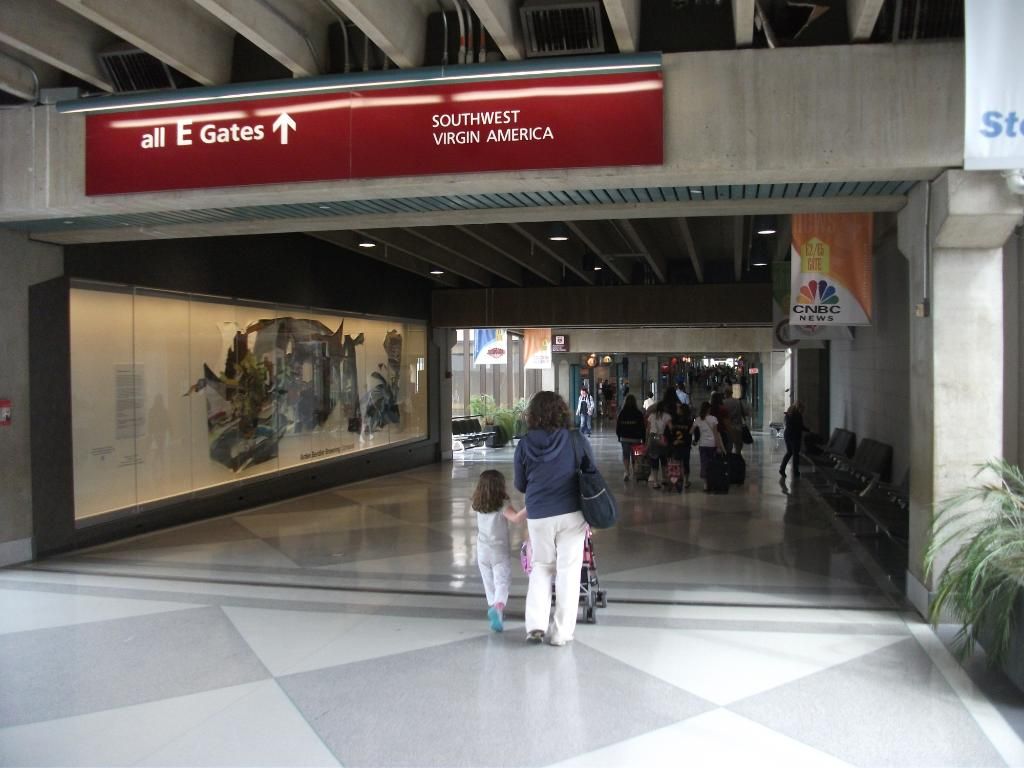 One of your typical boarding areas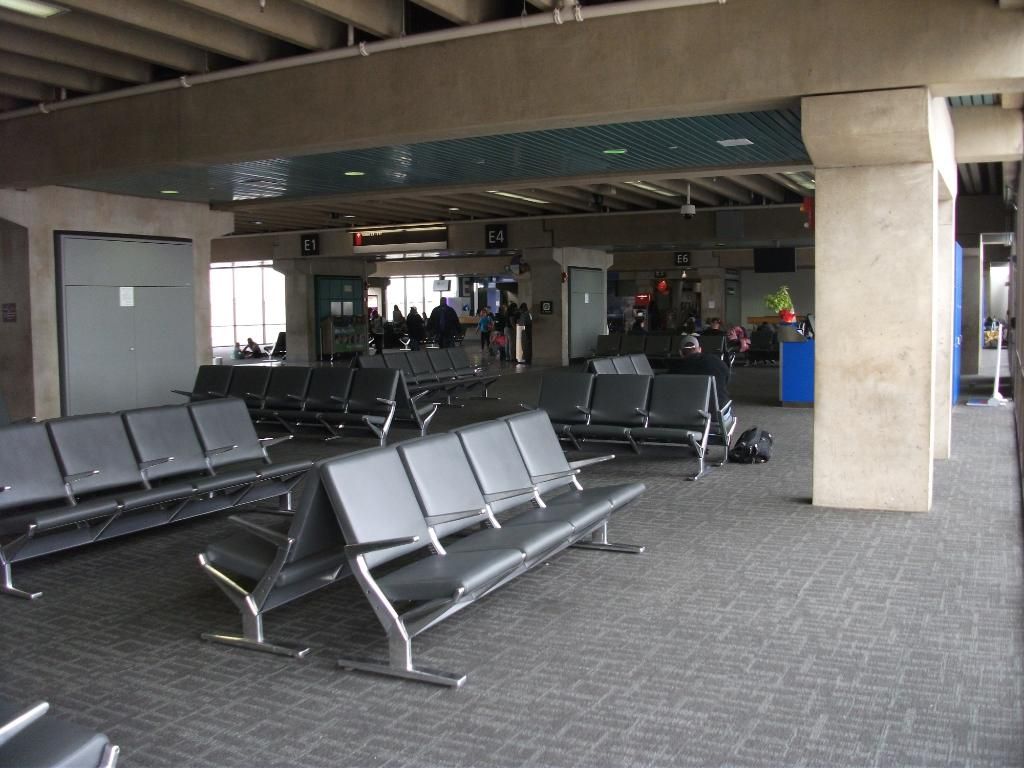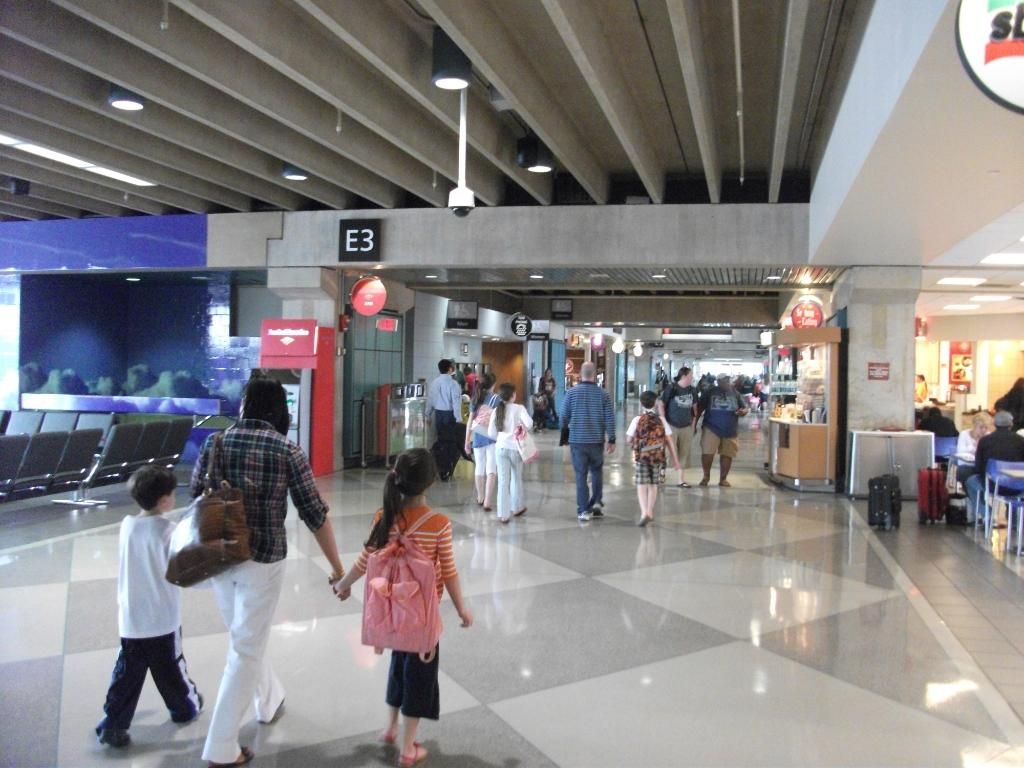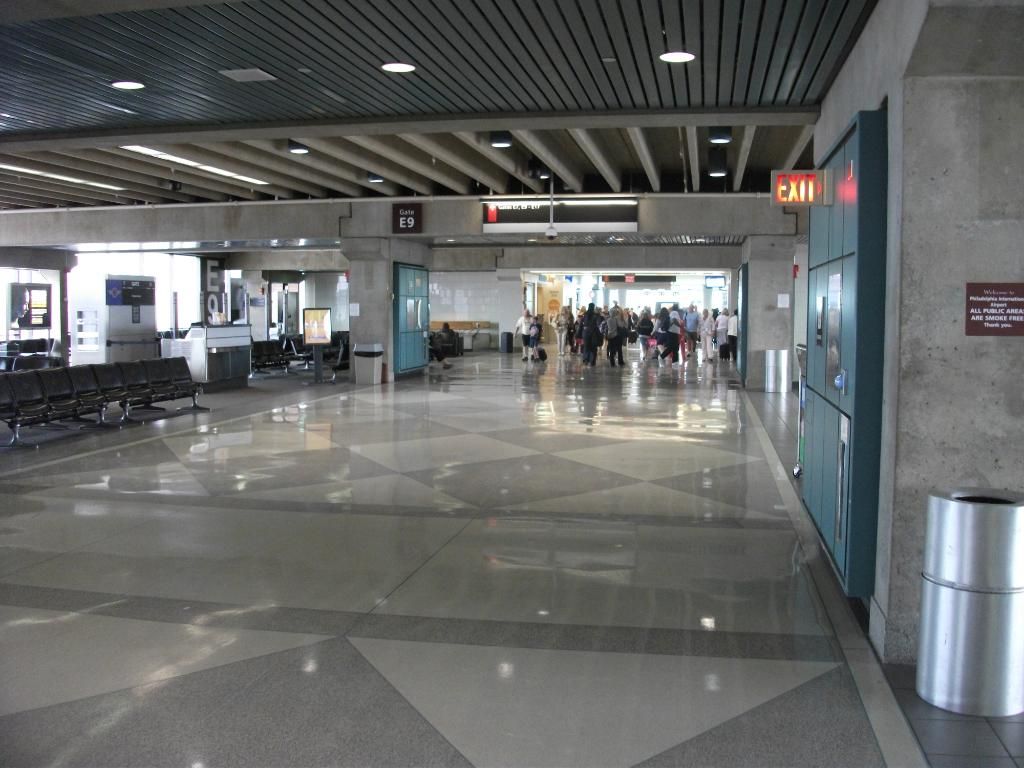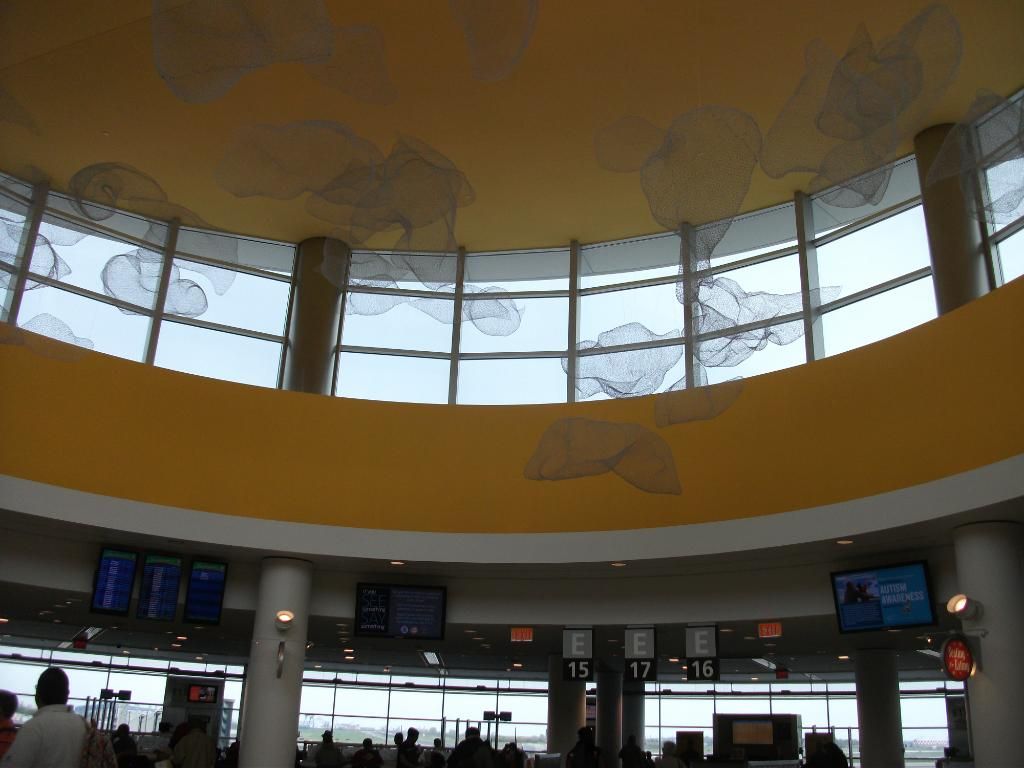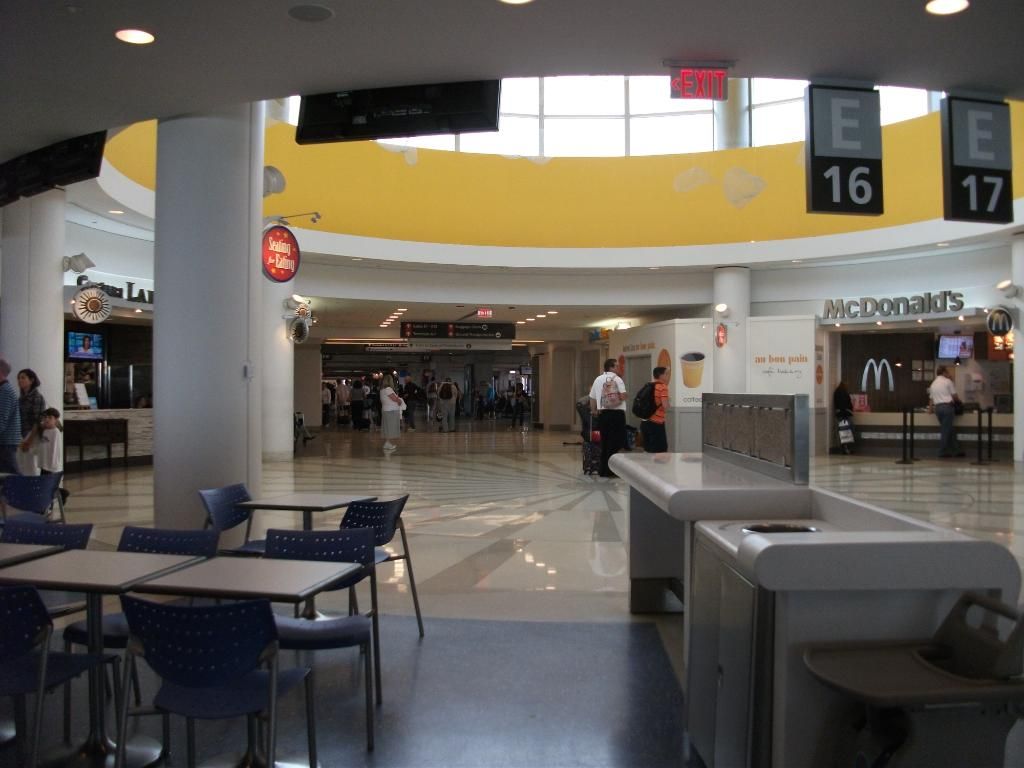 Looking at some props at the F Gates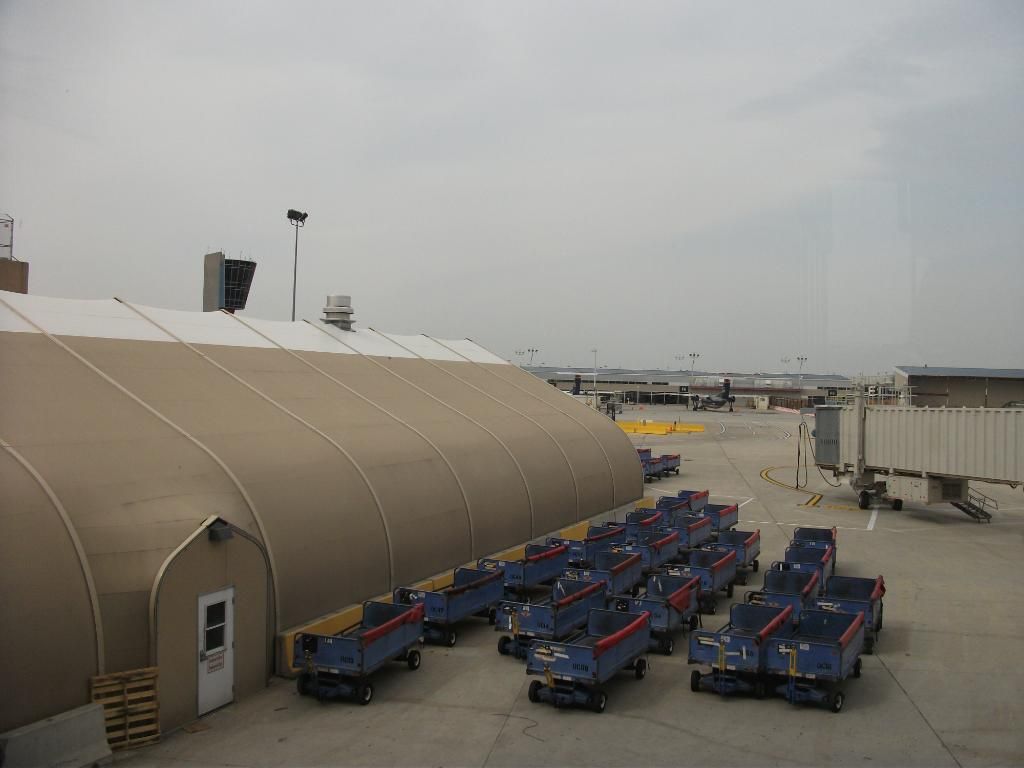 The E and F Gates are somewhat separated from the other four concourses, so that's where the connector comes in. It's a corridor that links the two sides in a convenient manner. From the connector: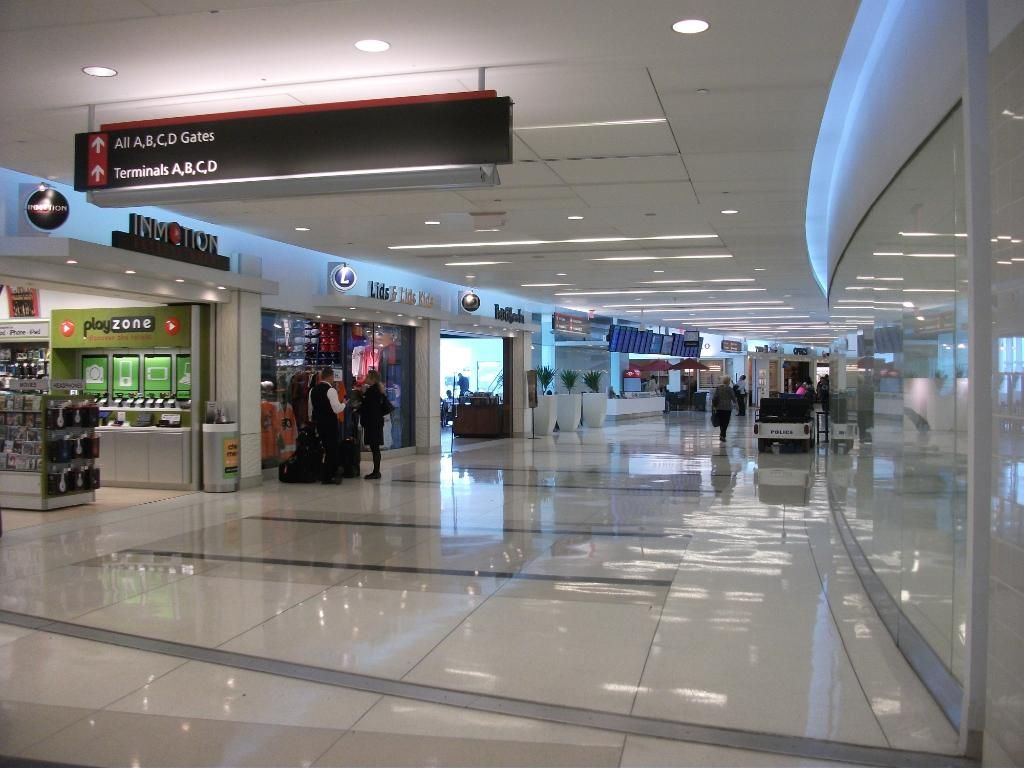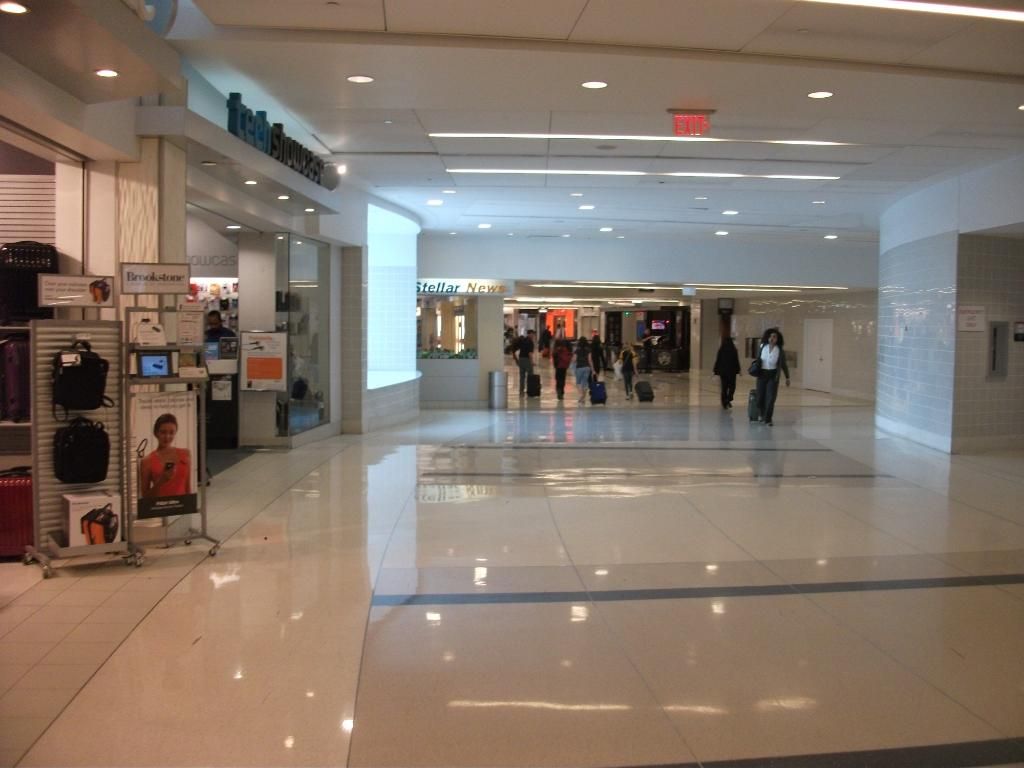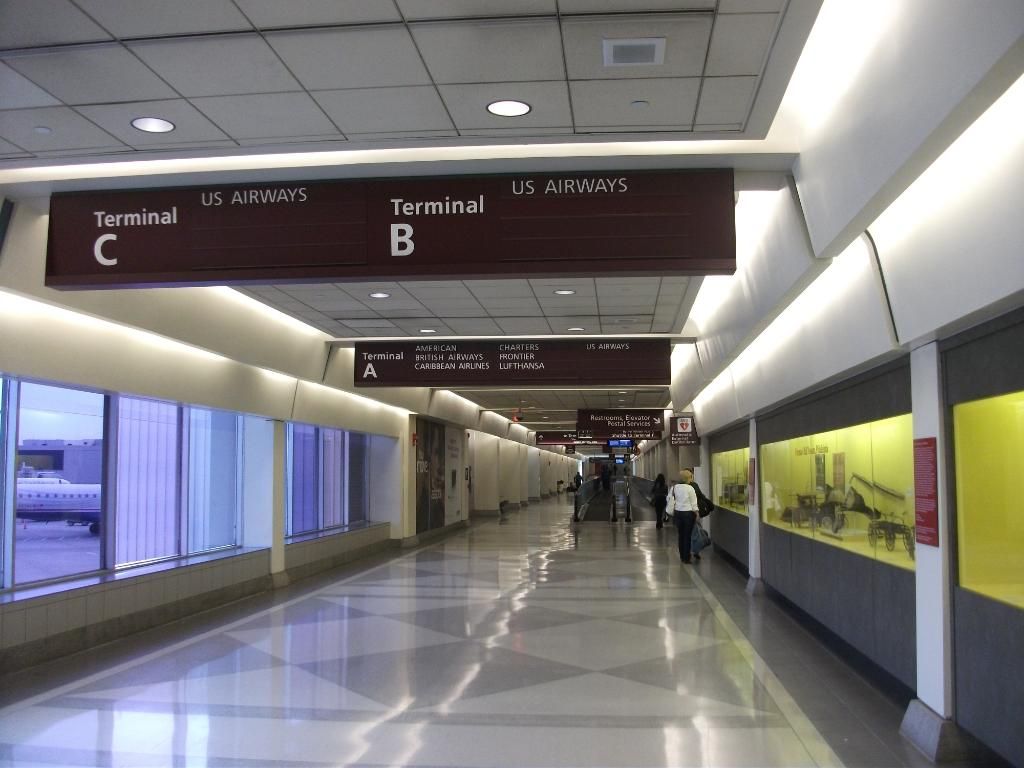 The Philadelphia Marketplace is just that: a marketplace. One may go through here on the way to the A and B gates. Moving walkways help to speed things along in the absence of a train.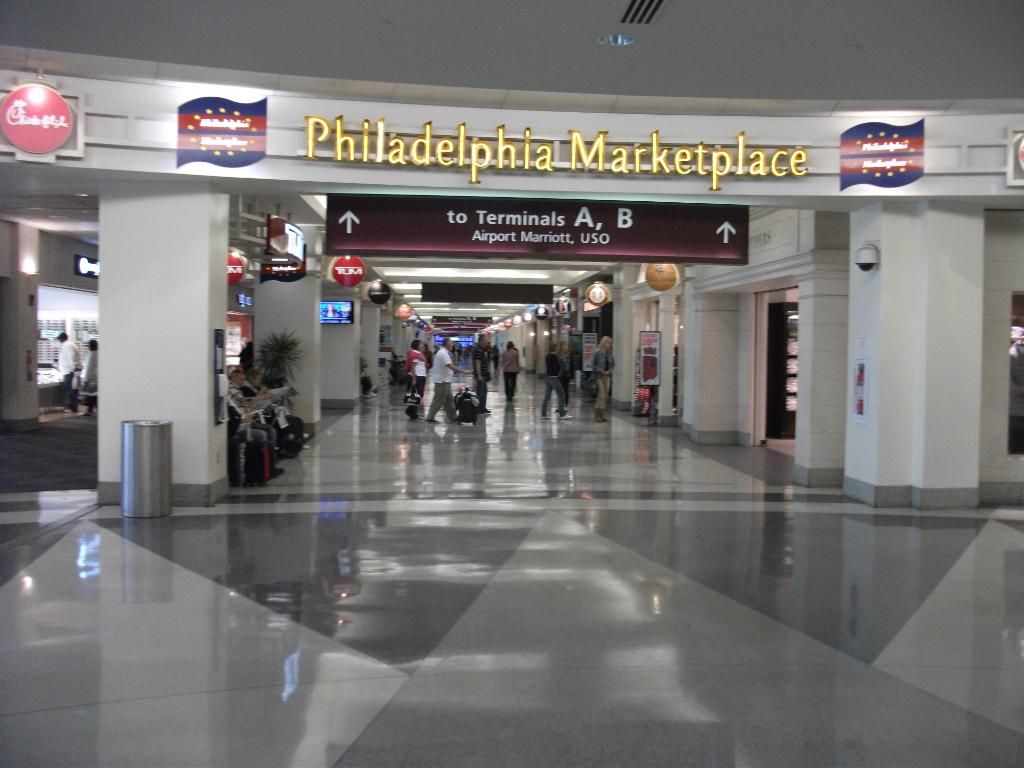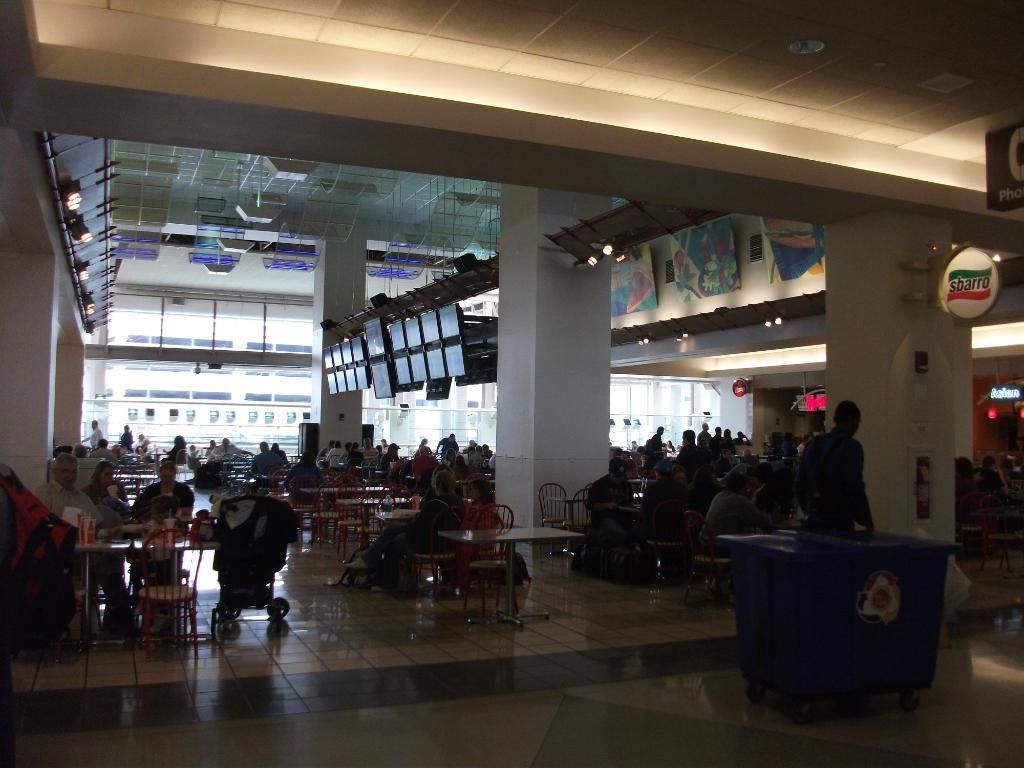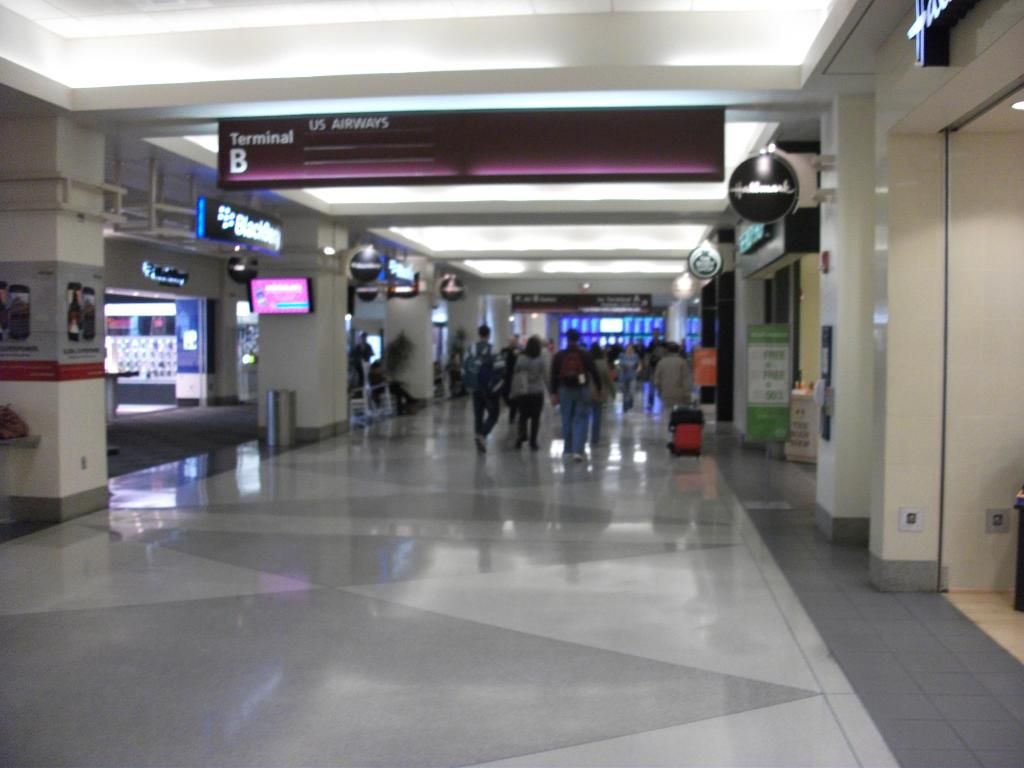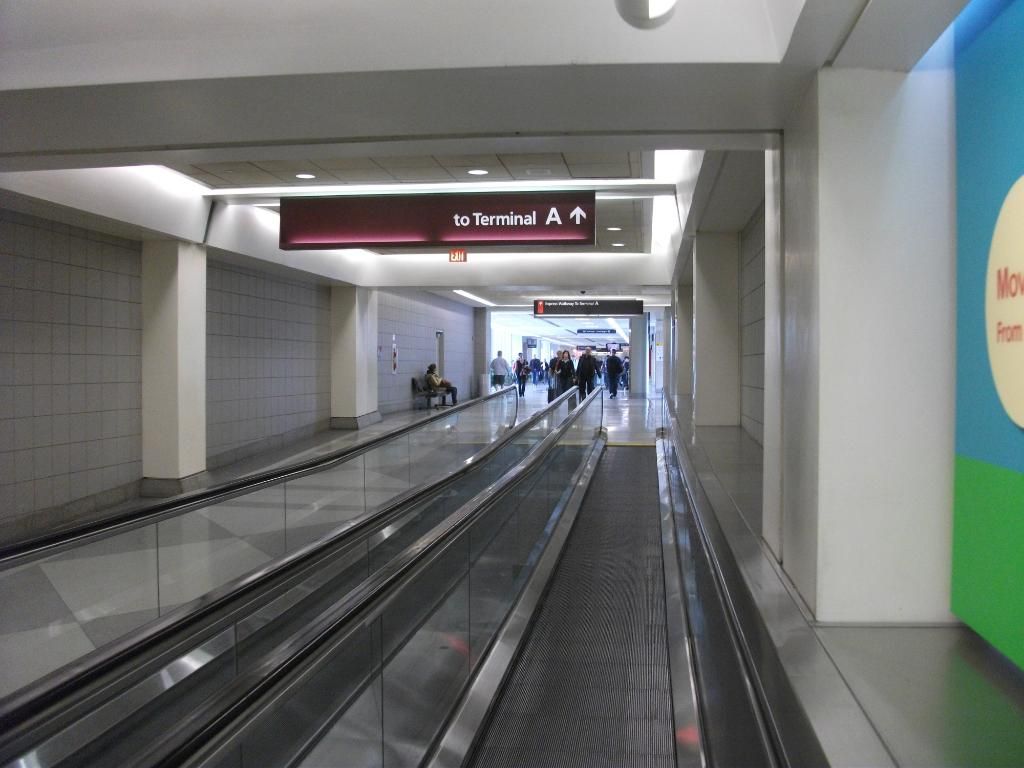 Hey, I know that turtle! (You should too; he showed up in my Seattle report.)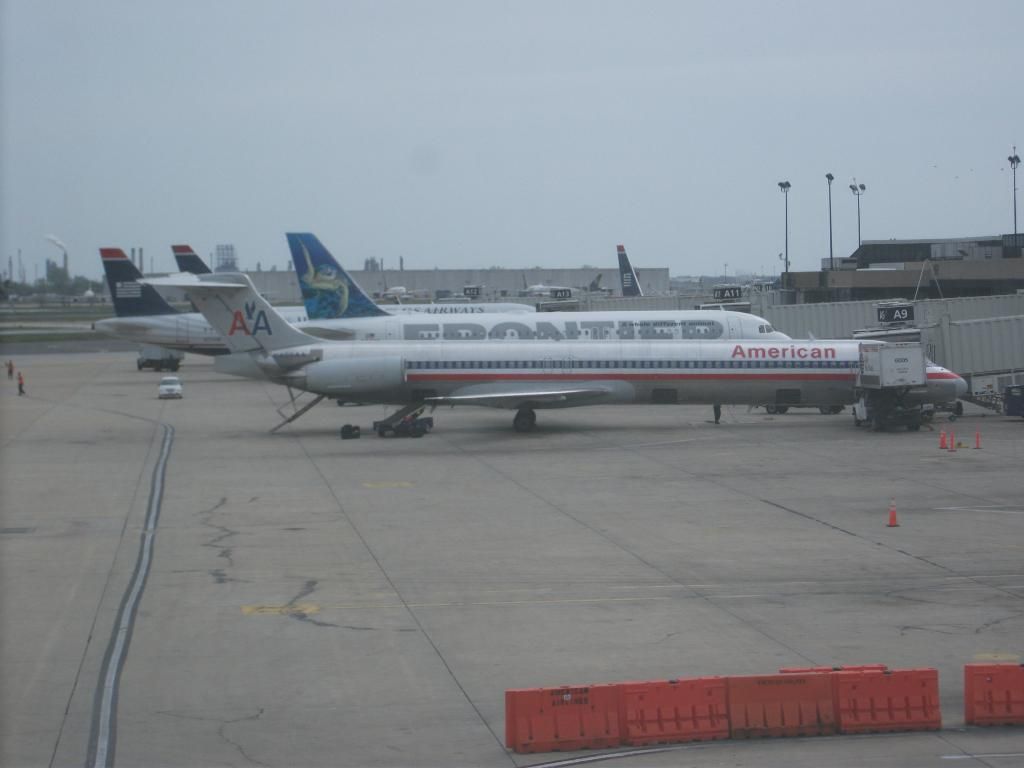 I eventually trundled into the lengthy Terminal A West, the international nerve center of PHL. It is the newest of the airport's buildings.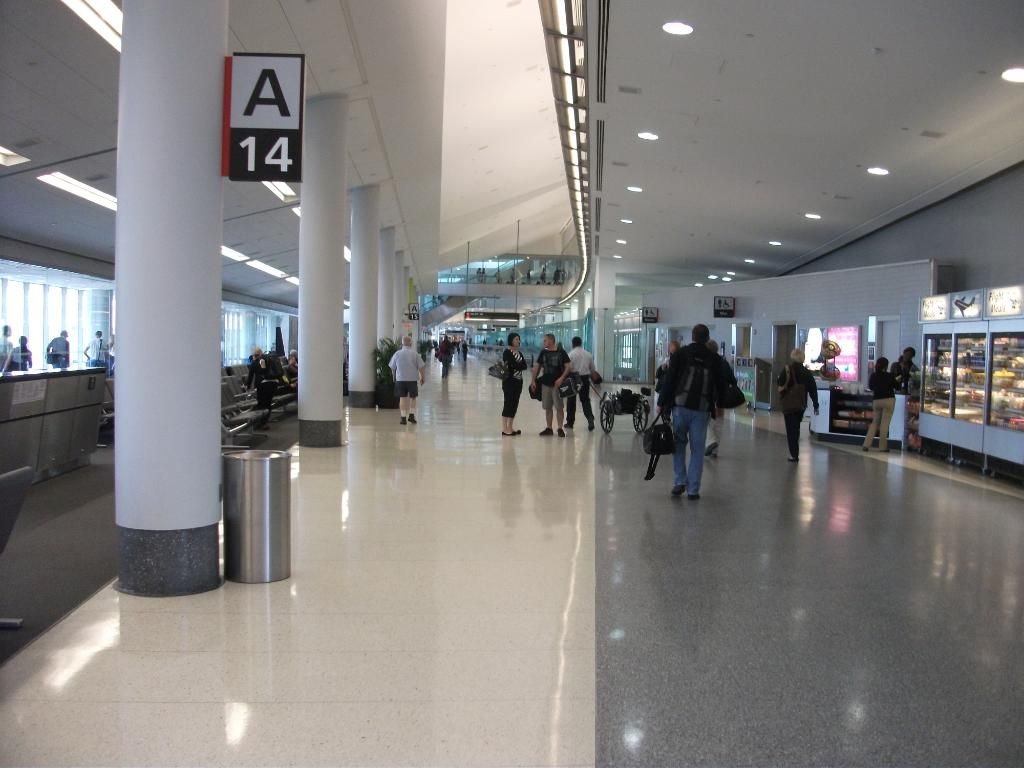 Looking down on the ticketing area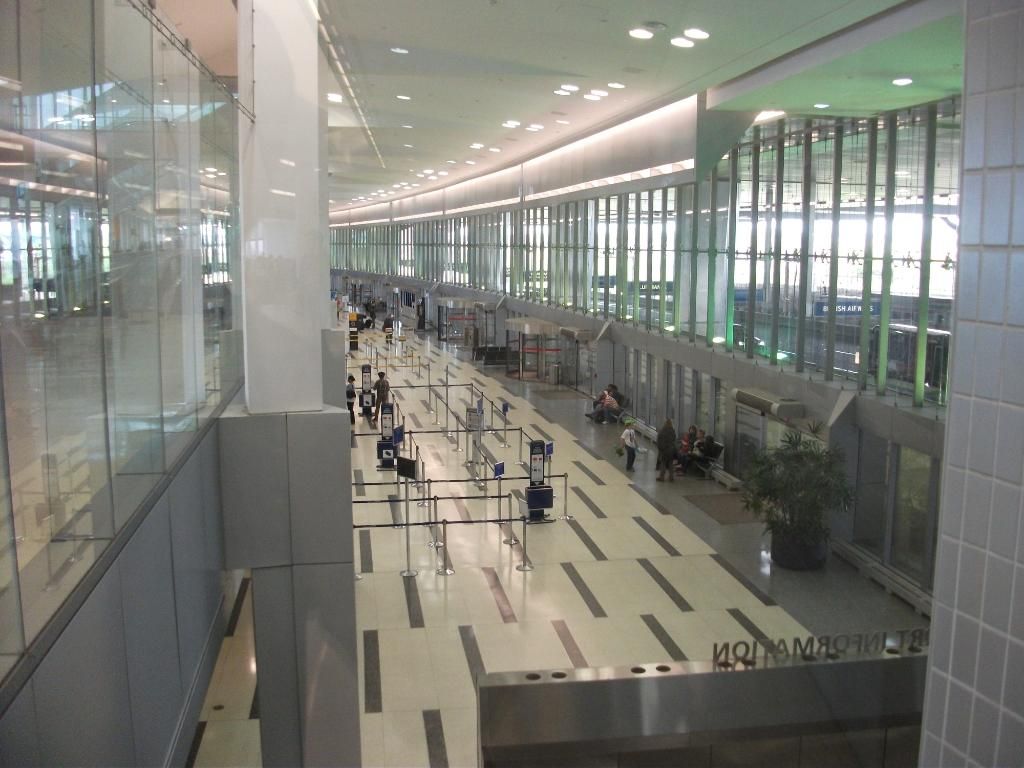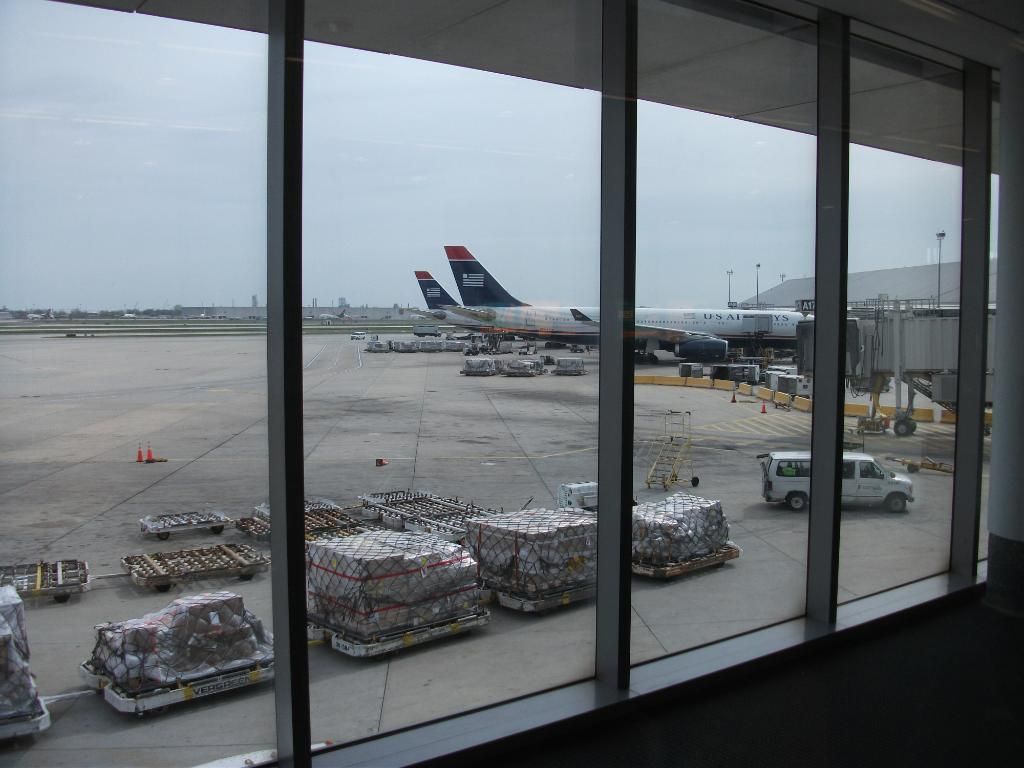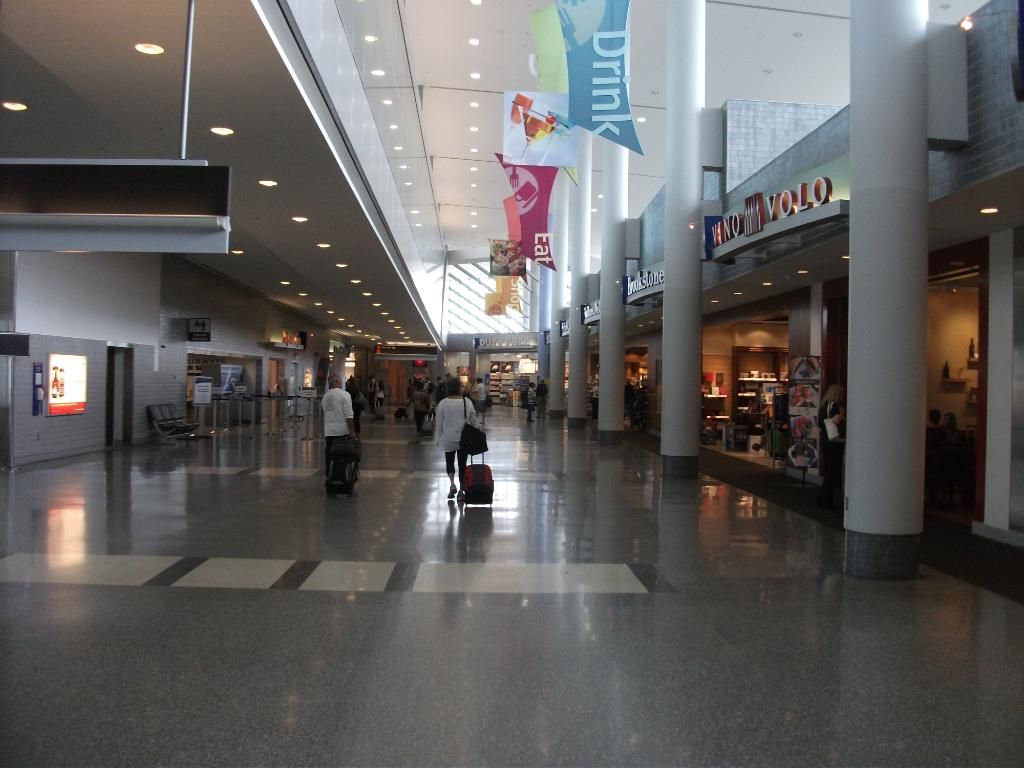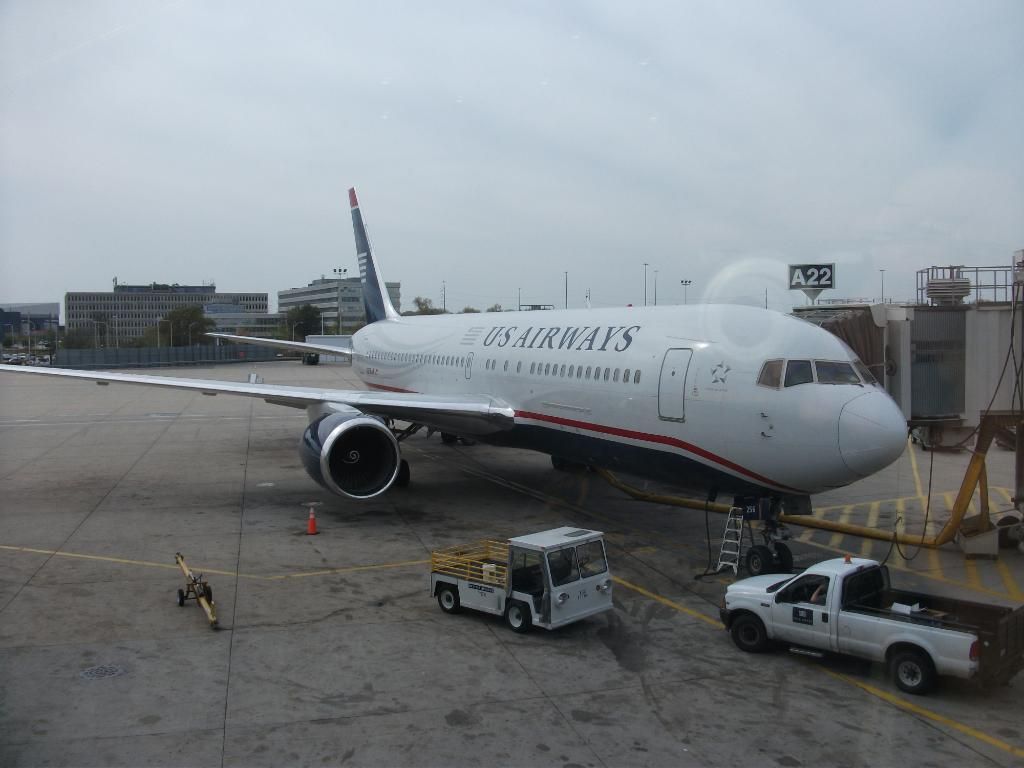 Lufthansa A340 in Star Alliance colors taxiing in. Call the police, I think a salon is missing some hairdryers.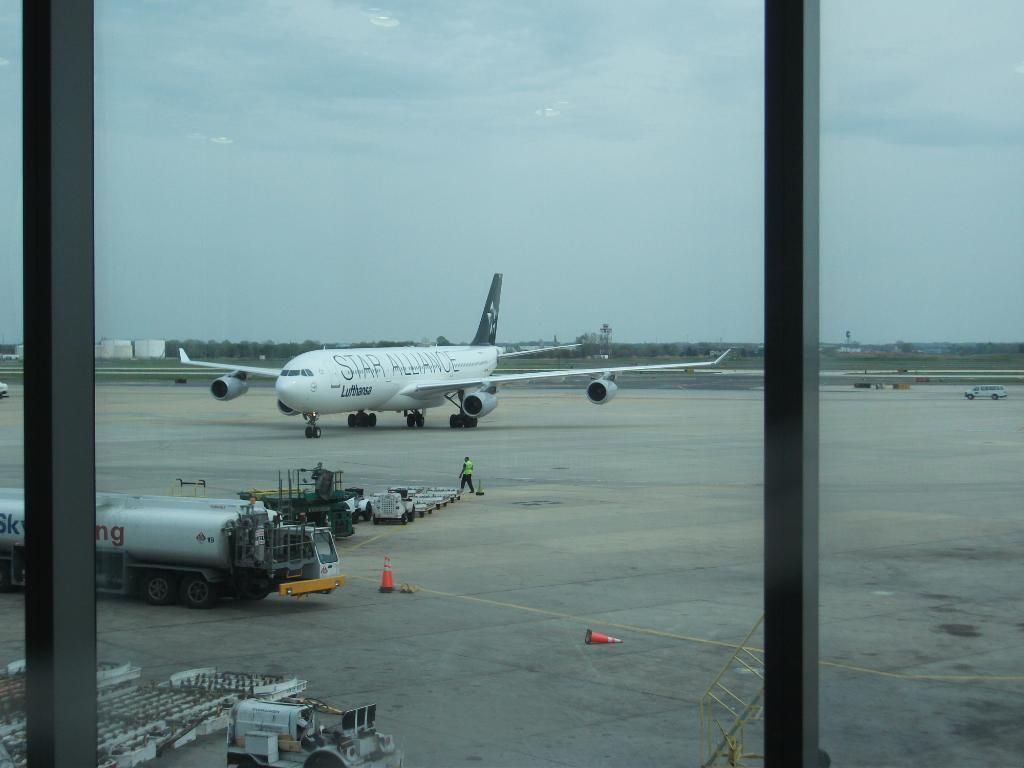 Next was Terminal A East, a more subdued domestic version of the crisp and modern international hall. (It's the former international terminal.) Still, it showed flashes of goodness that the E Gates couldn't come up with. You may also note the same concrete construction here, but a lot of it is covered by things like ceilings and walls and lights.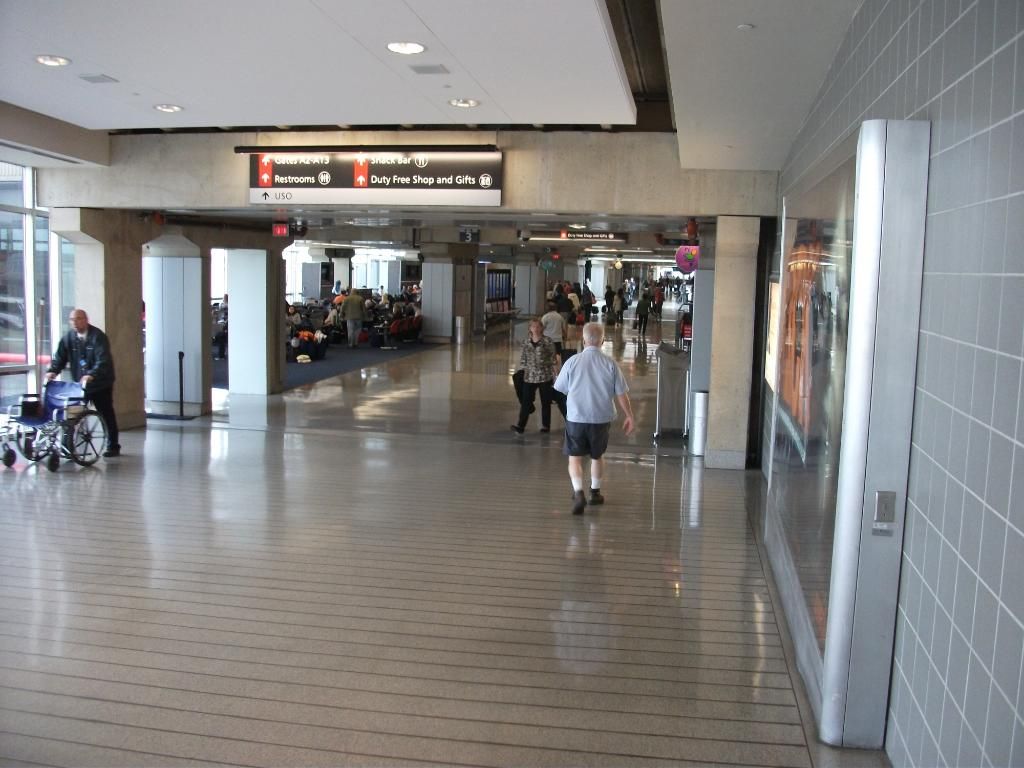 Good night, and keep watching the skis. Uh, skies.