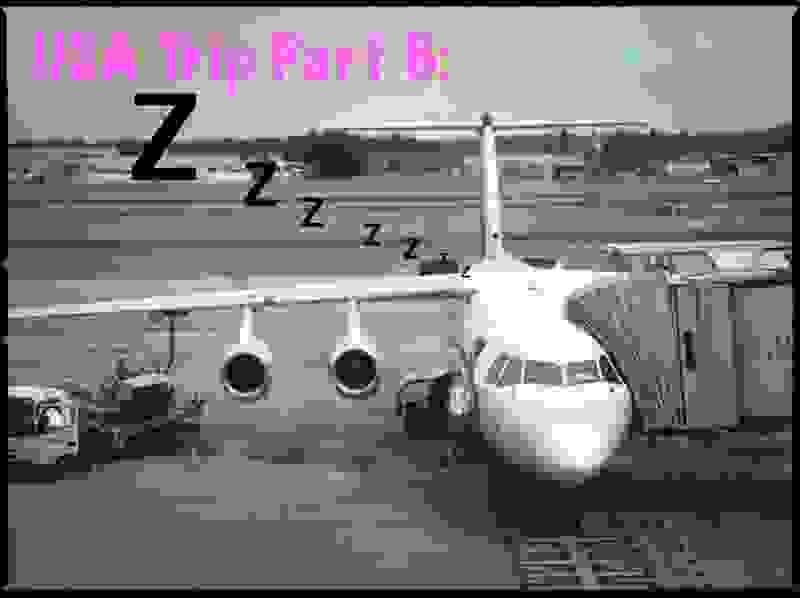 Introduction
My summer 2012 US & Canada trip is nearly finished. Here's the last real part that covers the three flights to HEL from BRU airport.
For the earlier parts, see these:
- Part 0:
US Trip 2012 Part 0: Prologue (JYV-TLL)
(by
FlyingFinn76
Jun 12 2012 in Trip Reports)
- Part 1:
US Trip 2012 Part 1: Warming Up (HEL-TXL-BRU)
(by
FlyingFinn76
Jun 20 2012 in Trip Reports)
- Part 2:
US Trip 2012 Part 2: Oh (Air) Canada: BRU-YUL-YYZ
(by
FlyingFinn76
Jun 26 2012 in Trip Reports)
- Part 3:
US Trip 2012 Part 3: JetDashBlue (YYZ-EWR-FLL)
(by
FlyingFinn76
Jun 30 2012 in Trip Reports)
- Part 4:
US Trip 2012 Part 4: DC: Delta Comfort FLL-ATL-DCA
(by
FlyingFinn76
Jul 5 2012 in Trip Reports)
- Part 5:
US Trip 2012 Part 5: B.transatlantic
(by
FlyingFinn76
Jul 9 2012 in Trip Reports)
Booking these flights was already covered in the prologue part, so no need to go through that again.
The route: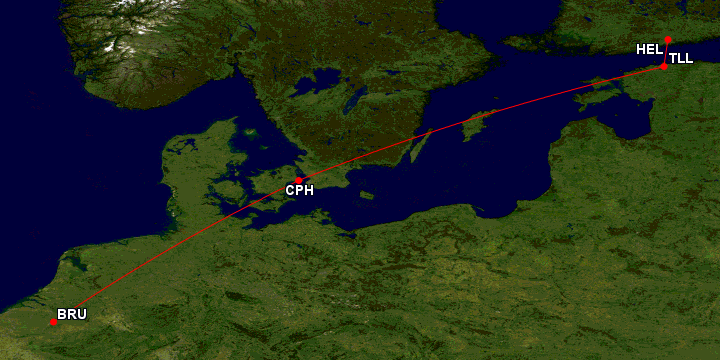 .
Tuesday 19.6.2012
This part starts right where the previous part left me - having just received my bag at BRU airport after arriving from JFK onboard the Brussels Airlines' new JFK-BRU service.
Getting my bag I head through customs (no issue, as always in Europe) and one level up to the check in hall. The same old story as always on the road - did OLCI, need boarding pass (oh and I also want to drop my bag off). The SN Business class/Star Gold check in desks are completely empty and I get a very friendly lady who best of all is far, far more efficient than her colleague at the Air Canada check in desk the previous week...
I open the conversation with "I have an easy and a hard task for you, which one would you like to start with?"
She looks at me a bit confused but let's me choose. So I explain that the easy task is printing out my BP for CPH, the hard one tagging my bag all the way to HEL, showing her my Estonian Air confirmation printout. I am fully expecting SN and OV to lack any interlining agreements and thus the second task to fail, but to my surprise not only does it succeed (I think I saw a slight raised eyebrow at my weird itinerary, but no questions asked) but she is also able to print me a boarding pass for the first OV leg to CPH! Note that these are two completely separate reservations with no common PNR or anything - quite impressed by this actually! No BP to HEL, but well, I can always get that further down the road.
She shows me the baggage receipt to make sure I see it's been tagged all the way and finally sticks a sticker with a barcode to my boarding pass, explaining that it will allow me to access the Fast Lane - again impressive - I had no idea BRU even had such a facility!
Finally she sends me off with a very friendly smile and wishes for a bon voyage.
Next comes the famous "walk of Schengen" to the A pier along the funky tunnel: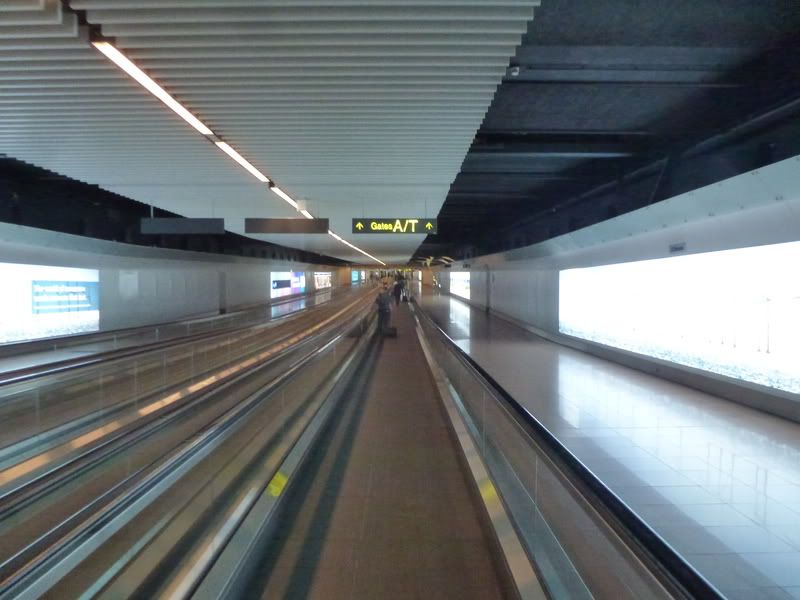 Ahh, so this is the Fast Lane: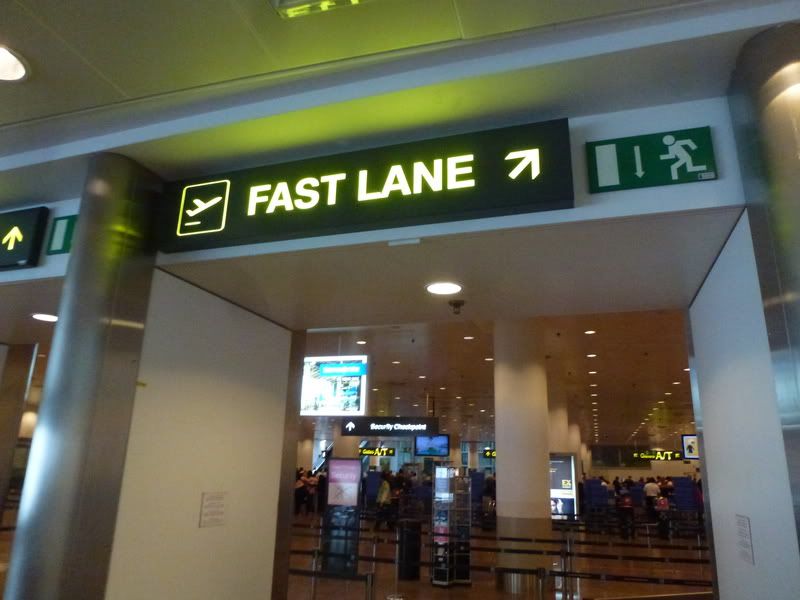 To enter one scans the barcode on the door and open it snaps. And nobody in queue either, so nice: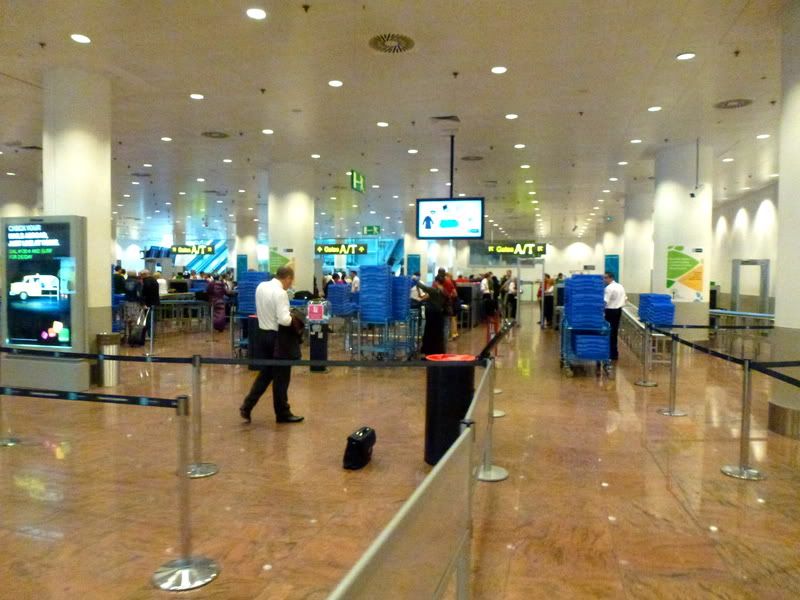 It is nice to be back in Europe at least for the security screeners - the guys here are friendly, smiling and even joking with you - not automatically assuming that you probably appeared at one of the 52 "Iraqi most wanted" playing cards the "coalition of the willing" was distributing back in the days of the hunt for Saddam or at least a public enemy number one. Oh and I get to keep my shoes on, the things we take for granted these days...
Next stop: shopping. For a certain celebration and as gifts I need to bring back quite a lot of... chocolate, what else: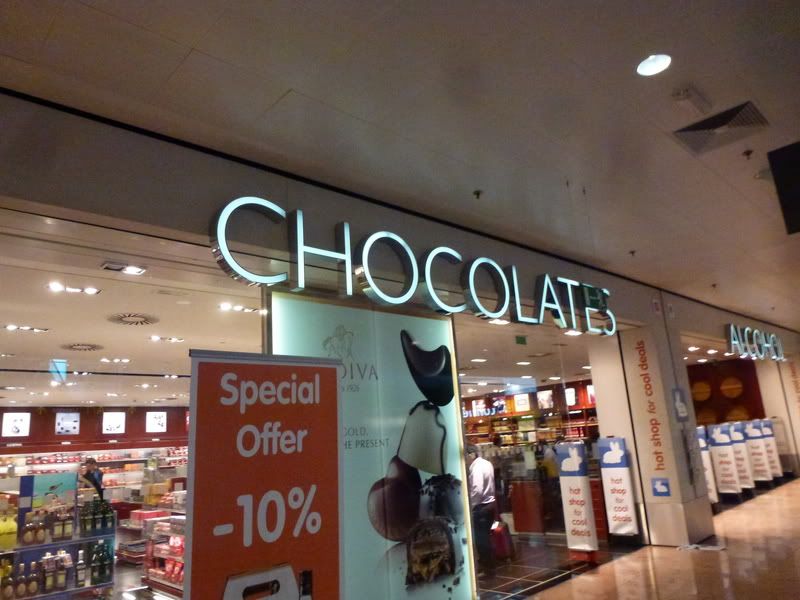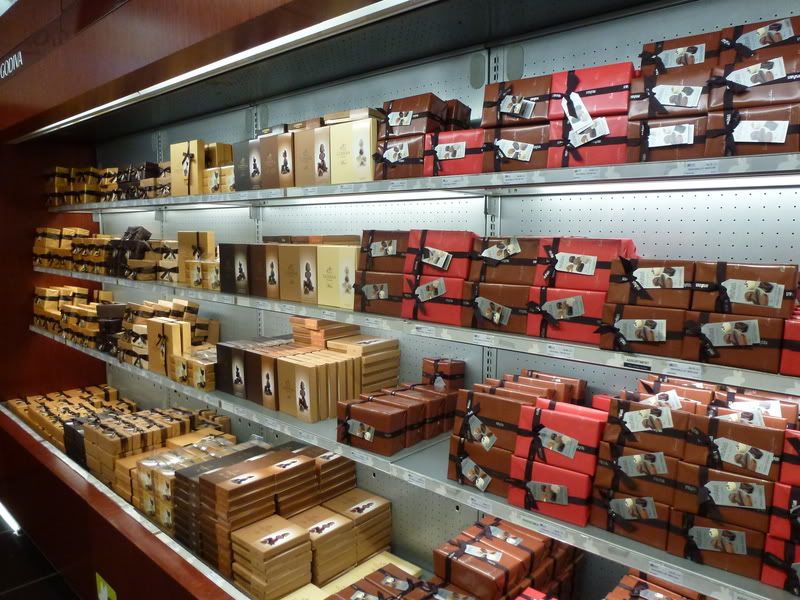 After buying so much choccies that I have a hard time carrying them I head to relax and wait in the lounge - despite the inbound delay and all I still have almost three hours to go. Three lounges to choose from - SN's own one, the SAS one or the generic one accessible with Diners which has the bonus of being unstaffed and thus allowing you to be a complete hog and stuff your carry on bag with Stella (if you're a British wifebeater). I go for the former, with the (faux) assumption it would be good, being the "almost flagship" lounge of them and all that.
It is located in the same lounge complex as all the other Schengen lounges which is bad as it means that the toilets are located outside the lounges in the public area. I actually almost manage to lock myself in a booth there! I find it weird that Finnair uses this lounge too - surely their OW buddy Iberia could cut them a better deal:
There's something good about this lounge - the apron views between the A and B piers: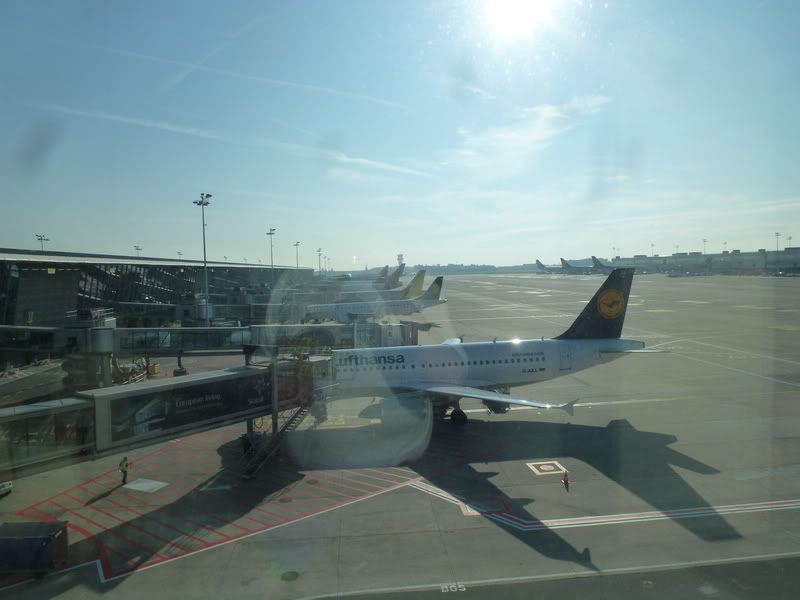 Oh, and they have some nice Belgian beers there.
That's pretty much all the good parts - the bad parts are more numerous. It is packed, lots of German business traveler types, the food offerings are minimal, thanks to the large windows facing east it is hot with the morning sun shining, the wifi requires you to keep getting new access codes once the previous ones expire and the furniture is ugly. Oh and did I mention about the toilets being outside the lounge?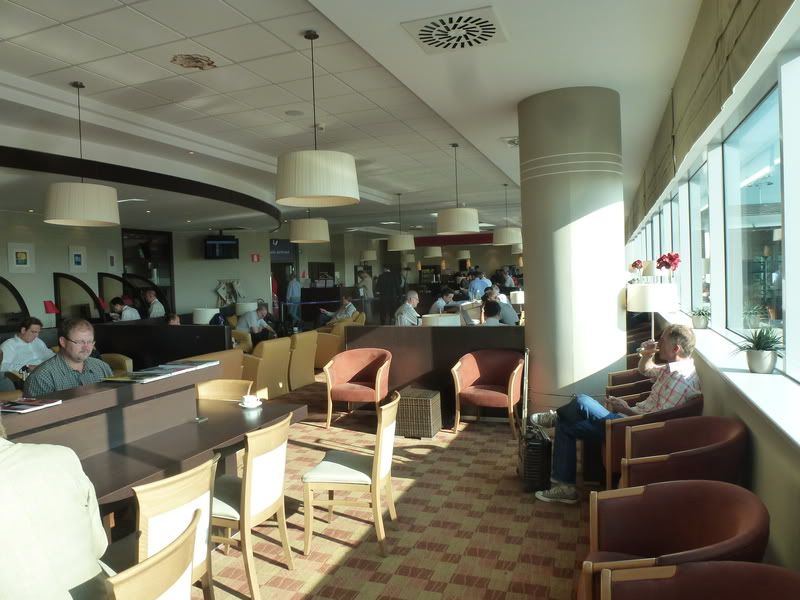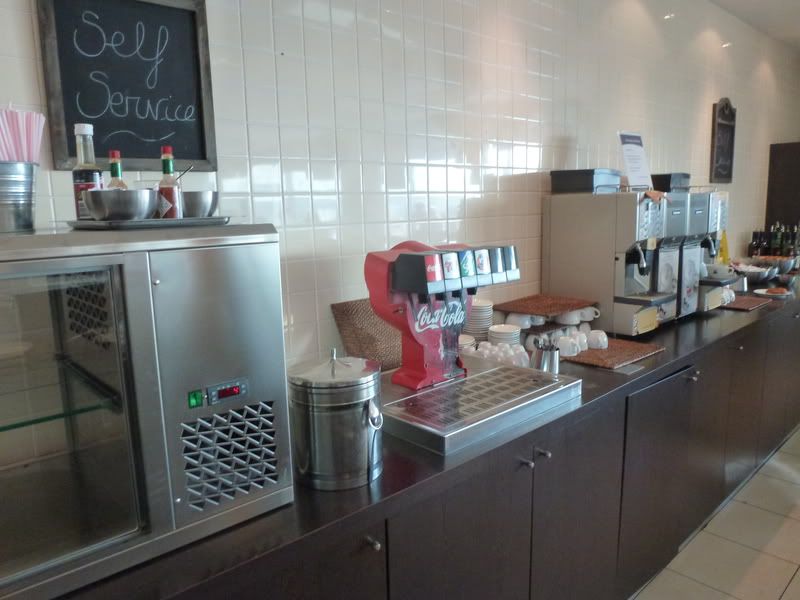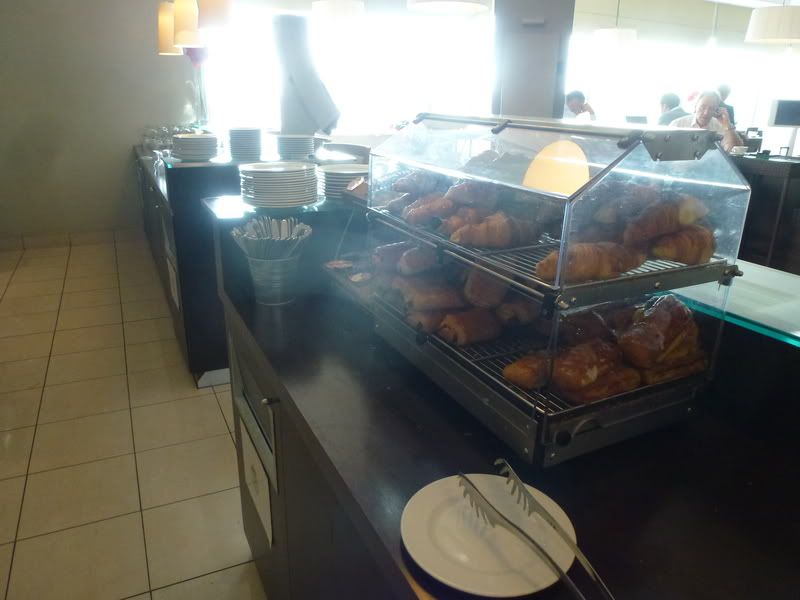 Cheese, yum: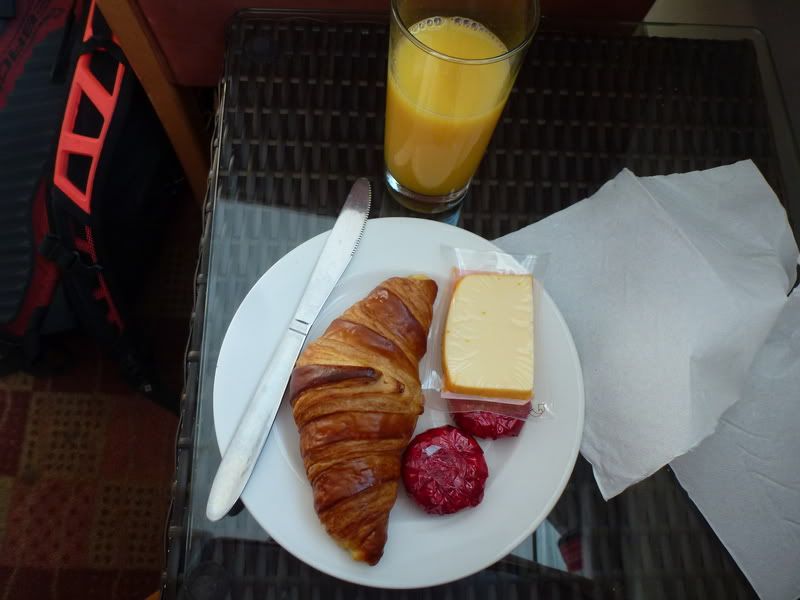 Well, I'm too lazy to play switcharoo and to try out the SAS one, once the FRA and MUC flights go out it gets much more relaxed when the Germans disappear.
The Jet scissor hub operation at BRU is most impressive: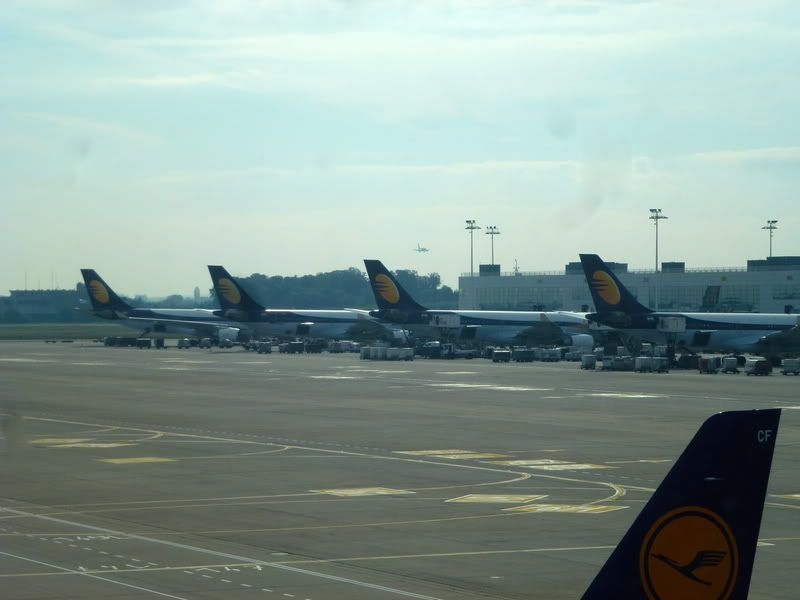 Do they really have to rub that in your face: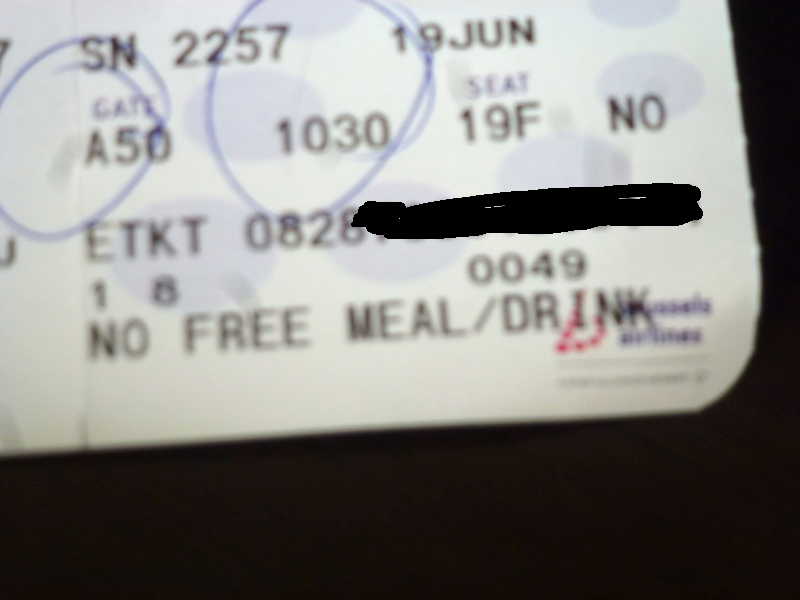 The alternative way to CPH: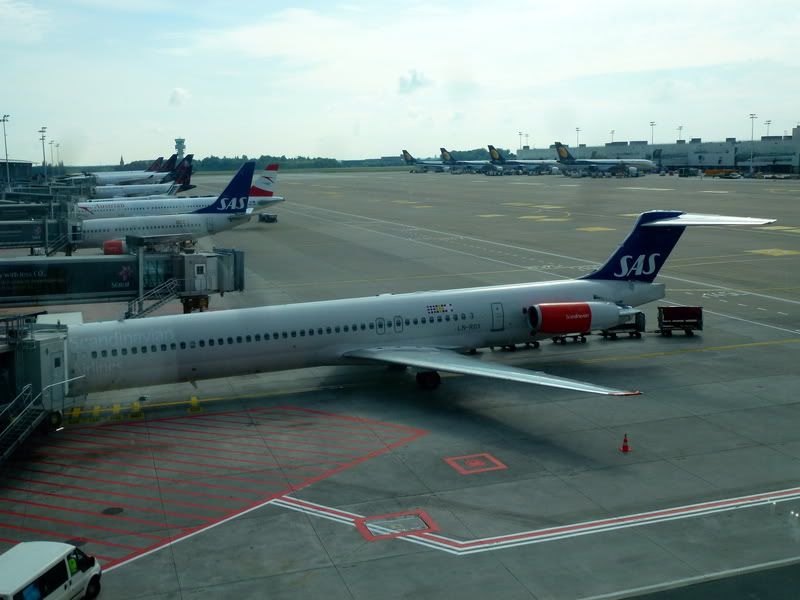 Interesting reading material - a heavy metal magazine and a Swedish one to boot (I'm pretty sure this is not part of the standard offering here but was left by a guest, maybe even Jonas himself):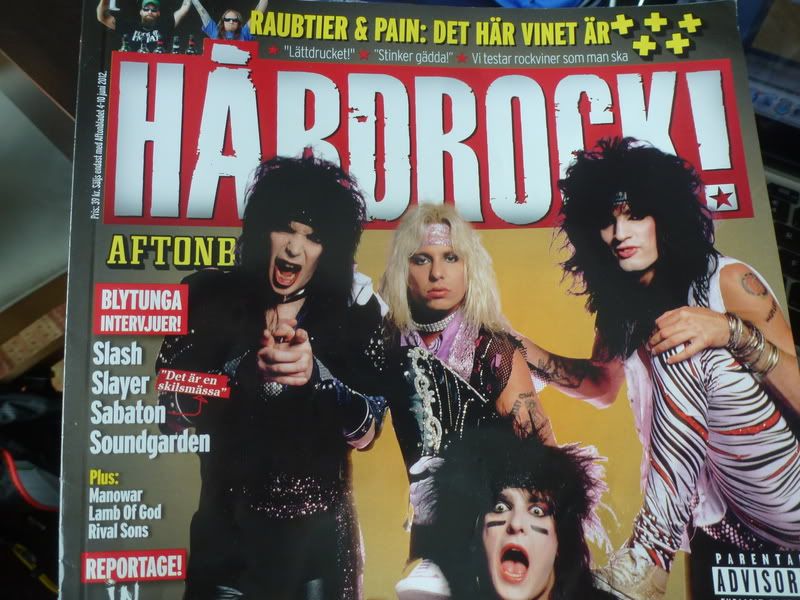 Deja-vu - even the gate is the same one where I left from: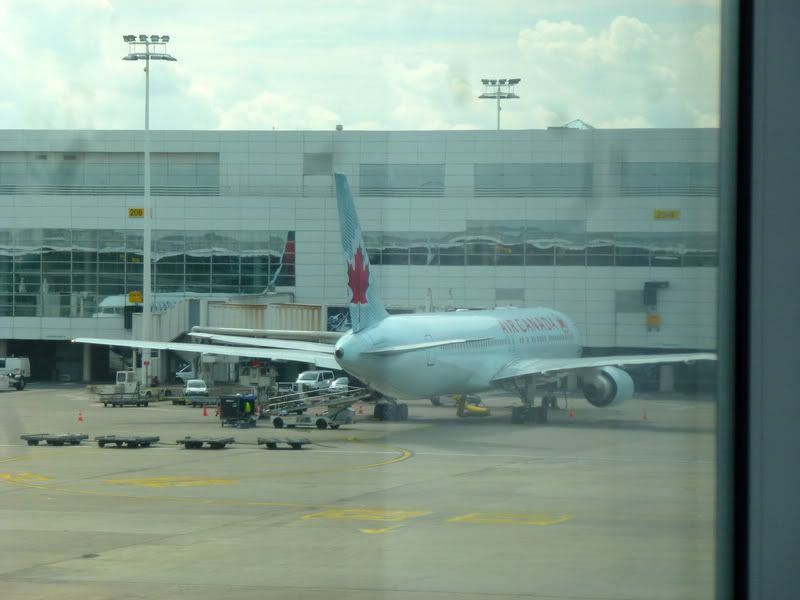 Doing some TR work makes the time fly and before I know it two hours have passed. Half an hour before departure I decide to head to the gate.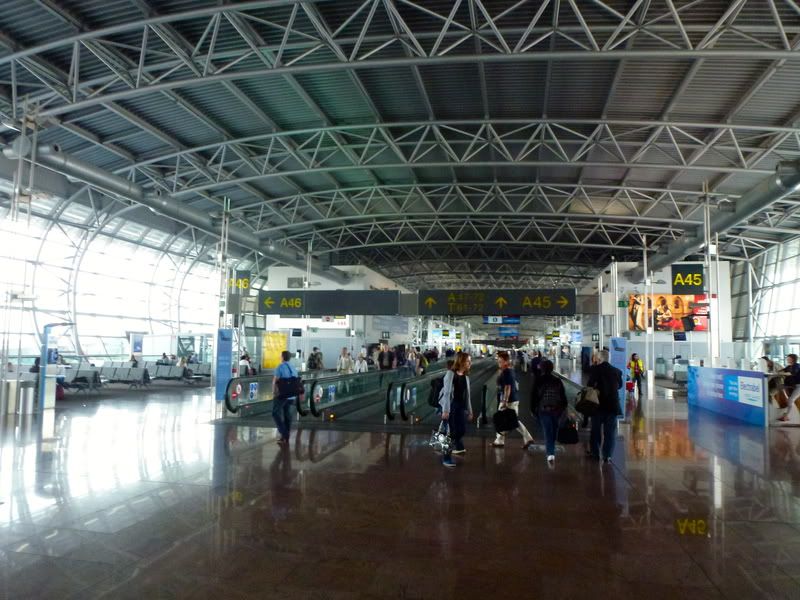 And what do I see there: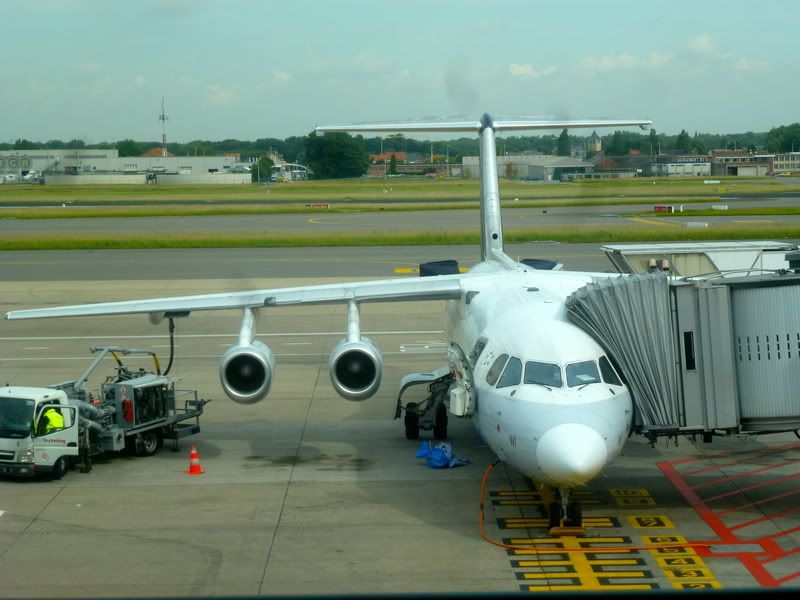 Yes, I originally booked this flight because it was scheduled to be an A320 and I quite fancied trying out SN's take on one (and it was very cheap as well which too was a factor). Well, some months later it got changed to an Avro 100 and here it indeed is, bugger that.
Well, not only is it an Avro, but look at this:
Heck, it's even the same Avro , -DWI that I flew to BRU with last week! How very disappointing.
This flight carries tons of codeshares - this was the most exotic one: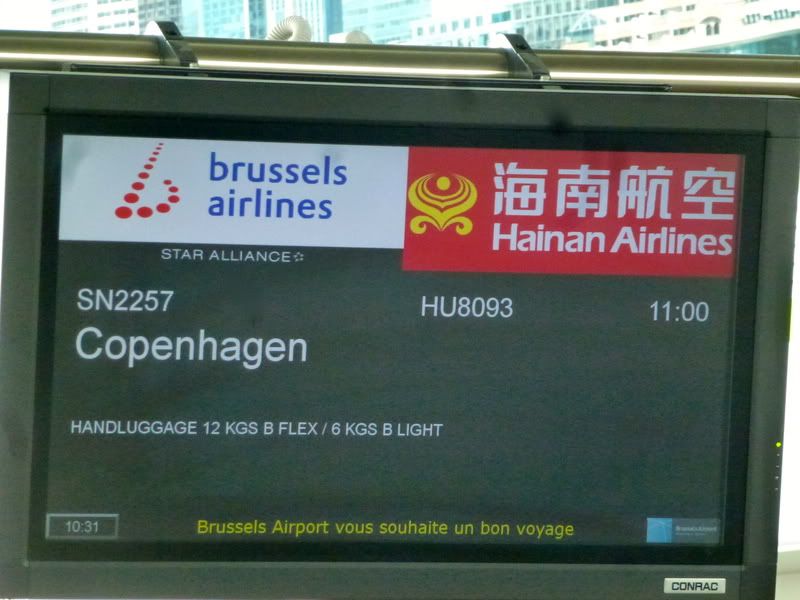 Boarding is soon called. I hop up and head to the head of the queue even before the girl has fully finished her speech. She mentions that business class passengers and Star Golds have priority boarding available for them. Just as she is about to welcome me to board as the first passenger a Belgian suit cuts in front of the line with that oh so self-important DYKWIA stance and says very loudly (to make sure all the passengers hear him) "BUSINESS CLASS!".
I give his back a stare that could melt chocolate, roll my eyes at the gate agent and proceed onboard as the second passenger.
BRU - CPH
SN2257
ARJ-100 OO-DWI
Seat 19F
10.59 - 12.25
Well well, entering the plane what do I see. The few rows of business class are completely empty and the obnoxious guy is sitting in middle of the rather sizeable b.flex part. When I get near him I look him directly in the eyes and say very loudly "Oh, they put
business class
in the middle of the plane nowadays!". I could swear the guy turns crimson red and wishes he could vanish into thin air.. haha, serves him right!
After my last week's flight I decided not to sit on the last row of an SN Avro ever again as there was no recline and if the passenger in front of you reclined it made things very cramped. With this in mind I deliberately picked the second to last row, 19 from the OLCI. So what a surprise - when I get to my row 19 I see it indeed is the last row (there's also the back galley FA's make up kit on the middle seat which I ask her to take - quite unprofessional IMHO).
Then I realize what the matter is - row 20 has only AC and no DEF, at least on this particular bird. But on the OLCI seatmap row 20 was shown as having the whole five seats, also the DEF side. So that confused me sufficiently and I thought 19F would be on the penultimate row.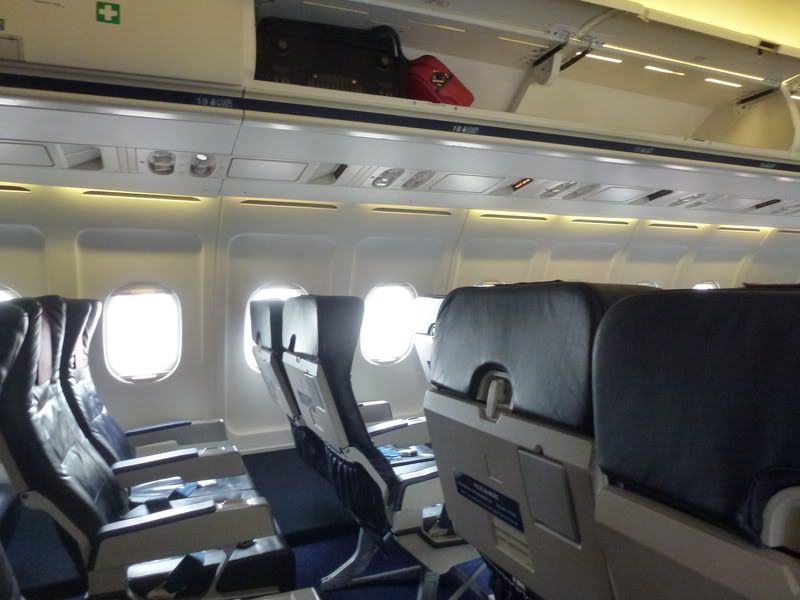 Well, that doesn't matter too much in the end - b.light is only half full and I get the whole three seater for myself. A Danish girl (no, it's not something you eat for breakfast) sits down on 18F, if you remember part 1 that seat is broken and it doesn't stay fully upright if someone sits there, reclining on my lap. I point this out to her and she offers to move. I say that 18AC are both empty so she could go there to get herself a window seat but she moves to just 18E, the middle seat and says it is fine. I say thanks and point out that now she has windows on both sides of her which makes her laugh.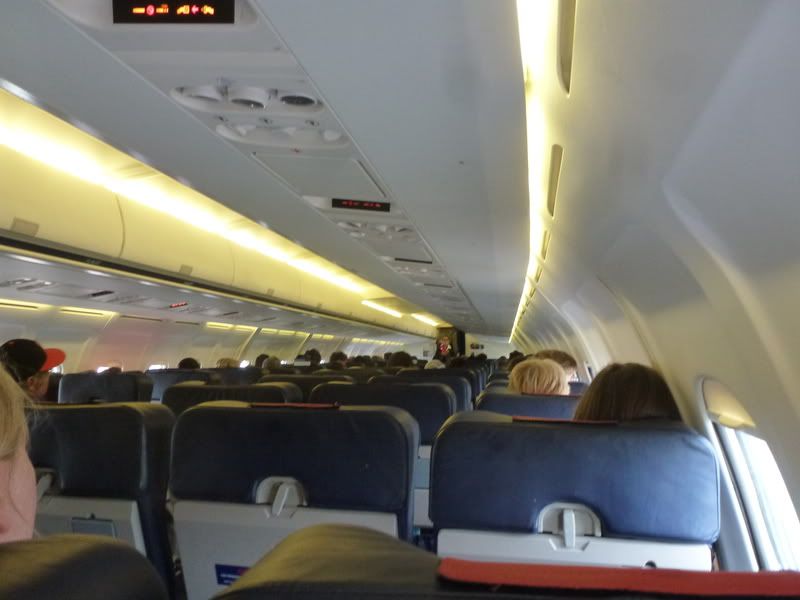 The flight time is announced as 1h15mins and pushback is a minute early.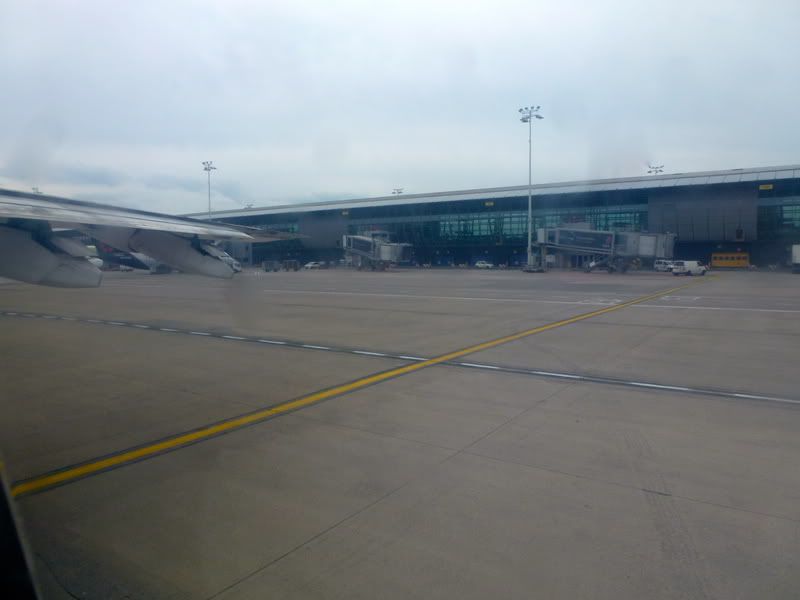 Well, no matter how much you love flying (and I most certainly do!) there are moments (like right now when the lack of sleep starts to kick in) when you secretly hope you'd just gone the nonstop way: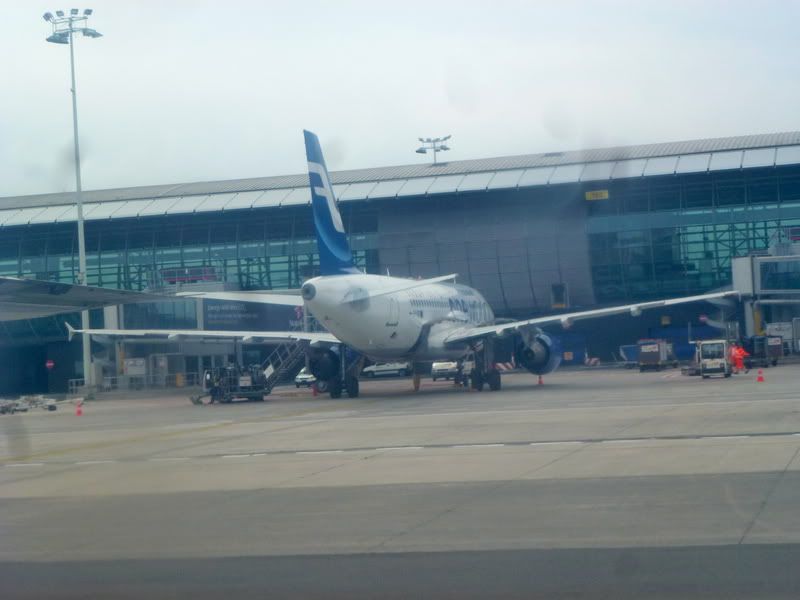 Taking off from 25R: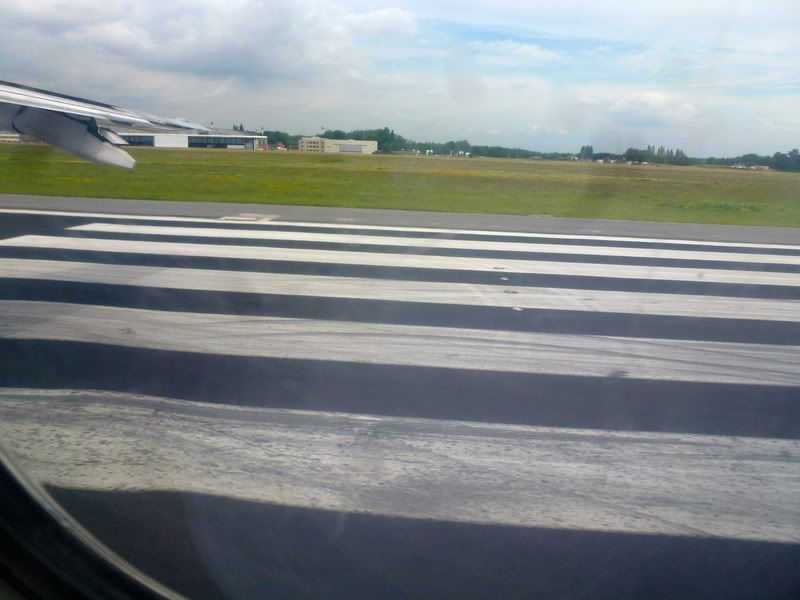 Where did the nice morning sunshine go: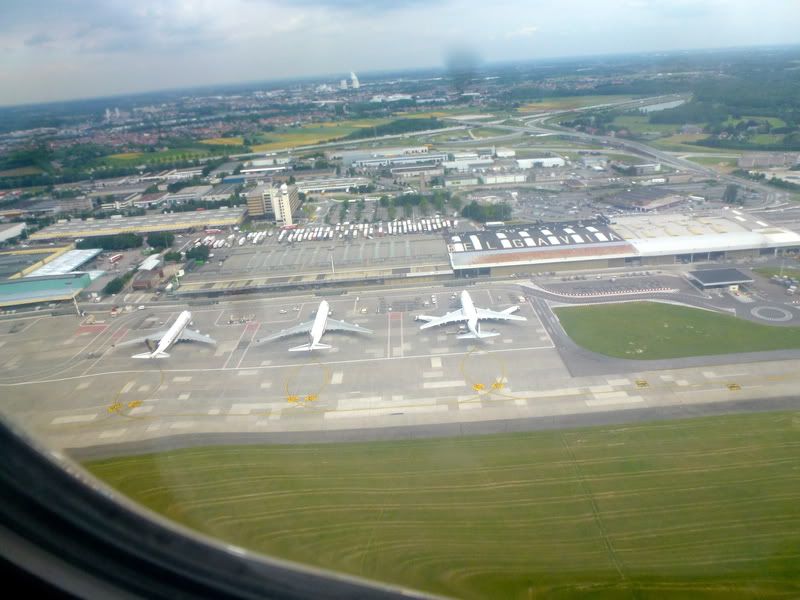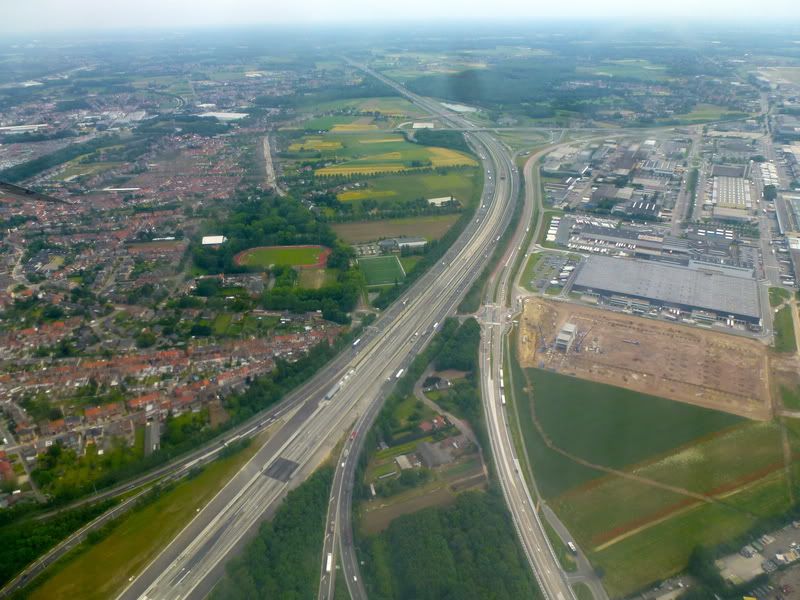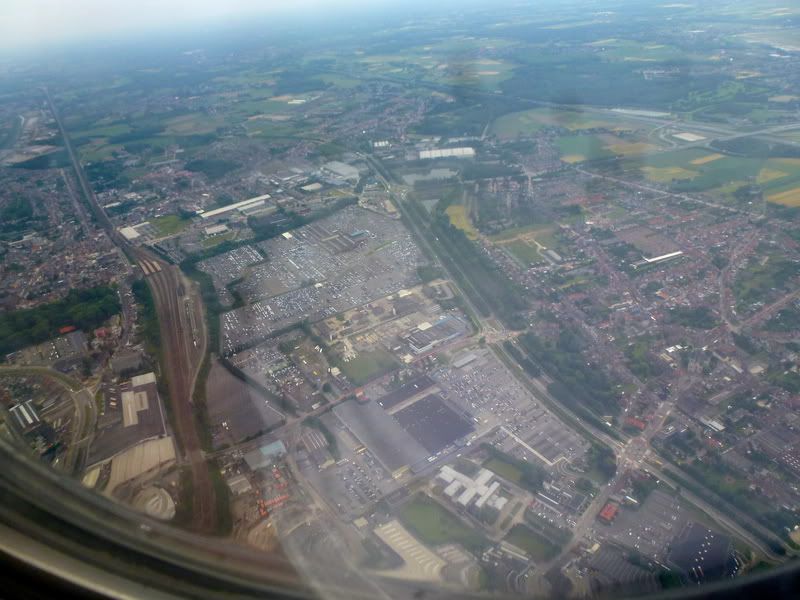 A mini powerplant of some sorts: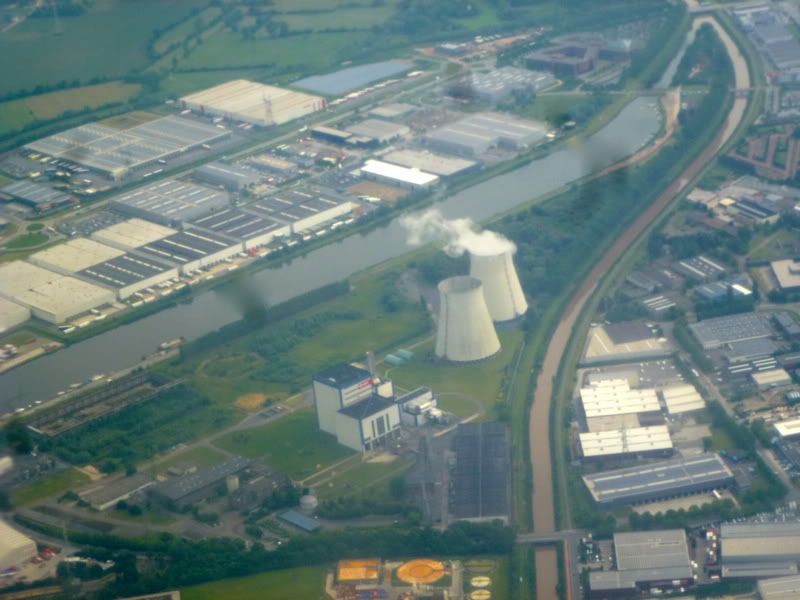 The jetlag and lack of sleep kicks in with a vengeance and after going through the clouds I crash. Big time. The next thing I know is I open my eyes and we are on short finals for 22L at Kastrup: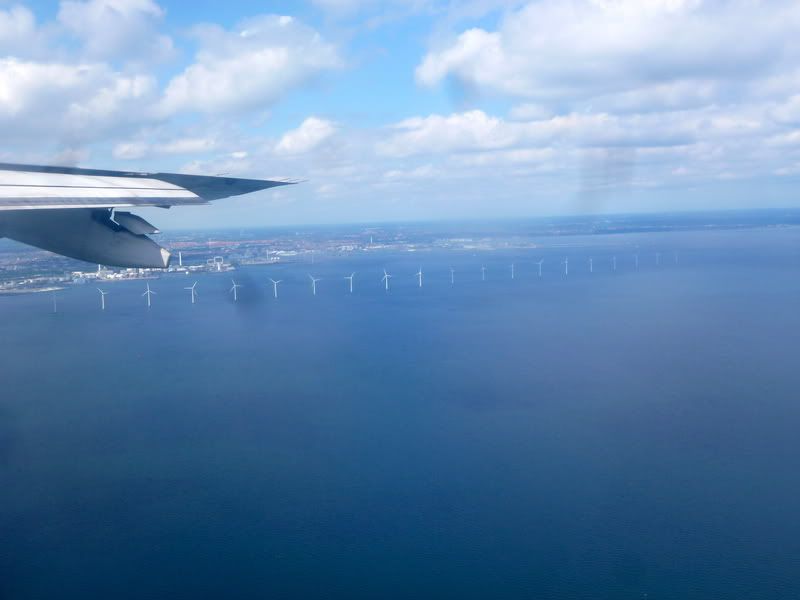 Man, that was a fast flight!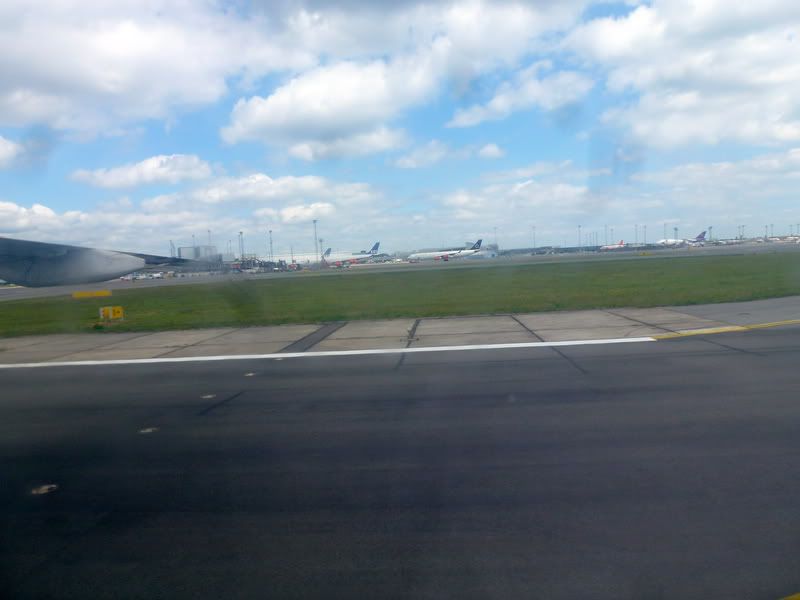 Copenhagen Kastrup Airport
Maybe I should try an AC 767 one day: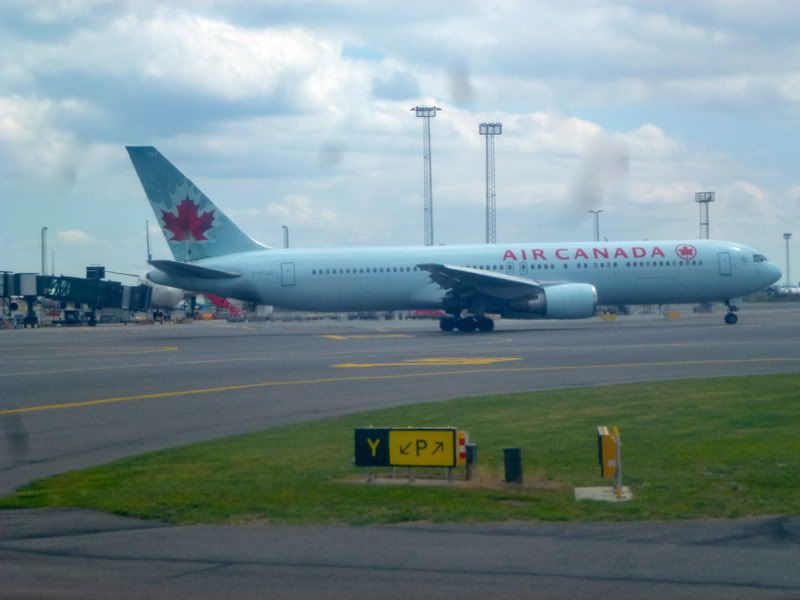 Exciting - Air Atlantic's new A319 in the new gorgeous livery is parked at the B pier: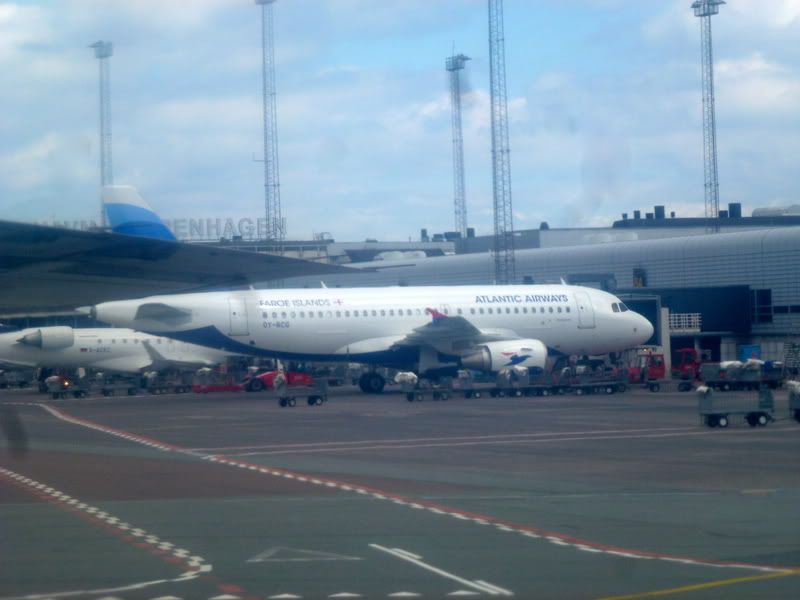 After we stop at a jetway on the A pier and I get up I notice the back galley FA is looking at me curiously. I say "Wow, I was really tired - slept like a baby" and she says "Oh I could see that!" and smiles. I wonder if there are small dribbles of drool on my chin or whether I snored but say "It was a great flight for sleeping, thank you!" instead.
Bye: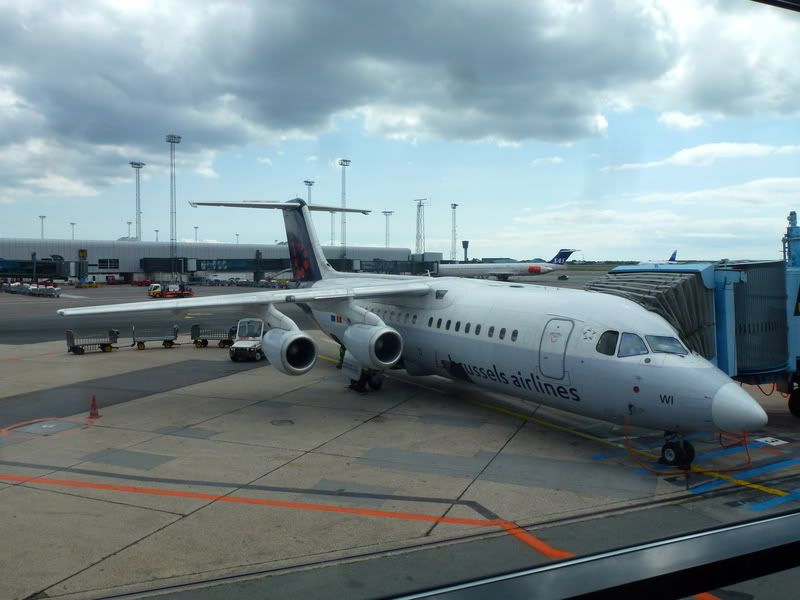 My plan was to hurry to a good vantage point to shoot a better photo of that RC A319 but unfortunately it has already pushed back and is departing, so this is the best I can manage: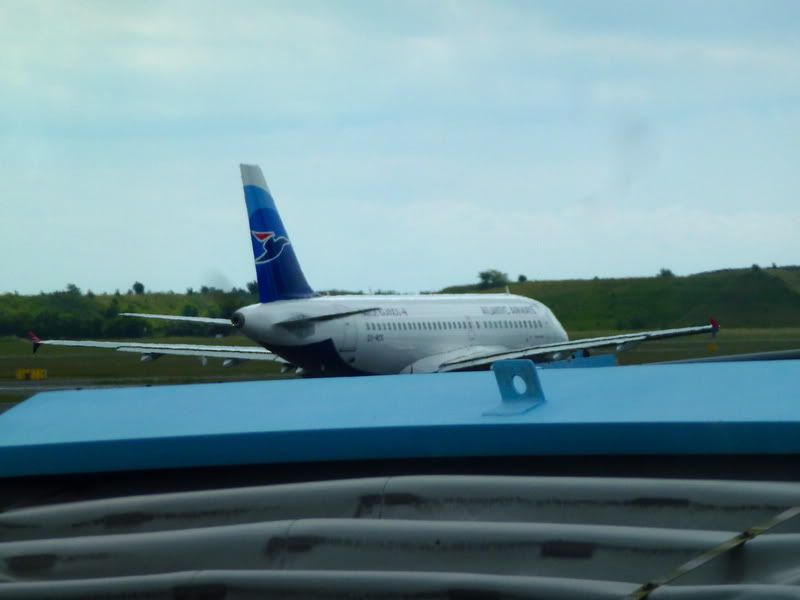 The long walk to the Scandinavian Lounge wakes me up a bit and offers a welcome chance of stretching my legs. Once inside I exchange my boarding pass to a key to one of the daycabins they have there. I actually thought they had removed the cabins, but on our last visit here me and AYA333 noticed that they indeed are still in use.
The daycabins are a relatively little known feature of the Scandinavian lounge - any passenger qualified to access the upper deck can ask for one, they are offered on a first come, first served basis. I think there are only three of them. The cabin consists of a small room with a bed: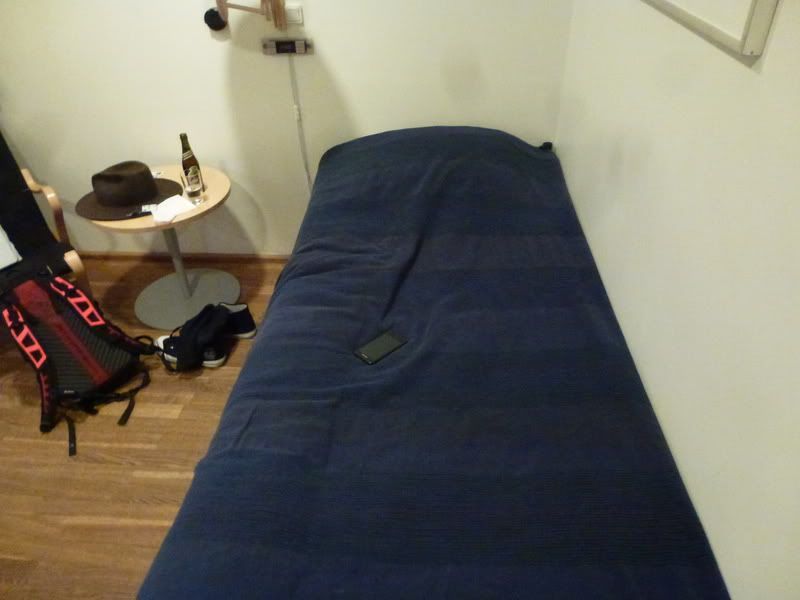 There's also a separate ensuite bathroom with a shower: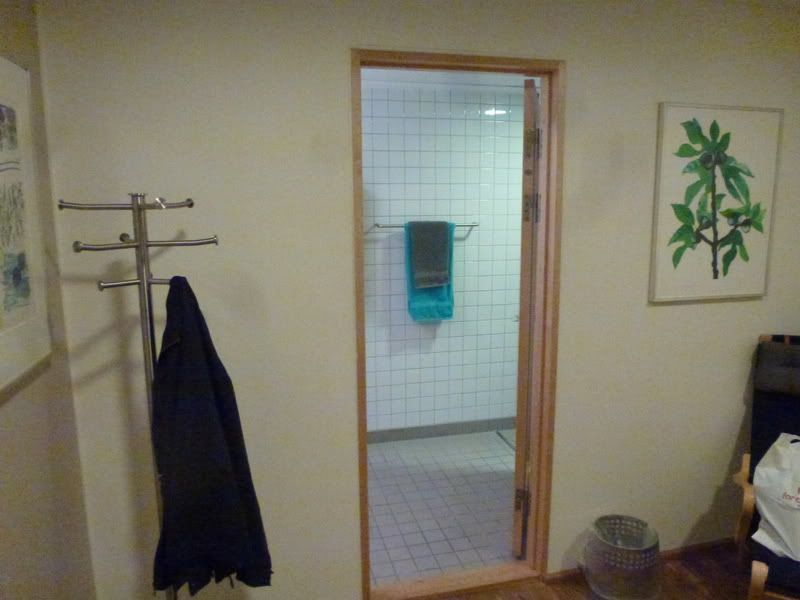 A mirror is provided for those metrosexual Jonases wanting to groove themselves to the max: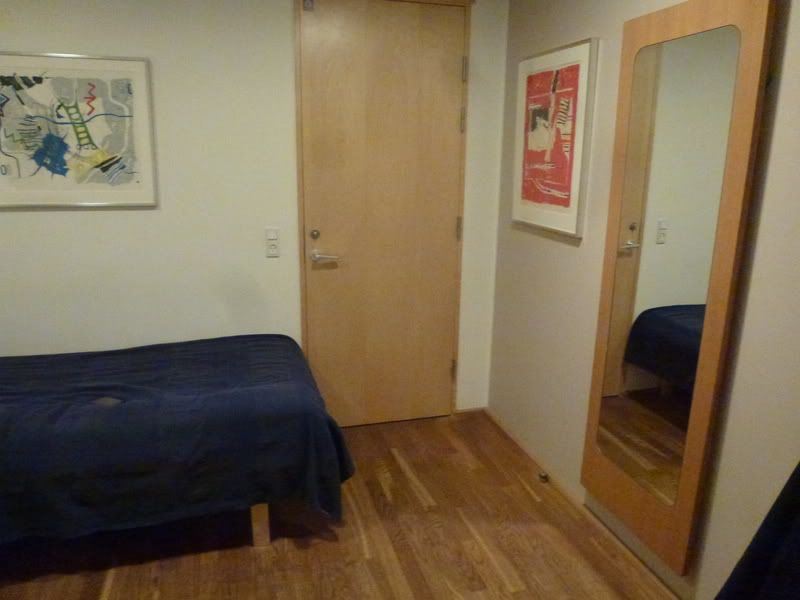 Fresh towels: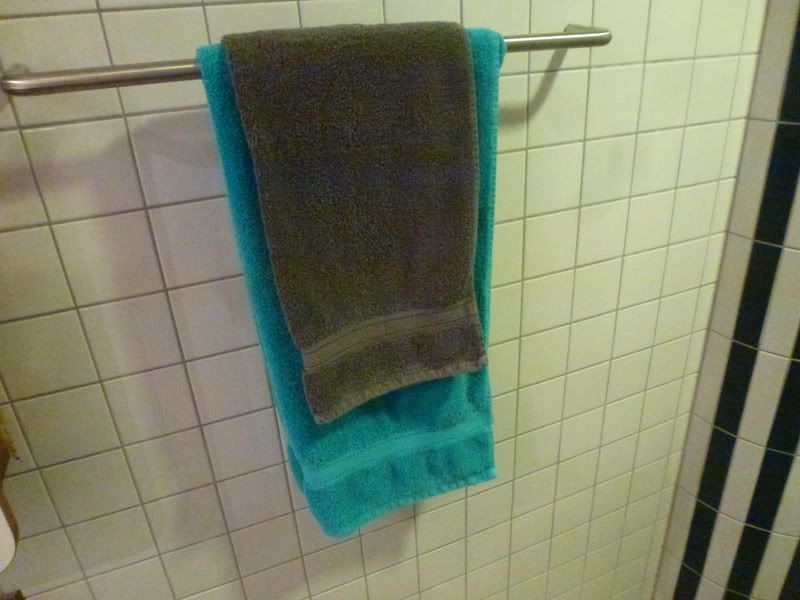 I contemplate about taking a shower but since I don't have any clean clothes to change it would be a bit pointless anyway and decide to rough it until home. Instead I do a bit of refreshing up and catch another 45 minutes of light sleep. Feeling slightly hungry I pack up and head to the buffet area to get some nibbles: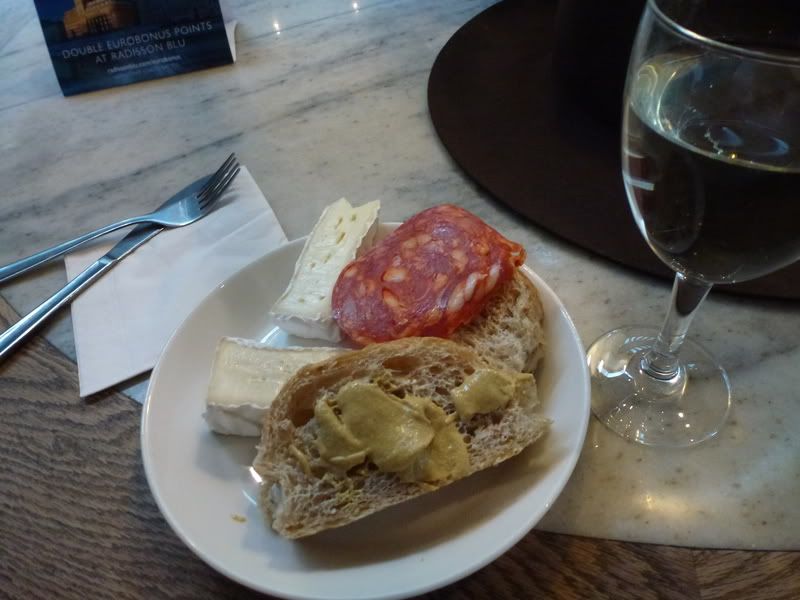 Soon it is time to head to the gate which is the same one where I arrived earlier. The expected E170 is already parked there and yes, it does look absolutely gorgeous in this livery: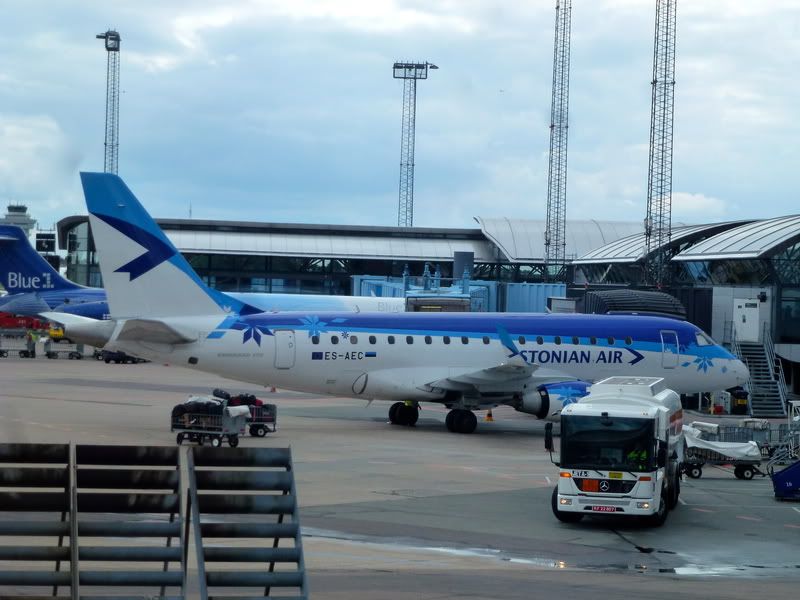 Buggy FIDS: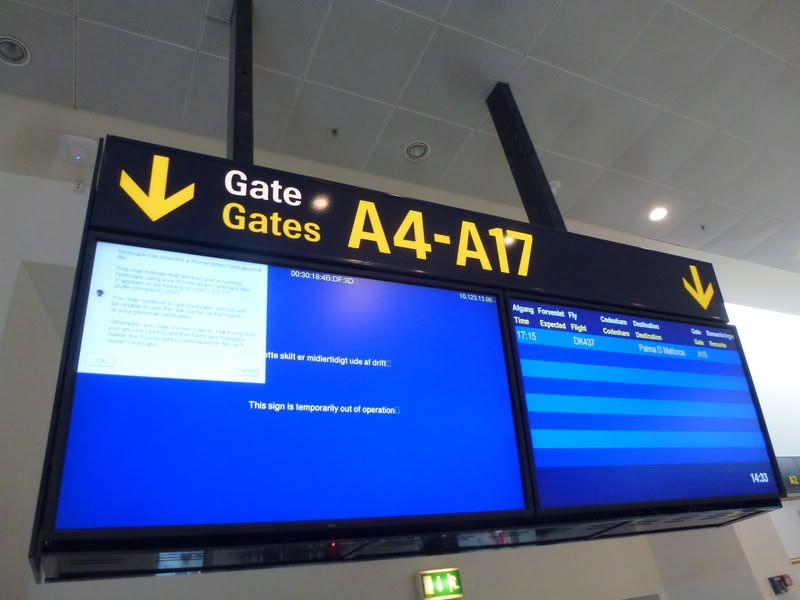 I actually have an aisle seat assigned for me and decide to try to get that fixed.
The gate agent says that there are no available window seats anymore, but after a bit of typing she says that there's one passenger with a preassigned window seat who has not checked in and unless he checks in within the next five minutes that seat, 9F is mine. I say that I'm willing to sacrifice myself and take 2A for example - she laughs and says that if only they had two more economy passengers the they'd be overbooked and she could give it to me. Well, you have to keep trying, don't you?
I ask whether it could be possible for her to print out my TLL-HEL boarding pass as well. She says that yes, but it means she would have to unload (i.e. cancel my check in) me from this flight and then check me in again. I say "Sure, why not, please do it." and after some typing I hear the familiar (and usually a very warmly welcomed) sound of a pair of boarding passes being printed. She hands me these. Now I've done (or more like asked check in staff to do) this trick many times in similar situations and it has NEVER gone smoothly when I've had checked luggage so I show the agent my luggage receipt and ask her to make sure my bag is also registered with the new check in. She assures me that yes, everything is kosher (which we will soon see was anything but..).
Let's take a closer look at the ride-to-be: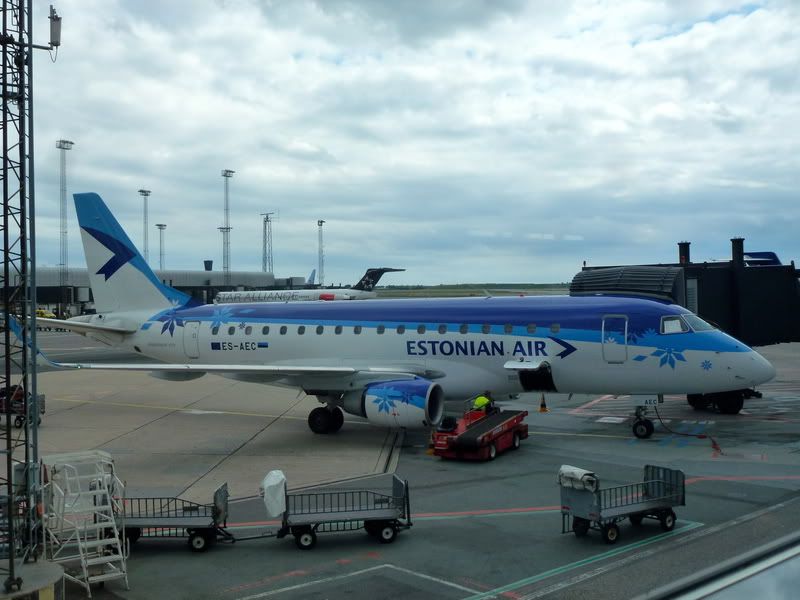 ES-AEC, a new reg for me, but unfortunately not a new frame for me by a long shot. You see in her previous life when everything was still good with Finnair she was known as OH-LEG, a bit of a leg queen in my log as I've logged seven legs with her. Oh and three of those have been on the MAN-HEL route, how odd is that?
The call for boarding wakes me from my daydream about Mancunian legs and once it is my turn the agent says "You got lucky, 9F for you" and even scribbles it down on my boarding pass.
CPH - TLL
OV144
E170 ES-AEC
Seat 9F
15.02 - 17.20
A young, rather disinterested male FA on the front door.
A young, rather (or more like exactly) Finnairlike seating arrangement all throughout the cabin:
Yes, the good old Finnair seats are everywhere: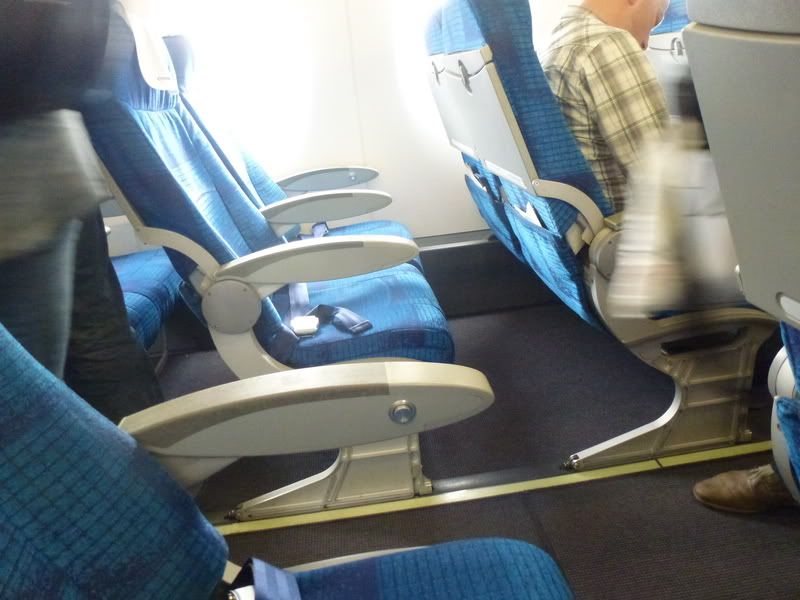 A nice winglet: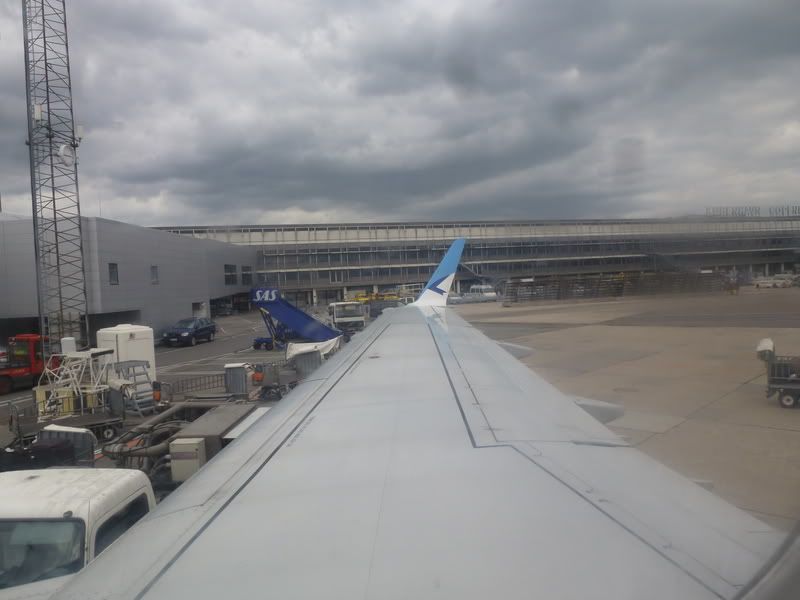 And then it happens. I get a seatmate. Well, nothing weird about that, it is an almost full flight anyway. But the thing is my seatmate is a real Chatty Cathy. She is American. From the South, living in Atlanta. With family in Tennessee. Spent two weeks in Denmark on business and is now heading to Estonia for a bit of R&R before heading back to the States. The Danes are so inflexible with poles up their arses (I don't agree with this, I think she is mixing up the world's most laid back folk with the process-obsessed Germans!). This all I learn within the first two minutes of our acquaintance. And it keeps going on...
So yes, we chat. A lot. I nicked a Finnish paper from the lounge and try to read it every now and then but she is just too damn chatty. But she is nice. So we chat more. It is actually quite nice, since I'm tired and can't really focus on anything so a lot of mindless chatter is a good way to give at least half of your brain some rest. Muffins are offered at some point. I decline and offer her the chance to have mine. She is taken by this chivalrous gesture but refuses. A girl has to watch her lines, you know.
Somehow she ends up doing at least 75% of the talking but it is allright. My "Umm", "Oh yes?" and "Really?" she considers to be proper conversation so I'm golden.
Thanks to this I shoot only a couple of photos and make only cursory notes about this flight, sorry.
Pushing back 2 minutes late - looks like RC has already reliveried (hey, I came up with a new word here!) the Avros too: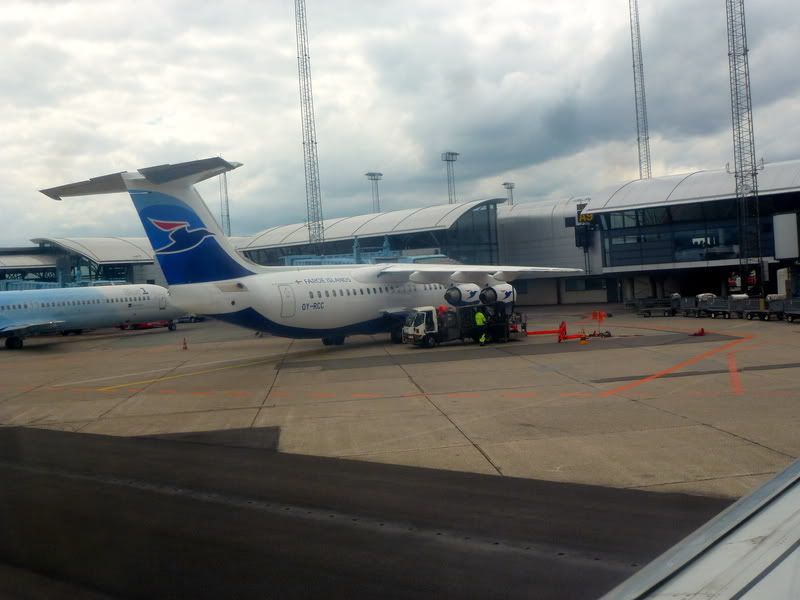 Must-have-a-717-in-a-report (and one with the umbilical cord still attached):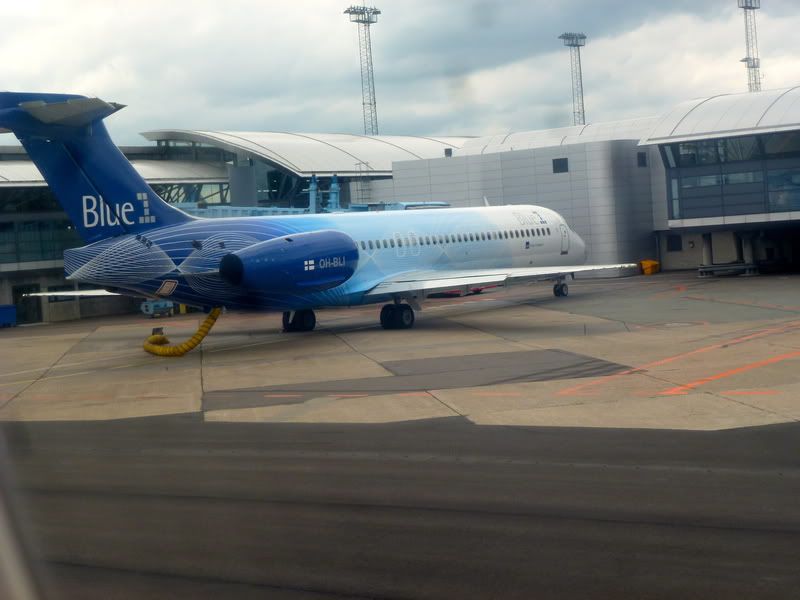 Heading for 22R: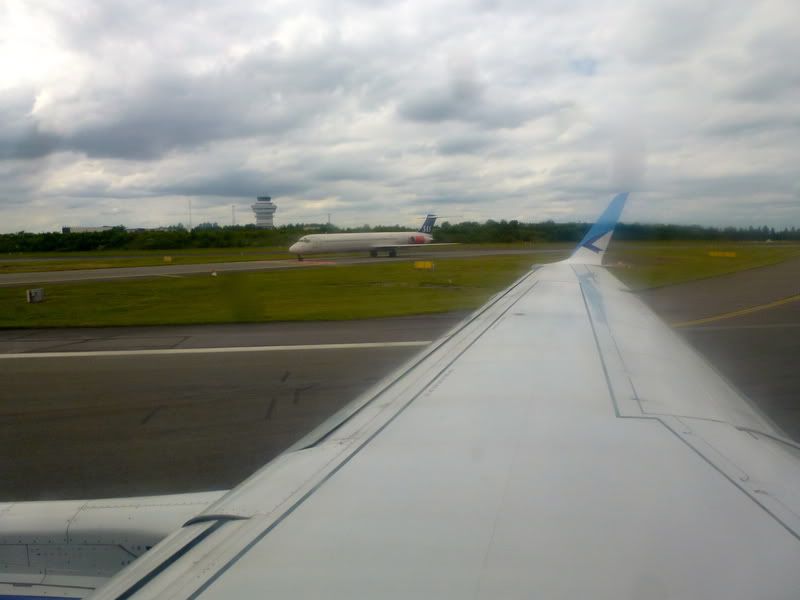 On short finals to TLL runway 26:
Tallinn Lennart Meri Airport
We get a jetway at TLL. I walk out of the plane, knowing now that Atlanta is just too damn hot to live in the summer time although they have some nice upscale shopping malls and that if you fancy an Australian boyfriend don't get anyone who's a roughneck for the mining industry and most definitely don't get anyone who works in Kalgoorlie, in the middle of the outback as you just can't keep up a relationship there. Seriously.
And just like that she wishes me a nice onward journey and disappears. For a while I'm thinking maybe my mind was playing tricks on me and I imagined the whole thing. Ho hum, I go to the lounge to recycle some liquids. It has been taken over by the Swedish Business Traveller Horde (TM) who are now eyeing me curiously, wondering if I could be assimilated into joining.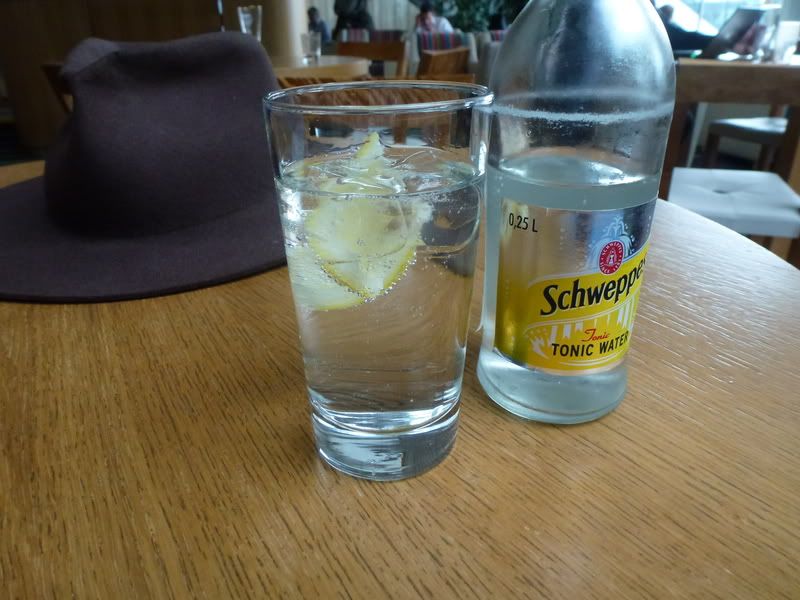 Luckily my boarding call comes right there - these 30 minute connections can sometimes be handy.
It is a Saab, so a bus ride. As is the norm here we sit in the bus waiting for some lost sheep far too long. I try to give the business travelers (luckily Finns, not members of the Horde!) a bad eye when they come in but only manage to get a sore eye for myself.
Then we drive. Eventually we end up in front of ES-ASN, the special a.net plane that does not carry a special livery to celebrate it as we are just too damn bad at PR.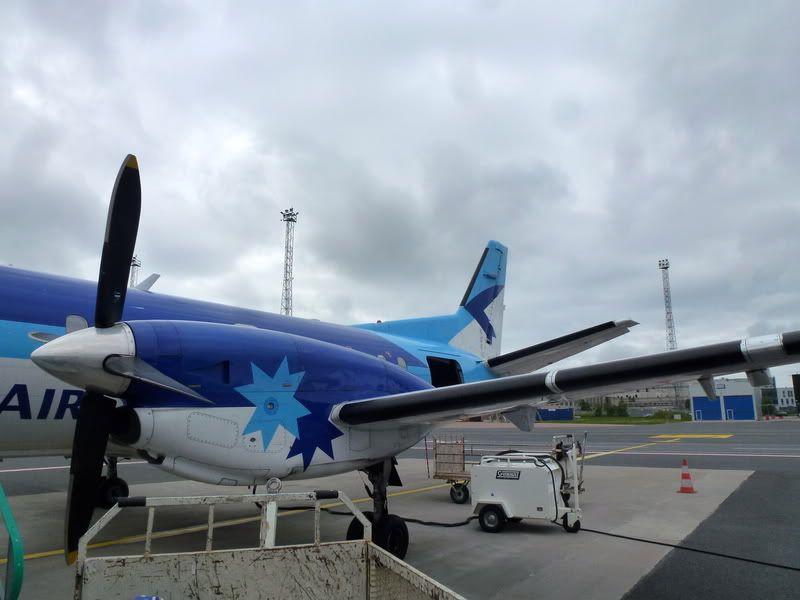 Leg number eight on this one, I need some new regs!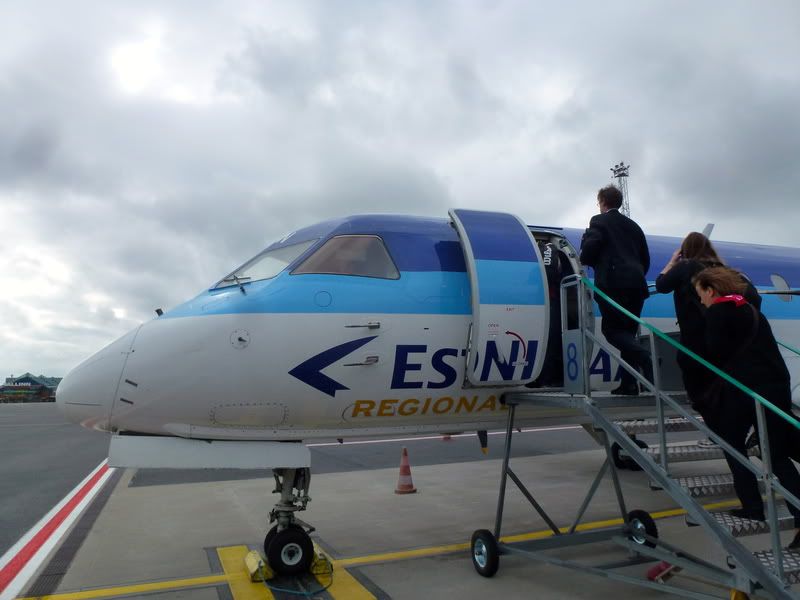 TLL - HEL
OV615 Operated by Estonian Air Regional
Saab 340 ES-ASN
Seat 5A
18.23 - 18.50
The dedicated a.net young blonde FA is not on duty this time - an older, darker and not quite so friendly colleague is covering instead.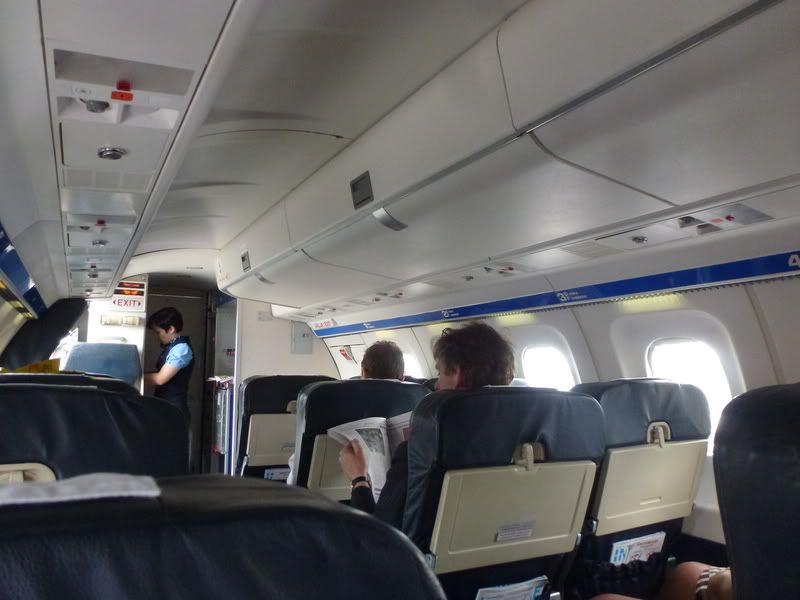 We wait. The captain announces that some paperwork still needs to be delivered. The mundanes across the row coming in from Moscow are speculating why they need to wait for the paperwork, "just leave and fill in the papers later". Little do they know that the Papers must be filled. If you don't fill the Papers properly, bad things will happen.
Eventually, more than 20 minutes late the Pickwick Papers are delivered, the doors closed, the usual foreplay performed before shooting our load of... passengers towards the skies from 26.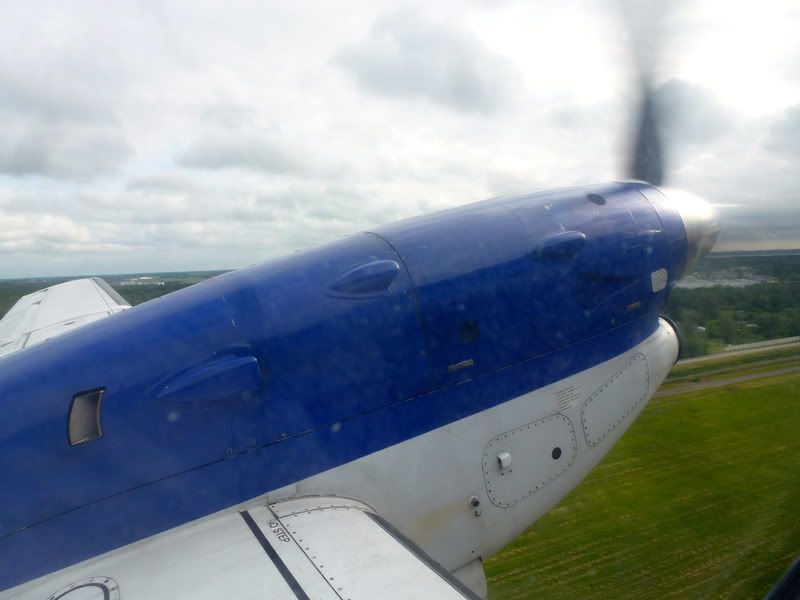 My typical luck - just when I'm actually on the right (well, left) side of the plane for a city view and we are departing on 26 I have an engine blocking my view: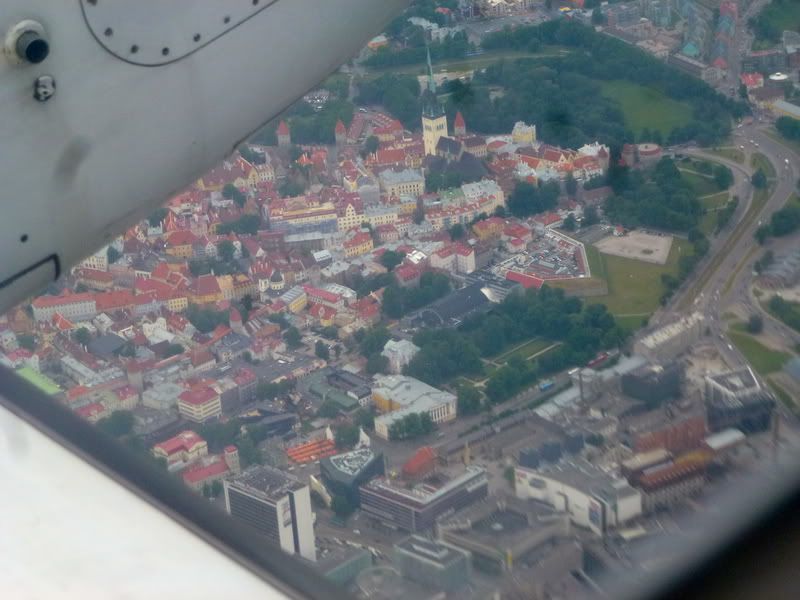 Observant readers who have read part zero might recognize the "Linnahall" from this picture: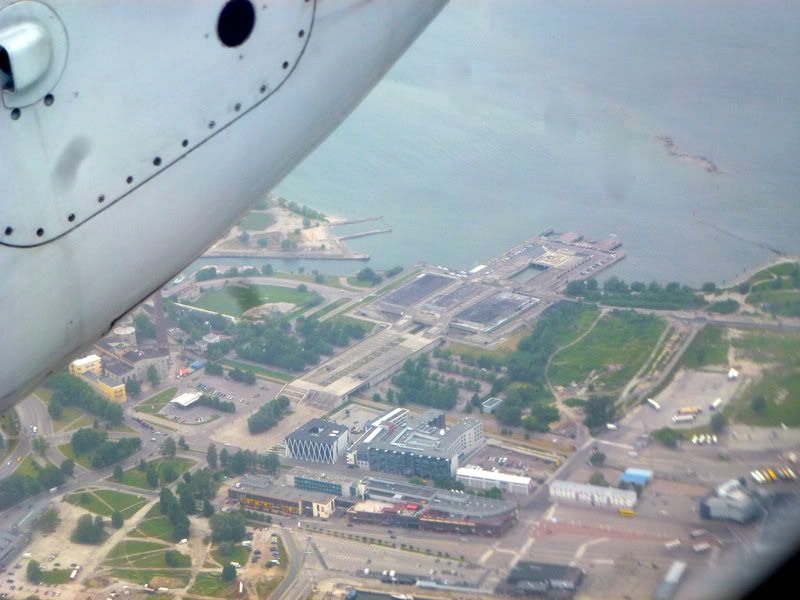 And then it happens. I crash. Not down, mind you, but asleep.
And then it happens. We land. On runway 22L, at HEL. I'm home. Almost.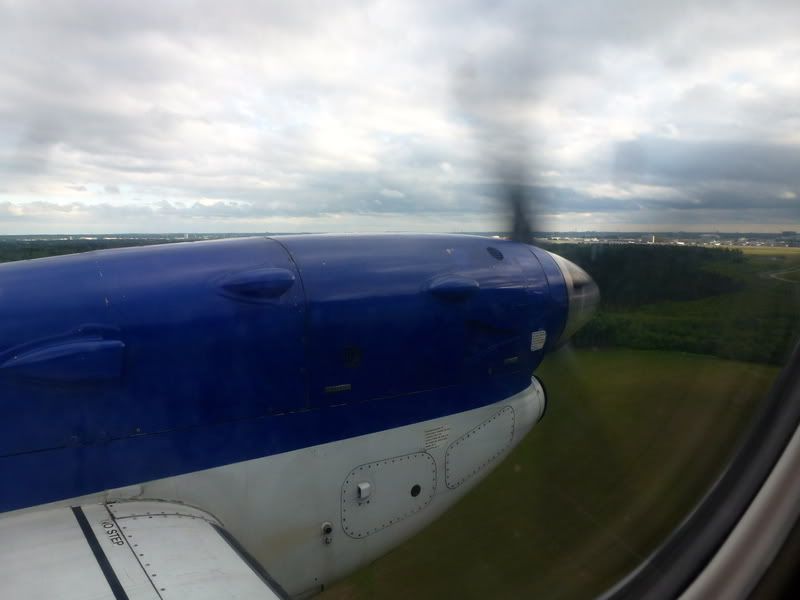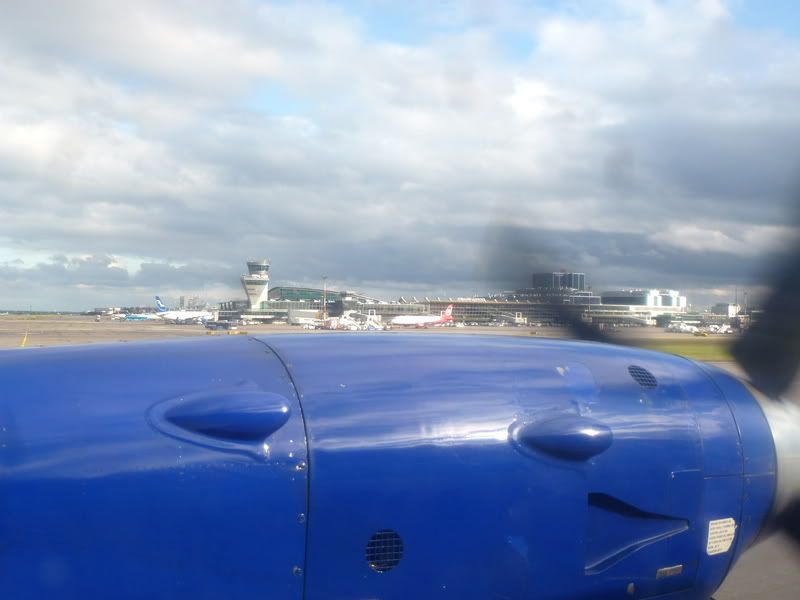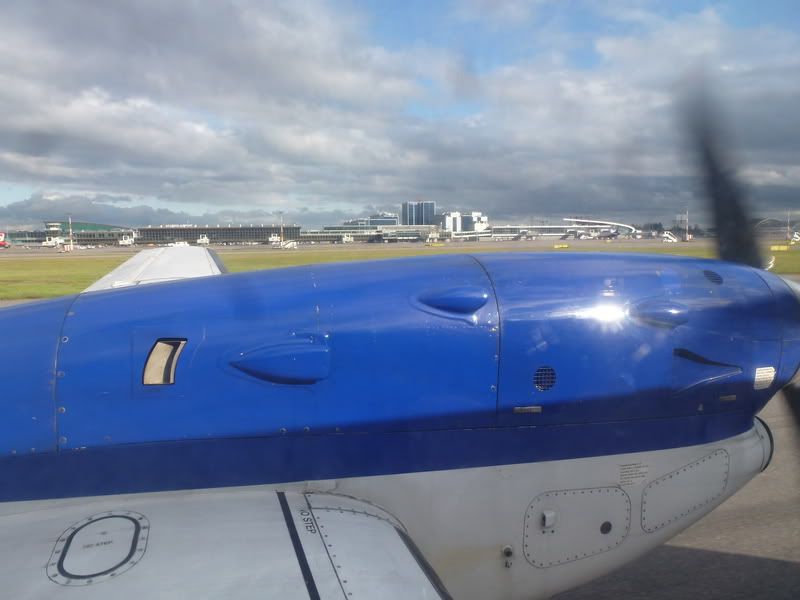 Bye, next time the Hockey Bird, please: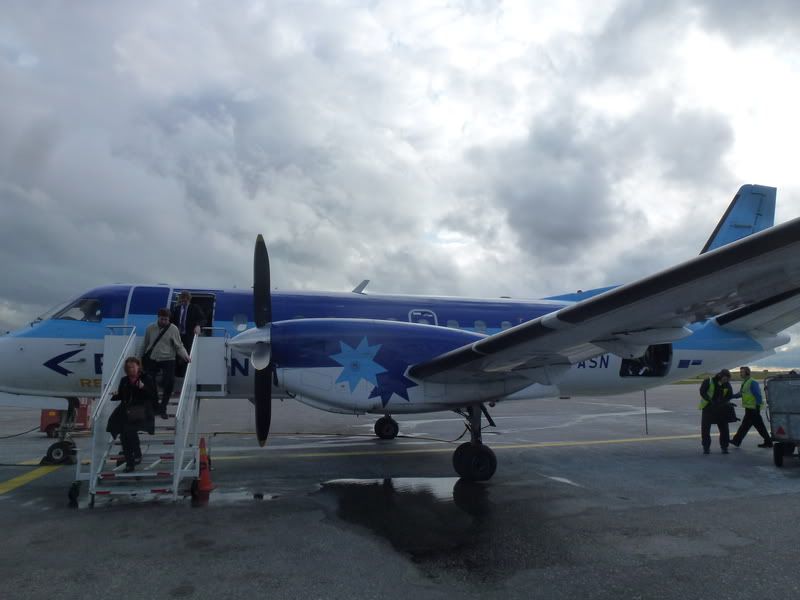 Well, not so fast - I'm not home yet. There's one obstacle on the way: my bag does not show up. I curse Mr. Taskila and his utopia of 30 minute connection times at TLL and head to fill in the paperwork on the bag. With the irregularity report on my hand I catch a taxi home - too tired and annoyed to mess with the buses this time.
At home I check the baggage tracing website. After a while my case appears there, and looks like I was barking at the wrong tree here - my bag seems to still be at Kastrup instead of Tallinn. See, this is exactly why I was asking the gate agent to double check it, but here we go. Oh well, I'll be back at the airport the next afternoon so hopefully can pick up it then. As for now, I unpack, eat and crash for a night of good, long solid sleep.
Conclusions
Well, it is a bit hard to give definitive conclusions on flights where I was distracted all the time, either by sleeping or a torrent of mindless chit chat. But nevertheless I enjoyed it all. Shame about the same plane on SN, but on the other hand it kind of closes the circle, doesn't it? OV was as it nowadays seems to be, okay flights but the ground handling and especially the bus boardings at TLL are a sore point. Something needs to be done, although I'm not sure what. Maybe they should just redo the schedules and increase the MCT to 45 minutes or something, but maybe that would mean they lose the "who's got the shortest" competition to their arch rivals down at RIX...
I will provide a separate retrospective part just like starting this report with a prologue. Of course there will be a flight as well, covering a previously unreported (sort of) carrier and plane type combination, a flyBE Nordic E170. Happy contrails!