Hello and welcome to a trip report covering Thai Smile inaugural flight from Bangkok to Macau and the return flight on the same day. Hope you enjoy reading.
Some brief information about the airline: Thai Smile is a business unit within Thai Airways. It adopts the similar business model as Silk Air to Singapore Airline. Thai Smile positions itself as a 'light premium brand' i.e. between a full service airline and a low cost airline. The airline will operate a single type fleet (Airbus A320) to regional destinations within three hour flying from Bangkok and domestic destinations within Thailand. The cabin is fitted with 174 seats and is divided into two class: Smile Plus (Business Class) and Smile (Economy Class)
What to expect on ground and on board? On ground service is pretty much the same as Thai Airways. The benefits of THAI's Royal Orchid Plus programme and Star Alliance elite status are recognised by Thai Smile. Lounge access is available to frequent flyers and Smile Plus passengers. Also, seat selection policy and the baggage allowance are the same as Thai Airways. On board, the first 5 rows of the cabin are for Smile Plus passengers, the middles seats will be blocked, and complementary meals are offered during the flight. As for Smile Class, a light snack and a drink are complementary but hot meals and more drinks are available for purchase.
Going back to the trip itself, I booked the flight on Thai Smile website back in April. We bought the cheapest available booking class which was the most restricted Economy class (booking class W) and as with Thai Airways seating policy on the 'cheap' booking class, seat reservation can only be made from row 50 onwards (on this aircraft, the first row is 31 and the last row is 59). So we booked 5 seats on row 50. On the day before the trip, we did an internet check-in on Thai Airways website and we moved forward towards the front.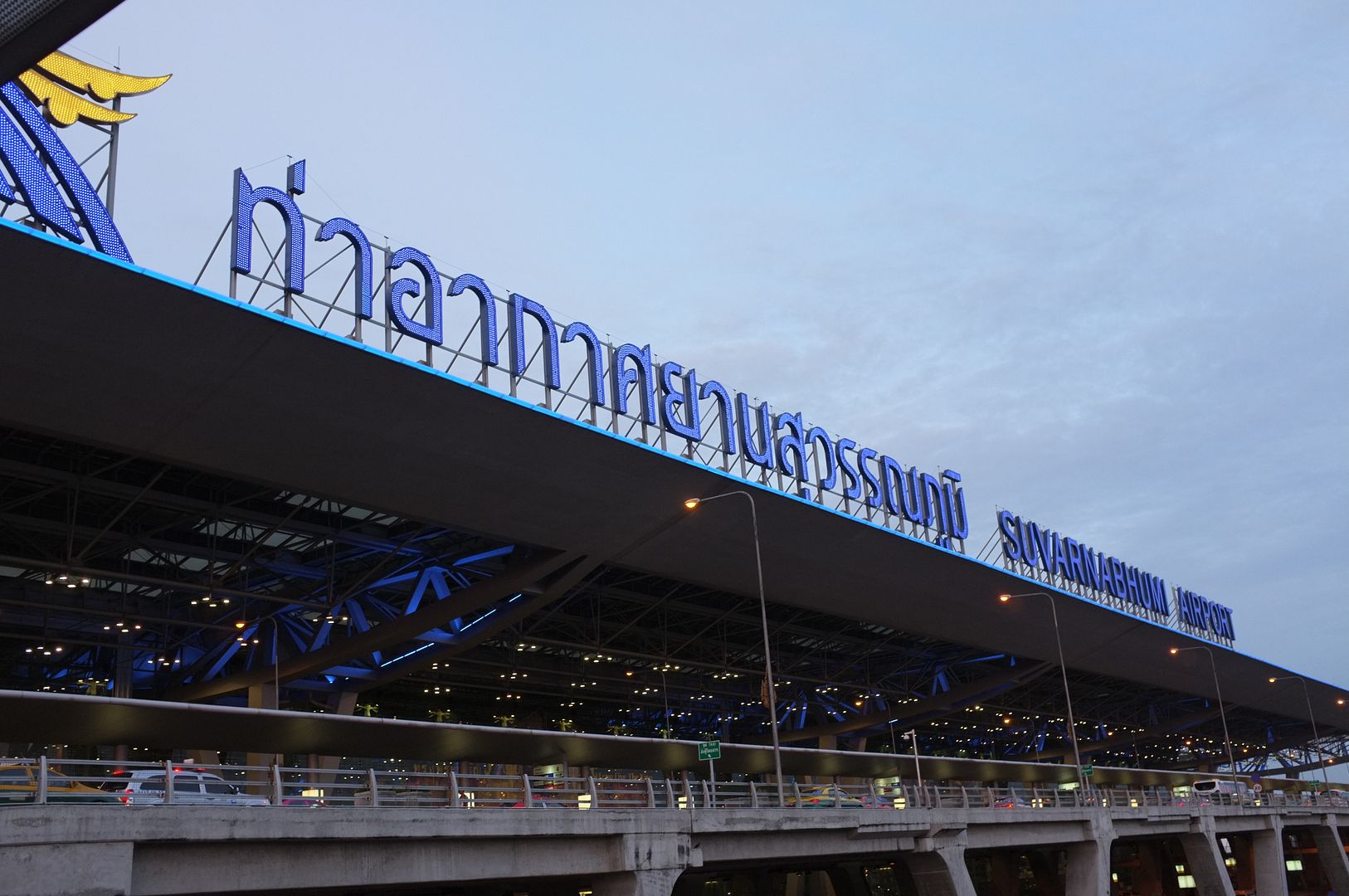 On the day, we left home at just before 5:30am and 15 minutes later arrived at Bangkok Suvarnabhumi Airport, which was around 2 hours before the 7:45am scheduled departure time. As usual, I dropped of parent and brother at the Departure hall and went off to park the car. When I rejoined them, my mum already got my boarding pass, and some souvenirs: Thai Smile bag tag and Suvarnabhumi airport bag.
Here are some pictures of the check-in area. Unfortunately, we missed out on the ceremony as mum wanted to go to duty free shops.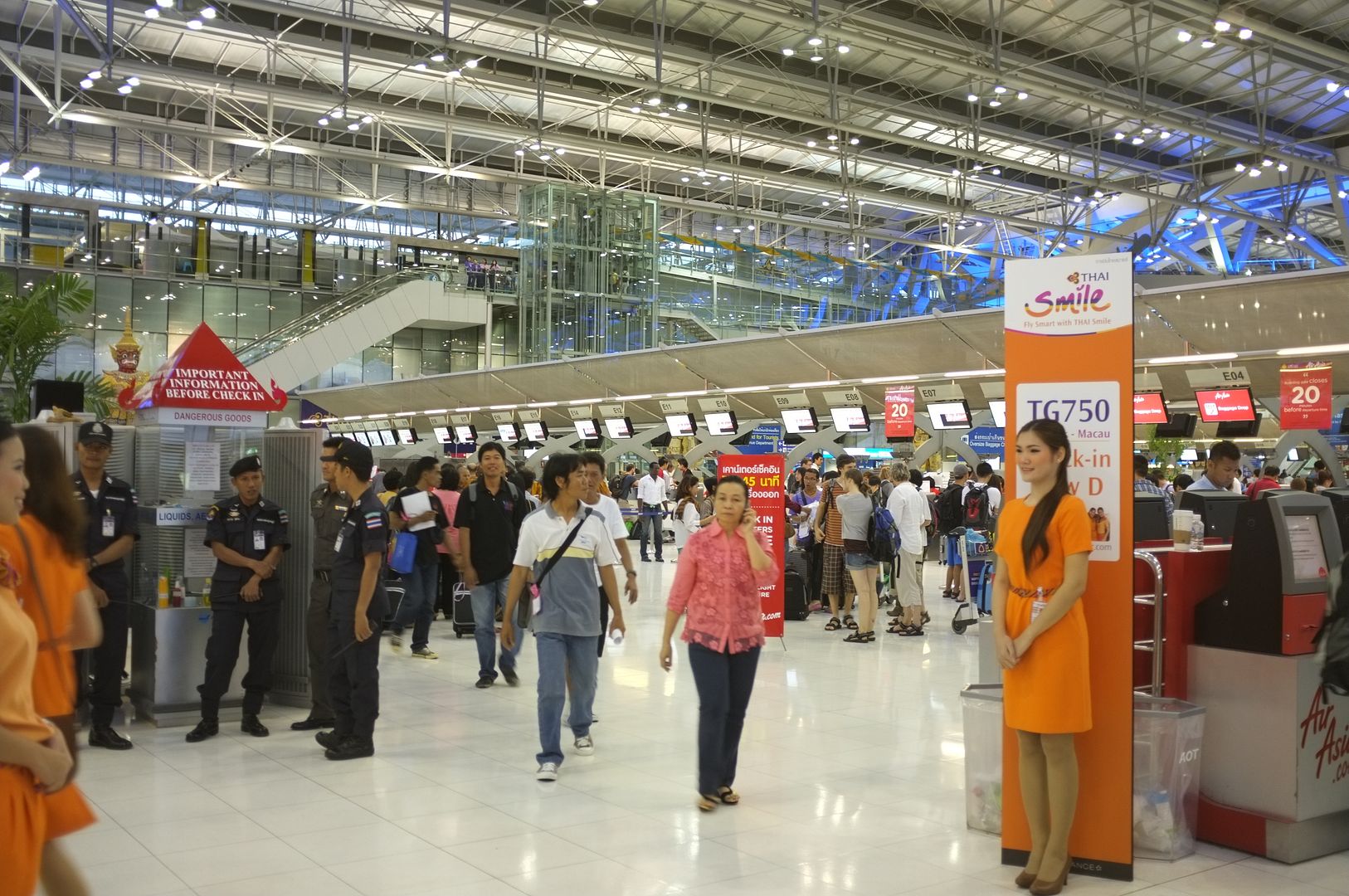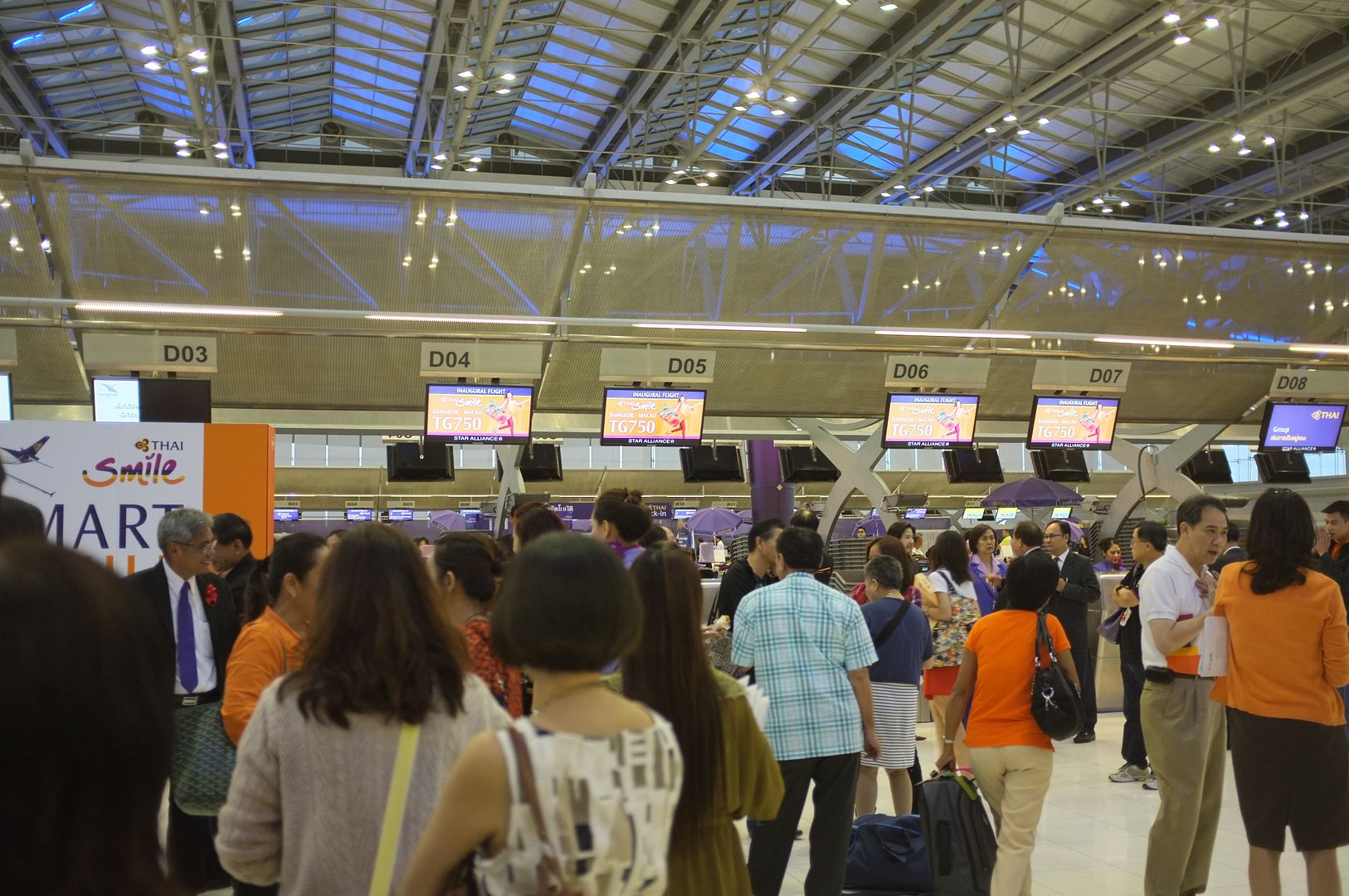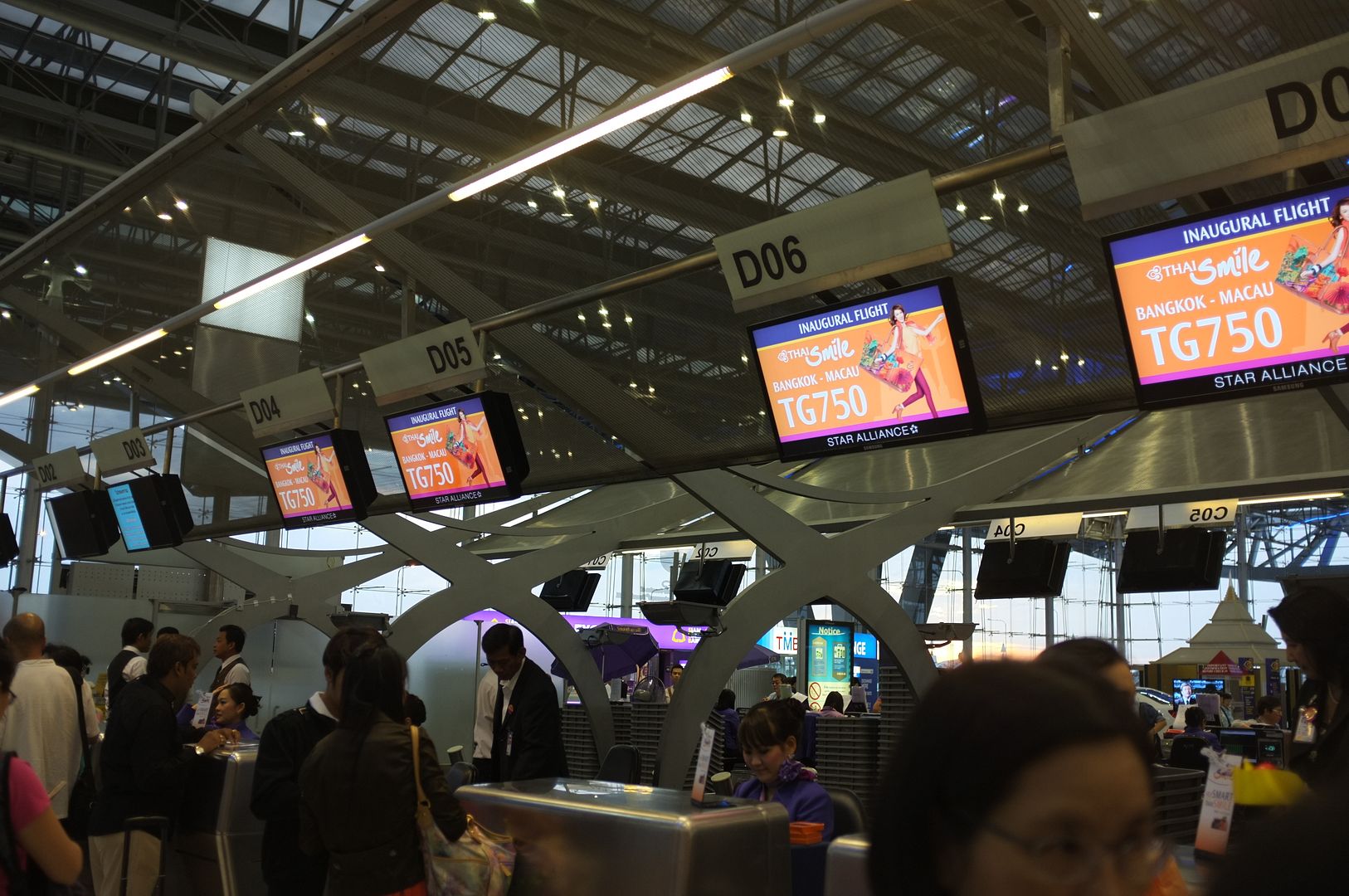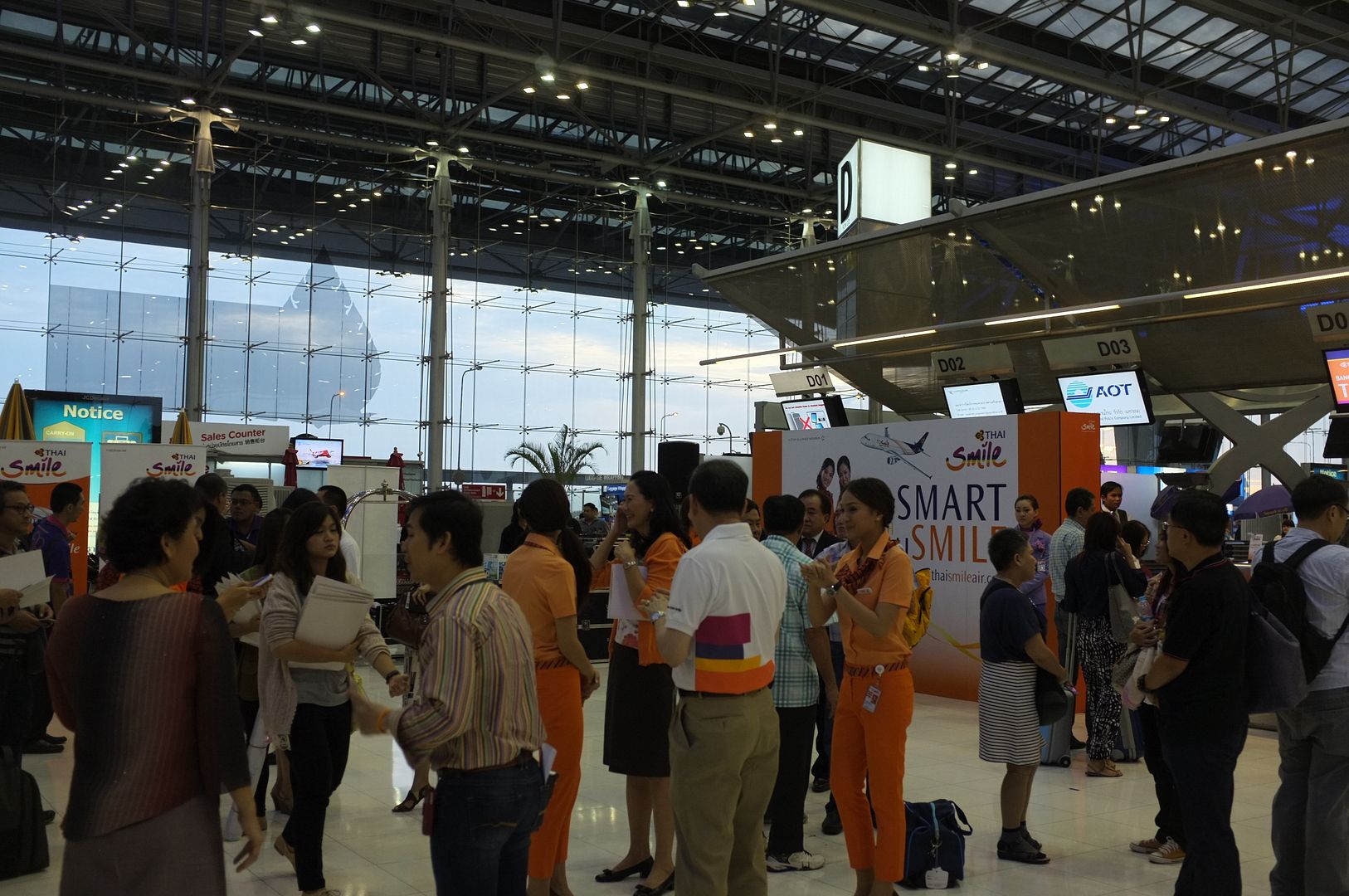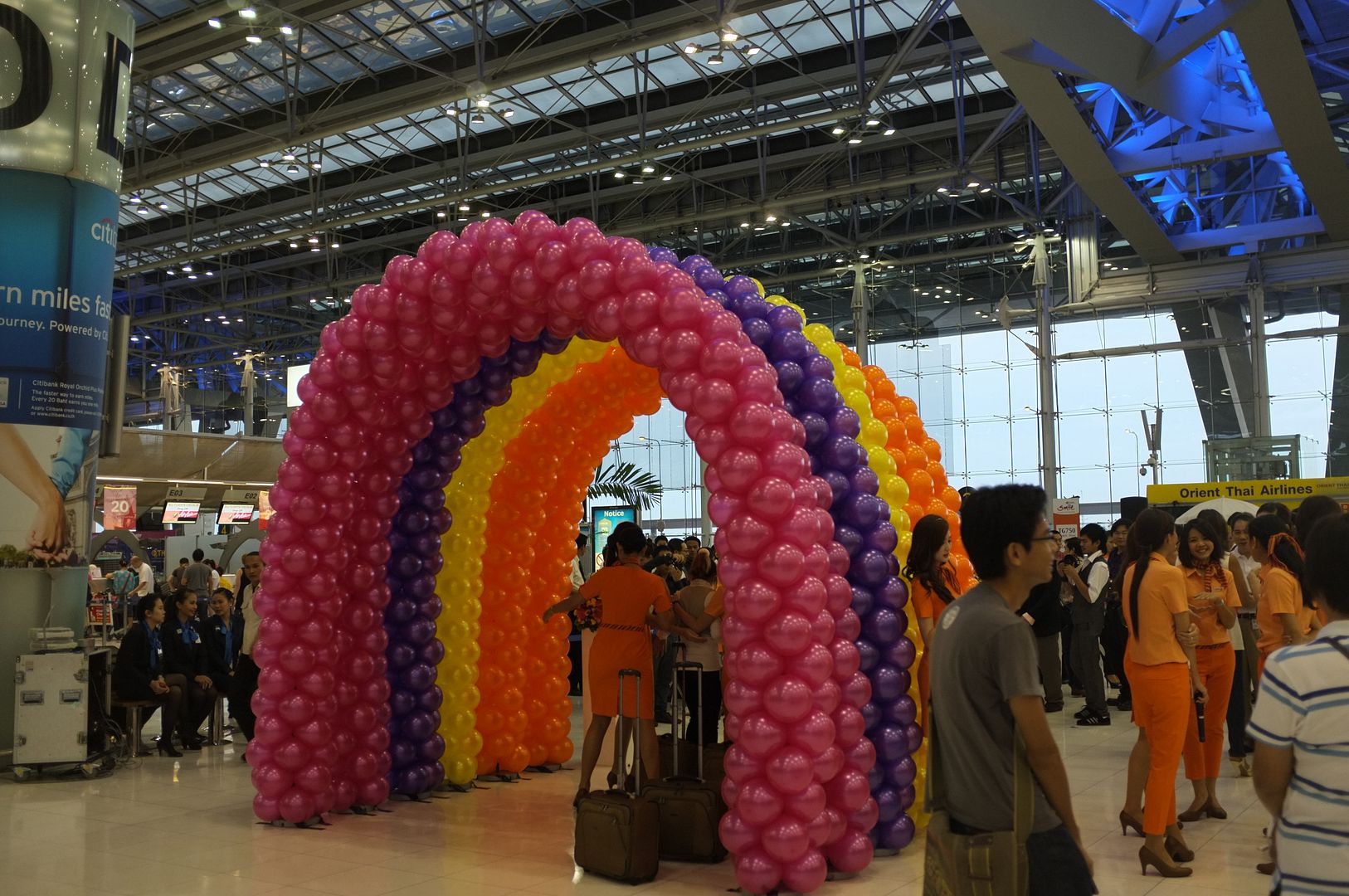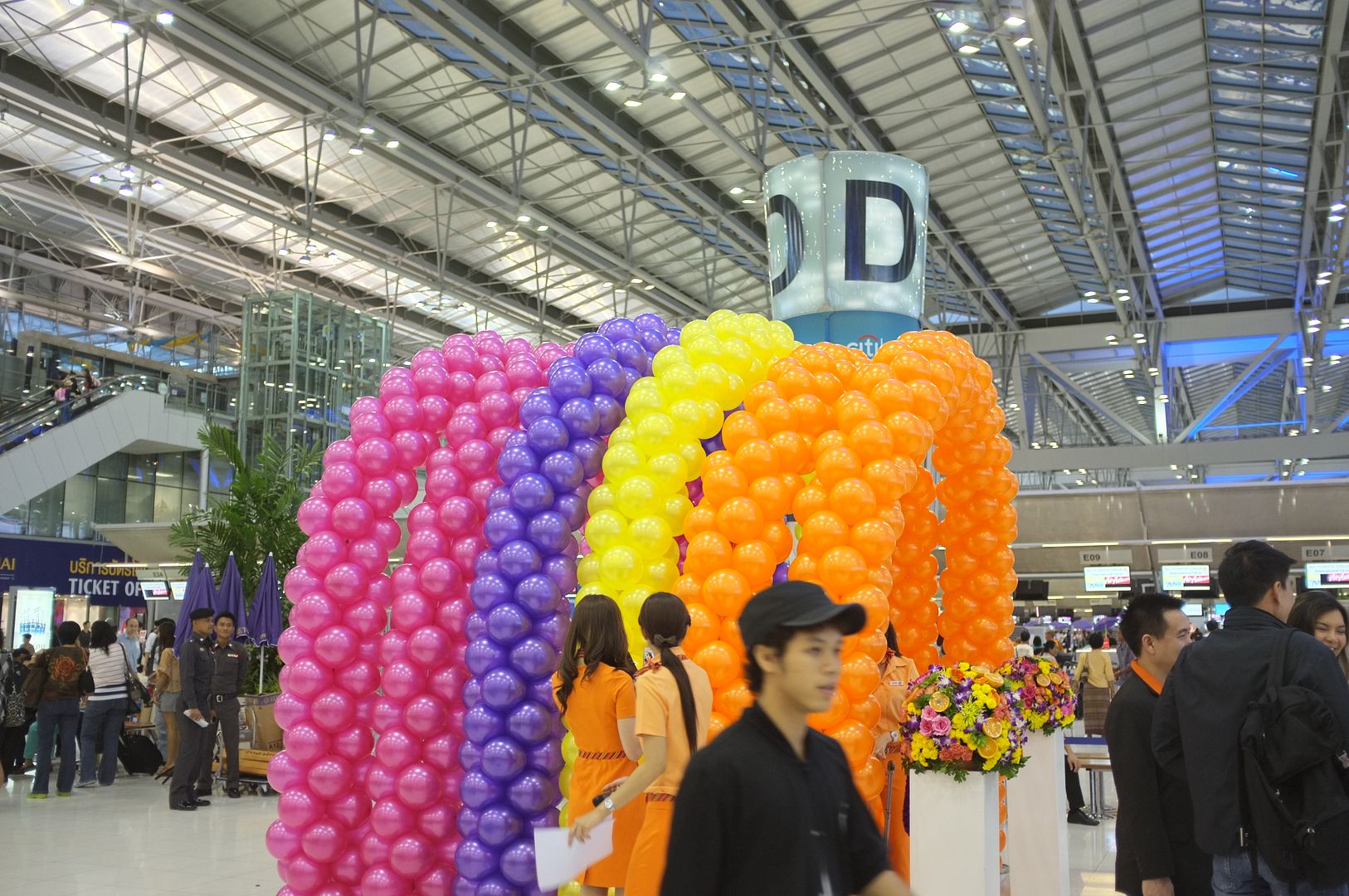 Some more photos of the check-in area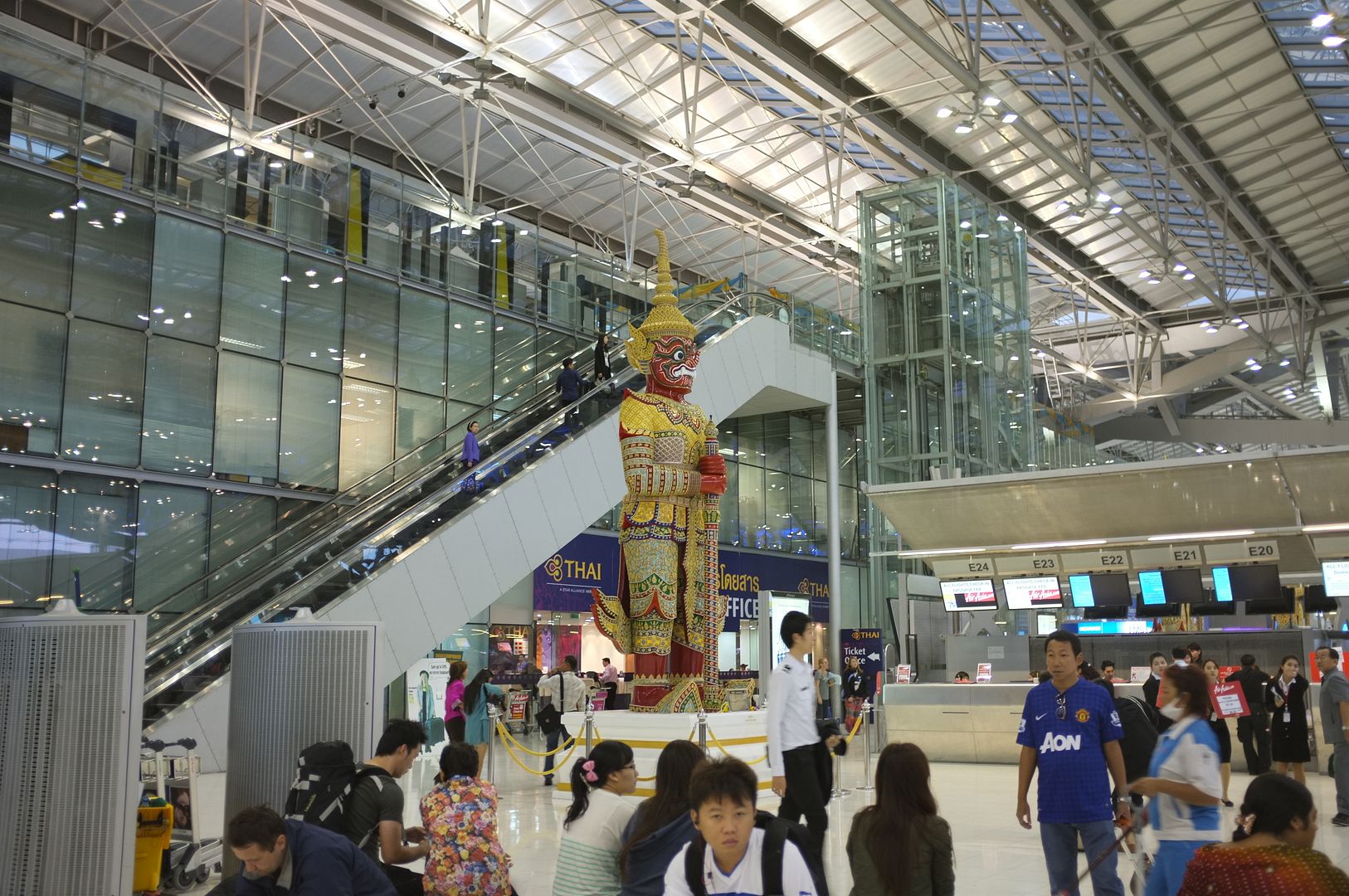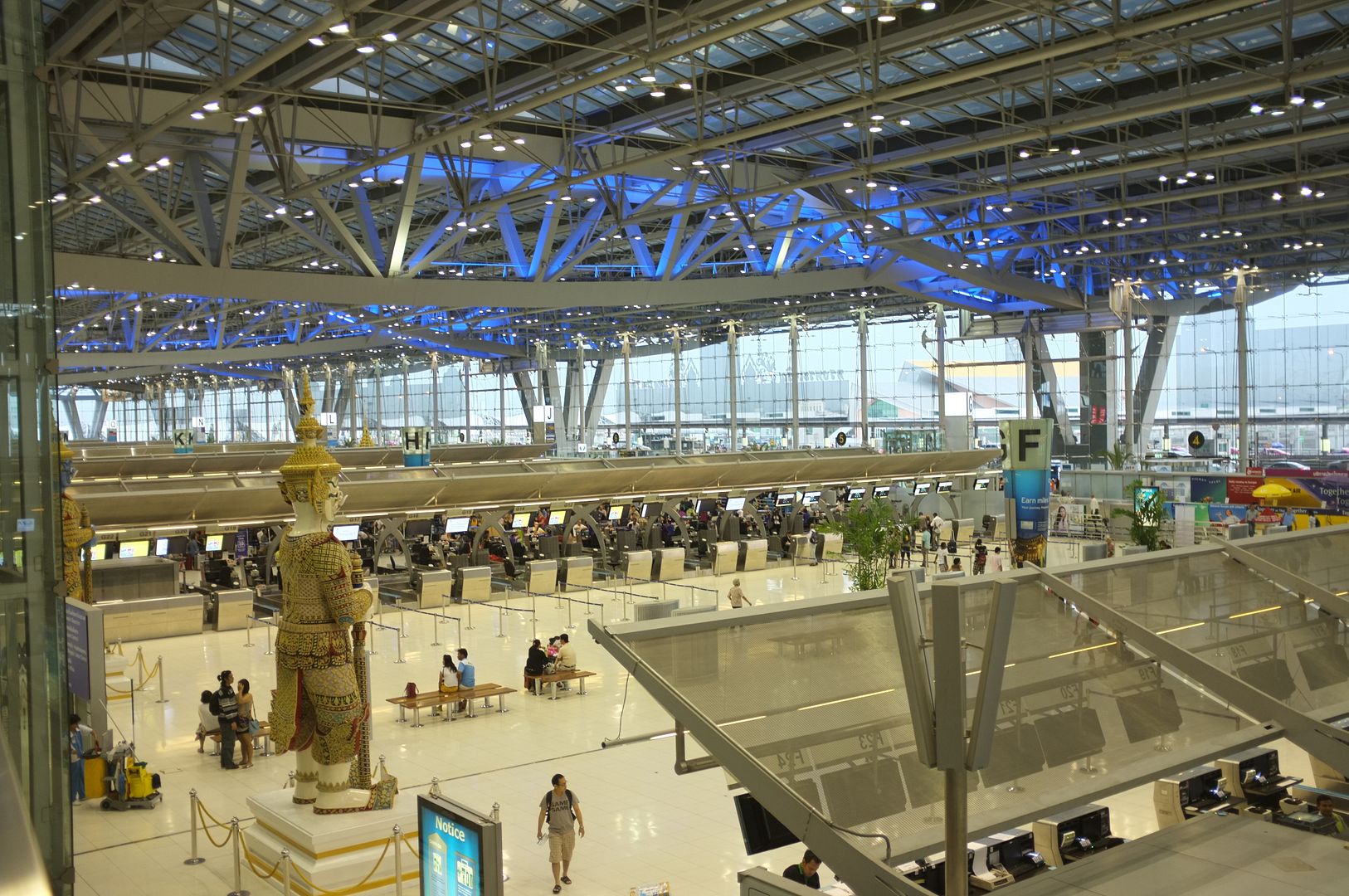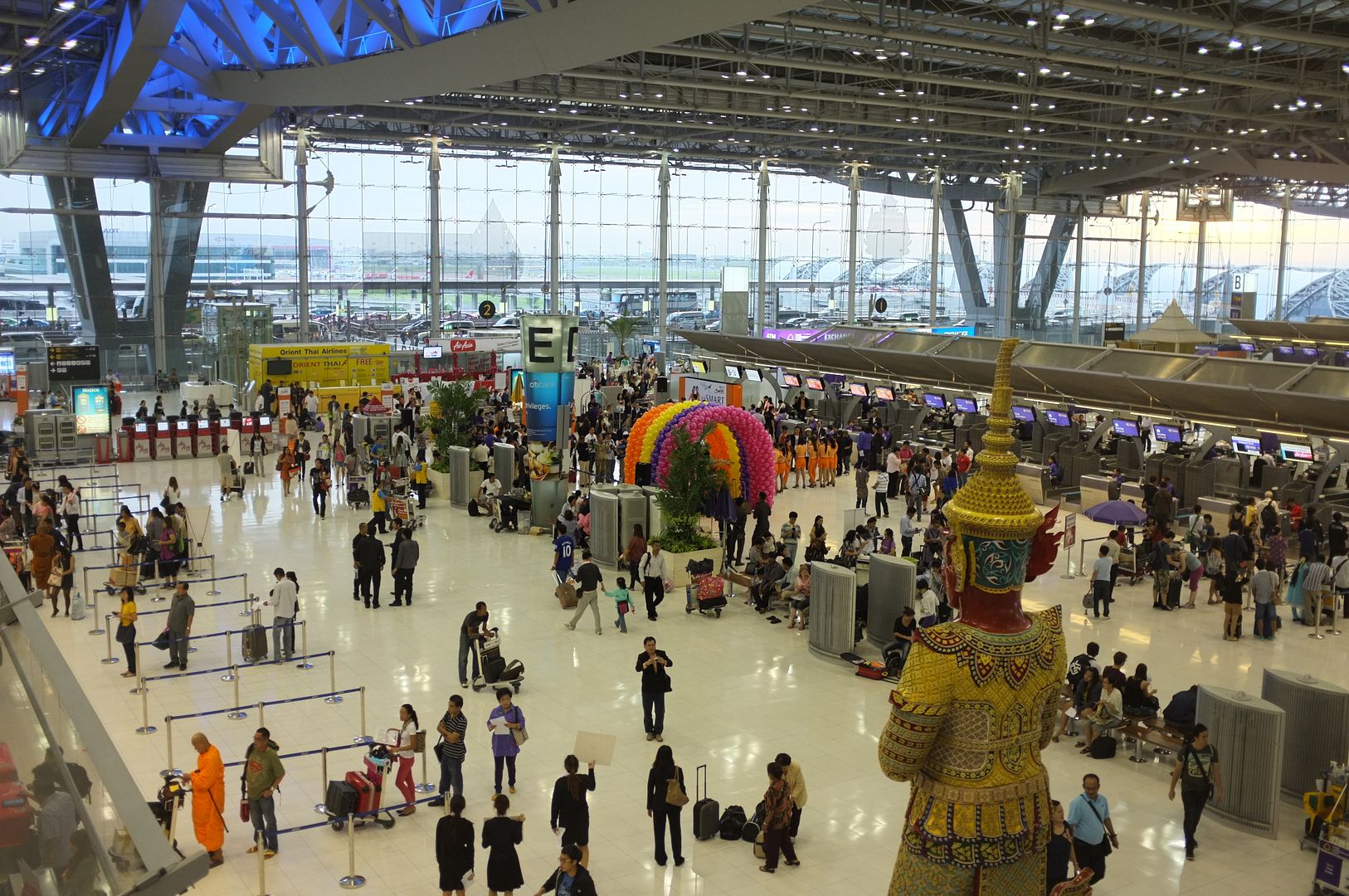 Security screening took a few minutes but passport check took around 15 minutes. Some photos post security check: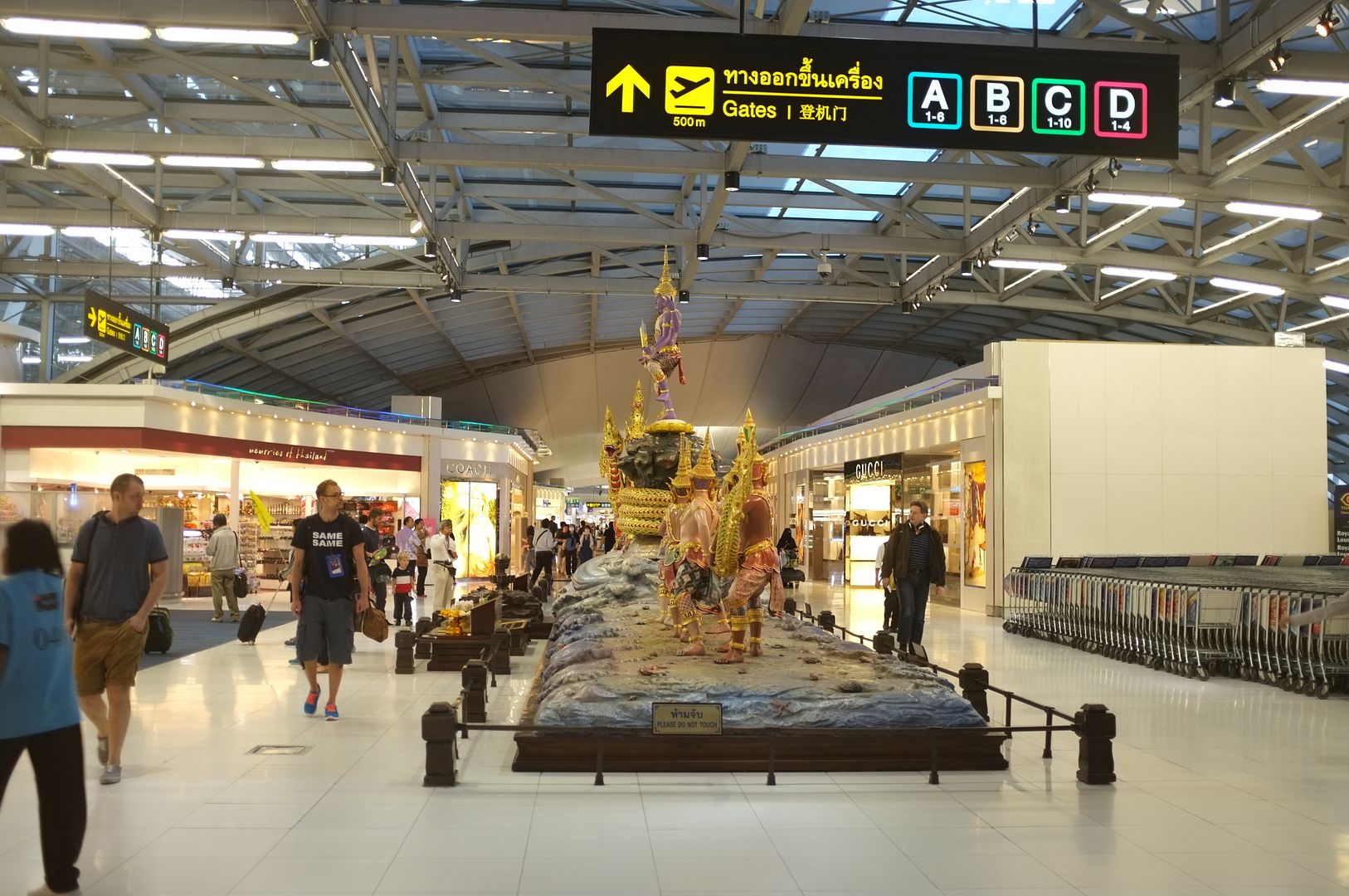 Our gate D5 was only steps away
But it seems we did have some obstacles. There was a small gap we managed to walk to the gate.
Our gate from above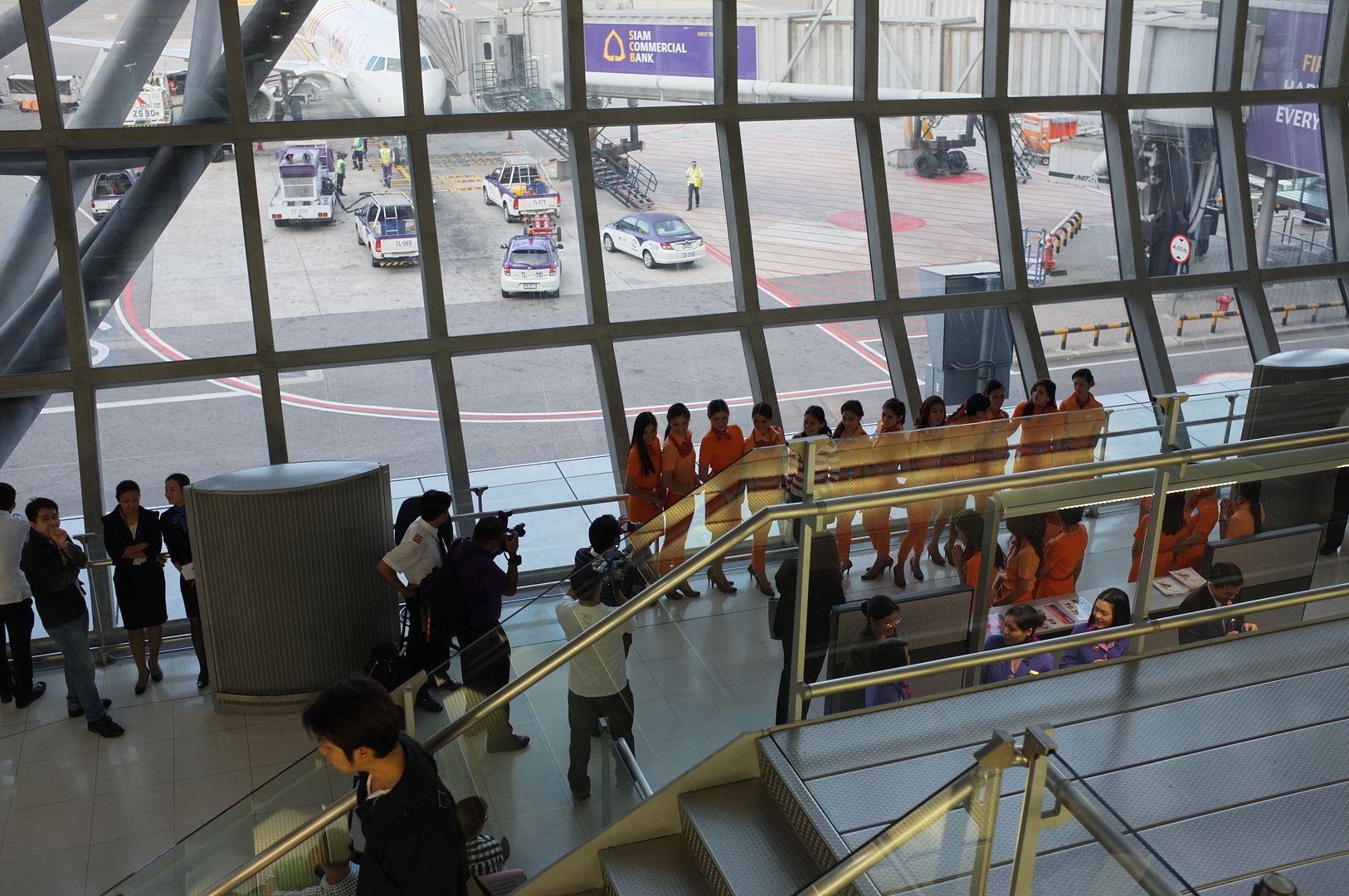 This is a big gate, and so even for a full A320 flight, there were still a lot of empty seats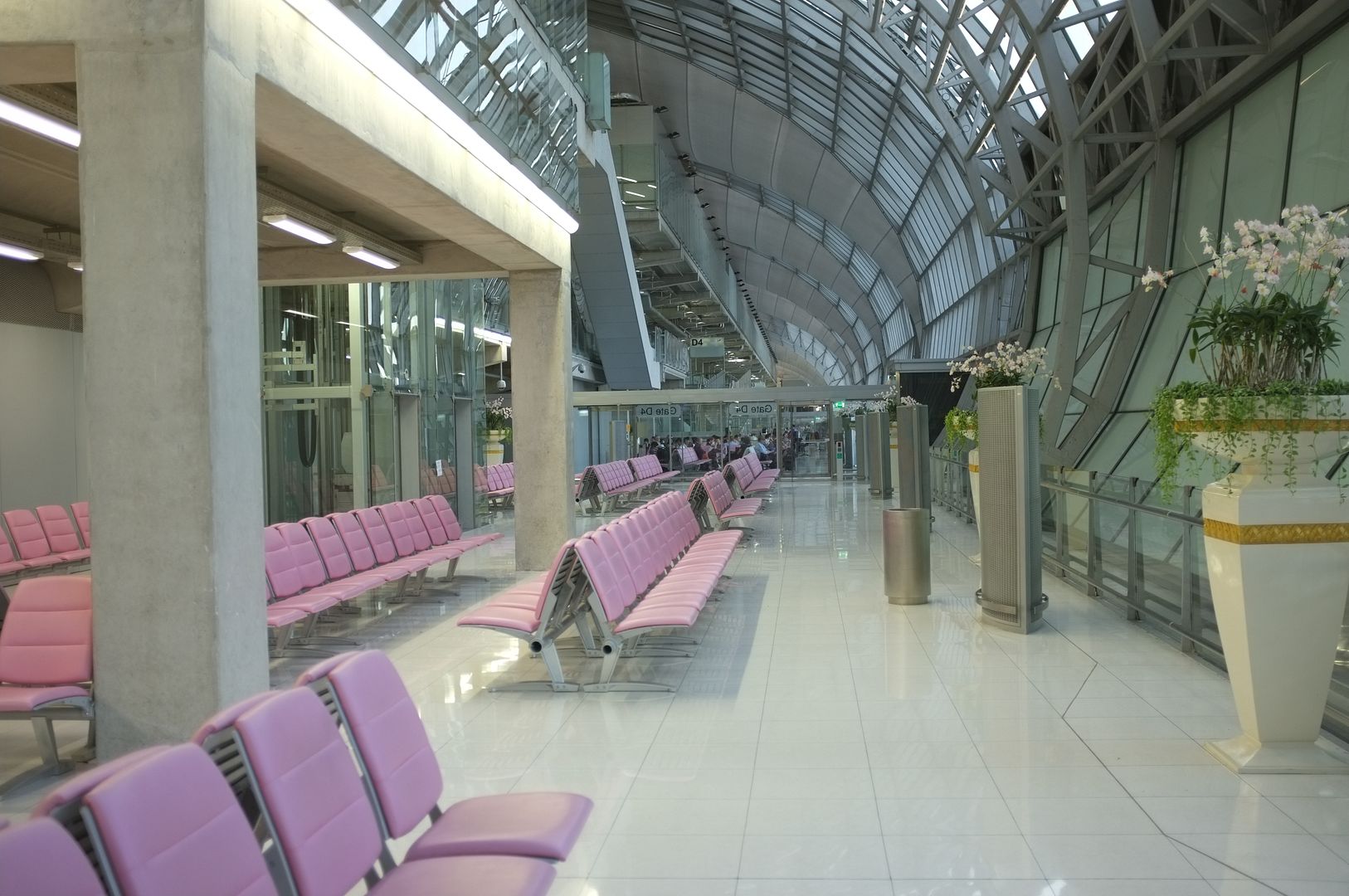 Our Aircraft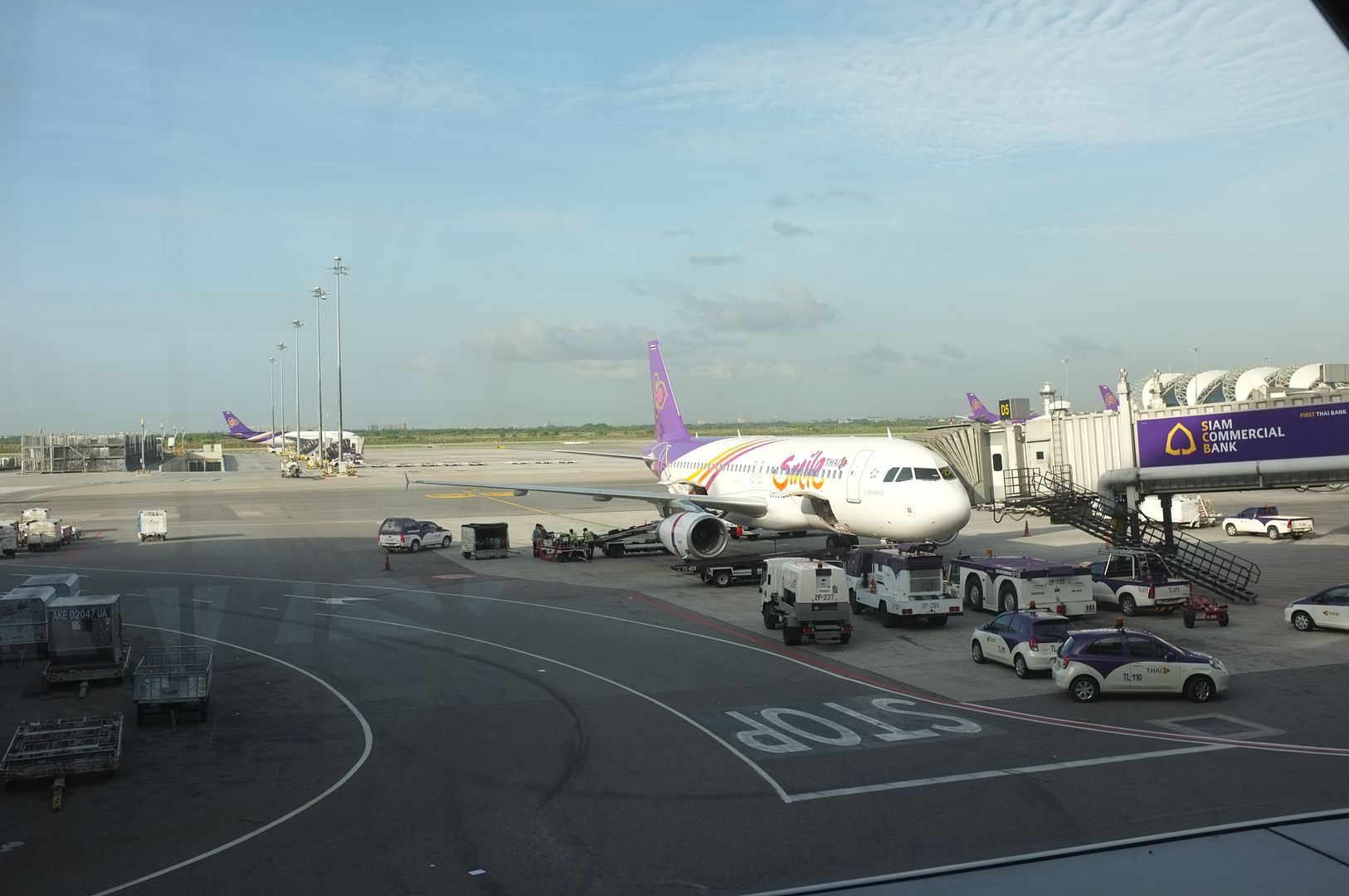 Once boarding started, this group of Thai Smile team greeted us to the airplane with a 'wai' gesture.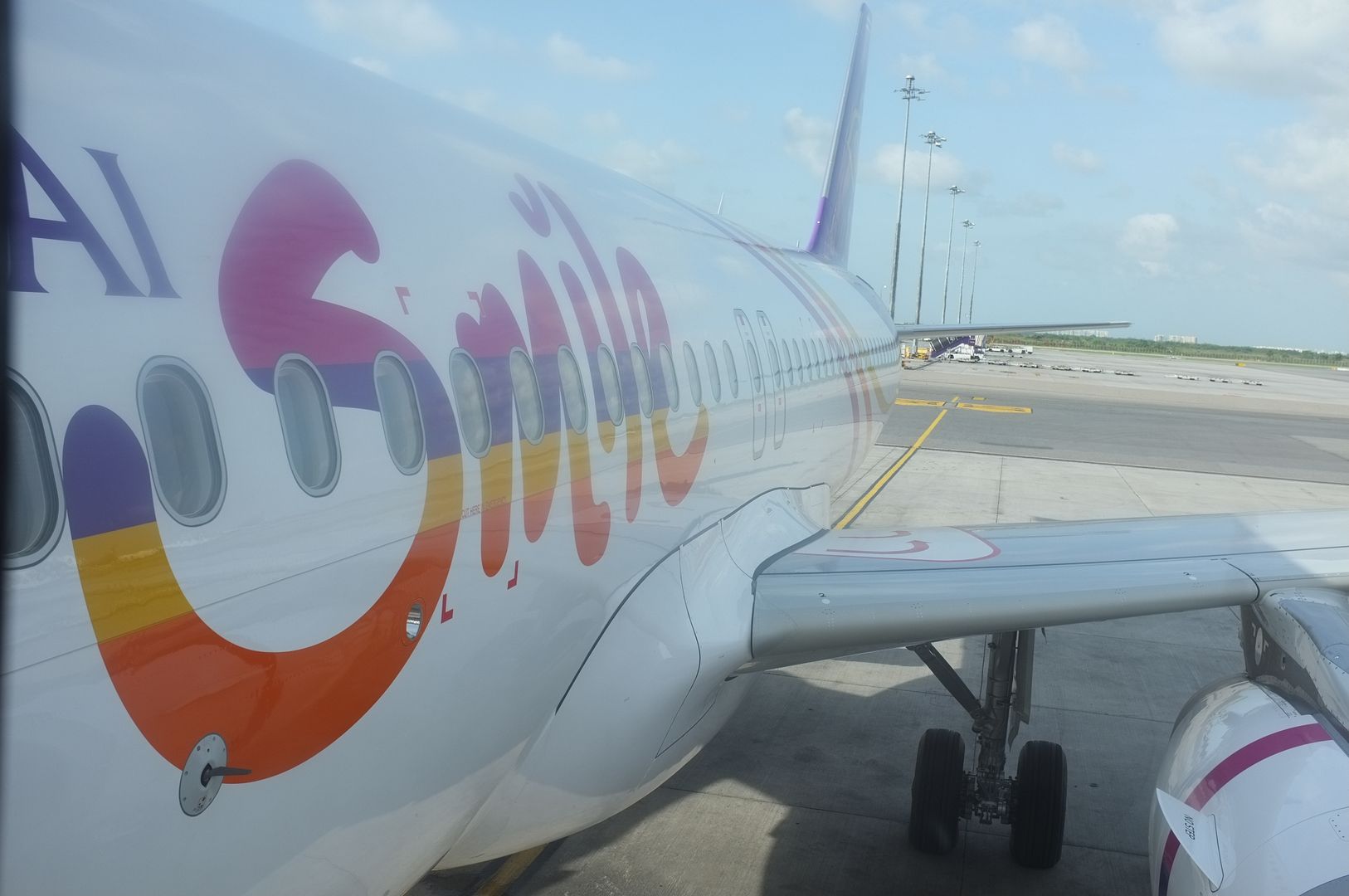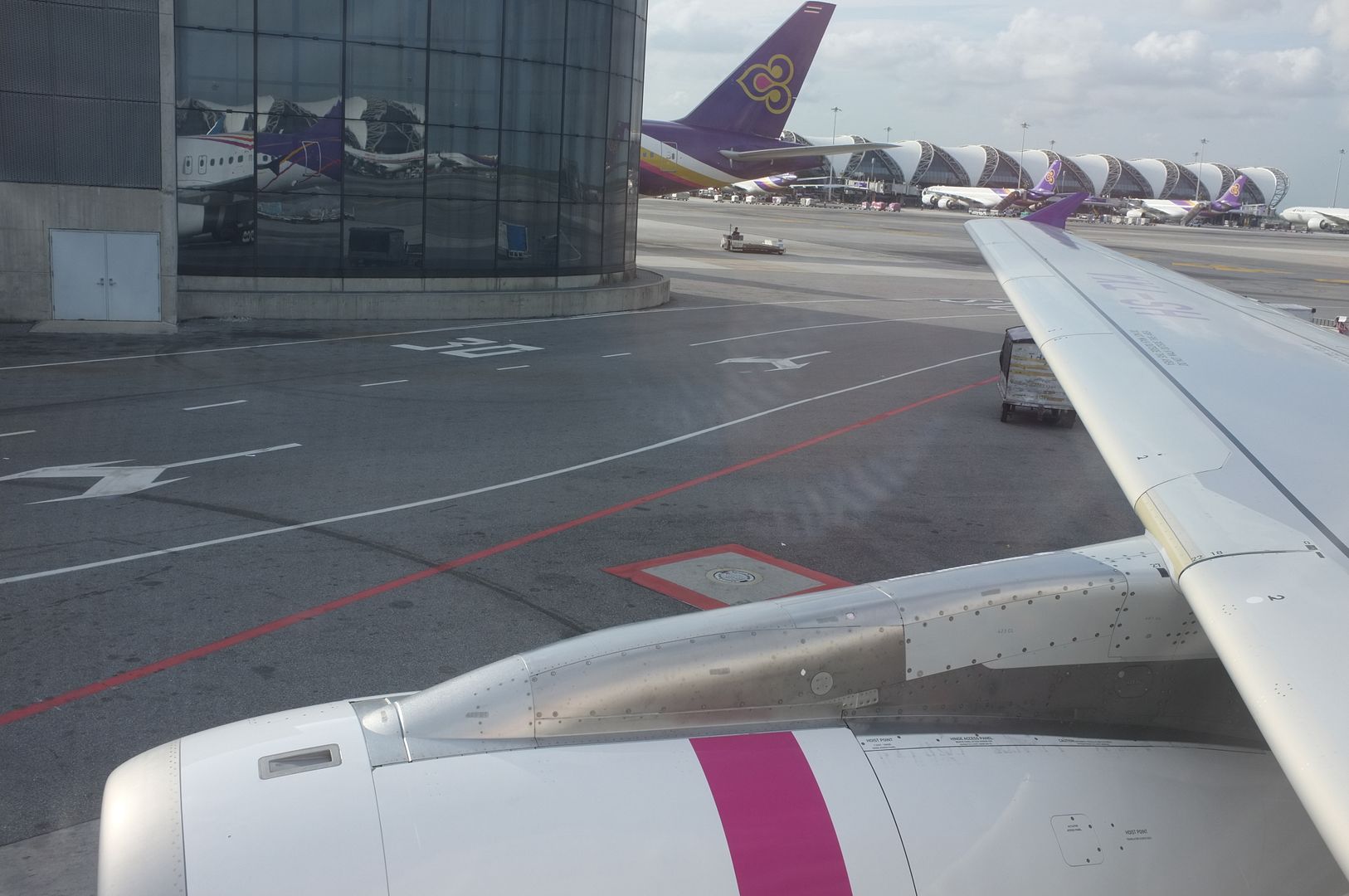 Manual safety demonstration was performed
Taxied to the runway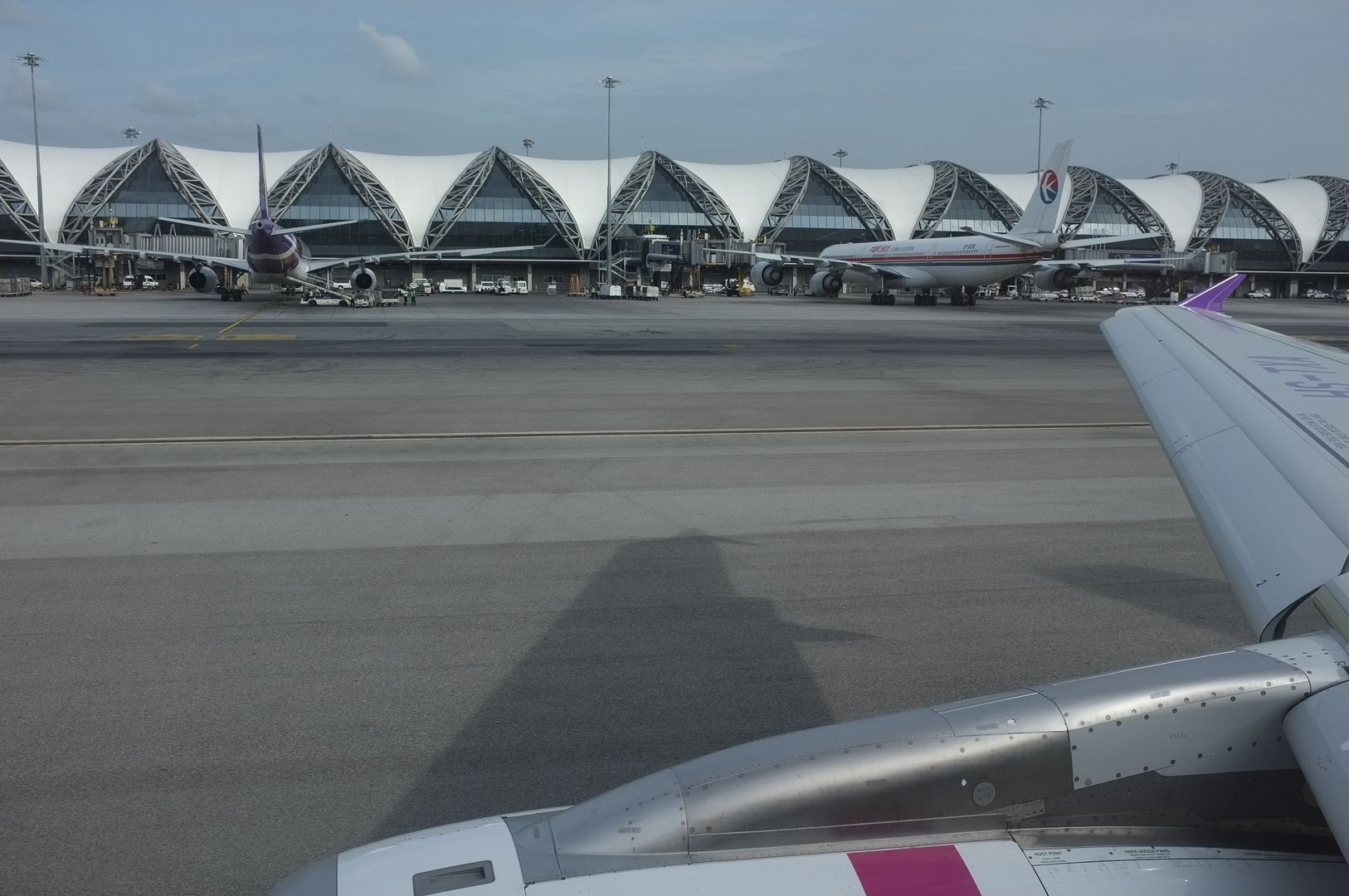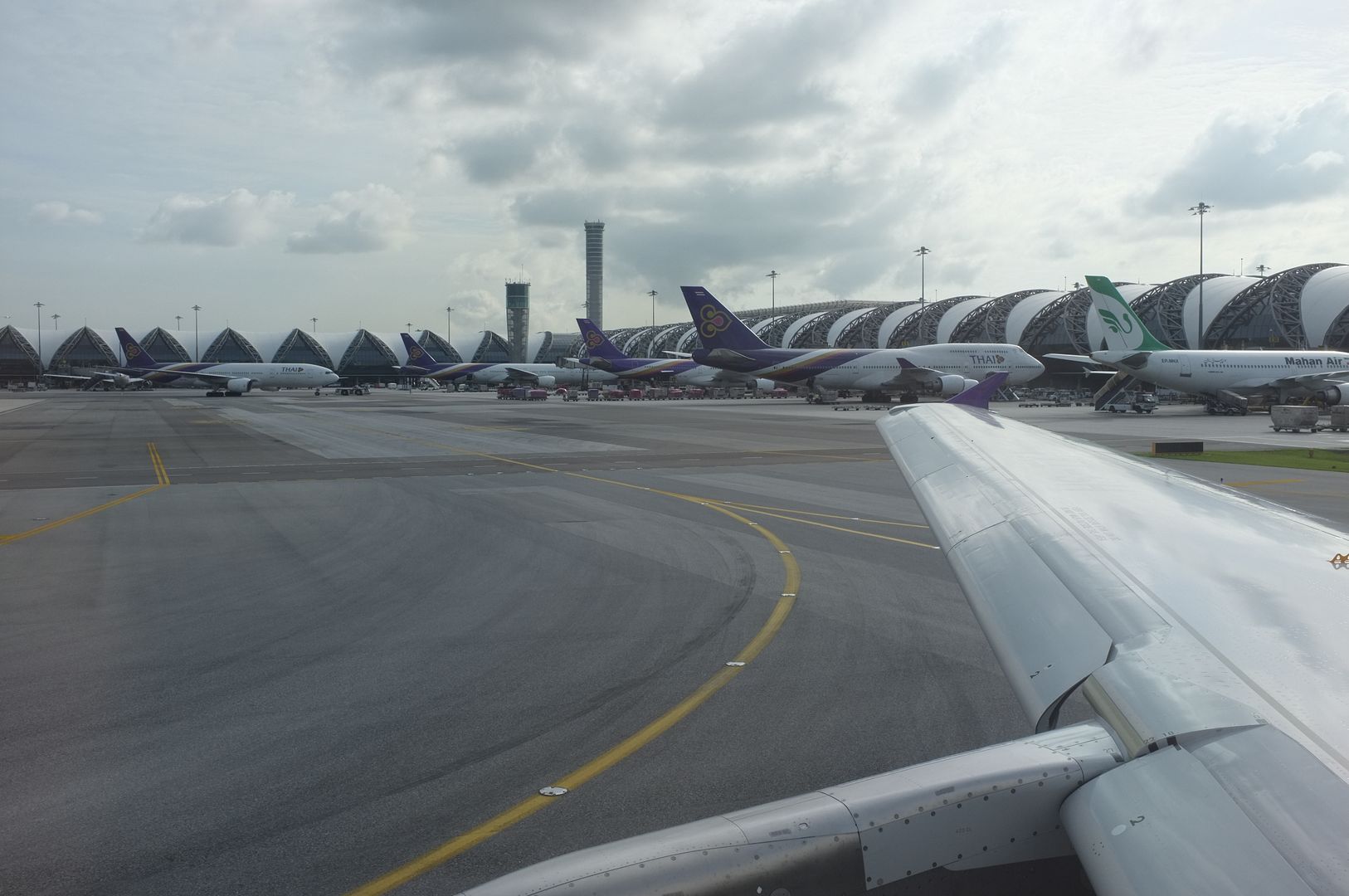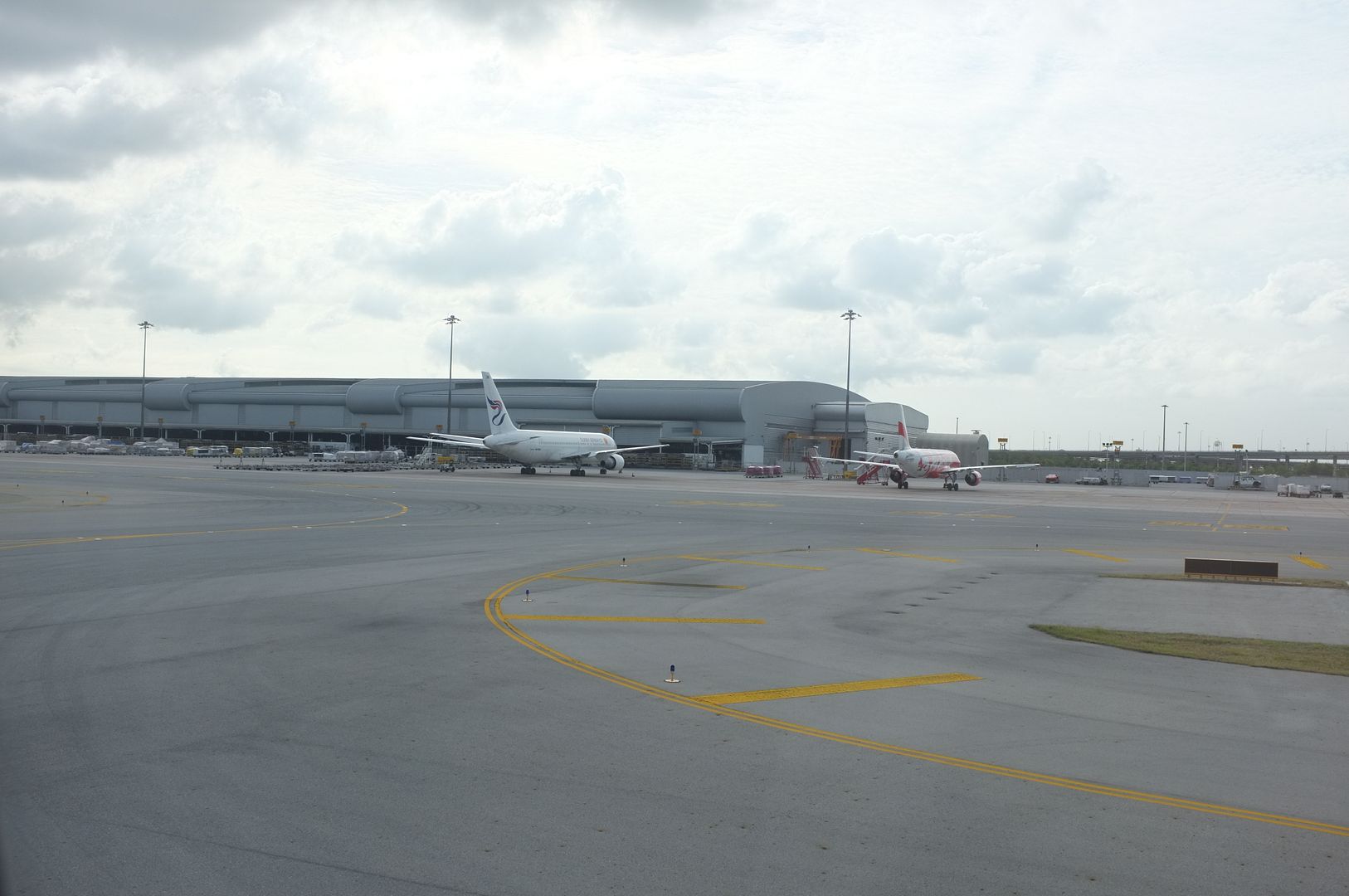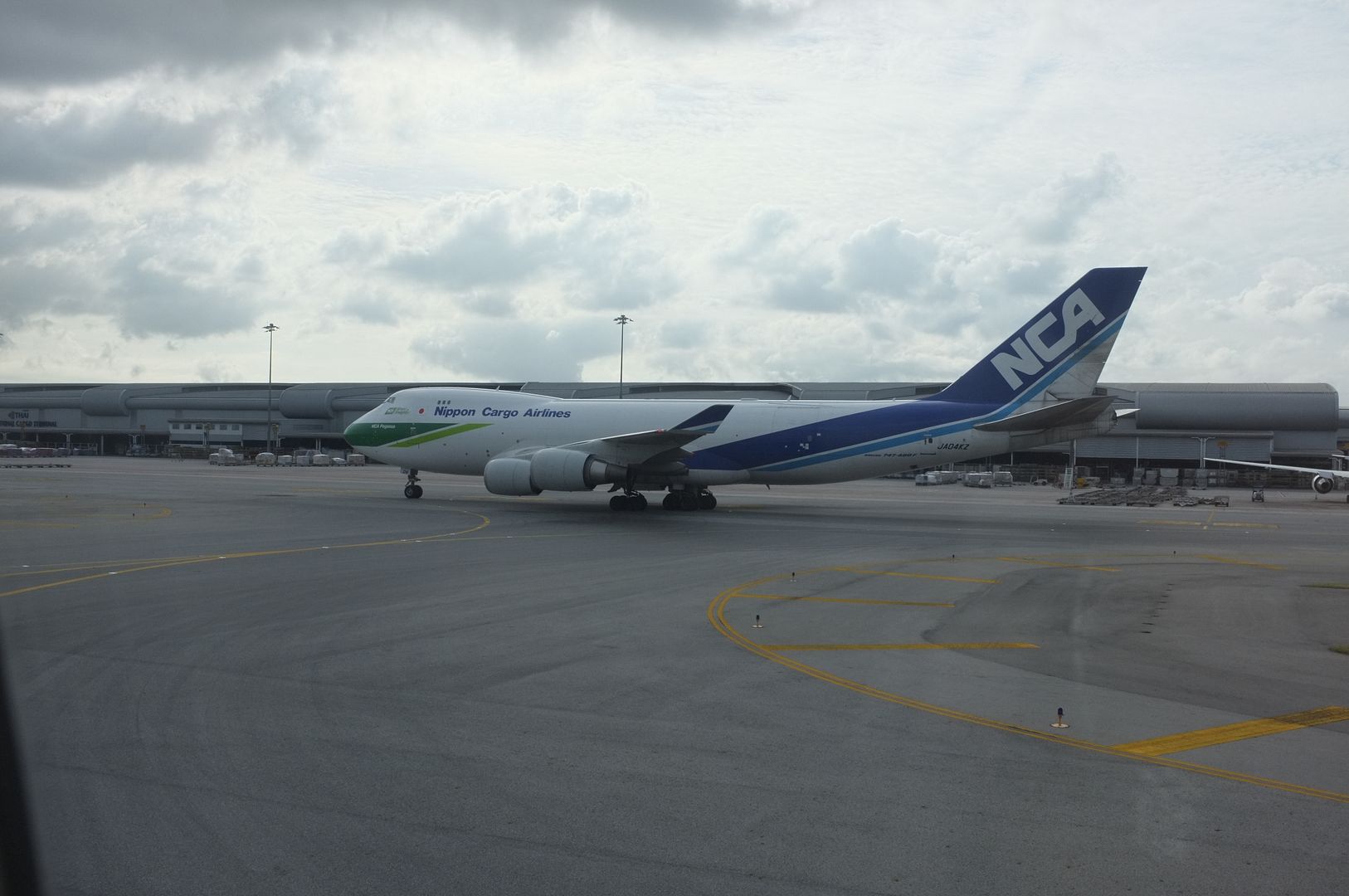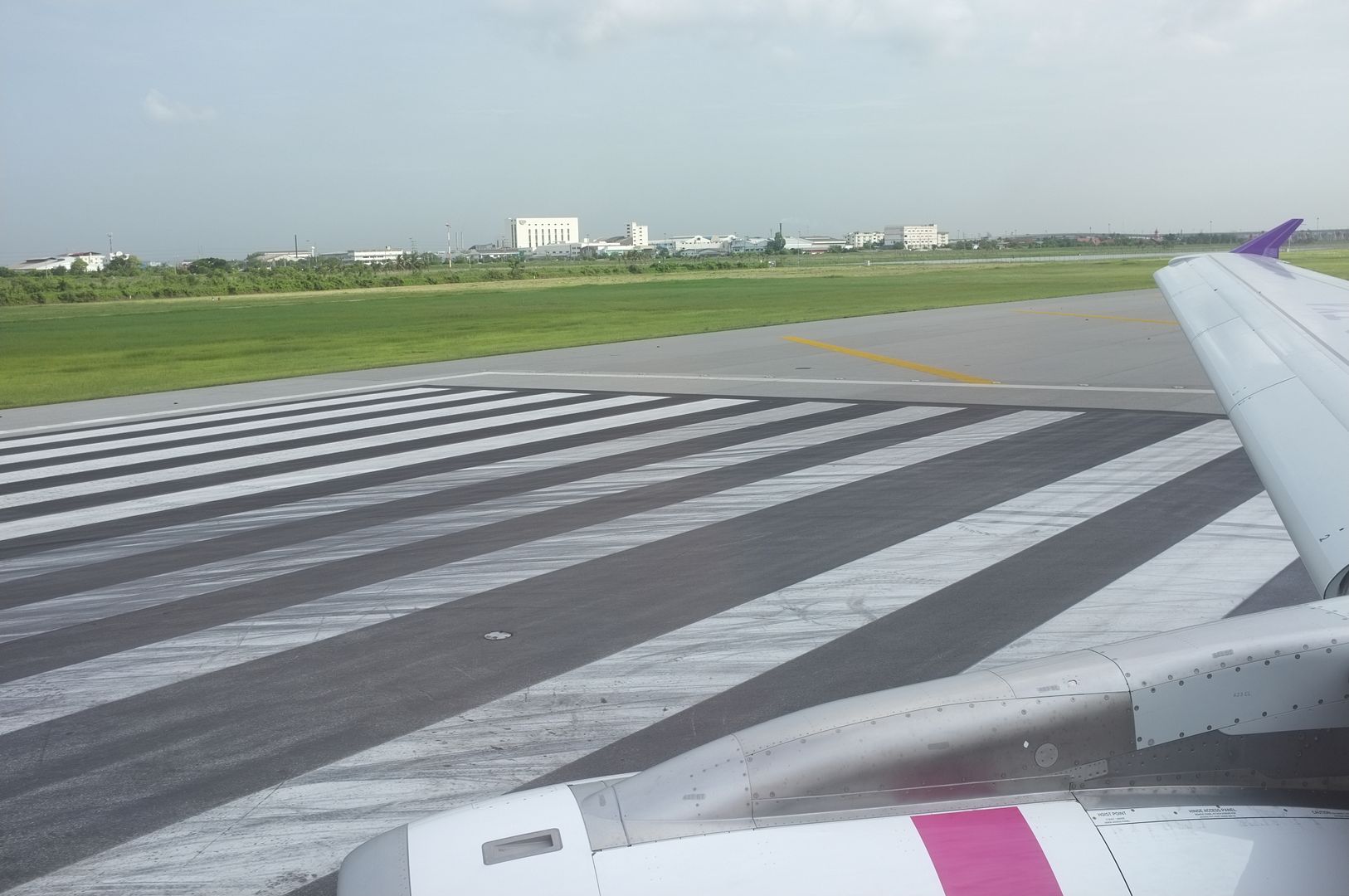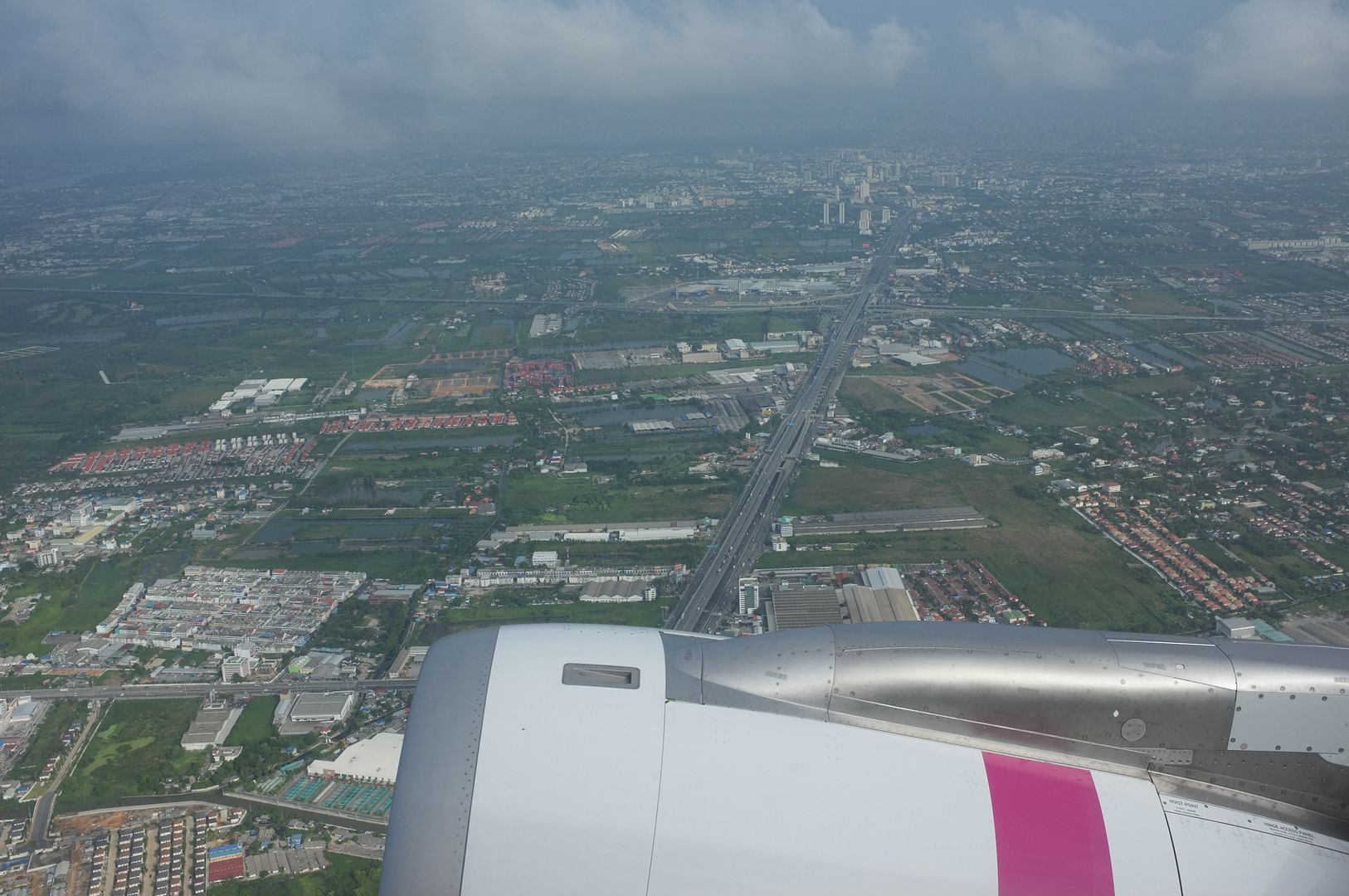 When the seatbelt sign was switched off, the crew came to shut the divider
The airplane continued climbing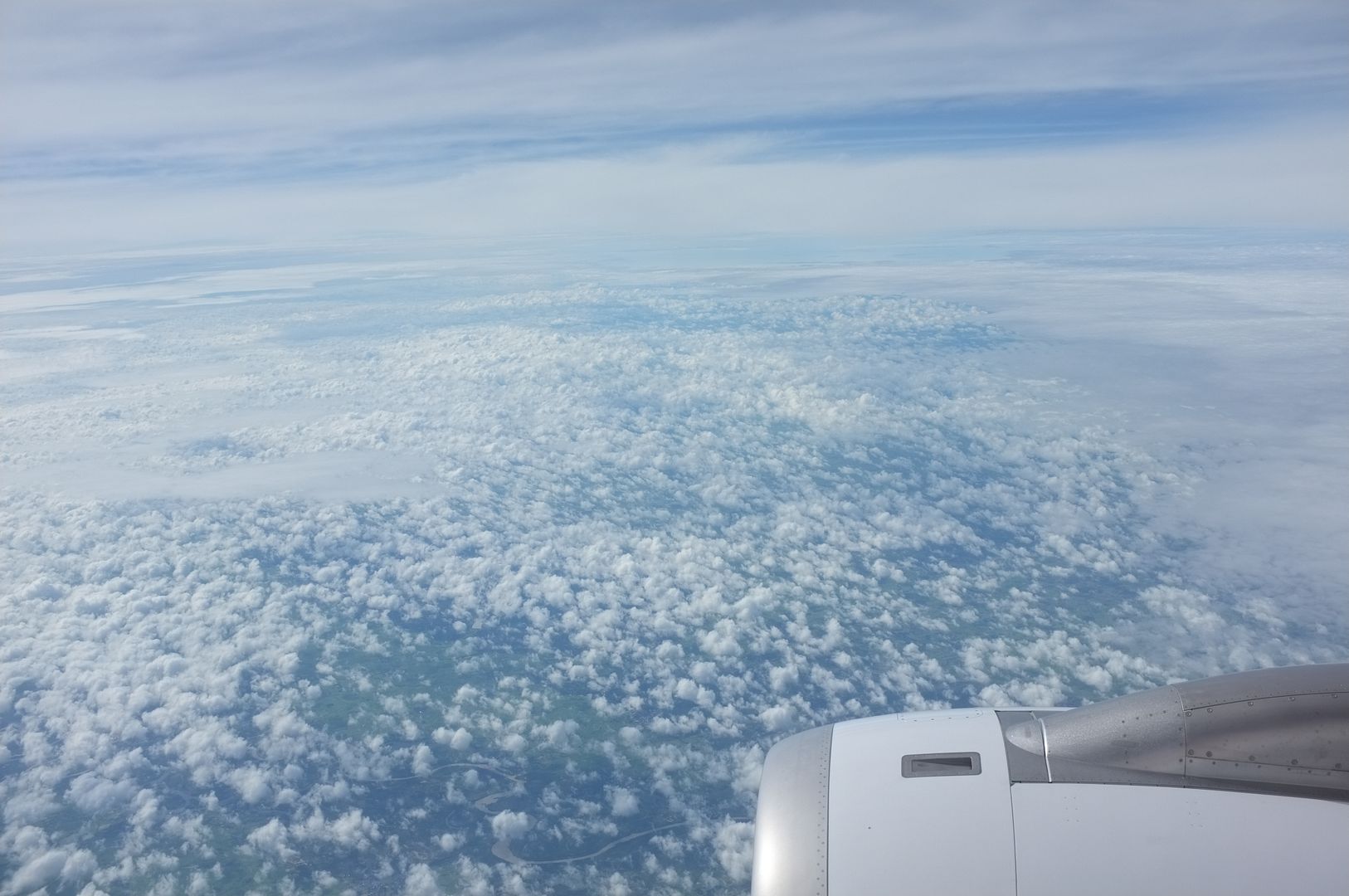 Then the curtain was reopened, and the MD of Thai Smile made a welcome announcement and there would be a champagne toast to mark the inaugural flight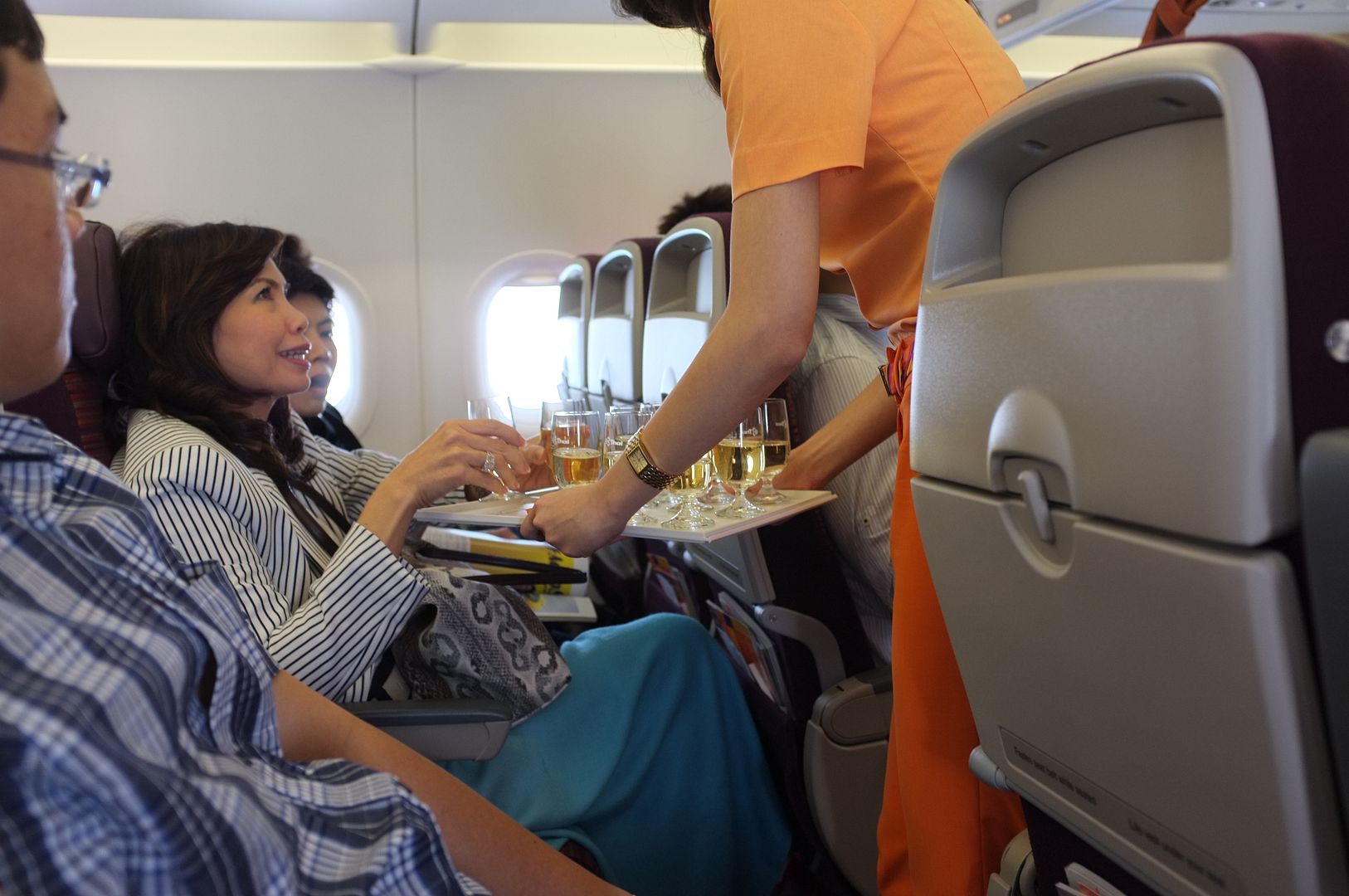 Then a variety of canapés were offered.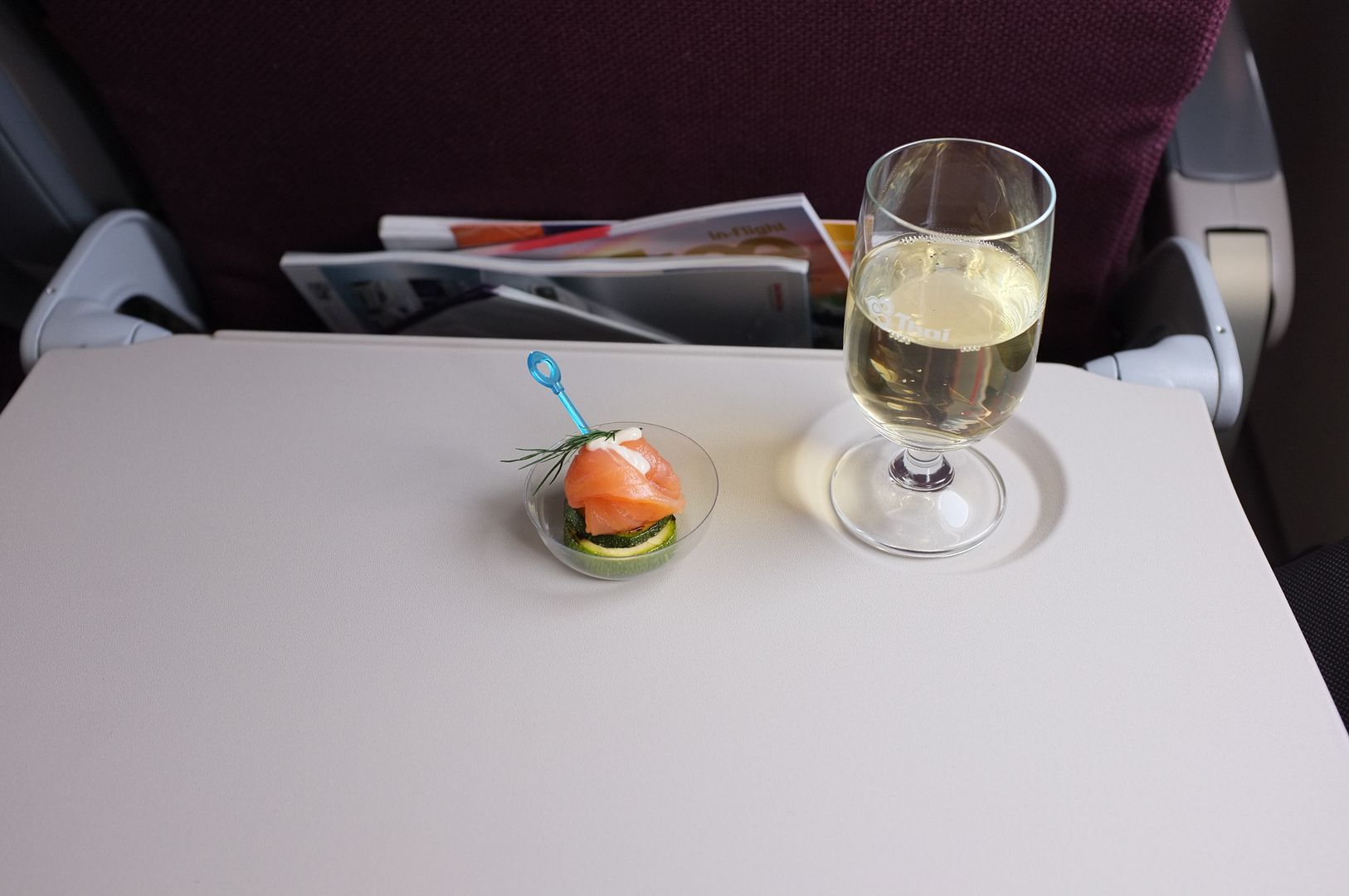 The canapés were served from the front of the cabin, but the plates were distributed from the rear. So when I finished eating, I got given a plate.
But the cabin crew saw this and brought more canapés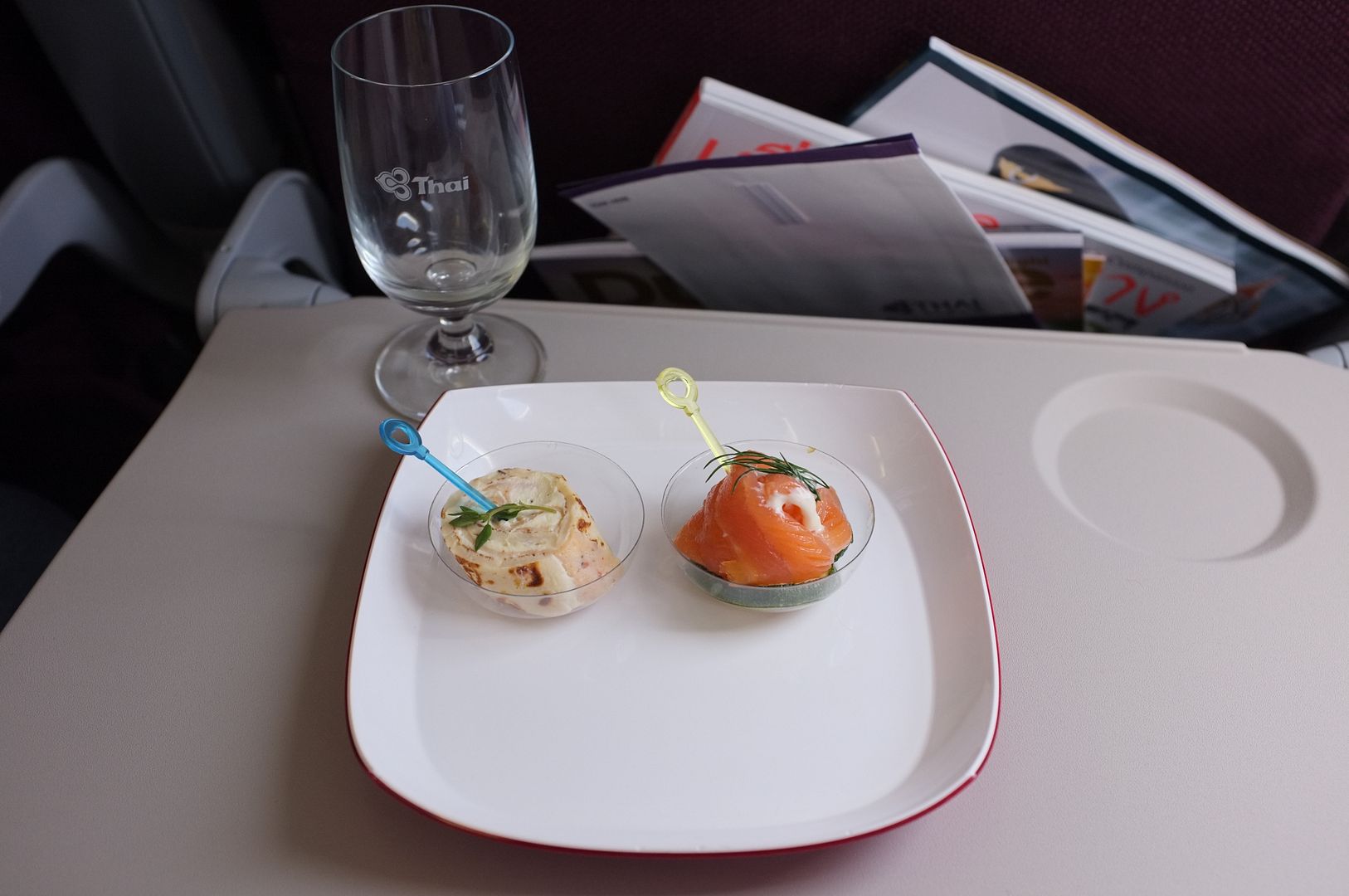 Then a sandwich and a drink were offered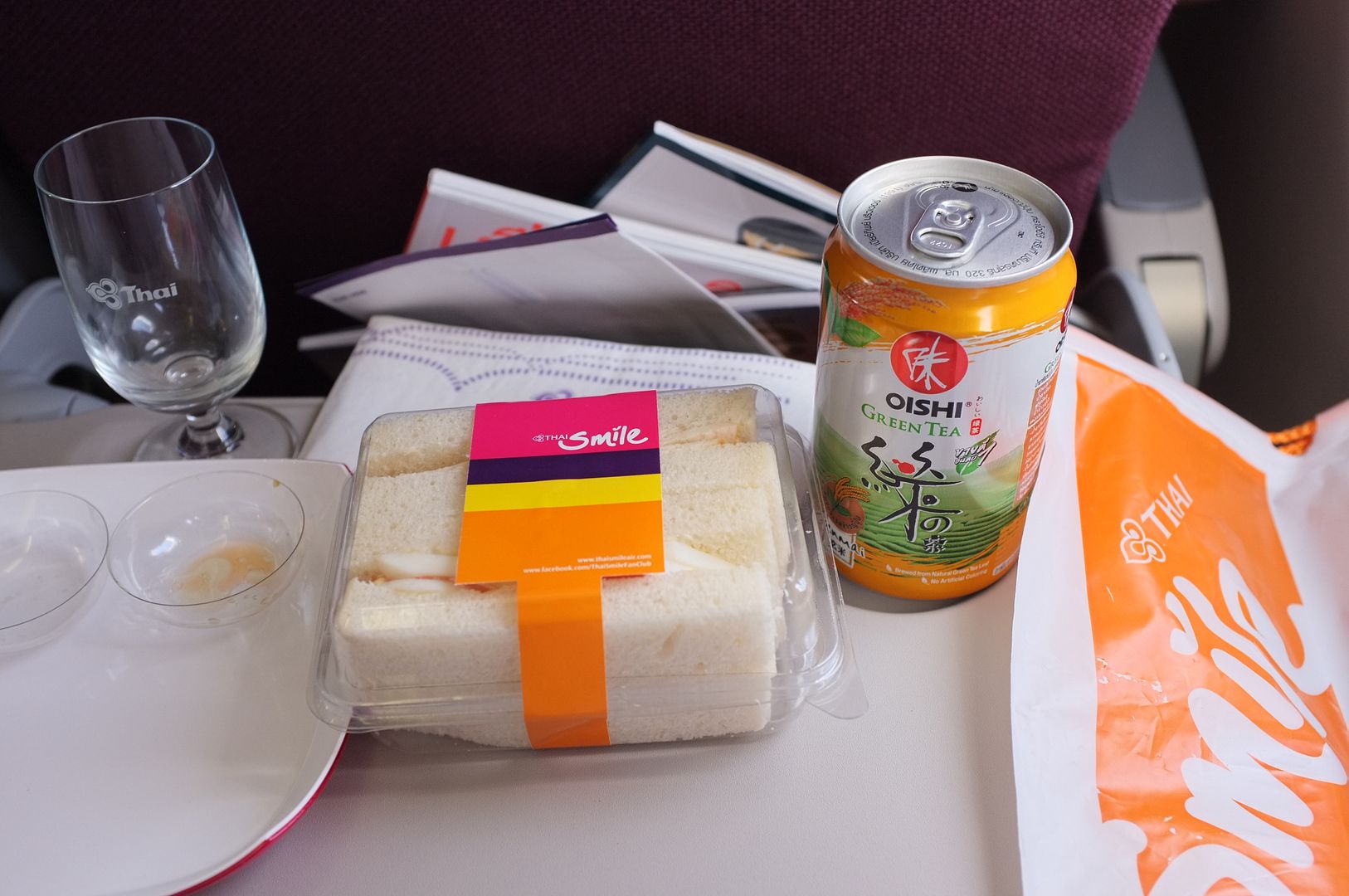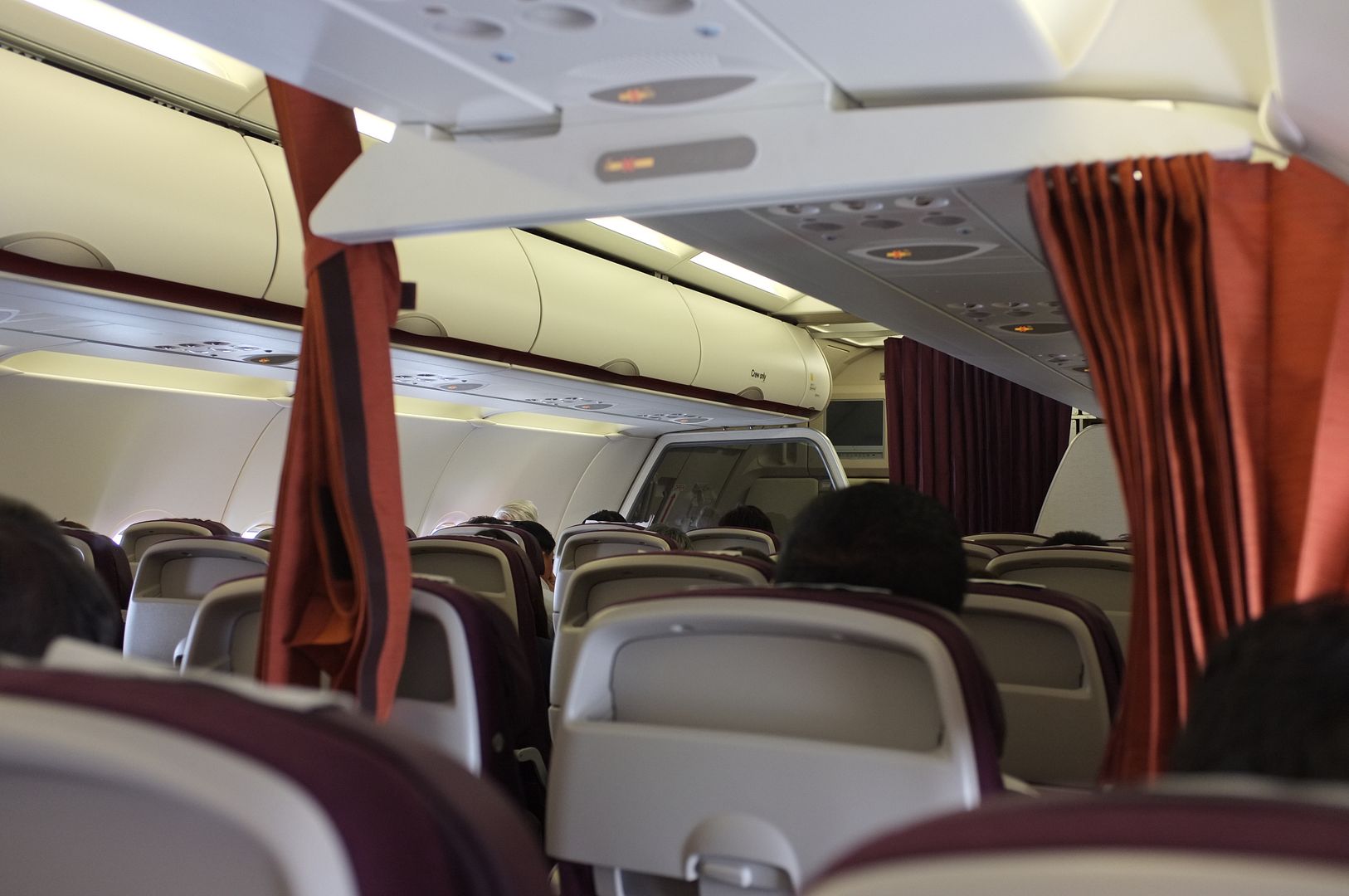 And soon after, the crew started the sales of hot meals which I didn't see anyone buying.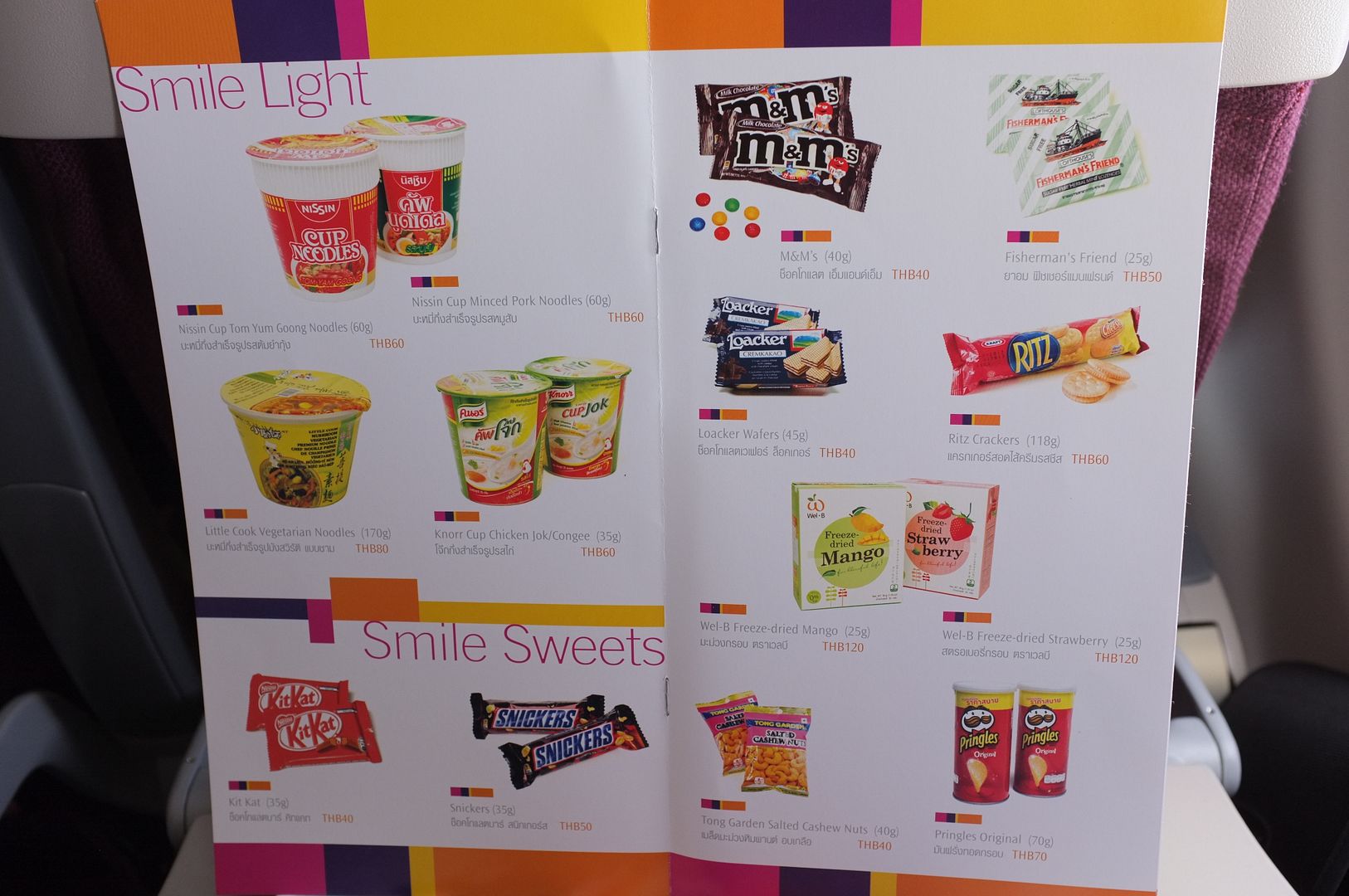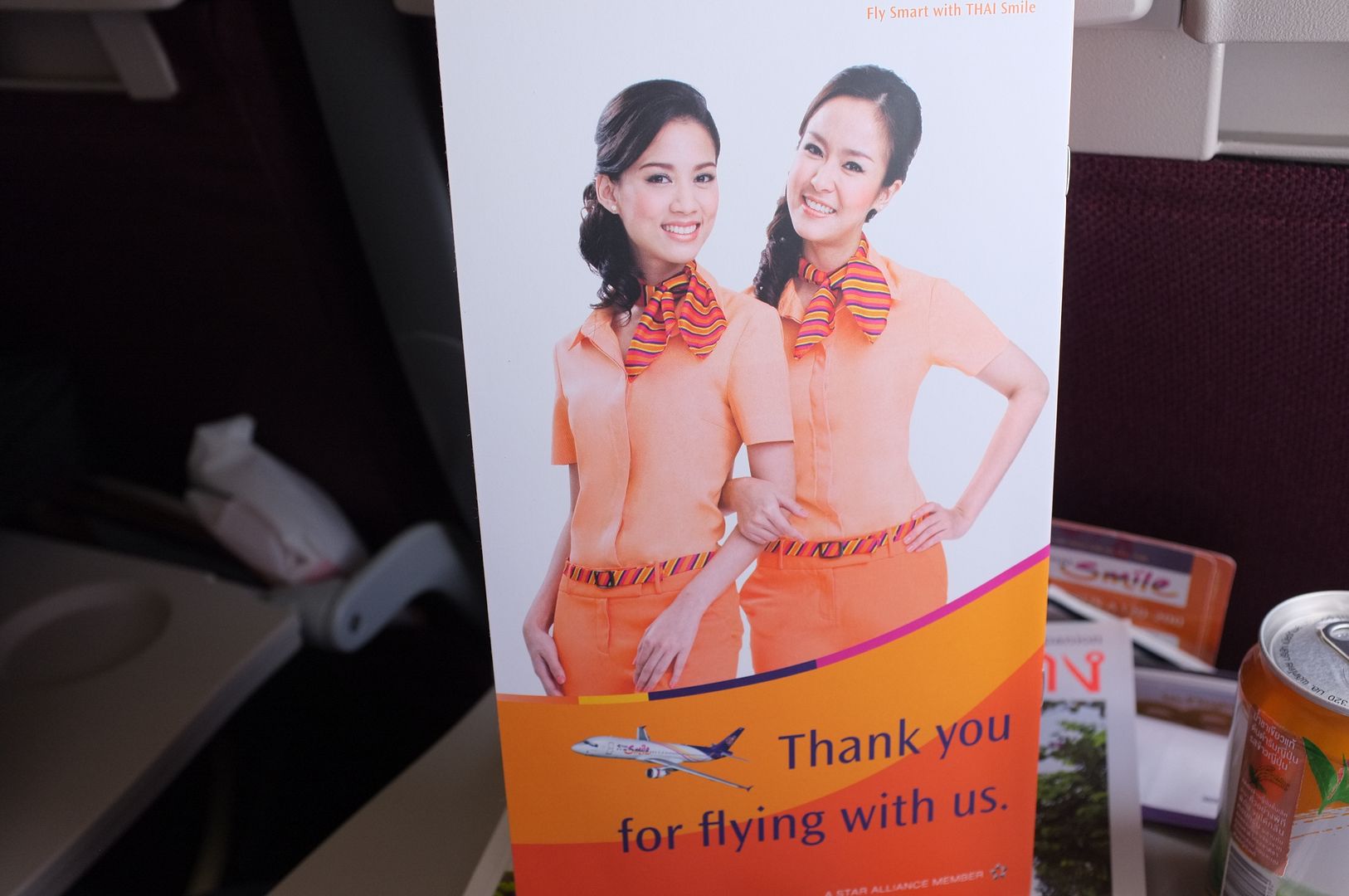 Safety card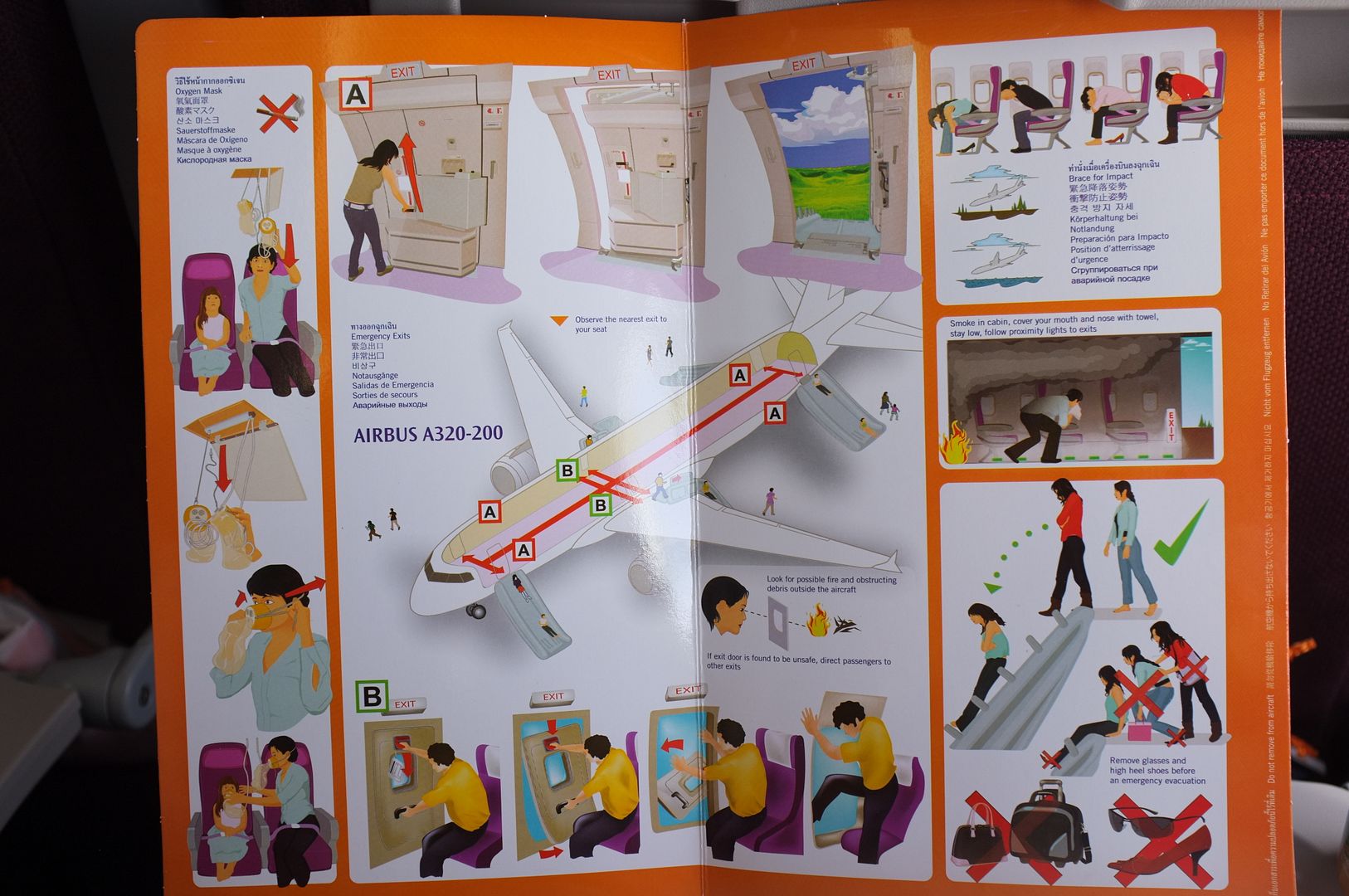 Reading material in the seat pockets consist of Thai Airway's Sawasdee in-flight magazine, a Travellers' Companion magazine featuring a special article on Thai Smile, and a Macau travel guide (in Thai)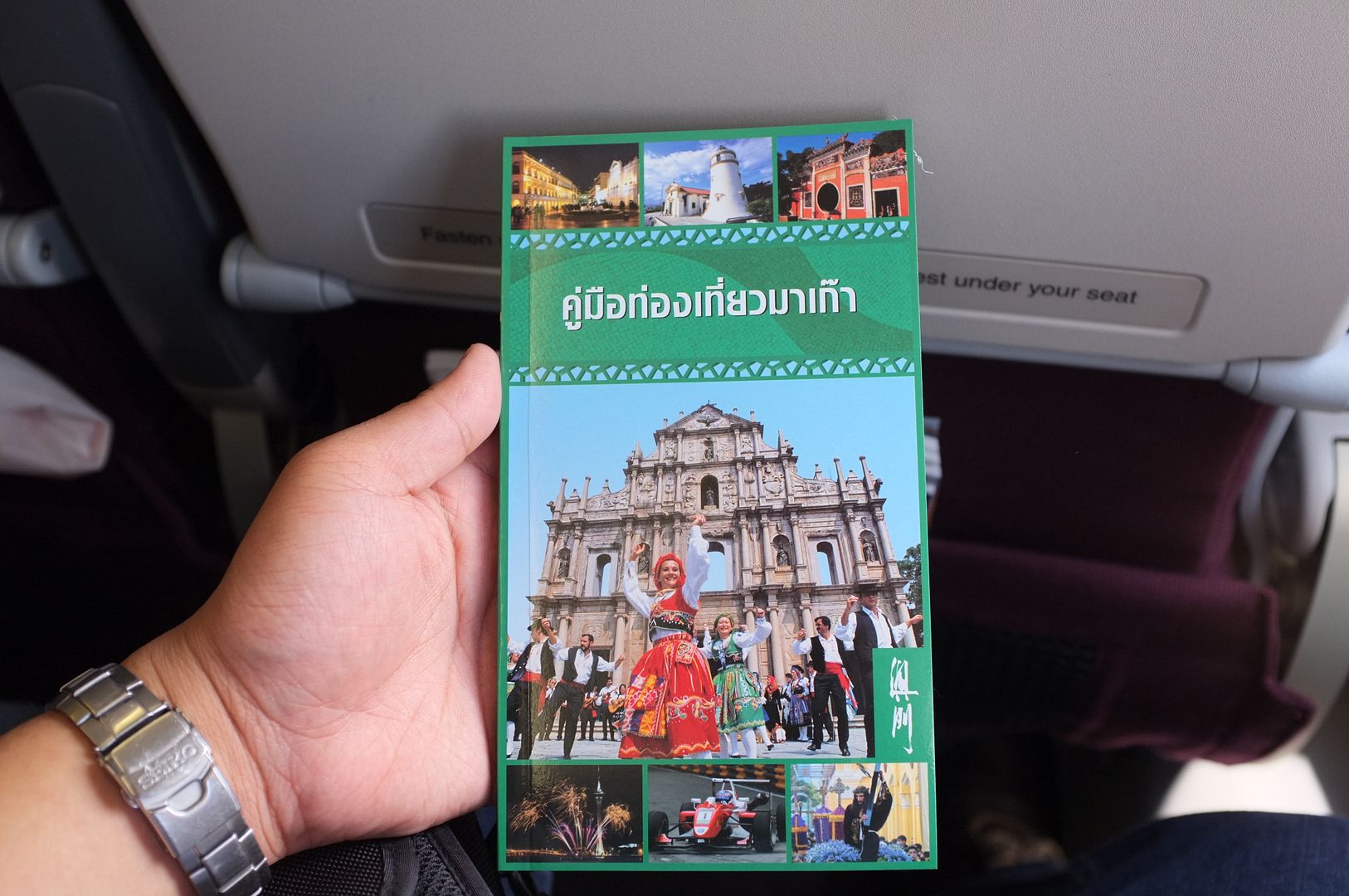 Then a cabin crew came on PA saying that there would be a prize draw on the flight. THAI VP Commercial would pick two numbers and as it turned out were 7 and 3, and we were asked to look on our boarding passes for the E-ticket number, and if our e-ticket number had the last two number ending with 73 or 37, and those whose sequence number were 37 or 73 would get a dining voucher.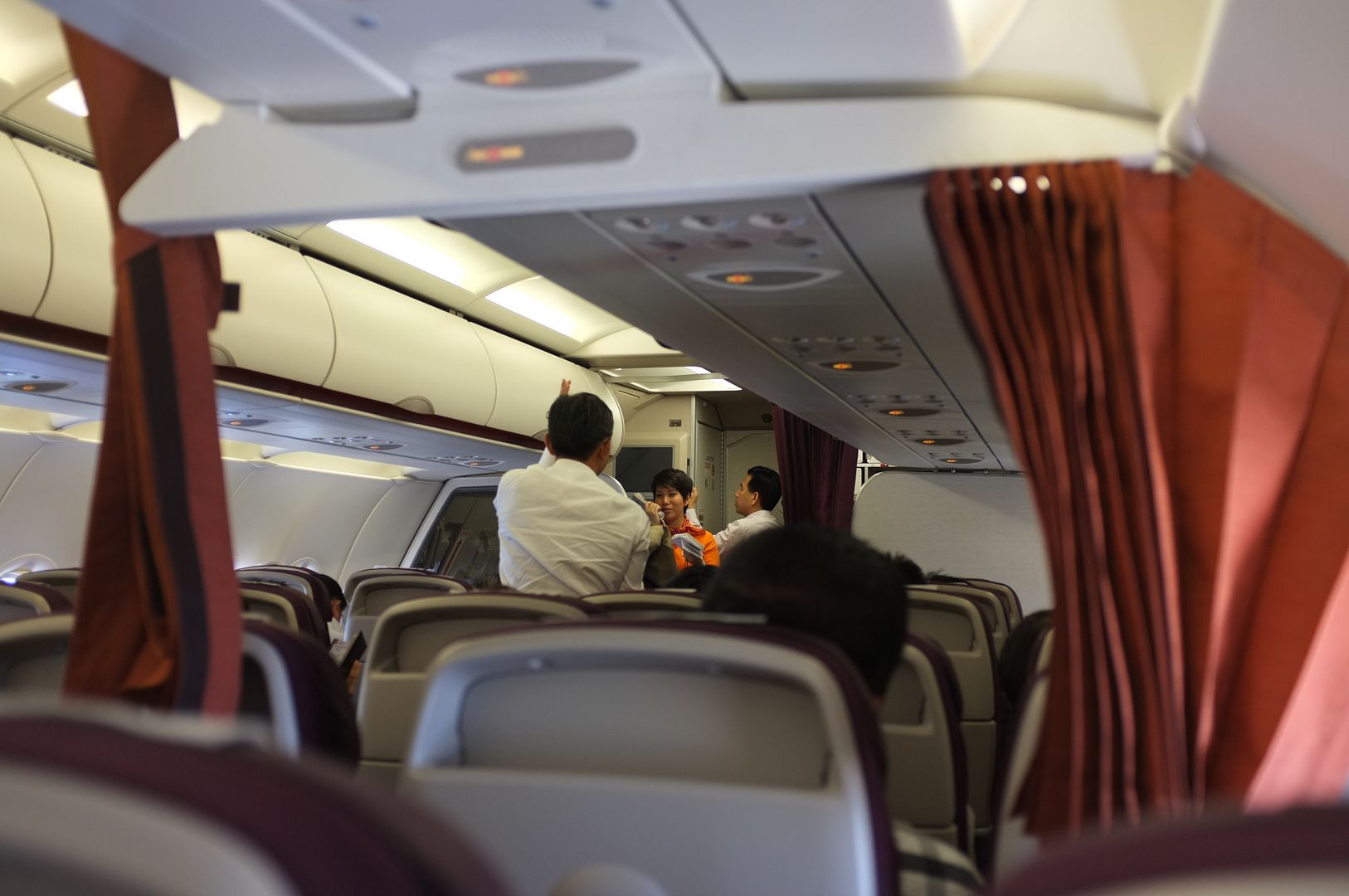 Leg room
Descending to Macau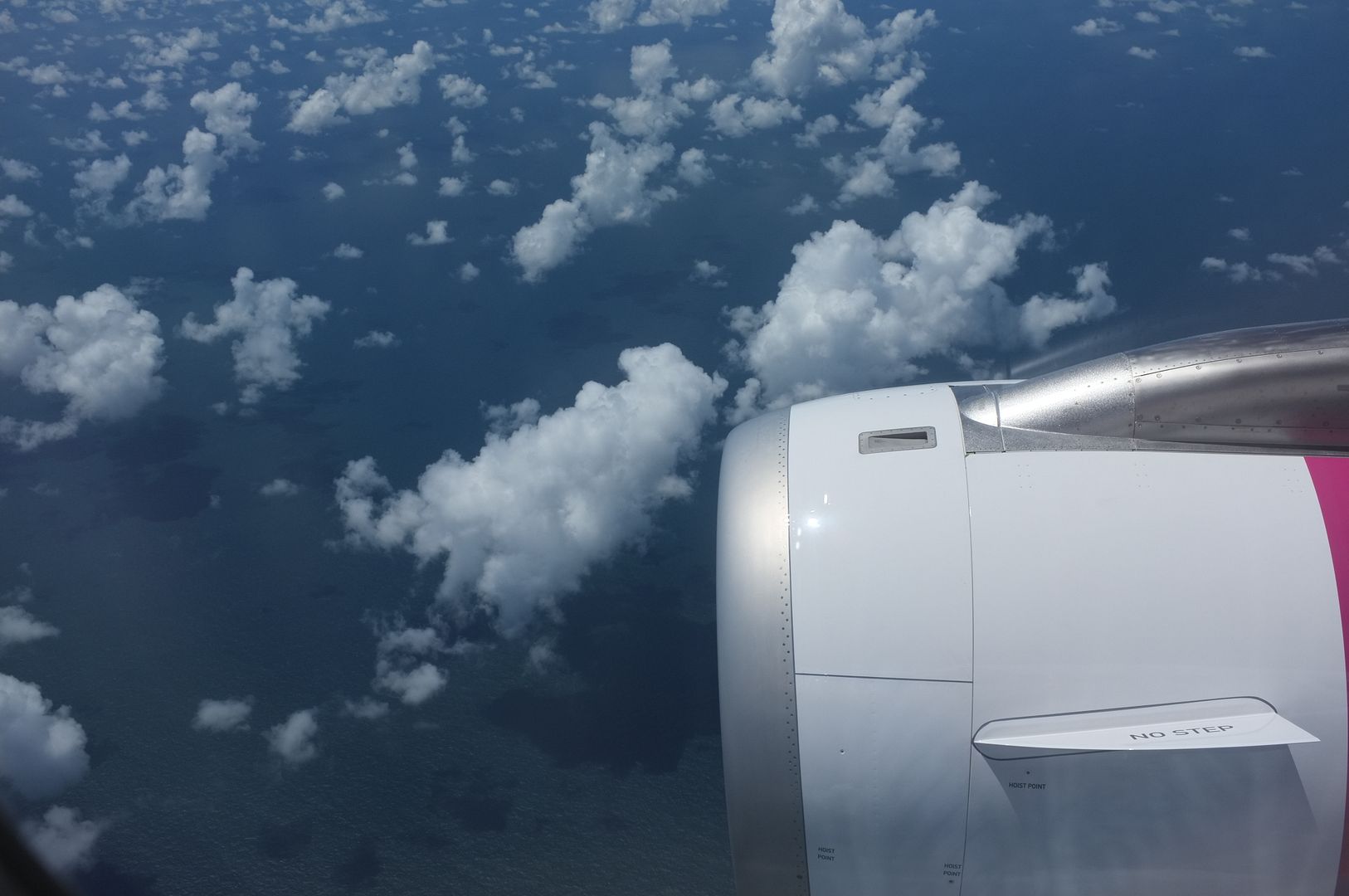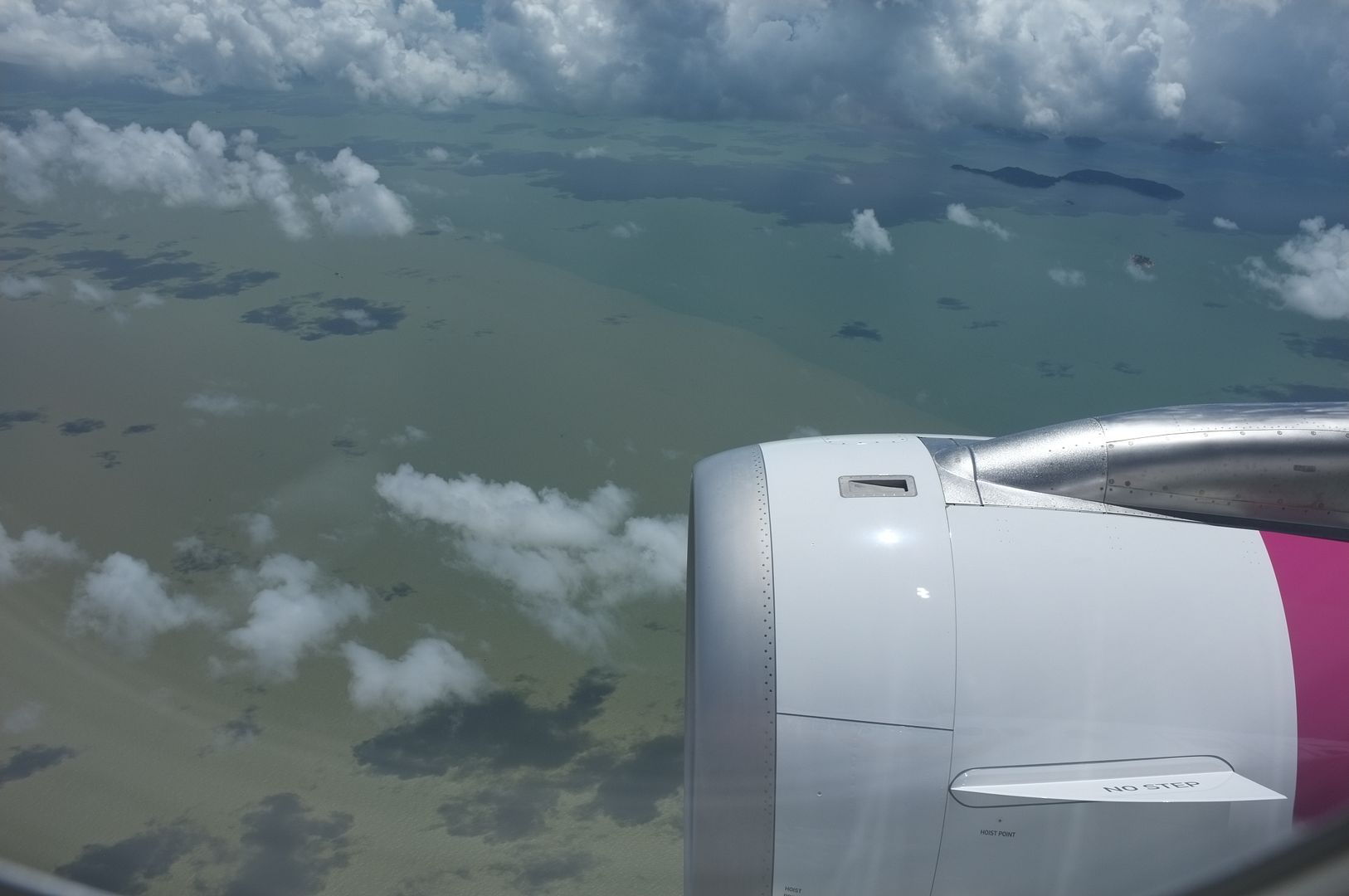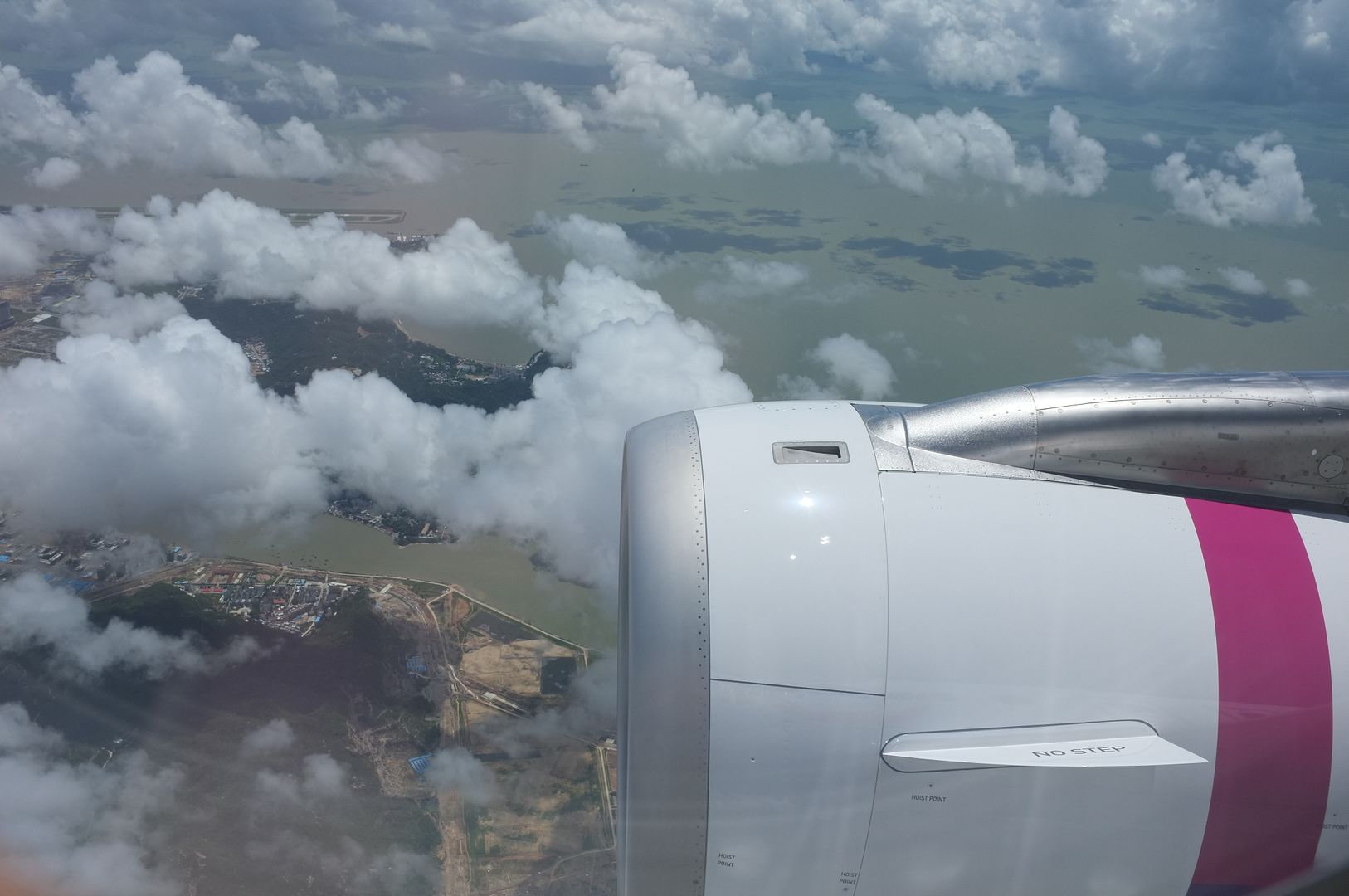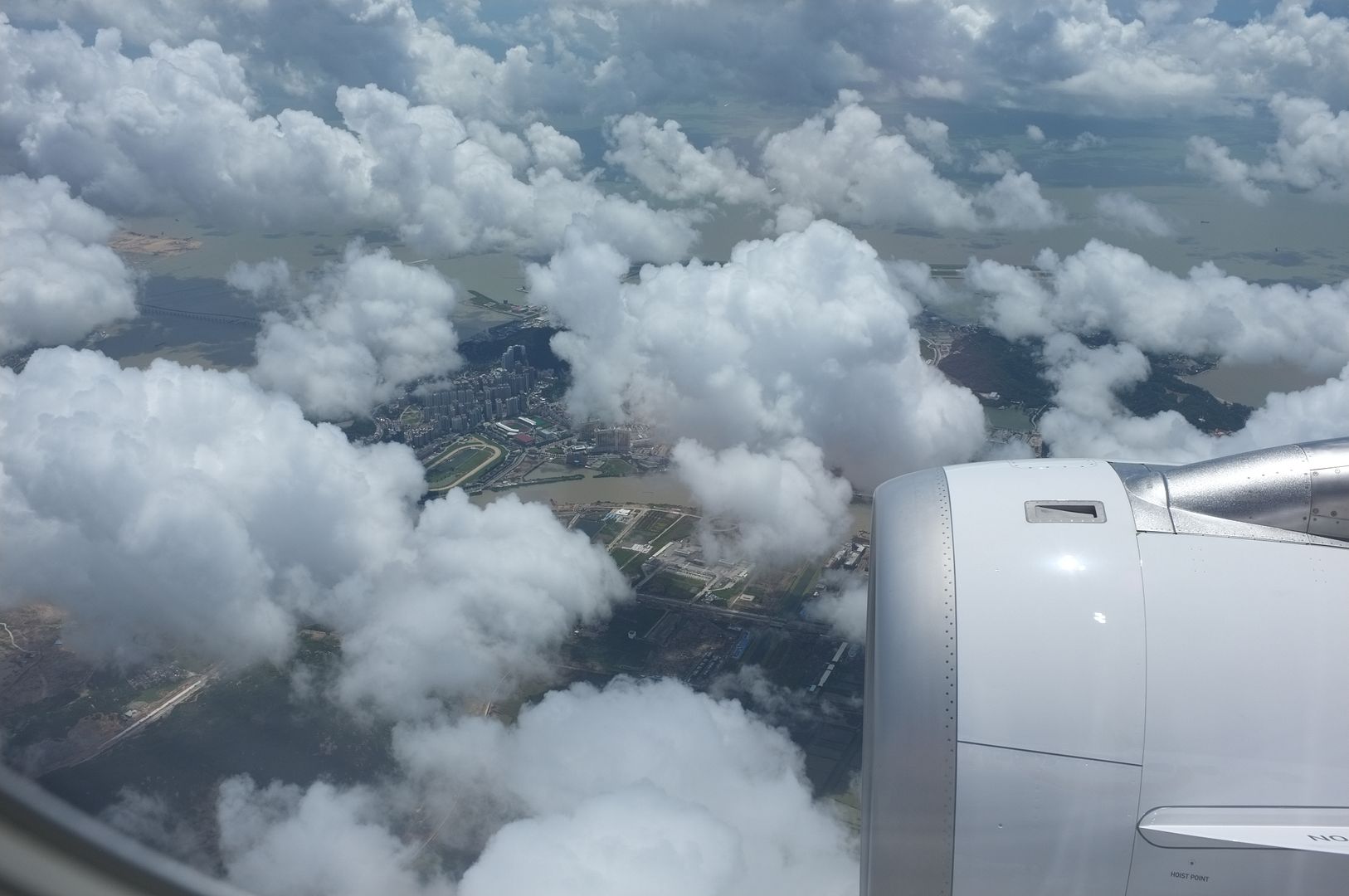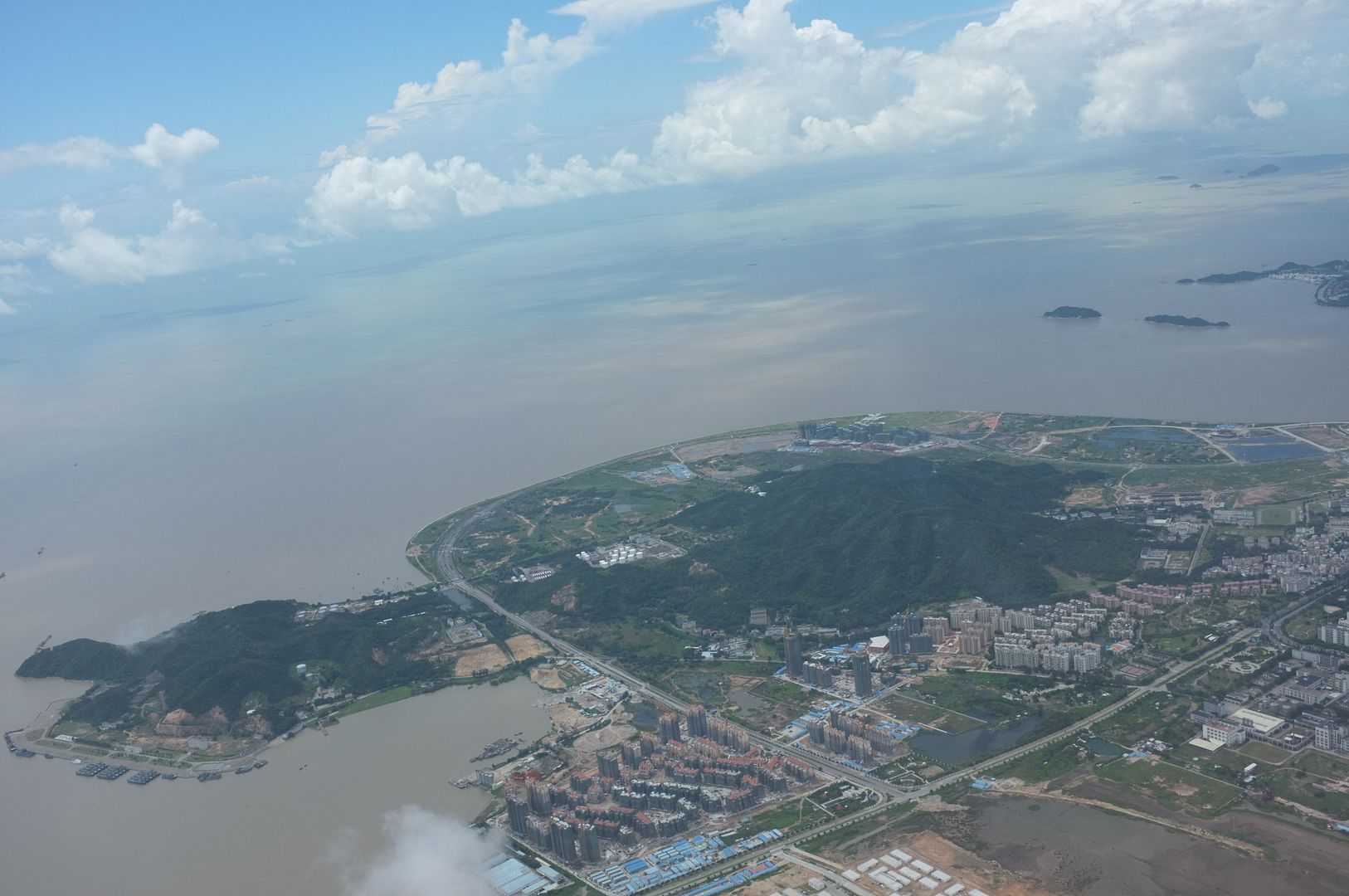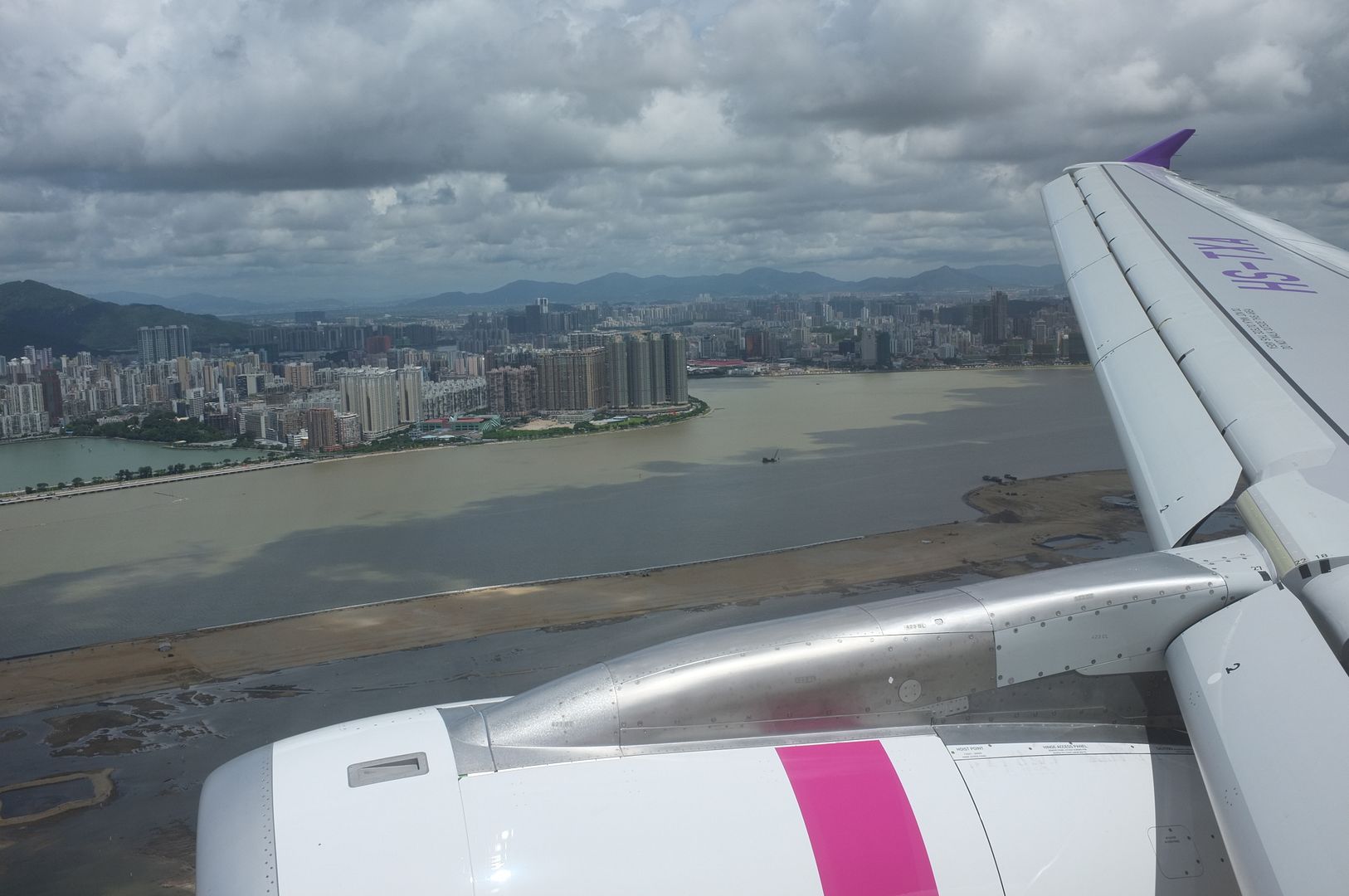 As we touched down, passengers started to clap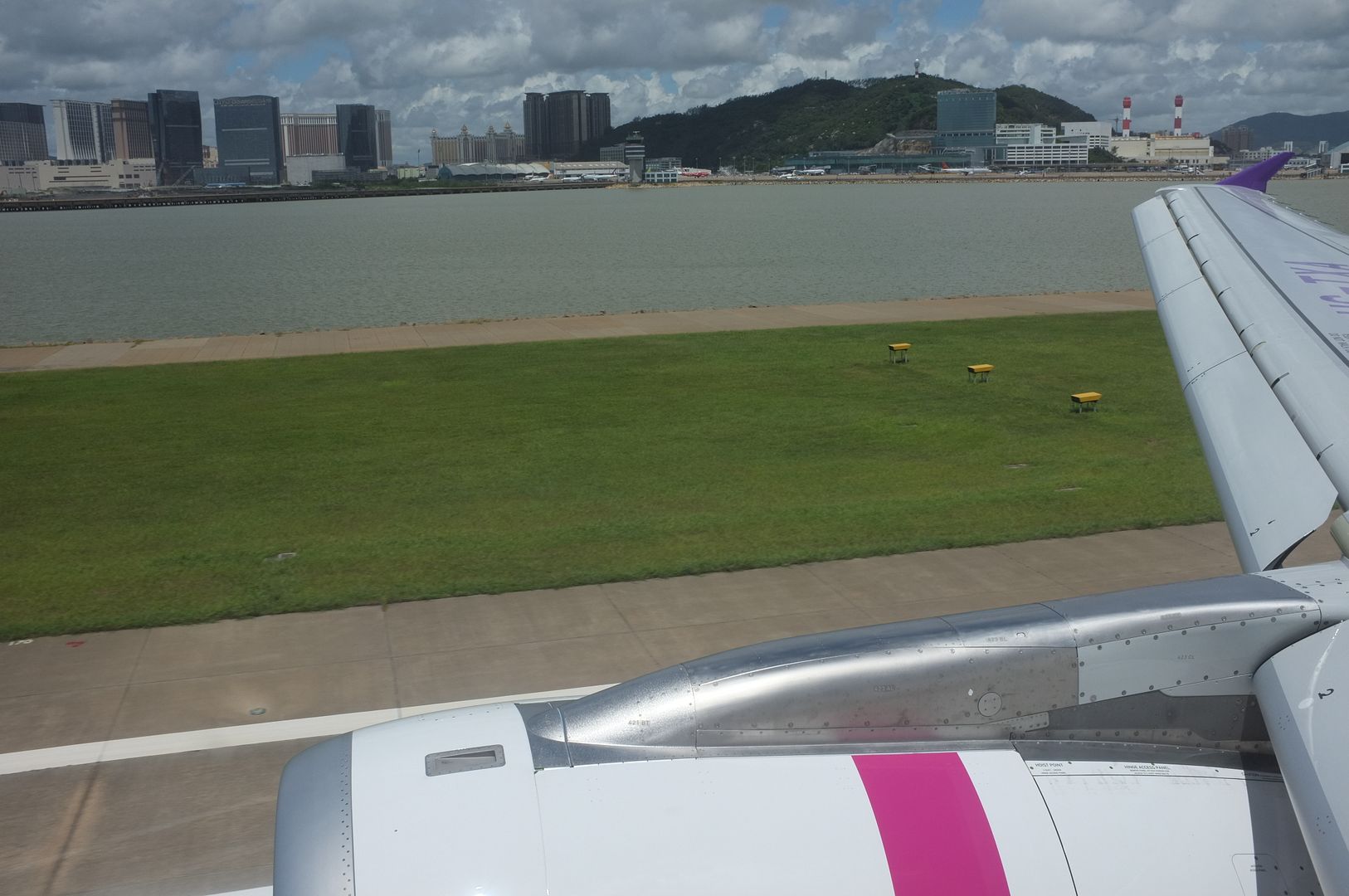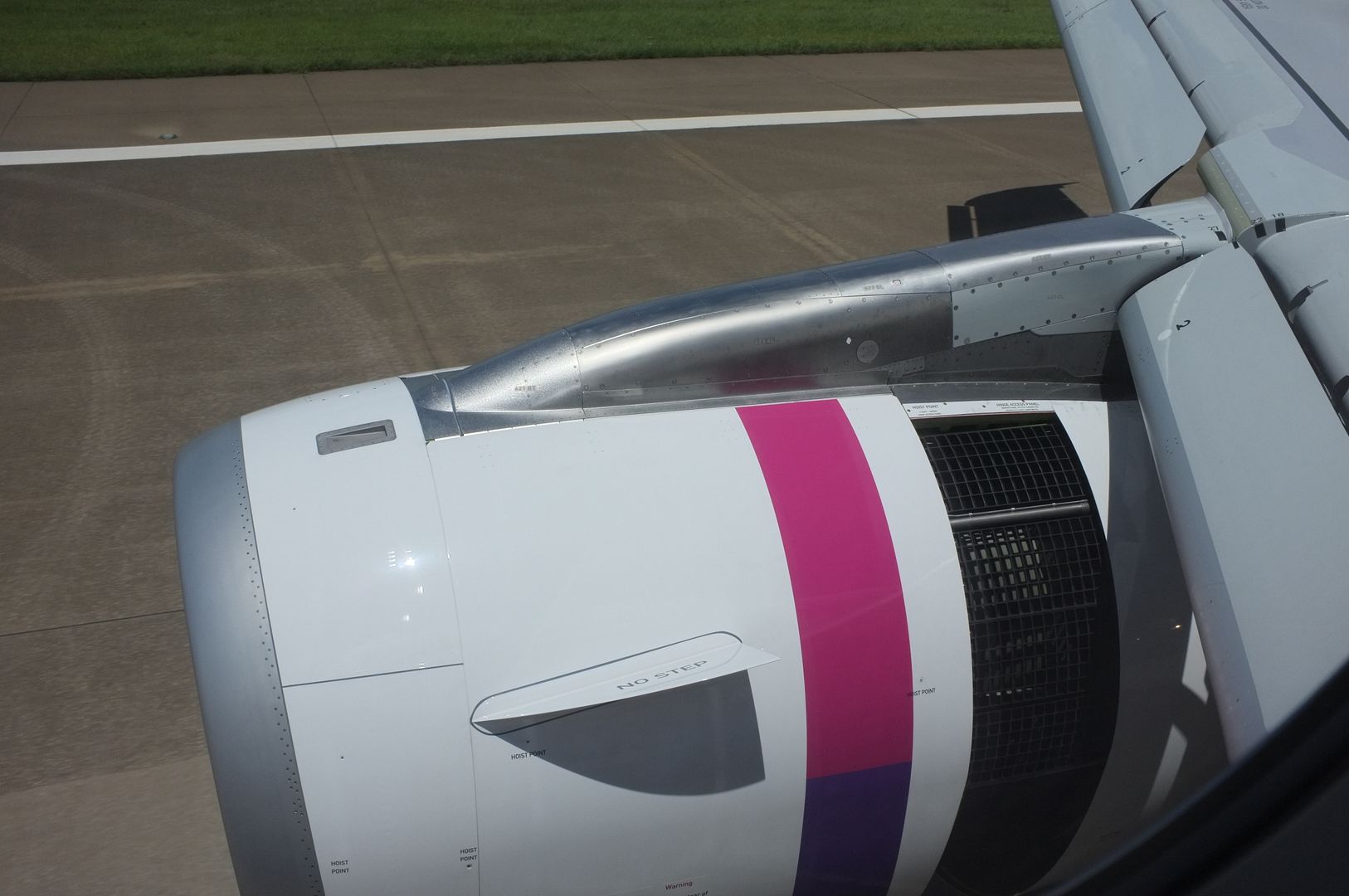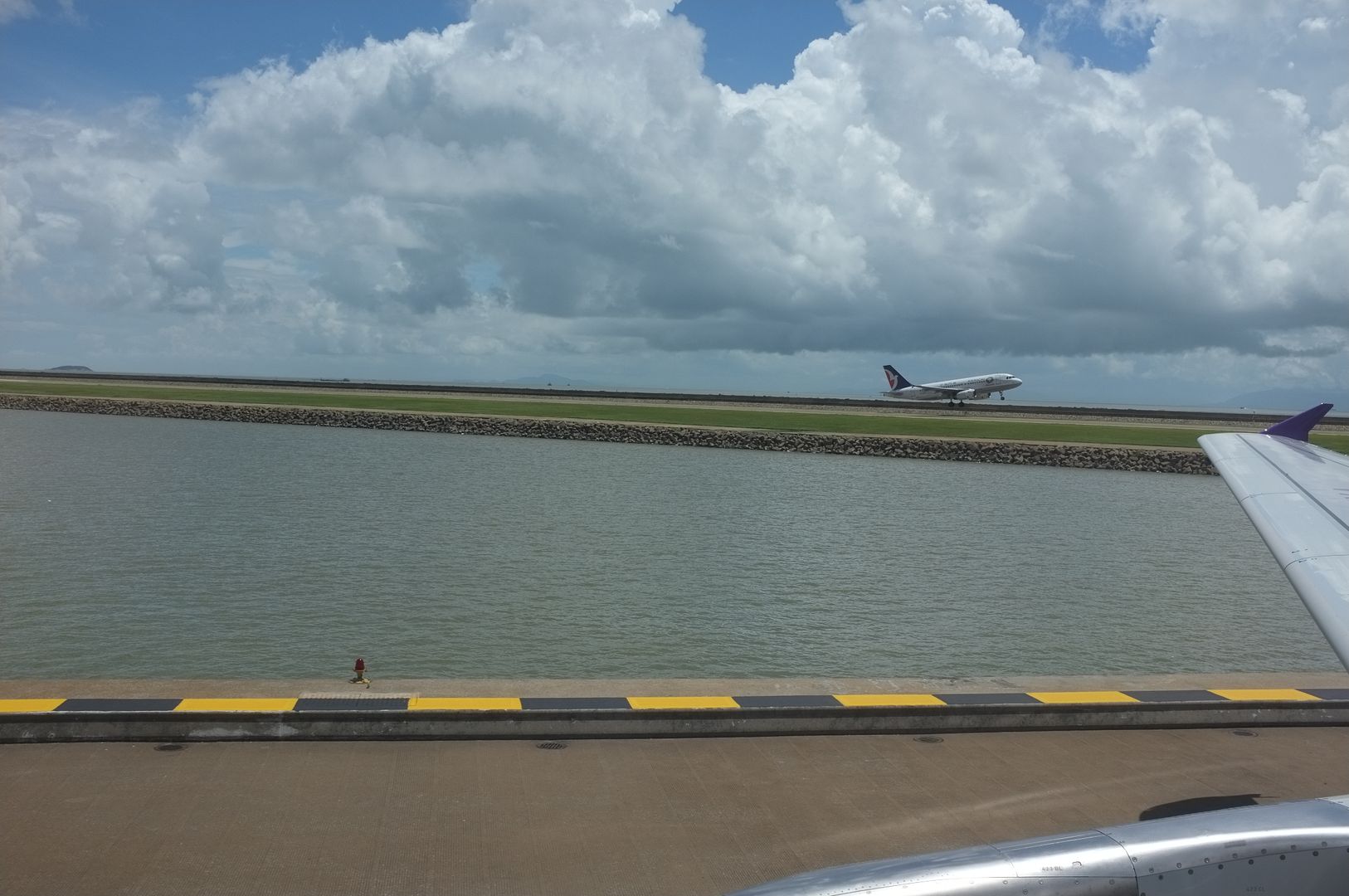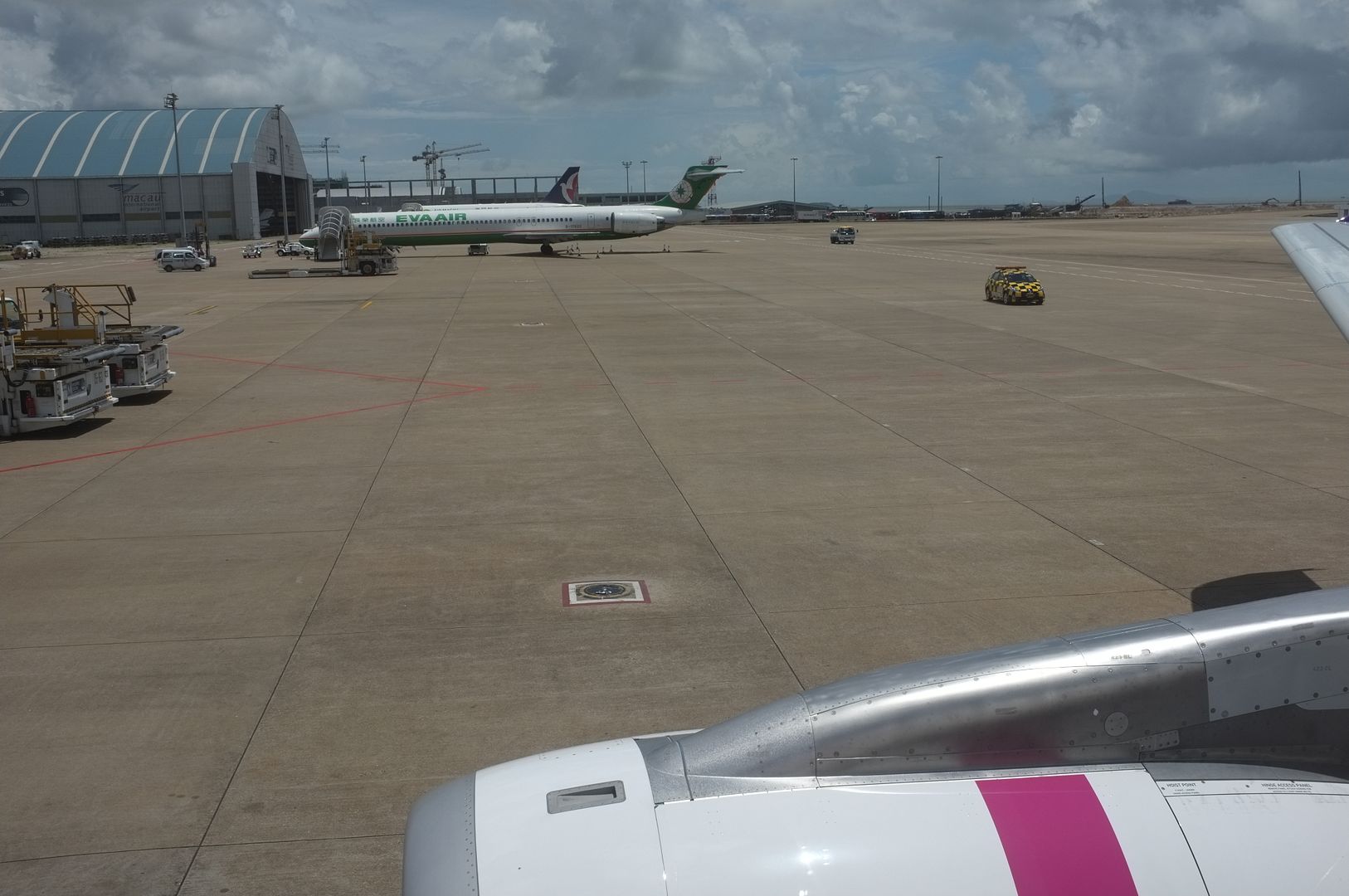 As we taxied to the parking position, we were told that once the aircraft come to a stop, the VIP and the press would be invited to leave the aircraft first. And for us passengers to remain seats until the crew invited us to disembark.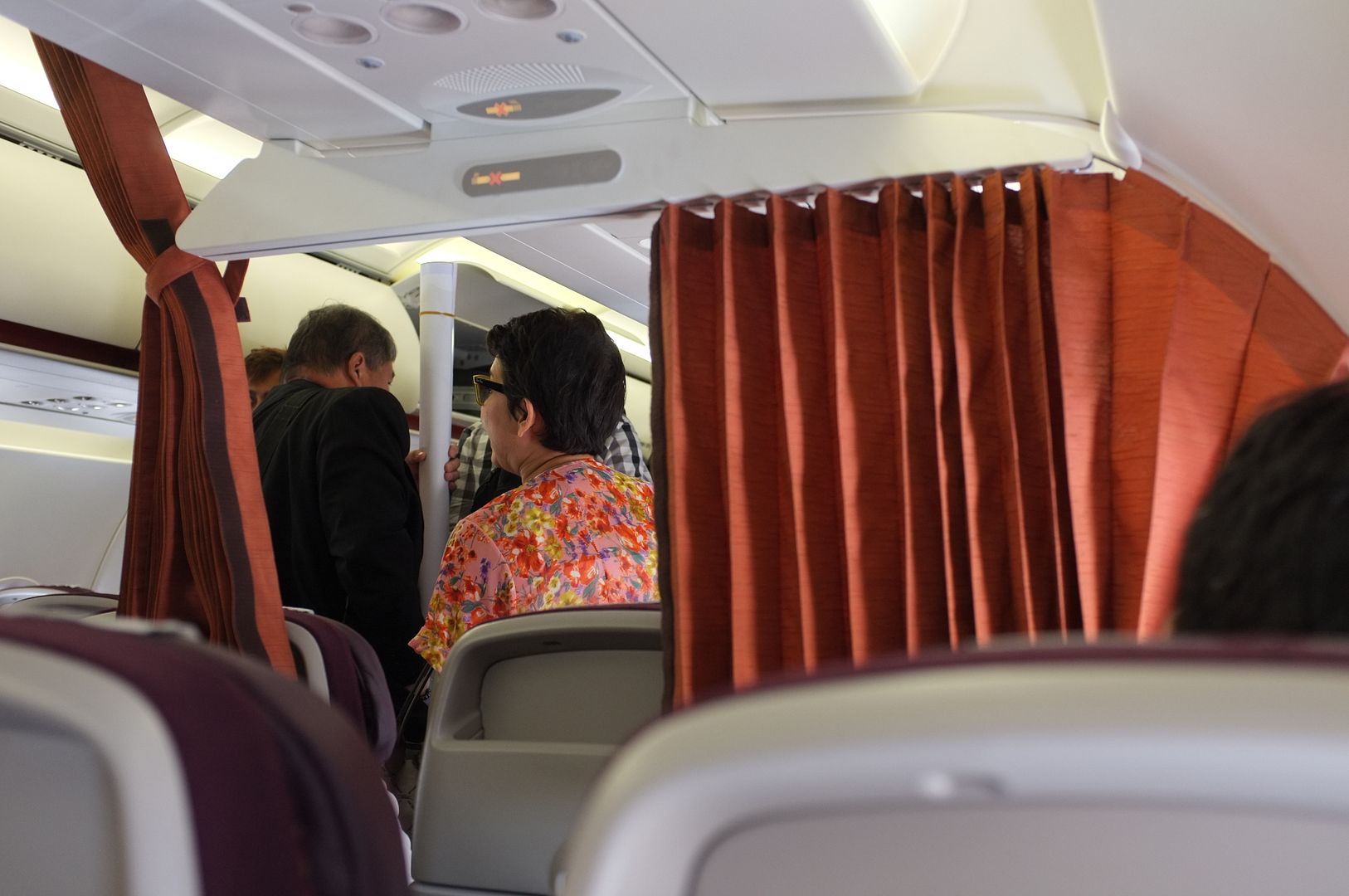 My seat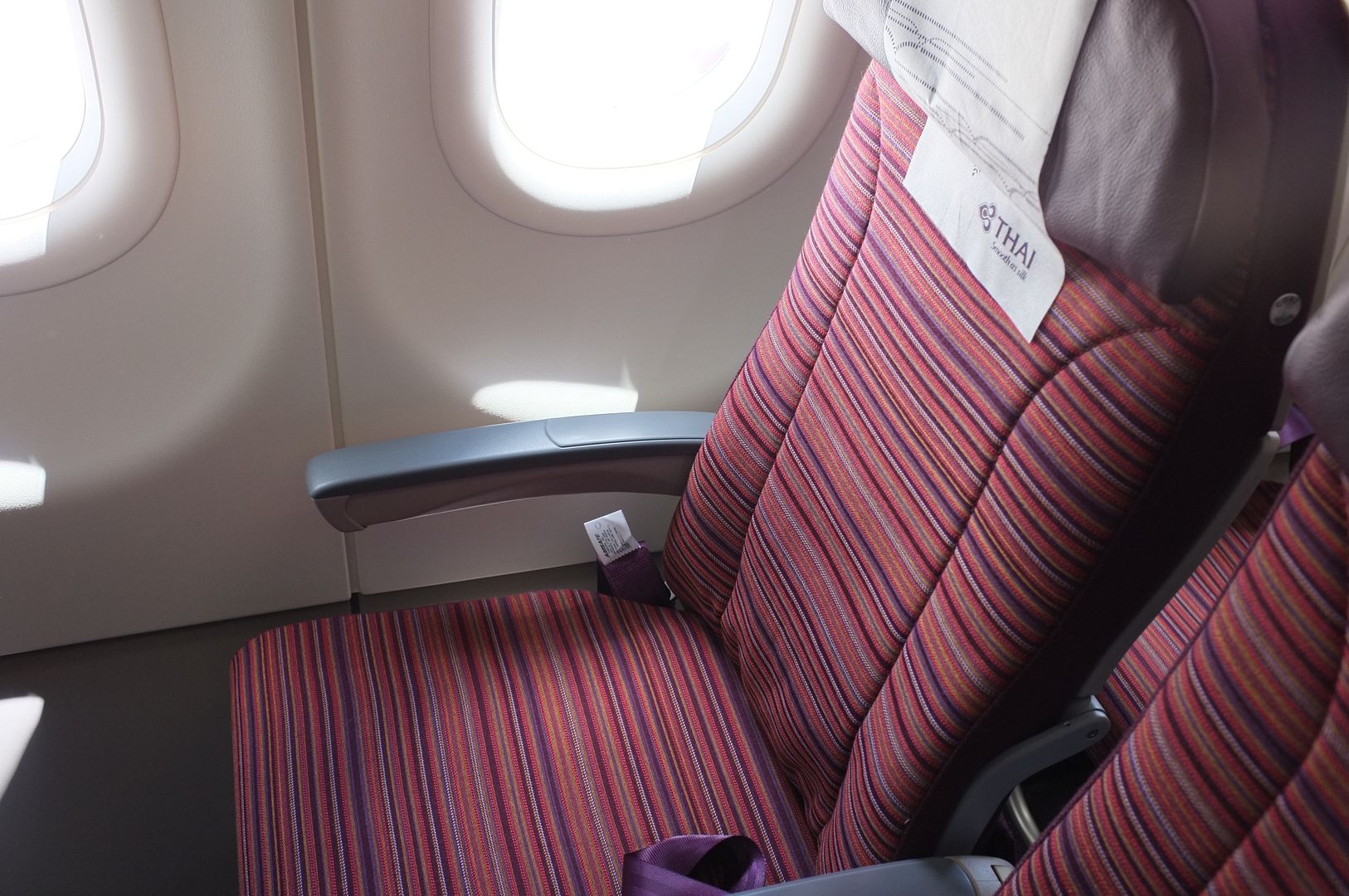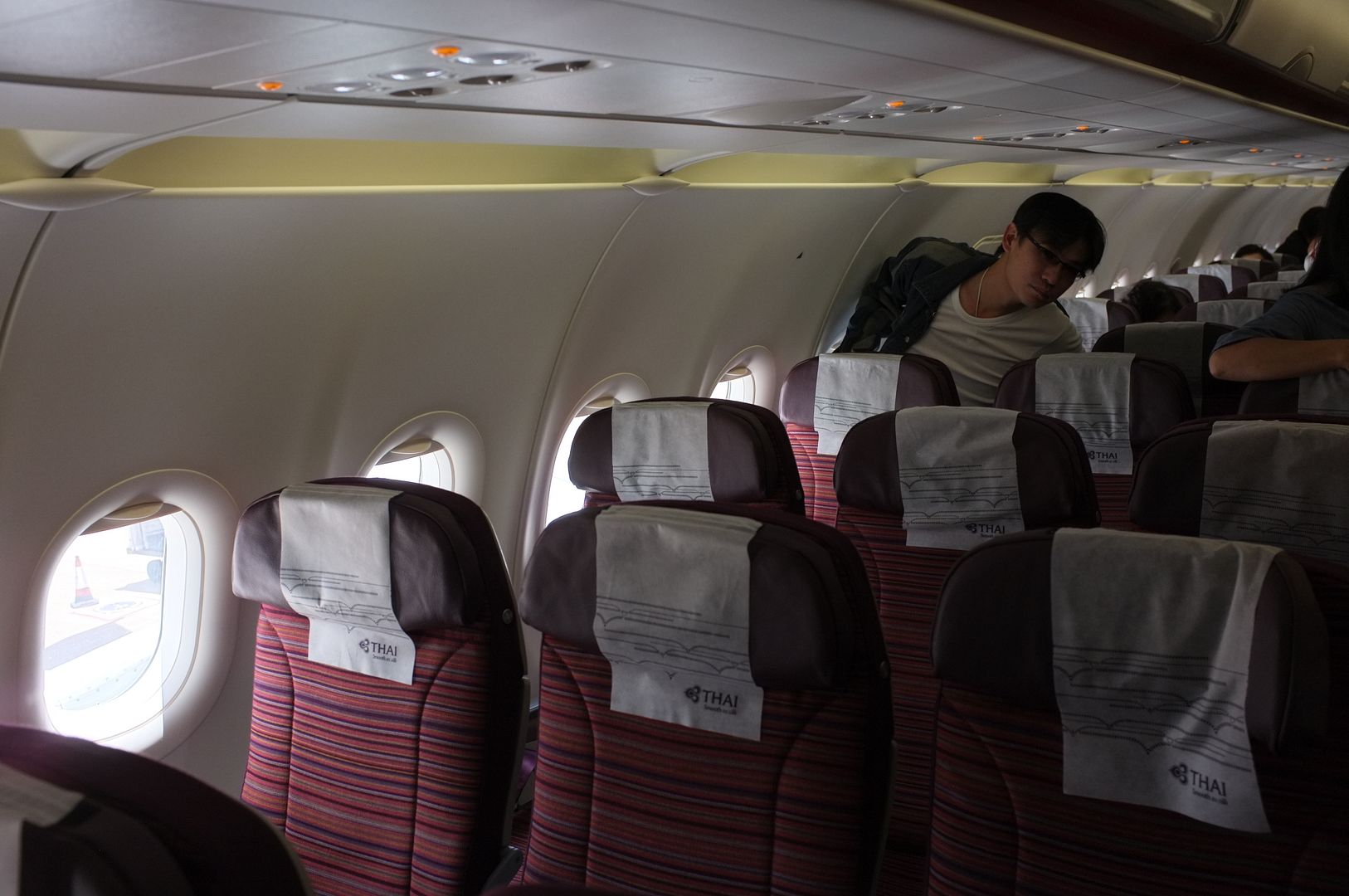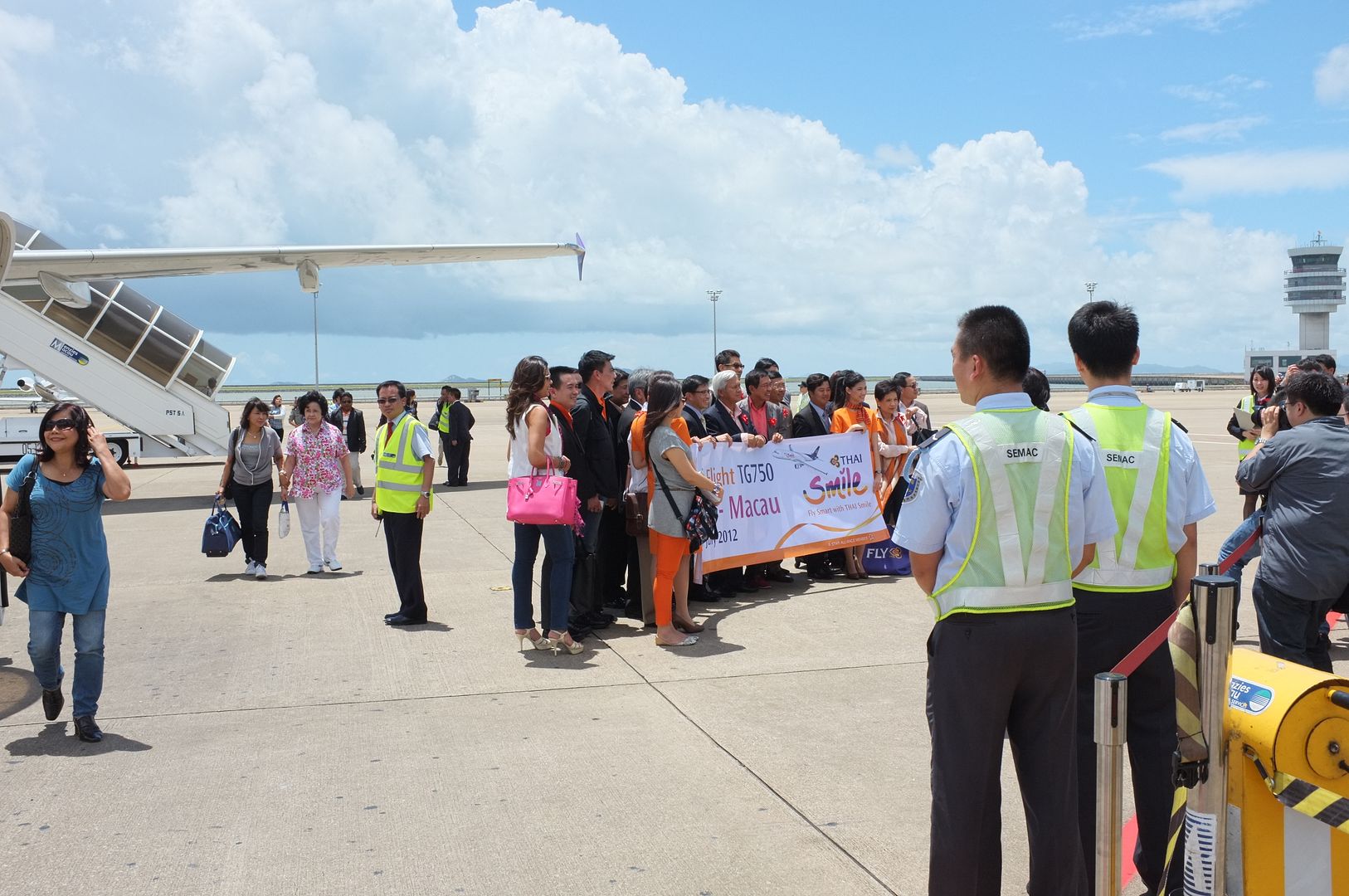 As we walked to the terminal, we were given a bag, containing a pen, Macau tourist guide (Both Thai and English), and a bag belt.