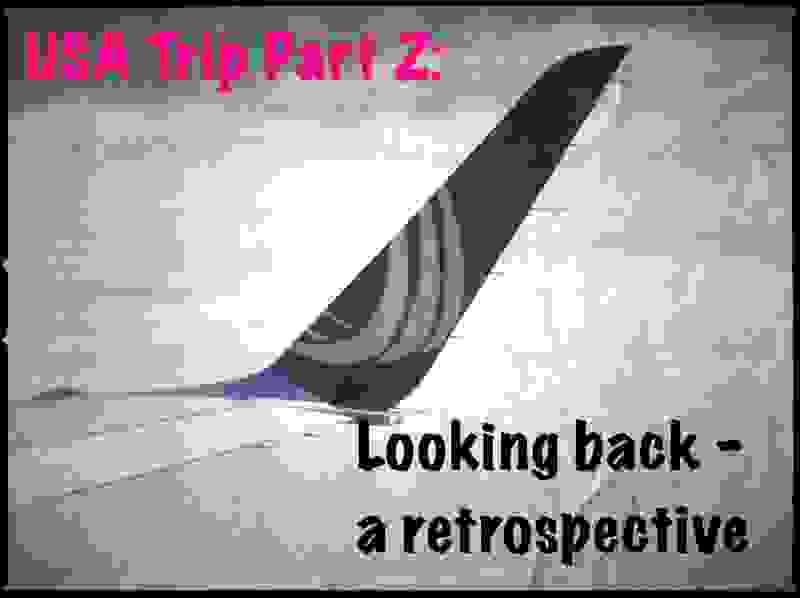 Introduction
Since I started this report with a prologue part I might as well end it with a retrospective!
For the earlier parts, see these:
- Part 0:
US Trip 2012 Part 0: Prologue (JYV-TLL)
(by
FlyingFinn76
Jun 12 2012 in Trip Reports)
- Part 1:
US Trip 2012 Part 1: Warming Up (HEL-TXL-BRU)
(by
FlyingFinn76
Jun 20 2012 in Trip Reports)
- Part 2:
US Trip 2012 Part 2: Oh (Air) Canada: BRU-YUL-YYZ
(by
FlyingFinn76
Jun 26 2012 in Trip Reports)
- Part 3:
US Trip 2012 Part 3: JetDashBlue (YYZ-EWR-FLL)
(by
FlyingFinn76
Jun 30 2012 in Trip Reports)
- Part 4:
US Trip 2012 Part 4: DC: Delta Comfort FLL-ATL-DCA
(by
FlyingFinn76
Jul 5 2012 in Trip Reports)
- Part 5:
US Trip 2012 Part 5: B.transatlantic
(by
FlyingFinn76
Jul 9 2012 in Trip Reports)
- Part 6:
US Trip 2012 Part 6: The Sleepy End
(by
FlyingFinn76
Jul 12 2012 in Trip Reports)
Conclusions
So, I had quite a trip over the last week. Including the prologue and retro flights which weren't really part of the main trip but positioning flights anyway. I flew 16 flights covering a total of 13104 miles. This included ten different airlines, of which 4 were new for me. I passed through 15 airports, of which 5 (EWR, FLL, ATL, DCA and BWI) were new for me.
The whole route again: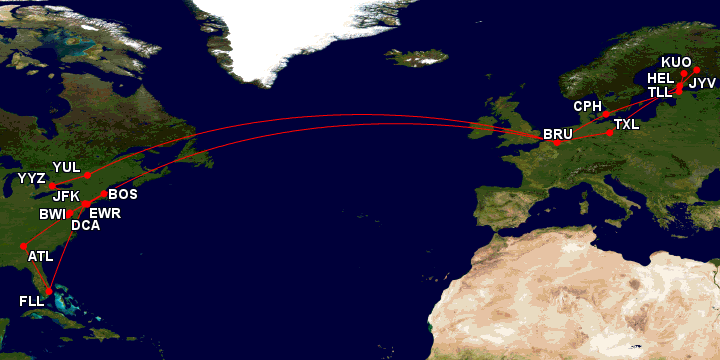 So what did I think of it all? Superb, what else. I had fun doing it all and would do it again in a jiffy (although I'd probably make certain decisions a bit differently).
Washington D.C. was definitely the highlight, a great and very interesting city with lots of see and do, definitely a recommendable place to visit. I was very lucky with the weather it seems, even the people in Florida were warning me about Washington being muggy this time of year - and if someone from tropical Florida is calling a place "muggy" there must be some truth to it. But during my days there it was sunny and warm, but not unbearably hot at all. Later that week the temperatures started rising, and a couple of weeks onwards the notorious heatwave hit the area, with the temperatures being well over 40 degrees and very humid. No thanks, that's too much.
Certainly Brussels and Toronto were nice to revisit as well, not that I really had as much time there as the places deserve, but hey, that's always a problem when you live your life the way I do.
Not much to say about Florida since I was there for ten hours - it was hot, humid and thundery but the Hard Rock Casino was an interesting, a bit different place to visit.
As for the flights - I've pretty much given my opinion on them already on the individual parts, but I'll say that Air Canada was hands down the best experience on this trip, especially the first transatlantic part of the BRU-YUL-YYZ flight. Great staff, a nicely XM'ed 767, gorgeous weather and views enroute - everything (apart from the dismal ground handling experience at BRU) just clicked. Very happy about that flight.
The biggest disappointment was the JFK-BRU sector on SN. There was nothing outright bad about it, but I guess I just had much larger expectations for this new flagship service than what it really was. The new interior and the huge PTVs were great, but unfortunately the seat comfort wasn't. The crew was a pale shadow of the great AC crew and catering quite a disappointment.
Finally some words about the TSA, my biggest gripe on this trip. I don't really understand why these people are allowed to get off being so rude and obnoxious to passengers. It looks like half the staff is on a permanent power trip drunk on the supposed authority bestowed upon them by the agency. I fully understand the need for airport security, especially in a country like US which just happens to be the favorite target of all kinds of wannabe martyrs, religious zealots and just plain old whackos who are out there where the buses don't run.
But this doesn't mean the staff imposing the security rules has to be so damn rude. If you are nice to people, usually they will be nice back to you and cooperation gets you much, much further than barking commands with a supposed voice of authority. "Good morning, sir. Could you please take off your shoes, belt and coat and put them here and put your bags on the belt here." sounds just so much more civilized than "SHOES OFF! NO COATS, DON'T YOU UNDERSTAND?!, DON'T OVERSTEP THAT LINE! I TOLD YOU NO BELTS!". For some strange reason you always seem to have lots of queues and slow process over in the US, whereas in Europe the operation in general always seems to be much smoother and definitely way more human - so maybe I'm onto something here?
I'm generalizing here of course, I've encountered some pretty okay TSA agents every now and then (DFW some years ago springs to mind, very friendly and laid back Texans there), but the way I see it the overall security experience is frankly crap. No wonder American people keep complaining about flying.
Because it was a massive trip, also this trip report is the biggest one I've ever done with 6 + 2 parts, with a massive 1050 photos, countless words and pages and an endless number of hours devoted to writing it. Hope you have enjoyed the ride! Now get ready for the final flight.
Bonus Part
Well, you just gotta have a flight in a TR part, don't you? So here's a short description of my HEL-KUO flight the next day after arriving back home. This particular week happens to be the week when Finns (and other Nordic people as well) celebrate "Juhannus" or the midsummer fest. This usually involves going to a cabin, camping site or such in the middle of the forest by a lake, drinking excessive amounts of alcohol (well apart from the Swedes as they have these completely ridiculous "dancing around the pole" things instead) and getting drowned. All in a good spirit, mind you!
With this in mind I was heading up to my hometown as I still had vacation until the end of the week. The flight would be another one of these odd arrangements which confuses the heck out of everybody - a pure AY flight (i.e. no codeshare) operated by flyBE Nordic on an Embraer 170 leased from Finnair painted in the Finncomm colors, got that?
This flight is actually the return segment of an KUO-HEL-KUO roundtrip from earlier this spring, booked for 80 EUR if I remember correctly.
A simple route for a simple man: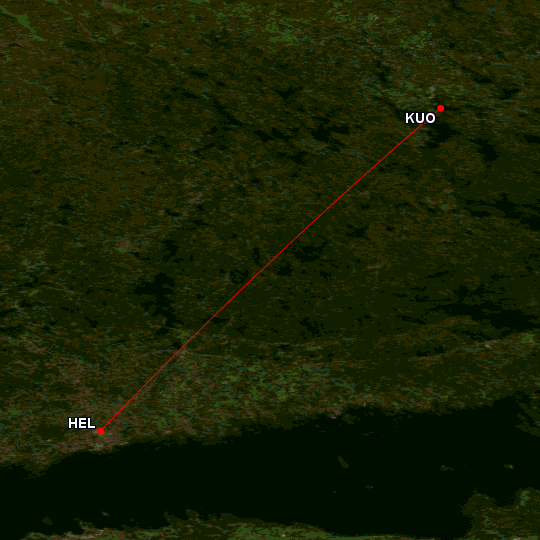 .
Wednesday 20.6.2012
After a very good night's sleep I feel I've won the jetlag and am ready to take on the world, or at least Finavia. First order of the day is to check the status of my lost luggage - to my delight I notice that it should've arrived at HEL on the evening KF flight from CPH. I give Servisair a ring, explaining what I just learned and saying that they shouldn't bother sending the bag with a courier, I'll come to pick it up myself. The friendly girl on the other side says that her colleague is heading to T1 to pick up any of "their" bags soon and she will give me a ring once my bag is with them at T2
The rest of the morning consists of the usual posttrip activities combined with pretrip activities - unpacking and repacking, going through the mail etc. I leave home a bit early since I have a couple of errands to run before catching the bus to the airport. After getting to T2 I head to the flyBE desk which curiously has moved to another side of the main check in hall to drop off my bag - since I'm about to pick up my roller and bring that as carry on luggage I really don't want to be lugging around three pieces of hand luggage (I also have my back bag). She tells me the gate, 21A which is of course a bus gate. I ask:
- "No chance for a jetway one of these days?"
- "No, not possible with the flyBE planes."
- "But it is an Embraer."
- "Is it?"
(she checks from her computer)
- "So it seems, well still a bus ride for you!"
- "Lovely, thanks."
After that is is already lunchtime and as I was just away for a week I didn't have much fresh food in the house (and being away for the best part of another week I didn't want to go to the supermarket to stock up either) I decided to eat at the airport. My first choice is the sandwich shop downstairs but they have an insane queue. Plan B is the restaurant another floor down (yes, HEL is deep place) which is popular with the airport workers and not so popular with travelers thanks to its subterranean location. Thanks to this they offer normal priced lunch instead of the inflated rip off prices the "traveler friendly" restaurants usually charge.
Liver and mashed potatoes is the order of the day: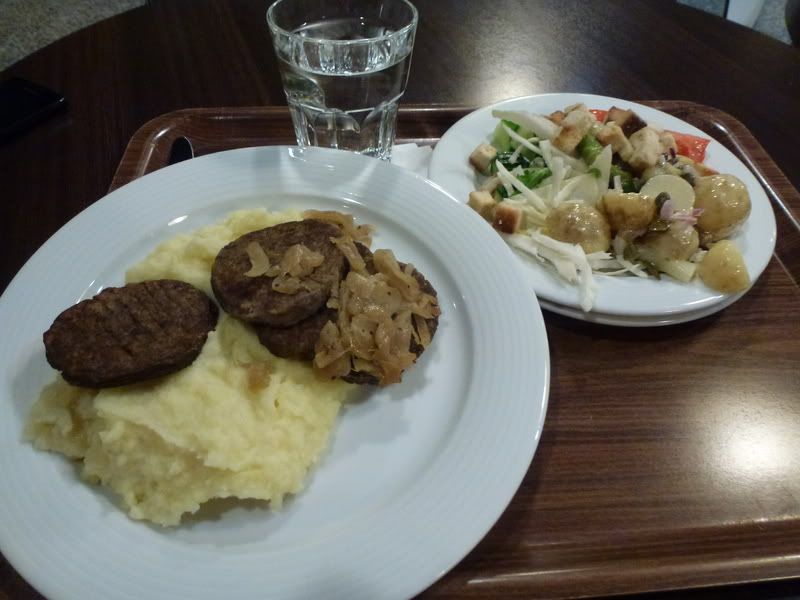 When I'm about half done I get a ring from the baggage service girl, she says my bag is there. I say I'll be there in fifteen minutes, well it only took me ten! She unlocks a secret door to let me back to the baggage claim area and I pick up my trusty but soon-to-be-gone roller, thank her and head upstairs to departures.
I have a confession to make: all throughout this trip I had an illegal item packed inside my roller. Yes, I'm such a bad person, no wonder the TSA were treating me that way and always suspecting I was a up to no good. I'm sorry, but I just couldn't find any hair gel which came in containers of 100ml or less - my usual travel brand (which is 100ml) was out in all the places I looked for it so I had to bring in a 150ml tube. I'm sorry for causing such risk to the international air traffic, I'll promise I'll behave better the next time!
The reason for above is the fact that almost none of the security checks I went thru with the roller on this trip noticed the forbidden item and none confiscated it. Only at TXL did the staff (in the best of German traditions) spot it, but after I showed it to them they let me keep it (which is completely against the German traditions of always following the process very diligently). At BWI I thought I was nailed as I was asked to open my roller, but the guy only took a cursory look at my dirty clothes and Hard Rock Cafe T-shirts and didn't mention anything about the tube nor seeing it. But on this occasion going through the security check at HEL T2 they finally spotted and confiscated it. I tell the guy that they won the grand prize, explaining I've been going through a lot of screenings with that tube recently and they were the first ones to spot it! He looks at me like I'm crazy (I get that a lot) while his colleague behind him is trying very hard to suppress her laughter...
Still some time to go so I head for a coffee at the corner cafe which has the advantage of providing excellent views of both runways in use and the main apron, not that there's much happening here at this time on the slowest travel day of the week.
Fans of German detective TV-series might find the registration (D-ALTE) of this bird familiar: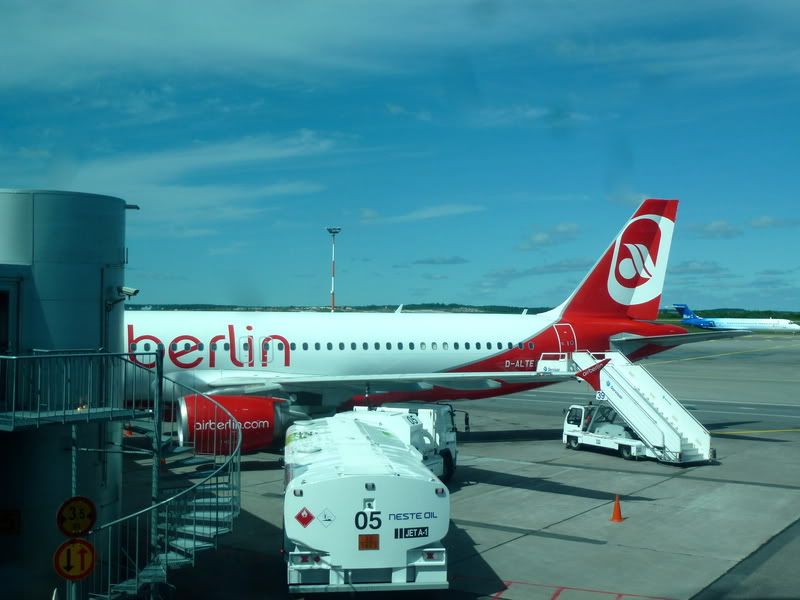 Must-have-a-717-in-a-report: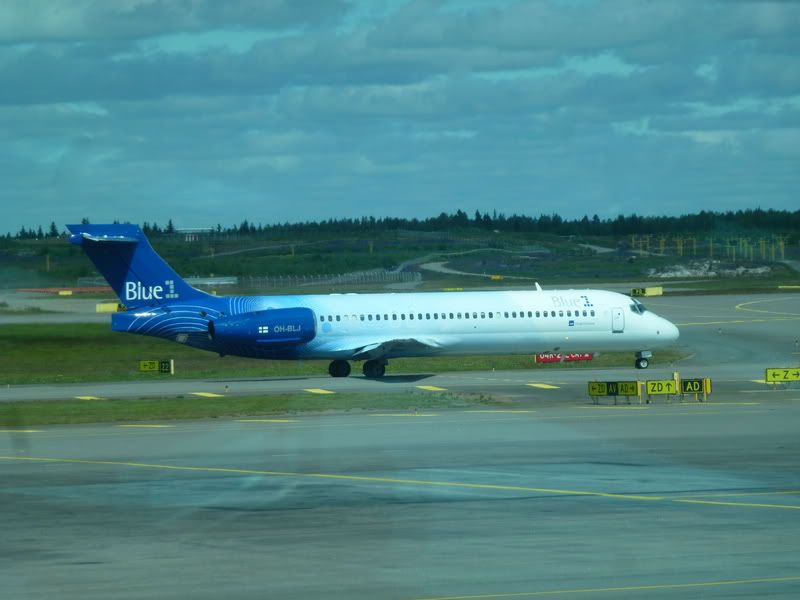 Who's that: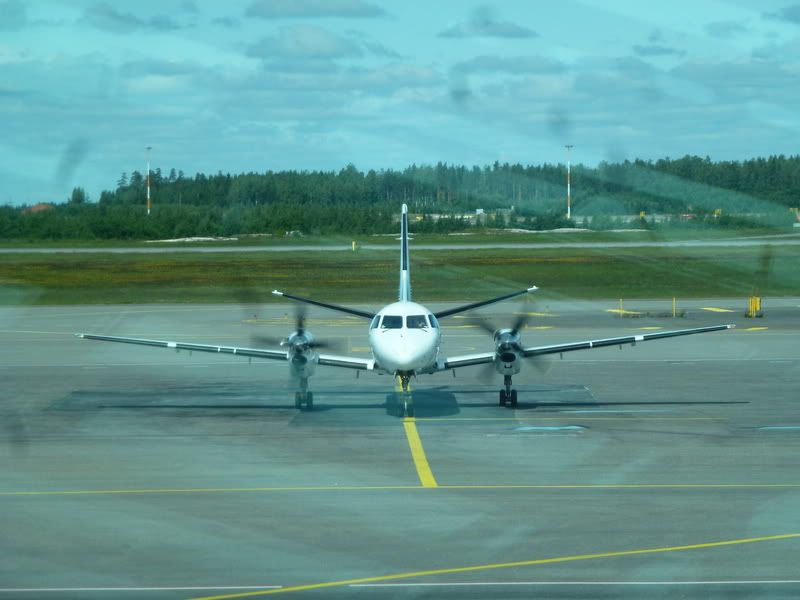 Oh, my old friend ES-ASO. So glad to see she is not an albino anymore but has turned into a... (tadaa) Hockeybird!: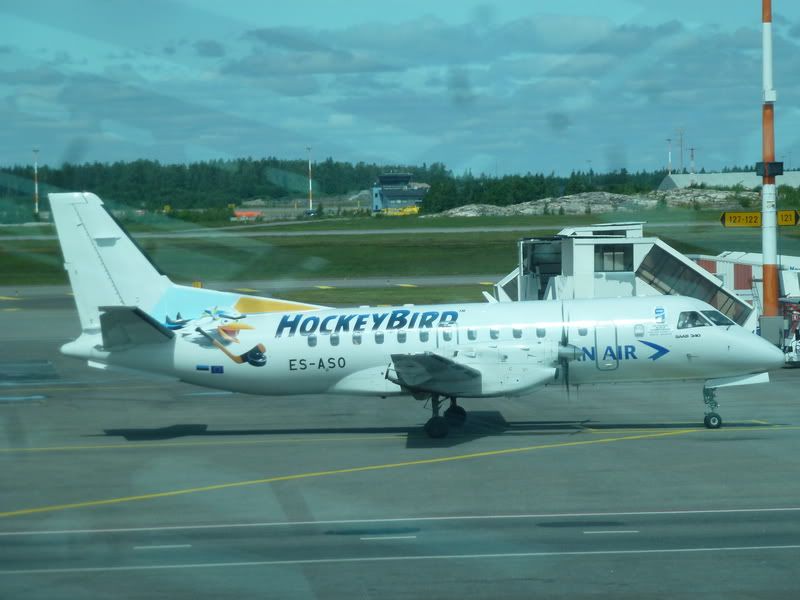 Off to the gate I head, asking the gate agent if there are any free window seats on the left hand side - for reasons unknown all such seats were taken when I did OLCI and the thing is that usually landings at KUO are on 33 which means the left hand side will have an excellent view of town and the vast lake Kallavesi in front of it. I always try to sit on that side when flying up there. She says there's only one - 5A but there's someone on 5C next to it, so I say no thanks - I'll stick to my last row window on the other side with no seatmate. After all this is my 36th flight on this route so it's not like I would be seeing that view the first time! Apparently quite a good load on this flight today.
After "boarding" is called we have to wait downstairs in a waiting room for the bus to arrive. Man this place is filthy, Finavia, don't you have budget for cleaning staff anymore:
Eventually the bus arrives and fills and then we drive a short distance to the usual parking place for the FC... err.. BE fleet near the ATR Apron. Could you guess which airline is operating this flight from the livery: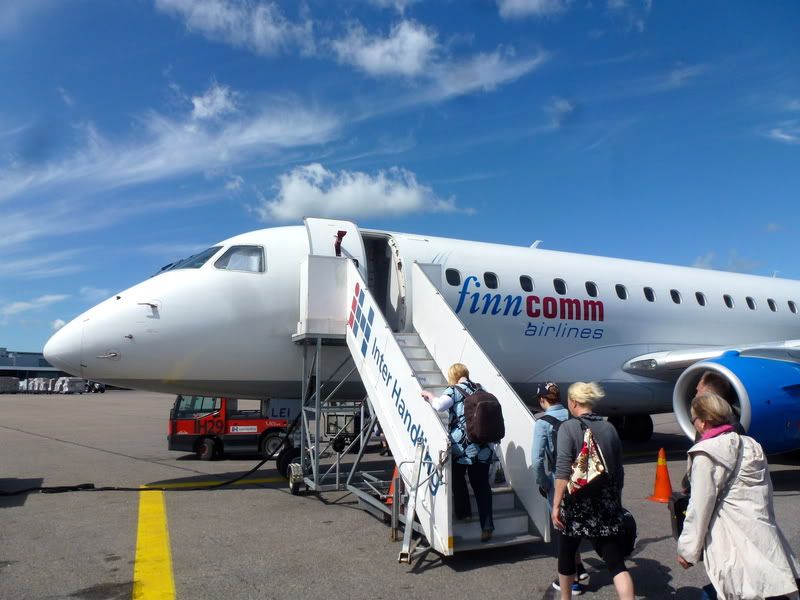 It is OH-LEI. My first flight with it operated by BE, although I flew with her once during the FC days and three times when all was still well and she was at her childhood home with AY.
HEL - KUO
AY3875 Operated by flyBE Nordic
E170 OH-LEI
Seat 19F
13.02 - 13.40
Two quite young and blonde girls are the cabin crew for this flight, in the true FC... errr BE fashion. Seated on the last row I comment to the one in the back that I find it a bit ridiculous that they still keep flying around in planes painted in the full FC livery despite the airline being already around for well over half a year. She says that maybe they have such a busy schedule that they can't spare to time to paint them. I say maybe not (tempted to say "bullcrap" as cutting flights is all they seem to be good at) and that it gives me the impression that even the company itself doesn't believe it will be around for long. I think she is quite pissed off by this comment as she turns away to do whatever FAs need to do before take off. Sorry dear, but I always try to speak my mind.
As for the seats, I'm getting a major deja-vu from yesterday's OV flight: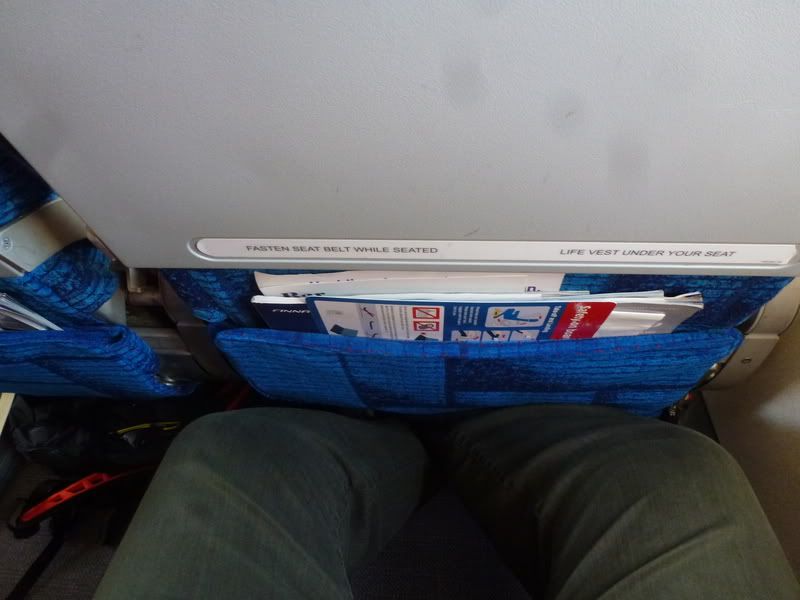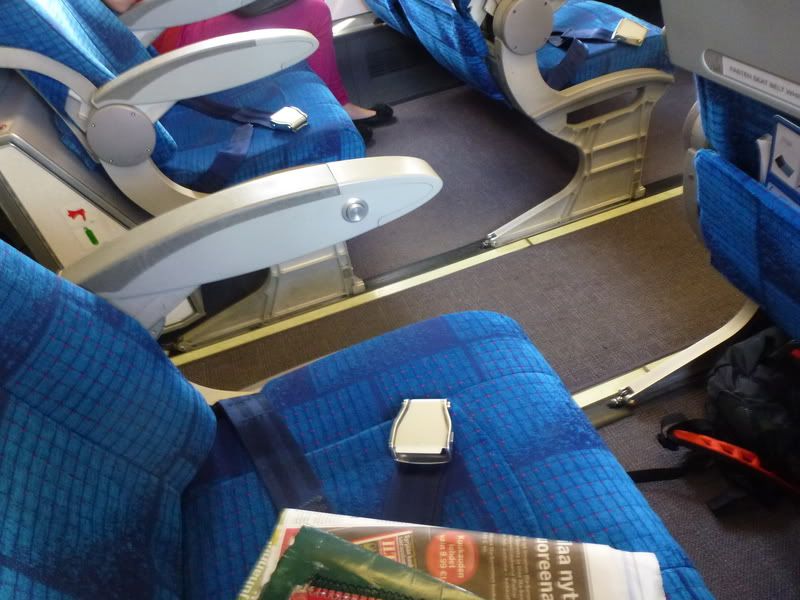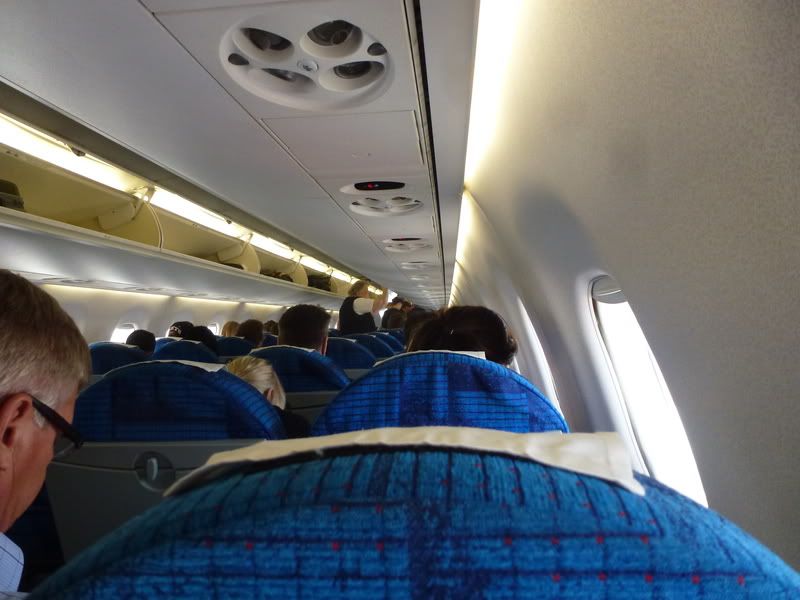 We push back two minutes late for our 45 minute hop up to Savo.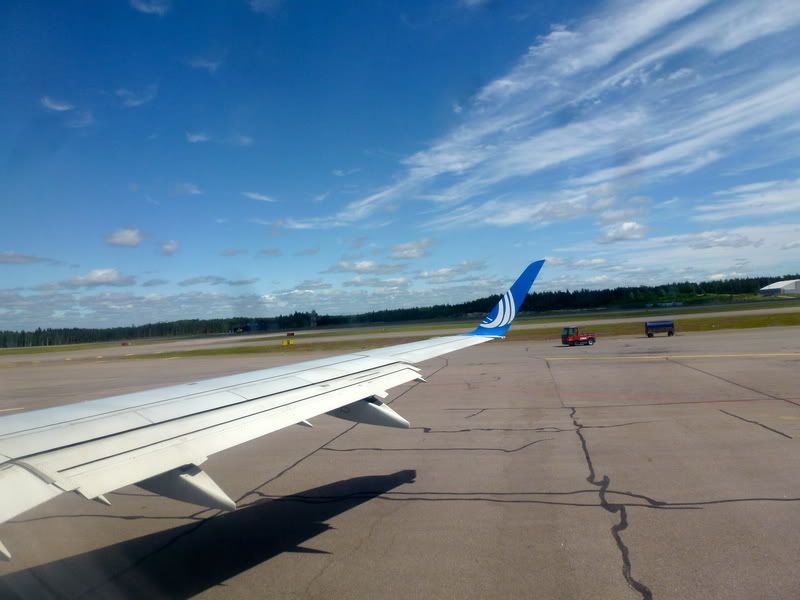 Turning to 22L: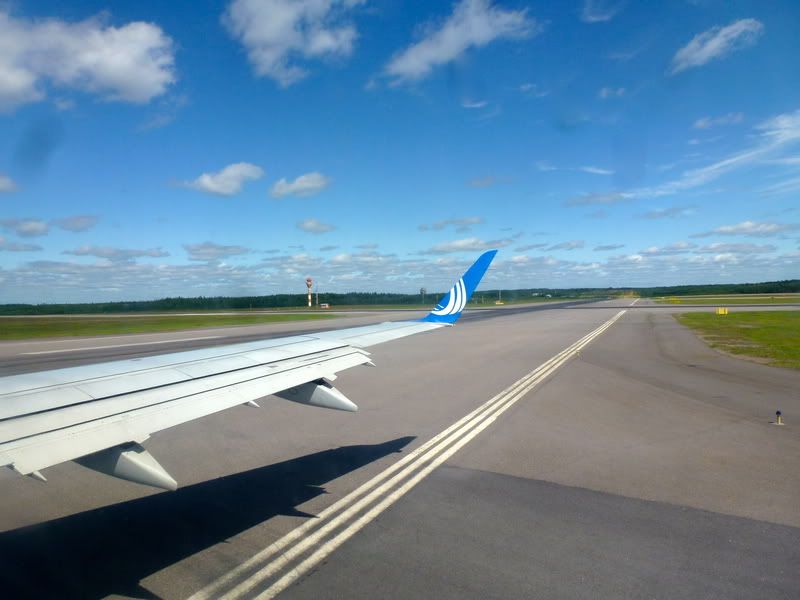 And we're off:
No chatty seatmate this time so I can admire the views: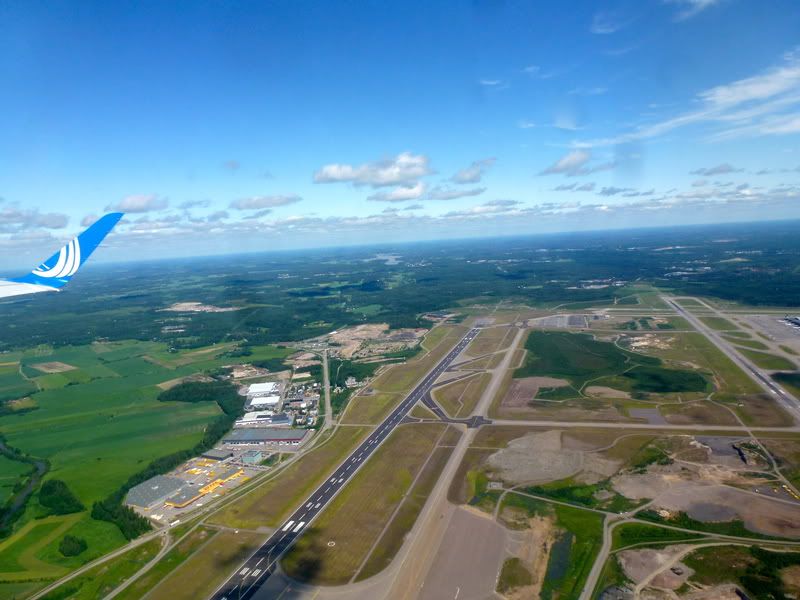 Flying parallel to HEL: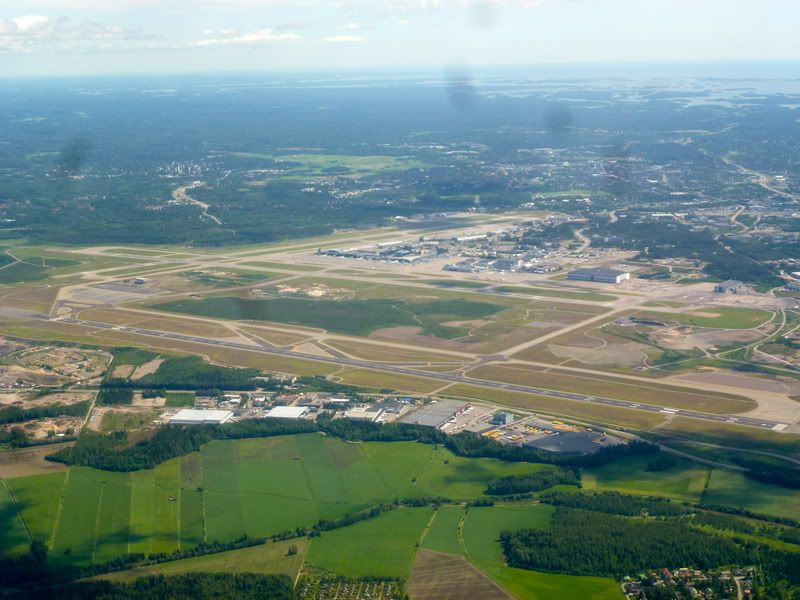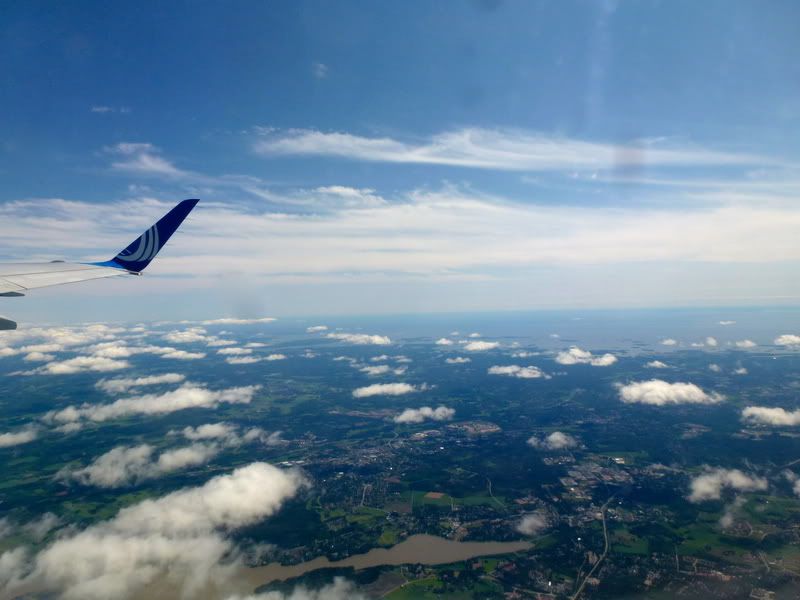 This winglet looks nice:
I have a hard time keeping up with the various AY service concepts so am kinda surprised that we get free coffee or tea on this flight: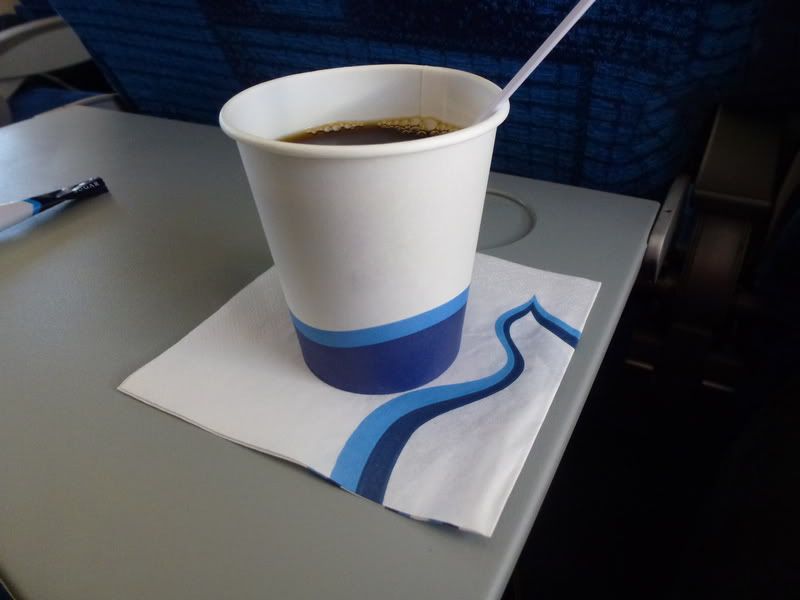 The thing is that you get BOB on AY codeshares on BE flights and also on AY flights operated by BE (i.e. flights for which BE does not sell tickets) on the ATRs. But AY flights operated by BE on Embraers actually seem to get free coffee and tea and there's no BOB available at all. Confusing? You bet!
In no time at all it is time to descent to KUO airport. Shame about not catching a window seat on the other side, so my views are limited to the quintessential Finnish landscape - lots of forests and water, not many signs of human habitation: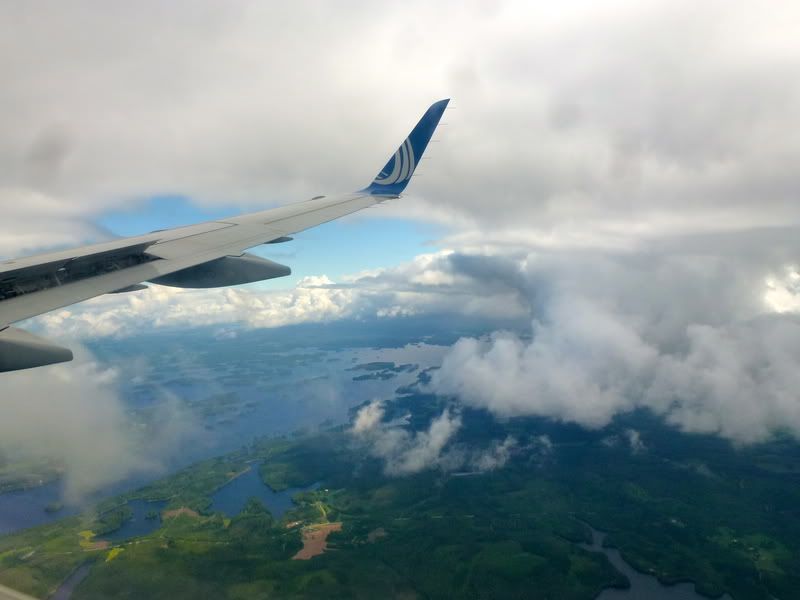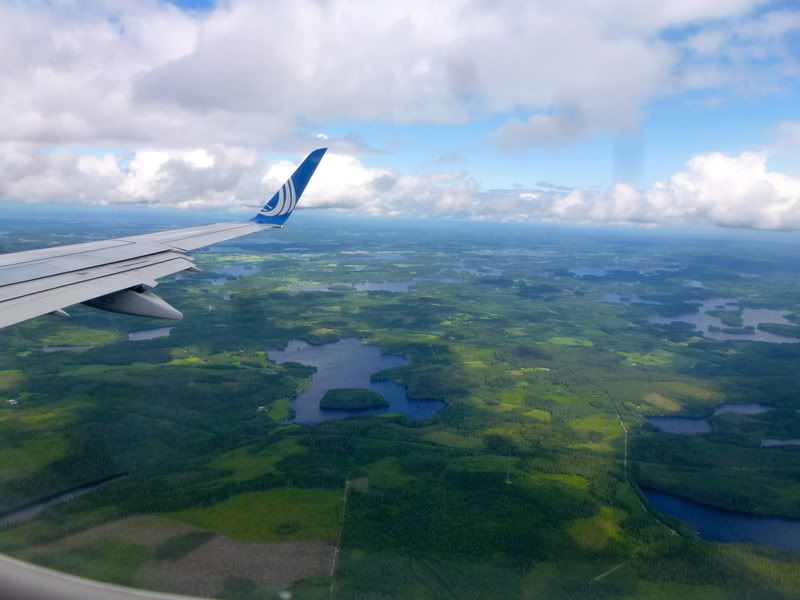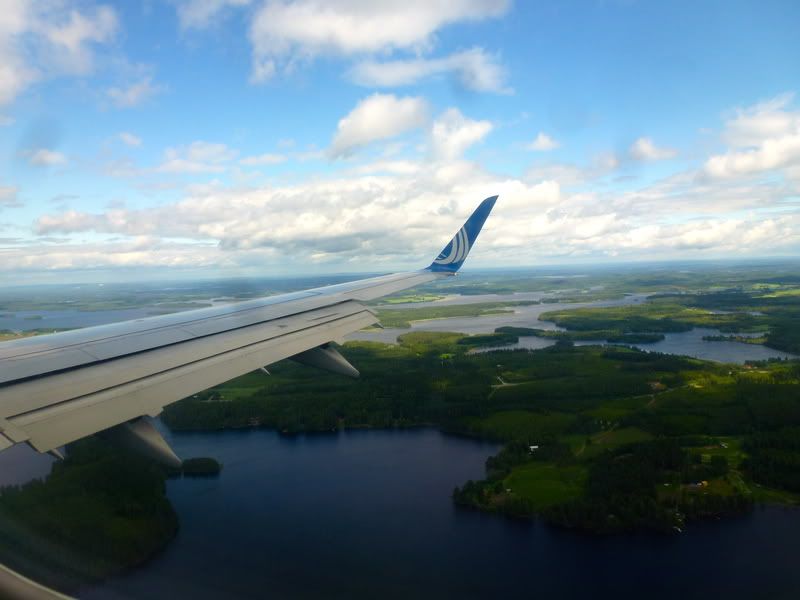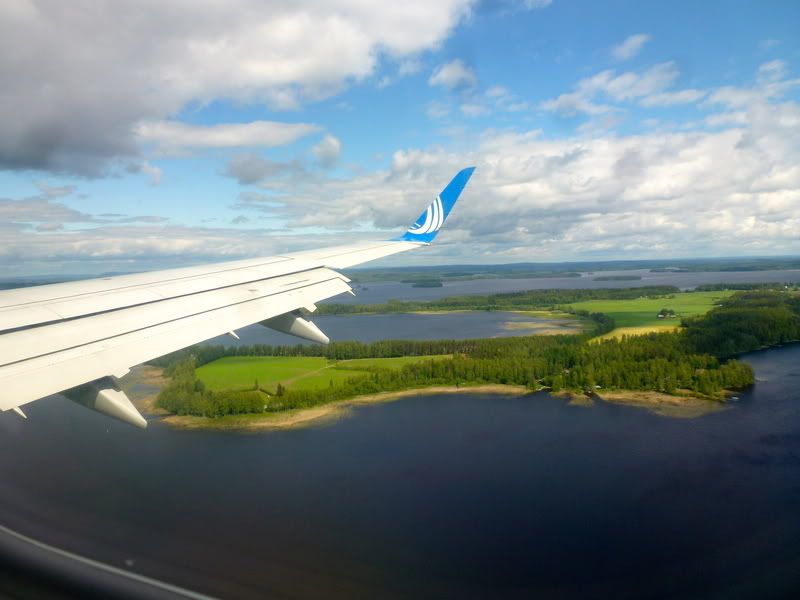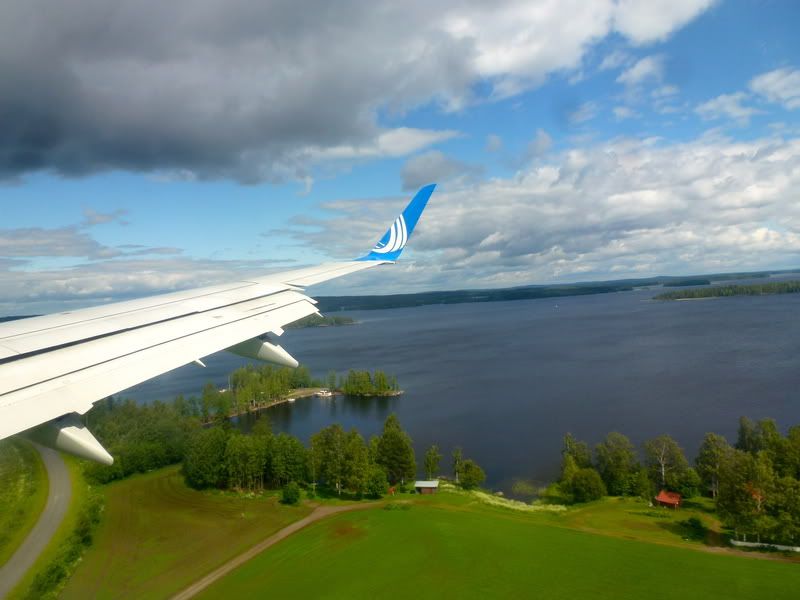 Touchdown on 33 with some nasty looking clouds over us: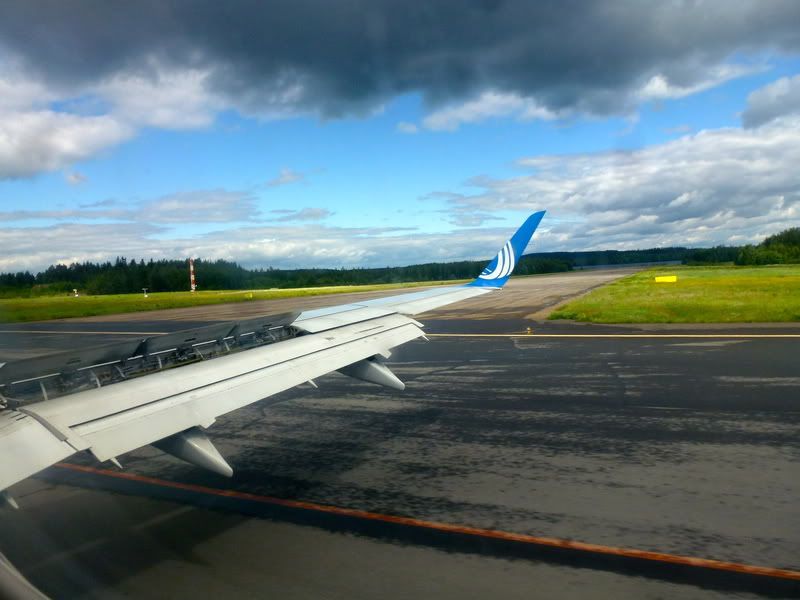 The terminal building: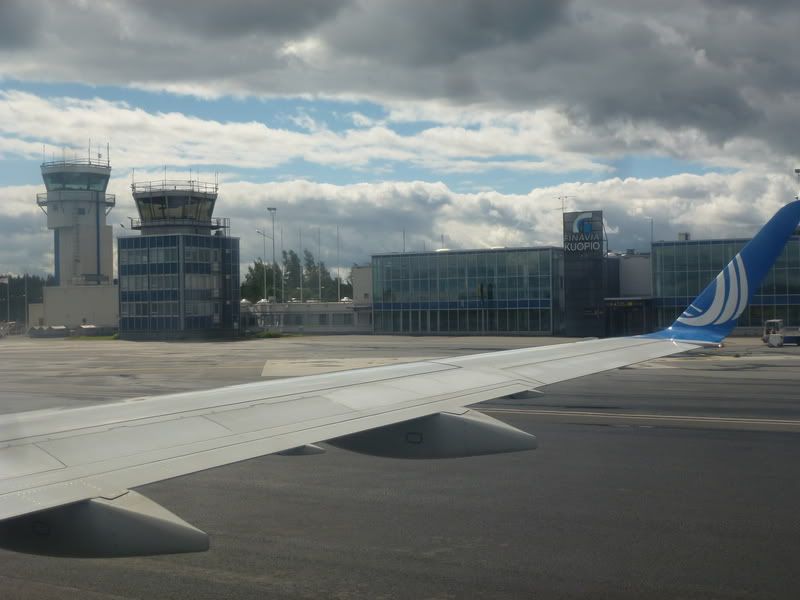 Bye: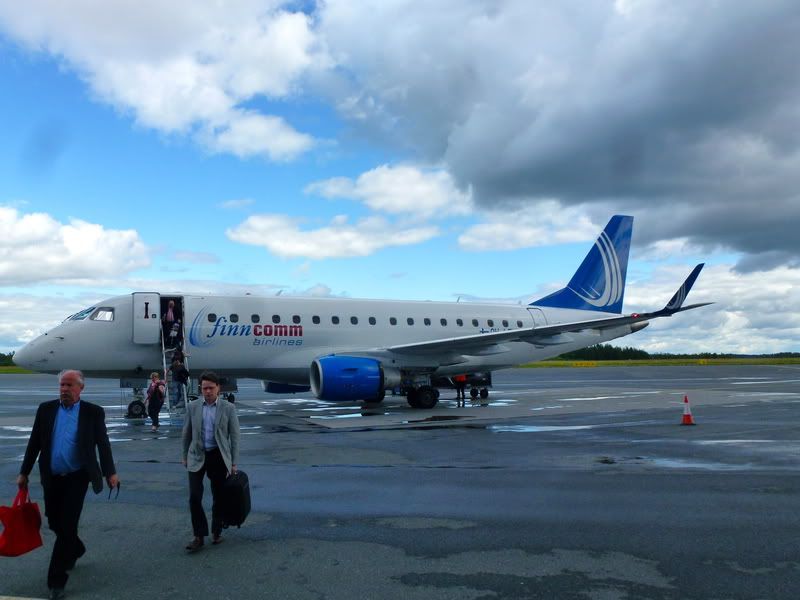 My father is there to pick me up and after a short wait for my bag we're off.
Conclusions of the Conclusion
The flight up to KUO was a very standard FC... err.. BE flight. On time, okay comfort and friendly crew even if you pissed them off. Bonus points for being operated by an E-jet instead of the usual ATRs. And a big minus to AY for the confusing service concepts - this is not the way to achieve customer loyalty. Having BOB on some flights and free service on other flights based on some fuzzy criteria is not good for the customers. Have clear rules and stick to those. If you want people to keep returning to your flights offer them a predictable and most importantly a consistent product. The average traveler wants service they can trust (sorry BT, this phrase is just too damn good so I'm going to use it) and rely on, and to know how things will work. If you want to go all the way to BOB then by all means do it, but do it on all routes and not just some.
Next the Finn is heading for something completely different (or maybe not so) to America - in a few days I'll be departing for a tour of Georgia, Belarus and Ukraine, featuring one very exotic airline (down from two, bugger) and one quite exotic Ukrainian plane type. Happy contrails!