NZ WLG-AKL-BNE-AKL-WLG in Y and J
Back in January 2012 Air New Zealand had a good sale on business class fares across the Tasman, so my partner and I decided to book a long weekend trip in April 2012. Soon enough the day of the trip came which led to a nice early morning wake up and smooth ride through the empty capital city streets to Wellington Airport. As we were connecting to an international flight, we had to be at the airport at least 1 hour before rather than the standard 30 minutes here in New Zealand which meant a 06:00am arrival at Wellington Airport.
The airport was relatively quiet however there were a few people at both the self-service kiosks and the check-in desks. There were people at the premium counter so the adjacent economy counter agent beckoned us over and proceeded to check us in for our domestic connection to Auckland and Brisbane flight.
After a smooth check-in we headed through the airport to the Air New Zealand Koru Lounge which was completely deserted! The lounge agent came over and welcomed us into the lounge and had a small chat before wishing us a great trip.
After settling into my favourite spot I got some breakfast and some coffee. Apologies for the lack of pictures! The breakfast selection included mainly continental options however there was a warm potato frittata on offer and freshly baked scones and muffins.
Our aircraft, ZK-OJQ, at the gate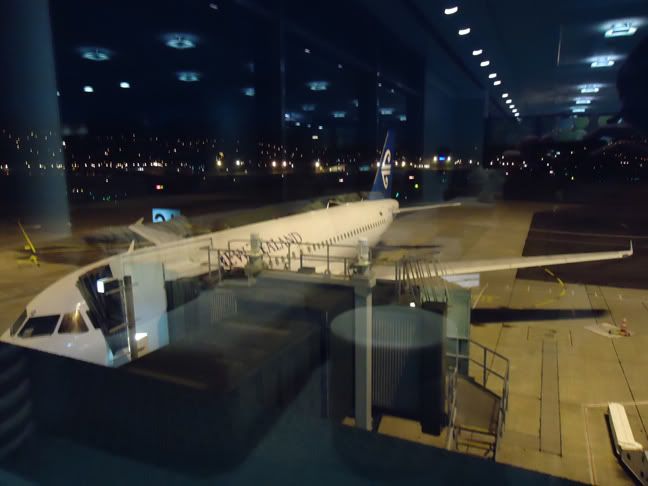 Lounge interior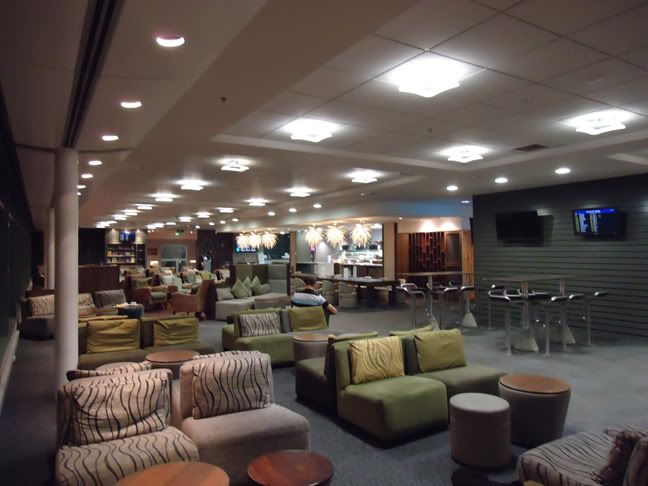 Our aircraft, ZK-OJQ, at the gate - sun rising!
Soon the boarding for our flight came and we left the lounge and proceeded to the gate to board our flight to Auckland. A number of people had already boarded and soon we were in our seats in the front row of NZ's domestic A320s. Air New Zealand currently has a fleet of four domestically-configured A320s and 13 internationally-configured A320s. While being row '2' it is the front row on the right while there is row one to the left.
April 2012
Airline: Air New Zealand
Flight No.: NZ406
Route: Wellington (WLG) - Auckland (AKL)
Aircraft: A320
Reg: ZK-OJQ
Scheduled: 07:00-08:00 (1h00m)
Class: Economy (Y)
Seat: 2E
Shortly after taking our seats the remaining passengers boarded and the doors were shut. We were pushed back from the gate and had a short taxi to Runway 16. After a quick take-off and turn to the right to the north, the cabin crew started preparing the service for the flight. The options this morning were water, tea and coffee and either oat cookies, cassava chips or 'jet plane' sweets. I chose coffee and the oat cookies which were fine.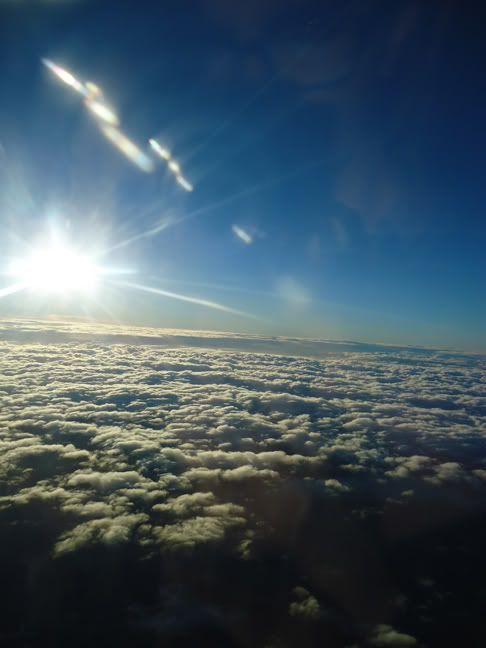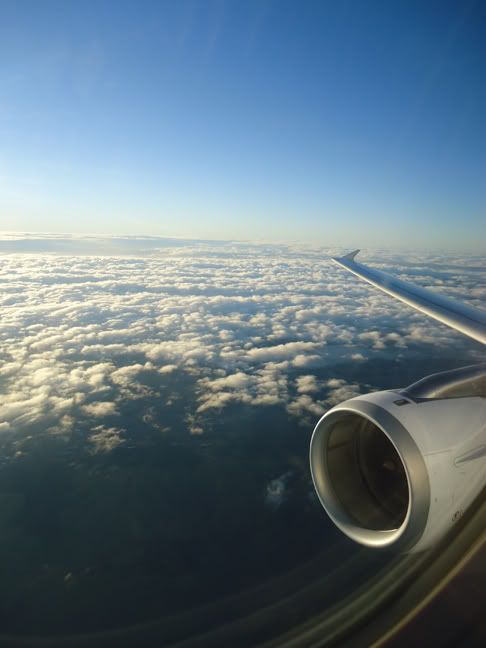 We flew over New Plymouth and Mount Taranaki with those on the left side of the aircraft getting great views. As it was still quite early the sun was still rising which made it a little difficult looking out of the window!
After starting our descent after New Plymouth, we soon landed on 05R and arrived at Auckland Airport's domestic terminal.
We had 1h 30mins until the scheduled departure of our AKL-BNE flight so left the domestic terminal and had a short 5 minute walk to the international terminal.
While we were checked through for our international flight back in WLG, we proceeded to the Air New Zealand premium check-in zone to access the fast-track immigration and security.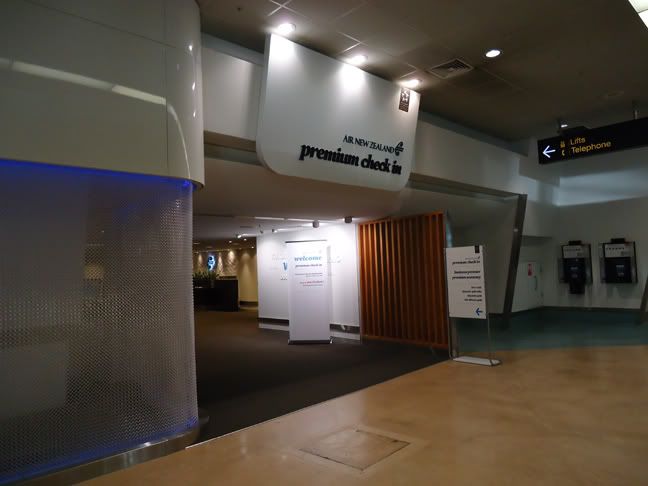 Within a few minutes we cleared security and headed to the Air New Zealand lounge located beside the airport's own lounge, the Emperor Lounge, the Qantas Lounge and Emirates Lounge.
The lounge was packed but we were able to get some seats in the 'quiet' zone though didn't end up spending much time in the lounge before heading to spot some aircraft around the airport.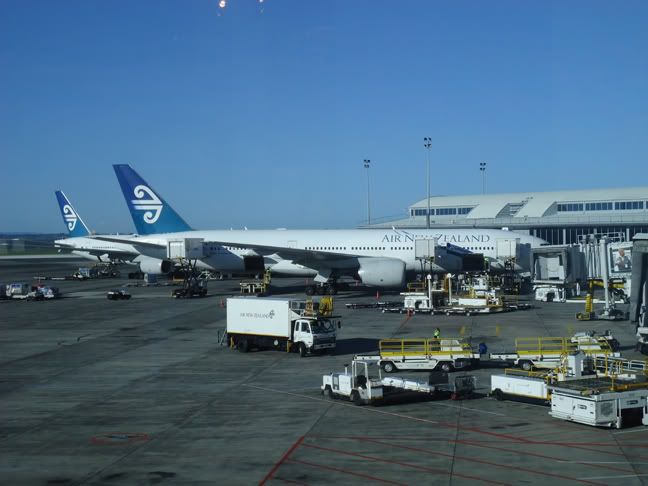 We headed to the gate at around 8:45am and within 10 minutes boarding commenced. Initially families with young children were requested to board followed by business class passengers. The gate agents didn't open the premium line so there was some confusion among what seemed to be a lot of passengers who started to line up. It looked to definitely be a busy flight!
April 2012
Airline: Air New Zealand
Flight No.: NZ135
Route: Auckland (AKL) – Brisbane (BNE)
Aircraft: B777-200ER
Reg: ZK-OKF
Scheduled: 09:30-11:10 (3h40m)
Class: Business (J)
Seat: 4A
Within a couple of minutes of lining up at the gate we were welcomed on board where I found my seat and was soon welcomed by another member of crew who offered me a choice of sparkling wine or orange juice. Considering the time, I decided on juice. This was my first time in NZ's Business Premier seat which is now superseded by the Business Premier seat on the B777-300ER which is white and has a few other changes to it. The seat was very comfortable, particularly when in a lower position.
View into the cockpit!
4A
OJ
IFE
Over the next 20 minutes the rest of the passengers boarded and it looked to be 100% full in J. Menus were distributed, newspapers and magazines offered and empty glasses were collected. A female flight attendant on my side of the cabin welcomed each guest and asked whether they would like to be shown the features of the seat. I declined but thanked her for the offer.
Menu
Right on 09:30 we started to pushback to Runway 05R for a take-off over Auckland City.
Lining up on RWY 05R
We had a pretty long take off considering the heavy load but we had a nice routing over Auckland City which meant great views!
Looking back to AKL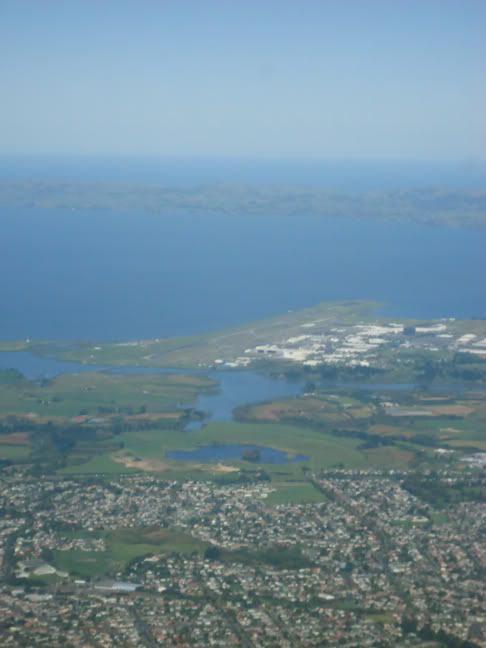 Auckland
Auckland CBD, the Sky Tower
Very soon the cabin crew began preparing for the service and we were offered drinks with cassava chips. I chose apple juice. While the lunch was being prepared I had a look through the entertainment options on offer but I decided on my favourite – the airshow with some good music.
The ISM visited each seat, addressing passengers by name and welcomed everyone on board. He also provided immigration cards and express arrivals cards to each passenger.
Menu:
To begin:
Trio of seared sesame miso tuna, coriander prawn, smoked salmon with karengo (New Zealand seaweed) potato salad.
Mains:
Braised beef casserole with golden kumara mash, confit garlic, thyme roasted red onion, button mushrooms and courgettes.
Pan roasted chicken stuffed with lentils, mousseline, with baked semolina and pecorino gnocchi, spinach and rocket.
Tea smoked salmon salad with garden greens, cherry tomatoes, papaya and mango tarragon and ginger dressing.
To finish:
Gourmet dessert of black Doris plum and crème fraiche and cookies and cream ice cream with crisp almond wafer.
Cheese:
Fine New Zealand cheese and preserved fruit.
Hot drinks:
Freshly brewed or decaffeinated coffee, tea, herbal tea and hot chocolate.
Wine / Spirits / Port and Liqueurs / Beer / Cold drinks
The crew were obviously in a bit of a rush to get the entrée out – I don't eat seafood but my tray with the seafood landed on my table before I could say no! I did have some of the potato salad though it was quite strong with the karengo. The breads were nice though and came with a small olive oil bottle.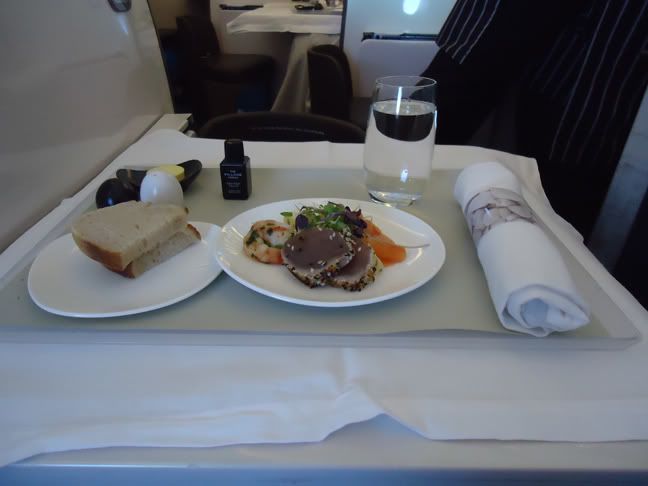 For lunch I chose the chicken which was actually not too bad – the gnocchi was very good while the spinach and rocket was also not bad.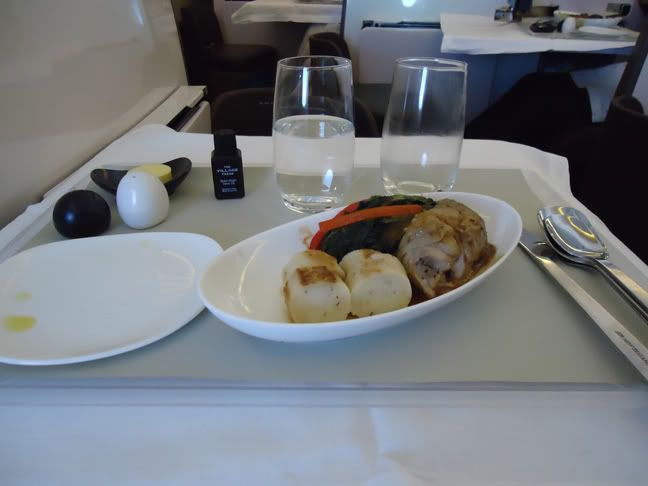 Once the trays were collected I expected the dessert course to come soon after however there was a little bit of a gap which was nice. I got up to use the bathroom and had a nice talk with the in-flight service manager who said the aircraft was 100% full in all classes. I then headed back to my seat for dessert which didn't really come as it seemed to have already been distributed! But it was only icecream which I didn't really feel like so I was happy to just order some coffee which came with an after-dinner mint. Fresh coffee up over the Tasman in business class – I couldn't think of a better way to spend this particular afternoon!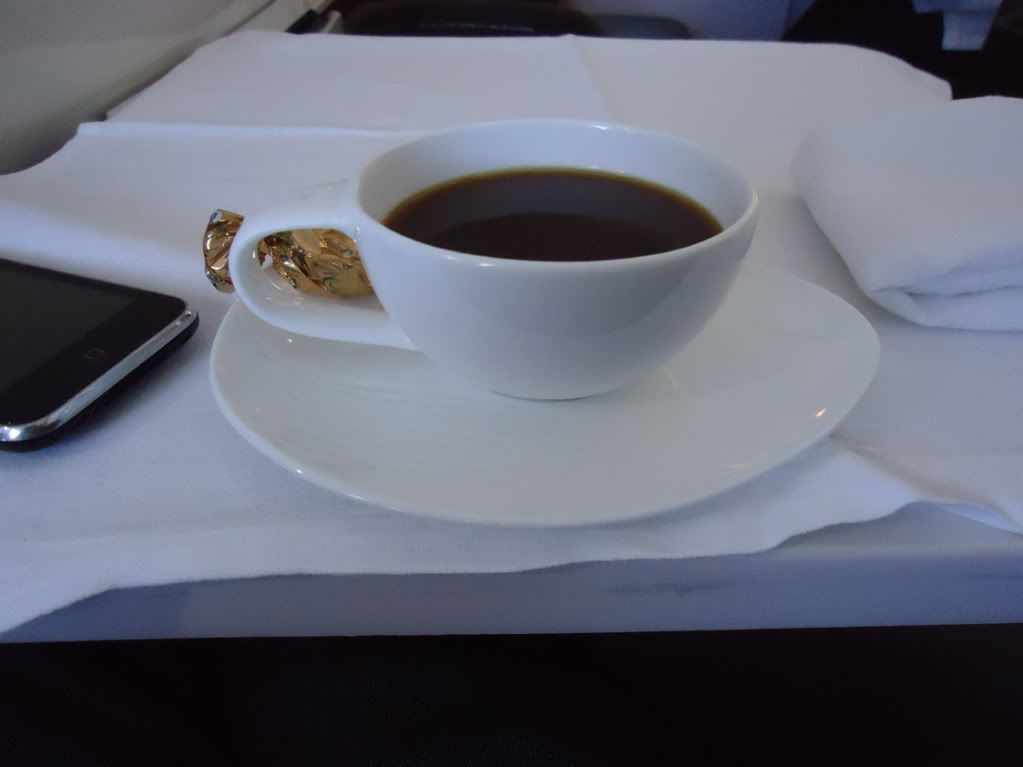 I had a second coffee and passed on the cheese course and continued to enjoy some music while we neared Brisbane. With a relatively long descent we had a great view of the water around Brisbane. Looking out the window I spotted the airport which we flew a long left turn to line up with Runway 19.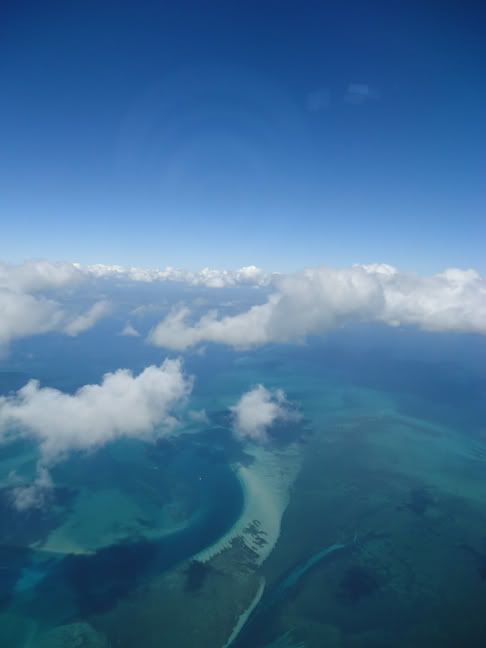 We had a nice smooth landing on Runway 19 to compliment the nice smooth flight over the Tasman. The international terminal seemed quite busy with Singapore Airlines, Qantas, Virgin Australia and Air Niugini all in. We arrived at the gate between a Qantas B747-400 in oneworld livery and a Singapore Airlines A330-300.
Soon it was time to leave the aircraft and I collected my belongings before leaving the aircraft and thanking the crew including the ISM who was at the door. After a short walk to immigration, baggage and customs, we were soon in arrivals and caught a taxi into central Brisbane.
After a long weekend in Brisbane where we visited the sights including the Lone Pine Koala Sanctuary where I had a koala hug! Having had great weather and a nice time visiting Brisbane, it was time to head back to Brisbane Airport for our trip back to New Zealand.
Our hotel
Interesting architecture in central Brisbane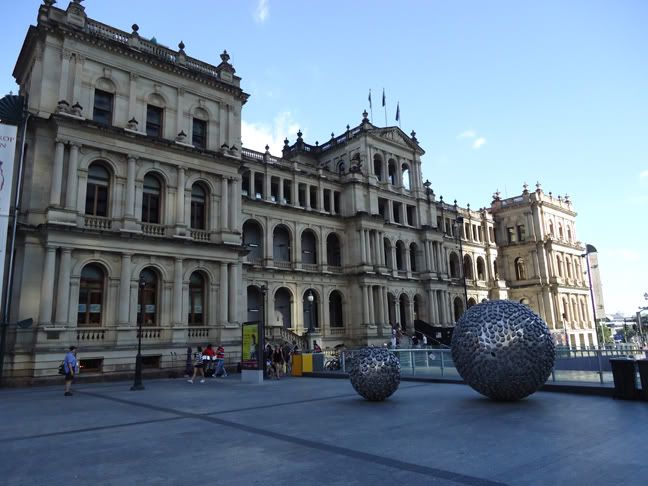 Spot the koala!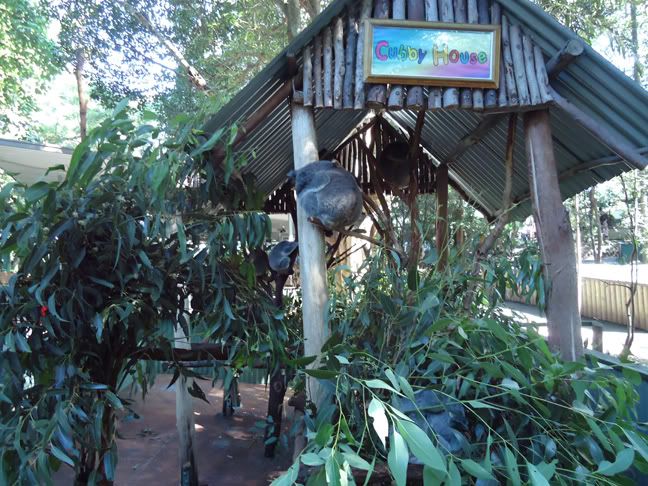 After checking out of the hotel we went downstairs to the train station (the Sofitel sits on top of the central Brisbane train station!), we took the airport train to Brisbane Airport which took about 25 minutes.
Shortly after arriving we soon found Air New Zealand's check-in where there was no one in the business line.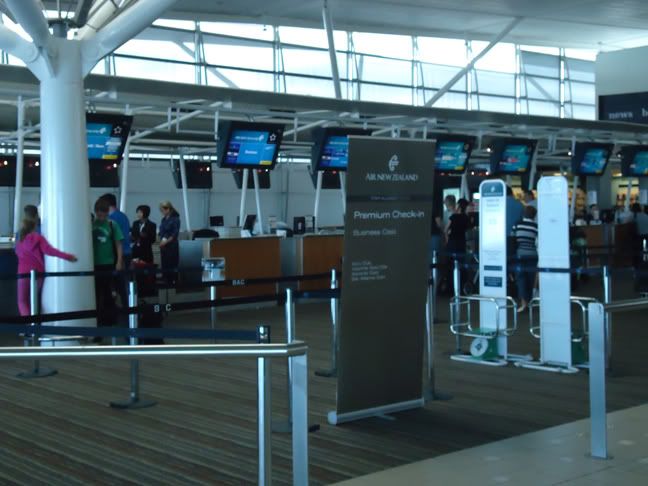 The friendly check-in agent checked us through to Auckland however reminded us to pick up our baggage in Auckland and re-check it onto our domestic flight. The agent advised us as to the location of the NZ lounge and handed us over cards to use express security.
After around 10 minutes we cleared formalities and visited some duty free stores to get some items before heading to the Air New Zealand lounge which is also used by a number of other non-Star Alliance carriers including China Airlines, China Southern Airlines and Etihad.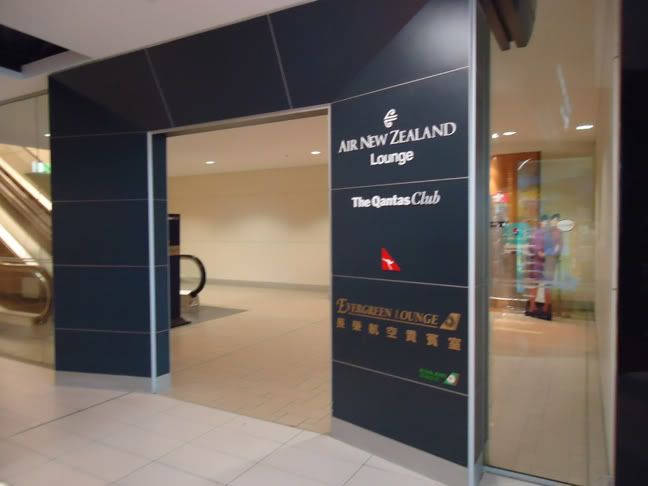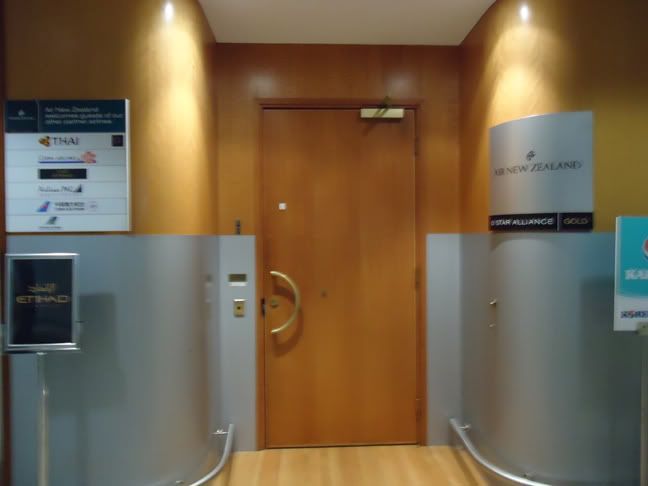 The lounge agent was friendly and invited us to take a seat. She advised she would make an announcement when our flight was ready for boarding. The selection in the lounge was average and the view was out over the back of the airport which wasn't very exciting! After around an hour in the lounge we decided to head out to have a look around the airport. It was quite busy with Air Pacific, Qantas, Virgin Australia, Thai Airways, Emirates and Air New Zealand aircraft at the airport.
NZ A320 to CHC
When I saw the registration of our aircraft to take us to Auckland, I saw it was the same that we had over to Brisbane a couple of days earlier, ZK-OKF!
NZ B777-200ER, ZK-OKF to AKL
Around 11:40 boarding was called for our flight, after boarding for the flight to CHC was completed. We were the first to board following a couple of families with young children.
April 2012
Airline: Air New Zealand
Flight No.: NZ136
Route: Brisbane (BNE) - Auckland (AKL)
Aircraft: B777-200ER
Reg: ZK-OKF
Scheduled: 12:25-17:25 (3h00m)
Class: Business (J)
Seat: 5K
We were welcomed on board and taken to our seats by one of the business class flight attendants who addressed us by name after double checking the manifest. We were offered a choice of sparkling wine or orange juice, and I chose OJ.
Soon after the ISM came over to welcome us on board and asked whether we would like to be shown the features of the seat, which I declined. This flight seemed to be much quieter when it appeared there were to only be 8 passengers in the 26-seat J cabin. We were also distributed arrival cards and express customs passes for Auckland Airport.
As we had boarded early and there was a while to wait until we were to depart, I decided to get up and take a picture of the cabin. When approaching the front galley I just mentioned I was wanting to take a picture to the couple of flight attendants who asked if I needed anything when one of them told me to head back to my seat and she would take some pictures of me! She was incredibly fun and took lots of pictures before handing me back my camera.
We were distributed menus on the ground and so I was able to decide on what I would have for lunch.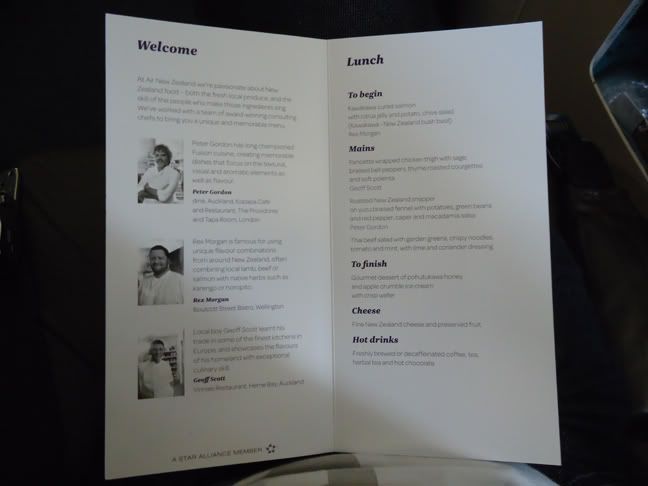 After a small delay we started pushing back and the empty glasses were collected. Meanwhile I noticed the NZ A320 to CHC in the gate beside us had already departed. A flight attendant came by and offered a choice of newspapers and magazines.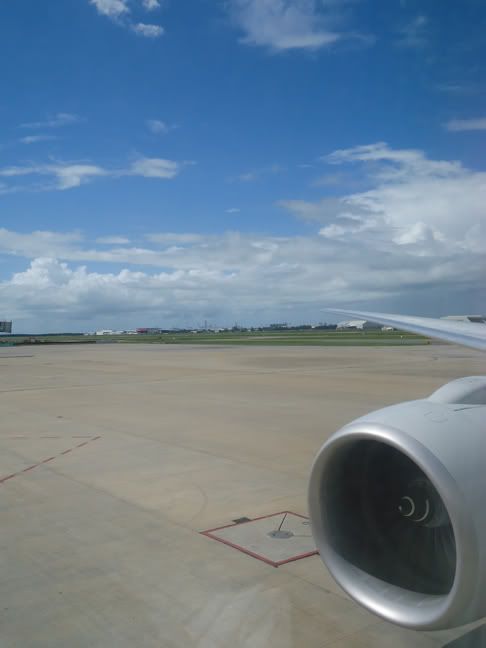 We had a nice taxi to Runway 19 and smooth take off with great views over Brisbane and some impressive cloud formations above the city.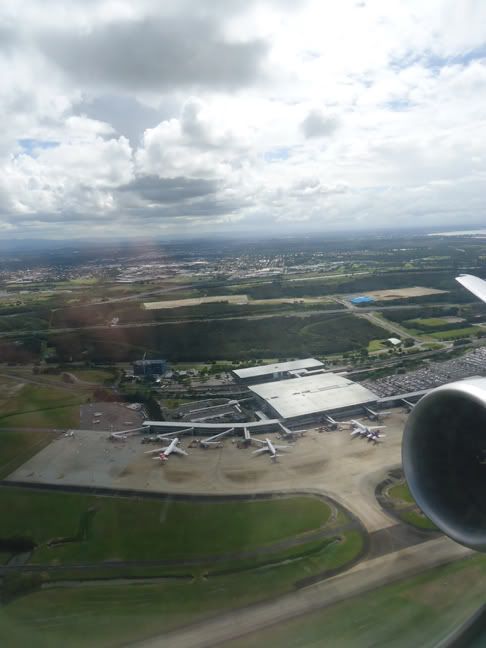 Soon after take-off we were offered drinks and some cassava chips. I chose apple juice. I selected some music from the IFE and started to relax with some great views.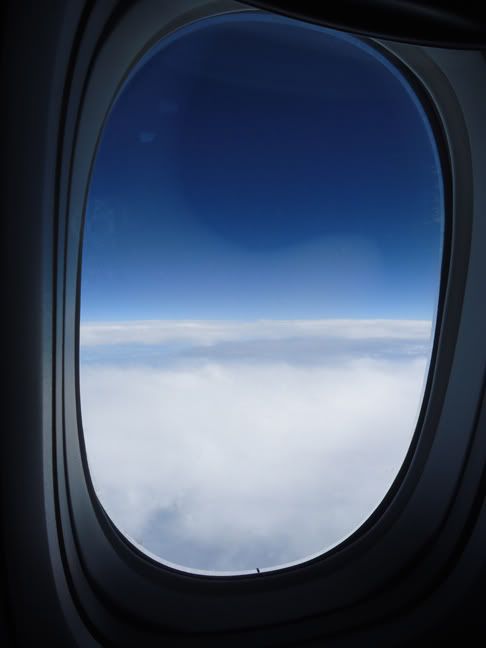 Menu
To begin:
Kawakawa (New Zealand bush basil) cured salmon with citrus jelly and potato, chive salad.
Mains:
Pancetta wrapped chicken thigh with sage, braised bell peppers, thyme roasted courgettes and soft polenta.
Roasted New Zealand snapper on yuzu braised fennel with potatoes, green beans and red pepper, caper and macadamia salsa.
Thai beef salad with garden greens, crispy noodles, tomato and mint, with lime and coriander dressing.
To finish:
Gourmet dessert of pohutukawa honey and apple crumble ice cream with crisp wafer.
Cheese:
Fine New Zealand cheese and preserved fruit.
Hot drinks:
Freshly brewed or decaffeinated coffee, tea, herbal tea and hot chocolate.
Wine / Spirits / Port and Liqueurs / Beer / Cold drinks
As the lunch service commenced I said I didn't eat seafood so would just have the bread so the flight attendant offered me some extra bread to get me through to the main with some olive oil. The bread was quite good and I was offered some more when the main course was served.
I chose the chicken as the Thai beef salad had already run out… there mustn't have been many of those loaded! I forgot to take a picture of it though.
The chicken was good again though I would have preferred the beef. Afterwards I had the ice cream which was very good, especially with the wafer. With the ice cream I had a delicious dessert wine which I wish I got the name of so I could find it myself!
After dessert I asked for some Earl Grey which I enjoyed with the pralines which were presented in a small gift box. These were very good and very rich.
After enjoying an episode of Downton Abbey, I decided to ask whether I could try the lie-flat seat. The flight attendant who had taken the pictures of me earlier put the seat down for me and before I knew it she had taken my camera and told me to lie down so she could take a picture for me! She was very funny and took a few pictures and let me enjoy the seat before I asked for it to be put back into seat mode.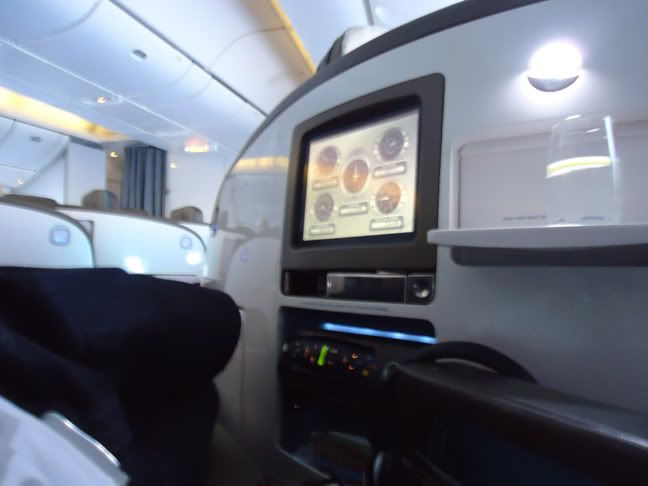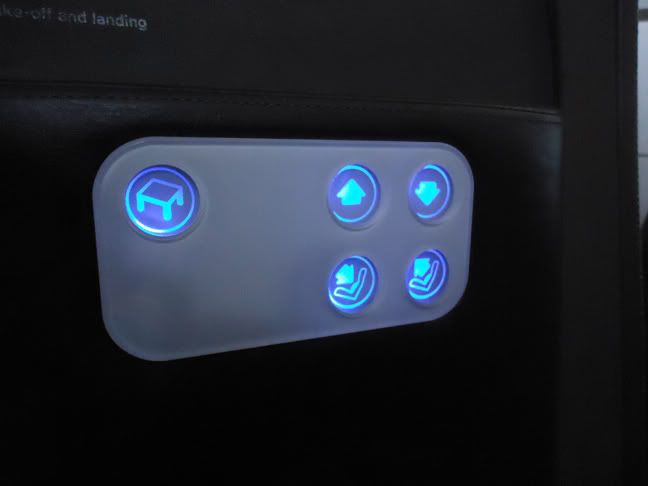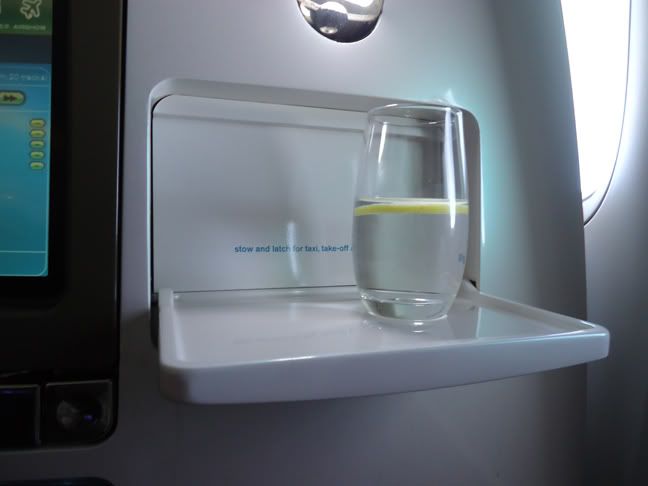 There was more room than I expected and would have been happy to sleep in it if I was on a long haul flight.
After a visit to the bathroom I had a chat with the two business class crew about the aircraft and their favourite sectors. One of the crew had thought I had been to the cockpit as the bathroom is just beside the cockpit, though I said I wished I had! I slipped in whether there was any chance of a visit, though the flight attendant who had taken the pictures for me said not in the air but she would see whether I could visit once we arrived in Auckland
I was hoping to get to visit and soon enough we started descending into Auckland onto Runway 05R for a smooth touchdown.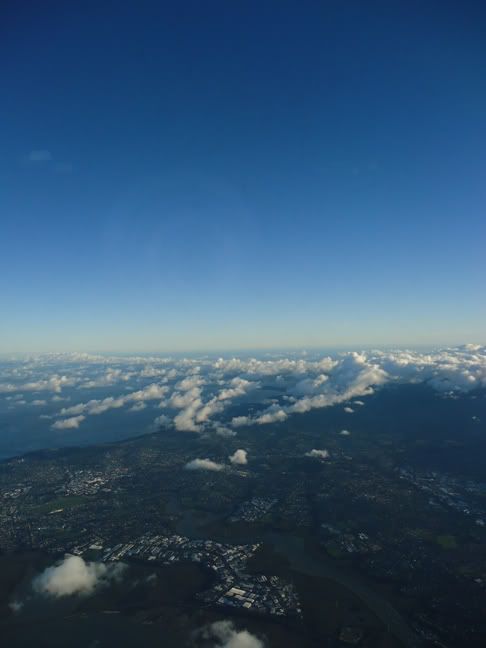 At AKL there was the Air New Zealand "All Blacks" B777-300ER and one of the last two NZ B747-400s!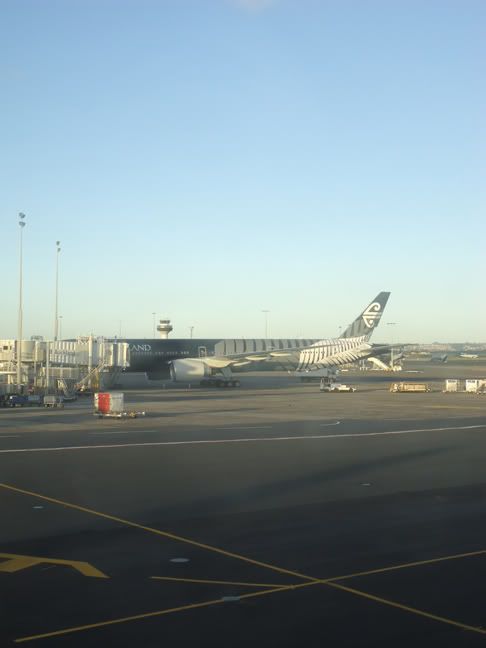 As we arrived at the gate and started to collect our things, the friendly flight attendant came to my seat and said the Captain was happy to let me visit the cockpit. So I left my bag and headed with the F/A to the cockpit where I was able to take some photos and look around.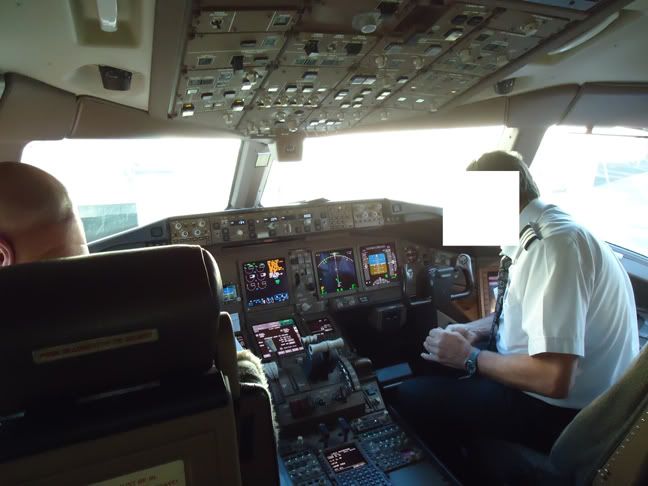 I thanked the pilots and collected my bags and then thanked the crew for the great service and great flight. My partner and I then disembarked and headed out the door to clear immigration, pick up our luggage, clear customs and head to the domestic transfer point to have our luggage checked through to our domestic connection to WLG.
Within a minute of arriving at the transfer station we were able to leave the international terminal for a 5 minute walk to the domestic terminal where we cleared security and headed to the Air New Zealand Koru Lounge where we were welcomed by the lounge agent. The lounge was quite quiet with a lot of empty areas.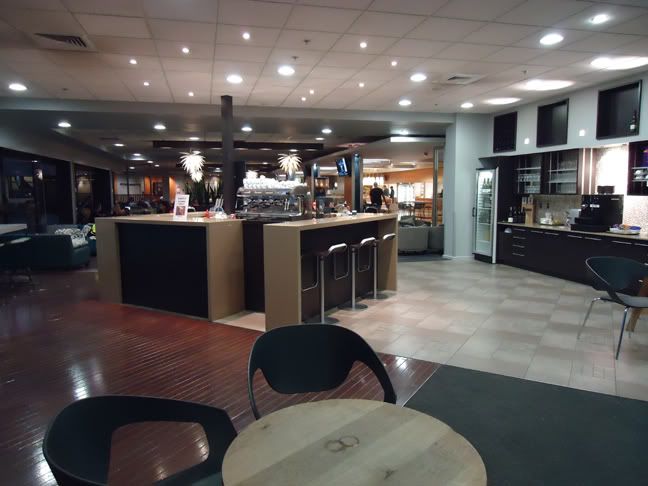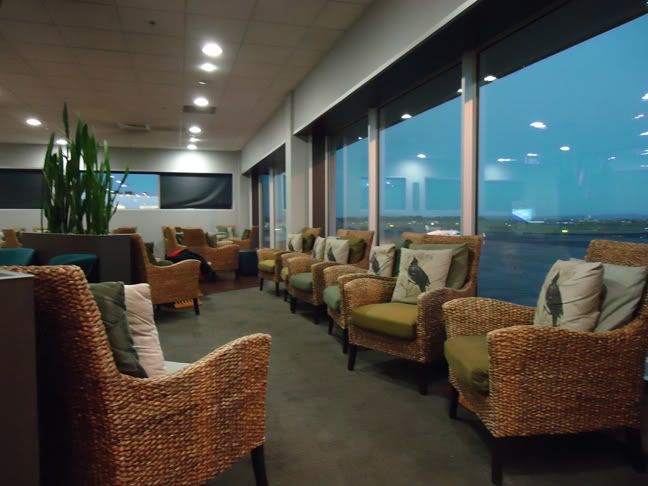 I enjoyed a drink and some food before we headed to the gate where our flight to Wellington was to depart from. I had thought we would use an aerobridge but this time it was to be boarding via stairs which meant a bit of a trek to the gate from the lounge. There was already a large queue but it was nice to be out on the tarmac.
NZ "All Blacks" A320 at the next gate.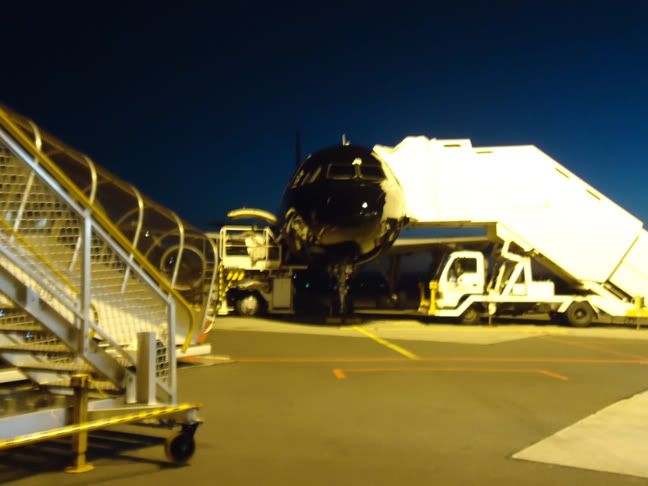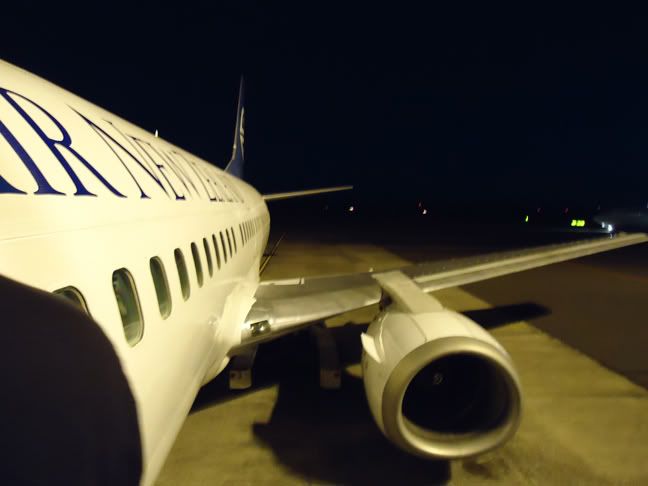 April 2012
Airline: Air New Zealand
Flight No.: NZ467
Route: Auckland (AKL) – Wellington (WLG)
Aircraft: B737-300
Reg: Didn't get!
Scheduled: 19:00-20:00 (1h00m)
Class: Economy (Y)
Seat: 1E
After being welcomed on board it was clear the flight was going to be full with hardly any seats looking free. We had row 1 so at least we didn't have far to go! There was very limited room in the overhead left so I had to keep my bag with me until everyone was on board and some space was able to be made in the overhead above me.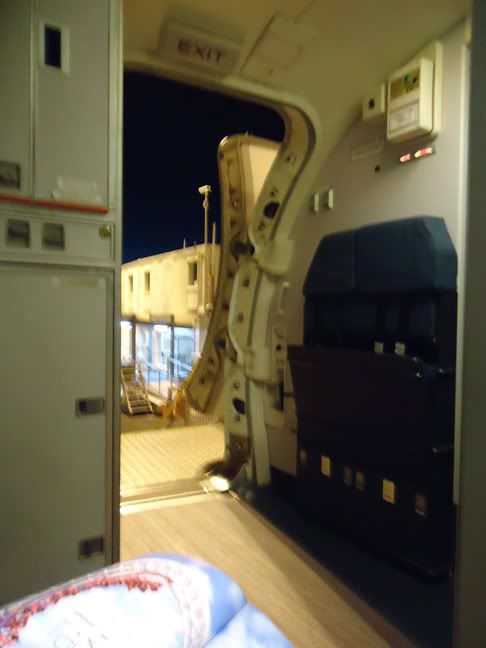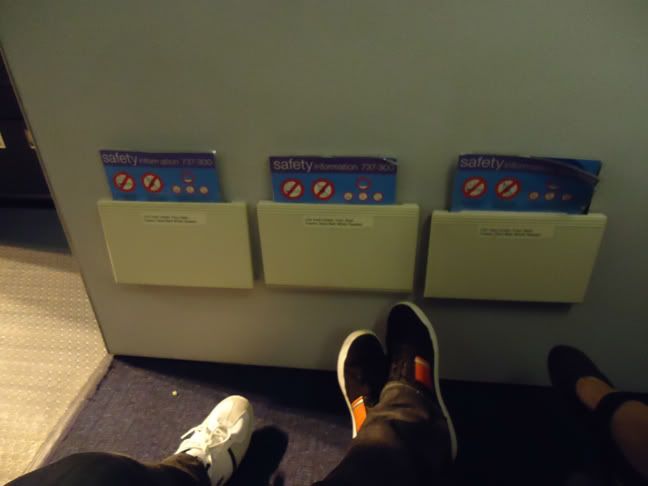 As I was in the middle seat I didn't have a lot of room to take photos, and the person on the window seat was taking up a lot of room with her newspaper. At least this was only to be an hour flight!
After the doors were closed we pushed back on time and headed to Runway 05R for take off. After a smooth take off we headed south and flight attendants were soon released for service. This evening water, tea and coffee were offered with a choice of either cassava crisps, cookies or Whittakers chocolate.
I chose coffee and chocolate and was given an extra chocolate by the friendly flight attendant. After an uneventful flight, we started our descent into WLG and landed on Runway 16.
Being in Row 1 we were among the first to disembark and I thanked the crew before heading to collect our bags. Our driver back into the city was waiting at baggage claim and within 5 minutes of arriving in WLG, we were on our way into the city.
Overall it was a very good weekend trip with some excellent flights and service. The flight to BNE was completely full so the service was somewhat rushed. However the flight back was the opposite with a light J loading and we had excellent service with very friendly crew. The food was fine overall though it would be great if there were non-seafood entrée options! Though the bread was quite good so that was fine.
Hope you enjoyed the report!
aerocabin
[Edited 2012-07-14 22:48:40]
[Edited 2012-07-14 22:56:27]
[Edited 2012-07-14 23:11:51]