Leg 6: Where the Magic Happens – April 21, 2012
Greetings again, fellow A.netters! This sixth leg of "The Next Ten" will see me at the airport through which the happiest memories of millions of children have begun and ended: Orlando International Airport. MCO is the country's 13th busiest airport, and it is unsurprisingly heavy on tourist traffic due to the Walt Disney World Resort and a host of other attractions that draw people from across the world. Delta and United will again share the spotlight today; the latter will give me another spin in First. (I had a few MileagePlus miles lying around, so I snagged a First Saver award.) Although my proposed plans for this flight changed a few times, everything remained solid after I made the bookings. There was only one question on my mind: would I have to lock any screaming children in an overhead bin?
(Some pictures have been omitted for your convenience. If you wish to see them all, feel free to follow the link: Slideshow for Leg Six)
This Saturday started with another one of those 6:00 AM flights that I said I didn't want to do again.
Nevertheless, I was able to drag myself out of my house and get to the airport without any trouble. Security went painlessly and I joined the mass of people waiting to board the airplane.
Aforementioned mass of people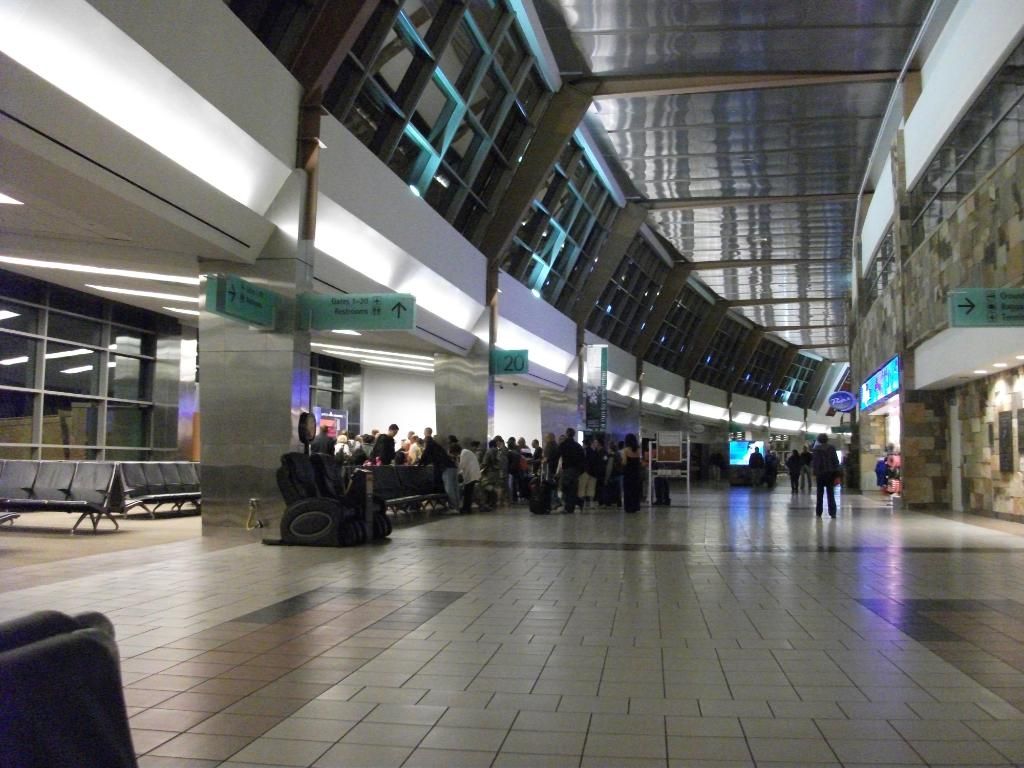 Aforementioned airplane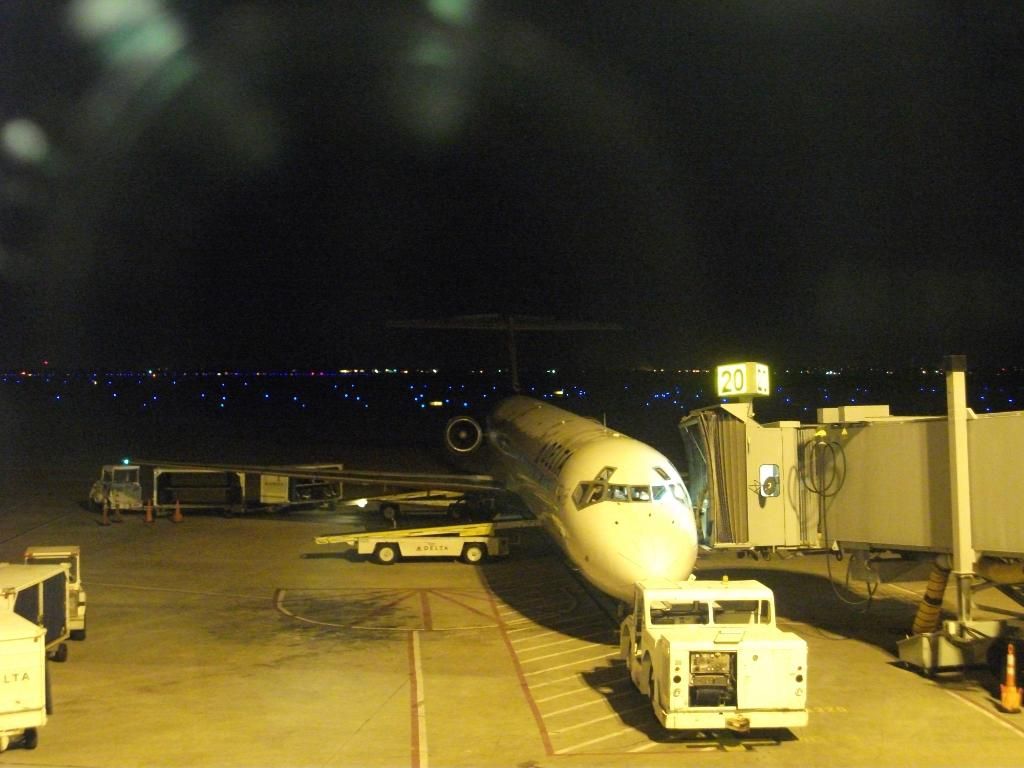 Delta Air Lines 1540 OKC-ATL
Scheduled: 06:00-09:05
Actual: 06:07-09:01 (wheels up/wheels down); 05:52-09:14 (gate to gate)
McDonnell-Douglas MD-88 (N982DL)
The only remarkable event during this flight was the brief holding pattern we were in due to low clouds in Atlanta. We made one circle and we were out of it. Now, if this had happened in San Francisco, we would probably be able to set the plane down on a country road and start walking and still get there before being let out of the pattern. (Believe me—I know firsthand, and I'm sure a lot of you do as well.)
You should be used to this MD-88 legroom shot by now…
The view from the beautiful seat 29E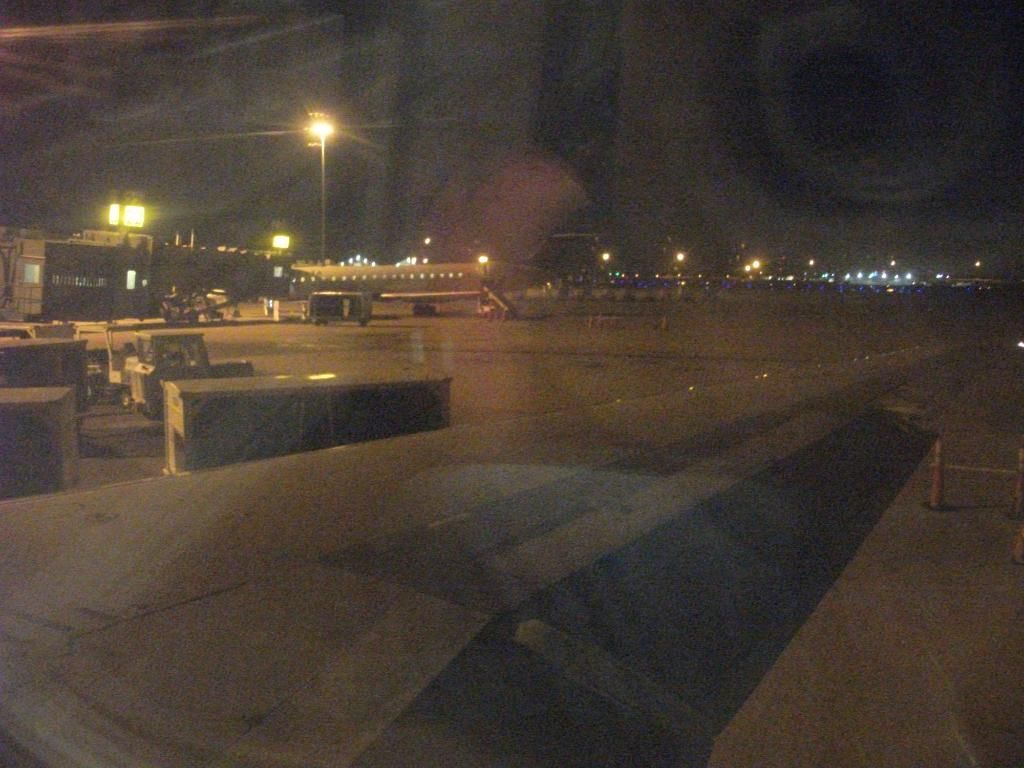 Tinker Air Force Base (TIK / KTIK)
The first hint of sunlight on the wing's leading edge
The familiar glow on the horizon…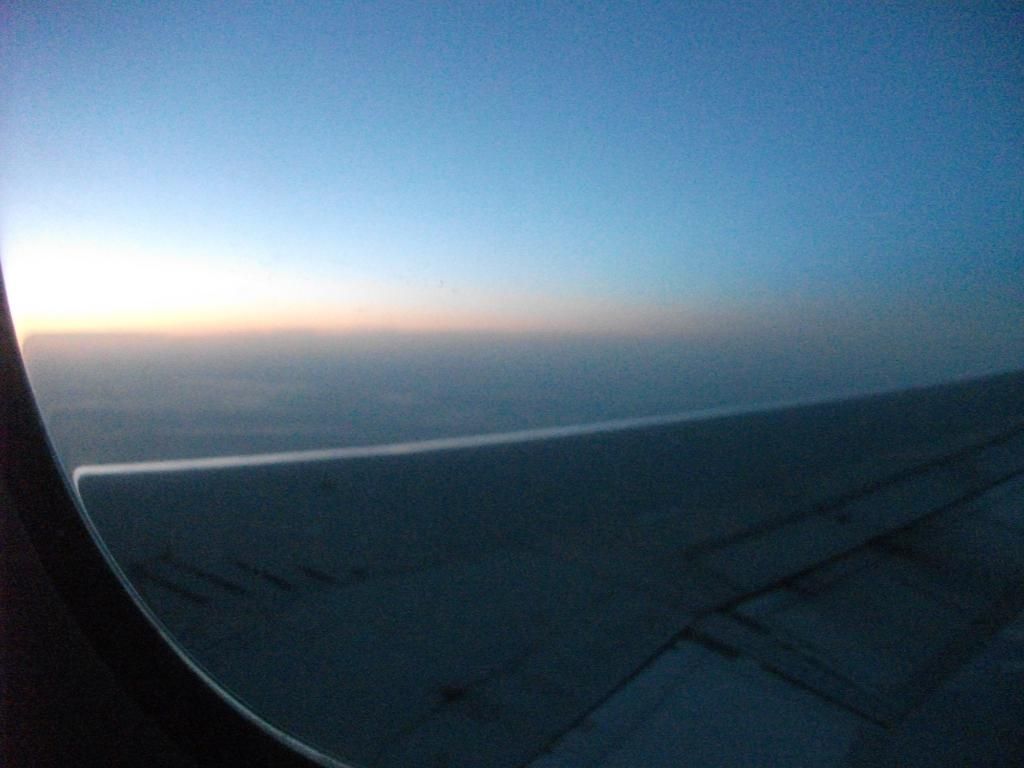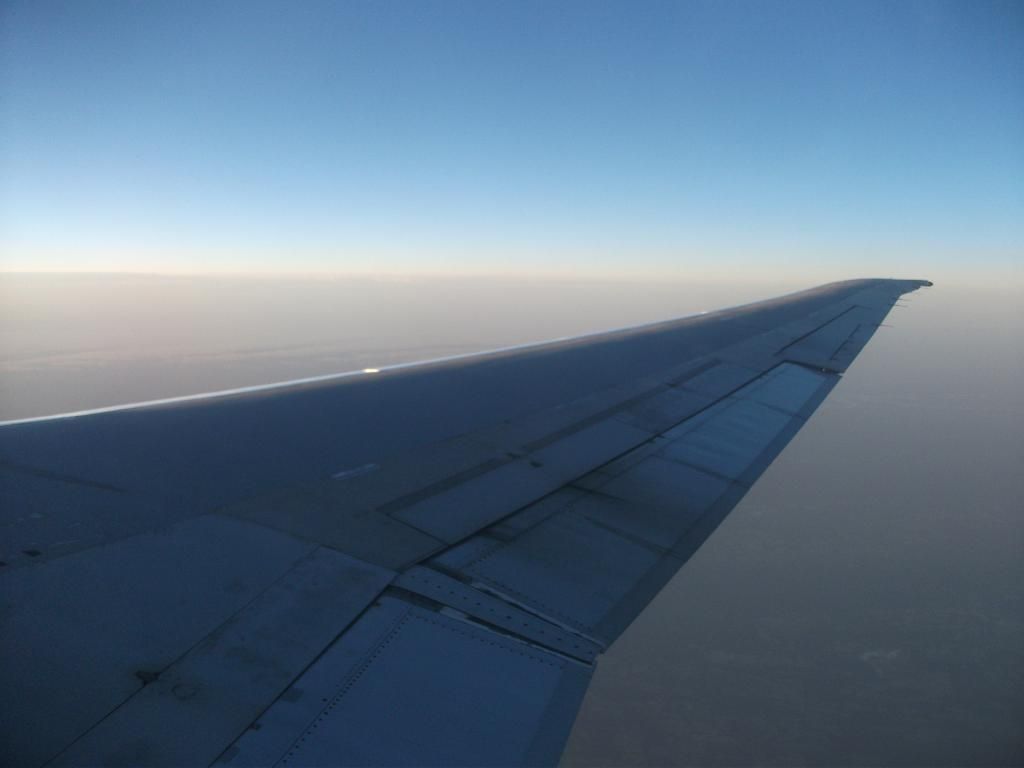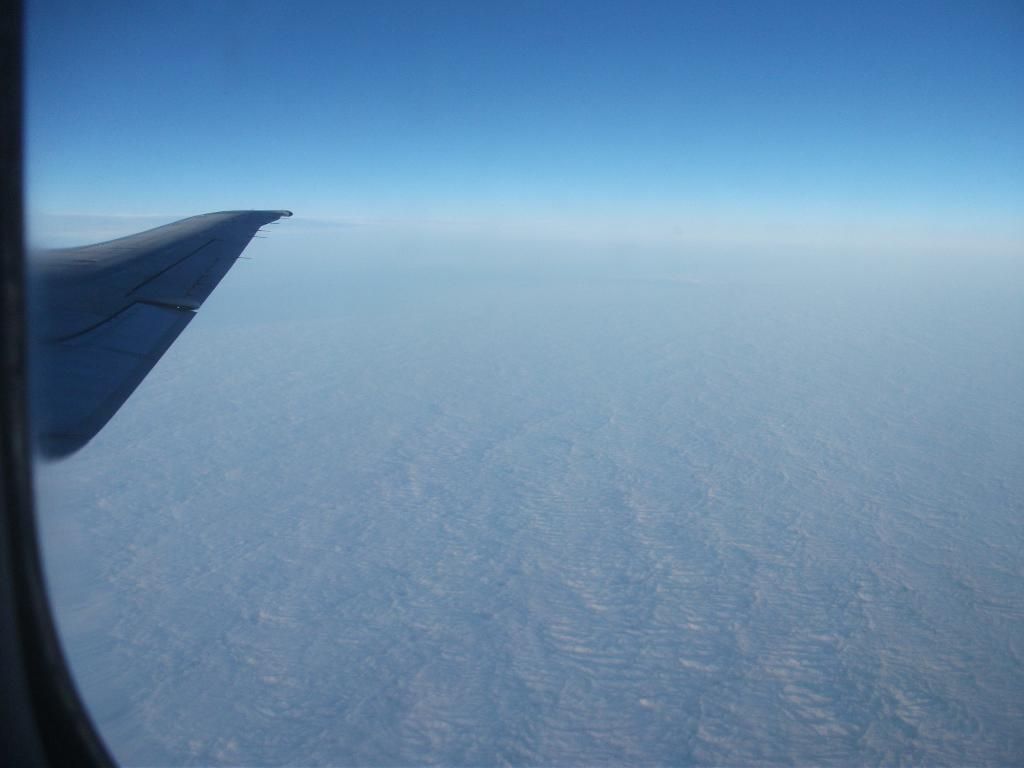 Refreshments: Biscoff cookies and some sort of juice that comes from apples. I believe they call it "apple juice".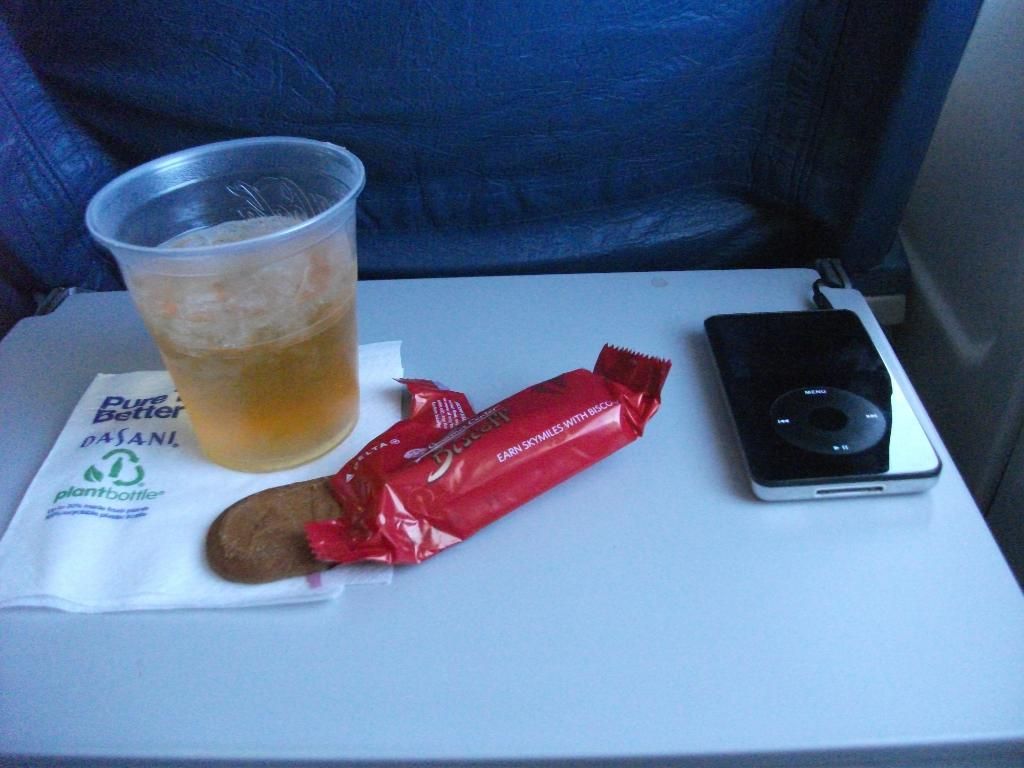 Turning as we begin the holding pattern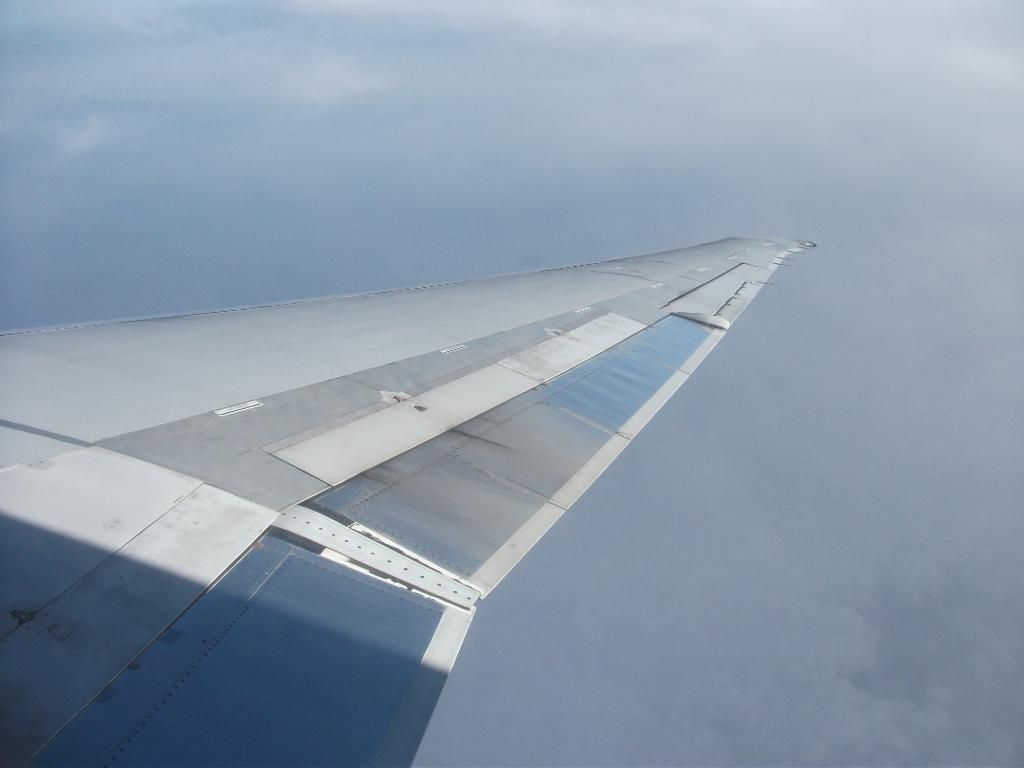 A jet-propelled line streaking through the sky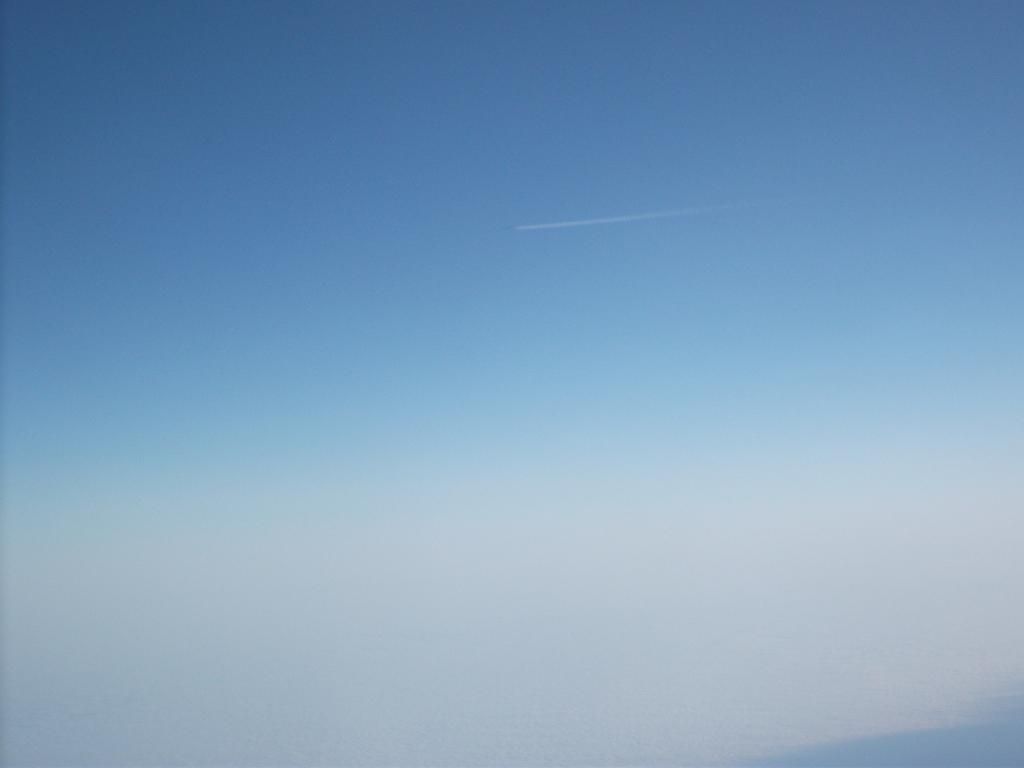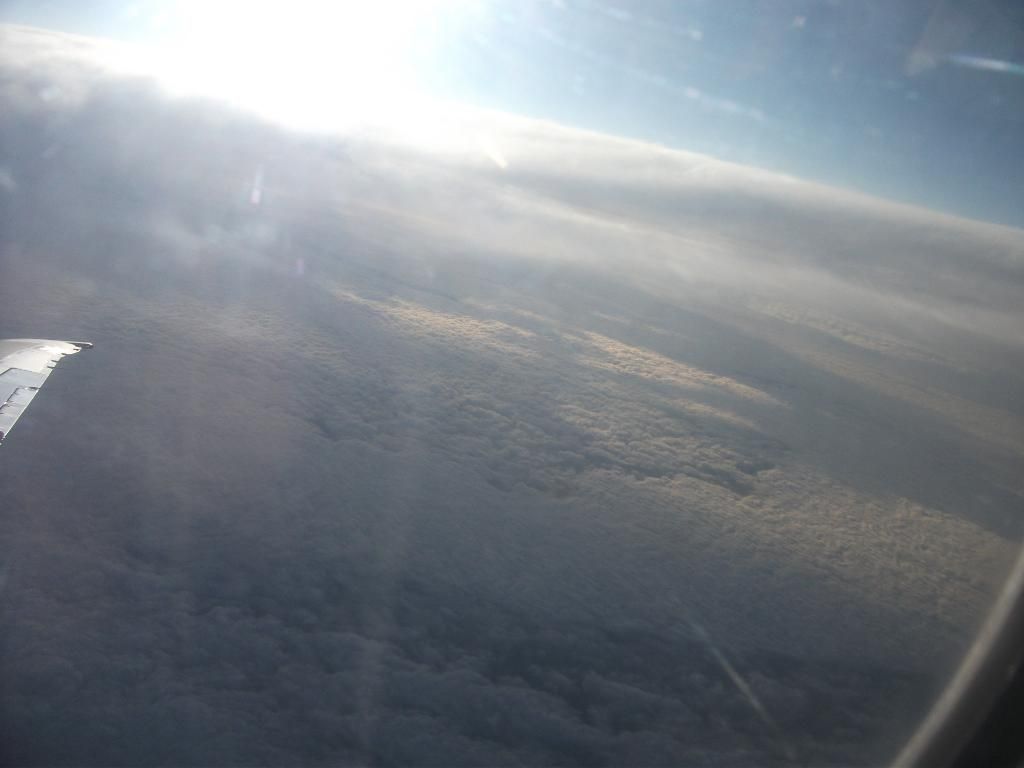 Back on course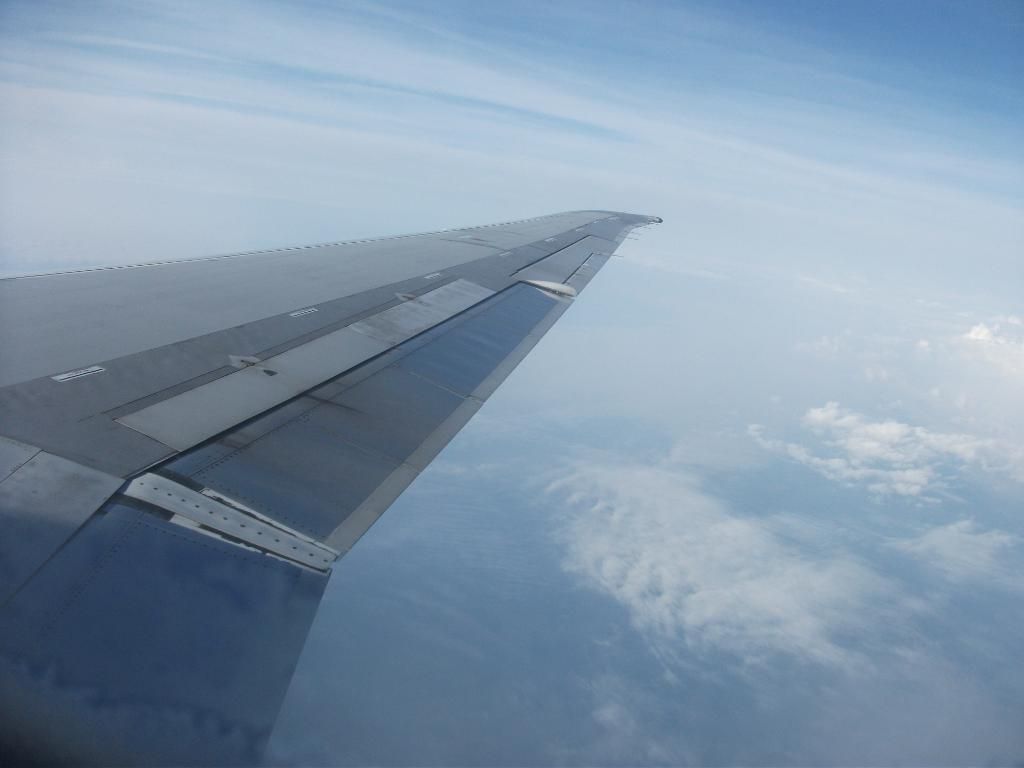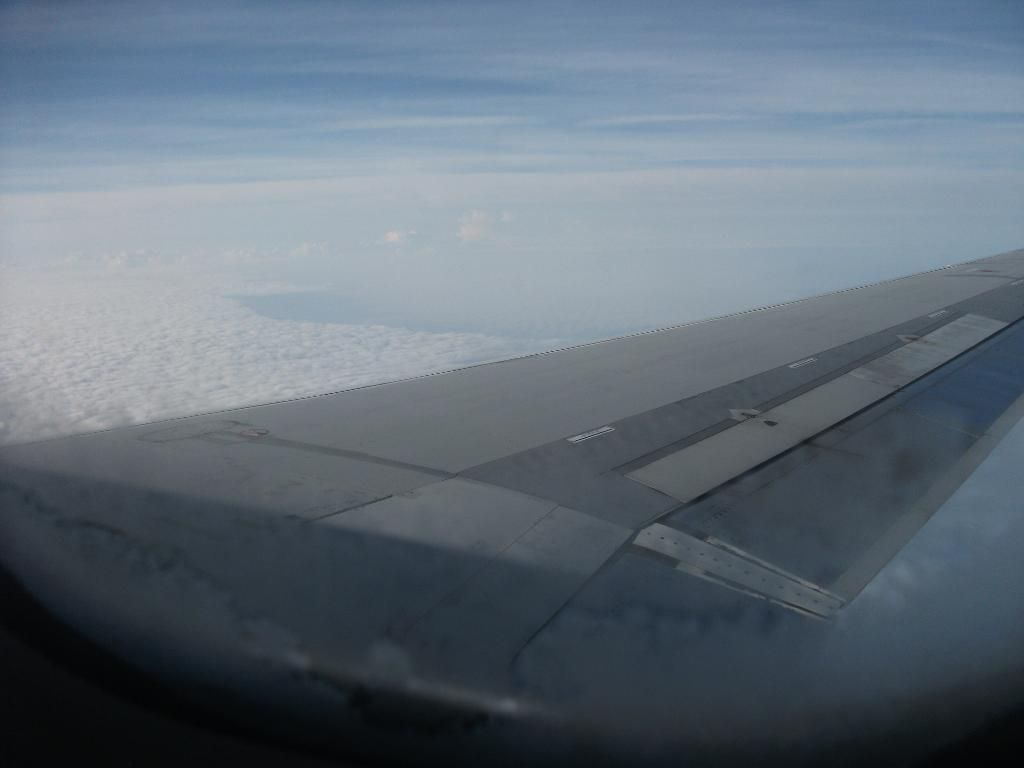 Our shadow on the clouds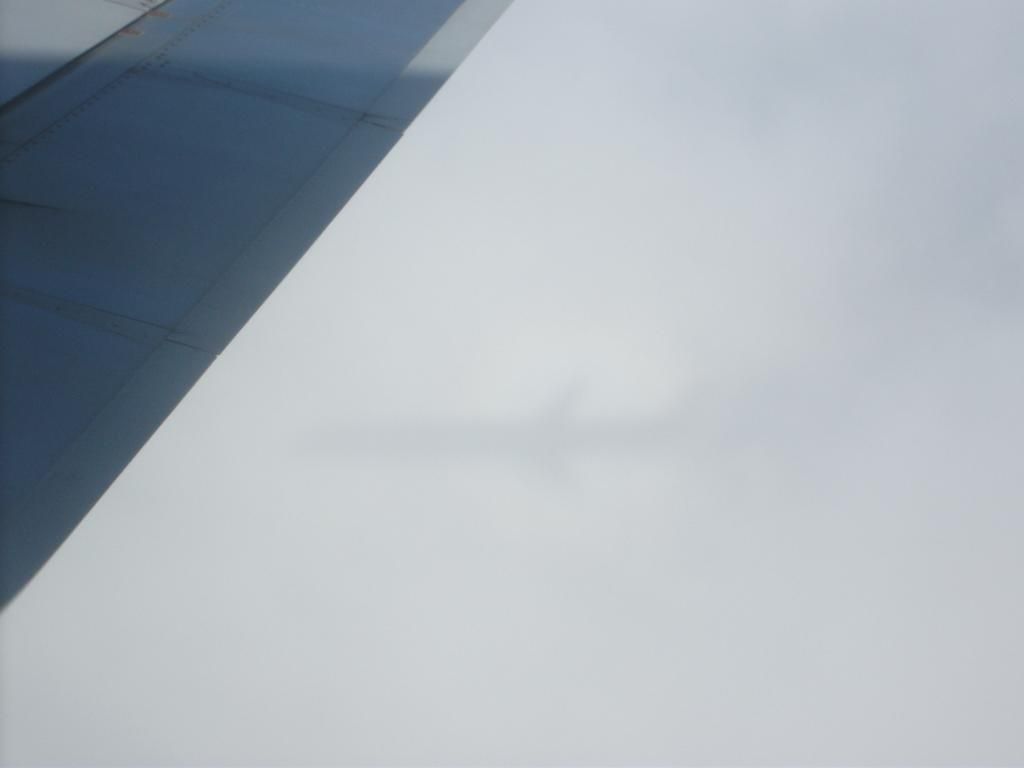 A flying buddy on approach to one of the parallels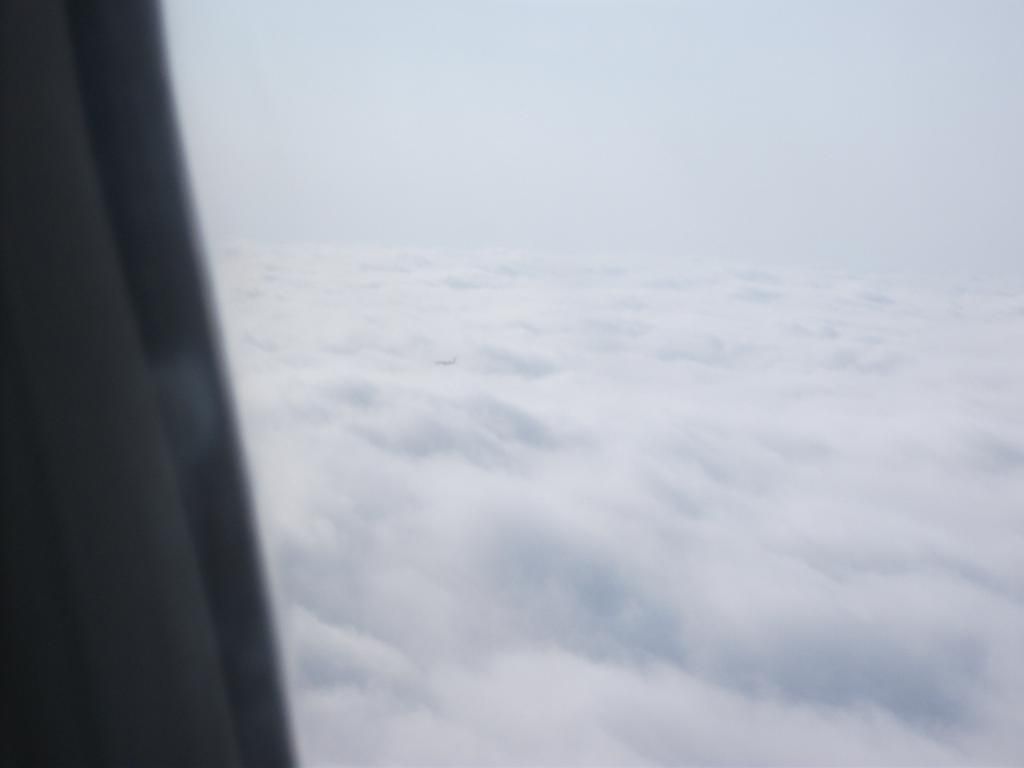 You can see just how low the ceiling was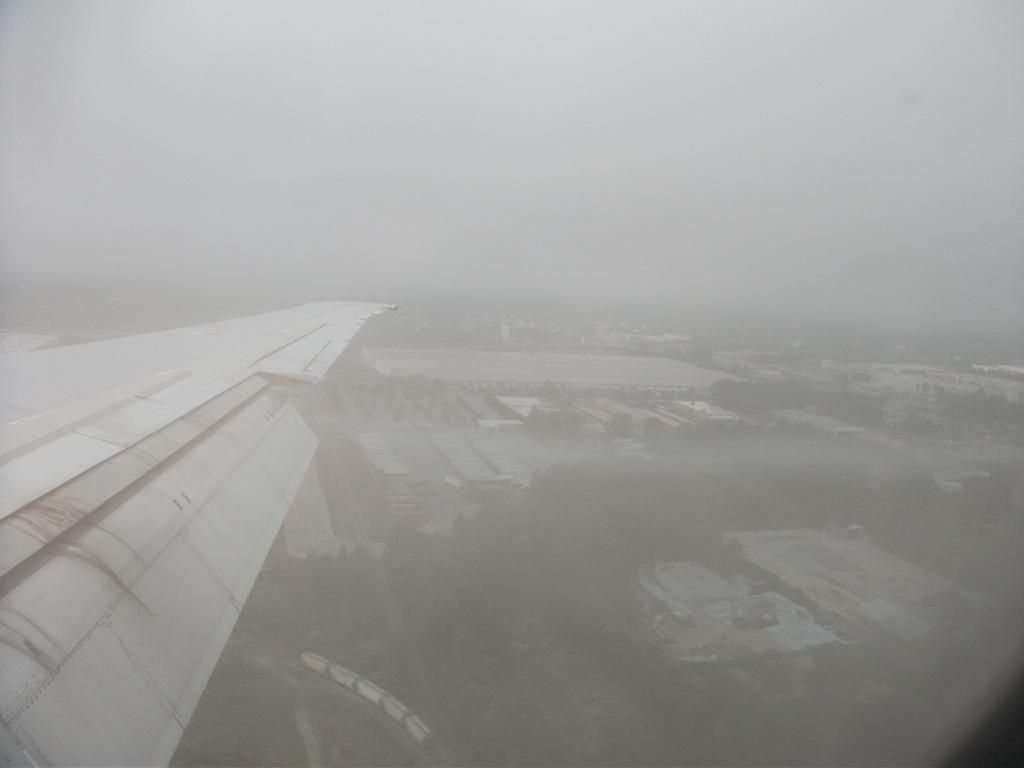 Our buddy about to hit the concrete
And here we are, on the concrete ourselves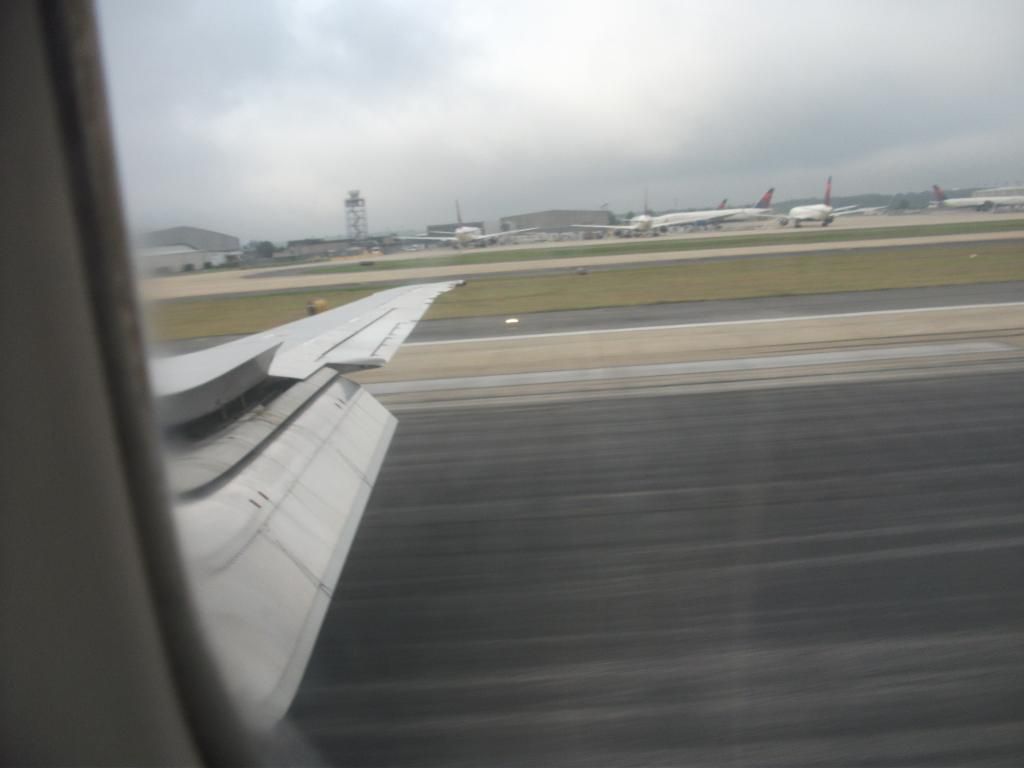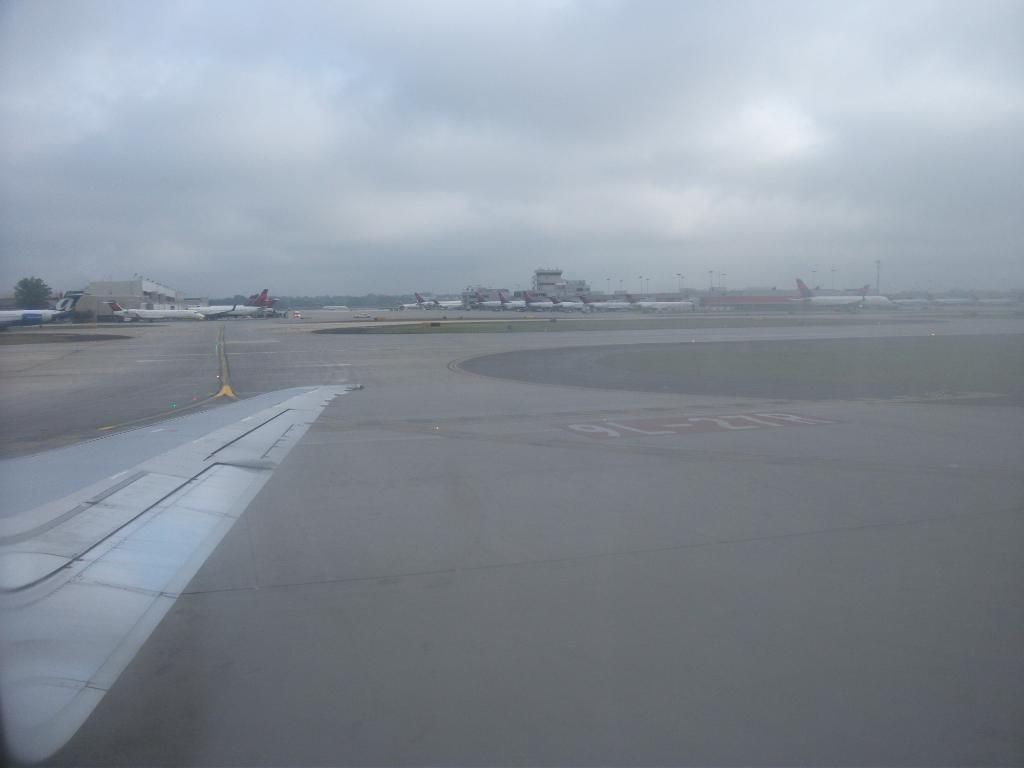 The window picked that moment to fog up, which was a minor inconvenience for people who were gathering photos for trip reports. Nevertheless, I was able to get some shots where you could at least tell what I was pointing at.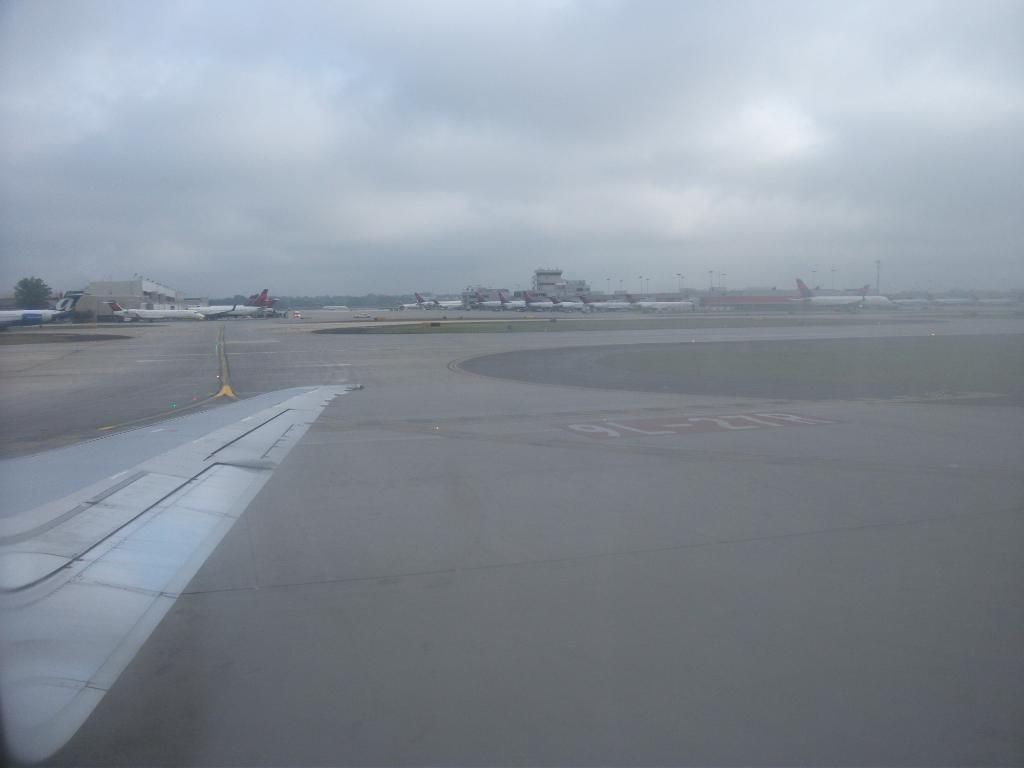 Singapore Airlines Cargo 744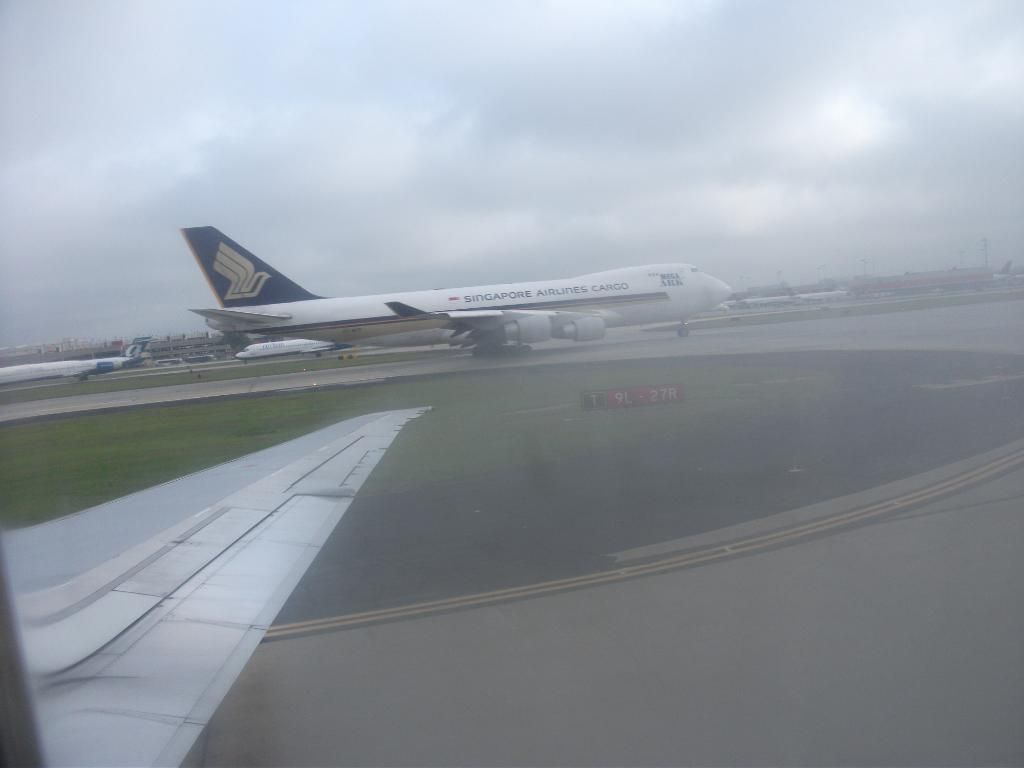 The yet-to-open F Concourse (operations started May 16th)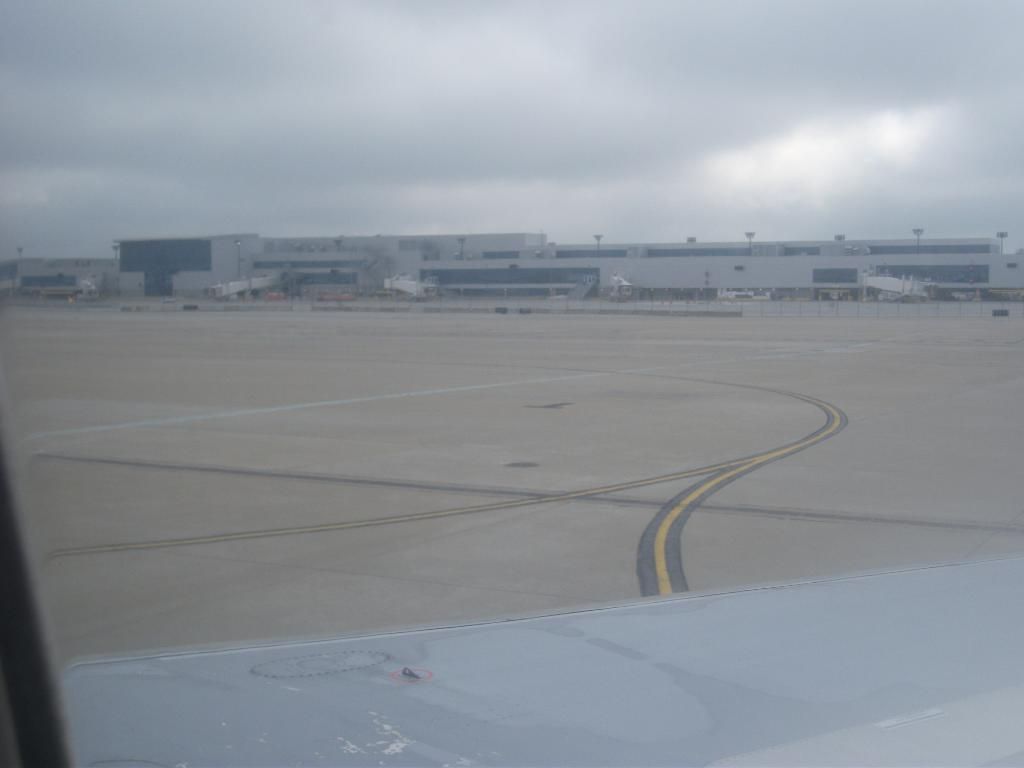 See our reflection?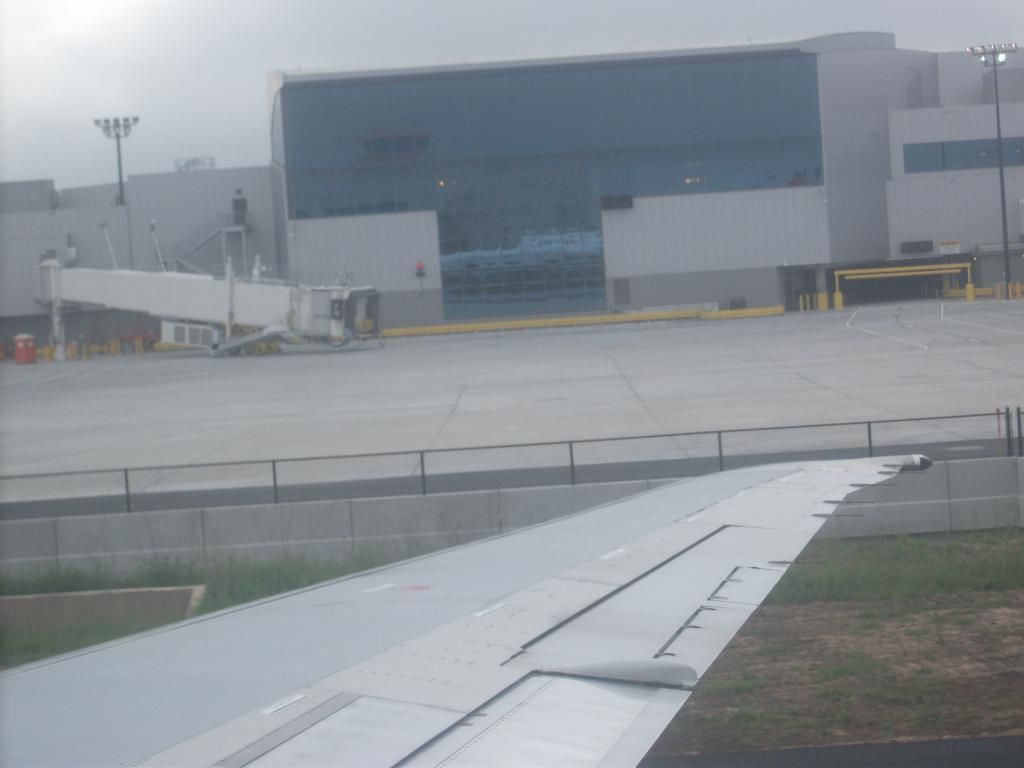 Parked at Concourse E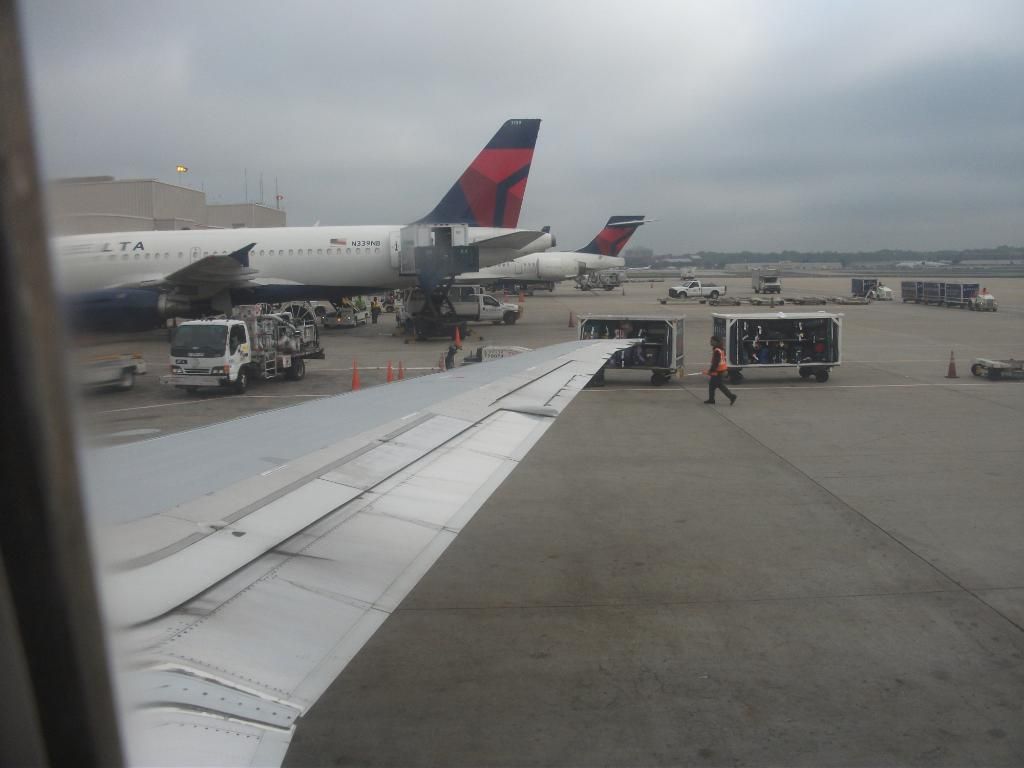 I took the time during the layover to pop over to the food court and grab some things. I claimed a seat with an outlet and the following view: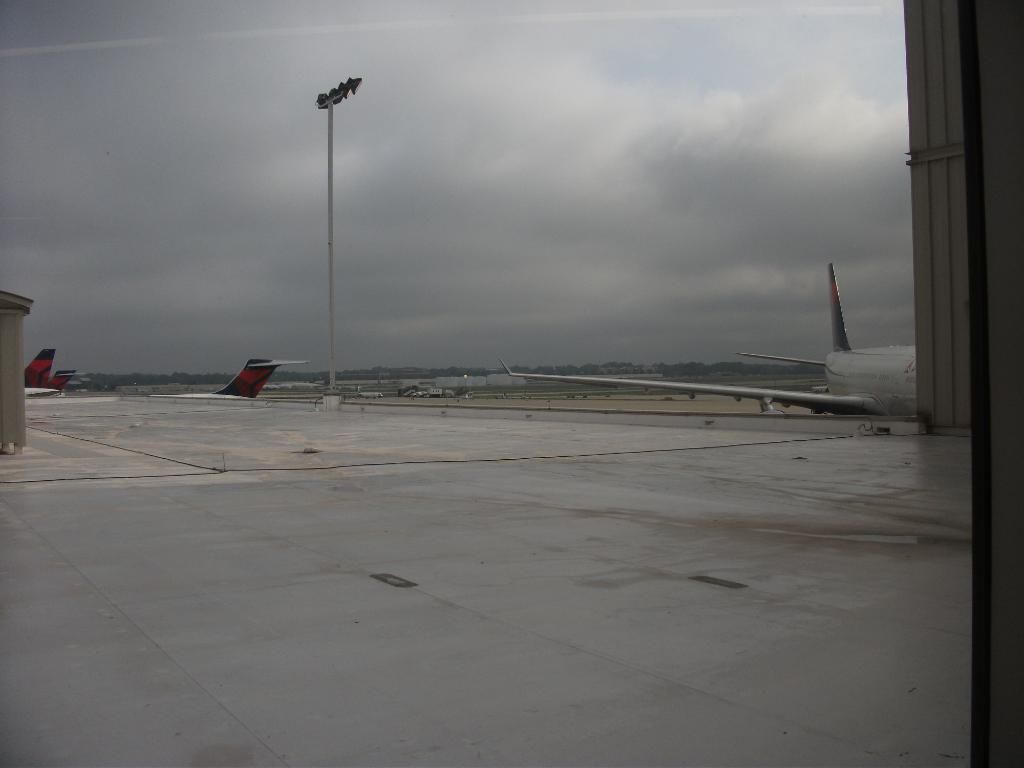 The tail of my previous plane peeking over the wall
After my session of eating and typing was completed, I went to the gate where I found this plane waiting for me: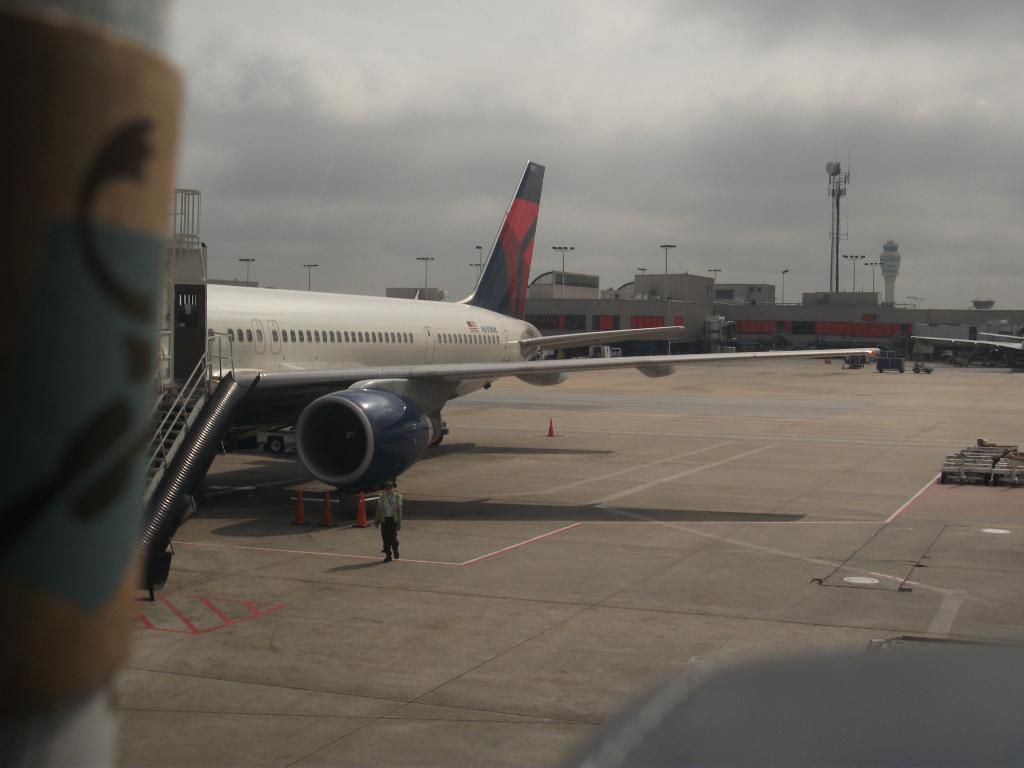 Delta Air Lines 2169 ATL-MCO
Scheduled: 10:50-12:25
Actual: 11:05-12:05 (wheels up/wheels down); 10:46-12:15 (gate to gate)
Boeing 757-351 (N591NW)
I was originally going to take this trip in May, but during the time when the plans were still quite fluid, I saw an opportunity to move it to April and reduce a bit of the headache that the May plan would have given me. There was also another bonus: another 757-300 fell into my lap!
Legs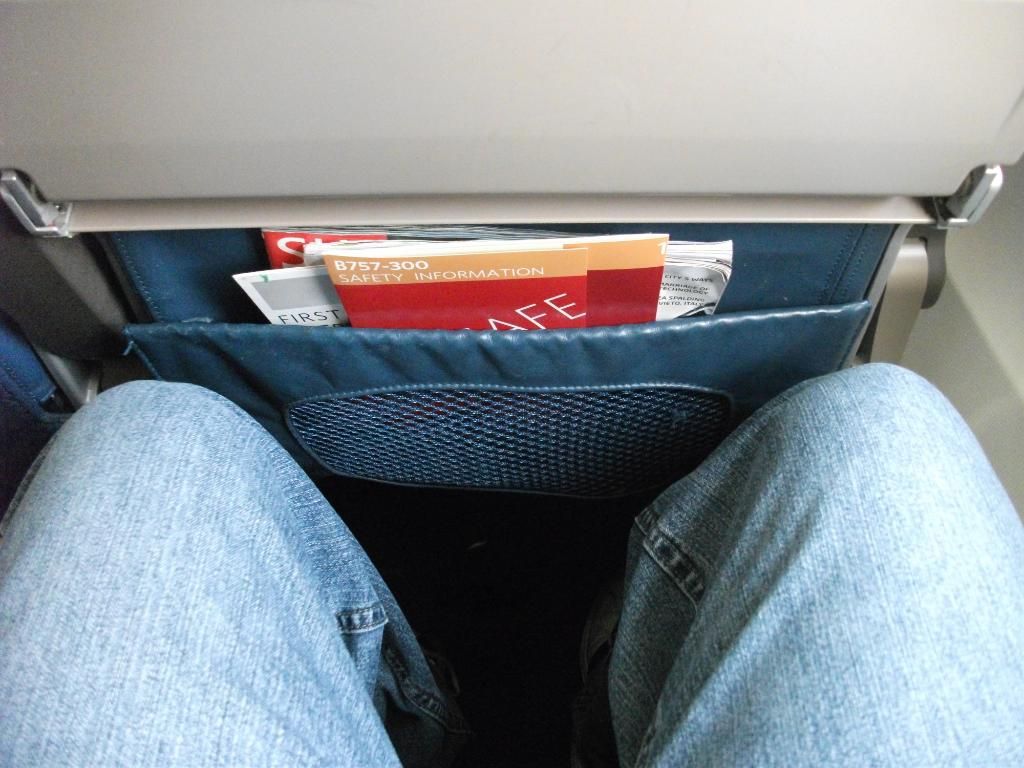 DC-9 N675MC at the adjacent gate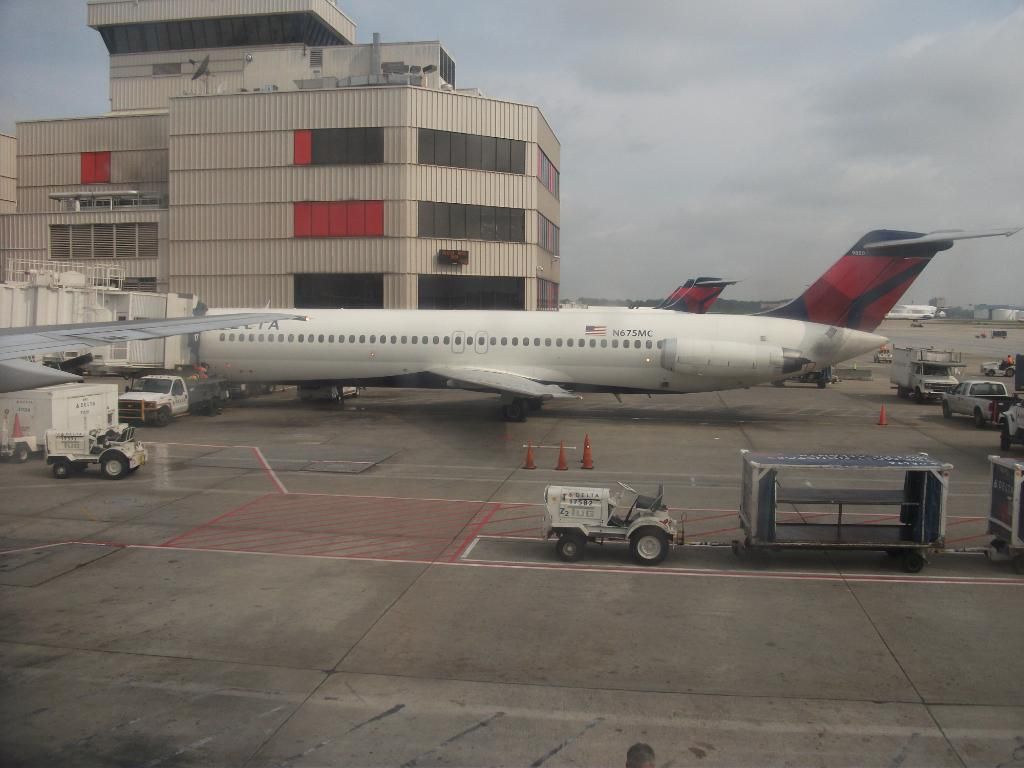 From the aft Economy cabin (Row 42 reporting in)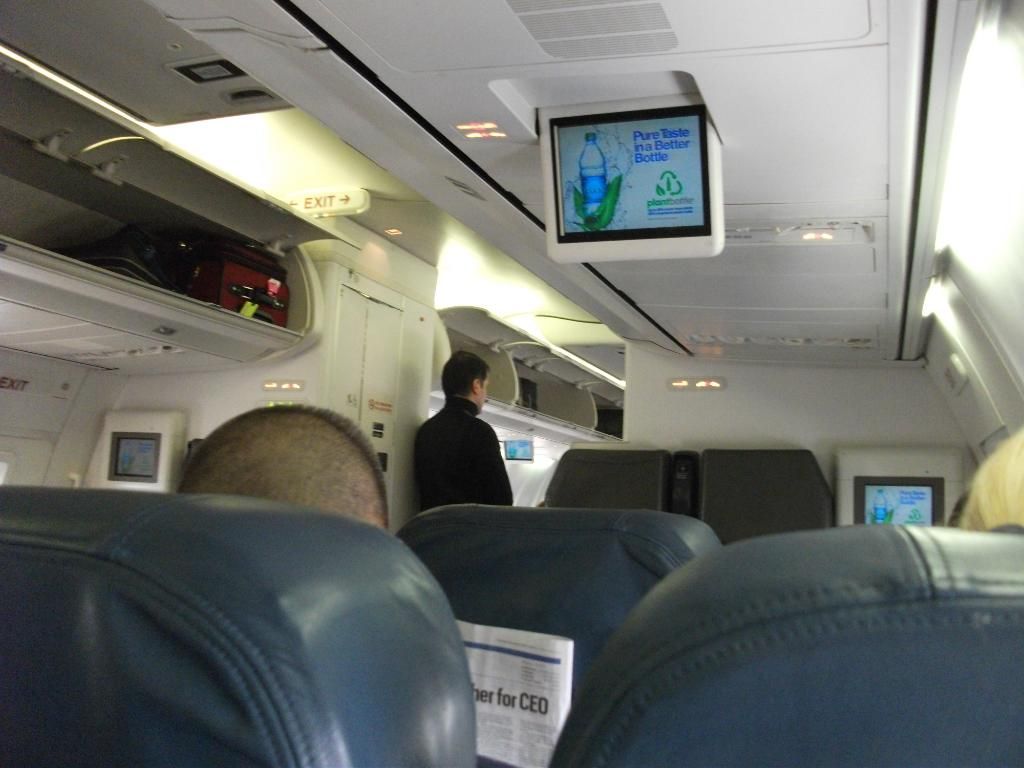 You're welcome.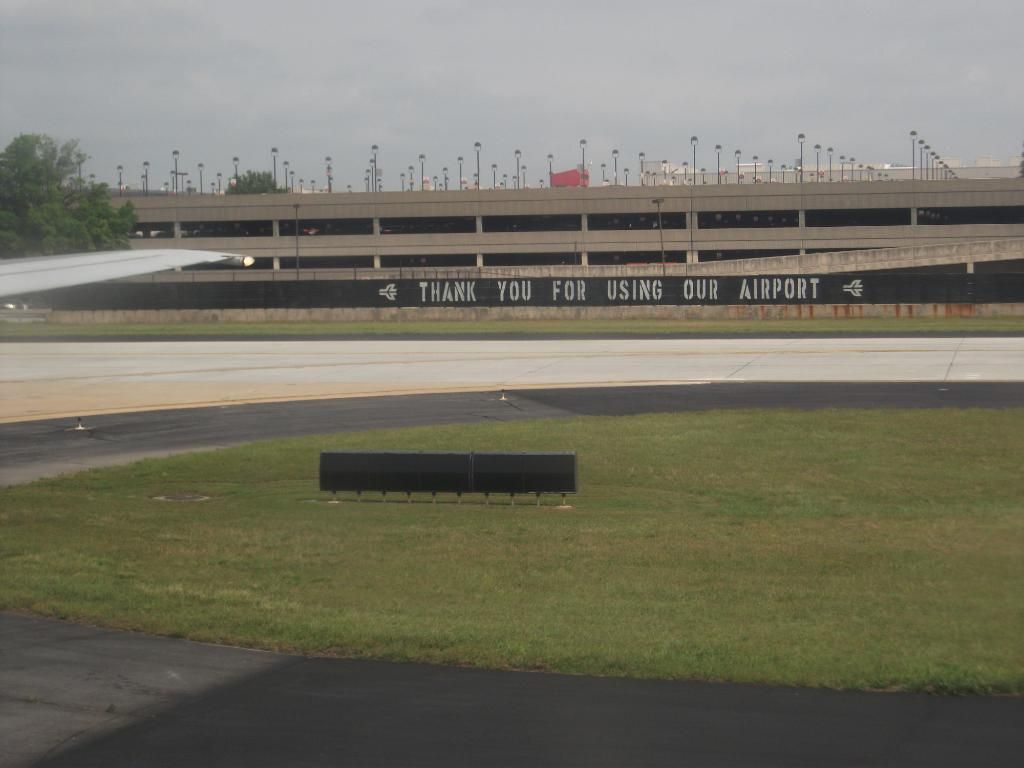 The weather was slowing things down just a little, but it was nothing that would kill anybody's plans. As such, we pulled out of the gate and joined the takeoff queue; we were number six. After a few minutes of patient taxiing, we went on to Orlando. The pilot either wanted to be sure to get the loaded plane off the ground or he had a need for speed, because we pretty much tore down the runway like a rocket.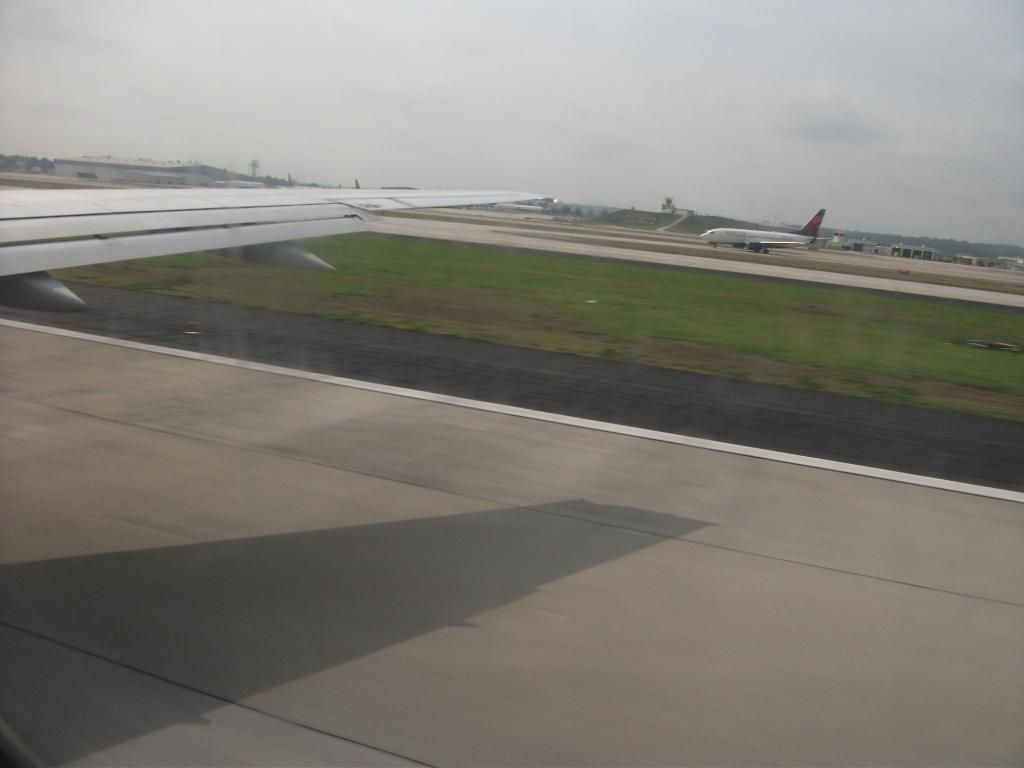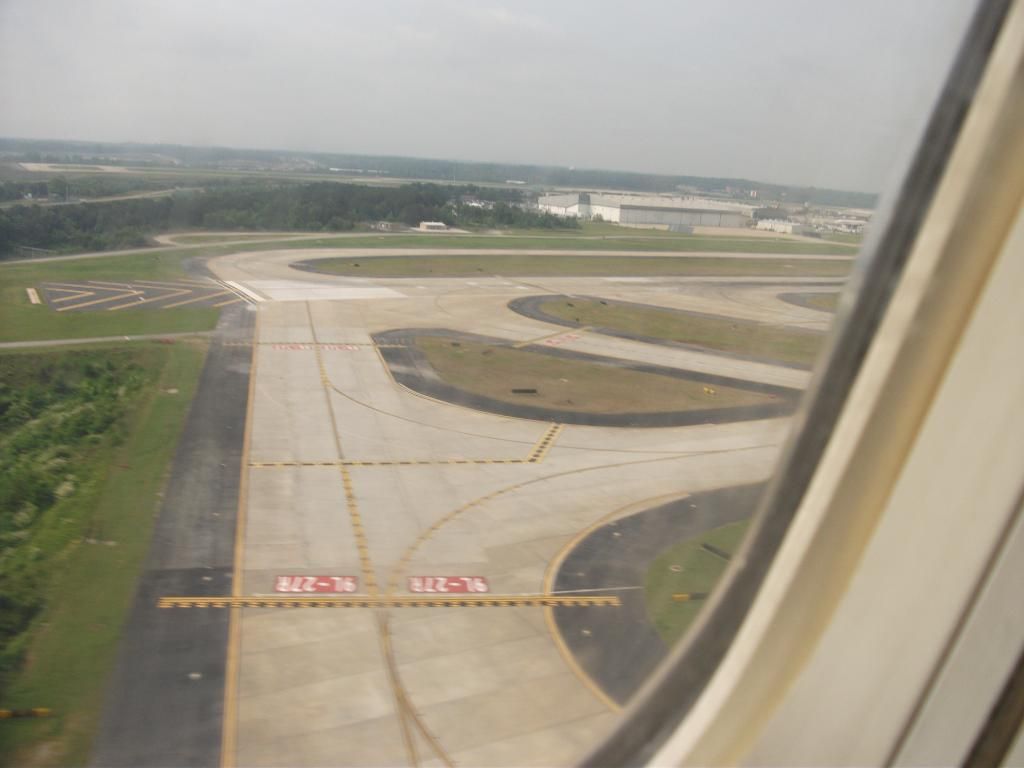 A few seconds pass before we break through the clouds again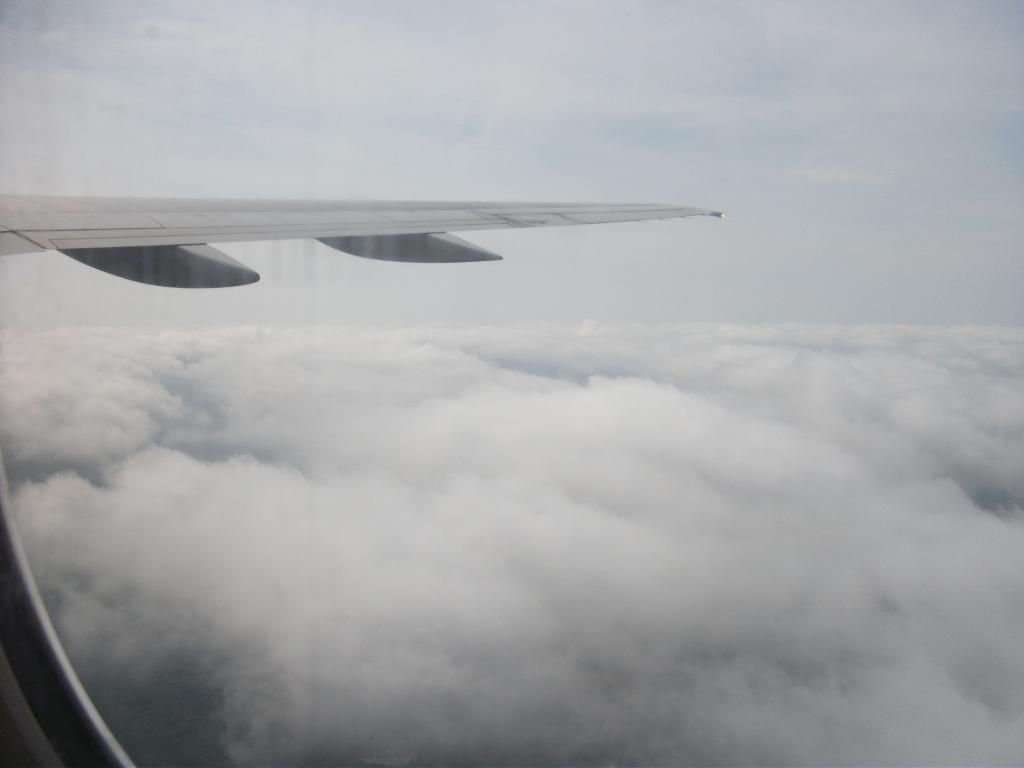 The flight attendants said this would be a completely full flight. The empty middle seat next to me tells a different story.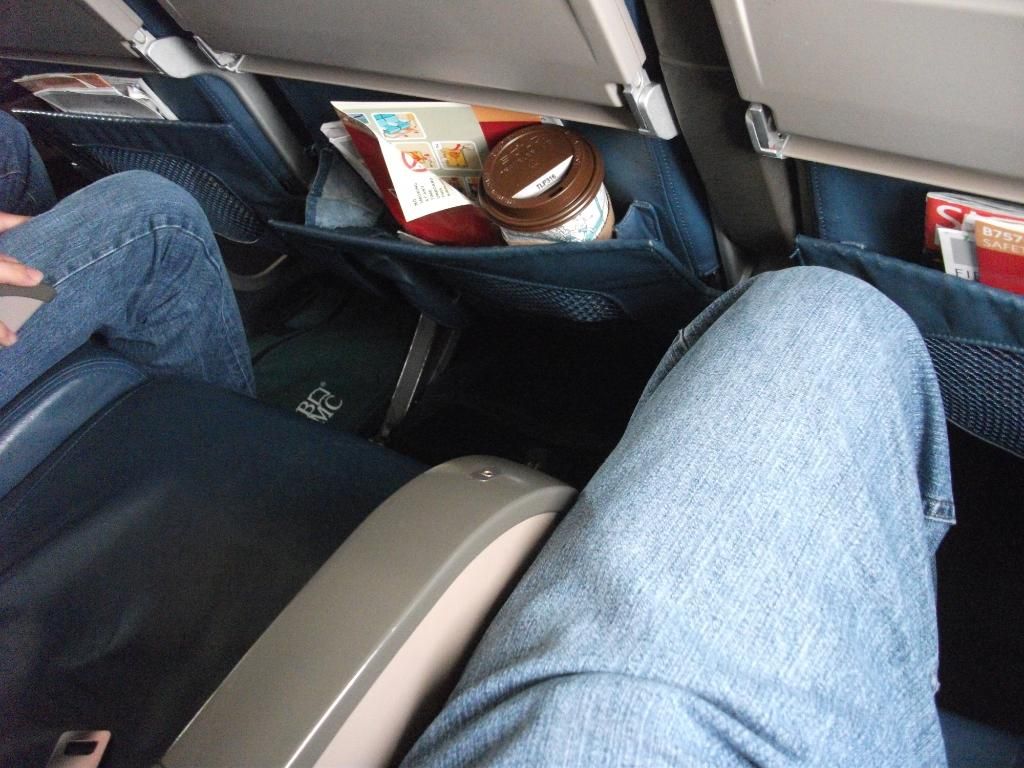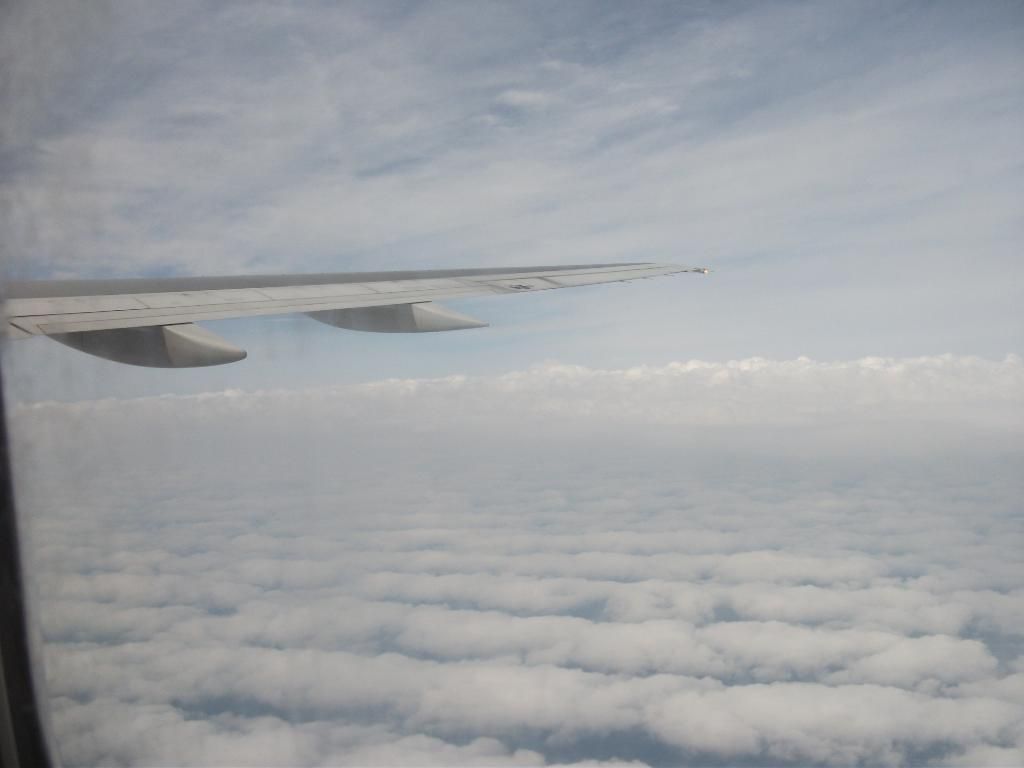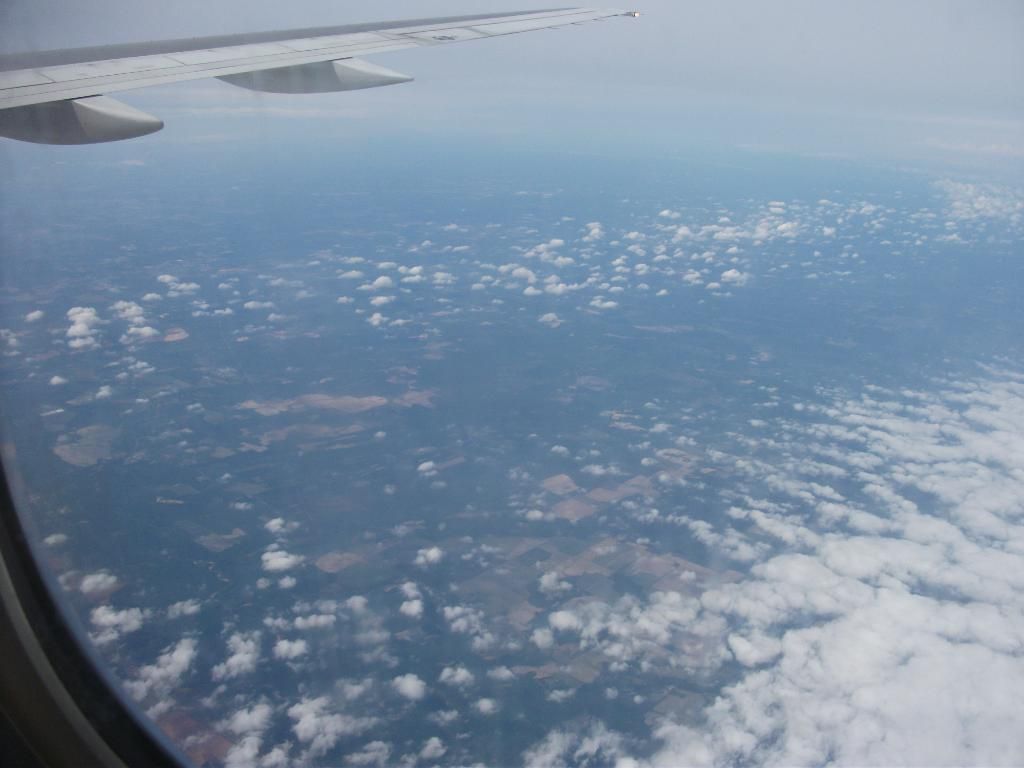 Montezuma, Georgia and the Dr. C.P. Savage Sr. Airport. You'll have to ask the fine people of Montezuma just who the heck Dr. C.P. Savage was.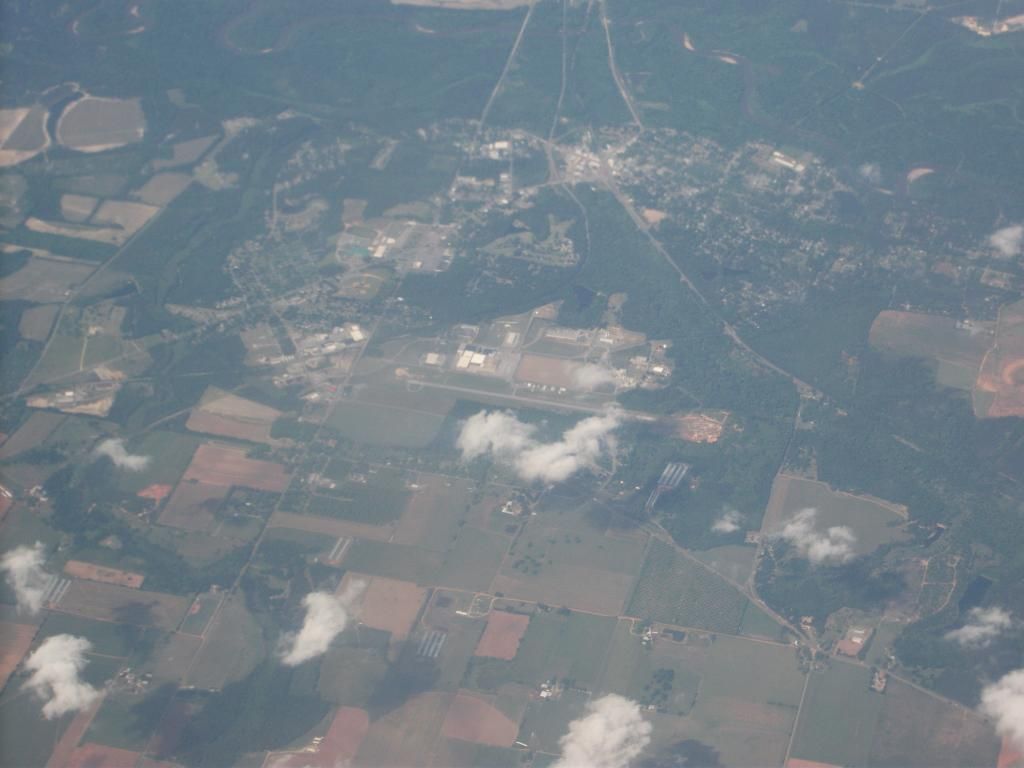 Lake Blackshear, roughly 70 miles south of Macon, GA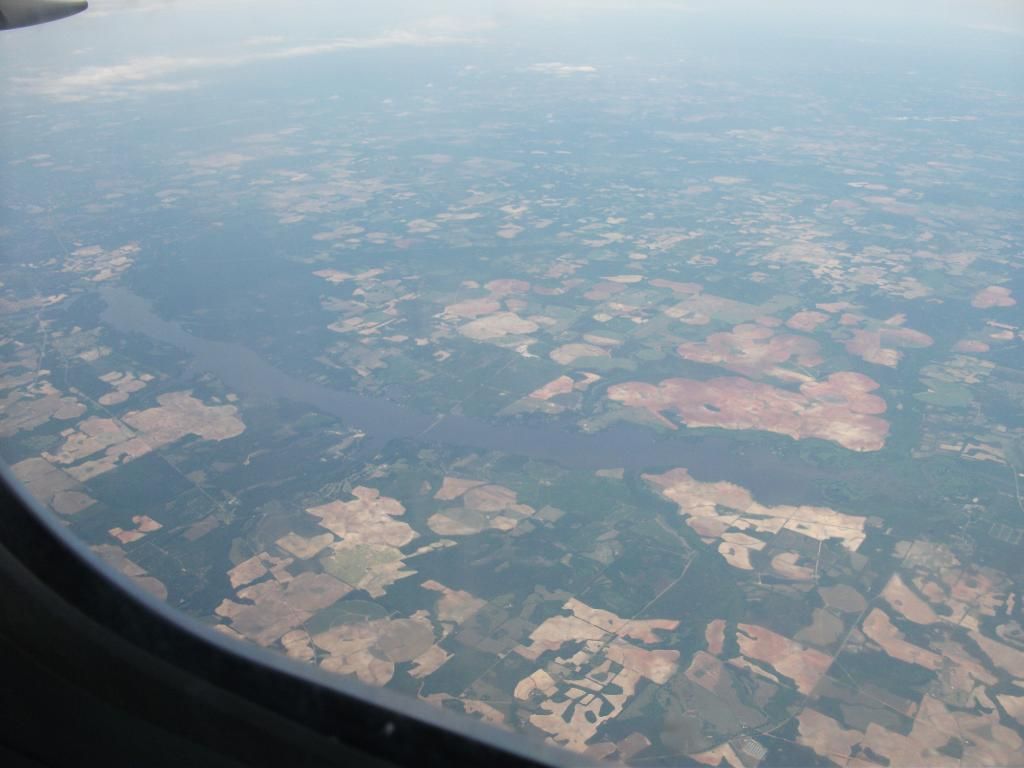 Ty Ty, GA (not a typo; that's the town's name)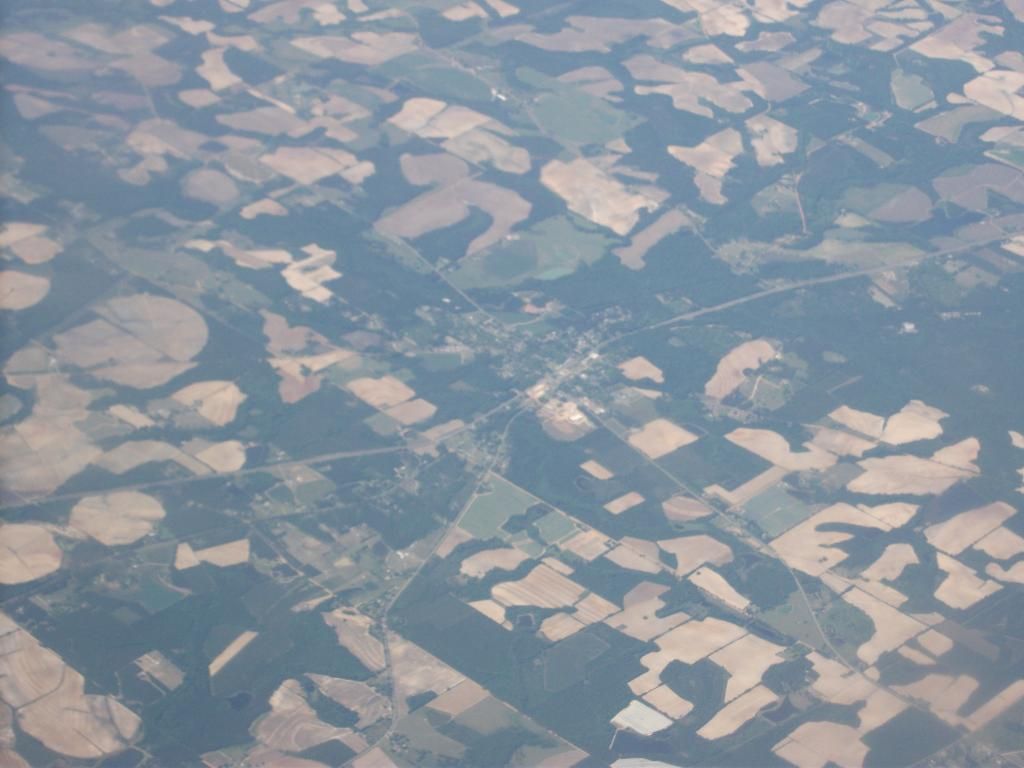 Passing over Tifton, GA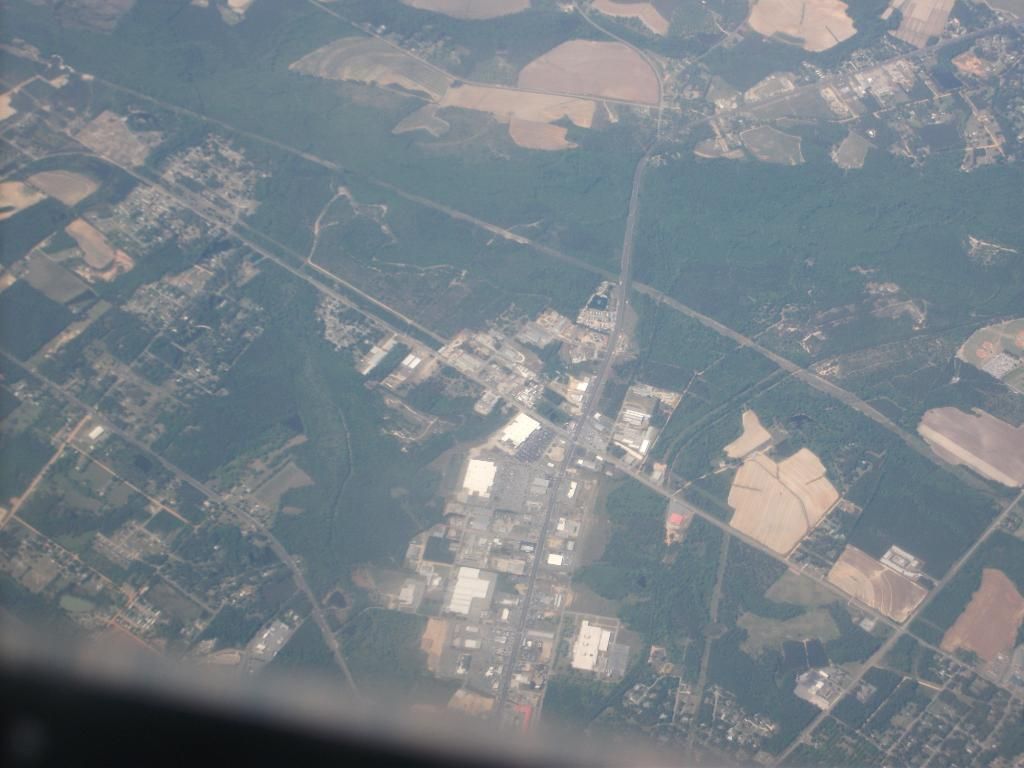 Adel, GA and the Cook County Airport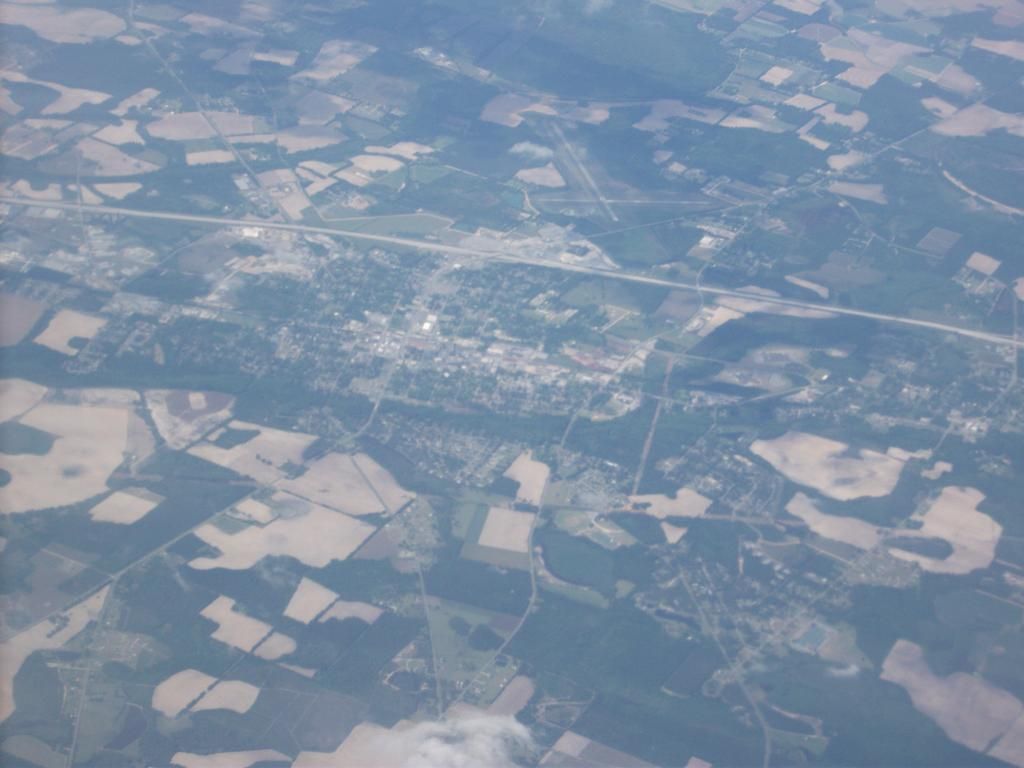 Valdosta, GA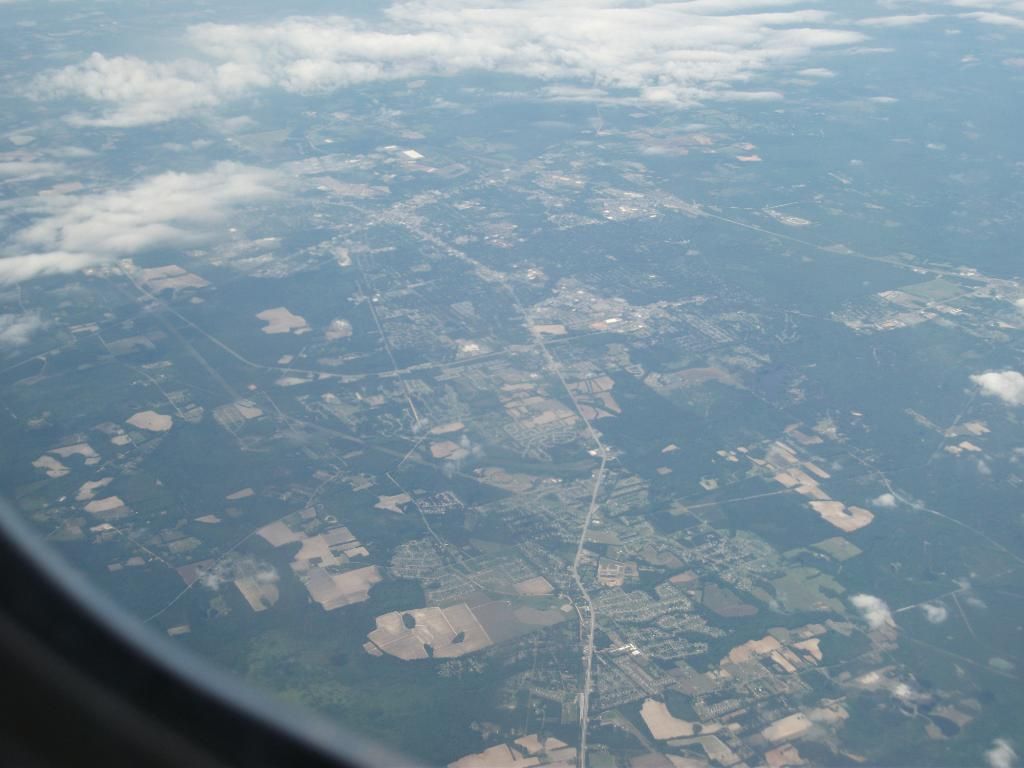 Valdosta Regional Airport (VLD / KVLD)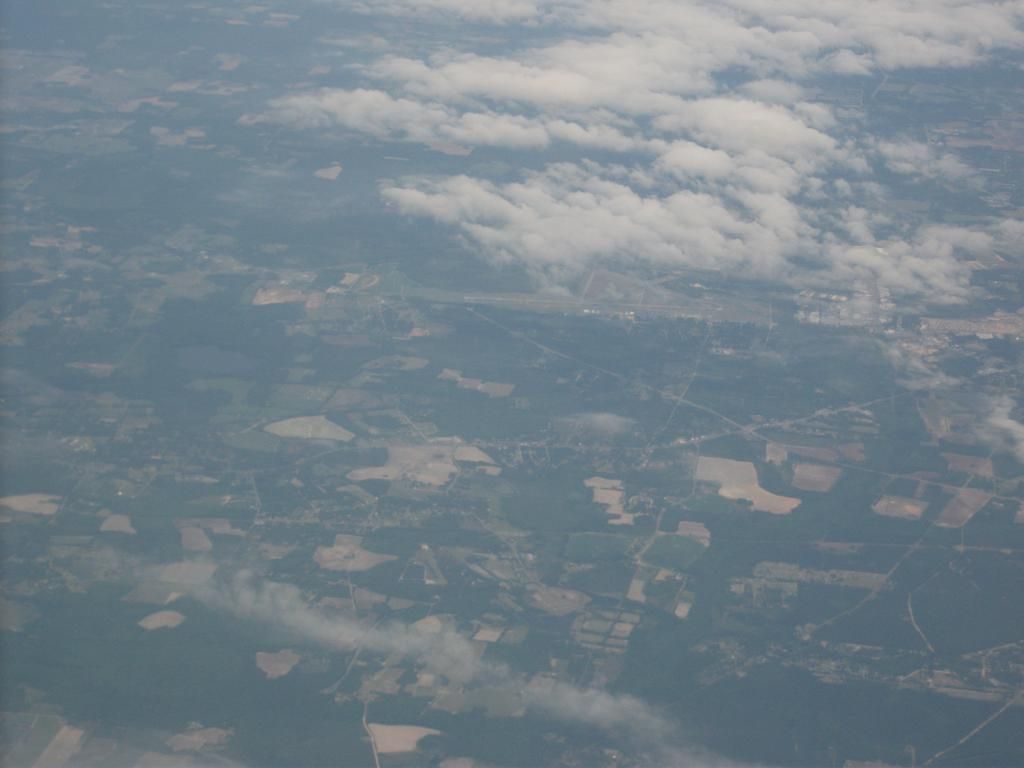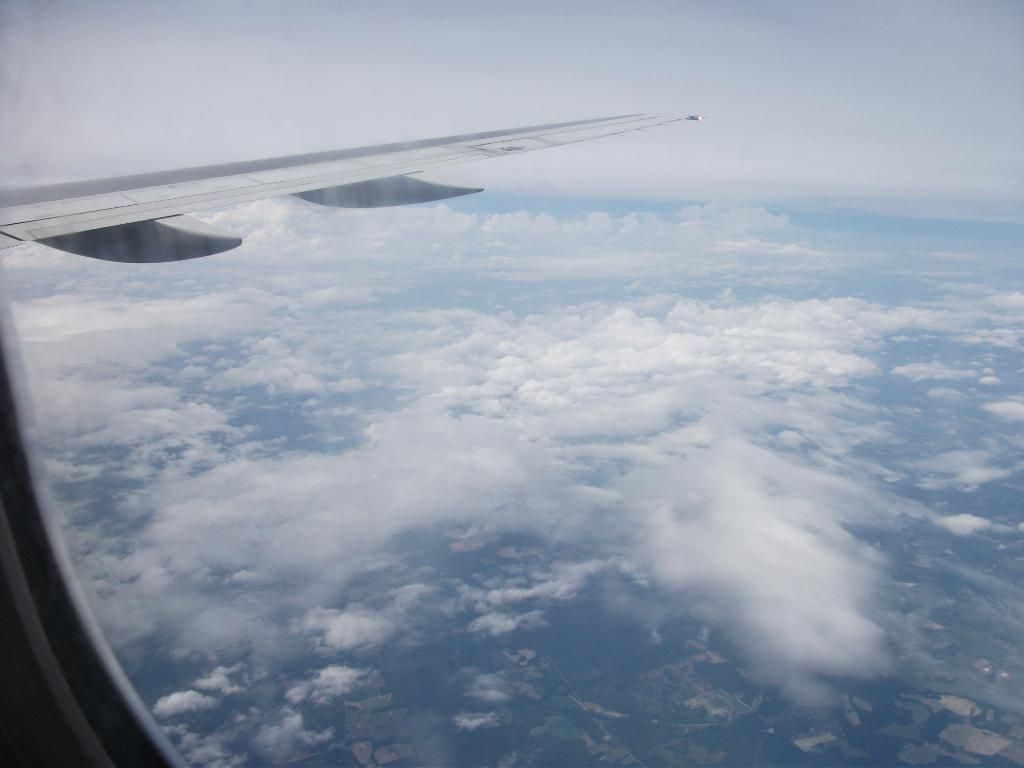 Peanuts and Coke Zero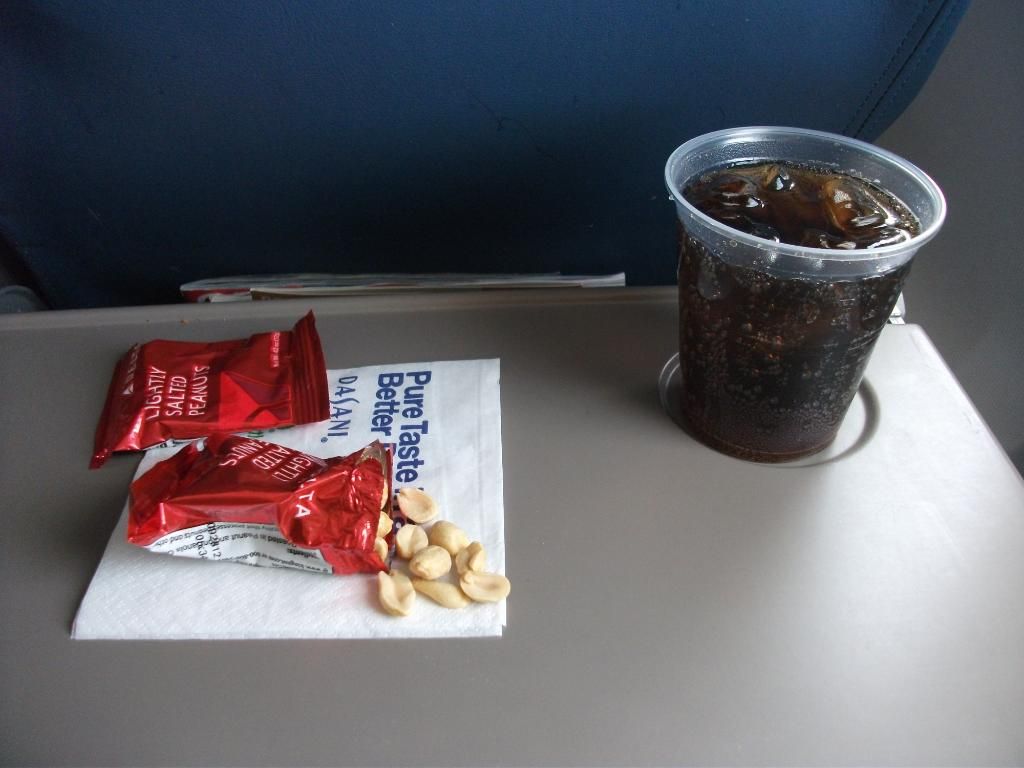 The flight went as smoothly as one could expect. Much to everyone's fortune, there were no rambunctious children that needed to be silenced during the flight. I guess you have at least one hour before they start to rebel… Sooner than I expected, we began our descent into Orlando.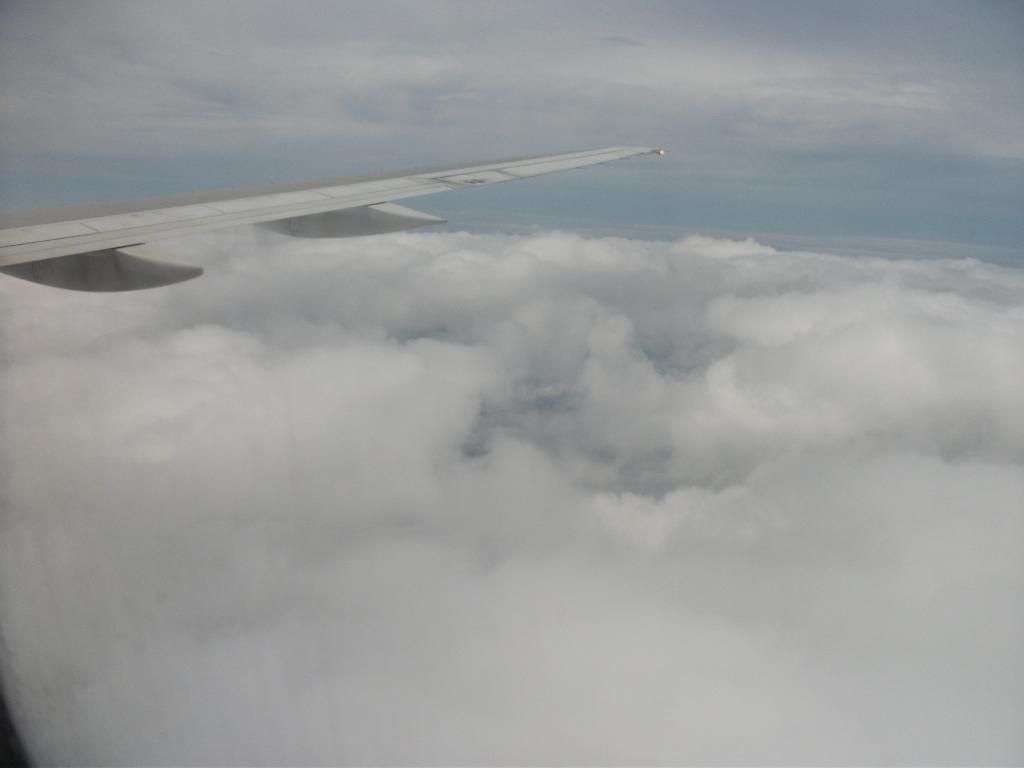 A housing development in Sumter County, Florida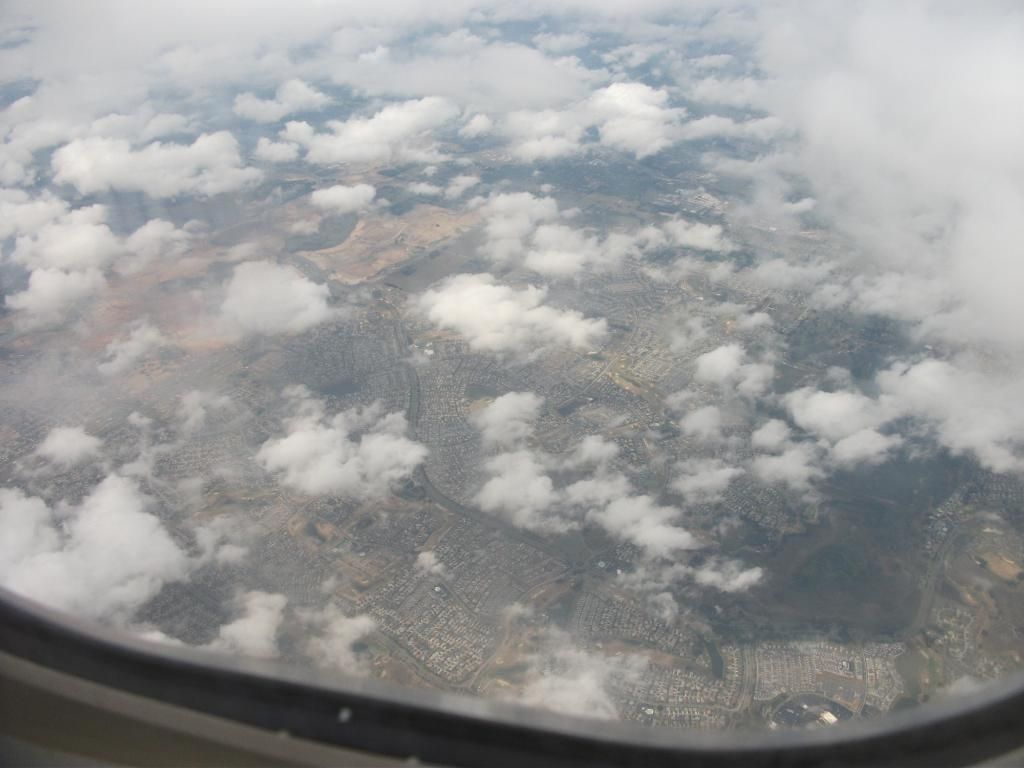 Flying over Lake Harris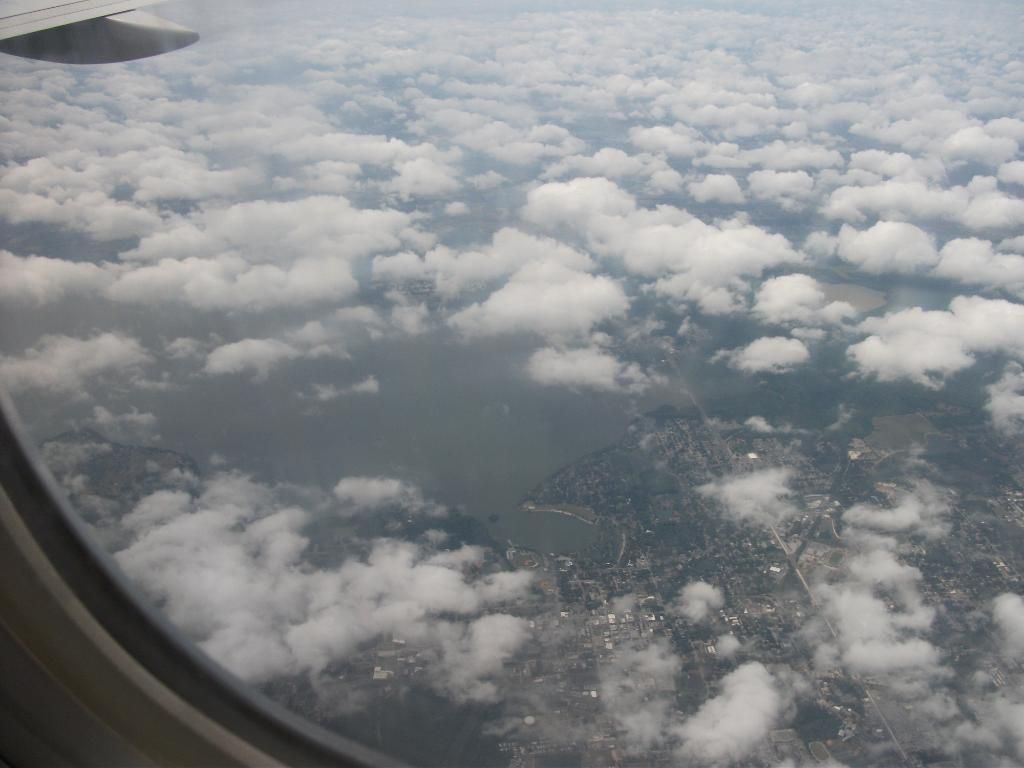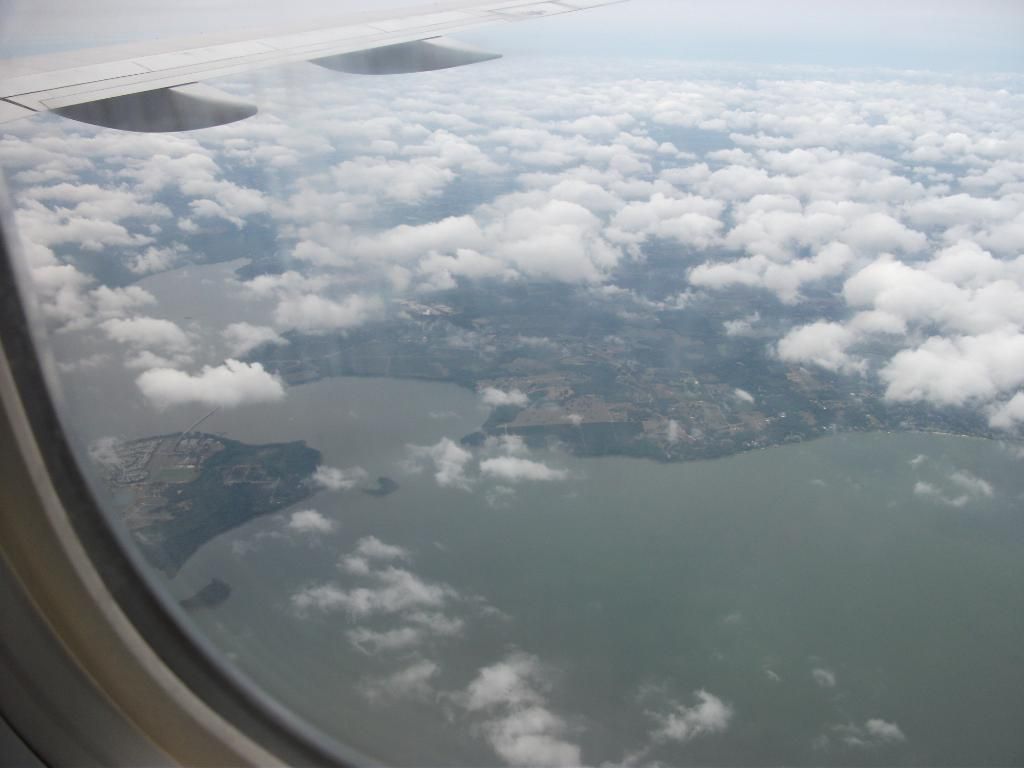 Orlando Apopka Airport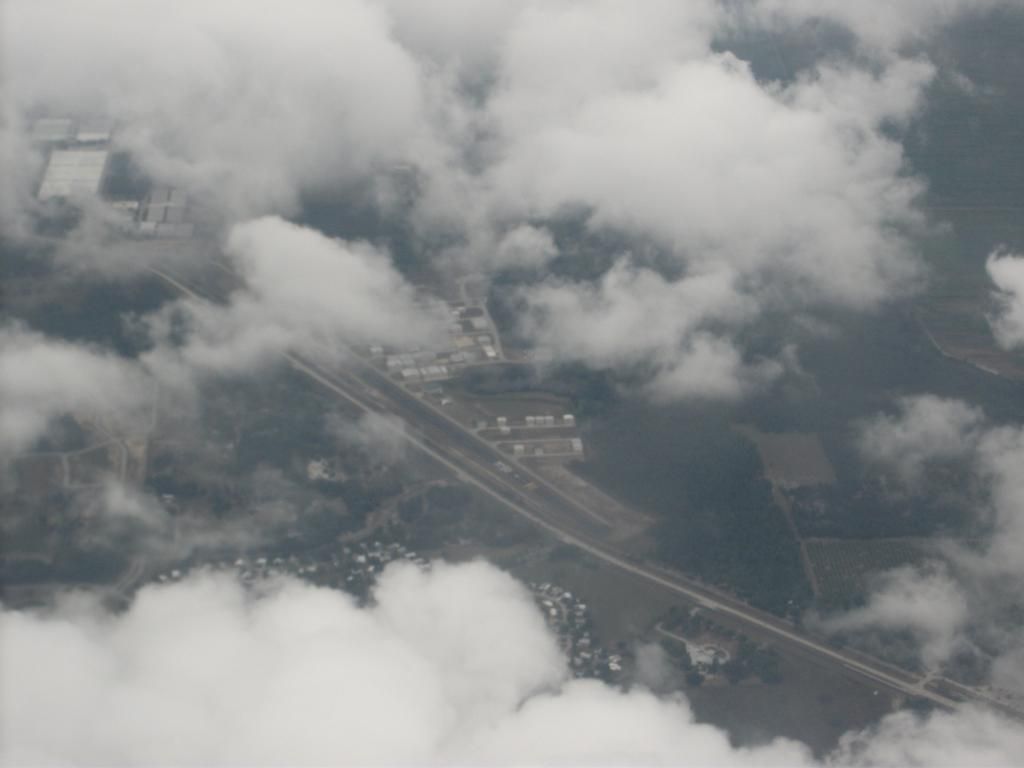 Lake Brantley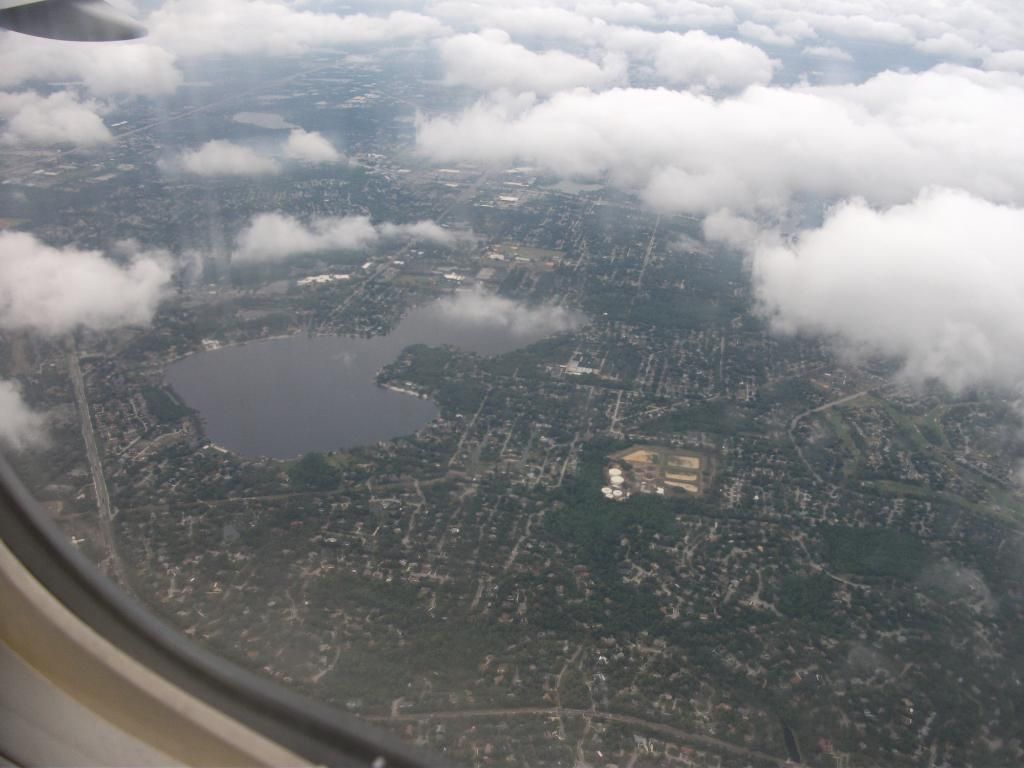 It's time to play "Name That Lake". I will provide the names, and all you have to do is match them up to the proper lake. Here, I'll make it easy. (picture is looking west) West side of Interstate 4: Fairview, Little Fairview, Orlando, Silver, Weston, Shadow, Hungerford, Lucien, Harvest, Bay, Lovely; East side of Interstate 4: Sybelia, Catherine, Gem, Wilderness, Bell, Killarney, Lily, Nina, Maitland. Be careful, though: not all of those bodies of water have names! Also, one is just barely visible through a cloud.
Downtown Orlando and Lake Eola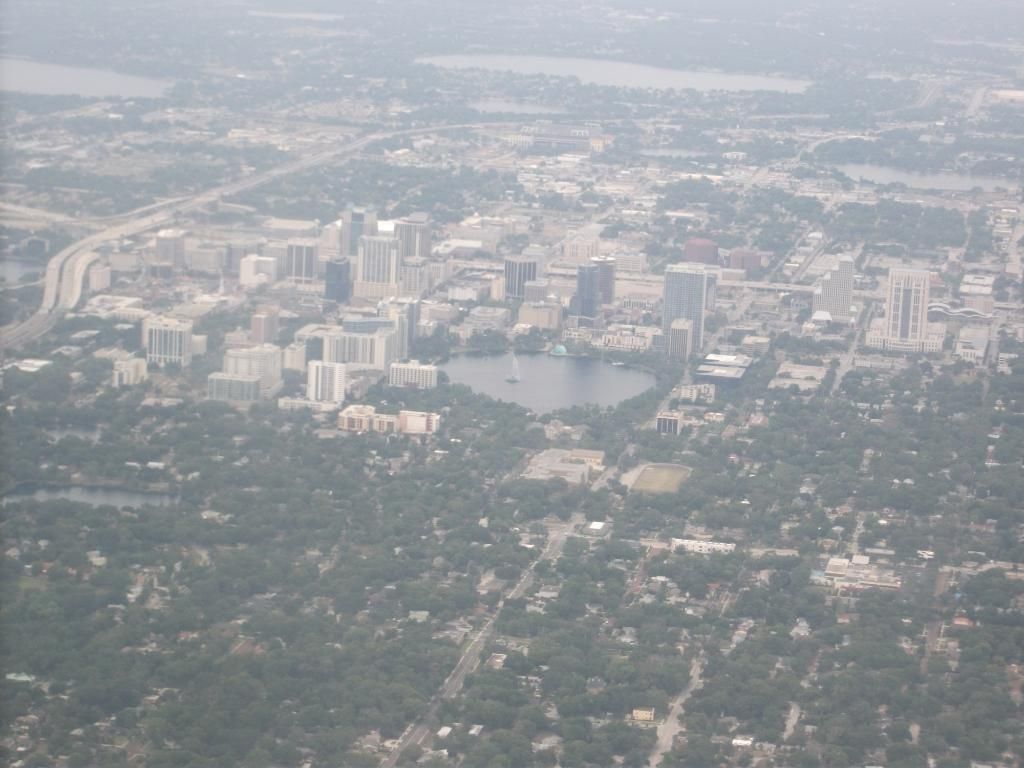 More lakes: Conway, Little Conway, Jessamine, Mary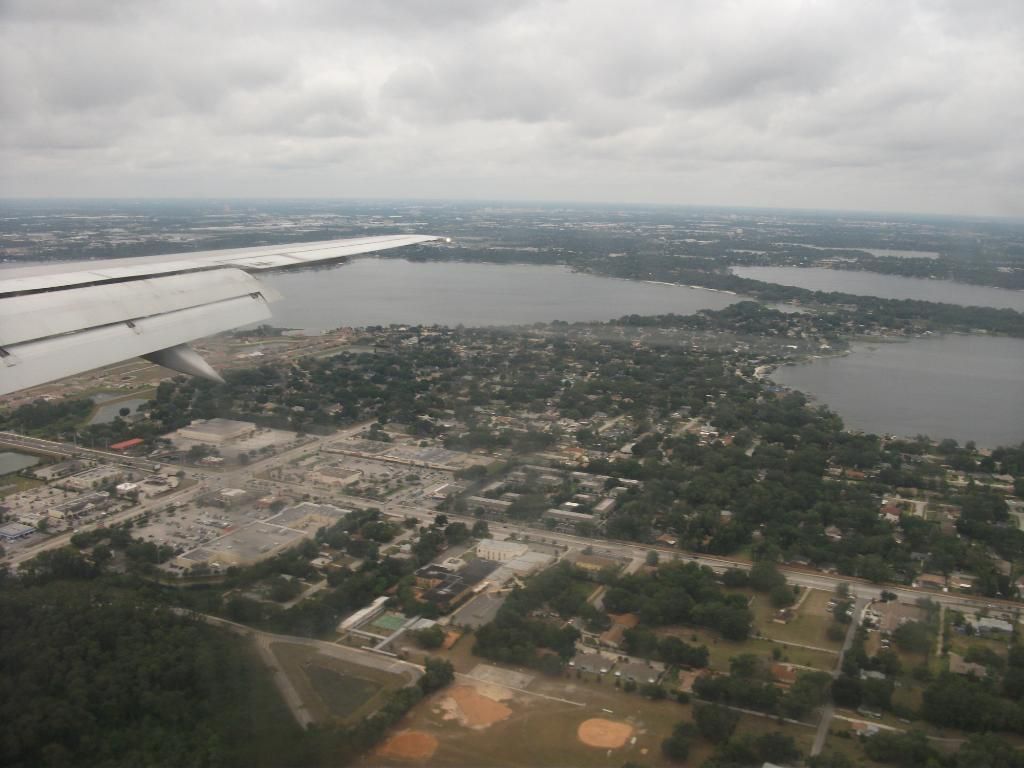 Another happy landing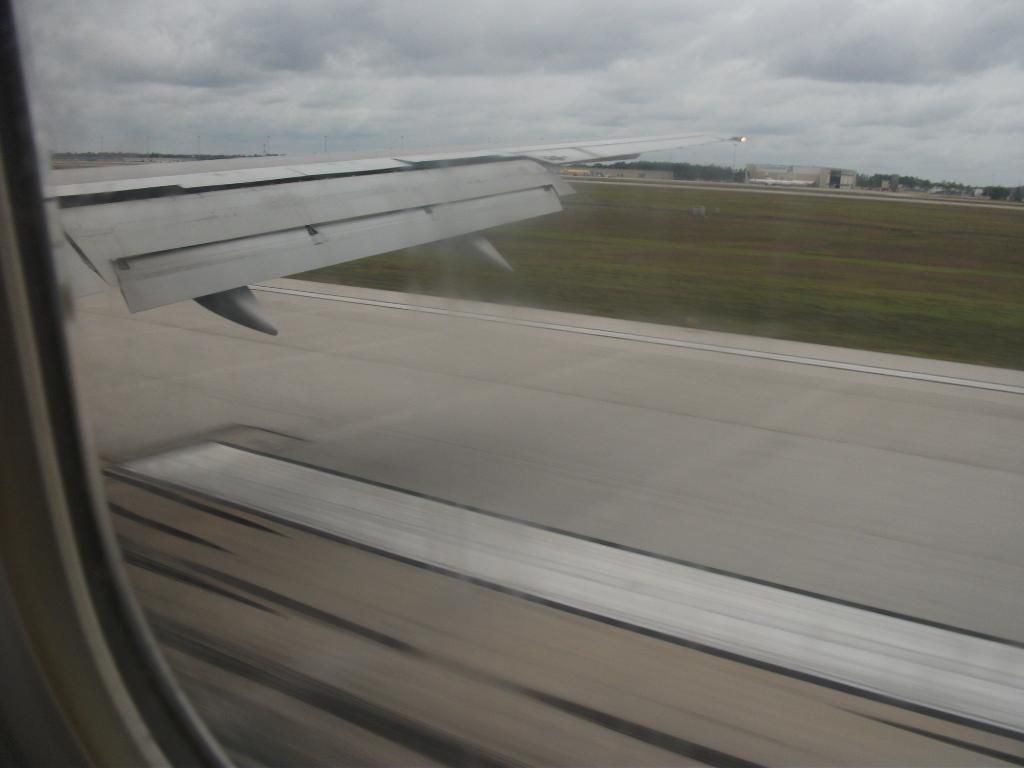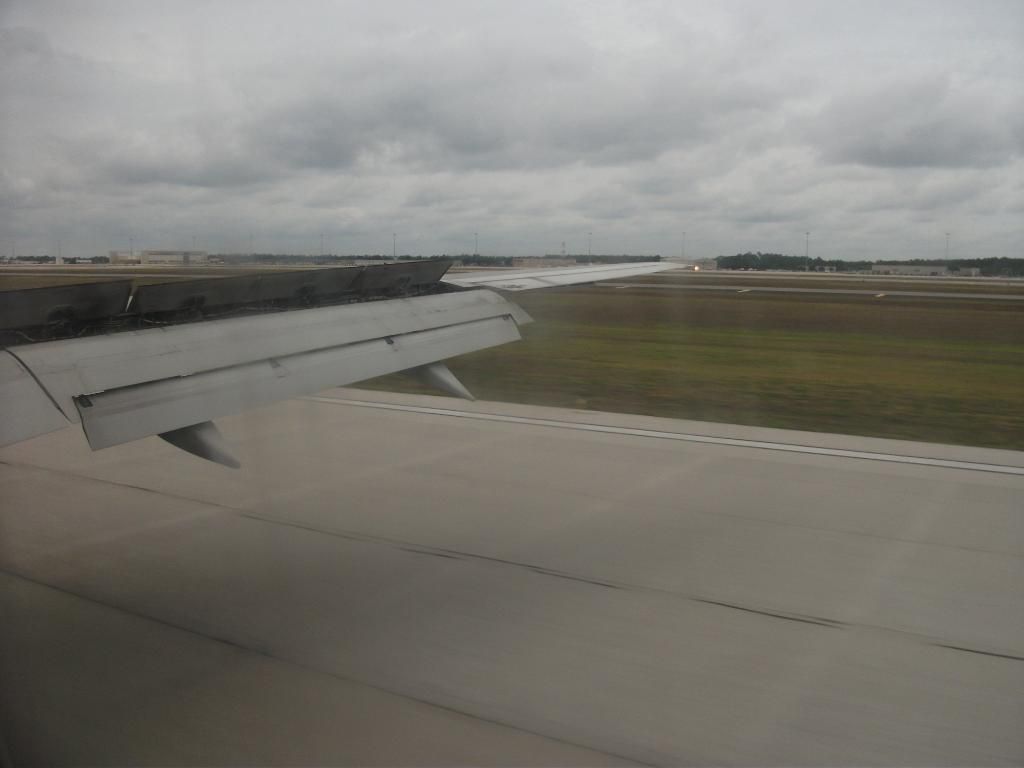 AirTran 717 taking off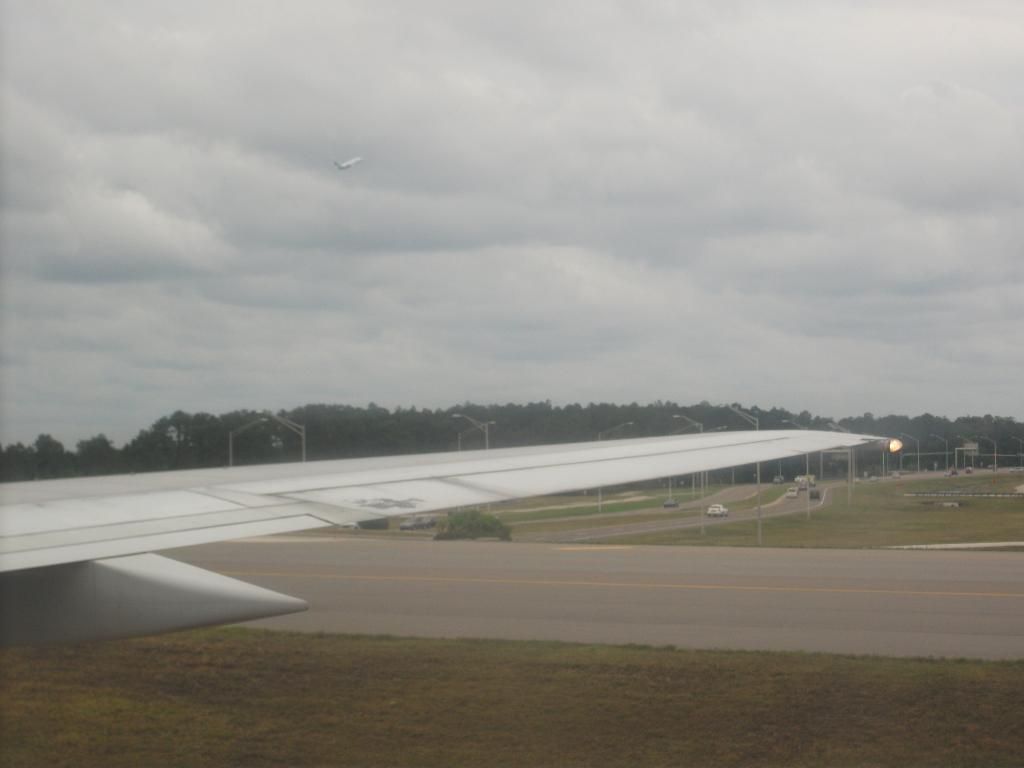 Sitting next to another 753, N592NW
Our 753 taking a brief rest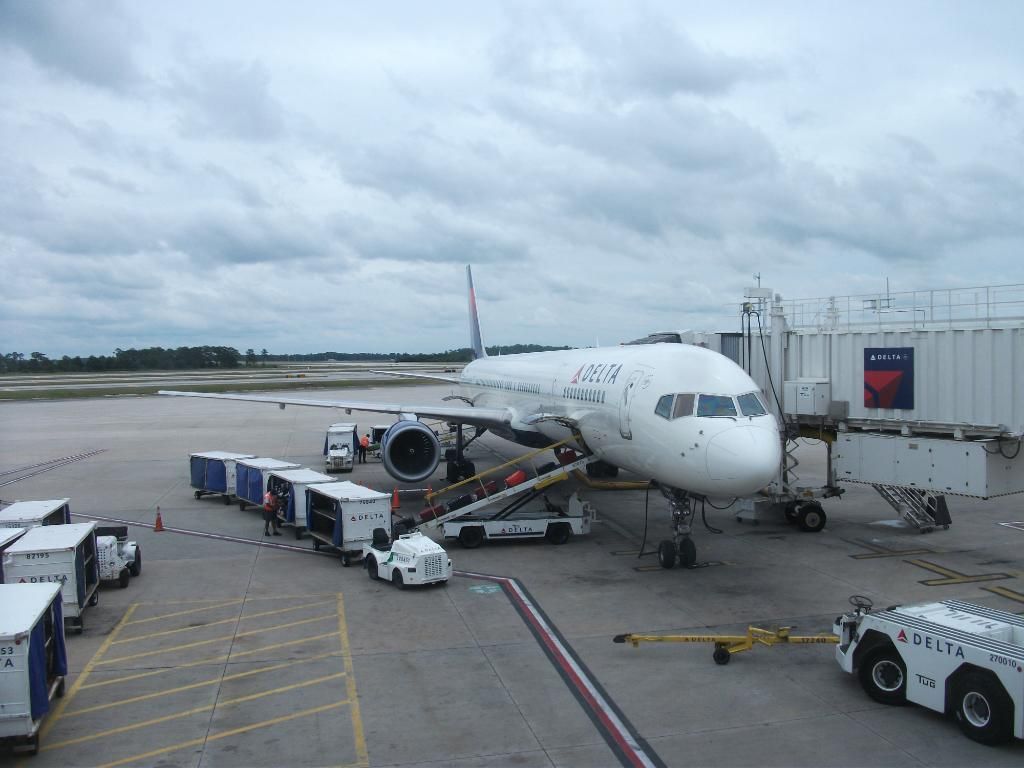 It was then time to see if I could tame Orlando International Airport. There was a minor complication in that I was getting over a case of the sniffles, and they chose to start acting up again shortly before I landed. Thus, I was in unknown territory and I wasn't at 100% effectiveness. But I wasn't about to let a runny nose stop me!
The layout of MCO is as follows: plant a central hub, and see how many times you can divide it and how many forks you can put in the road. For the uninitiated, the level of complexity increases the closer you get to the center. But first, I had to look through the fringes.
The usual bathroom inspection was first. Although there weren't many people there, there were always just enough to make it creepy if they saw me pull out a camera. So, envision a bathroom with plenty of fixtures, a little dark, and covered with little pink tiles. This was just the beginning of the "time machine" theme…
With that out of the way, I went to the end of the hallway containing Gates 70-79. As you can see, it's still a little dark, but I would chalk most of that up to the overcast weather. Although tile and carpet share the floors, it must be said that I could do without the carpeting.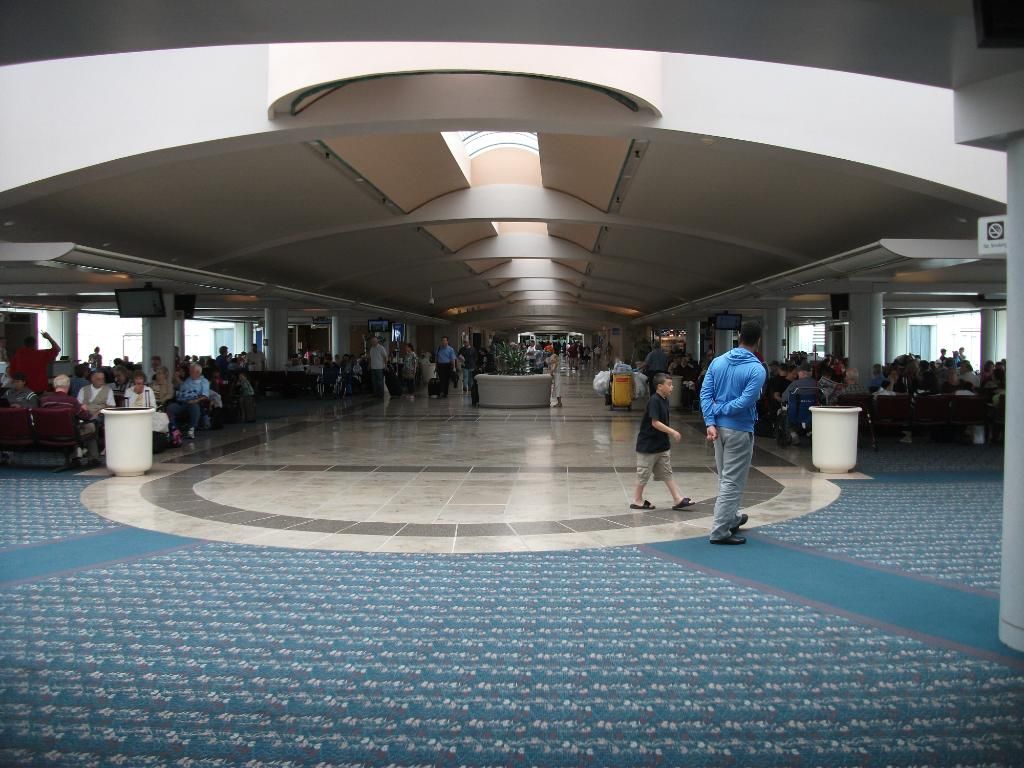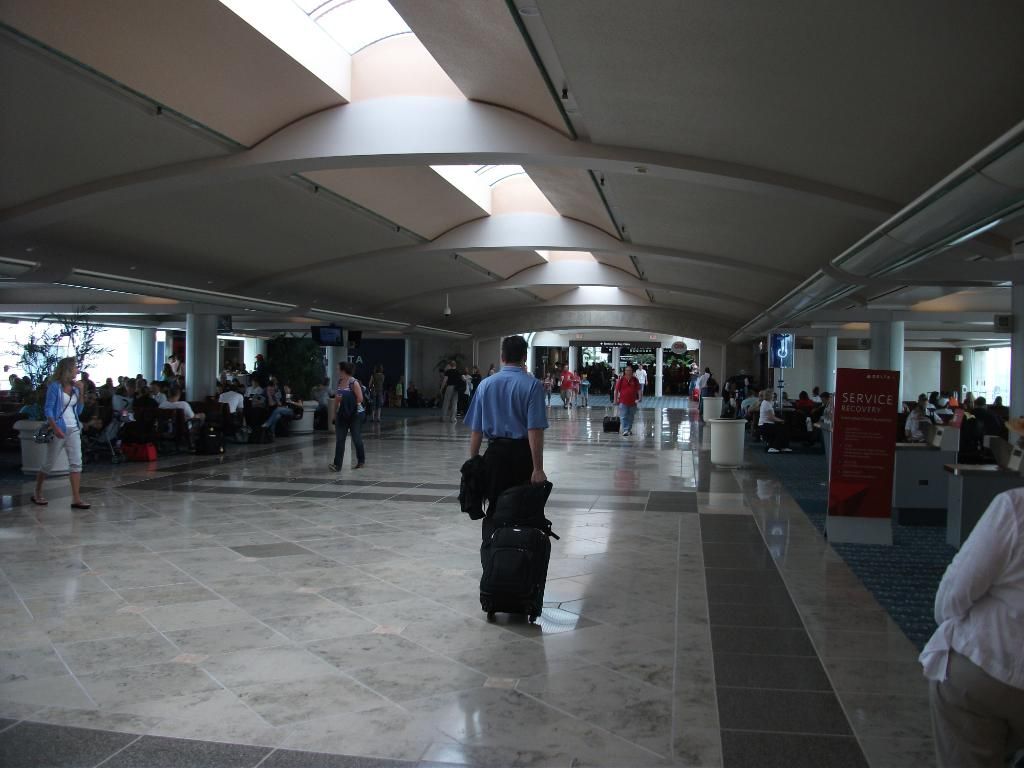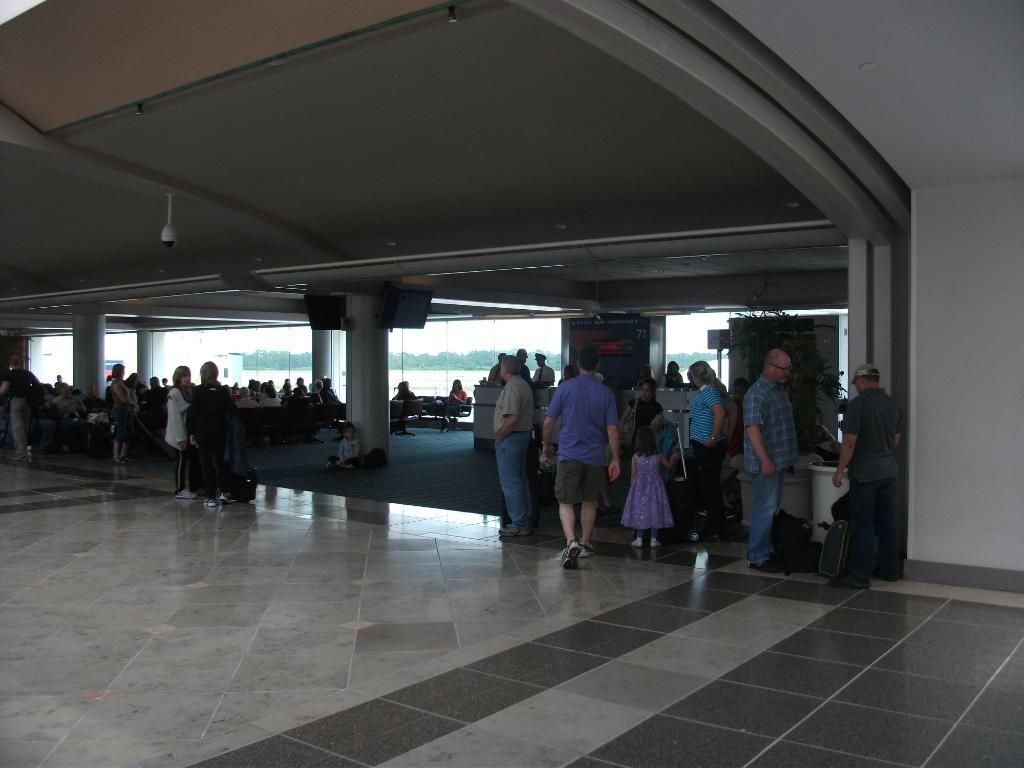 Each Airside has a central hub that splits off into two or three concourses. The hub contains a large sitting area and some shops and restaurants.
Airside 4 hub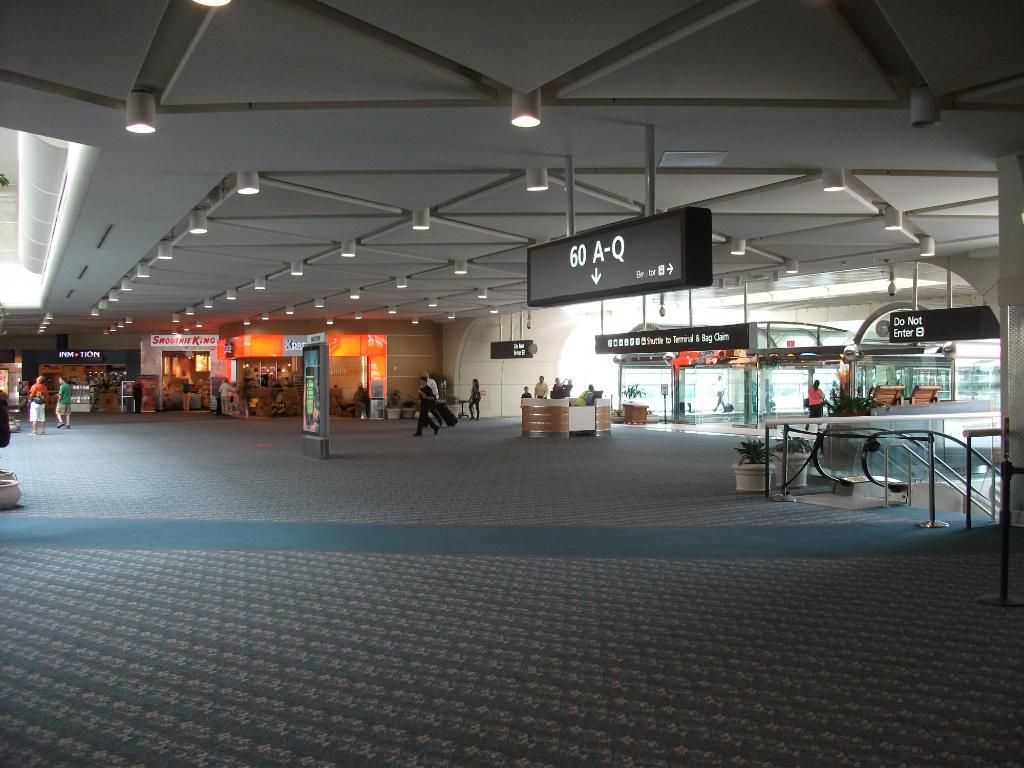 The 80-89 and 90-99 concourses were all but deserted save for a few passengers and employees who used them as hiding places. Part of the 90-99 concourse was cordoned off, as you will see below.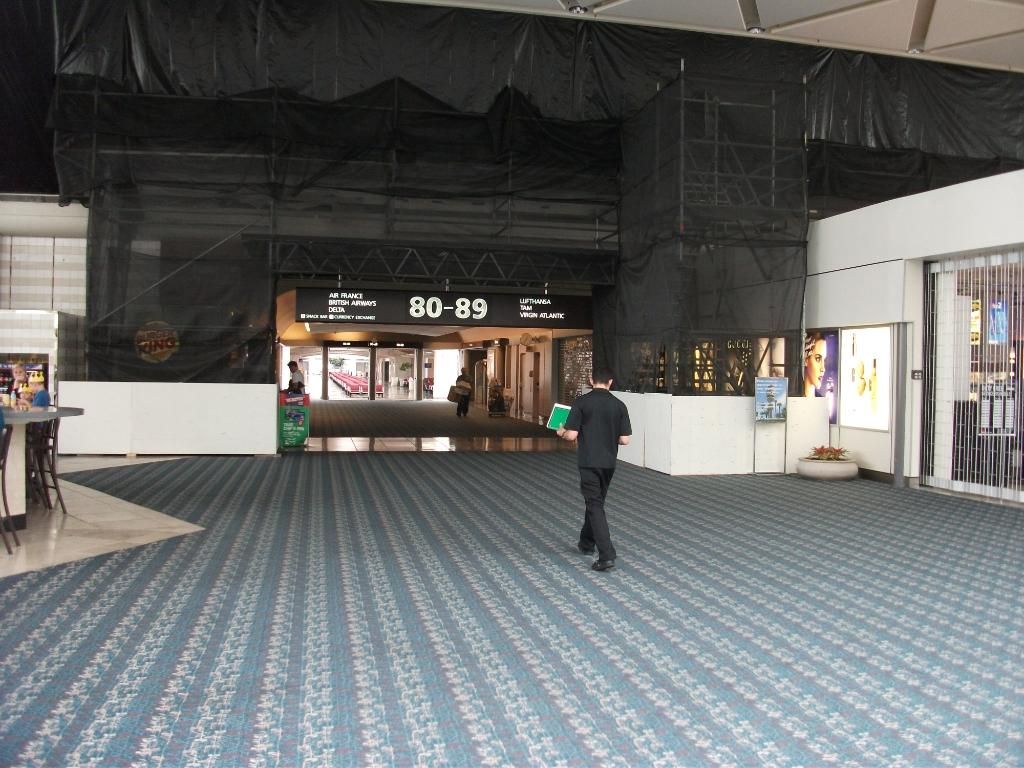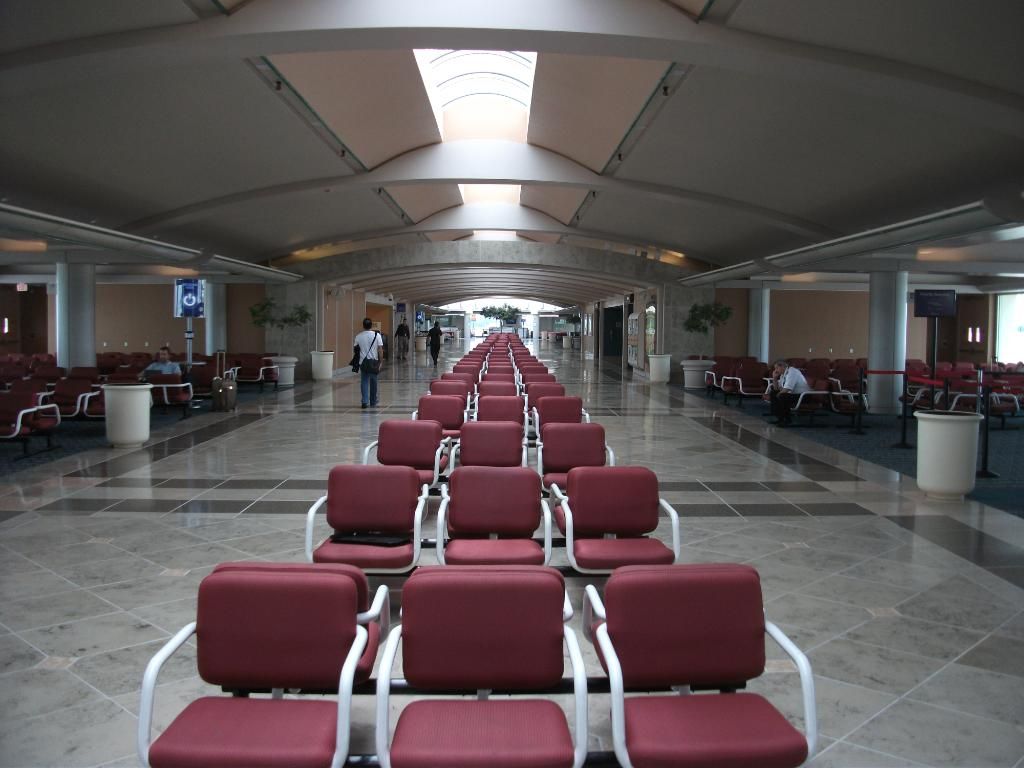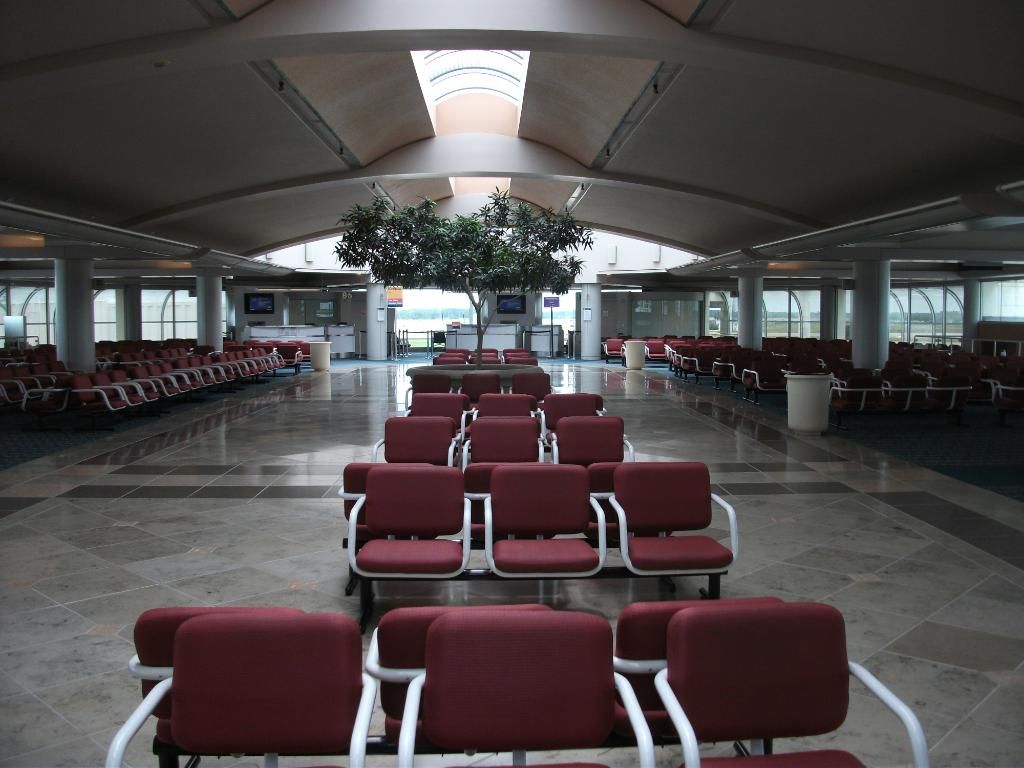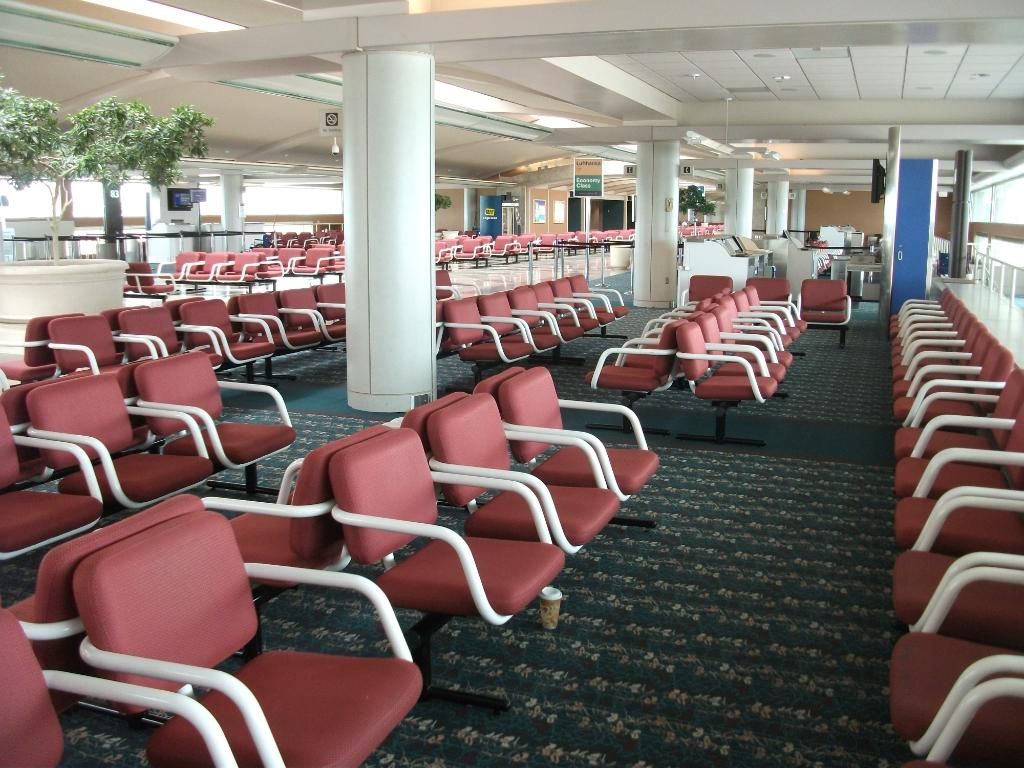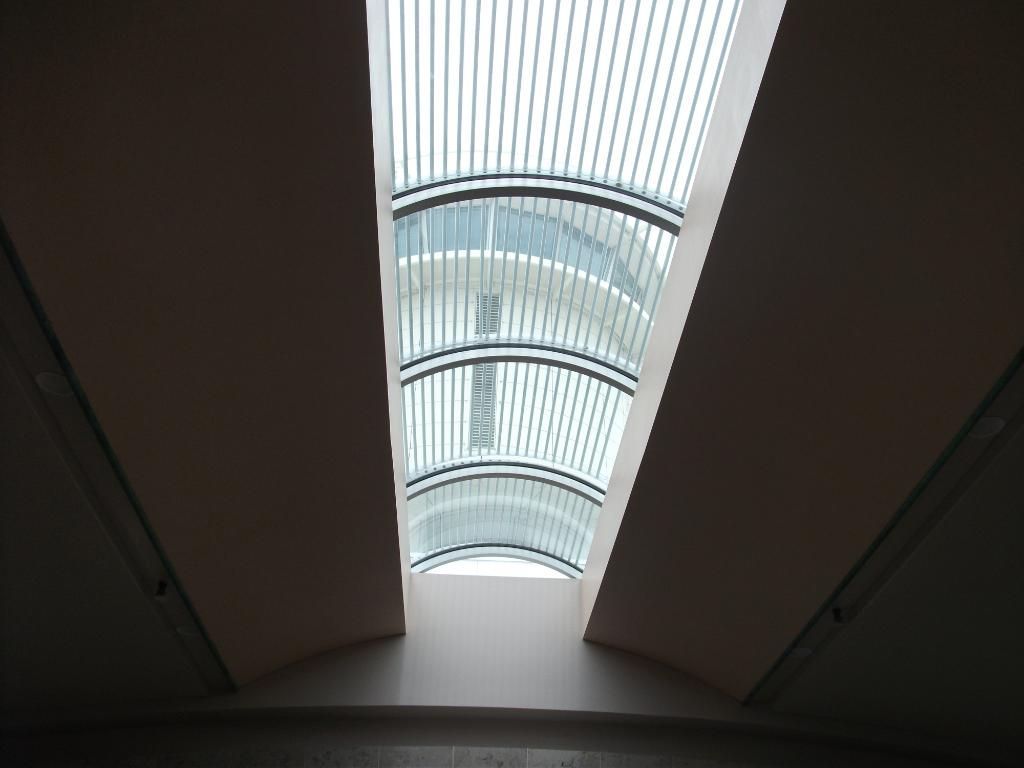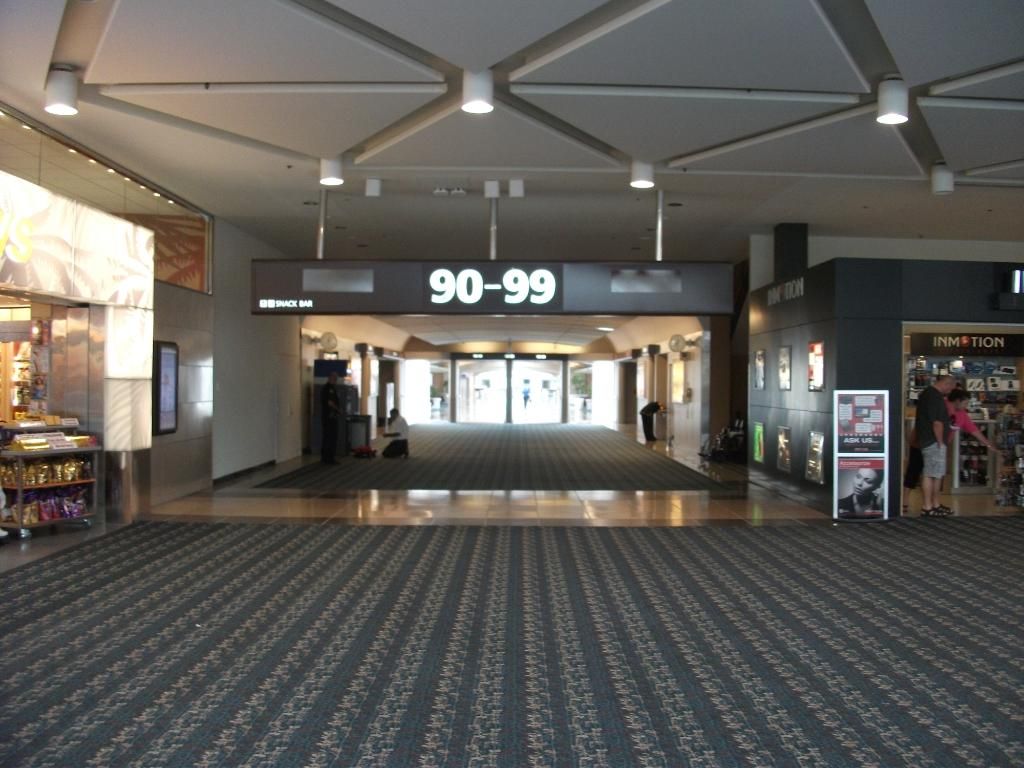 Notice the barricade belt halfway down the hall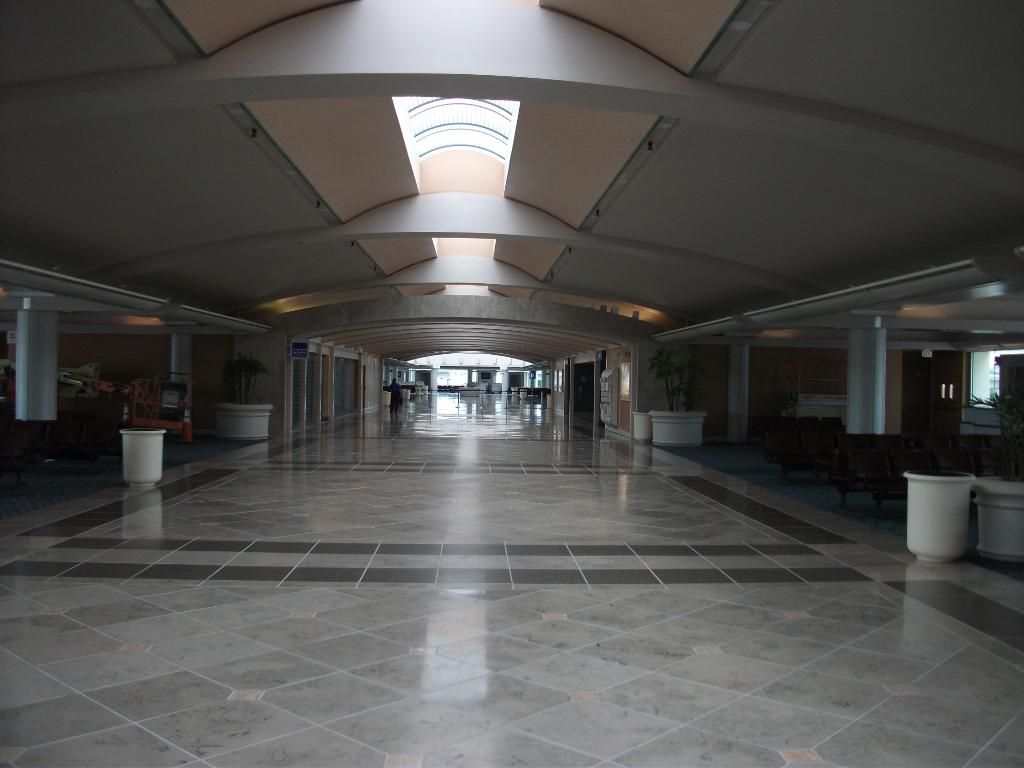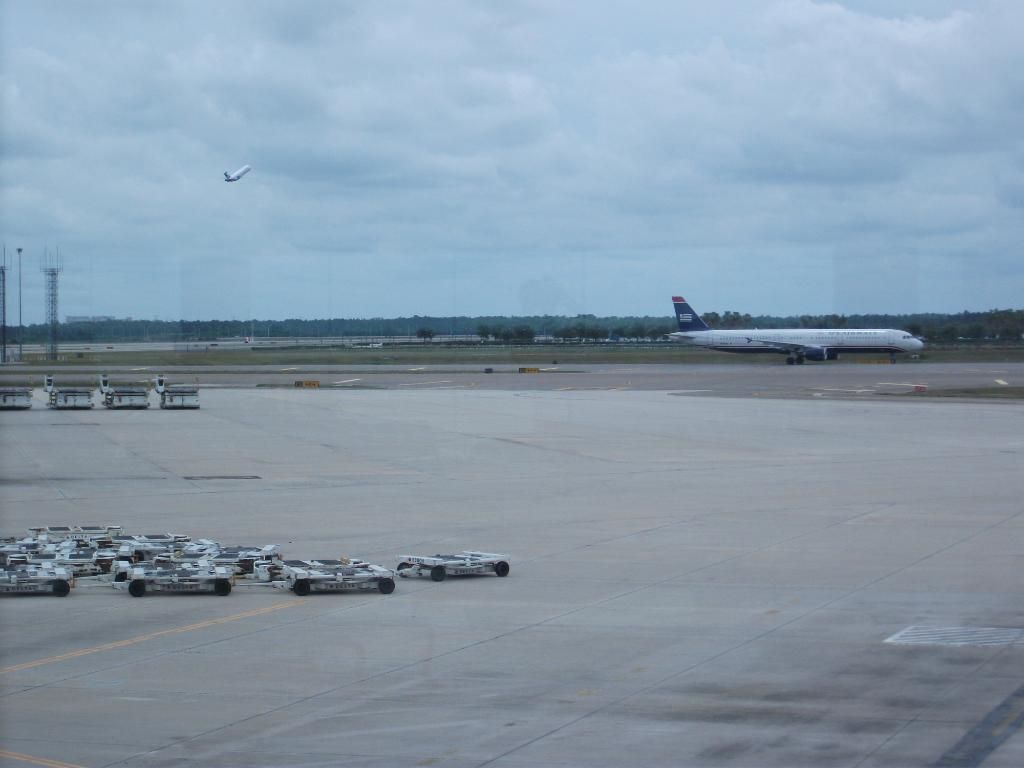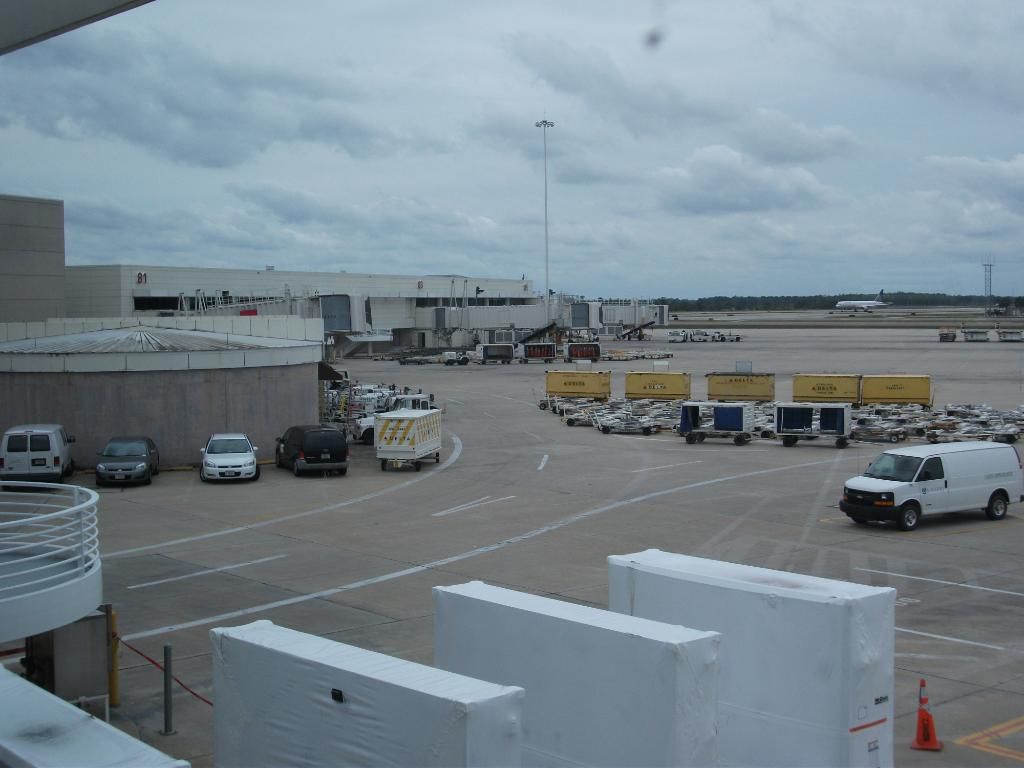 One of the trams that shuttles passengers between the main terminal and the airside gates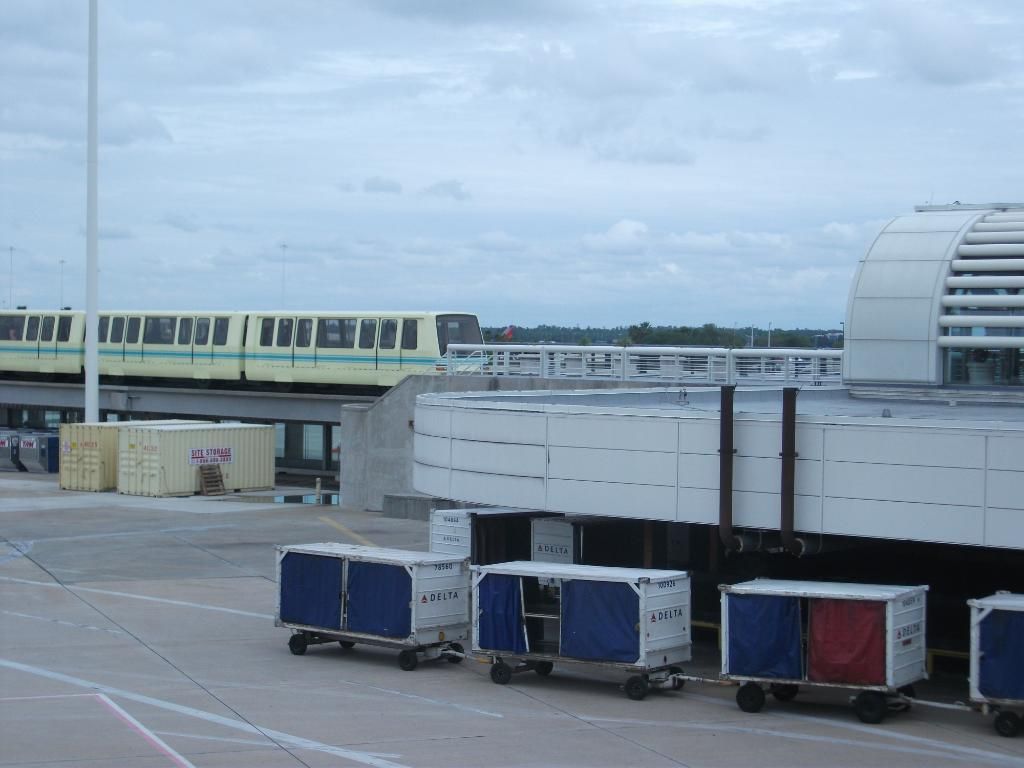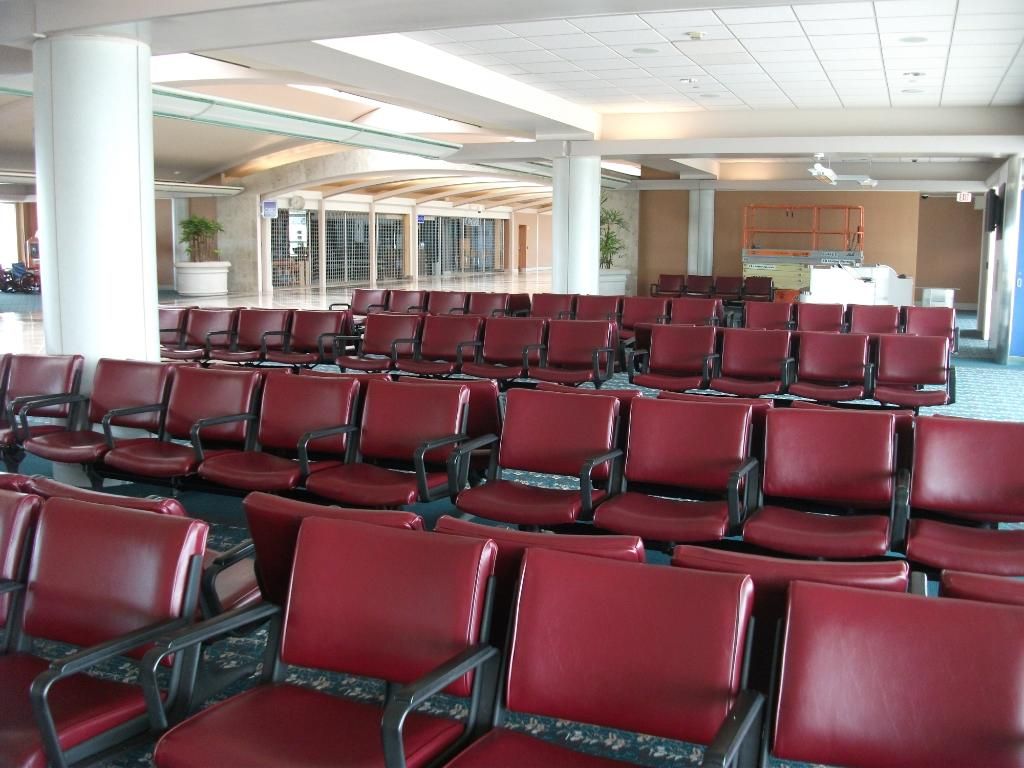 With that, I made my way back to the hub to catch one of those trams and see the rest of MCO…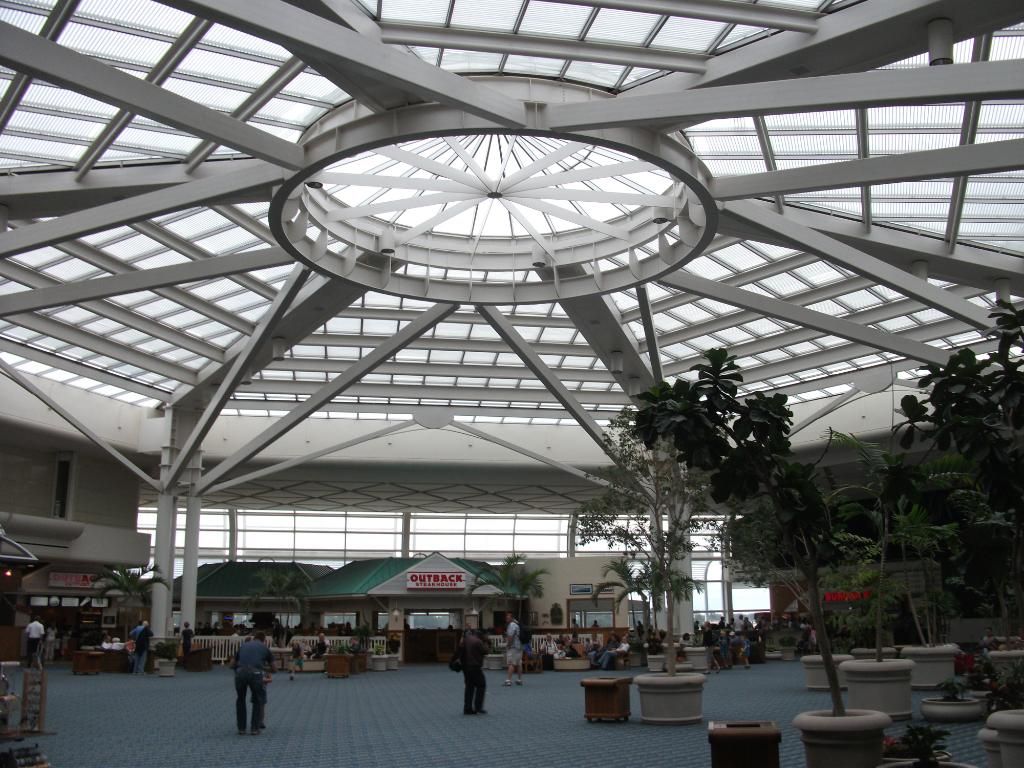 Tram station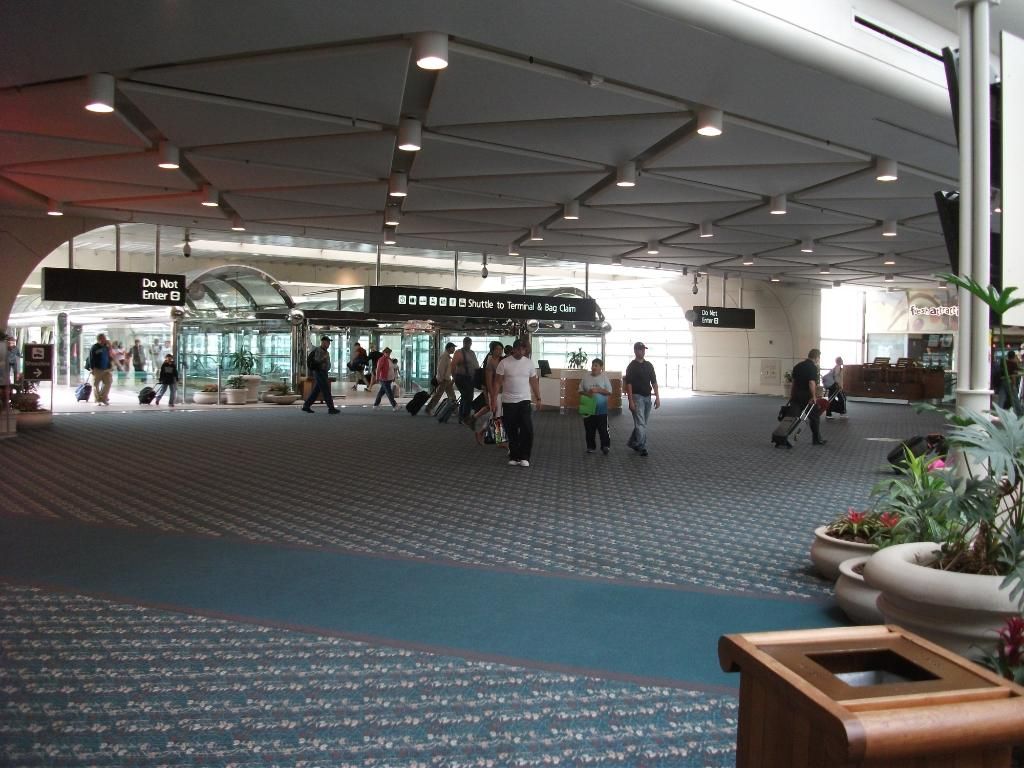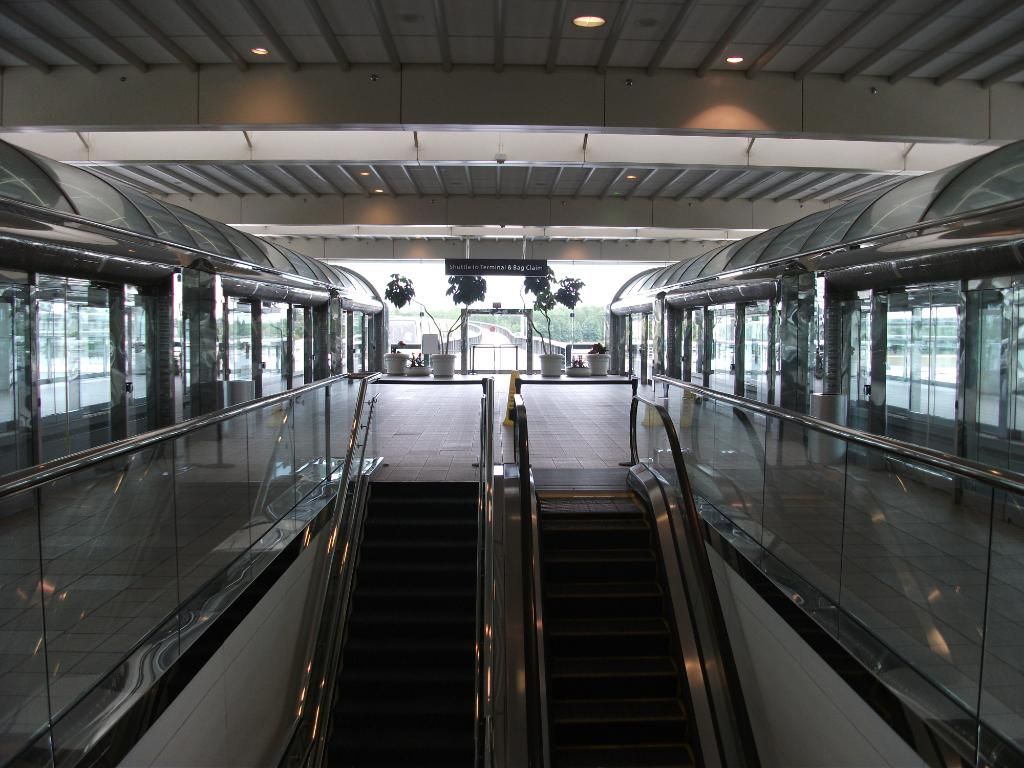 Despite the humidity, I would have preferred to walk, but I was unwilling to risk arrest and imprisonment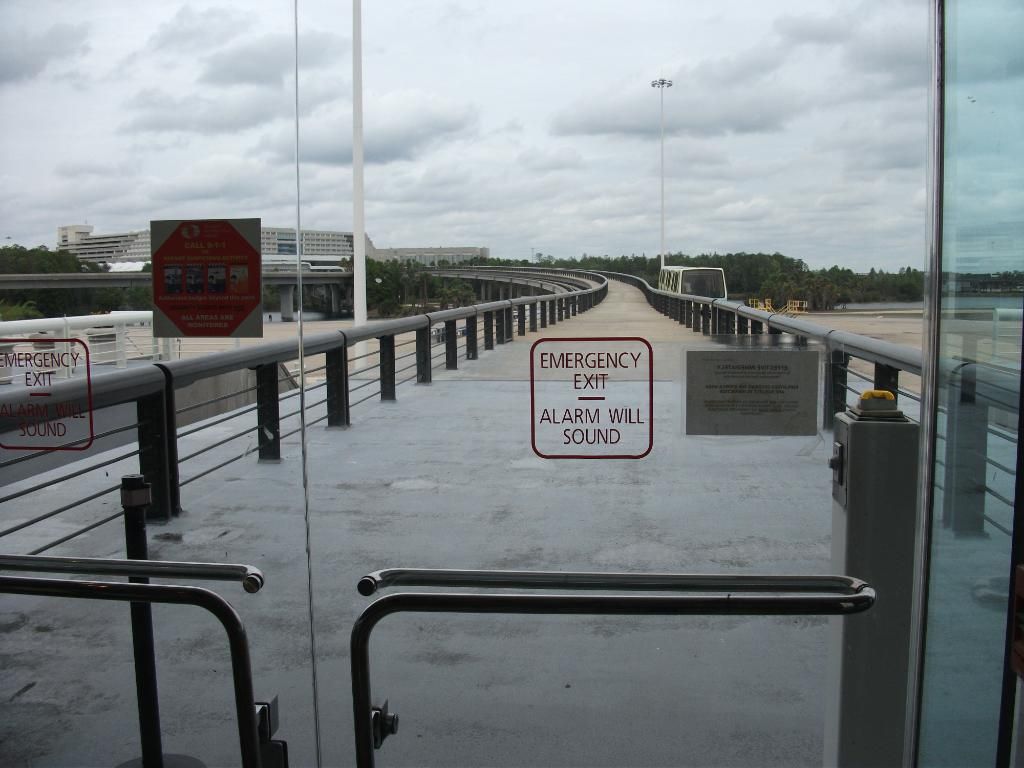 Control tower
Typical tram car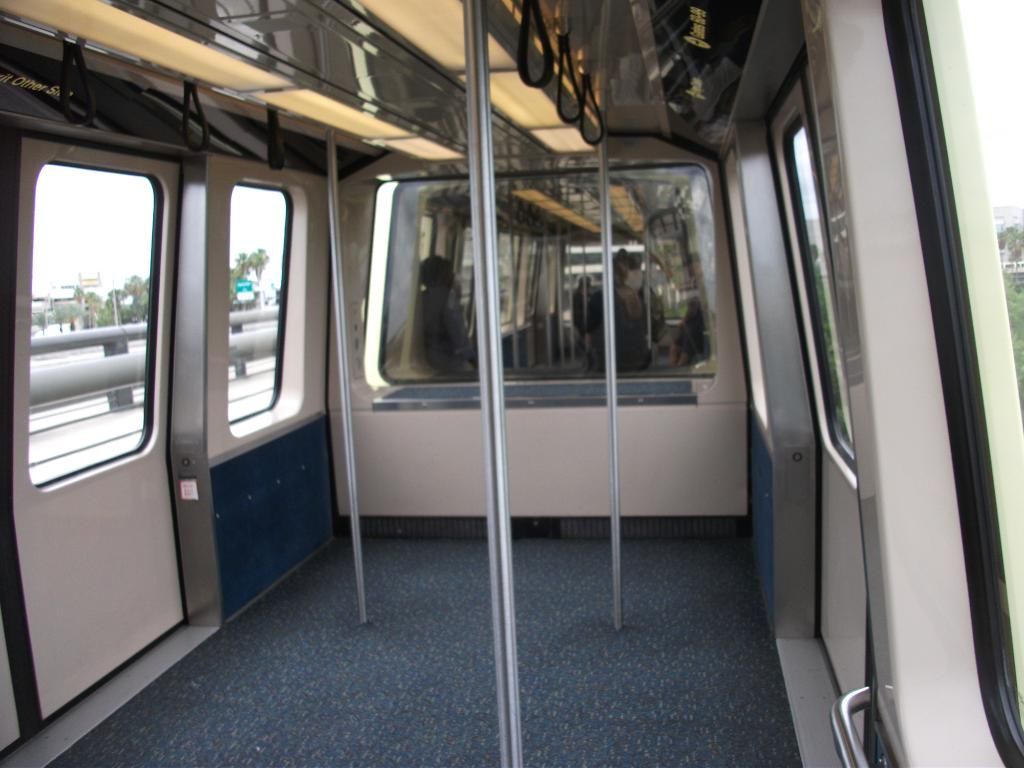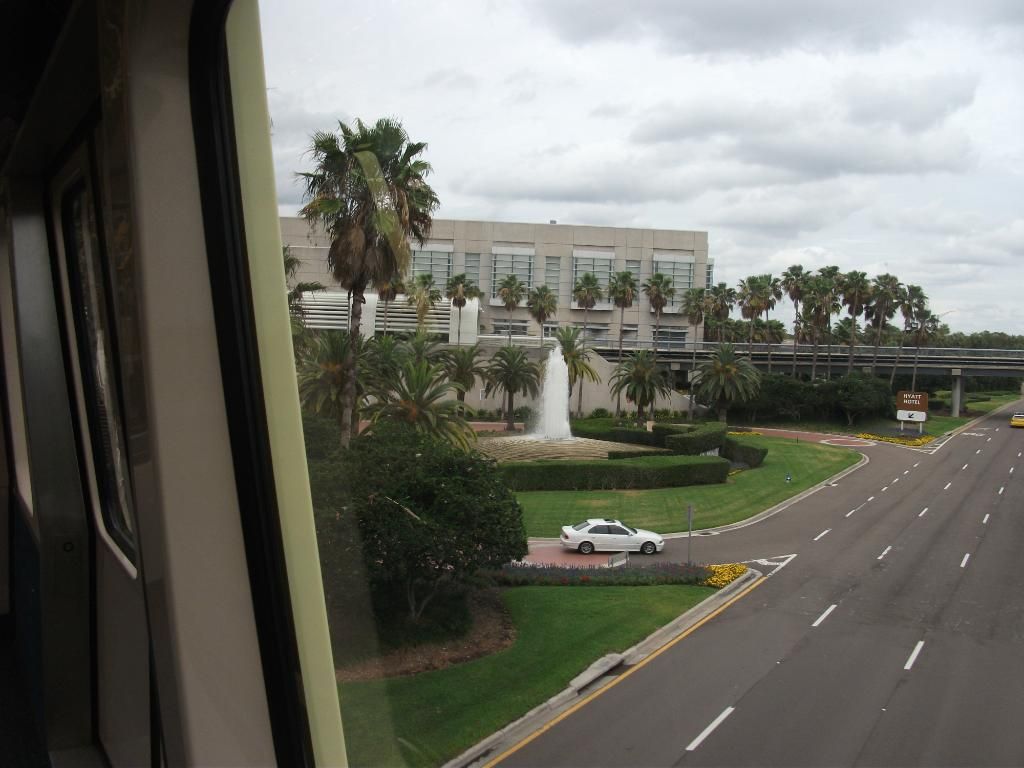 Main terminal station exit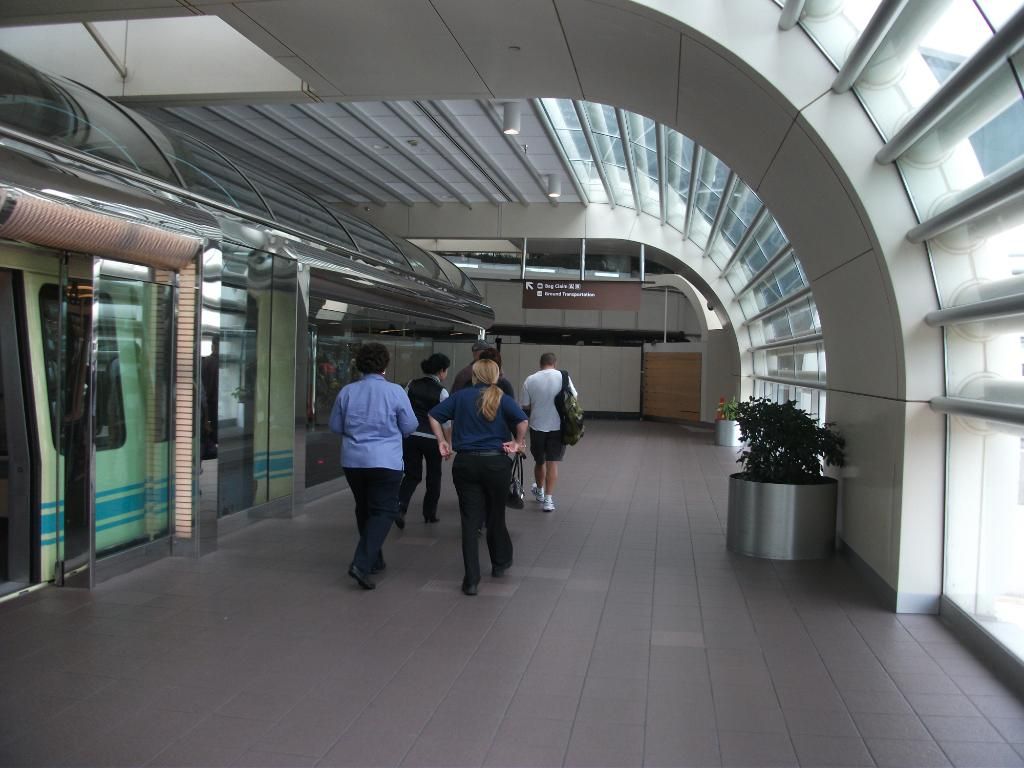 MCO has four airside areas, numbered 1-4. Each is accessible by tram, with two airsides sharing each station. It is possible to stay behind security and make a connection, depending on which side your next airline departs from. I made a point of it to fly two airlines that used different sides, but I could still make my way to the other airside that shared my arrival concourse. I walked out and tried to follow the signs to where I needed to go, but I couldn't really find any. Before I knew it, I had goofed: there I was, outside the secure area.
Oh well, I can only assume that the other concourse was just like the one I came from… I put that mistake behind me and roamed around the expansive landside area of the terminal.
A Big Board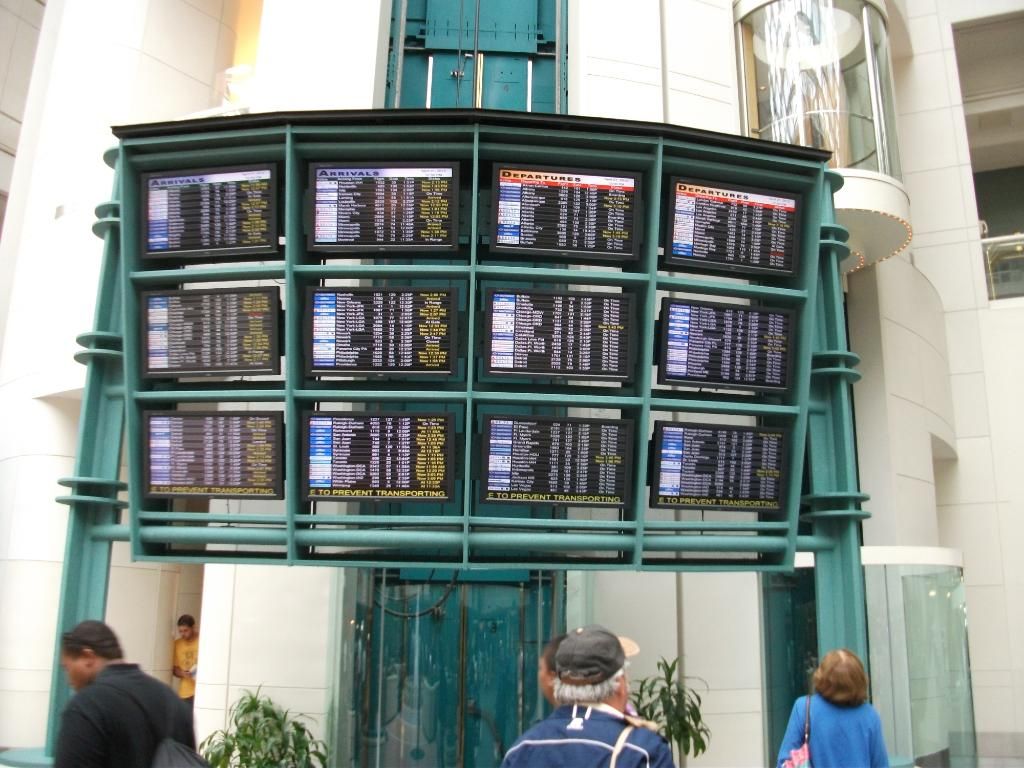 The terminal boasts a central atrium that is surrounded by a Hyatt hotel; the guest rooms are visible on the upper floors along all sides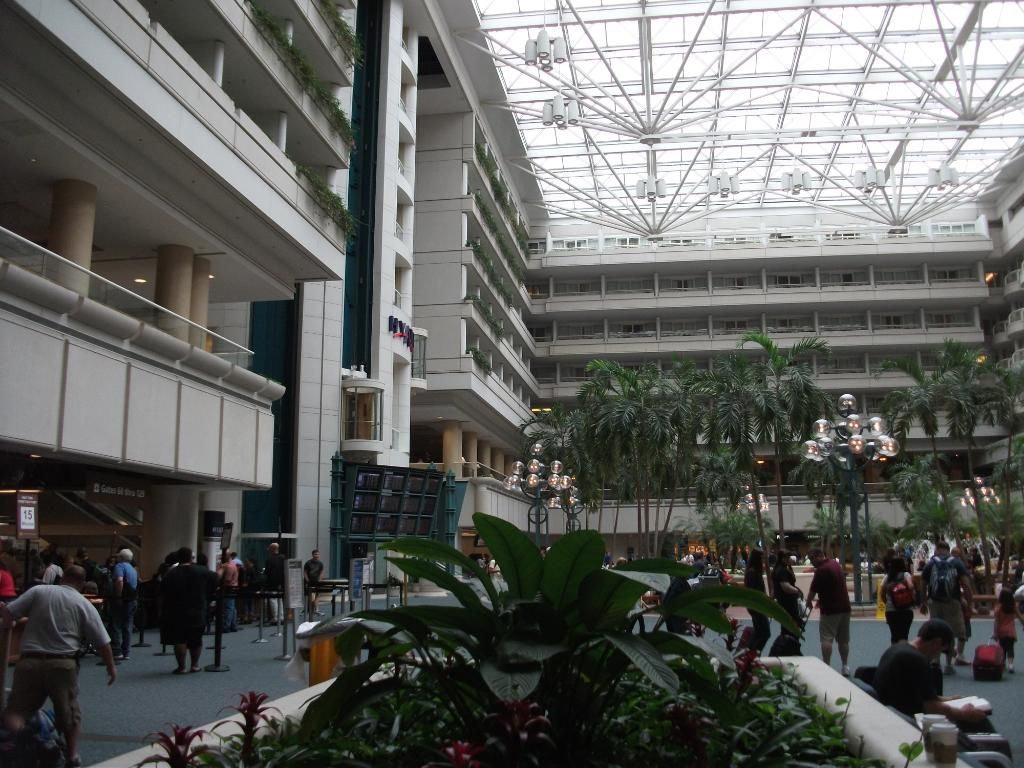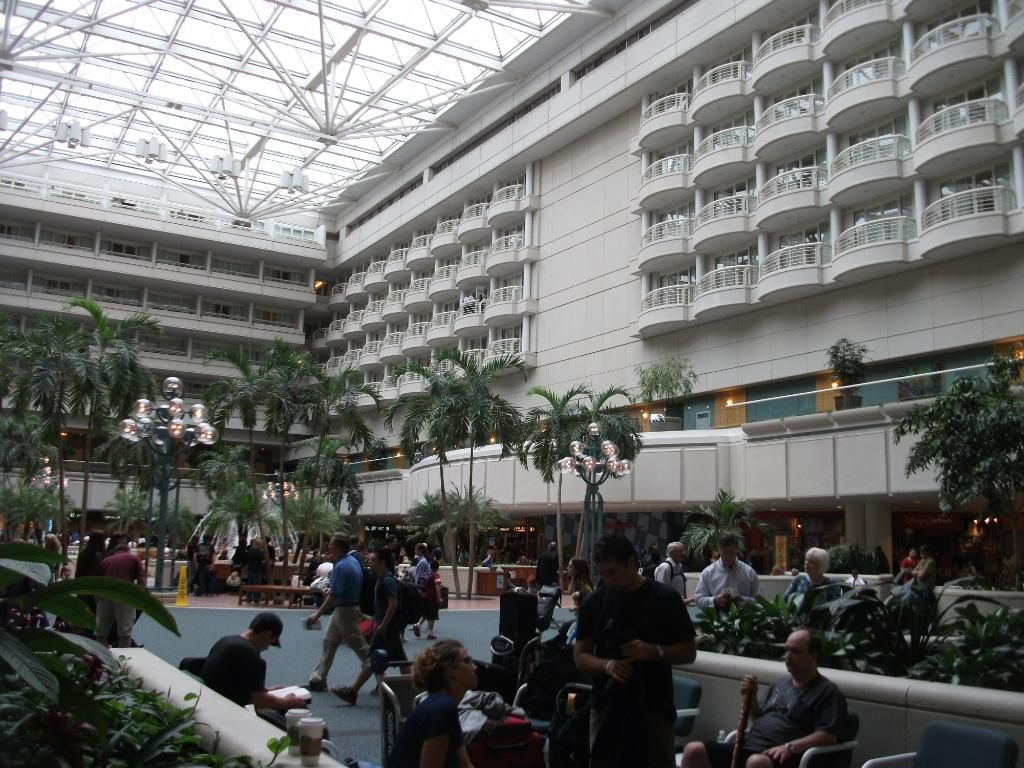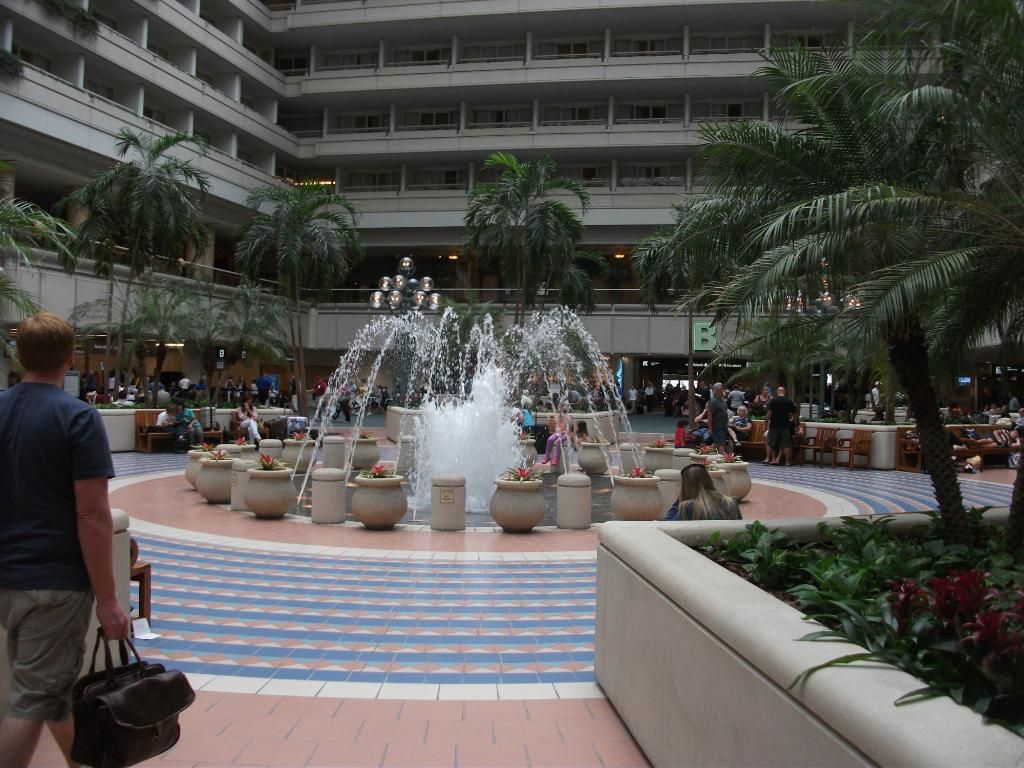 Below: a diagram of the labyrinthine airport. Terminal A serves airlines in Airsides 1 and 2; Terminal B serves airlines in Airsides 3 and 4. However, passengers must either go to the west checkpoint for Airsides 1 and 3 or the east checkpoint for Airsides 2 and 4. While I was in the main terminal, I found myself trying to catch my bearings quite a few times. Though the layout didn't seem intuitive at first, I slowly got the hang of it. Or so I thought…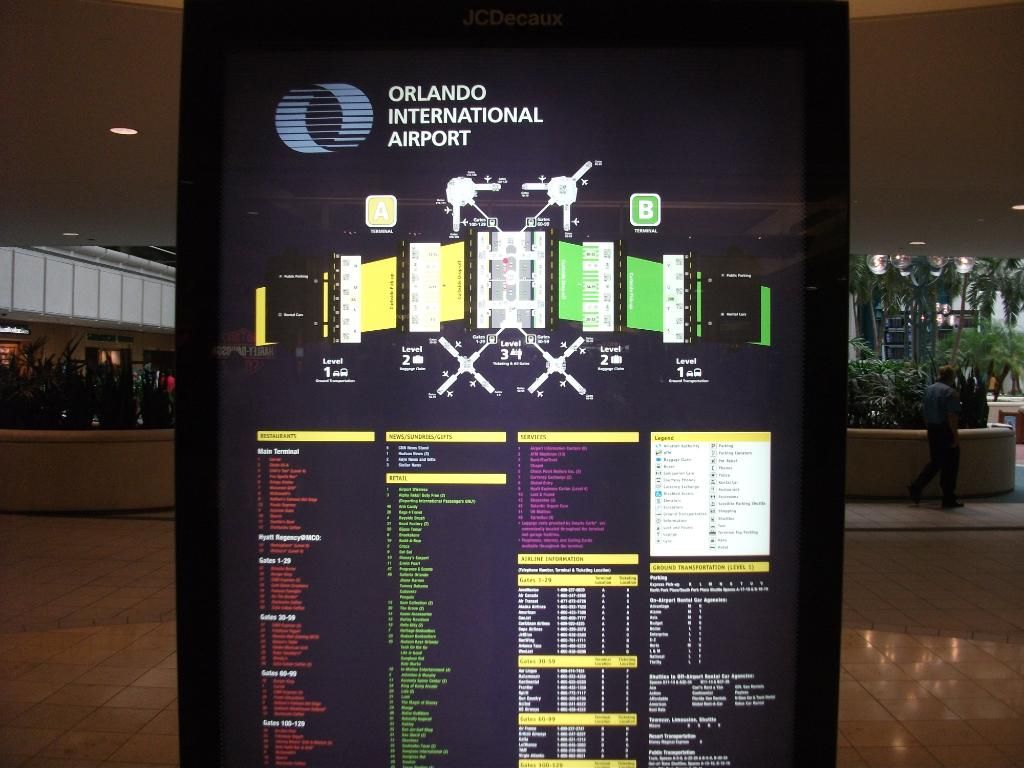 A Terminal ticketing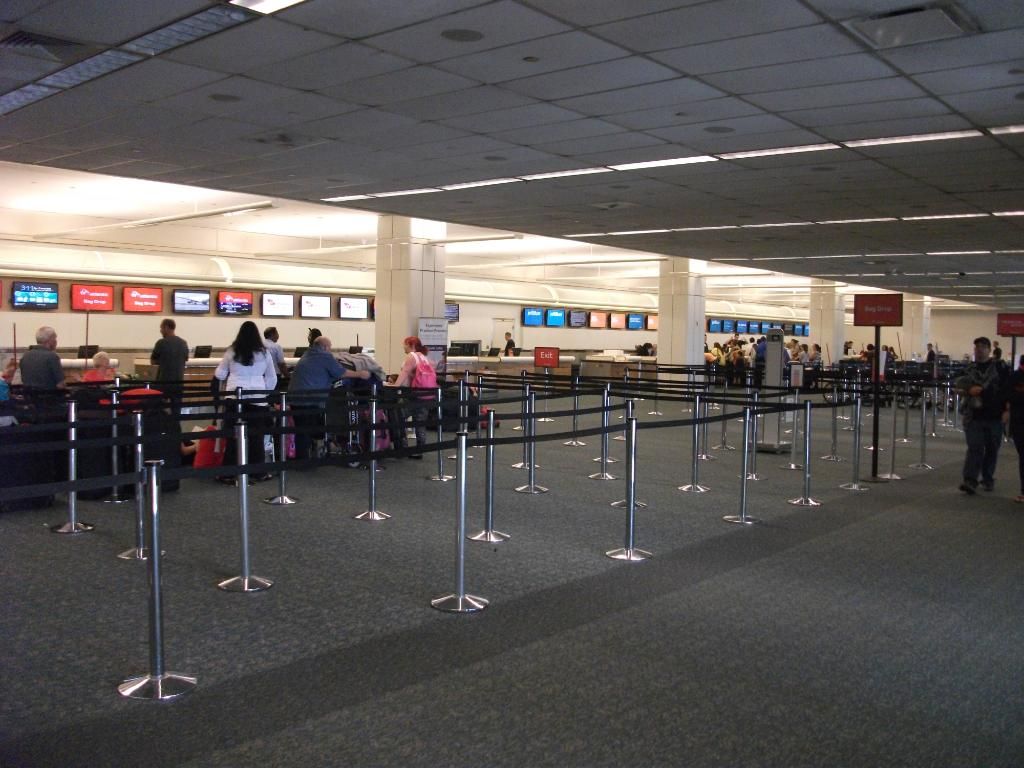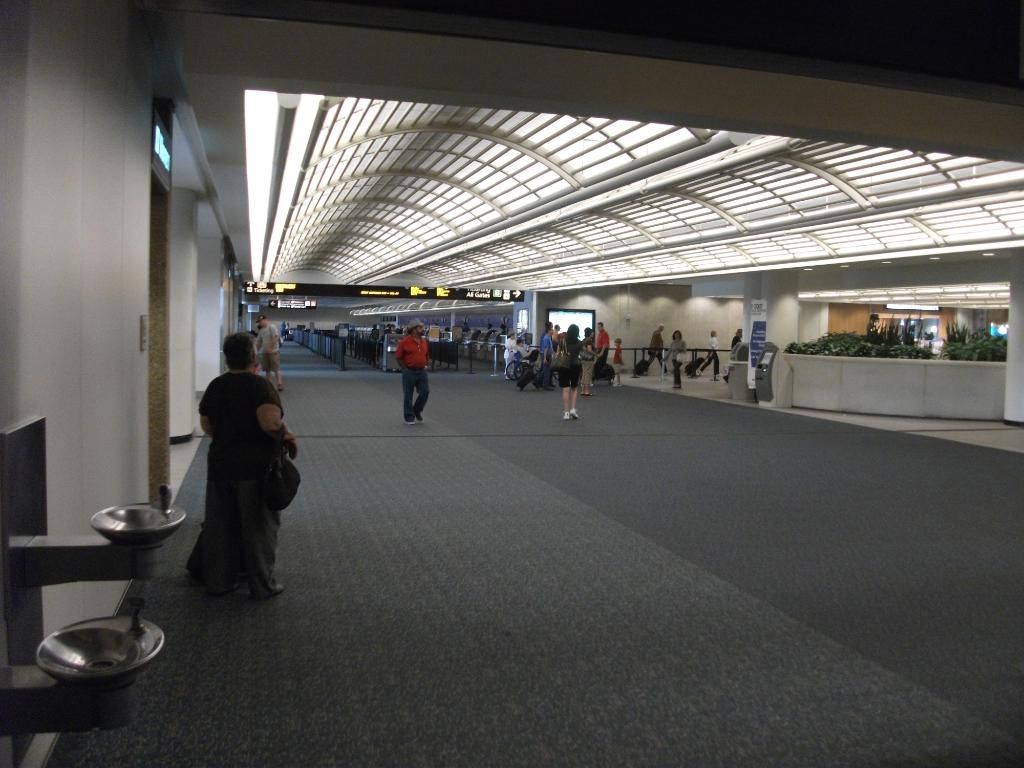 Dedicated 1981, you say? No ****, it still looks like it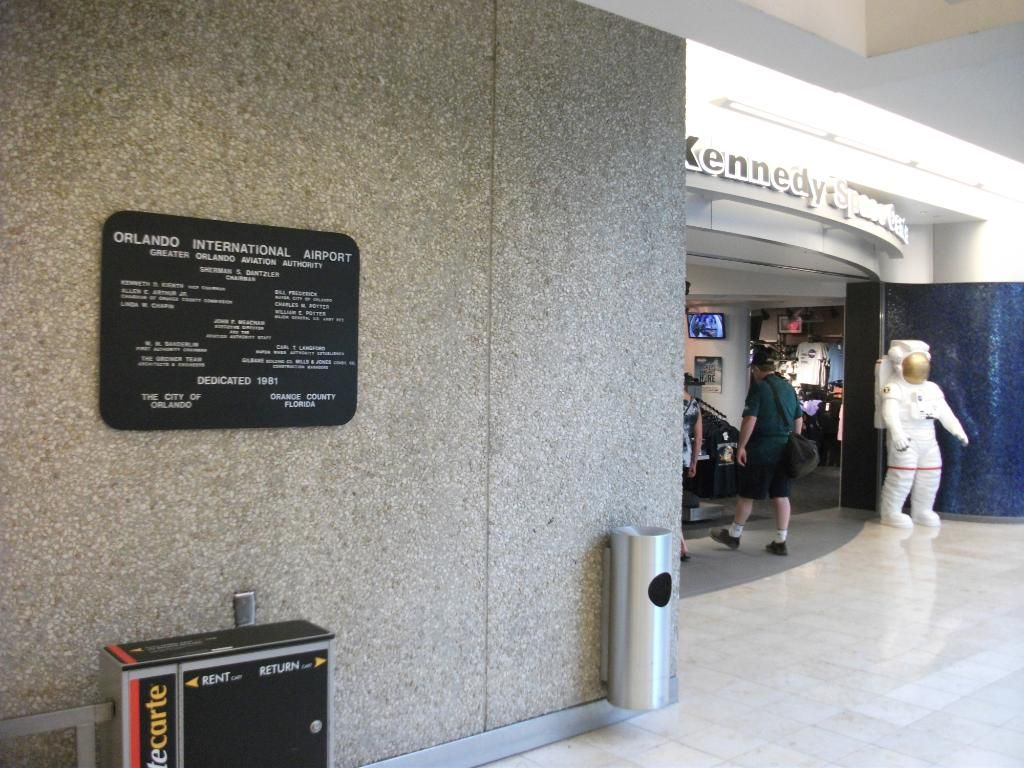 If the Big Board wasn't big enough, try the Bigger Board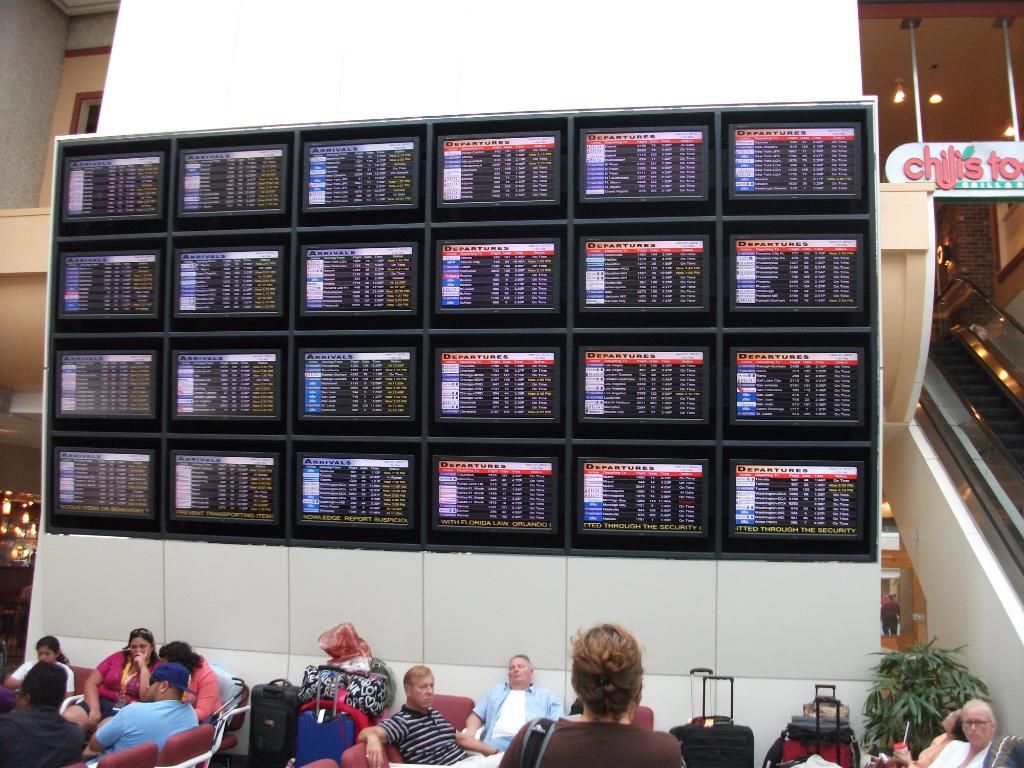 B Terminal; ticketing also shown below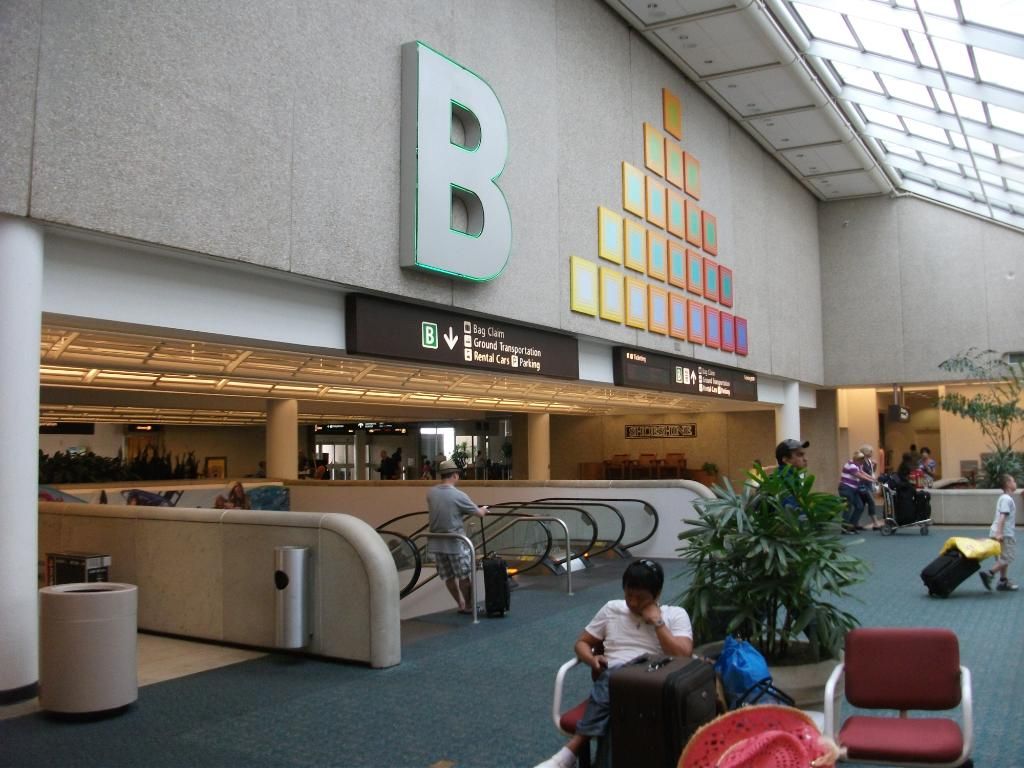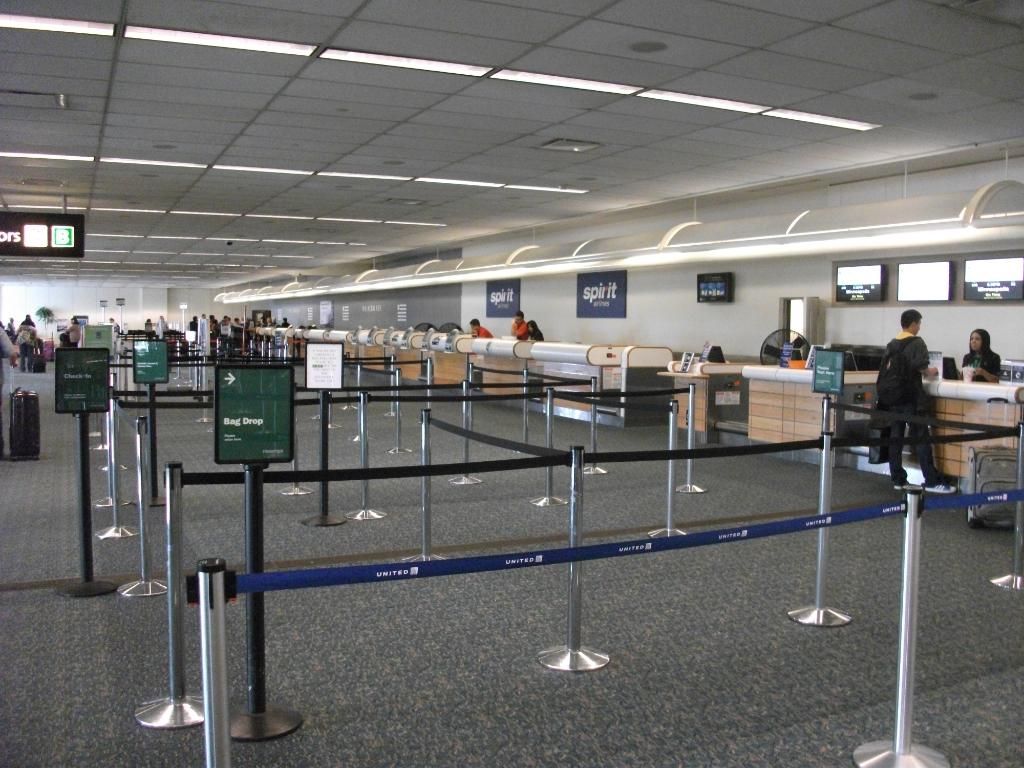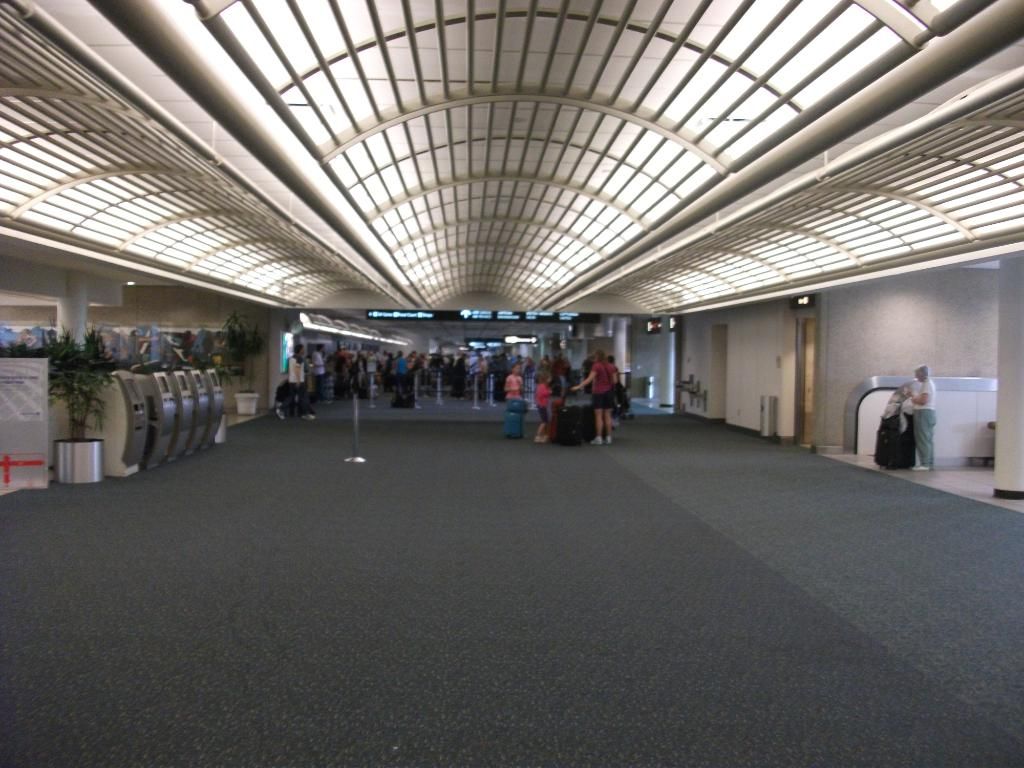 I guess the tulip stalwarts haven't gotten the memo…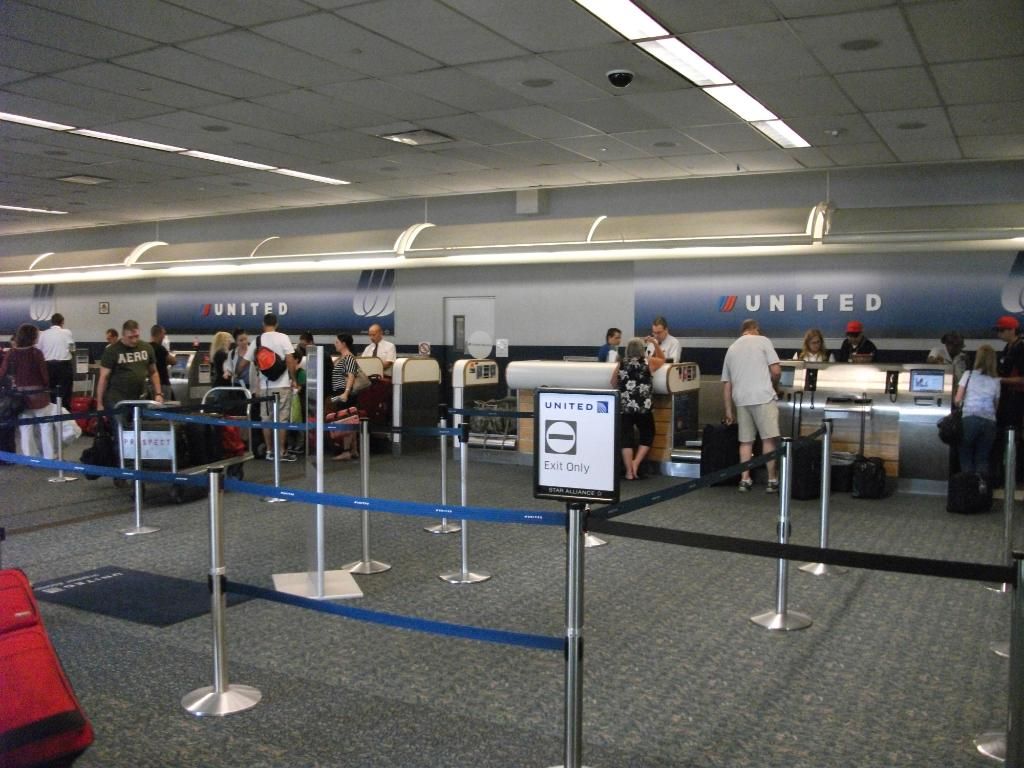 When I came out of the train tube on the right platform (visible at left of platform), I emerged from the wall—there was the checkpoint. I then incorrectly turned left instead of right; I didn't notice any signs that would have pointed me in the right direction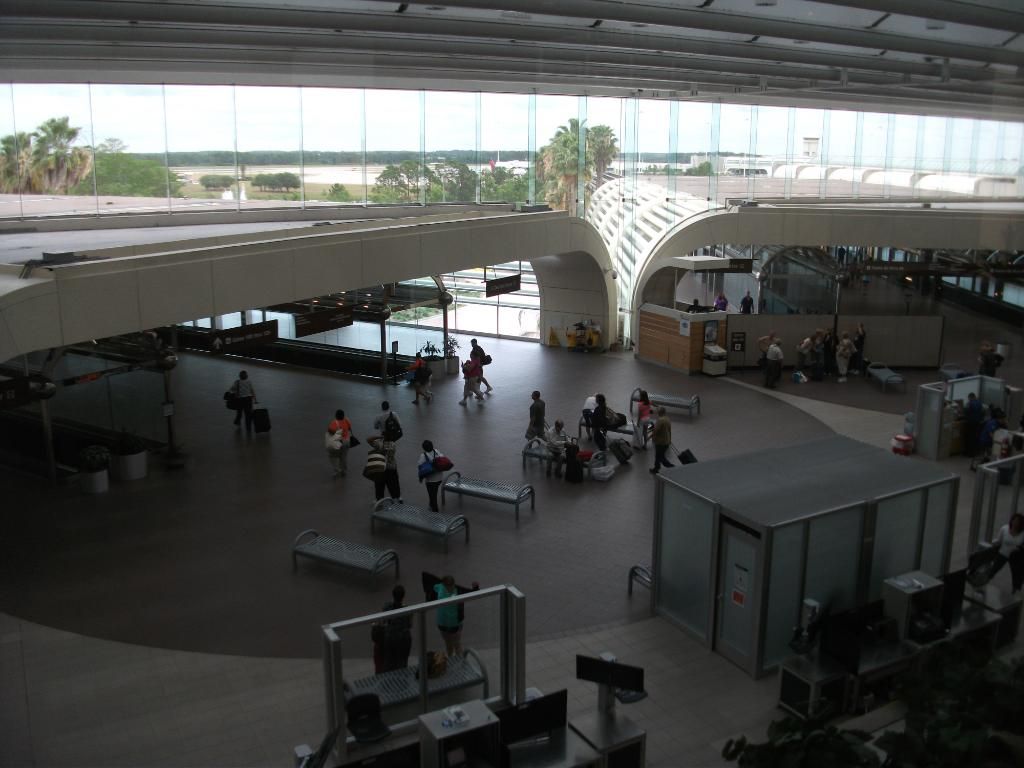 Looking down on the atrium from the public hotel level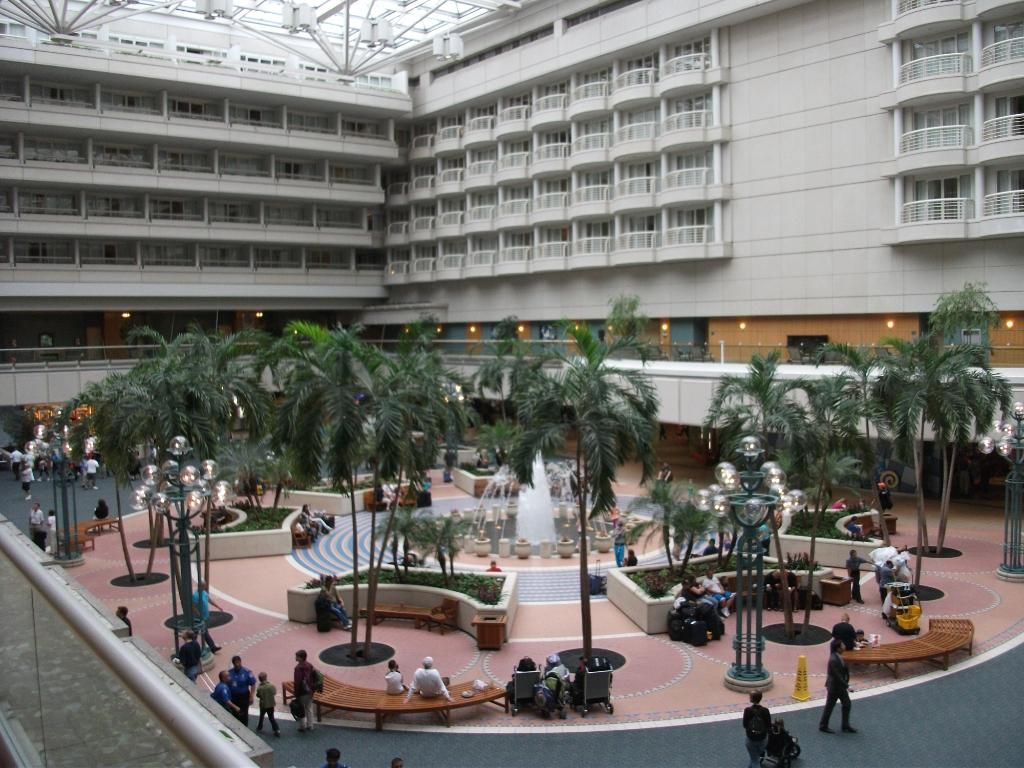 Hotel sitting area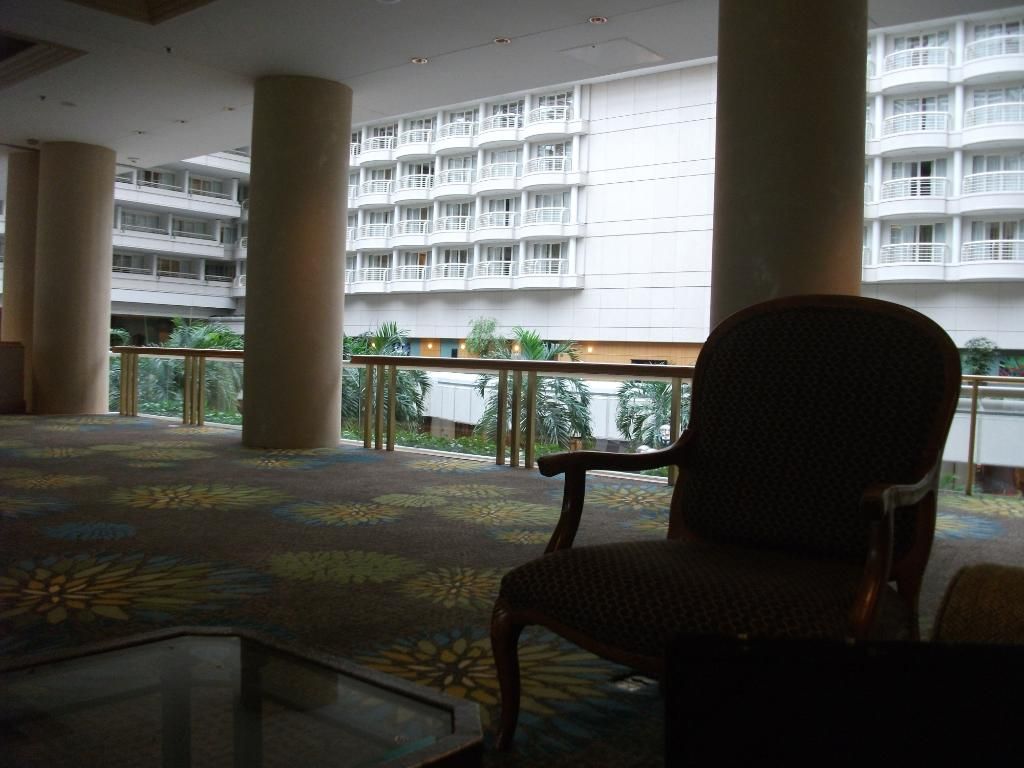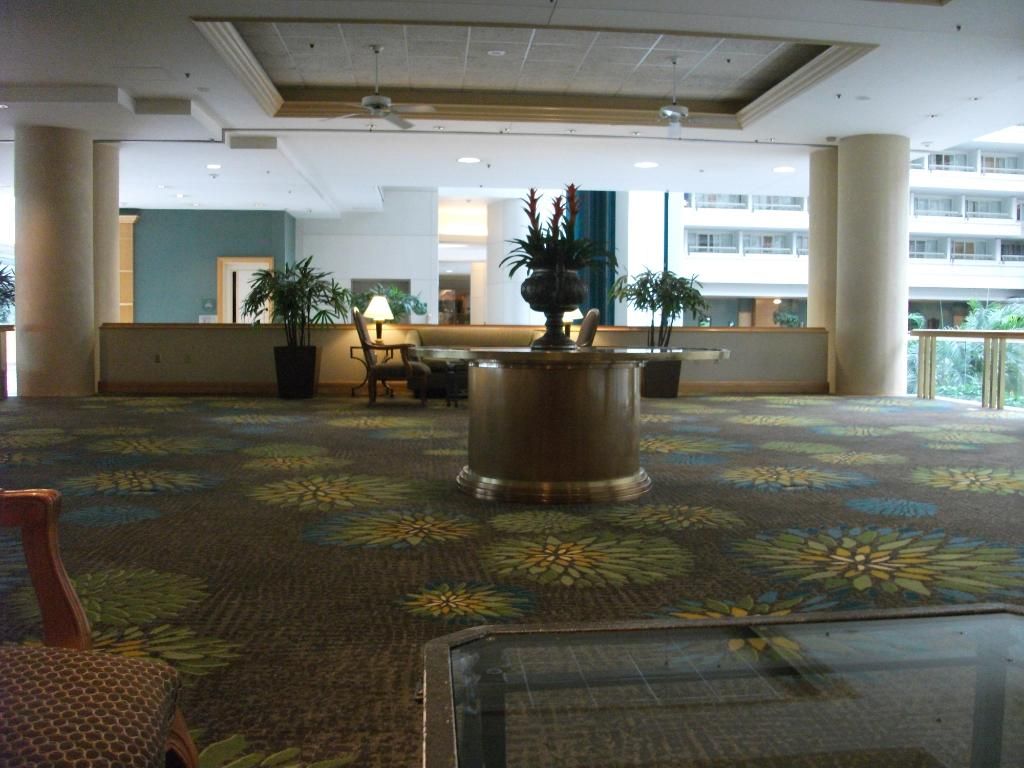 I took advantage of the sitting area to type a bit and reflect on the remaining tasks. First up was to revisit the B ticketing area and get my United boarding passes. I tried one check-in kiosk and it rebuffed my efforts. I tried a second, and it acted in lockstep with the first. I went to the ticket counters and tried a machine there. It worked perfectly. Go figure…
Now that I had passes, I attempted to go through security. Seeing a horde of people in what can only be described as the security cattle pen, I was glad that I had special access to the security fast lane. Alas, I couldn't find one. I asked a nearby TSA agent if there was such a line, and he said there wasn't. So there I was, in for at least a 15 to 20 minute wait (according to the signs; it looked worse to me), when another agent started calling for people to come into the family lane, which wasn't as busy. I took the opportunity to scoot over there, and I was spared the long wait. (You see? TSA agents can be reasonable!)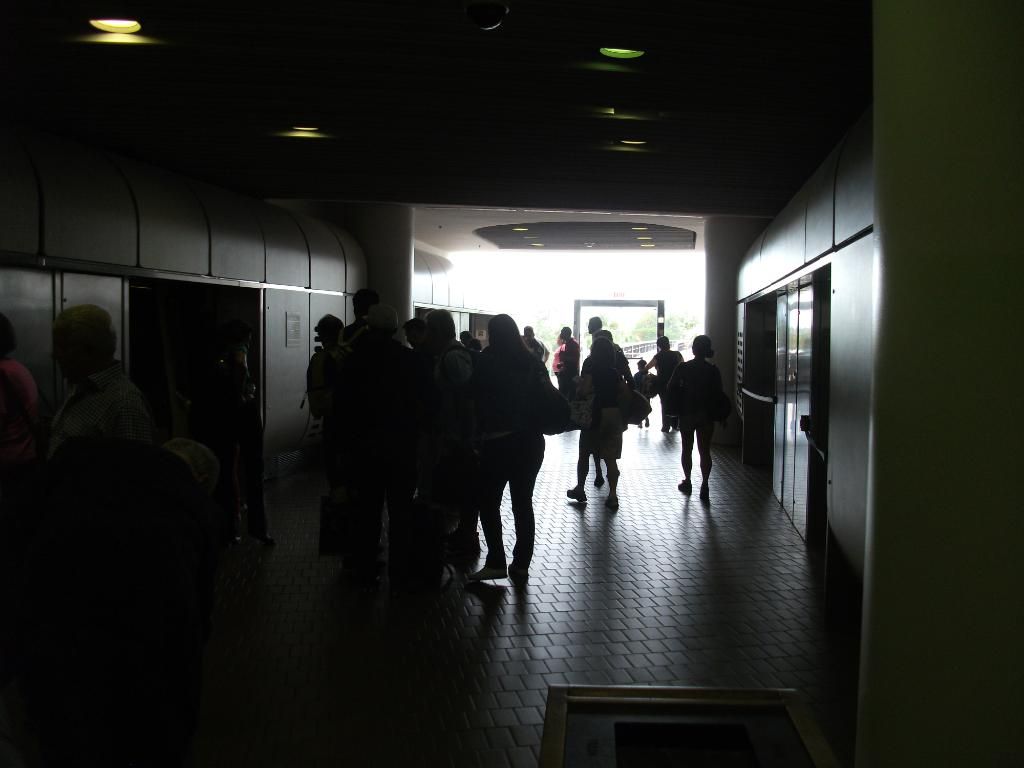 JetBlue A320 N613JB, "Bahama Blue"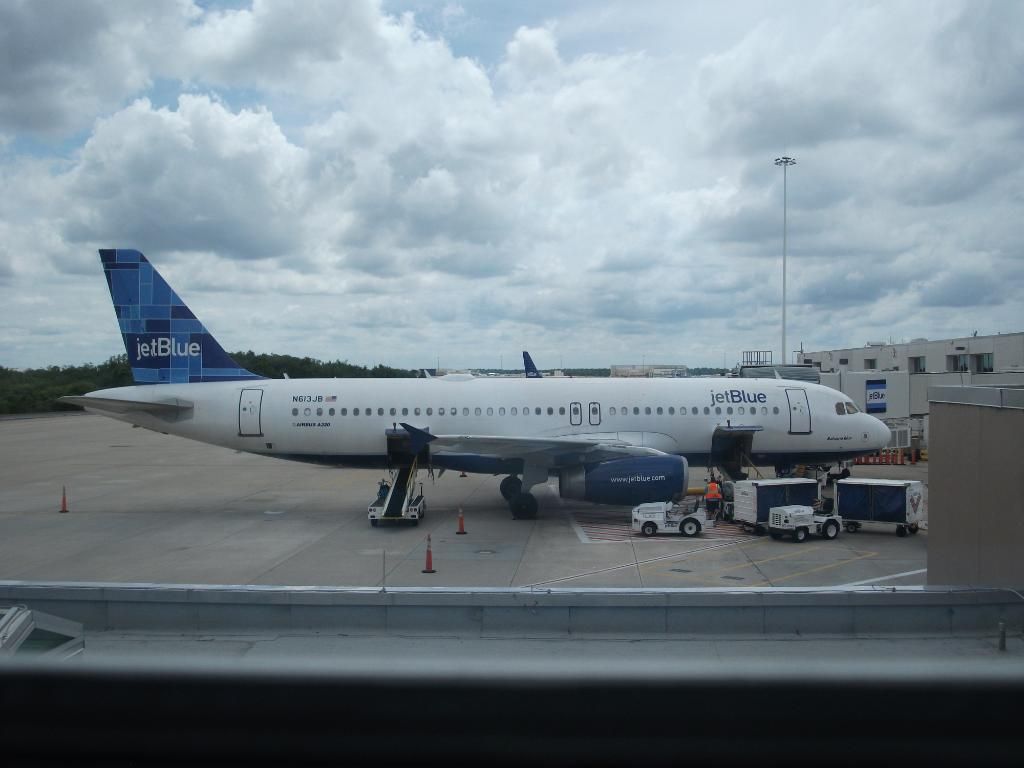 Airside 1 rotunda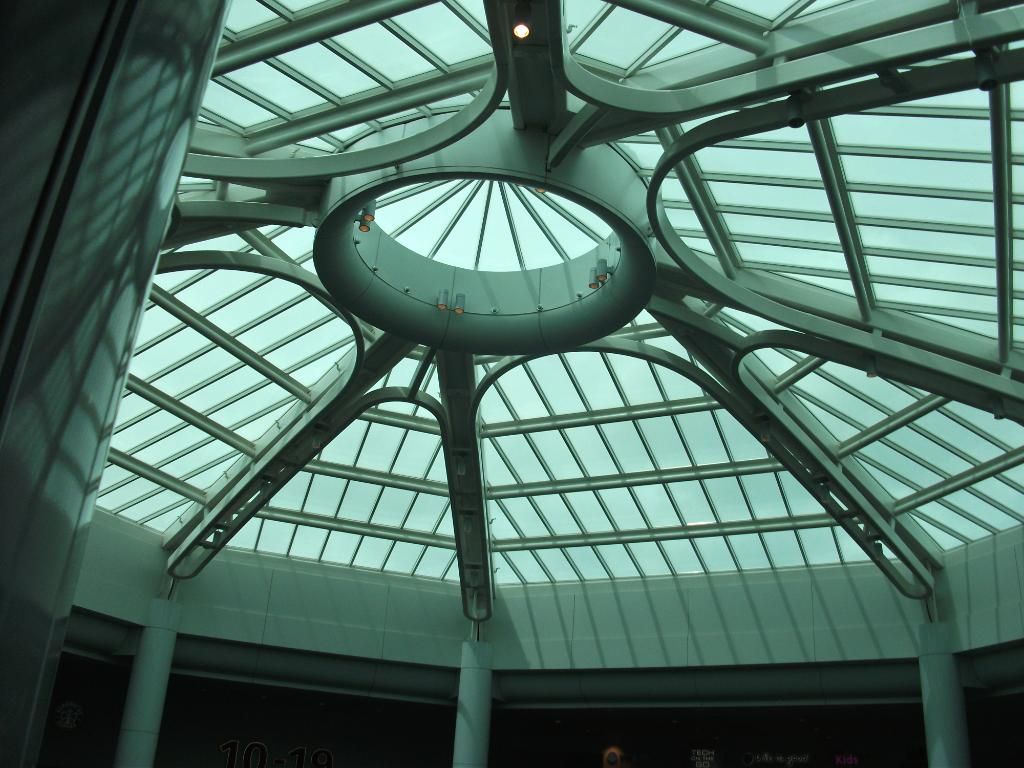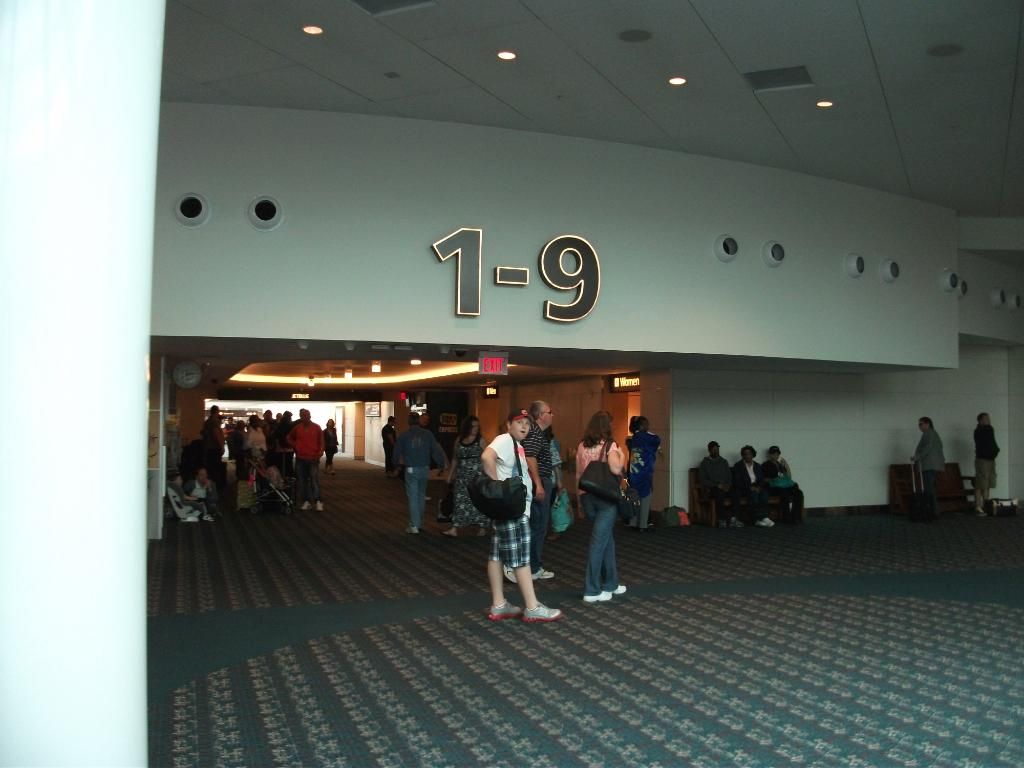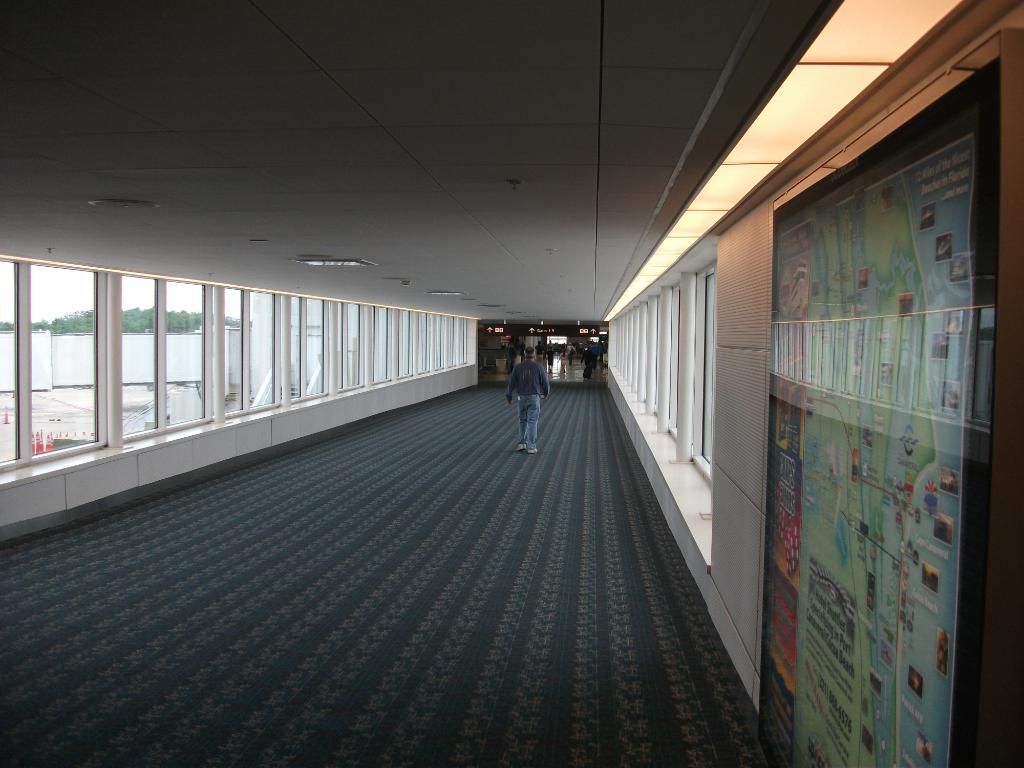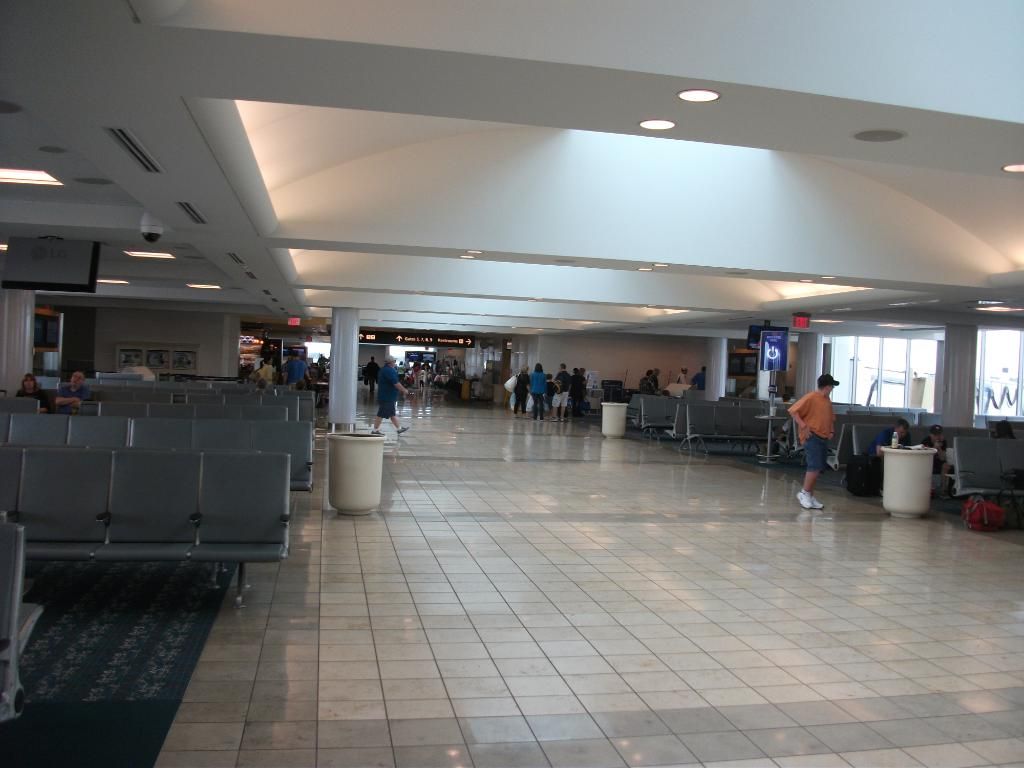 See the sign? That's where I am.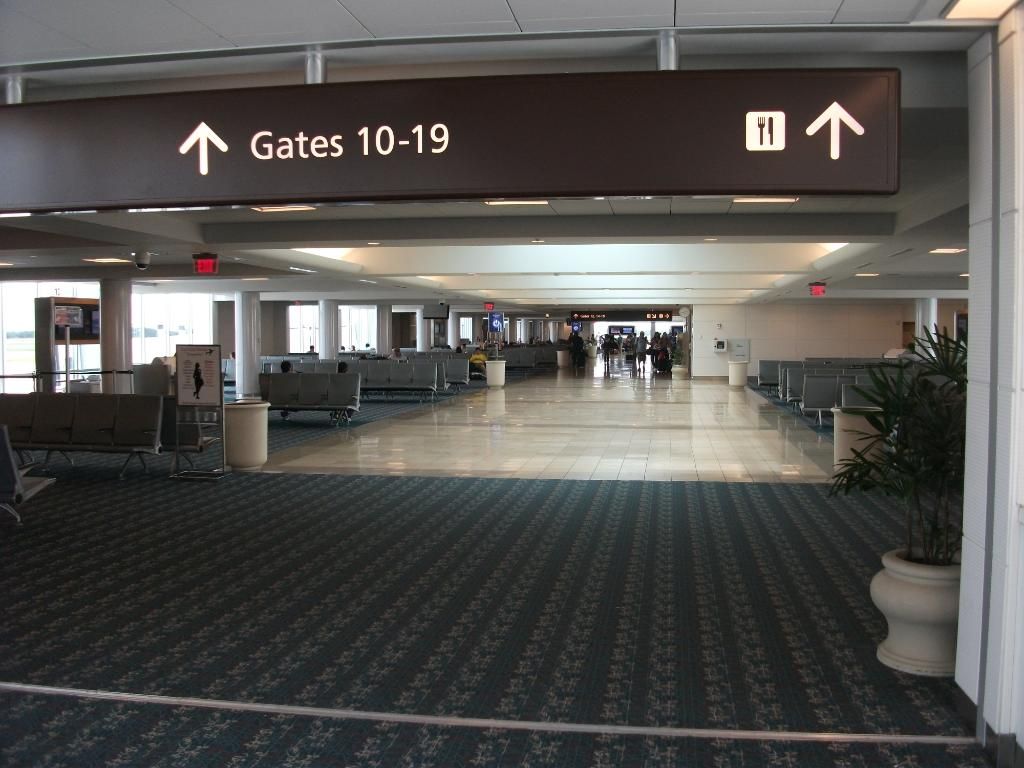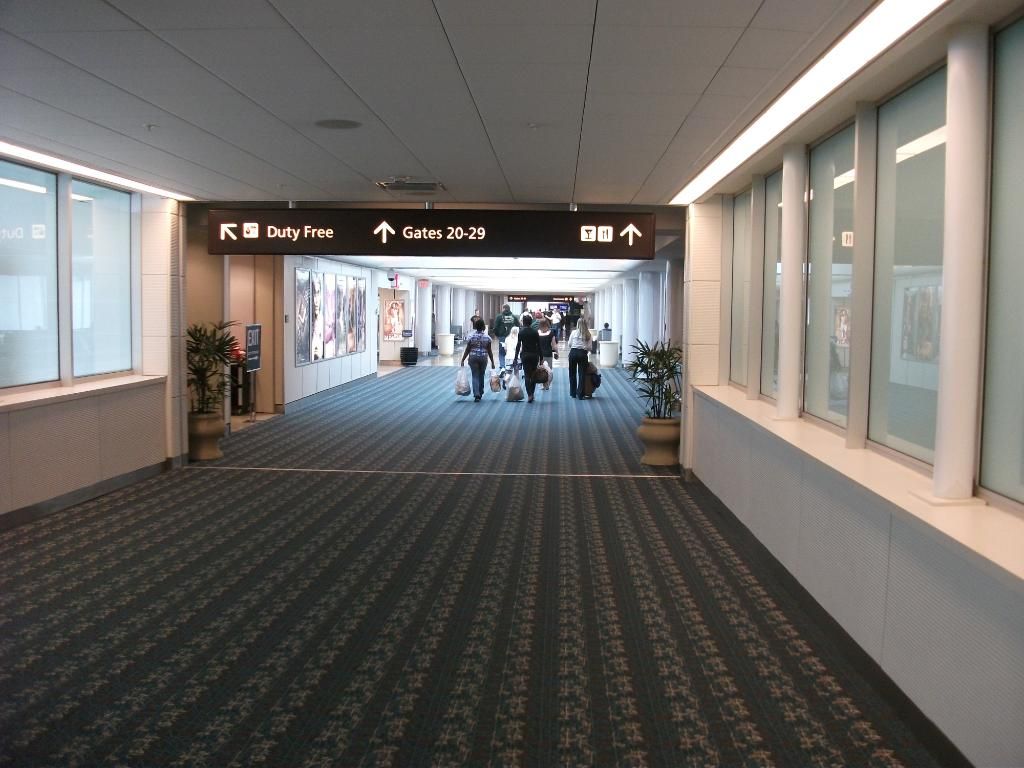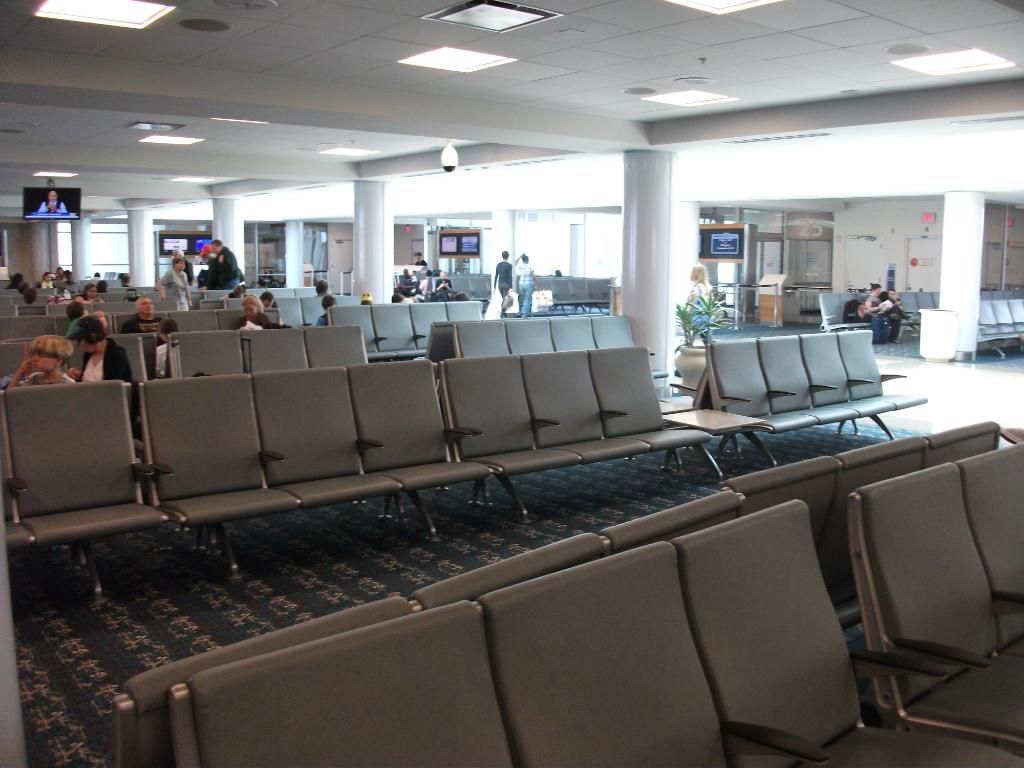 As you can see, I encountered pretty much the same thing throughout the airport. Just as EWR was stuck in the 1970s, MCO seemed to be stuck in the 1980s. On the plus side, that saved me some time since I didn't have to repeatedly photograph the same thing.
Only Airside 3 remained, and I was feeling pretty good about things. I expected a simple tram ride and a simple walk to the other side. Here's what happened: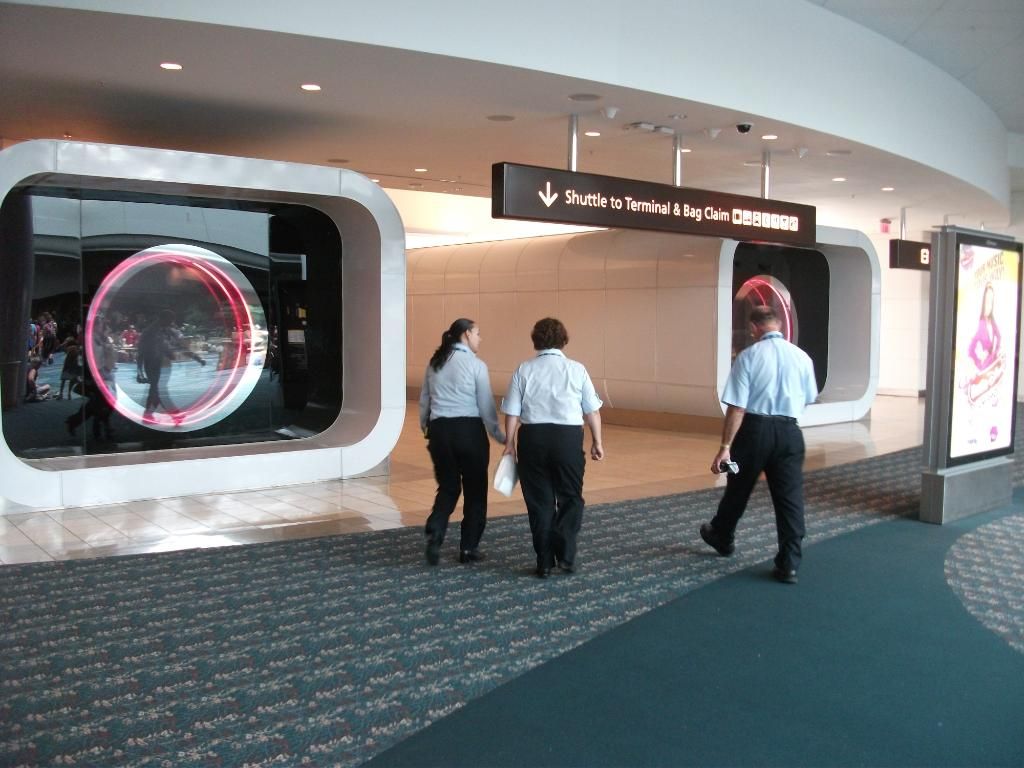 Another backlit station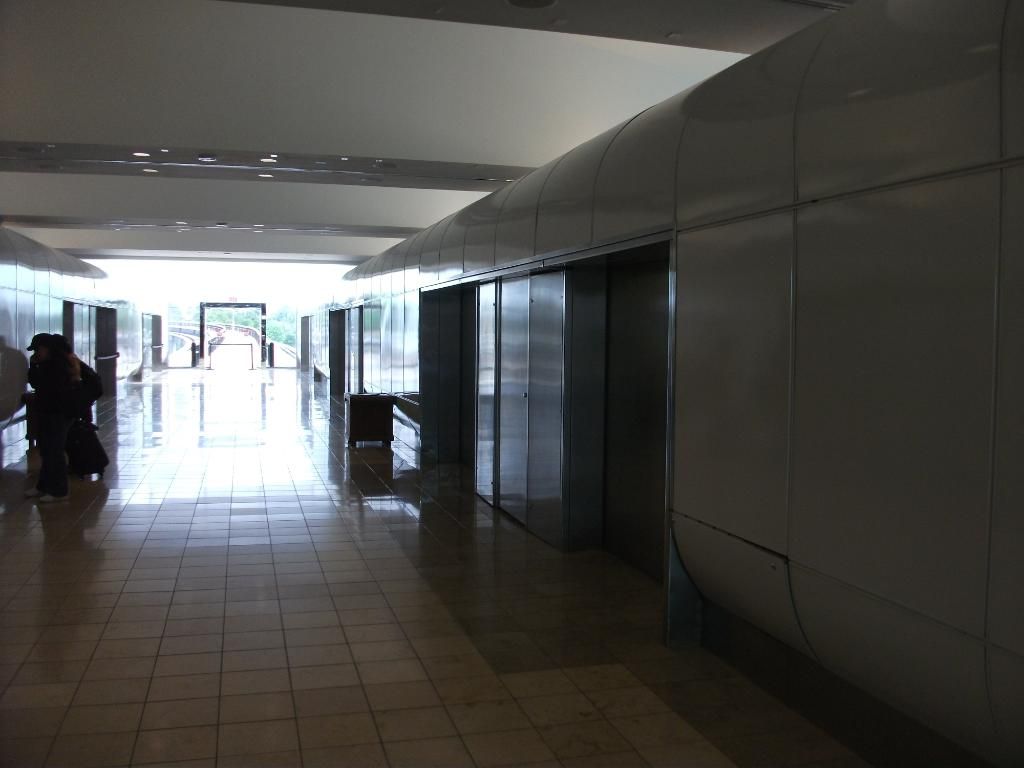 Art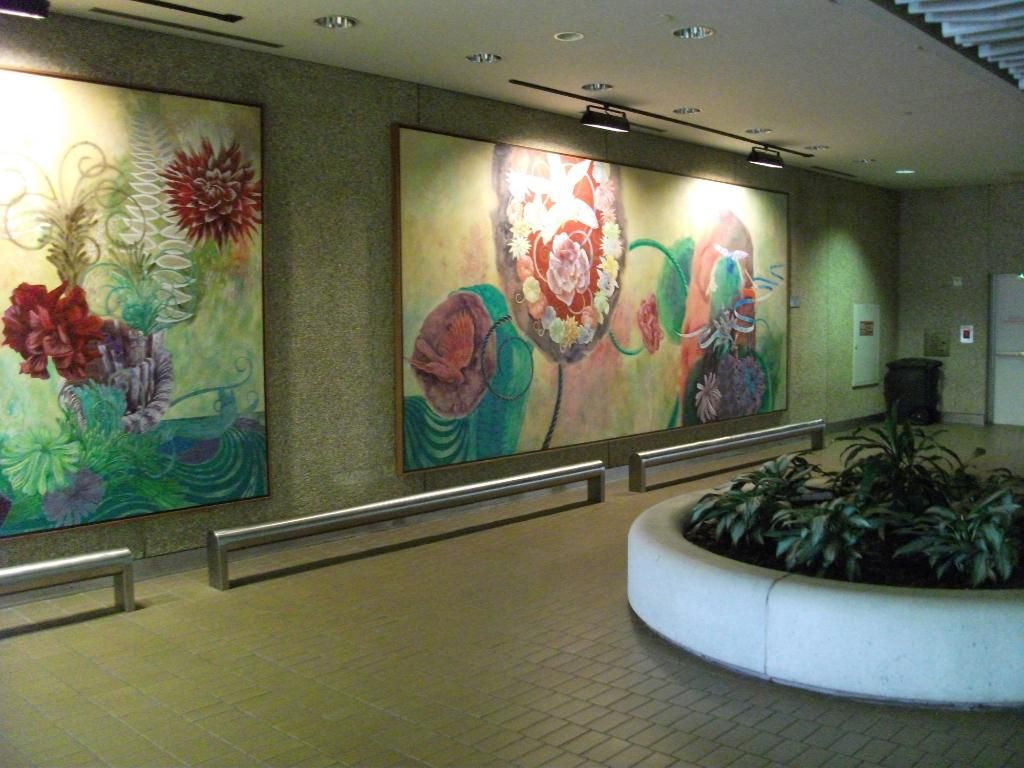 I exited the train and saw…only one way out. I asked a nearby employee how I could get to gate 44. He told me I needed to exit the area and clear security again.
He did take some of the sting out of the news by telling me I could use the employee and crew line, which would be loads quicker. He was correct about that and I breezed through my second security check. By that time, despite the 15 minute delay for my next departure, I was coming up on boarding time. When I got to the Airside 3 hub and saw this: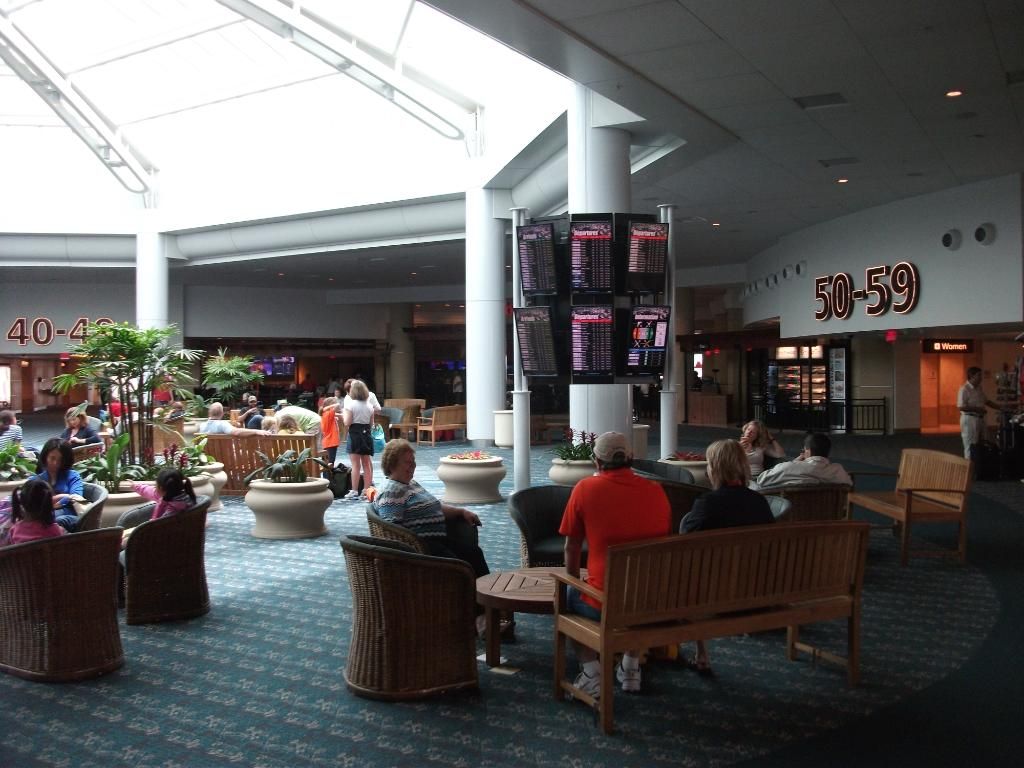 I was pretty sure that it was more of exactly the same. I made a brief pass by the 30s… (note that Continental still exists here)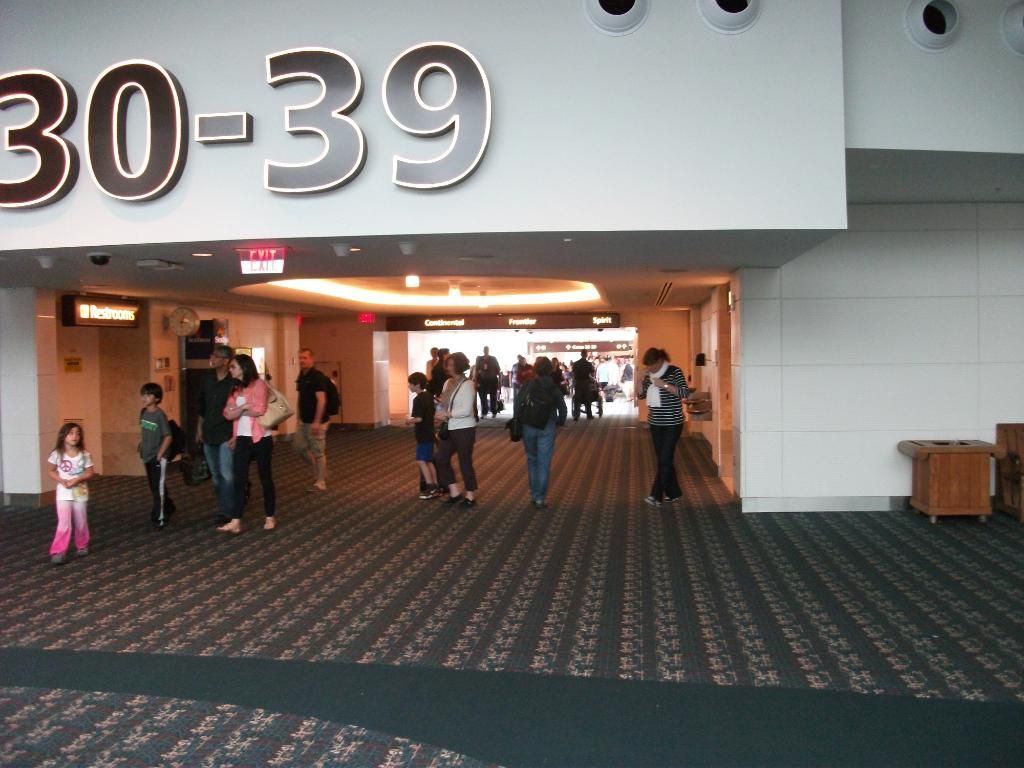 …and proceeded to my gate, where there was quite the crowd. I walked up just in time to see our plane arrive.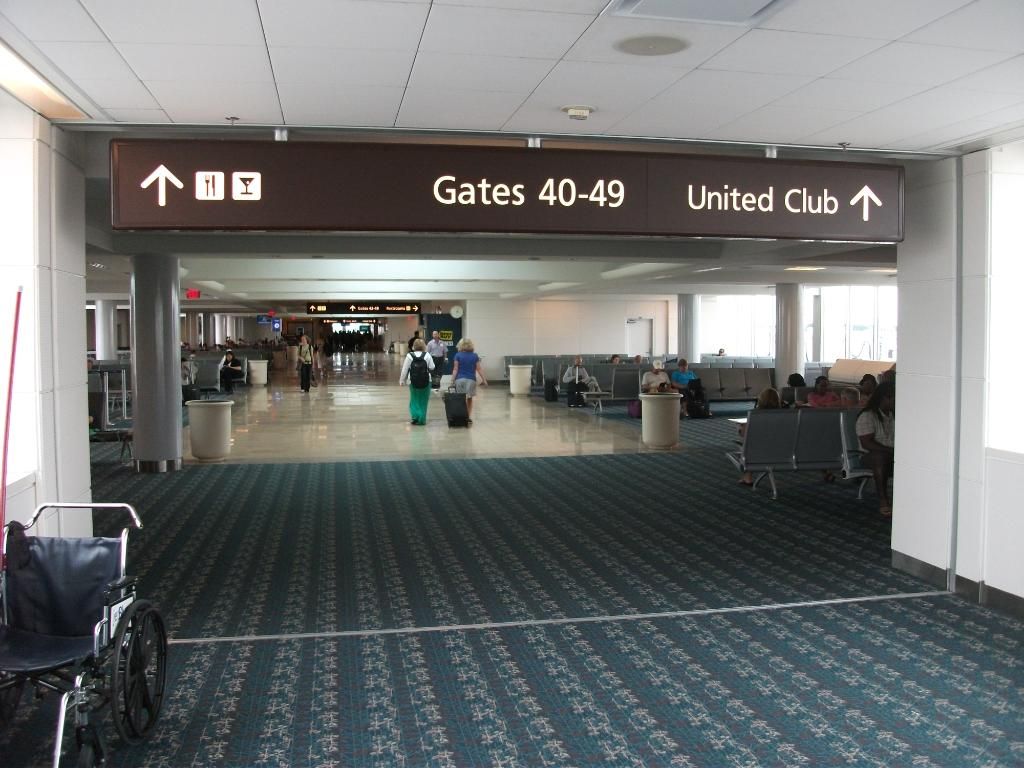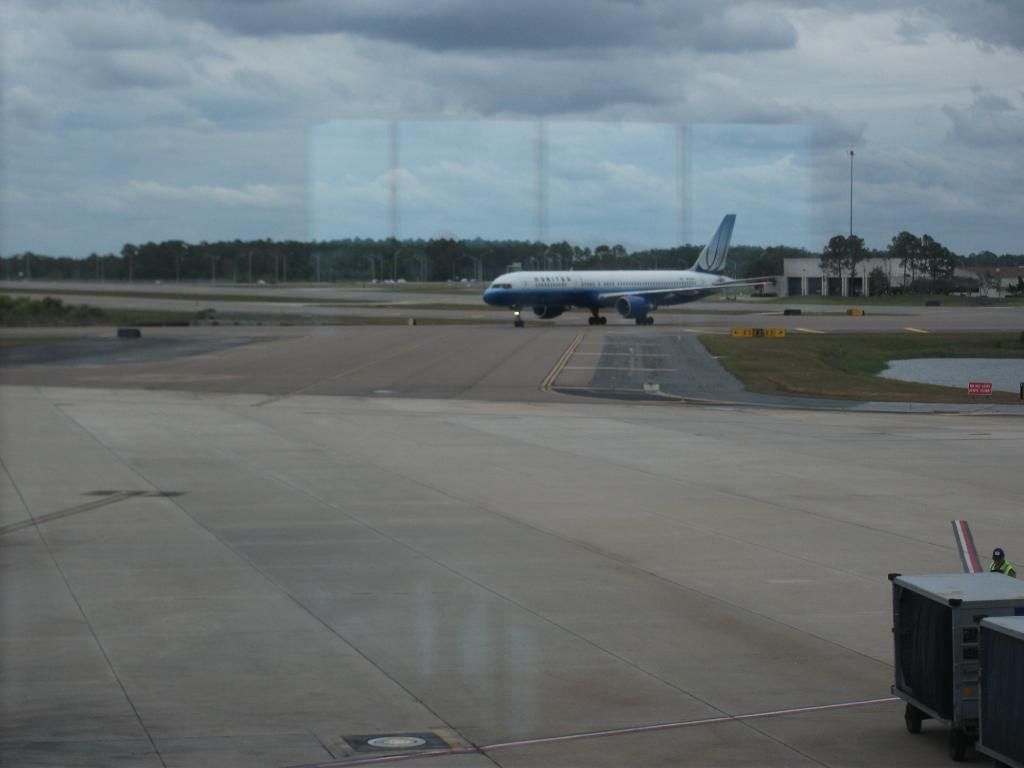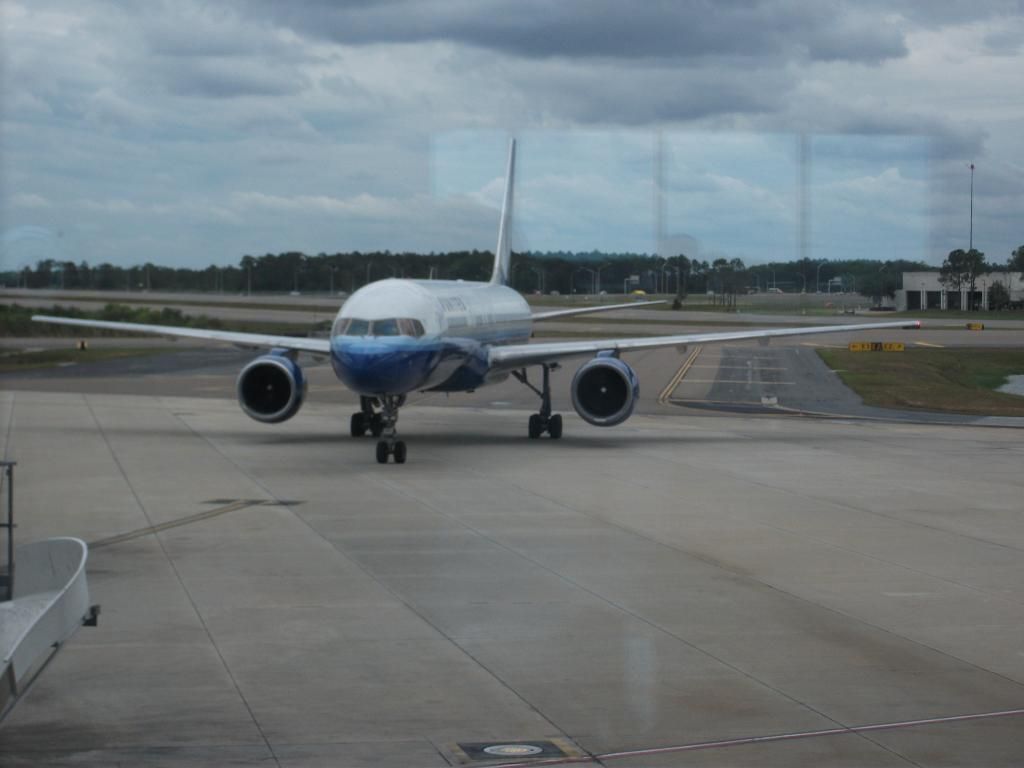 That was my day in MCO. Despite some of the difficulties I had, I won't blame everything on the airport itself; I'm sure some of it was my own fault. I was fortunate that I had enough time to correct the mistakes. Otherwise, it might have been one of my more epic failures.
The weather apparently wasn't being too kind, because our flight and one at the adjacent gate were delayed. Further complicating matters, we were told that TPA had closed due to inclement weather, so we needed to depart quickly lest we should suffer the same fate. There was a palpable tension in the air, but that could just have been the aura given off by a 757's worth of annoyed Chicagoans.
United Airlines 994 MCO-ORD
Scheduled: 15:30-17:18
Actual: 16:13-17:26 (wheels up/wheels down); 16:01-17:36 (gate to gate)
Boeing 757-222 (N523UA)
I was kinda ready to be out of Orlando at that point. I hoped that getting the semi-royal treatment from United could lift my mood. Being able to turn left after boarding the plane cleared most of it right up. (If you're just dying to know, I had apple juice for a pre-departure beverage.)
Legroom, brought to you by seat 5F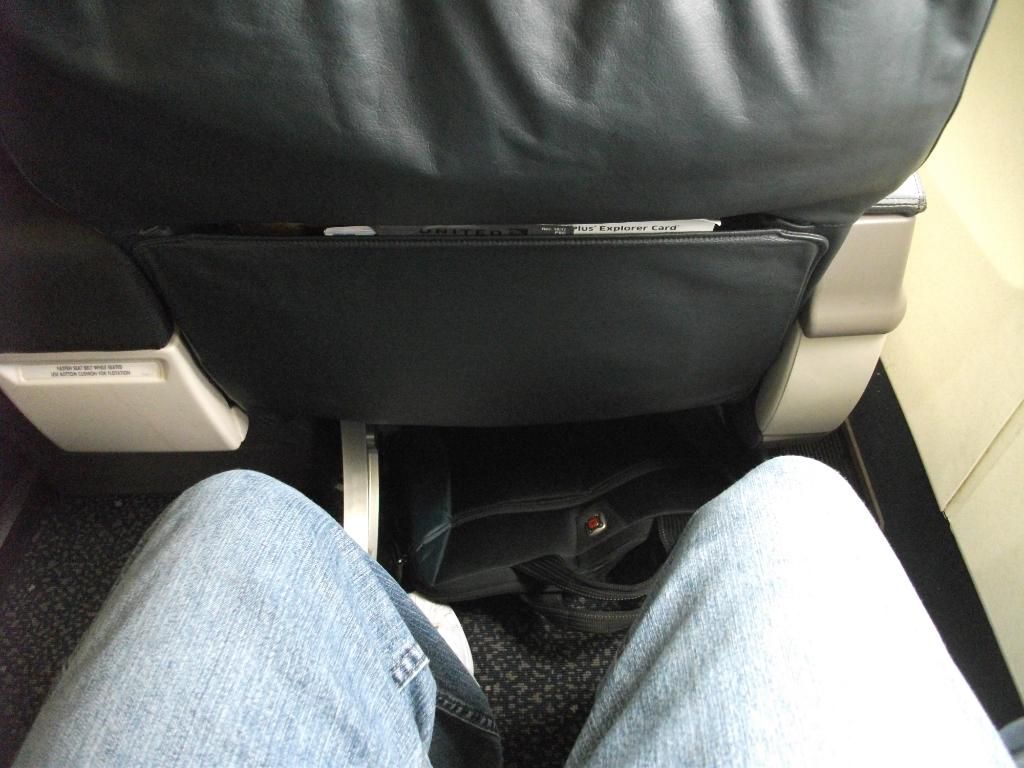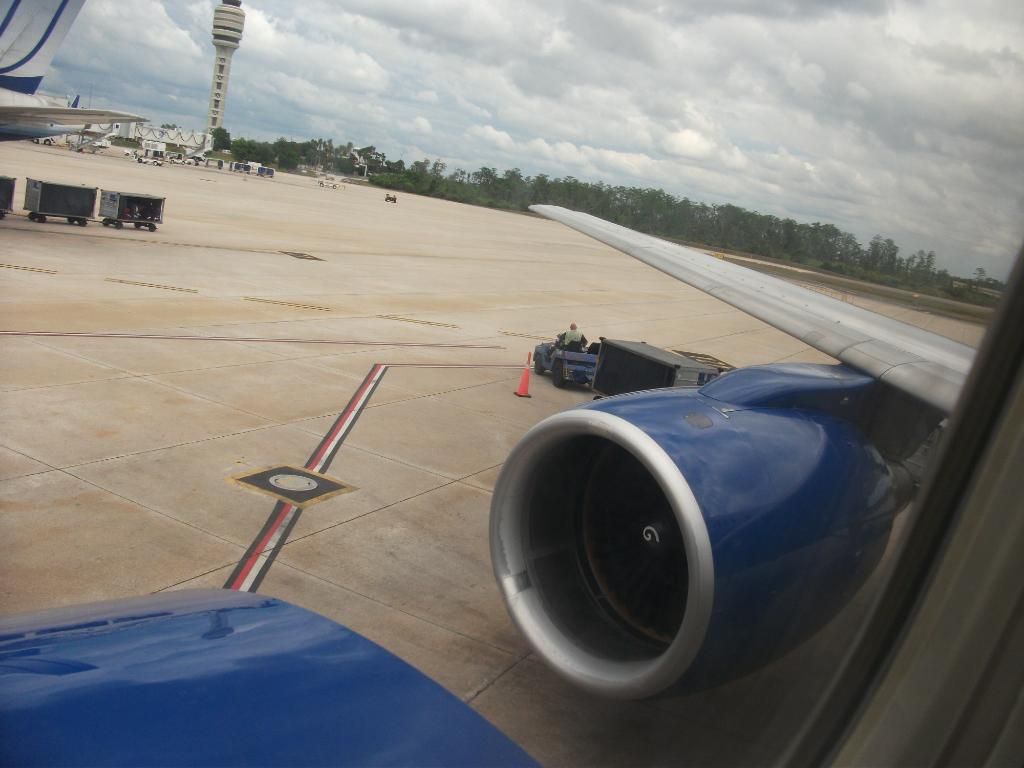 Sitting next to N530UA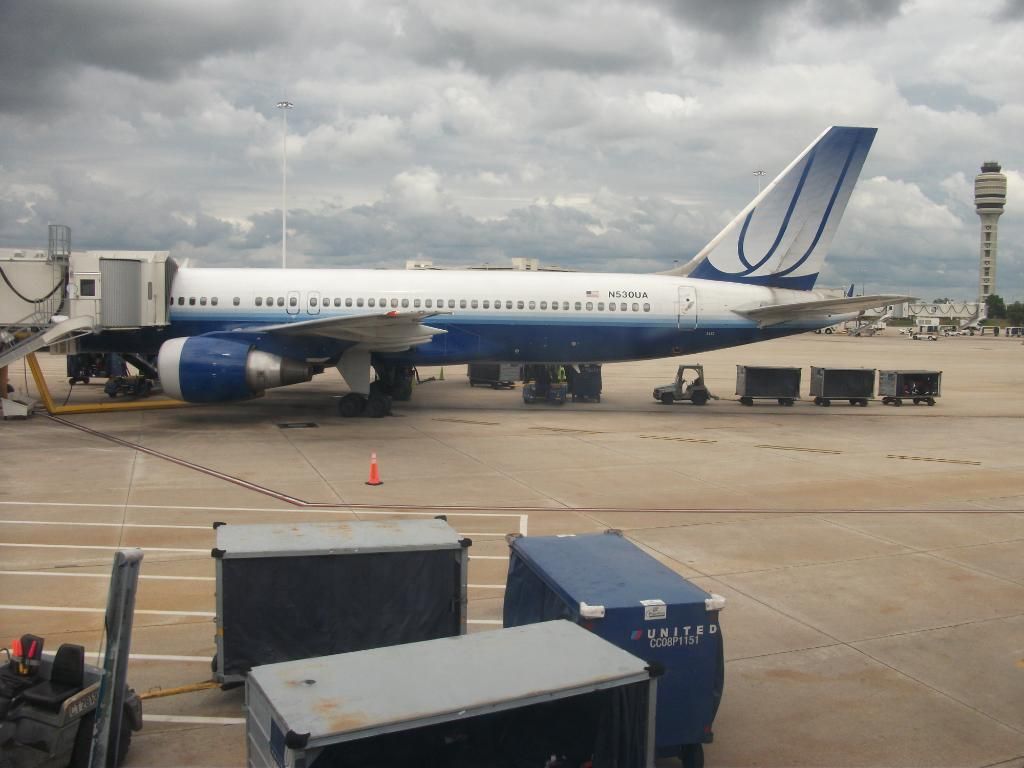 We hold to allow this American 738 to land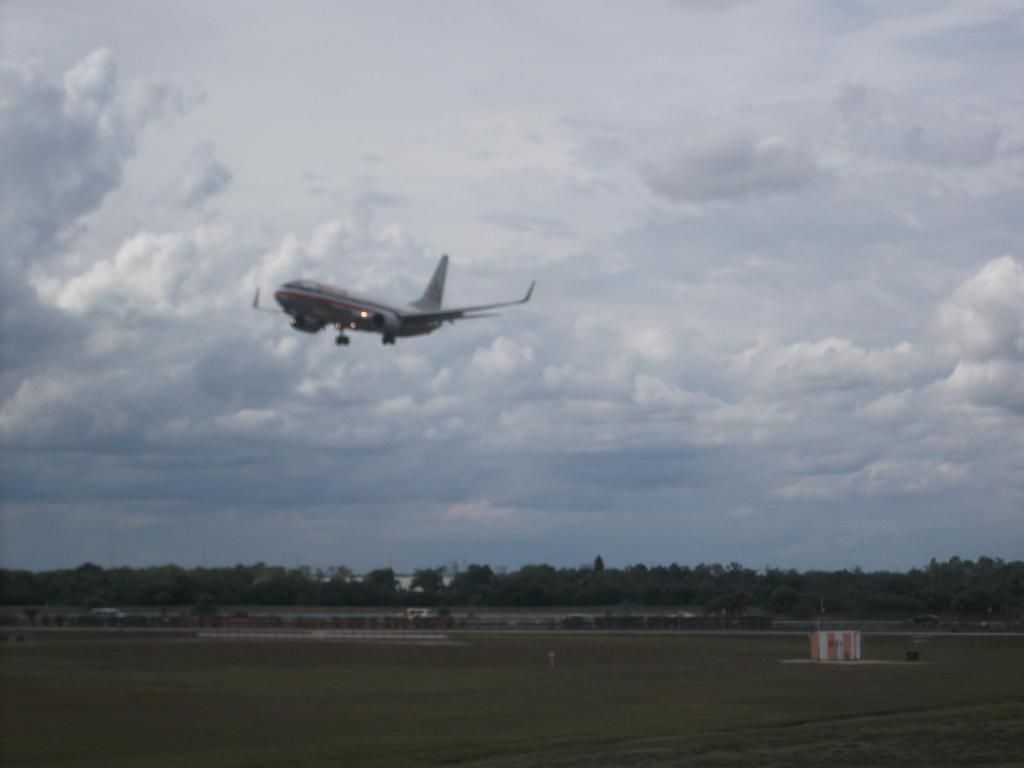 The takeoff on this go-round isn't quite as powerful, but it still lets you know what stock you're flying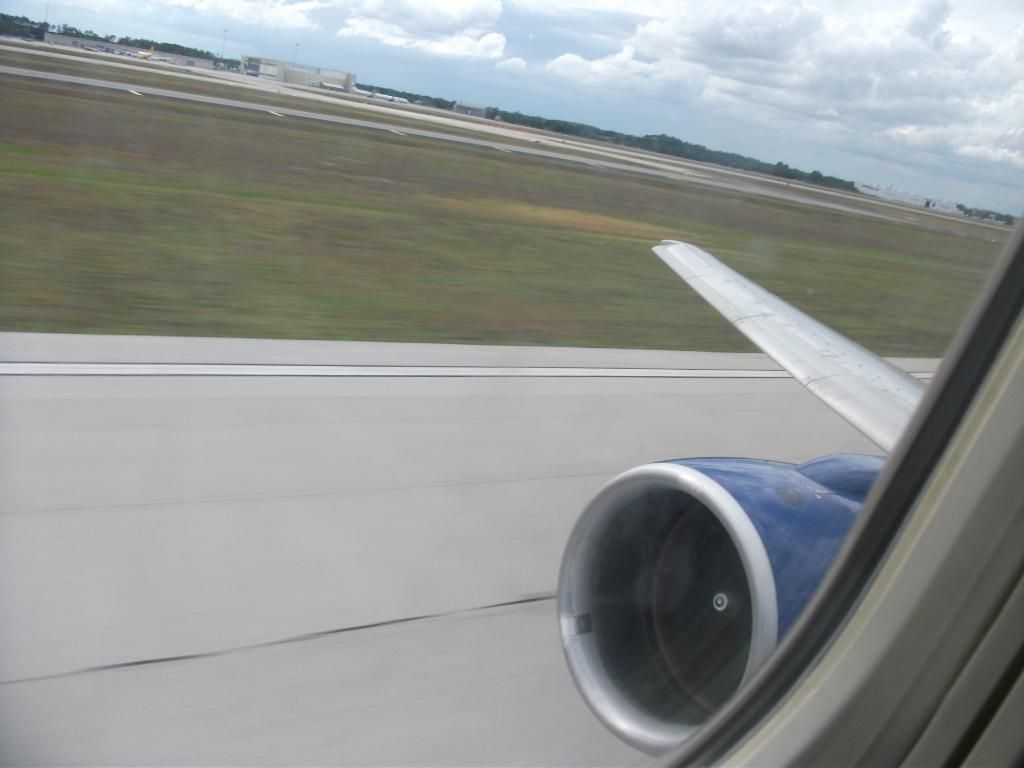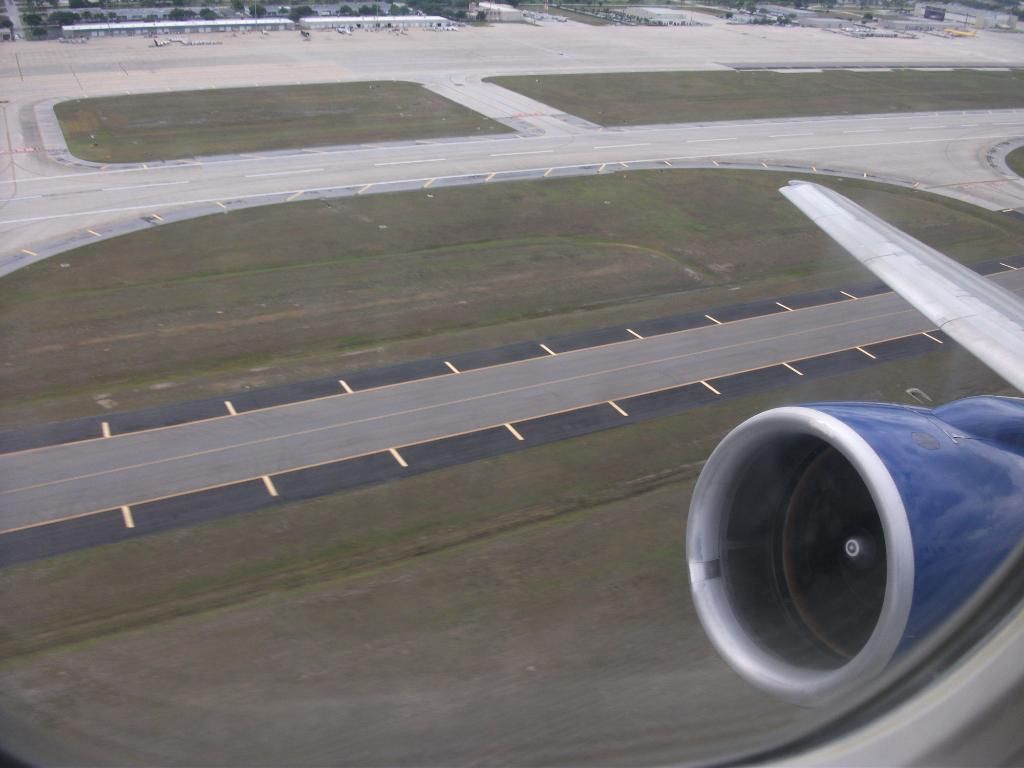 Assorted pictures of the Orlando area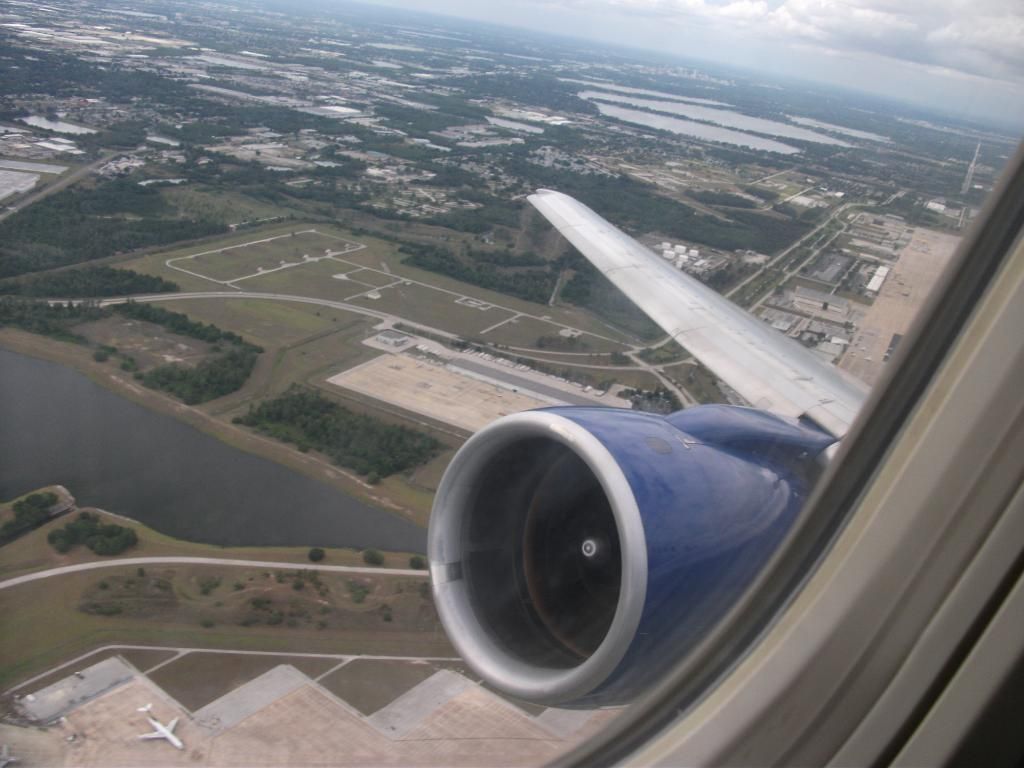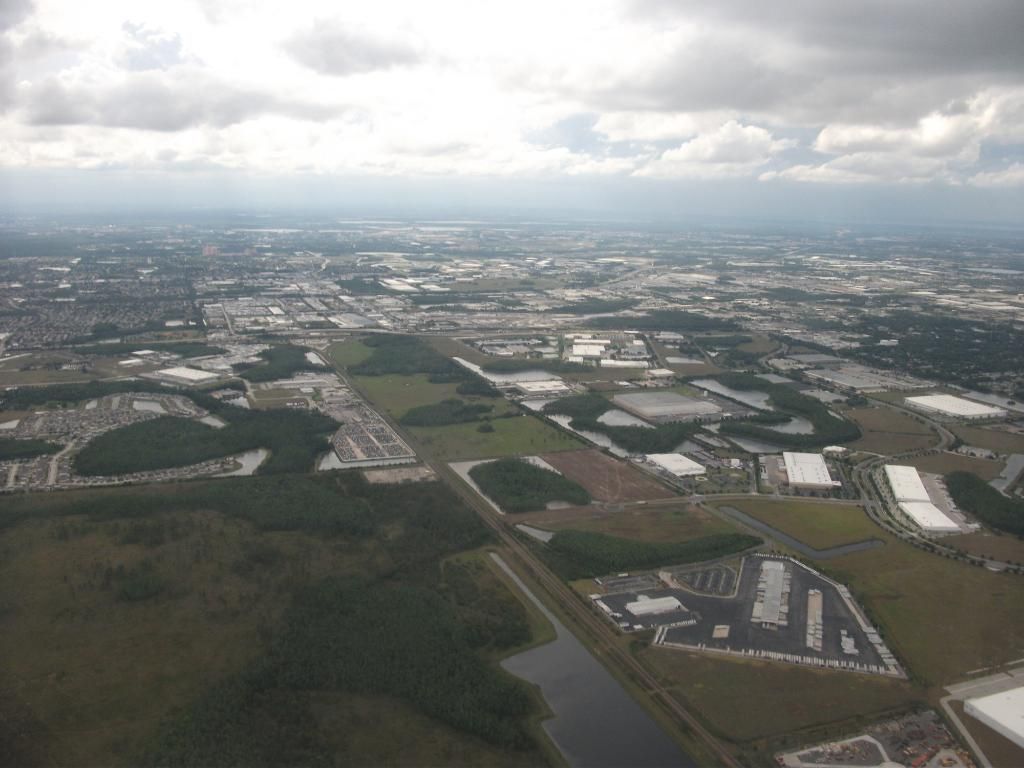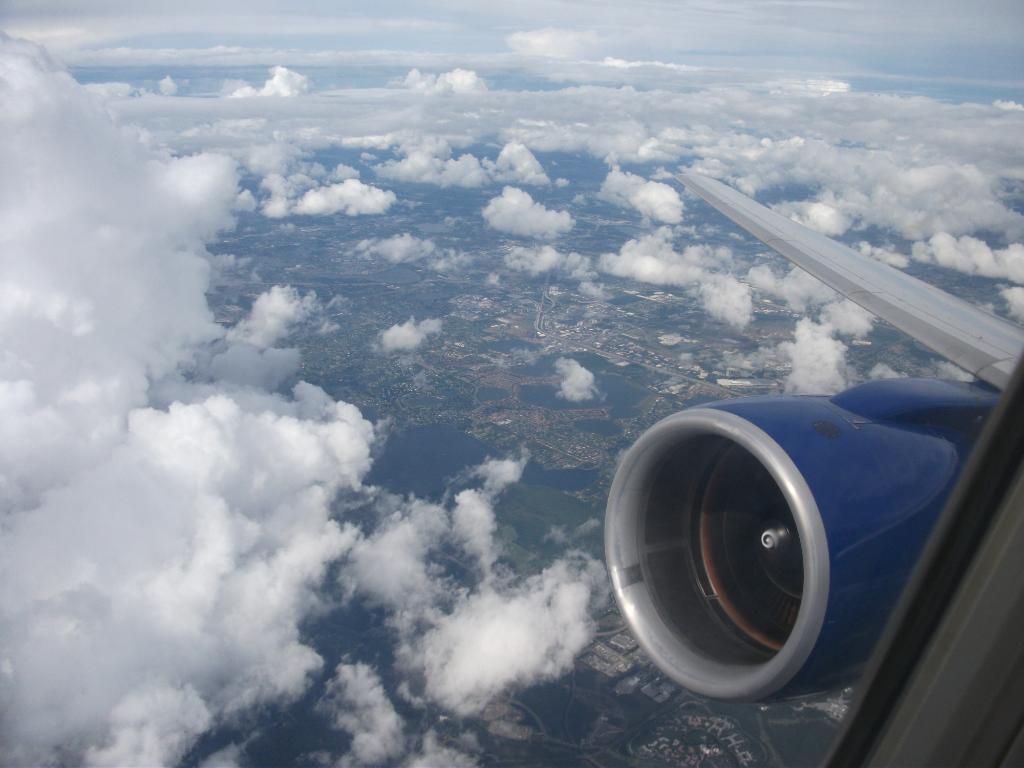 Clouds again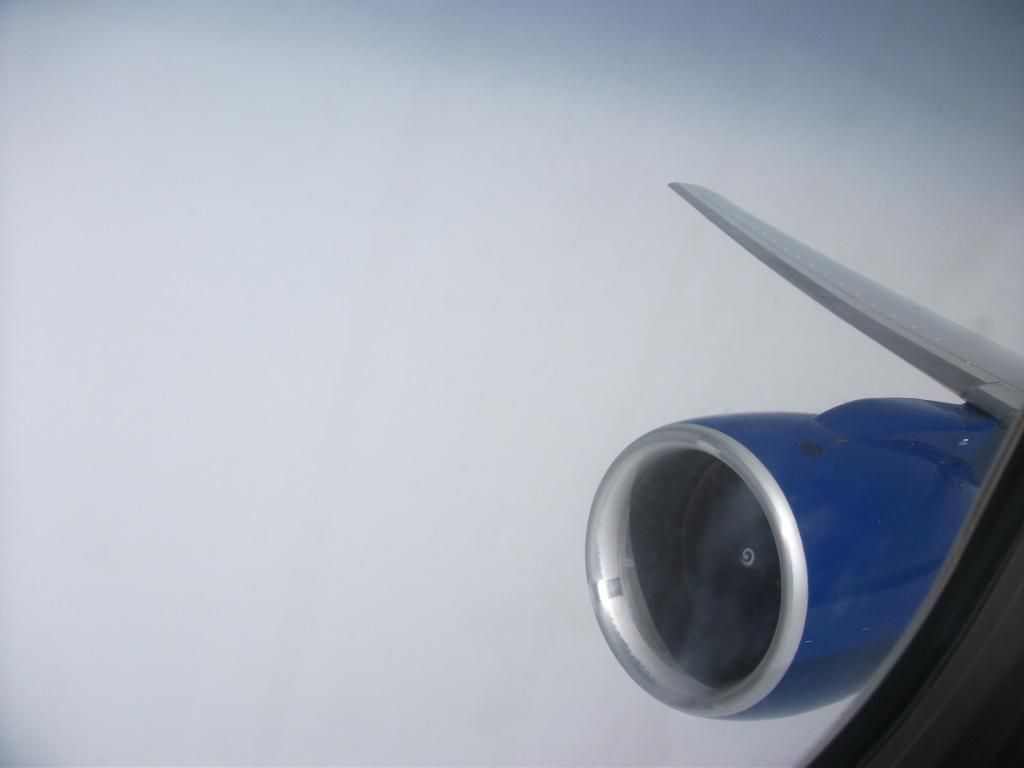 The entire flight would be marked by periods of light to slightly-less-than-moderate turbulence. There were indeed some weather systems in the eastern part of the country, and they were leaving their mark as I listened to various reports over Channel 9. As such, the seatbelt light got a good workout, pinging on and off every few minutes. The flight attendants were asked to be seated on at least three occasions. As long as my head wasn't cracked against the wall, I was fine with whatever nature had in store for us.
[Edited 2012-07-15 11:23:03]