Dear all,
After being a silent reader of trip reports in this forum for the past three years, I've decided maybe its time for me to contribute one. Well, since this is my first trip report, I hope you all bear with me on this one, and also to note I did not come from an English speaking background, so my apologies if I do lack in vocabularies to describe my flying experience. Hopefully you enjoyed the report. Thanks.
Background
Being my home country's flag carrier, I flew a lot on board Garuda Indonesia flights, especially on their domestic and regional flights. Nonetheless since I was based in Australia currently, this gives me an opportunity to try Garuda's medium haul service, especially a few years after the Quantum Leap programme on the airline has started. I was so excited on my first longer flights with Garuda Indonesia!
Check-in and Boarding - Tullamarine Airport Melbourne, 07.55
I reached the airport using the convenient 'Skybus' from the Southern Cross terminal in Melbourne city area. The international departures check-in area were extremely crowded with people checking in for GA, SQ, CZ, and QF flights. While there are around eight desks serving both GA departures from Melbourne, one to DPS and the other one is mine to CGK, queues were still long. Situations were exactly the same on customs and security check. In fact, departure were pushed back for 25 minutes due to passengers unable to complete immigration in time, as a result of the long queues.
Flight Details
Flight Number :GA 717
Type of aircraft :Airbus A330-341
Registration :PK-GPA (delivered 21/11/1996 to Garuda Indonesia as msn 138)
Well, these are the seat and legroom I have throughout my journey
Blanket, pillow, and amenity kit for the 6 hour 45 minutes journey.
Safety video were displayed upon pushback. its on the 'how to use your seatbelt' part.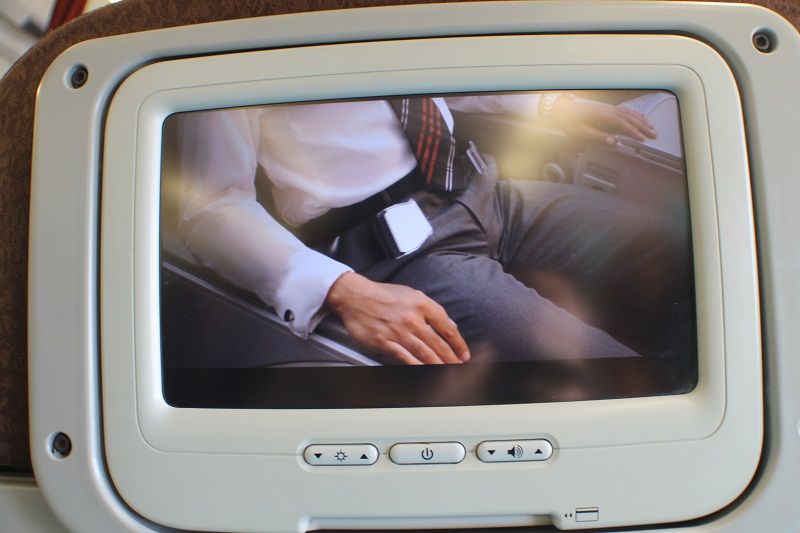 Inflight Entertainment System (IFE)
In my opinion it was a decent IFE for a 7-hours flight with good choices of music and games, but I find it lacking in newly released, or at least recently released movies compared to other carrier. However, having this standard of an IFE its a good progress for Garuda under its 'Quantum Leap' project.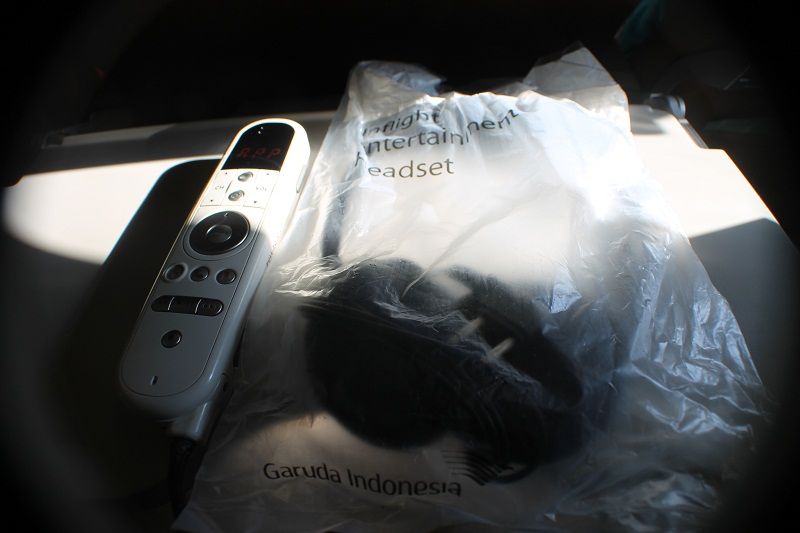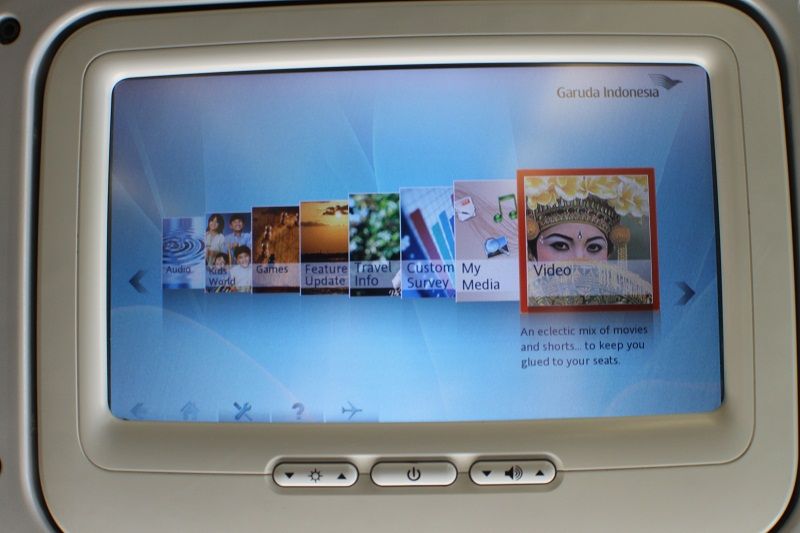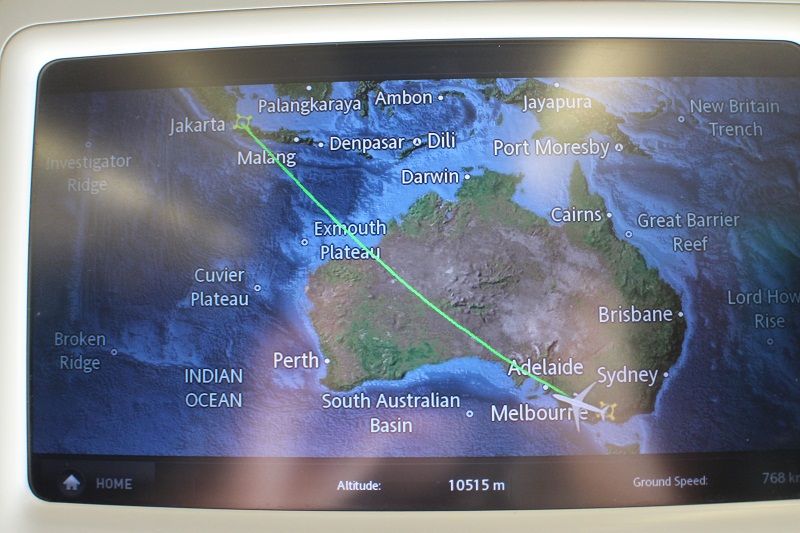 Meal services
Meal services on this flight consisted of peanuts and a choice of drink that was served after take-off, continued by hot meals and drinks of choice served around 2 hours after take-off. Throughout the flight a bottle of mineral water was distributed to keep passenger hydrated. Prior to landing, passengers were served mango ice cream. I was impressed that GA distributed paper menu and even welcome drink (packs of orange juice) in Economy class considering many airlines no longer do that as part of cost-cutting.
An exclusive look : The Garuda Indonesia 'Executive Class' seats on A330
While we're flying over northern Australia, I asked the purser's permission if I was allowed to snap some pictures of the executive class cabin, and he permitted me to go to J class cabin and snap some pics. In fact, he asked his subordinates to explain the features of the seat and demonstrated its use to me. What a nice gesture to aviation/travelling enthusiasts like all of us.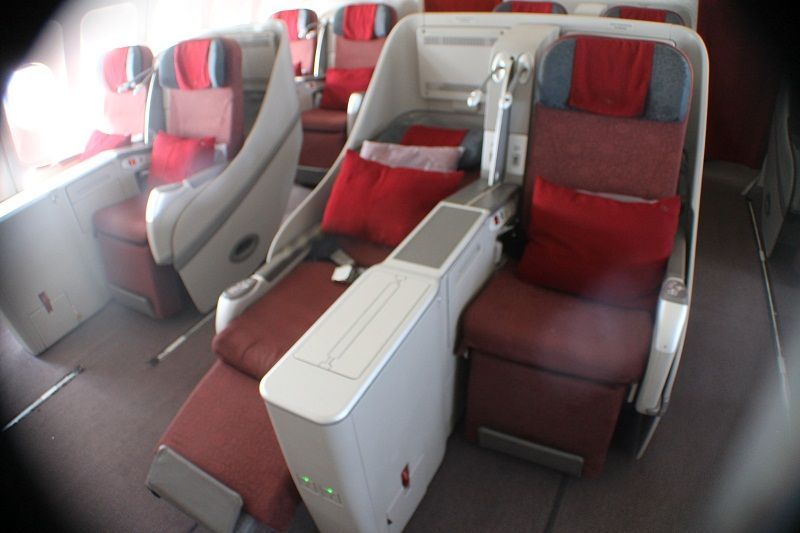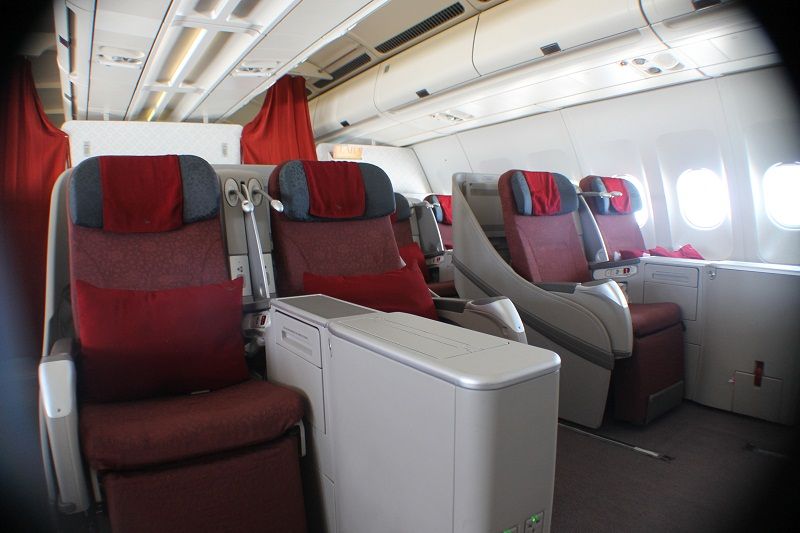 After I finished taking pics of Executive class cabin, I returned to my seat for a short nap before it was already time for descent and landing into Soekarno Hatta Airport in Jakarta, Indonesia.
Immigration in Jakarta was quick this time, although it was quite notorious for its long and rowdy queues. Nonetheless it was a good experience of flying onboard Garuda Indonesia to Jakarta. It was pleasure sharing it with you. If there is any suggestions I would gladly accept. Thank you.