RTW Pt 8: Smooth as silk to Bangkok! TG SIN-BKK
Introduction
Hello again dear readers, and welcome to my 8th report from my around the world journey! This report will cover my flight from Changi, Singapore to Suvarnabhumi, Bangkok on the national airline of Thailand, Thai International Airlines. The other 7 parts along with my earlier reports are further down on the page. Sorry for how long it is since the last report, I'll try to be quicker with the next parts.
Background
After years of planning, me and my dad finally decided to go around the world on ID/Standby tickets.
We decided to go to Machu Picchu, Peru in South American and then some Asian Cities.
This was the proposed flight schedule (B means booked):

Icelandair 631 KEF – JFK 30/3/2012 Boeing 757-300
United 1116 EWR – IAH 31/3/2012 Boeing 737-500
United 854 IAH – LIM 31/3/2012 Boeing 767-300ER
TACA Peru 7 LIM – CUZ 1/4/2012 Airbus 320-200 (B)
TACA Peru 101 CUZ – LIM 2/4/2012 Airbus 319-100 (B)
United 855 LIM – IAH – SFO 2/4/2012 +1 Boeing 767-300ER
United 837 SFO – NRT 4/4/2012 +1 Boeing 747-400
Cathay Pacific 503 HND – HKG 8/4/2012 Boeing 747-400
Cathay Pacific 701 HKG – SIN 10/4/2012 Airbus 330-300
Thai 873 SIN – BKK 12/4/2012 Boeing 777-300
Cathay Pacific 771 BKK – DEL 14/4/2012 Airbus 330-300
Air India 102 DEL – BOM 16/4/2012 Boeing 777-300ER (B)
Oman Air 691 BOM – MCT 19/4/2012 Boeing 737-800
Oman Air 102 MCT – DXB 19/4/2012 Boeing 737-800
Emirates 3 DXB – LHR 21/4/2012 Airbus 380-800
Icelandair 455 LHR – KEF 21/4/2012 Boeing 757-200

But as many of you know, you never know on ID tickets and the actual route has been way different then the planned one so far. Luckily I always made plan B and even C. But that will come in later reports.

I was really looking forward and this was shaping up to be a trip of a lifetime!
The report
We woke up at 5am, got ready and took a taxi to the airport. We arrived there 5:45, just under 2 hours until scheduled departure time. After waiting nearly half an hour in line we finally arrived at the counter. There we got the news that the flight was full, and we should come again at 7:10 to check if there were any no shows. As we were getting used to this, we didn't worry but instead went to KFC and got ourselves a bacon twister along with a Coke. (healthy, I know... it was the only restaurant open you know...
)
When we arrived again at the counter, this was the flight status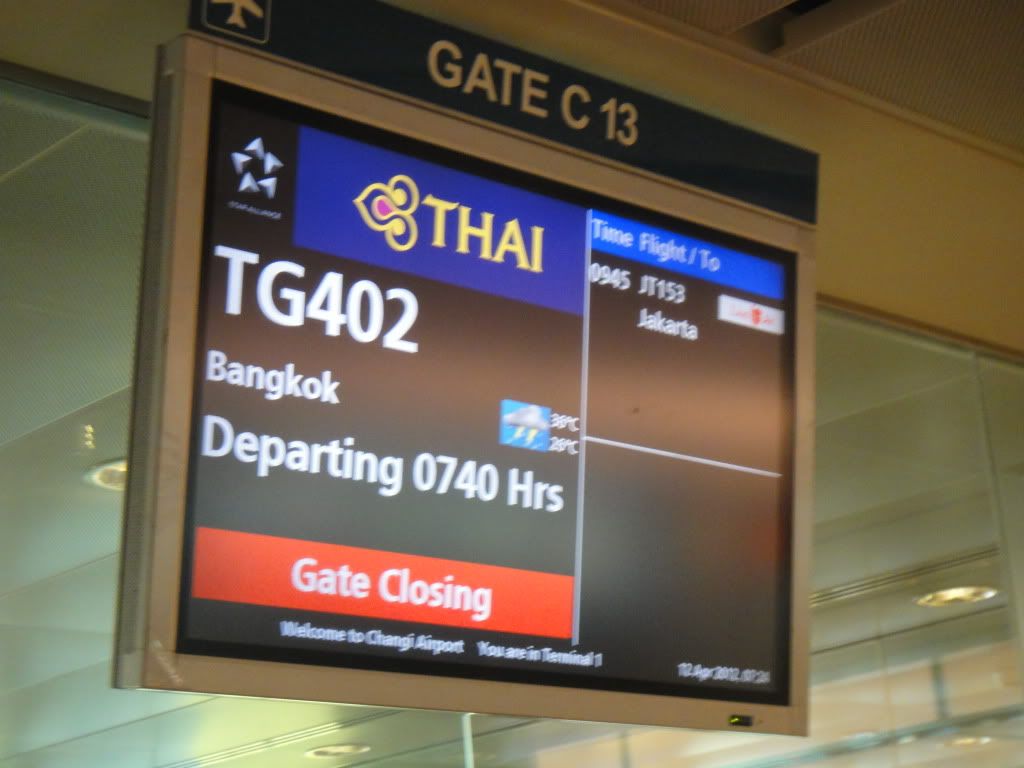 Luckily 44K and 57K, windows, were open so we took the tickets, ran to the gate, through security at the gate and boarded. We made it!
Our 772 (non-ER) sitting in the beautiful early morning light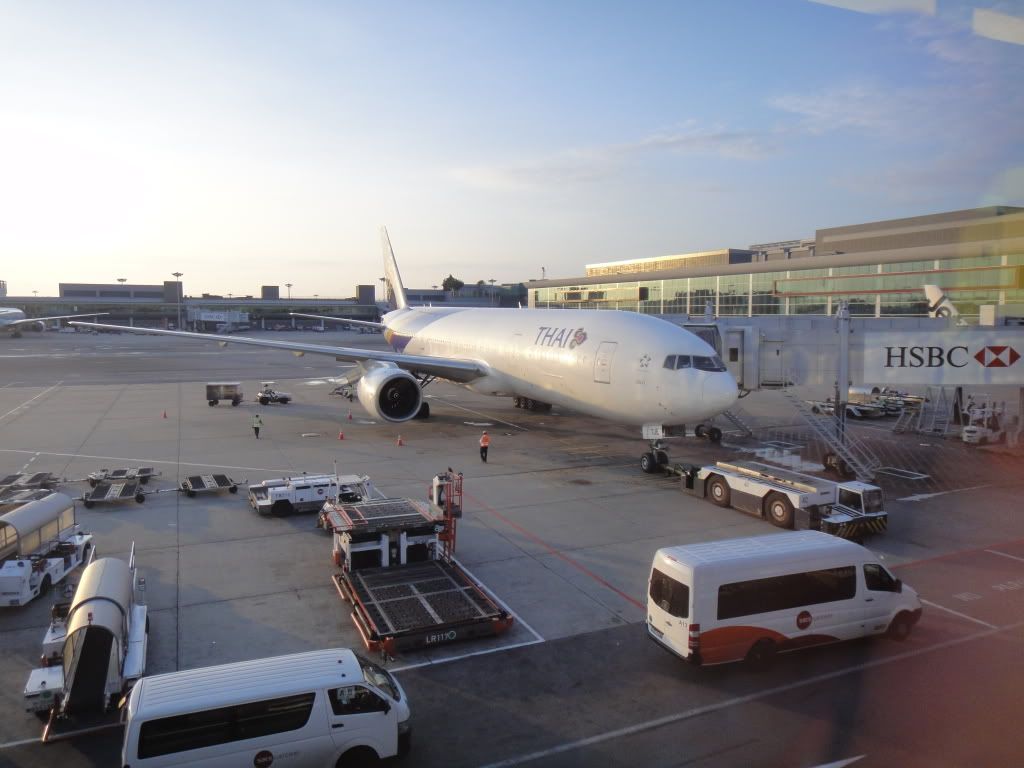 Closer look – TJE, so the reg is HS-TJE. Of course a new one for me.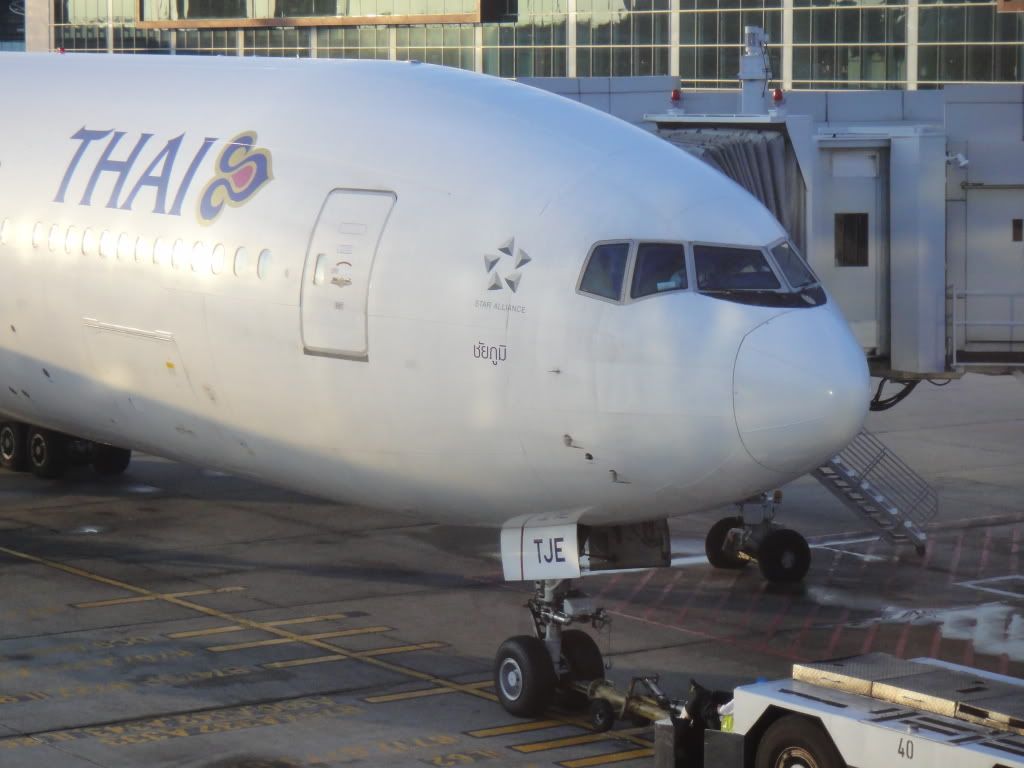 Now this is a REAL widebody!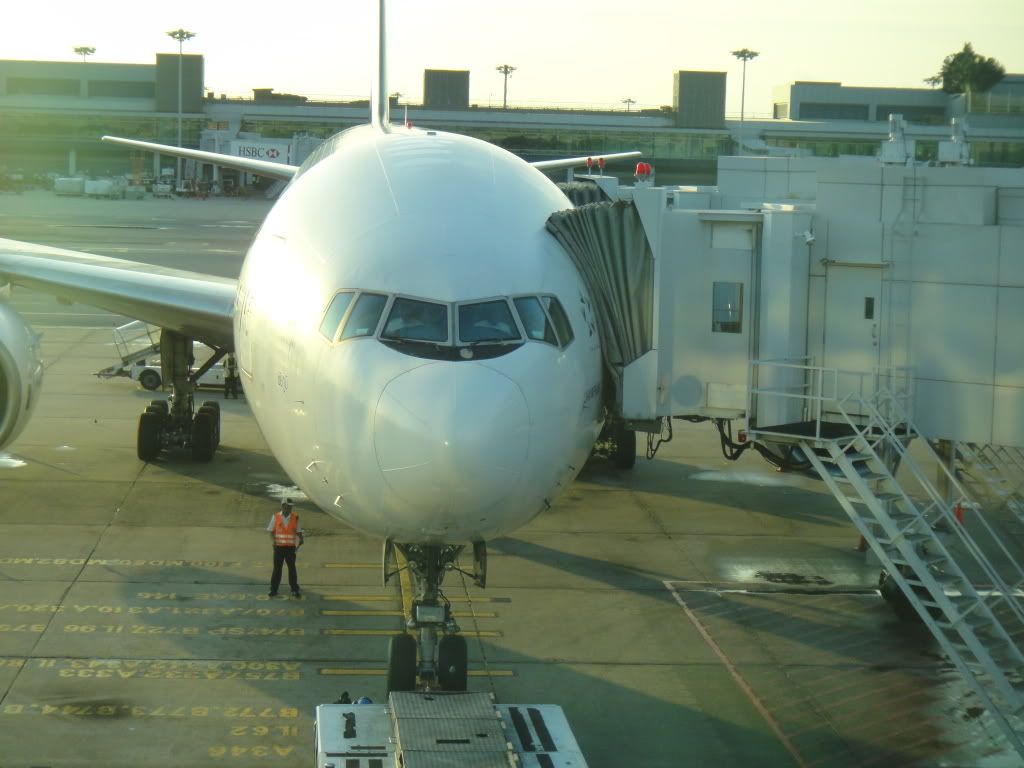 Flight information
Date: 12. April 2012
Airline: Thai International Airways (TG/THA)
Aircraft: Boeing 777-200
Registration: HS-TJE
Flight number: TG 402
From: Singapore Changi International Airport (SIN/WSSS)
To: Bangkok Suvarnabhumi International Airport (BKK/VTBS)
Runway at origin: 20C
Runway at destination: 19R
Sched/Act departure: 7:40/7:48
Sched/Act arrival: 8:55/8:59
Blocked time: 2 hrs 15 mins
Flight time gate to gate: 2 hrs 11 mins
Flight time RWY to RWY: 1 hrs 55 mins
Seat & Class: 57K, Economy Class (Y)

Personal information
My 223rd overall flight, 14th in 2012
My 1st flight on TG, 1st on TG 777, 1st on TG 772
My 3rd flight on 777, 1st on 777-200, 1st on 772 (non-ER), 1st on HS-TJE
My 45th airport
My 27th airline
I boarded and walked all the way back to 57K in the back Y cabin. Not the last row, but close to it.
Look outside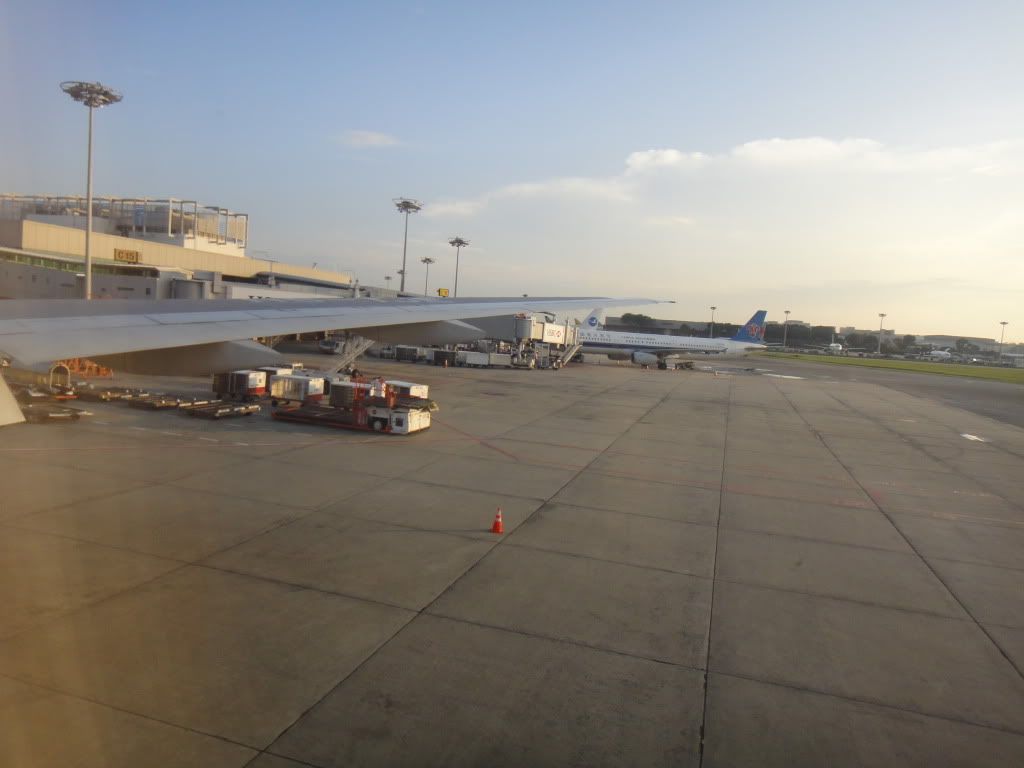 B-6308, a 321 of CZ
JetStar 320 taxiing out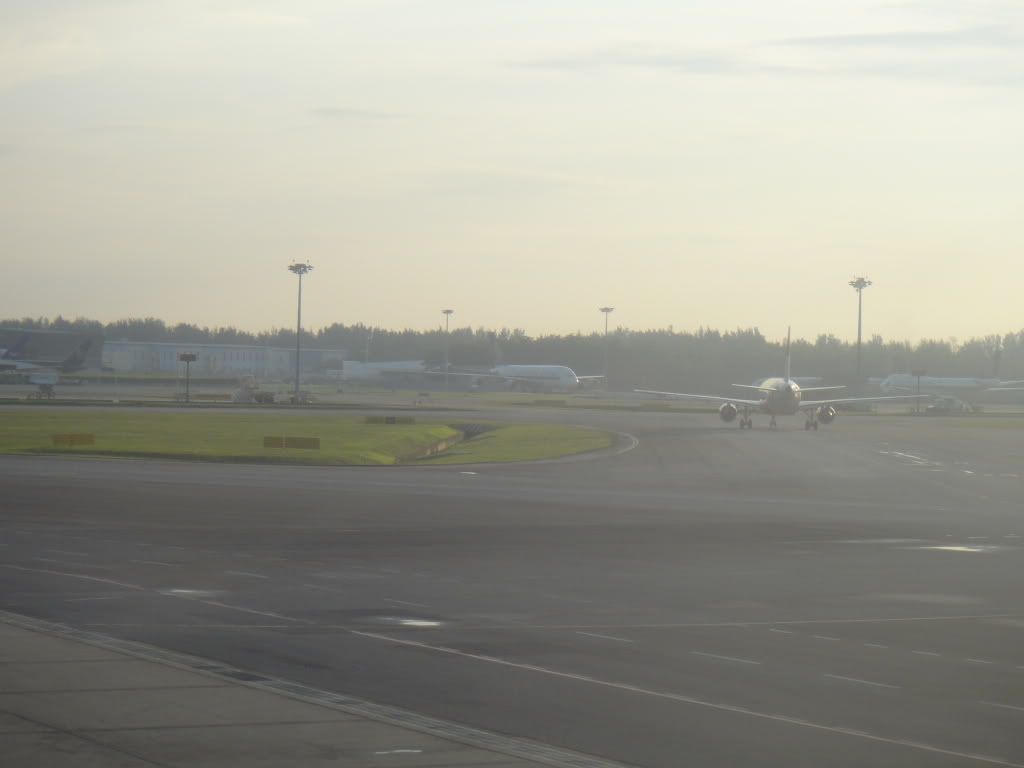 SQ 777 taxiing out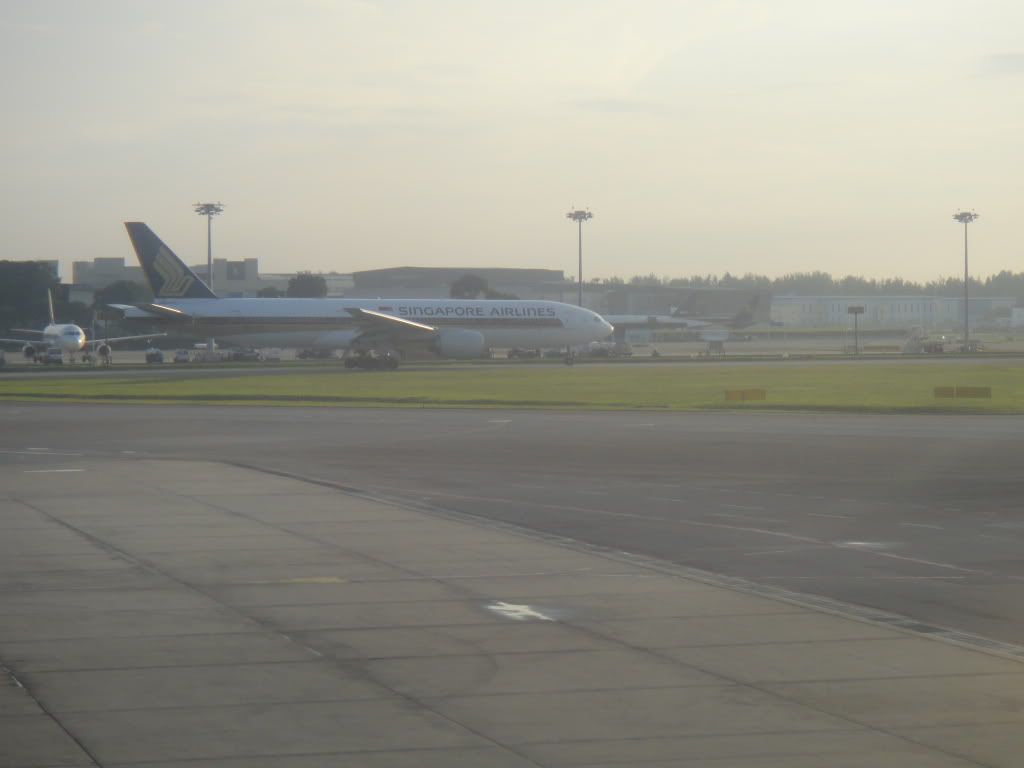 Pushback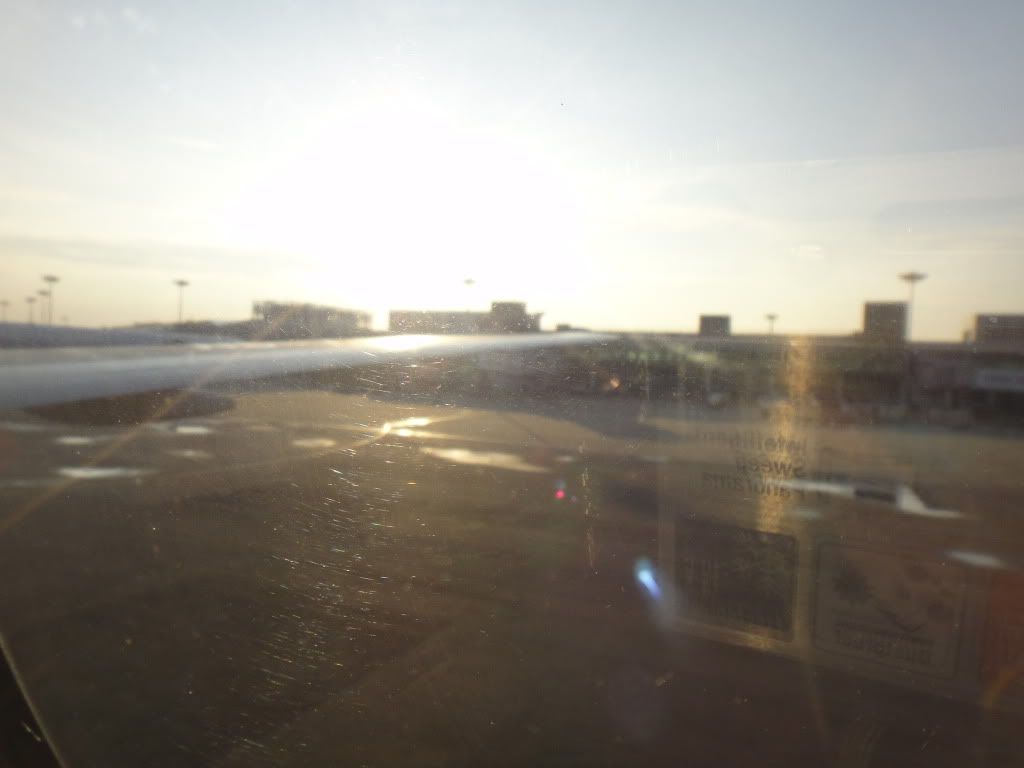 Takeoff video:
http://www.youtube.com/watch?v=HkN_CazSnyE
Steep climb out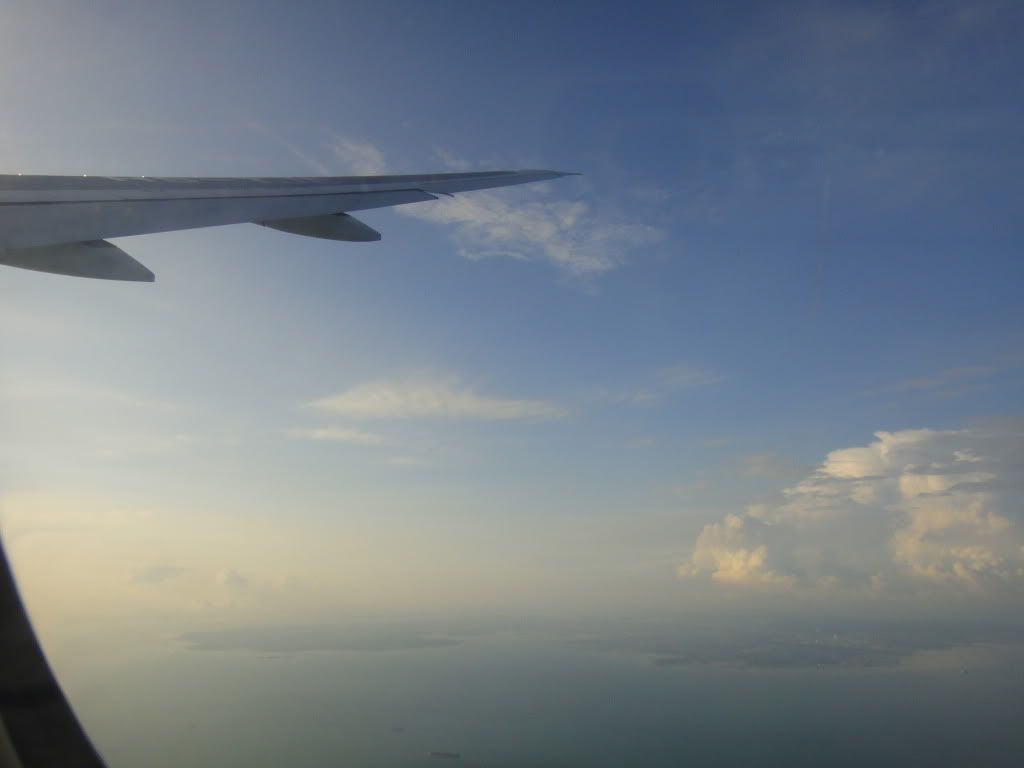 Wing nicely lit up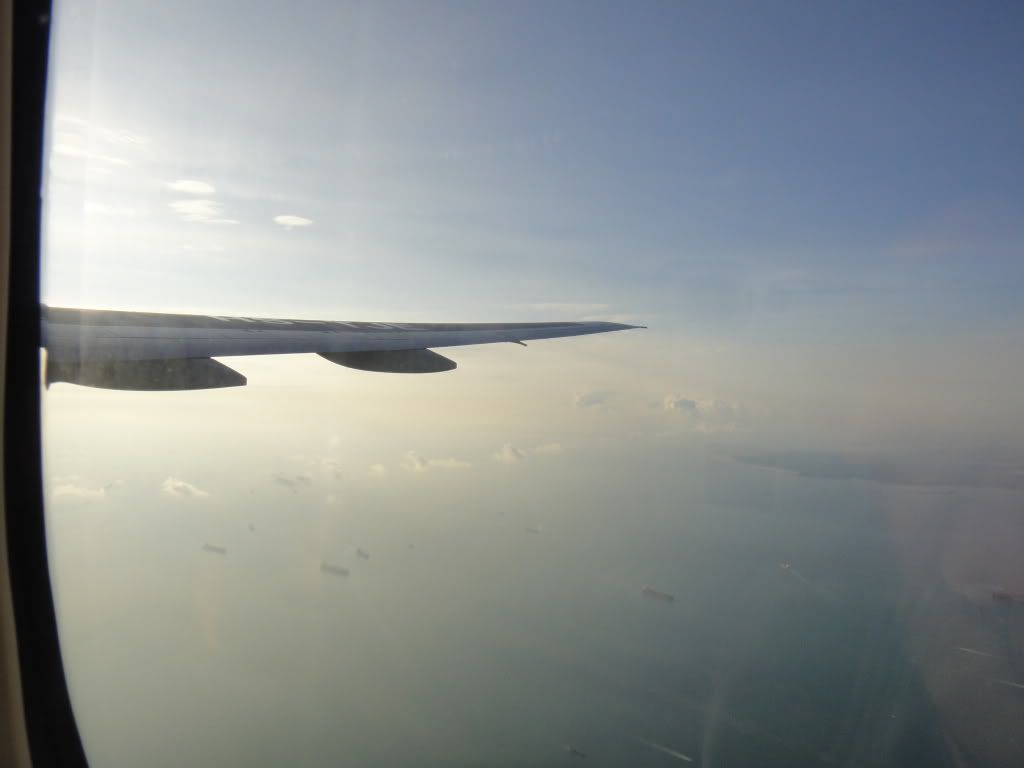 You can't miss the reg on TG!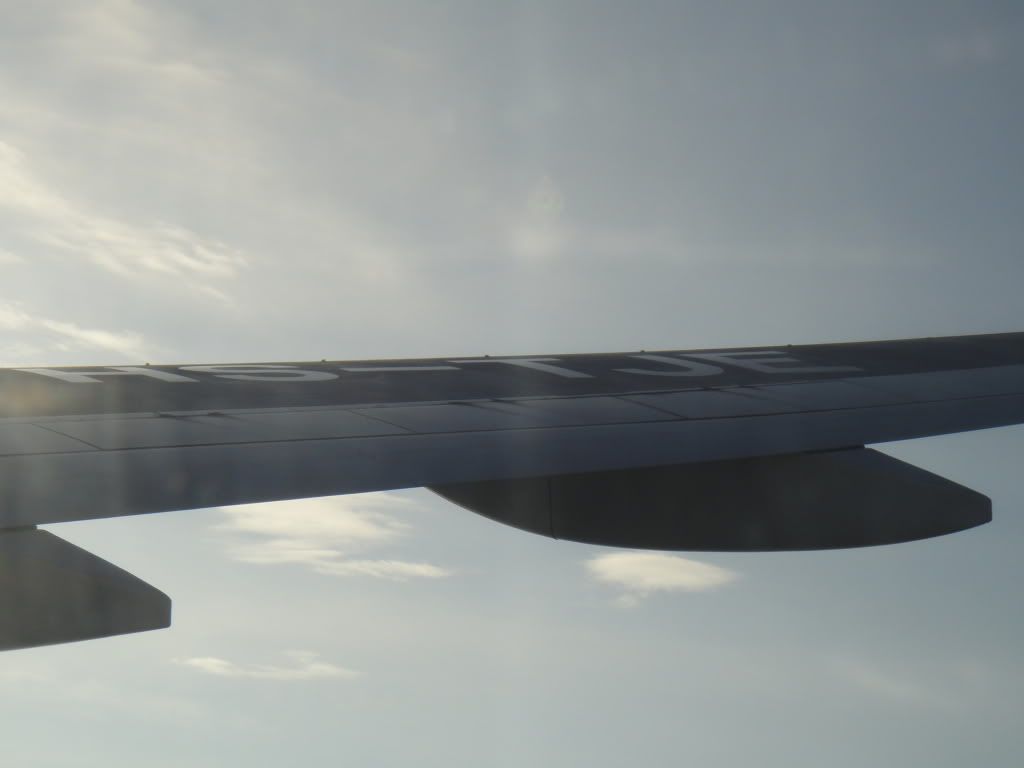 Some interesting cloud formations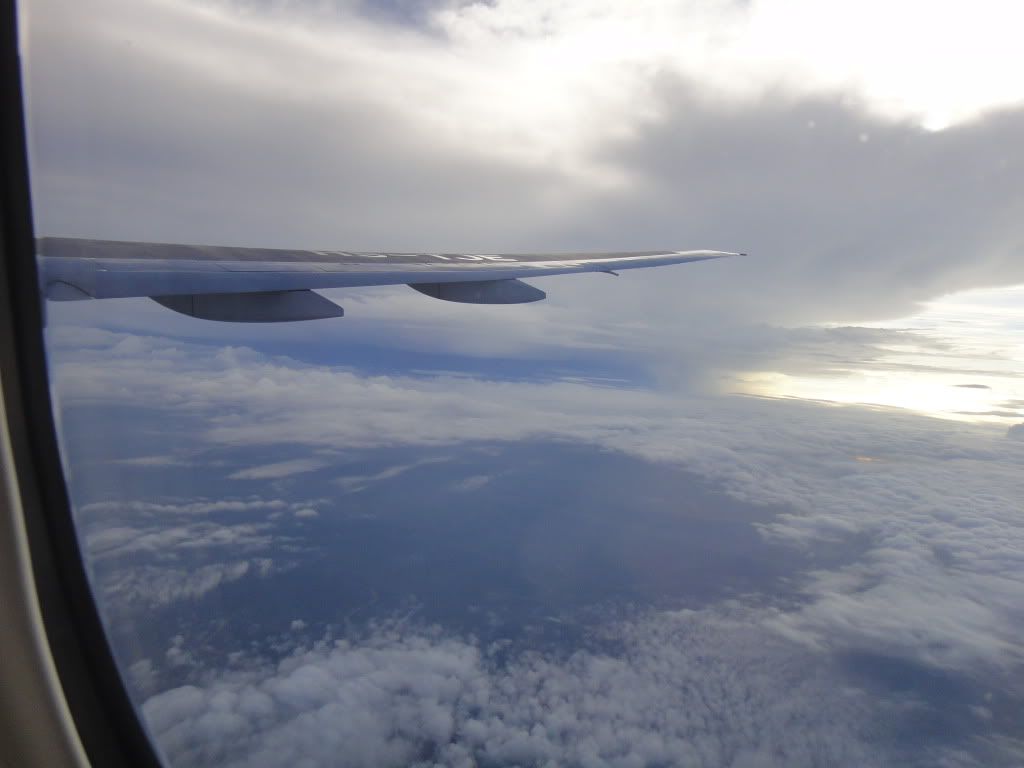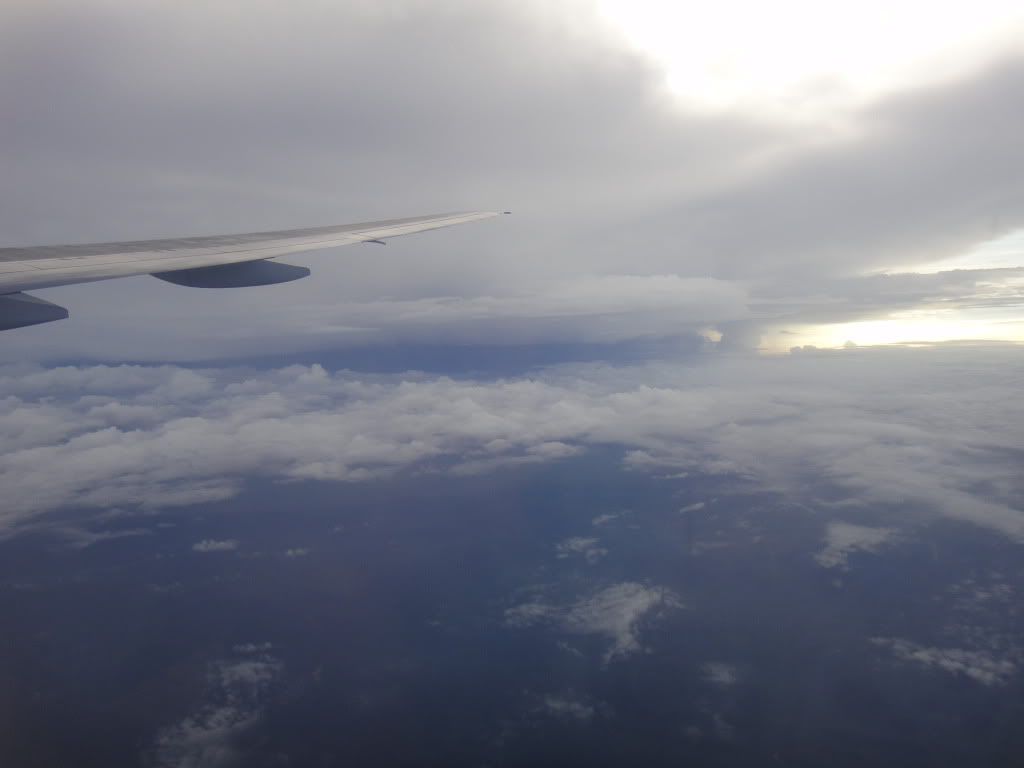 Breakfast service started around half an hour after takeoff. I got the question "Wok Halakirikalsasaaraisio Chicken (or something like that) or Vegi?". As I'm not a vegerian by any means, I chose wok something instead. That ended up being a not so wise decision, as the chicken was cold and way too wet in the cold rice sauce covering it. I didn't like it at all! Maybe it's a traditional Thai thing or something, but it tasted wrong in some way... The 2 Thai guys sitting beside me seemed to love it though.
Pic of the breakfast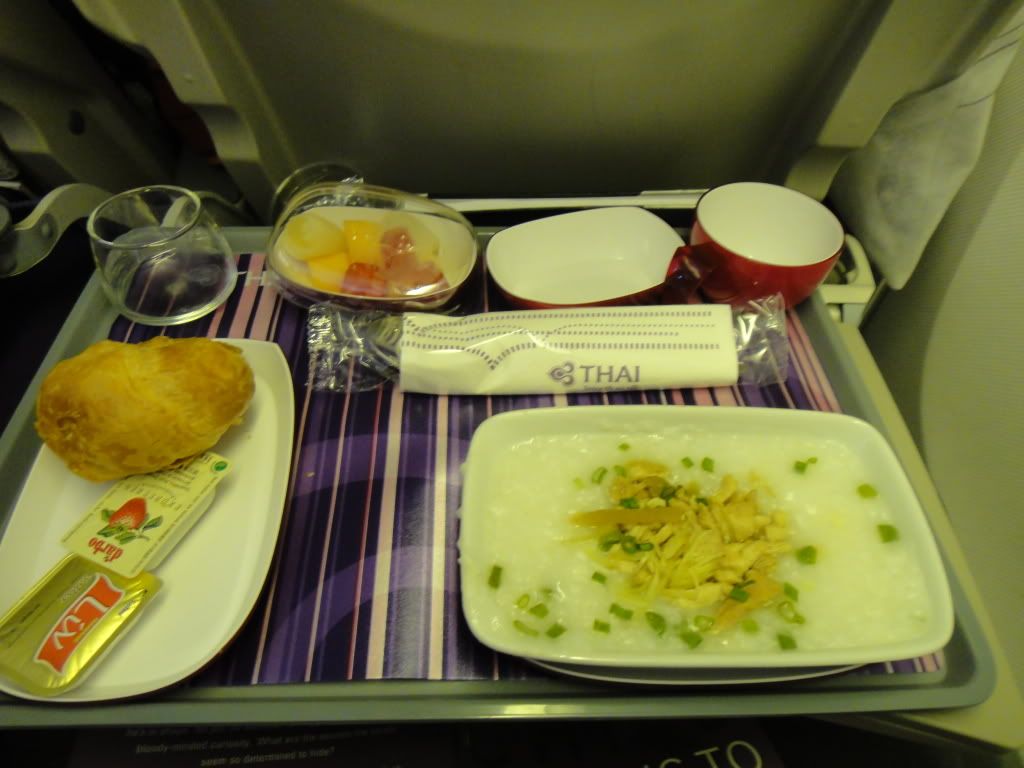 Enough legroom on this bird – the great thing though was the generous recline, the seat reclined way back so you could really relax!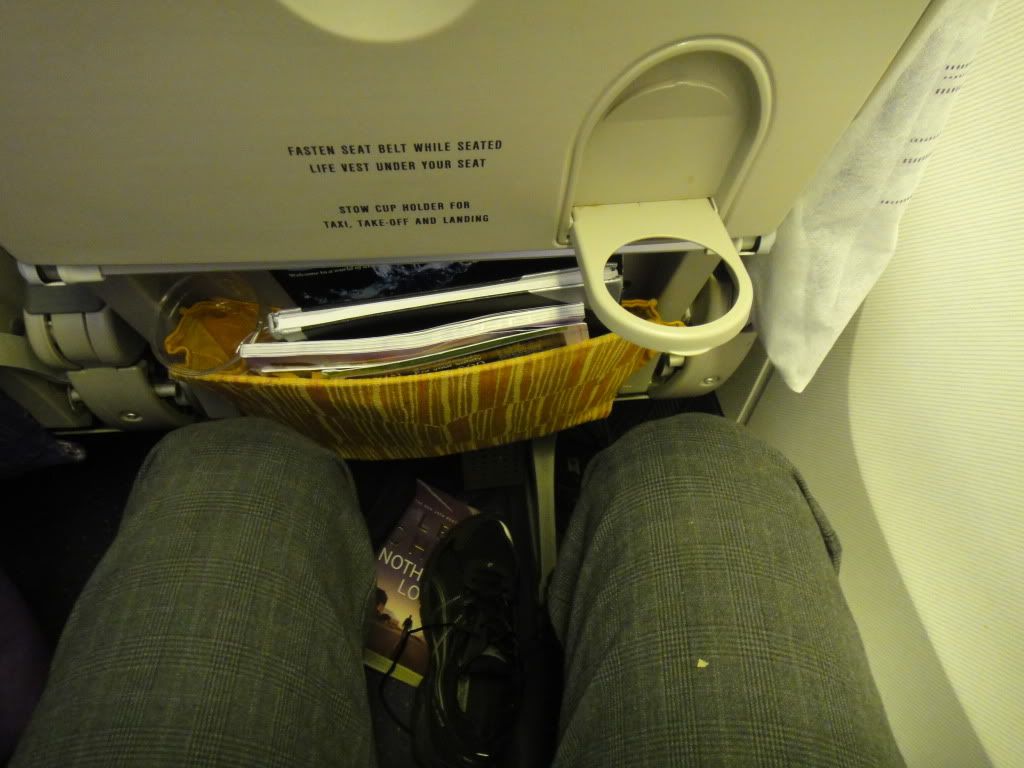 Starting our descent
Speedbrakes up over the green fields around Bangkok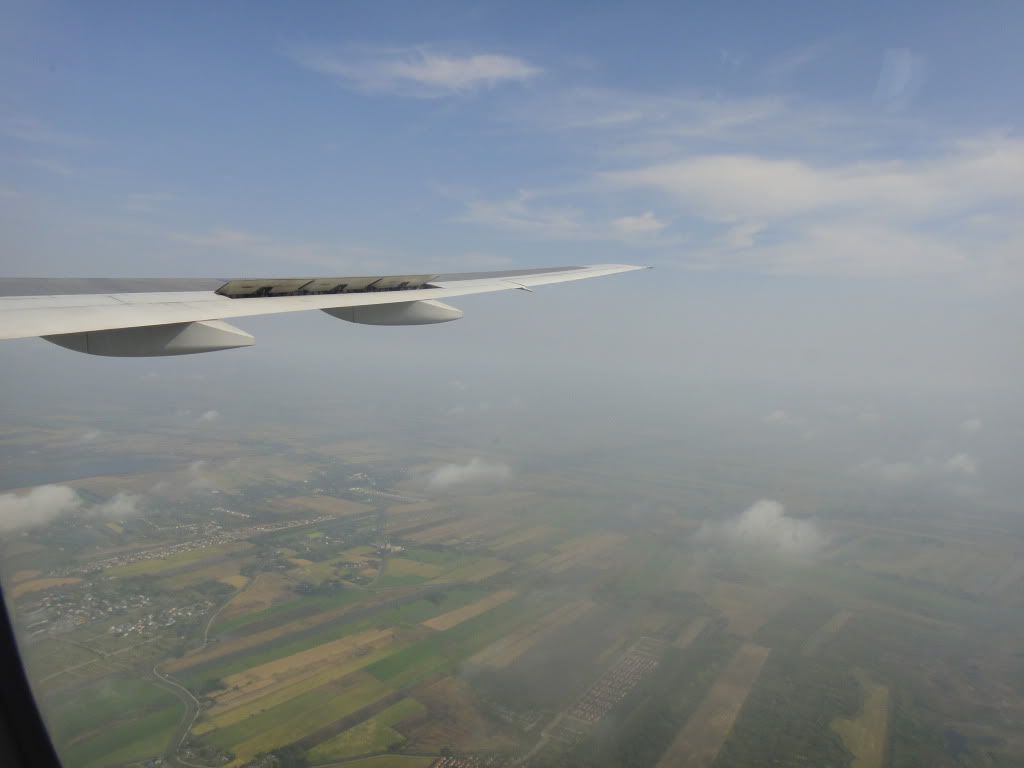 On finals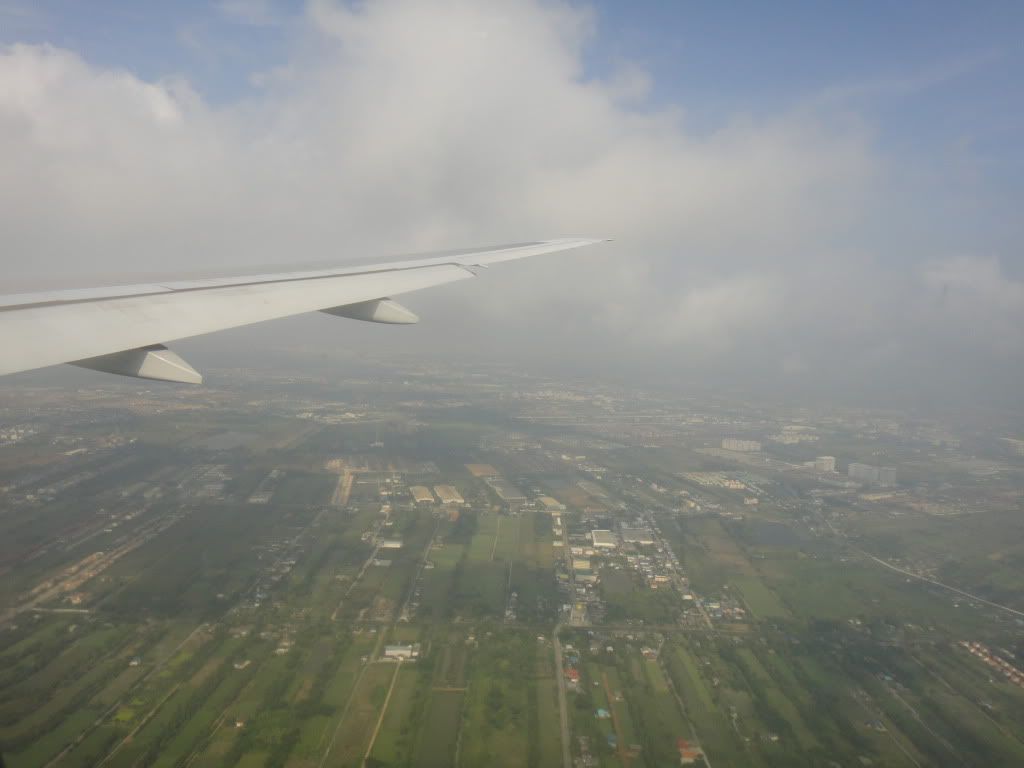 Landing video:
http://www.youtube.com/watch?v=xQDZyGInJJ8
Something I'm not used to – water between taxiways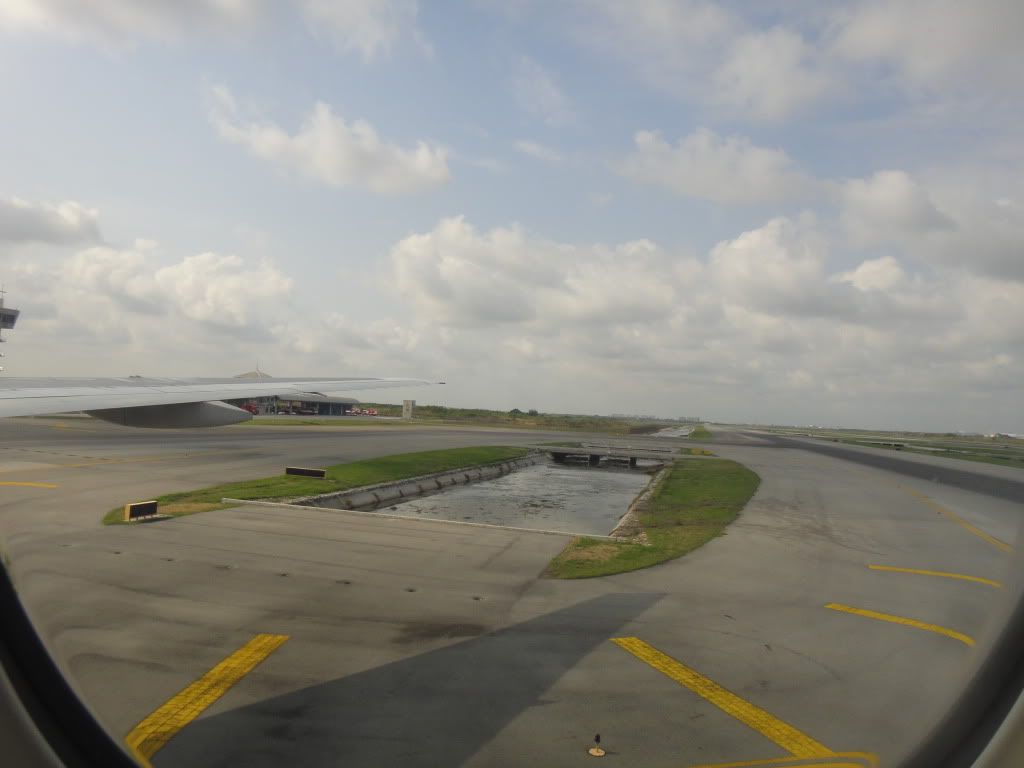 Well, thank you!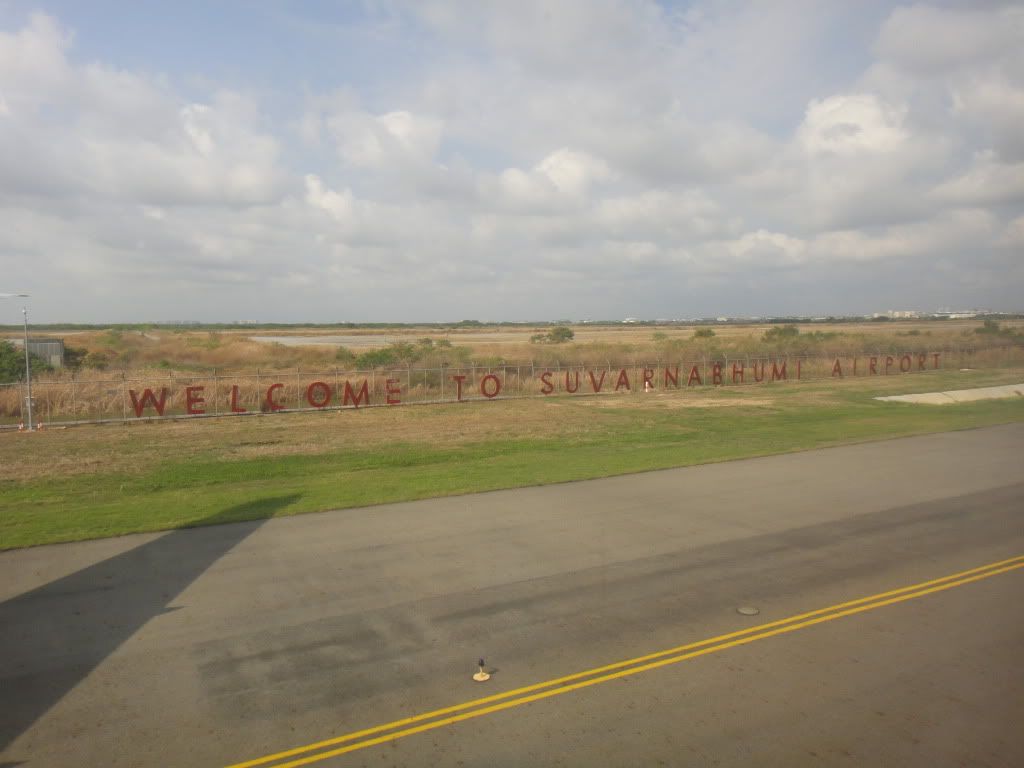 Flaps are up now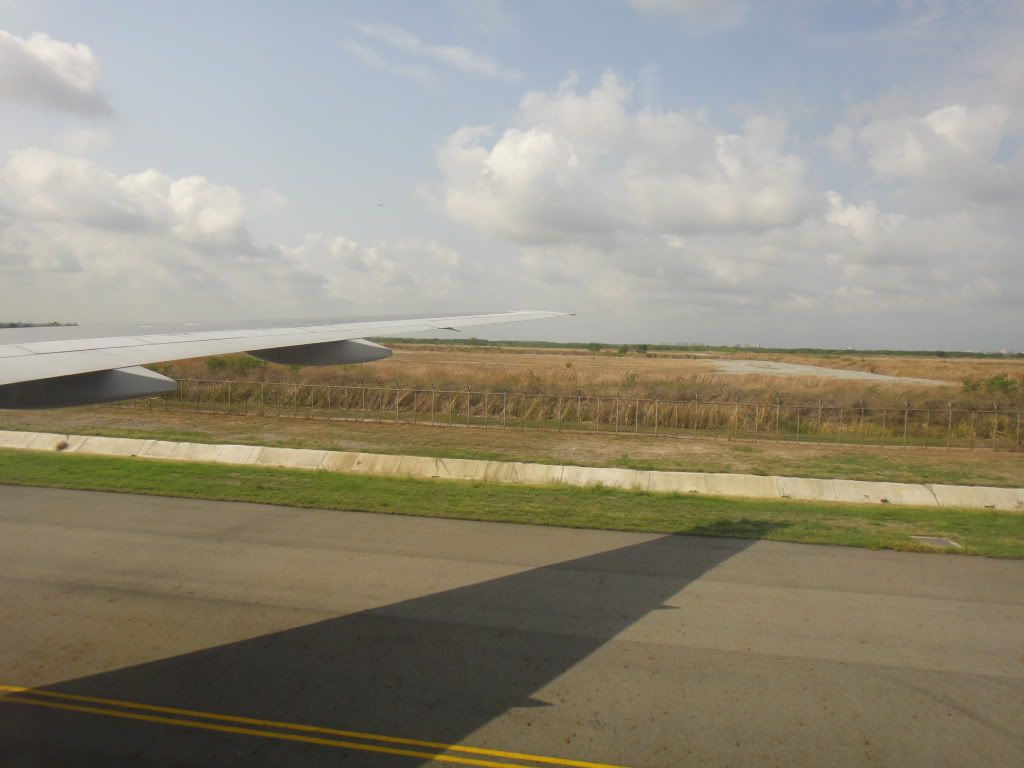 The truly beautiful Thai A345. A sight I've always dreamt to see ever since I saw a pic of it taking off in ZRH on a.net 8 years ago!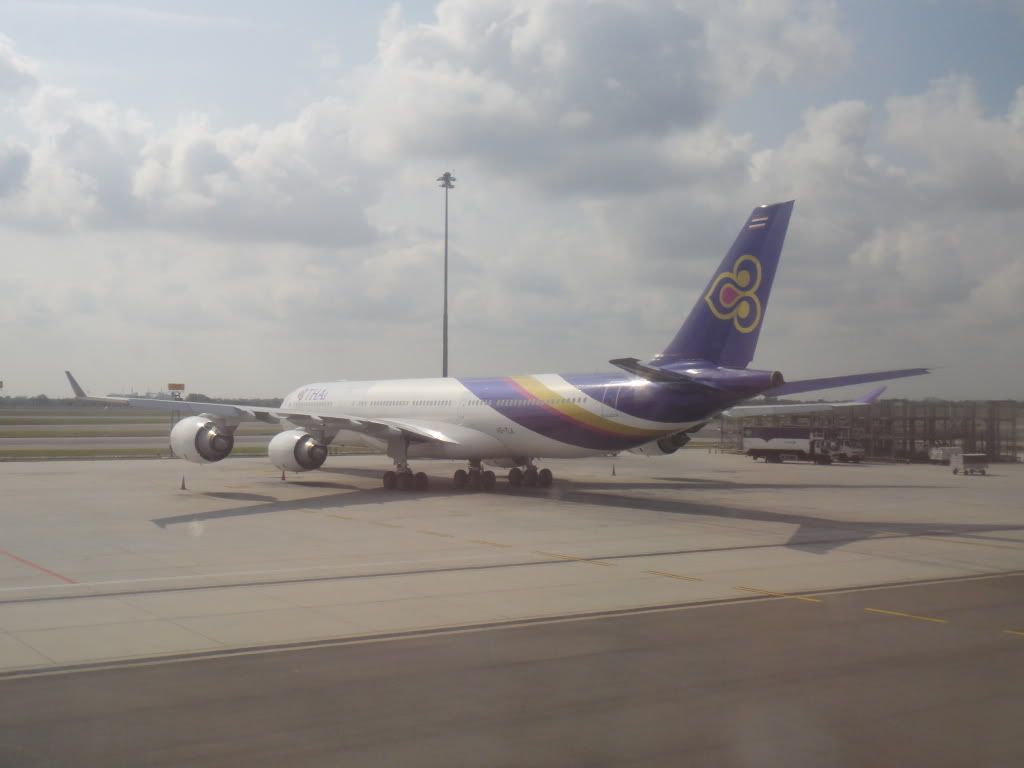 A sistership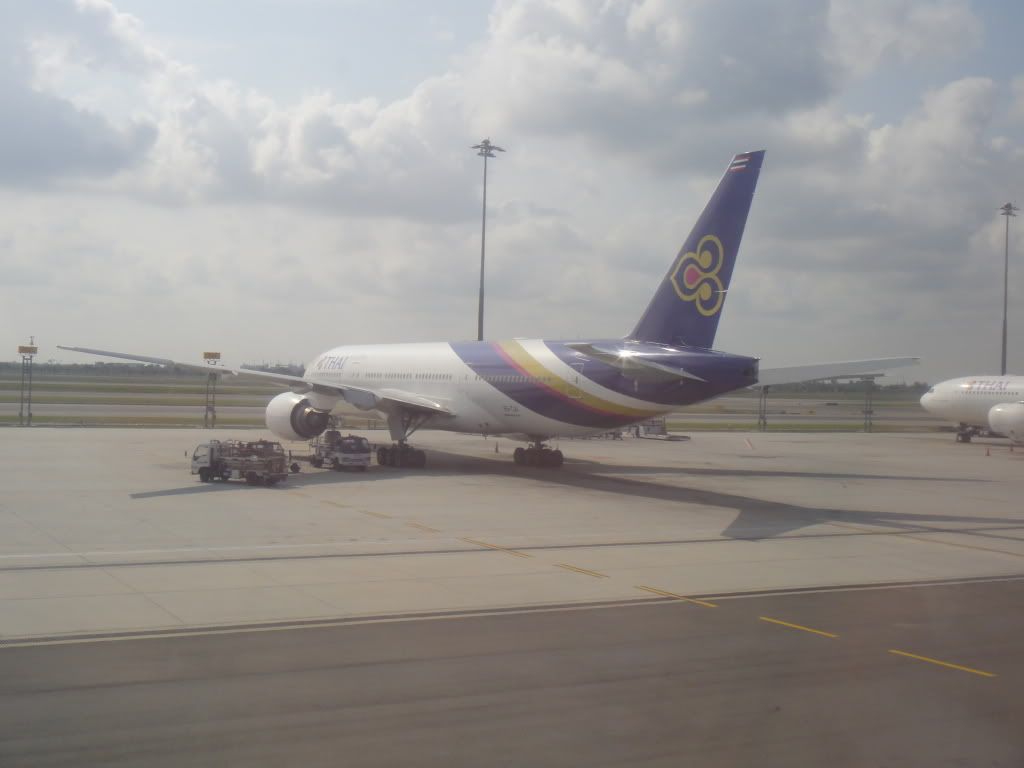 AB A330, you're far away from home my dear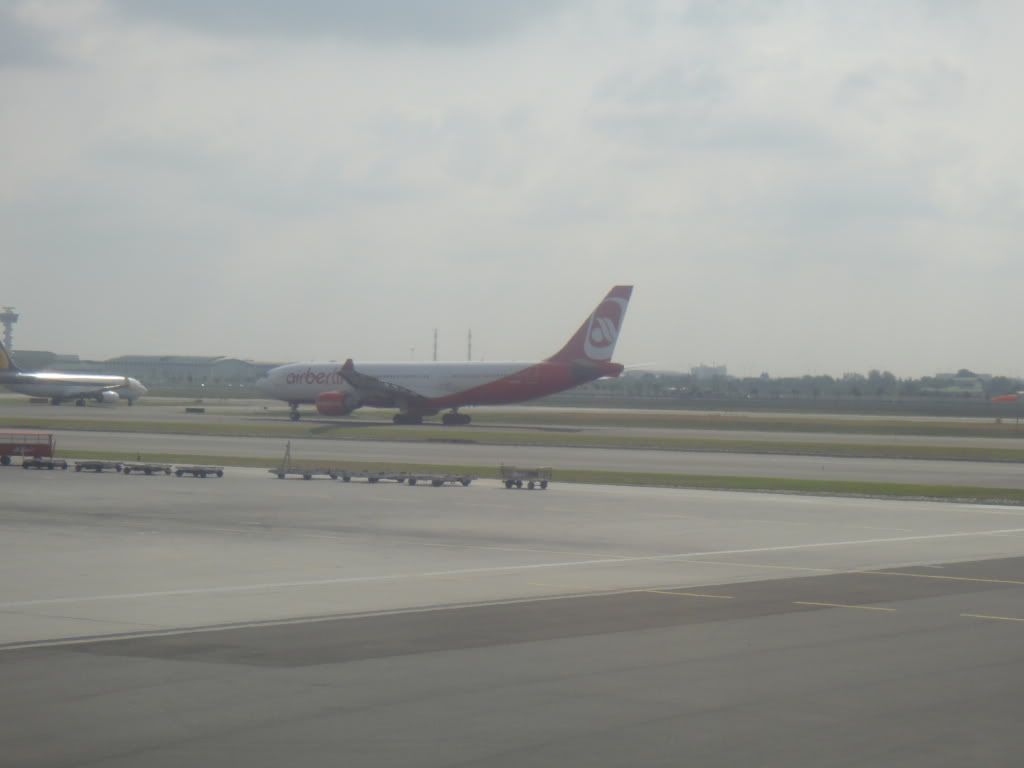 Taxiing past the nice terminal structure
TG 734 domestic bird sitting at its gate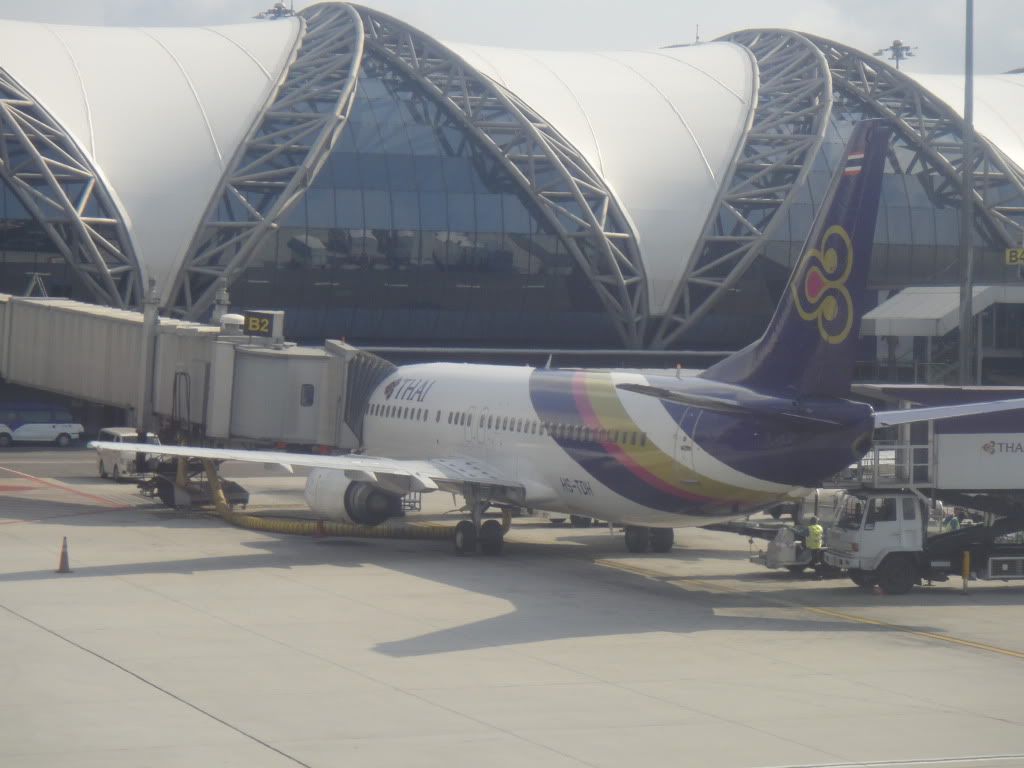 Parked at the gate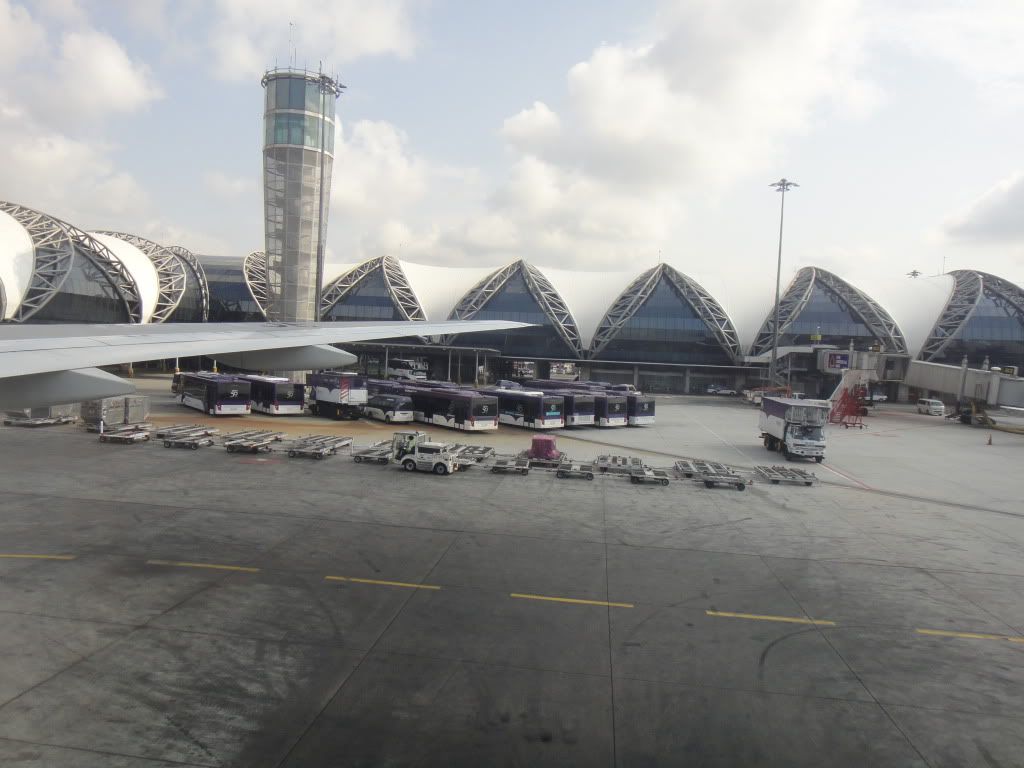 Another look at the classic 737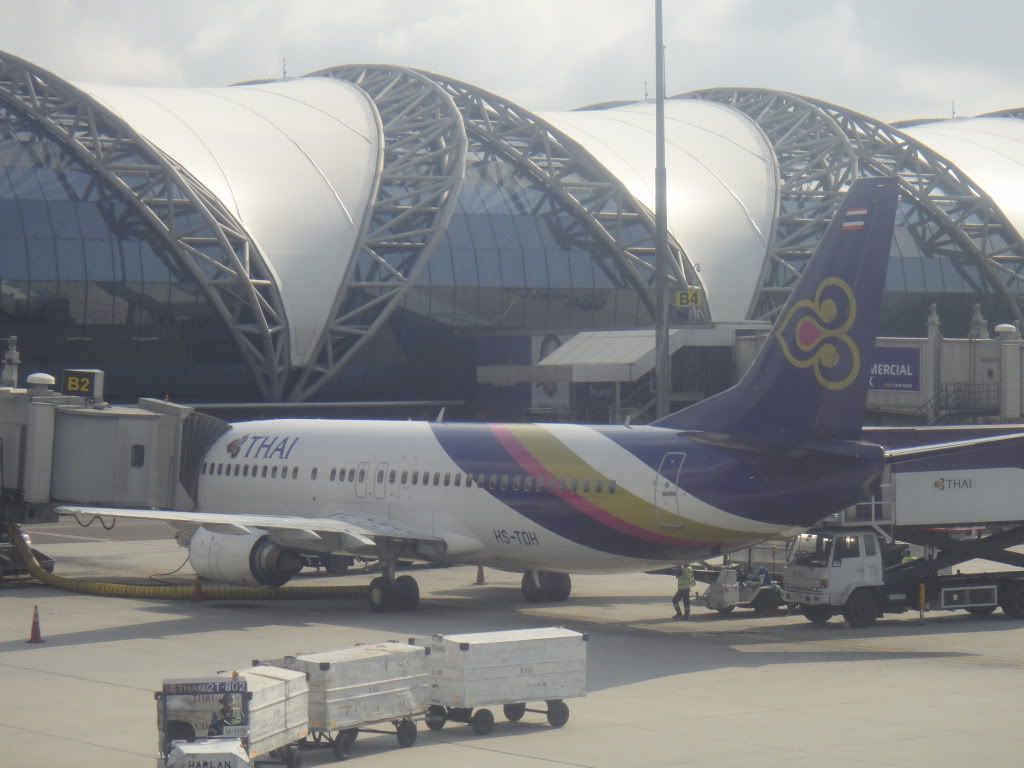 It took a while to connect the jetway but when that was completed, everything went fast and smooth.
The nicely coloured seats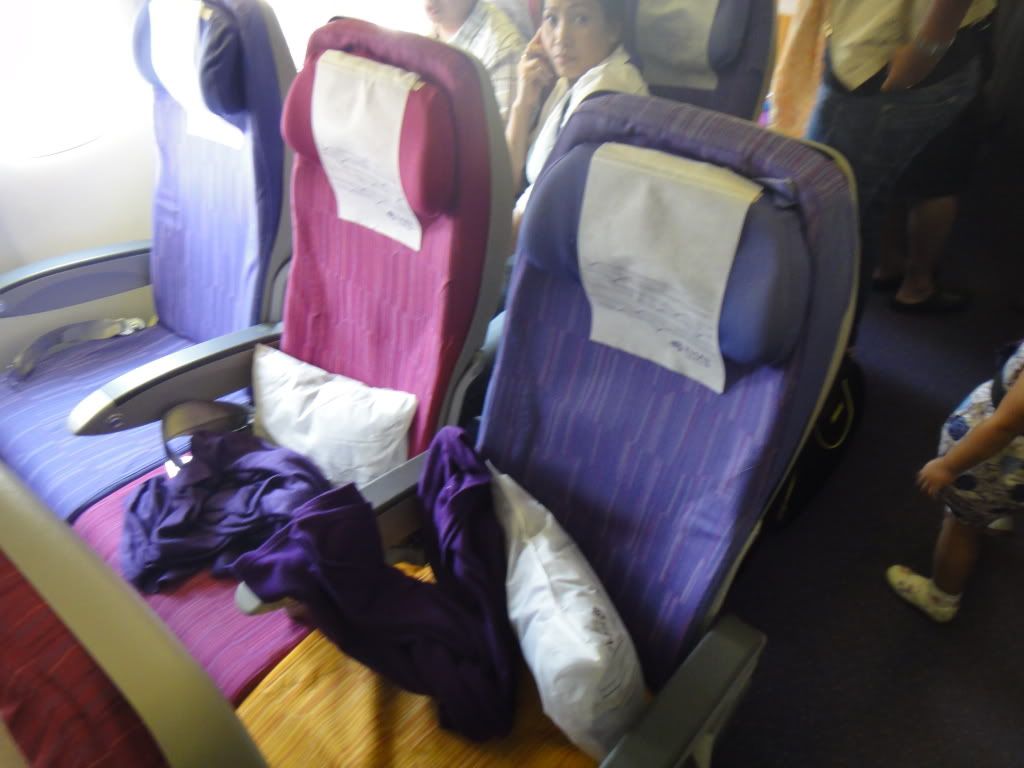 Best pic I could get of our 777 – you can say many nice things about Suvarnabhumi, but it isn't convenient for picturetaking!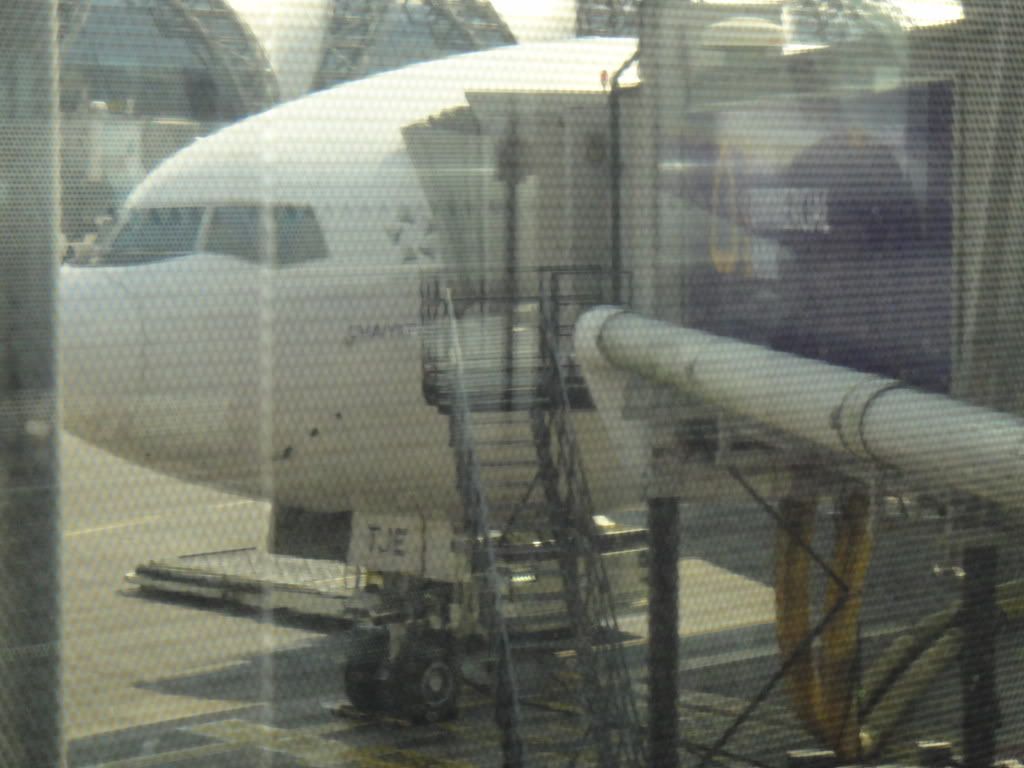 Bye TJE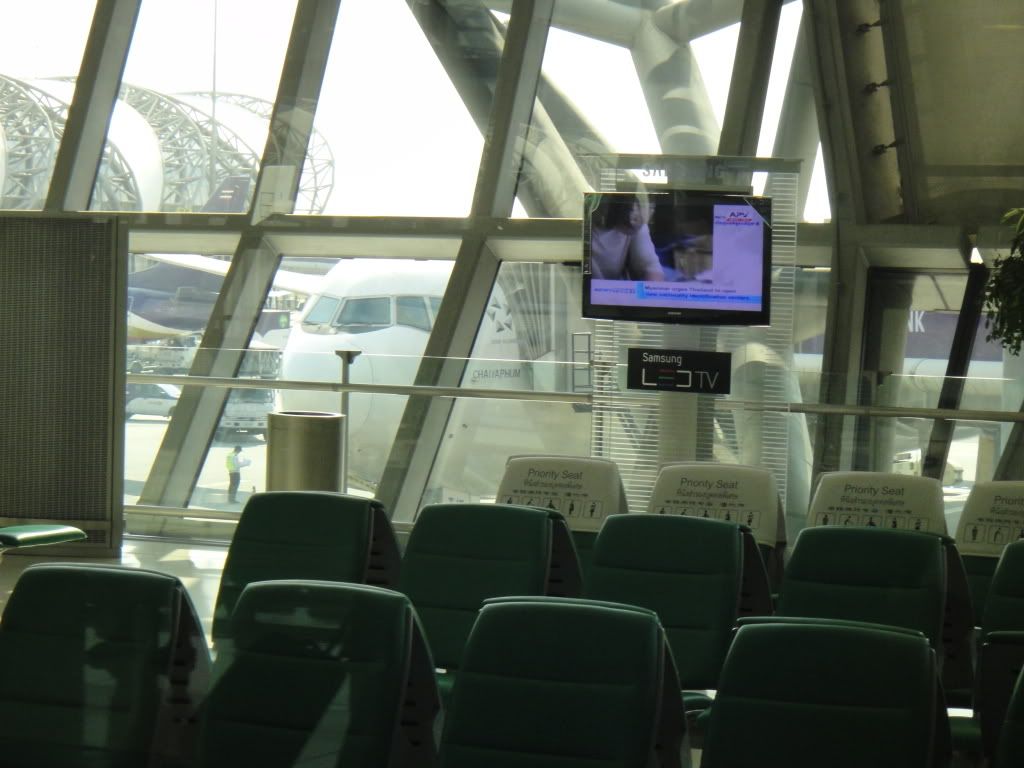 After going through immigration we decided to go to the "observation deck" which turned out to be a bench inside the terminal on 7th floor overlooking some gates. As it was inside and wasn't close to the gates, it wasn't any good for taking pictures. I'm gonna show you some sights from there anyways.
SU 332 taxiing out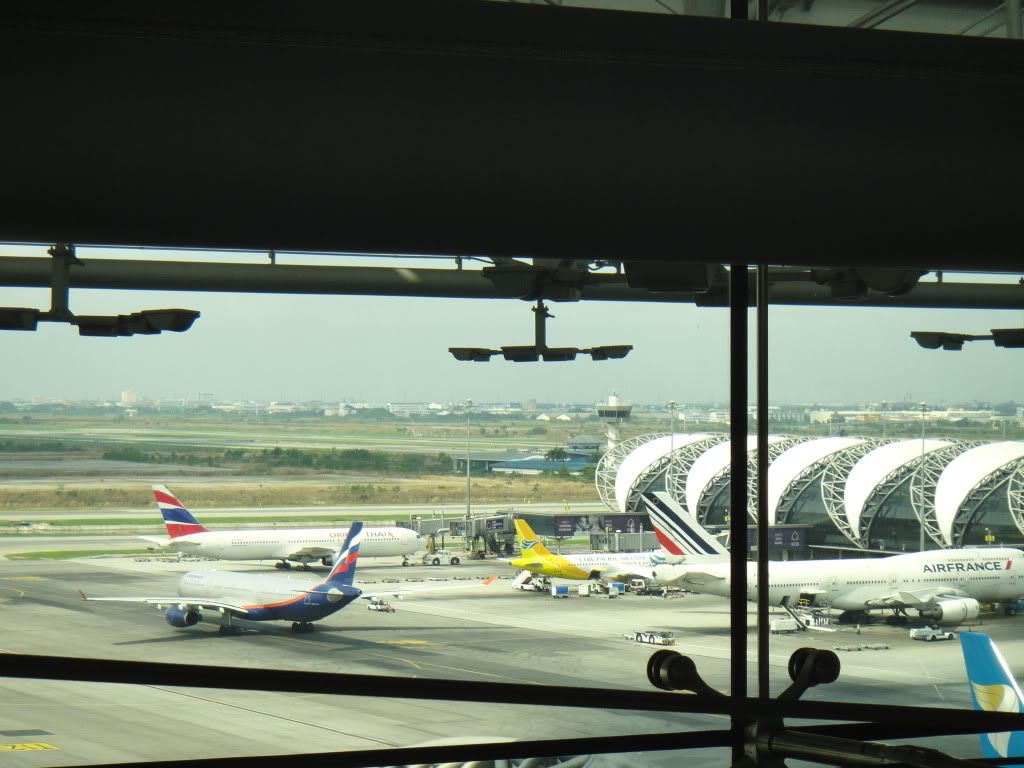 Some locals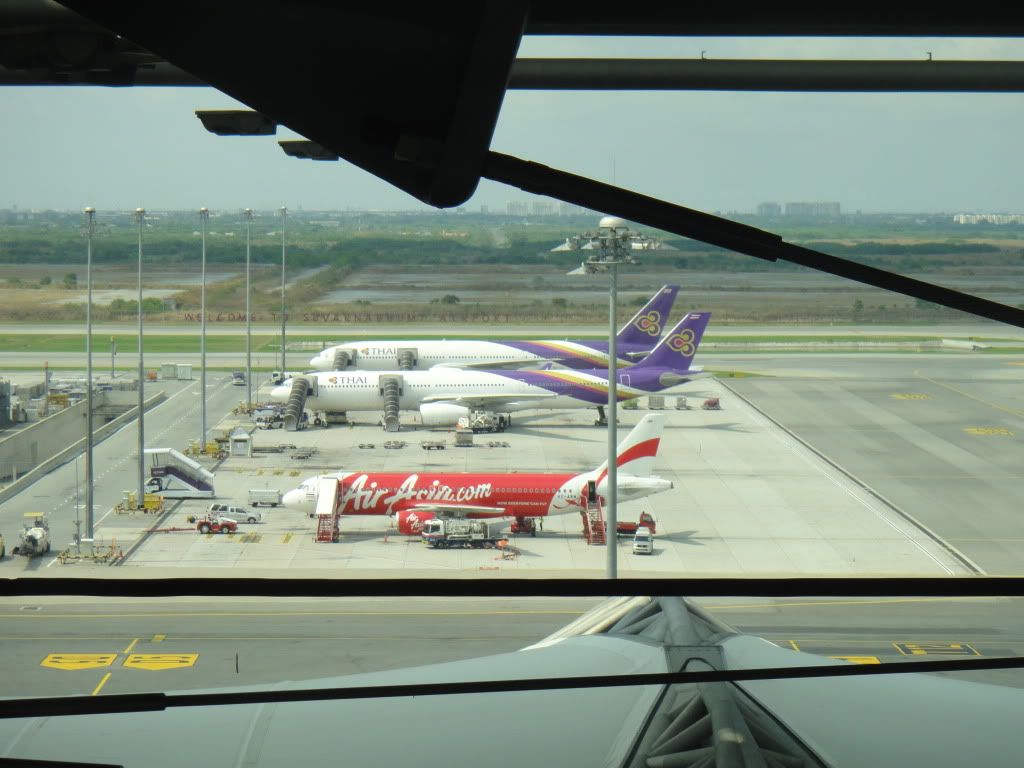 TG A300 taxiing in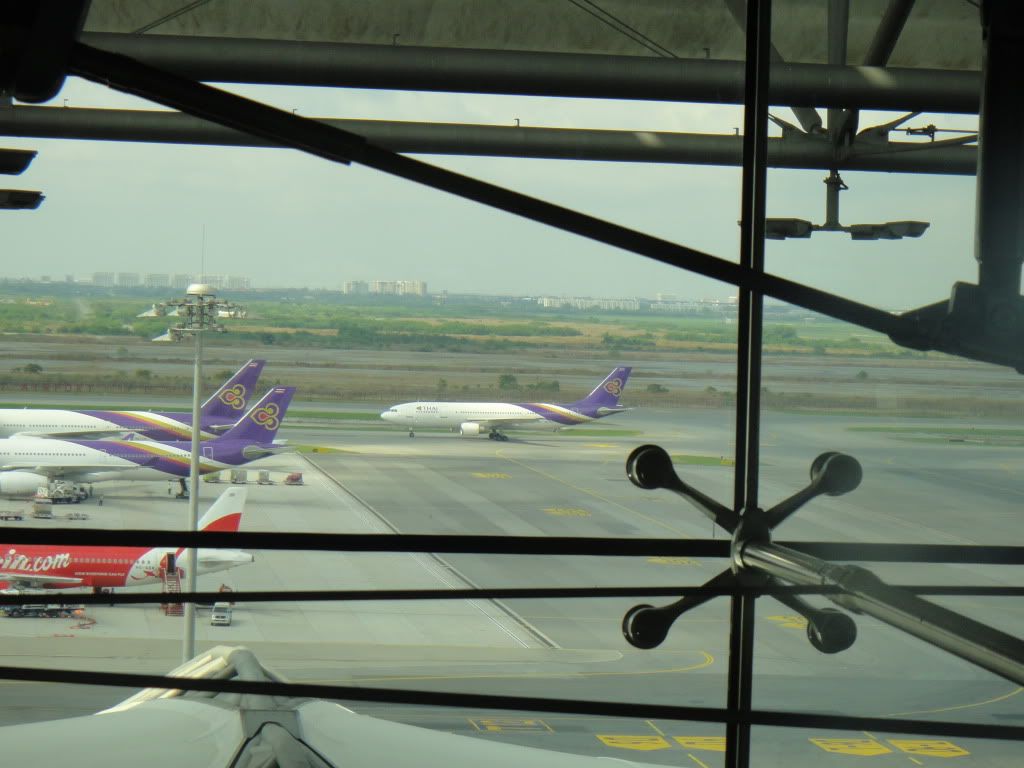 NCA 74F taxiing in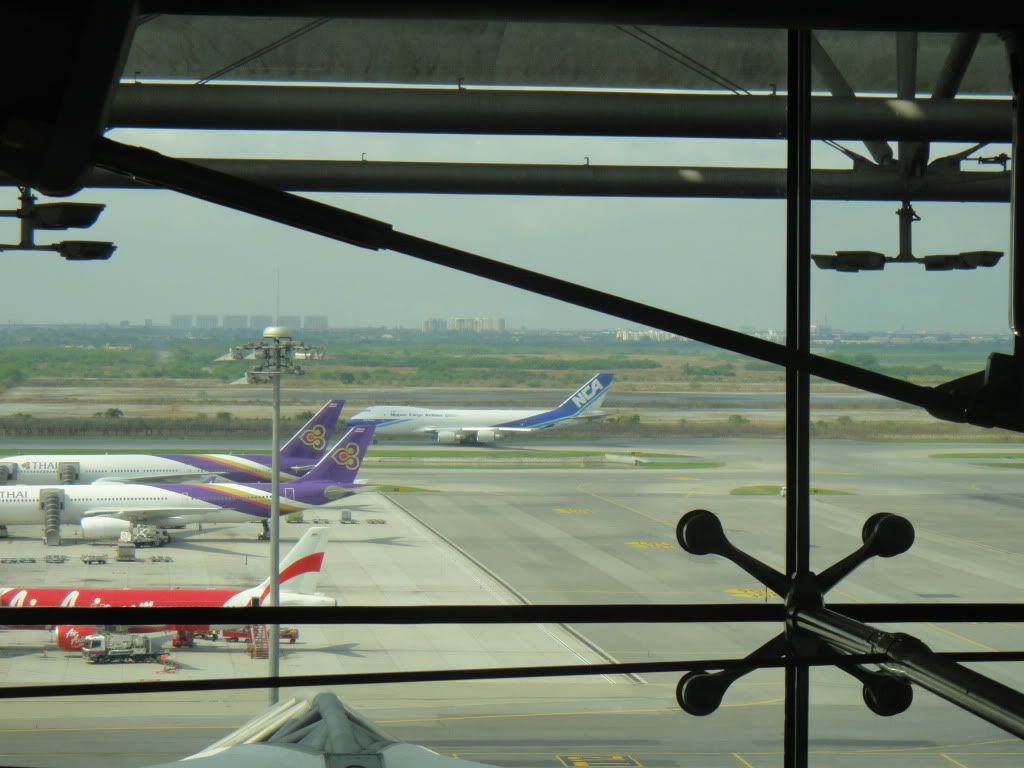 PR A333 pushing back – I would love to fly this airline sometime!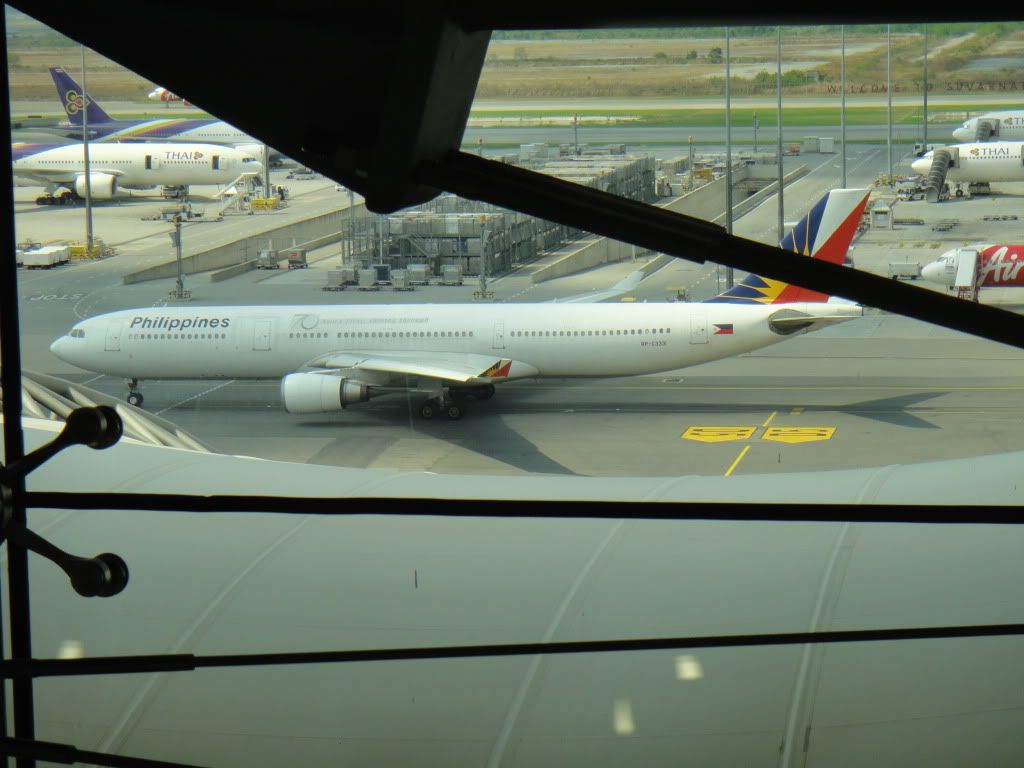 A nice surprise – this classic 747 of Orient Thai arrived at the gate that the PR 330 had occupied before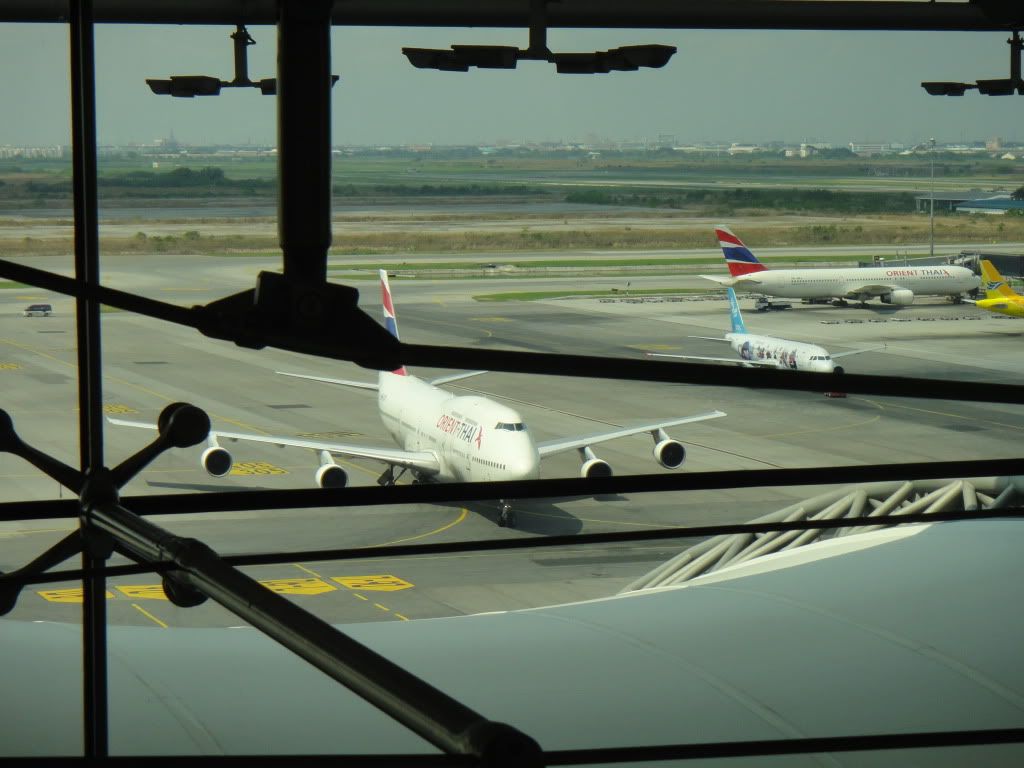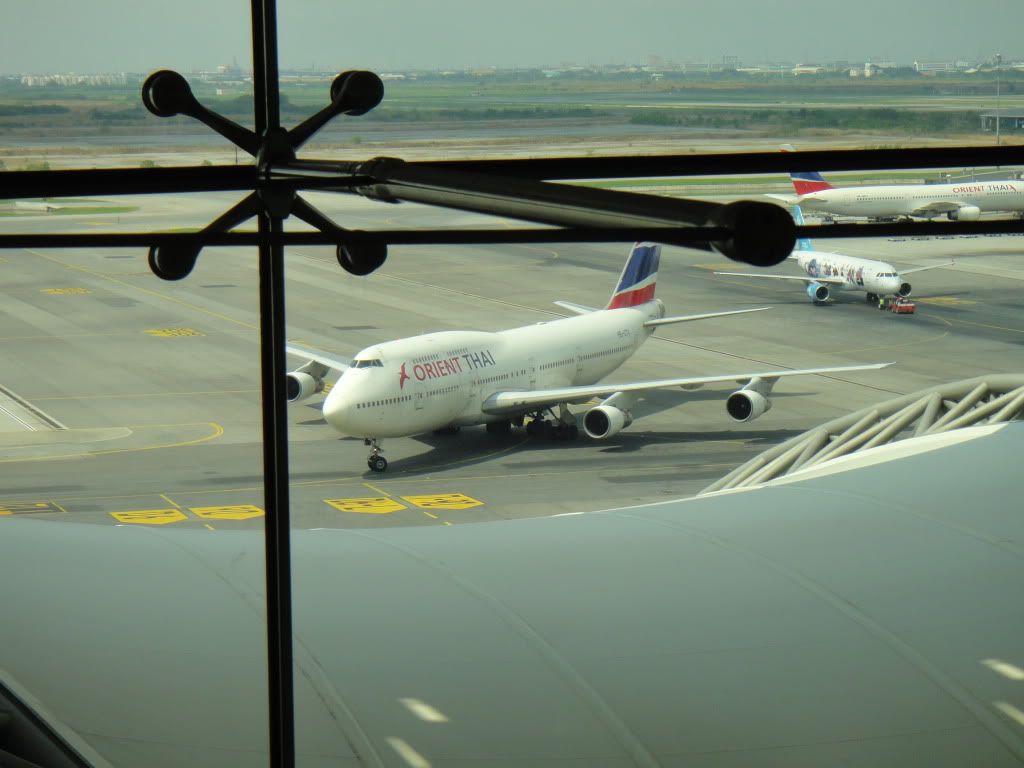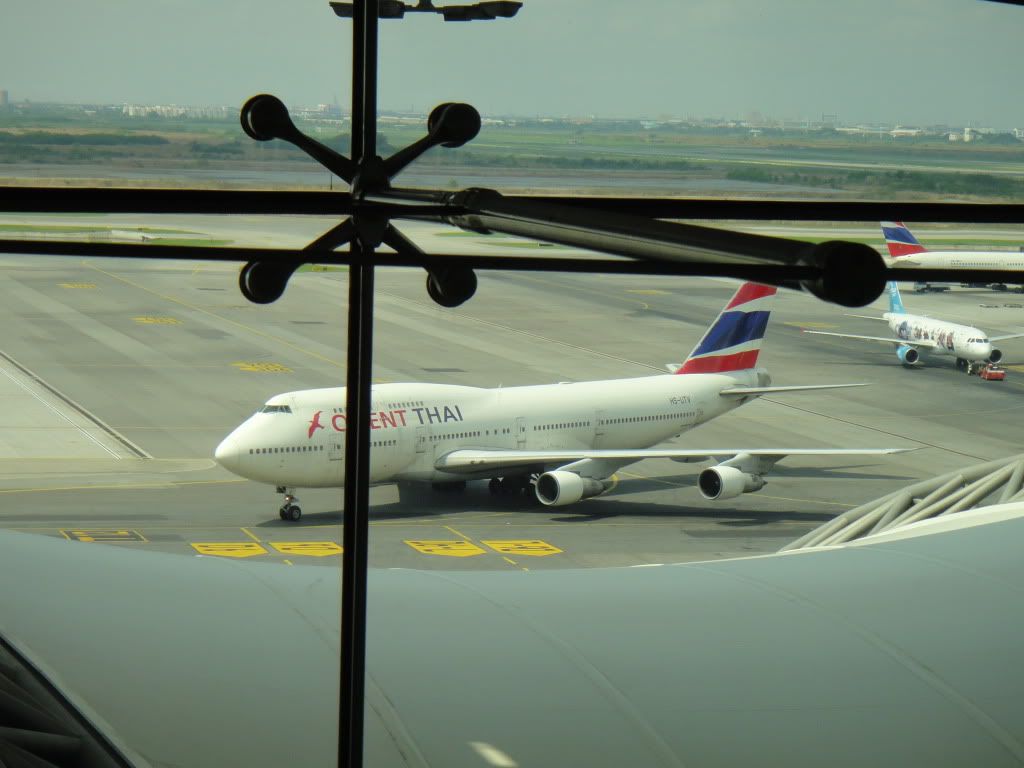 How many special liveries does Air Asia have? One of their 320s in special paint taxiing out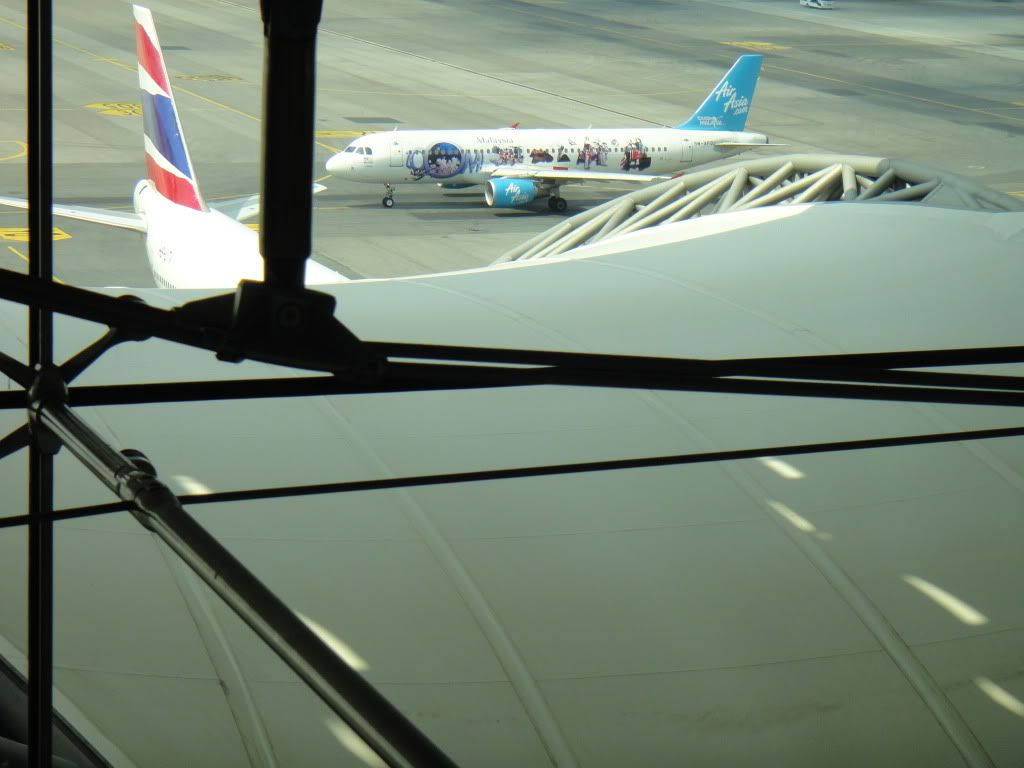 At this point, we thought that we had enough spotting already so we headed outside to get a taxi. The 40°c hit you like a wall when you walked outside and I instantly started sweating. Not used to this in Iceland!
The pink taxis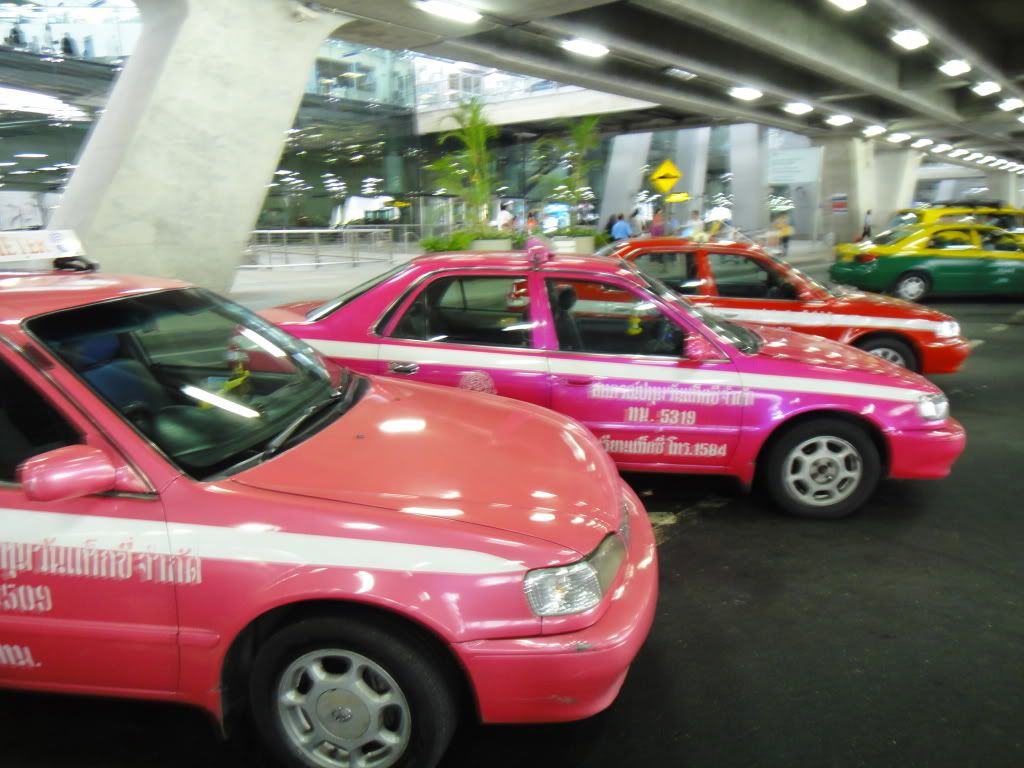 Air Asia 320 on short finals over us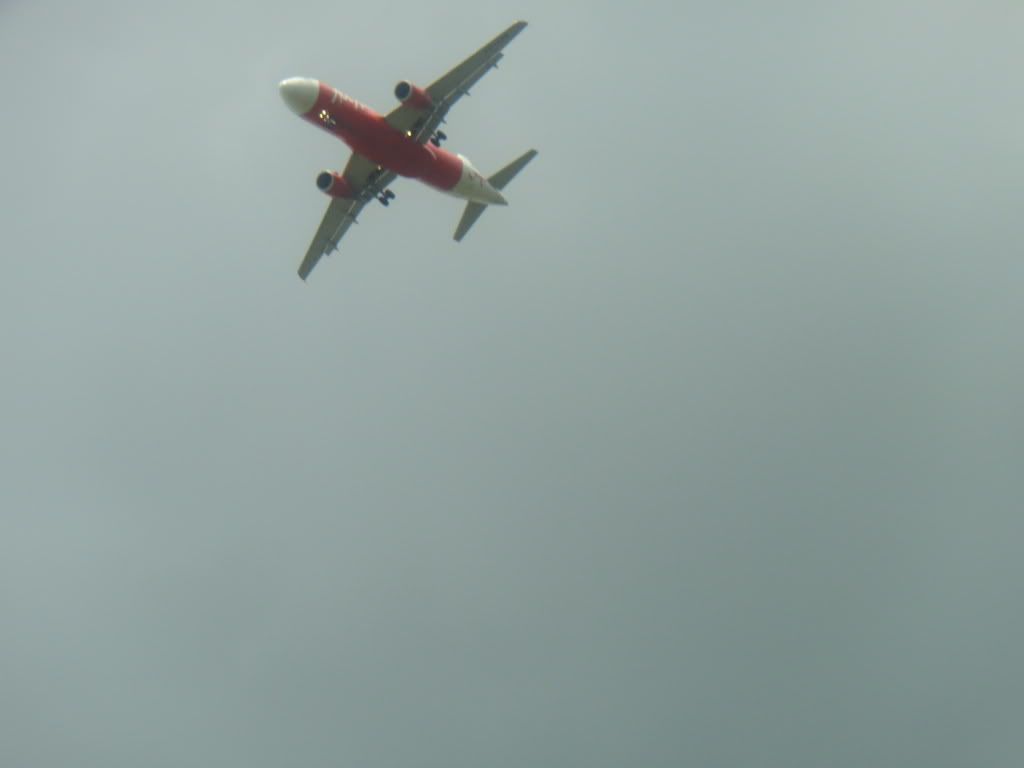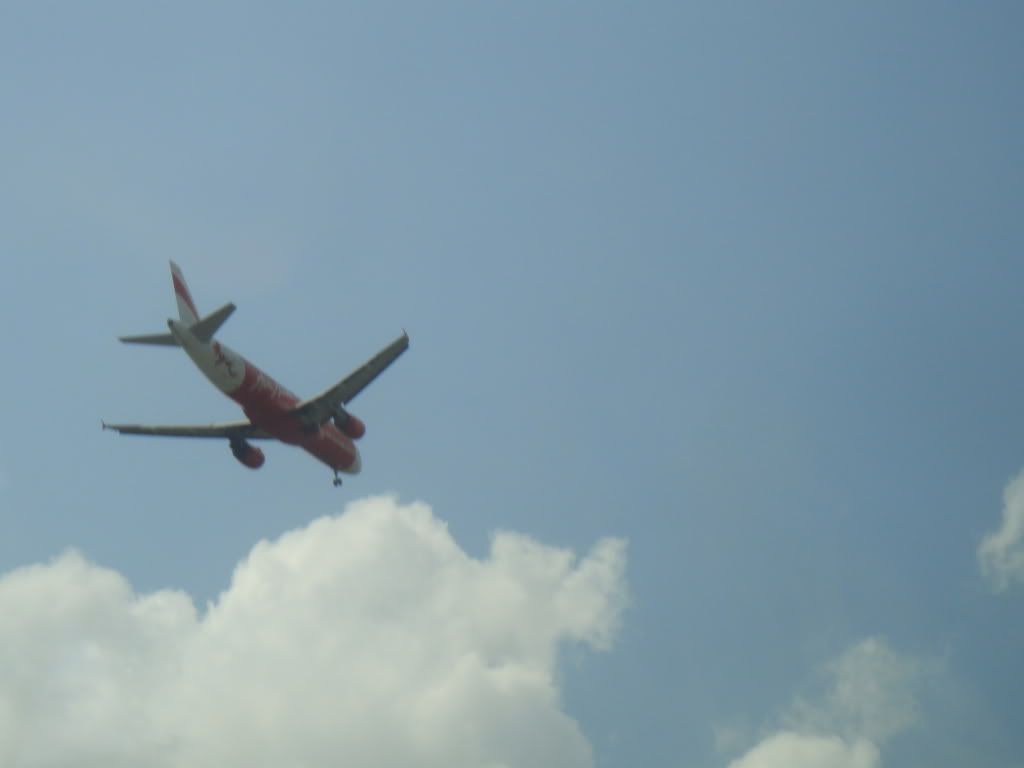 When exploring hotels in Bangkok the night before, we saw that the 5 * hotel of Lebua at State Tower was available for only 185 EUR a night. We decided to book it as it is a world class hotel and when we arrived at the hotel in Bangkok, we saw that it had been a great decision. Everything about it was classy and the view outside from our balcony at 58th floor was priceless.
Look out the window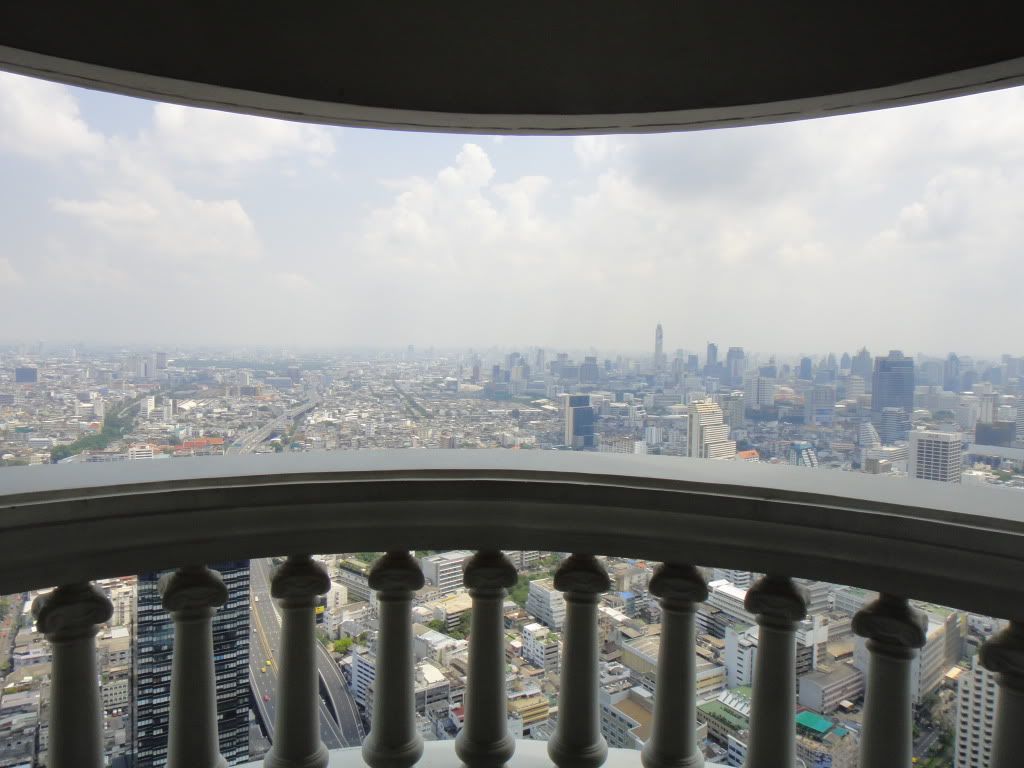 The city around us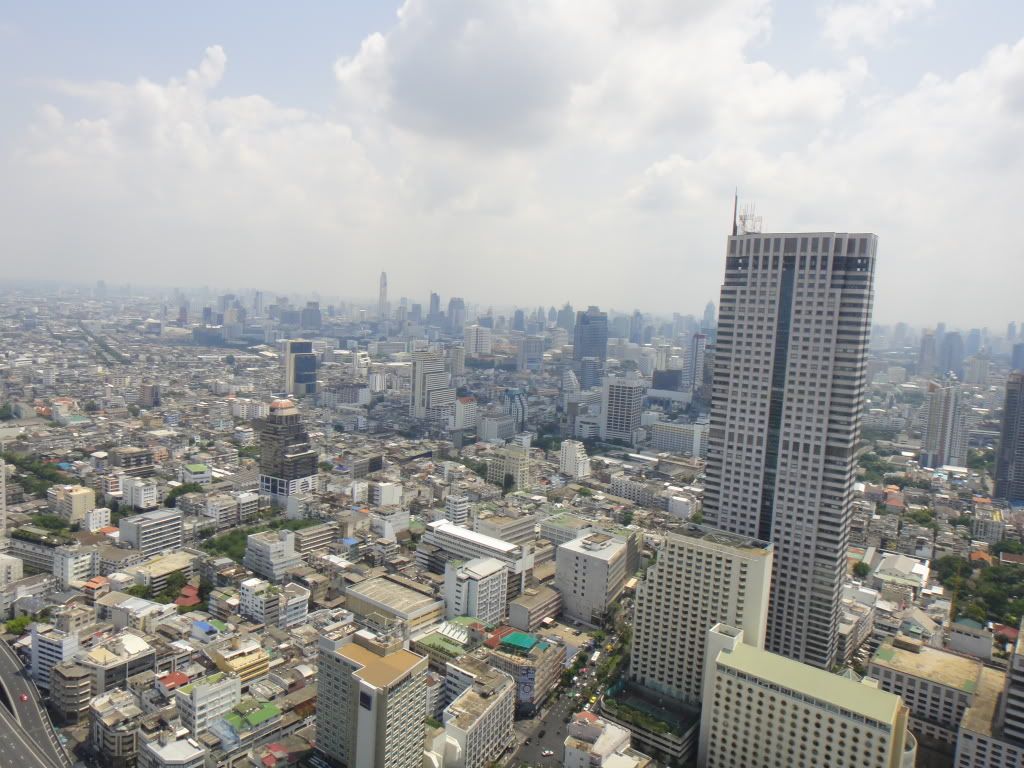 Look down on the pool on the 7th floor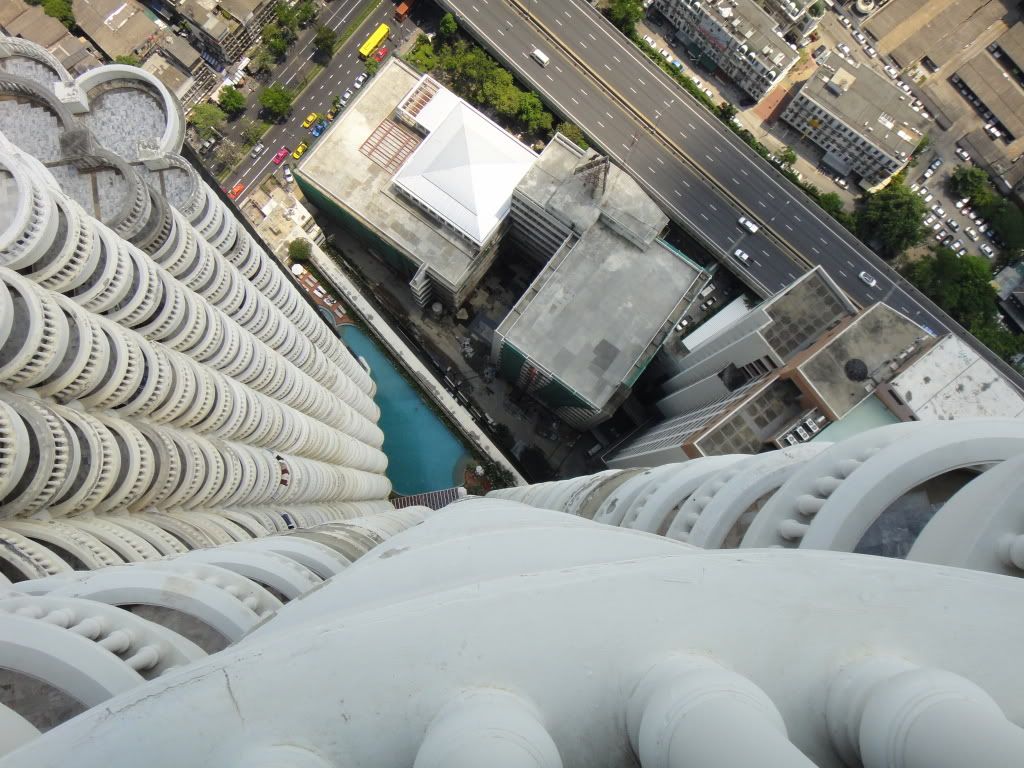 The front part of our nice room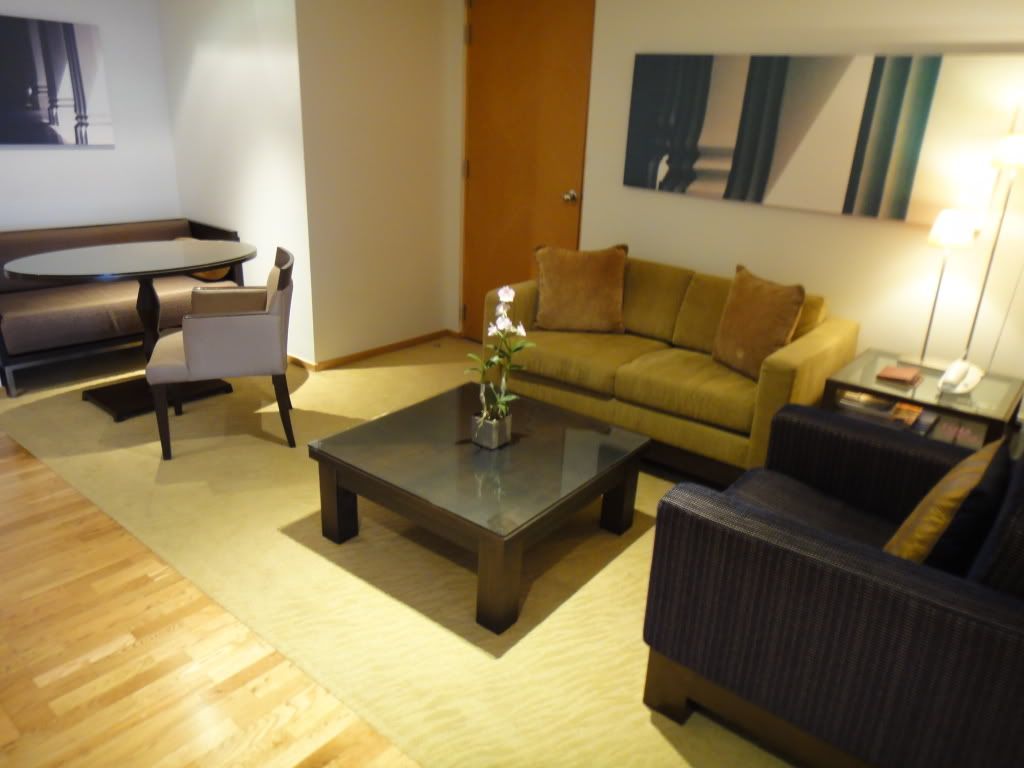 And the exceptionally comfortable beds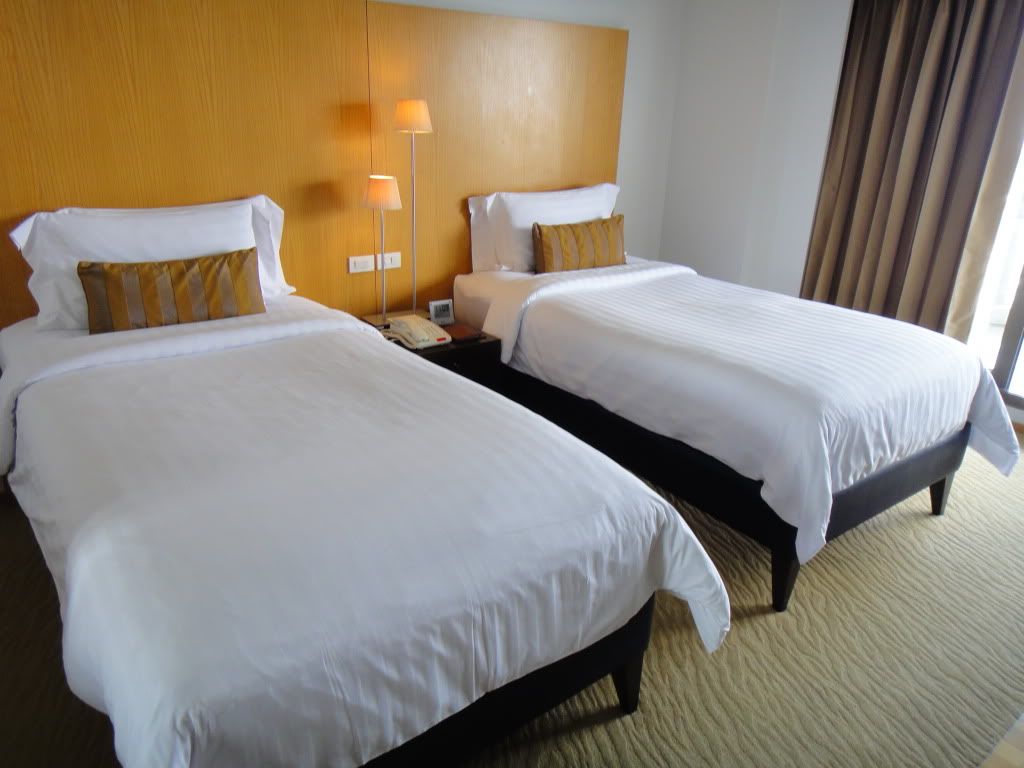 Relaxing by the pool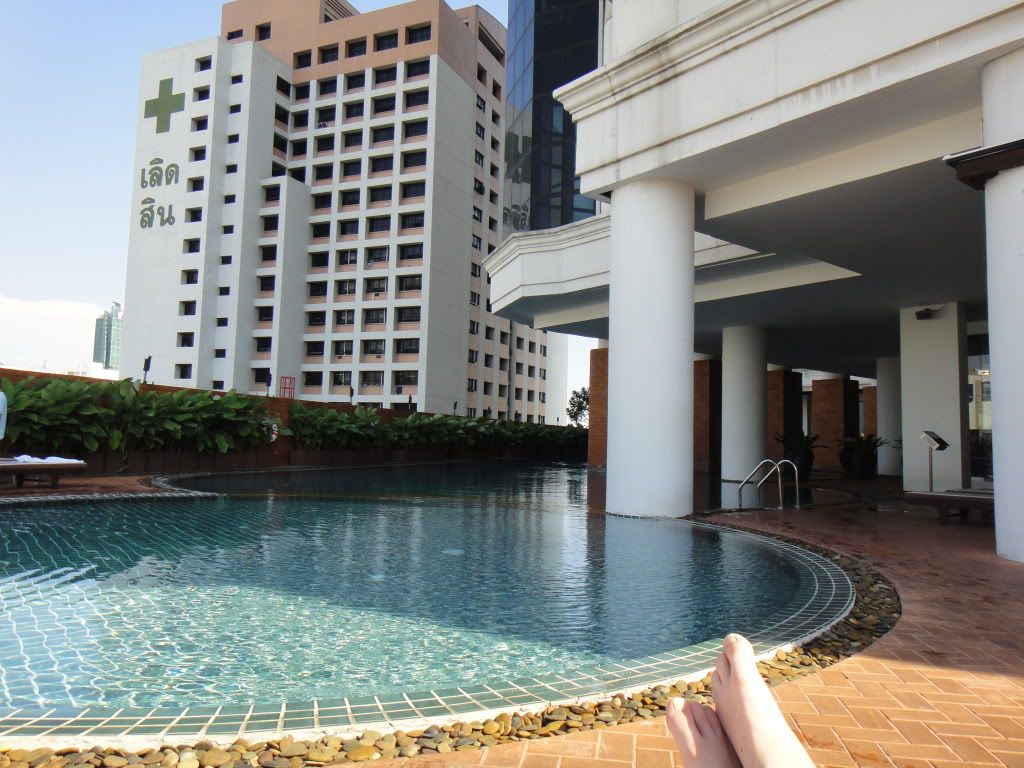 Had I said before that the view from our balcony was priceless? Well, it was even better at sunset!
Look over the city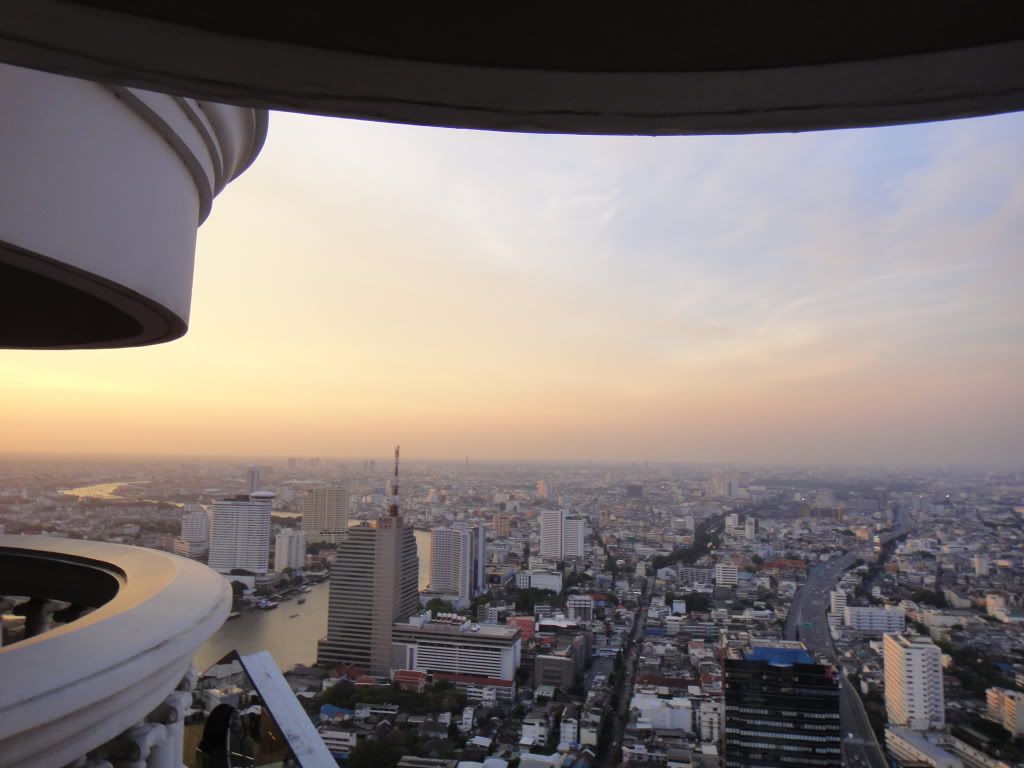 And the other side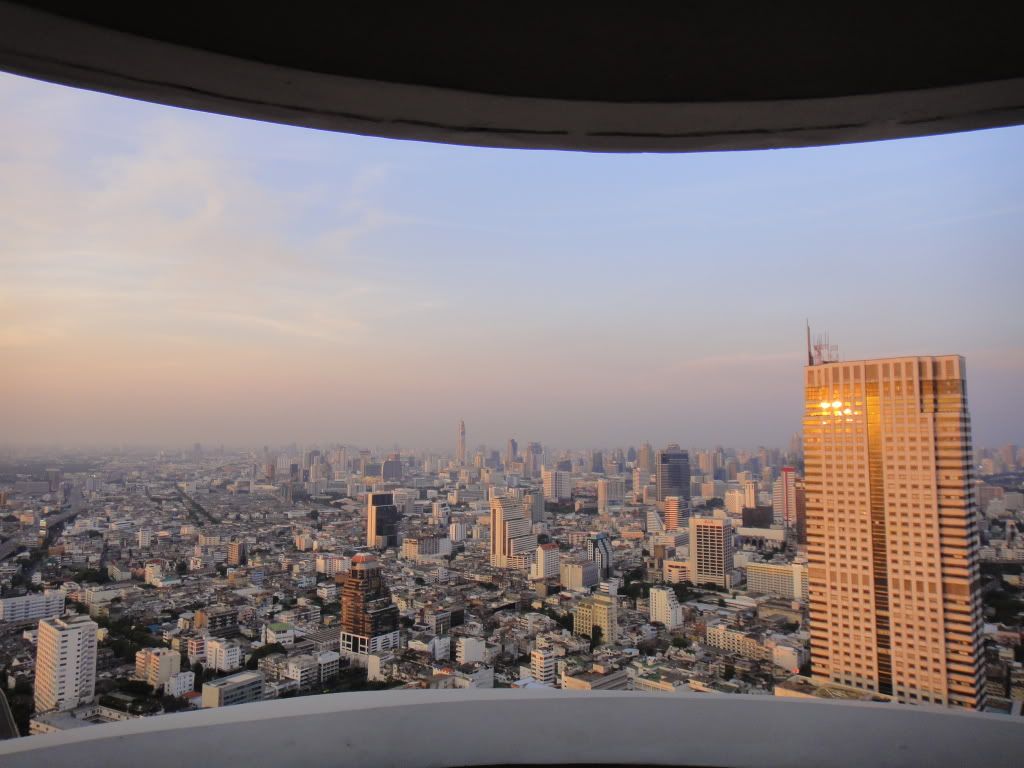 Breathtaking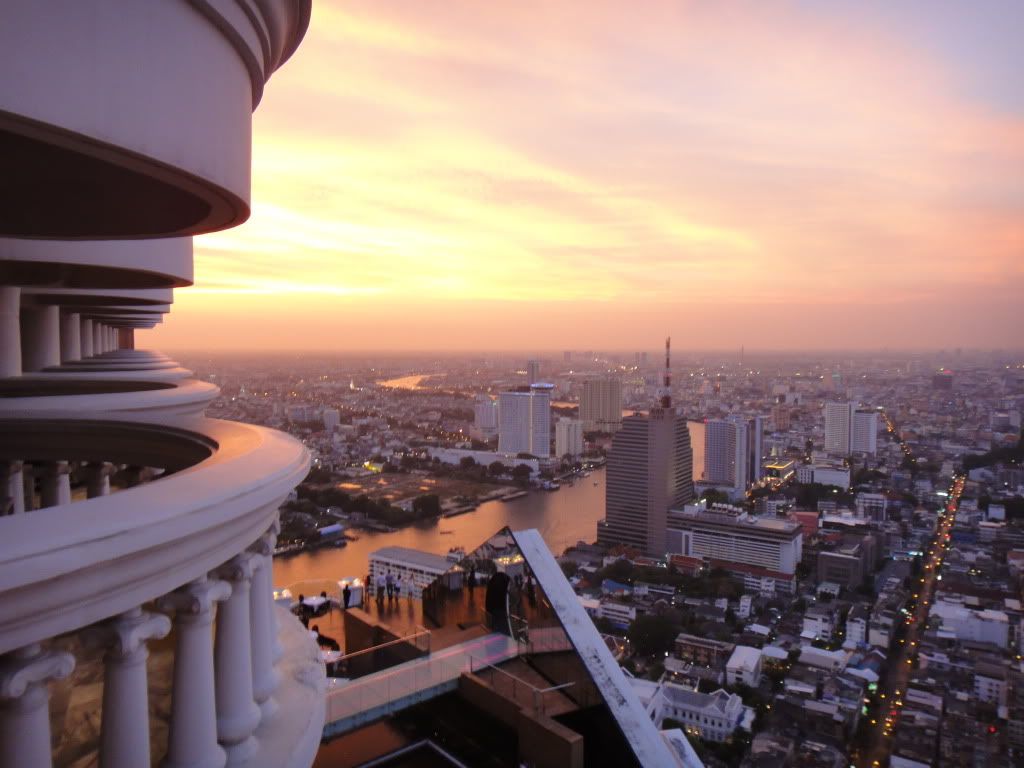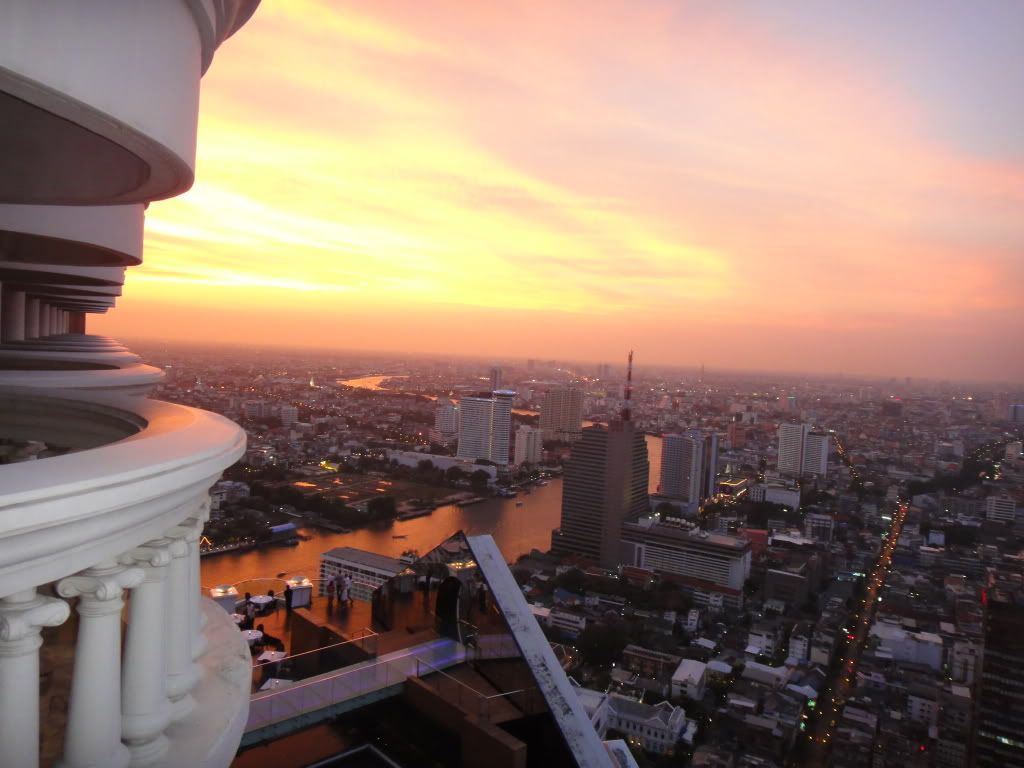 A look over an active city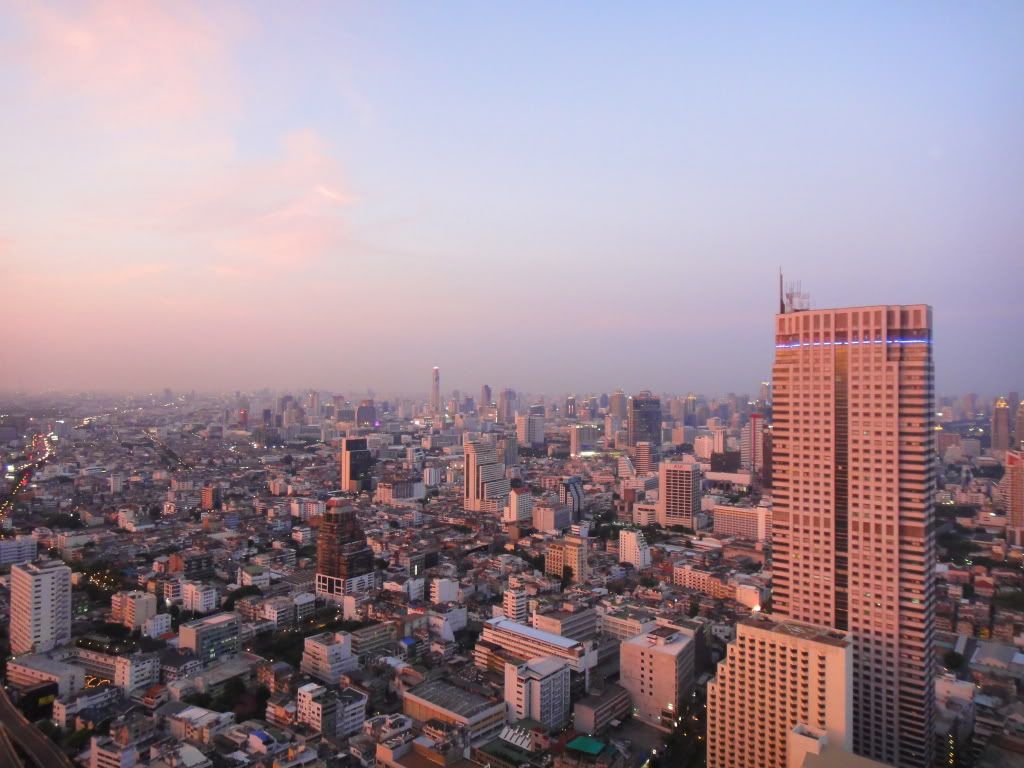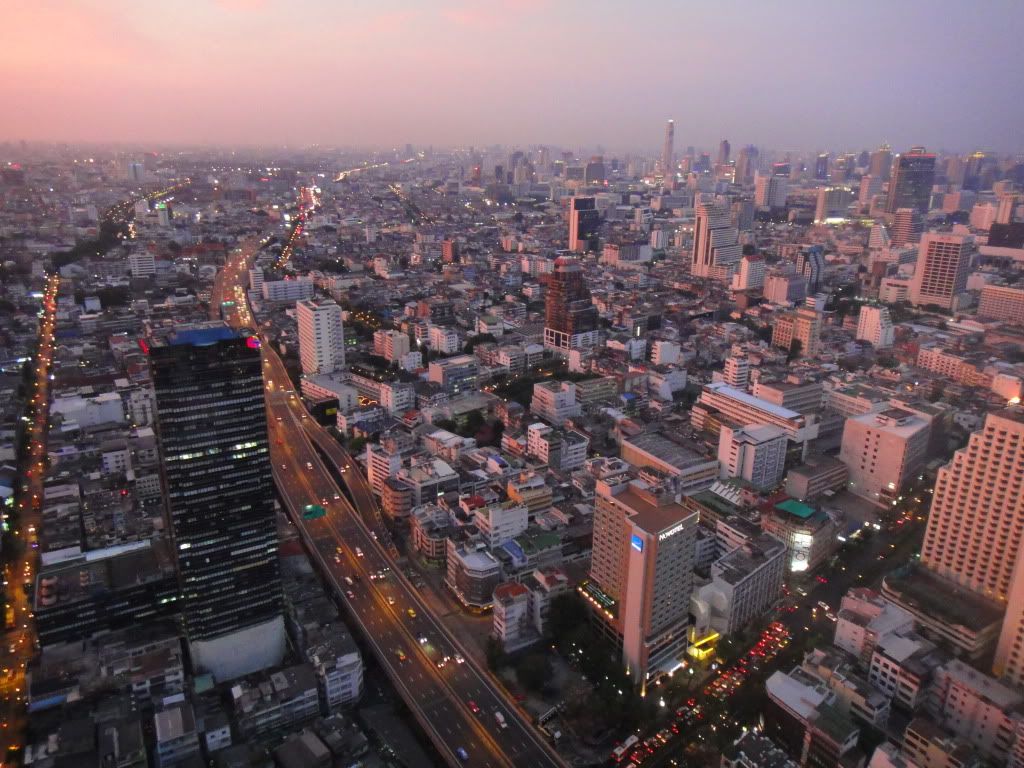 We then went to the restaurant on the 55th floor as the restaurant on the top floor was fully booked. I have to say the food was amazing. Tasted great! I want to apologize I forgot to take pics of my dessert.
The menu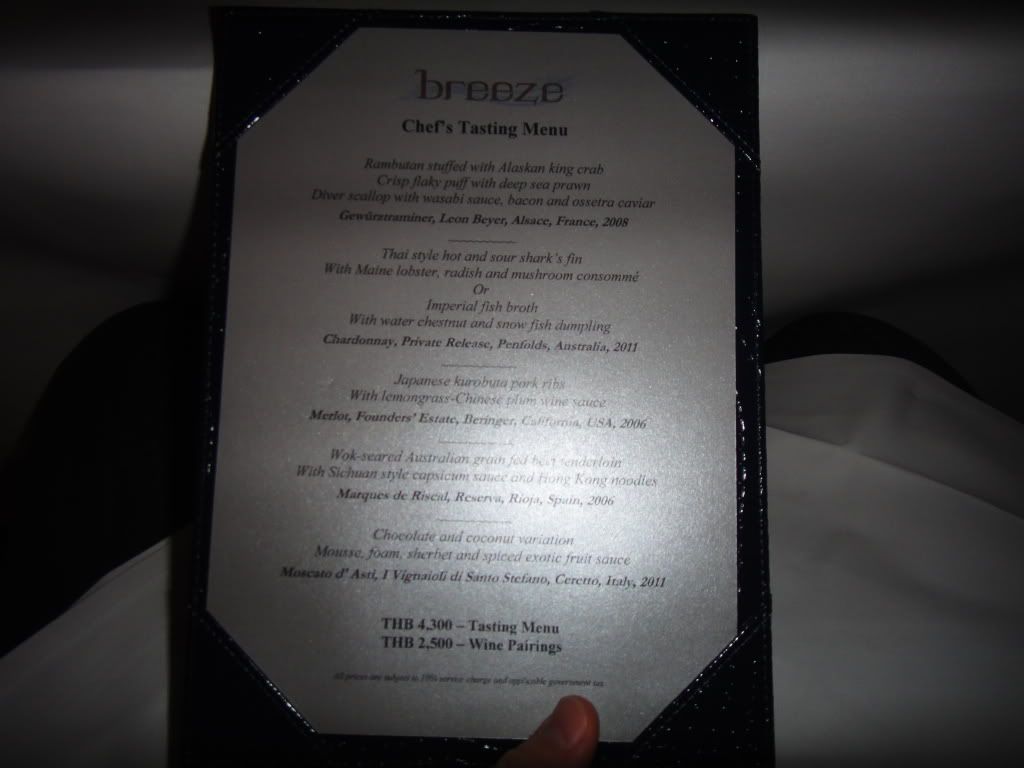 1st course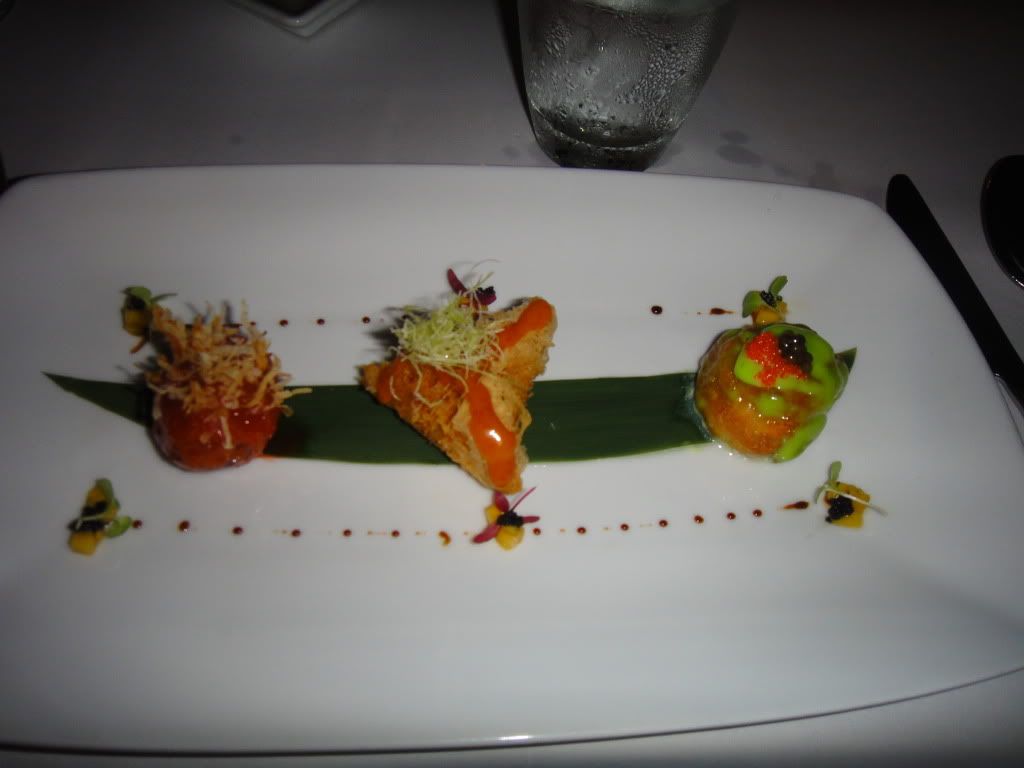 2nd course
1st main course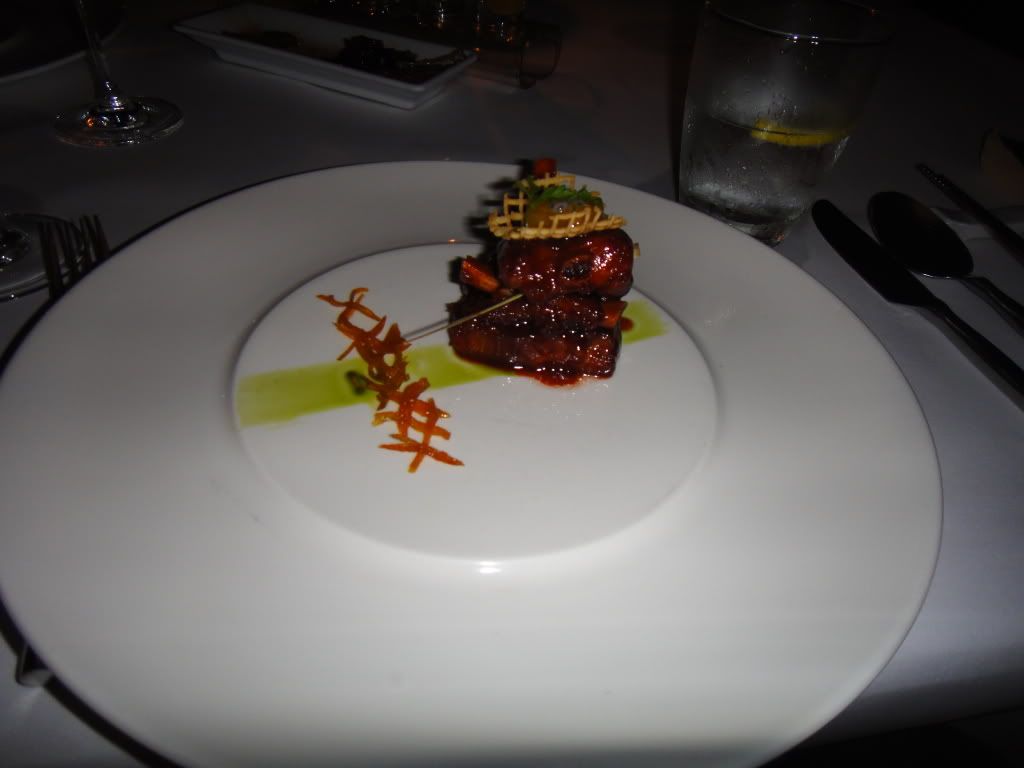 2nd main course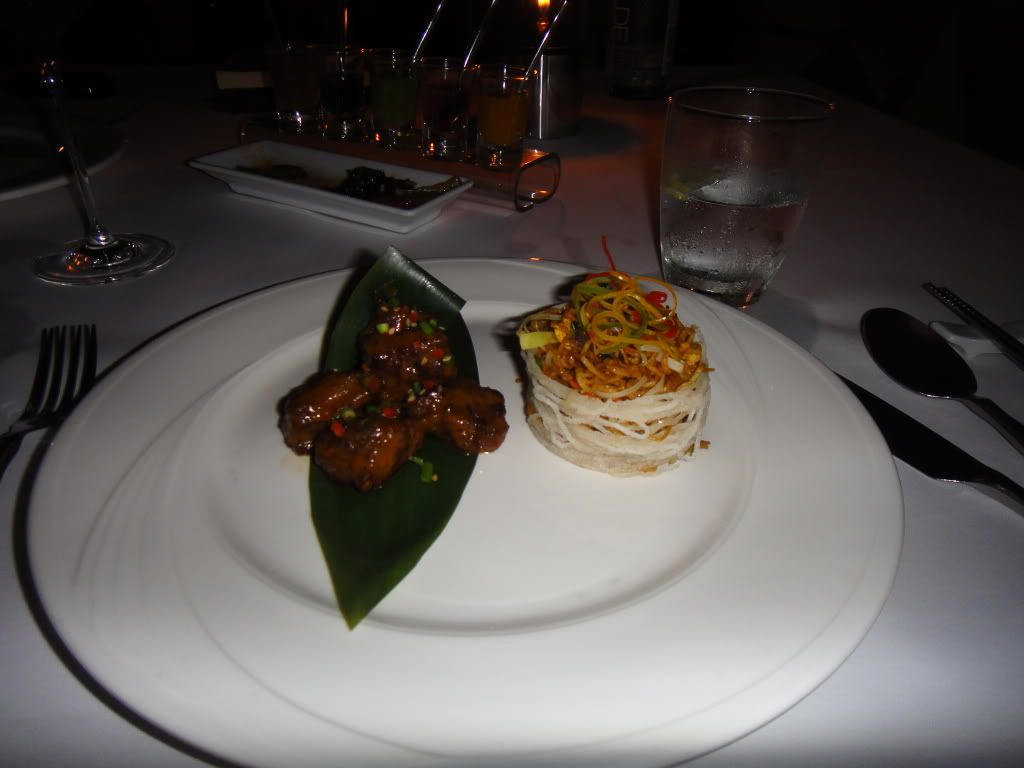 Night view of Bangkok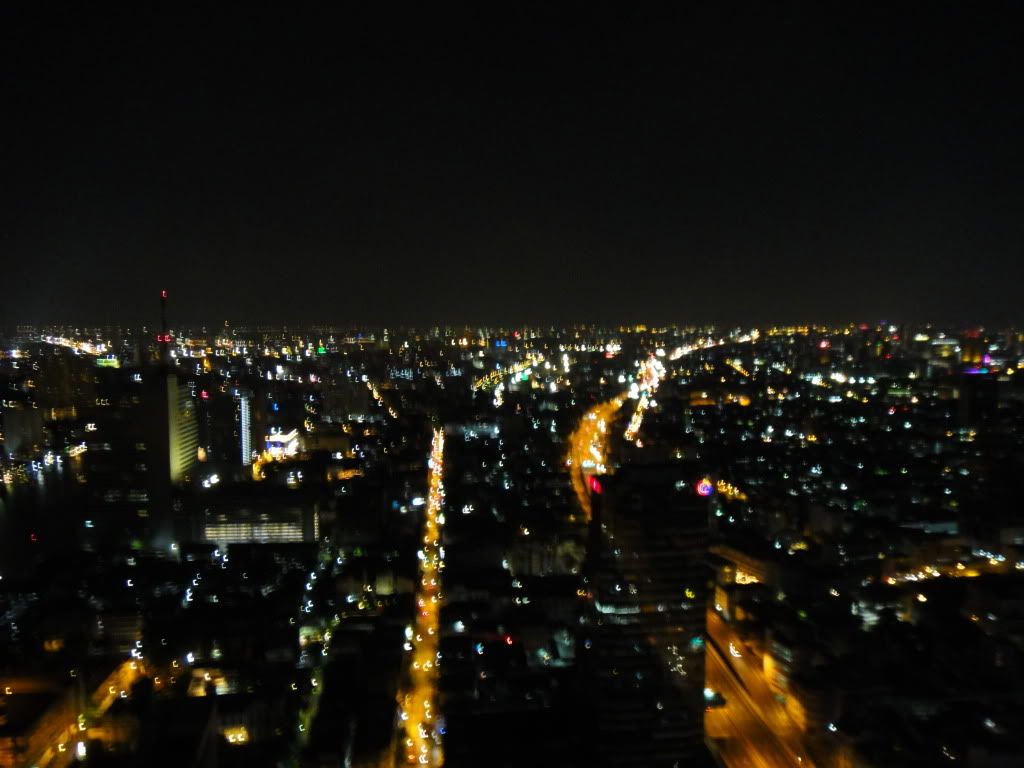 We woke up at 9 the following morning and walked out to the nearby boat station. From there we took a ride to the city center. Some sights from the boat: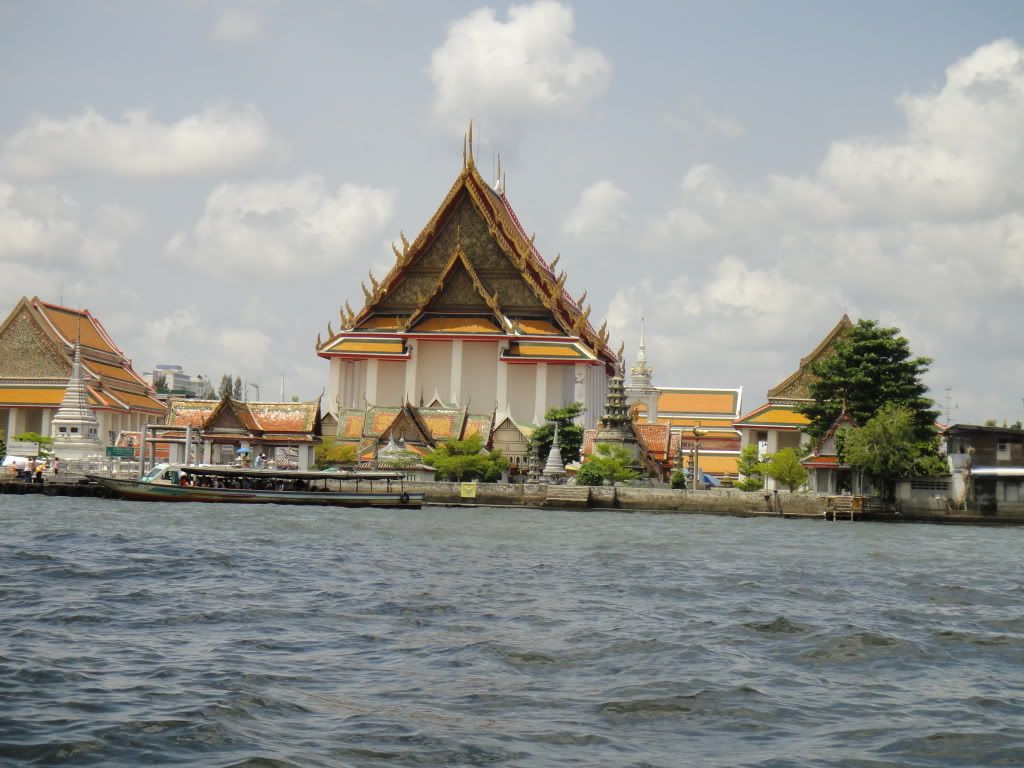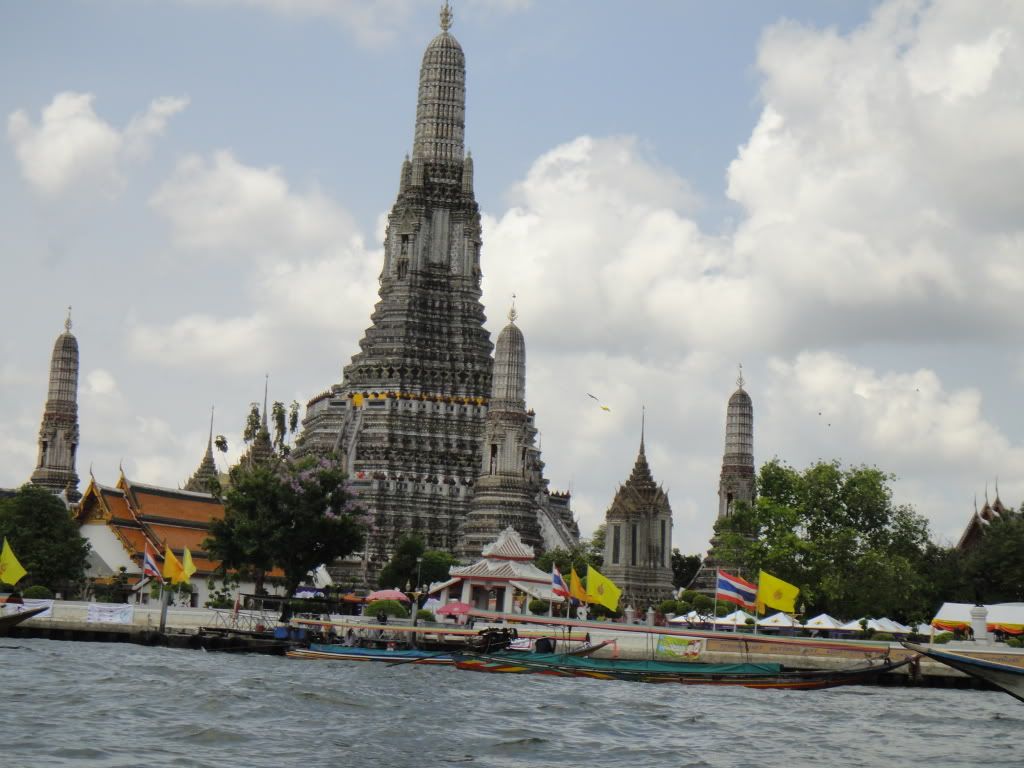 We then took a taxi or whatever these carts are called and went exploring. Nice city that I would love to pay a longer visit one day! Some sights: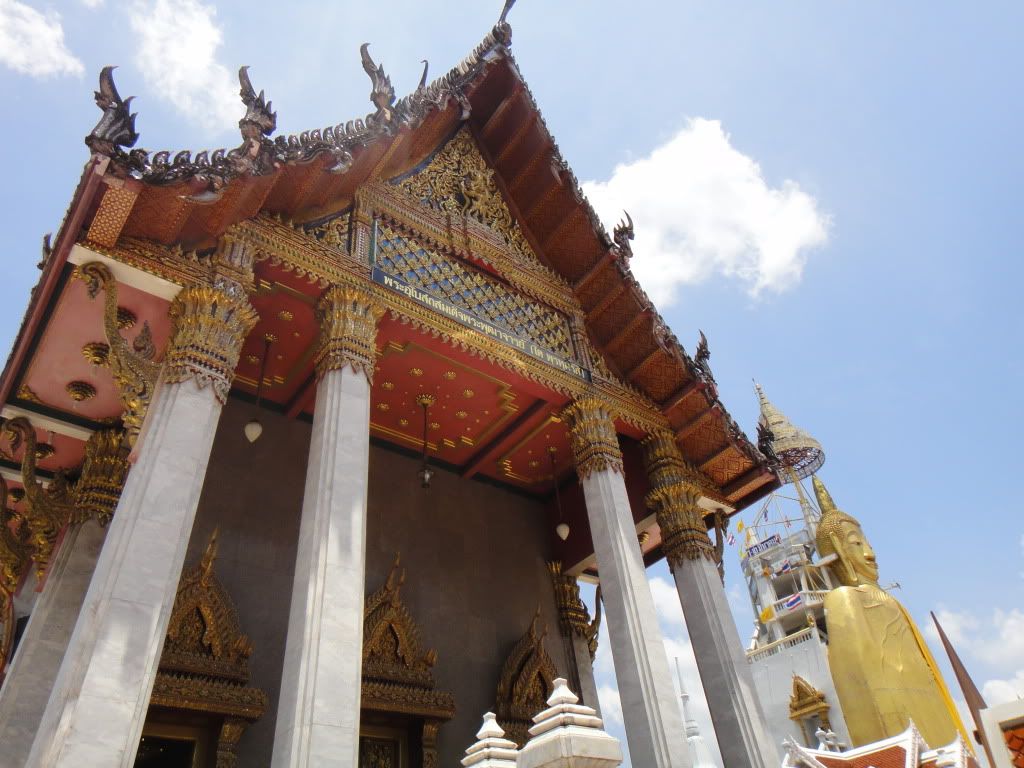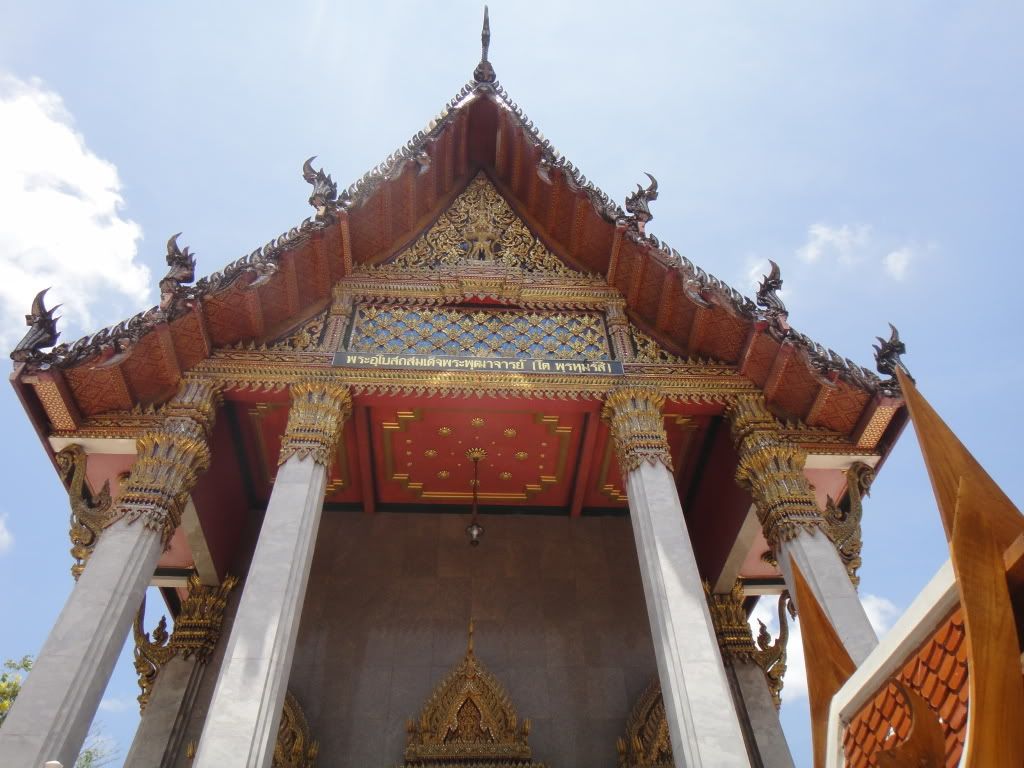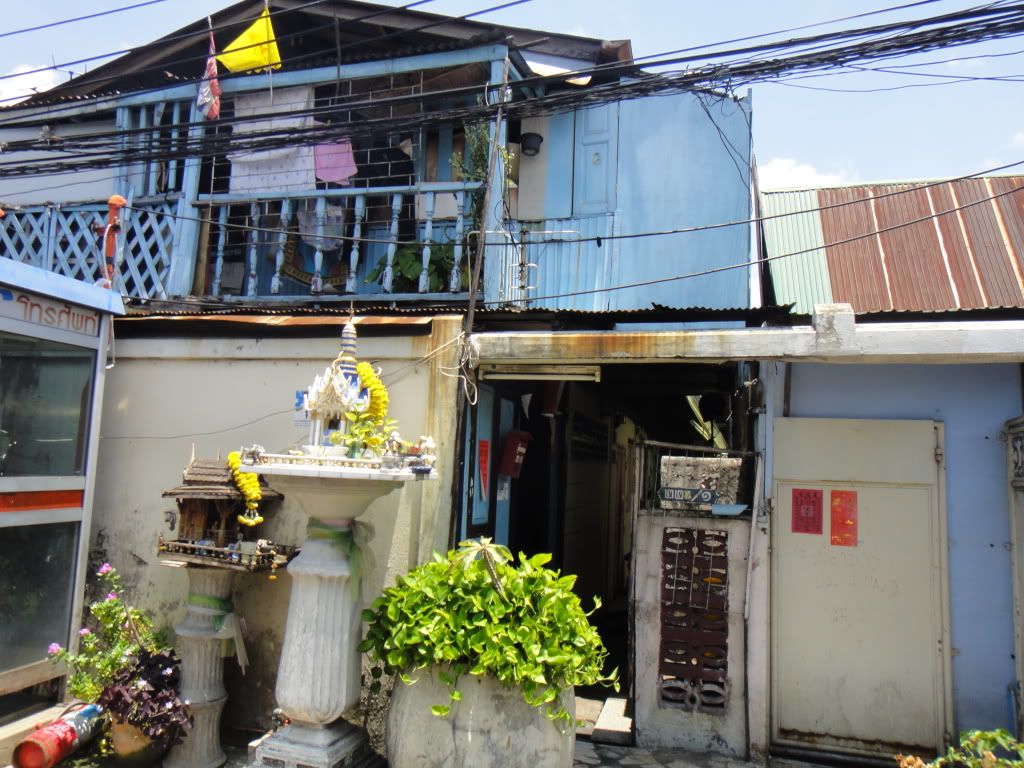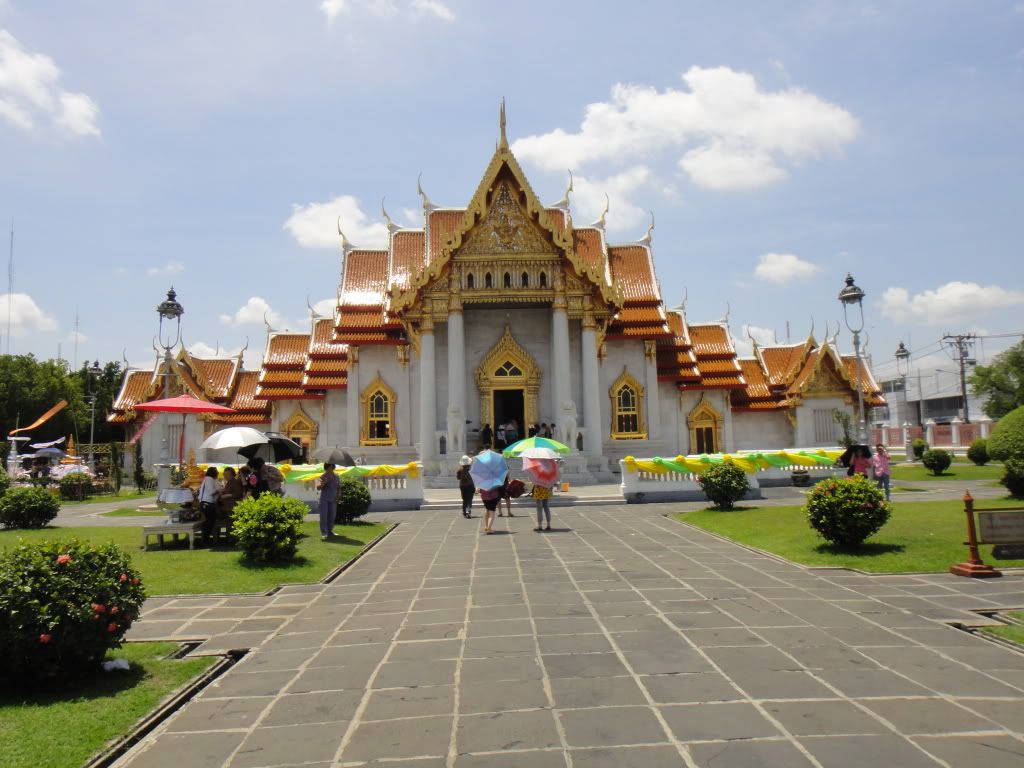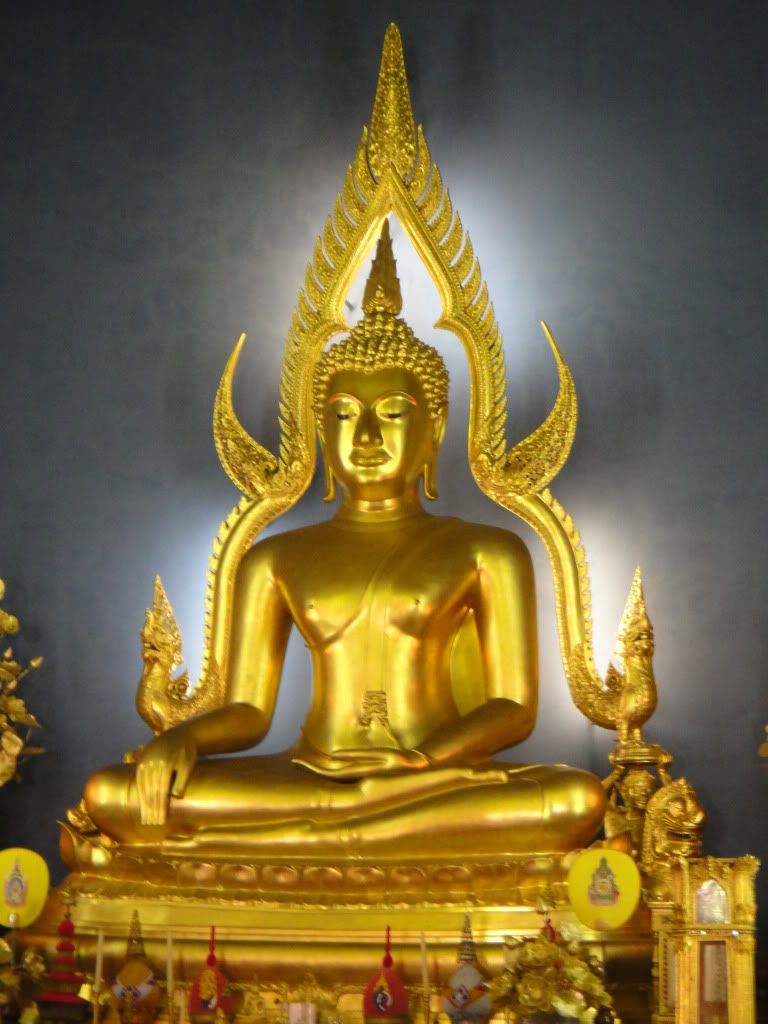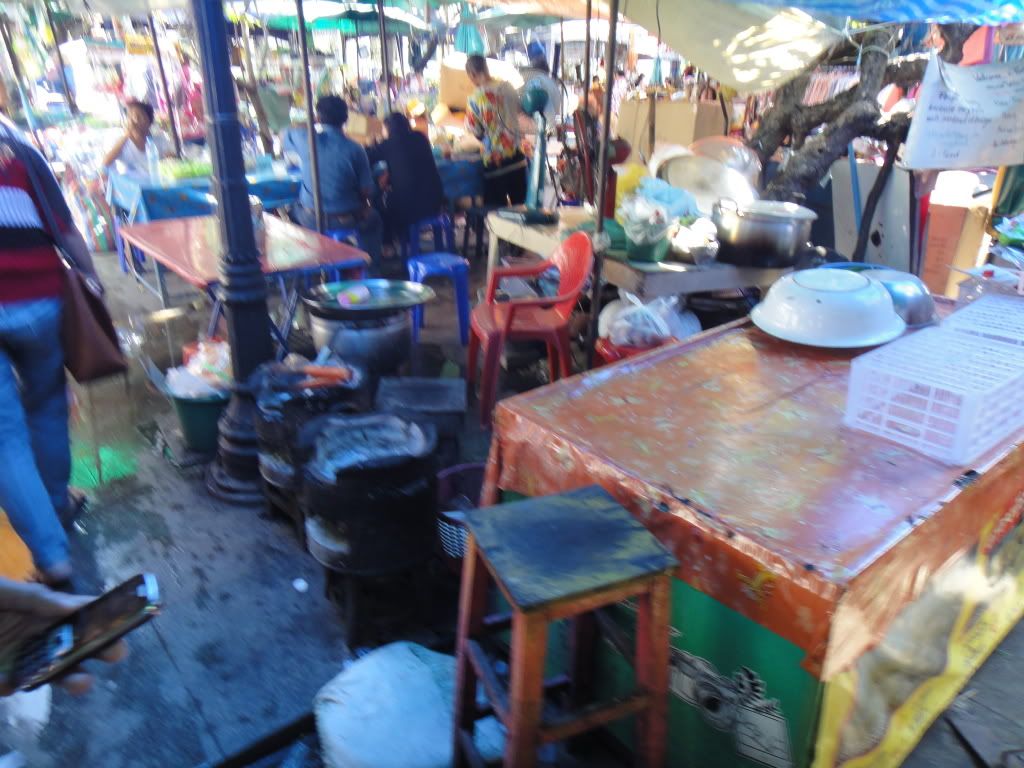 Afterthoughts
Thai was, as expected, absolutely great. Great seating comfort, service and such. Only letdown was the breakfast, but I guess that's just my personal taste, not a general weakness.
Regarding Bangkok, that's a city I would recommend a visit to. You should skip the main sights as Grand Palace though, as there can be long queues there. Go for the less known sights instead.
Thanks for reading!
Sveinn
Earlier reports
RTW Pt 7: Roaring To Singapore! TR HKG-SIN
(by
SRQKEF
Jun 20 2012 in Trip Reports)
RTW Pt 6: The 77Ws Older Sister! CX NRT-HKG
(by
SRQKEF
May 22 2012 in Trip Reports)
RTW Pt. 5: 13 Hours In The Air! AC YYZ-NRT
(by
SRQKEF
May 14 2012 in Trip Reports)
RTW Pt.4: Canada...again?! AC LIM-YYZ
(by
SRQKEF
May 7 2012 in Trip Reports)
RTW Pt.3: Wonders Of Peru! TA LIM-CUZ R/t
(by
SRQKEF
May 6 2012 in Trip Reports)
RTW Pt. 2: I'll Get To Peru Somehow! QK/UA YYZ-LIM
(by
SRQKEF
May 4 2012 in Trip Reports)
RTW Pt 1: To New York...or What? FI KEF-YYZ
(by
SRQKEF
Apr 12 2012 in Trip Reports)
To The Mainland For Sports! Pt 2 BA+FI MUC-LHR-KEF
(by
SRQKEF
Mar 14 2012 in Trip Reports)
Going To Mainland Europe For Sports! Pt. 1/2
(by
SRQKEF
Feb 24 2012 in Trip Reports)