Hello dear A.Netters, welcome to latest installment in my quest to travel on the China Southern A380, at that time the newest carrier to add this super jumbo to it's fast growing fleet.
Here are the travel details so far on this trip:-
Asia Travels 2012 - Part 1 - ANA 787!
(by
ba319-131
Apr 14 2012 in Trip Reports)
Asia Travels 2012 - Part 2 - ANA NRT-PVG
(by
ba319-131
May 5 2012 in Trip Reports)
Following a later night than planned in the bar, the alarm went of at 6, much earlier than I needed but I figured get up and start spotting.
The views from my room were pretty good, once the light improved later in the day, you could get some decent spotting done from here.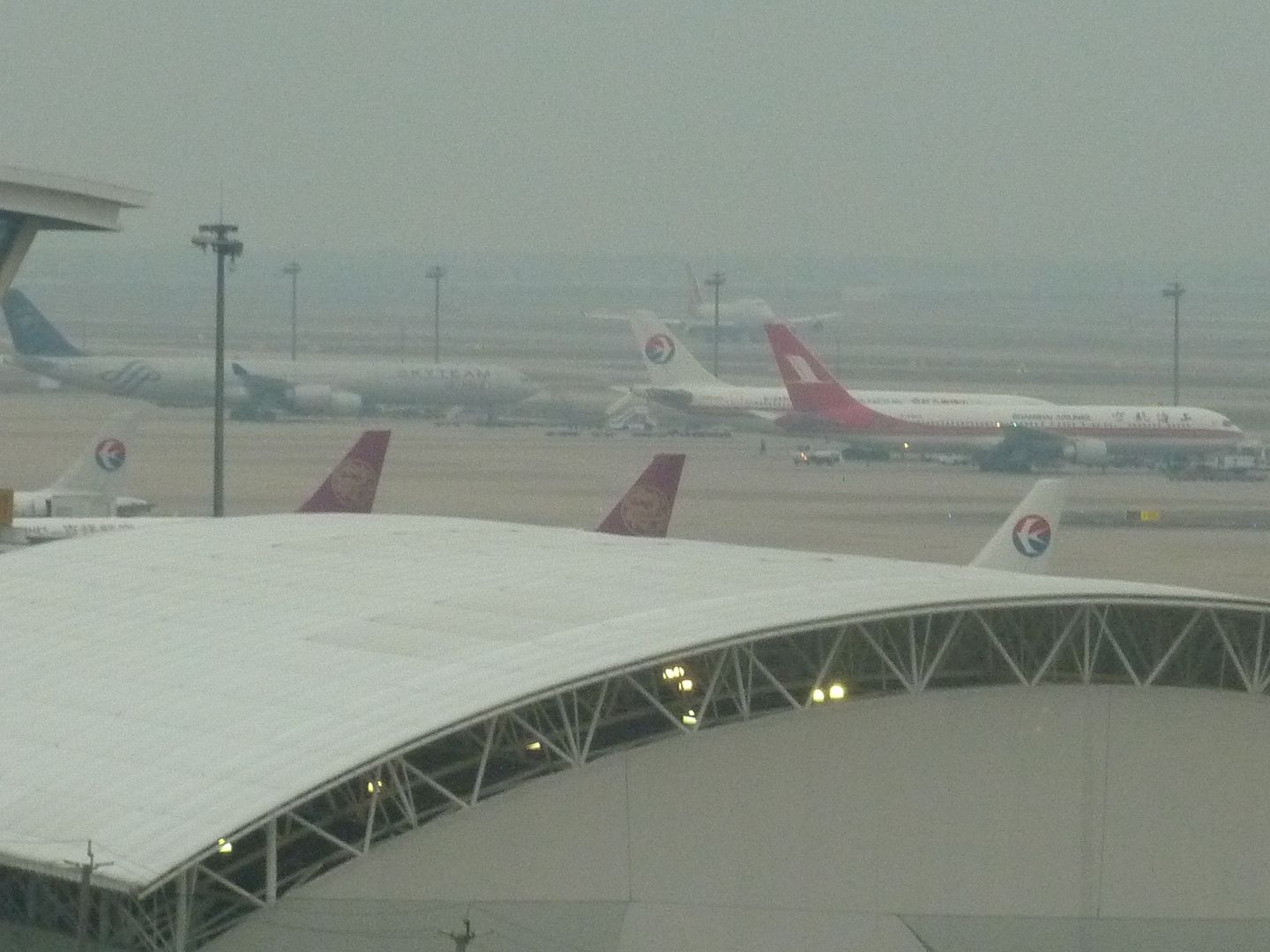 The hotel shuttle bus back to the airport was packed, so much so that a number of us had to stand, no matter, must have been only 5 minutes if that from the hotel to the terminal.
There are now two terminals here at PVG, just shows how much air travel has grown in China since my last visit some eight years ago, back then the original terminal building was sufficient.
Poor quality shot of the airlines and terminal operations
T1
T2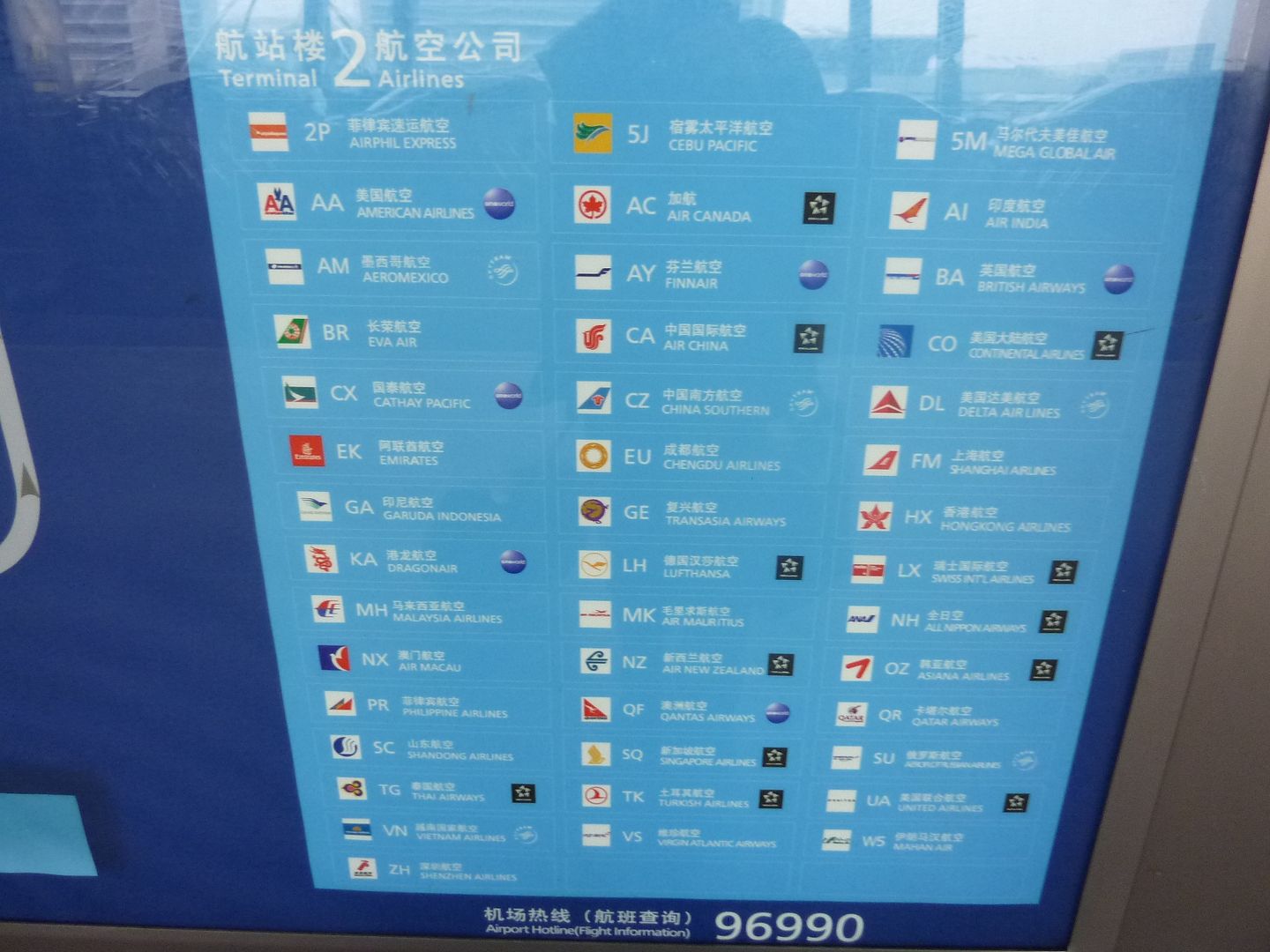 Possibly decent views for spotting if in the right room?
Lot's of Chevy advertising here
Couple of shots outside terminal 1, a very cold wind blowing this morning, it was nice to get inside.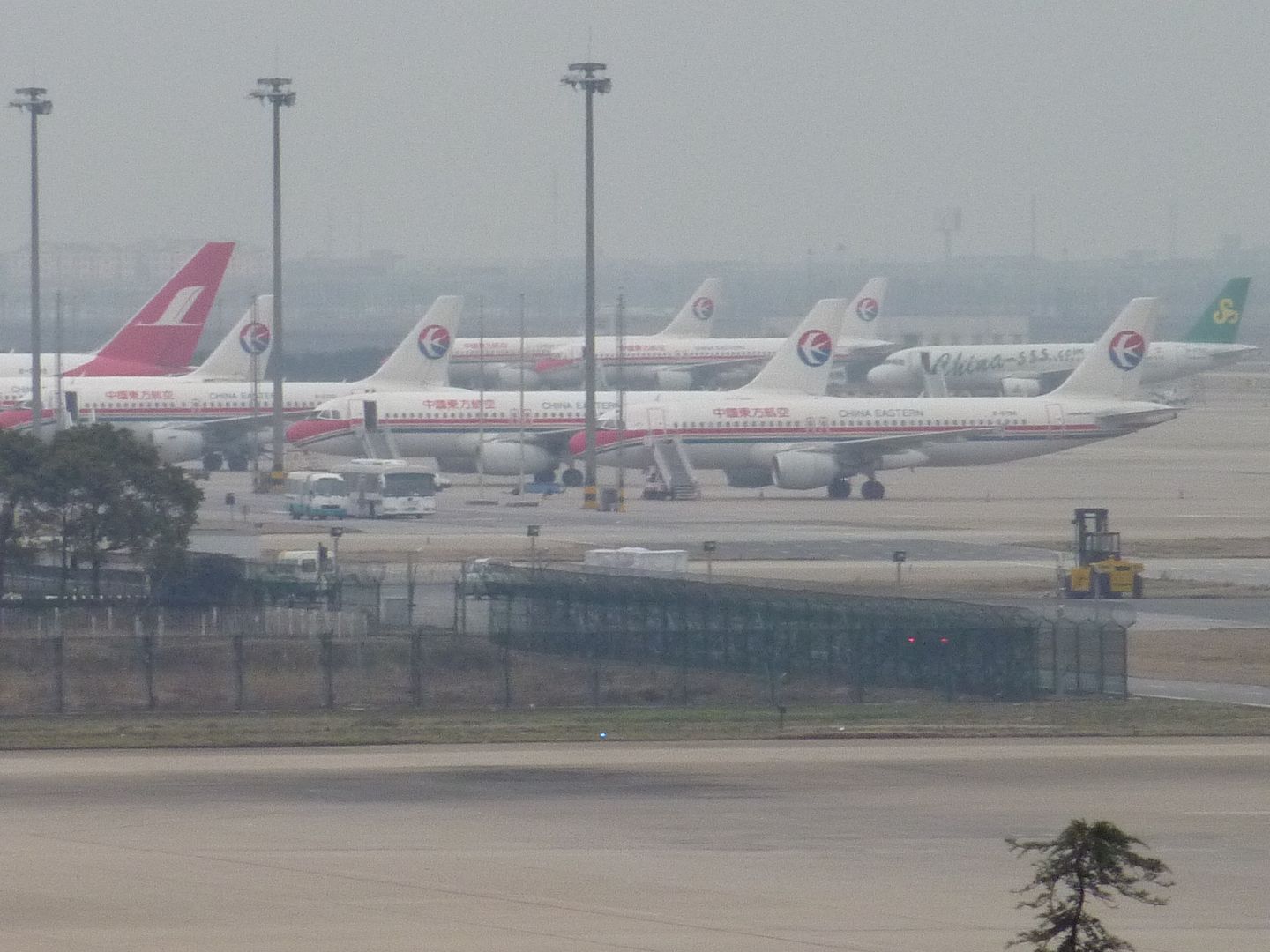 Not a great view from the drop off area
25-02-2012
MU5129
PVG-PEK
A320-200 B-6716
Seat 7A First Class
1st Flight on this aircraft, 115th A320 Flight flight (1st flight on a Chinese assembled A320)
Sch Dep 09:20 Sch Arr 11:45
Act Dep 09:36 Arr 11:27
Feeling quite happy about getting back on an A300 after so many years,I decided to splash out and upgrade to First class, this was easily done after a short wait in line at the domestic ticketing desk. During the wait numerous people cut the line to ask the service staff questions, quite a lack of etiquette, but nothing unusual in China from my experience.
The dedicated First and Business class check-in counters were just around the corner from the domestic ticketing desk, there is a chap at the entrance checking your credentials to see if you are entitled to check-in here.
Whilst waiting in line, a chap decided to cut in front of me, rather rude I thought, then when it was his 'turn' to proceed forward to check-in, he walked off, not sure what he was doing, anyway, I checked in without issues in a few moments, on the desk top there were electronic seat maps, I gave no thought to the 3-3 layout shown on the screen……. given my boarding pass along with a lounge invitation.
I took a few pictures of the terminal before proceeding through security.
FIDS
Note to spotters, the only spotting areas are through glass at the sides of the terminal, these can also be seen from the outside as seen in my pictures above, though it can get very cold out there.
Security was painless, moments later I was airside.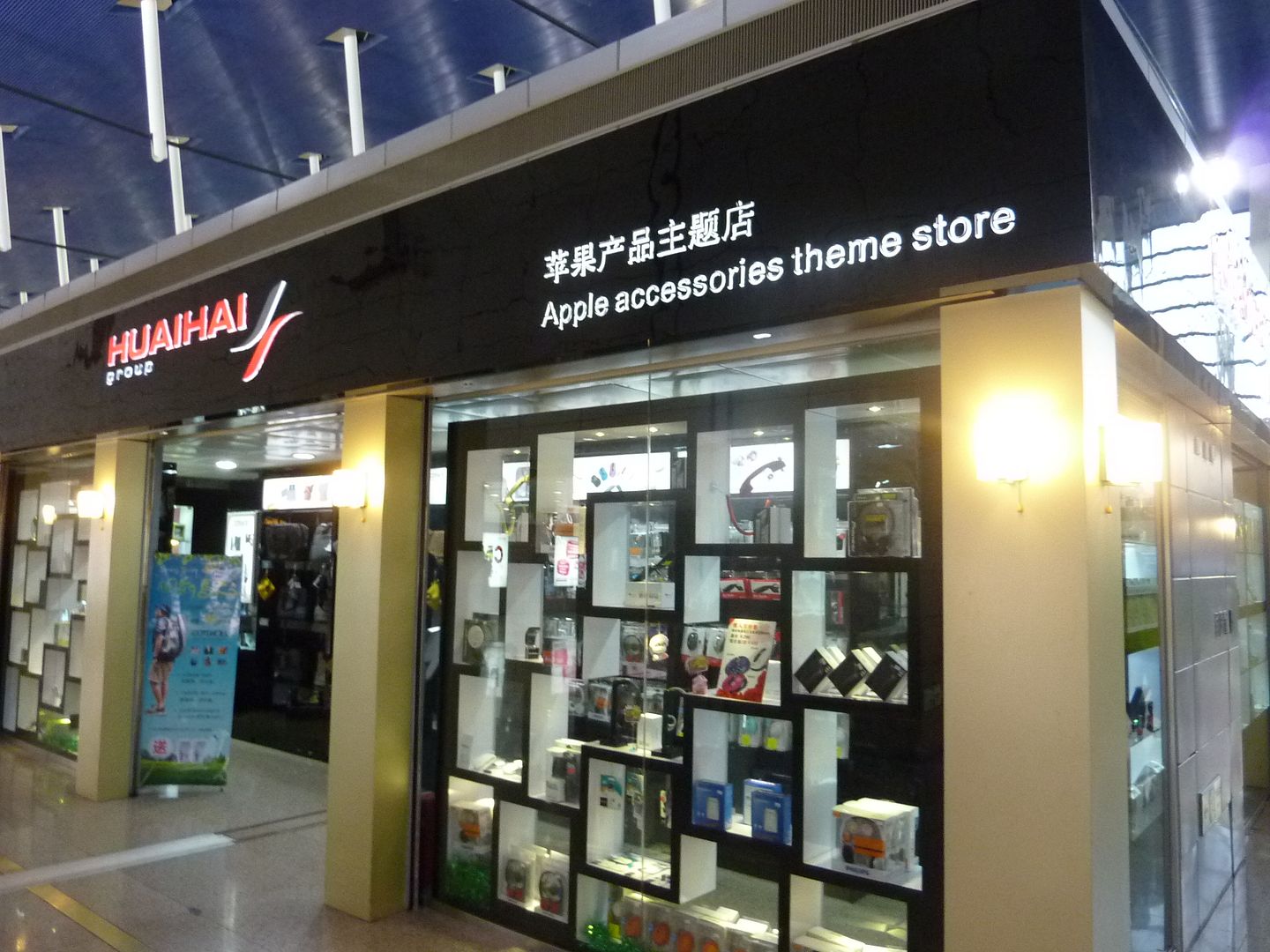 Traffic was slow at this time, after noting down a few registrations I headed to the lounge, taking a few pictures en-route.
Interestingly the lounge is accessed via a boarding gate, seems a little odd - the lounge is at the bottom on the right as you go down the escalator.
Looking up from where I had come
Greeted at the lounge by two lounge agents and upon asking was advised that boarding class were made in the lounge, quite good since I'd not seen signs for gate 204 – I later discovered that it was a remote stand.
This particular lounge, MU has others here too, is a small affair, lacks any views, I don't think the others do either, but it has a small selection of snacks and drinks, quite adequate for a short wait, there was actually more food here than yesterday's UA lounge in NRT.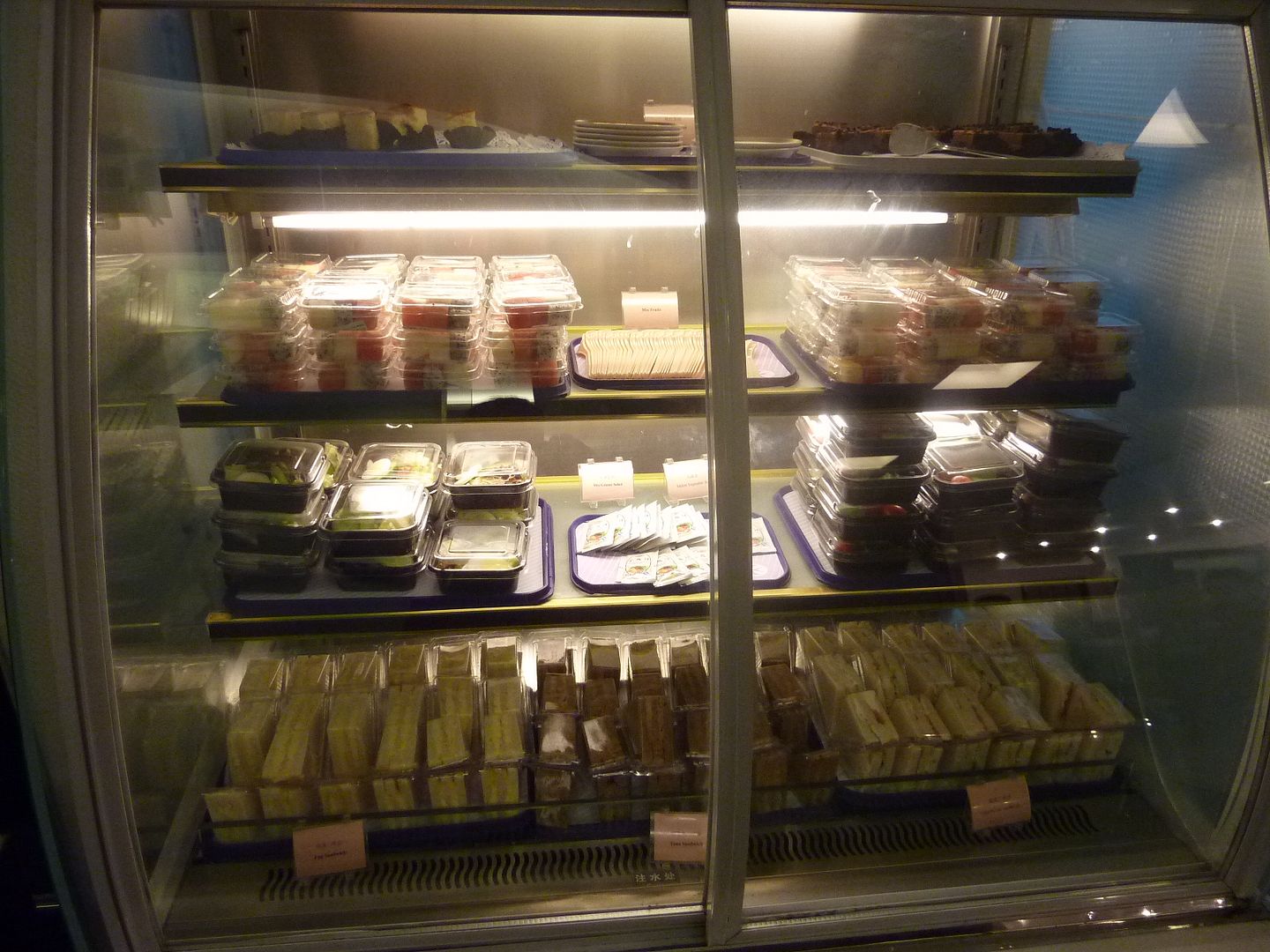 A bit early for a beer, well at least for me.....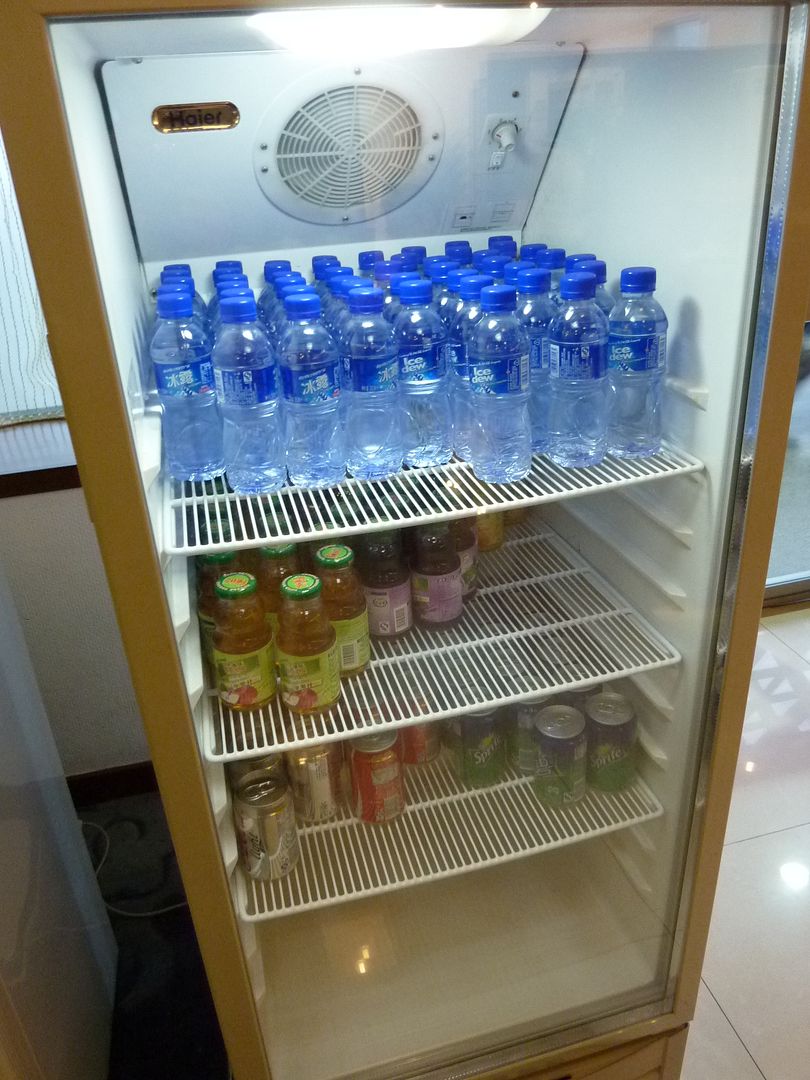 Coffee is best this morning, actually ok too.
The airport has free wifi so I logged in and checked a few e-mails, they quickly build up when you are not online all the time, tried to log onto FB too but it would not load, had the same problem in the hotel the previous night.
Boarding was called at 08:45, I enquired at the desk as to where to proceed, she advised to wait a moment, they told me to follow her colleague who would lead us, there were a few other passengers also on this flight, to the gate.
Off we go to find gate 204….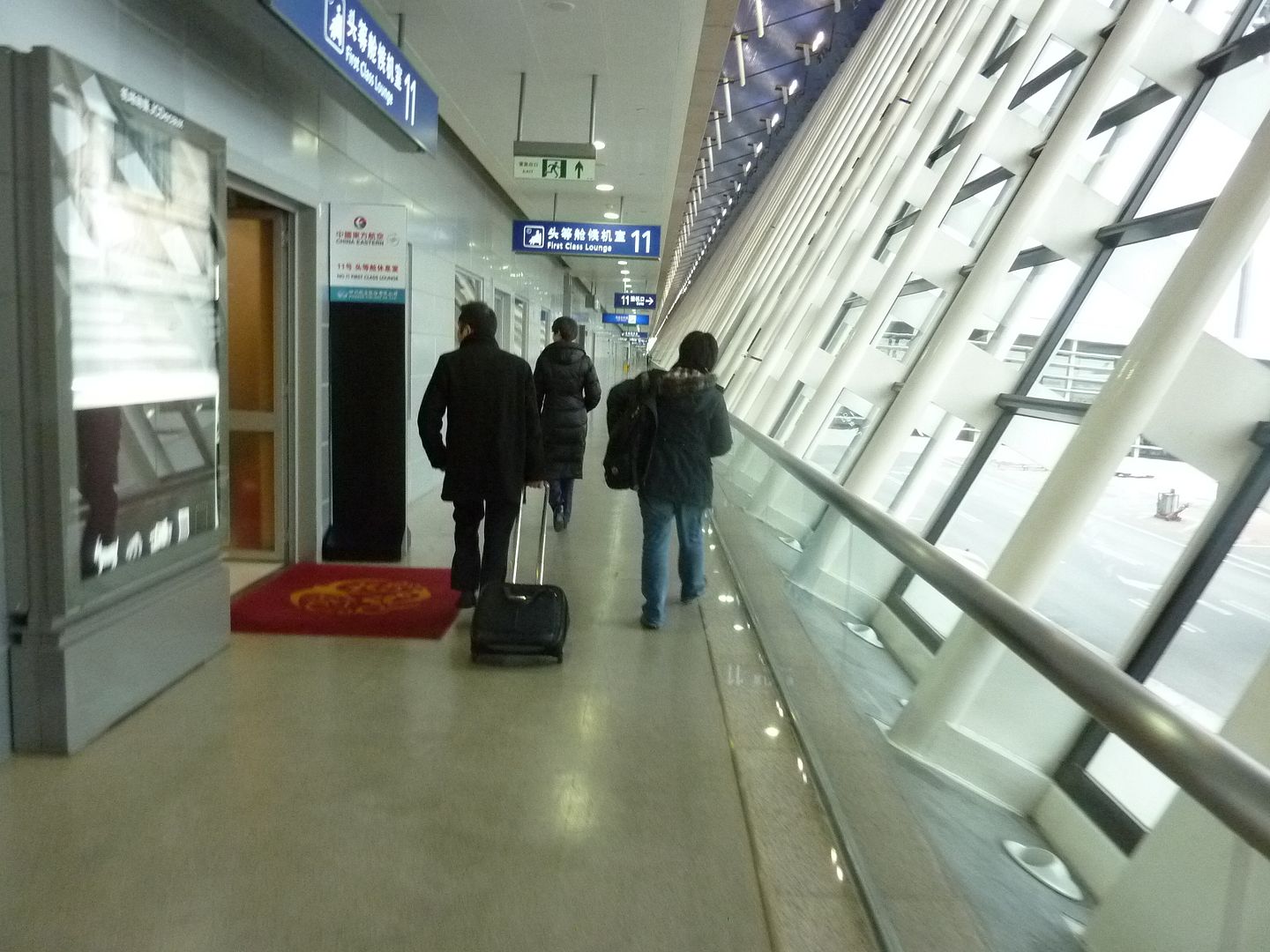 Interesting lounge
We were led to gate 12 where we went down the jetway
our escort tore the stub off our boarding passes then directed us outside and down the stairs on the jetway, at the bottom of the stairs a minibus was awaiting out arrival.
Once we were all aboard we had a short ride
before stopping for some other either JCL or elite status passengers, once they were aboard we set of on a ramp tour to our aircraft.
Shots en-route.
This short ride was great, I furiously wrote down every registration I could, hence the lack of pictures, I'll check them off on my cheat sheet so see what I need later.
I could see 2 China Eastern A300's on the remote stands, we drove past one and continued towards the other before passing that too, hmm not good, ok and past a company A340 without steps so not that, bugger, we pulled up next to an A320, what a disappointment, I felt really miffed.
To fill you in, I only flew into PVG to get on this particular flight as it was operated by an A300, I could have flown direct NRT-PEK on NH and saved the hotel and flight cost, oh well, crap happens from time to time.
Boarding passes were checked at the bottom of the steps, by now the economy bus had pulled up so there was a fair bit of pushing and shoving as people tried to get to the steps.
Greeted at the door by two smiling female FA's, one quite pretty, I headed towards my seat, I actually passed it in error, not before feeling robbed about the A300 and the upgrade I had paid for was now giving me an economy seat, then I quickly realised economy started with row 30, looking to my right, the last row of business, two rows in a 2-2 layout, is in fact row 7, ah, got it!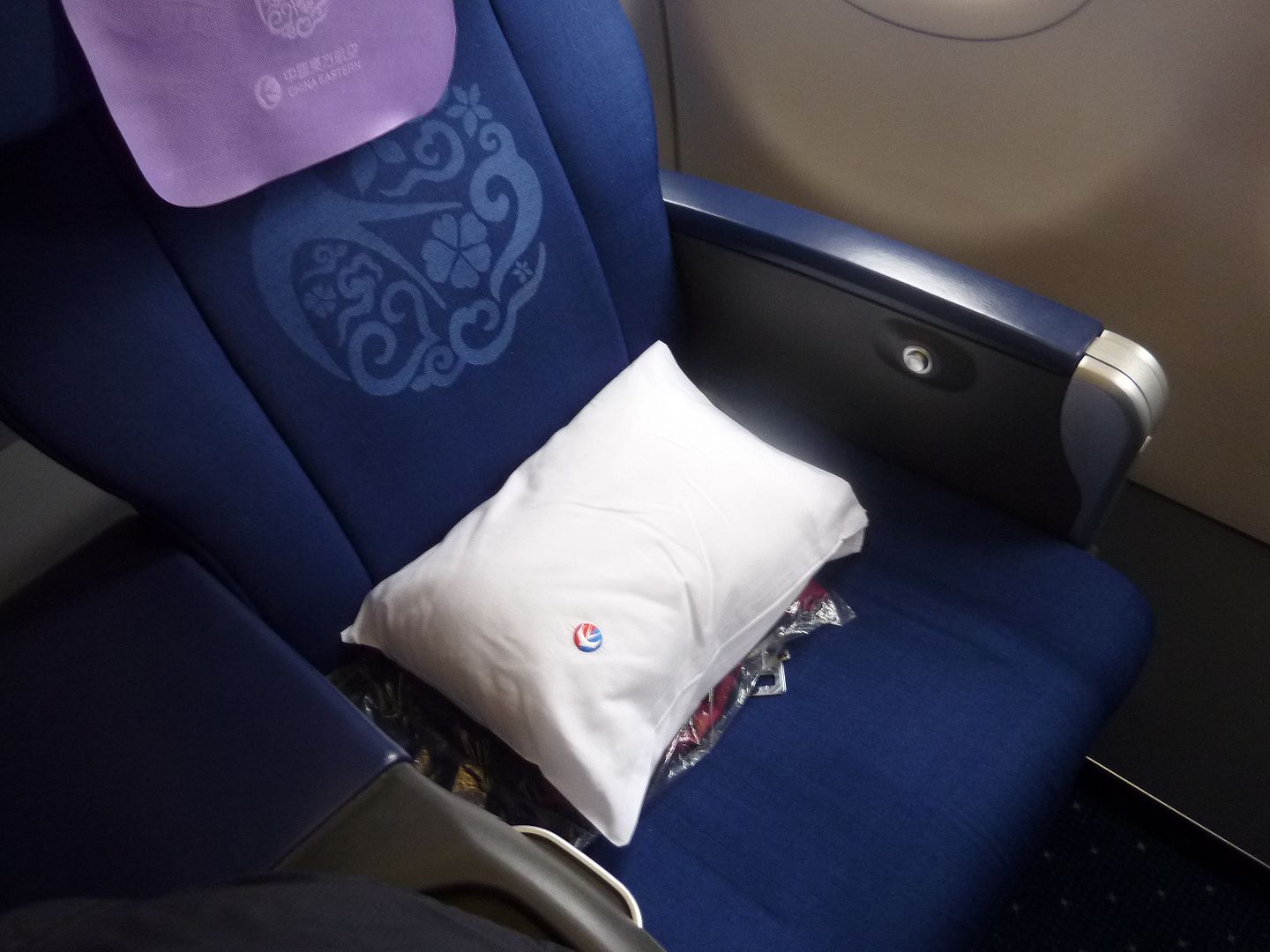 Legroom shot
Each First class seat has a pillow and blanket along with a set of slippers, I'm sure the latter will end up in my bag....
View outside from my seat
During boarding hot towels were distributed along with a pre departure drink, a choice of water, OJ or a mixed juice drink, I took the latter as it looked more like a cocktail! - quite nice it was too.
Newspaper including an English language one were offered but I declined.
Passengers still boarding, this is a full flight today!
Forward cabin view
View across the cabin
Last passengers boarded and the front door was closed at 09:17, pushed off stand 7 minutes later with the safety demo playing, and repeated afterwards this time in English.
Orders for drinks and breakfast were taken during taxi, choice was a shrimp dumpling thing or pork in a sauce with noodles, I opted for the latter and sparkling water, a bit early for the hard stuff.
A relatively short taxi, passing a maintenance area, several Jade Cargo 747-400's in storage along with various other planes, note the SAS 737, a former CA machine.
Short wait for a landing Shanghai Airlines MD-11 freighter then rolled into the active and motored down the runway, passing the cargo terminal on the left.
Wheels up at 09:36.
China Eastern reading material
One of the FA's soon handed out drinks, my sparkling water turned out to be soda water, I don't recall having had that before.
View outside
Soon after the drinks, thick linens were laid on tray tables and meals delivered, not a bad first impression.
The cutlery was decent quality, the cutlery had a nice weight about it, I think the spoon might not see another inflight service……
The fruit was fresh but the meat, supposedly pork, was quite fatty, I had to cut a fair bit off it, apart from that it was quite tasty, thought there should have been salt and pepper on the tray.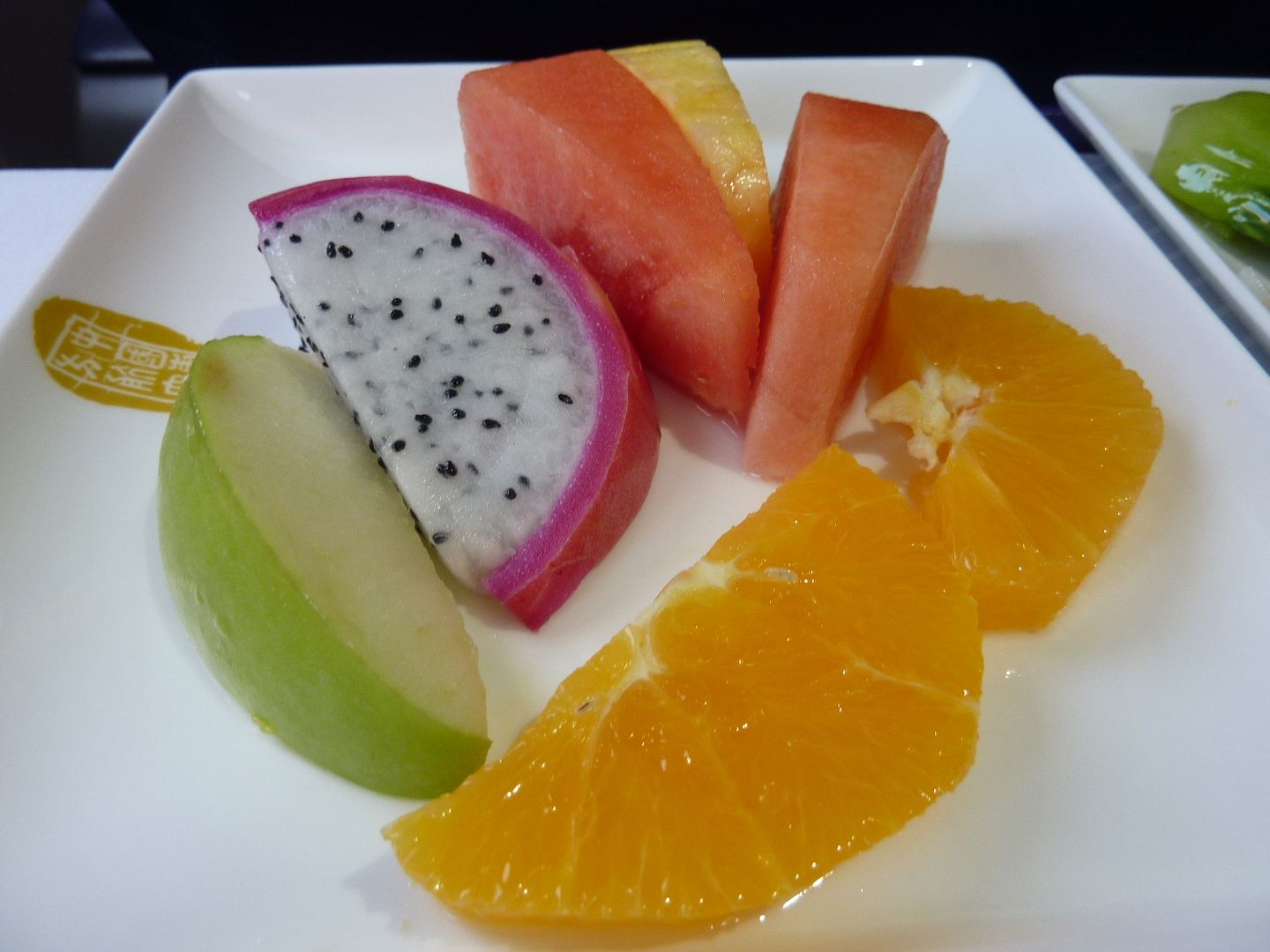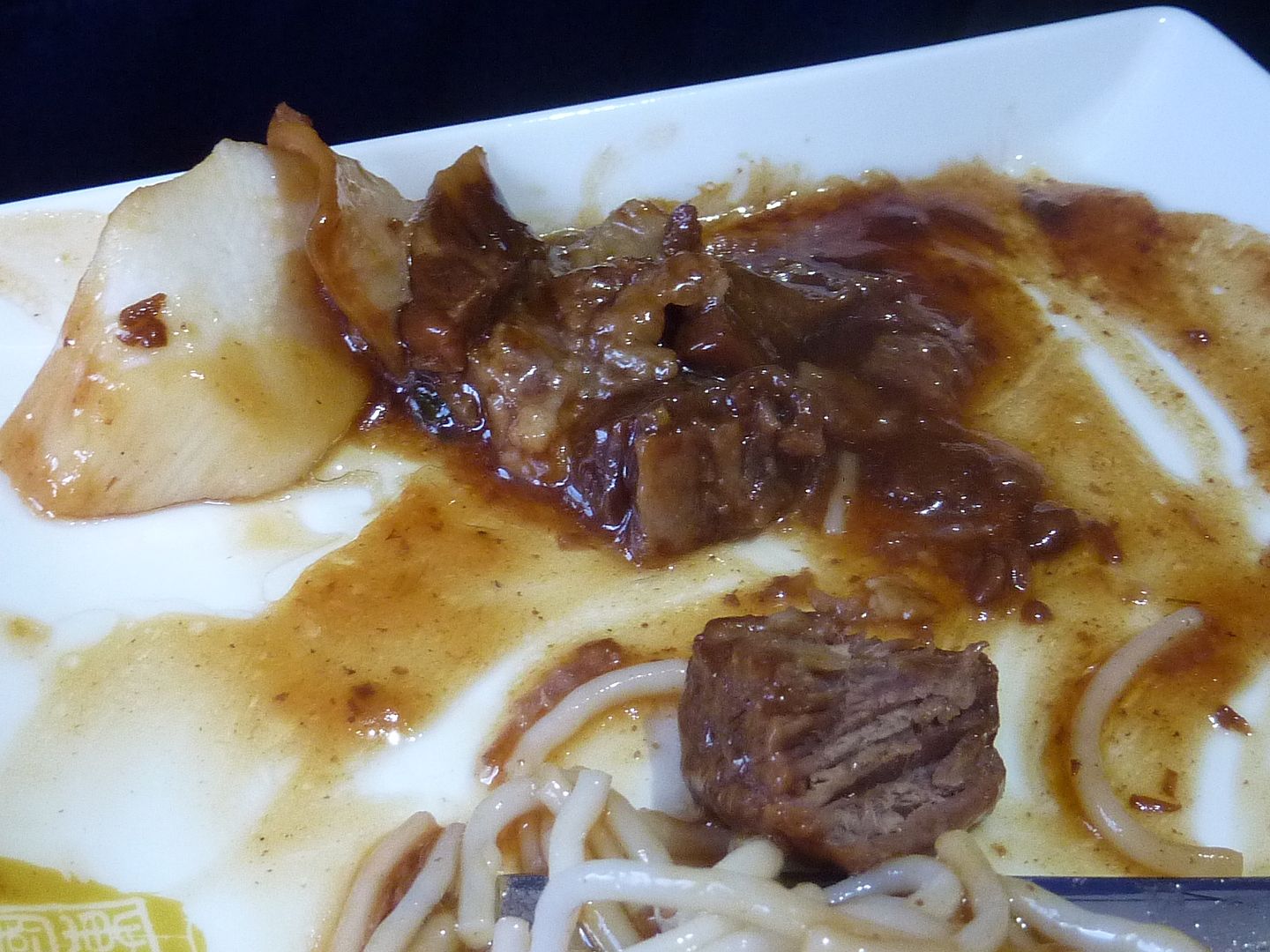 After my tray had been cleared I asked for a green tea, I took another later too, whilst this was being delivered the FA also advised me we would be arriving early at 11:30.
I spent the remainder of the flight putting this together along with drinking tea and looking out the window.
Not much to see outside really, quite smoggy below, whilst you could just about see main roads and some buildings, the views were quite poor.
Bathroom shot
This was quite a bumpy flight, there were several occasions where the seal belt sign went back on and people requested to return to their seats.
As we approached the Beijing area the visibility increased dramatically, such that I could actually see clearly.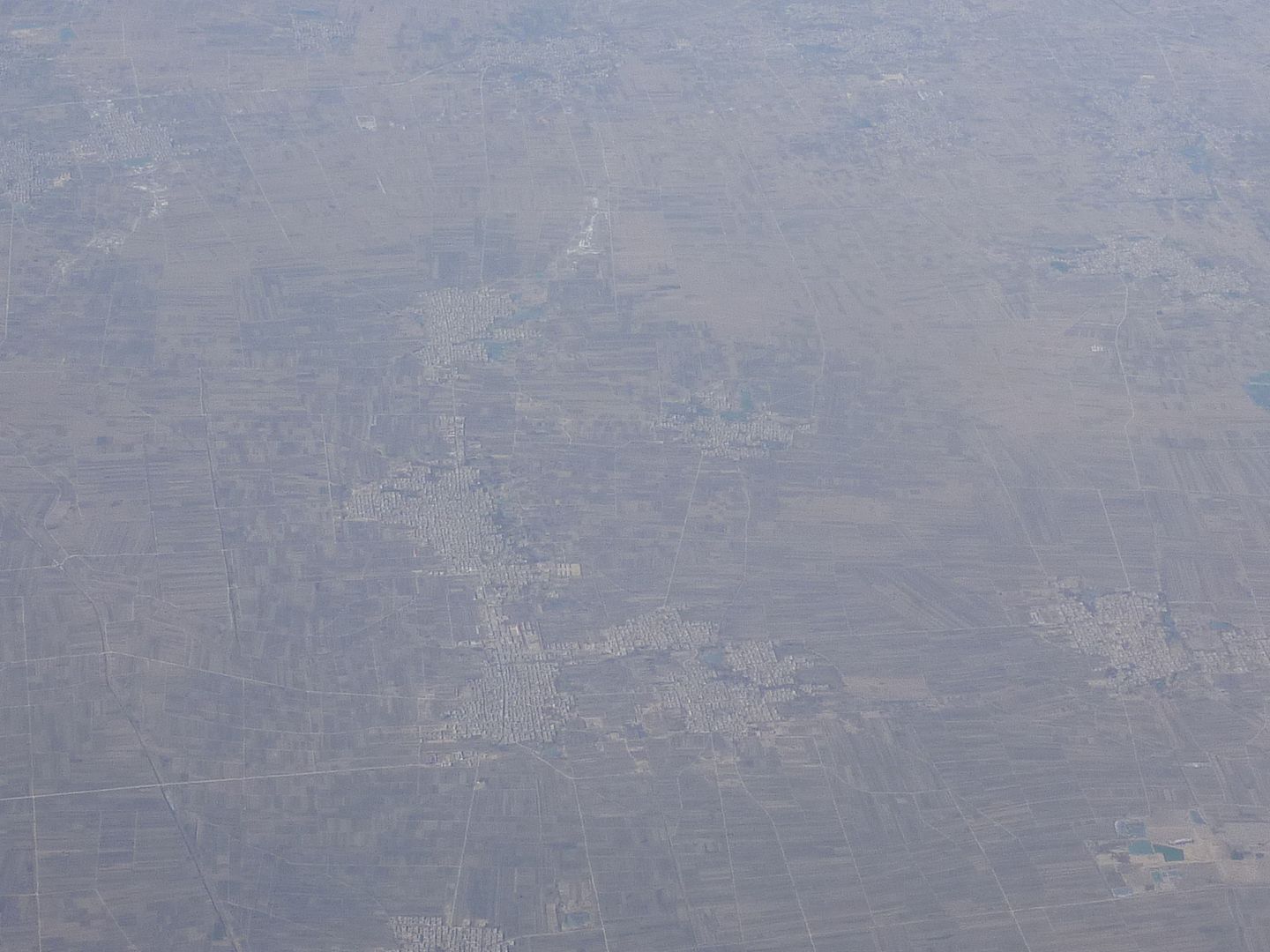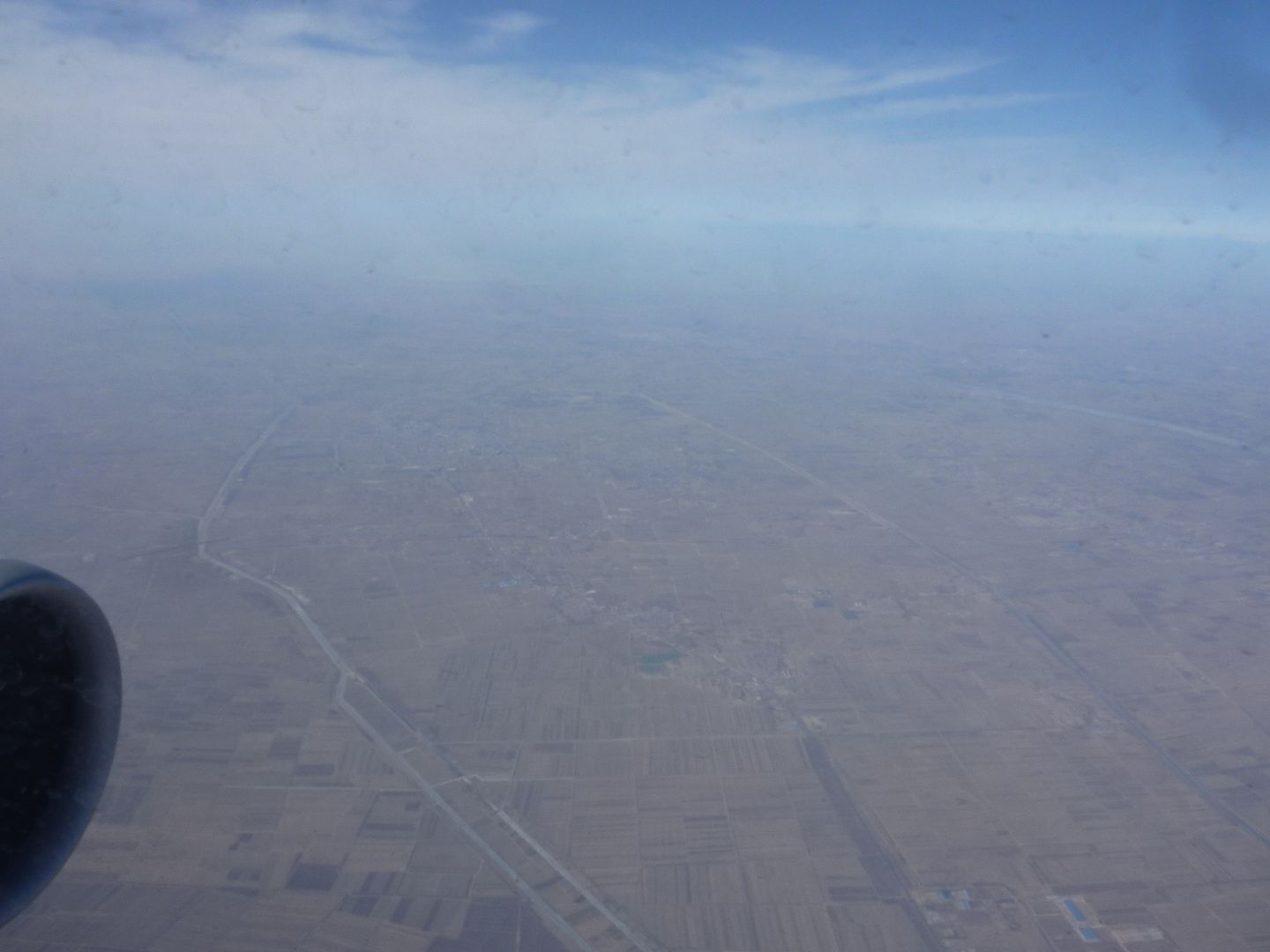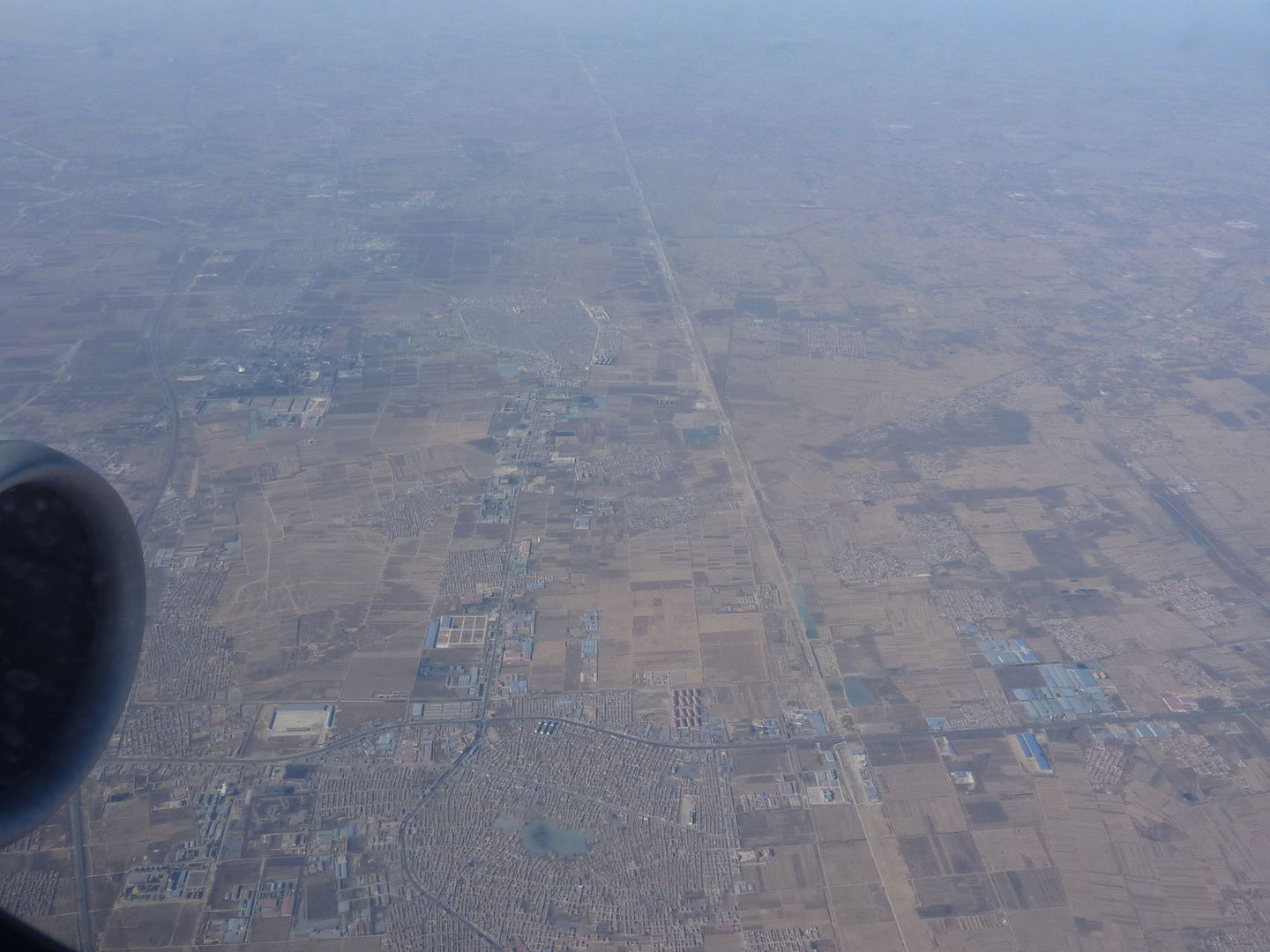 Descent had well and truly started, I'd been so transfixed to looking outside I'd not really been paying attention!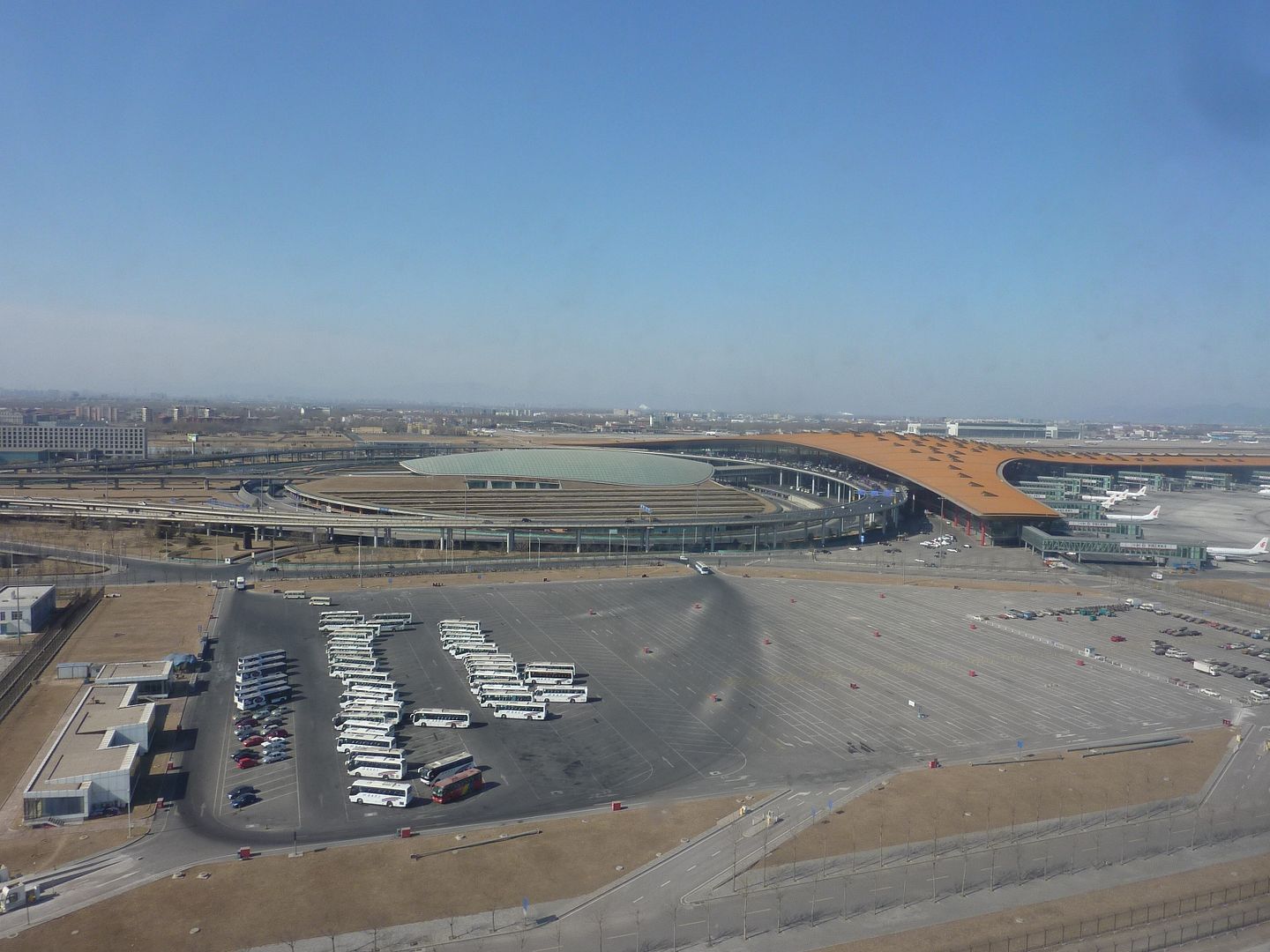 Wheel's down early @ 11:27 on runway 01 – passing AY & LH as we vacate the runway
Not an everyday sight
Pulling onto stand
One last look at my machine as I head into Terminal 2.
All in all I enjoyed my flight with China Eastern, a real shame the A300 got downgraded to an A320, but on the flip side it was at least assembled in China.
I'd like to try out MU on a longhaul in JCL one day to see how they perform on a longer flight.
I have a day and a half spotting here before the main reason for the trip, the China Southern A380, that report is up next but not until August now, more flying and another TR to join the backlog.
I hope you have enjoyed this quick trip, feel free to drop and comments or ask any questions.
Cheers Mark – AKA BA319131