Date: July 7, 2012
Route: Hong Kong - New York-JFK
Flight Number: CX840
Aircraft: Boeing 777-367ER
Registration: B-KPF
Scheduled Time Of Departure: 16:10
Actual Departure Time: 16:27
Scheduled Arrival Time: 20:10
Actual Arrival Time: 19:42
Flight Time: 15 hrs 15 min
Class: First
Seat: 1A
Cathay Pacific Airways B-777-367ER B-KPF "Asia's World City":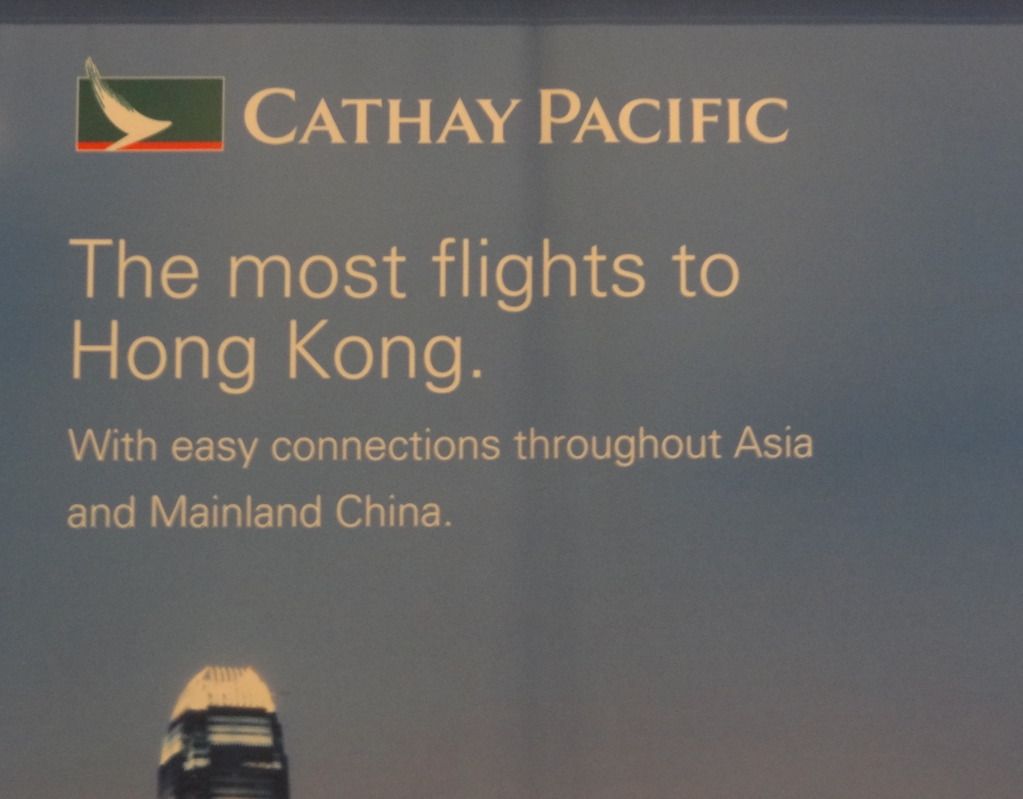 Before heading to the check-in counter, I decided to do some spotting at HKG:
CX B-777-367ER B-KPD: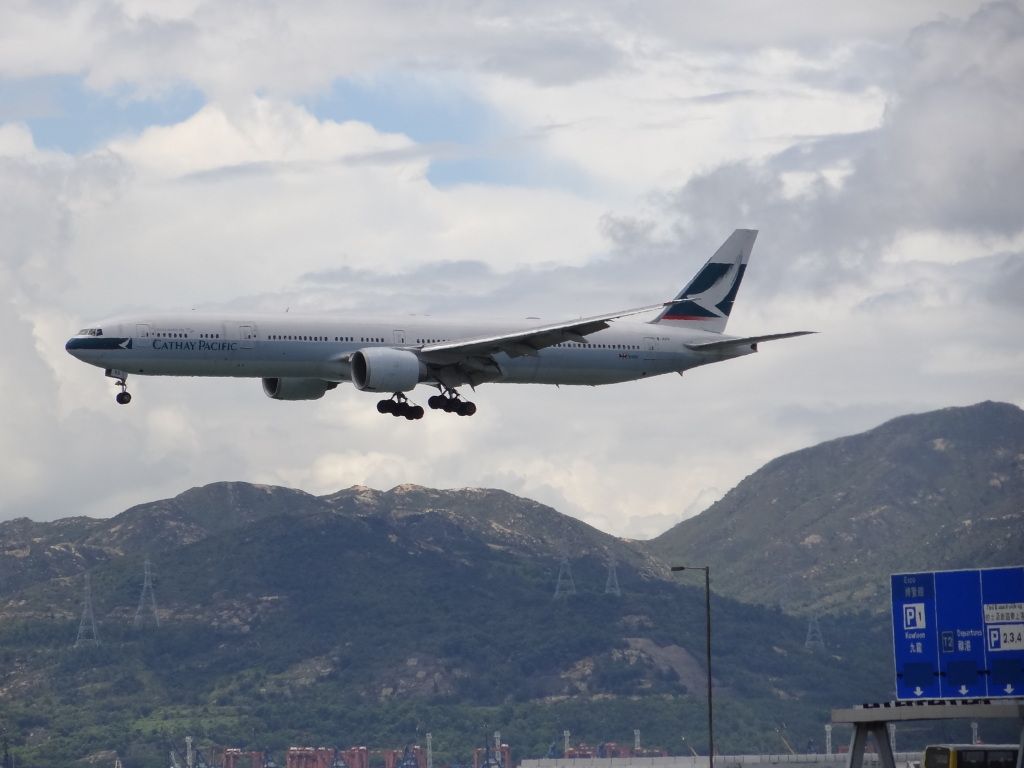 CX A-330-343X B-HLH: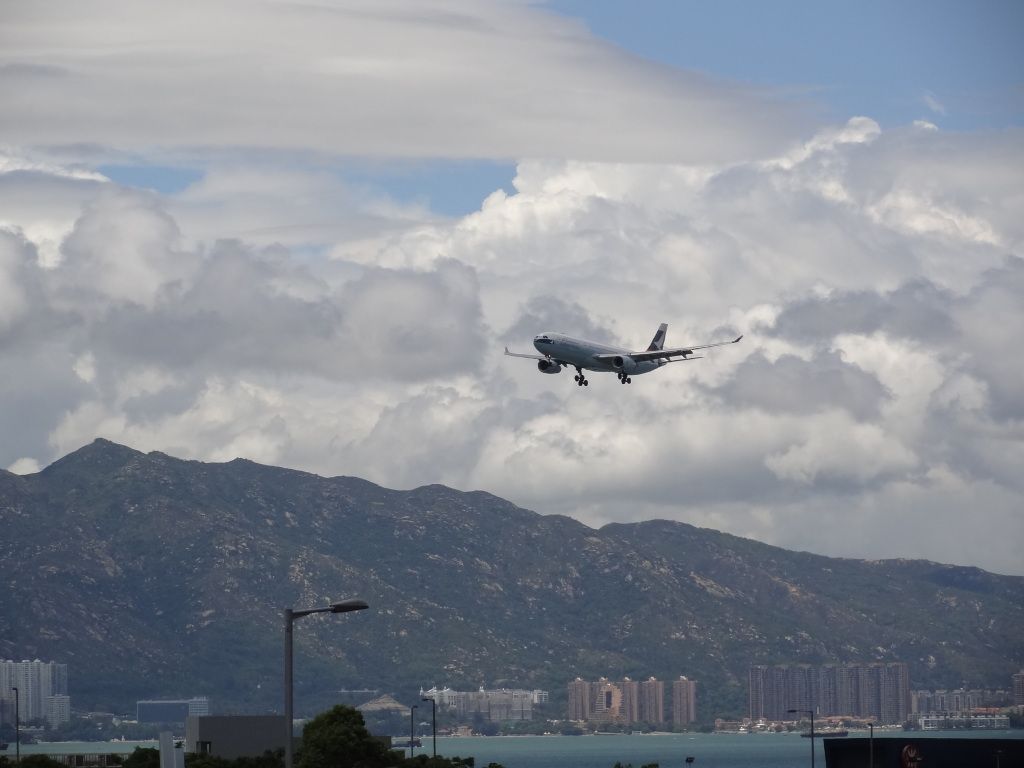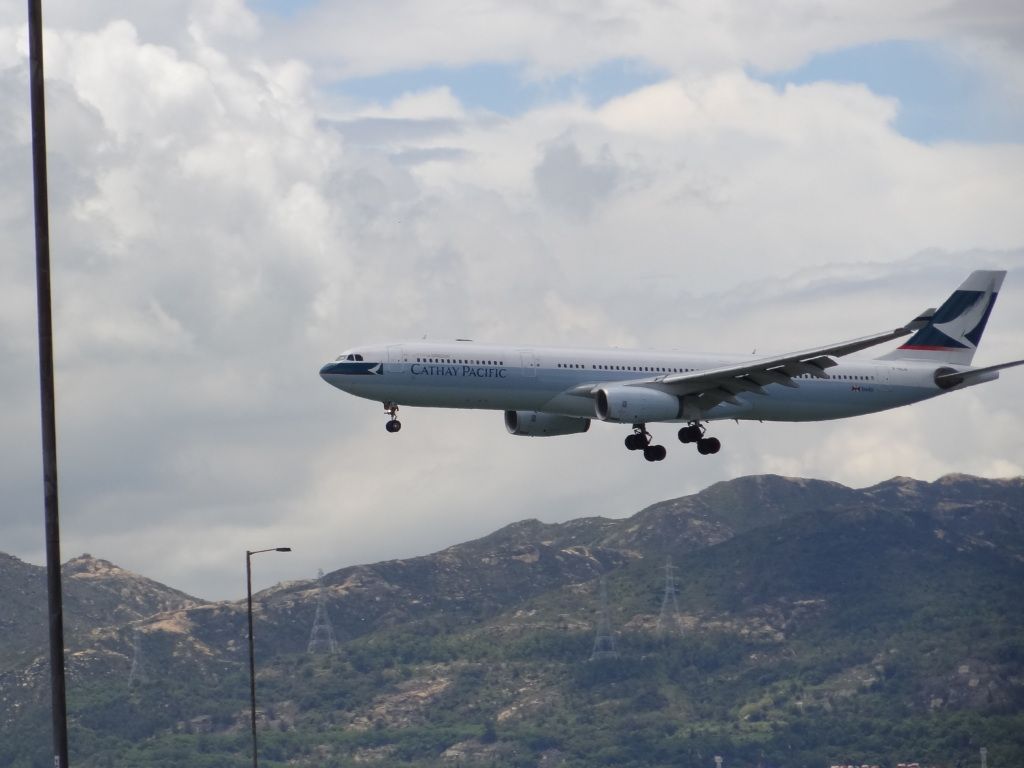 CX B-777-367 B-HNM: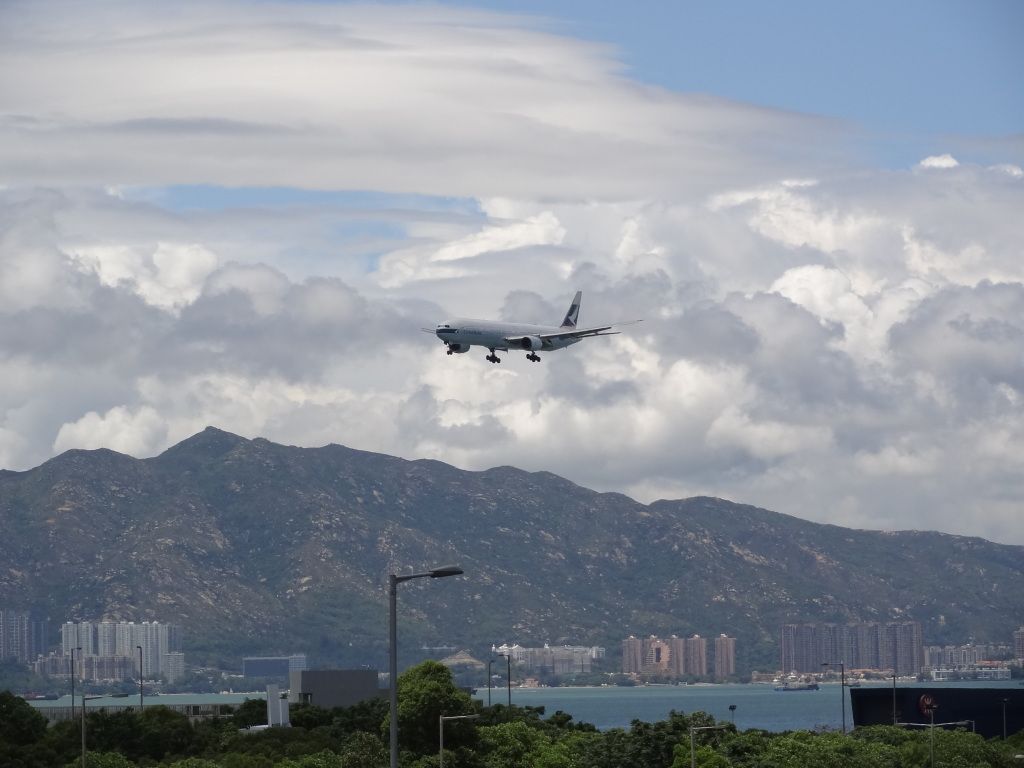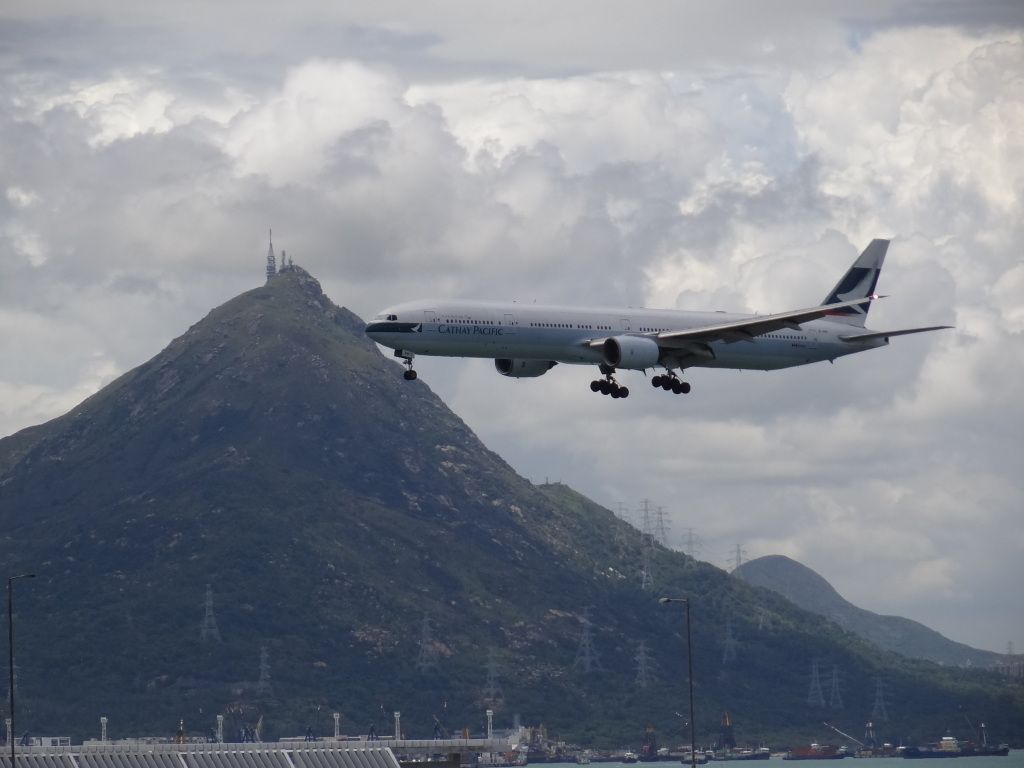 Air Macau A-321-131 B-MAG: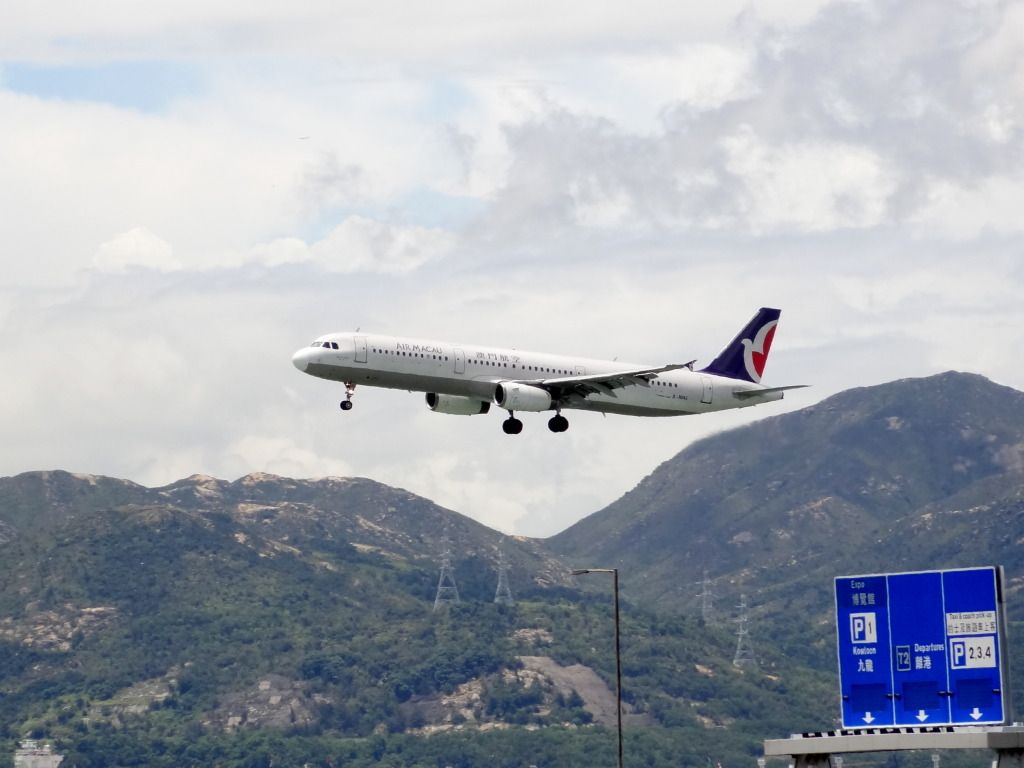 Dragonair A-321-231 B-HTE:
EVA AIR A-330-203 B-16311: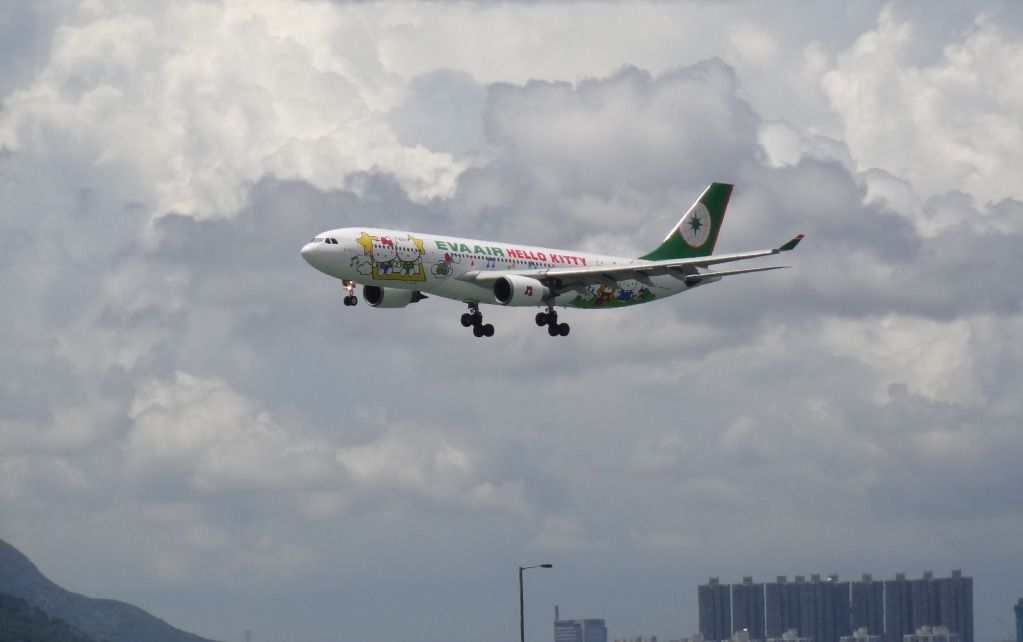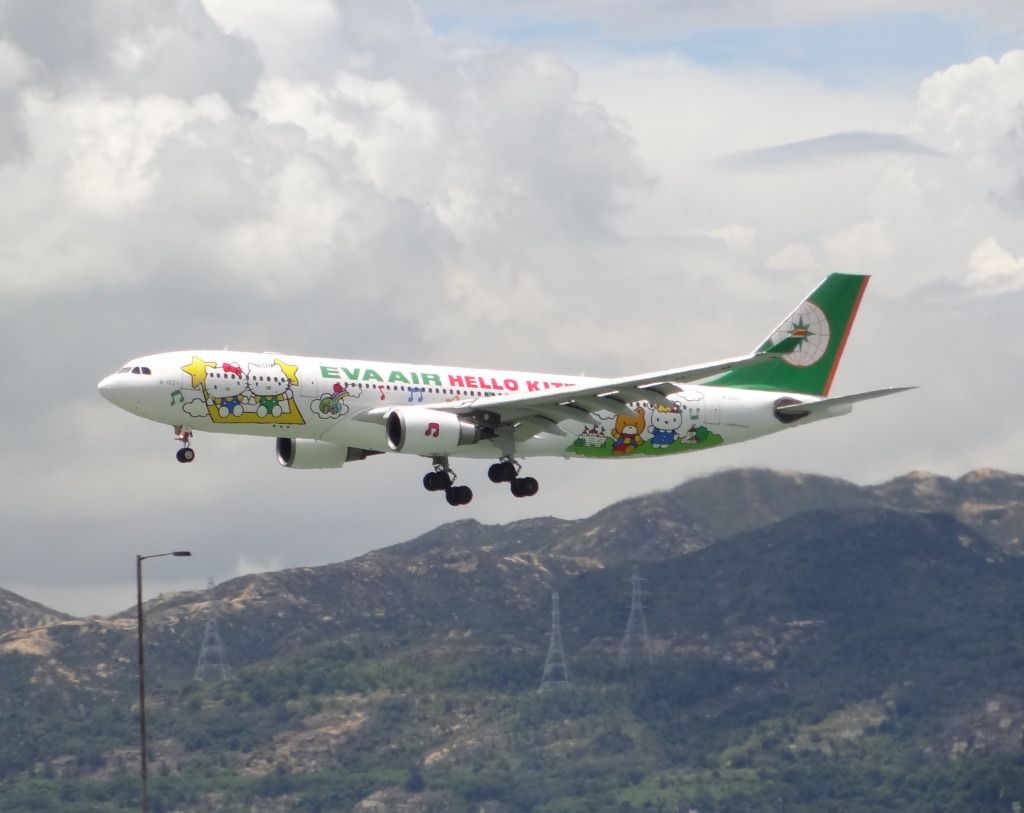 The Wing: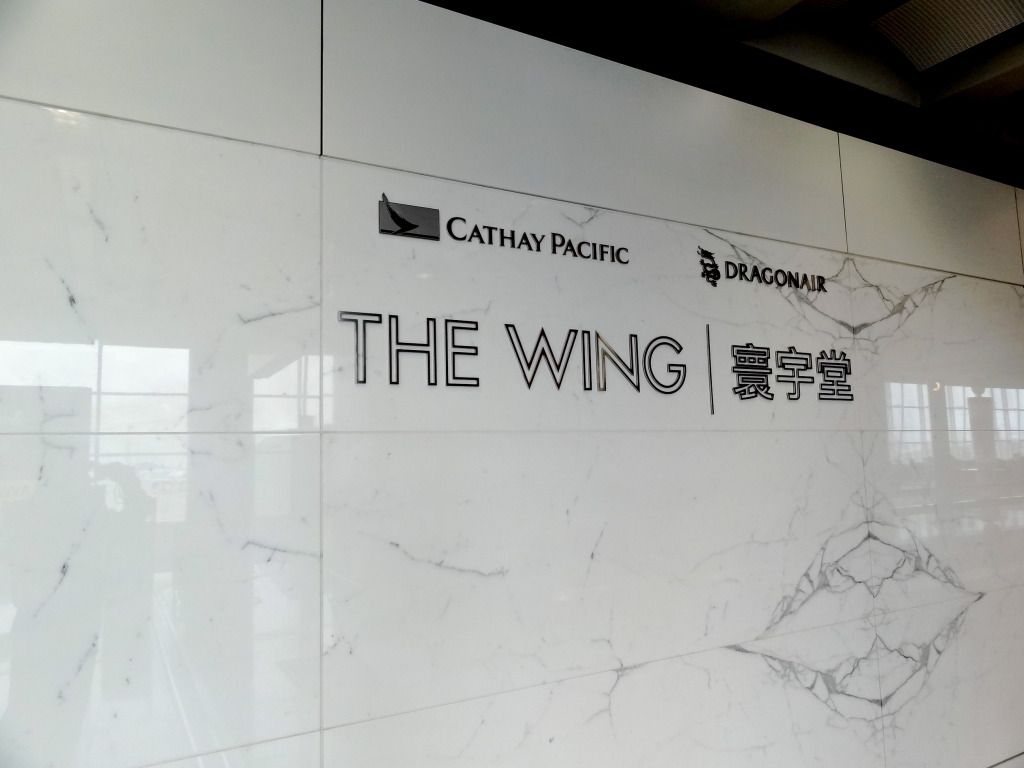 I had a quick snack and a glass of champagne, as I wanted to spend a few moments taking some pictures of the various Cathay Pacific aircraft before boarding commenced at Gate 21.
Four CX aircraft at Gates 1-4: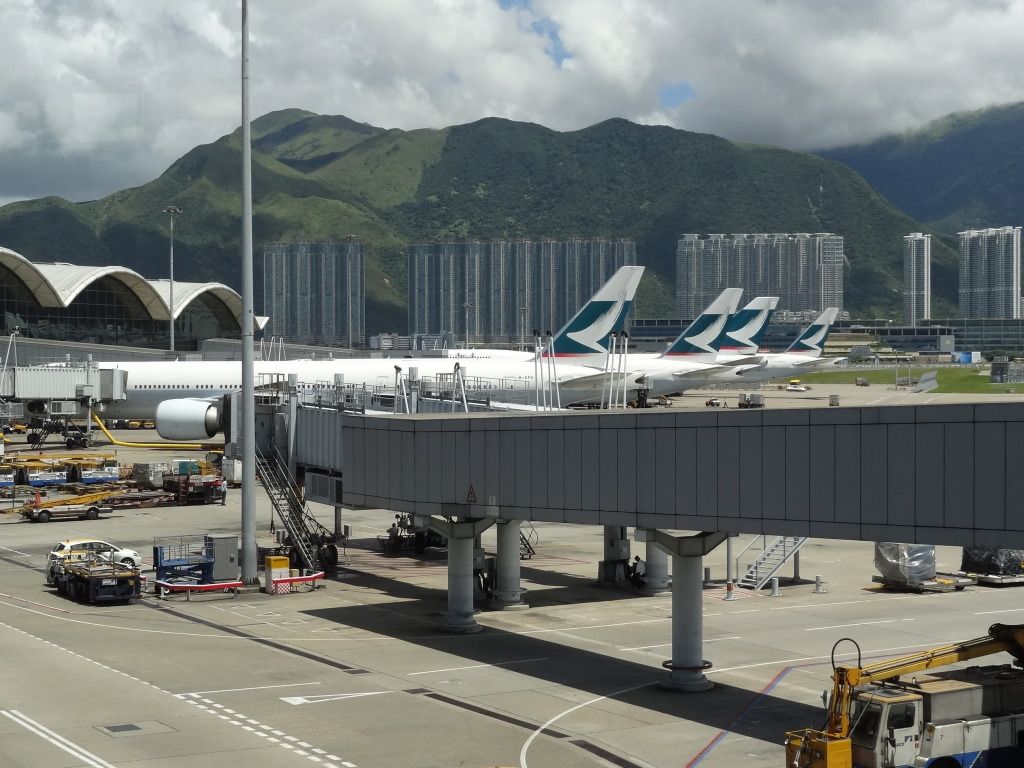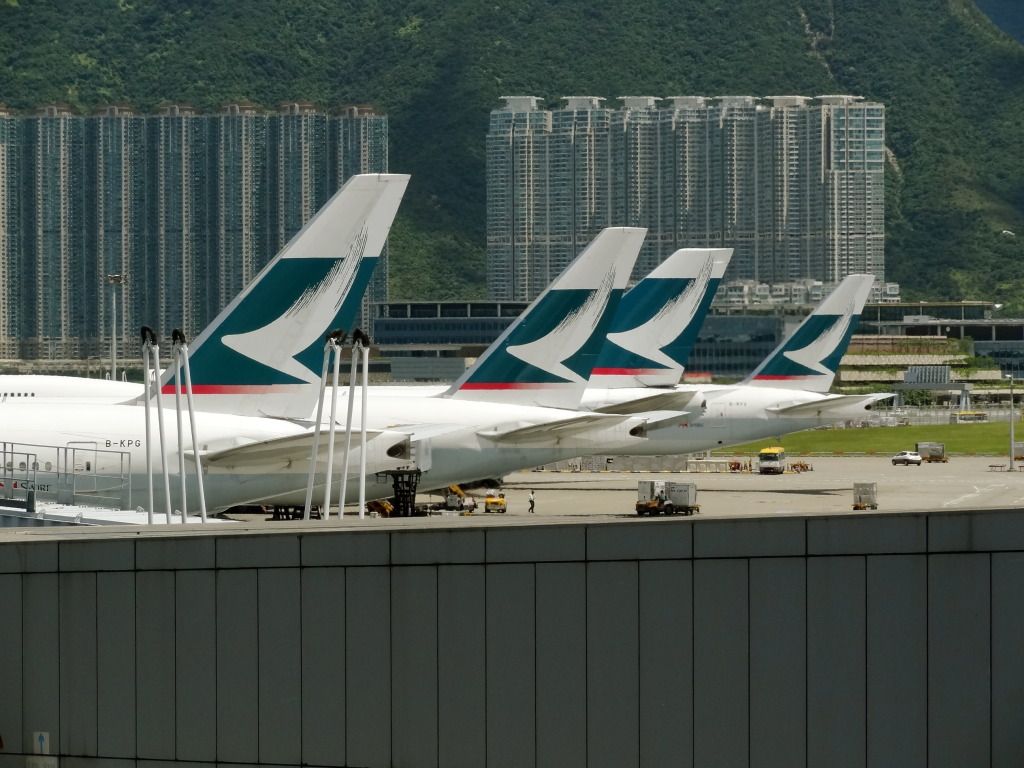 My flight is departing from Gate 21: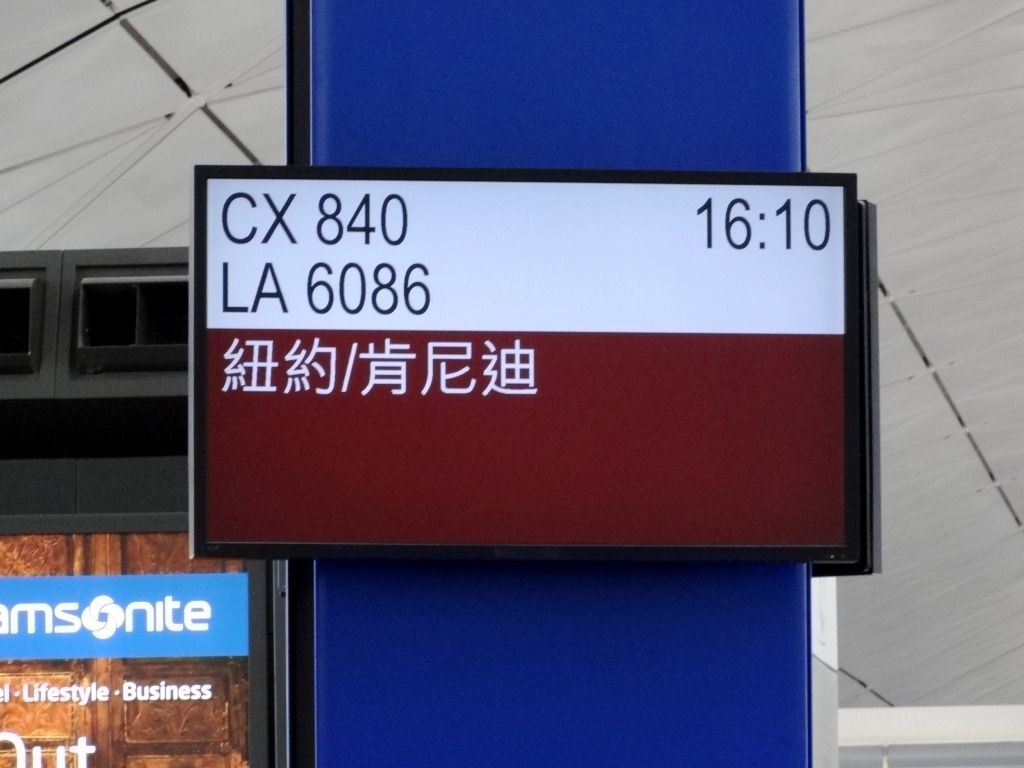 Today, Cathay Pacific's B-777-367ER B-KPF "Asia's World City" will be flying me to New York!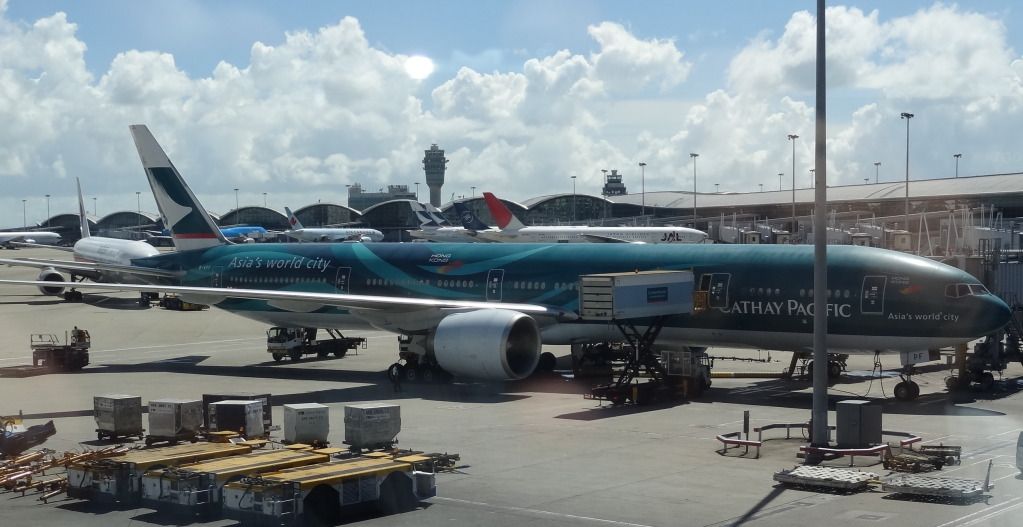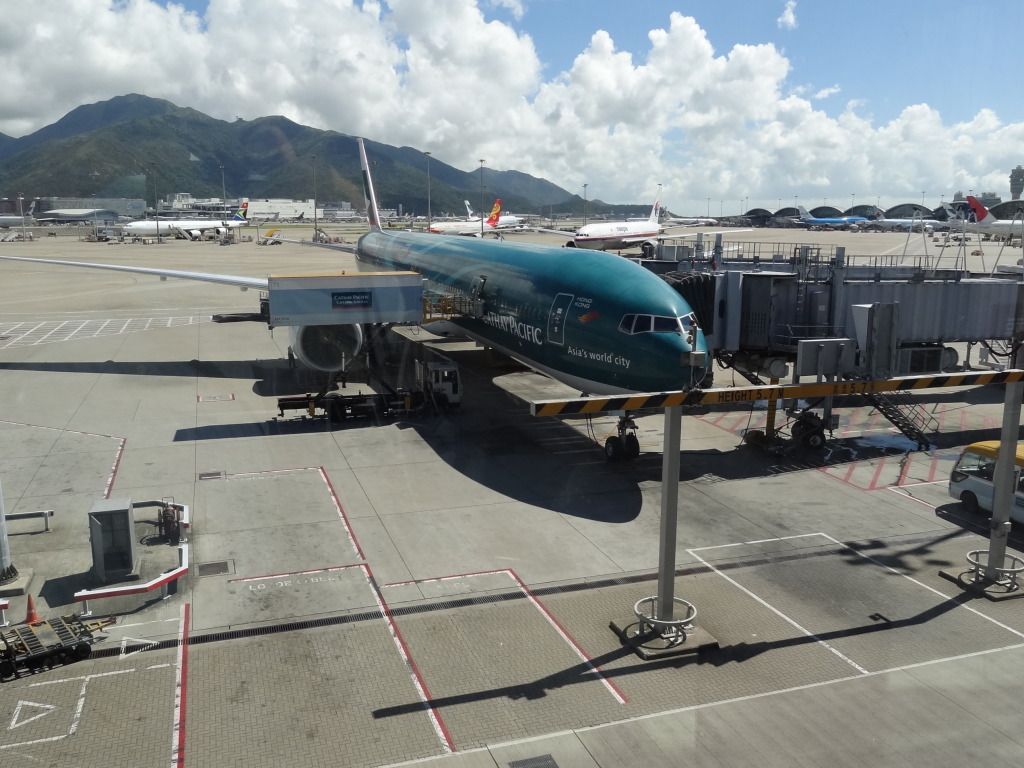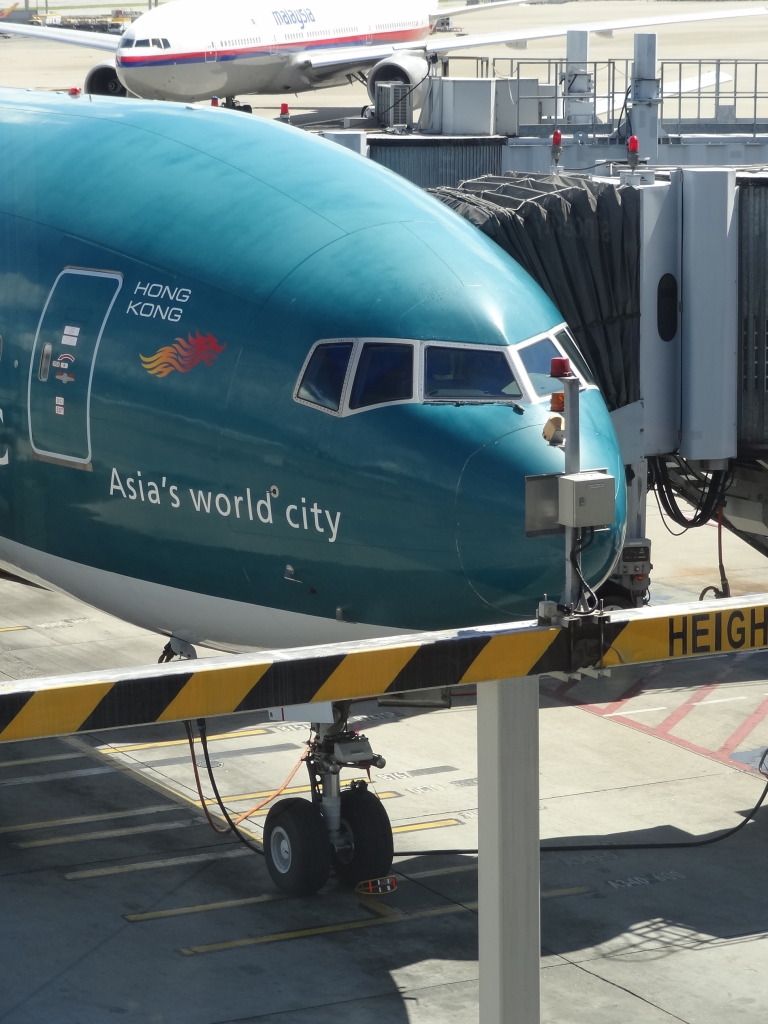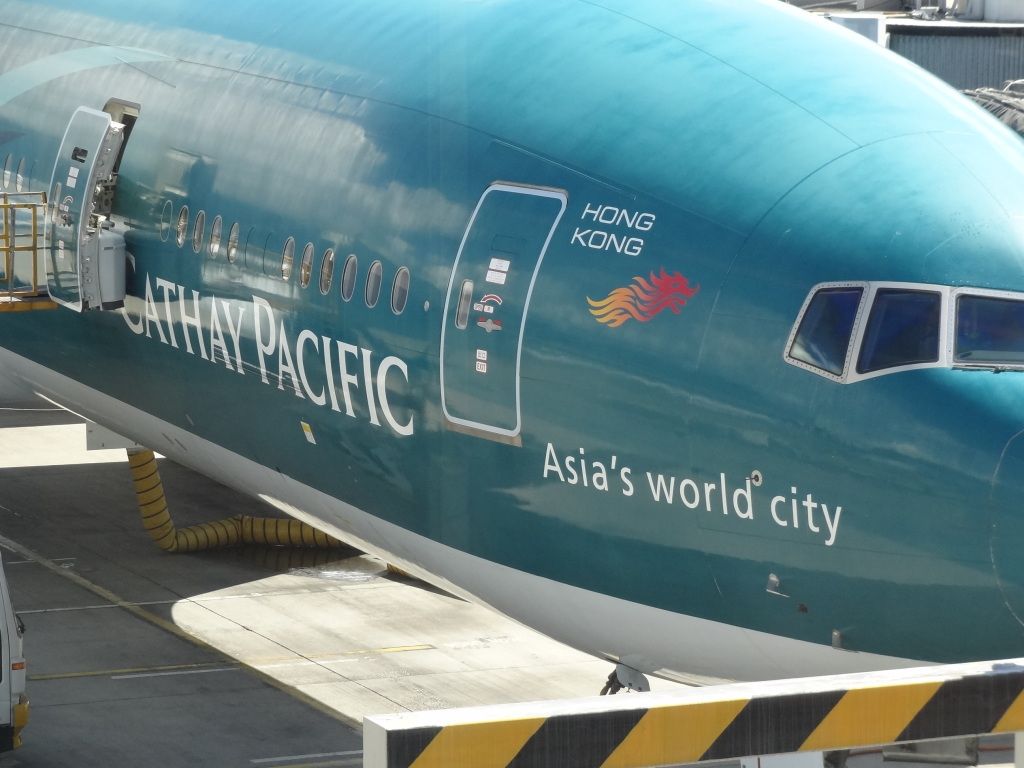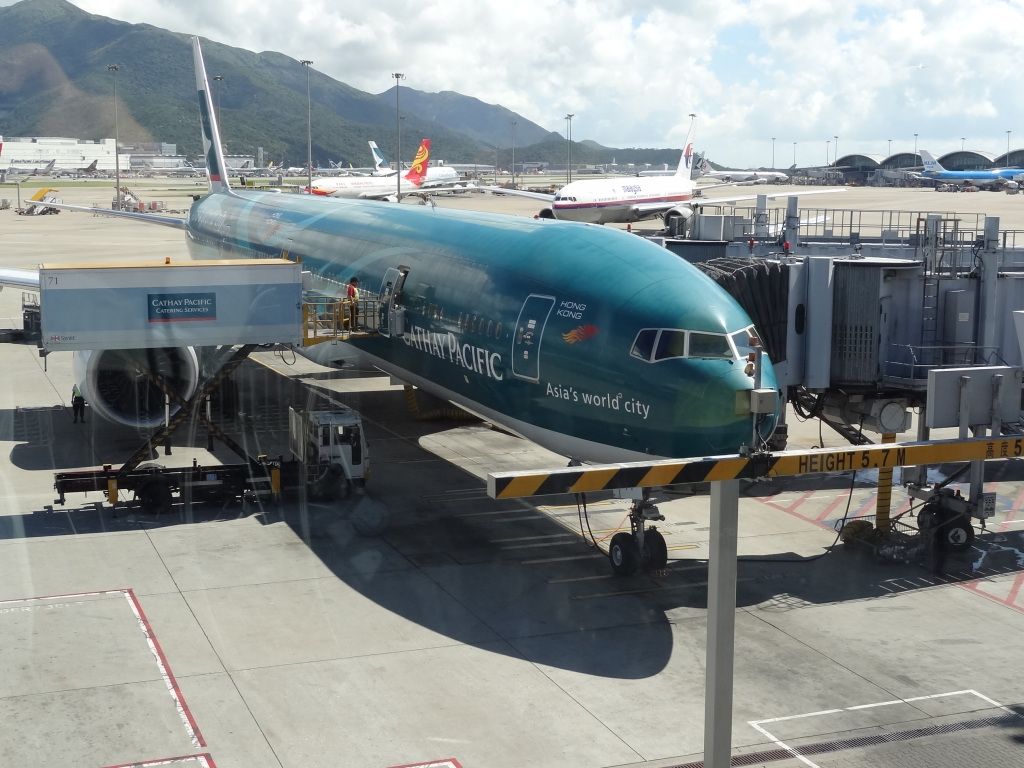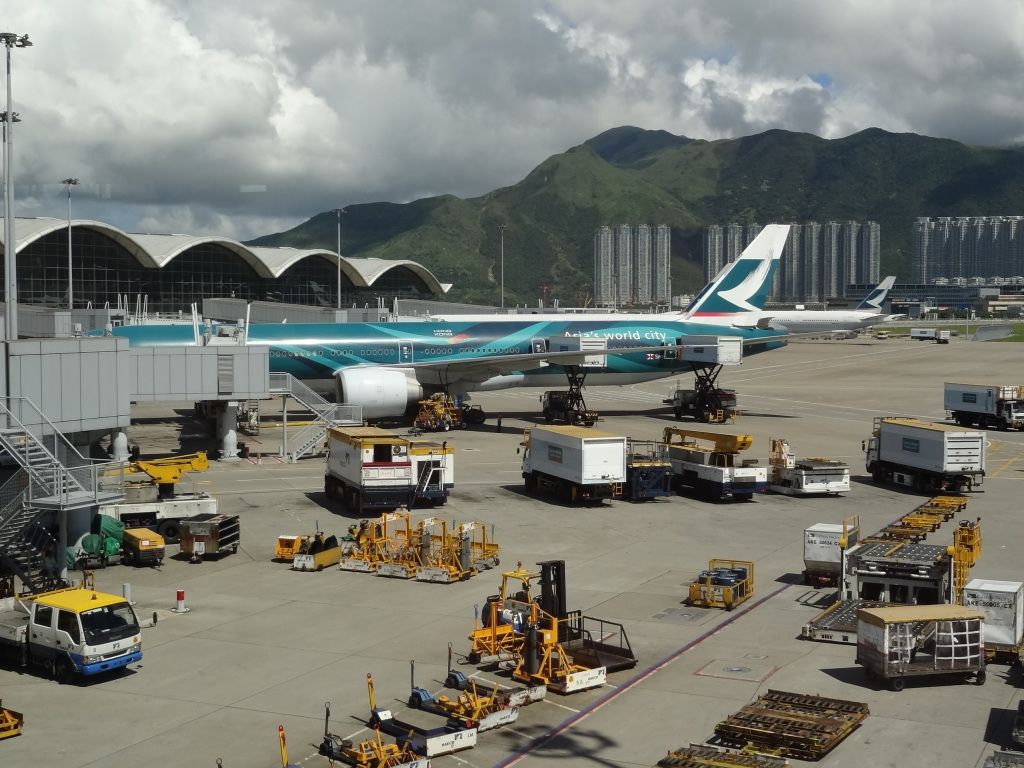 Time to board the flight to JFK! First Class passengers were invited to board the aircraft at their leisure: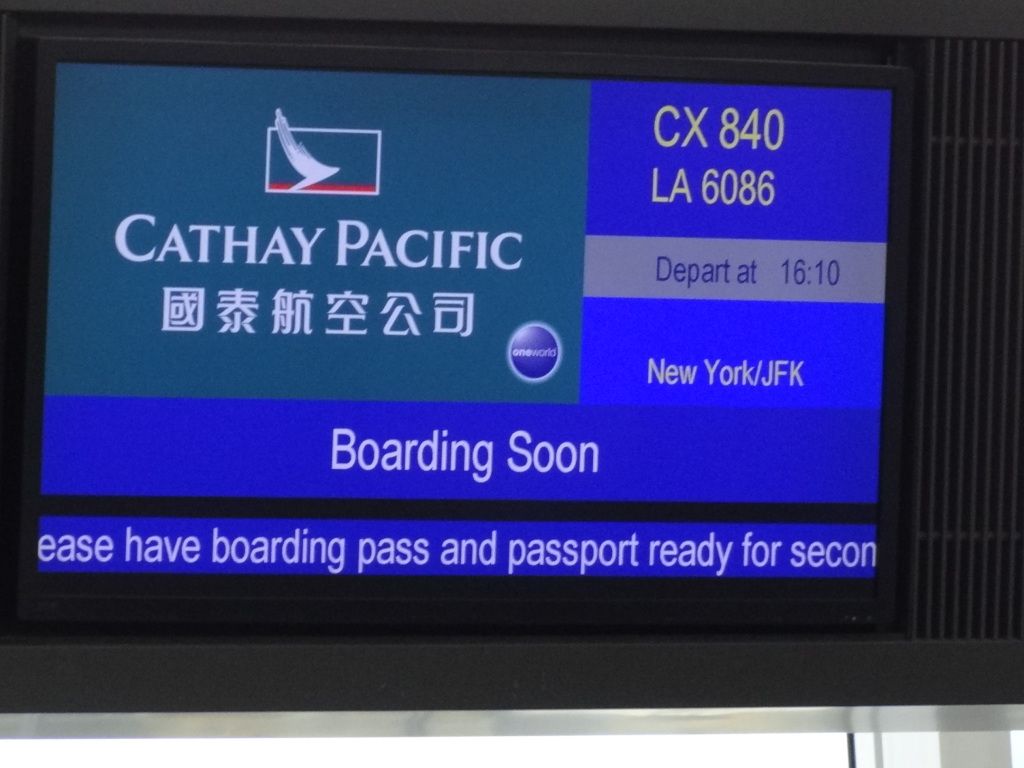 Seat 1A: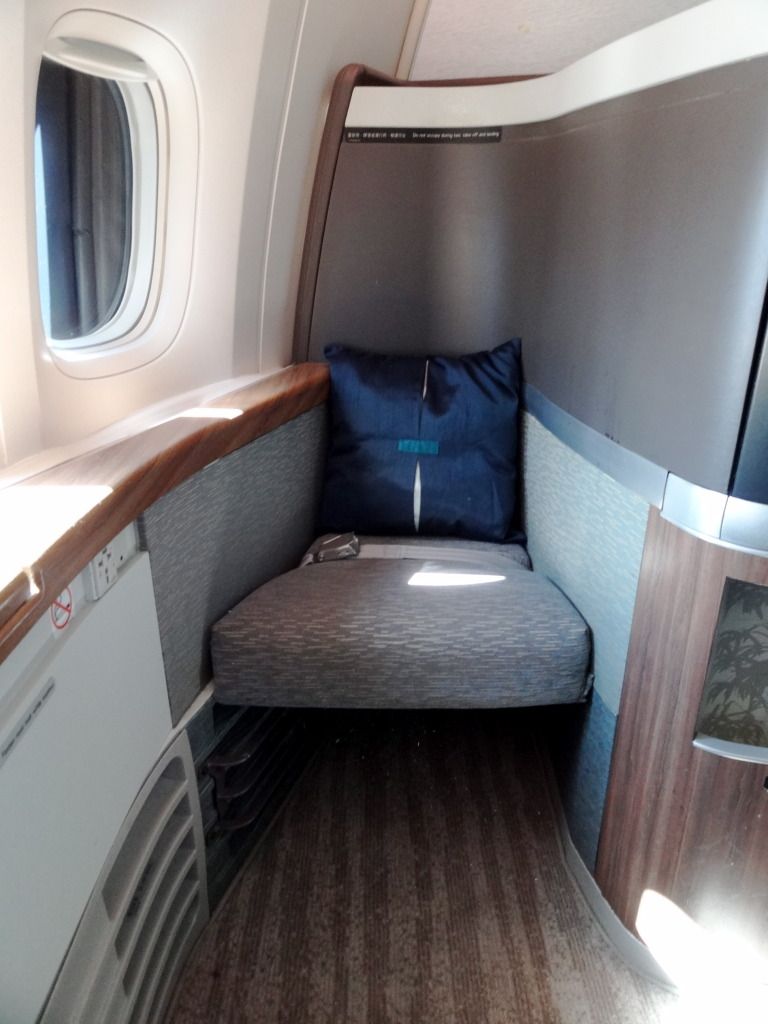 Today the First Cabin will be accommodating 4 other passengers:
Welcome aboard: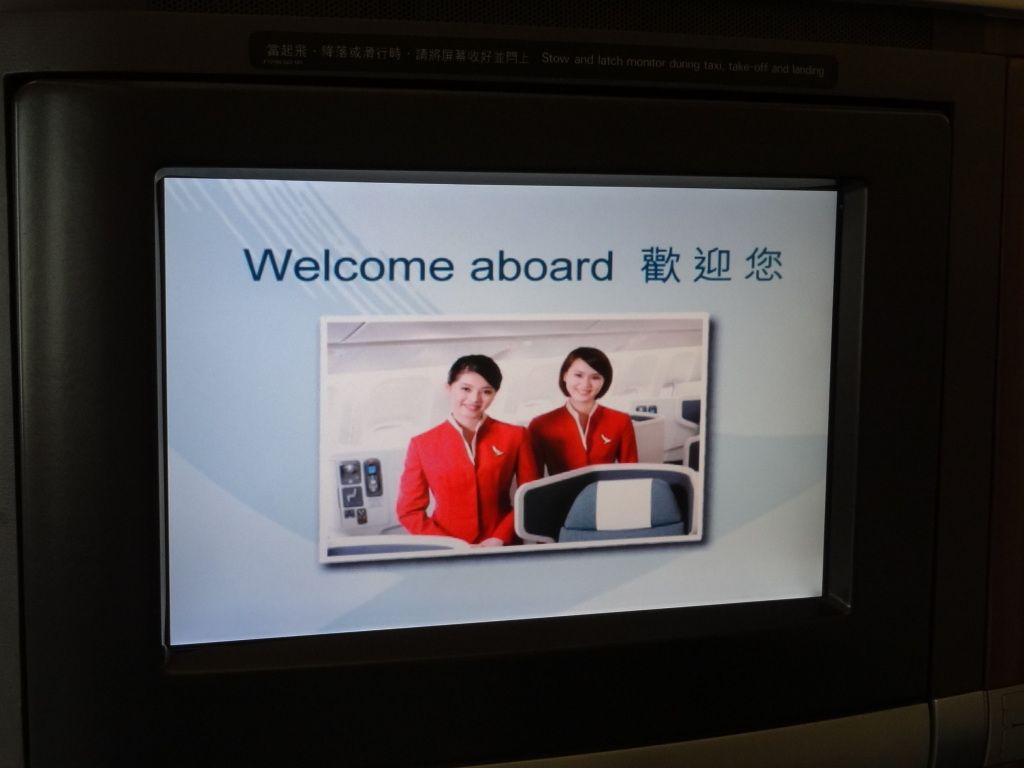 After boarding, the purser introduced herself as well as the two first class flight attendants. The head first class flight attendant welcomed me aboard and asked me what I would like to drink before departure. I replied Krug of course. She returned promptly and served the champagne, along with a hot towel.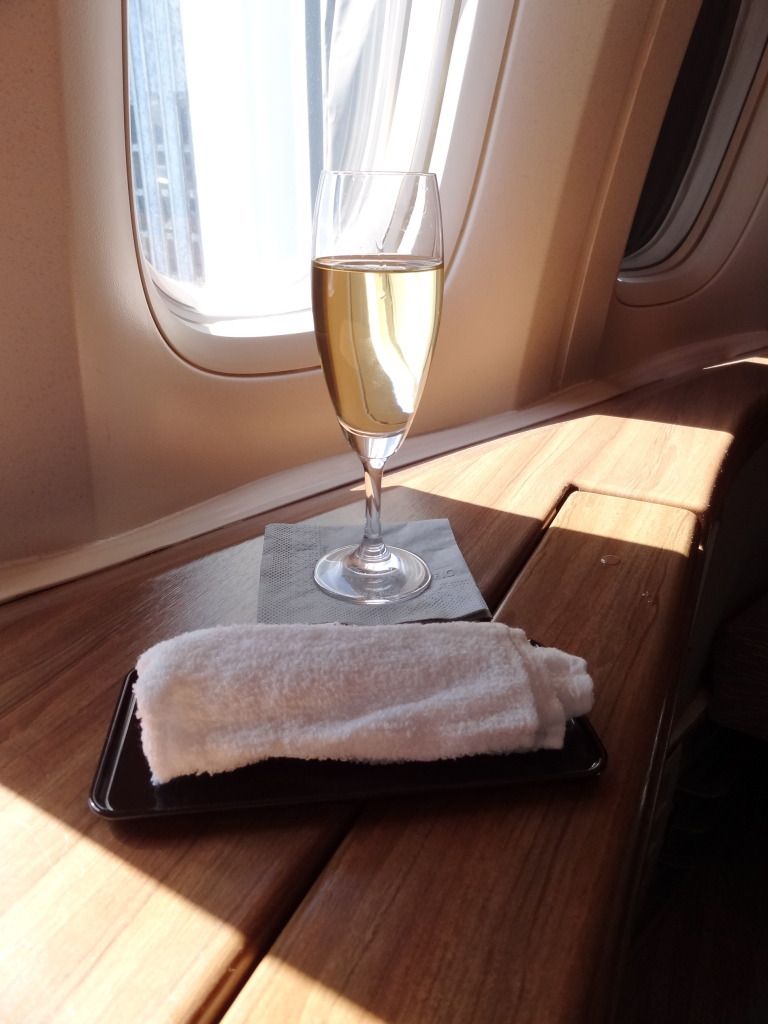 She then distributed the amenity kit and Cathay's Shanghai Tang pajamas.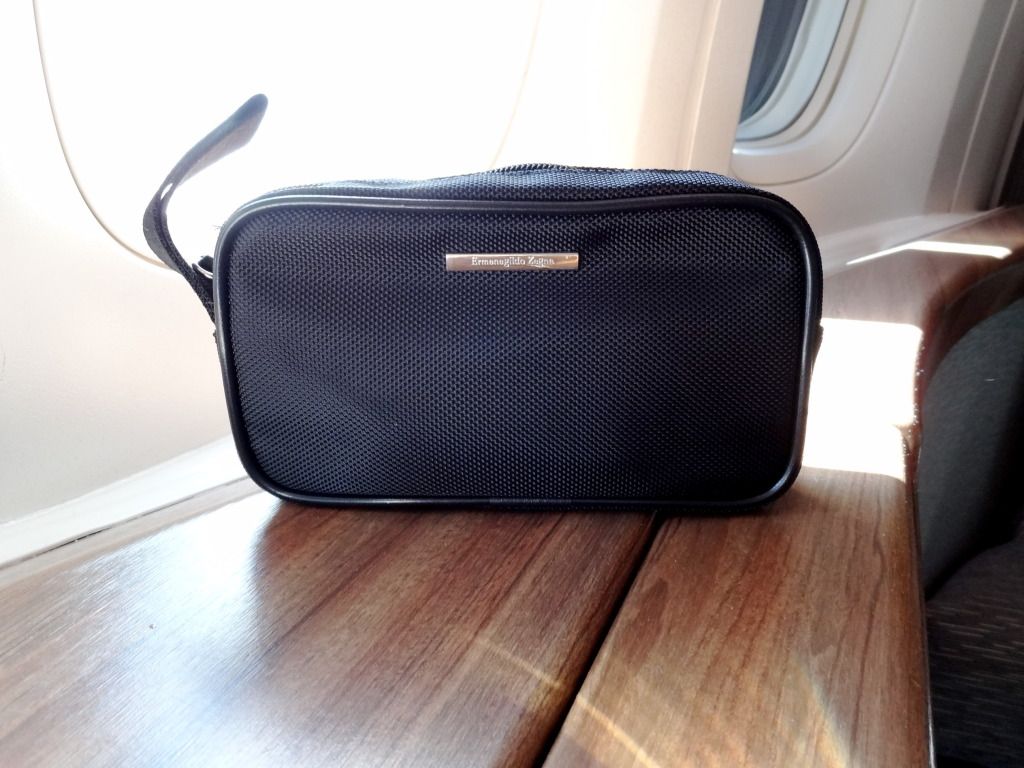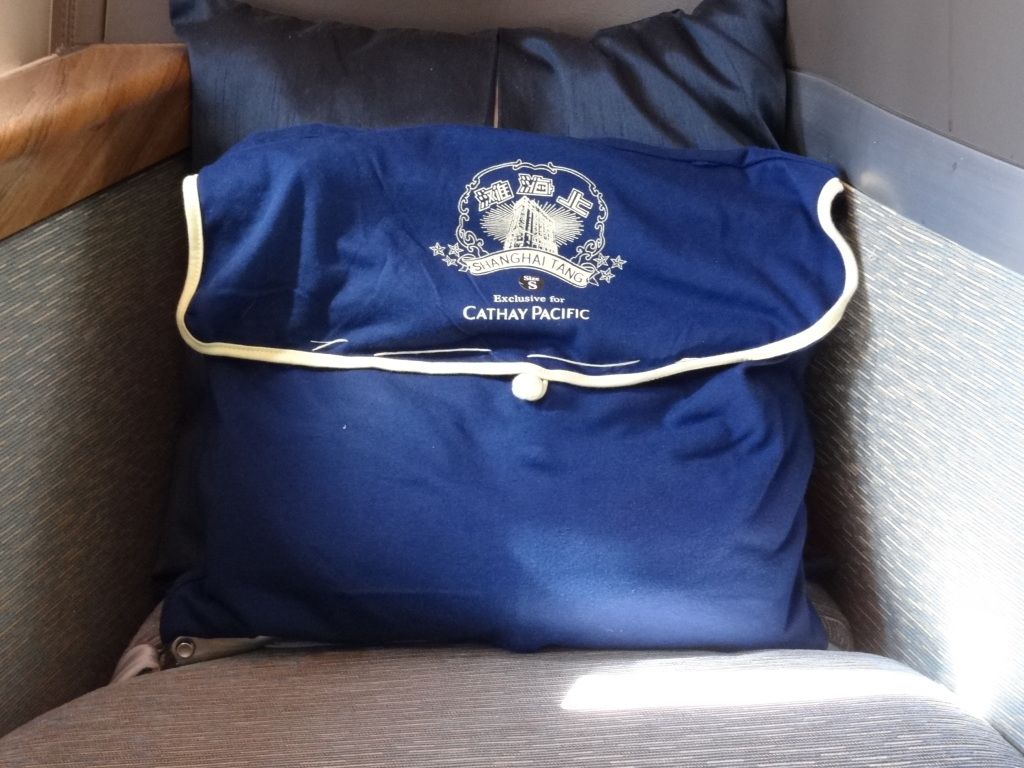 She then came back and refilled my glass of champagne.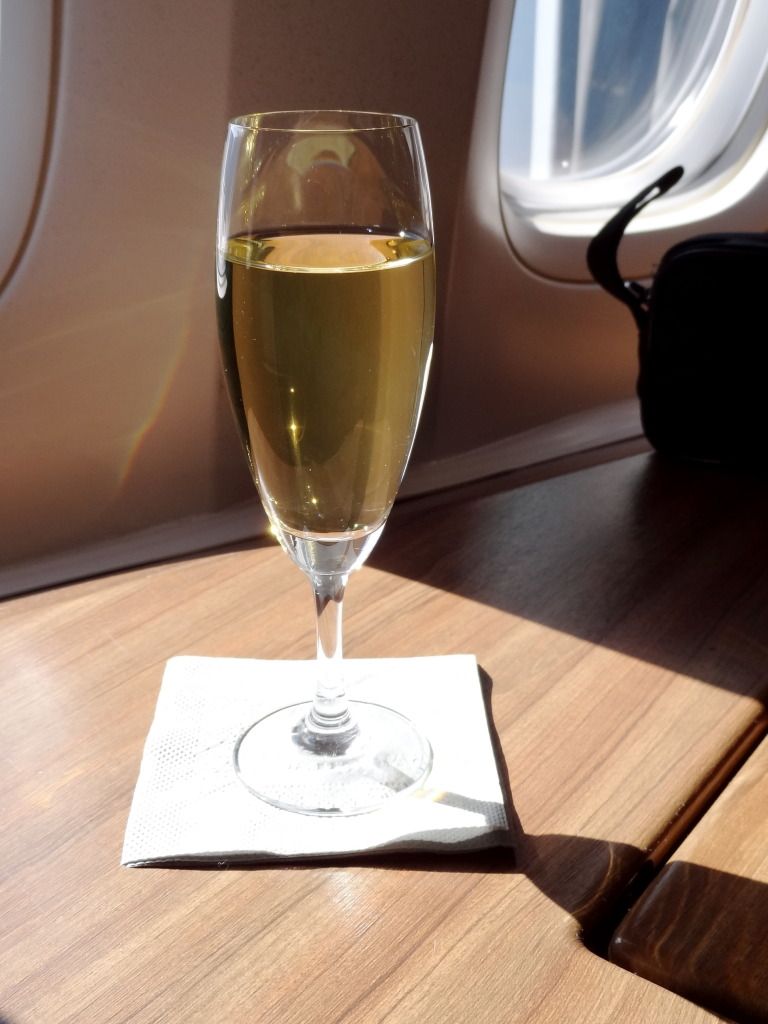 In-flight map: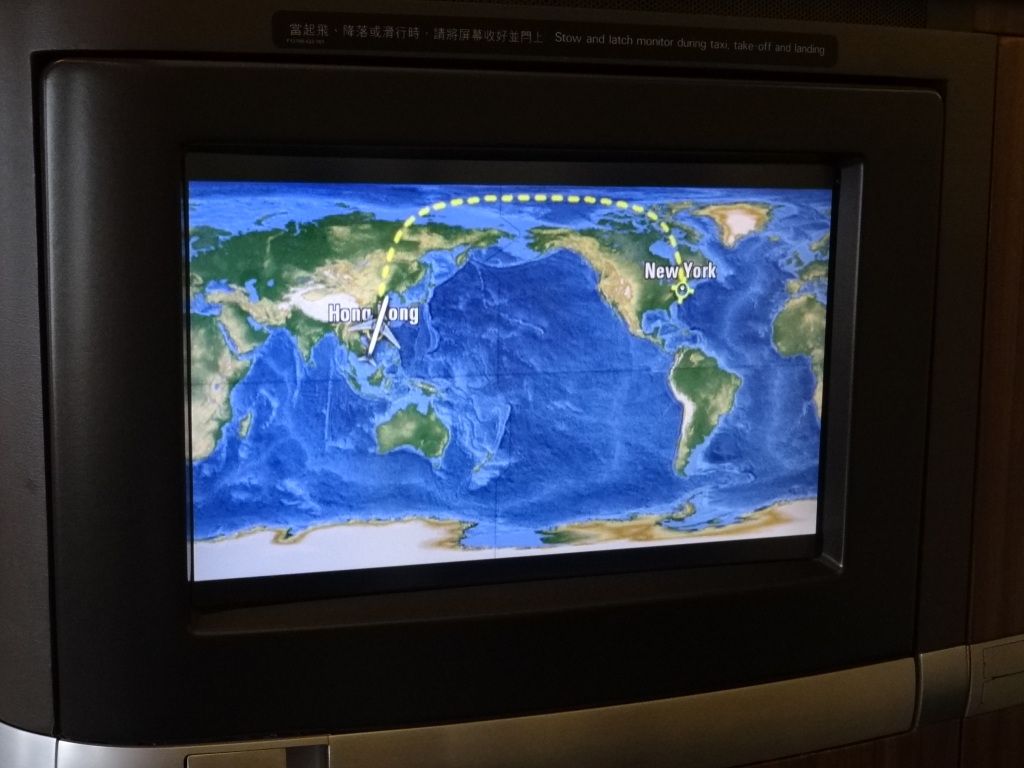 Cathay Pacific Catering Services:
Video of take-off:
http://youtu.be/fsyd3GFVcFY
Views after takeoff: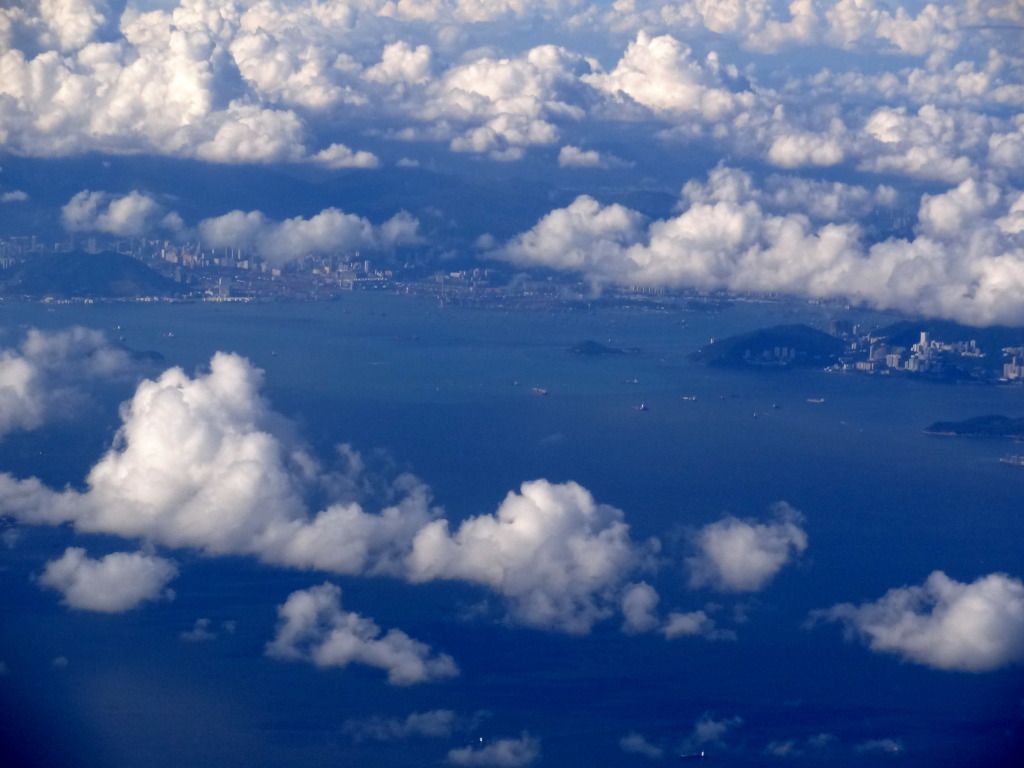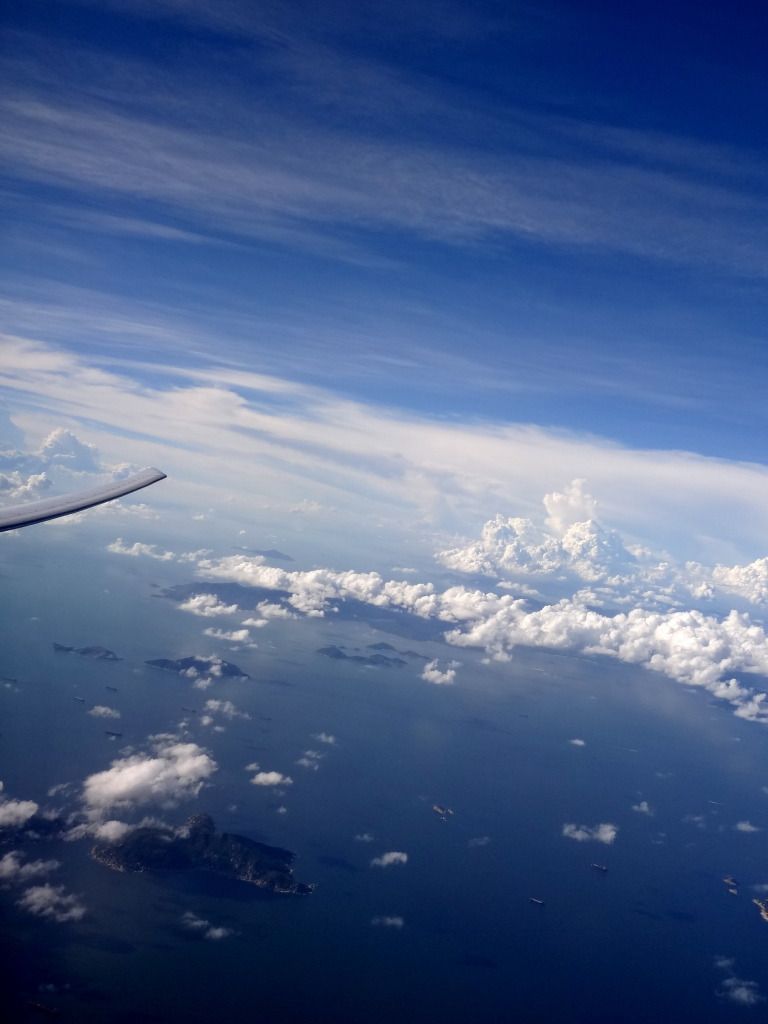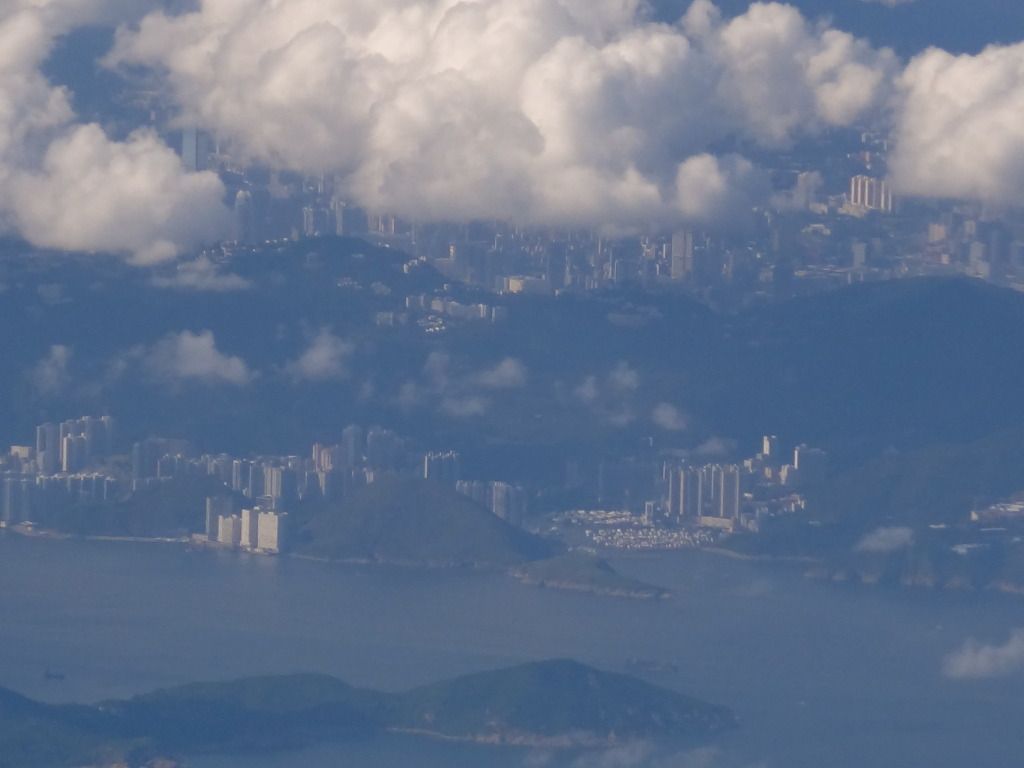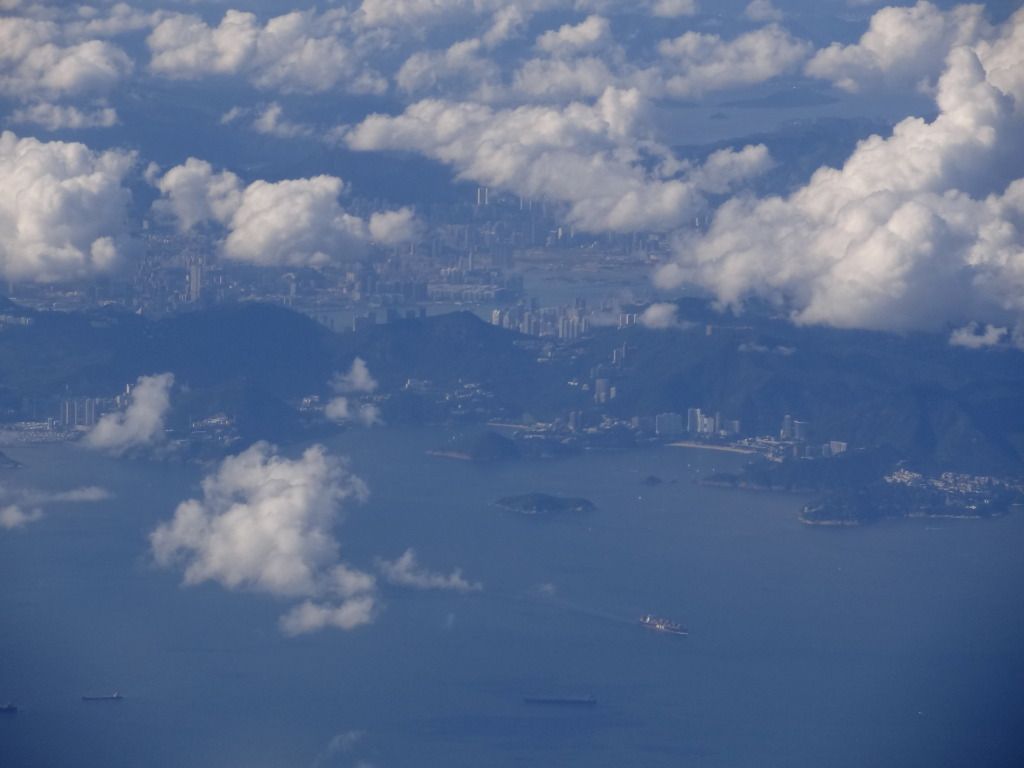 CX In-flight entertainment system: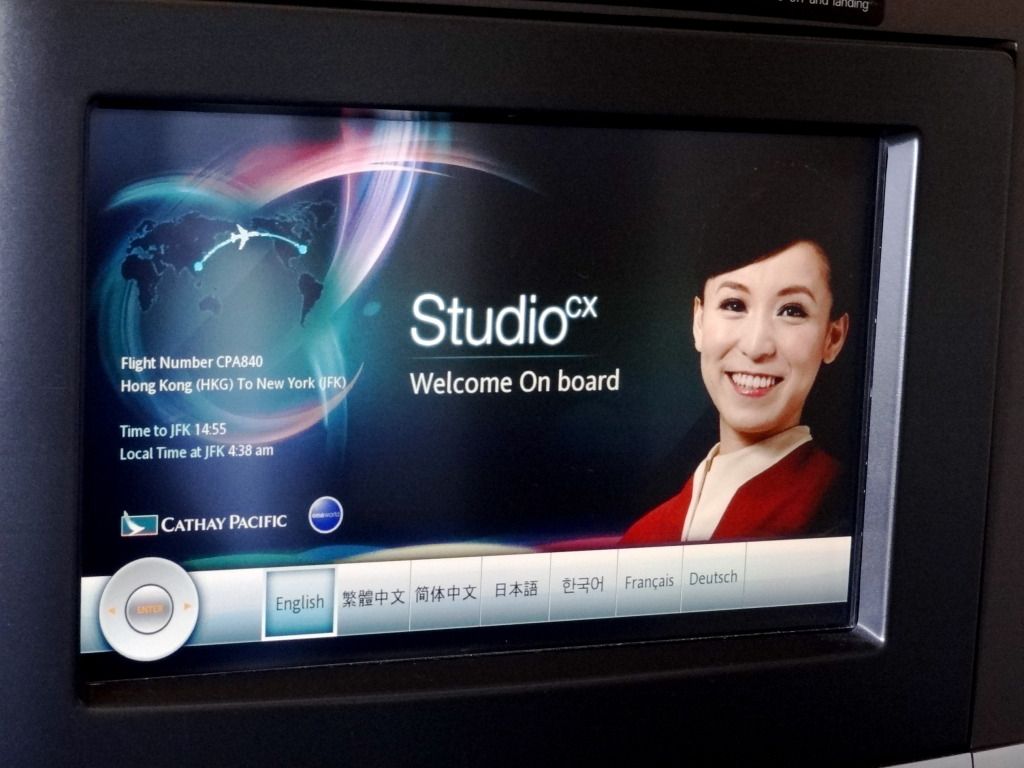 Sterilized headset: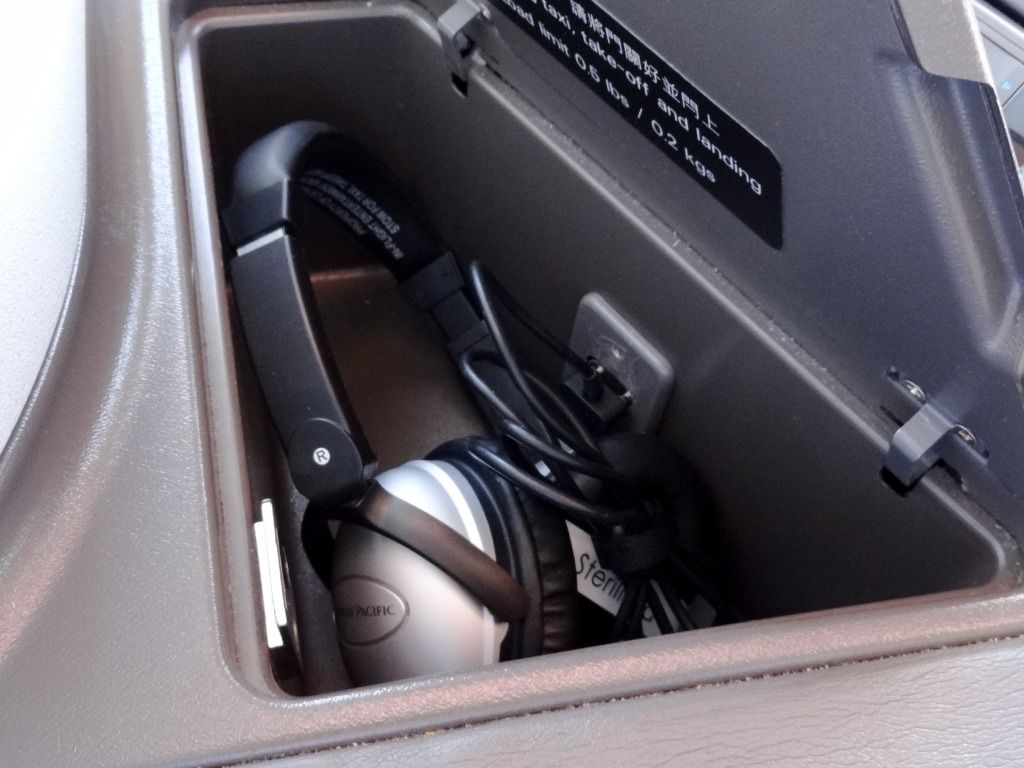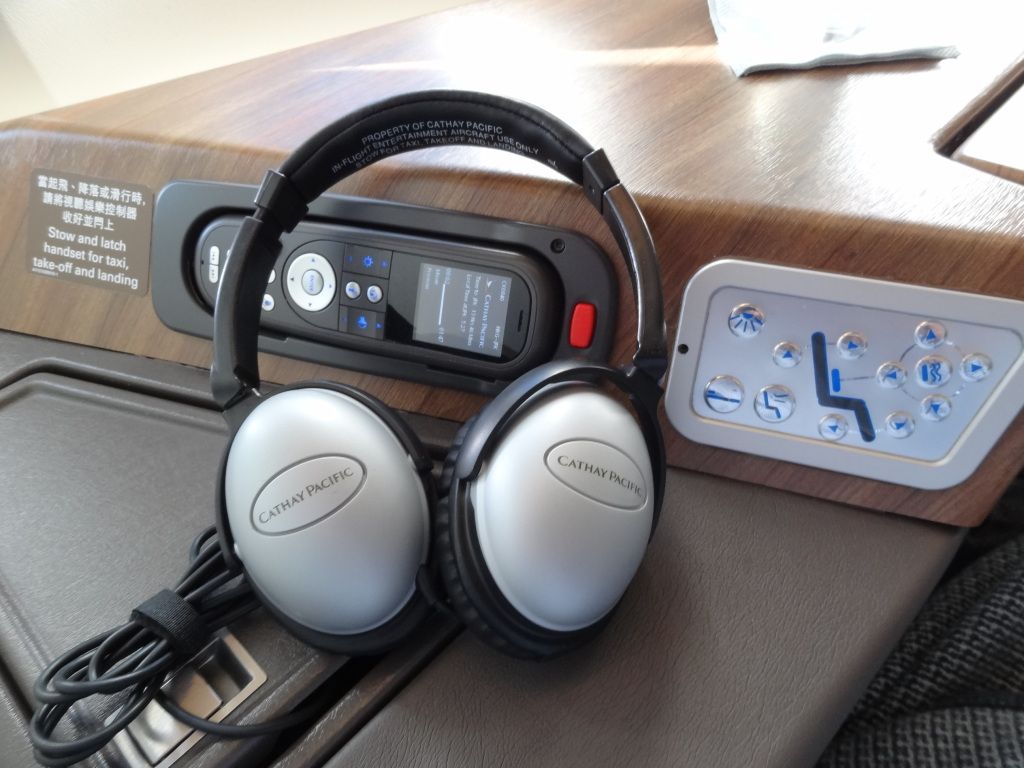 Remote control: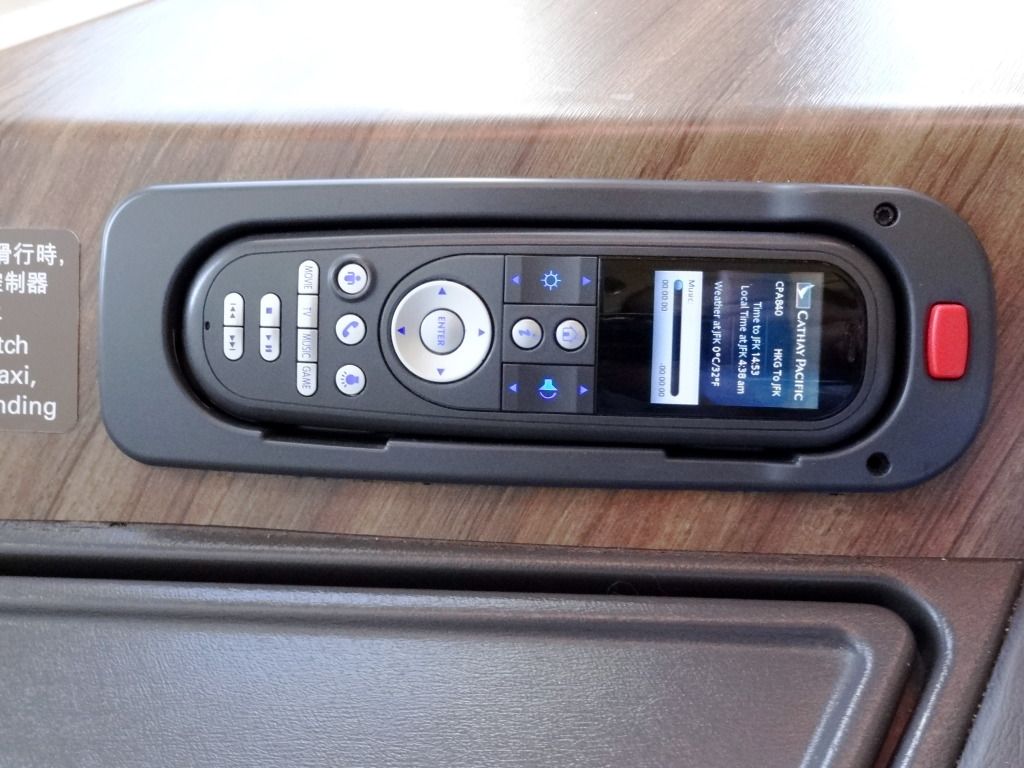 Safety Card: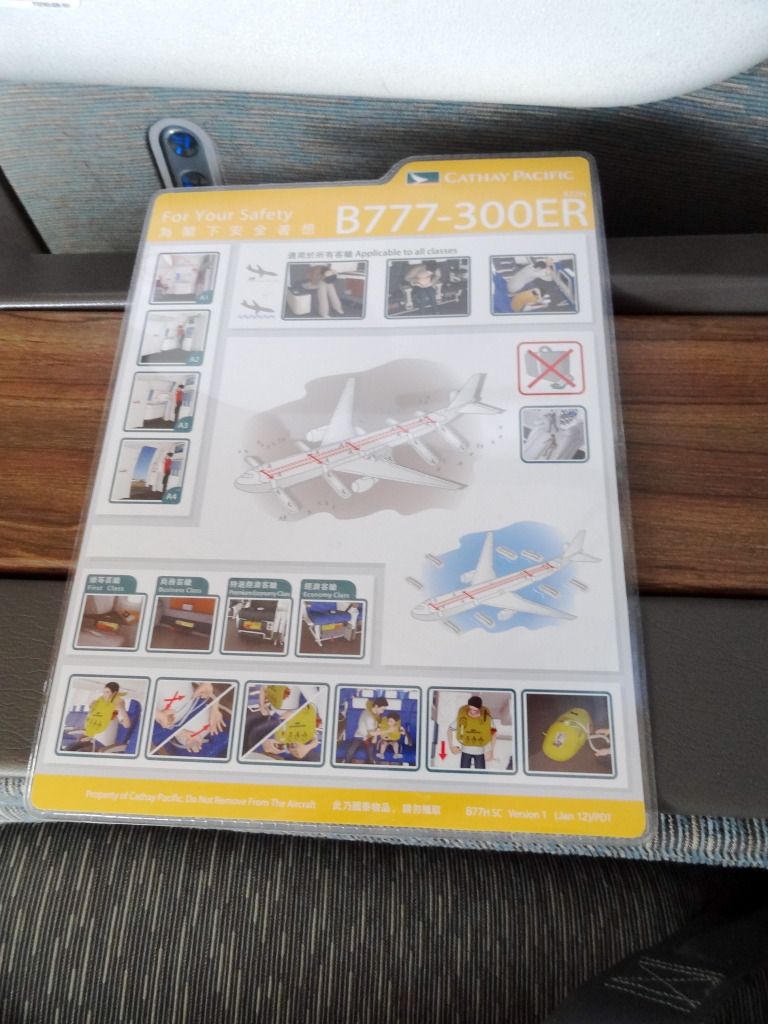 In-flight magazine and CX entertainment guide: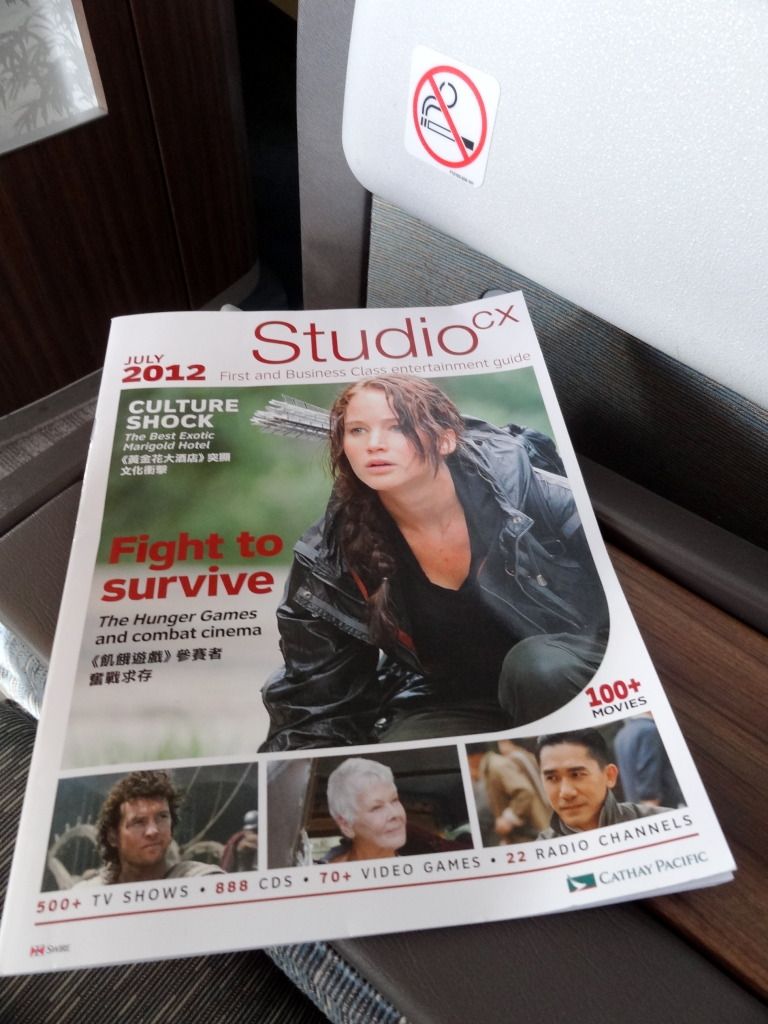 CX features a moving map as well as an outside camera: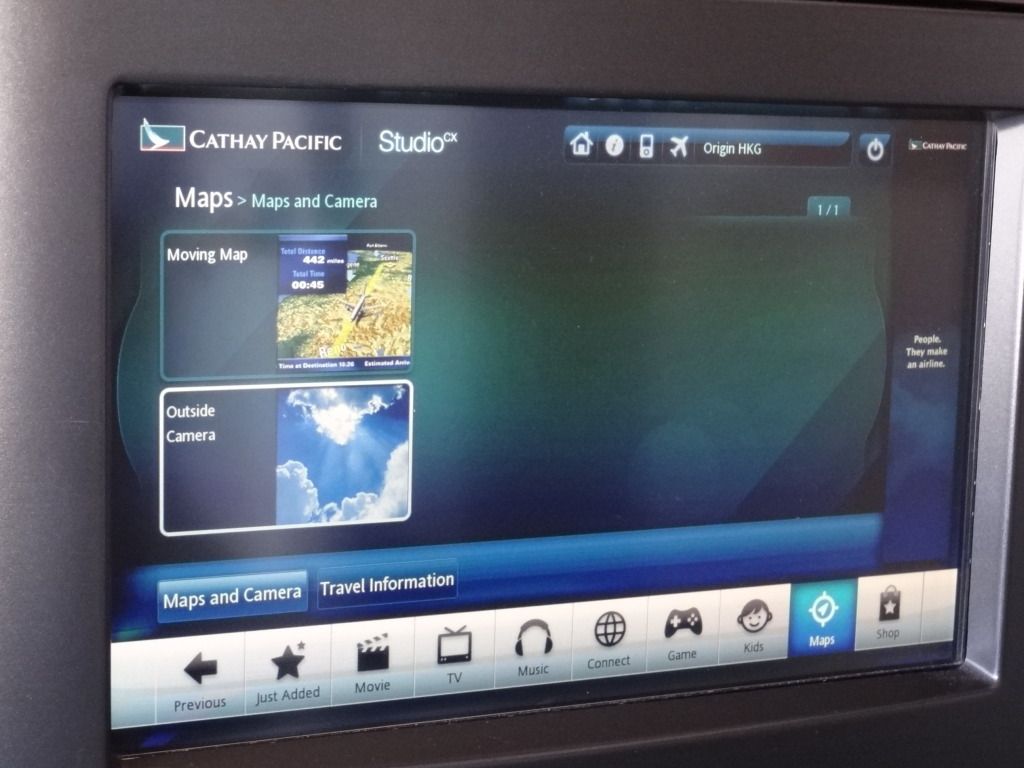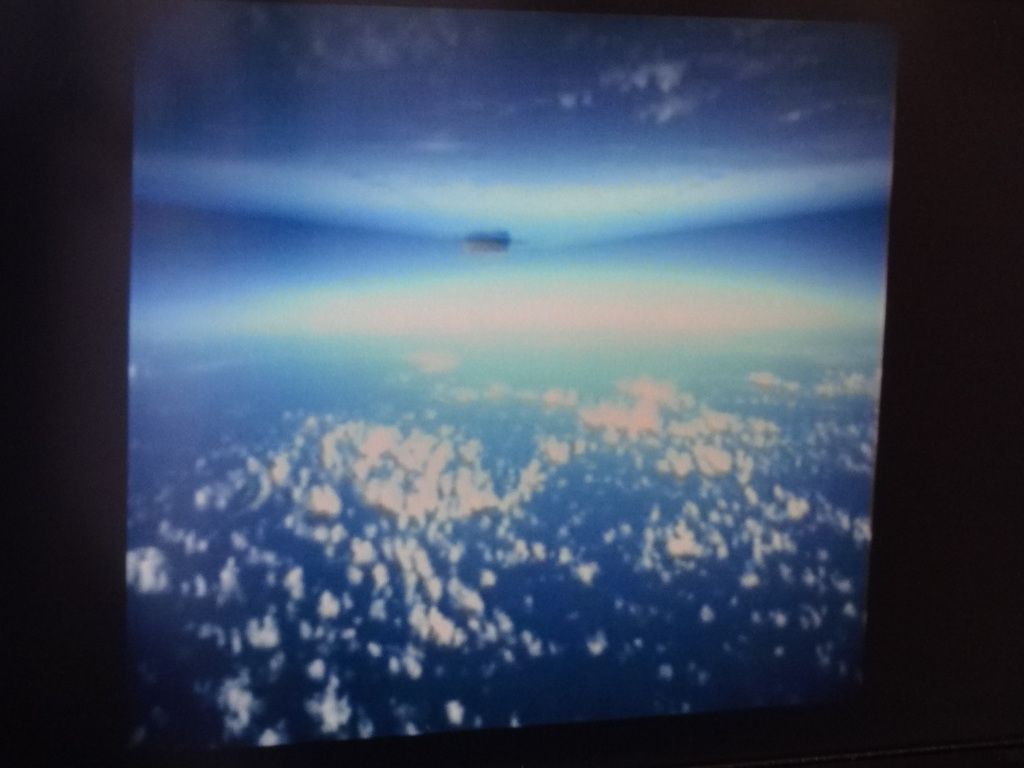 Moving map: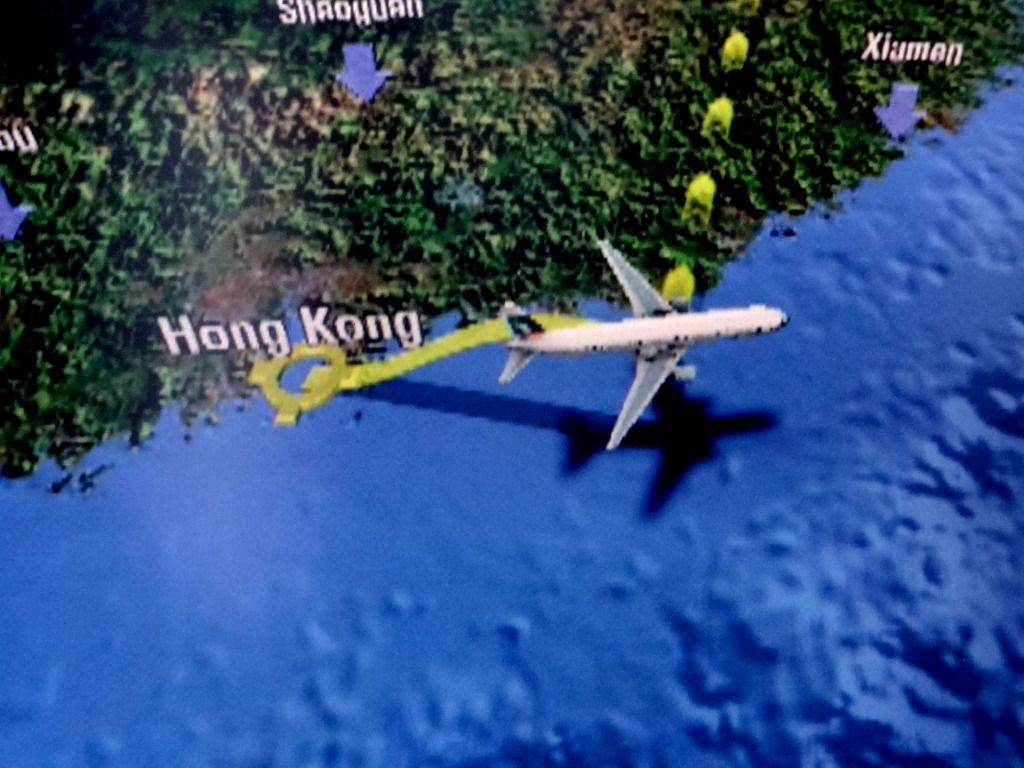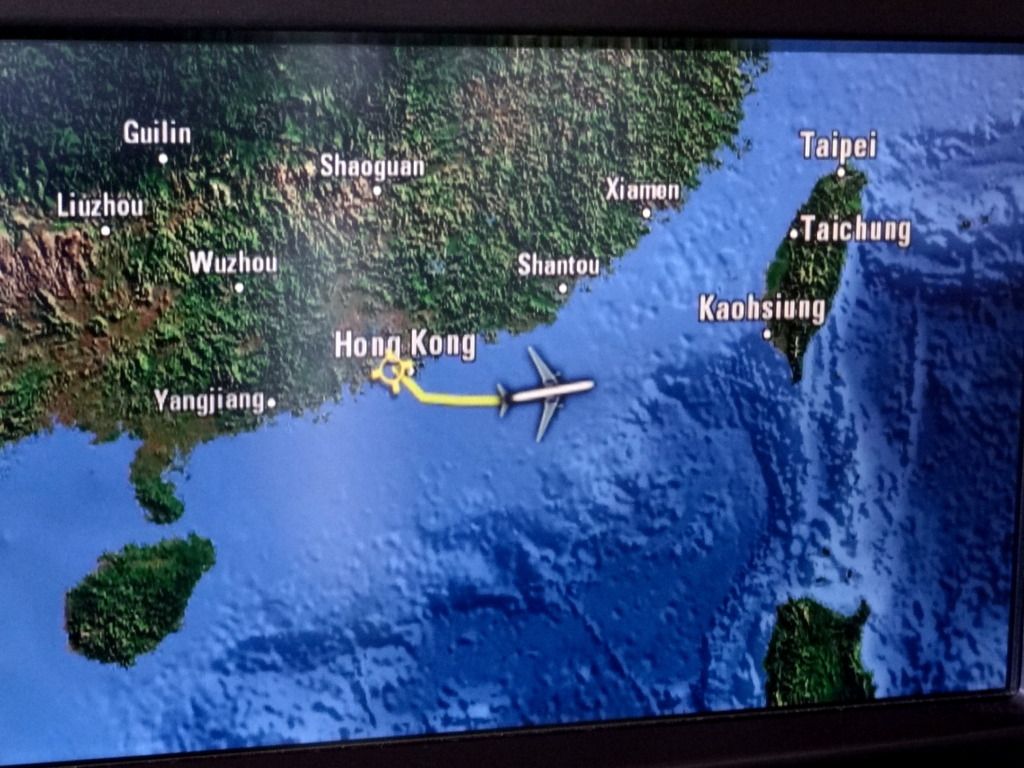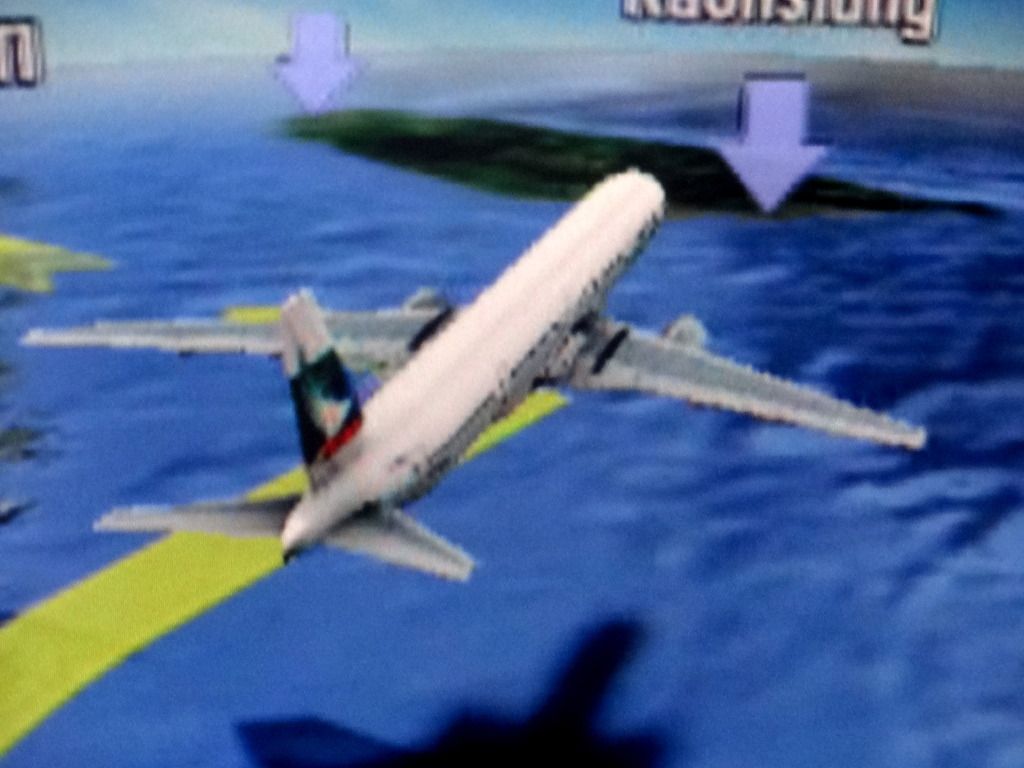 Once we had leveled off, the first class flight attendants distributed the menus and wine list: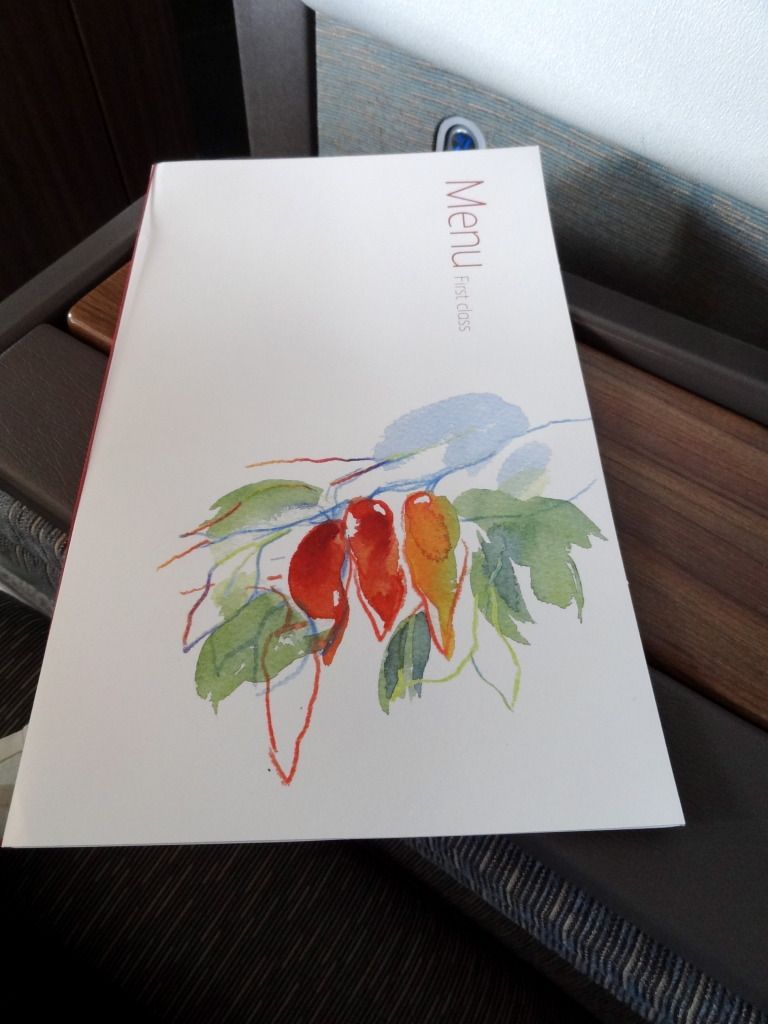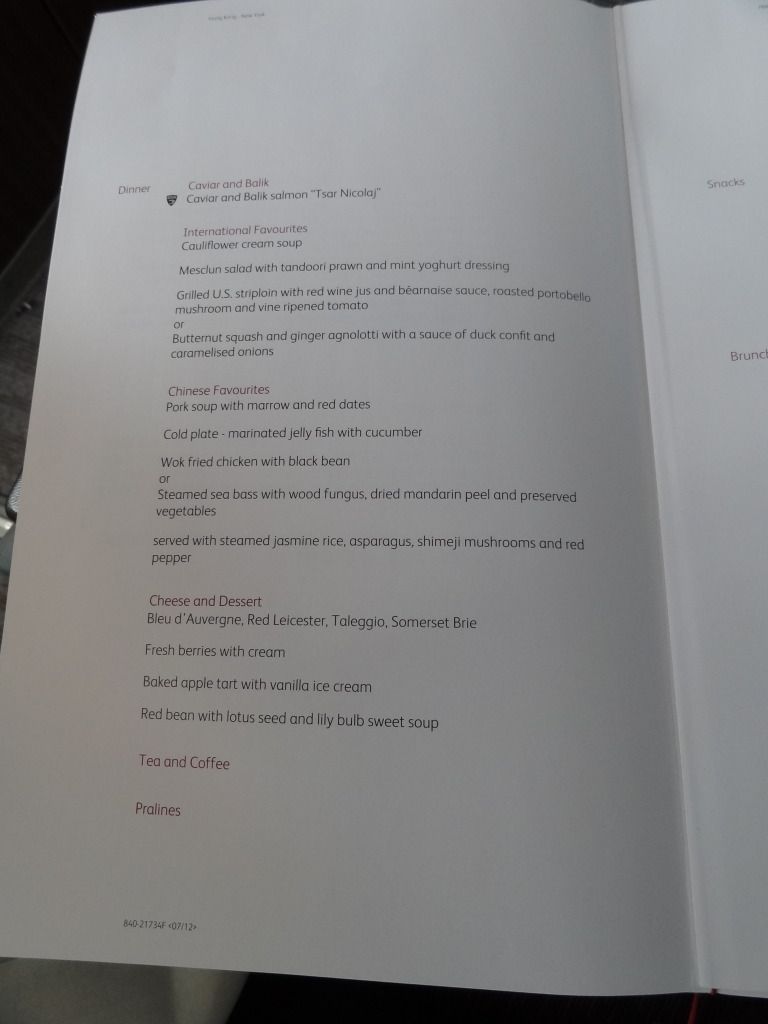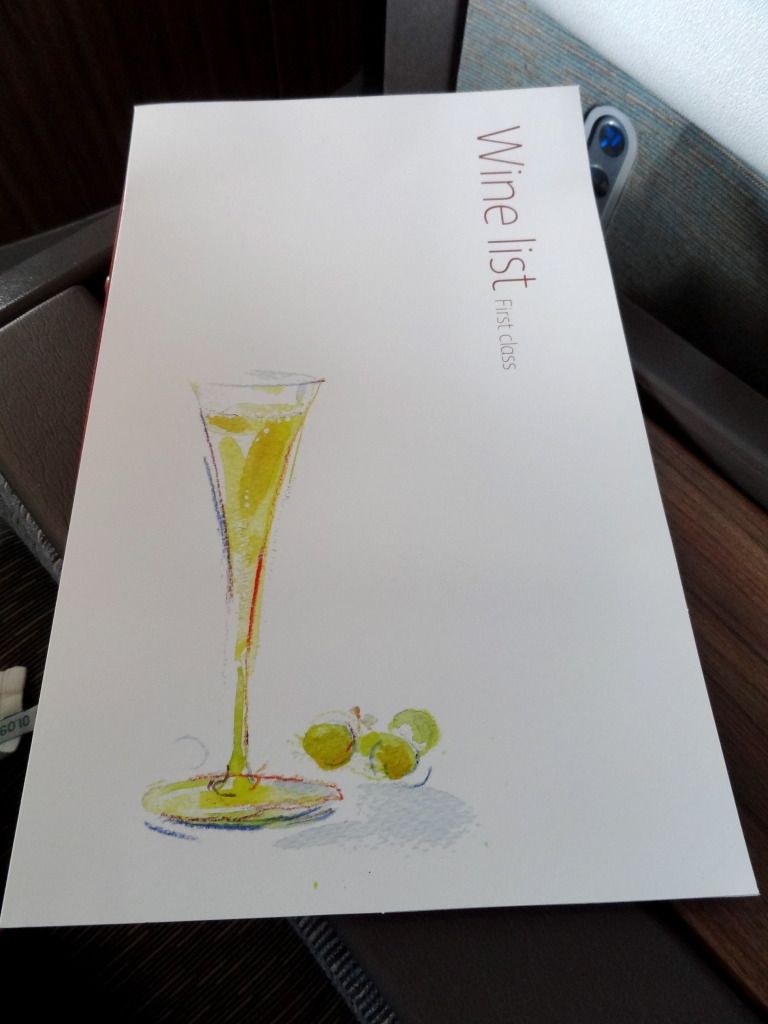 The head first class flight attendant then asked me what I wanted to drink and returned with my request with an assortment of nuts. She then asked me if I was ready to place my meal order.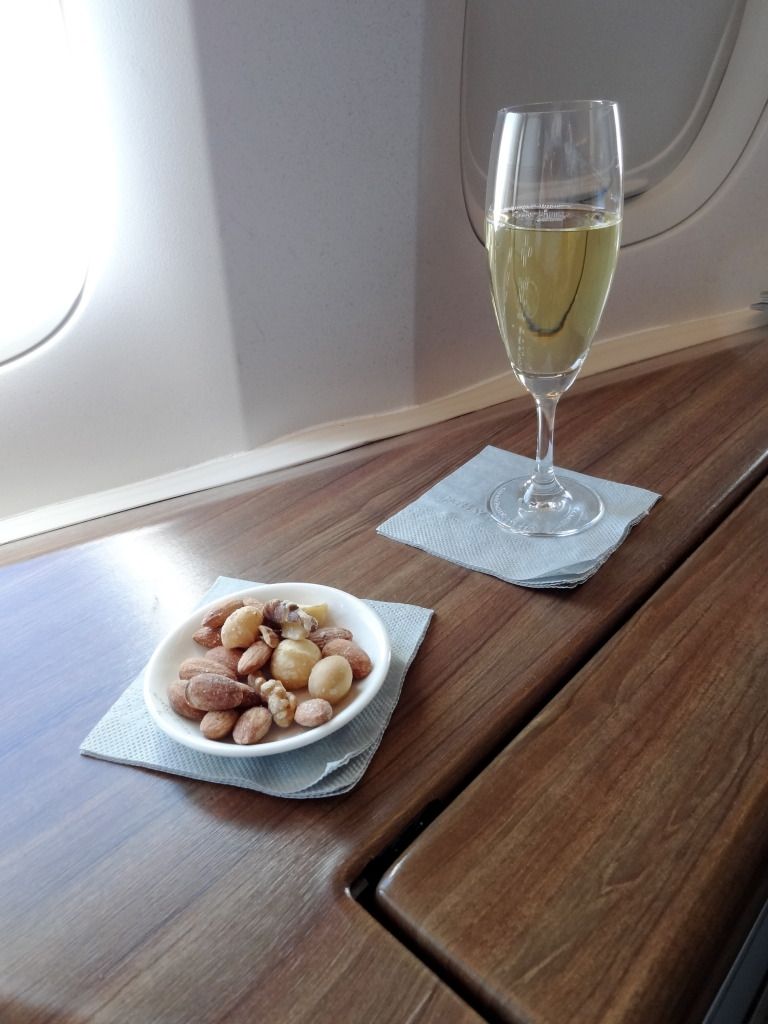 Time for an early supper. On Cathay, first class passengers can choose whenever they want to eat and whatever meal service they would like to eat.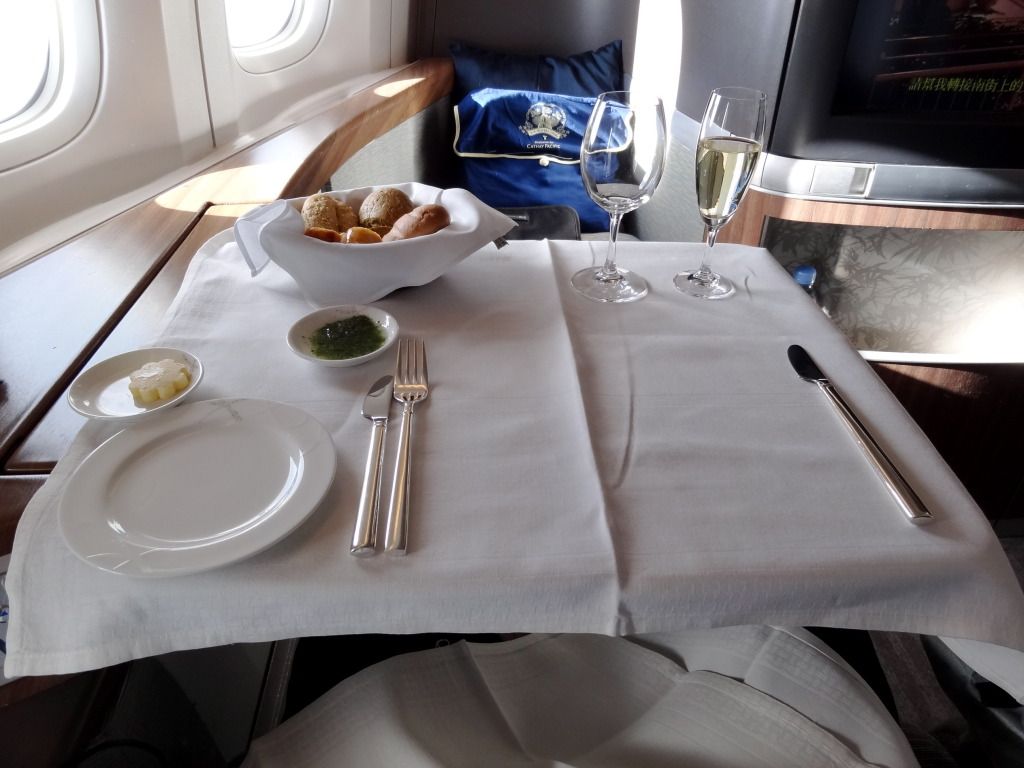 For starters, caviar and salmon: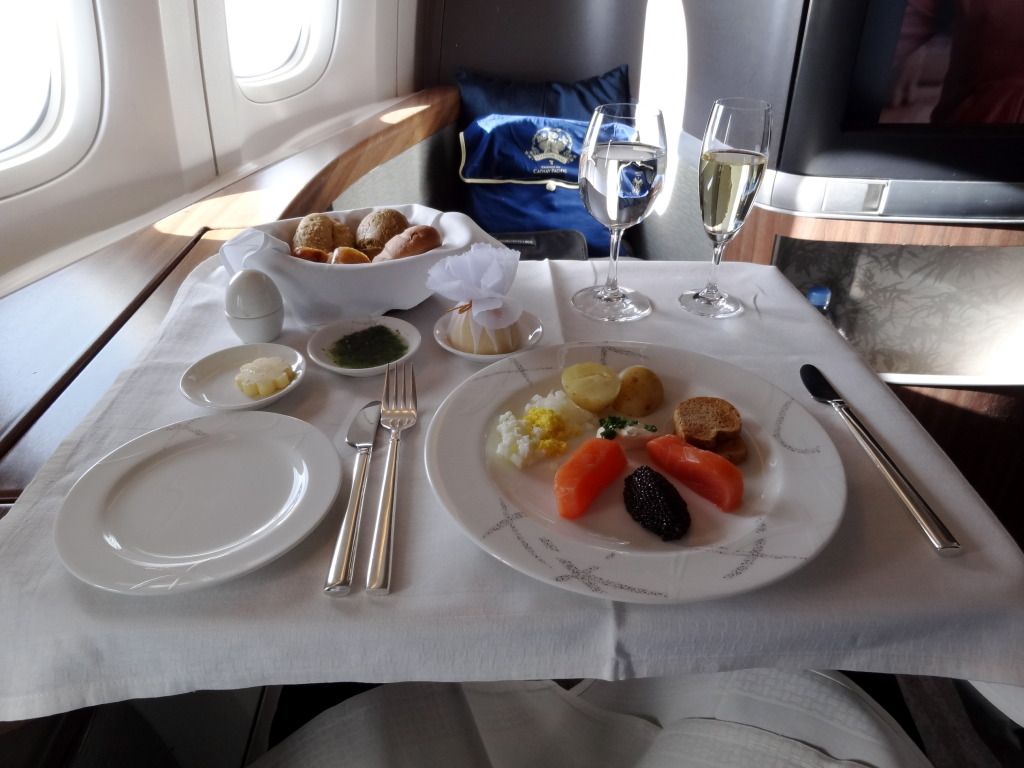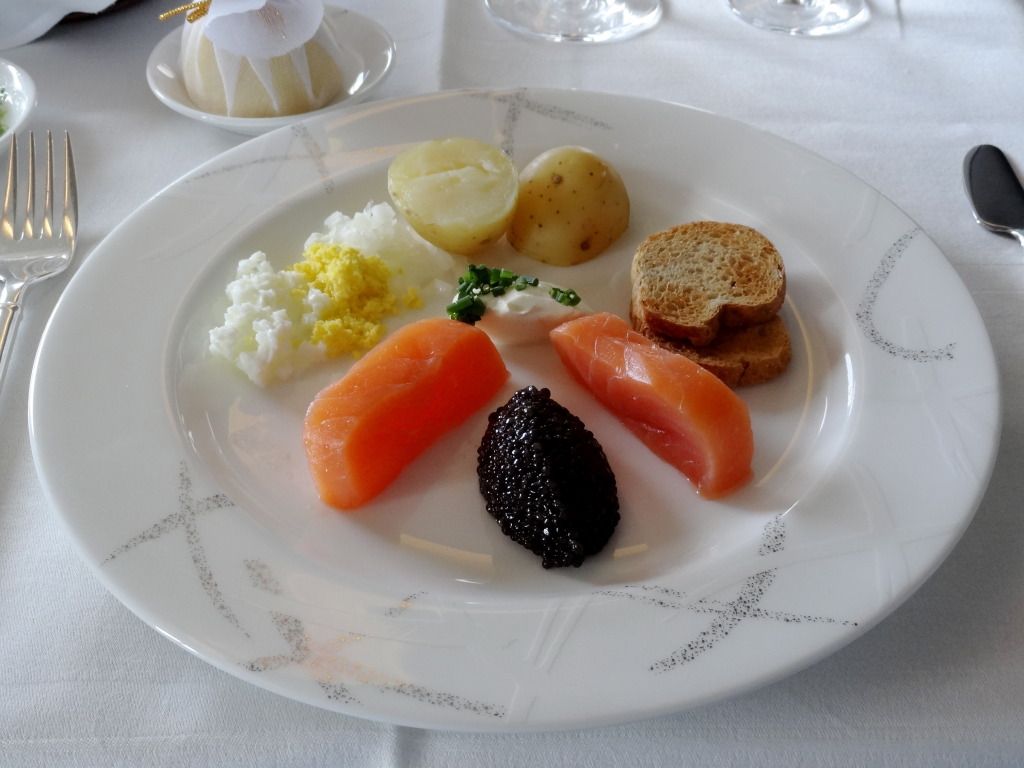 Soup: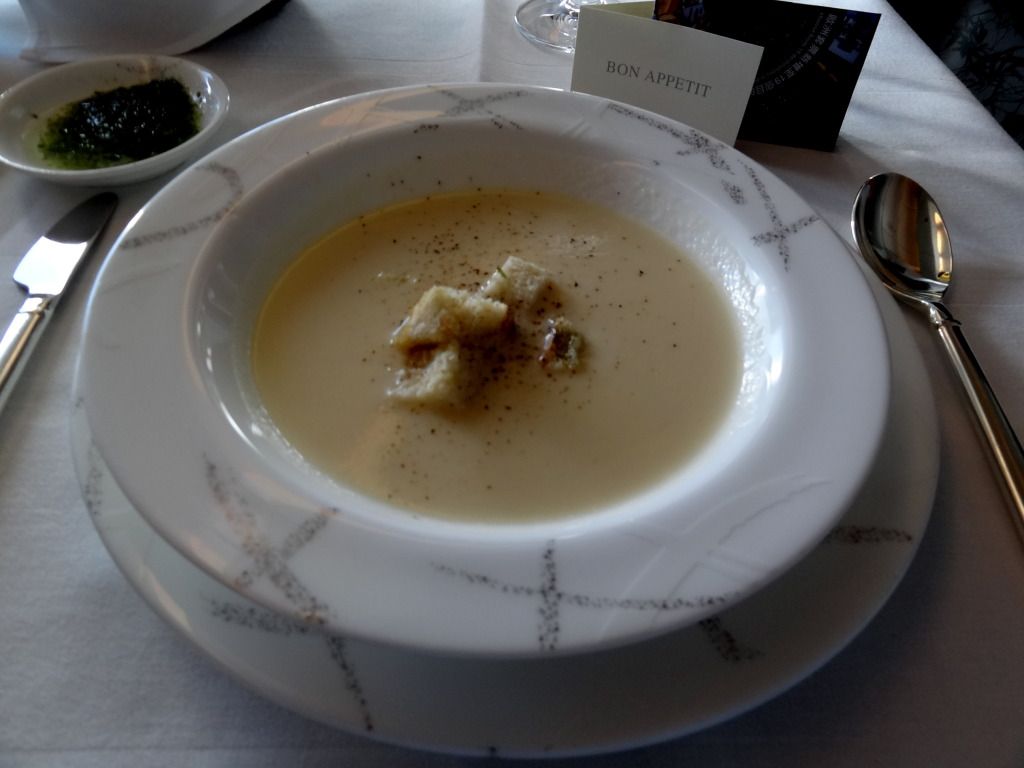 For the main course, I opted for the steamed sea bass, which was quite good.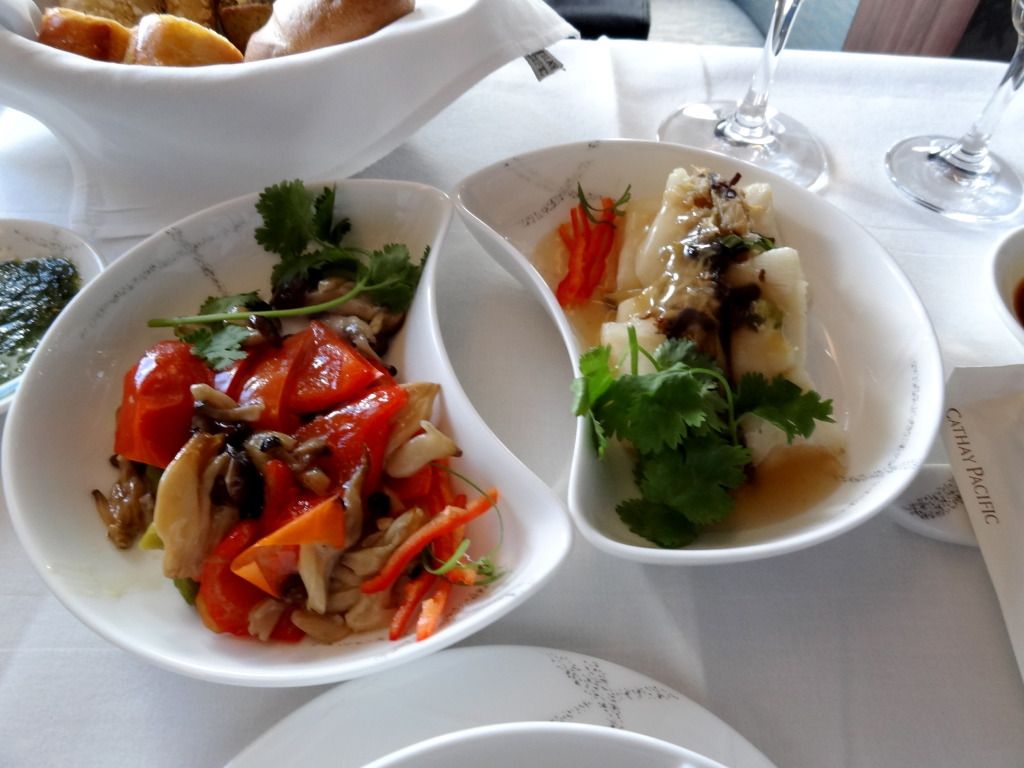 Nice dessert:
After the meal service, I had a latte, which was served with pralines.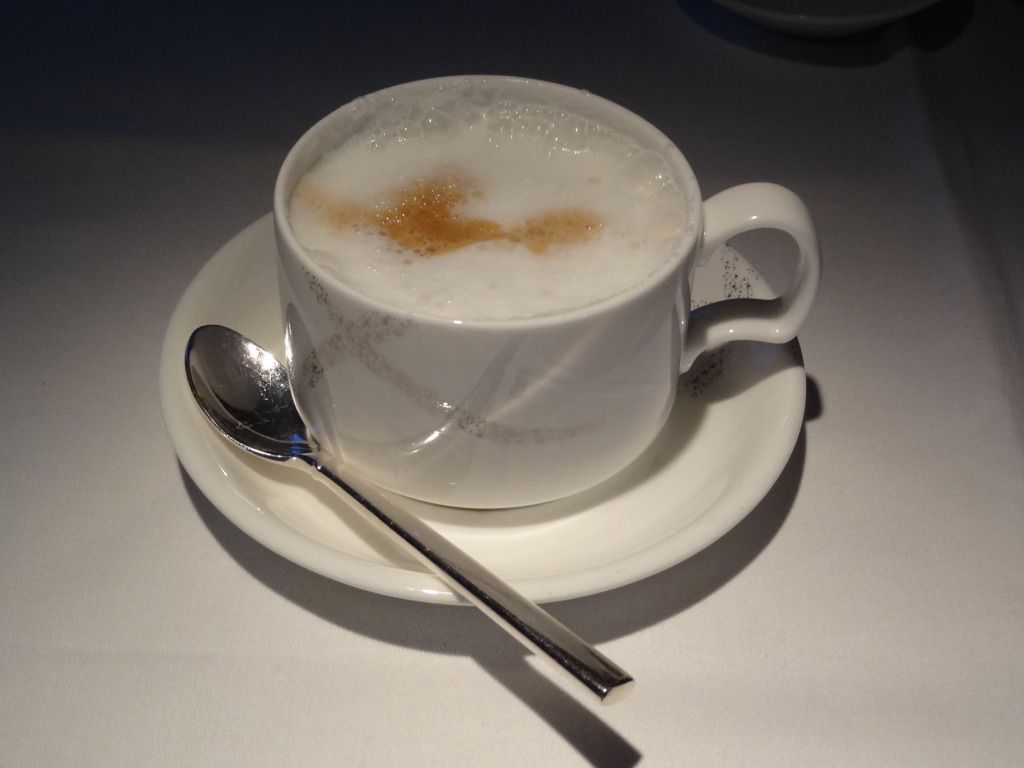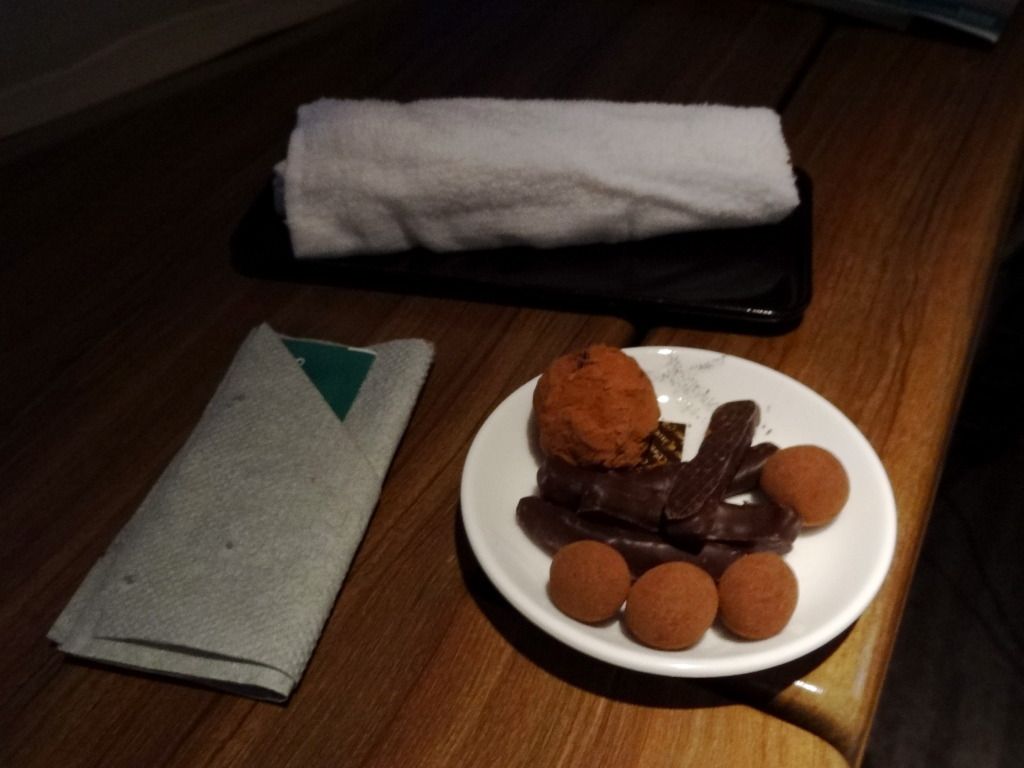 The first lavatories were kept fresh throughout the flight. There are also toiletries such as a facial wash, lotions, etc.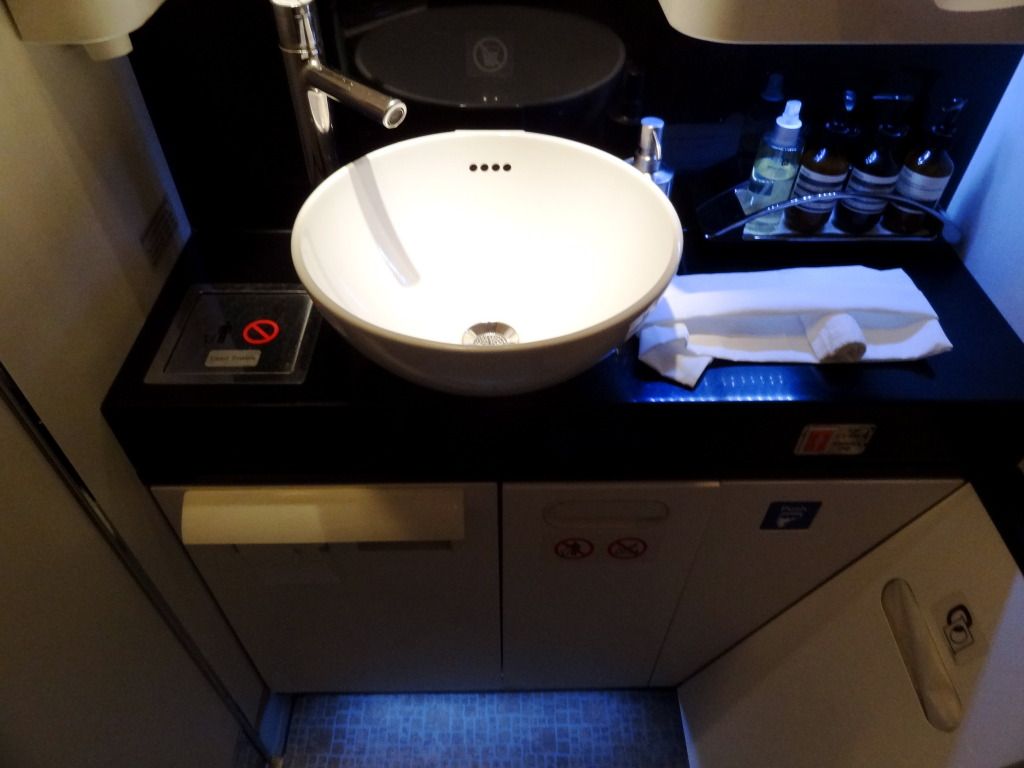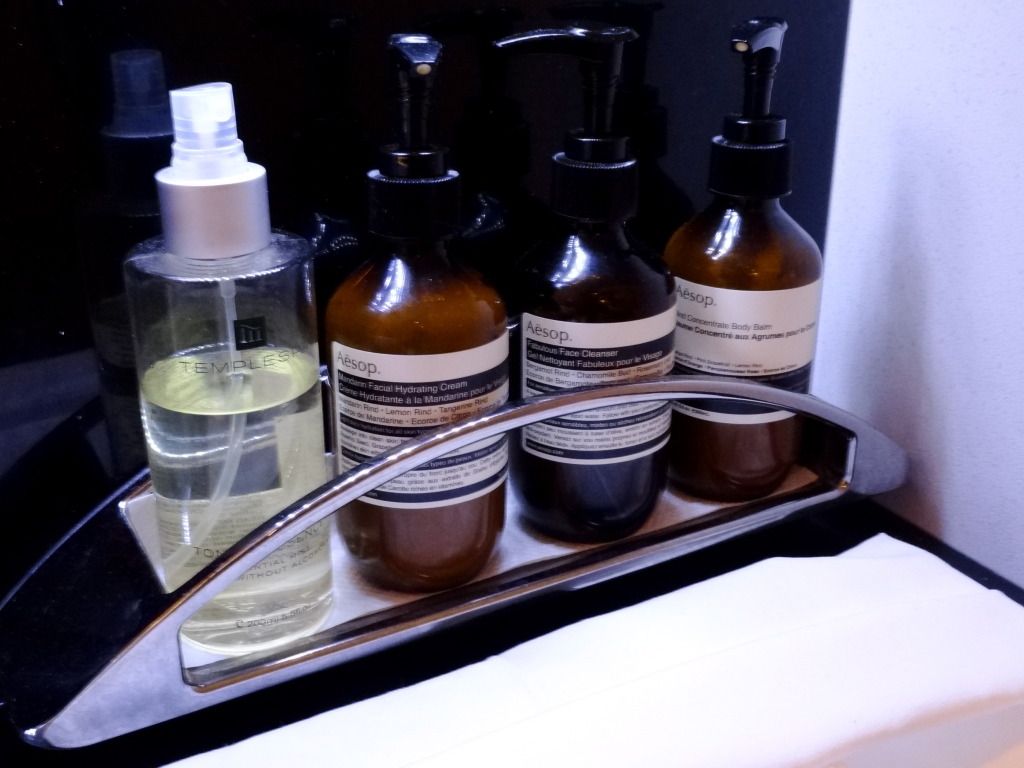 After a restful sleep, it was time for breakfast. I opted for a smoothie with fresh fruit and dim sum: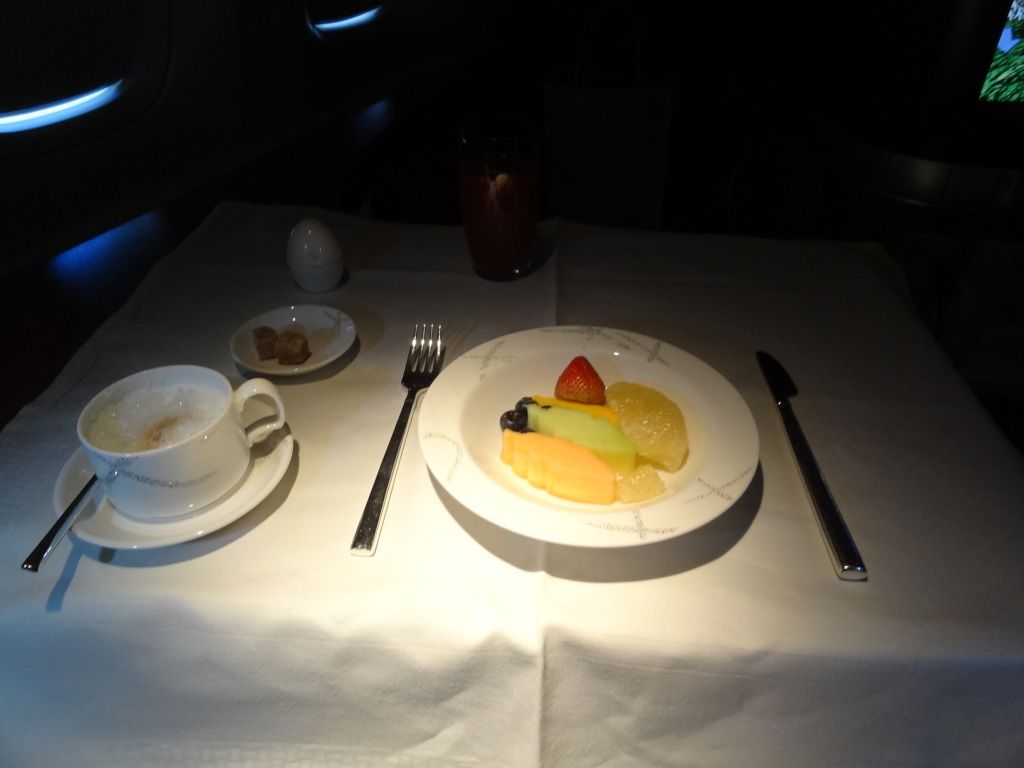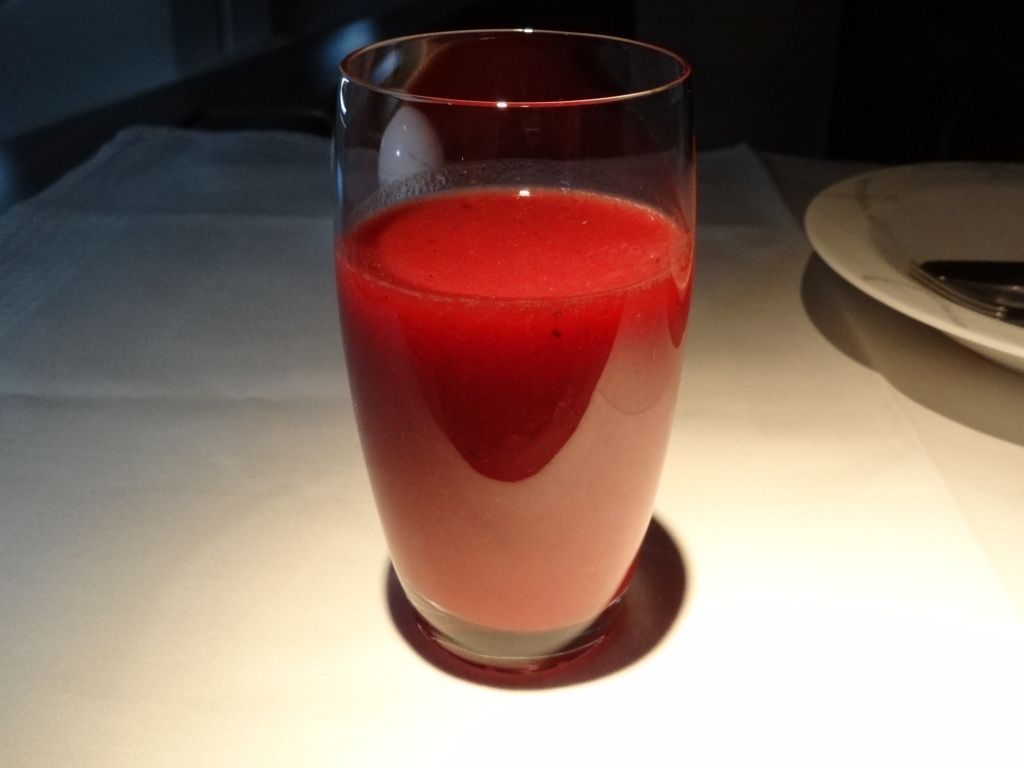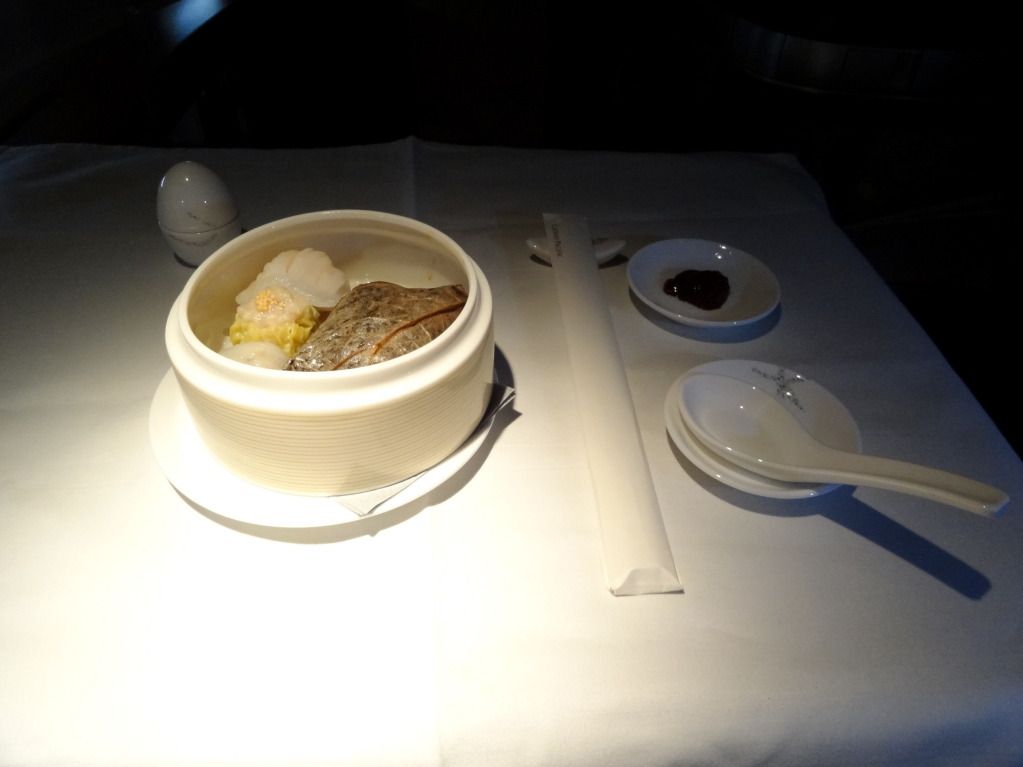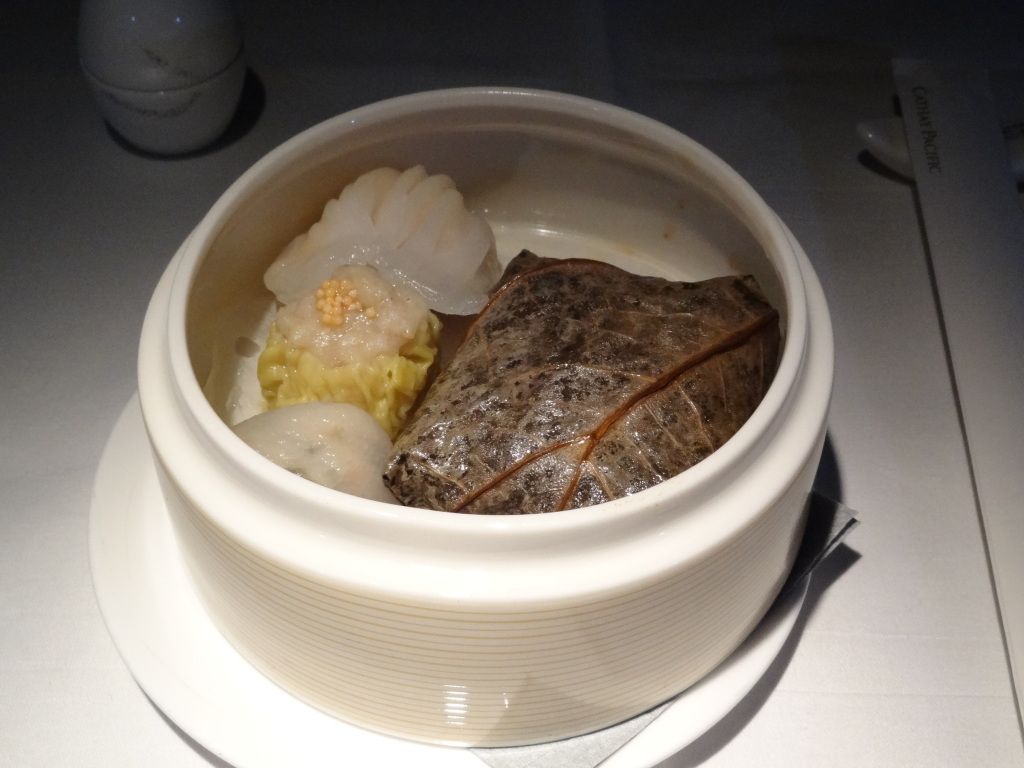 Cathay offers a great selection of teas aboard.
Over 5 hours until landing at JFK: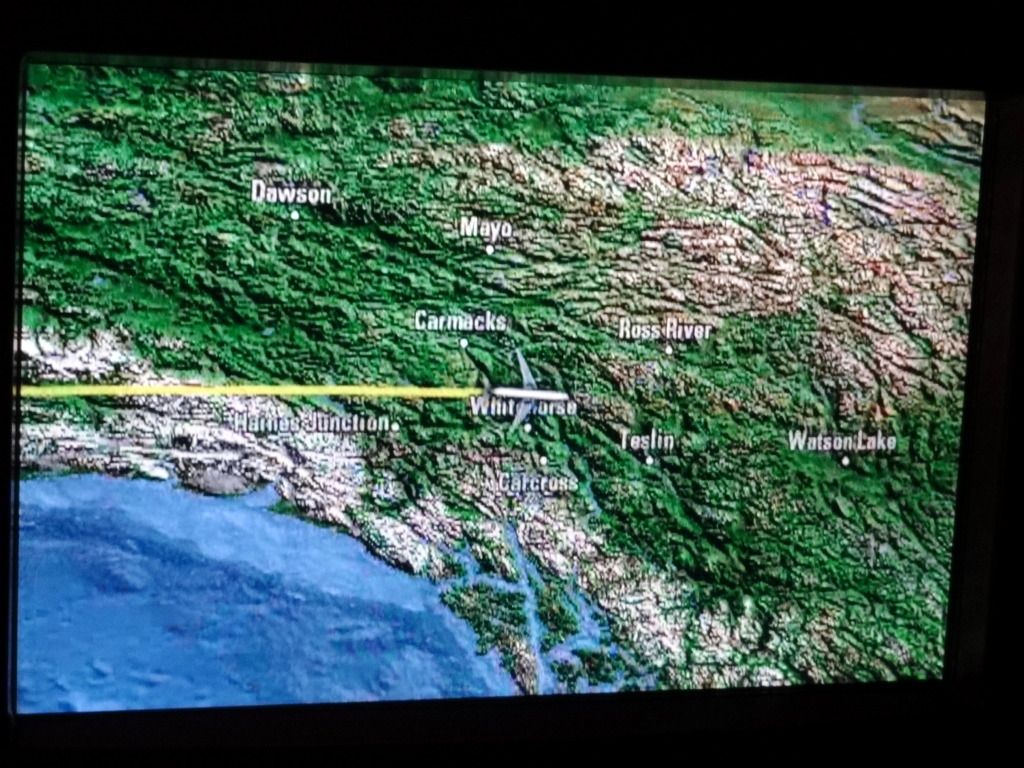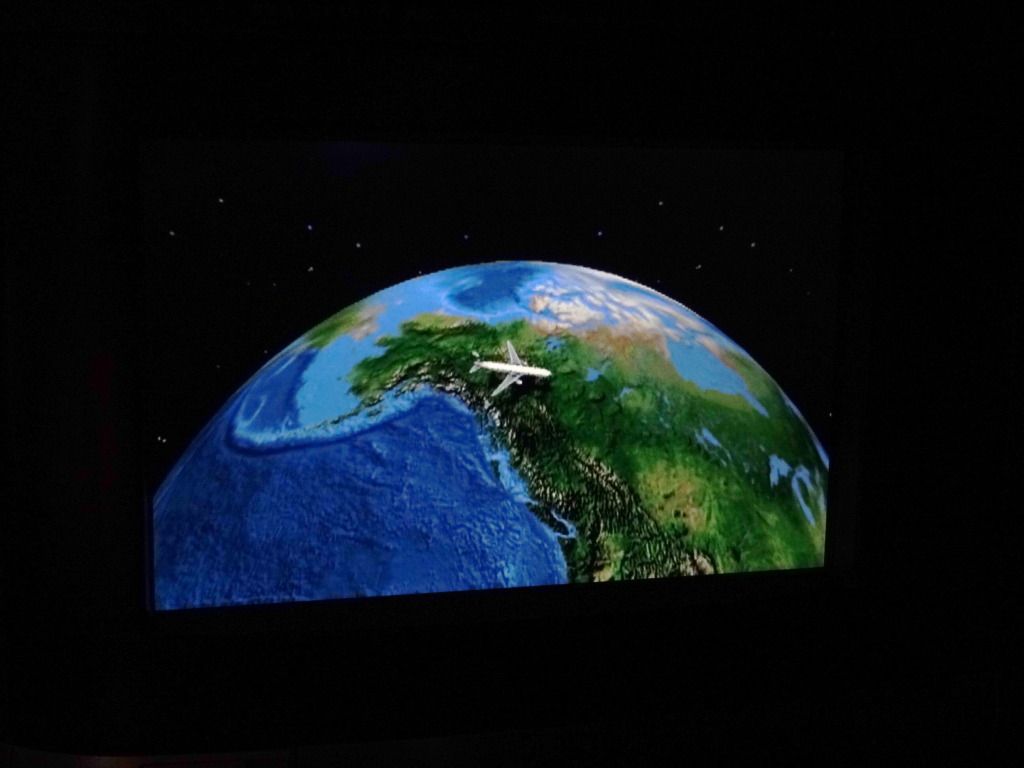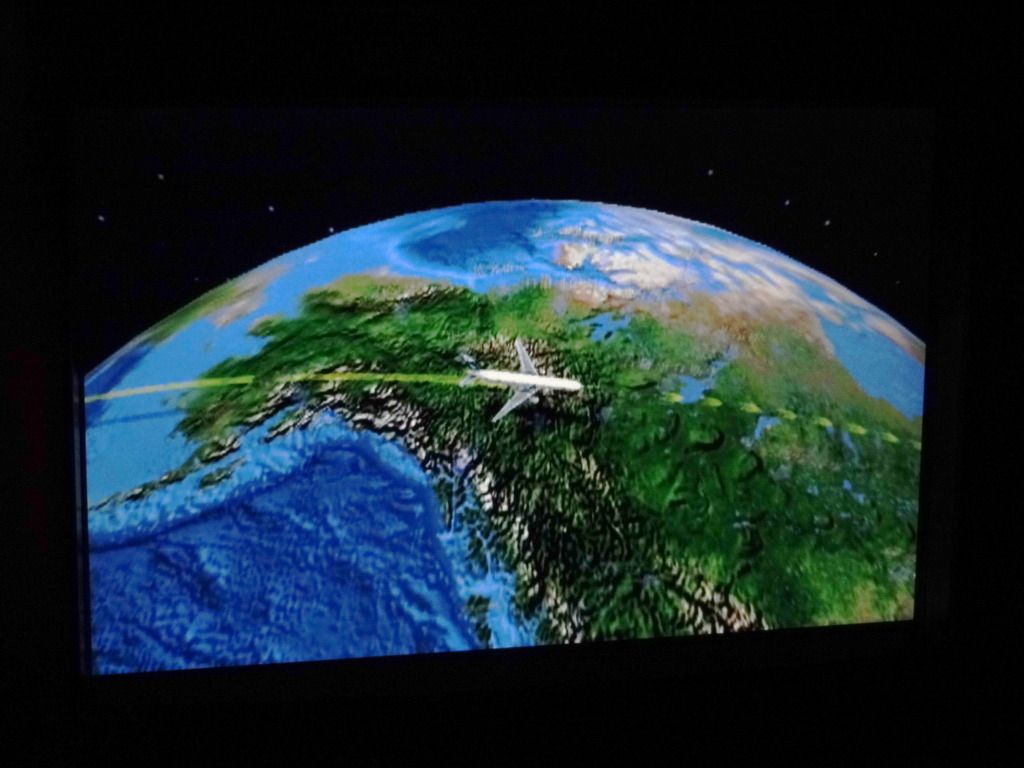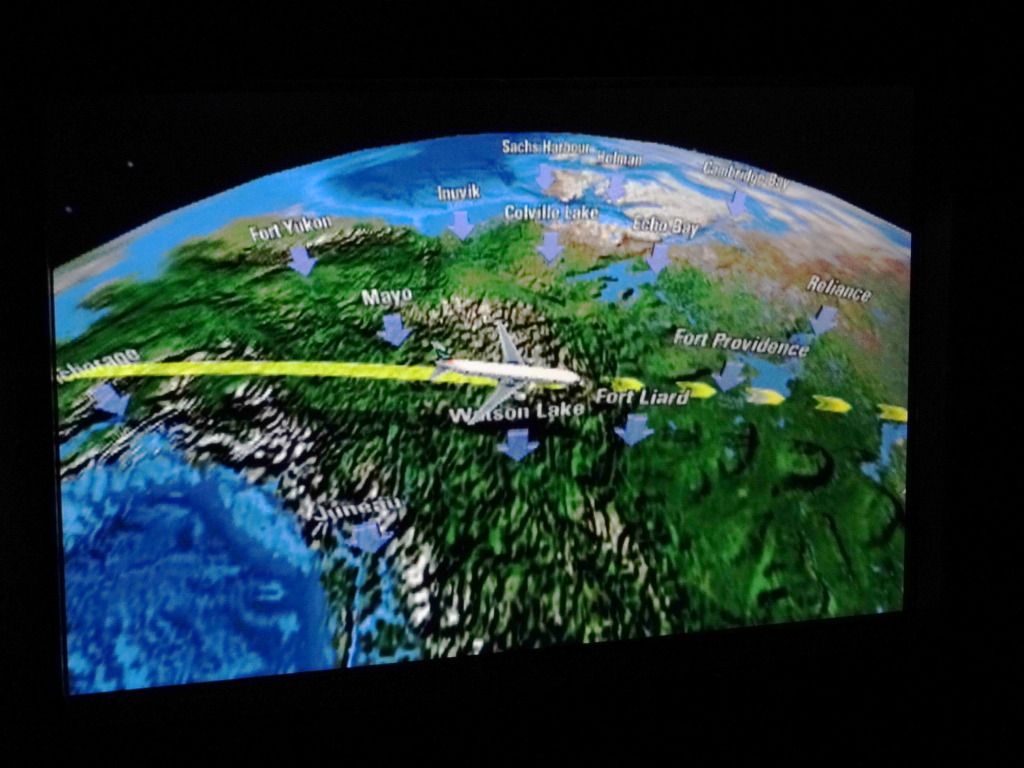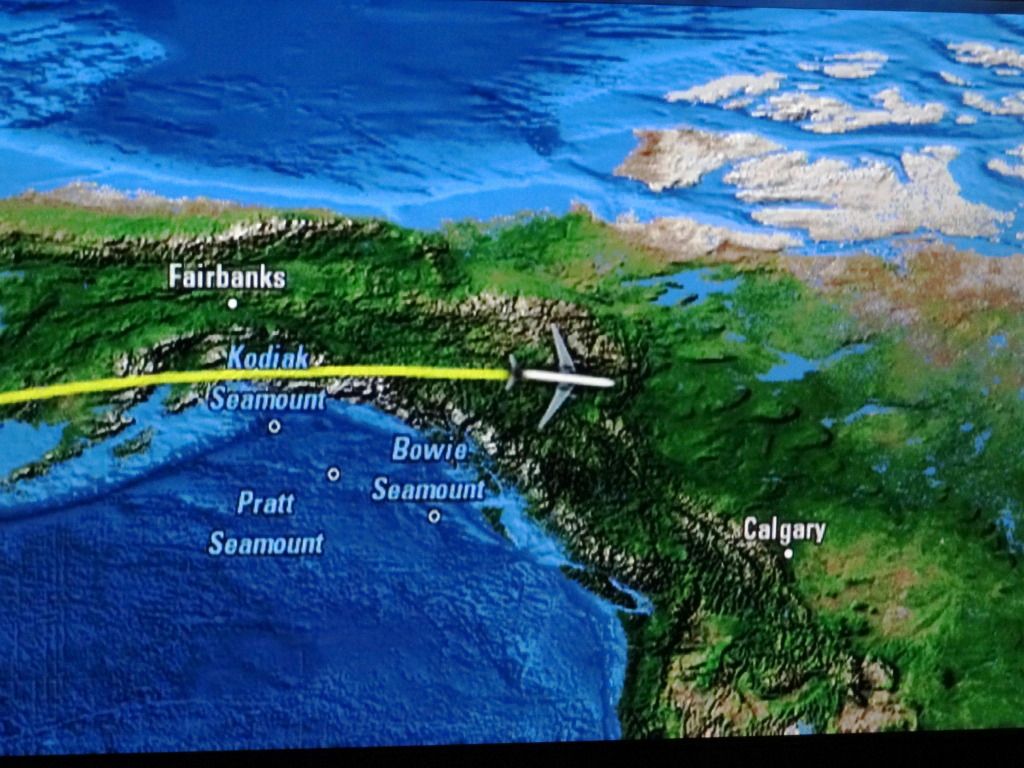 After breakfast was served, I decided to do some reading and watched a movie.
Less than three hours until landing at JFK:
As we were getting closer to JFK, I decided to have a snack: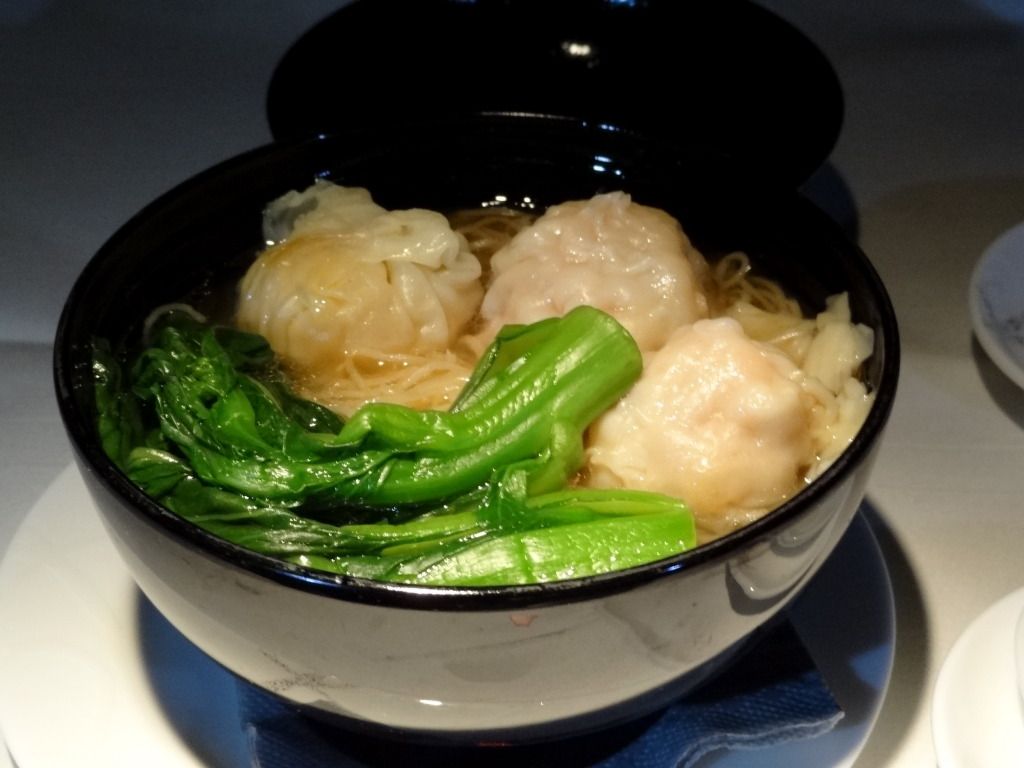 Afterwards, the purser asked me if I was interested in filling out a survey about the flight. She also gave me a deck of cards and a stationary kit.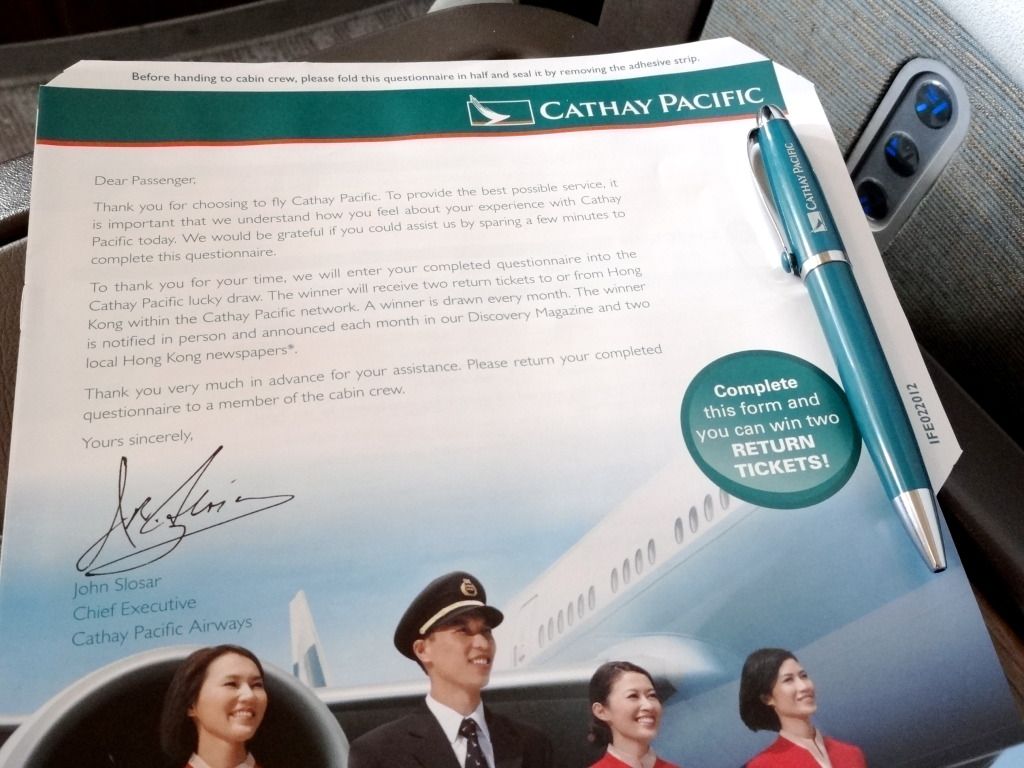 She graciously accepted my completed survey and gave me a voucher for the duty free. So I purchased a box of chocolates: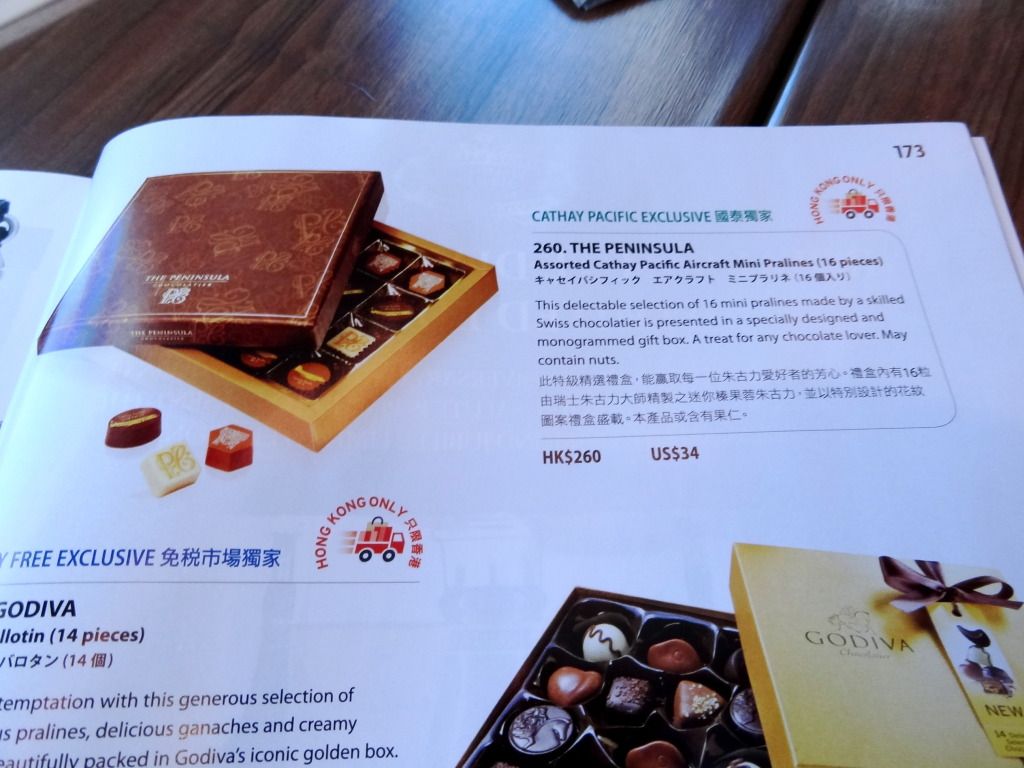 I then decided to have a few "Cloud Nines"; which is a signature Cathay Pacific drink.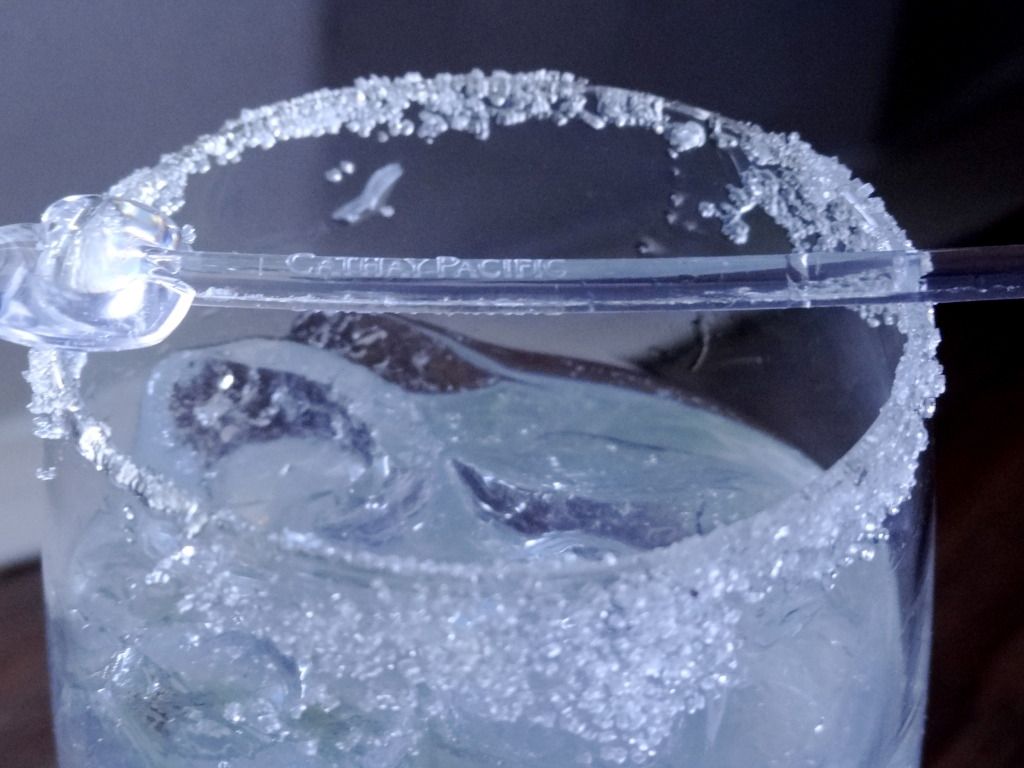 Initial descent:
On final descent into JFK: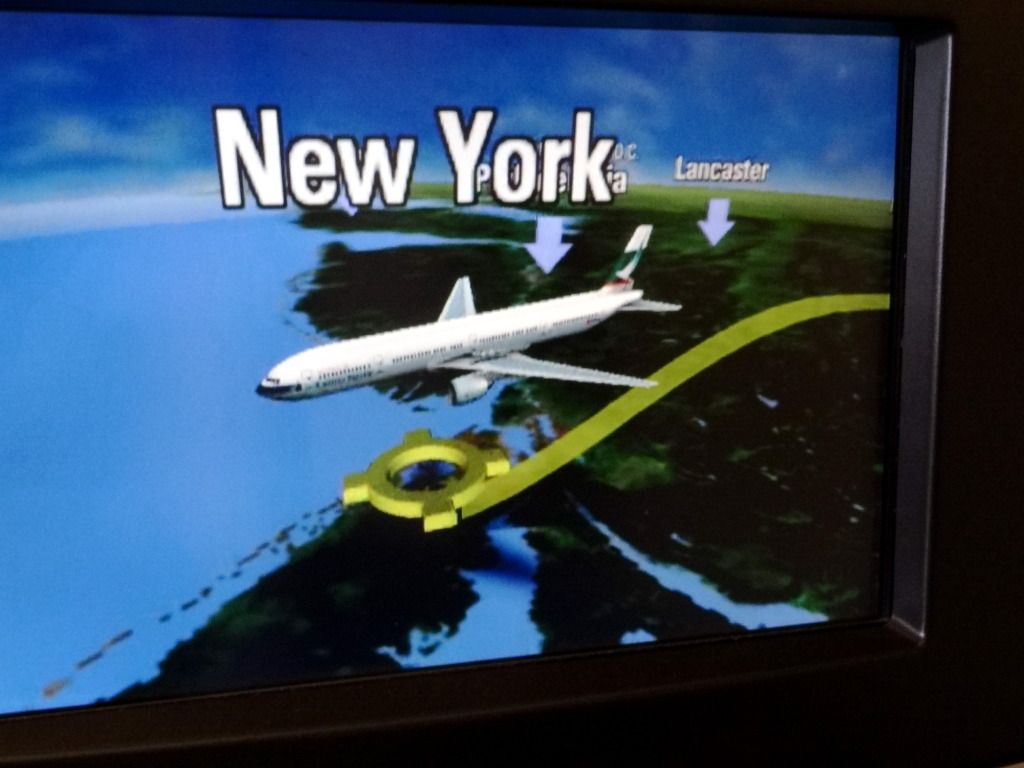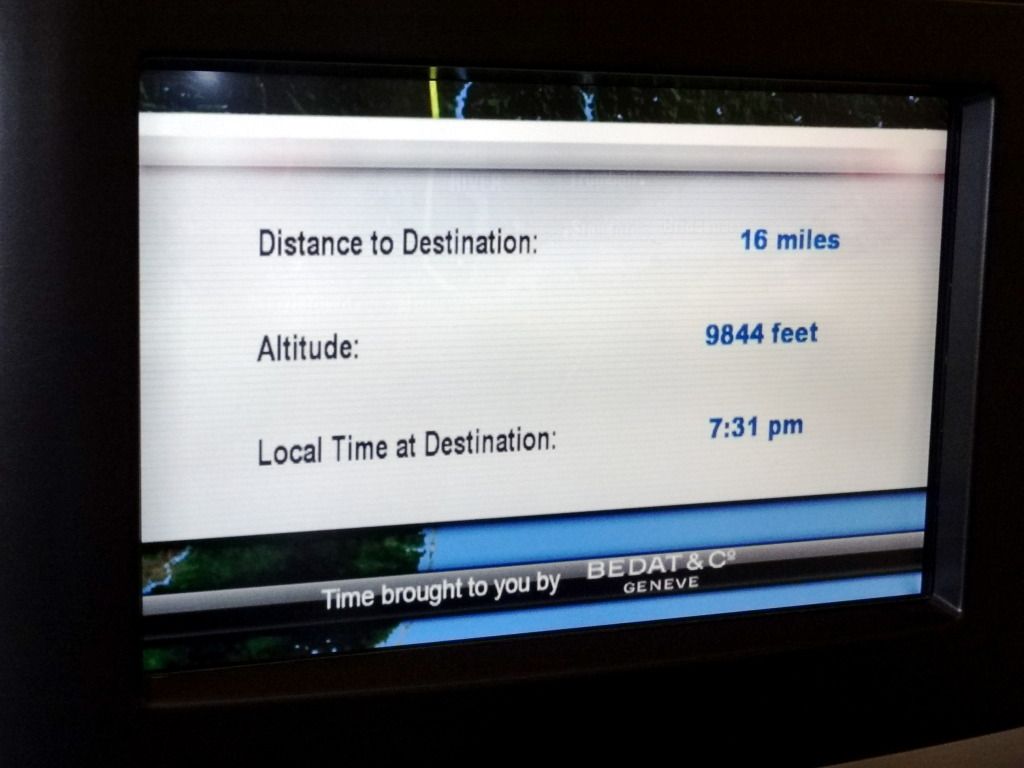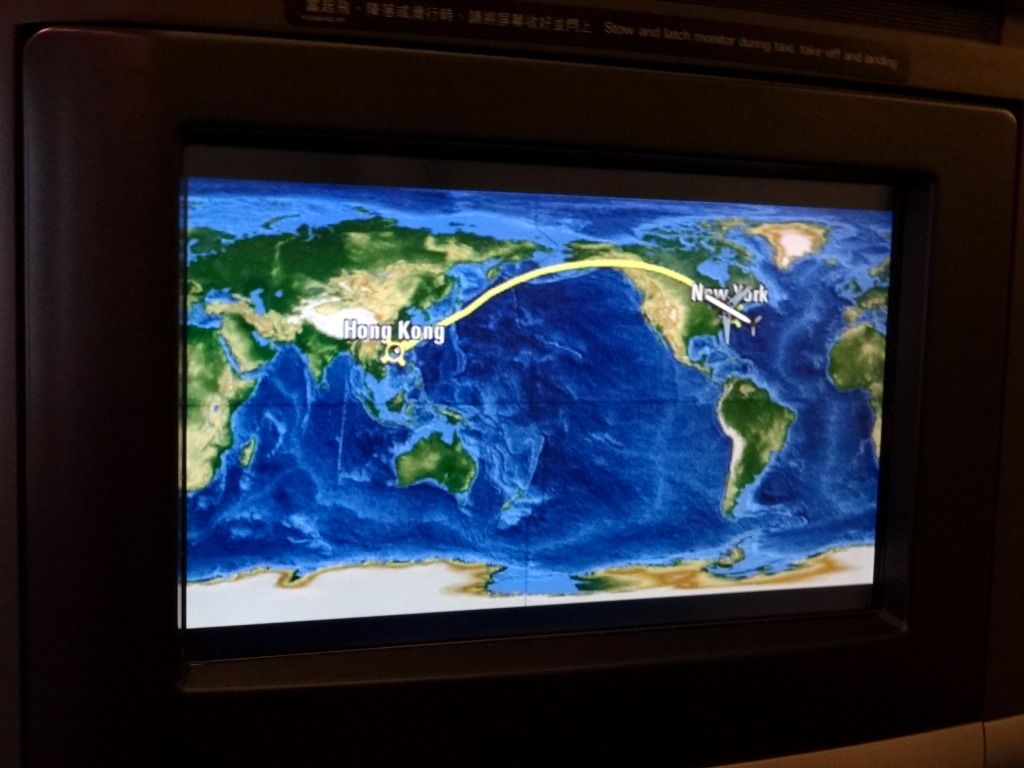 Overall, the service onboard was very good and the flight attendants were very professional and attentive throughout the flight. The meal options were adequate and the portions were just the right size. Also, the beverage selection was adequate. However, CX should increase the choices of wines available in First. Having flown CX F many times, the service was consistent and I will continue to choose CX F on my future trips to HKG.
Regards,
SCL767