Hopefully you have enjoyed the first part of my GA trip report series.
Garuda Holiday : GA717 MEL-CGK Nonstop
(by
dirktraveller
Jul 16 2012 in Trip Reports)
On this second part of my trip report, it would be my trip from Jakarta (CGK) to Singapore (SIN) on board the B738. Hopefully this part of the report would give you an insight about services on board GA regional flights.
The runs between Jakarta (CGK) and Singapore (SIN) is one of the most frequent route I have flown, in both premium and coach classes. The route itself was the busiest international route out of both CGK and SIN, with many airlines operating the route, all the way from LCCs like VF, QZ, or TR , fifth-freedom airlines like LH or PR, and the considered more 'premium' carriers on the route which is GA and SQ.
Given the options I did not fly GA very frequent on this particular route, so this time I think I would do a trip report on the flight, also as part of my 'Garuda Holiday' trip report series. Hopefully you enjoyed it.
FLIGHT DETAILS
Flight number : GA832
Type of aircraft: B737-800NG
Seat number: 26B
ETD: 1440
ETA: 1745
CHECK-IN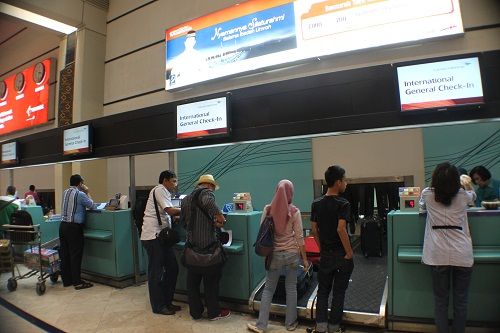 GA International Check-in desks
When we reached CGK Terminal 2E, where all Garuda international flights were operated from, check-in were having long queues. Luckily, with one of my family members having a GFF platinum we were able to check-in on the dedicated counter, saving much of our time. Passport control in CGK were having long queues which were moving slowly, but its seems a normal scene in this airport.
Lounge view when crowd has disappears
Meal options on lounge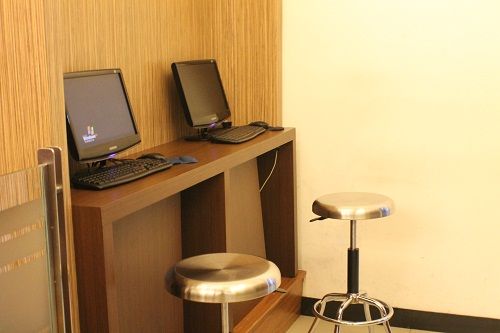 Free access computers on lounge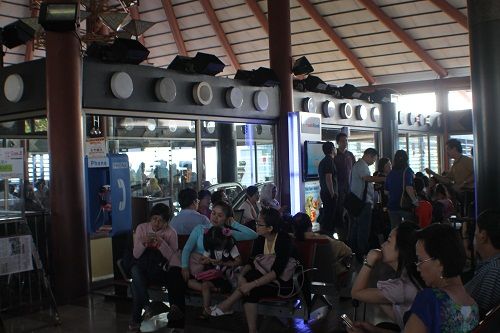 Our crowded gate E4
After passport control, we headed for a lounge that is accessible by having a certain credit card. The lounge were extremely full. Food options were decent, with choices of food and some snacks, along with choices of drink like juices and soft drinks. We headed for the gate E4, assigned for my flight around 20minutes prior to boarding time written on our boarding passes. By the time we reached the boarding gate, again it was crowded with people, as I began to learn that the gate is being used for both GA flights departing to KUL and mine to SIN. Boarding call for my flight to SIN come out 15mins later than estimated, around 1435hrs.
IN-FLIGHT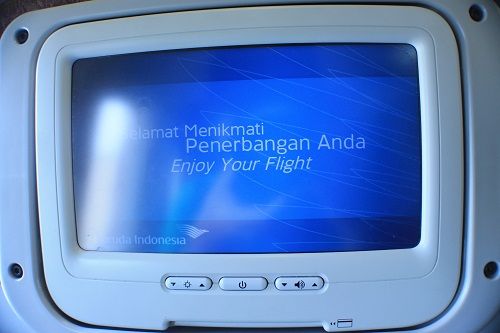 IFE
Legroom on the 738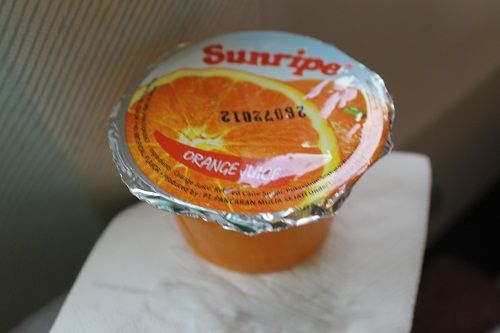 welcome drink
Upon boarding, welcome drink were distributed, consisted of packs of orange juice, while safety video was being played on the IFE system. The Garuda IFE System were operated in full-swing on this short flight, along with headsets provided prior to boarding. Passengers could watch movies, listen to choice of music or even play games.
Loads on this flight appeared to be full, or at least almost full on both cabins. This is normal on SIN bound flight, especially on school holiday season in Indonesia.
EY 777
GA 744
While we were heading for the runway, there are views of some international carriers flying out of CGK, such as EY, CX, and SQ flights. I catch a picture of one of the three remaining GA B744s in service. Rumours they are getting retired after the delivery of B777s, again this just 'Rumours'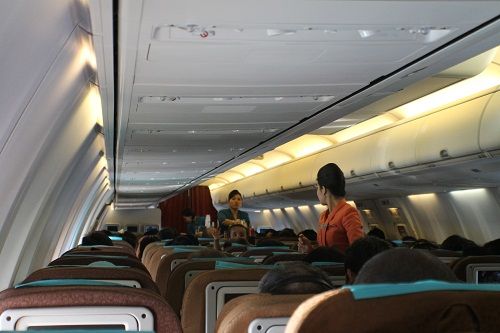 Crew running the meal service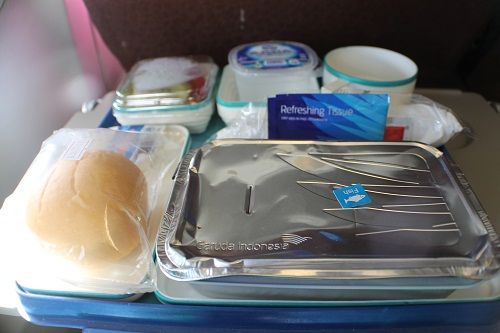 my meal tray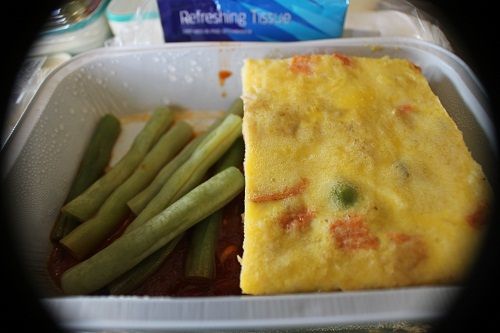 The egg and veggie option.
The 'small' served Spring rolls option
As soon as we lift-off from CGK, the crew started to prepare the meal service. The meal service consist of two choices of meals, the first choice of egg and veggies, while the other choice was spring rolls. I opted for the egg and veggies which was good, while my other family member opted for the spring rolls, which somehow the size of the serving was disappointing, if was compared to my egg and veggies.
Our flight progress
winglet shot
After the meal service, I chose to listen to some music from the IFE while turning on the moving map on the screen to see the progress of the flight. When we were conducting our descent to SIN, announcement from the flight deck informed that due to congestion in SIN airspace, we had to circle around for 20 minutes above the islands of Batam, Indonesia.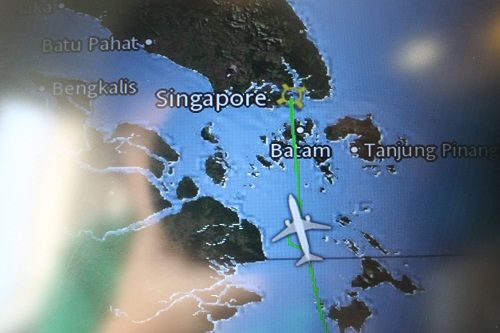 As you could notice, we've circled a few times before landing into SIN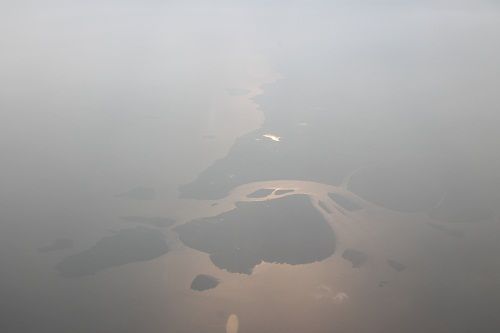 Islands as we approach SIN
While we were circling above the islands, I got the opportunity to snap some pictures of the winglet, along with the beautiful sun that is setting down above the Indonesian airspace we're flying in.
LANDING INTO CHANGI AIRPORT
Changi airport arrival hall and Passport control from a distance.
Finally we touched down in SIN around 30 minutes behind our original schedule, at around 1810 local time. The Changi Airport Terminal 3 was wonderful and spacious. It is clear why people voted this as one of the best airports in the world, shown by it winning the top three Best Airport in the World for the past few years. Passport control was a breeze in SIN, so as the baggage claim. We were already on our way to the taxi stand heading for our hotel in Novena area in just 30 minutes after touchdown. Well done Changi Airport!
Flying GA on their busiest regional route was a pleasant experience. The service was up to a standard, while the introduction of IFE in this short route was a good touch as well. However, meal service should be improved, especially those 'Spring roll' meal option which was shocking in terms of serving size. From what i've observed, it seems that GA is trying to put up a hard competition against the other carriers flying the route.
It was a pleasure sharing my GA experience with all of you in a-net. Should you have any suggestions or comments to improve my trip report I would be glad to hear it. Thank you.
Regards
Dirktraveller
[Edited 2012-07-18 05:14:27]