It did not take long for me, my brother and my father to decide to go, when an opportunity to travel to Moldova half for business and half as tourists came up. A new and interesting country for all of us plus an interesting itinerary with Carpatair and Moldavian Airlines via Timisoara in Romania, departure date less than one week after we have confirmed. We would fly from Venice and fly to Chisinau via Timisoara on the way there with Carpatair on their F100 and newly acquired B733. On the way back we would take advantage of one of Moldavian Airlines new routes from Chisinau directly to Venice, also scheduled on the B733.
A friend was also traveling with us and offered to drive us from Ljubljana to Venice. He picked us up from our house at around 7:20 for the roughly two and a half hours drive to Venice, where our flight will depart at 11:20. As luck would have it there was an accident at the highway towards the seaside just out of Ljubljana, causing a 4km long traffic jam. So by 8:00 we were still stuck in traffic in Slovenia.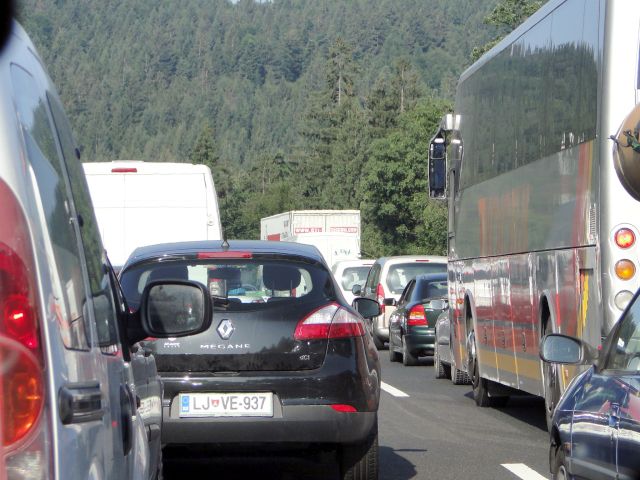 Luckily we were through in about half an hour and the rest of the way went by smoothly and we parked on top of the parking garage at around 10:00.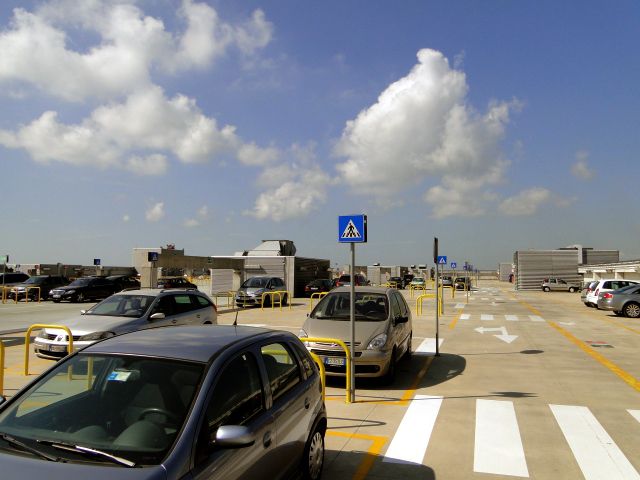 Looking at the terminal building. This was my fourth time departing from VCE.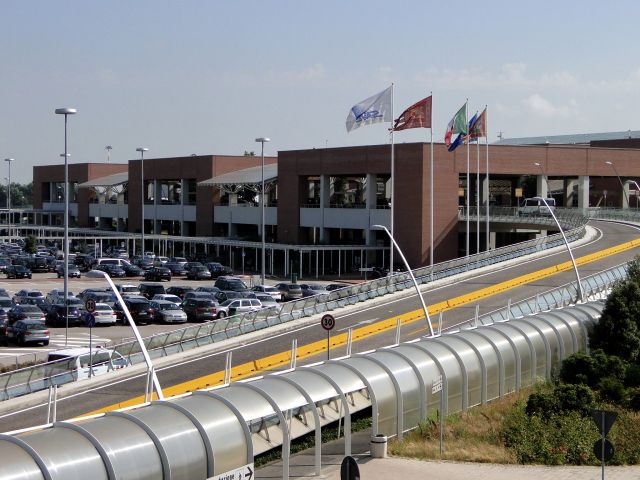 While waiting in the line at the check-in counter, just before my turn an old lady came to me and started explaining in Italian how she has a 20 kg suitcase or something like that and wants to cut the line. And when I asked her what has that got to do with her cutting the line she just replied: 'Grazie, grazie,' and went to the counter.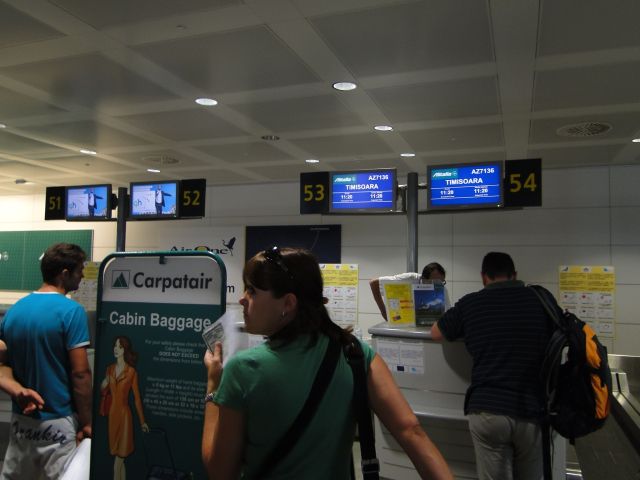 Unlike one of my previous experiences at VCE, when I had to wait 1,5 hours to check-in for my BA flight to LGW, the check-in staff was very efficient this time and in no time our sole bag was checked all the way through to KIV and we had boarding passes for both legs in our hands. Security was also quick and simple and we were airside.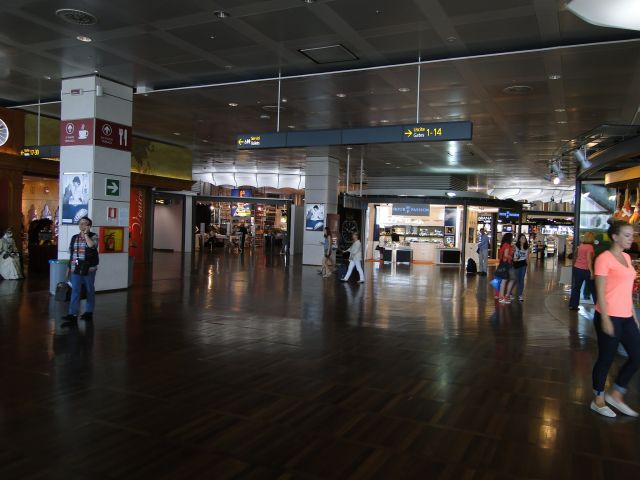 Our flight to Timisoara will depart from gate 22, a bus boarding gate at the lower level. But first one has to go through passport control, where the Italian officer didn't even opened it, but just gave it back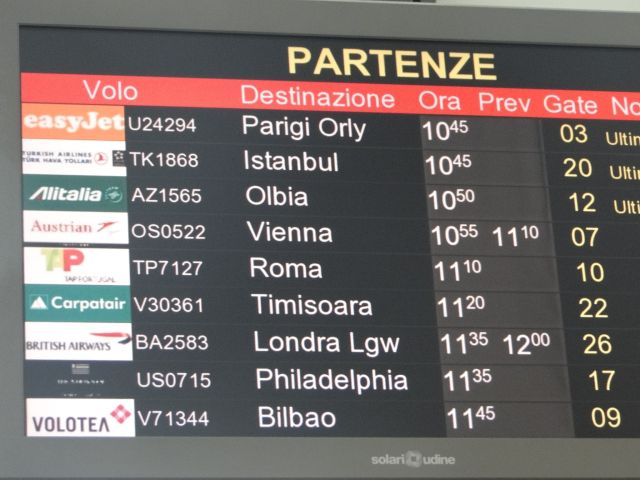 Some tarnac views. Airside is pretty nice at VCE, but we did not have a lot of time to explore it this time, just a quick snack and coffee at one of the shops and then our flight was soon to start boarding.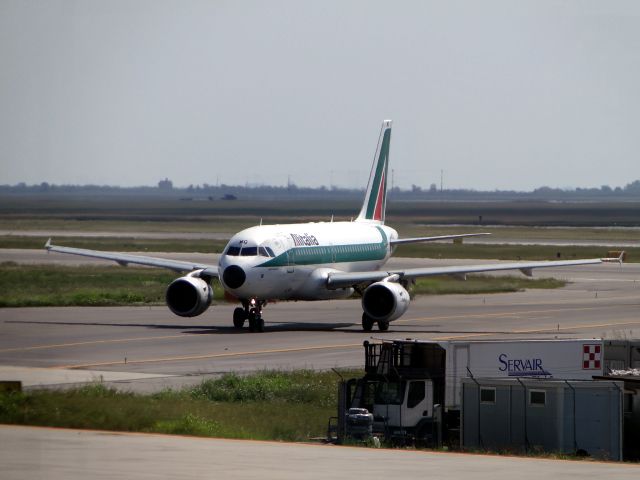 US flight to Philadelphia from the lower level was already boarding PAX for its flight across the Atlantic.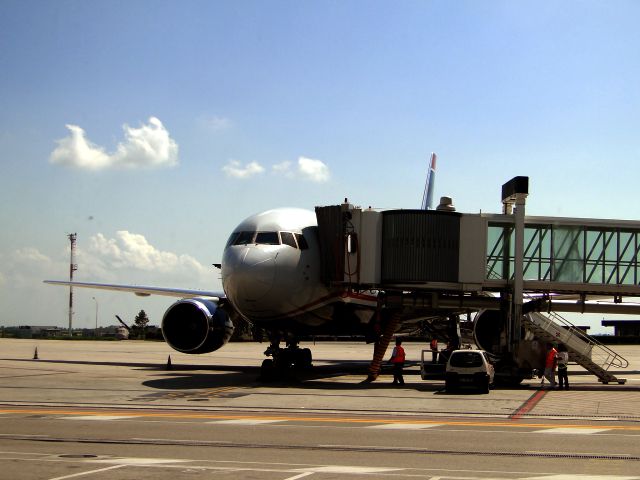 Gate area downstairs. Boarding started right on-time and since the gate agent was having some problems with the PA system, she just yelled: 'Timisoara!' and people started to board the first bus.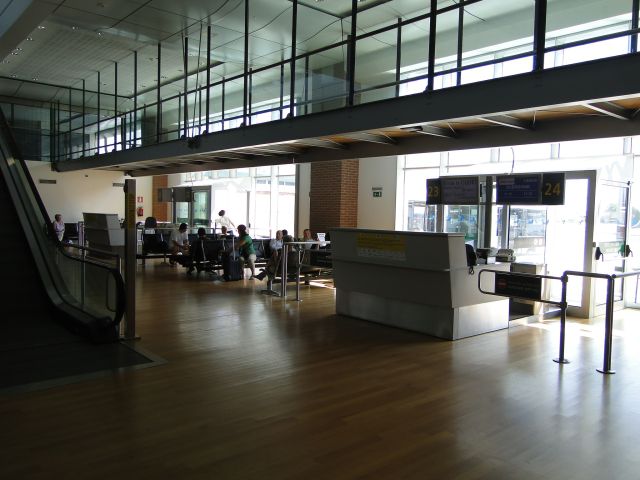 It was very hot outside so we waited for most passengers to board the bus first, so we would not stand in the bus for too long. Once inside it was not that bad as all of the doors on both sides were opened and the wind was blowing through.
Now despite this was my first flight with Carpatair, I have already had a flight on one of their aircraft. In the summer of 2008 a Carpatair F100 YR-FKA was operating for Adria Airways and I flew with it from Frankfurt to Ljubljana when returning home from Canada. And guess what we have pulled in front of after our bus drive?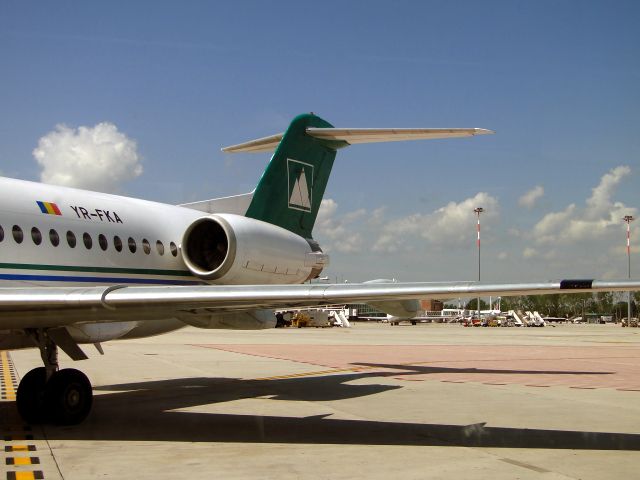 YR-FKA, I had a feeling this might happened. Anyways good to meet an old friend. Here is how YR-FKA looked at FRA four years ago in a hybrid JP/V3 livery: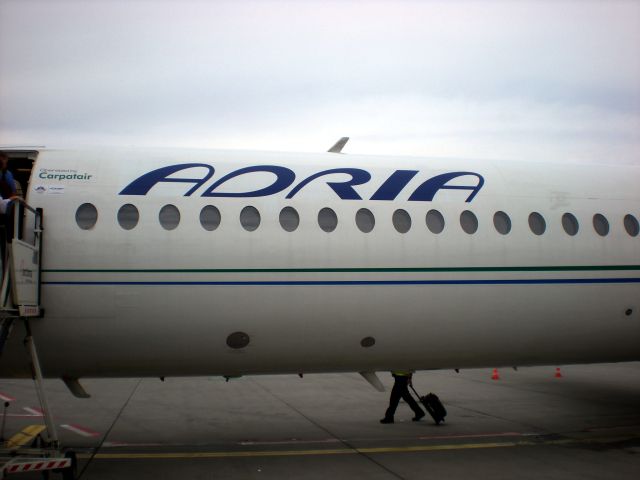 And here it is now, back in service with Carpatair.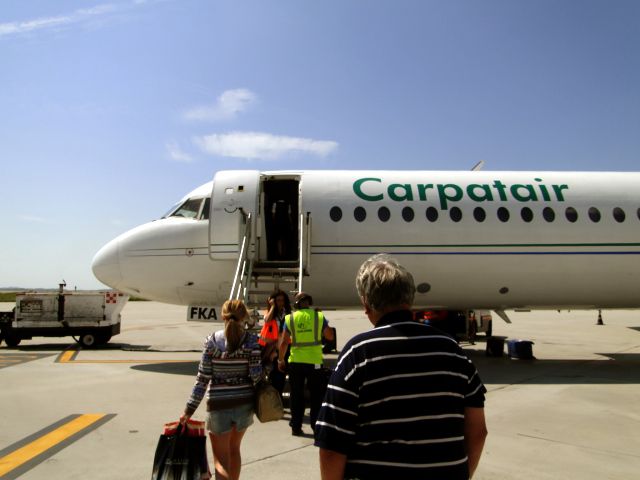 There were some problems with football balls that were still full of air and where to put them. So the captain, load control agent and FAs were debating and trying to figure out where to put theme. Meanwhile it was starting to get really hot in the bus and PAX started to get anxious. The driver noticed that and started opening the doors on the other side and running to them, explaining not to go out just yet.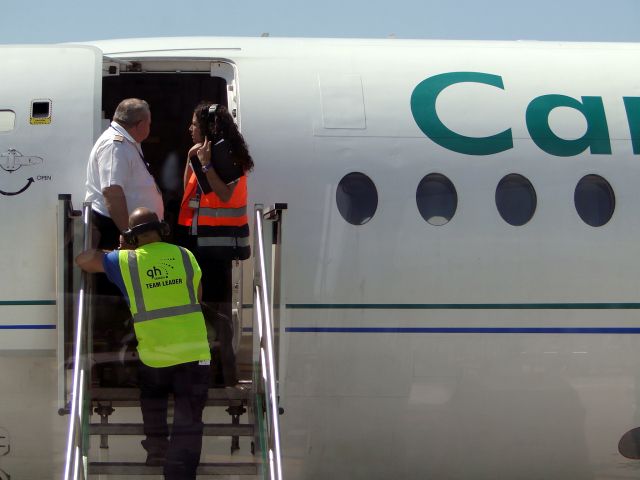 There is one thing I remember from my previous flight on this Fokker – on my FRA-LJU flight I was on the first bus to the aircraft. I settled into my seat, I think it was 1A or 2A, and watched the action on the apron through the window. Meanwhile the second bus with passengers for our flight arrived, and as soon as the doors were opened a small kid, maybe 10-12 years old, came running out, jumping all the stairs, the FA said hello, but he just ignored her and stopped in the middle of the aisle, held his hands up victoriously and yelled: 'I'm the first on the airplan…' He wasn't able to finish his sentence as he has realized in shock that the plane was already more than half full
I couldn't stop laughing and the poor kid went to the back, but came back again to wait for his father to tell him where they are seated.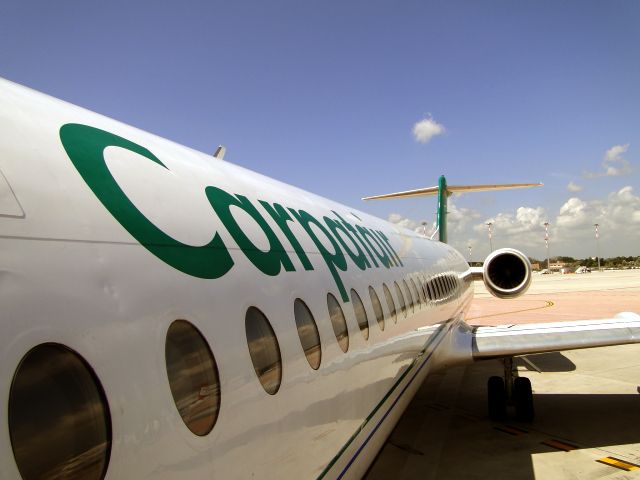 V3 361 VCE-TSR 11:20-13:55 F100 YR-FKA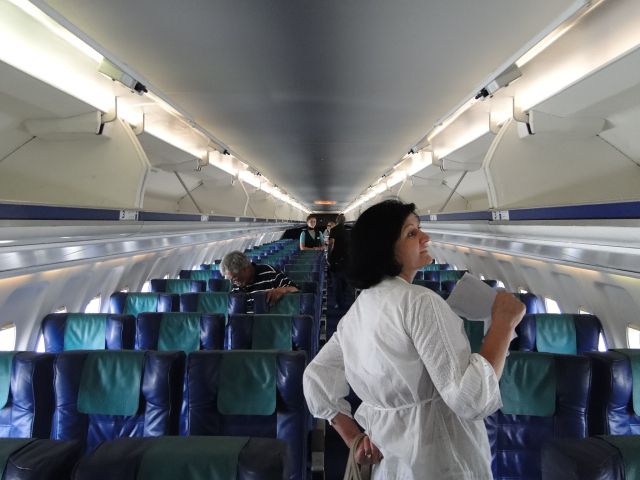 The young and good looking FA was at the door welcoming passengers and asking everyone if they are traveling to Timisoara. Just to check, I guess. Seats were comfortable, but a bit worn, every time I leaned back the seat would recline without me pressing anything. Outside Delta in Skyteam livery has just arrived after its flight from New York.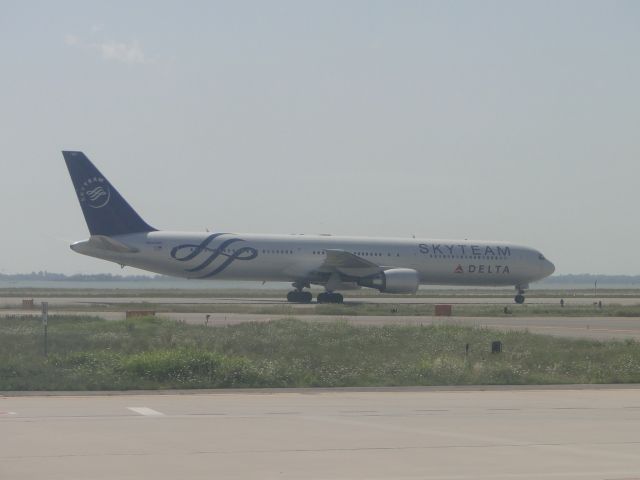 All nice looking and young female crew on this (and all the next V3/2M) flight. We started our takeoff and 'Cabin crew please take your seats for takeoff,' was heard over the speakers soon after, when we have reached runway 4R.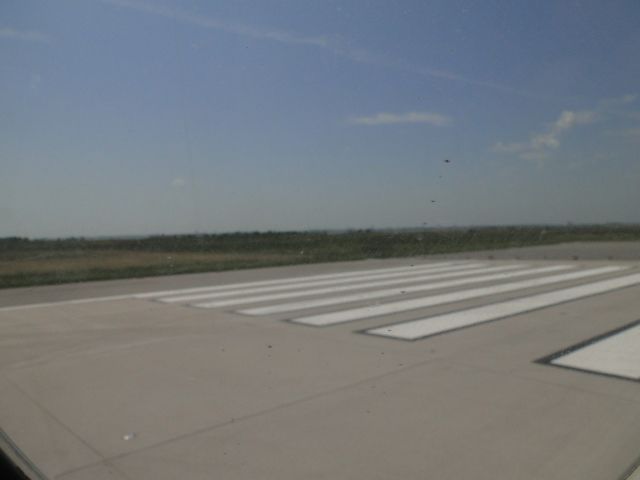 And so we were on our way to Romania.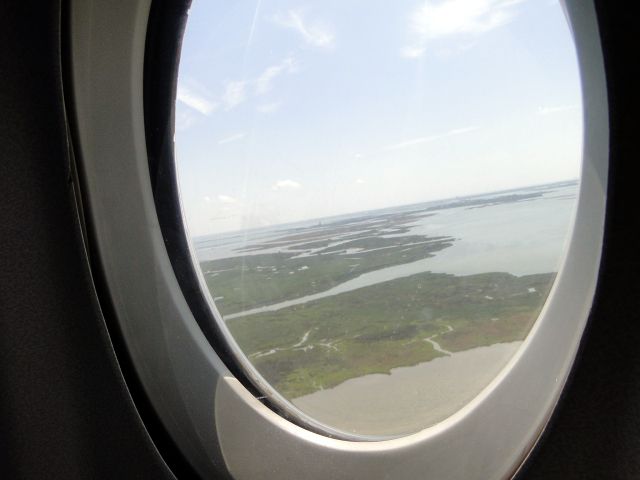 Venice has some interesting landscape around.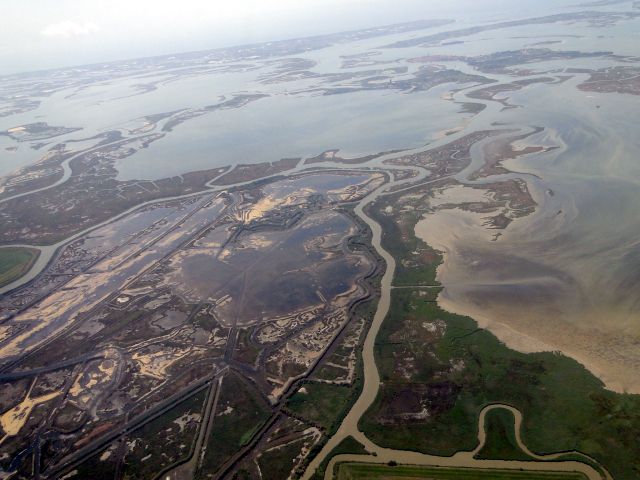 Italian coast as we make our way back towards Slovenia.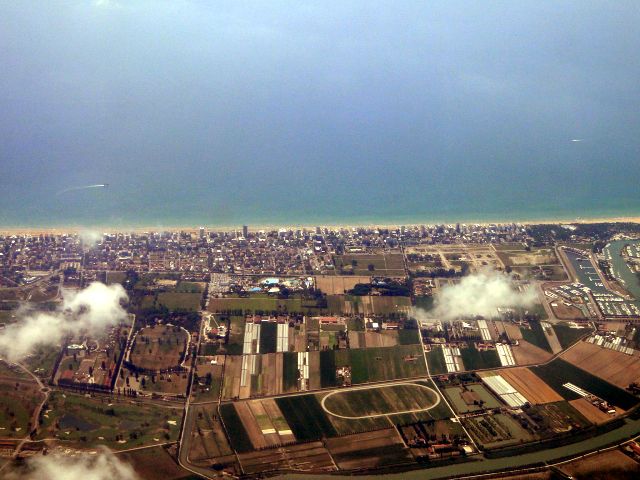 Interestingly, there was an announcement on all three of my flight that 'according to international rules' smoking is not allowed. Never heard the 'international rules' bit before.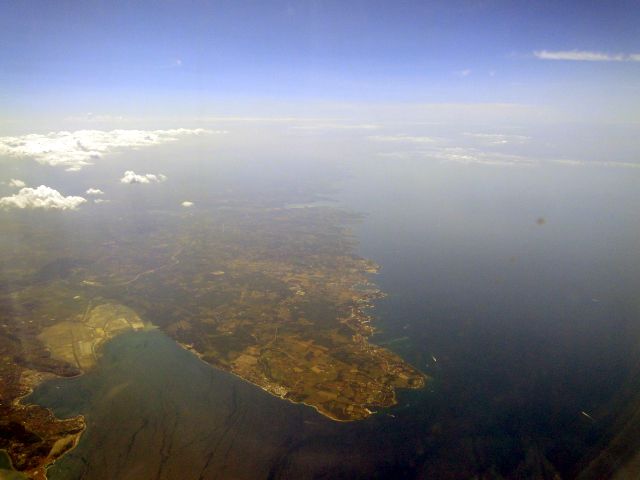 Service started soon after and we were given a pack with a sandwich and a drink round was also made by the cabin crew.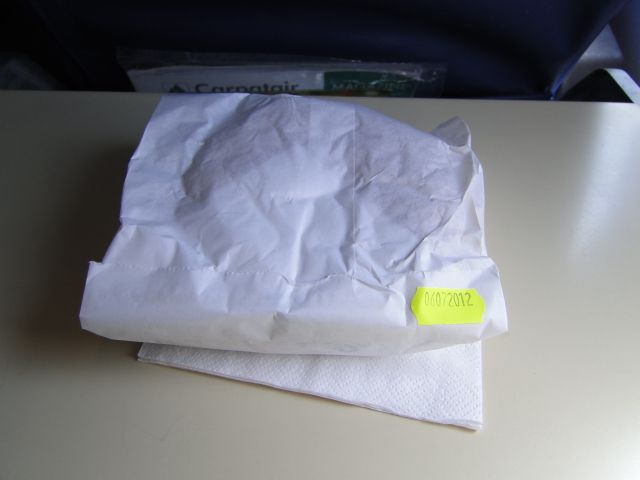 Inside the white wrap was a fried chicken sandwich with pickles. It did not look that good, but it was a substantial snack.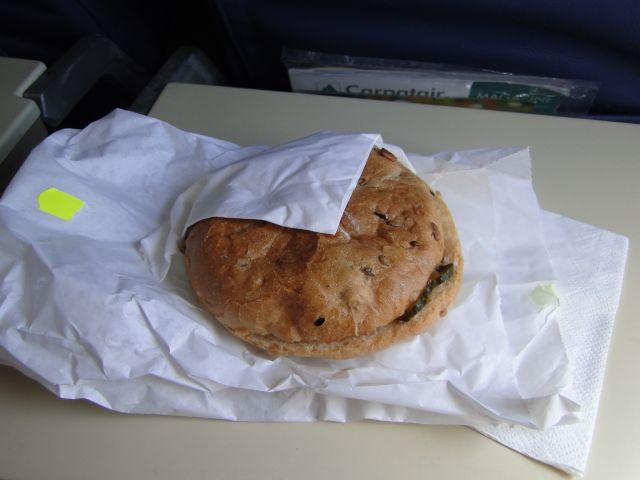 Making our way towards Carpatair's biggest hub in Timisoara. Timisoara is located in East Romania, very near to the borders with Serbia and Hungary.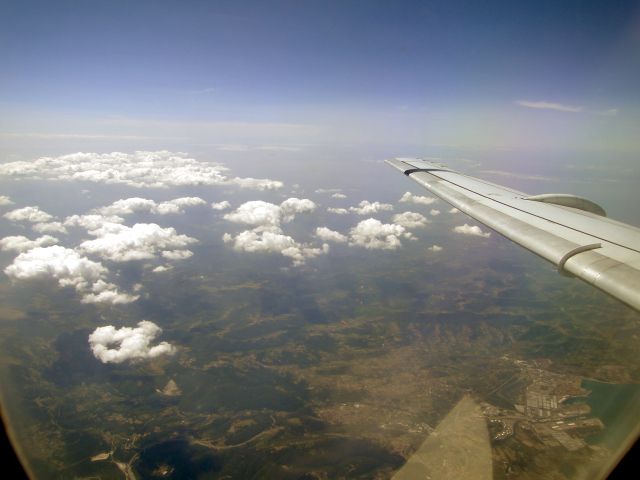 Luckily for us Carpatair and Moldavian airlines have just started new direct routes from Chisinau to Venice and had some promotional fares, so the ticket priced was not very high despite the late booking.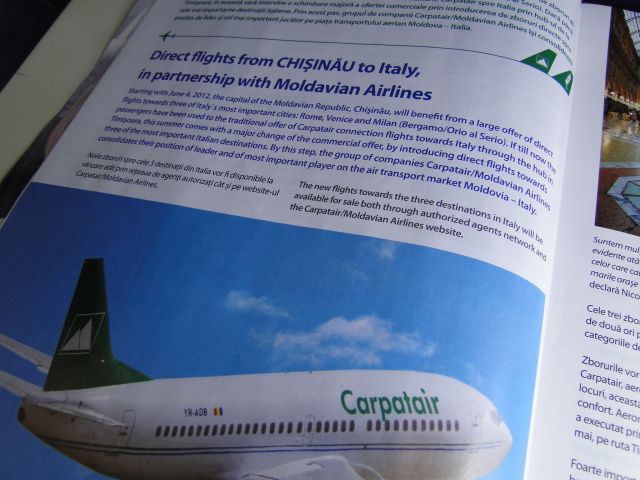 Contents of the seat pocket featured the safety card, Carpatair magazine and shopping guide.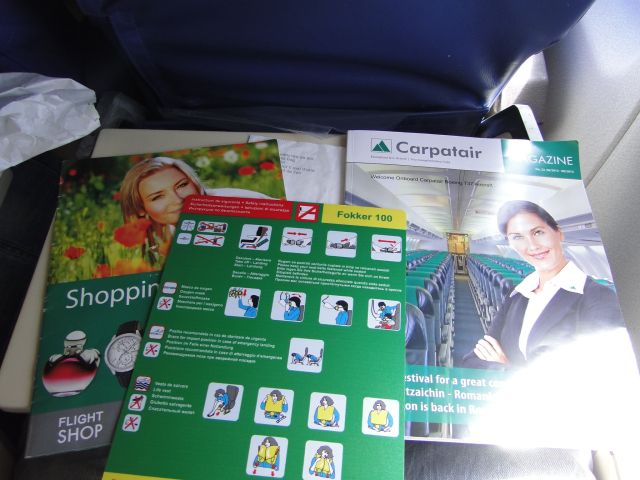 The bus from the airport costs just 0,15€ and the minibuses cost 0,20€. The bus from Ljubljana to the airport costs 4,10€ and runs only once per hour,…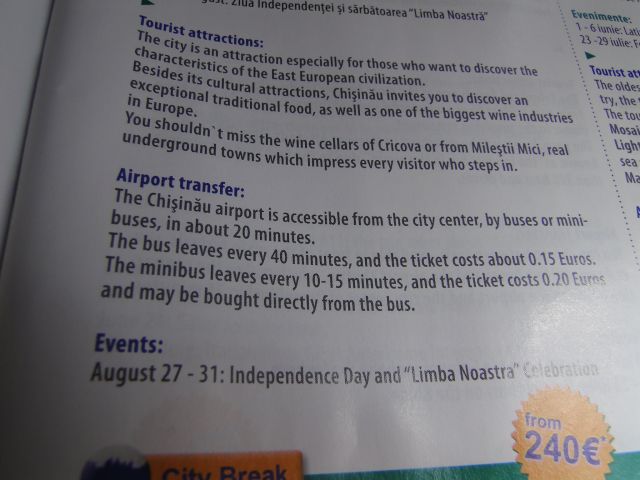 Slovenia looks very big on this map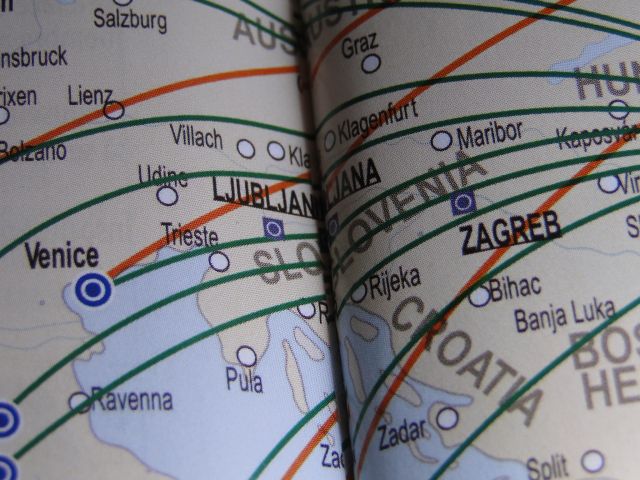 Cabin view, the flight was very smooth with no turbulence at all.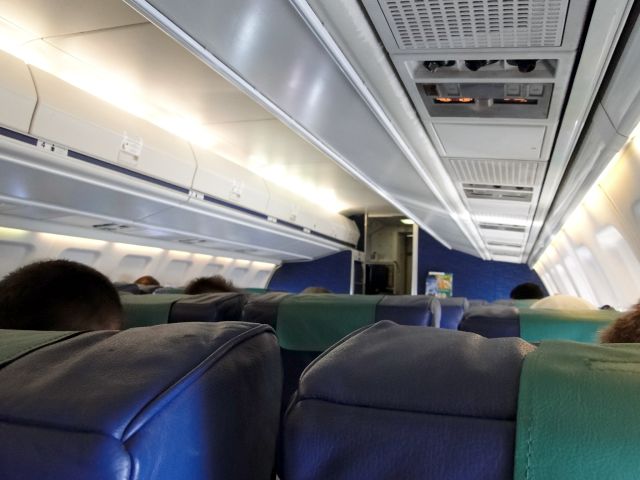 Old fashioned signs, a bit unpractical to look at as you have to look up, because the sign in front of you cannot be seen.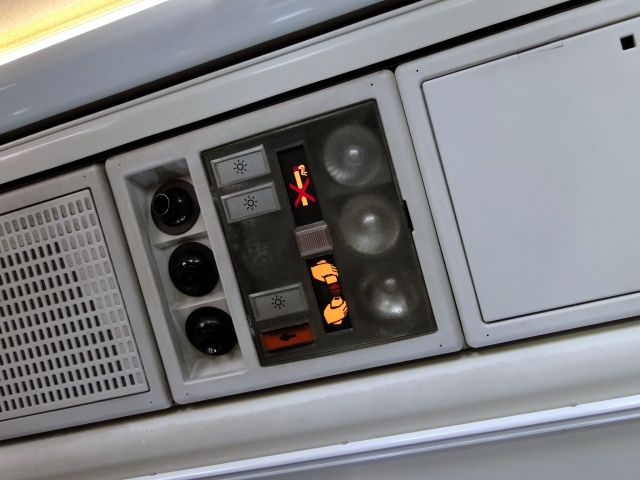 Zagreb.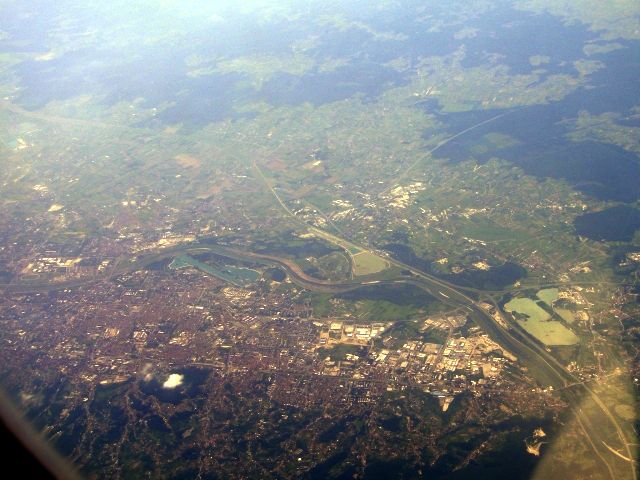 Zagreb airport.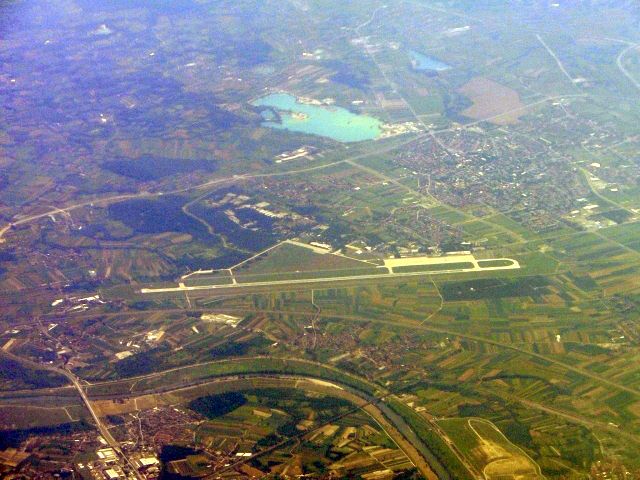 Another look at the capital of Croatia from above.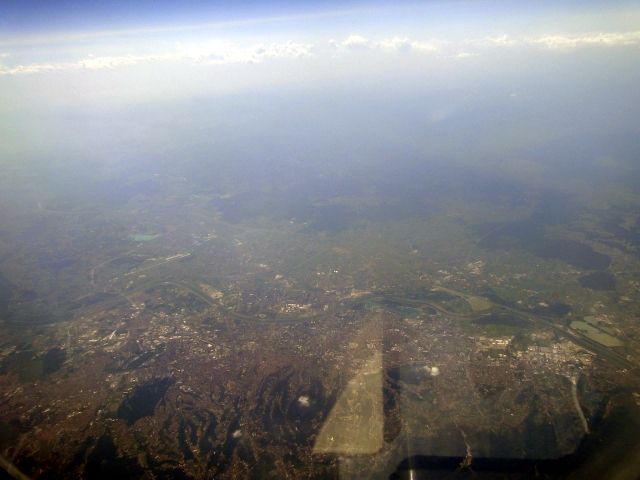 My boarding pass for the next flight to Chisinau. We had one and a half hour to connect in Timisoara, more than enough time.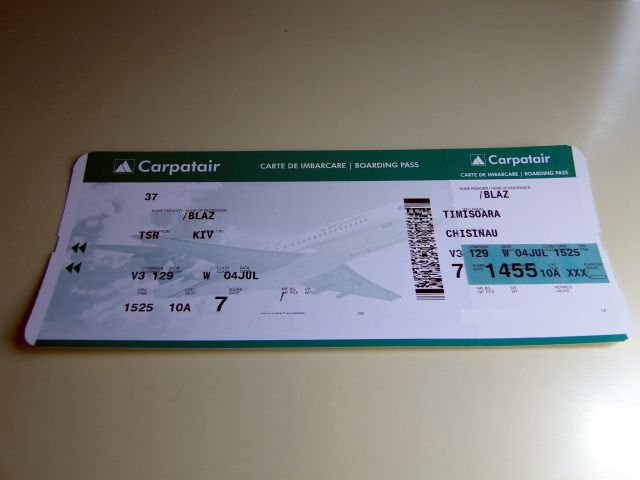 No doubt about the plane type here.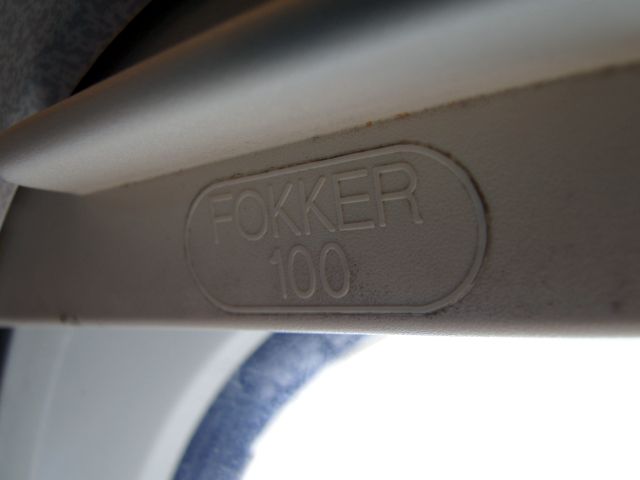 I guess we are over Serbia now and this might be the Danube River?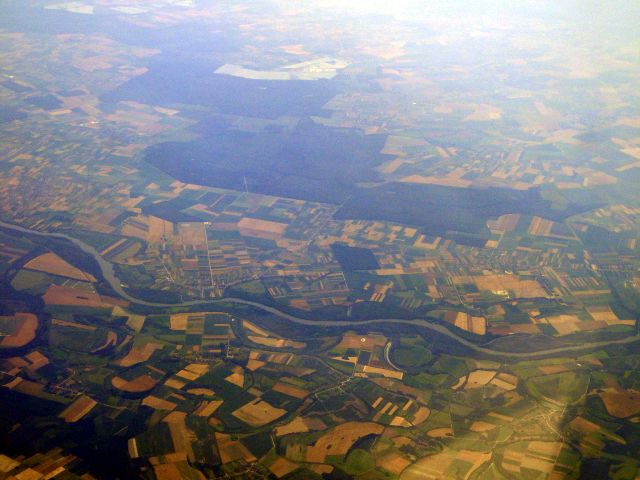 Lots of fields here as we start our descent into TSR.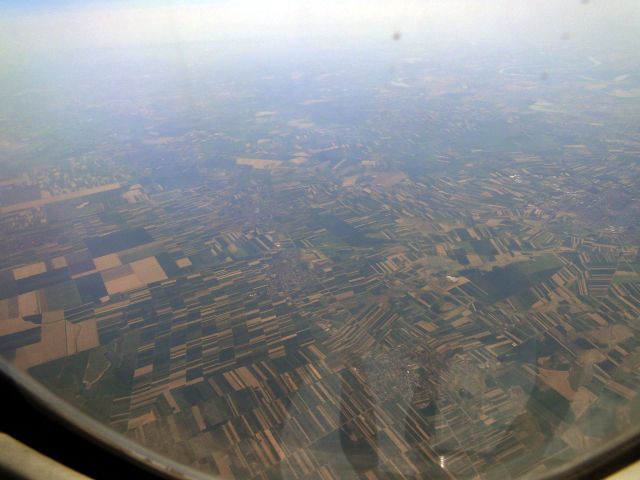 Some burned crop circles.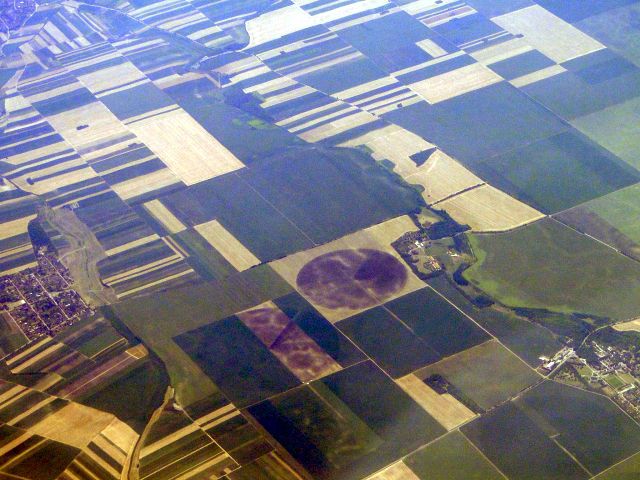 Still mostly fields.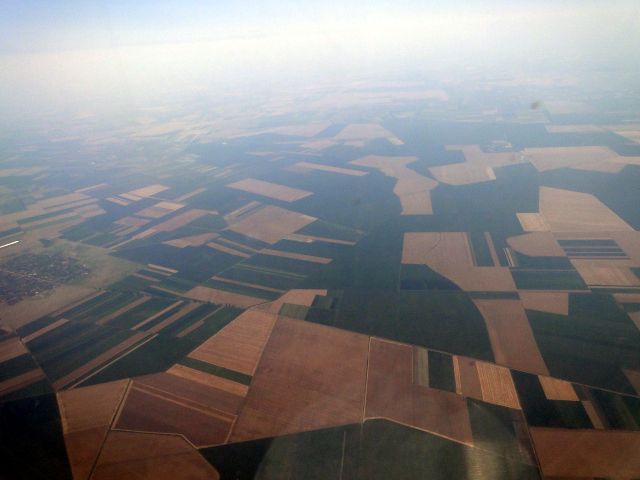 A small town in Romania.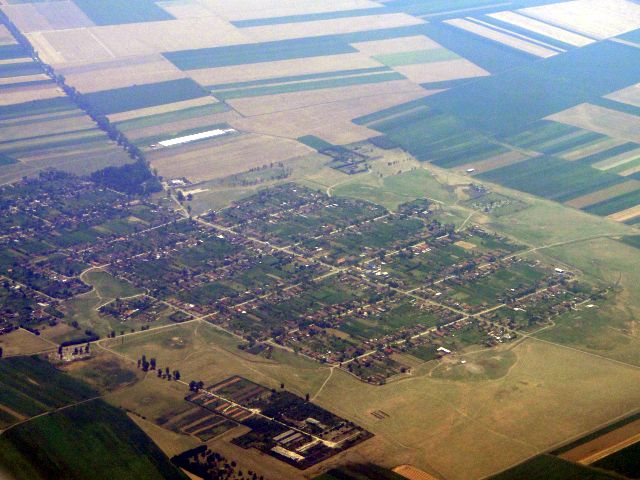 Getting closer and closer. I've never been to Romania before and I'm not sure if I can cont this transfer as a visit.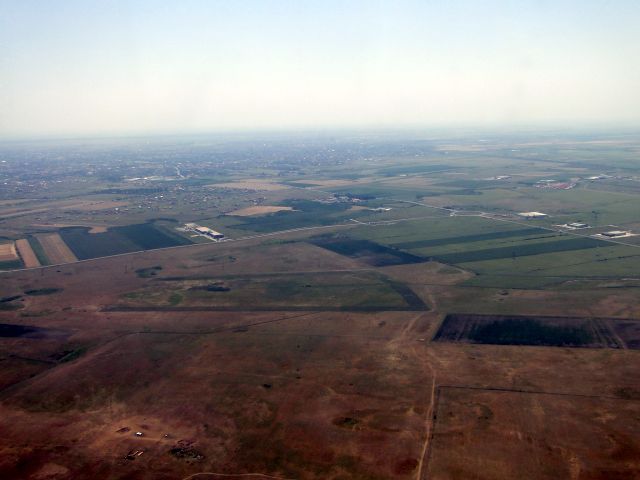 The city is in the background.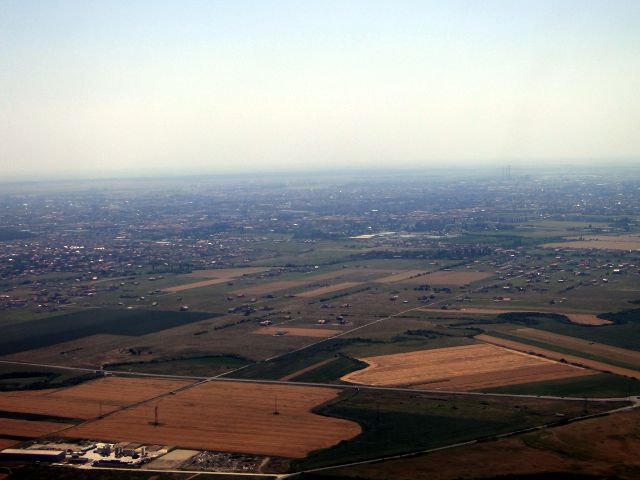 Here we are!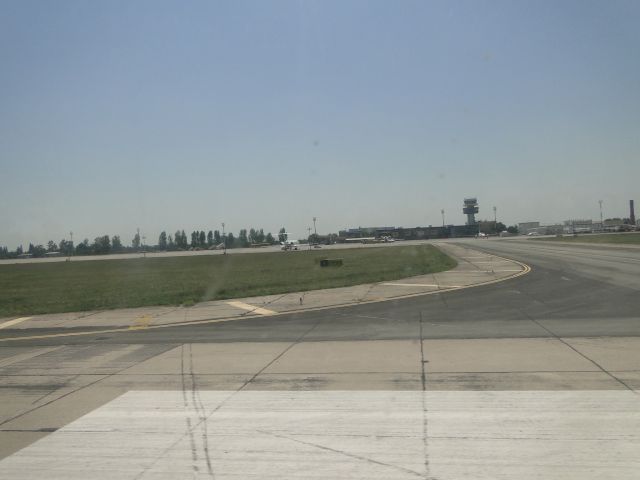 We taxied to the end of the runway and then back to our apron parking position.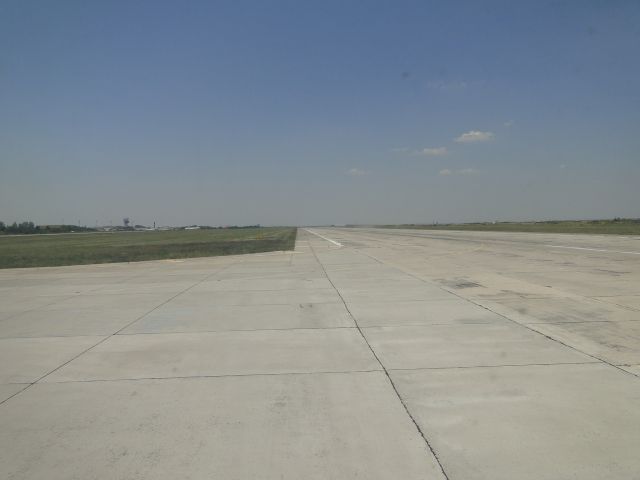 Moldavian airlines Fokker 100.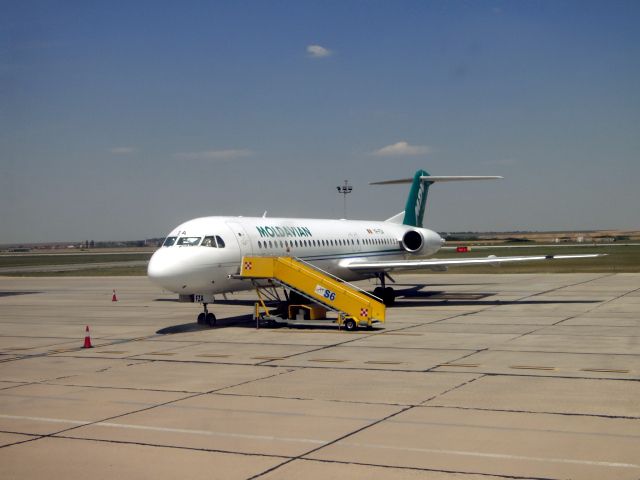 Timisoara airport terminal and a LH regional CRJ. While leaving the airplane the crew was giving out big packs of Milka chocolate snacks. Great touch Carpatair, they came very handy during the transfer to eat something. But interestingly they were only given out on this flight. Maybe they only hand them out on arrival to TSR?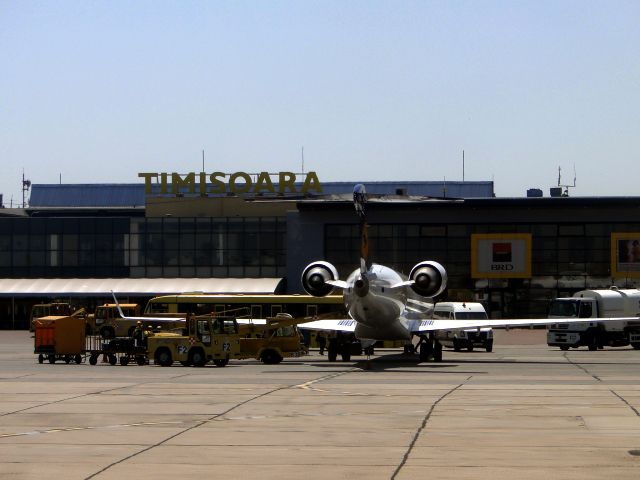 Transferring at Timisoara is very easy. You just go one floor up where they check your passports and you are airside at the gates, no need to re-clear security and it's very fast.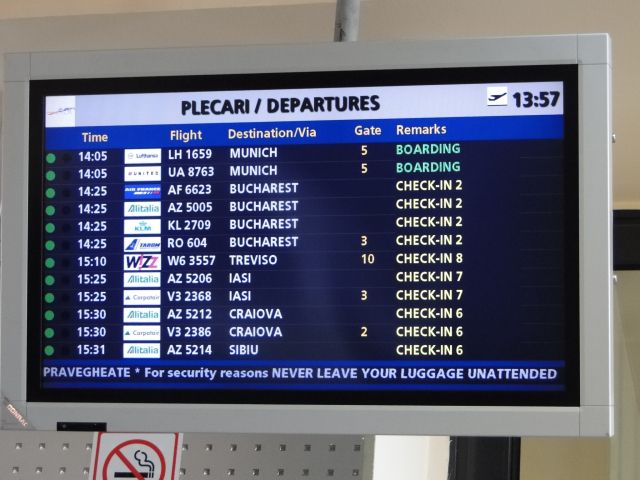 We found some seats inside the terminal and waited for our next flight. Once the Wizzair flight to somewhere in Italy started boarding it got a lot more crowded so we moved to the lower floor from where our flight to Chisinau will be boarding.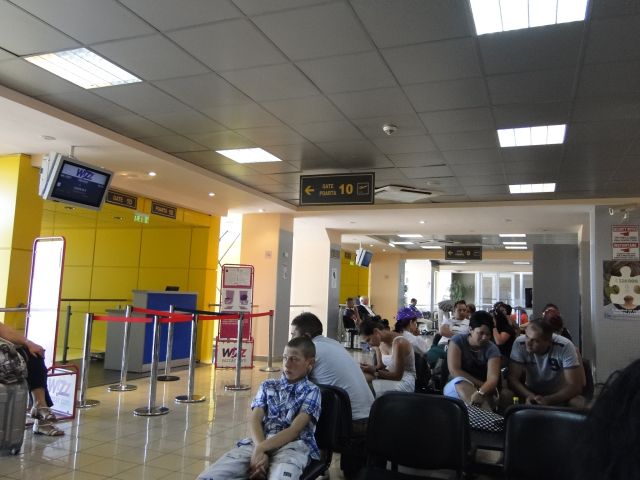 Lower gates with a lot of Carpatair and Moldavian Airlines aircraft parked in front of the terminal.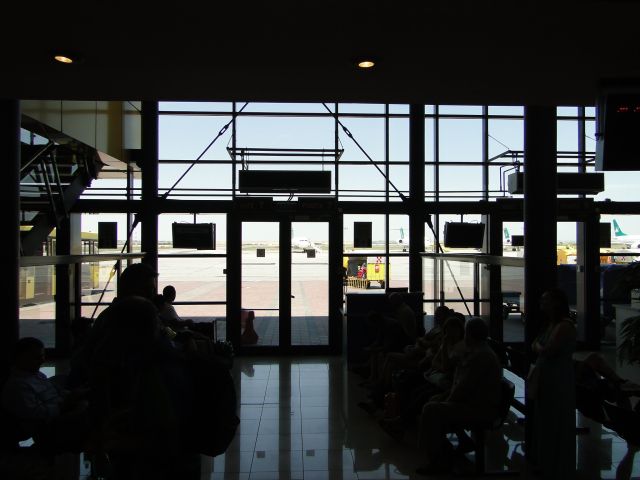 Carpatair has just acquired a sole B737-300 to its fleet and the aircraft was scheduled to operate our next flight. It was YR-ADB.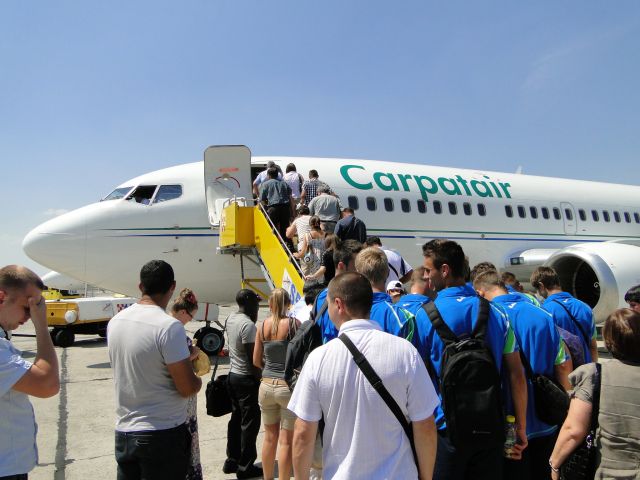 V3 129 TSR-KIV 15:25-16:35 B733 YR-ADB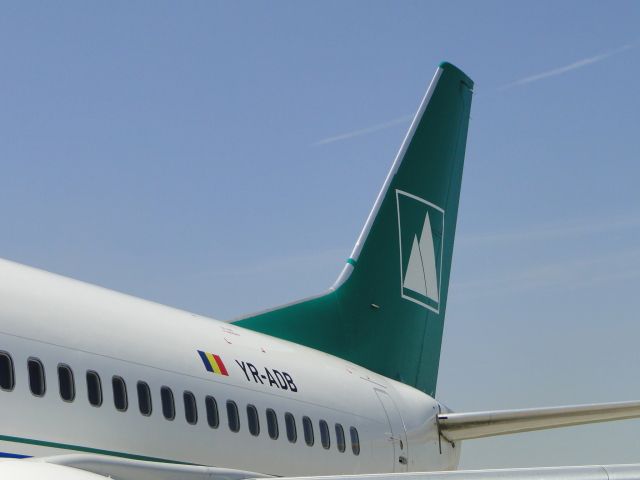 Nice 733 engine. This will be my sixth 737-300 flight, all my previous ones were operated by BA or LH.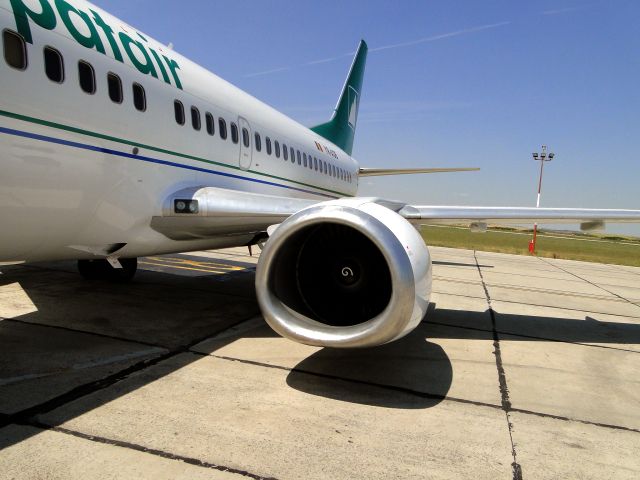 This frame made its first flight in 1997 and has 148 seats. I was surprised to see our captain and first officer from the VCE-TSR leg sitting in the bulkhead row. Some more V3 crew members joined later, flying between bases in TSR and KIV.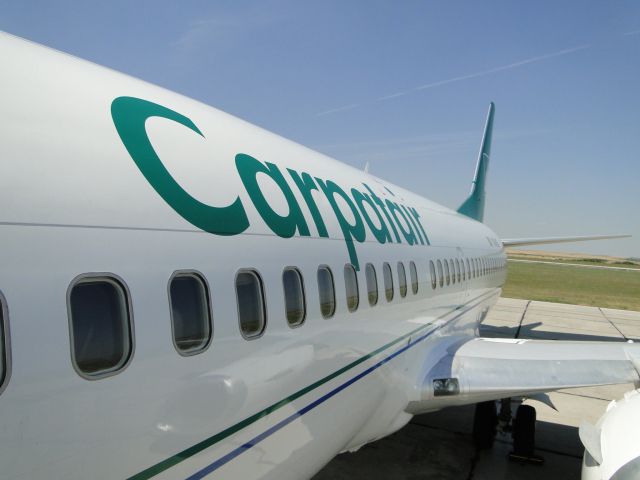 Unlike the VCE-TSR flight that seemed pretty full there were a few empty seats here and there on this flight.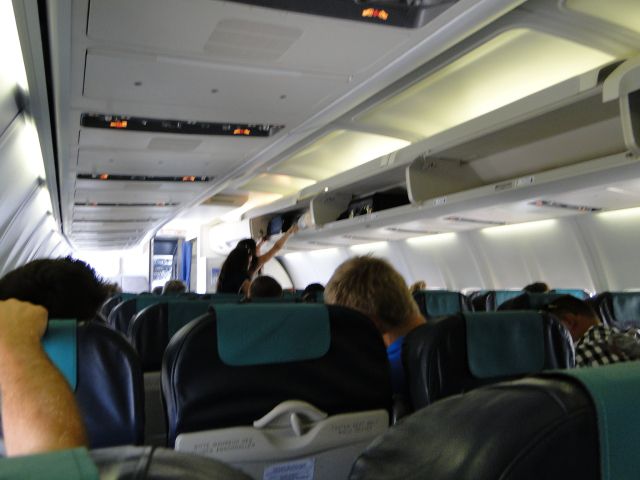 Austrian arrows arriving from Vienna, Wizzair in the background.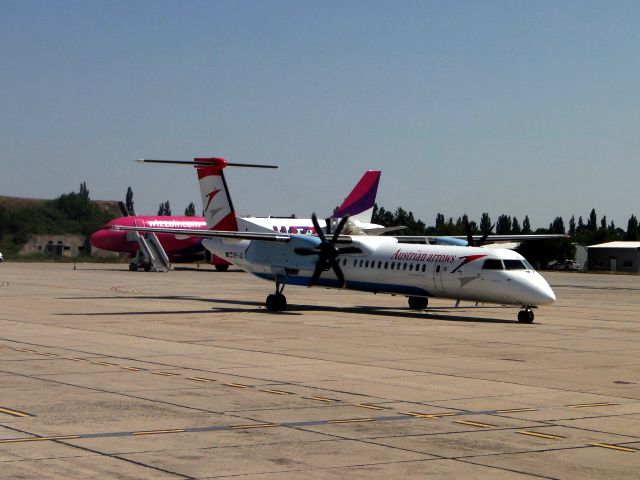 After a bit of waiting we departed on time.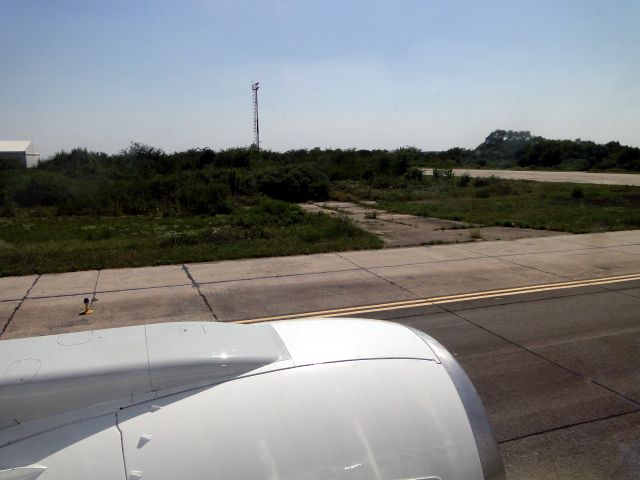 Nice house for an aviation enthusiast.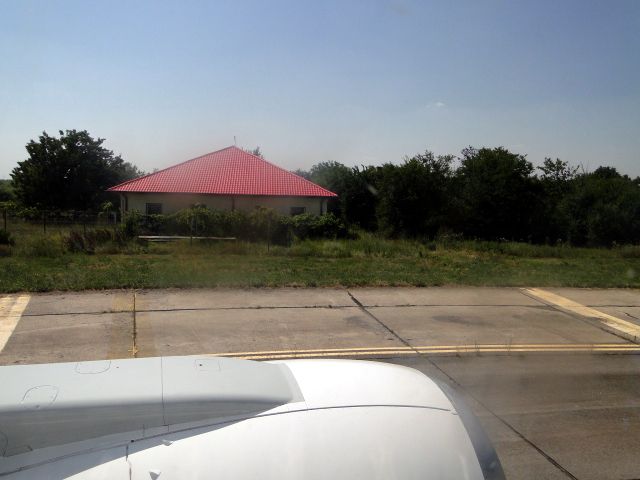 Interesting fence around the airport.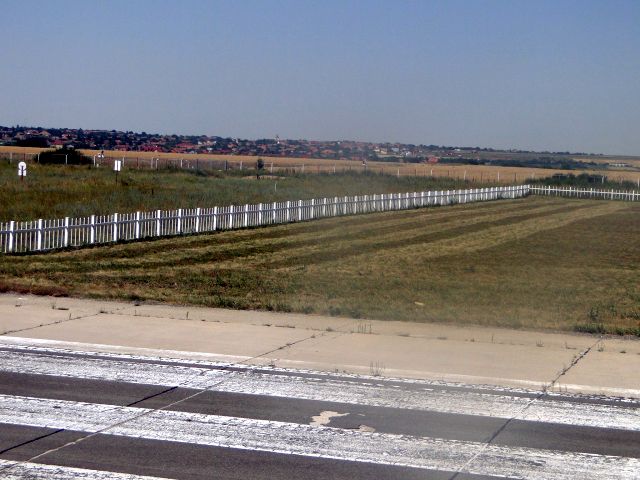 And we're off again, this time to Moldova.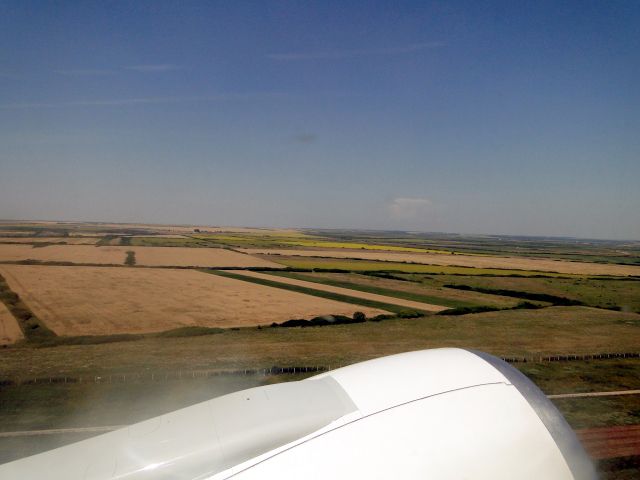 This flight is another short one with the captain predicting just over an hour of flying time.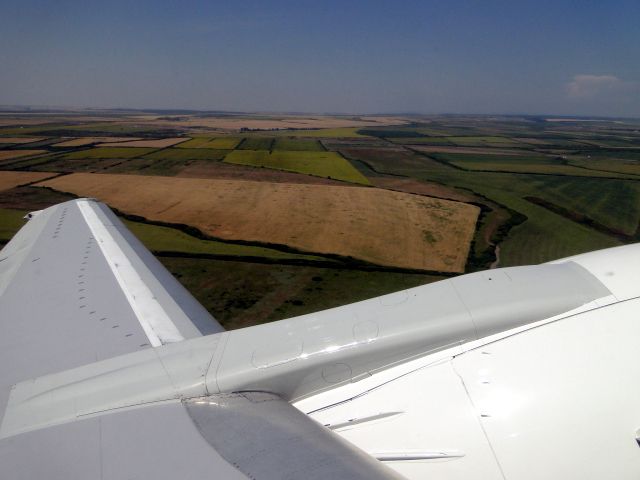 Some more views of Romania as we climb to our cruising altitude.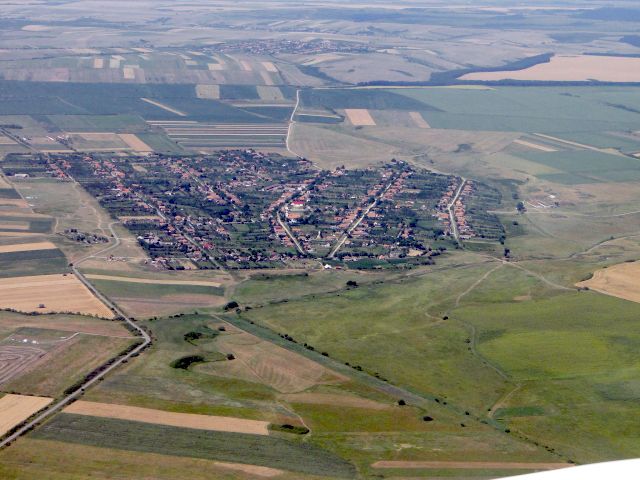 I spent most of this flight just looking out through the window and reading articles about Moldova in the in-flight magazine.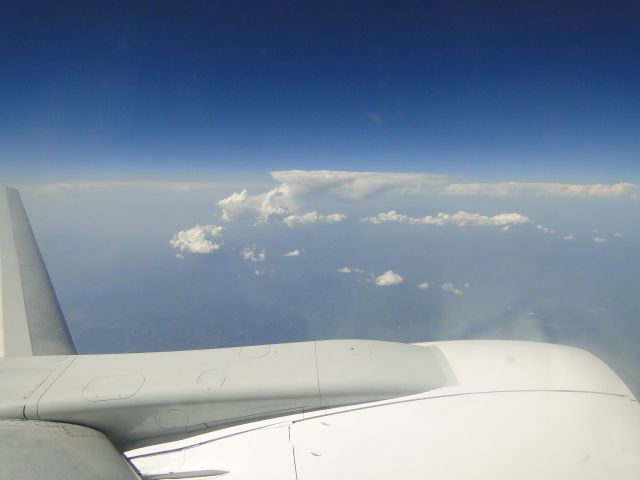 Another white wrap, this time containing something else.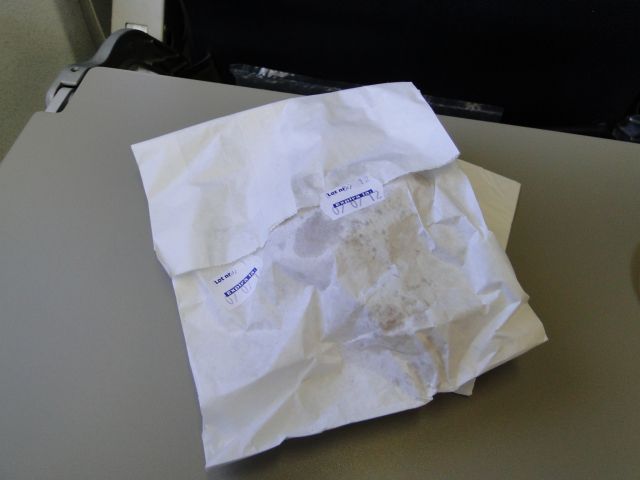 A not very good and a bit old croissant, but still a welcomed snack.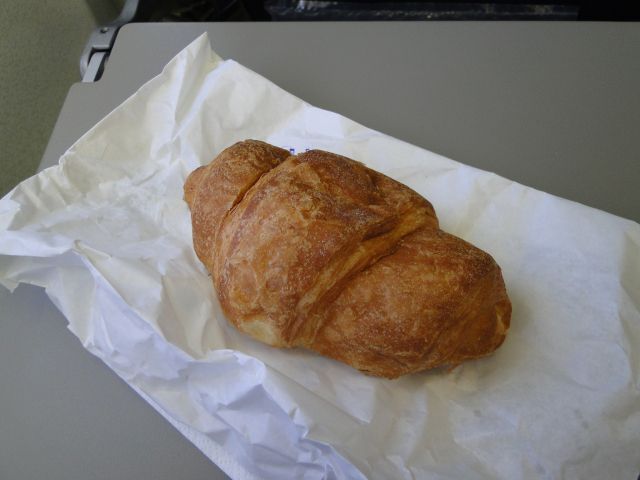 I'll be sure to remember this.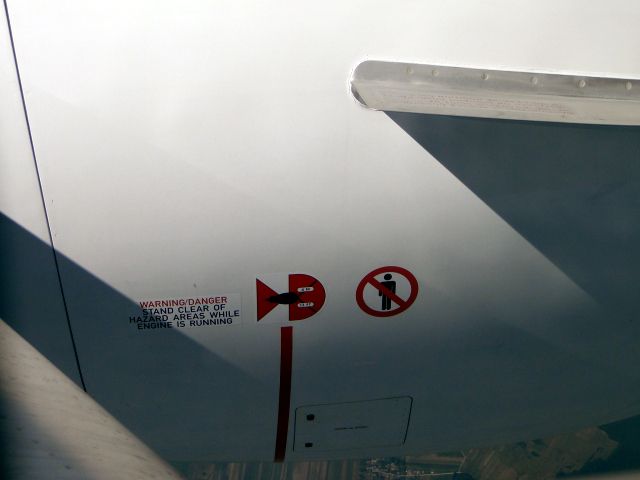 Getting closer and closer towards Moldavia.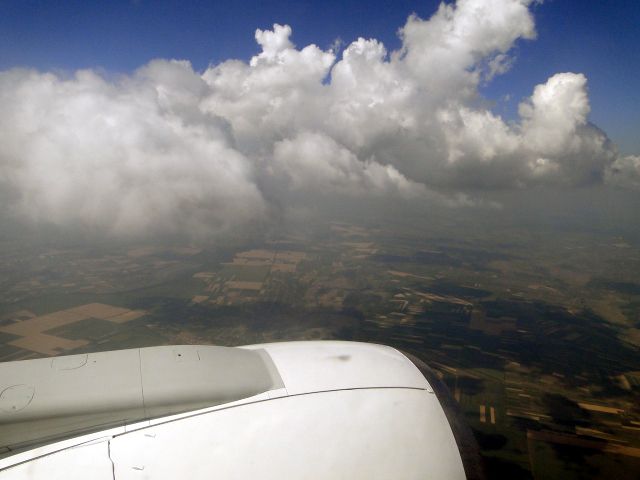 Descending towards KIV.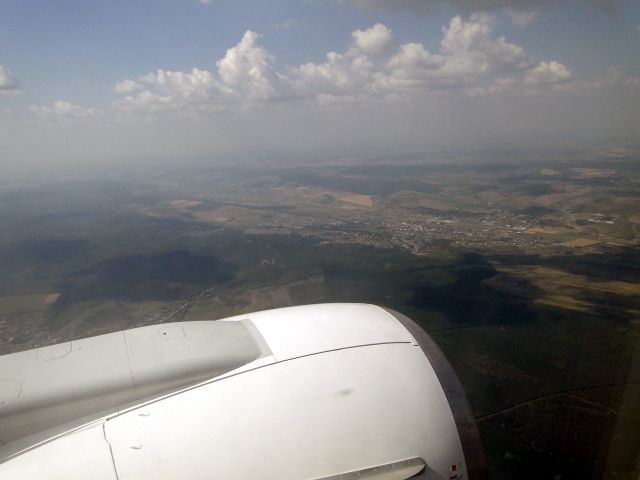 First sights of Moldavian landscape.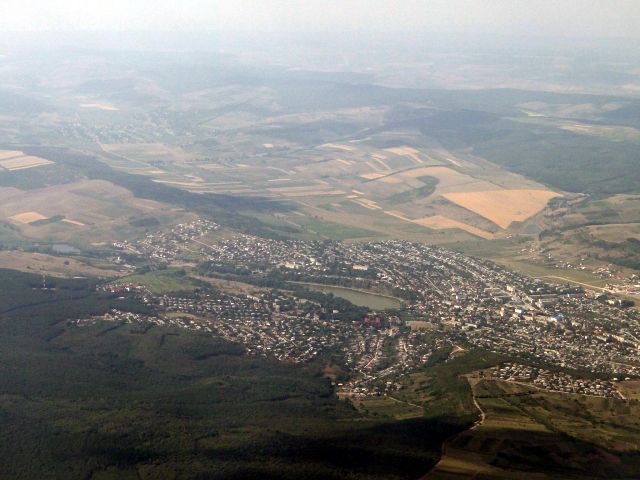 We made some left turns to align with the runway.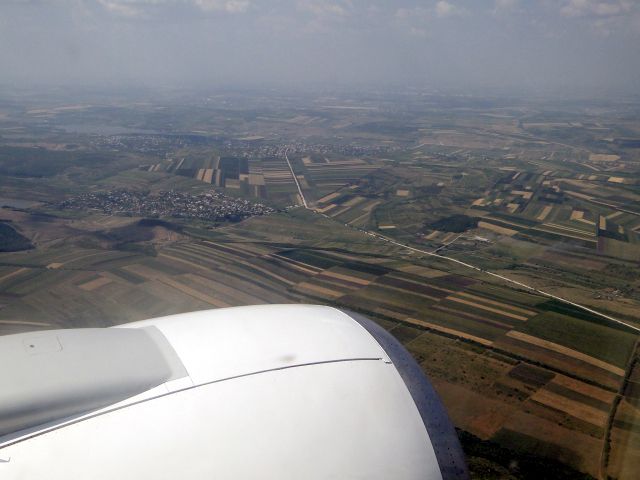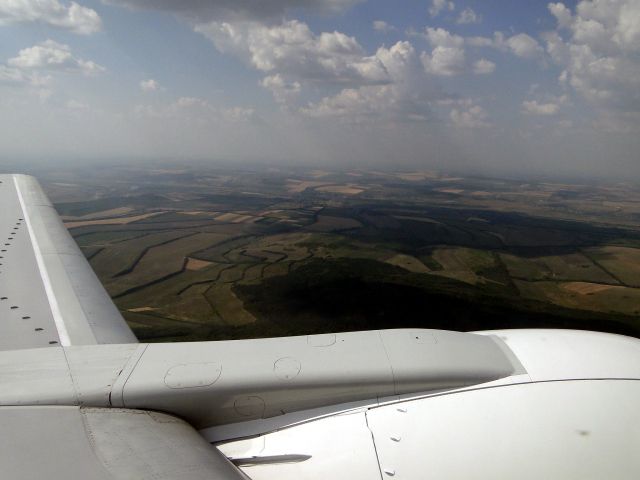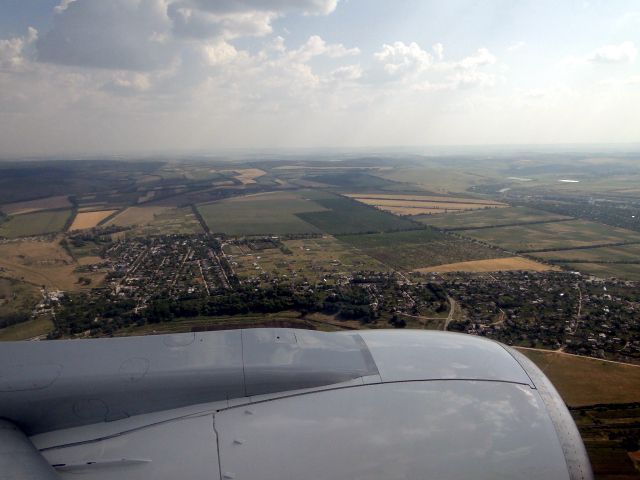 A lot of trees around these houses.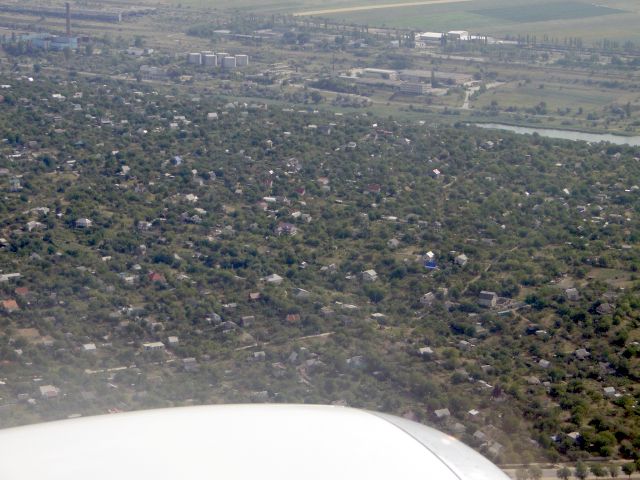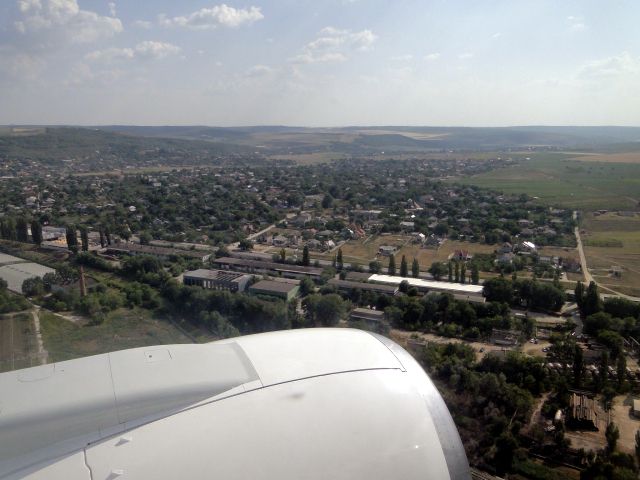 And here we are.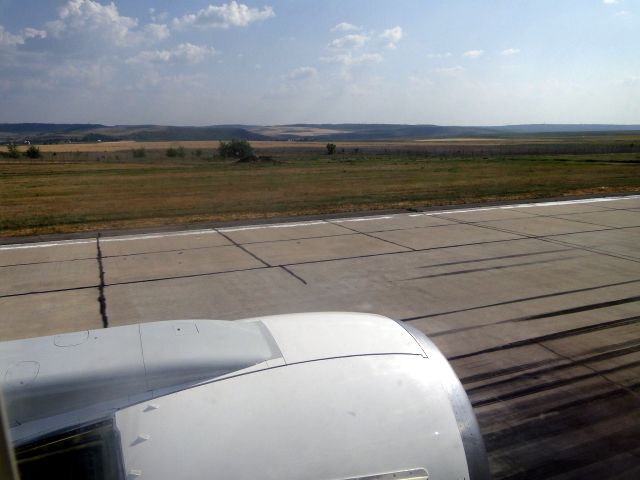 Slowing down after landing.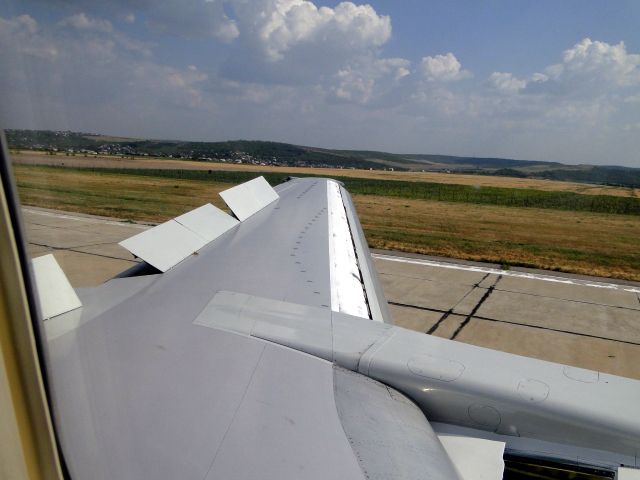 Taxi to the terminal was very short. There was an S7 Airbus parked at the apron having arrived from Moscow a bit earlier than us.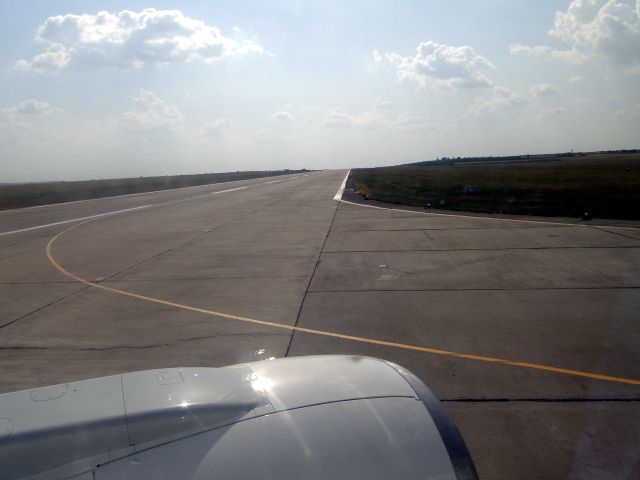 This looks like an old terminal building to the left.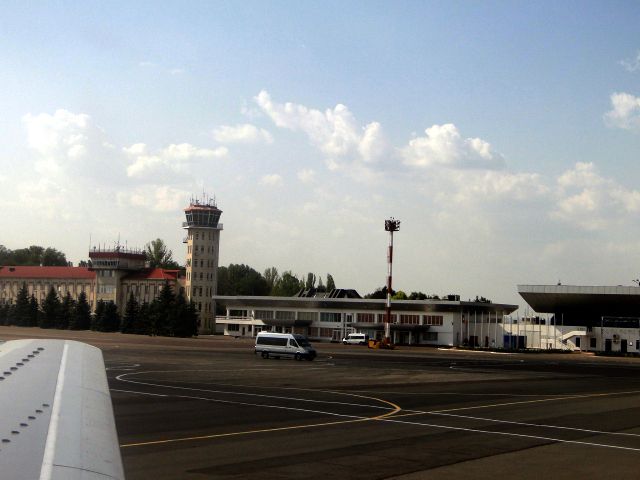 And a new, more modern looking airport terminal, to the right.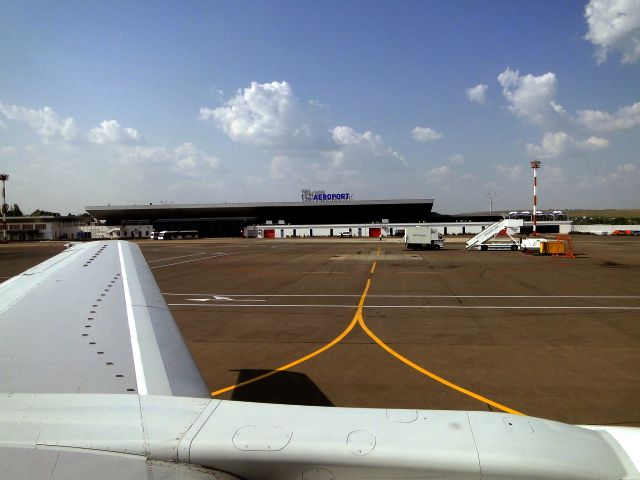 The flight from Moscow.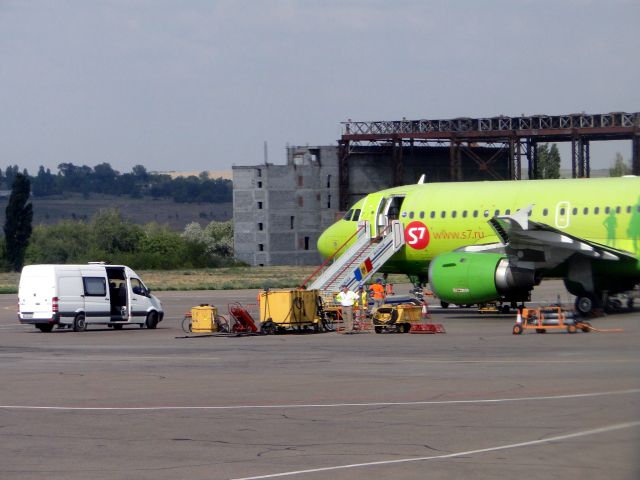 Yup, we have landed at the right airport.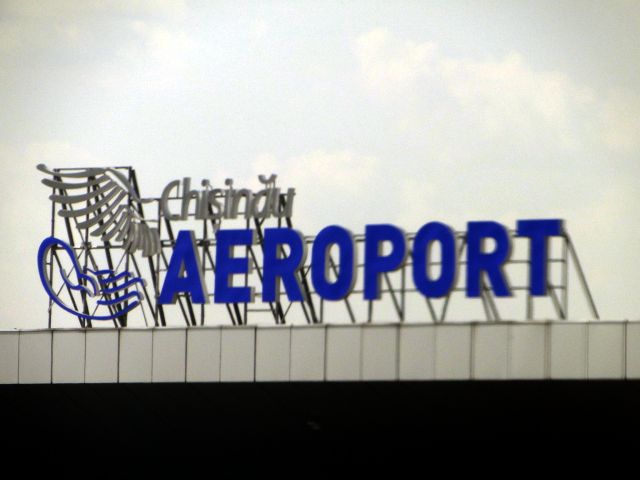 Ground crew was already waiting for us, prepared to do their duties. Disembarkation was through both front and rear doors and there were two buses waiting, one at each exit.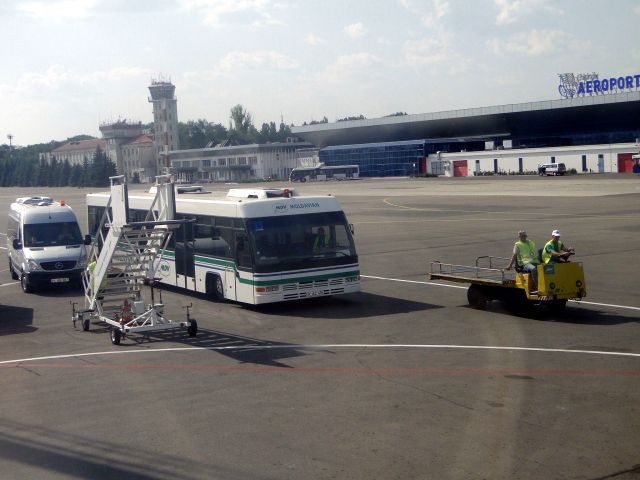 It was a very hot day in Chisinau!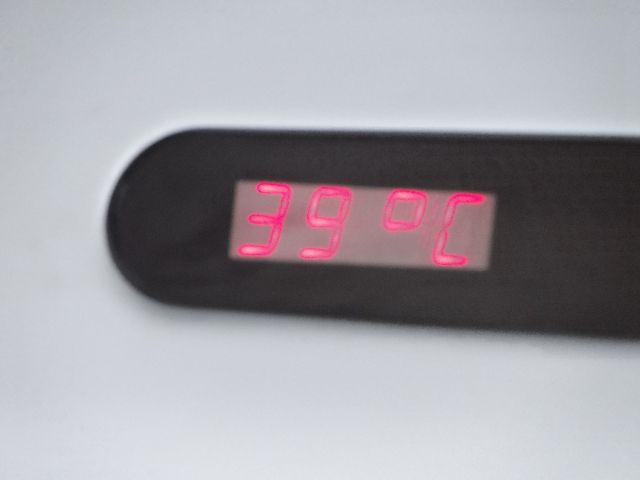 After leaving our bags at the hotel we took a leisure stroll around.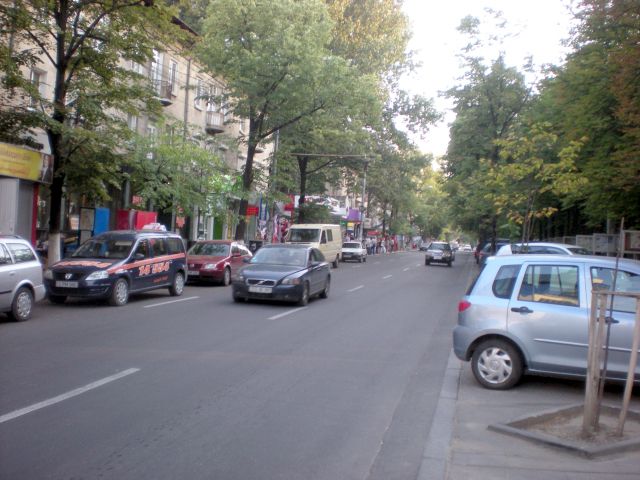 The temperature dropped in the evening and it was nice to walk around.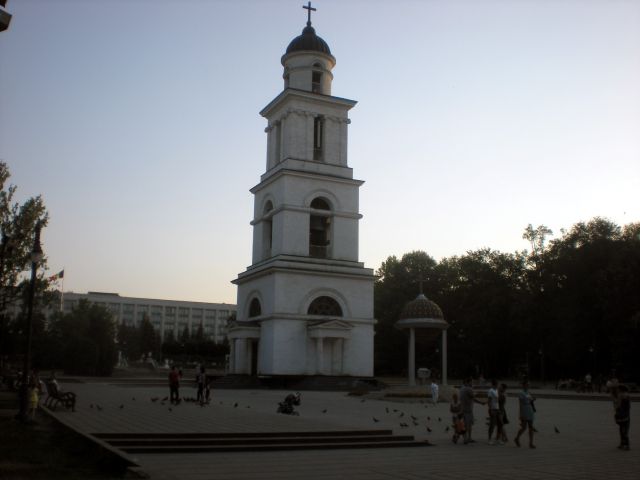 Government House.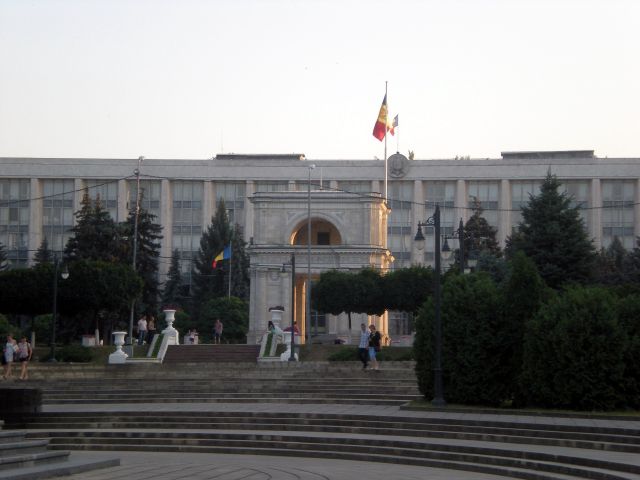 They even had Wi-Fi available in the Cathedral Park.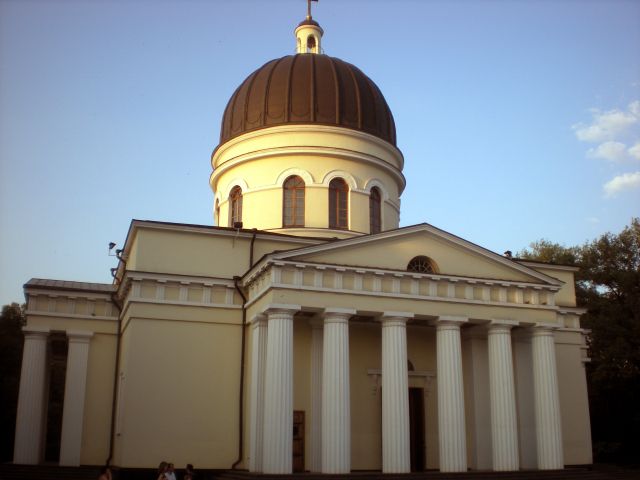 The Great National Assembly Square.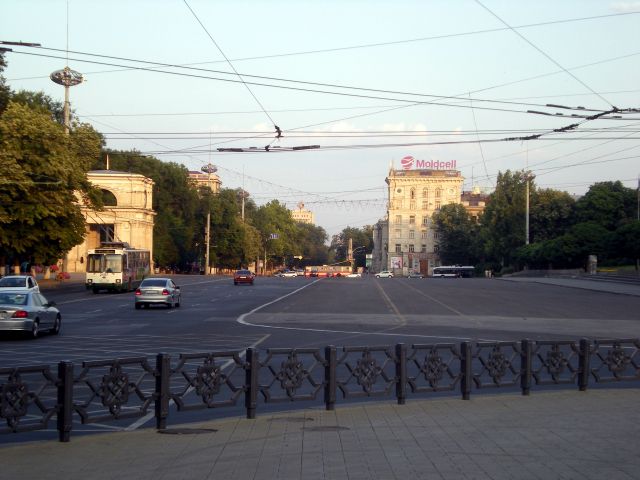 Another look.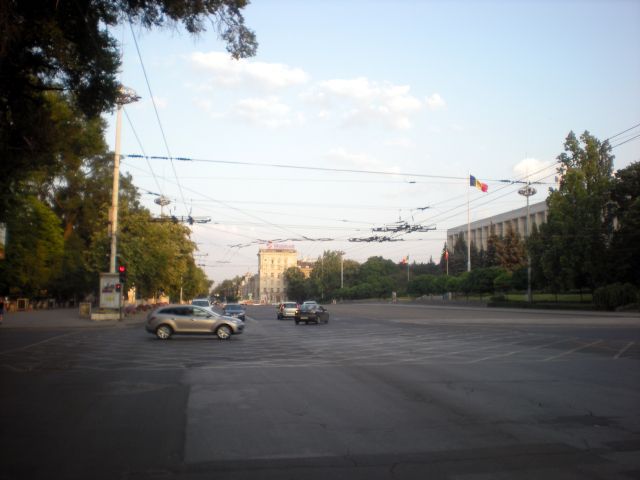 Walking through another nice park.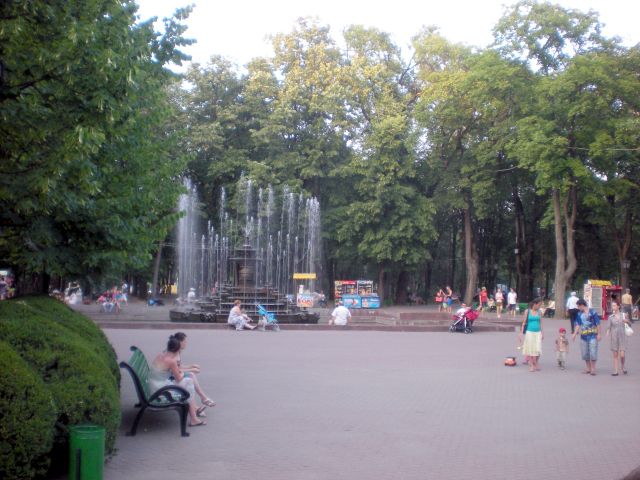 Old, but interesting trolleybuses.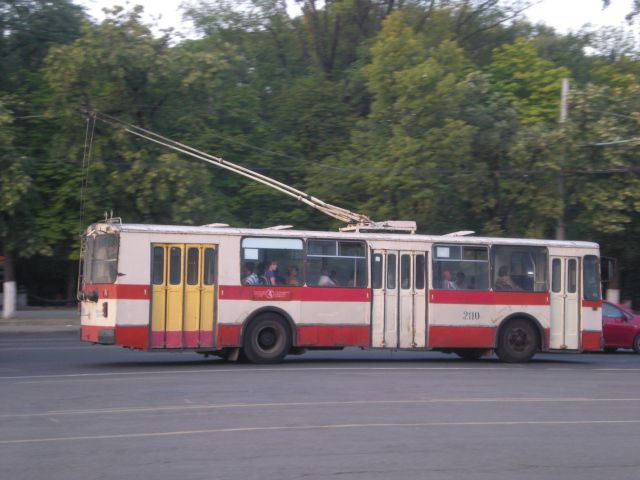 View from our hotel room. It does not look very good, but looking a bit more to the left…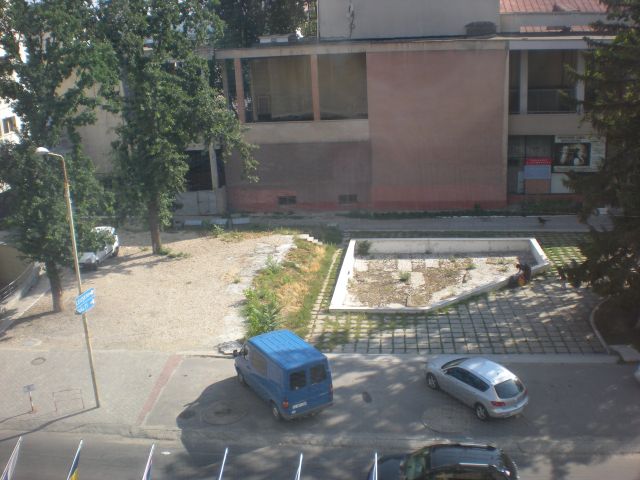 …there is a new and modern looking building.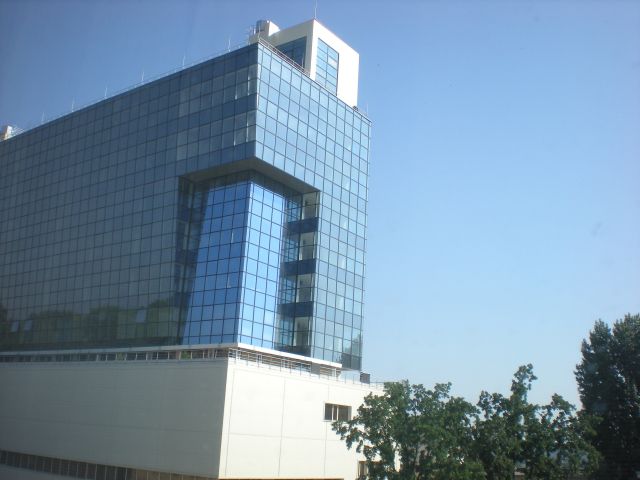 What impressed me the most is that the city was very clean. At least the parts we went through looked very nice.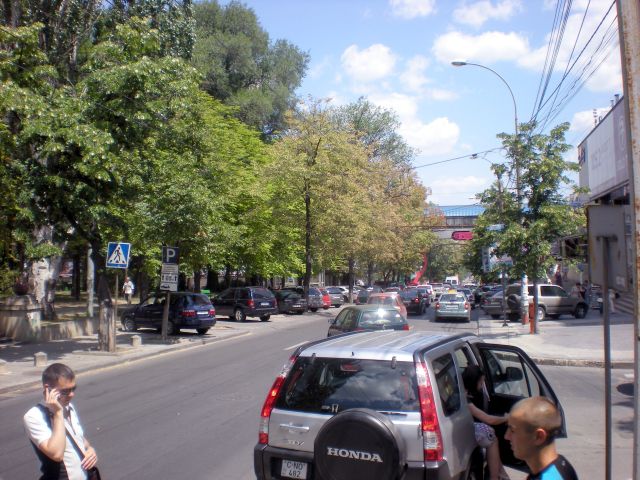 It was very hot all three days during our stay (35+ degrees), so what better to do during our free time than head to one of the famous wine cellars in Moldova, where the temperature is a constant fresh 10-14 degrees. We booked a tour to Cricova just north of the capital and a car to take us there.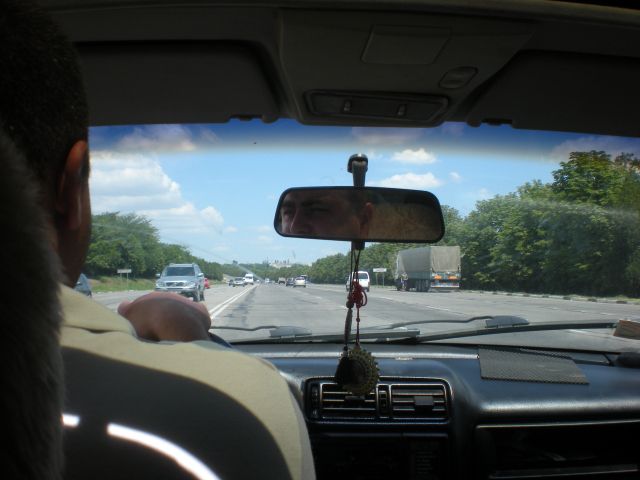 I don't think there are many drivers obeying this stop sign.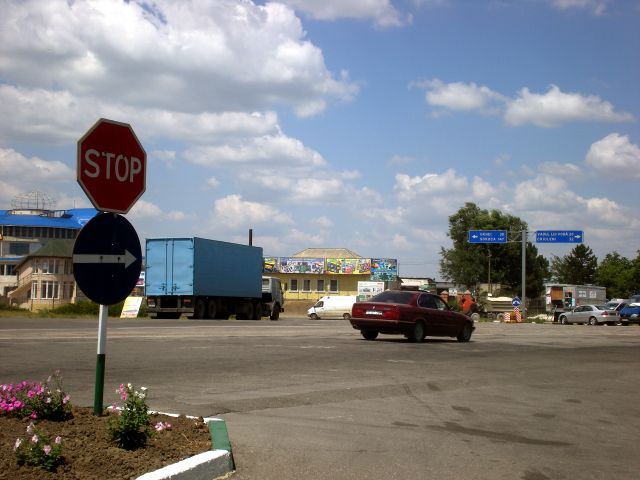 Cricova is the place where Vladimir Putin celebrated his 50th birthday. He is quite a regular guest around here.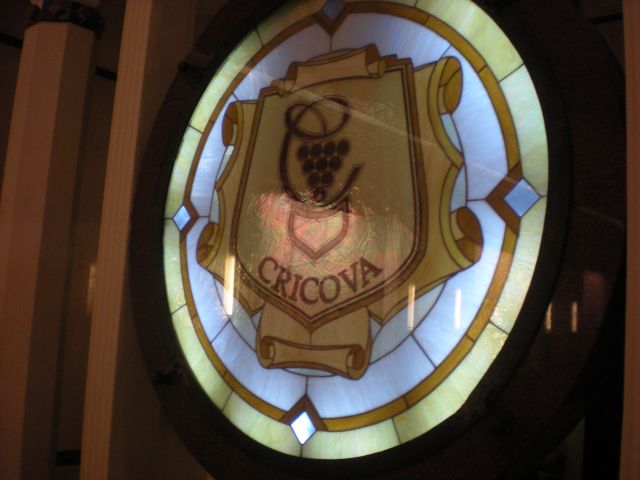 There are 120km of tunnels down there so walking was out of the question. We boarded a tourist train that took us around different areas of the place.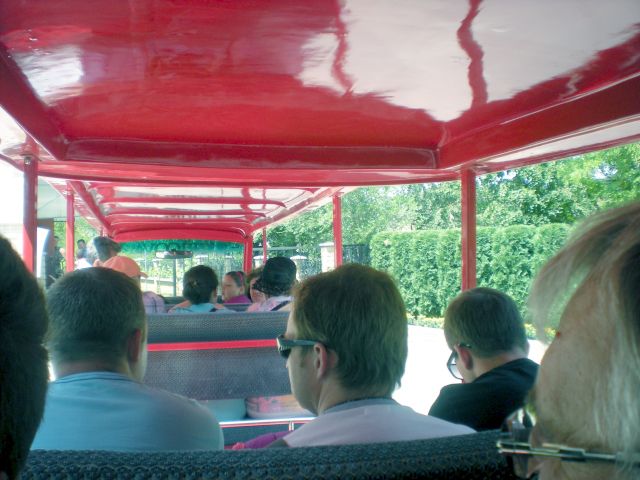 They have a lot of wine bottles and barrels here, I tell you that!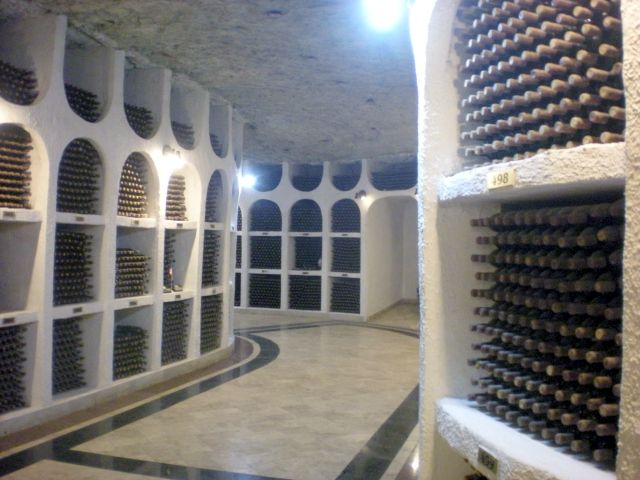 Map of the place.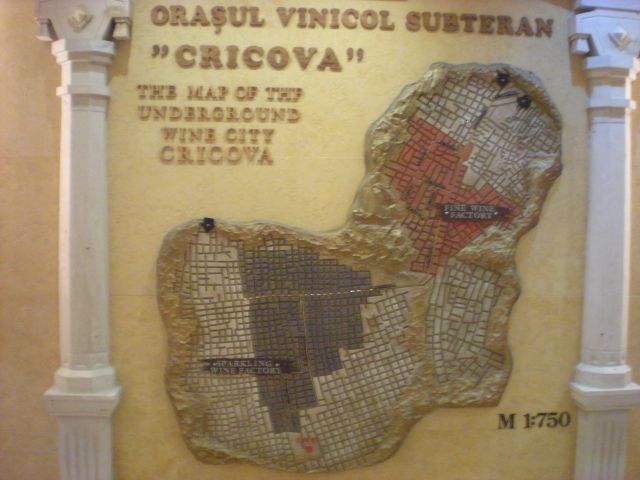 This room is actually 50 meters under the ground, but the artificial light in the windows makes it look like its broad daylight outside. We did our wine tasting in this room.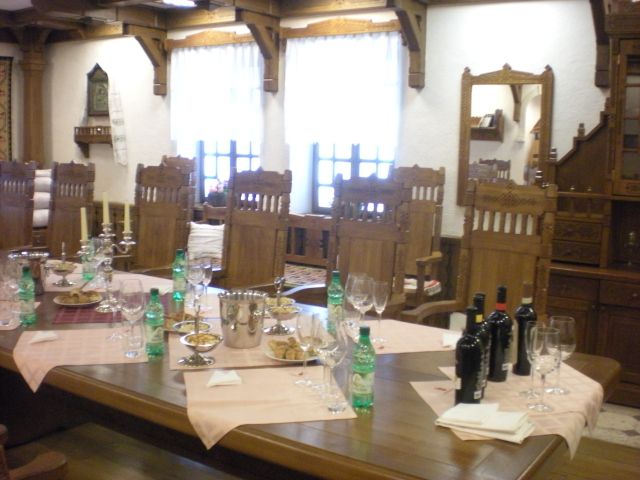 And this is the room Putin used.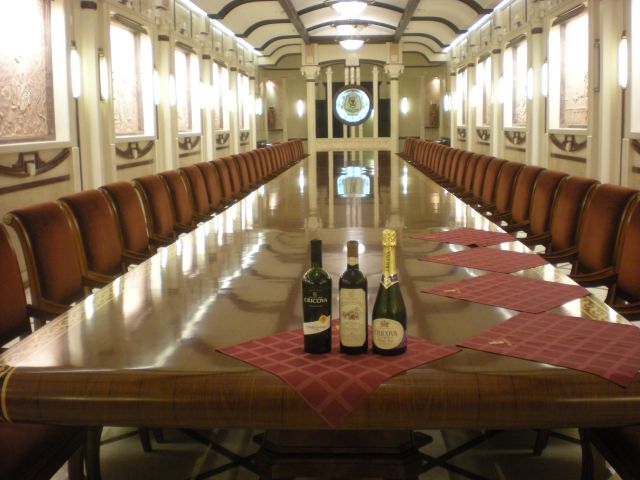 Some wine and cheese, plus some other Moldavian food on the table.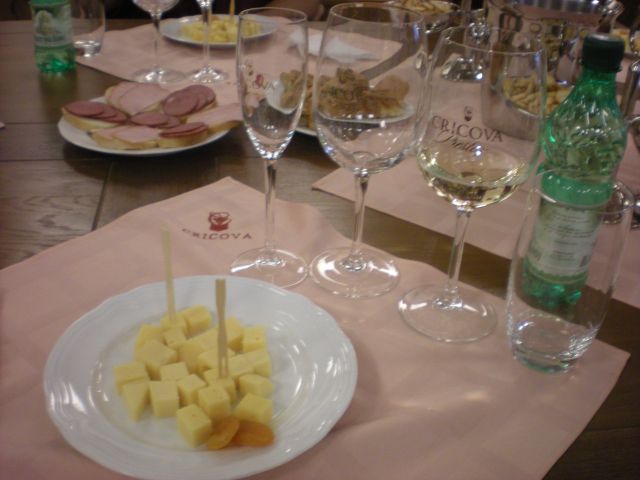 Going back to Chisinau. The roads in Moldova are not the best, lots of bumps everywhere. And people tend to drive on the middle of the lanes. What I also found interesting is how pedestrians casually cross 6-lane roads just waiting in between for cars to pass by.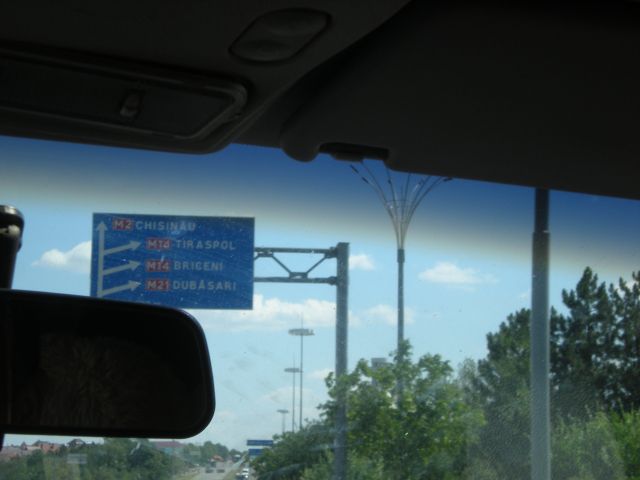 Another interesting bus.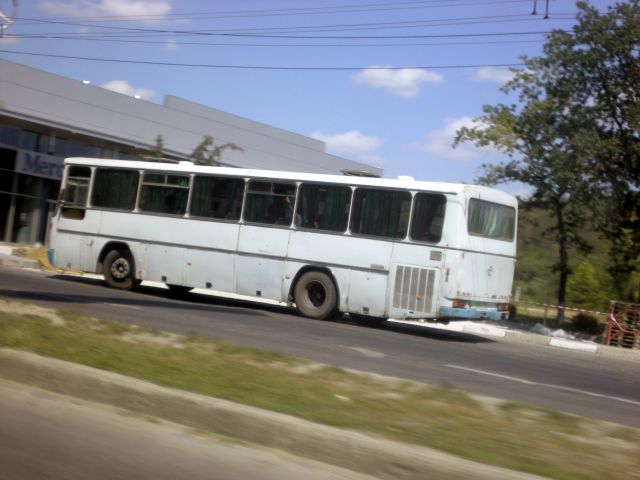 FC Zimbru and FC Dacia football stadium. People living in the building behind have a nice view from their balconies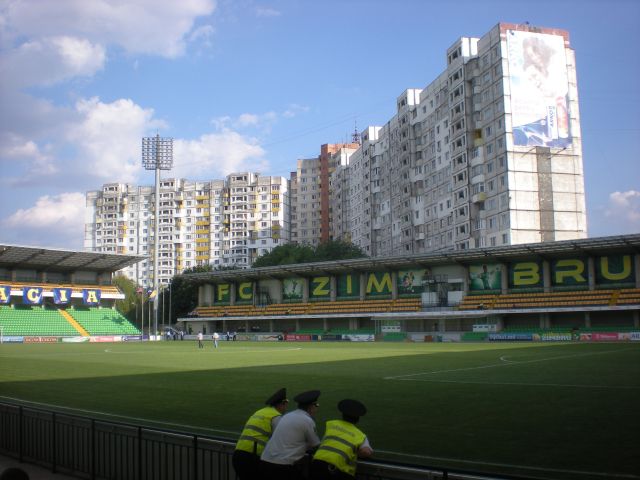 After three very enjoyable days we were headed back to the airport for our flight back home.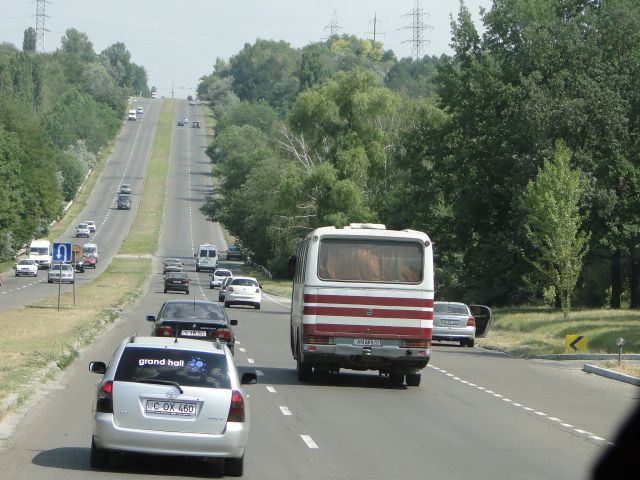 Interesting aircraft parked at the road leading to the airport.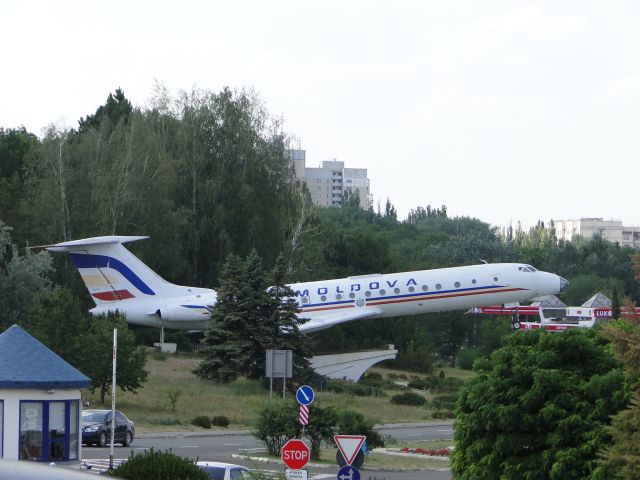 New direct flights to Rome, Venice and Milano. Good for us as we took advantage of these routes and their action prices. Not that I mind a stop somewhere like TSR, but the others appreciate a direct flight more.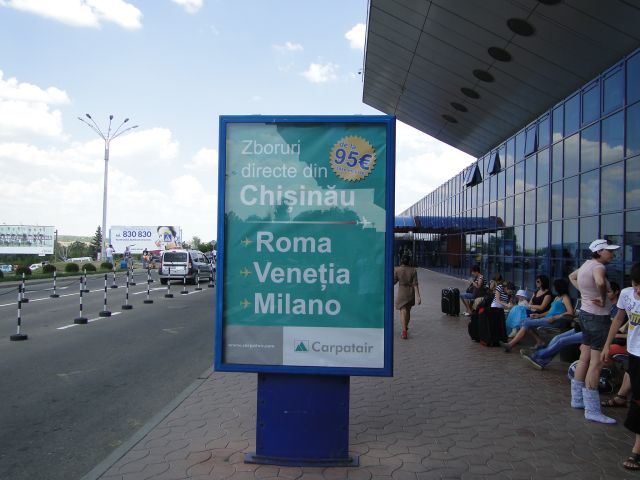 Check-in area for our flight, just as we arrived around one and a half hours before the flight, it opened.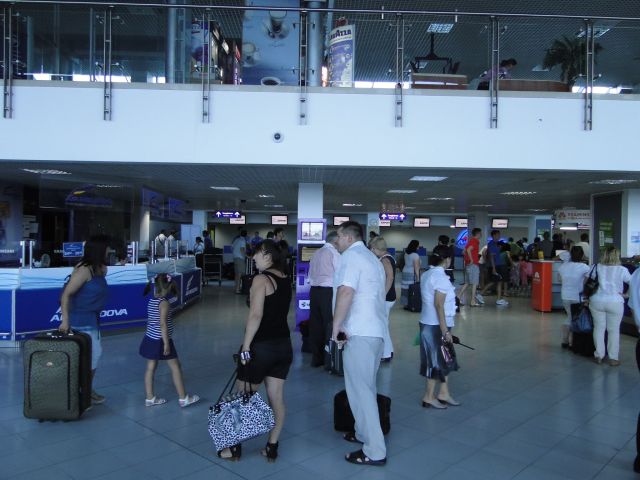 Moldavian Airlines flight 2M 260 to Venice. Check-in was very quick and without any problems. Next up was the security check that was also simple and fast and in no time we were airside.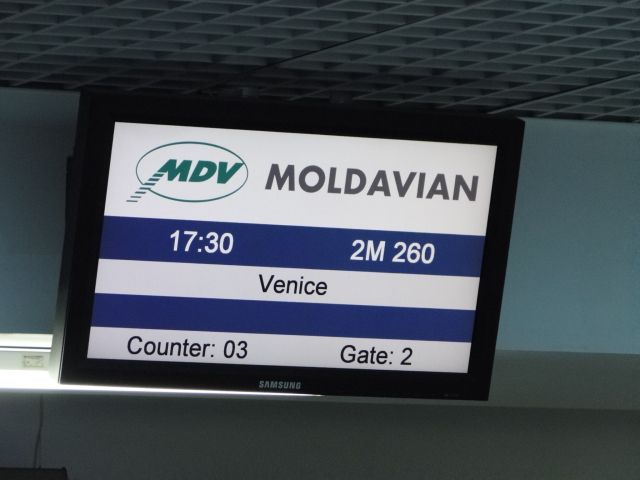 My boarding pass for the flight along with my new Moldavian stamp.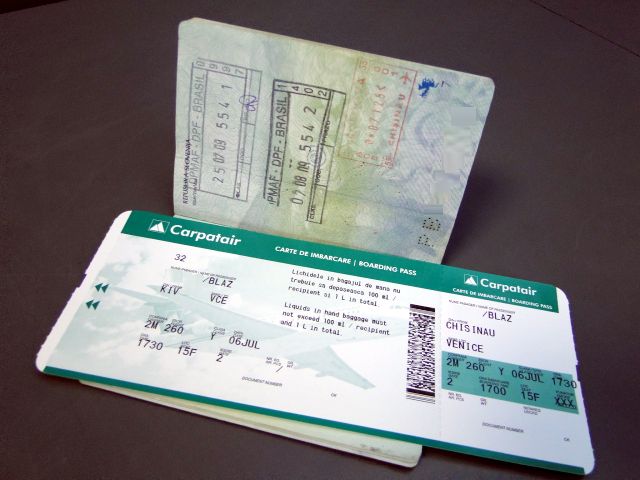 Airside is just one big space with a few duty-free shops and a bar. It reminds me a lot of the way how LJU looked before they expanded the airport terminal. Free Wi-Fi was also available.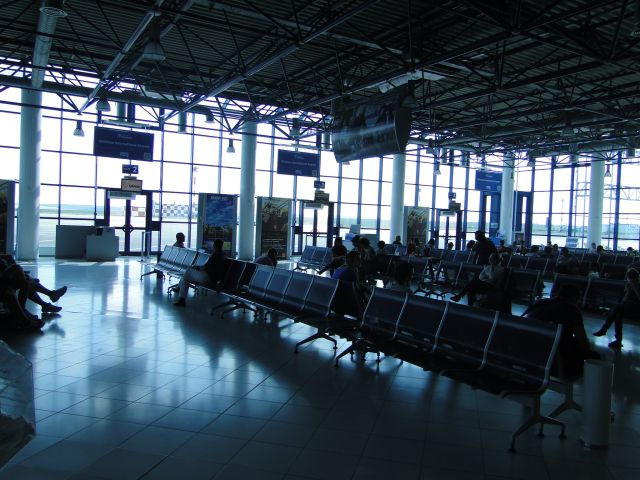 The duty-free store.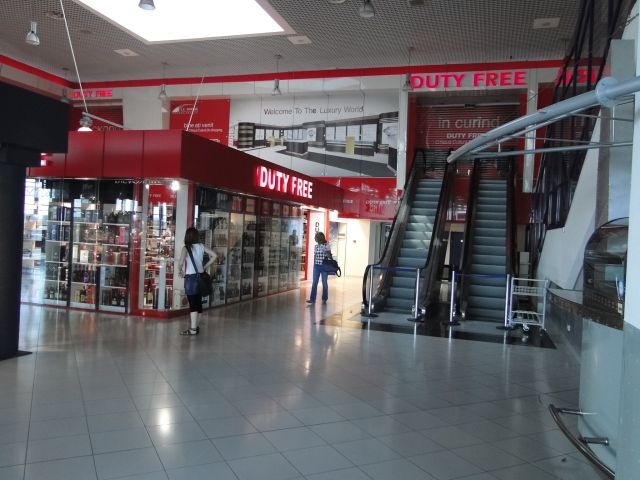 There was also a business lounge or at least an entrance to it. Before my flights I wanted to join Carpatair Green Club, but the online application form was not working. Luckily for me it started to work when we got back and I was able to fill in my details.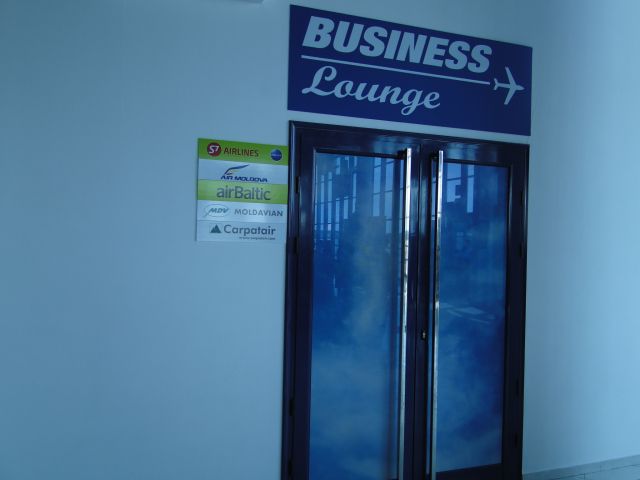 People already waiting in line even before boarding started.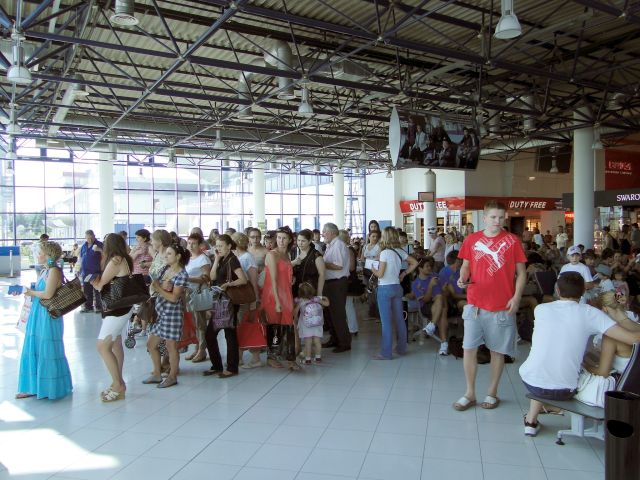 Well would you look at that. That doesn't look like the scheduled B737-300, it's a Fokker 100 and not just any F100 but my old friend YR-FKA. So my third Fokker flight will be operated on the same machine as the previous two. I was hoping for one with Moldavian Airlines titles but oh well.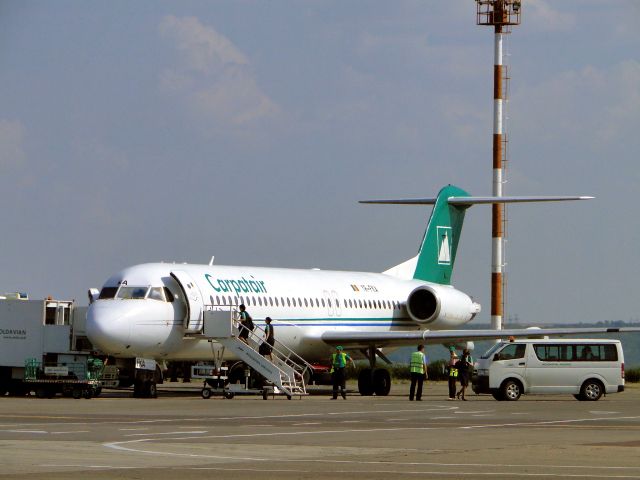 Air Moldova has a great c/s in my opinion. Too bad I wasn't able to fly with them.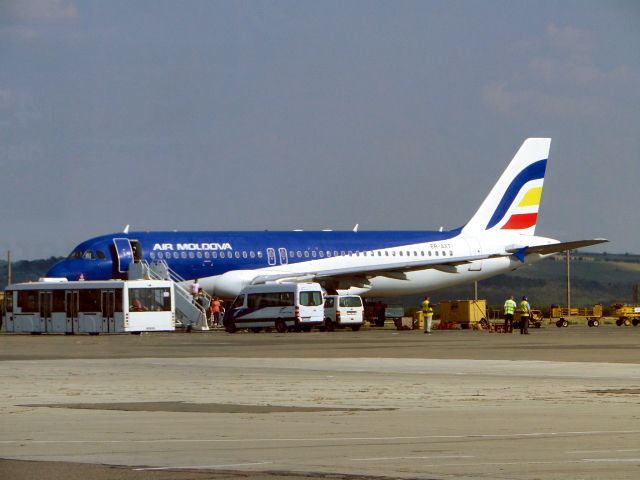 Meridiana fly, also departing to Italy today.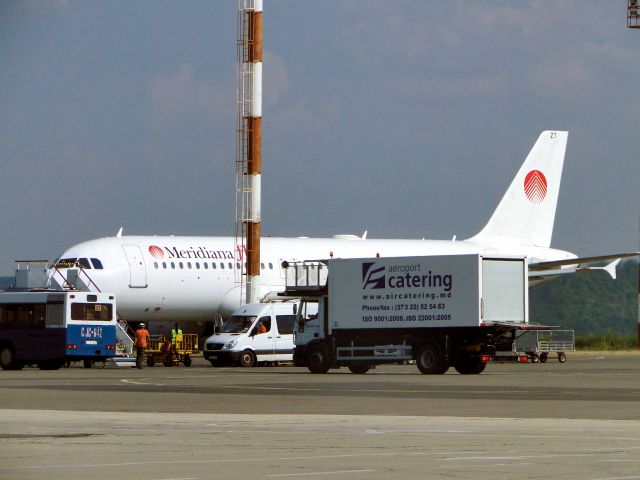 This was a flight booked via Carpatair, operated by Moldavian Airlines on an Carpatair plane. Talk about confusing the passengers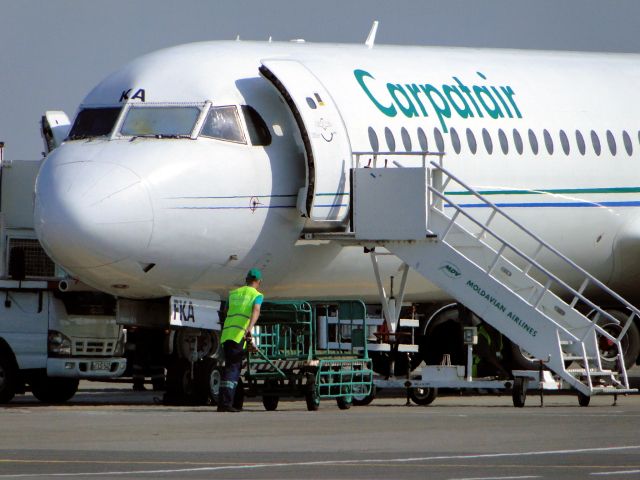 Two buses waiting to take us to our aircraft. Once the agent scanned your boarding pass she told you either 'left bus' or 'right bus.' I'm not really sure by what criteria but at the end we all ended up on the same plane.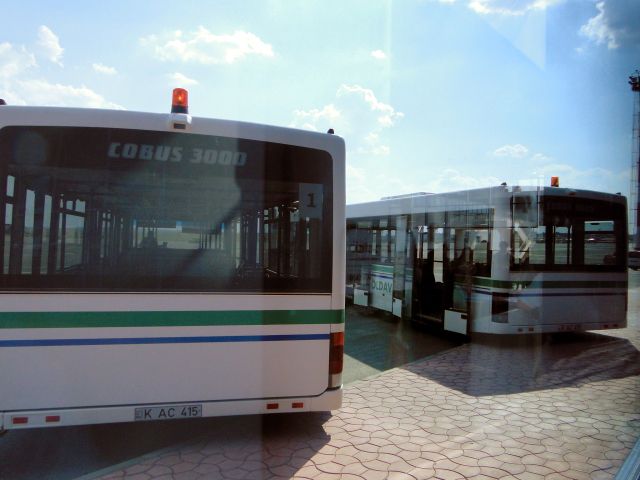 2M 260 KIV-VCE 17:30-18:50 F100 YR-FKA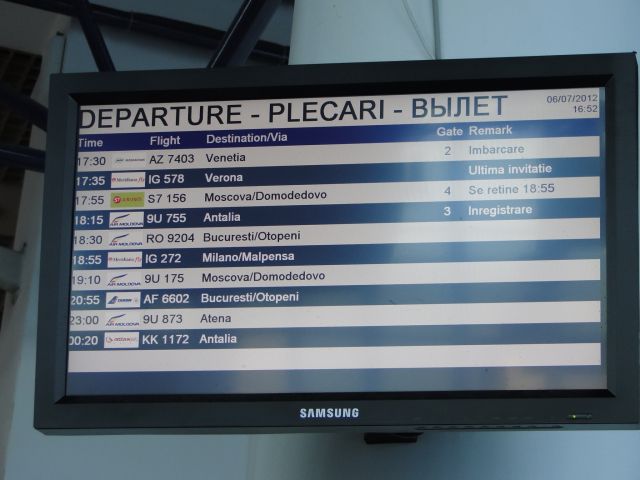 Boarding started on time and this will eventually be another on time departure. Nice job Carpatair/Moldavian Airlines!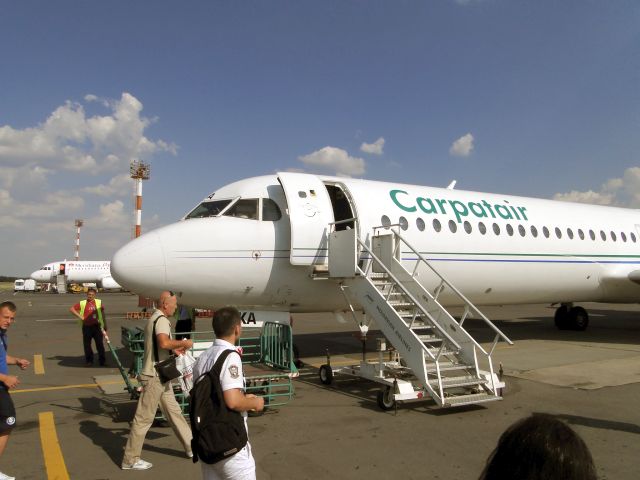 On board YR-FKA again, this time my seat was better and did not recline on its own.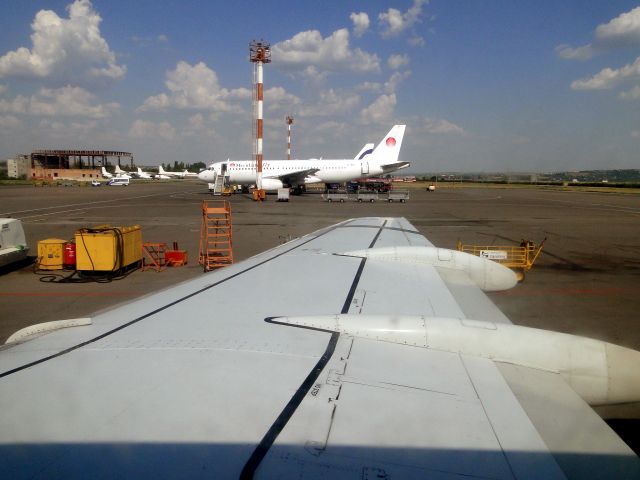 'Welcome on this Moldavian Airlines flight to Venice.' We taxied all the way to the end of the runway and made a U turn.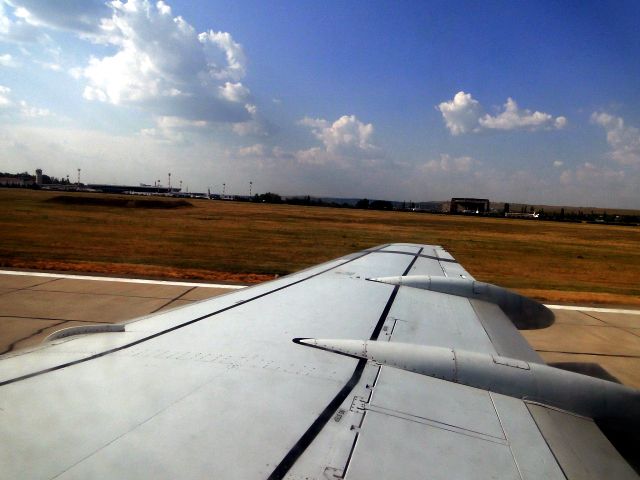 Soon after that we blasted into the sky and started our two hours long flight to Venice.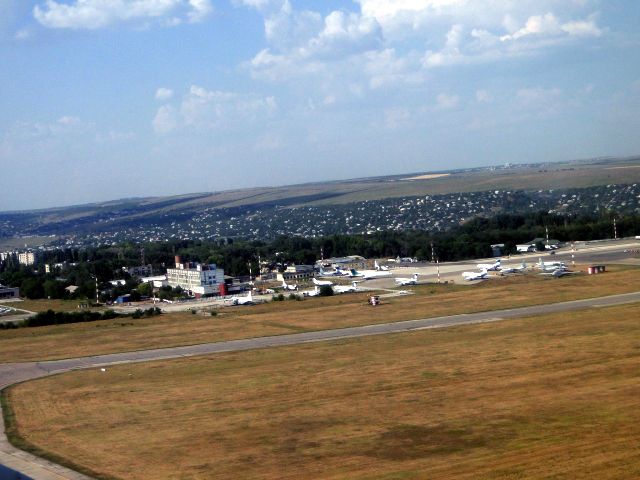 Bye-bye Moldova, it was a great visit.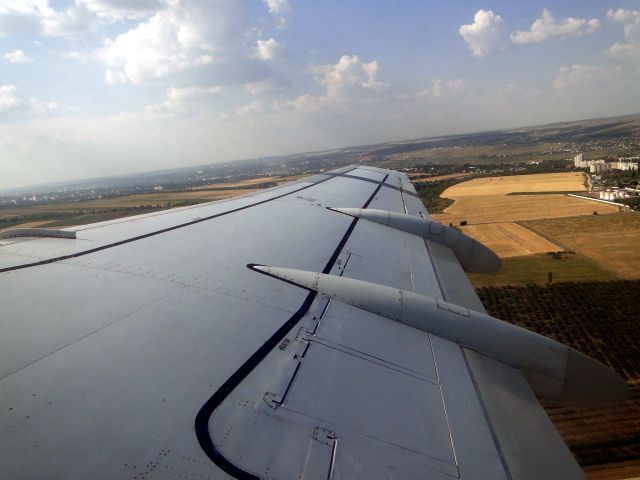 Legroom shot. Better than on the B733. That was one plus of the equipment change.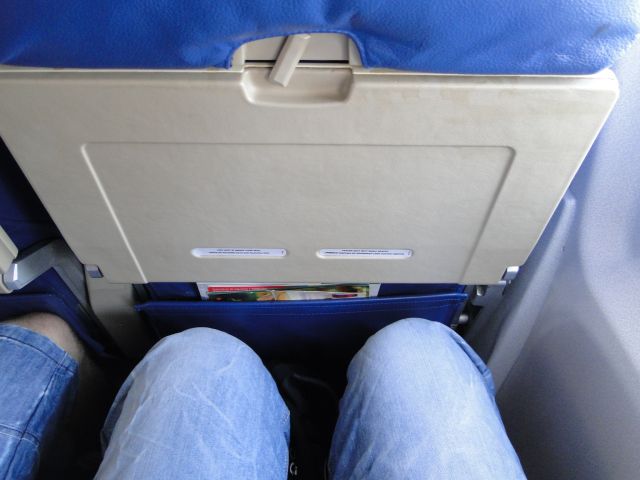 Cabin view as the service started. Again an all female crew, they were all very nice and friendly.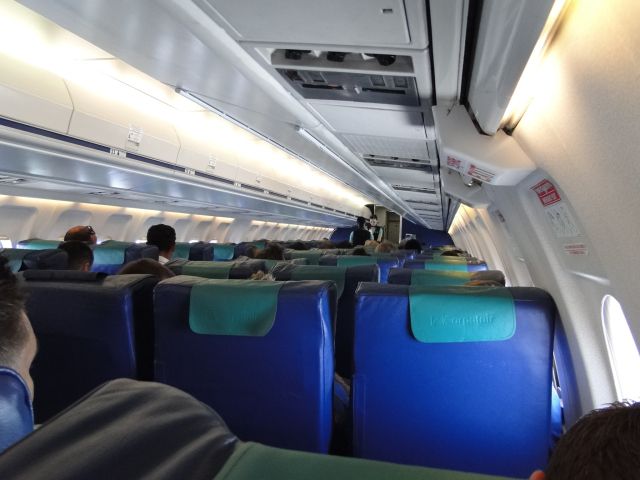 White wrap again, this time containing…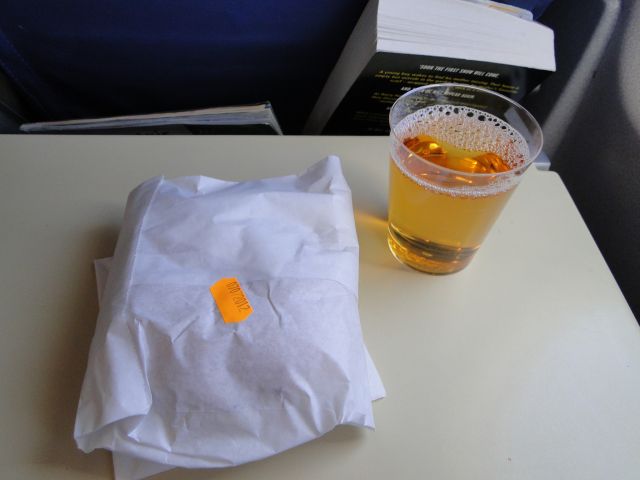 …a cheese and salami sandwich. Both of my sandwiches on this trip looked like they have been home made.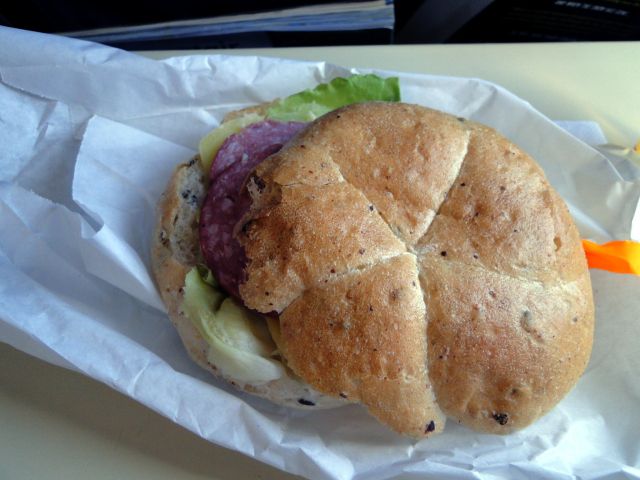 On the way to Moldova the views were great, but on the way back there were more clouds obstructing my view outside.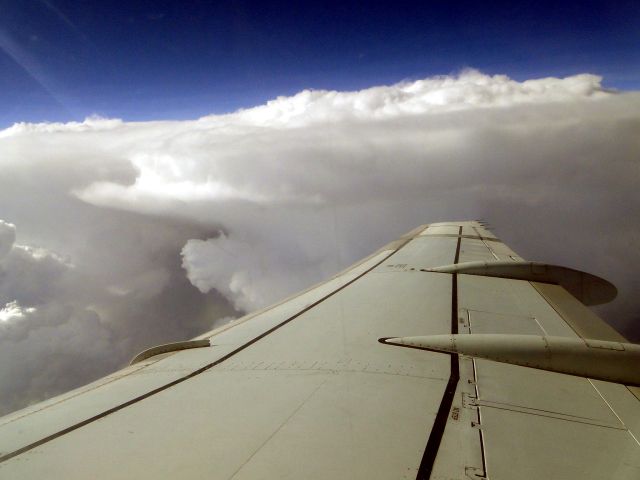 So I spent most of this flight reading my book and listening to some music.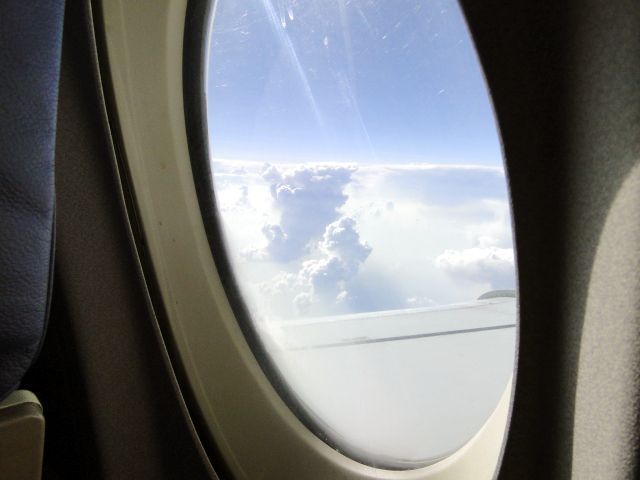 Our captain gave some details about our flight when we were already over Hungary. I don't remember any more info other than that.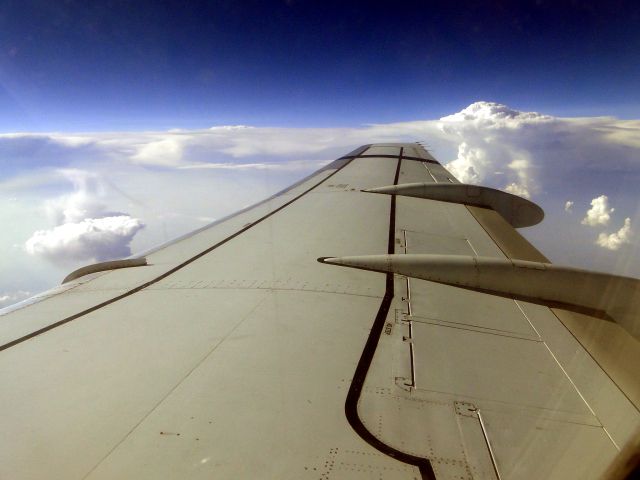 The same seat pocket content as on my previous two flights. The load was 100% on this flight, I did not spot an empty seat anywhere. Not bad for a route that has only been opened for just over a month. We were told that over 1 million Moldavians live and work abroad and Italy looks like a popular destination for them.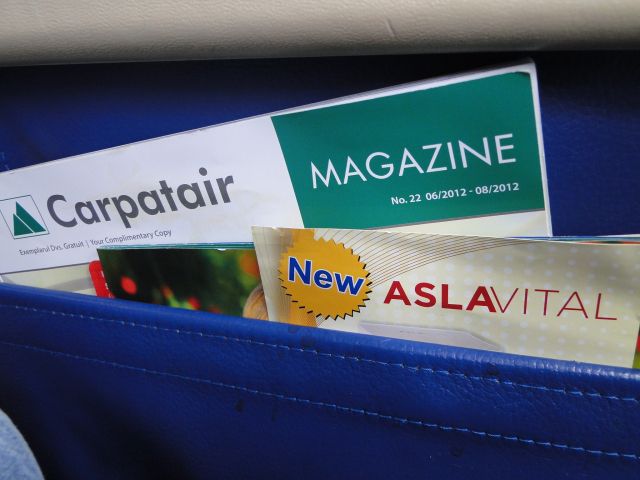 A port I was not able to identify, might be Koper in Slovenia or Trieste in Italy.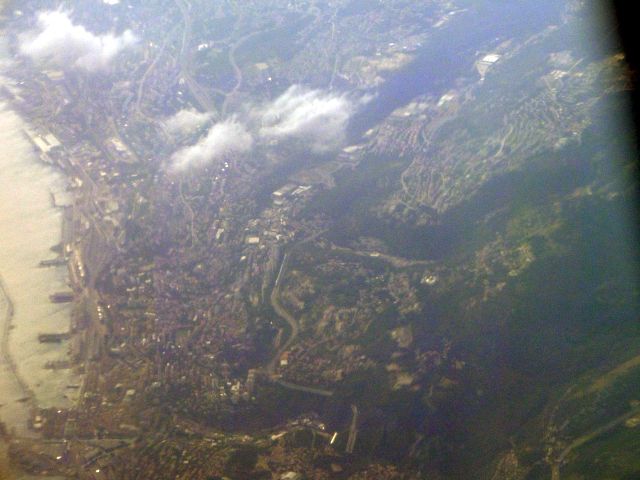 Descending towards Venice.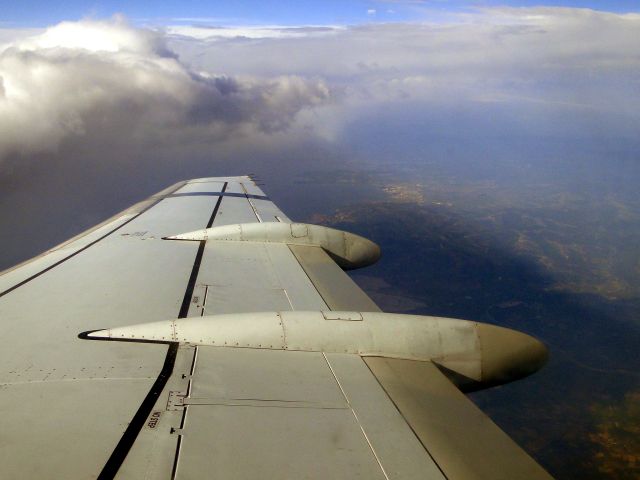 Making a right turn to align wit runway 4R, the same runway from where we took-off on our flight to TSR a few days earlier.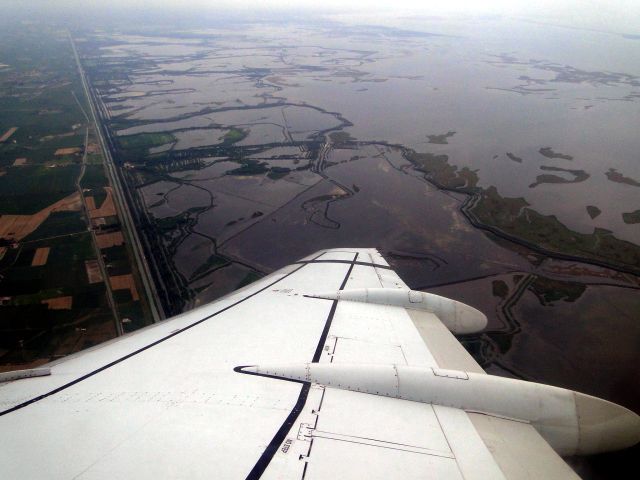 Sitting on the right side meant some great views of the city.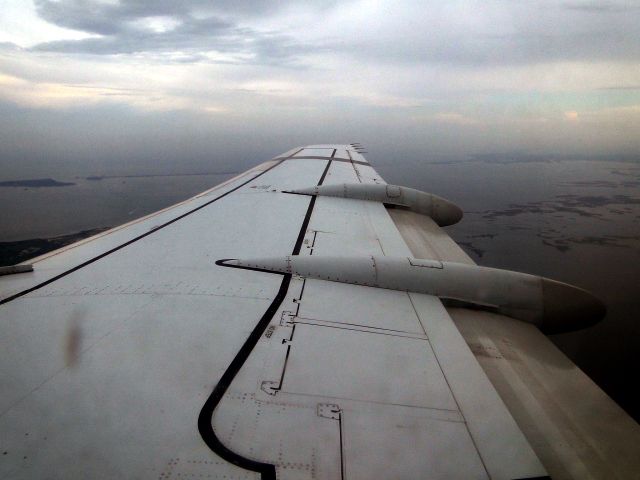 Here it is, Venice in all its glory. I've been to the airport four times now, but have visited the city only once on a school trip in high school.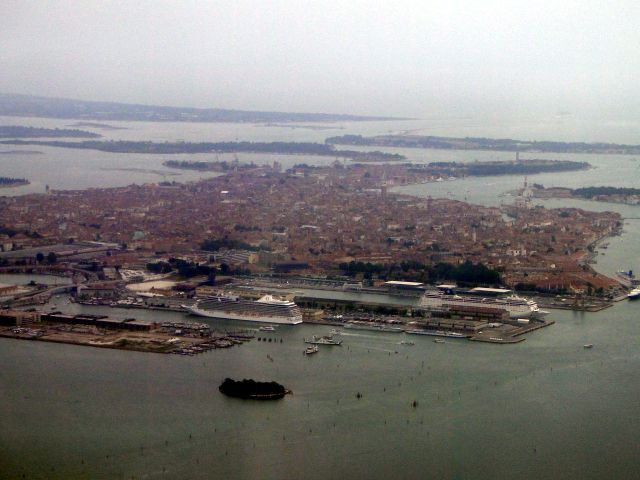 Be sure to pick a seat on the right side if you ever come to VCE, I'm not completely sure but I think most of the time the arrivals are from this side.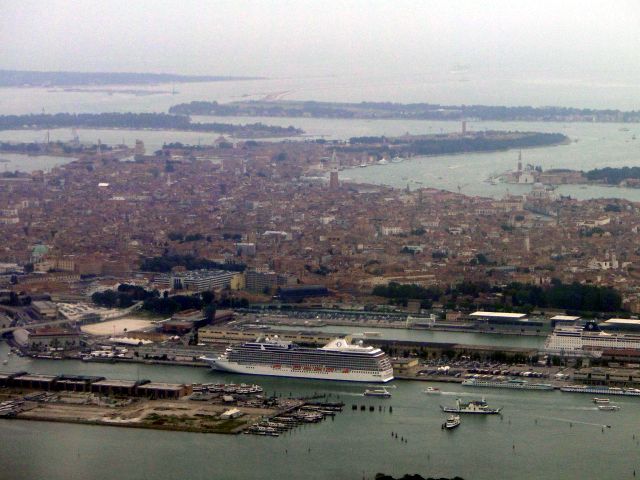 Too bad for the cloudy weather.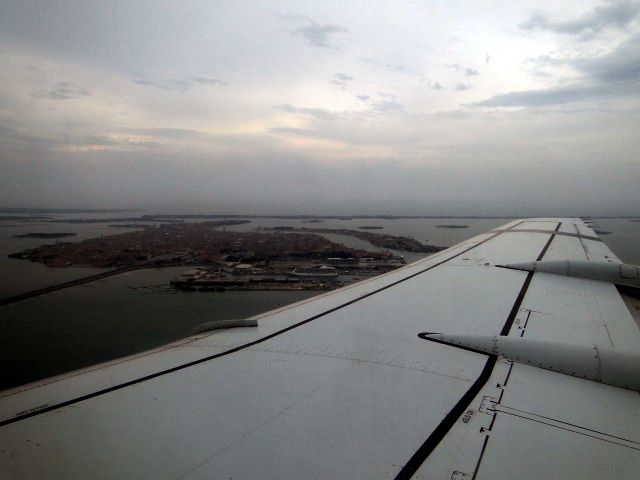 I must go on another visit to the city itself soon. I have two more departures from VCE coming up this summer, but I'm not sure I'll have time to go into the city.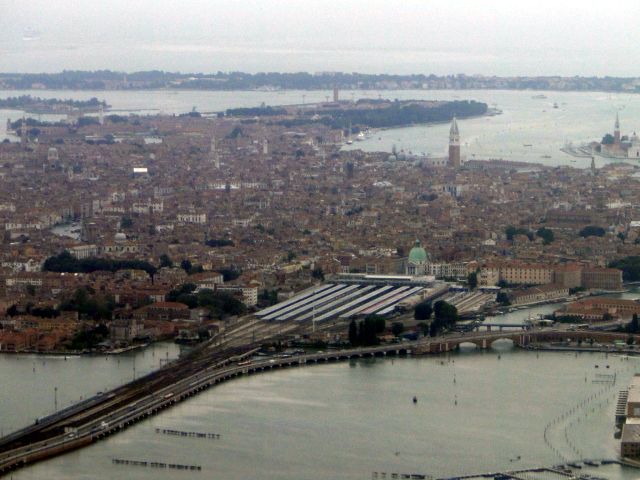 Well at least I was able to see some of it from this flight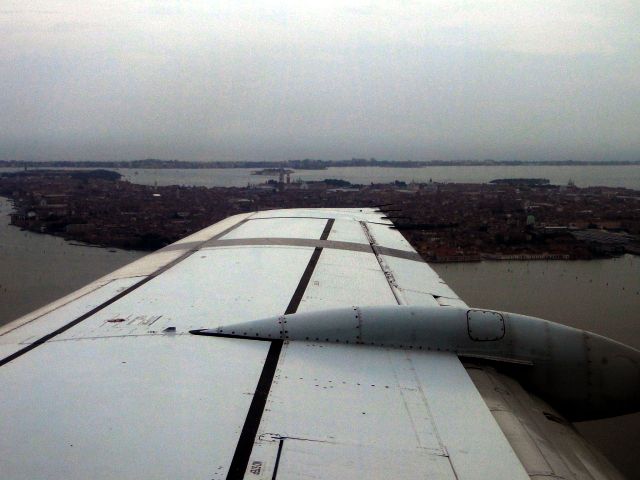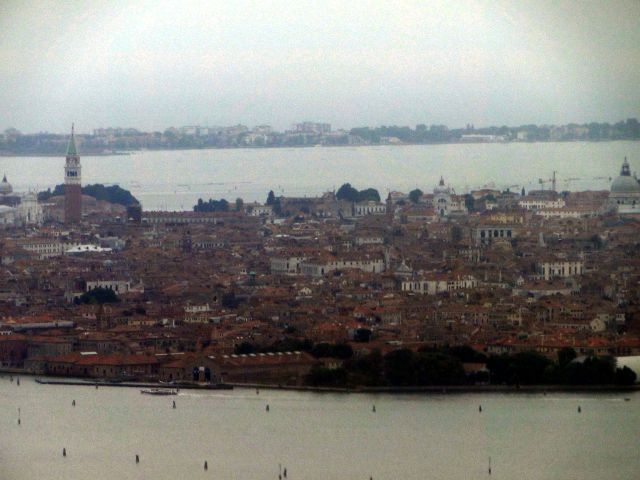 Getting closer to the airport with the boat line to Venice on the right side of the picture.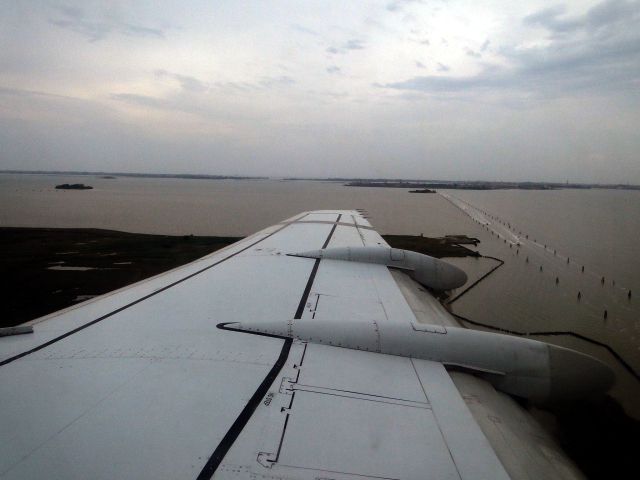 And we are back to Italy, now just a couple of hours of driving ahead of us.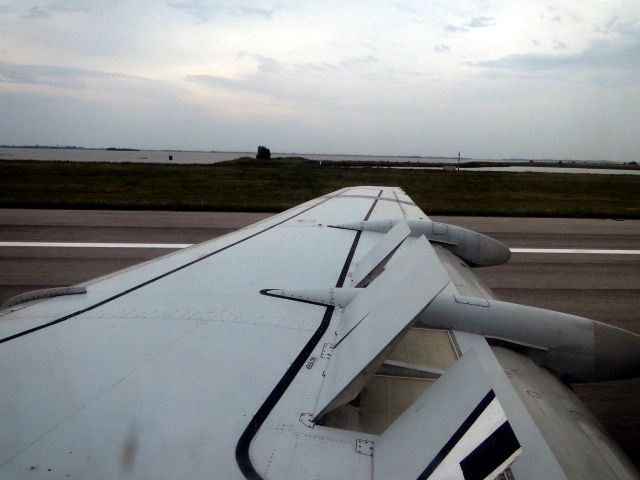 Volotea from the bus. There were a lot of adverts around the terminal about their 29€ flights from VCE, maybe I should look into that and try them out one day.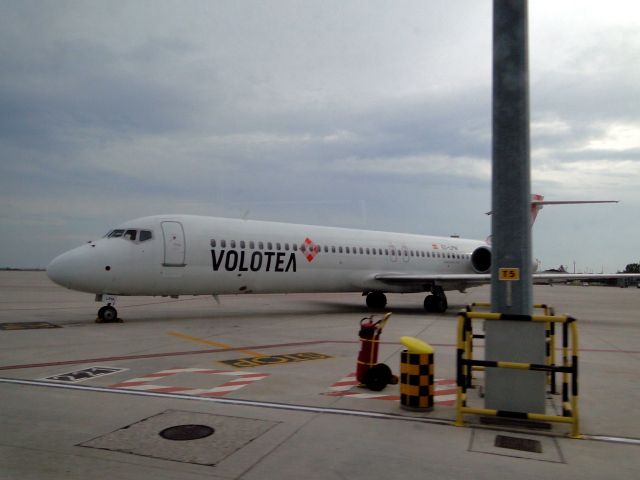 I wonder how 'Extra schengen' is different from the normal one. Since I was among the last to come in from the second bus there was a bit of a wait for passport control. A guy in front of me was talking loudly on his phone even while being checked and the Italian customs officer banged on the 'no mobile phones' sign and gave him an angry stare and extensive check of his passport.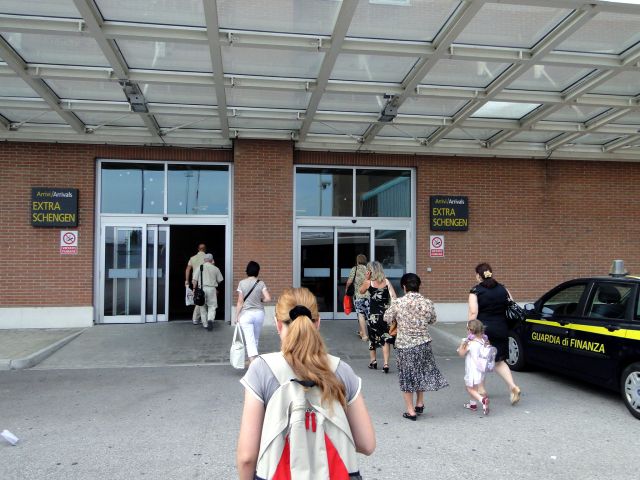 Great advertising for Casino Venezia. I've read somewhere that this was a hughe success and the number of visitors has goon up dramatically after they started this roulette like conveyor belt. Good for them.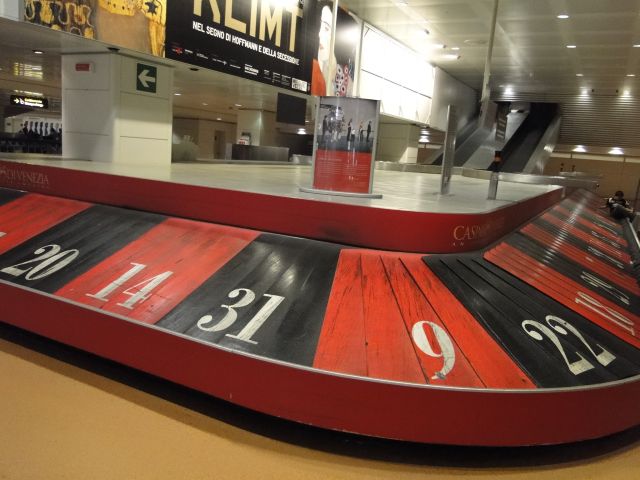 The baggage delivery system was a high-tech one, stopping the bag that was next to roll down if there was already another one on the belt. Good idea to protect baggage, but it makes the whole process very slow and even from when you see your bag appear it takes another few minutes before you can actually pick it up. Not that I'm complaining, just observing
So with that our trip to Moldavia came to an end, at least form the aviation point. The drive back home was quick and it was a lot cooler than in Moldova.
Carpatair and Moldavian Airlines were great and I would not hesitate to choose them again if they were an option. Good ground handling experience, nice staff, great cabin crew, on-time departures, ok planes, the transfer at Timisoara was painless and simple, nothing to complain about at all.
Chisinau is also a very interesting place to visit. Clean and ok city with nice and friendly people. I had a great time there and would recommend it to anyone that considered going there but are not sure.
Thank you for reading, a bit over a month until my next trip to Ireland and then an interesting trip to Japan after that.
Blaž
My previous reports:
Air Dolomiti And Lufthansa, Trieste To Berlin
(by
SloAir
Jul 7 2012 in Trip Reports)
Singapore-Munich Lufthansa A340-300 Business
(by
SloAir
Nov 28 2011 in Trip Reports)
Lufthansa Inaugural A380 To Singapore Upper Deck
(by
SloAir
Nov 7 2011 in Trip Reports)
Chasing The B736, MD82 And A321 Around Scandinavia
(by
SloAir
Sep 29 2011 in Trip Reports)
Adria Retro And Austrian B738 To And From Istanbul
(by
SloAir
Aug 31 2011 in Trip Reports)
To The A.net Meeting At Frankfurt With Adria CRJ2
(by
SloAir
Jul 11 2011 in Trip Reports)
LX Upgrade! Montreal-Zurich In First On The A333
(by
SloAir
May 4 2011 in Trip Reports)
Swiss A330-300 Zurich-Montreal In Business
(by
SloAir
May 1 2011 in Trip Reports)
Singapore B777-300ER Munich-Manchester And JP,U2
(by
SloAir
Apr 6 2011 in Trip Reports)
One Of The Last CO Trip Reports? IAH-LAS B753
(by
SloAir
Feb 14 2011 in Trip Reports)
My LX A333 C Flight Cancelled LJU-ZRH-JFK-ZRH-LJU
(by
SloAir
Dec 27 2010 in Trip Reports)
CO B767-400 BusinessFirst From Houston To Paris
(by
SloAir
Nov 24 2010 in Trip Reports)
Houston, We Have A Problem! 12 Hour Delay On CO 5
(by
SloAir
Nov 14 2010 in Trip Reports)
Adria Airways New Airbus 319 (LJU-MUC-BCN-LJU)
(by
SloAir
Aug 30 2010 in Trip Reports)
LJU-CDG-LHR-CDG-FRA-LJU On JP, AF(A380) And LH
(by
SloAir
Jul 5 2010 in Trip Reports)