Welcome to my newest trip report!
Well back in my beloved Venezuela (after 2,5 years in Peru) it was time to hunt again for cheap tickets! As my wife and the little one, decided to visit my family on the old continent – I thought it was the perfect timing for an extended weekend getaway, especially as it was also my birthday… and my last intention was to spend my birthday in Caracas…
Well search of a decent ticket was quite easy… as I received some days ago an e-mail from Copa – announcing a Miles promo (you will get the double on the new established flights) I checked the web – (having in mind the new flight to Recife), and bingo, quite a decent fare I found … just 3500 VEF – using the "X" market exchange rate just around 400 USD – not bad for a quite long flight CCS-PTY-REC-PTY-CCS, very interesting the fact that PTY-REC is just around 200 miles shorter than LHR-JFK/EWR … it always amaze me the fact that Copa has these days a quite big long haul operation but no widebodys, not just a mix of Jungle jets EMB190 (btw my most favorite aircraft) B737-700/800.
If I calculated not wrong the new PTY-REC flight is the fourth longest route in the CM network.
1. PTY-MVD
2. PTY-EZE
3. PTY-GIG
4. PTY-REC (just 1 mile shorter than PTY-GIG)
I already used years ago the PTY-MVD flight so I have still to do the PTY-EZE (looking forward for November) and PTY-GIG in order to get the top4 full!
Only check in was done just 35H 59 minutes before the ETD – CM opens to non US destination 36 hours before the departure the online booking.
The check in was a breeze and done within minutes – but I was a little bit concerned that on the boarding pas – my Silver status was not mentioned… Just made a call to the call center and they reconfirmed me that the Silver status is in the system and in case there is space I should get my complementary business class upgrade latest at the airport.
I was booked on CM-220 PTY-CCS leaving at 06:55am – not a nice time, specially you have to prevent always in CCS and hence I ordered my taxi to pick me up at the great time of 03:15am.
The night was rather short, honestly did not rest any minute, as I had still some e-mails and other staff to do, and after having a relaxing shower at 02:00am already the taxi arrived.
The way to CCS airport was quite short, just 30 min – well the problem is that in CCS you never know – also at night time, hence better you are getting down some hours earlier…
Arrived at the airport at 03:45am – and directed with my luggage directly to the CM counters. Even it was still 3 hours to go the counters were already open, as beside the departure to PTY CM has also an early morning flight to BOG operated by a B737-700. Second in the row of the premier access – I still had to wait around 15 minutes for the check – in, anyhow I was not in a rush – hence no problem at all …
The flight was quite fully booked – so no upgrade this time for the CCS-PTY leg – but bingo the upgrade was approved for the "long haul" PTY-REC flight. I was really happy, first it was my birthday, second it is already 4 years ago the last time I used CM in business class – and third I had a quite long layover in PTY – normally the Brazilian afternoon connections are filled with the noon arrivals in PTY rather than the morning arrivals – but hey the ticket was cheap – and looks like that this way yield management is working, long connection times – cheap tickets.
After the check in – I made my way to security and emigration. Security was relatively easy, despite one of the security guys was in a bad mood – and that that he is right the second guy in the state after the president…, other passengers brought him down within minutes to reality…
Passed the security , went to immigration were the officer was making trouble due to my new passport and my new residential visa… maybe he thought that it was a fake one or he can get some tip from my side… but as the VISA is a true one… I was quite relaxed and told him just to check in deep as he would like… 10 minutes later – he stamped my passport and wished me a good flight…
It was already 04:30am, but still 2,5 hours to go, hence I proceeded to the lounge Copa is using in CCS, but what a surprise, the lounge was still closed and they announced to open at 05:30am, not good in my opinion, specially as they attending several early morning flights like the 2 CM flights, 1 AV, and 1 TA departure.
The terminal was still quite.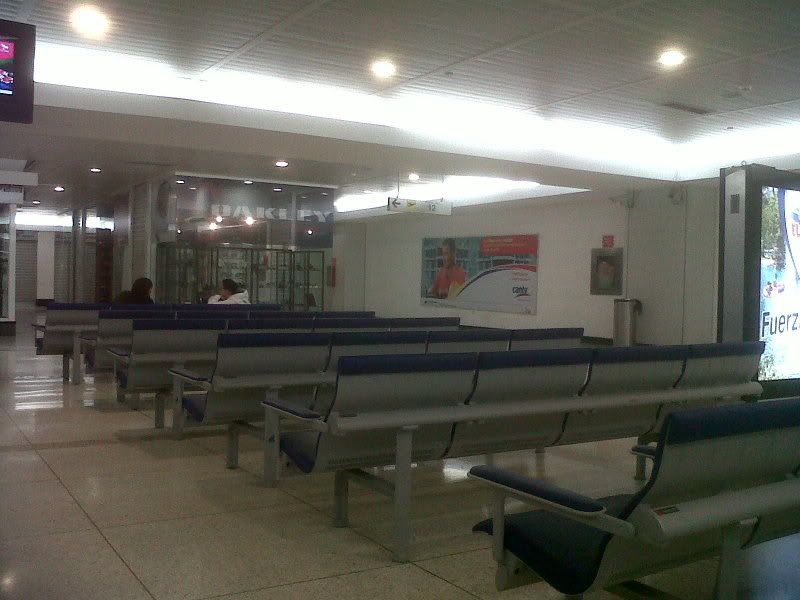 So it was time to relax a little bit…
Finally the lounge opened and around 25 people rushed to get into the lounge… hey as I was on vacation the last thing what I wanted was to rush… hence I proceeded as the last one of the crowd and made my way anyway… This time I did not used my Priority Pass (have to say the Priority Pass is really good in Latam, with plenty of options…) but instead I just show my ticket with the Silver status and I was welcomed..
The lounge in CCS is everything other than topnotch, well it's acceptable for passengers like me, but if I would pay a full fare business or even first class on LH (who also use the same lounge in CCS) I would say it's not acceptable.
The choices are quite basic, some cheap spirits, beer, (ok it was still too early for me…), tee, coffee, juices.. and very poor sandwiches…
My choice for early morning, some cheap orange juice (hey why in a country like Venezuela they cannot offer a decent fresh orange juice? Like in the lounges in Lima…), some coffee and some infamous sandwiches…
Time went by and I enjoyed the nice sunrise…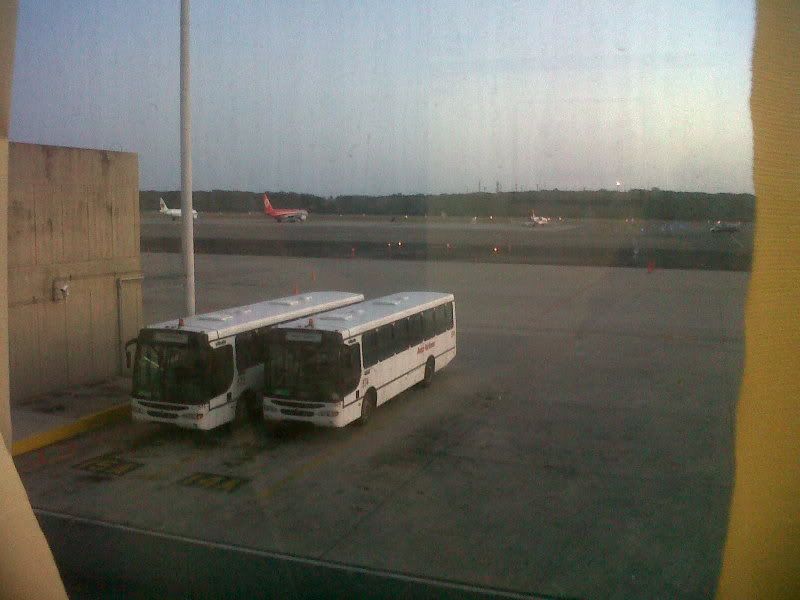 Santa Barbara Airlines B757-200 in the background.. These days SB has tremendous operational problems and since days a B.767-300 sitting with an AOG in PTY, all international flights delayed up to 24 to 36 hours…
Well I had still 1 hour but I decided to proceed to the boarding gate 24, which is quite a walk from the lounge… of course I was still in hope to get a last minute upgrade at the gate.. Hence I also to decide to go already timely to the gate...
United Airlines just arrived from IAH.
CCS Terminal still quite empty, despite several early morning departures… but looks like my Venezuelan friends prefer to have an early morning Arepa, and spend their money at the Duty free.
Taca Jungle Jet to Lima, quite a good flight allowing daylight connections in Lima to the South of the continent.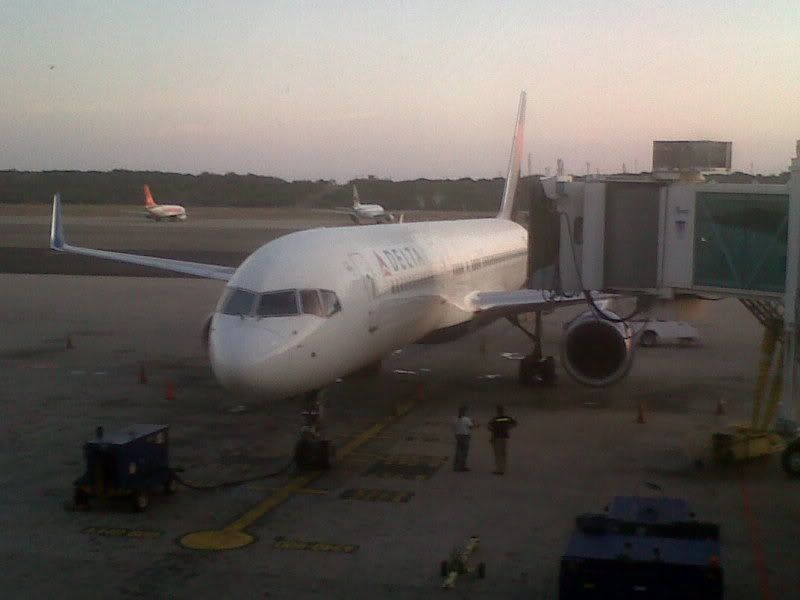 Delta B757-200 prepared for the 9am departure to ATL.
Bought a bottle of fine Venezuelan Rum at the duty free for a colleague who is based in PTY and hence I had a long layover he was picking me up in order to have some meetings and have later jointly lunch…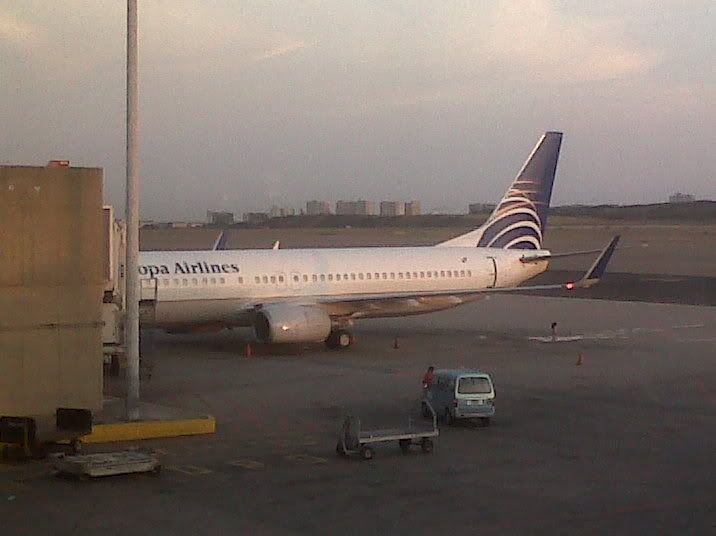 The sexy CM 737-800 who had the honor to bring me today to PTY 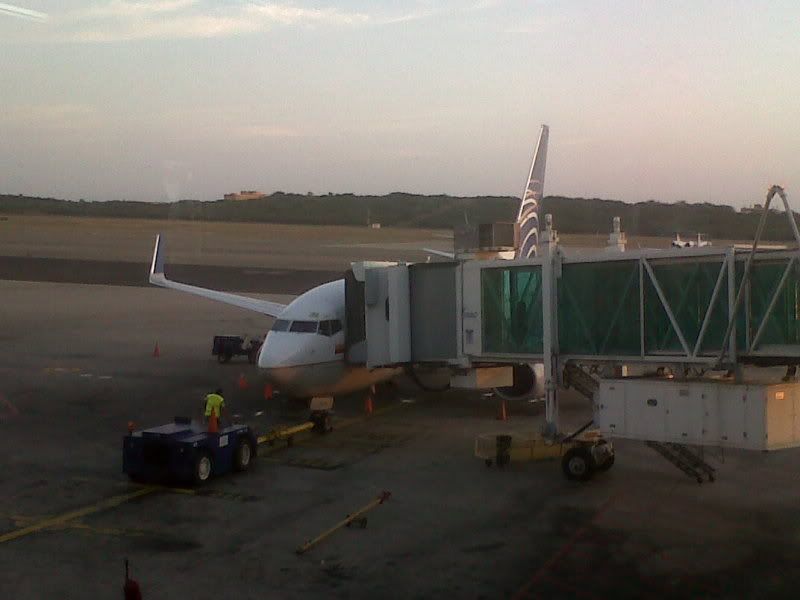 CM 737-700 bound for BOG.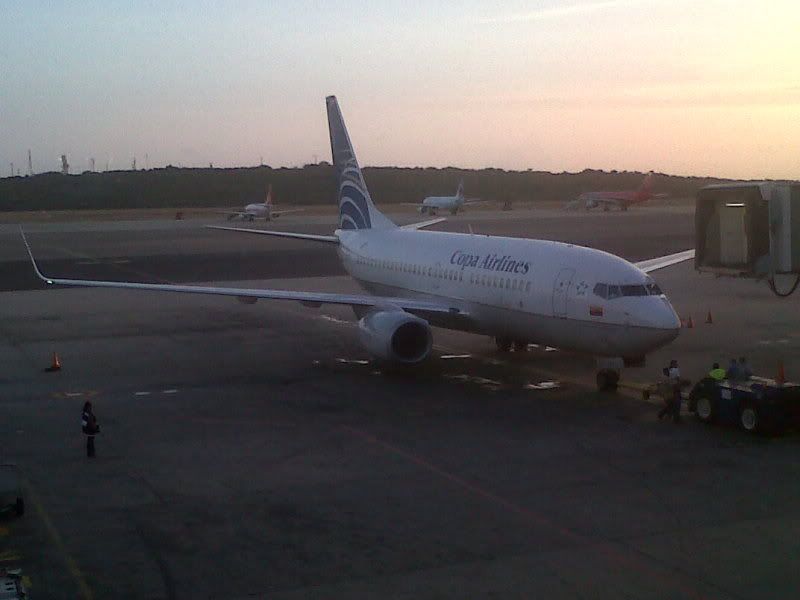 And ready to go with a slightly delay of 10 min..
Some minutes later the boarding for my flight was called and I proceed, anyhow I had no upgrade, and hey at least I had the perk to board before the big crowd…
Despite the flight was nearly fully booked I had the luck that the middle seat was empty – and with very decent legroom at the first Eco row – 5 ( I think this row has even more space than the Business Class on CM) I was looking forward to have a nice flight..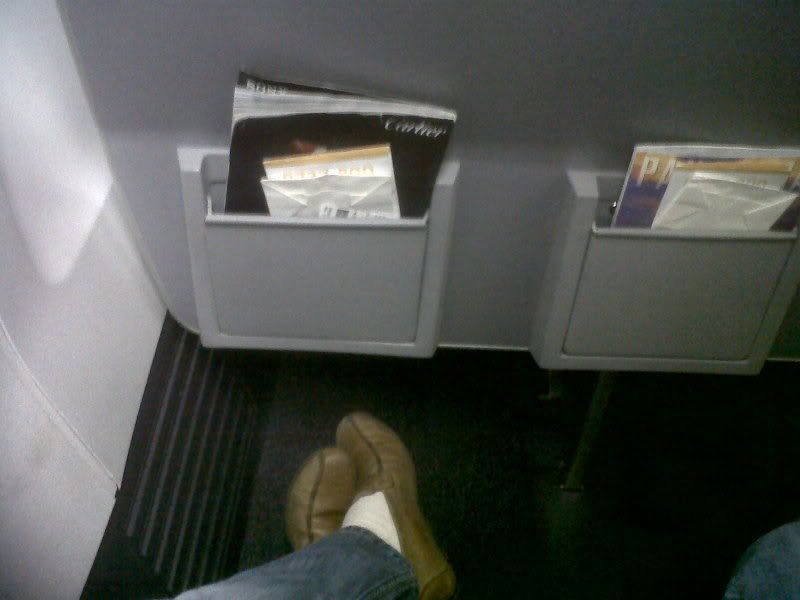 Relaxing…
As I had basically no sleep the night before – I was in heaven within seconds… but I woke up quite right minutes before the take off… Take off as usual for the flights ex CCS with a quite sharp turn left passing the coastal line of the Caribbean Sea.
After the takeoff I had some more sleep and shortly (around 30 minutes later) breakfast was offered. 2 choices, between scrambled egg and kind of French toast… but only slightly sweet filled with cheese and ham. Beside a stone hard bun and butter… and I think some jam … anyhow, I was missing something fresh like fruits or yoghurt. Washed it down with a cup of coffee and some orange juice.
After the breakfast I had some more sleep and shortly after this already the approach was announced, looks like that today was a lot off traffic and we had the luck to make some waiting minutes over the channel area… finally the approach was confirmed and we made it straight into PTY Tocumen International..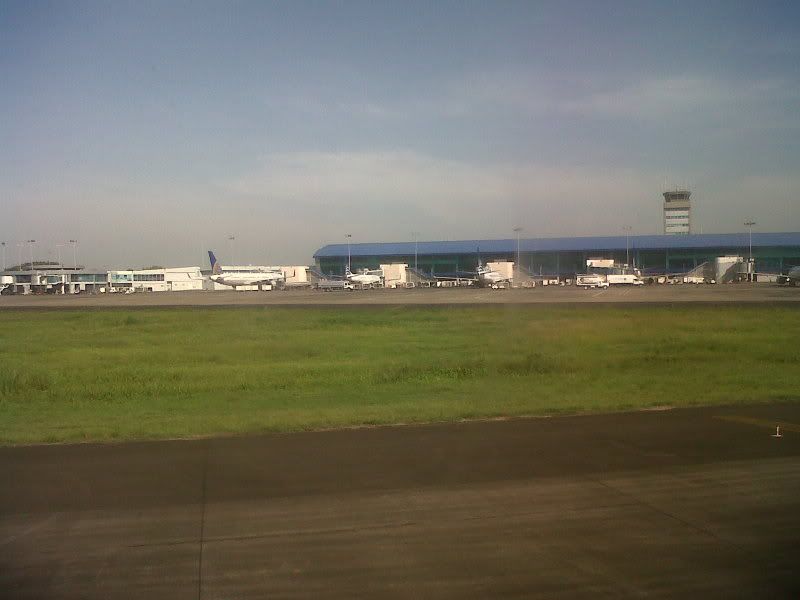 Quite interesting that the UA 757-200 was the only non CM aircraft at the passenger terminal… The before mentioned SB B.767-300 AOG was at the cargo terminal..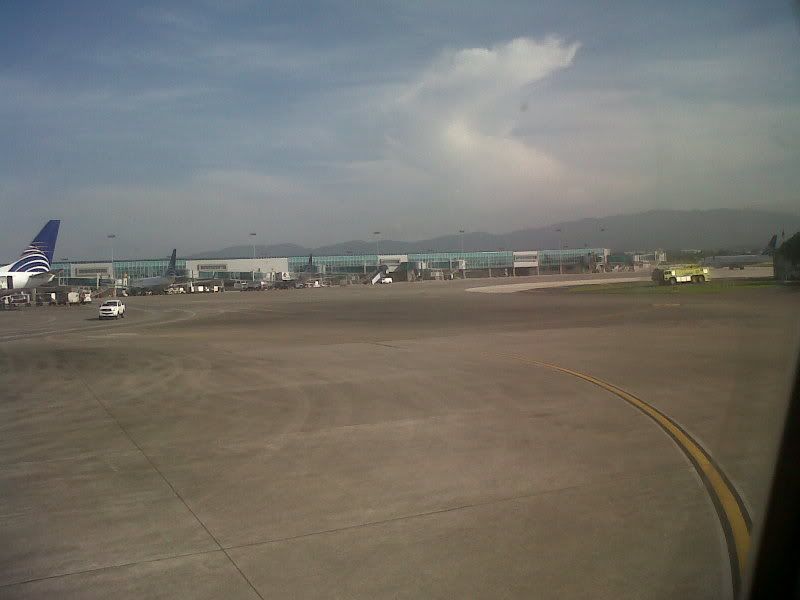 The new pier at PTY – what was desperate needed…. I think I am not the only one who is looking forward for another expansion in a shorter time frame.
CM Land. Really impressive the CM hub operation in PTY. I am sure it is by far the biggest hub operation in Latam (ok its only Narrow body but still very impressive), and also with the fact that they have several waves per day.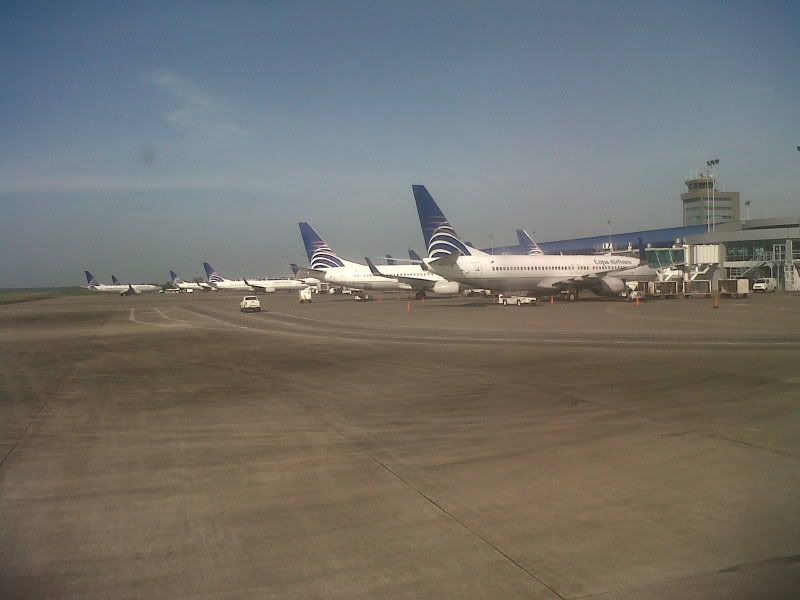 Made my way to immigration and customs.. and my colleague was already waiting for me, made a short hop to our Branch office had some meetings, checked my e-mails and went out for Lunch… at 1:30pm my colleague drove me back to PTY were I just proceeded with the security – (quite today) and made my way to the Copa Club… If I am not wrong not too long ago it was still the Presidential club…
The offerings on booze quite decent, including some nipples in form of cheese, crackers, apples, and some other goodies.
Had a stiff Bloody Mary, some cheese slices and some pretzel snacks..
Made some phone calls – and around 45 minutes before boarding I made my way with a pit stop at the duty free to gate 31 were today the REC was scheduled.
PTY Terminal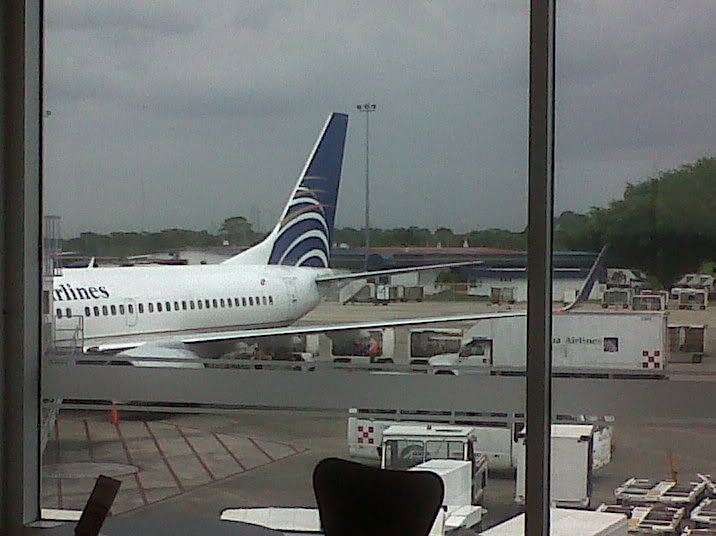 Today's CM B.737-700 who was elected to bring me to REC.
Really amazing, the complete peer was designated today for Brazil flights (+ 1 SDQ departure)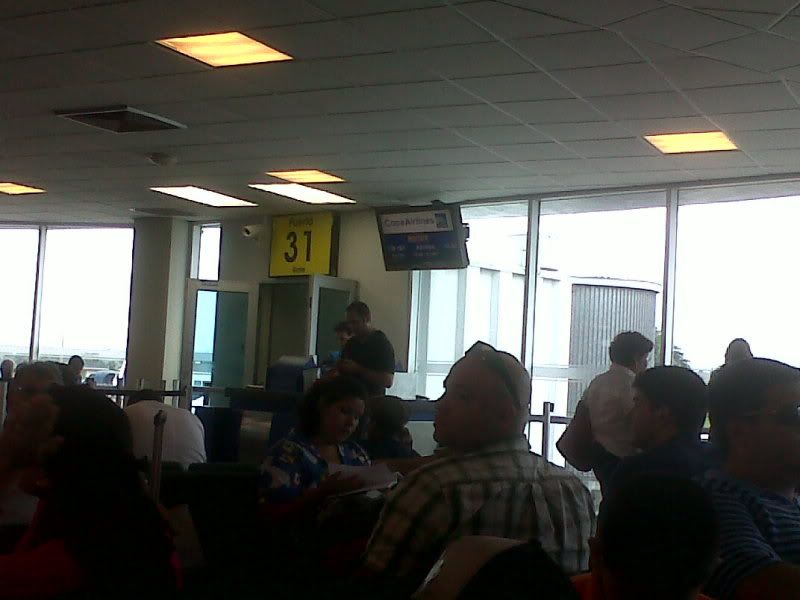 Amazing that CM has within minutes 6 flights going to Brazil. CNF, POA, GIG, GRU, REC, and BSB, and some 2 hours later also MAO.
Looks like that the biggest bunch of CM's customers to Brazil are people from Brazil, and hey it looks that they make quite a good money on the Brazilian network, of course a big bunch are leisure traveler going to Cuba, Dominican Republic, Colombia etc… but still the loads seems to be very healthy.
Flight was a little bit delayed, and at the ETD finally the boarding was called…. Again and very happy with the upgrade I made my way to the priority lane and made my way to the aircraft.
This time I had seat 2A, business filled up quite good, but, with 4 empty seats out of 12, but it looks like that from the 8 passengers only 2 were really paying, the other one were upgrades and non rev – well it was the girlfriend of the captain…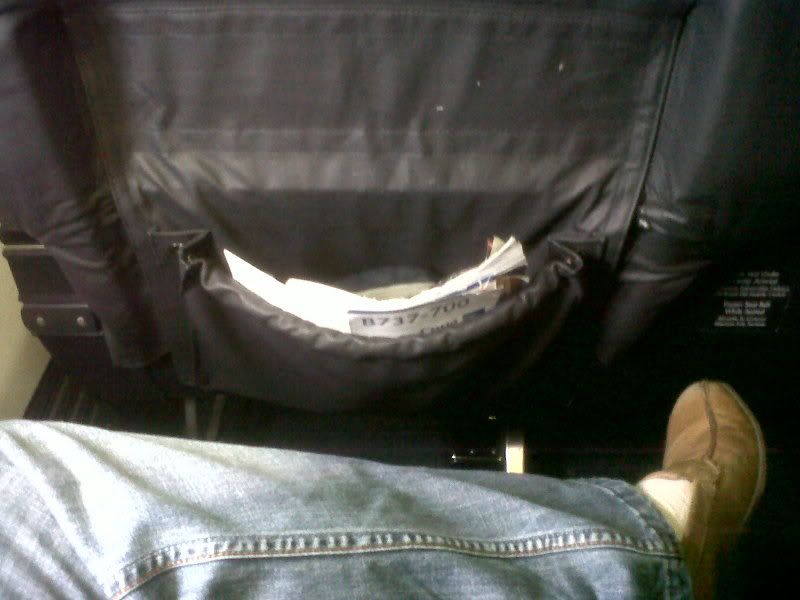 Well the seat is not bad, but of course not a really up to date hard product, it's like the domestic first in the US, but hey it's for free hence no critic from my side 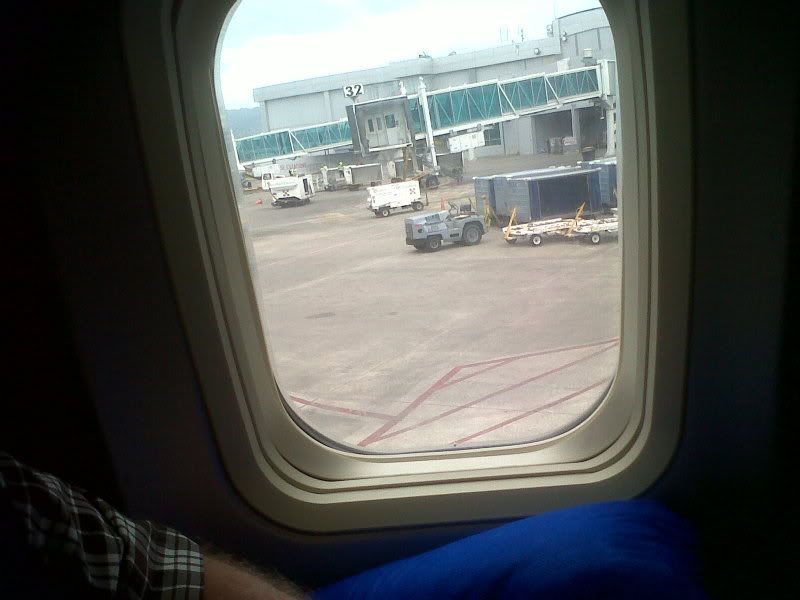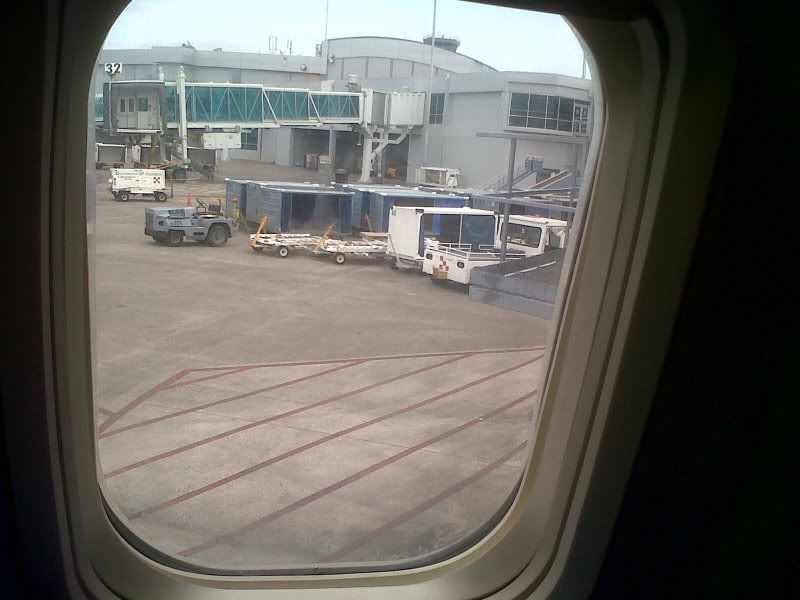 Sister ship heading to LIM
Before pushback – the purser already offered the menu, what was negative – was that no pre-departure drink was offered… maybe caused due to the shortly delay of the incoming aircraft? Anyhow not acceptable in my opinion. Quite interesting fact was that the complete crew was male… something that I noticed not only the first time at CM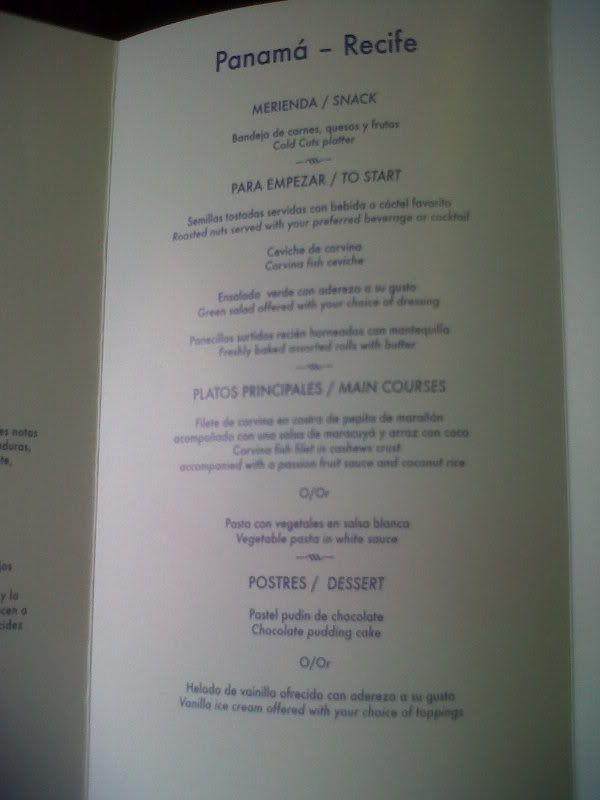 The menu for today's flight.
To start: Roasted nuts served with your preferred beverage or cocktail
Followed by
Corvine fish ceviche and green salad offered with your choice of dressing, freshly baked assorted rolls with butter.
Main Courses: Corvine Fish filet in cashews crust accompanied with a passion fruit sauce and coconut rice or Vegetable pasta with white sauce.
Dessert: Chocolate pudding cake or Vanilla ice cream offered with your choice of toppings.
Of course there were also some choices of drinks like:
Johnnie Walker Black, Ron Abuelo 12 Años, Botran Gran Reserva, Vodka Finlandia, Tanqueray Special Dry Gin, Hennessy V.S Cognac, Corona or Miller Draft Beer, Gran Reserva Riberas Cabernet Sauvignon or Conde de Valemar Reserva for the red wines, Gran Reserva Riberas Sauvignon Blanc or Martin Codax Albariño for the white ones, Codorniu for sparkling wine and to finish the liquors in form of De Kuyper cream, Amaretto, or Bailyes.
Shortly before the arrival a snack was also offered, in form of cold cuts and cheese.
The purser took the orders of the cocktail and main shortly after takeoff. Also the amenity kids and headphones were distributed.
My choice for today was a Black Label on the rocks and Perrier Sparking water with some nuts.
As starter also a soup was offered, I am fan of soups in the air, hence I opted for the soup instead of the ceviche…, as main the Fish – I am not quite sure but the the recipe sounds a little bit like northern Brazilian food?
My camera + an old LH amenity kid that is abused from my side as I use it for my cam…
Already the service started.
Blue blanket…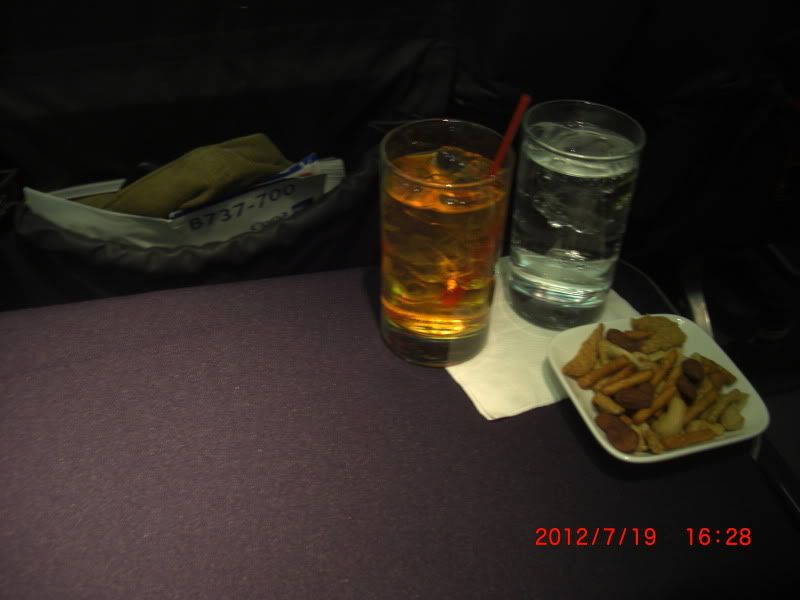 Here we go with the first round of a stiff Scoth on the Rocks…not double I think it was triple or even more.. exactly the way I like it.
Service was quite good and the purser offered me another round which I could not refuse..
Here we go with the still outdated Inflight Entertainment System… If I am not wrong CM just started to refurbish the aircrafts including personal monitores.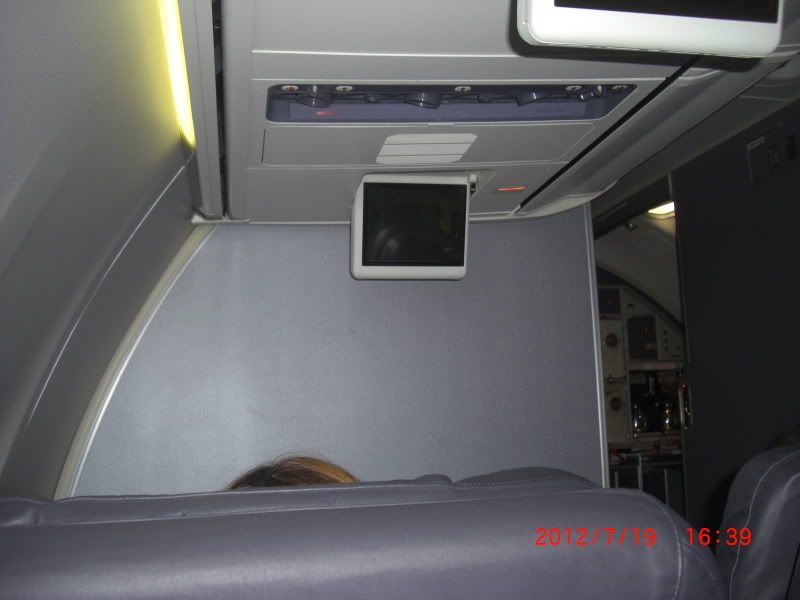 As dressing the choices were Italian or Cesar, which I opted for the Cesar, also the menue stated assorted breads… no bread basked was given, just the purser put you one of his personal choices on the tray. Anyhow the soup was good, as well as the salad, also it would be nice if the salad could be a little bit bigger.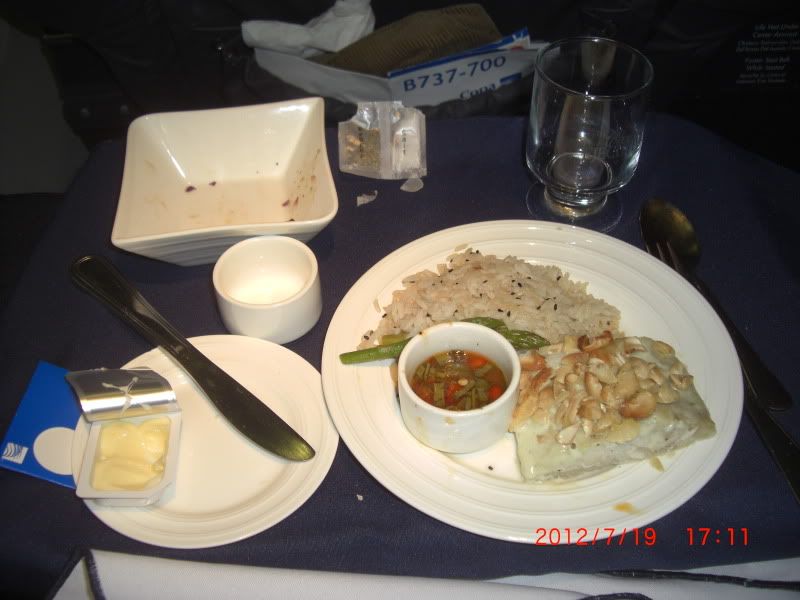 The main was also quite ok – anyhow a little bit strange combo for my taste, especially as it looks like the fish had additionally some horseradish on top
I washed it down with some nice white wine, which was refilled anyhow I missed some refills of the Perrier Sparkling water.
Dessert Card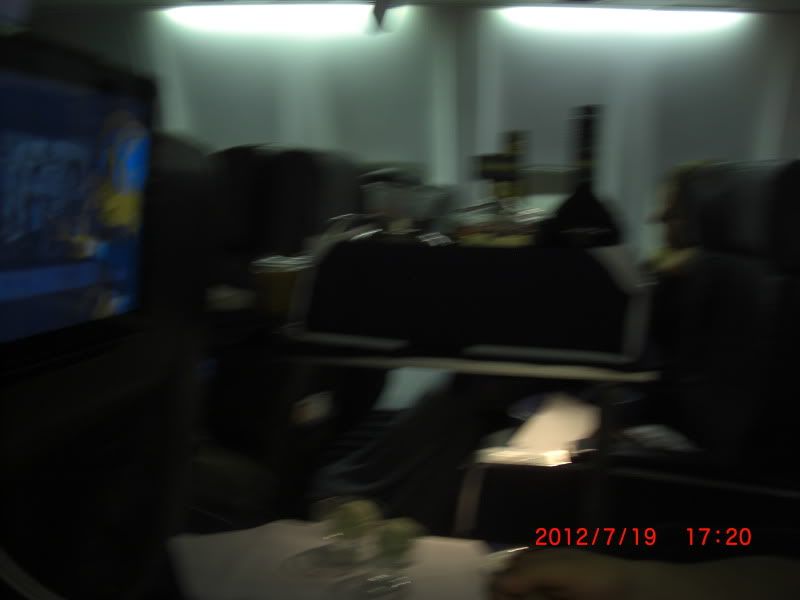 Sorry for the bad quality of the pic, but I didn't used the flash in order to not disturb the other passengers.
My choose was a coffee, no milk was offered… the ice cream, no toppings were offered despite they are mentioned in the menu, and some bailys…
All in all not a bad affair, but several issues to improve, like no second bread offer , not all refills were done (in this case water), incomplete dessert service. Anyway I was quite happy and enjoyed for some minutes the fluffy clouds somewhere over southern Venezuela or Northern Brazil.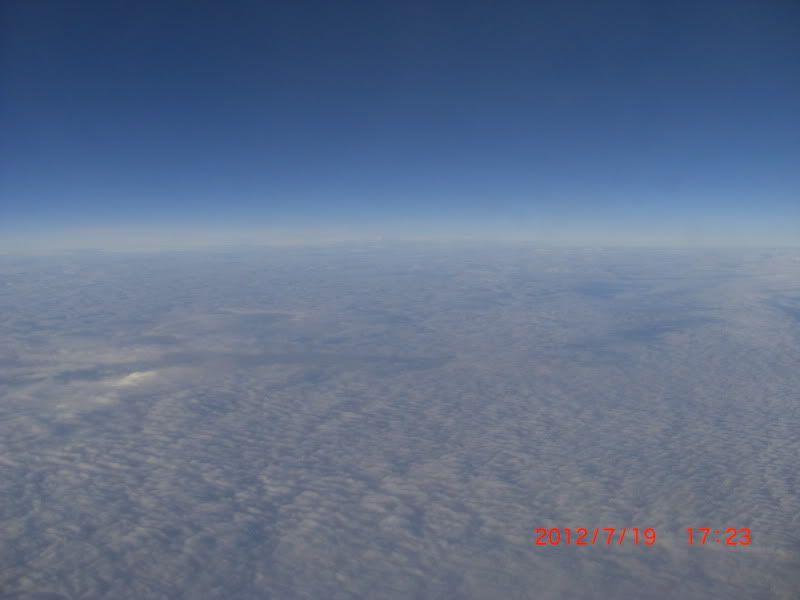 Now it was time to get some decent sleep, it was still 5 hours to go hence plenty of time to sleep.
It was enjoyable despite fo the outdated seat… and around 1.5 hours before the lading I woke up and already the snack was offered.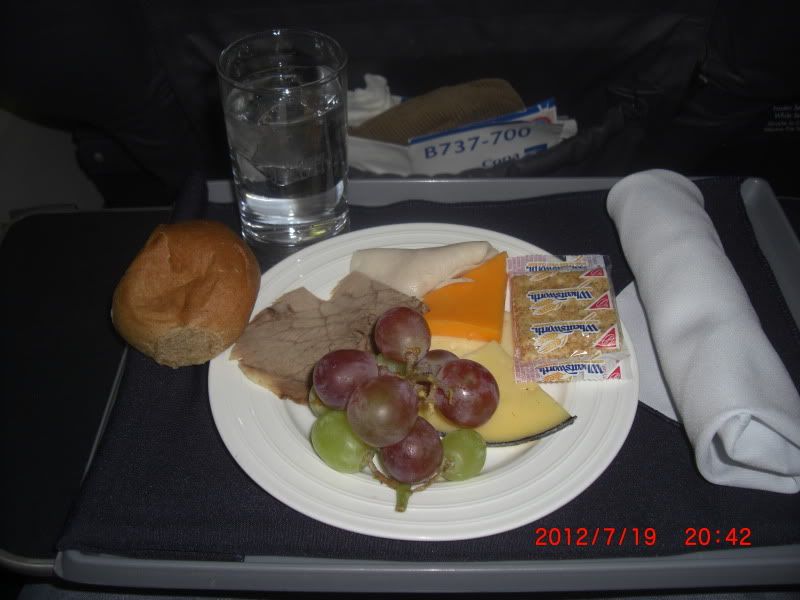 A good snack in form of cheese, cold cuts ( turkey breast, roast beef), grapes, some bread (no butter was offered) and crackers, I wash it down with some more Perrier. The food was served from a kind of a buffet card, same that was used for dessert. Not bad!
Arrival was a breeze as it was immigration, very interesting fact was that maybe 10 passengers were not Brazilians; all the rest of the passengers went to the Brazilian resident's lane for immigration.
Well waited some minutes for my luggage, despite I had priority tags, I was maybe in the middle to get my bag…. Customs was basically not existing went through within seconds and proceed to change some money, as the ATM are not working at midnight… something that in fact is good in Brazil as so there is no way to rob you at the ATM… on the other sides its quite complicate for visitors that are arriving during the night…
Proceed to change some USD into the Reales, and took a taxi to the cheap hotel I booked for the night, as next day I planed to go the the south, to famous Porto Galinhas…
After a decent sleep I took the bus, just opposite from the hotel
Which was directly to Porto Galinhas, quite amazing the bus services in Brazil, or better to say in the Brazilian cities. They have running public busses really everywhere. Well the bus was quite slow, it took nearly 2 hours for a 60km drive… anyhow it was cheap and quite nice to get together with the locals..
Already minutes away from the final destination.
Finally arrived and hey what better than to start a short vacation in Brazil than with a Caipi.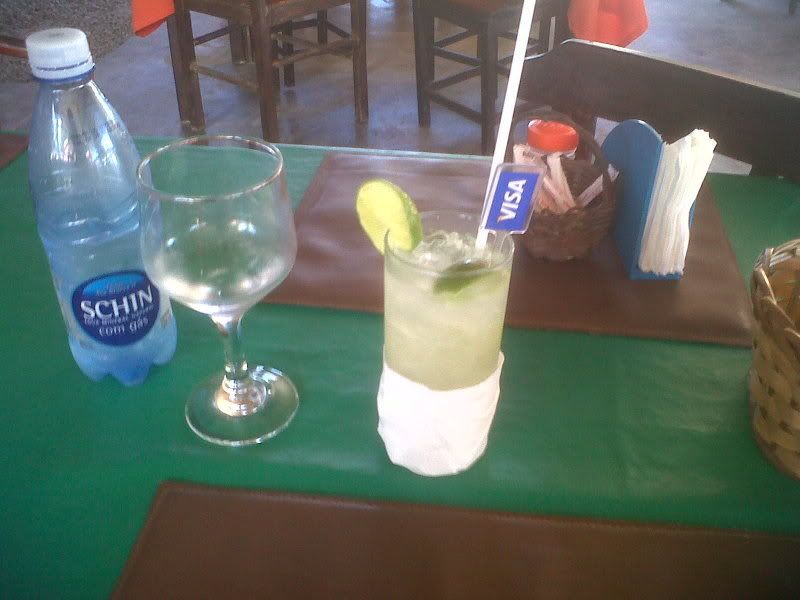 Followed by a niche lunch, was quite hungry as I had no breakfast before..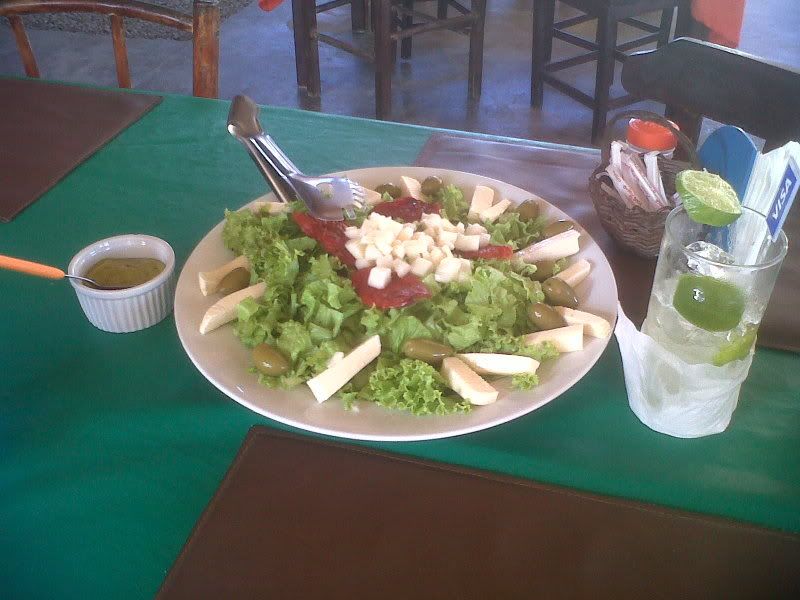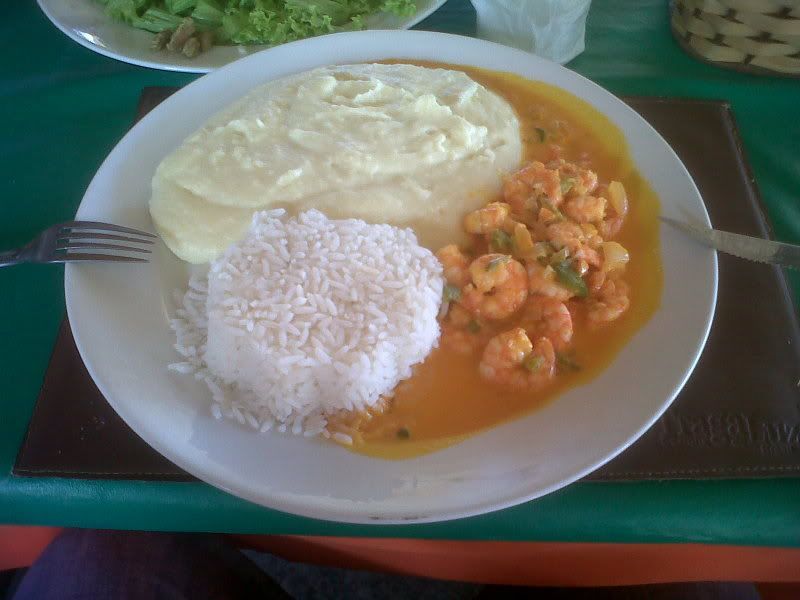 The lunch was a salad, with fresh cheese, olives, dried tomato, palm heart, and main was shrimps in a kind of tomato, coconut sauce, with herbs, and plain white rice and mashed potatoes, all in all a very nice affair, skipped the dessert instead I had a nice big bottle of cold beer .
All in all, CM product is still decent, I would give from 10 stars 7, but also only due to the fact the upgrade was for free, no way I would pay full fare in business for these flights.
Thanks for reading, hope you enjoyed the report, and sorry for some bad quality of the pics, but some were made with my lousy black berry mobile cam..
Cheers
Avianca