Hello fellow aviation nerds! This is my first trip report. After reading numerous other reports on this site over the years I've finally decided to take the plunge and become a fully published aviation geek for the whole world to see!
Introduction:
I am in South Korea and East Asia for the first time, and as part of my duty with the US Army I'm here for the next year. I've been overseas before as I was born in Germany and lived there the majority of my life but this area of the world is new to me. So what better way for an aviation geek to see the country than by plane!
I live in Seoul and have experienced the city and sampled it's huge database of eateries, night life and historical sites, but what other way is there for a 'geek of the aeronautical persuasion' to sample a country than by it's airlines? So I cruise the Internet looking to build a good itinerary for one of the days I'll have off of work. The prices were pretty good and I spent a total of maybe US$250 on all 4 flights. I originally was only planning on a single 'there and back' between Seoul and Busan trip but realized that due to me arriving back in Seoul at an early hour, I could easily fit another round trip to Jeju in as wel!
So it was set, I would fly two round trips out of GMP to both PUS and CJU and still get back before 01h00 curfew! My routing for the day would be:
GMP-PUS with Air Busan (BX) 735
PUS-GMP with Korean Air (KE) 738
GMP-CJU with Eastar Jet (ZE) 736
CJU-GMP with Asiana Airlines (OZ) A320
Date: Monday 23 July 2012
From: Seoul-Gimpo International Airport (GMP)
To: Busan-Gimhae International Airport (PUS)
Aircraft: HL7233 Boeing 737-58E
Airline: Air Busan
Cabin: Economy
Seat: 17A
Getting to the Airport:
Woke up around 05h00 and after getting ready, left my room around 05h30 for the walk to Samgakji Subway station. After riding subways in London, New York, Washington D.C. and Paris, I would definitely have to say that Seoul has the best system that I've ever been on. It's so clean, well lit and the fact that I and everyone around me could use cell phones and other mobile devices was a definite bonus. There must be some sort of signal booster that helps with reception. I also like the fact that at every platform they have doors that serve as barriers between the platform and the tracks. You often hear in the news of people or baby carriages falling off the platform and onto the tracks. These should definitely be installed on other metro systems around the world!
Anyways... back to the report.
The trip to GMP takes about an hour but that's because I didn't take the Express Train that skips most of the smaller stops on it's way to the airport.
At the Airport:
Once I arrive at the Airport it's about 06h45 and start the LONG walk to the domestic terminal. By the time I arrive at the area to check in, I'm almost drenched with sweat. Though I soon realize it's not from over exerting myself but from the fact the air conditioning was barely blowing and the humidity from outside was now inside the check in area. I head over to the Air Busan counter and at first try my hand at the 'self checkin' kiosks that litter the immediate area. However no sooner do I start to try and type in the confirmation code from the email that was sent to me does a nice gentleman walk up and kindly point me to the main desk since "that code won't work here". It turns out I was at a kiosk that was "self check in" but only for those with an Asiana (Air Busan partners with them) frequent flyer account which I didn't have. So I head over to the counter and confirm my window seat with the lady who checks my passport and gives me my boarding pass. I love how Korean Airports print out their boarding passes. Instead of a thick card with a part to tear off, their boarding passes are more like receipts from the supermarket which you can simply fold up and put in your pocket without the fear of the easy tear portion of the pass coming off prematurely.
I head on through security almost immediately afterwards to try and get away from the unbearable humidity. Security was a breeze (no taking off of shoes!) and I almost immediately feel the difference. Their A/C was on full blast which felt like heaven compared to the muggy hell that I just emerged from.
My flight would depart from Gate 15 at 08h30 so I had a few minutes to get a cappuccino at the cafe near the gate and call my girlfriend back in the States (Korea is +14 hours ahead of US Central Time Zone) but it turns out I interrupted her while she was at work. Whoops!!! She works at a hotel and it turns out they needed her to work on Sunday.
So instead of me talking to the sexiest and most beautiful woman alive I end up picking up my camera and feed my addiction to aviation.
Below is what I had to show for it: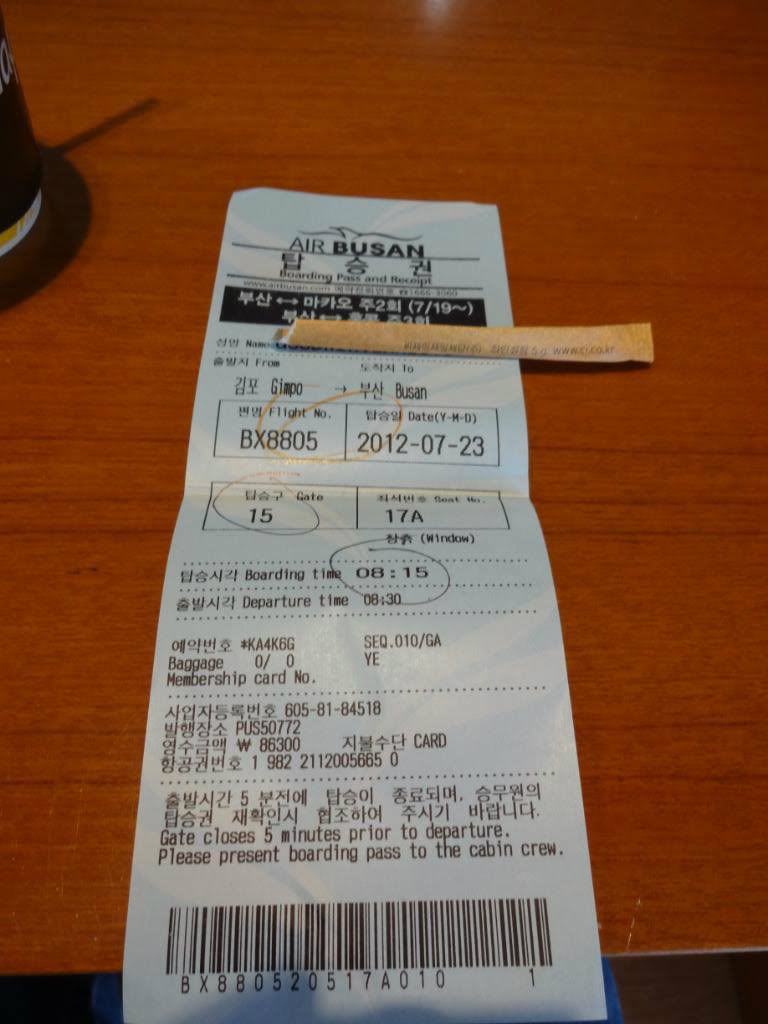 Low costs all lined up
Jeju Air taking off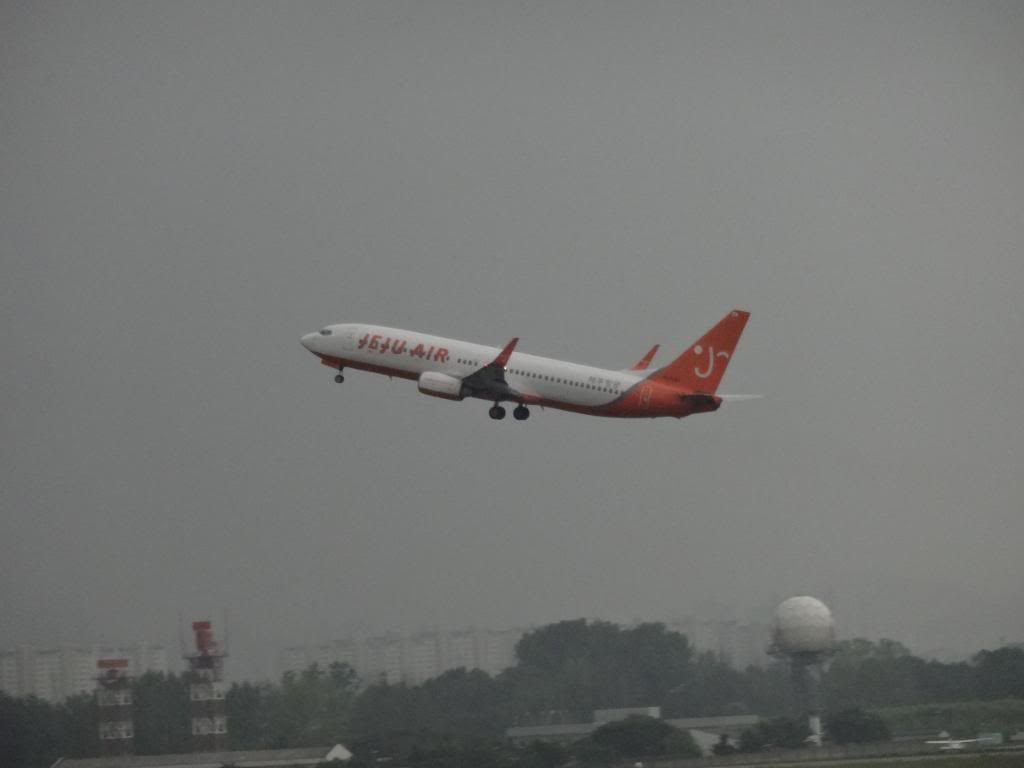 Rivals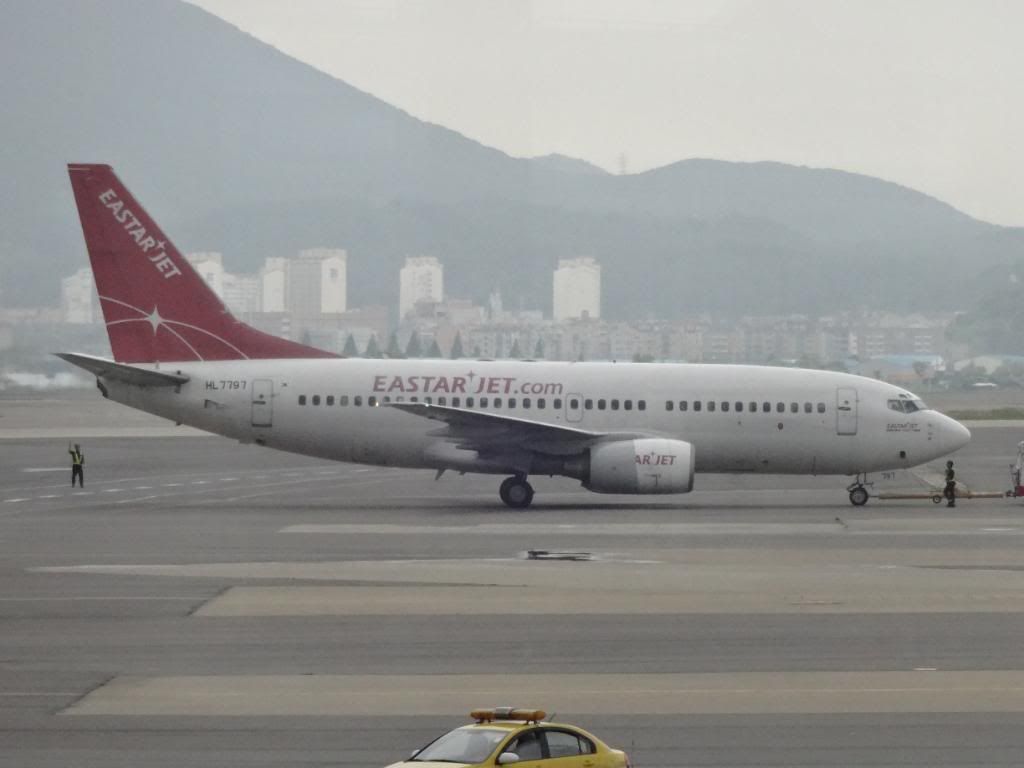 Main parking area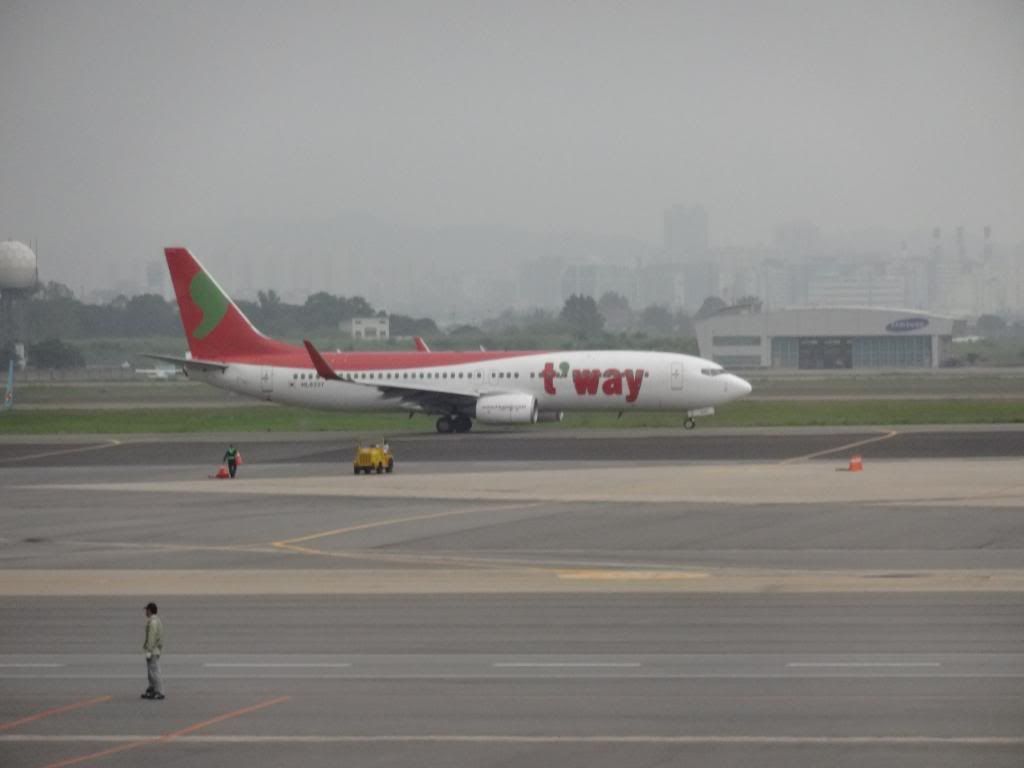 Jeju Air at the gate next to ours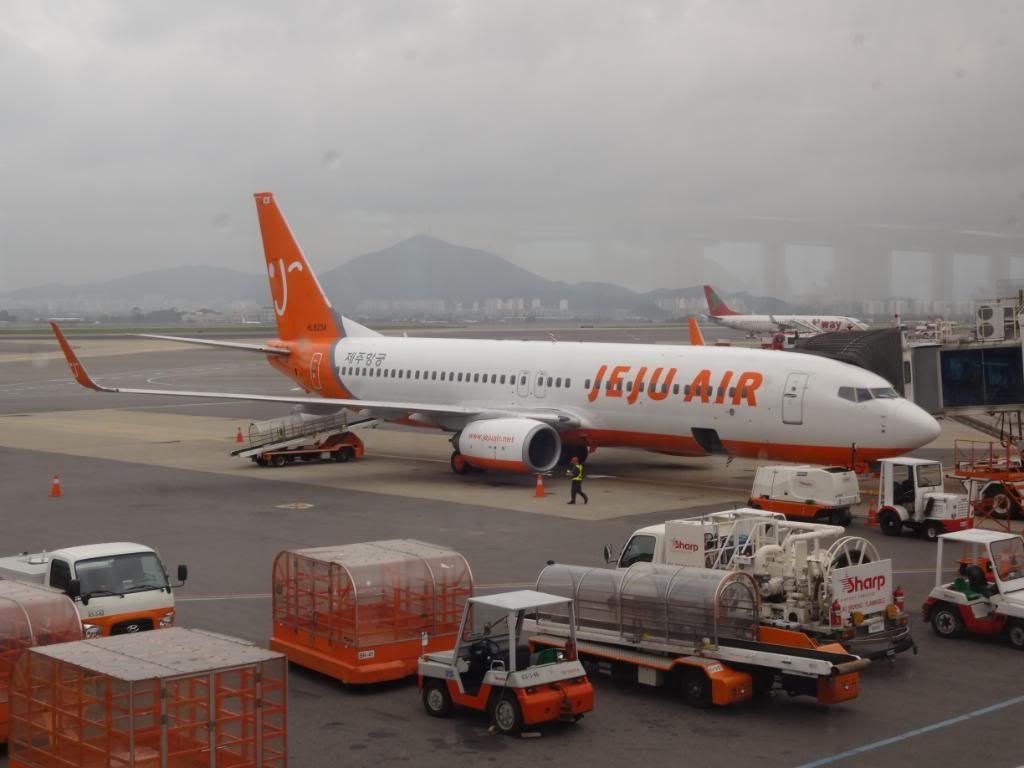 HL7559 taxiing by... More on this bird later
My bird arriving at the gate. HL7233 which was first delivered to OZ in 1995 before being transferred to Air Busan in 2009.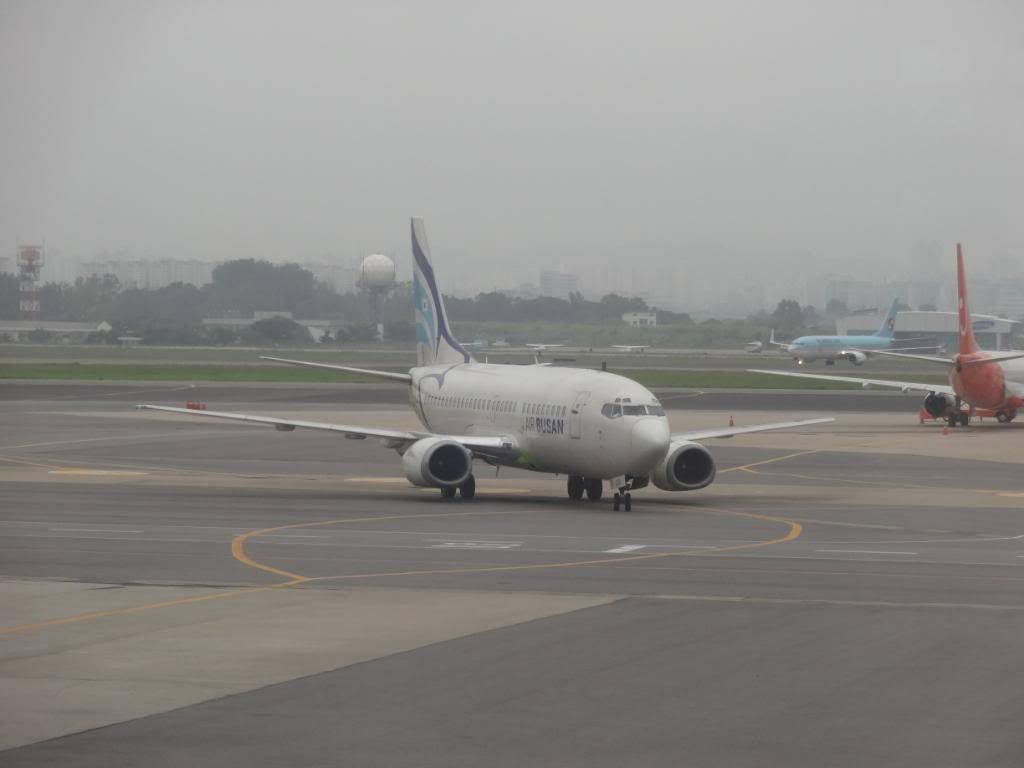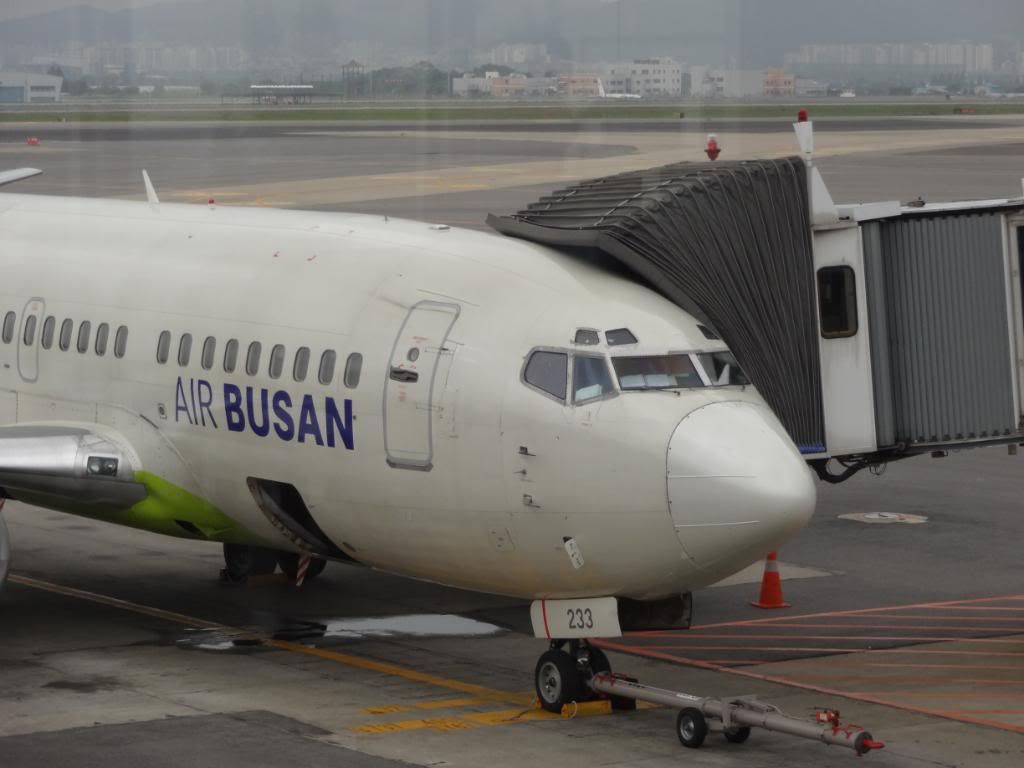 The plane arrives right on time and it takes less than 5 minutes for everybody to get off and the new crew to get on. Another 5 minutes go by before they announce boarding and I'm among the first dozen or so that line up.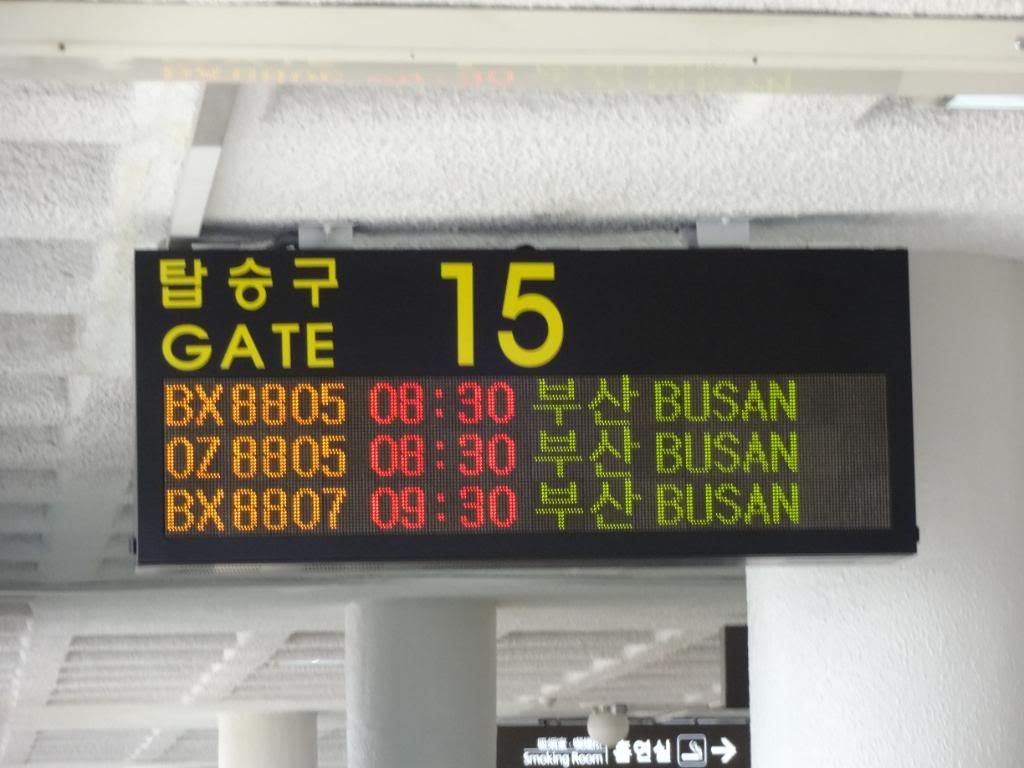 Once on board, I find my window seat at 17A and immediately settle in.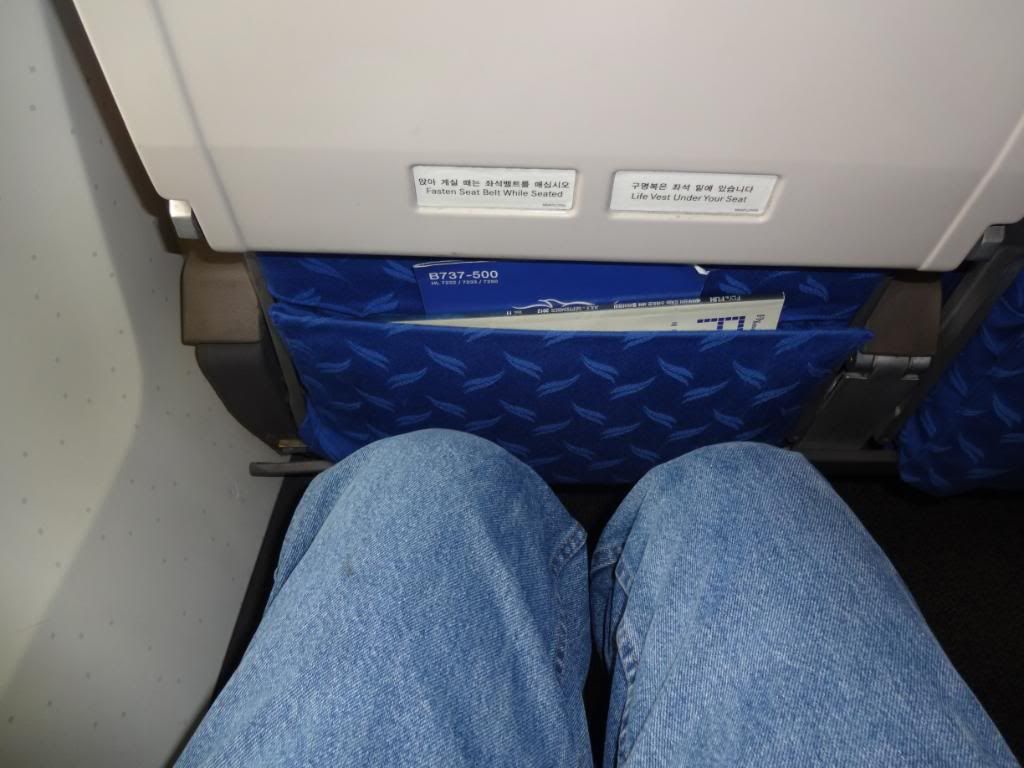 The leg room isn't that bad. Not quite enough to totally stretch out but enough to be comfortable to an hour flight. I found it comfortable as I'm 5'9" but maybe not so much if you were 6' or more.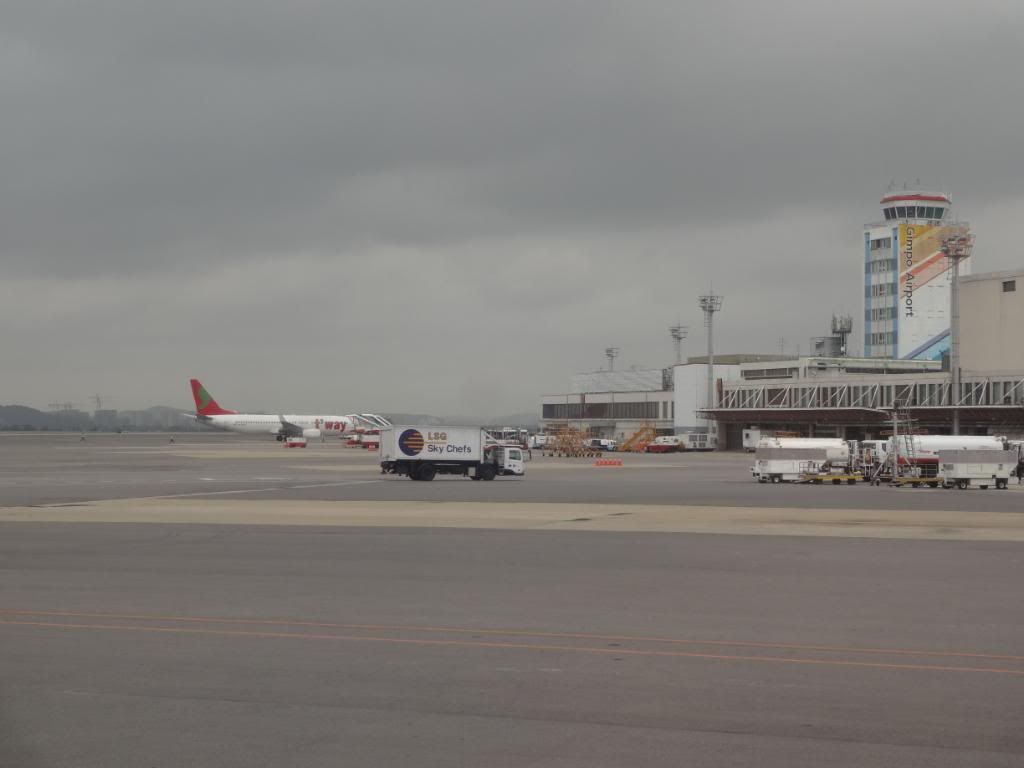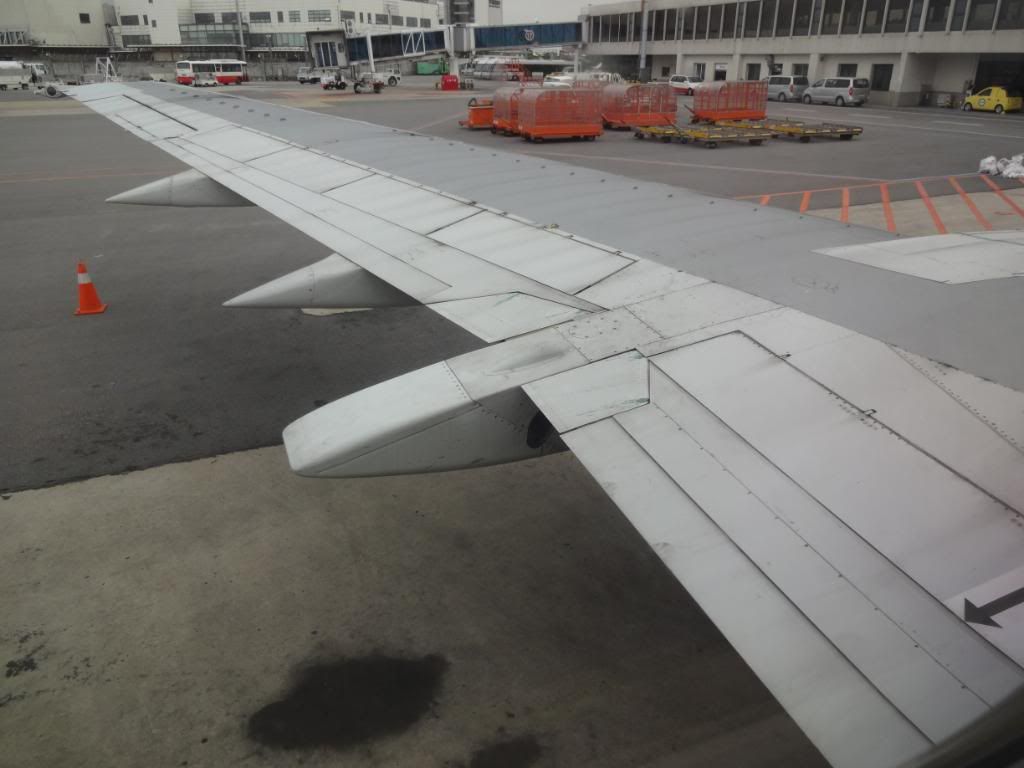 We push back right on time and head to the runway. There was no line and once we get to the runway (sorry, didn't see which one) we start our takeoff roll.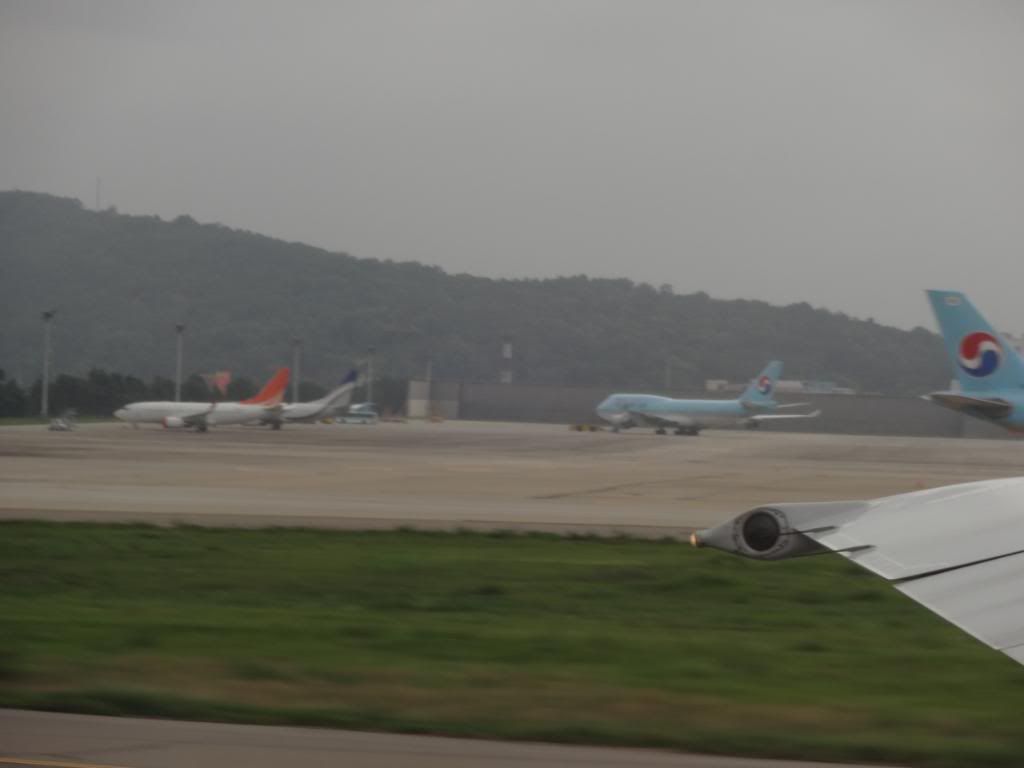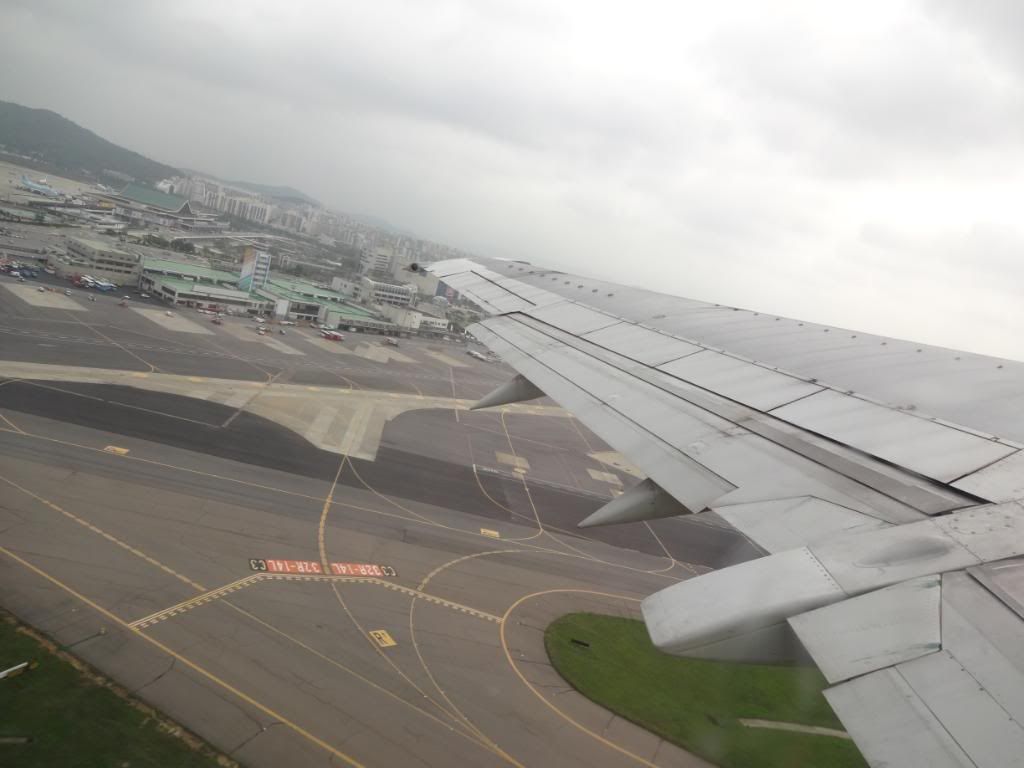 The flight itself is relatively uneventful other than the drink service that came through the cabin.
Interesting looking gunk that seems to be coming from the flaps. Anybody know what this is?
It was overcast most of the trip but we were soon treated to great views once we began our approach into Busan.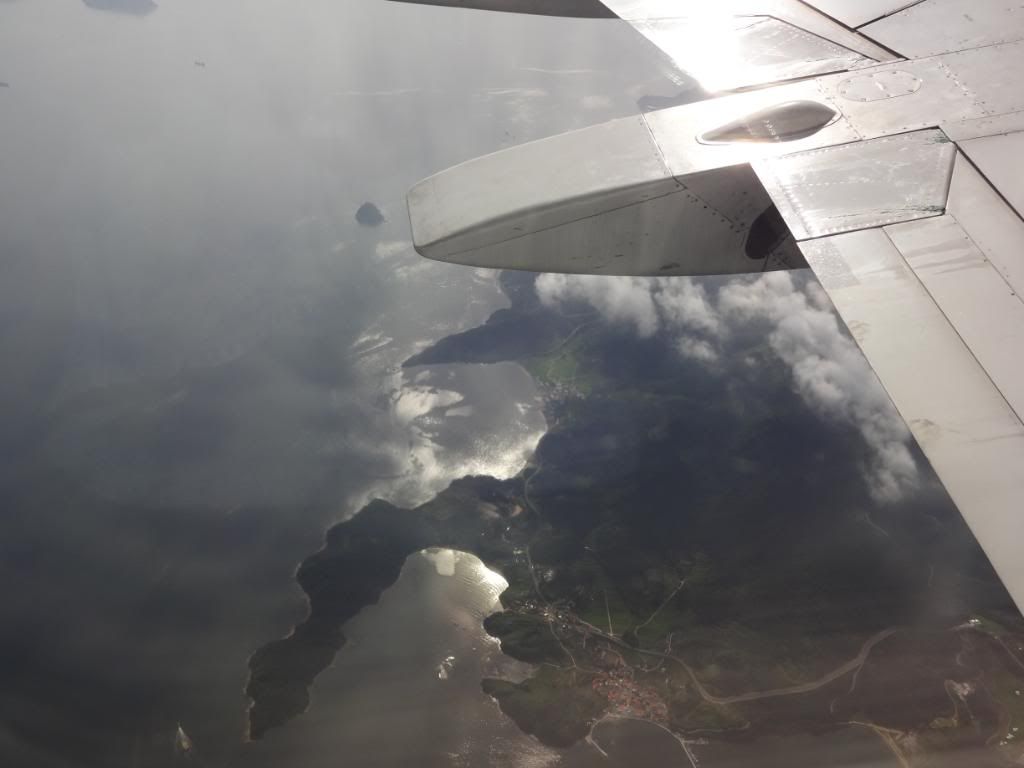 Anybody know what bridge this is?
Tanker below
Final approach into Busan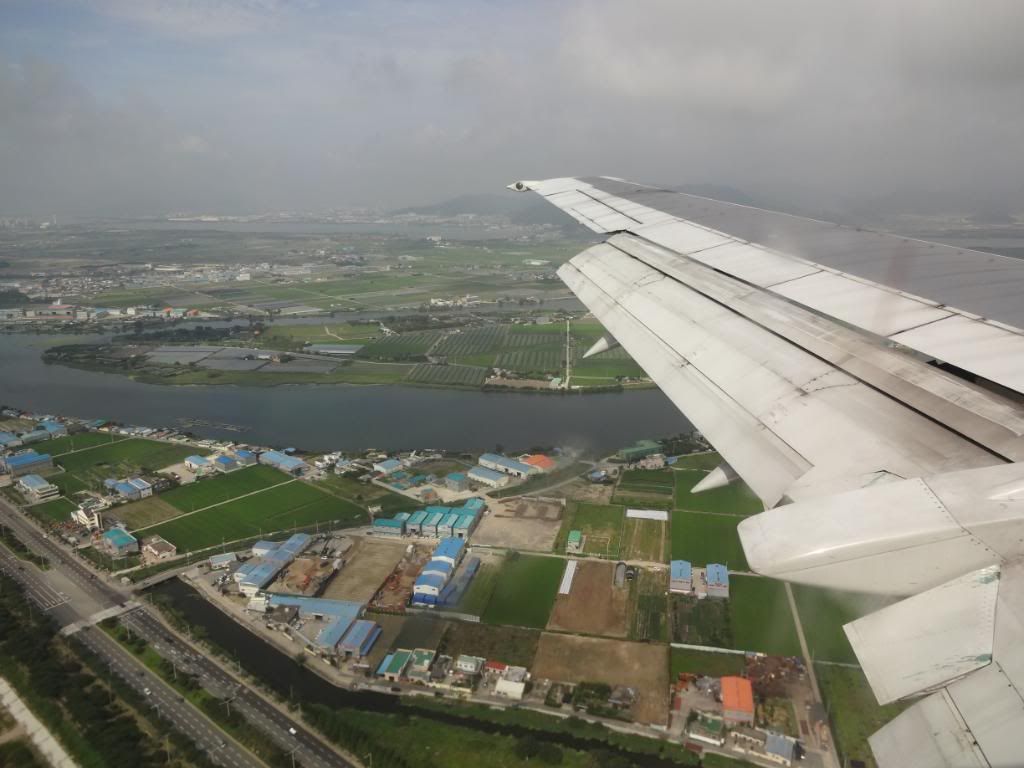 Touchdown!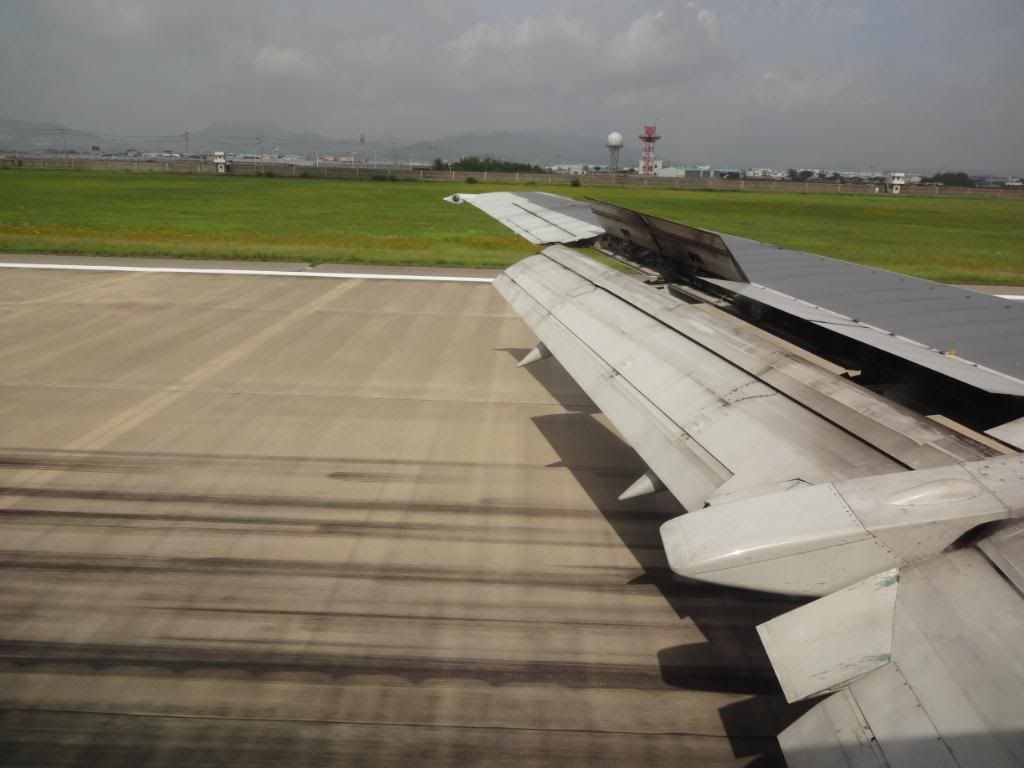 Vietnam Airlines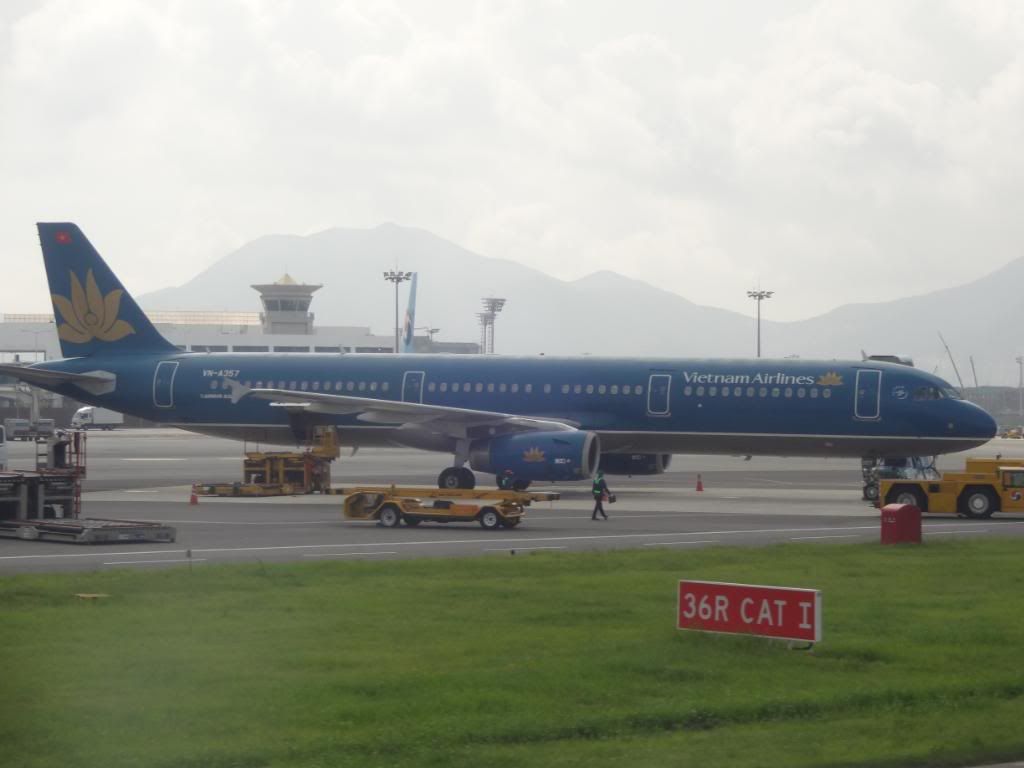 Lufthansa about to head back to MUC via ICN.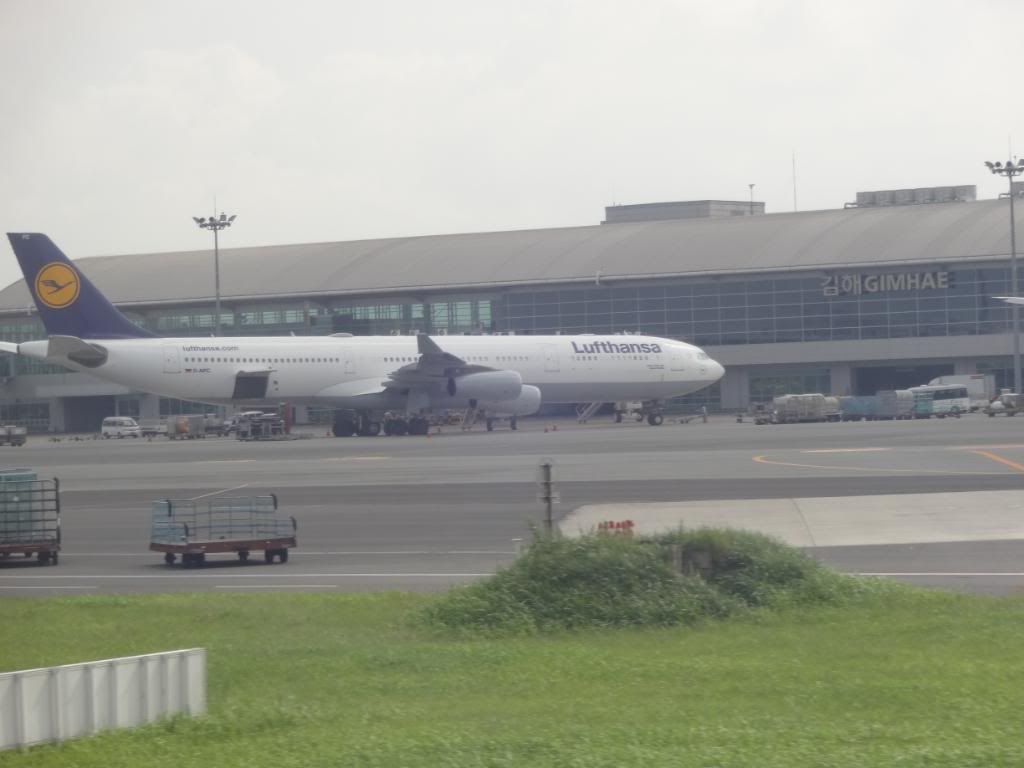 Another Vietnam Airlines but in Skyteam colors
Surprise surprise! It's our old friend HL7559 from GMP
Never heard of this interesting airline. Anybody know more?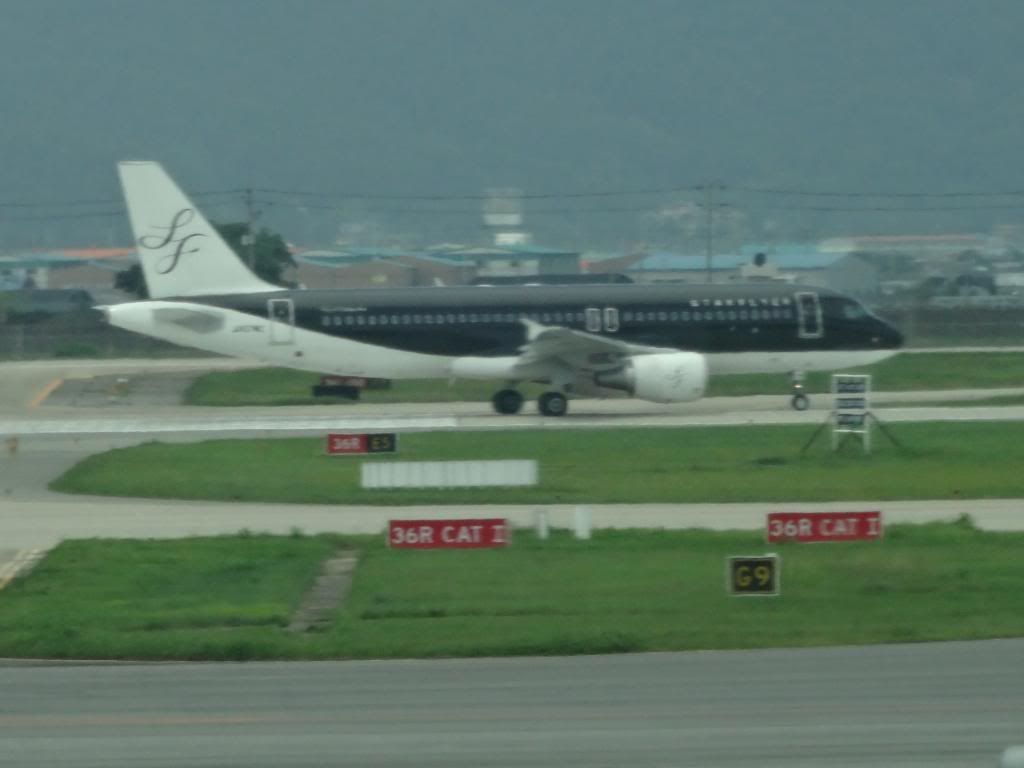 Police Helicopter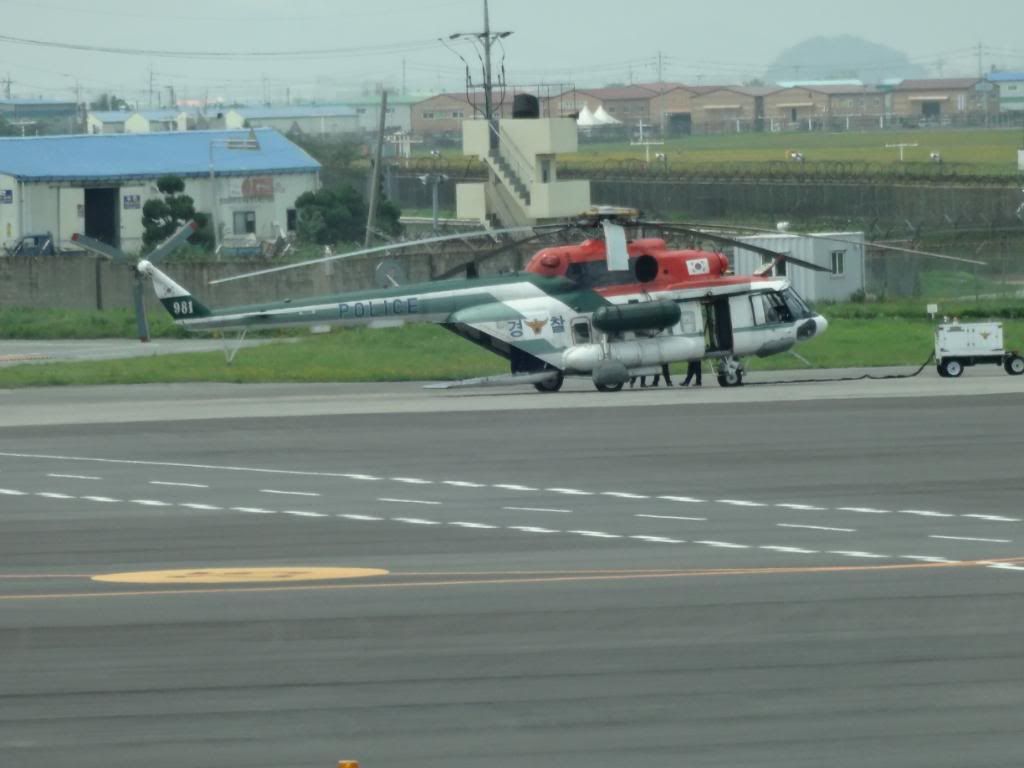 We arrive at Gate 12 right on time. Once I get off the plane I head right on past the baggage area and to the main terminal. It's 09h45 and my flight for Gimpo isn't until 12h30 but I decide to check in anyways (window seat again
) and proceed to explore the terminal. I realize I haven't had anything to eat (cappuchino at GMP is all I've had) so I head to a 7-11 (they're EVERYWHERE in Korea!) and get a sandwich and drink. I polish that off rather quickly so I head back for a second sandwich. I decide to go through security around 11h00 and again it's ridiculously quick and simple. Why can't TSA screening in the US be more like this?
Date: Monday 23 July 2012
From: Busan-Gimhae International Airport (PUS)
To: Seoul-Gimpo International Airport (GMP)
Aircraft: HL7559 Boeing 737-86N
Airline: Korean Air
Cabin: Economy
Seat: 43A
The Flight:
My flight would depart from Gate 11 and no sooner does the previous flight leave, the aircraft that would be taking me back to Gimpo shows up. Who is it? No other than our old friend HL7559.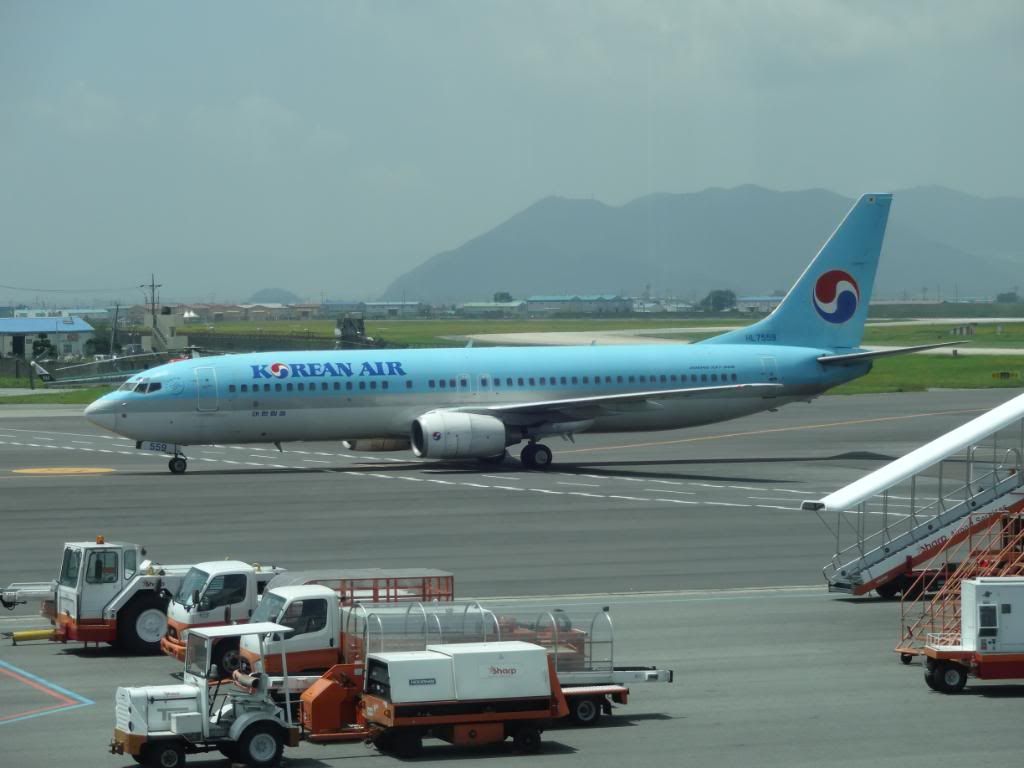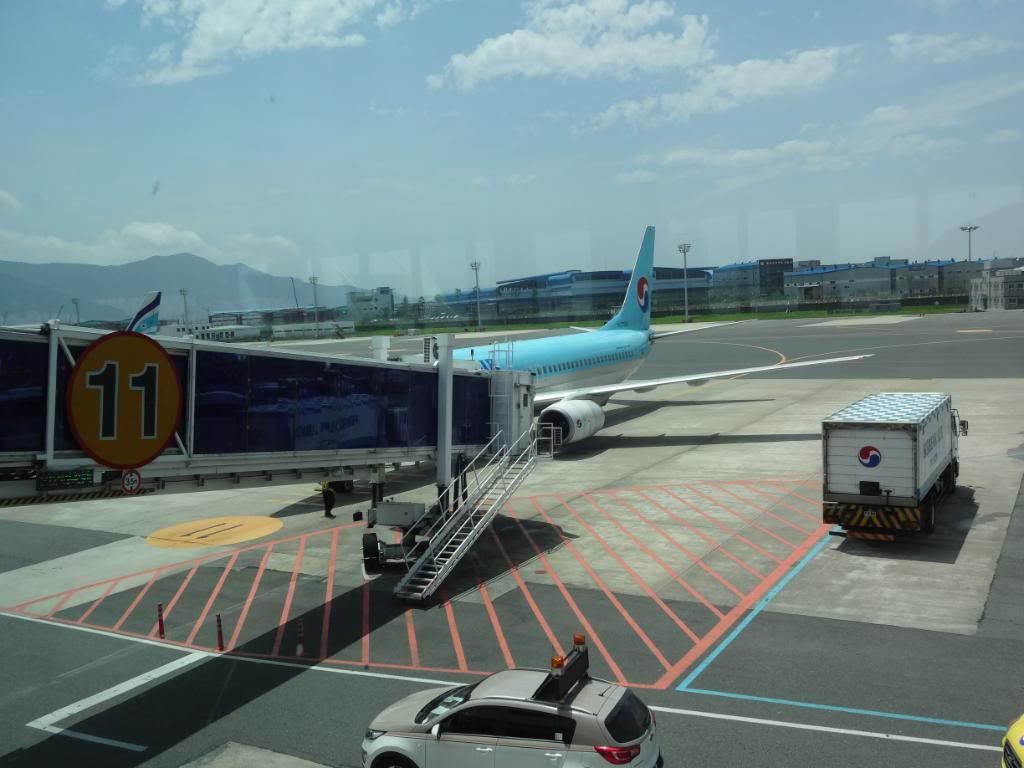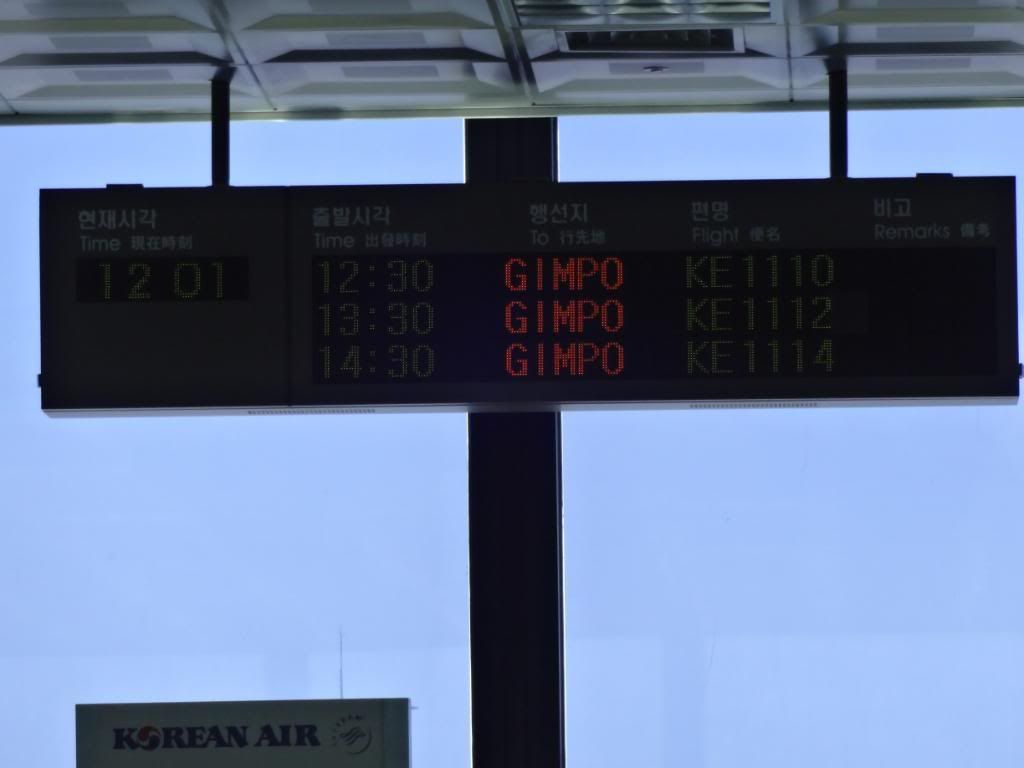 Boarding is done quickly and efficiently. People here actually LINE UP in a decent order to get on! Interesting concept. I would almost never have seen this in the US or Western Europe.
I get onboard and find my seat next to the window at 43A. Almost immediately I begin to realize how much more room there is compared not just to the Air Busan flight I was just on but in almost every other ecomomy class seat I've ever been in! I was amazing. And the fact that the two seats next to me would remain empty for the flight was even better. The overall load on this flight was maybe 60%.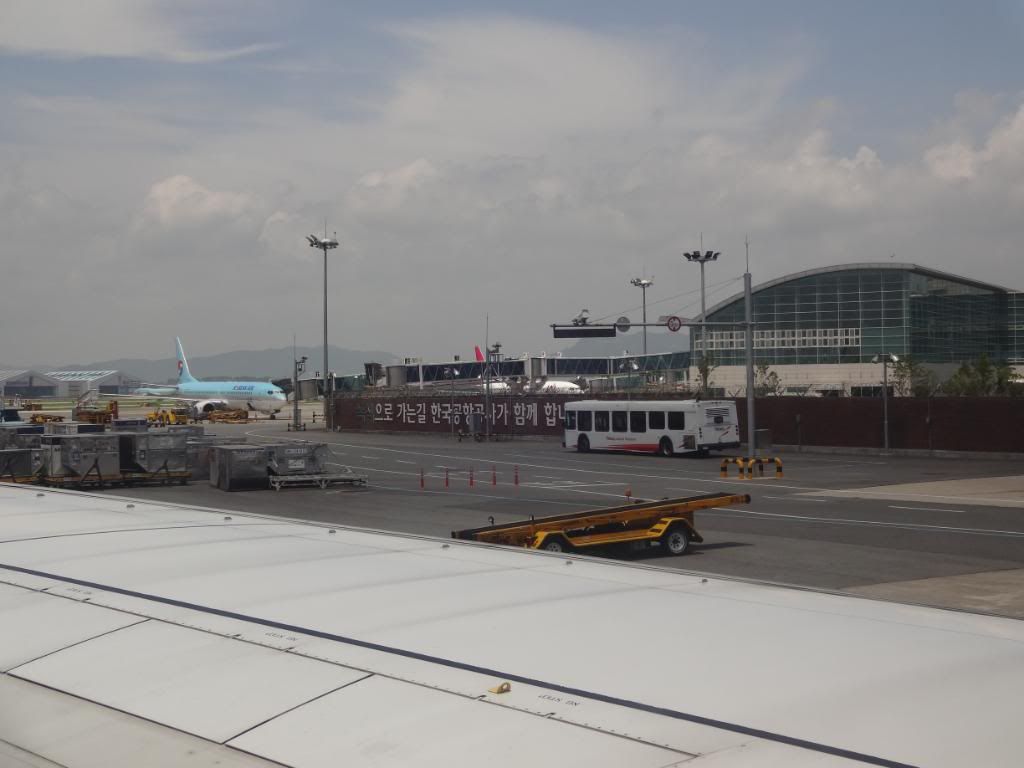 Pushback happened right on time and we headed towards the runway (Again I didn't get the runway number) and almost immediately begin our take off roll.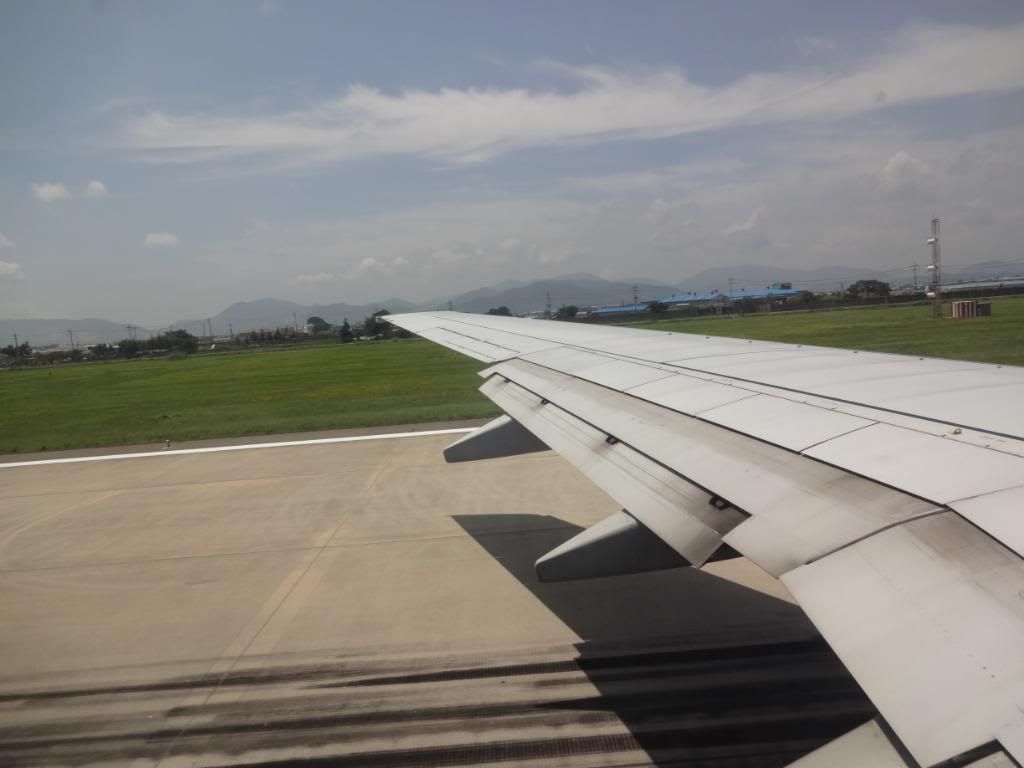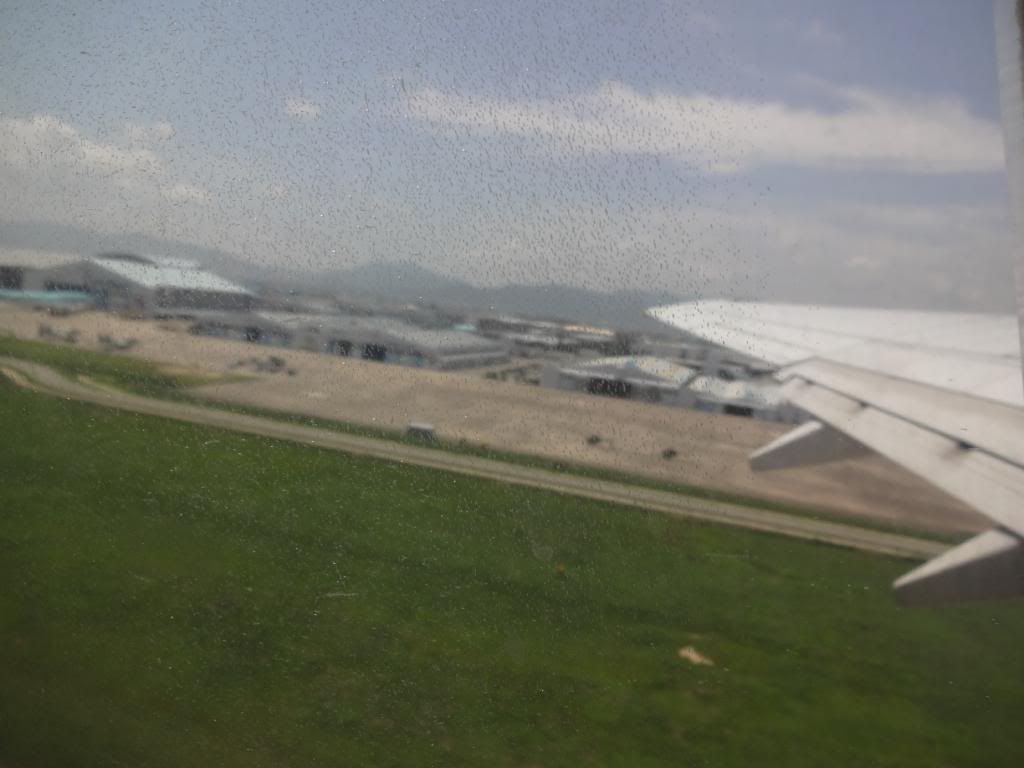 Upon banking left, I was able to get a glimpse of the airport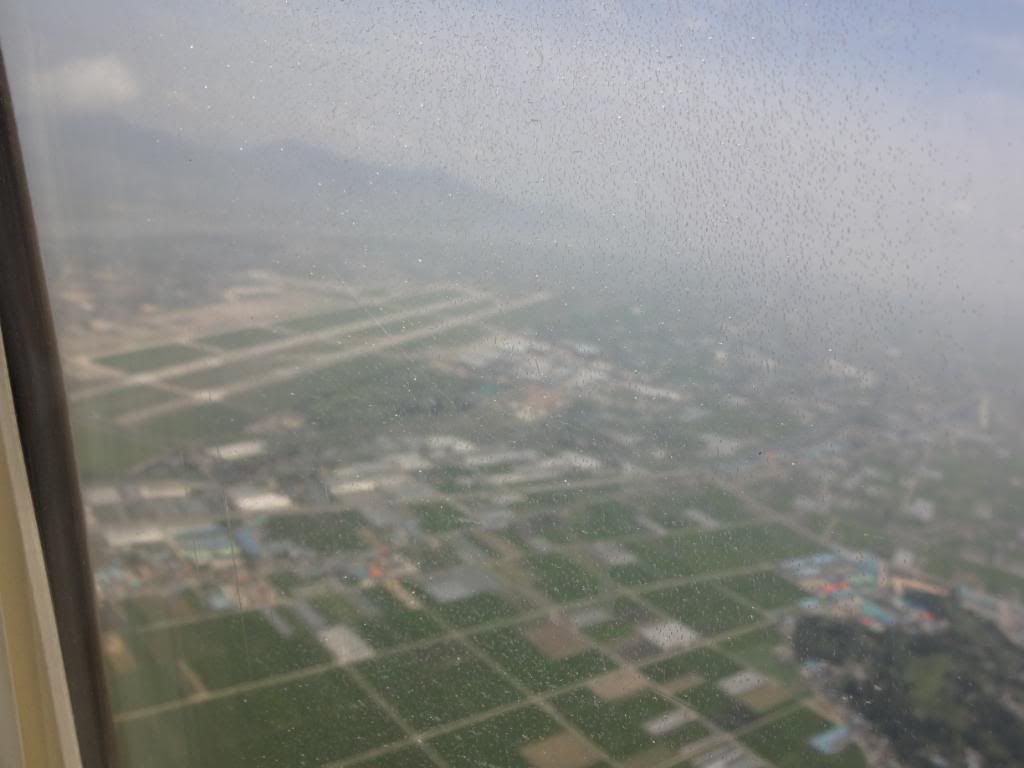 Cabin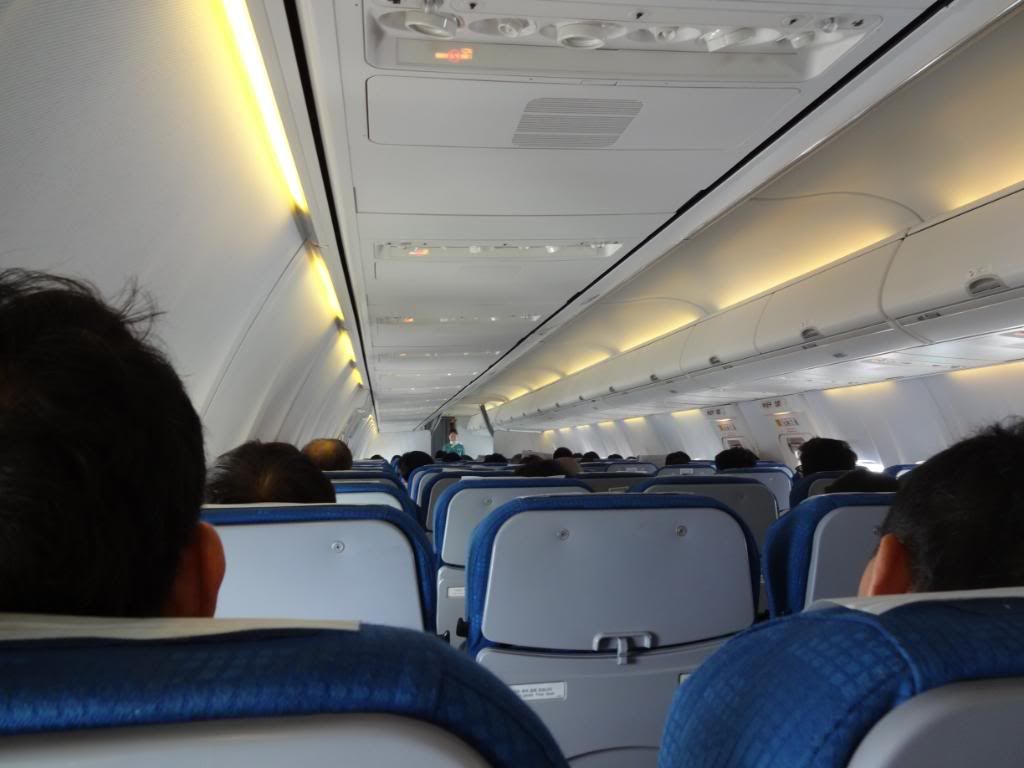 The skies were generally clearer on the way back to Seoul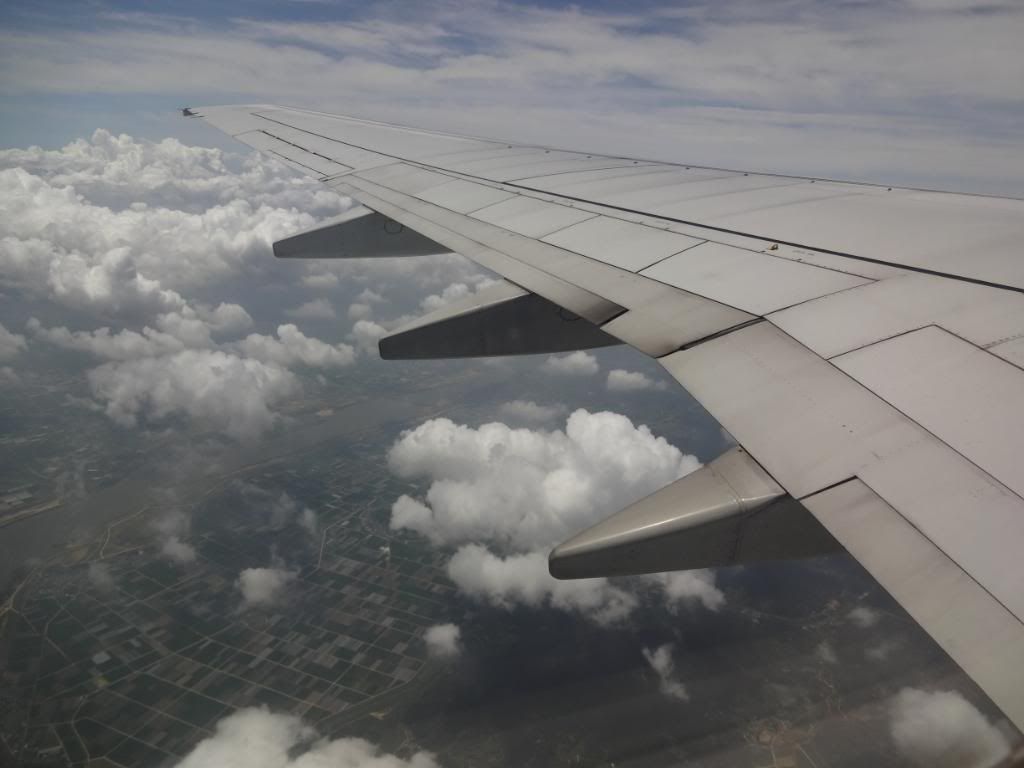 Final approach and landing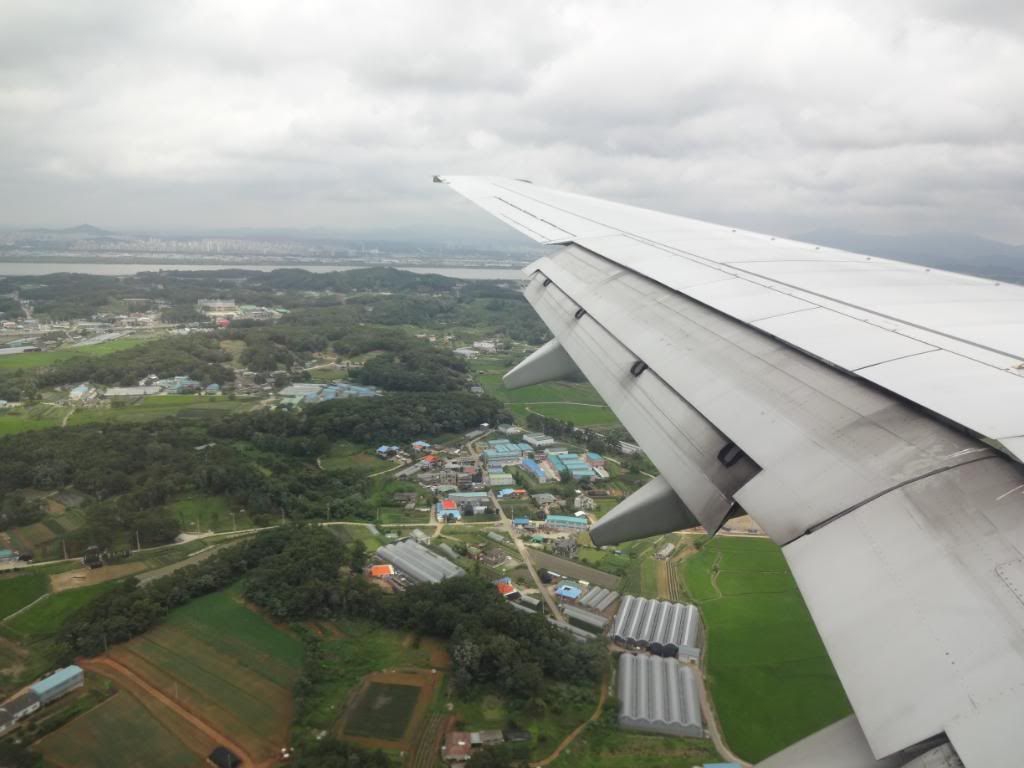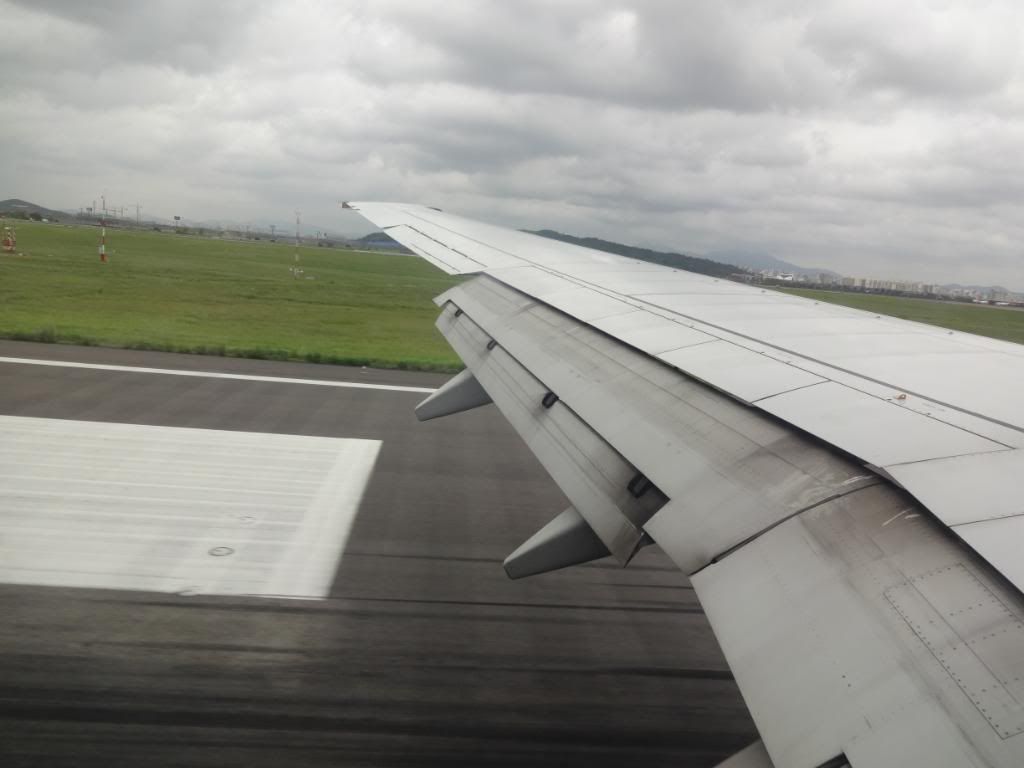 While taxiing to our parking area I saw a KE passenger 744 at Gate 7 boarding. Upon arrival at the terminal, the board said the plane was headed to Jeju. How often does KE send their 744s to Jeju? I never knew this. I'll have to try it some time. Also regarding KE 744s, how many ops do they have out of GMP? I ask this because while taxiing in I saw now fewer than 4 passenger 744s at various locations around the airport. Do they all actually fly services from GMP or do they come there more for maintenance?
Today we disembarked via stairs and got on the bus to take up to the terminal
Again, once off the bus, I quickly walked past the baggage claim area and back to the check in area for my Eastar Jet flight to Jeju. It was approx 13h45 when I checked in at the counter. The lady looked at my reservation and took a look at her watch with a puzzled look on her face since my flight wasn't supposed to leave GMP until 16h10. I get my boarding pass (again, more like a shopping receipt than anything) and head through security (again, very quick and simple)
Date: Monday 23 July 2012
From: Seoul-Gimpo International Airport (GMP)
To: Jeju International Airport (CJU)
Aircraft: HL7781 Boeing 737-683 (ex SAS and flyglobespan)
Airline: Eastar Jet
Cabin: Economy
Seat: 2A
While waiting for the flight to arrive, I again continue to take pictures of other airlines in the area. Since the 744 at Gate 7 was already gone, I was out of luck.
KE A330 (HL7702)
KE 738 (HL7758)
Jin Air 738 (HL7564)
T'way Airlines 738 (HL8235)
Asiana 734 (HL7513) boarding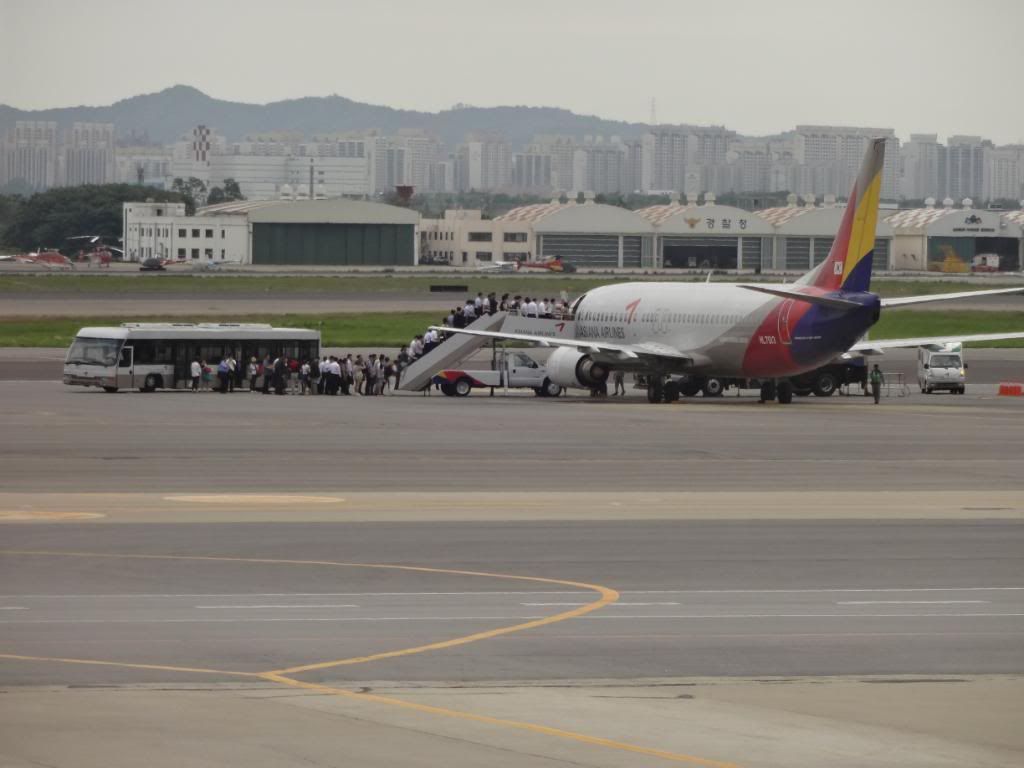 Haha! Nobody ever said anything...
Jin Air 738 (HL7557) arriving at the gate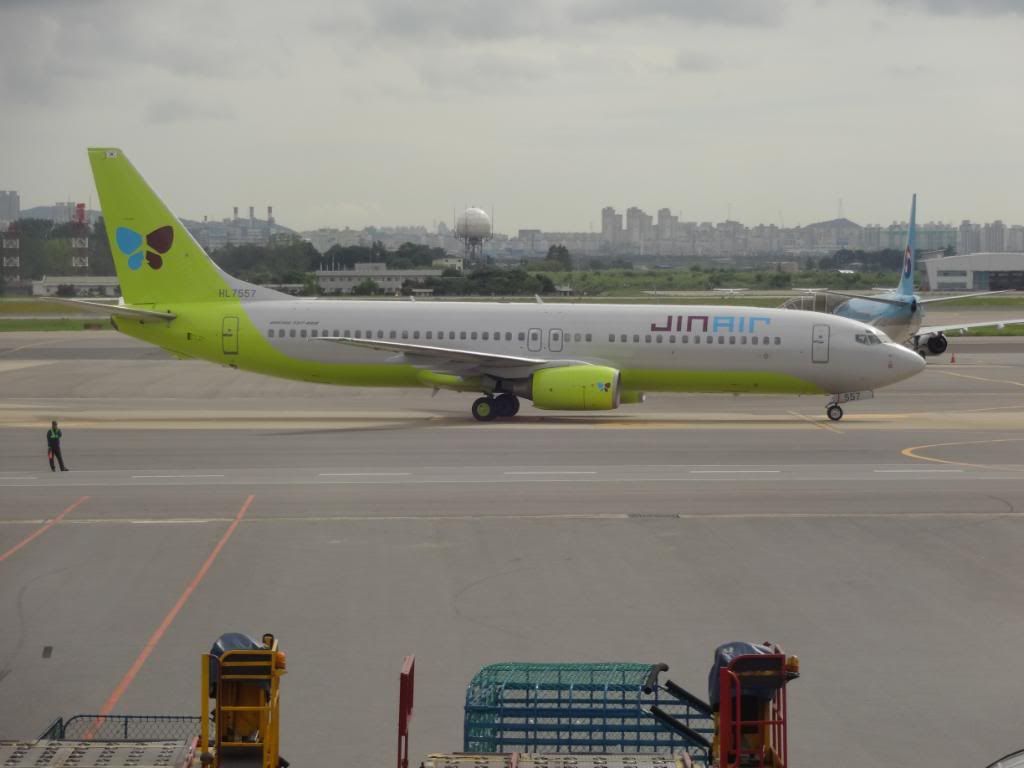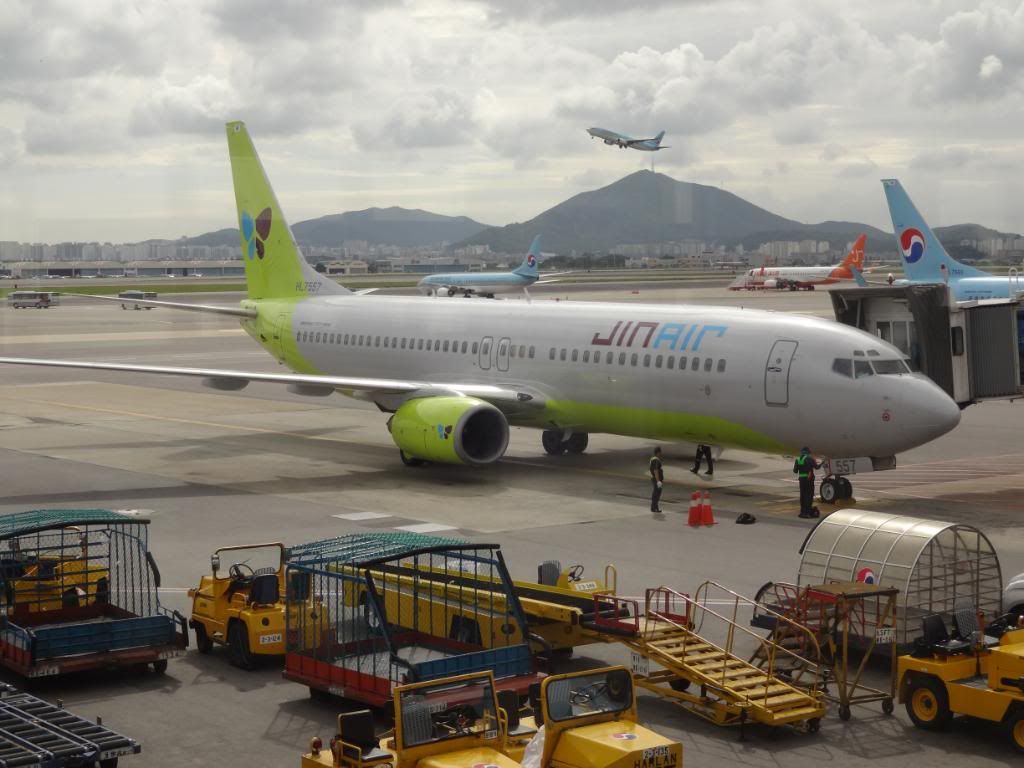 Boading Pass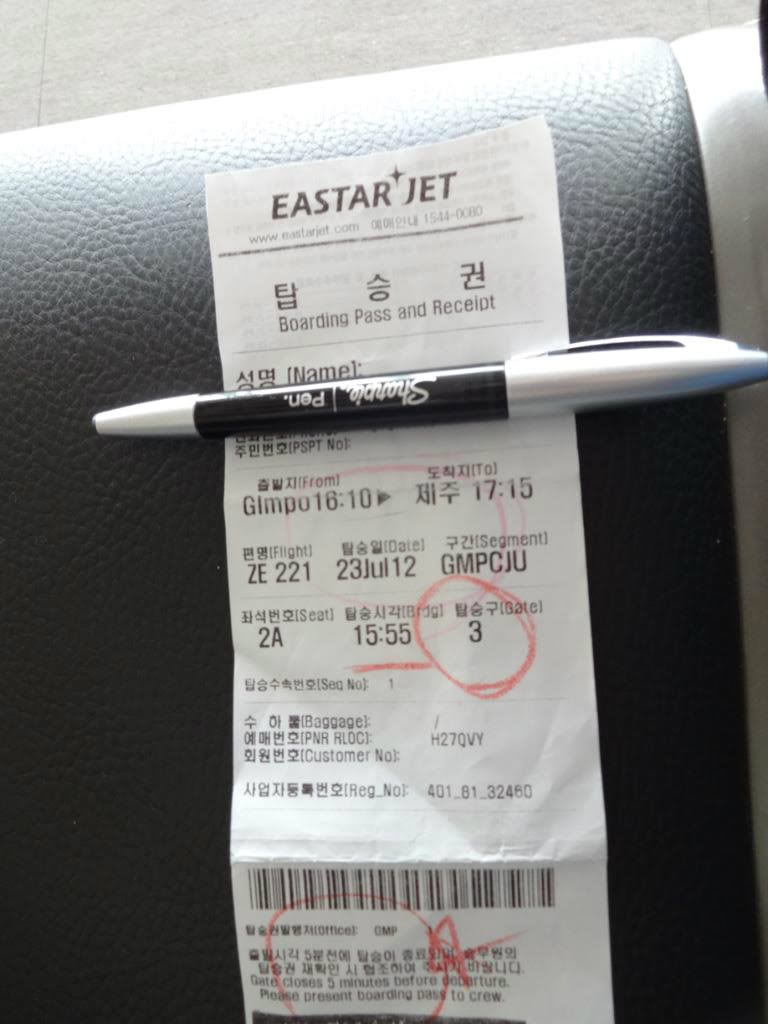 My bird arriving at the gate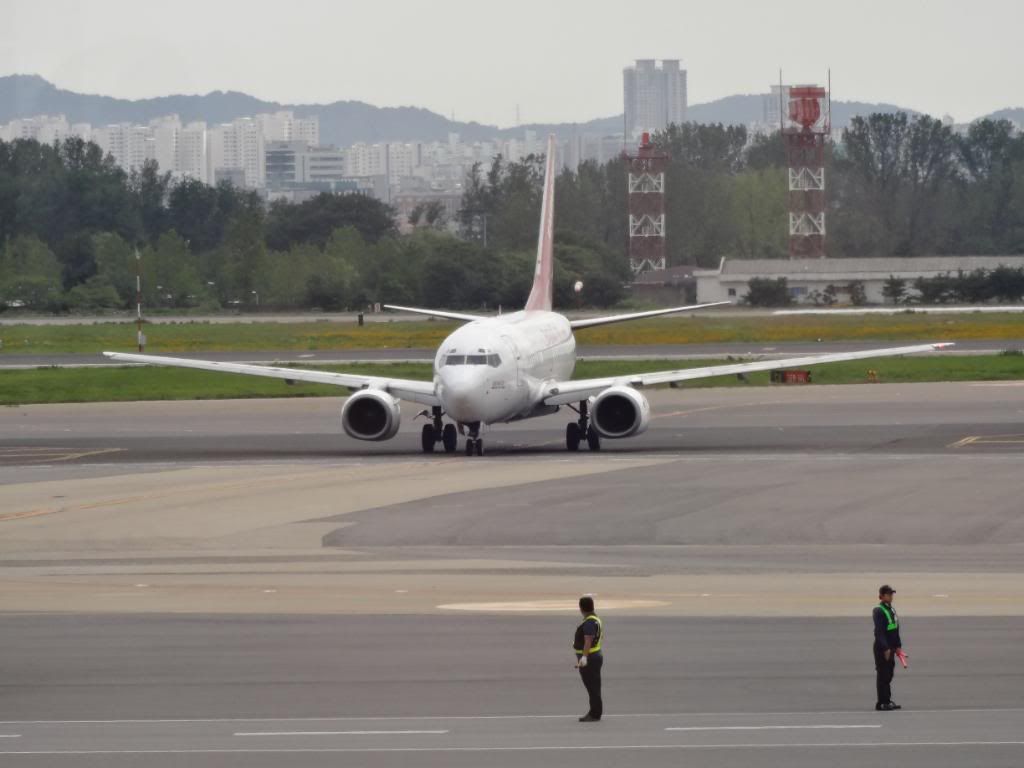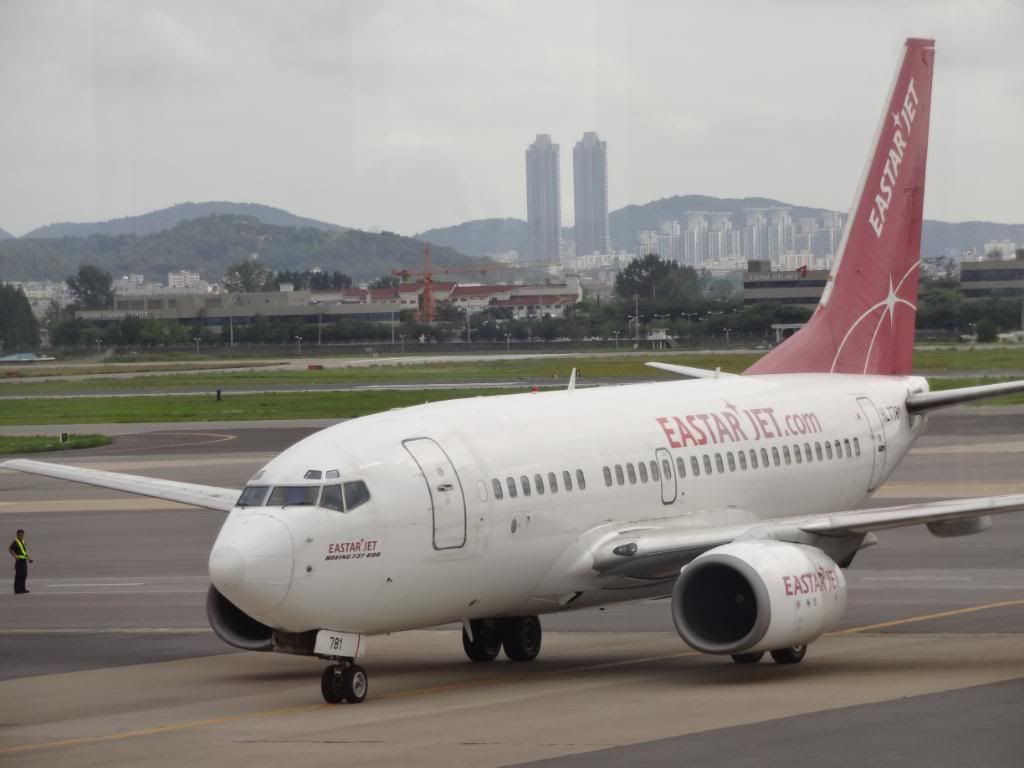 Boarding commenced almost right after the last passenger got off and in no time I was sitting in my window seat (2A). I almost had a heart attack when I saw how close these seats were to one another. On no other aircraft (and I've flown RyanAir) have I seen such cramped quarters. I'm 5'9" and my legs started to cramp after about 20 minutes. I'd hate to be someone who is 6' or taller trying to sit.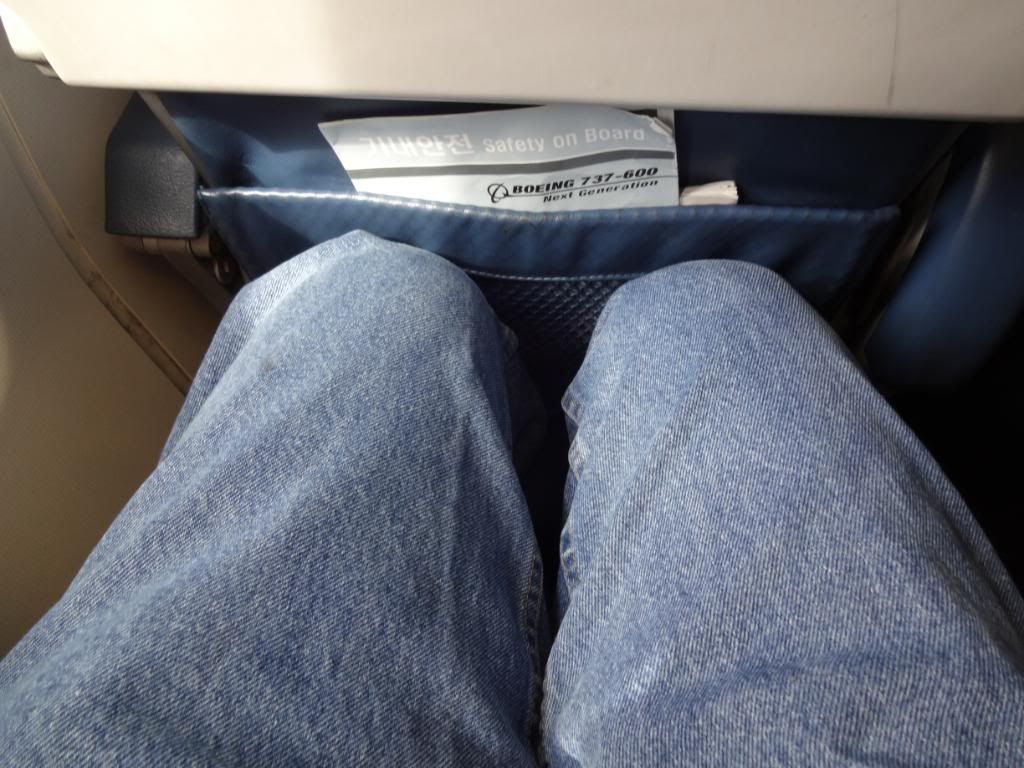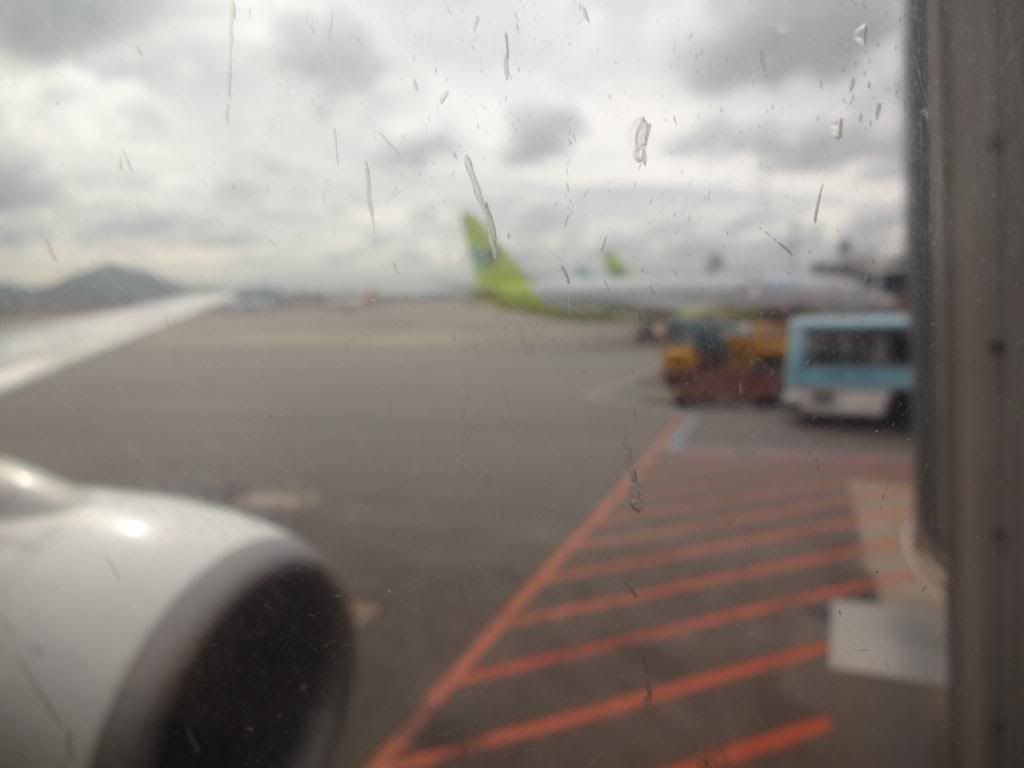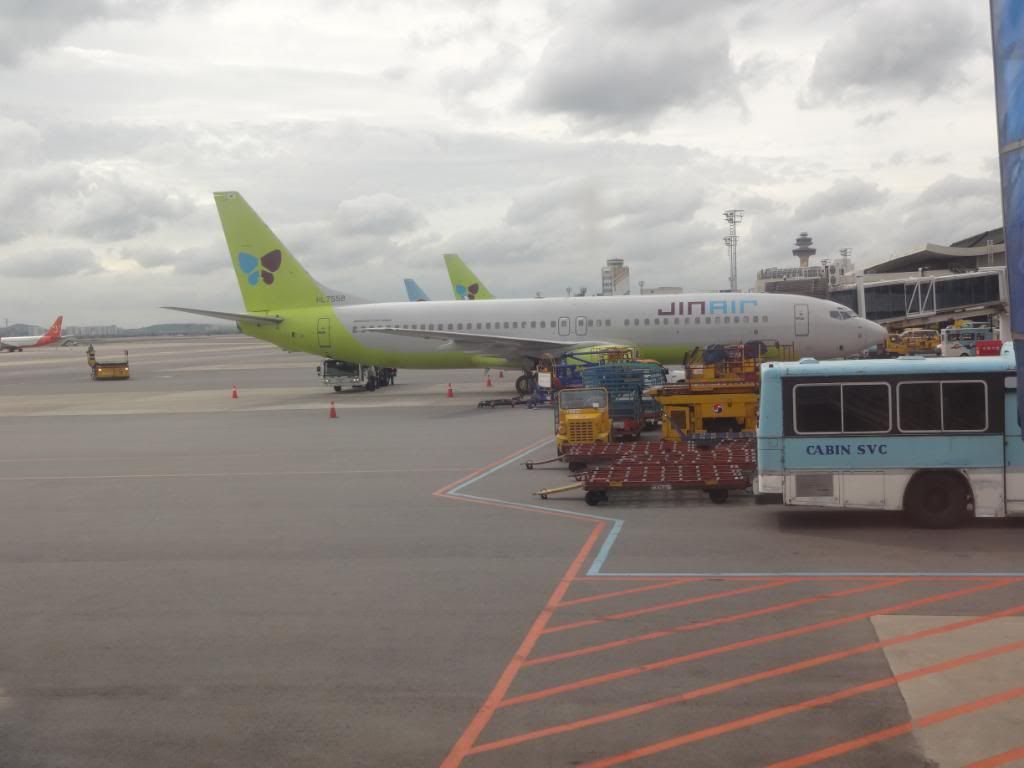 We pushed back right on time and were airborne in no time.
A little while into our trip to Jeju we came across this runway. Couldn't really tell what airport this is. Anyone know?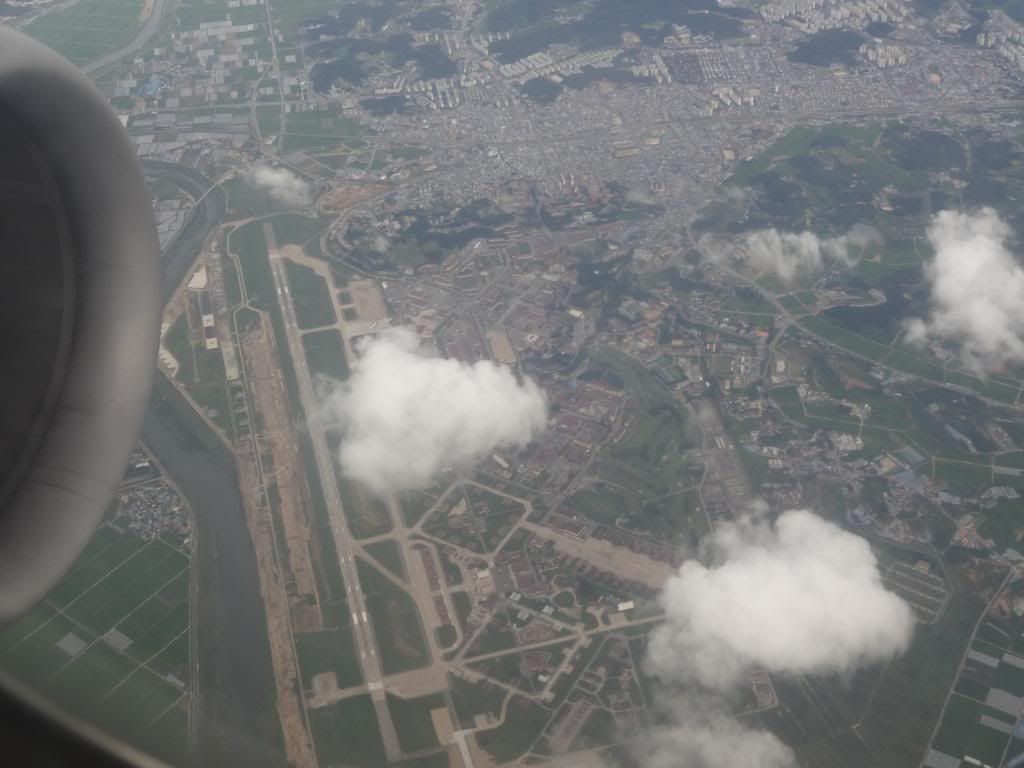 Skies were clear most of the way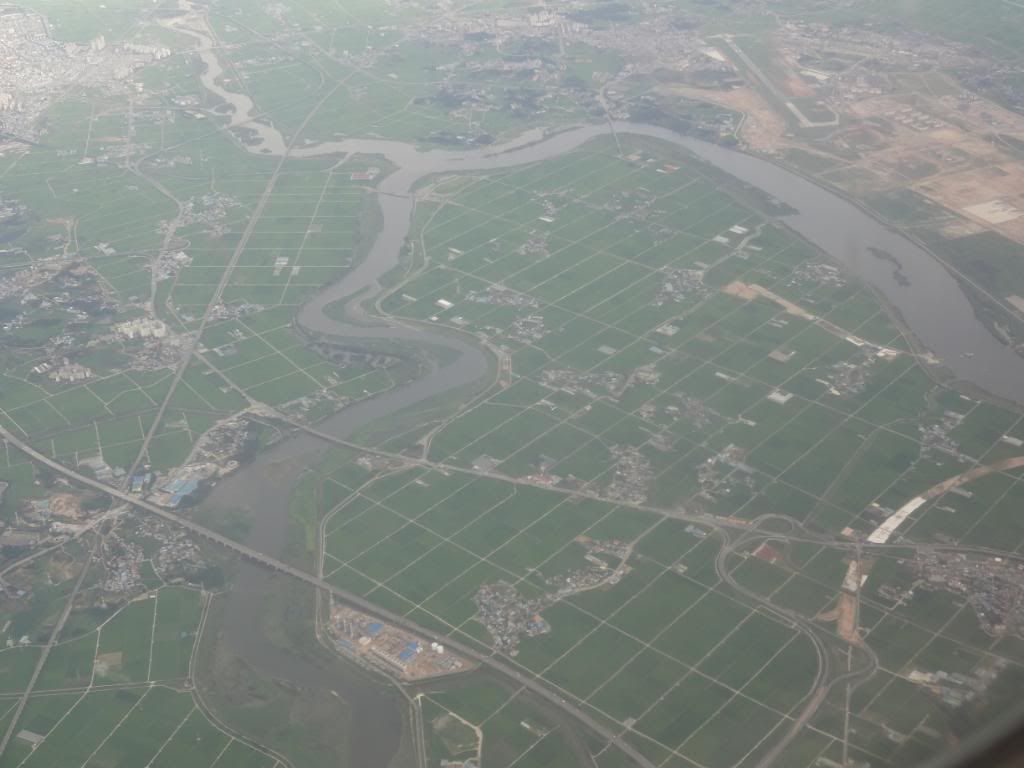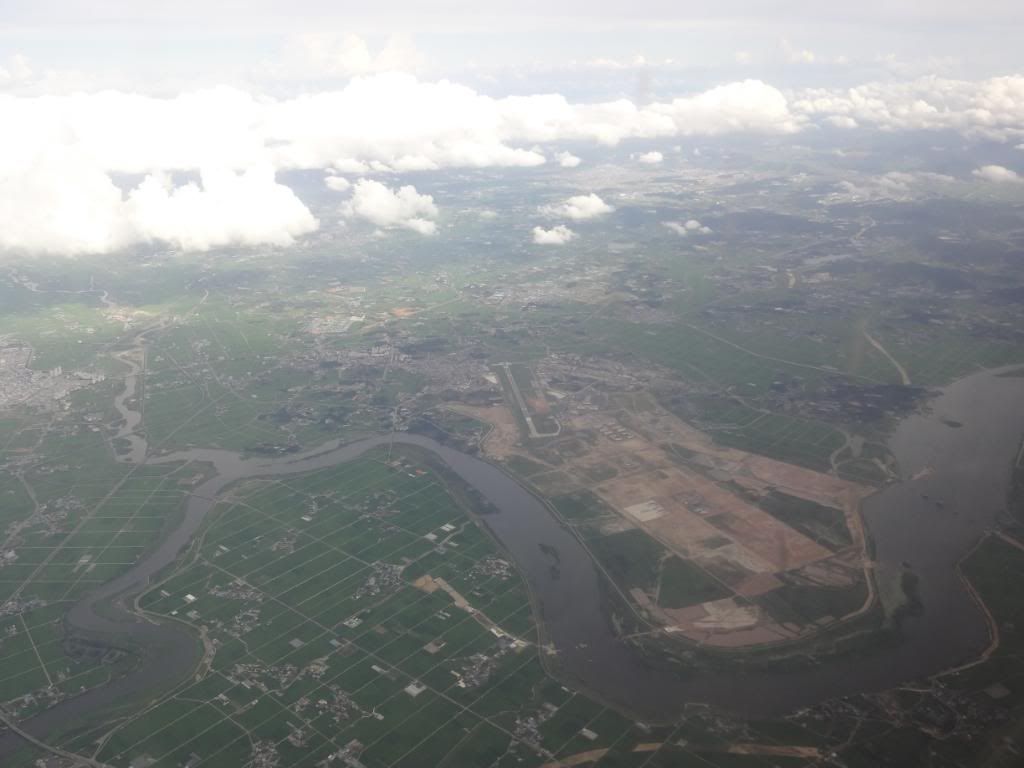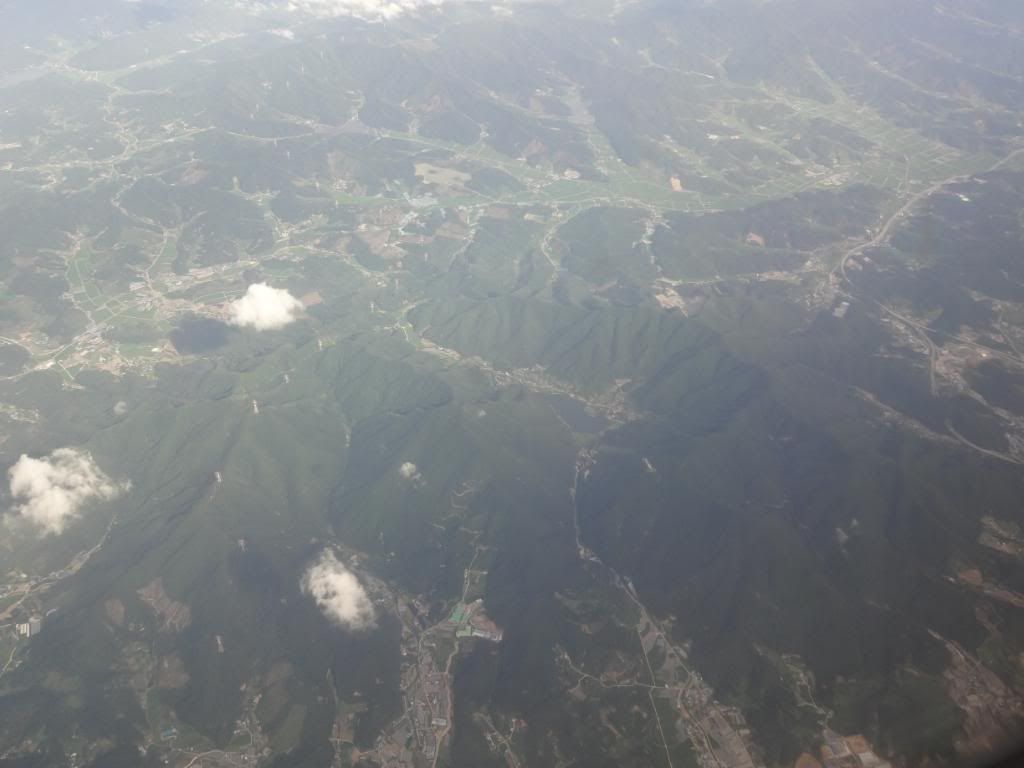 Another airfield a bit past halfway of our journey. Anyone?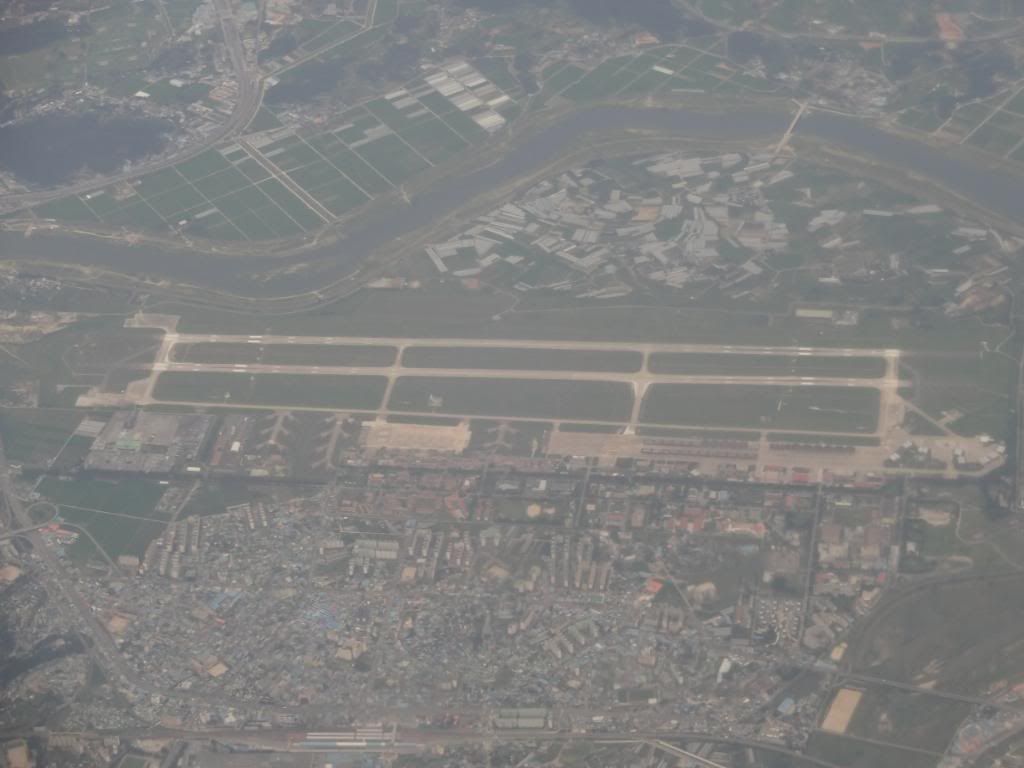 Upon landing at Jeju I get off and almost immediately and get back to the check in hall to check in. Once all is said and done, I get another quick bite to eat from a nearby 7-11. Before heading through security though, I decide to head outside the terminal for some fresh air and I snapped a few pics of the terminal building and control tower.
Arrivals level
Departures level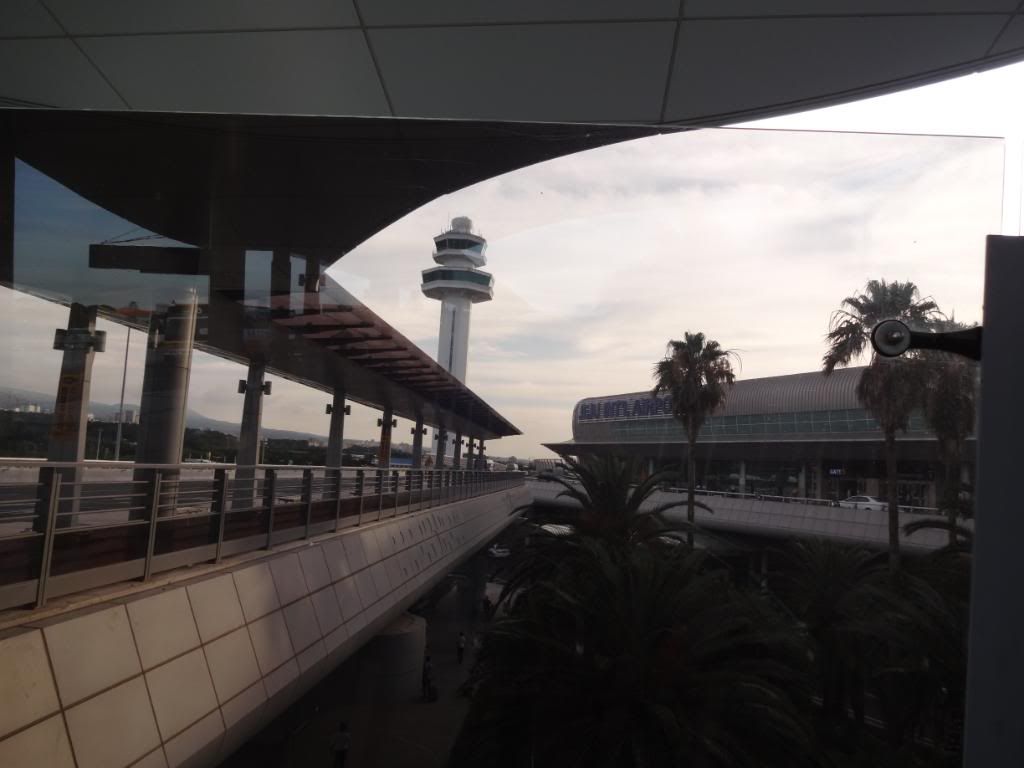 Once through security I came across an enormous duty free area. Is this Jeju or Heathrow?
I had a ridiculous amount of time before my flight left back to GMP at 21h10 so I decided to go in. I was not impressed at all. Nothing but perfume and jewelry. Not my cup of tea so I left. Instead I start to play with some of the settings on my camera since I'd only had it a few weeks. With the sun beginning to set, I was able to get some pretty good shots IMO.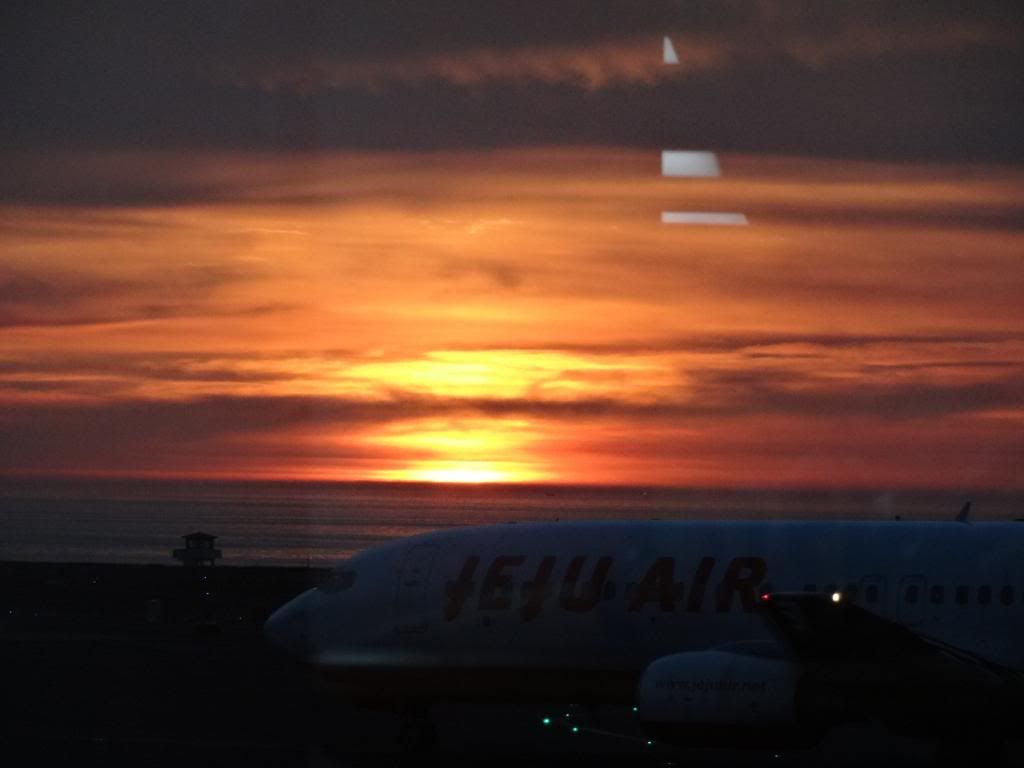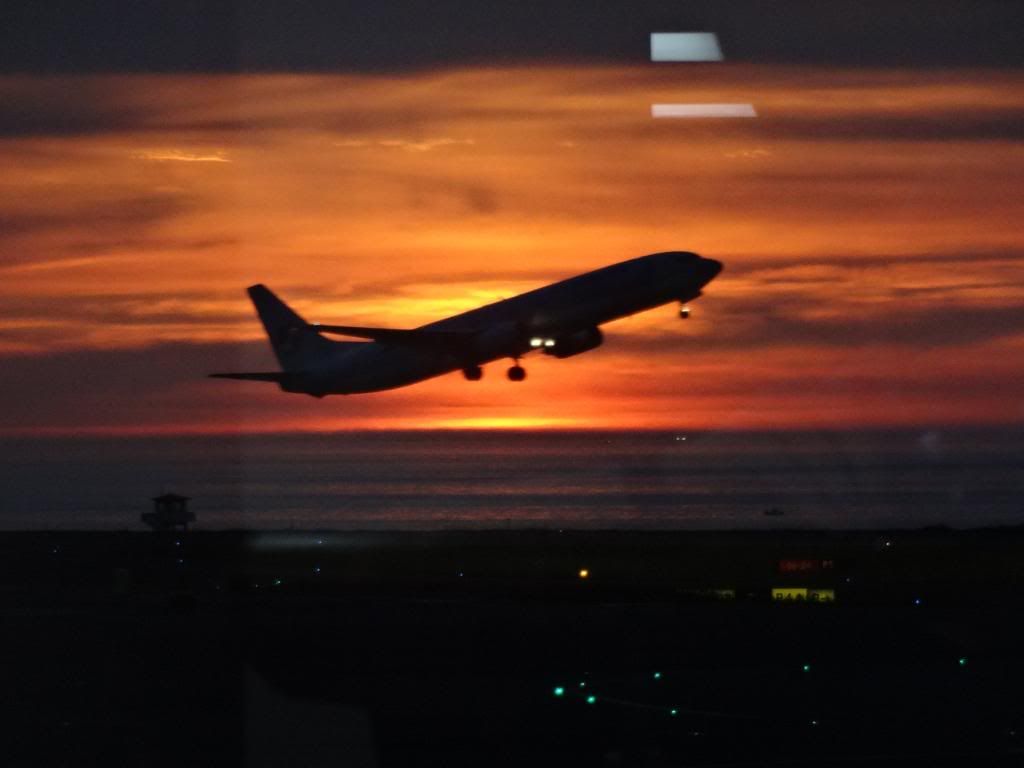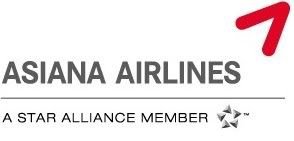 Date: Monday 23 July 2012
From: Jeju International Airport (CJU)
To: Seoul-Gimpo International Aiport (GMP)
Aircraft: HL7745 Airbus A320-232 (delivered new 2006)
Airline: Asiana Airlines
Cabin: Economy
Seat: 18A
My flight to GMP was slightly delayed about 10 minutes due to unknown circumstances and our gate was also changed from 7 to Gate 9.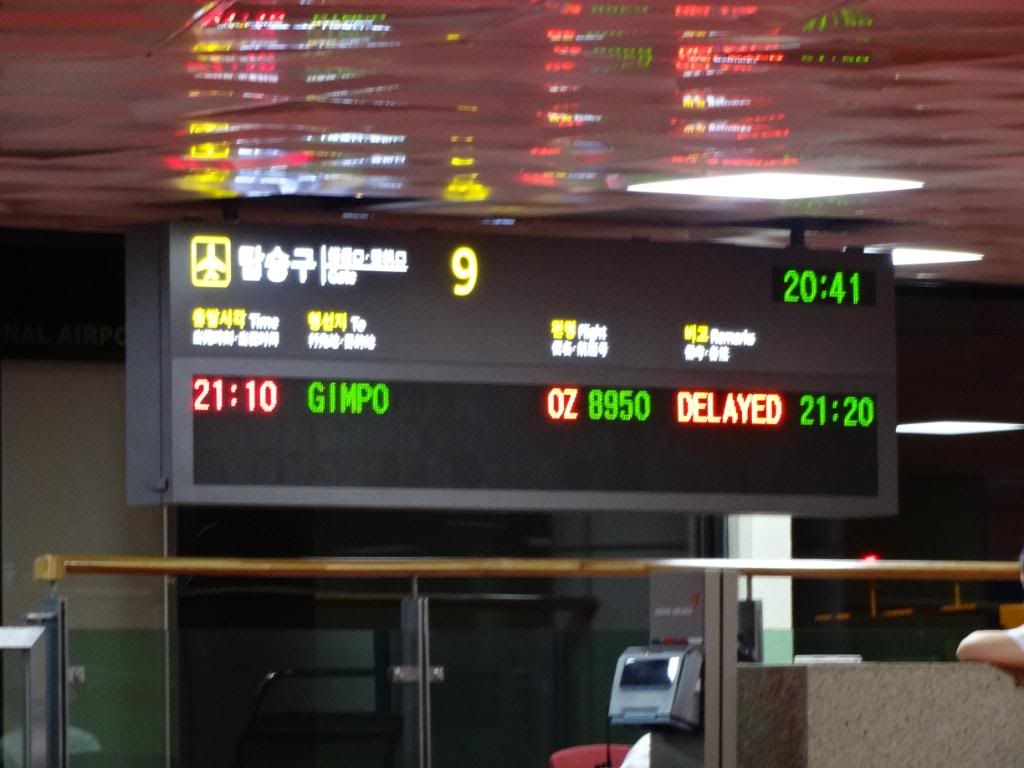 The aircraft arrived right on time but due to the darkness, the light from the terminal and the fact that I was shooting through glass, it didn't turn out so well.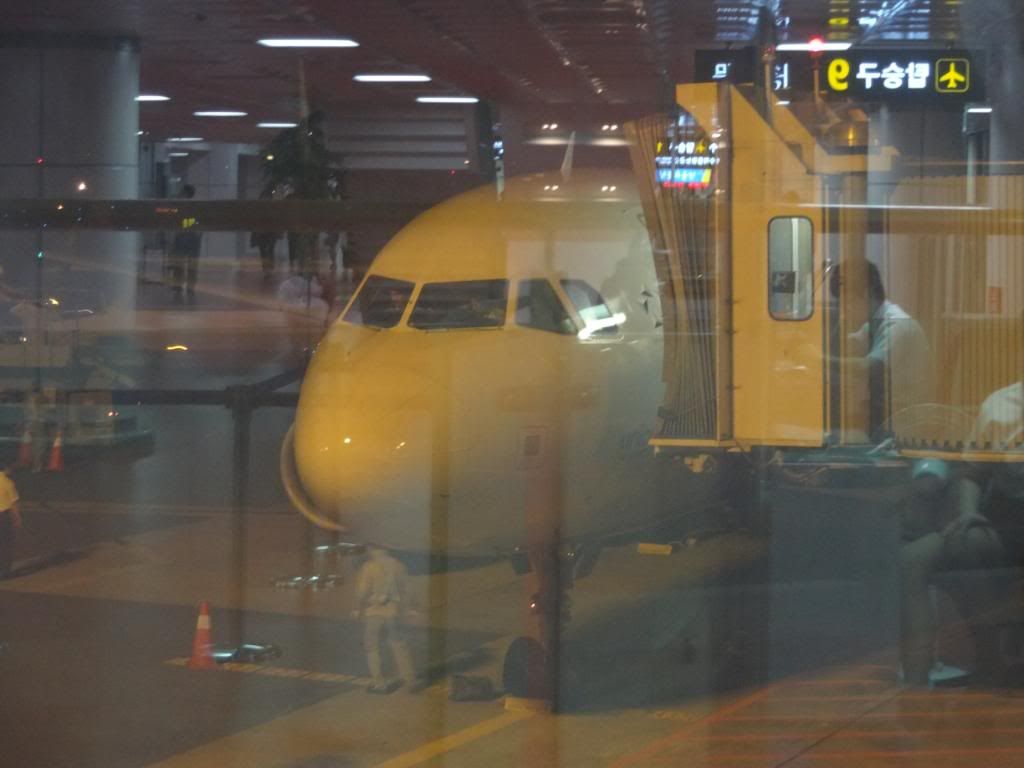 Boarding begins and we get on board with no hassle. I make my way to my window seat (18A) and realized that I have a new favorite airline. The legroom was AMAZING! I was able to stretch out almost to the point of my head being on my seat before I touched the barrier to the seat ahead of me. The seats were amazingly soft and everything was so CLEAN!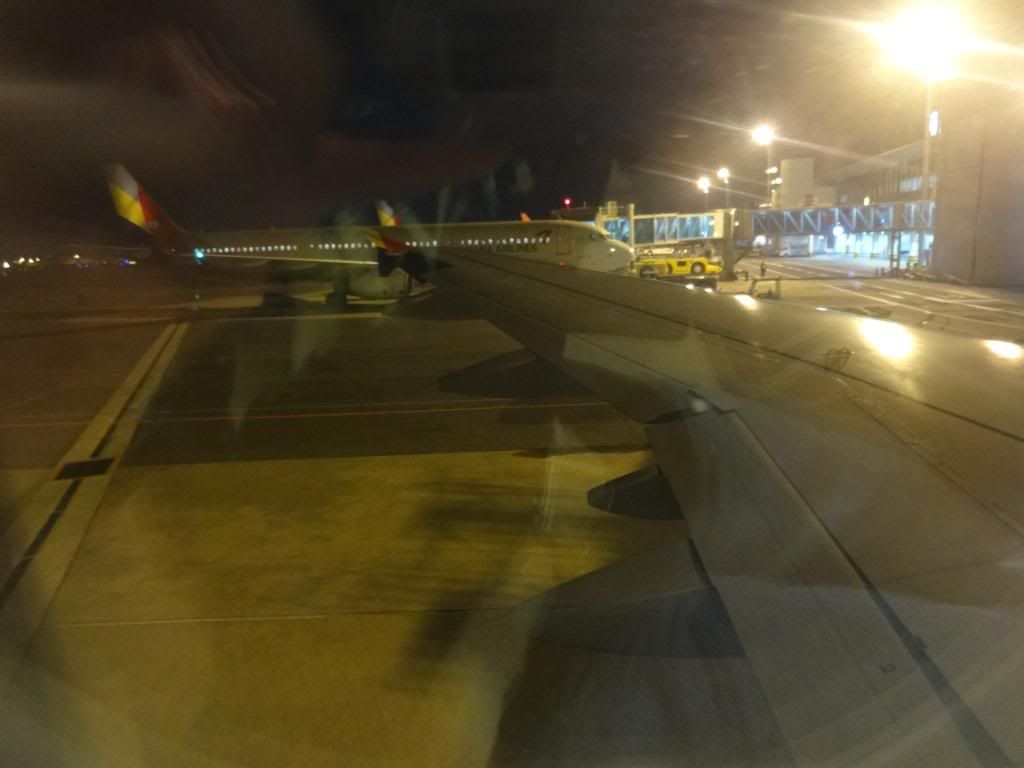 People boarding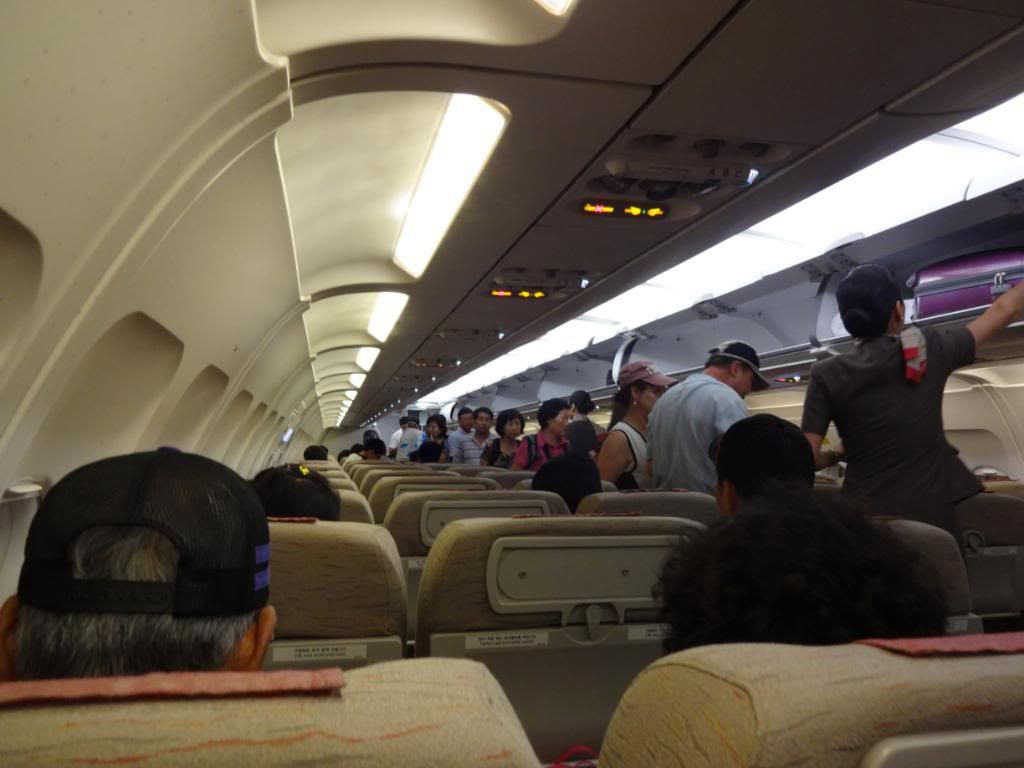 Pushback was only a few minutes late and we headed to the runway. No line meant no wait so we took off immediately. The flight was smooth and the flight attendants served drinks and walked through the cabin offering duty free items. The flight attendant uniforms at Asiana are so professional looking and their attendants were so beautiful it almost made me ashamed of what US carriers had to offer.
Anyways, we land back in Seoul right at on time and proceed to disembark the aircraft. At the late hour (22h25) the terminal is empty and we proceed downstairs where I walk past the luggage area and get on the subway line back home. This time I get the express train and I arrive back home well before the 01h00 curfew.
Final Thoughts:
Flying in Korea was all that I expected and more. The airports were easy to navigate, security was extremely simple and easy and whether you were at GMP, CJU or PUS it was standard across the board. Today was a big success since I was able to get 4 flights, 4 different airlines and 3 airports without a hitch. Also the fact that I was able to get 4 different aircraft types (735, 738, 736, A320) added further feelings of success.
Air Busan was a a good airline with ok seats, but beautiful flight attendants who really took pleasure in their jobs.
Korean Air had great leg room with beautiful flight attendants.
Eastar Jet had terrible leg room but great service from beautiful flight attendants
Asiana had amazing leg room with extremely comfortable seats and extremely beautiful flight attendants. I will definitely fly them again!
I hope you enjoyed my report and photos.
-Chris