On the weekend before the start of the 2012 Olympics in London there was a smaller event taking place in the British Capital which I wanted to attend. As it is a tad expensive to fly to London and back just for a single day I opted to stay a bit longer and have a look around the city (which I anyway wanted to visit some time). So I looked for flight outbound on friday morning and back inbound on monday evening. I ended booking two British Airways flights Stockholm(Arlanda) to London CityAirport and back London Heathrow to Stockholm again. Equipment would be an Embraer E170 for the outbound and a more simple Airbus A320 on the way back.
Despite being a simple layout this trip would give some new things for my log:
a new airline (British Airways)
a new type (E170)
two new airports (LHR and LCY)
LcY ... LCY ... somehow always the name "Lucy" comes to my mind when reading the code for LondonCity ... Oh well ...
About a week before I departed on my trip I got an email if I would like to upgrade to Business Class as they would have special offers. Hmmm ... my outbound would cost about 480EUR to upgrade ... no thanks ... but the inbound from Heathrow was less than 90€ to upgrade from my discounte Economy to Business ... That was an offer I could not refuse ... finally my first flight in Business including all the extras like lounges and fast track lanes
As I wanted to maximize my time in London I had booked a very early flight out of Stockholm which also meant I had to leave home even earlier. After a very short night I took my car to ARN (as there are no trains running that early). I arrived well in time, occupied my prebooked parking spot and went up into terminal 5 for checkin which went pretty fast after the one behind the desk had refilled the paper in the boarding card printer. I headed through security and through passport control in quite a short time to end up in the "F" pier of Arlanda which handles the non-Schengen flight - and by that also the ones to the UK.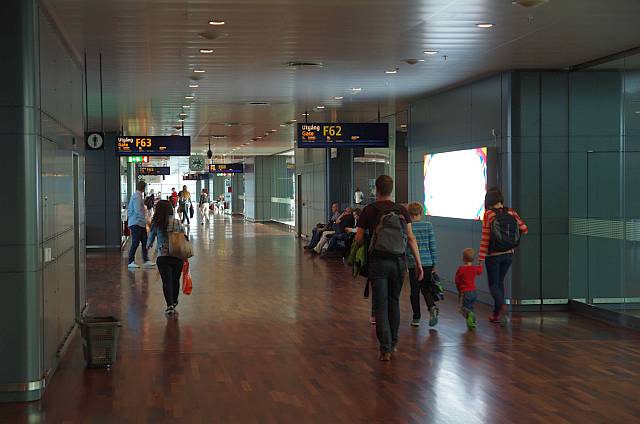 My flight to Lucy ... argh ... LCY would leave from gate F61 this morning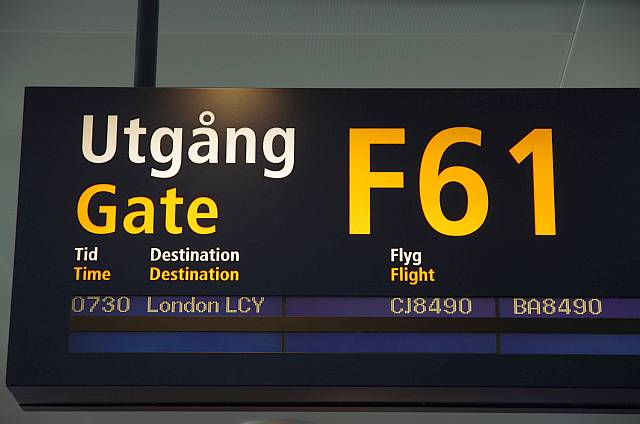 not really that many passengers waiting here ... but OK, there is still some time left before boarding starts
At least our crew is arriving now ...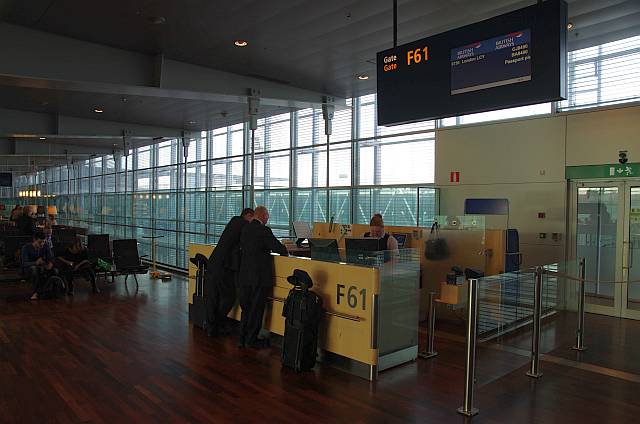 I hear something of around 20 passengers on that flight (later I count 22) which is a pretty light load for a 78 seat aircraft I would say. We start boarding some minutes late but with so few people to get in its no problem to finish in time.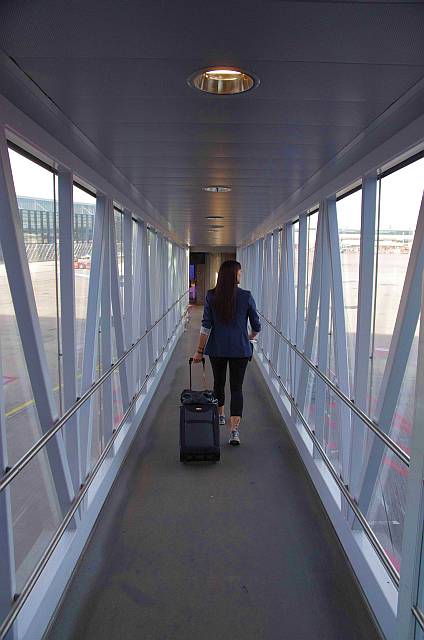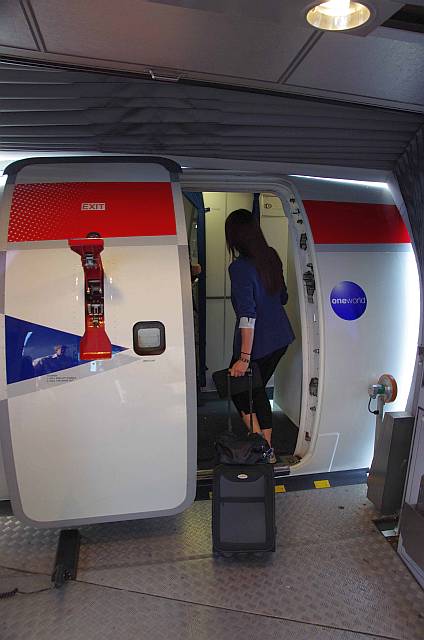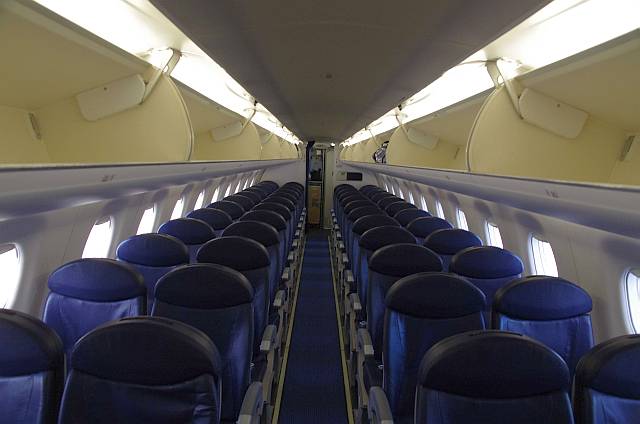 I settle down in my seat at 08A which provides a decent but not great legroom for someone of my size.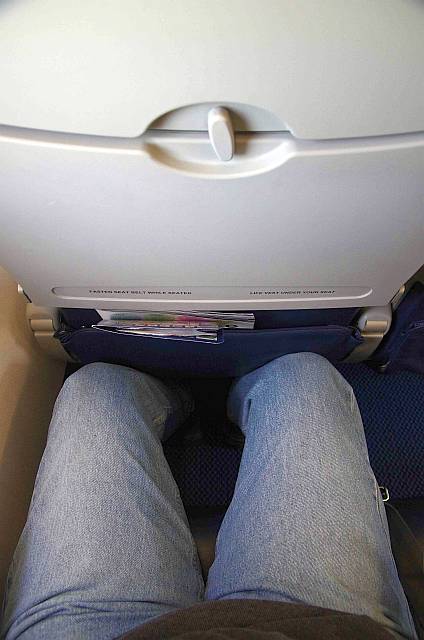 but due to the light load the seat beside me stays empty so that provides a bit more space for me.
We soon start our pushback right after the BA A320 beside us which is going to LHR ... there even was a Norwegian to LGW on the other side of us. The had placed three flights to London leaving within 25min beside each other ... just wondering if that maybe sometimes causes confused passengers ...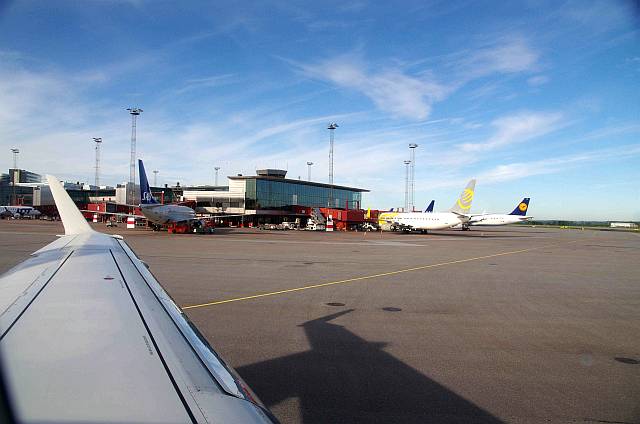 Taking off on 19R we passes Stockholm and some swedish landscapes
Soon breakfast was served with some fruits, joghurt, a bread roll, jam and orange juice ... plus coffee or tea (I opted for the second) ... I liked it - just that stupid cup with the fruits flooded my table while opening ... grrr
I think its pretty decent meal for a relatively short intra european flight.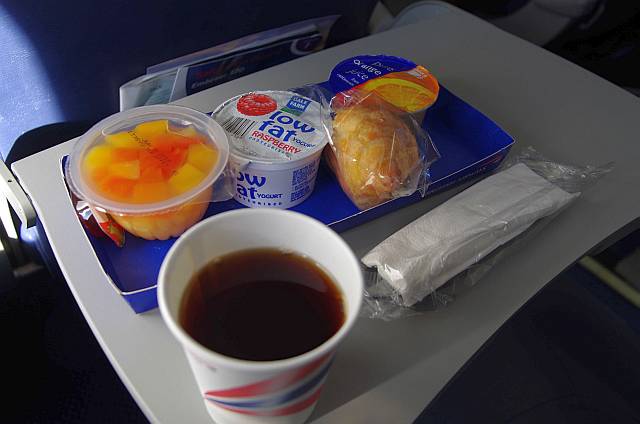 After the breakfast had been cleared away (the overly active stewardess already wanted to take it ways when I was just finished half of it) I could relax a bit and get some shuteye using the diagonal approach (thanks to the empty seat beside me)
After some relaxing (very much needed after the short night before) we started the famous descent into LondonCity ... passing some harbour areas (sadly we got the approach from the east and not passing the center on the west of the airport)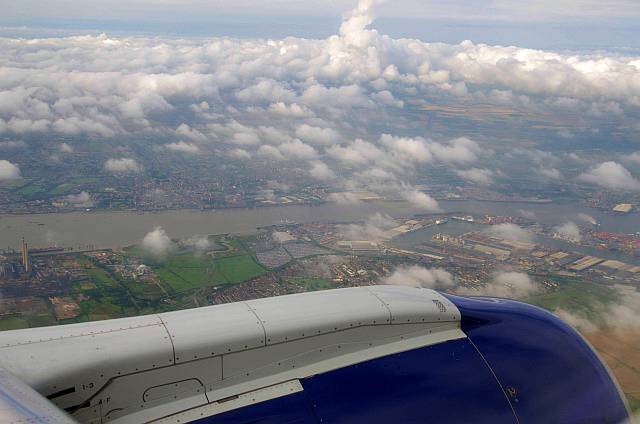 ... getting closer ...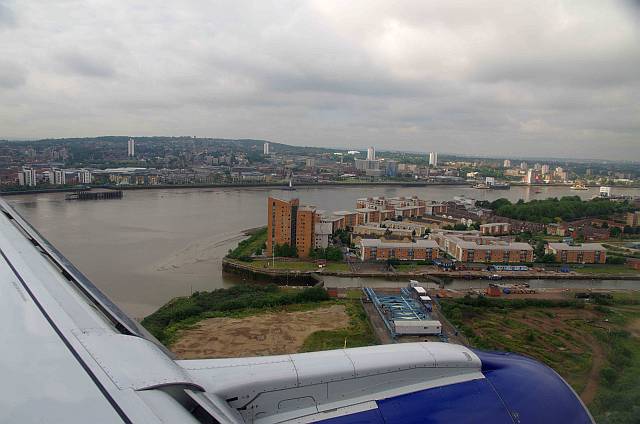 Someone had to wait for us in the holding area
hmmm ... looks like Swiss is leaving the Lucy for now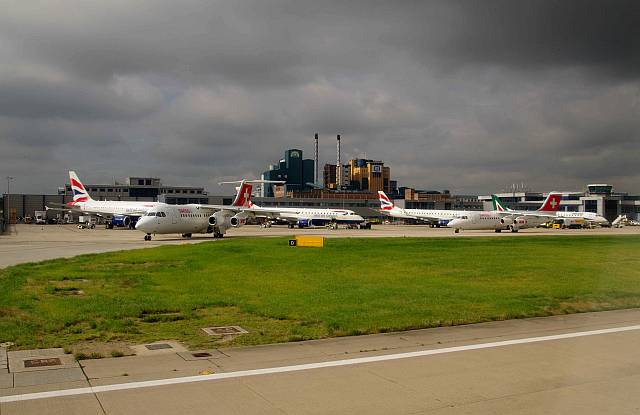 nice one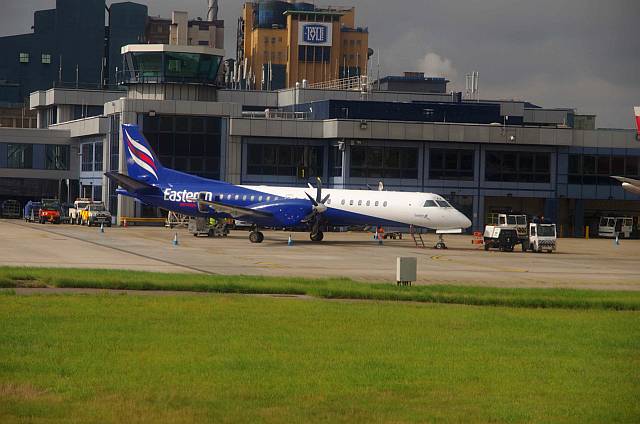 Airport or just Port ???
it's really impressive how many planes they squeeze on this small apron area ... WOW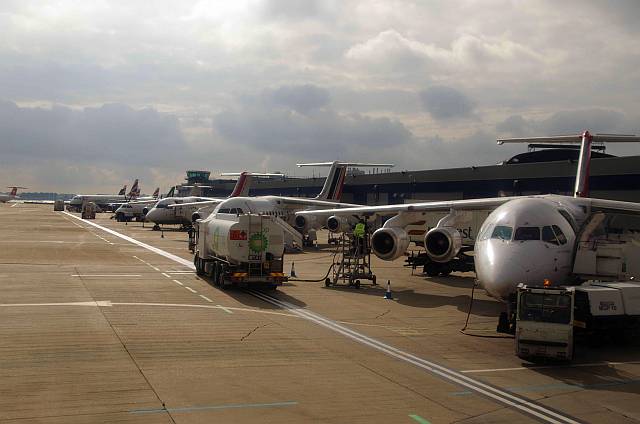 deboarding was just via stairs and then walking across the tarmac to the terminal (which is not really far away anyway)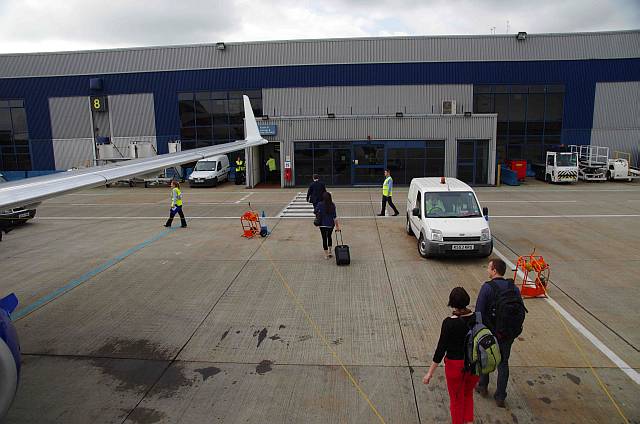 I like that they use the "LCY" in the plane registrations ... LCYF ... LucyFer ... plane of hell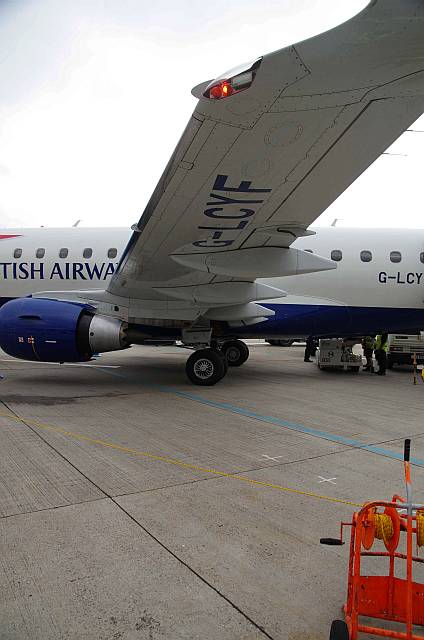 Tails ... tails .... tails .... tails ... tails ...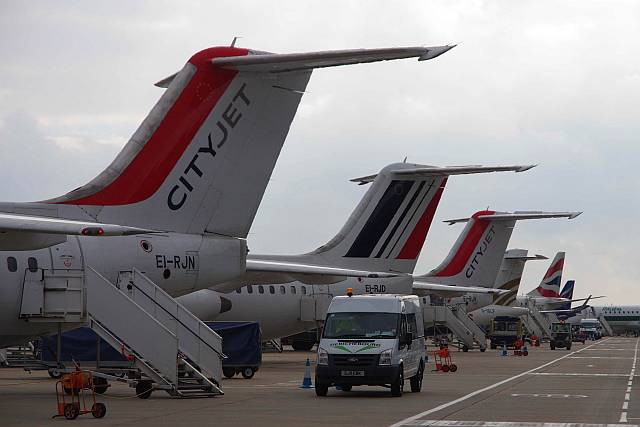 did we really need two stairs for 22 passengers ... oh well ...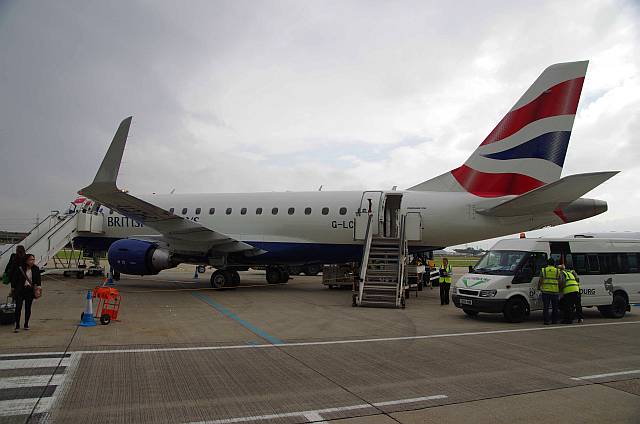 another beauty as seen from inside the terminal
Passport control was over very fast and soon I could collect my suitcase and walk through customs.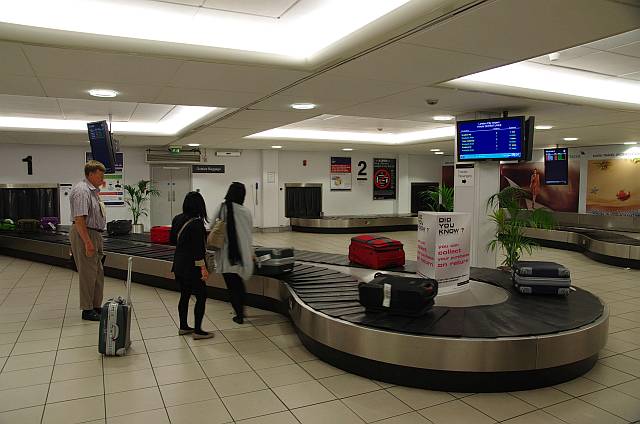 After a short look around the terminal ...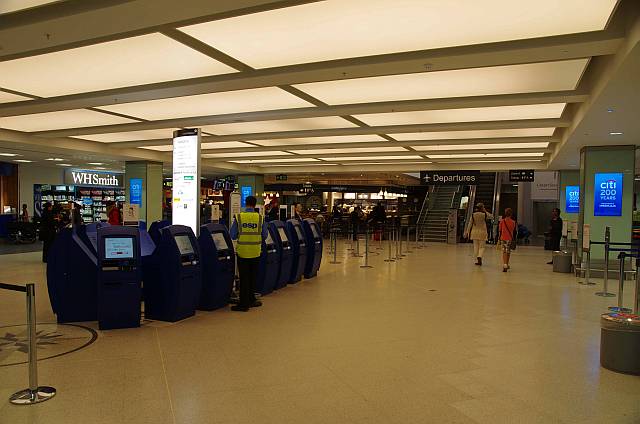 ... I bought an Oyster Card for the public transport and went up to the DLR = Dockland Light Railway to proceed into town for some awesome days in London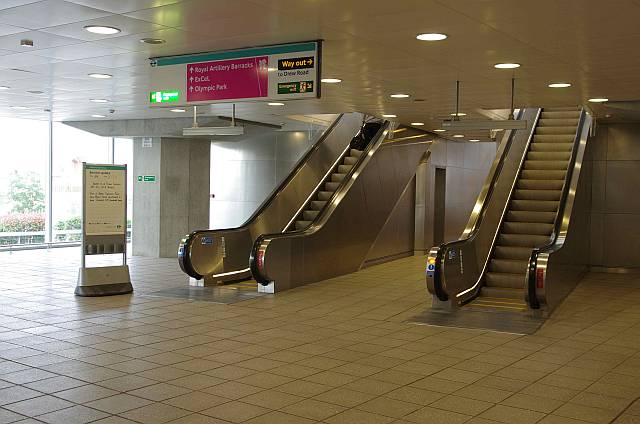 ============================================================
============================================================
On Monday afternoon I squeezed myself into a totally packed underground on the Piccadilly line to bring out to LHR T5. London was not as full with tourists as I had expectd but this train was totally crowded. It dropped me off in the basement of T5 and I made my way up to the departure level ... I have to say I like this open layout in T5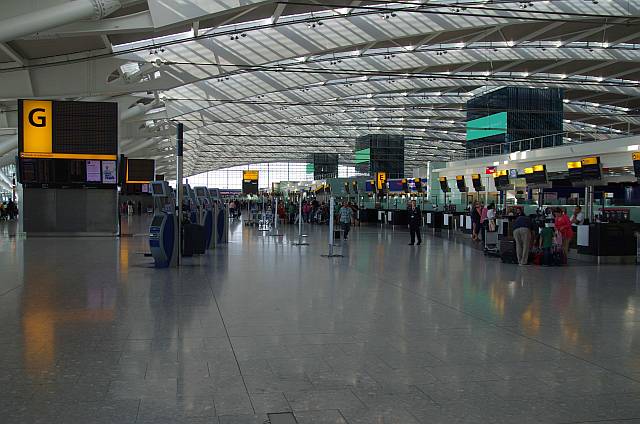 As I was a business (or in BA words "club europe") passenger I could use the special section H for Check-In ... nice to have no line at all in front of you for checking in at an airport of that size.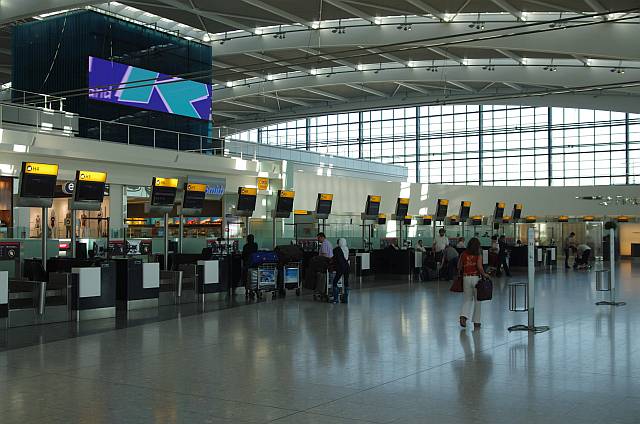 The nice lady behind the counter was a bit confused when I could not tell her my flightnumber (had forgotten it) ... she even had to ask her colleague at the counter beside for the airport code of Stockholm (=ARN). Then she could check me in ... at least she tried. First the printer for the boarding pass jammed and I only got a slightly bended version after she rescued it from inside the printer ... then the printer for the luggage tags also jammed and only produced high screeching noises. After some work it got finally convinced to print that tag for my bag and so I could continue to have a look around LHR. My first way led me outside to do a bit of spotting: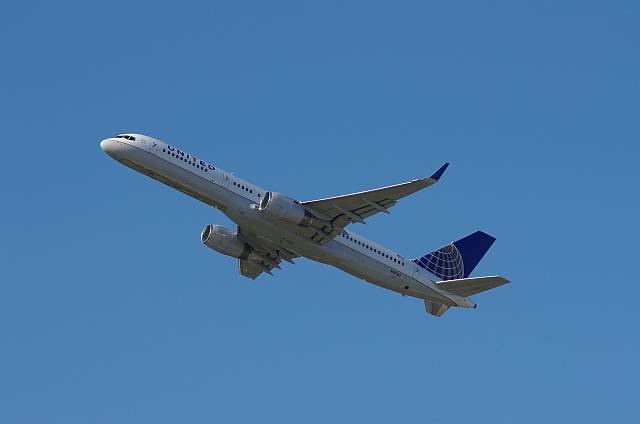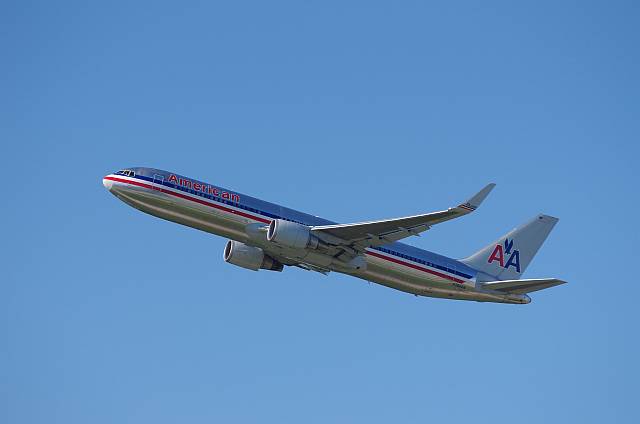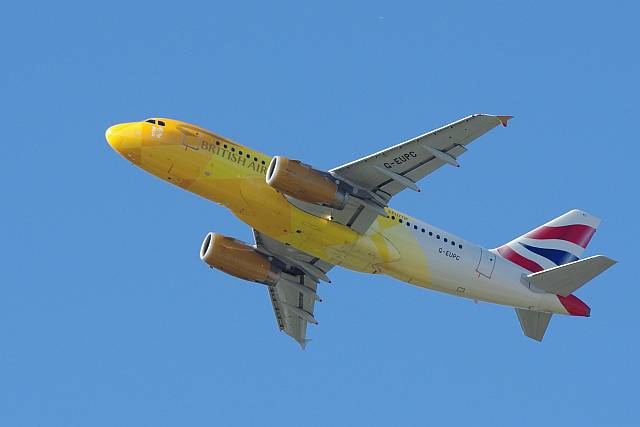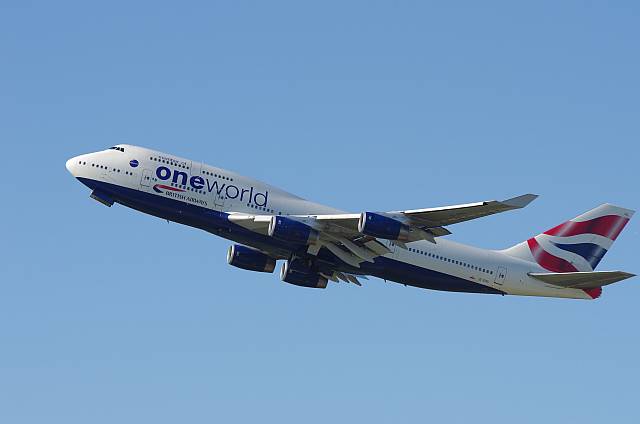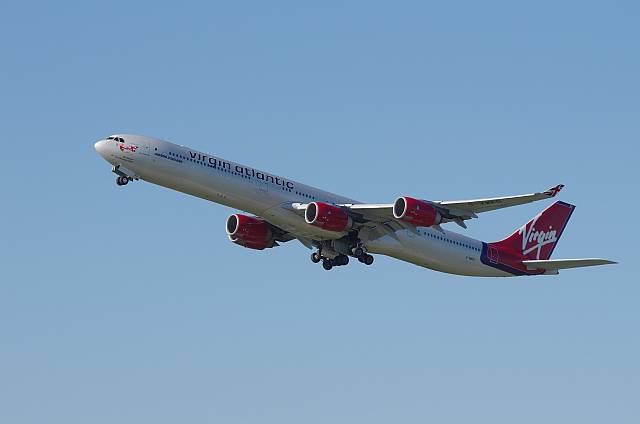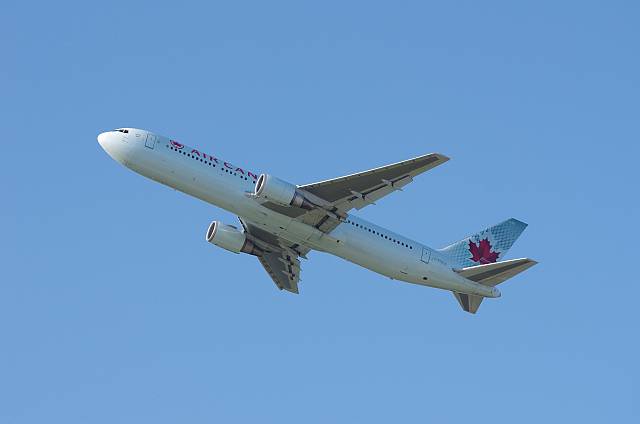 It was time to get back in as I wanted to use my lounge access ... also to get some dinner there as it had gotten pretty late now.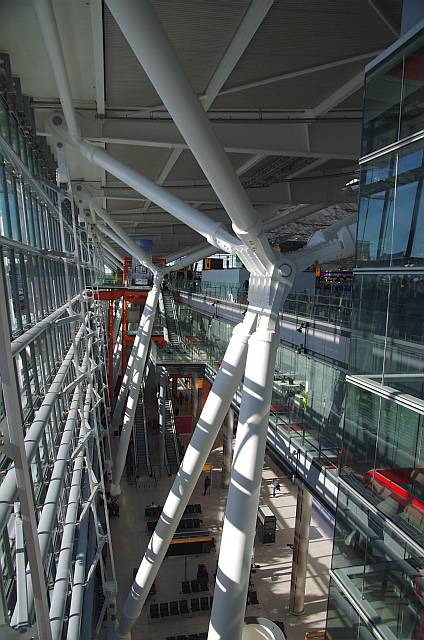 Fast track security ... another bonus of my business class ticket ... just three people waiting in the line before me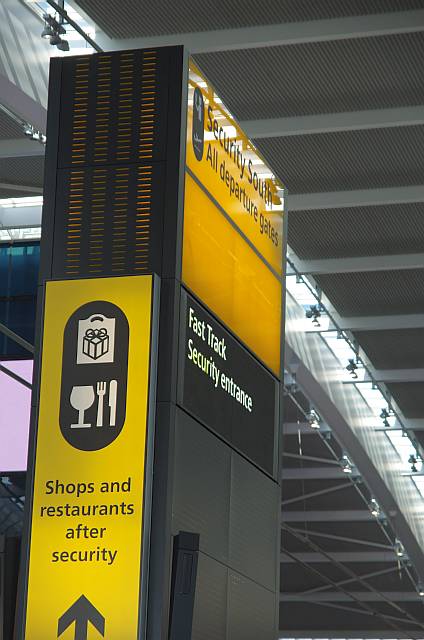 once airside ...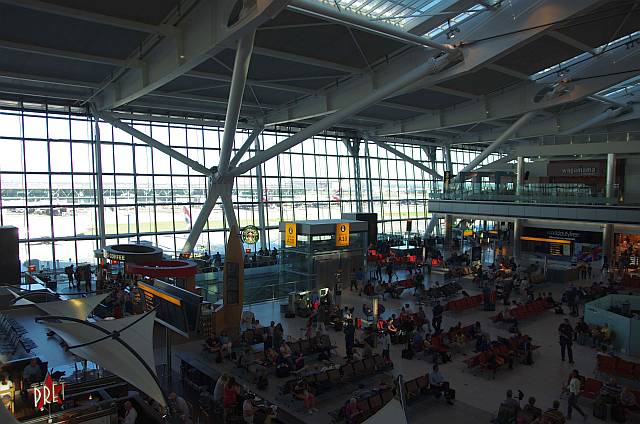 ... I headed into the North Gallery Lounge (which gave me a view of the departing planes at that time)
Drinks selection (hot, cold, wine, ...)
food selection with more drinks (soft drinks and beer)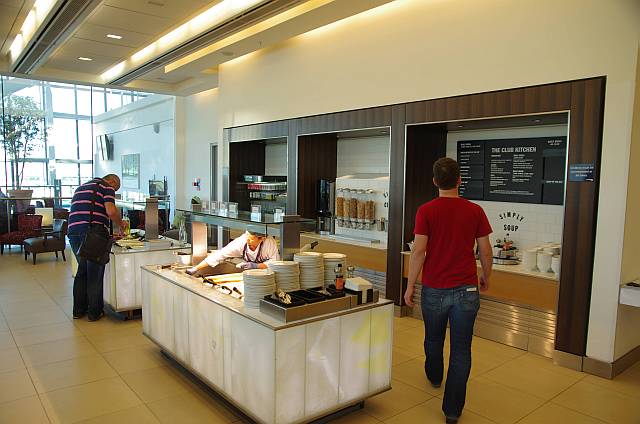 The lounge was pretty full but that was expected at such a good time for business trevellers leaving London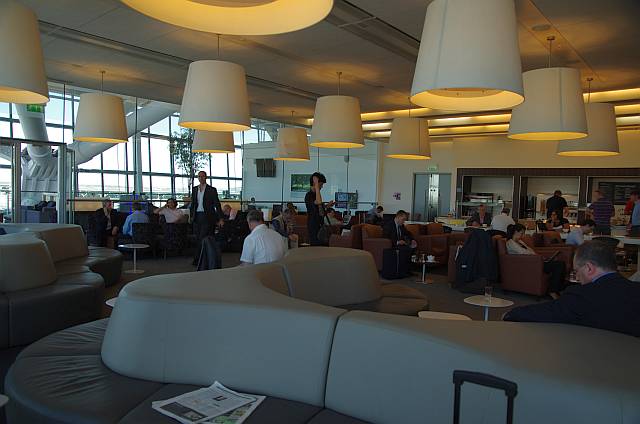 I settled directly in front of the window in order to have a good view outside while eating my chicken curry and a backed potato.
Sadly they had two glass screens so the photos didn't turned out too good but anyway ...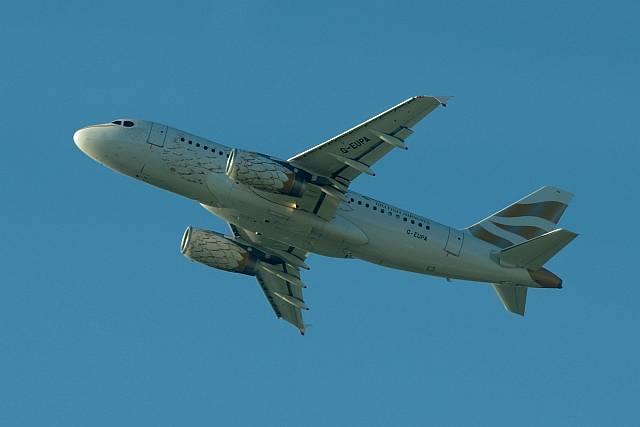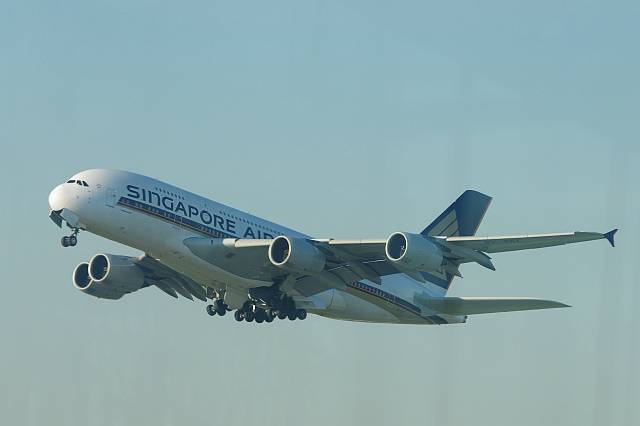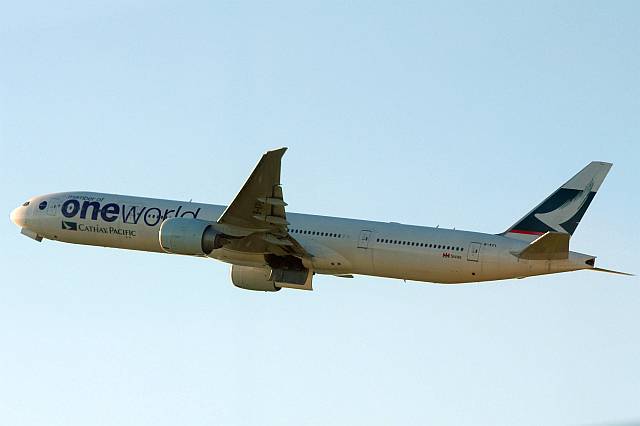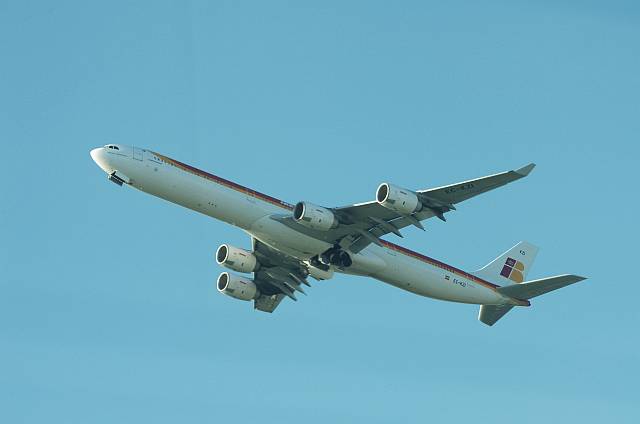 after some more coke's and orange juices finally my gate was announced and I made my way down to the departure level and to the center of the terminal.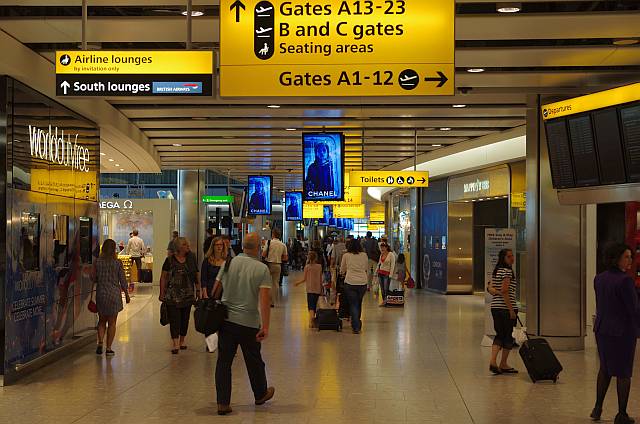 Gate for our flight to Stockholm this evening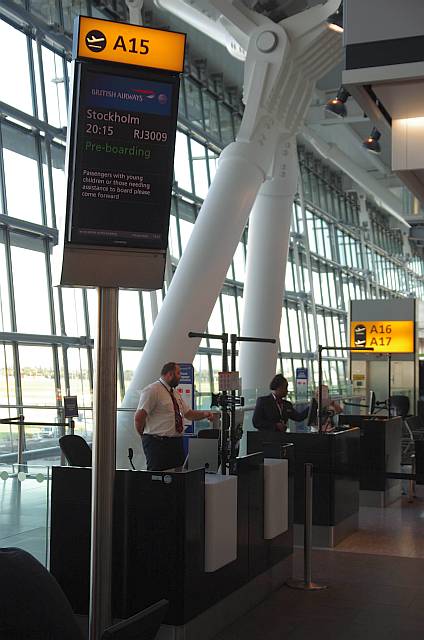 not long after boarding was announced for families with small children first and then for everyone (business and card holders via the fast lane)
approaching my first ever flight in business on G-EUYL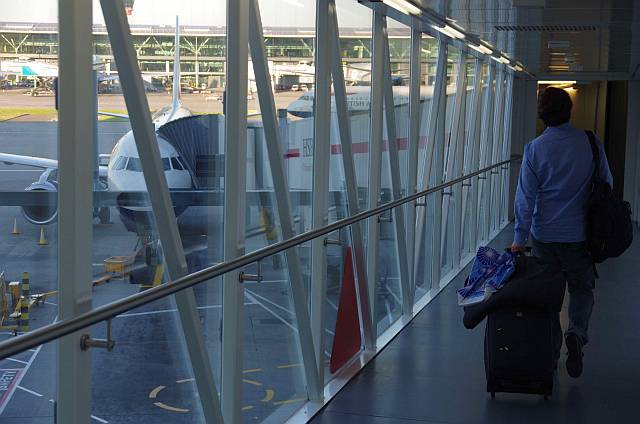 and boarding ... then right into the aisle ...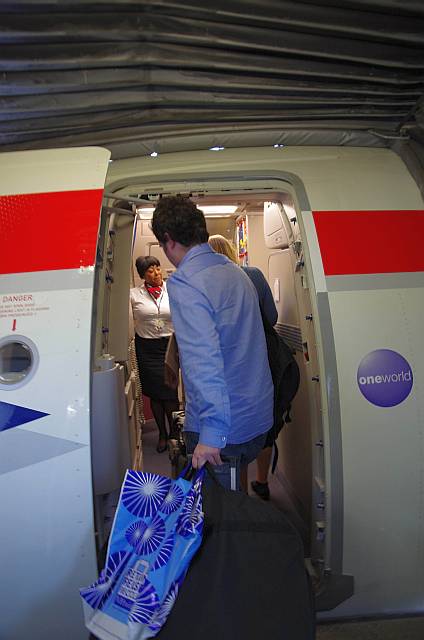 ... and another sharp right into 01A (just had to get that number once)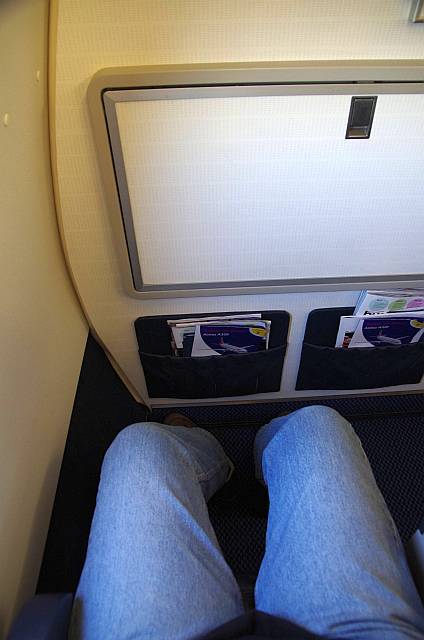 pushback was well on time with quite a good load in economy and maybe 50% in business (I had the whole 01ABC for myself)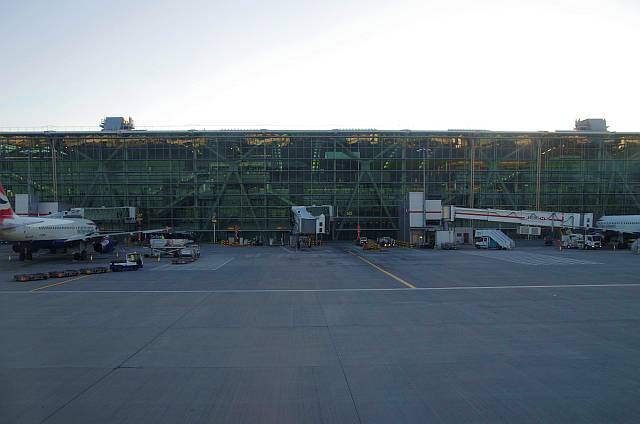 on our way to the runway I did a bit more spotting ...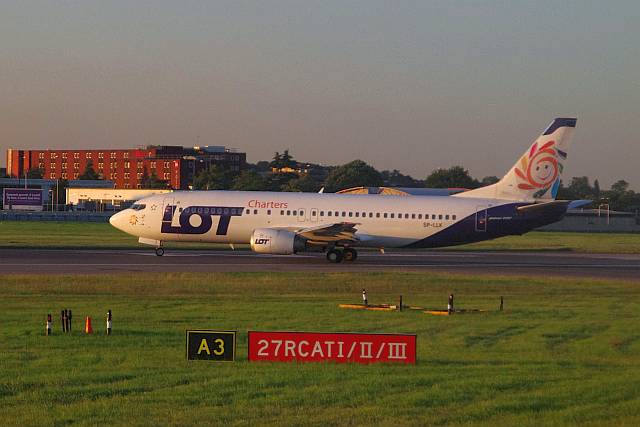 in one fluent movement we turned on the runway and started accelerating ... I think that timing is needed with such an amount of traffic like at Heathrow ...
central terminal complex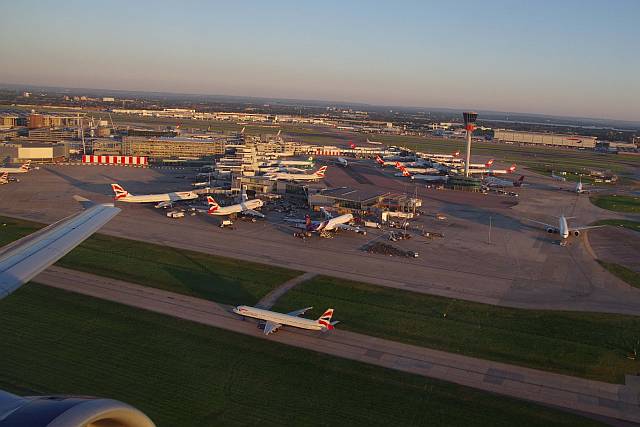 and a view down on T5 and the BA fleet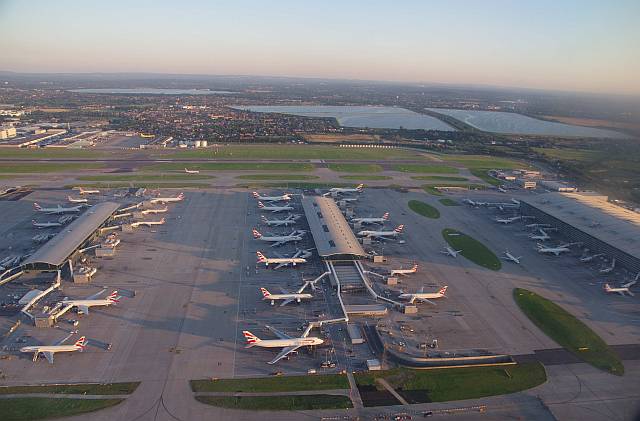 after takeoff we passed by windsor castle ...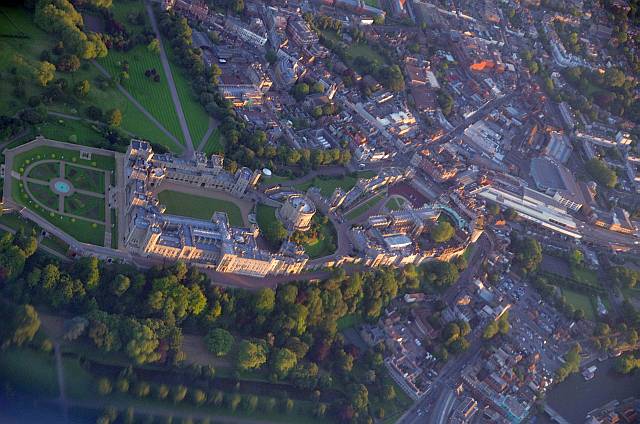 ... before a first set of a drink and some ceshews/almonds was served.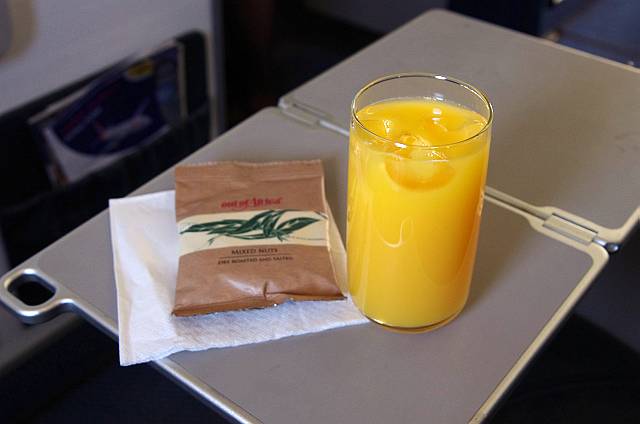 a bit further into the flight (somewhere over the north sea) we got dinner ... choices were either some lamb or chicken tikka masala (thats what I opted for as I just simply like that dish)
yepp ... looks a bit nicer than the economy setup
... and it looks even better in combination with this view out of my window ...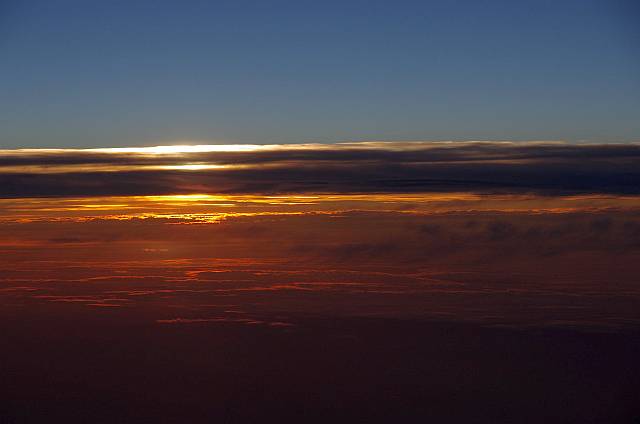 ... while crossing the north sea.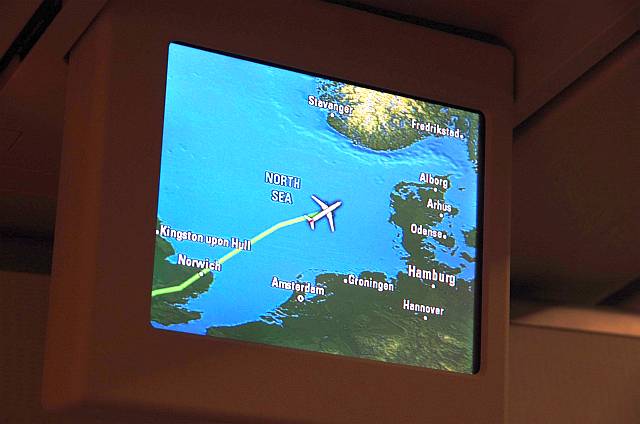 funny ... sometimes our map service claimed to be a flight simulator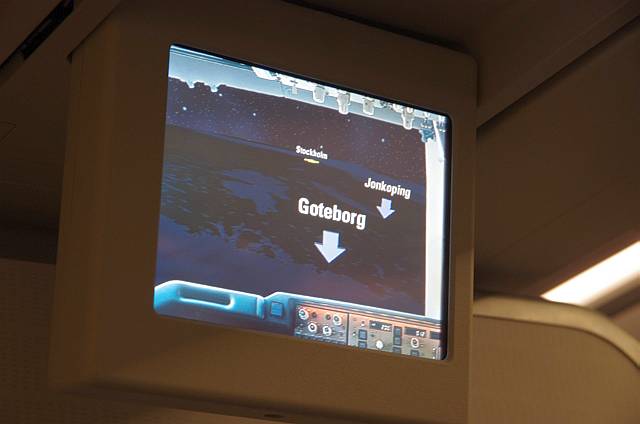 After dinner I just relaxed ... enjoyed some more drink brought by a very nice middle aged purser ... she was really great and funny ... best flight personell I had in a loooong time.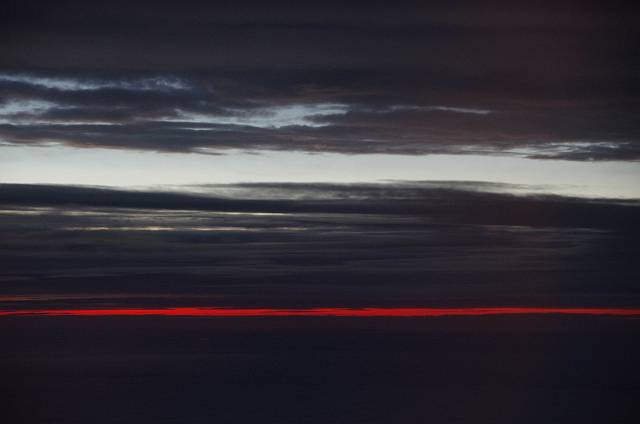 with about 100km/h tailwind we arrived about 20min early in Arlanda where I thanked the crew for that great flight and left the plane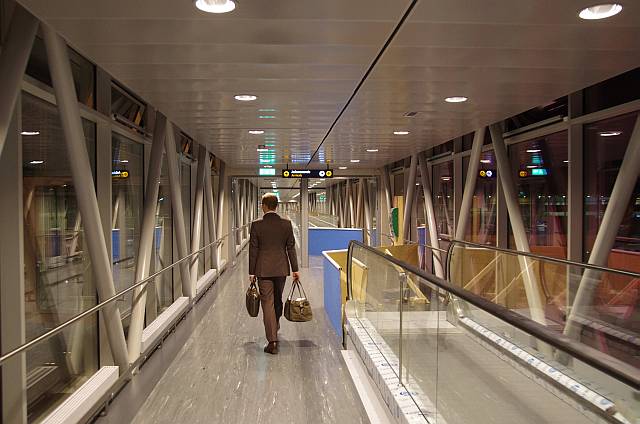 we got up to the arrival hallway on escalators that had been switched off (damn you Arlanda)
Thanks for the nice experience G-EUYL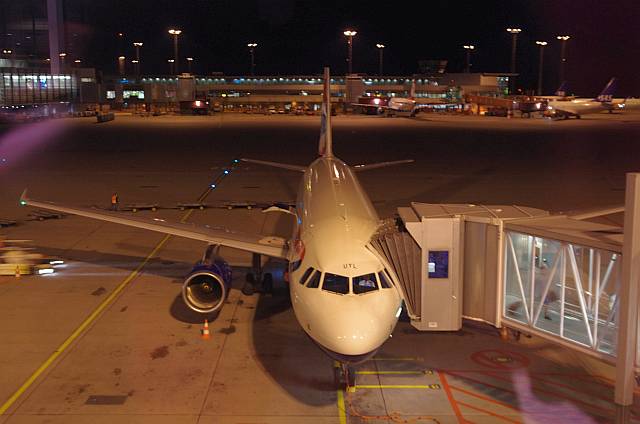 on the way down to passport controls and baggage reclaim again two switched off escalators (damn you again Arlanda)
even such a large airport can get pretty creepy around midnight ...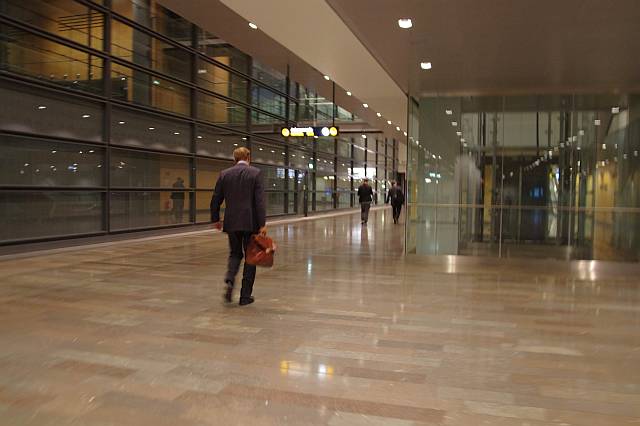 I collected my bag (which was one of the first to come out) and made my way back to the car for my drive back home through the night.
============================================================
Conclusion:
British Airways did a nice job that weekend. A nice but more standard flight to Lucy ... ehhmmm ... LondonCity and an exceptional flight from Heathrow back to Arlanda ... not only because of the first time I was flying business class but also because of the great team on board ... I will definitely fly BA again in future.London was also a great experience and I would have liked to stay some days longer but I will maybe just come again when all the Olympics hassle is over.
Thanks for reading and please leave some comments
PHILIP
============================================================
my other reports:
MUC-AMS-LPI And Back On KLM
(by
photophil
Jul 11 2011 in Trip Reports)
NUE-ZRH-NCE And Back By Swiss
(by
photophil
Jul 4 2011 in Trip Reports)
LPI-AMS-CDG On KLM And AirFrance (long)
(by
photophil
Jul 4 2011 in Trip Reports)
CDG-AMS-LPI On AirFrance And KLM
(by
photophil
Jul 5 2011 in Trip Reports)
Tatl On KL And DL - Part 1 - LPI-AMS-JFK
(by
photophil
Sep 24 2011 in Trip Reports)
Tatl On KL And DL - Part 2 - JFK-CLE-MSP
(by
photophil
Sep 25 2011 in Trip Reports)
Tatl On KL And DL - Part 3 - MSP-AMS-LPI
(by
photophil
Sep 25 2011 in Trip Reports)
Two T-Tails Across The Baltic Sea - ARN-HEL-ARN
(by
photophil
Sep 24 2011 in Trip Reports)
The Non-Trip-Trip-Report ... MUC Behind The Scenes
(by
photophil
Dec 14 2011 in Trip Reports)
SK MD-82 Between CPH And MUC And A Jump To Kai Tak
(by
photophil
Jan 9 2012 in Trip Reports)
Visiting "the Old Berlin" On KLM
(by
photophil
Jan 21 2012 in Trip Reports)
Hunting Aurora 1: Diversion On SK And A Bumpy WF
(by
photophil
Feb 24 2012 in Trip Reports)
Hunting Aurora 2: Lights In The Sky And A VIP Taxi
(by
photophil
Feb 27 2012 in Trip Reports)