Welcome to part three of my June-July 2012 summer trip to India. This part includes the return, which I was especially looking forward to, since it would have my first flight on Etihad Airways, and my first flight on the Boeing 777-300ER.
Thanks to
www.gcmap.com
Why did I want to fly EY? Well, the story starts in July 2007. We just landed in DEL on AA 292 from ORD, and in the gloominess and darkness of DEL, I saw an A330 that said "ETIHAD" across the body. I had seen a few pictures of the relatively young airline on airliners.net, but I had never seen it in person. It looked luxurious, so since then I had been determined to try it. (In my jetlagged and tired state, I thought it was a 777-300ER that had winglets)! Only later did I realize.....two engines....widebody.....winglets.....oh yeah, it's an A330!
Here are links to the first two parts of my India trip:
Part one: FSM-DFW-LHR-SIN-MAA on MQ, BA, SQ (A380), and AI:
FSM-MAA On AA,BA,SQ, And AI (lots Of Pictures!)
(by
kann123air
Jul 6 2012 in Trip Reports)?threadid=220972&searchid=220972&s=MAA#ID220972
Part two: MAA-DEL-MAA with a short stop in CJB both ways on IndiGo:
MAA-DEL-MAA On India's Coolest Airline: IndiGo!
(by
kann123air
Jul 19 2012 in Trip Reports)?threadid=222088&searchid=222088&s=MAA#ID222088
....and here is part three. After a month long vacation in Chennai, we headed to MAA late in the night on June 30th to catch the 5 am EY flight to AUH. Here are some pictures around MAA.
Checking in after arriving in MAA. Local time is about 1:20 am. This same counter just checked in 9W 226, which flies MAA-BRU-JFK. That probably would have been an easier way to get back to the USA, but I wanted to try EY!
While checking in, I looked at our boarding passes for the AUH-ORD segment. It listed our seats as 41 ABC. I was confused, since on aa.com I selected seats 20 HJK (I booked the flight as AA 6008). It turned out 41 ABC was right next to the galley, which I didn't like at all. I was frustrated with that aspect of EY.
We soon proceeded through security, and I walked around taking pictures while my parents were sleeping away. My aviation interest never dies at airports, no matter what time it is!
CX A330-300 shortly before pushing back to HKG: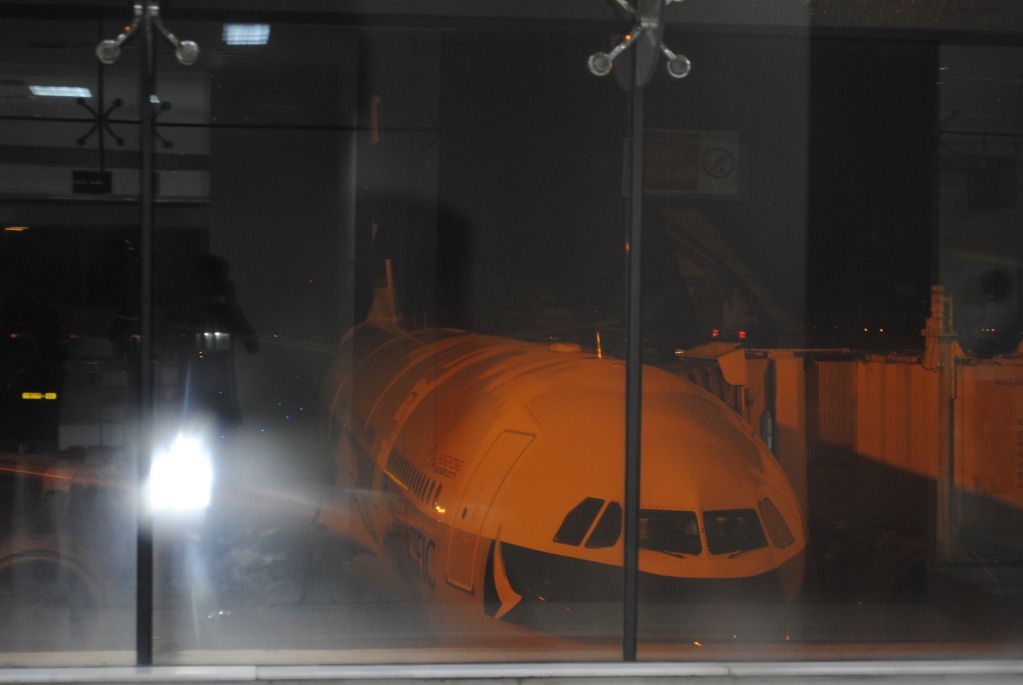 This was one thing I was jealous about. EK can fly a 777-200 MAA-DXB, but EY can only operate an A320? Why?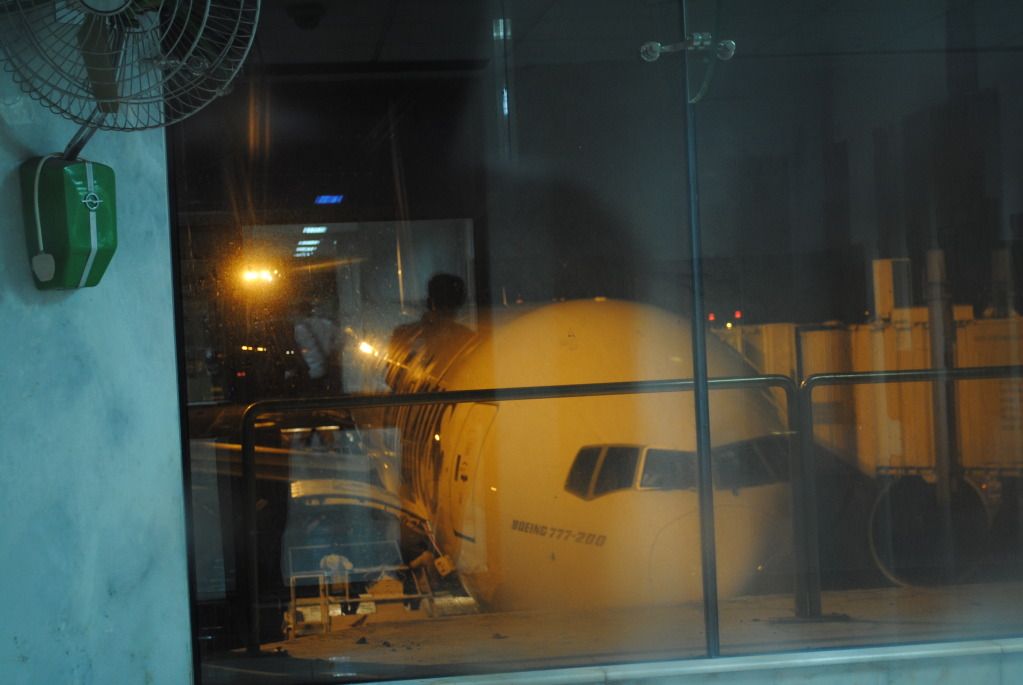 First time seeing this guy. Air Arabia A320 leaving for Sharjah: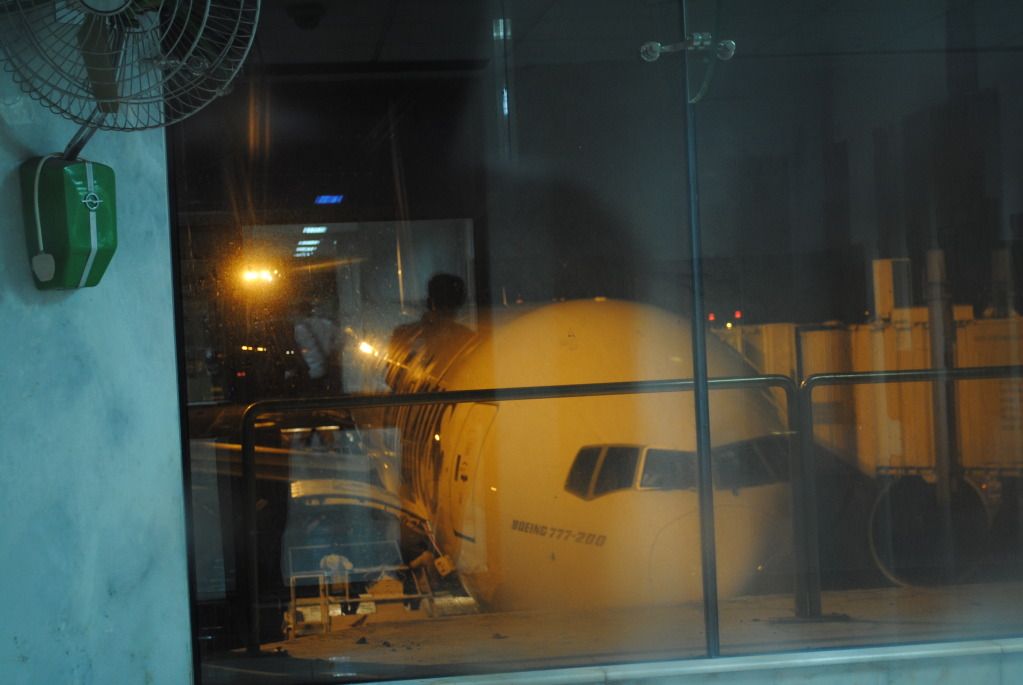 My boarding pass:
Our tiny little A320 that'll take us to AUH:
....and soon, we started boarding.
Flight #1
Airline: Etihad Airways
Flight number: EY 269
Aircraft: Airbus Industrie A320
Registration: A6-EIP
Departure time: 5:00 am
Arrival time: 7:45 am
Flying time: 4 hours 15 minutes
I was in awe of the beautiful and clean interior of the A320. Not to mention, it was the first A320 I'd ever been on with PTVs.
Speedbird 777-200 shortly before heading to LHR:
A Gulf Air A320 from BAH soon blocked my view of the magnificent 777: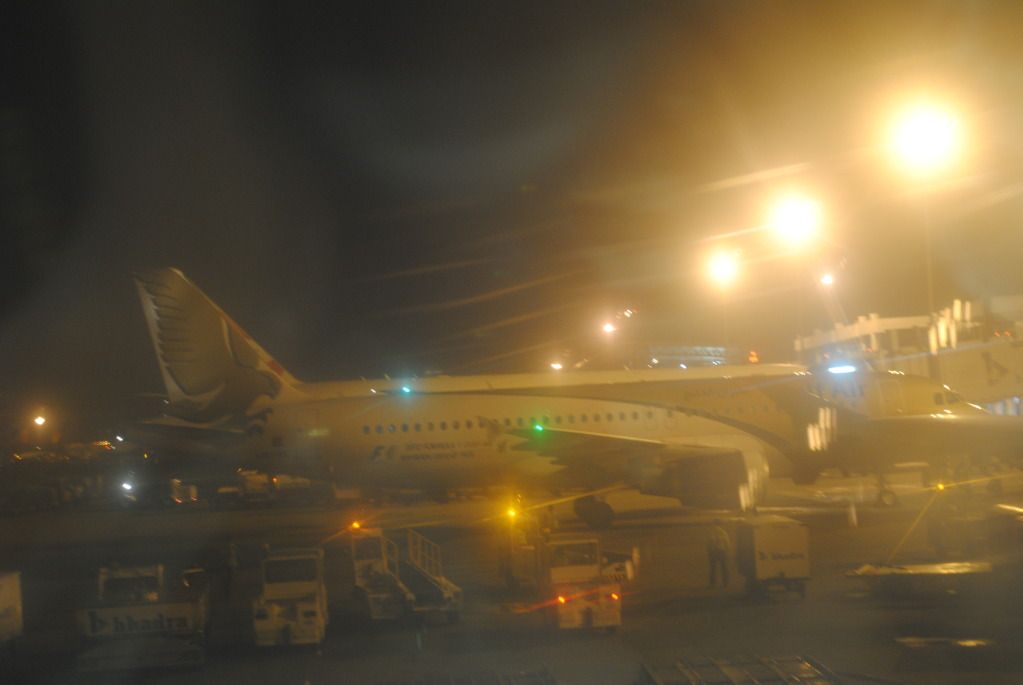 And here is my PTV: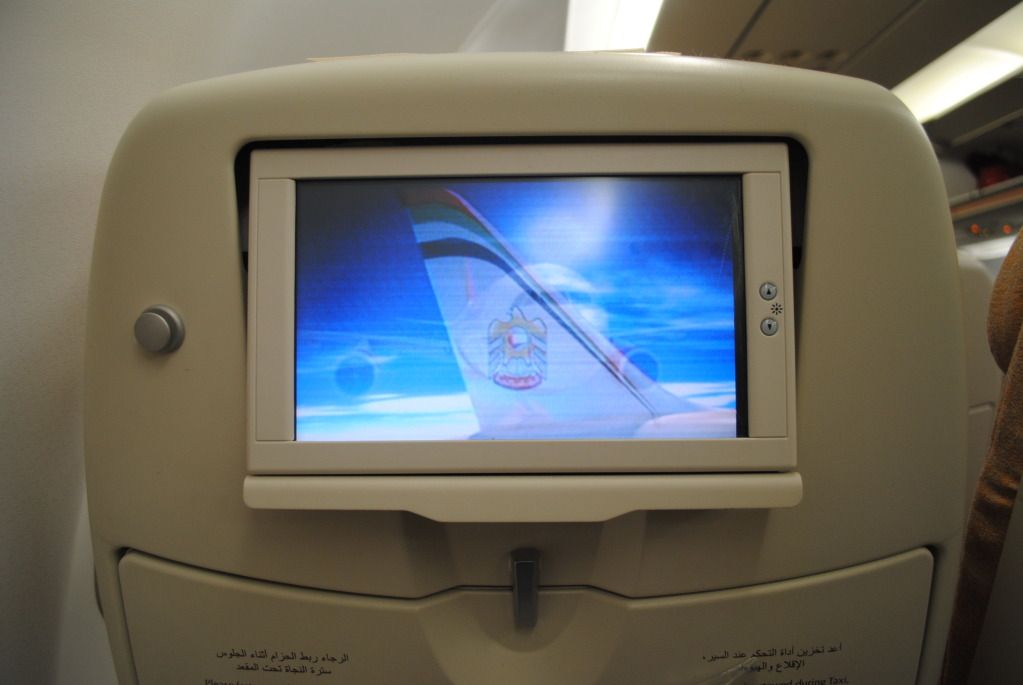 Freshly laundered for sweet dreams!:
AB and EY have an alliance now it looks like: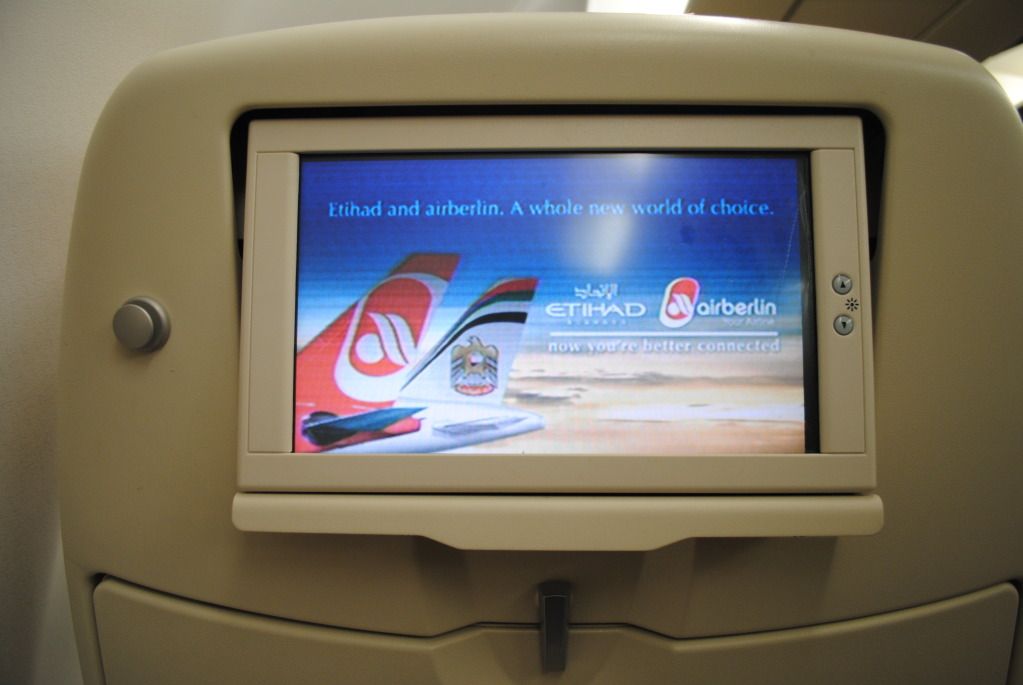 Starting to taxi out of Anna International Terminal now. AI express 738:
Shortly before the safety video:
Entering runway 07:
Bye Chennai!:
All the strolling around in MAA made me tired. I barely remember eating breakfast, but I was too exhausted to take a picture of it. I remember the choice though: some Indian food, or an omlette and potatoes. I was so tired of Indian food I chose the latter of the two choices. It was great!
I mustered up some strength to pull my D3000, which felt it like it weighed a ton, up to take some pictures of Abu Dhabi. I had never been to the Middle East before.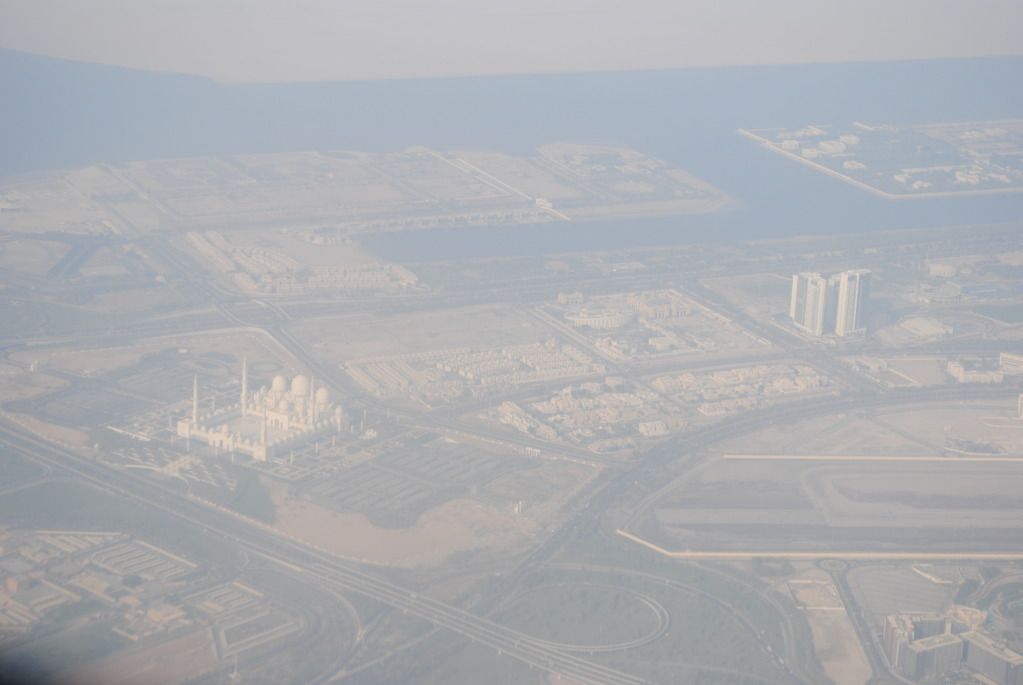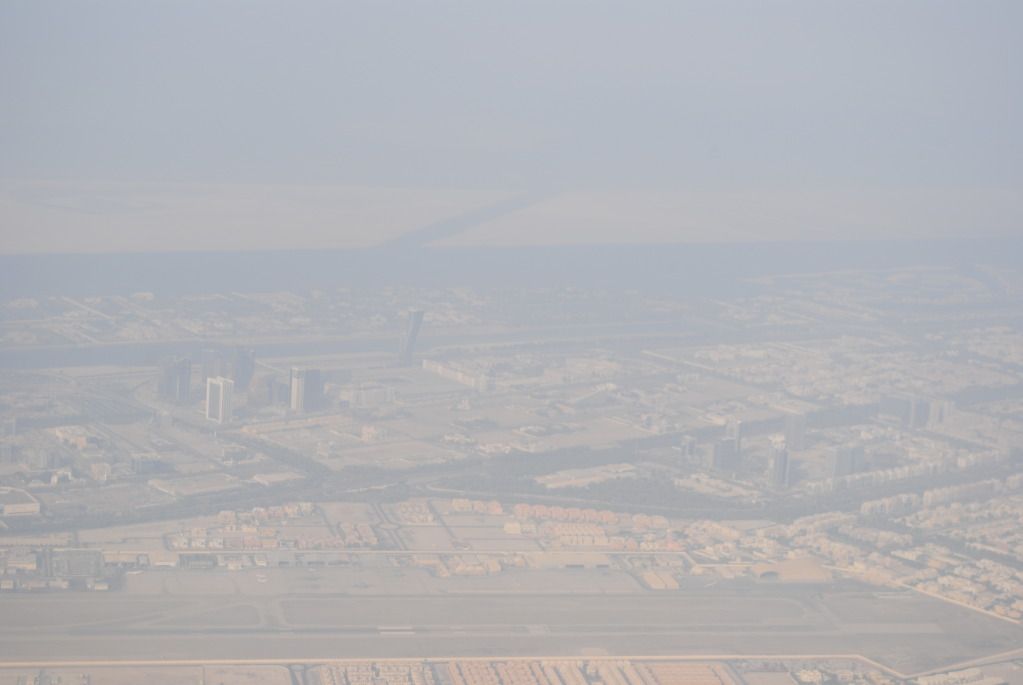 The sand colored winglets really go well with this desert backdrop.
I just love that ATC!:
China Airlines cargo 744 with two EY Crystal Cargo A330 aircraft: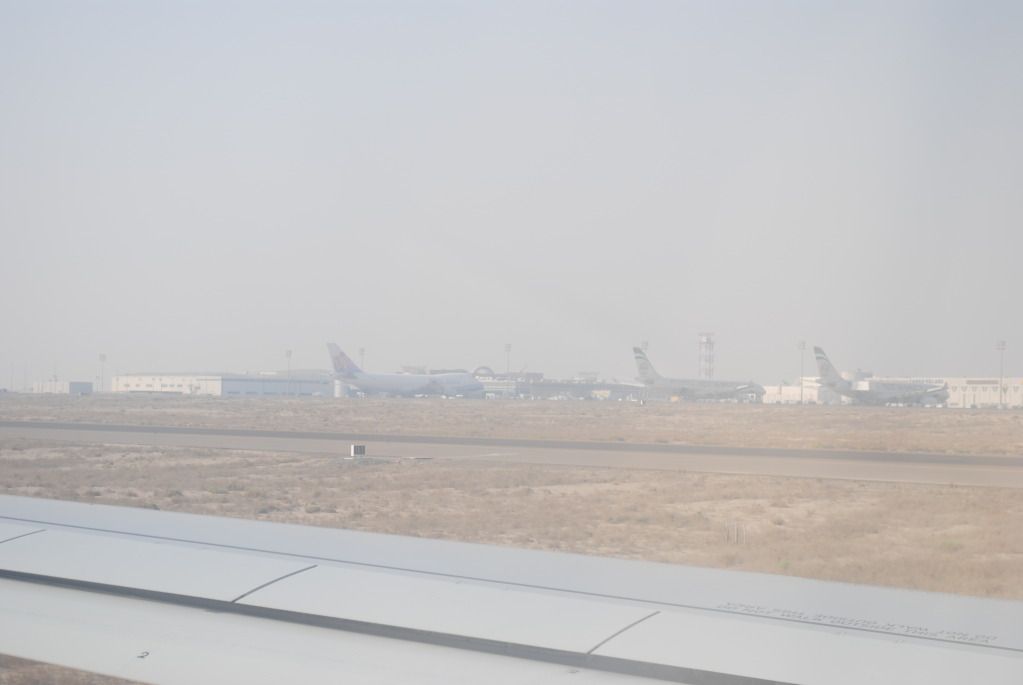 This probably has something to do with the alliance between AB and EY:
You can see one of EY's formula one planes in the background.....can't quite tell what plane it is:
Visit Abu Dhabi 2012 A330 and Formula One A340 next to each other: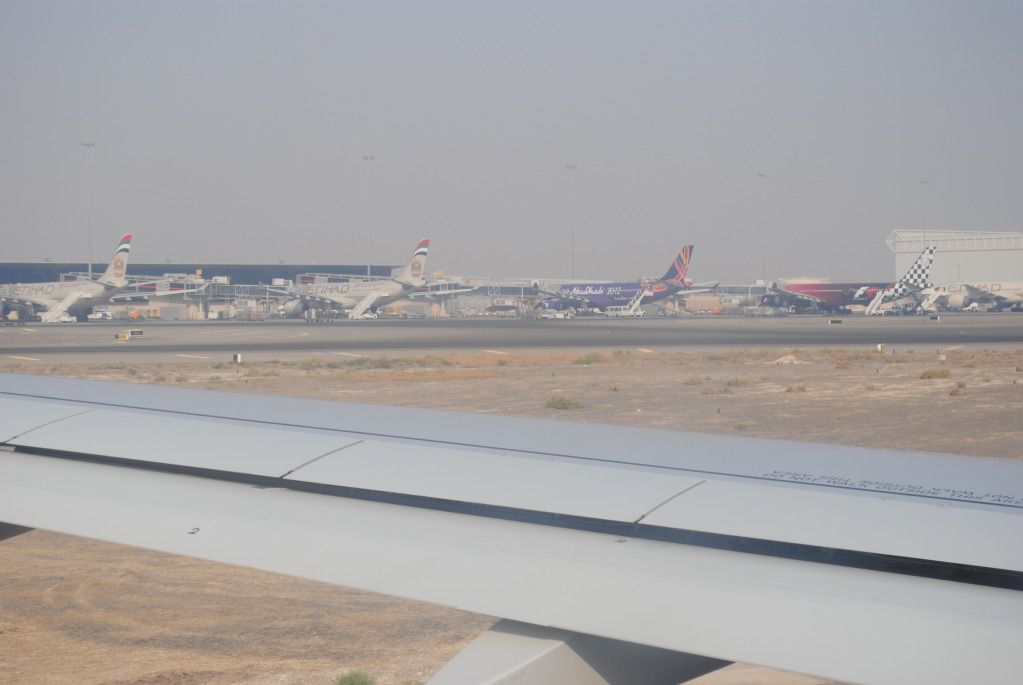 Tajik Air 757-200.....never seen that before.
Only then did I look at my watch. It was 8:30 a.m., and my next flight, EY 151 to ORD, was supposed to leave at 9:25, and we were still taxiing! I groaned....the first time I'm in an exotic Middle Eastern airport, I have to be in a hurry. Oh well.
I didn't take many pictures inside AUH. I didn't even have time to go to the bathroom! However, I did have time to stop at a chocolate shop and blow off $25 in three huge packets of authentic Middle Eastern chocolate. I have to say, it did taste much different and better than chocolate in the US!
A few of AUH next to the gate for EY 151: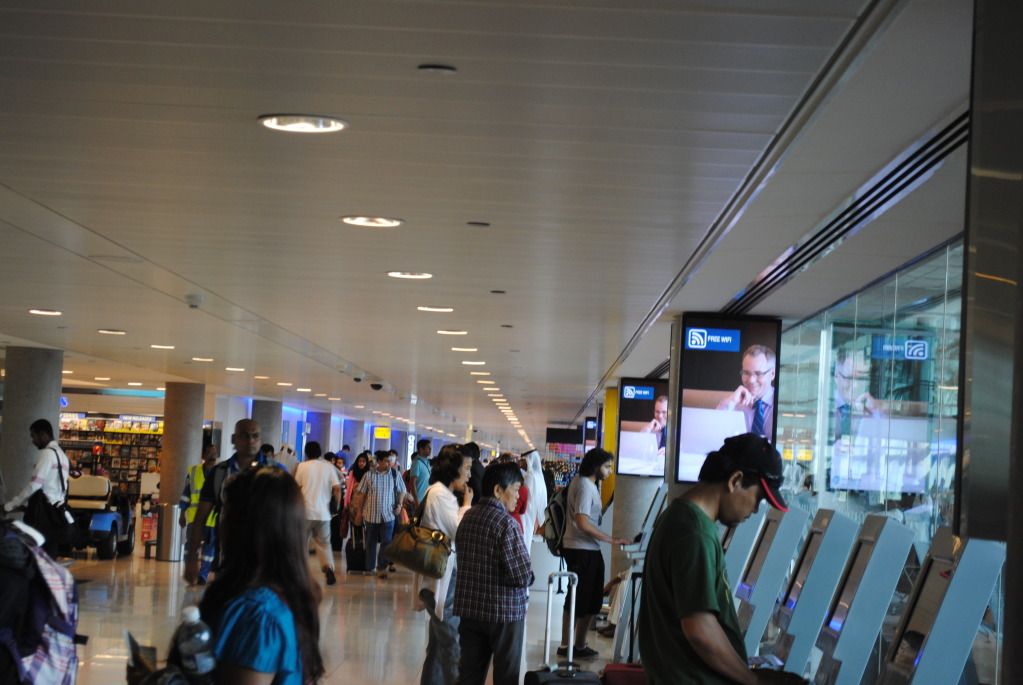 And my first view of the majestic 777 that will carry us for the next 14 hours:
Boarding sign for the second longest flight EY operates. (The longest flight is SYD-AUH)
Wow! AA now serves AUH! :-P
And soon we start boarding my first 777-300ER flight!
Flight #2
Airline: Etihad Airways
Flight number: EY 151
Aircraft: Boeing 777-300ER
Registration: A6-ETG
Departure time: 9:45 am
Arrival time: 3:30 pm
Flying time: 13 hours 55 minutes
Boarding now, walking through the jetway: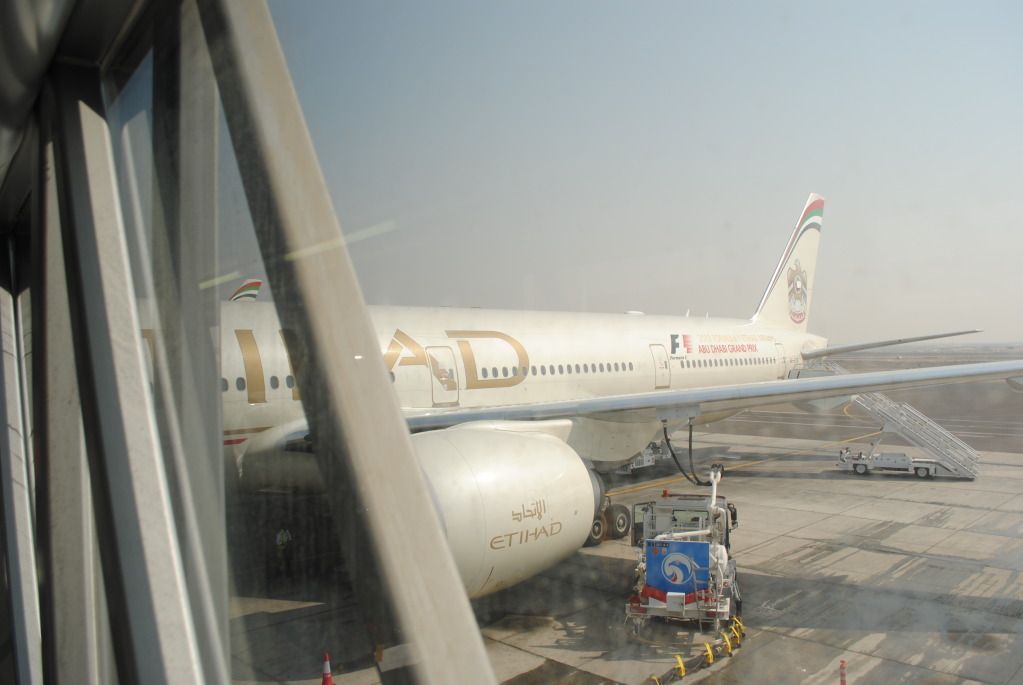 After walking to seat 41A, here is my PTV:
A little heli zooming over AUH:
Gorgeous interior:
Safety video: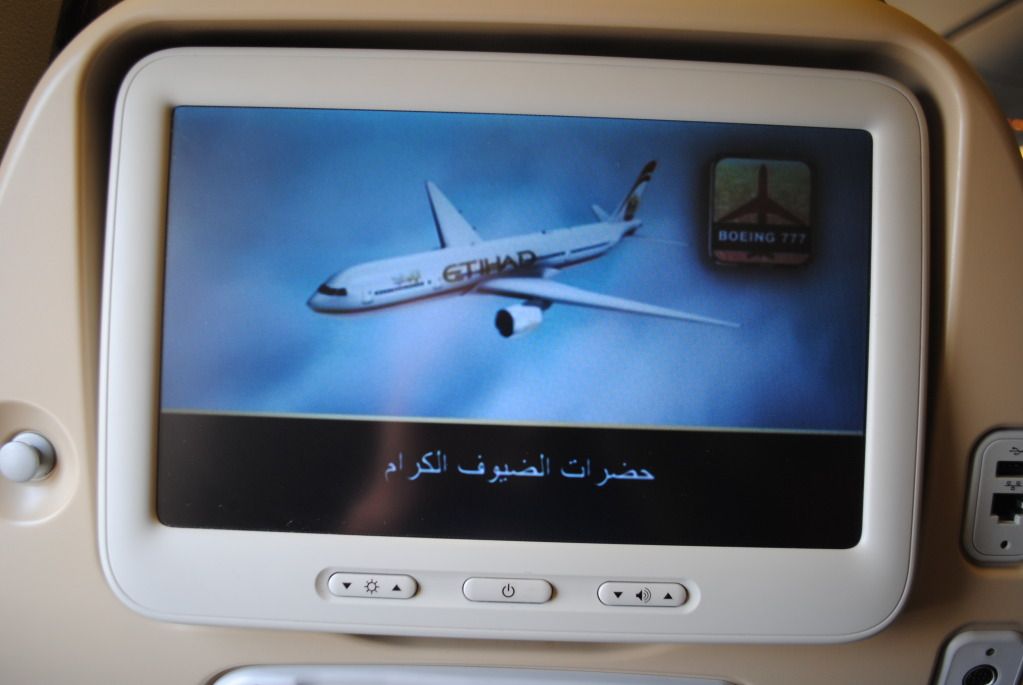 Then they showed something I'd never seen: A travel prayer. I found it very interesting!
Taxiing now. Man, what a wing!!
End of the the safety video: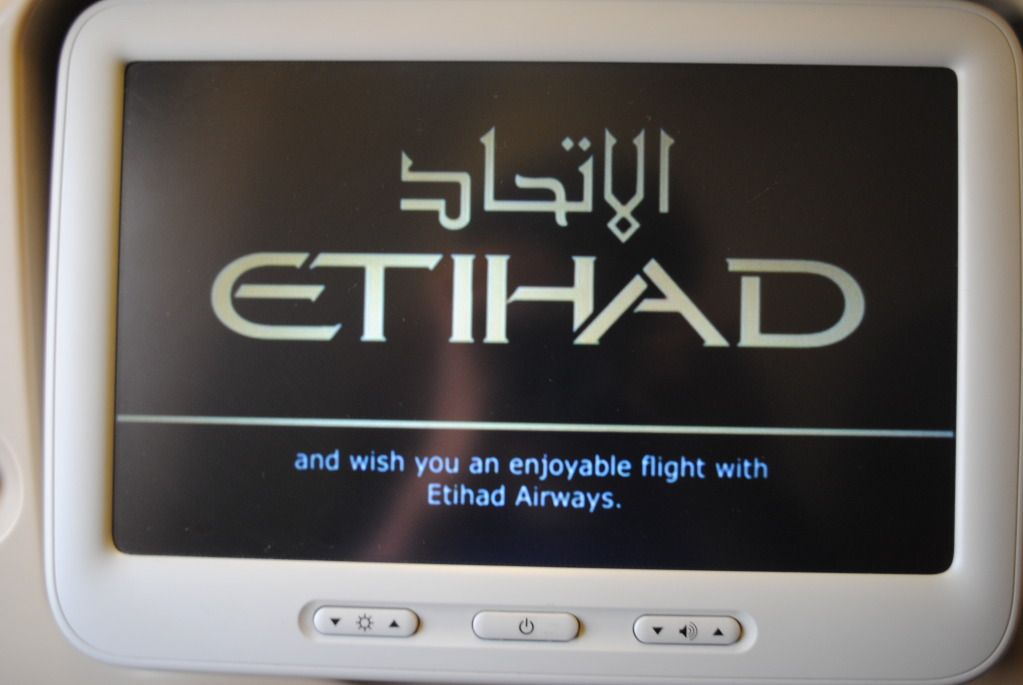 Map:
Another EY 773 headed somewhere:
We had to wait for this little guy to take off:
"Etihad 151 heavy, hold position, caution the Airbus A320 on the runway".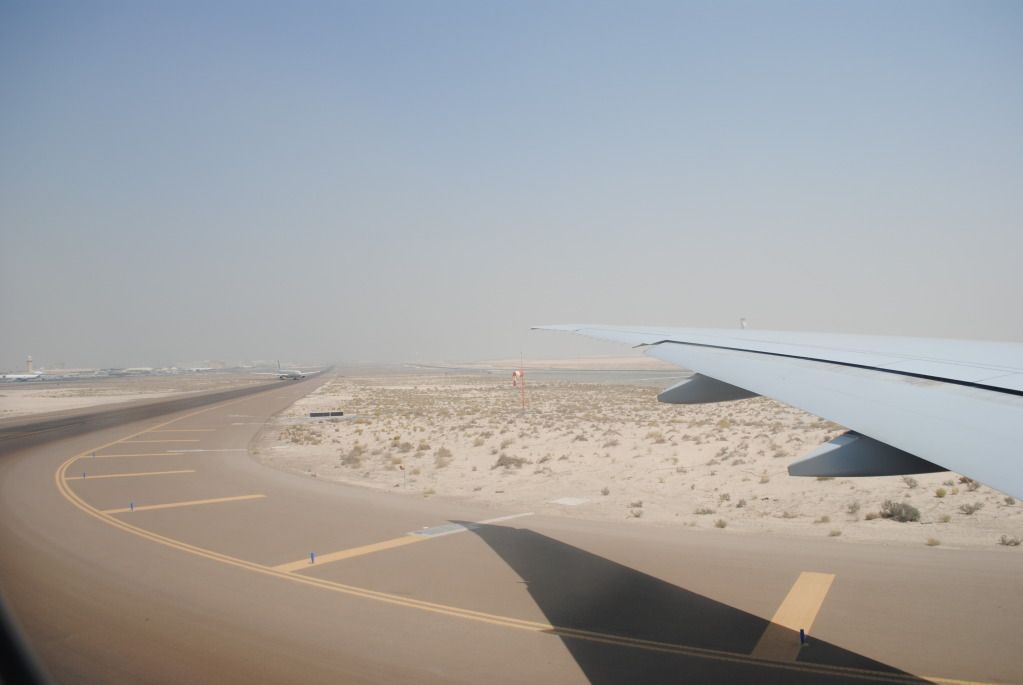 An A330 is following us: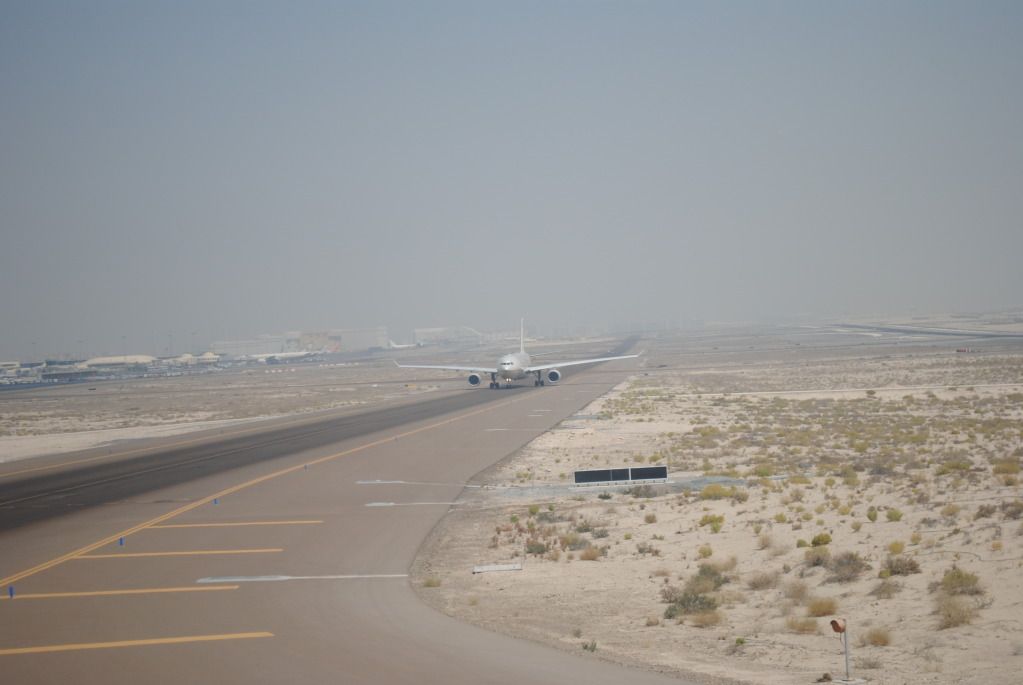 Can't stop admiring that wing!
Good view of the company A330 while we power up:
Liftoff! Wow! An L1011 TriStar? Haven't seen him since the ATA days back in DFW!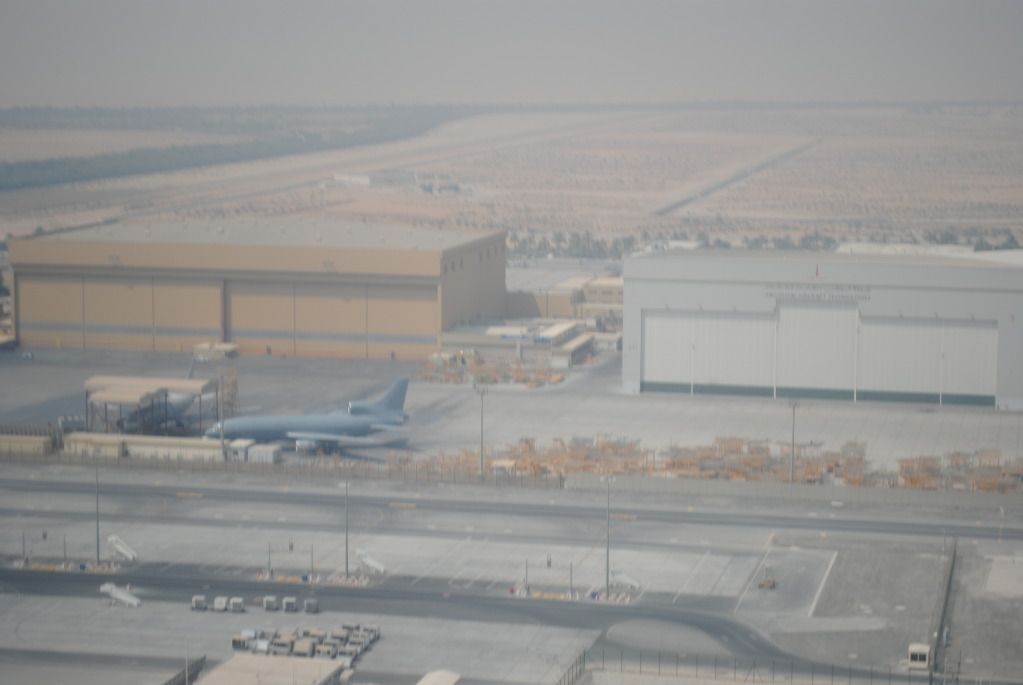 Sun Air Airbus....A300 or A310?
Another new thing to me. A compass pointing toward Mecca, or "Makkah".
Look at that wingflex!!
And soon, the inflight entertainment turned on. Etihad's EBOX:
Good selection of recent movies. I watched a little bit of the Hunger Games, but since I'd already seen it, I quit after a while.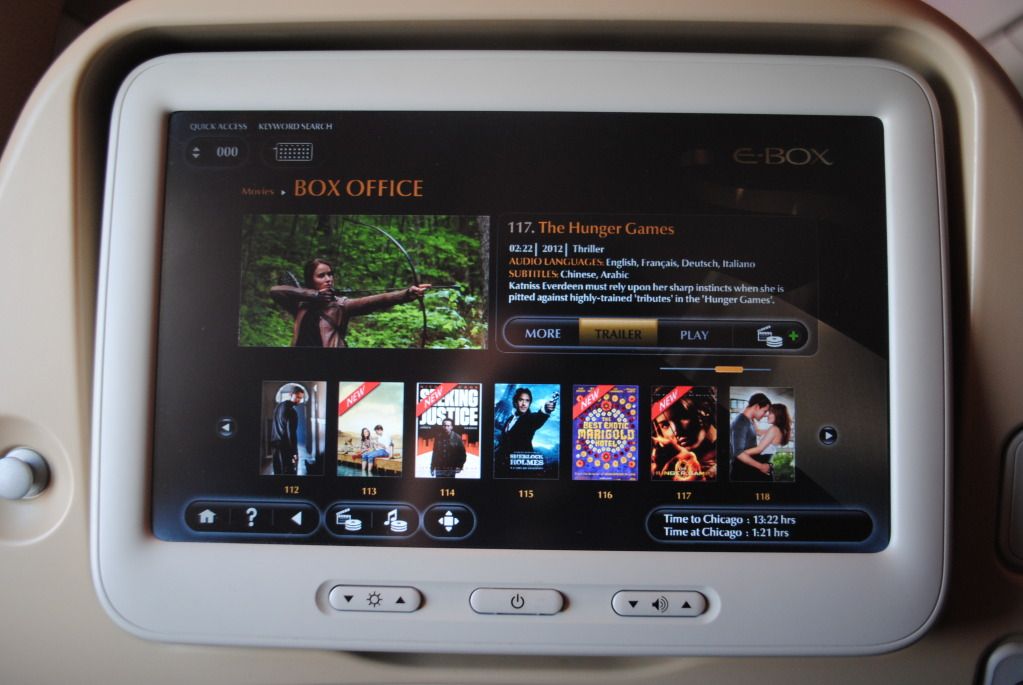 An Emirates plane, looks like a 777. Heading in the same direction as us, after takeoff from DXB:
Just can't stop admiring that unbelievable wingflex!!:
I have seen this city almost every night on NBC Nightly News back in the USA. Now I was thrilled to see it in person. Here is the city of Baghdad, Iraq.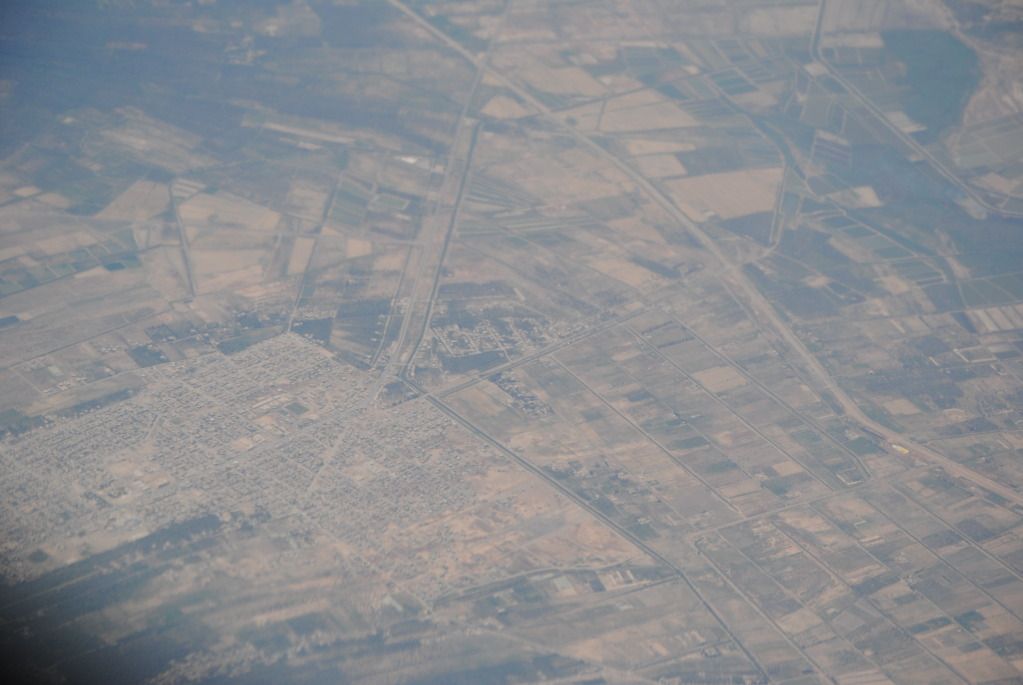 Lunch was served flying over Iraq. It was a delicious dory fish fillet, with rice and eggplant:
I have this habit: holding the open butter container next to the map. I did it while flying over Kentucky on Speedbird 192 heavy (DFW-LHR), and I did it while flying over Chernobyl on Singapore 317 super (LHR-SIN).
The interior of our new 777-300ER: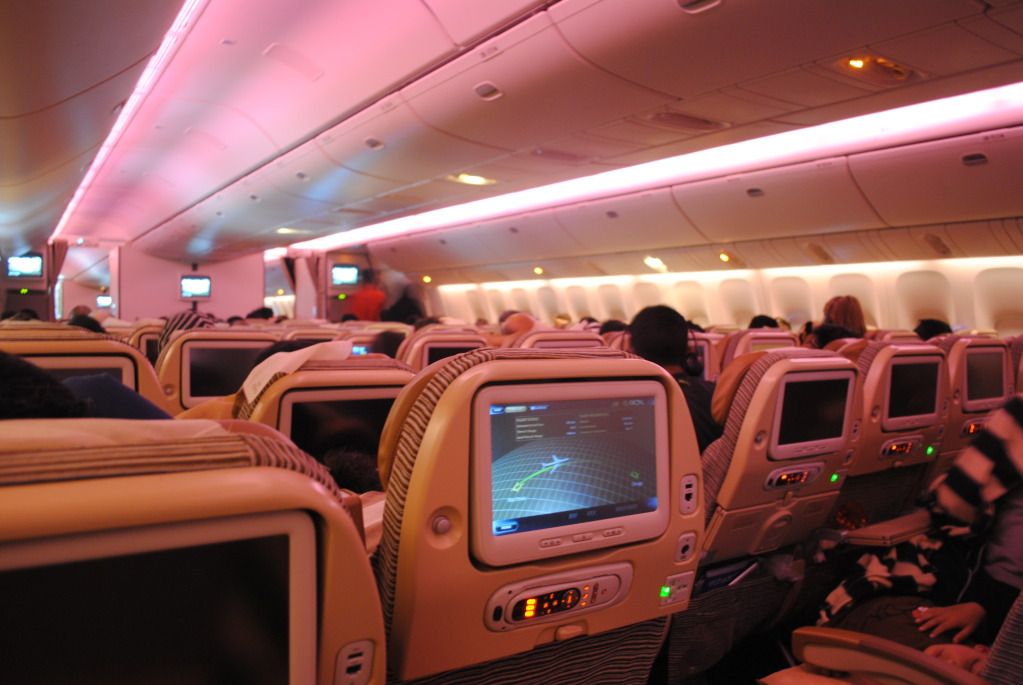 No, this is not my laptop. This is the EBOX, where you can do any word processing!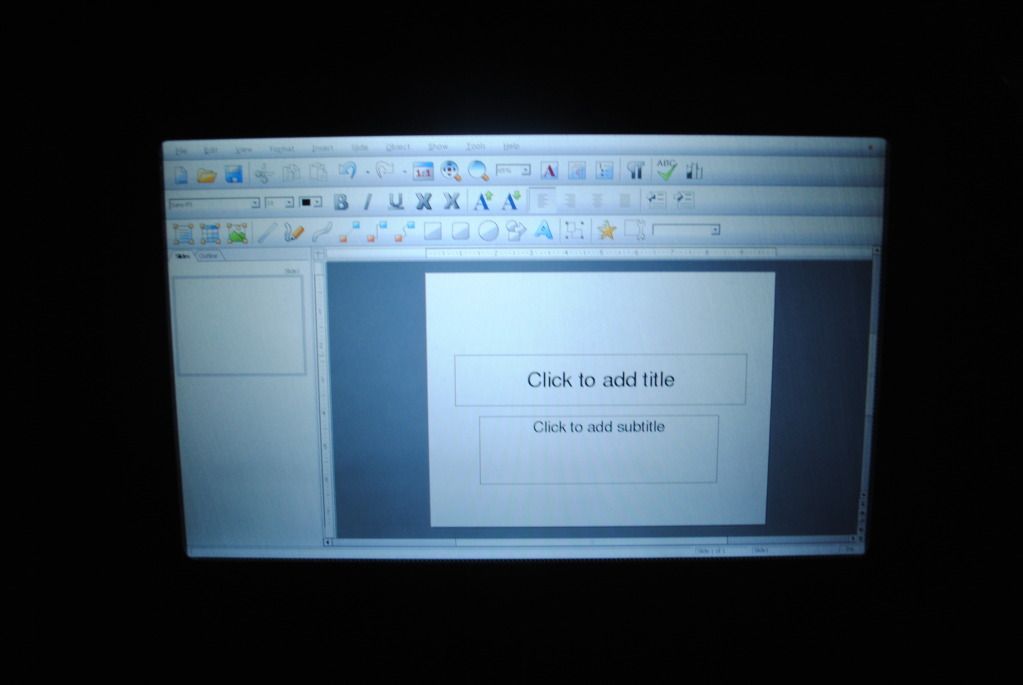 I really don't know the point of this map, but it looks cool.
For the next two hours, I watched "Chasing Justice", starring Nicholas Cage. It was an excellent movie....I don't know why it bombed in the box office! One thing I'm mad about, though, is that I missed out on seeing Norway. By the time the movie was over we were above the UK, already over the Atlantic.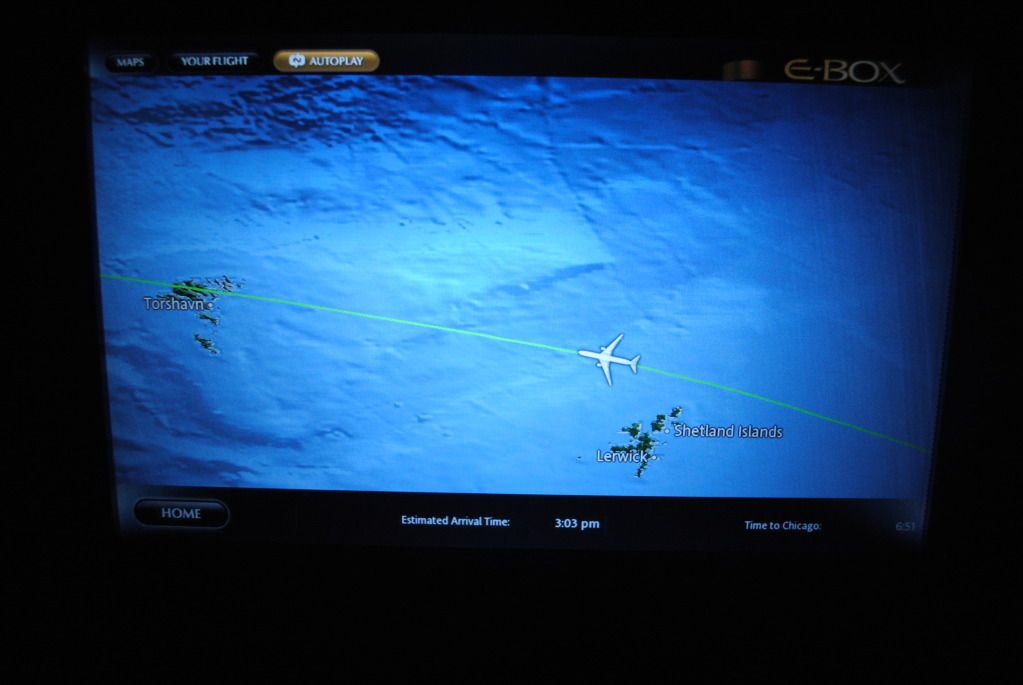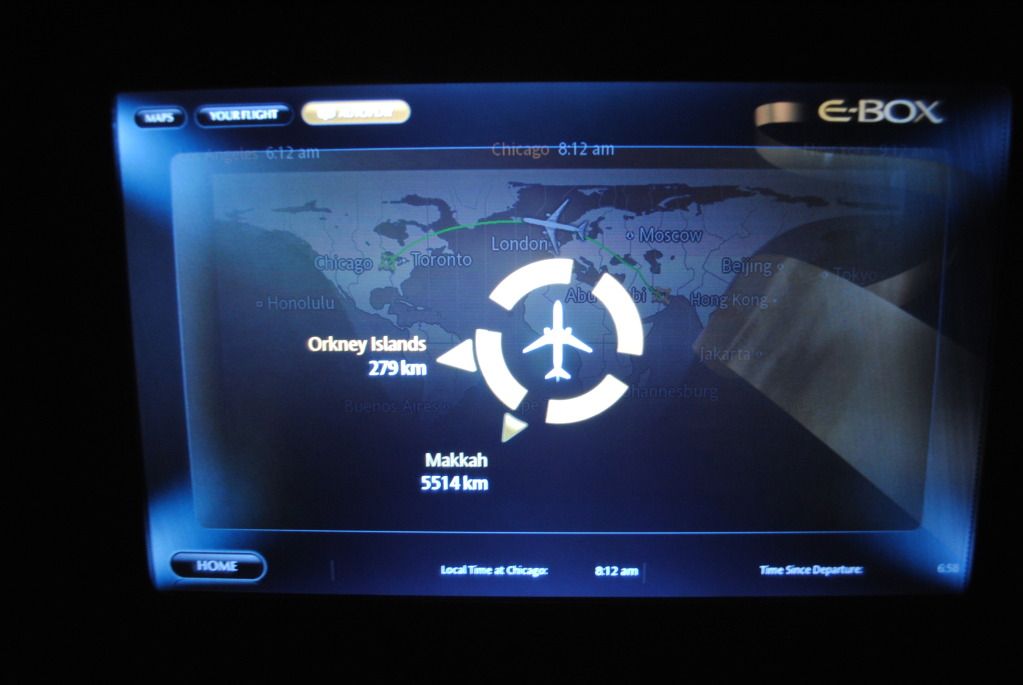 I opened my window for a peek of Iceland. (The FA's told all of us to close them after takeoff). It was quite cloudy, but if you look closely, you can see a little sliver of land.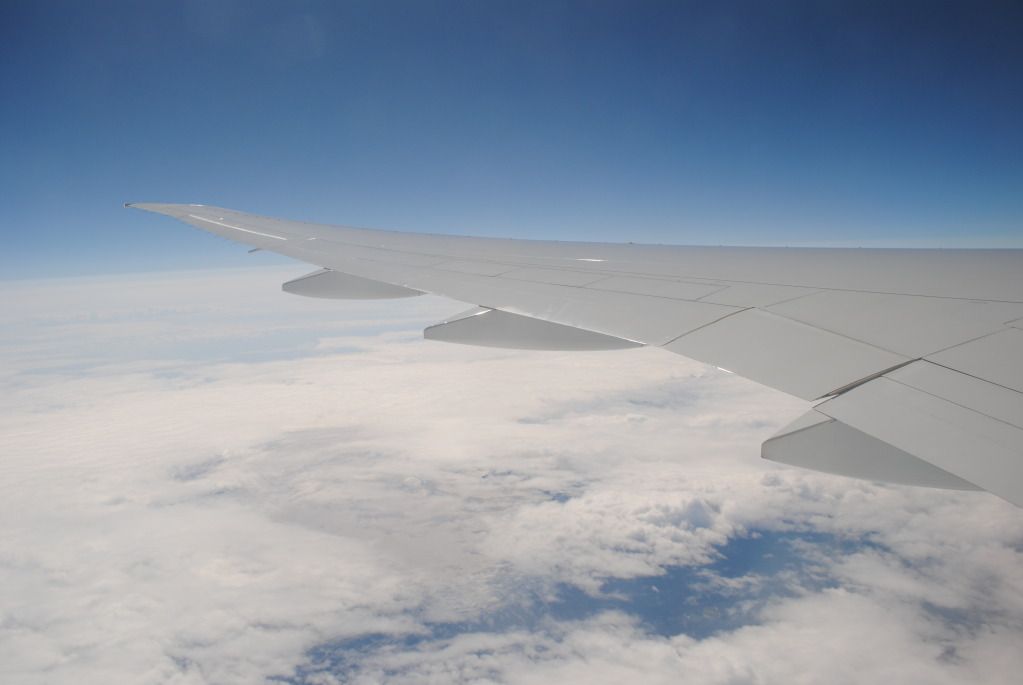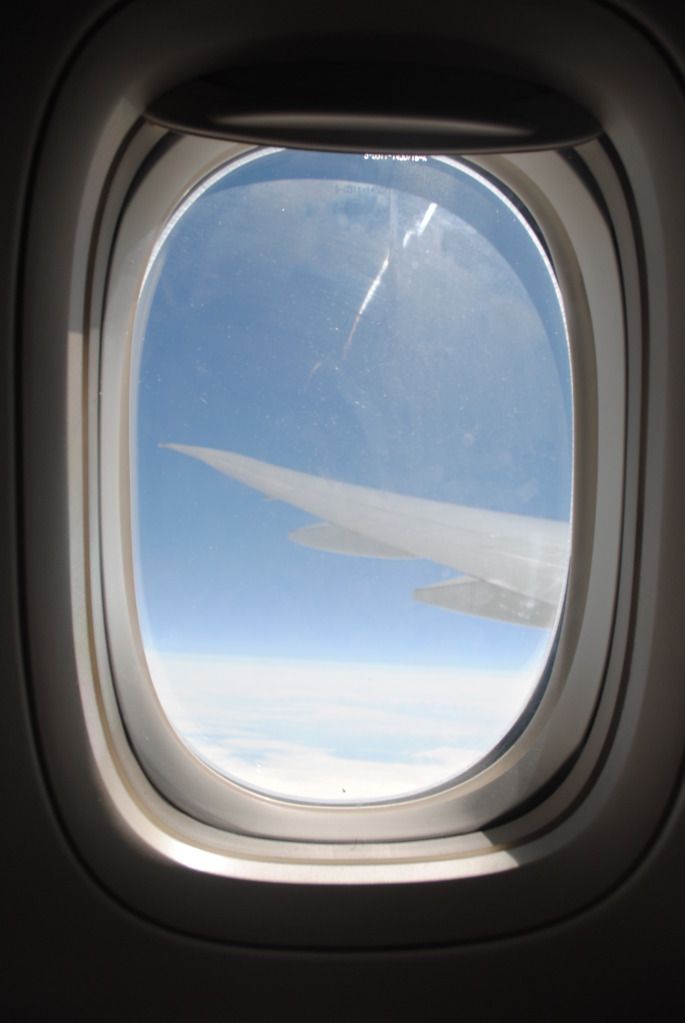 A few hours later.....Greenland!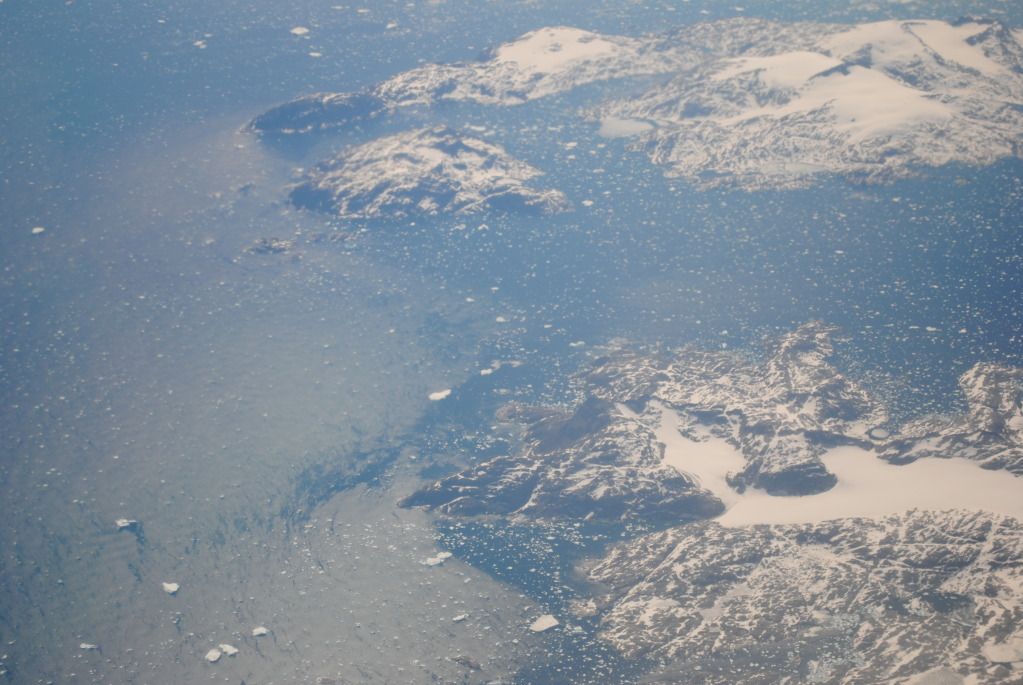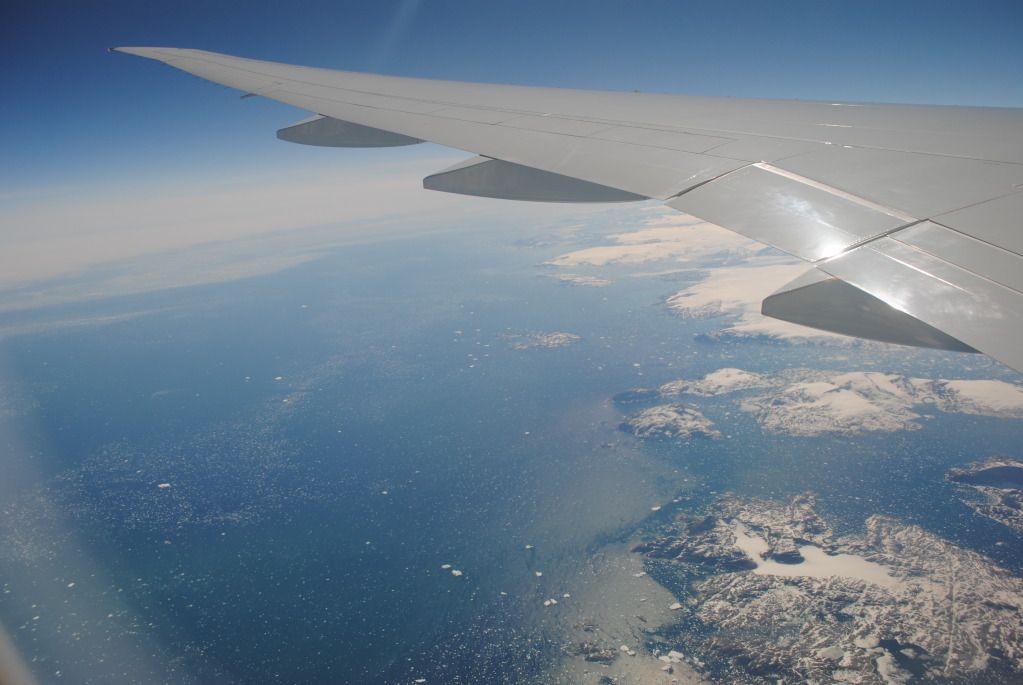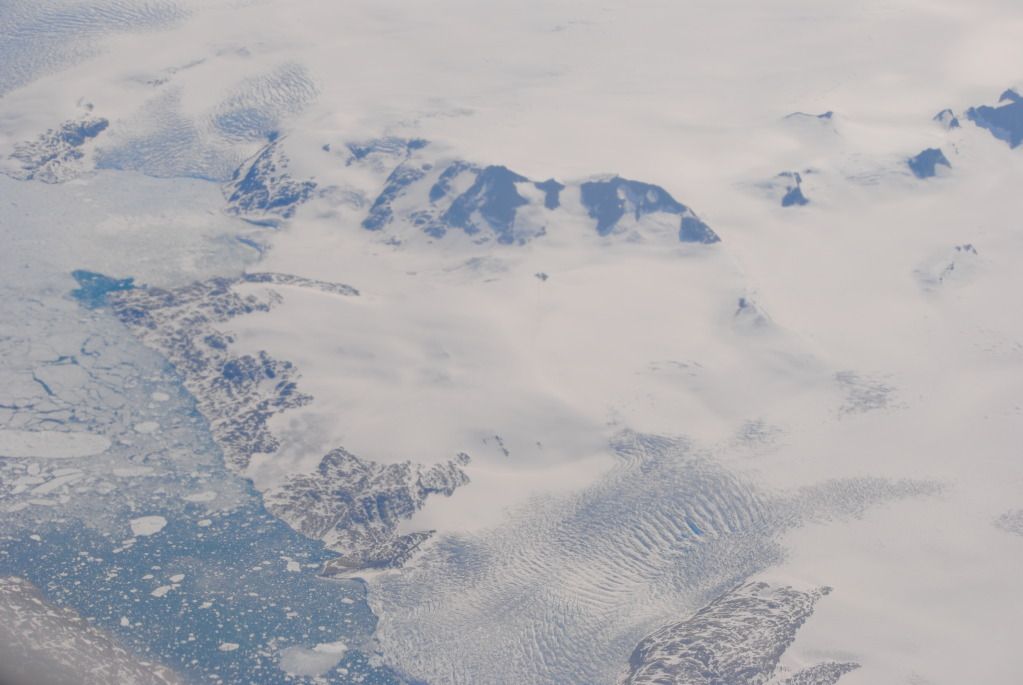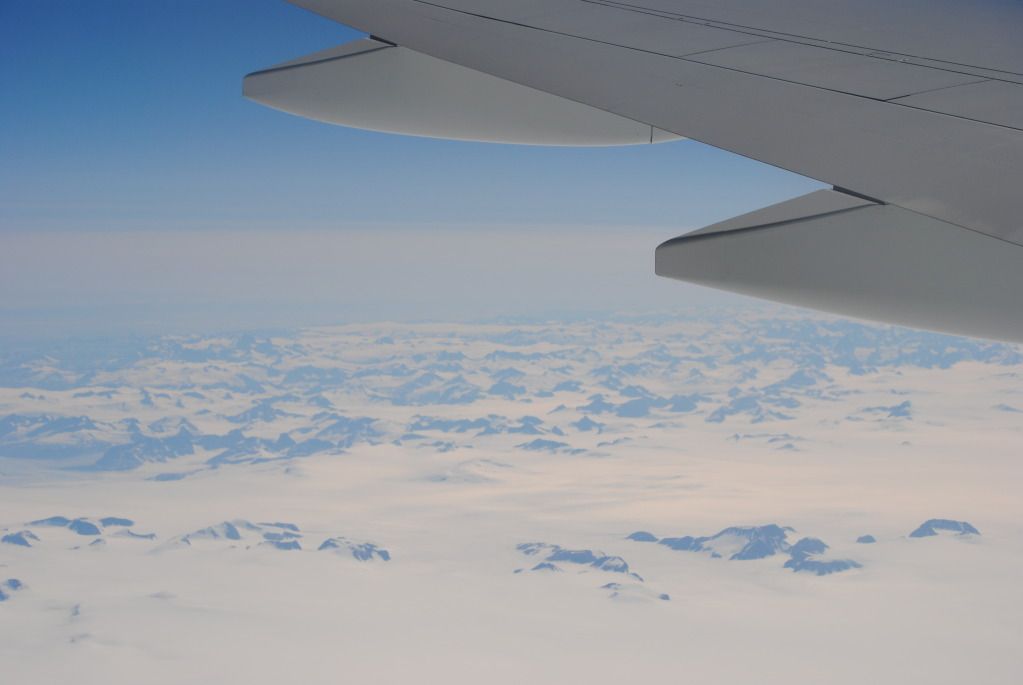 Thankfully the clouds parted, giving us some stunning views!
This confirms our location:
After entering Canada, our second lunch was served, consisting of a lamb patty with potatoes and zucchini. It was AMAZING!! (Notice how there's no salad left. At that point in the flight, I had told myself that I'm to tired to take my camera out and take a picture. However, the monkey on my shoulder kept nagging me, so after the salad I forced myself to do it. Now I'm glad that I did it!)
We then slowly started to descend into ORD:
Chicago Executive Airport (PWK):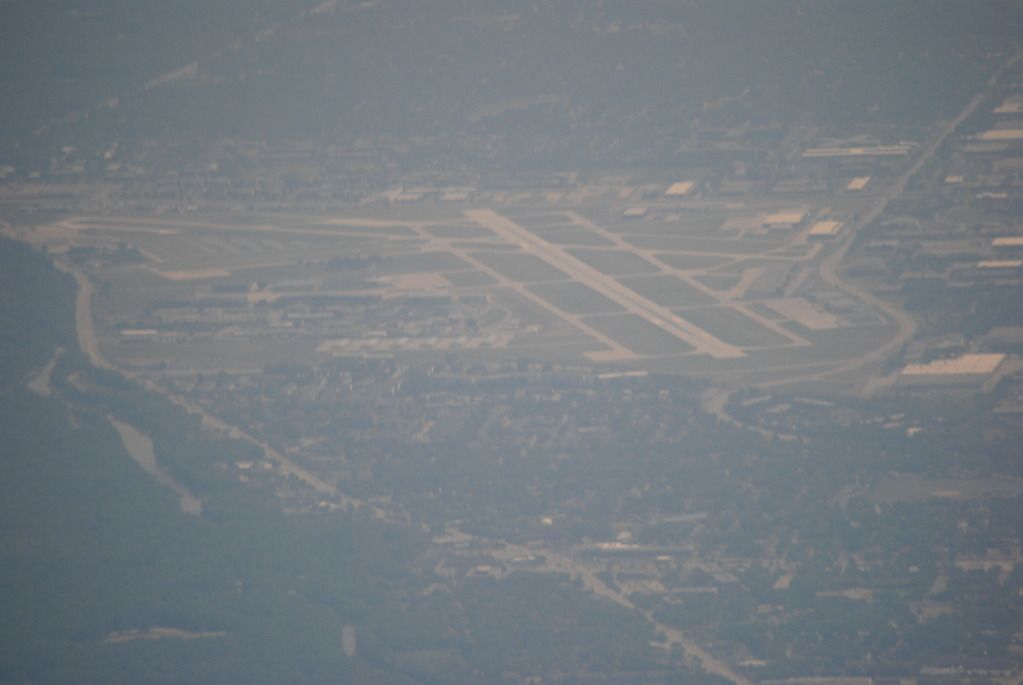 ....and, our first sight of ORD:
During this whole time, I was staring at the map on the EBOX, looking to see how far we had flown. The reason I was so eager to find this out was, I was hoping that this flight would become the longest flight I'd ever flown. The record holder was ORD-DEL on AA 292 back in July 2007 (when I saw an Etihad aircraft for the first time), and that was 7,477 miles. we were at 7,600 circling above ORD, and I was just hoping to cross that barrier. However, we only reached 7,417 miles. So, by distance, AA 292 still holds the record, but by duration, EY 151 beats AA 292 by a mere three minutes! (13 hours 55 minutes to 13 hours 52 minutes!)
Our massive flaps during touchdown: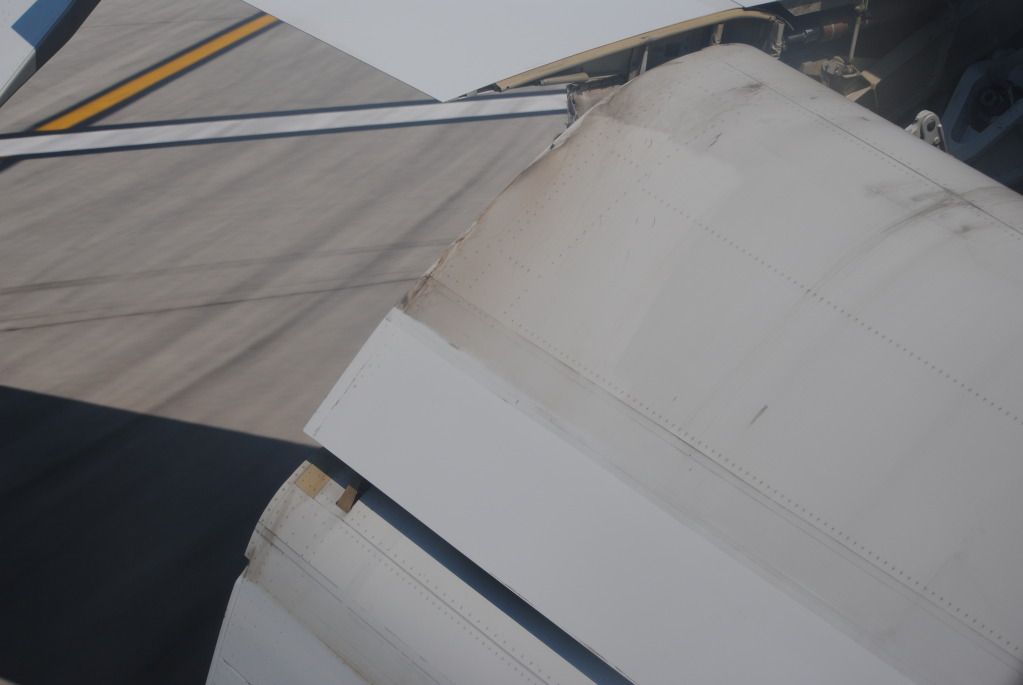 I have good memories on this gate. This is where we boarded AA 292 in July 2007. Now it has an AA 777 that later left for LHR: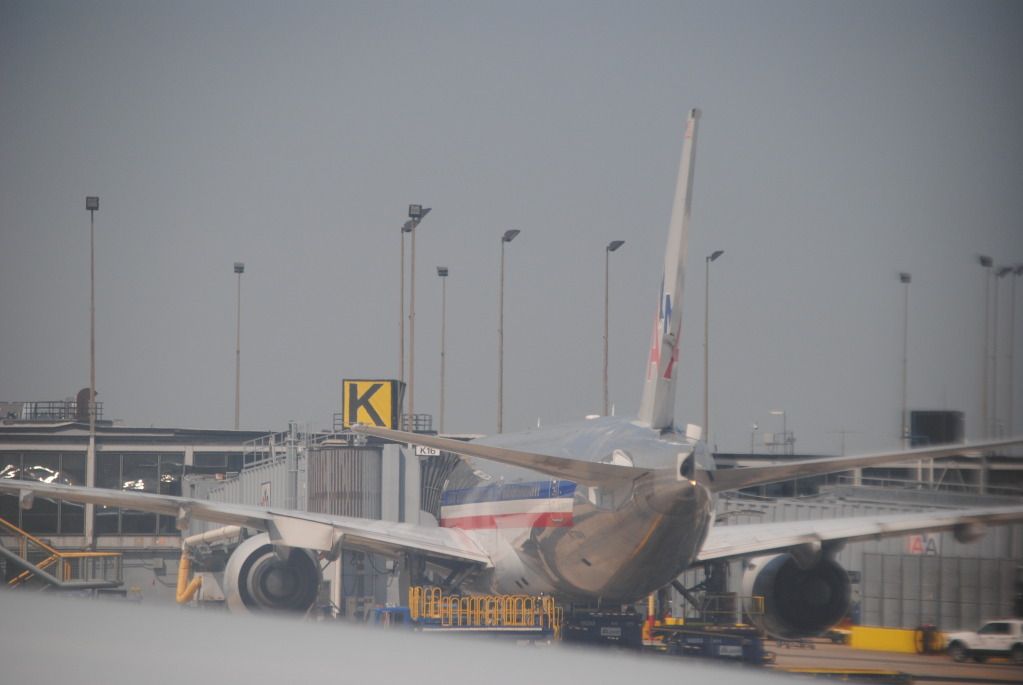 Some international heavies here in ORD: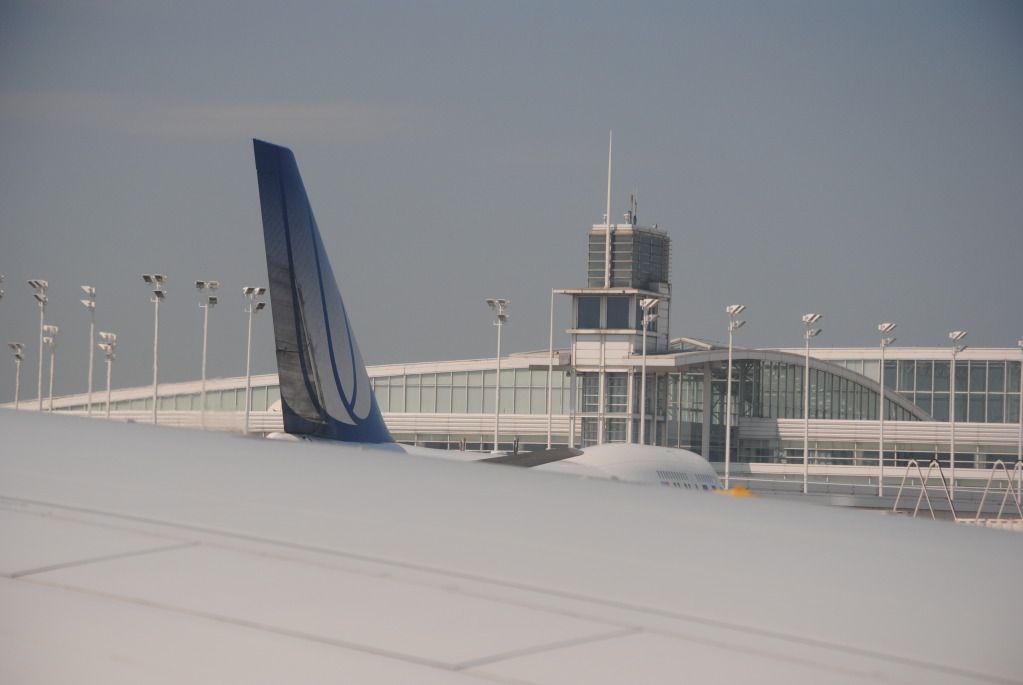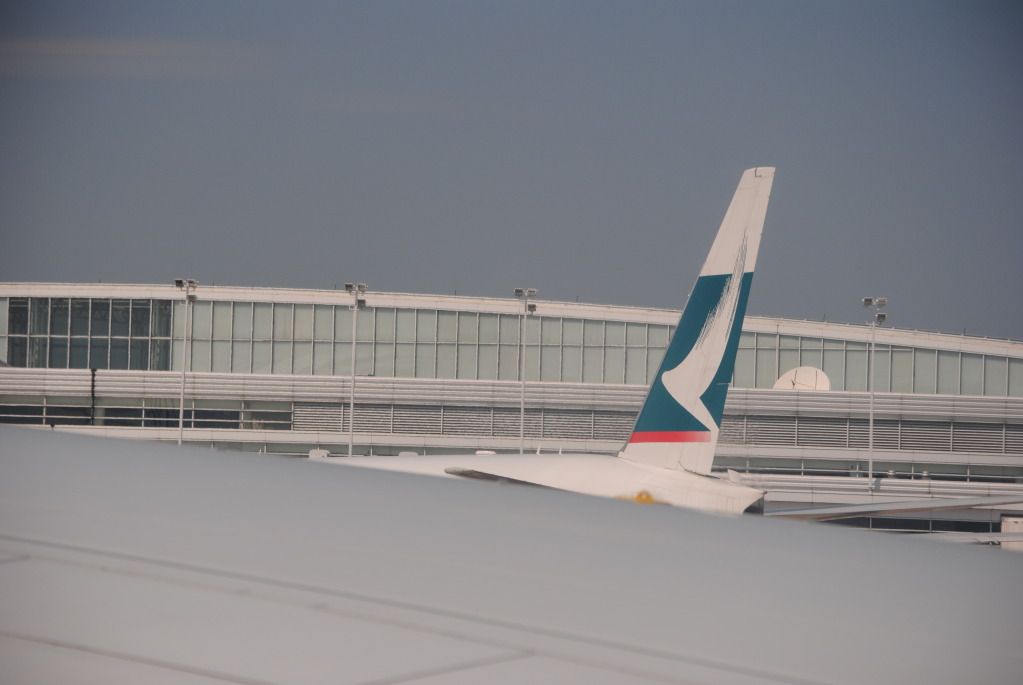 I don't think this 738 counts as a heavy! Neat little AeroMexico advertising The Avengers:
AA 763 from Helsinki-Vantaa:
What a view of different airlines! Something only ORD and a few other airports around the world can boast:
Closeup of the Alitalia 767-300
AeroMexico 738, Alitalia 763, and United 744: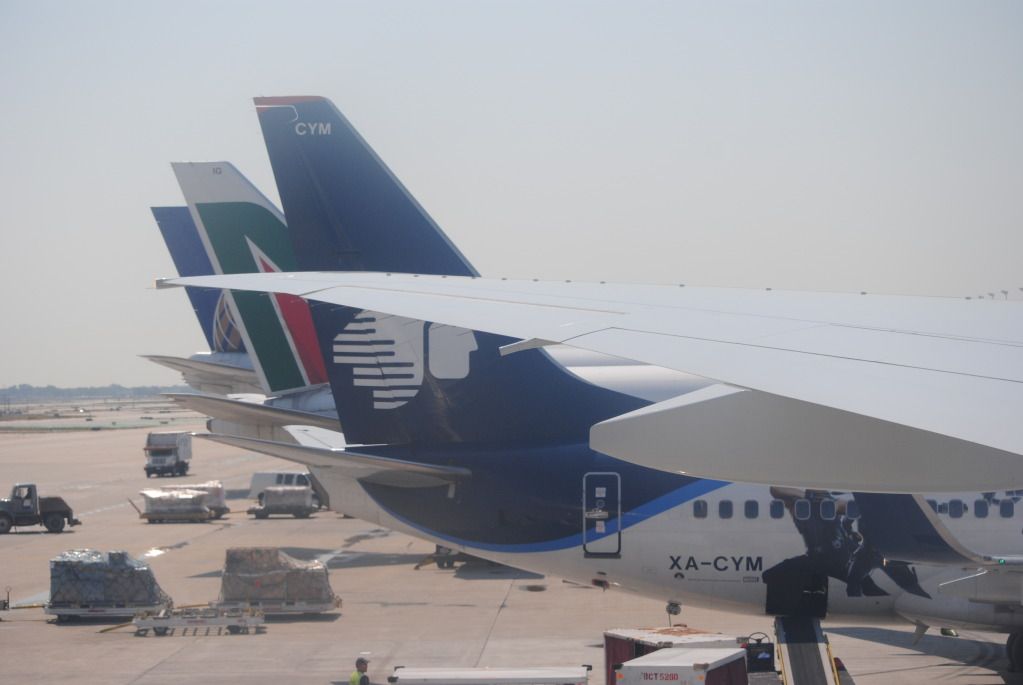 The PTVs....I'll miss you Etihad!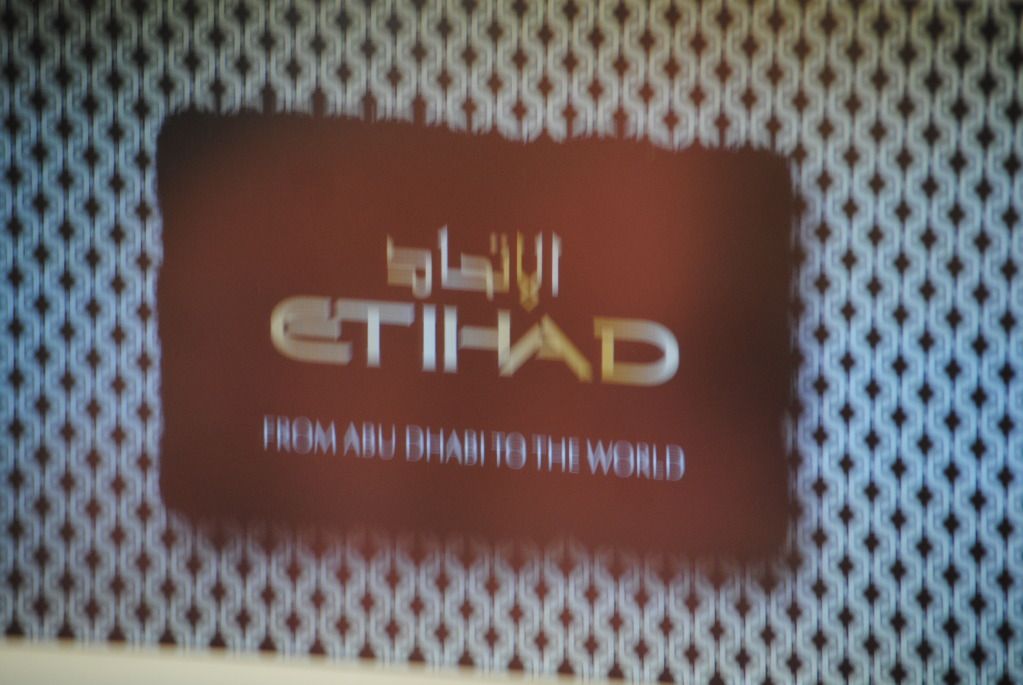 Stickers and notes left by the EY crew informing the other crew of shortages. (Guess who drank all the amazing mango juice :-P)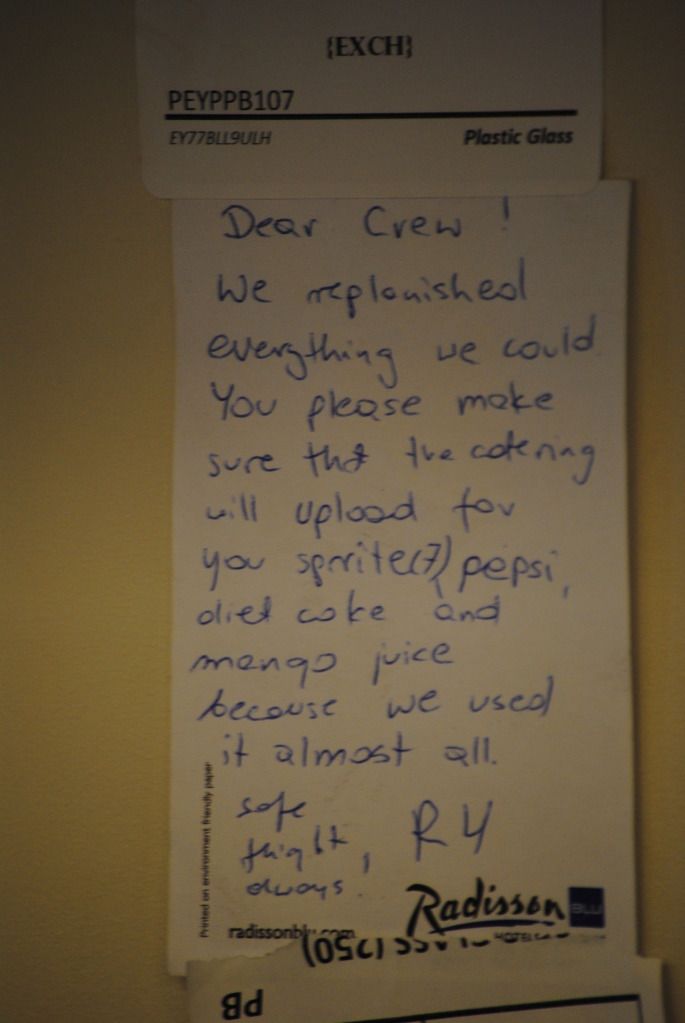 And we then got off. I'll miss EY a lot.
We then passed through Customs and Immigration, and here are the display boards here in ORD:
Our final flight path. (Thanks to
www.flightaware.com)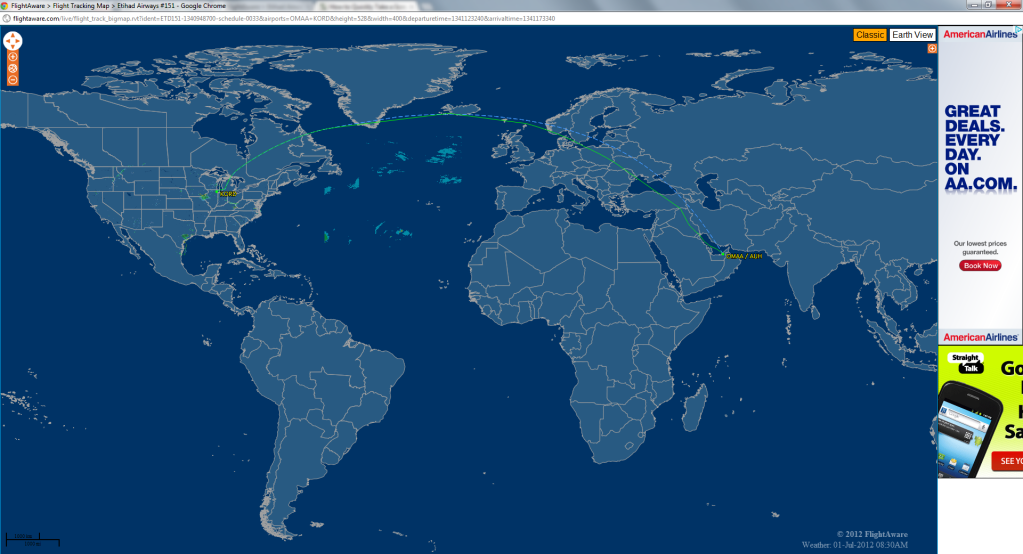 Oh, and one thing I almost forgot to mention. I didn't sleep even one second for the entire 13 hour 55 minutes of the flight. That shows my deep aviation interest!
Cool special ERJ: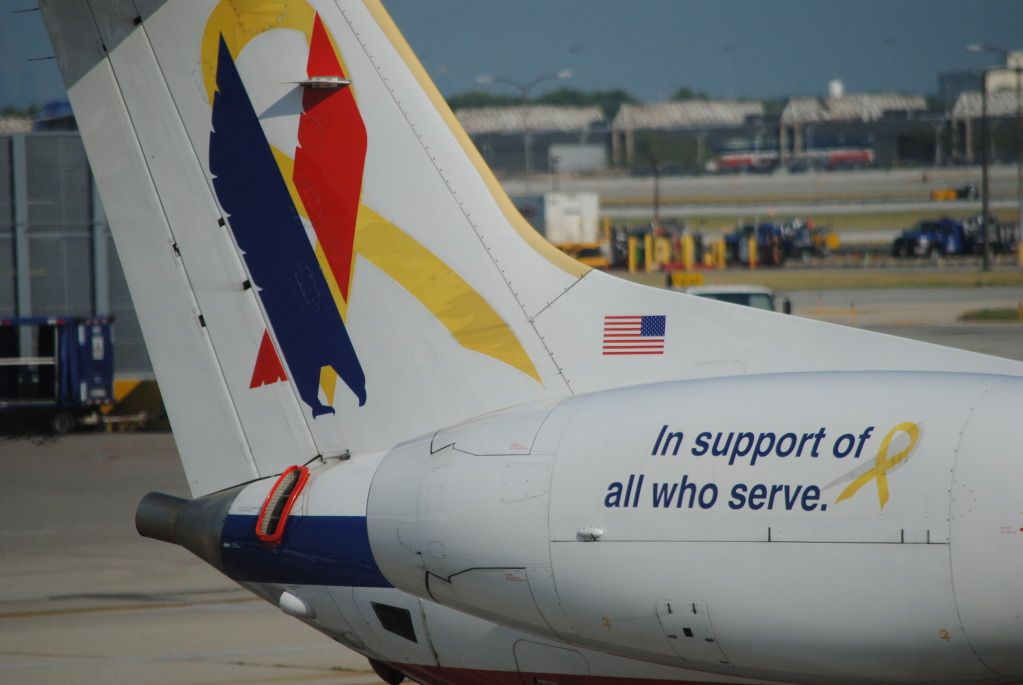 UA A319: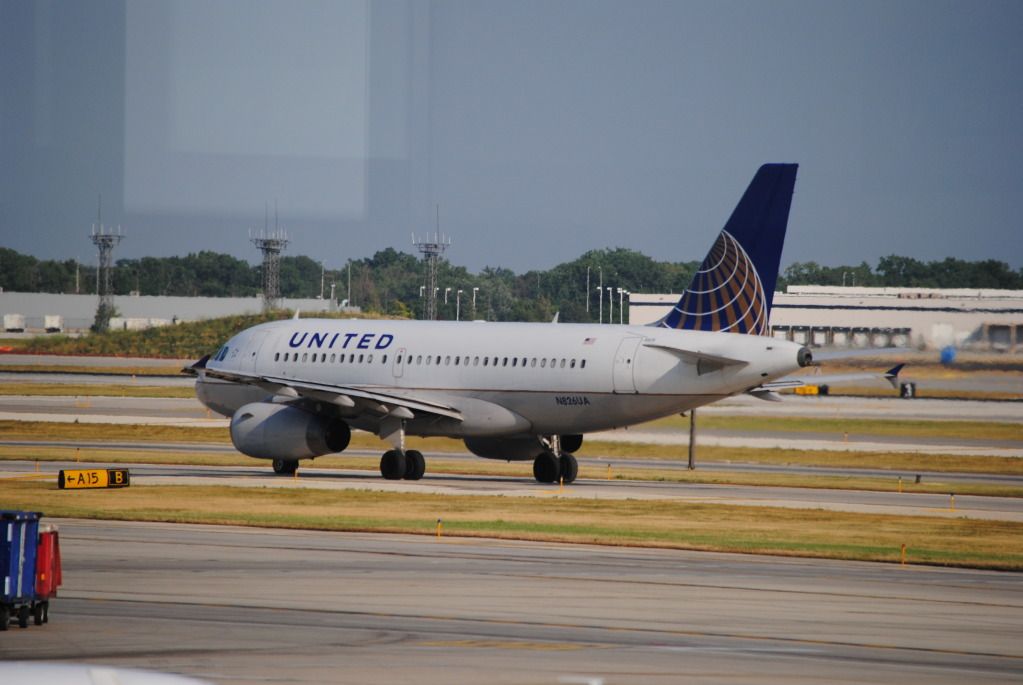 My next flight will be on one of these little guys. My first one on a CRJ-700, in fact.
Was excited to see this. I'd never seen a SkyWest with this livery. Is it old, or just a special livery?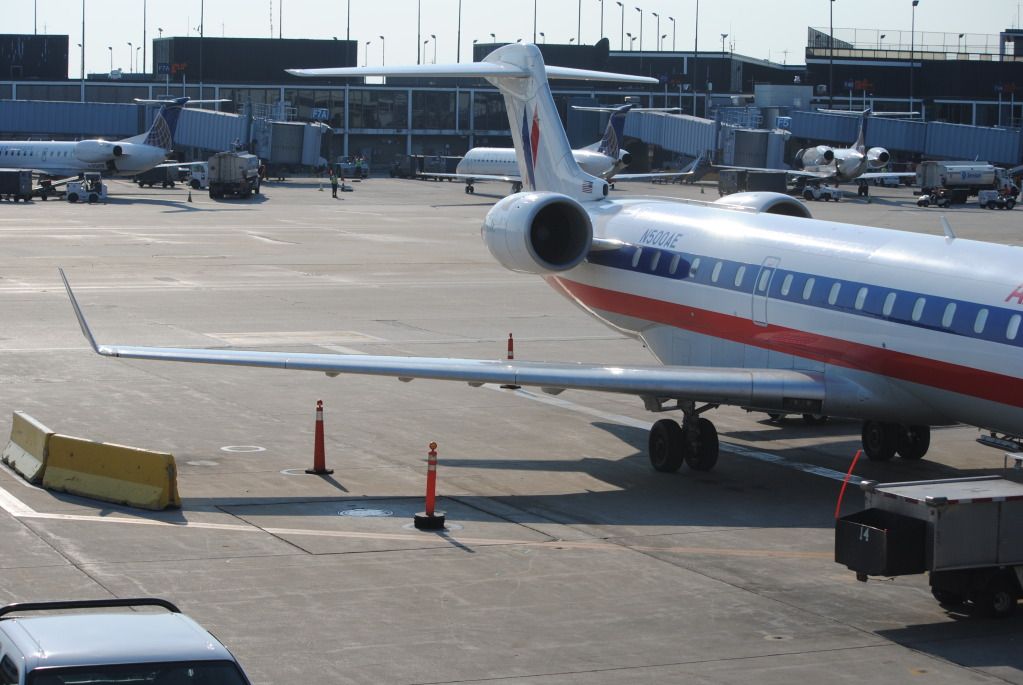 The SwissAir A330-300 just took off for ZRH:
Lufthansa 747 taxiing for takeoff:
N642AE! I just flew on this guy a month ago when heading to India FSM-DFW! Hello once again buddy! And thanks again, thanks to your delay in FSM I missed the AA 772 and instead got to fly on an awesome BA 744! (Here he is, coming in from OMA)
Wow. Virgin Atlantic A340-600 taxiing for LHR:
UA 772 after landing from PEK: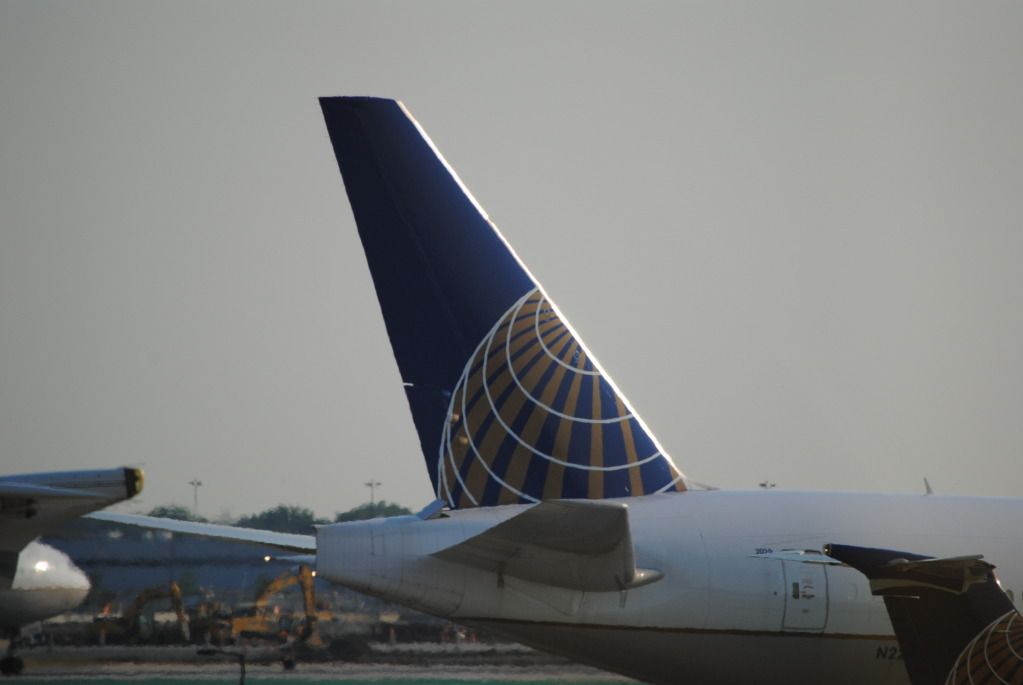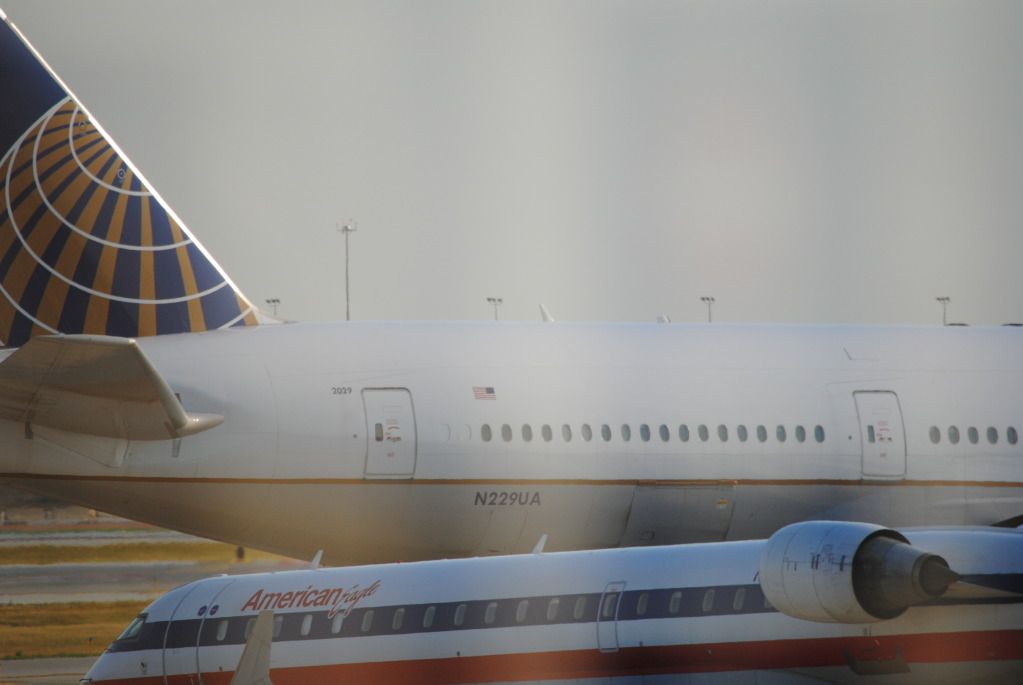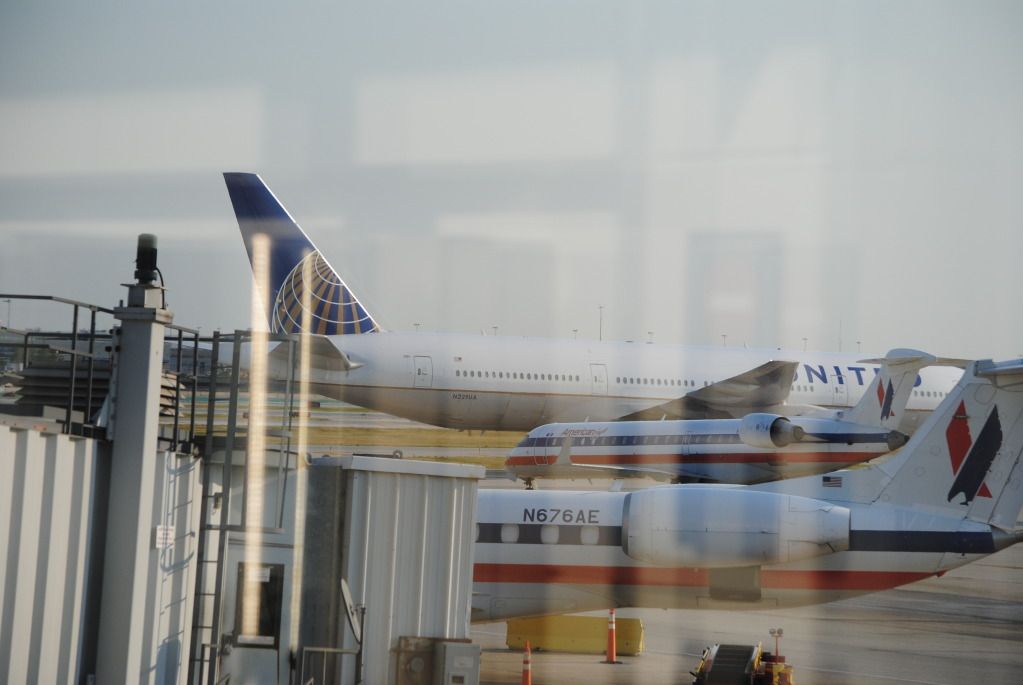 Cool floor here in Concourse G:
I've never seen this before. Why is there no Eagle on N834AE?
Beautiful Maddogs: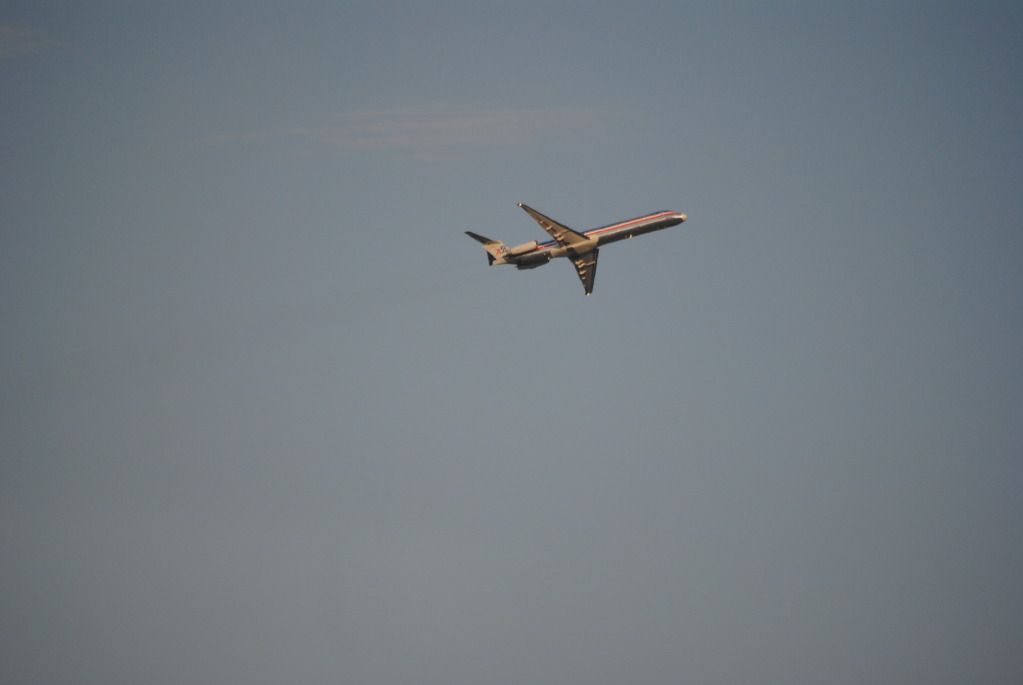 And soon, we started boarding our flight to XNA.
Flight #3
Airline: American Eagle
Flight number: AA/MQ 3712
Aircraft: Canadair CRJ-700
Registration: N507AE
Departure time: 9:10 p.m.
Arrival time: 10:50 p.m.
Flying time: 1 hour 40 minutes
Tower in ORD:
ER4 pushing back: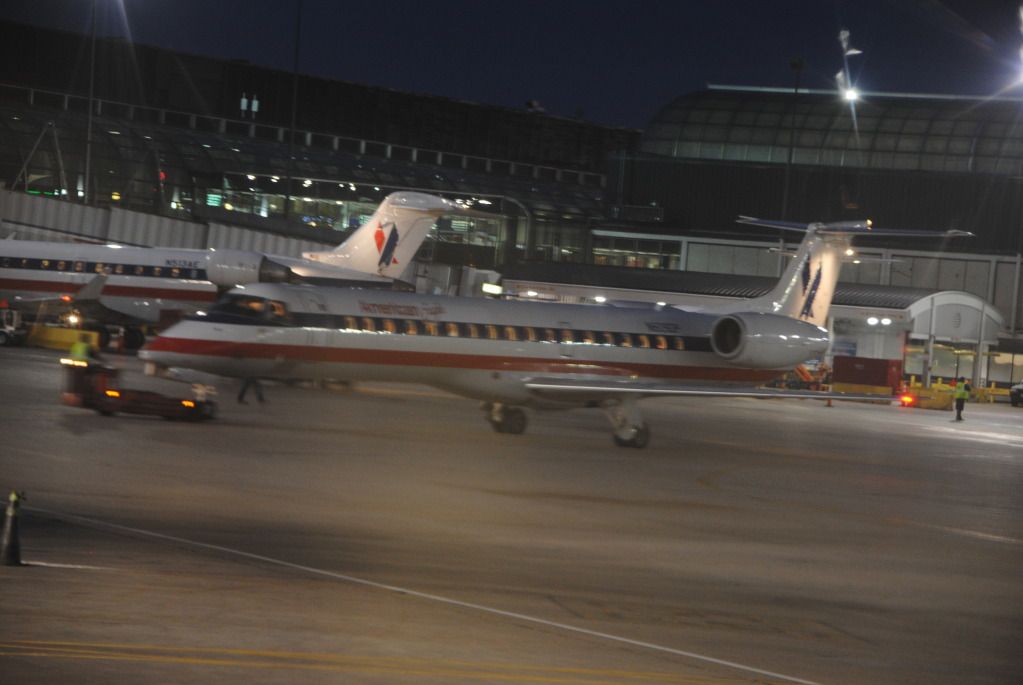 Tails of two different aircraft: the CR7 and ER4: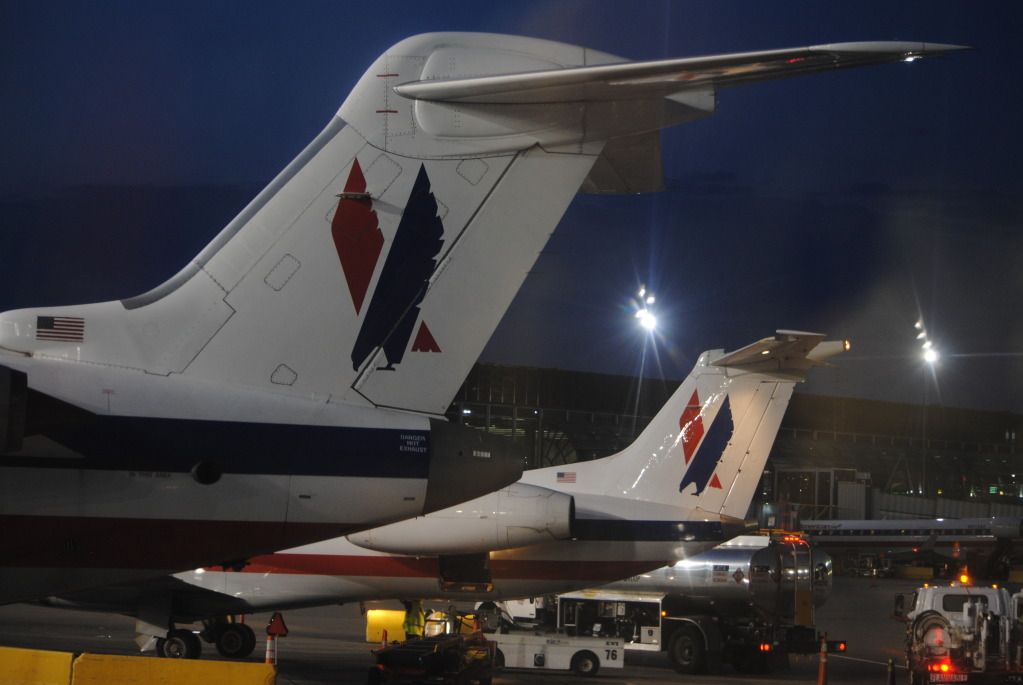 I was out like a light after that. The next thing I remember is the sqeal of the tires as we touched down in XNA.
And, my last picture of the trip as we pulled into the gate at XNA.
Overall, the return trip was nice and fast (compared to the trip to India). EY was great, but nothing, in my opinion, can beat the quality of service on Singapore Airlines. I would say EY151 was the second best flight I've ever flown, first being SQ317 one month before.
Thanks for reading, and as usual, comments are appreciated!