I have read tens of trip reports over the years ever since I joined this wonderful website, and decided what the heck, I should post one now. So here is my first post about a work trip I just took to Mumbai from Delhi, flying on India's national carrier Air India on both legs.
One of the beats I cover is the automotive sector, so recently BMW invited me to Mumbai for the Indian launch of the sixth-generation BMW 3-series. I was supposed to fly out and back on the day of the event, but because Mumbai has an IMAX movie theatre and I wanted to watch The Dark Knight Returns (again) in an IMAX studio I asked one of my friend's in Mumbai to book tickets for a night-show a day earlier. Anyway, it had been almost four months since I had traveled to Mumbai so there was a lot of catching up to do. It also meant that I was flying again after a May and June with zero flights as I changed jobs and took a driving holiday to the north Indian hills in between.
So, my hosts BMW India offered to fly me on Air India, and since I hadn't flown on the national carrier for about eight-nine months, I decided that I would skip my usual routine of Indigo and SpiceJet and try them inside. I was a loyal Kingfisher customer with Gold status, and Kingfisher fares are the cheapest right now in India but I can't bring myself to fly an airline when at the back of my head I wonder if their maintenance is up to the mark.
The return fare came to Rs 16,600 booked a couple of days before the flight that works out to $300 approximately which shows how much fares have increased over the last few months as Kingfisher has cut back flights. This time last year return fares were in the Rs 10-12,000 ($200-250) range even when booked a day earlier. Although the decline of the rupee versus the dollar also has a part of play in fares increasing.
Flying Air India domestically involves travelling to the swanky T3 at DEL and I set out from office in a taxi a good hour before reporting time. On the way we crossed the Airport Express Metro line, which would have been far faster and cheaper for me to have taken, but the line is shut right now (18 months after starting) due to a construction fault on the pillars, I hope they can get it repaired soon.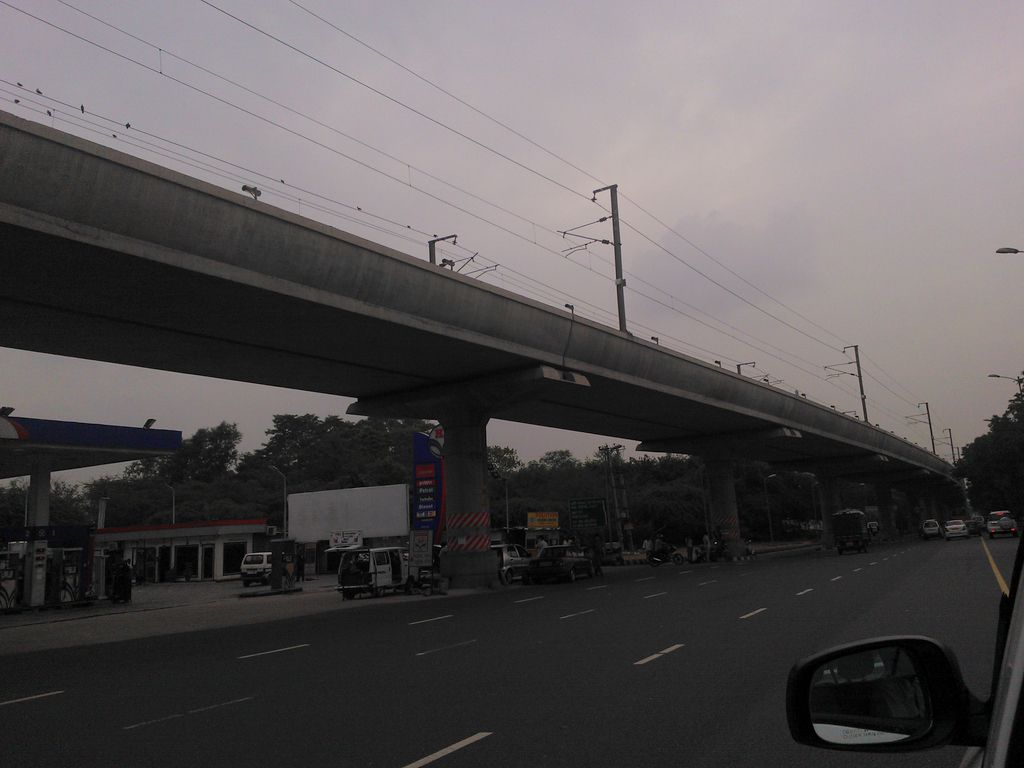 We also used the new access road to T3, a tunnel built under the Runway 10-28 threshold which is not advertised much by the operators of the toll road to the airport/Gurgaon because it is free.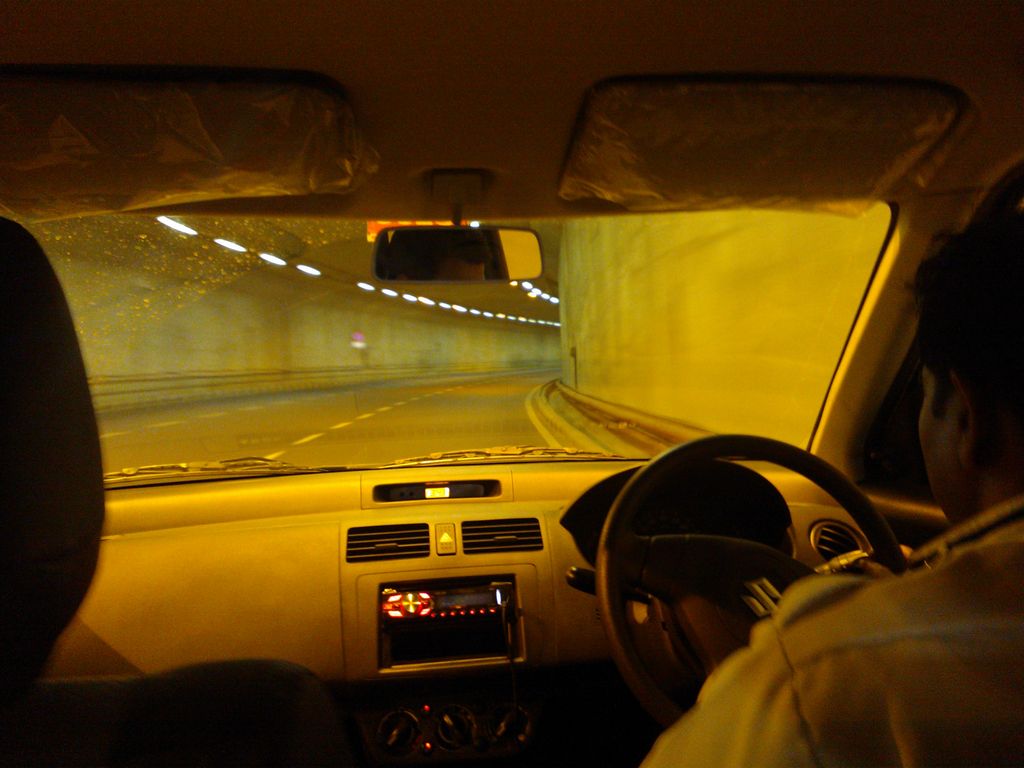 This also took us part the massive Hospitality area coming up near DEL T3 called Delhi Aerocity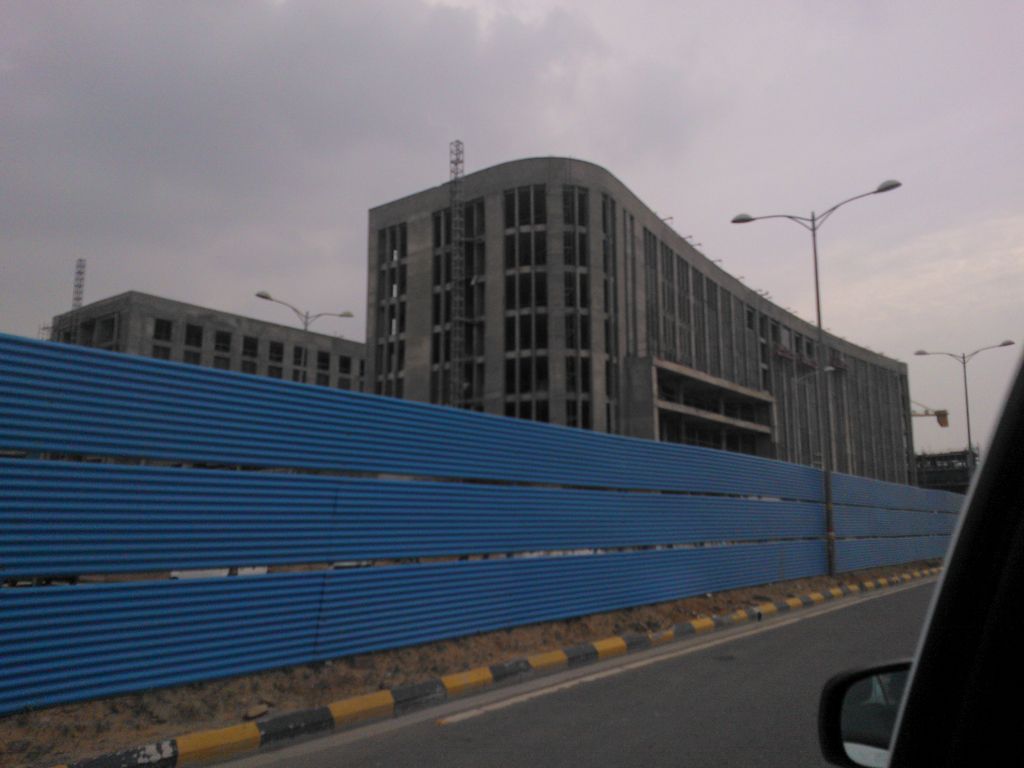 I had checked-in online but because AI screwed up by printing a 'D' on my boarding pass, I first went to the International Departures area (as one is supposed to if 'D' is printed on the boarding card) my common sense was to go to the domestic departures section, but the AI staff were quite clueless when confronted with the boarding pass, and had no idea which gate had been allocated to my flight which could have helped me a lot to identify which gate I had to go to. In DEL gates 1-26 are in the international area and gates 27-54 are in the domestic area.
Long story short and thanks to the fact that I had lots of time, I eventually managed to get to the right (well, it is the left) side of the terminal. Security was hassle free as usual, in fact, I have never faced issues in major Indian airports, but anytime I fly through small Indian airports my electronics can drive security (and me) nuts - at Bhuj (BHJ) a security man refused to believe me when I told him what an external hard drive was, saying such things didn't exist. It took me 45 minutes of arguing to convince him. That is another story!
DEL T3
A quick beer and kebab before I board - here was a promo so...
And a smoke as well, I know it is a bad habit, but what a view from the smoking room in the domestic side. Once upon a time, you would have seen a few Kingfisher tails in the Jet mix, but I only saw two Kingfisher planes at DEL - one A319 and one ATR72. And the airline had a major hub in DEL, how the mighty have fallen.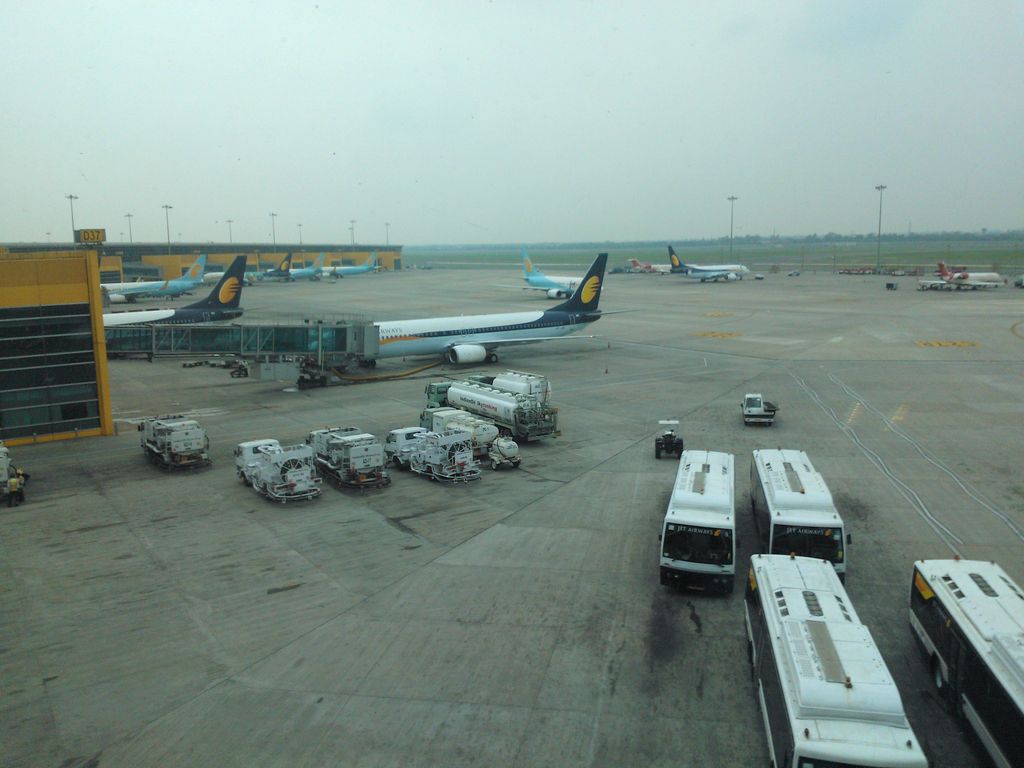 AI uses the western side of the domestic pier, which is shorter and my gate 28A was a short walk
[b]AI 659 DEL-BOM-GOI
Airbus A321-231
Seat 27A
VT-PPB c/n 3146
Delivered 17.07.2007
Scheduled Time 17:00-19:00
Actual Time: (Gate to Gate) 17:15-19:05[b/]
View Large
View Medium


Photo © Raymond Ngu
Whaddya' know, the plane was almost exactly five years old. AI uses the A321 on almost all DEL-BOM flights and this particular plane was going to carry onwards to Goa. Wish I was going there.
I boarded a bit late, and found my seat easily. Load factor was close to 100% in Y and J, I did not see an empty seat on the plane.
AI used the same planes for domestic and regional international, and legroom is not bad at all
We left our gate at T3 and surprisingly headed for runway 9-27 taking off in an easterly direction, which is common during the monsoon months. But I was surprised that we used the runway which was farthest from the Terminal and also the oldest and shortest runway at DEL. But is appears that there is maintenance work on 10-28 and 11-29 and 9-27 were being used multi-mode.
Taxi-ing to take-off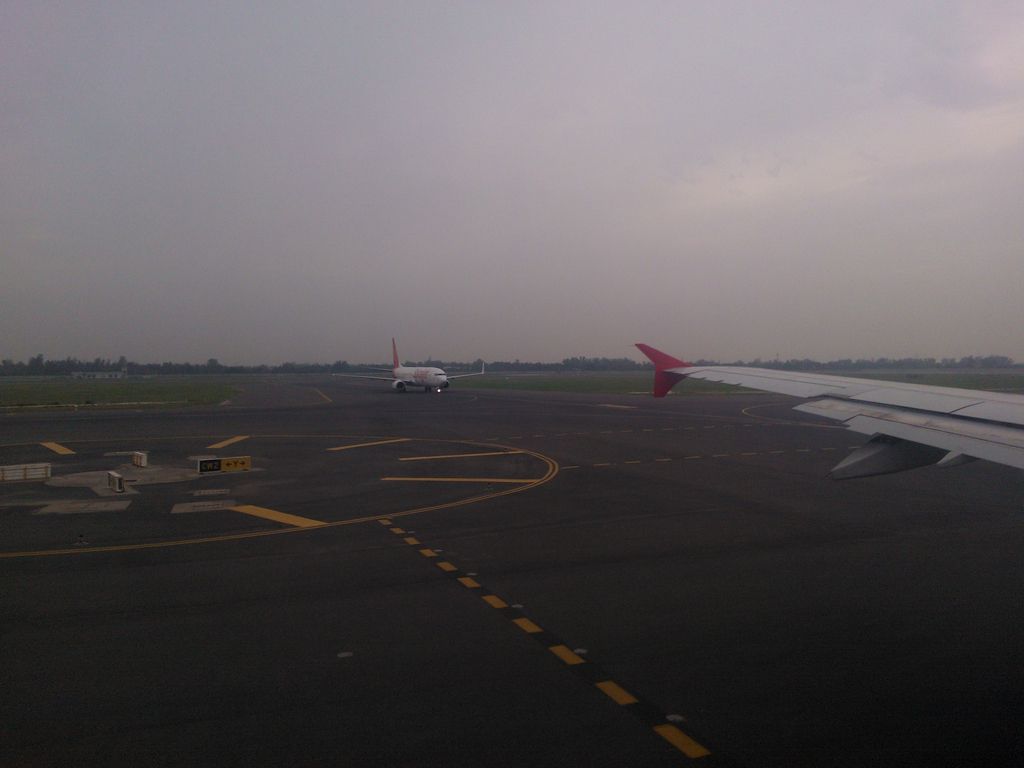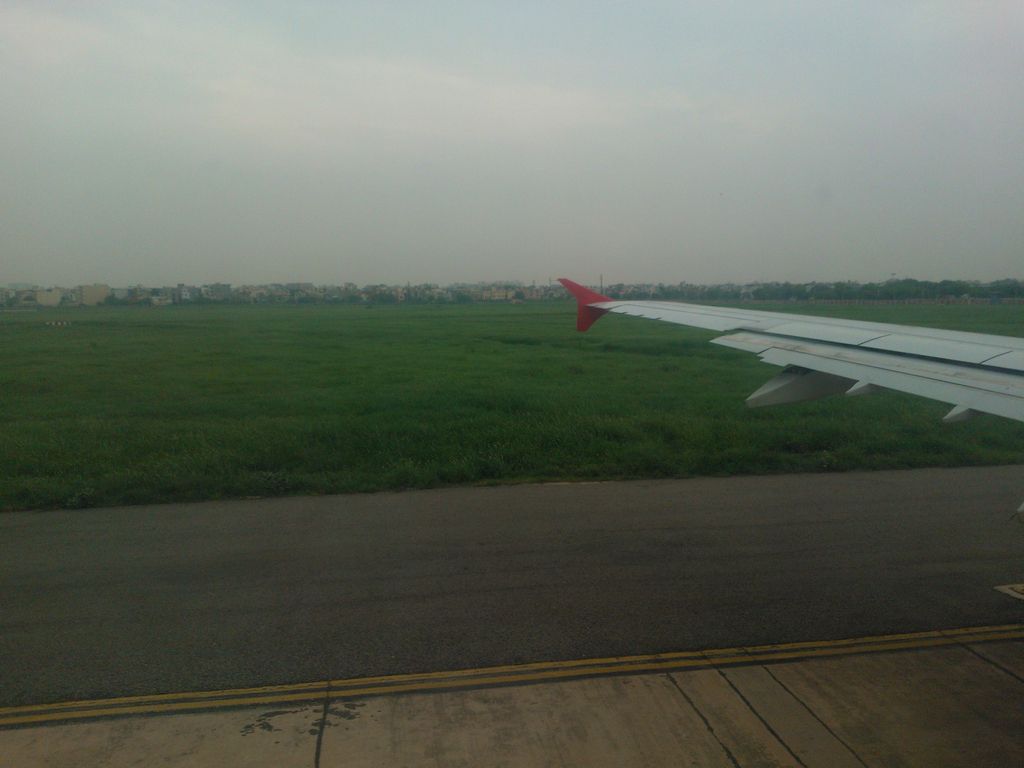 Take-Off video -
http://www.youtube.com/watch?v=sWHIhLQ1ssg
The flight was uneventful, albeit quite bumpy, but given the monsoons that is something I have grown up with. But this was not a 'wet and wild' ride as has happened with me a few times. Quite normal actually. AI also served us a nice evening snack - of a chickpea stew (ragada) a vegetable cutlet and some chicken kebabs, and AI also has a (not the best resolution) IFE screen on every seatback with a loop of Hindi/English movies and songs. I carry my laptop for my own entertainment rather than depend on the airlines.
Safety Demo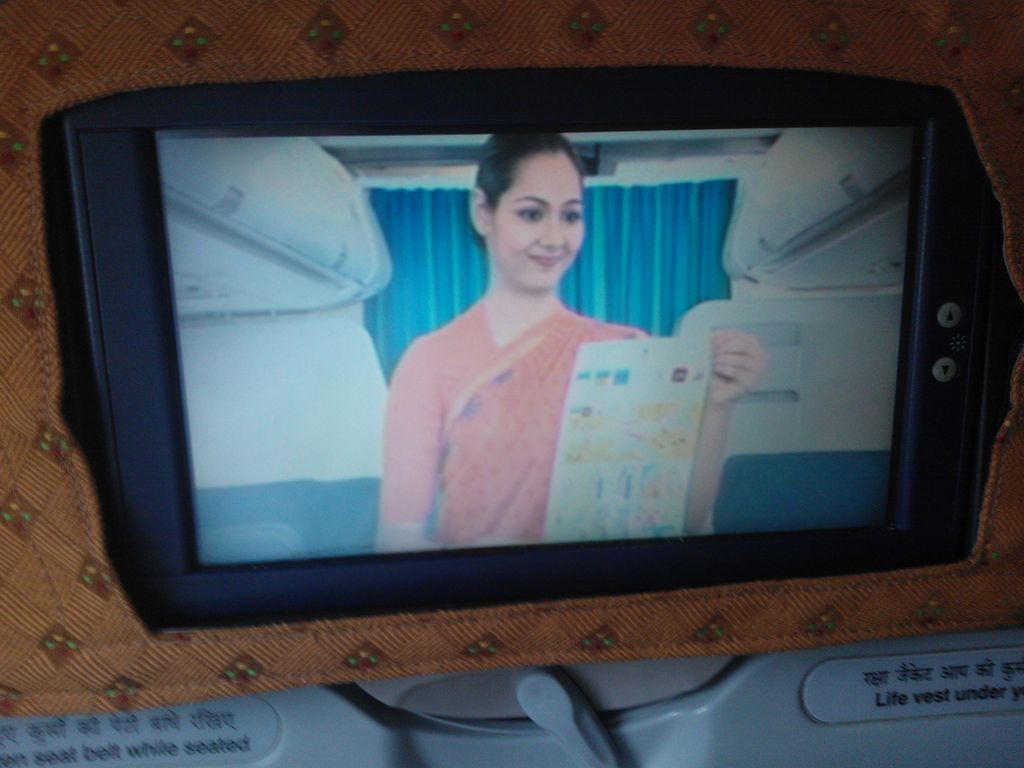 Pufffy Monsoon clouds underneath - no sign of land from 35,000 feet
Food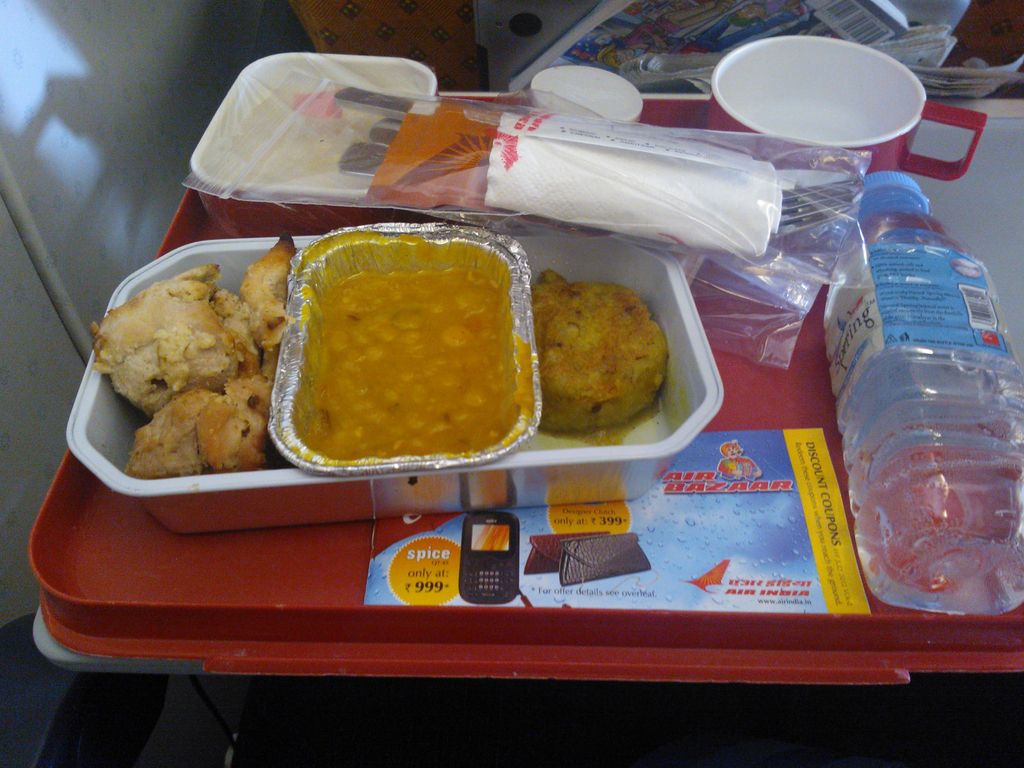 Landing in Mumbai - no rain, slightly out of focus in parts -
http://www.youtube.com/watch?v=9cgIKzDym2E
We landed on runway 27, which is standard in Mumbai and proceeded to terminal 1A, a terminal shared by AI and Kingfisher.
Approaching our gate A9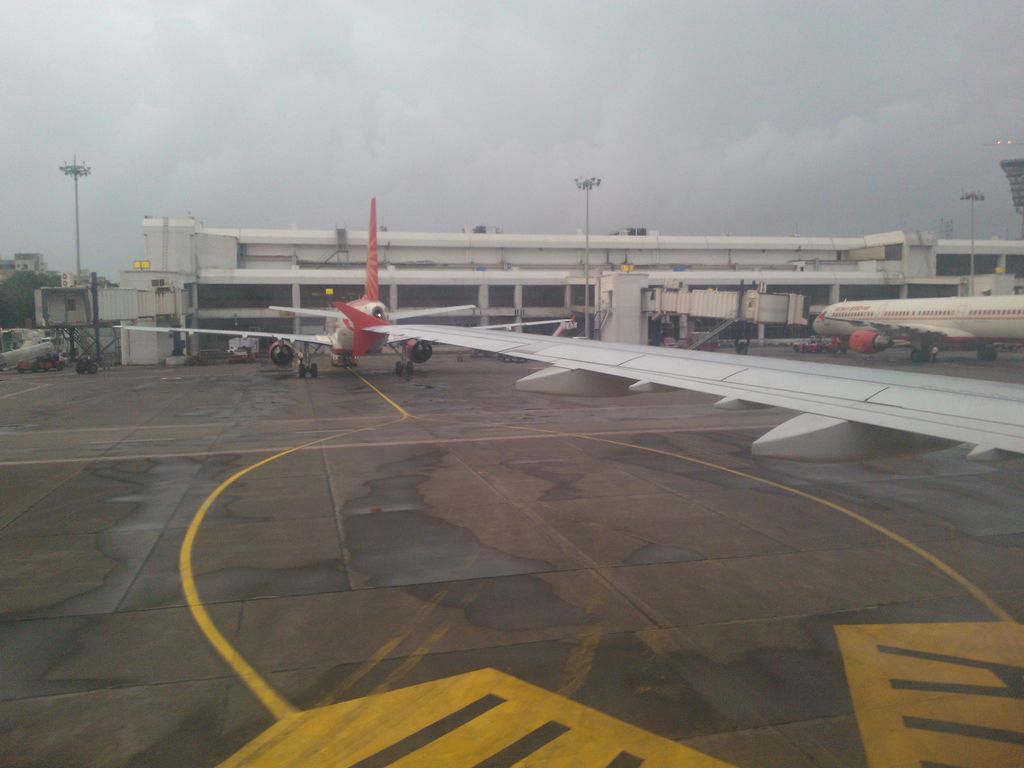 at the gate, our neighbour
I noticed BOM to be a bit nicer than last time, and the airport, like DEL is also getting a new Control tower and it is almost ready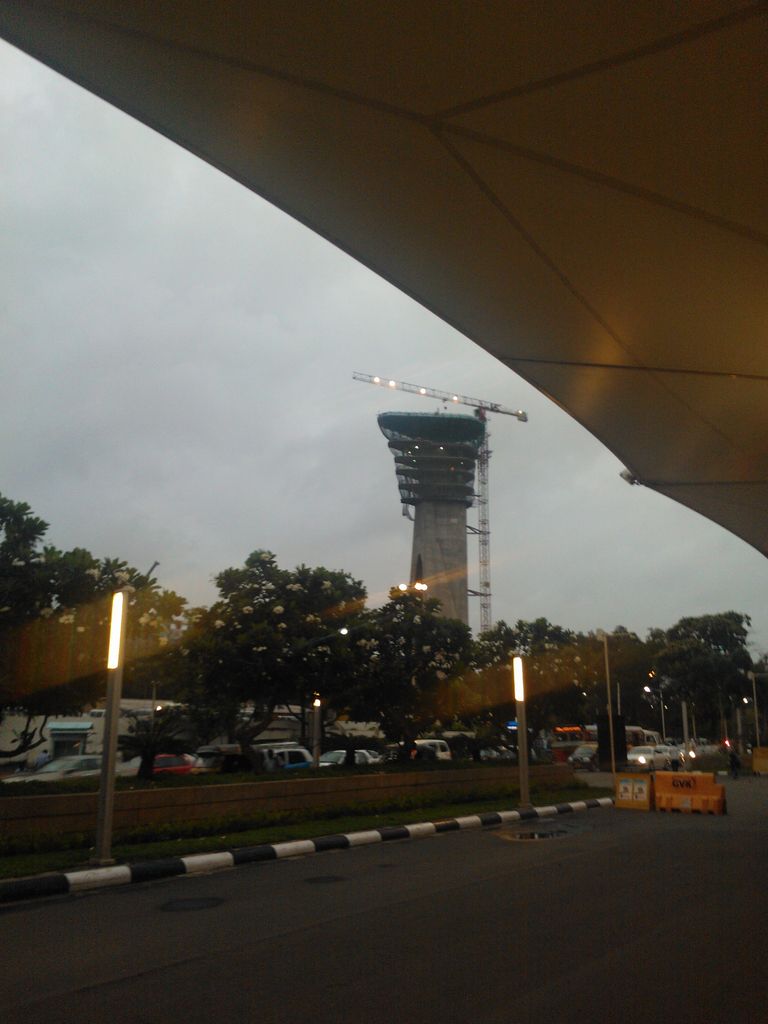 After my day in Mumbai, where I got to meet India's top cricketer Sachin Tendulkar at the BMW event, it was time to head back to DEL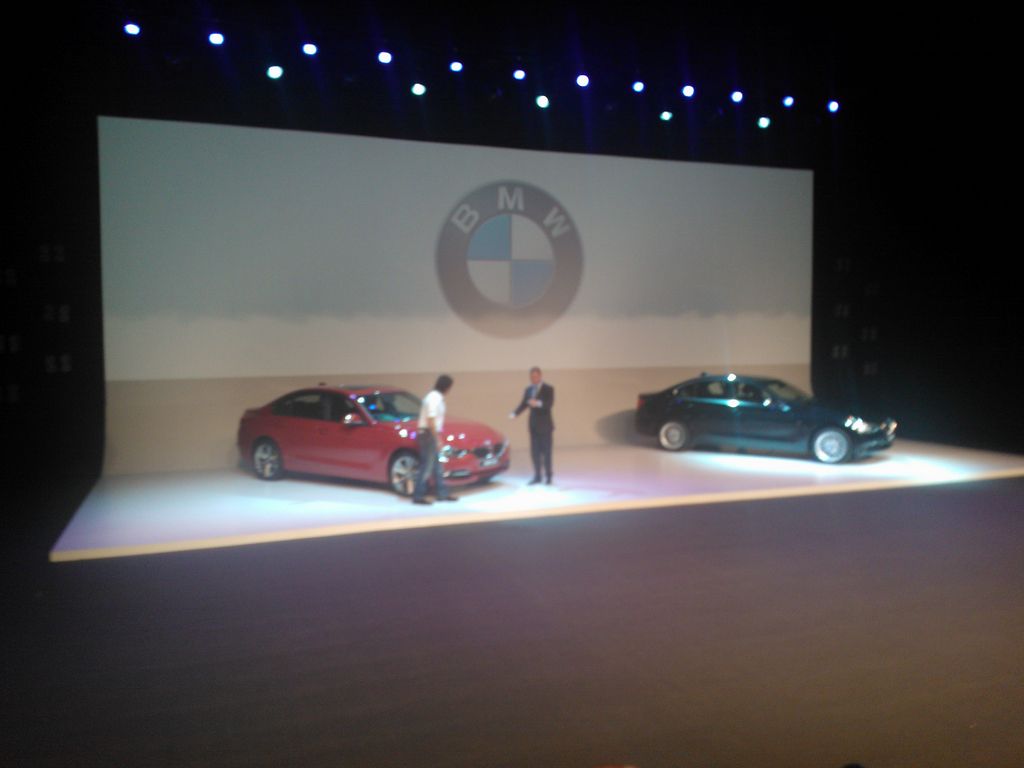 Having accounted for traffic, and taking two hours as a precaution for the 15km from South Bombay to Chhtrapati Shivaji International Airport it just had to take me 60 minutes. I had an hour to kill at Bombay. Beer it is then - BOM T1C, the newest part of the T1 complex between T1A and T1B - everything is interlinked has the Ultra bar in front of gate A5 with nice views of the passing (almost all Jet Airways) traffic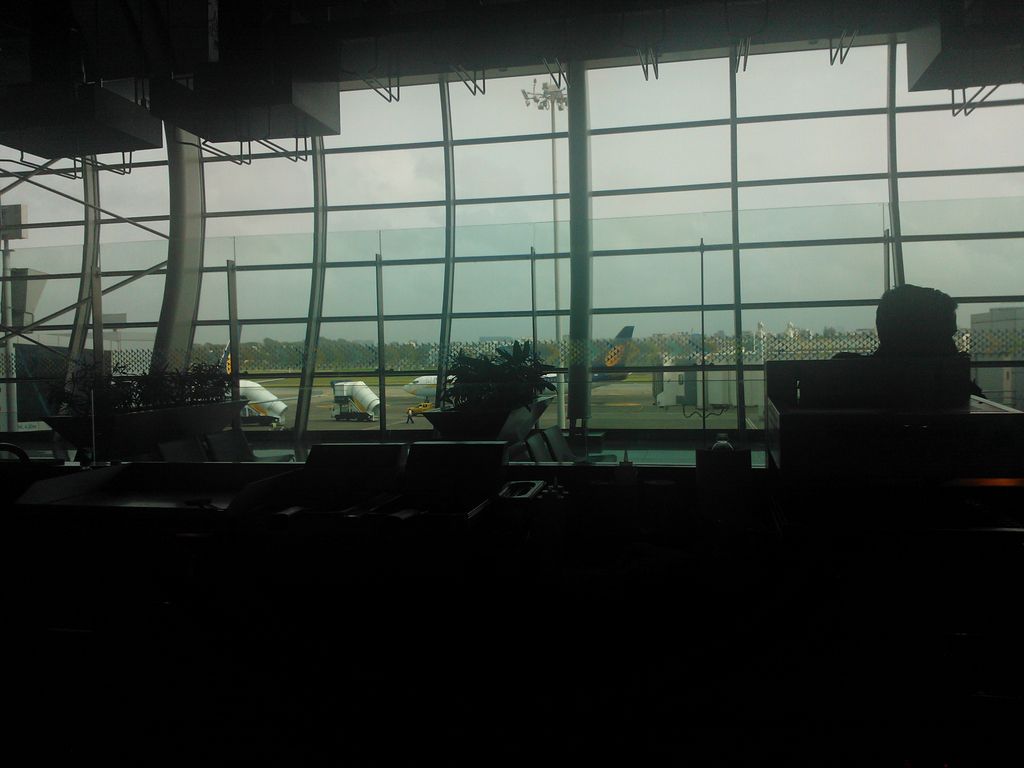 Going to our gate, I saw VT-SCF, one of the A319's that is yet to be changed to the AI colours still wearing the short-lived 'Indian' livery of IC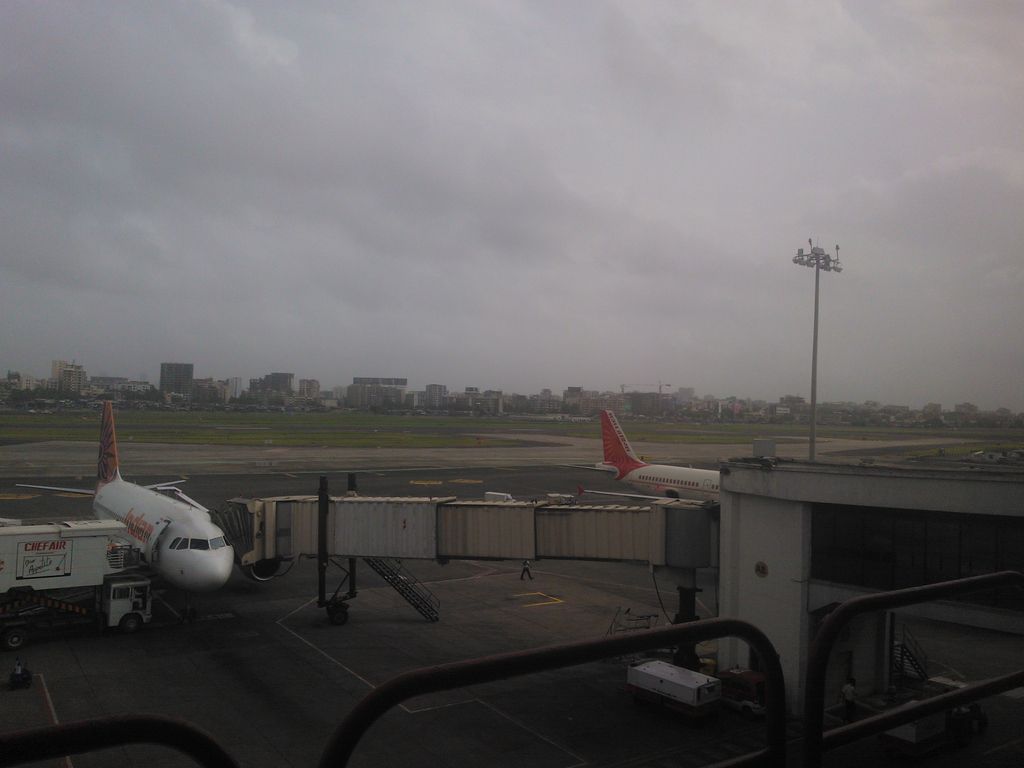 [[b]AI 660 BOM-DEL
Seat 15A
Airbus A321-231
VT-PPI c/n 3557
Delivered 18.06.2008
Scheduled Time 17:00-19:00
Actual Time: (Gate to Gate) 16.55- 19.00[b/]
View Large
View Medium


Photo © Vivek Manvi
As usual, another A321, but like an idiot I had chosen row A instead of F, the sun is quite sharp at this time and facing west at sunset isn't a great idea in India during the summer and monsoons. Boarding got done fast, despite the 95% load factor (how can AI lose money at these fares and these load factors is beyond me) and we actually pushed back ahead of schedule from the gate and began the looooong taxi to the threshold of runway 27, which made us pass the entire domestic and international apron. Saw a KQ 763, an LY 763, an SV 772ER, several AI birds and the occasional 9W international bird in addition to all the 737's on the domestic side with the other Indian carriers.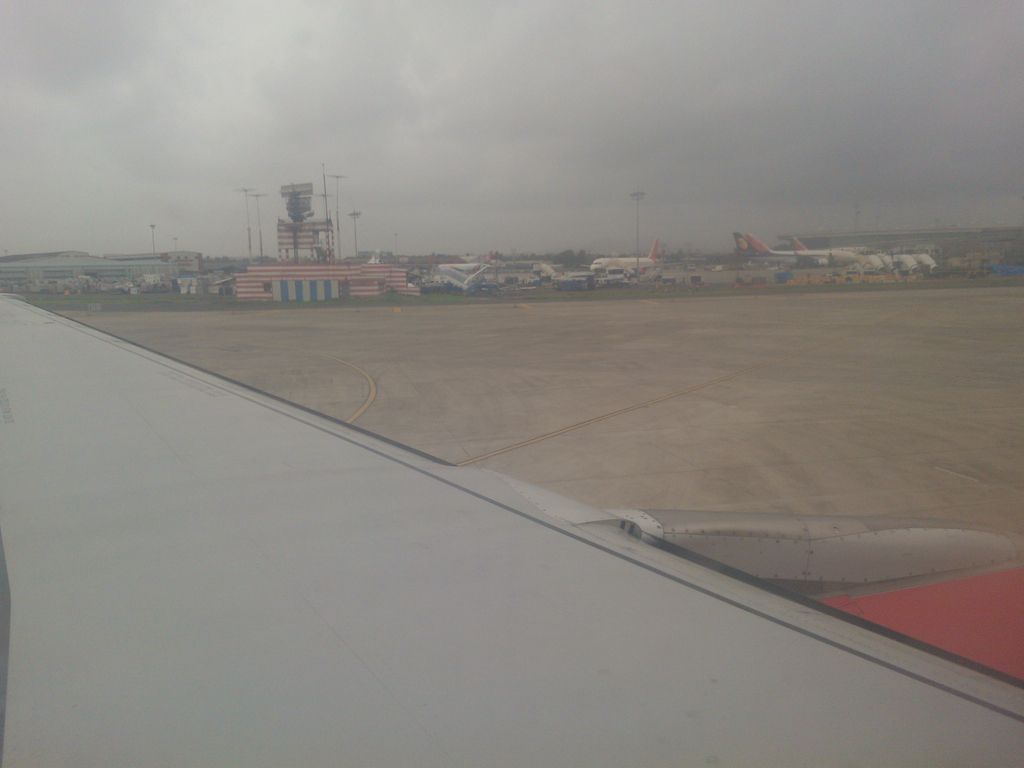 As the last entry to runway 27 N4 was undergoing repair we turned on at N3, which made as little as no difference. After waiting for five minutes we were at the head of the line for take-off and we just waited for a company A319 to land before beginning our roll.
Take-off video -
http://www.youtube.com/watch?v=1K-63mjqd24
The flight was uneventful again, the food was the same and well, quite routine. This must be my 200th flight on a DEL-BOM sector over the years, and with the monsoons there wasn't much to see again, and the sun was so bright I actually shut my window shade for much of the flight. And this is AI, the airhostesses are efficient, but pretty, well, erm, not really. Much more traditional than any of the other carriers though in their sarees.
Seeing our progress, halfway back home and 33,000 feet over rajsthan
We landed on Delhi's runway 11, and this meant a long taxi back to our gate. The airline surprised us by parking at Gate 26, an international gate, my adventure with that pier hasn't ended and we left using airstairs from the R1 door, only the second time in my life I deplaned using that door, even after innumerable flights. The plane must be going off to BKK, KUL or some destination like that. We were bussed over to the domestic side.
Landing video - short and sweet -
http://youtu.be/3NNZLSmWprc
With no checked-in luggage, I quickly left the terminal and into a taxi and headed almost straight to a friends party. Plane to exit, less than five minutes despite the bus!
I hope you folks enjoyed this TR, I will be sure to post more as I travel more inside India and all over the world