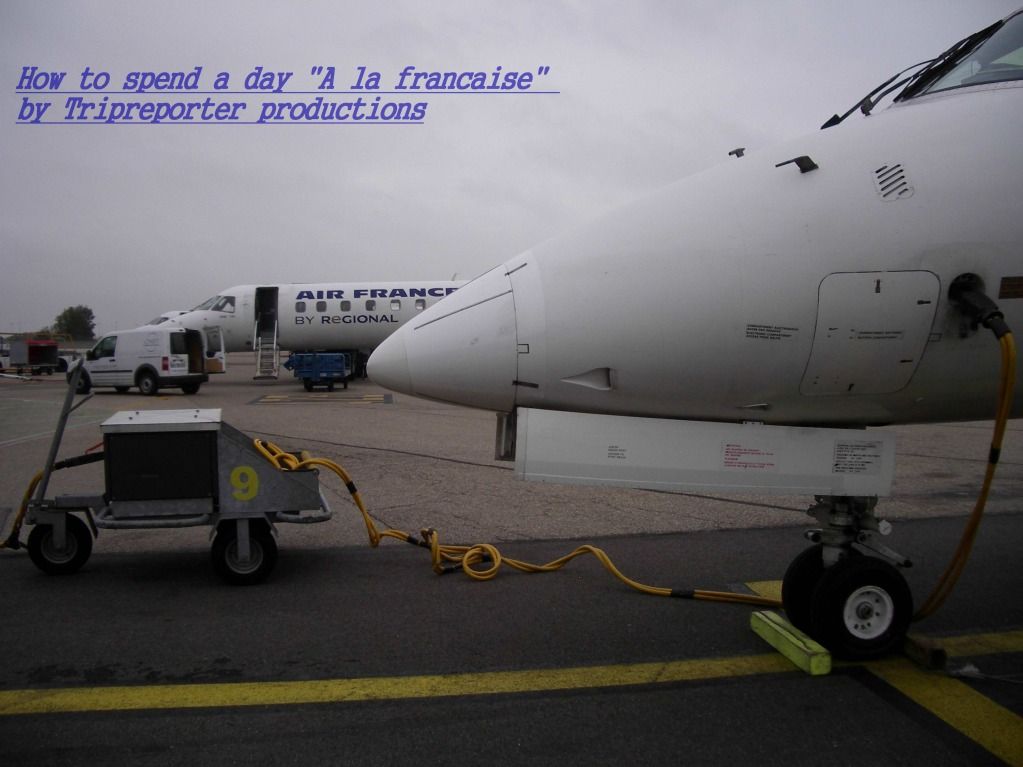 Bonjour, dear readers,
just three days after the last time I stepped off a plane
Norway, My Love, By Train, Ship And Sure, Plane
(by
FLIEGER67
Jul 14 2012 in Trip Reports)
it´s me again, to do some flights.
But wait, not only me, there is someone else also on the way. "Travelled with nice accompaniment",
sounds perfectly fitting for today´s device.
One of these less explored places a la francais is the destination and of course, also the new entry to my departure airports map.
Here it is, updated with no. 216:
Departure Airports II
auf einer größeren Karte anzeigen
Also the earlier 200 stations:
Departure airports
auf einer größeren Karte anzeigen
The itinerary looks like this,
painting a sharp triangle on western Europe:
Thanx to, as usual:
http://www.gcmap.com/
And dont forget the latest flown routes:
Tripreporters Flüge II
auf einer größeren Karte anzeigen
Well, here we go!.
Wednesday, 23.05.2012
.
.
.
.
Service Air France AF 5411 operated by Regional CAE
Scheduled: 06.50 // 07.40
My southern german sense forced me to do not pay much of these additional fees added to you´re booking when you´re close to fix it.
No way here, Wideroe wins my business with a low service fee.
Leg one and two are booked together, the fare per leg 60.00 Euro´s this way. Not that really low cost, but anyway acceptable from my point of view.
The german stranger booked by Norwegian company Wideroe to fly domestic in France. Well not only myself found these combination somewhat special.
Also AF´s OLCI system don´t want to accept me today.
Not possible due to a third party booking!.
Thank you AF, half an hour less to sleep this night
to arrive a bit earlier at the airport than planned.
No way to go without my seat of choice.
The cell phone asked me, if this is really correct, 02.30 am wake up for the ride through the black forrest and some well timed arrival.
Yes, it seems so!.
My travel companion received the same no OLCI message, even if it´s not a third party booking. Well, AFKL is a somewhat special company.
Just pure coincidence, we arrived close to the same time at the airport.
Bonjour madame, looking forward to a nice day in the air.
Who is she?.
Well, we will see!.
Checking the self service kiosks and by surprise, it works this way.
The warm welcomed and well needed Embraer 135 is on schedule and also on the seatmap, 12A for me.
Immediatelly changed later on for 14A, the last row window.
Well, what about my travel companion?. Is she perhaps these italian singer, in need for a break from her usual routine on stage?.
This question remains open.
Anyway, she decides also for row 14, the other side, good for some more chat in between.
Some well used minutes to wait and talk at security.
Ready for a first view to the apron.
No, not this one, at least not today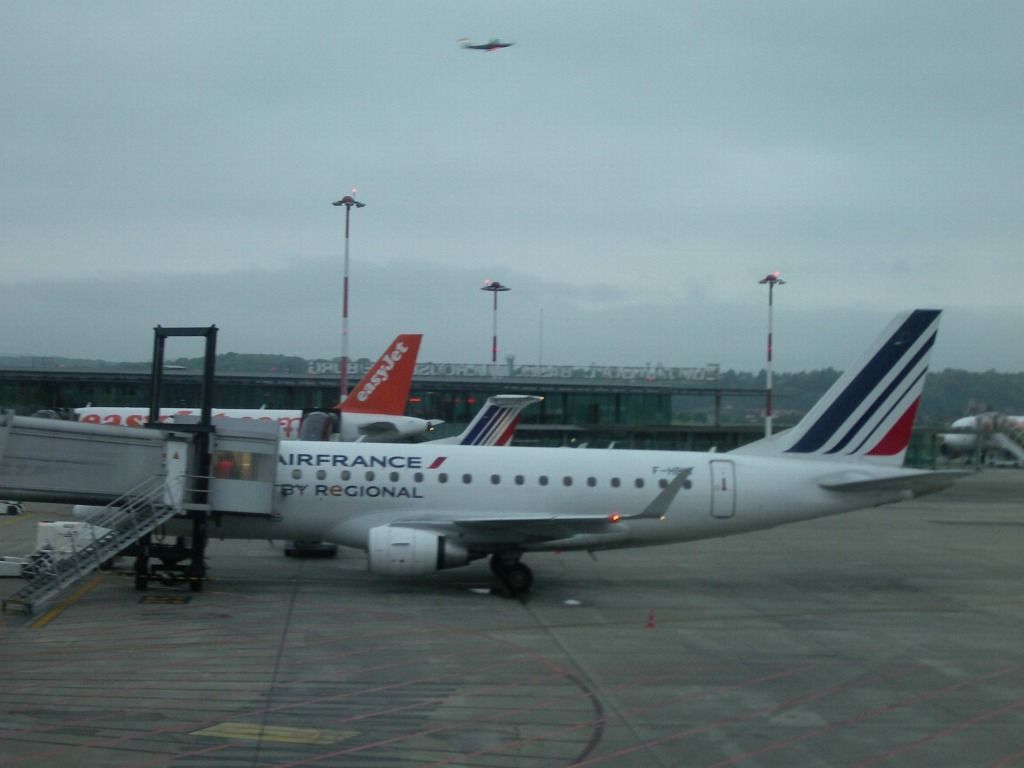 Well, Easy is not going the easy way, but AF does
from gate 21
Sunrise in theory, ok some light comes up
to see these cutie at the gate, 14 degrees btw.
Cute and short, this looks like correct
Also cute but much more longer in the background
No lounge to visit here.
Looking forward to fly F-GRGQ
Leg no. 5 till now on the Embraer 135 and this is a new entry to the books.
Nice close up
In service with Regional since 17.03.2000, four examples are still in the fleet.
No chance to go under the wing here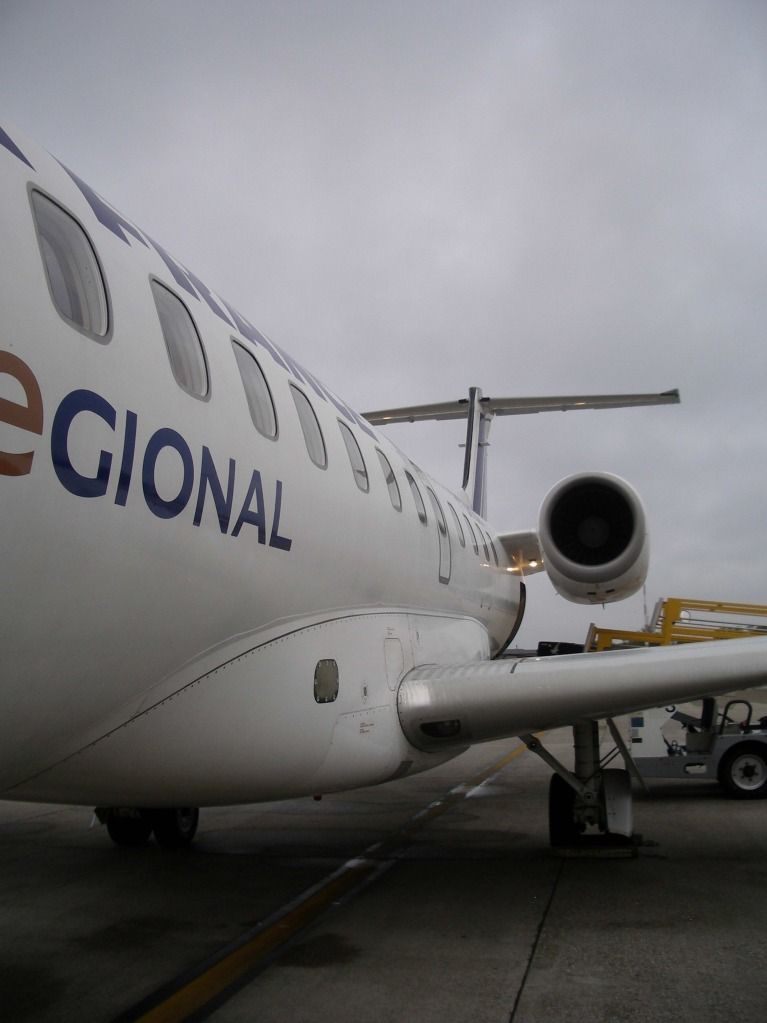 06.55 am, close to ontime, "Regional Europe" should go now for the 40 minutes ride down to LYS.
A short cut for us, departure from the 3900 meters runway "One-Five".
Any idea about the majority of pax here on these leg?
Ok, biz people with a 80% load.
Cockpit crew is from France, the captain with a nice welcome during boarding and once more with short informations prior to descent.
No route or flightlevel info.
Me and the engine, you know
Cabin crew is one nice elder male FA.
Service looks like a brioche und free drinks.
Low cabin ceiling
Dark blue leather seats, clean so far.
And the legroom shot
There is also a safety card here
Argentine, well, who knows?
Cloud cruising
High above the cloud layer
Coming in for the 2670 meters "Three-Six-Right" 7.40 am, perfectly ontime, also cloudy here with 14 degrees.
Regional paradise
By now to F-GRGQ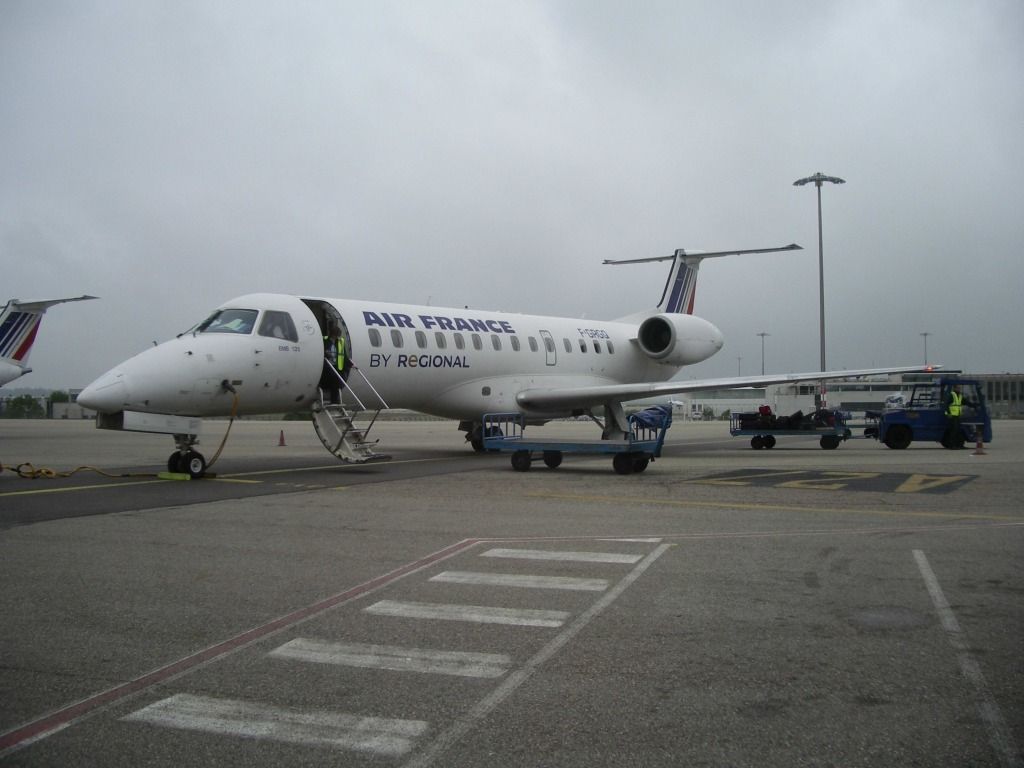 ..................................................................................................