Background
Somewhere around late October, early November, our International Studies teacher started to talk about an International Internship we still had to do in order to pass the bilingual part of our education. Most of my fellow students listened to what she had to say, then erased the information as quickly as possible. Way to much effort required to arrange something, you know how 15-16 year olds are. A few of us, including me, though, had their travelling minds put into action. Two of my classmates went to New York in late April, early May. And two others joined me on a trip to London, Ontario. My father and his cousin have a campground there, and after an email and a phone call, we were ready to start planning.
Planning
I spent a good couple of hours on a Saturday searching for flights from either BRU, AMS or DUS, to YYZ. After those hours passed, I had quite a list of available flights. Most of them, however, were in the price range of €800-€1000, which was too much, really. But then I stumbled upon KLM. Directly from AMS, they had the guts to ask well over €1100 for the flight. But searching with Brussels as departure point, it was (only) €800! And yes, it was the same flight, exactly. The ZYR (Brussels South train station)-AMS section was by train! So we settled on that option. At least, my friends did. My family would come over near the end of our trip, and I would spend another few weeks in Canada on vacation with my family, while my friends would go back again. I would then, together with my family, fly out of YXU, via YYC, to YVR. There we'd be taking an RV and drive it around for two weeks, before heading back to the Netherlands again. My family would fly the longhaul sectors in J, and that meant that my last sector YVR-AMS would be in J as well. But the combination of AMS-YYZ and YVR-AMS wasn't possible with the train ride from Brussels, so I got to skip that part and go straight to AMS.
Now: about the jumpseat. I 'm working on getting my Private Pilot's License, and one of my instructors at our flying club is a First Officer on the 747 with KLM, for this report I'll call him EJ. Once I knew that I would be flying the 747 to Toronto, I asked him whether it was possible for him to be on that flight, and if he was, if I could have a look in the 'office'. He said: "Sure, I'll file a request (for flight crew assignment) and if I'm on the flight you can come and sit with us during take-off and landing. A week or three before departure, I got an email saying that he got the flight…
Flightplan
My final itinerary looked like this:
AMS-YYZ on KLM in Y, covered in part 1. My first 747 flight
YXU-YYC-YVR on Westjet in Y, covered in part 2. My first 737-700 flight (at least, logged)
YVR-AMS on KLM in J, covered in part 3. My first 777 flight
Today's sector
I apologise for any photos of lower quality, I don't have the equipment or the experience to make my pictures as good as some others on this forum.
I got up at 09.30, in order to (Jonas style) catch the 11.15 train from my local station to Schiphol. I only had one train change ahead, but with the Nijmeegse Vierdaagse in full swing, I thought my switching station might be crowded.
I boarded the train, which was surprisingly empty, and got myself a set of six seats.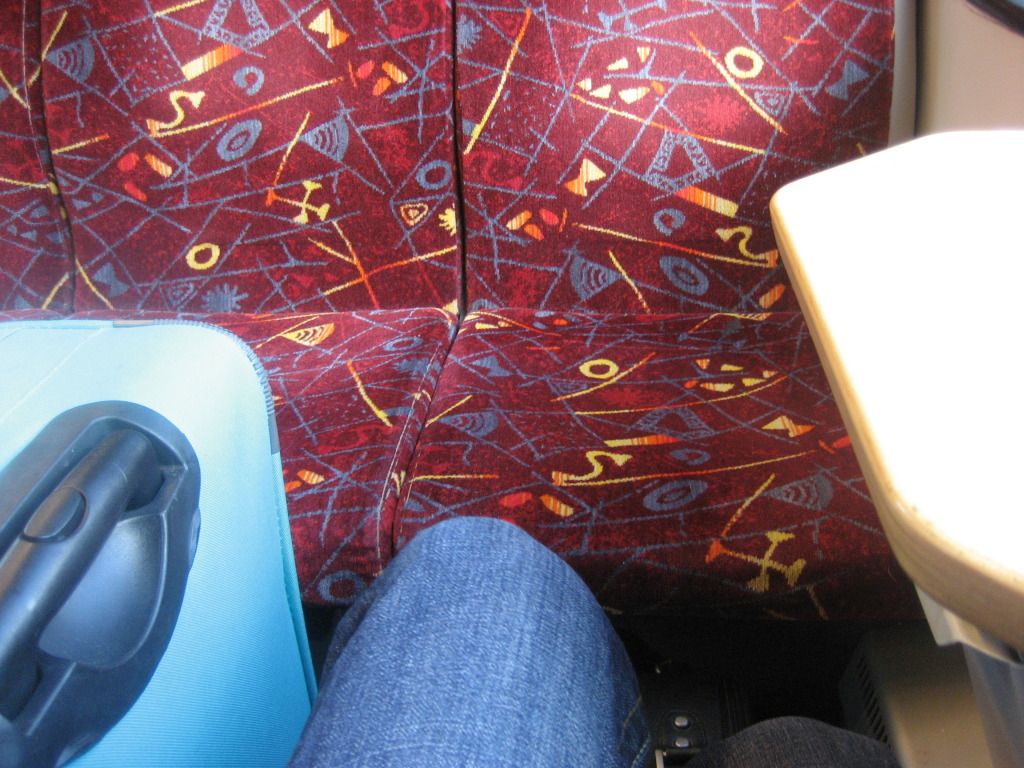 The train remained fairly empty throughout the ride, There were at least two of the six seats unoccupied at all time.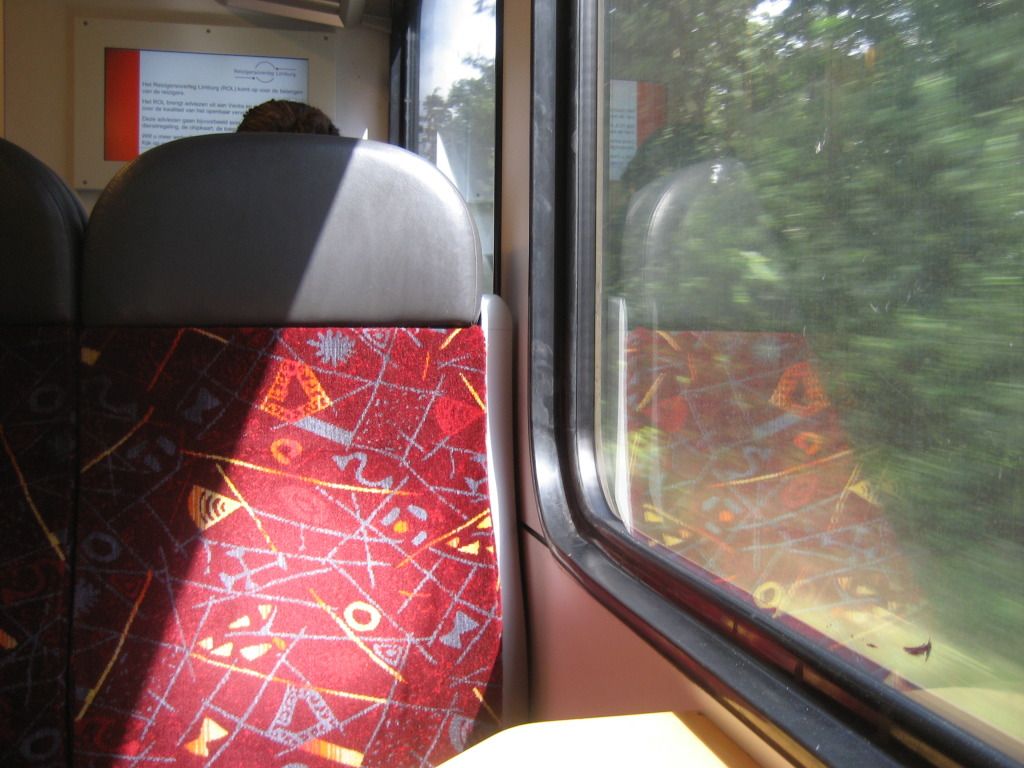 The train change went smooth, the station was not overly busy, and most passengers were terminating at Nijmegen anyway.
The next train was an Intercity, double-decker train. I had a few minutes until this train departed, so I walked all the way to the front of the train, contrarily to most other people on this train. This proved a wise decision as virtually no one entered this section, also not at intermediate stations, meaning I got almost the entire cabin to myself.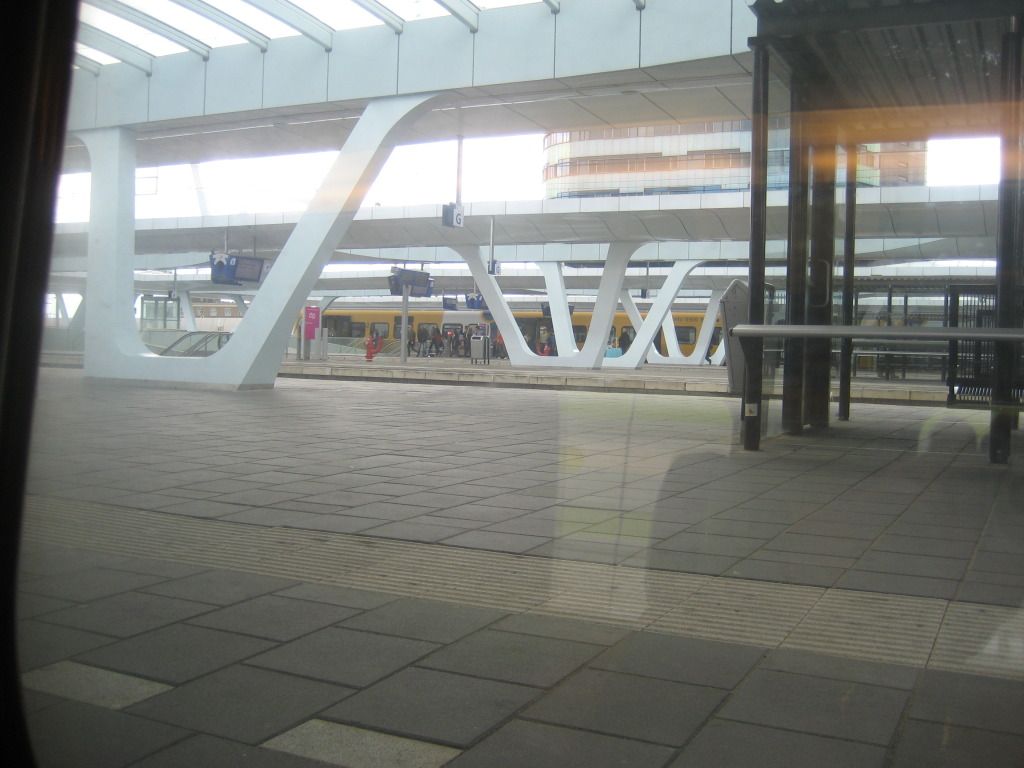 Arnhem Station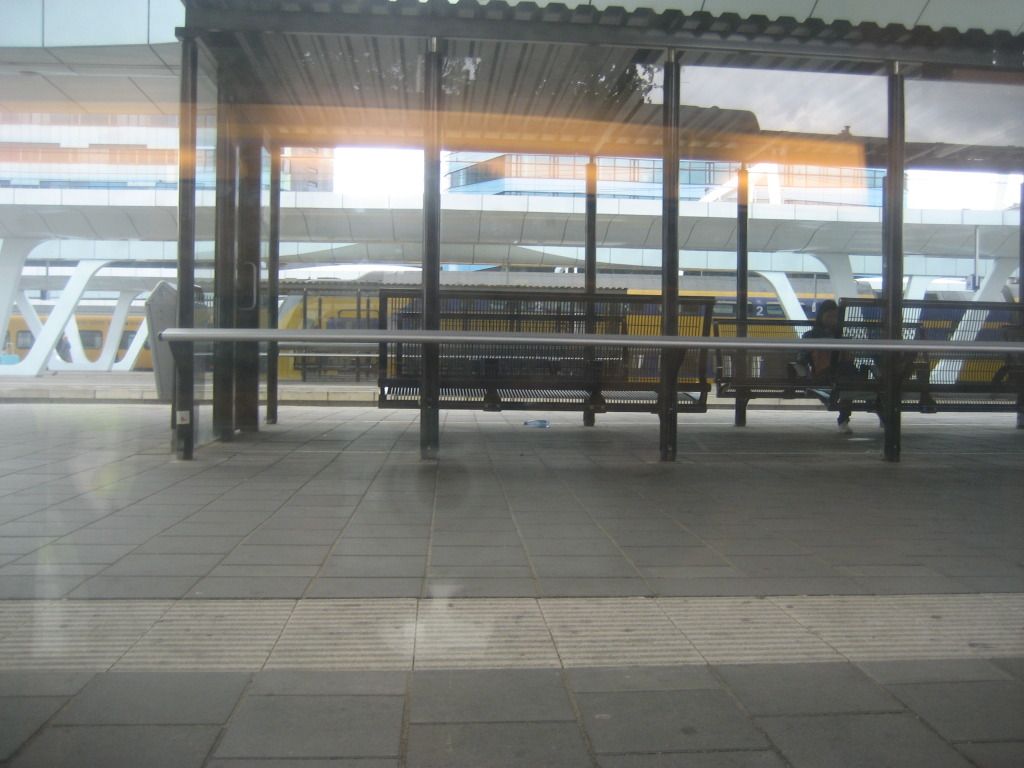 Another Intercity calling in at Arnhem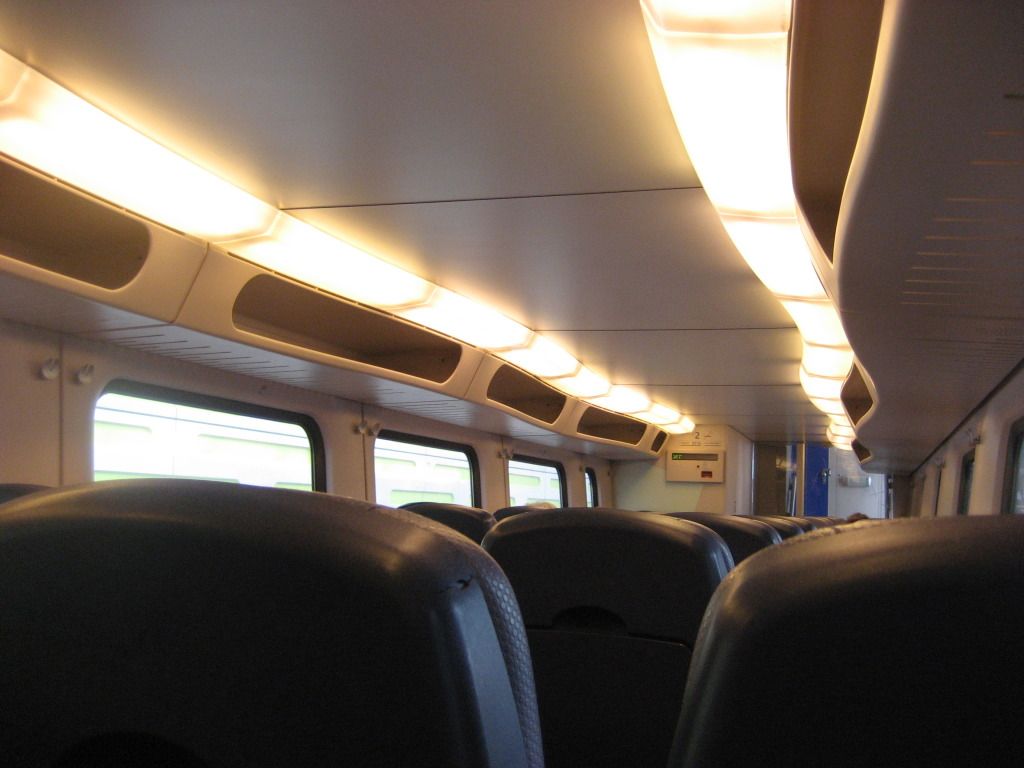 Almost empty train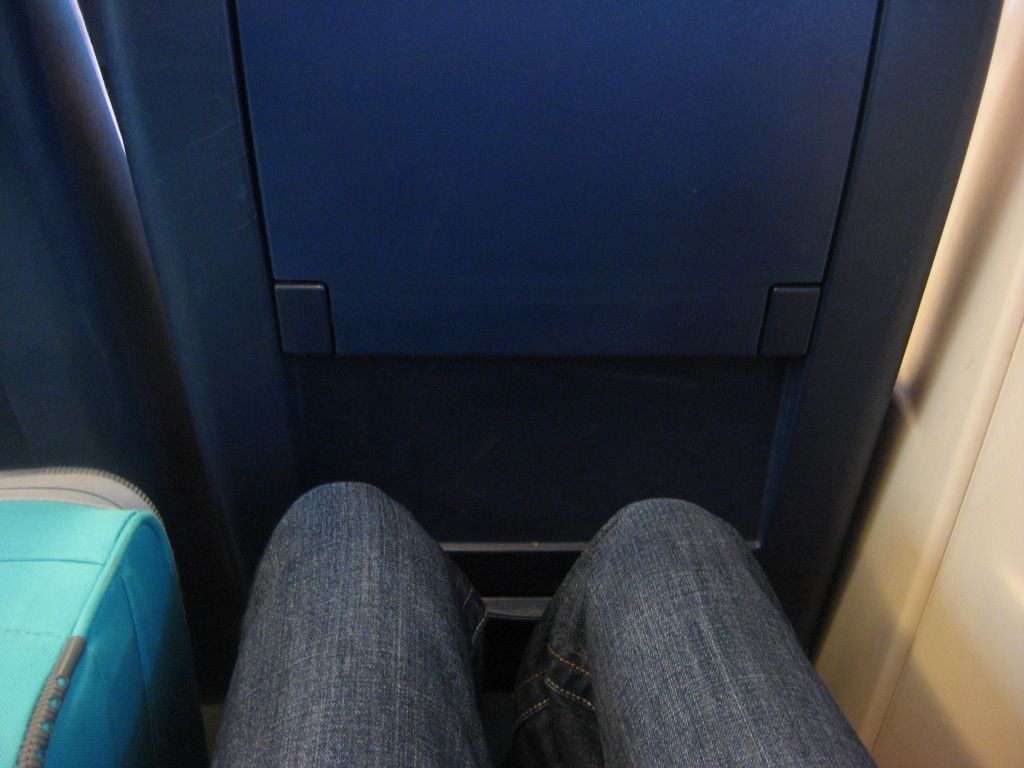 Legroom shot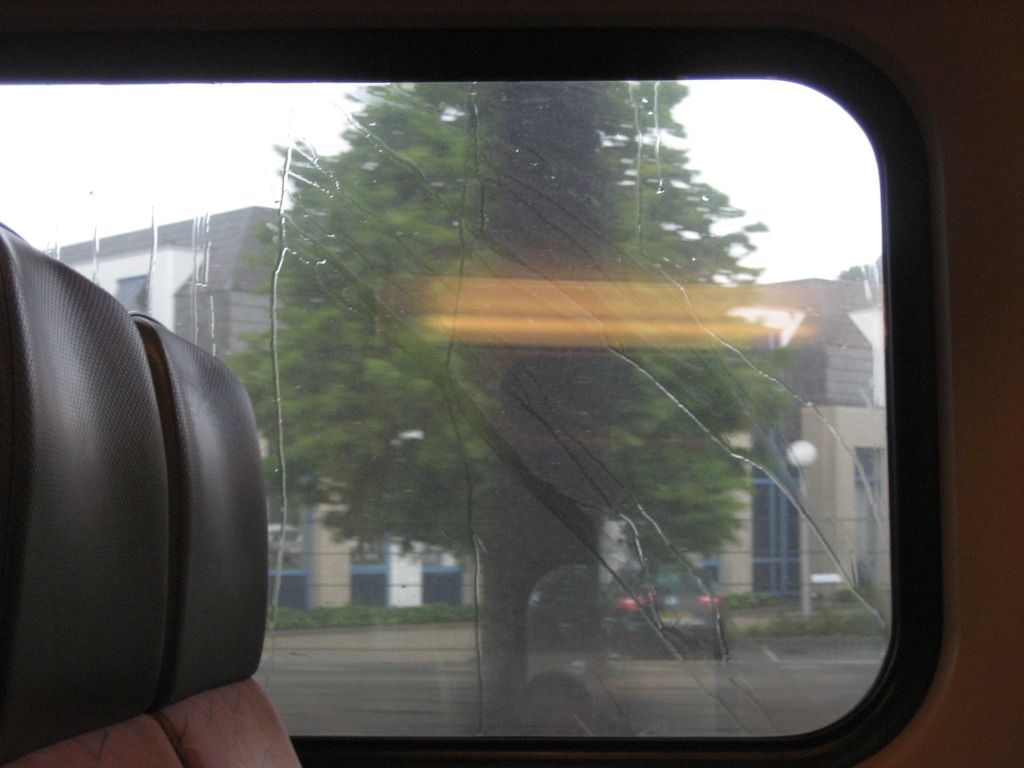 Dutch weather
Intercity to Alkmaar at Utrecht Centraal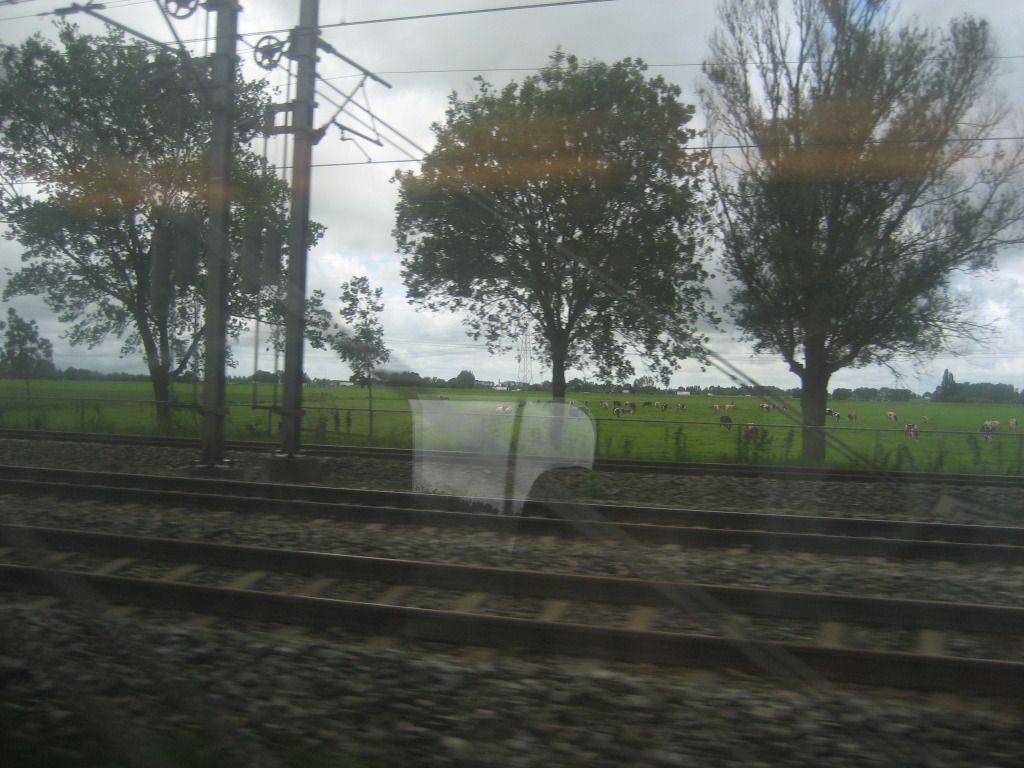 Dutch landscape – flat and cows
Amsterdam – Bijlmer Arena Station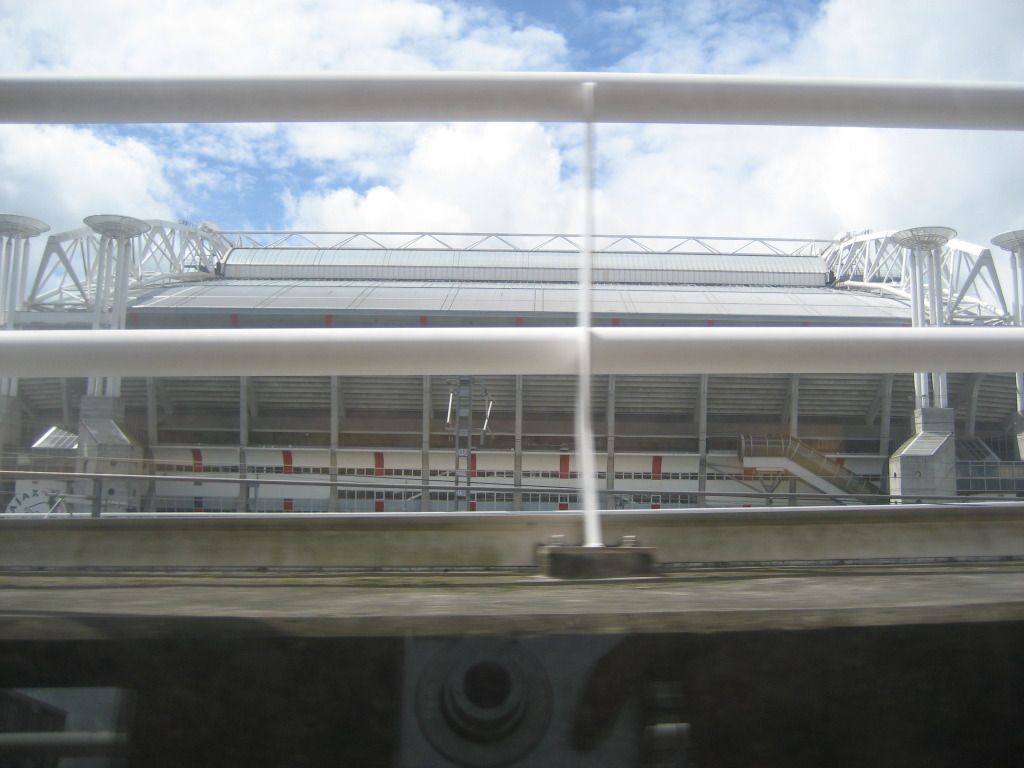 Amsterdam ArenA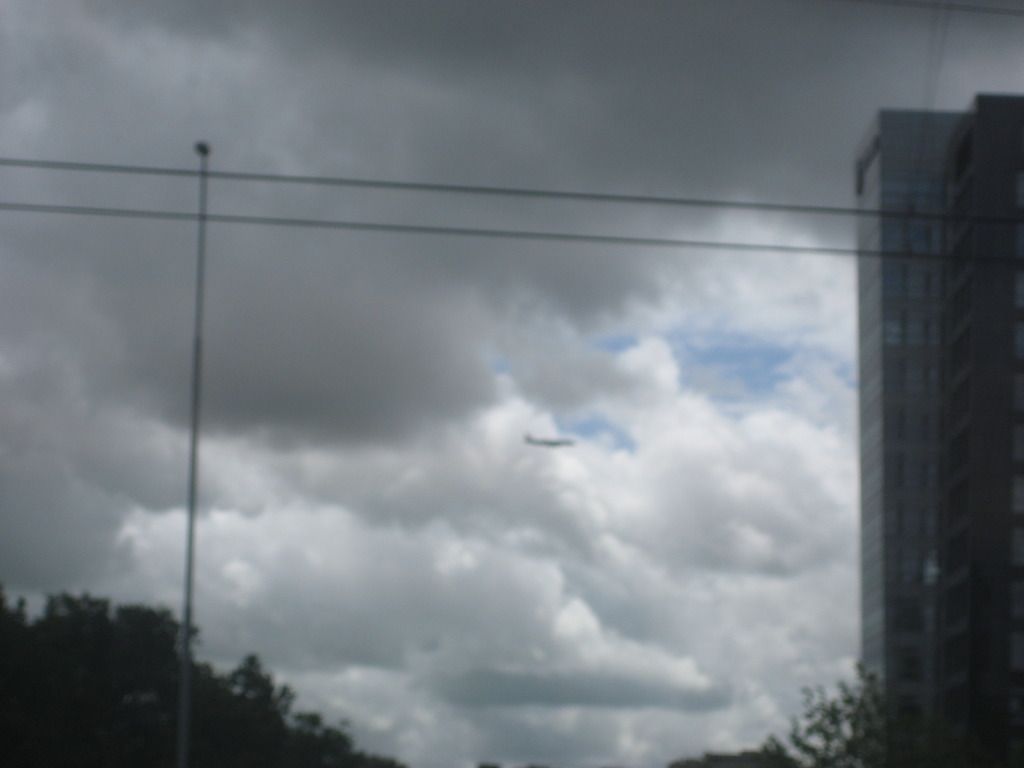 KLM E190
Arriving at Schiphol, I first printed my boardingpass and checked in my bag. It was around 14.00 at that time, so I decided to first get something to eat. Typical airport prices were being charged, even for none-airside business. I got myself a Panini and 0.5L Coke, it cost me €9.05! Next up: the Panorama Terrace, conveniently located from the Touch-Down restaurant. I spend all my remaining time there, which is until my friends called saying that they were at the station already.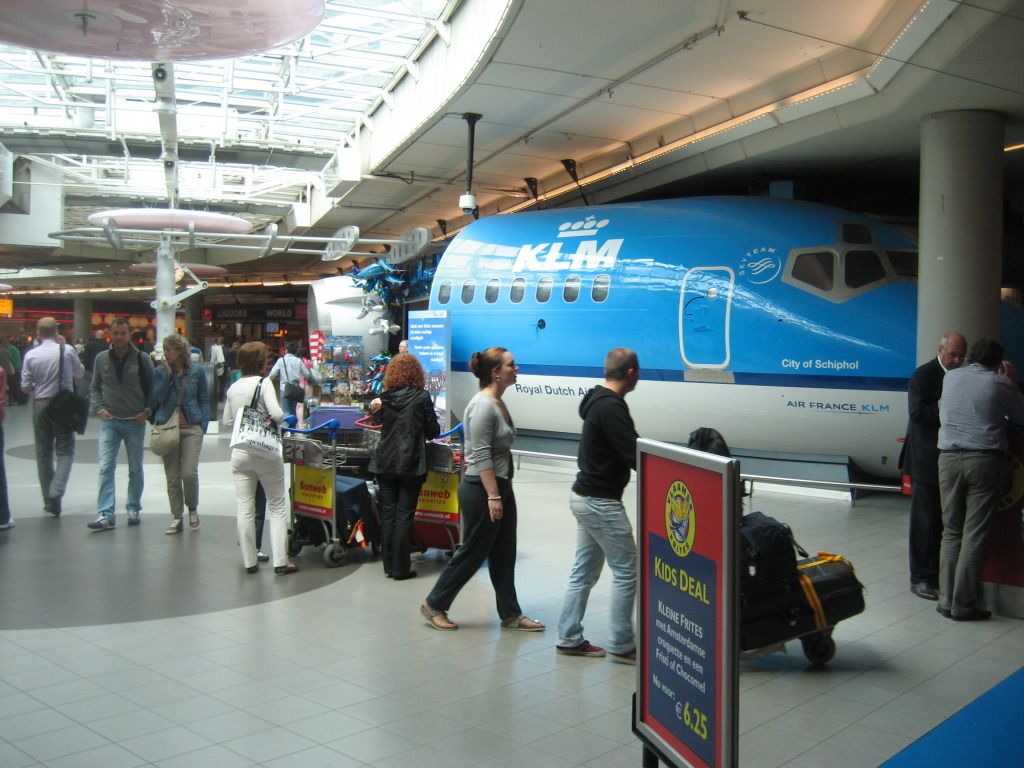 Planes @ Plaza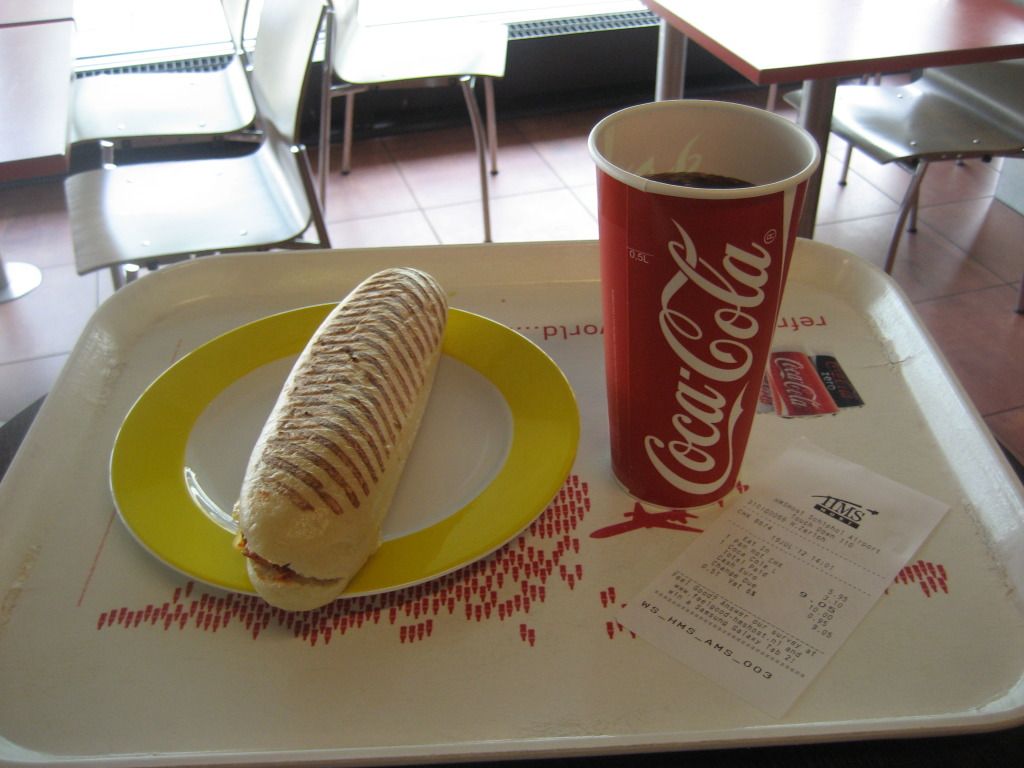 Panini & Coke à €9.05!
I proceeded to pick them up, and we dropped their bags off too. Security for non-Schengen flights is done at the gates at AMS, so we only had to pass through passport-control. I picked the wrong line, getting stuck behind a Moroccan (?) family which spoke only Arabic (Again: ?) and a few words of Dutch. They were no problem for the Marechaussee guy (Dutch Military Police), hadn't they asked a seemingly simple question which they were unable to properly get across to that guy. After a few attempts they gave up, and it was my turn. Of course, I was through in seconds, after which I joined up with my friends again. Next was some coffee at Starbucks and sat in a comfy set of chairs watching the ramp action between the Foxtrot and Golf piers.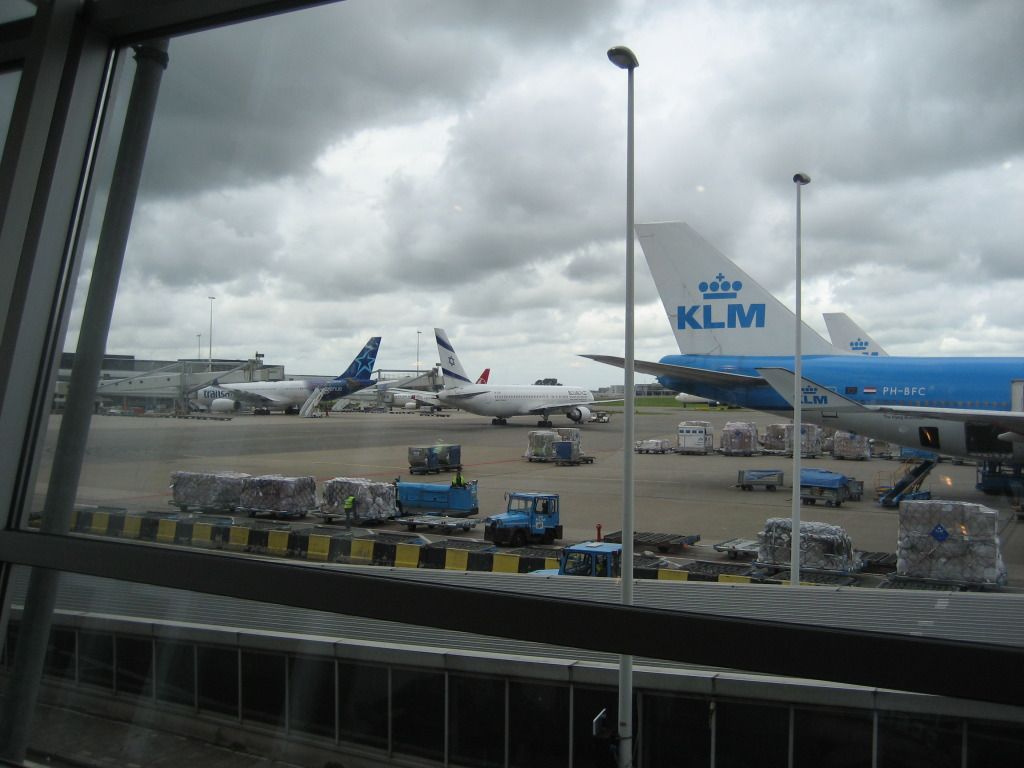 El Al's 4X-EAX, a B763ER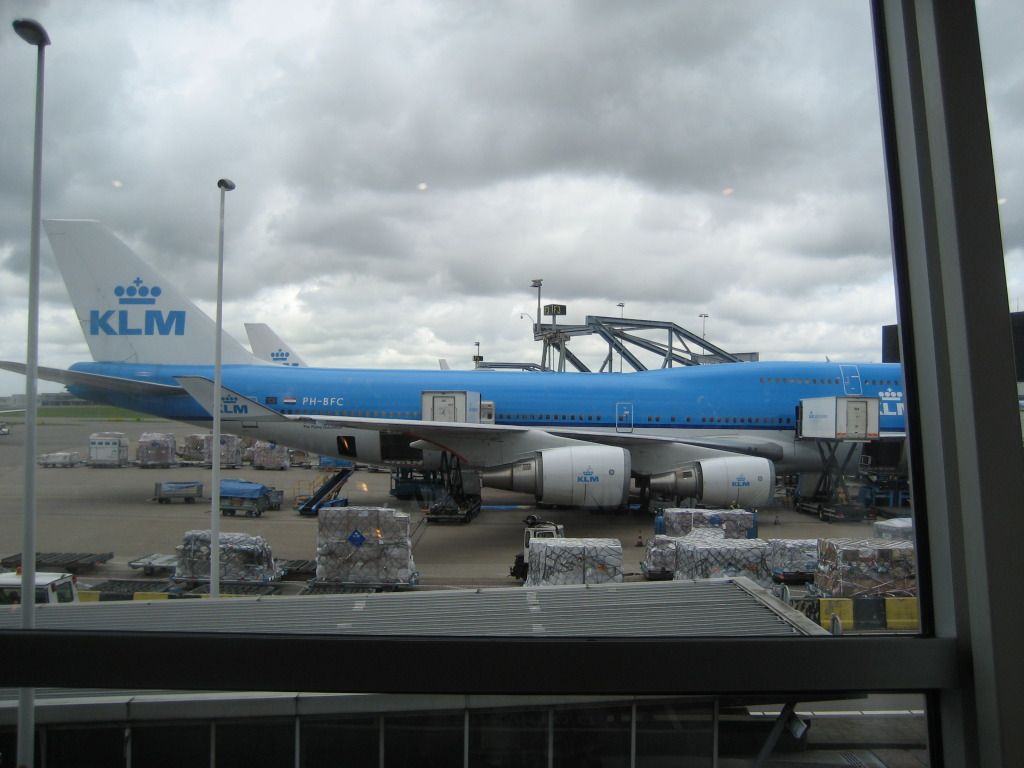 KLM's PH-BFC, B744 Combi "City of Calgary"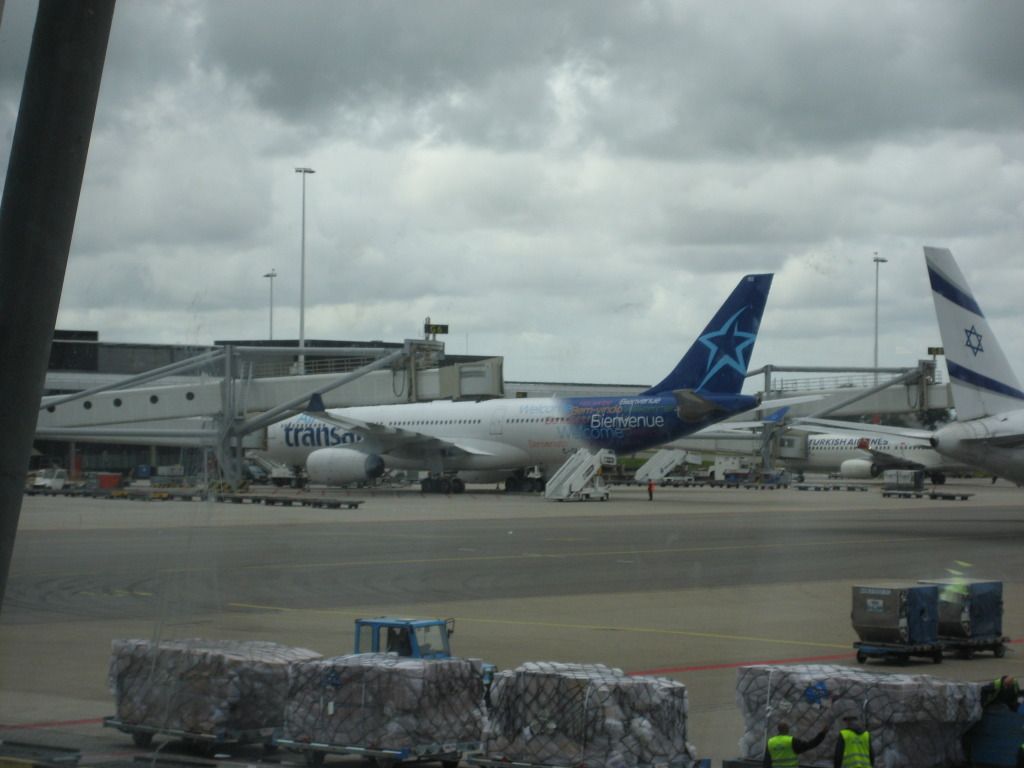 Air Transat's C-GITS, an A332
Time went by pretty fast, and soon it was time to head to the gate, where almost half the plane was already in line for security. We queued up, and even though the line was long, things moved along quite fast. There was no line for boarding, we walked along the jetway to the plane.
KL695
Boeing 747-400 Combi
PH-BFW "Shanghai"
Loadfactor: 85-90% (estimate)
Gate: Foxtrot 7
Departure times Scheduled: 17.40 Actual: 17.43
Arrival times Scheduled: 19.35 Actual: 19.19
Seat: 22K & J
Upon boarding, we were directed to the second aisle, our row was the second from the emergency exit. We took our seats while boarding continued. When the last passengers were entering the plane, I started to get a little worried EJ forgot to get me. Just as I was about to 'give up', he appeared from the upperdeck, asking if I would care to join him. I reluctantly (yeah right) agreed. After a brief safety briefing I was given a headset and took my seat right in front of the centre console. Departure clearance had already been received, and we were about to push back. EJ was doing the radios while the Captain was the pilot flying. We pushed back a few minutes late, but that was time we would make up over the Atlantic. In all my excitement, I forgot to bring my camera to the flightdeck, so I don't have any photo's of this phase of the flight. When we were cruising at FL300, and received our Oceanic clearance, one of the flight attendants came in with some coffee for the flight crew. She said that service was about to start, so this marked the end of my first period of jumpseating. I got back to my row, where one of my friends had moved to the window seat I had previously occupied, this didn't really bother me, as I just had one of my most memorable aviation moments.
For meal service, there was a choice between a veggie pasta, or a chicken curry. The pasta didn't sound too appealing, so I went for the chicken curry.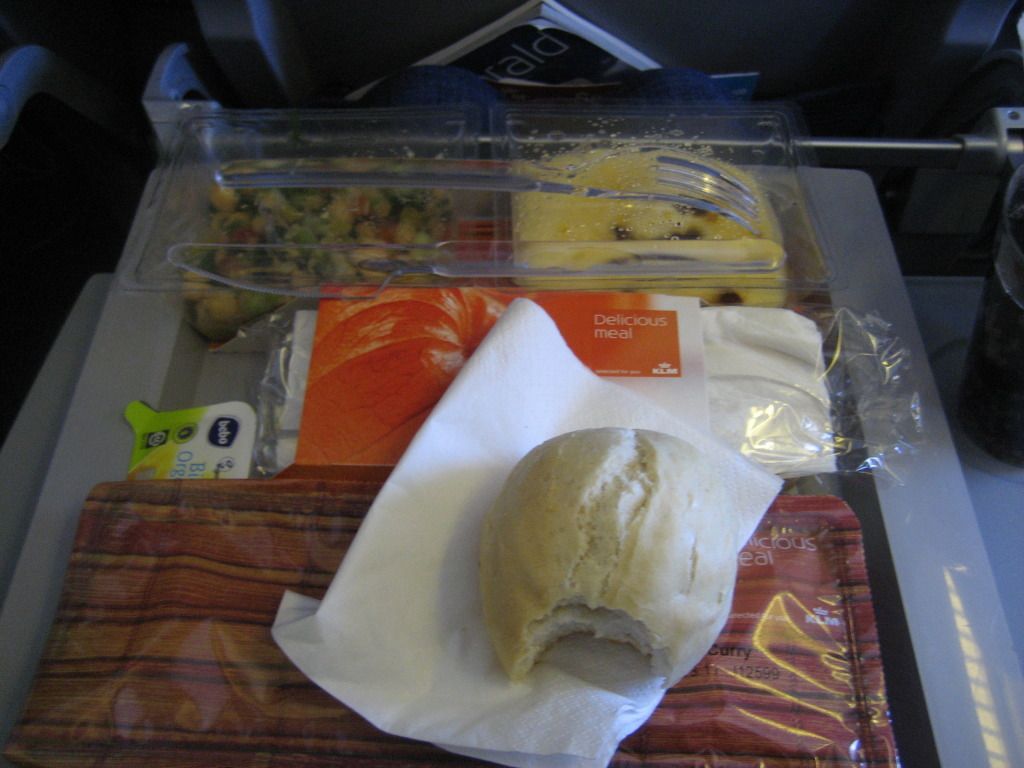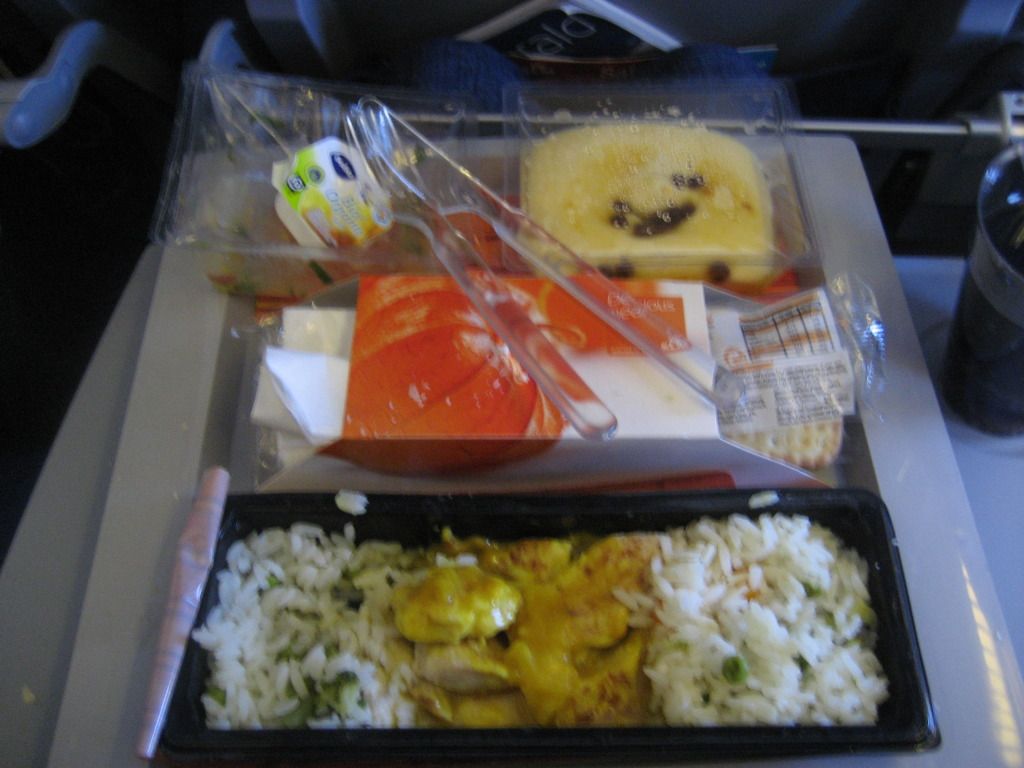 Meal tray with the starter on the top left, desert on the top right and main course on the bottom.
The starter was a chicken pea-salad, the desert a very sweet custard. There were also some crackers and cheese in the box in the middle.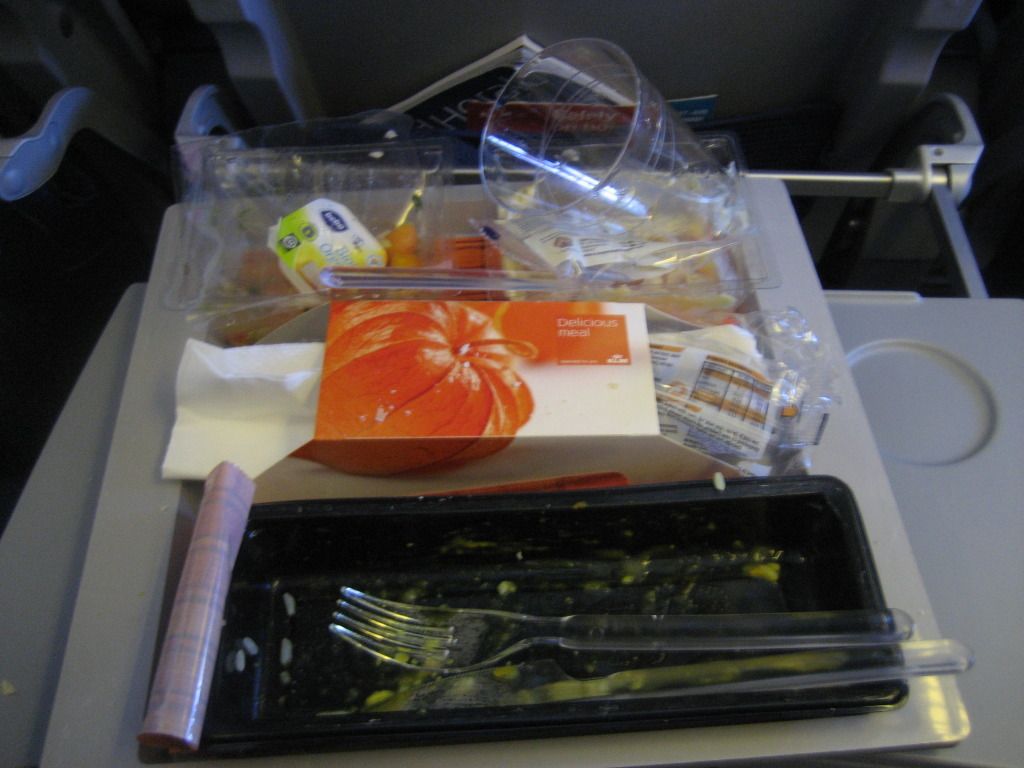 Empty tray
Now it was time to check out the seat. It's a fabric seat, with winged headrests that you can adjust in height. I found the seat to be fairly comfortable, though a little on the firm side. Legroom was the industry standard 31', which is a little on the small side for my 6"5' (1.95m).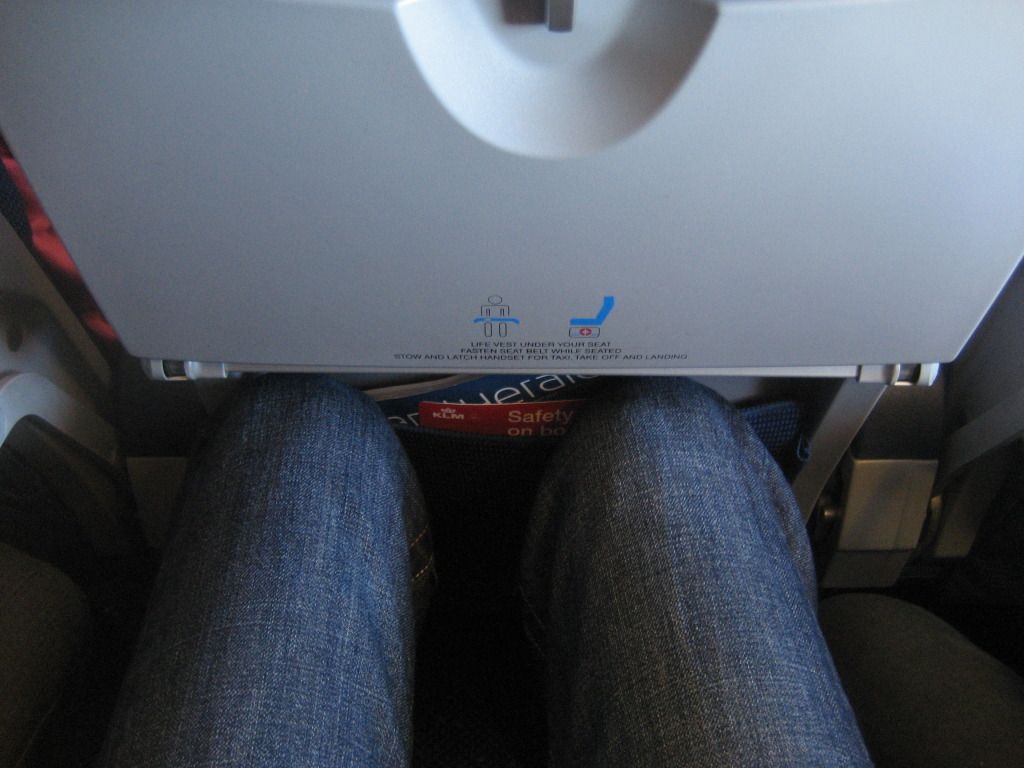 Legroom shot
Middle seats are regarded as the worst seats in a row, and KLM has decided to make it even worse by placing a rather large IFE box underneath that seat. The box takes away almost half of your space over there!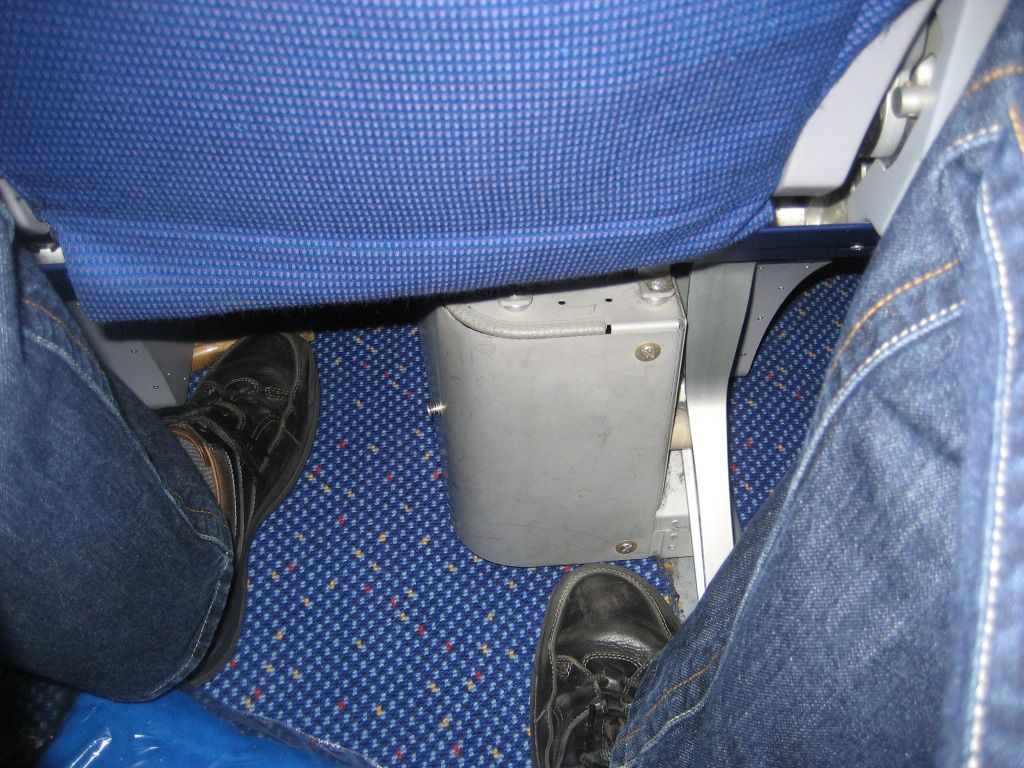 The huge IFE box
The IFE itself was AVOD, with a broad selection of films and tv-shows. It also features a couple of games and a few language courses.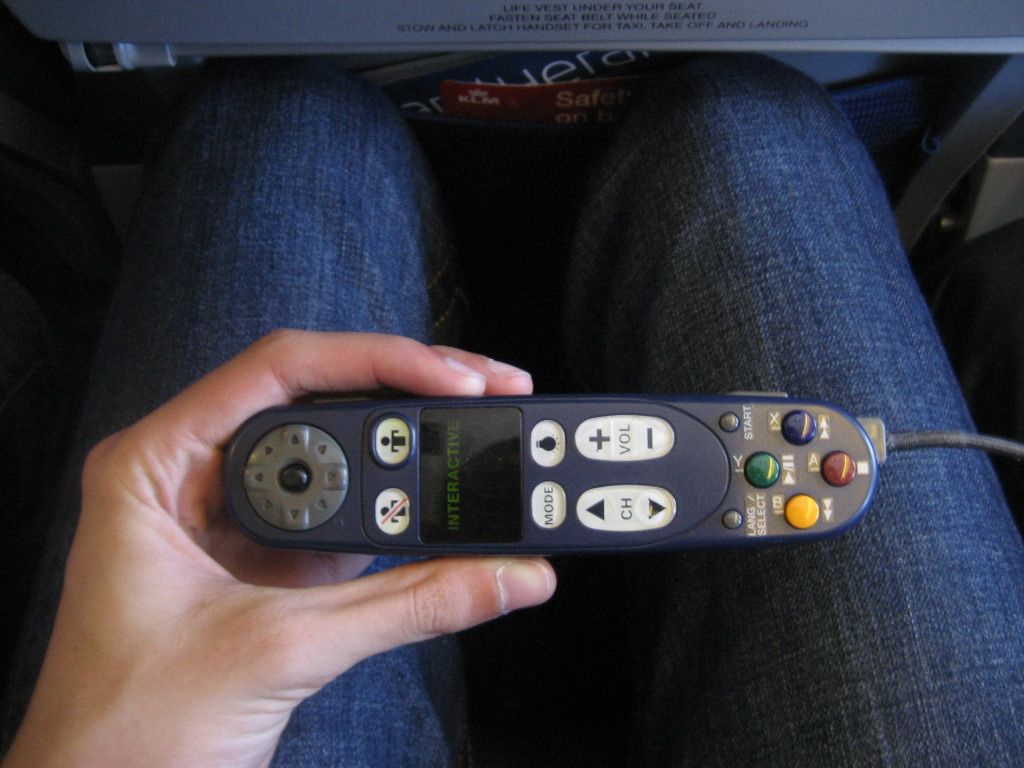 IFE controller
Later in the flight we got some ice cream, accompanied by some spring water in a plastic container. It was very strange to see drinking water be packaged in such a way.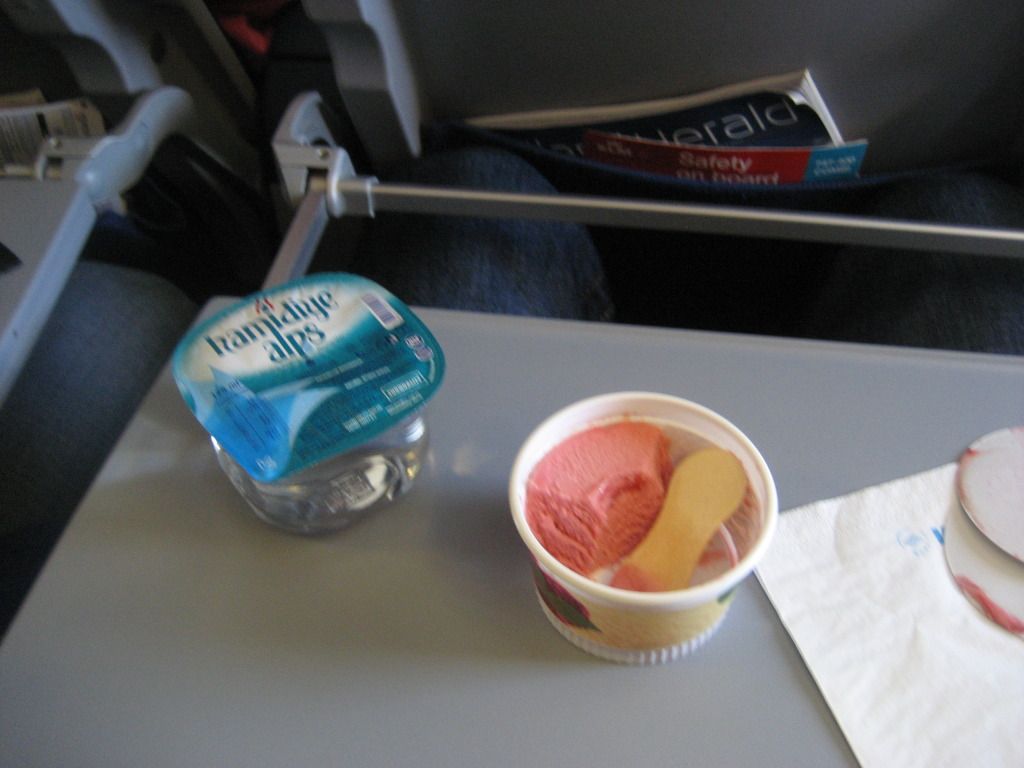 Ice cream & spring water
Around this time, we passed over Greenland. On my last Atlantic crossing, I was seated on the wrong side of a CO 757, so no Greenland views for me back then. So this was basically the first time I got to properly see Greenland. It was amazing, Greenland has earned a spot on my to visit list! I'll let the pictures do the talking here: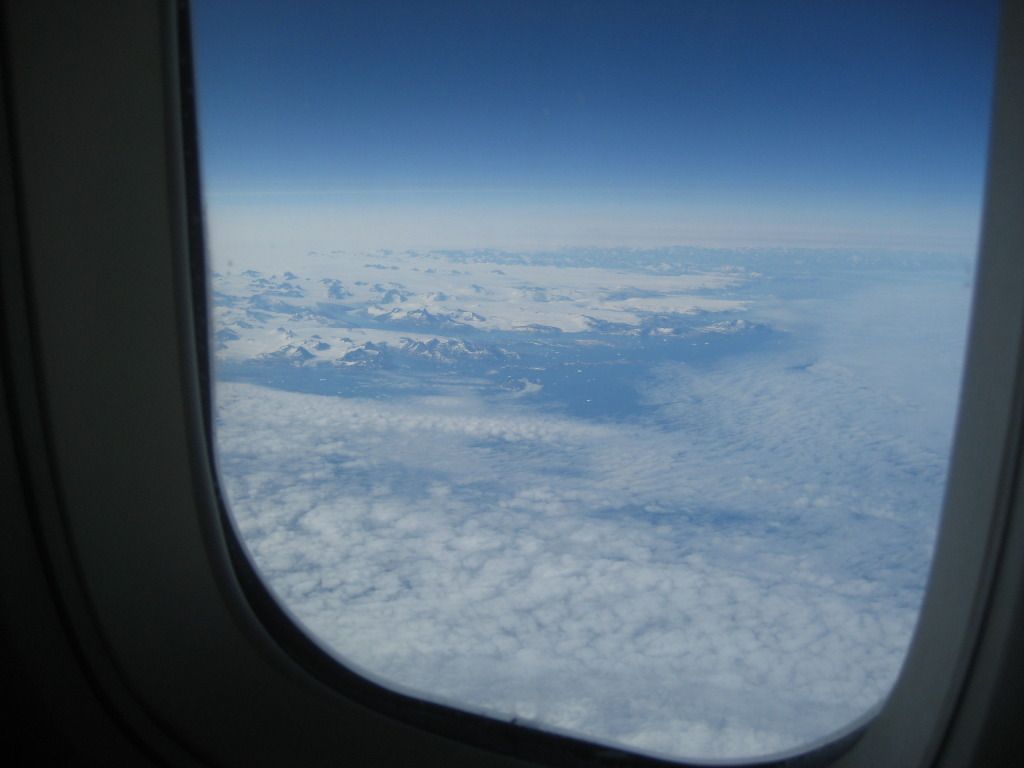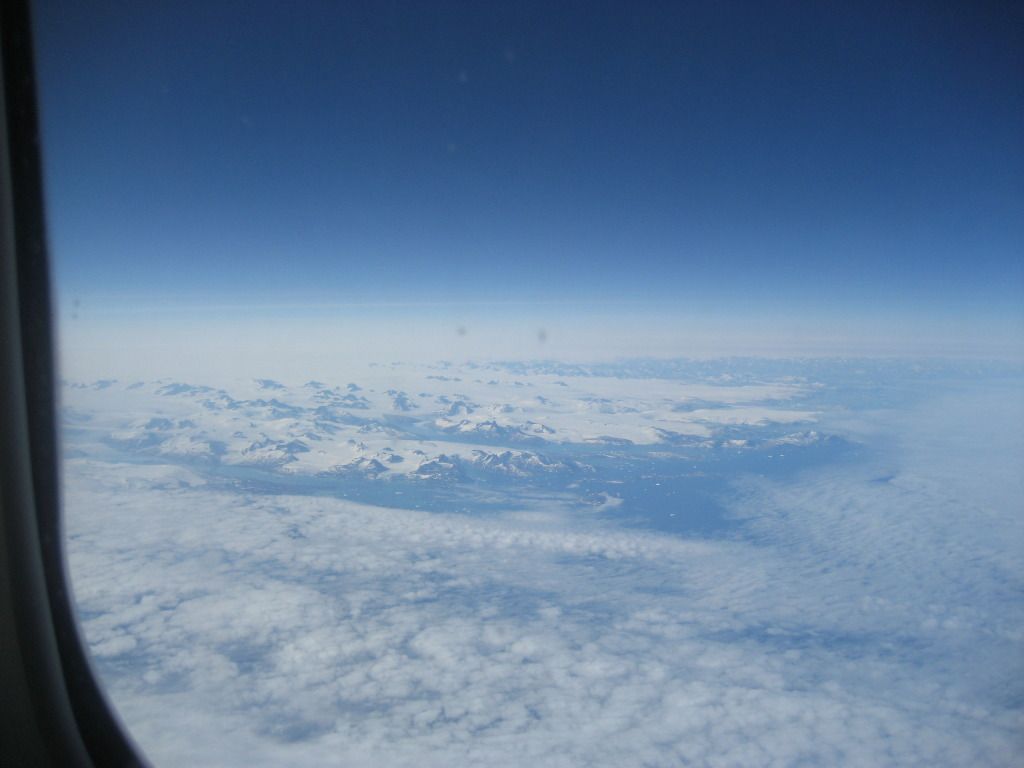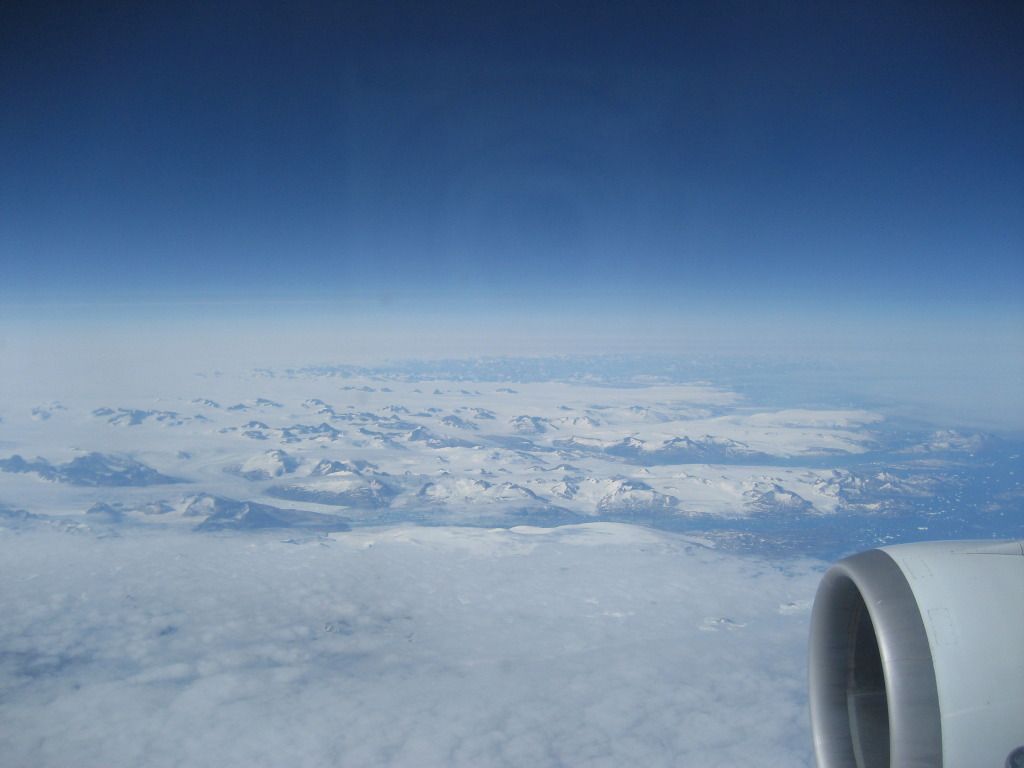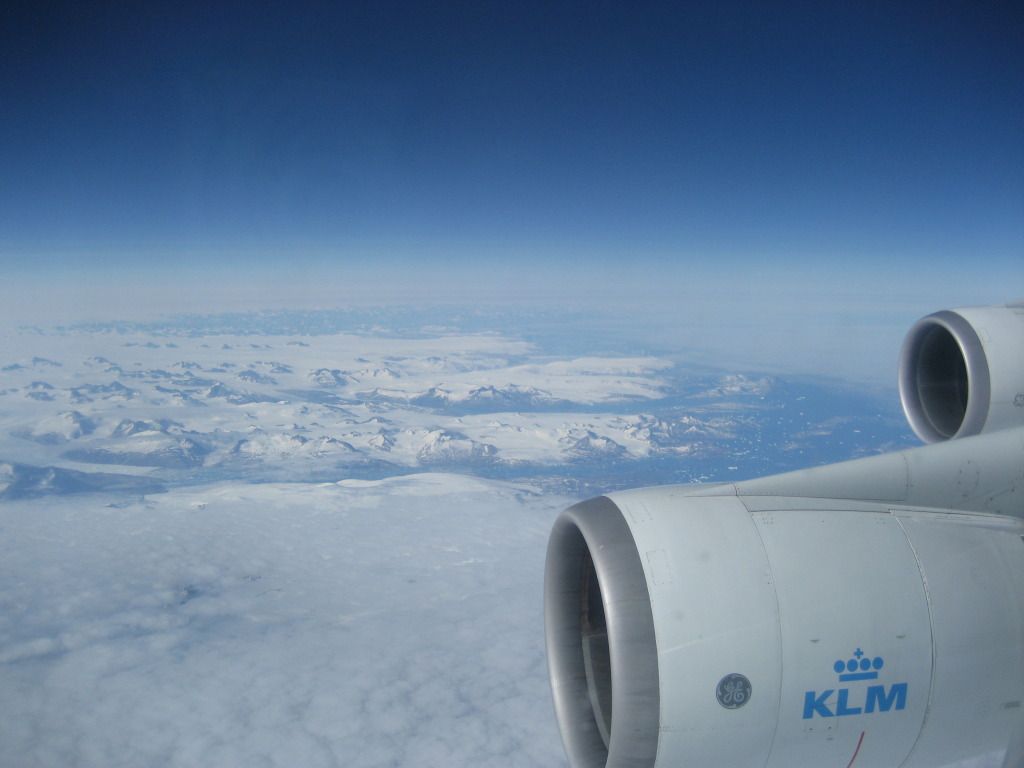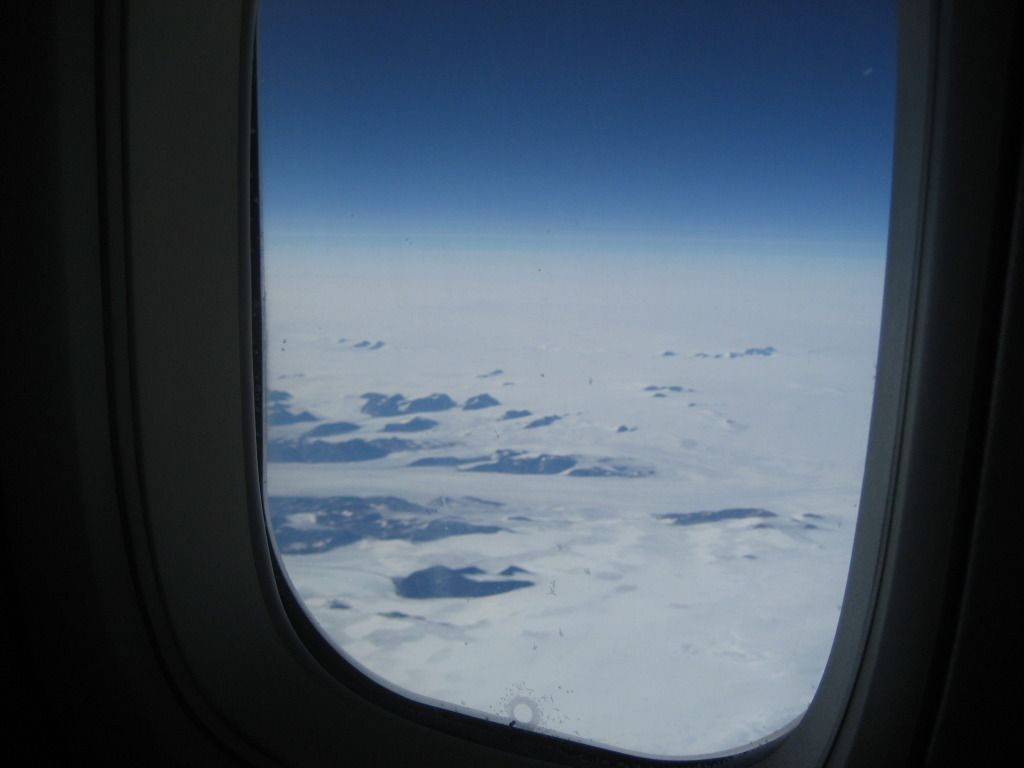 After we passed Greenland, we entered Canadian airspace (duh). It's amazing to see how much untouched terrain there is in Canada. We flew over uninhabited land for at least two hours, the first signs of some more civilisation were the outskirts of Toronto!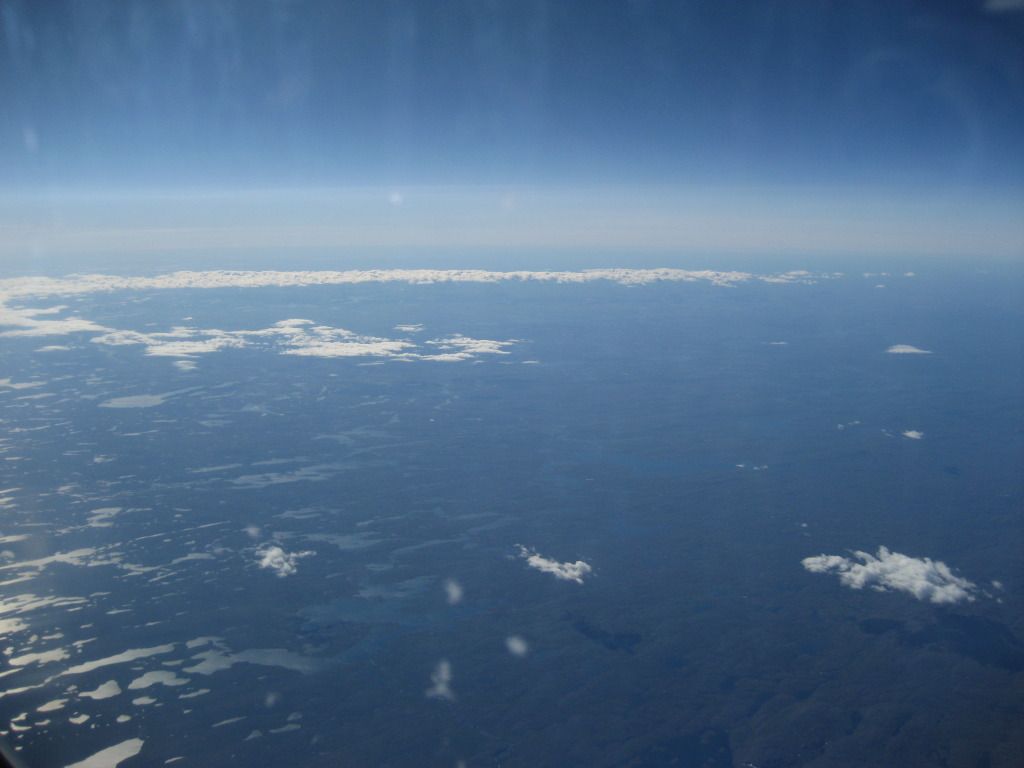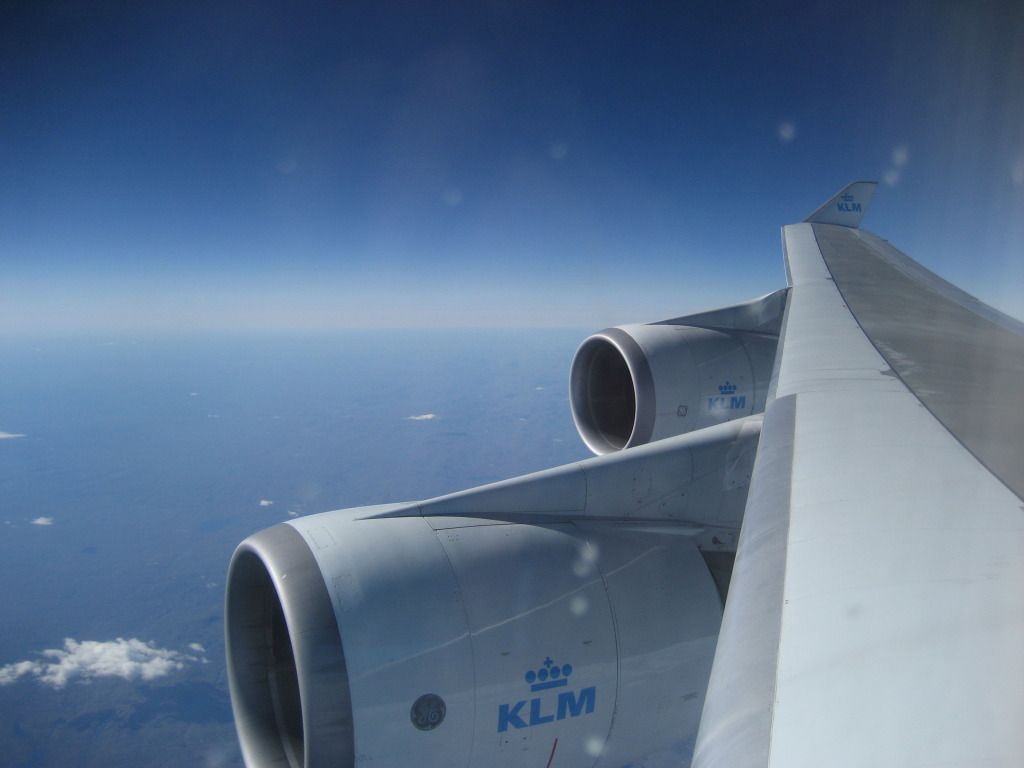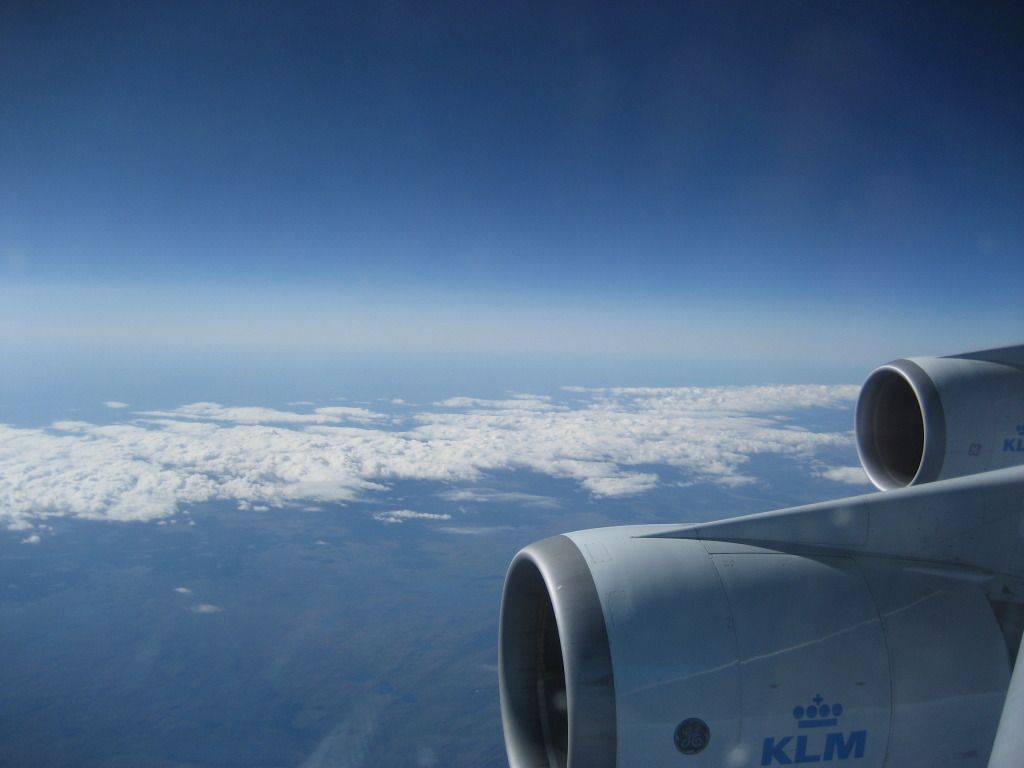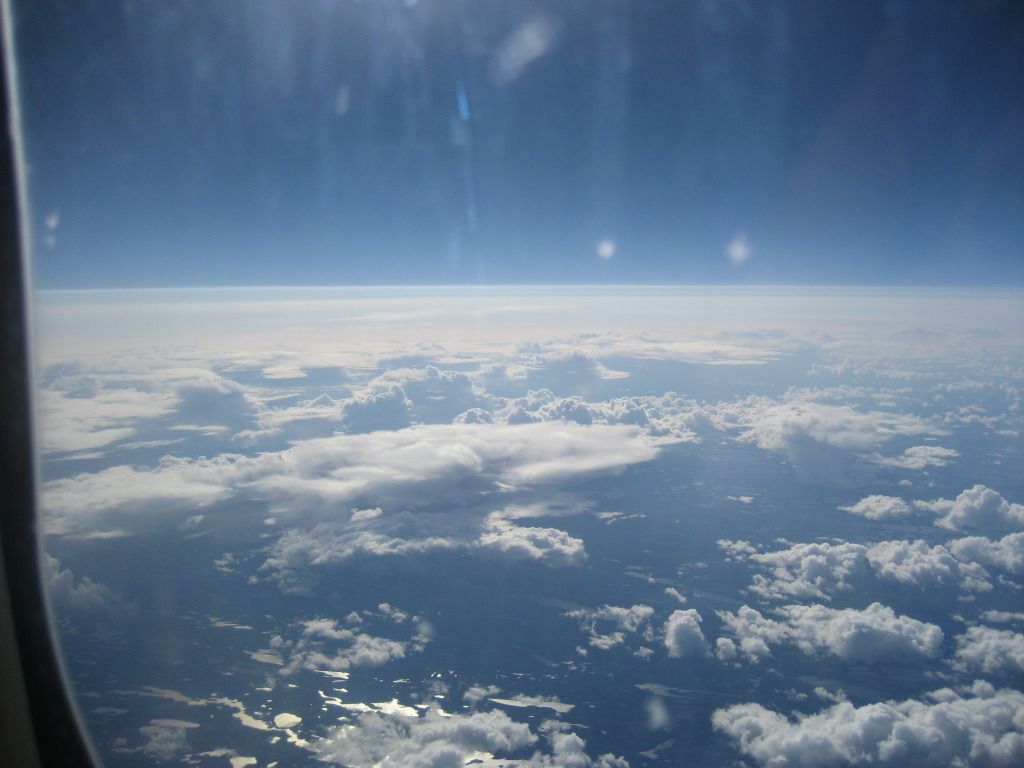 As a pre-arrival snack, we had a choice between a piece of cake, or a pizza. The three of us went with the pizza, and it was great! I wished there was more.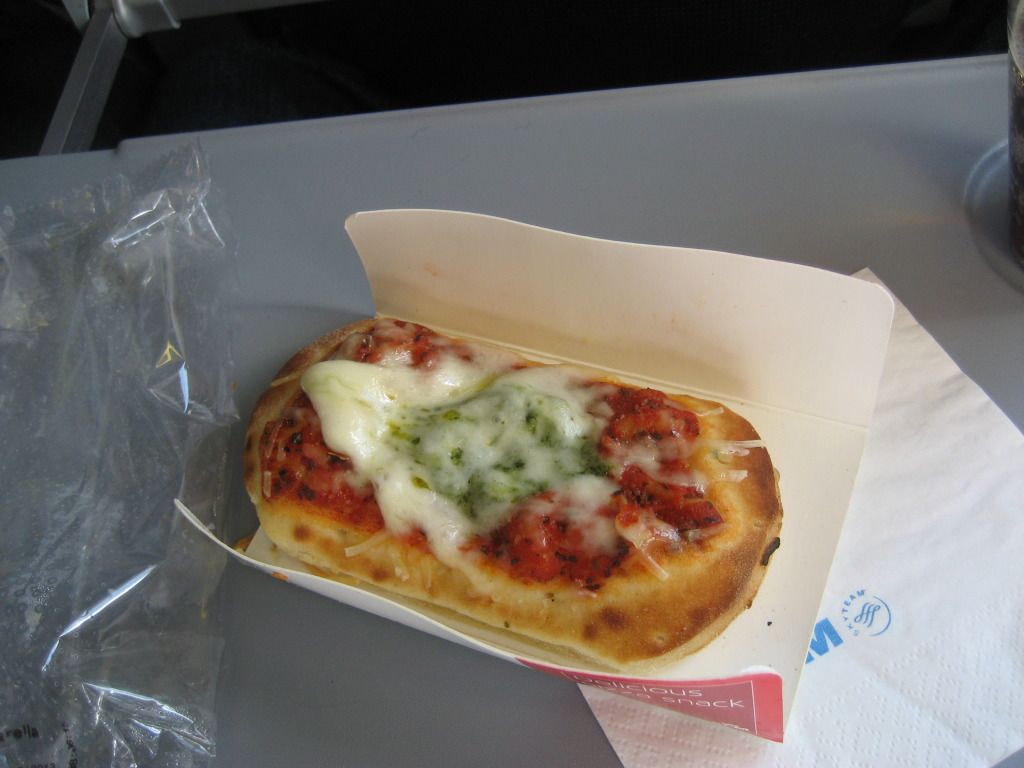 Pizza
Some shots of the IFE screen (sorry for the reflection)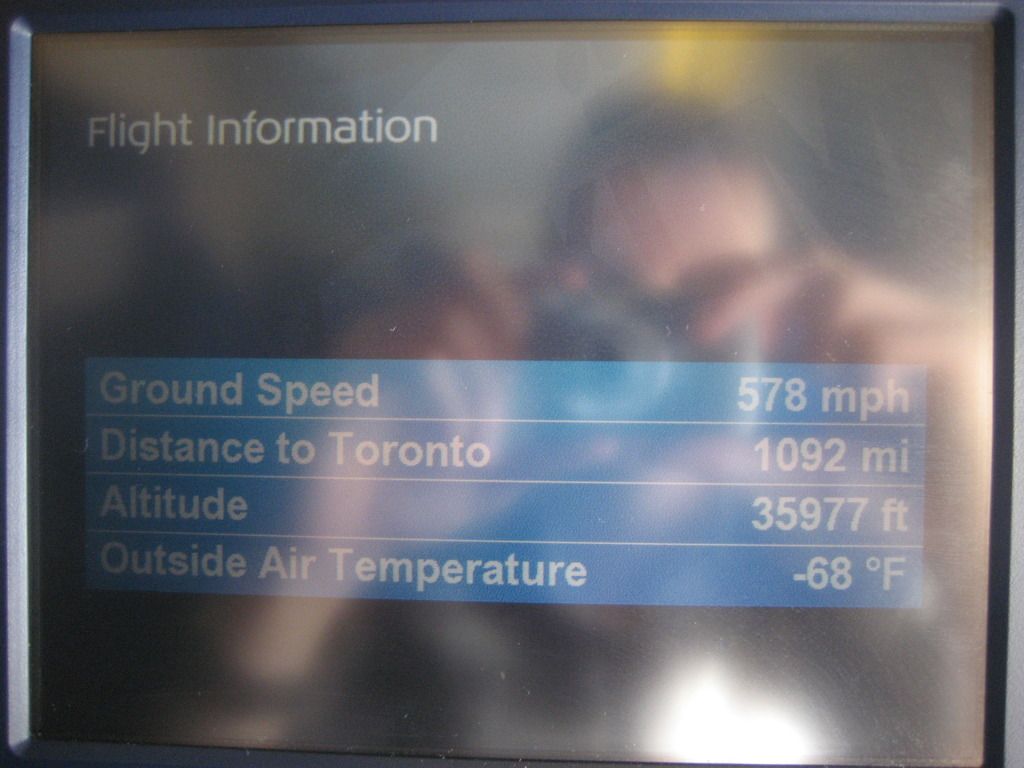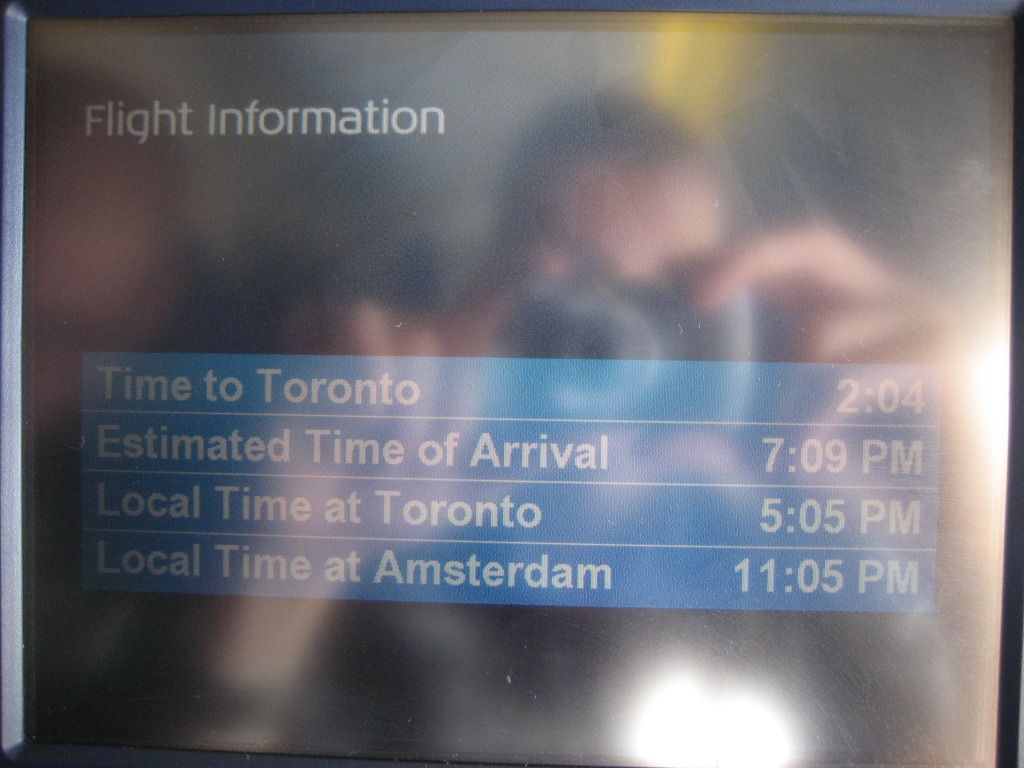 45 minutes before landing, EJ came to get me again. This time, I didn't forget my camera! I got settled into my seat, just as we were approaching our top of descent.
The approach was flown entirely by hand from around 6700 feet. YYZ has some very tight separation procedures. There was an AC A320 ahead on us for the 06R, and it had only just vacated the runway when we were over the threshold. The Captain made one of the smoothest landings I've seen, I hardly felt the touchdown.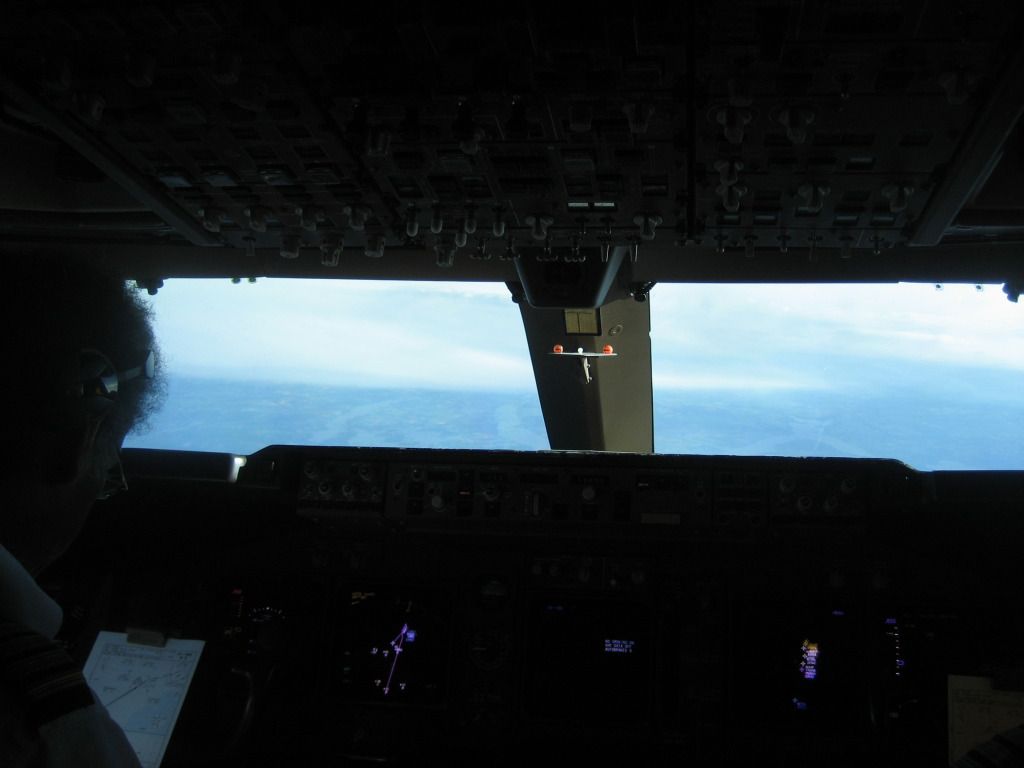 Descending to FL190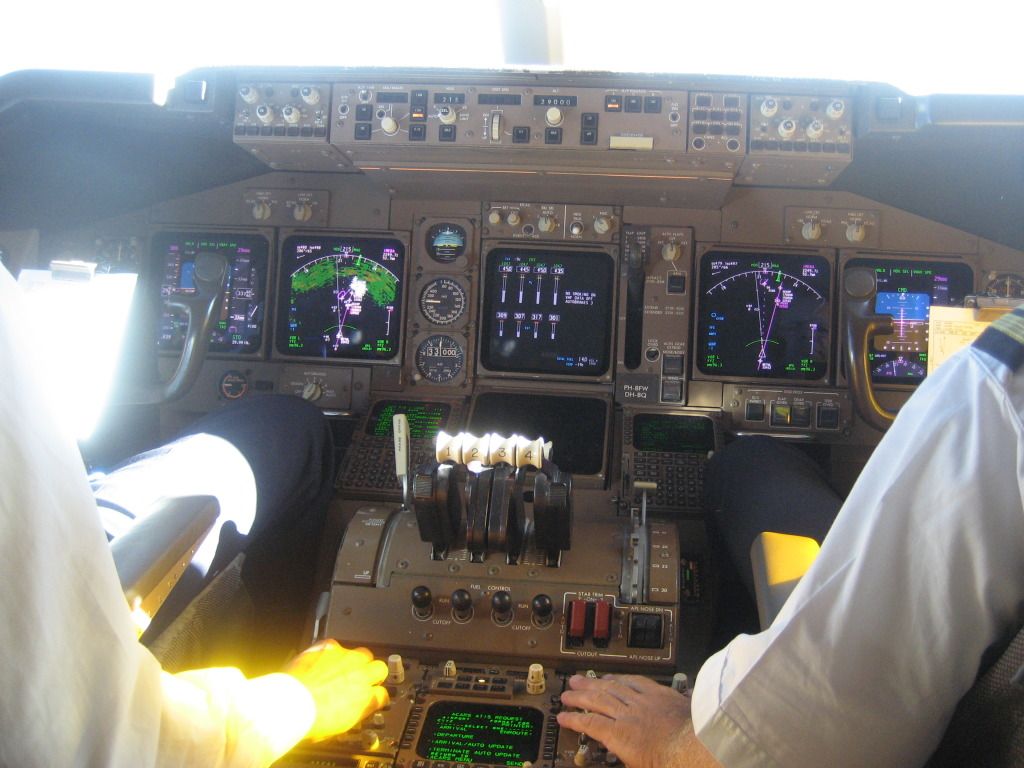 Flight deck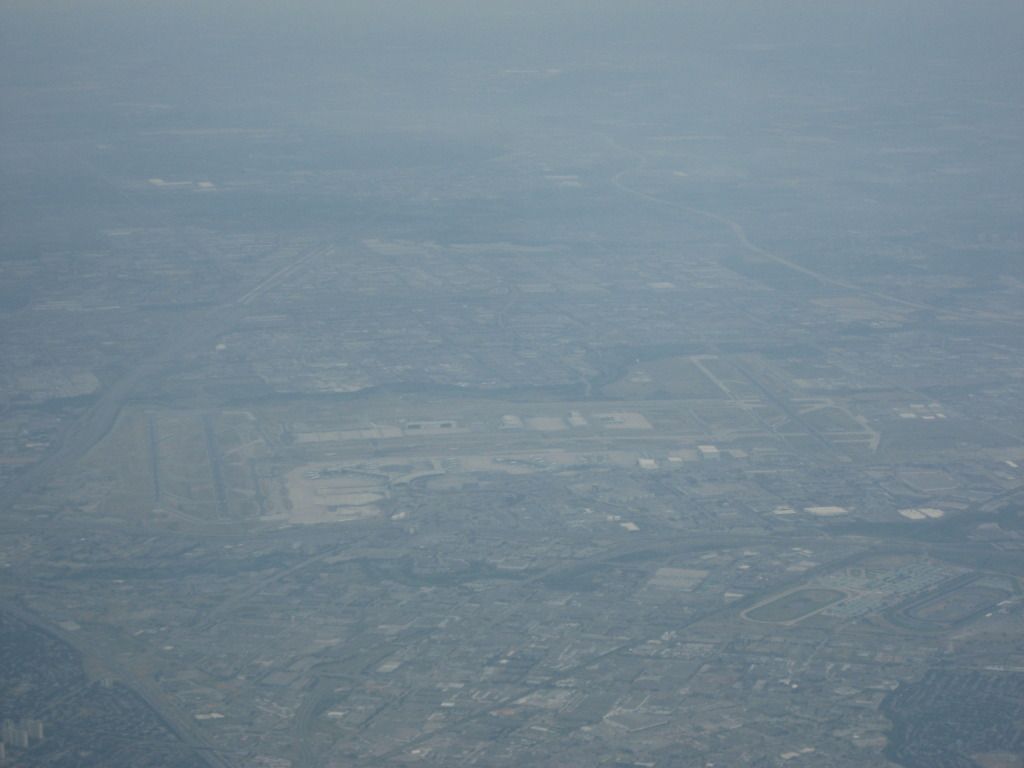 YYZ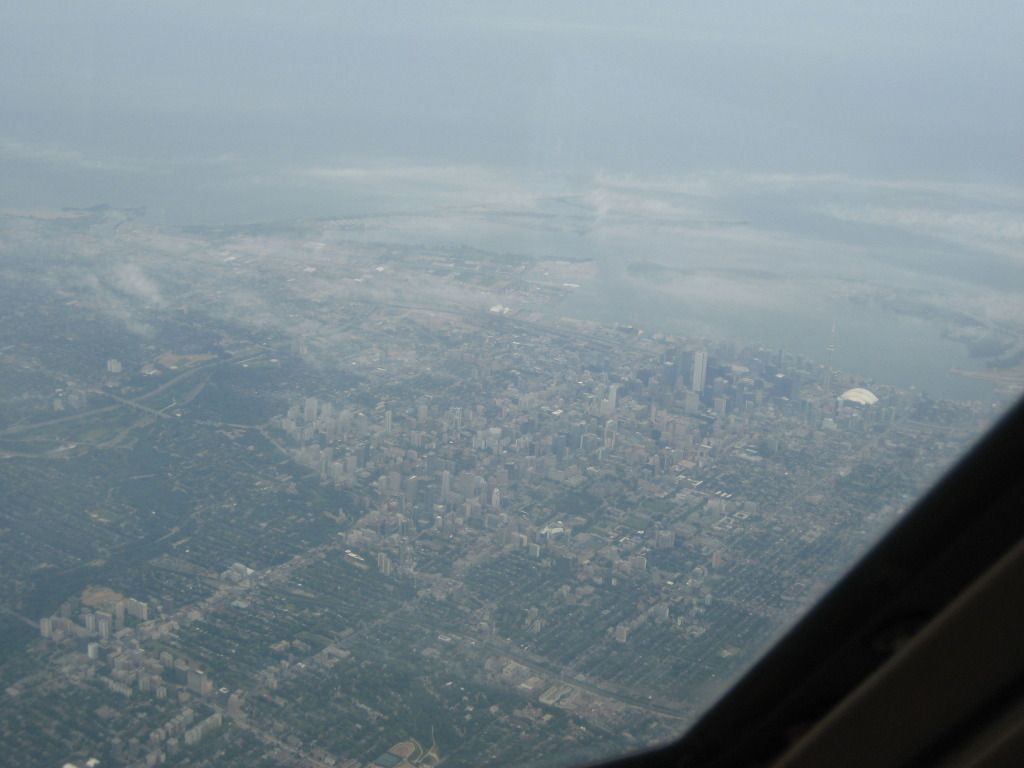 Downtown Toronto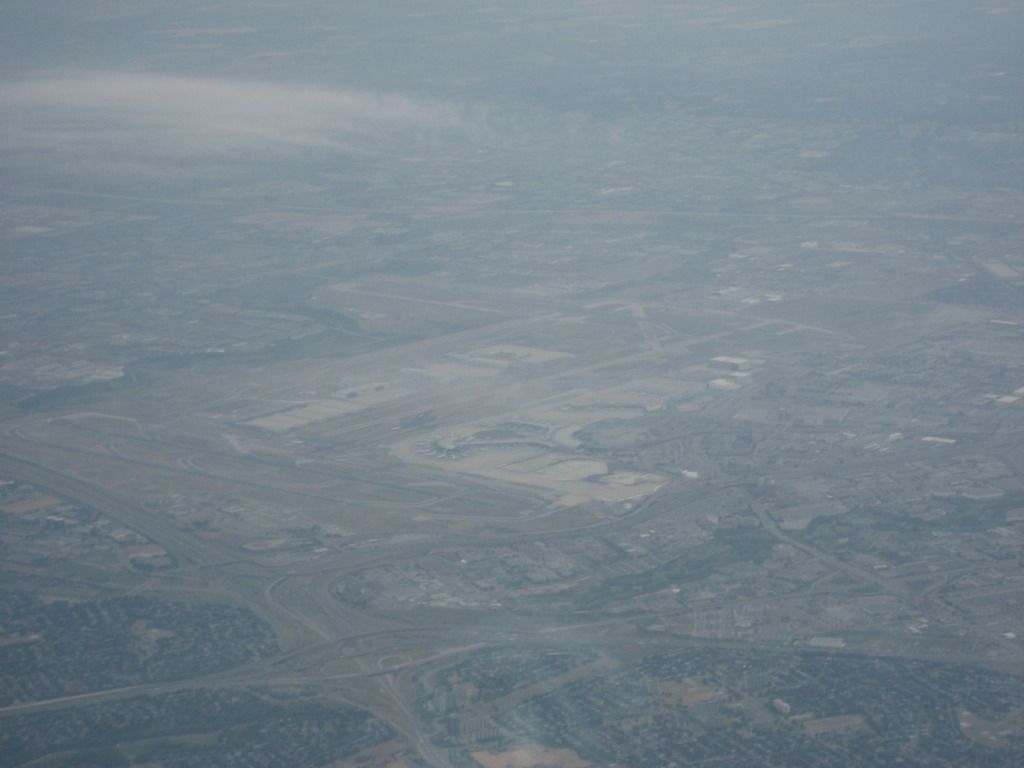 YYZ again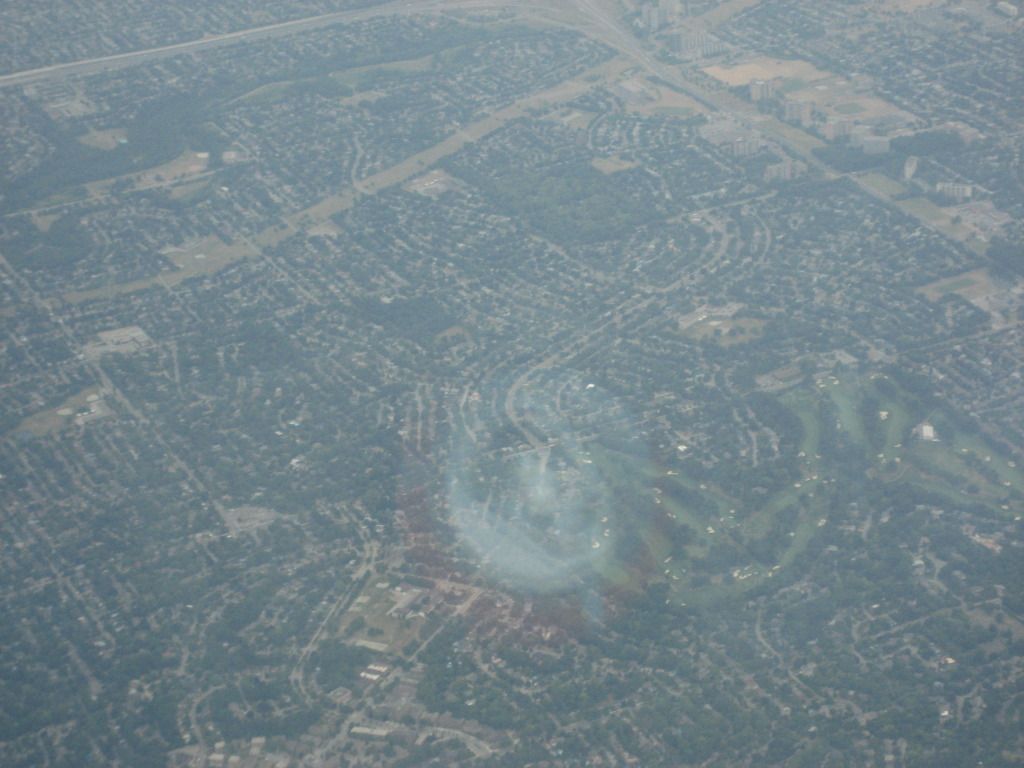 Toronto residential area (with Coke can reflection)
Farmland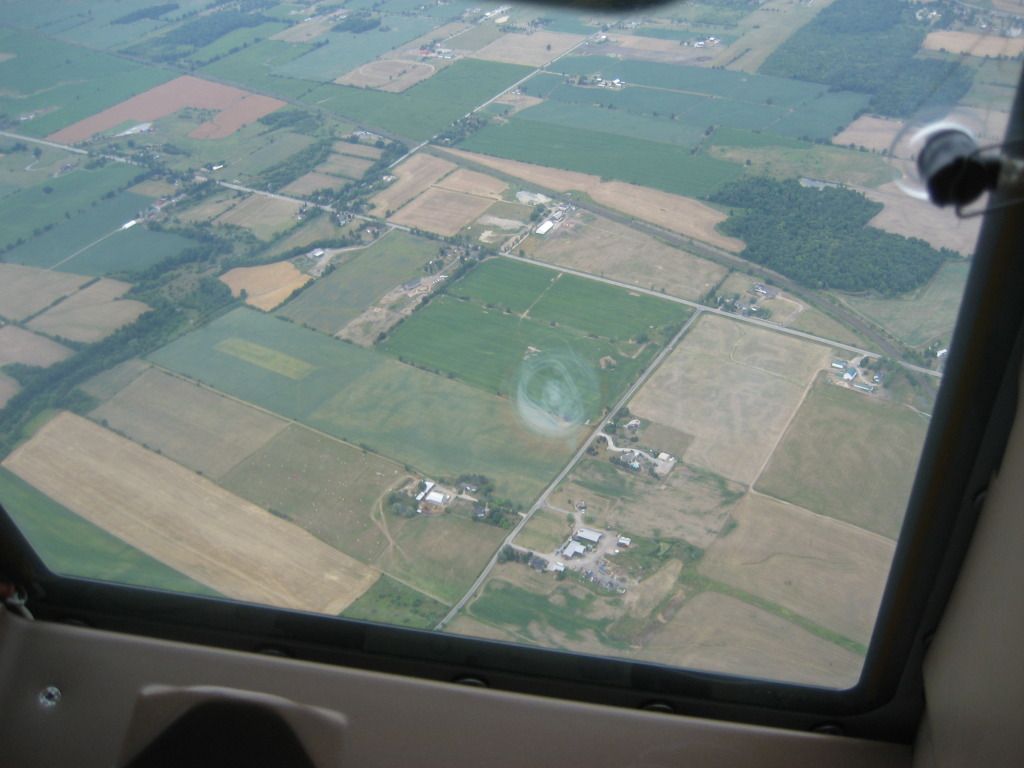 More farmland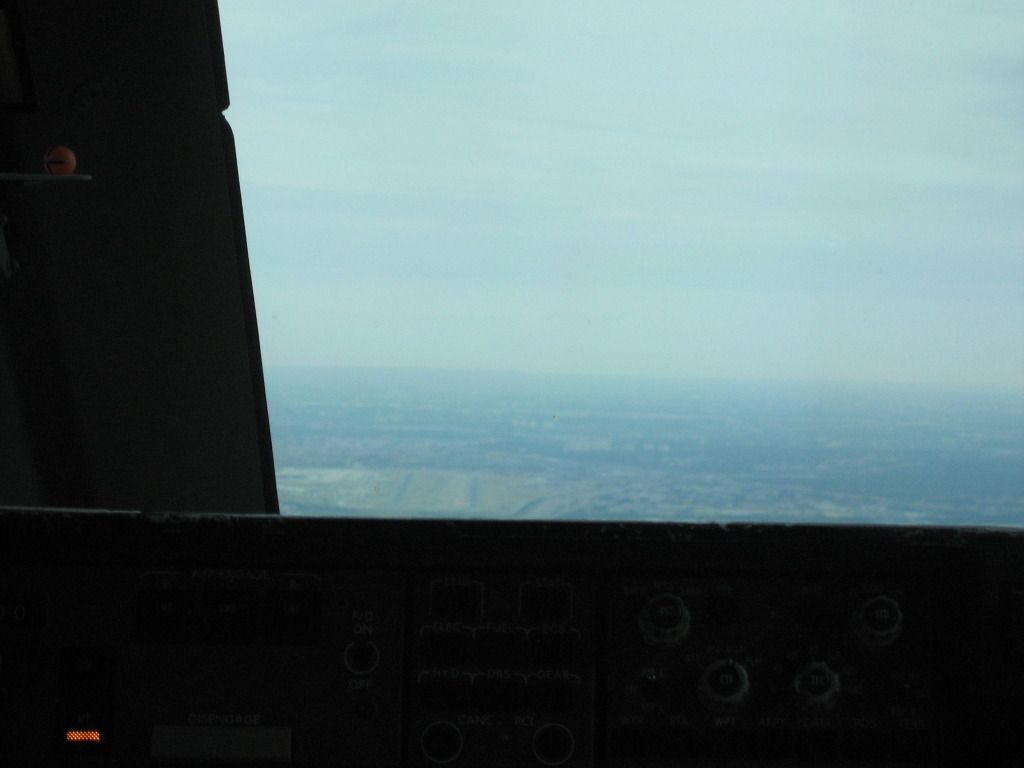 Established on the localizer 06R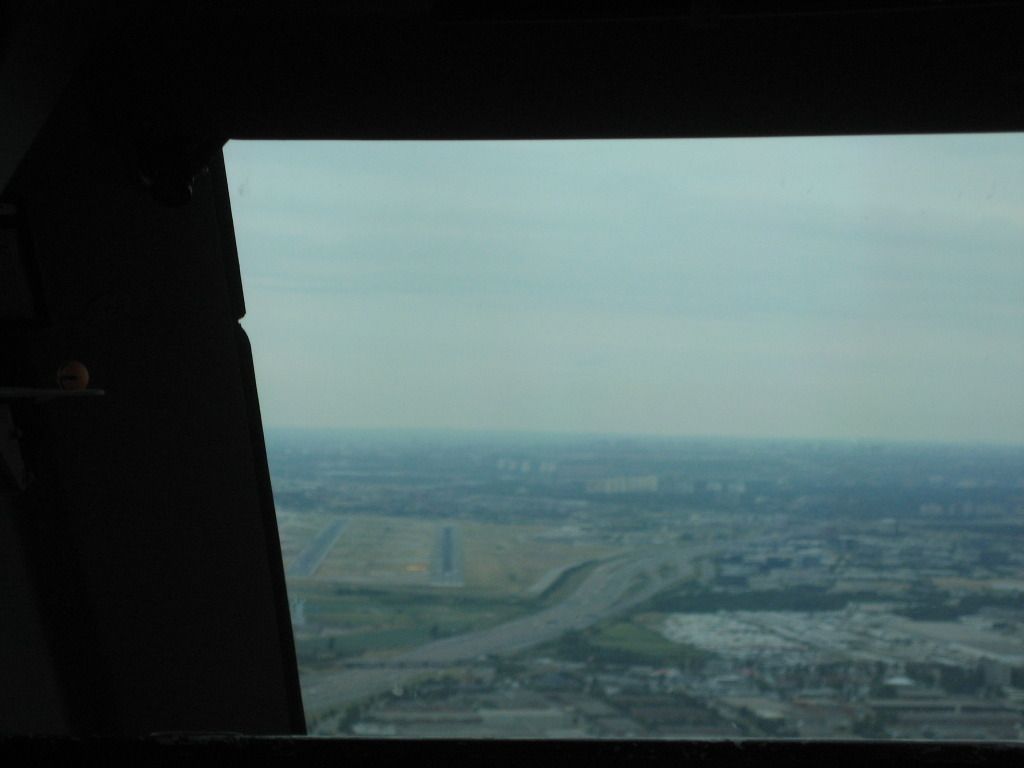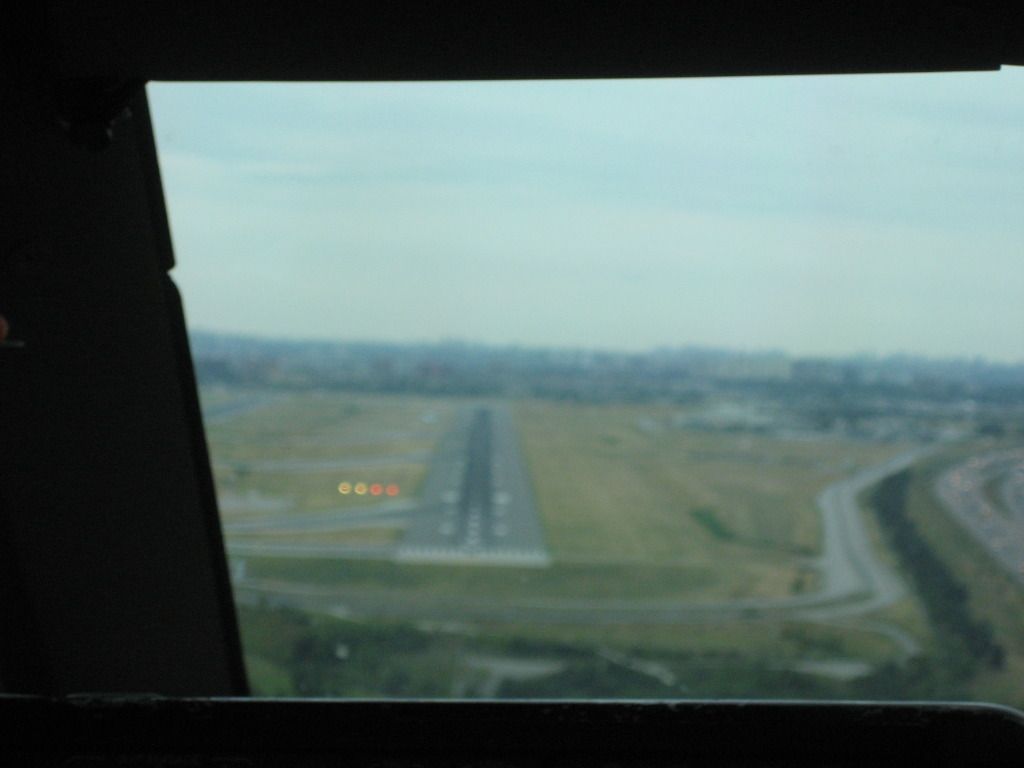 Short final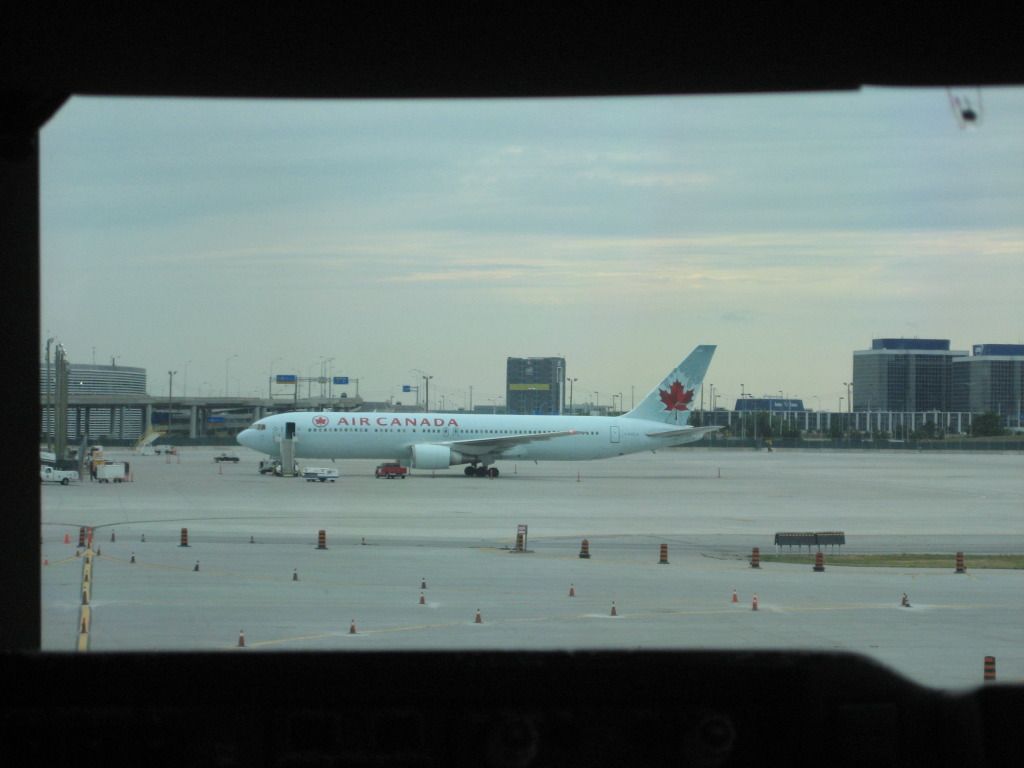 AC 763 C-FOCA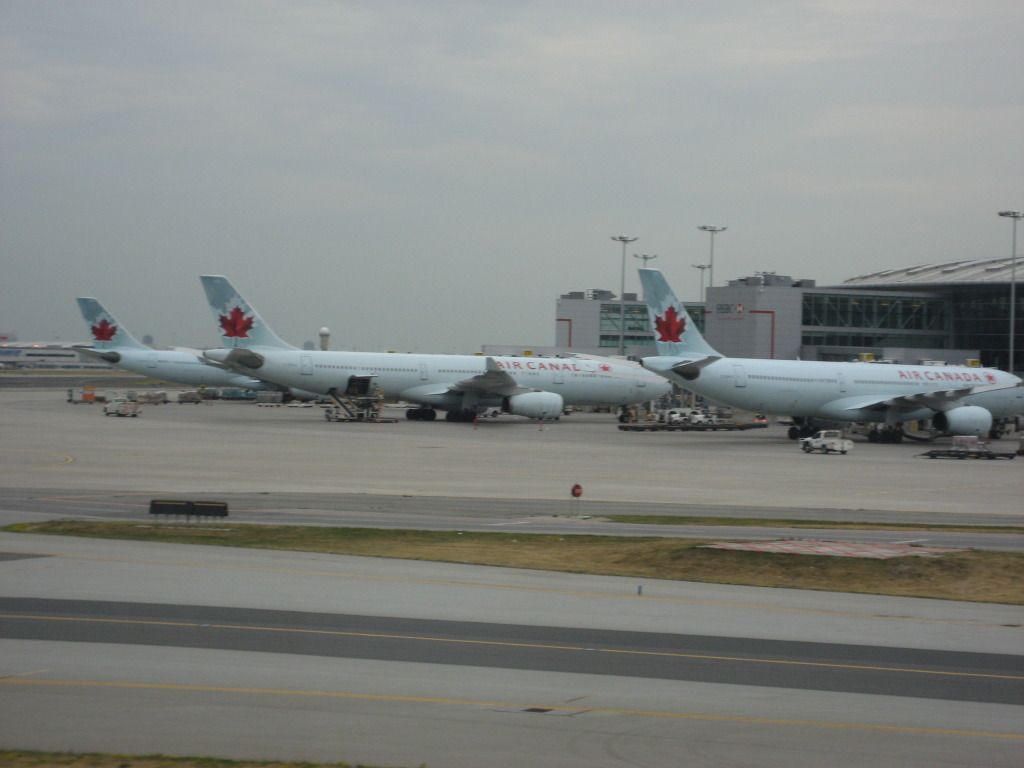 AC A330s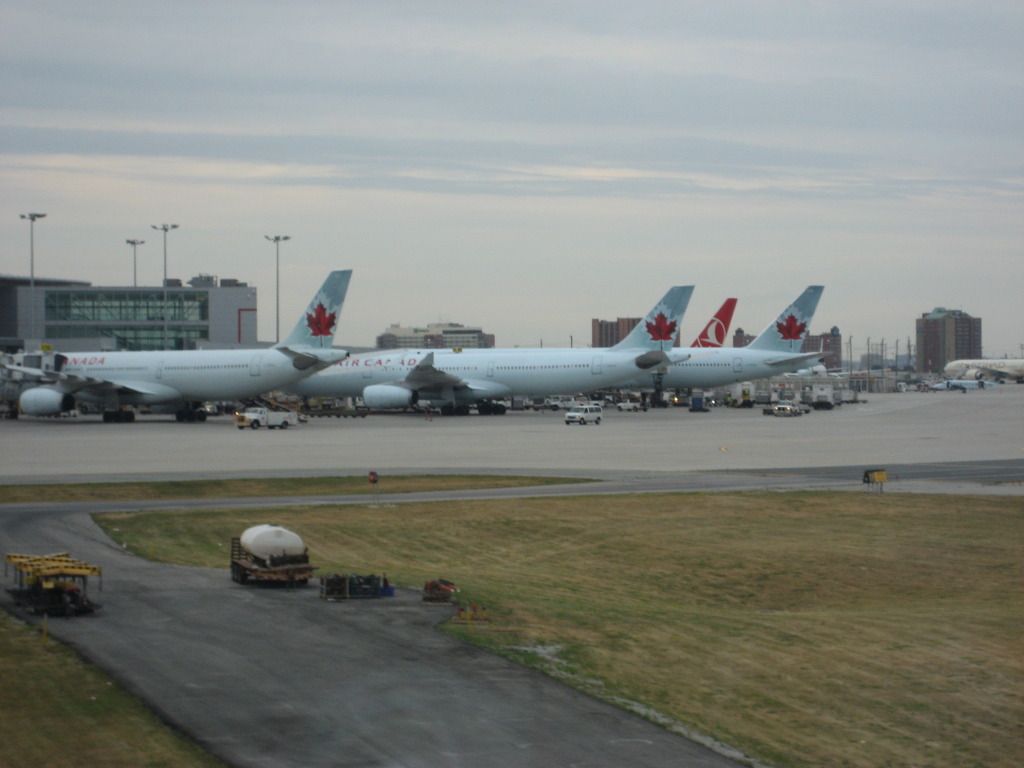 More AC A330s, and the tail of a TK 77W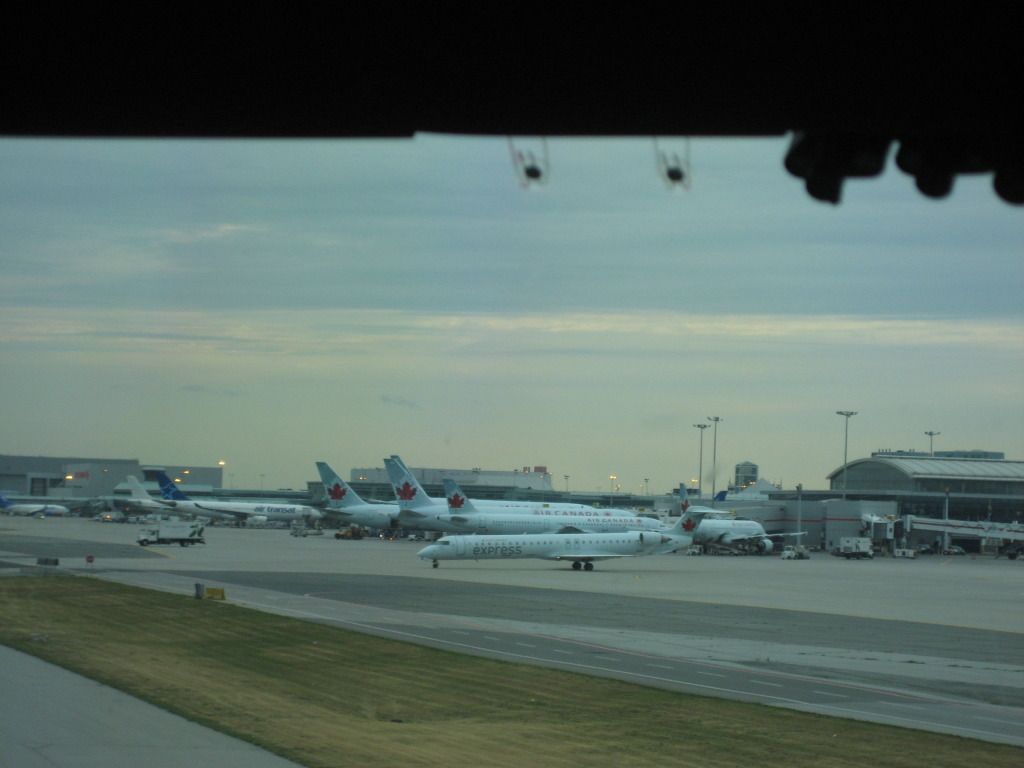 Air Canada rules the place. The Ground controller actually referred to the CRJ as Jazz, rather than Air Canada Express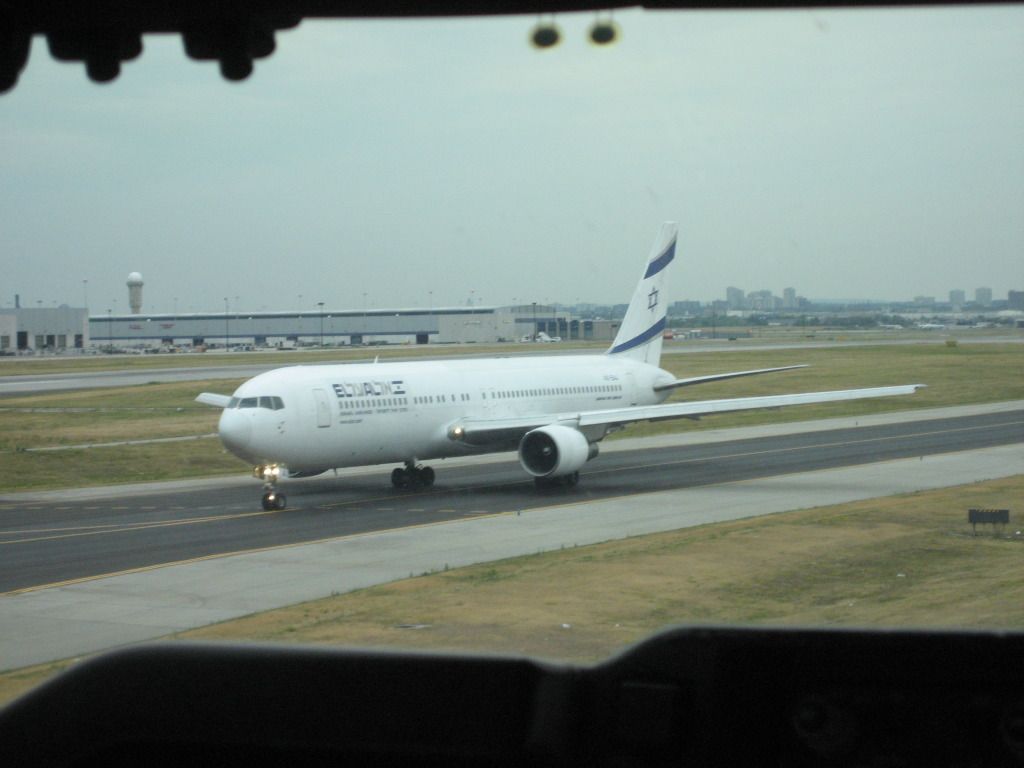 El Al 763 4X-EAJ
Yep, it's 4X-EAJ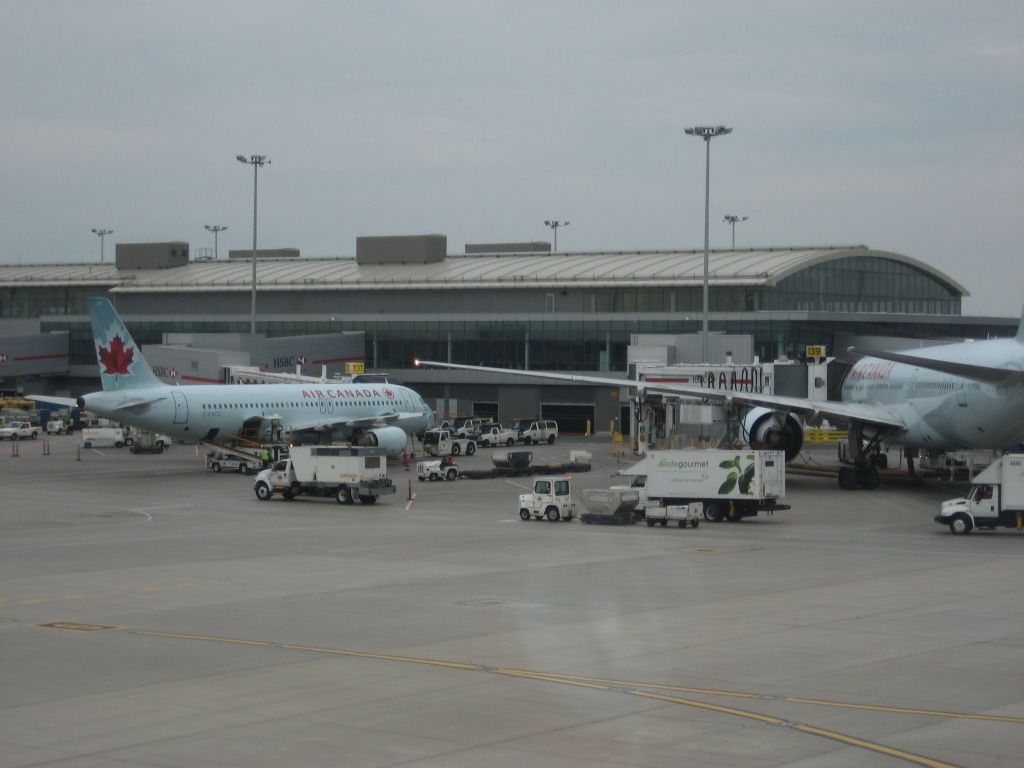 AC A320 C-FTJP
One last look at PH-BFW "Shanghai"
And then it was over. At least, the flying was. We still had a one and a half hours drive ahead of us, but after that, we would finally be where we wanted to go. And that after being on the move for 18 hours…
Conclusion
KLM didn't disappoint me. The crew was very friendly, both the cabin and the flight crew. The IFE box under the middle seat is the only drawback I could find. Food service was great, the meal was very tasty. The portion was a bit on the small side, but still was adequate. AMS is a great airport, everything is very accessible. I wouldn't mind taking the same trip again!
I hope you enjoyed reading this trip report. Stay tuned for the next parts,
Nick