Hallo dear readers,
I should do not talk to much about it!.
Most of the readers here know the misery about german capital´s new airport BER.
A good number of girls and guys decided to go for Berlin and be part of the grand opening day.
Well, no opening, but Berlin anyway.
How to go there?.
Directly from Stuttgart to Berlin?.
No way, absolutely no way for me!.
Let me show you my experience at STR´s Senator counter this early Saturday morning.
There are three flights on one confirmation.
The first two legs are open for OLCI and ok, not no. 3.
Not a minute to wait, till a nice middle aged female agent is ready to check my needs.
"Good morning, I´ve checked in, but not printed for two of three flights. Is it possible to check in and print it out here?".
"Sure, let me see you´re card. We will check if the flights are stored with your Senator account".
She swiped the card and the first two boarding passes are printed out immediatelly.
"Ok, this is Stuttgart to Copenhagen and this is Copenhagen to Stockholm.
And there is a third flight on the reservation, let me see".
What does she expect?. Something more up the north, Kiruna, maybe. Another place in Sweden or Scandinavia. What about Iceland as a connection on Icelandair. Who knows?.
Some typing, followed by a very suspicious view to me.
Sure, I know, I´am the alien, the extraterrestrial guy just for a short visit to planet earth.
No standard human being decides to stretch a one hour nonstop with also Berlin as the most served destination from Stuttgart to a close to full day trip.
Some more typing.
"Ahem, you´re third flight is from Stockholm to Berlin?".
"Yes, that´s my way of flying around!".
Another more bewildered view to me.
And a printout later I was send for the lounge with a nice bye-bye. It seems the staff is well trained here to interact with aliens like me!.
The routemap today looks like, well, alien shaped:
Thanx to:
http://www.gcmap.com/
A good week after the last trip a la francaise:
Cutie´s, Avro´s And Nice Companion For PUF
(by
FLIEGER67
Jul 28 2012 in Trip Reports)
And here are the actual done routes:
Tripreporters Flüge II
auf einer größeren Karte anzeigen
With the previous 200 departure airports:
Departure airports
auf einer größeren Karte anzeigen
And sure some hassles for me, to fit in a new departure airport around this trip, but anyway it works
to count no. 217 on the map:
Departure Airports II
auf einer größeren Karte anzeigen
Let´s go!.
Saturday, 02.06.2012
.
.
.
.
Service SK 668 operated by SAS Scandinavian Airlines
Scheduled: 06.20 // 07.55
No question from the cell phone yesterday evening.
This is my standard wake up call time.
03.30 am, the usual morning stuff to do and at the airport, 05.30 am, as expected.
Gate 162 is on the screen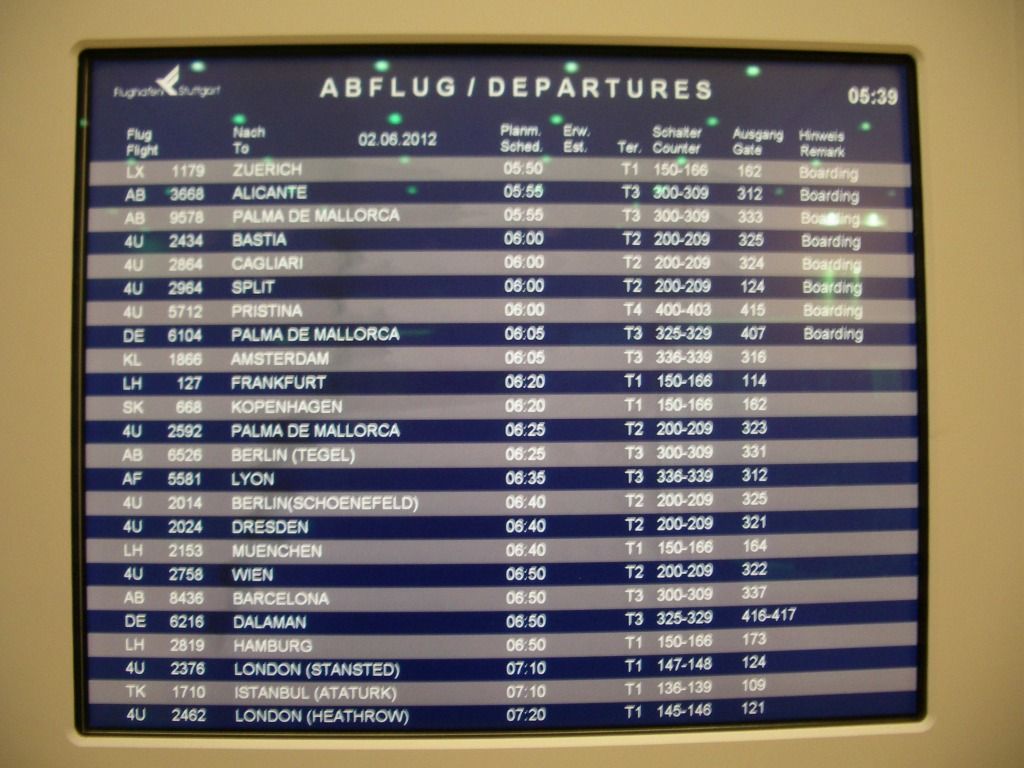 Btw., Exp.de provided me with the tix details this time,
the fare per leg 1 - 3, 55.00 Euro´s.
Despite the early morning time there are nicely well presented offers here at STR´s Senator lounge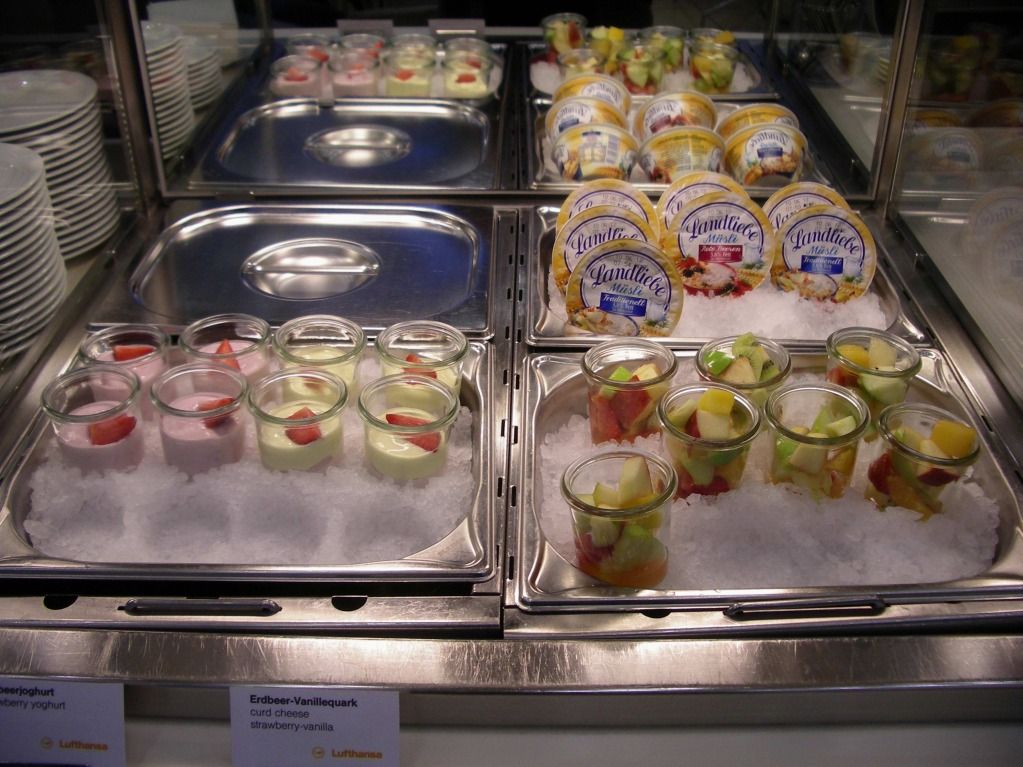 The more serious stuff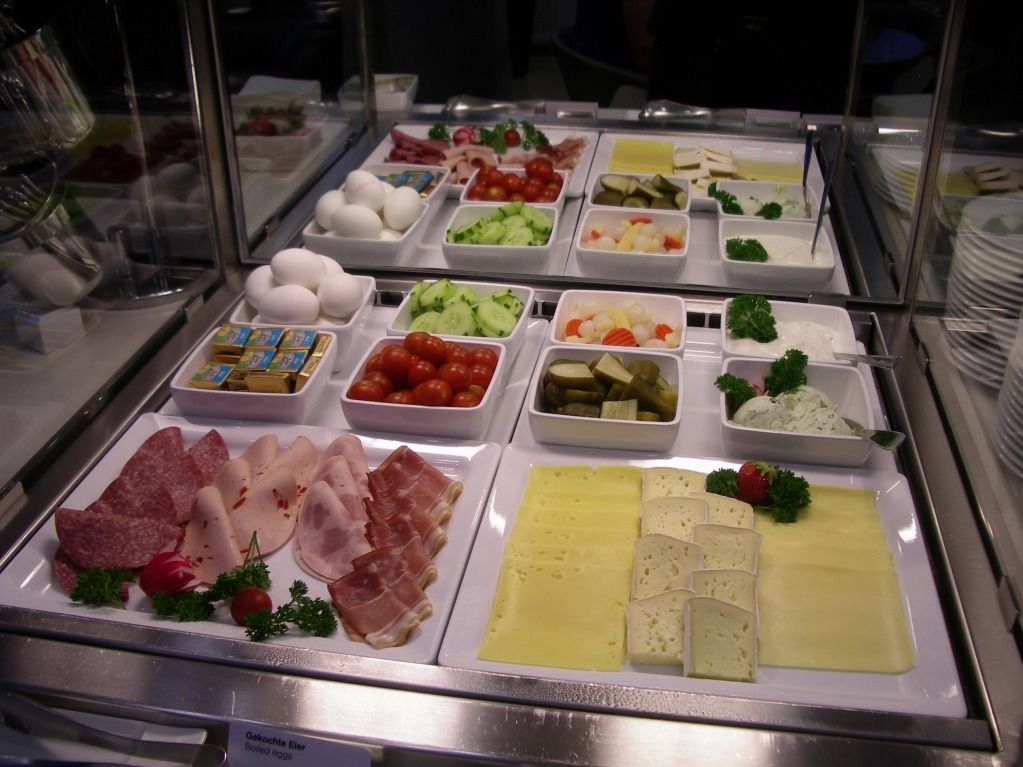 Down to the gate, half asleep, but this way is well known to me.
Close to no one else around, I´am late, but not to late, always these SEN Lounge guys!.
Ready for a ride across the apron till "Maria" welcomes me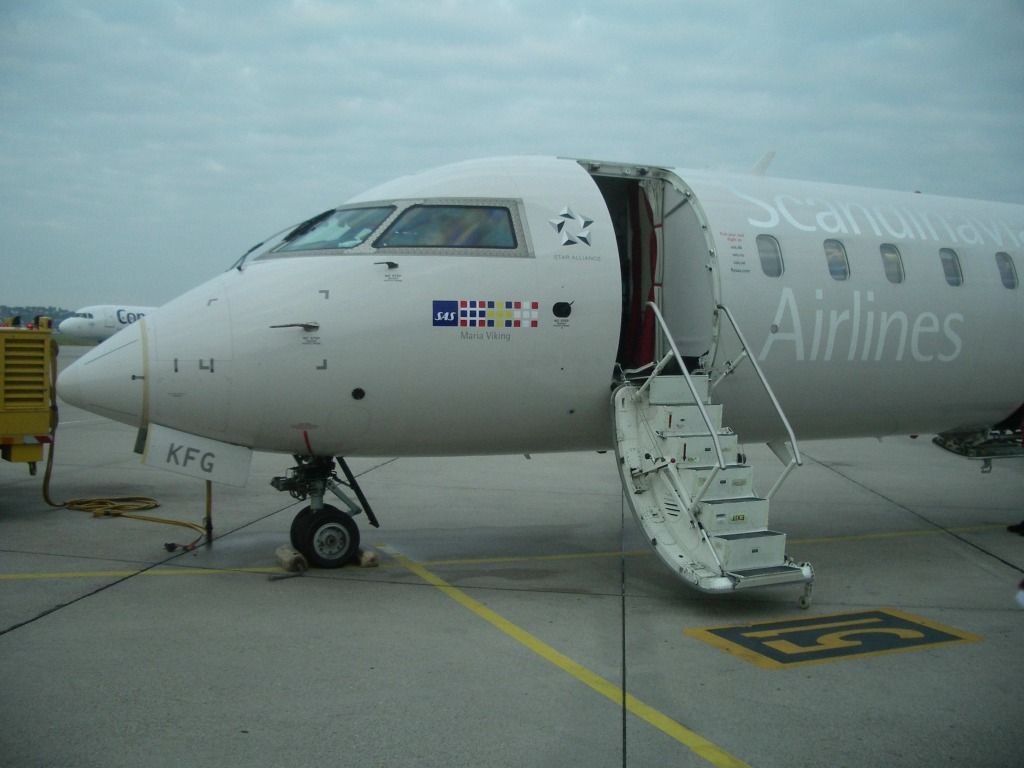 Ok, the "Viking Maria".
Better known as OY-KFG
Yes, this is the scheduled CR9 and no, this is nothing new to me. My third date with "Maria", after STR-CPH and KRS-CPH not that long ago.
Leg no. 11 on type
In the air since 07.07.2009 with SK. 12 planes on type are in the actual fleet.
The plane is noted with an incident at HAM last year when it was on finals and a EK 773 started it´s takeoff roll without clearance from the crossing runway.
The tower noticed it and forced EK to stop immediatelly while OY-KFG going around
06.20 am, perfectly ontime, 1 hour, 10 minutes now to go for "Scandinavian" from runway "Two-Five".
9 degrees and chilly fresh air around.
Are you guys up there know that it´s June here in Germany?.
Legroom is really good here to say the least.
Two for me in the exit row, 17A managed by the female Senator desk agent, as soon as she is back on track after the routing shock
Cockpit crew is from Scandinavia, the captain with a nice and detailed welcome during boarding.
Once more short prior to descent in a relaxed style.
He´s also at the planes door during disembarking later on, well done.
No route or flightlevel information available this way.
Cabin ceiling view
Safety on board, sure
Cabin crew is two female FA´s.
One elder and ok, one middle aged and nice.
Provence, well, been there before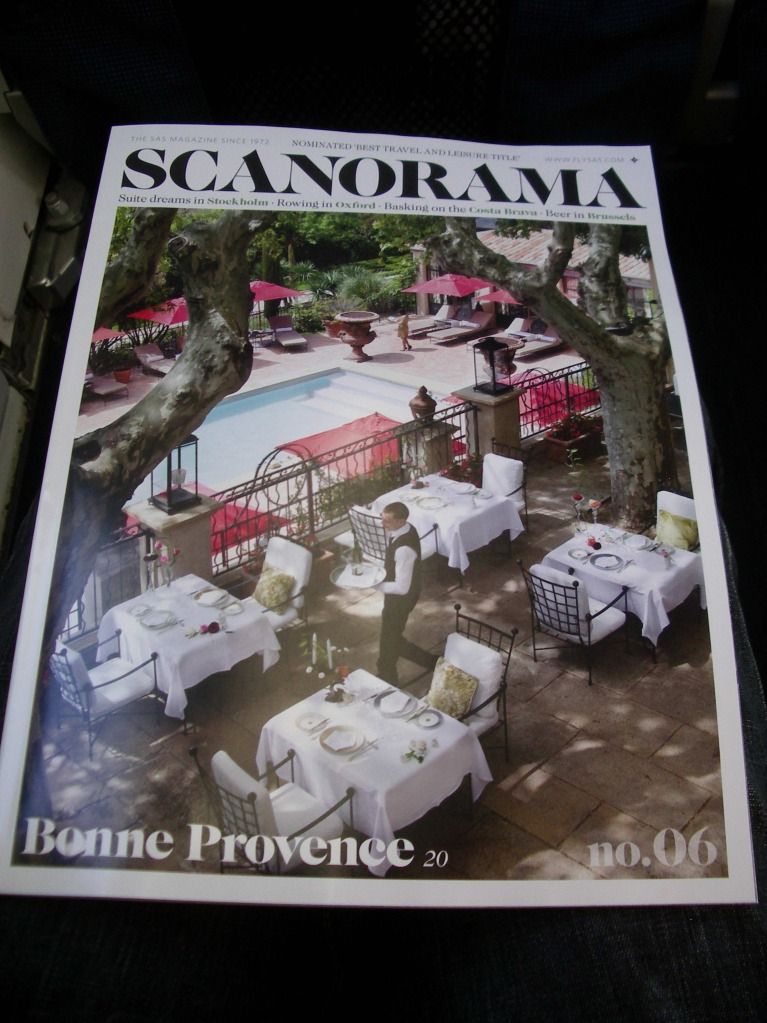 Service is coffee, tea, water for free.
How I like these winglets above the clouds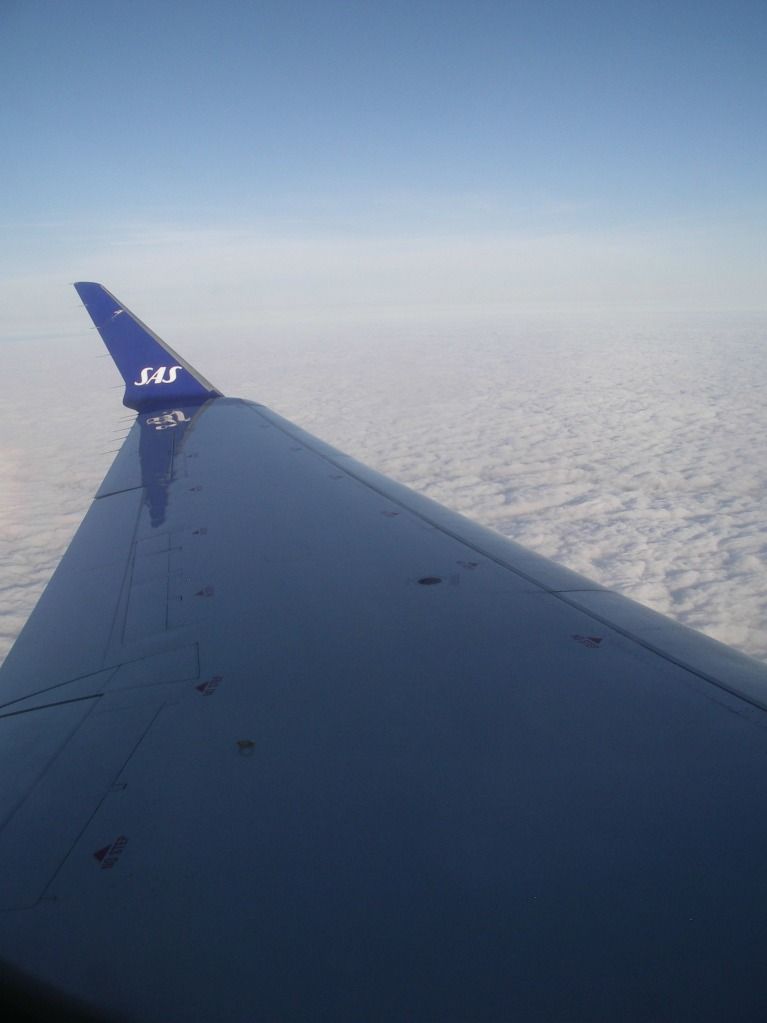 Full cabin view with the dark blue clean fabric seats.
The load is 80%. It´s whitsunday vacation time, so travellers of all ages around, no biz suit to see
Coming in for CPH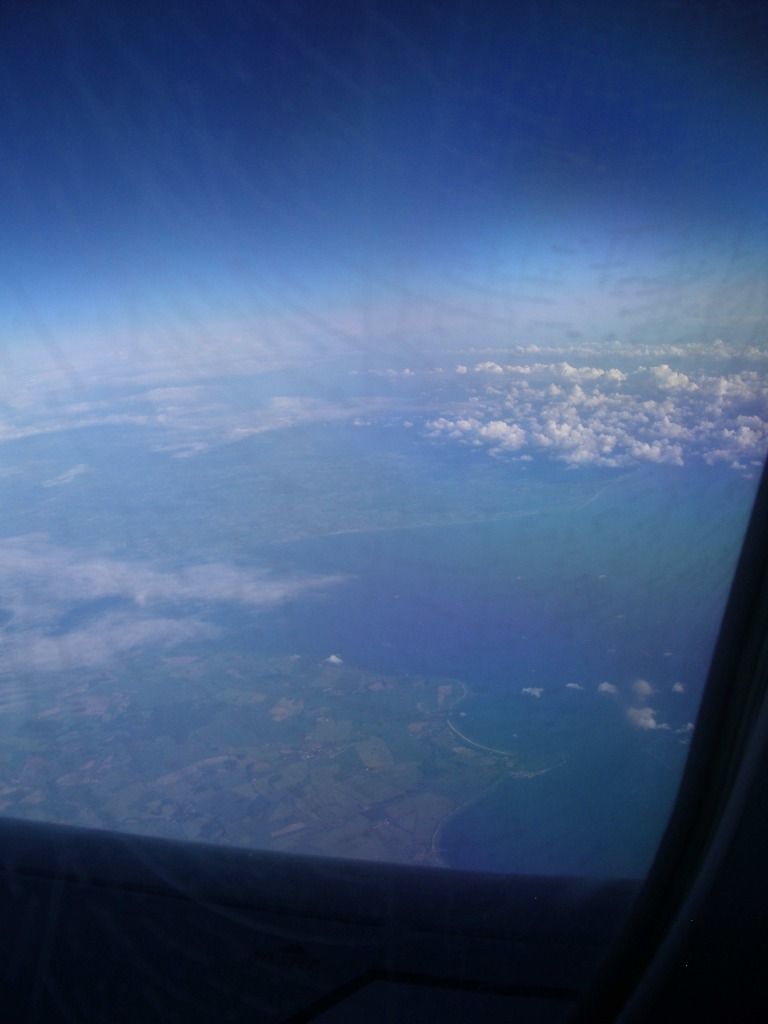 Traffic down there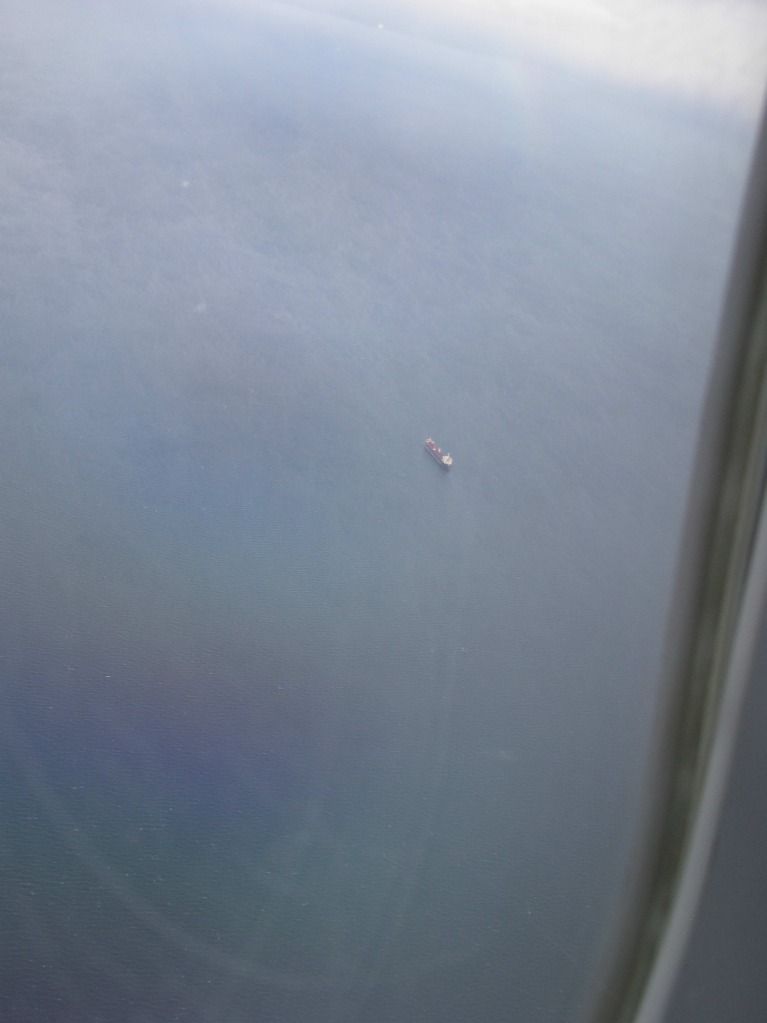 Touchdown at the 3300 meters "Two-Two-Left". 07.45 am, ten minutes ahead to schedule, 7 degrees, cloudy and wet. Not that I´ve talked about chilly fresh air at STR this morning!.
Sure not a problem for me to fly these classic by now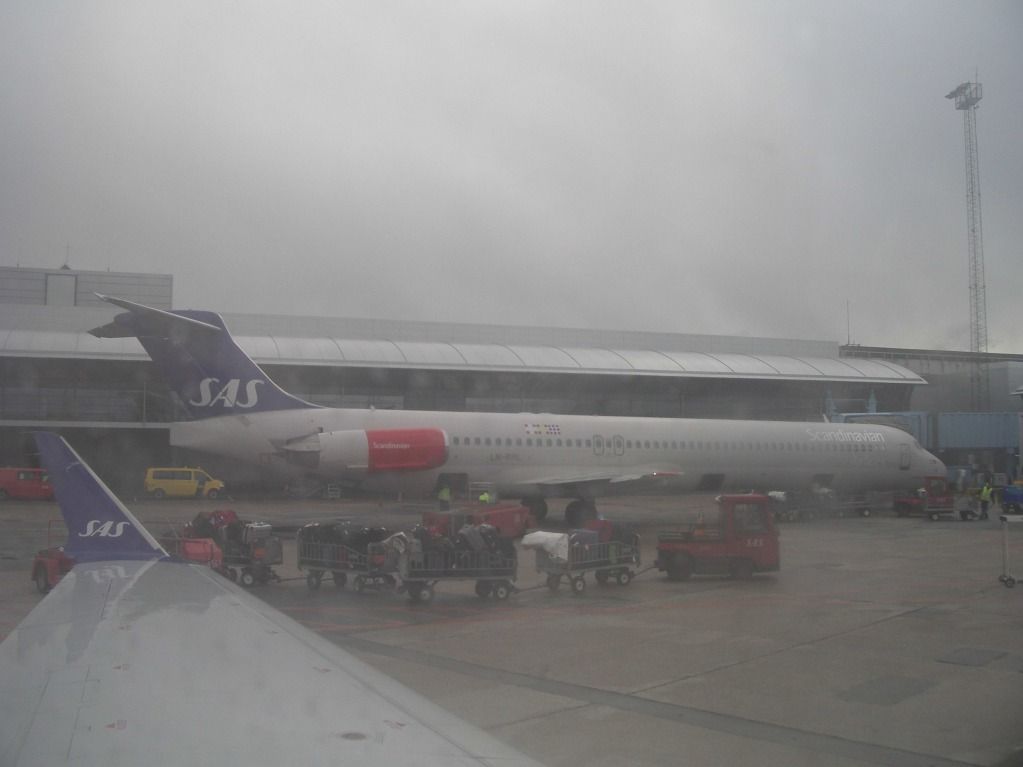 By now to "Maria", it was nice to meet you again!. But as nice as it was, next time send me a new sister, please!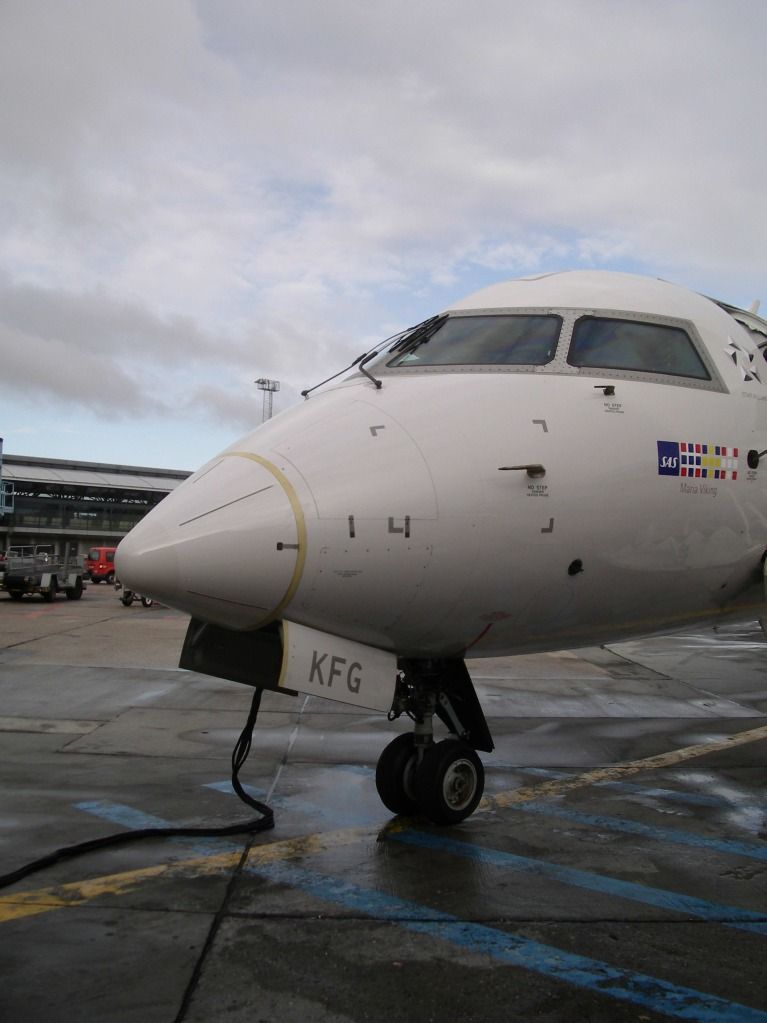 CPH looks like busy this morning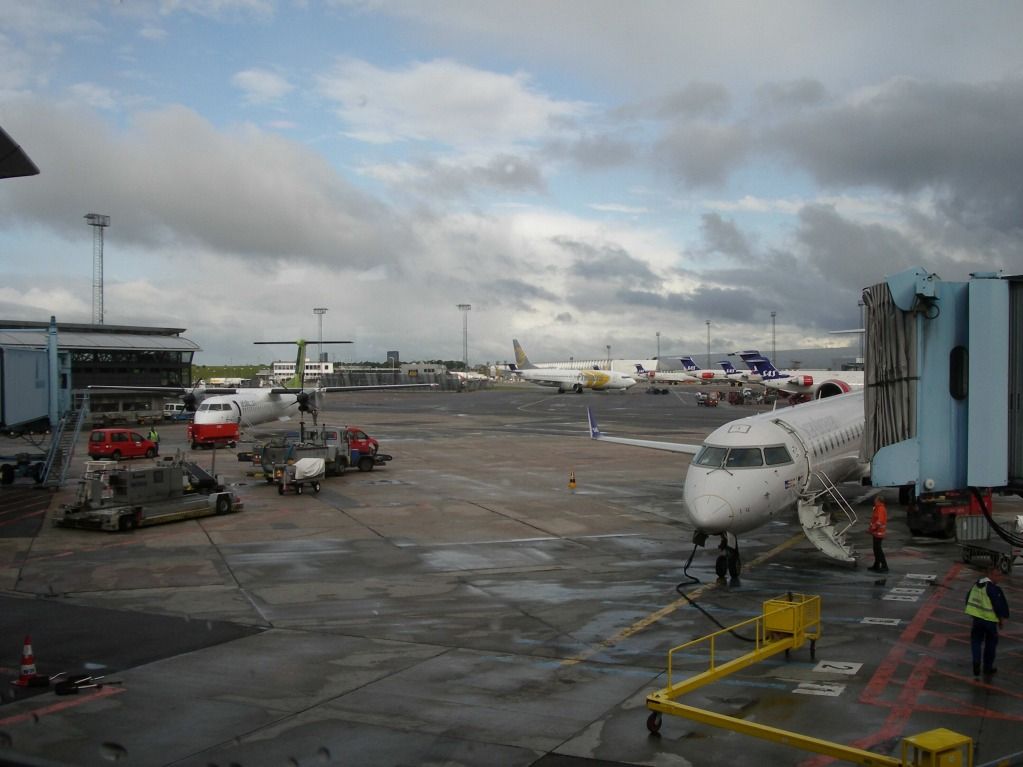 What a nice looking livery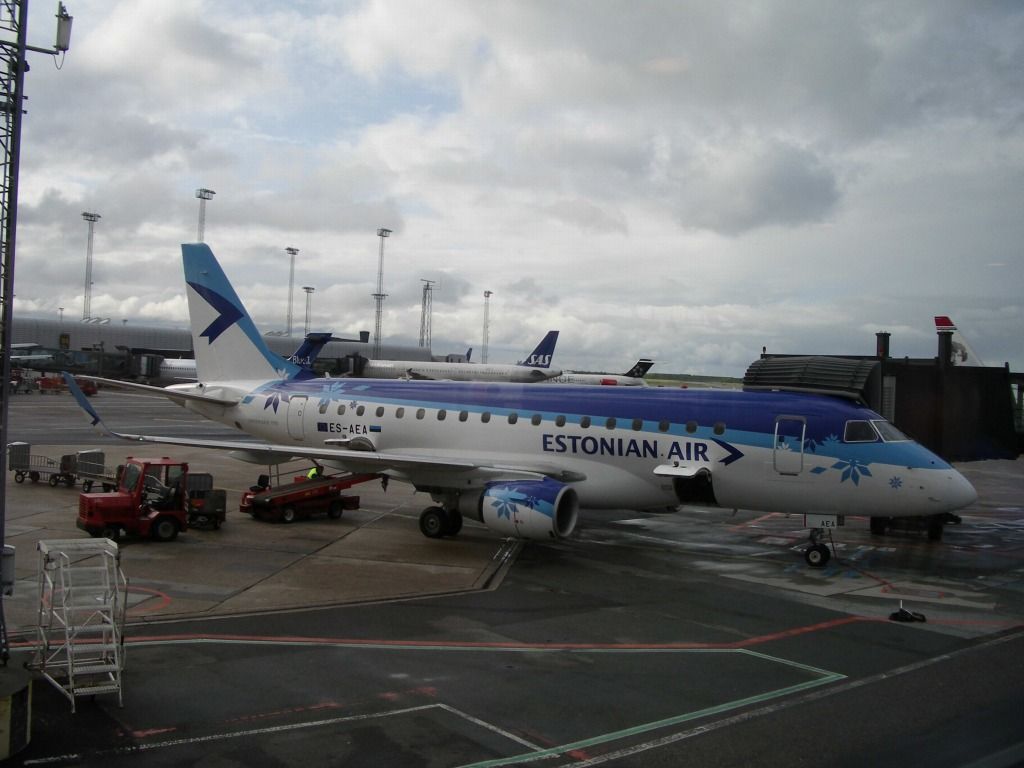 Two holes to go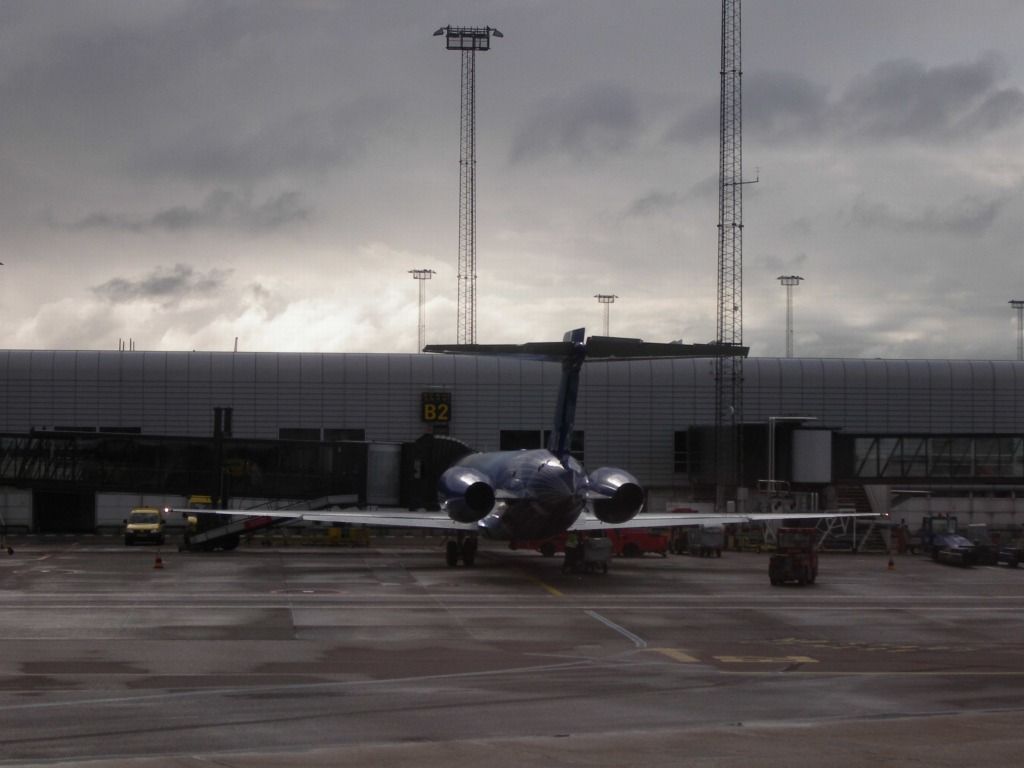 Not that I´ve even noticed it really, but my internal
ILS system lined me up for an approach this way!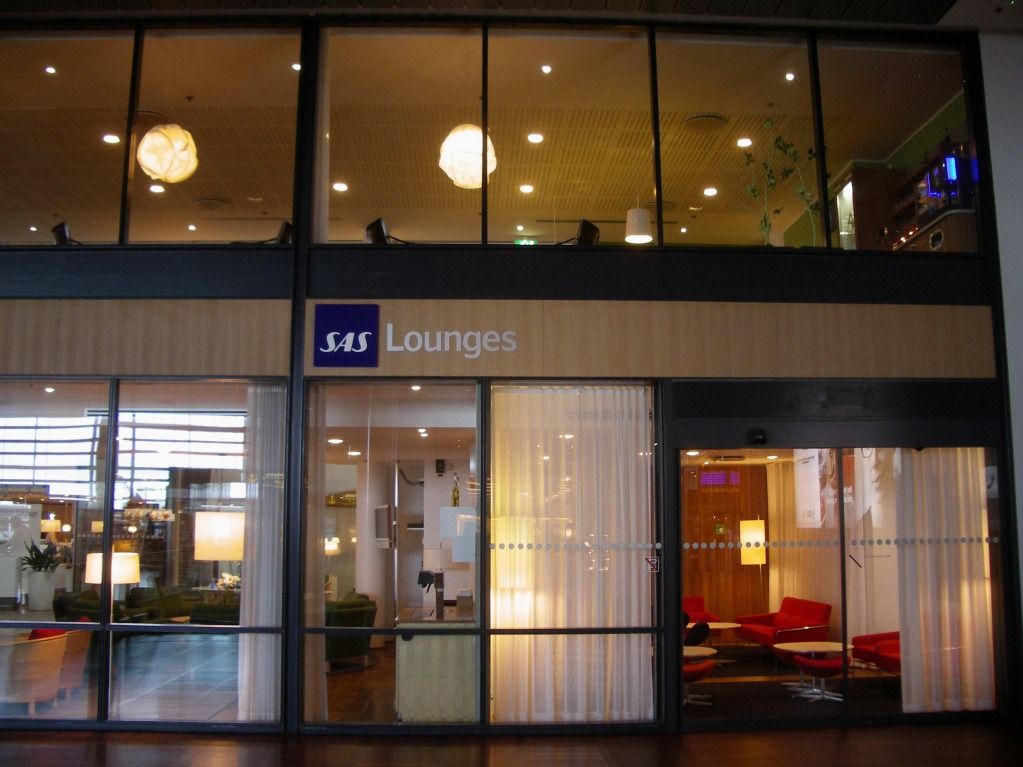 But wait, this is part of the next leg!.
Saturday, 02.06.2012
.
.
.
.
Service SK 1418 operated by SAS Scandinavian Airlines
Scheduled: 10.20 // 11.30
Some lonely Apple´s here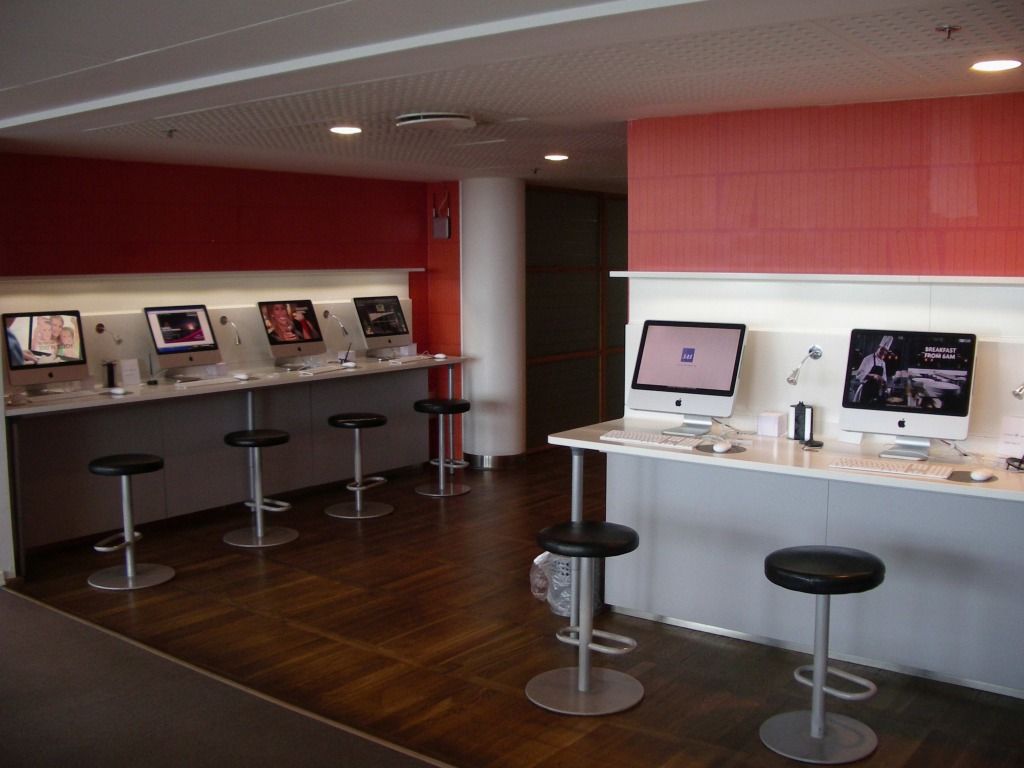 Healthy food around
Cheese for me, please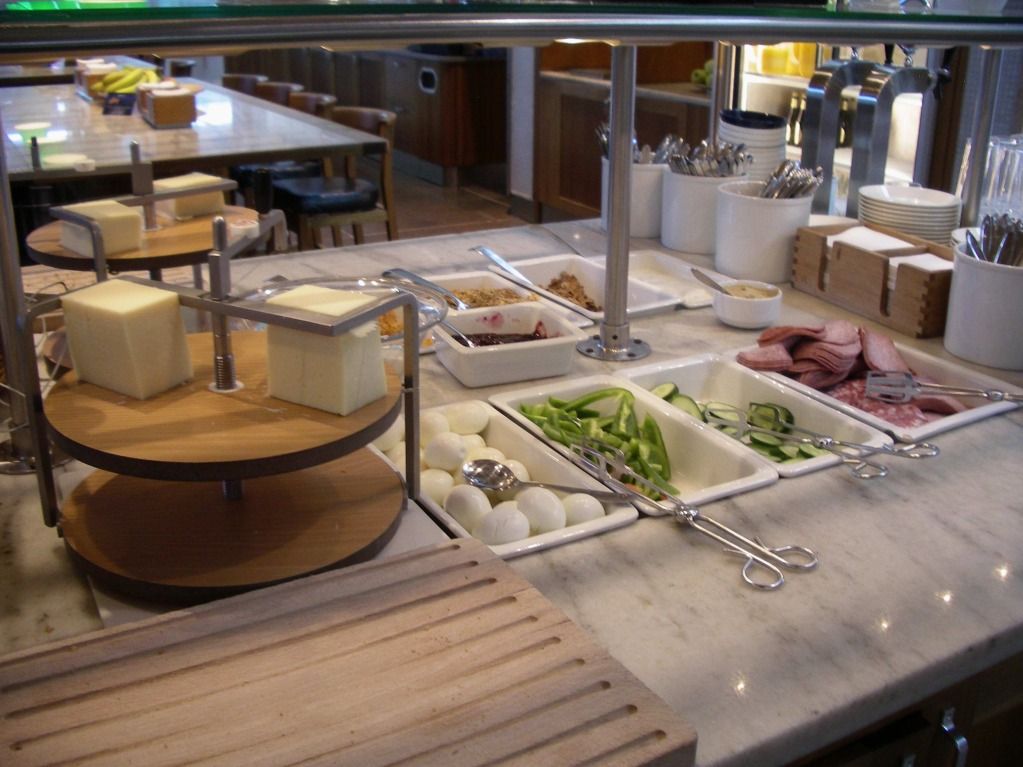 While doing some FB chat´s with the guys already on the way for the meeting, our fellow member from Finland, FlyingFinn76, P., informed me that another fellow guy from Finland, AYA333, J.,
is also in CPH actually.
No question, a call is done immediatelly and minutes thereafter J. was accepted as my lounge guest for some nice talking.
SK is doing well from gate B9, but not the best day for BA, so it seems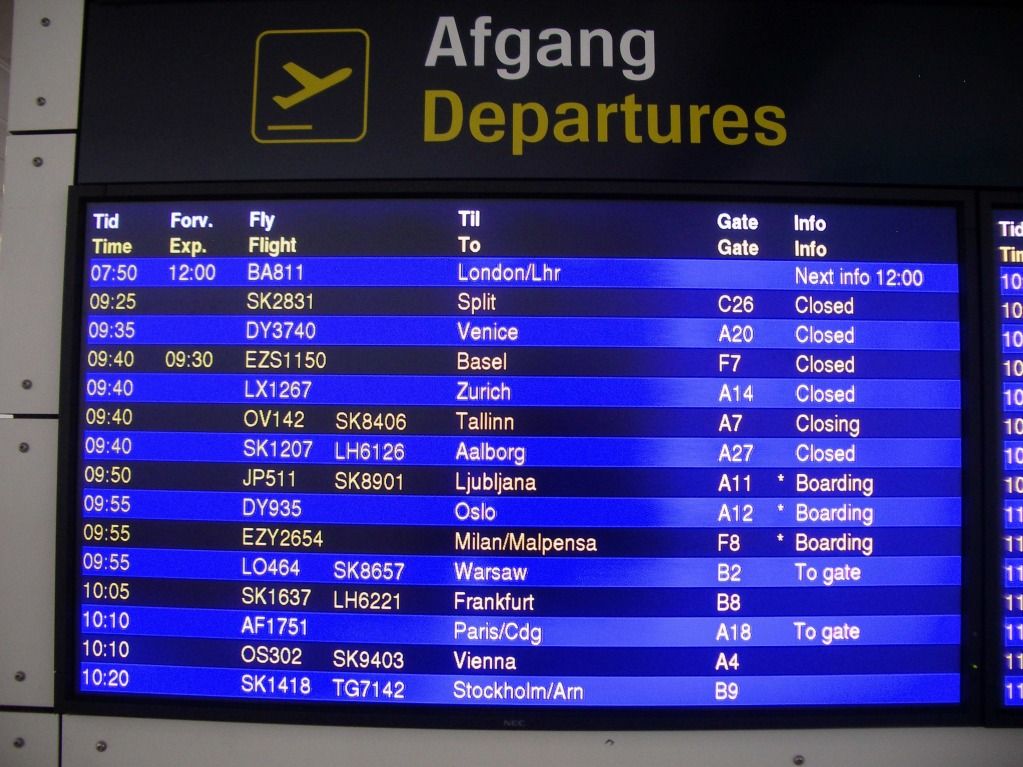 This one turn´s in my direction
Notice the bulb on the rear fuselage
LN-RRS parking at my gate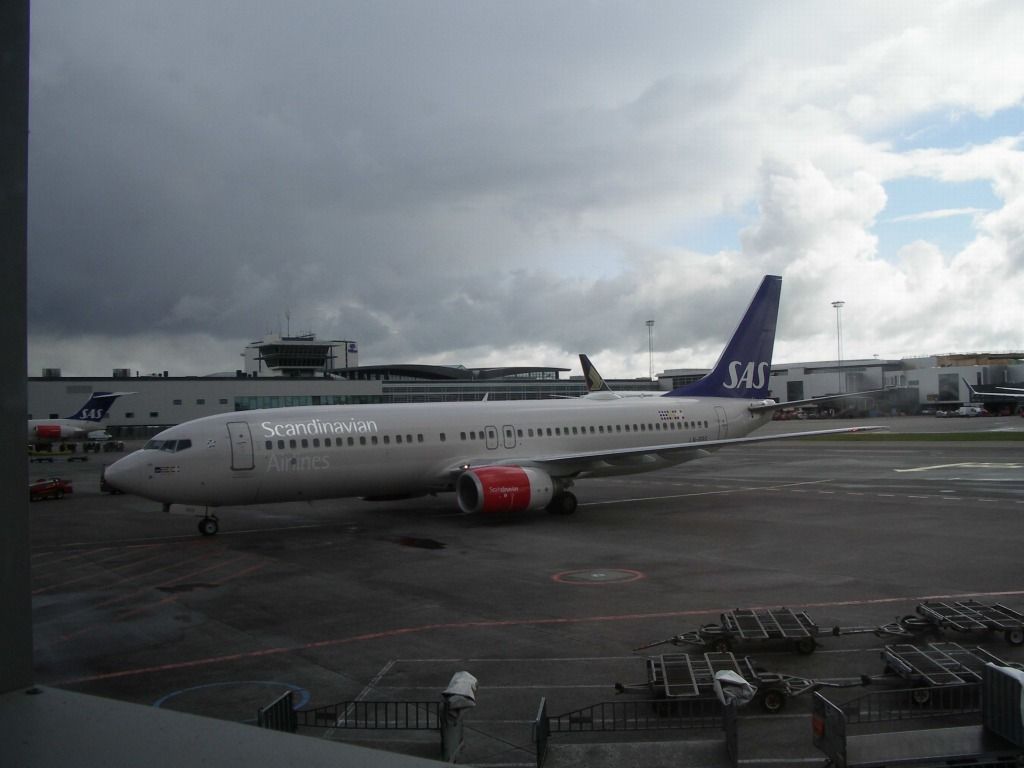 "Ymer viking" is in service with SK since 30.11.2001.
This is leg no. 62 on the scheduled 738 and yes, this is something new to me.
There are 21 ´800´s in the actual fleet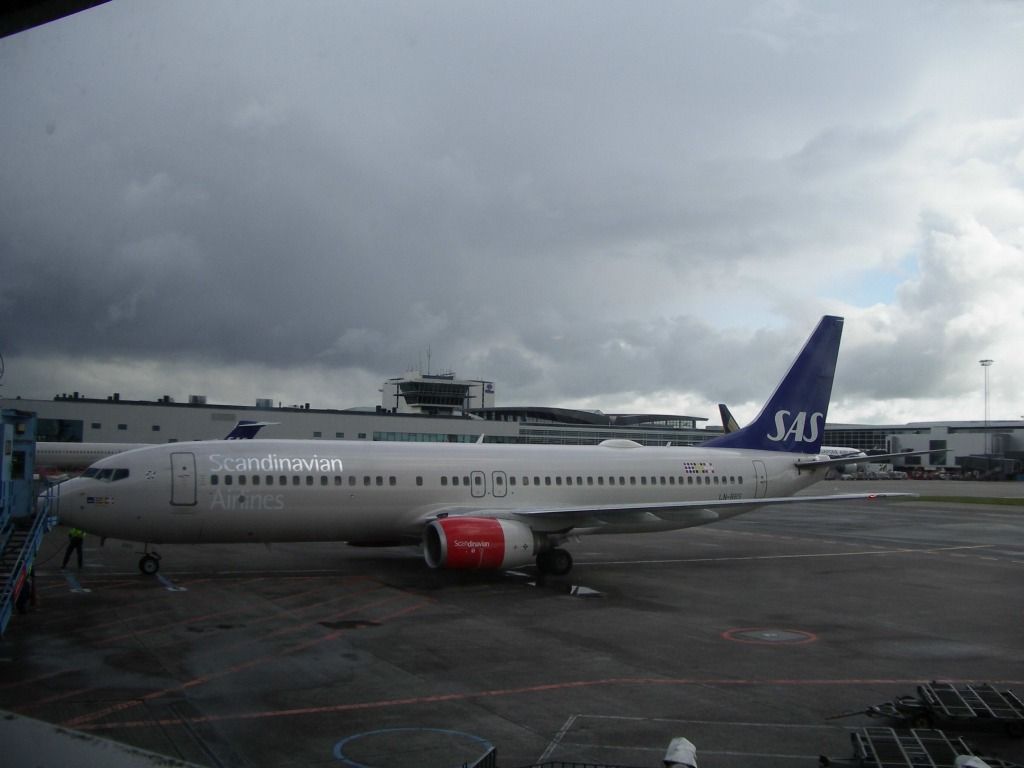 Dedicated to some fellow guy from Slovenia, SloAir, B.
also in Berlin for the meeting
10.25 am, short behind schedule, is the time limit to leave CPH again.
1.00 hour for Stockholm, "Scandinavian" on the go from the 3600 meters runway "Two-Two-Right".
Cabin crew is one middle aged nice male and three female FA´s.
Two elder, both nice and one younger,
cheery and good looking. Cute, brown hair, ponytail, simply the way it should be, at least for me!.
Service is free water and coffee.
Just reaching the murk again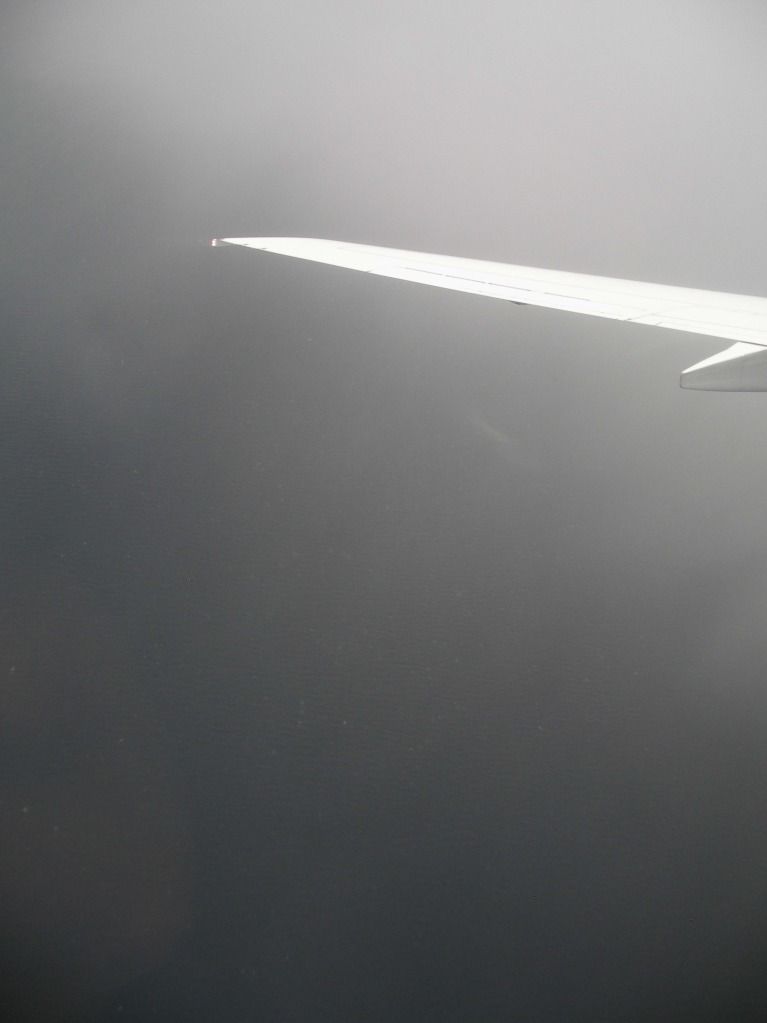 Cockpit crew is from Scandinavia.
The captain with a nice welcome during boarding,
more info´s real detailed inflight.
37000 feet as the maximum flight level, no route details
and some shaking on finals due to windy weather conditions as announced by the captain.
Wifi onboard, now that explains the bulb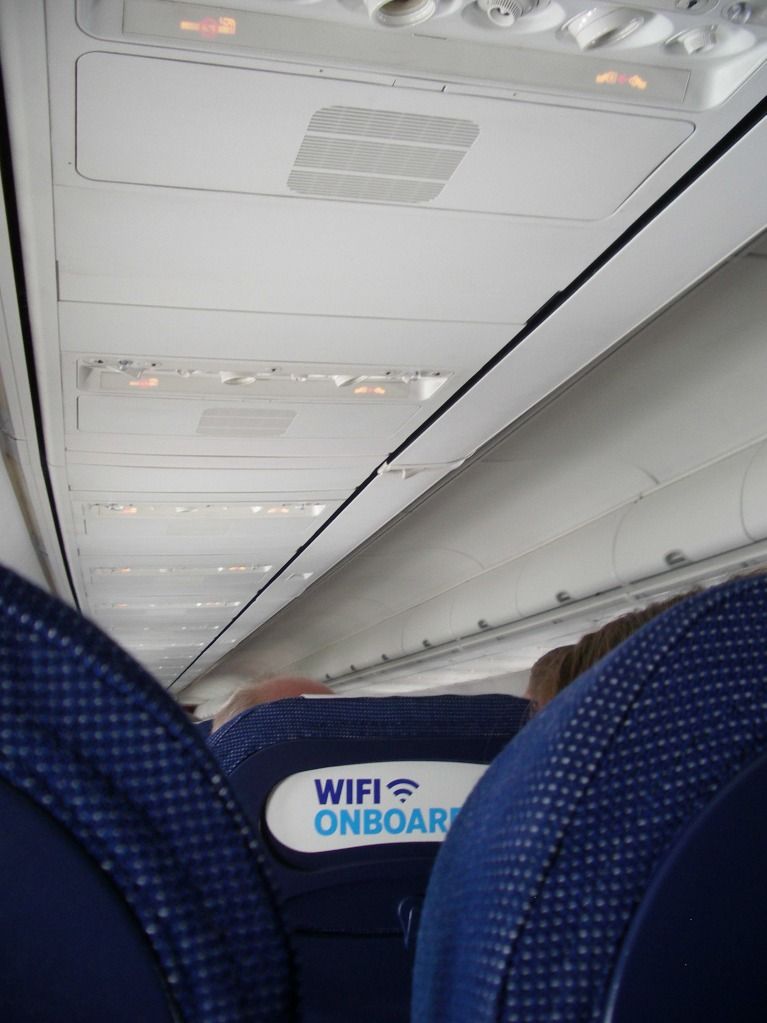 The first time for me with Wifi, not that fast but for free.
Interesting to do more FB chat from above.
Safety on board also here
Well, there is some legroom available, but more is sure welcomed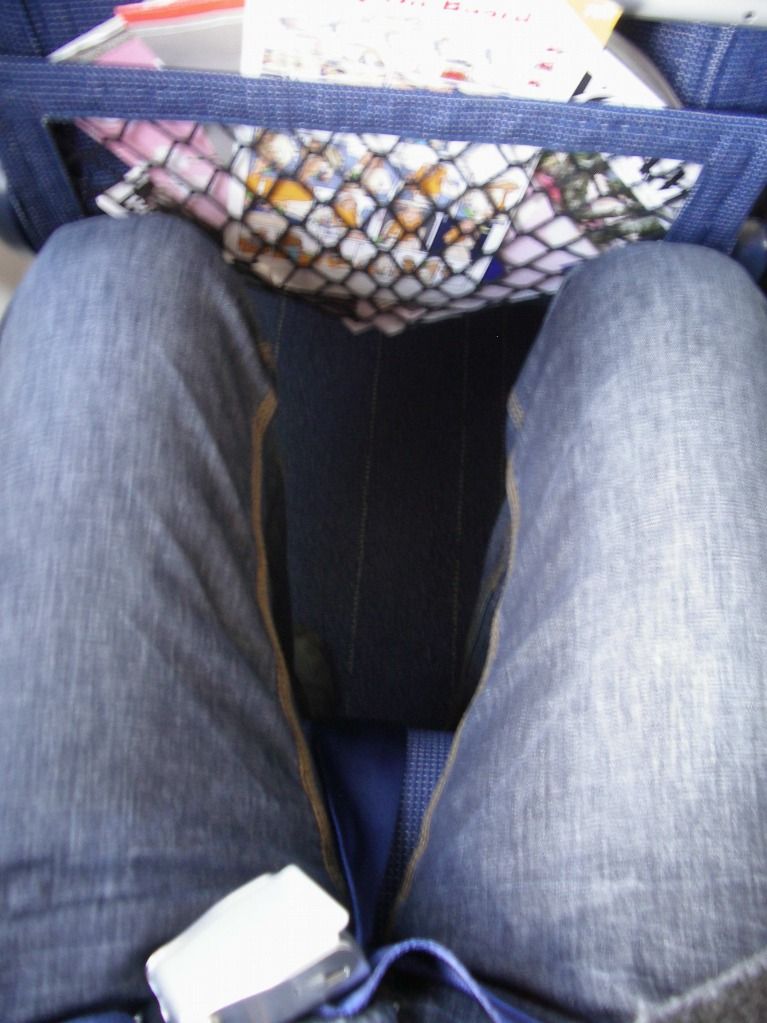 Cabin view with the dark blue and clean fabric seats.
A 90% load, mostly vacationeers here again.
The last row rule works perfectly, 32A and three for me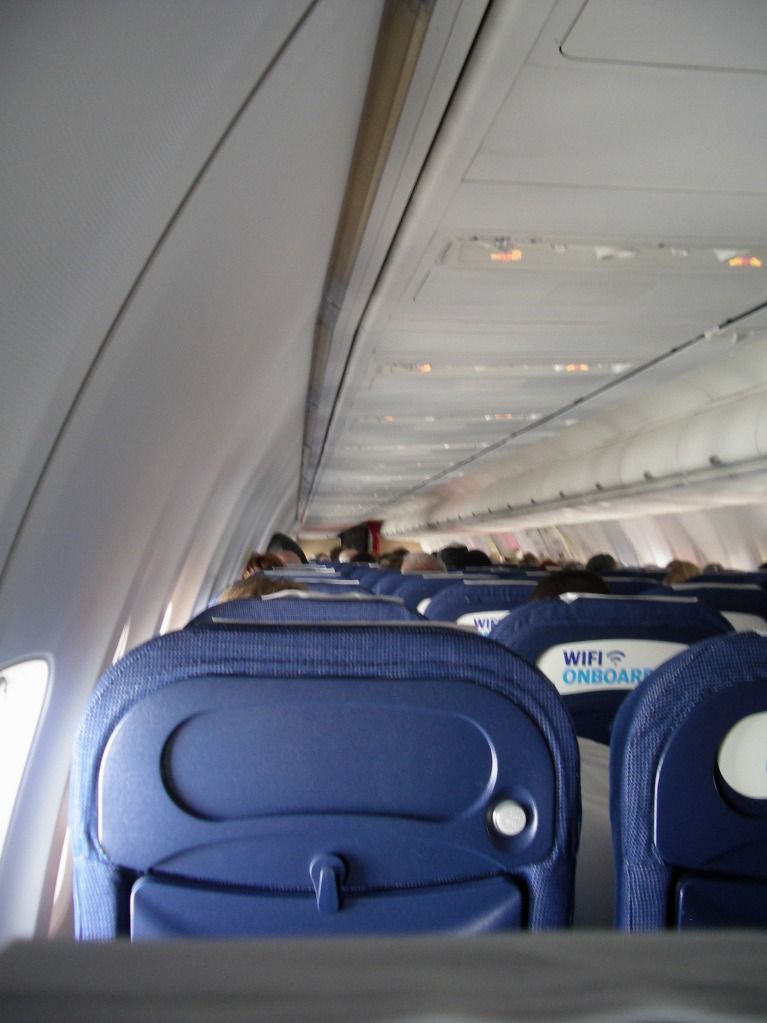 Just departed above the Oresund bridge
Looks like strange everytime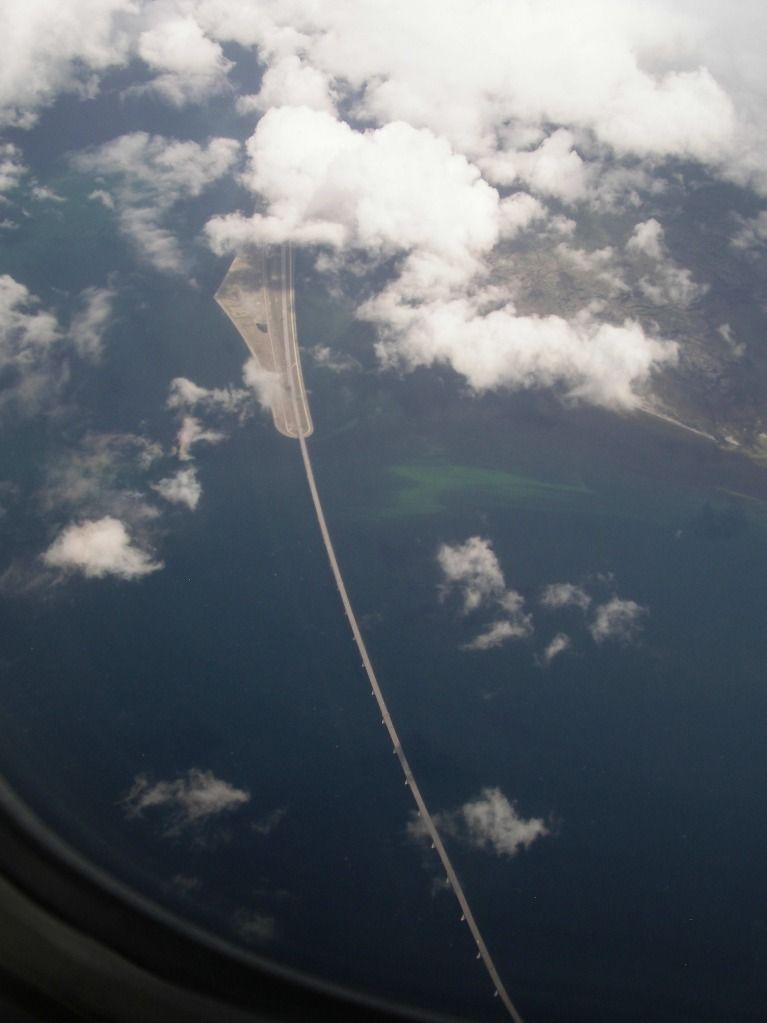 Better wetter above southern Sweden
Coming in to land for the 3301 meters "Zero-One-Left" at 11.30 am, ontime, 7 degrees, rain and strong wind.
Anyone remember the nice weather conditions at STR?.
..................................................................................................