Ok this is the second attempt where hopefully, the pictures remain visible. First time doing a trip report so I guess a little live & learn here. I hope you enjoy reading this!
Hi All,
After many years of reading trip reports and enjoying all of them, I decided I should return the favor and write one myself.
Background:
As an airline employee, you get to do things you normally wouldn't do, or at least do those things at a considerably lower rate (with full flexibility) than normal. Today was an example of such thing. I already had the week off and did not really have any plans, only that I really wanted to get away to basically anywhere. It was Wednesday August 1 1:45 AM when I decided I should try to get on the first commercial A380 flight from Amsterdam Schiphol to Dubai instead of driving to Schiphol to see it land and take off. I mean, why not be a part of that milestone in the history of Dutch aviation! It would also mean my first flight on an A380.
The fun:
After booking through the MytravelID website I checked in online with Emirates to find out I was number 16 on the list with priority 16. At that time I knew my chances wouldn't be high at all, but that I at least should try it. Went to the airport, checked in and went to the gate G9 with its 3 bridges, 2 for economy class and 1 for first and business class.
I reported myself at the counter and was told to wait. It was only 20 minutes before departure time when a nice gate agent approached me and asked why I wasn't on board yet. I explained and she sounded surprised I did not get a boarding pass yet. 5 minutes later I was given out a boarding pass with seat 41A on it! It has been a long time I was so surprised, excited and just very very happy! I snapped a couple of pictures and went into the gate, where a long line was still standing. At that time I still could not believe that I got a seat and that I would be on this first commercial A380 flight from Schiphol! Registration was A6-EDU.
lot's of spotting activity going on, on the ramp: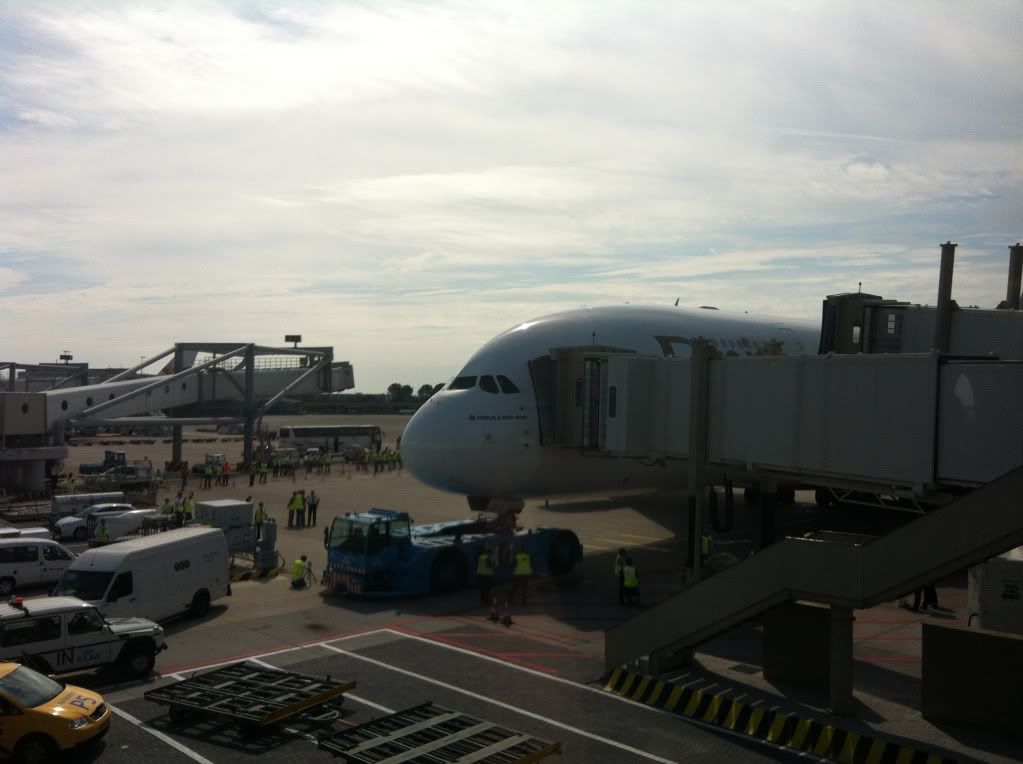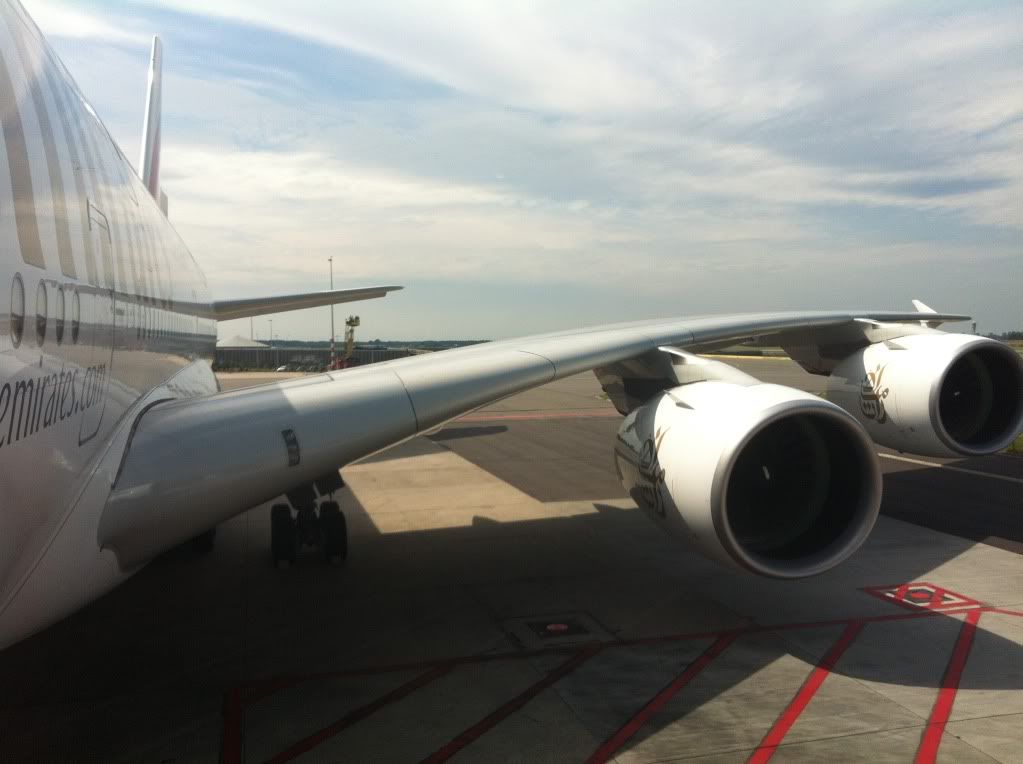 After I got to my seat (as the last passenger) I q uickly searched for some space in the overhead bins to store my backpack. Just a few rows behind me I found some space. After walking back to my seat I noticed how spacious the A380 felt. The curvature of the body below really gives it a more spacious feel to it. After I got seated the doors were closed and pushback started at about 15:32.
I normally enjoy taxiing, as I feel it is in some way a sort of tour through the airport. this time it was even more fun, as there were lots of people working at Schiphol that came out and wanted to get to see the aircraft from close by. I also got to see my colleagues at takeoff. In the texting which was done before I entered the aircraft they sounded jealous (lol) but wished me a lot of fun and a good flight.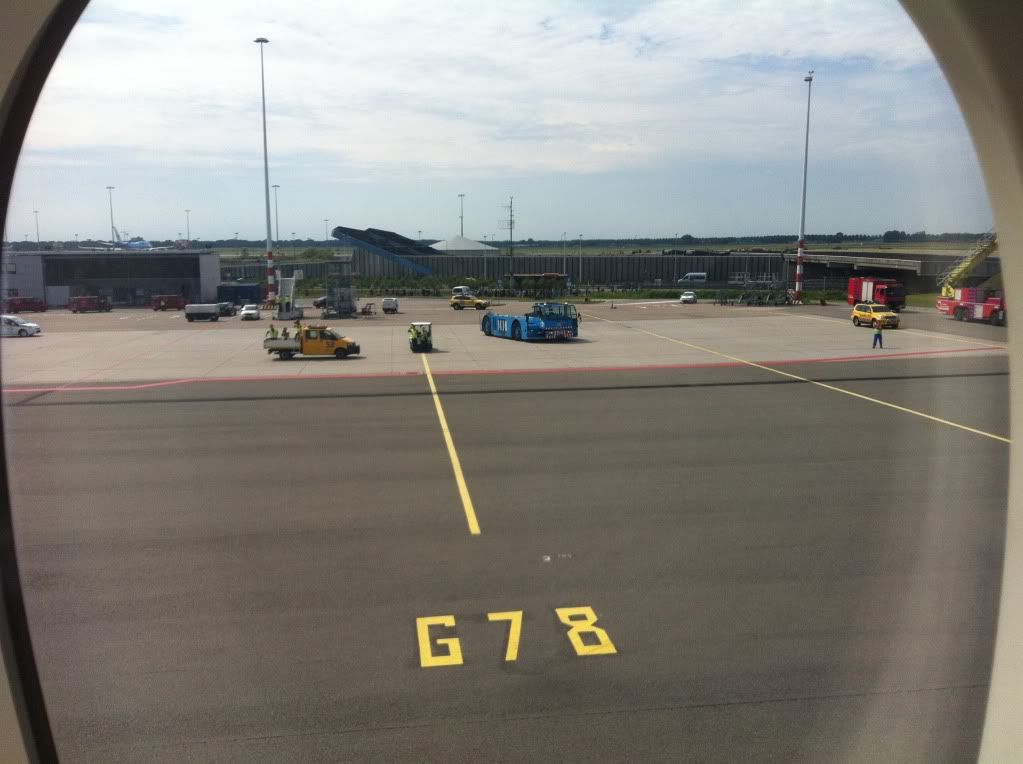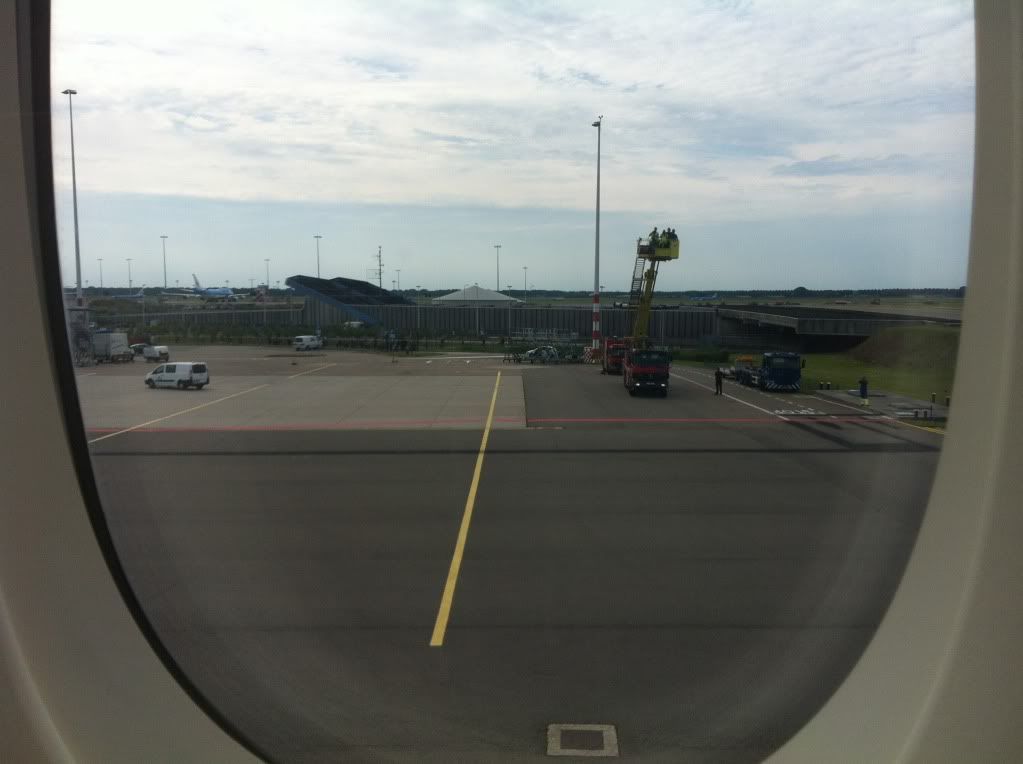 Taxiing went what felt like really slow also a follow me car was in front of the aircraft the whole time. After taxiing to runway 18L (the Aalsmeerderbaan) it took some time before take-off started. After what felt like a 5 minute wait (I'm sure it wasn't) the engines spooled up and acceleration began. I was surprised the aircraft accelerated this fast, and quickly I felt the nose going up and the first A380 flight from Schiphol had begun! I cought a glimpse of my colleagues near the hangar and the Airbus climbed further into the skies, taking a left turn heading for Germany. As I was seated in seat 41A with the crew in the opposite of me, I decided not to pull out my camera and film the takeoff. Fortunately there are many movies been shot from the ground:
Take-off:
http://youtu.be/fzsMbzE9GS0
I'm sure it's been pointed out in other trip reports, but what amazed me, was how silent the aircraft was inside! Wind and engine noises are really low! You can tell the A380 was also built with passenger comfort in mind. It is only when travelling with screaming children that miss these sounds a lot! There was some turbulence over the north of Turkey and Iraq, but you just did not got to feel it like you do in other aircraft. At some point my seatmate next to me said she hardly felt like she was flying at all!
Altitude initially was 39000ft, which we reached somewhere near Leipzig, but somewhere over Rumania (Cluj I think it was) we climbed to 40000ft only to descent to 39000ft again over turkey and then climb to 40000ft again after the turbulence area was cleared.
During the flight I noticed that WIFI is offered. I decided to give it a try. The costs are 5 dollars for 30MB and 15 dollars for 100MB. Speeds were not really great, but at least I got to make a hotel reservation for 1 night after I would arrive. Did some Facebook checks, read the some news and checked airliners.net ofcourse.
I loved the entertainment system on this Emirates A380, especially with the tailcam and lots of flying info: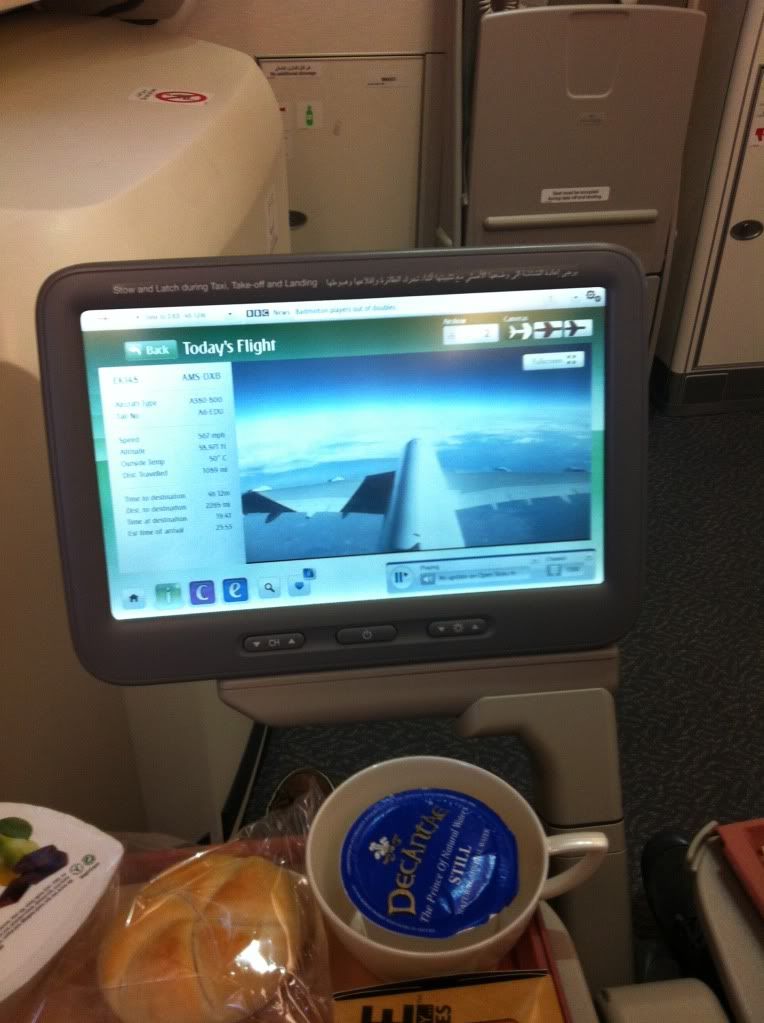 The meal was actually very tasty and consisted of some lamb curry, shrimp salad, water and a chocolate and pear desert: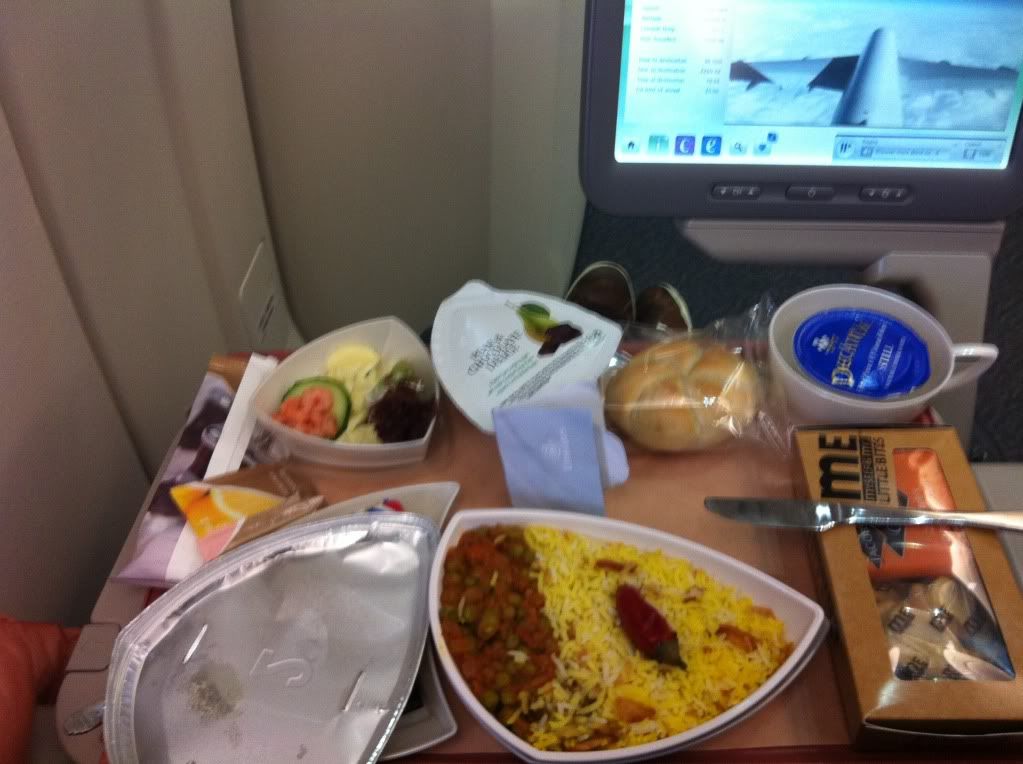 random shots: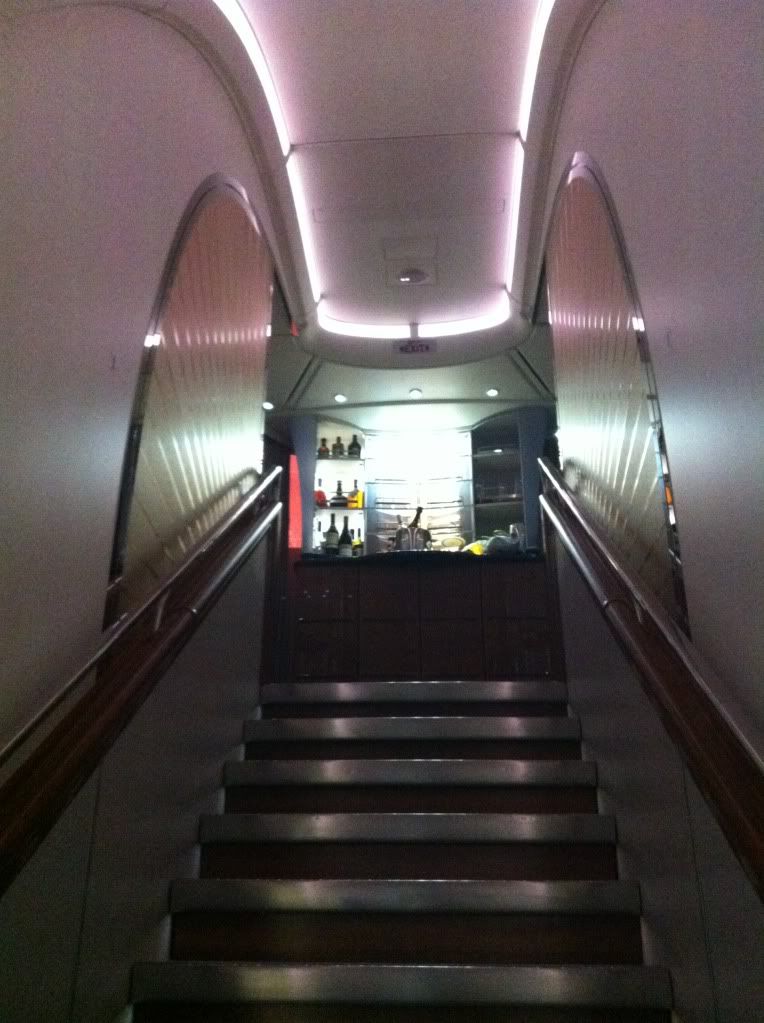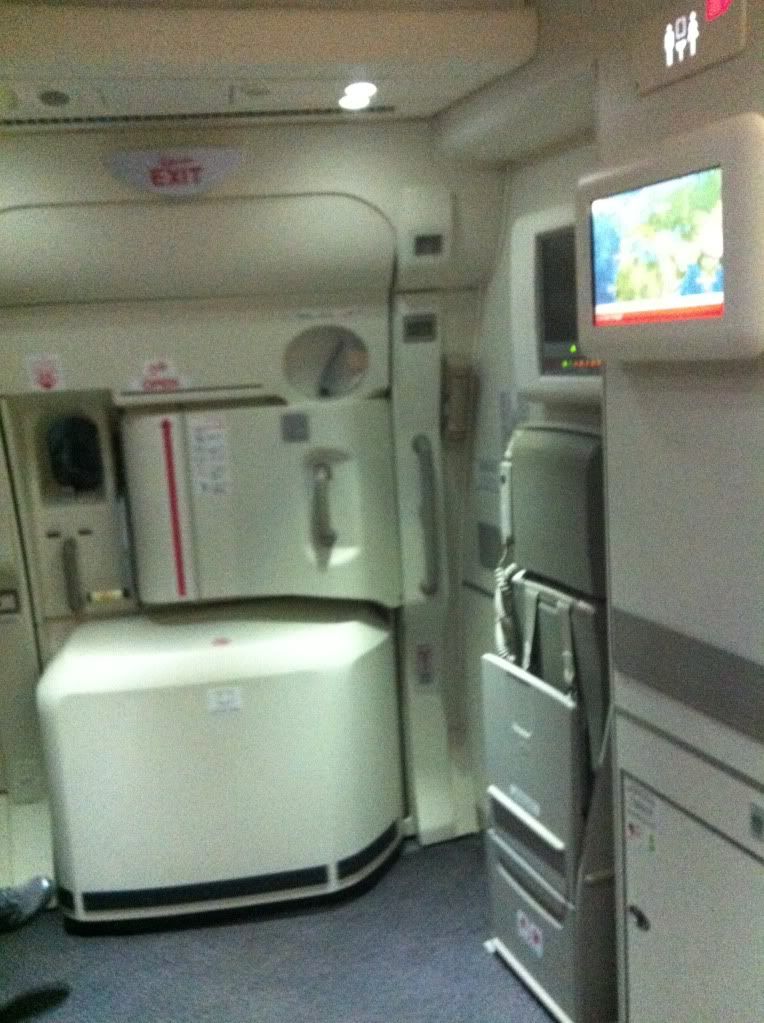 Flight route:
During landing we entered a holding pattern, which looked like this:
And after some good 06 hours and 50 minutes the flight landed pretty firm and did a full reverse thrust which took a lot of time. At least it sounded as full reverse thrust because it got really very noisy, even in front of the aircraft. Could it be that the temperature outside (it was still 40 degrees C at 00:20) have anything to do with it?
Taxiing again took some time and after we docked, I was able to exit the aircraft pretty quickly. It was a great flight and I am happy to have been a part of it!
I actually did not have any lay over plans other than the night I booked during the flight. After I got to my hotel room I decided to have a look at the loads for the upcoming days and they were really not in my favor at all! Actually the flight with the best chances for getting on the flight back was the flight that was scheduled at 08:25 AM on August 2, only hours away from my arrival at the hotel. I decided to try to get on the second A380 flight to Amsterdam, booked the flight on MyIDtravel again and after some 3 hours sleep I got up, did the normal routine and went out to the airport again.
Check in was done at a special designated area which is for Staff travel. It's located behind a corridor with some corners and turns. A nice check in agent put my name on the flight and told me to keep my standby status monitored on a large screen where all stand by staff travelers can see if they got accepted or not. I had to wait for an hour to see if the orange indicator turned red or green. Seeing the self service kiosk I noticed it would be a very full flight again. 475 out of 476 passengers already checked in in economy, business class full and only a couple of seats not checked in in first class I got to check what the best alternatives were going to be. After an hour of waiting the orange indicator turned green, so I jumped up, got my boarding pass with seat 55J and went to gate 231 to board the second A380 flight to Amsterdam with registration A6-EDT.
Some pictures for the return flight:
Not easy to get decent shots at Dubai airport: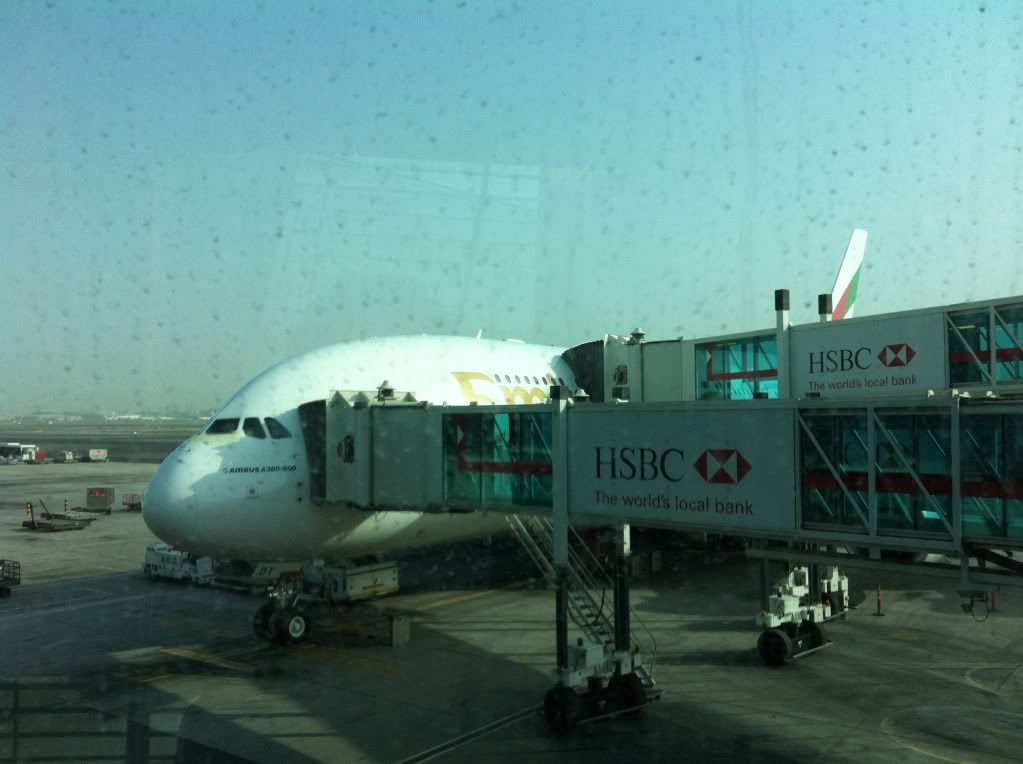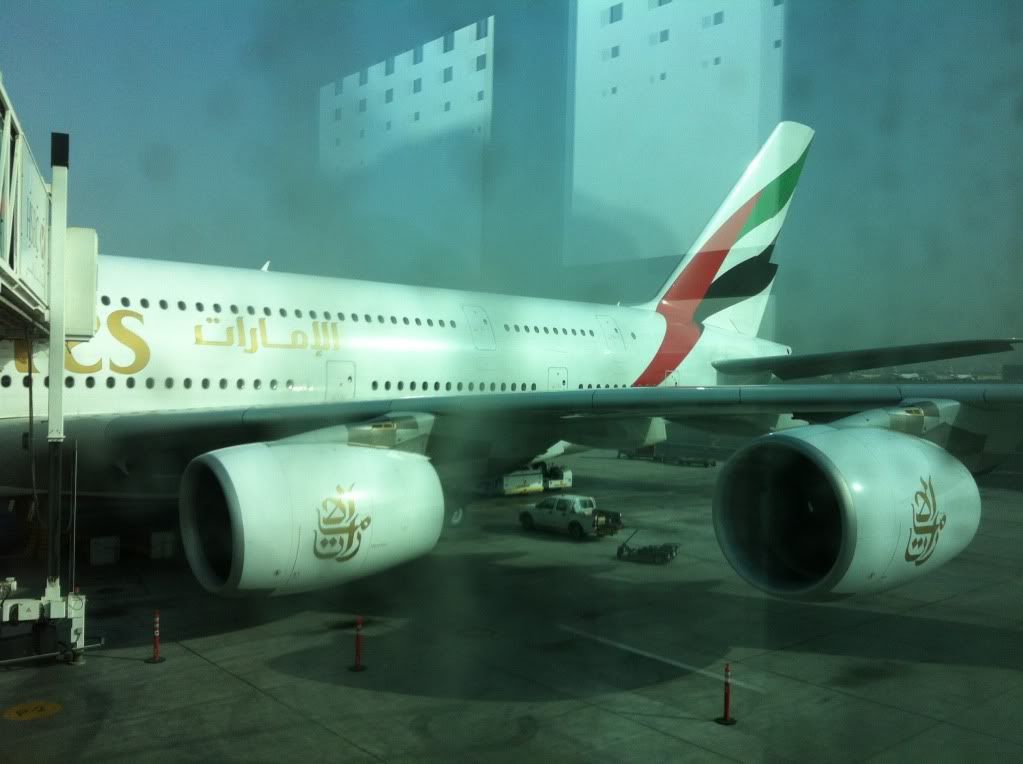 Amazing large wing: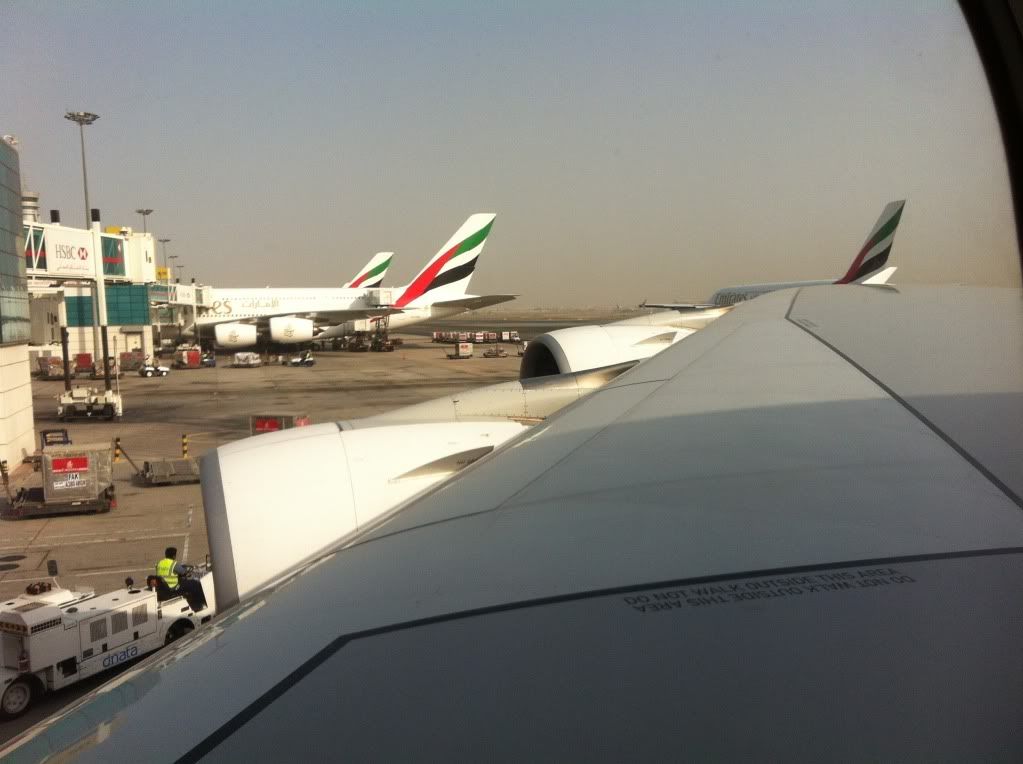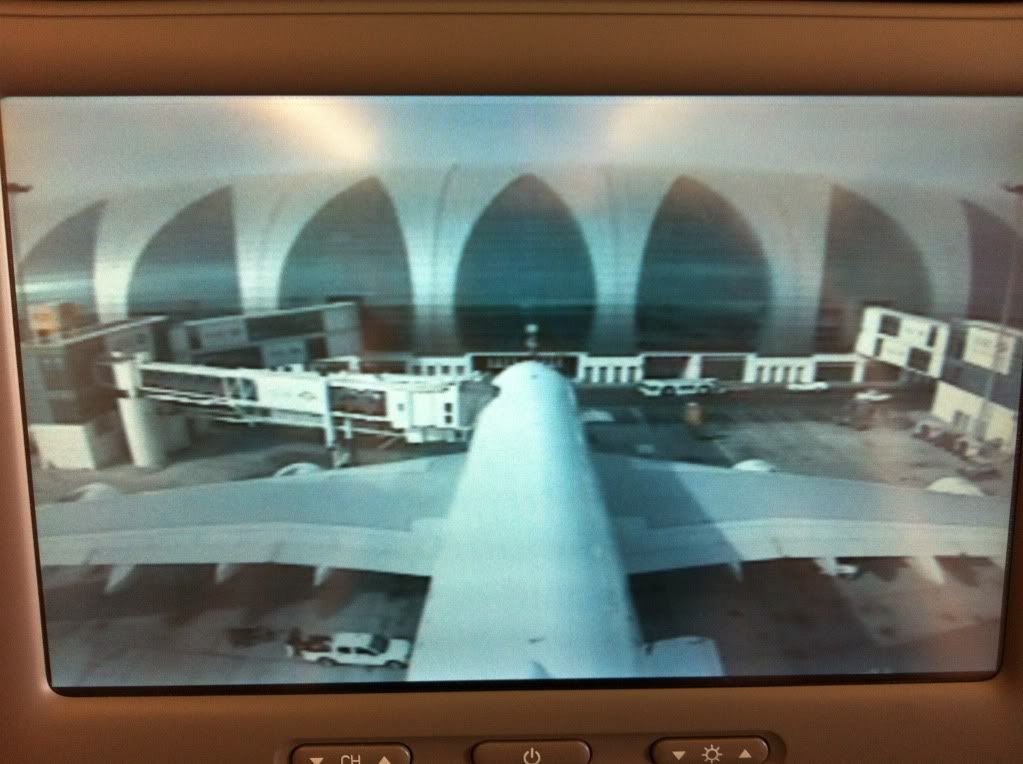 Take off: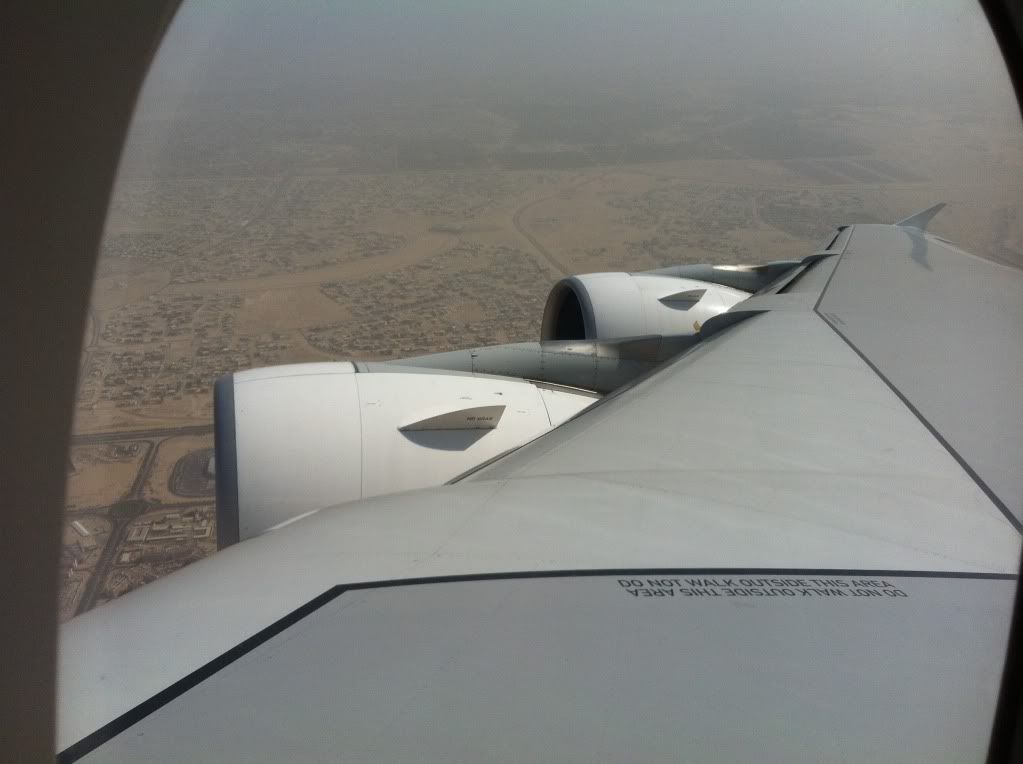 After the breakfast which also was very tasty (I took the Arabic breakfast with some hommous, halloumi, feta cheese, carrot and salad) I fell asleep for some 3 hours, right in time for lunch I woke up and enjoyed some tikka masala and a butterscotch mousse.
In flight: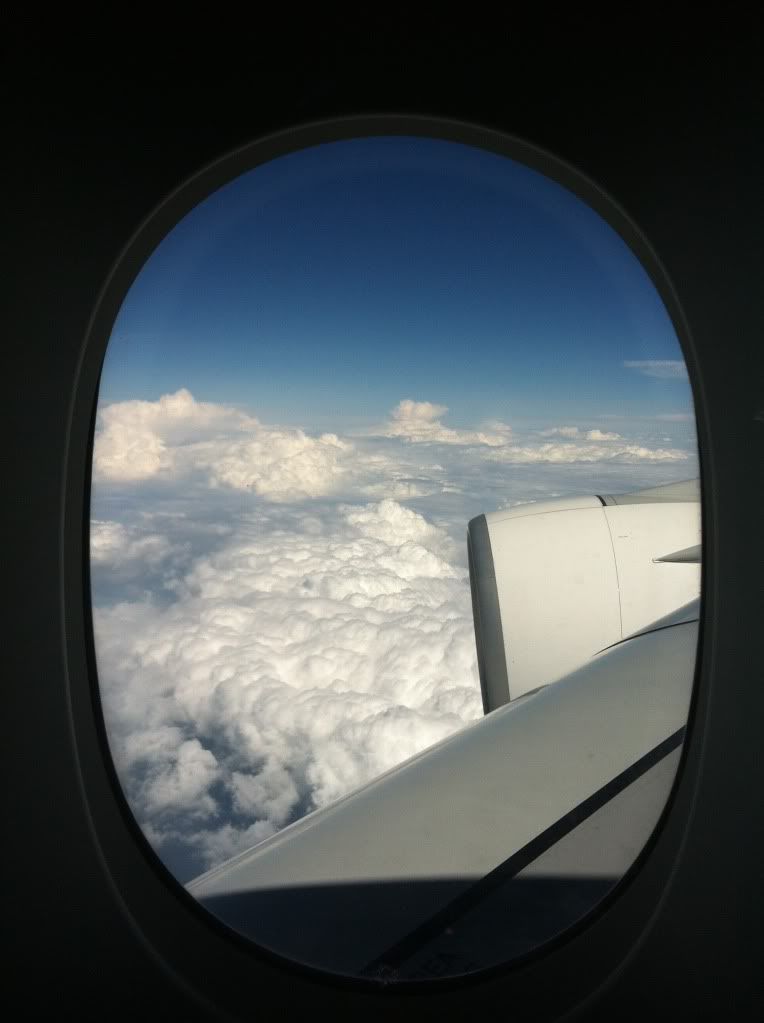 Cruising again was at 40000ft, this time no changes in altitude, at least not when I was awake.
Flight map: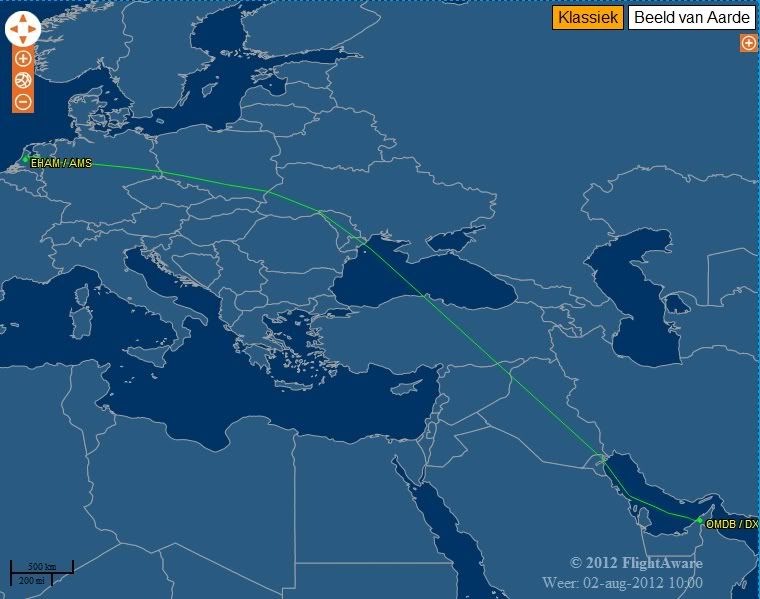 During approach we entered some clouds: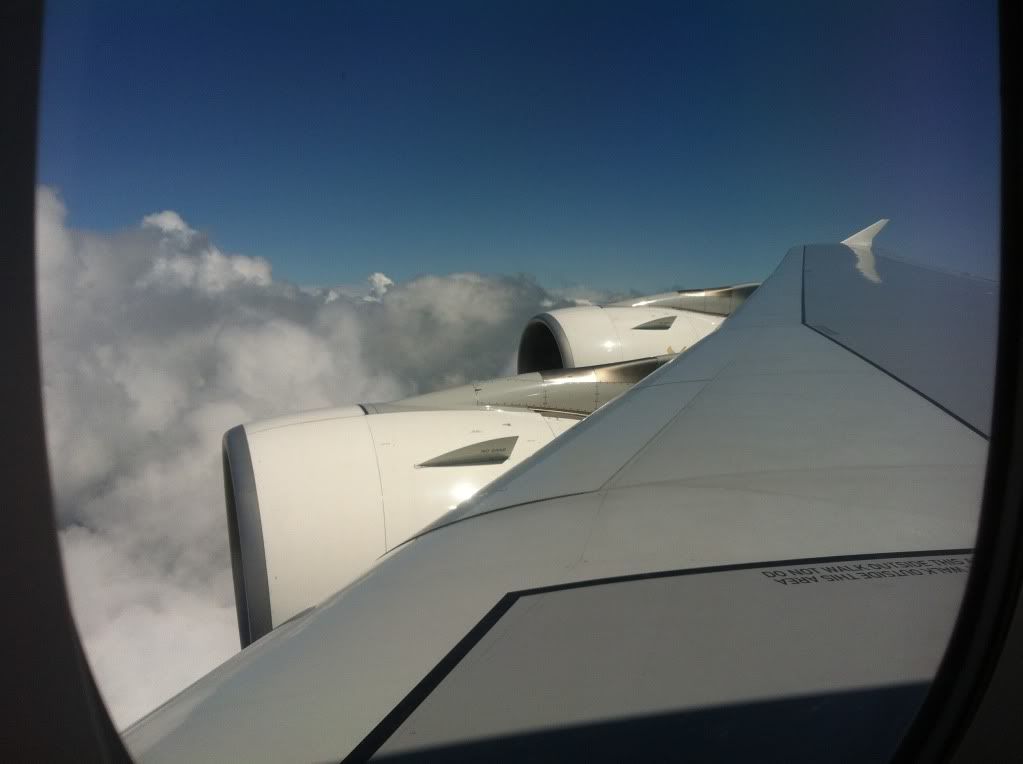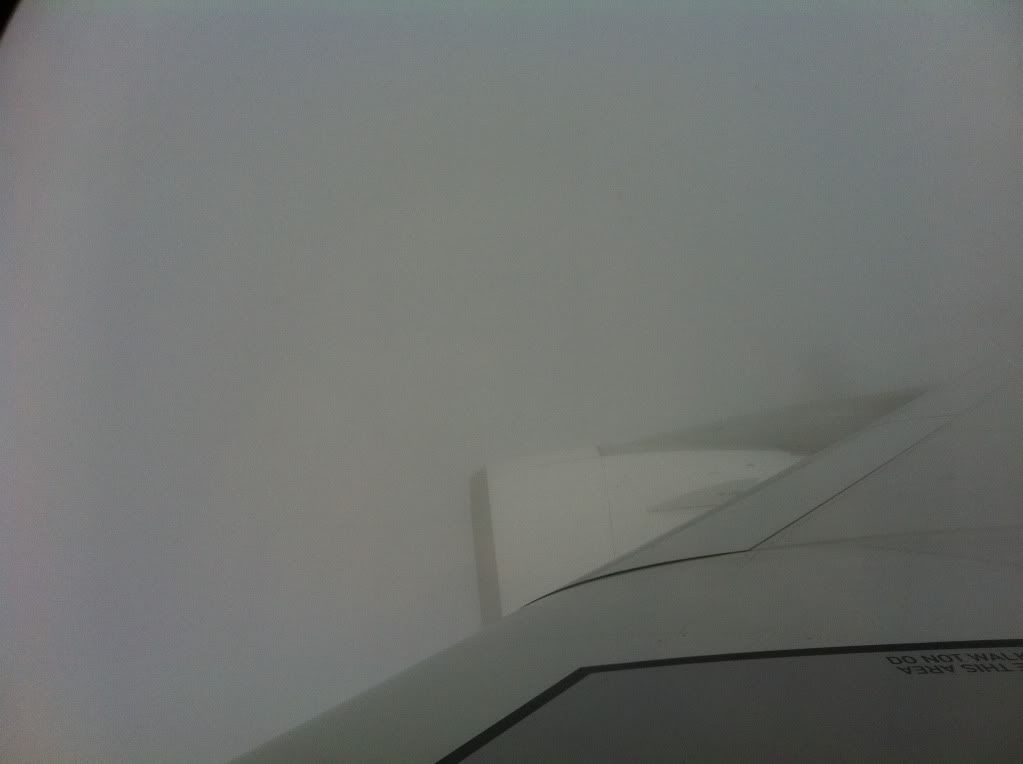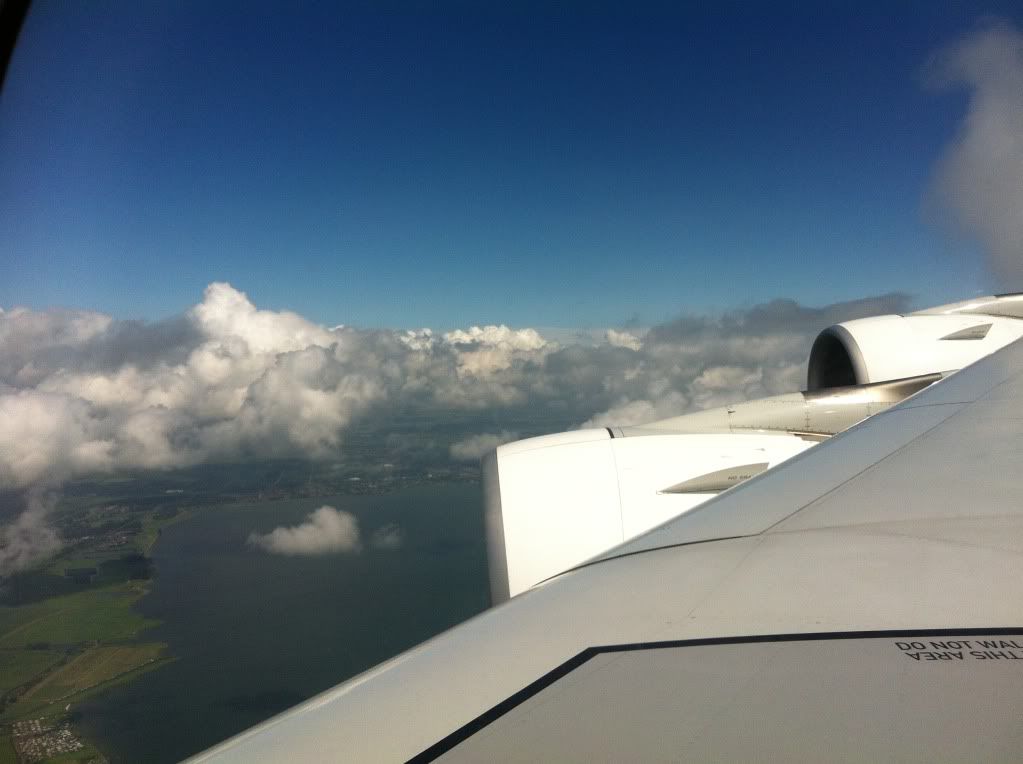 I got to film the approach with a lot of thanks to my seatmate on 55K, who I had nice conversations with. He was very helpful, also providing me with some pictures he took for me. Landing was on runway 18C (Zwanenburgbaan).
Landing:
http://youtu.be/1ySlr9xun60
After landing it turned out that also the second A380 flight took up a lot of interest from workers on the platform: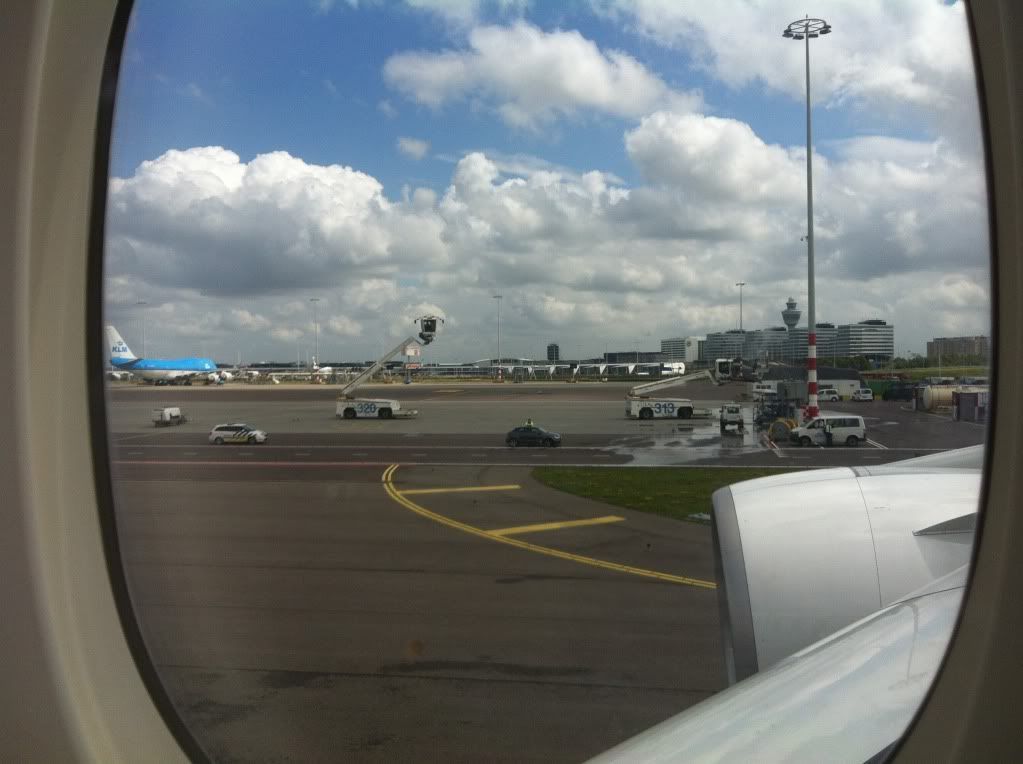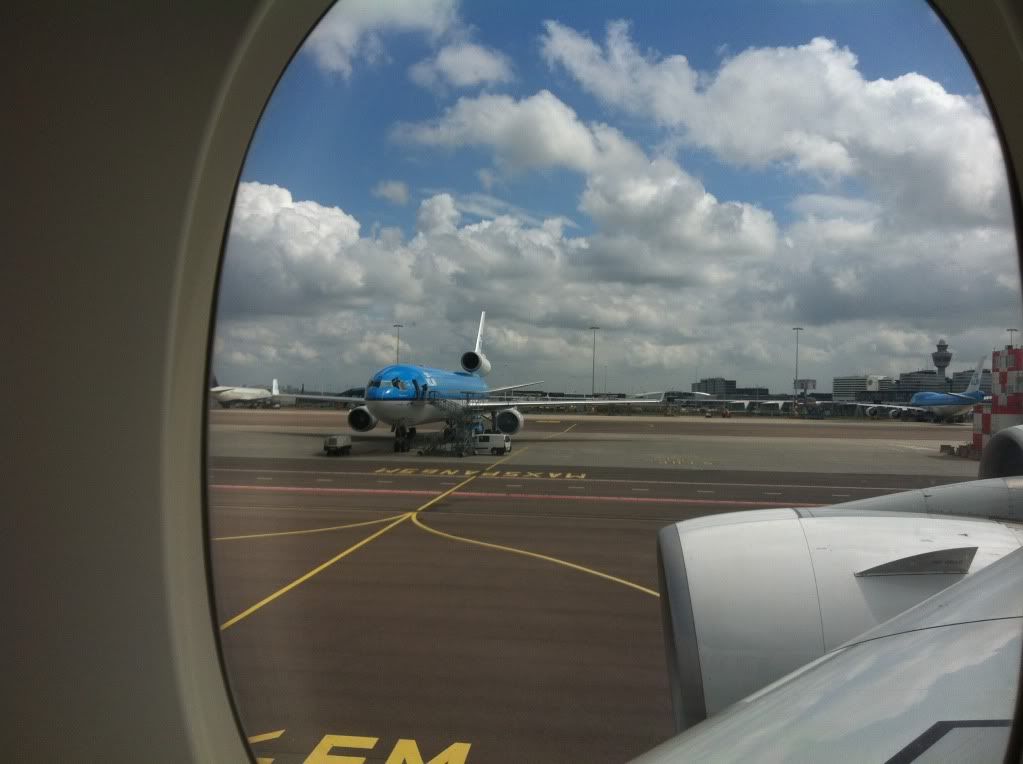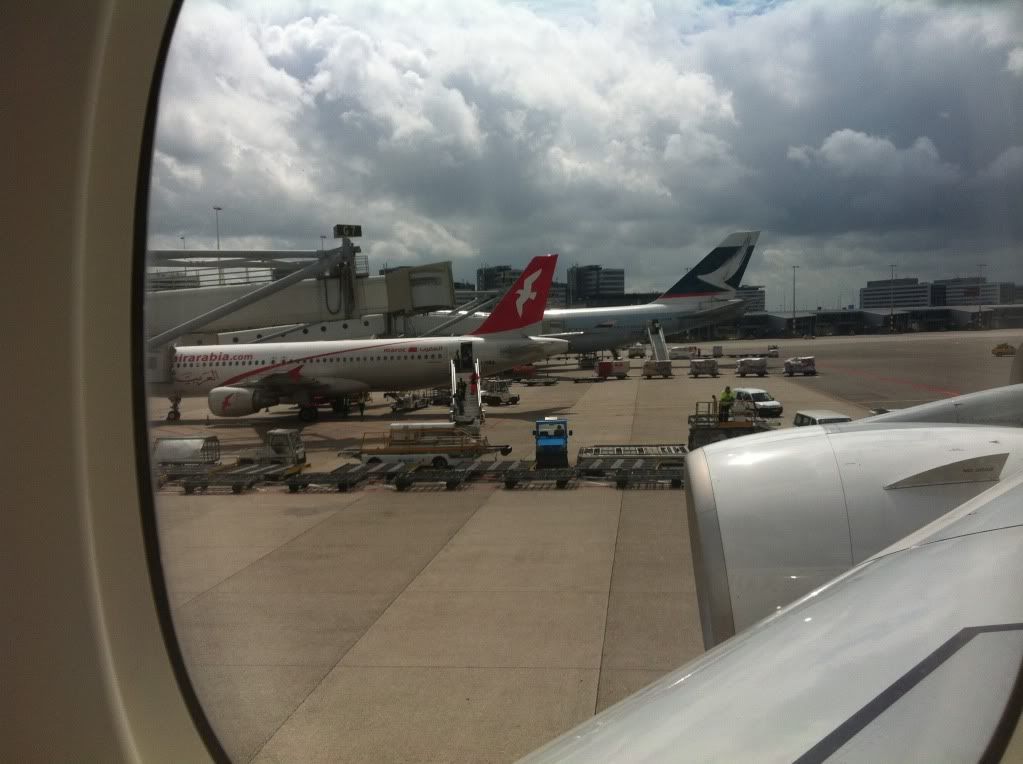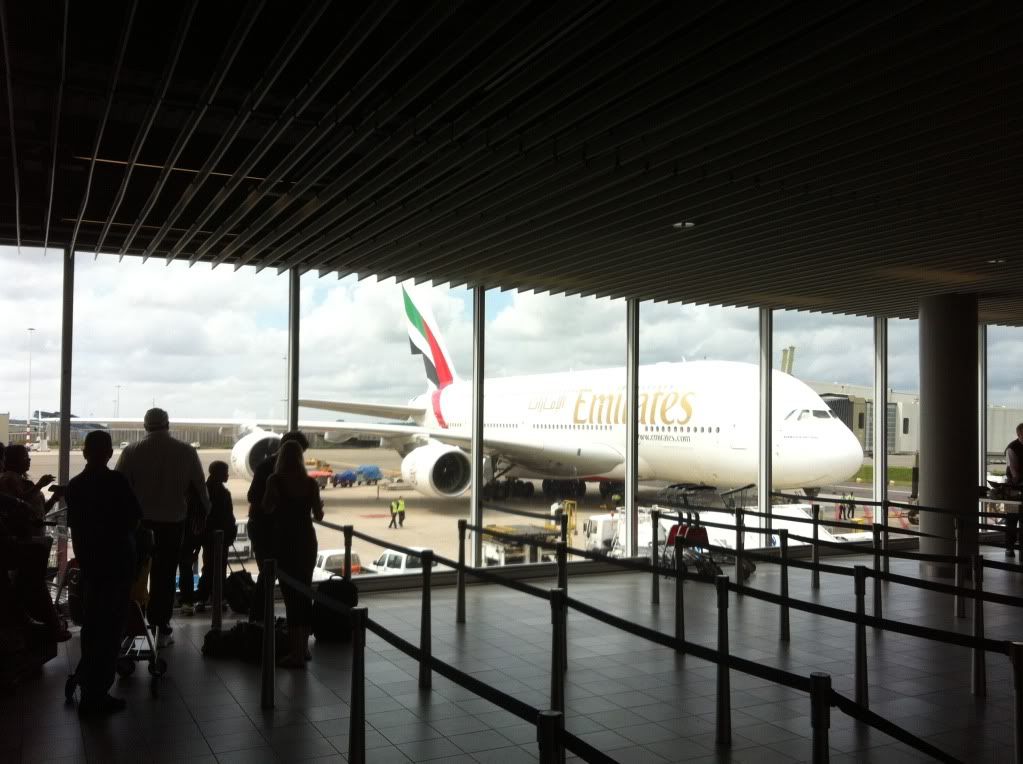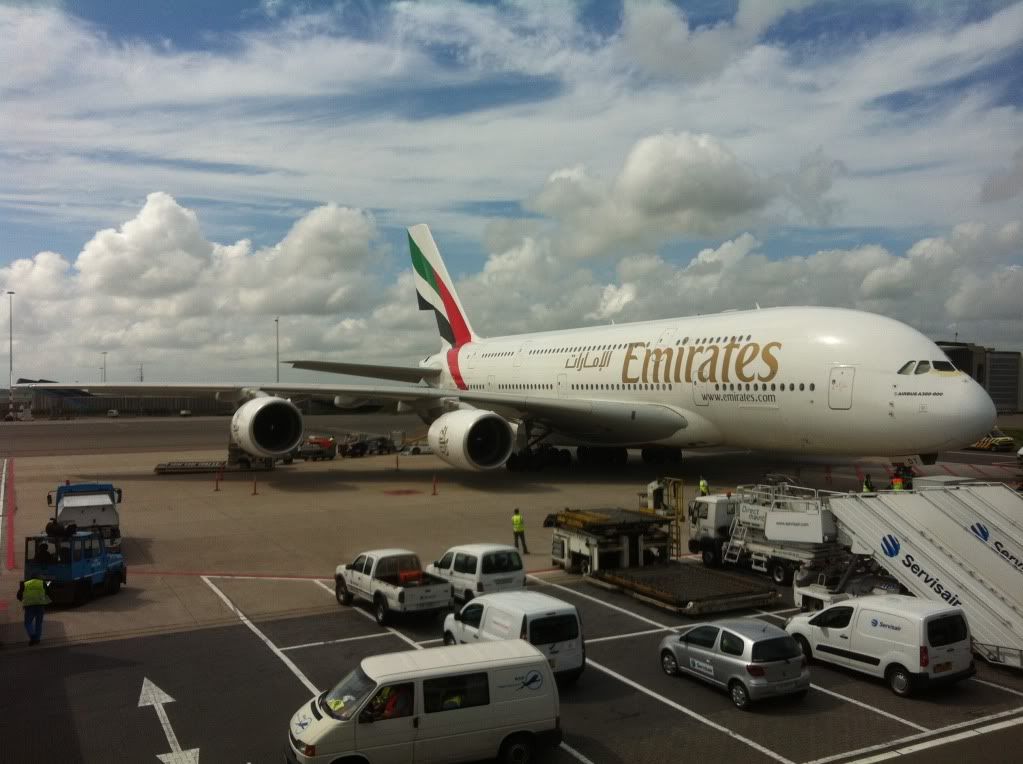 In the end I am very thankful for being on these flights, I enjoyed every second of them!
Thank you for reading this trip report!