After 1,5 half weeks home in sunny Caracas it was time to travel again.
Again to Brazil but this time to Salvador de Bahia.
Booking was made around 2 weeks in advance – with a choice of GOL CCS-GRU-SSA, Copa CCS-GIG(GRU)(REC)-SSA or with TAM CCS-GRU-SSA.
I was looking forward to use Copa but unfortunately my travel agent was not able to get competitive fares – looks like only the consolidators via the Web had decent fare on this option, so finally I choose to fly the red carpet airline.
Left my apartment in Caracas at 04:15pm for the 08:30pm departure, well over 4 hours in advance – but as always you never know how the traffic is in Caracas, even it was on a Sunday. Made my way very quick to CCS and arrived only in 30 minutes later the airport.
Ccs International Terminal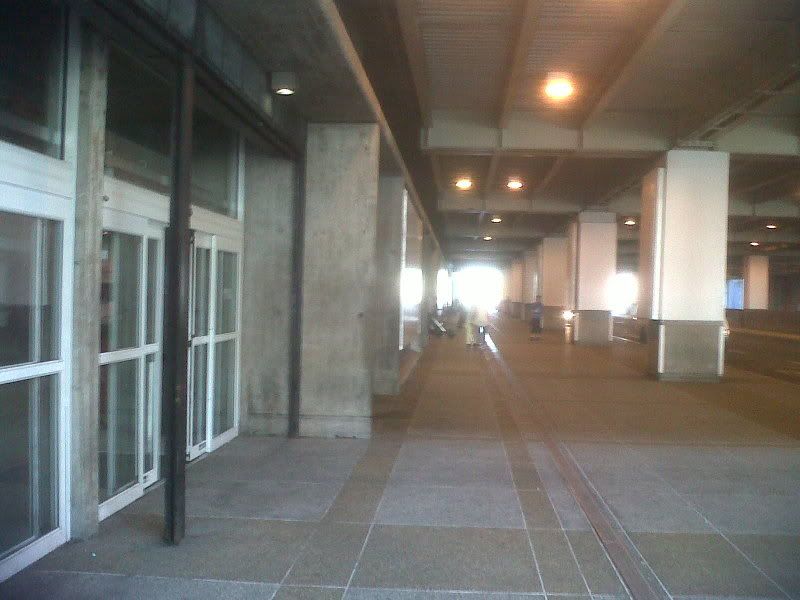 Made my way straight to the busy Check-In area but thanks to my Lan Silver status I had the right to check in at the business class counter (unfortunately the only perk you get with Lan Silver or Commodore level at TAM is priority check-in, priority boarding, priority luggage handling and lounge access, even the LATAM merger is already ongoing, still the 2 different frequent flyer programs are in place, I was looking forward to use my upgrade certificates that I have from LAN but unfortunately it's not possible on TAM operated flights).
Economy check in had a big line of at least 100 persons, but Business was empty, hence the process was only approximate 3 minutes to drop of the luggage, I think it would be even faster but the agent had to renter my United frequent flyer card, I am right now in the process to change my business to * instead of One World but it has basically to do that I was recently relocated from One World land Lima Peru to *land Caracas.
Made my way to have some early dinner / late lunch – and after some beers and a burger I made my way to security and emigration.
The lines were quite decent, but the heavy wave of most European and some South American flights already past. Security took me around 10 minutes and another 10 minutes of wait at emigration.
So as always I went directly to the lounge, TAM is using the Premier lounge which is quite basic but at least they have a decent offer on free booze, including different beers, 2 choices of wine and some spirits. I am quite sure that TAM will change soon the lounge in CCS to the Admirals Club.
I had some Scotch Soda and some finger sandwiches… the food options are totally limited but ok – I had only minutes before my early dinner.
After 1,5 hour I made my way to the Duty Free shop, to check out the offerings and bought some stuff that ordered my wife…, also Ccs airport has also a arrival duty free – the selection is quite limited hence I had the pleasure to buy the stuff already on the outbound flight and bring it all the way back to Ccs.
After the short shopping, I made my way to gate 25 were today's flight was already boarding, boarding was all other than fast, but it's already normal for flights leaving Ccs, I think it has to do that my Venezuelan friends loves to travel with a lot of hand luggage, airlines that are used to charge for hand luggage would make millions out of Ccs .
My today's election for the seat was 10F (window as usual), but arriving my seat I was quite shocked as it was the row before the first exit row meaning no recline today, honestly what is hefty on a Red-Eye flight… but as the flight was nearly fully packed – no other choice was available any more.
Despite the non recline the legroom was ok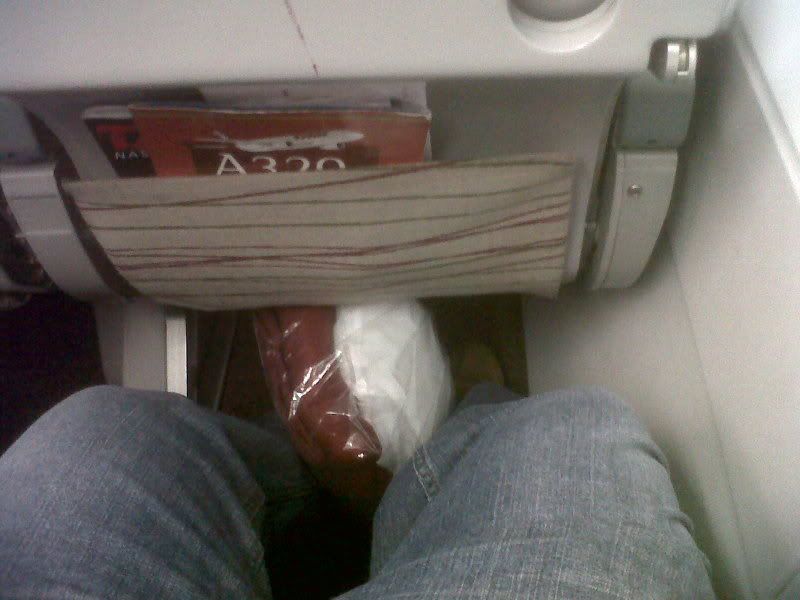 During boarding – the humidity today was extreme…
TAM going the LCC way… advertisement placed on each seat…
Todays flight time was quite short, just 5 hours and 45 minutes, meaning an arrival in GRU at 03:30am, horrible schedule… flight is just to short to be a real redeye.. Gol's schedule out of CCS on the same route in my opinion is much better leaving CCS at 10:45pm and arriving in GRU at 06:30am.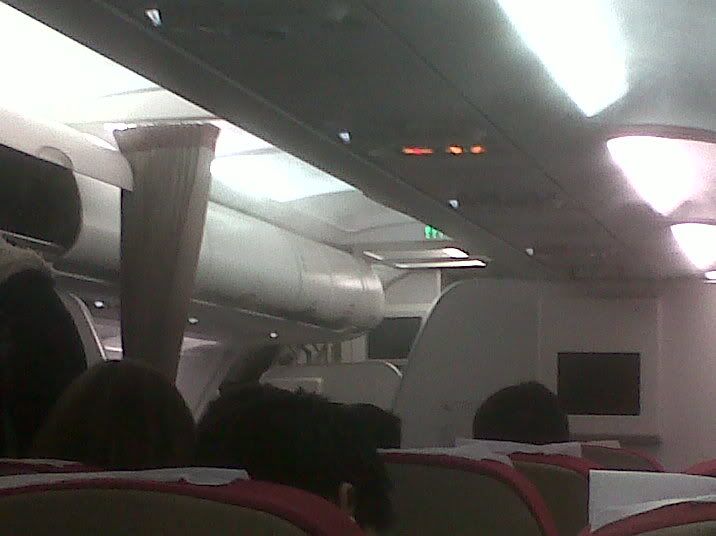 Flight was slightly delayed (around 15 minutes) and we made our way to the runway, a powerful and very long take off today with the typical sharp left turn after takeoff climbing over the Caribbean sea in order to pass than again CCS the mountains the City off Caracas going straight south.
Around 1 h in flight the service started – today's choices Chicken or Pasta (well seems to be not only today's choice, as I was on the very same flight in March and exactly the same options and dishes were offered)
I opted for the past which was quite ok – starter was a salad, some bread and as desert a piece of cake.
I wash it down with some cheap Brazilian red wine and some water.
The crew took forever to clear – around 1,5 hour, in my opinion absolutely not acceptable for a red eye flight…
The flight itself past quite quick, had some uncomfortable sleep and also I went 2 times to the galley to have some water.
Around 1 hour before arrival a second service commenced, all in all not bad for a relatively short flight, but tuff time at 02:30am to have something to eat.
On offer was a small hot sandwich.
We made our decent and at 03:30am we finally arrived GRU airport, despite the hour is horrible its acceptable because its one of the first fights each day and hence the customs and immigration is a breeze instead of arriving at 06:00am shortly after the US and Europe flight wave.
Today and as always no gate was given to the flight hence the deboarding was done at the tarmac – followed by a short bus ride to the terminal.
Shortly before us a Iberia flight ex BCN arrived (fully packed A340-300) but as the most passengers on both flights were Brazilians – the immigration line for foreigners was short and within 5 min I was cleared. Luggage also arrived quickly and I passed within seconds customs. Like in the US you can check through your luggage till final destination but for domestic connections you have to clear customs at the entry point, hence I made my way to the connecting check-in area which was still empty and with no Tam personal. Waiting for around 45 minutes the first counter opened and I check in again my luggage. Also I asked for the lounge access but I was really surprised to get as answer that no lounge is available at the domestic part of the terminal…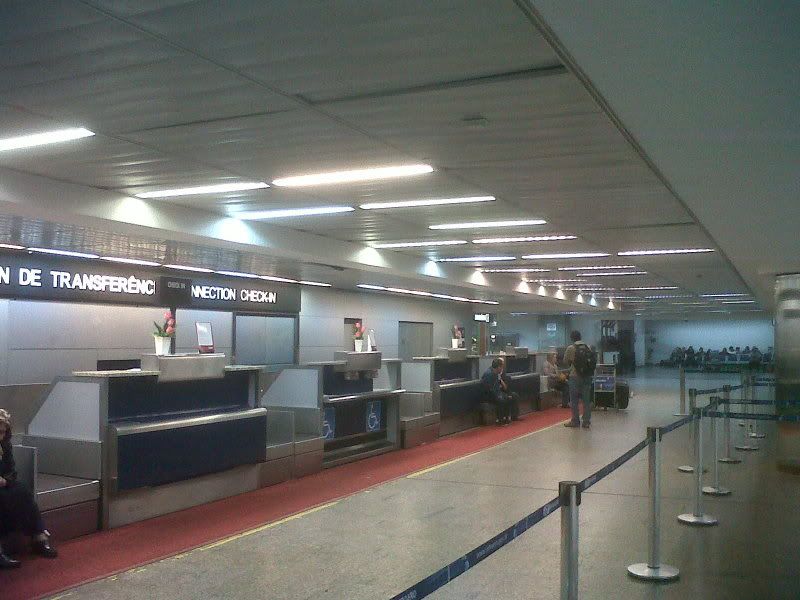 Shortly after I left the area a big queue of passengers build up as in the meantime several other flights arrived (including Bog, FRA, CDG, LHR etc…).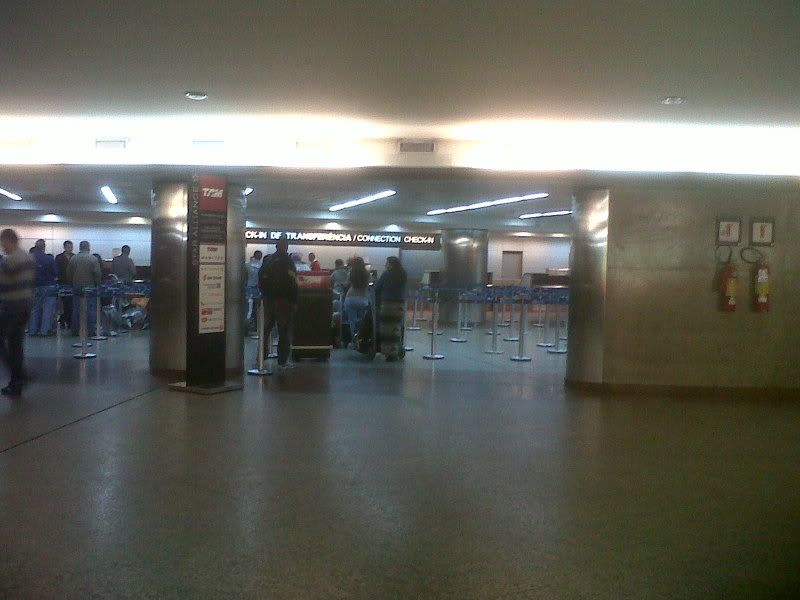 Made my way to security, which was again quick (around 15 minutes) and searched for an empty seat in order to check e-mails, very positive is that Infraero in Brazil is offering to all departing passengers fry Wifi.
Some pictures of the totally crowed domestic terminal.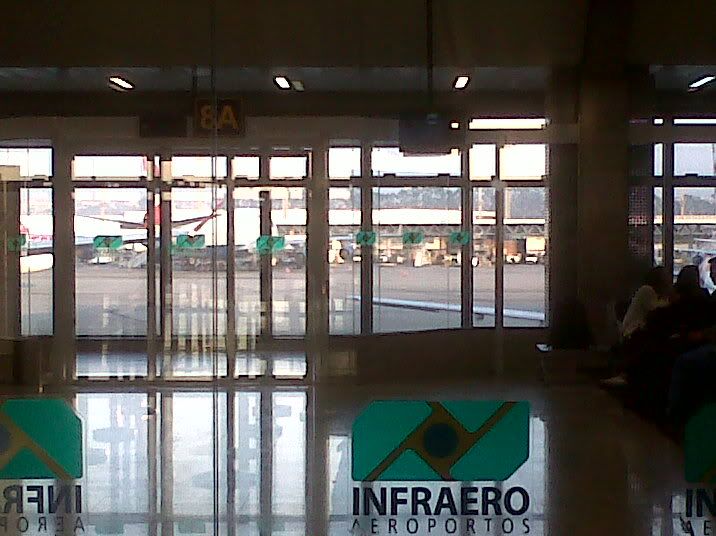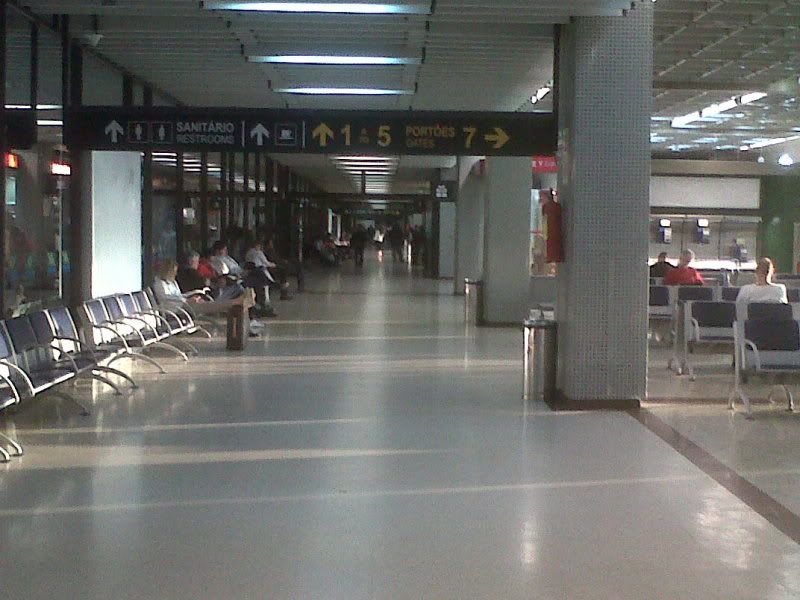 In fact it was only crowded at the first gates and in the area of the bus gates.
Quite impressive the flights that are operated from this small corner of the terminal, also I was really surprised about the massive domestic operation that Avianca Brazil has build up.
After several hours of waiting finally the boarding was called at 08:00am for a 08:45am departure.
Again it was time to take the bus but what was quite nice, as we passed a good part of the tarmac with the opportunity of some spotting.
BA 747-400 form LHR.
IB A340-300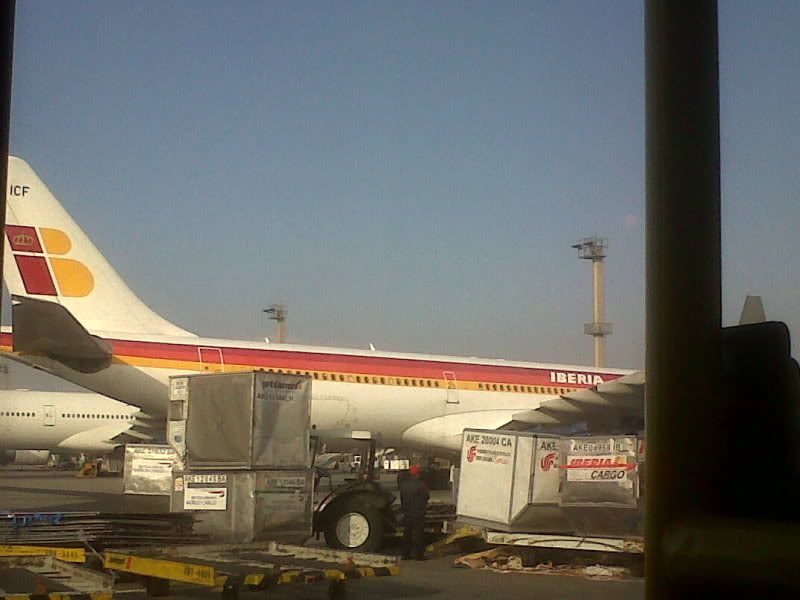 Finally arrived at our A321 – the A321 is one of my most favorite aircrafts – first time for me on a JJ A321, so far I only used LH A321 on FRA-MUC-FRA and TA on LIM-EZE-Lim.
Nice touch!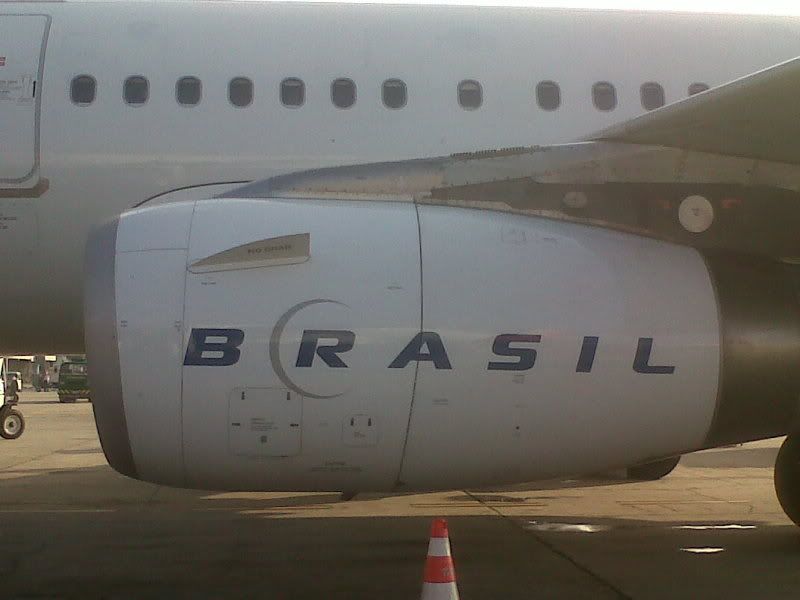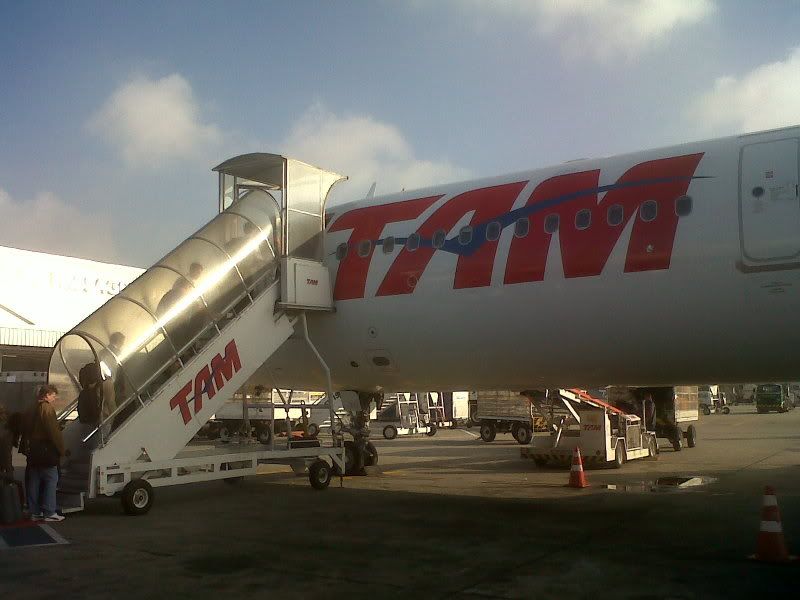 A nearby A320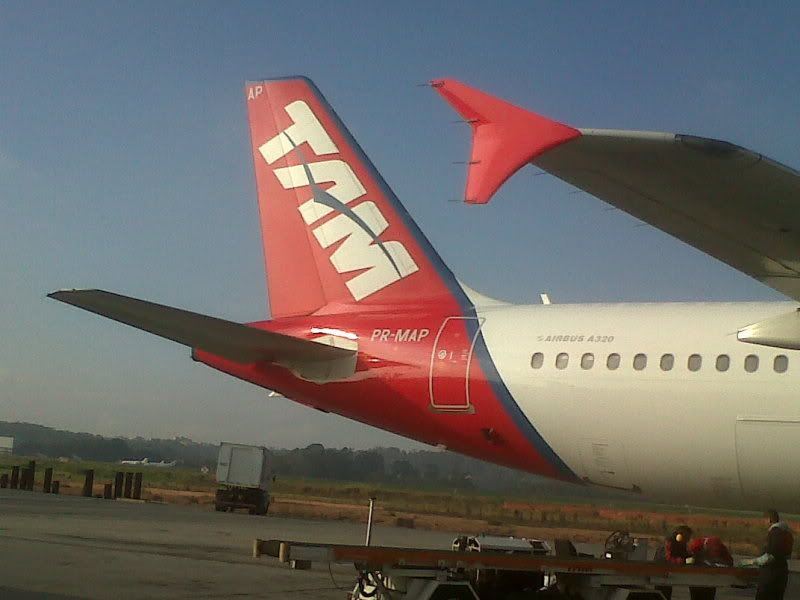 The aircraft location was in front of Terminal 4 – the LCC terminal at GRU – indicator a Webjet B737.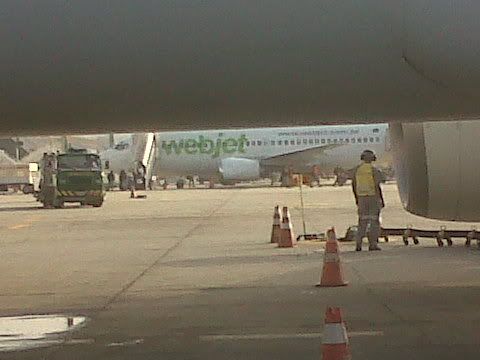 A very nice touch of TAM is that they really put a Red Carpet in front of the stairs!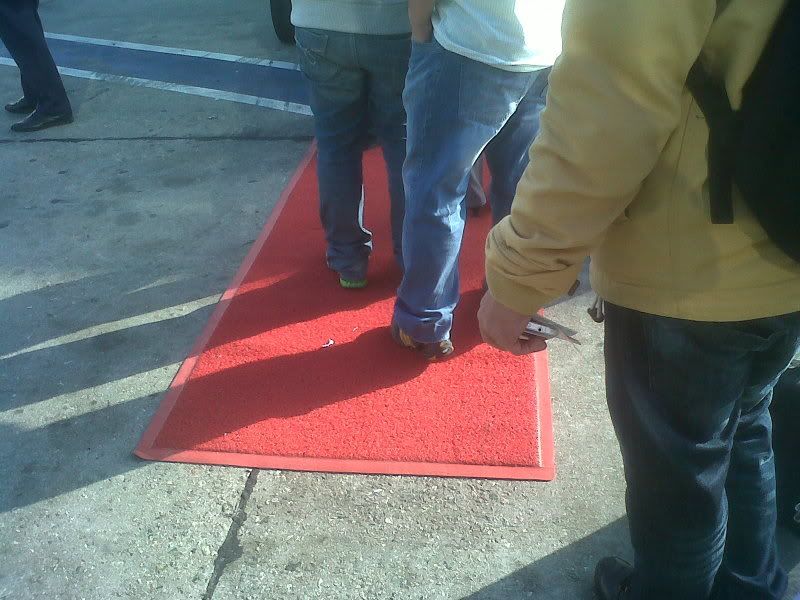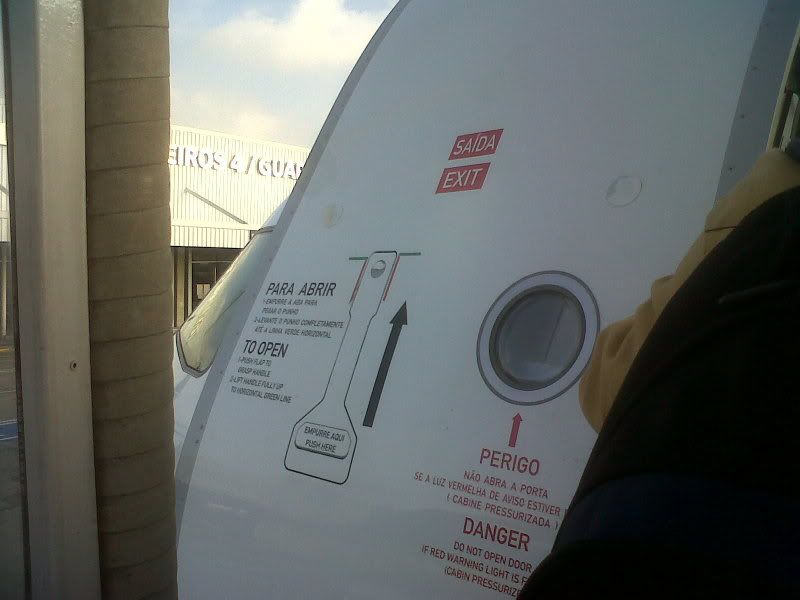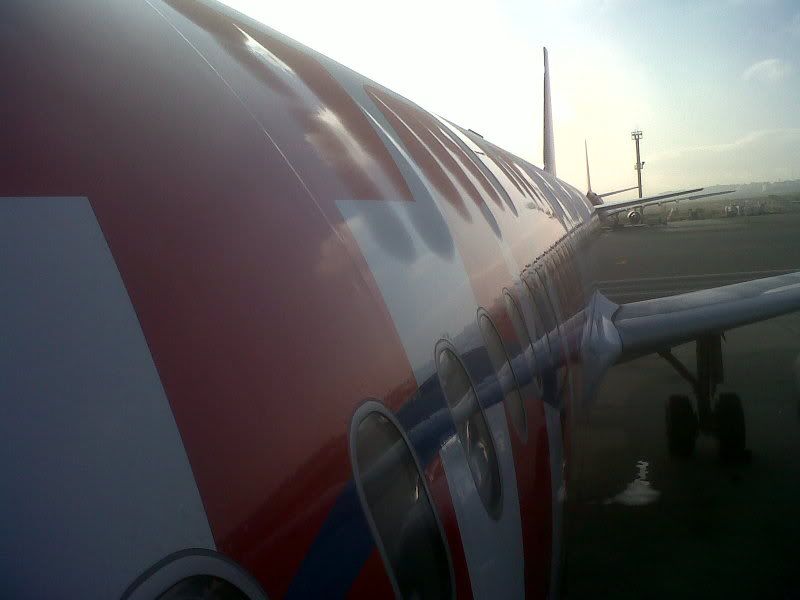 Again WebJet
Decent legroom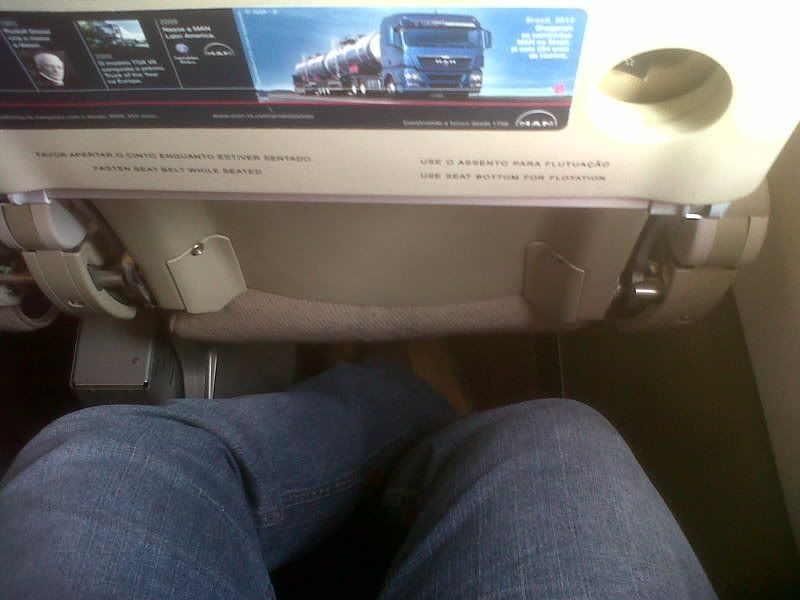 Advertizing from TAM – announcing the results of SkyTrax… well Tam is not bad, but in my opinion below LA, AV/TA and CM in the region.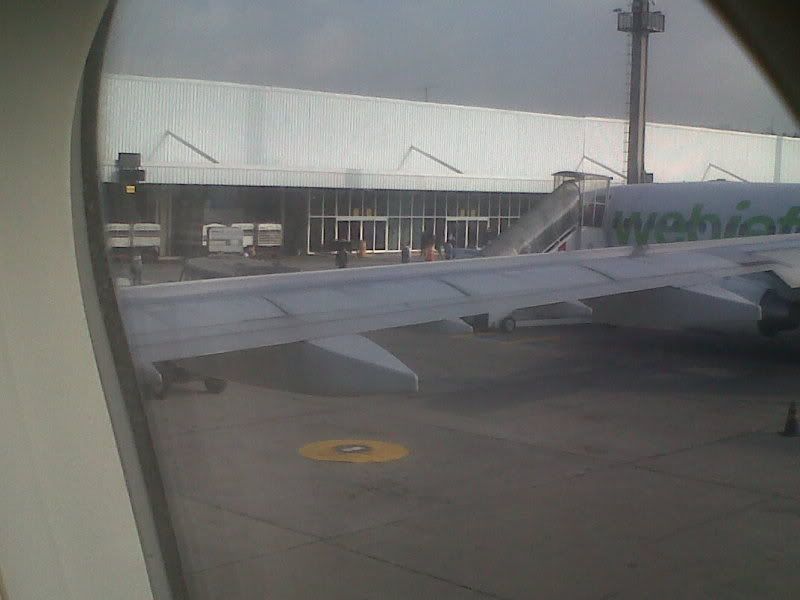 Again a powerful take off and here we go – going north.
I slept biggest part of the 2,5 hours flight, but of course I had to enjoy the breakfast service
The breakfast was a small ham and cheese sandwich, some fresh fruits and a yogurt. I wash it down with a coke. Really a nice offering!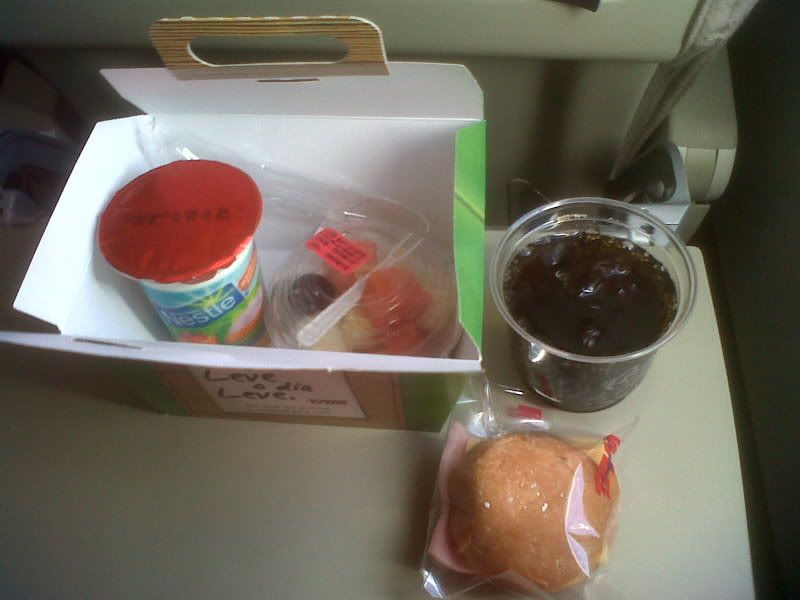 Slept the rest of the time and just woke up during the approach.
Unloading of the luggage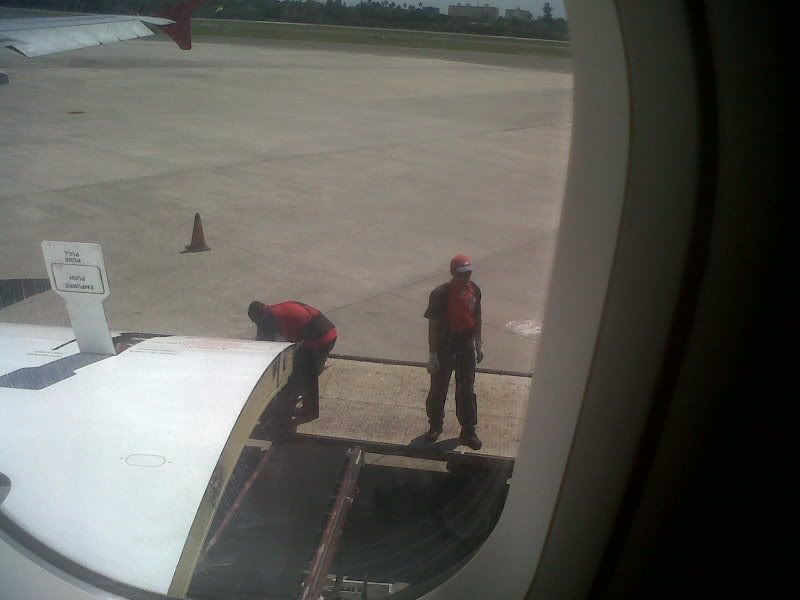 Time to say goodbye to the sexy JJ A321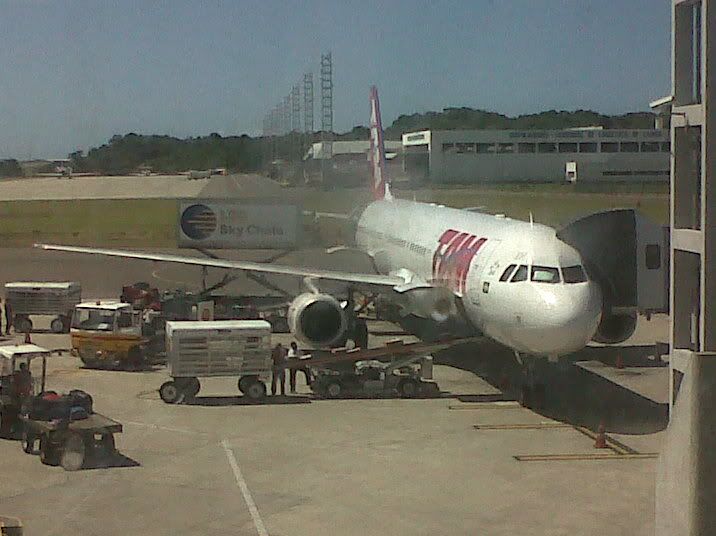 All in all – not a bad affair with JJ – but with a horrible schedule, after I received my luggage I made my way straight to the taxis and took one to go to the hotel to have some sleep.
Hope you enjoyed the report, sorry for some bad quality of the pictures and looking forward to my next trips.
So far only following trips are booked.
1. October a Mileage Award travel on CM/TA combo with following routing CCS-LIM-MDE-PTY-TGU-SAP-PTY- BOG-CCS
2. Home leave to good old Germany for Christmas booked on LH CCS-FRA-MUC
Cheers
Avianca
[Edited 2012-08-08 21:20:43]
[Edited 2012-08-08 21:29:44]