Background
Somewhere around late October, early November, our International Studies teacher started to talk about an International Internship we still had to do in order to pass the bilingual part of our education. Most of my fellow students listened to what she had to say, then erased the information as quickly as possible. Way to much effort required to arrange something, you know how 15-16 year olds are. A few of us, including me, though, had their travelling minds put into action. Two of my classmates went to New York in late April, early May. And two others joined me on a trip to London, Ontario. My father and his cousin have a campground there, and after an email and a phone call, we were ready to start planning.
Planning
I spent a good couple of hours on a Saturday searching for flights from either BRU, AMS or DUS, to YYZ. After those hours passed, I had quite a list of available flights. Most of them, however, were in the price range of €800-€1000, which was too much, really. But then I stumbled upon KLM. Directly from AMS, they had the guts to ask well over €1100 for the flight. But searching with Brussels as departure point, it was (only) €800! And yes, it was the same flight, exactly. The ZYR (Brussels South train station)-AMS section was by train! So we settled on that option. At least, my friends did. My family would come over near the end of our trip, and I would spend another few weeks in Canada on vacation with my family, while my friends would go back again. I would then, together with my family, fly out of YXU, via YYC, to YVR. There we'd be taking an RV and drive it around for two weeks, before heading back to the Netherlands again. My family would fly the longhaul sectors in J, and that meant that my last sector YVR-AMS would be in J as well. But the combination of AMS-YYZ and YVR-AMS wasn't possible with the train ride from Brussels, so I got to skip that part and go straight to AMS.
Today's sectors
The day started very early for me. The alarm went off at a horrible 04.45, we left the campground at 05.30 for our 07.00 flight. Arriving at the airport, we said goodbye to our hosts, who were so kind to bring us to the airport at this hour. You have to love Canadian hospitality. We lined up for old-school check-in, which was not busy at all. When we got to the counter, the nice lady informed us that our flight would be delayed by an hour, the new departure time was 08.00, but she assured us we would still make our connection. We would now arrive at YYC at around 10.00, while our next flight was scheduled to depart at 10.30. I wasn't entirely convinced, but we had no choice but to wait.
After a simple breakfast at Tim Hortons we lined up for security at 07.15.
There was one advantage of the delay, the YXU morning rush hour was over. YXU doesn't have that many flights, but there are around 4-5 of them leaving at roughly the same time. Security was a breeze, we were through in a minute or two. We took our seats in the gate area and waited for boarding to start.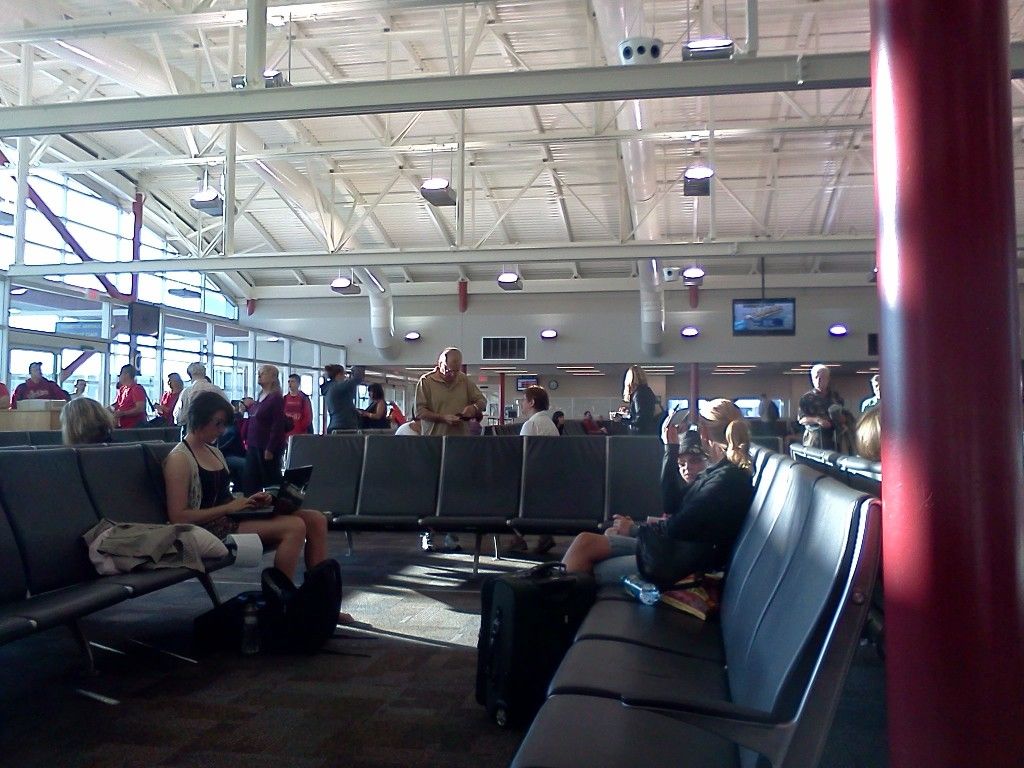 This happened on time, with passengers with small children and those needing assistance boarding first. This was followed by general boarding, and we were on board at 08.00.
WestJet flight 567
YXU-YYC
Boeing 737-700WL
C-FWSY
Gate D (Bridge 7)
Seat 16D
Departure S: 07.00 A: 08.27
Arrival S: 08:55 A: 10:21
The Captain informed us that the APU was unserviceable, and that, as a consequence, the air conditioning was not working yet. They would start the engines at the gate using the ground power unit. It took a while before this happened, and during that time the cabin was heating up quite significantly. We pushed back at around 08.15, with one engine running. Pushback stopped at the taxiway, but we didn't start taxiing. There were two Air Canada Dash 8s on the taxiway, waiting for us to clear it. After around 5 minutes, we moved over on one engine, to let the Dashes go past. After another few minutes the second engine was started, and a couple of minutes after we finally commenced our taxi. All in all, it was around 08.30 before we took off, and with a flight time of 03.44 according to the flight deck, this further reduced our connecting time.
Service started when the fasten seatbelt sign was switched off, and consisted of your choice of drink with either 'Crispers' or cookies. One of my neighbours chose the former, and the other chose the latter, I too went with the former.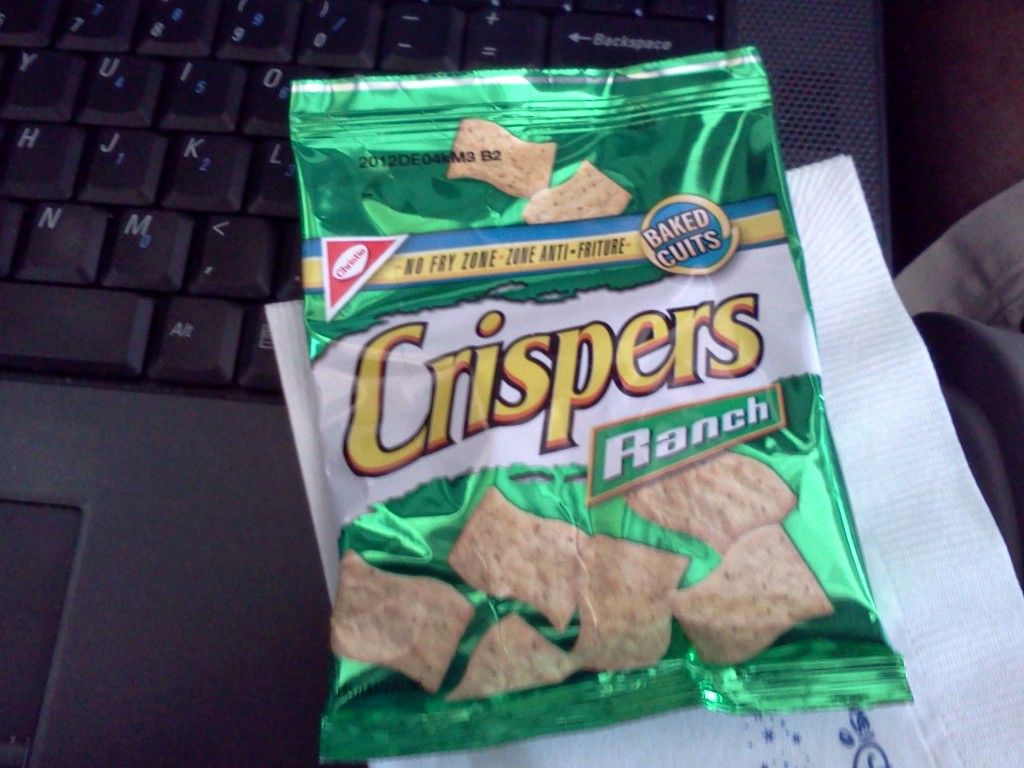 They were supposed to have Ranch flavour, but I didn't notice that specific taste. They were tasty though, no complaints. I chose a coke with it, which came in a plastic cup. I didn't bother to ask for the whole can, as I had a fairly large drink back at YXU, I was hydrated well enough.
Working on the report...
Although it's not even close to Ryanair, WestJet is considered an LCC. Their fares were a bit cheaper than Air Canada over this route, so that's why they got our business. There are some signs that give away their 'auxiliary revenue'. There's quite a lot of advertising going on. Not on the overhead bins or anything, like the aforementioned carrier, but on their napkins for example.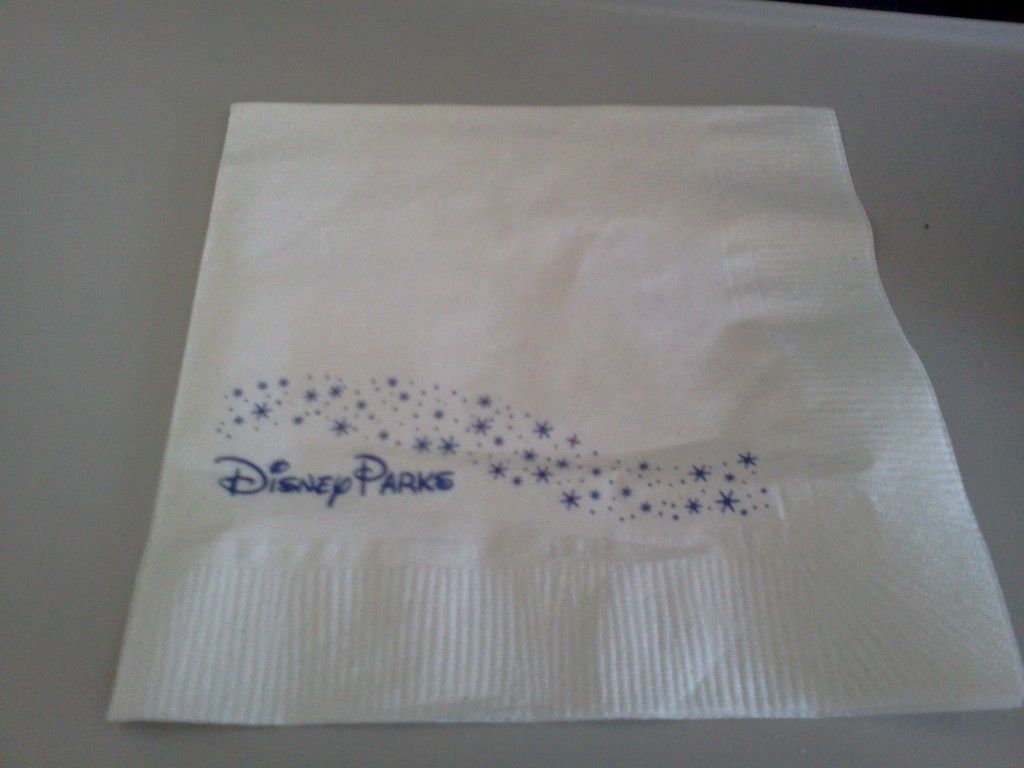 This one's for Disney Parks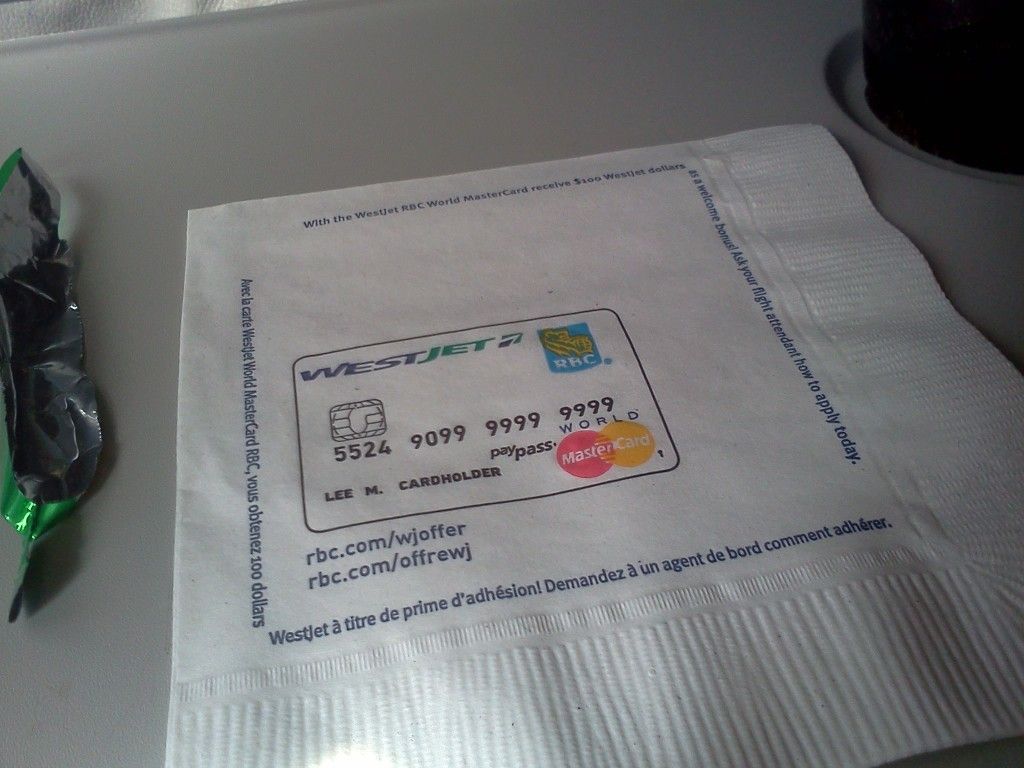 This one (taken on WS447) is for the "WestJet RBC World Mastercard".
There was also a lot of advertising for their own services on their Livemap channel. In fact, there was more advertising than map!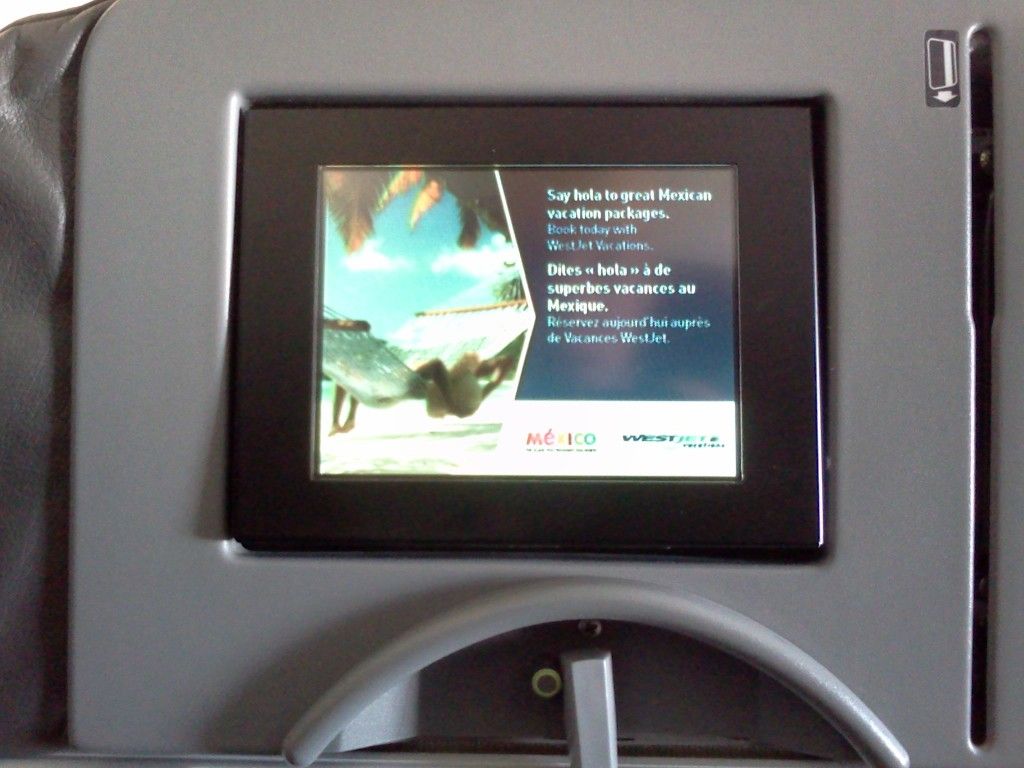 As for comfort, I found WestJet's seat to be pretty reasonable. It was a leather seat, and it showed a few signs of wear, but overall it was a comfortable seat. The legroom was barely enough for me, but remember I'm 1.95m
. I'm glad I was in the aisle seat for this longish flight.
Around halfway through the flight I decided to explore the contents of the seatback pocket. It contained the works: safety card, barfbag, BOB/IFE menu, and the in-flight magazine. The latter had some fleet information in it. See if you can find any mistakes, as far as I'm aware, there aren't any.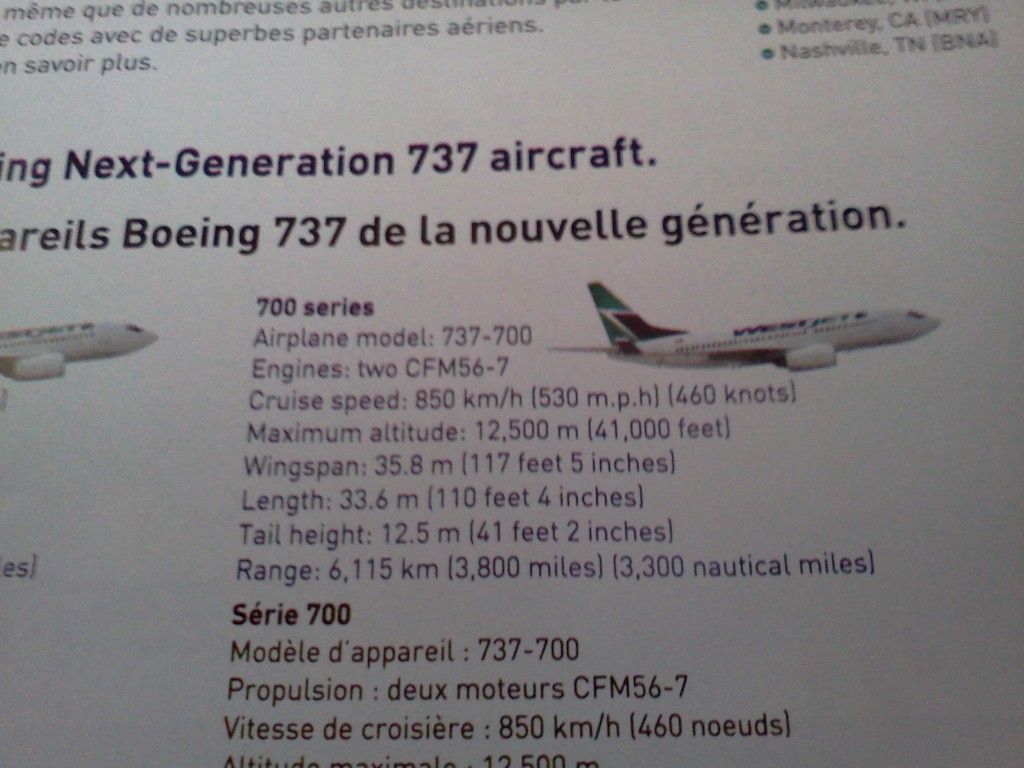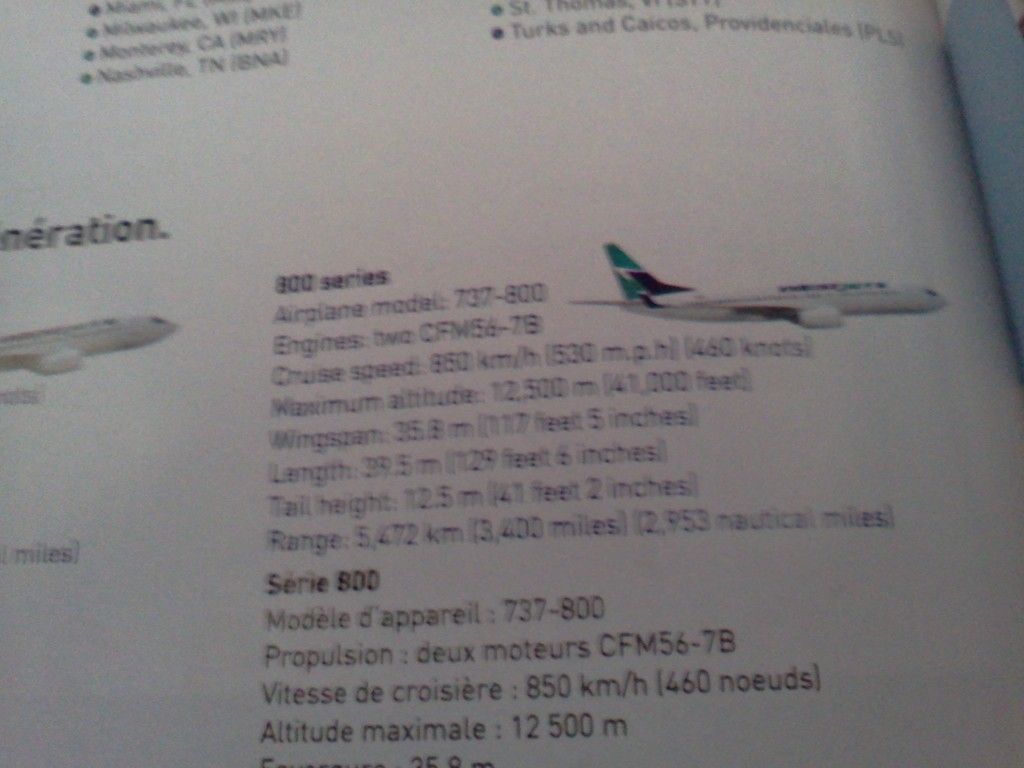 When we started descending, the purser announced that those with tight connections could disembark first, they would keep WS447 at the gate until we were on board. Our approach gave us some nice views over suburban Calgary, but I don't have any pictures of that. Landing was a bit on the rough side, but I've had worse. Our gate was close to the runway, so we docked after a few more minutes. Passengers connecting to WS447 were let off first, which included us and about 27 other people. The gate on our boarding pass was gate 50, but it was empty. I heard a couple of people around me curse WS for saying they'd wait, but then depart anyway, but there was someone from the company around to direct us to the new gate 42. We boarded and found our seats at the last row. This time, I did have a window seat, 23A, so I've got more pictures of the scenery for this flight.
WestJet flight 447
YYC-YVR
Boeing 737-700WL
C-FGWJ
Gate 42
Seat 23A
Departure S: 10.30 A: 10.50
Arrival S: 10.32 A: 11.20
My window was scratched and dirty, so my auto-focus on my phone sometimes focussed on the dust on the window, rather than that what I wanted to photograph. Because of the sun and the small screen, this was also hard to notice. But anyway, I hope you enjoy the pictures.
We pushed back twenty minutes late, time we wouldn't make up due to a strong headwind, as announced by the flight deck. We taxied parallel to the runway until we reached the end of it. We lined up, waited a bit and then took off. We flew on runway heading for a couple of minutes and then turned west to the Rockies. There were some pretty cloud formations in the Calgary area.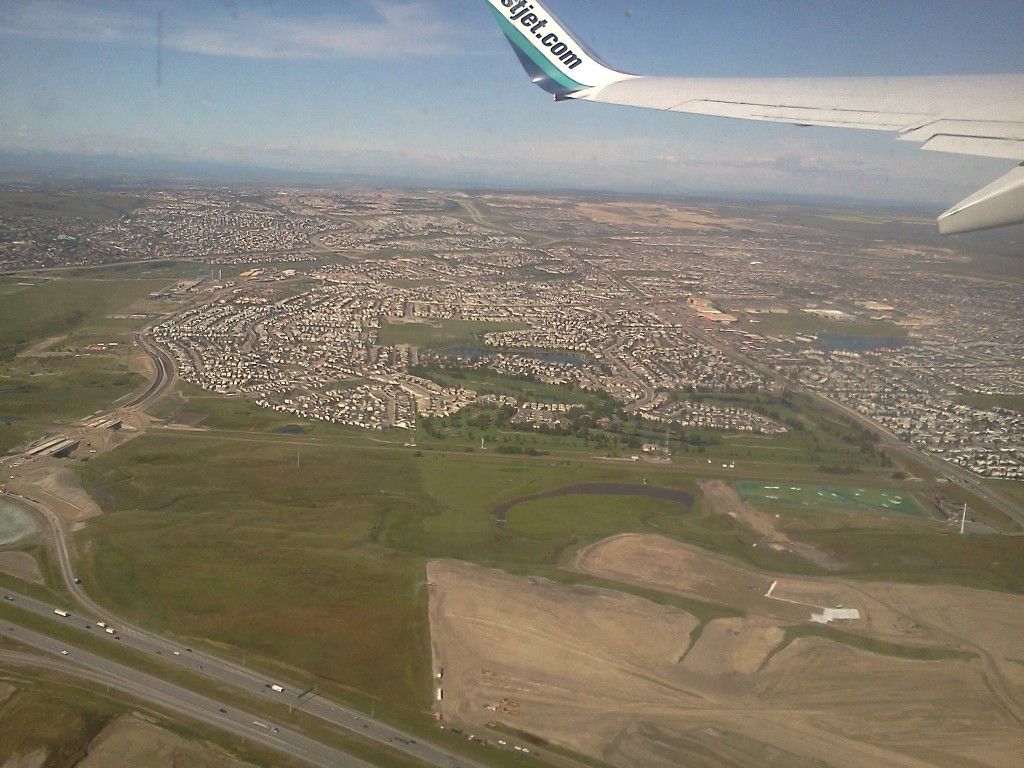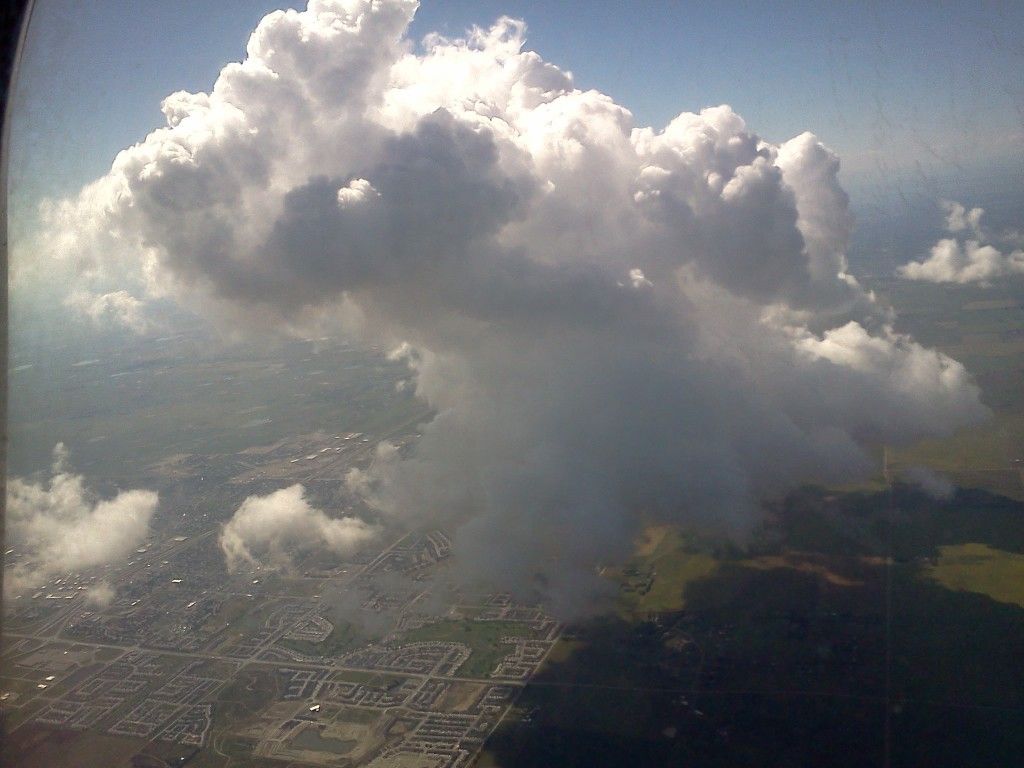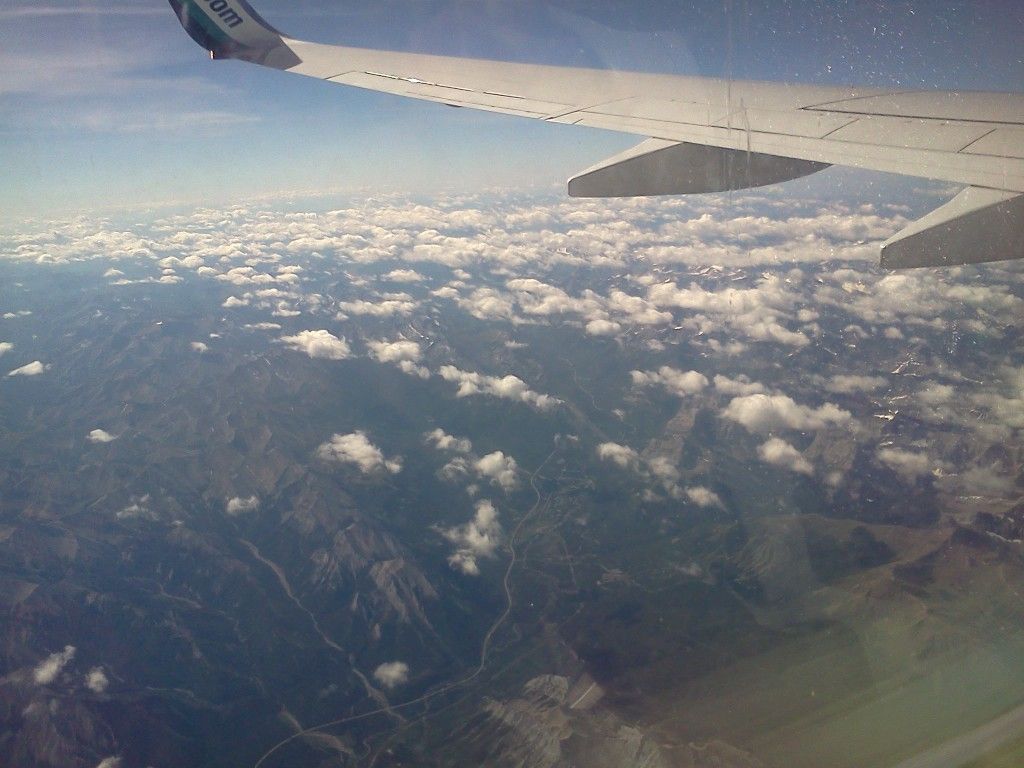 There was one service run on this one and a half our flight, which consisted of the same items as the service on the other flight. So I took my third bag of Crispers with my third coke. What can I say, I'm very consistent
.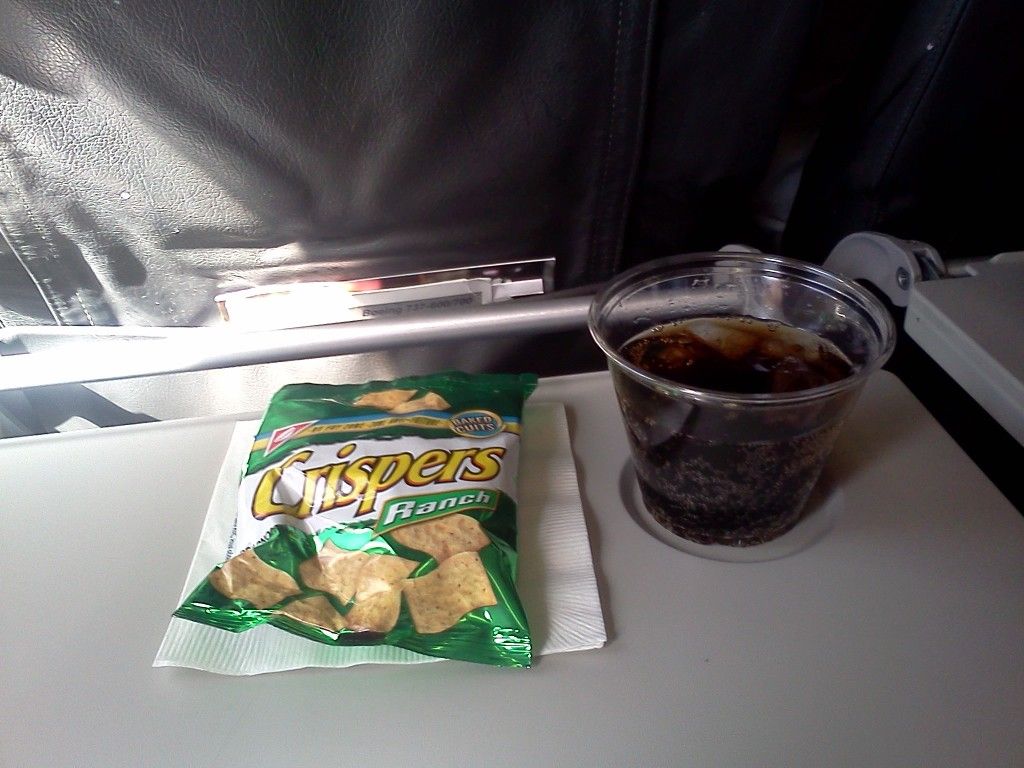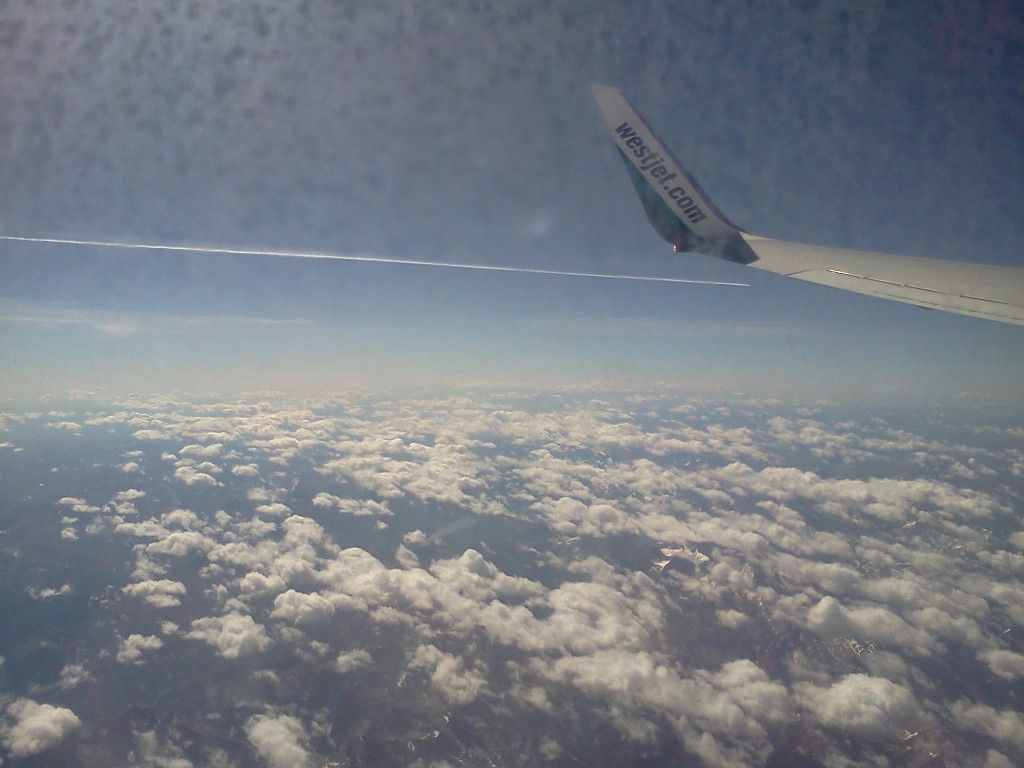 Chasing contrails at FL410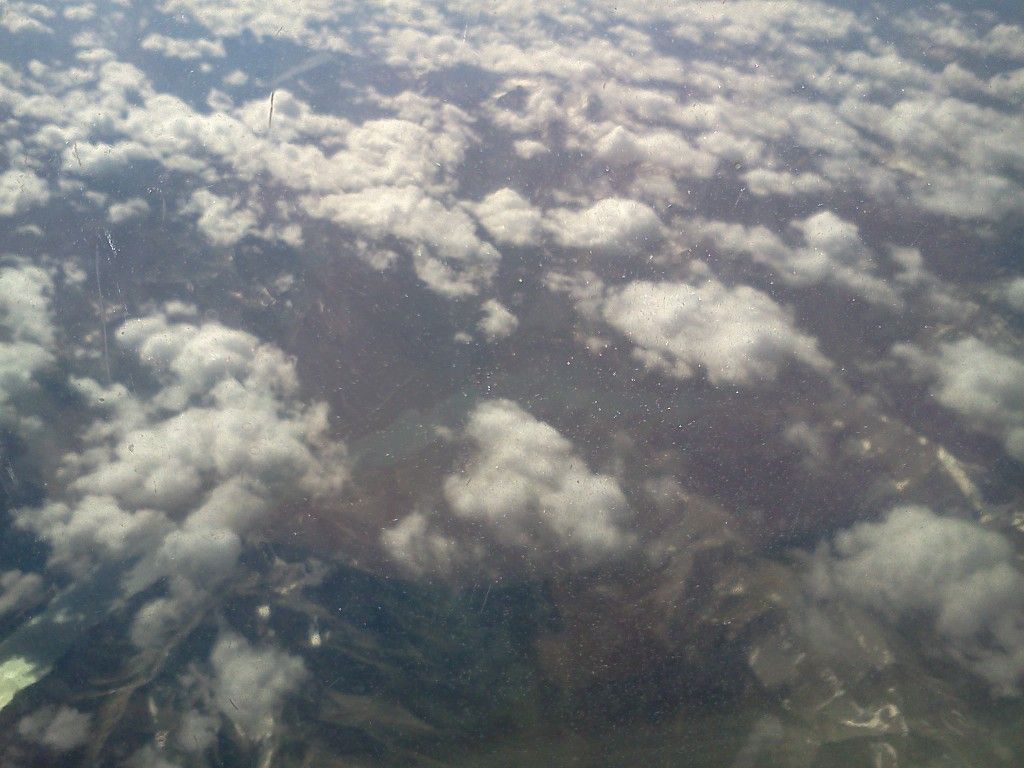 More mountains below us.
WestJet has this thing just above the tray table that allows you to only turn the 'lock' one way, I have no idea what that's for. Anyone else know it?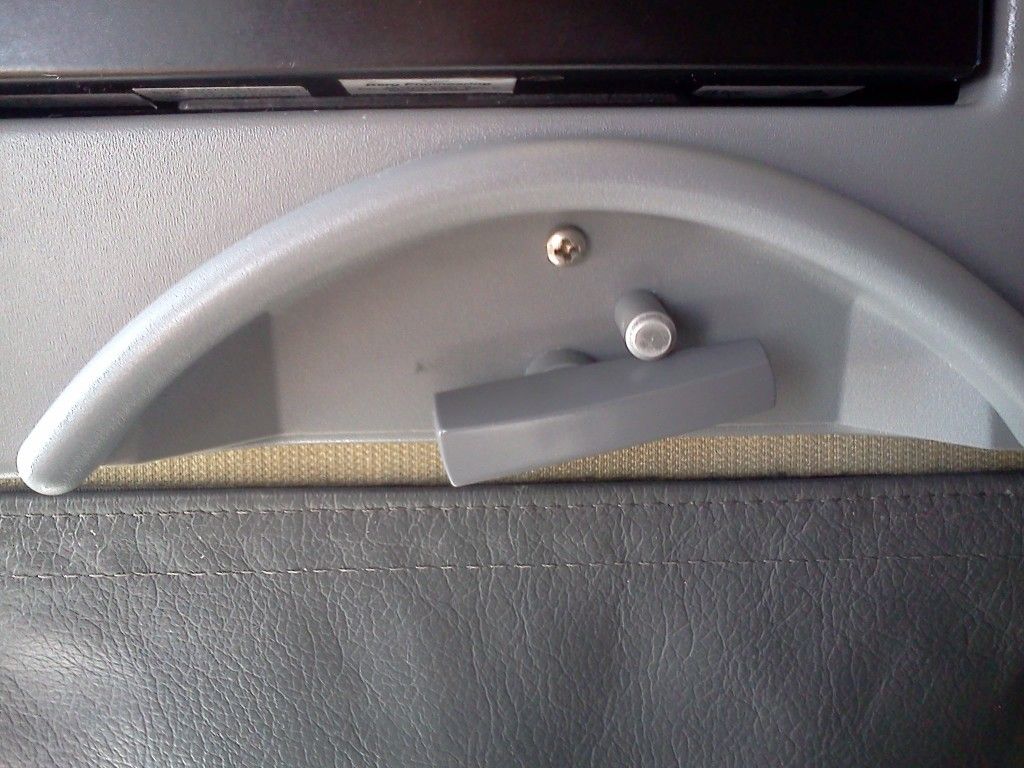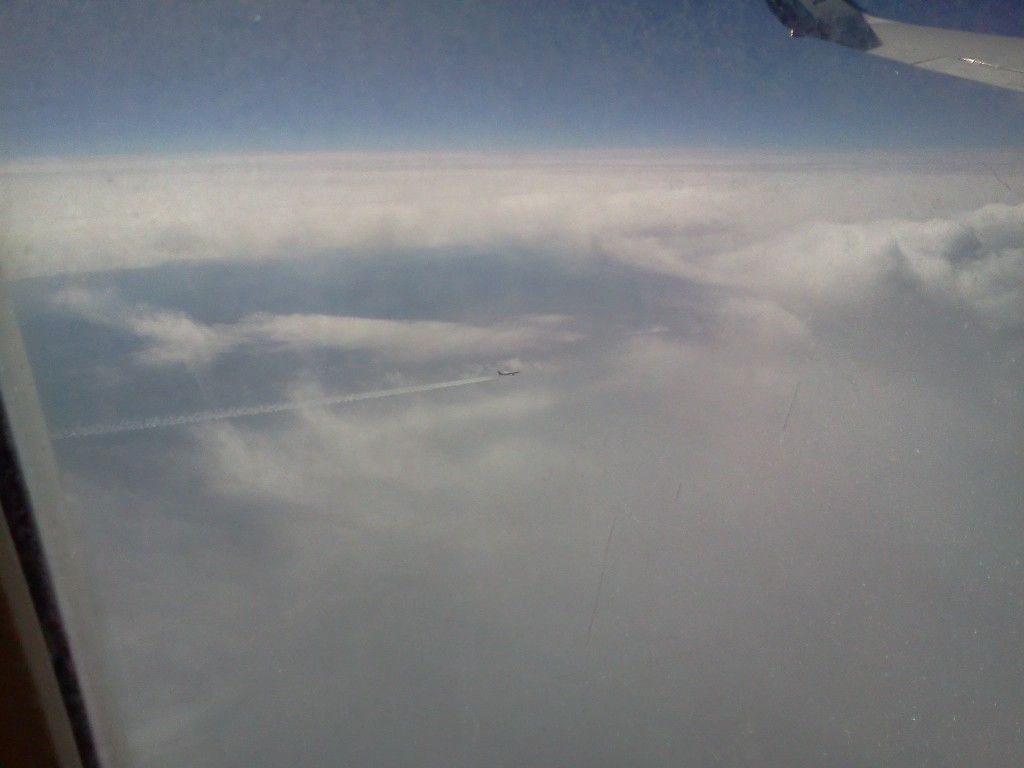 Delta A330 (heading to SEA?). I was to slow with getting my phone out, but it was pretty close.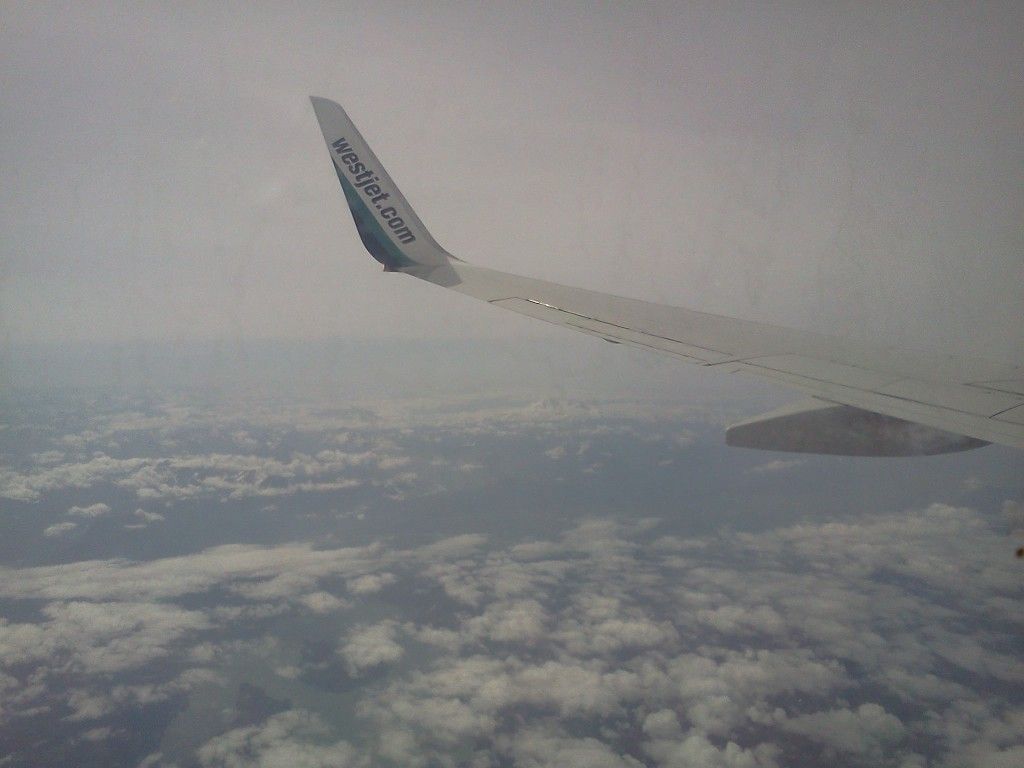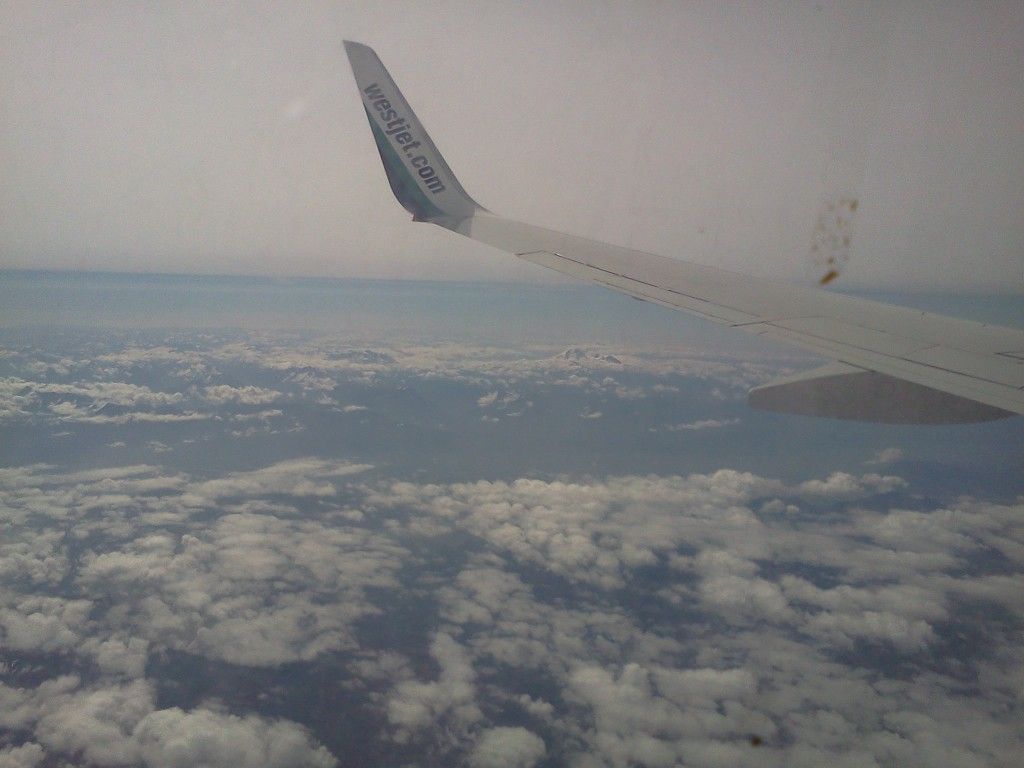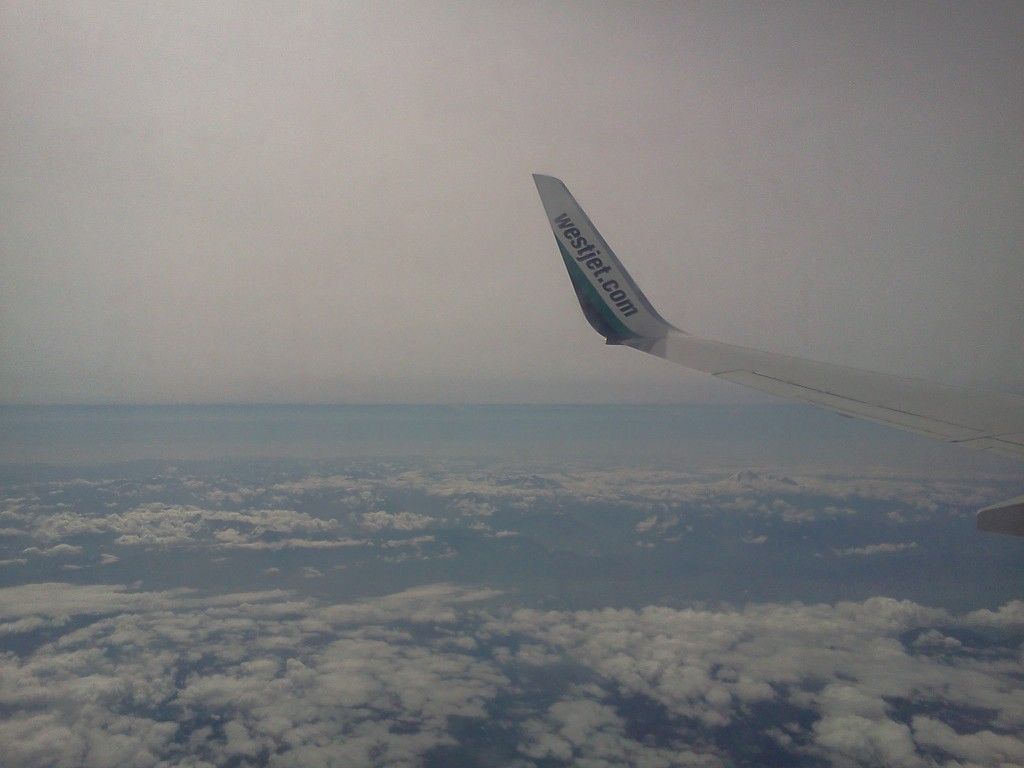 Cloud sandwich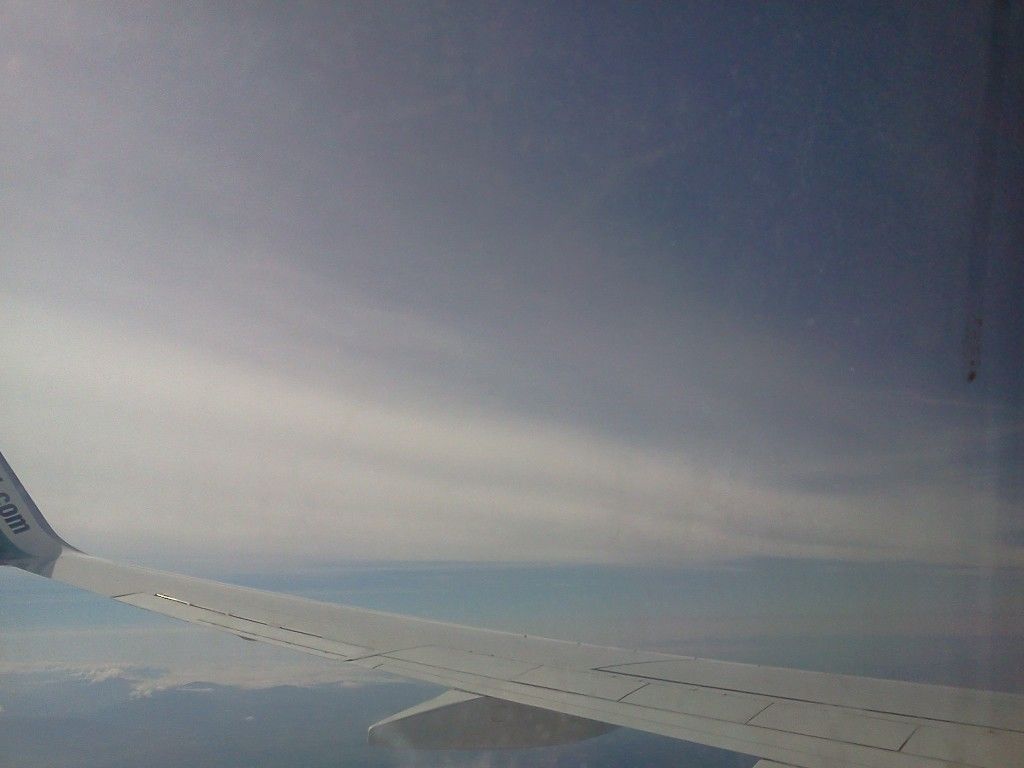 Some Cirrus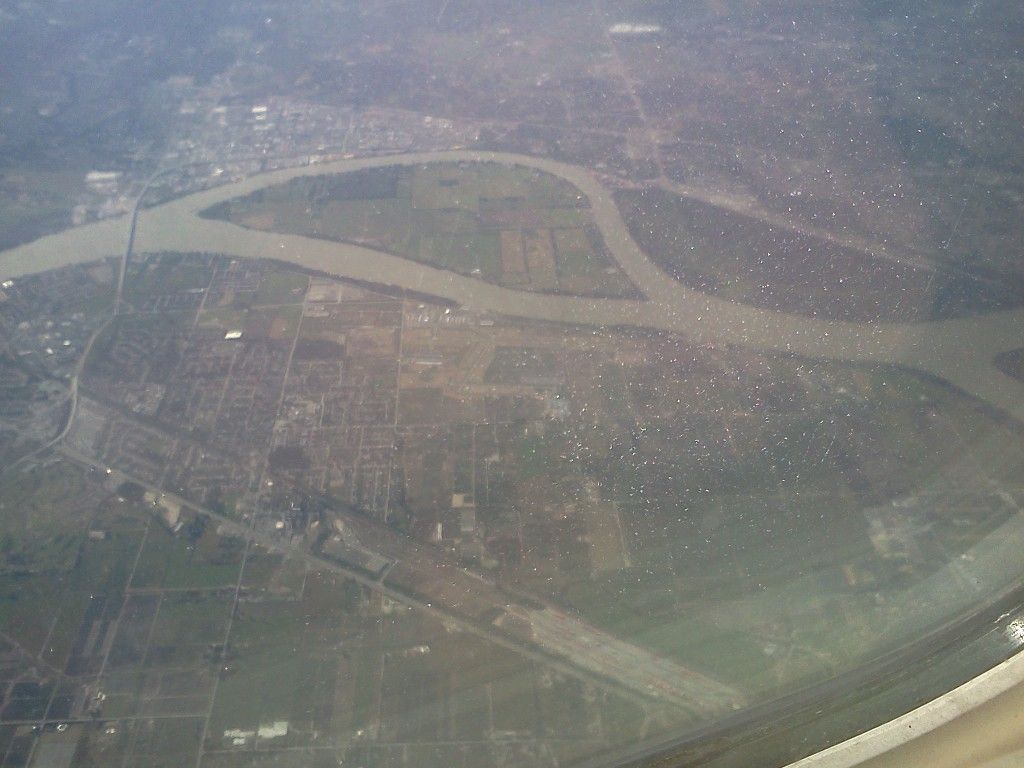 Some more urbanisation starts to appear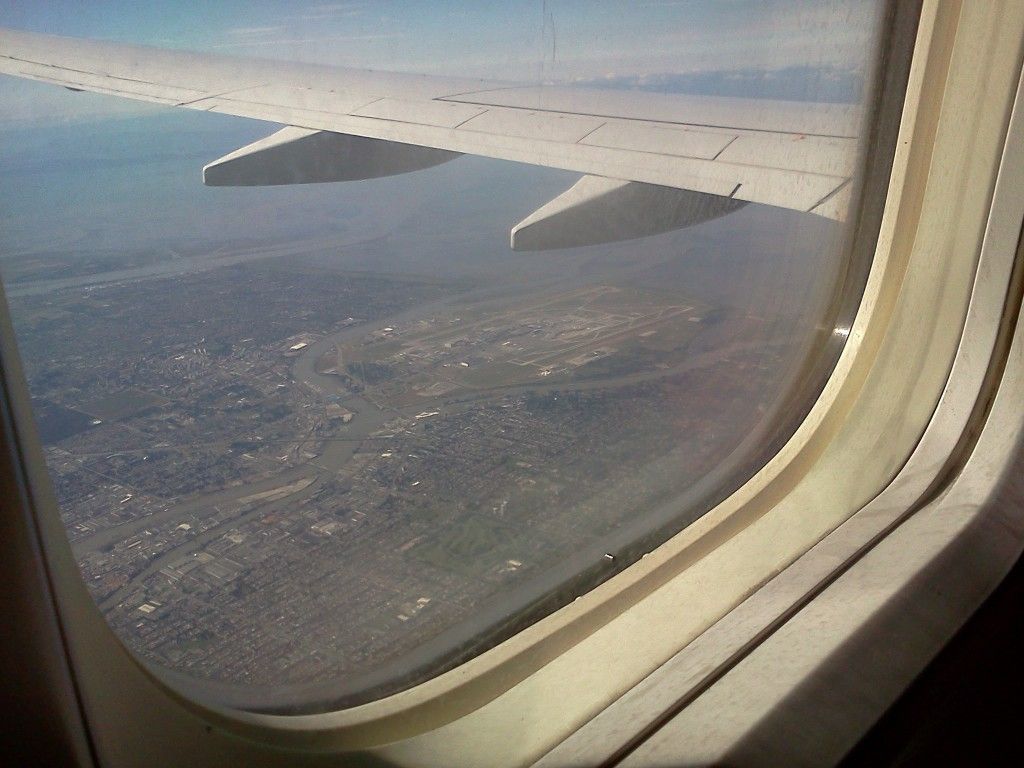 YVR in sight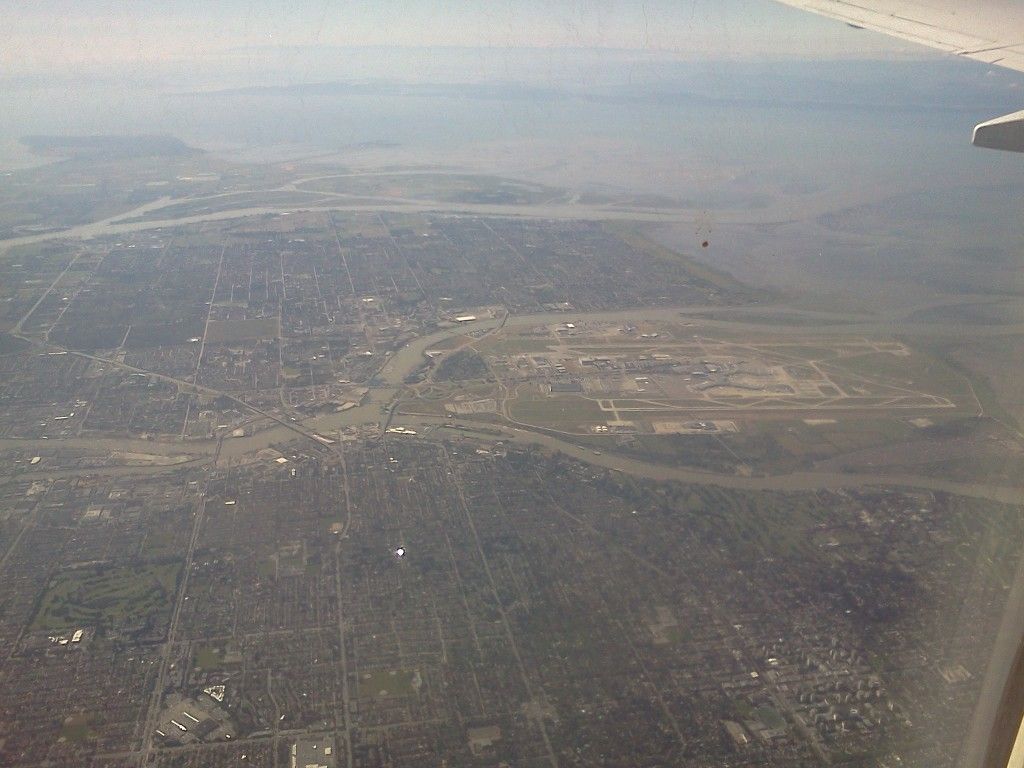 City with YVR on the right
Water with nice reflection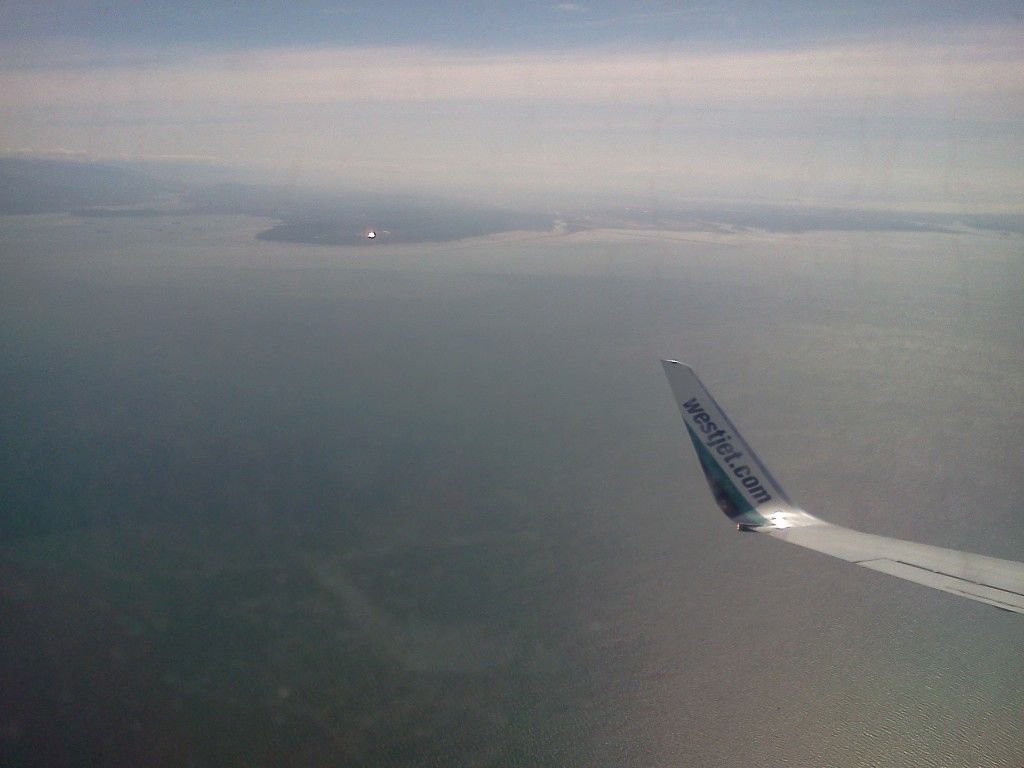 Turning base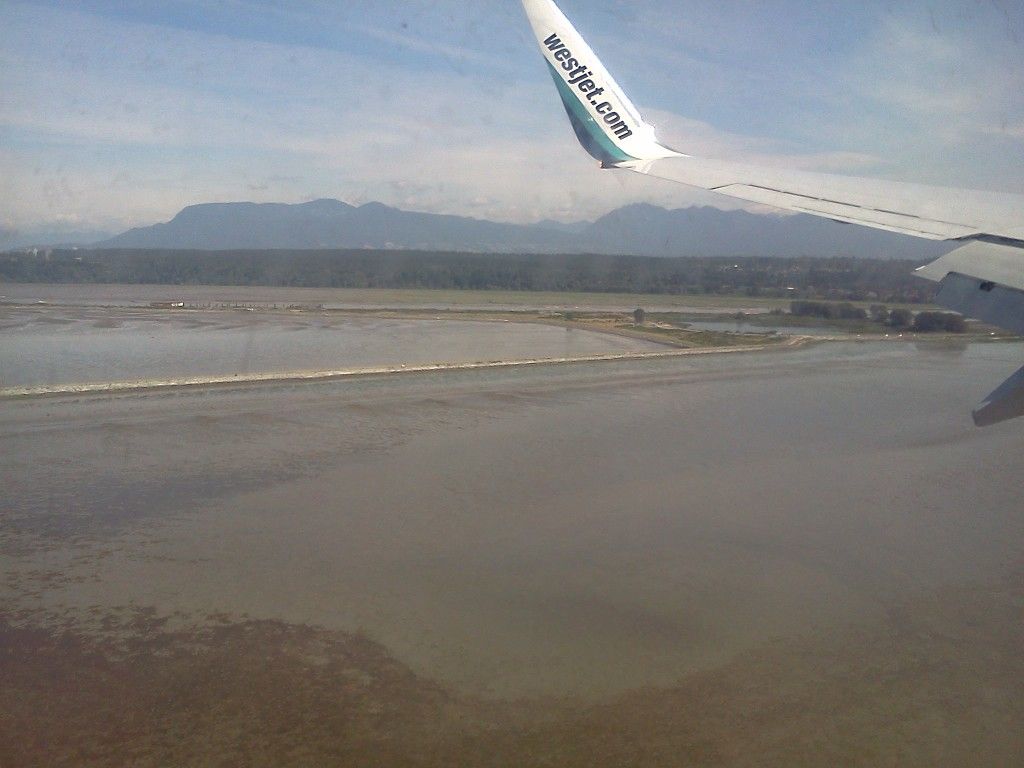 Final
We touched down half an hour late, and taxied to the south side of the terminal complex. I got myself some more registrations for my log. I've started logging them in March, and I'm close to 200 regs now. Mostly KLM though, as I've only been to AMS with spotting as a purpose. Today has gotten me 13 new ones, not bad.
Conclusion
WestJet is commonly regarded as a great carrier, I can second this. Service was conducted with a smile, seats were comfortable for people of average length. As with (almost) all Y class seats, legroom is an issue for taller people like me. But there's not much airlines can do about that other can increasing pitch altogether, which wastes space, and thus money for them. My PTV on the YYC-YVR flight was not working properly, but as I had a window seat, I didn't mind. In a nutshell, I can recommend WS to anyone who needs to get around in Canada. Stay tuned for the next part, where I'm sure legroom is not an issue!
Nick