Sun Country Trip report
Sun Country is the "other" US airline that is based in Minneapolis St Paul, and has survived the attack from Delta by staying small and my impression is that it is a holiday airline with little ambitious to become a global airline. The airline was founded in 1982 after the collapse of Braniff Airways, and has gone through expansion and bankruptcy during the past few decades. It has once operated planes like DC-10, but has slowly evolved into a small niche airline with charter operations and holiday flights. It has always focused on holiday operation and operates a fleet of Boeing 737-700s and -800s. Its MSP operation is based on the Humphrey Terminal, also known as Terminal Two, along Southwest, Spirit, Air Tran, and Iceland Air. I have always interested in flying this relatively small airline, and finally made an effort to do it earlier this week.
August 8, 2012
SY 425 MSP-LAX Lv1455 Arr1642 Boeing 737-800 Winglet N806SY
Purchasing the ticket through suncountry.com is straightforward and the website is easy to navigate and the process of buying a ticket is pretty up to standard. It is a convenient booking process.
The other MSP Terminal – "Humphrey" Terminal
Sun Country operates from Terminal Two, aka Humphrey Terminal/Concourse H, which is at the opposite end of the airport and away from T-1/Lindbergh Terminal that Delta operates from. The Hubert H. Humphrey terminal was built in 2001, and serves low cost and charter airlines. Southwest, Air Tran, Iceland Air, and Spirit all operate from Humphrey as well and yes, Humphrey Terminal has its own international immigration and custom facilities, as Sun Country operates a number of flights from Mexico and the Caribbean. The terminal is undergoing some expansion at the Southwest end, and I guess Southwest may expand its presence, as well as other LCC.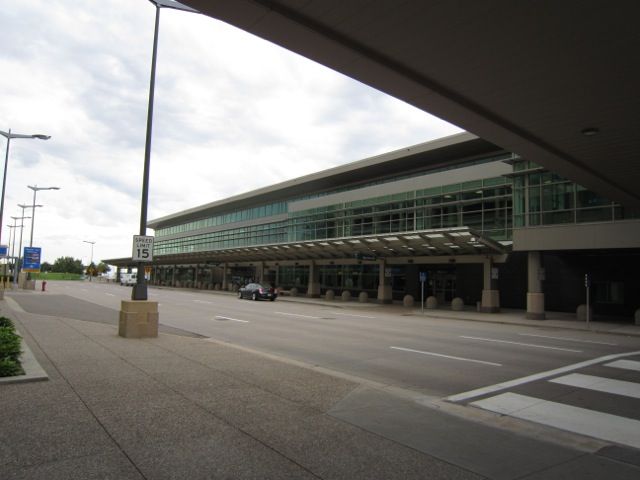 The terminal itself is relatively functional and I feel that it can use some artworks to beautify the terminal building. It lacks some local flavor. However, the facilities look very well maintained and despite its industrial look, it is pretty functional. The terminal building is also small and both baggage claim and ticketing share the same floor. Sun Country and Southwest are the largest tenants, and the Sun Country area is pretty large. Its check in is separated into express lines for passengers with no bag (kiosk), first class priority line, ticketing, and regular check-in line. I arrived three hours early and there was no wait in any lines. However it got busier an hour later, as Sun Country has a bank of flights to SEA/SFO/LAX all departing around 3pm.
Flight information board – Departure: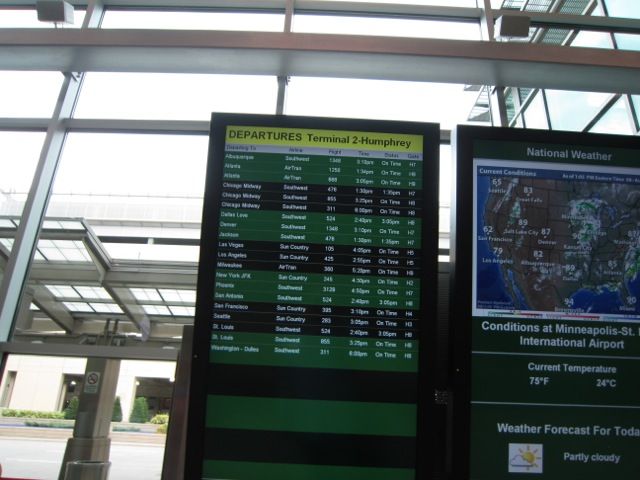 Check-in area: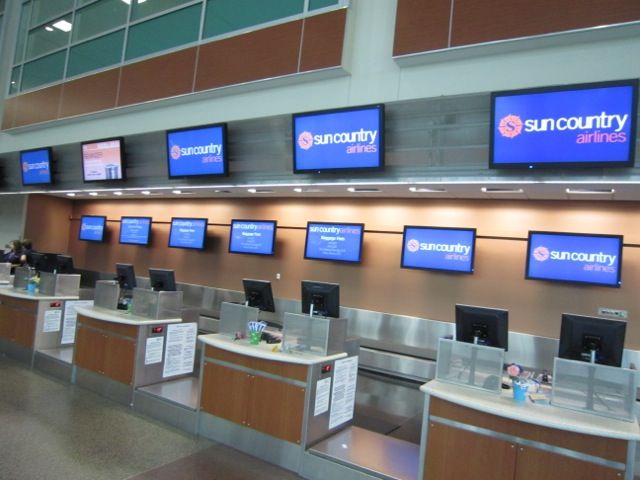 First Class line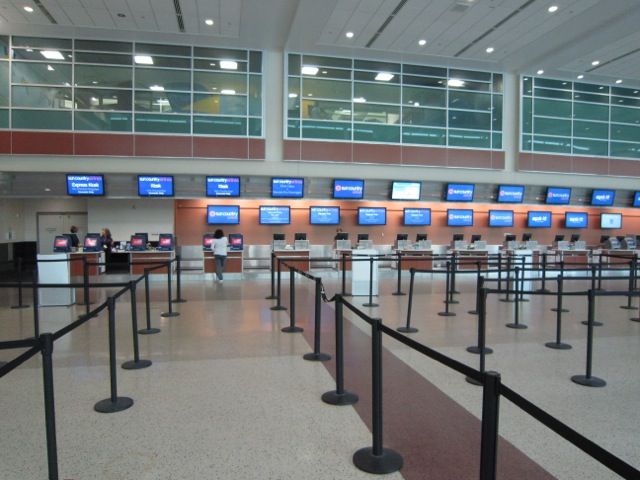 Check in was an easy experience and the agent was friendly. She asked where I was heading and number of bag to check-in. Everyone was handled professionally and the agent tagged my bag with a priority tag, which I was impressed. She even insisted on carrying my check-in bag to the TSA drop-off point, and the economy passenger next to me had to drag it to the security area herself. As a non-traditional/holiday airline, I am pretty impressed with the priority treatment.
There is a also a priority TSA line for Sun Country first class passengers, as well as elite members of Southwest, Air Tran, and Sun Country Airlines. Due to my early arrival, the security lines were short and I was through within ten minutes.
Inside the secure area, there is really nothing much going on. There is a sit-down restaurant, with a bar attached to it, as well as a gourmet market, which sells salads, sandwiches, cold meals, and iced drinks. There is also a magazine/newspaper store next to it, as well as a gift shop. There is another minor food, beverage, and newsstand in the Southwest area, near H9/10. There are also a number of play stations for children along the corridor. It is obvious that Sun Country is a holiday airline with lots of children.
Snoopy
Gate area:
The gate area is generic with lots of seating area, which can handle the current narrowbody capacity.
H8 is used by Southwest!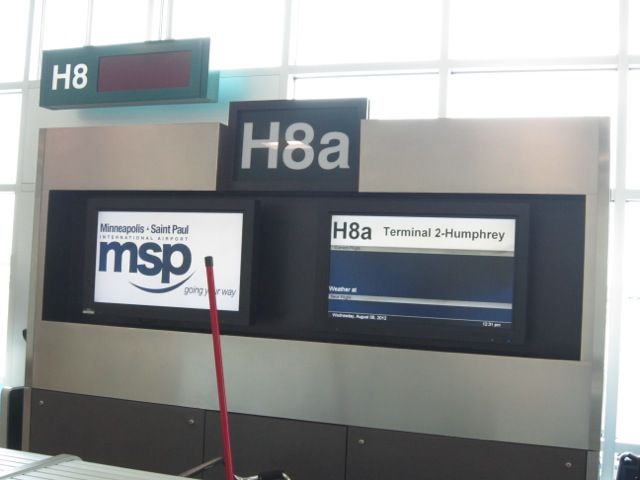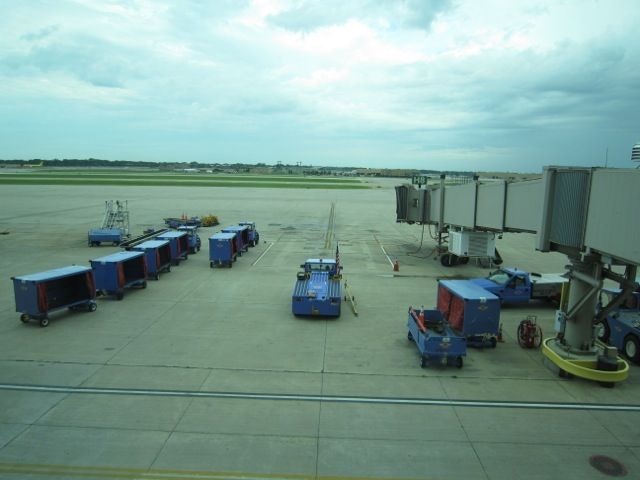 Plane-spotting:
Since Sun Country is the main character, I will focus on its Boeing 737s today.
The first plane arrived for the afternoon bank was actually the plane operating my flight to LAX. N806SY, a Boeing 737-800 Winglet ETOPS, arrived from JFK as SY 242.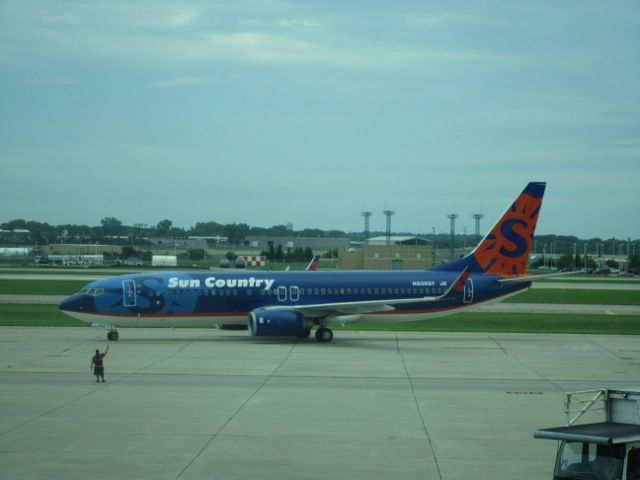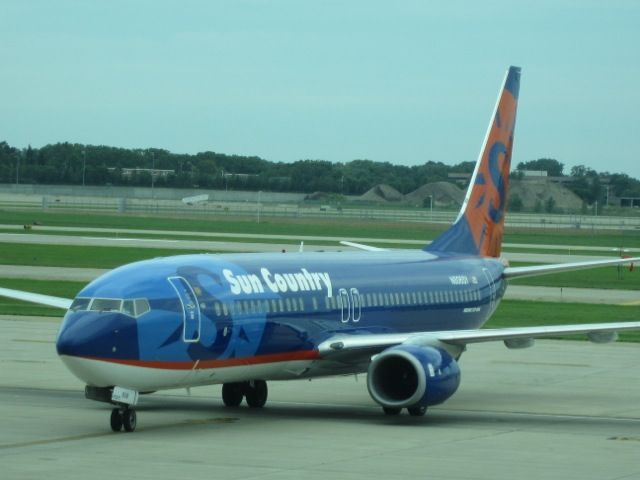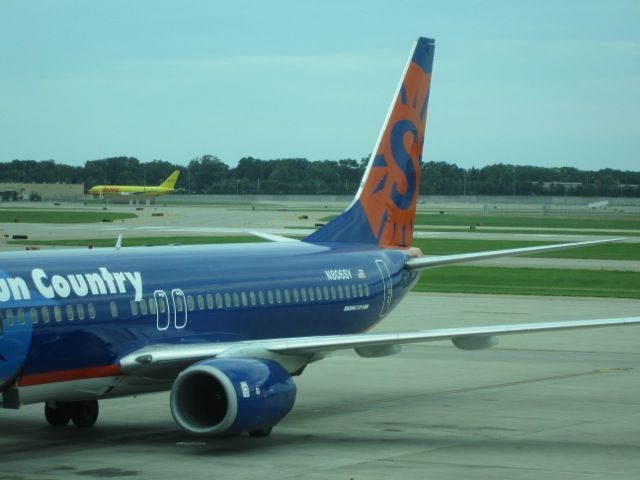 Sun Country Catering Truck