Hi everyone, and welcome to my first ever trip report. I have been wasting a fair amount of time at work reading trip reports for a while now, and I love them! So I decided I would have a crack at writing one of my own, and I have a big trip coming up at the end of the year, so I thought that before I tackle that report I would write about the trip I took at the end of last year, to see what I can remember. I don't think I have the biggest selection of photos, as by the end, I was so exhausted. But anyway, here we go!
A few years ago my Dad relocated and moved to Berlin, Germany. I have been there a couple of times and it's one of my favourite places in the world! About 6 weeks before Christmas of 2011, my Dad called me and decided out of the blue, to fly me across the world for Christmas, and hopefully see snow for the first time! We spent a while looking up flight combinations using the flightcentre.com.au and harveyworldtravel.com.au websites. We eventually found a selection of flights for just under $2000, which, considering the time of year and how long we had left to book, was quite the deal! It consisted of a QF flight from Brisbane to Sydney, and a QF flight from Sydney to Tokyo-Narita, an LX flight from Tokyo-Narita to Zurich, and an LX flight from Zurich to Berlin-Tegal. As an Australian, I had been on Qantas countless times, but I was excited to try Swiss. The return flights consisted of both Lufthansa & Qantas flights, but that isn't covered in this report.
My final trip was as follows: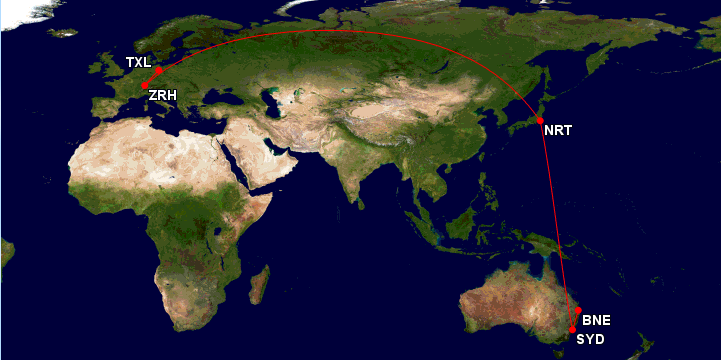 December 21st, 2011.
The day of my journey had arrived. Unfortunately I had to work all day beforehand, and had to make a hasty departure half an hour early from work to beat the peak hour traffic to Brisbane Airport. I had this elaborate plan by which I would drive my car, park it in the short term parking, and my sister who works on the Gold Coast, would catch the train to the Airport after work and pick the car up (she had an extra set of keys). I was to take a picture of where my car was, send it to her, and she would find it.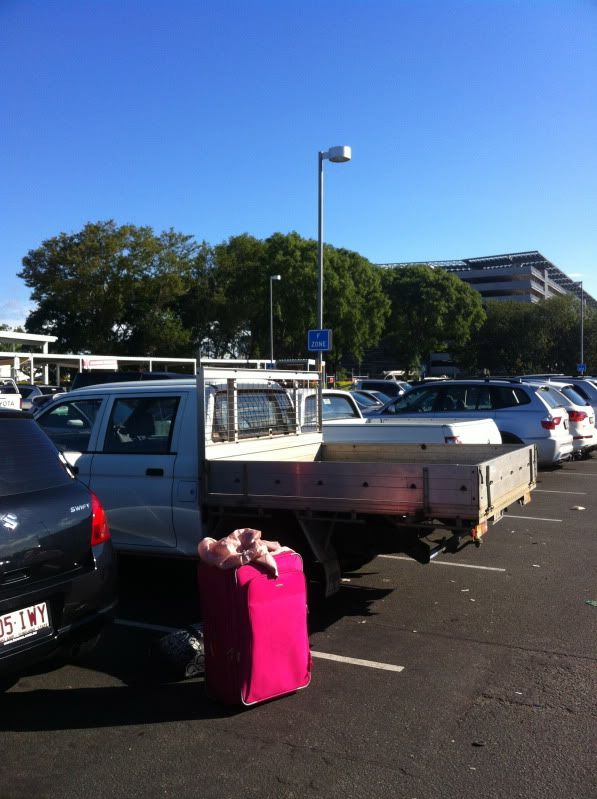 I got to the airport, locked my keys in the car, and dragged my massive amounts of luggage to the Domestic Qantas Terminal. I don't have any pictures of the check-in area.
I only had to wait in line for a few moments before this really kind Qantas lady served me. She was so friendly. I asked her for window seats, and she gladly confirmed that for both Qantas sectors I had window seats! She checked my luggage all the way through to Berlin, which was amazing, and she checked me in for both Qantas flights, but not the Swiss flights as they don't have the ability to check in Swiss flights. But she told me that once I arrived in Tokyo I would have to find the Swiss counter and check in there. I didn't see any problem with that, and I thanked her and went on my way.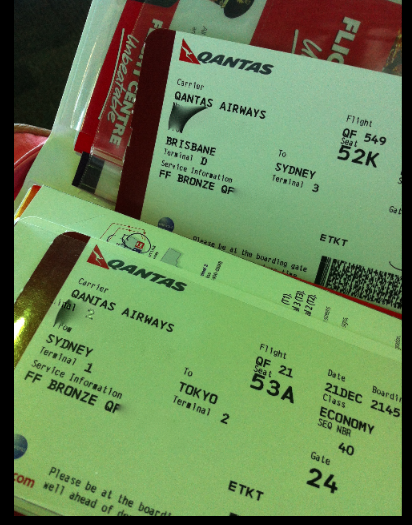 Security was not a problem and was quick, and soon I was airside. I had about an hour before my flight was scheduled to leave, so I played around on my iPad a bit and took some photos on my iPhone. My sister called me soon after I sat down; she was already at the airport and had located my car and was about to make her way back to the Gold Coast. She wished me a safe flight and we bid each other farewell.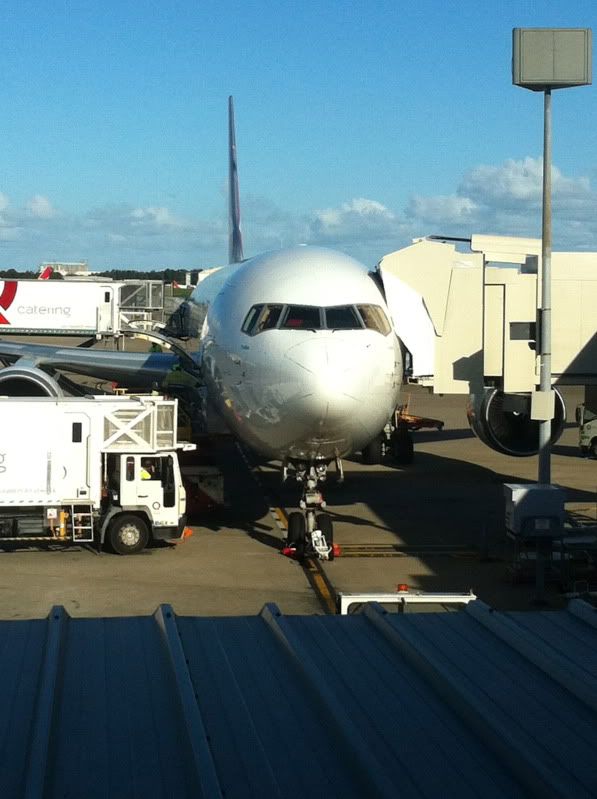 My aircraft getting ready for her journey!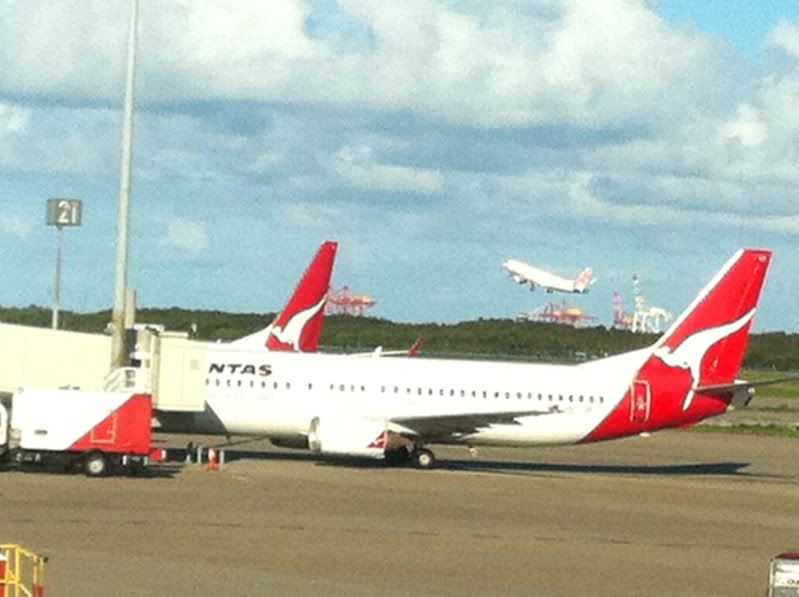 A poor quality photo taken from my iPhone.
Airline: Qantas
Flight No: QF549
Journey: BNE-SYD
Registration: Not noted
Aircraft Type: 767-300
Boarding started on time, about 30 minutes before departure. It was a relatively full flight, but I had the middle seat next to me free.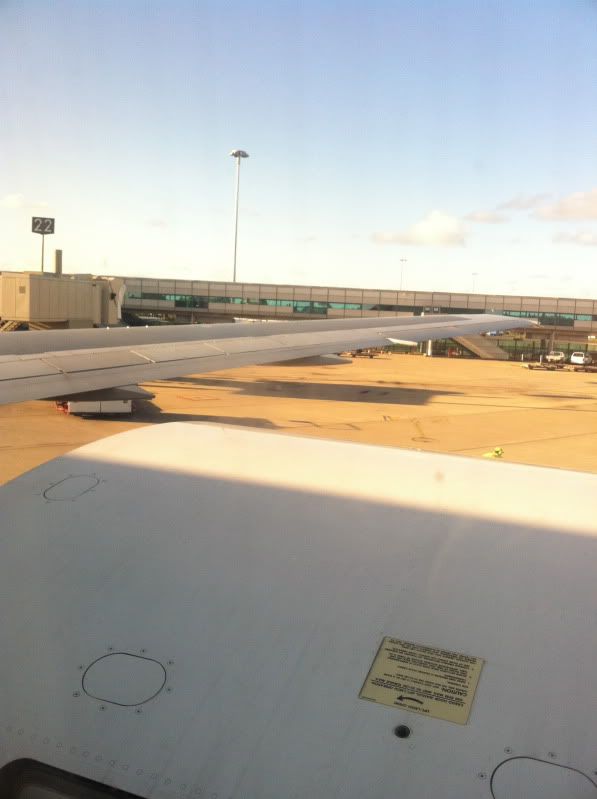 A view!
Not much to say about this flight. The legroom was adequate for a flight just over an hour long. The crew were friendly and professional. We were given a small snack of some crackers and some salsa-type dip which was nice, and a drink. I just listened to my iPod and watched the views outside the window as there was no individual screens. The sun was going down so the views from the window were quite spectacular!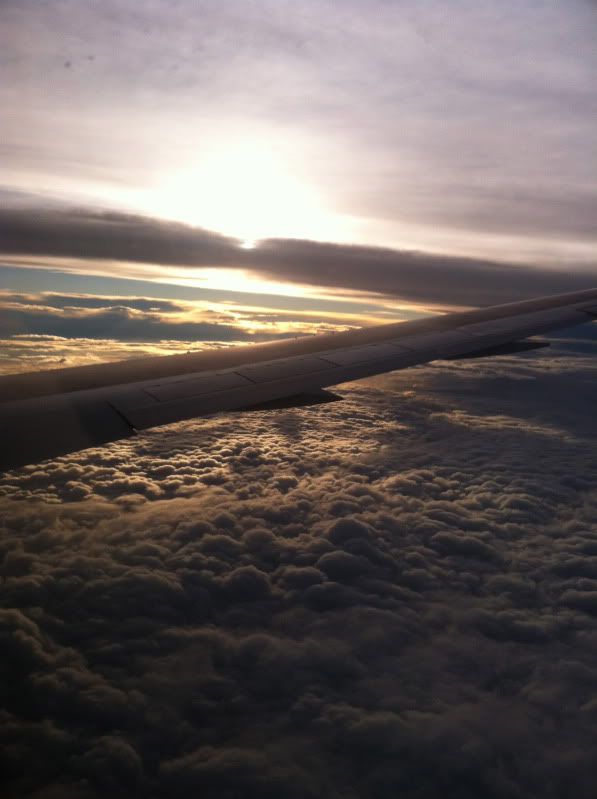 As the crew were going down the aisles picking up the rubbish, one of the male cabin crew members asked the lady next to me and myself whether we were related! We said no! The lady said she was Iraqi and I am a quarter Greek so I guess the dark hair must have confused him a bit!
We landed at Sydney on time, I think. I don't remember much about what runway or gate we got, all I remember is that my gate was directly opposite the Qantas transfer bus section, which was mighty convenient. The gate agent checked my ticket to confirm my onward connection and I took the escalators down to wait for the bus. I love that about Qantas at Sydney; the free buses between the domestic and international terminals are mighty convenient.
The sun had set by that point, but I still enjoyed the trip between the terminals.
We arrived at the international terminal, went through passport control; borrowed a pen from a lady in front of me to fill out my departures card. The queues' were quite long as there are a lot of international flights that leave Sydney at night.
I found my gate and set up camp there for the remaining hour or so until my flight would begin boarding. Most probably called my Mum to tell her I landed, and just generally played around on my laptop. The area became crowded pretty quick though, so it was obviously going to be a busy flight to Tokyo tonight!
Airline: Qantas
Flight No: QF21
Journey: SYD-NRT
Registration: Not noted
Type: Airbus A330-300
At 9.45pm boarding commenced. I was pretty tired by this point, so I took my seat and rested my head against the window. Not long after, my seatmate joined me. Normally I am pretty chatty but at this point, I couldn't be bothered starting much of a conversation up. Boarding didn't take all that long, and the doors closed. The captain announced a flight time of 10 hours. We took off on time and turned and started to make our way to Tokyo.
Unfortunately I have no photos of this portion of my journey because I was so exhausted all I wanted to do was sleep.
I fiddled around with the AVOD once we reached cruising altitude; the screens were quite small and a bit outdated but they worked fine and that's all that matters. I can't remember what I chose to watch, but I set my pillow up against the window and dozed off. I woke up just as dinner was being served; about 2 hours into the flight. I ate, and then promptly fell back to sleep again, which is quite rare as I normally can't sleep all that well on planes. I woke up 2 hours before landing, as they were serving breakfast. I finally started speaking to my seat-mate – a 36 year old man flying over to Finland to see his girlfriend. He obviously liked talking to me, because over the last two hours of the flight, he told me his entire life story.
We landed at Tokyo-Narita around 6am; my flight with Swiss was scheduled to leave at 11.15am. We all shuffled off the plane and went through security again, and I bit farewell to my new friend, as he was catching a Finnair flight, and my Swiss flight left from another Terminal. I hopped on the bus between the terminals. I remember it being really, really cold. I turned on my phone, and the first thing that came through was a text from Swiss – informing me that my flight, LX161, was going to be delayed, and I had already been rebooked for my ZRH-TXL flight! Now that's efficient!!
So I found a list of airlines on this big board, and was standing there wondering where to go to check in. By that time, a few fellow Australian's off the same flight were mulling around. I struck up a conversation, and it turned out we were all looking for the Swiss Air counter. For the purpose of this report, I shall give them names (which I have made up): there was an older couple who I shall call Cathy and Andy, and a 30ish year old guy, who I will call Ken. We all joined forces to navigate Narita. I told them about the flight being delayed and they didn't believe me as none of them had received any message. It took a while, but we found the gate our flight would be leaving from. Unmanned. Ah well, there was 5 hours to go before the flight was scheduled to depart. When we got there, we saw this: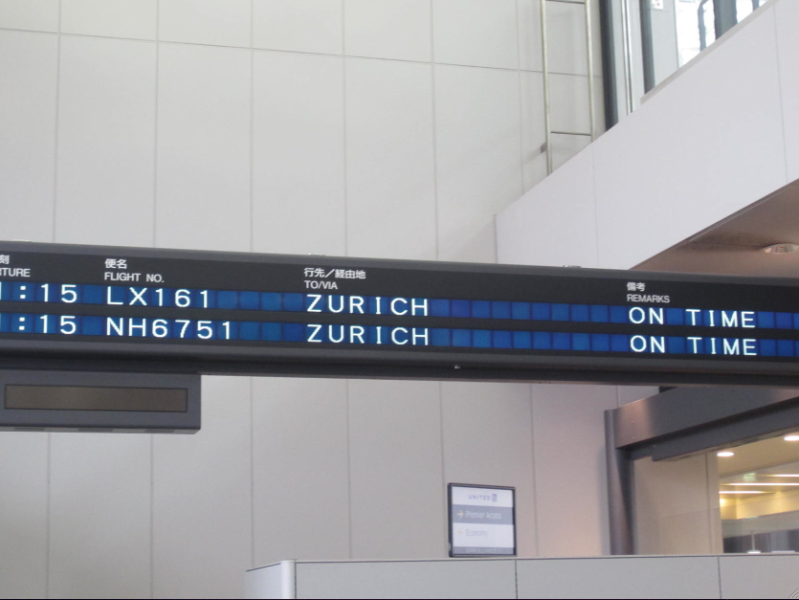 Apparently the flight was on time? I maintained my position, claiming that Swiss wouldn't have sent me this message if they didn't have reason to. Cathy & Andy went off to shower, and I was left with Ken.
Ken, it turned out, was another 30ish guy going to Zurich to meet up with his Swiss girlfriend! For about an hour I sat and listened to him tell me all about her and how he 'didn't know how things would work out' and how he had 'already reserved a room in a hostel just incase she was crazy'. We decided to go find bathrooms. As I excited the female bathroom, I saw he was not around.
I used this opportunity to escape! I walked about 5 minutes in a direction completely opposite to Ken.
I found a spot near a window near this beauty: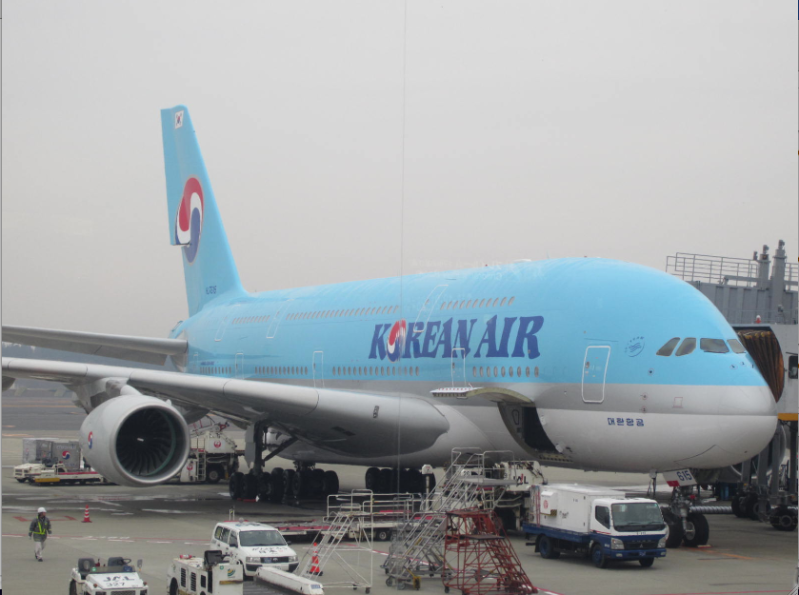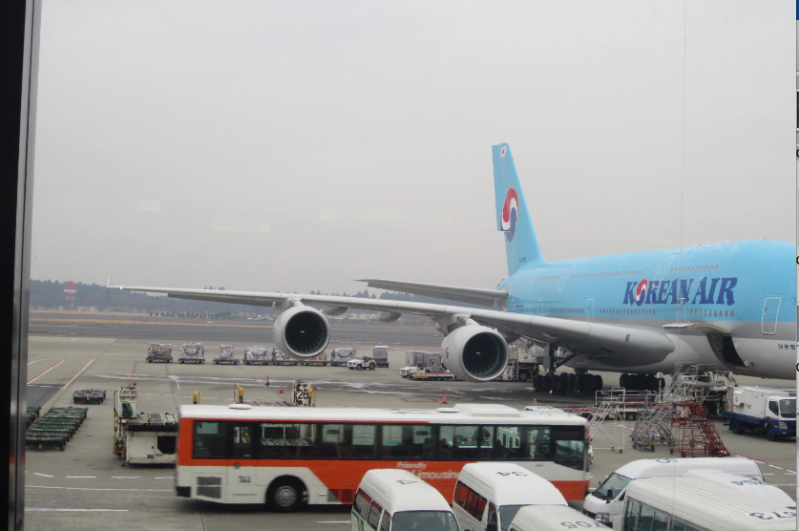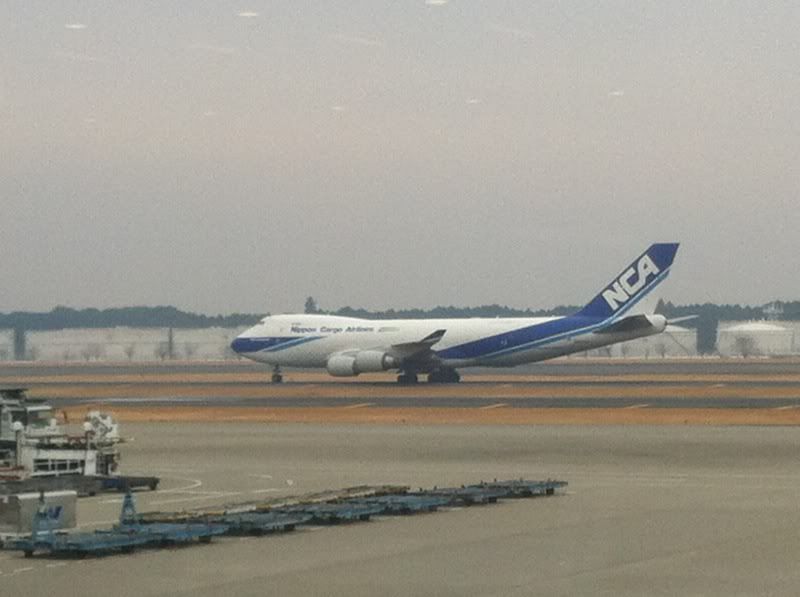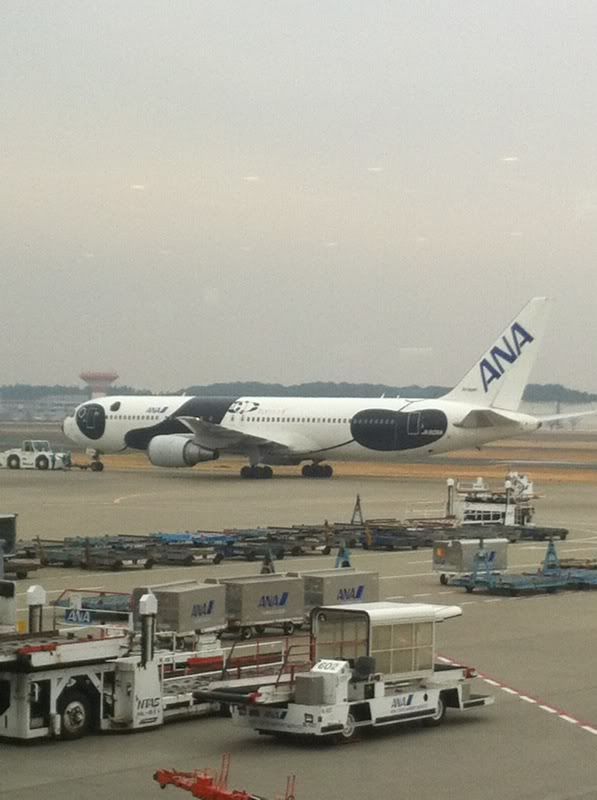 Haha, a cow plane.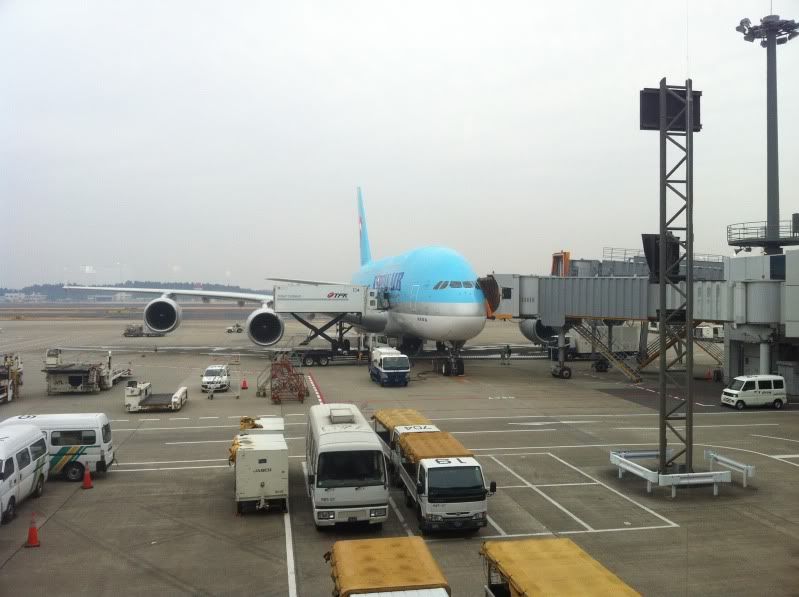 I sat and watched all the traffic passing past. The windows were so huge and there was a LOT of interesting traffic.
I don't know how he found me, but about 30 minutes later, Ken rocked up. He had bought me some Japanese McDonald's though, so that was nice.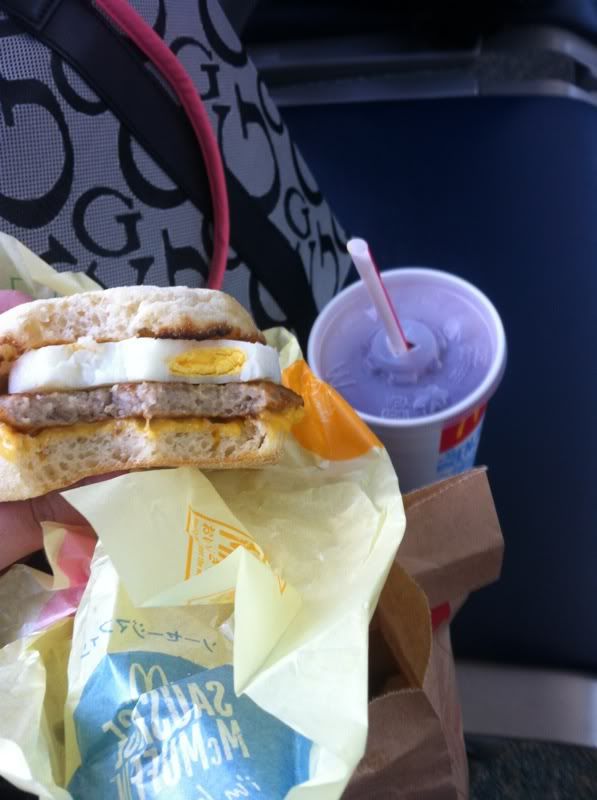 A Japanese McMuffin – a bit different than what you find in Australia!
We decided to go back to our gate. It still claimed our flight was on time. Cathy & Andy had returned by this point.
11.15am came and went, and our gate remained empty. By this stage, my trio of Australian companions finally believed me!!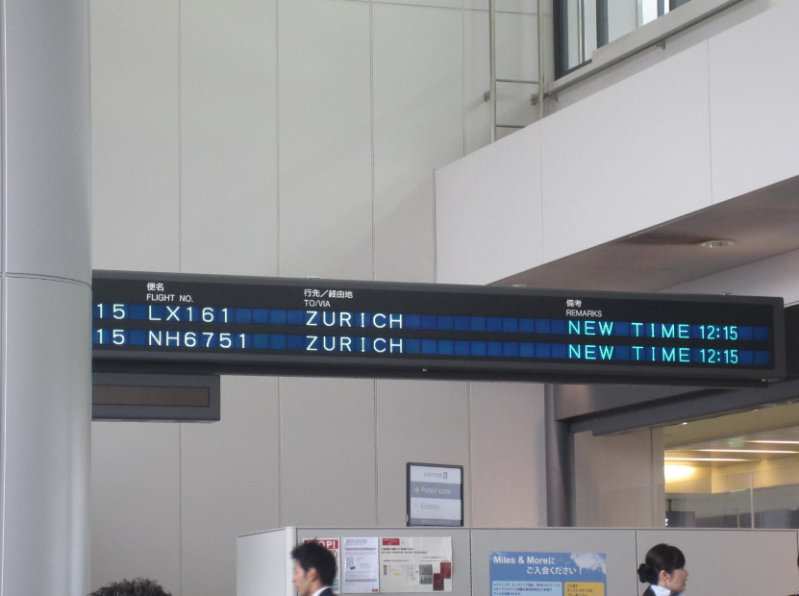 Finally, the board flashed up with our new departure time. 12.15pm! At 11.30am, our beautiful plane finally arrived. I stalked her progress.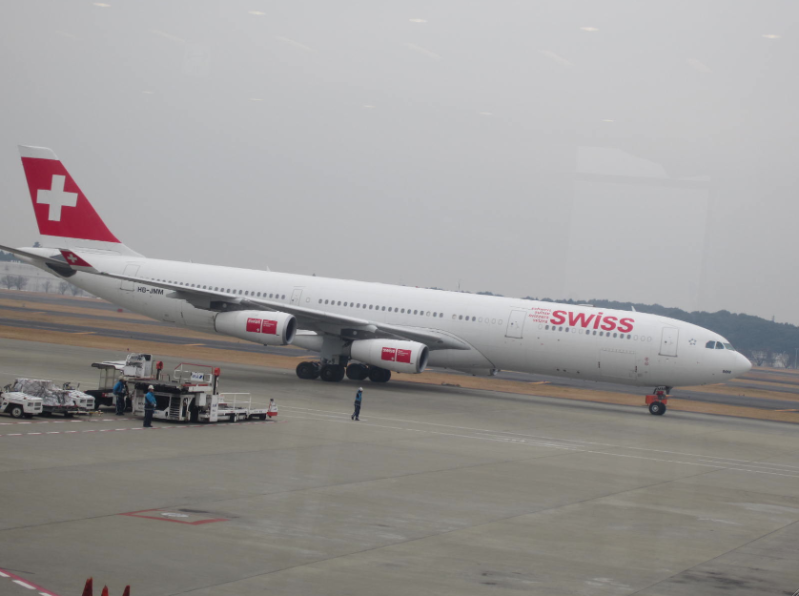 Here she comes!! We were all so excited to see her FINALLY arrive!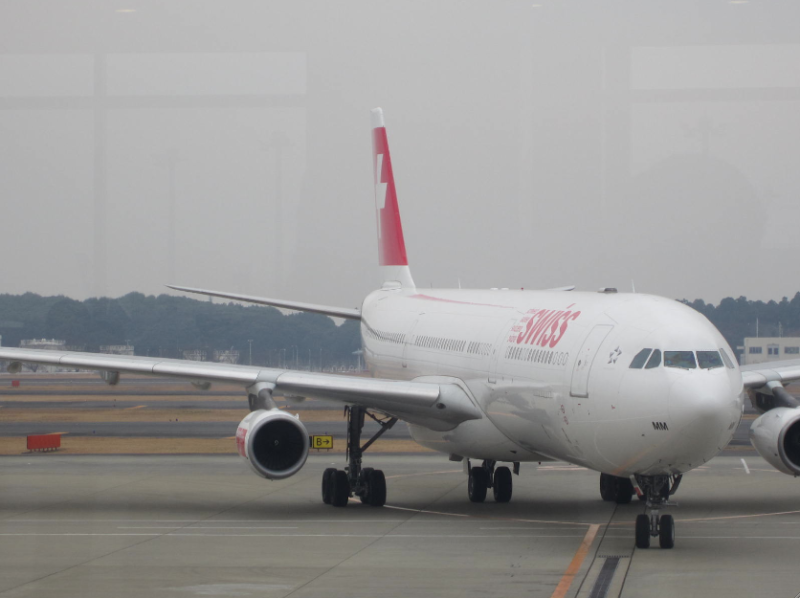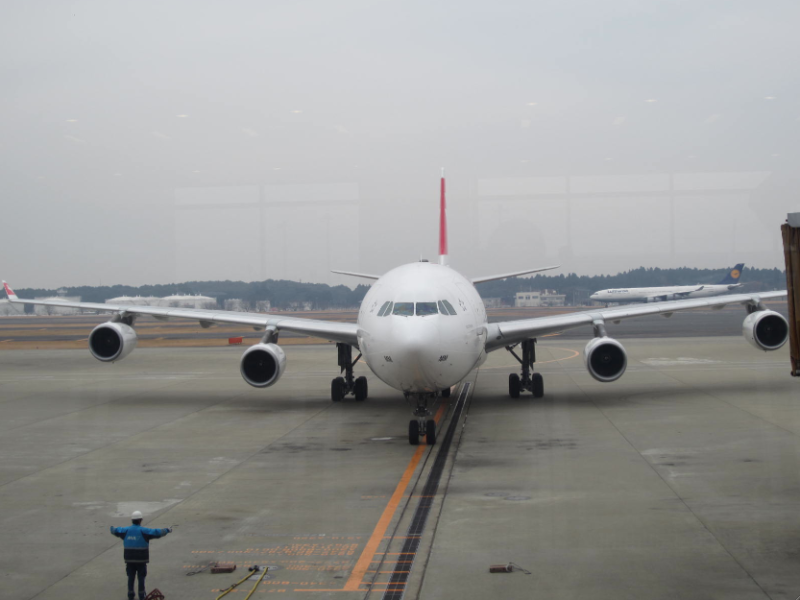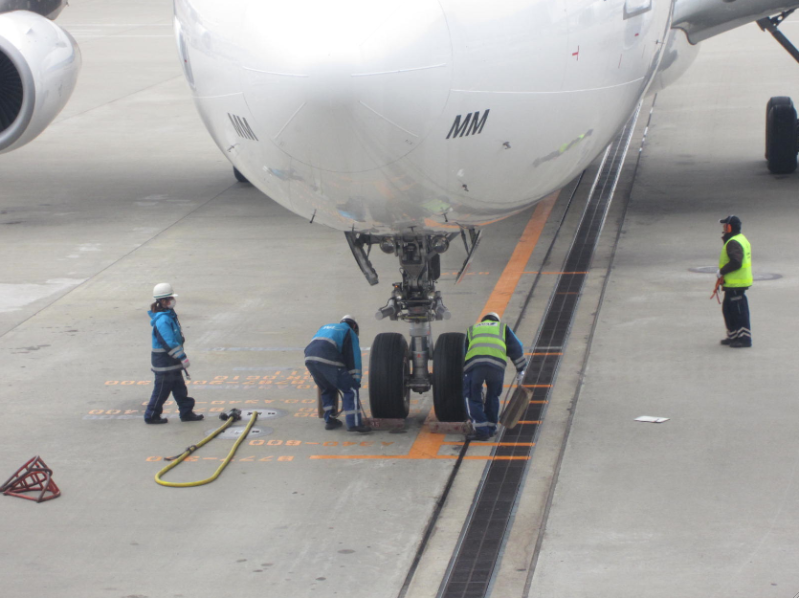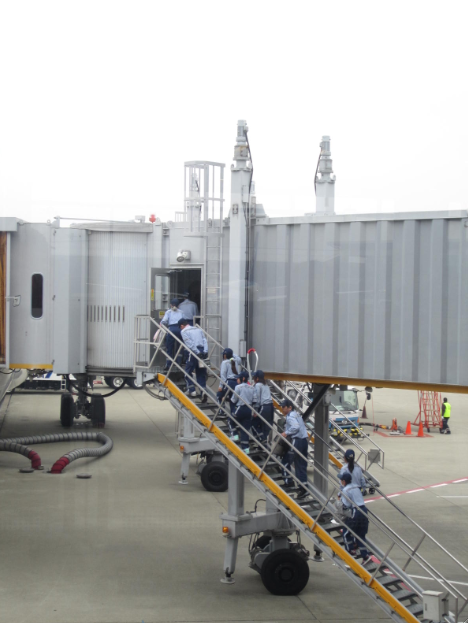 The crew arrives to clean her up a bit!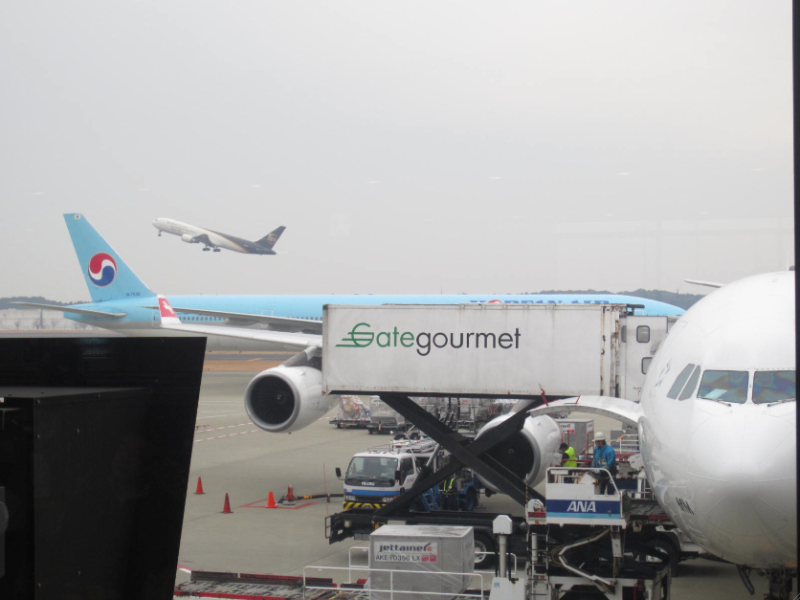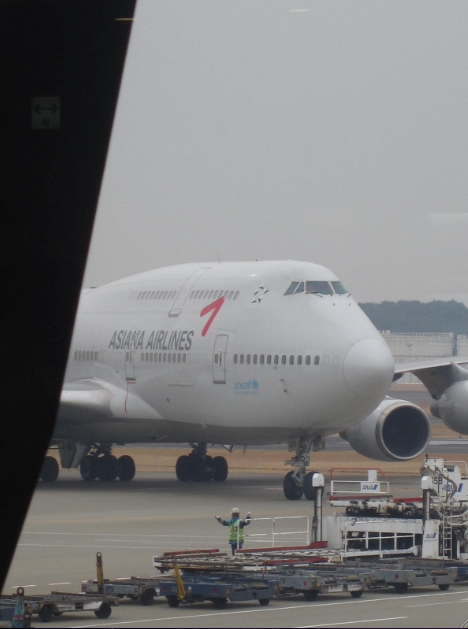 Asiana comes to join the party!
ANA staff came along and started to check us all in. I requested a window seat and my request was granted. Woohoo!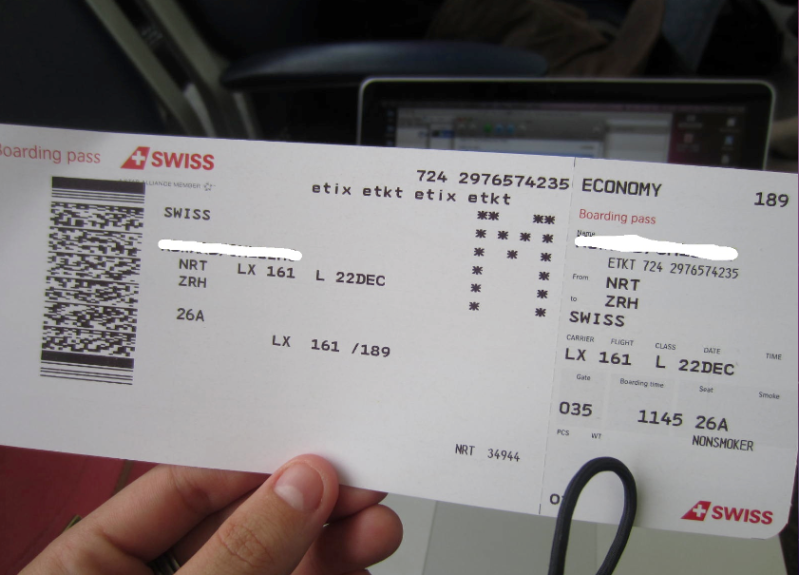 Airline: Swiss International Airlines
Flight No: LX161
Journey: NRT-ZRH
Registration: HB-JMM
Type: A340-300
Boarding commenced at 12.15pm. Obviously we wouldn't be departing then! I sat down and a nice Japanese girl sat down next to me. I saw Ken across the plane and thanked whatever higher power that I wouldn't have to hear another 12 hours of his stories! I like to have a chat on flights, but I was quite sick of him by this point.
Boarding was quick and we were soon on our way. I noticed that the bulkhead seats remained free, so as a member of the crew walked past, I asked if I could claim them, and she said yes!
I had brief fantasies of a 12 hour flight with two seats to myself with infinite leg room! As I sat down, who should appear!?! Ken!! He stored his bags overhead and said "Great find! Now we can sit together!!!"
I felt SO frustrated. But I grinned and bore it.
Legroom!!
We lifted off! I had never been on an Airbus A340 before, and it was powerful! Honestly, one of the smoothest flights I have been on, as well. Not one hint of turbulence the entire flight.
The first thing I noticed was the massive amount of recline. Far better than what I had just witnessed on the Qantas A330! But the seats were a bit hard by the end of the 12 hours.
Lunch was served after take off. I can't remember exactly what it was, but I liked it. But I am one of those people that loves loves LOVES airline food, so you will never hear much of a complaint from me (although, later on things got a bit odd).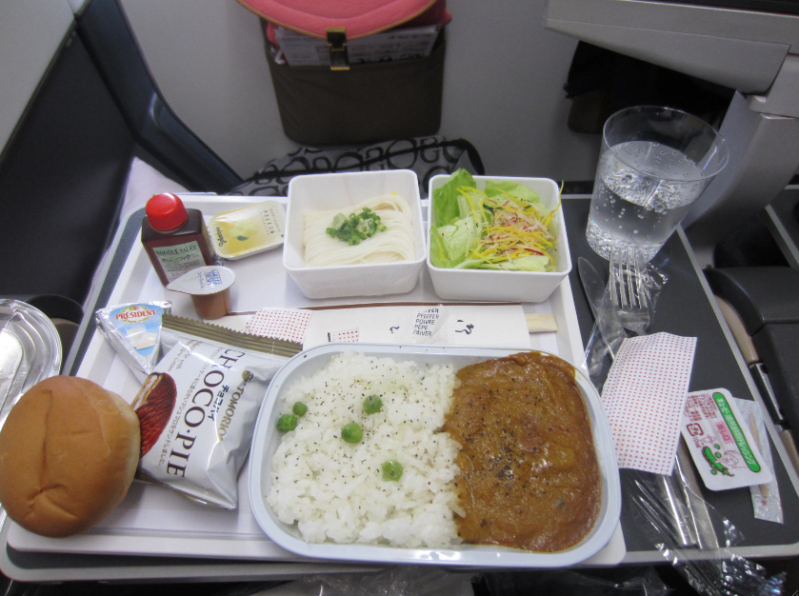 Ken kept on ordering Heineken. By the end of the flight, the crew just kept bringing him beer, he didn't even have to ask. Now that's service!!
During the flight, a lot of snacks were brought out, which was great. Some ice cream at one stage, and some weird sushi roll thingy. I ended up watching Contagion – good movie, but did freak me out a bit, being stuck amongst so many people in a confined space.
The window provided the best show, though!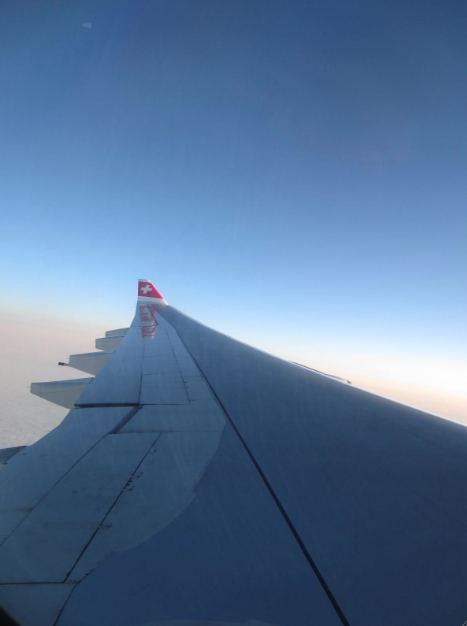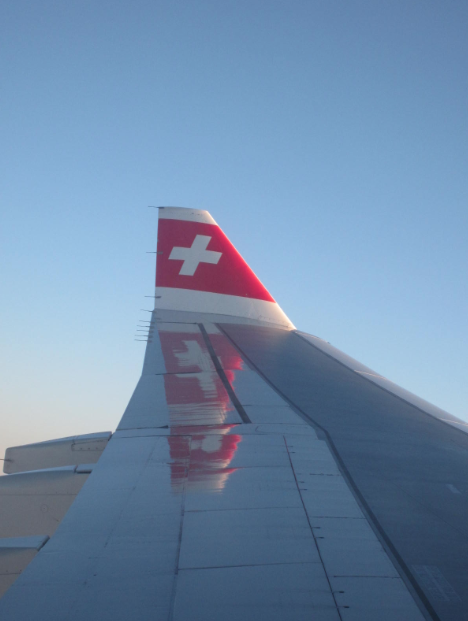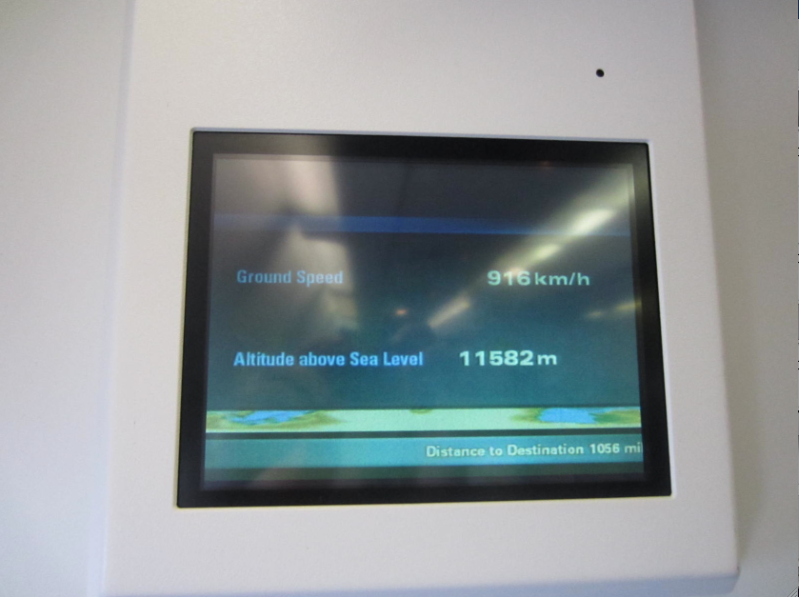 This odd meal was served 2 hours before landing: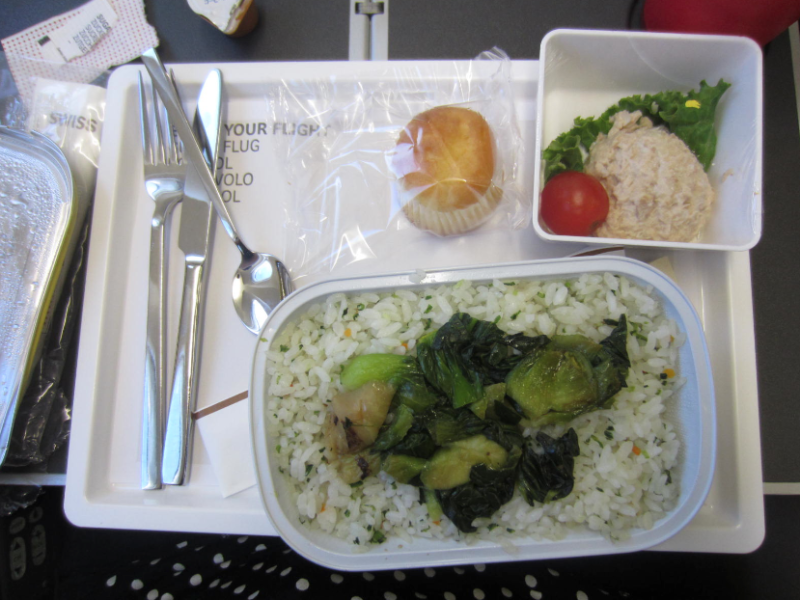 It was okay, but a bit odd though.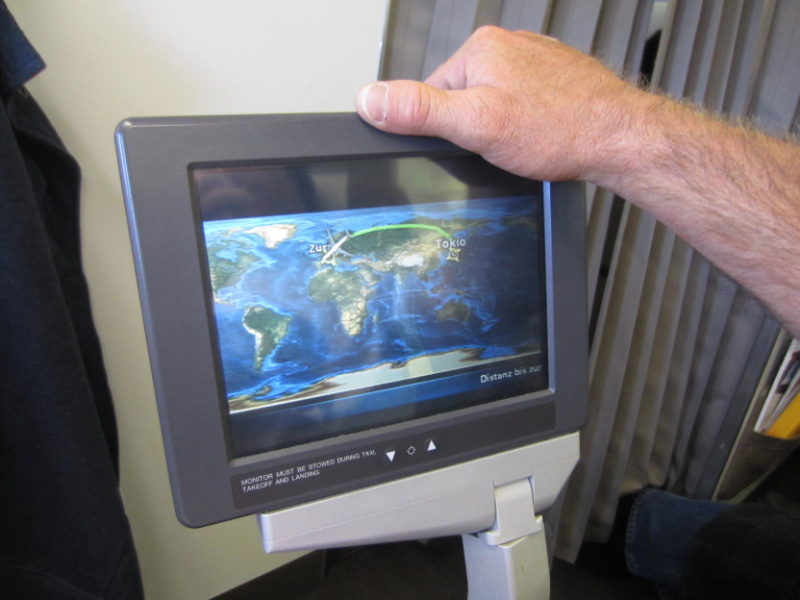 By this time, I was used to Ken so his company wasn't as much as a burdon as I had predicted 12 hours earlier, and we had a lot of laughs.
We landed at Zurich Airport and I saw snow for the first time ever!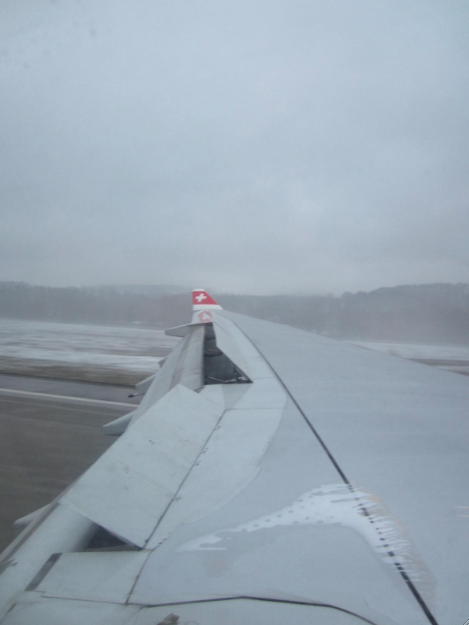 Unfortunately, this would be the ONLY snow I would see my whole trip, as it decided to not snow in Berlin my entire trip
Airline: Swiss International Airlines
Flight No: LX978
Journey: ZRH-TXL
Registration: Not noted
Type: Airbus A320
I don't remember much (actually, nothing) of the flight from Zurich to Tegal. I was delirious by this point; I had been traveling for over 30 hours and just wanted to get to Berlin. I think I arrived just after 7pm. The flight was fine. I think I rested with my head on the tray table for the majority of the flight, and accidentally fell asleep against a Swiss businessman who was not too impressed. I think we got served a drink, and a chocolate.
Anyway, I hope, if anyone has stuck around to this point, that you have enjoyed my first trip report! I do tend to ramble on a bit, and as this flight was a while ago, there are many things that I do not remember perfectly! Hopefully I can only continue to learn and hopefully be embraced by this amazing community and encouraged to continue!
Thanks for reading