Trailer
It seemed like the perfect plan - spend some SAS Eurobonus points (20K to be precise, up from the previous 12K as an "Eurobonus turns 20 years" gift to all us loyal flyers) on a daytrip to Northern Norway, shortly visiting all the Scandinavian countries in a day and catch both Wideroe's brand new Dash-8 Q200 plane on the TOS-ALF route and a new airport for the log.
The nice route: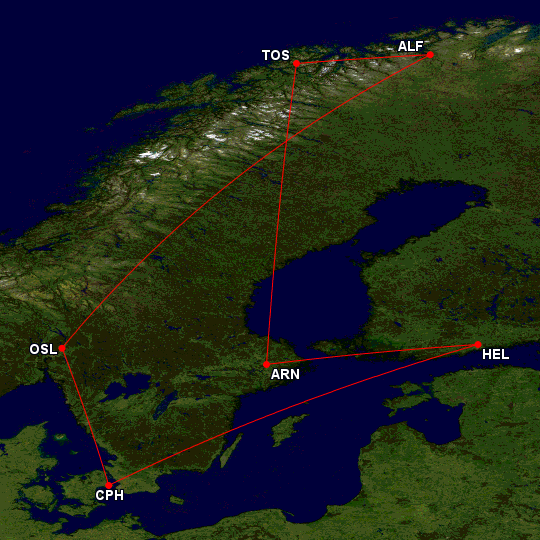 If only it had been that straightforward in reality...
Oslo Gardermoen Airport
Rather pissed off I walked out of the Gardermoen terminal and the short skip to the Radisson BLU hotel, very thankfully just a couple of hundred meters away. If I had to put up with my behated shuttle buses tonight I'm sure my already high blood pressure would've reached fatal levels.
Looks like someone lost their washing up kit - I'm tempted to take a peek inside in the vain hope that it would contain some deodorant for me but naah, that would be a bit too desperate: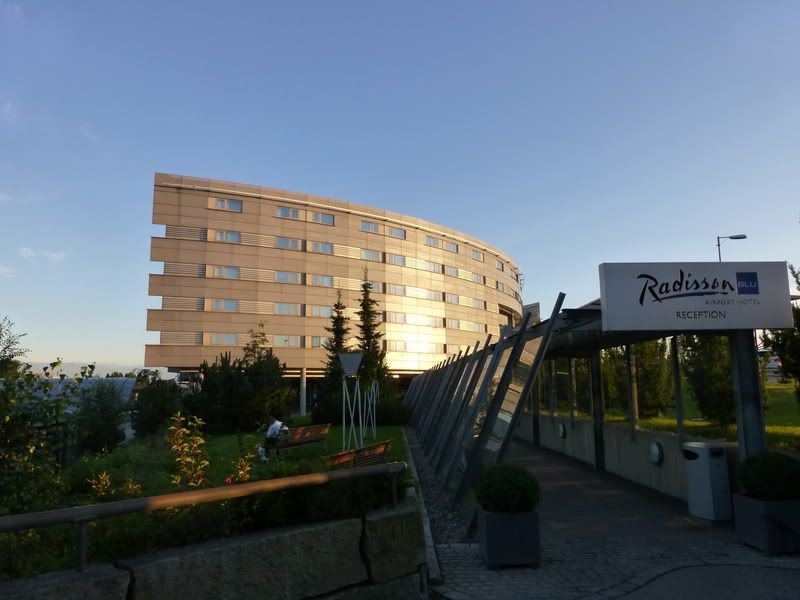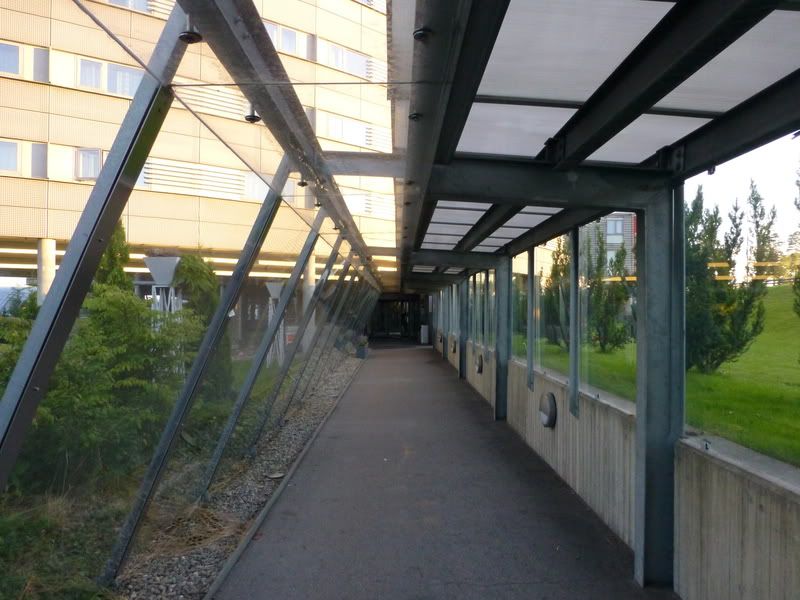 Inside the lobby looks just like any other Radisson in Europe - modern, Scandinavian style. I've never really figured out why they insist on having these "reception podiums" (or whatever they call them) instead of a proper old fashioned and imposing reception desk but I'm sure it has something to do with being minimalistic, modern and
tres chic
.
Well, the girl checking me in is young, pretty, cheery and obviously blonde (we are in Norway, after all!) so I can't be mad at her, after all it is not her fault I'm miserably stuck here instead of sitting up in the air with a mediocre (but free) drink on my hand. She informs me that the 250 NOK SAS is willing to spend on my gut is good for a dinner from their buffet selection, served in a restaurant a few buildings (yes, the hotel consists of a bunch of interconnected buildings) down.
That sounds exceptionally good to me as buffets, being one of the strongest bastions of western decadence, abundance and wasteful ways (not to mention firm favorites of jonases of this world) sounds just like the place to trade my sorrows for a belly ache.
The waitress greeting - well greeting is not really the term here, more like looking at me from head to toe, back to the tip of my hat and then finally focusing somewhere near my eyes with a definitive look of disapproval on her face and grunting something - is the only rude Norwegian I've ever met in my life. Actually she's probably not a Norwegian at all - as she, shock horror, has
dark
hair!
Eventually she manages to guide me to a table (why do they always give you a table next to other people - the restaurant is mostly empty and I wouldn't mind a bit of privacy to be able to swallow and marinade myself in my grumpiness) and after I ask about a dozen times even a bottle of tap water.
I'm all set so let's pig out: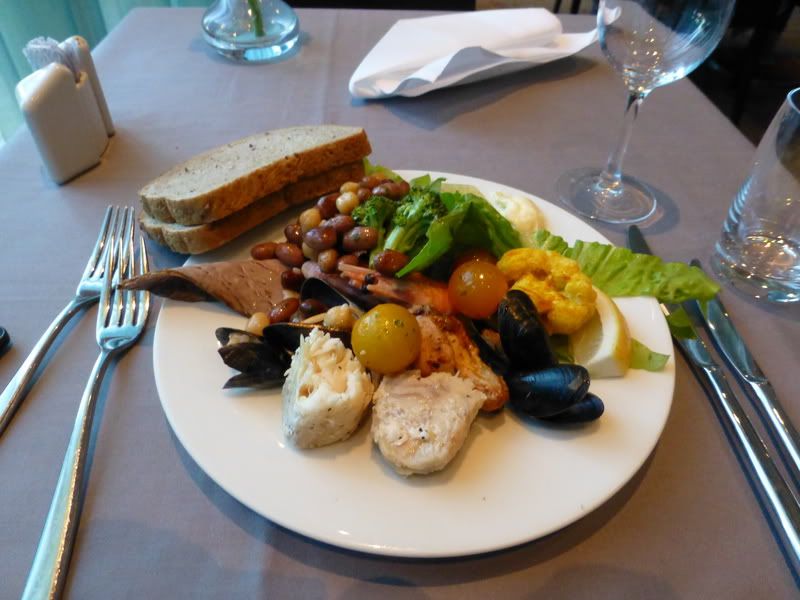 Not so good - the filo filled with cream cheese and lax was quite weird: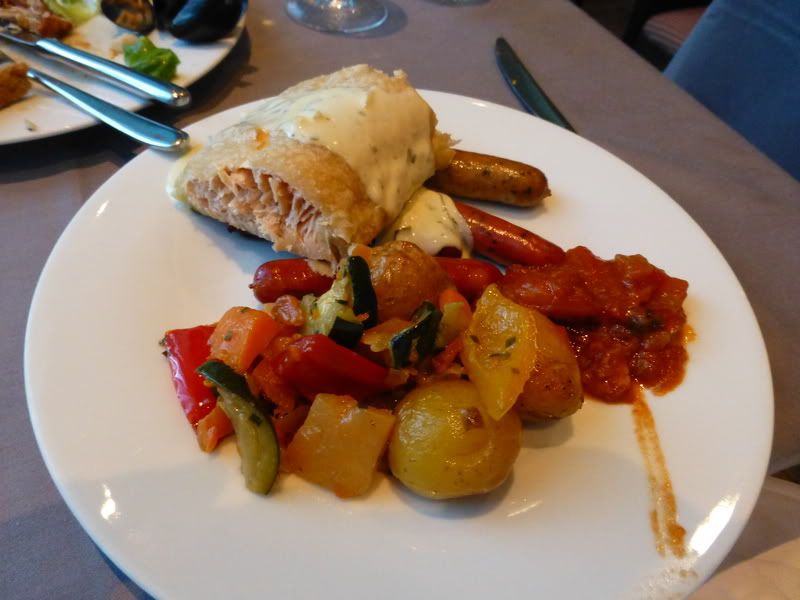 Couldn't decide between a sweet or a salty dessert so I went for both - the chocolate mousse was downright divine: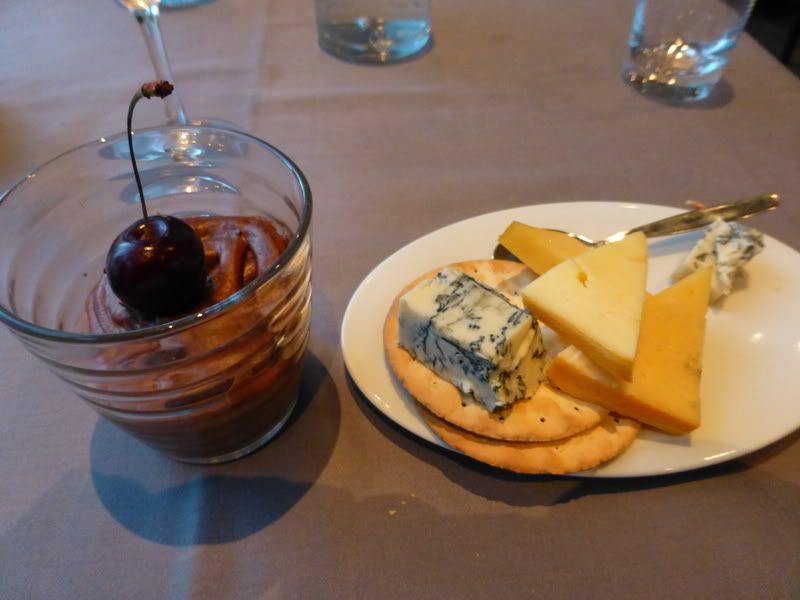 After setting a new European (we are just mere amateurs when compared to the Amerikanski though) record in speed overeating I actually have some serious issues walking out of the restaurant and my focus is definitely on my tummy and not on the situation at hand. I waddle to the elevator and down the long corridors to my room: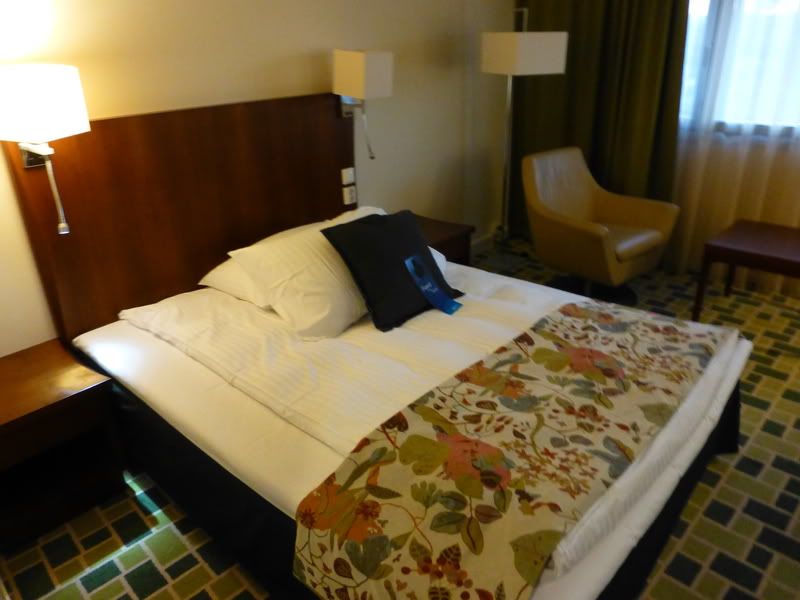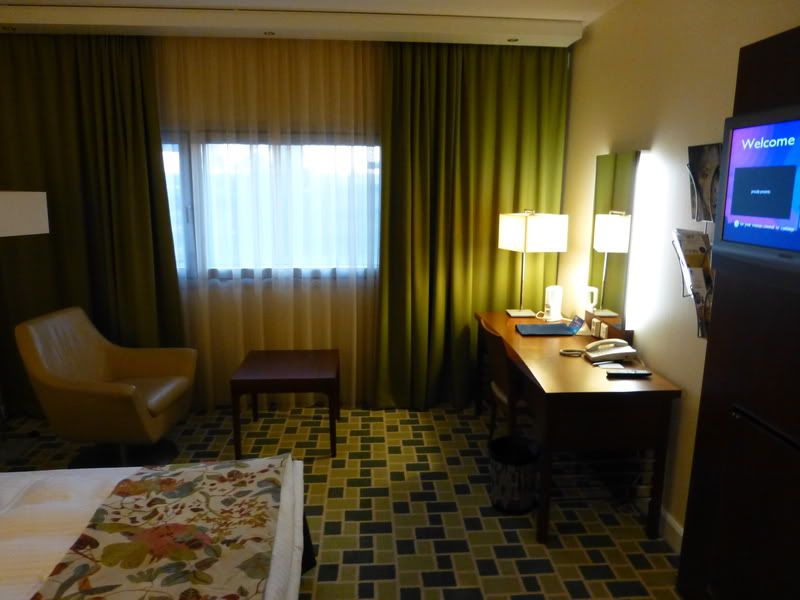 Housekeeping has been sloppy - beer caps left by a previous occupant were still lying on top of the minibar: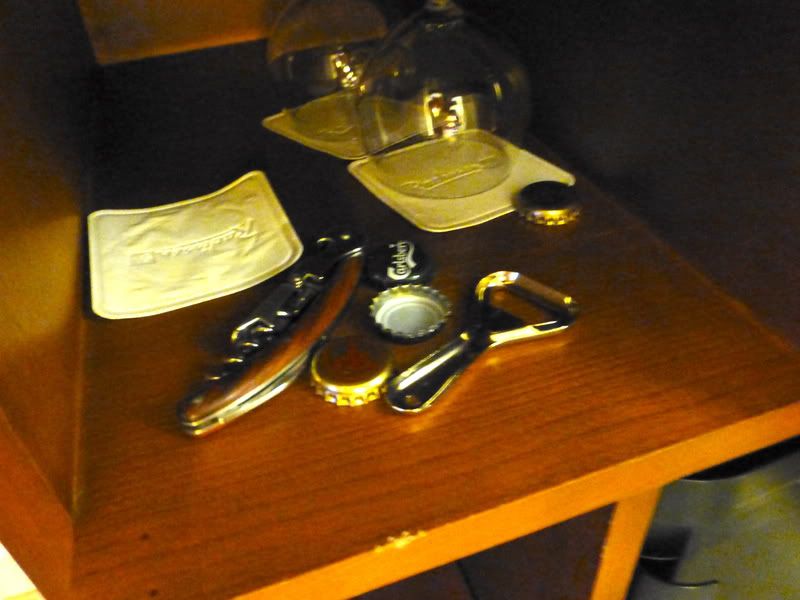 Speaking of the minibar for a while I think about consuming everything inside there at SAS' expense since I was not required to present a credit card at check in, but decide against it, mostly because I have a (far too short now) workday ahead of me with an early wake up call and partly because SAS would probably yank a bunch of miles from my account to pay for my consumption...
You can sort of view the apron from the room, although to read any registrations you'd need a telescope or binoculars:
After setting up most of my gadgets to charge up during the night I spend a little quality time with the Interweb, attempt to brush my teeth with my finger (not a very successful attempt) and decide to crash. Not down to the ground floor, mind you, but down into dreamland.
Haha - it is not an advert for Jehovah's Witnesses but merely the order form for a room service breakfast:
I have the weirdest dream. In it I'm at Arlanda:
Stockholm Arlanda Airport
I enter the oh-so-familiar territory of the SAS lounge complex at T5 of Stockholm Arlanda Airport. The same old grandmothers as usual are staffing the reception desk. But wait, something is amiss - the door to the Scandinavian lounge part is shut, the lights are out and there is a sign saying that it is closed during the summer period. For what I cannot possibly figure out - maybe they are giving it a through cleaning and removing all those pieces of chicken, cheese, köttbullar and crackers that undoubtedly have found their way between the sofa cushions and inside their iMacs running Windows ("The horror, the horror").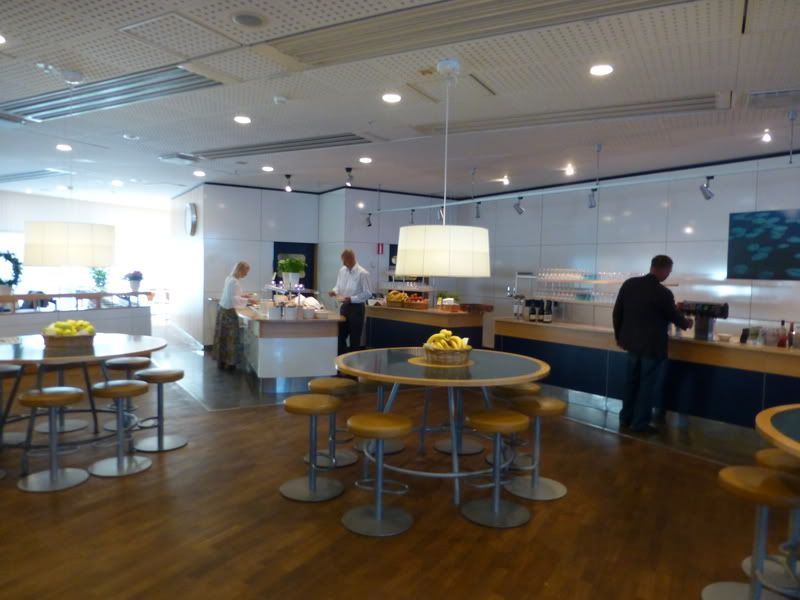 I haven't said it before but here you go - the Business lounge side is crap. It is not a very good lounge. The offerings are less than generous, especially the liquified ones. Heck, they don't even have anything with BOTH bubbles and alcohol in it - it's like not having the cake and not eating it too!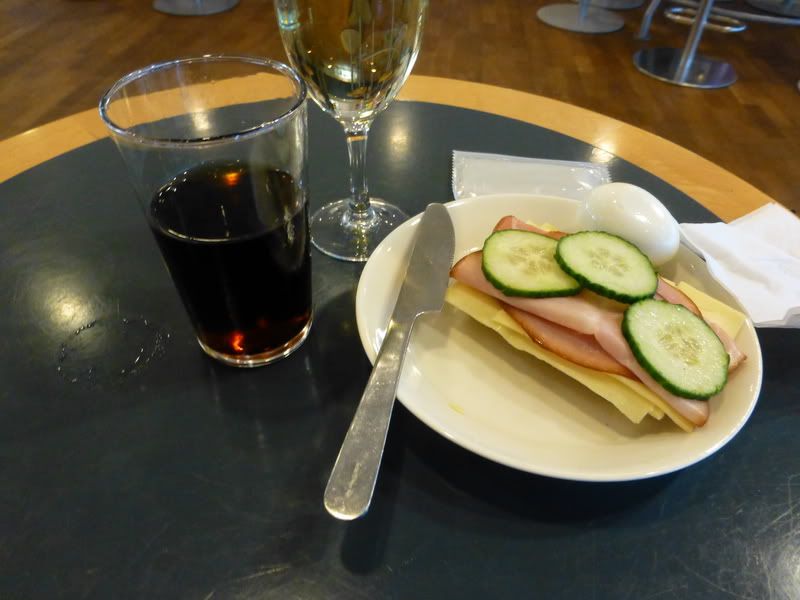 Caviar it sure ain't (and all you Swedes, don't bother explaining me what it is, Kalle is my friend and I know all about it. It would be
very
appropriate to call it
faux caviar
):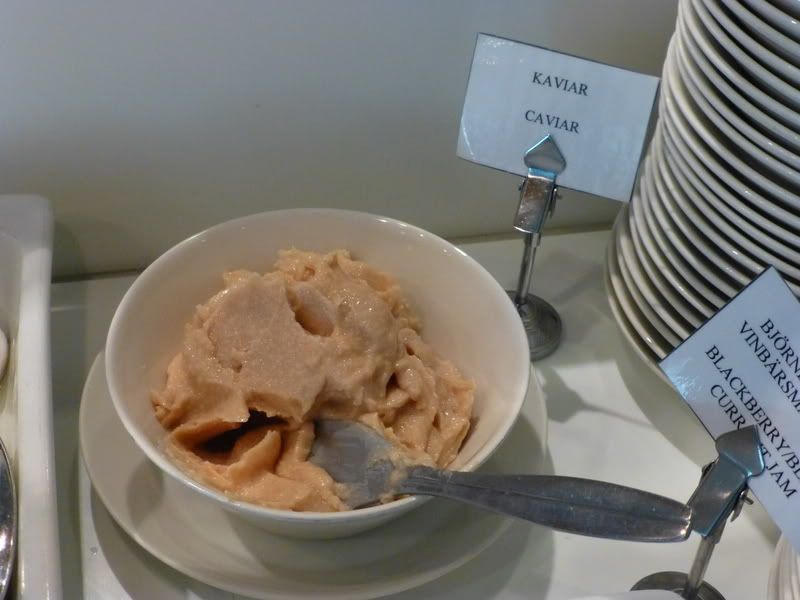 The place is quite well patronized. Lots of Swedish nuclear families heading out to their annual vacations to the sunny (but oh so financially inept) half of Europe where they are free from the shackles of their little paradise bubble and can behave without any regards to the accepted norms of (their) society. I just happen to overhear the mother of the family (straight from the Swedish Christian Party's family template series: blonde mother, tall father, teenage boy and girl) next to yours truly concluding that "this is our first vacation that does not start with beer or whiskey!". I'm sure the father is already dreaming of ice cold
cervezas
which cost maybe tenth of what they do in the land of IKEA.
I take a look at the details for my Wideroe flight just to see if there's anything funky going on - and then it all breaks. My precious Dash -200 has been upgraded to a mundane -300 model!
NO!
I won't have any of this!
But what can I really do?
Already for a couple of days the flight was not showing any availability, so I was suspecting it might be overbooked (or completely full at least) so it looks like they decided to resolve it by upgrading to a bigger plane. For me this means that the real reason for me taking this trip in the first place is now gone...
But what can I really do but to head to my gate and be annoyed?
I notice my gate being a familiar one - right next to the inbound one. Eventually I trundle there to notice boarding in process and pretty much walk straight onboard.
Hiding, are you: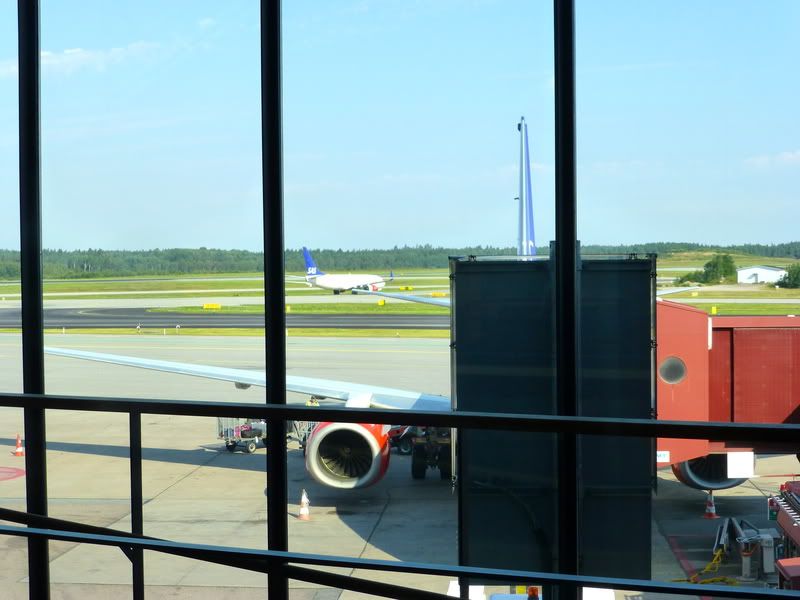 Well I shot a photo of this bird when I arrived so from that photo I can see it is SE-RES (a very appropriate registration!) "Rut Viking" - a new entry for my log.
ARN - TOS
SK1491
B737-700 SE-RES "Rut Viking"
Seat 11A
9.07 - 10.52
It is SAS Sweden, so all the flight attendants are women well past their "best before" date. The three rows of Economy Extra are full (see, the rich Norwegians are at it again), economy around 60%. I sure am pretty happy I went for the exit row for a ridiculous amount of legroom: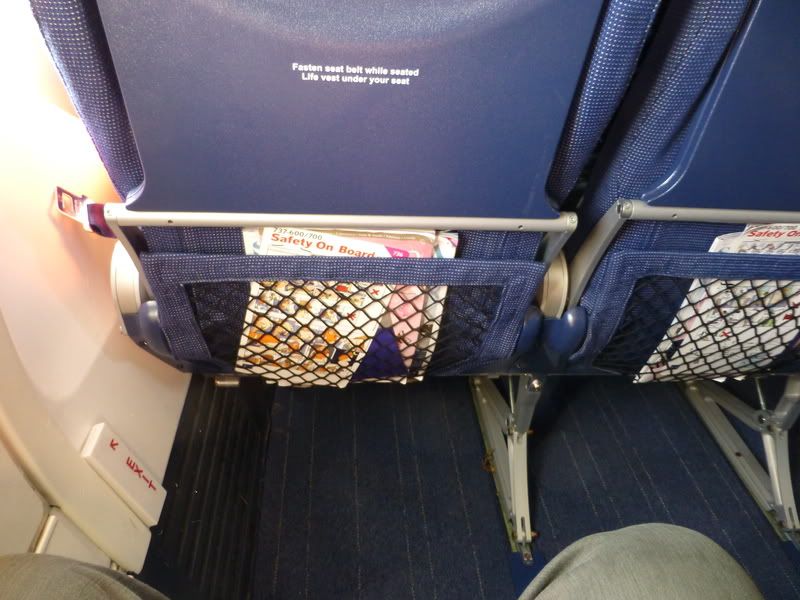 Dirty planes - looks like a tiny tree twig to me: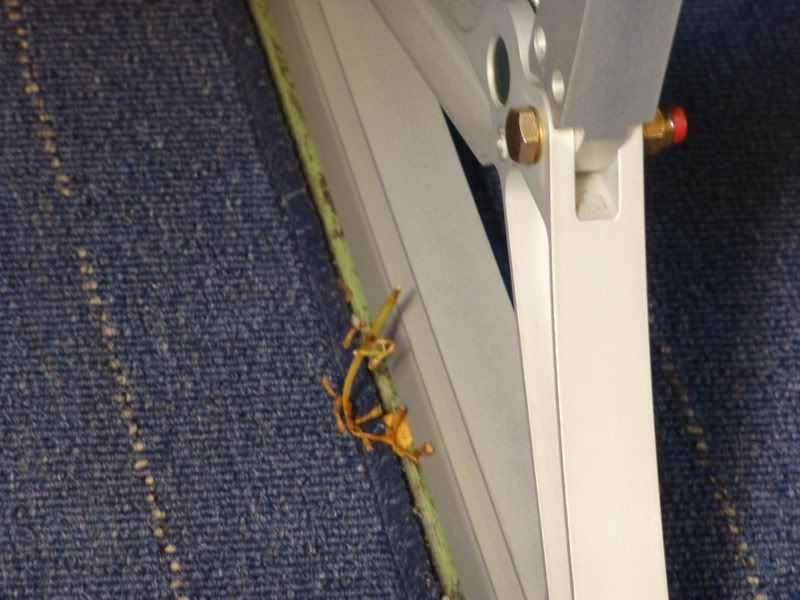 Metamorphosis - my 717 has somehow degenerated into its ancestor: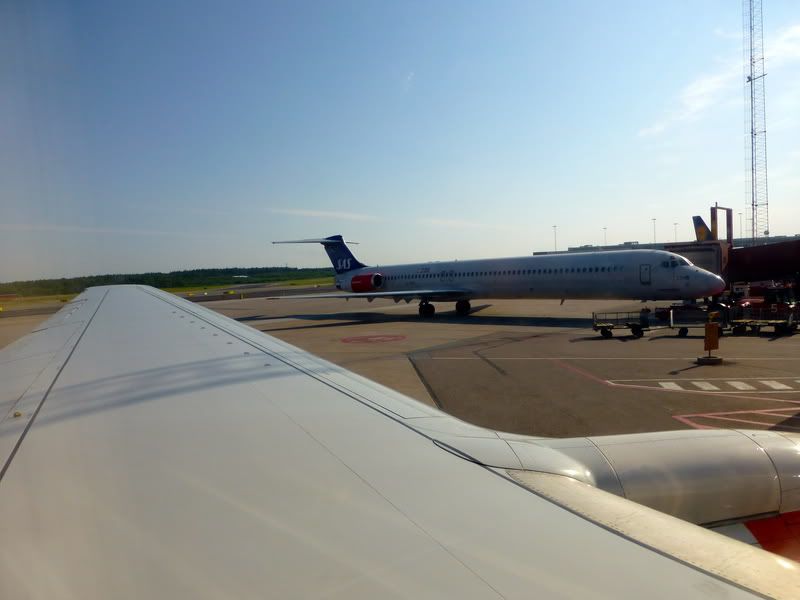 The captain sounds unnaturally cheery when he announces a flight time of 1h40mins and it being around ten degrees, cloudy and rainy up at TOS. Well what did you really expect?
Interestingly the crew announces that "we will perform a safety demonstration in a
Scandinavian
language" - never heard that one before! Obviously the Scandinavian language in question is Swedish on this flight.
Pushback a few minutes early which is good.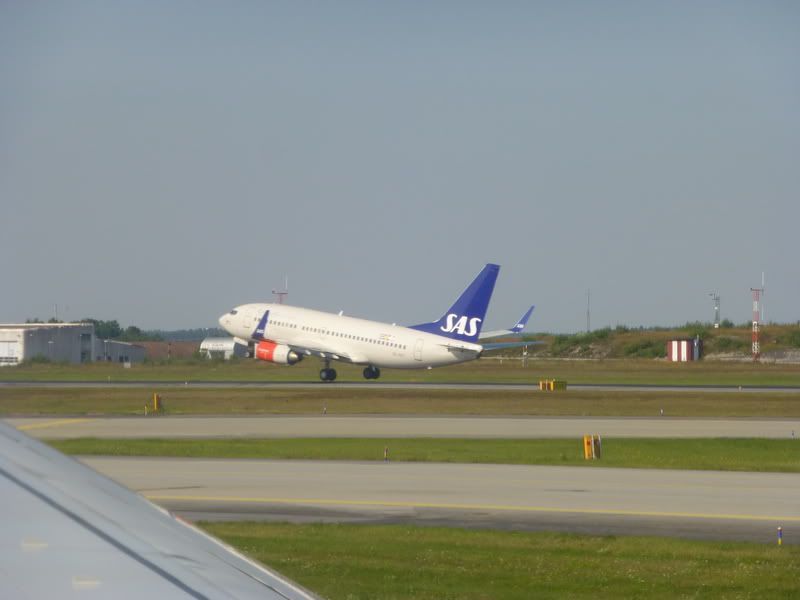 Take off from 19R which is okay.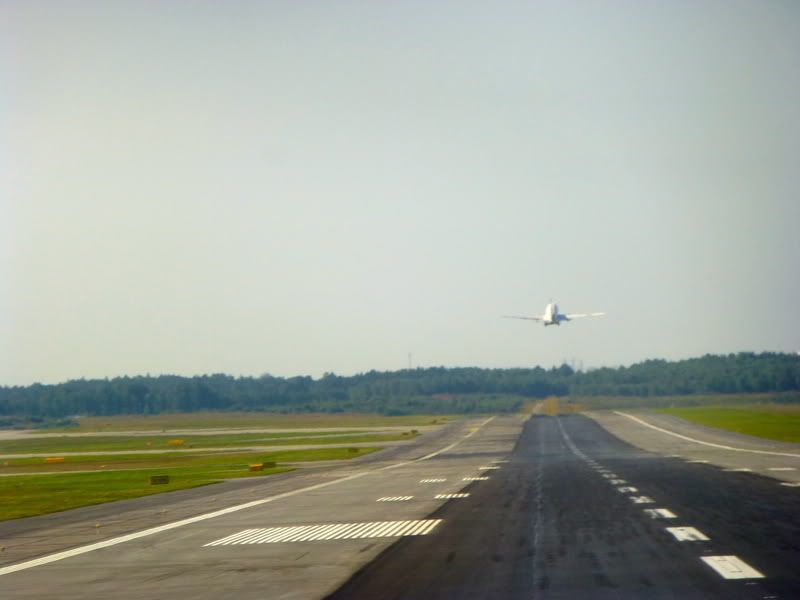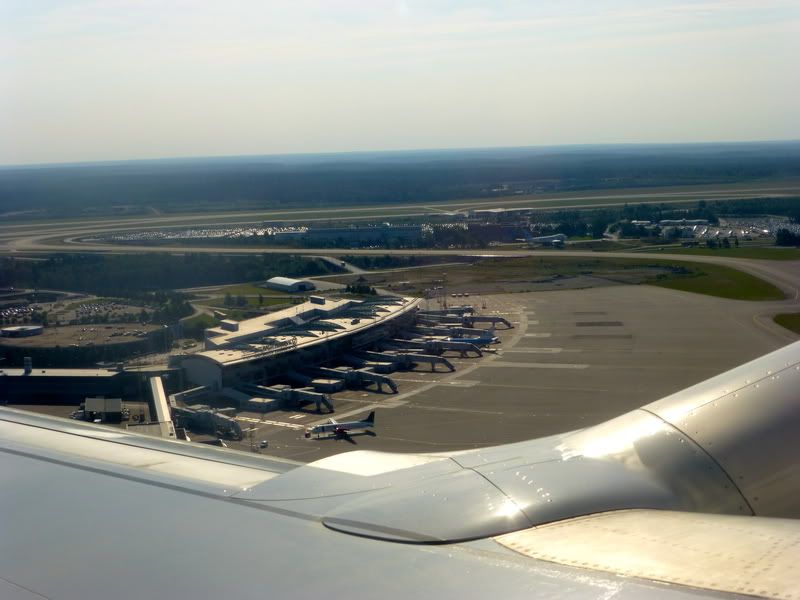 The obligatory Thai 747 shot - this time at a more unusual apron parking position: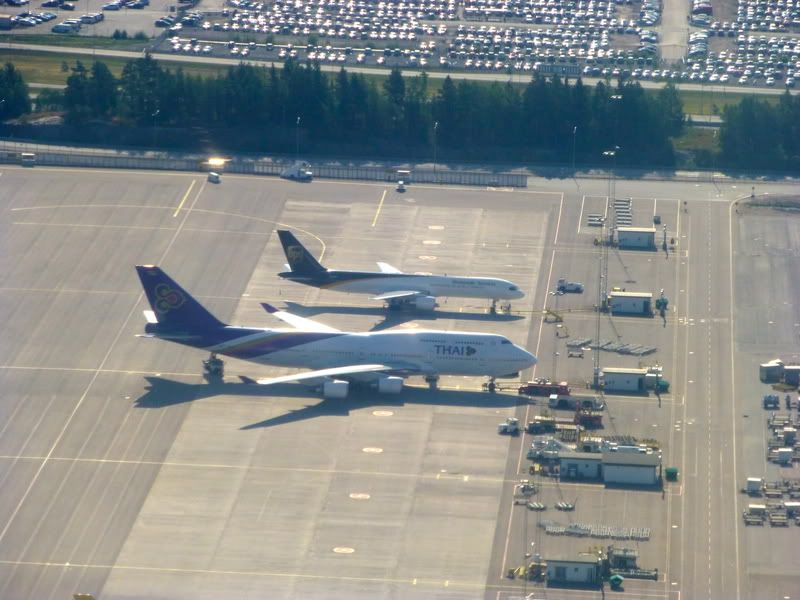 Overcast all the way which is bad.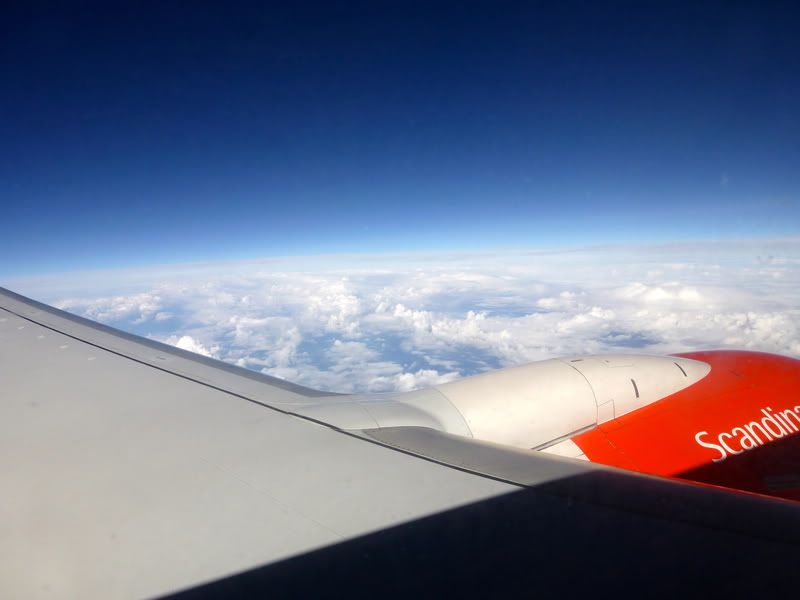 Jonas should finally change his tagline as SAS has brought back free service in economy - "coffee, tea or me?", but since the FAs are the age my both grandmothers had already passed away I decide to have coffee instead. Looks like they have introduced a new cup design - nice but I still like the cup con slogans from Blue1 more (although they could have more variety in them):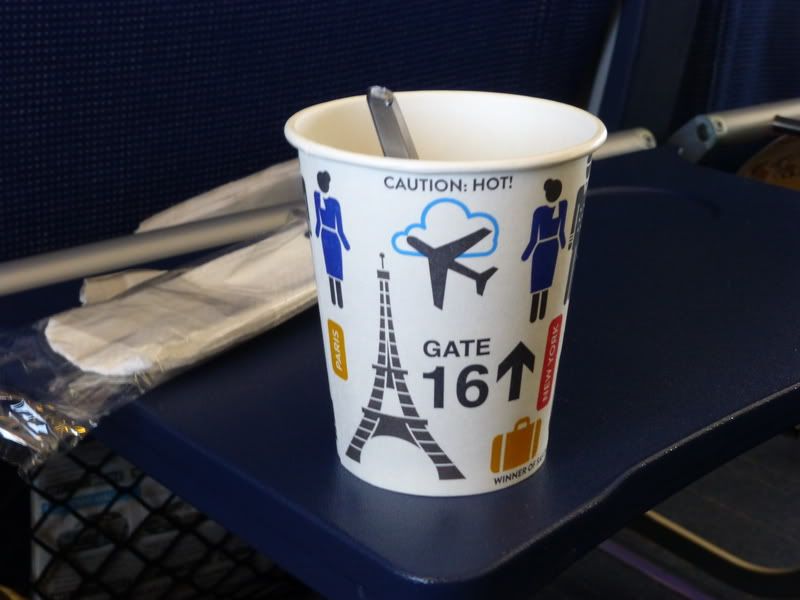 Of course they are taking full advantage of the fact that Norway has not decided to share its petrodollars with us, the poor members of the EU and a duty free round is done. They mostly seem to sell cognac and whiskey, and loads (and loads) of it: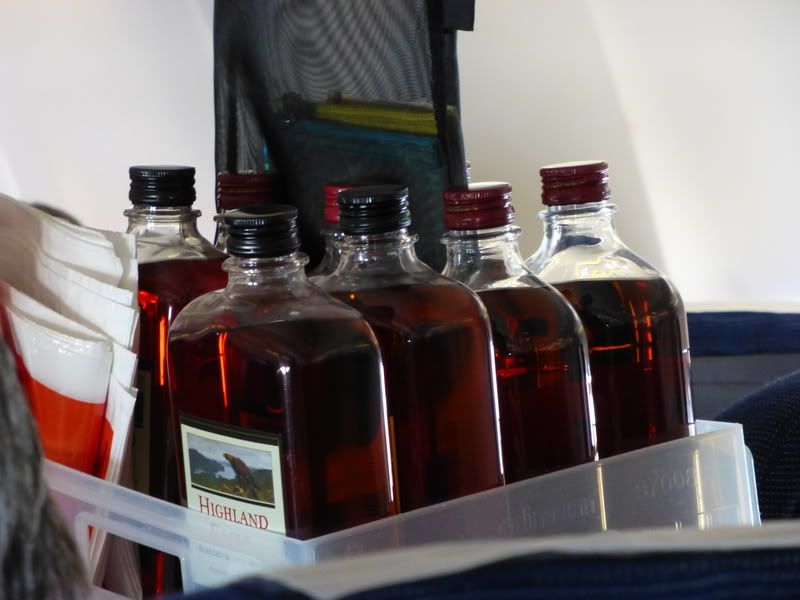 With no views of the ground for most of it this is a good flight for trying to catch up with my ever growing reading material backlog. This makes the time pass very fast and I'm kinda surprised to hear the engines spooling down after what seems to be no time at all and me catching the first glimpse of Norway (well in all honesty we could still be in Swedish airspace as well):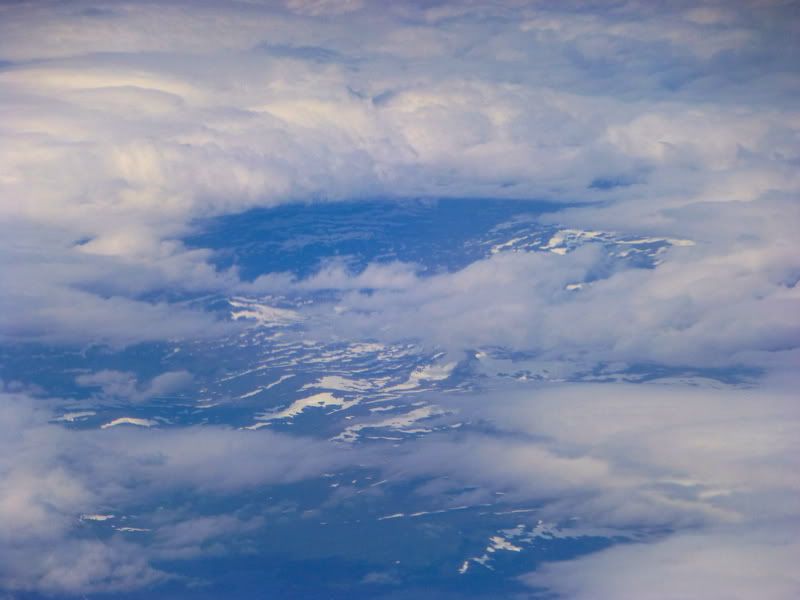 Yes, the weather is rubbish: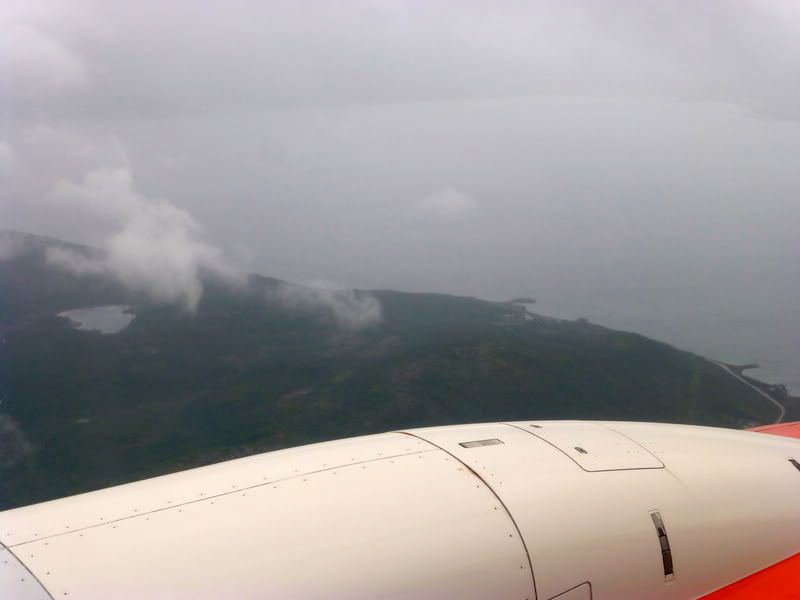 At this point I'm getting my hopes up that this is the southern tip of Tromsøya, as that would mean my favorite approach flying around the whole island: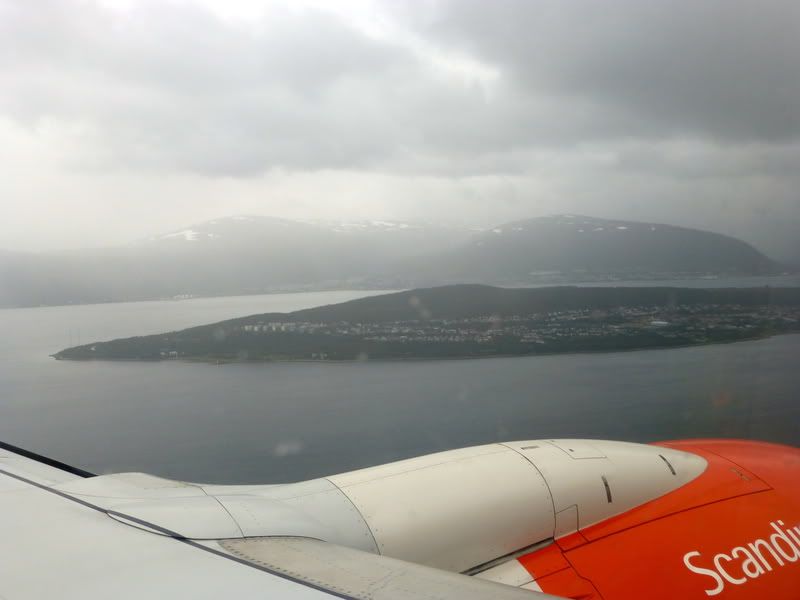 Unfortunately at this point I realize we are coming from the north instead and landing on the 19: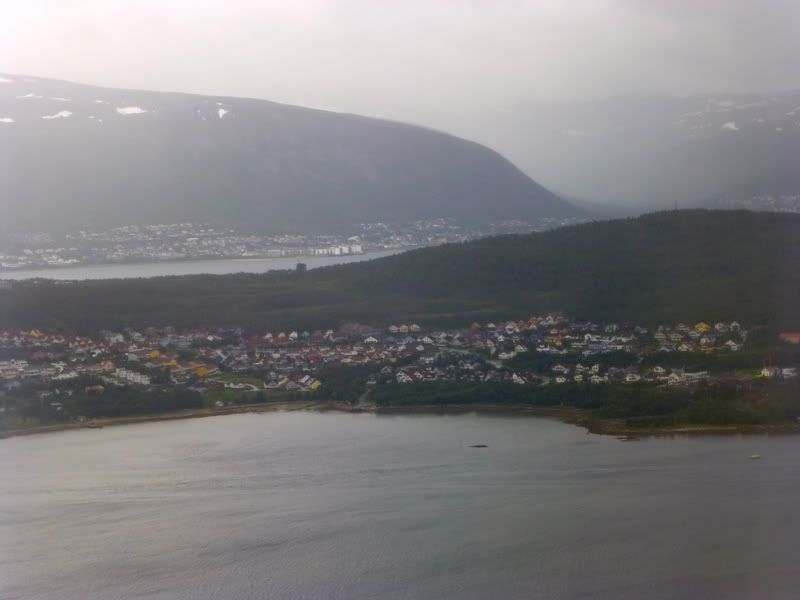 Next time I'm at TOS (less than four weeks from now) I should be taking off in one of these tiny buggers: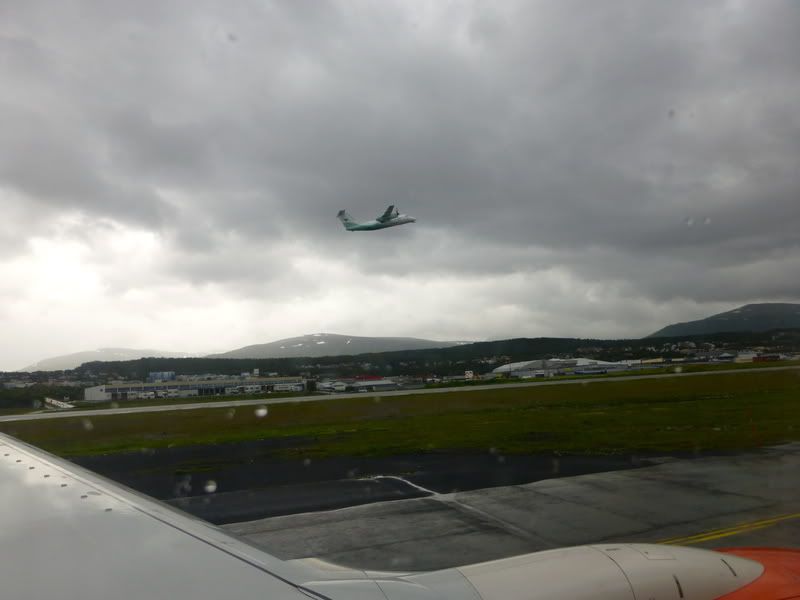 Since this is an international flight (yes, Sweden and Norway are two different countries although every single Swede now of course hopes they hadn't given in so easily a hundred years ago when the Norwegians wanted to go independent) we have to use the stairs instead of a jetway - the international arrivals hall at TOS is ridiculously small and of course doesn't come with jetways.
The drizzling rain gets me longing for better weather...
Approaching Oslo Gardermoen Airport
The familiar sight of these three bridges means that we are not in Ljubljana but approaching Gardermoen from the north instead: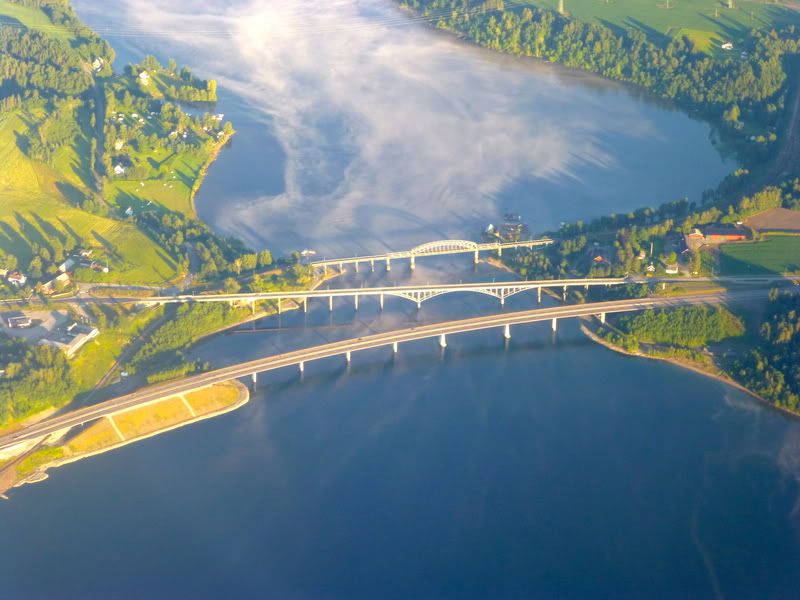 A beautiful evening here, very different than up north: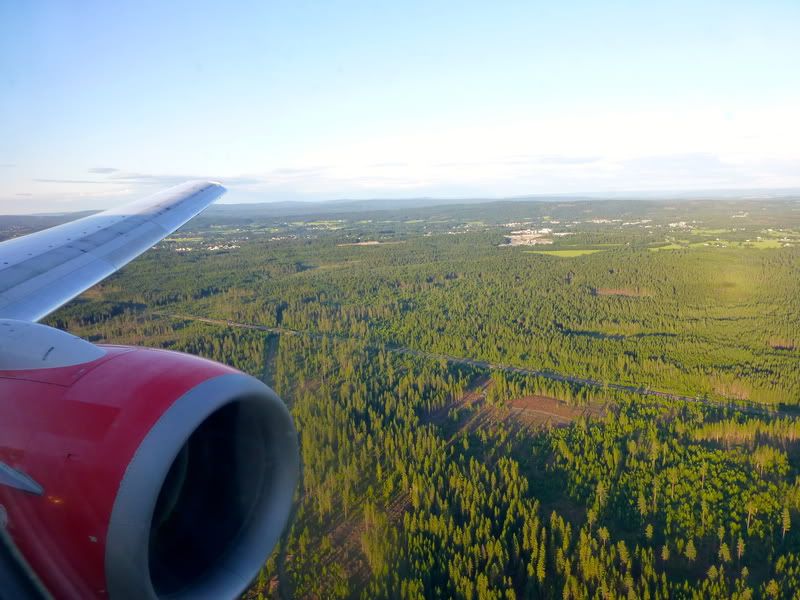 Landing on 19R: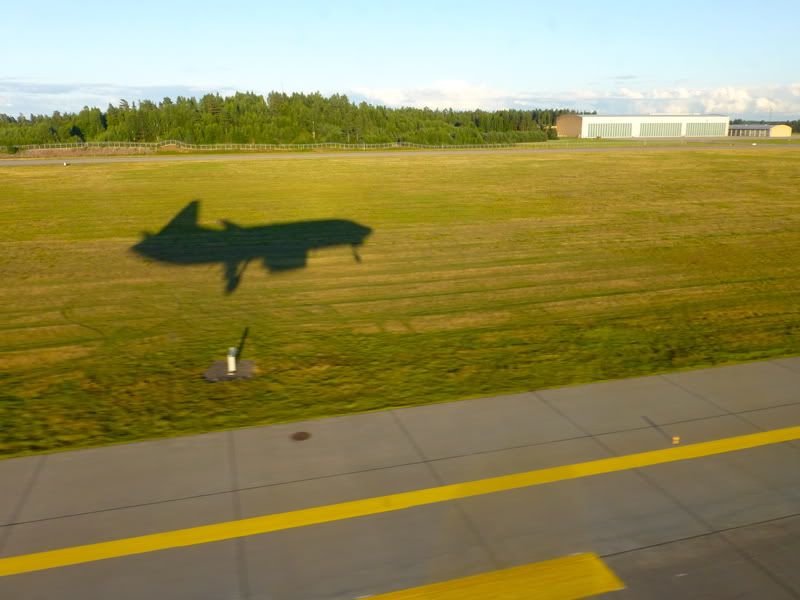 We land just 21 minutes late, which means I have 14 minutes before my flight to CPH will depart. At this point I'm pretty confident I will make it.
Luckily we dock quite near the base of the domestic pier and I'm pretty sure one of these 738s is my flight down to CPH: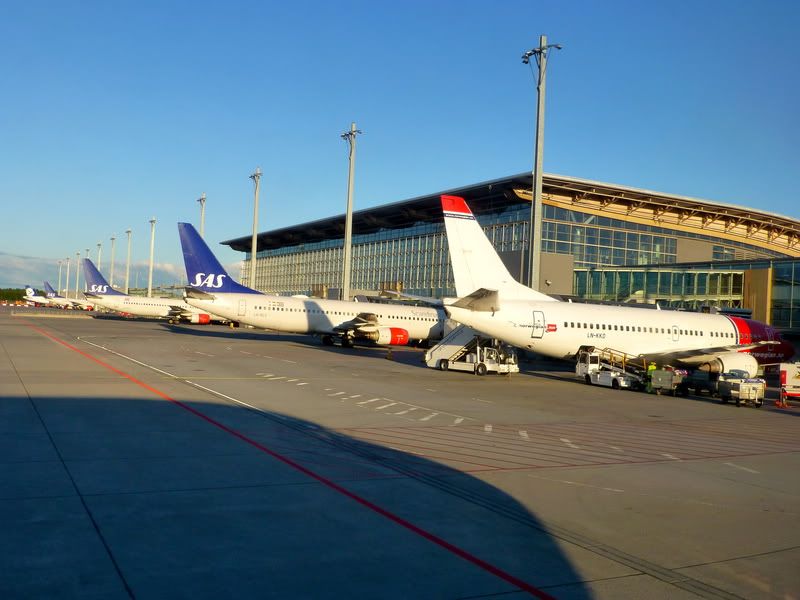 I hurry off the plane and say to the purser "Ready for my 10 minute connection!".
- "Copenhagen?"
- "Yes."
- "Gate 32".
- "Tack!"
Yes, this gate is indeed very near and yes, that second 738 on the photo is indeed parked there so they are waiting for me! Yippee!
Three minutes later I arrive at the gate, only to see this: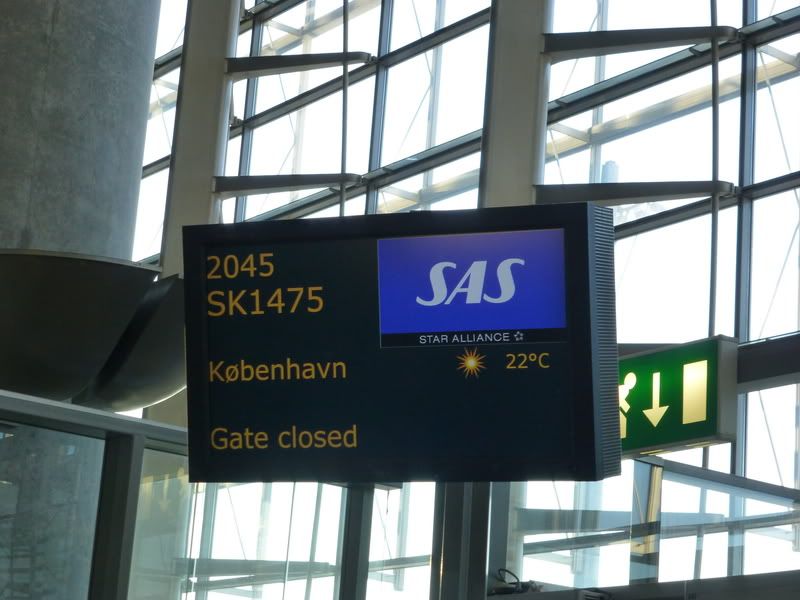 Game over.
You lost.
Go home (trust me, that's all I'm trying)!
Bugger.
What makes me mad is this: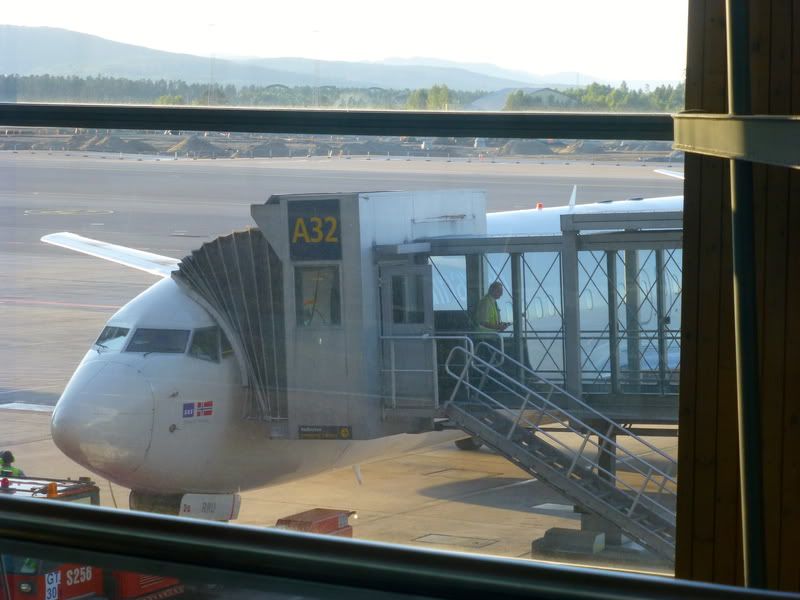 Yes, the plane is there and the agent is having a nice chat with his mates onboard. There's no other agent at the gate who I could ask to reopen the flight. I try the door to the jetway, but obviously it is locked. I try waving to get their attention, but that only manages to make me feel like an idiot.
Here's a shot of my watch - see, it is not yet the 20.45 departure time: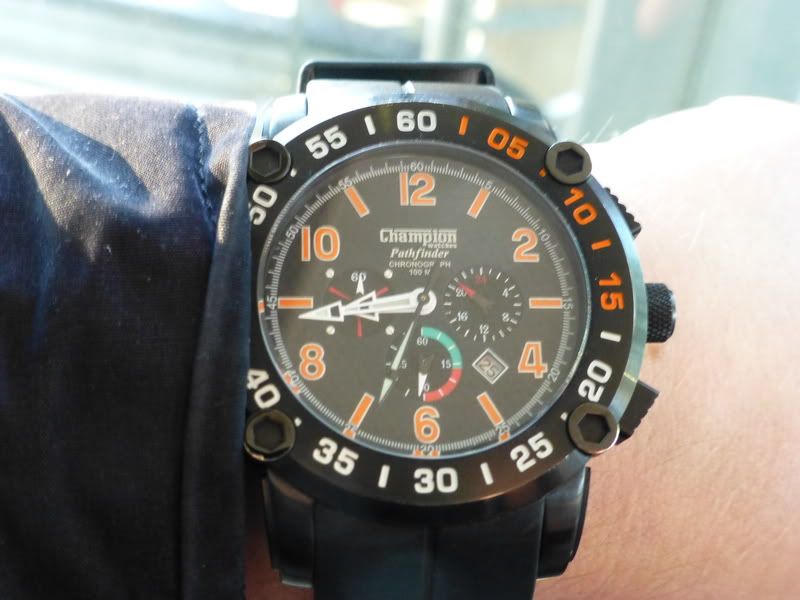 Taking a look at the gate computer: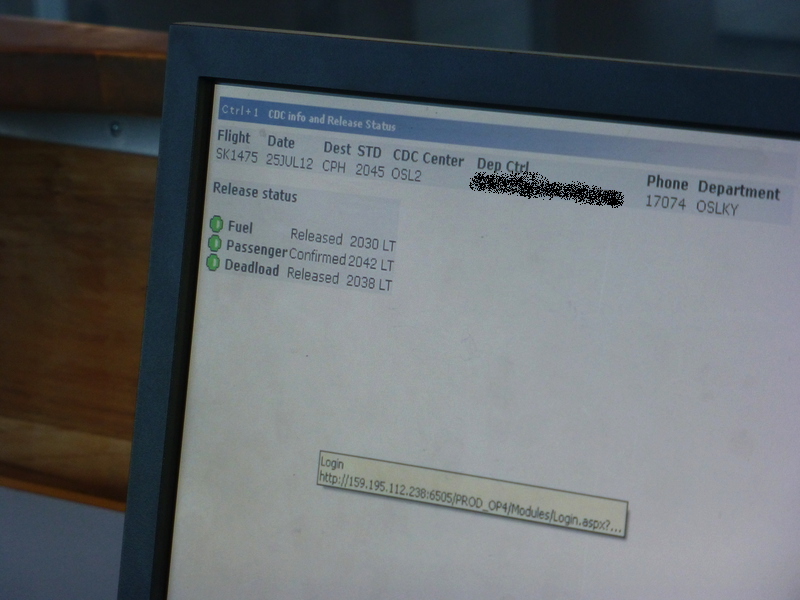 So it was closed less than two minutes before I got to the gate! Now this is really low from SAS.
And yes, they were well aware that I was coming as you can see here (also notice the relatively light load, so they didn't leave me out to resolve an overbooking situation as I first suspected):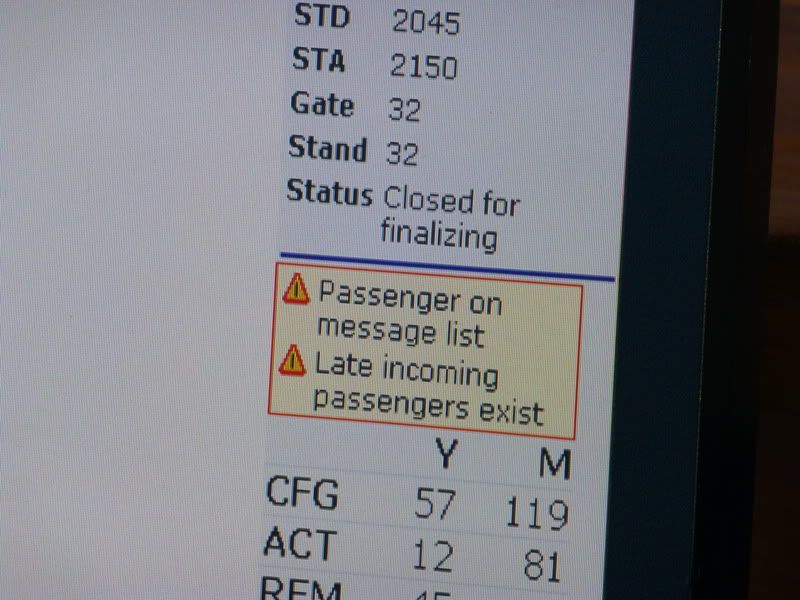 And there she goes - the doors are closed and the jetway is retracted. Bye makeree!
At this point I'm fuming. The gate agent comes walking up the jetway, sees my posture and the expression on my face and appears to slow his pace to put off the inevitable confrontation. He takes his sweet time to arrange and close the newspaper rack until finally opening the door.
I'm on him immediately, asking why did he close the flight early.
- "I didn't close it early."
- "I was here before 20.45 and it was already closed and the door closed."
- "I was told to close it."
(Ahh, the same excuse everybody is always using in these situations - "I was just following orders").
- "Well, you knew I was coming and was just three gates over so why couldn't you wait for me!"
- "I was told to close the flight."
- "Thanks to you I'm now spending a night in this shite country."
(Yeah, that was bad from me, sorry, but I was really pissed off).
I march off towards the SAS service center. The walk calms me down a little, and since the service agent is another sweet grandmotherly type I can't be mad at her (I get it - this is the SAS strategy, this is why they employ so many grandmothers - it calms down the passengers!).
After a bit of typing on the computer and a phone call later she says that I have already been rebooked (so they made this decision fully knowing the consequences...) to HEL via CPH the next morning, leaving on the 6.10 flight, but thanks to the time difference I only get to HEL at 10.45, meaning missing the morning of work, bugger.
Only later I realized there was a direct Finnair flight that would've gotten me there earlier, should've asked for that!
She also hands me a voucher (more like a FIM kind of paper) for the Radisson Blu hotel which is great as it is right opposite the terminal instead of requiring a nasty shuttle bus ride.
I thank her, she apologizes once more and starts telling me how to get out of the sterile area. I say that no need for that, I've been here far more times than I can remember to which she laughs.
Walking there I start thinking how this flight started a few hours earlier...
Alta Airport
After clearing security I spend the last of my NOK on another bottle of water and sit down at a table next to a window to watch the action, which there is none. Luckily Avinor nowadays offers one hour of free wifi to its customers, although the process of acquiring a password using your mobile phone is rather cumbersome.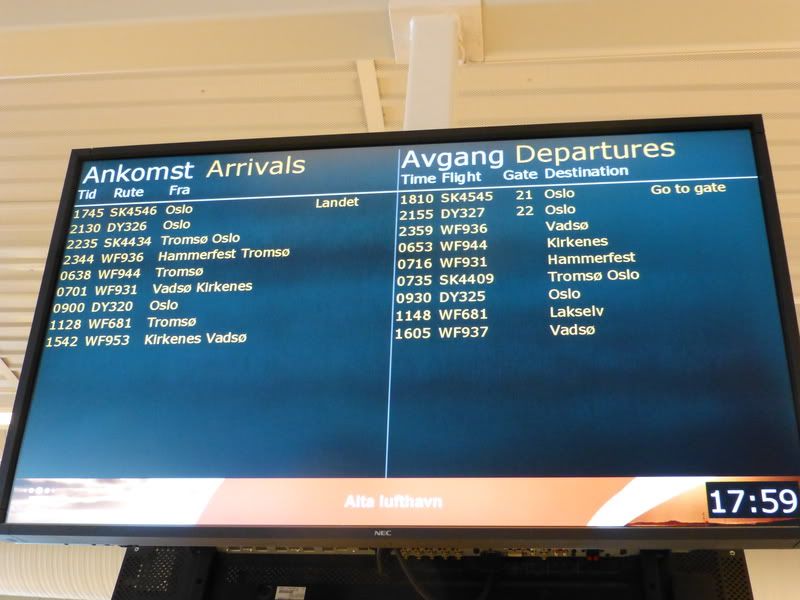 Eventually I spot the familiar shape and sight of an SAS 737 landing, a bit late but not too bad considering my 35 minute connection time at OSL, or so I thought...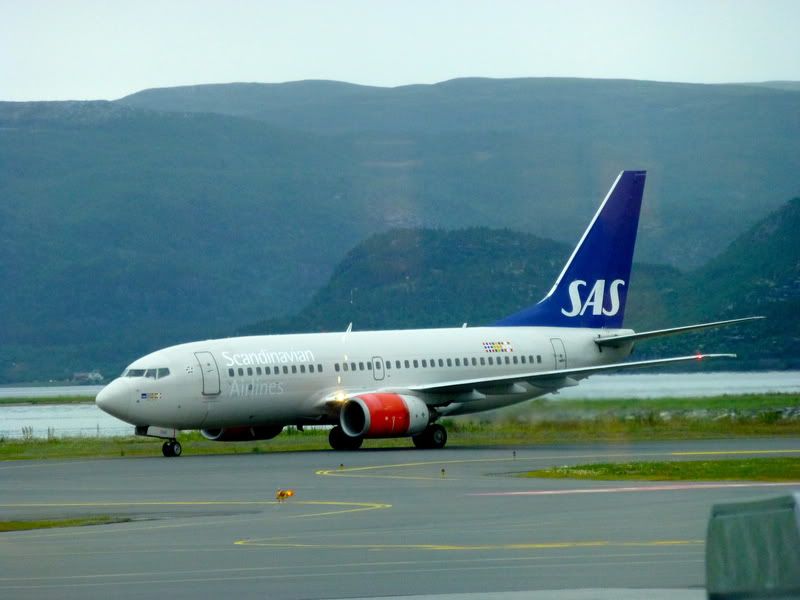 Hello "Borgny", We've met a couple of times before: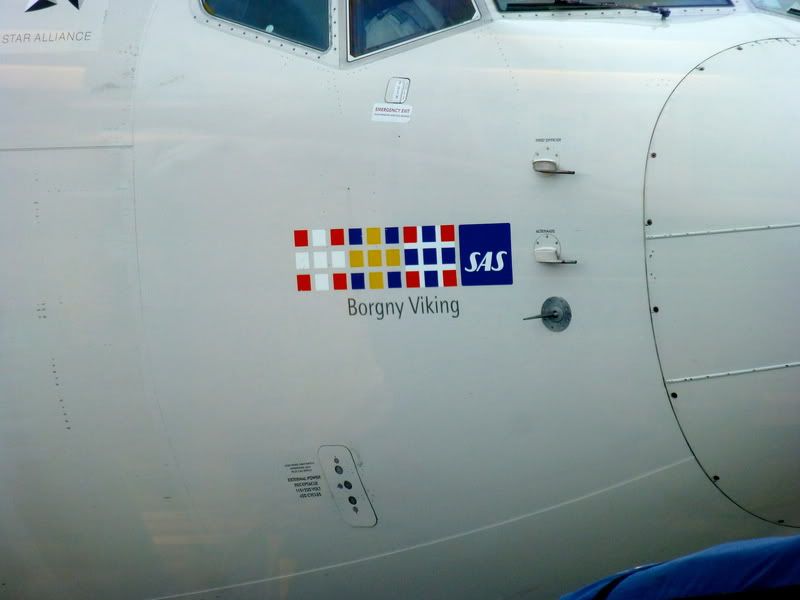 Looks like a full flight, judging from the stream of passengers leaving the plane. Eventually everyone is gone and five minutes later boarding is called.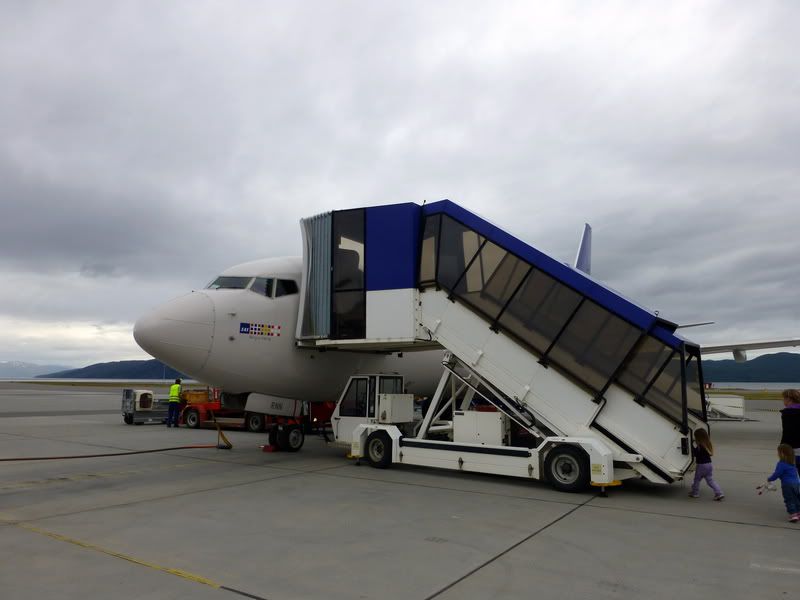 ALF - OSL
SK4545
B737-700 LN-RNN "Borgny Viking"
Seat 2A
18.34 - 20.34
Thanks to status I was able to prebook a seat on row 2, goodish legroom up here: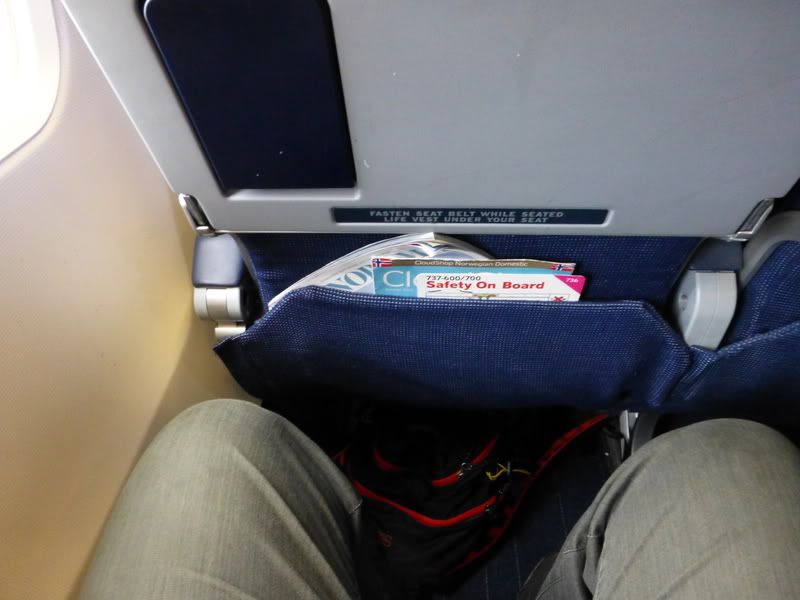 As seems to be the norm in Norway this flight is packed to the gills. There's a large bunch of British men who seem to be nursing their hangover the best possible way: by hitting the bottle again. They are in very high spirits and during the flight do their best to boost SAS Norway's profits by spending all the disposable income they have on BOB drinks. Good for SAS, bad for them and the rest of us I guess.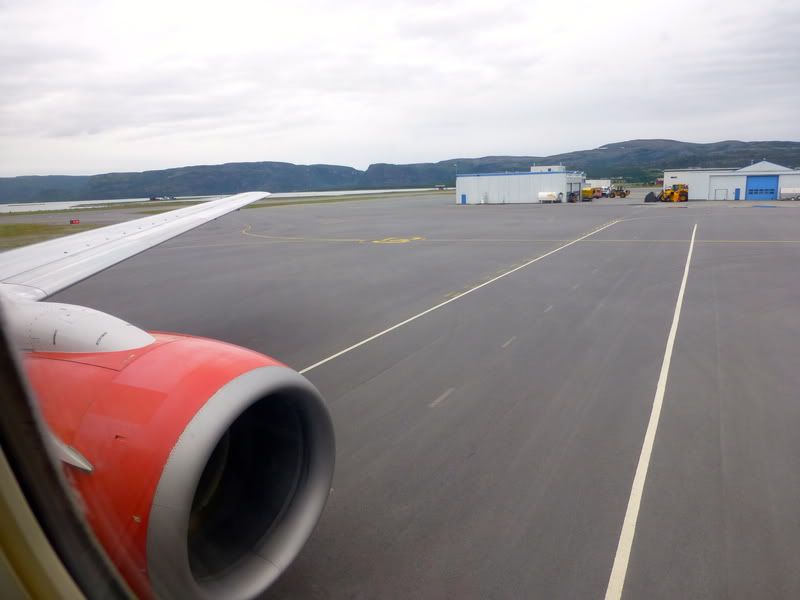 It is already past our departure time and everyone seems to be good to go but nothing happens. Eventually the captain comes on and after the usual introductions spills out the bad news - we are already late (thank you, I'm well aware of this!) thanks to a delayed departure from OSL. But that is not all, there are quite severe ATC restrictions in effect at OSL, and we have been assigned a take off slot at 18.45 or 35 minutes late, which also happens to be exactly my connection time at OSL - this doesn't sound very good to me!
"These delays are caused by the lack of staff at the Oslo ATC.".
WHAT?
That must be the world's lamest excuse and reeks of a union coup.
Why does this always happen in Norway, the Shangri-La of the working man? It's less than two months before I was almost in trouble at OSL for the security staff striking and now the ATC.
For a while I'm seriously thinking about asking to be let off the plane and hitching a ride on one of those Finnish buses but that wouldn't help much as I'd still need to get down from Lapland... So instead I read through the inflight mag (I think Scanorama has been going down recently actually).
After standing there for 20 minutes we finally start our engines and proceed to taxi to the end of runway 29.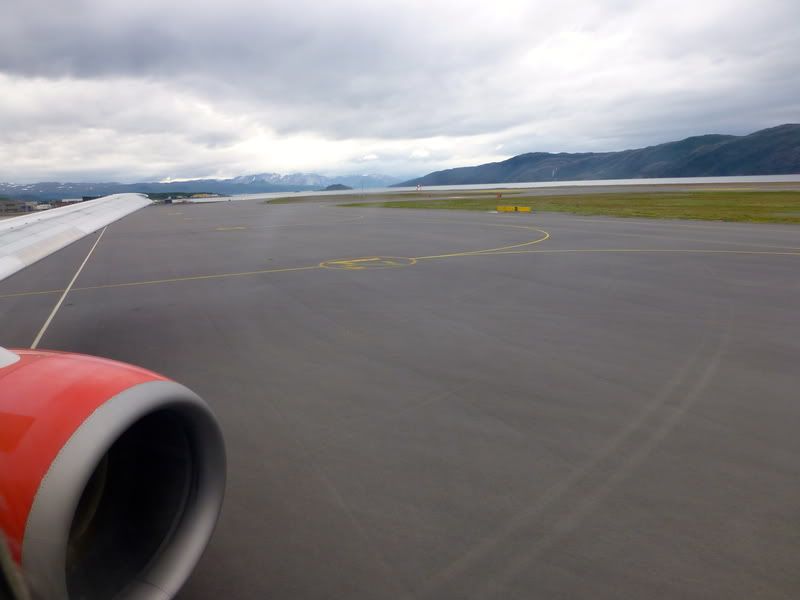 Ribbed for her pleasure: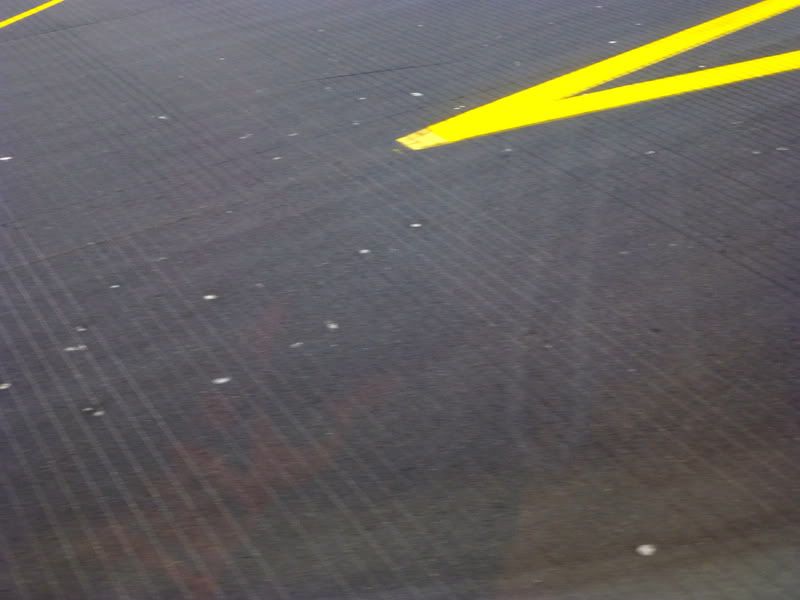 After reaching the end, turning around and lining up, all set nothing happens. We are perfectly fine to go at 18.50, and at 18.52 the captain announces that "Our slot time is actually between .50 and .55 so in just a couple of minutes we should be taking off.". Indeed a minute later, 18.53 the engines finally spool up and we shoot to the skies over the beautiful Altafjord.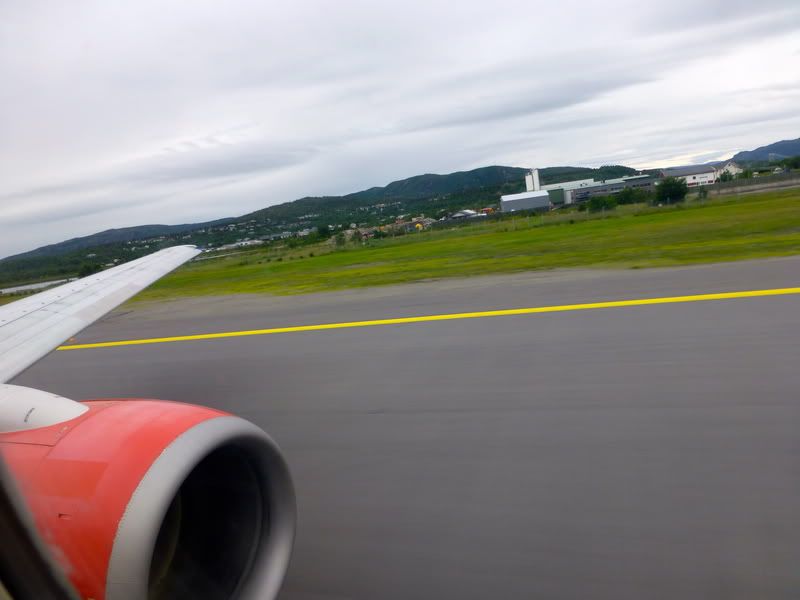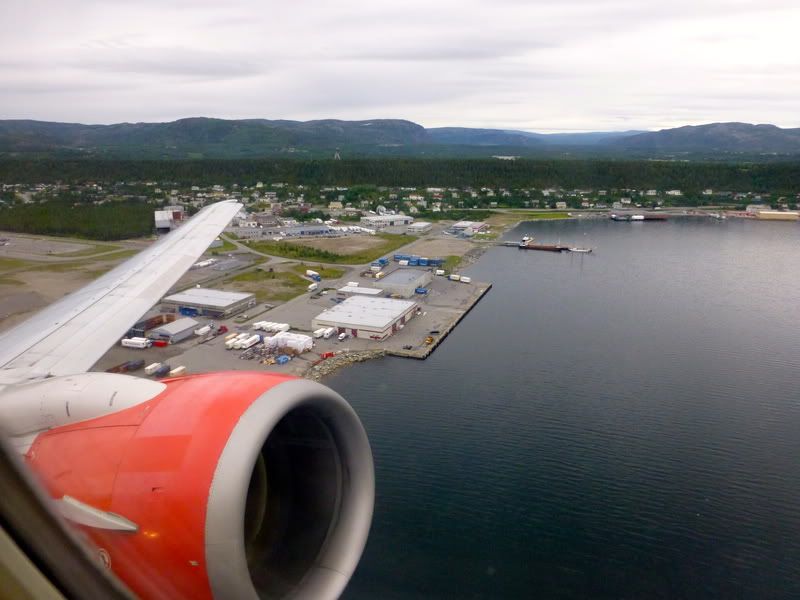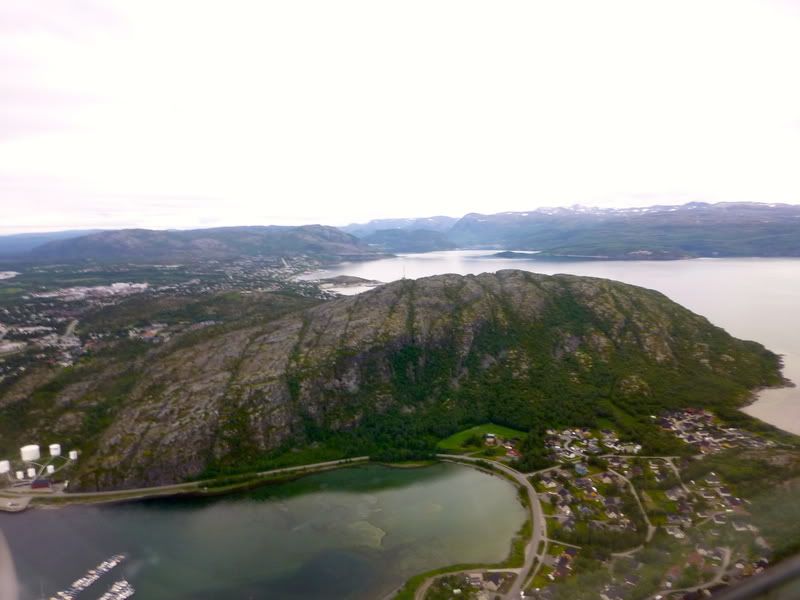 Bye, ALF: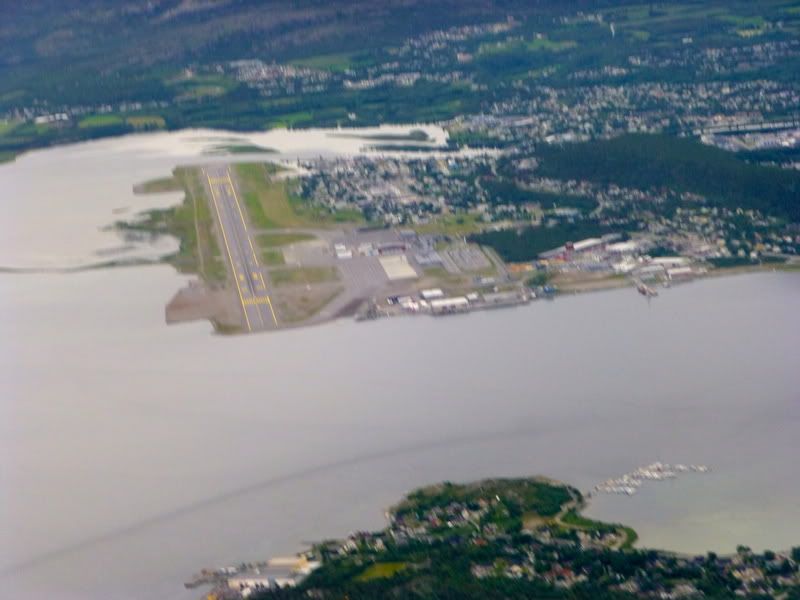 The city of Alta:
An useless piece of trivia: Alta is the northernmost city in the world with over 10 000 inhabitants.
The Altaelva canyon, largest one in Scandinavia can be seen on the left: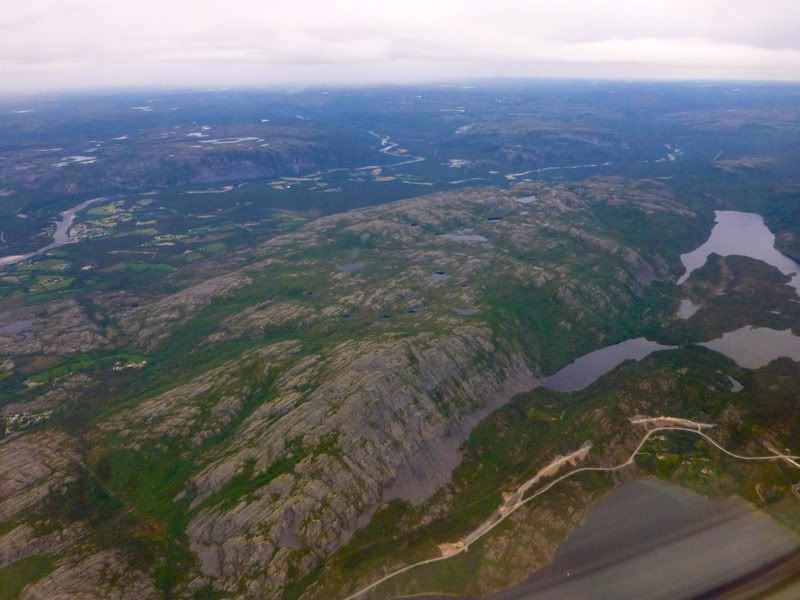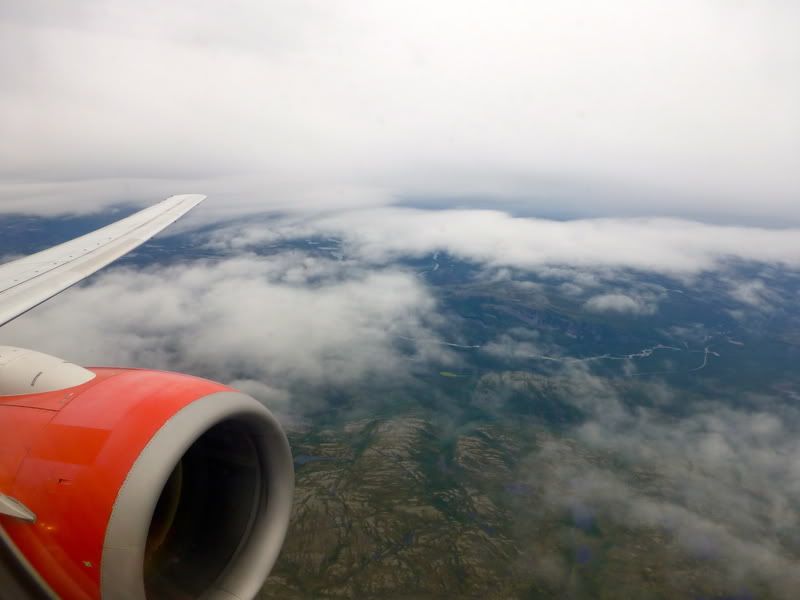 Flights down the spine of Scandinavia are always good for some nice views if the weather agrees: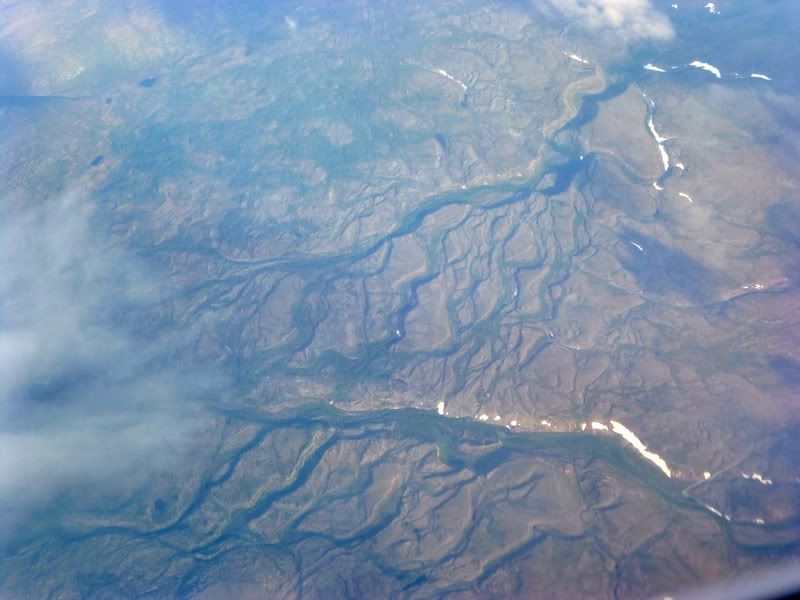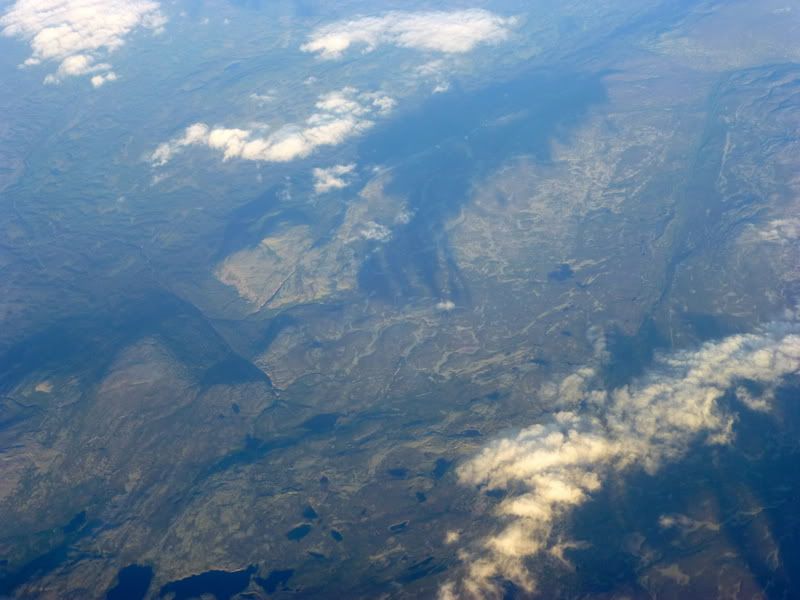 To calm my uneasy mind I decide to get a beer from the BOB. No FFBOB(TM) as it has been suspended due to copyright issues but I'm sad to see SAS Norway nowadays sells this crappy Hansa - I much preferred the old Ringnes: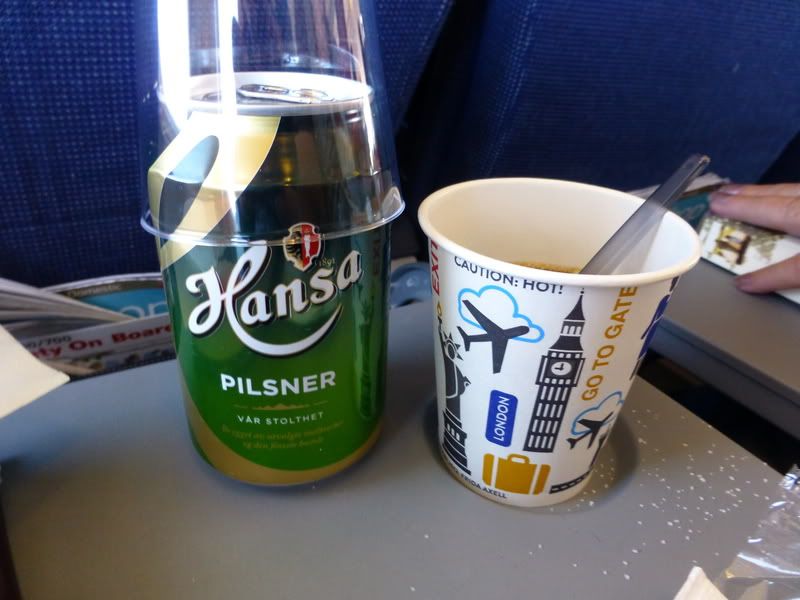 During the flight I figure out that I still have a moderate chance of making my flight as:
1) We should be landing maybe 5 minutes before its SDT.
2) It is quite possible that it will be delayed by the very same ATC issues anyway.
3) It is the last chance for me to get back to HEL tonight, surely SAS will hold it for a bit and provide a direct transfer service instead of spending money on hotel accommodation and food for me.
Already descending, quite different landscape to the one we left behind: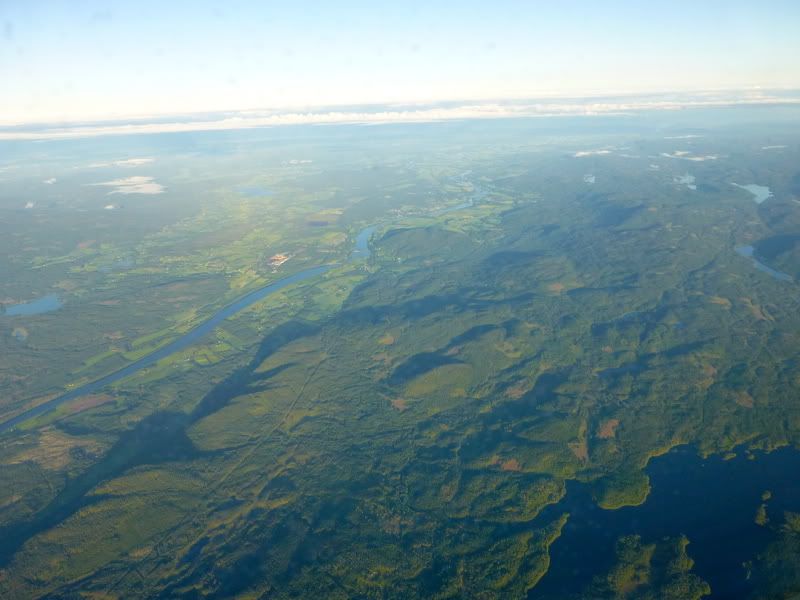 My uneasy mind starts wandering again...
Tromsø Airport, take 1
The customs guys are looking at me suspiciously as I don't even loosen my step at the tiny international luggage room where pretty much all the other passengers are waiting for their suitcases probably packed full of food to make it possible for them to afford a longer stay in the most expensive country in Europe. One of them asks me "Don't you have a bag?" to which I say "No" and speed past them, down the corridor to the arrivals cum departure cum general purpose hall.
What a sight:
At first I think there had been a major cockup with luggage somewhere and these poor guys are left to sort out the mess here. After taking a sneak peek at a few of the tags on the bags I realize these are actually luggage from the passengers of a cruise ship, mostly tagged to destinations in Germany. Why anyone would come to catch a cruise in this place mostly known for the fact that the weather is crap around 300 days of the year is beyond me - in the extremely unlikely event I'd ever go on a cruise I'd be heading to the Caribbean - run, Hawaii shirts and sunshine, baby - instead of brown cheese, sealskin boots and drizzling rain!
I grab some spendola from one of the well hidden ATMs, use the lavatorial facilities and head outside to the drizzle where I also notice that a) it is very cold and b) there's this horrible wind that makes it even colder.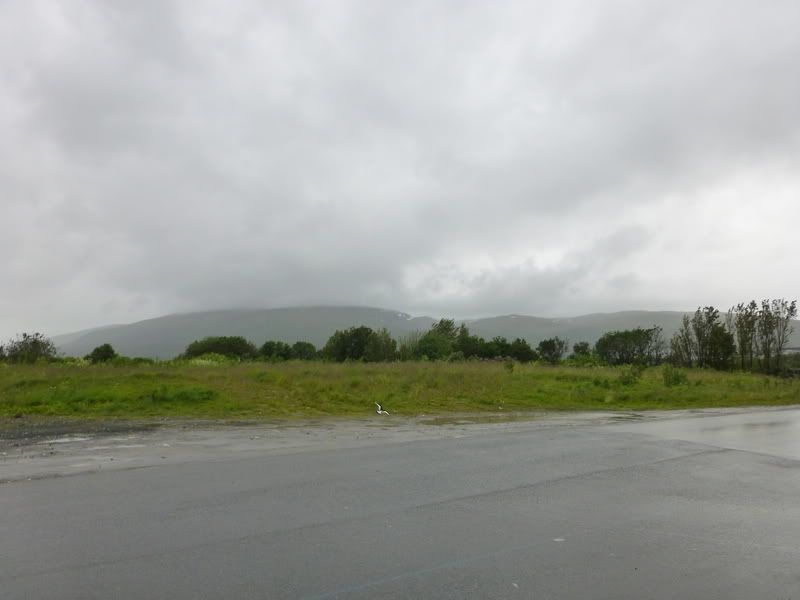 Art - although I'm not sure what this is supposed to represent, it looks like a cross between a jet engine turbine and a sperm to me: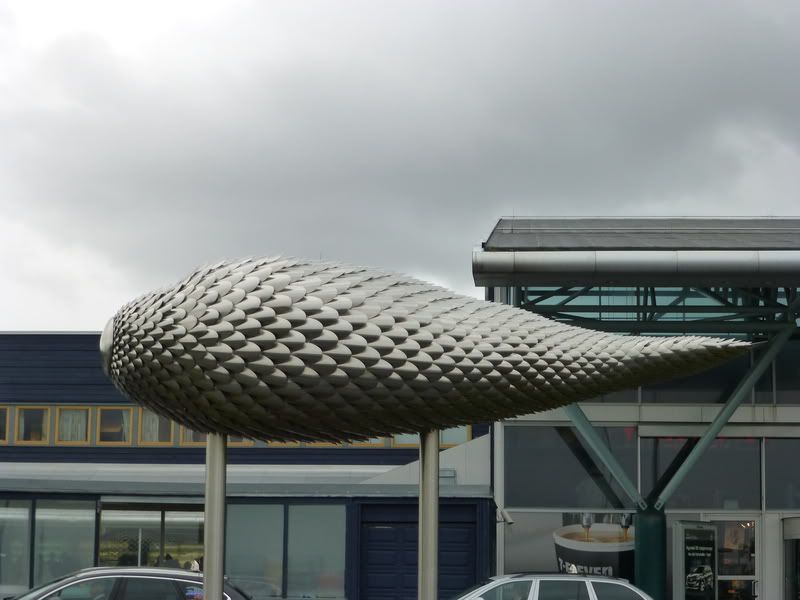 Well, the key to travel on a budget is to live like the locals. I don't mean smoking like chimneys and driving big 4x4s, but taking a normal bus this time. There's of course a special airport bus which is frequent, comfortable and convenient and takes one straight to the doorstep of the most prolific hotels in town. But surprise surprise, it is a bit pricey. So the local alternative is to walk a few hundred meters from the terminal, behind the parking hall where there is a bus stop for local city buses, which cost "just" 29 NOK or the equivalent of 4 hamburgers in a Finnish McDonald's. On the contrary, in a Norwegian McD they'd laugh right at your face if you'd tried to buy a packet of dip sauce with that amount of money.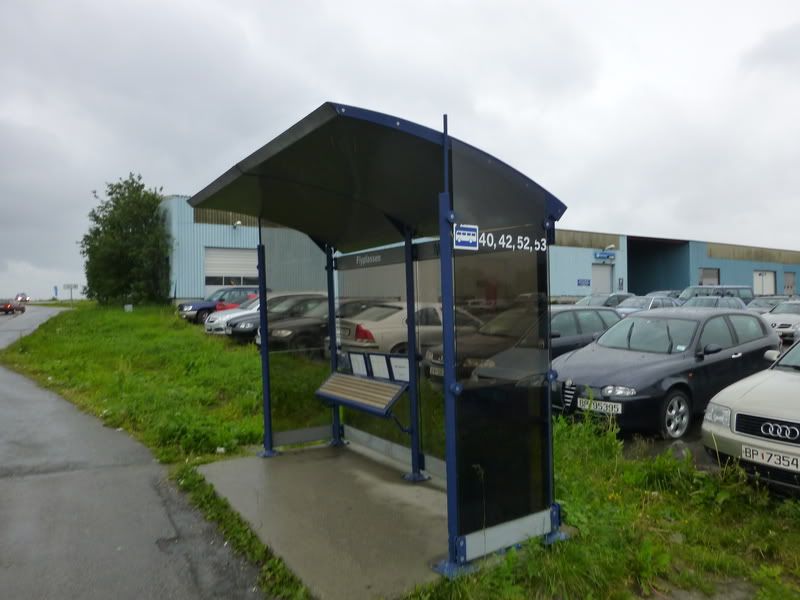 While waiting for the bus I remember another bus ride...
25.7.2012
A flight departing at eight sees me catching a bus shortly before seven. Man how do I hate people like this - the bus has luggage racks for a purpose, folks: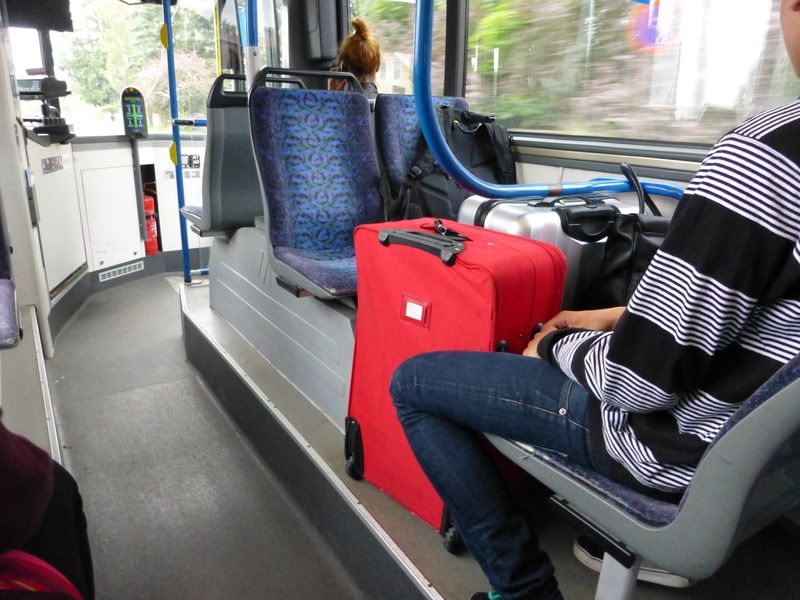 Helsinki Airport
At T1 around seven, quickly thru the Fast Track security and into the SAS lounge which is very empty - here's the difference between the Finns and Swedes. The Swedes keep on flying SAS even for their holidays and thus accessing the lounge, we Чухня use the horrible charter carriers instead.
I go easy on the breakfast as I'm not feeling exactly top of the world today, I suspect the pizza I had last night was a bit dodgy.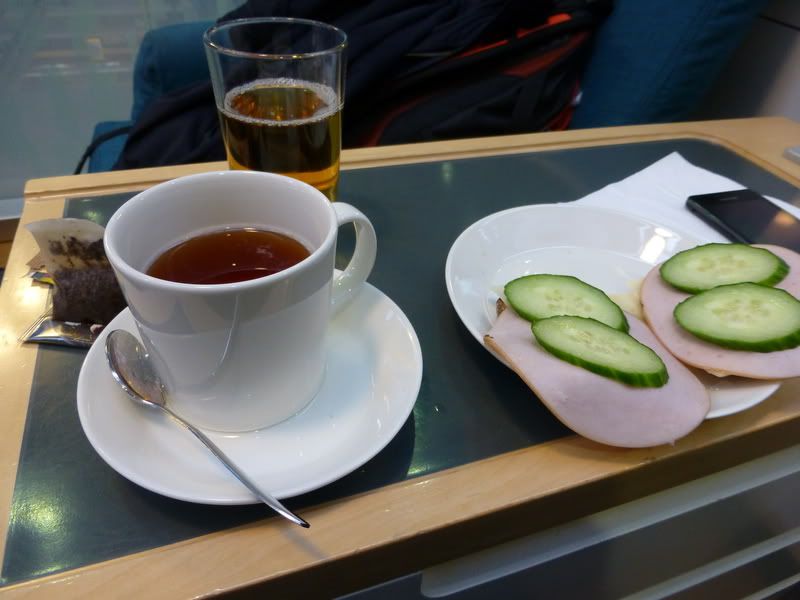 The tea seems to help to settle my stomach a bit, props for that!
Eventually I mosey over to gate 15 where OH-BLG "Bulldog" (my nickname for it) is waiting. Seventh flight with her.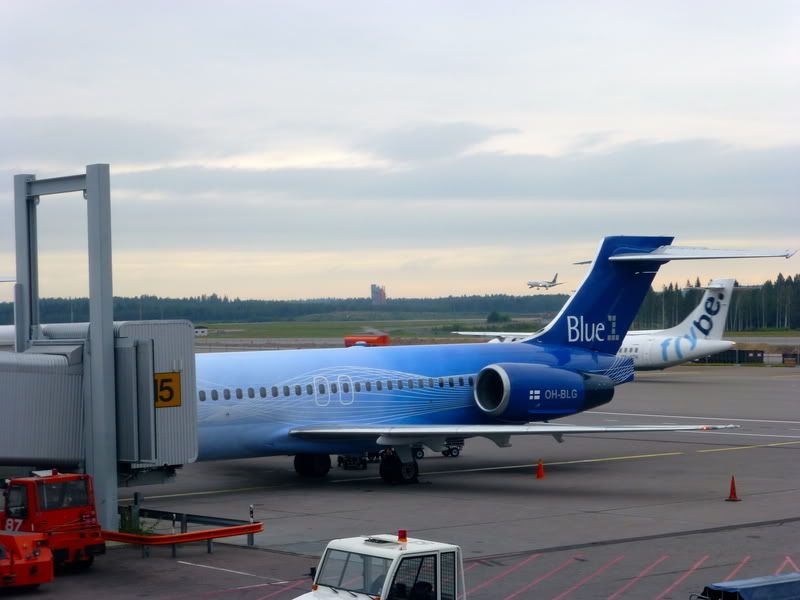 HEL - ARN
KF845
B717 OH-BLG "Sinen Virta/Blue Flow"
Seat 5F
8.00 - 7.50
Inside the plane it is hot and stuffy, looks like the APU is again turned off. Something which happens far too regularly with these 717s, dunno why really. KF doing as bad as ever maybe they are trying to save every little money they can...
Dirty planes - lots of crumbs and dirt down between the seat cushions - my old boss would get a heart attack over this: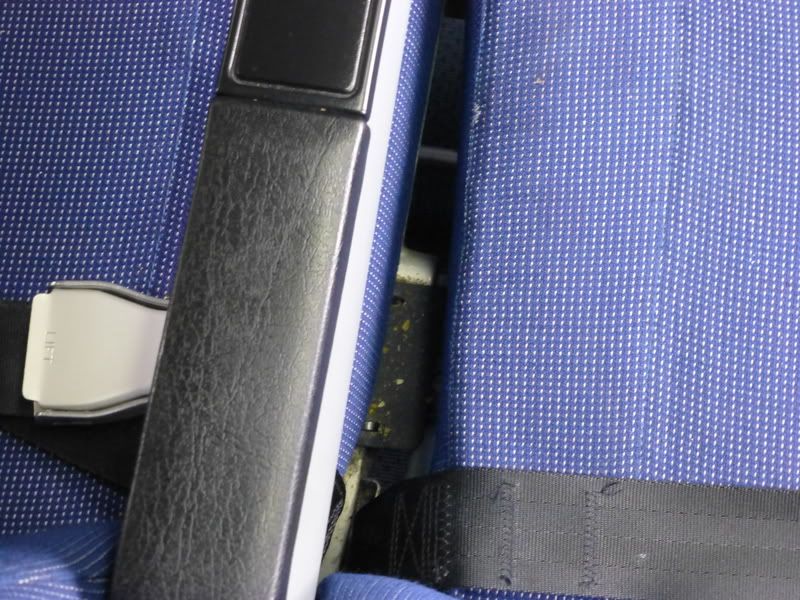 Initially there are five passengers in the four rows of Premium, but after boarding is completed the purser kicks two guys out of row 1 somewhere far back in economy - self upgraders perhaps? Eco is around 85% full with an empty middle seat next to me.
The captain seems to be on steroids this morning as he very happily announces that we just need to finish loading the cargo and luggage and then can leave early. In reality it does not happen, eventually we push back bang on time which still is very good.
Plenty of newspapers going in: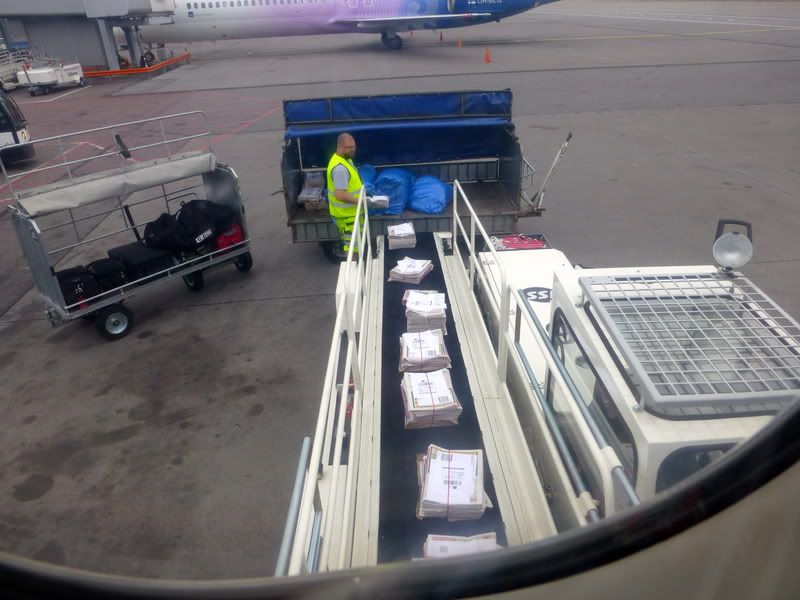 The runway 04L/22R is back in action having been resurfaced during this summer so it's another longish taxi before we can take off. The good part is a nice view over the DHL building which I've already missed: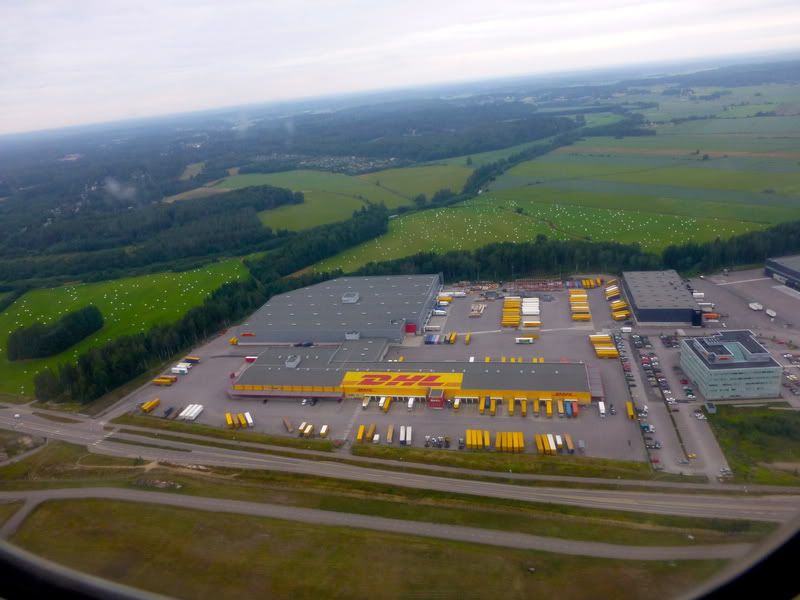 Looks like the airport rail connection has progressed further as well: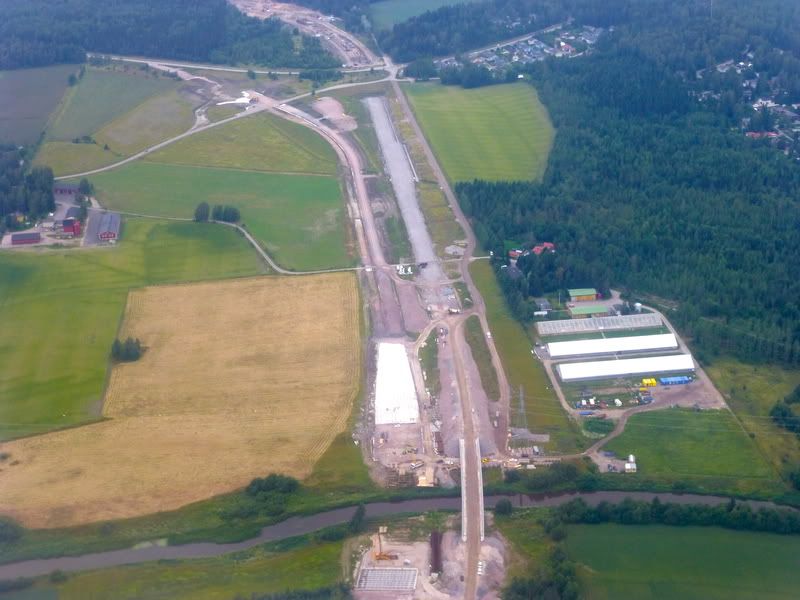 My stomach having settled I brave witty coffee: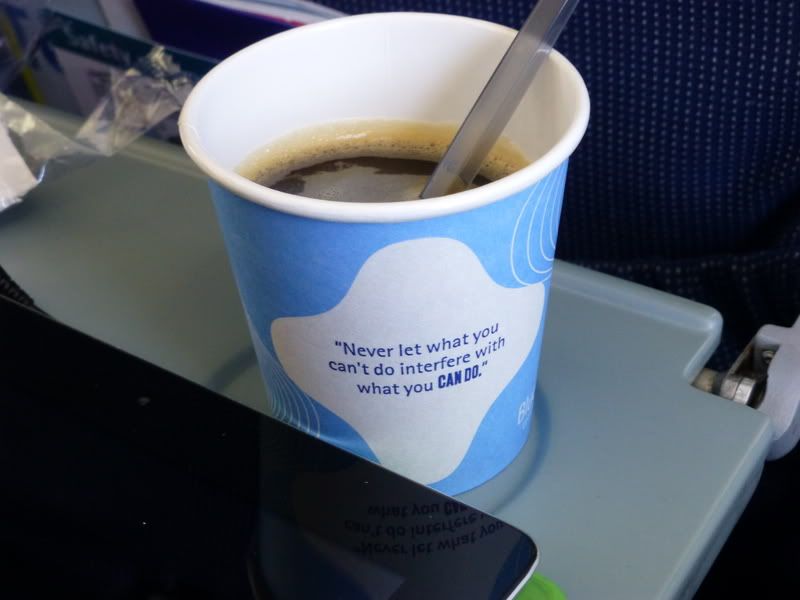 It's a typical flight on this route - you never go too high, you never have enough time to finish the paper before you already see the Land of Eternal Sunday: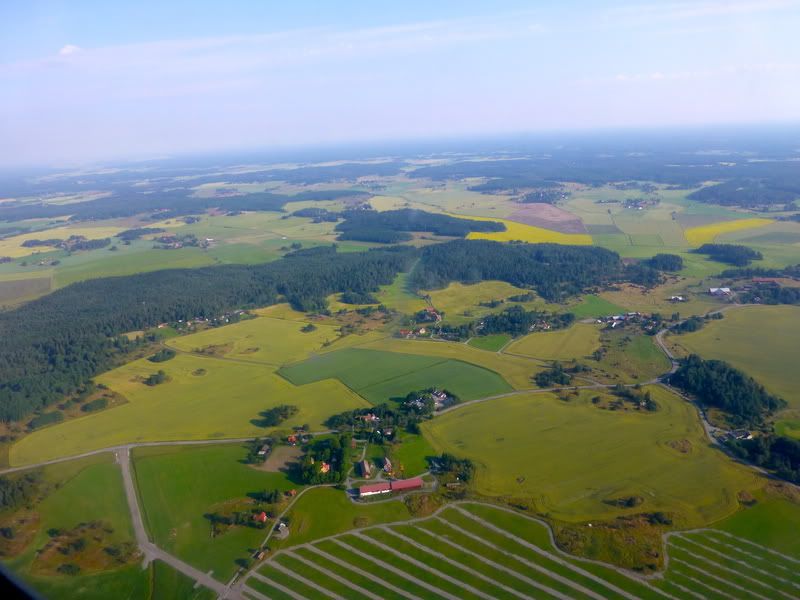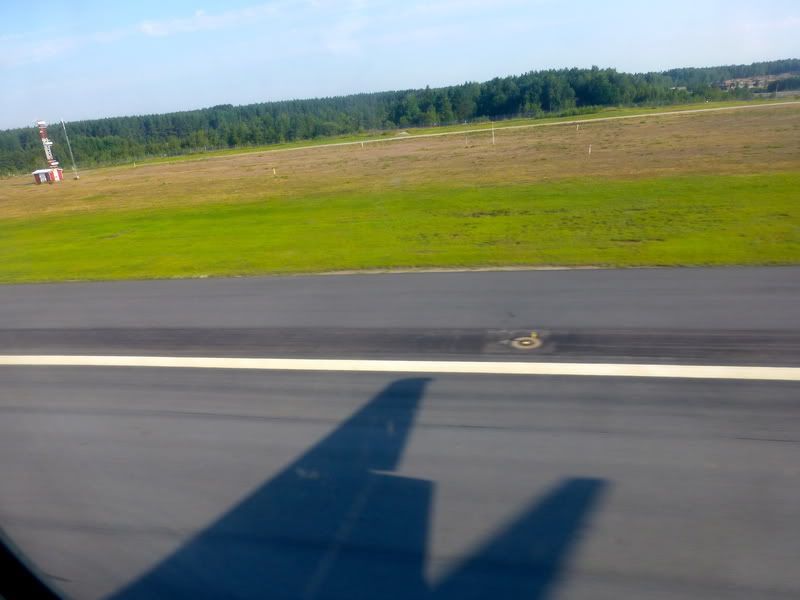 Bye: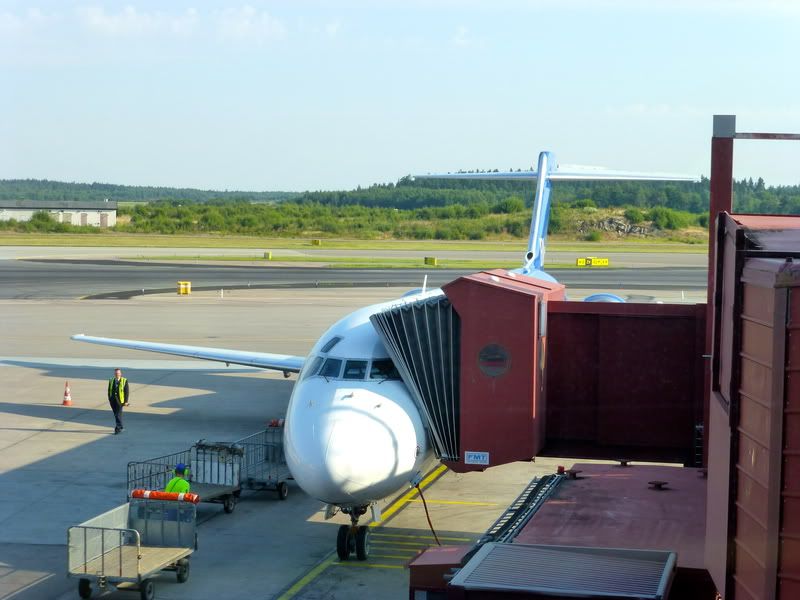 I thought I was stepping inside the Arlanda terminal from the jetway, but somehow I end up in Tromsø airport instead.
Tromsø Airport, take 2
After catching another bus back from town I quickly make my way through the completely empty security checkpoint and find a nice place to watch the action on the apron.
Upon seeing this I get a slight shock that there might be trouble ahead (if I only knew...) until I realize it is the LKL flight that is delayed, not my ALF one: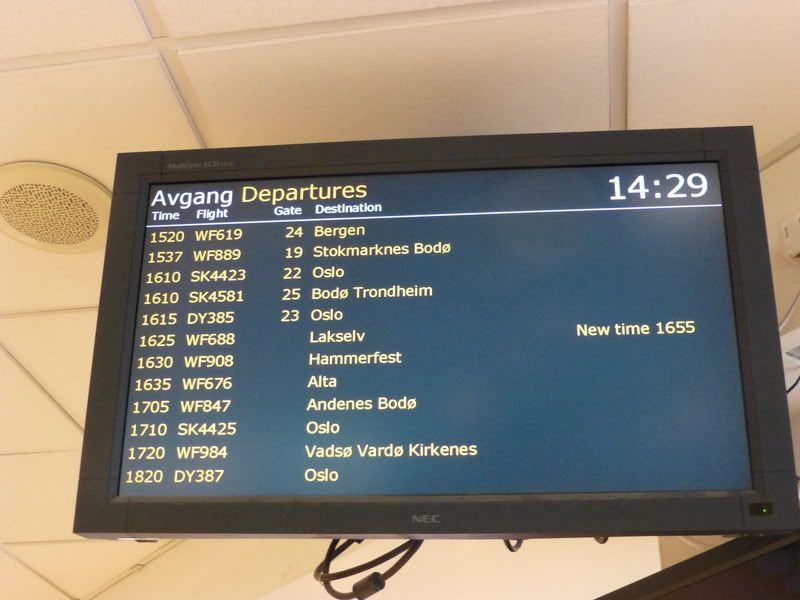 A very interesting visitor to TOS - I think it was flying to Hannover as many of those bags I saw earlier had an AB flight number and were tagged to HAJ: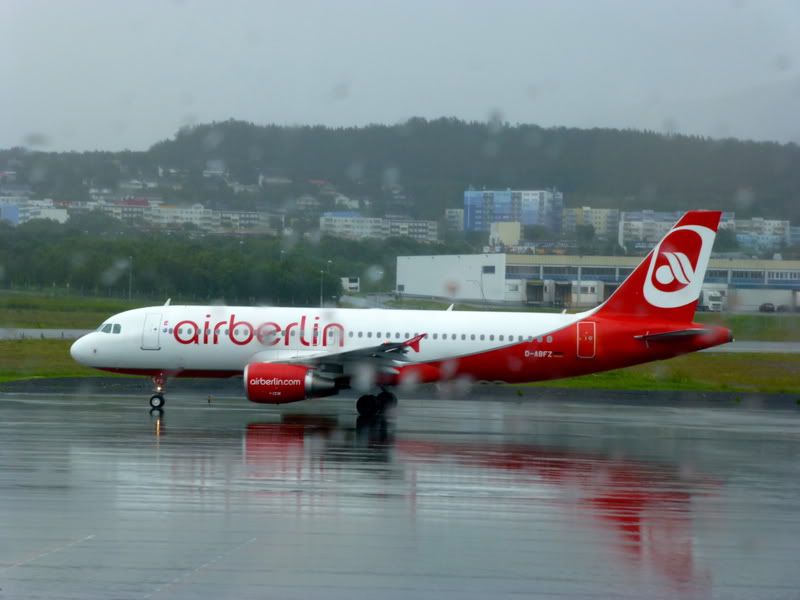 Now this was a real surprise - a shame those FIDS do not list charter flights so I have no idea who it was operating for and where it was coming from: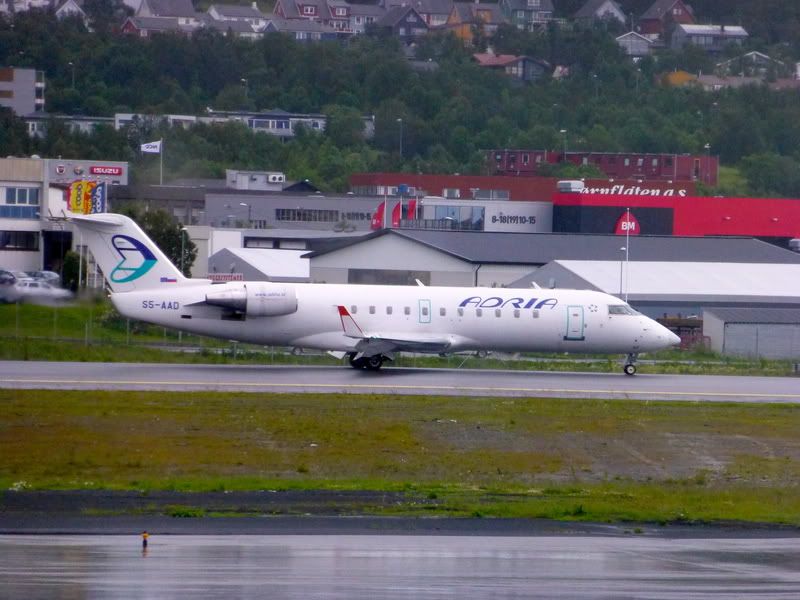 There sure is a lot of Wideroe here: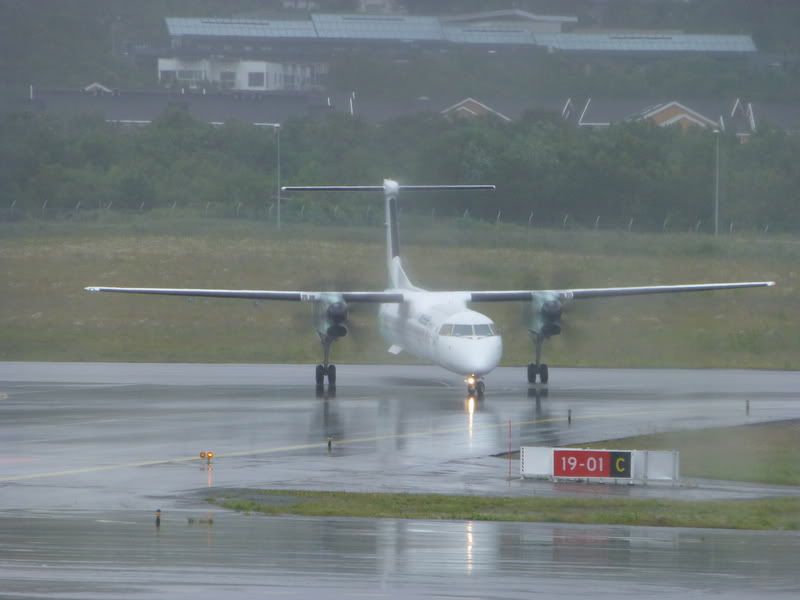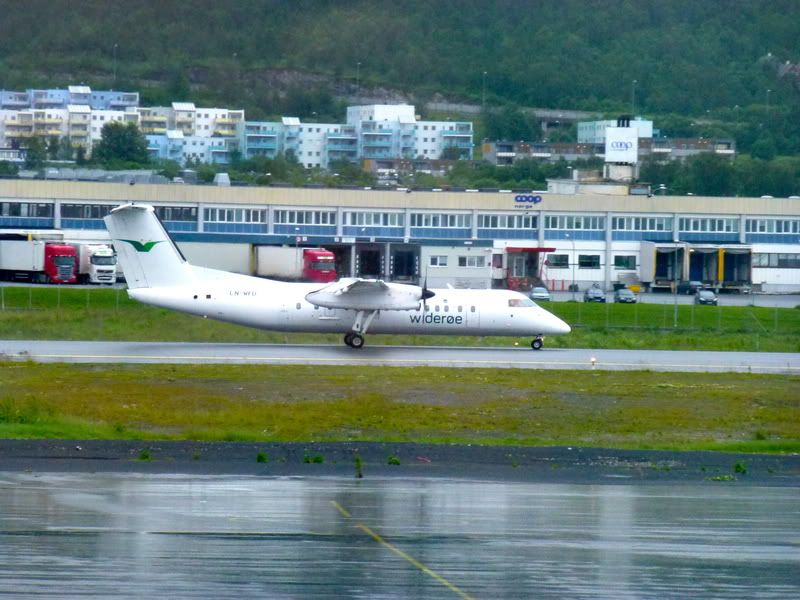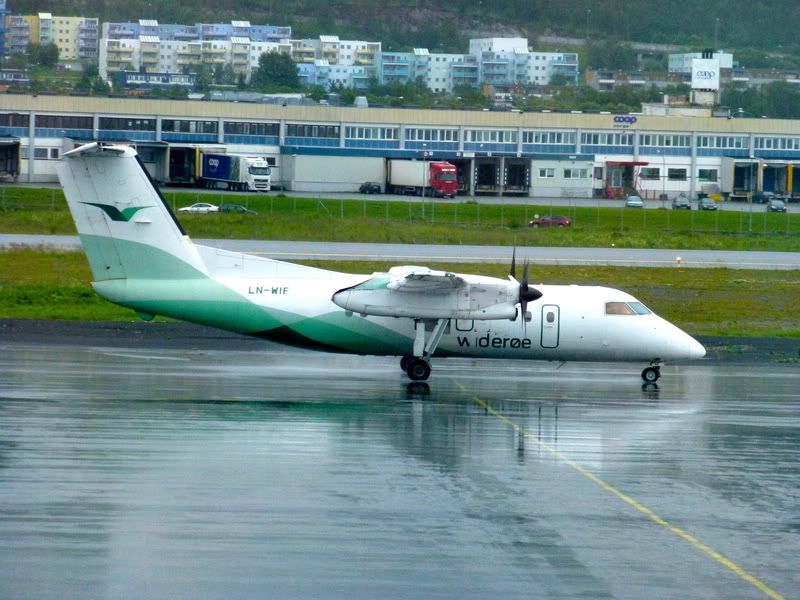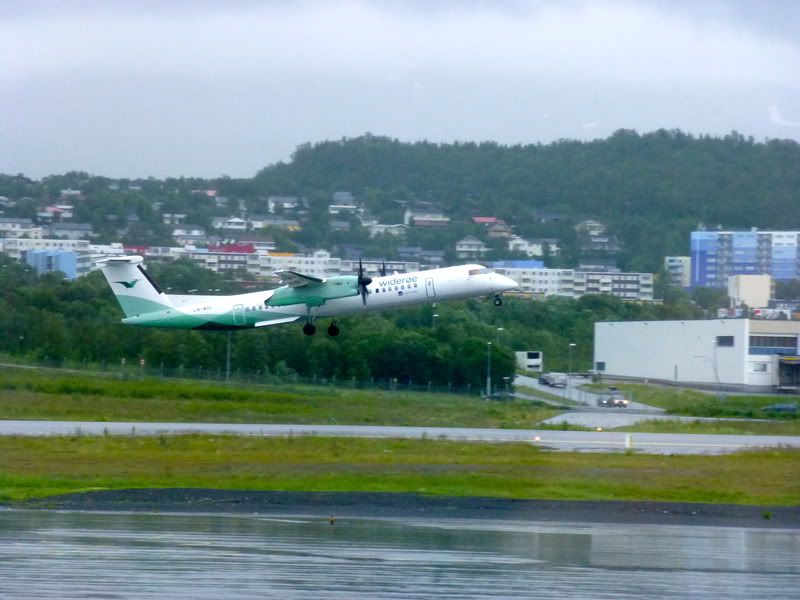 Top