Dear all,
Hope you have enjoyed the first part of my trip report:
The Fifth Freedom Business SIN-CGK-SIN Part 1: TK
(by
dirktraveller
Aug 1 2012 in Trip Reports)
A month after my trip to Jakarta on board Turkish Airlines, I had another invitation to attend some event in CGK. As I realized I had some spare time that coincides with the event, I decided to come to CGK for five days. As the trip was made quite some time ago, I would extend my apologies if I lack in any details on the trip.
Background
As I was searching for flights between Singapore and Jakarta that time, some interesting deals popped out, which includes Philippine Airlines in J Class, at a rate around what is offered by SQ in Y. Well, without any second thought I decided that PR would be my choice for my next trip to CGK. PR itself operates to Jakarta (CGK) out of SIN as a tag-on from its Manila flight PR503/504 sector five times weekly.
Philippine Airlines itself was founded in 1941, and dubbed as 'Asia's First Airline'. The airline, which was once one of the biggest carriers in the region, had to downsize its operation during the Asian Financial Crisis back in 1997, and slowly recovers as time passed, with currently operating a fleet of 58 into its 45 destinations in Asia, Australia and North America.
As this carrier was relatively more 'humble' in the region, with minimum advertisement or promotions on both SIN and CGK areas, I had not heard much about the carrier's service in detail. Personally I did not know what to expect once I'm on board PR, but I definitely would not missed the chance to try this carrier on this sector, especially when I had no plans of flying to MNL in the near future.
Check-in
The trip began on 10.45am, in which I flagged down a taxi to the airport. The taxi driver got me into a conversation about the future economic condition of Singapore, and asked me how it compares to Indonesia currently, since I told her that I was leaving for CGK that day. Well, a heavy conversation topic for 20 minutes trip from downtown Singapore to Changi Airport. But these are one of the few rare instances where the taxi driver actually had a conversation in English with me.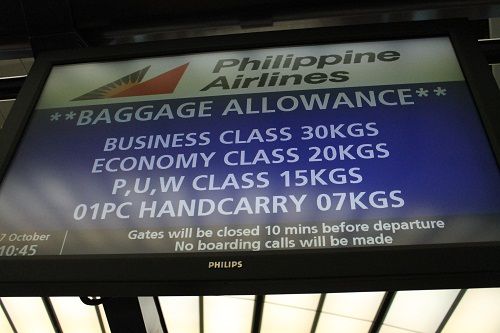 PR Check-in desk display
Boarding pass & Lounge invitation
Changi Airport Terminal 2 Fish pond and small garden.
When I reached Singapore Changi's Terminal 2, I headed down to PR check-in counter, which was surprisingly empty in both J and Y classes with a very little queue. The process was simply efficient and both my 'Mabuhay Class' boarding pass were printed, along with the lounge invitation handed to me. As my bag was checked-in, I headed to the passport control, which had no queue as well that time.
Lounge: SATS Premium Club Terminal 2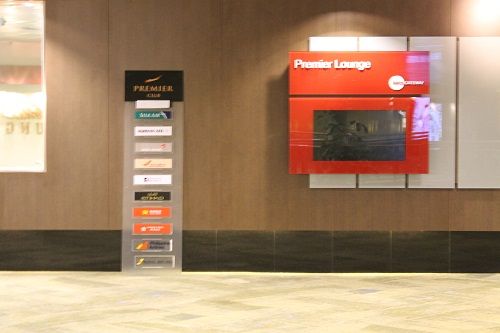 SATS Premium Club T2 Changi, with list of partner Airlines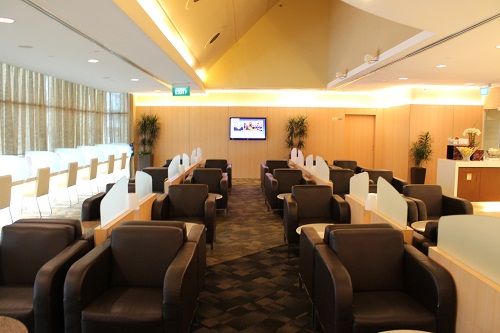 Comfortable seating area at the lounge
After I cleared immigrations, I headed up for the SATS Premium Club in Terminal 2, the lounge where PR Mabuhay Class customers were invited to. This lounge was used by carriers like PR, KE, OZ, AI, EY, and MI. I was surprised that SilkAir (MI) used the SATS Premium Club to cater their premium class passengers. Being the regional wing of Singapore Airlines, I previously assumed that they shared the Silverkris Lounge, or MI having their own lounge being SIN is their home base.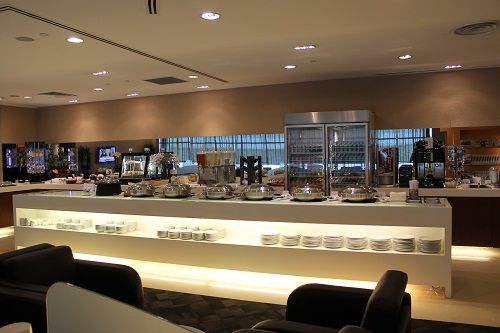 The food & Beverage area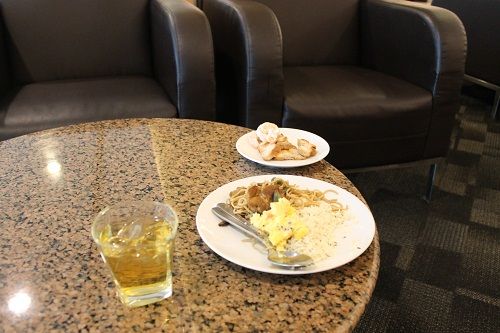 My lounge meal
The free internet access computers.
The lounge was very quiet as there is only I and another passenger inside. The food and beverage options were as generous as the SATS Premium Club in Terminal 1. There were free-internet access computers available on the lounge. Massage chairs were available for passengers to use as well. I waited in the comfortable lounge for around an hour, making calls to people in CGK to notify about my flight details. I noticed that there was an actually large window from the lounge that was facing the airside, but unfortunately it was covered with large curtains.
Around 15 minutes from the boarding time written on my boarding pass, I headed out for the gate where the flight departed from.
[FLIGHT DETAILS
Flight Number: PR 503
Type of Aircraft: Airbus A320-214
Registration: RP-C6812 (delivered to PR on 25/06/2008 as msn 3553)
Seat Number: 2F
ETD: 1200
ETA: 1245
Boarding
I headed straight to the gate E26, and passed down the secondary security check in the gate, which was common in Southeast Asian airports, which did not go really smooth. Apparently I've forgotten to remove a sharp object from my bag, and they mistakenly thought my earpiece for something suspicious. Anyway, after a thorough check which lasted like 10 minutes, everything was clear, and the friendly officers of Changi Airport security wished me a nice flight.
By the time I boarded, some Economy passengers were already boarding the flight, and I made my way through the aerobridge into the 2.5 years old Airbus A320. The flight purser welcomed me on board and I made my way to my seat, 2F.
Welcome Onboard Philippine Airlines
Welcome Drink : Orange juice
Safety card and 'Mabuhay' in-flight magazine of Philippine Airlines
While the Economy class passengers entering the aircraft, an FA welcomed me on board and offered me the choices of welcome drink, which consist of orange juice, ice tea, or water. The meal order was taken during boarding, in which I opted for chicken pasta out of the other three options, which were beef and potato and rice with fish.
The purser made a conversation with me mainly about Indonesia and Philippines, about some places of interests in both country's capital, and she told me that she liked to visit Indonesia. She explained to me that they were waiting for some documents before we could start pushback, and I asked her a question.
Me: Is this all the passenger?
Purser: Yes, why?
Me: Wow, really. That means I'm the only one here (referring to Mabuhay Class)?
Purser: Yes, you're the lucky one today
Me: (chuckles) that would be great!
The load on this sector were pretty low, with Economy (Fiesta) Class were only filled for 50 percent, and Business (Mabuhay) class filled with only one passenger. Well, although loads were not that good, I was pleased to be the only passenger on the J Class section. This was the first time for me to fly as the sole passenger on a section of the cabin, whether it is in F, J, or Y, which was a wonderful experience for me.
In-flight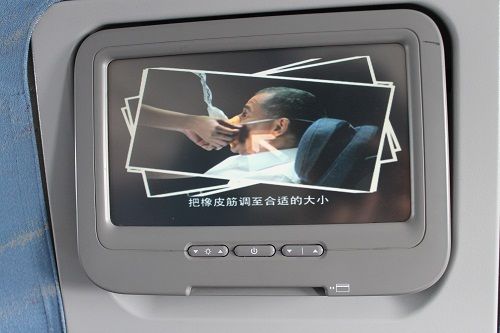 Safety video
Passing down SQ planes
Runway, We're prepared for takeoff.
After the documents were delivered into the purser, doors were armed and secured, and our plane pushed back from E26 and headed for the runway, which I believed, was runway 20C at that time. We passed several SQ planes before reaching the runway. At around 1215hrs, we lift off Changi and headed down to CGK, flying over Indonesian islands of Batam.
Our flight routing to CGK that day
The appetizer
As soon as the seatbelt sign were switched off, the flight attendant, who was working in the Mabuhay class cabin along with the purser, served my meal. I was surprised that he gave me the appetizer first, consisted of prawns and salad. The flight attendant was standing behind me waiting for my request on the main dish. I was impressed that he did that, as I could easily press the call button later on. What a plus for PR.
The main course and the tray
Closer look : Chicken and Pasta.
Mango Ice cream (dessert)
This was later followed by the main course, which was the Chicken pasta I ordered. The chicken pasta tasted good, which must be one of the best catering I tasted out of SIN, and a dessert consisted of Mango Ice cream was given to me after the main course. The flight attendant even asked if I would like another pieces of bread, which I politely declined as I was already very full. The PR meal service was just marvelous, considering this is just a 1.5 hours sector from SIN to CGK. I did not even think GA or SQ did that in this sector.
Flights of Fancy IFE: Language options
Monitor help
The headphone.
After the lunch, I tried the PR IFE system, called 'Flights of Fancy'. The system was easy to use. Unfortunately I noticed that on their A320s, the IFE content only consists of music or short television shows. No movies or games. Apparently there is no remote control and all commands to the IFE were made through the touch-screen of the PTV. I requested the flight attendant a headset to check the IFE, and apparently the only available headset was the Y class headsets, not those noise cancelling ones you saw on other carriers. Despite the small drawback, I did not mind their IFE as this is just a short sector between SIN and CGK. The moving map was more than enough for me.
Some pictures of the Mabuhay Class seats on the A320 which I took:
While we were cruising at the altitude of 35000 feet, I took some picture of the J Class cabin, including the recliner J class seats which were used by PR for their regional flights. As the purser noticed me taking some pictures of the cabin, she offered to take pictures of me in the J class seat, how nice of her. Then we went into another conversation about what I did for living and some things about living in Singapore. I had another round of orange juice while enjoying the clear skies from 35000 feet, from my so-called 'private' cabin.
Landing into CGK [/b]
Just started our descent into CGK.
As the flight was nearing Jakarta, the captain from the PA announced that we were starting our descent and all passengers are instructed to prepare for landing. The approach into CGK took around 20 minutes, with clear weather conditions as we descending into CGK for landing. At 1320 local time, the flight landed at CGK.
Baggage claim at CGK
After the aerobridge in CGK connected, I was able to disembark first out of the aircraft. The purser and the flight attendant that day thanked me for joining the flight. The immigration queues were surprisingly not that busy this time, and my priority tagged baggage was the first one on the carousel. In just 35 minutes after landing, I was able to make my way to the taxi stand and head straight for the Ritz Carlton Pacific Place, Jakarta.
Final thoughts of the flight
The flight was simply impressive. If a success on a customer-service oriented business was defined by turning a first time customers, which may not have good impressions about their service, into an extremely satisfied customer, then I would say PR had succeeded in turning me into a satisfied passenger, from a passenger who had no idea of their level of service prior to boarding their flight. That being said, I am sure that PR would still have a long way to improve themselves even better, and eventually play a greater share in the region.
Although their In-flight Entertainment should be improved, but their personalized service on the Business class cabin would give other carriers tough competition. Their meal service was really impressive for such a short sector between SIN and CGK. This was contrary to those offered by TK on the route. Maybe luck was on my side that I had the whole J Class for myself that day, but combined with PR wonderful service, had made the best flying experience I had so far. I would not hesitate should I have to fly PR again regionally.
Well, stay tuned for my return flight from CGK on PR 504. Also, if you had any questions or suggestions to improve my trip report further, do not hesitate to leave a comment. Thank you
Regards,
Dirktraveller
PREVIOUS WORK
The Fifth Freedom Business SIN-CGK-SIN Part 1: TK
(by
dirktraveller
Aug 1 2012 in Trip Reports)
Garuda Holiday : GA717 MEL-CGK Nonstop
(by
dirktraveller
Jul 16 2012 in Trip Reports)
Garuda Holiday (Part 2): SIN Visit On The 738
(by
dirktraveller
Jul 18 2012 in Trip Reports)
A Disappointing End Of Garuda Holiday (Part 3)
(by
dirktraveller
Jul 20 2012 in Trip Reports)