Virgin America Inaugural flight to Washington Reagan National Airport
August 14, 2012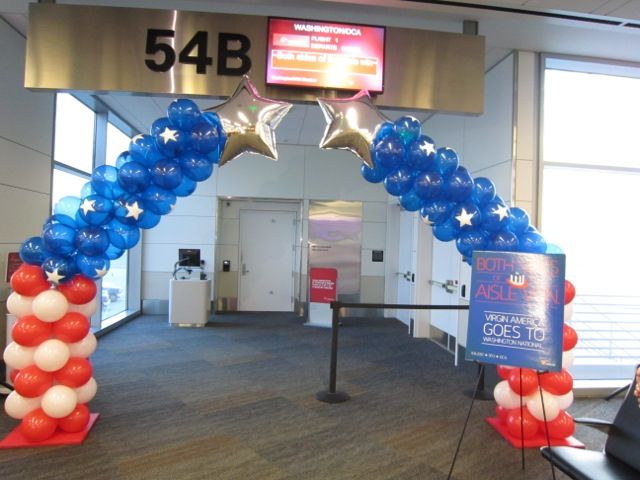 When DCA opened up more slots for beyond perimeter flights late last year, Virgin America is one of the carriers fighting for two daily flights to DCA from SFO. In the end, United is awarded daily DCA flight and Virgin America is awarded one daily flight as well. I am sure everyone is aware of the significance of a route to the capital of the city and the possible revenues for this traditional high yield route, especially compared to Dulles. The fact that Virgin America assigned flight numbers 1 and 2 to this DCA route shows how significance this route is to Virgin America's future. I cannot pass on the opportunity to fly this inaugural and it actually works very well to my schedule, as I am scheduled to fly to Asia on an award ticket from SFO on August 15. I only need to fly up to SFO a day earlier than expected. Not to mention I manage to get a $48 all in one way flight from LAX to SFO on August 13 on Delta. I don't think it will be fair to compare this DCA inaugural to the fun inaugural to FLL, which is my top inaugural experience. In some manner, this DCA inaugural will be a bit more serious and honestly DCA does not have space for a tent and a big party. I will try my best to let the pictures tell the stories.
Full photo album link:
http://s1213.photobucket.com/albums/...Carfield76/VXDCAInaugural08142012/
Flight information:
August 14, 2012
VX 1 SFO-DCA Lv0800 Arr1605 Airbus A319-100 N528VA "Fog Cutter"
VX 2 DCA-SFO Lv1700 Ar1940 Airbus A319-100 N528VA "Fog Cutter"
Booking:
Virgin America has a pretty good website except handling seat changes and inability to handle double upgrades and upgrades to Main Cabin Select if you are in the exit row. There are a few glitches that it needs to work on. Despite a fare sale is going on, Virgin America does not offer that sale fare on its inaugural flight and is always more expensive presumably due to its complimentary cocktail and food service. Main Cabin Select and First class are available only at its full price and not its advance pricing due to those seats are often blocked for guests. They don't open up really till a few hours prior to departure. In the end, I am able to upgrade to Main Cabin Select (MCS) about three hours prior to departure, after receiving an alert from expert flyer right when my alarm clock was ringing. $129 is not a bad deal. There was a first class seat available but it was an aisle seat at 1D so I decided to stick with Main Cabin Select. For the return flight, I bought Main Cabin Select due to its regular coach fare was fairly high and I might as well splurge a bit, and I upgraded to first class paying $169 (I think) in the six hours mark. Yes I upgraded on line through gogo in flight after VX 1 took off from SFO. As soon as the signal for using electronic devices was off, I turned on the computer and was able to access Virgin's website and got my upgrades right as we climbed through 20,000feet.
Check-in:
Terminal Two in SFO is a very nice terminal building and both American Airlines and Virgin America share the facility. It was very busy this morning in the Virgin America area with the busy morning bank. However, it was very organized with staff directing passengers to different lines.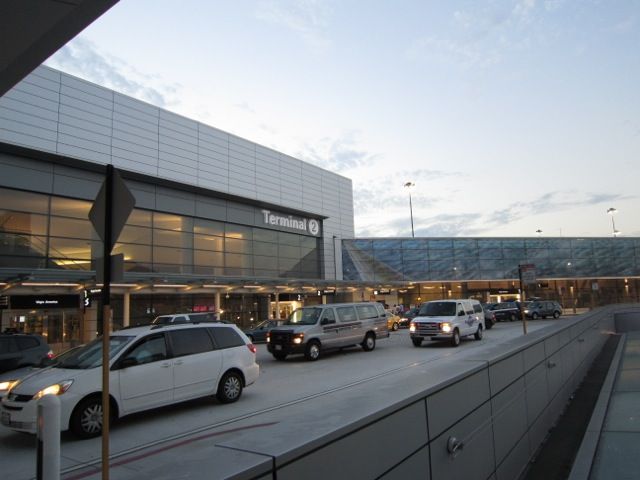 The new priority sign featuring Virgin America's elite status – Elevate Silver and Elevate Gold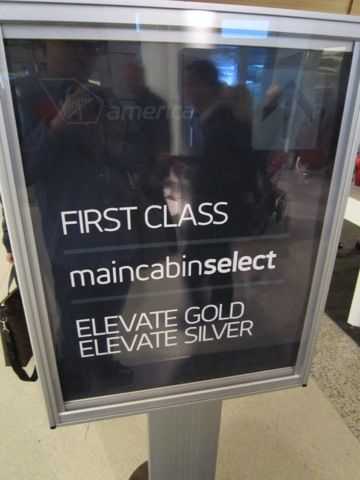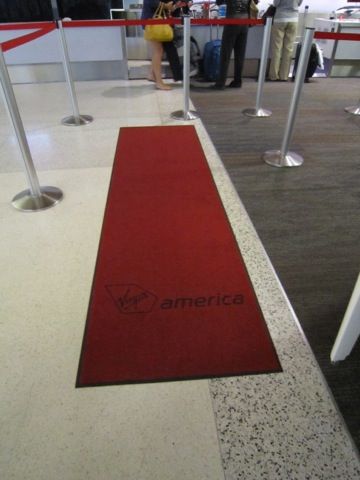 There were the regular ticketing and extra assistant line, priority line for F/MCS/Elevate Silver/Gold, full service line, bag drop, and international service lines.
Here is the media check in line for the inaugural flight.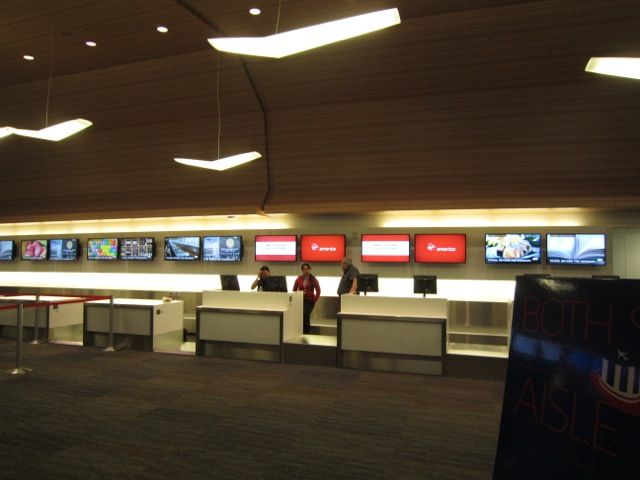 Of course an appropriate sign to mark this event – Both sides of the Aisles Win! Check-in
I tried to use the kiosk to check in at first, but it could not complete the check-in but thankfully there was no wait in the regular priority line and the agent told me due to exit row requirement, it required an agent to check me in. Anyway the process was efficient and the agent was friendly.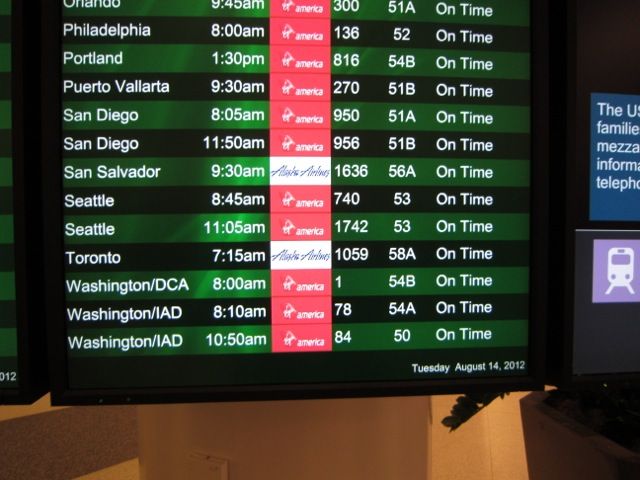 With main cabin select, I was able to use the priority TSA security line, but things were under control this morning. I arrived at the gate area with plenty of times to take a few pictures. Today's gate was 54B and there was the usual buffet featuring various breakfast pastries, warmed BBQ pork sandwiches, and Virgin branded chocolate covered strawberries and Virgin carved watermelon. Very cool stuff! There were a few staffs lingering around and some passengers were not aware of the inaugural flight.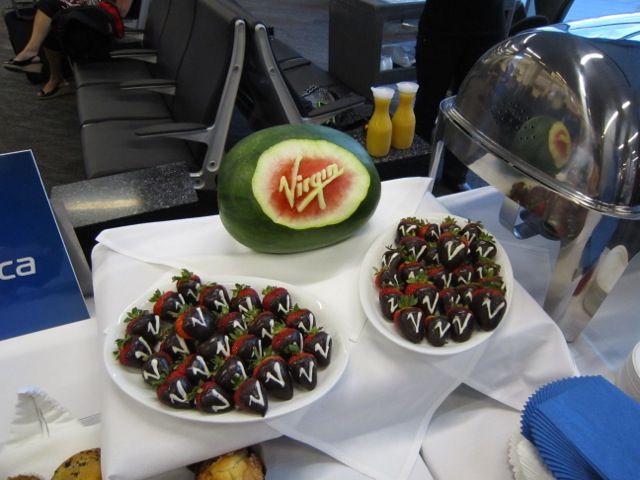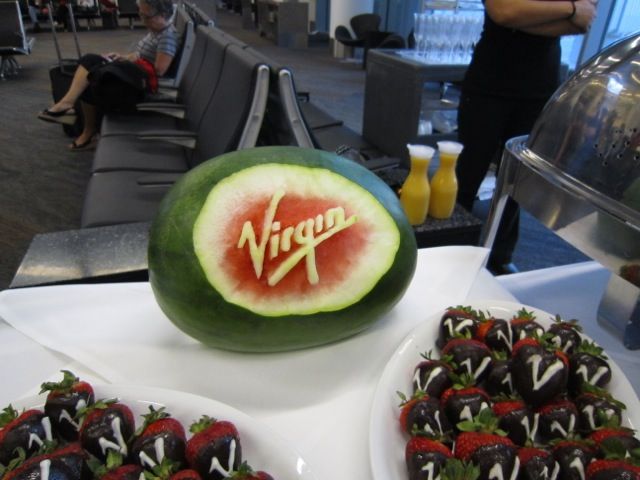 The gate podium was decorated and hats were available for all passengers.
"I am a Flying Partisan"
The gate itself had a blue, white and red patriotic theme with a balloon decorated entrance.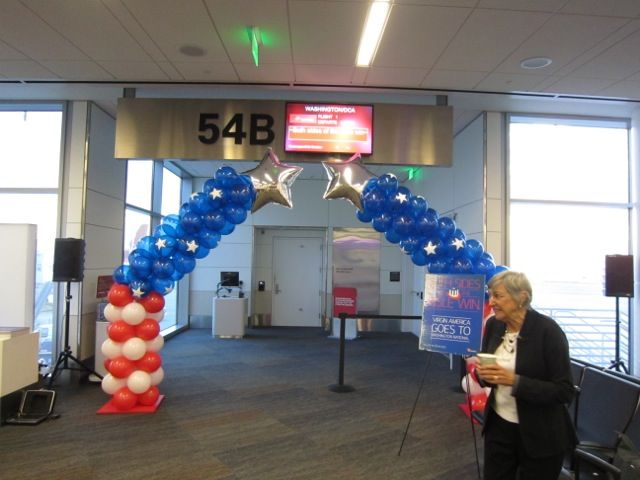 N528VA was sitting here but as you could tell, SFO had these annoying patterned windows, which did not allow any clear pictures. So I just took one picture.
Crowd was building at the gate and there were lots of Virgin America staffs.
Yes President Obama and Mitt Romney impersonators were here with the director of SFO, Senator Lee, and VX CEO David Cush.
As you can tell, the fun political theme is appropriate and the two presidential candidates impersonators are brilliant. As an airline based in SFO, President Obama was more popular but I personally think the reason is that the Obama impersonator looked more like the real person. Anyway both fellows were friendly and greeting passengers in the entrance. Yes they were in the flight and were in Row 3. Both of them shared a personal assistant or he might actually be a Virgin PR staff.