To start off, I would like to apologize for posting this trip report nearly two months after the flight and for the horrible photo quality. I was at my grandparents' place and I had no internet connection. For the photo quality, I used a cheap point-and-shoot camera which takes blurry photos even in bright conditions. I really do have to get a better camera!
I am an international student living in Canada, and I was on this trip to go home for the summer. The booking for this flight was rather chaotic for me. I was looking for flights two months before the actual travel date, but my parents said that it was okay to book the flight about two weeks before the actual travel date. By the beginning of June, I was terribly concerned that I might not be able to get a flight. I checked AC, KE, DL, and UA for flights. For a round-trip flight, AC wanted to charge me $2400; KE wanted to charge me $2600; DL's website didn't search any flights from YYZ to ICN; and UA: an amazingly dirt-cheap fare of $1500. I called my parents and told them that I found a cheap flight. However, they were not so enthusiastic about the idea of me going through the United States (They didn't even give me reasons!
&nbsp. I managed to persuade them after calling them for 40 minutes every single day
. When they finally paid for the ticket, it was June 18th, which was less than a week before the flight! Since I got a cheap flight, my parents agreed to get me an economy plus seat upgrade.
On the morning of the June 23rd, I left my school and headed for Toronto. I stayed at my legal guardian's place for a few hours and charged my goodies (My junky Thinkpad, BB Playbook, and my iPod Touch, which will all keep me entertained during the long trip). At 3AM the next morning, I woke up and a hired driver drove me to YYZ terminal 1. As soon as I was dropped off in front of the UA check-in area, I was on my own.
The check-in desks weren't very busy.
The check-in was smooth, and as soon as I got my boarding passes, I noticed something strange. There was no conveyor belt. The lady told me that I had to take my bags with me. I later figured out that there was a separate baggage drop-off area right before the security checkpoint. US customs was performed before entering the security screening area. It was not as strict as I expected; no questions, all they did was take a photo of me and scan my fingerprints.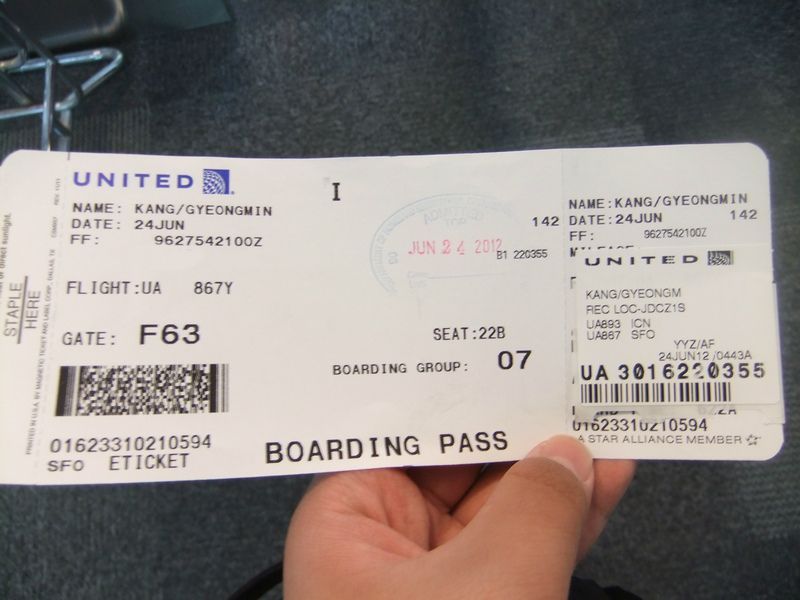 My boarding pass
The escalators leading to the gates after the security checkpoint
I was sleepy, so I decided to get a nice, warm double-double from Tim Hortons. After walking for hours (ehm...maybe more like five minutes
), I found one.
I walked in and ordered a large double-double. I found out that my gate was right in front of the Tim Hortons.
The 16 and a half year old A320, N430UA was waiting at gate F63
I found a nice couch with a USB/AC port on the side. I relaxed on the chair and plugged in my iPod along with my laptop for some extra charging while waiting for my flight.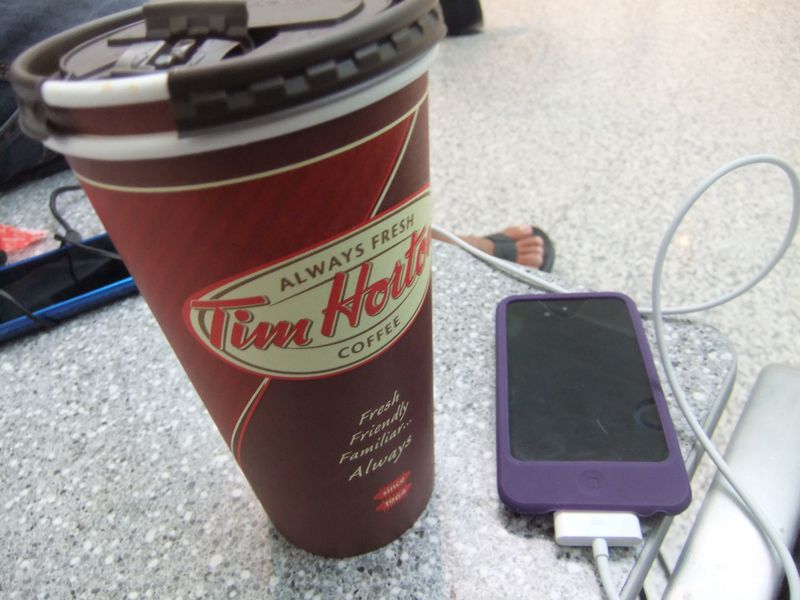 I enjoyed the warm cup of coffee.
Segment 1: UA867
YYZ-SFO
Airbus A320
Scheduled departure time- 06:53 EDT
Scheduled arrival time- 08:55 PDT
Flight time: approximately 5 hours
When boarding group 7 was called, I boarded the plane. As soon as I reached my seat, a flight attendant asked me if I could change seats so that a family could sit together. I agreed to move to seat 24F from 22B. The seats were rather tiny and uncomfortable.
We took off on time using runway 23. A few minutes after takeoff, the seatbelt signs were turned off and I loosened the seat belt.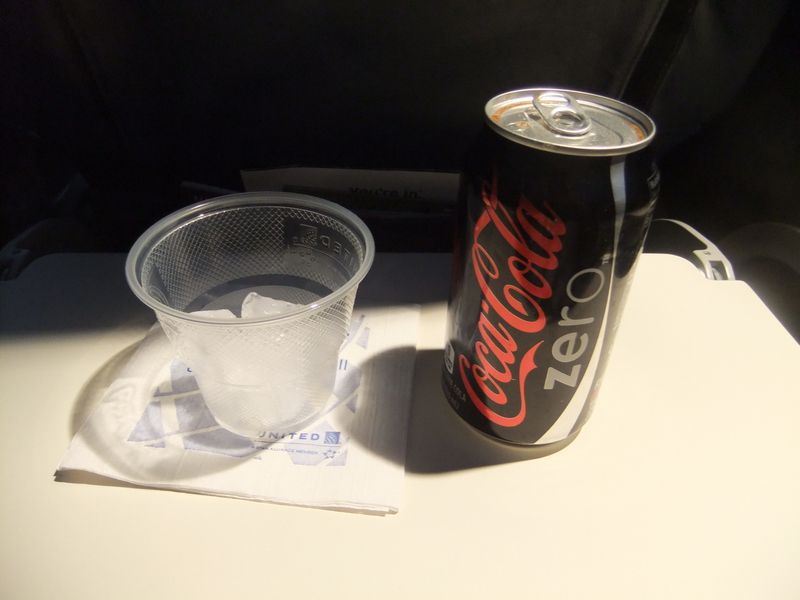 Drinks were served shortly after.
The two flight attendants were rather senior
, but very kind, which was very different from what I had heard about United.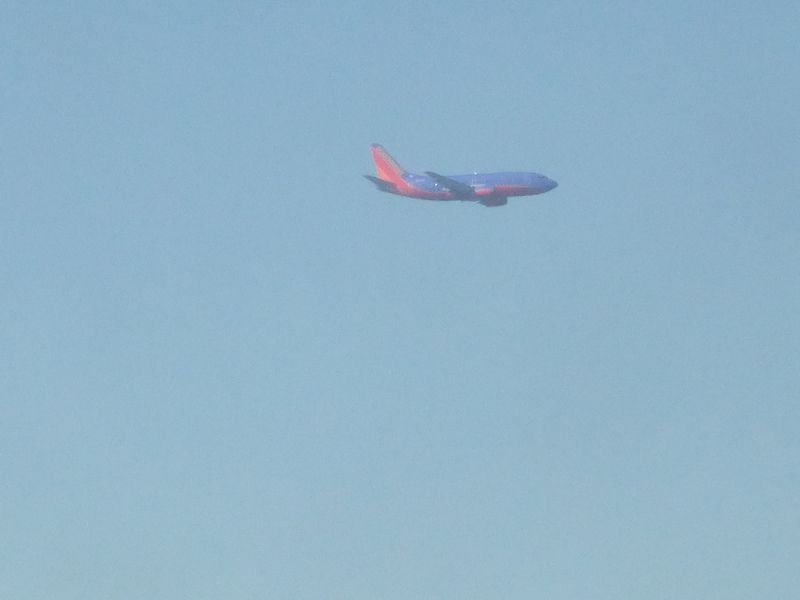 Air-to air with a Southwest 737 on our approach to SFO
A few hours later, we landed at SFO using runway 28R. The landing was smooth. However, we were delayed in front of the gate for around 30 minutes.
As soon as I got off the plane, I went out to look for somewhere to eat; I was starving. I hadn't eaten anything for the past 20 hours. I asked another United pilot as soon as I got off, and he gave me instructions on how to go to the closest restaurant. The Burger King was just a few dozen meters away; all I had to do was turn left and walk for less than a minute. It was such a relief to eat something after so many hours without food!
On my way to the international terminal, I took a photo of the cute Airbus A320 which took all of its passengers safely and comfortably across the continent.
Retro A320!!!!!
Second segment: UA893
SFO-ICN
Boeing 747-400
Scheduled departure time- 10:56 PDT
Scheduled arrival time- 13:46 KST
Flight time: 11 hours
After finishing my burger, I headed for gate 98. However, the screen showed another flight and I soon realised that my flight has been delayed by about 30 minutes and that the gate has changed to gate 102. I was notified that the delay was due to transferring passengers' bags...I think some of them might have been from UA867! I moved to gate 102 and boarded the 747-400, N105UA. It was still in the old United livery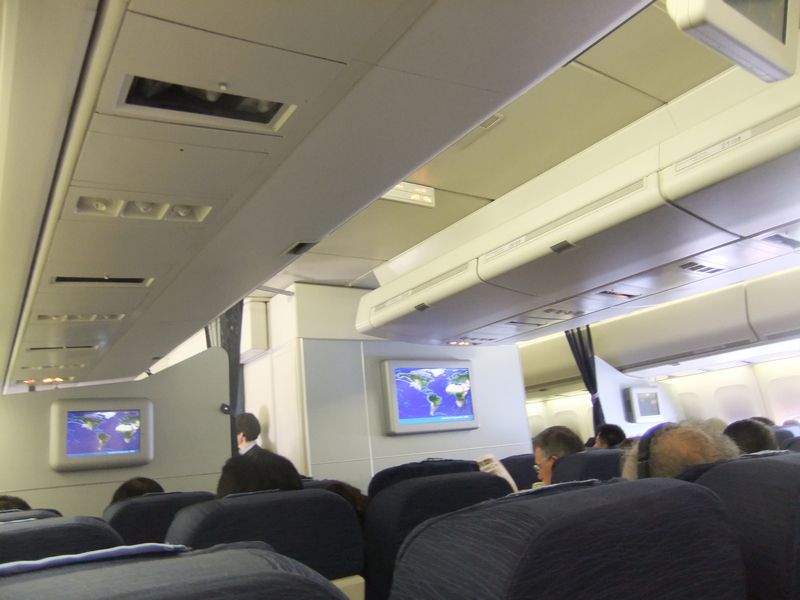 I boarded the aircraft and settled into my seat, 24A. The seat was plushy and comfortable. Legroom was adequate, as I am a short person at 1.65m or 6" 5'. The gentleman next to me seemed to have very little spare legroom.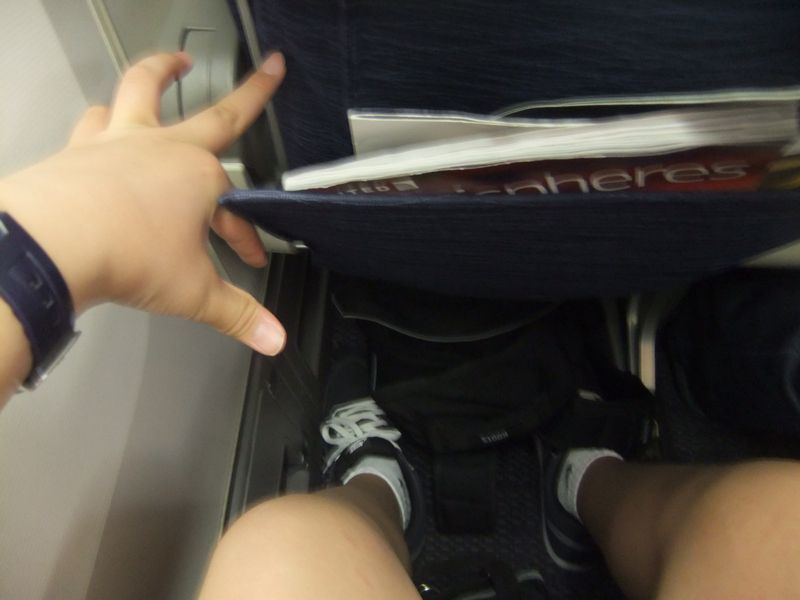 We started taxiing at about 11:40. While taxiing, I saw a 727 which I couldn't identify. Does anybody know who operates this aircraft?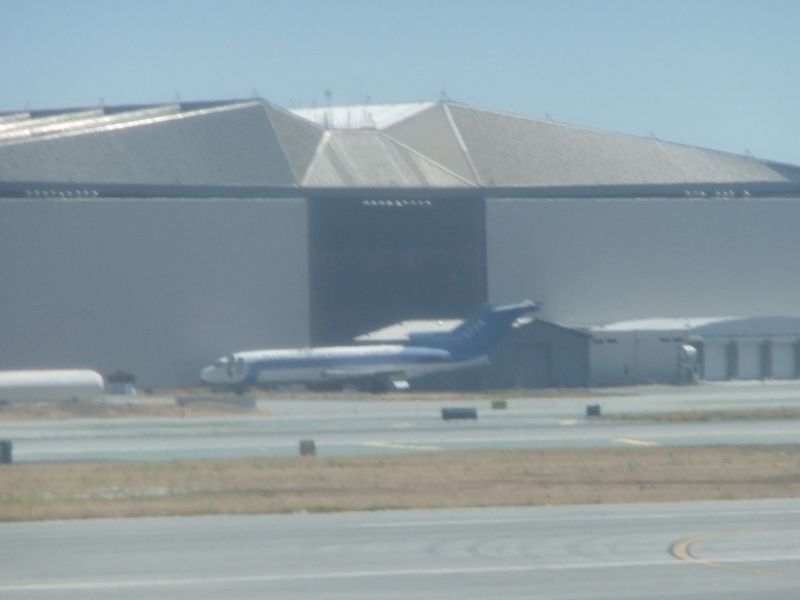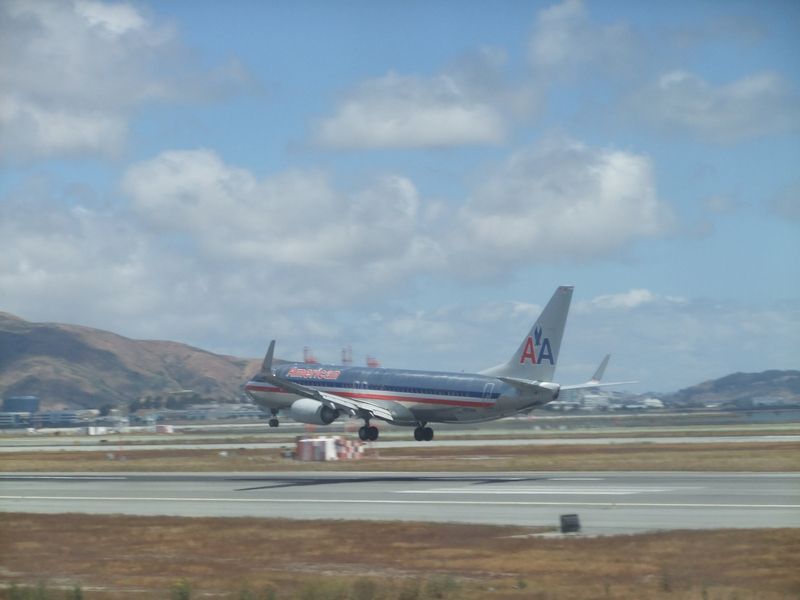 An American Airlines 737 landing before our takeoff.
UA893 took off from runway 28R, the same one which was used for UA867's landing.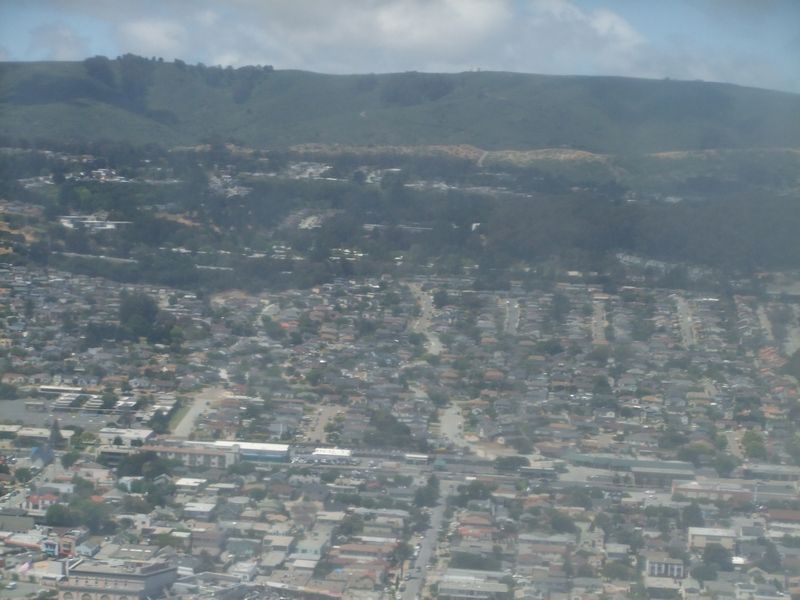 A view of San Francisco through the (dirty) window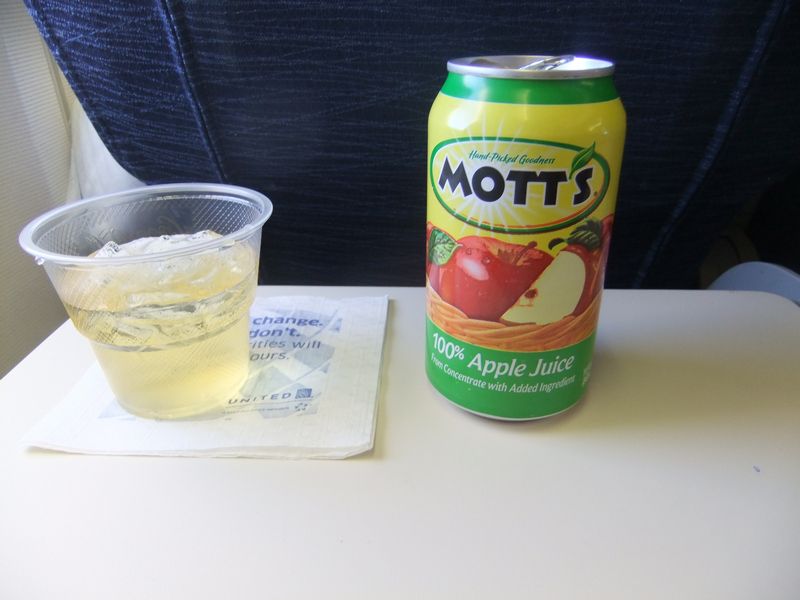 Drinks were served after a few minutes into the flight- I chose apple juice.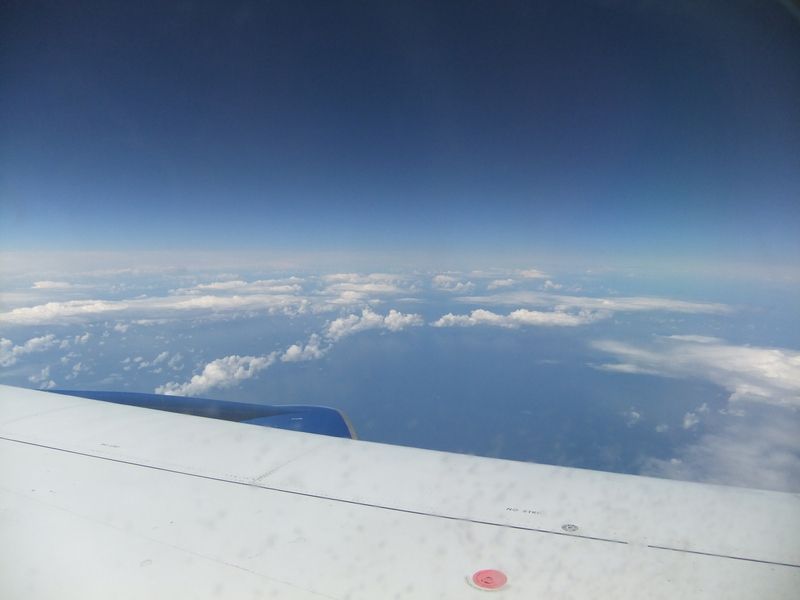 I could see the curvature of the earth from the sky.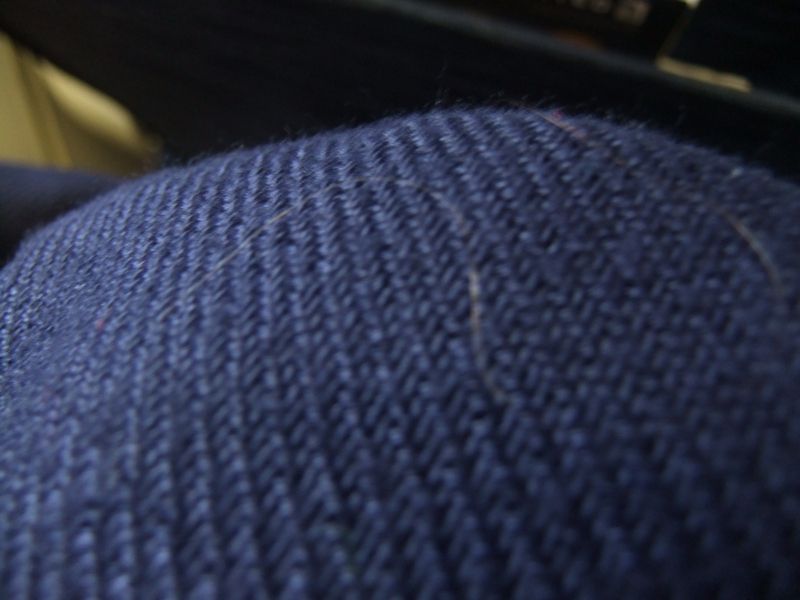 I found TONS of hair on my blanket, so I decided not to use it. Is this common on United flights? This is the first time I've seen this in my life.
We got a meal quite soon after. There were two choices: beef and chicken. I chose beef. The meal was delicious, especially the sauce for the beef.
The flight was uneventful until a few minutes after most of the passengers finished their meals- then we experienced some moderate turbulence and we were ordered to sit down. I was on my way back to my seat from the lav, so I just sat down in any empty seat I could find until the turbulence was over.
The rest of the flight was smooth; I reclined my seat and watched the tv show- Track me if you Can. The show was okay-it wasn't exactly the best show out there but it's much better than showing an episode of Air Crash Investigation/Mayday like AC did a few years ago! The movie screen was a rather little too small though- I am slightly nearsighted and I had some difficulty watching the tv show. The center screen was okay but the side ones were a total joke. I walked up and they seemed to be about 24 inches across in size. United could have used bigger screens.
I slept for a few hours and therefore missed breakfast. The flight was just about an hour from Seoul/Incheon so I decided to pack my belongings and prepare myself.
As we approached ICN, I saw some islands surrounding the airport. We landed on runway 16. The landing was smooth. Some passengers got up and started grabbing their bags as soon as we were taxiing!
Another 747 greeting us at ICN
When we reached a gate in the new terminal, I waited in my seat for a few minutes until most of the passengers were off.
On my way out, I asked one of the flight attendants if I could take a look in the cockpit. Both the captain and the first officer were welcoming, unlike some other pilots I have met before. I would like to thank both the captain and the first officer for my first ever view in a cockpit.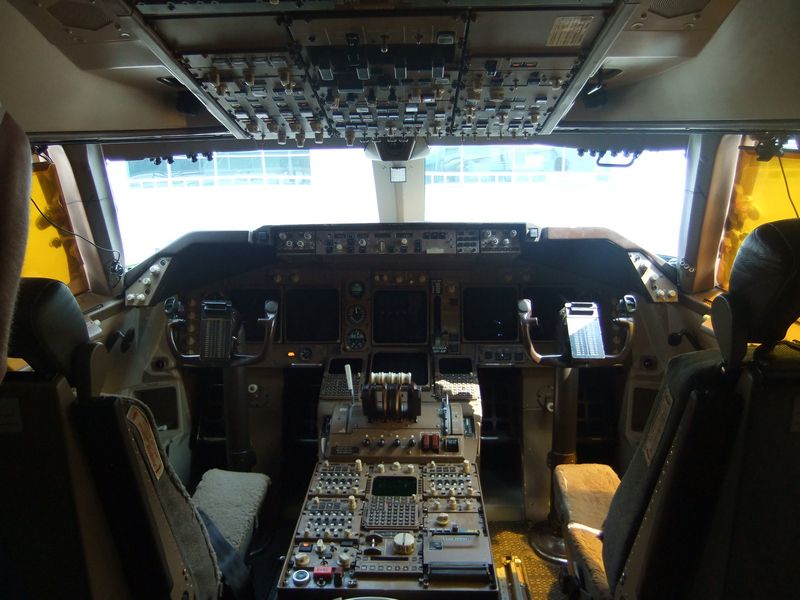 When I got off the plane, I took the monorail which leads to the main terminal. Customs was fast and efficient. When I retrieved my bags, I proceeded to the subway station. I took the Airport Railway line, Seoul subway line 9, and then line 3. There weren't so many people which made it easy to take the subway with a large suitcase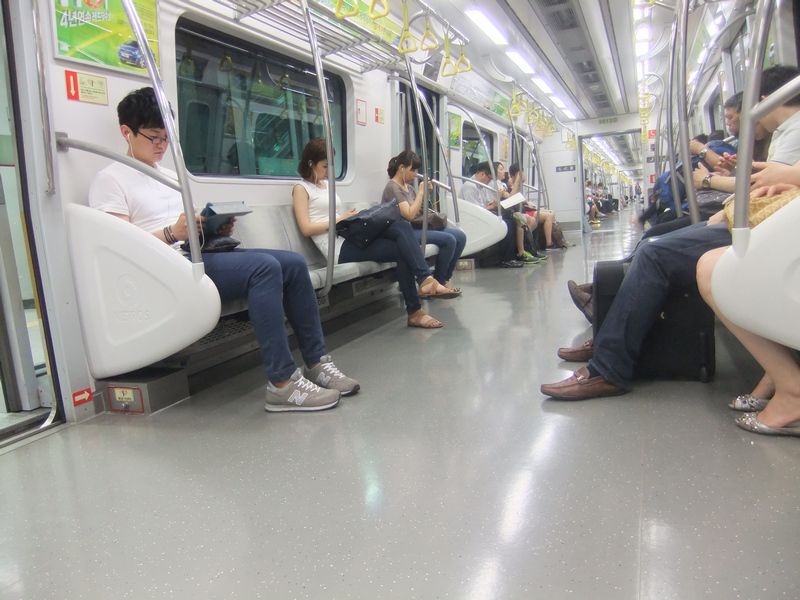 A clearly noticable Boeing 747-400
There's nothing like home sweet home after staying a few months away in a different country!
This is my first trip report and yes, there are a lot of improvements to be made. I'll make sure I type my trip report during my trip on my way back to Canada so I don't end up posting it this late! I hope you enjoyed my trip report and thanks for reading