Hey all!
This trip came as a last minute thing, you see, back in November when I returned from HKG on QR (trip report here) I lost my passport, so after 6 months of dealing with the Italian Consulate here in Barcelona (or C**tsulate as I call it) finally they issued me with a new passport.
Now it was just a matter of popping over to Milan where I am registered as a citizen in order to obtain a new identity card, this can also be done at the c**tsulate but apparently it takes ages, so I was advised to just go to the Comune in Milan where it could be done pronto.
Anyways, the 15th is a bank holiday here in Spain, so I thought ¨hmm well, I could leave on the evening of the 14th, do my bureaucratic bizzwazz on the 15th and fly back on the evening¨ I started looking at fares and Vueling came back with the best offer of 76€ total departing on the 14th at 18:25 and returning on the 15th at 20:40, so I went ahead and booked it.
But then my Italian colleague came into the office and waving her hands told me ¨Christian, the 15th is also a bank holiday in Italy!
Oh… crap.
Back to Vueling, I checked to see if I could change my flight to the early 7:20am departure on the 14th they were kind enough to accommodate my request in exchange of an extra 44€
Cheeky bastardos!
So here it goes, my first flight of 2012 after being grounded for what seemed like an eternity.
OUTBOUND
14th of August 2012
Flight VY 6330
Barcelona El Prat (BCN) to Milan Malpensa (MXP)
Dep 07:20 / Actual 07:30
Arr 08:55 / Actual 08:50
Airbus A320-200 EC-IZD ¨Barceloning¨ their very first aircraft delivered in 2004.
Seat 22A
View Large
View Medium


Photo © Ruben Gil
As many of you know, Vueling is an LCC based in Barcelona Spain; they started ops in 2004 and have had some steady growth ever since, especially after their merger with Clickair and also after the demise of Spanair.
They call themselves ¨A new generation airline¨ they offer assigned seating either by buying your preferred seat during booking or letting the system assign you a random seat free of charge, they also offer some sort of flight connectivity (only with IB and some partners) and a business class kind of service called ¨Duo¨ which means having the middle seat blocked off, a bit more space and a free snack and drink.
They are also known for their marketing campaigns featuring talking clouds speaking in different languages, like this.
And also for hosting events onboard like fashion shows where models catwalk on the aisle, or for having famous DJ David Guetta perform during a flight.
Their website is clean and very simple to use, you can search for tickets using a range of dates to see when they offer the best fare, you can also lock down the price on a reservation for 24 hours at a cost of 2€ per sector, and once you made your booking you can view your reservation and make any changes or buy your preferred seat.
Their customer service is also pretty good which is surprising for a Spanish company LOL.
Finally they have a FF programme called Punto and you earn points by booking flights, checking in online, using their Visa card and also if you book flights on Iberia.
There has been a few VY reports on here where some a.netters have found their service to be terrible or just average, I have had quite a few flights with them and never had any trouble save from a 3 hour delay on a flight from ATH.
Back to the flight
I got up at 4:30am, got ready and left my home at 5:10 in order to get to Pl Cataluña to board the trusty Aerobus service to the airport, being August there were quite a few people waiting for the buses even at this early hour and we picked up some more on the other 2 stops the bus makes before making the dash to the airport.
Upon arrival I made a beeline for the self service machines, VY were upgrading their website during the preceding weeks and it was impossible for me to do the online check-in, but it took the machine just a few seconds to spat a generic white boarding pass, I then cleared security in a breeze and just walked around the terminal which was full of people going (or coming) from their summer holidays.
Some spotting at this early hour included the gorgeous AZ Retro A321 and other sleepy aircraft, photography was impossible due to the reflections on the windows but I managed a few.
AZ Retro, Mamma mia, le cose piu bella!

UX 738 and a FR 738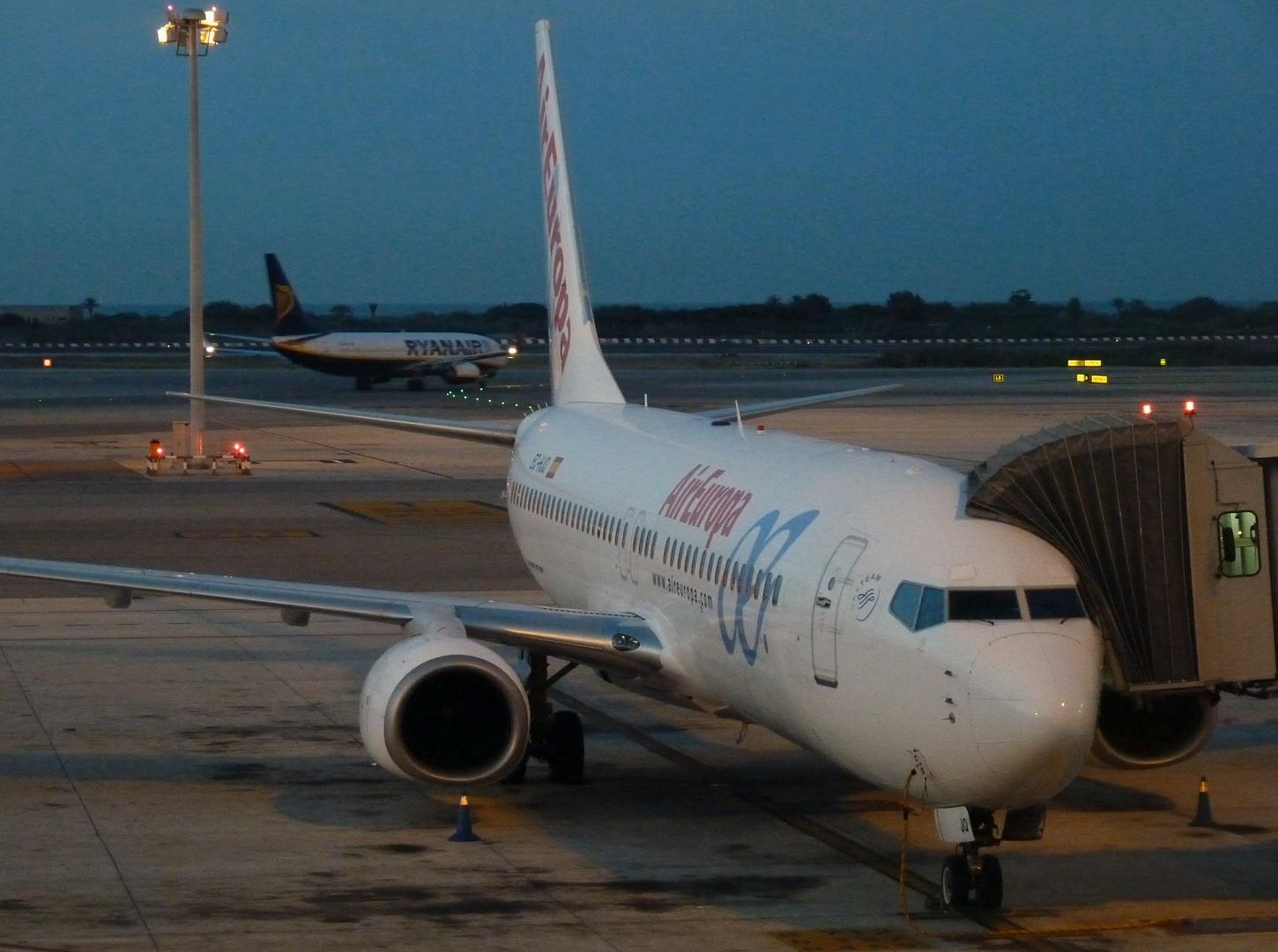 Sleepy Lufties and a Finnair.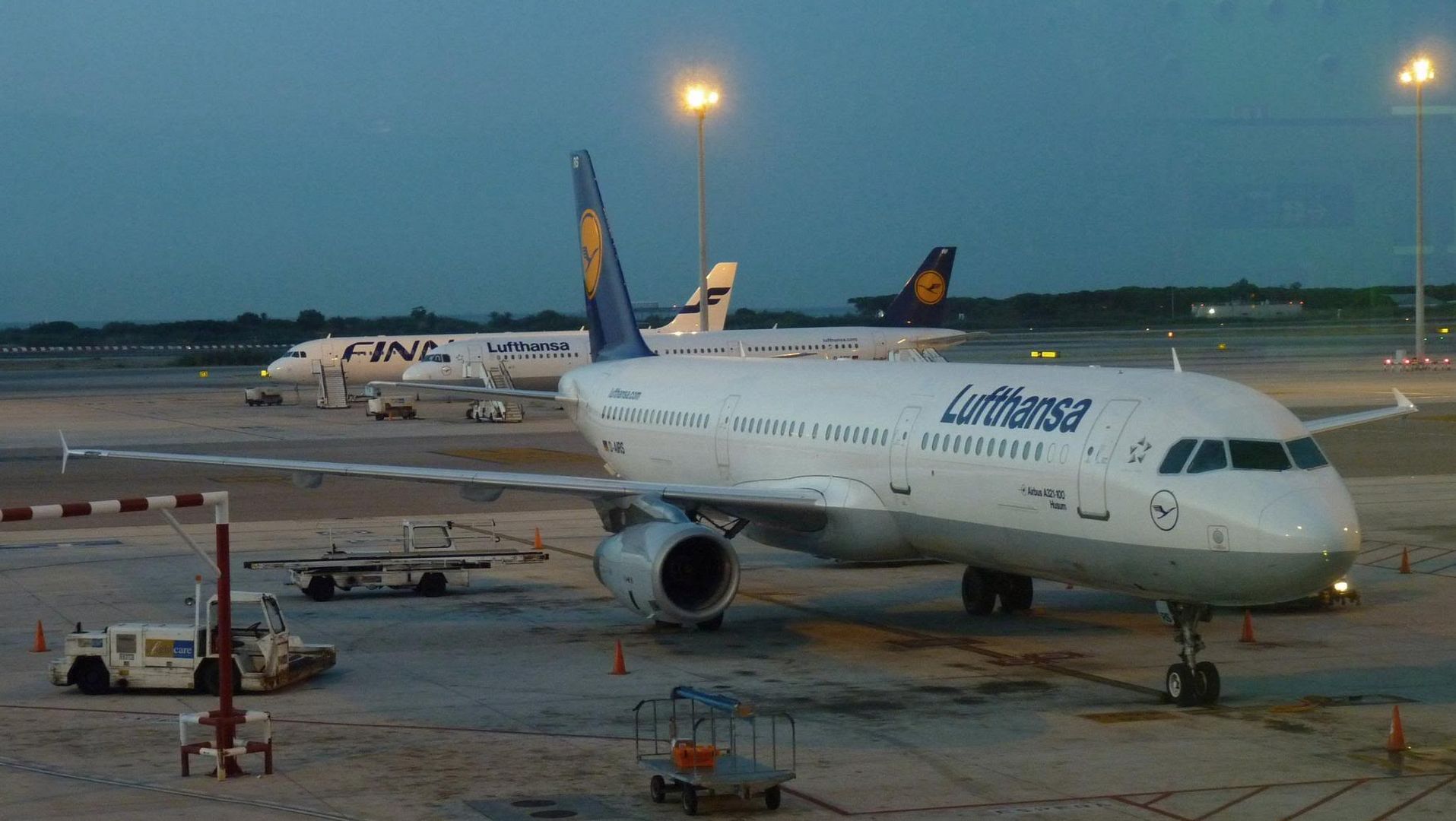 ¨Vueldone¨ being prepped for her flight to I-freaking-biza!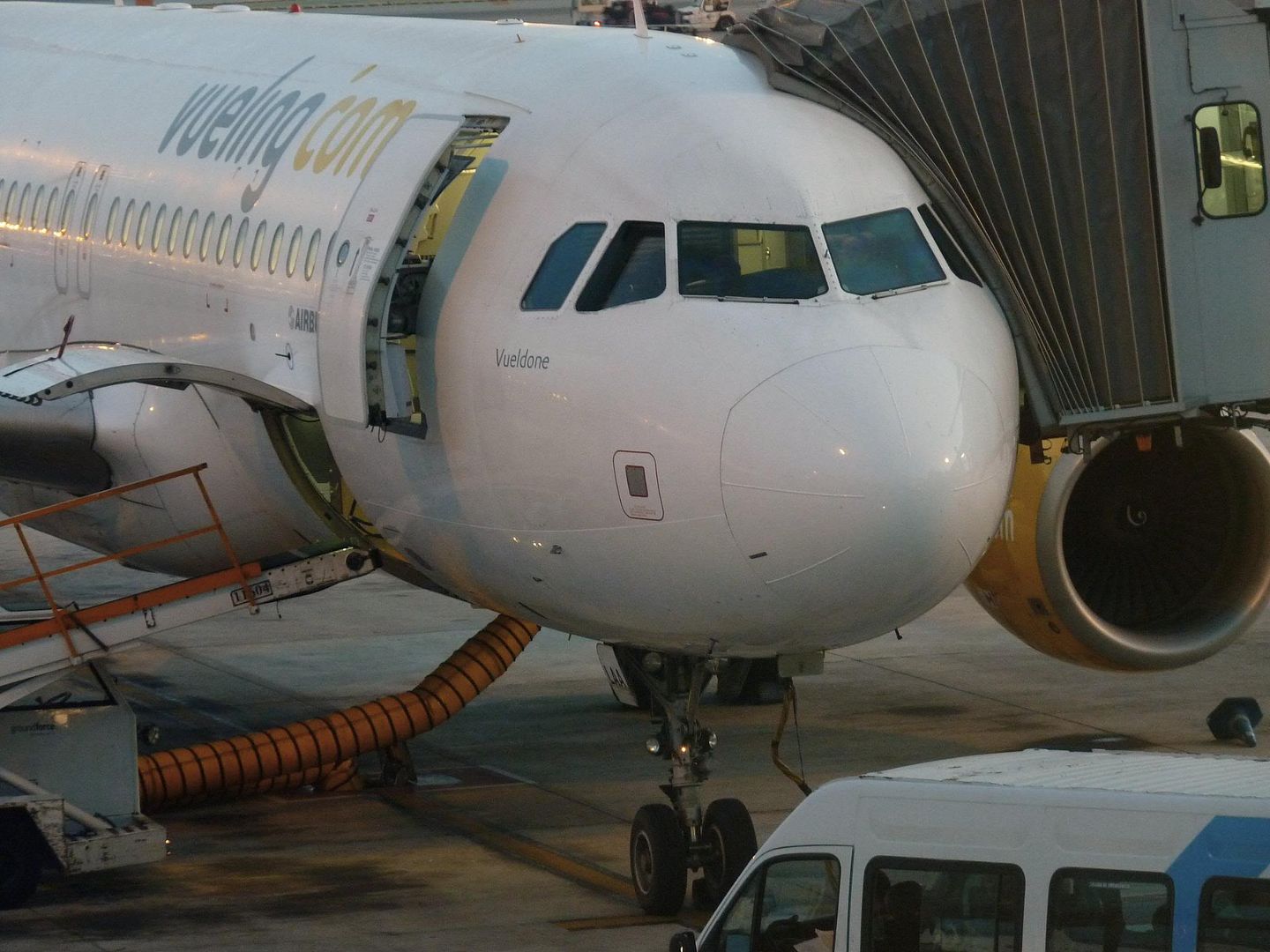 Usual A.net snob boarding card/Passport/loyalty cards shot.
At 6:50 I checked the monitors to see A45 as our assigned gate, then while walking nearby I heard the words ¨Vueling blah blah Milan Malpensa Boarding Gate A45¨ and I quickly walked over to the gate.
There were not many people around our gate, so after a quick beep of my boarding pass at the gate, we walked down to our waiting bus (I know some a.netters are used to travelling first or business class and being whisked around the airport in Mercs and Porsches) but today a puny Cobus 3000 was given the duty to deliver us safely to our Aircraft.
After a short ride across the ramp passing lots of sleepy Vuelings we pulled next to EC-IZD, and when the bus driver got the OK from the crew to let us loose, I went straight for the rear door since everybody else just went for the front door.
At the door an indifferent crew ¨welcomed¨ us aboard and by welcome I mean she was just standing there staring blankly, I showed her my ticket stub but that did not sparked any reaction, so I just went ahead to find my seat.
I stored my backpack on the overhead locker and then I proceeded to dislocated some of my bones in order to fit into the seat, boy the seatpitch is TIGHT!
Ubiquitious A.net leg shot, notice the knee-crunching pitch.
The cabin was not really nice looking, it was quite dirty and the seats were also dirty and very worn out, the seatpocket in front of me was kind of loose so I kept bumping it with my knees for the rest of the flight.
I know some of the newer VY aircraft have the Recaro Slimline seats but this particular craft had the older (more comfy yes) seats but with such reduced pitch they don´t make any difference, I cannot imagine sitting here for the 4hrs flight to TLV or DME!
Here´s the cabin with the Slimline Recaros.
View Large
View Medium


Photo © Serdar Yorulmaz
And here the seats my plane had.
View Large
View Medium


Photo © Juan Antonio Lopez Delgado-Taborno - Canary Islands Spotting
The crew today consisted of a male and 3 female F/A´s the girls seemed to have come out of the Vueling School of Cuties since they were very young and very pretty, announcements were made during boarding welcoming us onboard and ensuring we took our seats quickly in order to have an on time departure.
The load today was very light (60%) so boarding took no time at all, the ¨Close door, arm slides and cross check¨ call was made and we were ready for departure, a manual safety demo was done in Spanish, something resembling English, and finally Catalan.
One by one the CFMs were awakened and we started our taxi towards 25L racing an IB A343 which of course we easily beat.
Captain Victor Hugo gave us a nice briefing with some route information and weather conditions en route and in Milan, and finally wished us to have a ¨Good Vueling¨
When he was finished we were already at the threshold of 25L and after a company A319 took off, it was our turn to line up, speed up and get the hell outta here.
After a quick takeoff roll, we lifted off and made the usual fighter jet-like left turn towards the sea to keep the neighbors happy, we steadily climbed and Barcelona slowly faded in the distance.
Upon reaching safe altitude the seatbelt sign was switched off and the crew started their buy on board service, I bought an orange juice to go along with the sandwiches I brought from home (yes I am a cheapskate) and passed the rest of the flight looking out of the window and listening to music.
Our route today was the standard one, out of BCN and across the Mediterranean to France, right over NCE and Monaco (where I could spot my yacht) then turning inland near Genoa for a straight in approach into Malpensa RWY35L.
Inflight, I love those wingfences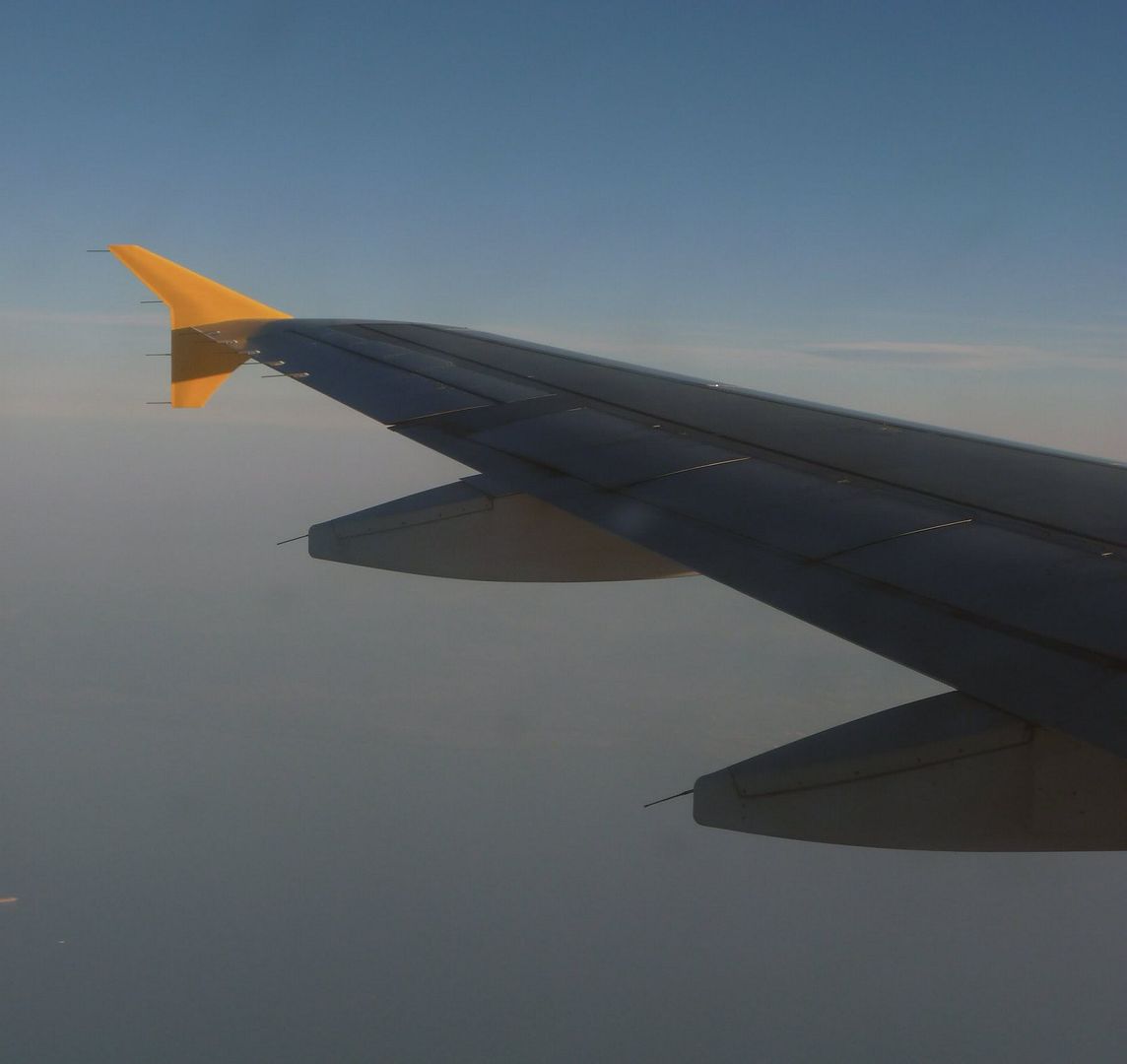 Over NCE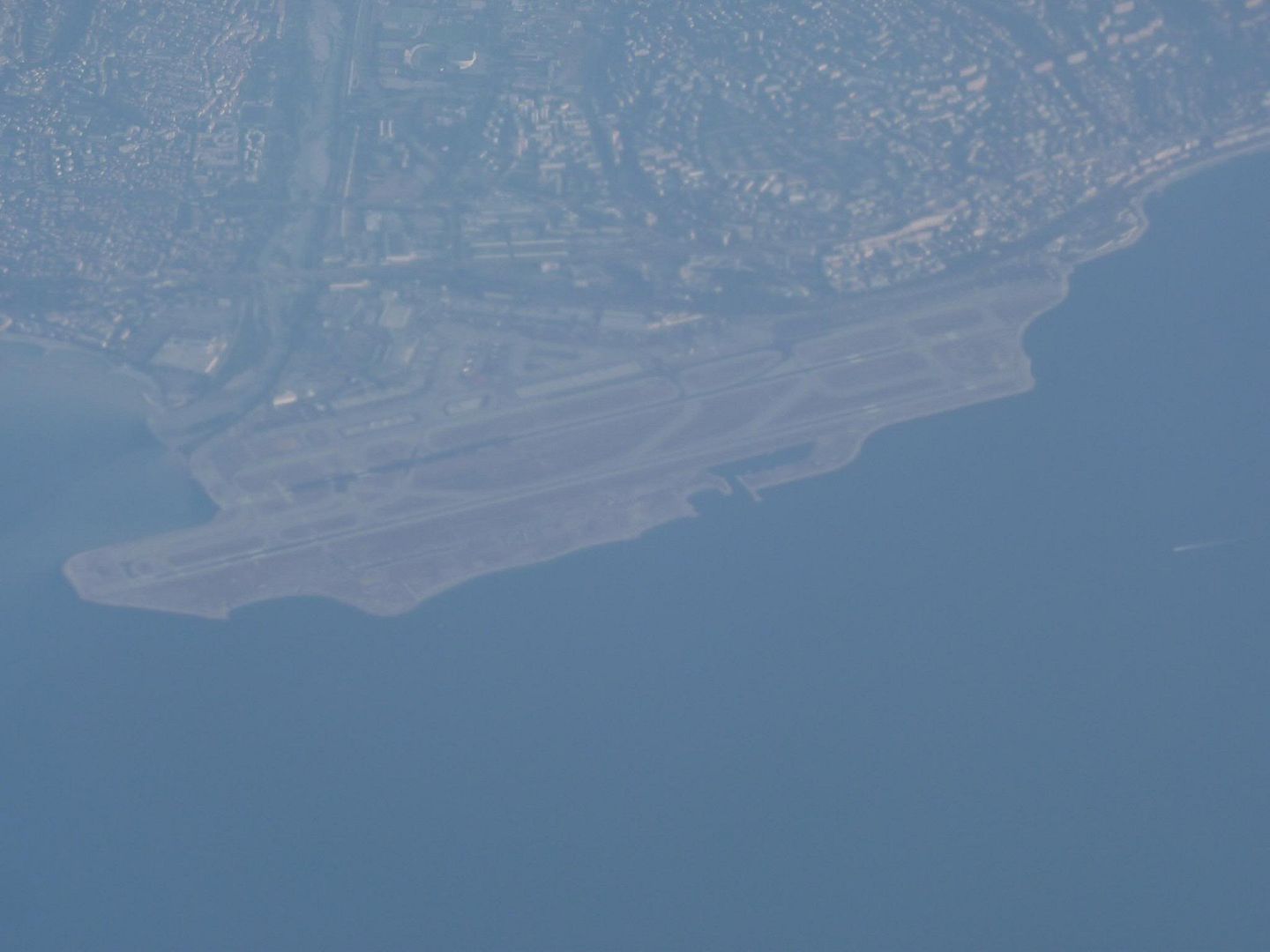 Over Monaco, Hi MadameConcorde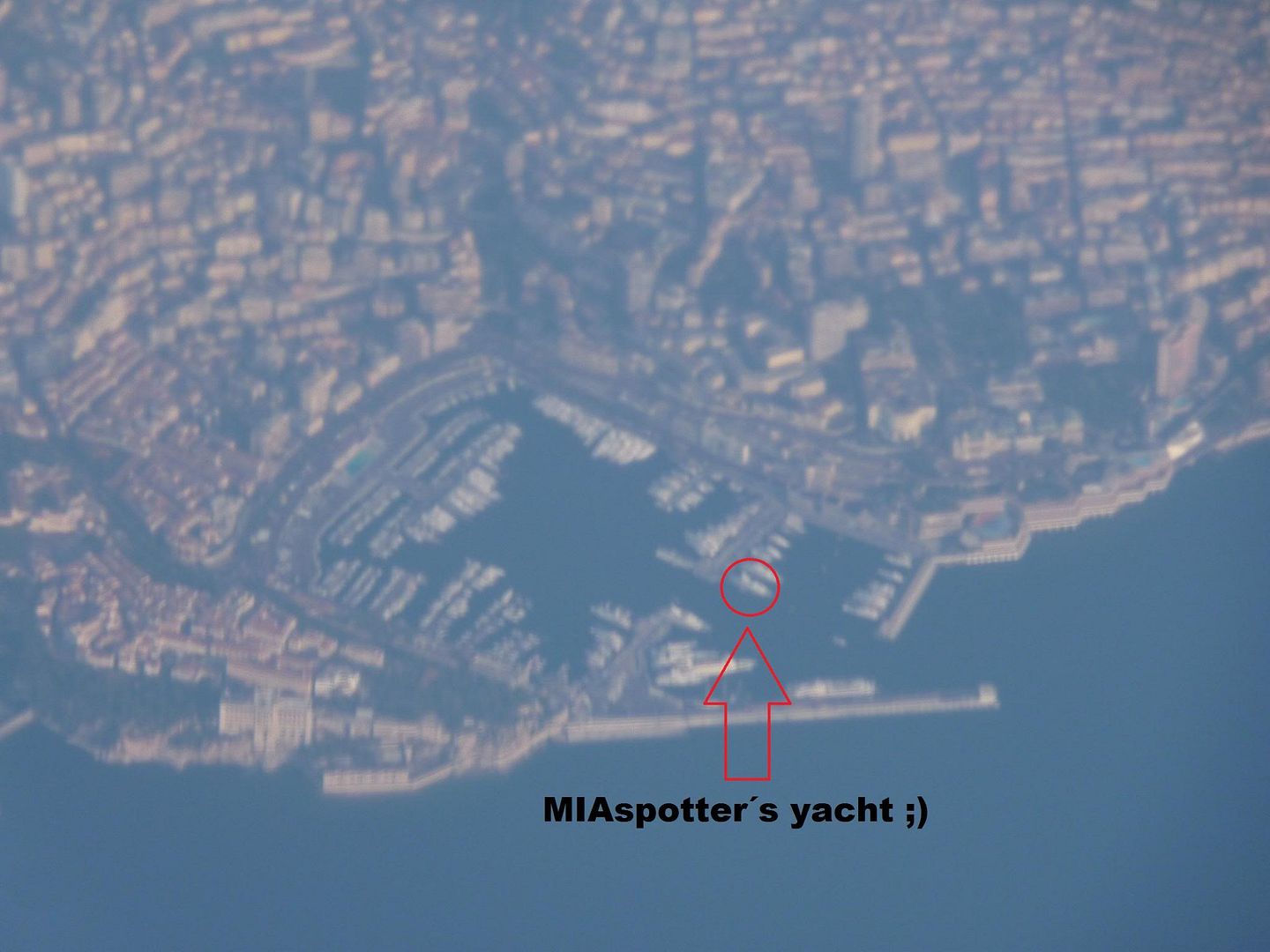 After 1:20 in the air, the captain called the crew to secure the cabin for arrival, and gradually started the descent, after a few turns we continued descending, flaps lowered and the familiar THUMP-CLUNG-WIIIIZZZZ-THUMP sound of the gear indicated we were nearing the end of the flight, we slowly glided towards the runway and the captain gently put the A320 on the ground (Ryanair Pilots can learn a thing or two) and after some braking we vacated the runway and taxied to our assigned gate.
Spotted during taxi were a CX777, AA767, DL764, and a cute Air Dolomiti ERJ amongst the other usual visitors, a Saudi Arabian Cargo 747 landed right behind us, sadly no pictures because I did not have my camera ready and my iPhone camera did not wanted to focus properly on the 747.
We pulled into our gate and once the engines were off, the mad rush to disembark started, I waited for a bit and after thanking the crew I made my way to the train station in order to catch the 9:33 train to Milano Cadorna Station, before exiting airside though, I was stopped by a Guarda di Finanza (police) he wanted to see my documentation and check my backpack, he asked me questions about my visit to Milan, and why I was an Italian citizen living in Spain (probably never heard of the EU) once he was satisfied I was not a shady character or a drug mule, he let me go.
Catched my train with time to spare and after 35 minutes I was in Milano, straight into the Comune and came out 5 minutes later with my brand new ID card if only the c**tsulate was this fast!
I spent the rest of the day doing some shopping, walking around eating Pizza, Gelato and good food before succumbing into my hotel bed at 8:30pm (it was a really hot and long day)
Continued Below
[Edited 2012-08-17 10:10:27]