There are photos in this, just further down
Some of you may recall several months ago that I asked about various ways of getting to BOS from MAN for a family holiday. Obviously I could pick any airline with all of them requiring a stop at the airline's hub, be it LH to FRA/MUC, AF via CDG, EI via DUB, FI via KEF, DL via JFK / ATL, AA, BA etc etc etc. The original plan was to use LH as my Dad had a BD Diamond Club Gold card and he wanted to stick with Star Alliance. However LH and other star members were more expensive than EI FI and BA, so in the end we settled on using BA as he did have an Executive Club membership with them, just no status. Well this was just before the whole BA / BD merger and about a month before we were due to travel, BA sent him a shiny new Executive Club Gold card to replace his BD one.
If you're not interested in the background to the trip, feel free to skip straight to the flights
About the trip
We (me, my parents), had planned to travel around "New England" for a week starting with 3 nights in Boston, followed by 2 in 'West Springfield' a further 2 on the Canadian side of Niagara Falls and an overnight stop in Saratoga Springs. We would then be renting an apartment in Lincoln, New Hampshire for 8 nights.
Pre-flight
The day before was a little unusual as my car needed to be serviced/MOTed, so whilst that was being done I met up with a friend of mine. This meant that when I got back home at about 6pm I had to frantically pack everything a boy needs for 10 days (until I could wash clothes at the apartment we were staying at). That night I was charging my iPod, Phone and checking my camera was working when I discovered that my camera no longer liked my 2GB SD card (and with it being a crappy old point and shoot it wouldn't accept anything more than that). So I took the decision to clear all the music off my phone and use that for photos/video. So this kept me up until midnight trying to sort it all out. With my alarm set for 4:30am I woke up later having had 4 hours sleep with plenty of excitement for the trip. After having a quick shower and beautifying myself (trust me, it takes a lot...) the taxi turned up at 5am and we were on our way for the 40 minute drive to MAN (or an hour given the taxi driver decided to do 55mph the whole way).
The Airport
Here's the part that the plane lovers are interested in, as nearly everyone knows BA use Terminal 3 at MAN it's a reasonably small terminal with just a few shops but a lot of windows and part of it is the newest part of the airport. The BA desks used to be right at the bottom of the metal/concrete/glass light open modern bit however to my amazement there are now FR desks there. The BA desks are in fact located in the grotty area BD used. I would have thought that the desks would've gone the other way with FR taking over the BD ones.
The check-in lady was very chirpy for that time in the morning and we soon made our way through an almost empty security check. As the metal detector didn't beep I didn't have to use the "nude-o-scope" (though I don't see the fuss with them) and I soon wondered off to WHSmith to buy a drink then over by gate 48 (I think) to get a great view over 23R the runway used for arrivals that morning.
As soon as I sat down my flight was called and I joined back up with my parents and boarded as one of the first people.
Flight 1 MAN-LHR
Flight Number:
BA 1385
Aircraft:Airbus A319-131
Reg:G-EUPK (Delivered May 2000) (2nd time on this aircraft) (named "Chatham Historic Dockyard")
Brakes Off: 07:20
Brakes On: 08:20
Cruising Altitude: 19000ft
Cloud Base ~5000ft
Seat: 16A
Departure Gate: 142
Arrival Gate: A06

Gate 142 at MAN is difficult to take photos from as it lacks a decent window, A06 at LHR wasn't much better



View Large
View Medium


Photo © Peer Kenneth Jønson
Upon reaching the aircraft door I was greeted by a friendly crew member and it was then that I noticed the sign on the left hand cupboard that said "Chatham Historic Dockyard" (I think one of the few aircraft in the BA fleet with a name) and I thought "Damn, I've flown this one before". This A319 despite only being just over 12 years old looked much older. The side lights over the windows were yellow, nearly brown/orange, yet the aisle lights were white. The overhead bins had a patch where the cream/white paint had worn off just above the latch and the seats were tired. I think this is one of the things that really let's BA down, the condition of the aircraft on the inside.
Anyway, here's a legroom shot and a view out of the window:
We pushed back on time and taxied to runway 23L, short wait for take off as a U2 A319 took off first then we were overtook by a Monarch A321, after a couple of minutes it was our turn, fairly average take-off - call me strange but I do like the sound the IAE engines make from start to idle to take off; sadly I was sat behind them so only really got a rumbling noise.
Video:
http://www.youtube.com/watch?v=TQ_t6tJb9d4
Due to the fact I don't have the balls to stand up in the aisle and take a photo there won't be a cabin shot, so here's one from the library:
View Large
View Medium


Photo © William Verguet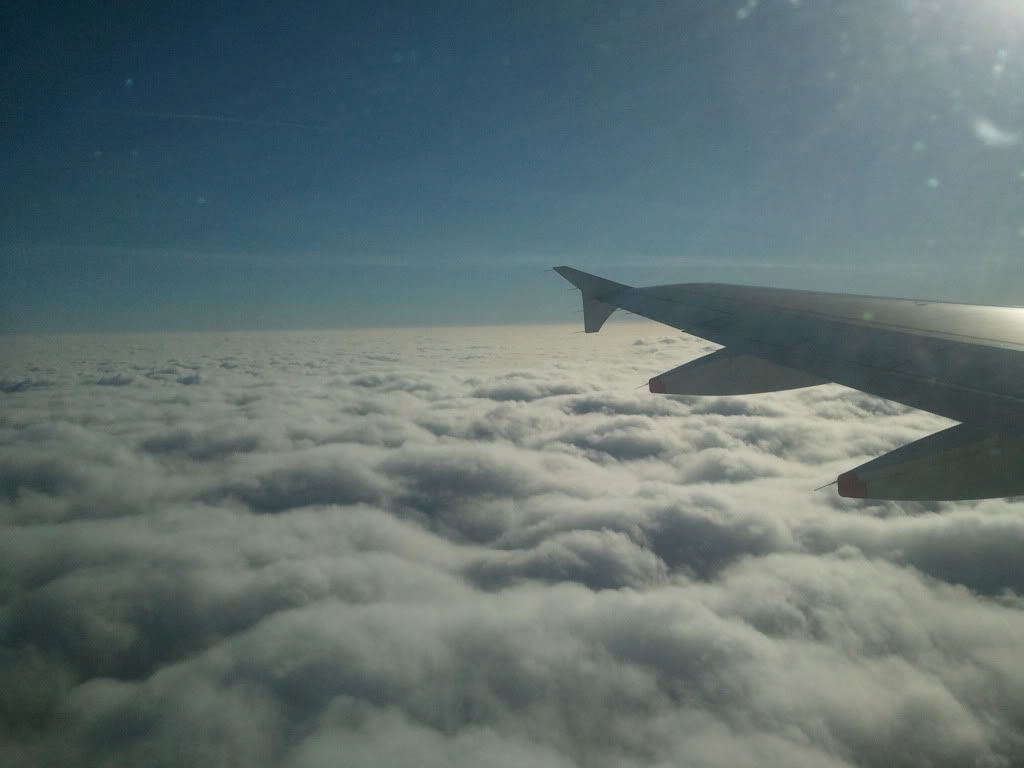 The cabin crew quickly started the service on this short 30 minute flight. As with all of BA's domestic morning flights you are given a hot panini with a choice of orange juice, water, tea or coffee. I was given a Bacon & Egg Panini and I chose to have an orange juice with that. The panini tasted good and was just the right size to keep you going until you get to Heathrow and you can buy something more substantial from Pret. The crew on this flight were brilliant. They thought they had ran out of vegetarian paninis when they got to a few rows in front (a large family) but the crew came back five minutes later having found enough for all of them. They also kept a crying toddler entertained on the row behind.
As with all peak arrivals at LHR we were placed into a hold at 9500ft just before Watford. We stayed in the holding pattern for about 10 minutes before making a swift decent to line up on approach to 9L. With a light thud on the runway the first leg was over.
Video:
http://www.youtube.com/watch?v=bPO1Cgq--uk
I should mention now the father of the two families travelling together to New York on the row in front. Each was mother- son and father (seated 3-3 on each side). One of the fathers spoke with a thick Yorkshire accent and was one of those "experts" on flying... " 'ey look at that, we were nearly at t'speed of sound there' 'you see them flaps they make it go faster' and I think the best one of many similar phrases "look at that love, we're nearly over t'irish sea ere". I felt so tempted to tell him that the airshow map is not to scale...
Arrived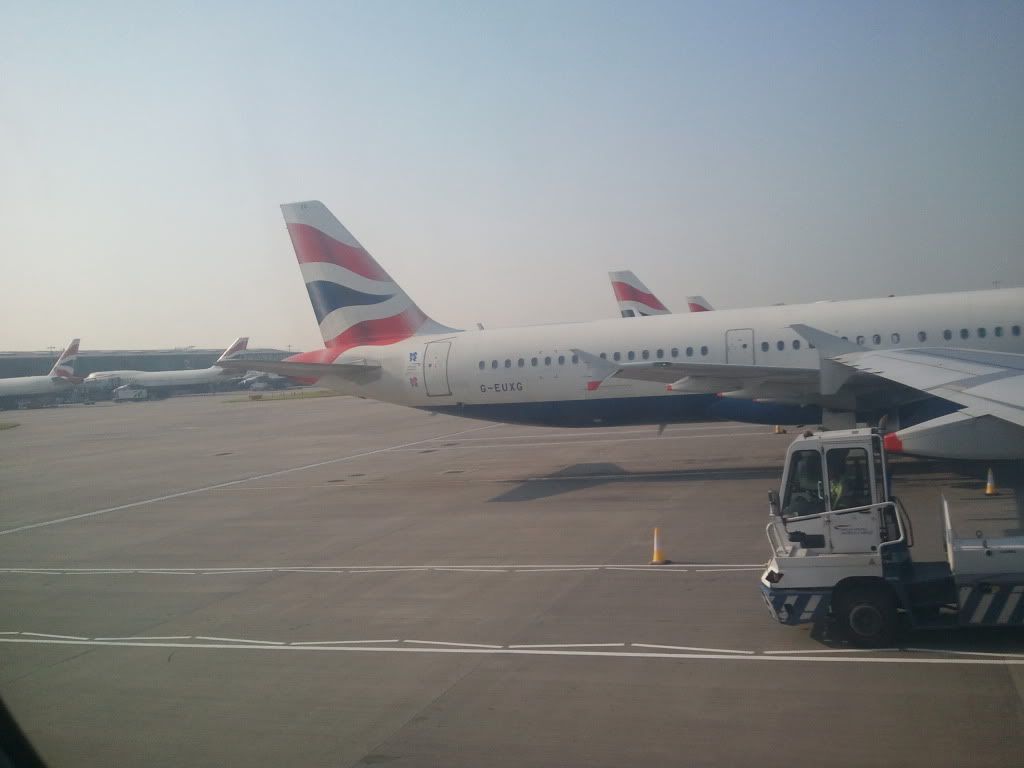 After a short wait we disembarked into Terminal 5 and made our way to the transfer queue. In previous times I've just been able to walk straight up to the desk, have a boarding pass check and then go upstairs however this time there was a 10 minute queue. Not a problem, however I was hungry and eager to get airside again.
After this I went to Pret A Manger (or simply 'Pret') which I love and I always go to them whenever I'm in London as the nearest one to me is Manchester city centre. I can't remember what I got hot exactly but remember it involved an orange juice and a cookie too
Meanwhile my parents went off to the FIRST lounge (I'm not too fussed about lounges!)
Waiting in Terminal 5
At about 10:15 the gate for my flight to BOS showed up and... it was B32. The same gate used on my past two BA flights to RUH (and my only other long haul flights out of Terminal 5). I was hoping for a C gate as I've never used one before or at least a different B gate, but it wasn't to be!
Down to the transit to B/C gates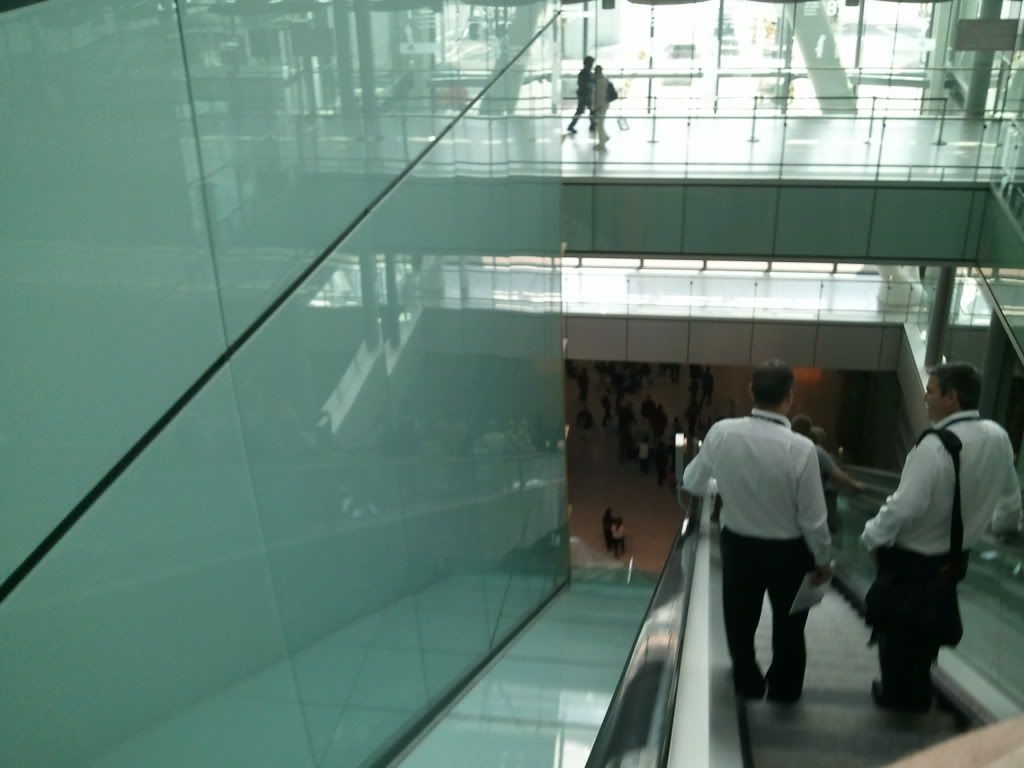 Not my plane:
At 10:40 boarding was announced for the elites and once again I was one of the first on board.
My plane: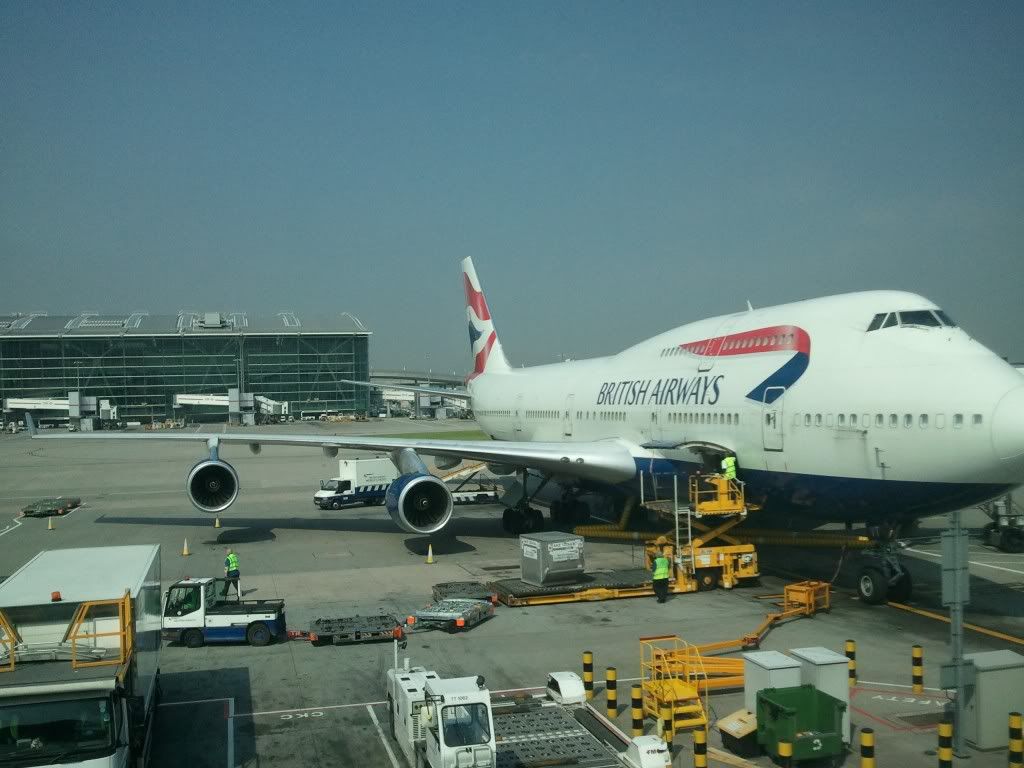 Flight 2 LHR-BOS
Flight Number:
BA 213
Aircraft:
Boeing 747-436
Reg:
G-CIVT (Delivered March 1998, first time on this aircraft, first time on BA 747-400, second 747-400, third 747)
Brakes Off:
11:30
Brakes On:
13:30ish (Eastern time)
Cruising Altitude:
38000ft
Seat:
33A
Departure Gate:
B32
Arrival Gate:
7
View Large
View Medium


Photo © Paul McCarthy
I wanted to sit away from my parents on this flight so at online check-in I chose a seat in the forward Economy section on this 52-Club configured 747 whilst they were somewhere down the back. Hoping for 3 seats to myself, I realised this flight was soon going to be full and quelle surprise, it was, I couldn't see an empty seat!
Legroom shot
Boarding was slow but the doors closed on time and I had a young Italian couple who didn't say much to me or each other for that matter throughout the flight, this was when the captain came on to tell us that we would need to start two of the engines at the gate and that "the air conditioning will need to be switched off for this". Immediately I guessed "the APU must be f**ked". Once they'd thrown a match in two of the engines we were pushed back and taxied towards 9R stopping at the end of the B gates where the captain gave this quite technical explanation:
http://www.youtube.com/watch?v=laAcxvlTLqk
Just prior to filming that, the cabin crew had to do a manual safety video as for some reason the power to the IFE was cut at the same time as the air conditioning was, this is where I was appalled. The two guys covering the forward economy cabin were hopeless. Both struggled with the lifejackets, one couldn't even undo a seatbelt. I mean yes they were not expecting it but I think it was quite unprofessional. In fact, both serving my section didn't smile, didn't interact with passengers and practically grunted the meal choices. Then disappeared until a snack before decent.
Here's a take-off video for you all:
http://www.youtube.com/watch?v=PDTjhMCSGcY
Shortly after take-off the cabin crew came round with drinks, now I didn't see anyone get an alcoholic drink (have BA stopped this or was no one drinking at midday?) anyway I asked nicely for a sprite and I was given two of the mini cans and a small plastic cup of ice (I think the only good point to note of the service on that flight). About an hour later they started the meal service. I can't remember the other choice but I had a Chees & Tomato tortallini with pomegranite mouse, two tiny pieces of bread and a small salad. The food was very nice and was actually a fairly decent portion given I don't normally eat a large lunch (sometimes skip it altogether). It was served with a choice of wine, tea or coffee. I took a coffee and trust me, it was like drinking sink water. No amount of milk or sugar could have saved that coffee, dreadful! I made the same mistake of drinking it again on the flight home!
A few window views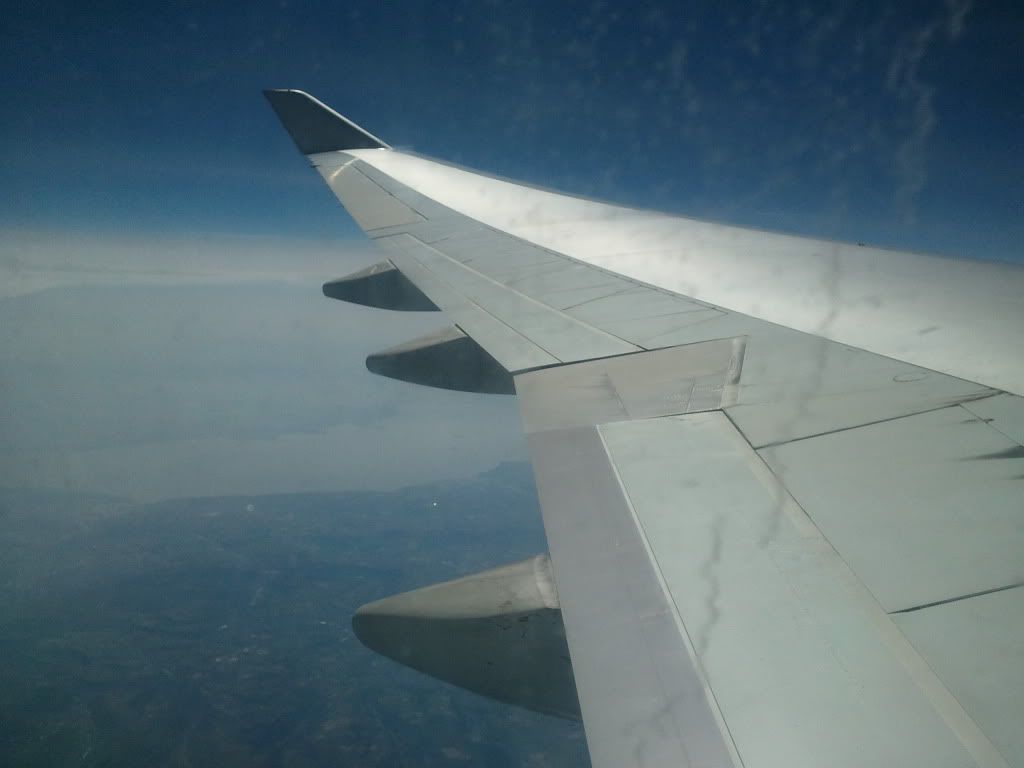 The entertainment system power was restored halfway down the runway at LHR after a reboot and it didn't crash at all during the flight. Occasionally it was a little slow at loading entertainment options or responding to touch but in all it had a nice selection including some newish films like 'The Best Exotic Marigold Hotel' and 'Salmon Fishing In The Yemen' which I think are two fantastic British films, so I watched them both (I did watch them in the cinema before), after that I still had around 2 hours to spare so I watched The Big Bang Theory (which they had I think 4 or 5 episodes of the latest season and I love!). I mean it's no ICE, Krisworld or StudioCX but it certainly had a good selection and worked well so I can't complain!
About 90 minutes out of BOS we were served a light snack containing some biscuit bar, a chicken mayo and salad sandwich (delicious!) and a choice of orange juice or water.
Decent for me was announced by the sound of the wind outside - I had my window blind shut as the sun was too bright to see outside so I opened it to see: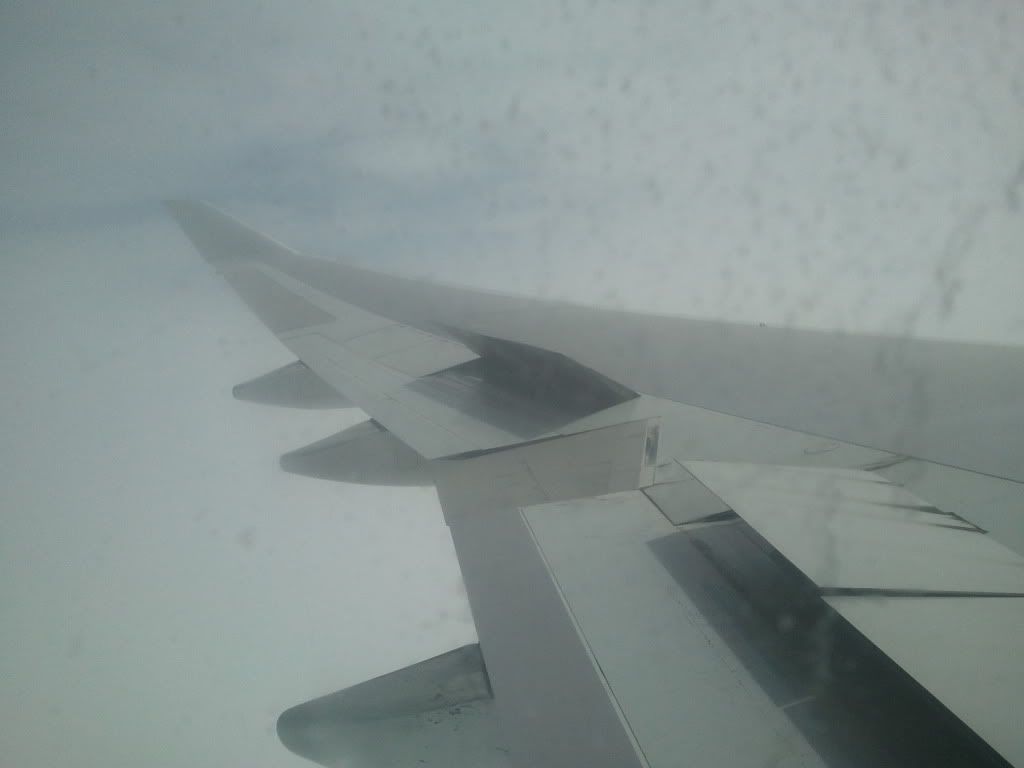 Followed shortly by the captain announcing our decent and arrival into BOS in 20 minutes. It was a straight in approach heading west onto runway 27 which is the shortest runway (or one of the shortest) in the world that a 747 lands on (I have been reliably informed by Jordan aka Pawsleykat who wasn't crew on this flight sadly but is on other BOS flights), and it shows in the landing video! The pilot flying hit the brakes like I'd never felt before, full reverse thrust - used twice, I'd pay for another ticket to BOS to experience that again!
http://www.youtube.com/watch?v=8QLyGc4tIxQ
And there we have it, I had landed in BOS for the first time on board my first BA 747 and to sum the flight up, it was acceptable. I don't think the crew were exceptional and to be honest they acted like they didn't want to be there, I feel they let the mixed fleet name down (and let's be honest it didn't have a great name to begin with). On the flip side, the MAN-LHR crew were exceptional and I couldn't fault them at all, I think they were mixed fleet too.
Once I disembarked there was a thirty minute wait at immigration (longer than I've ever had at MAN or LHR by the way) and only half the booths were open with both a BA and AZ flight arriving at around the same time. The immigration officer quizzed my Dad on his Arabic stamps along with the numerous Saudi Arabian visas however this was expected. After that the officer was very chatty, smiled and wished us a nice trip! By then the bags were on the belt and we walked up to the declaration thingy desk (another five minute wait) before getting the hotel shuttle outside.
I'll leave photos of Boston, Niagara and New Hampshire/New England until the second part covering the return journey. Until then, enjoy this photo of myself being incredibly prepared to go on Maid of the Mist: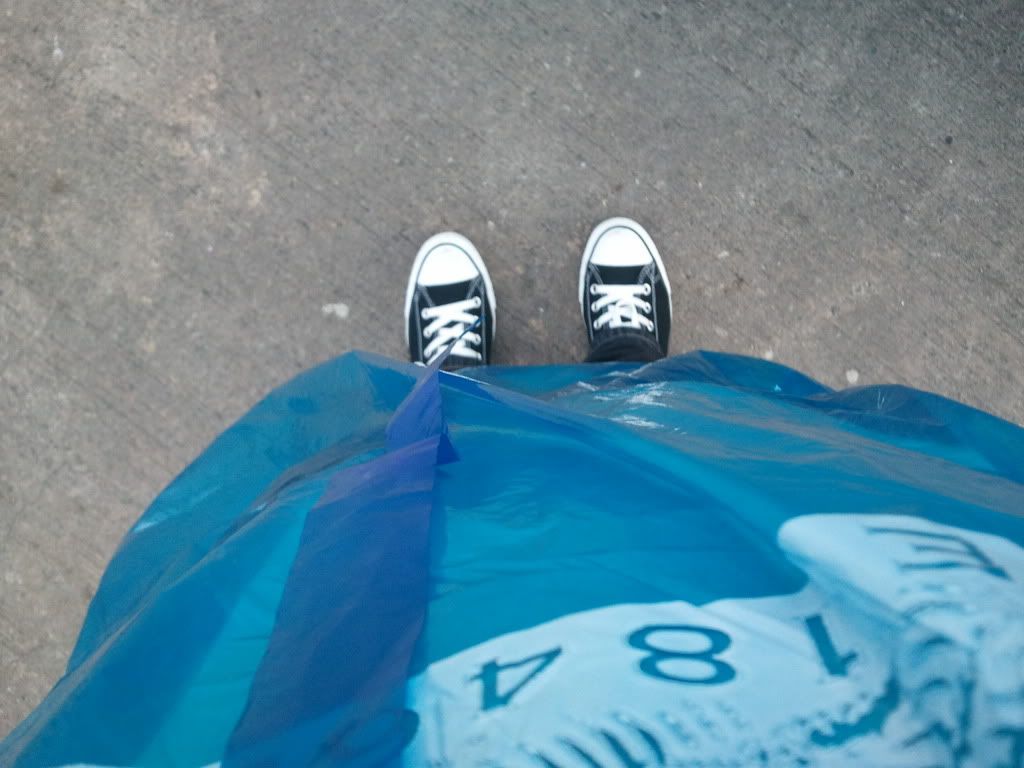 So once again, to sum things up the first flight MAN-LHR was excellent despite holding for a short while, LHR-BOS I think was ok, just not to the same standard of BA flights I've had in the past. The food, IFE and aircraft were in good condition but the crew not so much. The second trip report will be up in a day or so whenever the videos for that are uploaded.
- Jamie - twitter.com/itsjamierawr
[Edited 2012-08-17 17:37:09]