Dear all,
Welcome to the final part of the Fifth Freedom Business trip report series. Hopefully you have enjoyed the previous parts of the series:
The Fifth Freedom Business SIN-CGK-SIN Part 1: TK
(by
dirktraveller
Aug 1 2012 in Trip Reports)
The Fifth Freedom Business Part 2, Featuring PR
(by
dirktraveller
Aug 11 2012 in Trip Reports)
Background
After my flight with PR back in October, in just a month later, in November, it was time for me to have a very long holiday. This time, I would be travelling to some different parts of Indonesia. But first, in order to travel into other ports of the country, I would have to fly to the country's main hub, CGK. As you might have known, there are many carriers serving the SIN-CGK route, and I have reviewed two out of the three fifth-freedom carriers operating the route. Now it was time for me to book Lufthansa, which at that time served daily SIN-CGK as a tag-on from their MUC-SIN route.
Actually I have flown onboard LH before, both in F and Y, but not in their J Class before. So this was a good experience for me to fly on board Lufthansa Business Class. Lufthansa Itself has operated flights into Indonesia since the late 1960s, and was one of the last few European carriers to offer service into CGK, and Indonesia as a country.
Unfortunately, the airline announced it would end the route October this year, leaving KL as the only European airline to serve Indonesia, out of CGK and DPS.
The online booking was smooth and user-friendly, and three weeks later, I was at Changi Airport waiting for my first J Class flight on board LH.
Check-in
The trip began on the noon of November 17, which my friend and I had to leave our home, which was situated near the town area of Singapore by taxi, into Singapore Changi's Terminal 2. My friend that day would be flying to Lombok, Indonesia (AMI) on Silkair's MI 128 service scheduled 1545. While my flight, LH 790 scheduled for a later departure at 1730. As I was committed to send him off that day, I decided to leave earlier at around 1130hrs.
Old-style FIDS at Changi Airport Terminal 2
When we arrived into T2, his MI check-in desk was open and he was able to check his bags, while my LH counter was still closed. We went to McDonalds while waiting for LH counter to open at around 1430hrs.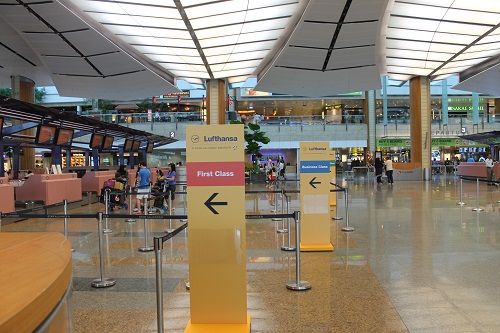 LH Check-in Counters
My friend's MI 128 departing out of Gate F31, apparently the gate used for the first A380 commercial departure
9V-SLJ would be flying my friend to AMI
Check-in at the LH Business Class counter was smooth and I was able to pick seat 3A, which was at the smaller J cabin just behind the F Class section. My bags were checked and both my friend and I proceeded into the passport control and I sent him up to his gate F31, which was apparently the gate where the first A380 flight took-off from.
Lounge: Silverkris Lounge Terminal 2
Welcome to Silverkris Lounge
Front entrance of Silverkris Lounge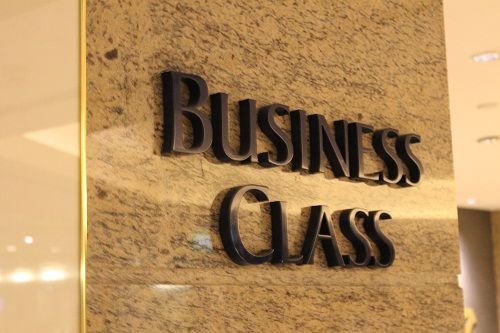 Business Class section
After my friend had left on his MI flight, It was time for me to get into the Silverkris Lounge. It is the lounge used by SQ First and Business passengers departing out of Terminal 2. Apparently Business Class Star Alliance passengers were assigned that lounge, which was a pleasing offer for me.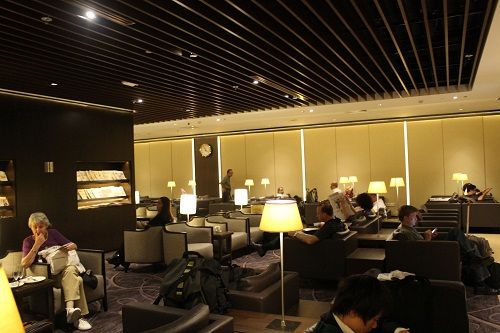 Comfortable seating area
Buffet area
Beverage options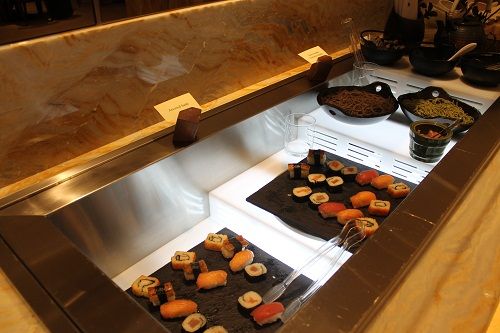 Japanese food section
Salad Bar
Ben & Jerry Ice cream, anyone?
Certainly, the lounge was luxurious and efficient, as expected out of SQ's flagship lounges. The food variety was sufficient, along with their beverage options which was generous as well. There was Ben & Jerry's Ice cream available in the beverage section also, which was one of my favorite dessert on the lounge. Well done SQ.
Reading materials
Free access computers
There was a variety of reading materials consisted of international newspapers and magazines, including the Singapore Airlines' In-flight magazine, Silverkris. Free internet access computers were also available, supported by both Mac and windows computers. What I noticed was the absence of massage chairs compared to the two other lounges in SIN, but I was not sure if SQ offering spas like TG did on their home-base lounge in BKK? I am not quite sure on this one.
Overall, it was a delightful experience on the Silverkris lounge, for a 1 hour 30 minutes wait before the boarding call for LH 790.
Koi Pond Terminal 2
While apparently I had some spare time to reach our assigned gate E4, I stopped by the Changi Airport Terminal 2's Koi Pond. The pond was beautifully decorated with a variety of flowers, which would look as if a small garden with its Koi pond was in the middle of an airport building, which attracted a lot of attention from the eyes of arriving or departing passengers of Changi Airport. Here are some snaps from the Koi Pond at Terminal 2 :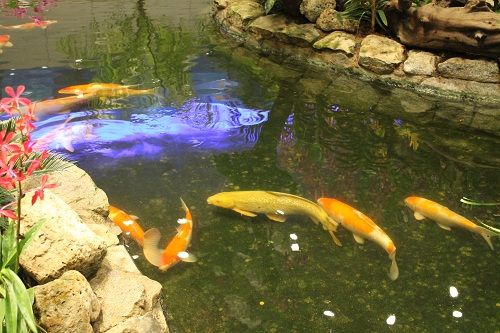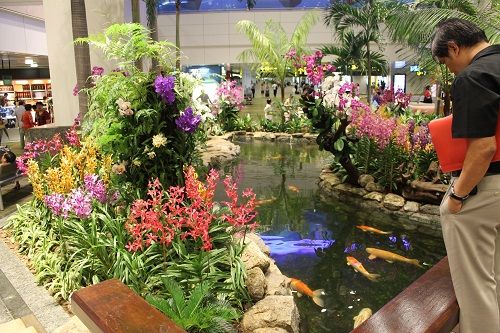 So, how would you rate this koi pond?
FLIGHT DETAILS
Flight Number : LH 790
Type of aircraft: A340-311
Registration: D-AIGI (delivered to LH 17/10/1994 as msn 53), named Worms
ETD: 1730
ETA: 1750
The departure was delayed for around 30 minutes
Boarding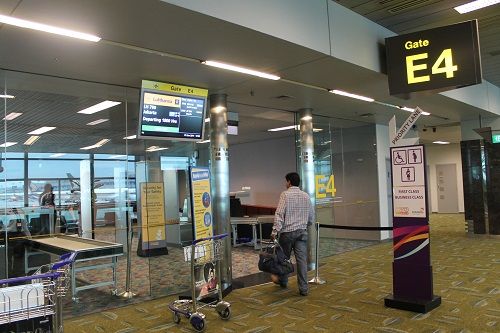 Our gate E4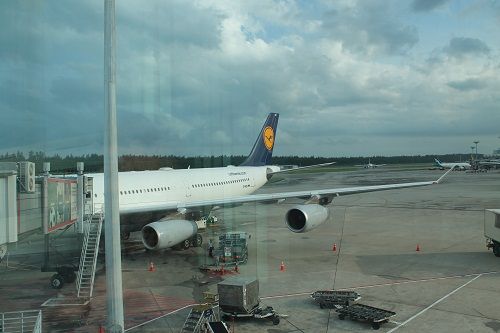 The plane that brought me to CGK, Worms
After enjoying the scenery at the unique Koi Pond, I made my way into the gate E4, where LH 790 was supposed to depart from. At the time I reached, passengers were already waiting in the gate, while this time security screening went smoothly. I waited around 10 minutes, snapping some pictures of our plane that day, before boarding was announced. Passengers in First/Business and Star alliance gold members get to board first, followed by other passengers requiring assistance, and then Economy passengers.
Welcome on board Lufthansa
By the time I got to my seat, friendly crew members welcomed me and directed me into my seat 3A. While Y class passengers continued to board the aircraft, flight attendant announced that there would be slight delay to our departure time, as some CGK-bound passengers had to transfer from the LH778 flight from FRA, which was operated by the A380.
While everybody onboard was awaiting the arrival of the A380 passengers and their luggage, I used this opportunity to take some pictures of the Business and First class cabin of the Aircraft. One of the flight attendants even offered to take a picture of me on the J Class seats, which was a good plus of LH service.
Pictures of Business Class seats: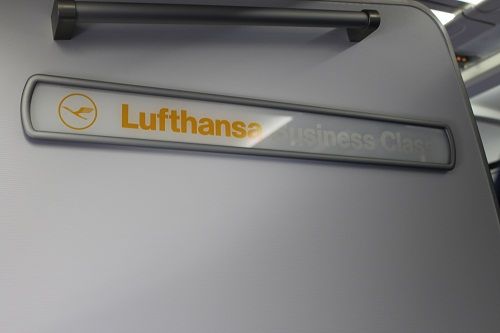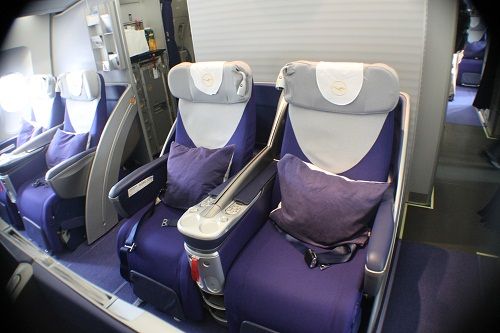 The old First class seats on LH A343:
It took around 20 minutes before the A380 passengers boarded our flight, and increase the J Class load to a total of around 50%. F Class was empty and apparently Y seems on 60-70% load that day. I was not sure if these passengers were originated from FRA and MUC or just SIN-originated like me. Welcome drinks were offered once all the passengers boarded, which I opted for orange juice as usual. Our flight pushed back at around 1745hrs.
Welcome Drink : Orange juice for me
LH A380 from FRA
MU A330
3K A320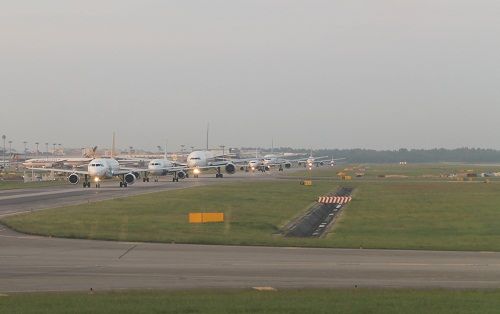 Long queue for take-off
Upon taxiing, we passed down the LH A380 flight, along with some other JQ and SQ flight as well. The traffic was busy at SIN that time that we had to queue for the take-off run out of SIN, which adds around 15 minutes more into our late departure.
In-flight
Sunset shortly after take-off
In-preparation for meal service
Shortly after take-off, flight attendants swing into actions preparing meals at the galley. Then they did the meal service using the trolley, prepared our tables and put the tablecloth before serving the meal tray, it was a nice touch on a 1hour30 minutes flight meal service.
My meal tray on that day
Closer look at the beef noodle
There was no meal option, and every passenger in J Class get to served a beef noodle which tasted fine, unless there were special meal request probably. As meal service continues, the sun started to set while we were cruising over Sumatra. After the meal service ended, crew members distributed a bottle of mineral water and ask if anyone would like extra bread, in which I accepted the offer.
Welcome to Lufthansa Media World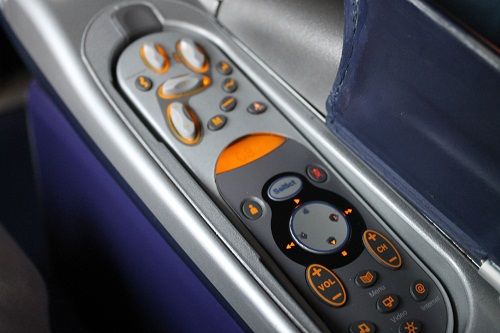 Remote Control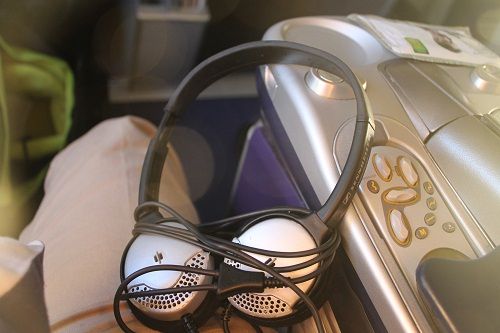 Headphone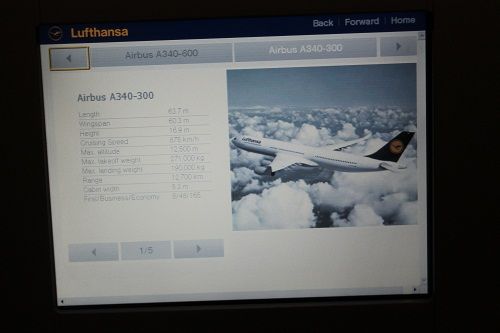 Fleet facts: the A340
After the meal service, I used the opportunity to check out the Lufthansa's Media World IFE. There was wide variety of movies and games to keep passengers entertained on Long-haul flights. However I felt that their musical options should be more updated. Anyway, a moving map is perfectly fine for me, especially on this short hop to CGK. After the entire meal service finished, the crews were just stayed at their spot on the galley, unless someone ring them the call button.
Landing into CGK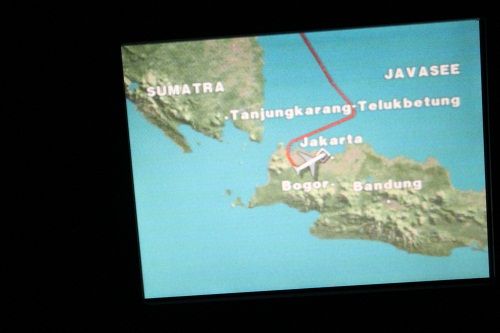 Approaching CGK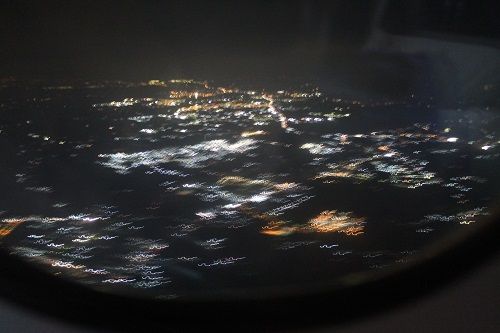 Views during approach to CGK, sorry for the blur picture
Parked beside a JL 777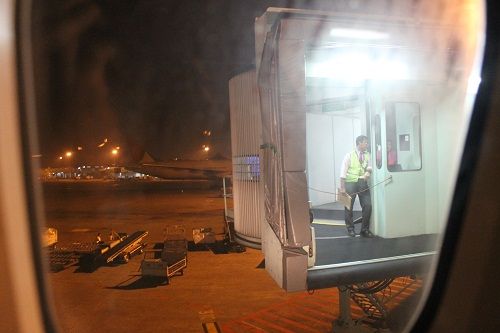 Aerobridges connecting to our A343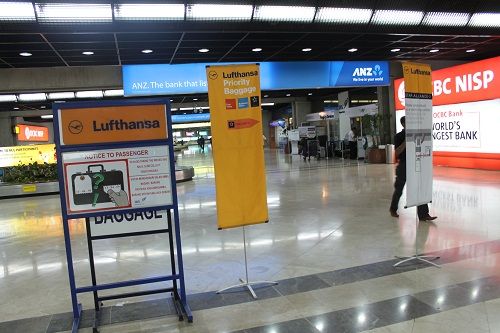 Baggage claim with LH Signs
At around 1850 local time, the captain announced from the PA that we started our descent into CGK, and instructs cabin crew to prepare for arrival into CGK. The approach took around 20 minutes before we landed in CGK, and taxied to our parking position beside an NRT-bound JL flight. After the aerobridges connected into the doors of the A343, I was able to be one of the first to disembark, heading to the busy CGK immigration counters which I had to spent good 15 minutes to complete the passport control. When I arrived at the baggage claim my priority-tagged luggage were ready for collection and I headed straight to meet my relatives who were waiting at the arrival hall.
Final thoughts about the flight
Flying with LH Business on this short flight was certainly a delightful experience, with everything went over smoothly. Their service was at the top-notch level as was expected, and seemed consistent over the past few flights that I had with them before, although it was in a longer time frame. Although their old version Business seats were angled-flat, it was comfortable but seems to be behind its competitors like TK. But then, it did not really matters for me as this was a short hop from SIN to CGK.
[Edited 2012-08-18 04:09:01]