Back in the day, one of the most commonly asked questions on this site was: "When will Northwest retire their DC-9s?"-- to which there would be many facetious answers such as "2050", and also remarks about how the crew flying a retired A320 headed to Mojave would return on a DC-9. Indeed, many of those DC-9s have outlived some A320s, perhaps validating the common perception that the DC-9 was an "overbuilt" aircraft that can last more than a third of a century.
Fast forward to 2012. It's been around four years since Northwest merged with Delta Air Lines, and the once-strong fleet of over a 100 DC-9s has now shrunk to a mere 21, all of them the newer 50 series. When Delta agreed to take up AirTran's 717 fleet earlier this year, that practically sealed the fate of the remaining DC-9s in the fleet. Should you wish to fly on one, it's now or never.
Prior to this trip, the oldest aircraft I've flown on was a KLM 747-200SUD built in 1979. I haven't really gone out of my way to fly on a classic type, something I truly regret to this day. Having missed out on the DC-10, L-1011 and 727 when I had the chance, I was not willing to forgo what could very well be my final opportunity to fly on the DC-9.
Now, for those who have been a university student before, perhaps you may remember the days of eating ramen noodles or Kraft Dinner for 10 dinners in a row because you were broke. Perhaps that's a bit of an exaggeration if I were to describe my life as such, but taking a trip of the leisurely kind seemed quite inappropriate at a time that calls for austerity. Whenever I've been tempted to take a vacation somewhere, the rational part of me has always managed to convince me otherwise with the expectation that I will be able to afford such trips after I finish my studies and get a job that pays well. However, could I really do that with a DC-9? The answer was no, because the writing was already on the wall for the DC-9s--they were in their swansong and were due to retire very soon. That's when my impulsive aviation geek side got the better of me and commanded me to reach for my wallet and punch in my credit card number on Delta.com.
The damage? Not as bad as I expected. In fact, an excellent deal! $113 including taxes for a round trip to Chicago, on the venerable DC-9 no less. Almost too good to be true? Well, it comes with a caveat: The flight leaves from Detroit, Michigan--a good 4 hours away by car from where I live. The prospect of flying on a DC-9 was so exciting that I was more than willing to make that extra effort. Try to explain that to an ordinary person. They won't get why I would drive halfway to my destination only to catch a flight that would take me the rest of the way. Alas, Delta does not fly the DC-9 out of my home airport, YYZ, and even if they did, the only way I'd be able to afford it is if I sold one of my kidneys or some other spare organ, considering the high fares they charge out of YYZ. I think I'll save that for something else such as a trip to Bolivia to fly on the 727.
So it turned out that I would be killing two birds with one stone. I get to fly on a DC-9 operated by one of my favorite airlines, and I also get to visit Chicago, the land of awesome pizza (that's the first thing that comes to mind when I think of Chicago). I then started to count the days on my calendar, and of course, time went by very slowly.
Let's move forward to the day before my flight. By that time, I was very curious to find out exactly which of the 21 DC-9s that I would fly on. Not being able to reach any of my Delta contacts online, I thought about just forgetting about it for now. After all, I'll find out tomorrow. That's when I realized that FlightAware has a nifty feature where one can look up an aircraft's registration and see where it is flying. I scoured through the fleet list and punched them in, hoping that I'll get one of the three 1975-builds, N675MC, N676MC or N401EA. That became a bit too tedious for me, so halfway through, I decided to just punch in the flight number to see if I could find any information there instead, and I just about spit out the water in my mouth. There was a thumbnail picture of an A320 with the words "Aircraft: A320/Q" below it. As much as I like Airbus planes, I believed myself to be going through what can be considered as a plane enthusiast's worst nightmare. But then again, FlightAware is prone to glitches, is it not? Maybe I shouldn't give too much credit to a flight tracker that routinely shows 747s doing weird figure-8s over the Arctic sea. I then tried punching in a few more registrations, and found out that N777NC, a DC-9 was scheduled to operate my flight. Phew! Although it's a newer 1979 model and not the older 1975 model I was hoping for, at least it was not an A320! Lesson learned: Although FlightAware is a decent tool, look out for glitches as well.
My flight was scheduled to leave at 1:05pm the following day, which under normal circumstances would leave more than enough time to prepare and travel to the airport. However, my trip to the airport involves at least four hours of highway driving and a border crossing. Traffic is hard to predict and border waiting times even more so. Better to be sure as sure can be, so I set my alarm for 5:30am. Subsequently, I hopped into my bed and my excitement to fly on the DC-9 quickly turned into worry as the clock was ticking and I was still awake like a caffeine addict. Didn't want to get behind the wheel tired or miss my flight. Why can't stuff like this happen during boring lectures instead?
Then came the day of the flight. Woohoo! Feeling great, I hopped into my car for the four hour drive to DTW. The drive itself was uneventful until I reached the Detroit-Windsor tunnel, one of two border crossings between Detroit, MI and Windsor, ON. After about a 20 minute wait, I pulled up to the booth and got a very thorough questioning that subsequently led to a secondary screening (claimed to be "random"). Boy, wasn't I glad that I left for the airport early!
DTW, like many major airports, offers a wide array of parking options which vary in location and price. The cheapest one was $8/day in a remote location only accessible by a shuttle bus. Not only that, but it was also out in the open with no shelter. Now, call me paranoid, but I feel somewhat aversive to the idea of parking completely outside for a long duration of time, however irrational it may sound. Luckily I could pay an extra $2 a day to park inside a structure, something that would afford me some peace of mind (however false it may be). Plus, it was closer to the airport.
From there, I took the shuttle bus to the illustrious Edward H. McNamara Terminal, hands down the best airport terminal in North America. I had already checked in online for the flight, so I went directly to the security checkpoint. The TSA agent checking the documents appeared to be cheerful and engaged in small talk with some passengers. Maybe they're not as bad as people make them out to be.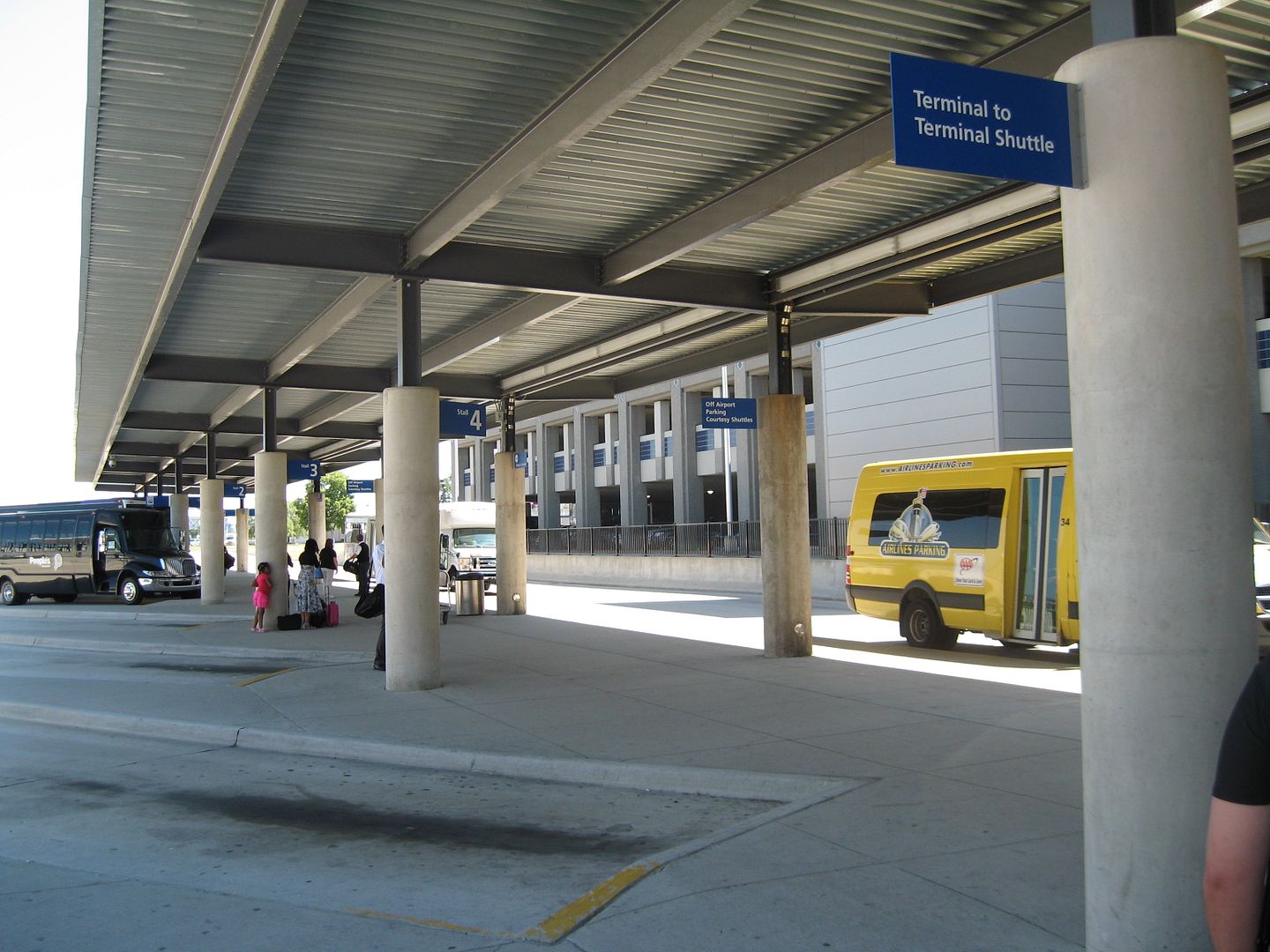 Shuttle from North Terminal to McNamara Terminal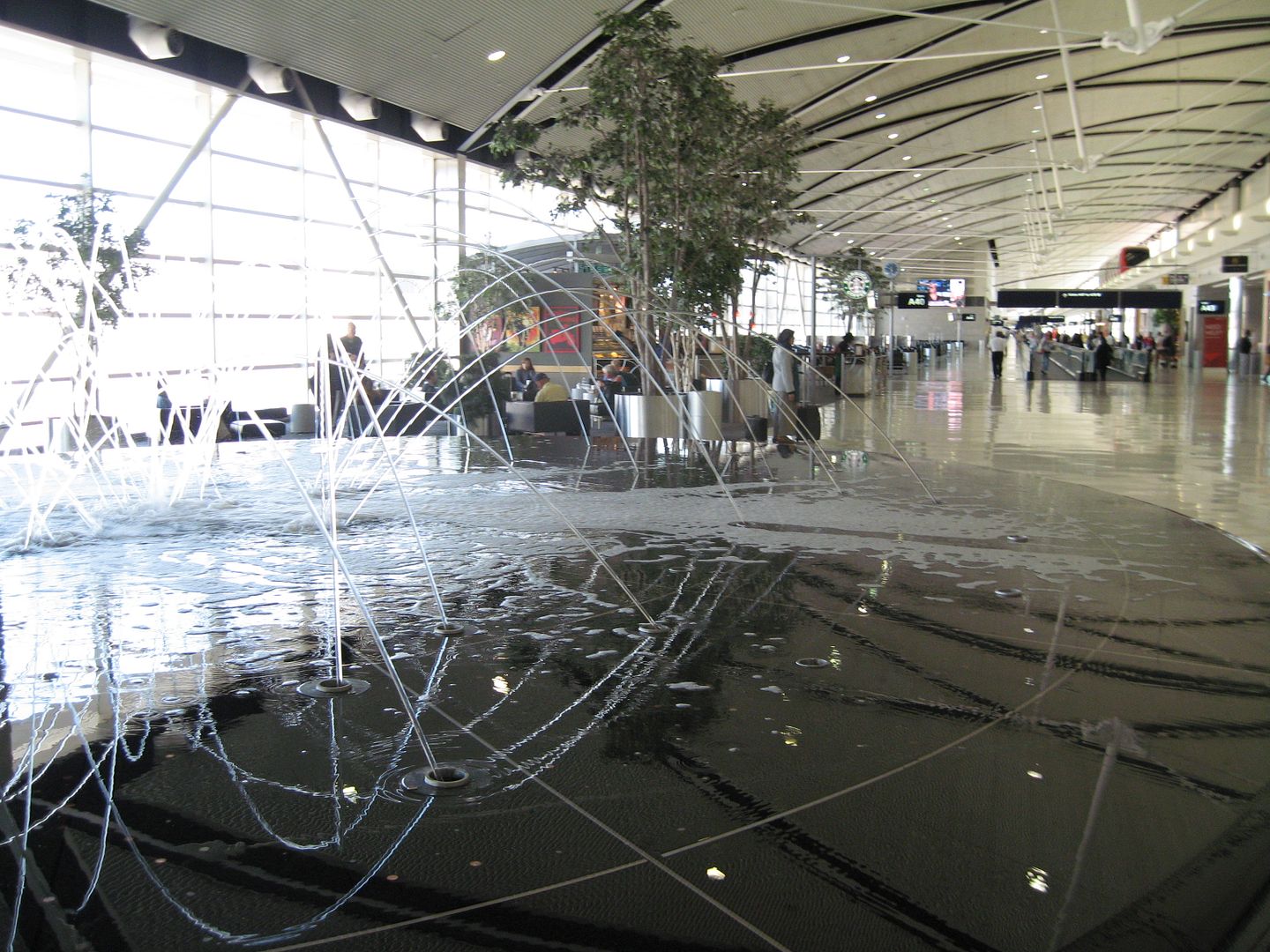 The renowned fountain at DTW
The time spent at the border ate up most of the time I had planned to explore this fantastic airport, but I was nonetheless grateful that I was able to make my flight. Boarding was done in an orderly fashion and all of the passengers seemed to know what they're doing.
My plane
Past the rather small aircraft doors was an immaculately maintained cabin that could deceive the average passenger into believing that the aircraft is brand new. I wonder how many other passengers knew the age of the aircraft they were about to fly on, and how they would react if they were told. Perhaps it's wise to contain my excitement so as to not cause any alarm.
The flight attendant that was at the rear of the plane was incredibly friendly. It is such a relief to see such genuine positivity in what is a rather stressful industry. At the same time, it's also sad that we are now in an era of aviation when it is a surprise to encounter good service--just another consequence of the commodification of air travel and economic hardships.
Then comes a family of three--Boxes of Popeyes chicken in hand. Now, I'm a sucker for fried chicken, but I cannot help but think that it is a bit of a discourtesy to devour said chicken in a confined space such as the cabin of a DC-9. Maybe I'm just feeling cranky... If you gotta eat, you gotta eat! Just try to close your tray tables once boarding's complete, please and thank you.
As boarding completes, the aforementioned flight attendant chats up the three passengers and somehow persuades them to fold their tray tables without using direct commands. You could tell that she was a pro at building rapport with her passengers. Well done Delta, you hired a gem!
Pushback commenced and those sexy JT8Ds started to play "Joy to the world", or so it seemed. Then came the taxi part, and the part where the engines produced the most beautiful sound ever heard by mankind, and I was there to hear it, right in front of the engine, no less.
Takeoff Video
http://youtu.be/d4XRR09GGjk
The DC-9 took to the skies as if it were a rocket, marking the beginning of what was a quick 45 minute hop to Chicago. No drinks or snacks were served, but that was no biggie considering the short stage length.
Throughout the flight, I hardly let go of my DSLR and kept snapping away. The people seated across from me were probably thinking "Pfft, it must be his first time on a plane". Might as well be. After all, have I really "flown" until I got to fly on a DC-9?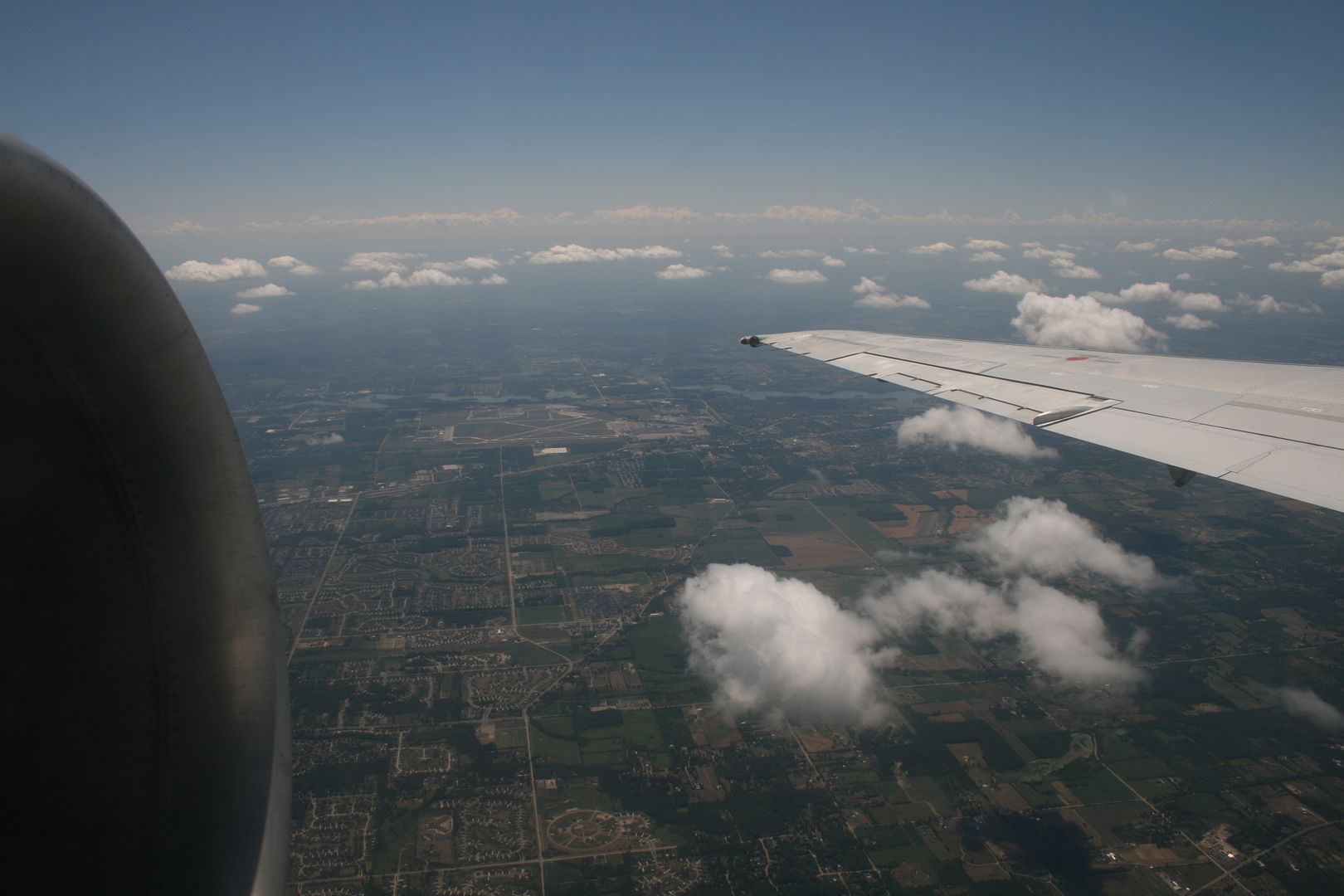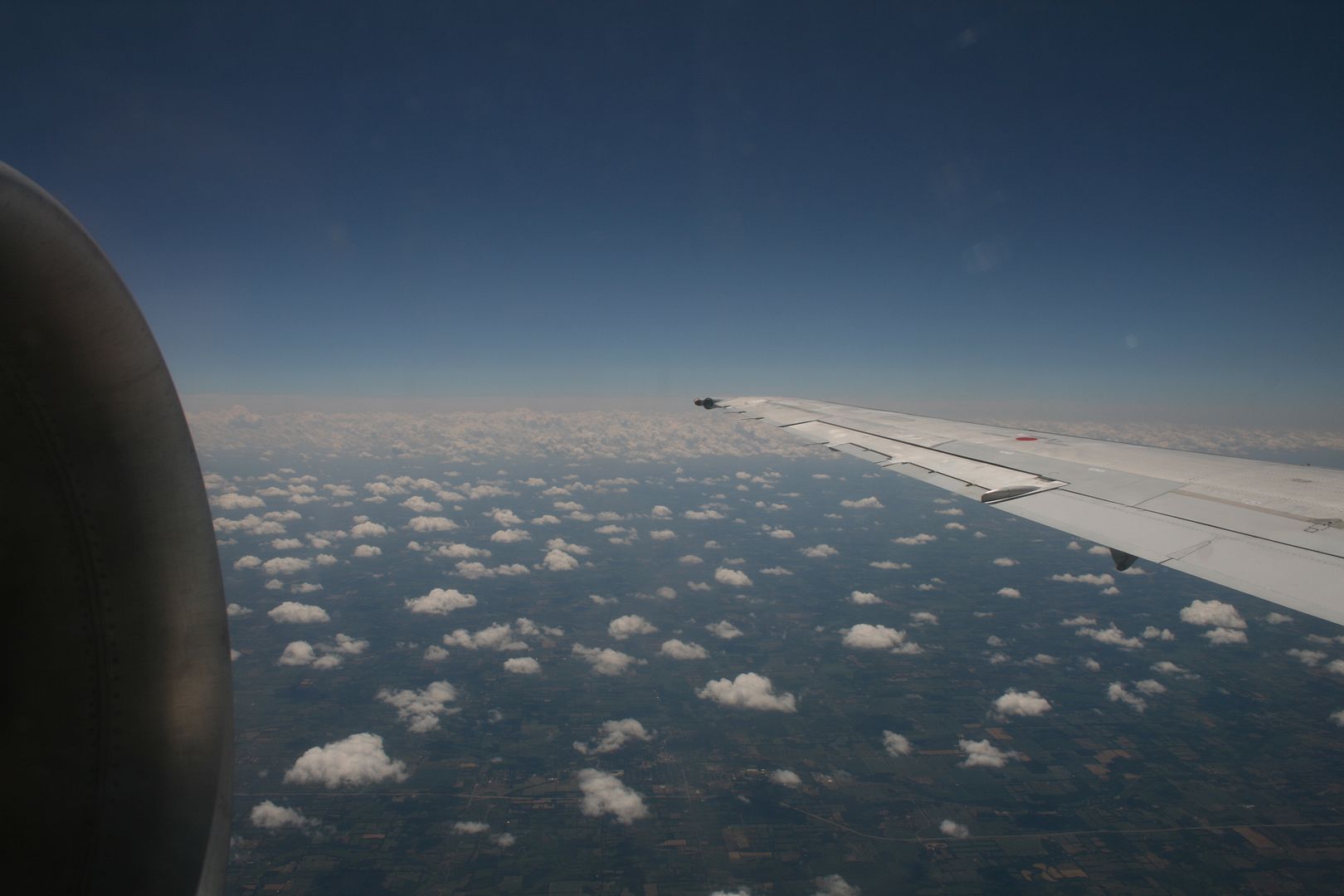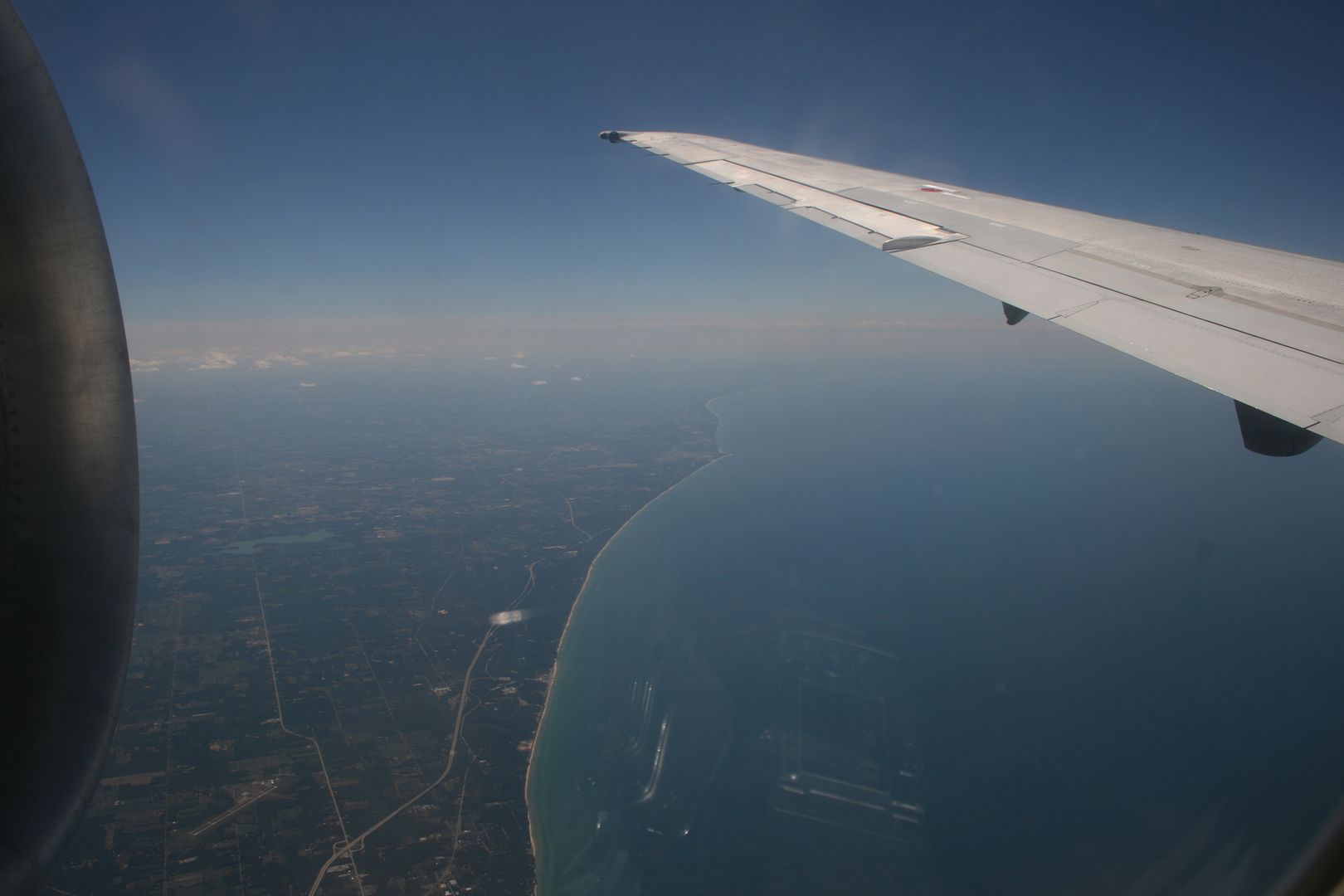 45 minutes on a DC-9 goes by rather quickly and the aircraft is now gracing the skies of Chicago's suburbs after a brief crossing of Lake Michigan. We pass the airport and approach it from the West, and the wheels make contact with terra firma. The long taxi to Terminal 2 affords me a view of a diverse range of airlines, many of which can't be seen at my home airport of YYZ. That includes SAS, Virgin Atlantic and Swiss.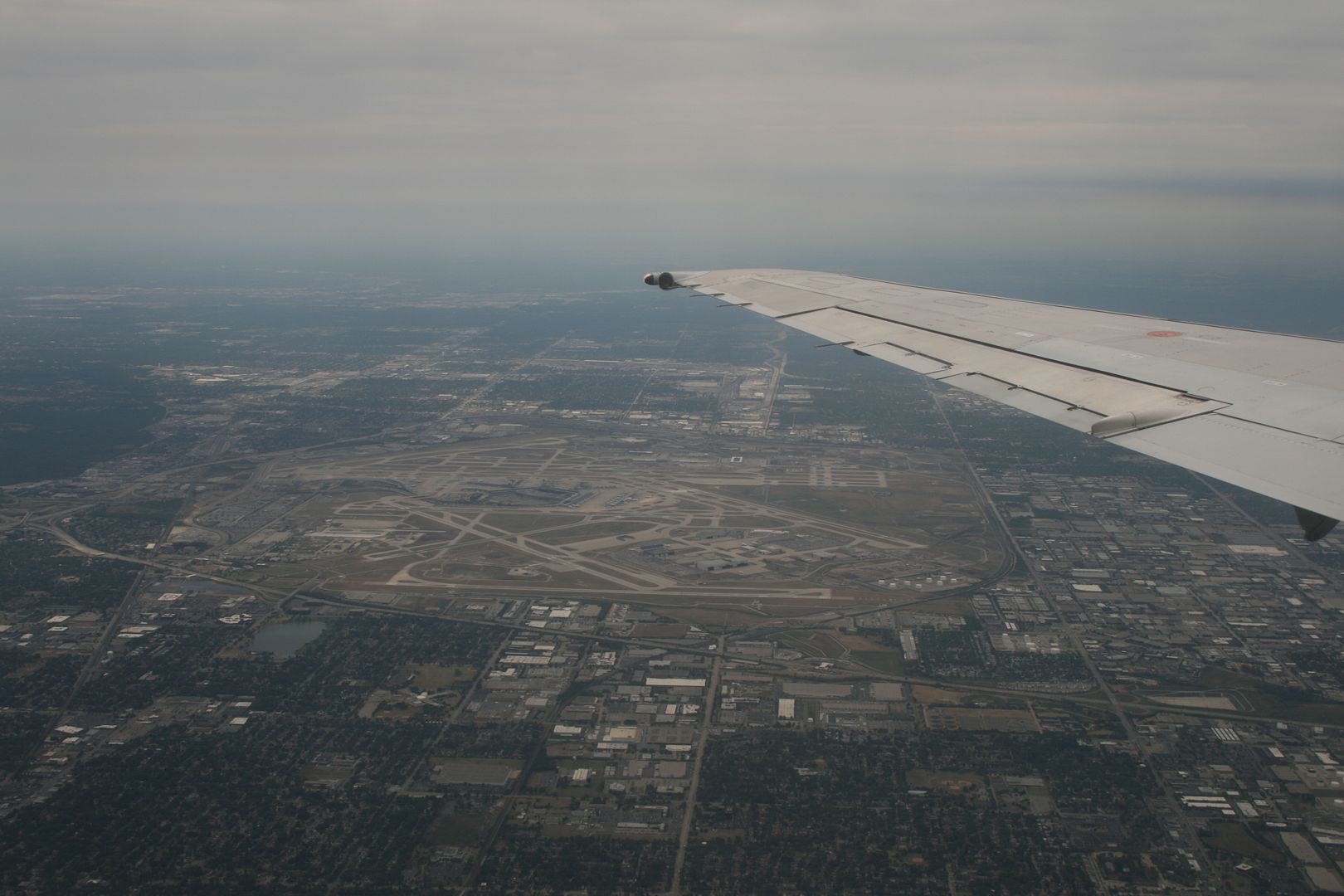 ORD
Disembarkation is done orderly, and as soon as I step out into the terminal, I am suddenly reminded of LaGuardia's Central Air Terminal. Low ceilings and cramped walkways. I guess it isn't too bad, but contrasts quite a bit with DTW.
After a rather lengthy walk to the people mover station, I took said train to what is called the "Kiss-and-Ride" area. That is where the bus to Evanston leaves from, which is where I went. I visited my Fraternity's headquarters there and thoroughly enjoyed it.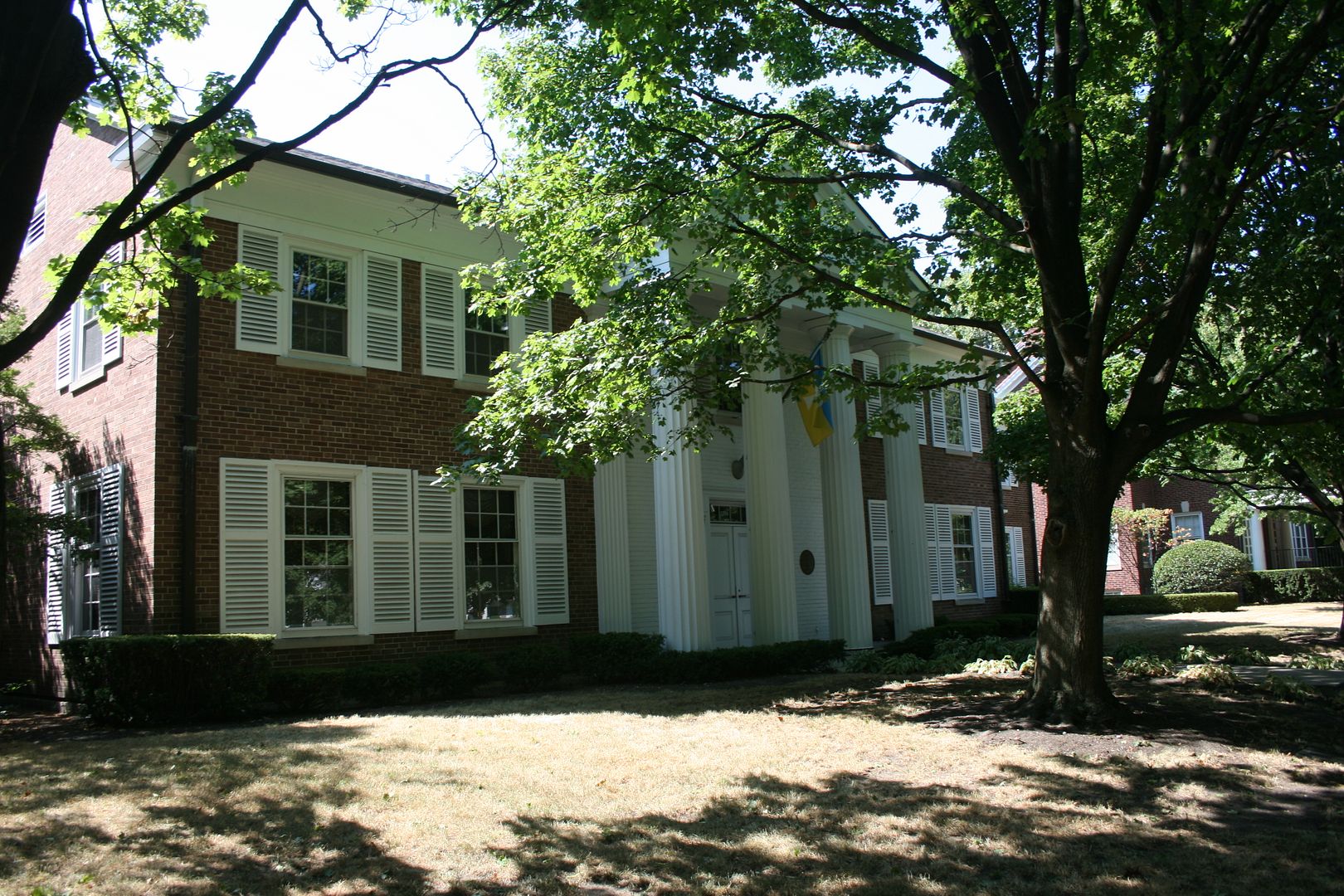 Headquarters of Sigma Chi
To sum up the few days I spent in Chicago: awesome.
Not only did I get to try the best pizza the world has to offer, but I also got to meet fellow a.netters LFutia and Mexicana757, such nice people! Plus, I also got to go up the Will...Sears tower.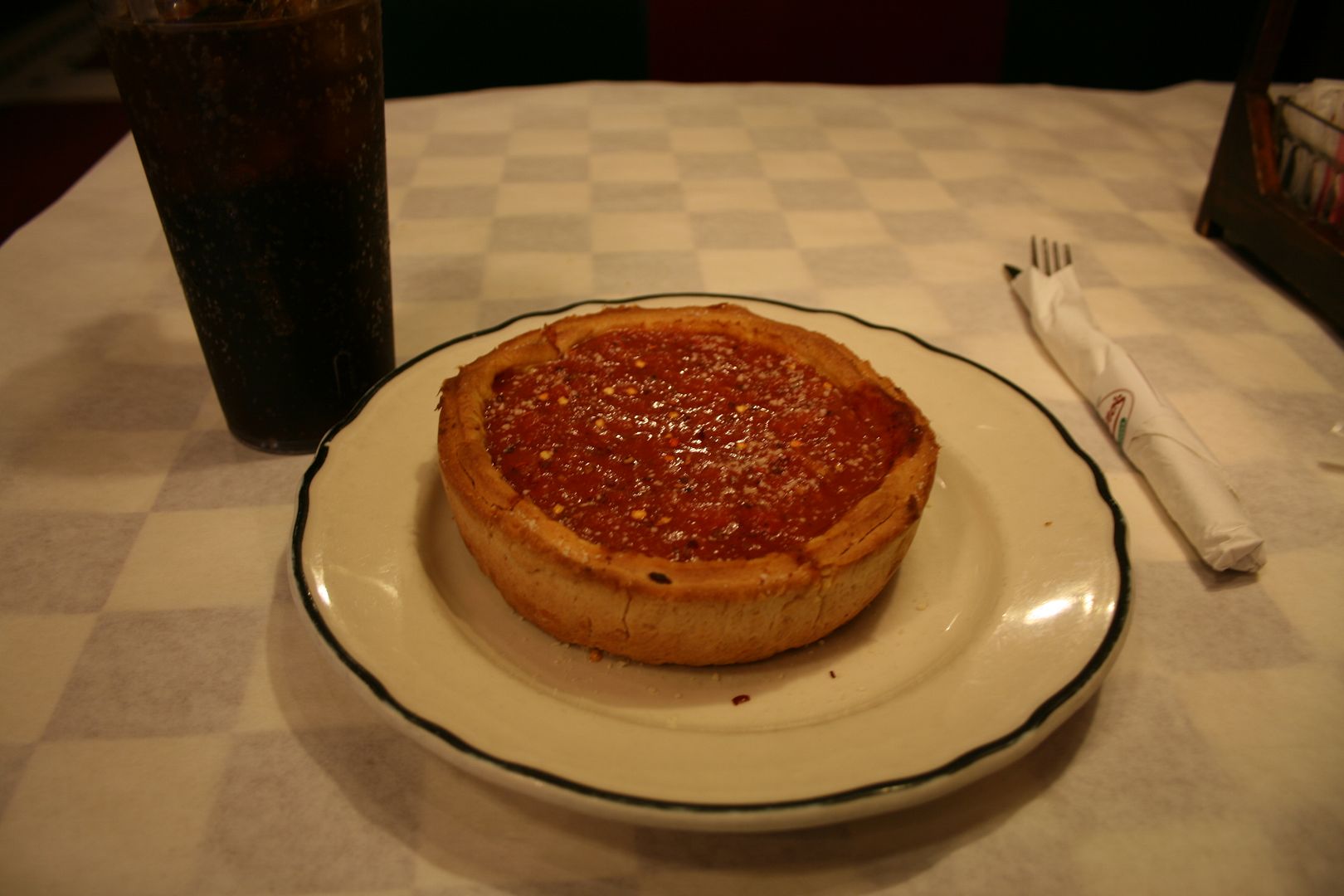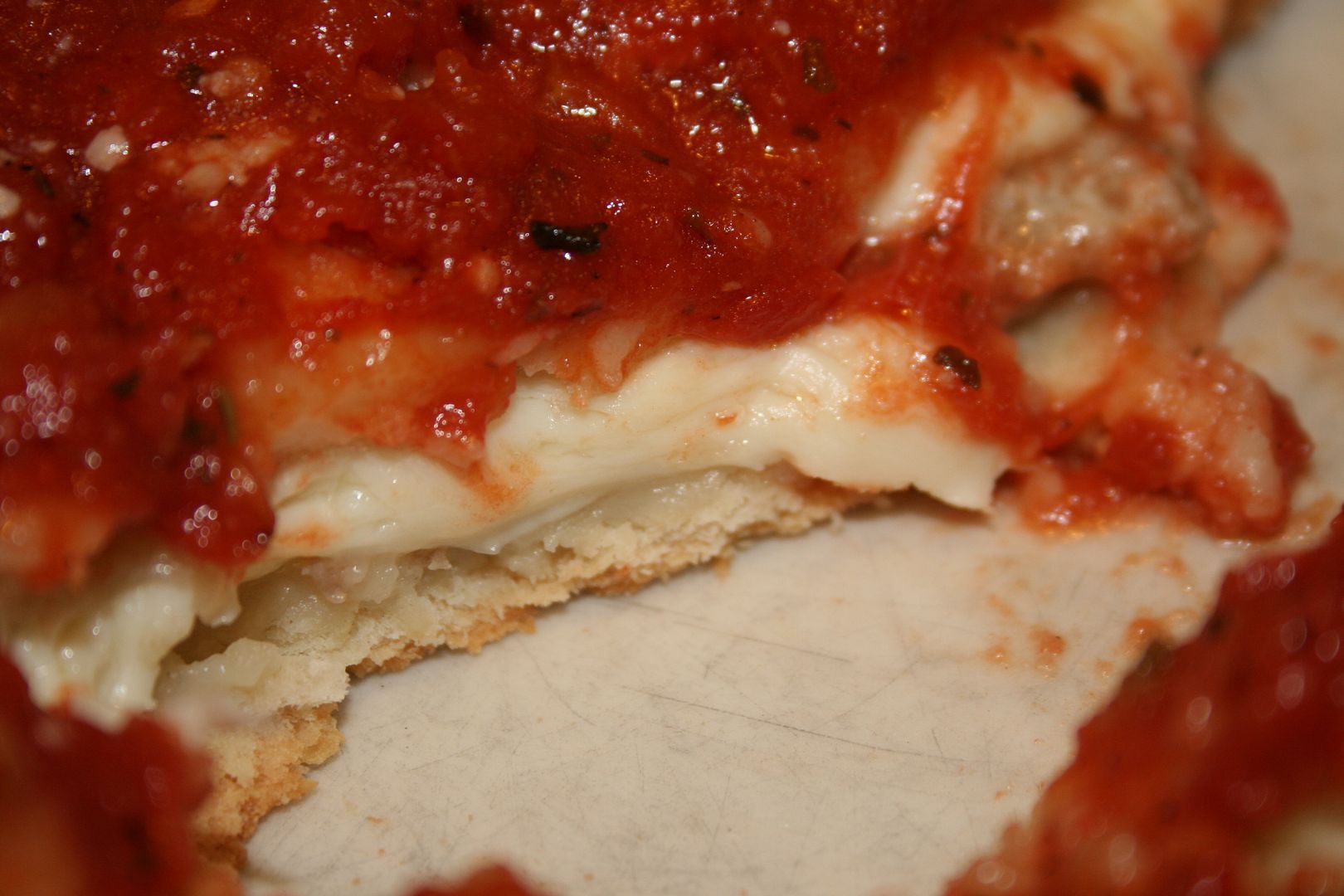 Amazing deep dish pizza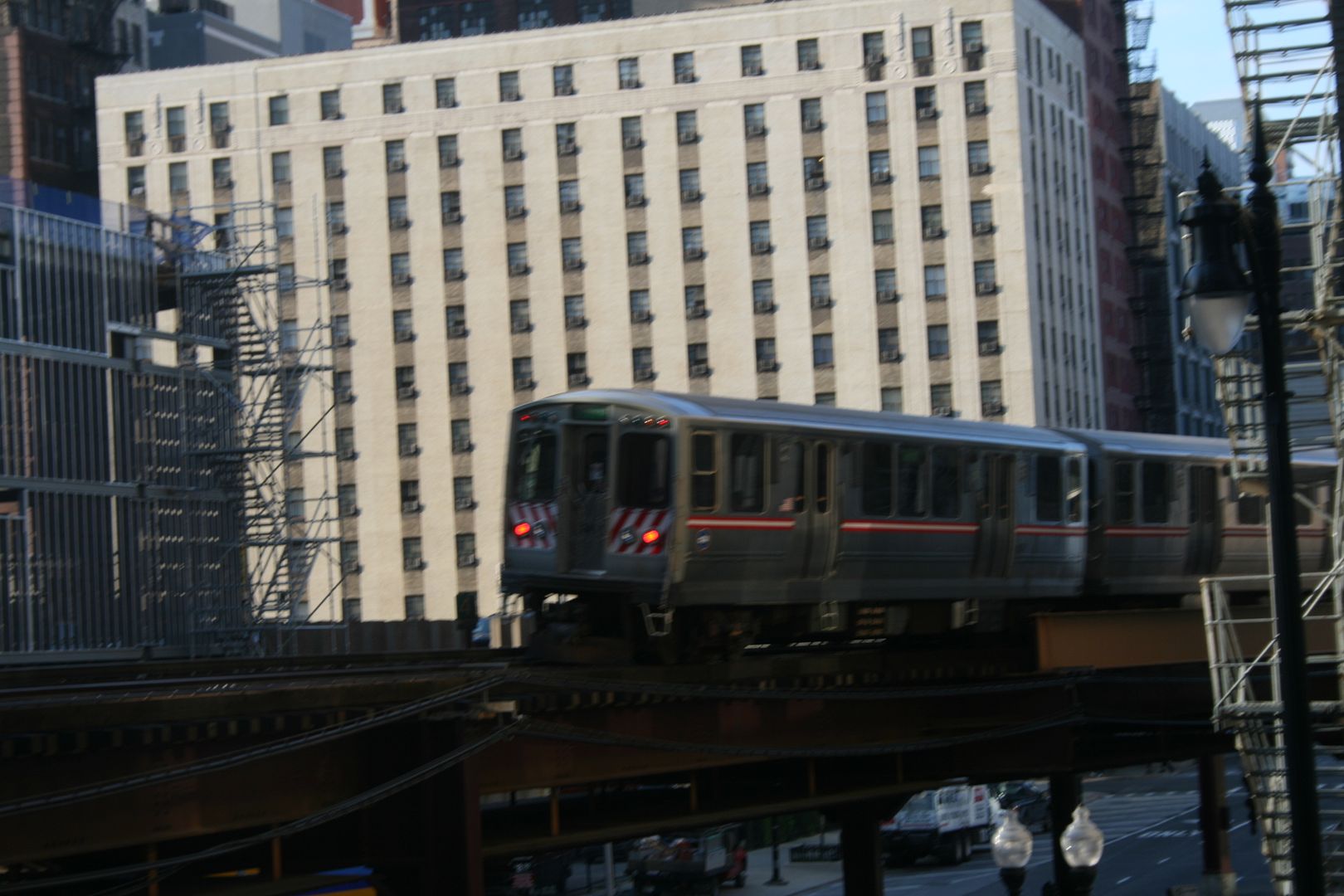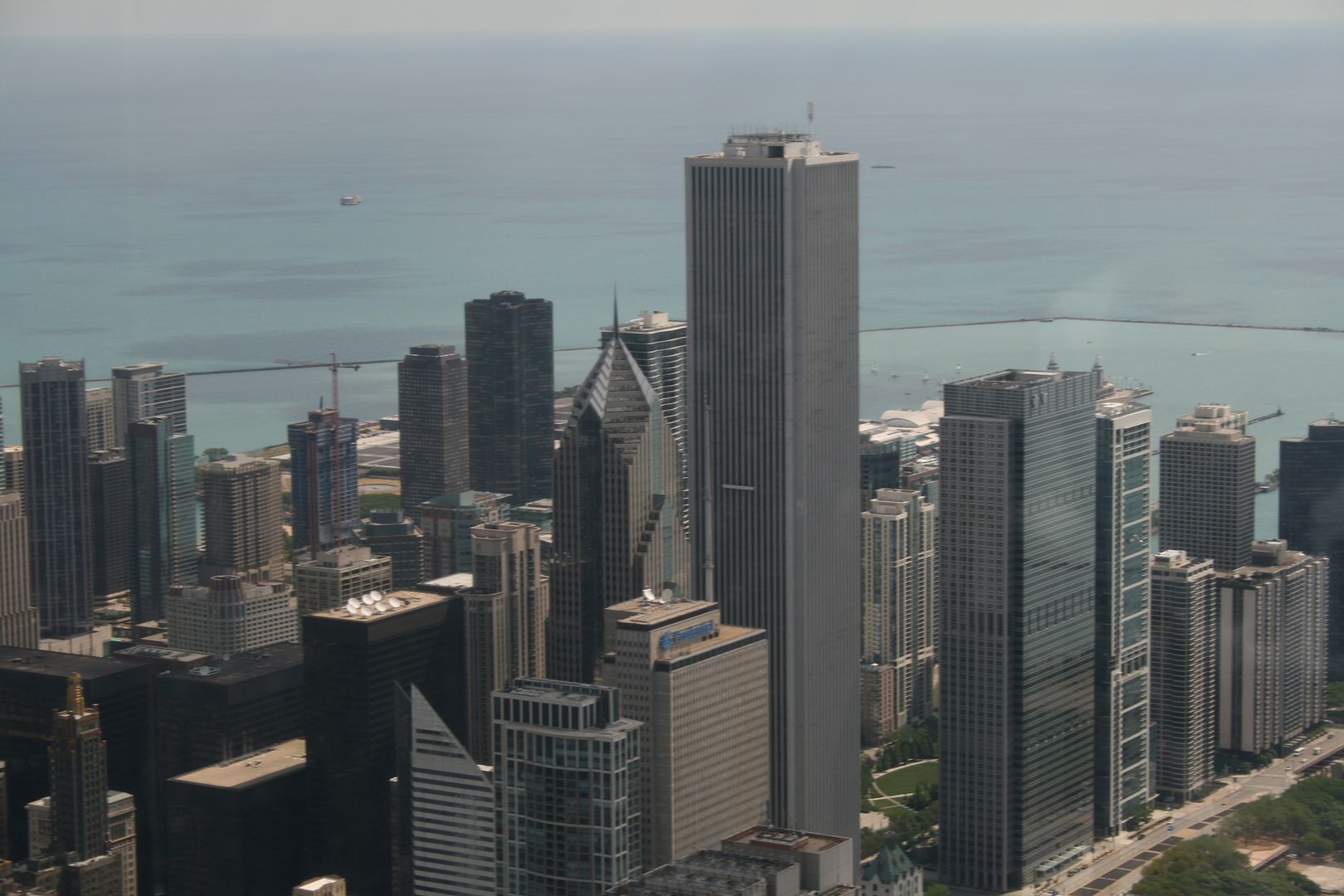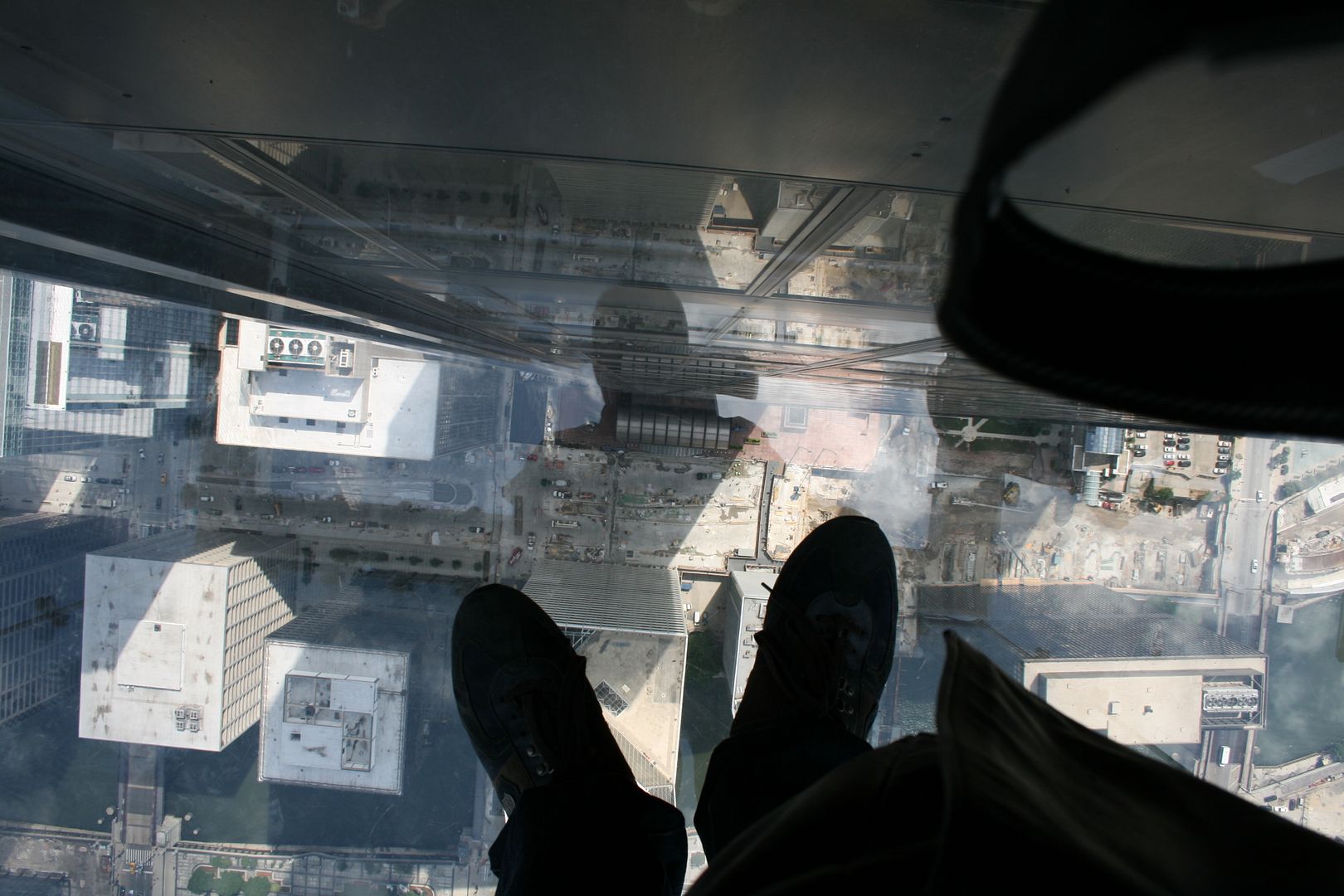 Pictures from Sears Tower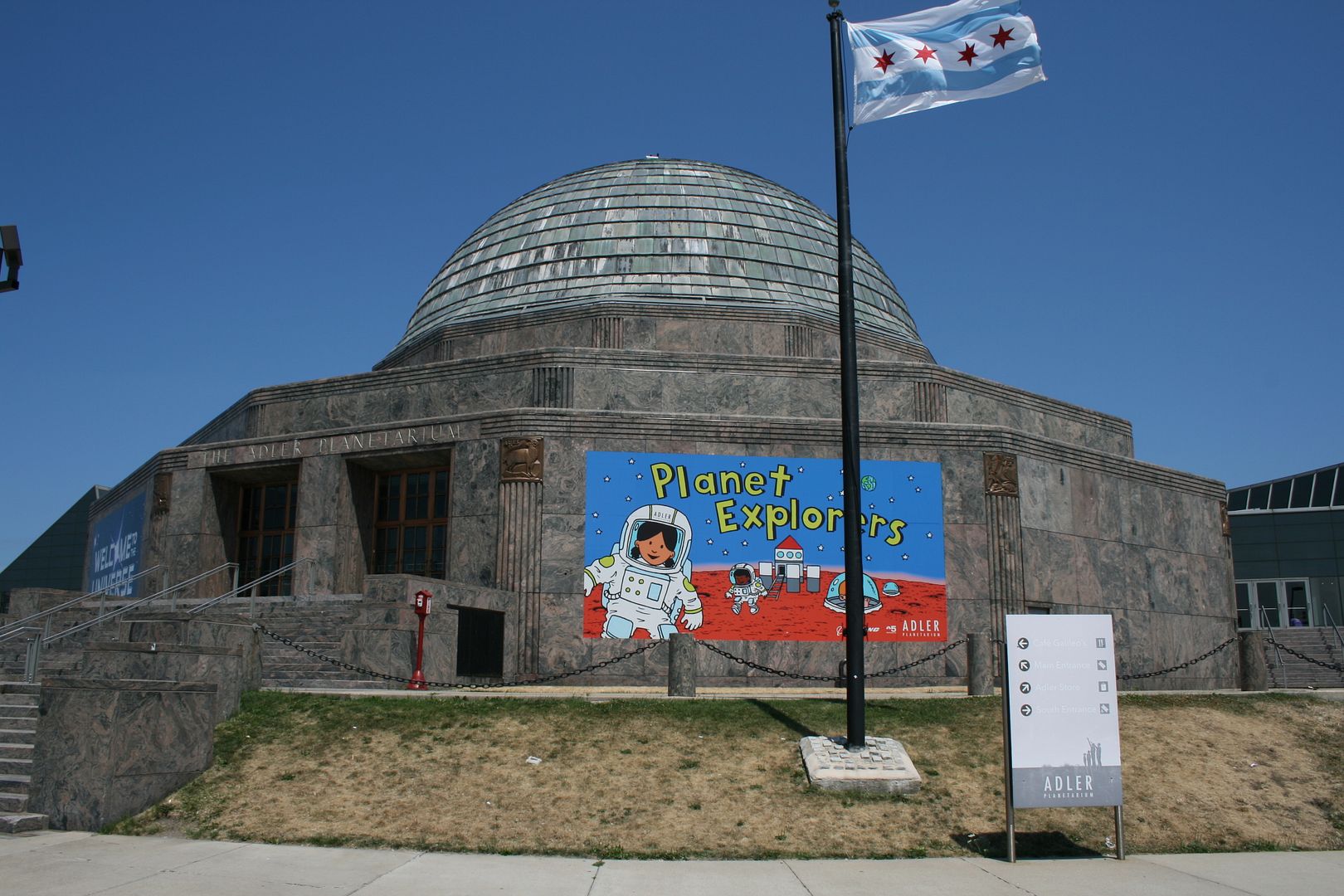 Adler Planetarium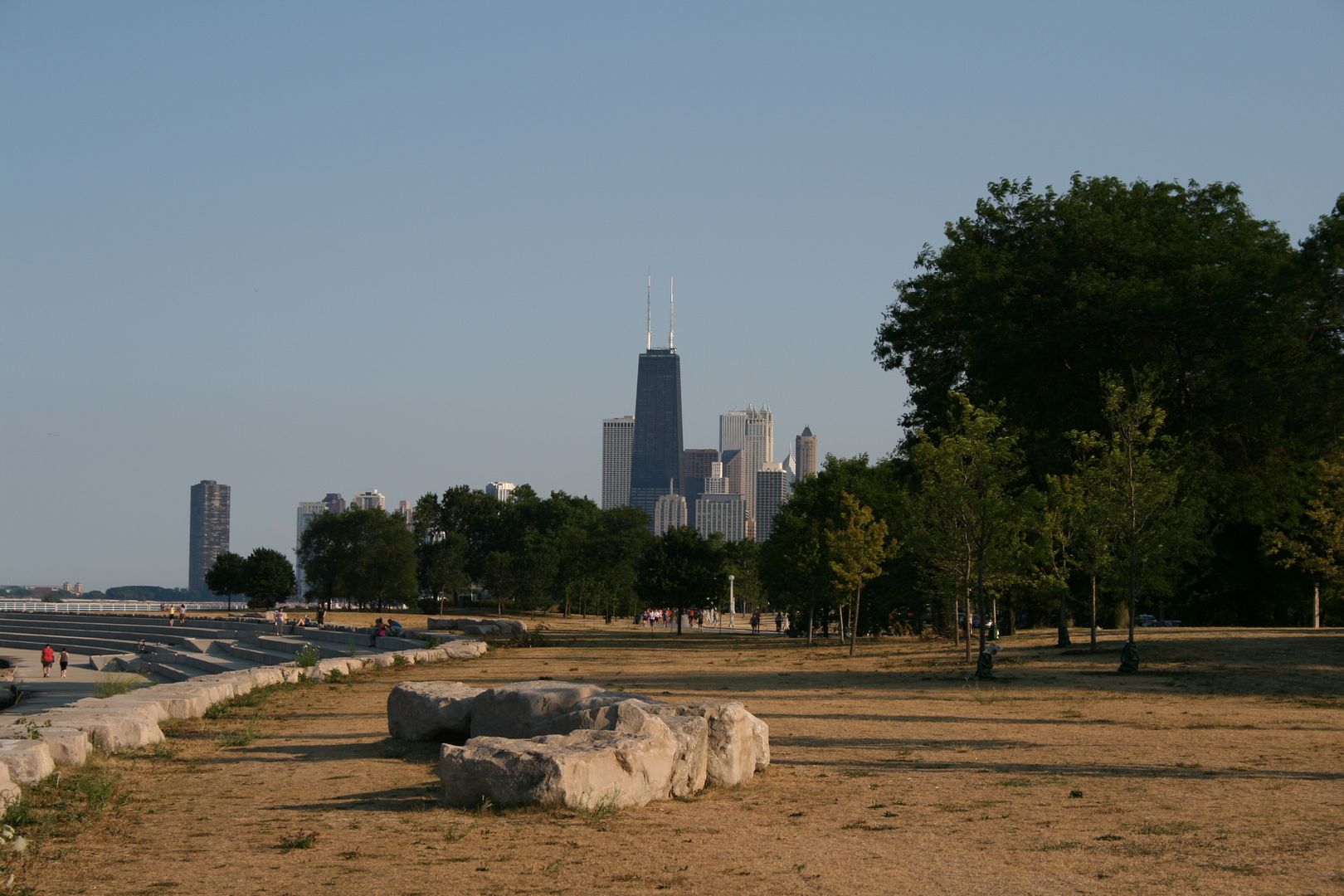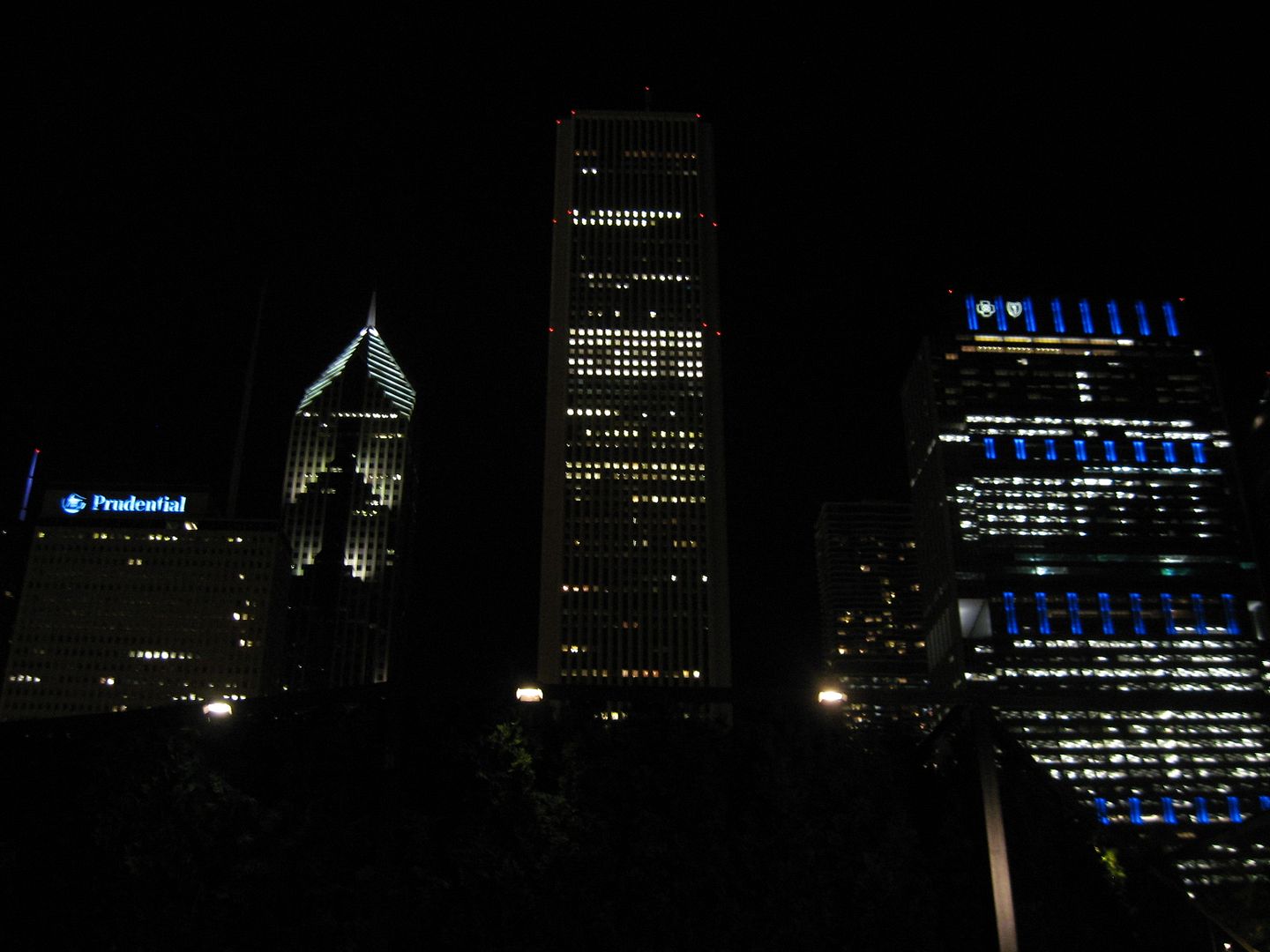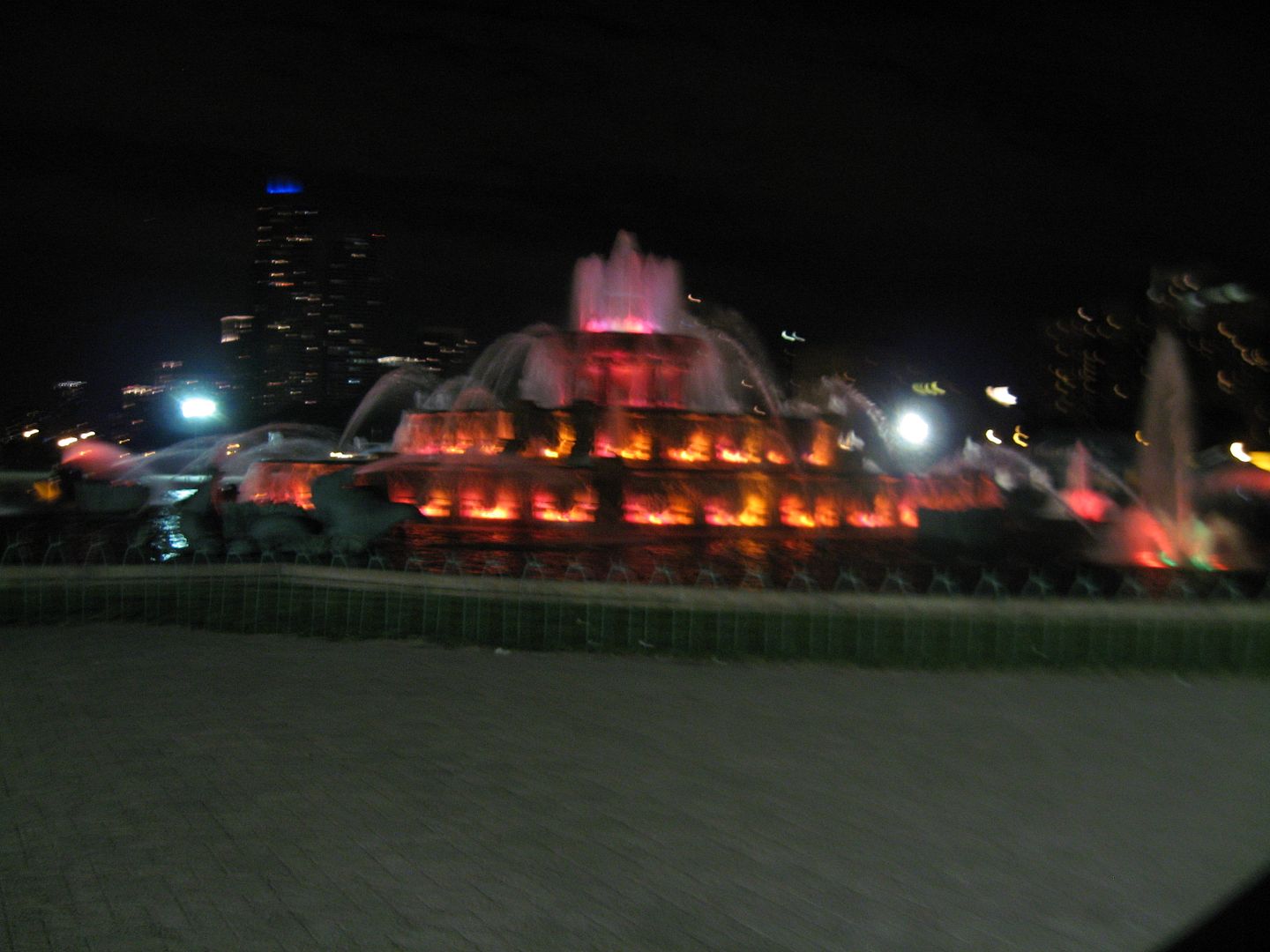 The return flight involved a rather early departure time of 10am, prompting me to leave my hostel at 7 to catch the Blue Line train to O'Hare. Checked in online for this flight too, so I went straight to security and then the gate. By then, I still had a craving for some more Chicago style pizza, so I went to the little stall that was selling them. Boy, what a mistake that was! It goes to show that cardboard is not a suitable replacement for dough made with actual flour.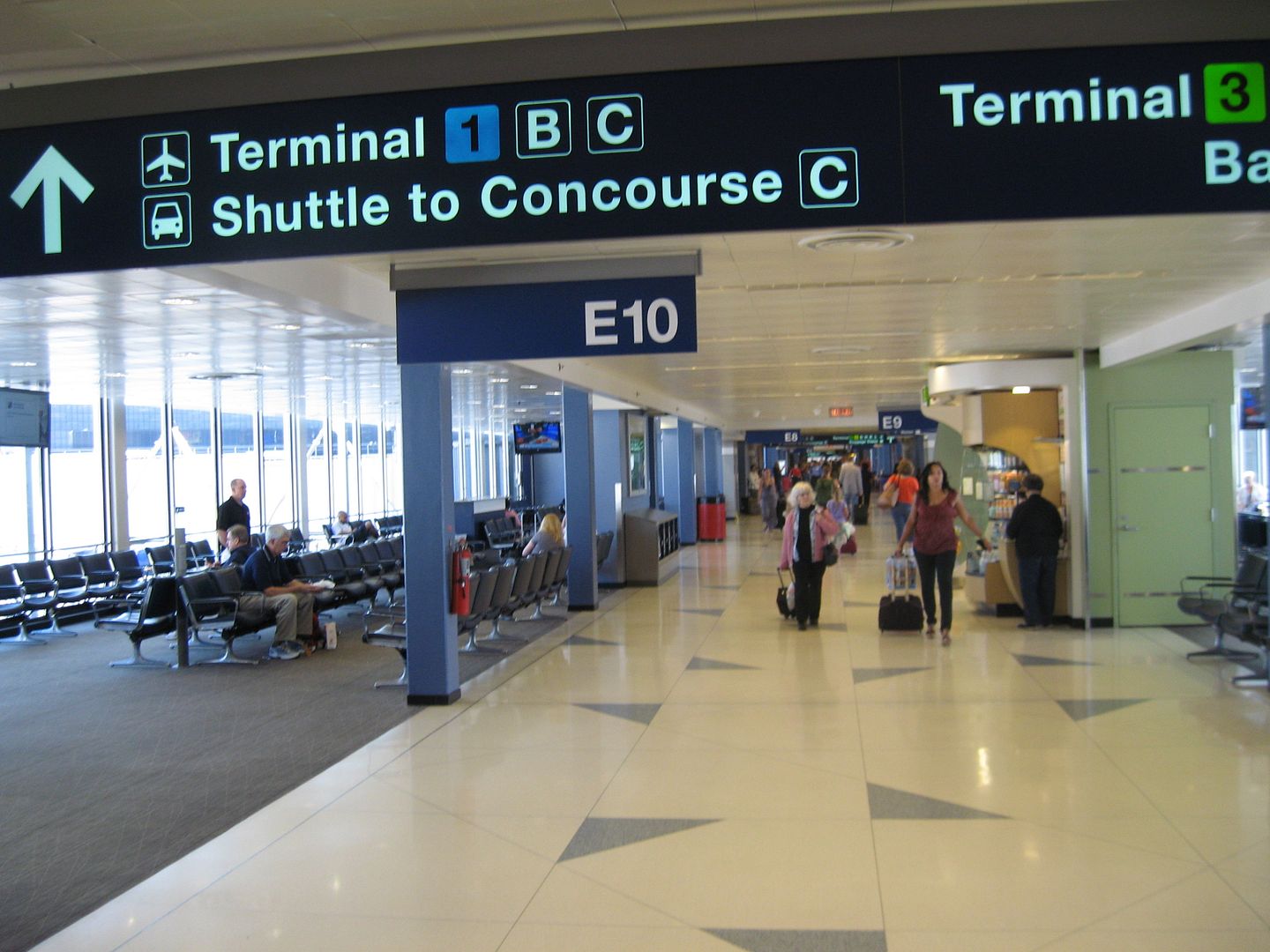 ORD T2
AC at ORD
DC-9-50's Stretched cousin
After that, I looked up FlightAware on my phone, and to my delight, senior N671MC was operating my flight. The plane was built 36 years ago in January 1976, and had been in the hands of seven different airlines. At the risk of causing paranoia, I thought it would be best to keep such information to myself.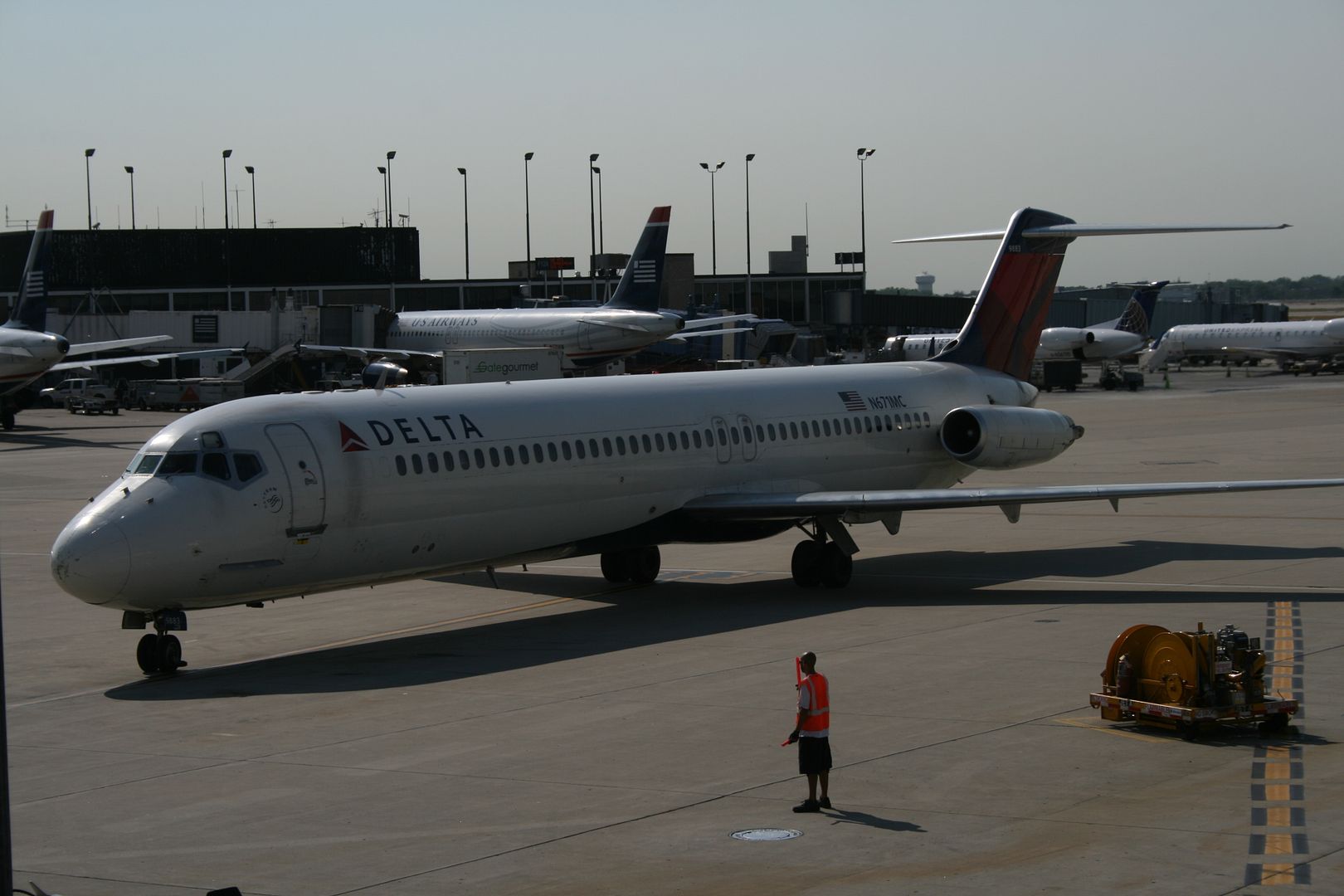 Here she is!!!
Prior to boarding, Delta was offering upgrades to first class for (I believe) $50. Or maybe it was more, I forgot, sorry! Didn't want to pay $50 for a pre-flight drink when I can buy my own at the airport for $2-3, but it never hurts to offer, I guess.
Boarding was orderly, and as soon as I stepped onto the aircraft, a cheerful flight attendant greeted me. I can't envision a Delta flight attendant ever being rude to me, they have an excellent track record in terms of treating me with kindness whether it be on a DTW-LHR flight, NRT-ICN or ORD-DTW.
After boarding completed, the usual happened...Pushback, safety demo etc. The flight attendant at the rear was just as pleasant as the one at the front. Was certainly glad to fly with a bunch of happy people again.
Maybe it's just me, but the engines sounded a bit different than the ones on my previous flight. Less of a humming sound, if you will. It wasn't long until the wheels separated from the ground and we were on our way to Detroit. The flight took a bit of a northerly path and went as far up as the coast of Milwaukee before making a right towards Michigan over the lake.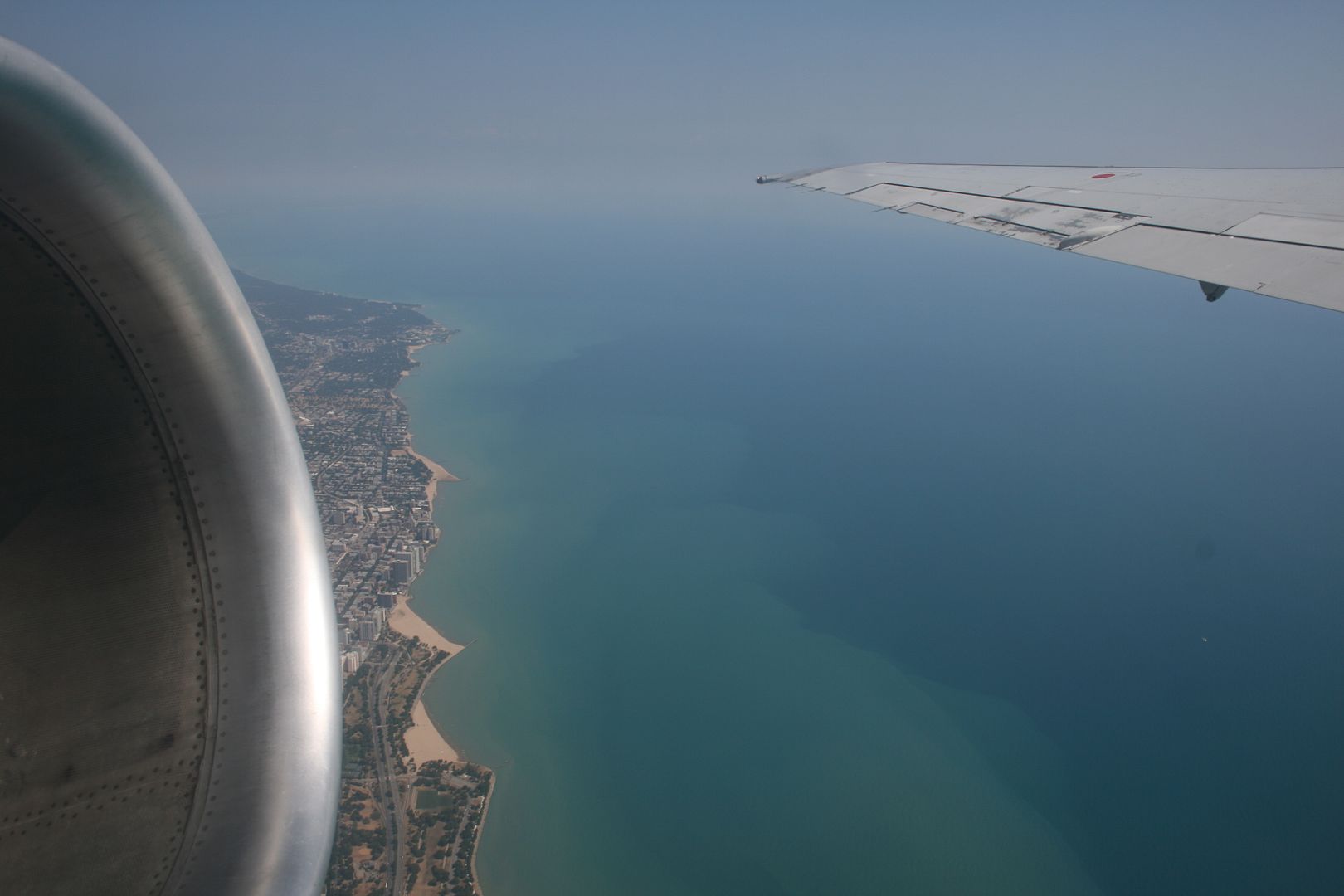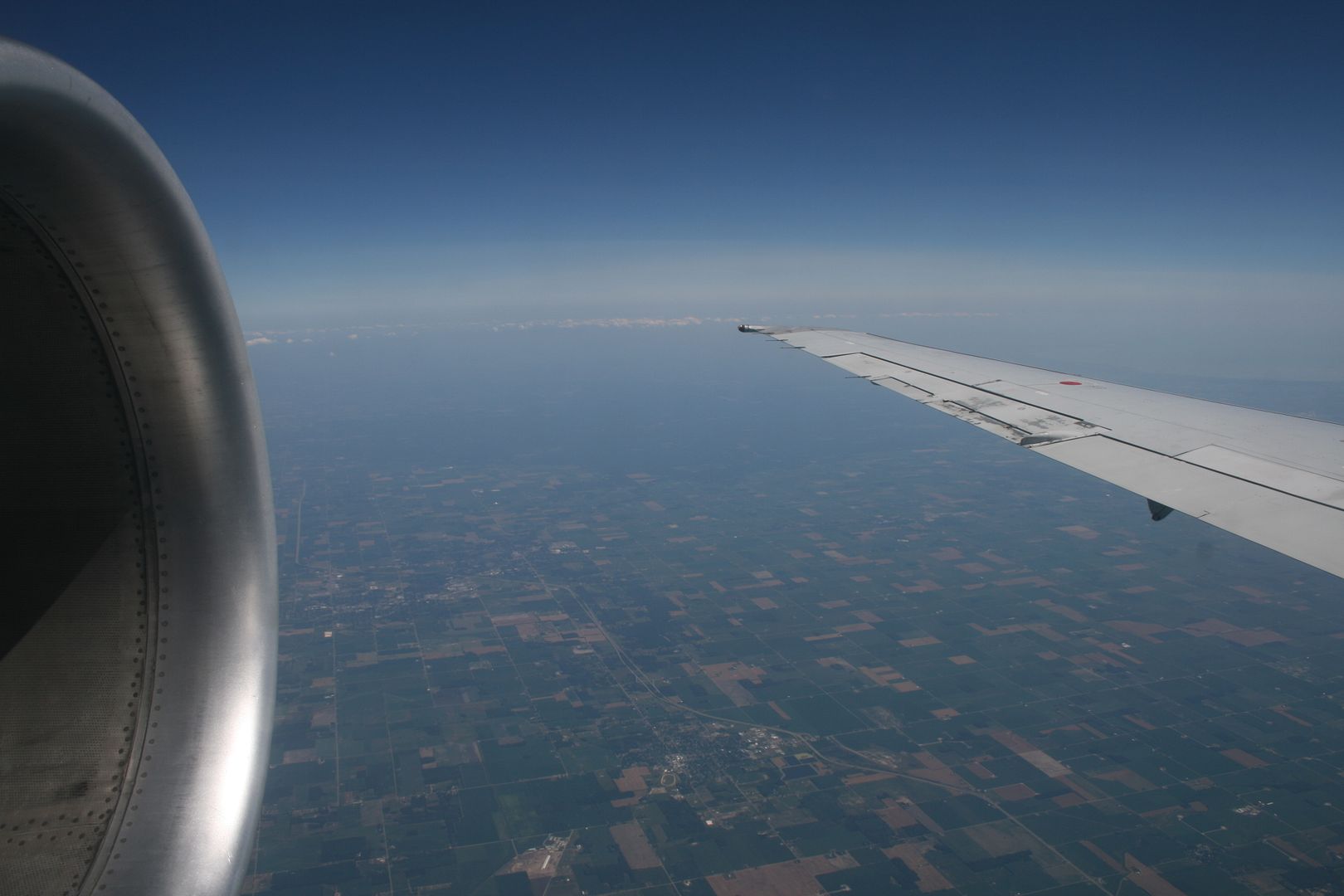 Unlike my previous flight, I took advantage of the wifi that was offered on this flight. 15 minutes of access to quickly check emails etc. were offered at a nominal price. How cool is it to use wifi on a 36 year old plane! Again, nothing was served on the flight, no expectations there.
Following a very short cruise, we were already almost there. Was glad that I didn't experience the dreaded ear pain like I usually do on other approaches. We landed, and the plane parked at the gate...yeah, that's obvious isn't it?
I asked the flight attendant if I could take some pictures of the cabin and visit the cockpit, to which he replied that he'll check with the pilots. He came back and said that the pilots left already, thus I could feel free to do so.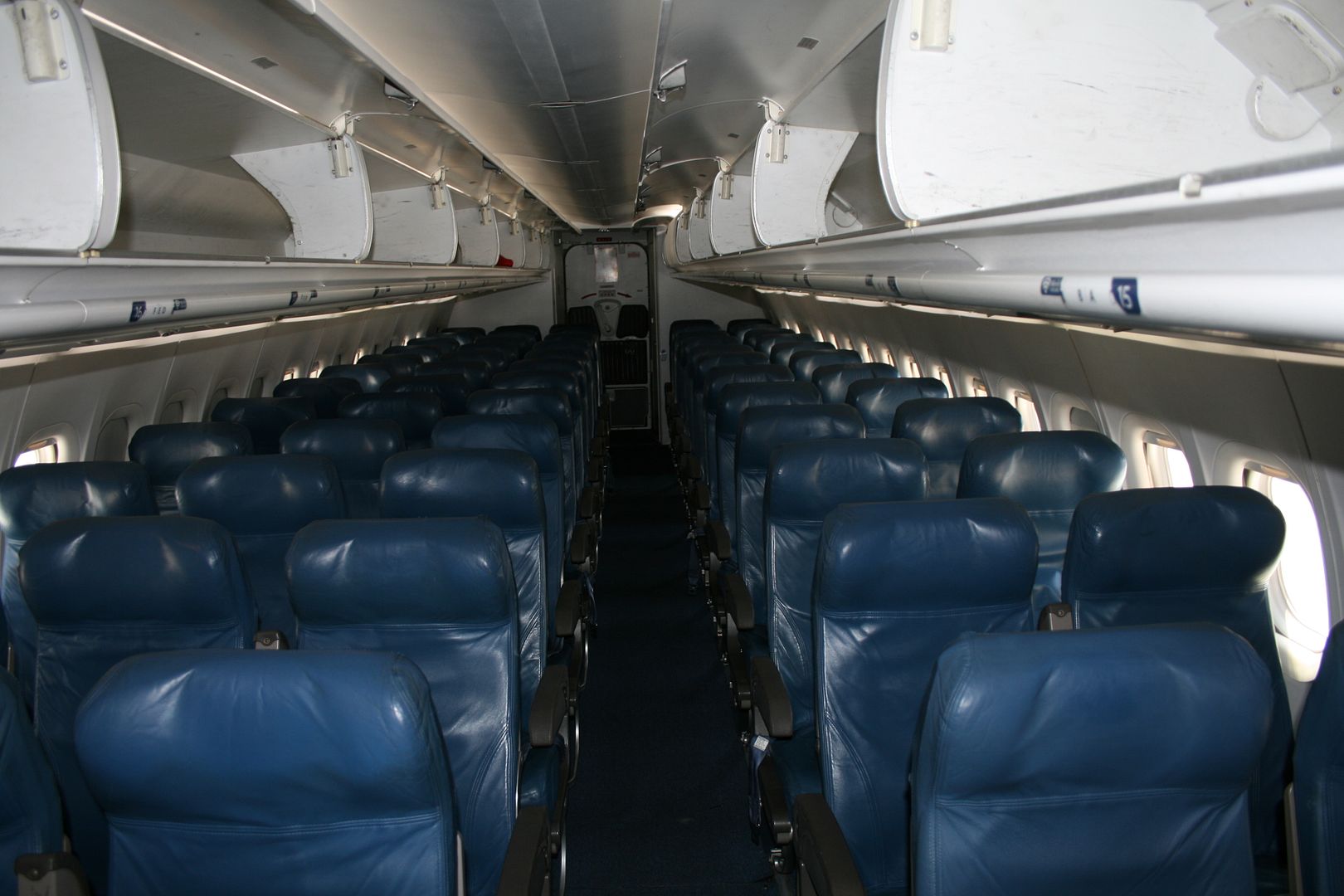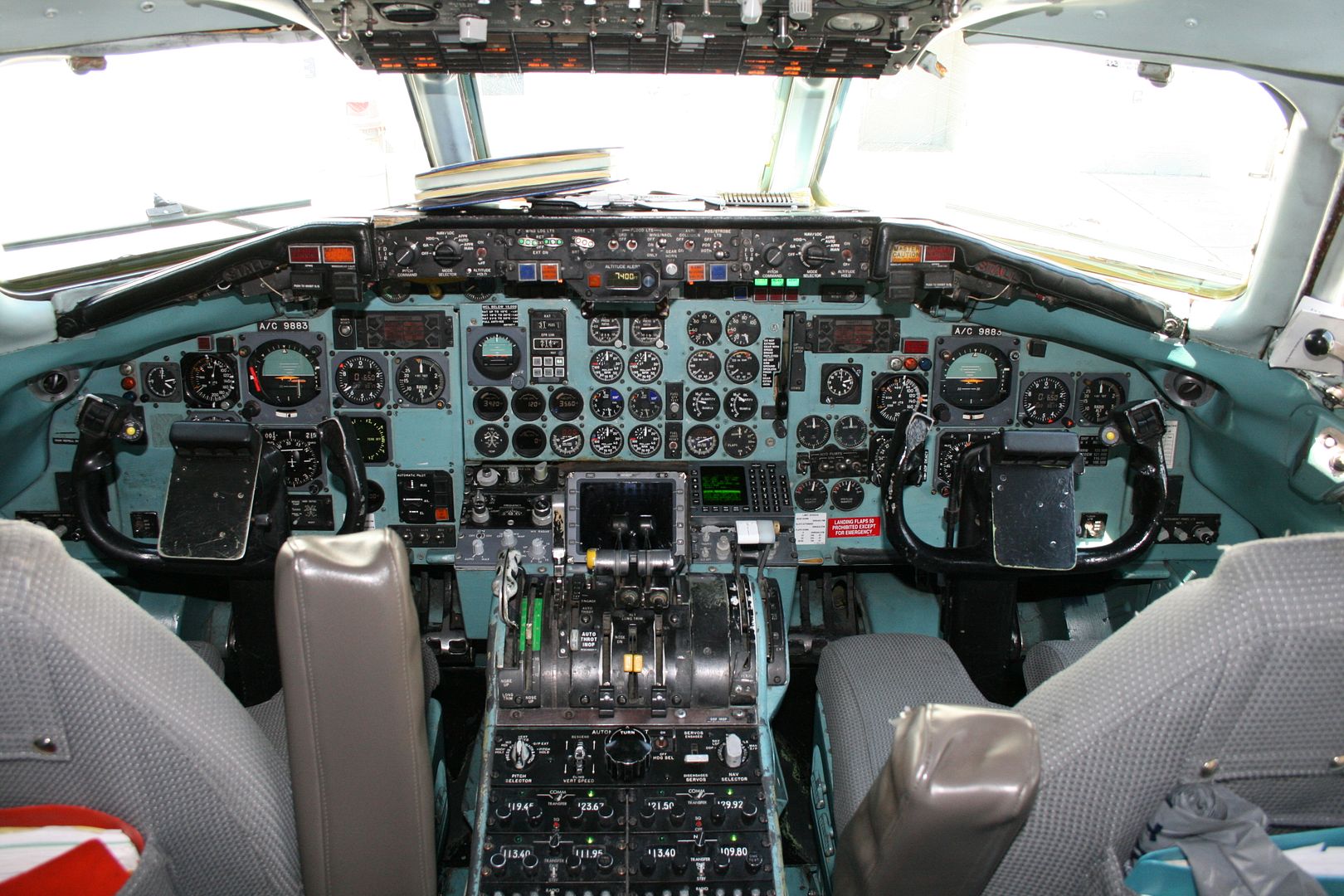 After that, I left the plane and it was now time to do the 4 hour drive home (turned out to be 5.5 with traffic). A bomb threat had closed the Detroit-Windsor tunnel, and my GPS for some reason refused to let me take the Ambassador Bridge, even when I was right in front of it. Of course, it bottlenecked and it took forever to get through. Flight landed around noon, got home after 5.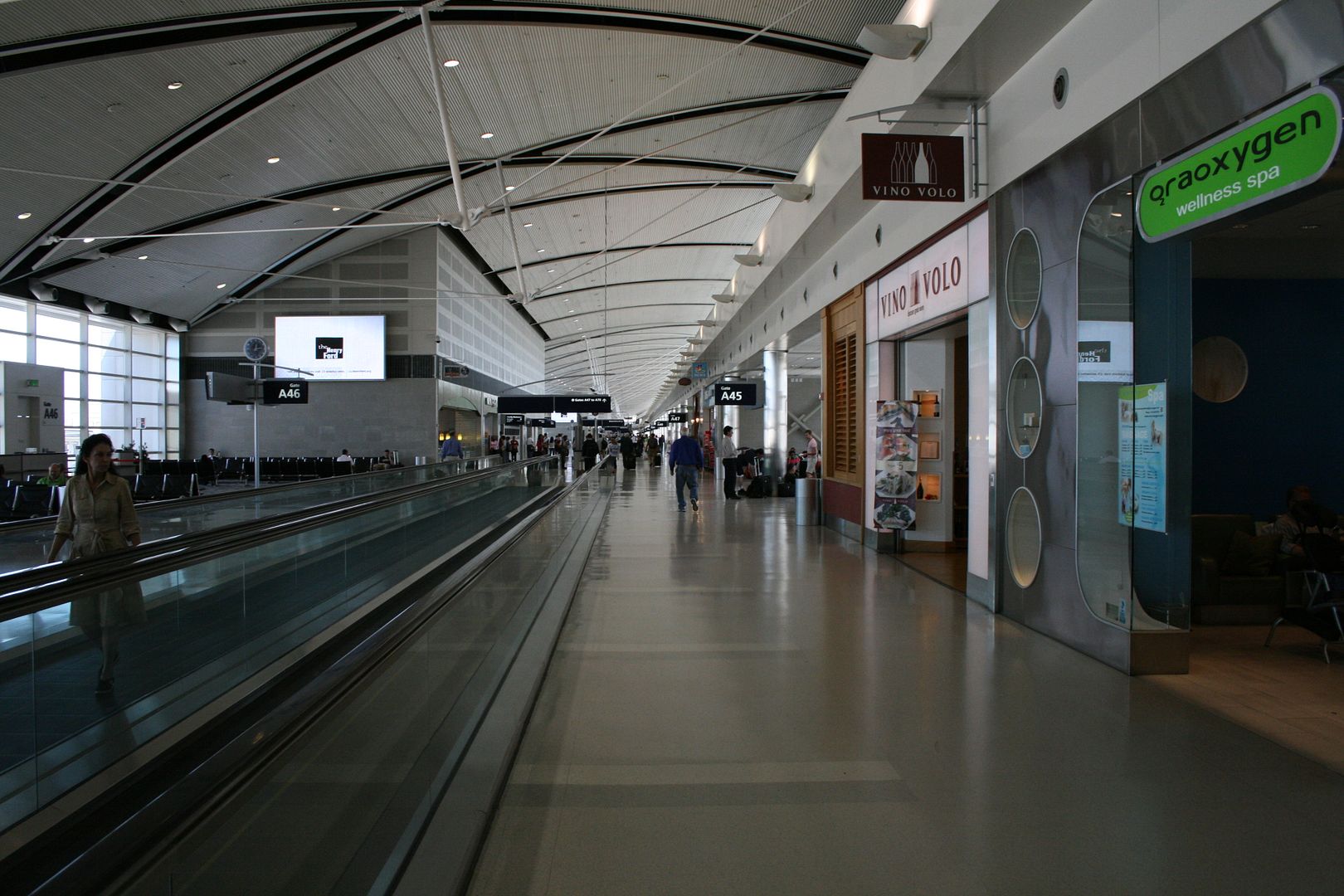 After arriving back at DTW
To summarize my feelings about this trip: Huge success! Now, I bet some of you are thinking "Pfft, he's getting so excited over a plane", and maybe you're right. It's just a plane, after all. However, as a true aviation enthusiast, I am very glad to have personally experienced a relic of a long bygone era. Scoff all you want, but this means a lot to me and I will be sad when the DC-9s are gone.