Background
Good things are (almost) always three. So what to do when you notice you have 1) 6 000 SAS EuroBonus points that are soon expiring, 2) a voucher from Estonian Air giving you a 20 % discount for new flight bookings and 3) a desire to fly to Lapland and enjoy the summer there (apart from the mosquitoes, that is)?
The first cheap option I found for my desired dates was to start off by flying HEL-TLL-TRD on Estonian Air for some 60 EUR and onward options on SAS were quite good as well - but days later when I was about to return and complete the transaction OV had removed the Trondheim flight for my desired day (I would get to know this feeling better soon, I tell you). I wasn't amused by this move but soon found HEL-TLL-OSL was available for 55 EUR for my desired Tuesday (I love flying that day as no one else does!) and I soon had a confirmed booking with them. I got in a better mood when I remembered this time I was closer than ever to scoring my first ever ride on a Saab aircraft.
Booking an EuroBonus award trip was a much easier affair - and for 7 200 points and 15 EUR in taxes (have I ever told you I love EuroBonus?) I soon had booked OSL-ARN-OUL on SAS and Blue1. To borrow the expression of a fellow A.netter, I was a happy camper at this stage. Not many days after booking this award trip came the news that the price of intra-Scandinavian EuroBonus bonus trips would rise a bit (my itinerary now would have costed 10 000 points) so I had yet another reason to congratulate myself!
After all I had quite a good-looking itinerary: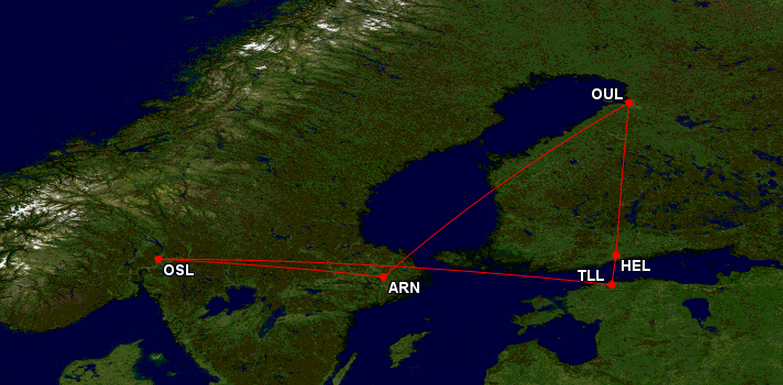 On the way home from Oulu (I decided to settle with a nonstop flight this time...) I had the choice between Norwegian and Blue1 and I guess I don't have to tell you which one I went for! A perfect evening departure on Blue1 (operated by Golden Air) for a 44 EUR youth ticket sounded like good value for money and was booked not much later.
How To Handle A Schedule Change
This is when things started to go wrong as I one day in school got a phone call from Blue1. What seemed like a very frustrated agent explained to me that the ARN-OUL flight on Blue1 was no longer leaving at 16.15 but at 22.30 at night instead. She offered to book me on a later OSL-ARN flight to avoid making my transfer time at Arlanda ridiculously long. I told her I was fine with all of this except for the fact that I was continuing up north with train and that the late night arrival to Oulu would make me miss my train. I also mentioned the magic words about the lack of a Boeing 717 in the itinerary (the Blue1 flight had been downgraded to a Golden Air Saab).
All of a sudden she fully seemed to understand me - she quoted the train schedules to Rovaniemi out of her head and apologized for the change. Without asking she offered me OSL-CPH-OUL instead with a similar schedule as initially planned "and you will get your 717 treat on CPH-OUL, that's a new route by the way!" is what she says. I'm rebooked in a second, the new itinerary lands in my inbox minutes later. Wait, this wasn't a bad thing - my itinerary was actually better now and CPH-OUL is a route I had wanted to try out for a long time already!
How NOT To Handle A Schedule Change
This is when things started to go horribly wrong. One evening when I had nothing better to do than check my upcoming flight bookings for any changes schedule- or aircraftwise and I noticed that Estonian Air had removed one of my flights and rebooked me on an evening flight to Oslo 12 HOURS LATER than originally planned. And they hadn't let me know about it in any way.
After too many minutes of waiting I reach their customer service on the phone where what also seems like a frustrated agent explains to me that "we have informed you about the change". I tell her that nope, that's not the case so she says "well we will let everyone know". Makes sense, perhaps? I tell her that the 12 hours schedule change really doesn't fit my plans and ask what other options are available. "Travel the day before or refund the ticket - take it or leave it" doesn't sound very good to me. I try hard to be sweet and talk the agent into rebooking on SAS or a SAS/Estonian Air combo but she let's me know that "SAS is a EuroBonus partner, nothing more". I decide that she might be having a bad day, thank her (for what?) and call back later.
Unfortunately the male agent on the phone the next day isn't better at all - he interrupts me when I try to ask him something so I feel there's no other thing to do than point out that a refund will do this time. But I do ask his airline to inform me next time they change the schedule by 12 hours. I give him another hint by telling him a thing or two about how Blue1 and SAS handles these things so when he ends the phone call by saying "I see. Goodbye" and hangs up I know I won't be flying their airline anytime soon.
This time Air Baltic was a breeze of fresh air and during one of their special Tuesday sales I secure HEL-RIX-OSL for 44 EUR (whoa, I actually saved some money in this rebooking process!) despite the horrible 05.05 a.m. departure time...
...that soon changed to 04.45 a.m (sounds like a major déja-vu from what happened a couple of months ago:
Business, Being And Boeings! HEL-RIX-ARN-OUL-HEL
(by
717Flyer
Apr 11 2012 in Trip Reports) )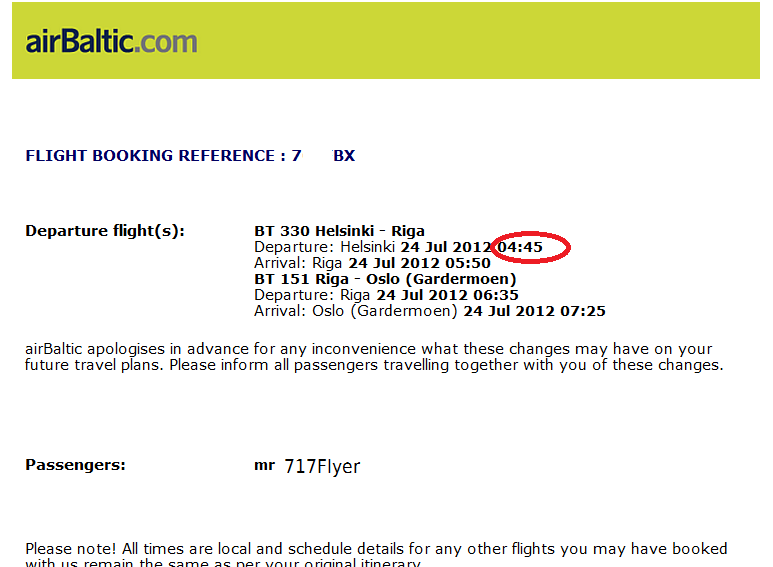 What really pissed me off is that this notification landed in my inbox about five minutes after purchasing the ticket, which meant BT was aware of the change all the time but refused to sell me a ticket with the correct times! The old 05.05 a.m. departure time changed in their online booking system about two weeks later. I guess it's not a very big deal, but not very impressive either. Having just dealt with Estonian Air I could only give my hats off to BT for letting me know about the change, though.
At least things should work after all these changes: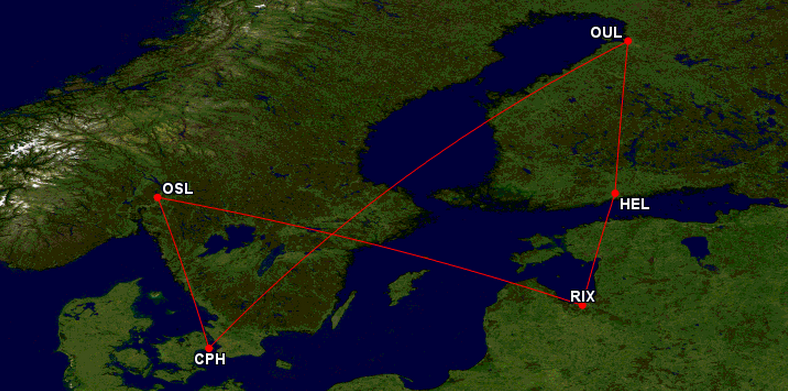 Tuesday 24.07.2012
Air Baltic advertises that online check-in will become available at midday for all flights during the next day. This turned out not to be the case as I could happily check in and select my seats already early Sunday evening (more than 12 hours earlier than the advised check-in time says!). This way I secure sequence number 001 for both flights and I must say there is a special feeling to do so (although I know quite a few people to whom seq no 007 sounds much more exciting...)
The only thing that buggers me is that you are unable to change your seat after you've chosen one. OLCI for Blue1 and SAS works like a charm, nothing special about that.
As pointed out already the last time I used the BT early bird no bus (or other form of public transportation) is leaving at this ungoody hour so a taxi it is! My wake up call is set for 02.00 a.m, it wasn't exactly enjoyable to wake up after only 4 hours of sleep, I must tell you! The 40 EUR fare for the 20-minute drive is quite steep, but hey - we're in Finland after all!
The taxi driver is quite surprised to learn I'm actually leaving on a flight at this hour (he mumbles something about the drunken passengers always arriving on charter flights to HEL in the horrible early morning hours and the night curphews at HEL).
There definitely is not a living creature to be seen: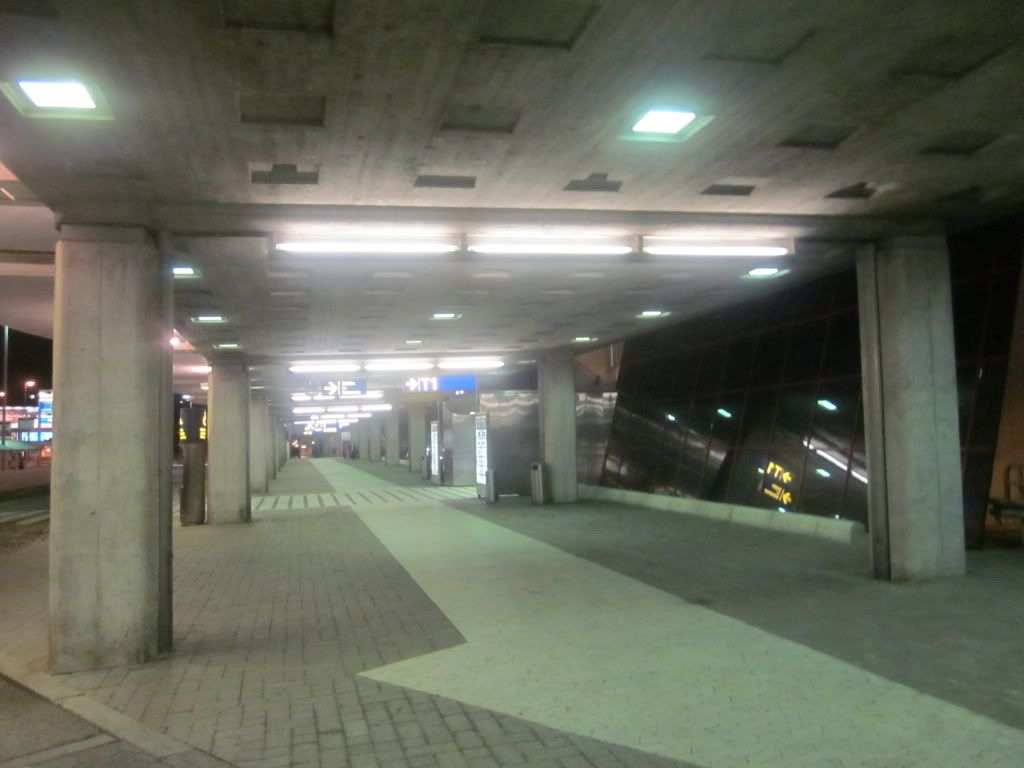 Hmm, this sign really could be updated! Find two airlines that are no more:
I like this Blue1 ad - it reminds me I'm actually giving myself a bonus on this trip: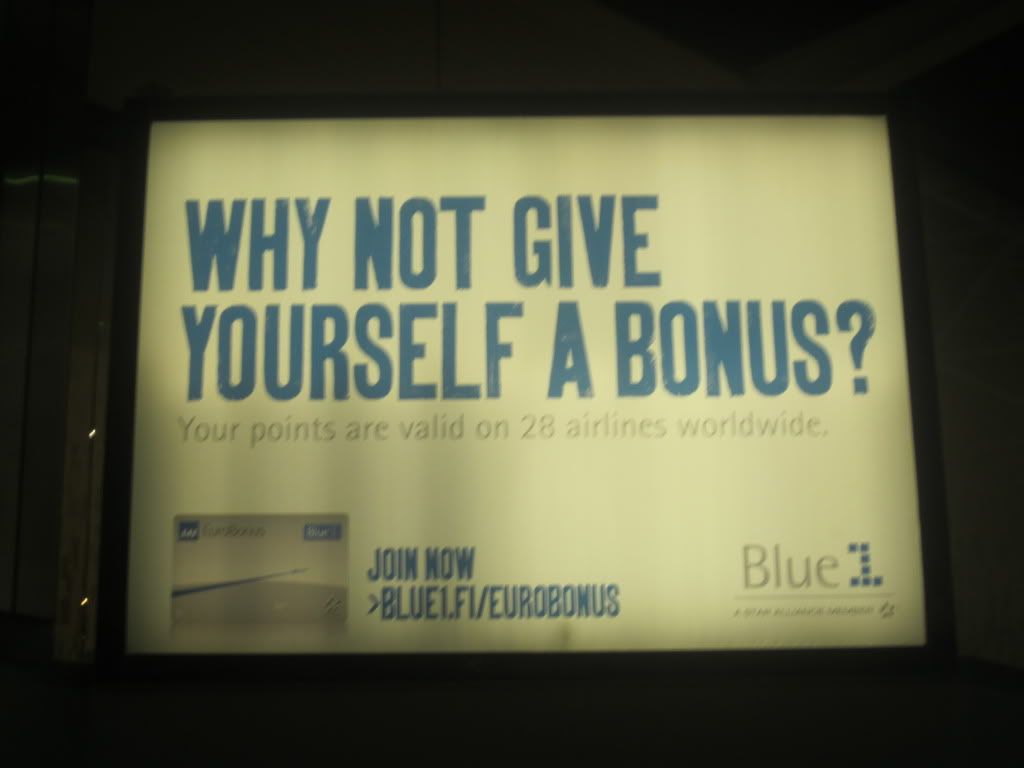 The airport is completely deserted also on the inside, which is of course not a very big surprise. The queue for the sole BT counter is quite long, though. Moments later they open a second one (combined for business class and baggage drop) - no one has the courage to move so I happily proceed there. The female agent assures me my bag should make it all the way to Oslo, but she refuses to print me a proper cardboard boarding pass, even after I insist one would be great for my collection.
But then I see the tag on her shirt and remember she is actually working for Havas ground handling which explains her behavior (Our FlyingFinn can confirm this).
Must-have-a-Blue1-checkin-view-in-a-report. Notice how many passengers are already waiting for checkin to open despite the first KF flight won't leave for some three hours from now...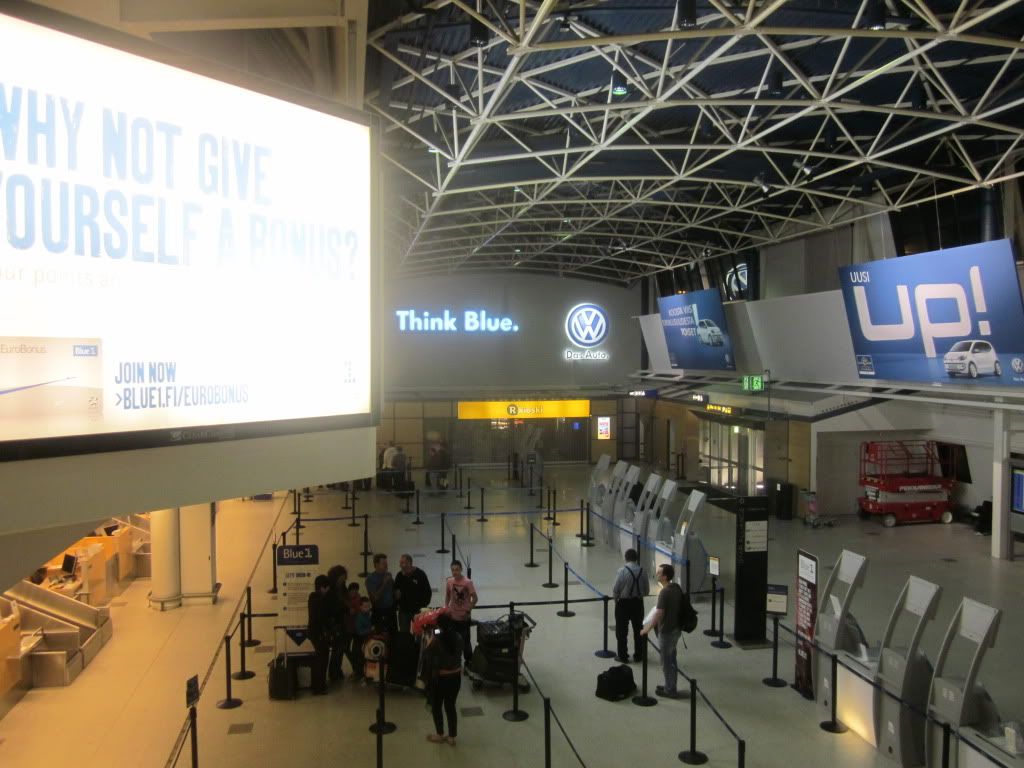 The guys at security control seem more asleep than awake and I'm through in a minute. None of the eateries are open at this hour so I just sit down near our assigned bus gate of 14A.
A look at this beautiful bird makes me all warm and fuzzy inside as I remember I am actually catching a flight on the type later today:
The same agent that checked me in soon arrives at the gate, boarding starts on time and we are ushered into the bus. We wait for what seems like a very long time when the gate agent steps into the bus and calls out the name of a Russian passenger. After she finds out he is onboard she leaves and we drive off. This leaves me very puzzled - how on earth would they not know if he had boarded or not?? To make things even more weird the bus driver puts some rock'n'roll music on full volume to ensure that everyone is fully awake...
After quite a long drive we pull up in front of YL-BAH, a welcome new entry to my log!
I decide to wait as many passengers take a mad dash to the plane (pun intended):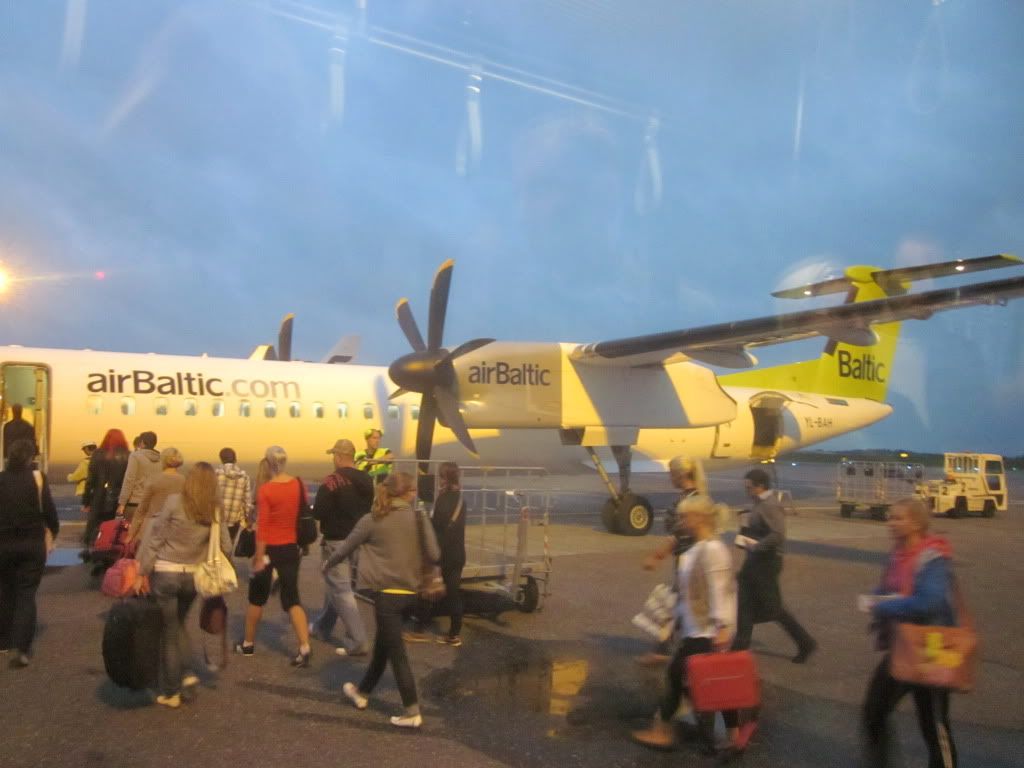 Good morning, home base: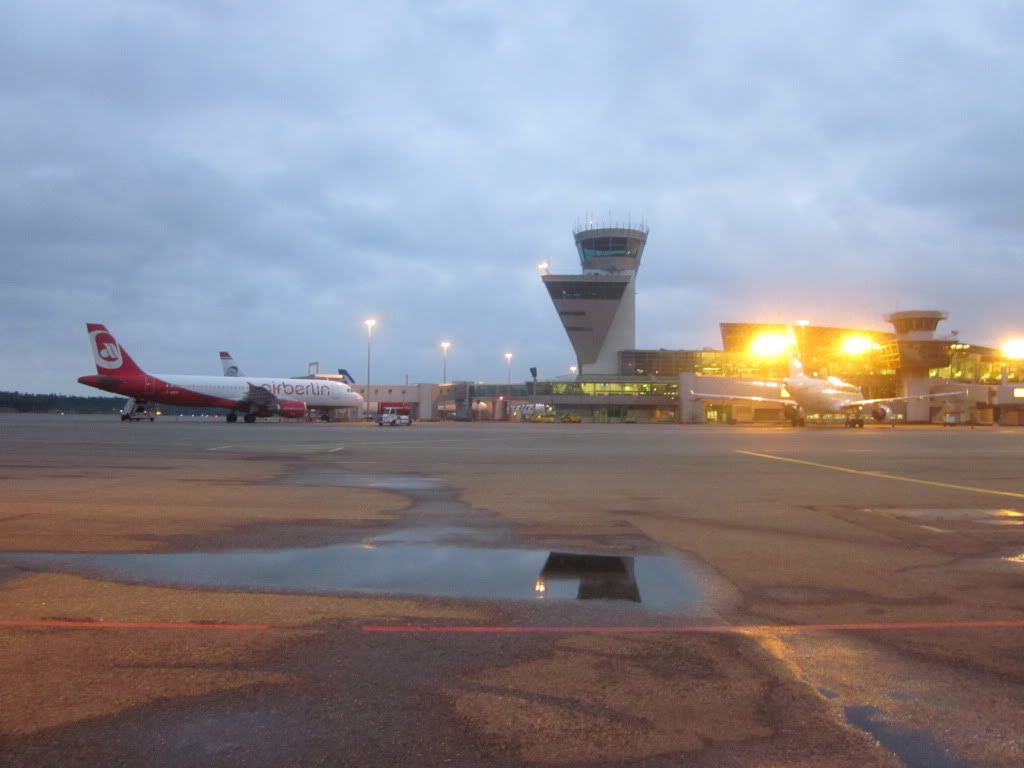 A ghost plane being towed to its gate: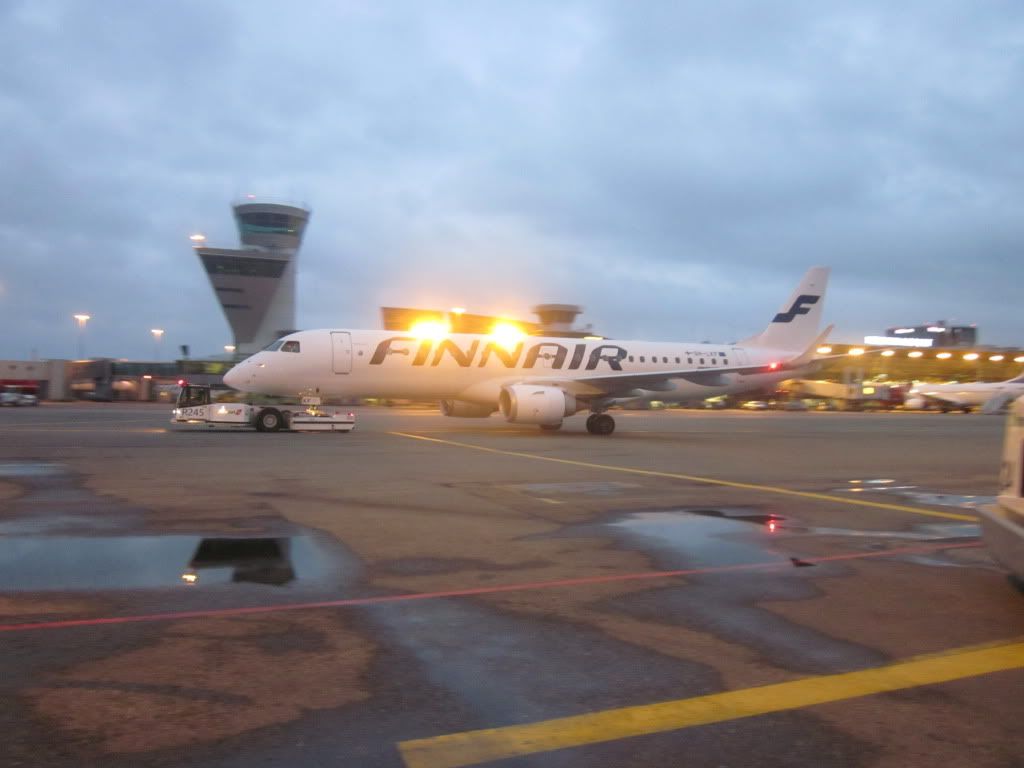 Some passengers were in chatting mode and others in sleeping mode already before entering the plane:
Just to confirm we are boarding the right plane type (the arrow, with compliments from Air Baltic is pointing the direction we will move in, just in case):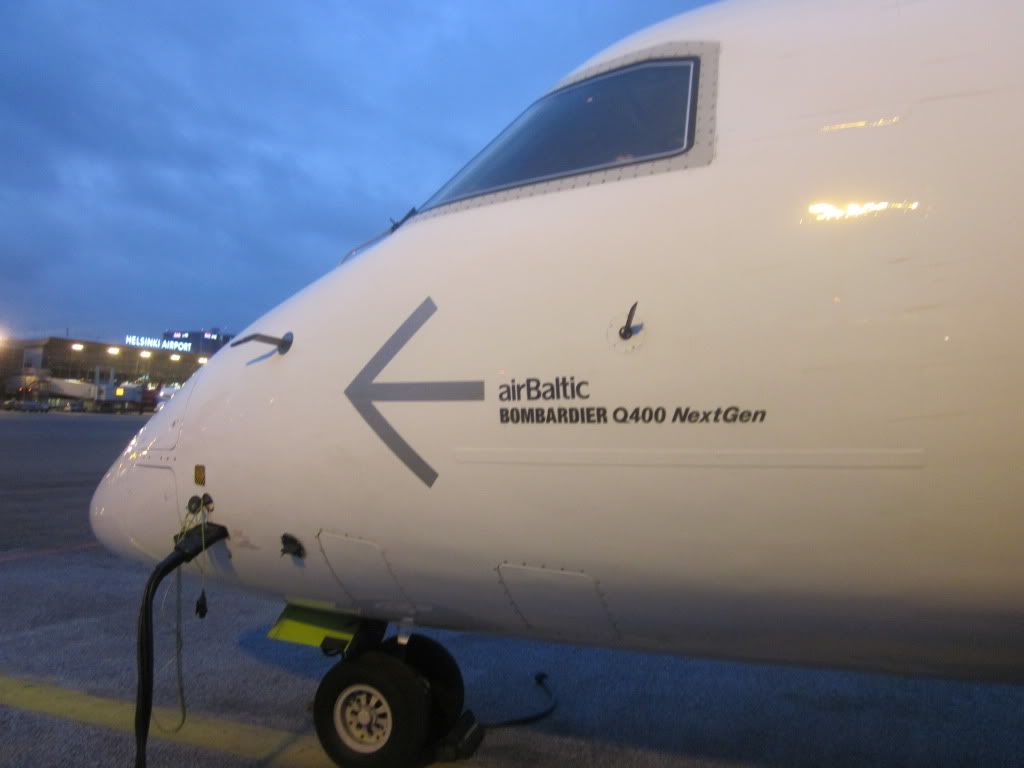 This plane is quite long to be a prop plane: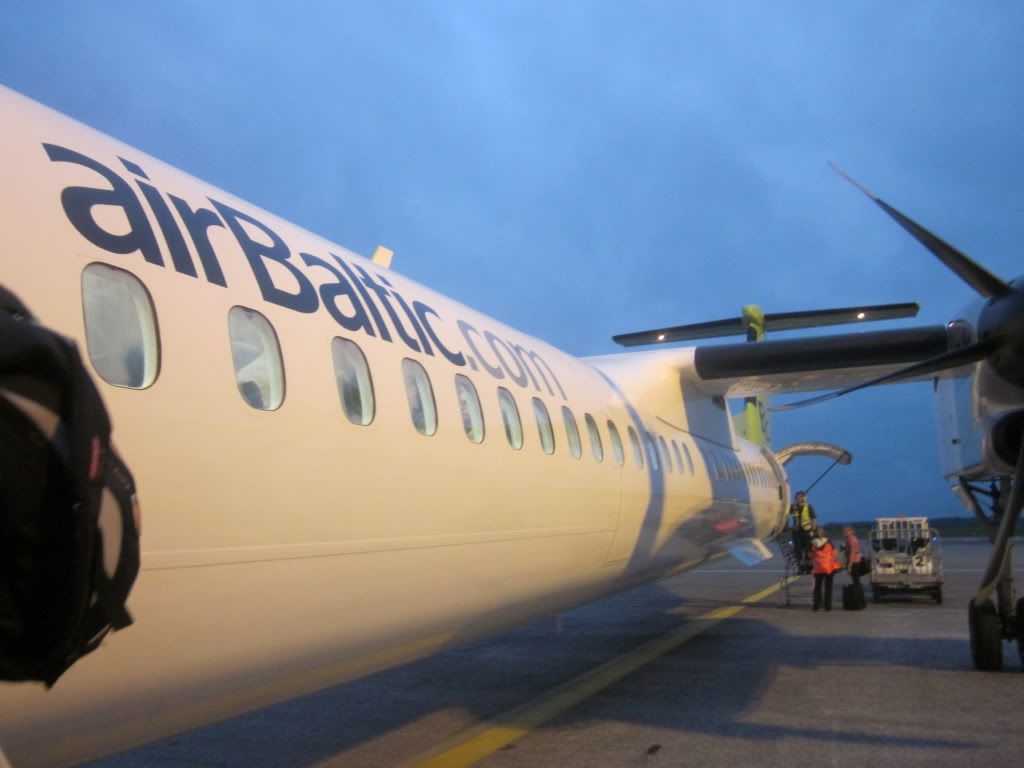 The lady wearing the pink shirt is actually the agent I mentioned earlier. In the end she boards our flight as well - she sits down in the empty business class cabin (no other passengers there today) and chat quite a lot with the crew. She doesn't get any meal or drink service though.
BT330
Air Baltic
HEL - RIX
YL-BAH, Dash 8Q-400
Seat 7A, Economy
04.45 - 05.50 (04.50 - 05.42)
When my father and I reach our seats 7A and 7B we already find a Russian man and what I think is his girlfriend sitting there but as boarding is announced as completed seconds after and 6AB remain open I tell them I can happily sit there instead. Instead of listening to me (phew...) they both get up without saying a word and quickly disappear somewhere in the rear part off the cabin. From this moment they are nowhere to be seen, perhaps they felt obliged to sit where they were supposed to?
Propeller view - takes a while to get used to: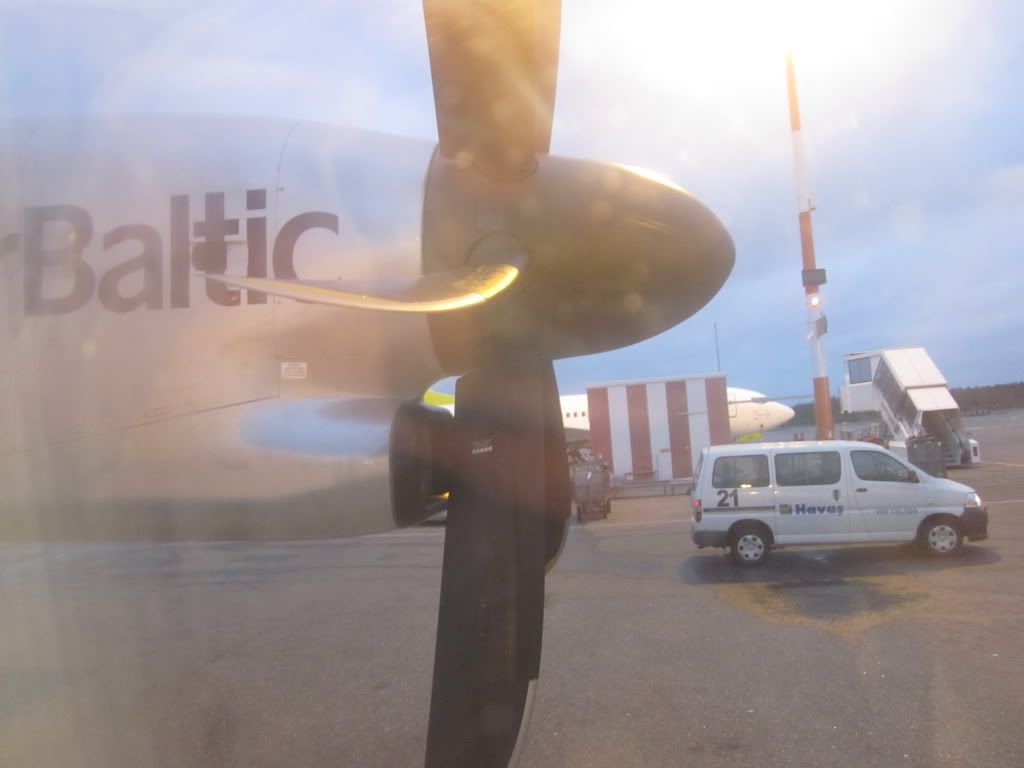 Leg room is average - notice the flyer apparently pointing out a flight on the Dash is everything you need at this time of the year: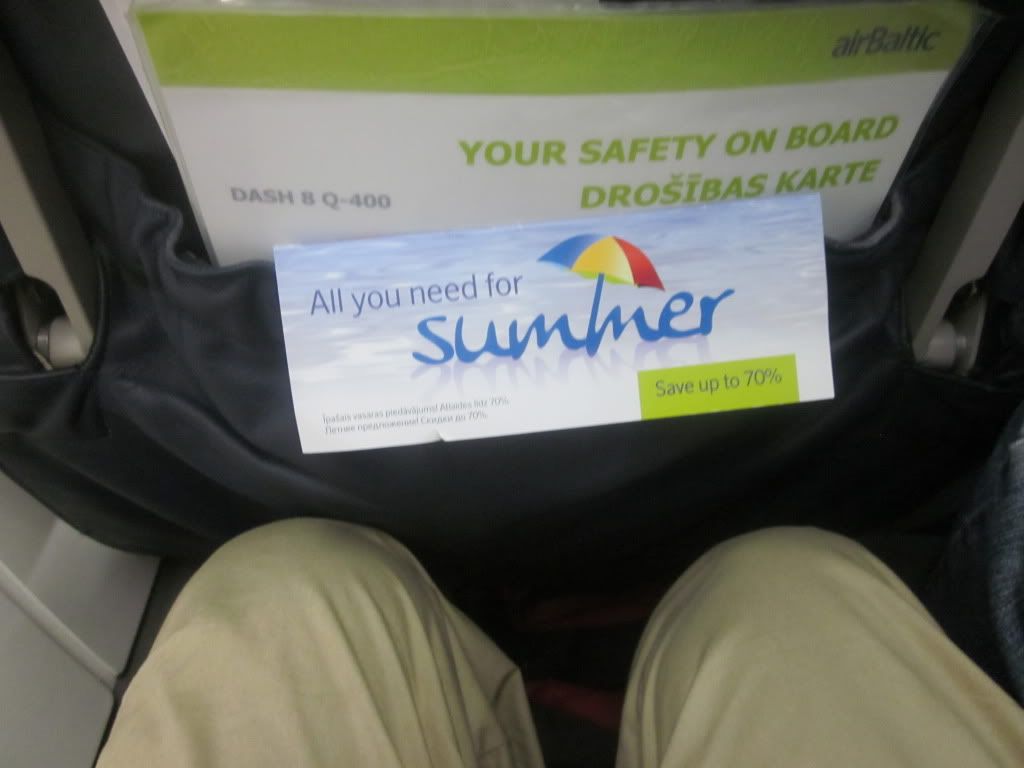 Our male cabin manager Edgar (every time I hear that name it reminds me of one certain poet...) is wishing us welcome aboard but it seems everyone is too tired to notice anything. The crew on today's flight is all-male (believe me, I was going to get used to male cabin crew during the day!), flight time is announced as a short 45 minutes and a special welcome is done for BalticMiles members (like me!).
I immediately notice how narrow the cabin is - but most of all the huge gap between two seats (guess it's good for spying on the person sitting in front of you). The load is around 70 %, impressive for a 4 a.m. flight on a Tuesday!
Pushback is finally five minutes late and we dash into the skies after a quick taxi to runway 22R.
Passing by some bigger Air Baltic equipment on the way there: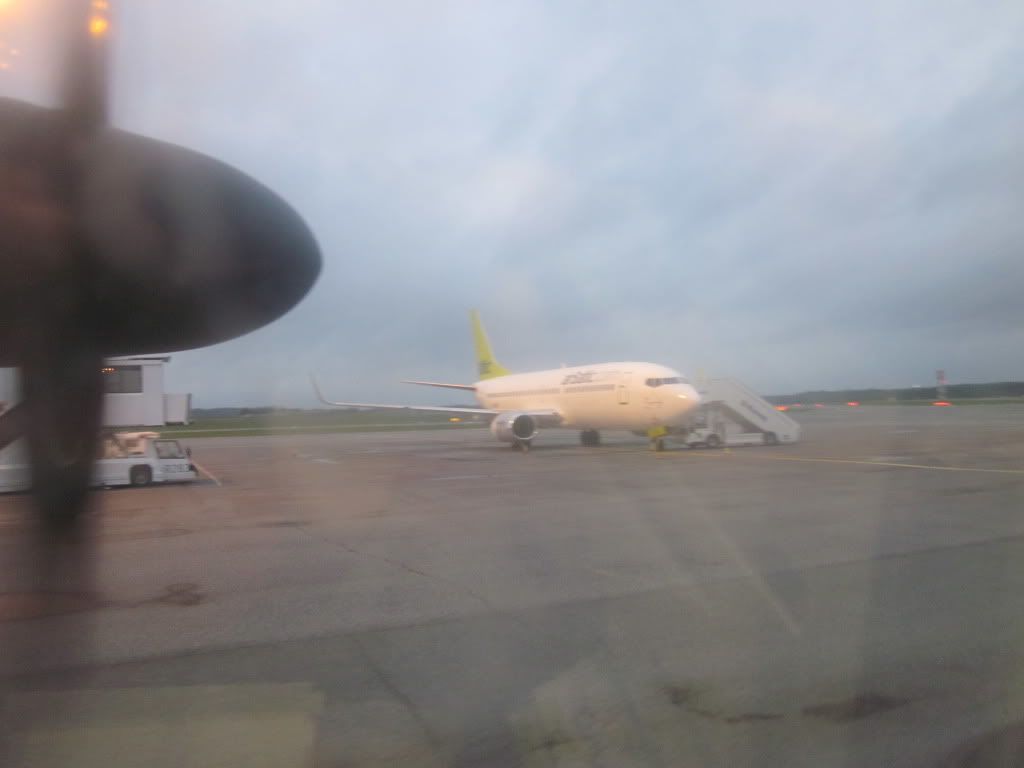 Already up in the clouds:
Mmm, clouds: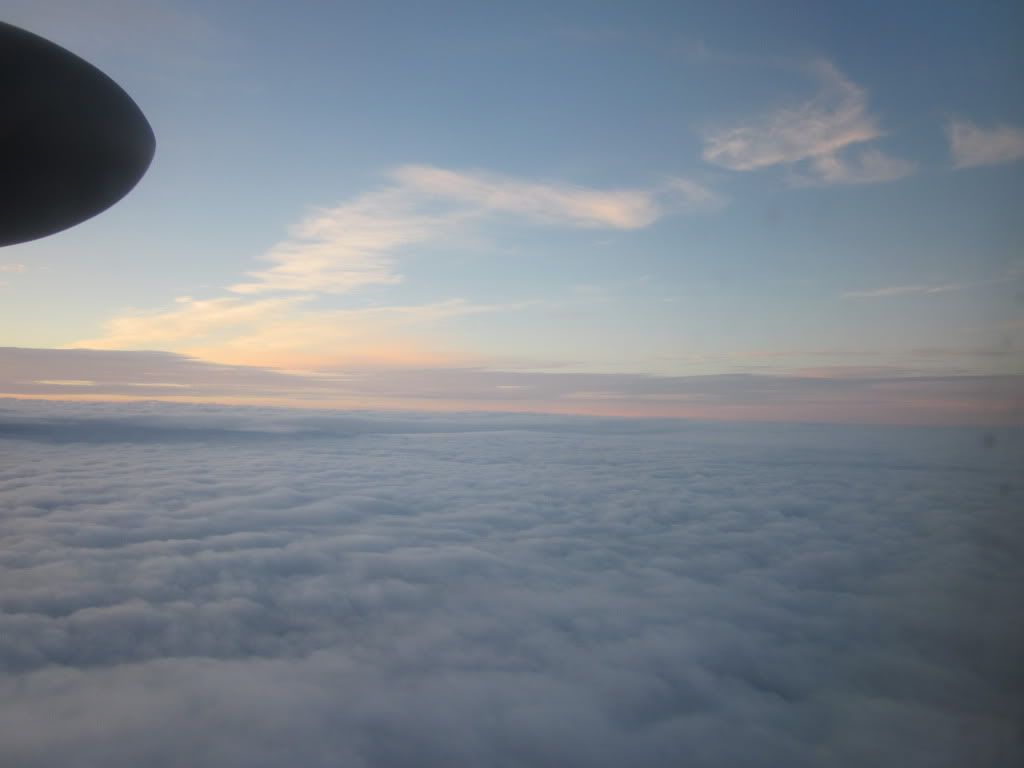 I like the light in this shot: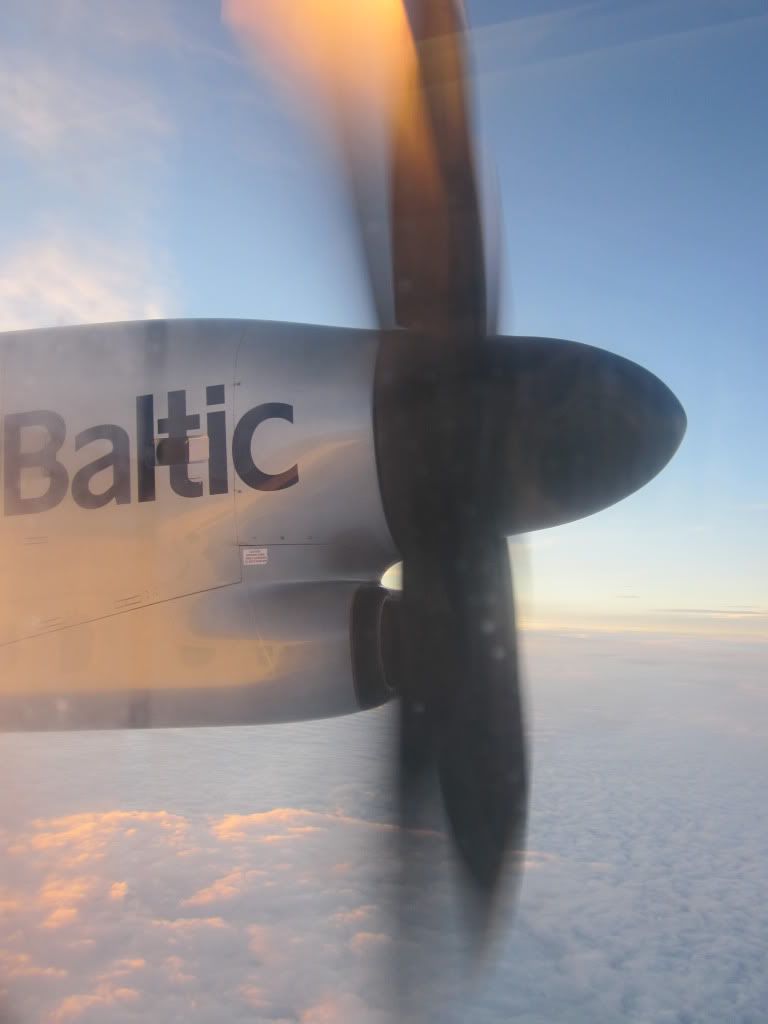 Our cabin manager asks us soon after take off to "enjoy the Air Baltic hospitality", which I guess means being proactively offered products (that you need to purchase for your own hard earned cash!). Surprisingly they manage to sell almost every second passenger something from the BOB - nothing for me at such an early hour though.
The menu card features some good-looking hot meals available - but let's get back to that later, shall we?
The inflight magazine contains an interesting feature on the new SeatBuddy service BT has introduced! It could be interesting - but not this time as I already had a seatbuddy of my own.
Unfortunately our flight happens to have a very silent team in the cockpit as we hear nothing at all from the guys behind the controls. I spend the rest of the flight enjoying the beautiful clouds and follow the movements of quite many flies inside the cabin - they make quite many passengers anxious!
Soon the crew is already preparing the cabin for landing.
Good morning, Riga: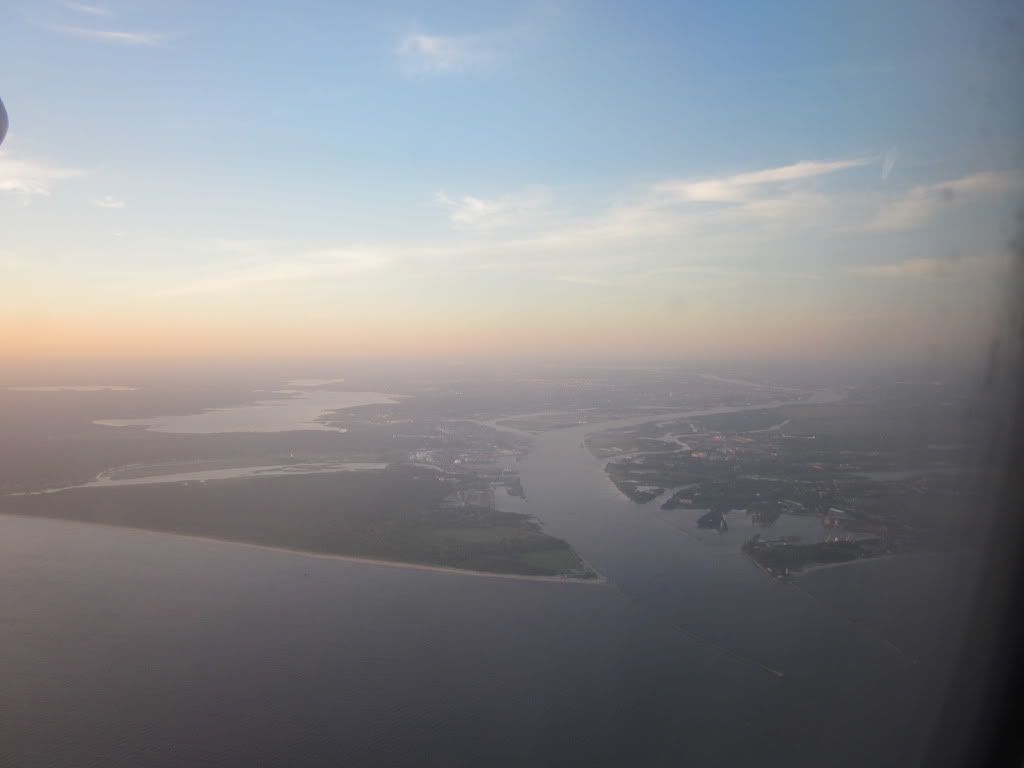 This must be the Daugava river: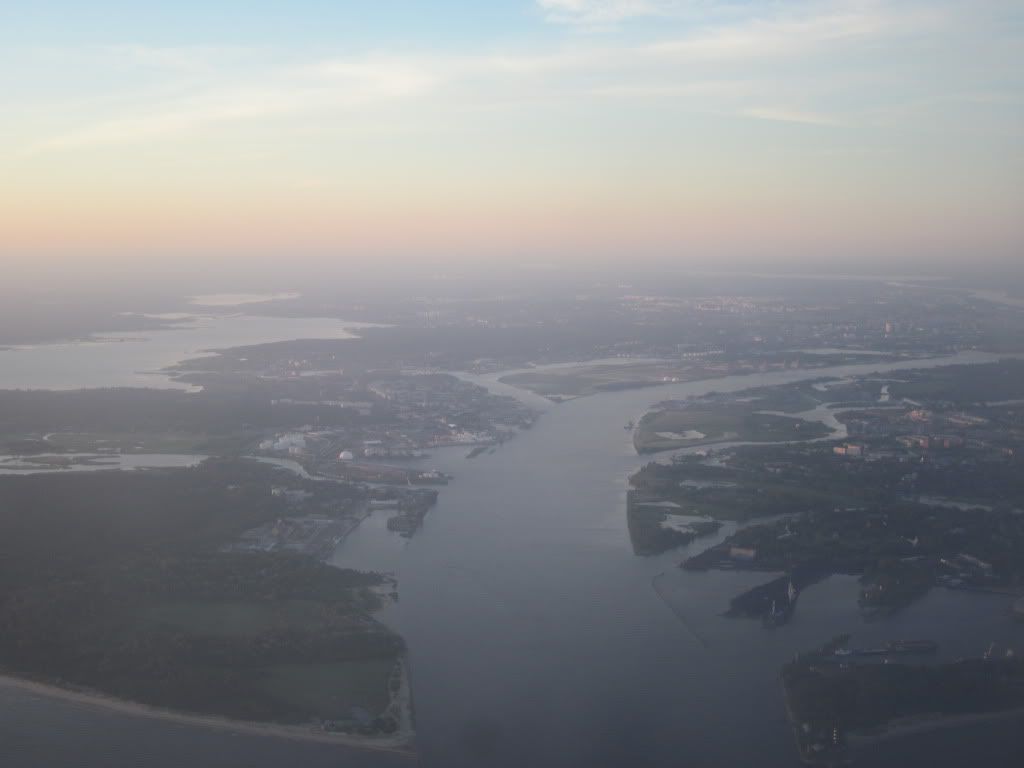 Nope, the tower in the distance is not the one made famous by the Eiffel brothers: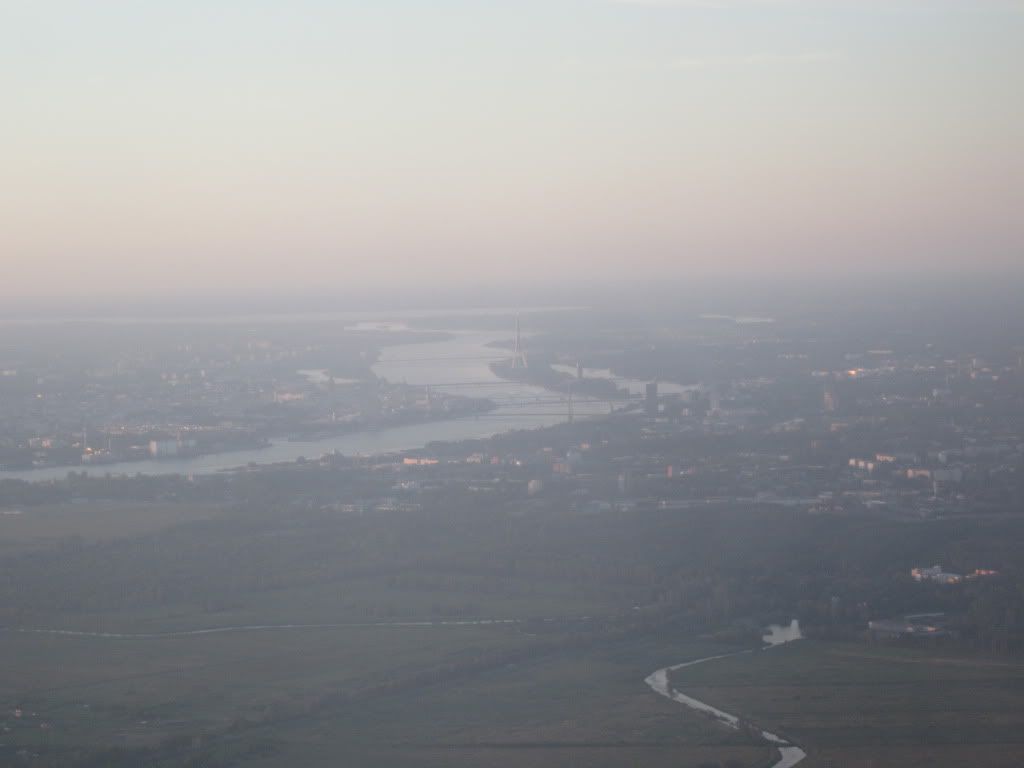 Coming in over a residential area:
Our landing on runway 18 is quite rough and is followed by applause by some of the Russian passengers seated around us.
Mother Fokkers and biz jets are wishing us welcome to Latvia: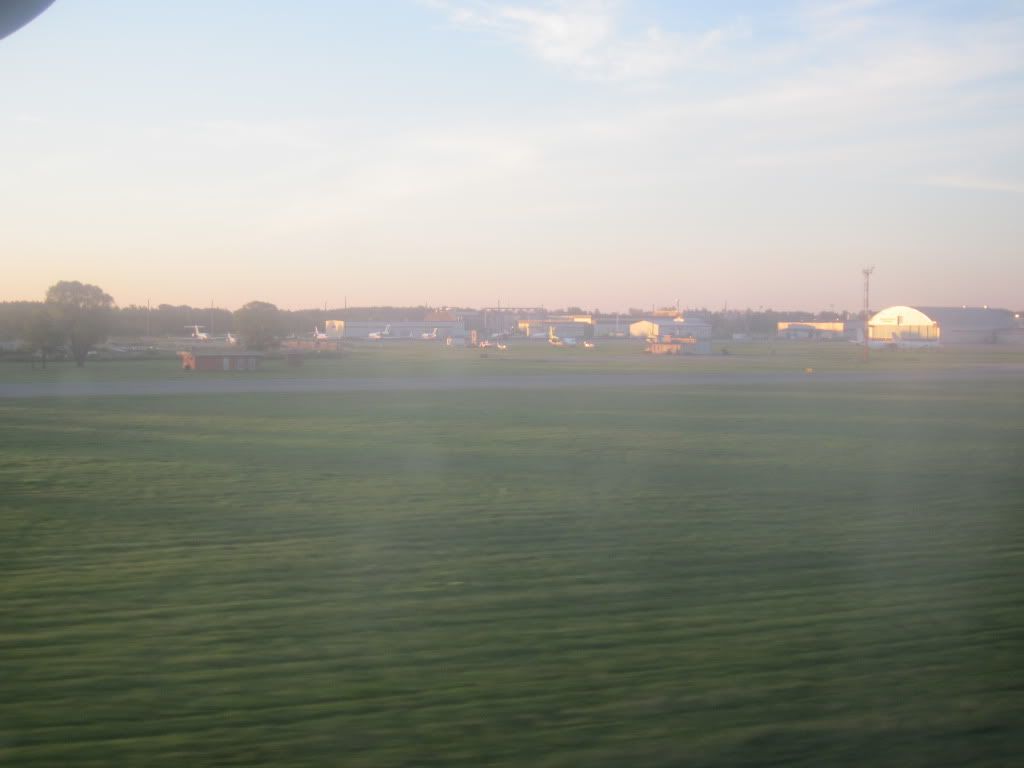 We park next to Lufthansa: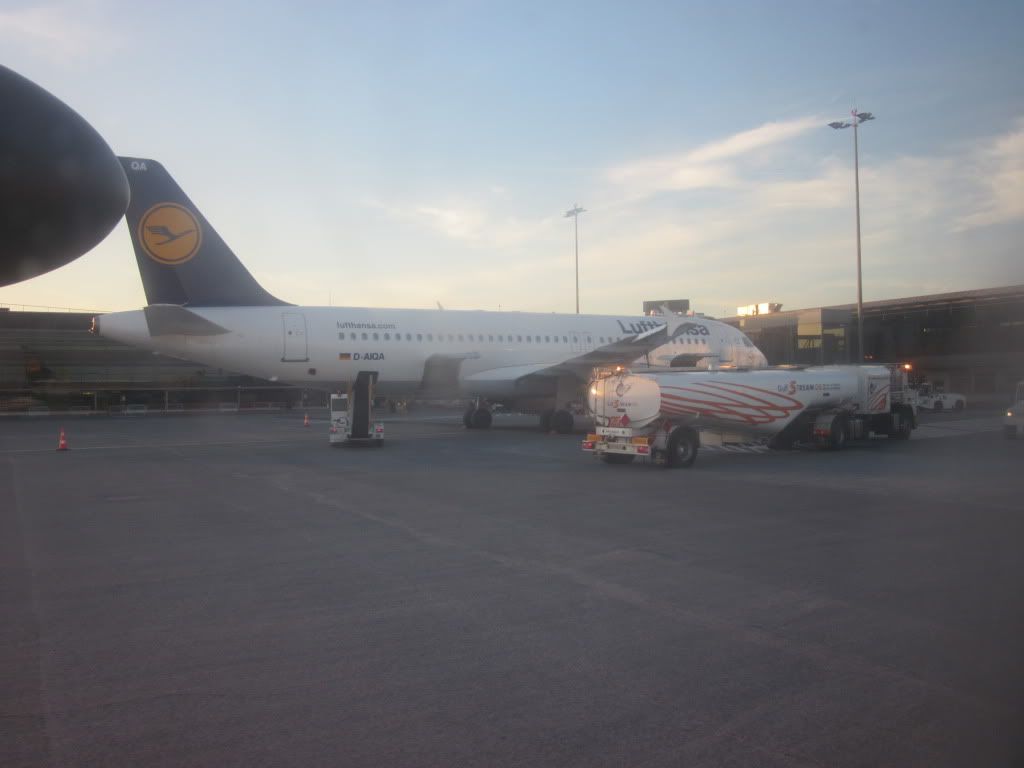 Nope, no jetway for us today: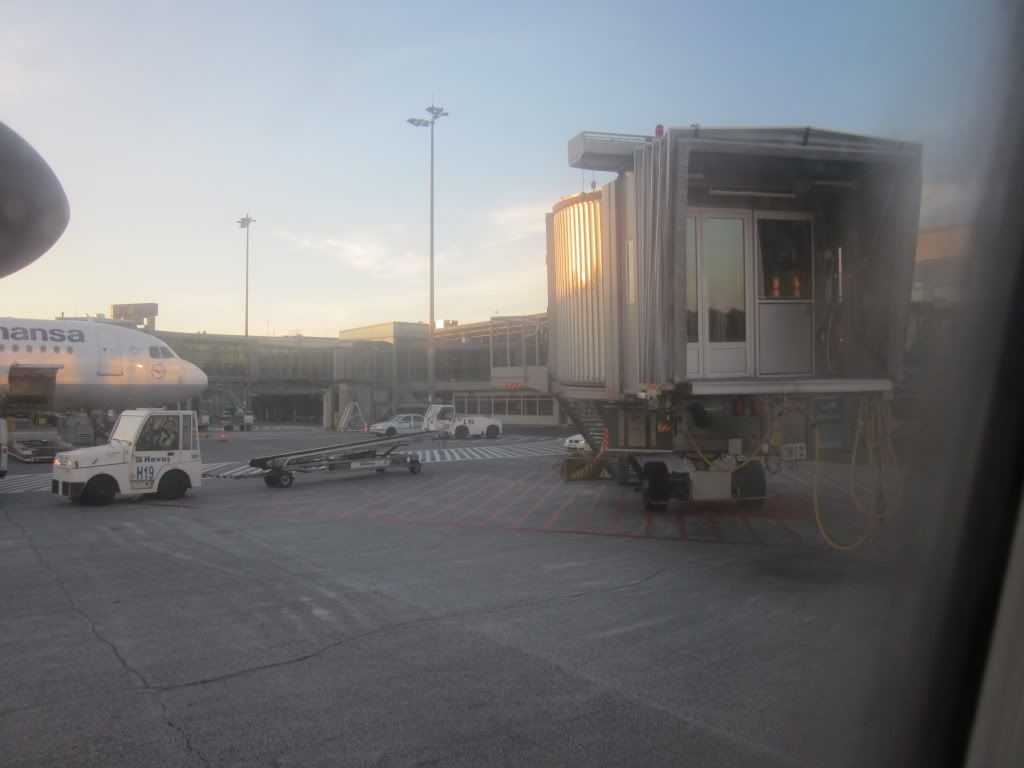 Deboarding: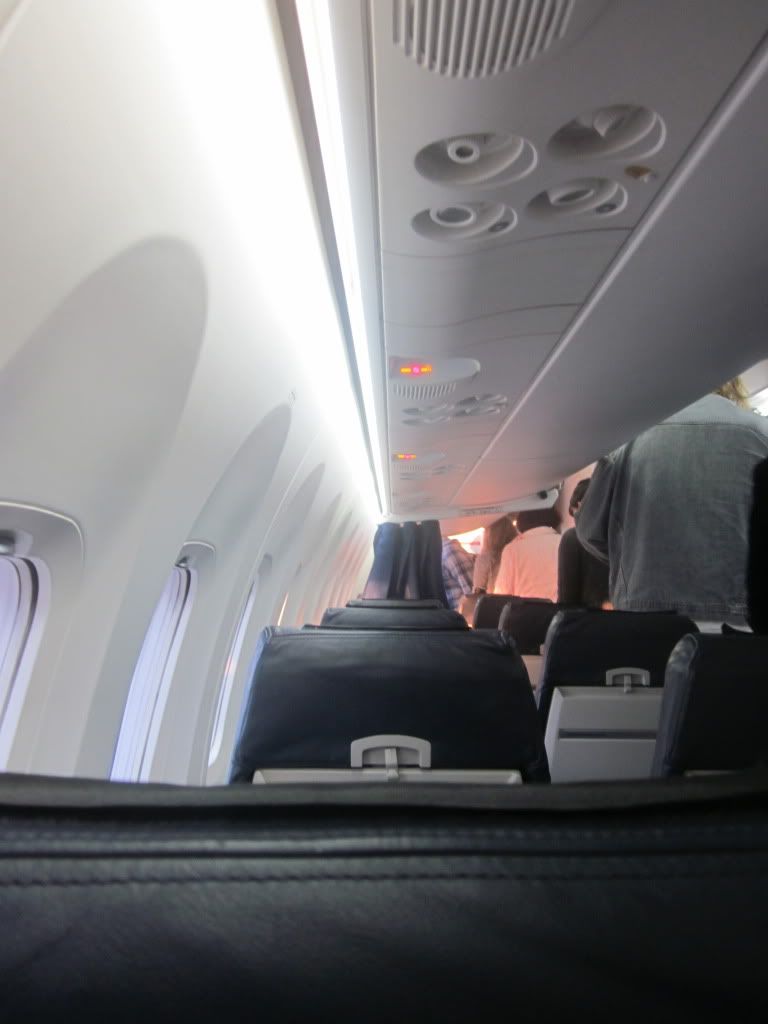 Goodbye: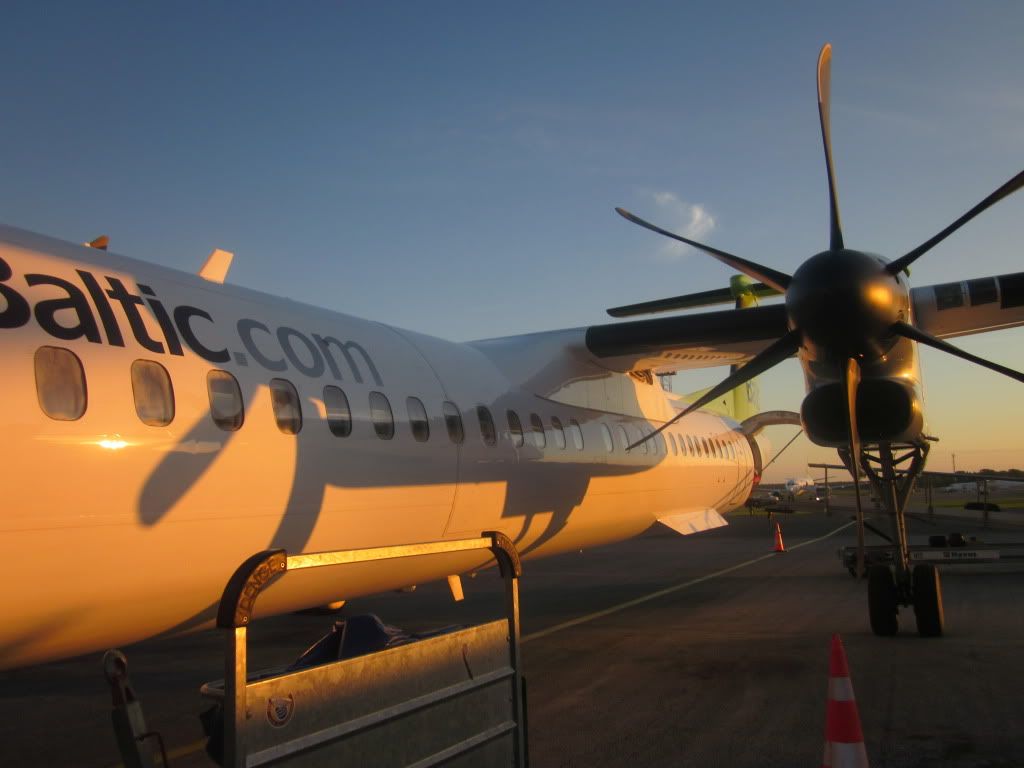 Riga Airport
After leaving the plane (Edgar was unfortunately involved in a very lively chat with the gate agent from HEL so no time for him to say goodbye - a bit of a dissappointment for me) and up the stairs to the terminal building my transfer is a straight three-step procedure from the handbook: 1) pay a visit to the toilet, 2) locate your next gate as B10 (a bus gate downstairs, EVERY time I've flown from Riga, my flight has left from this gate, quite interesting actually) and 3) line up for boarding not many minutes later.
Hmm, seems like good news as I'm not flying Ryanair today: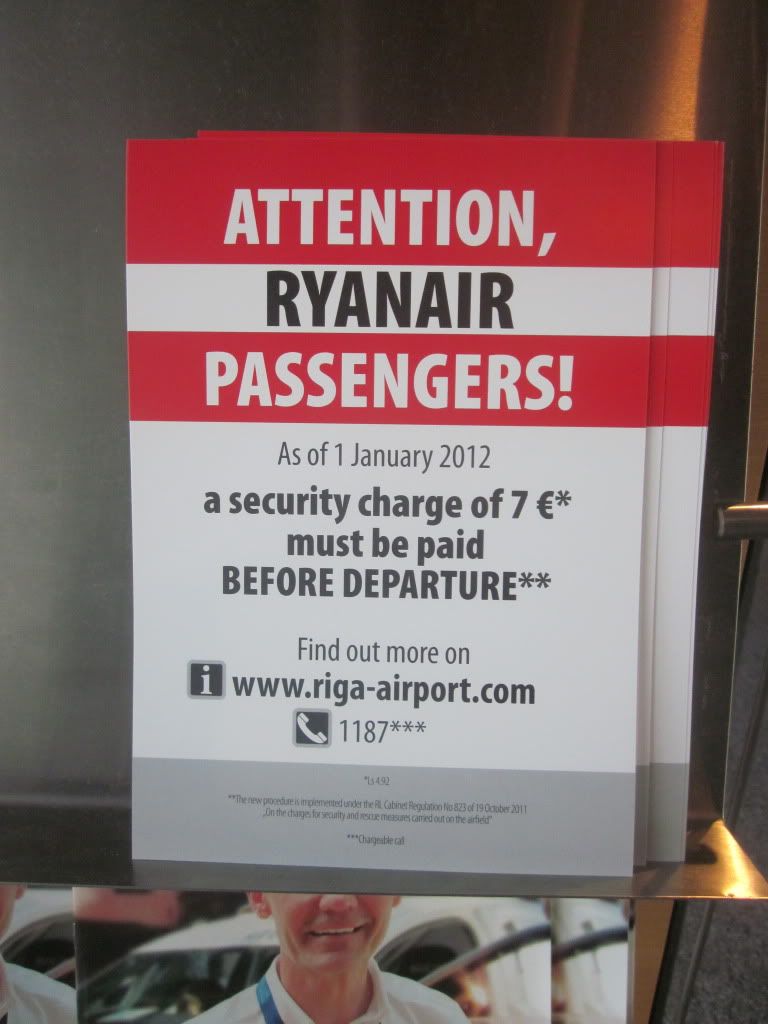 Another Dash getting attention from some ground staff: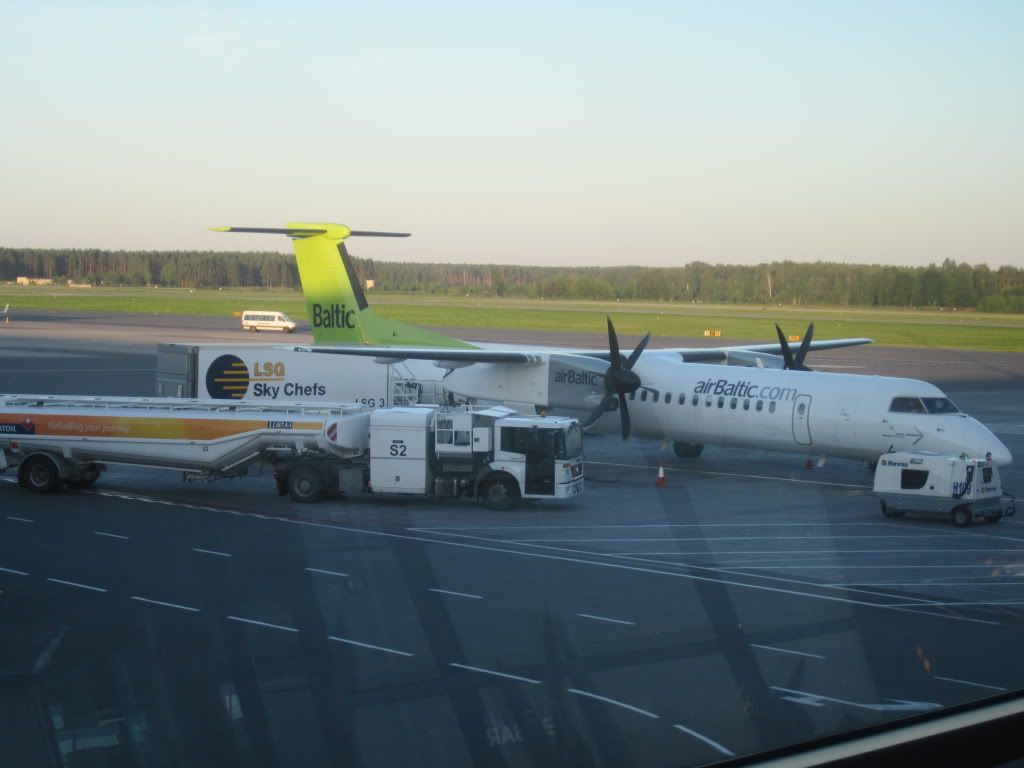 Downstairs it is quite a madhouse as flights to BRU, VIE, OSL and CPH are all leaving at the very same minute and starting boarding at the same time - specially as the gates for OSL and CPH are only separated by a tiny counter there is some guaranteed confusion in store for the passengers. The gate agents do a good job yelling out what destination is now boarding from what counter and eventually we board a bus and drive off.
We pull up in front of YL-BBK, another new example for my log. This is the first time I've seen a member of the ground staff showing thumbs up for boarding - previously it has always been done by the cabin crew: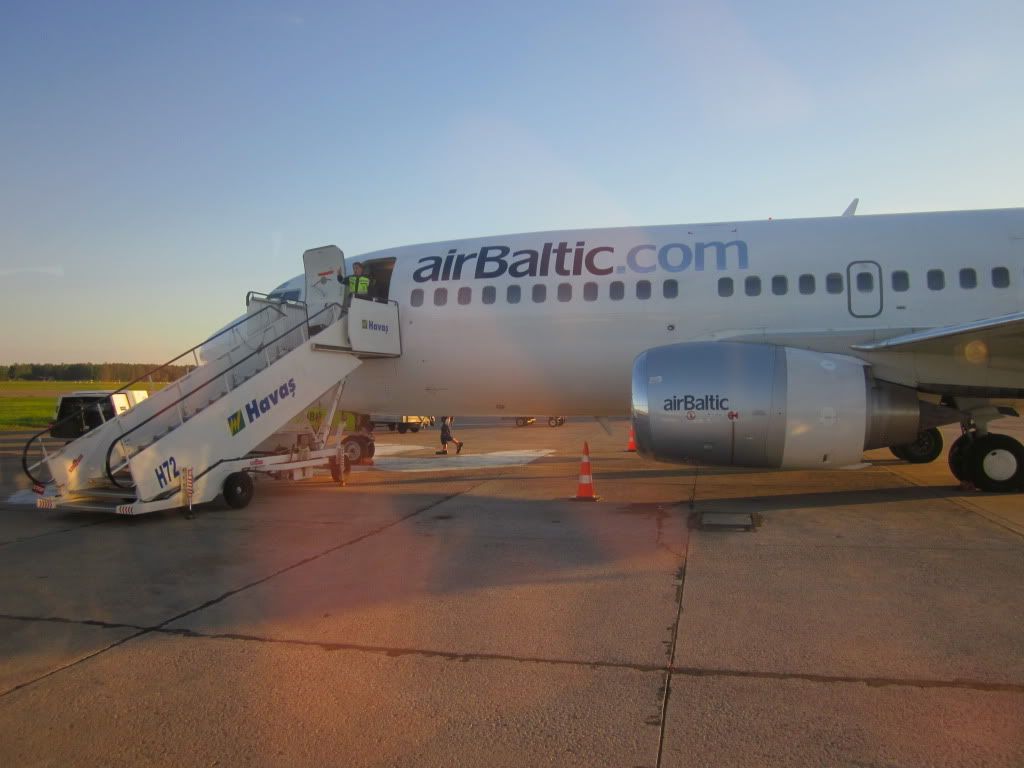 The other half of our trusted plane: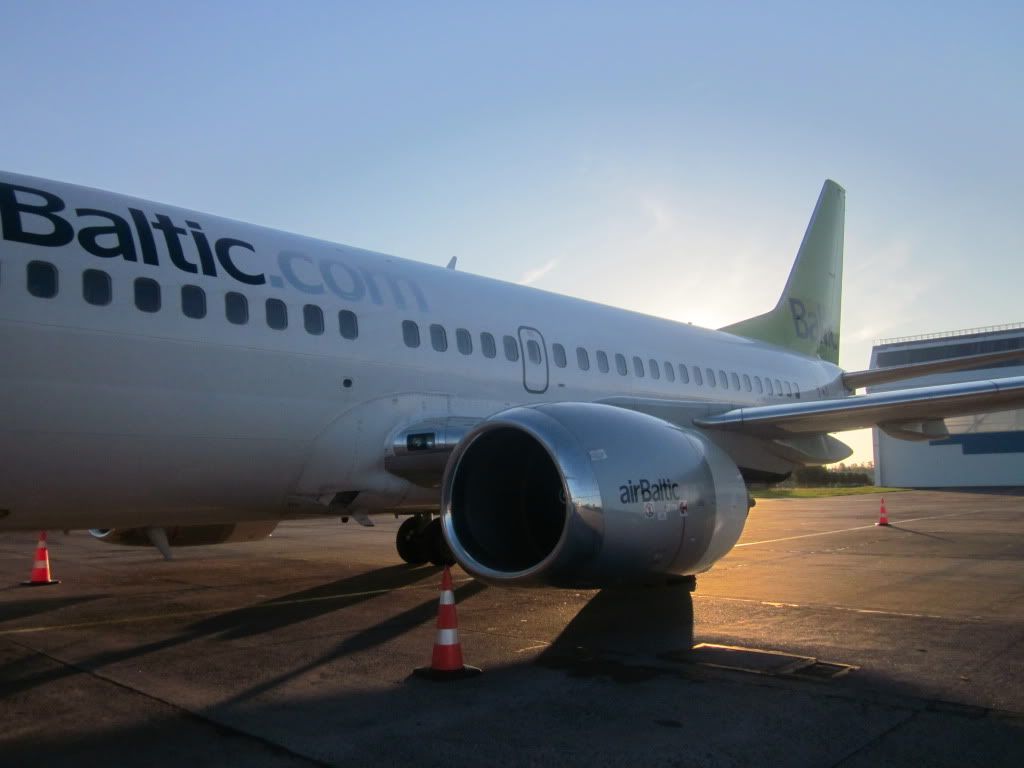 Almost there: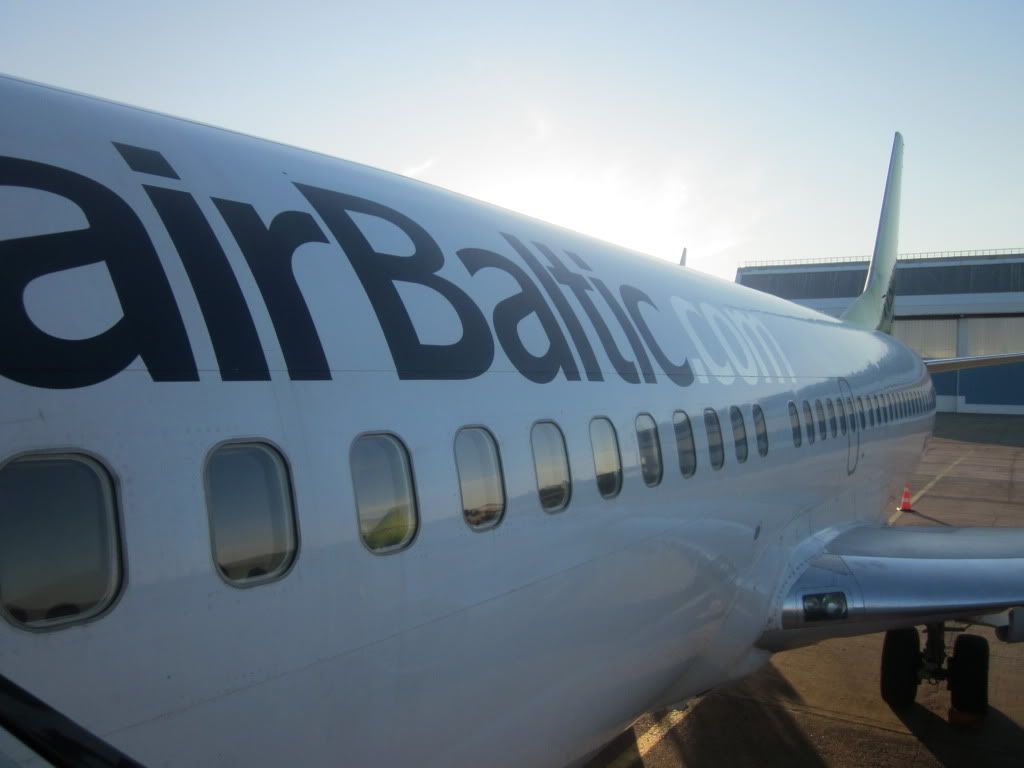 BT151
Air Baltic
RIX - OSL
YL-BBK, Boeing 737-300W
Seat 4F, Economy
06.35-07.25 (06.49 - 07.21)
After everyone has taken their seats the load is some 60 % (I later learned from Amadeus the load on this segment was 99 pax, so quite a good estimation). No one is travelling in front of the curtain on this flight though. A slim Norwegian gentleman takes the aisle seat so my father and I feel quite comfortable. Leg room on the first row of economy class is generous: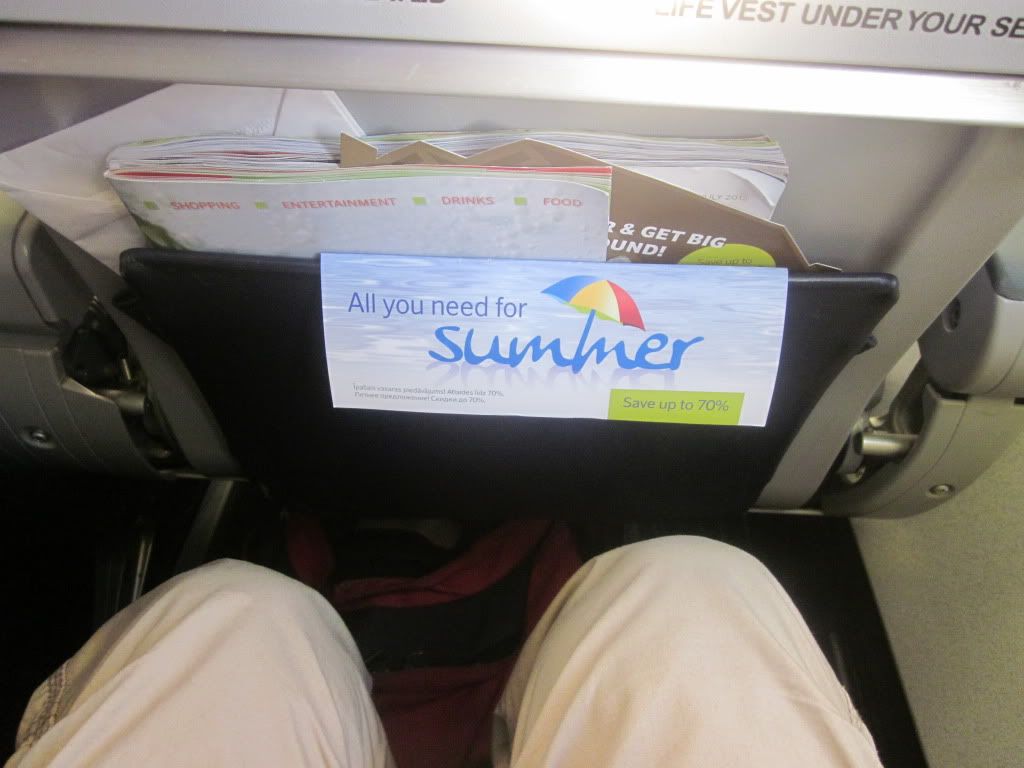 Cabin impression: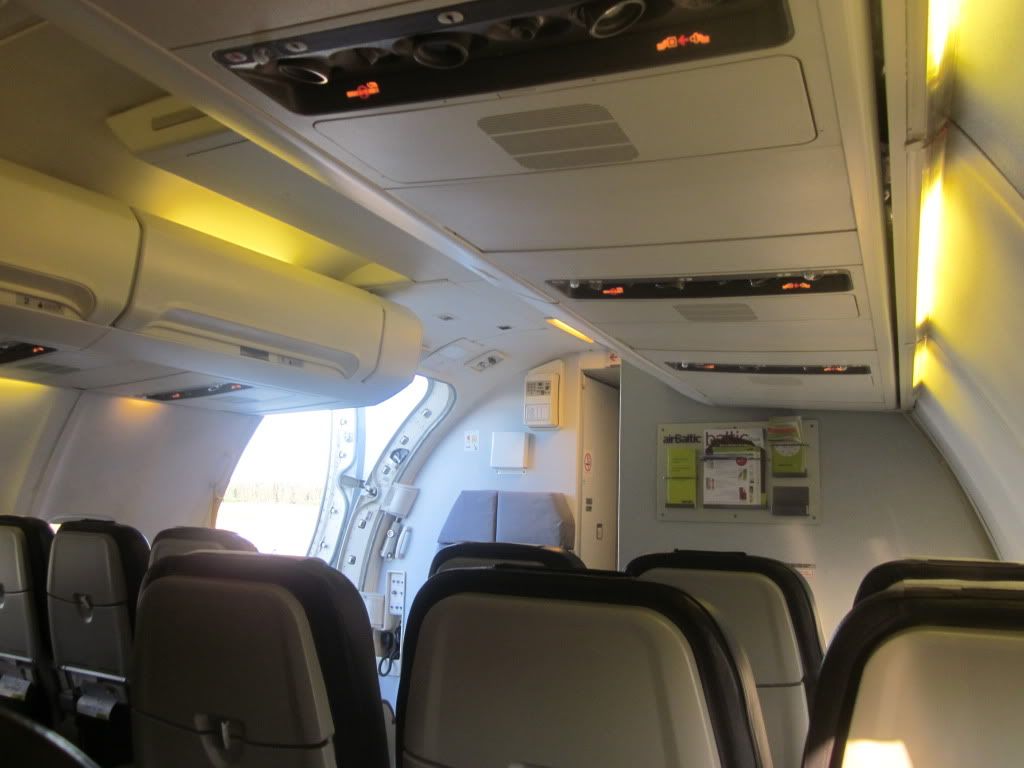 After this we wait and wait. And wait. Until a second bus arrives with one single passenger (they obviously had told him they were waiting for him as you could almost see him running to his seat!). Our departure time comes and goes. Then a mechanic delivers a piece of paper and I get the impression we're all ready to go as doors are closed. This is not the case - we wait for another 10 minutes. It is hard to see what is going on - our male purser (again!) Alexandrus sits on the first row of business class, chatting with another cabin crew member and is filling out some paperwork in a very relaxed manner. After the chat he picks up the microphone and does the welcome announcements. At this stage he is definitely in a hurry - I've never heard such a fast welcome announcement and I have a hard time understanding what he says but I do get that our flight time is 1 hour 30 minutes and that this flight is operated together with SAS.
Cabin crew is again all-male except for one quite young female FA. During the safety demo Alexandrus also reads very fast from his piece of paper and Olga has a hard time demonstrating fast enough. When he imitates the sound a of a life west being inflated she starts laughing. Good spirit perhaps, but safety is not something you should be joking about..
We finally push back 14 minutes late without any explanation given. The lack of communication is something I always fail to understand - is it so hard to master the situation by saying a word or two?
Bye bye, fellow Dash: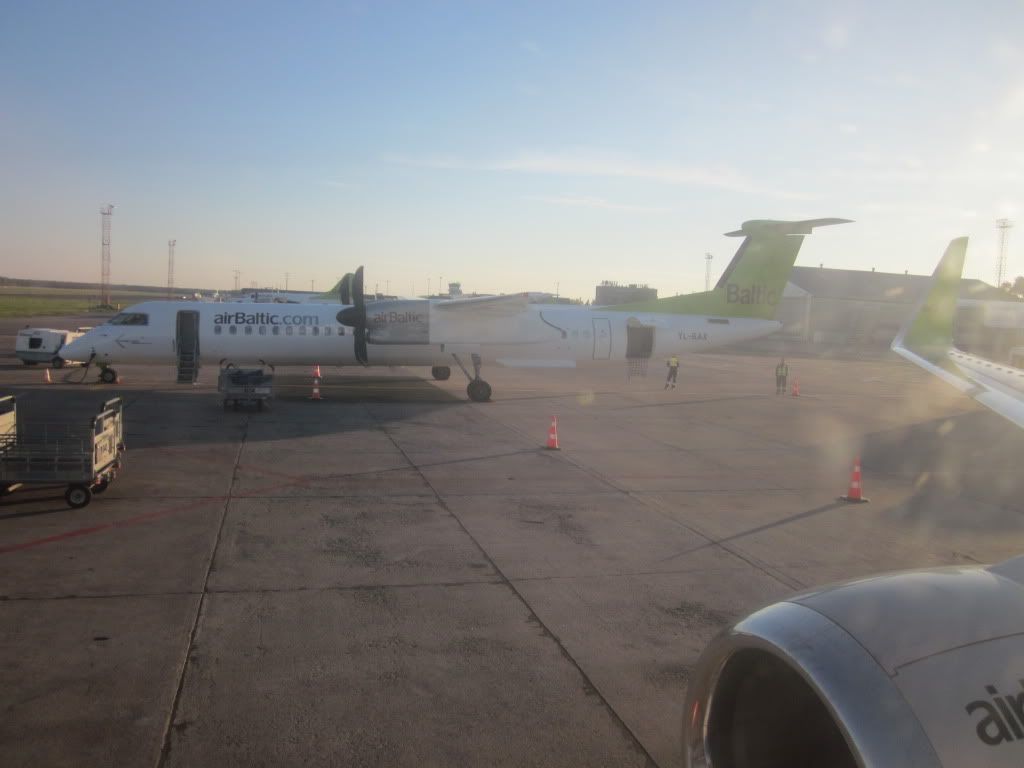 During our taxi we pass by this Concors hangar - I thought they were a now-defunct charter airline but apparently they are still around - I even found a website (still under construction, though):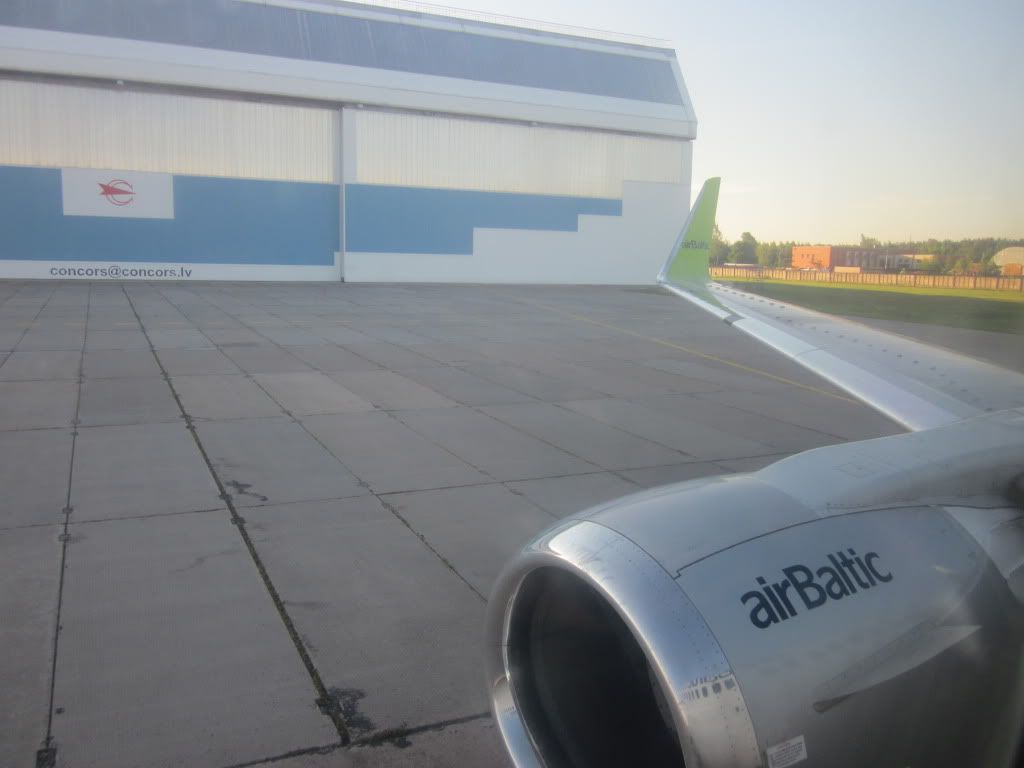 I also spot an Iberia Express aircraft for the first time - sorry for the bad picture: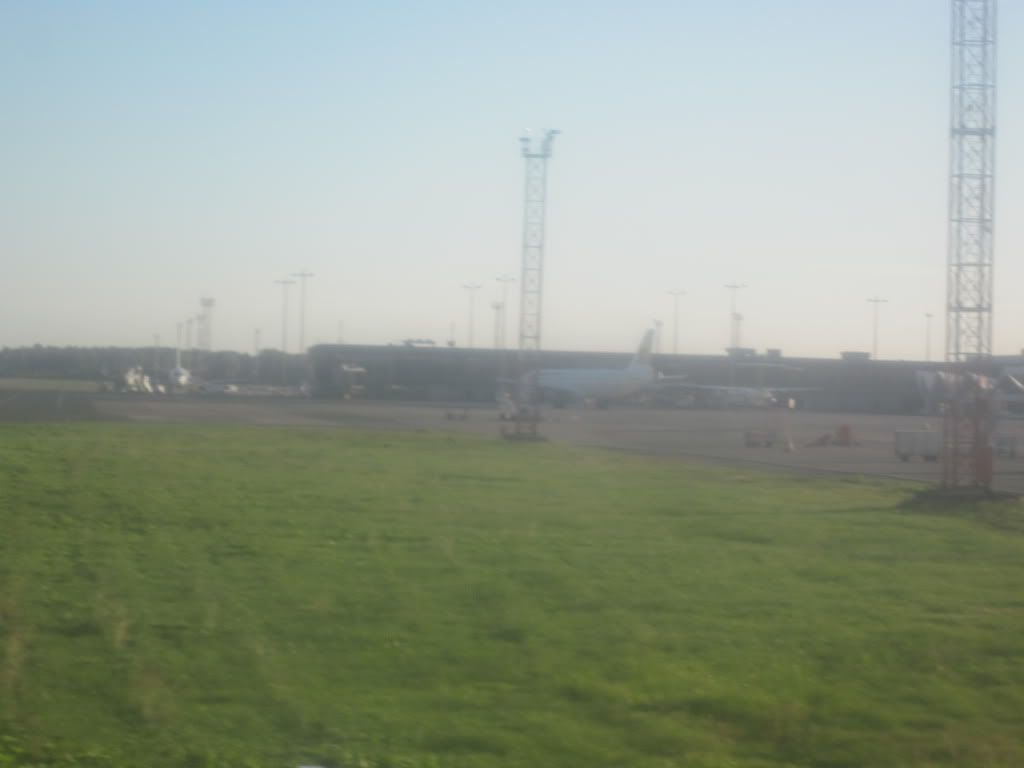 We line up on runway 36 at 06.55 and start our take off run.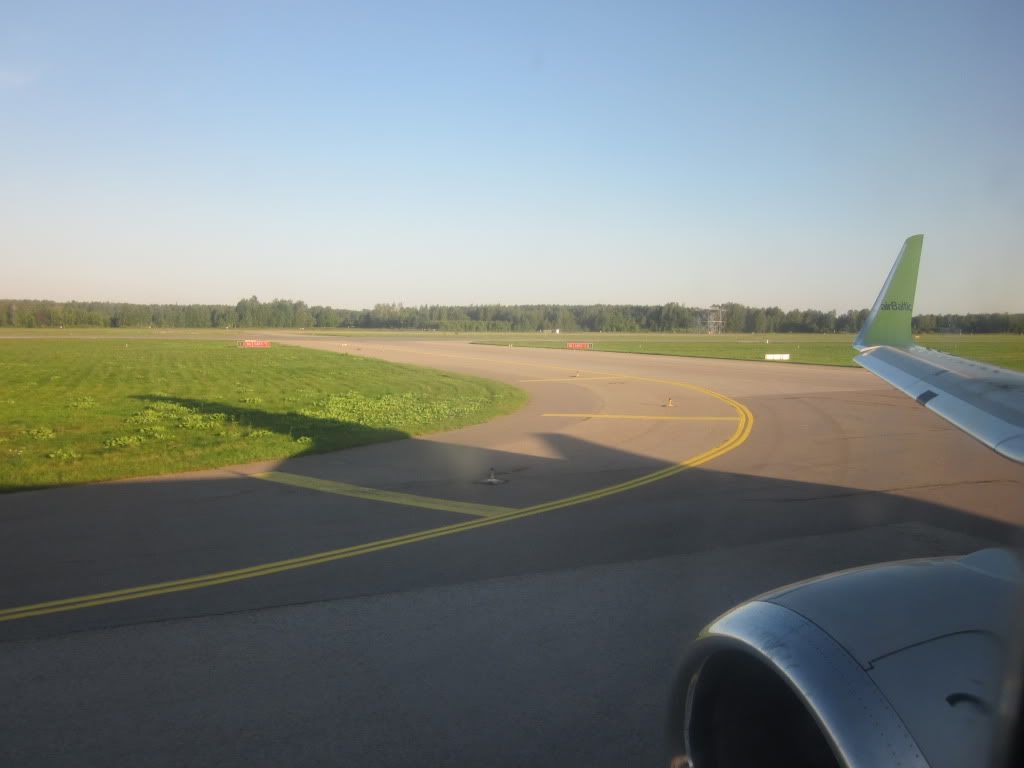 Nothing at all to be seen: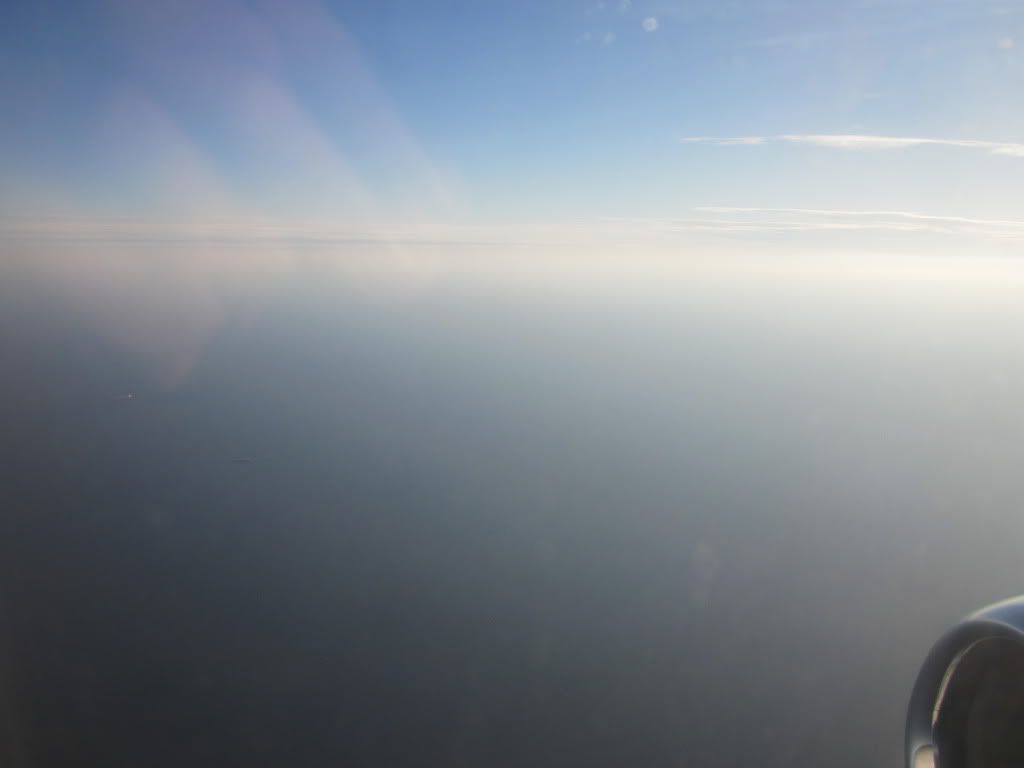 When the cabin crew start the BOB service I feel like some kind of breakfast would fit nicely. And so I remember I had actually preordered a hot breakfast for this flight for 8 EUR when booking the flight. When Olga asks me if I'd like to purchase anything I tell her I had preordered a meal (according to the BT inflight magazine one of the perks of ordering online is that you get your meal as the first one - a thing I wanted to take advantage of). She seems surprised tells me "Really? I will go and check soon" and after selling some beer to the Finns sitting on the row behind (seriously - how can you drink a beer at 6 a.m. in the morning?) she goes to find out.
Five minutes later Alexandrus appears in the aisle.
"Mr. 717Flyer?"
"Yes, that's me!"
(hands me my meal together with a cup and disappears).
Efficiency? Full points. Customer contact? Could be better.
The meal is delivered in this colorful box together with my name and seat number written on it: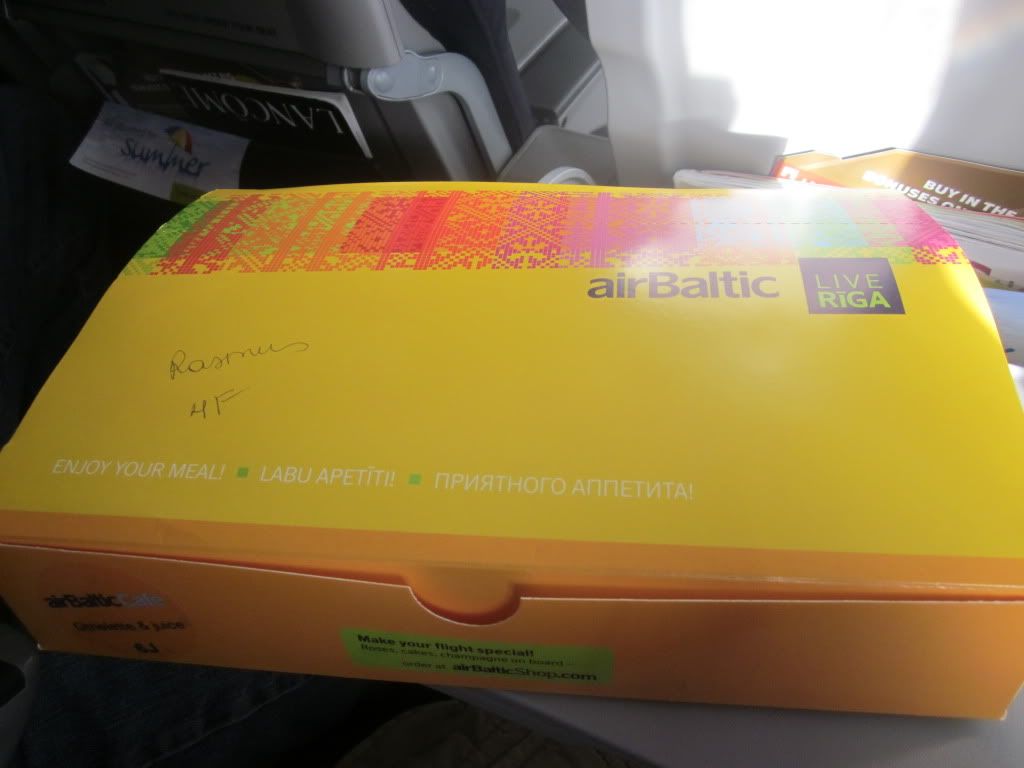 The box contains a hot dish consisting of an omelette filled with mushrooms as well as sliced potatoes and mixed vegetables, a slice of dark bread and butter, a croissant filled with jam and a Finnish (yay!) blueberry youghurt. There is no choice of beverage, but a small can of French orange juice is placed on the tray.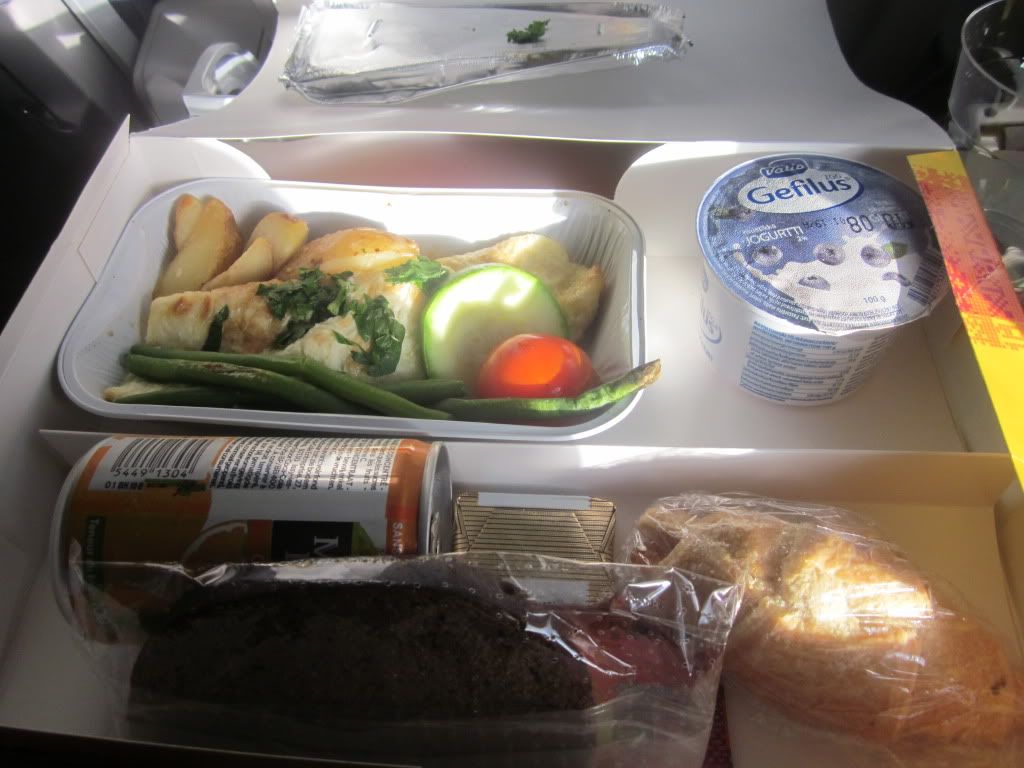 A closer look: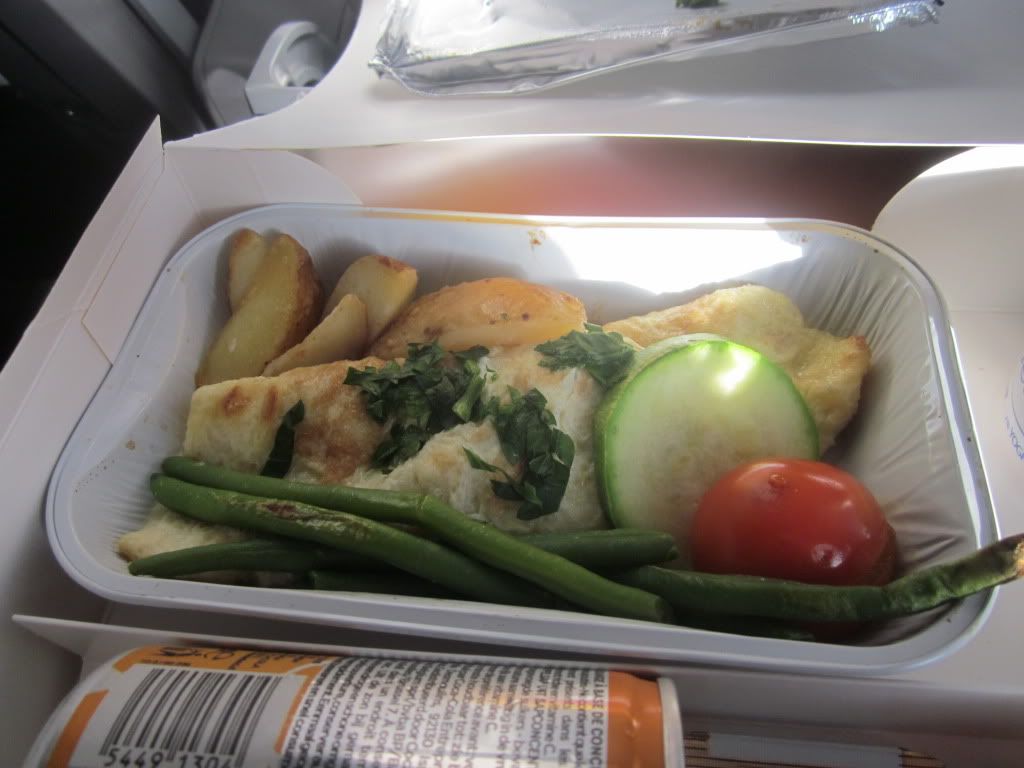 And desert: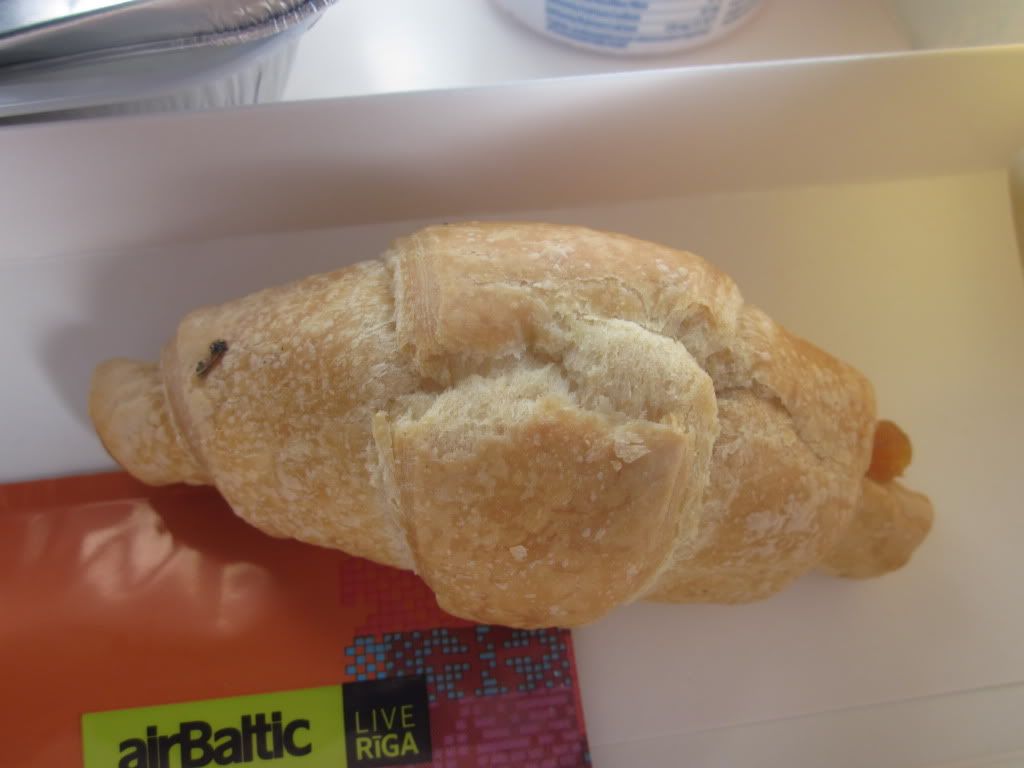 All in all I must say it was a very nice breakfast, quite nice value for money and everything tasted good. If only you would have got some coffee with it as well it would have been a class act! Anyway I'll be happy to preorder another meal when (/if?) I fly BT the next time.
A while after finishing the meal and I see Alexandrus passing through the aisle I give him the empty box, he says "Okay", takes the box and disappears. Hmm. Soon we also get a very brief announcement from the cockpit: remaining flight time is 45 minutes and weather in Oslo is expected to be a cloudy 15 °C.
Air Baltic definitely has tried everything - now they want you to purchase an apartment while being onboard one of their flights: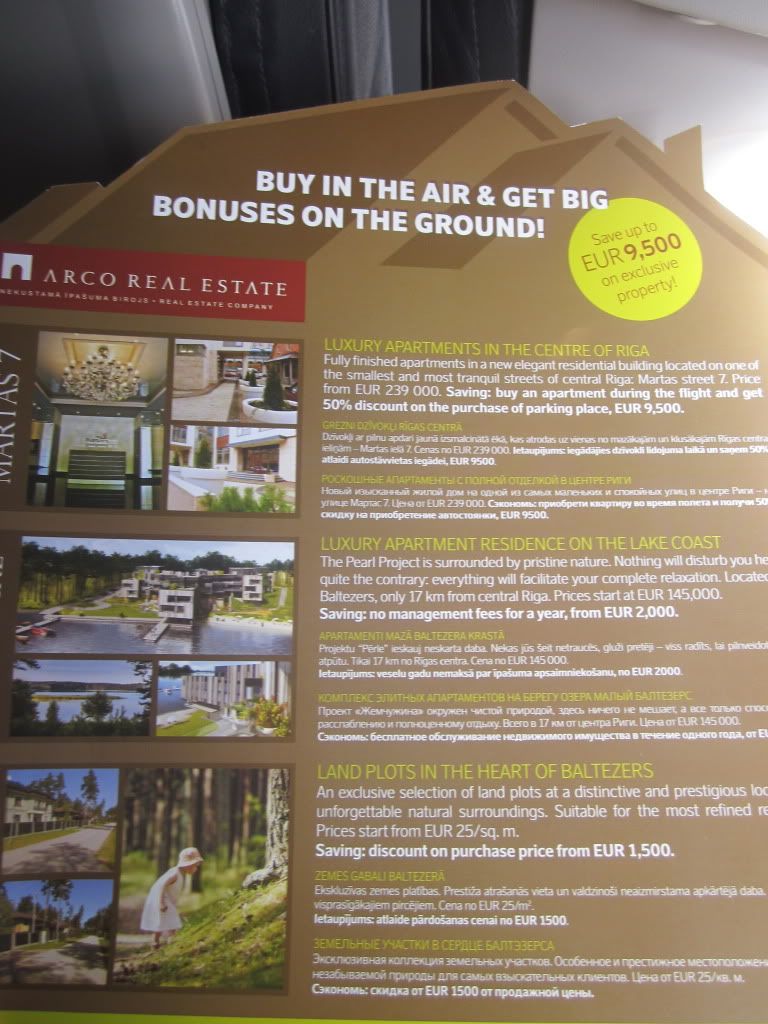 Already starting our approach: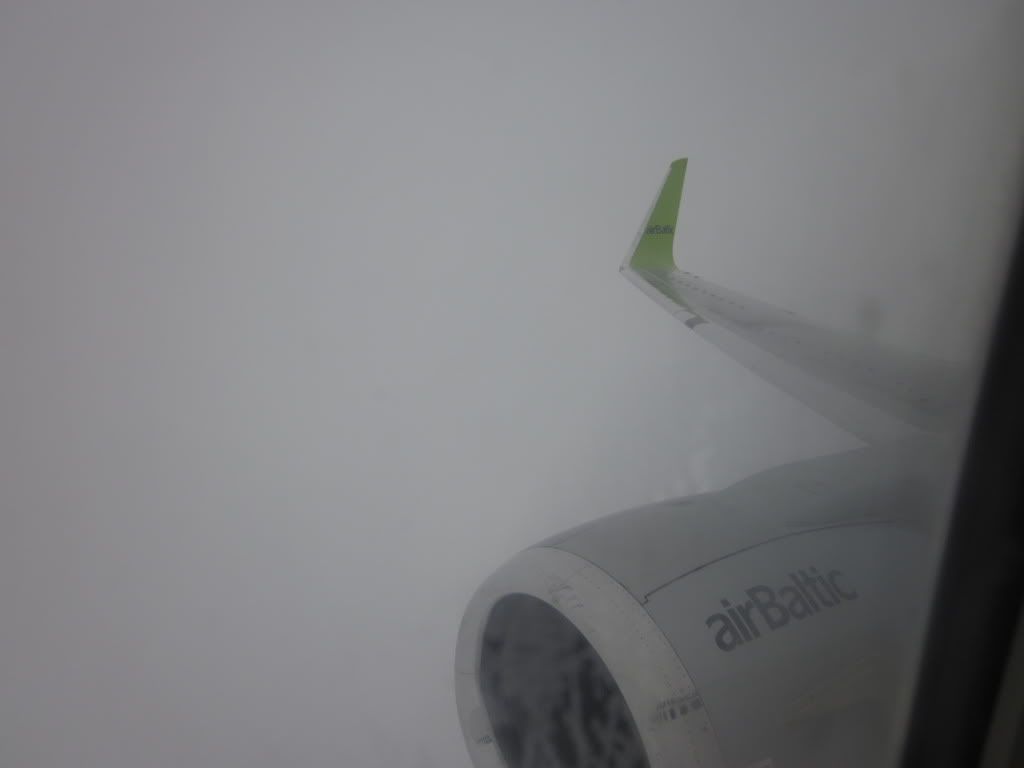 Hey, this almost looks like Finland to me - the land of forests and lakes:
Despite the delayed departure our touchdown on runway 19R is ahead of scheduled, quite a smooth landing actually!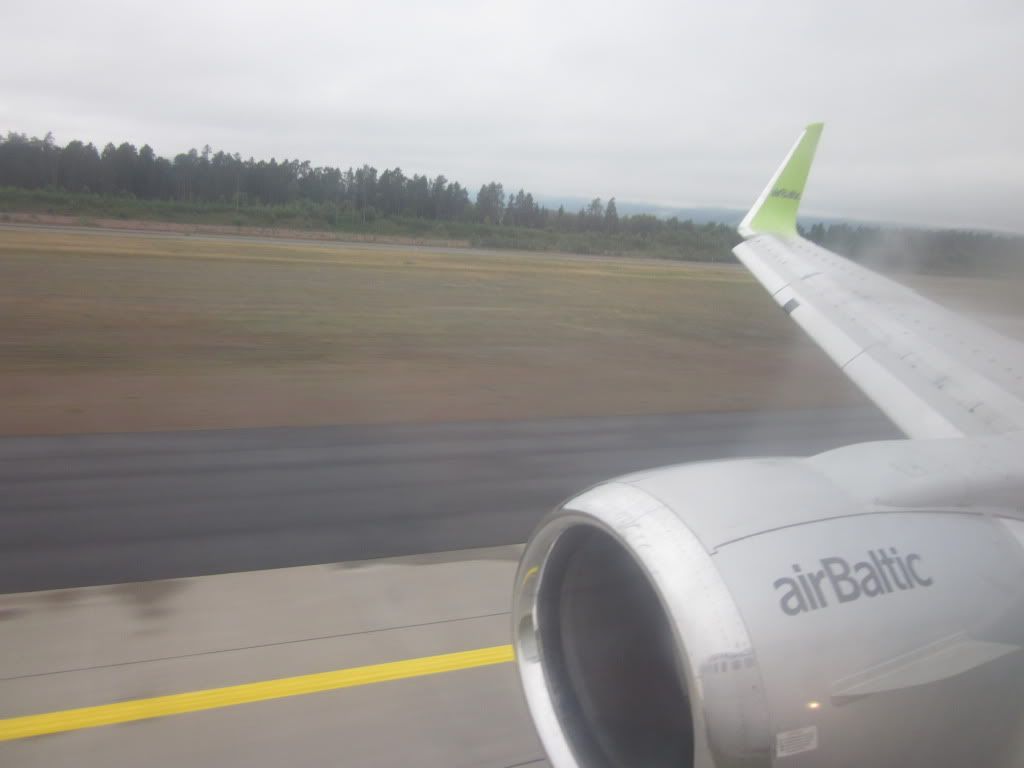 SAS vs. Norwegian, which one do you prefer?
We park next to this SAS B738 with a very special tail - apparently this lucky guy had the best score in a game they had on Facebook not long ago:
After a friendly goodbye from the crew I take this shot from the jetway: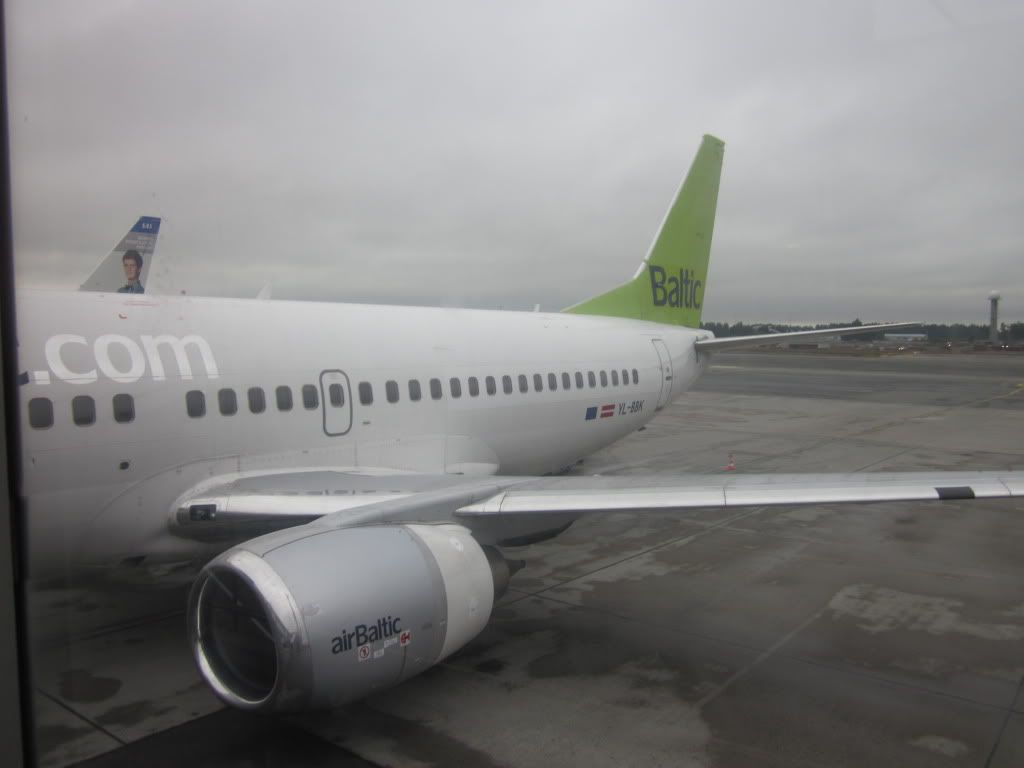 The glass jetways at OSL are quite legendary and as this is my first time at Gardermoen I just have to document them as well: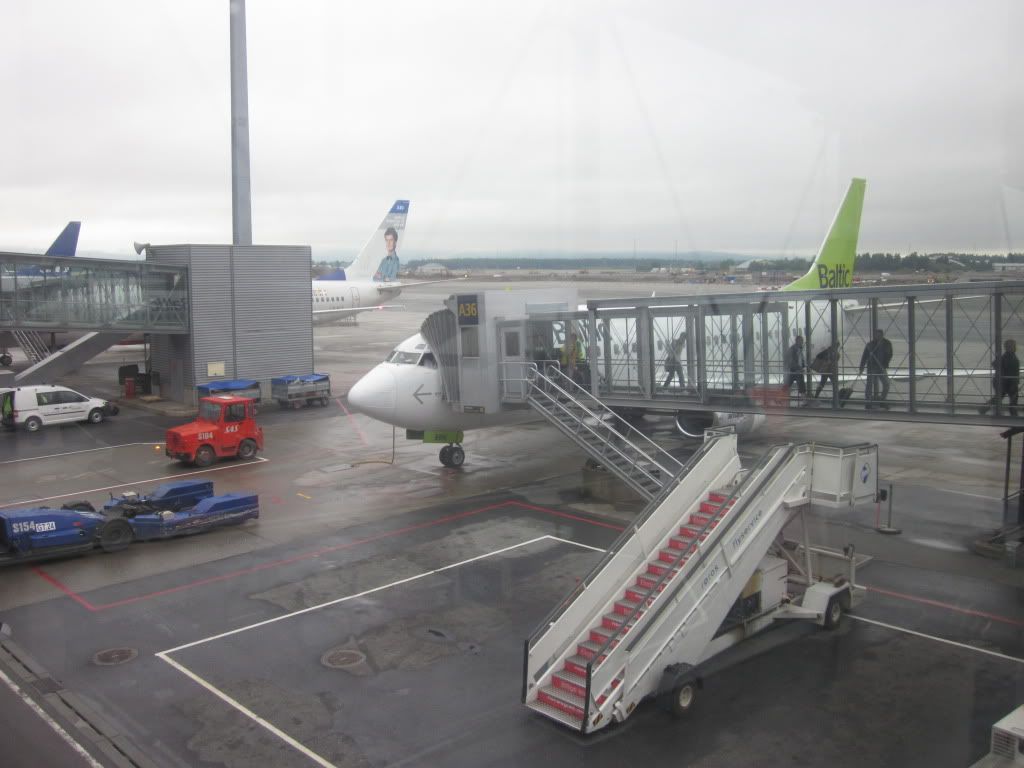 Oslo Airport
I have a very clear plan what I want to do during my 4+ hours in Oslo, and that is to check in my bag from my next flights and then take the Flybussen to the city. But there's another thing that had to be sorted out before that - picking up my bag from the belt! I must say I was quite relieved to see my trusted suitcase arriving as one of the first ones on belt 8 - it would have caused me an array of problems if I would have continued flying through CPH and OUL with other airlines without my bag...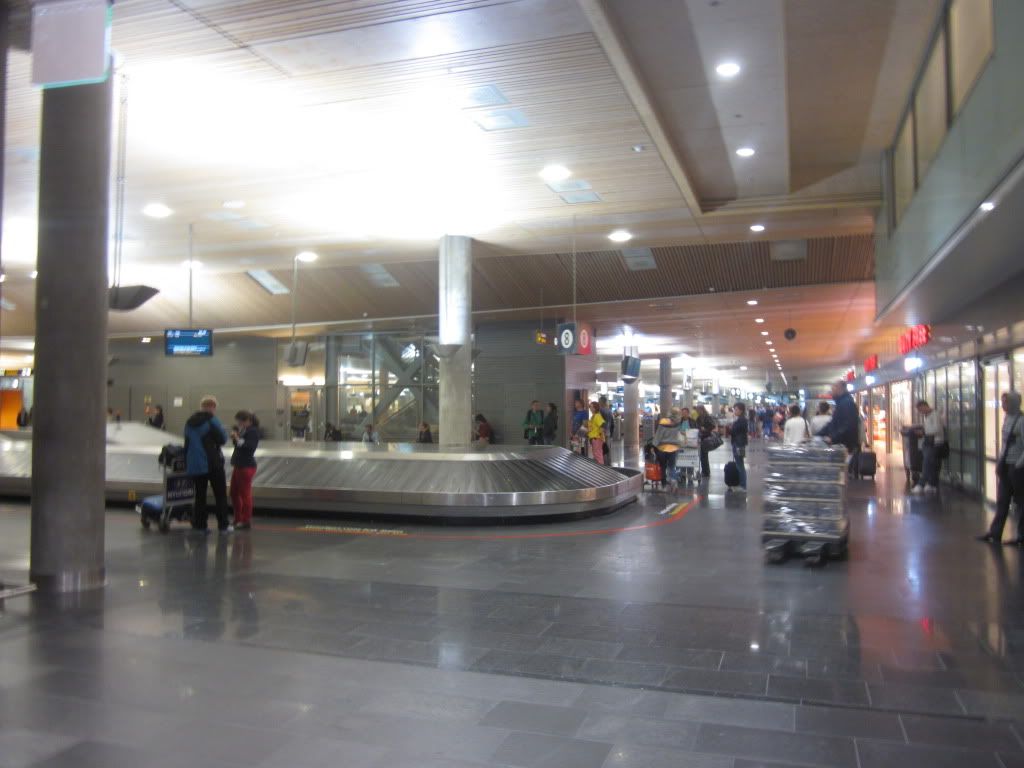 Check-in for my SAS and Blue1 flights are the quickest experience I've ever had - after printing my boarding pass from a kiosk I drop it off at a counter where the agent reads the barcode and nods - I'm ready to go! Seeing that the queues for the Flybussen to the city are quite long and the fares quite steep (who pays 20 EUR for a one way ticket - or fine - I guess in Norway someone does) I soon remember I have another option as I remember I have a lounge voucher in my pocket - but wait, how did I end up with one?
Fellow A.netter Jonas made a trip to Munich earlier this spring and didn't have the best cabin crew experience onboard his return flight on SAS (read his detailed report here:
SAS, Lounges & L